Ring-Ding-Ding
For most people, cars are simply a tool – but for people like us, they're an extension of who we are. A petrol-drinking representation of our own personal taste and style. Never has this been more evident than in Sid Crowfoot's two-stroke-powered Trabant, which we spotted at the recent Players Show in the UK. It wasn't immaculate by any means, nor could it be considered even remotely fast, but it had a presence and a personality that was just asking to be captured on camera.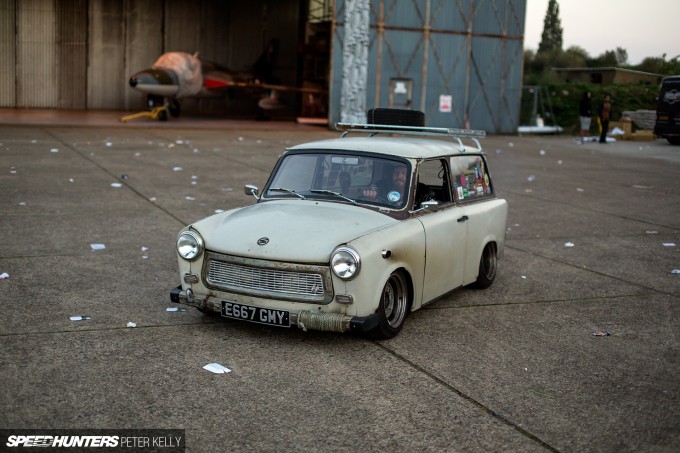 Sid has been around the UK scene for years now, having built a string of air-cooled VWs along with years spent competing in the BDC (British Drift Championship) before becoming an official judge over the last couple of seasons. Although he's been through many high-powered drift cars in his time, Sid has always had a thing for the weird, the quirky and the forgotten. So when he found a 1987 (that's not a typo by the way…) VEB Sachsenring Trabant 601 Kombi for sale online six months ago, Sid decided he liked the East German car's personality enough to save it from certain death.
The 'Trabbi' was purchased off someone who had tried to save it after finding it rotting away in a garden, but who did not have the patience to finish the job. This was good news for Sid, as it meant that some crucial rust repairs had already been carried out on the car's monocoque frame. The body panels, while sporting a fairly serious patina, were in pretty good shape thanks to it being made from Duroplast, also known as recycled plastic.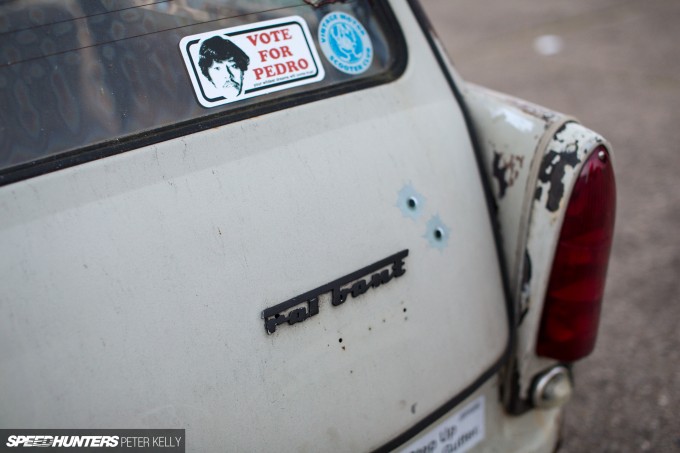 For those that might not have taken too much interest in extremely budget, inefficient and questionably-styled relics from the Soviet era (we're not blaming you), the Trabant was first manufactured in USSR-controlled East Germany back in 1957 and remained largely uncharged until the swift boot of reality kicked not long after the fall of the Berlin Wall. During those years, if you lived anywhere near East Germany and you were lucky enough to own a car, it was probably a Trabant.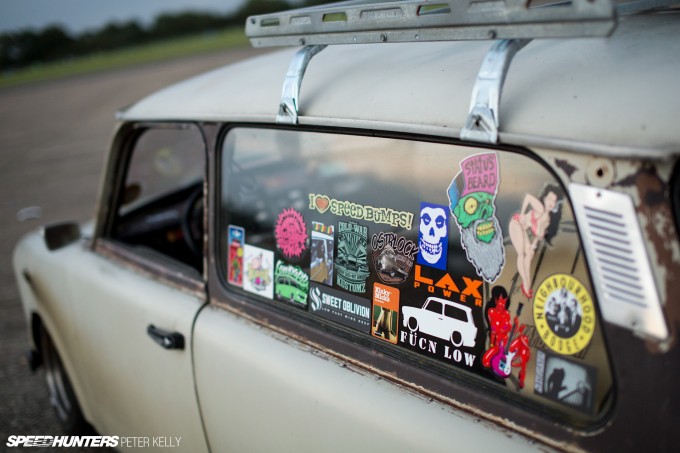 During the '90s, selling one of these smokey 600kg machines could fetch you around one German mark, so Trabants were often abandoned, like this one, in back gardens or empty fields. These days though, there is a small market for the car, and they are no longer throwaway items.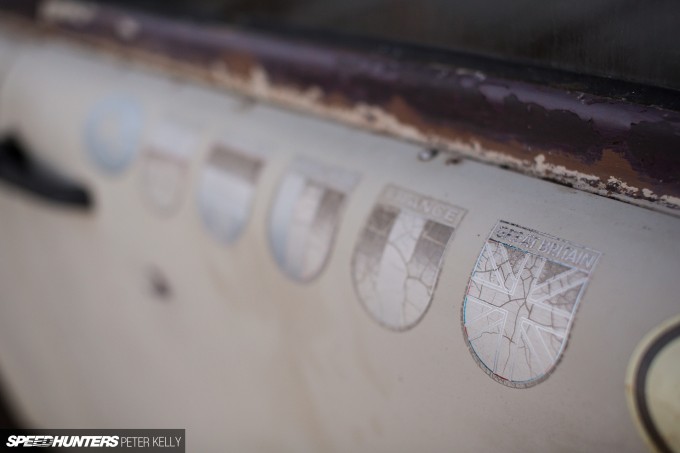 Sid had no intention of restoring his Trabant, he simply wanted to make it a nice-driving, solid car on the inside and a weathered, story-telling trooper that would suit his personality and sense of style on the outside. Unfortunately, the car was still a Trabant, and as the words 'nice-driving' and 'reliable' aren't too often used when talking about these cars, work would need to be done.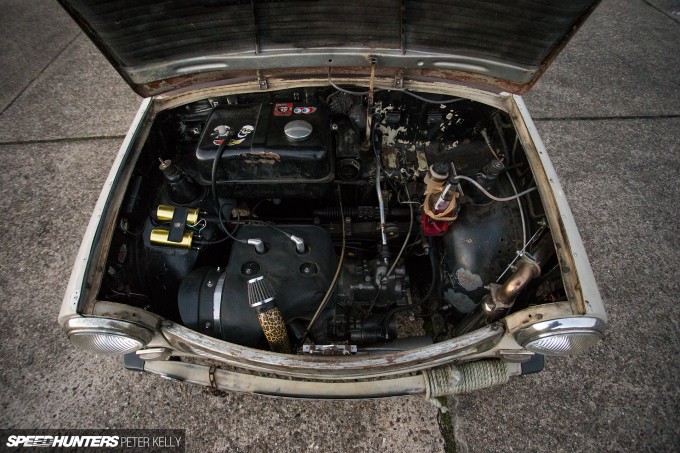 When it was first pulled off the trailer, the engine barely ran. The carburettor needed to be completely rebuilt, but more importantly, the previous owner had tried to move the fuel tank to the rear of the car and use a fuel pump to get the gas to the carb, which did not go down well. In factory form, the Trabant doesn't use a fuel pump, but instead uses gravity to feed gas (and of course a little oil, which Sid needs to add each time he fills up) into the tiny 600cc two-stroke motor. This means that the tank needs to sit above the motor, so Sid made some repairs and moved it back to its factory position.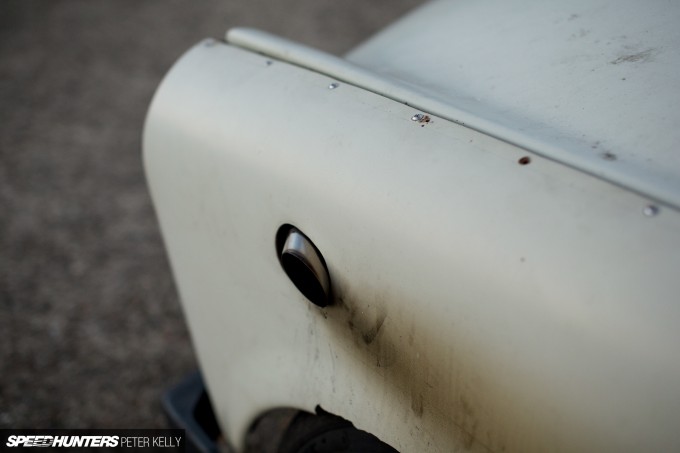 Our favourite thing about this car has got to be the way it sounds – a raspy, 'ring-ding-ding' two-stroke noise that you might normally associate with John Connor being chased by a T1000 in a big rig. Sid's Trabant is a little louder than most thanks to a stainless exhaust system that exits through the front guard. There's not too much you can do about those stains down the side of the car either, this engine is built to smoke!
Low & Slow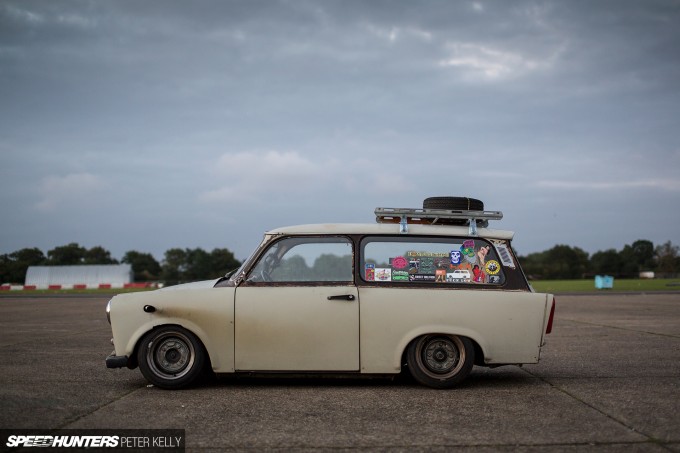 Once the car was back up and running like it should, Sid moved on to getting it looking just right for his tastes, and that meant going low. Trabants use a transverse leaf spring front and rear with shocks mounted on top, so the factory leafs were swapped for heavily-modified replacements, which drop the car well over four inches, while the shocks were changed out for much shorter eight-inch longer replacements.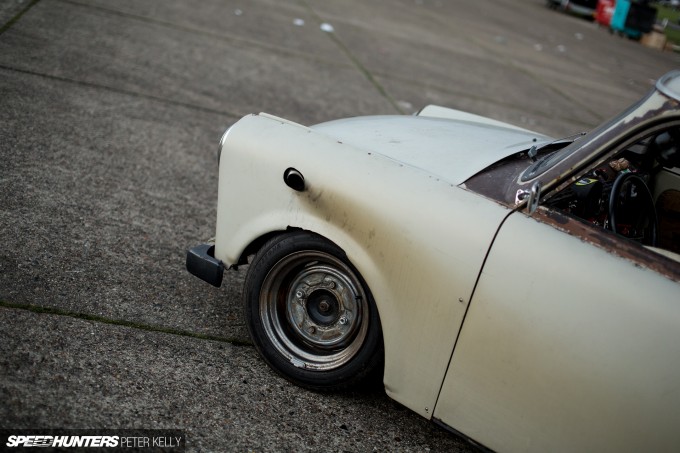 The factory wheels, originally 13×4 inches, have been doubled in width, and now measure 13×7 in the front and 13×8 in the rear.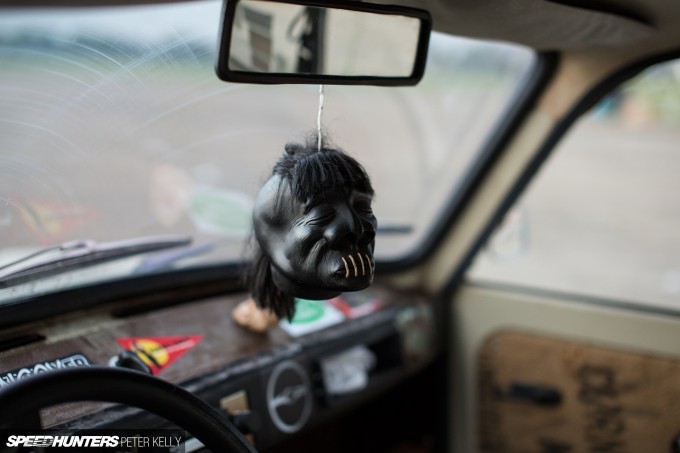 Inside the car, Sid has added a few touches here and there to make things a little more interesting…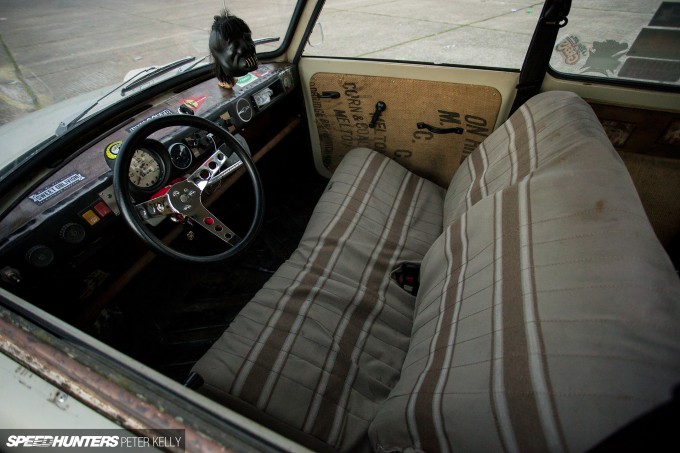 Like the door trims fashioned from hessian sacks, an old school sport steering wheel, and the front bench seat – which was originally the rear seat from a Citroën C2.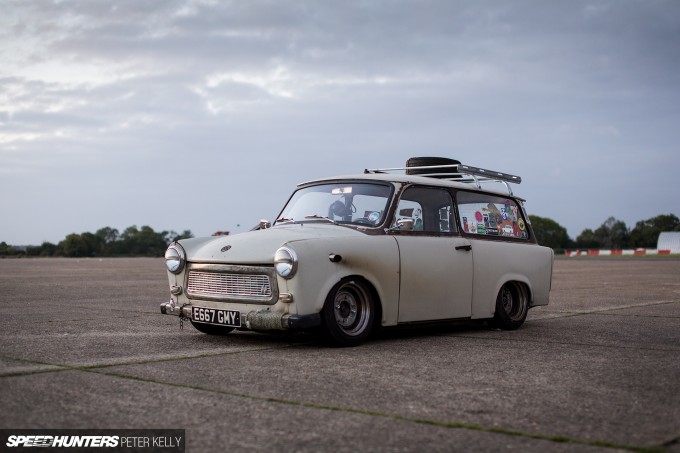 With its roof rack, its heavily-weathered body and its custom touches, the Trabant is sitting pretty close to how Sid wants it. He says it attracts plenty of attention where ever it goes, especially from people who originally hail from Eastern Europe – usually with a story to tell about how their parents or uncle owned one.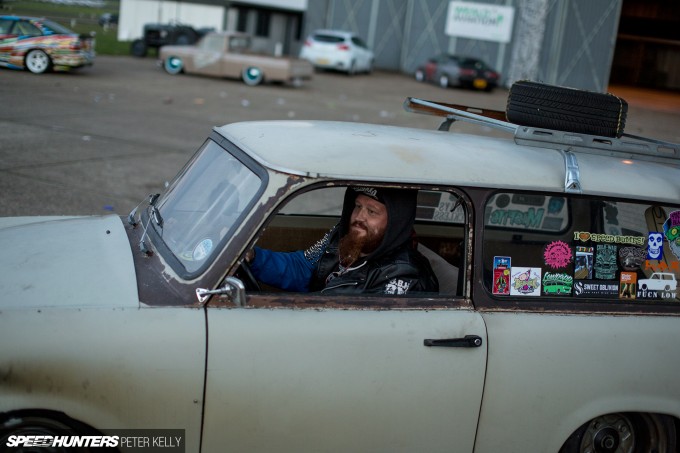 Running 26 horsepower and 38ft/lb torque, Sid's Trabant is about as far from a rocketship as you can get, but that doesn't matter to him. "It takes about 21 seconds to reach 60mph, and it has low torque so even gradual hills slow it down – but it somehow doesn't matter," he says. "It's so charming 'brapping' along smoking from the exhaust and popping on over-run. I smile every time it fires up and I find myself grinning ear-to-ear when driving it."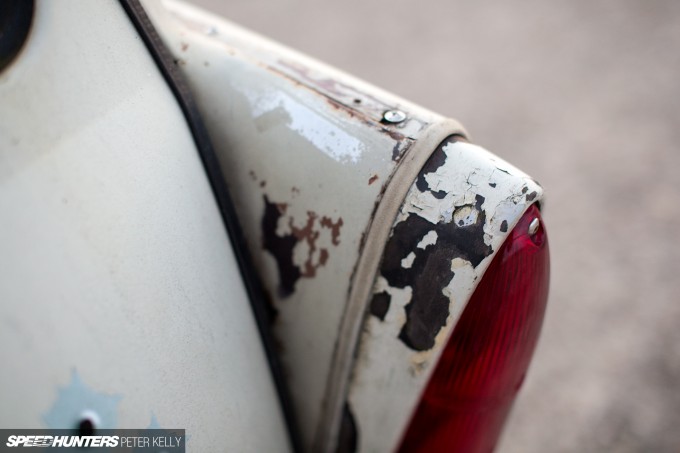 Thought the Trabant might not be able to pull the skin off custard, it's like the plucky little runt of the litter; the one you know has its flaws and issues, but you love it anyway – not despite those problems, but because of them.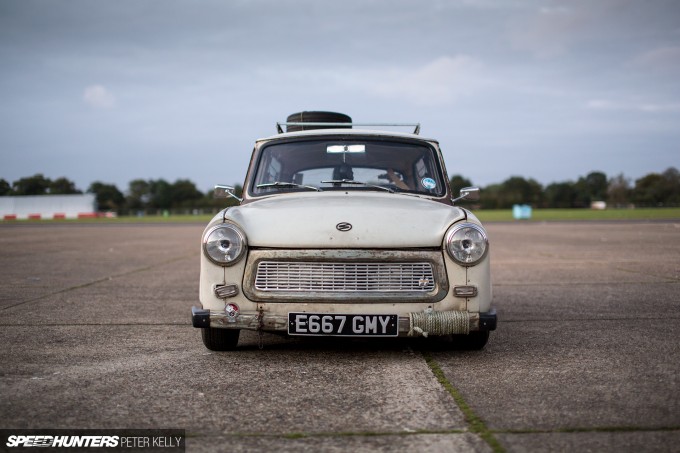 While this car is an extension of Sid's personality, he isn't entirely faithful, and is also currently building a Mazda RX-8 drift car to attack the BDC once again with his team mates at TeamS1. This means he probably won't be having too much spare time to spend on his beloved Trabant over winter, but no matter what anyone else says, it doesn't need it – this little runt is perfect just the way it is.
Peter Kelly
Instagram: pedey_kenmeri_creative
pedey@speedhunters.com