Pipe, Slippers & A Bazooka
This is a tough one. I'm not even sure what a visit to the Morgan Motor Company actually counts as. Factory tour? Artisan workshop? Museum? Cutting edge technology demonstration? Hospital for the automotively deranged? Whatever, it's all inspiring, and absolutely not what you might be expecting.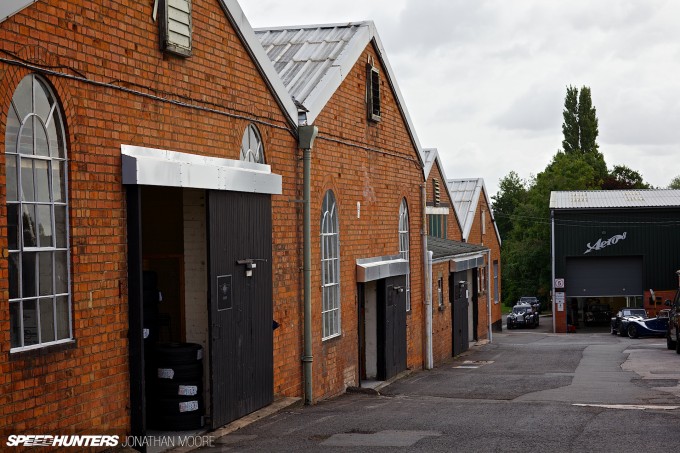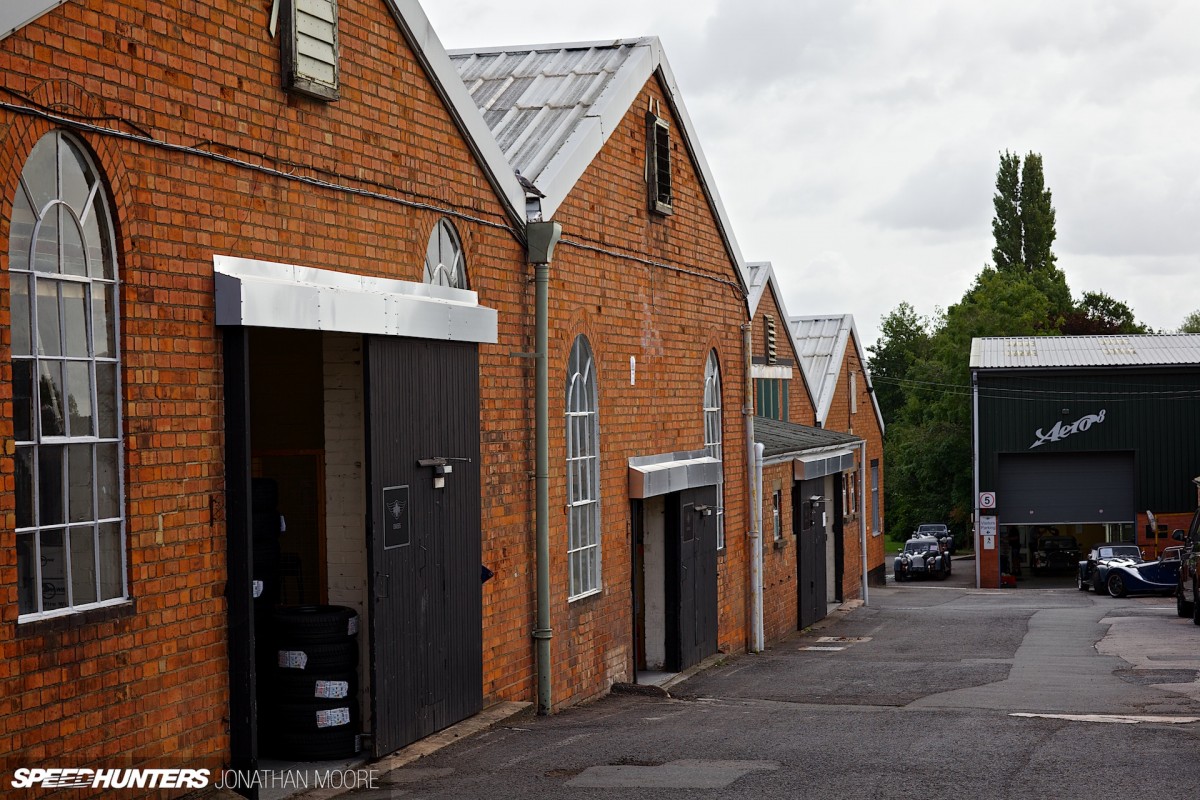 The outside of their factory – celebrating its 100th year in operation in 2014 – with its old fashioned, red brick, slant-roofed workshops nestling below and looming Malvern Hills in the background might reinforce your idea of a Morgan being about slow; about considered drives to the local pub on a Sunday lunchtime – only in nice weather of course, and probably wearing a flat cap. And maybe slippers. But you really have to park any preconceptions you might have at the door.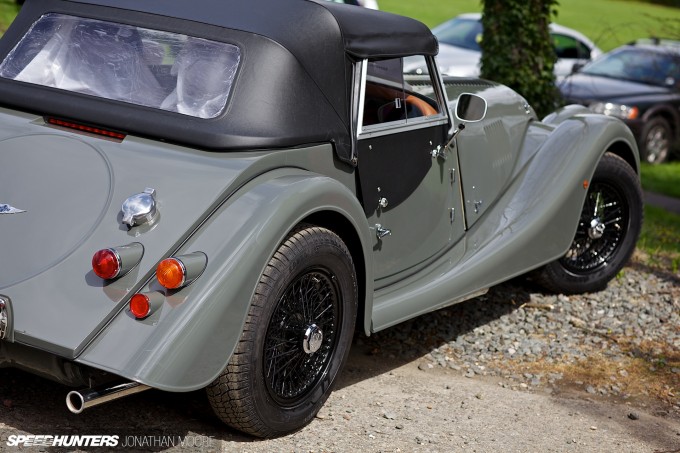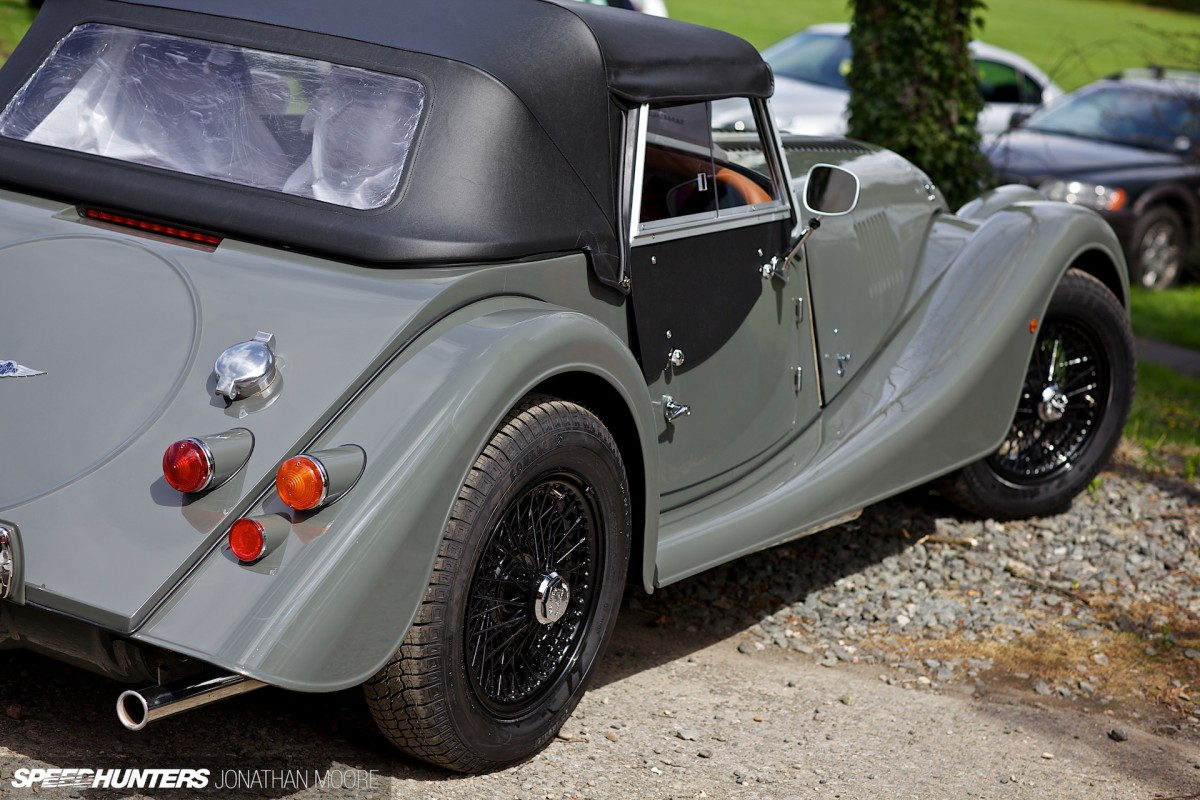 The crazy thing is, yep, Morgan is all those things. Morgan is also about low-slung attitude, style, the power and glory, forever and ever, continuing with a 50-year-old design but letting you make it exactly how you want.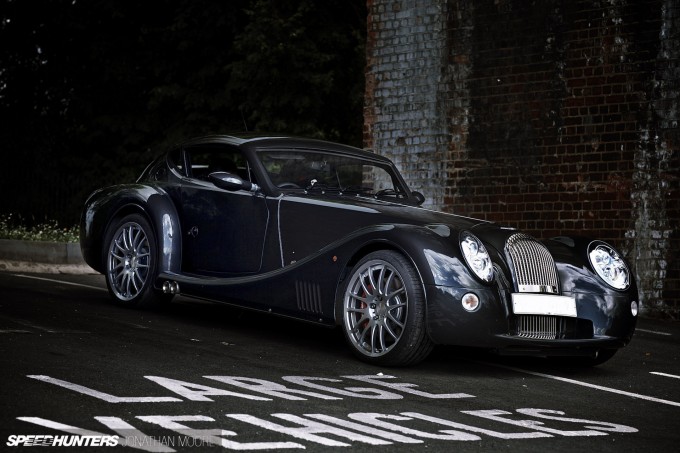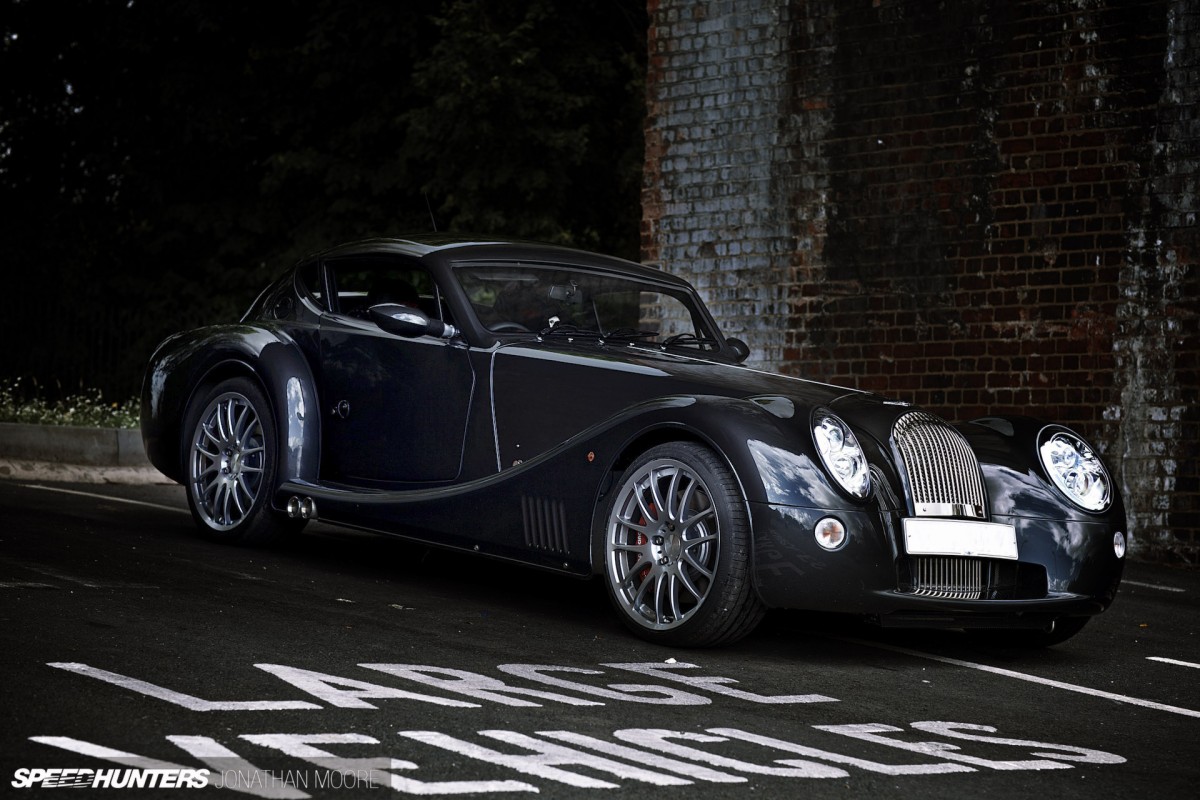 Morgan is a glorious heavy metal 400hp V8 thunderclaps wrapped in art deco sculpture, making everyone in the immediate vicinity jump out of their skin and supercar drivers dive for the inside lane.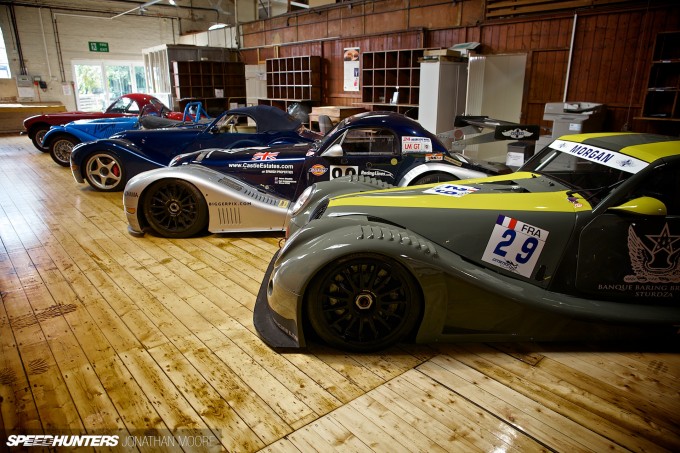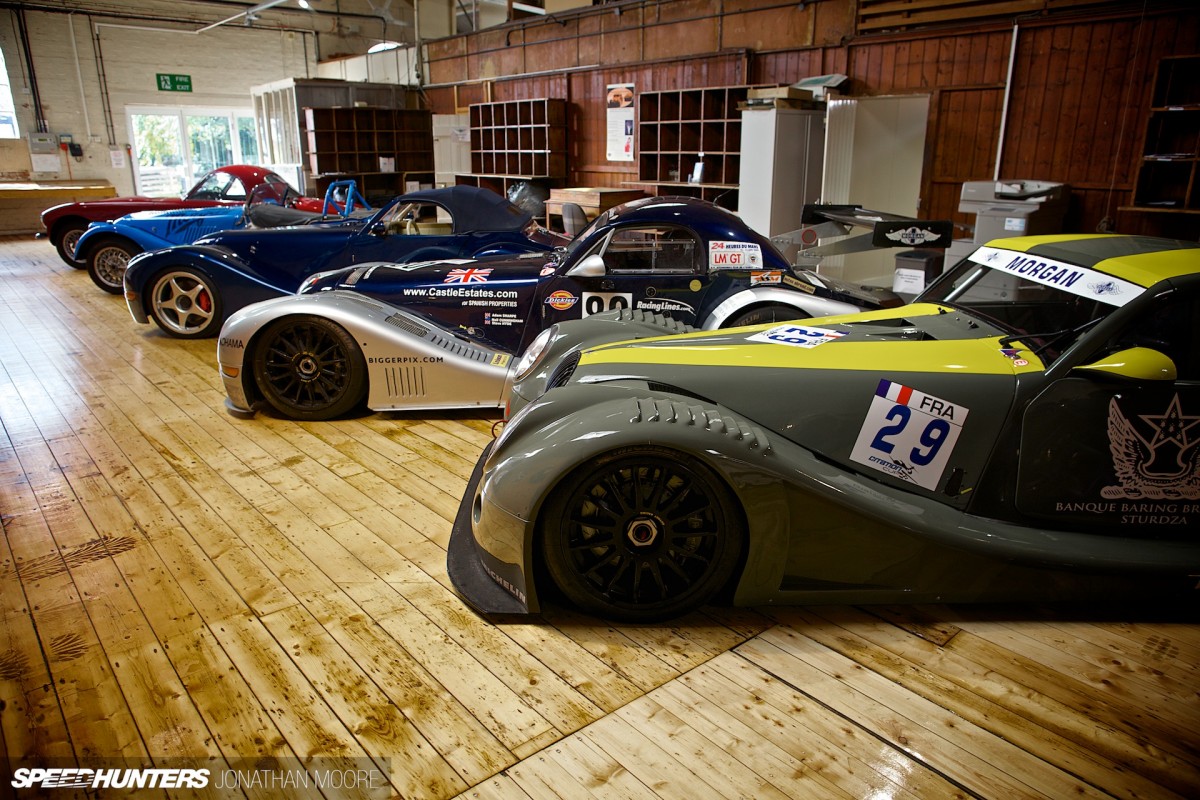 Morgan is a racing car; it always has been. The legendary Brooklands oval was Morgan's playground in the 1930s, and they still compete in top level racing to this day. A Morgan GT car raced at Le Mans as recently as 2004 and they currently badge LMP2 prototypes.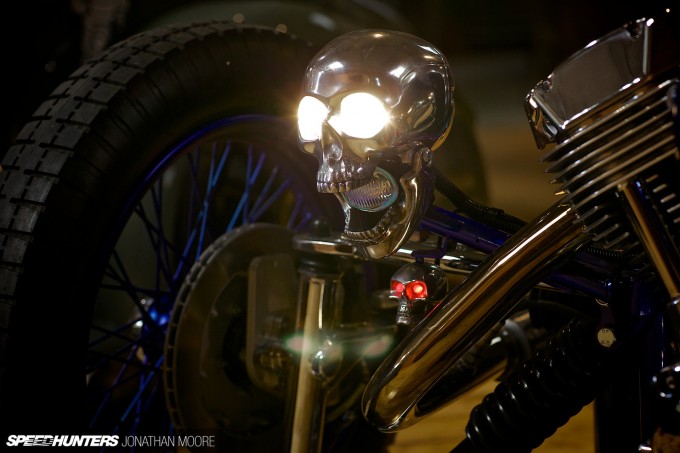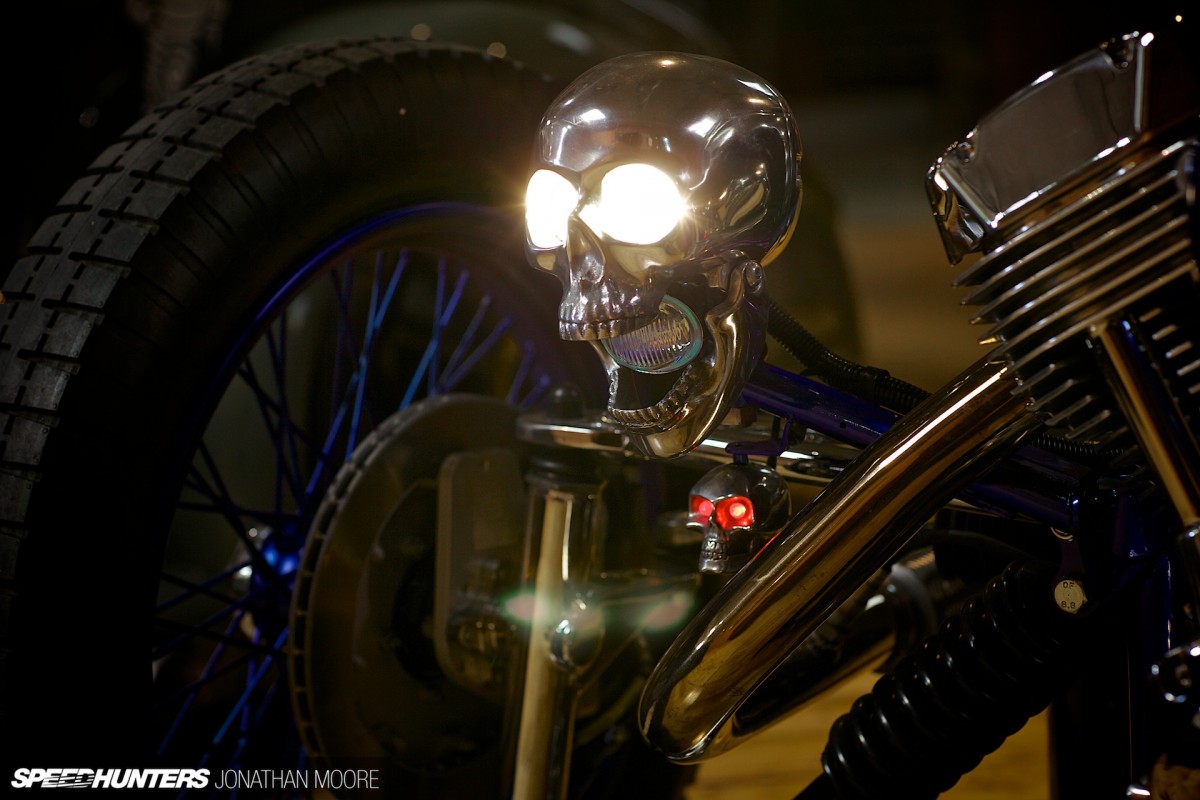 Morgan is a blazing skull, oozing hot rod ethos and café racer styling.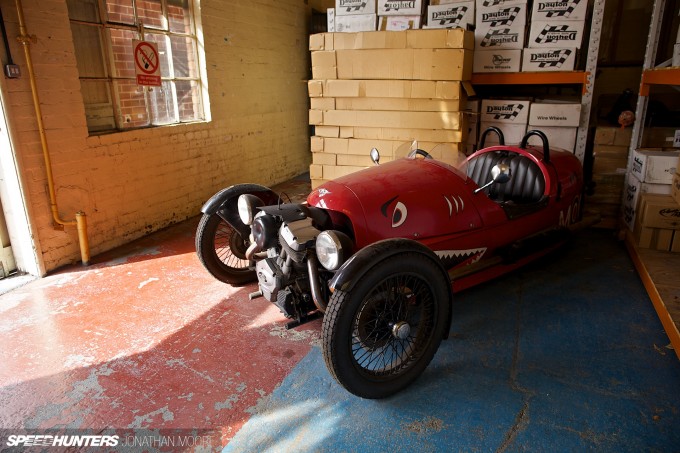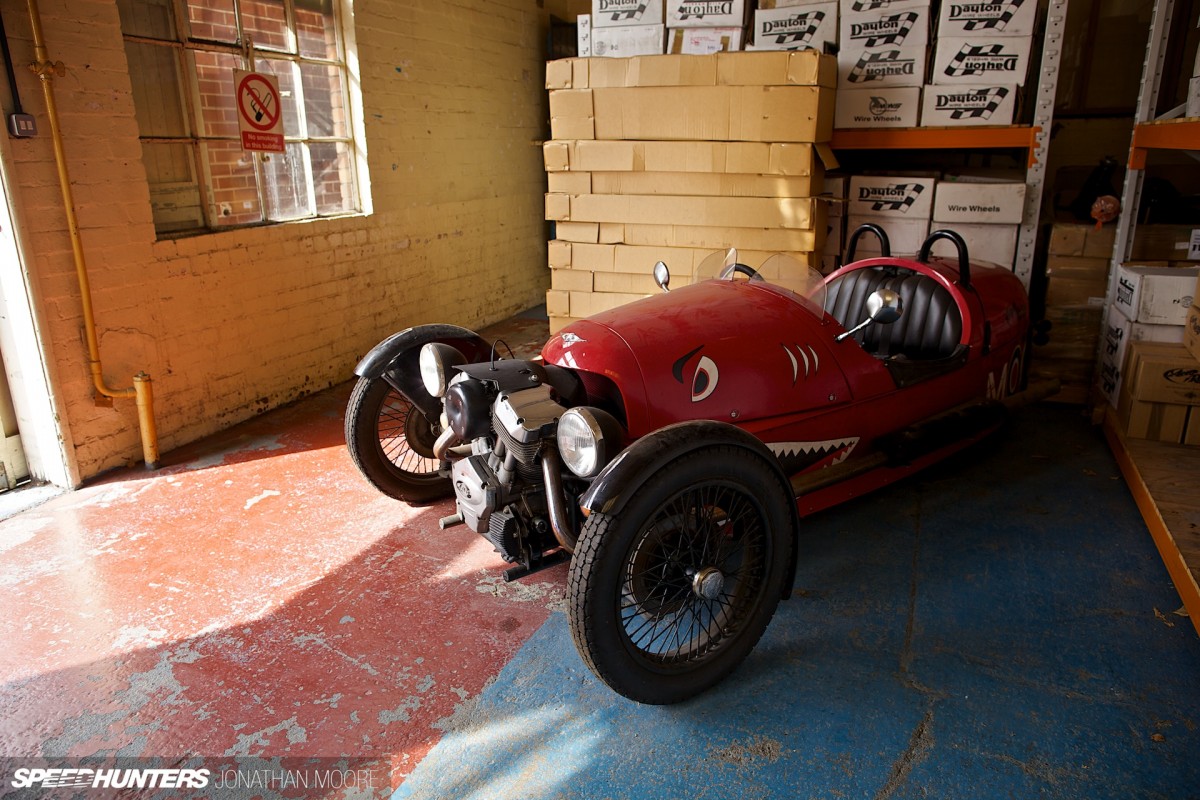 Morgan are what you want them to be, not what you expect them to be. And they're very, very comfortable with that.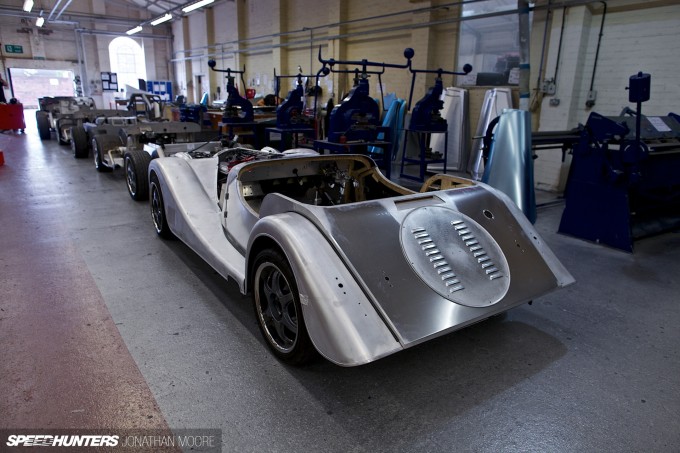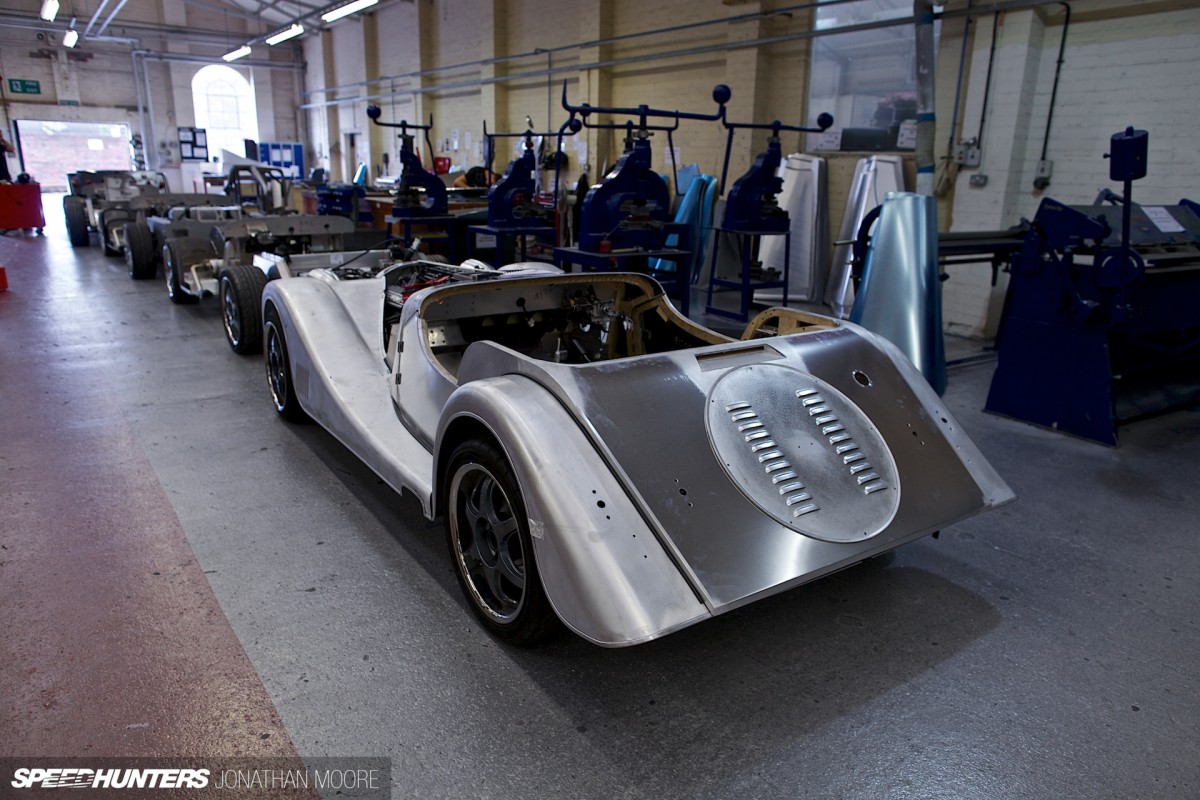 So if you love cars, then there will be at least one area here that will make you respect Morgan at the very least, but ideally want to drive one. They're not mass-produced sportscars pretending to be bespoke and special. They are bespoke and special. Hand-made for their customers at prices which, specifically for the basic car, frankly made me fall off my seat. It comes down to whether you want a computer-made robot or an artisan-built work of art.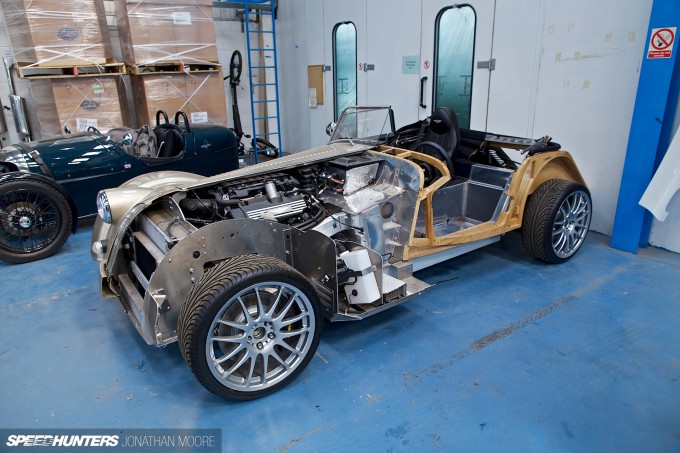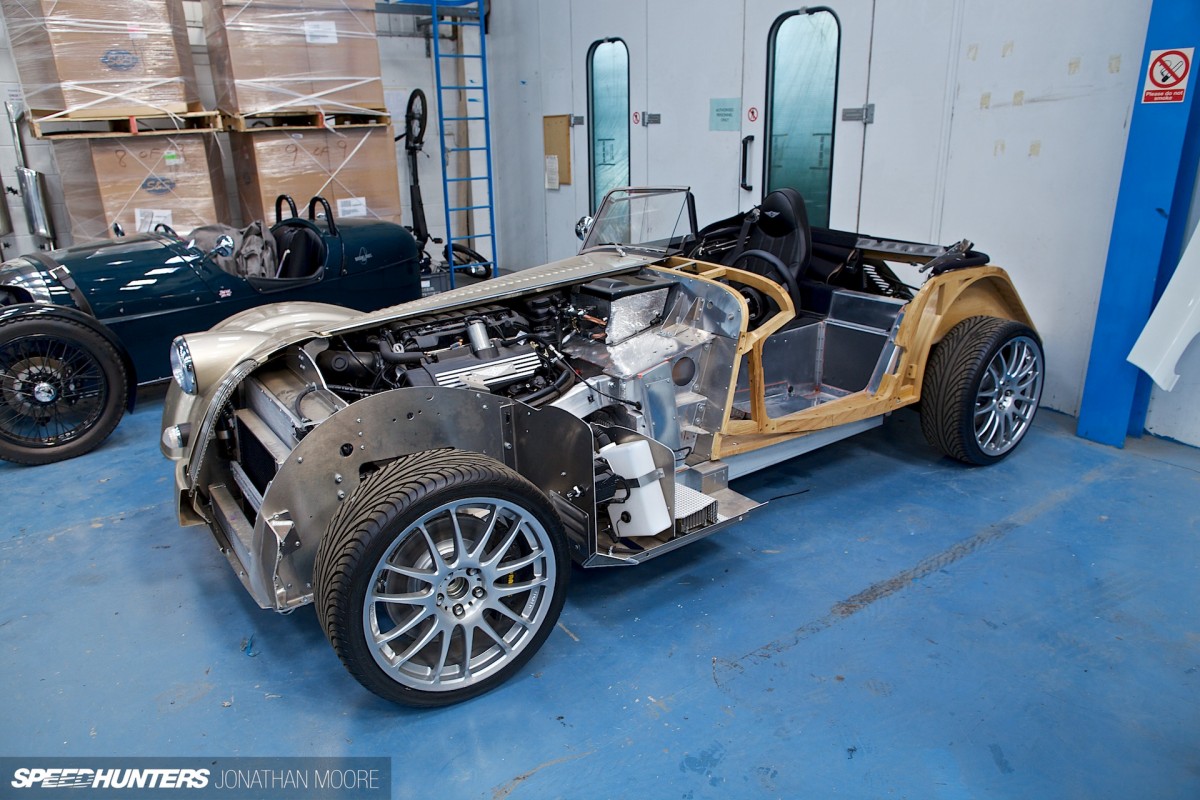 At first there can seem to be a bit of a clash. What are Morgans? Have they ever changed? Are they old? New? Was the Geneva show car demonstrating some kind of schizophrenia with its exposed metal and wood? Not at all. Think of it as a celebration of how 105 years of building cars can be threaded into a single, almost uninterrupted and coherent narrative.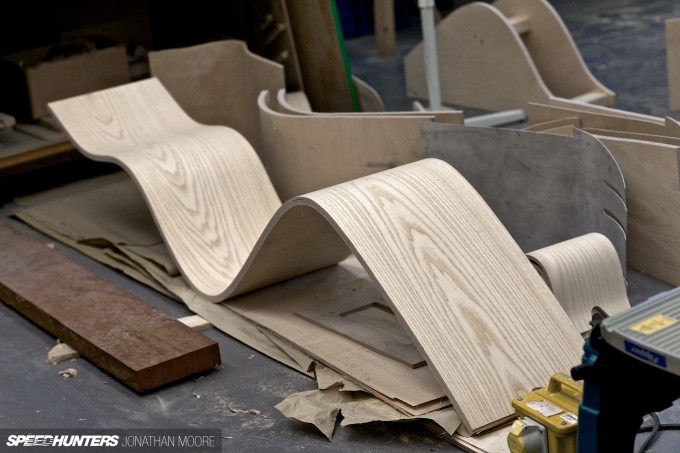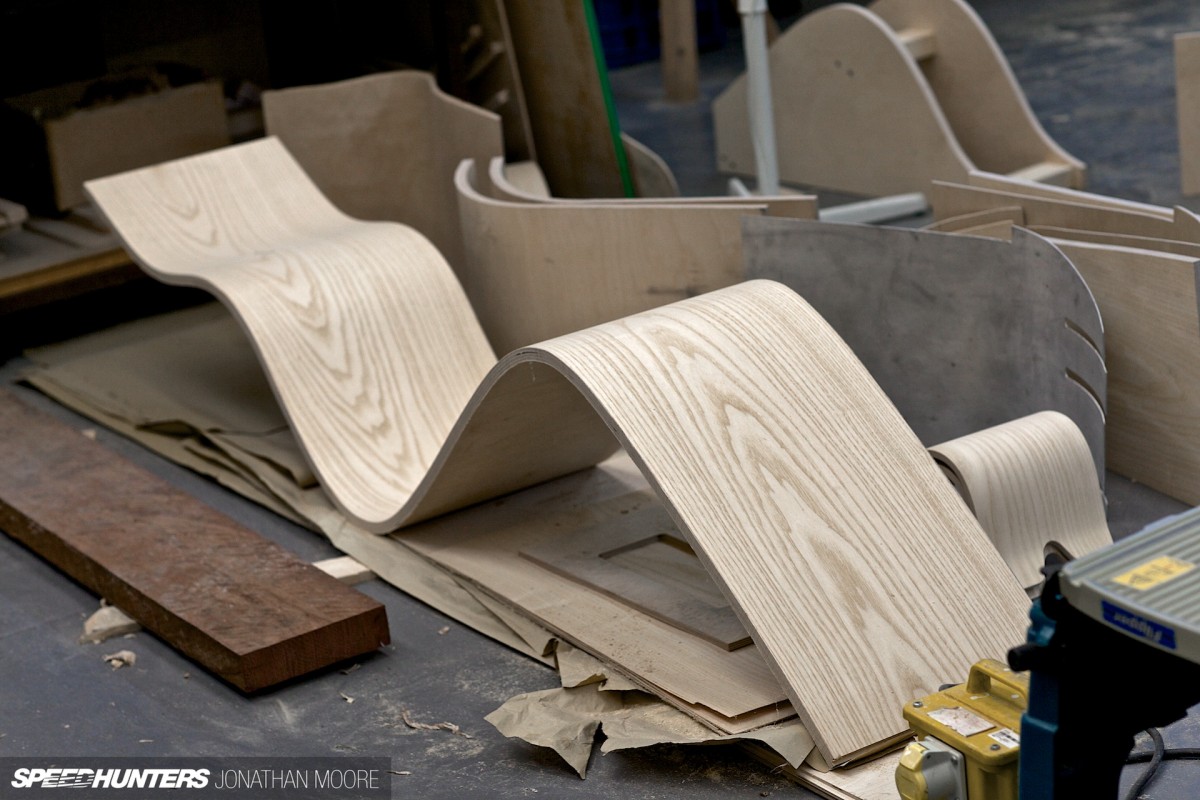 There's a natural harmony at work that makes perfect sense once you see the operation in action and talk to the passionate and committed staff. There's enormous pride in the old techniques, yet an openness to new ones. Even smells normally associated with the building of cars have different flourishes here, new notes: deep oils and sharp metal tangs are met by the buttery softness of… freshly worked wood. Every single Morgan still uses wood in some part of its construction, even the Le Mans racers.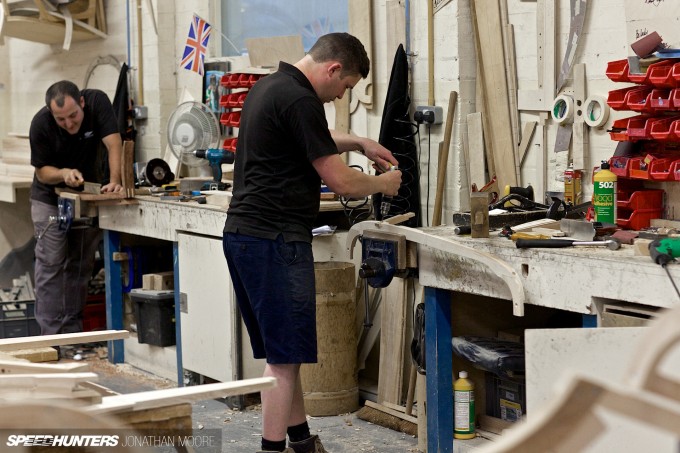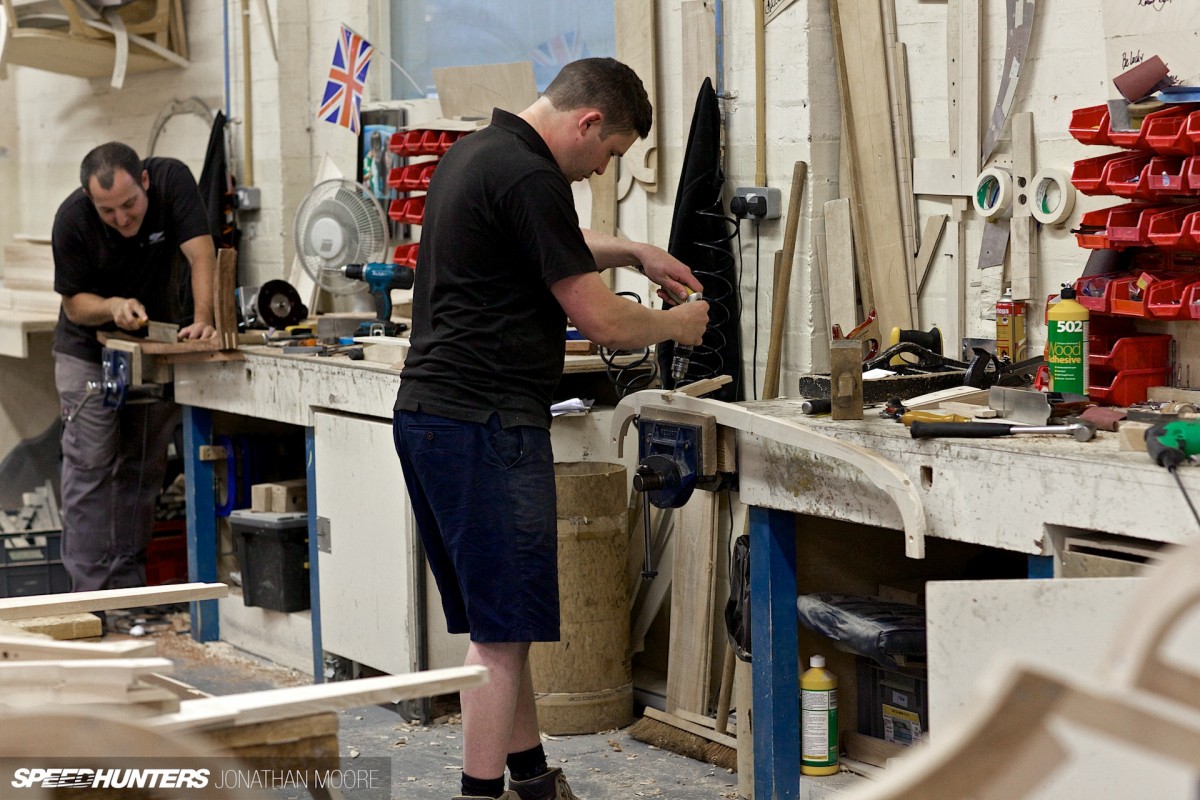 All the way through you see people and cars first. No machines really. The noise is of hammering and drilling, sawing and smoothing – not automation and robots, hydraulics or lasers.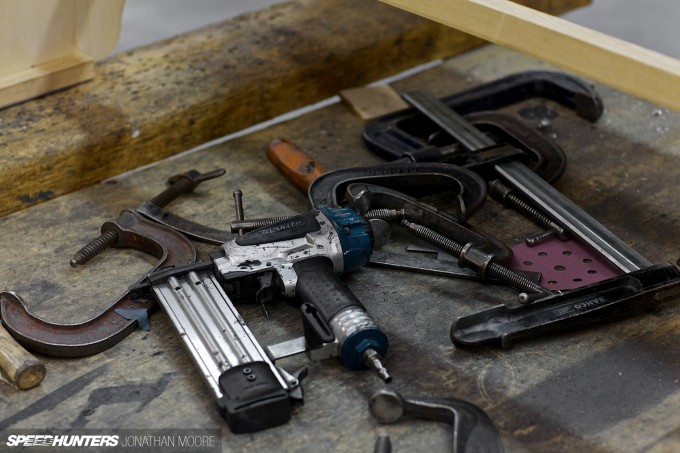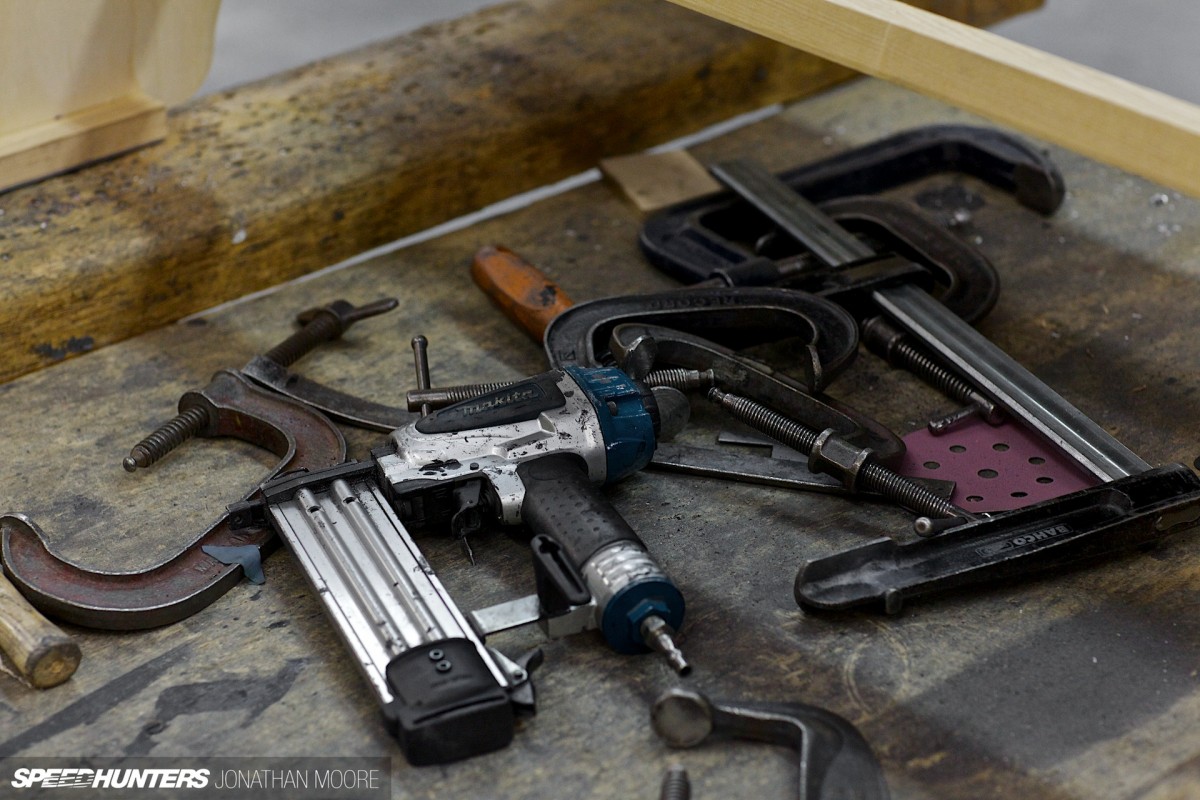 For Morgan, there's super-forming aluminium on the one side of the workshop, chisels and clamps on the other. It's all technology – just different kinds.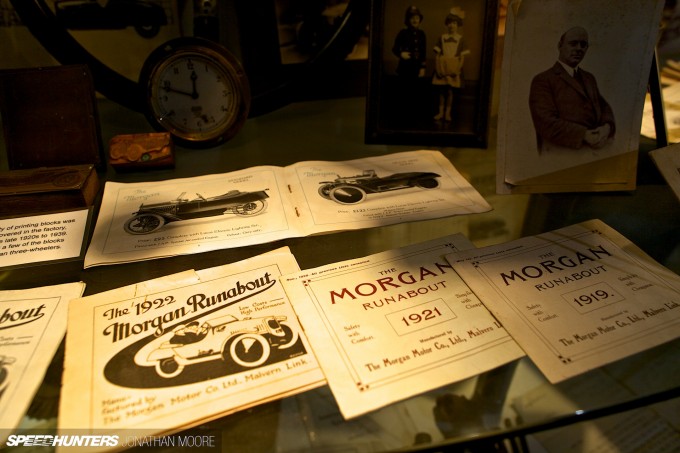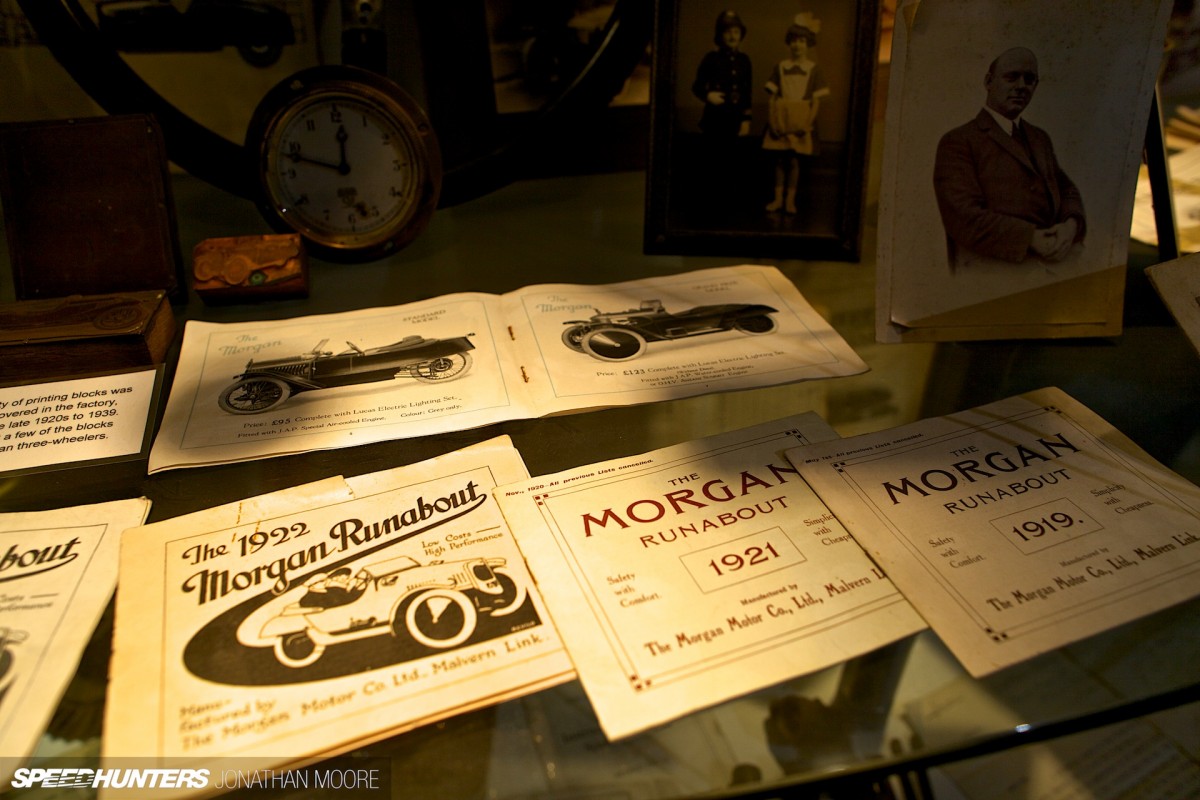 The company itself passed its 100-year anniversary five years ago. Henry Frederick Stanley Morgan produced his first car – the three-wheeler Runabout – in 1909, and used it to commute to work. Requests from family and friends for their own three-wheelers turned his pet project into a business the following year.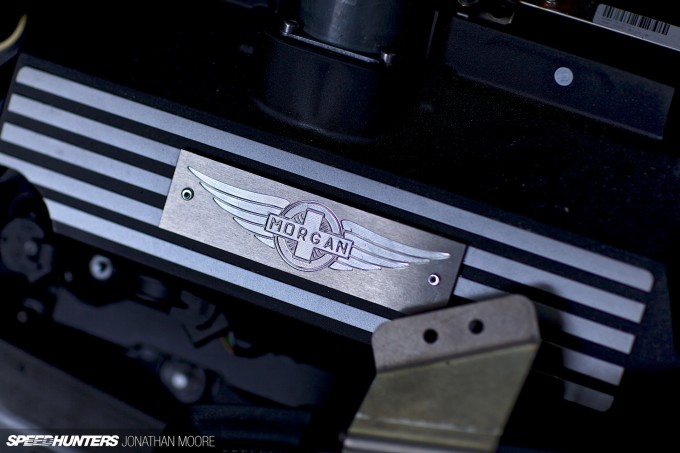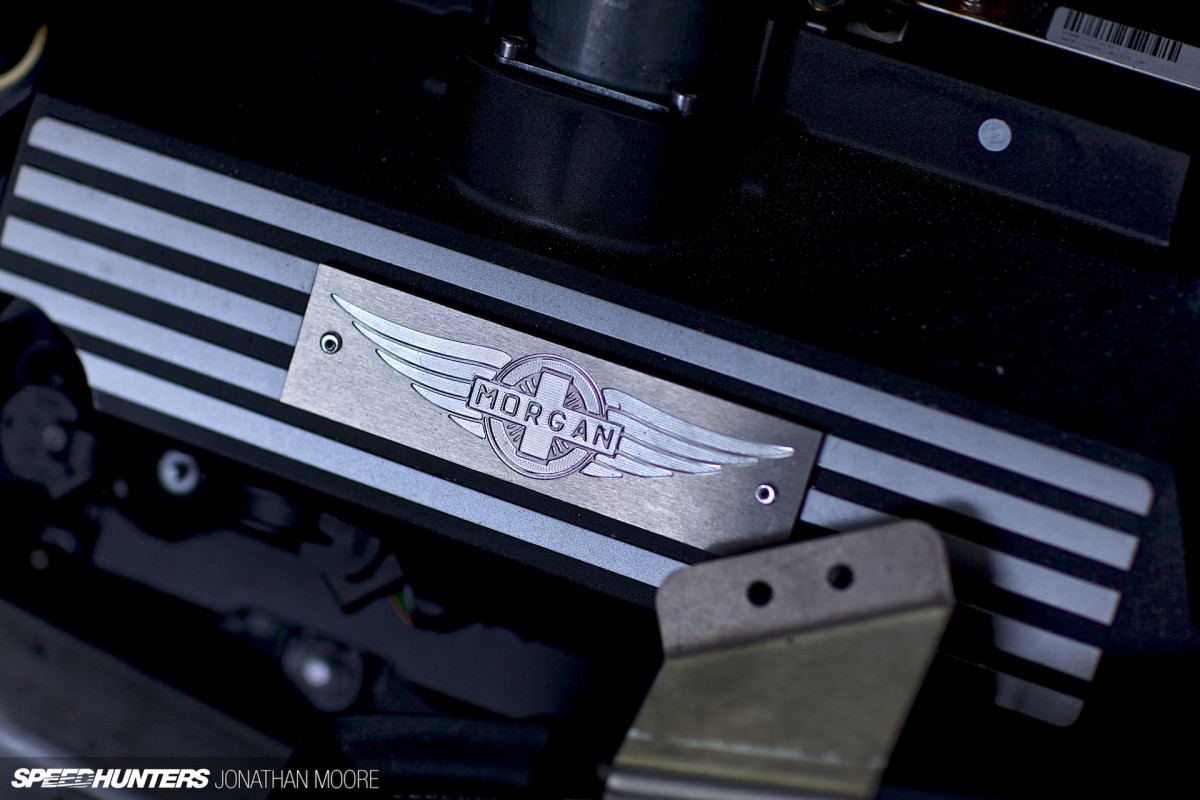 Currently Morgan have just 180 staff top to bottom, yet manage to produce 1,200 hand-built cars a year. Everything is here: design, manufacturing, sales, production – you name it, and people just seem to want to be involved in anything they can.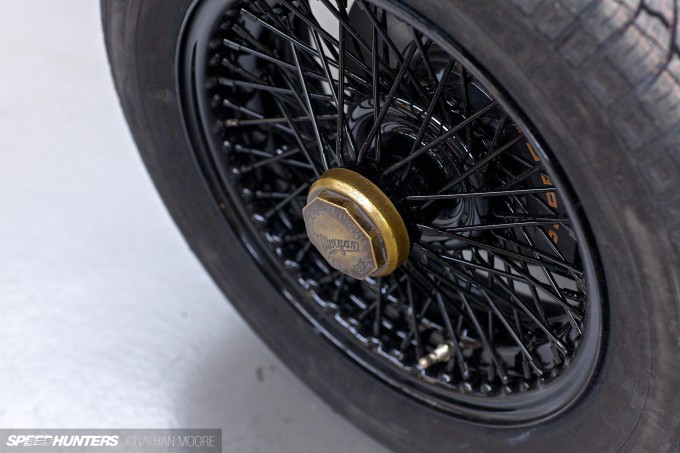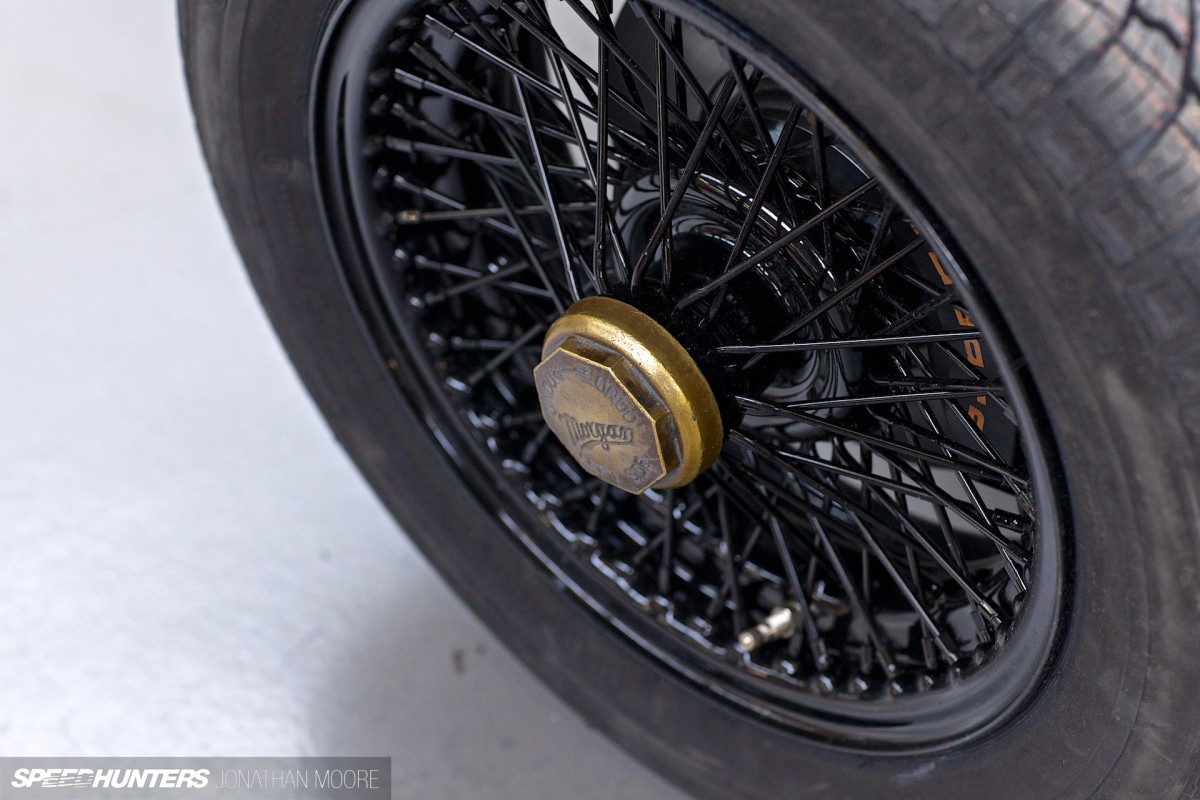 Morgan in the modern era means business. They themselves admit to finding it rather amusing to be at international motor shows right next to industry behemoths like Mercedes-Benz and BMW, producing triple-digit numbers more cars in a month than Morgan do in 12. Even more so when everyone is else is touting 200mph hypercars and they launch… a car with three wheels. That's Morgan for you. Not eccentric. Definitely not backward looking. Just a company with the goal of making exciting cars by hand.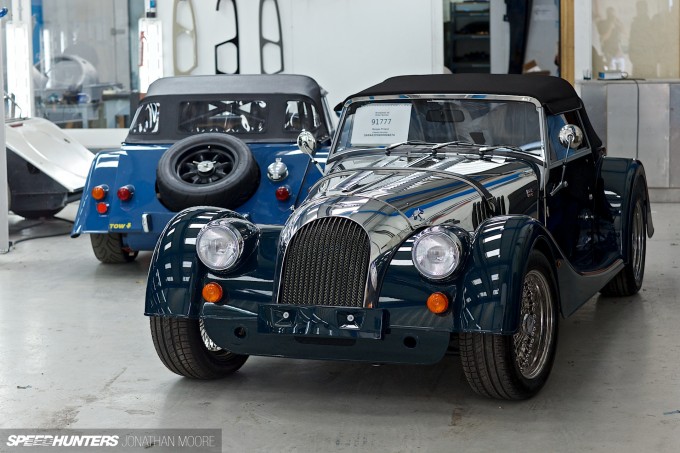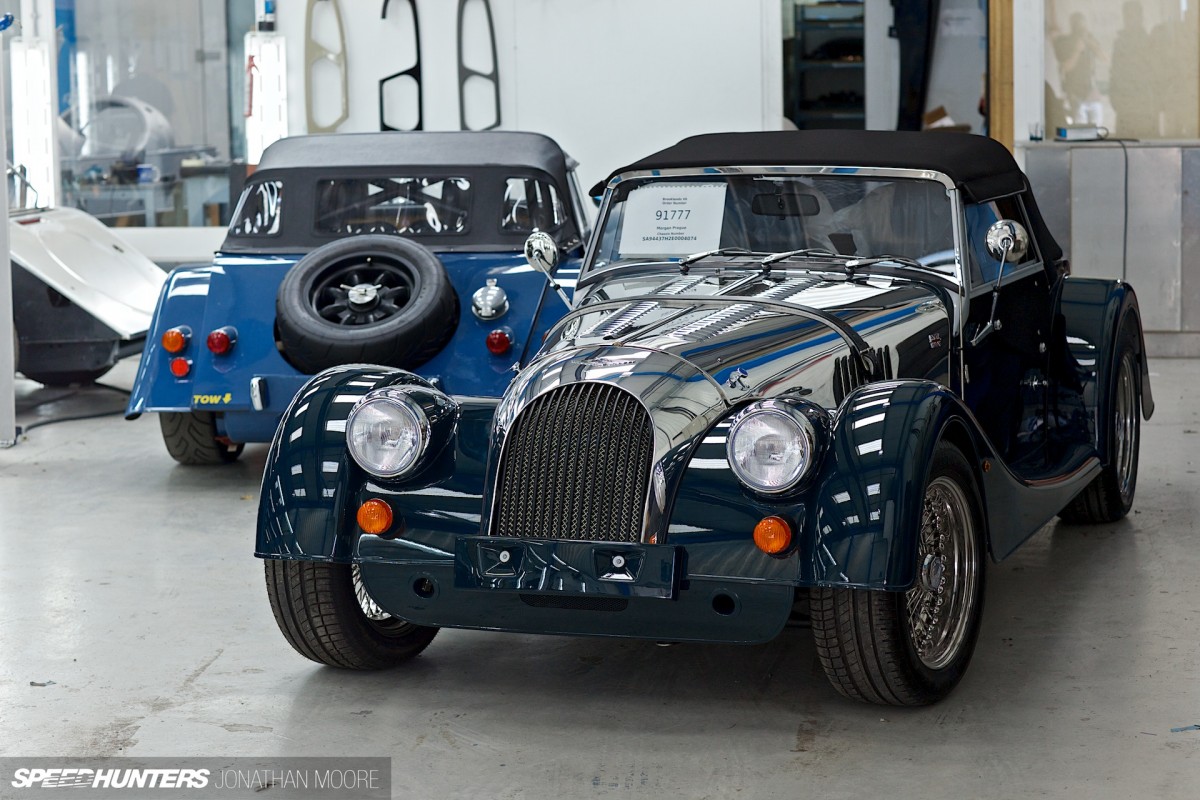 There are really two base models, but each has been expertly teased out across the decades and spun out into new, relevant cars. The core is their classic sportscar, of which the basic design has remained virtually unchanged since 1950! It's still the biggest seller, with almost unlimited options for personalisation.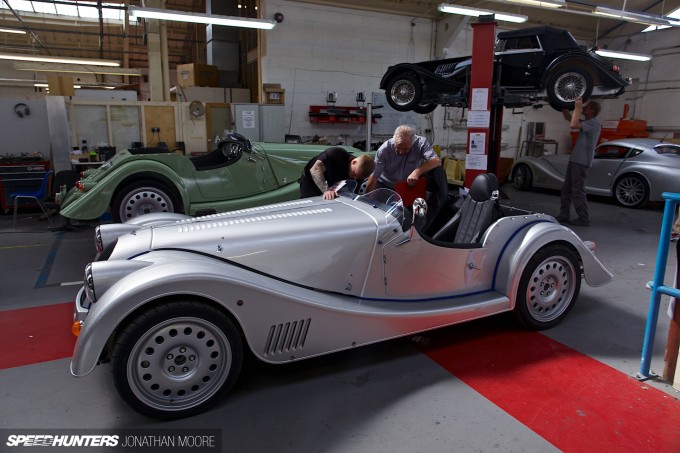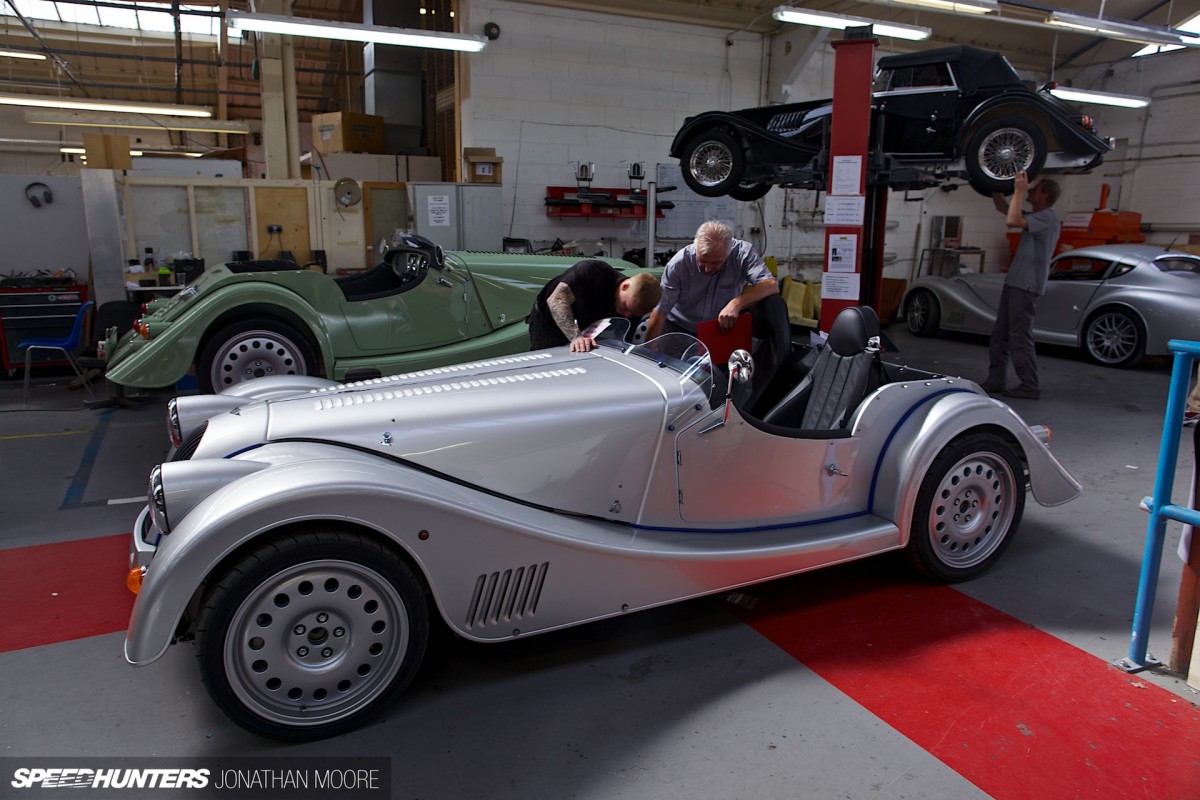 The new Plus 8 has morphed the classic shape into this modern, more beefed up look. These two are new Centenary Speedsters, stripped-down street racers that seamlessly combine eras, based on the same aluminium platform as the Aero Coupé shown earlier on. Even the coupé still shares its design DNA with its open-top grandfather.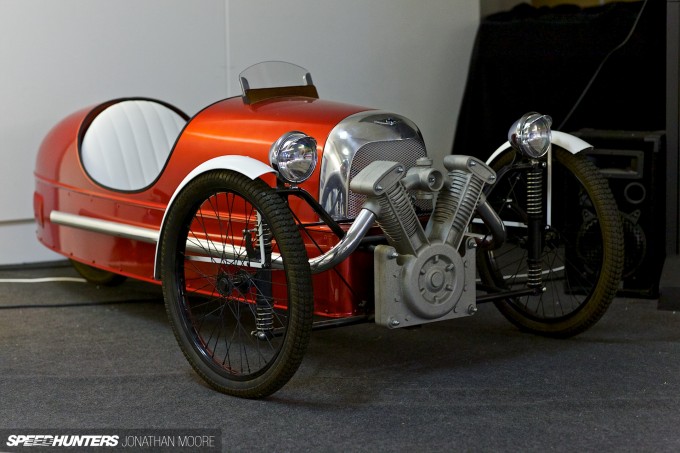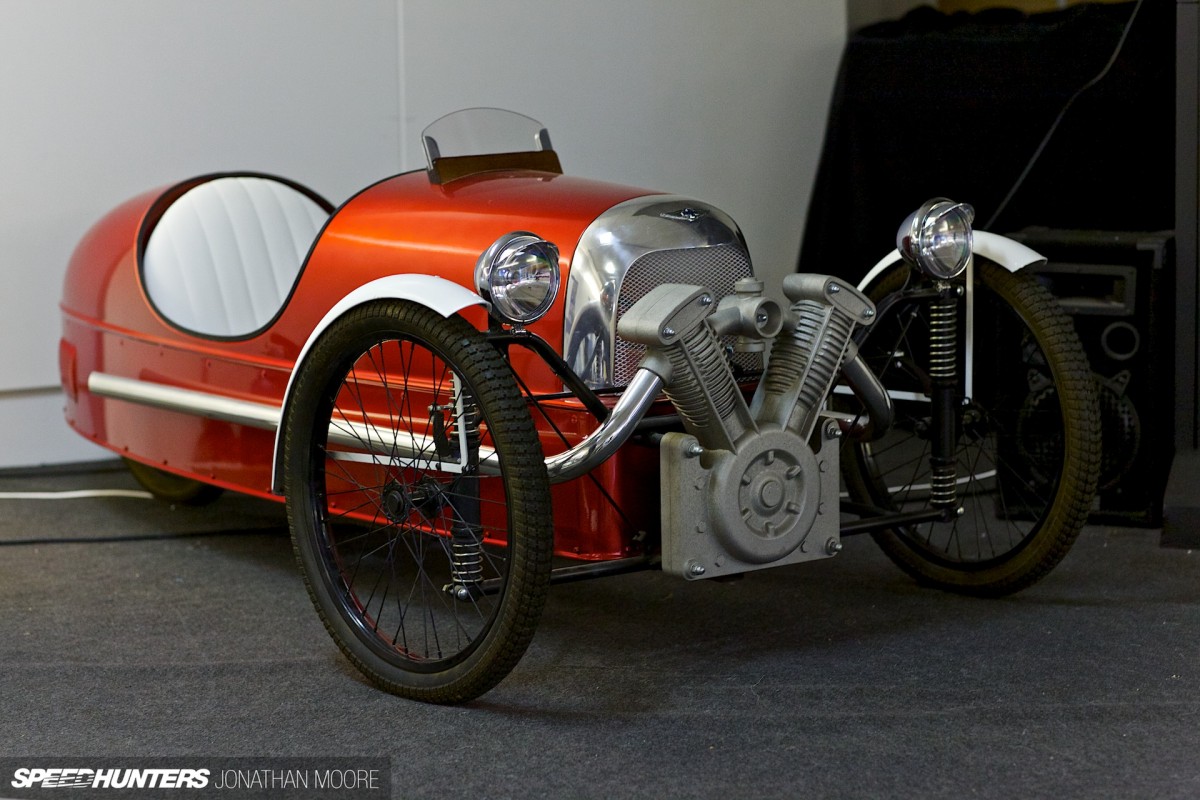 Then there's the original three-wheeler idea. Reintroduced in 2011, it's been a smash hit, and so much so that even these scale pedal car versions have sold out!
They Came, They Sawed, They Made A Morgan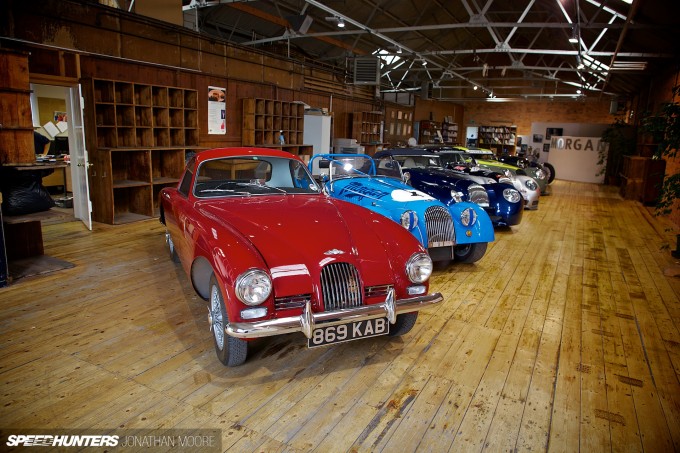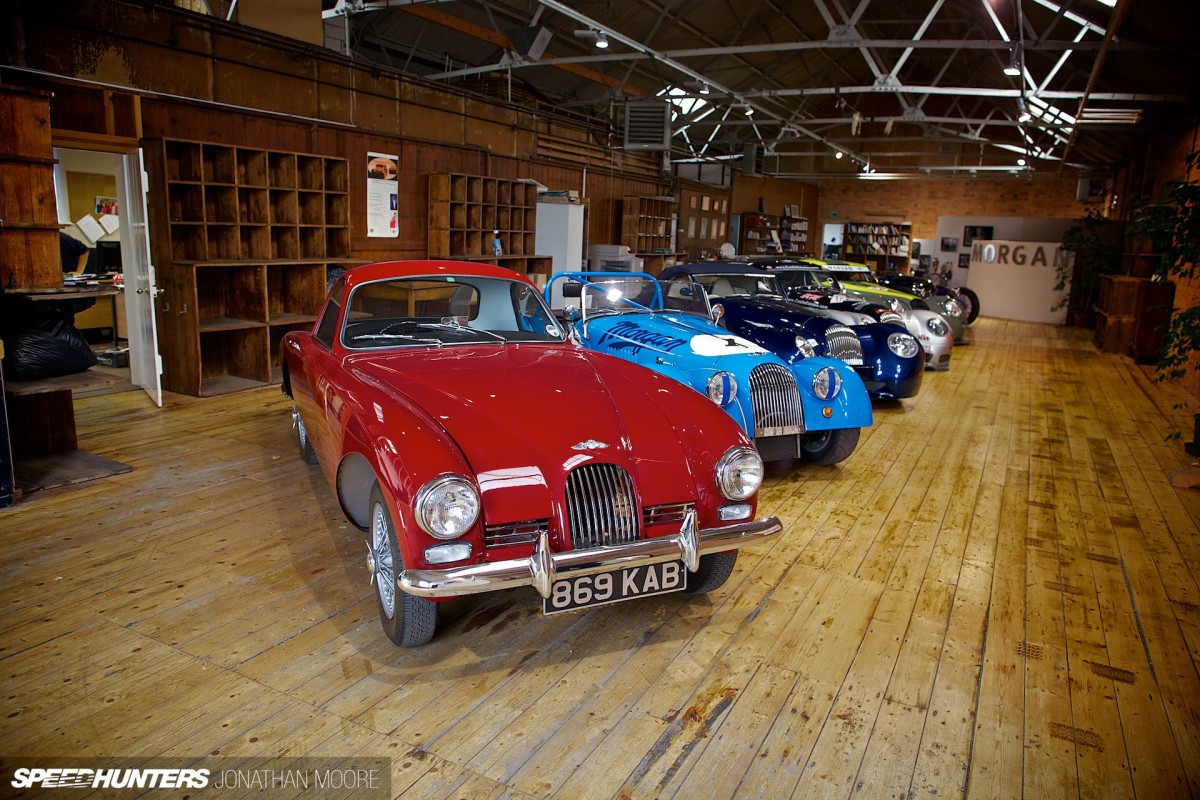 The original Morgan workshop from 1914 is still in existence and in daily use. Standing by the main entrance to the Pickersleigh Road site it's now used as office space and to house a small car collection. Initially used to build the three-wheeler, it later became a parts store as the factory expanded down the hill into new units. One of Morgan's very few forays into coupés, prior to the modern machinery, was shown off here: the Plus 4 Plus from 1963. Just 26 were made, and all survive. Morgans tend to do that, survive.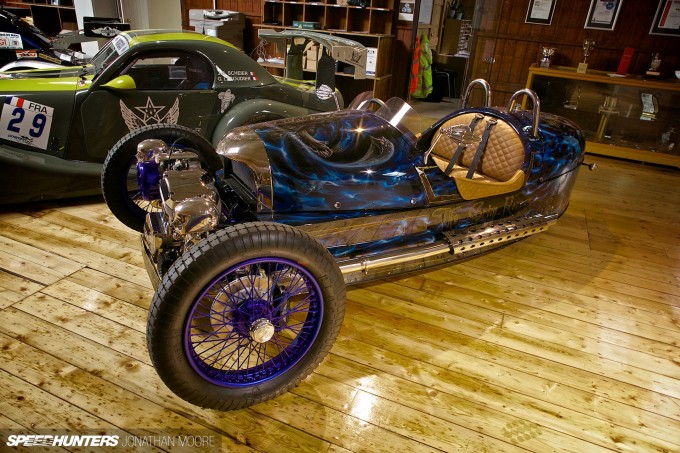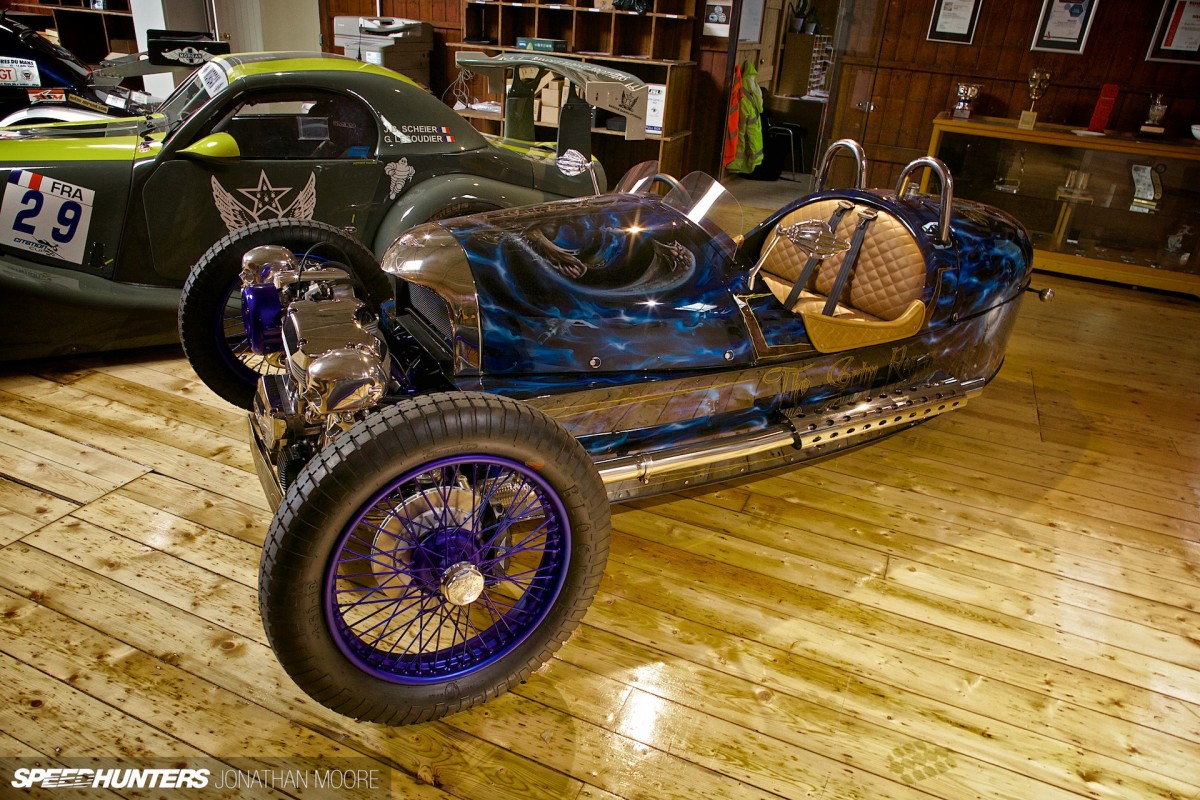 At the other end of the spectrum in every sense was this modern 3 Wheeler, destined for a customer in the USA. It's been heavily customised to order, with a bespoke, hand-sprayed paint job and plenty of wild touches  – like those skull headlights! You really can ask for anything…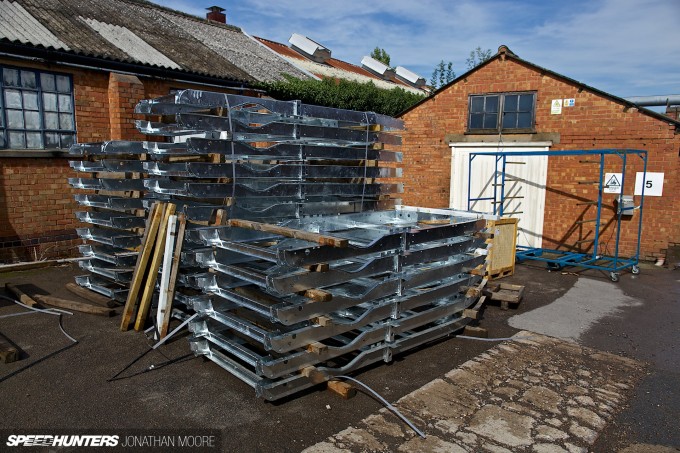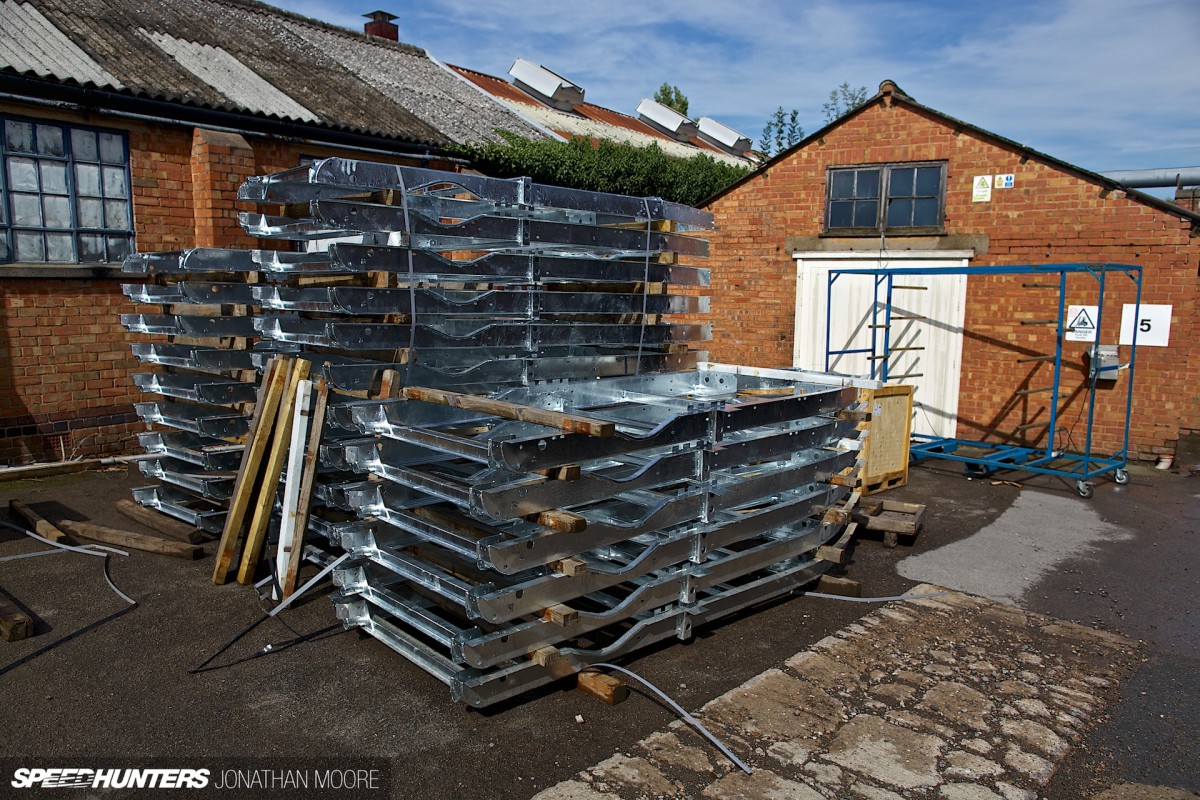 Building a Morgan follows the same process it has done since pretty much the dawn of time, with new materials and processes helping things along where appropriate. This isn't due to a lack of imagination, just because it works. Out the back of the next main building down the hill was a stack of the backbones for a 'trad' Morgan – galvanised steel ladder frame chassis.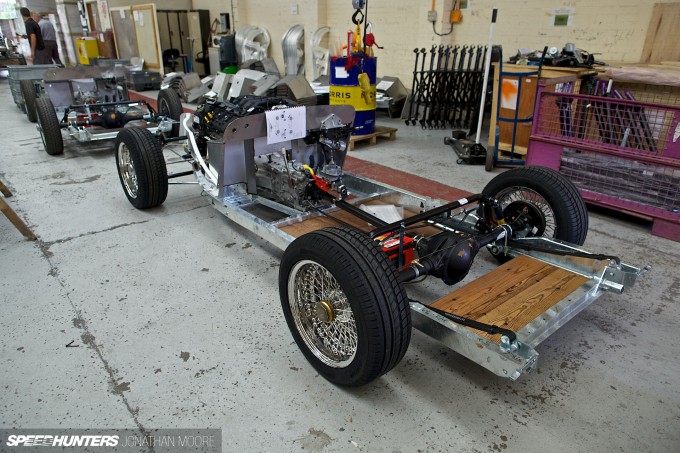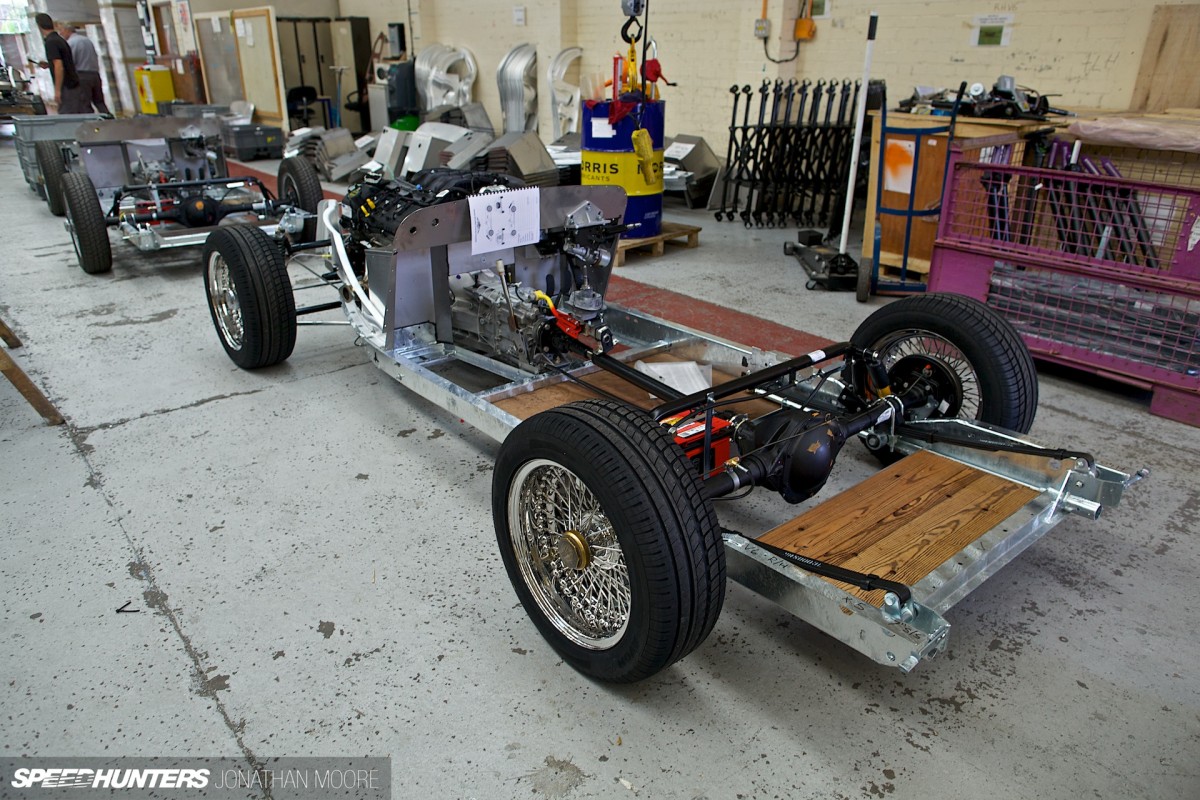 In the chassis shop, rolling chassis are made up both of the traditional cars and modern aluminium cars, the Aeros and Plus 8s. The two platforms, so alike in aesthetics yet so different underneath, have their engines installed along with transmissions, suspension and slave wheels to carry them through their build process.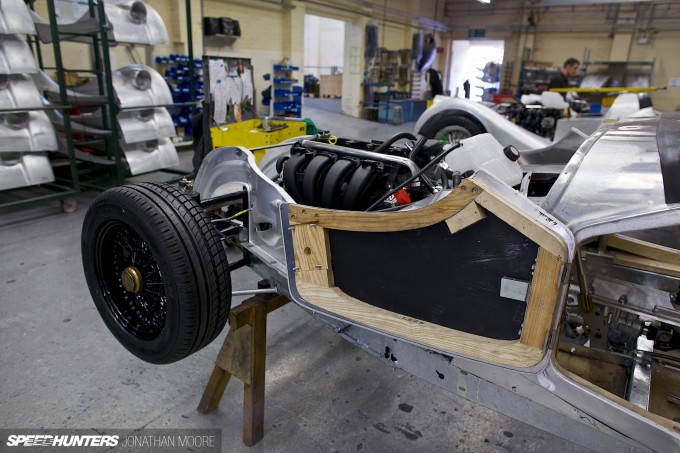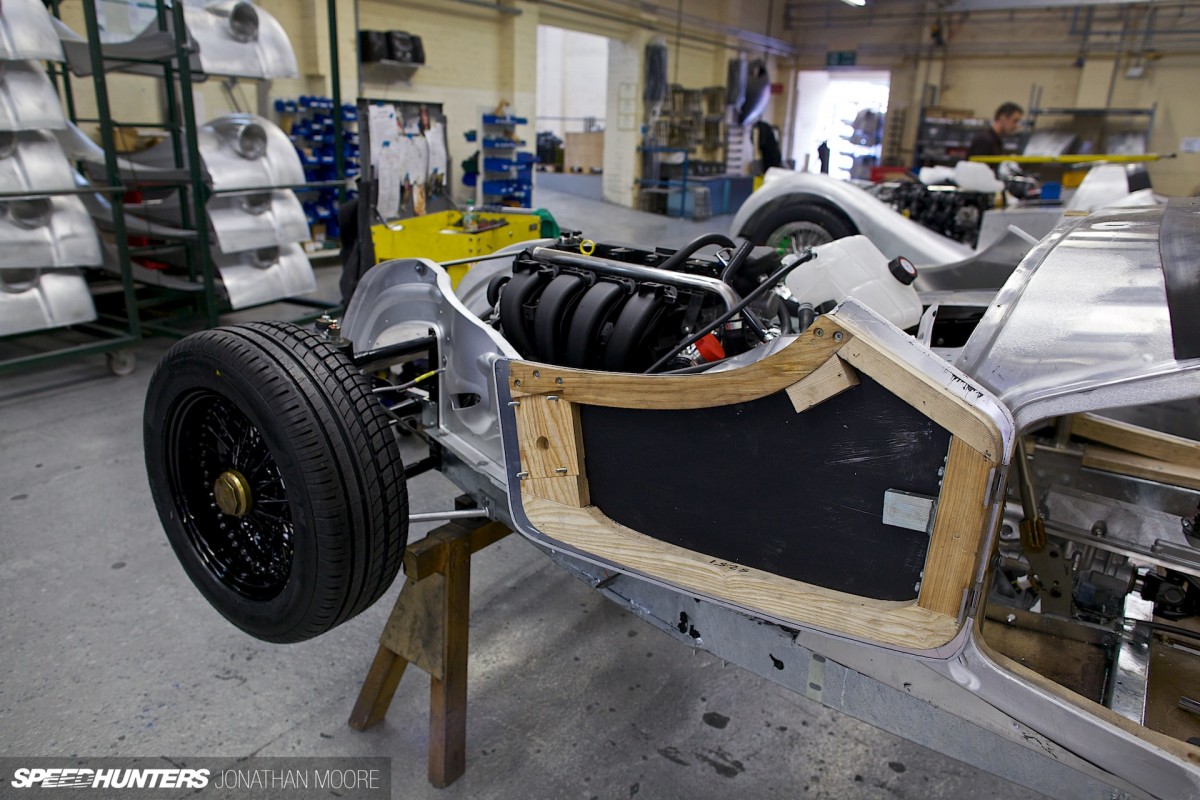 The different 'trad' cars utilise various forms of motivation, starting with a small Ford 1.6-litre paired with an MX-5 gearbox, up to a Cyclone V6. Even the entry level 4/4 with the 1.6 has 138hp/ton – the car only weighs an insane 795kg. The latter is 300hp/ton, which seems plenty!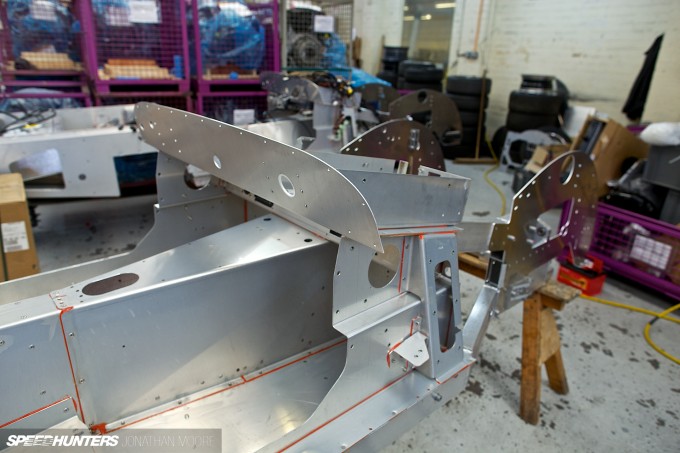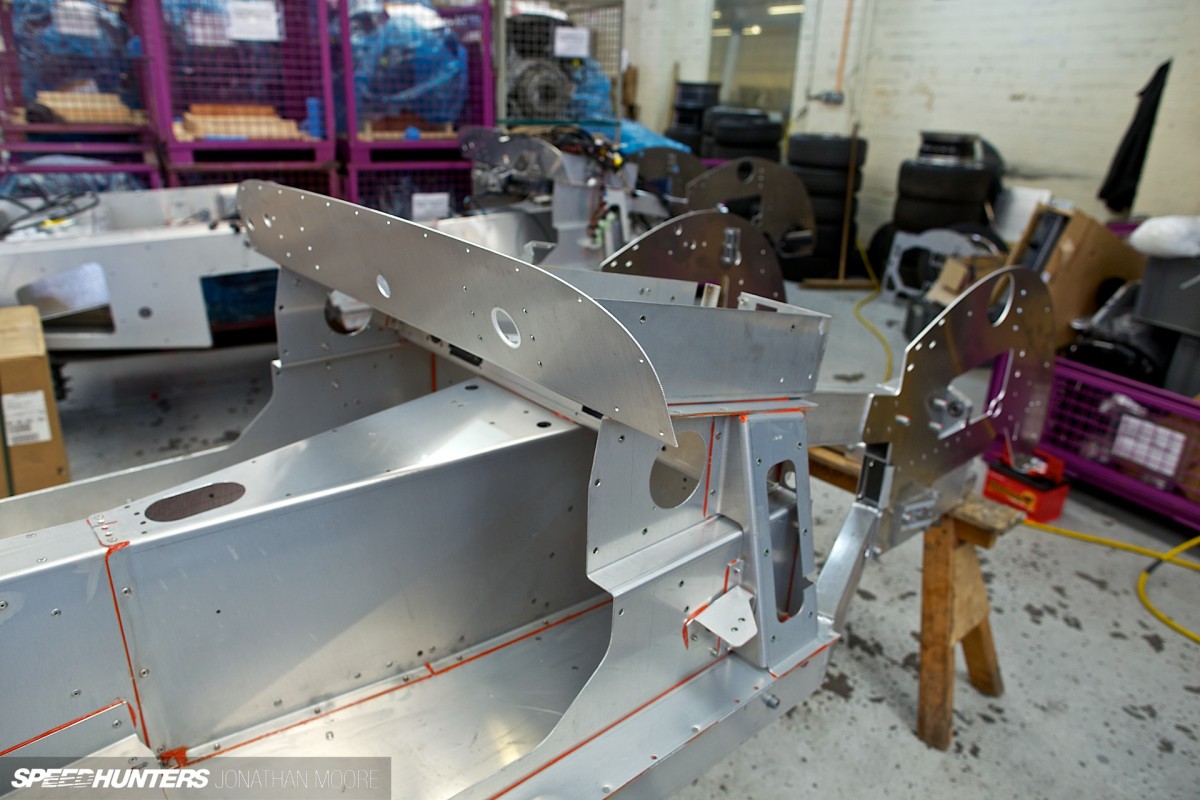 The aluminium chassis come in bonded and riveted from Radshape, based up the road near Birmingham. The engines are meaty 4.8-litre BMW V8s, plenty powerful in such light cars and shovelling mountains of torque your way – as I'd found when I terrorised the local hills in a stripped-out Centenary Speedster the day before.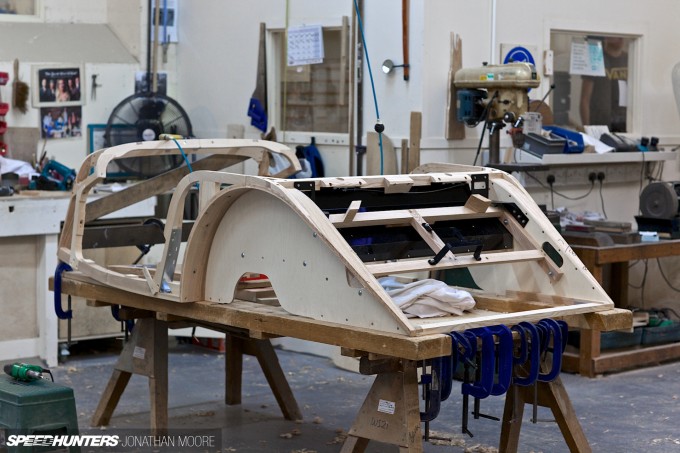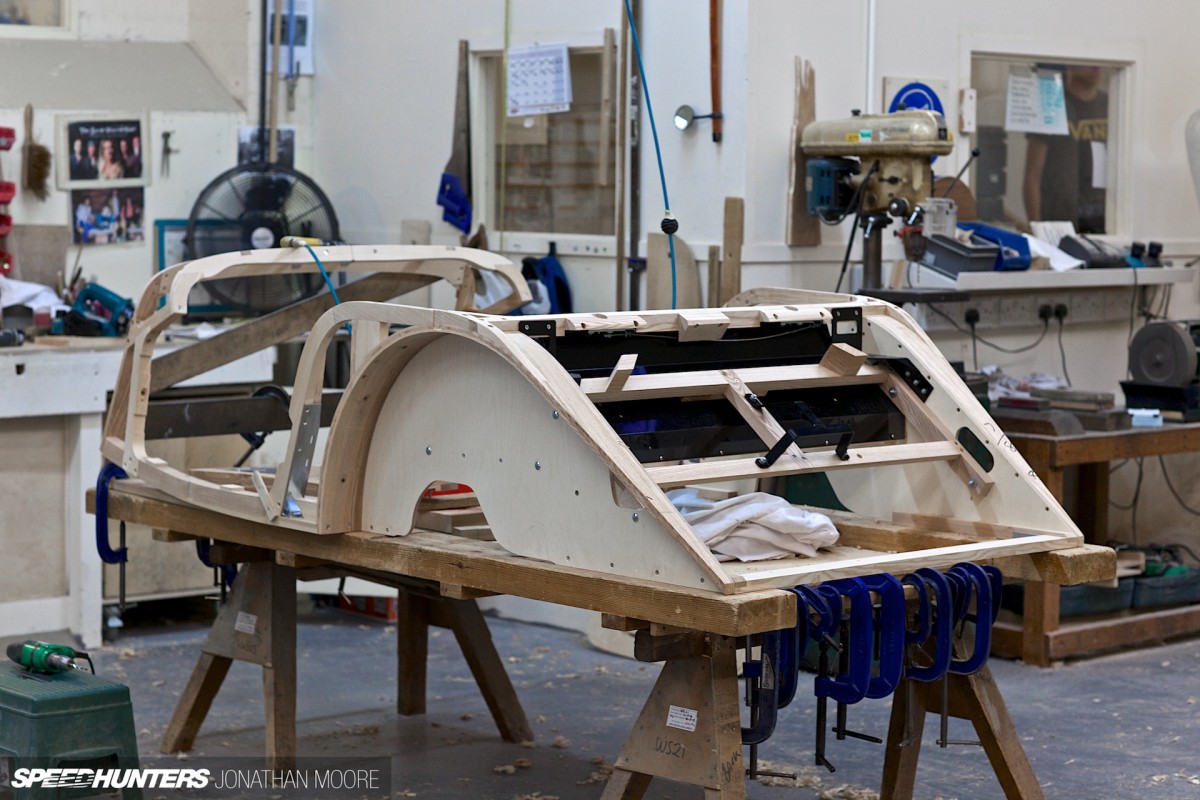 Whilst the metal chassis are being prepared up the hill, three buildings down it's a completely different environment. In fact, perhaps a unique one in the world of the automobile… The first thing that hits you is the smell – that delicious soft smell of the ash. Second, it's the calm and relative lack of noise. Out back is a saw mill for getting the pieces of wood into basic shape, but in here it's chisels, planes and saws. It's amazing.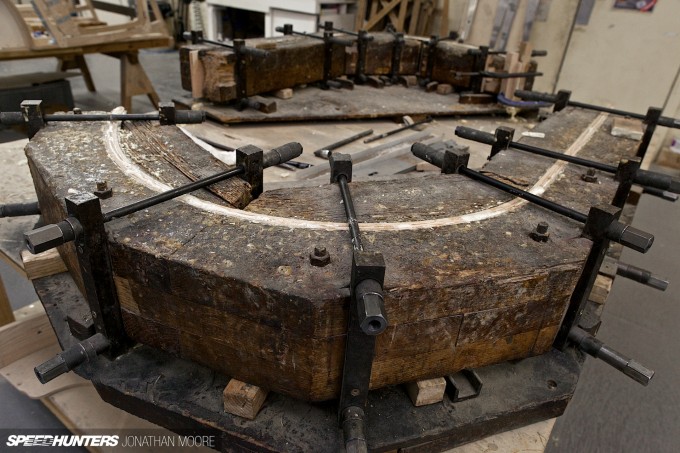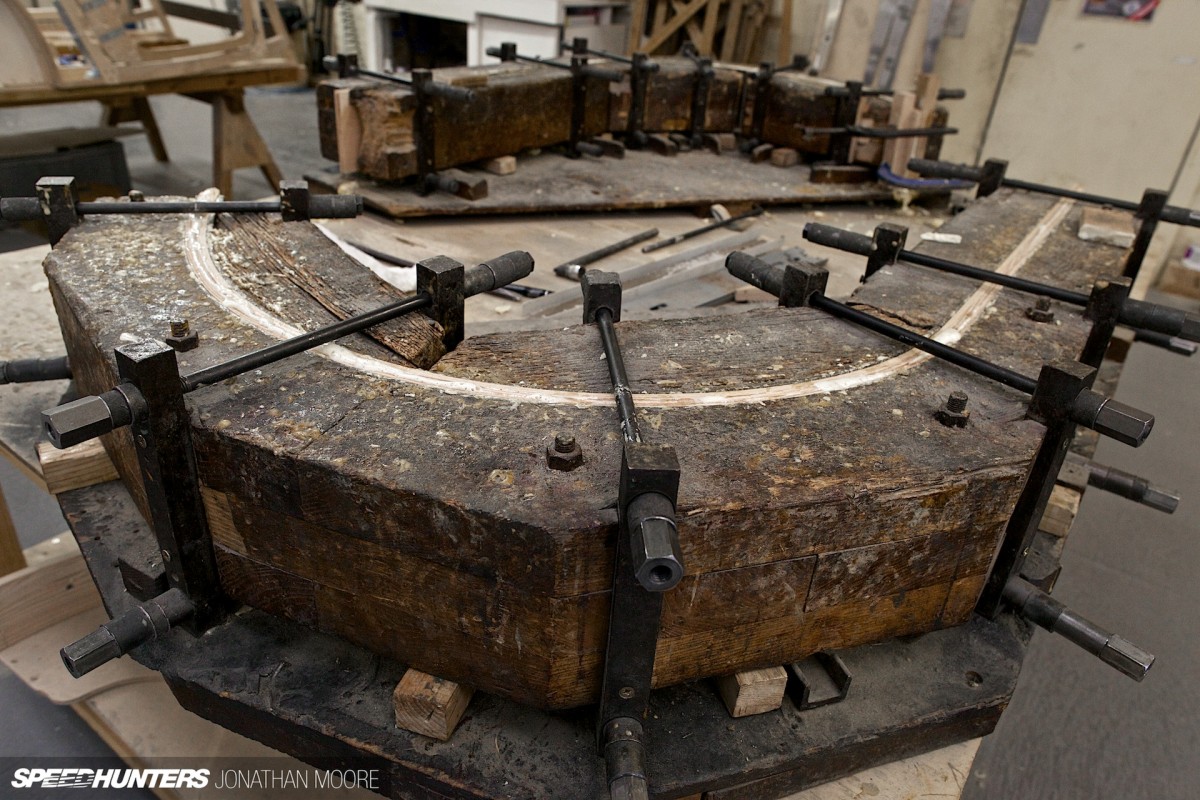 The curvaceous rear arches are formed in the old style:  glued together into a laminate and manually bent into shape using a former which itself is 65-years-old and still going strong. Previously taking hours if not days, modern glues mean the pieces can be removed and worked on after just 45 minutes. Again, it's the clever use of modern technology to improve rather than replace traditional techniques.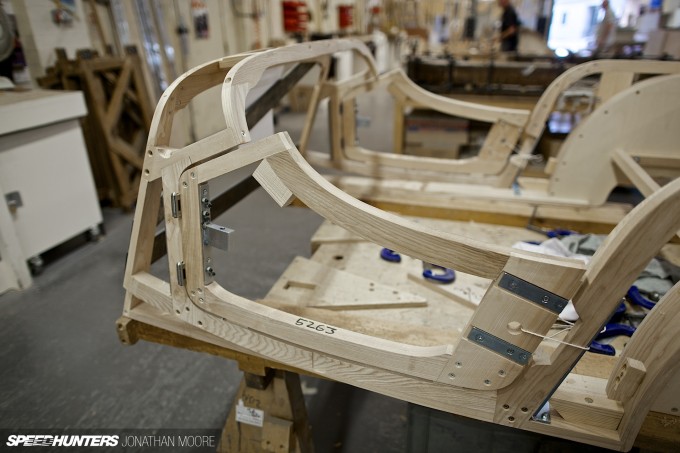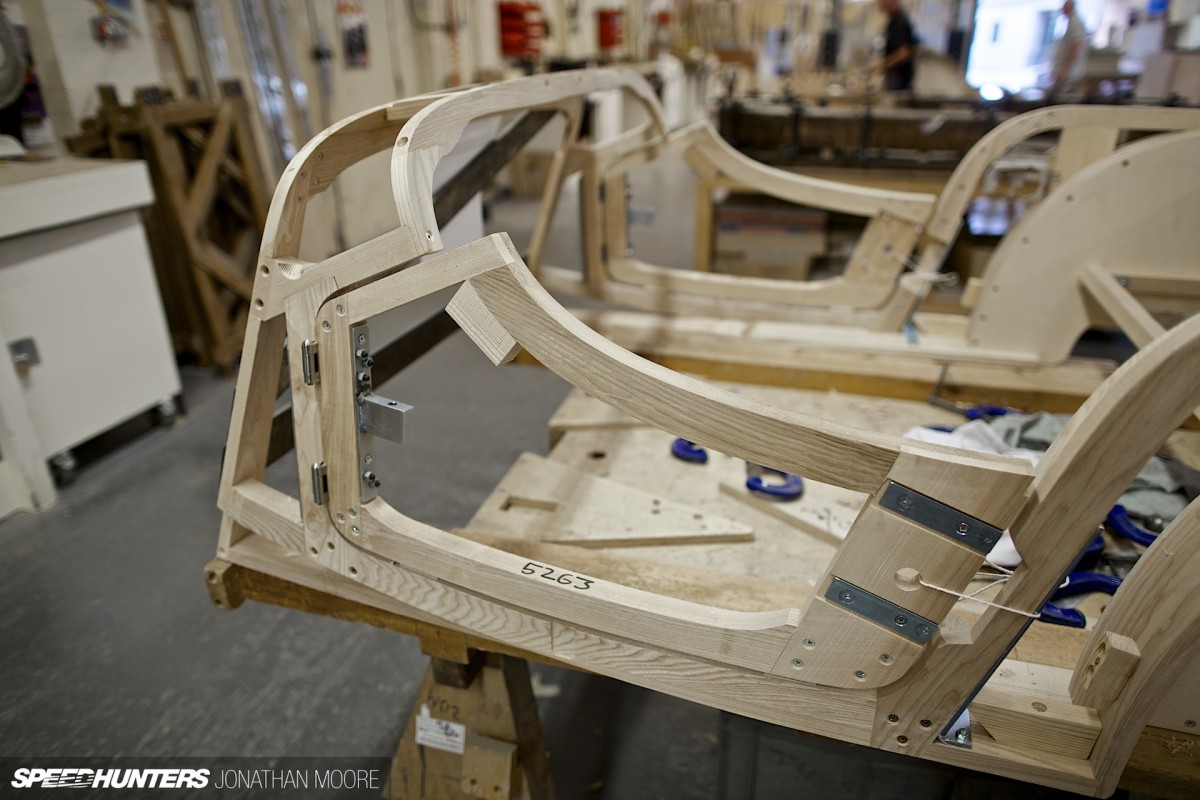 Each body takes around 13 hours to complete, starting with fresh pieces of machined wood being put into the skilled carpenters' hands. One of the team had 11 years experience – and was considered as being relatively new! But Morgan also have a strong apprenticeship scheme, taking on new recruits each year and teaching them these amazing skills. There are about 15 at the moment, and it would be no surprise to me if decades later they're still there. Morgan inspire that kind of loyalty.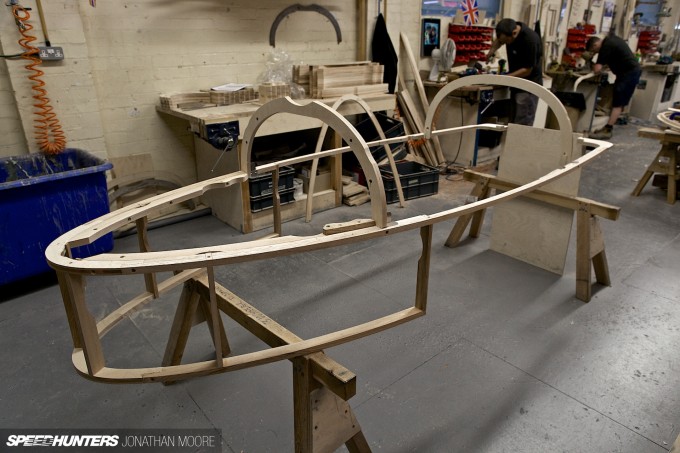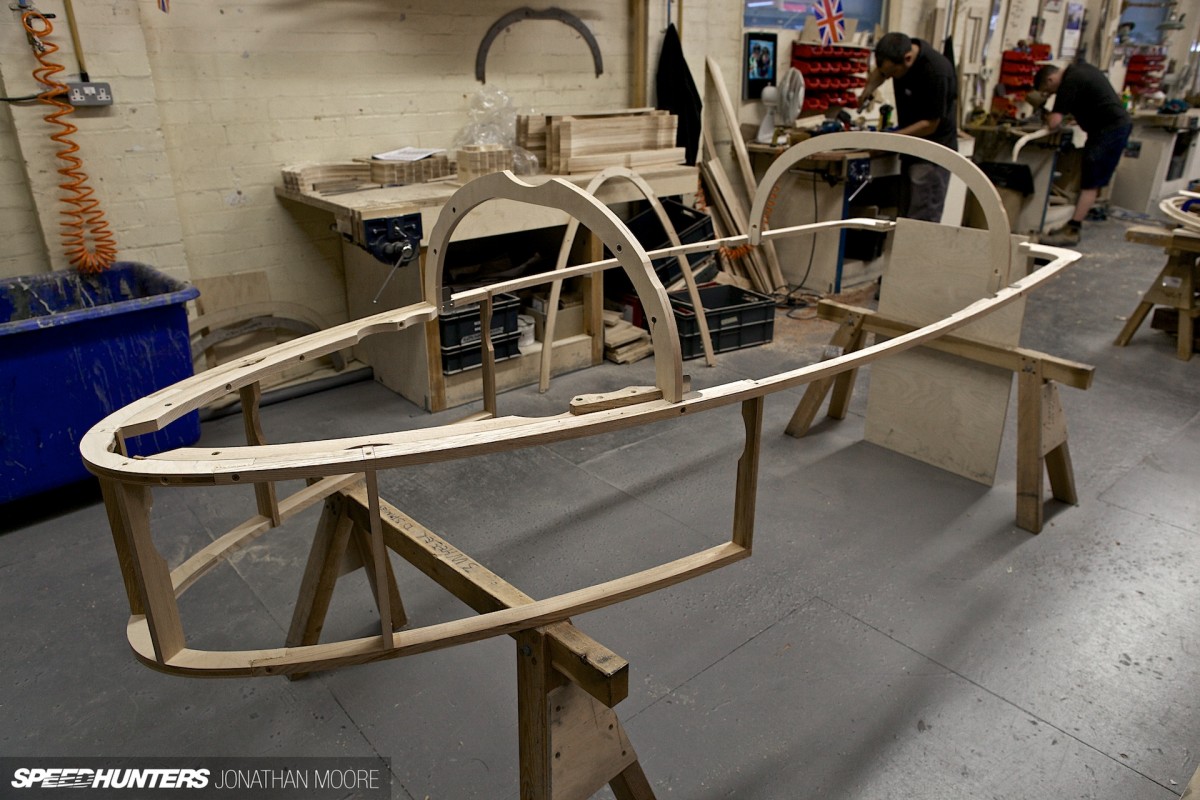 This was the part that particularly amazed me. Prior to my visit, I only thought that the old cars used wood, but the aluminium-chassis cars and even the 3 Wheeler also use structural wooden parts. On the former, wood is used in a sandwich between the chassis and outer skin to strengthen and increase the life of the body, and for the latter ash is used to create the boat-like structure over which the aluminium 3 Wheeler body is draped.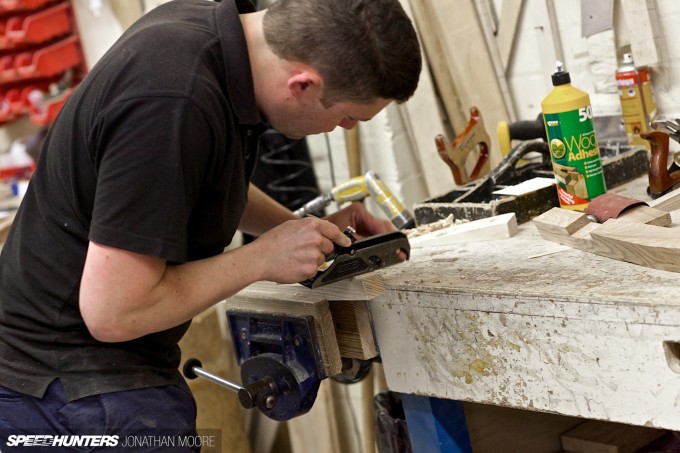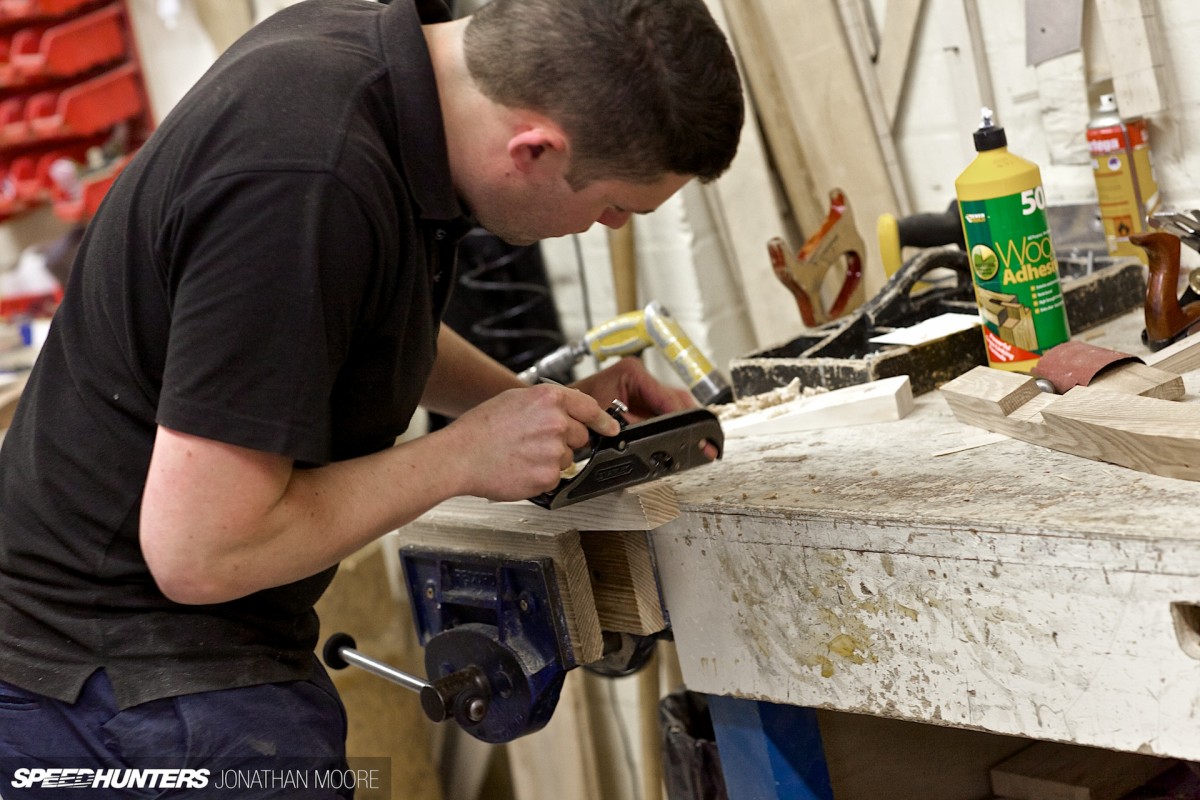 Skill doesn't even begin to describe the level of finesse here. There's such confidence shown in the workforce that they're actually bringing more and more processes in house. how many car makers can say that, big or small? The teams are encouraged to work on their own projects out of work hours, and in a lot of cases have proven skills way beyond what's expected. New veneering techniques have meant that now Morgan create their own dashboards, for instance. It's meant not only better quality, produced quicker, but even more options for the design teams to benefit from.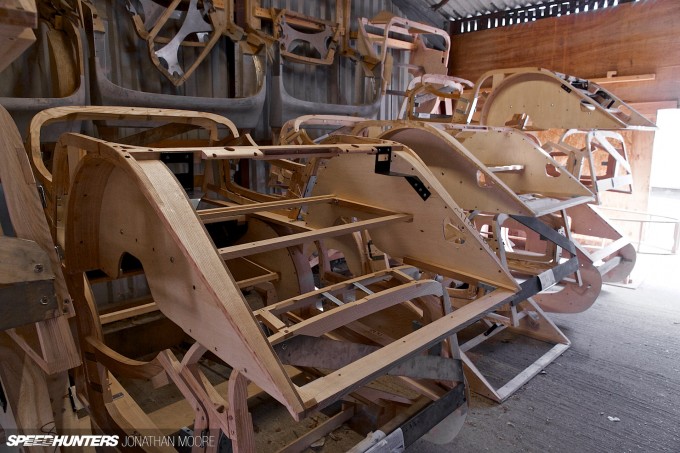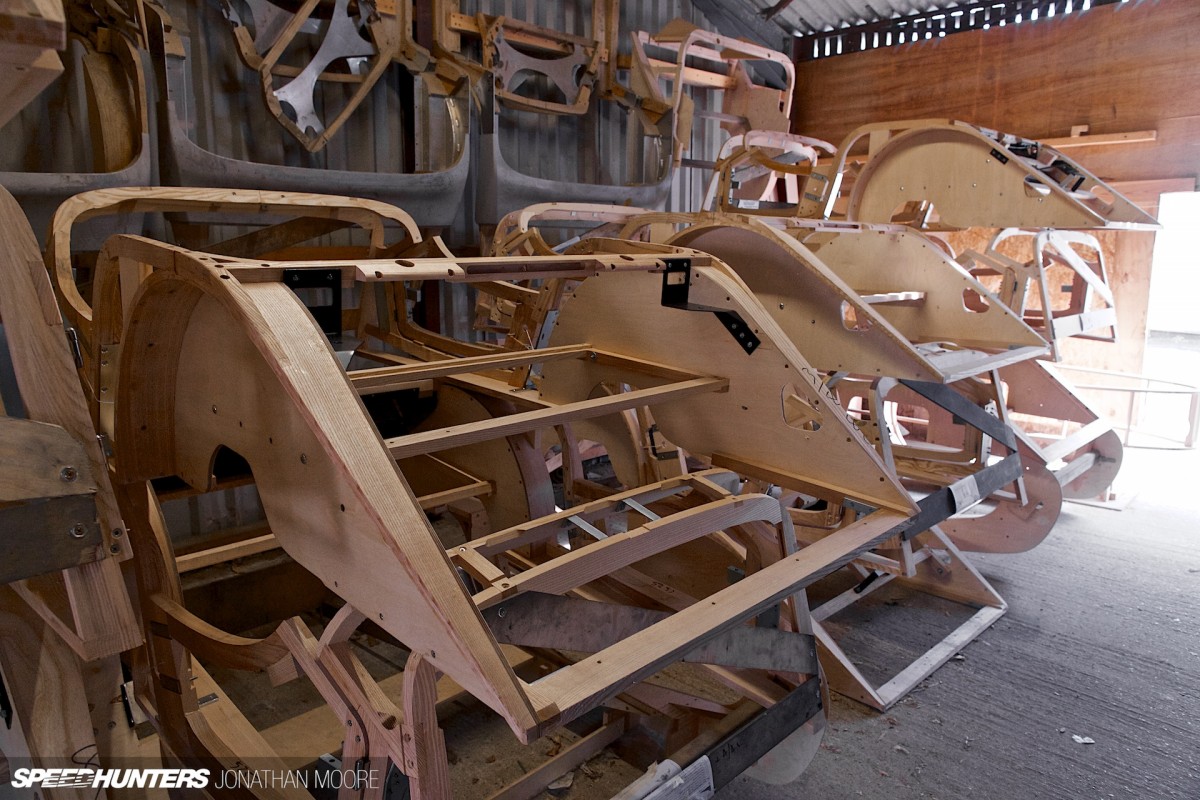 Once the components are completed, they're stored before being dipped and treated.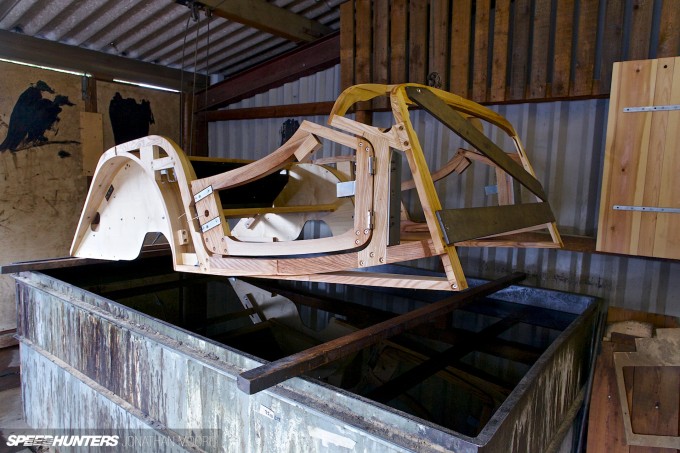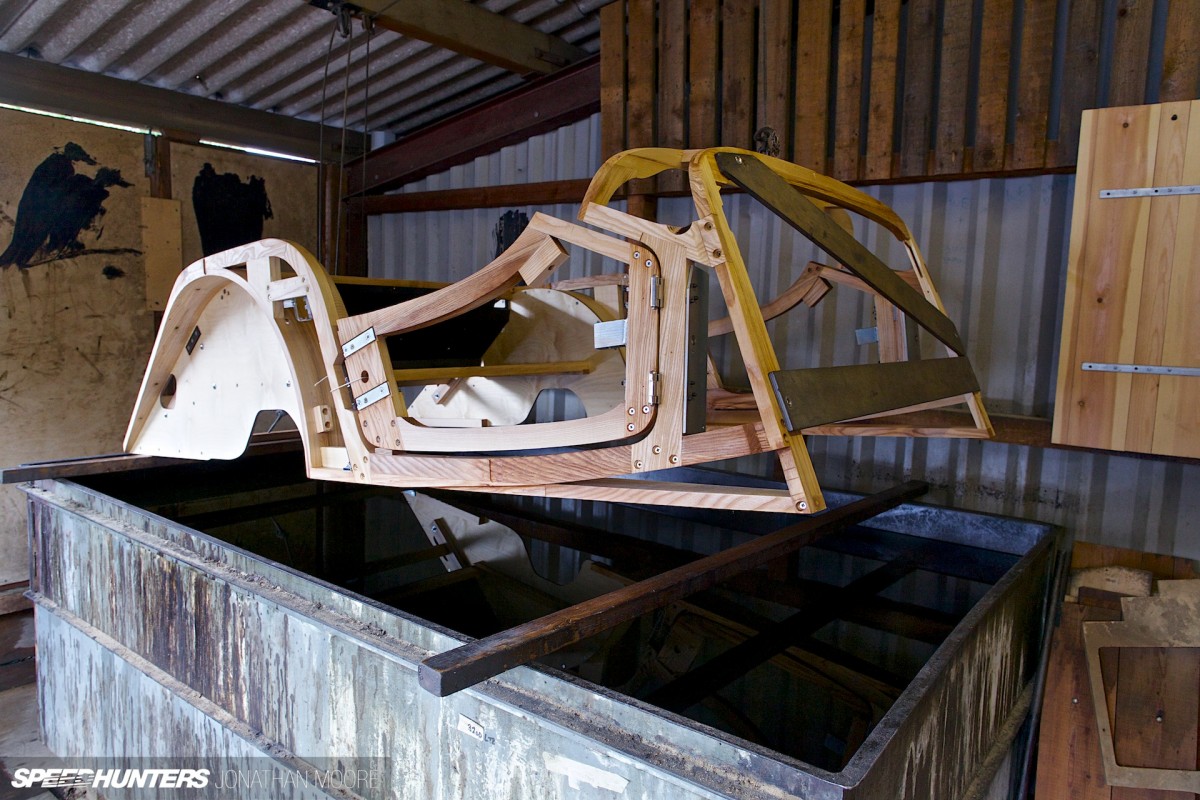 The entire frame is lowered into a tank containing a secret cocktail of chemicals to protect and strengthen the wood.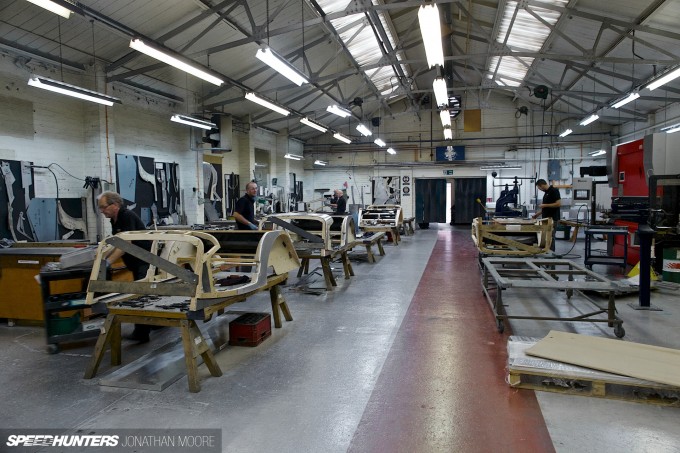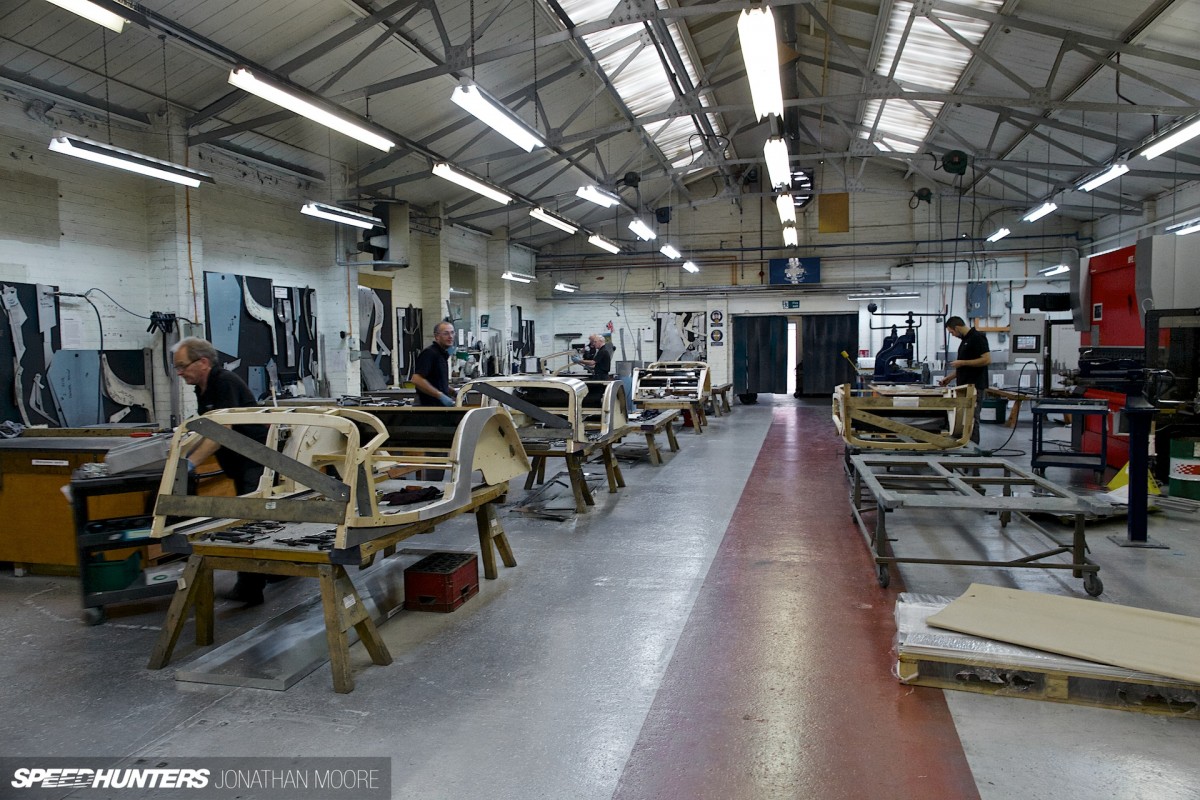 In the neighbouring workshop the ash frames are lovingly encased in hand-beaten metal skins. There is, shockingly, a machine in here – a press that has helped the team make more of their own parts in-house.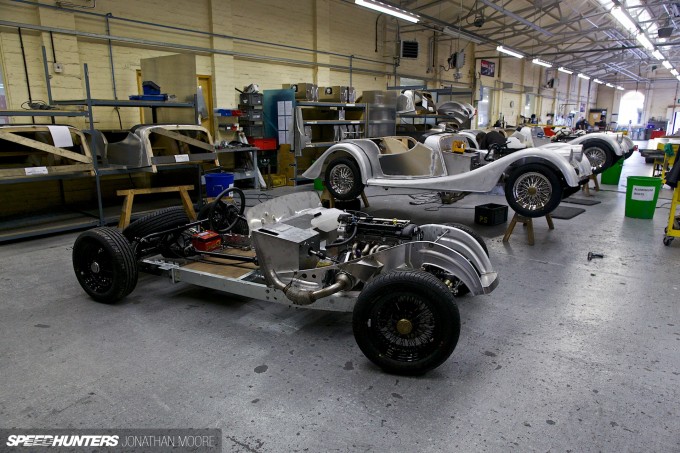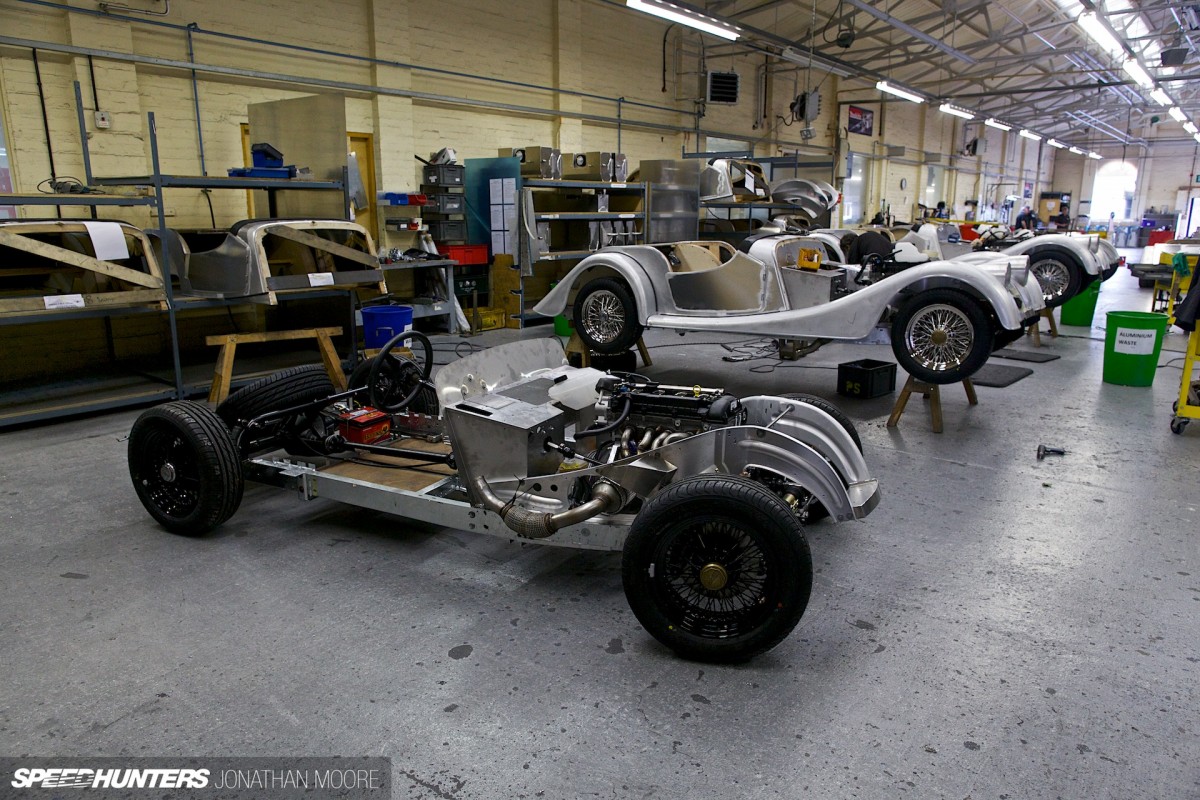 Moving back up the hill, the rolling chassis are matched up to their waiting bodies, wings and cowls and for the first time look like the cars they're destined to become.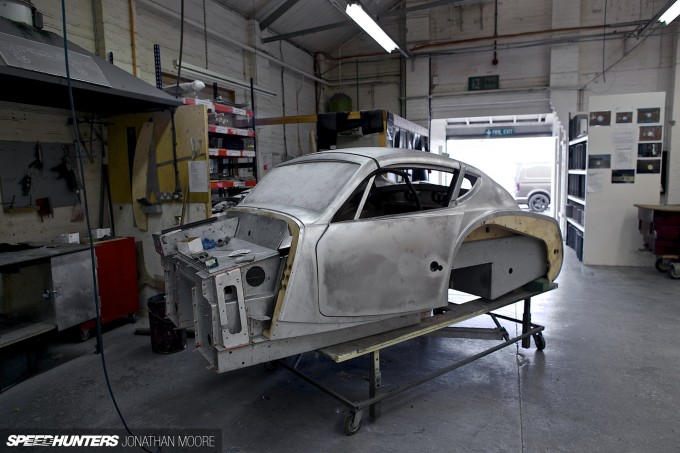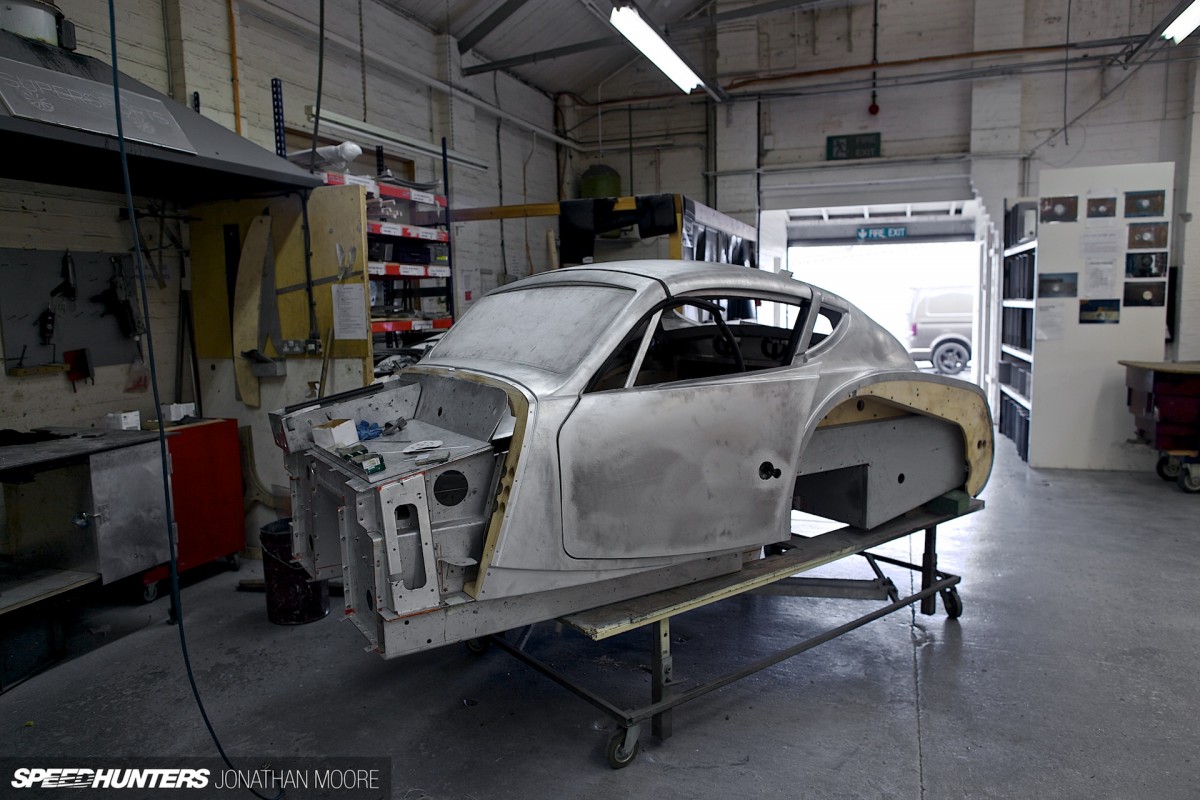 There are also the large coupé bodies to deal with, ready to be plugged into the chassis and engine combination. At this stage you can see exactly where the ash is used on the cockpit.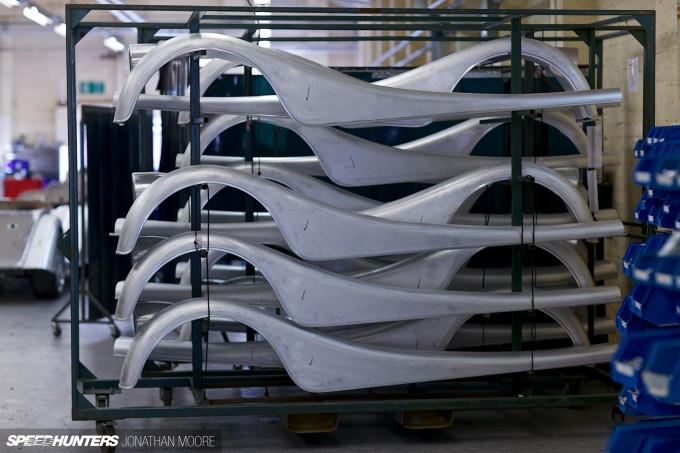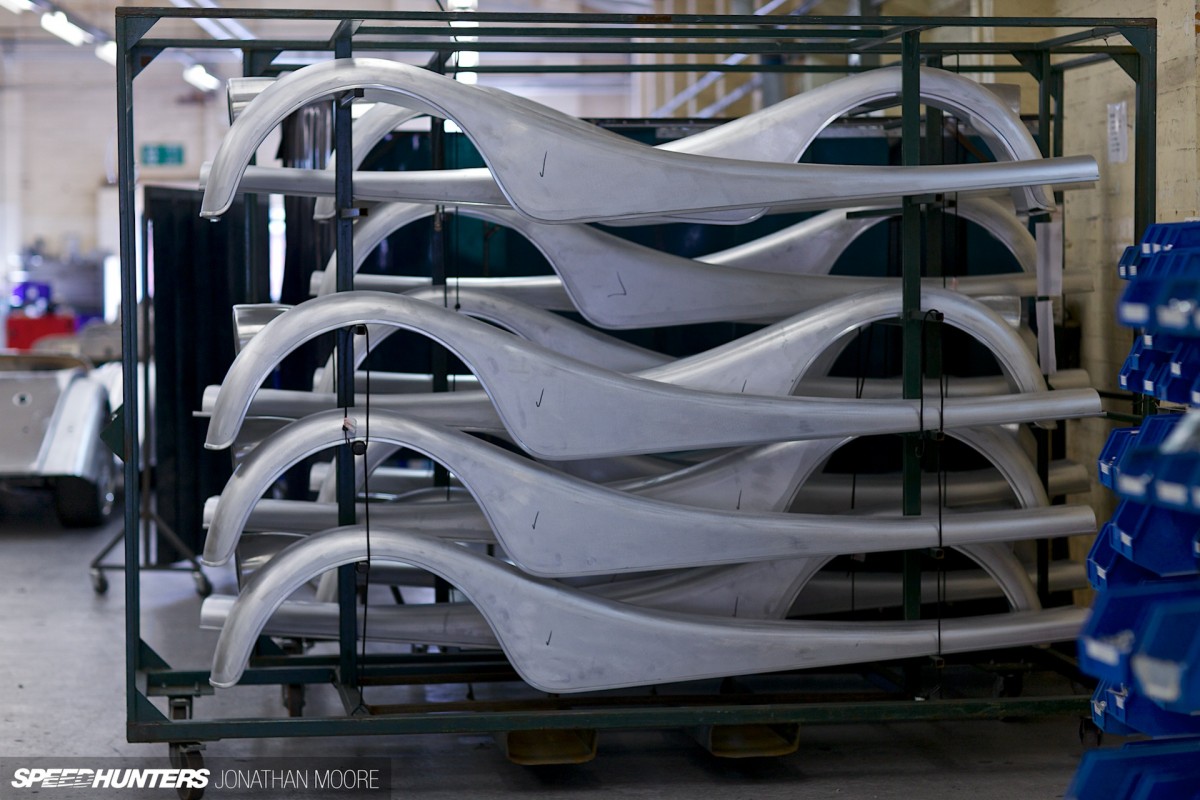 The fender wings are super formed. A local firm produces all of Morgan's wings and panels, producing them from the modern technique of heated metal sheets shaped in a vacuum press. The result is much lighter than steel, but allows for one-piece creation of complex, organic shapes.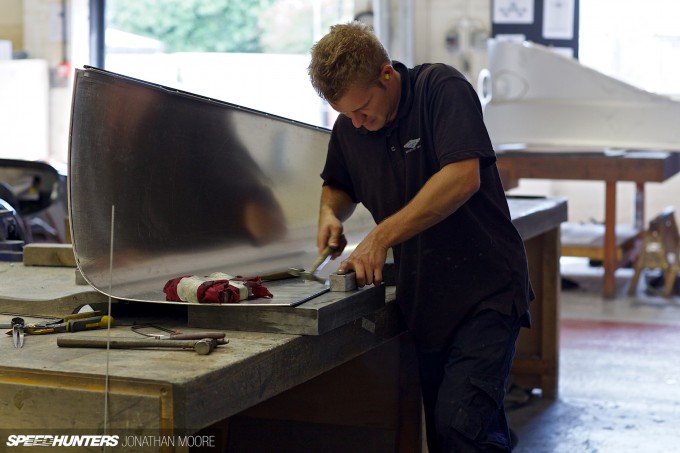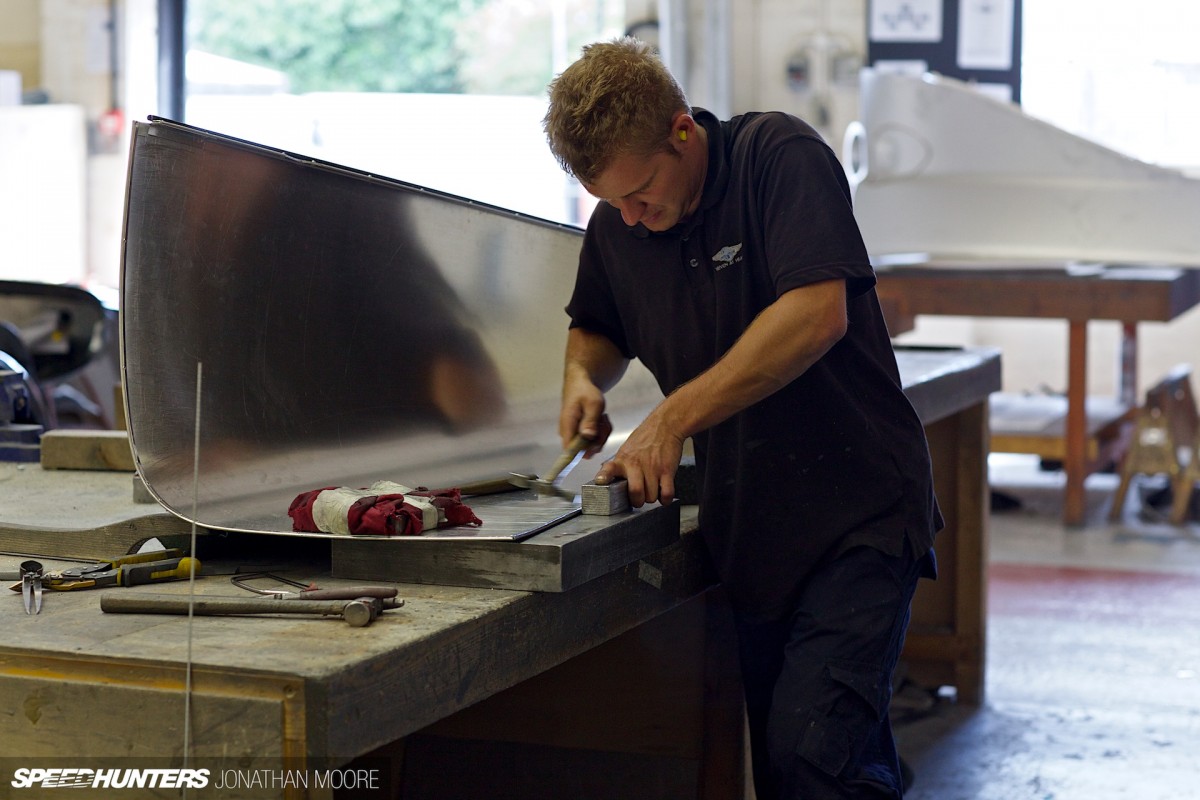 Yet at the next station, there's another Morgan quirk. A team of specialists make each and every Morgan bonnet entirely by hand, starting with a flat sheet of metal. Cutting, snipping and hammering, the bonnets are teased into the precise curve required, louvres hand-stamped in as necessary.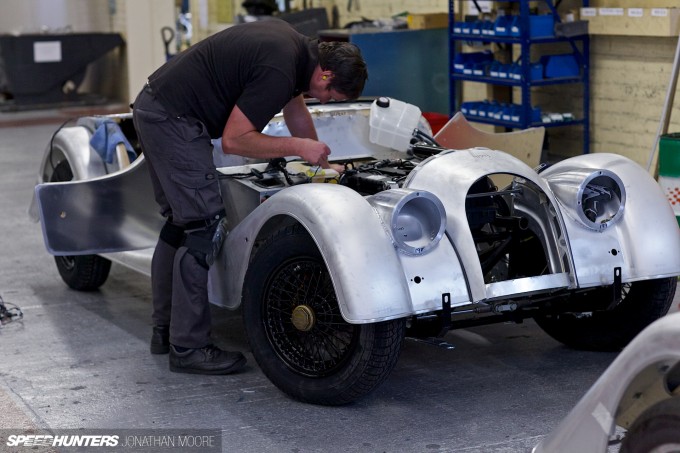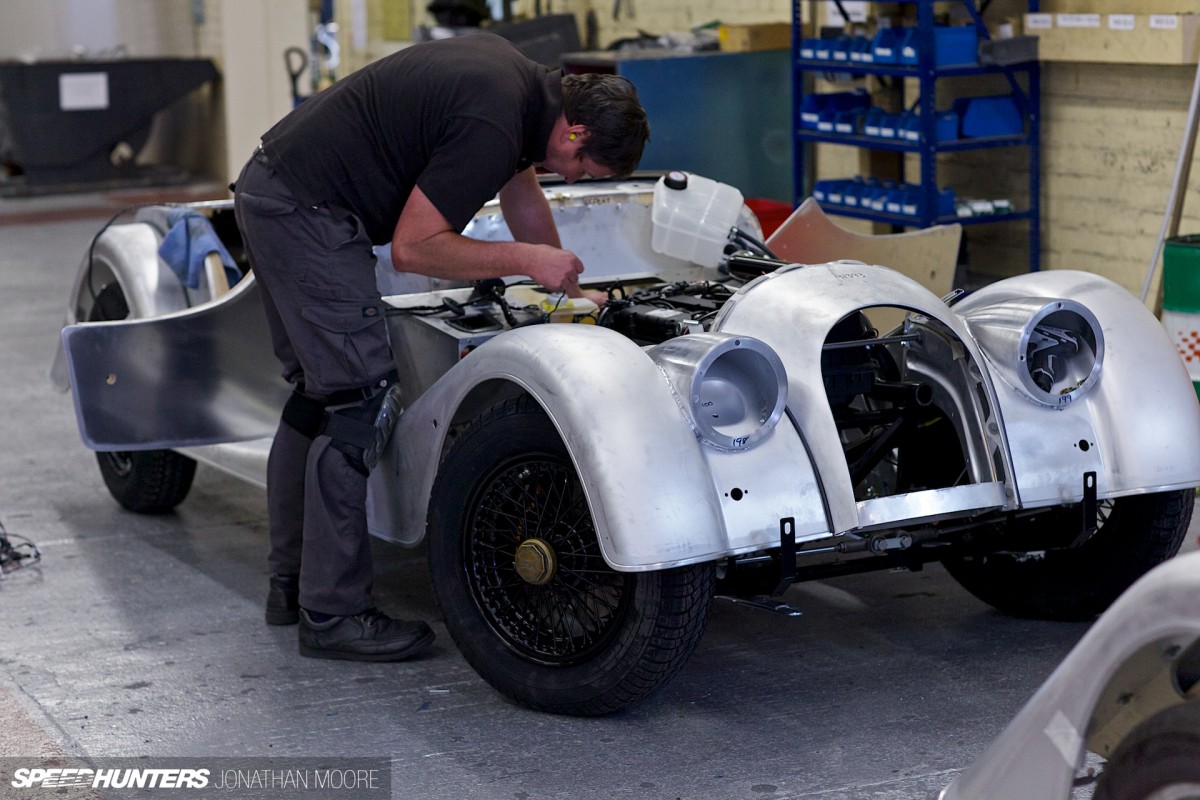 This was the first time I'd really seen a traditional model next to the aluminium-body car I'd driven, which had seemed enormous. I'd just assumed they were the same, but the engineer leaning over this car made me think again. The classic-shape cars are a good third smaller. It's a real trick of the eye, and a sign of good design, where the current Plus 8 provides a subtly updated and enlarged take on the original.
Bringing Things Full Circle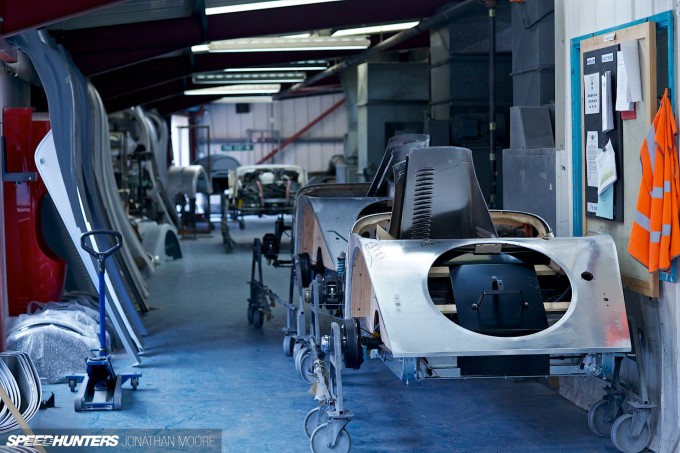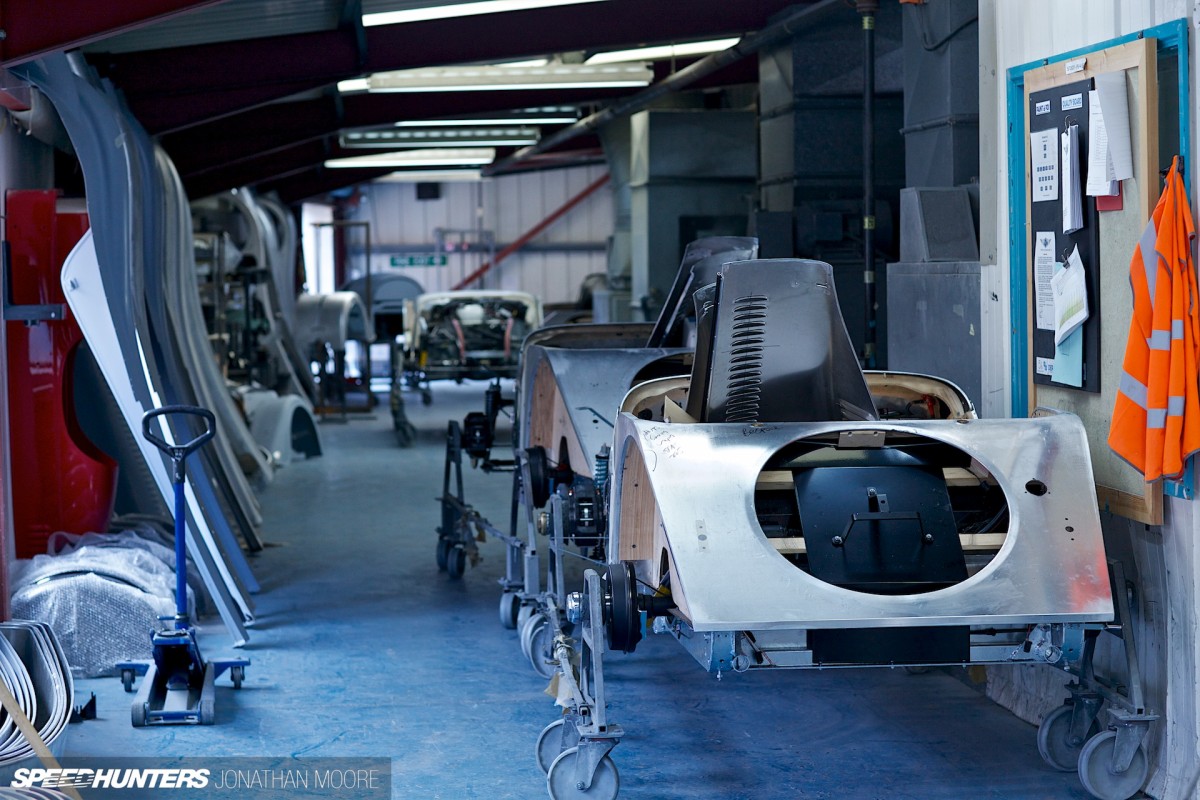 The painting and preparation workshop across the way is probably the only area that demonstrates a wholly modern approach. There's no other way to achieve the desired results – especially when you're offering a staggering 40,000 possible choices of paint options. Well, basically any finish you want.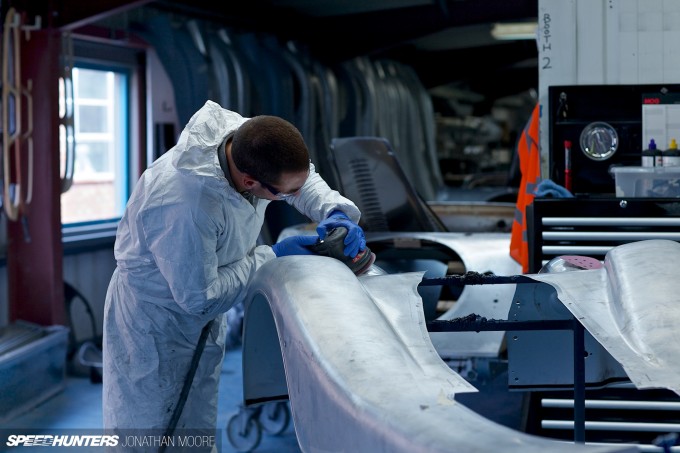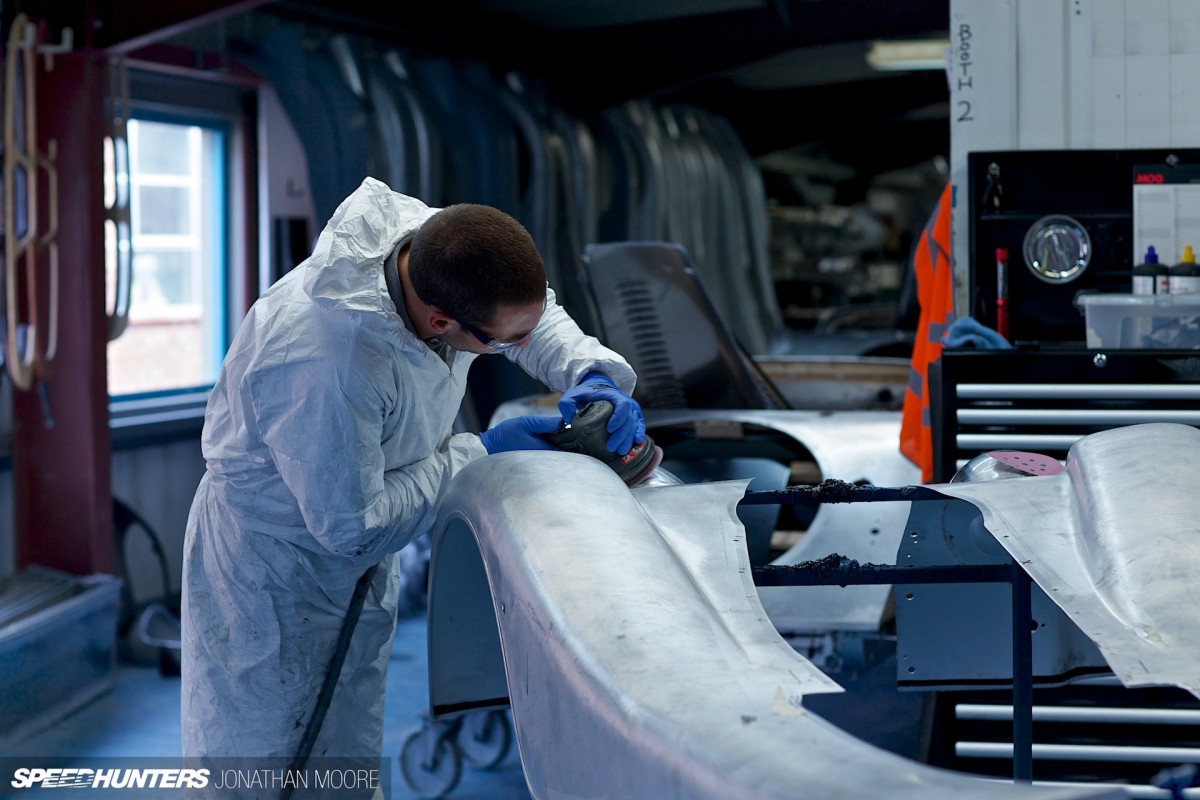 As with any car, the preparation for painting takes as long if not longer than the actual spraying process. Every part is stripped off and prepared, and painting can take a day with the repeated rub downs and sprays.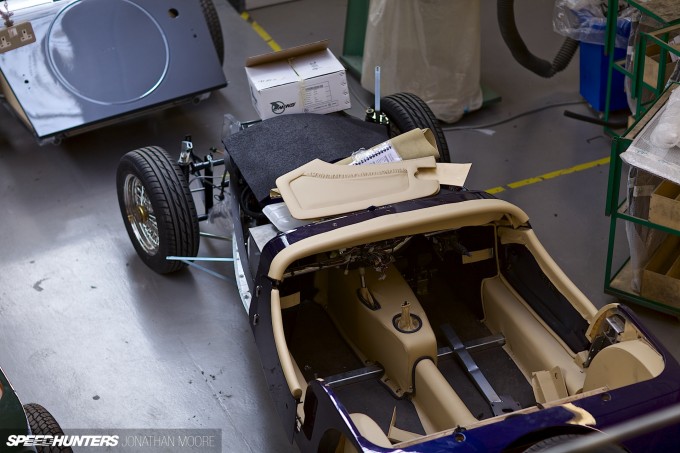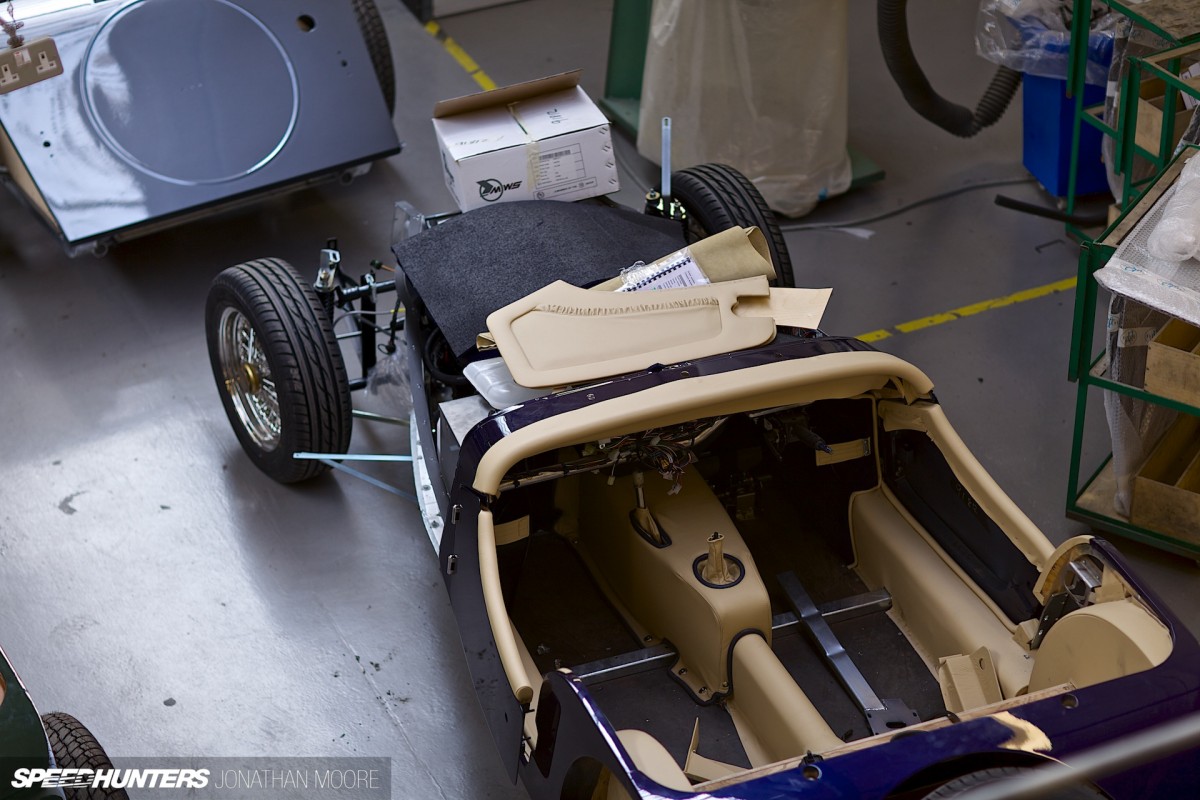 The cars are then reunited with their freshly-painted panels in the trim shop, which is where the cars really leap forward in appearance. In what seems an impossibly small area, a small team of experts work tirelessly on the stream of disparate cars that are thrown at them, each one edging forward a car length at a time as everything is reattached, rewired and interiors fitted out.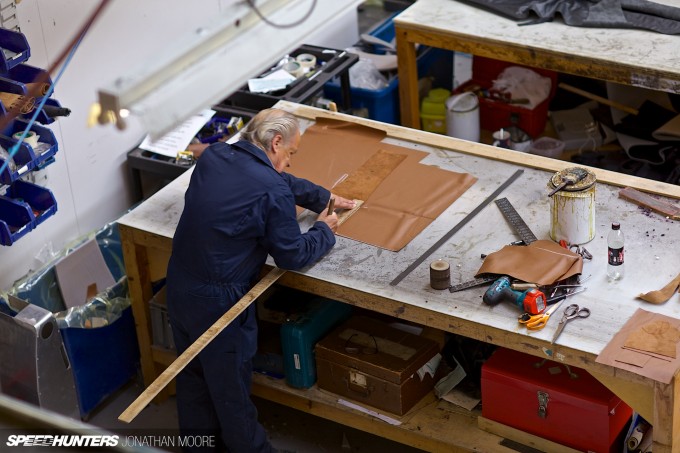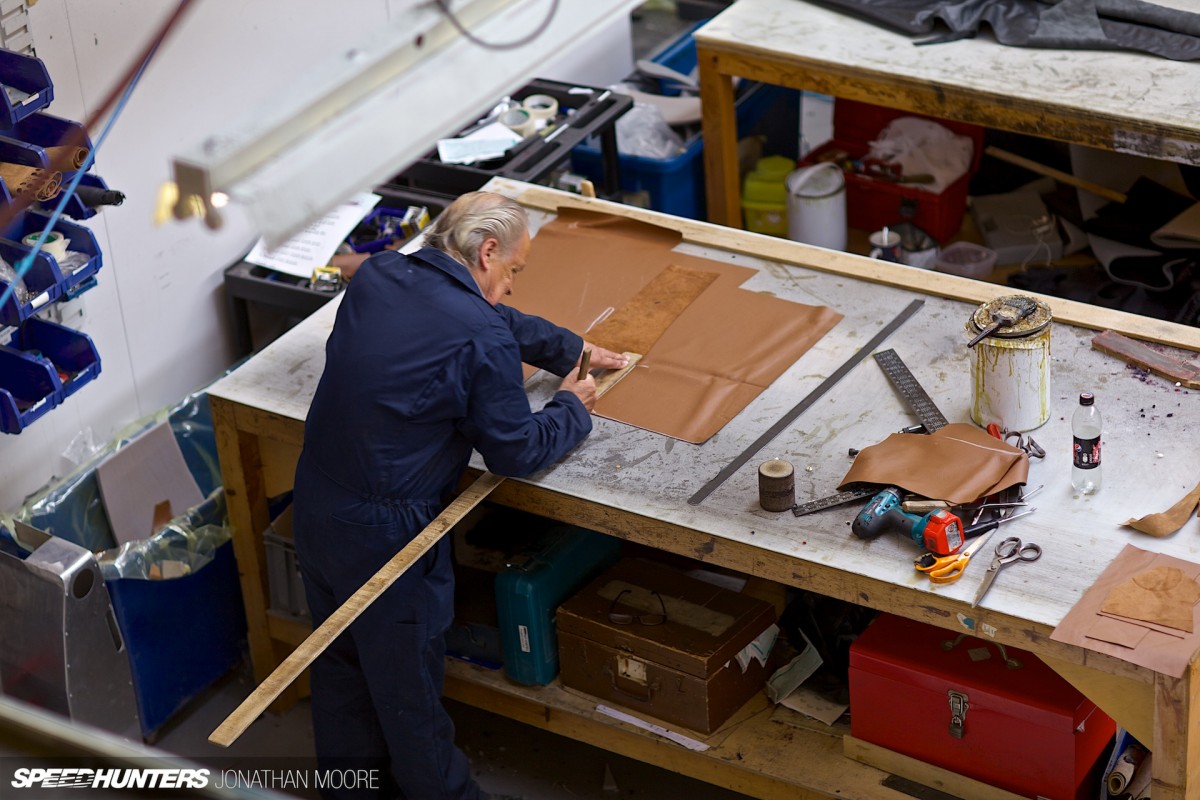 Morgan store around 100 different types of leather, with a dedicated specialist overseeing that area. The trim team are all ages, with Taff here proudly the longest serving team member at Morgan, with 52 years of service under his belt.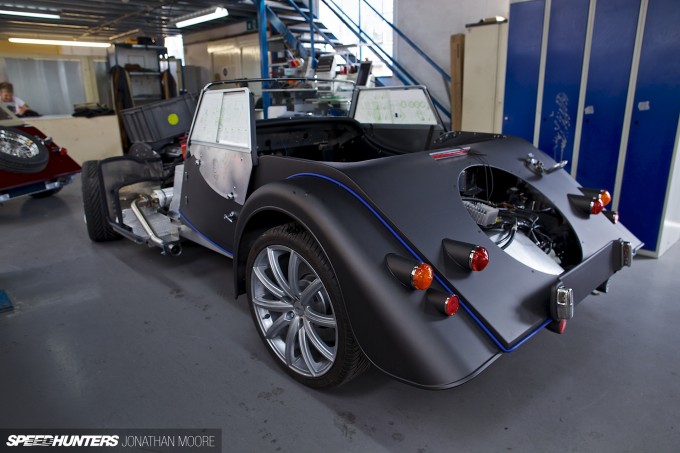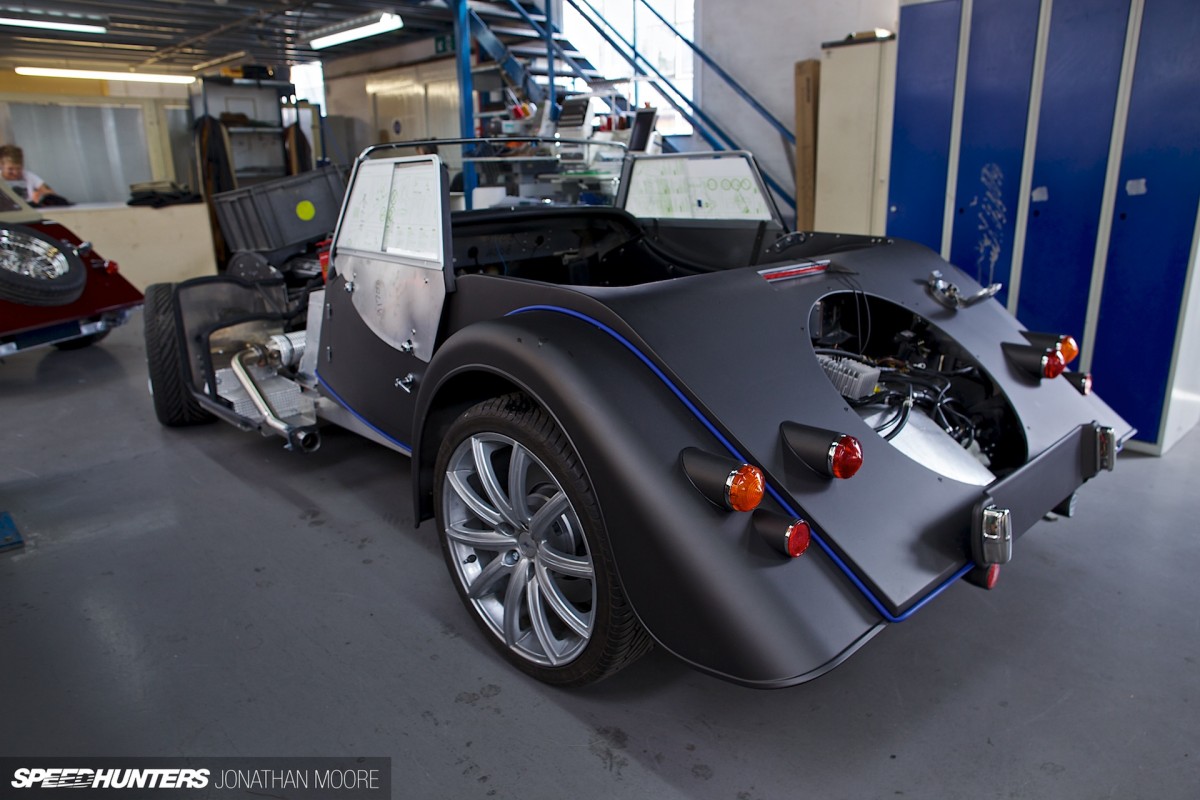 Matt finishes are really taking off, and coupled with the more modern lines of the aluminium cars make these cars look killer. This is one of the limited edition Centenary Speedsters – a car that could prove seriously life changing to anyone lucky enough to own one.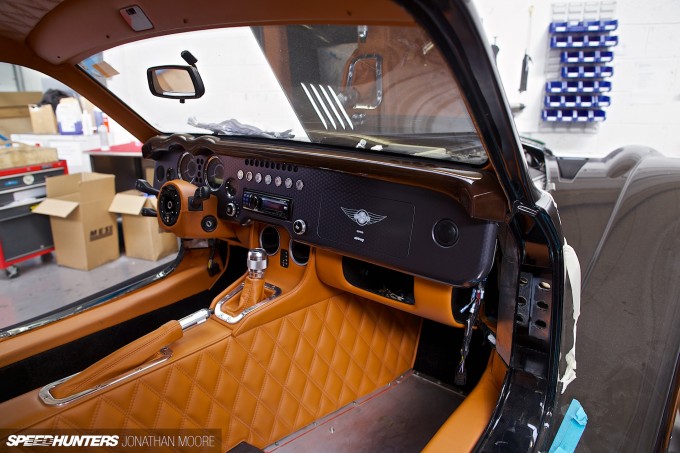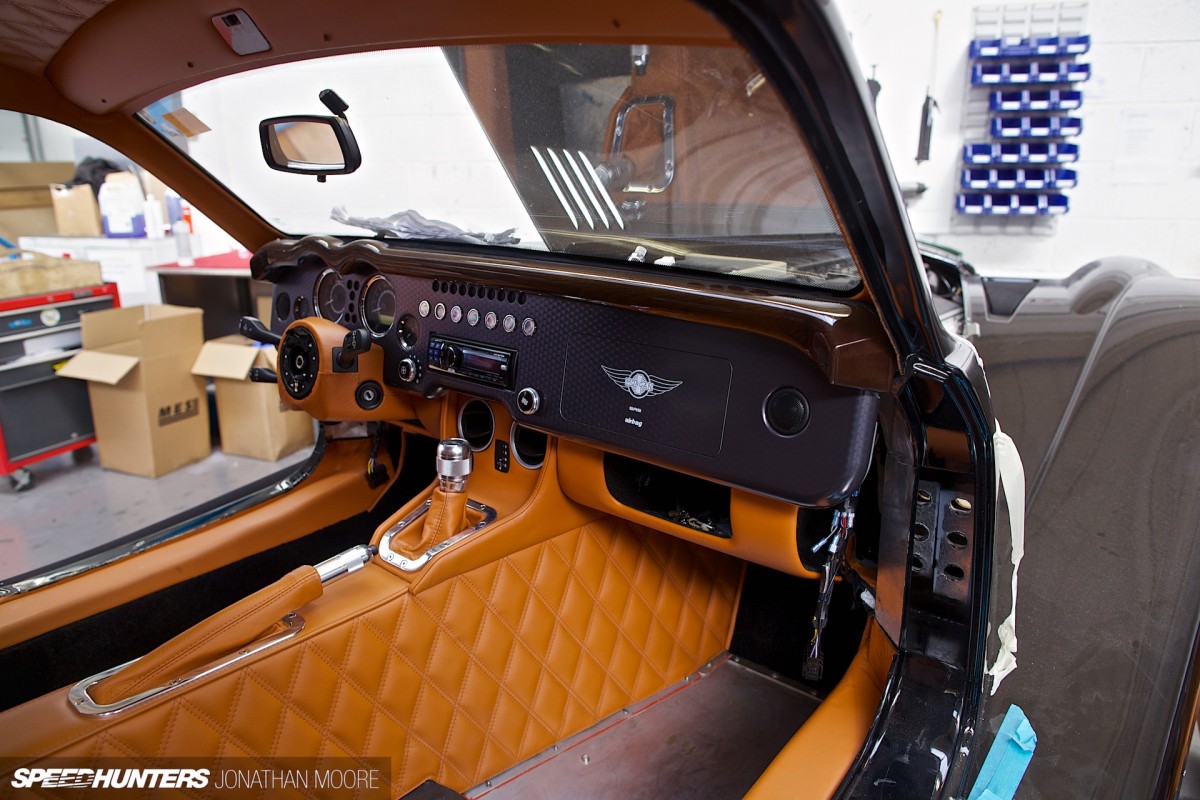 The interiors are, of course, finished to a superlative level. Cockpit finishes are as important to me as the coach-built exteriors – after all, that's the bit you get to see most if you own a car, and I love to see the exquisite detailing. This is inside the Aero Coupé, which is like being inside an art deco rocket ship – with the same amount of glorious noise thrown in.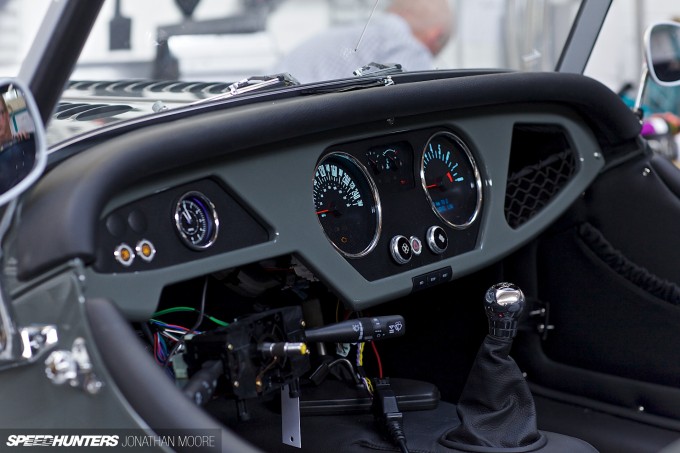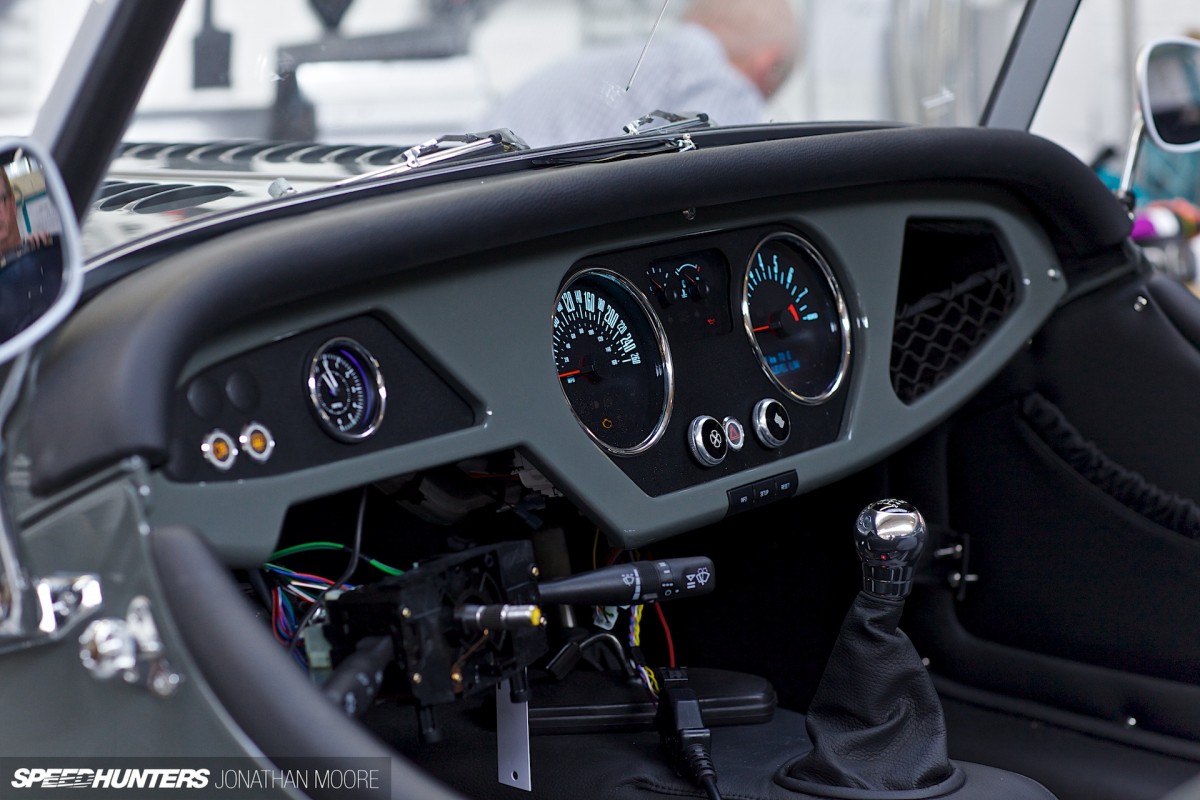 There's a particular look on the 'trad' car that I'm smitten by as well – army green with black detailing. With black knock-off wire wheels, it gives a completely different feel to the more mainstream look. Modern, especially with this clean but effective dash style, and with a black cockpit, this V6 Roadster was like a stealth racer.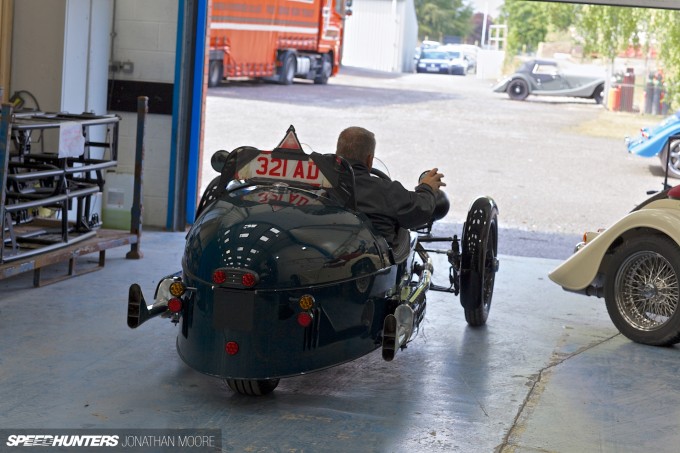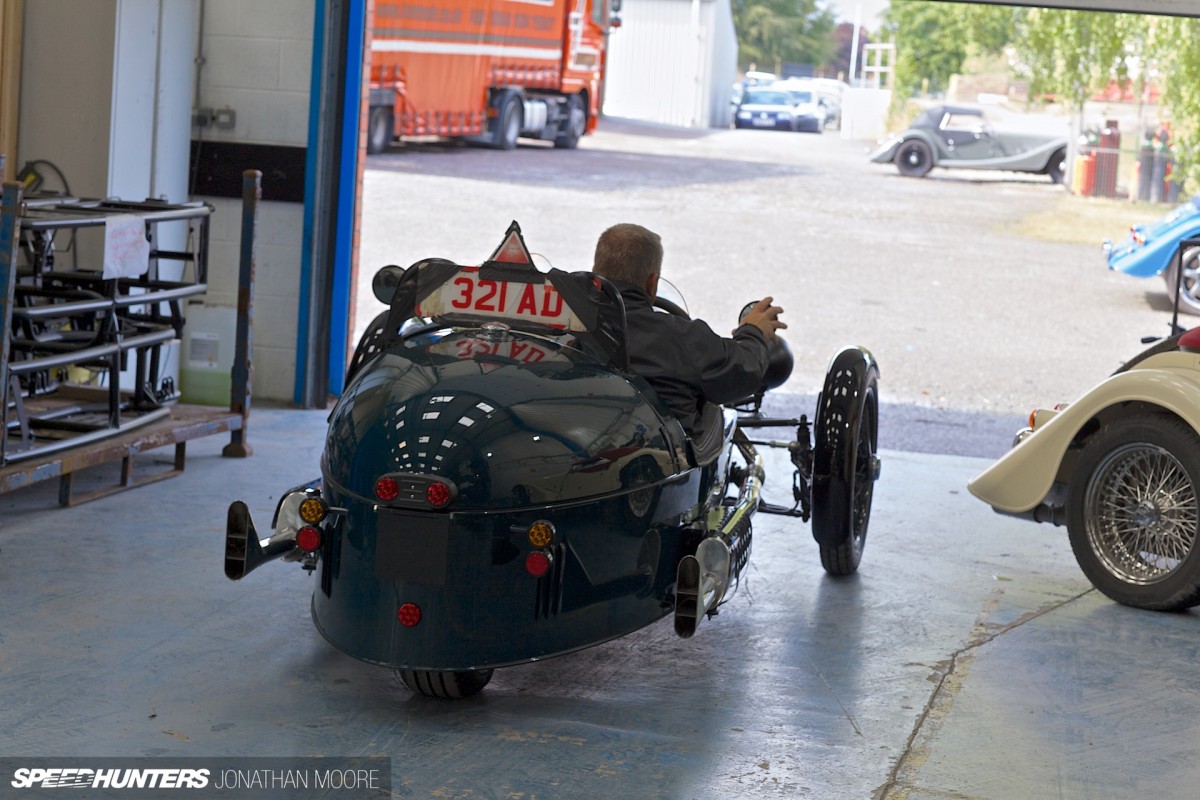 Cars are then taken out on test runs, and having sampled the surrounding roads, the test drivers have the best job in the world. The local residents, perhaps unsurprisingly, seem to still be captivated by seeing these wild machines bombing round – likely a combination of pride and general pleasure that you can't resist when you see one. A fully equipped PDI bay then ticks the final boxes for finish and spec, before the car is handed over to its new owner.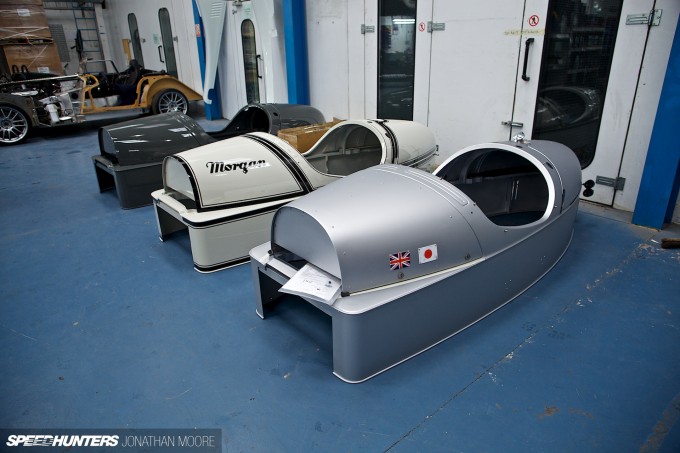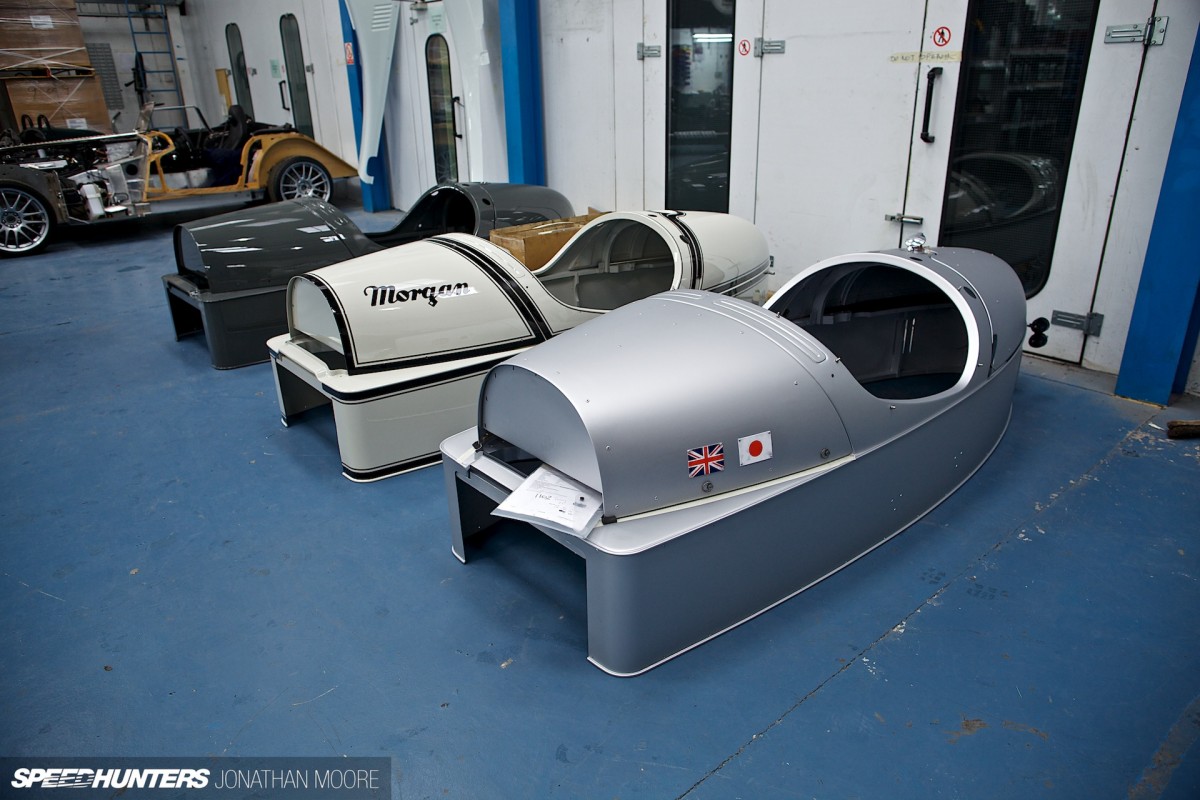 Morgan are treading a very sensible path with their cars. They know that tipping over a certain point would radically change not just the perception of the company, but also affect the hand-built nature of the cars. Although the 3 Wheeler has been a revelation, there's also the reality of scale. Bodies are completely made in-house, but the chassis are again created outside and brought in for completion.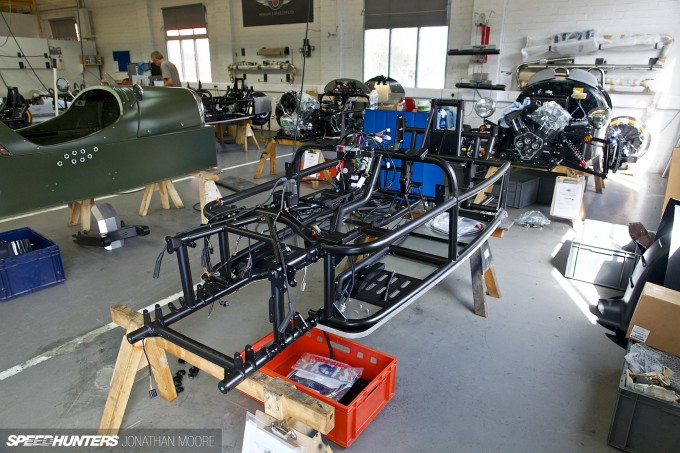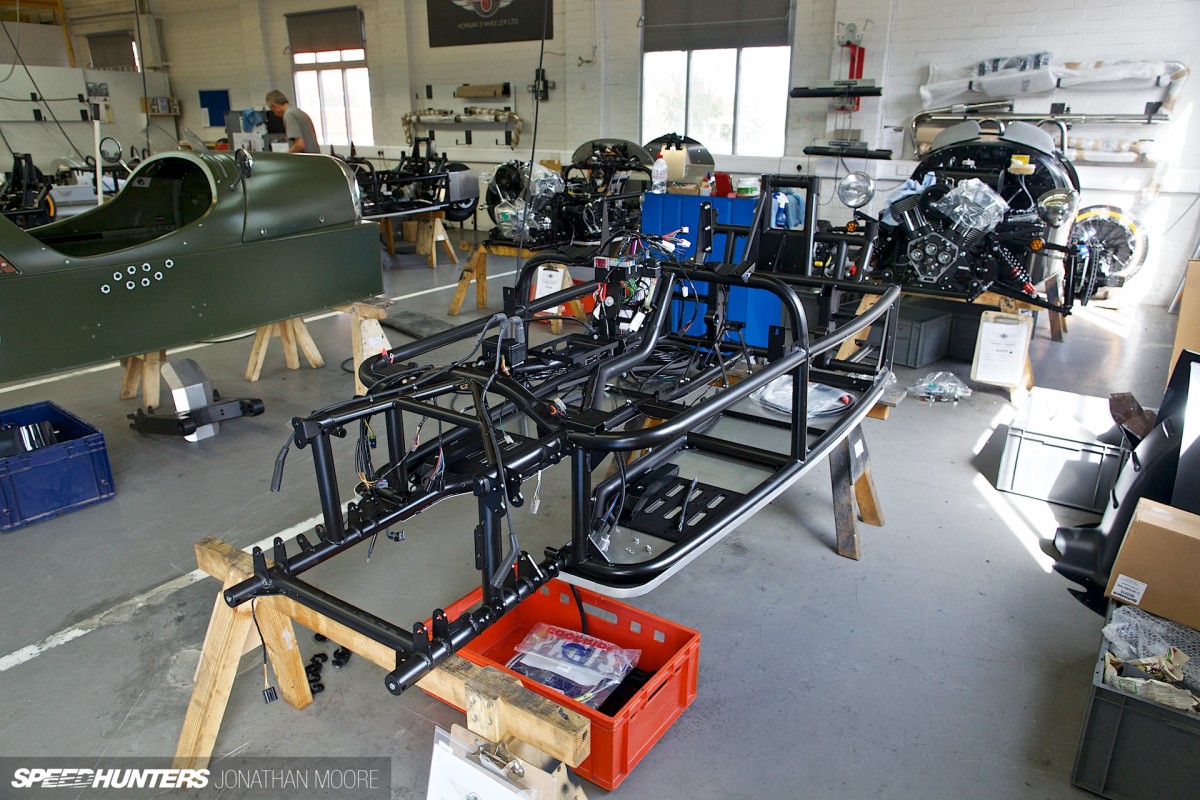 In what seems a pretty small area for the number of these cars they sell, the dedicated 3 Wheeler team crank out these little joys, taking the almost go-kart size chassis and mating it to an S&S V-twin bike engine and MX-5 gearbox before working on the body and fit-out.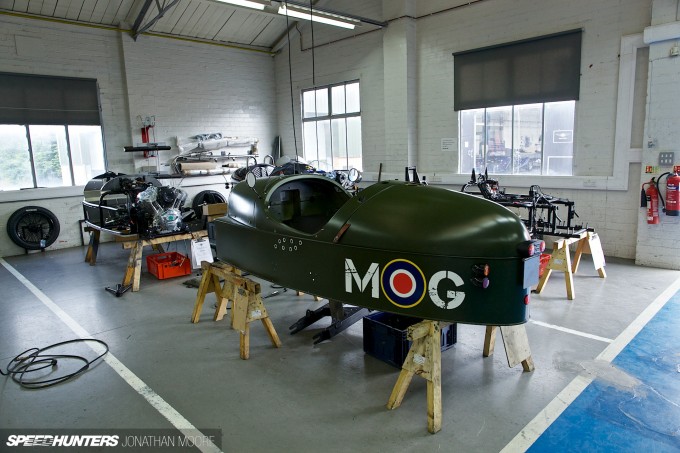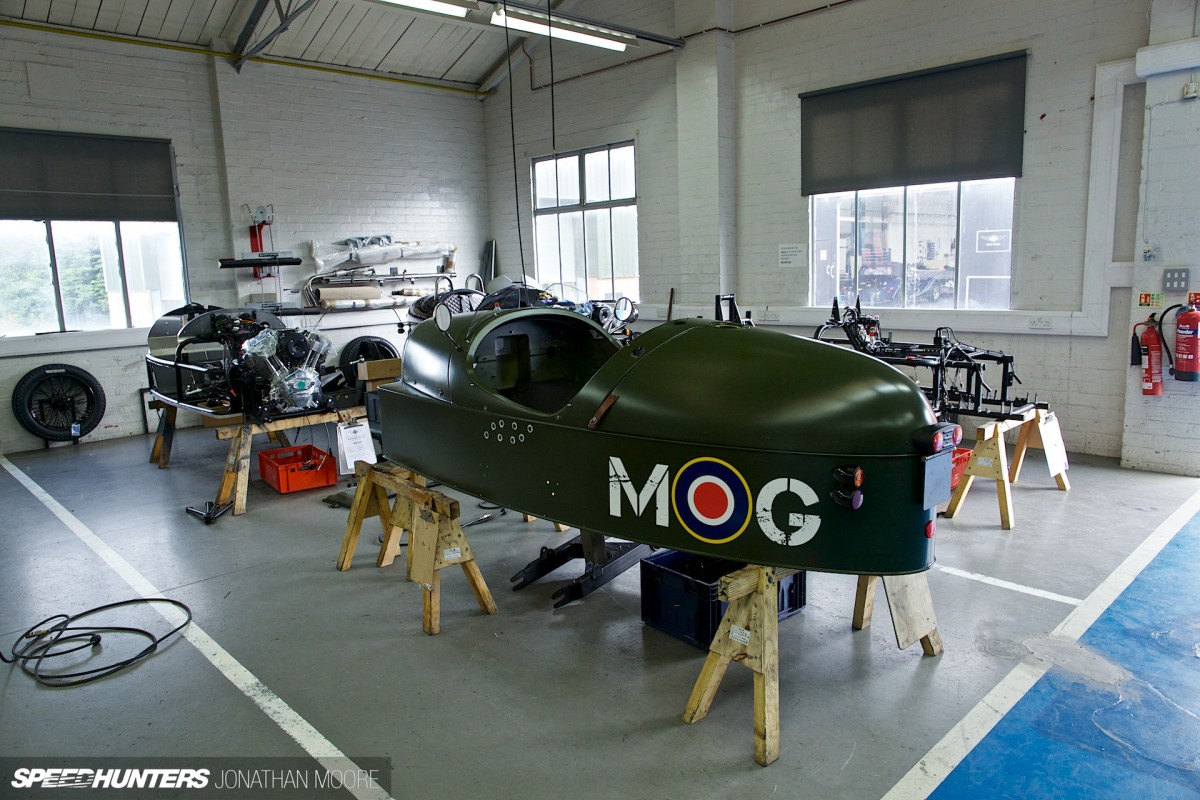 The choice of engine is interesting. S&S was started by former Harley-Davidson staff, and sit in a similar niche in the bike world to where Morgan do with cars. I would have liked to have been in the meeting when Morgan first approached them. 'You want to put our engine in a car that's missing a wheel?'…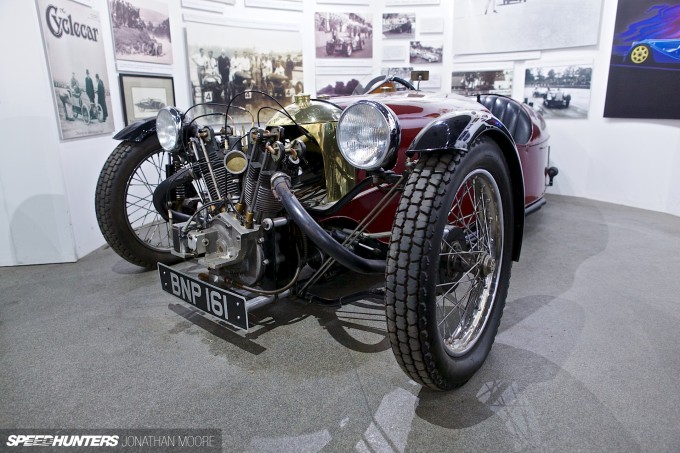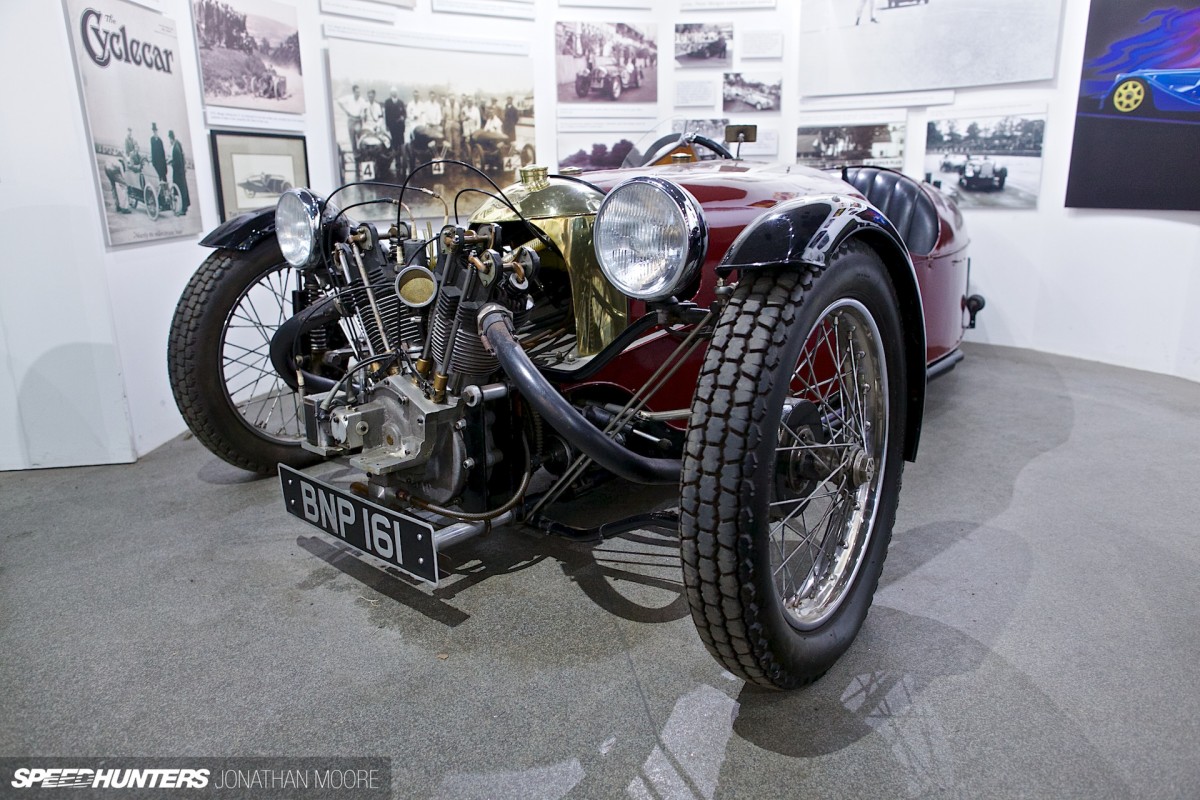 Looking at the 3 Wheeler took me nicely back round to the beginning of the Morgan story, which was amply told in their on-site museum, open to the public most days (the regular factory tours can also be booked by appointment). Alongside a Plus 8 from 1971 (looking so pristine it could have been any age from new to 63) were many examples of classic cars, including this race-prepped Aero Super Sport from 1937. These were so quick they often had to start a lap behind the other cars…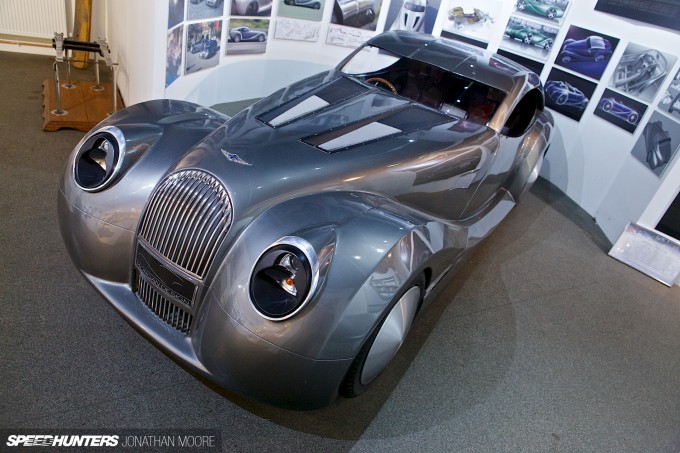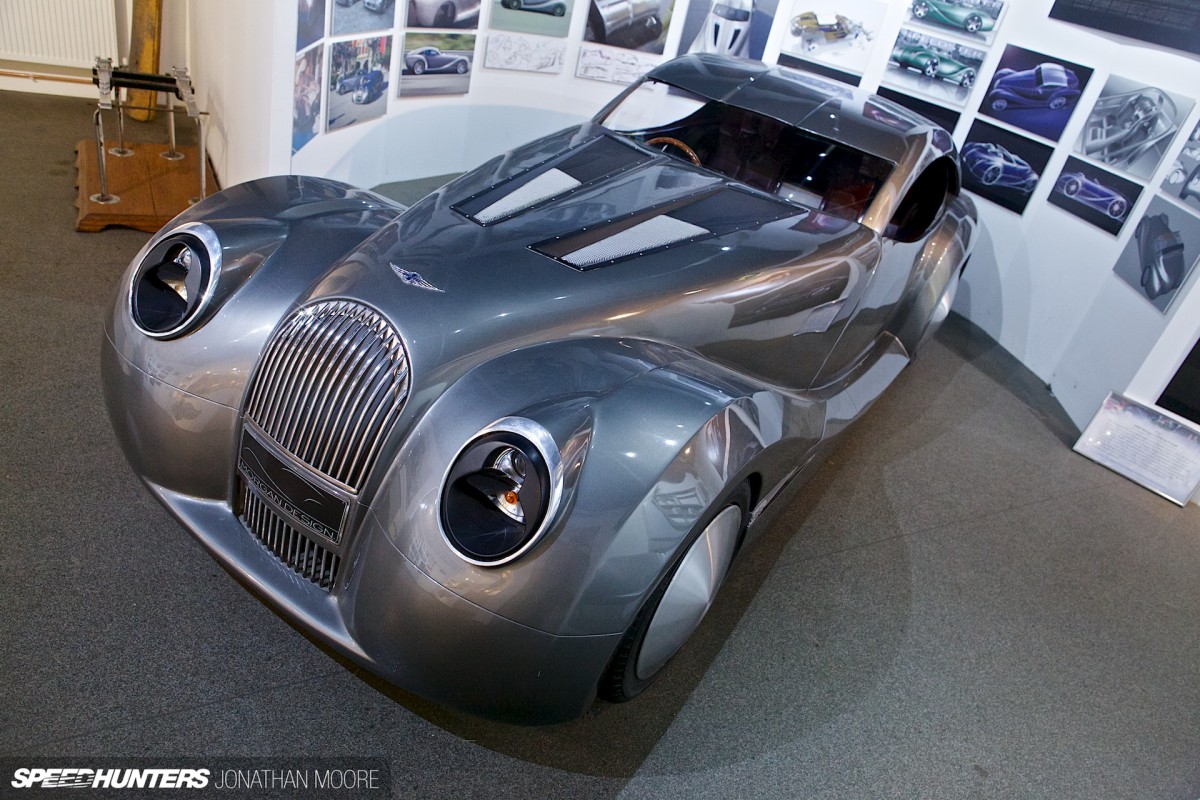 The LIFECar Coupé concept from 2009 has proved to be more than just a technology demonstrator and you can see a lot of its style influence in Morgan's just-launched SP1 project. Also, although this car was planned to showcase a possible electric-powered vehicle, Morgan already sell an electric car. Using Zytek hybrid technology for the power, typically Morgan had to be different. So they installed manual gears.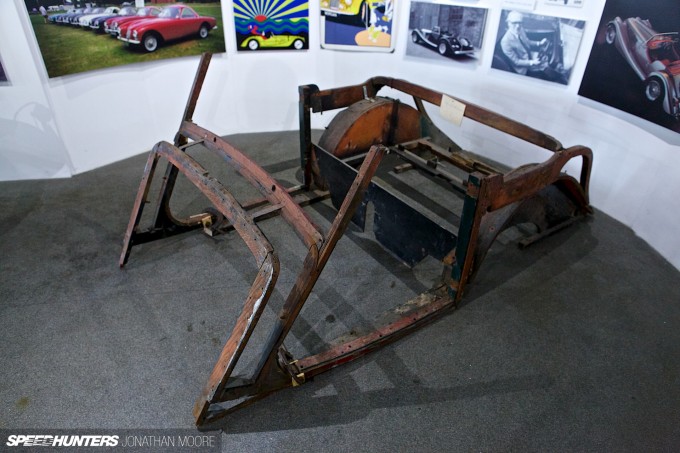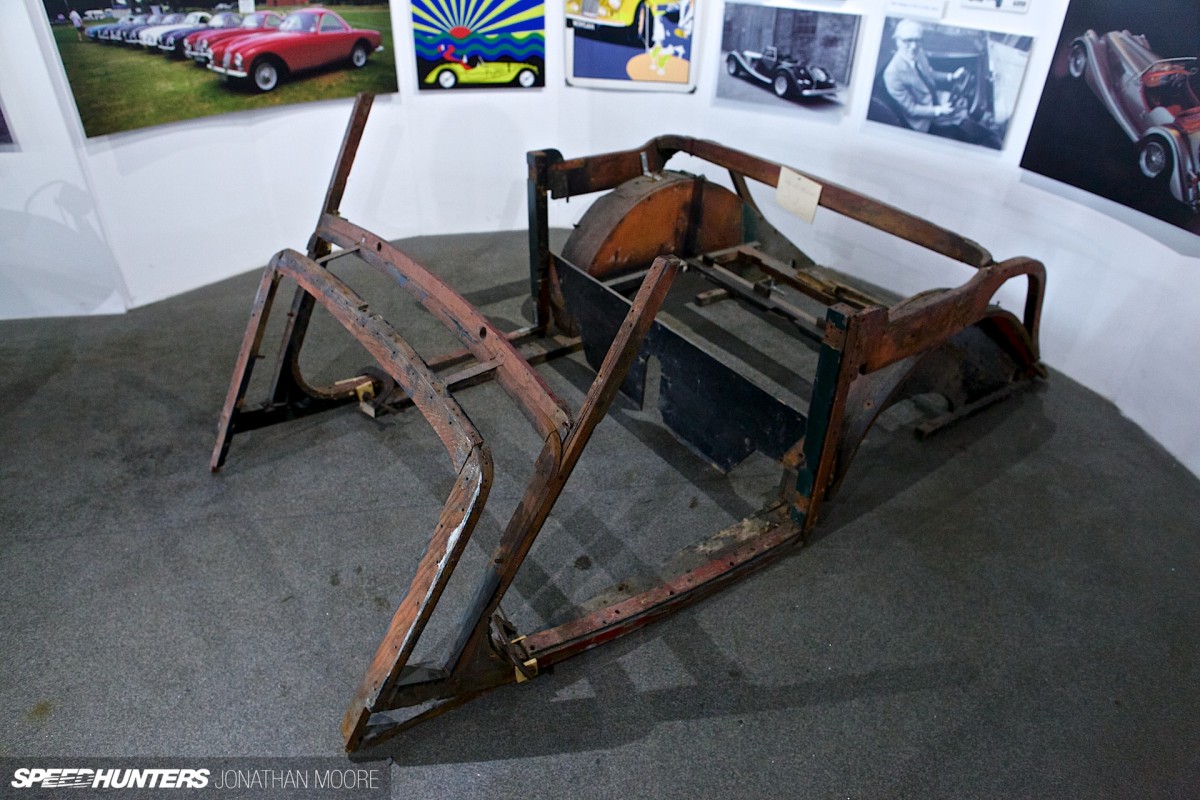 Having a 100-year-old site also means that things just crop up at the back of workshops – like this original ash jig from 1953. They've even found virtually complete cars that were tucked away and forgotten!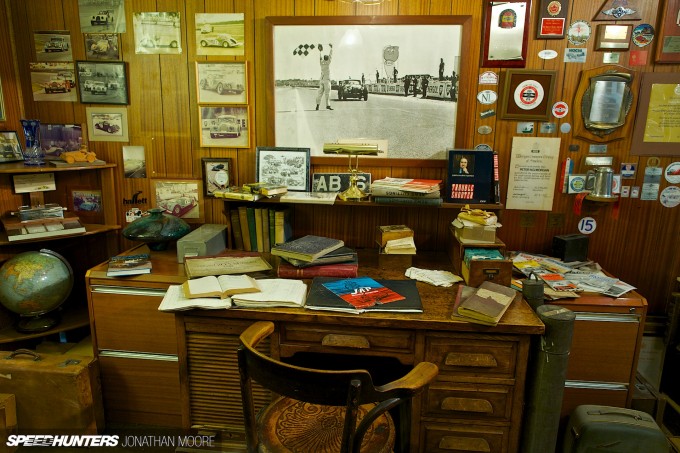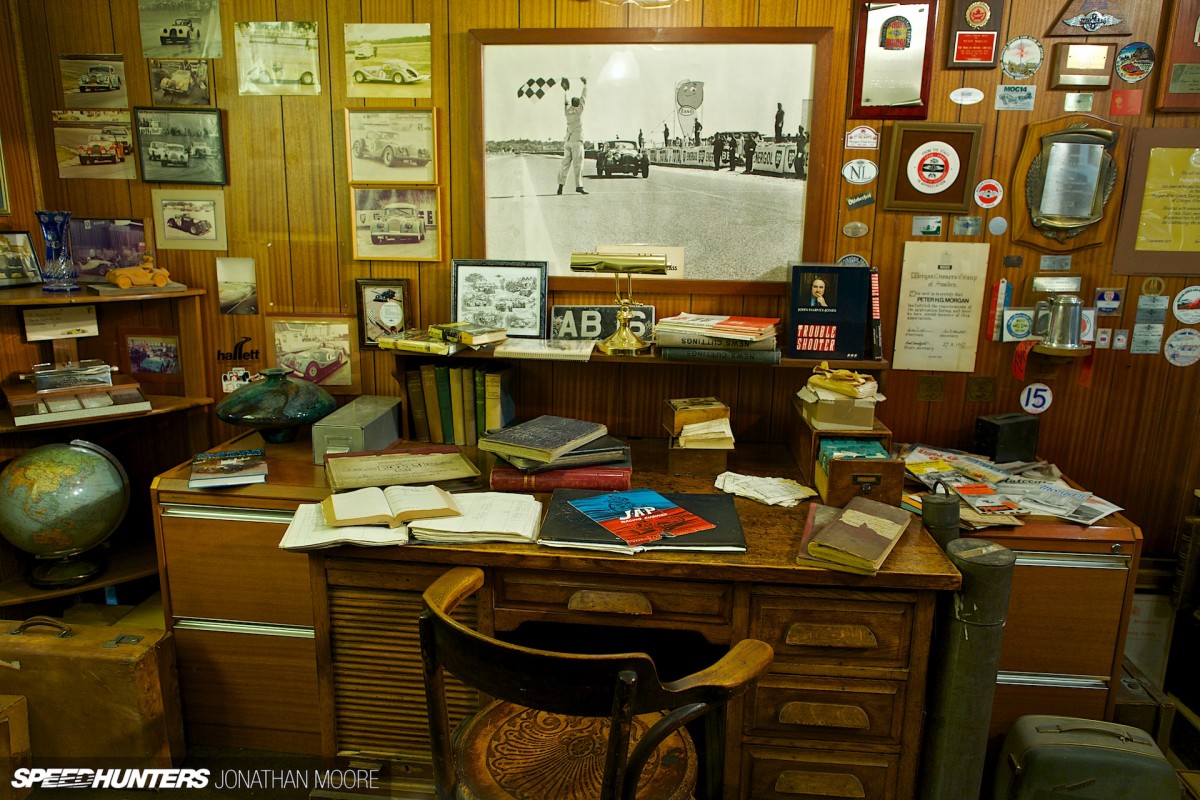 Morgan's Pickersleigh Road site has evolved over the century, with much expansion and changes in use. One thing that was moved but lovingly recreated was the office of Peter Morgan, the company founder's son, who oversaw Morgan for more than half a century and kept the company true to its artisan roots through thick and thin.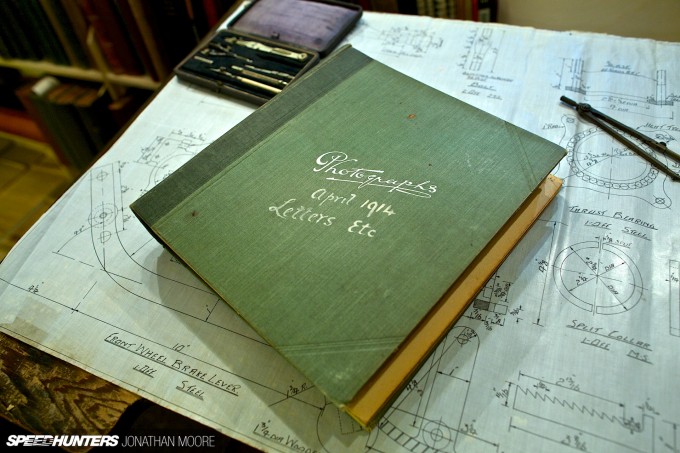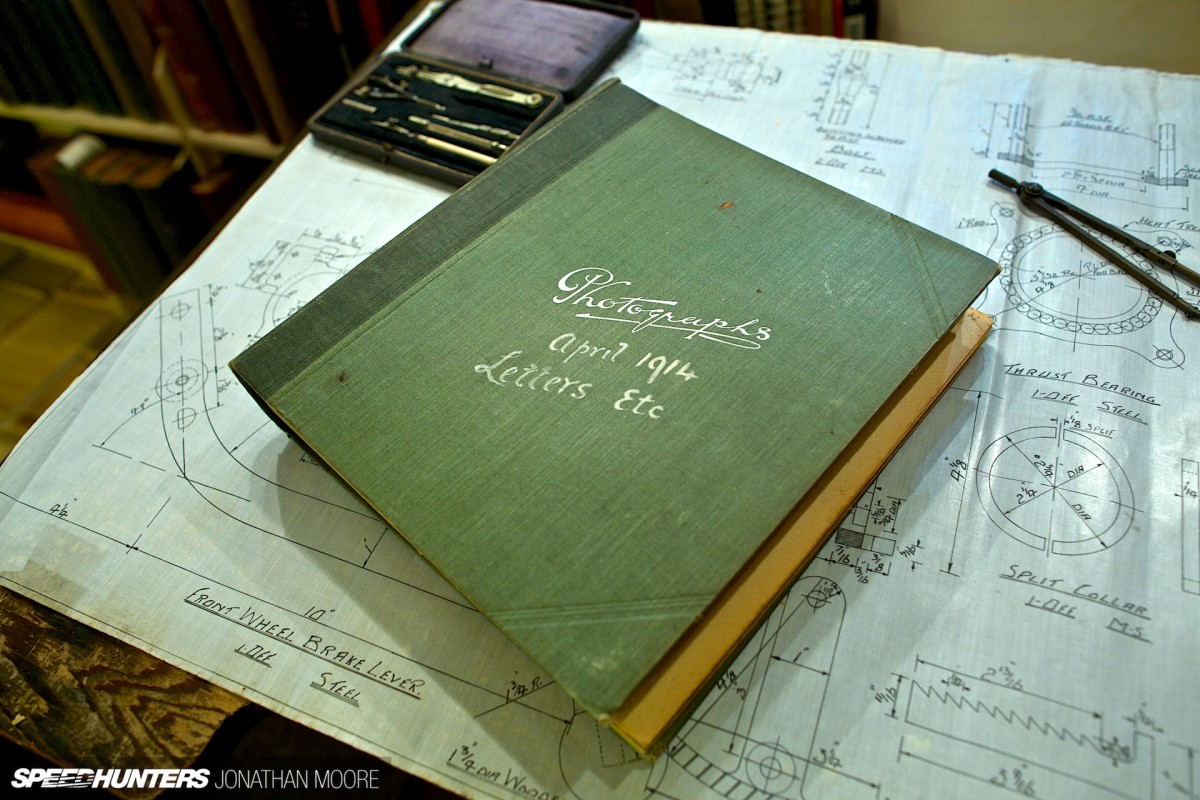 The office – not normally open – is an exact recreation of how it was in the original 1914 workshop, down to books, papers and plans. It even contains an incredible archive of pictures and clippings maintained by the family right from the start, and a card index of owners that's still maintained!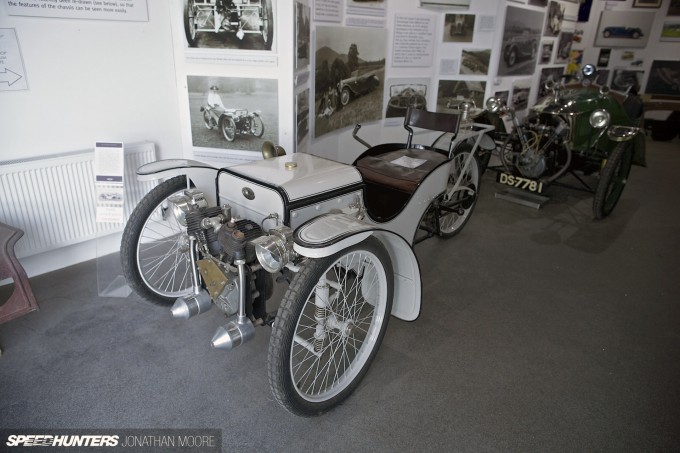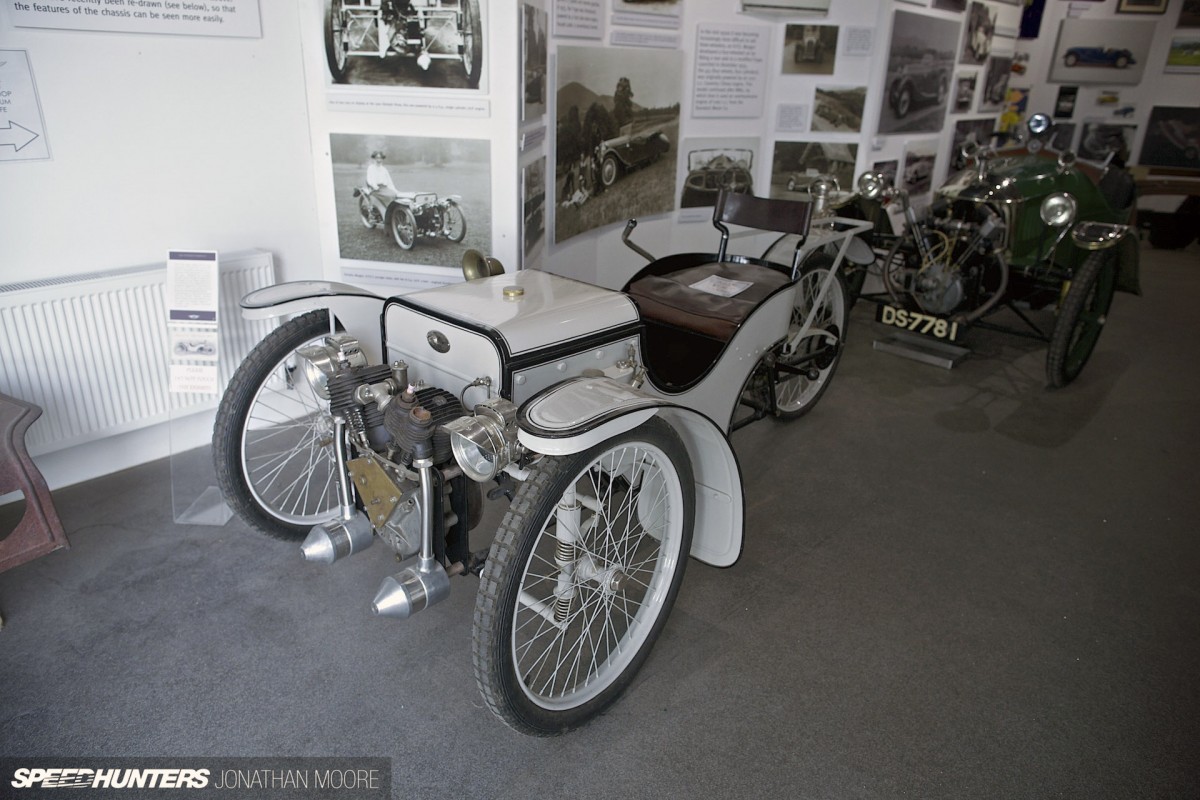 My visit was brought full circle by finishing the museum tour with this – a painstaking replica of the first production Morgan Runabout from 1910, created by Morgan's archivist Martyn Webb using many authentic parts. It uses a tube frame and was one of the first cars to feature independent front suspension.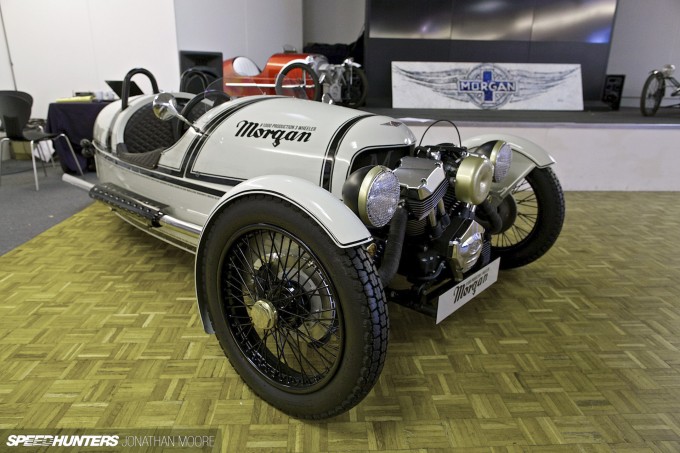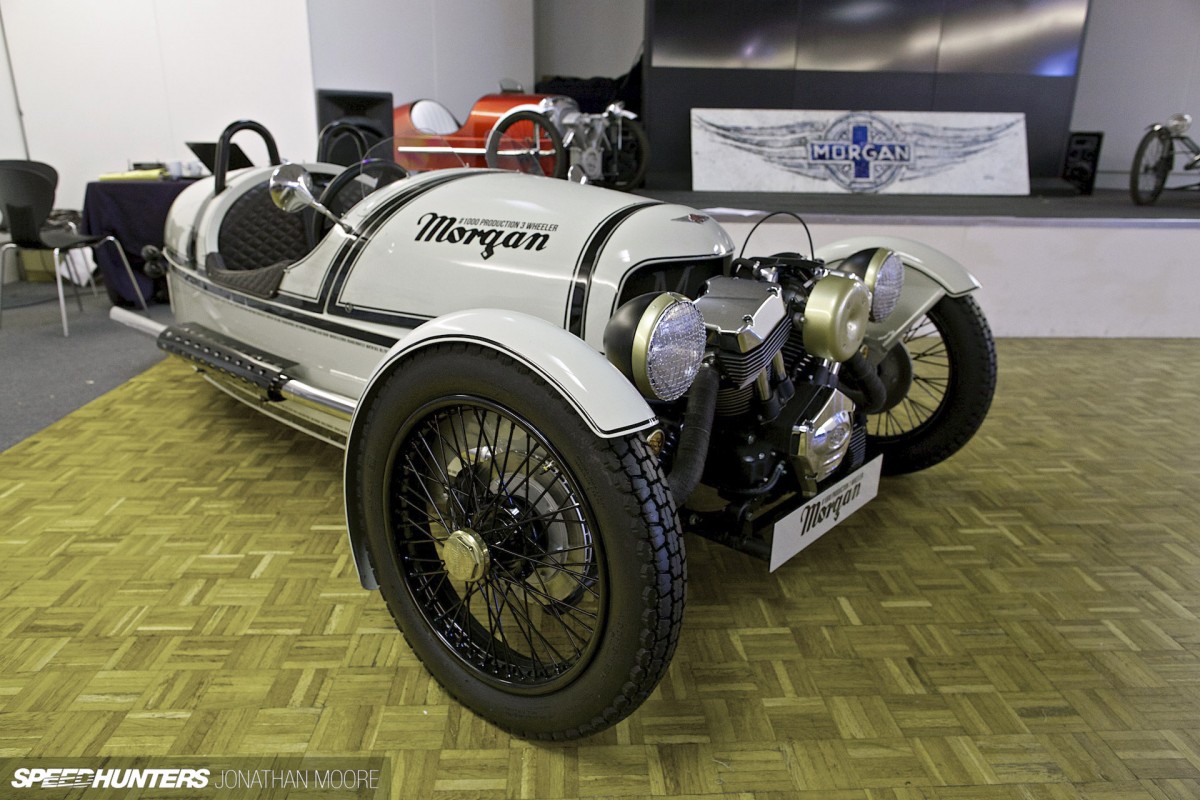 Centre stage in Morgan's conference centre, the one thousandth production 3 Wheeler of the modern era – a stunning number which I'm sure they didn't imagine would achieve when they drew the car up late one night. Finished in a livery that harks back to the 1910 Runabout, below the lower stripe are also recorded the names of all the people working at Morgan – even the company dog!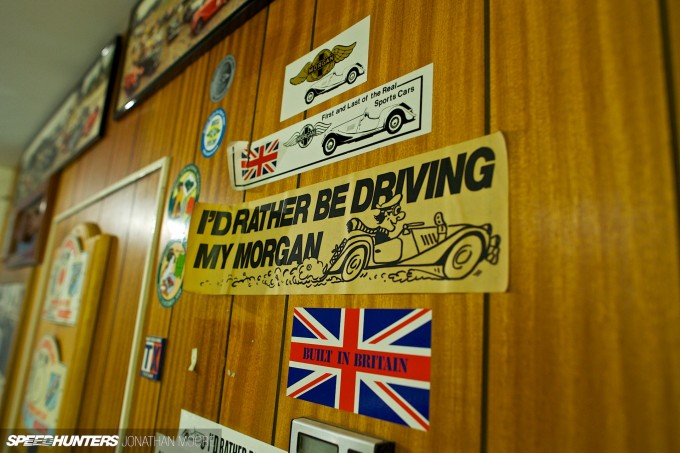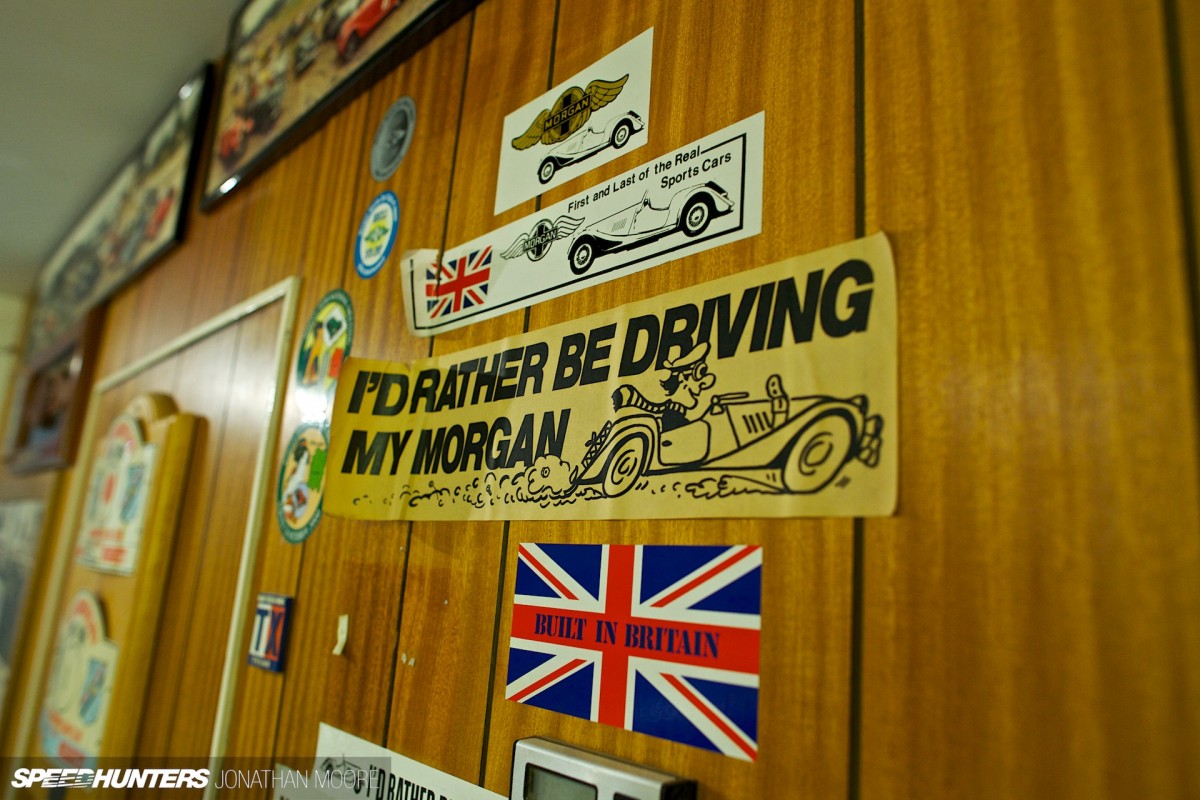 Everyone wants to look different, to build something exciting, to have a car that means something. I think there are few road cars that deliver that out of the box, but Morgan seem to manage it. Individuality, personality and emotion in spades. Drive one, and you'll have the biggest smile imaginable – only just a little bigger than if you see one!
Morgan see the Aero platform as a blank canvas, so what they come up with next could be something even more special, especially after hearing what Head Of Design Jonathan Wells has been using as inspiration. In the meantime, they stay unwaveringly true to their original spirit, demonstrating proper respect and commitment to their principles. The V8 cars? You have to hear them to believe them, and that's without starting on the phenomenal, fire-breathing GT3 car – which I'll be taking you round in the near future.
Jonathan Moore
Instagram: speedhunters_jonathan
jonathan@speedhunters.com