The Katana Sets The Theme
Welcome to Nismo! I've wanted to bring you a story on this place for a long time now, but when Nissan's official competition and tuning arm announced that they were closing down their old headquarters in Tokyo's Ōmori neighbourhood for a swag new base closer to Nissan's home in Yokohama, I decided it would be best to wait. And I'm pleased I did, because no corners were cut in equipping Nismo with a facility reflective of its motorsports achievements, new road cars, and high-end Nissan performance tuning parts and accessories.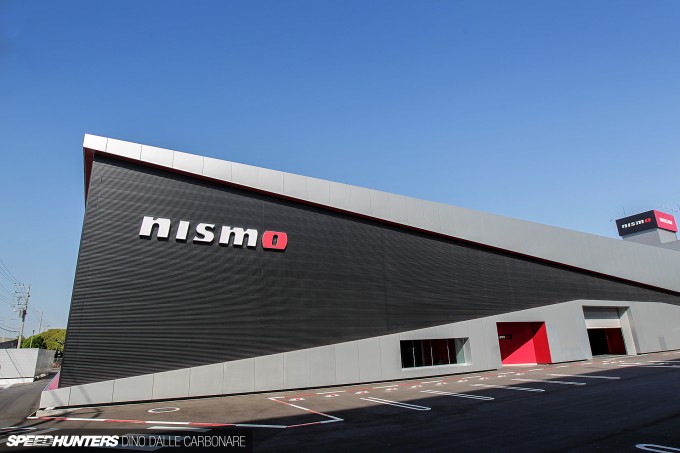 Nismo's Ōmori Factory is now located in Tsurumi – a busy industrial district of Yokohama City – and built on the restored and modernised building that once used to house Nissan's Technical Center. Nissan moved its HQ from Ginza in Tokyo to Minatomirai in Yokohama a few years back too, so it was almost a given that eventually Nismo would follow. Yokohama and the Kanagawa Prefecture is where Nissan was founded and it just looks better if all the operations are closer together. Nissan designer Daisuke Yasuhara was called in to design the building, and he styled it along the simple and angular lines of the katana (Japanese samurai sword). This is something especially visible on the exterior of the building, highlighted with the use of black, silver and red – Nismo's colors.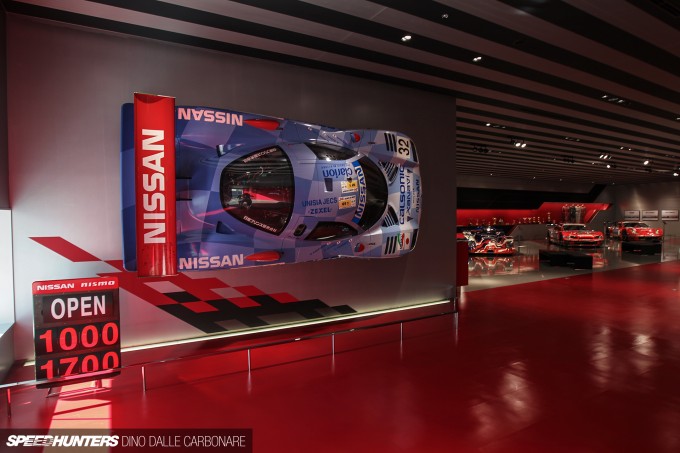 Take a step inside and you are instantly greeted by an R390 GT1 Le Mans racer bolted to the wall!  In case you are wondering, this is no mock-up either, but one of the cars that actually raced.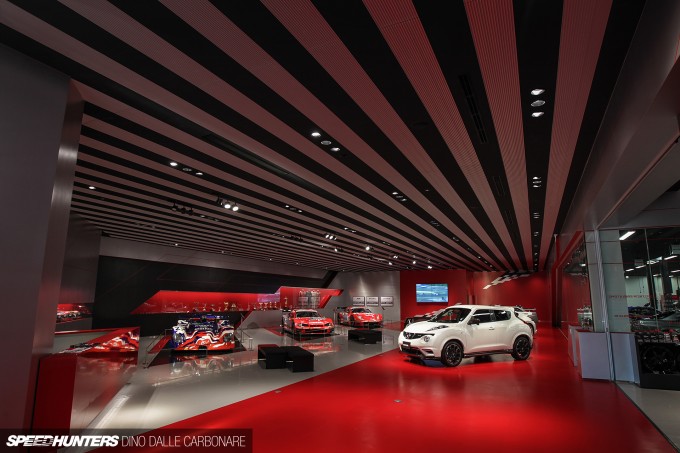 Those katana lines are incorporated into the design of the floating ceiling, as well as the various glass displays that surround the main showroom area.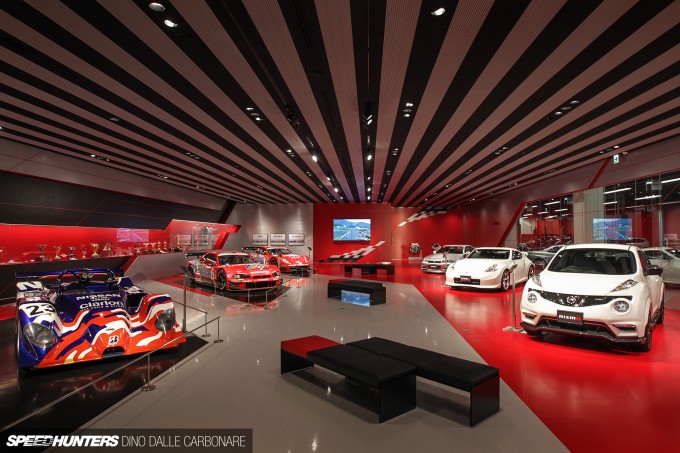 Since opening just over a year ago, the new hub is where Nismo is spearheading its slow but gradual move to liven up some of Nissan's regular production cars from. During my visit the Nismo Juke and Nismo Fairlady Z were on display – cars that have since been joined by Nismo versions of the March, Note, Elgrand and, of course, GT-R. Unlike the R35 however, most of these cars sport aesthetic and handling tweaks rather than serious performance upgrades.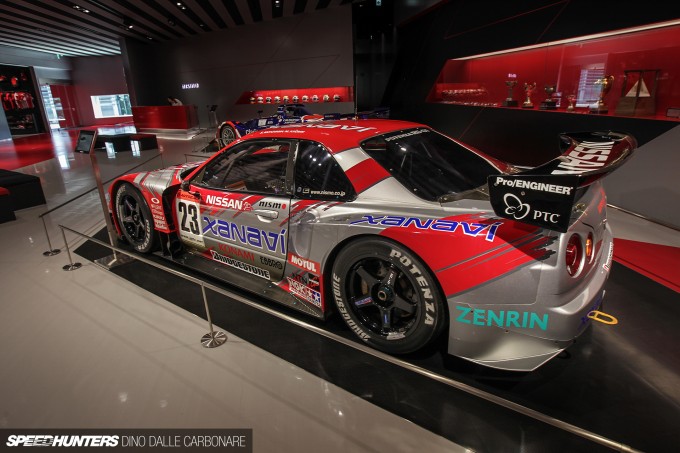 Three of the six spots in the showroom are reserved for Nismo racecars, which are swapped out every few weeks. During my visit it was the R391 that headlined the motorsport display, but it was this car – the GT500 R34 Skyline GT-R – that instantly had my attention.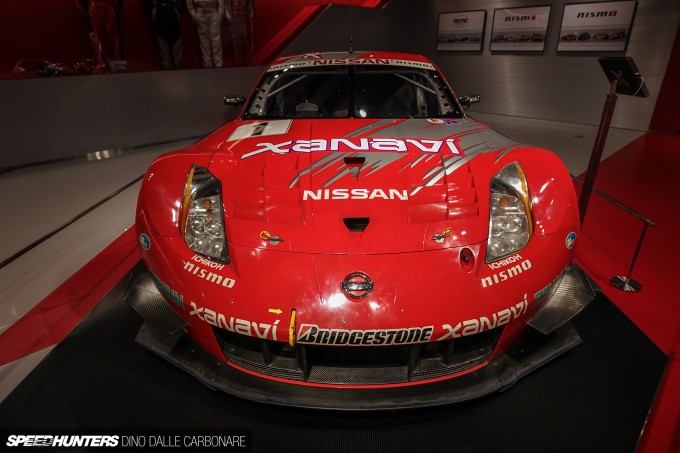 Also included was the R34's successor in the GT500 class – the Z33. This model had a very successful few years before it finally gave way to the car everyone had been waiting for – the R35 GT-R.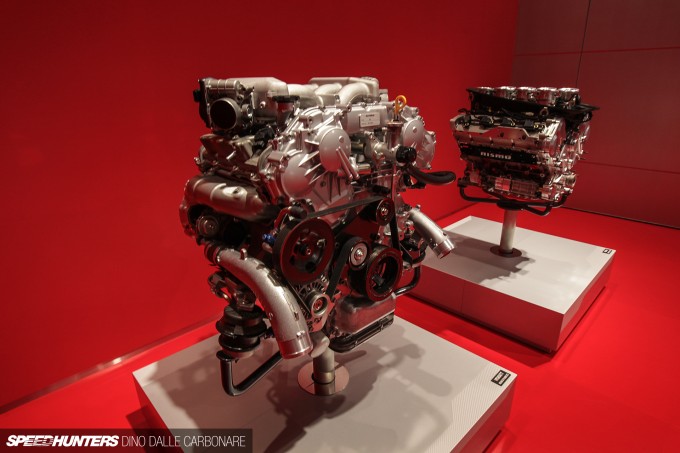 A little race engine display sits in the far corner among lots of motorsport-related information, including a big screen looping the latest news from the Super GT season.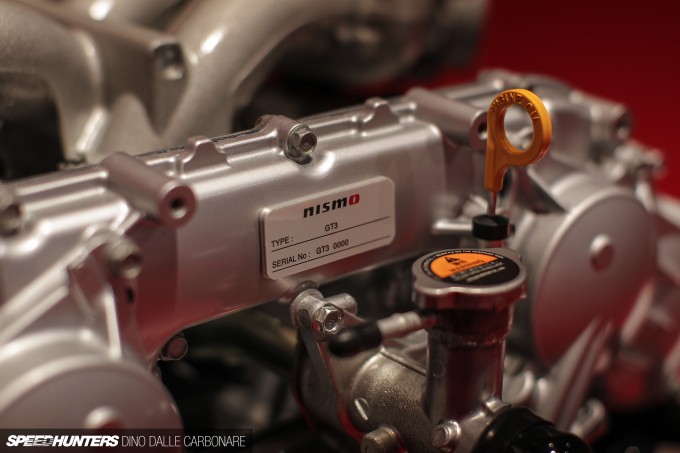 The first motor I looked at was the VR38DETT that's used in the GT3 race version of the R35. As the serial number suggests, this is the very first one that Nismo built. Among other things, the GT3-spec VR38 runs a set of bigger turbos – the same ones fitted in the Nismo GT-R to be specific. I wonder how much potential for tuning those blowers allow?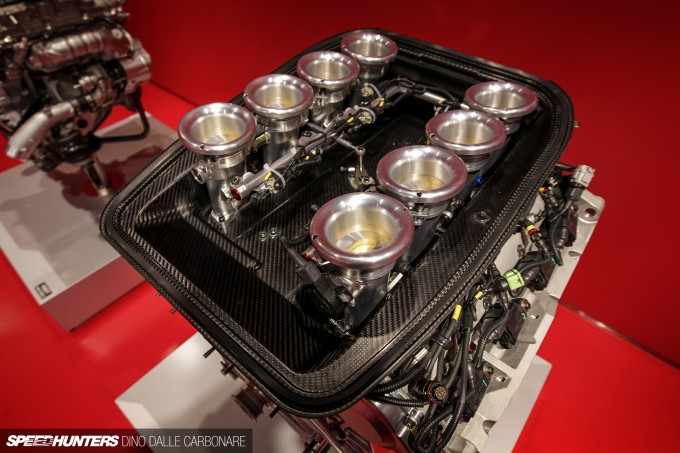 Next to the GT3 motor was the naturally aspirated VRH34A V8 that was used in Super GT up until the series aligned with DTM rules. Thankfully the carbon fiber air box's cover had been removed so the lovely billet velocity stacks could shine through.
The Z-Tune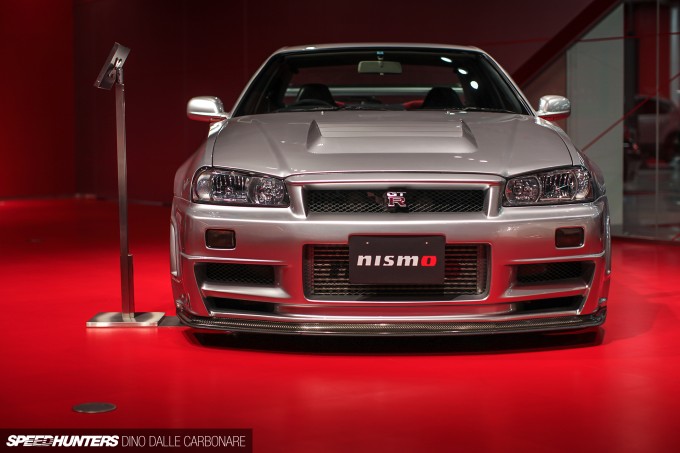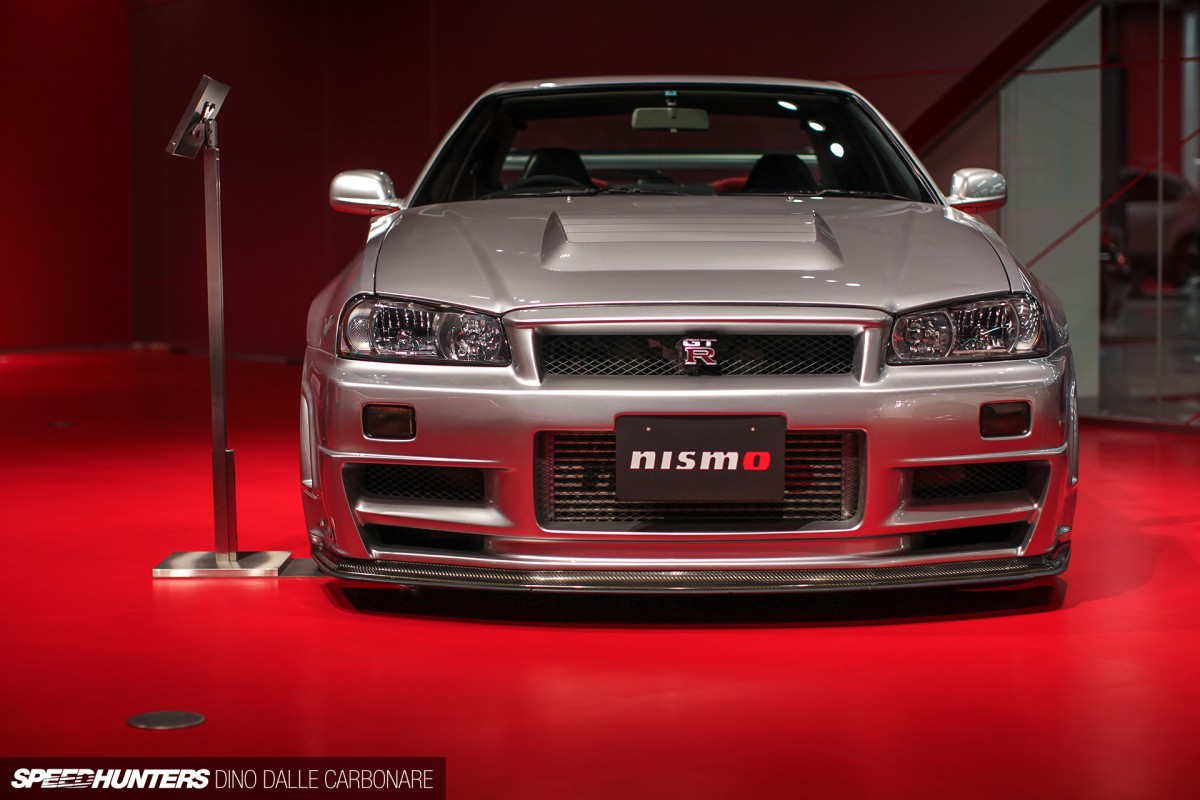 The final and most mouthwatering car of all was the Z-tune BNR34, which I'm sure you already spotted in the last chapter. This is always on display – or at least it has been every time I've dropped by since.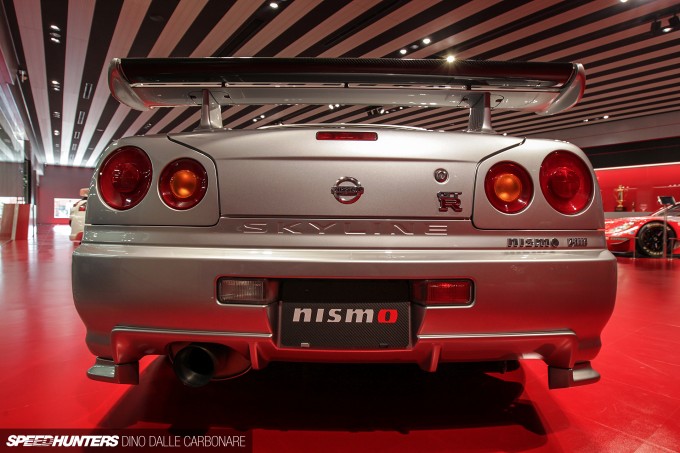 And rightly so too. The Z-tune exemplifies why Nismo is revered by Nissan fans.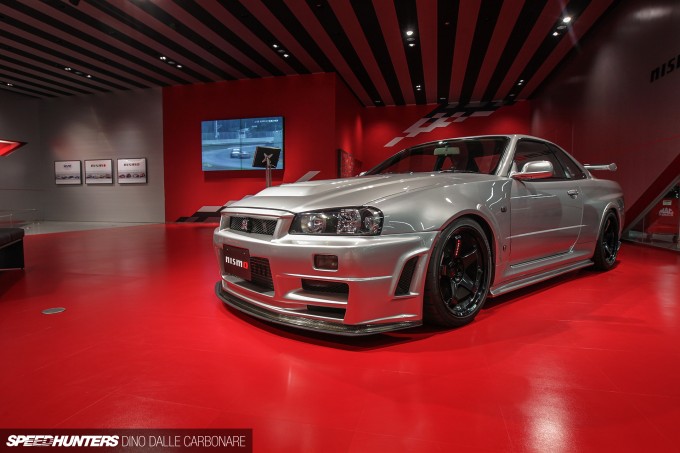 I can't believe it's been 10 years since the car was built – especially when I think that I followed the complete build of the car's engine at the old Ōmori Factory in Tokyo. Actually, that would be a cool story to run – would anyone like to see it?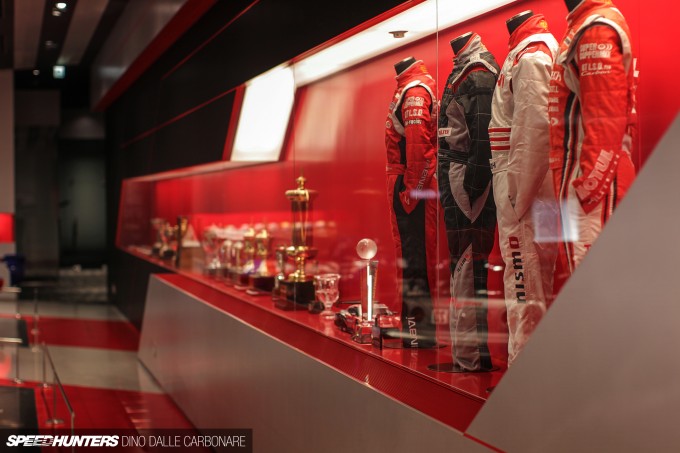 Nismo has many accolades to be proud of, and are lot are on display – from various trophies and race suits from legendary race drivers, to a cool die-cast model car collection.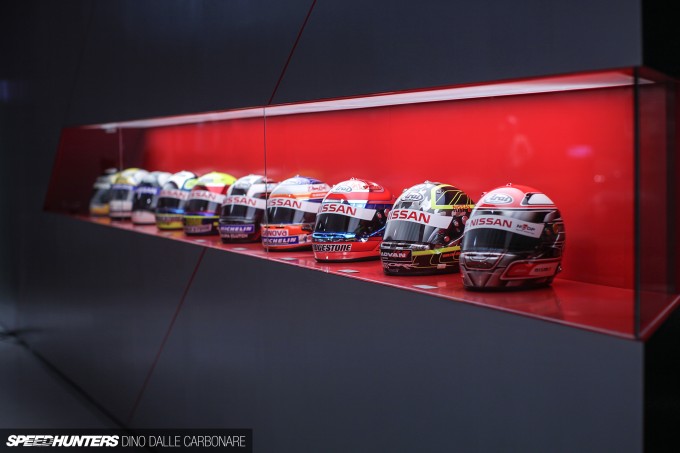 Oh yes, and lots of helmets!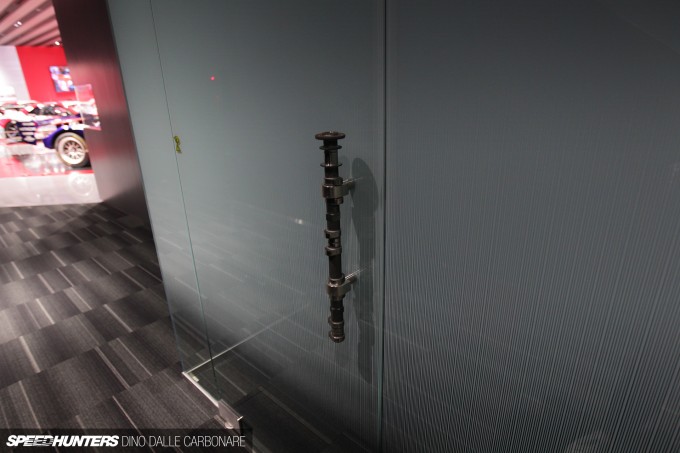 I'm a sucker for detail and from the showroom I noticed that all the door handles for the meeting rooms in the back of the building were made out of recycled race camshafts. Not a bad idea, huh? But it didn't end there…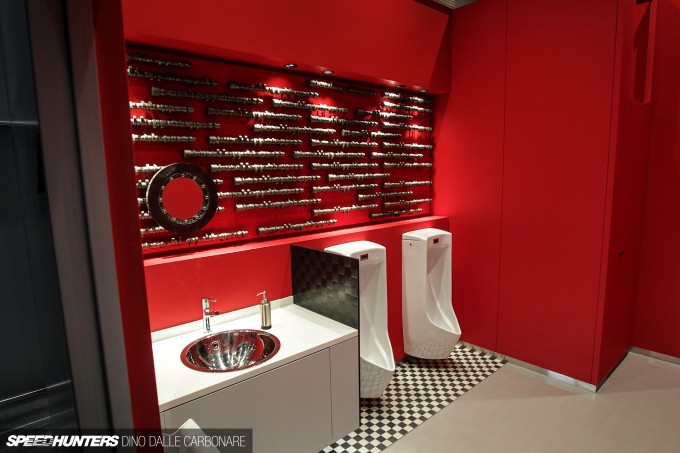 Welcome to the gentleman's lavatory at the Nismo HQ. I'm pretty sure this is the first time I've ever shot and posted pictures of a washroom, but it deserves to be shown. I guess Nismo had a lot of old cams sitting around, and simply decided to put them to good use. The mirror? Encased by a carbon brake rotor no less…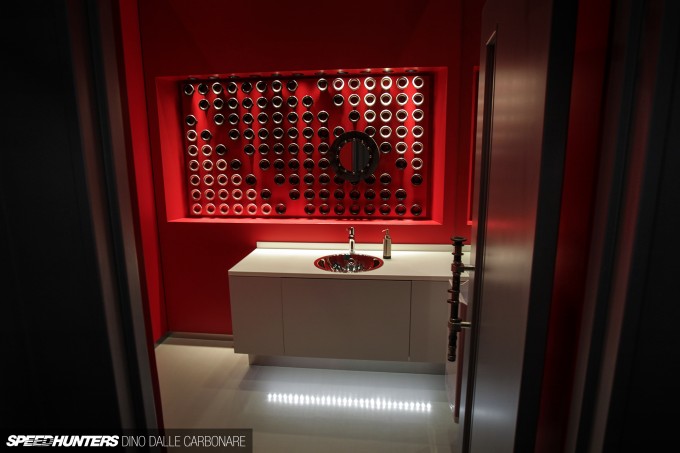 The ladies' was just as impressive, except instead of using cams Nismo raided the velocity stack parts bin and went a little bit nuts.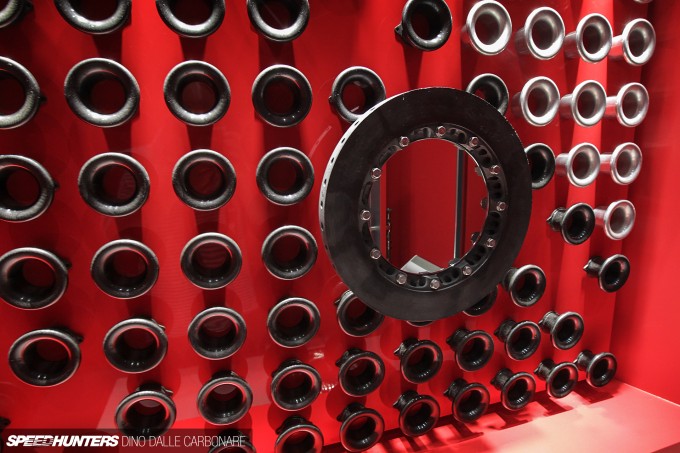 I'll let you figure out why men get cams and ladies get funnels! Here's a closer look at another one of those very cool rotor mirrors.
Shop Carefully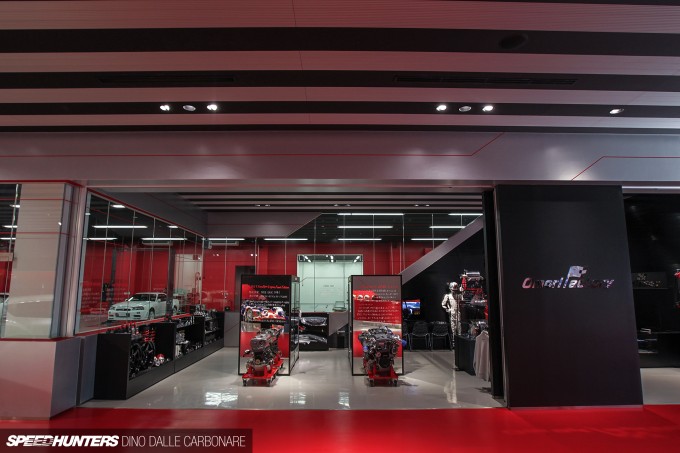 If you are planning to visit Japan and have penciled in a stop by Nismo, then this is the place you will be spending much of your time in – the Ōmori Factory Shop. If you own a Nissan – especially of the GT-R variety – this could be extremely hazardous to your wallet though…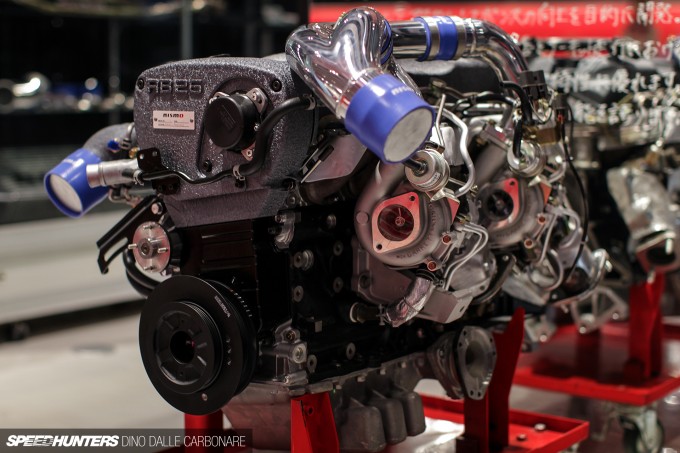 The shop stocks pretty much everything that is listed in the Nismo catalogue, plus other parts from the Ōmori Factory line up. Included are complete RB26 engine options, like this R-tune motor that was on display in the entrance. You see what I mean when I say hazardous?!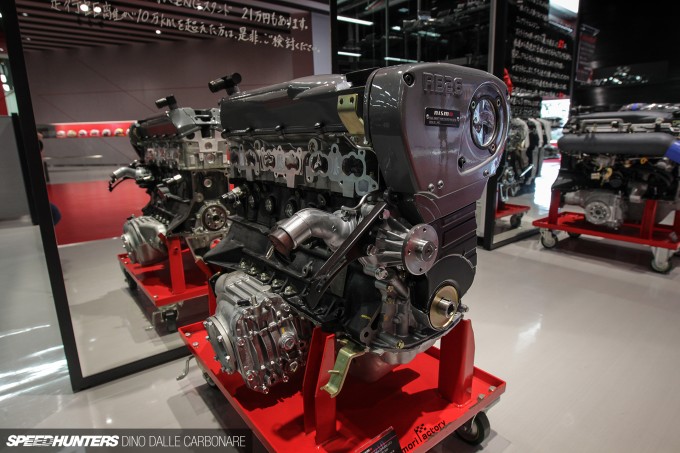 Here's the Fine Spec RB26 Final Edition, which is basically an N1 motor rebuilt and balanced, with a few extra Nismo goodies thrown in for good measure. Say you pick up an old and well-used BNR32 and plan on restoring it – this motor might be a better way to go than having the stock unit rebuilt. But the last I heard there were only a very few left from the 200-unit run.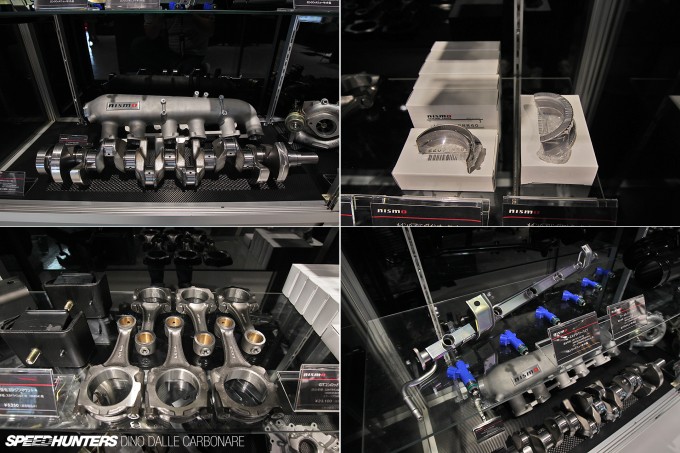 The Fine Spec engine has a price tag of ¥1,000,000 (approx US$10,000), and then you can easily blow the same again on more Nismo parts. The pick of the bunch has to be the Nismo GT plenum which was originally developed and used on GT500 GT-Rs back in the day. The R35 injector upgrade is also a popular kit and will get the most out of any engine at any sort of tune level.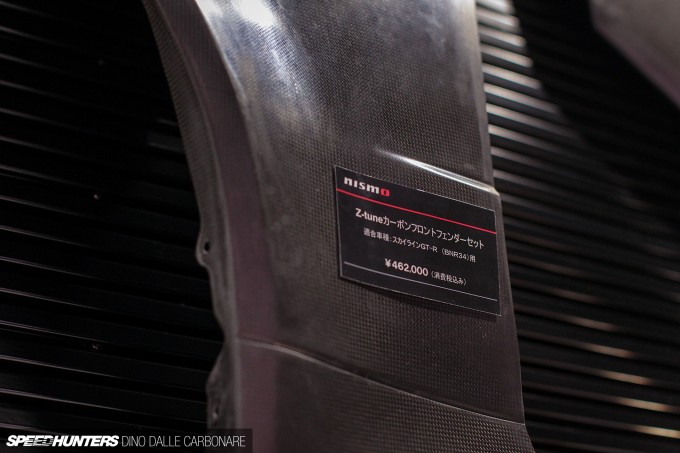 Have some more cash burning a hole in your pocket? How about these dry carbon Z-tune fenders… Up until a couple of years back the Z-tune front bumper and fenders were only sold to the public in FRP, but now you can waltz into the showroom and pick up a pair of the lightweight units.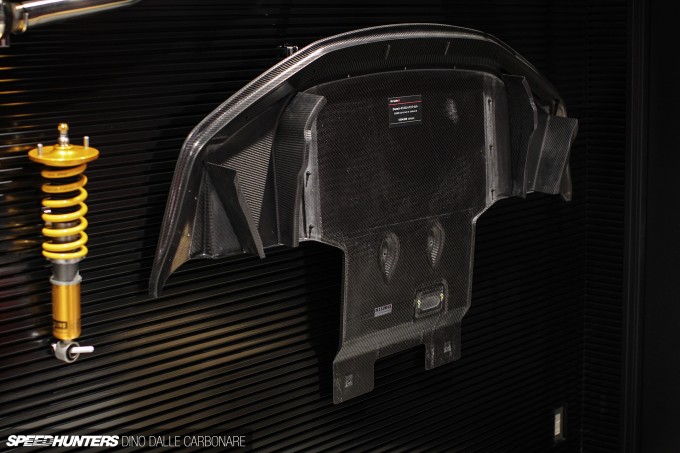 That also extends to Nismo's BNR34 carbon fiber front lip spoiler and undertray, which has been on offer before the Z-tune came around. As you can imagine, all of these parts are made to the highest standards, so the cost is warranted.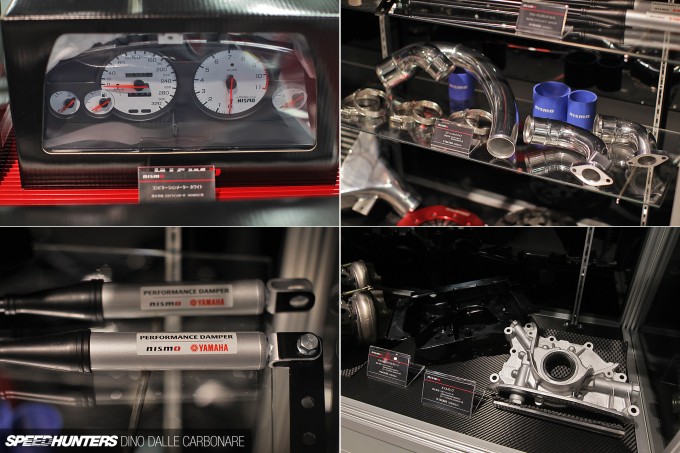 More goodies? You bet! Check out the Yamaha performance dampers that stiffen up and dampen vibrations transmitted through the chassis. When building a big power RB, an upgraded oil pump and a baffle for the sump to ensure oil can be scavenged even during hard cornering, are must-have modifications. Nismo has you covered for these parts too.
A Spotless Workshop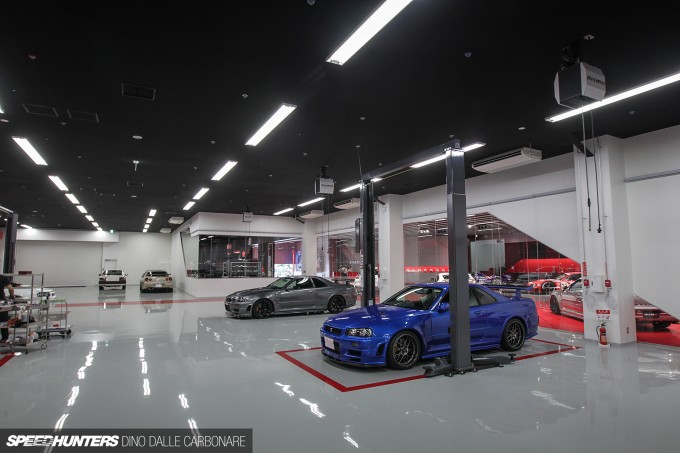 If you want to see the workshop it's a good idea to call ahead of time to make sure Nismo staff can allow you in. This place is always filled with a variety of customer cars undergoing routine maintenance and getting tuning parts fitted.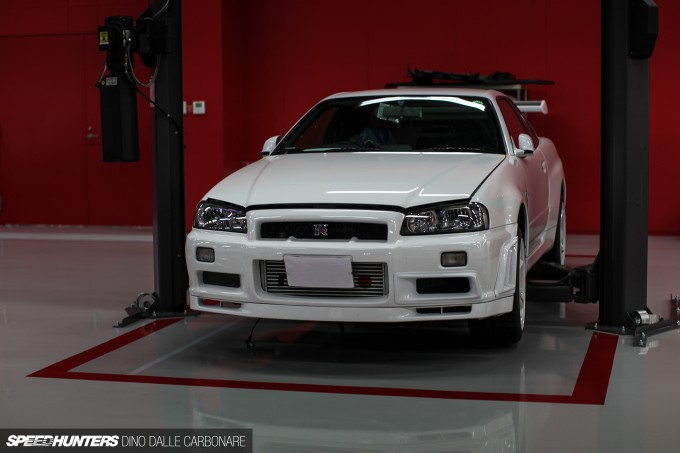 Nismo is very stringent about privacy, so to avoid any issues each number plate is covered up just in case someone is shooting inside the workshop.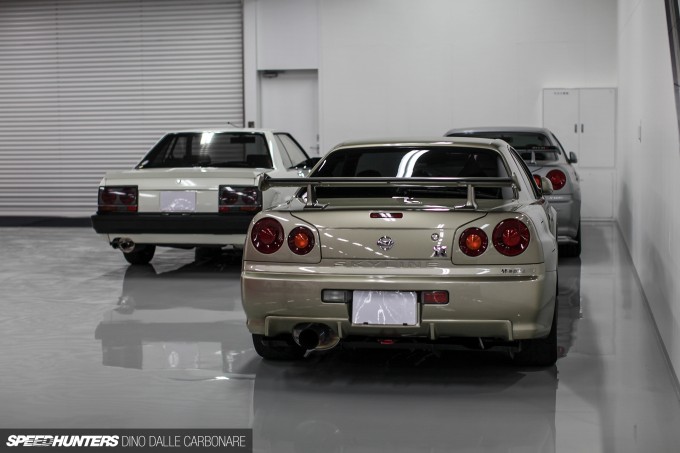 At the top section of the garage there were more cars patiently waiting to be attended to.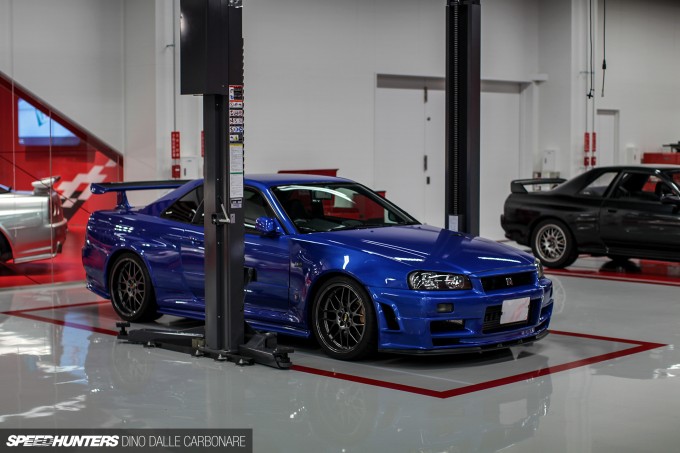 This place is as clean and spotless as an operating room; the epoxy-treated floor constantly swept and kept clean by the mechanics. In turn, this makes customers feel like their cars are given the best sort of care by guys that are usually bolting together race cars.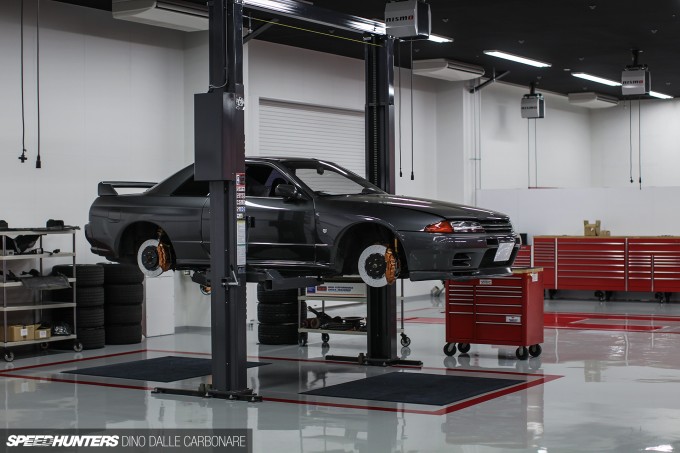 This BNR32 had just been given a handling refresh courtesy of Nismo's new Öhlins-based suspension kit. To make the most of the upgrade, Nismo arms were also added along with a full course of new suspension bushes.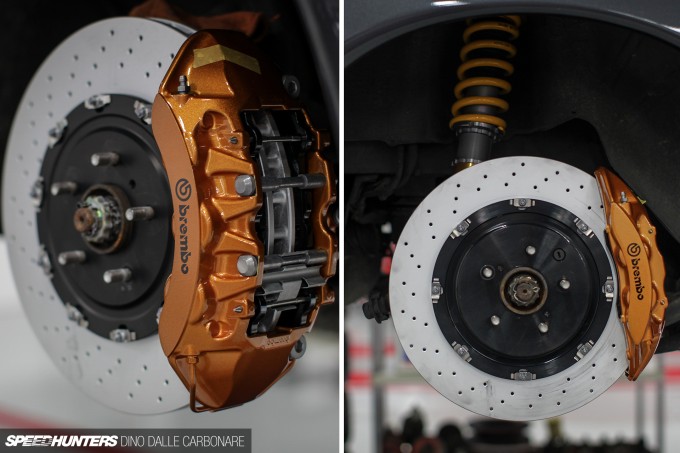 To finish things off the car was treated to an R35 GT-R front and rear Brembo upgrade brake kit – another package that Ōmori Factory offers. This was probably the cleanest R32 I've seen in years!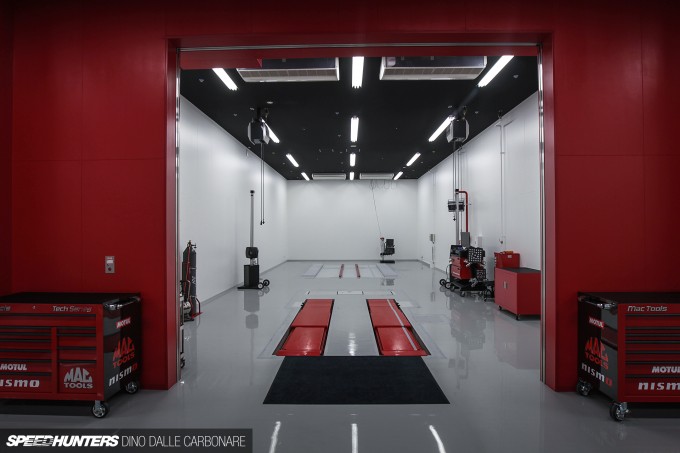 Away from the main workshop there is a separate room that's set up exclusively for wheel alignments with the latest tech.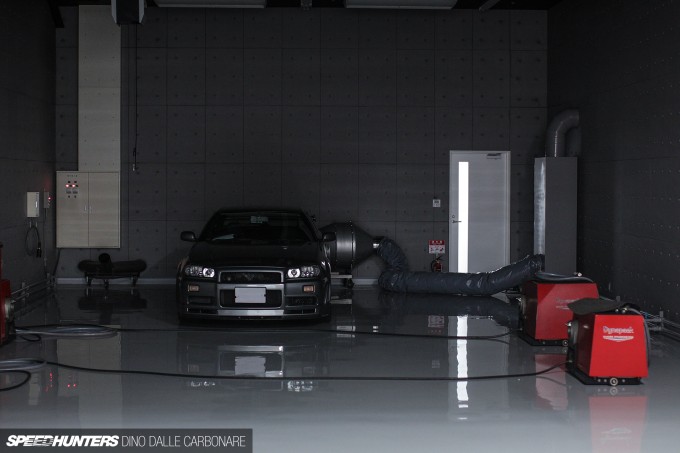 Next door is another massive space, sporting sound deadening on all four walls. As you can probably tell from the red Dynapack boxes which get attached to a car's hubs, this is where dyno tuning and power runs are carried out.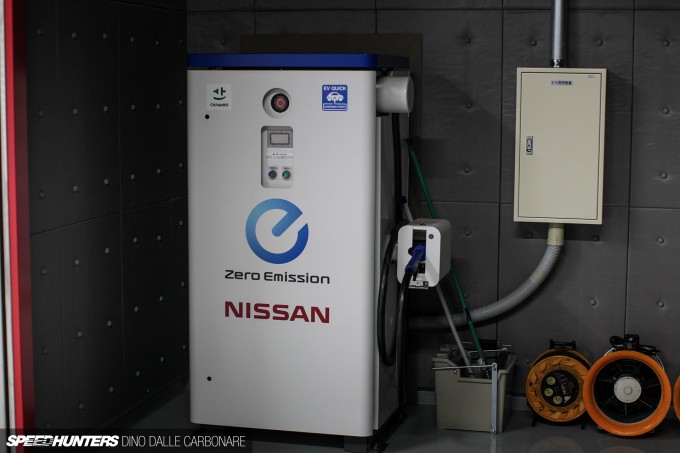 Seeing the future is not as far away as we think it is, Nismo have added a few of these fast chargers around the premises too. These will charge up a Nissan Leaf battery to around 80 per cent capacity in 30 or so minutes, and are quickly becoming a common sight at parking lots around Japan.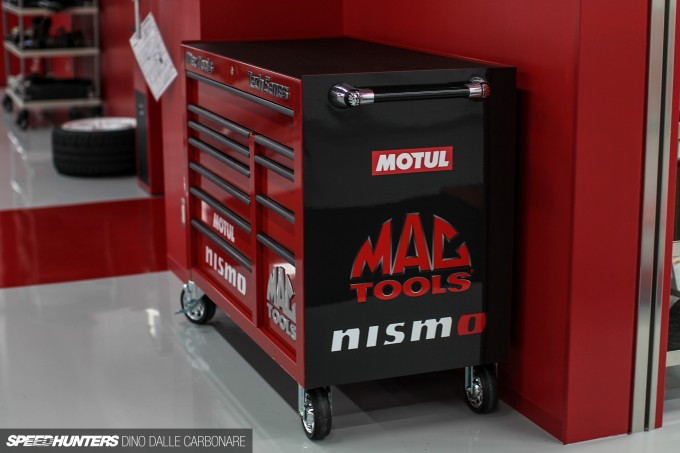 Surrounded by state-of-the-art equipment certainly makes Nismo's workshop one impressive place to check out, but surprises seemed to be around ever corner. Take this massive MAC Tools roller cabinet for example – nothing you wouldn't expect to see in a place like this.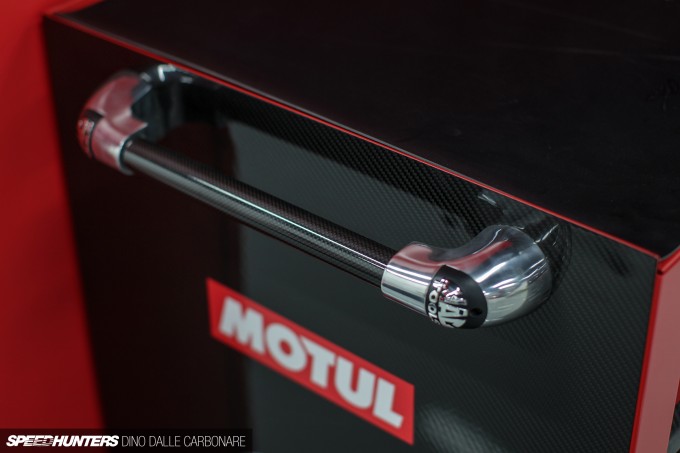 But on closer inspection it had carbon sides and carbon handles… Only the best at Nismo!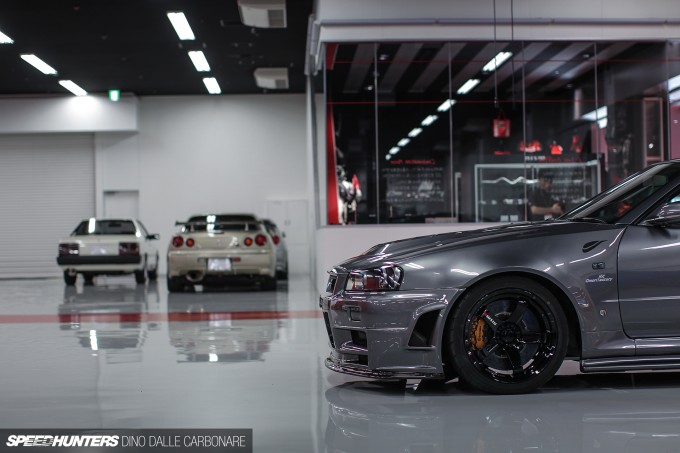 Out of all the cars, Ōmori Factory's Clubman Race Spec BNR34 was the one that commanded my attention, its super-glossy paint shining under the white light that the neon illumination provided.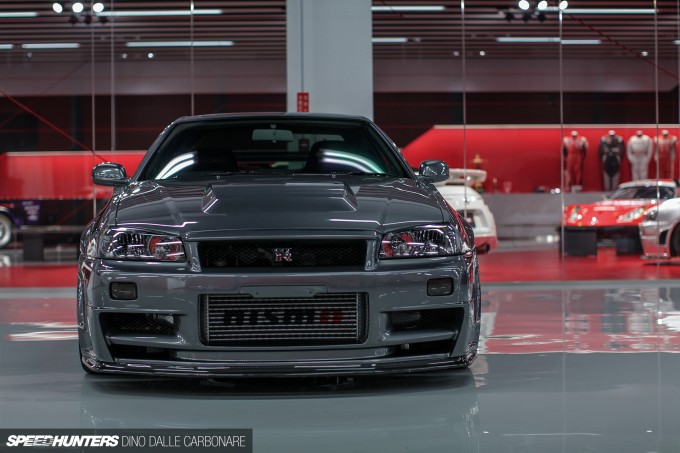 I'll leave you with one more image of this sublime machine – a car that emphasises all that Nismo has, and continues to stand for. The best thing is, we can expect even more great things from this workshop in Tsurumi for many years to come.
Dino Dalle Carbonare
Instagram: speedhunters_dino
dino@speedhunters.com