Ride Control
In a recent round of Ask The Expert, we invited you to submit suspension-related questions for our friends at KW to answer. The response was huge, and while every question couldn't be addressed in this follow-up (some may have been already answered in last year's Q&A with KW though), Michael Grassl – on behalf of KW Suspension – has been kind enough to lend his expertise to a large proportion of them.
Let's get into it…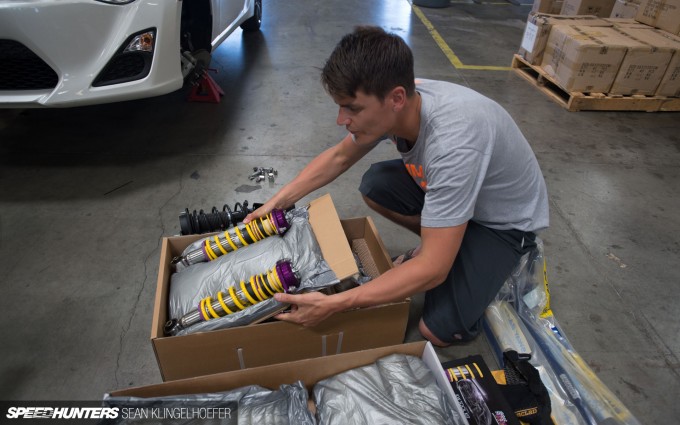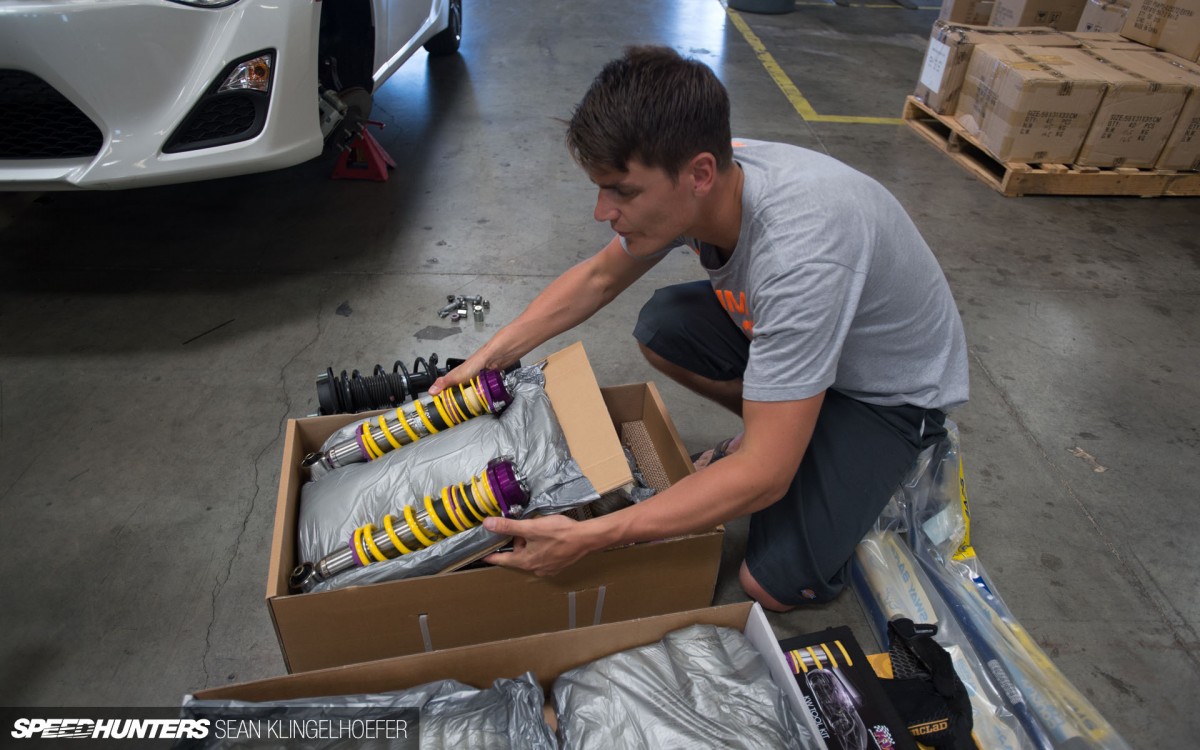 Is it more challenging making coilover kits for cars with McPherson strut type front suspension as opposed to say, a double-wishbone layout?  Do you prefer a particular suspension architecture?
Michael Grassl: In terms of reliability the McPherson design is more challenging. 
Just to explain a little, McPherson doesn't mean 'spring around shock', but Mr. McPherson designed the wheel guided suspension layout.
 This means the shock is influenced by camber/castor/steering etc. which requires stiffness and solid design of the unit.
 For racing purposes, KW uses an upside down solution with linear bearings inside their 2A (optional) and 3A competition units in order to reduce friction and offer the best possible adjustment range.
 In addition to that, the standard street and racing units with 16-25mm piston rods are equipped with long life plain bearing rod guidings to deal with the loads.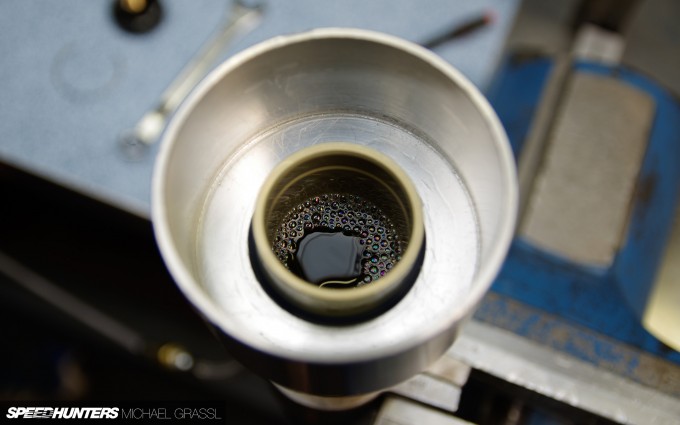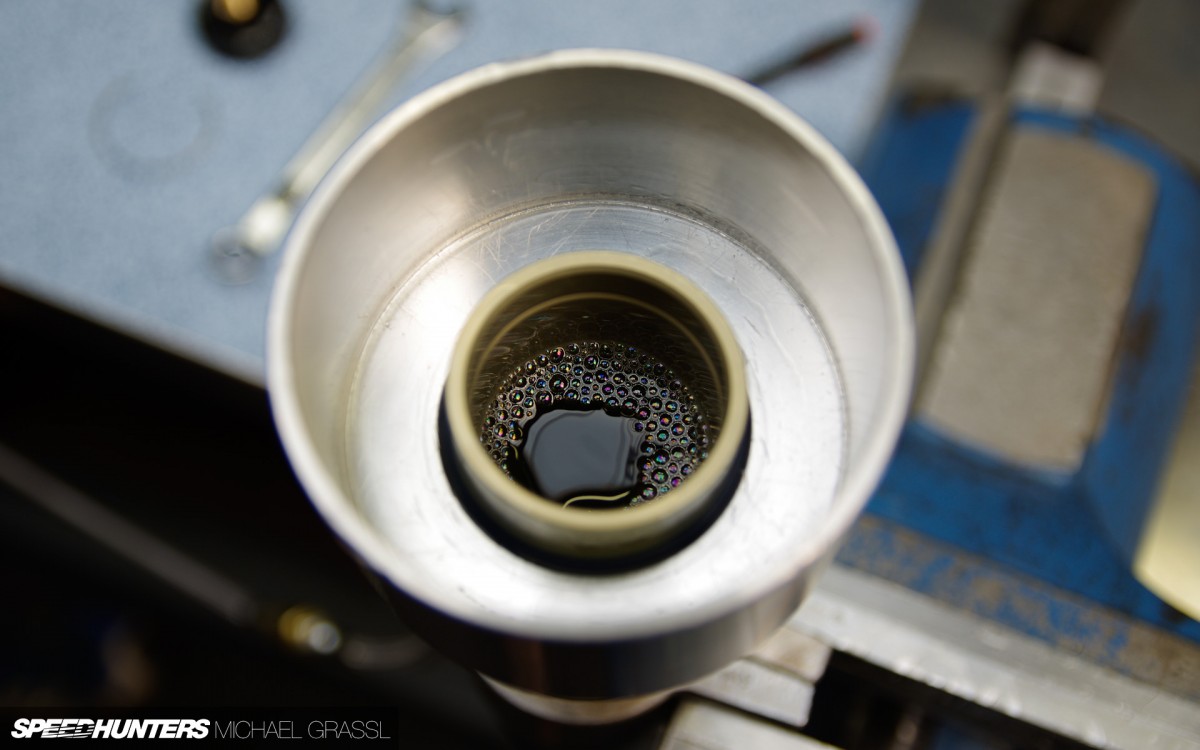 McLaren has decided to axe the sway bars on its current lineup of super/hyper cars and instead achieves roll control through fluid management within the four dampers. Is this tech something that could potentially be offered from the aftermarket, or is the required integration too deep within the vehicle's systems to make it feasible?
MG: Well, guiding a certain amount of oil through a hole with a certain diameter is the basic idea of damping that's been used in cars for a very long time. For racing, I would add the phrase – the less number of, and most simplistic parts you use – the smaller the risk of part to failure.
 For street cars, we have to think different.
 You can use your rear mirror, but a rear view camera might be even better at achieving more or less the same target.
 If an electronic/fluid controlled unit works better, then that's the way of evolution resulting in a good R&D job. 
For an aftermarket manufacturer it's not that easy as they have to deal with given presets, but thinking about DDC/DLC and some nice technologies being introduced in the future, I think KW also has a good product line.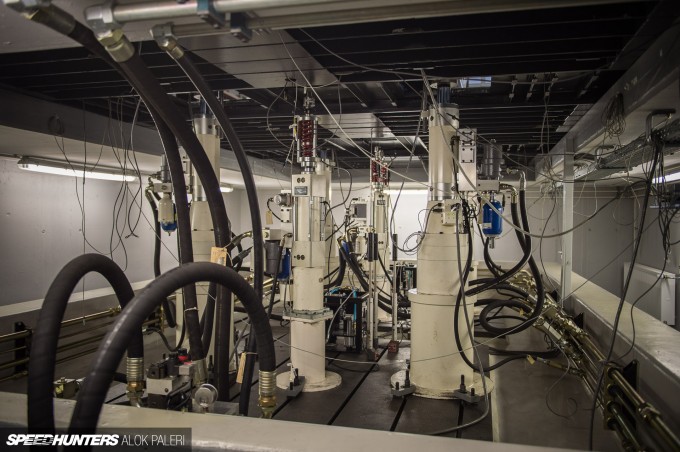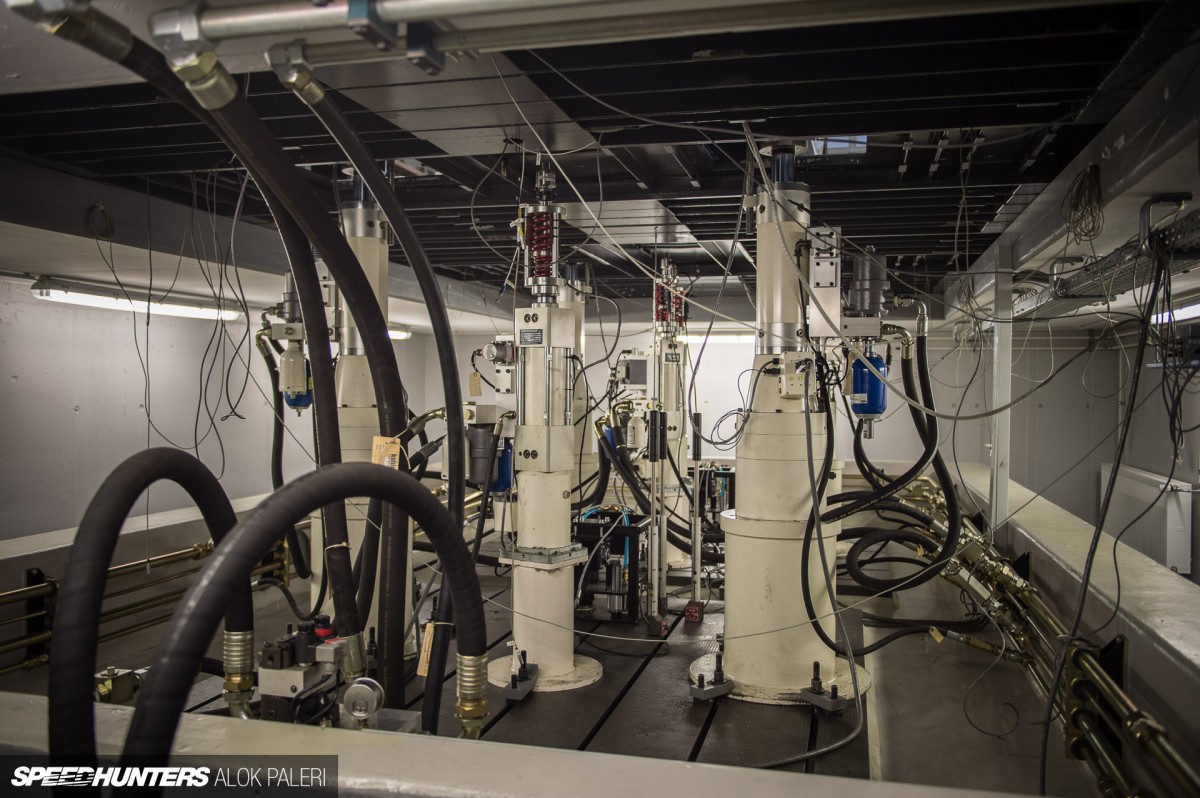 How do you pick the best spring rates for a car starting from scratch? How do you choose spring rates for your different ranges V1, V2, V3, Clubsport, etc. for a brand new car? Does KW make custom applications (pending money and necessary info)?
MG: The engineers at KW have a lot of experience in terms of developing kits for new cars. They look at the OEM parts, do test rides, sum up the pros and cons and finally design a package which suits the model's main purposes. The result always gets tested on the in-house seven-post rig in order to receive facts and figures, beside the impression given on test rides. You certainly can order custom solutions for any car – almost everything is possible!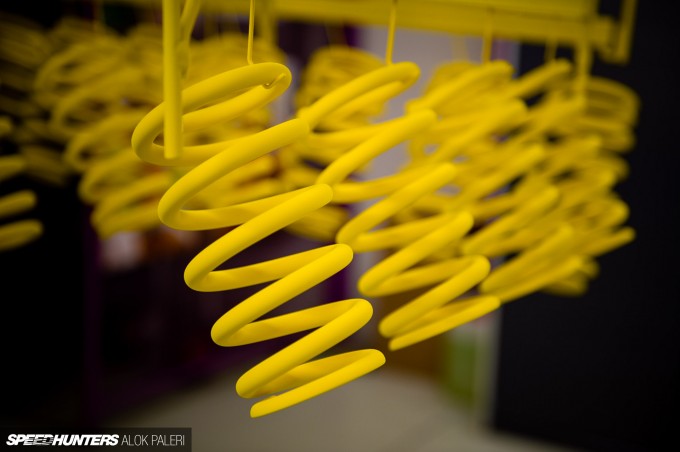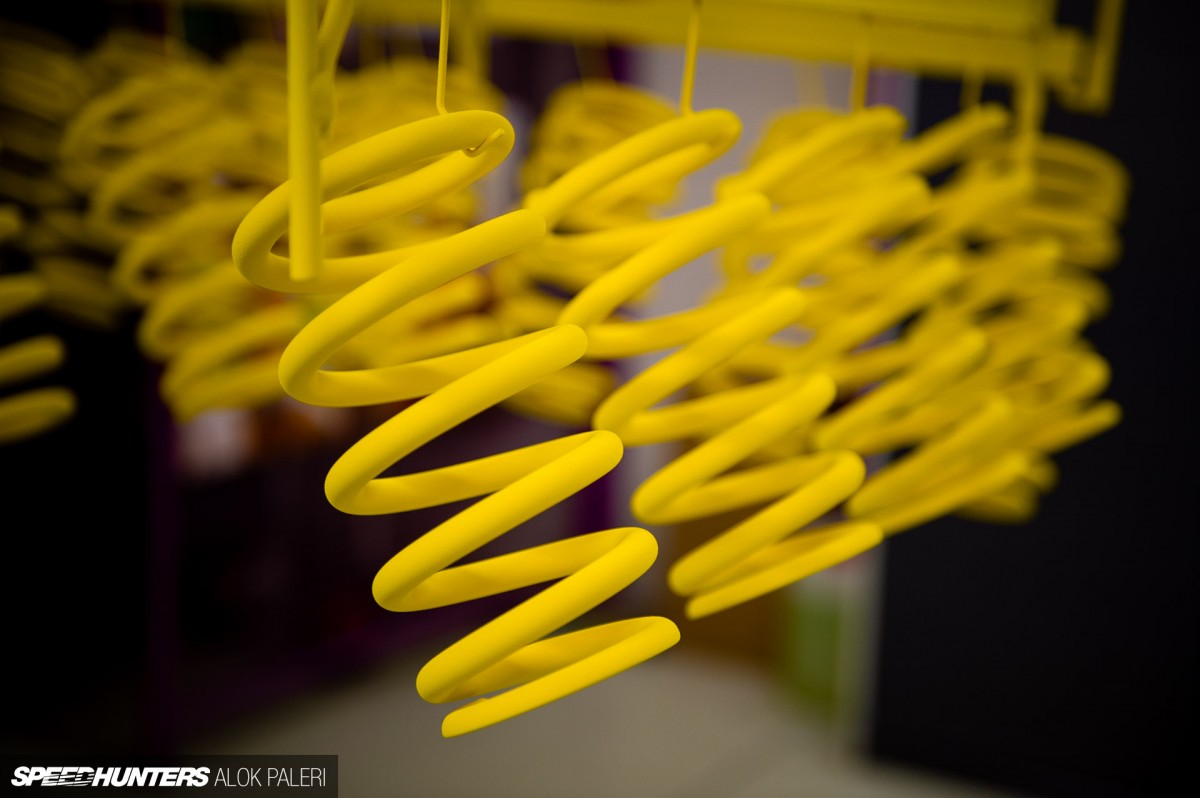 How dangerous are cut springs for use on the road/track?
MG: Why would you do that?
 Cutting, grinding, drilling etc. is always the worst solution. Sure, it maybe cheap, but how much is your life worth?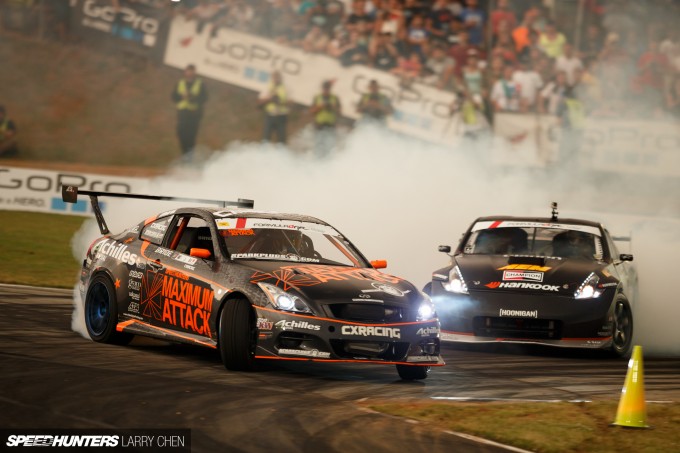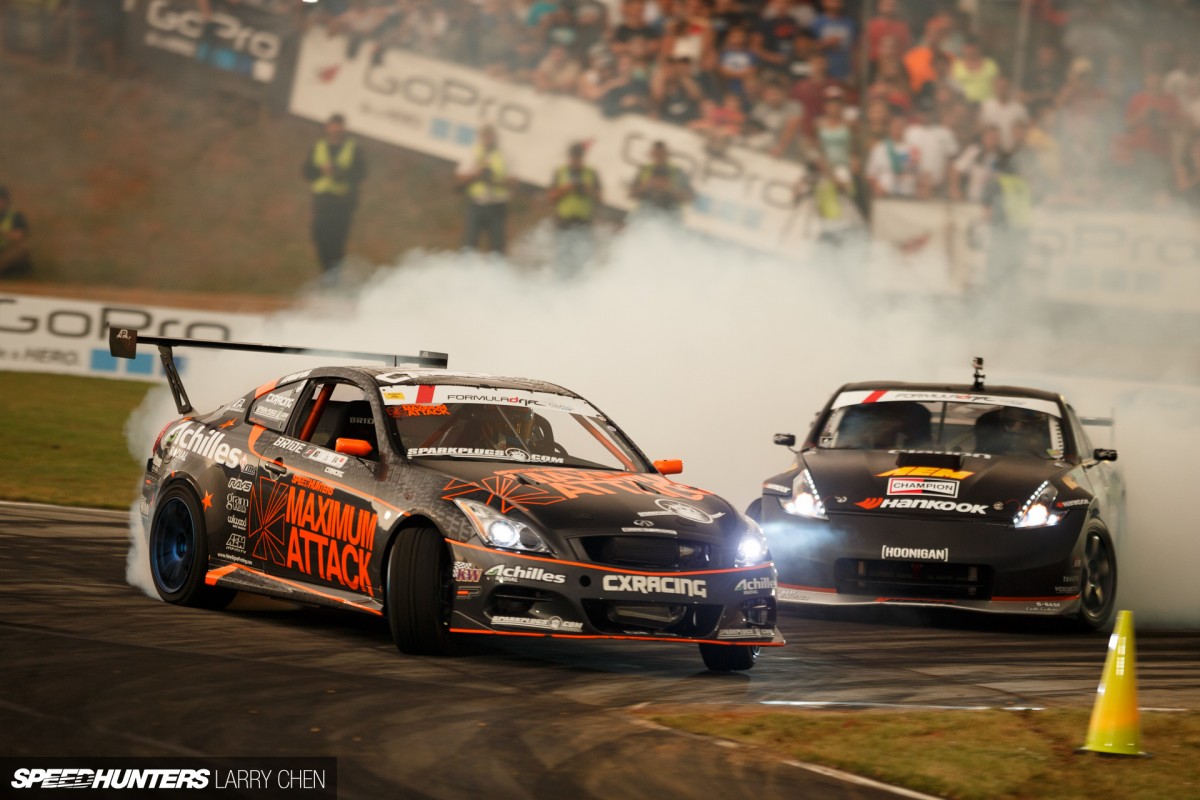 I often see drift cars with plenty of front camber. What are the benefits of this, and are there any drawbacks?
MG: The main reason for high camber values are because of modifications made to the steering angle, because you have to focus on the maximum lock and the tire being used in those extreme positions.
 The drawback of high camber in general is less tire-to-tarmac contact in a straight position, which means less braking power and increased inner wear of the tire.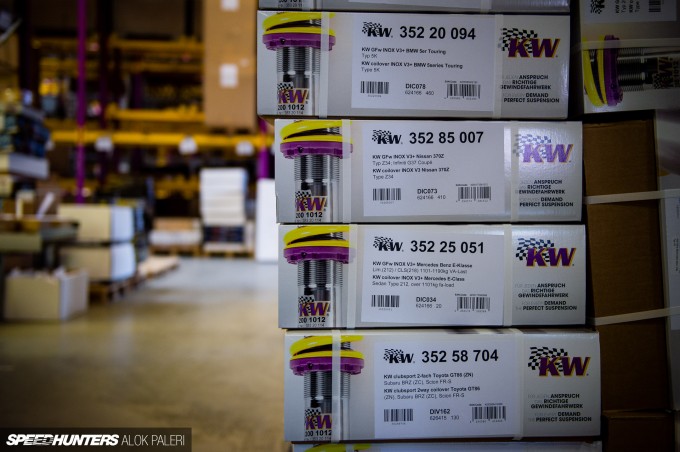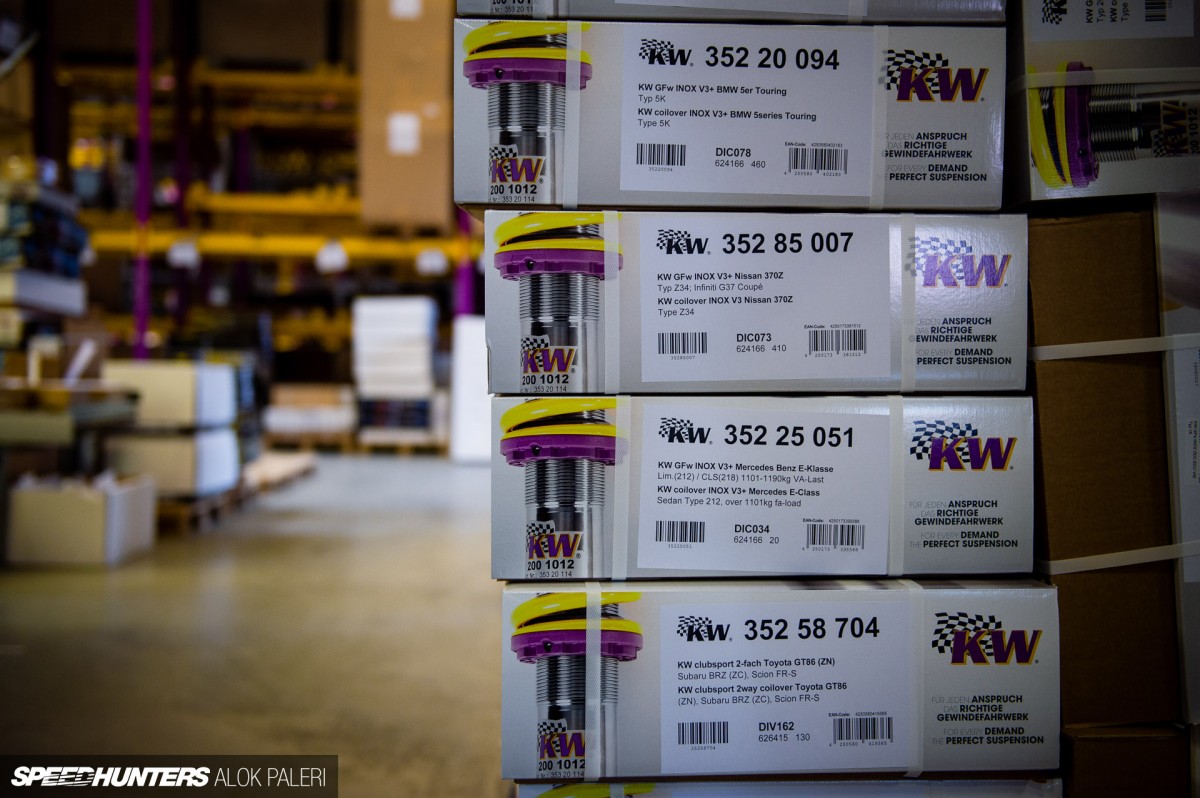 Why are your TÜV-approved Variant 1,2 and 3 coilover suspension kits for a 1998 Honda Civic Coupe so stiff at the front compared to the rear? This fact is more or less the only thing keeping me from buying them.
MG: Good question!
 How do you know the car is so stiff at the front versus the rear? From testing or just looking at the technical data? 
In case you are looking at the technical data and notice a difference in spring rates, you also have to consider the wheel/damper ratio of the car.
 Imagine you have a 1:1 damper (spring)/wheel ratio and you want to achieve a 50N/mm spring rate at the wheel – you have to use a 50N/mm spring.
 If your car has a damper (spring)/wheel ratio of 1:2, the suitable spring is not 100N/mm like most people guess, but you'd actually have to use a 200N/mm spring.
 Therefore, as the Civic has different ratios front versus rear, this results in different spring rates in order to achieve suitable spring rates at the wheel.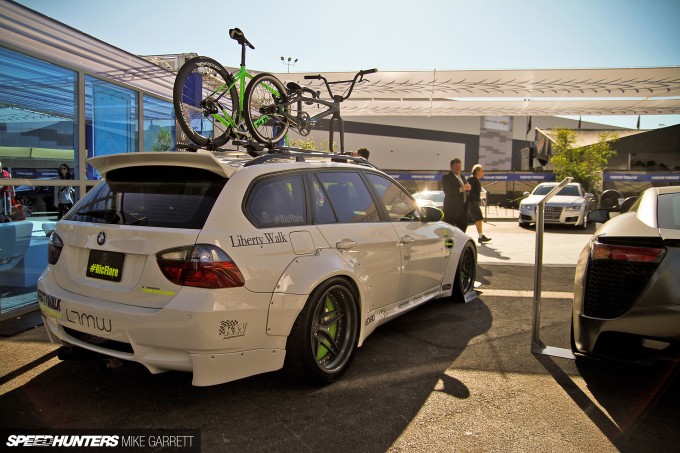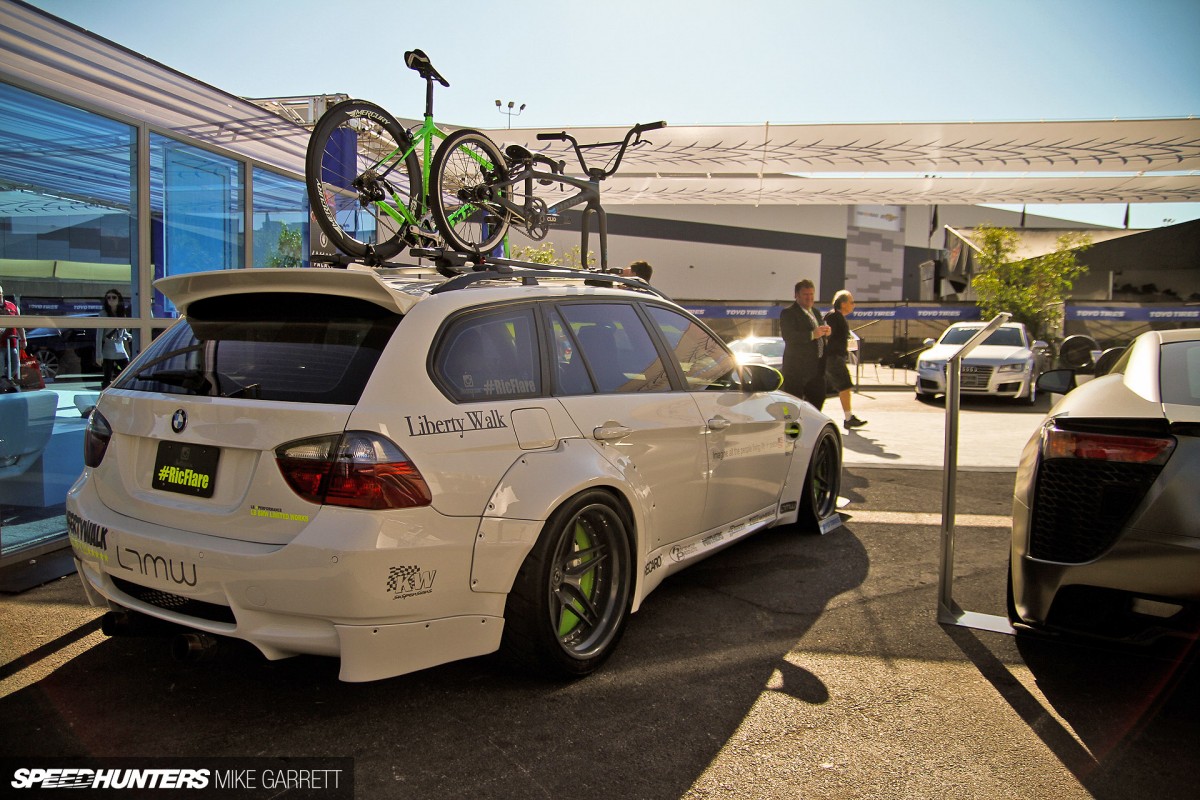 I own a 2013 BMW 135i Coupe. It's a weekend toy mainly driven in a spirited way on bad B-roads. I've already put on new non-runflat tires and am also thinking about a thicker swaybar, M3 subframe bushings and more camber up front. But the stock suspension is too harsh and too soft in corners.
 What coilover system do you recommend? KW SC or ST XA?
 Is getting used coilovers a bad idea? Can they be refreshed at KW/ST? Lastly, do KW and ST coilovers rust?


MG: Honestly – and not talking as a sales representative – I would go for Variant 3 if the budget allows. 
With the technology being offered within this package, you are able to adjust your car exactly to your requirements – both sporty and comfortable.
 The Street Comfort kit would be the choice to go for if you only focus other than ride height adjustment is comfort.
 In comparison to the M Sport package, the Variant 3 won't stiffen up your ride.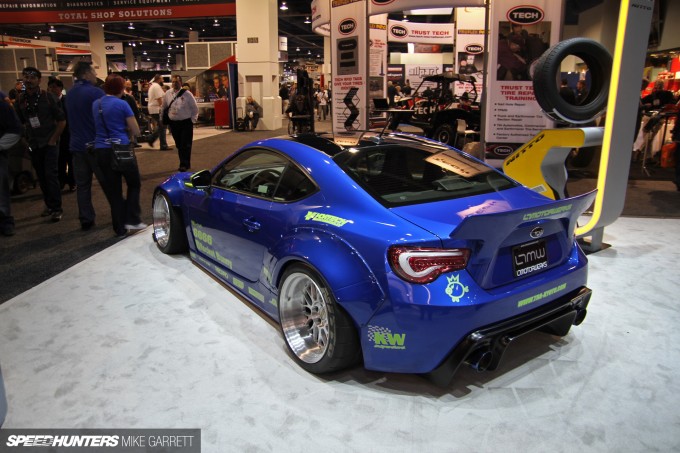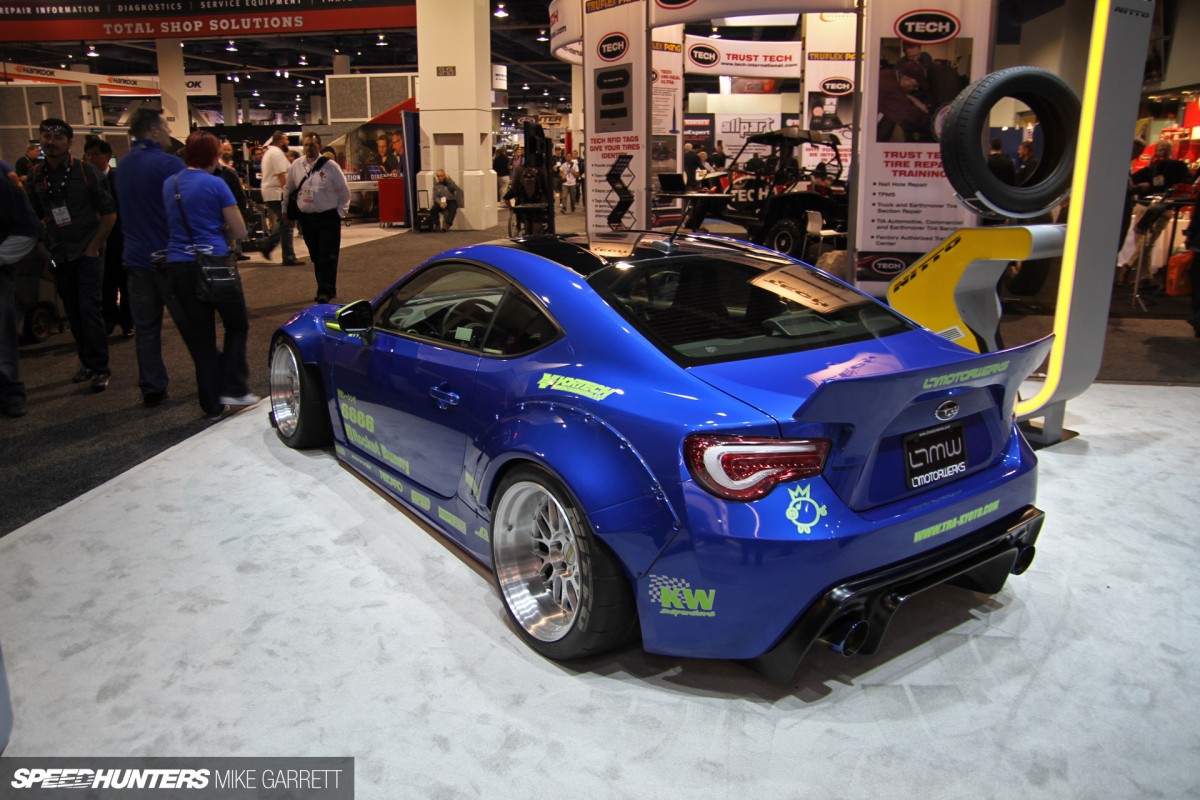 Does KW's coilover lift kit effect the rebound or extension at all? And how much does the KW lift kit extend the shock/coil to lift the suspension?
MG: The hydraulic units extend for 35mm and depending on the damper/wheel ratio of the car, it will cause a lift of 35-50mm at the wheel.
 Sure, once lifted your rebound travel decreases slightly, but cars with HLS kit installed will drop automatically at 60km/h in order to offer a safe ride – something especially important if the lift kit is mounted at the front only.
 It's not a driving and performance feature, but a product which helps to avoid damages being caused by speed bumps and garage entries etc.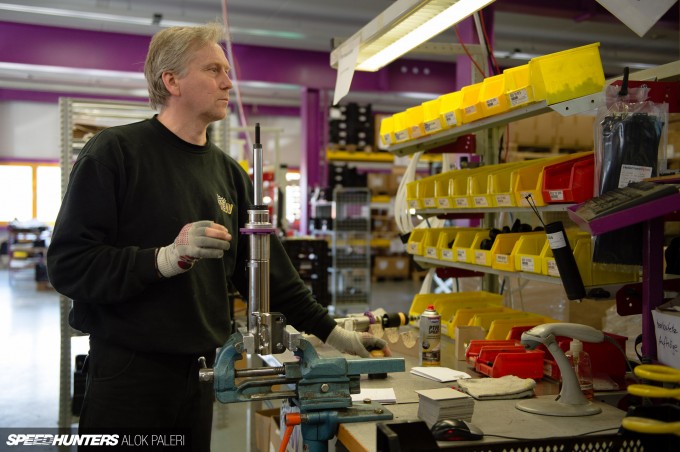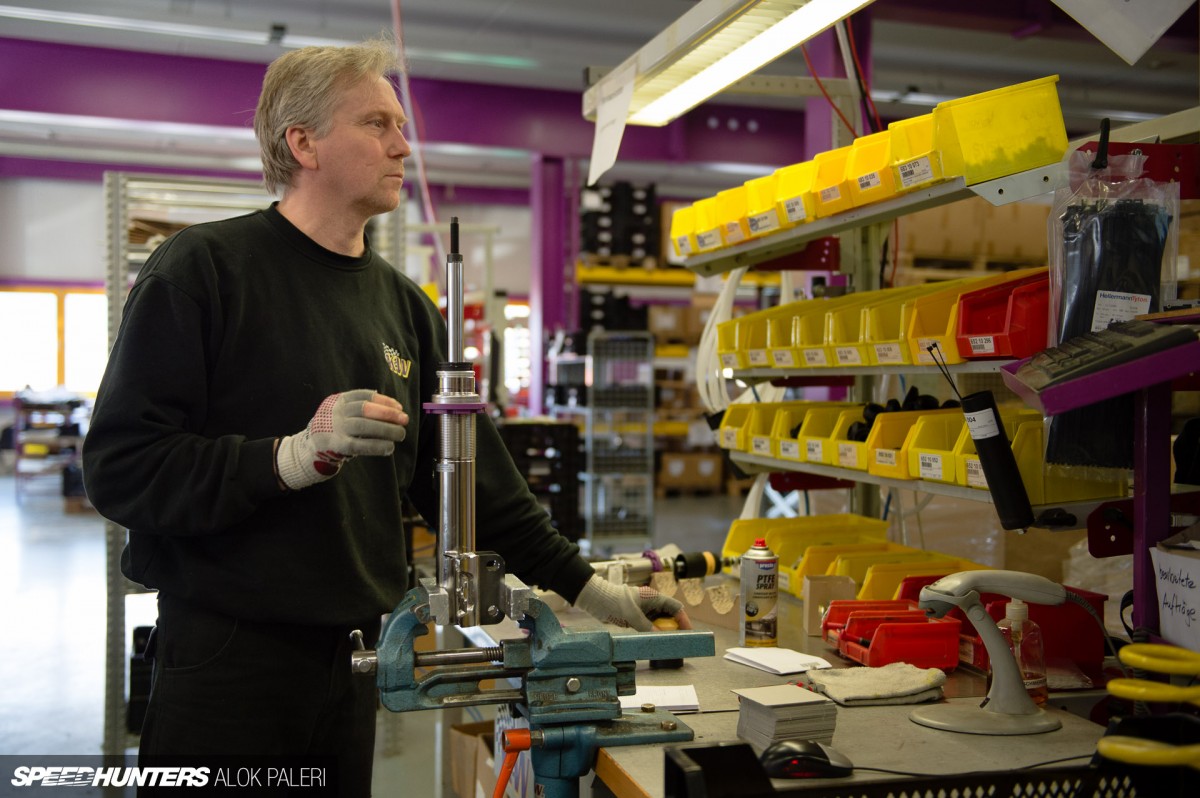 When trying to get the right amount of shock stroke, is the best position to set the ride height with the shock in the middle of its travel when sitting static? Do you want equal amounts of max shock travel for compression and rebound?
MG: It depends on your specific car of course, but a rough guideline would be 40 per cent positive and 60 per cent negative travel way from static ride height.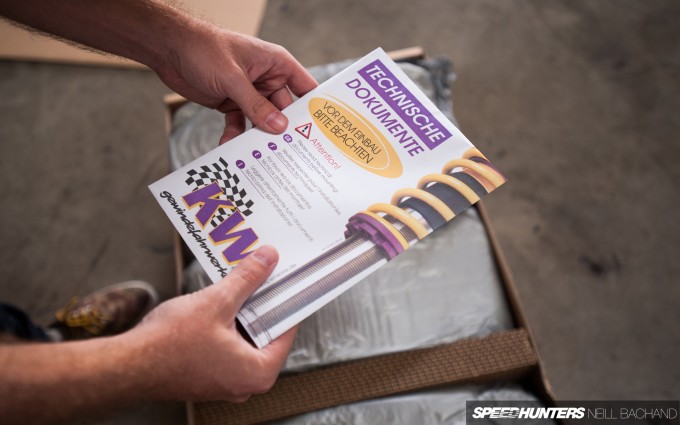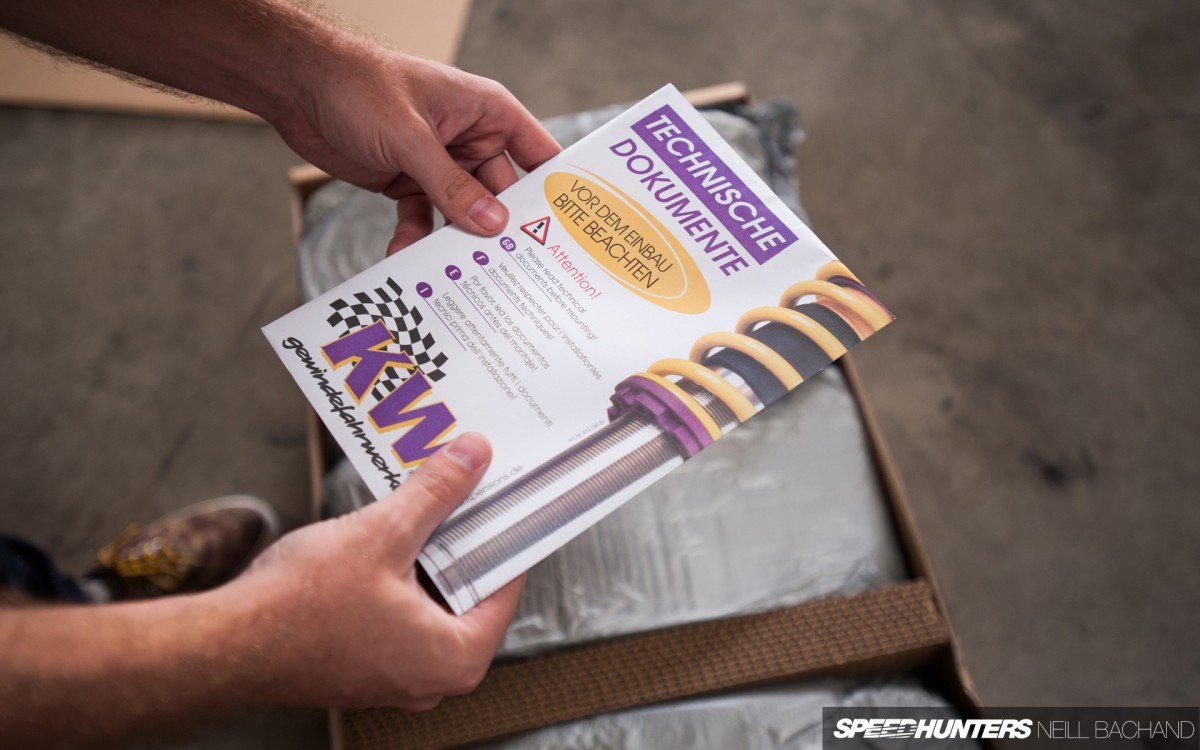 When it comes to coilover kits, what do you recommend for the budget-minded? Or is KW suspension a case where tight wallets need not apply? The 'if you're going to do it right…' cliche comes to mind, but do you offer kits that will let me upgrade my suspension without spending half the value of the car?
MG: At the end of the day everyone has to decide how much budget they have to spend.
 If you can't afford a KW kit or your budget is limited, don't do it.
 Maybe save your money first and get a kit once you are able to. There are alternatives too – just look at the ST product range: same technology, same R&D progress – the main difference is stainless versus galvanized steel struts.
 On the other hand, don't buy cheap stuff as suspension kits are a technical product.
Low Pros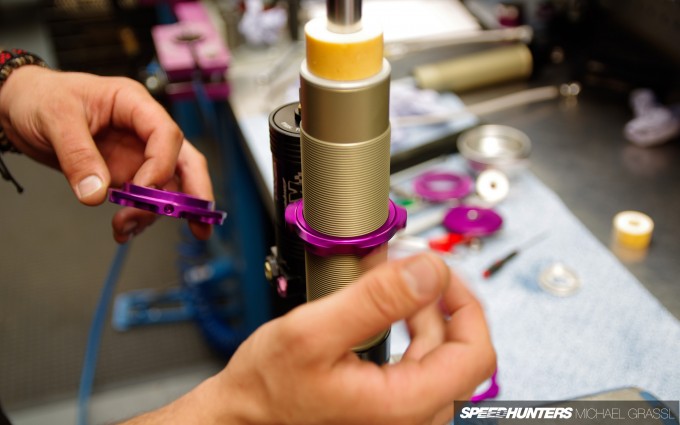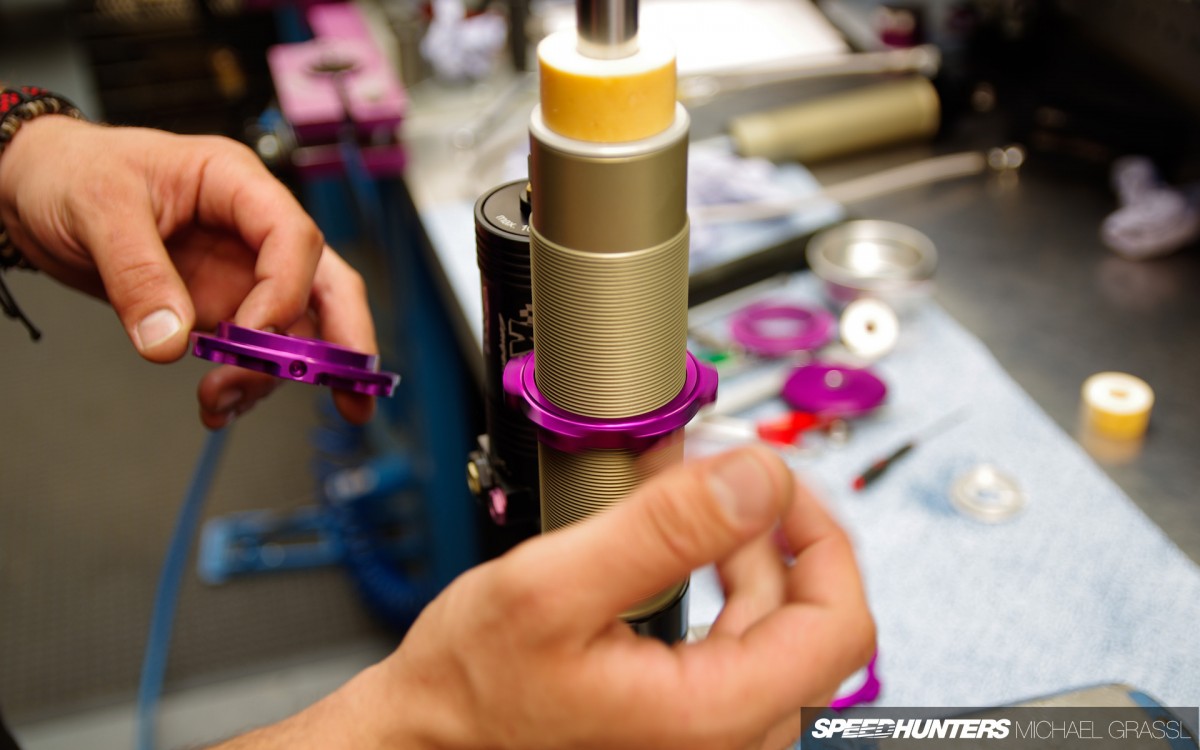 Is it dangerous to go from a spring bucket type rear suspension to a true rear coilover system?
MG: You might get in trouble, yes.
 When a manufacturer designs a car with spring/damper separated in the rear, all involved parts are adapted to this design.
 In detail, the areas where the spring ends are settled (chassis/lower wishbone) are stiffened and built solid. 
Why? Because the springs carry the weight of the car!
 Once you move the spring to another position, the weight of the car has to be carried at a different location.
 As the upper top mount of the shock and the turret around are not intended to deal with these loads, you might be confronted with a shock visiting you inside the car…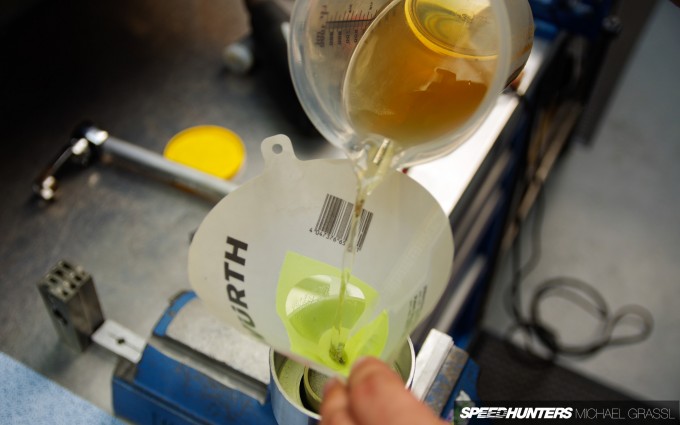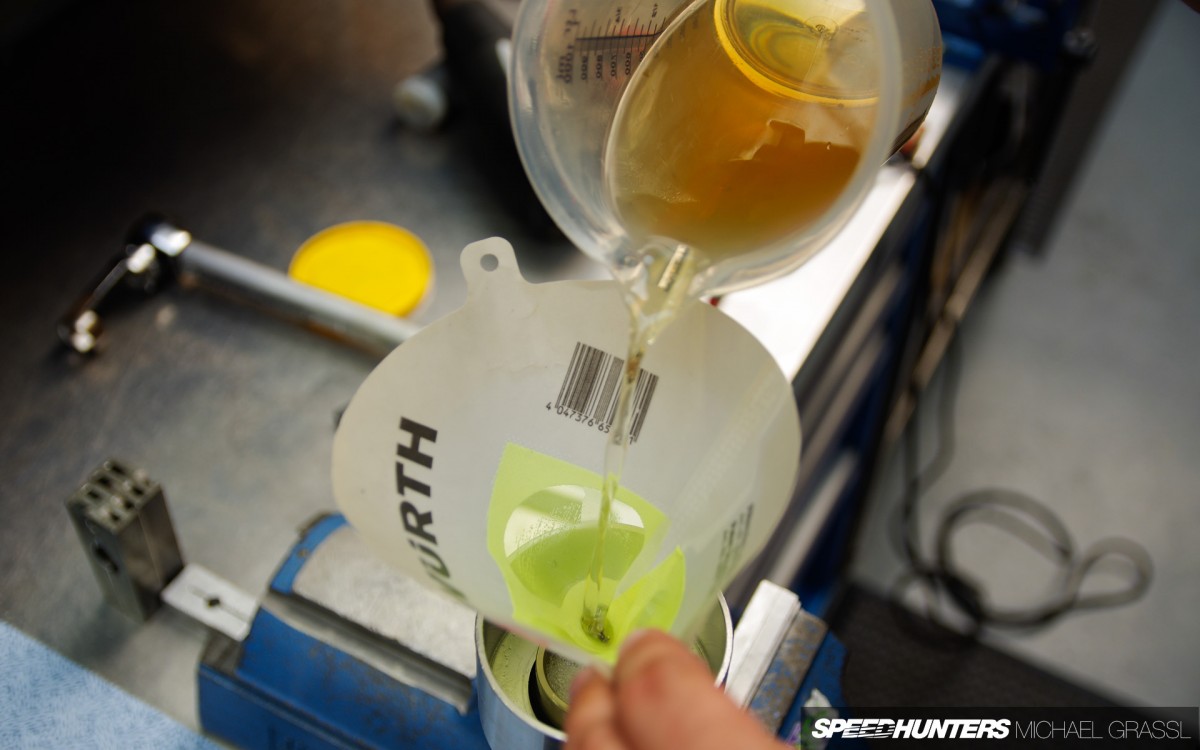 How do you choose which type of oil is going to be used in a shock? Thicker oil equals stiffer movement?

MG: Setup is made by valve technology only, the oil just differs between mono-tube and twin-tube shocks.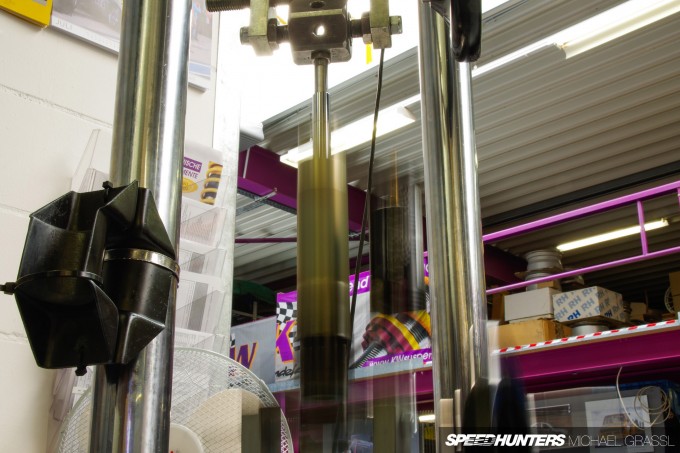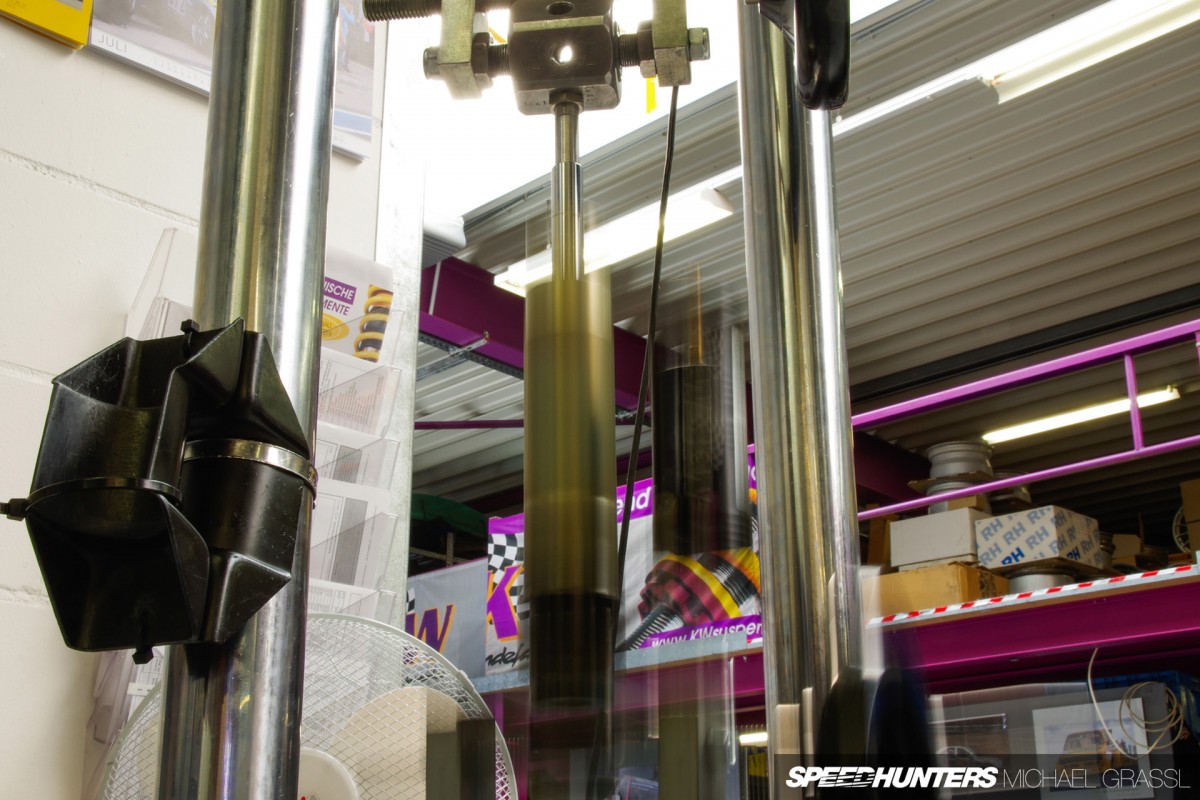 How do you measure spring rate and bound/rebound stiffness?

MG: KW owns spring and shock dynos which are used to check and analyse both OEM and KW/ST products.
 As a side not, every single shock that leaves the KW facilities has been tested on a shock dyno, and KW operates with 100 per cent final testing.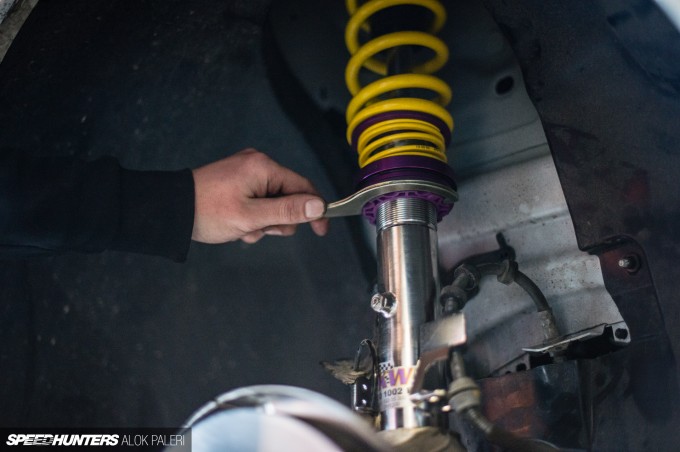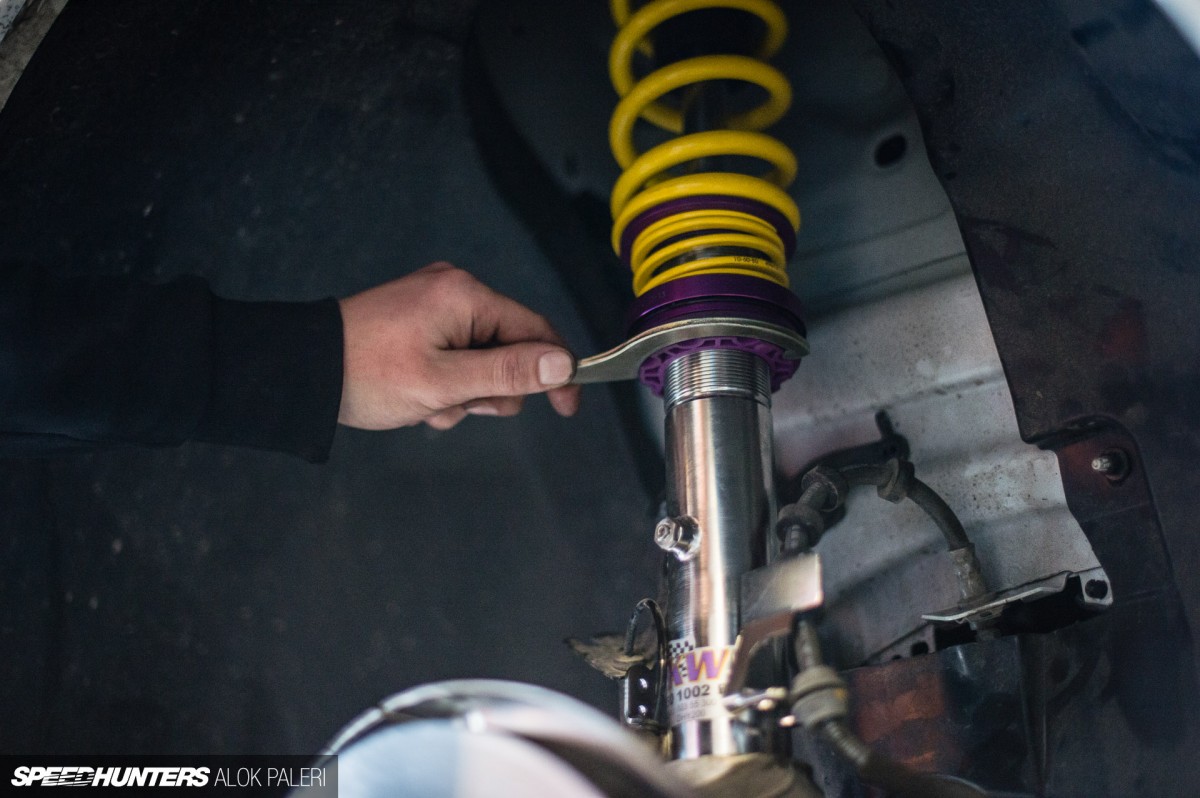 I have KW V2s on my VW Bora daily driver and whilst the ride is pretty good compared with budget coils, I have to say the build quality is not what I expected from the price. Some questions… 1. Why use plastic adjuster rings? Mine have seized onto to the threaded body after two years use and when I tried to adjust them, they would not budge. After a lot of brute force the only thing I've succeeded in doing is breaking bits of plastic off the adjuster rings. Now there are so many bits of plastic chipped off that there is no way they would adjust, even if they would move. 2. Why use just one ring with a grub screw? The grub screw puts a dent into the thread on the main body (which may or may not be the reason why mine are seized in the first place). Also, because the grub screw is going into a plastic ring, it strips the thread on the plastic when you try to tighten them up. A cheaper alternatives would be to use two metal rings – one for the adjuster and one for the lock nut. This solution is far more durable. 3. Also, the fronts would not go low enough as they were, so I had to remove the helper springs and raise it up a bit to get the ride height/clearance I required. 4. The damper insert seems to have play in them now as well, which is not good for a product that costs the amount it does. 5. For the above reasons, I wouldn't recommend KWs and I am in the process of changing my suspension again, to a cheaper alternative that seem to be constructed better. Although I'm not sure the ride will compare. I'd rather they lasted.
MG: I will try to answer all of your questions!
1. First of all, KW doesn't use simple plastic rings – they are made of polyamid with a stainless steel core inside.
 The reason for switching to those from alloy rings is the fact that alloy and stainless steel can cause problems in terms of corrosion, which means that once the combination meets salty roads, the alloy almost welds itself on the strut housing. 
In case you want to adjust the height after some time, operate as follows:
 jack the car up; clean the thread below the ring
; turn the ring downwards (no matter if you even want to go upwards later)
; clean the thread upon the ring
; turn upwards
. There is always some dirt inside the upper first thread and if you screw it up immediately the ring will collapse.
2. To be honest, when calculating the friction of the threads inside the ring and taking the car's weight into consideration, you will find out that you wouldn't even need the grub screw. 
It's more a visual safety tool which has to be tightened with 2N/mm only.
 Following this instruction, you won't damage the thread.
3. All lowering details are published on the website, in the catalogue and in the papers of the kits.
 Did you achieve the drop amount listed by KW, or is this maximum lowering not low enough?
 Removing the helper springs is not a good idea as the springs will come loose once the shock extends, and the spring could leave its recommended position.
 In case you are looking for a ultra low kit, KW offers those as well.
4. Setting the car at a ride height lower than the recommended one causes wear of the shocks and associated parts.
 Therefore, I would recommend to step back to a higher ride height in order to avoid this problem, or switch to an ultra low kit which is designed to offer additional lowering for your car.
 Damper cartridges can be bought separately, so there's no need to go for a complete new kit.
5. 

Sorry to hear this, but hopefully some of my answers have been helpful. It would be great to see your car still continuing to run on KWs in the future.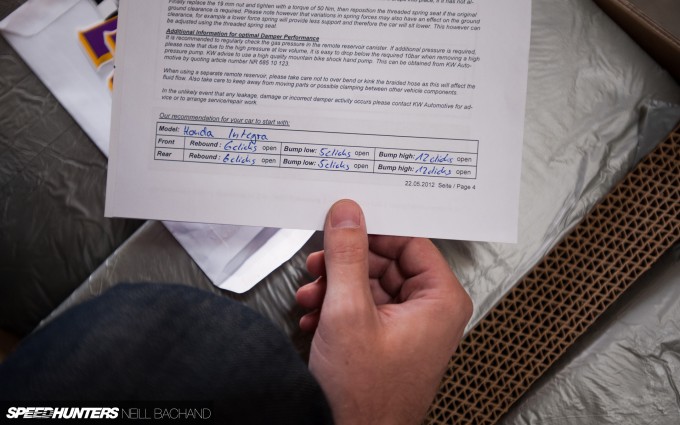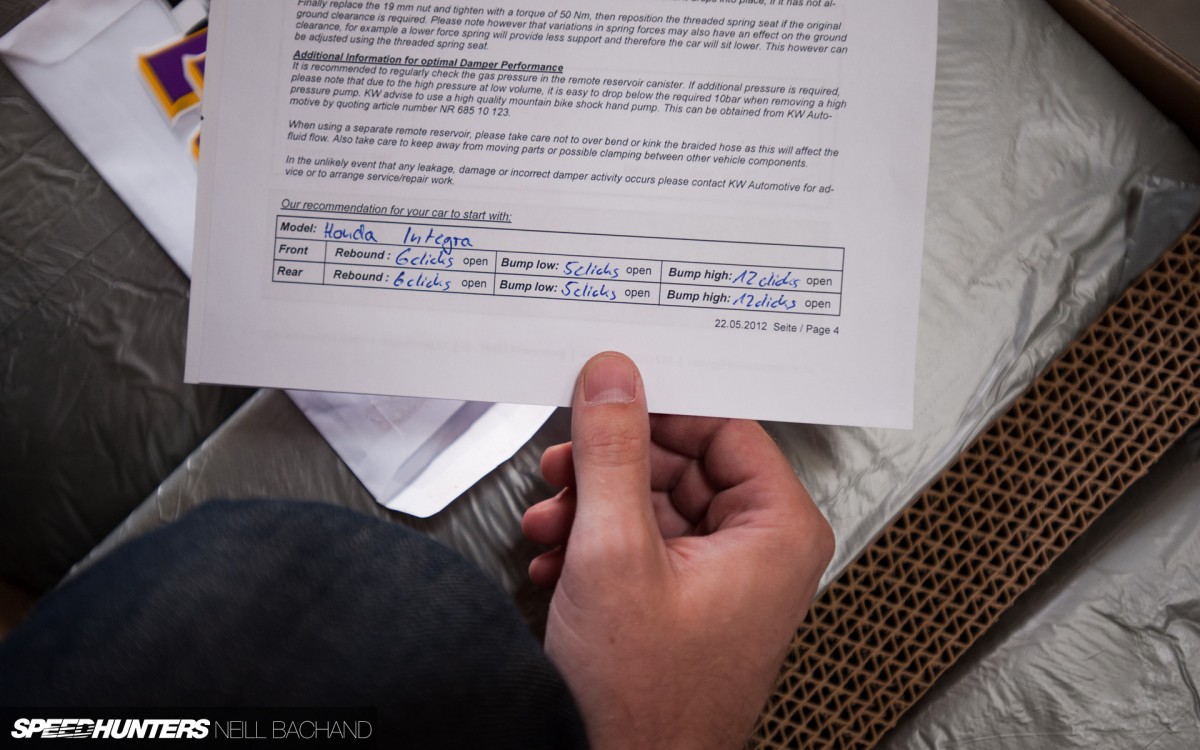 I just bought a brand new set of KW Clubsport for my S13 drift car. Would you recommend to start with basic setup described in the manual, or with something different. 
I've swapped the SR20DET engine with a heavier 2JZ-GTE and am wondering if this will this affect the recommended basic suspension setup?
MG: I would recommend to start with the basic adjustments. Just to note… KW introduced the Clubsport range as a performance-orientated solution for street legal cars intended to be used for fast road and trackday use.
 Reading between the lines with your car, it seems we are not talking about a street car being used for drifting sometimes – but a professional drift weapon! 
If so, a KW Competition kit might have been the better choice as they are designed and built to order considering all details you supply in advance, and therefore are matched to your car and its purpose of use.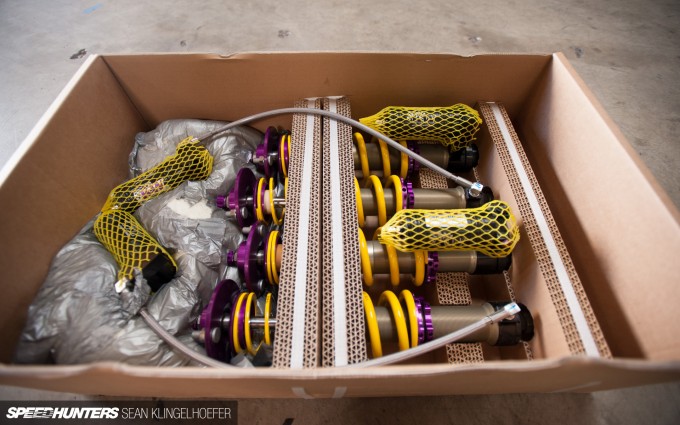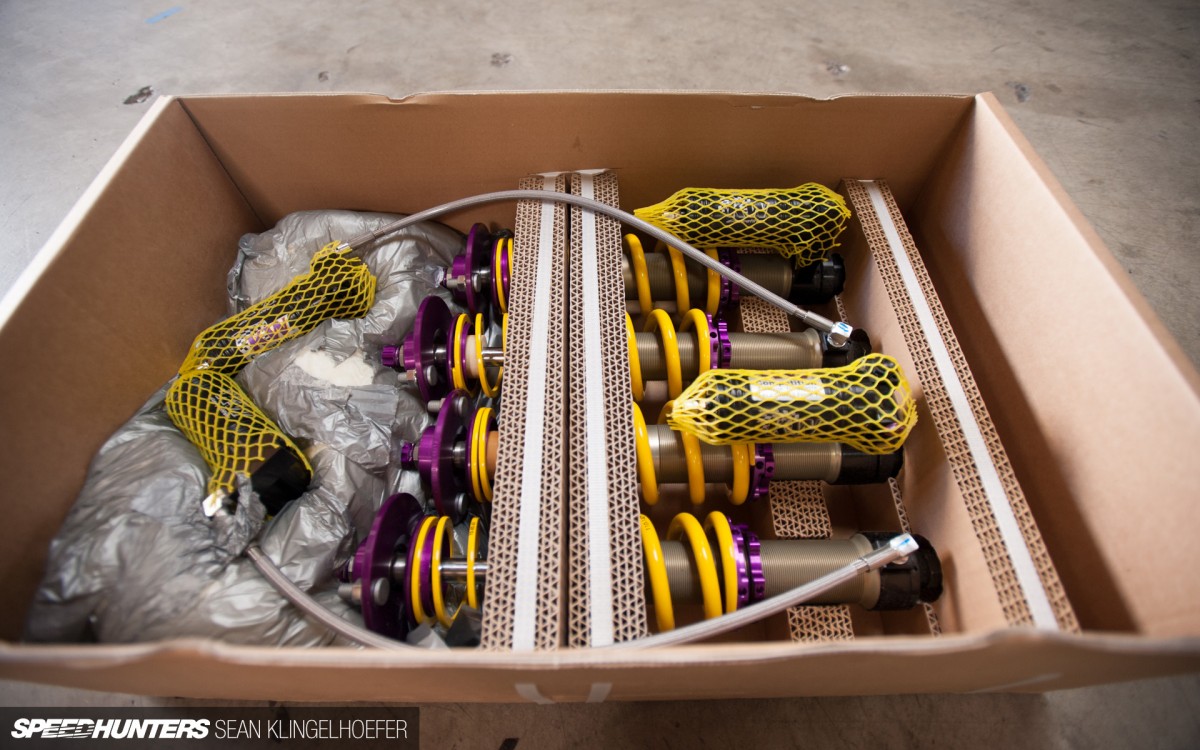 I currently daily drive a BMW 316i Compact (E36) with a TA-Technix coilover kit. Noticing the difference in price, where is the difference in quality between a TA-Technix (budget/cheap coilover) and a KW coilover?
I've read in a few forums that budget/cheap coilovers are okay for daily driving, but not safe for driving hard on a track. Is this true?


MG: Well, maybe some sales guys might talk about competitors in a bad way in order to point out their own product, but that's not my style.
 I can answer questions about KW products all day long, but it's the customer's choice which product to go for in the end. 
Just ask the same questions to a sales guy or technician of another suspension brand and compare all the points afterwards.
 At the end the day, a product's price is calculated on the costs of raw material, the R&D process and the customer service.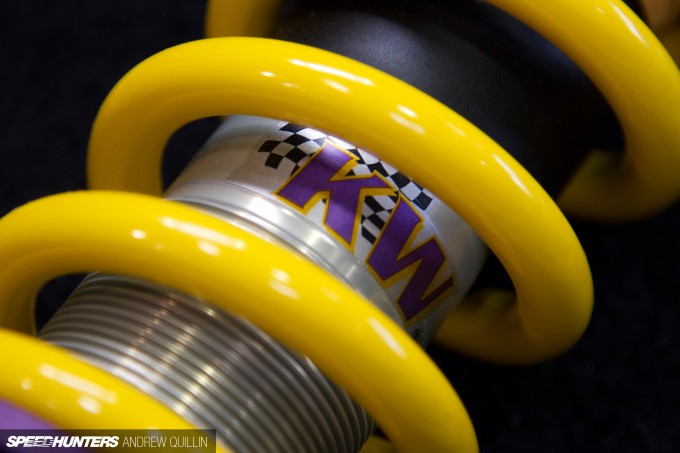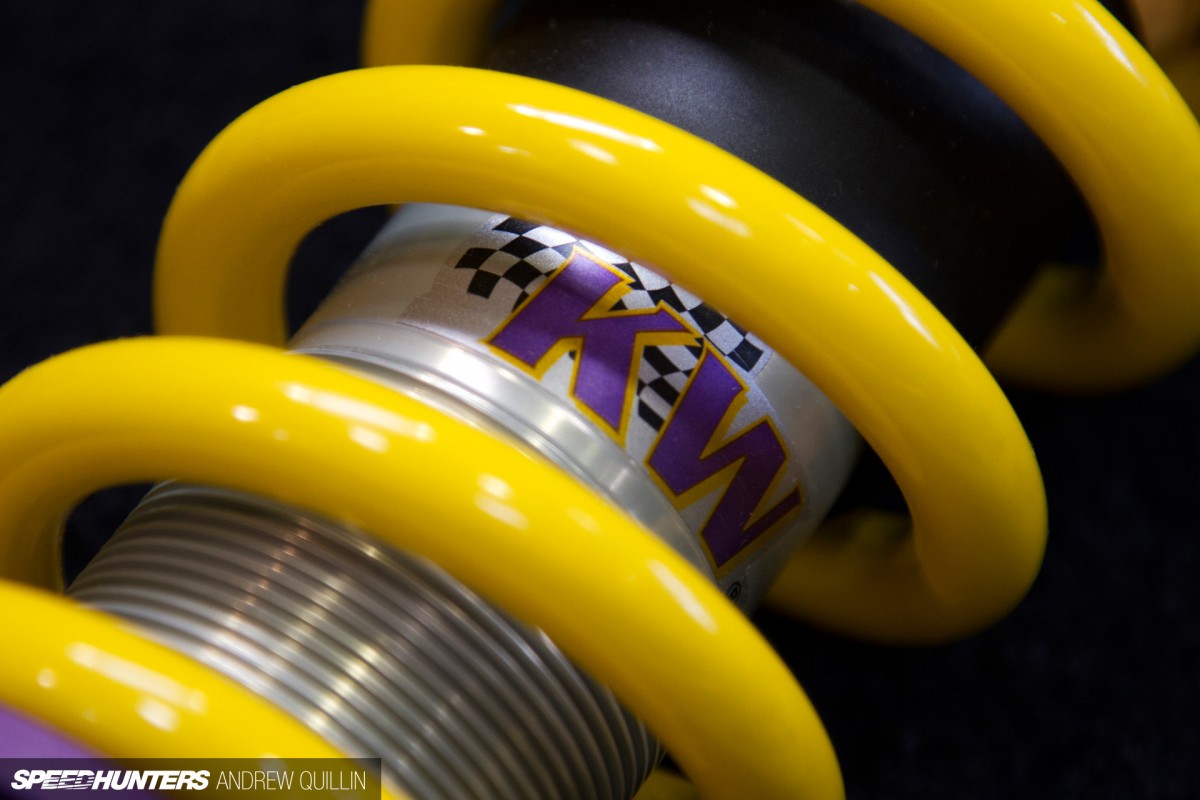 Why the purple and yellow colours?


MG: The choice of colors is quite simple.
 In the very beginning, Klaus Wohlfarth (Mr. KW) had to choose a color for powder coating his springs.
 As several colors were being used already by established suspension manufacturers, he decided to go for yellow as it was still free.
 The same thing went for the anodized color – red, black and blue already existed, but and purple was available.
 That's the whole story.
 As it's turned out though, the combination of purple and yellow is unique and easy to see. 
At the race track, you only need to take a quick look at the wheel arch to see if the car is KW-equipped or not.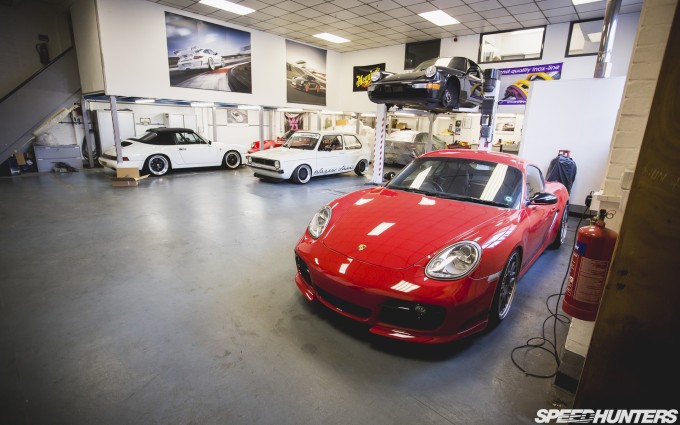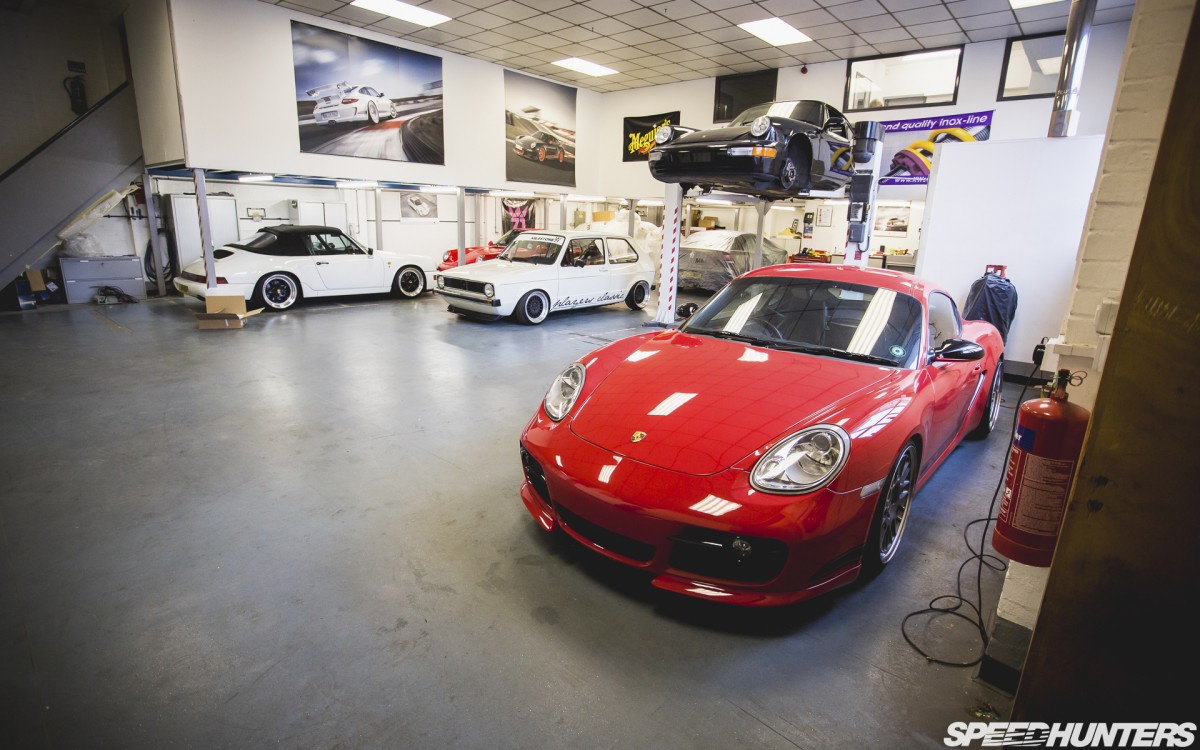 A lot of aftermarket suspension kits lower the car's ride height, and by doing so, change the suspension arms' geometry. Some aftermarket parts makers have roll centre adaptors and tie rod ends that claim to fix the geometry after lowering A car. How much must a road legal car be lowered to warrant the use of these roll centre adaptors and tie rod ends?
MG: The main reason most people switch to a coilover kit is for the purpose of lowering. 
As KW is a German manufacturer and its products are sold worldwide (and of course also in Germany), the engineers have to follow certain regulations given by the technical inspection service here (TÜV).
 There are guidelines for spring rates, ride heights, safety issues, and raw materials etc.
 In buying a KW kit, you are safe to pass the TÜV tests, which means no conflict with OEM parts. Therefore, for a street car and street use, KW will supply all the necessary parts required to install and use the kit.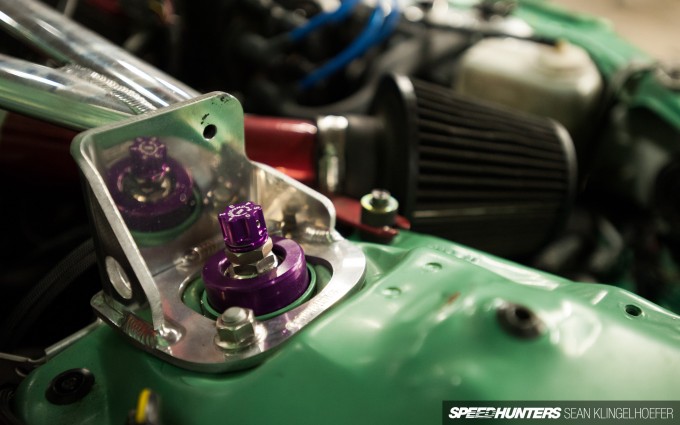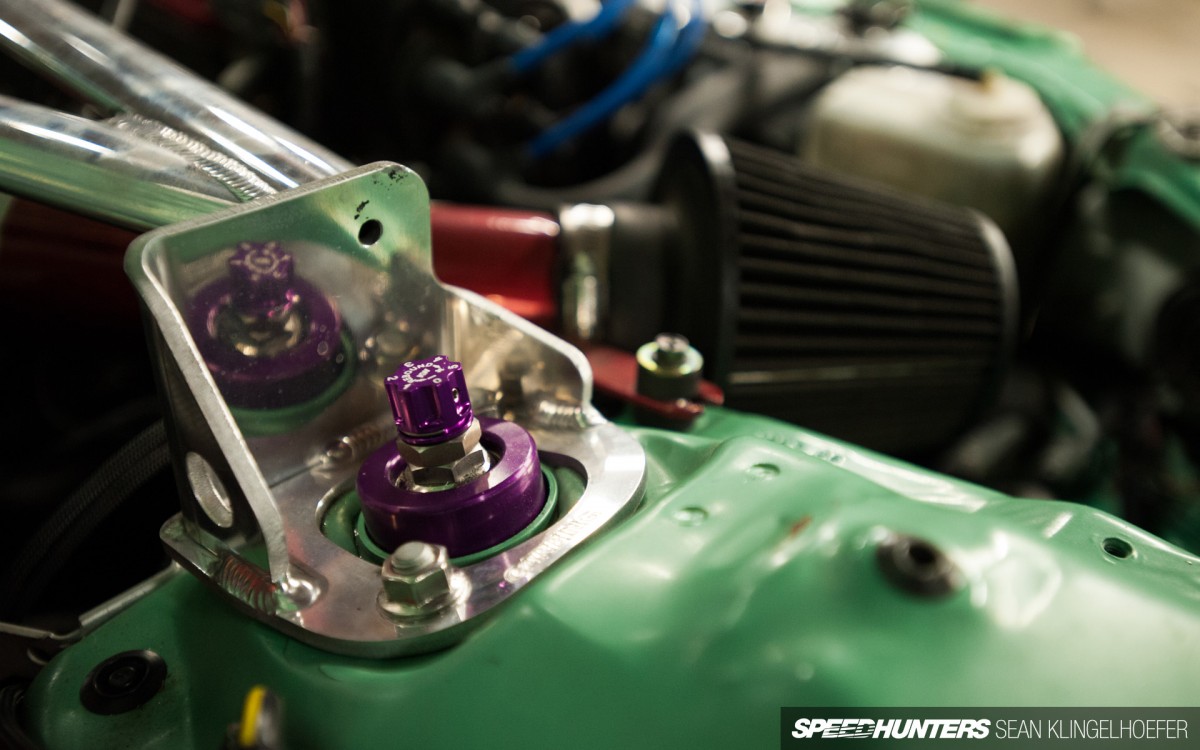 With KW's Variant 1, 2 and 3 kits, what are the benefits of having only the possibility of rebound setting? I bought my 350Z with Variant 2s already installed, but I can't see any benefits in changing the setup because there is no compression to alter as well.
 Main target is sporty street driving with some trackdays during the year.
MG: Rebound in general is the knob to adjust the body roll and at the same time your comfort.
 Closing the compression completely will result in a stiffer ride that's still acceptable.
 Closing the rebound completely will result in less body roll, more direct steering but also far less comfort, as doing this makes the car copy the road.
 Reading your lines about usage, I would switch to V3 or Clubsport.
Flat & Fast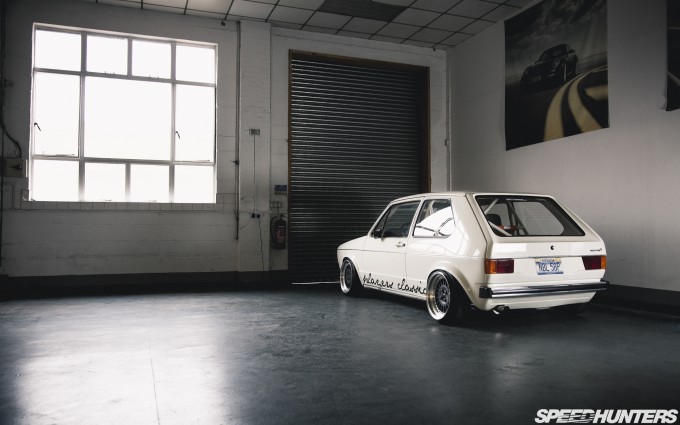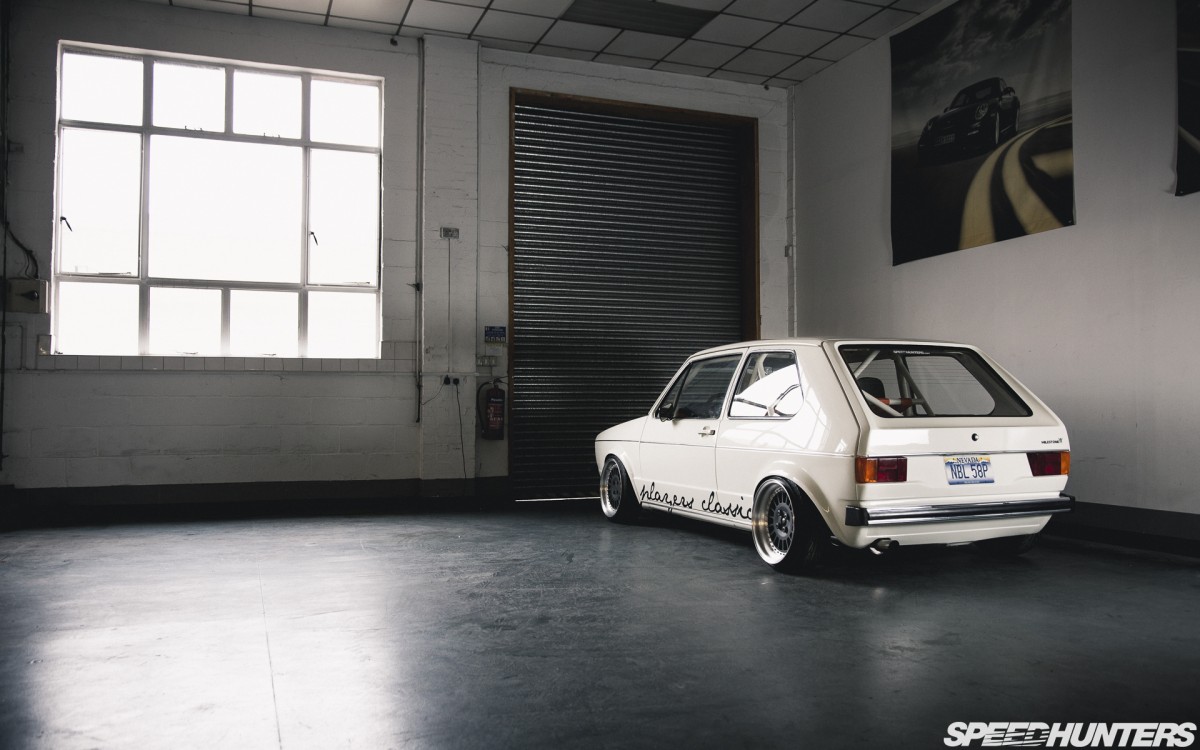 I like the stanced look and a low car but also want a car that I can drive. How low can I go before the handling of my car is comprimised? Is there a point where I can have a low car without ruined handling?
MG: For KW suspension, the maximum lowering – or even better, the minimum center of wheel to outer wheel arch distance – is listed in the TÜV paper included in the suspension box. 
Just take a look and you will see how low your car can go while still operating within the healthy range.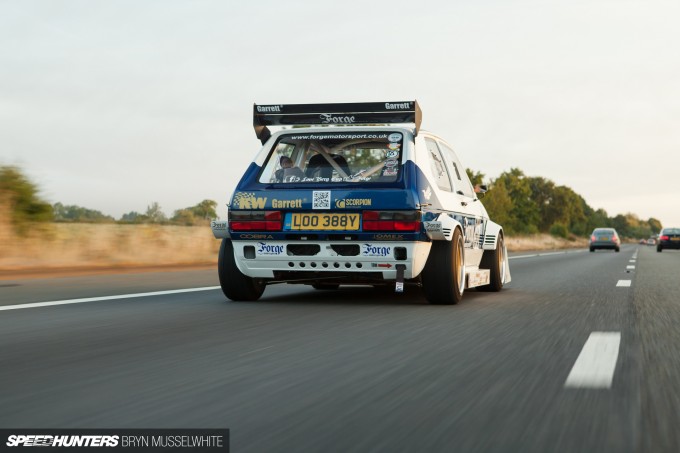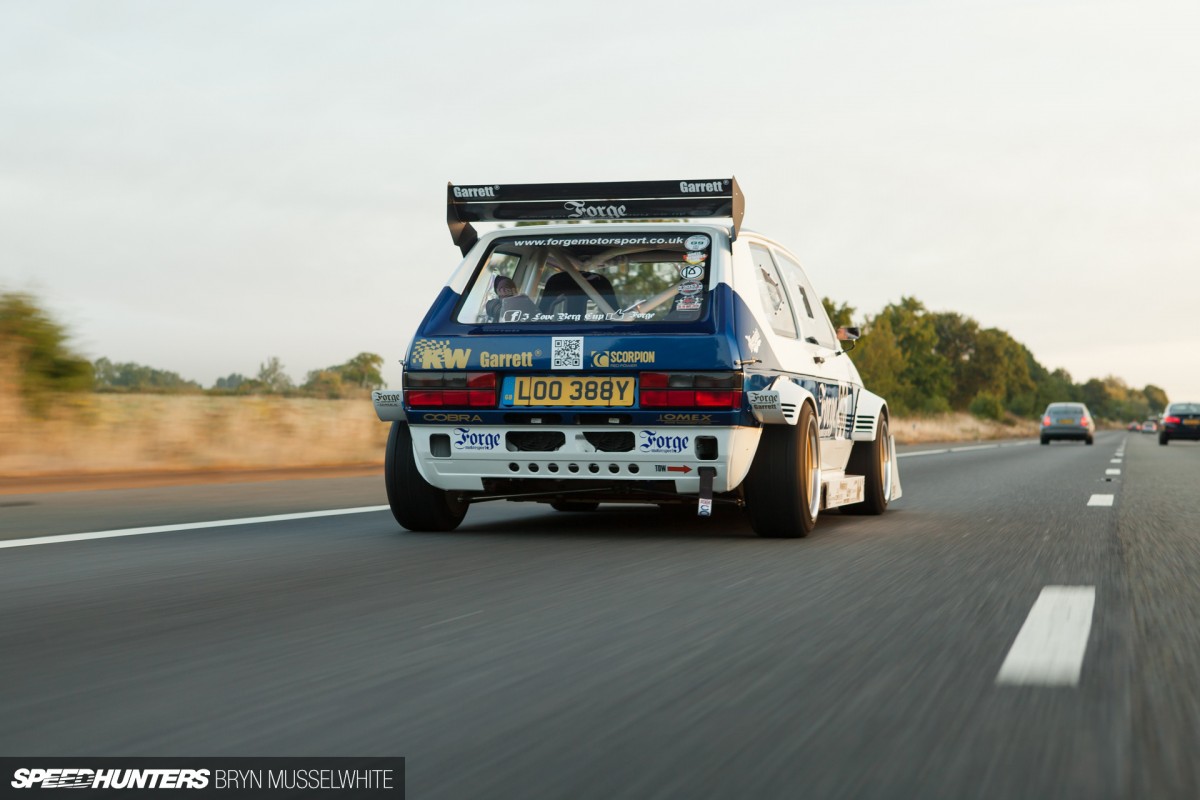 Is it possible to have a single tune for coilovers that are practical and reasonably comfortable for the street while at the same time good for the track? Or is that too much to ask for?


MG: It depends on the level you are driving and racing. 
Hitting the track a few times a year while using the car as a daily all the other time, a Variant 3 is great.
 Being track addicted and racing every weekend with a track tool, a Clubsport or even Competition kit will be the better choice.
 But having an S Class during the week and a Porsche race car for the weekend by tuning one knob is not really possible.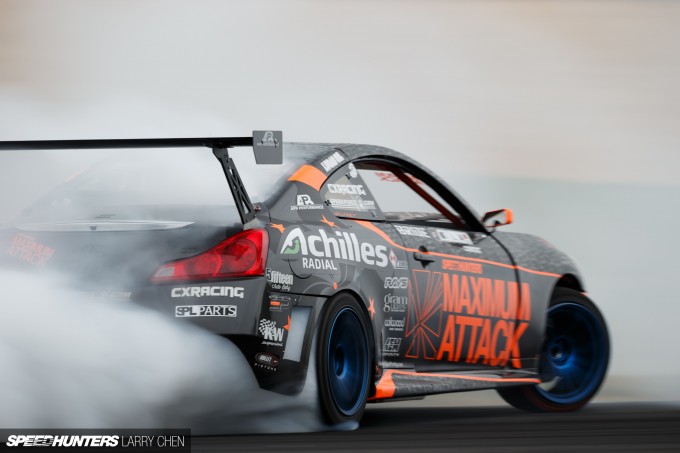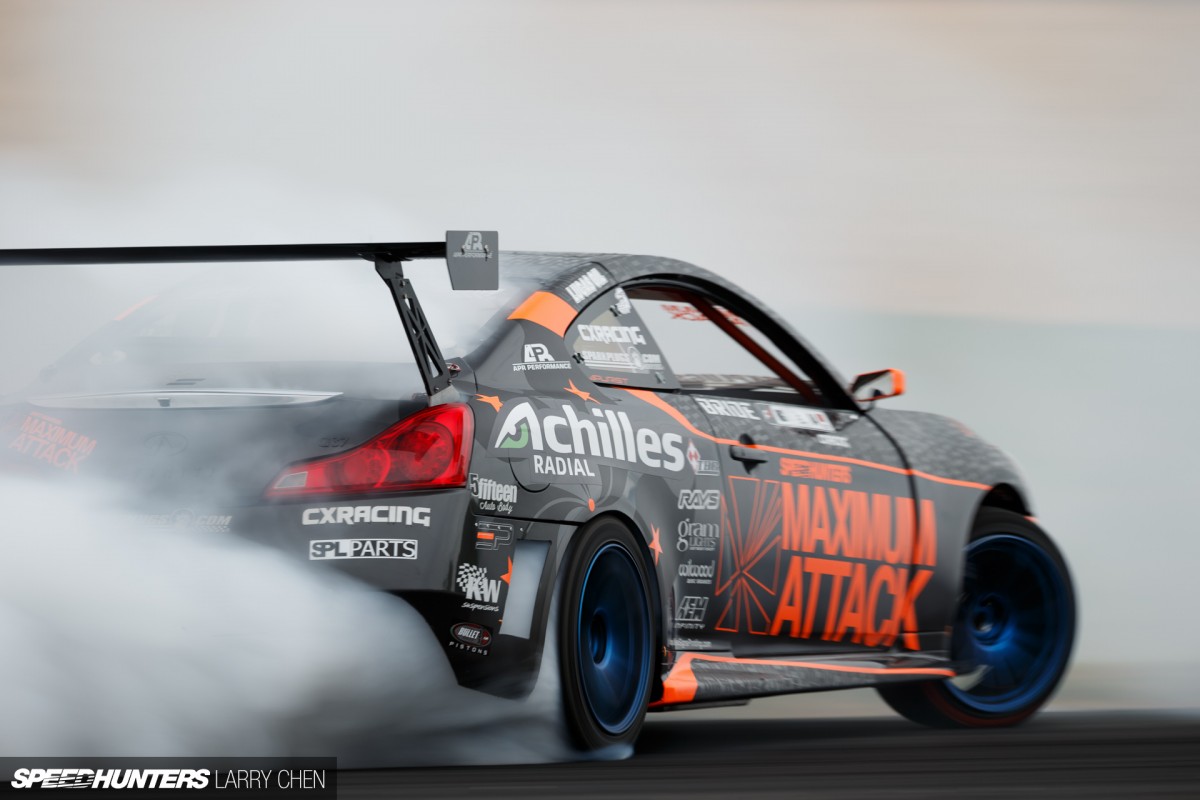 For a competitive drift car specifically, is it better to run a softer spring rate? Also what about softer dampening etc. What's the range as far as getting the most grip?
MG: In the beginning, drift cars had to be stiff in the rear in order to start drifting immediately.
 But things have changed and now drift-specific setup require serious development.
 Looking at Formula D cars you will see at that it's not all about going sideways, but also car control and speed.
 Softer springs always supply more mechanical grip and that's what pro drift teams are looking for.
 It's not about burning rubber a 80km/h – we're talking about up to 160km/h or more.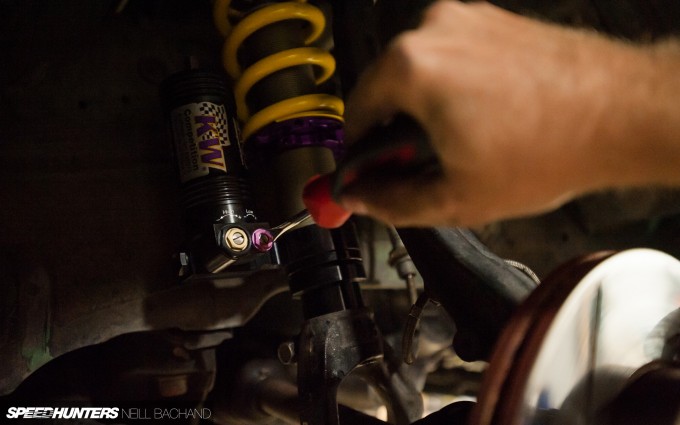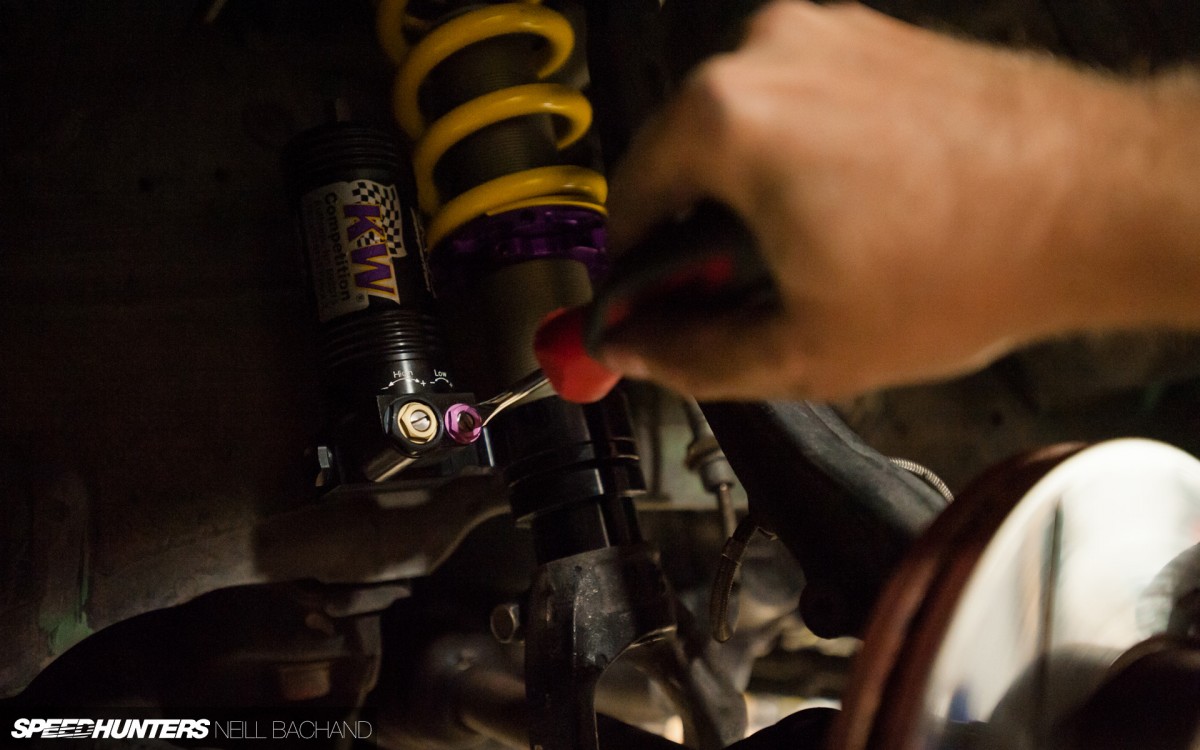 What is the difference between KW Variant 1, Variant 2, Variant 3 and Sleeve kit?
MG: The easiest thing to do is check the KW website as every single product range is explained in detail.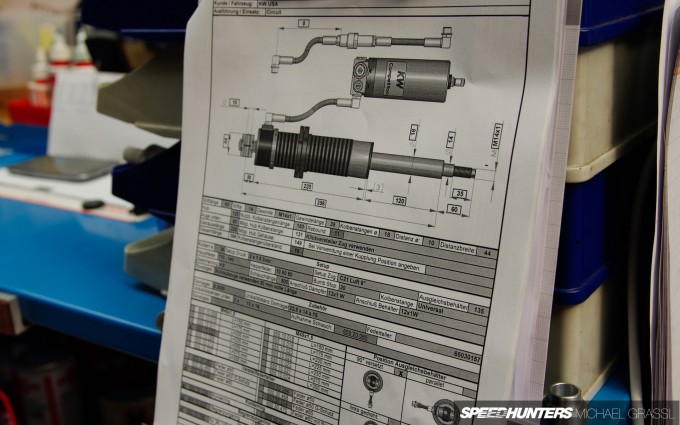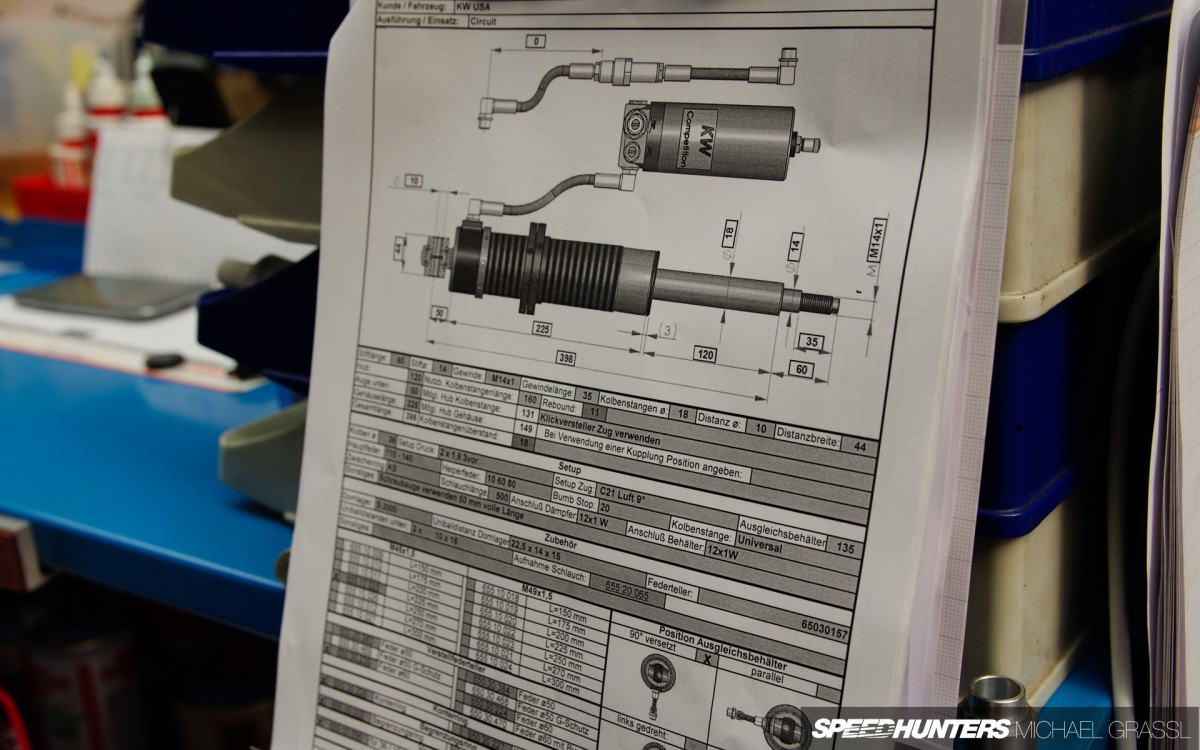 How and where can I get coilovers for a 1985 Toyota Celica ?


MG: Just call KW and order!
 As this car isn't listed in the standard application list, it will be a customized kit being produced for you.
 This can be done for any car which is not available officially, and the kit will be designed and produced in the race department regardless of whether it's for a street or competition application.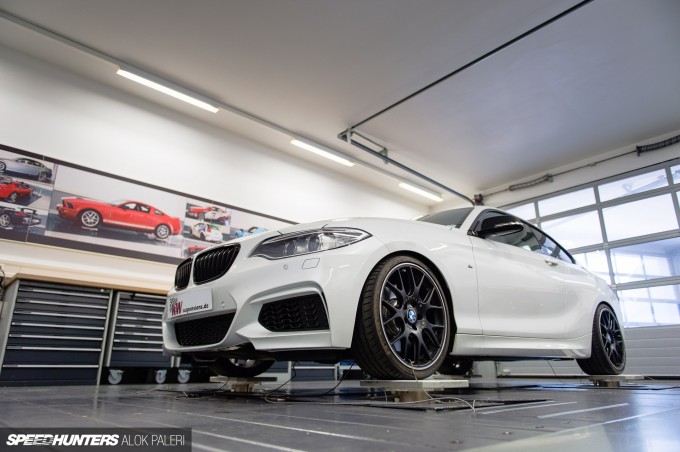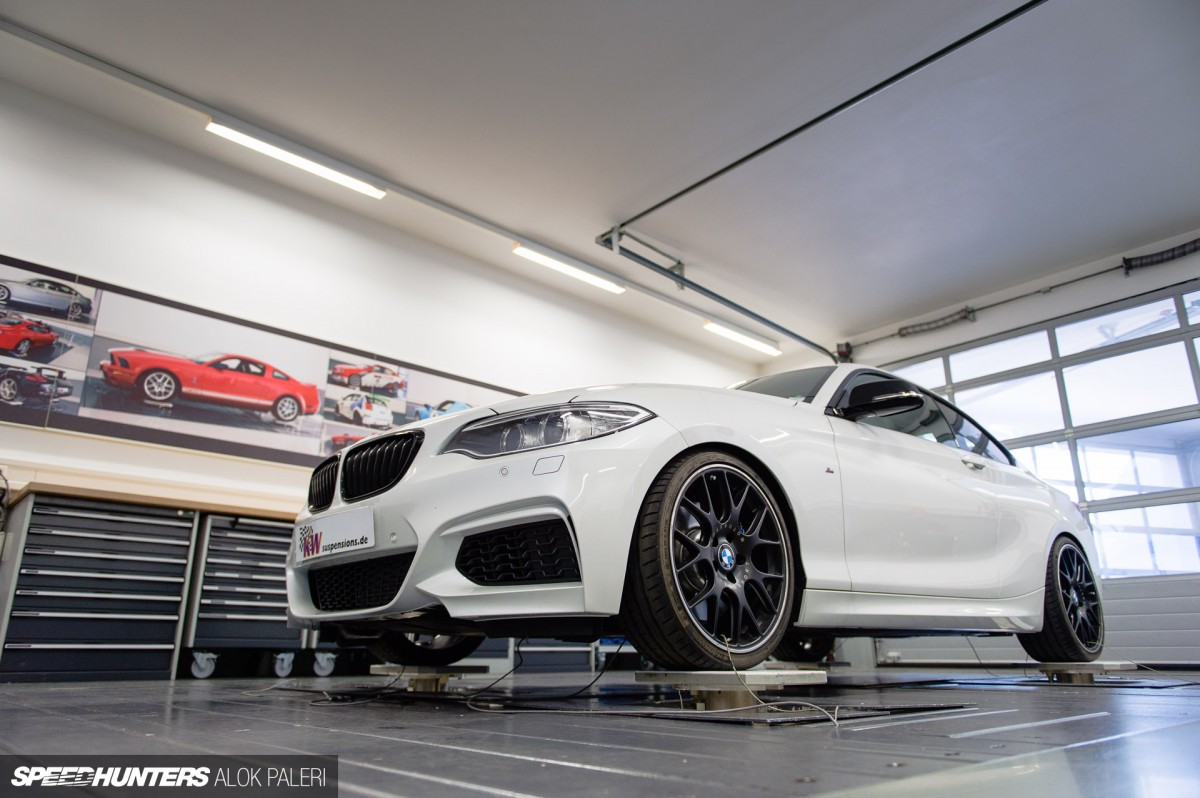 I'd like to know about your smartphone controlled adjustable suspension. What sort of height differences are possible with it and how does it stand up to track use?


MG: The KW DDC kits are not adjustable in height via the App – it's only possible to choose different set ups.
 Regarding ride heights, they are similar to the standard coilover kits.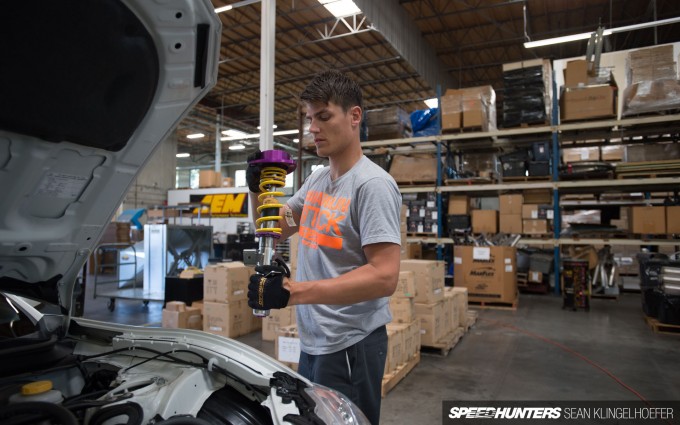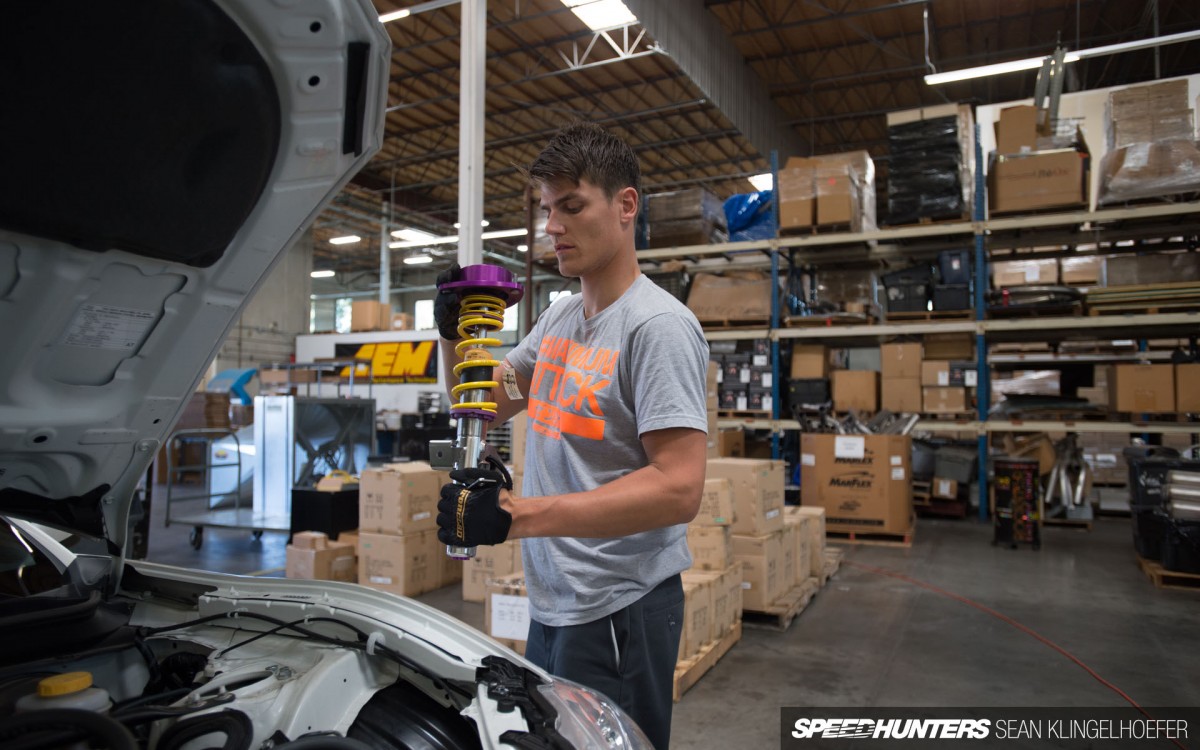 If I were to replace my shin-bones with KW coilovers, could I jump off really tall buildings and walk away unharmed?  
MG: Yes you could Mr. Clark Kent, I promise KW doesn't use kryptonite in their kits!
Michael Grassl