We recently asked you guys if you had any suspension-related questions that we would pass along to our partners at KW Suspension. The response was overwhelming, and we received questions from readers all of the world asking about a variety of topics ranging from custom applications to street and race set-up tips. Michael Grassl from KW's Motorsport Sales and Technical Support department has kindly taken the time to answer as many of your questions as possible and now it's time to unleash his wisdom.
There's a lot to go through, so let's begin!
Okay so I've just had a coilover kit fitted to my car and want it set up to achieve better lap times around my local track. WHERE DO I START?!
All our kits are pre-adjusted out of the box. Therefore, after installation, corner weight and wheel alignment, do some laps with your car and get used to it before starting any further action. Our basic set-up is also shown in our adjustment manual, a point you can go back to at any time, no matter how many different settings you already tested.
My advice, in case you're not 100% satisfied with the basic set-up is to change one parameter (rebound/compression/front/rear) and go testing. Get back to basics and change another parameter then go testing again. Always remember, step by step – that's probably the most important advice I can give. YOU have to get familiar with the range of adjustments and once you feel the difference, you will find your direction to go.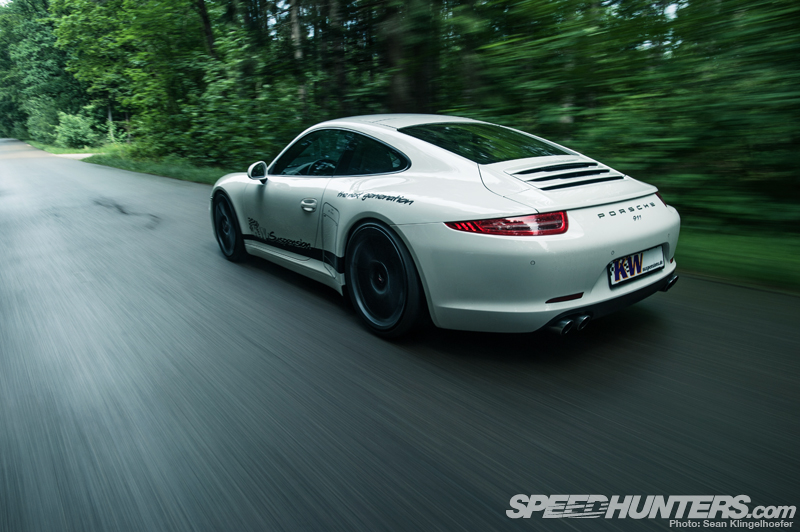 I was wondering if you, as a suspension professional, were given a street car to set up as a part-time race car, how would you go about it if the only adjustments you could make were spring rate, pre-load, and ride-height?
Being asked a question like this, you need to ask yourself in return, "What is my main purpose of use in percentage?" Is it 50% road/50% track or maybe just three track days a year and the rest of it daily road use? My advice – choose the type of suspension and the set-up that best matches the main use of the car. It doesn't make sense to have a perfect car for three track days a year and then not be satisfied with the ride the other 362 days of the year. If you are still sure to go for a track day race car, you can go for a Clubsport kit where spring rate and ride heights are given or you go for a Competition kit where we will recommend the figures to you.
Please explain helper springs.
The major task of helper springs is to keep the main spring guided when the car is rebounding. As you know, on a coilover you will find a spring perch where you are able to adjust the ride height of the car. Adjusting this means also that you vary the distance between the upper spring seat and the lower spring perch. As the main spring will stay the same length all the time you would face the problem that it would come loose or get pre-compressed. Therefore a helper spring is added to fill out this gap and keep the main spring in position. In ride height it's compressed completely so it won't affect the handling.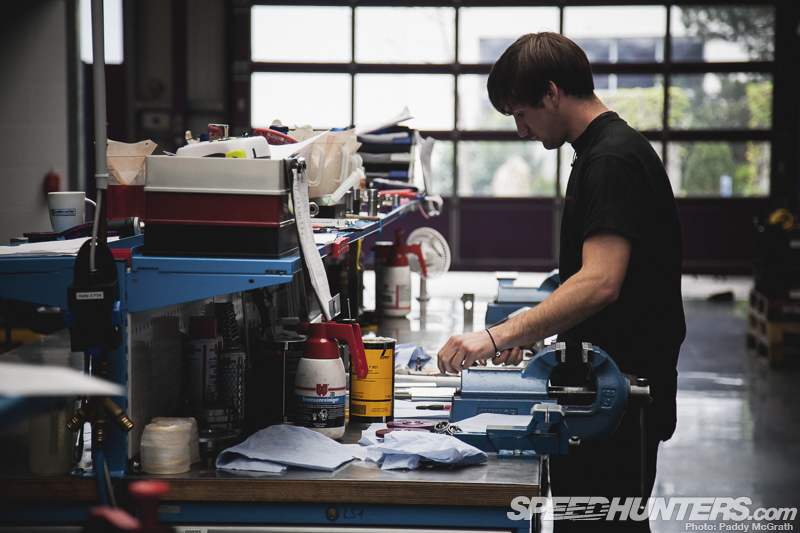 How can I tell if my car is under or over damped? Why don't aftermarket suspension companies give approximate damper rates or dyno plots? The competition would already be testing everything out there so it will only help consumers who don't have a damper dyno.
Feeling if a car is under or over damped is really tricky! The best way to see would be our seven post rig for example. Here you can see facts and figures in terms of body movement, body frequency, contact patch load variation etc. Answering your question leads to another in return – what info does a customer see in a dyno plot or how many customers are able to see the performance of the car when looking at the dyno plots? I partly agree on competition kits, but there are only a few customers asking for such a thing. All of our kits are tested on the car (street products) or designed and calculated by race engineers (competition products). Street products have a fixed adjustment area, and for competition kits we are open to discussion at any time in case a customer requires any changes.
If you used OEM alignment specs, but an aftermarket coilover system, is the safety of your car in any way compromised?
No it isn't. One of the criteria we need to match German TÜV regulation means you have to stay within the OEM adjustment range in order to get TÜV permission. If that's not possible (i.e. rear axle of VW Golf MK4 AWD platform creates too much camber), we do offer an adjustable control arm set to clear that problem. In general, as we have to match German TÜV regulations with our kits, you can be sure that all products are tested and approved by one of the strictest government task forces!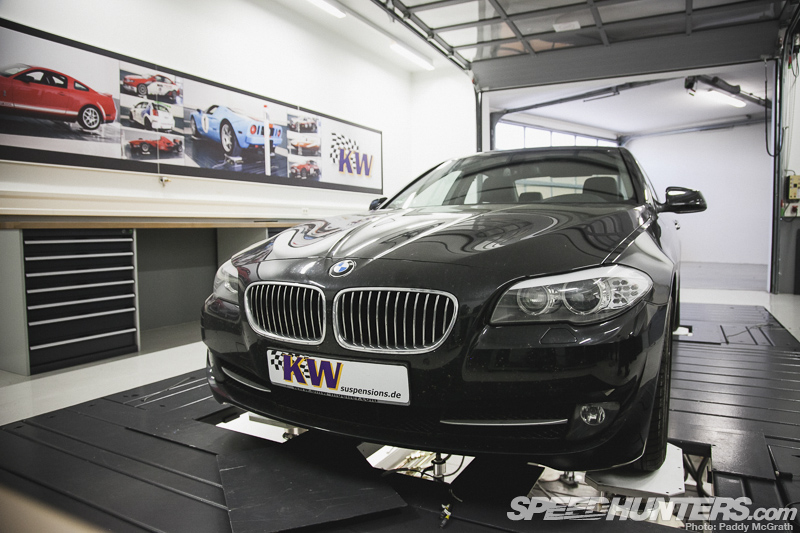 Mr. Grassl, could you suggest a good book to start learning the fundamentals of suspension design and geometry? One that ideally has a high level description and delves deep into each aspect with details of the input measurements and calculations required to generate an improved suspension setup.  
There are plenty of books available on the market which show and explain every single mm or degree of the complete axle construction. There is a really good book, written by a race driver/driving instructor/training guide called Wolfgang Weber -Fahrdynamik in Perfektion. Unfortunately it's all in German. For sure books are good to learn from but on the other hand you already have the tools to improve your skills and your knowledge. Put a suspension kit on your car and go for a ride. Try different settings, different tire pressures, different alignments and you will feel and drive the differences. Once you get stuck, try to ask somebody who obviously knows, but test it yourself afterwards. Imagine if somebody asked you about a book which explained football – you'd surely recommend them to go to the football ground and give it a go themselves.
If I lighten my car, for example taking 150kg – 200kg overall out of the shell, will the KW suspension designed for my car work correctly if this load is taken out?
KW street kits are designed to work perfectly on a stock car for daily road use or performance orientated street and track use in the Clubsport range.  The more you deviate from the stock car, the more you may have to adapt the suspension. On the other side, taking weight away from the car is one point – before re-adjustment I would go for a test ride. It may be that it's perfect right away, as you perhaps wanted to get a slightly firmer ride anyway and this is caused now by lightening the car. In addition to that, removing 200kg from a VW Lupo would cause a bigger difference than of a Range Rover Vogue!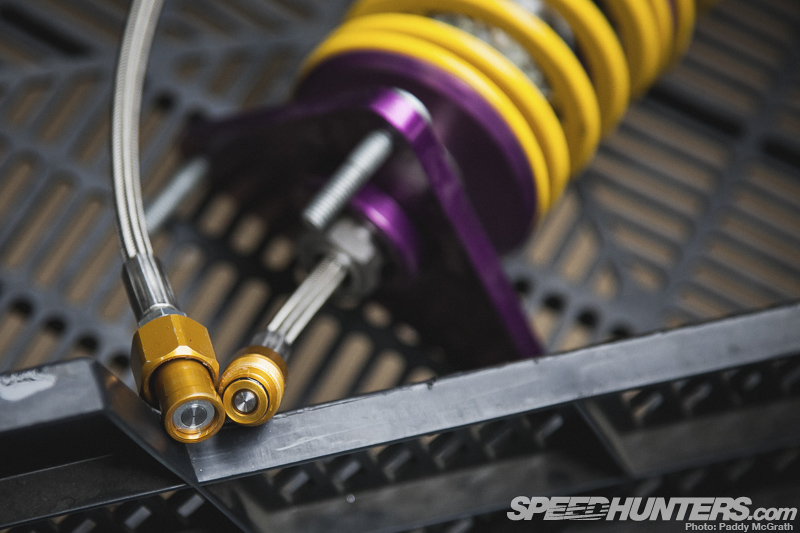 What are the most important things to take into consideration when setting up the spring rate and dampening for a coilover system? Is it the discipline of racing/motorsport you are building the car for?
Of course. Maybe I have to explain the main difference between street and race products in advance. For street kit development we have a car in-house, and develop a suspension kit; the settings will be fixed once the development is approved. This means ordering a KW Variant 3 will lead to the production of a kit with fixed spring rates, fixed damper lengths, fixed damper forces etc. This is required in order to realize TÜV certificates in Germany and be allowed to use this kit legally on the road. When ordering a Competition kit, TÜV is not needed and therefore we are far more flexible. This means you will receive a technical questionnaire in advance where you have to fill in details like regulations, purpose of use, tire size details and lowering etc. After receiving these details, a race engineer creates a set-up sheet and the kit will be produced. A Competition kit will be set up explicitly for the required purpose of use (i.e. circuit, tarmac rally), although they are all for the same car.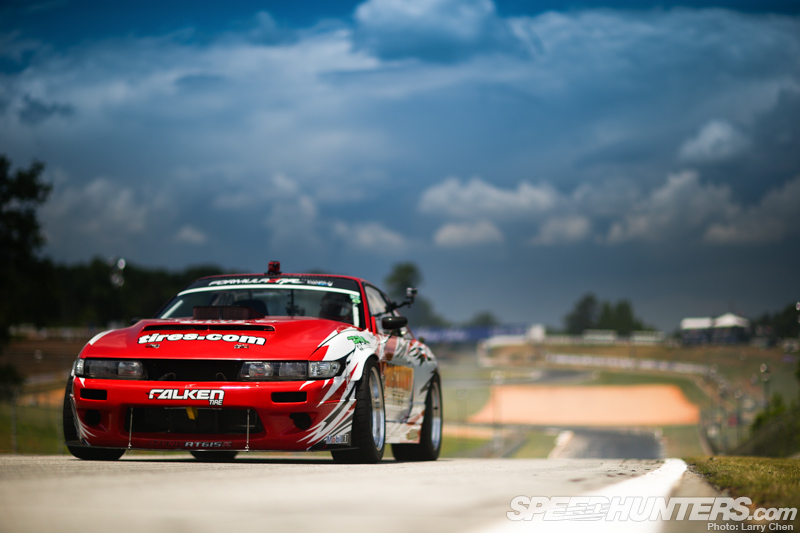 One simple question. What is the best product that KW Suspension offers in the market? And what's the advantage of that product compared to other coilovers in its class in the market?
Unfortunately I can't specify one, as the best product depends on the customer. If a 60-year-old man requires a kit which is softer than the manufacturer's sport suspension such as an Audi S-Line or BMW M Sport kit, the best product for them would be a KW street comfort kit. An 18-year-old boy with a VW Golf MK II requires a kit which lowers the car at least 70mm and will go for a V1-3 kit, and Dai Yoshihara requires a kit to win Formula D and will go for KW Competition 3-Way. The advantage of being an aftermarket supplier is that we are able to satisfy any single customer's needs and wishes. We try to supply good quality, short delivery times, and the best possible customer support – in my opinion these are the most important facts.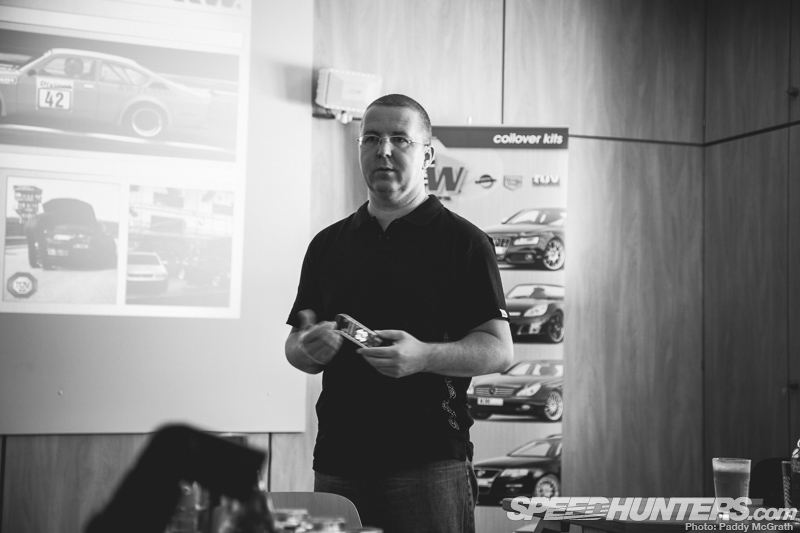 How would one determine if a rough ride is being caused by too high a spring rate or the damping rate.  I've read that it's most always the damping rate that causes the perception of a stiff ride, hopefully you can clarify.
Our street kits are tested and balanced in terms of spring/damper ratio. The guideline is sporty but comfortable in daily use, taking into consideration maximum load of the car, upper end spring rate allowance etc. Answering your question in theory though, my experience is that quite often a low ride height means less suspension travel and normally it's this that causes a firm ride. As for the points you've raised, a high spring rate will decrease movement of the chassis, decrease mechanical grip and from a certain stage onwards high frequency movement of the chassis. In terms of damping rate, there are two parameters – compression and rebound. The compression is not that big a problem – adjusted to fully stiff it will cause a stiff car but it should still feel OK to drive. Adjusting the rebound to fully stiff will cause a really harsh ride – it will feel super stiff and worse to drive than with fully closed compression.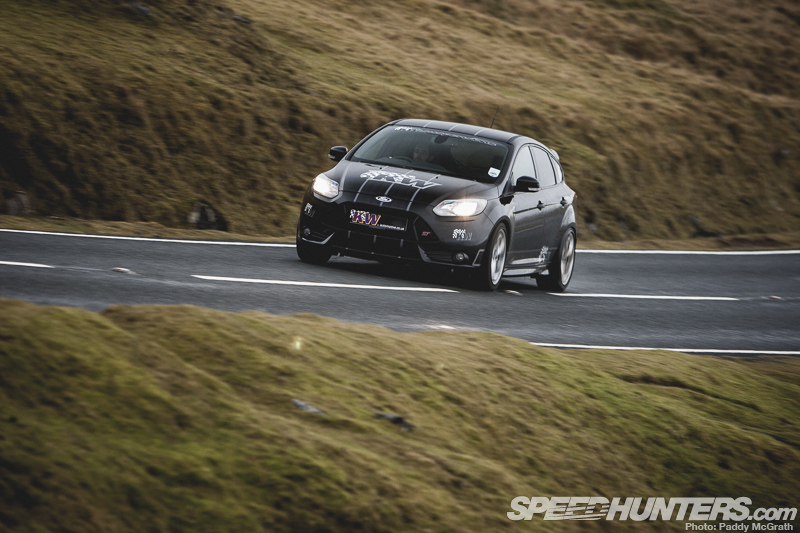 Why does KW not offer a height adjustment via damper height like K-Sport or BC Racing and always adjusts ride height with spring compression? As you compress a spring the characteristics of it will change if you compress or decompress it.
Regarding the height adjustment via the bottom bracket and threaded tube – there are two main reasons for that. Using that adjustable unit might cause TÜV problems as you can lower the car without adjusting the spring seat. A more important fact though is that in general the bracket is metal or alloy, along with the threaded tube. Maybe not a big problem in sunny California, but back in Europe this combination will rust solid after the first winter thanks to salt, dirt and corrosion. Concerning compression and decompression – I think I have to explain this at every show and once a week on the phone so I think it's important to explain here as well. The idea of compressing or de-compressing the spring by turning the spring perch is wrong! Here's an example to clarify: imagine you put an adjustable height chair on a weight scale. You sit on it and increase the height – will you get heavier? Of course you see a pre-compression of the spring when the shock is lying in front of you but this situation will not appear in the car. The change of spring rate and pre-compression only starts when the maximum drop is reached and you keep winding up. Going back to our example, once you reach the roof with your head and keep turning up, your weight on the scale will increase as you get compressed.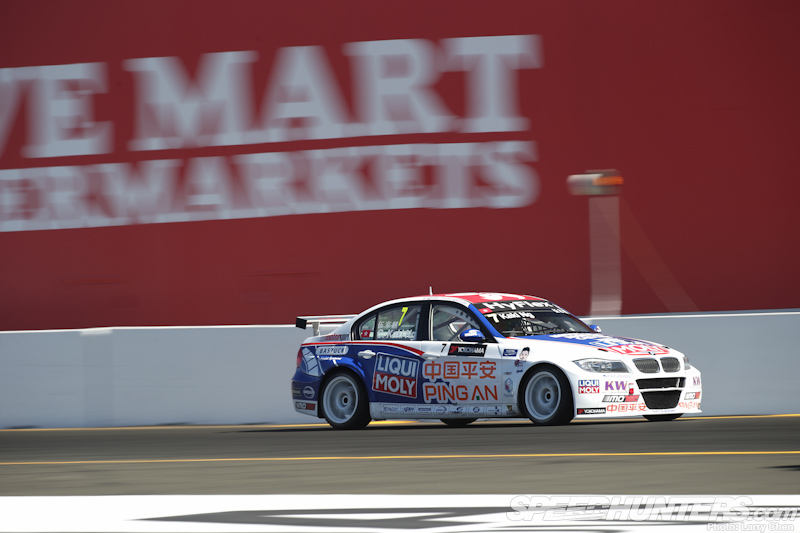 Companies like Penske and Koni have come up systems such as FSD and regressive valving.  What direction is KW taking in response to these developments?
As we are developing and distributing highly engineered products, we are always heading for steady progress and never stop! Therefore of course we're aware of technologies on the market and even more so the requirements of our partners, dealers and customers. With projects like KW HLS height lifting system, KW DDC Dynamic Control Damping and KW DLC Dynamic Levelling Control, we try to supply new and innovative products and that won't stop in the future so stay tuned.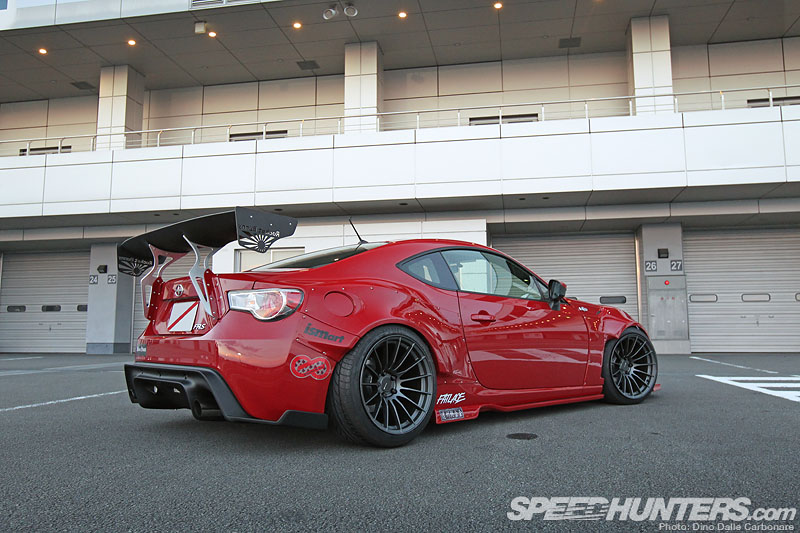 What advantage does KW see in staying with a twin tube design?  From previous reading I understand that you use a bladder system that prevents aerating the shock fluid and permits higher nitrogen charge pressures than a traditional twin tube, but most of the competition, especially at the clubsport level, is using monotube based designs. Additionally, what does KW do to eliminate crosstalk between rebound/compression damping adjustments and ensure adjustment accuracy and repeatability?
For KW, twin tube design is essential referring to our technology of independent compression and rebound adjustment. The technology being used in our V3 including bottom valve and rebound unit requires a twin tube design. Furthermore the majority of shocks being produced (both aftermarket and OEM) actually use a twin tube design. Aerated oil is not a problem – we use a special oil being produced for us that explicitly allows constant damping forces. The reason for separate reservoirs on our shocks is not aeration but for comfort or technical reasons. First the comfort reason. Depending on the car, damping forces can be really high and damping is generated via oil guided through valves in our shocks. High forces require a high amount of oil or small valve diameters being passed in high fluent speed. This might create oil flow noises and they can be avoided by low pressurization of the system using a reservoir. Now the technical reason. Cars may require super short shock lengths because of their axle construction. Compression of a shock means the piston rod dives into the housing and therefore requires space. If the amount of space is bigger than the remaining space for the oil being moved by the piston rod, an additional reservoir is needed. In terms of crosstalk, we don't see any influence of both adjustments on the dyno.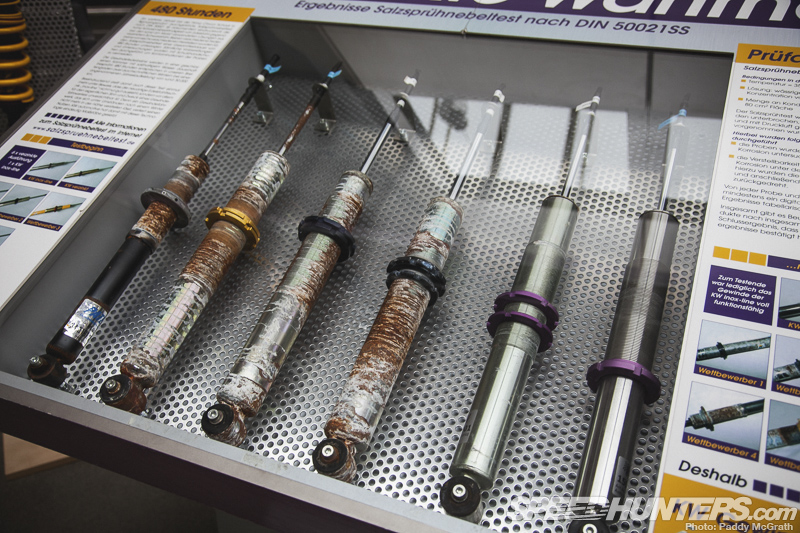 Is there any chance you could describe how your products are designed or tested digitally? I understand that tuning suspension is an area than needs plenty of actual wheel-time and track testing, but what is the role of computers in optimizing a particular suspension part that you make? Are stress tests, or real world conditions simulated digitally on a pre-production suspension component?
The R&D process of a coilover kit includes taking all needed measurements of the car, re-calculation of spring and damper forces, fixing the lowering level etc. After finalizing the first test kit, the car will be tested on our seven post rig. Here we can sort out spring rates, damper forces, etc. in order to develop a car ready to go. Of course there are final tests on the road but with a car coming back from the rig, the set-up in most cases is final. For sure we do long term tests on shock dynos and hardware tests in cooperation with universities etc though. All of this is required when you are an industrial partner supplying coilover solutions to BMW, AMG, Chrylser etc.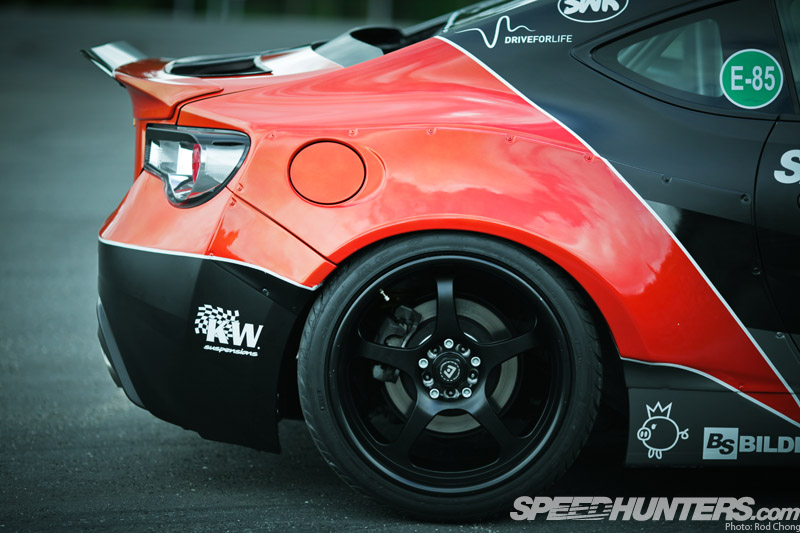 Does the spring rate change exponentially when you lower the ride height and if so how do you go about selecting the right spring so you get a compliant ride. All too often you hear people mutter the ride is too hard for the street…..
If you're talking about lowering a car with a spring set only, you are right. As the length of the shock remains, shortened springs cause a decrease of travel. At the same time the maximum load of the car remains (five people are still allowed to sit in it) and therefore the spring rate has to increase in order to fulfil all the requirements. A complete coilover solution is the better option, as at the same time, the shocks are also shortened and the travel remains.
How can one determine if a damper should be re-valved if you choose to change springs? Is there some kind of rule of thumb?
In terms of a street kit, we don't offer re-valving of shocks. A street kit contains a bill of material, tested and approved on an R&D car by German TÜV. Business-wise we are talking about warranty and product liability. Therefore, if you're ready to order a coilover kit, please ask yourself if you can get away with a Street or Clubsport kit or if you should go straight away with a Competition kit. Regarding re-valving and changing of springs on a competition kit, that's no problem at all. Just send an email or call and we will discuss the options we offer.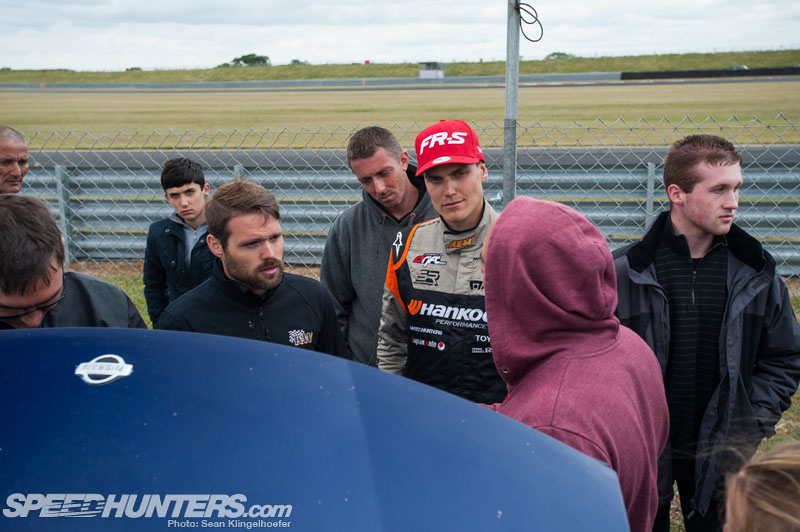 In regards to setting compression and rebound for drift: in general what characteristics of the car does this change? And on a single adjustment coilover what, if any, fine tuning can be done? Would a drift-specific revalve to get close to a desired rate and then fine tuning with the single adjustment to track condition be a realistic/worthwhile move? Or would it just be worth it to save to get a true two-way adjustable coilover? Keeping in mind this is a budget setup and the two-way would be near triple the cost of a one-way.
At the end of the day, it's budget that divides the track day and hobby racers from the pros. On the other hand, I'm guessing you don't have a stock engine in the car, you don't have stock wheels, stock hand brake, seats, harnesses etc. Therefore, ask yourself if you want to spend a third of the money on a solution which won't work properly or if you could re-plan your budget and go for a two-way adjustable kit. Drifting is a young and fast-growing sport and the gap between grassroots level and pro series is huge. Nevertheless, suspension is as important on a drift car as on a circuit car. In our opinion, it's important to be able to adjust compression and rebound independently. Would you want a race seat which could be adjusted in length and height only at the same time – sitting either super low in the front or super high in the rear?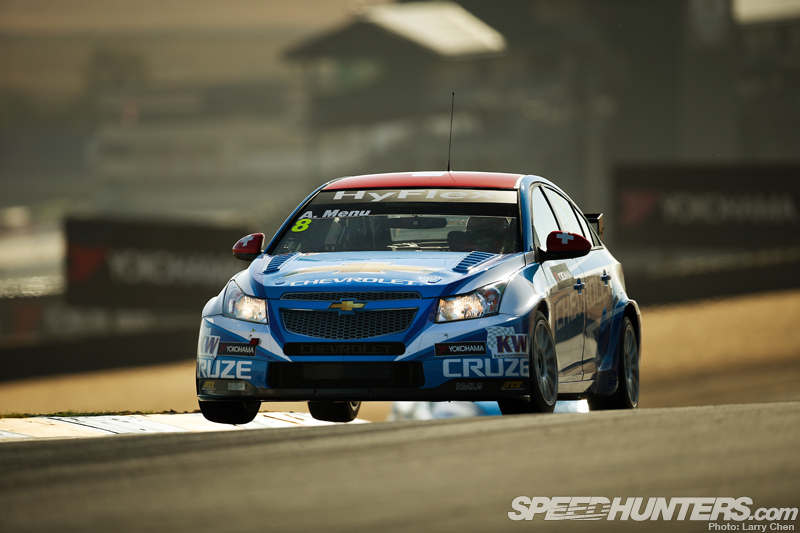 I am finishing a FWD to RWD conversion, in a car that doesn't figure in the current KW portfolio. Are there any universal products on the KW line that I could easily adapt to any car, or a product you recommend for such situations where you want a high quality KW product for a car that usually doesn't receive this kind of upgrade? Which is the product you have that could fit the most applications?
Beside our catalogue program we do offer customized suspension solutions for almost any car out there. We've built kits starting from Fiat 127, followed by Austin Healey, over to Audi S1 Quattro and ending up at a Ferrari Enzo. There's an important side note – the customized kits are called Competition kits as we don't offer TÜV certificates due to the fact that they are built to order, but we can offer them for any set-up and any purpose of use – daily driver, street use, track day, rally, or hill climb. An an example, one of the best sellers in the Competition range is De Tomaso Pantera – street use.  Feel free to contact us at any time.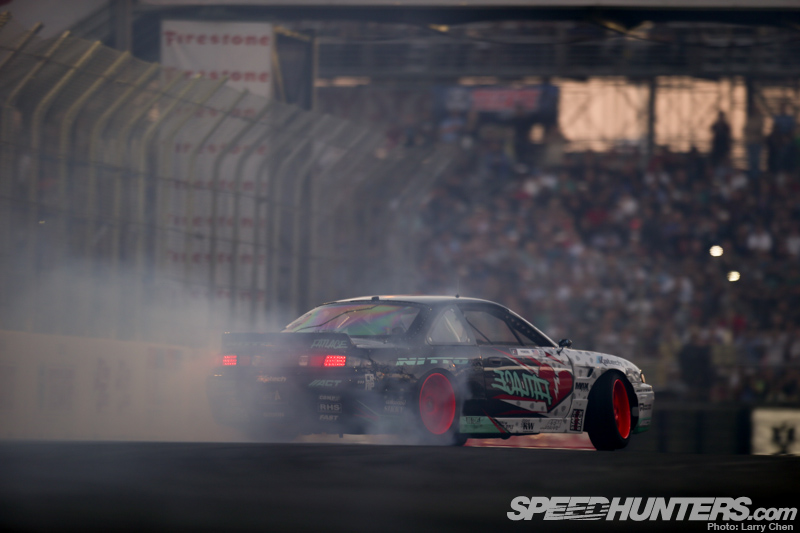 This year I plan to do some circuit racing in the Honda Fit GE8 One Make Race at Sentul International Circuit, Indonesia. My car has one-way coilovers installed. How do I choose the right set-up for a race car? Which spring rate? Most important, how to choose my rebound setting for the damper? Right now I have some understeer and bounce problem exiting the corner. The common base setup for other GE8s racing in this circuit is 15-17 kg (F-R) spring rate, approximately -4 front camber. right now I'm using 10-8 kg (F-R) -4.5 camber. My car weighs 2.420 lbs/1.098 kg with driver+fuel
Our V1 is designed to be used for daily road use in a stock car. Reading your question, I think you're far away from the initial purpose of use. We already produced several race kits for Honda Fit cars in Asia so I highly recommend taking off the current kit, selling it to a street customer and going for a customized KW Competition race kit.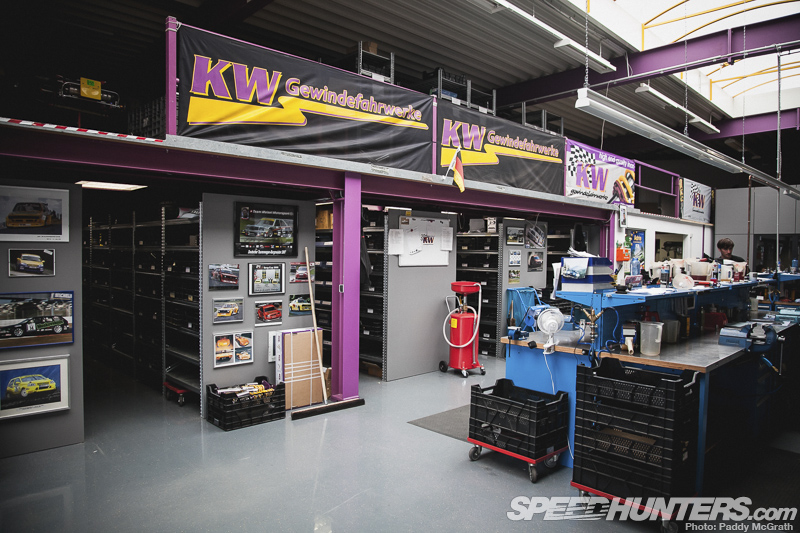 If I were changing the spring on a set of coilovers to a shorter spring with a similar rate and a tender spring, how would you recommend determining the tender spring's rate?
I would use a tender spring which is completely compressed once the car is standing on its wheels as in that case you will have the same performance of the car than before. On the other hand, why do you want to change?
Lets say I decide to go up 6kg/mm in rate and I were to send my KW shocks over to you guys, what are the changes you would make to have these dampers work with the springs. I know there are many theories out there whether it's the compression they change or the rebound, just curious what you guys would do.
First question, which kit are you using? In case we are talking about a street kit, unfortunately we do not offer any set-up changes on the shocks. In case we are talking about Competition, we'd need to know which rate you are coming from and before changing anything, go for a ride and check the current set-up with the switched spring only.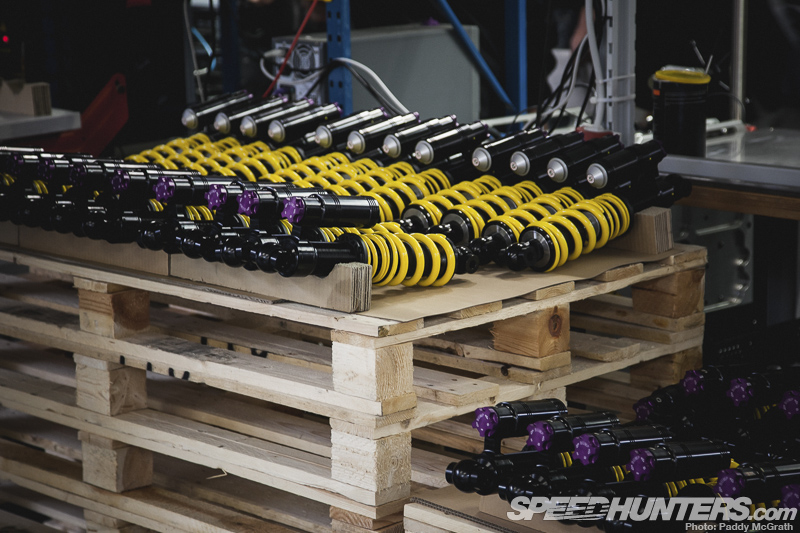 Will KW ever offer anything for the old AE86? Or is this not going to happen because of the smaller market share of AE owners and the more expensive development (new stub axles and what not)?
We've already built several kits for the Toyota AE86 in our competition department for both road and race (drift/circuit) use. Just contact the KW partner in your country and ask for further info.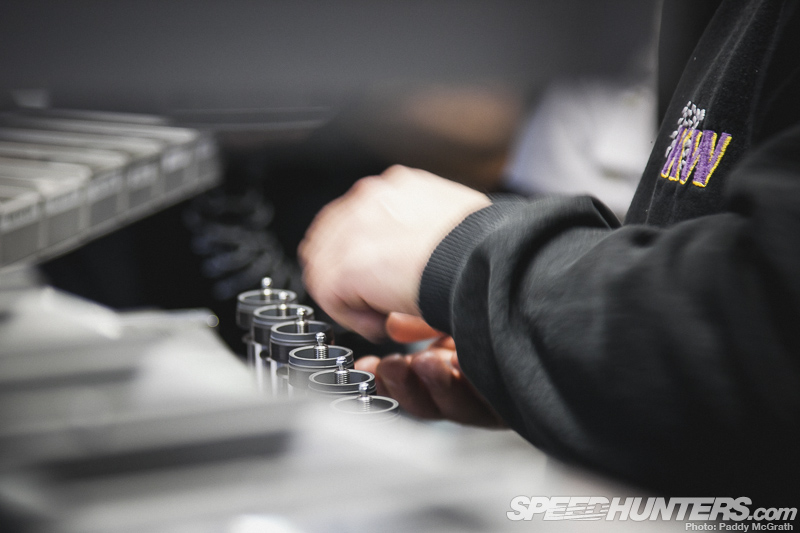 I'm wondering which parameters are needed with valving a non-adjustable monotube coilover shock? Are suspension frequency (CPM, Cycles per Minute), ride height (damper travel) and main purpose of the vehicle e.g. fast road, enough for you to get the damping right?
The given bullet points are not too bad but you forgot damper/wheel ratio, corner weights etc. In my opinion, the easiest way would be an adjustable shock solution with a base setting generated by a race engineer after sorting out the upper details with you. Maybe there's slightly more budget needed at the beginning, but it will pay off after some re-valving of the non-adjustable ones.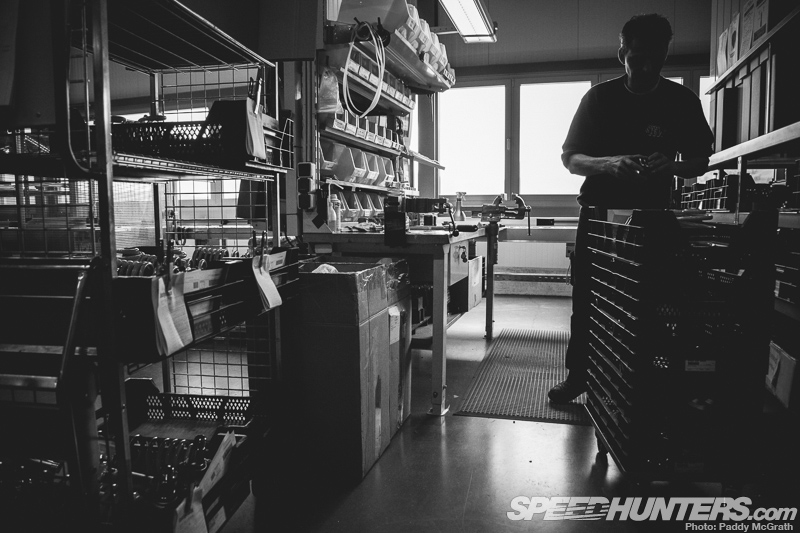 In your opinion what's the best track set-up for a lightweight RWD car such as the FRS/86/BRZ?
Probably the easiest question in here – go for KW Clubsport or Competition solution, depending on the explicit use of your car. Both kits are developed and tested on the seven-post rig, public roads and race tracks.
When setting up a coilover on a light vehicle with a high spring rate, how much should you preload the shock when the vehicle's weight doesn't compress the spring very much. I've helped people compress the spring and install the camber plate to pre-load the spring, but I mean the opposite where the shock isn't at the top of its travel.
In cases where the vehicle doesn't compress the spring very much, you should go for a softer spring. Furthermore, what do you mean by pre-load of the spring- have you wound up the perch until the main spring was pre-compressed in the normal ride height of the car? This is probably the worst thing you can do! Step back and go for a softer spring in order to create drop and travel as otherwise this won't work!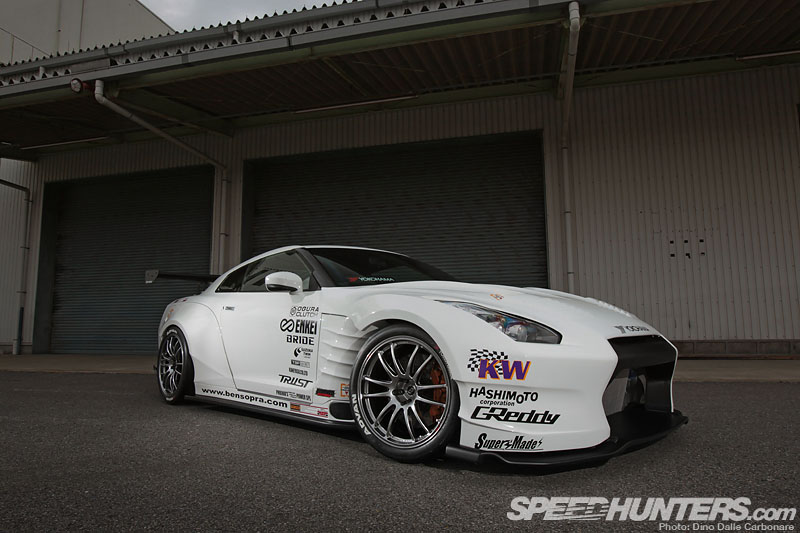 How do I get you guys to sponsor me?
Send a picture of your grid girls and we'll talk about it! Seriously, KW doesn't offer any financial sponsorship but all licenced race drivers and teams equipping their race car with KW competition coilovers are offered marketing support in return for KW stickers on the corners – no matter if you're racing a Honda Civic or a Porsche Cup car. Again, our philosophy is to offer fast and flexible service and support which means we're available for any set-up questions, and we try to help ASAP in case of accident repairs etc. Therefore we set up structures in our race department to help as we think this is more useful than offering high discounts.
Thanks to KW Suspension, Michael Grassl and of course you guys for all the great questions.