Shock & Awe
It might only be a few weeks since our last Project RADBUL update, but with lots going on since Mad Mike Whiddett dropped a major bombshell, you can bet I'm making more frequent visits out to Townsend Brotherz Racing's (TBR) Metal House Compound to keep up to date with the build's progress.
So let's catch up on what's been happening at a small workshop – where big things are going down – in Auckland, New Zealand…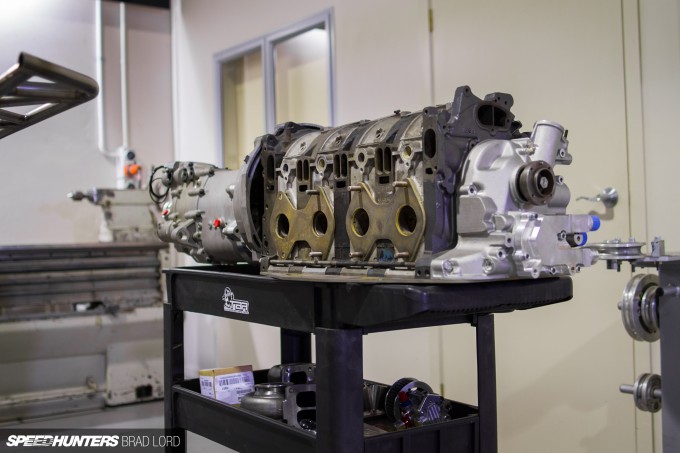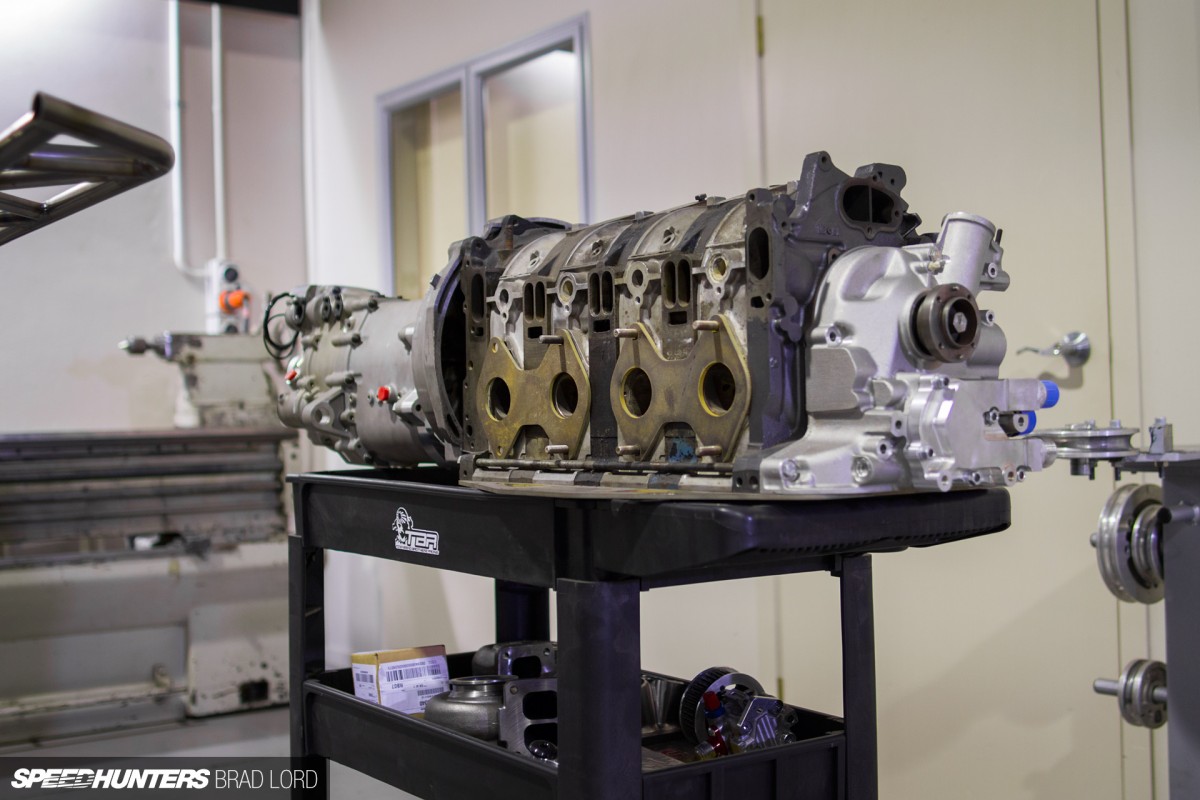 In case you missed it, that bombshell was the decision to switch from a single turbo three-rotor 20B engine package, to a custom four-rotor 26B with two turbos burning octane-rich E85. This new engine should be good for somewhere in the vicinity of 1,200hp on low boost.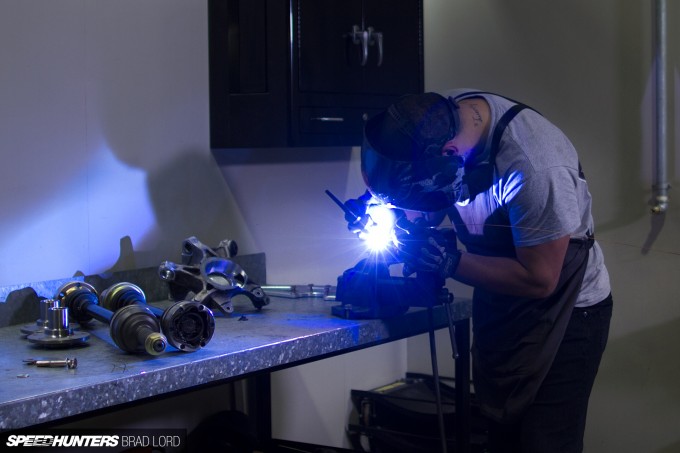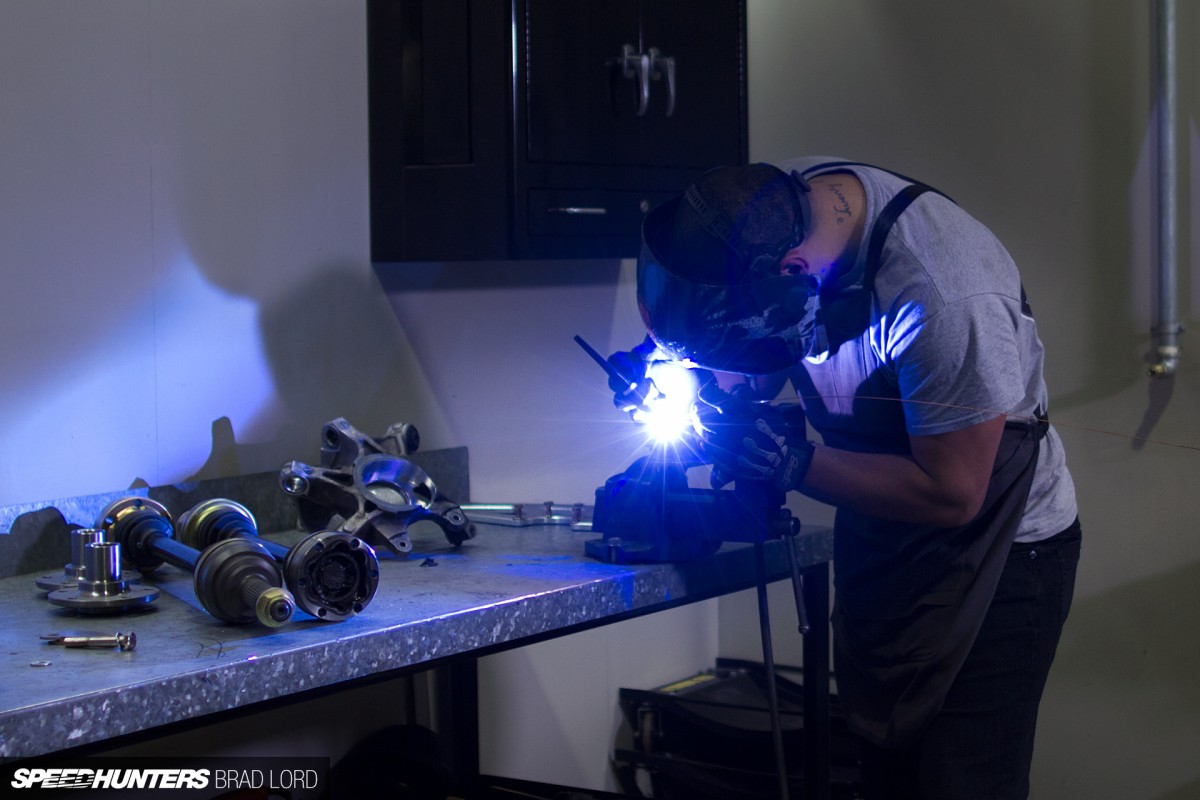 High boost? We'll have to wait and see… But Kaz is making rapid progress, and loading the completed chassis on a trailer and pointing it in the direction of Pulse Performance Race Engineering (PPRE) where some insane power will be added, is now only weeks away.
In this update however, we're going to touch on two of the most critical aspects of the build: suspension and steering. After all, a four figure power output isn't much use if the car its stuffed in hasn't got the handling attributes to back it up – something more important than ever when you're dealing with a little NC Mazda MX-5 with a 90.2-inch wheelbase and a projected race weight of just 1,000kg.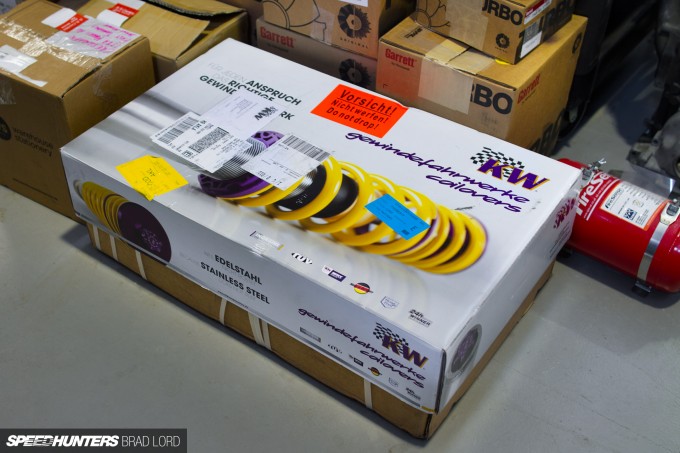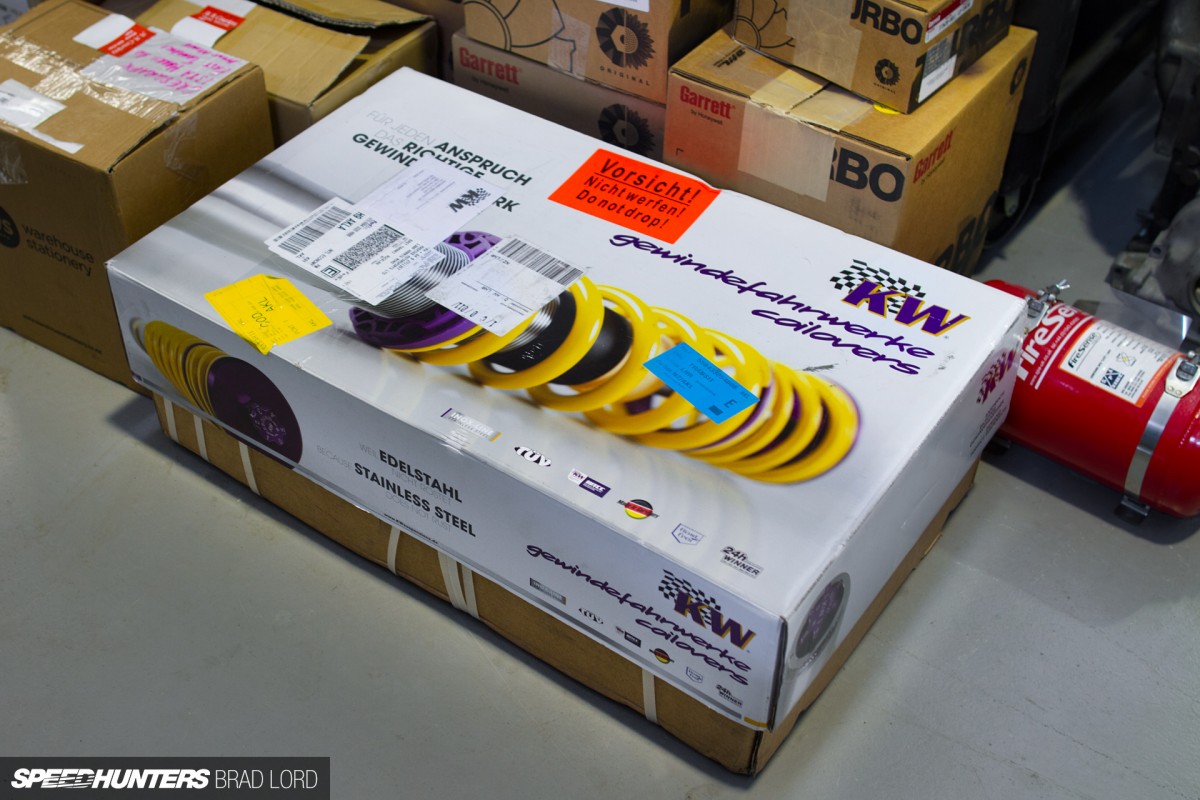 Given what we've seen over the course of the project, there's been absolutely no compromise made on quality. So on my last visit out to the TBR workshop a couple of days ago, I wasn't at all surprised to see this special delivery from KW Suspension's specialist Race department added to RADBUL's ever-growing parts supply.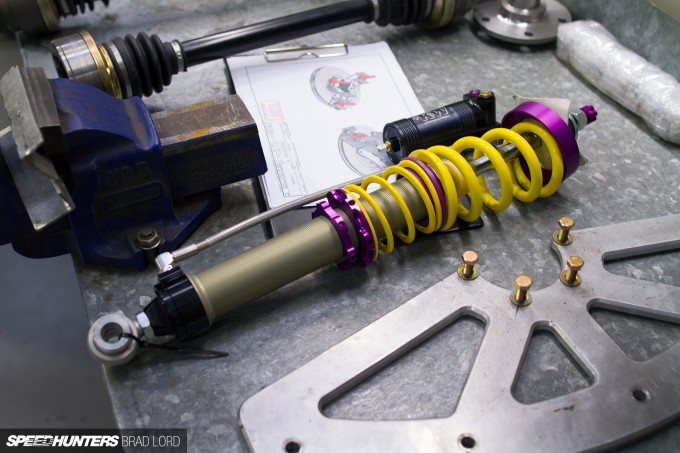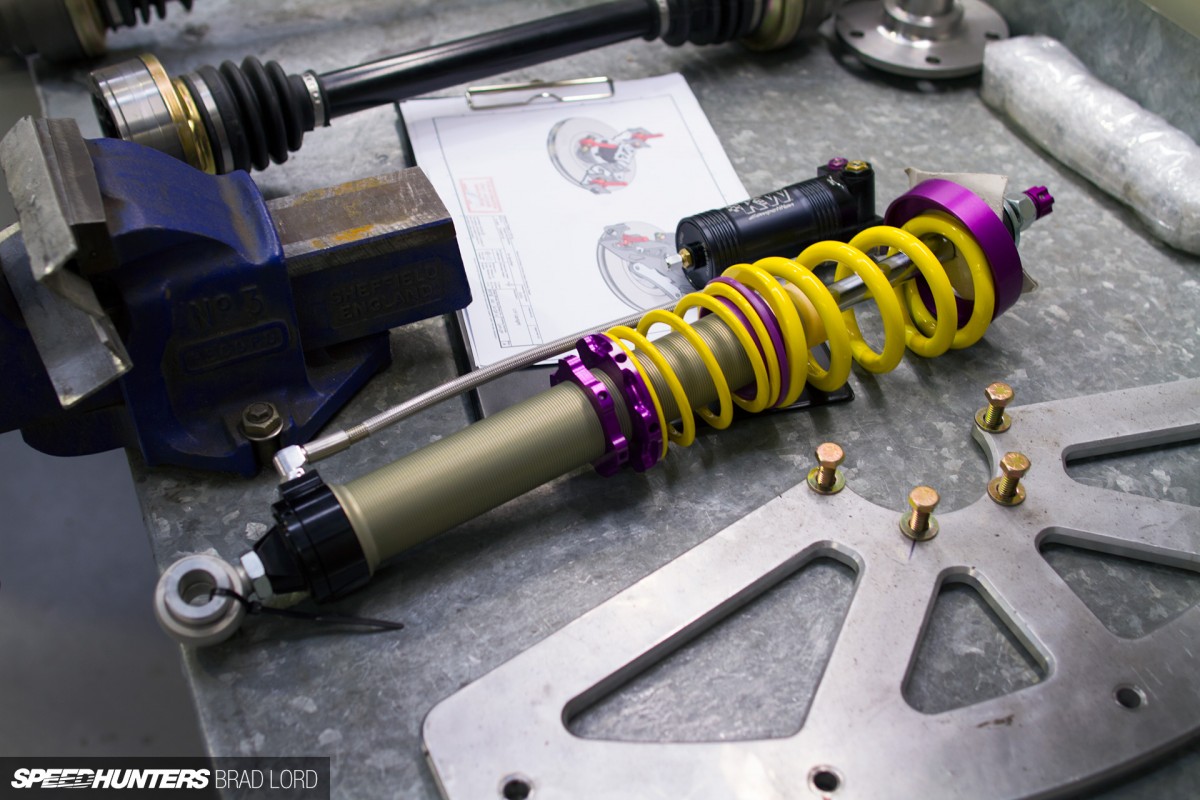 It doesn't get much better than custom-made purple and yellow coilovers at all four corners, and the 3A Competition based kit that KW's technicians pieced together for the Mazda is proven pro drift hardware.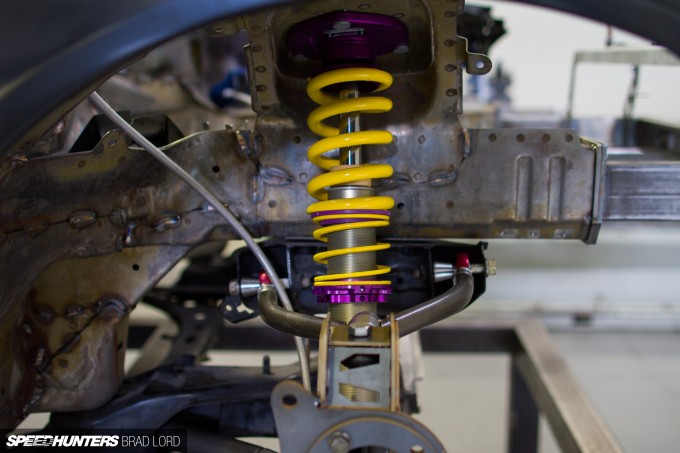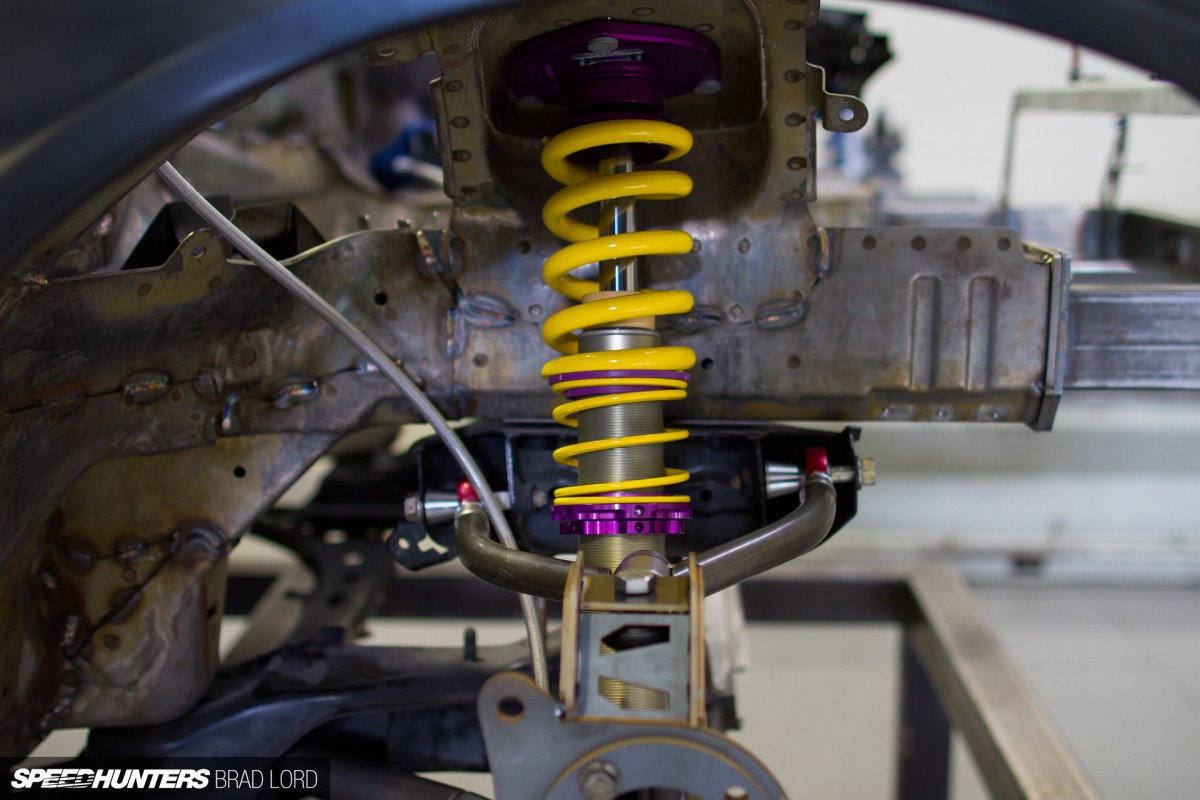 Similar to the race-specific units built for the Toyota 86-X driven by Mike's fellow Speedhunters team driver Fredric Aasbø, the 3As feature a mono-tube construction with three-way damper adjustability on top of adjustable ride height.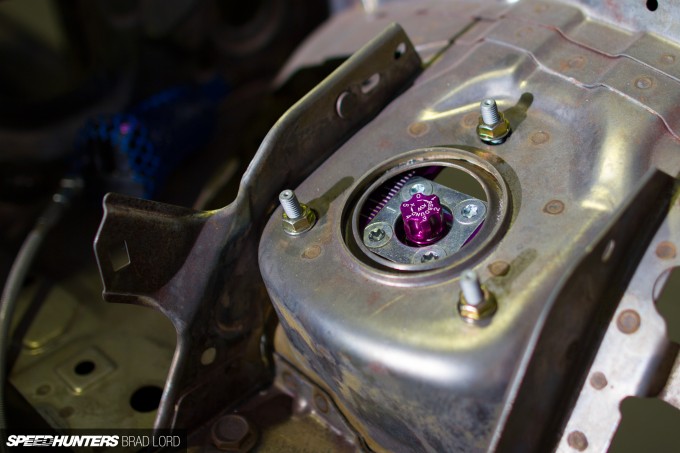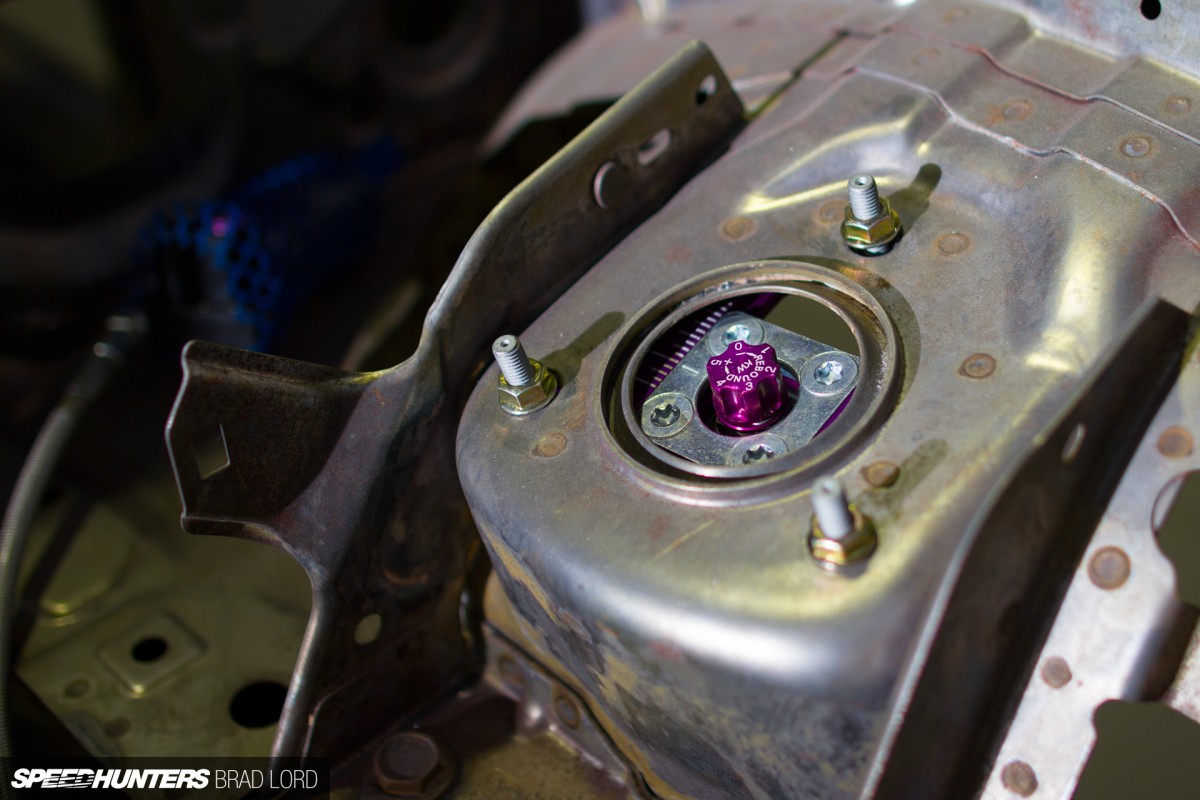 That's rebound adjustment through the piston rod tops, and both bump/compression adjustment and high and low-speed valving adjustment through the separate reservoir canisters. In practice, this means the ability to fine tune the setup depending on the track type and surface. On a high-speed course for instance, upping the compression and rebound will increase stability.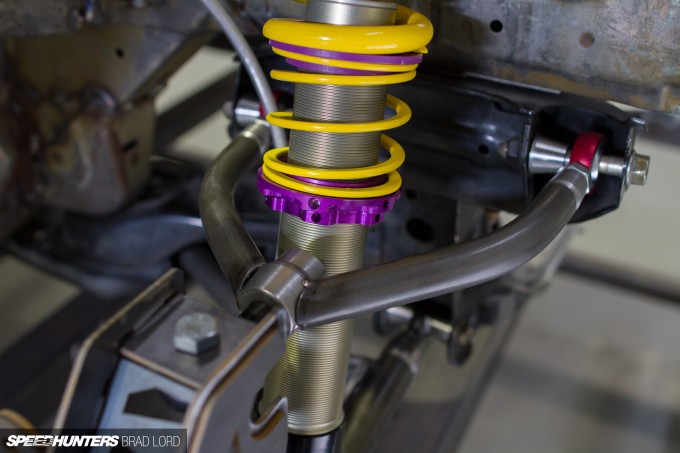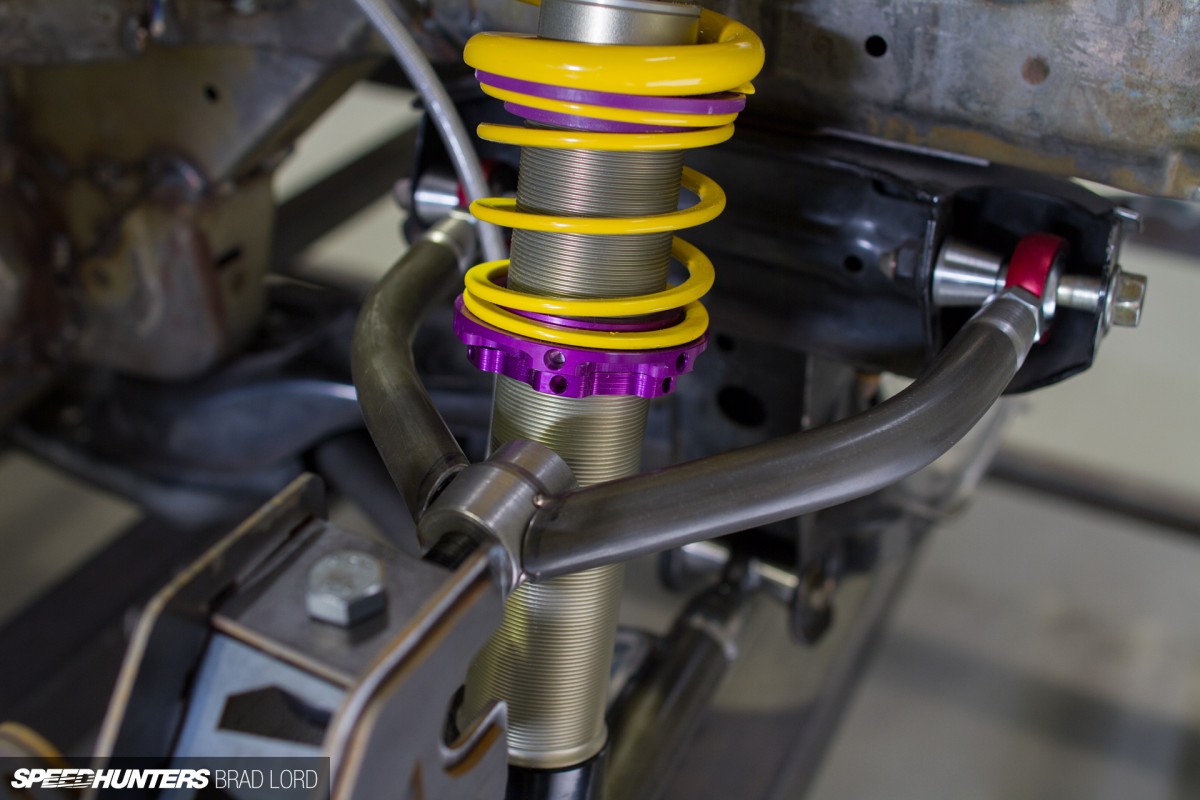 As you would expect though, the KWs aren't the only non-factory part in the greater suspension setup. Here we see TBR's custom-made adjustable A-arms, and the makings of a not-so-factory-looking knuckle…
#MaximumAngle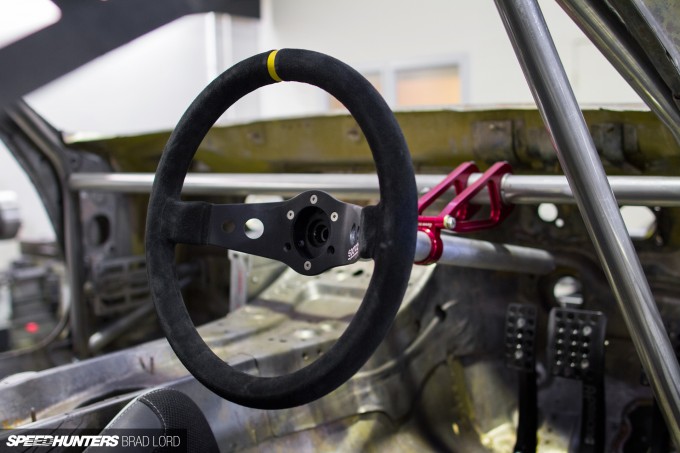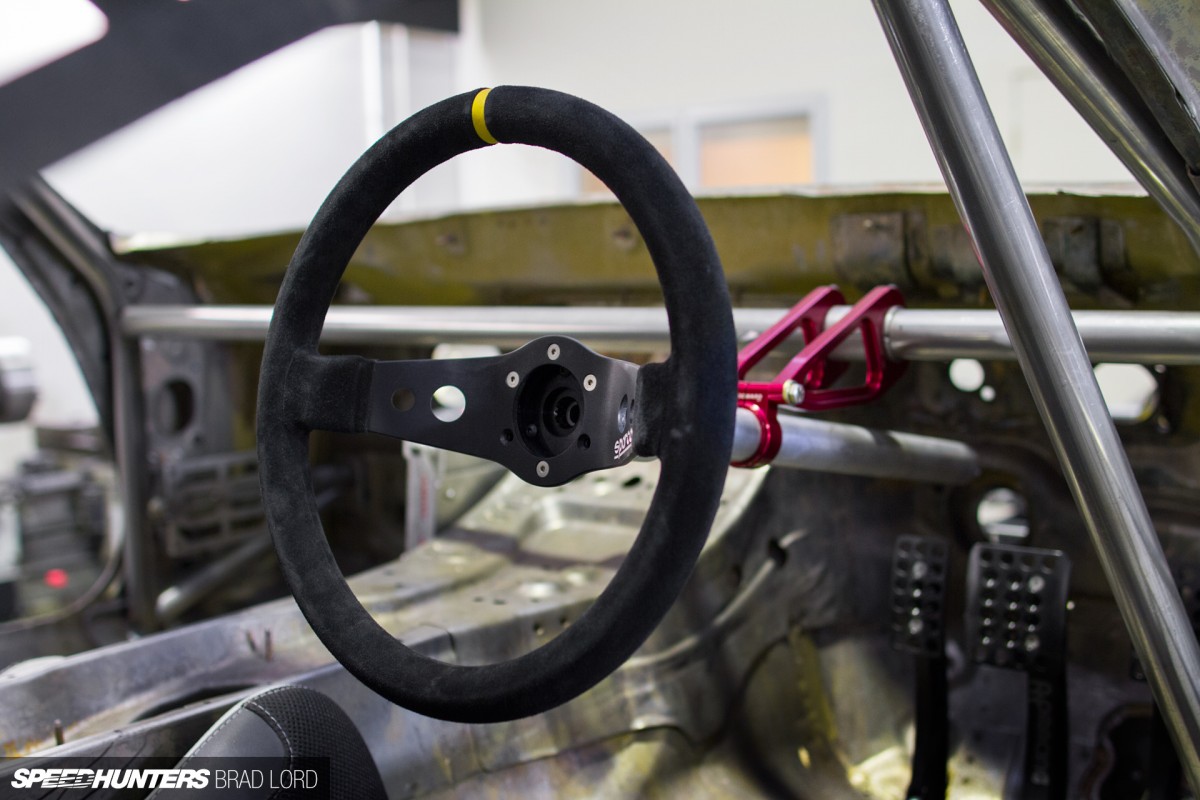 Like in any race car build, performance is key when it comes to the steering system. Running off the suede-wrapped Sparco wheel is a modified FD3S RX-7 collapsable inner steering shaft housed within a TBR outer.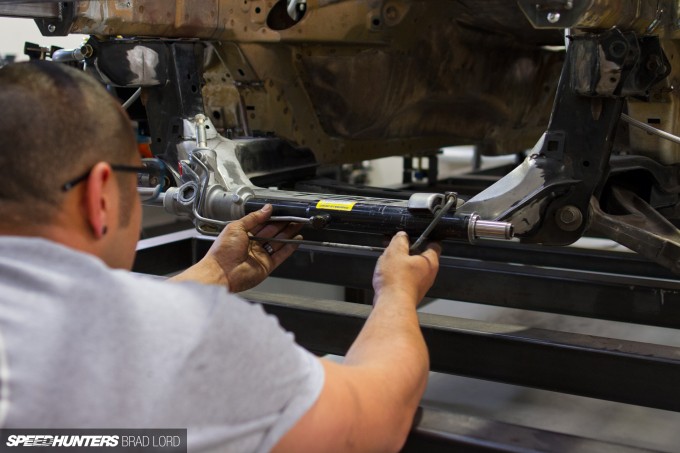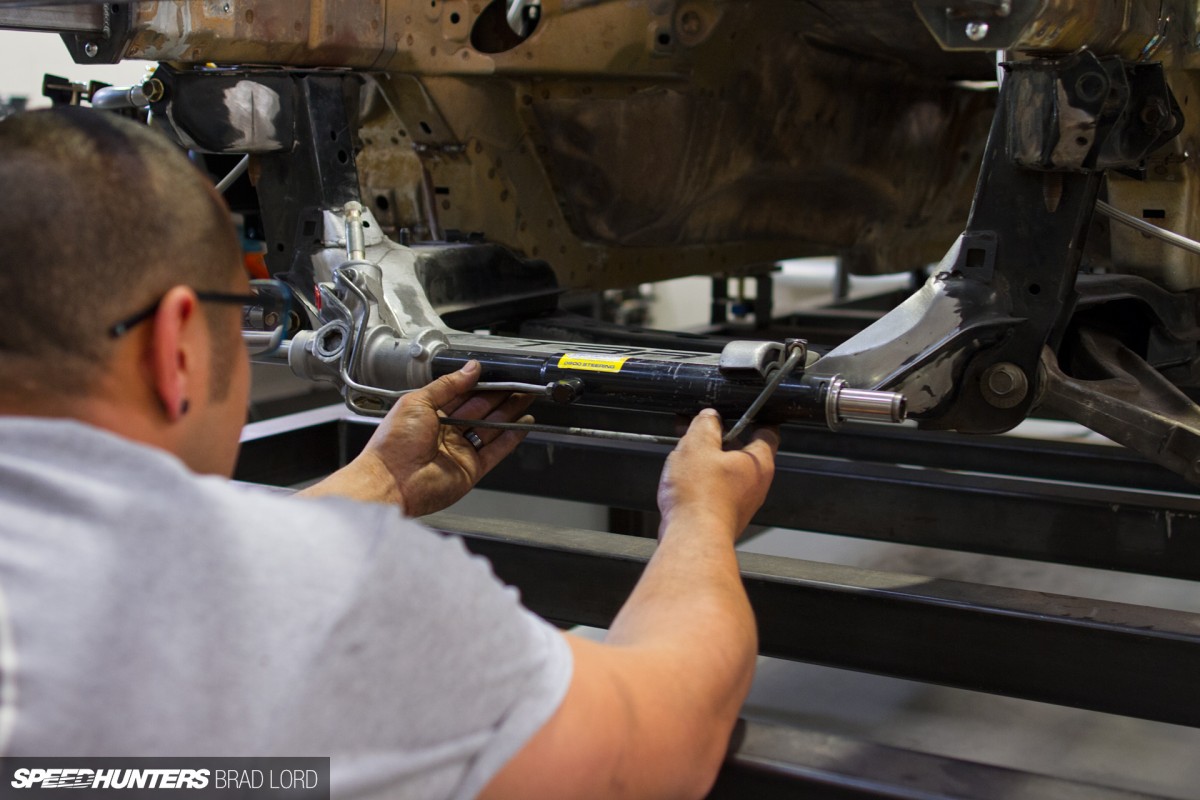 A PG Hydraulics modified rack with a few tricks going on inside is used too… But it's the amount of steering angle that largely determines how sideways you can get. Therefore, when it comes to competition drifting, it's all about the steering lock.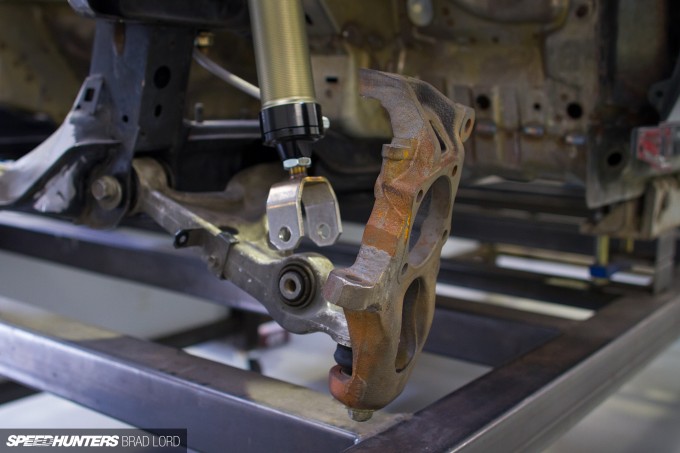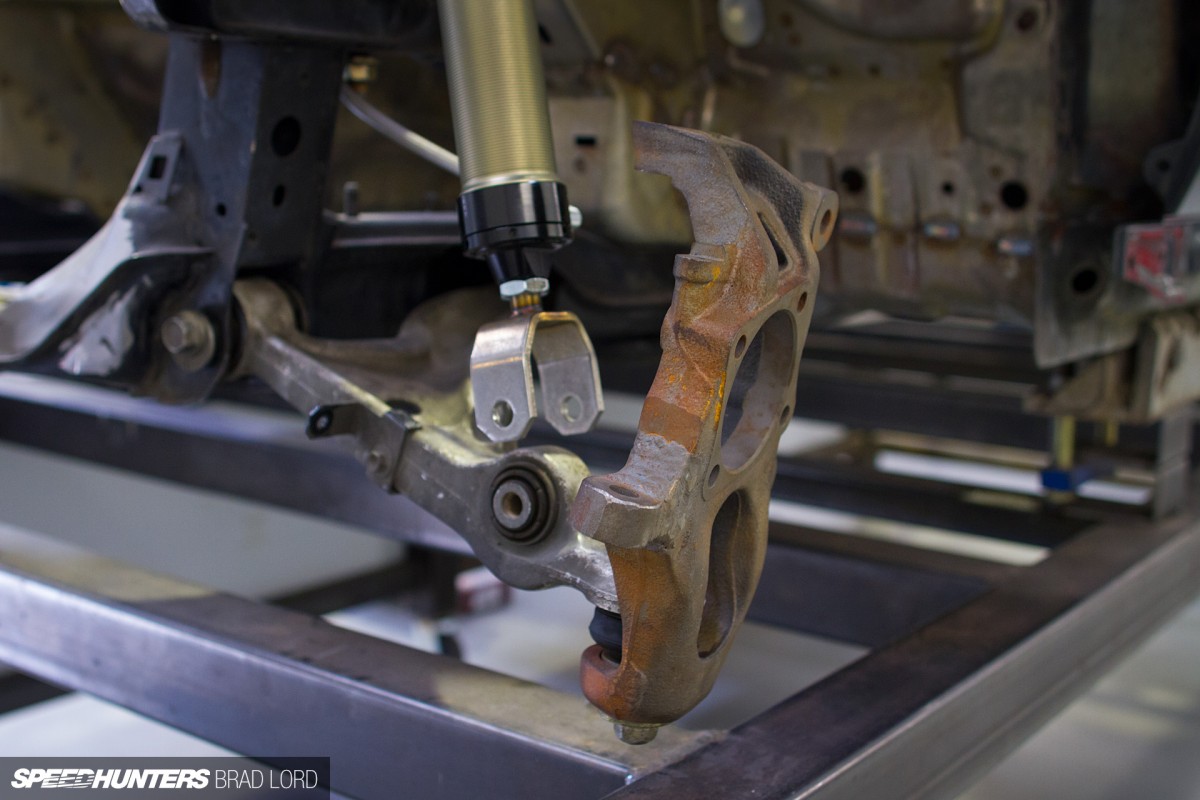 In both Mike's RX-7 and RX-8, extra lock has been achieved through modifications made to the factory steering knuckles. This is a common upgrade that works well, but it doesn't come without compromises – specifically an overabundance of caster and KPI (kingpin inclination) at full lock, which has a negative effect on handling.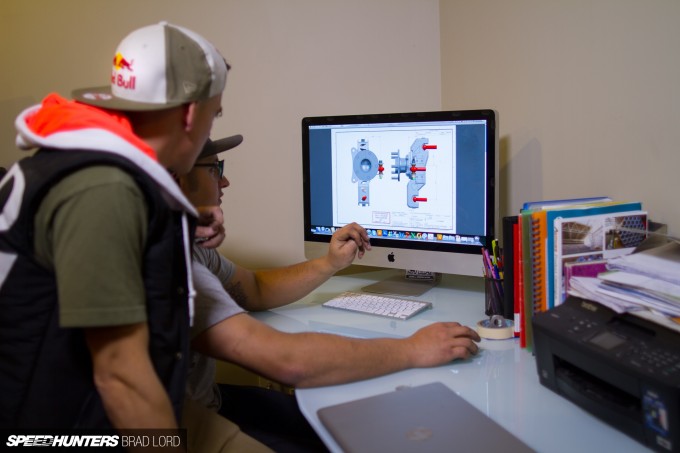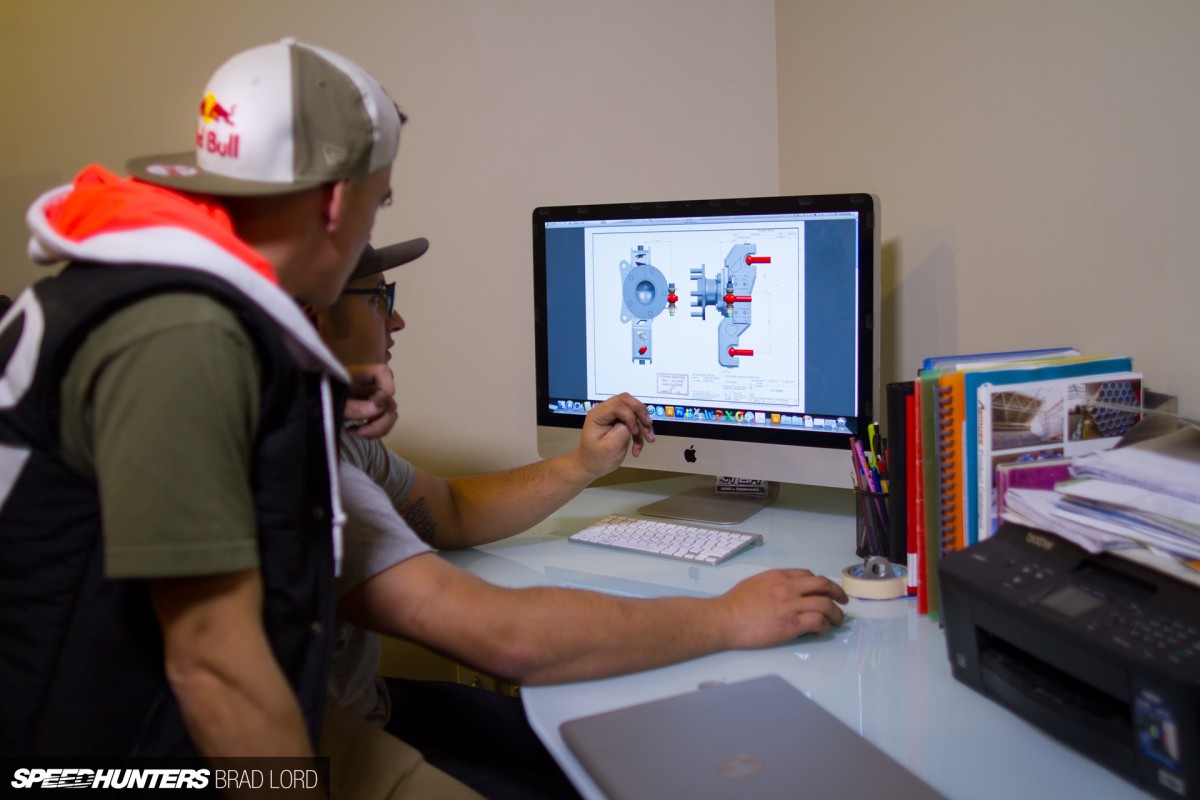 The solution? Custom made knuckles of course – calculated on the required geometry, then designed in-house by Kaz using CAD software. Many of RADBUL's parts have been fashioned this way, which goes to show the extent of this build.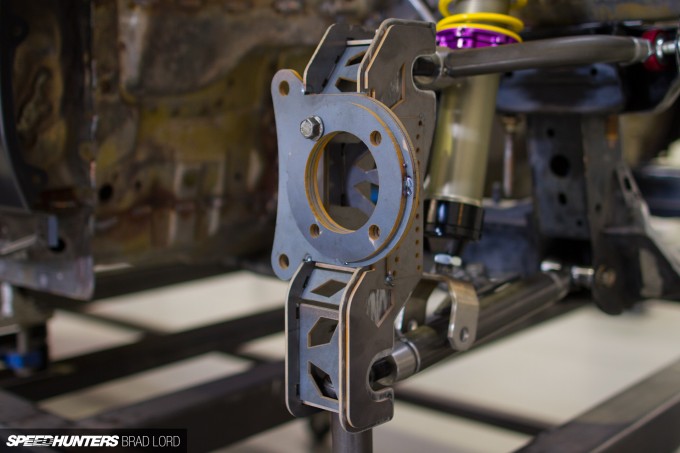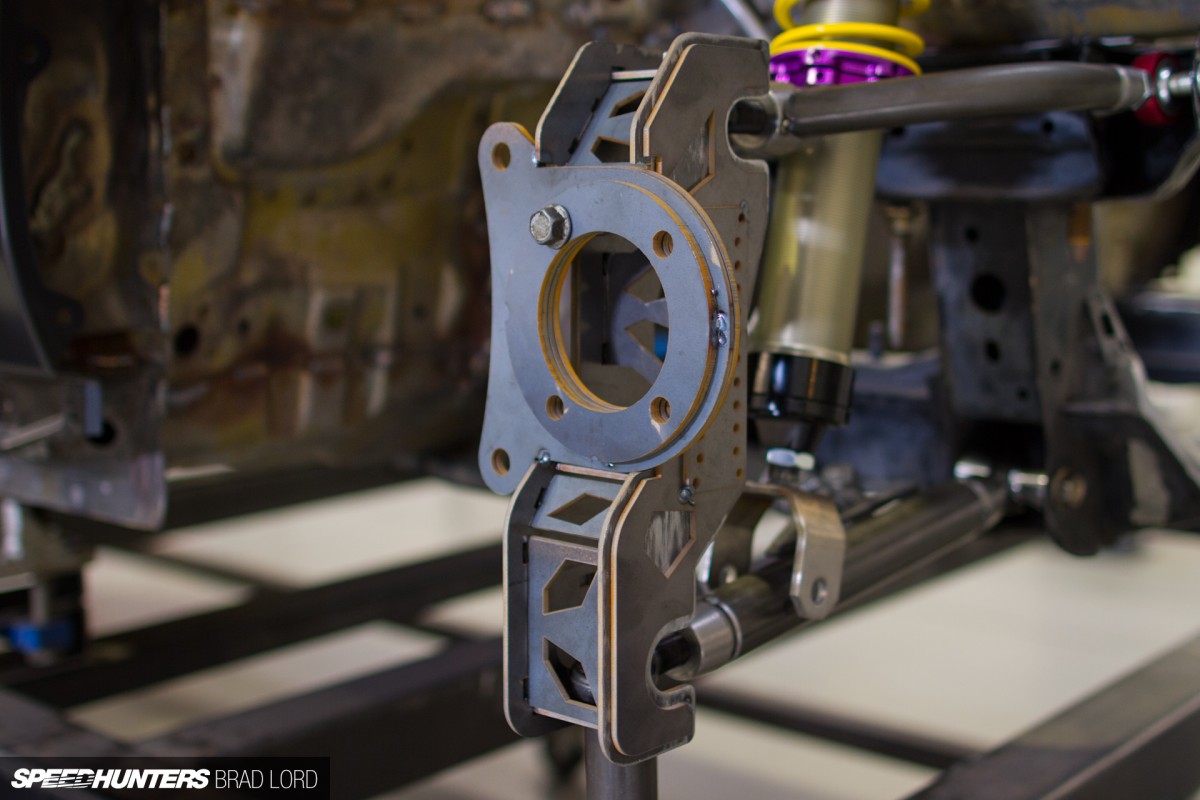 This is TBR's Prototype V1.0 knuckle in its tacked-up state. It's got some cool design details, including notches in each individual laser-cut piece that allow it to simply clip together prior to welding. More importantly, the design also includes a 45mm drop, which essentially lifts the wheel and tyre higher up into the bodywork, effectively lowering the chassis by the same amount. So the car will sit low – a non-negotiable prerequisite from Mike – but still maintain the correct suspension geometry.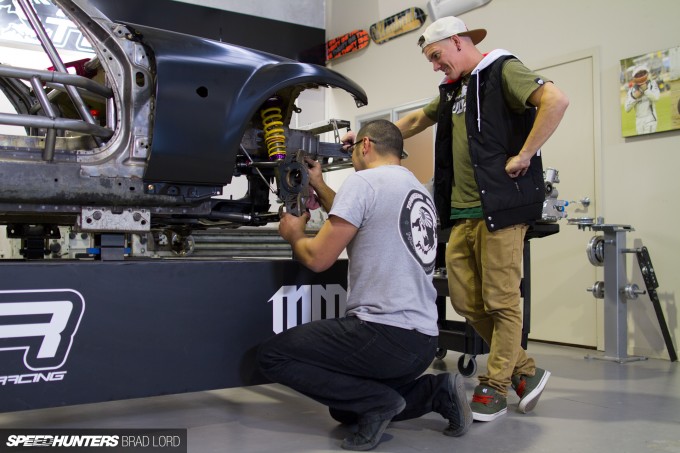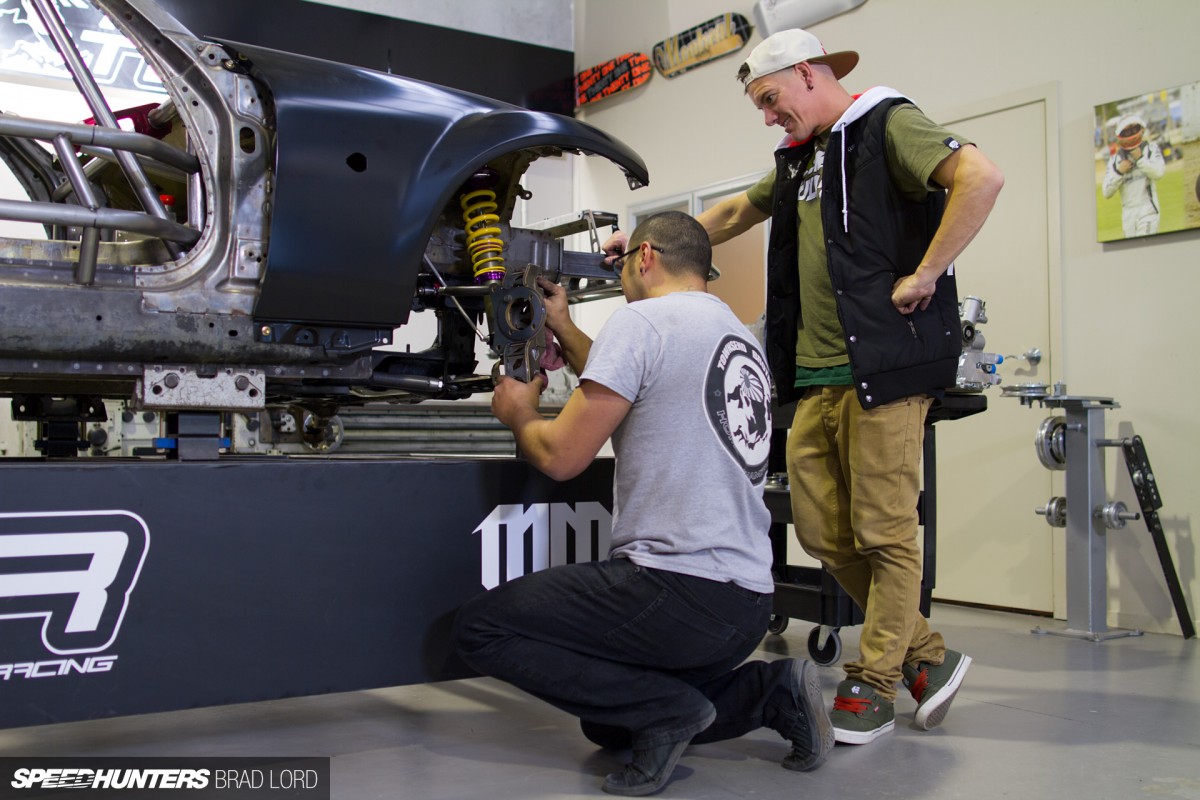 And then there's the lock. Lots of it. With all that power and this much angle, well… I'll let you draw your own conclusion.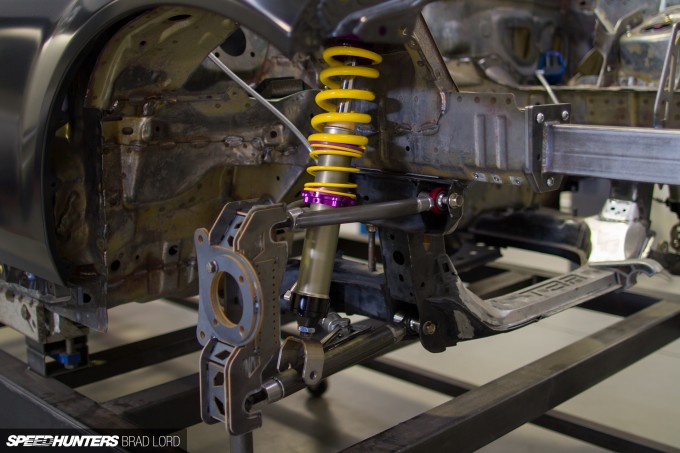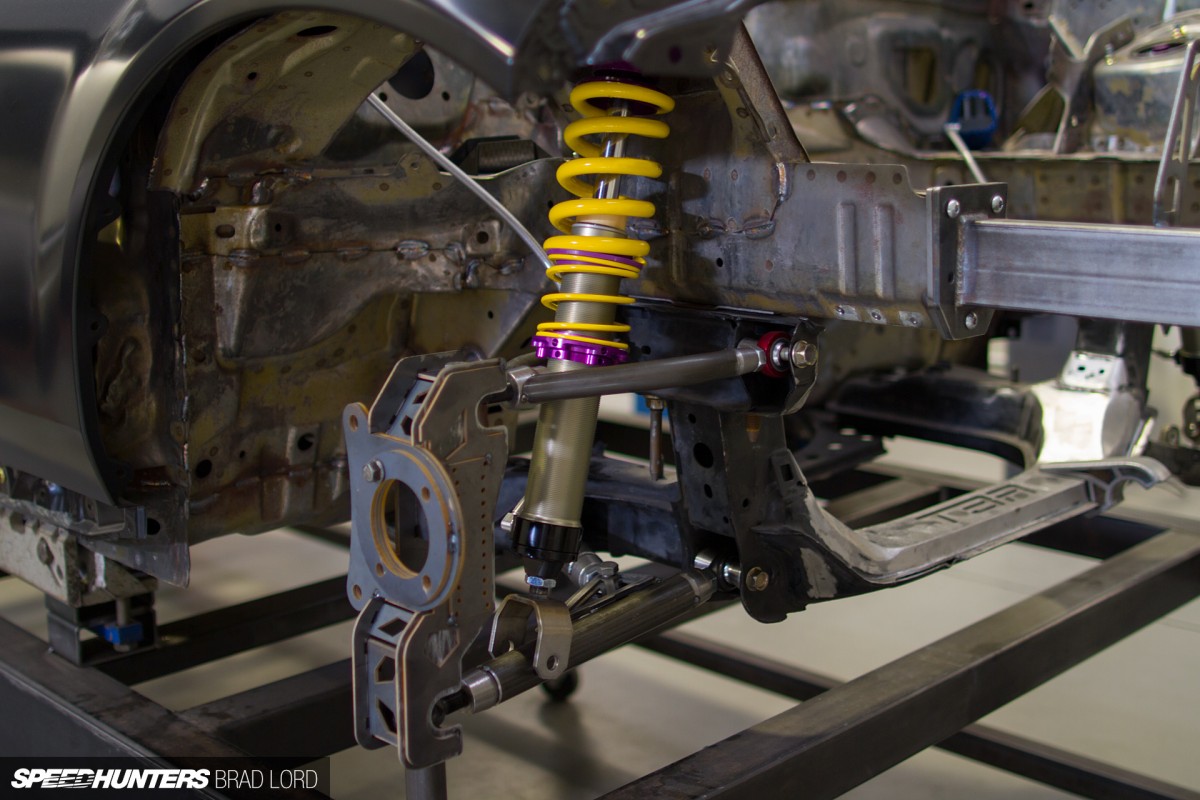 On top of the knuckle welding there's still a little bit of finishing work to be done, but for the most part this is how the front end will look in its completed state. As you can see, the lower control arm is a custom-fabricated (and adjustable of course) TBR component as well.
Back-End With Bite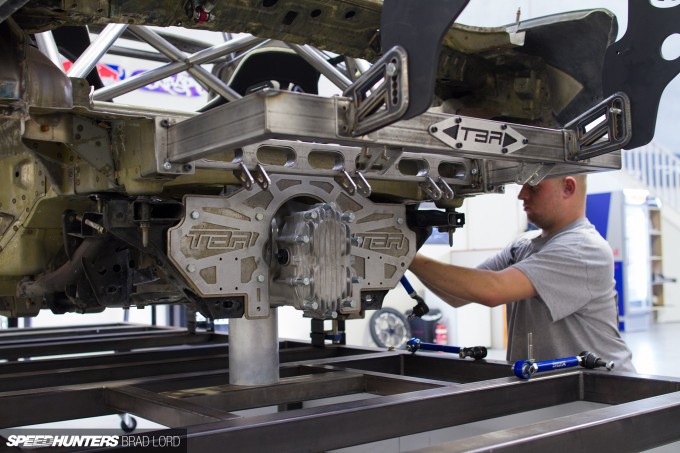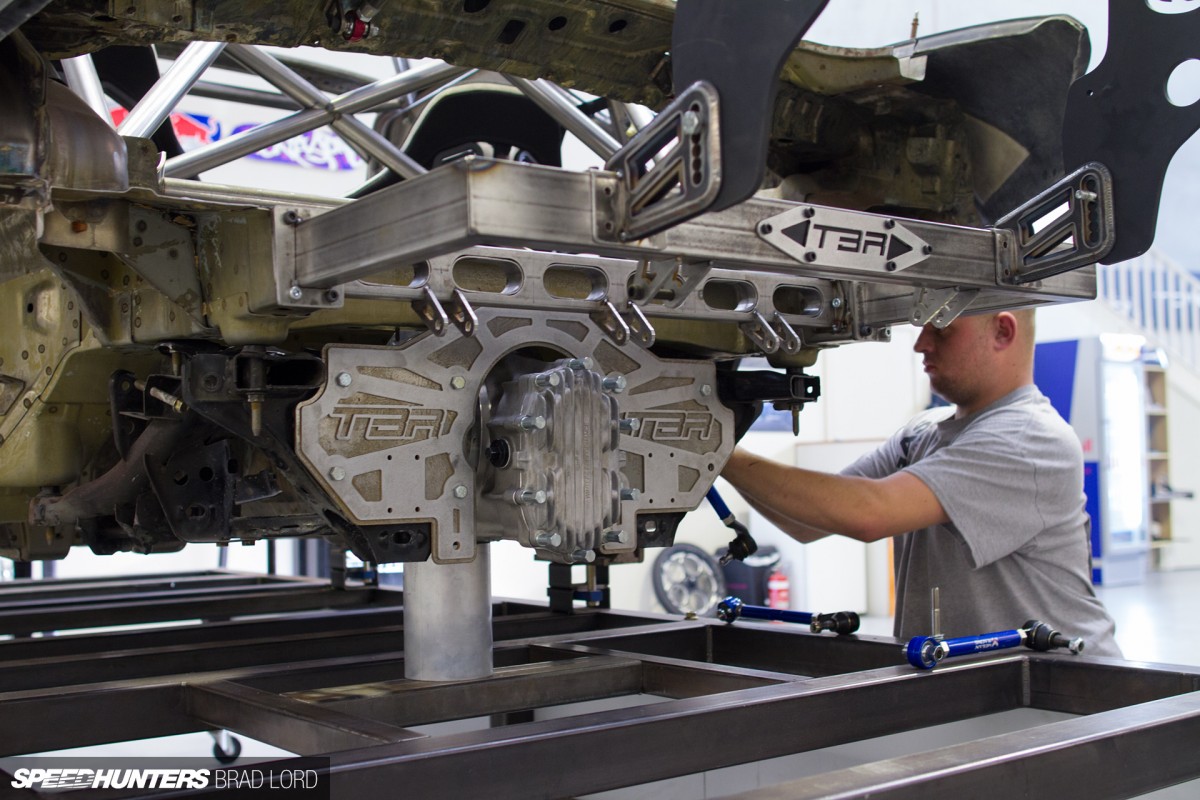 In the last update I showed you the Winters Performance quick-change diff assembly that had been pieced together by Autosport Dynamics (ASD) in the USA before being shipped down to New Zealand. Here it is, now adapted into the MX-5 factory rear subframe and sitting up underneath the car. It's an impressive sight.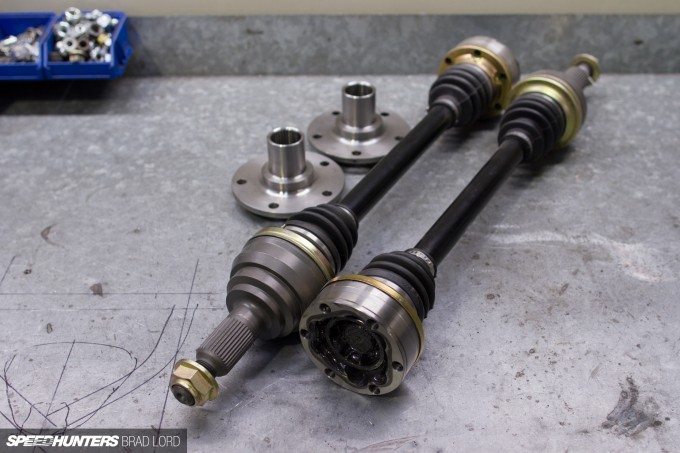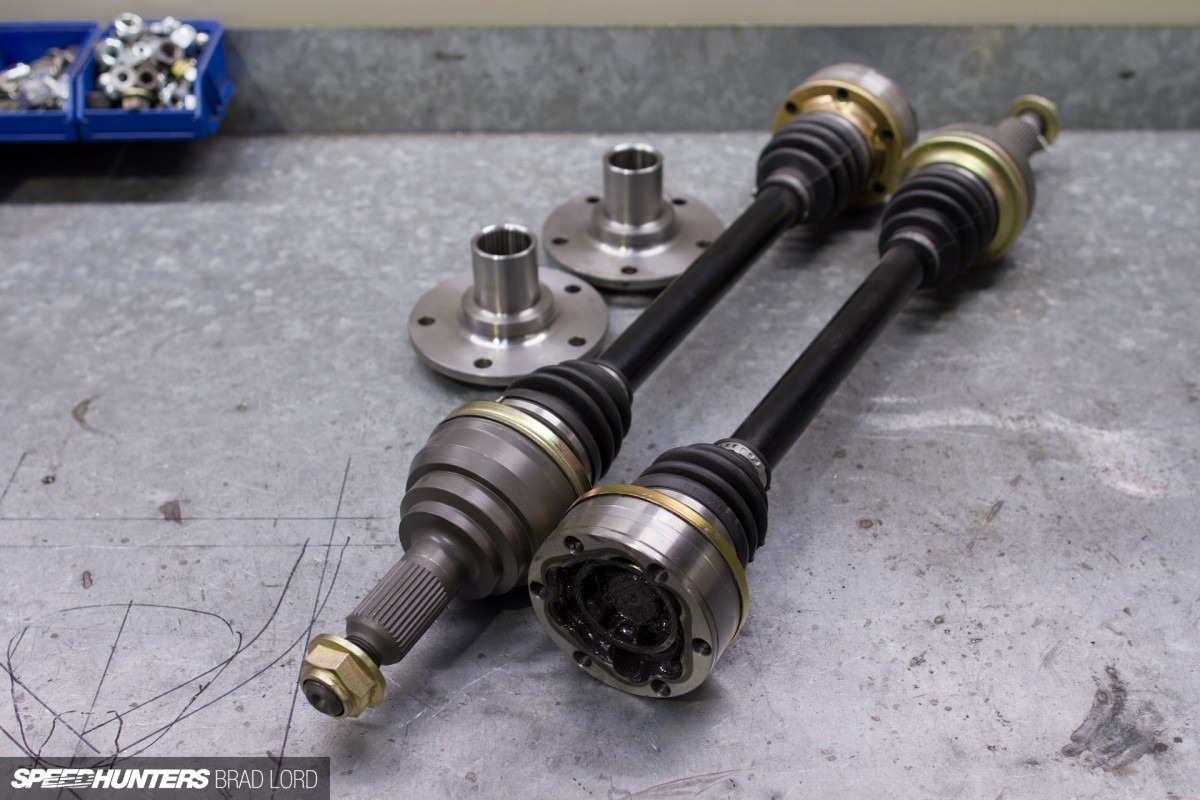 I also mentioned the axles, or more precisely these heavy duty units from The Driveshaft Shop. Built from aerospace-grade material, the bars feature large splines, long through-bolts from ARP and Porsche-style CV cups. Supplied with hubs to suit, there should be no trouble putting all the power to ground.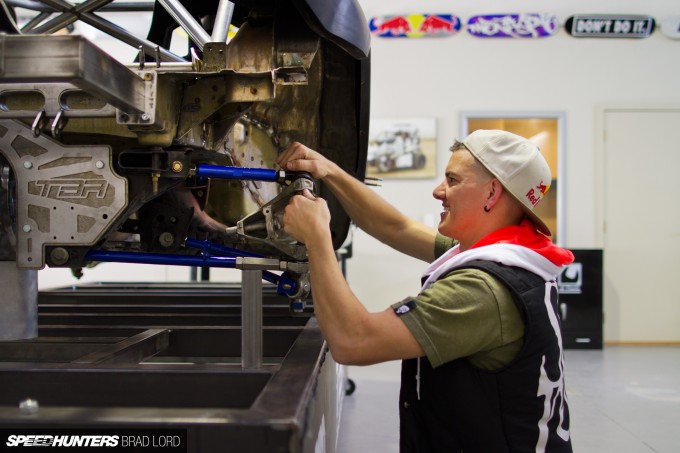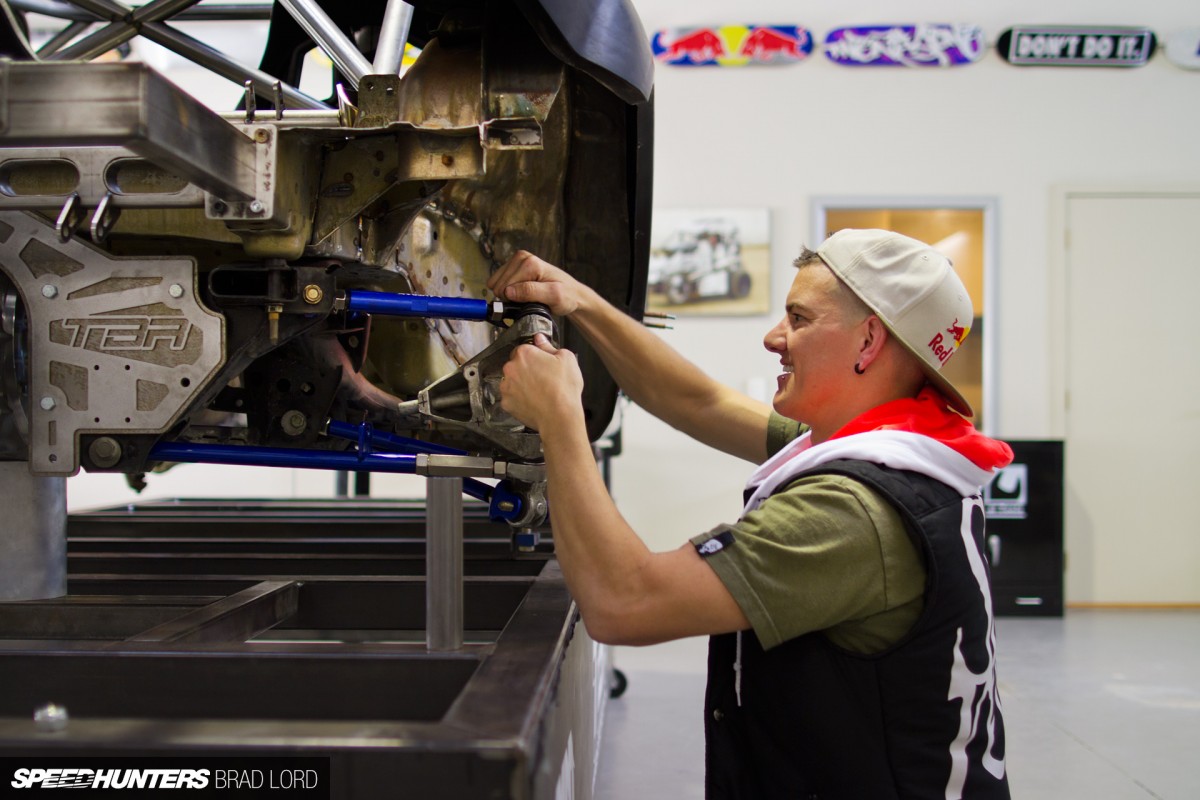 Early on in the build it was discovered that the many of the aftermarket suspension parts that Mike uses in the RX-8 were a straight bolt-up in the MX-5. With a modified hub carrier in the mix, fitting out the rear end is a pretty straightforward proposition.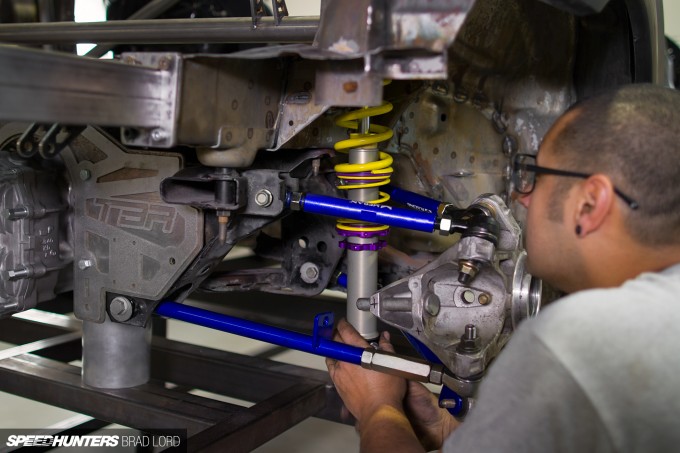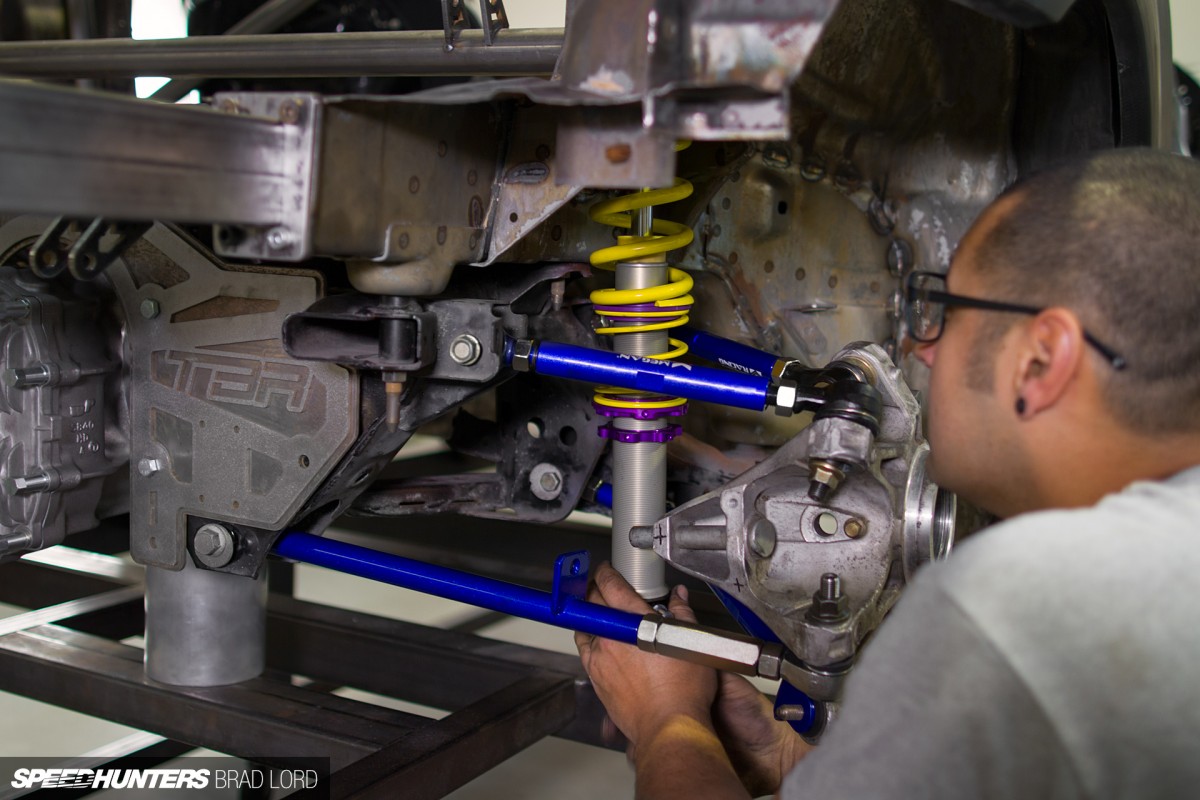 Kaz comes from a speedway background and before he launched TBR he spent the better part of a decade building championship-winning midget and sprint cars for local and international teams. Over the past two years he's applied a lot of that setup know-how to Mike's other cars, and the results pretty much speak for themselves. You can have the best parts money can buy, but if they're not working in unison at their maximum potential, there's little point, right?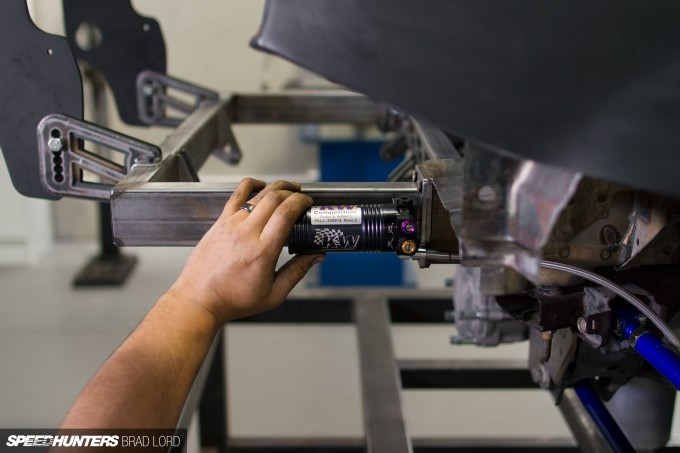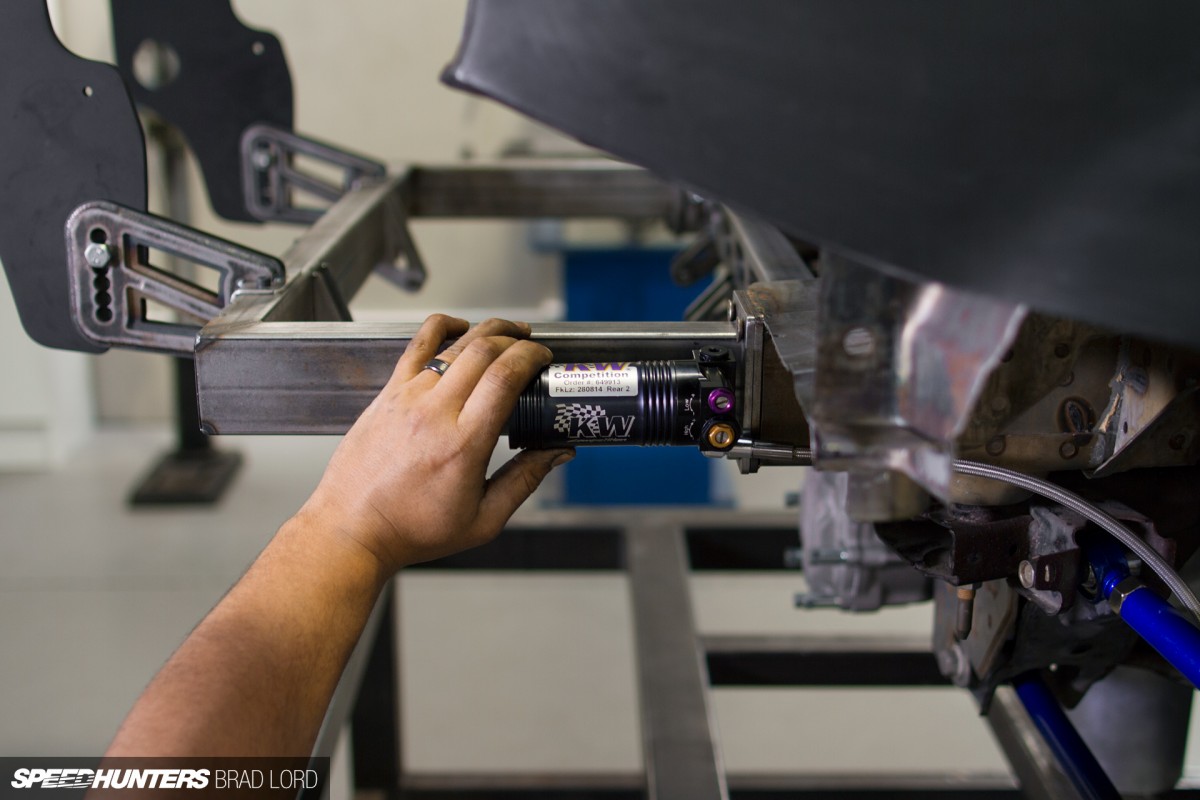 The two main factors Kaz is concentrating on at this end of the car are side and forward 'bite' – something that can be achieved through fine tuning of the KW coilovers and a full course of adjustable Megan Racing arms. With wide and sticky Nittos tyres fitted up, RADBUL should have plenty of grip.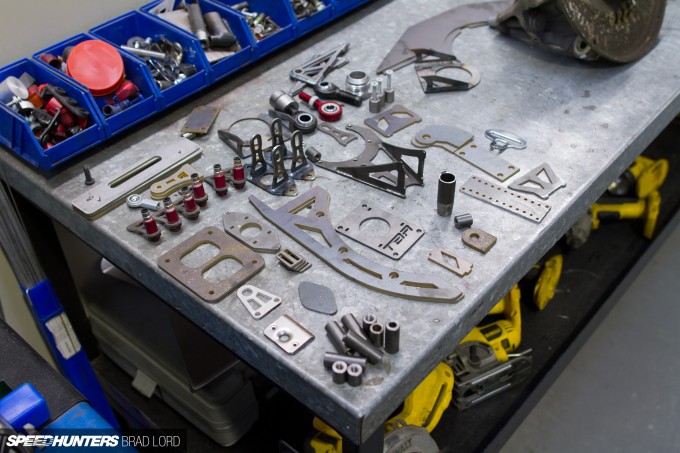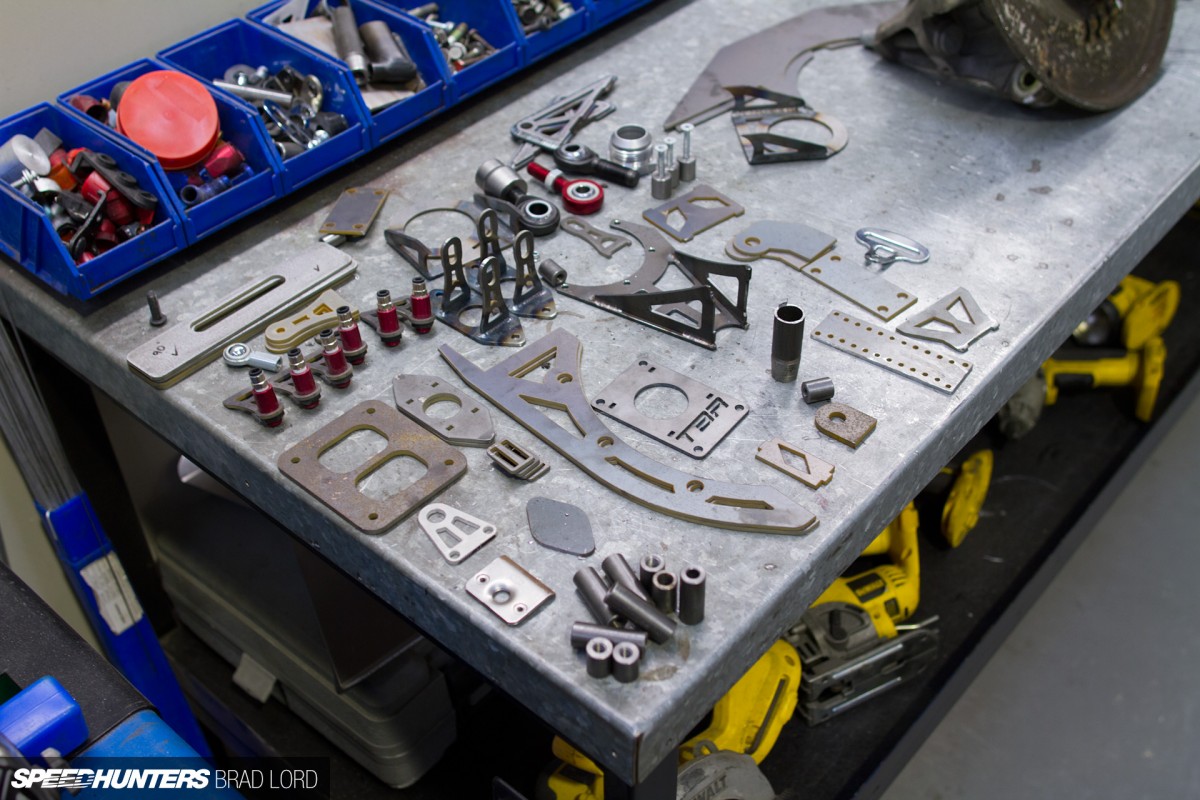 Before the the bare shell is sent away to be painted, there's still plenty of work to be done, including a lot of the fiddly, time-consuming stuff. Solid progress is being made on a daily basis though, and only two days on from this visit, I'm already due back out at TBR for the next one.
Once again, we'll wrap this update up with another freshly brewed episode of The Making of RADBUL from Red Bull. More on this crazy build coming very soon!
Brad Lord
brad@speedhunters.com