Like some strange people out there I've always been attracted to curious cars. Cars that for some reason or another stood out, be it for their design, innovation or quirky mechanical solutions or in some cases – plain ugliness. Beauty is in the eye of the beholder, and that's something that really applies here.
As a car manufacturer Volvo has never really given too much importance to beauty. Their cars have always been geared towards functionally and safety in the same way that say an Italian car might appeal for its emotional design or a German car for its driving dynamics.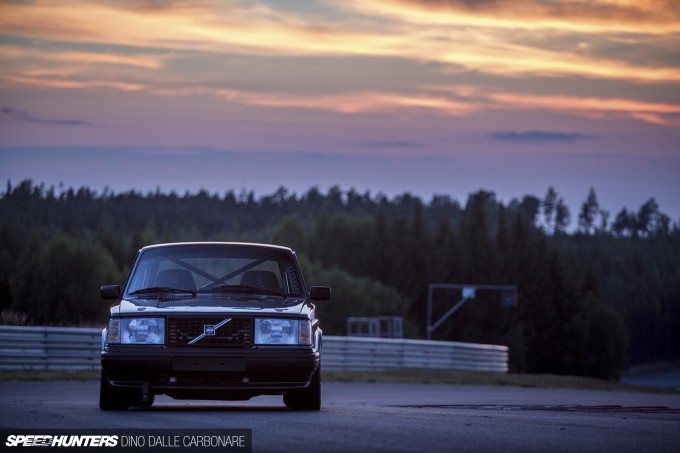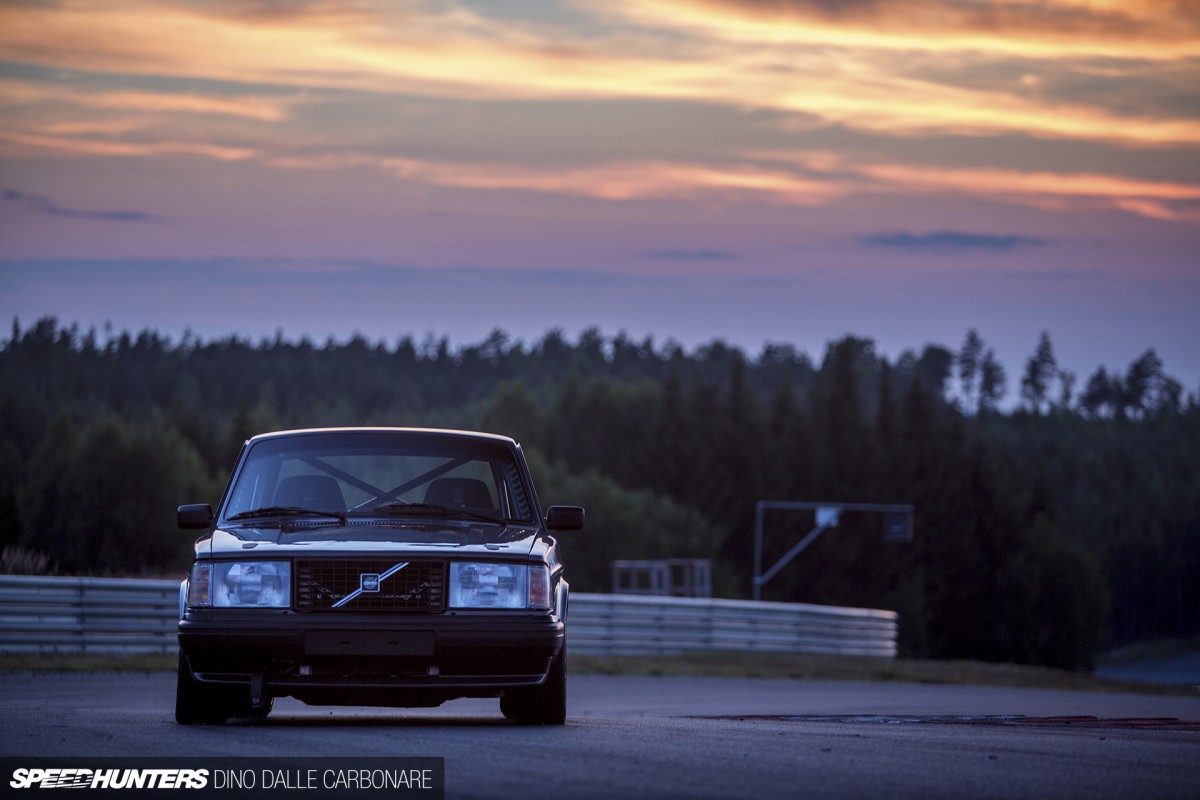 The angular designs that defined them in the '80s were far from pleasing to the eye. It's like their designers were told to do away with imagination, character and emotion, and concentrate on making the cars strong, safe and reliable. No doubt they succeeded with their aims, the string of boxy cars that followed always shining for their tank-like build quality.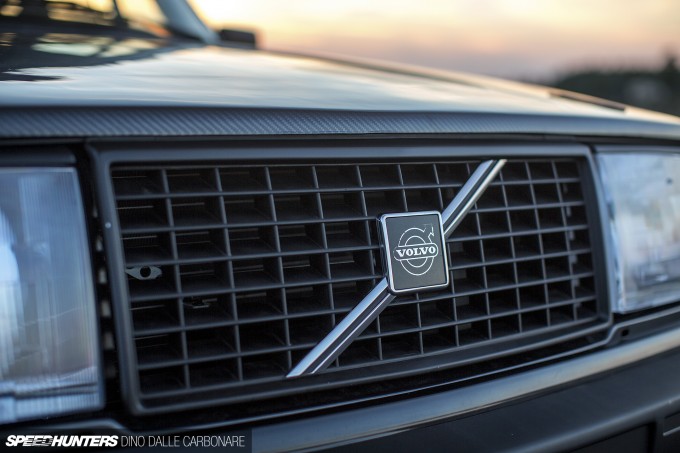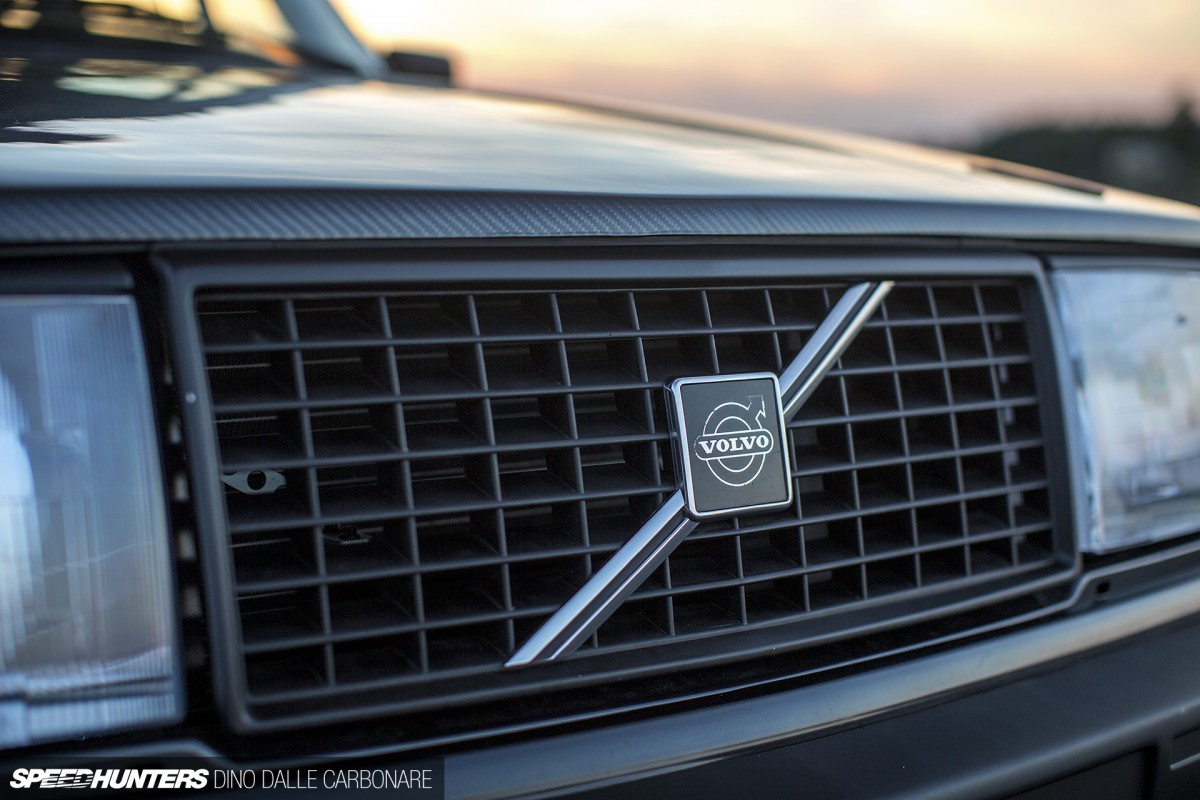 But every once in a while, the Volvo design studio, stripped of creativity, was given the go-ahead to produce the most un-Volvo-like car possible. Or at least I'm guessing that's how the story went. That's why we got cars like the 242 coupe, which looked as square and – as dare I say – boring as its four-door counterpart, but one which had that touch of something special. Maybe it's the unquestionable coolness a two-door coupe shape has, where even a car that looked like it was designed by a bored five-year-old with a crayon can suddenly gain a certain flair when stripped of its rear doors and given a more flowing roofline. Of course, there was also the 262C Bertone coupé, but I always found that to be the wrong sort of ugly.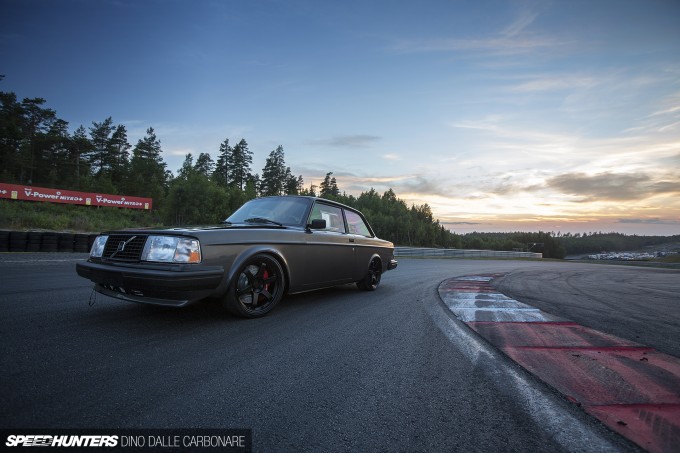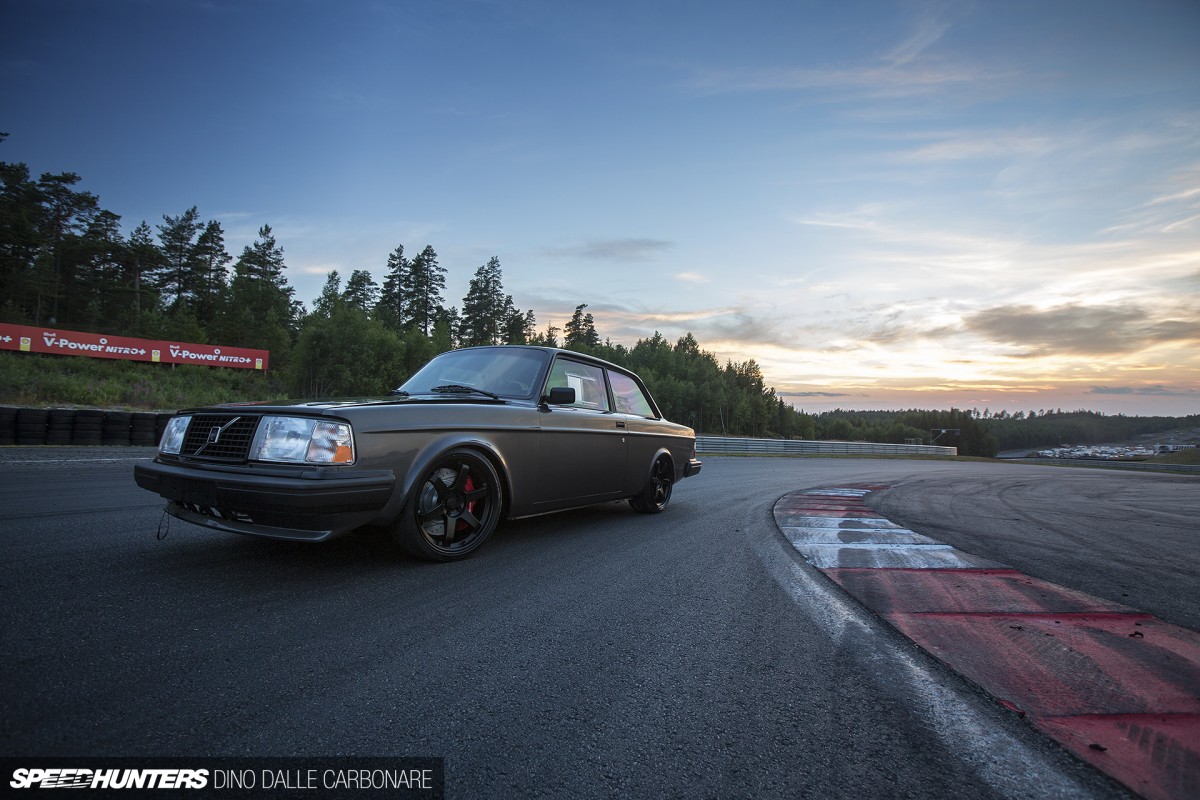 Fast forward 30-plus years and it's not surprising that the 242 coupé still has its fair share of admirers. Obviously this is especially true in Scandinavia where I found this particular, freshly-built 'brick', unsuspectingly sitting in the dusty, gravel area of the Gatebil Rudskogen paddock.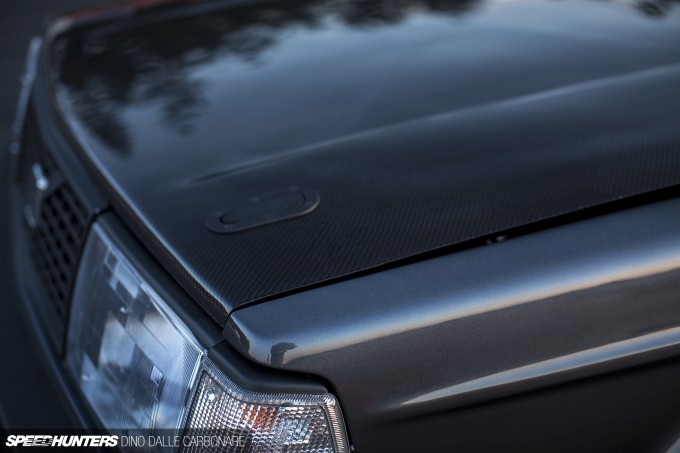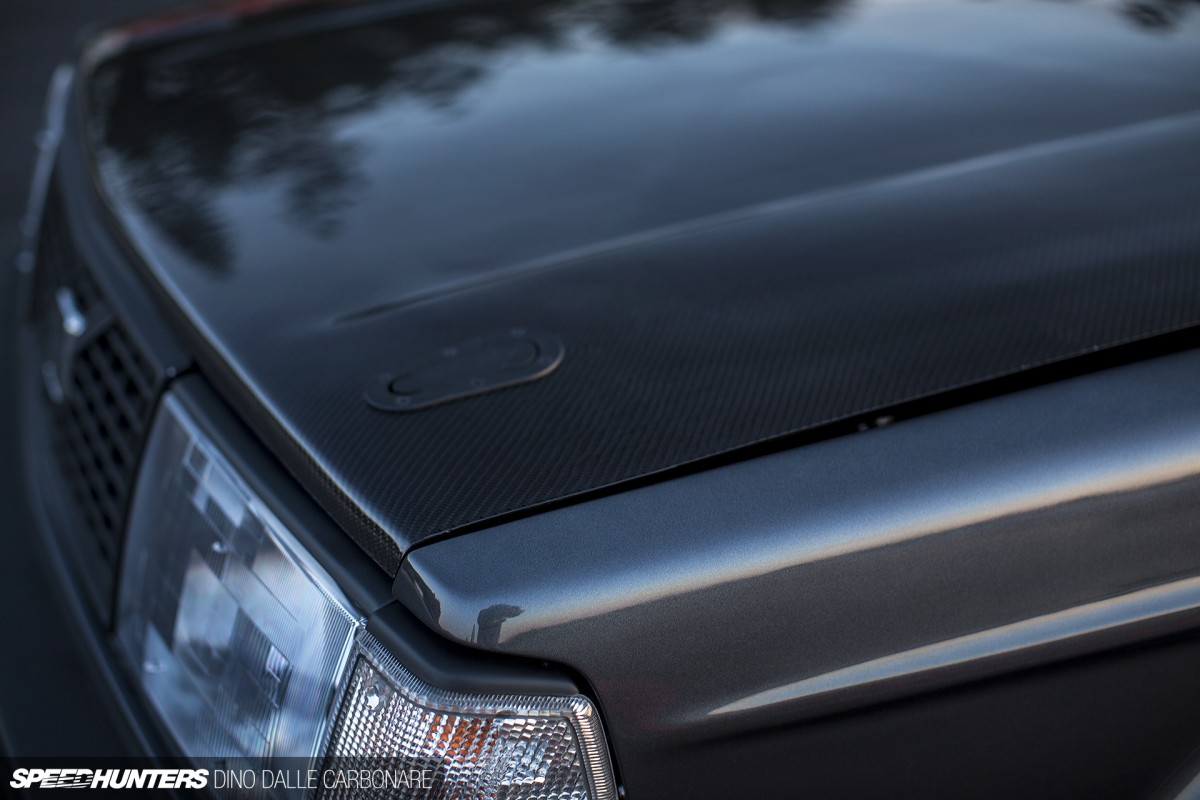 There are always a few of these cars at Gatebeil in various state of tune, but there was something special that made me notice this Swedish project. It looked way too clean – spotless in fact – and for that reason stood out among the well-used drift and grip cars that we usually associate with these events. There were too many tell-tale signs hinting that a lot of time had been spent on this car. A quick look through the windscreen revealed the sort of rollcage pipework and gusseting that wouldn't look out of place in a rally car.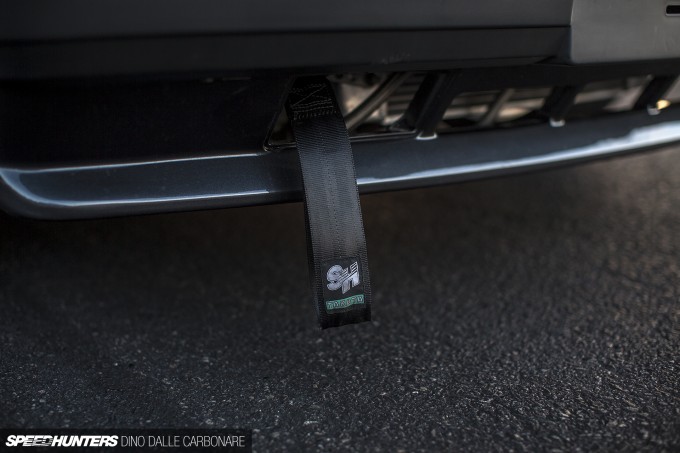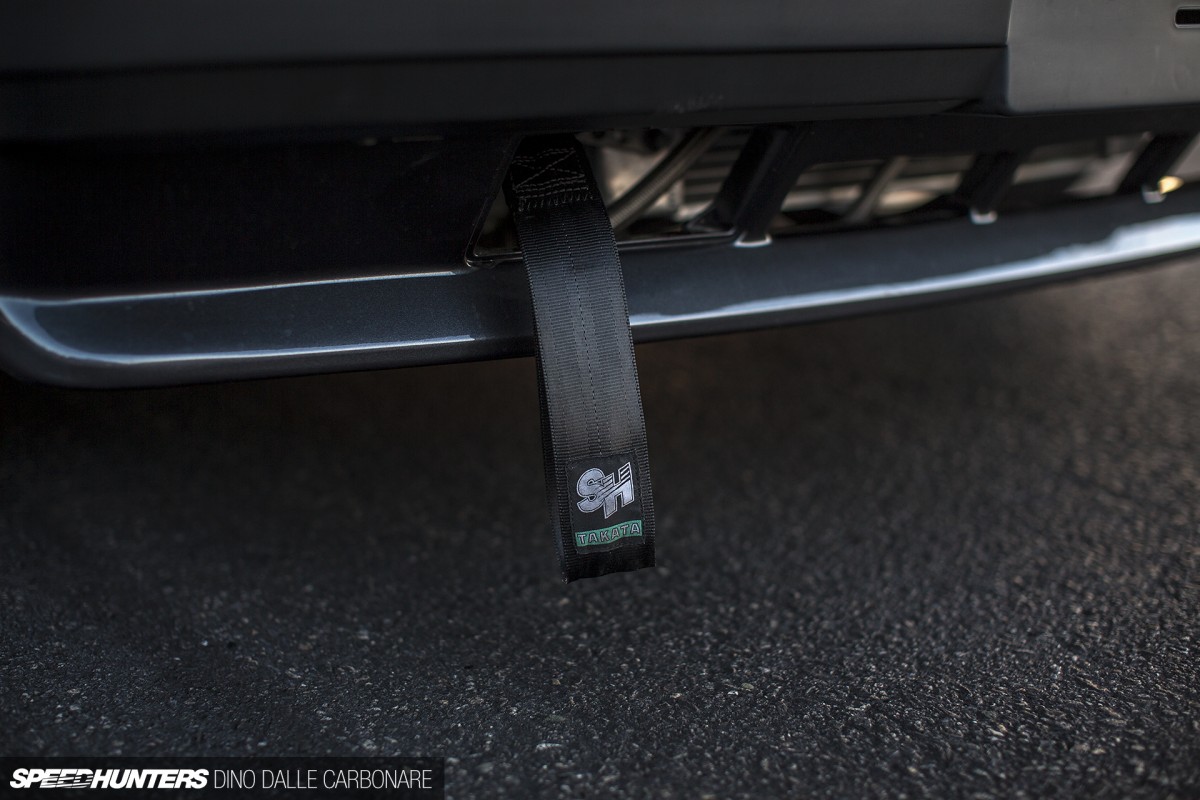 It even had a Takata x Speedhunters tow strap – a must-have accessory for any serious performance-based build.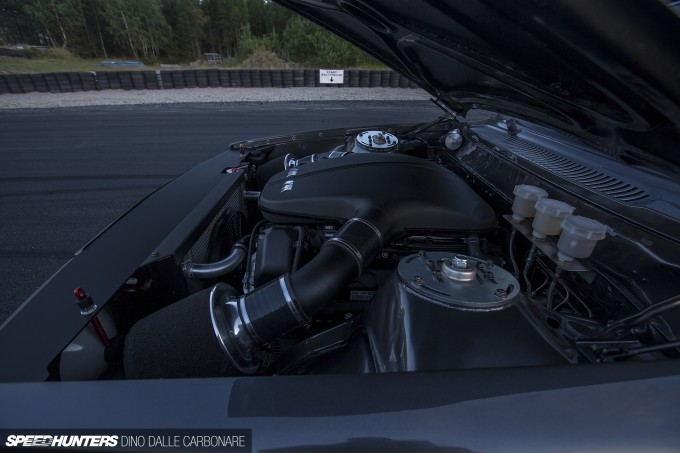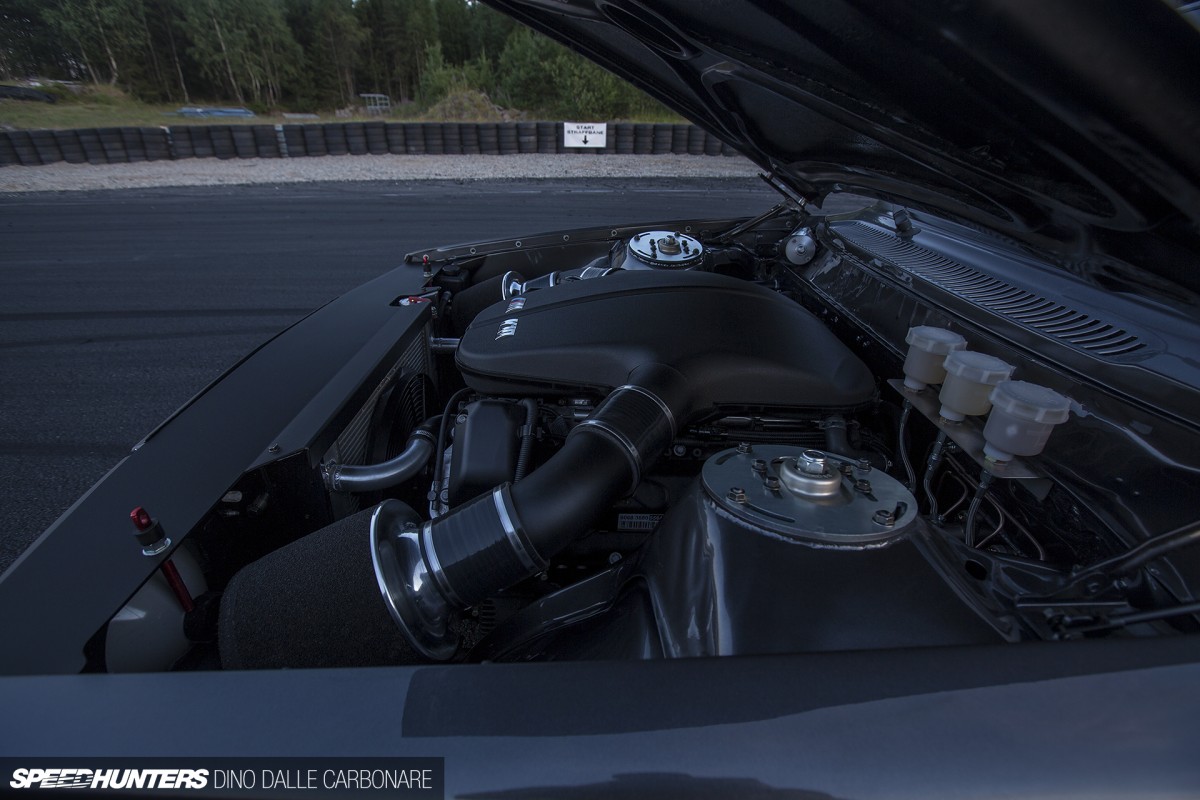 As its owner, Jesper Andersson, was lifting the carbon bonnet I was expecting either a Volvo five-cylinder, or even Toyota's venerable 2JZ – an engine seems to be dropped into every second car in Scandinavia. But nothing could have prepared me for what I was presented with…
Bye Bye M5, Hello 242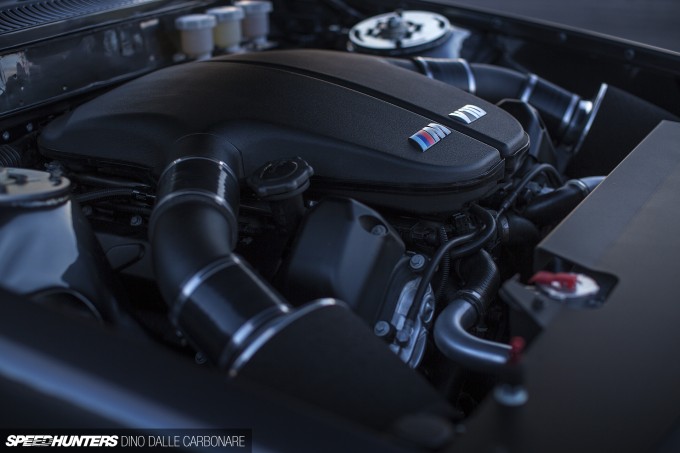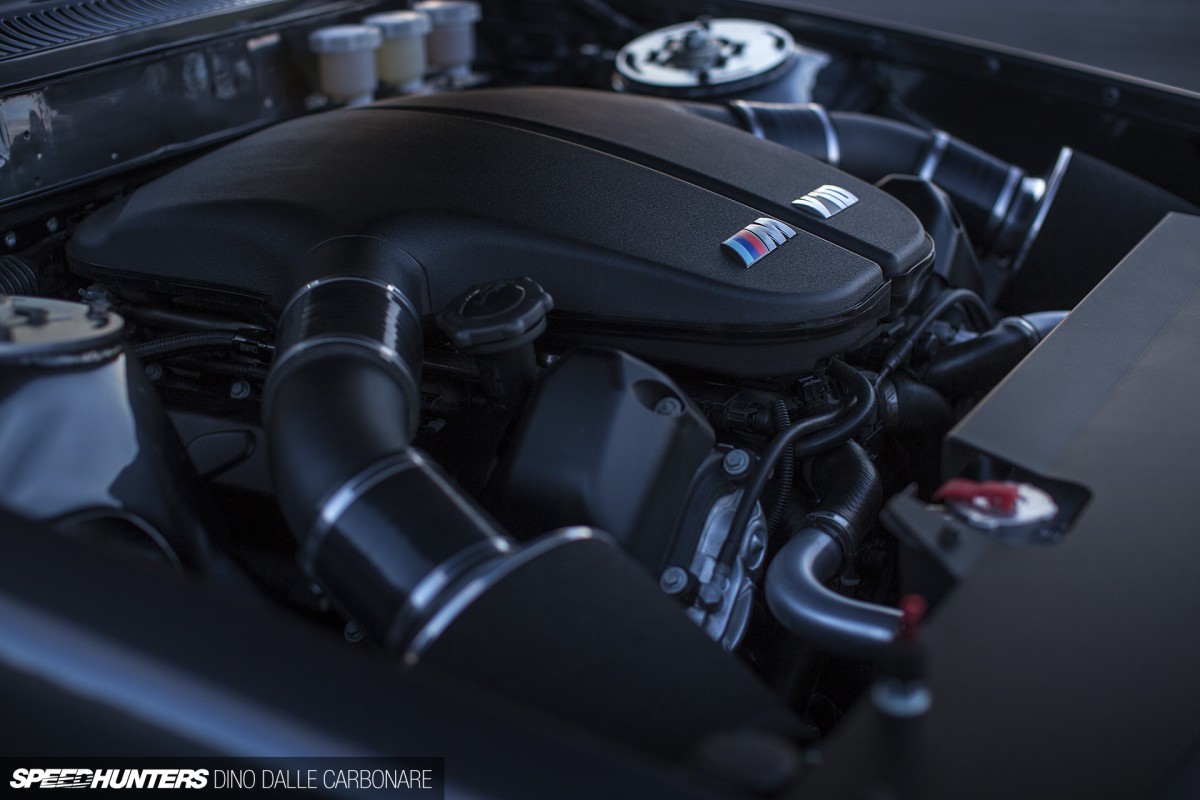 We are talking of just a few more cylinders this time round, and seeing we've just ending our V8 Swap theme, a BMW E60 M5 V10 seems like the perfect progression! If you're anything like me you're probably wondering how an idea like this can materialise. But as Jesper explained to me, this engine was never supposed to be go into a 242 in the first place. After scoring the V10 from a burnt-out M5 found at a junk yard, Jesper was actually planning on retrofitting it in an E46 to make a cool and different type of drift car. But then, after seeing an ad for the Volvo, well, light bulbs must have illuminated in his head.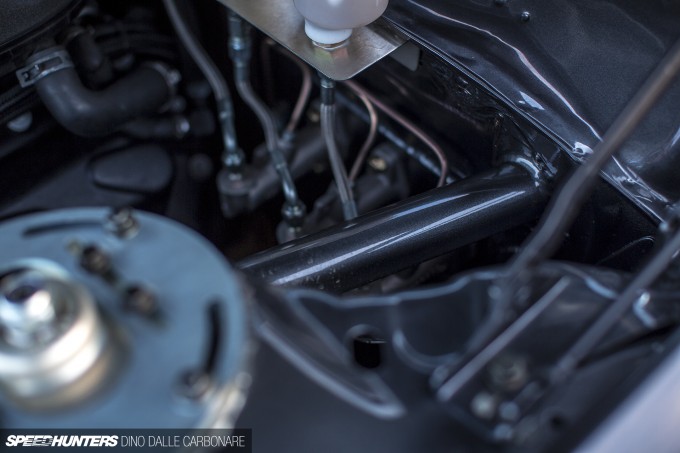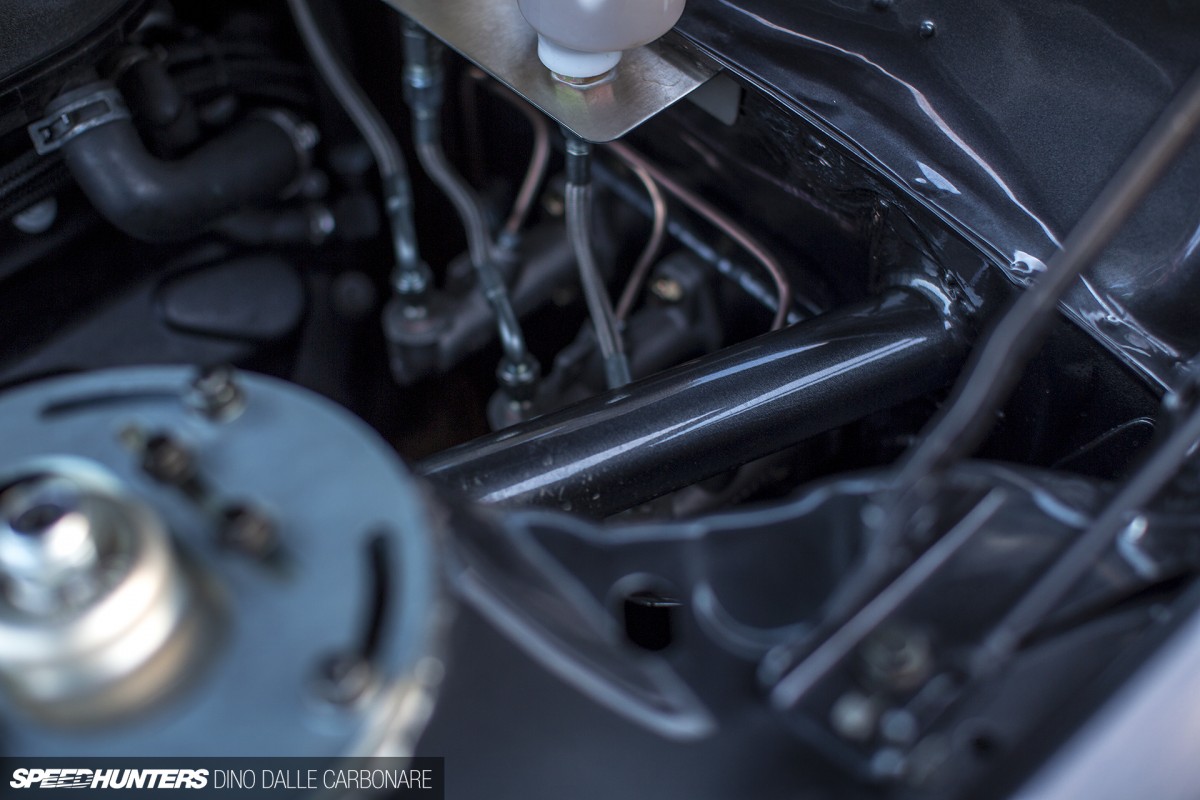 And so that's how it all started. After acquiring a suitable 'brick' base, it wasn't a question of simply attempting to shoehorn the motor into the chassis and seeing what happens, but rather looking at the whole thing and figuring out how to come up with the sort of modifications that wouldn't just make the car another engine-swapped project from Scandinavia. That meant a full strip down, and a lot of measuring and planning to get the big 5.0L V10 to sit just right. Not to mention, prepping the chassis to cope with 500 horses and the abuse the car would be subjected to on the track.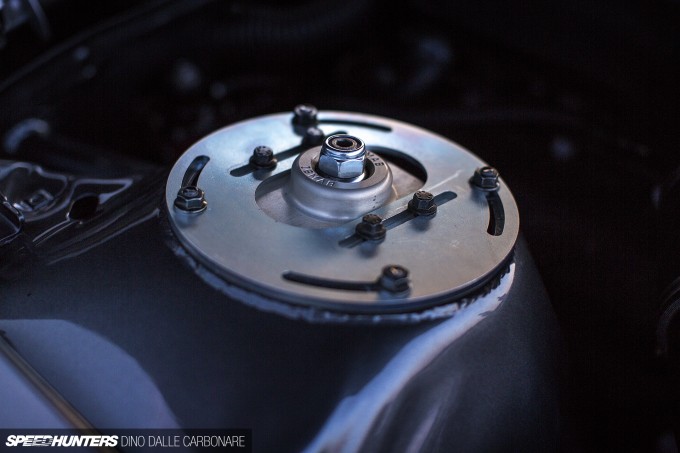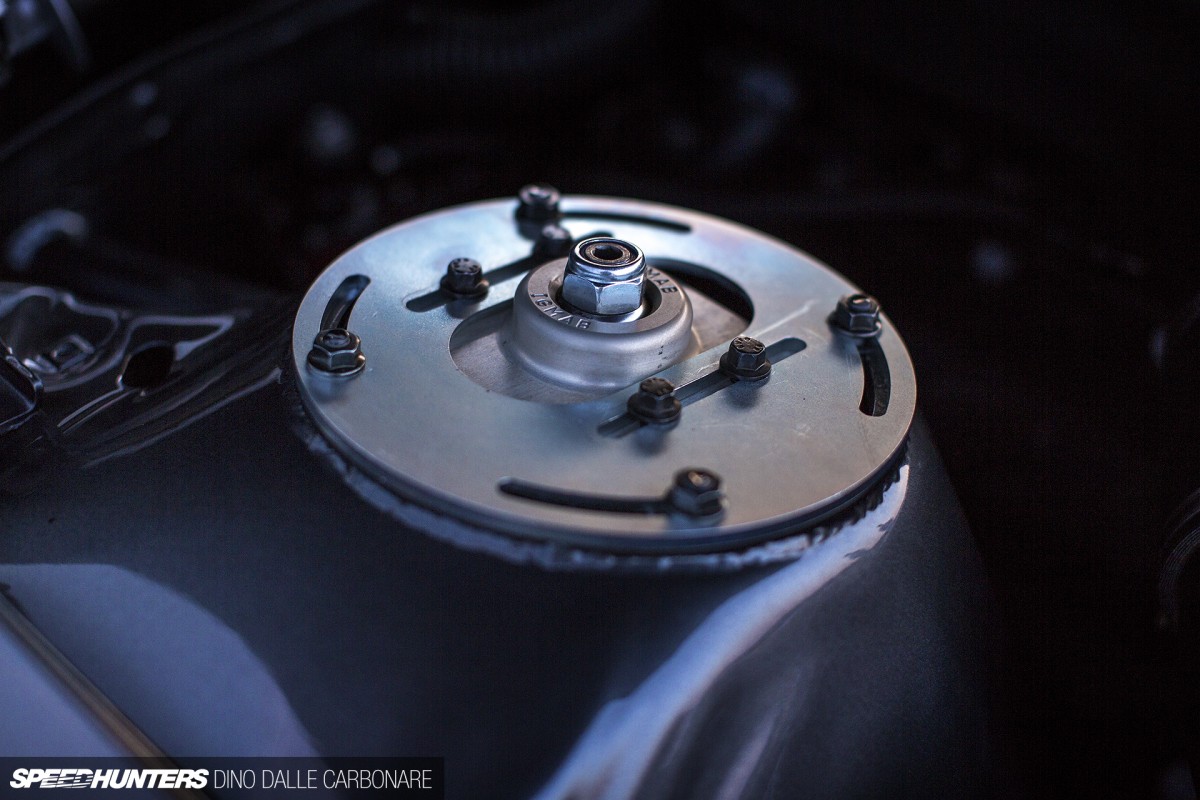 Along with the stiffening modifications that Jesper added, Sellholm Tuning took care of fabricating custom front suspension turrets and topping them with MK Motorsport fully adjustable camber/caster plates.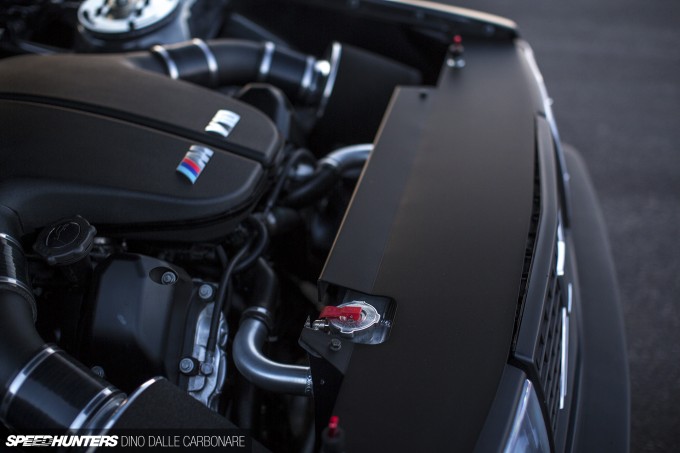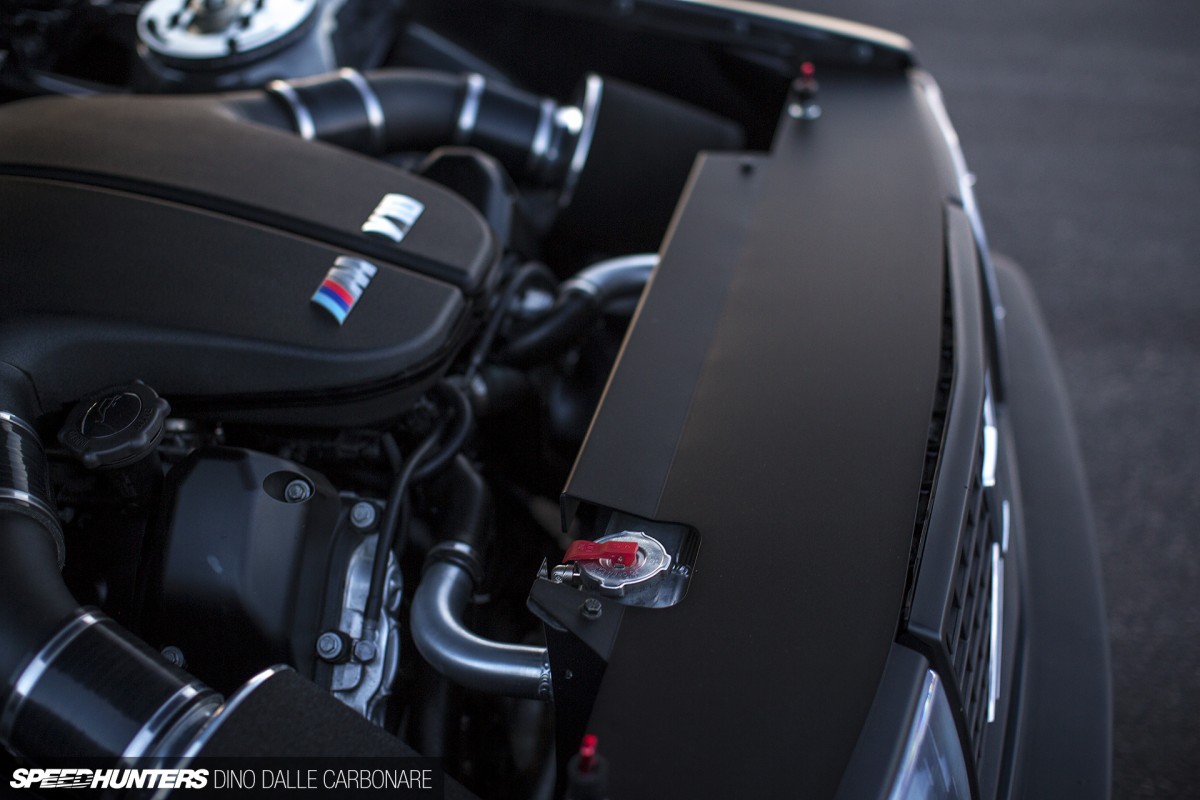 With the chassis prepped and freshly sprayed in a few coats of Audi Daytona Silver, the engine was test-fitted with all of its auxiliary components, checked for clearances and then fixed in position. It only takes one look to figure out that attention to detail was a high priority here, everything being cleanly laid out with presentation very much in mind. The radiator shroud is a great example.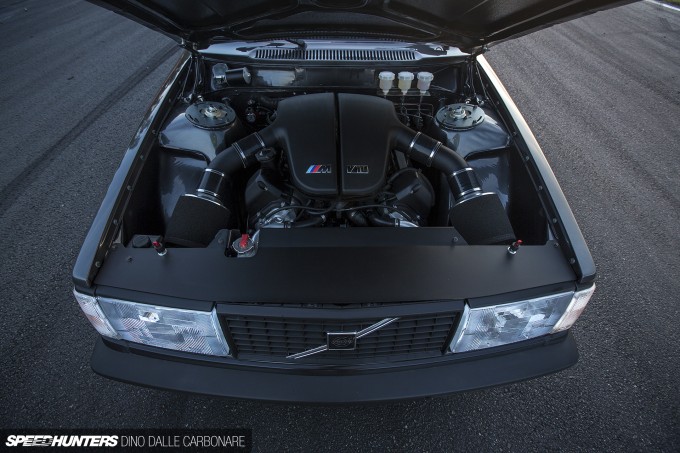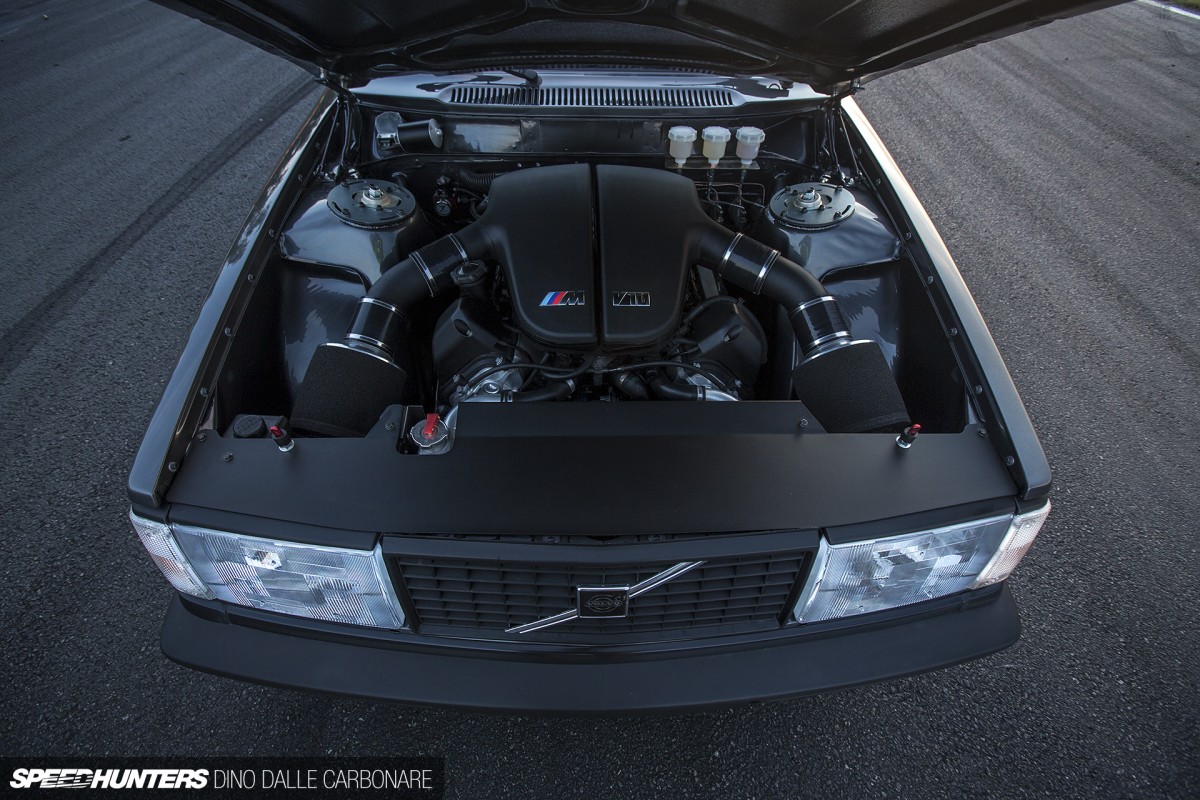 The V10 sits so perfectly in the engine bay. The two intakes, stripped of their air flow meters and extended downwards in front of the wheel arches, breathe through a pair of foam filters. As Jesper said, the Tornado ECU from Kōhler Racing which is wired in to control the BMW motor, solely runs off the throttle position sensors with no problems thus far. Jesper intends to drive his car hard, but that's once he's finished taking it to car shows where it's already doing a good job of taking home award after award.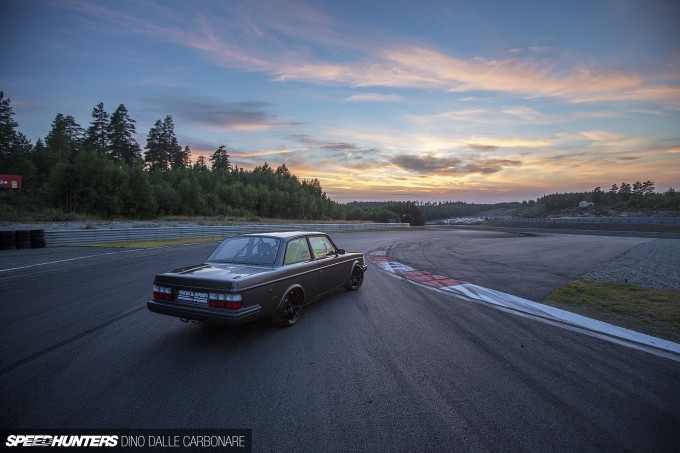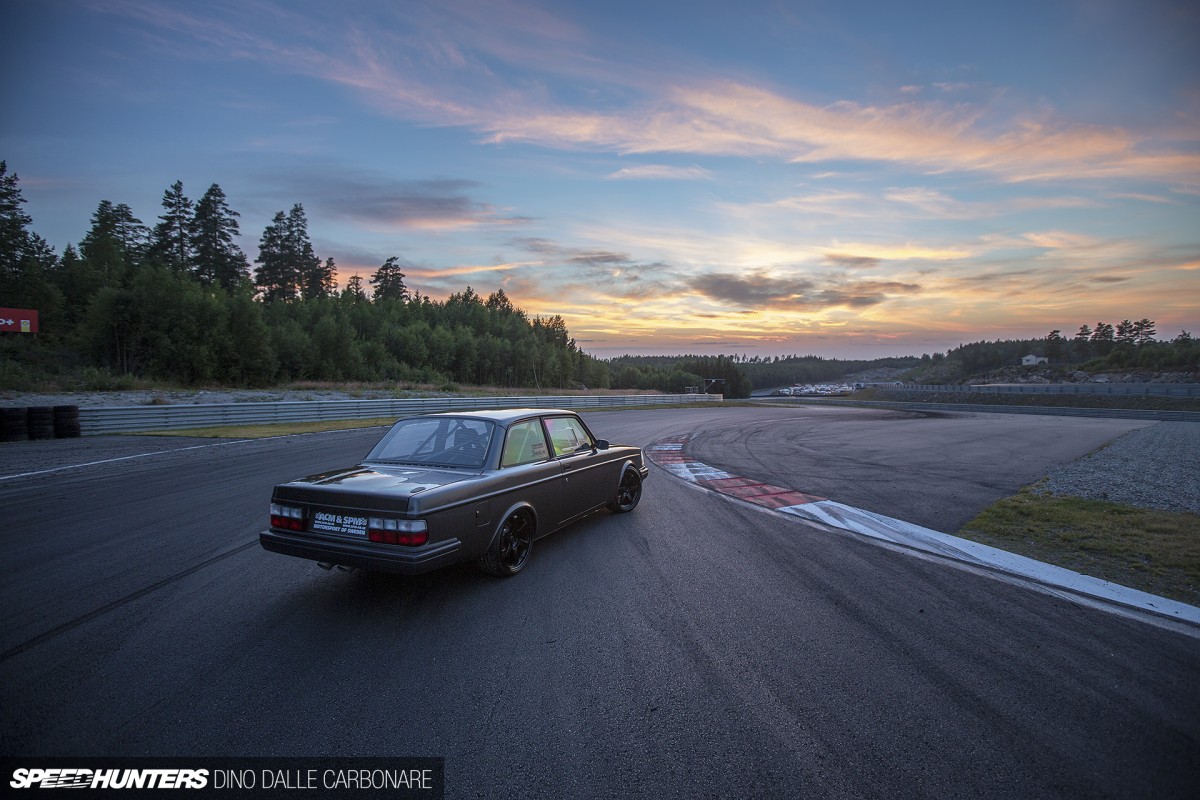 Sending drive to the rear wheels is a BMW E39 six-speed Getrag transmission linked up to a stronger Volvo 1988 axle. The rear has received even more suspension work that the front, with Jesper having fabricated a four-link set up around the Torsen differential-equipped Volvo axle. Unlike the front which runs Bilstein shocks, the custom-fabricated rear suspension turrets are mated to GAZ coilovers.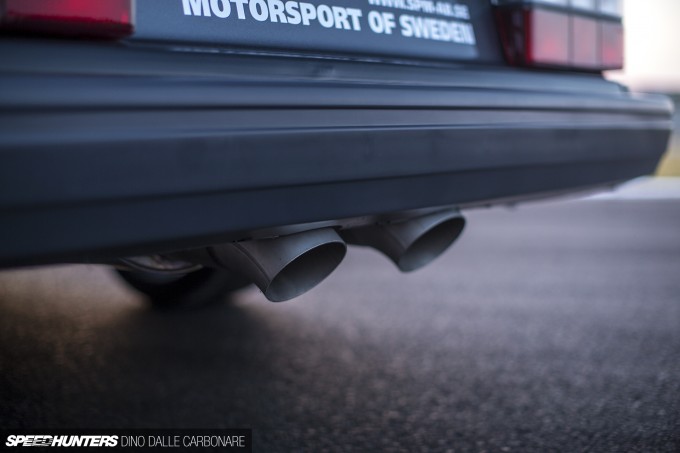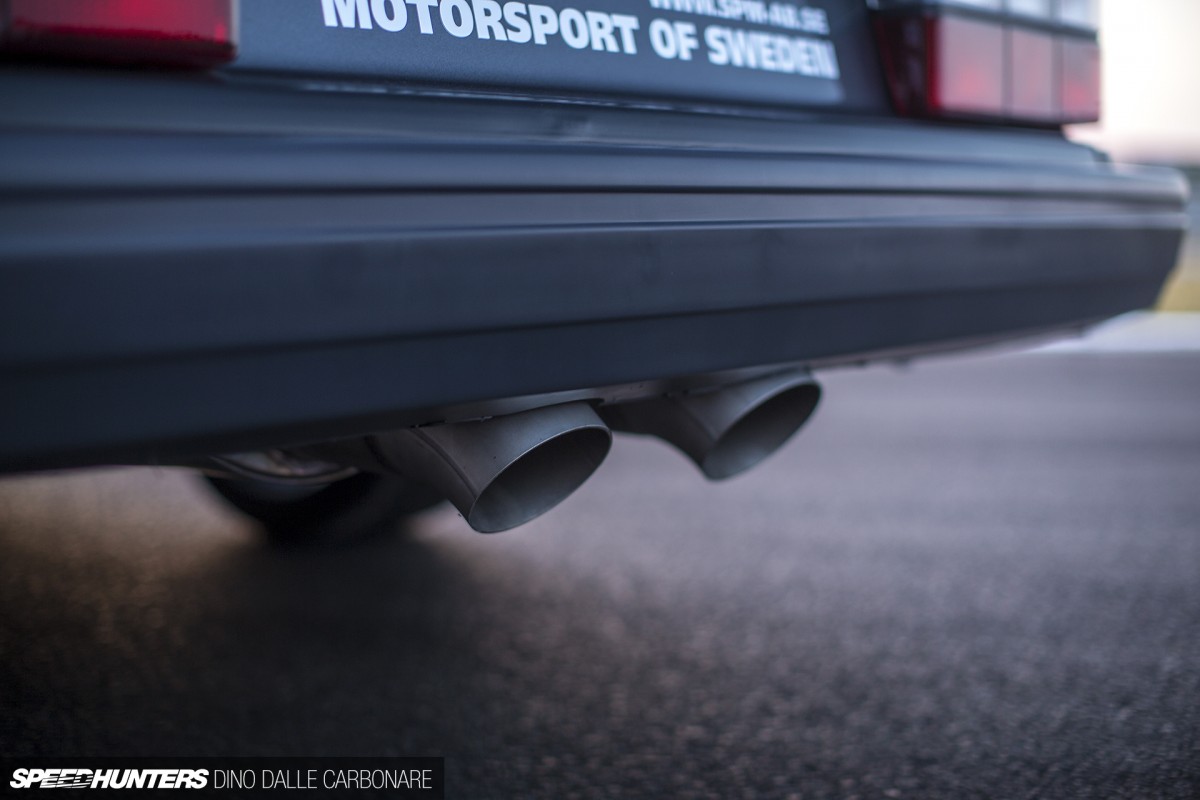 The close-to-stock exterior doesn't give much away, except at the very rear where a sneaky pair of downward-curved and centrally-mounted exhaust tailpipes make a shy showing. Unsilenced V10? Oh yes please!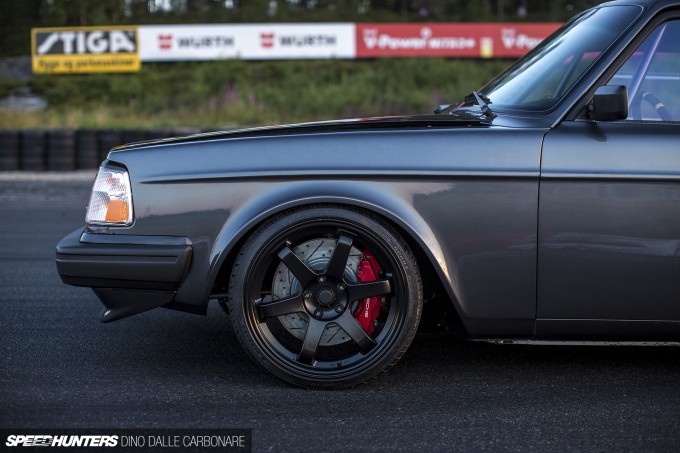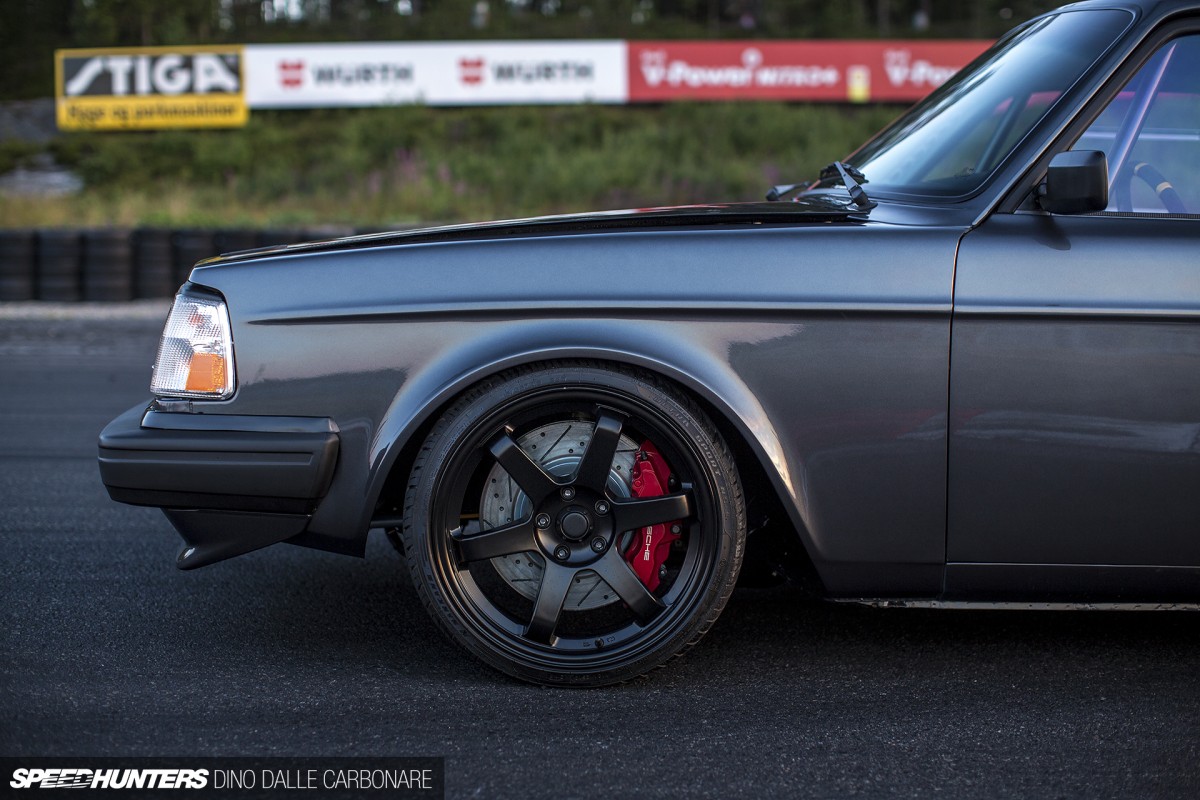 Aside from the dark silver paint, the only real change made to the exterior was the removal of the black plastic trim that ran the length of the car. It leaves behind only the metal crease it was mounted on, giving a slightly more clean feel.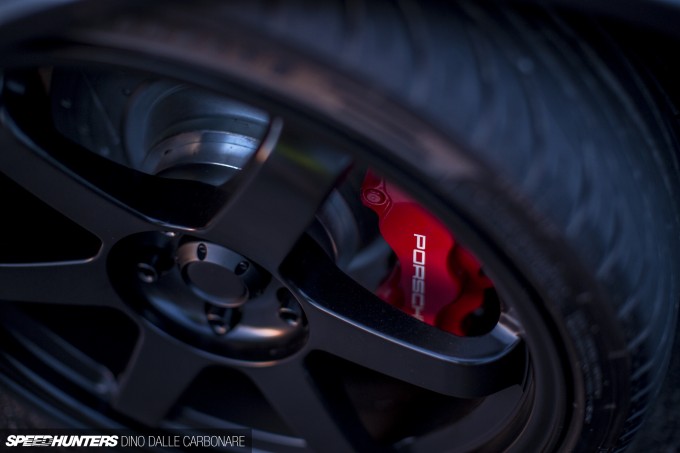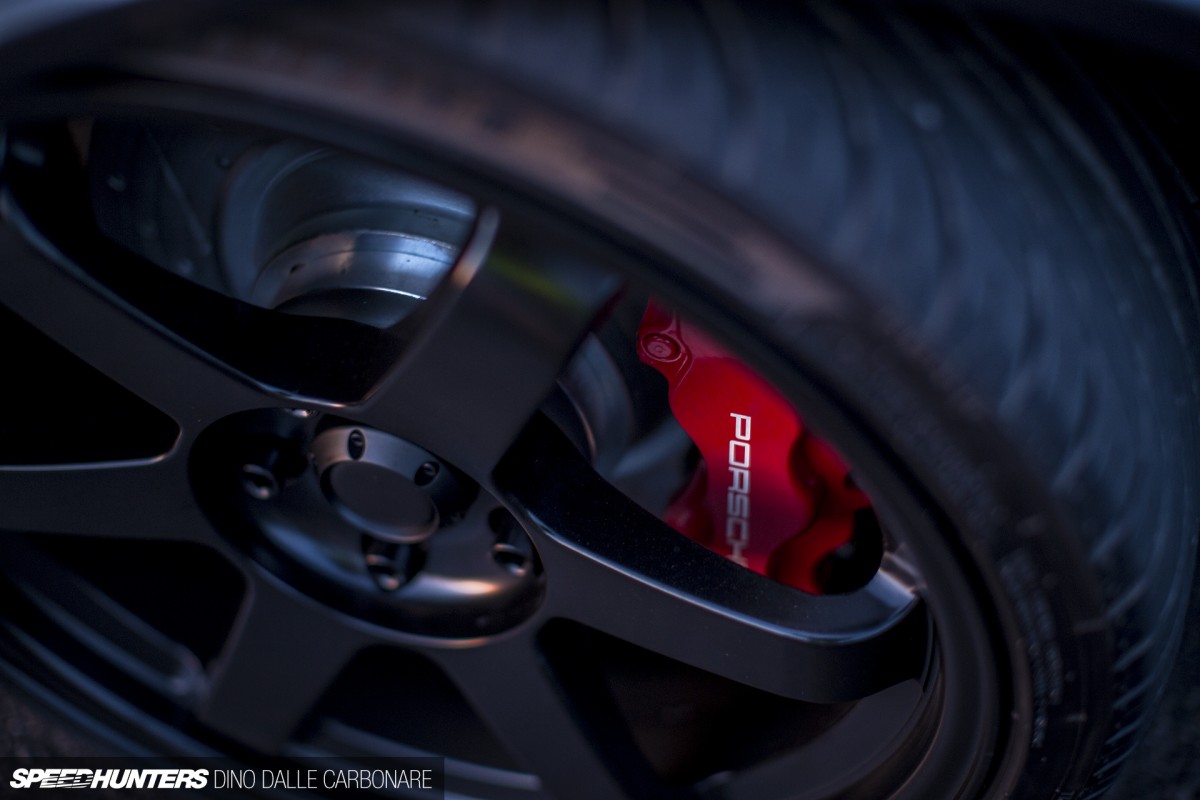 At the front, hiding behind the wheels are six-pot 997 Porsche GT3 callipers mated to cross-drilled and grooved rotors. They're a very important addition, because aside from the substantial gain in power, there is also more weight over the front wheels now despite the V10 engine being all-alloy.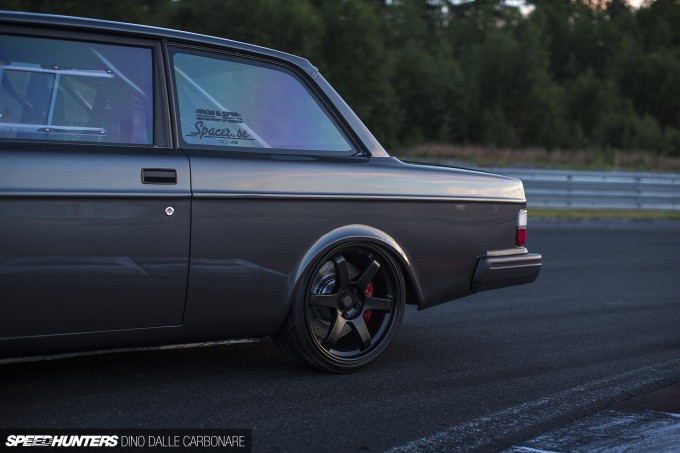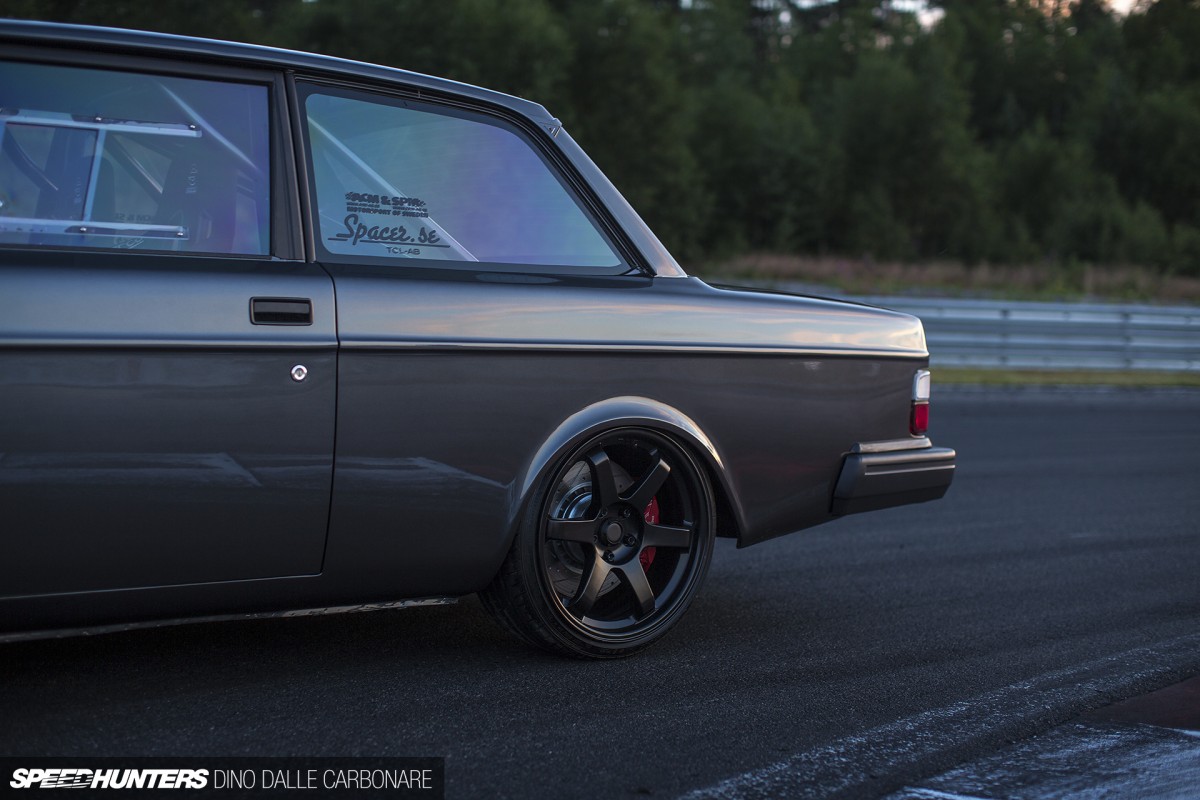 The rear end is anchored down with a set of BMW four-pot calipers painted red to match the Porsche stoppers up front.
Attention To Detail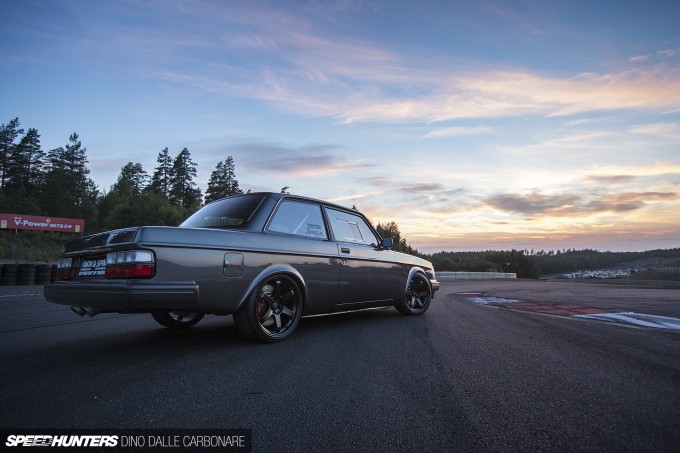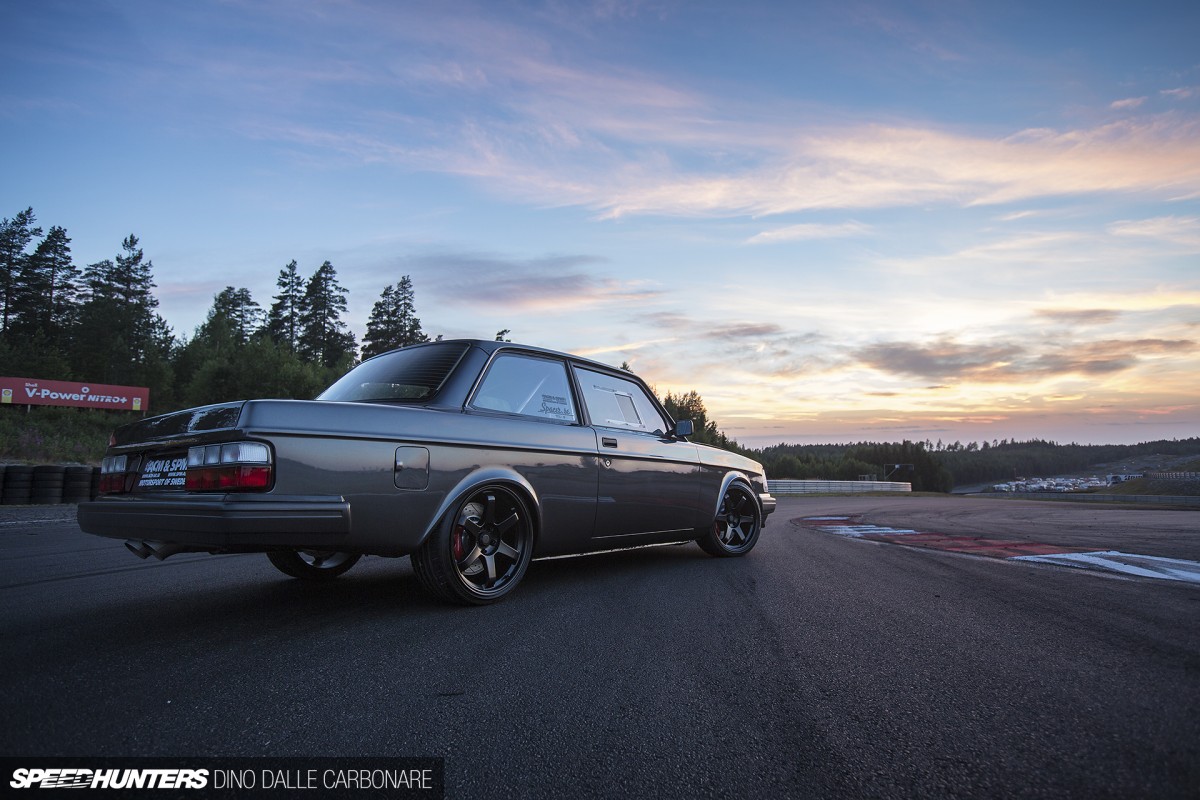 Lexan windows replace all the heavy glass the Volvo was fitted with, which seeing how the rest of the car was built were probably bullet-proof and triple-glazed.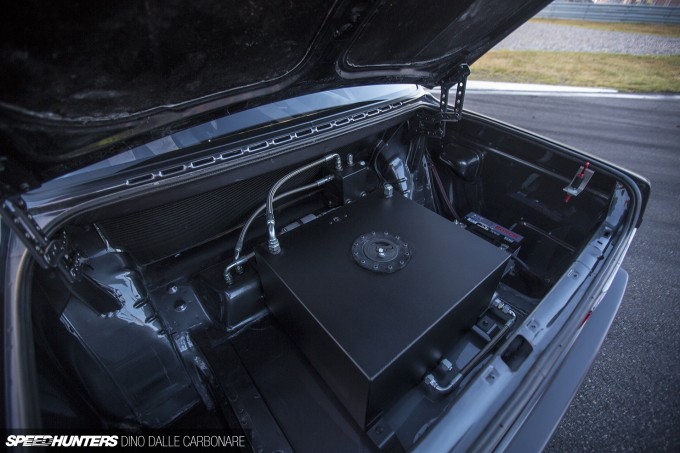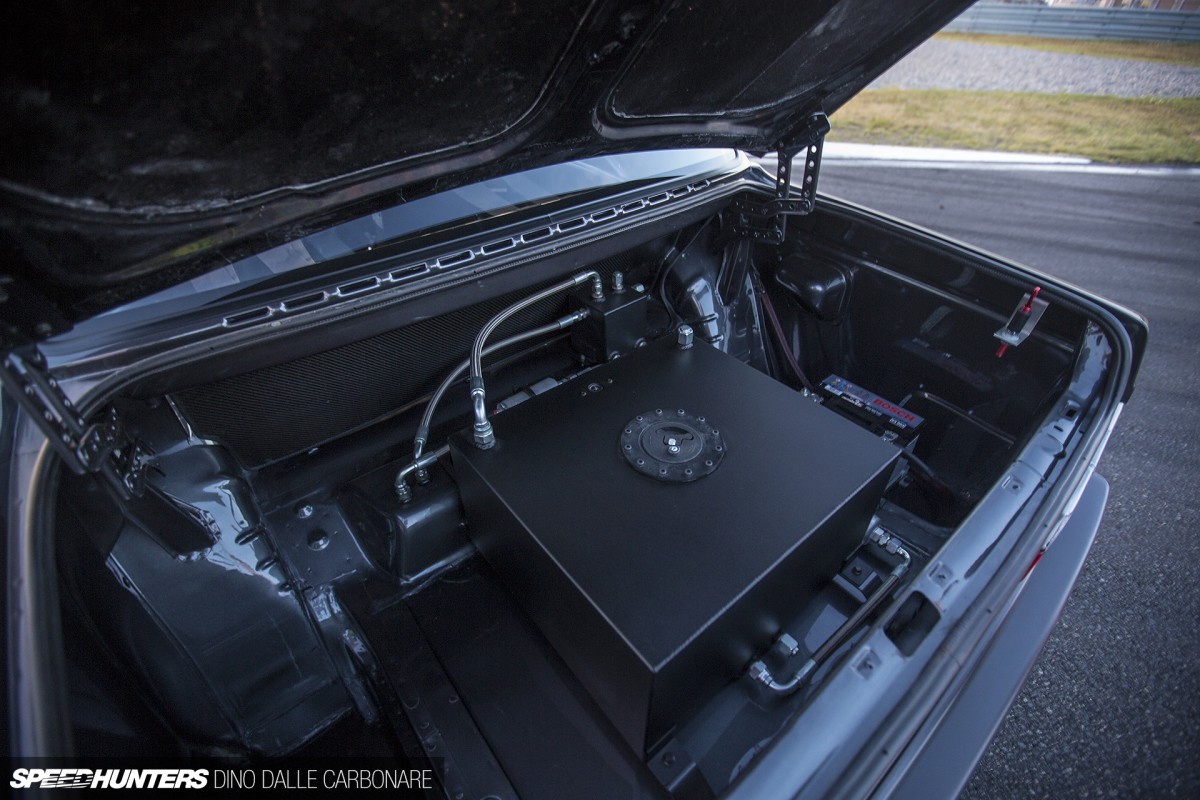 The custom rear end meant the stock fuel tank was eliminated. In its place now is a racing fuel cell taking center stage in the trunk. Braided fuel lines are plumbed into the surge tank and the Bosch external pump that keeps the thirsty 5.0L motor topped up with fuel. And much like in the engine bay, everything is neatly laid out.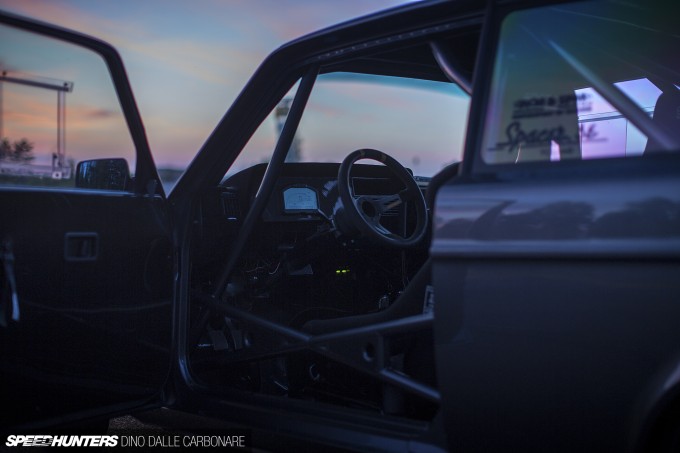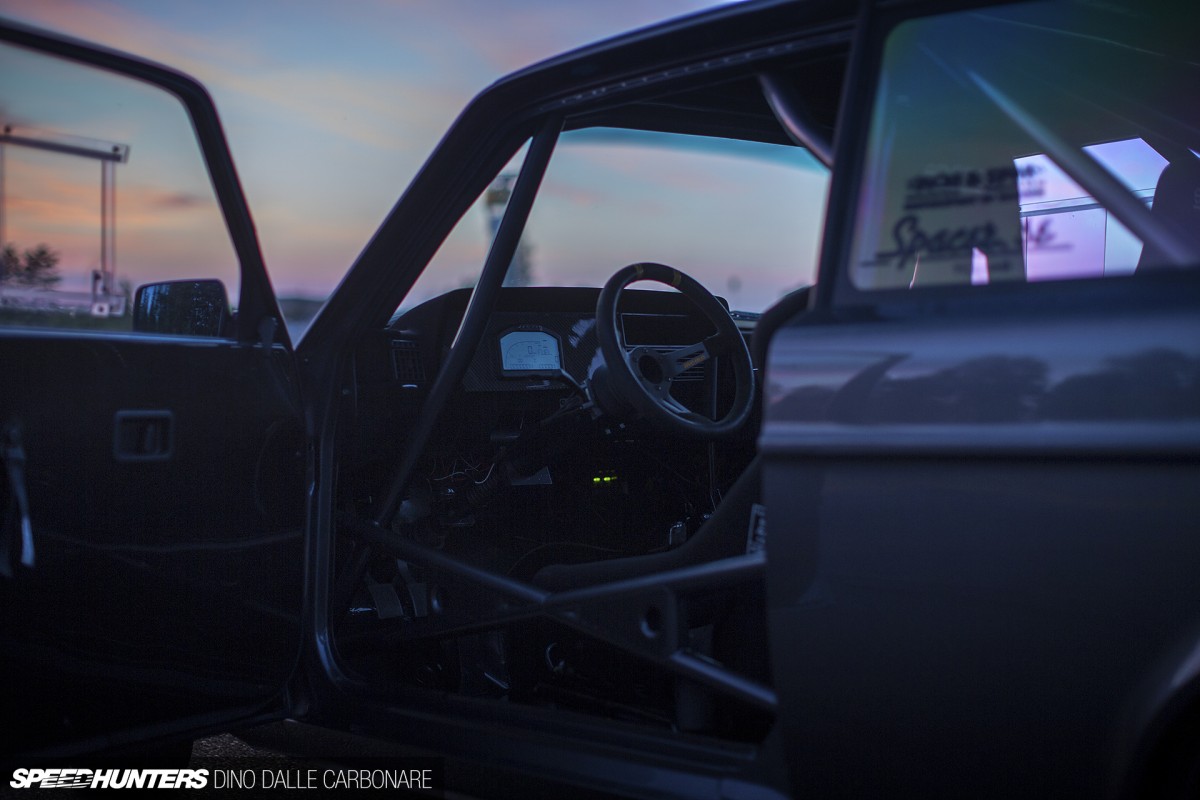 The extensive work that has gone into the Volvo really hits home once you look in the cabin. The driver and the passenger are safely enclosed by a serious multi-point rollcage with gusseted door crossbars.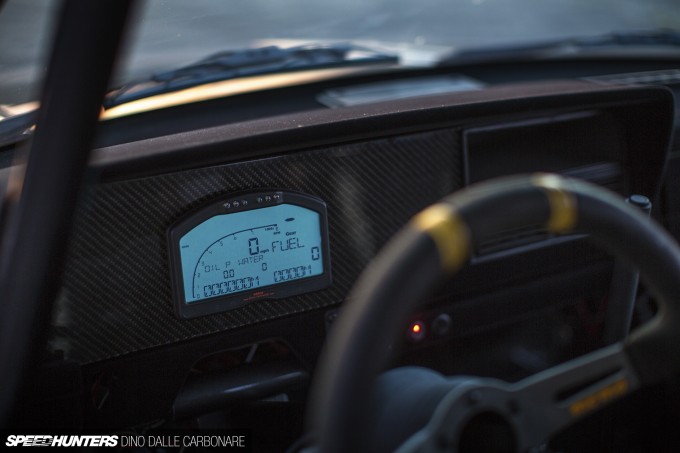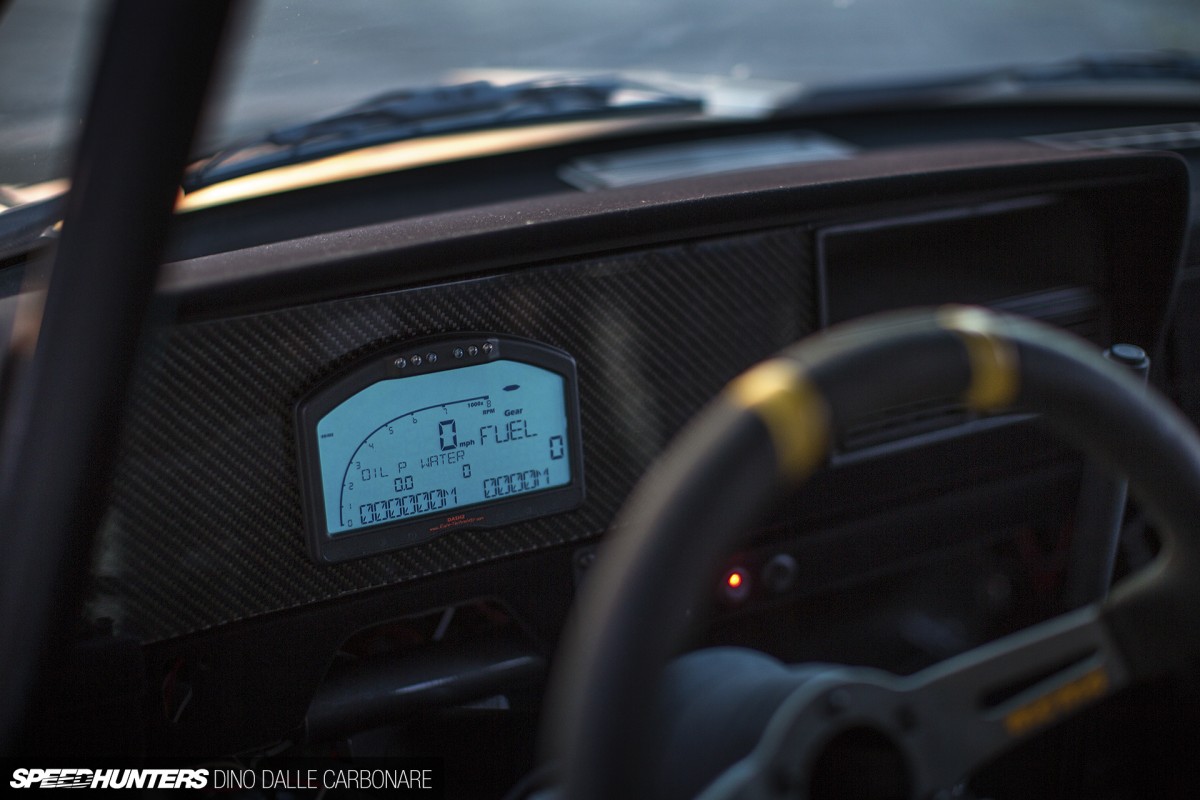 While the square dash has remained, it's been stripped of its analogue instrumentation and closed off with a glossy carbon panel onto which a Racetech LCD data logger has been positioned. It's all very minimalistic and very driver-oriented – just how you would expect a proper race car to be laid out.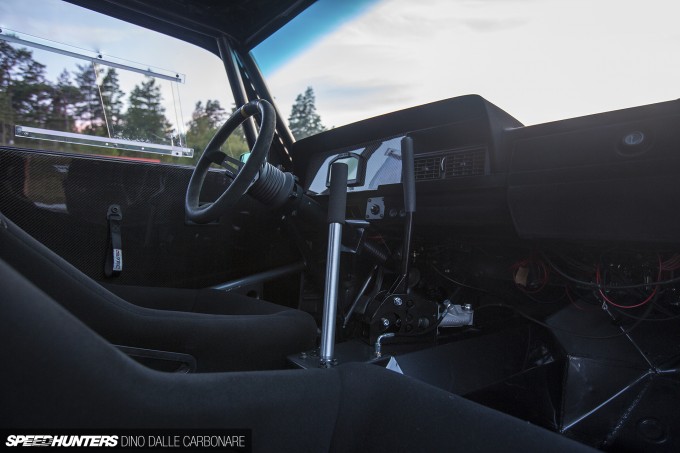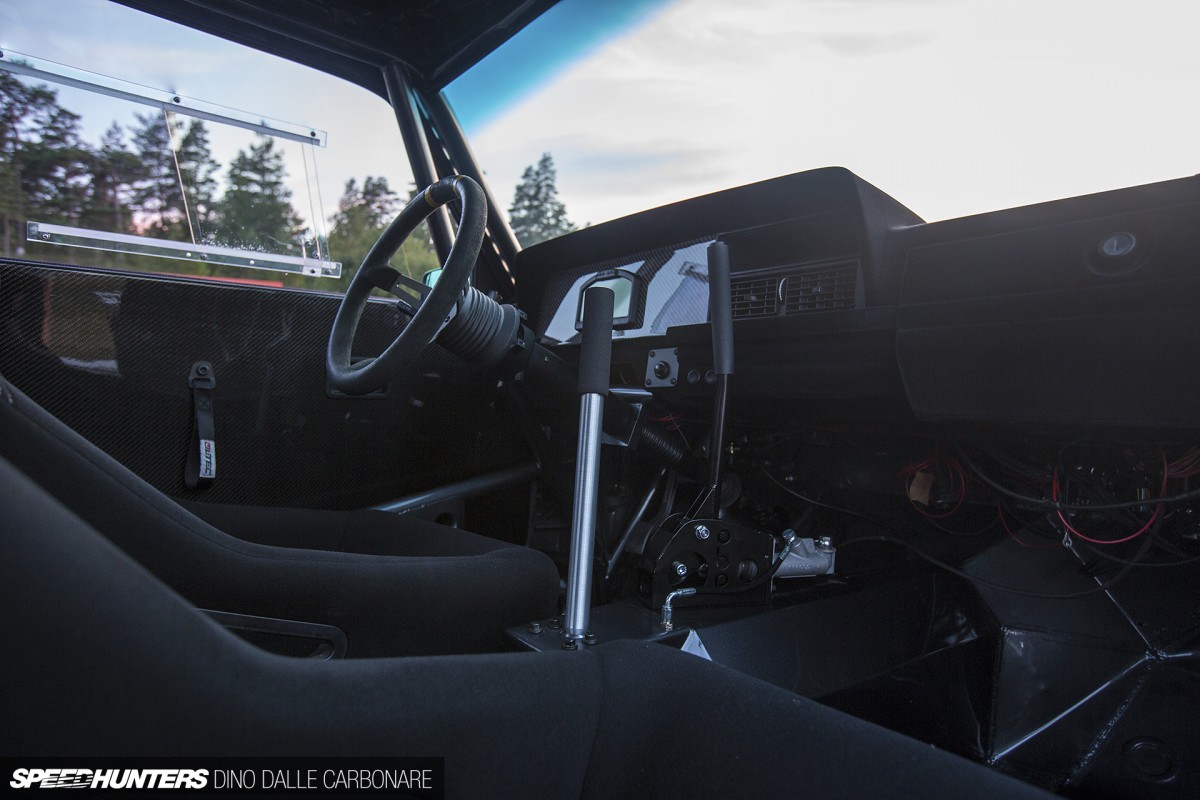 The gear shifter and hydraulic handbrake further emphasise this. Both tall levers at steering wheel height so that they are within easy reach.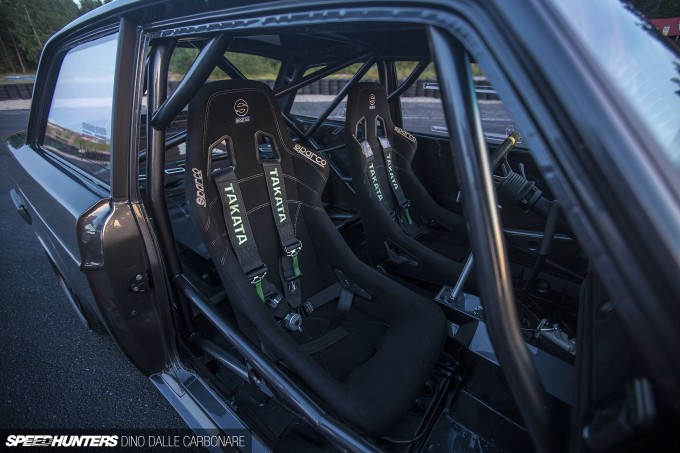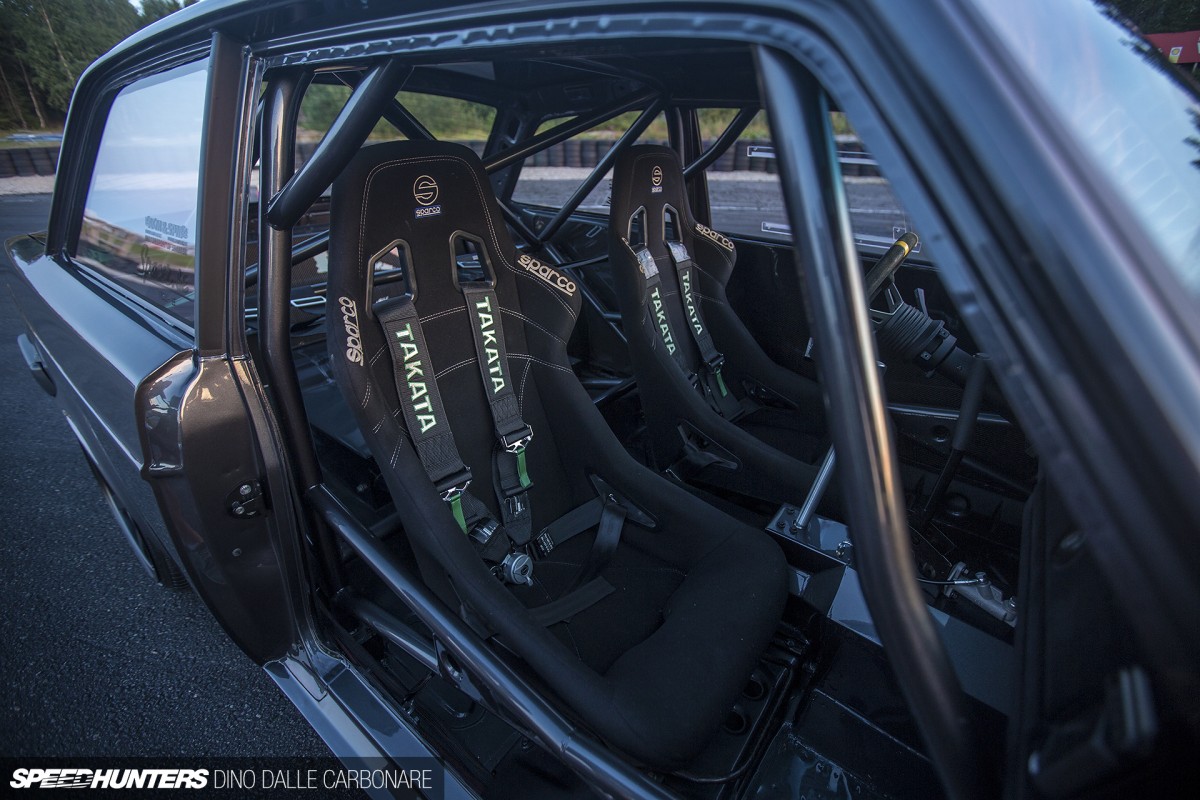 Within all the complexity of bars sit a pair of Sparco fixed-back buckets, a popular seat choice in Europe that are found in many of the cars we've featured from Gatebil.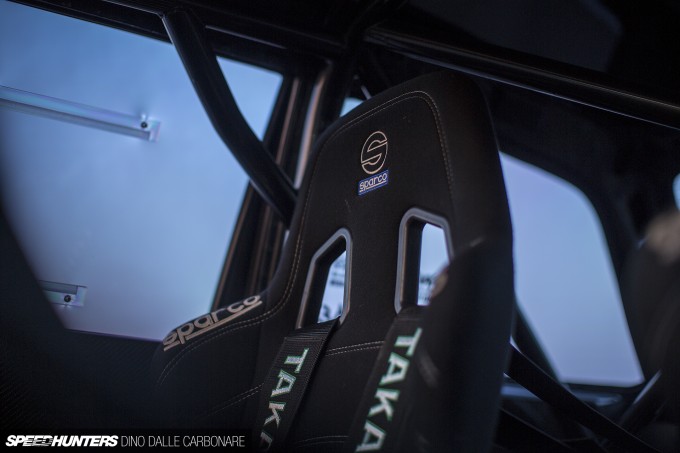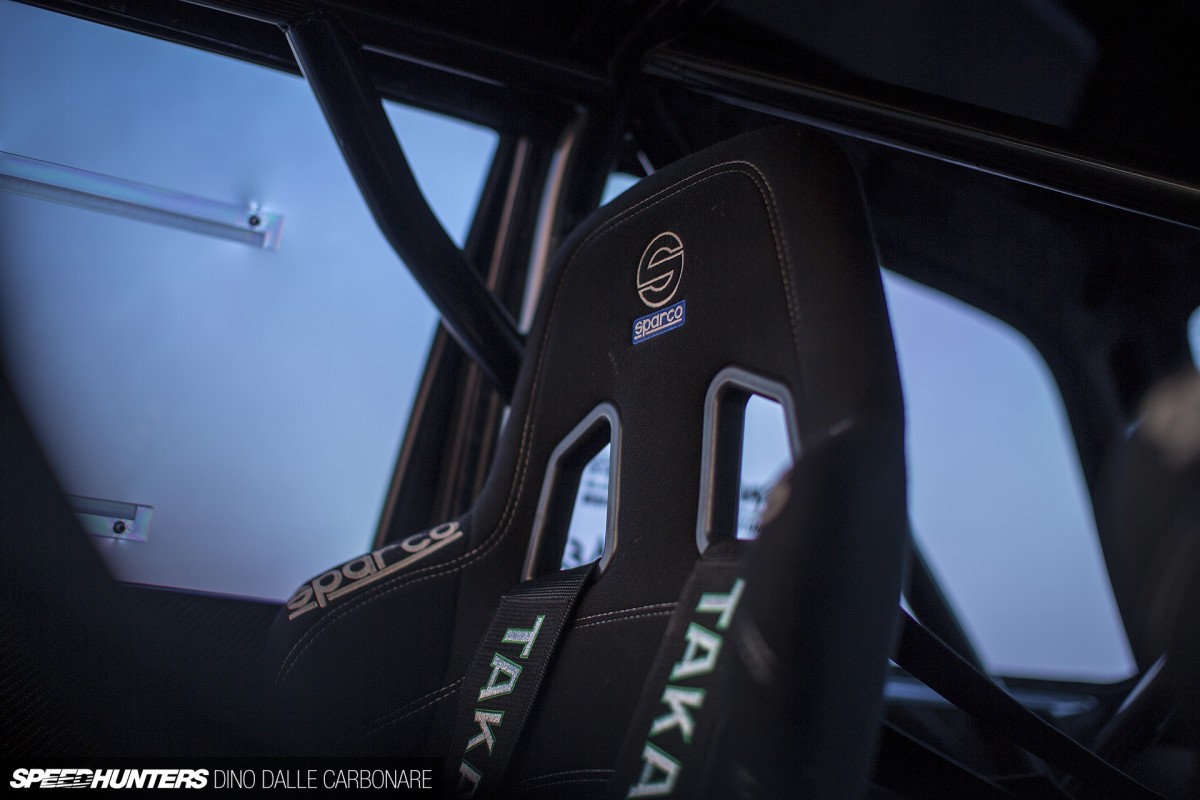 These are mated to the new-gen black Takata harnesses – another must-have addition, especially if you are running the tow straps!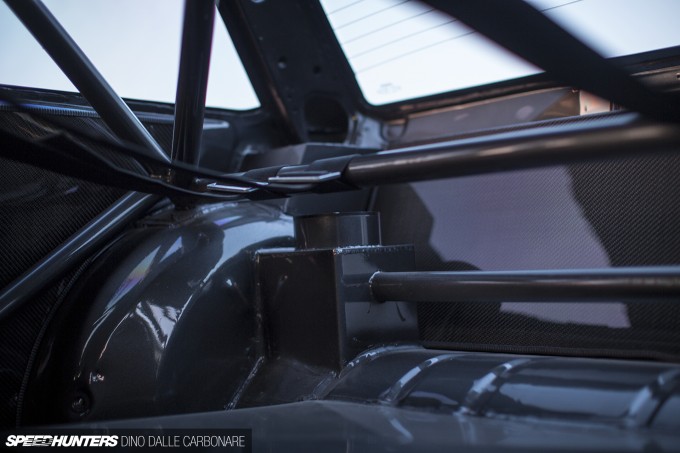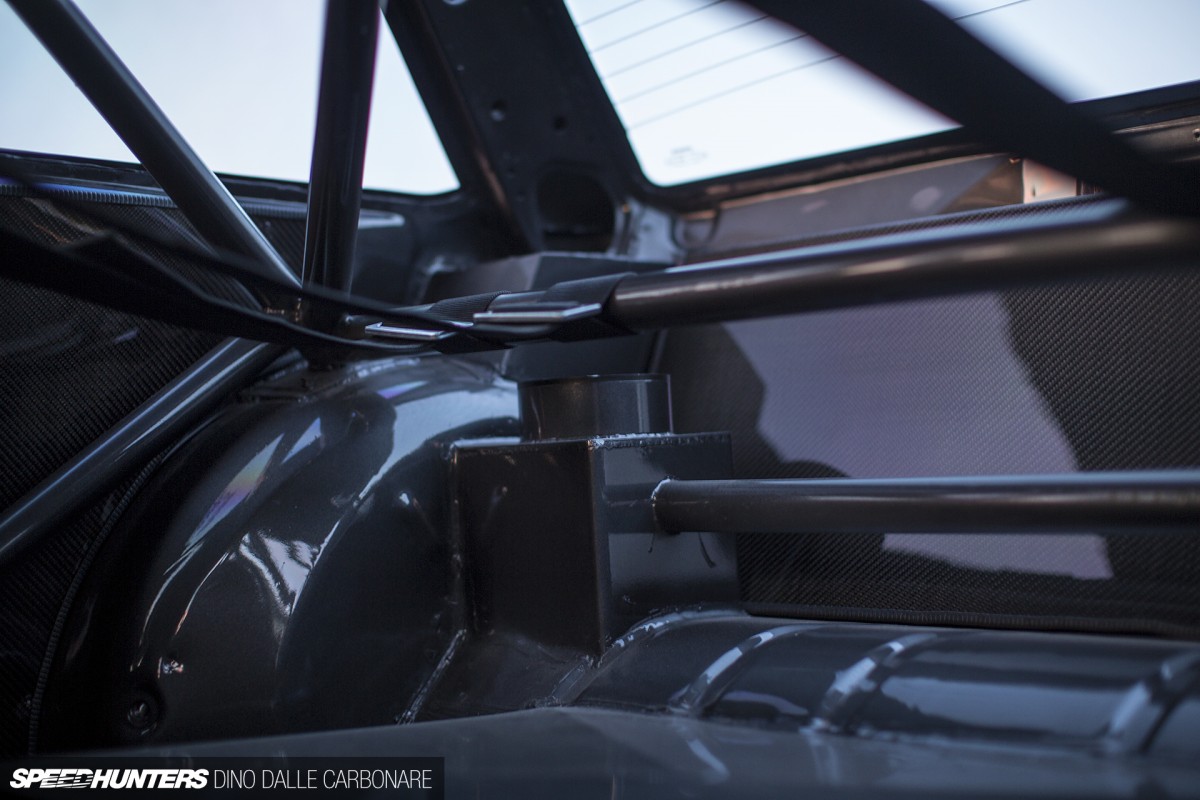 Sticking the camera behind the seats it was possible to get a view of the aforementioned rear suspension turrets, which as you can see sit more inboard than the usual stock position. These are further stiffened with a fixed strut tower bar to add even more rigidity to the fully-prepped chassis.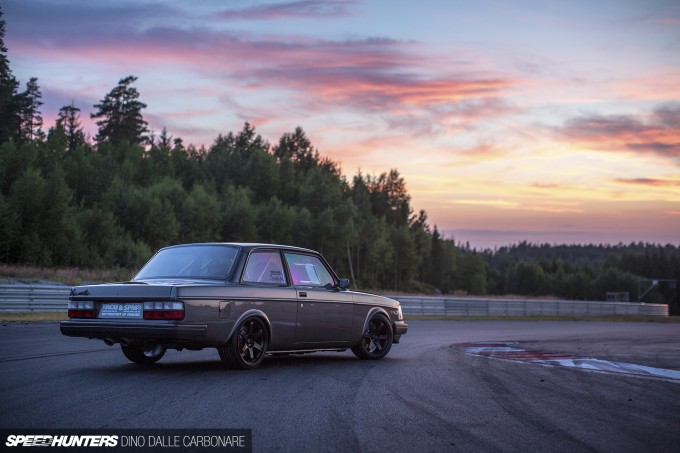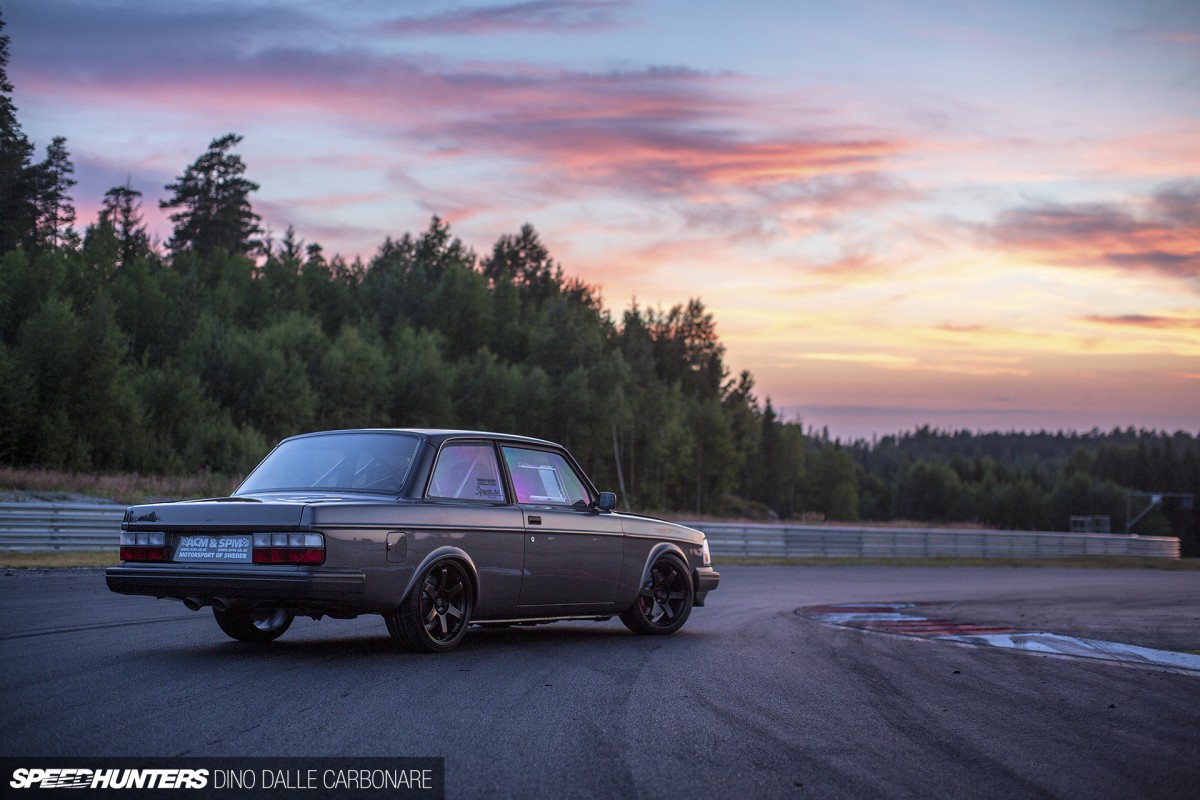 With the continuous bombardment of crazy builds we have seen in last couple of months, you almost begin to dismiss these cars as they become the norm. Call it the Gatebil effect if you will. But if you take a step back for a second, you realise we have been looking at some of the most evocative custom cars on the planet. It's hard to get tired of this sort of innovation and outside-the-box thinking. July may be over but we still have a few more to share with you, so make sure you come back for more Scandinavian awesomeness!
Dino Dalle Carbonare
Instagram: speedhunters_dino
dino@speedhunters.com