Right now Rod Chong is annoying me in a way that only he can, something I will soon expand on given his status as the one who observes all here at Speedhunters. In July 2012 I rolled my Volvo 245 project car out complete with turbo motor, cage and some other tricks. It felt good, I was proud of it and was eager to get out and drive. Now a year later I'm stood at the Gatebil event in Norway, feeling slightly dispondant and lack lustre. Had I never seen the glazed and jam-filled doughnut sat before me, I would have been happy with the plain one. Trouble is now I want the whole damn metaphorical bakery in my face.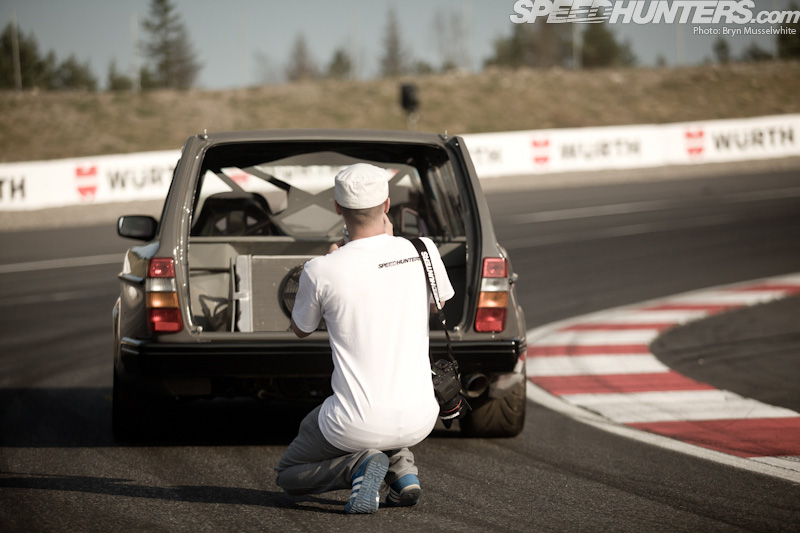 Rod recognises this and calmly continues to pour awesome in to the Speedhunters Instagram feed, as I gnaw at my camera strap in mounting frustration. As a team we had discussed shooting feature cars at Gatebil and Rod nonchalantly mentioned a Volvo wagon, "Oh maybe you should shoot that Bryn". That would work I think to myself – you know, see how somebody else has approached a similar project and maybe get some tips? Only now I'm looking at the magnitude of the work that Magnus Opsahl has undertaken, I feel like I've let myself down. My report card would have read 'could have done better'. Because from where I'm standing on the tarmac at Ruskogen Motorsenter, I reckon the only panel he hasn't modified is the roof. Maybe.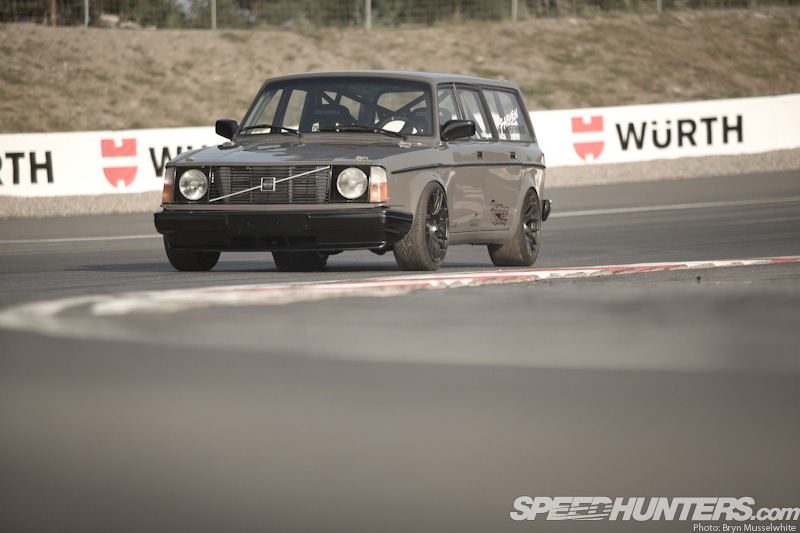 The thing that I immediately admire about Magnus's approach to building this wagon is his freedom. Take a quick look around the Volvo and it's obvious he's just gone for whatever he wanted that would best suit his needs. And when your needs are driving grip or drift and you're Norwegian, that means power – and lots of it.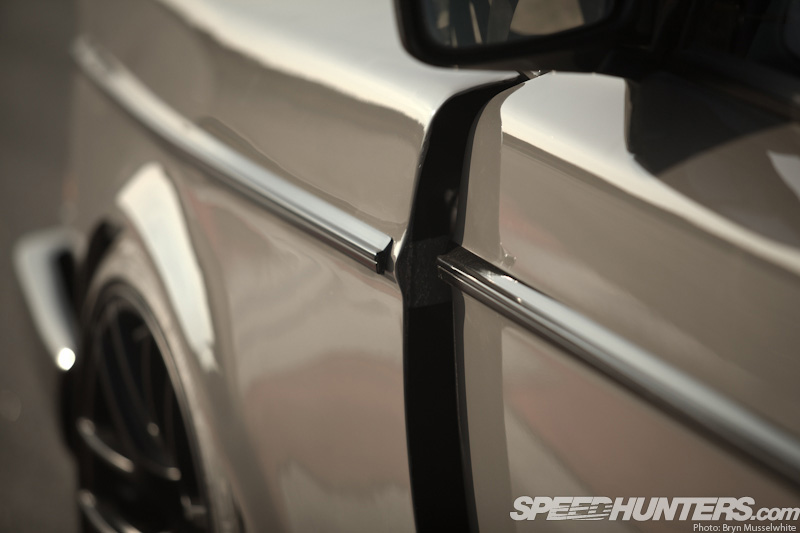 With such a seismic shift from standard, it's hard to know where to start on our visual journey through the build. It's not actually finished yet, which you can see hints at in some of the pictures, but did that stop us from shooting it? Of course not. Would we want to be responsible for denying you this wagon? No.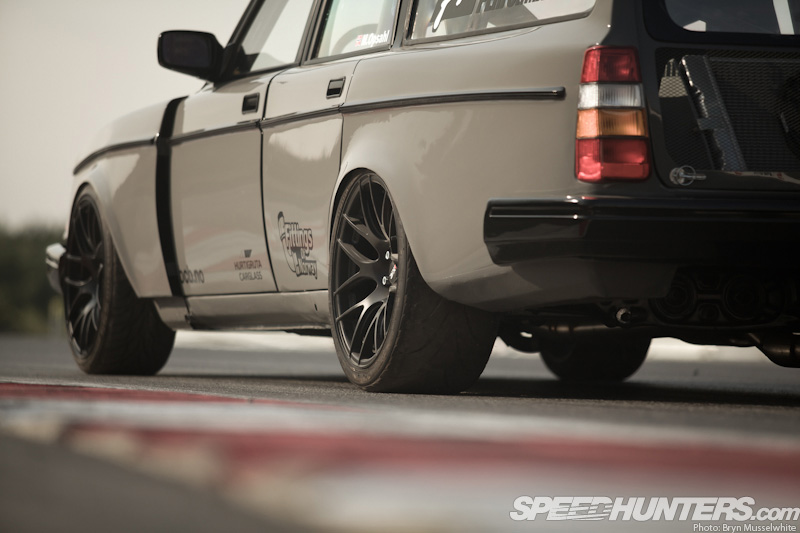 In some ways I wish Magnus hadn't had the chance to lay the original shade of Volvo Amazon grey over the whole shell, that way we'd be able to see the magnitude of what he's done. Every slice and weld would be visible for us to fathom.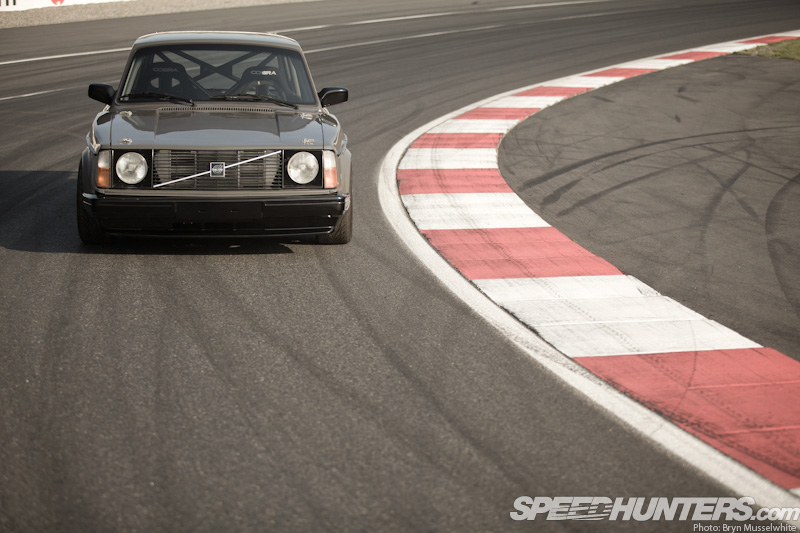 For a start there's the early front end conversion, commonly known as a 'flat front' due to the lack of prominent grille that on later cars sticks further out. Another easy way of spotting this difference are the round headlamps. Magnus started with a 1993 shell – the last year of manufacture – but this sheet metal would have been found on a late '70s/early '80s car originally. It's a nice little twist that adds a simplicity to the feel in an otherwise complicated build.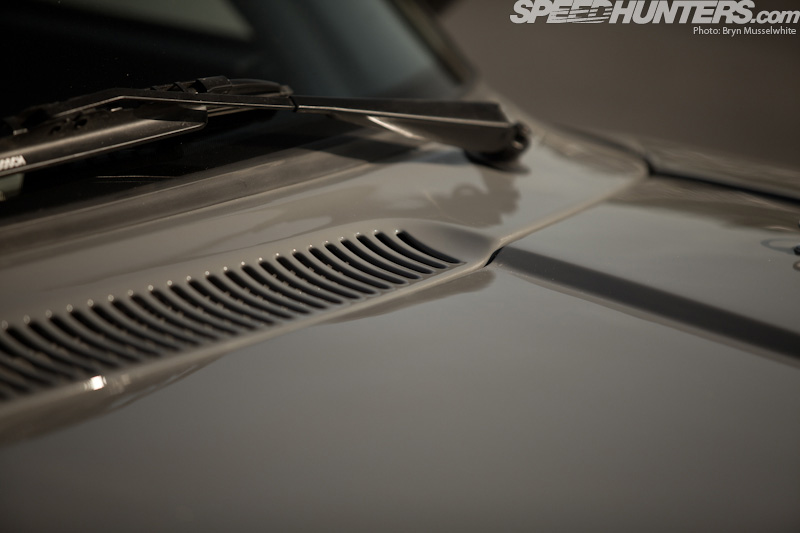 Magnus has done it properly too, as you have to swap out the panel below the windscreen to match the earlier bonnet. Like he didn't have enough body work going on already.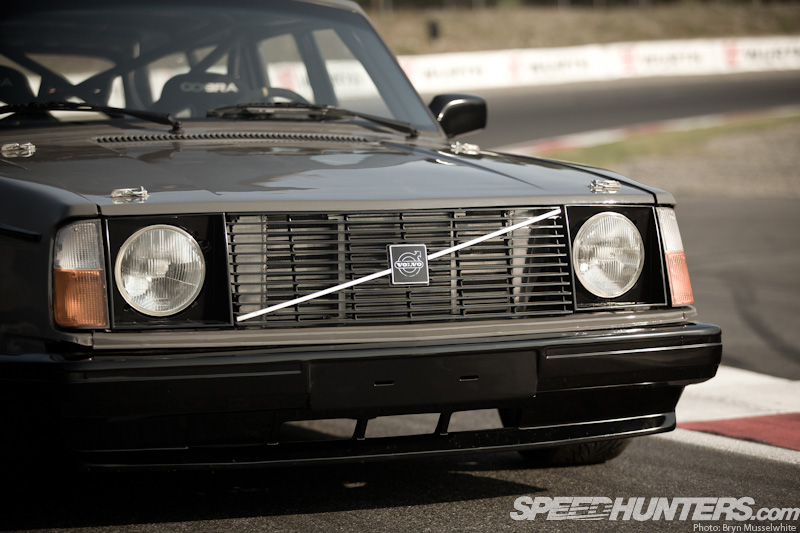 This is another slick trick – the bumper is from the later car, but it's been smoothed and sprayed straight black. It looks factory, huh? Well almost.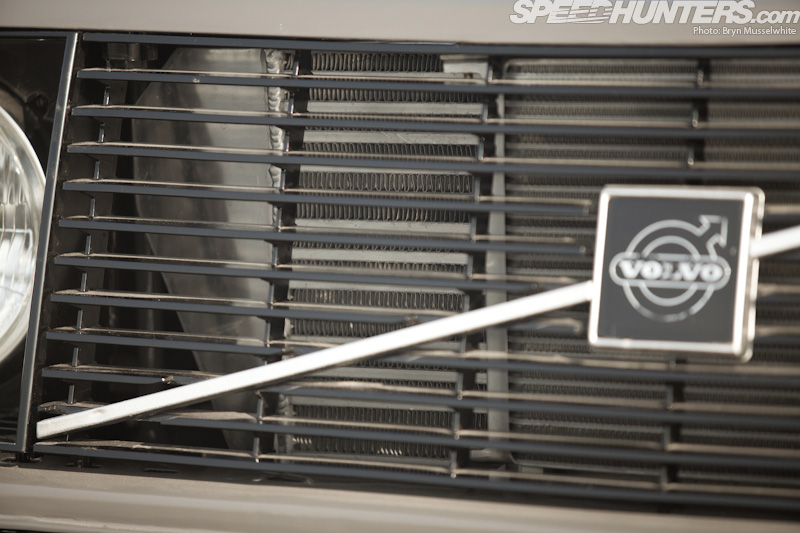 Behind the grille comes your first clue as to the power plant. Big alloy parts usually mean one thing – a turbo.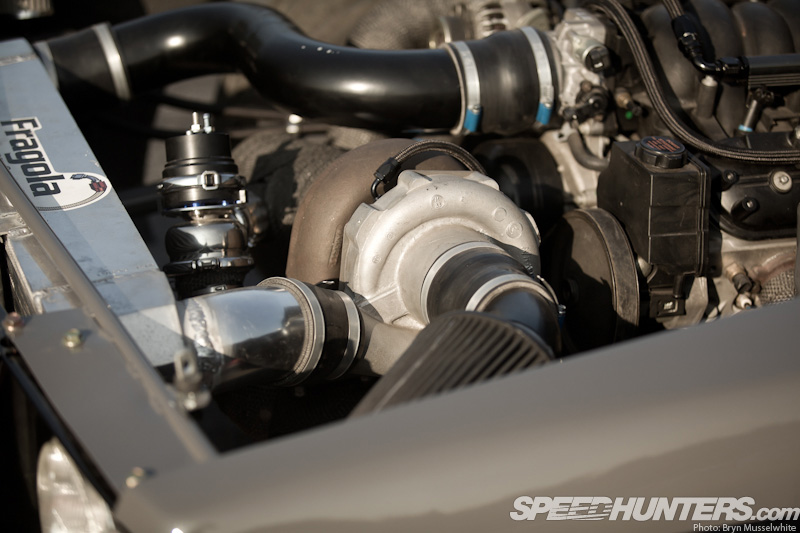 The intercooler has the front end exclusively to itself due to the rear-mounted radiator you may well have spotted further back in the article, but we'll work our way around to that in time. It feeds a healthy Garrett T51 turbo, which in-turn fills a Chevrolet-sourced LS1 V8 with lovely lumps of boost.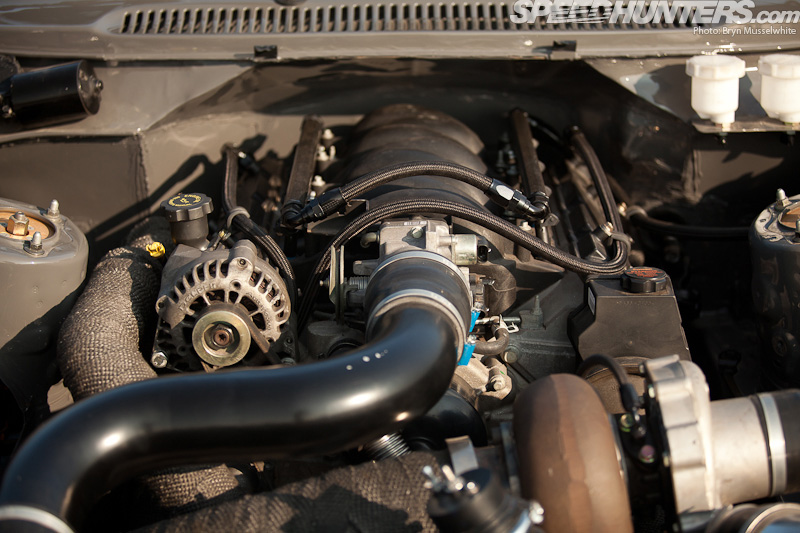 I've always thought there's something good about the visual symmetry you achieve with a boost pipe that runs in to the centre of a 'V' bank of cylinders. Making full use of the Volvo's fairly large engine bay, a clever packaging solution has allowed the heat-wrapped exhaust to snake around the alternator.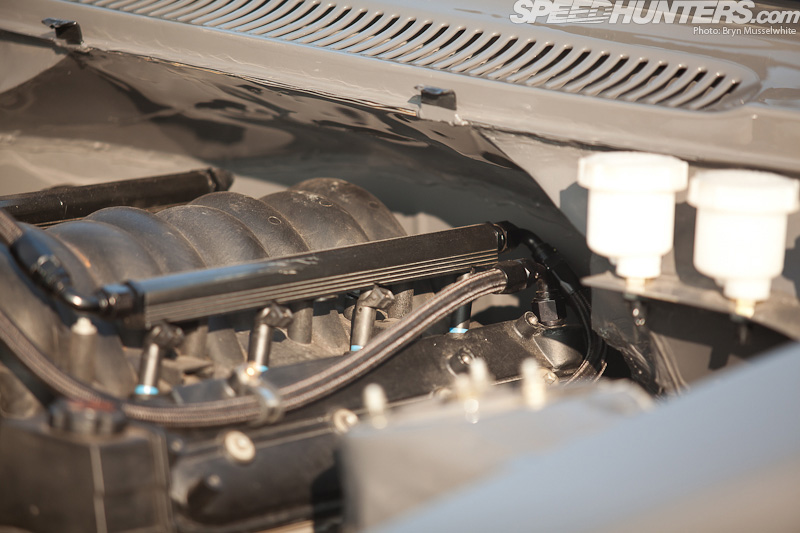 To help with weight distribution Magnus wanted to get the LS motor as far back as possible, which meant cutting the factory bulkhead out and replacing it with his own sheetmetal.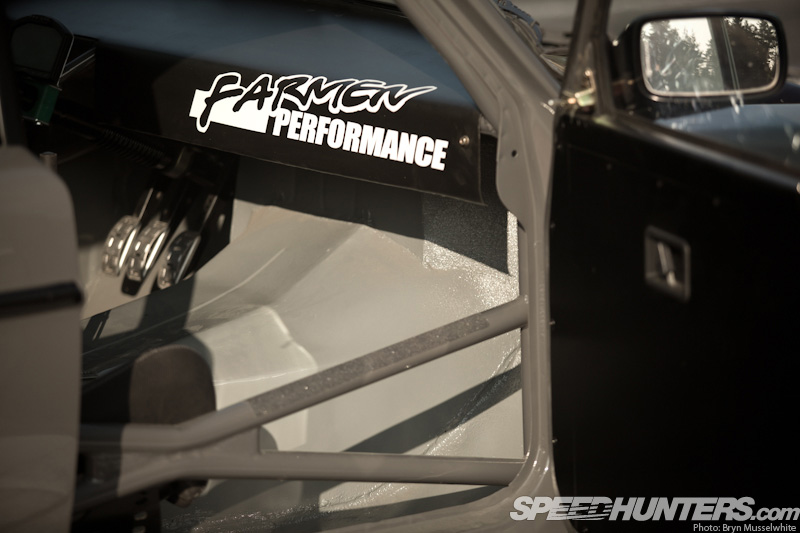 Looking inside you can see just how intrusive that tunnel is over standard. I reckon it's roughly twice the size of the original.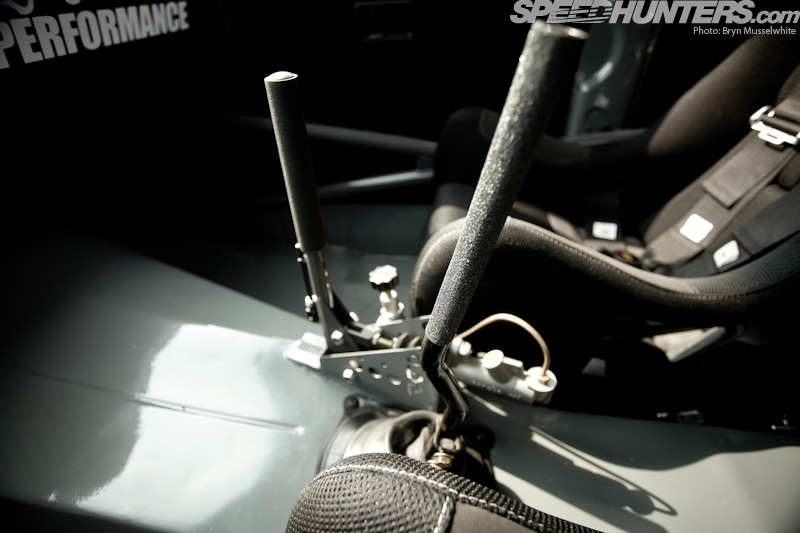 With the shifter for the Tremec T56 'box and hydraulic e/handbrake lever all within easy reach, there's a very simple, business-like feel to the interior.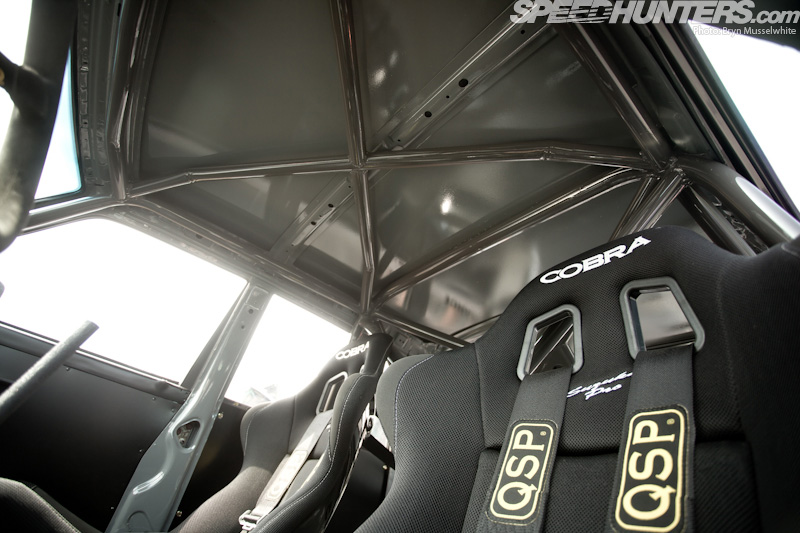 Twin Cobra Suzuka Pro seats and six-point QSP harnesses keep Magnus safe along with that impressive cage. Looking up at the roof here I remind myself of the complete sh*t of a job that is removing the sticky black, tar like sound deadening panels on the inside of the roof. Which I still haven't done… Seriously Rod, it's tormenting me now.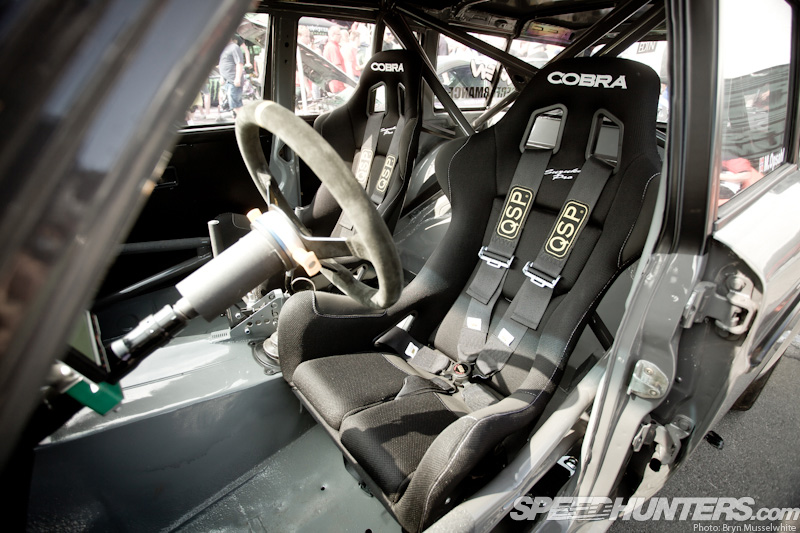 Now take another look at that seating position, see how far back it is? This is another bonus of Volvo 240 ownership. Magnus has had to extend the column to deal with the engine and box location, but the original Volvo chassis design helps with this. Why?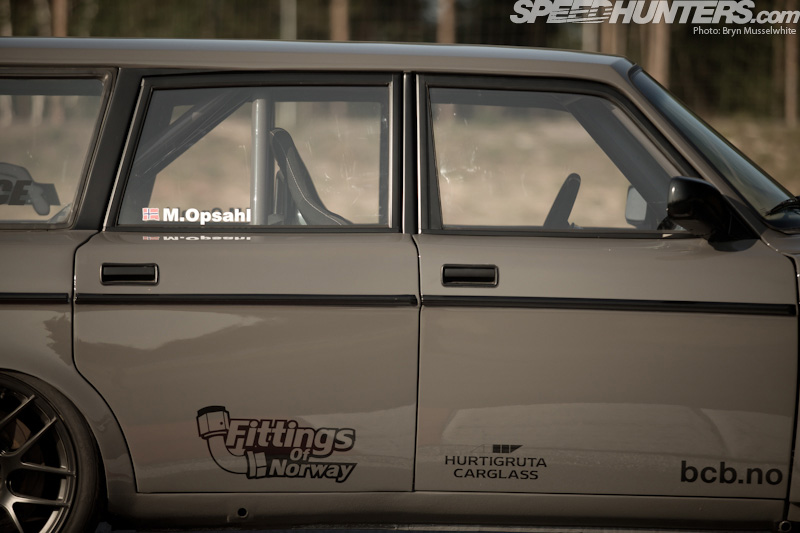 Most people would assume the main hoop of the cage would be somewhere near the B pillar, when in fact the strongest place to pick up from is the rear seat base riser. Meaning you get double the protection when you take in to account the aforementioned pillar. Although side vision might be a little bit impaired, you have to pay the cost to be the boss.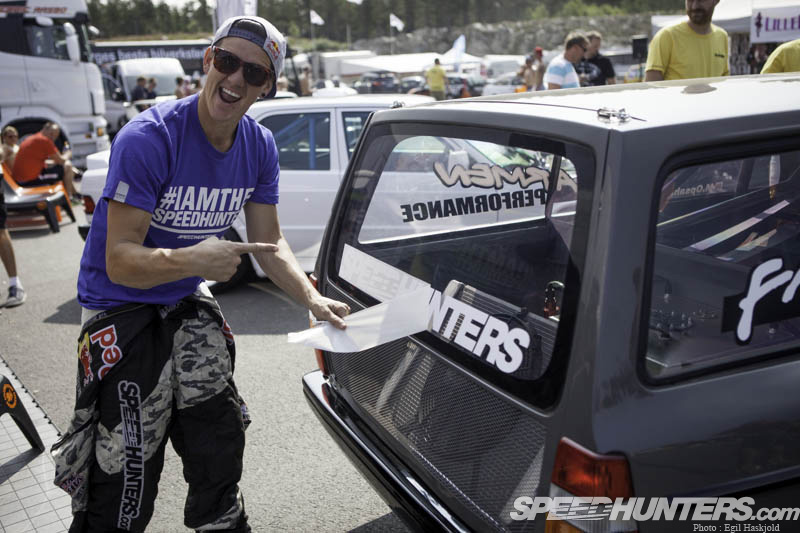 The Volvo might not be finished, but we got the world's best graphics guy Mad Mike to apply one of our Speedhunters banner decals, which alone will add 10 percent increased throttle response across the rev range*
*This isn't true. Although that is Mad Mike.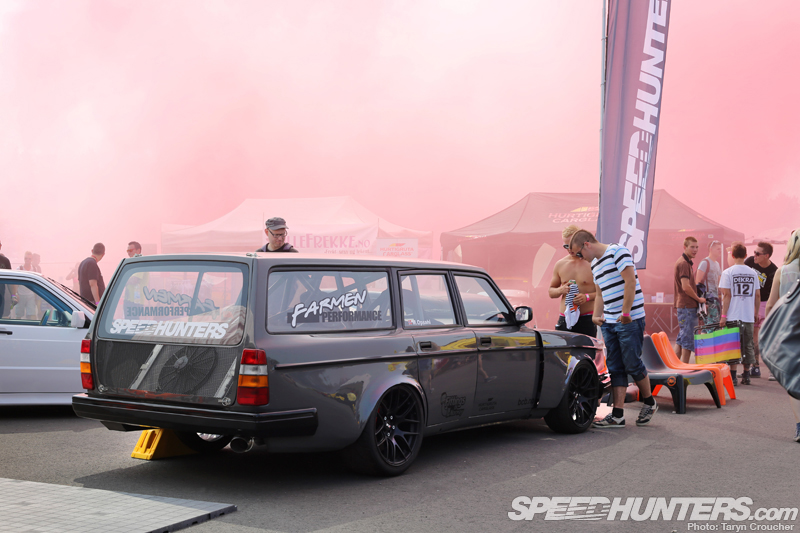 Aside from the crazy wide flares that I'll be looking at in a minute, the biggest stand-out feature for me is that meshed rear lower tailgate. As the Volvo hasn't run yet we're not sure how effective it will be, but if the theory works the tumble effect you get from the slab back end will draw air in through the aperture. Plus there's nothing more purposeful than watching a car which is trying to suck in the atmosphere around it. Much better than the family luggage and dog that probably resided in there at one time. Oh and there's no fancy editing going on here – someone just happened to be doing a massive burnout in the background with red-tinted tyres. This is Gatebil after all.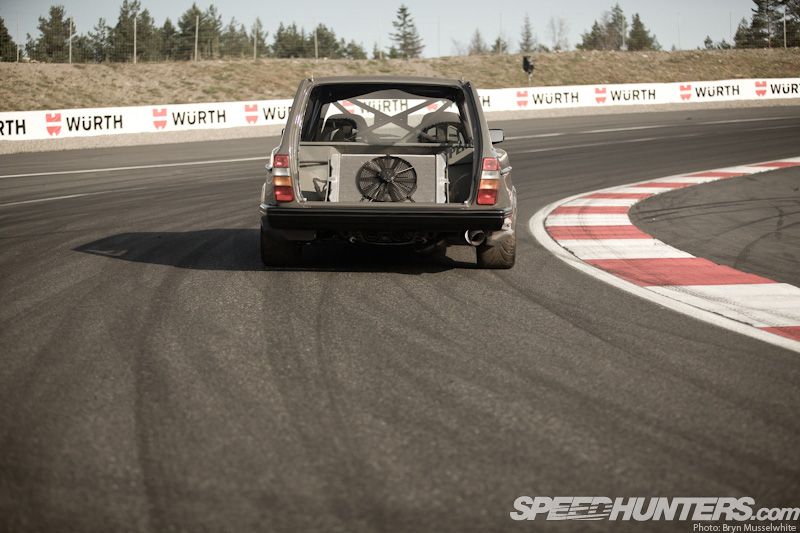 You can see here just how large the radiator is. You can also just make out the reflection on the polycarbonate divider between the cabin and the rear load area.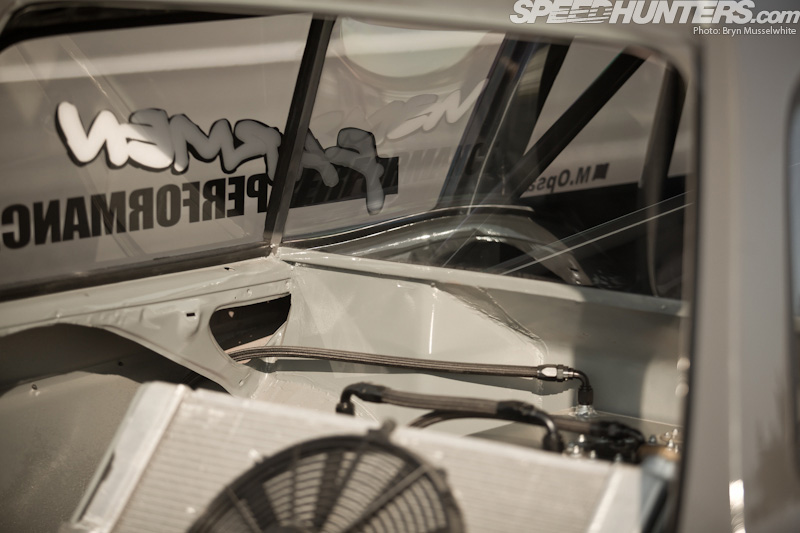 The lower half of which is made from steel, adding more rigidity of course. Given the LS is expected to deliver somewhere around 700lbs/ft of torque, the shell is going to need all the help it can get. In the middle is where Magnus has snuck the Aeromotive fuel cell. Again cleverly keeping all the weight as centred as possible.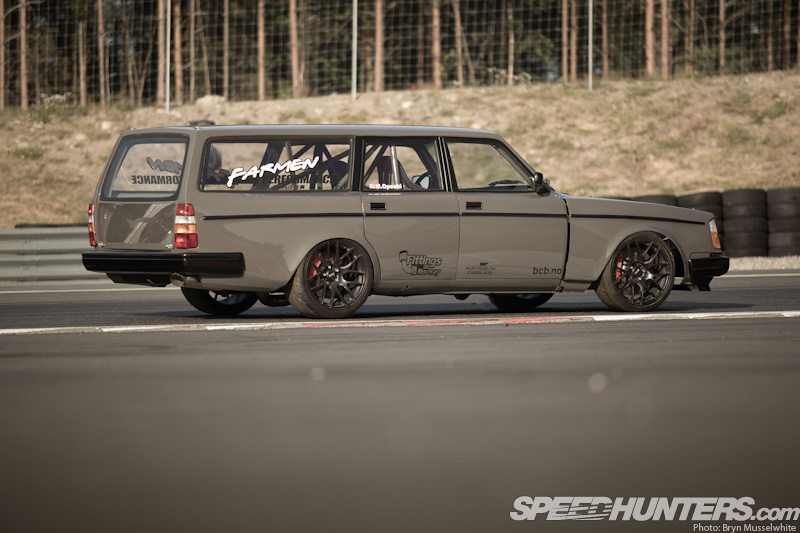 So what about those crazy flared arches? The Volvo was blessed with quite wide slab sides from the factory and Magnus has managed to keep the overall feel quite standard. Until you get closer…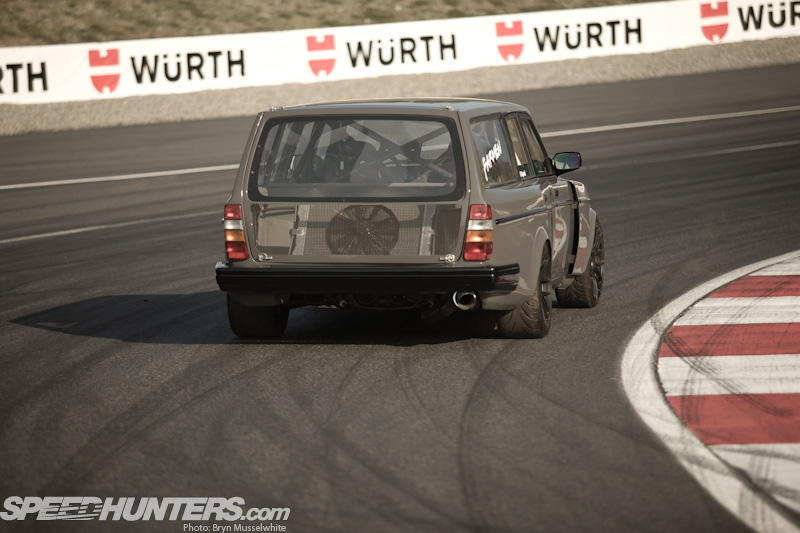 … and realise there's an extra 20cm either side at the rear…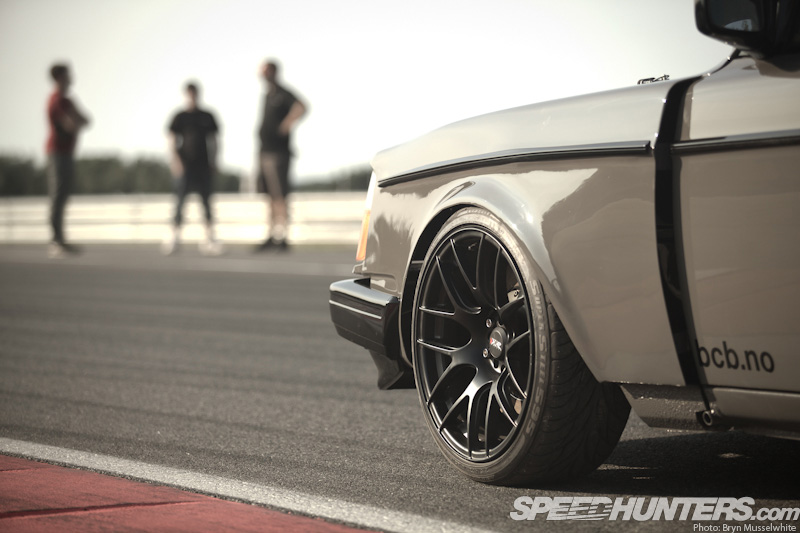 … and 15cm at the front. He's achieved this by filleting the panels at the front and rear, then adding metal to give the width. As you can see here he's also left the rear of the front wings open, a nice nod to race car-ism.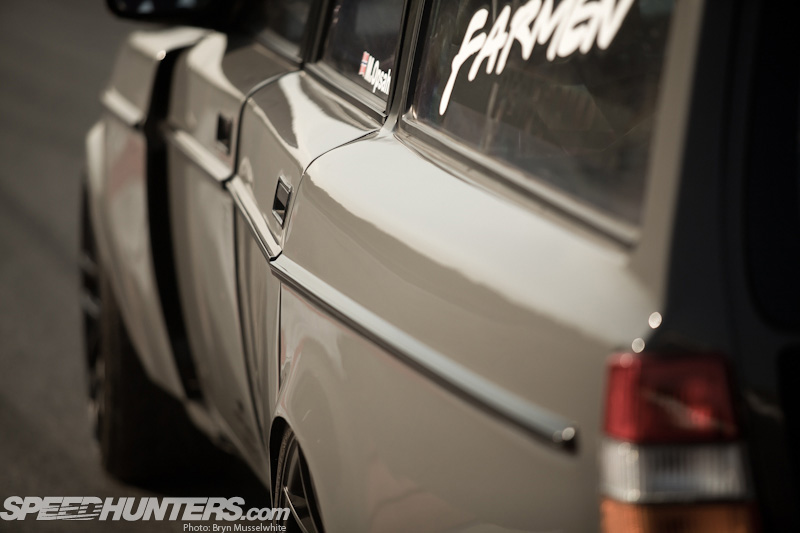 This angle really shows the whole Incredible Hulk effect off for me, as though that rear door is going to burst open at any second and muscle is going to rip out in lumps. You might not consider it to be the prettiest solution, but oh man is it hard as nails. Slightly brutal, slightly freakish. Yet look at the curve at the top and how Magnus has managed to maintain a factory feel, it's very clever.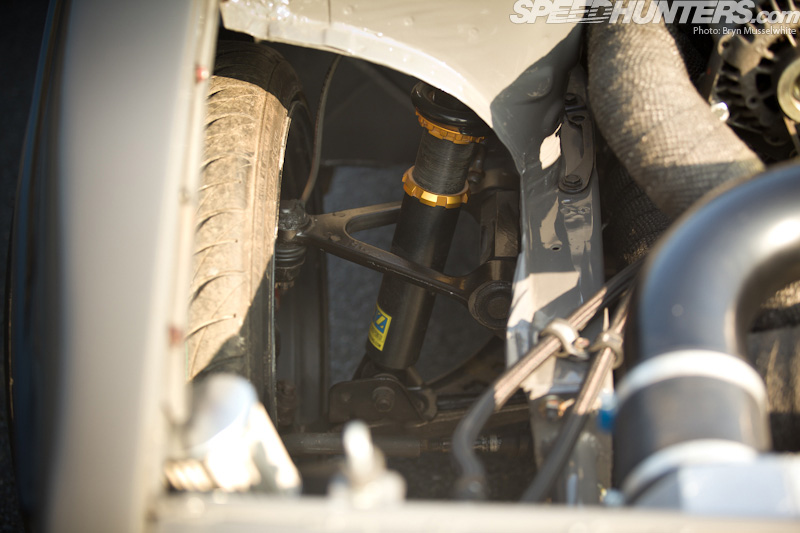 So why the added girth? You won't find any outrageous spacers here, just hardcore underpinnings sourced from a 1994 Soarer. Aside from the obvious fitting issues it's a smart way of modernising the running gear without having to work with the Volvo kit. So here we have the superior front end, which is far more adjustable than the Volvo.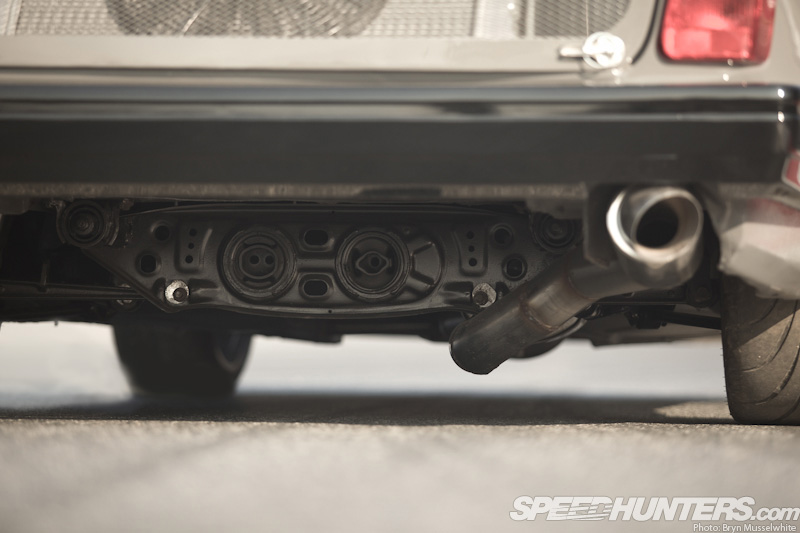 It might seem like a mountain of work, but fitting the Soarer/Supra independent rear end allowed Magnus to bin the live axle set-up and replace it with something more fitting of the power. Plus he's now got a wider choice of decent diffs and bushing etc. When you think about it, once you've dropped the original axle and cut off all the mounts, if you offer up the Toyota cradle, it sounds straightforward. I've considered fitting a BMW M3 back end to mine and another friend has fitted an S14 front end to his, so it's good to see that even in Norway, Volvo tuning parts aren't that available for things like suspension.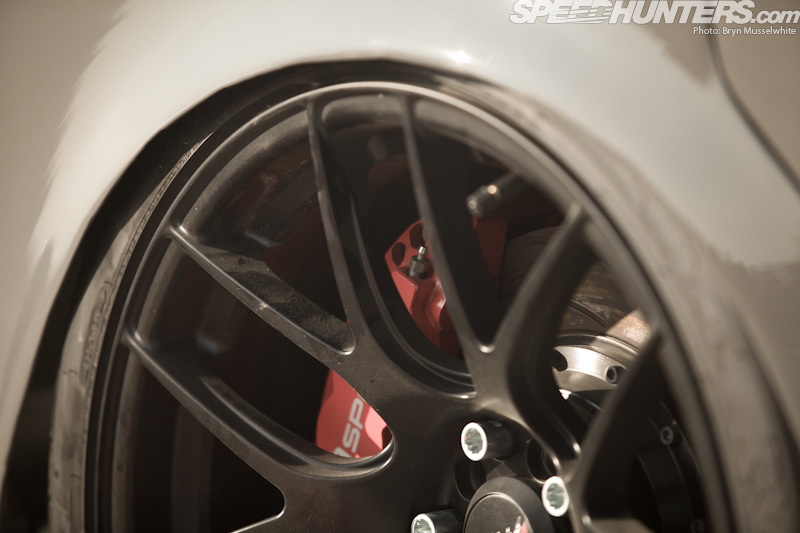 This route obviously gives you Toyota brake upgrade options too, Magnus choosing K-Sport 356mm/330mm disc kits front and rear.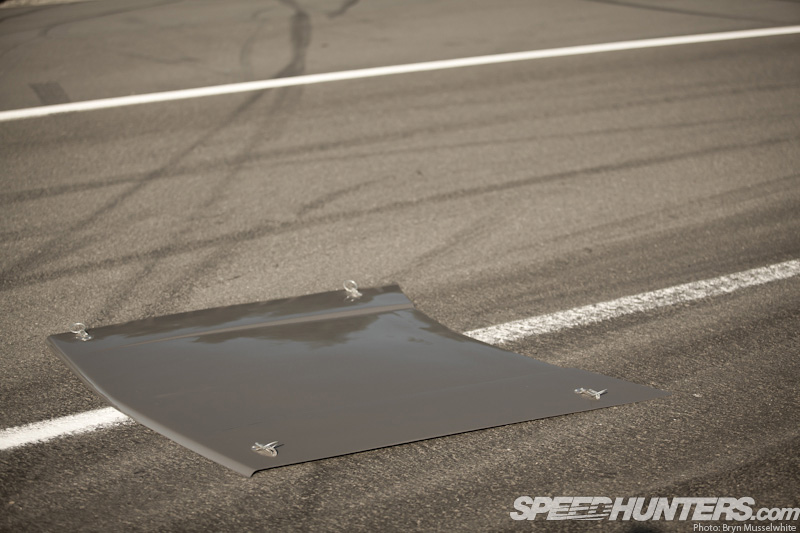 Looking across at the composite bonnet I get all jealous, I have the same arrangement but mine is still steel. Volvo steel at that, which is approximately twice the weight of normal steel by the way, so I have to do a stupid cantilevered pose everytime I want to take it off. Magnus casually tells me these parts are actually very affordable in Norway, costing roughly £100 or $150. Now he tells me…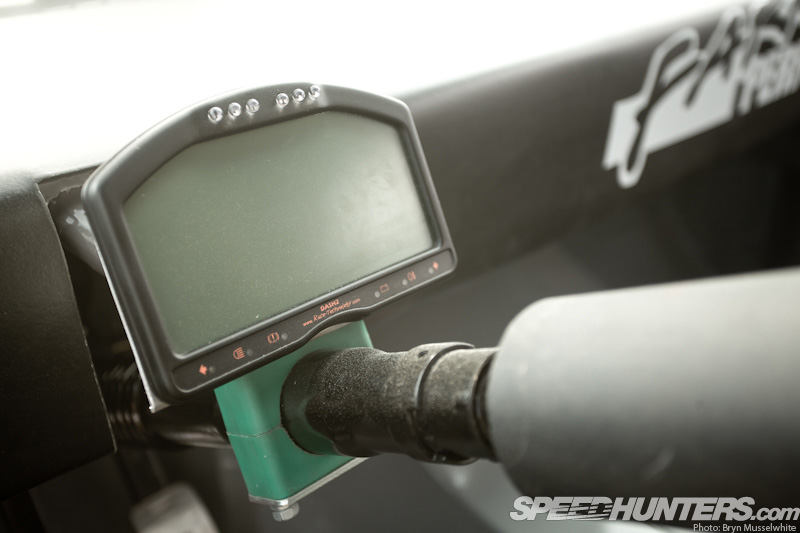 From the simple, informative dash layout.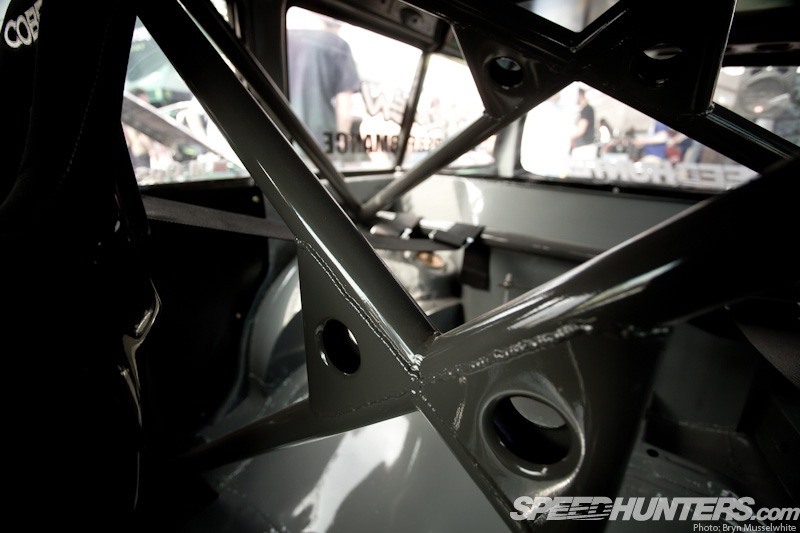 To the impressive cage, I'm envious of it all. I know it won't be to everyones taste – and even some Volvo people won't like it – but that's not what this build is about. Magnus has built this wagon to haul ass at time attack events, drift events, in fact anything he wants to attend.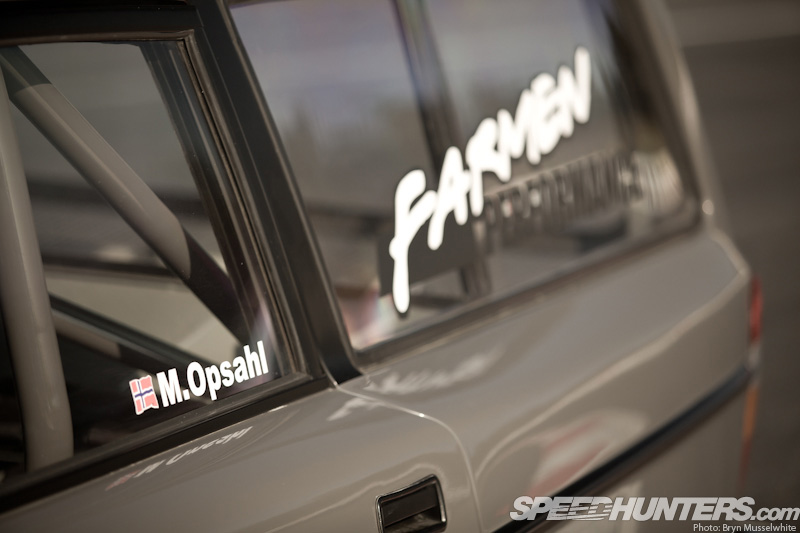 Which is very much in keeping with the whole ethos of the Gatebil event it was photographed at. It's a pure build, and by that I mean Magnus took elements from around the globe that worked best for him and created what will undoubtably be a formidable weapon when fully completed.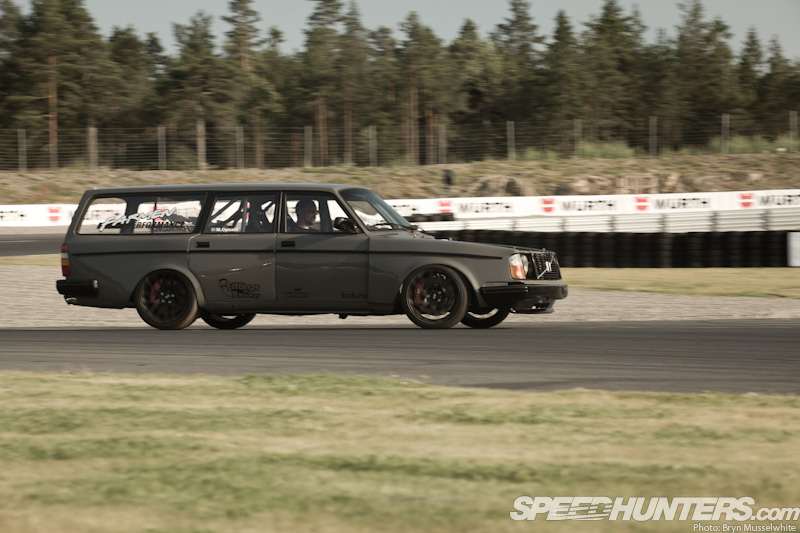 One thing is for sure, it's going to move a lot faster than this freewheeling shot I grabbed just before the guys headed back down to the paddock.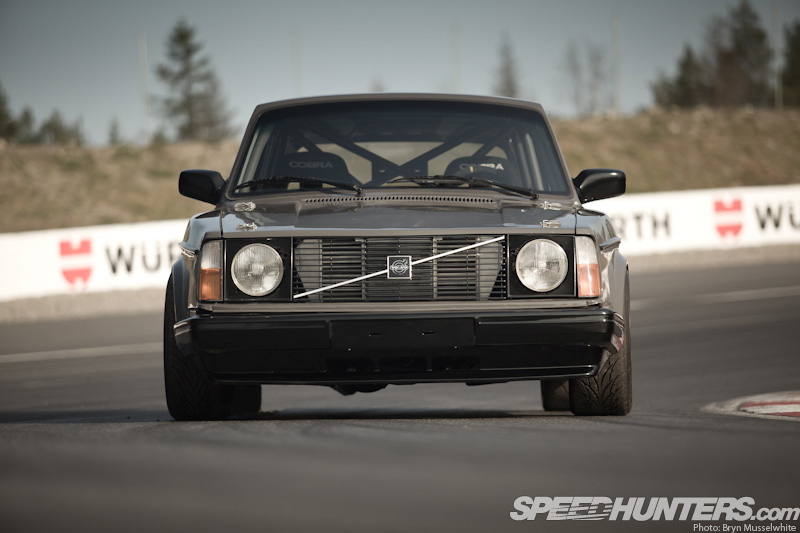 The upshot of this is that I've realised if I came here looking for inspiration and tips on how to better put my own Volvo project together, then this is my begrudging conclusion. Do it again. Sell what I know, open my mind up and free it of all the nay sayers and vision stealers then build something that registers on the Richter scale of personal satisfaction. Except of course Magnus already did that. Cheers Rod. Back to the drawing board it is then…
Bryn Musselwhite
Instagram: Speedhunters_bryn
bryn@speedhunters.com
Magnus Opsahl's 1993 Volvo 245
Numbers
450whp, 700lbs/ft
Engine
2002 Chevrolet LS1, ARP connecting rods, Garrett T51 single turbo, alloy fuel rail, 30-row oil cooler, Aeromotive A1000 fuel pump, Fragola fittings & hoses, radiator in rear cargo area, 4.5in wide intercooler, 3.5/4in stainless steel exhaust
Transmission
Ace Racing flywheel and clutch, Tremec T56 gearbox, welded Toyota Supra diff
Suspension/Brakes
1993 Toyota Soarer/Supra front and rear subframe, XYZ coilovers, K-Sport 356/330mm disc brakes, OBP hydraulic handbrake
Wheels/Tyres
18×8.75-inch & 18×9.75-inch XXR 530, 215/40R18 & 265/35R18 Federal SS & RS
Exterior
Early model 245 'flat front' conversion, side panels custom flared, tailgate lower half replaced with mesh, Volvo Amazon grey, body widened 20cm at rear with raised wheel arch, widened 15cm at front, custom rear spaceframe, WRC-style cage gussets in sides
Interior
Weld-in roll over protection system, big transmission tunnel, new recessed bulkhead, alloy sheet dash, polycarbonate firewall in place of rear seat with extra bracing, two Cobra Suzuka Pro Seats, 6-point GSP harnesses, DASH2 dash pod, Optima Redtop battery, Aeromotive A1000 stealth fuel cell
More Scandinavian builds on Speedhunters
More Volvo stories on Speedhunters