The Rise Of The Electric Car
I love dinosaurs. I love the idea of dinosaurs. I love any '90s cartoons involving dinosaurs. I love how they were once the pinnacle of living organisms during their reign on this earth. I love the classic boy band favorites: the triceratops, stegosaurus, and ankylosaurus. I love dinosaurs so much that I've based my life on burning as much black melted dinosaur flesh as I can on a daily basis. I've somehow even made a career out of it. I absolutely revel in the sound of smashing through liquefied fossils piped through a well tuned '60s English inline six. Even the screaming sound of prehistoric reptilians being burnt through any of the classic Japanese four cylinders gives me great joy.
The symphonic musical stylings of the B16, 4A-GE, and SR20, has been brought to you by the dinosaurs.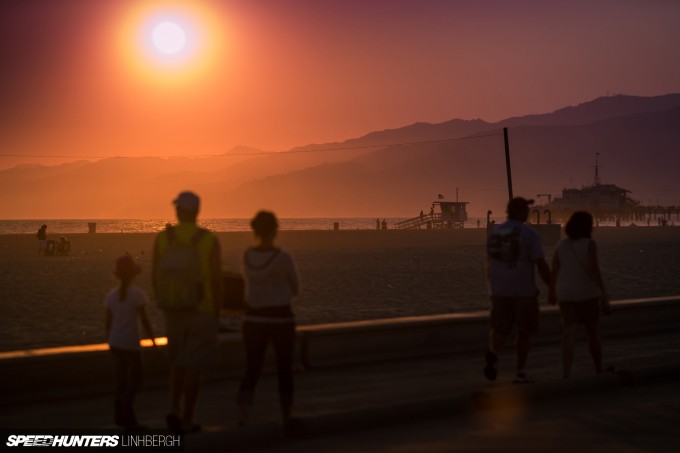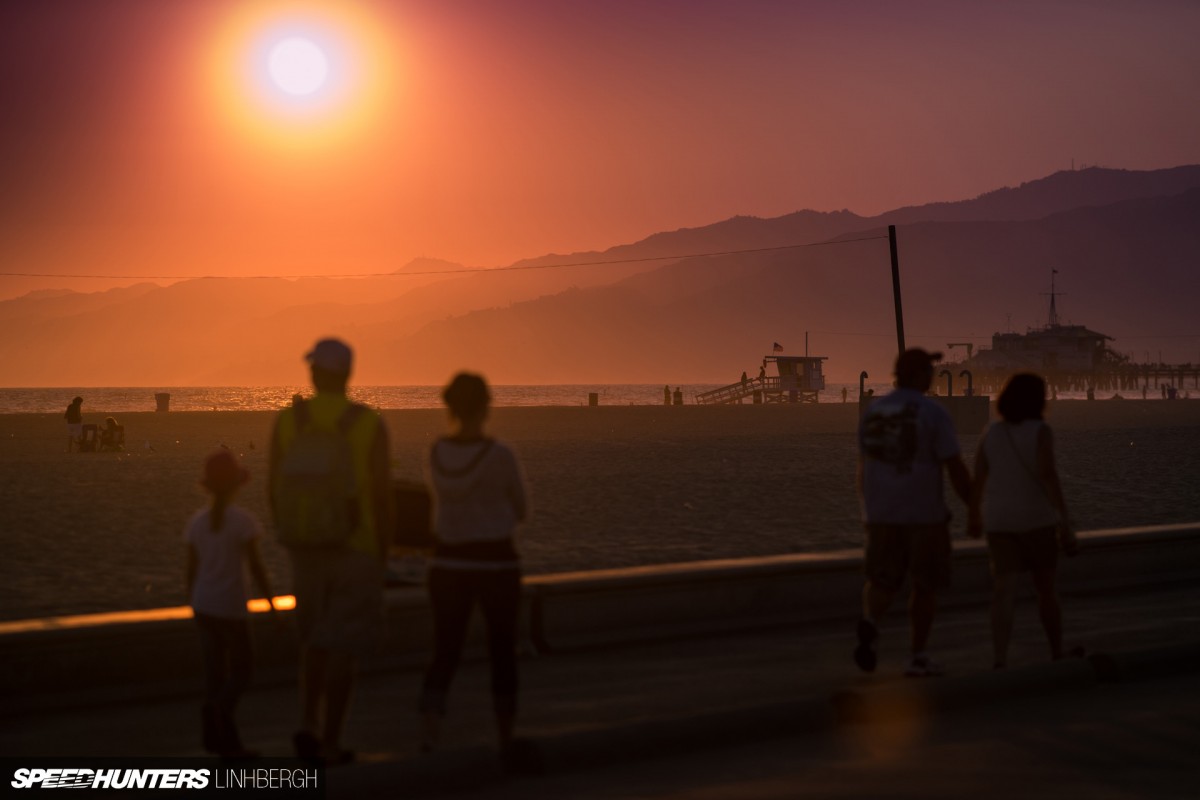 Los Angeles, of all places, is the king of those burning of fossil fuels, and its orange, pink, and violet sunsets are that way because of the constant output of car and factory exhaust emissions.
By the time the electric car started trickling off factory floors, we had been so accustomed to being transported in vehicles that use gasoline that the sound, or lack of sound, that came from these zero-emission machines really weirded us all out. We liked the idea of having a clean future, as projected by various popular science-fiction movies (Gattaca, anyone?), novels, and video games. But in actual reality these silent cars were something us petrolheads did not like.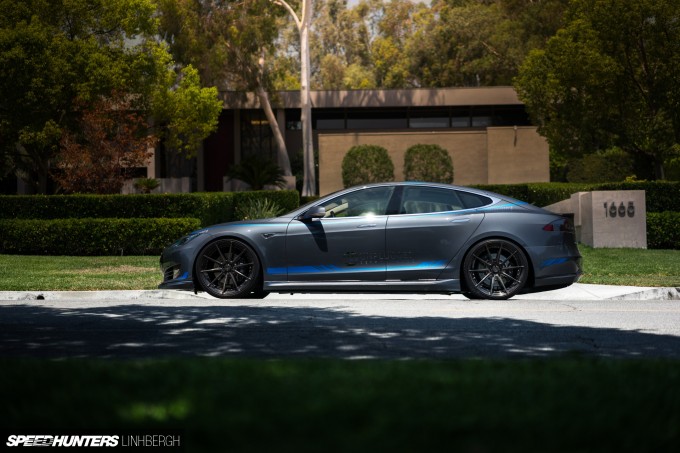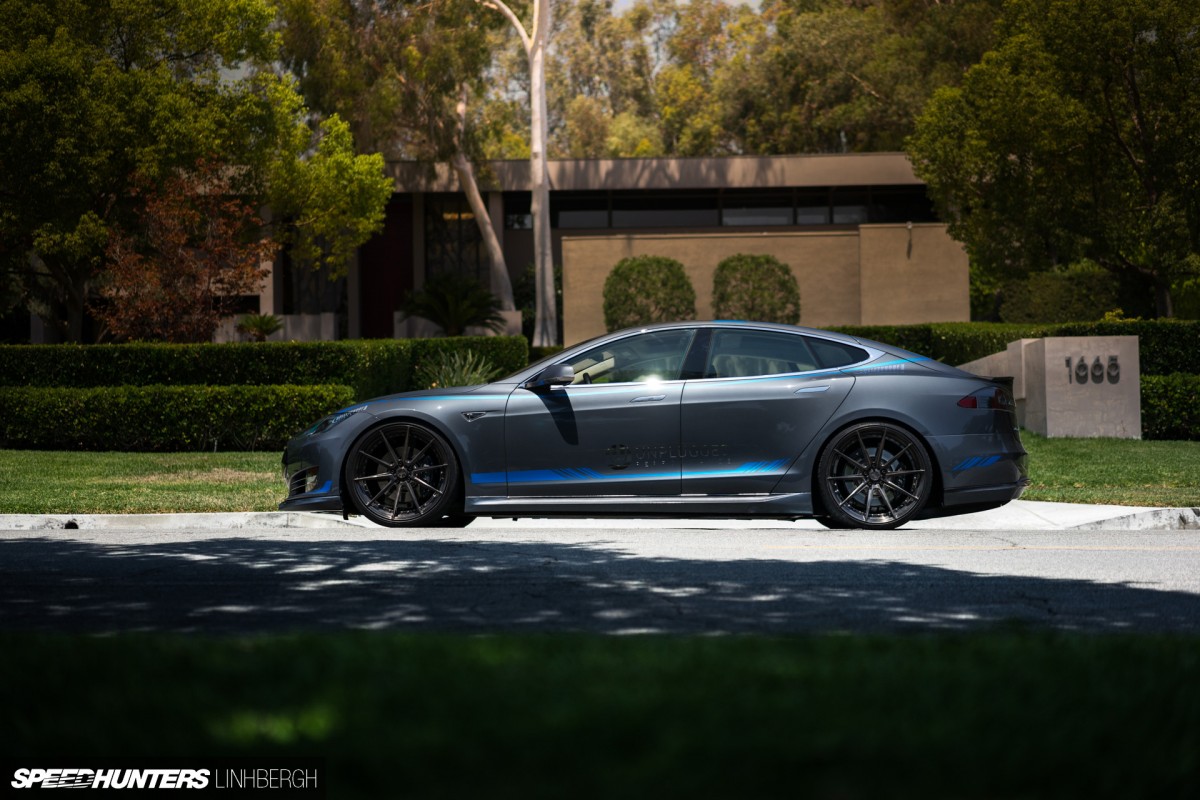 Enter the new kid on the block, Tesla Motors – an automaker who arrived with a hobbyist car – the Tesla Roadster. Its direction was well thought out. It handled well and the power output was pretty substantial too. But it was plagued by too many small problems to become a successful everyday commuter. Some faults were because of the car, like its short mileage range. Others problems were the lack of electric car infrastructure throughout the world.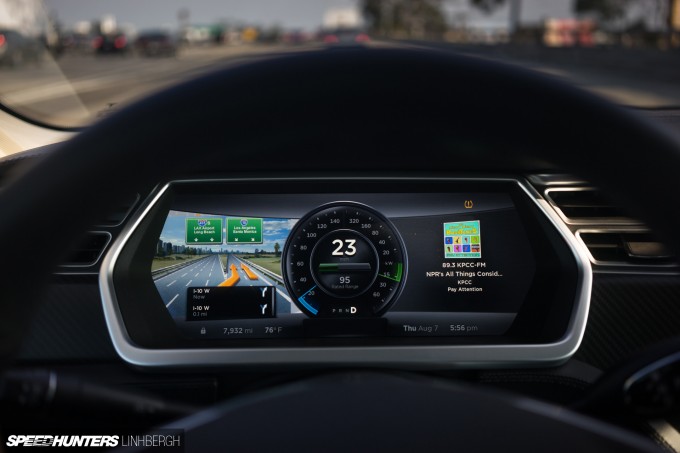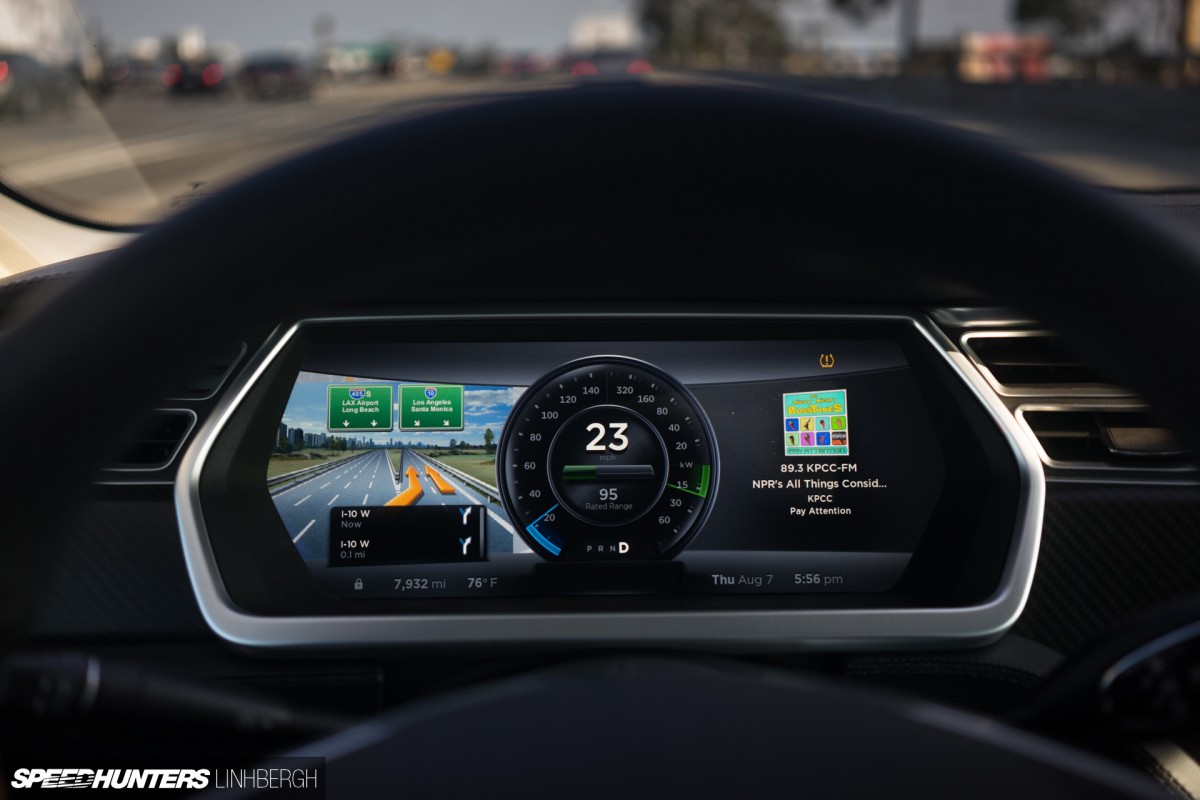 With the introduction of Tesla's Model S, everything changed. The top of the line Model S had a range of around 265 miles, and Tesla spent a quite a bit of their own money to create a supporting infrastructure of 'Supercharger' charging stations dotted throughout the world on most major motorways. Plug in and you can charge a car in about 20 minutes.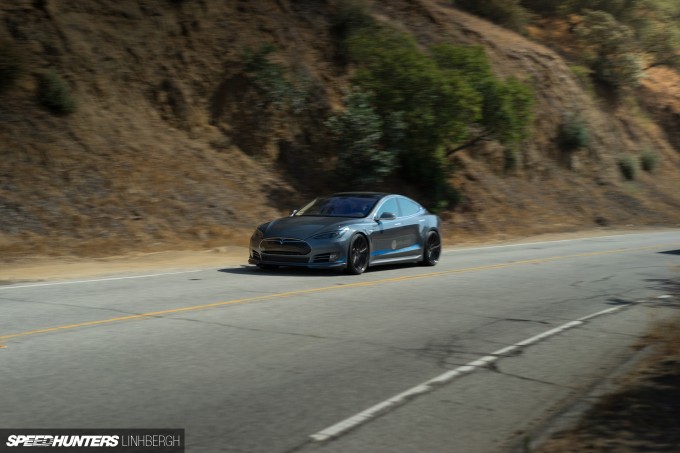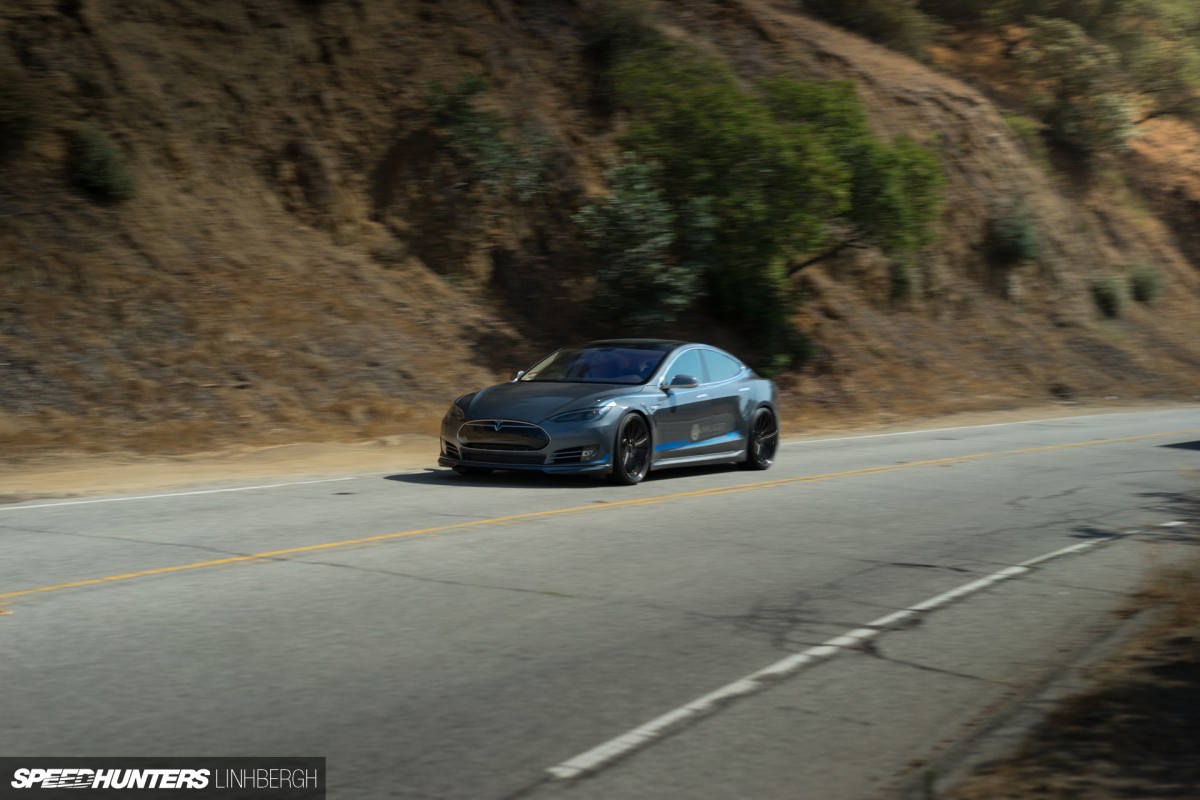 The Model S and the Supercharger stations changed everything. The dream of having an electric car as a daily was now possible.
That being said, we petrolheads still stuck our noses up in the air. Where's the harmonious straight six? The howling naturally aspirated V8? The satisfying surge of a turbocharger?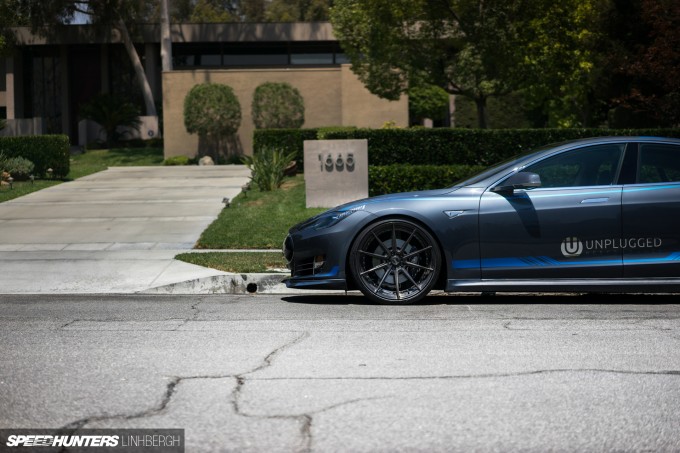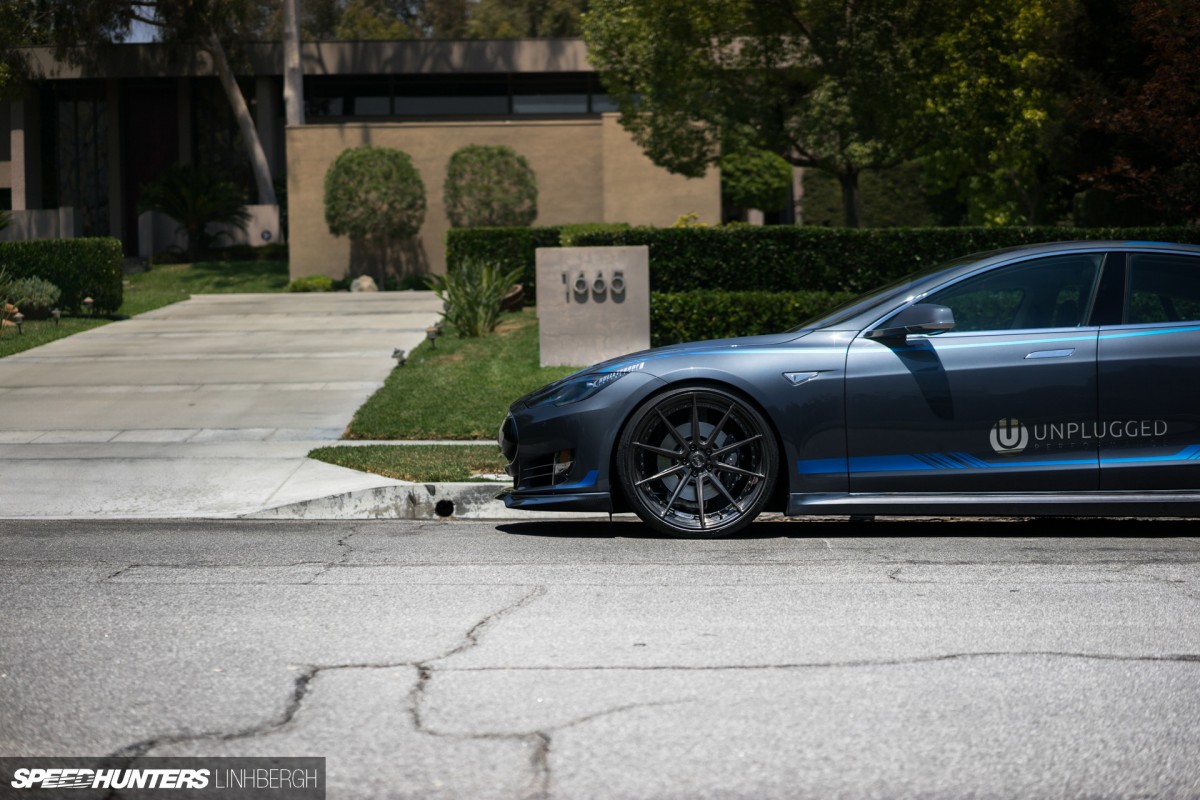 Now enter Bulletproof Automotive's newest initiative, Unplugged. They're looking to be the AMG equivalent for Tesla. They're looking to change how we see and think about electric cars by stepping the Models S upwards to a more exotic level in terms of visual impact and quality.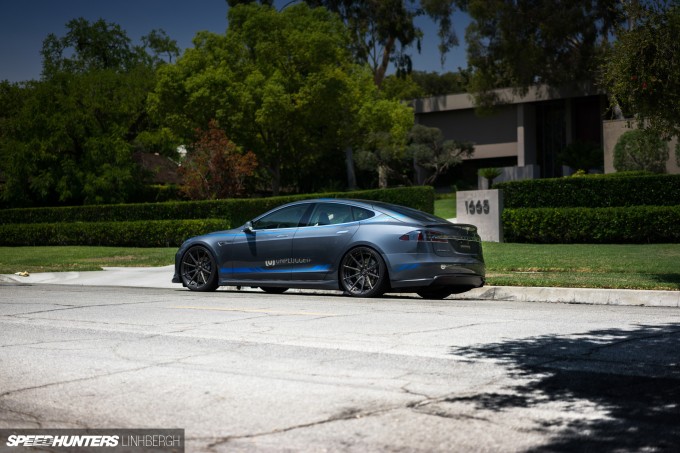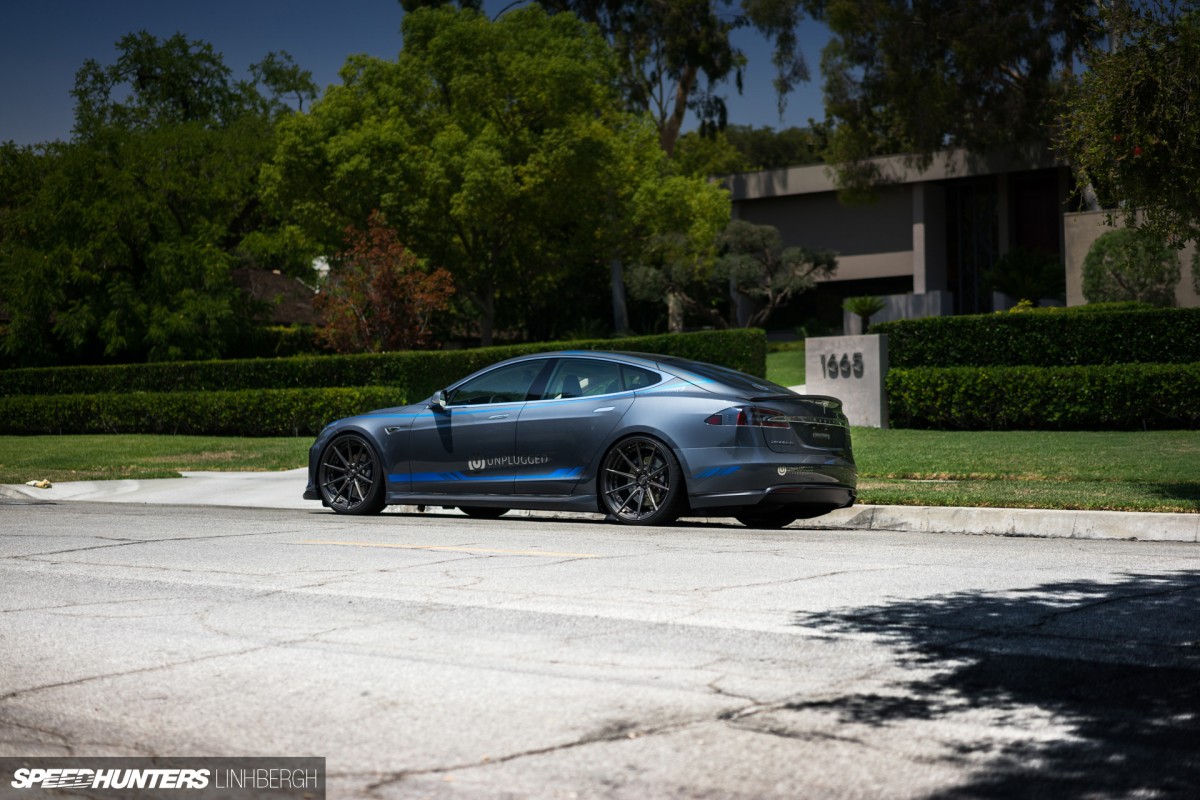 The stock Model S is a great looking car, but at the same time you feel as if it can use a few things here and there to make it even better. Unplugged took care of this by starting with some basic external modifications.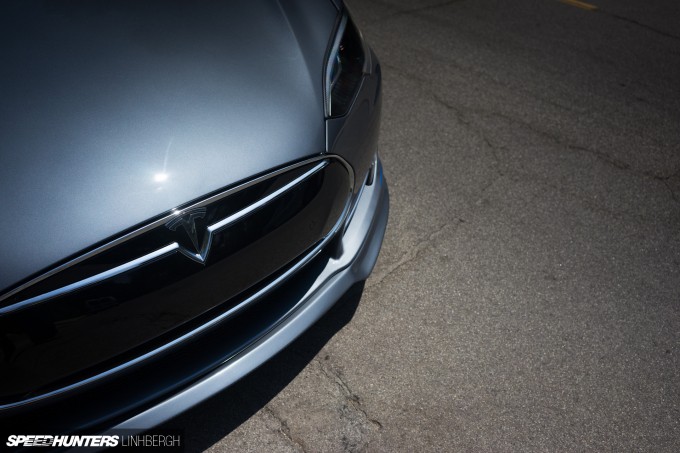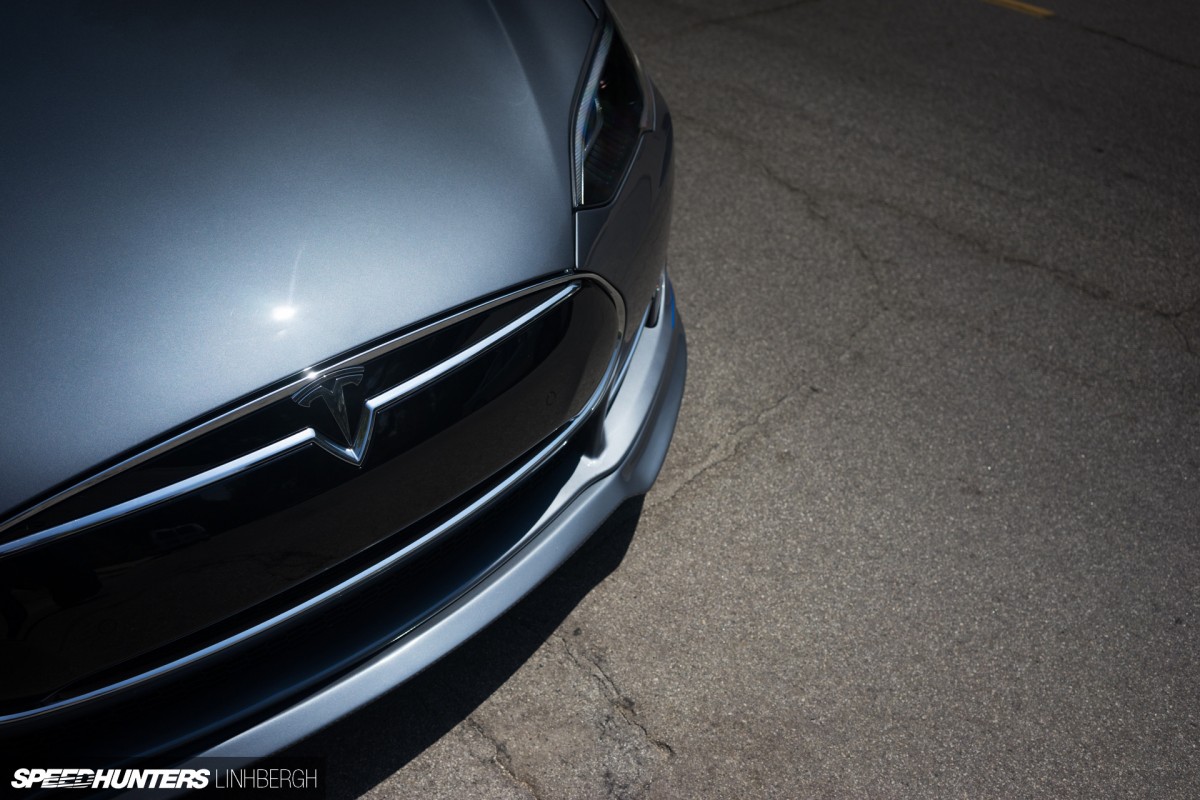 They added a carbon fiber front diffuser to the bumper and color-matched it to the factory Dolphin Gray paintwork.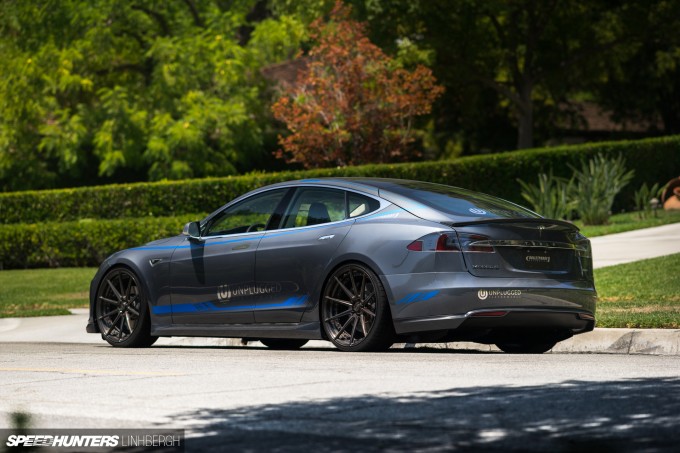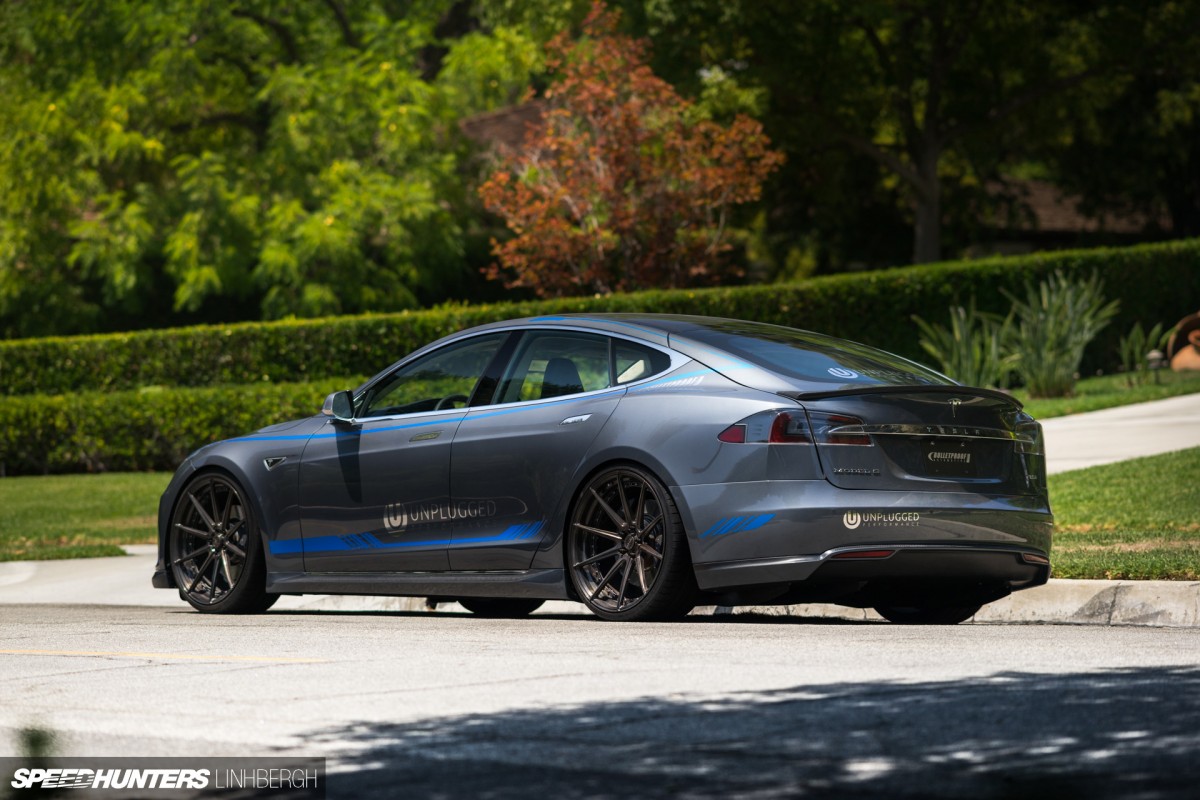 Color-matched carbon fiber side skirts a carbon fiber rear diffuser were also added.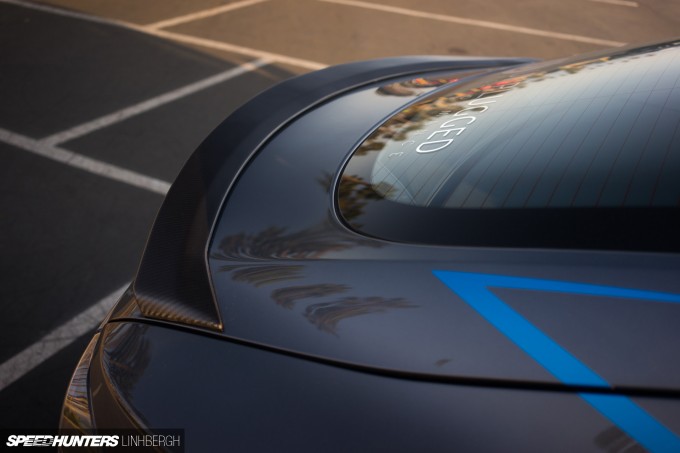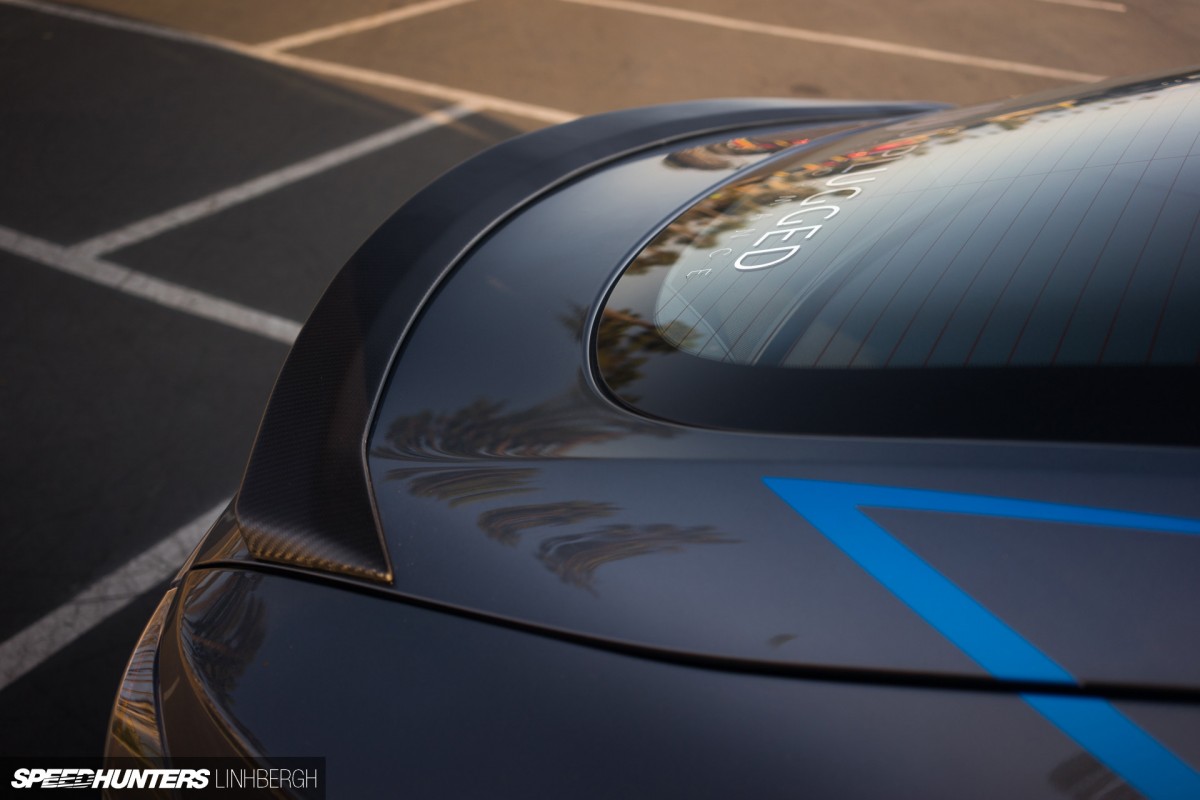 Along with a subtle carbon fiber trunk lip to finish it all off.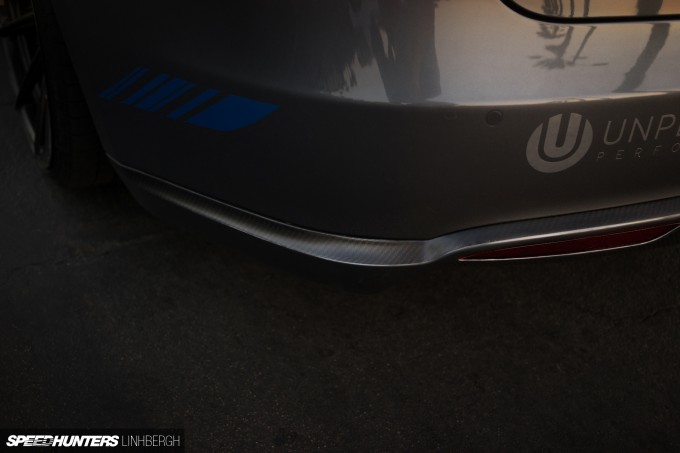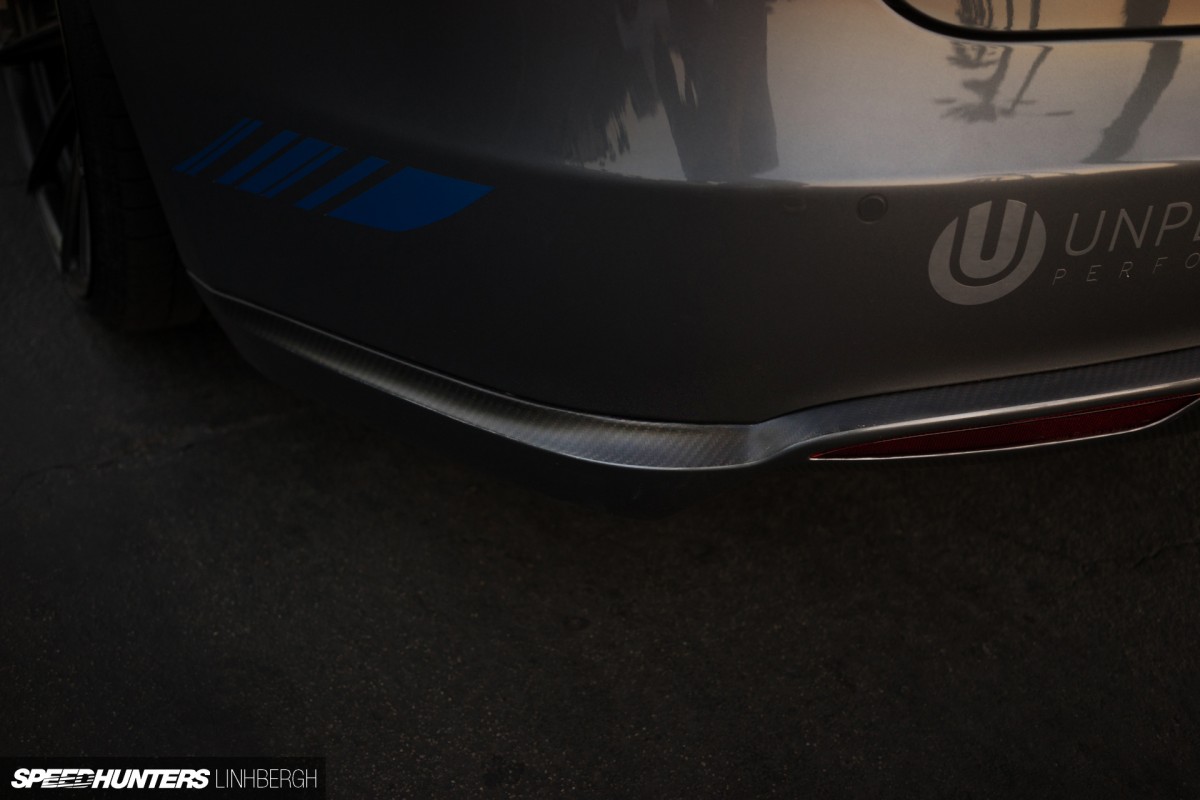 All of the added carbon fiber parts made are made in-house at Unplugged, in Hawthorne, California, where they are literally neighbors of Tesla Motors. The Unplugged team of people includes a two seasoned Formula 1 composites engineers and another engineer who worked with Boeing on the 787 Dreamliner's carbon fiber.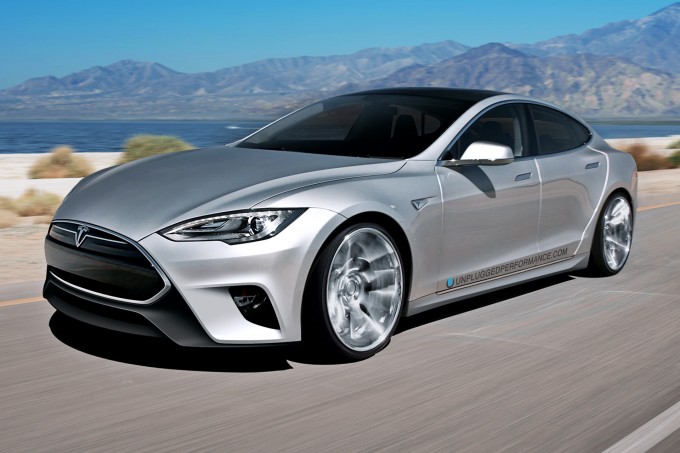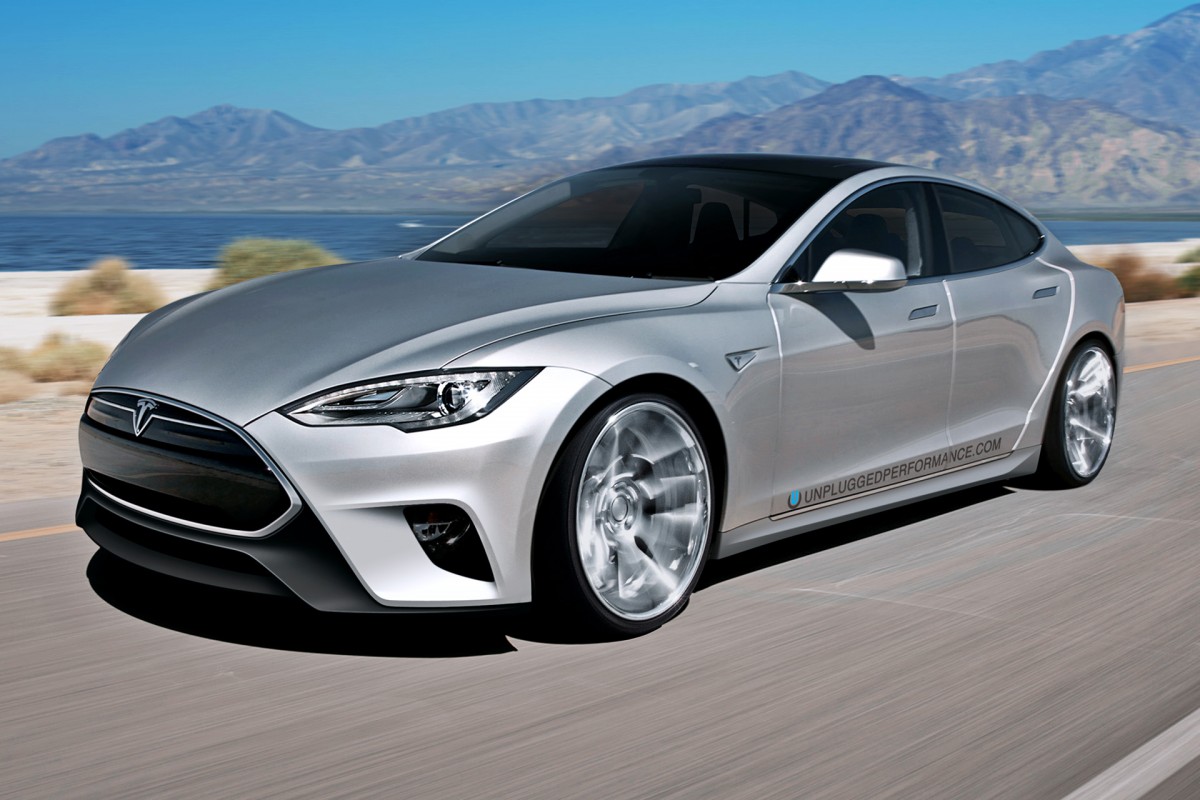 As for Unplugged's future, they plan on doing more aesthetic and performance upgrades than a simple lip kit. And everything they're doing will look have the look, feel and quality of a factory option, while being functional and enjoyable for everyday use.
Into The Hills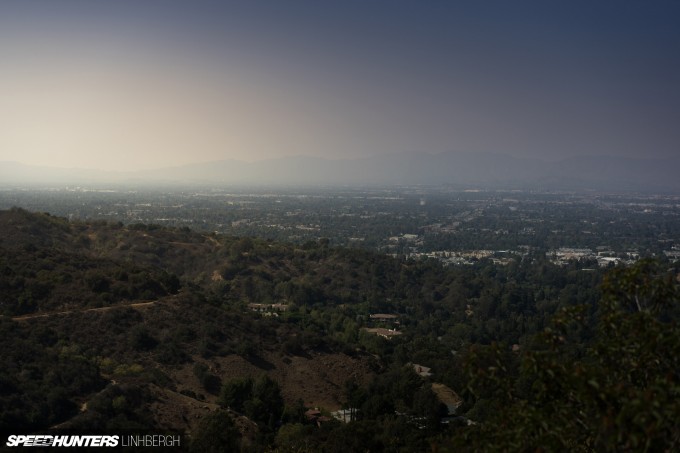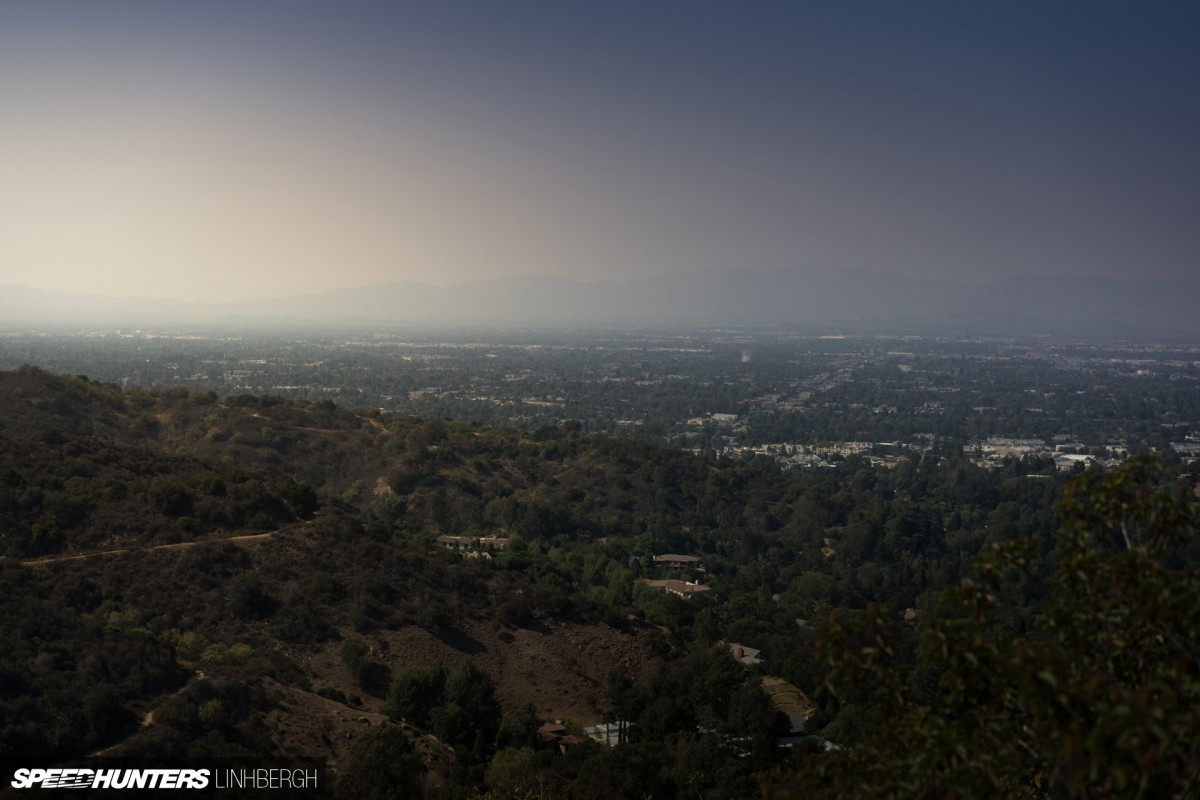 The guys at Unplugged were kind enough to hand me the keys to the car for a day, and I used the opportunity to romp around a few key LA areas. The first was Pasadena to snap a few photos of the car in some of those very picturesque neighborhoods. My second stop was to meet up with Rod and Elizabeth in Hollywood for a quick bite to eat.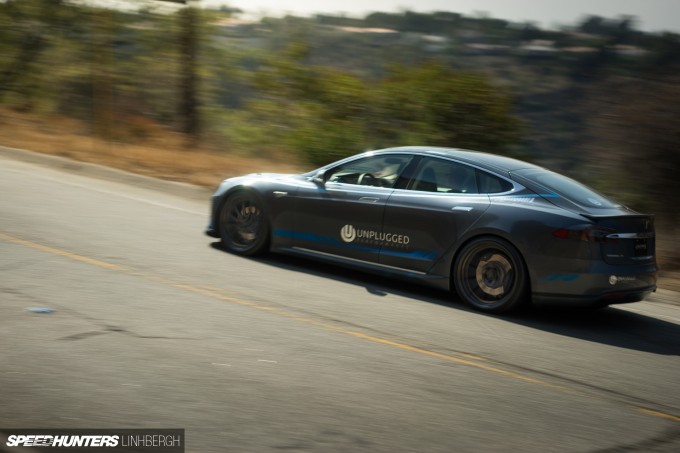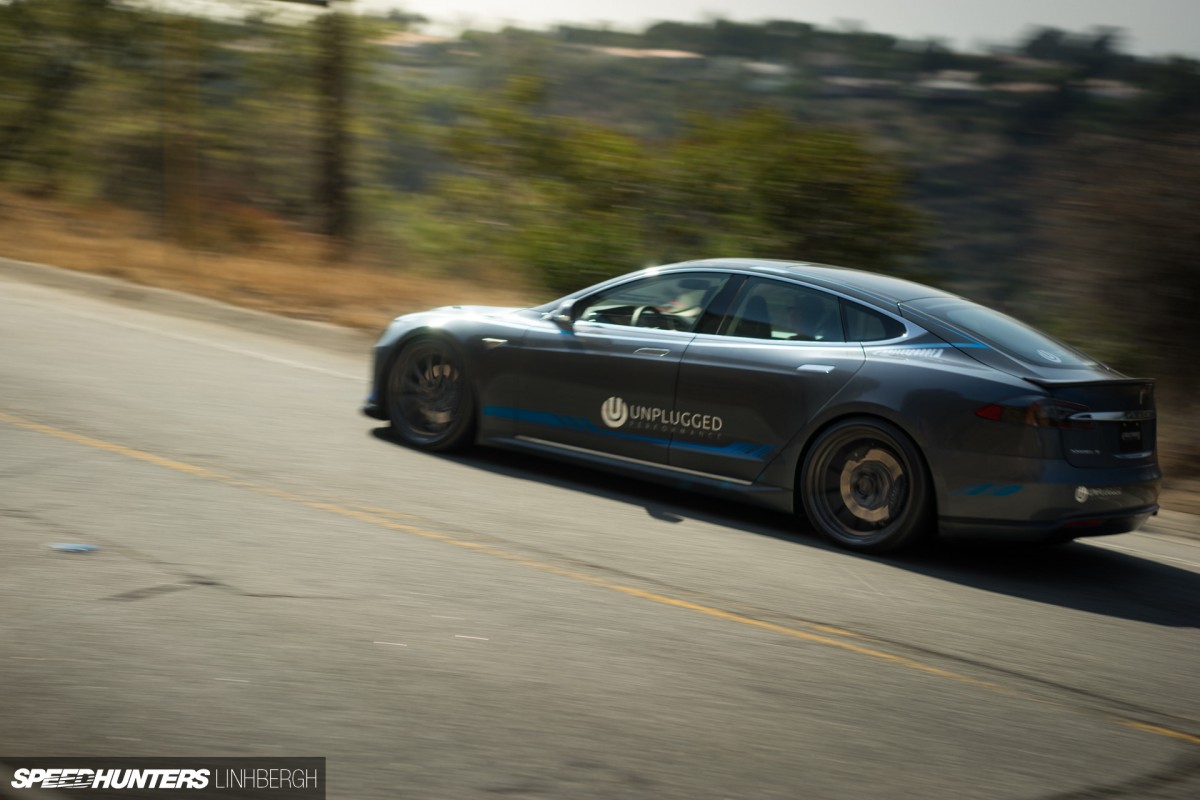 They offered to help me take a few moving shots of the car as it was driven around the iconic Hollywood hills.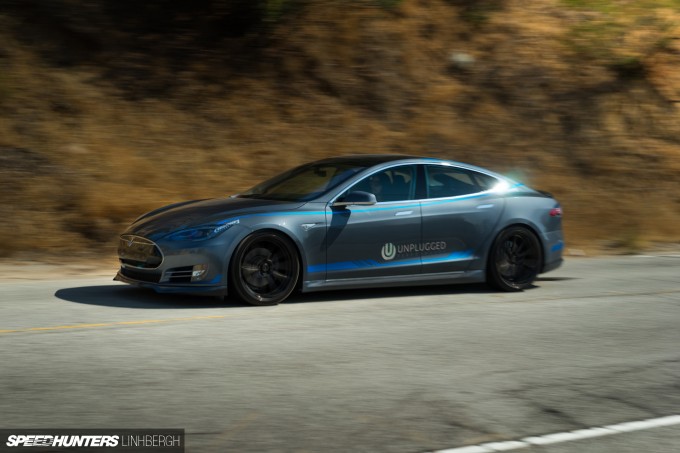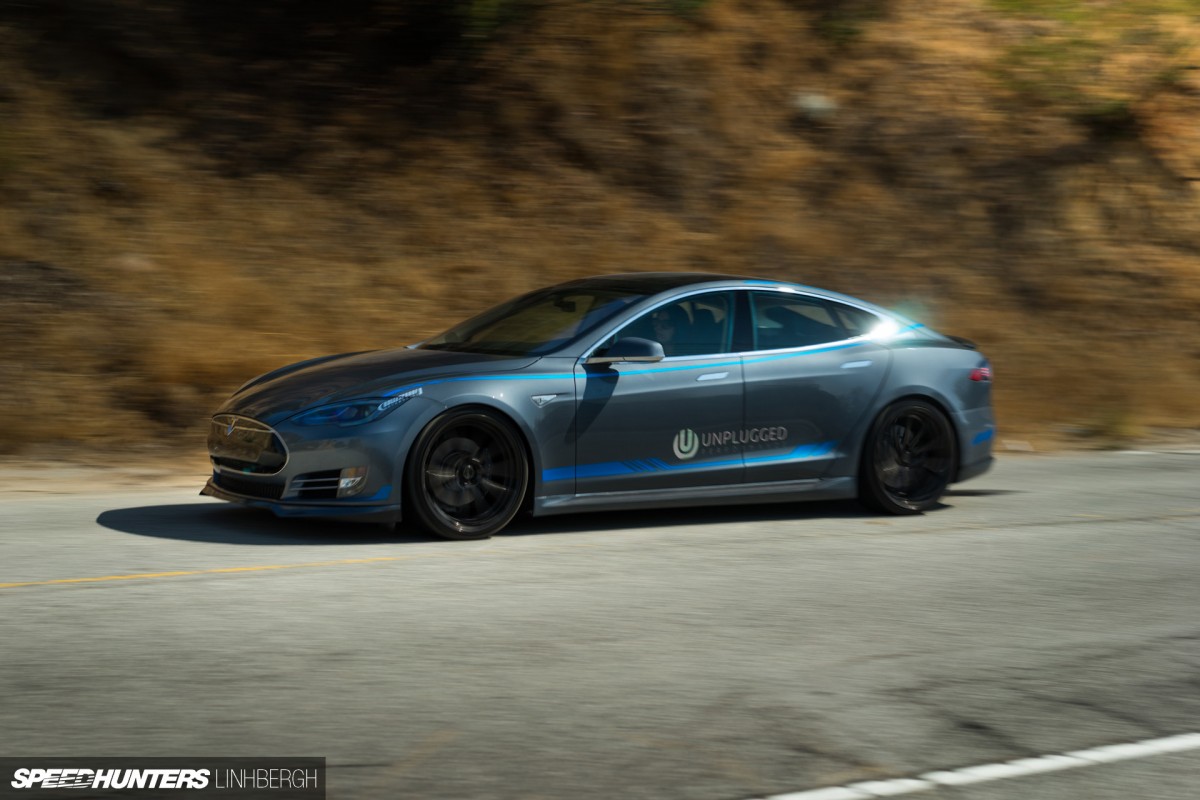 This also gave me a good reason to get a feel for the car outside of casually driving it around town and in LA traffic.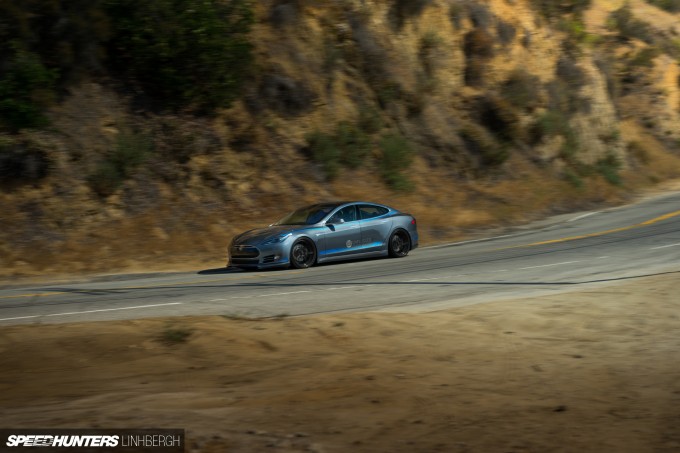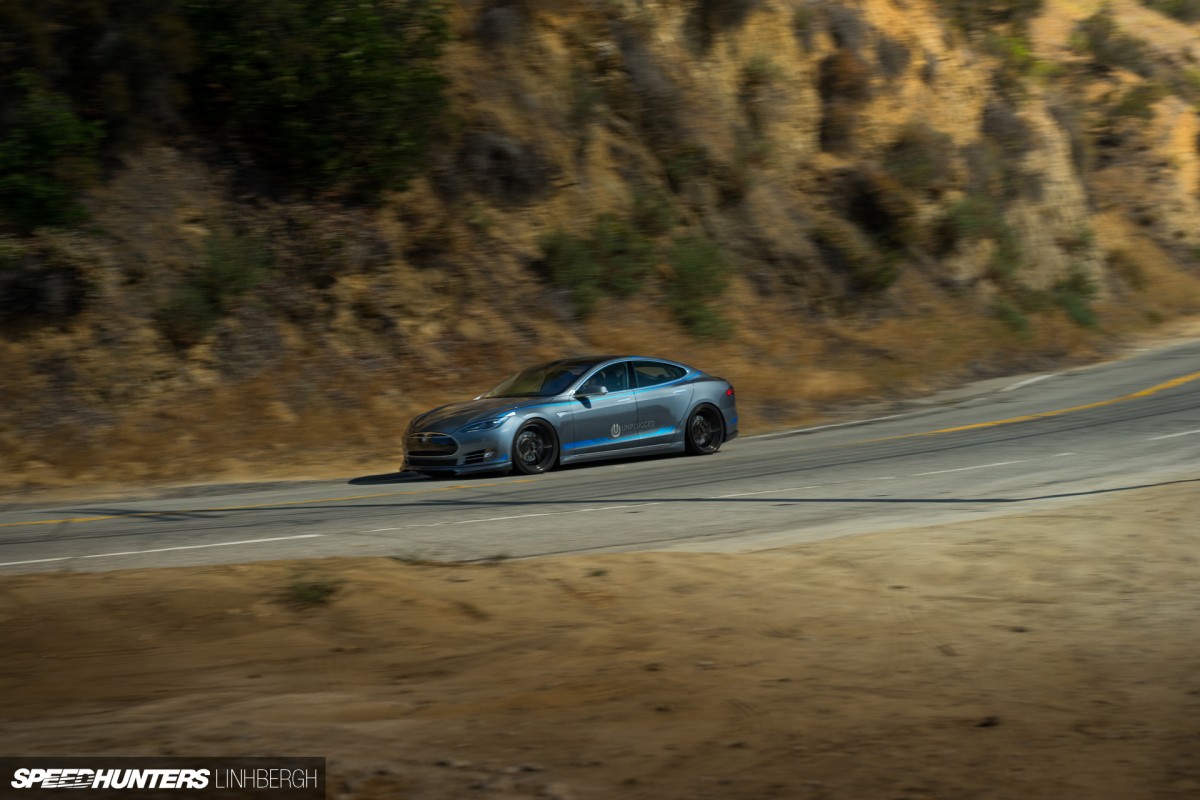 For being such a big car, the Tesla handles itself quite well. I would akin the roadholding to a big Audi, like an S5 or S7. It was just good enough to have fun. The instant torque of the electric motor was the defining character of the whole car. Even with what seems like a measly 416hp and 443lb/ft, this car will destroy almost any car from a standing start since it produces all its power and torque instantly. You don't realize how much power you have with just a tap of your right foot until you see a small hole in traffic, put your foot down, and are somehow magically teleported to that very spot you wanted. It's mind-blowingly amazing.
When Unplugged starts rolling out power upgrades for Teslas that'll be the day that I just might throw in my preverbal petrolhead towel. Stop lights will never be the same. These cars are absolute monsters.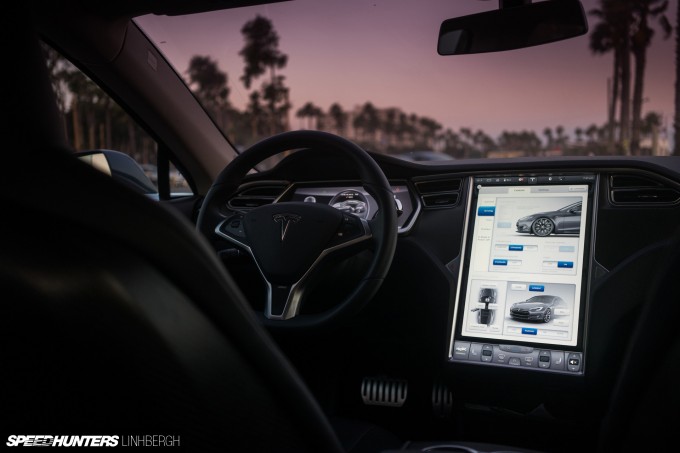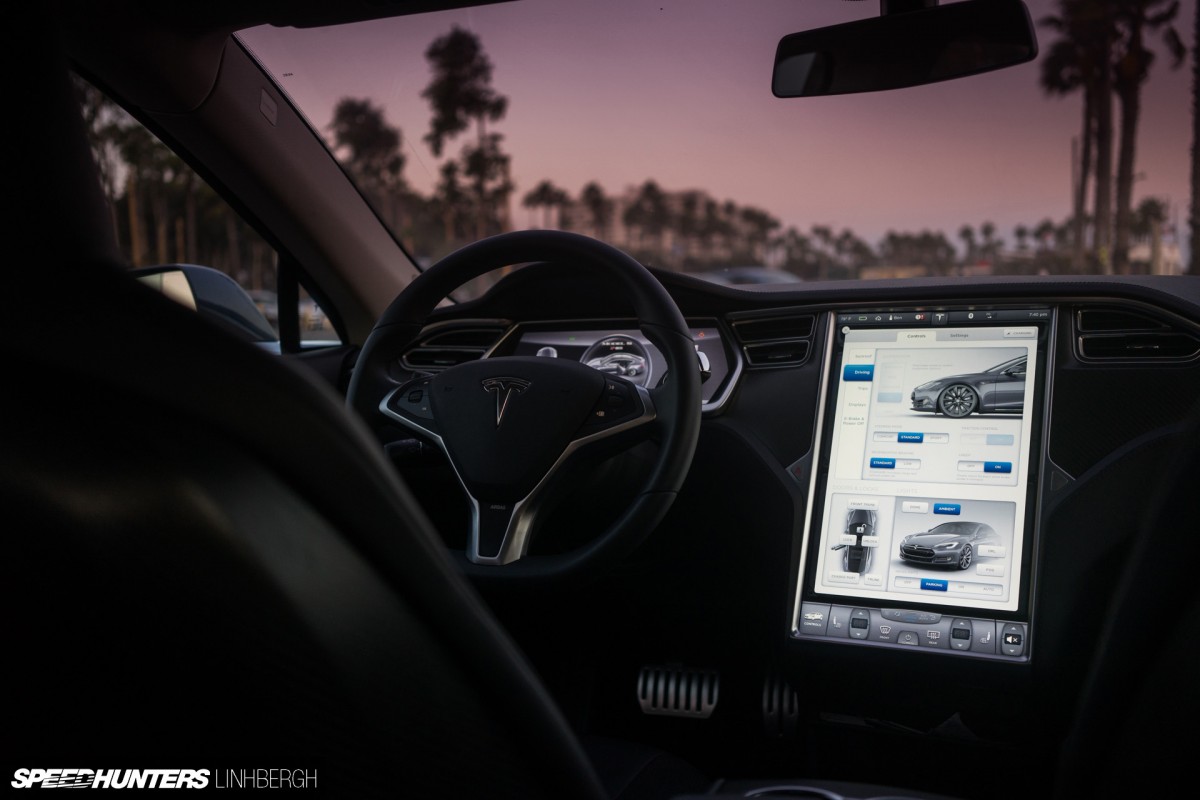 The interior of a Tesla is normally pretty sparse. It's clean but is completely dominated by a giant Android-based touchscreen. The user interface looks as though it is some form of downloadable Winamp skin from 1999, but it's an absolute joy to use.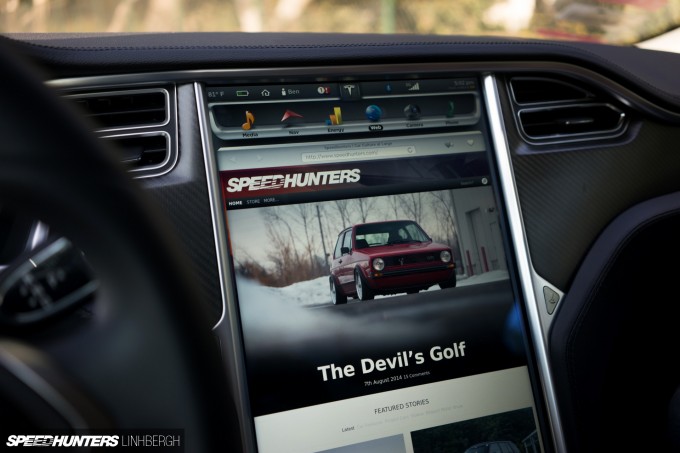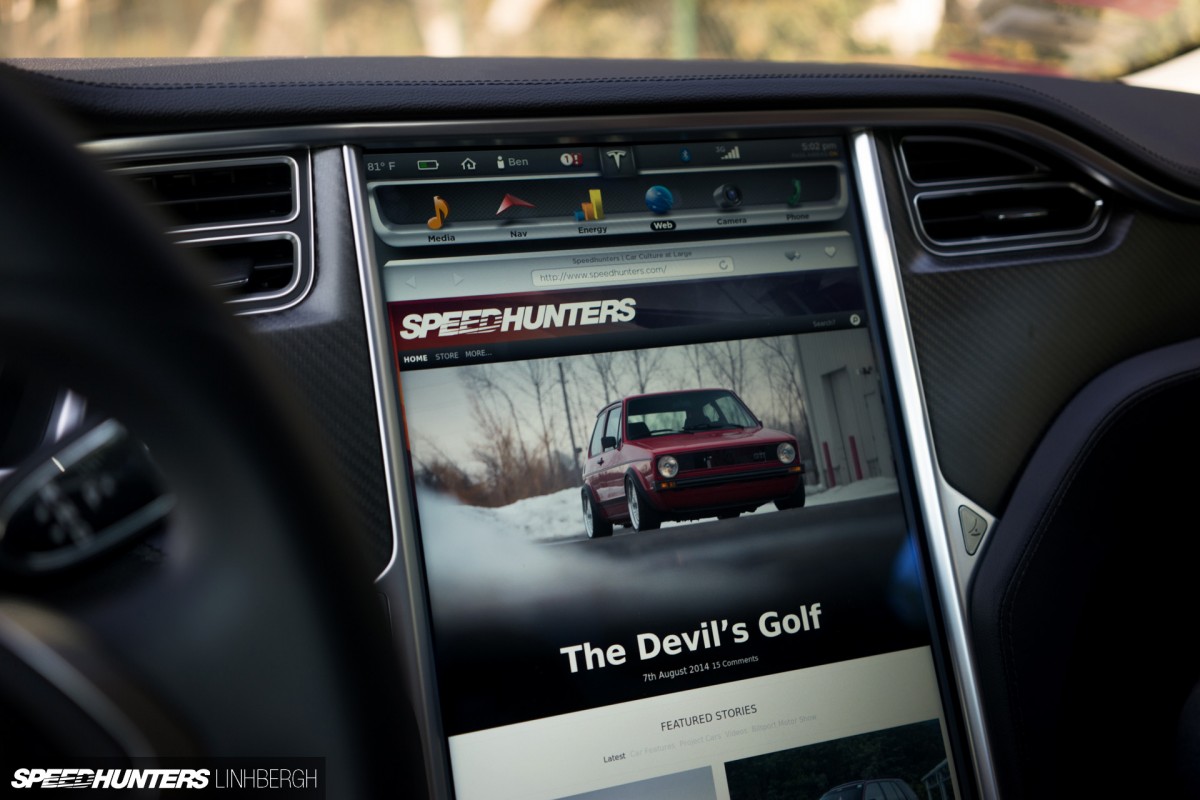 The fact that you can surf the internet via the glorious 17-inch screen while in your Tesla is a dangerous, yet rather amazing proposition.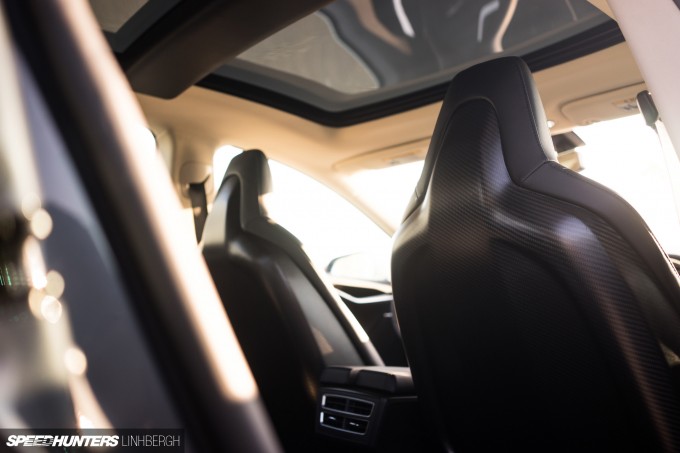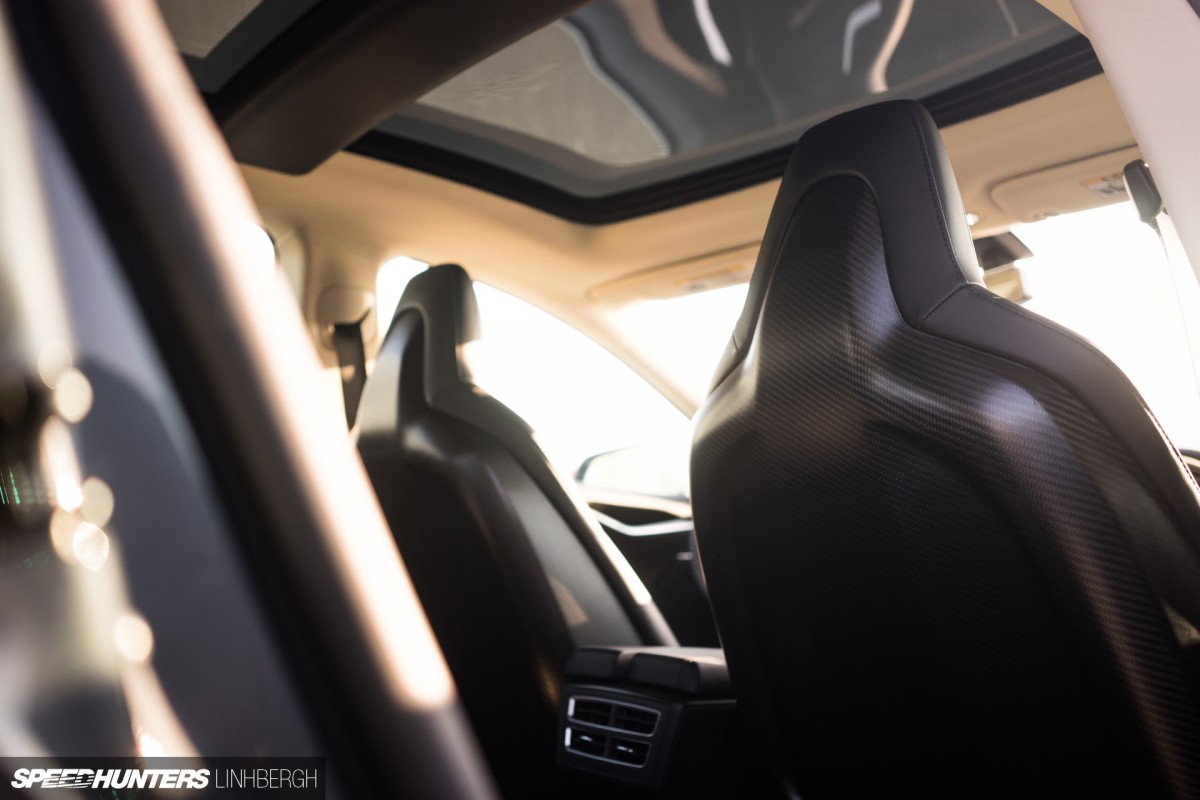 Unplugged replaced the stock plastic seat backs with, of course, some more carbon fiber. The new trim was then given a BASF clear coat finish to protect it from any kicking child's feet.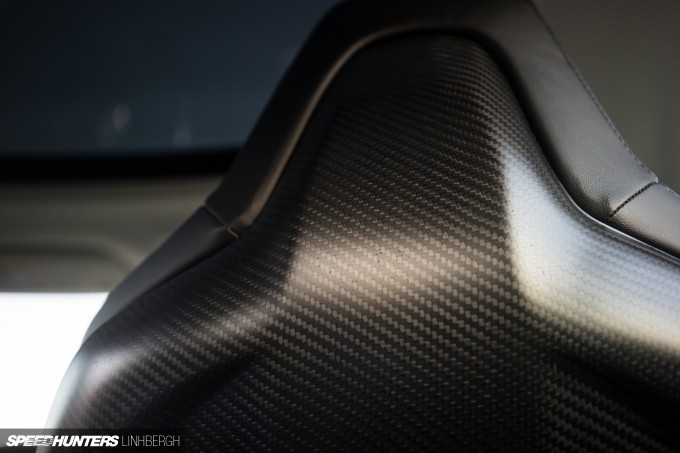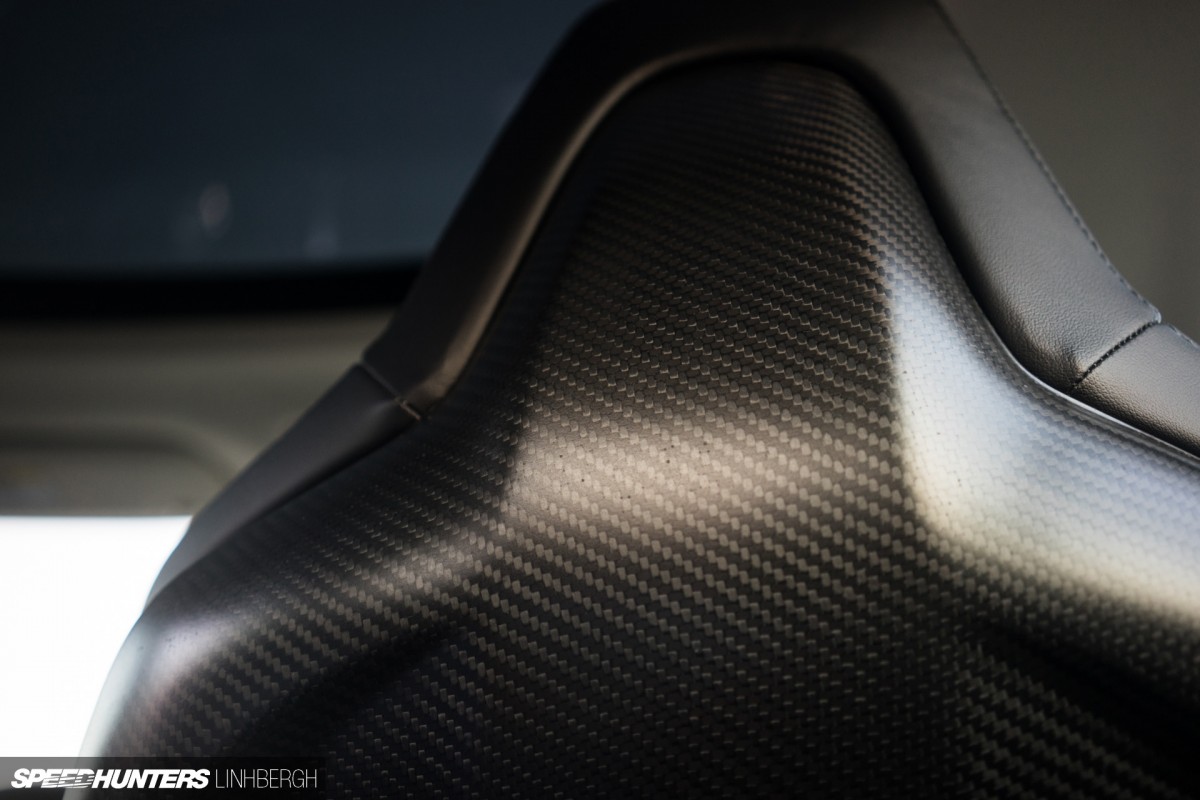 The weave and finish is amazing. But I don't expect anything less from a team of ex-F1 and Boeing engineers.
Onwards To The Beach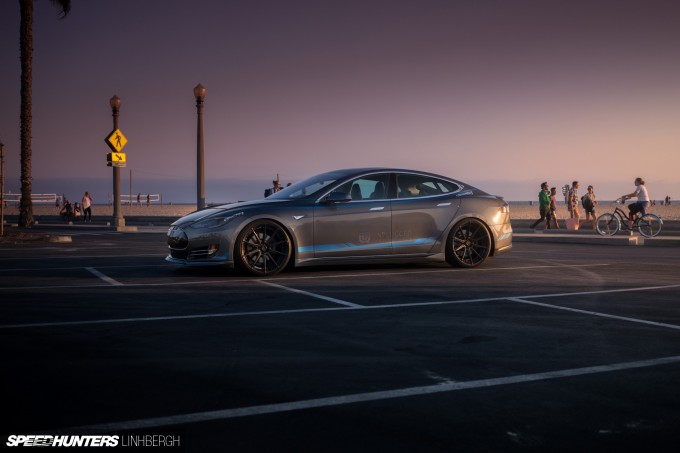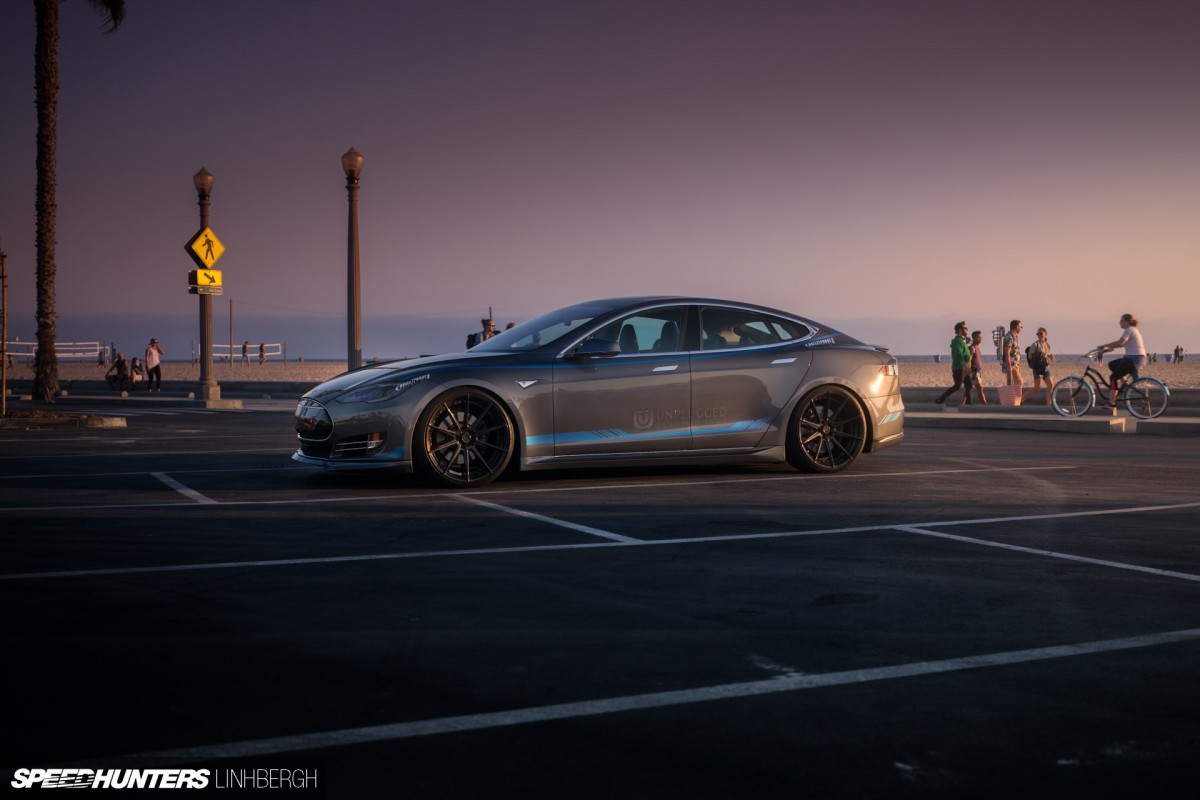 After spending the afternoon in the hills around Hollywood, I thought I'd finish the day by stopping at the beach in Santa Monica. You really don't get any more LA than a beach, palm trees, and that iconic, yet infamous, Californian sunset.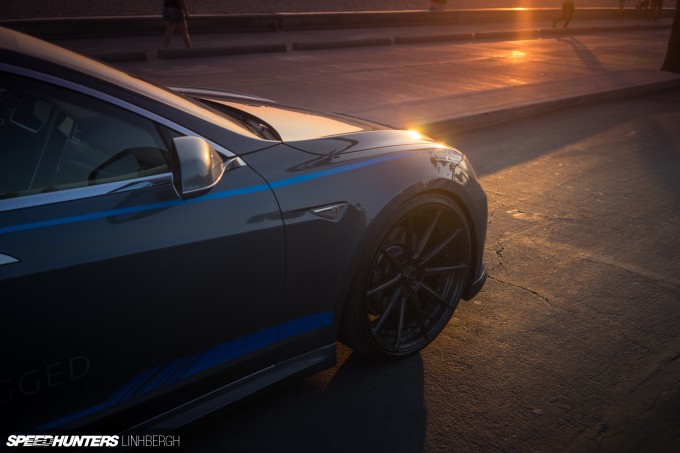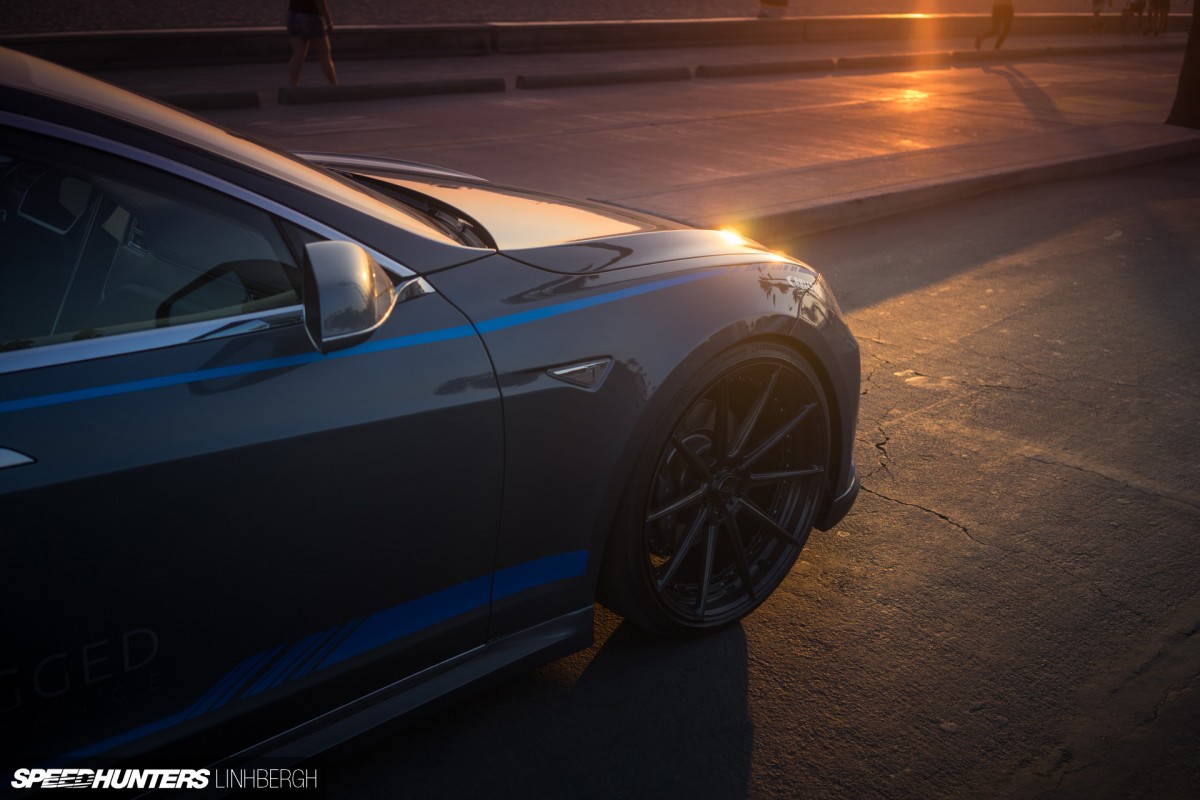 Unplugged lowered the car with a height adjustable sport suspension system, but the great thing is that you can still raise and drop the car through its control panel in the touch screen. Thumbs up!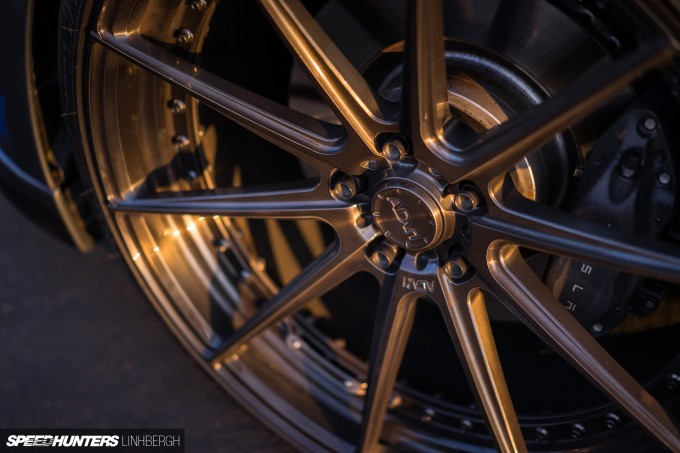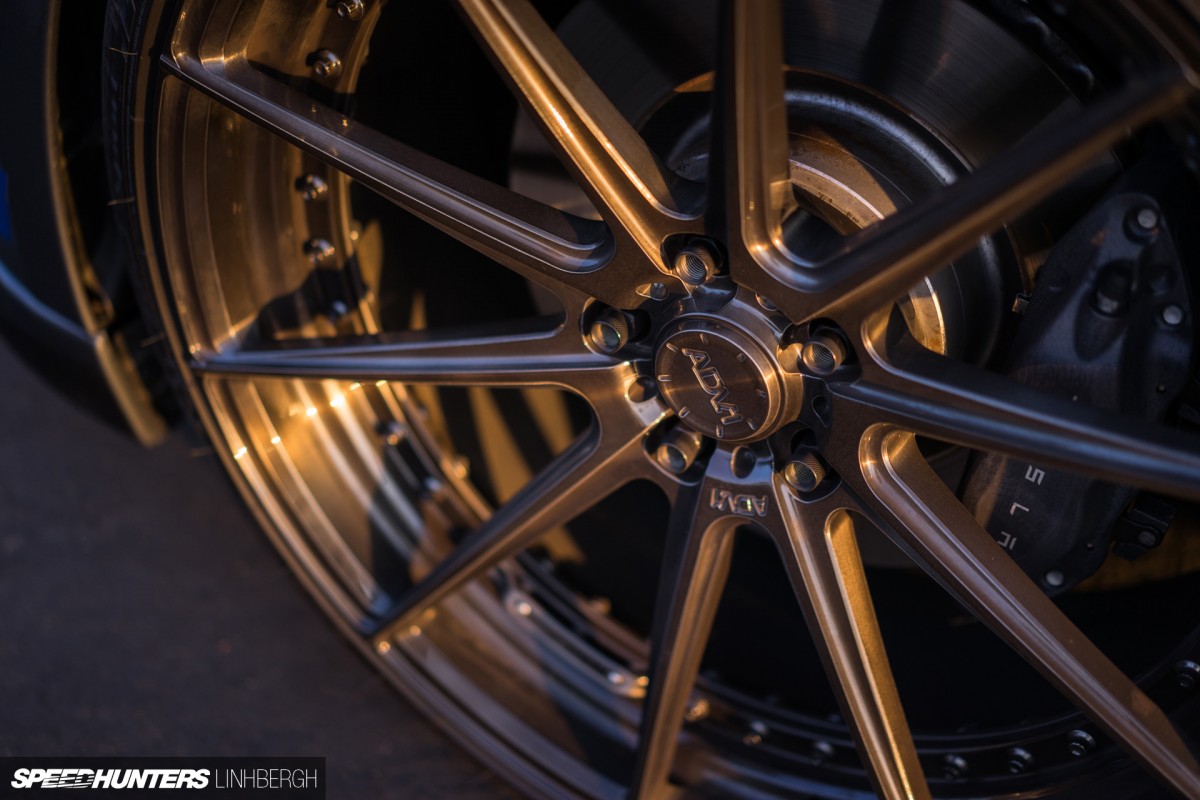 A set of ADV.1 22-inch wheels were temporarily put on the car to give it a more aggressive look.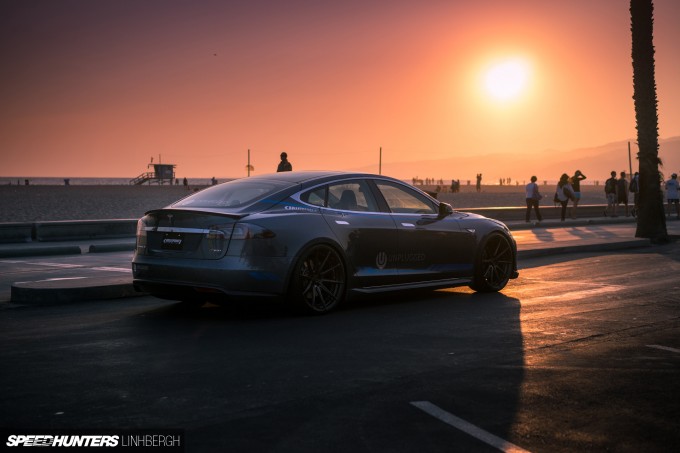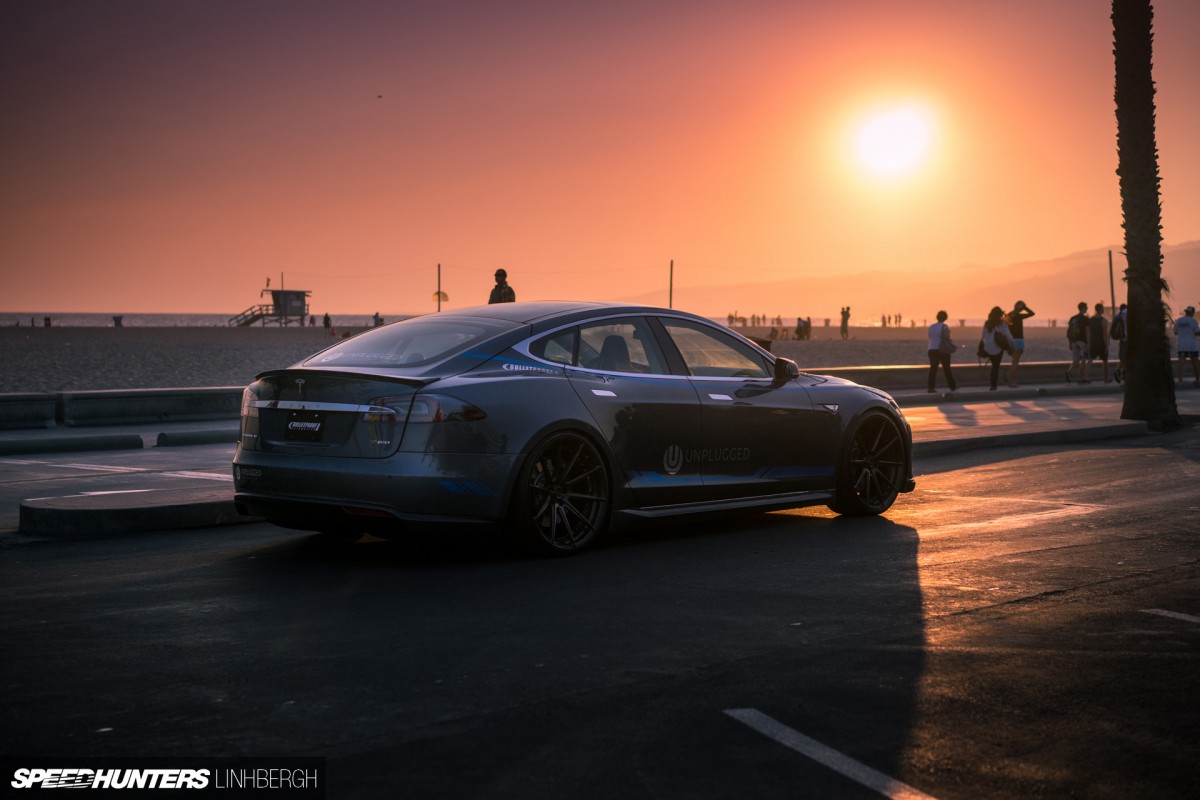 Unplugged has their own wheels being developed, but they weren't ready in time for this photoshoot.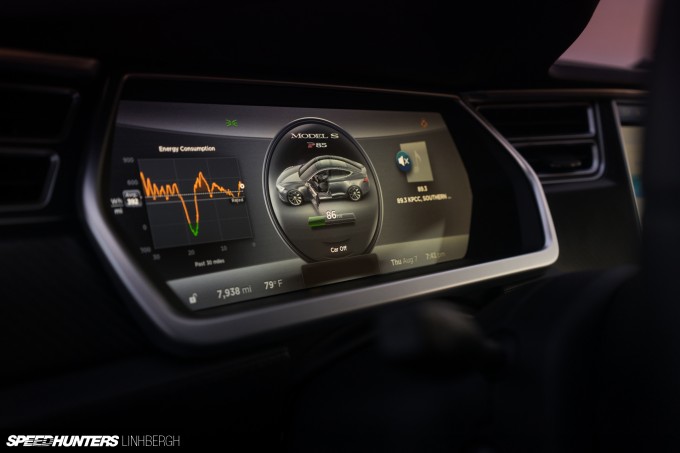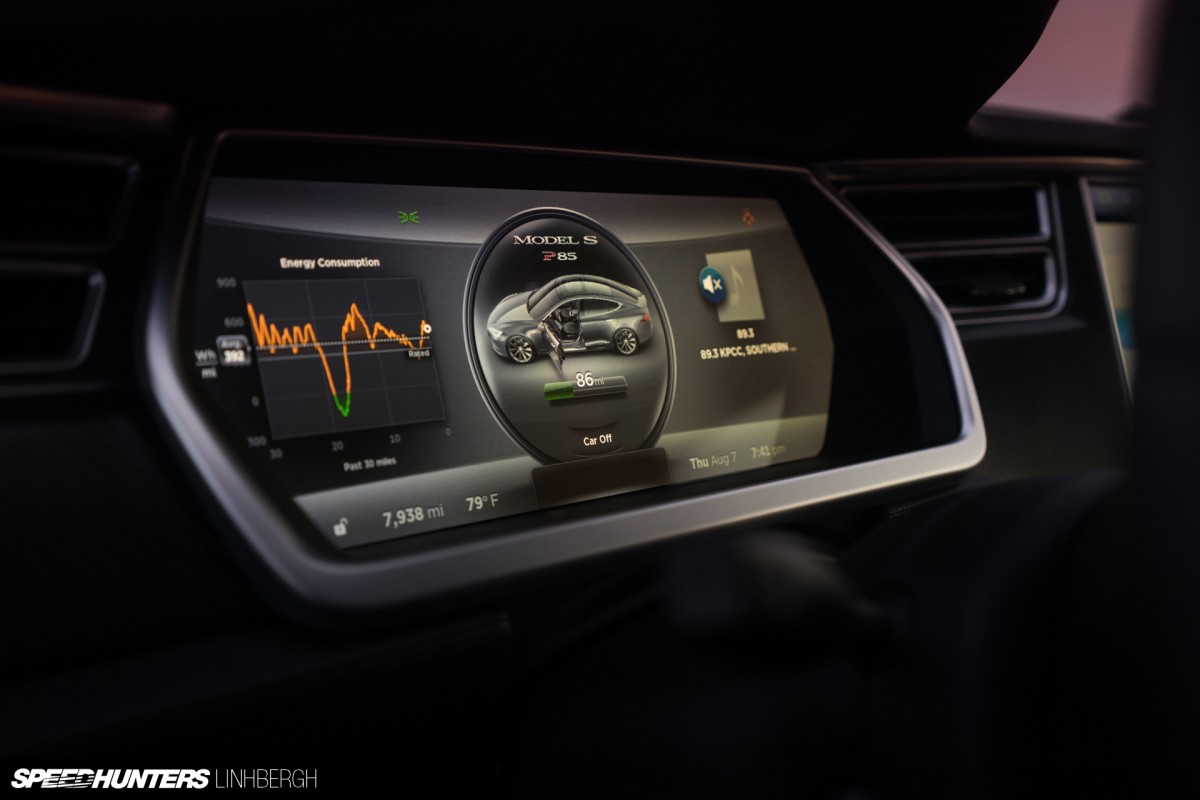 I started the day with a range of 260 miles. I drove from Unplugged's office in Hawthorn to Pasadena, then Pasadena to Hollywood, and finally from Hollywood to Santa Monica. I finished my journey with 86 miles to spare. And as an Angelino, I'd say that's more than I'd normally drive in a day around town.
The electric car has proven that it's up to the task of replacing our everyday gas-powered automobiles.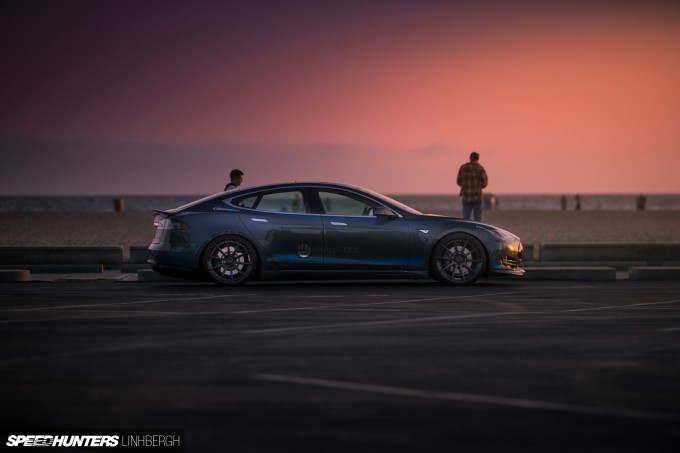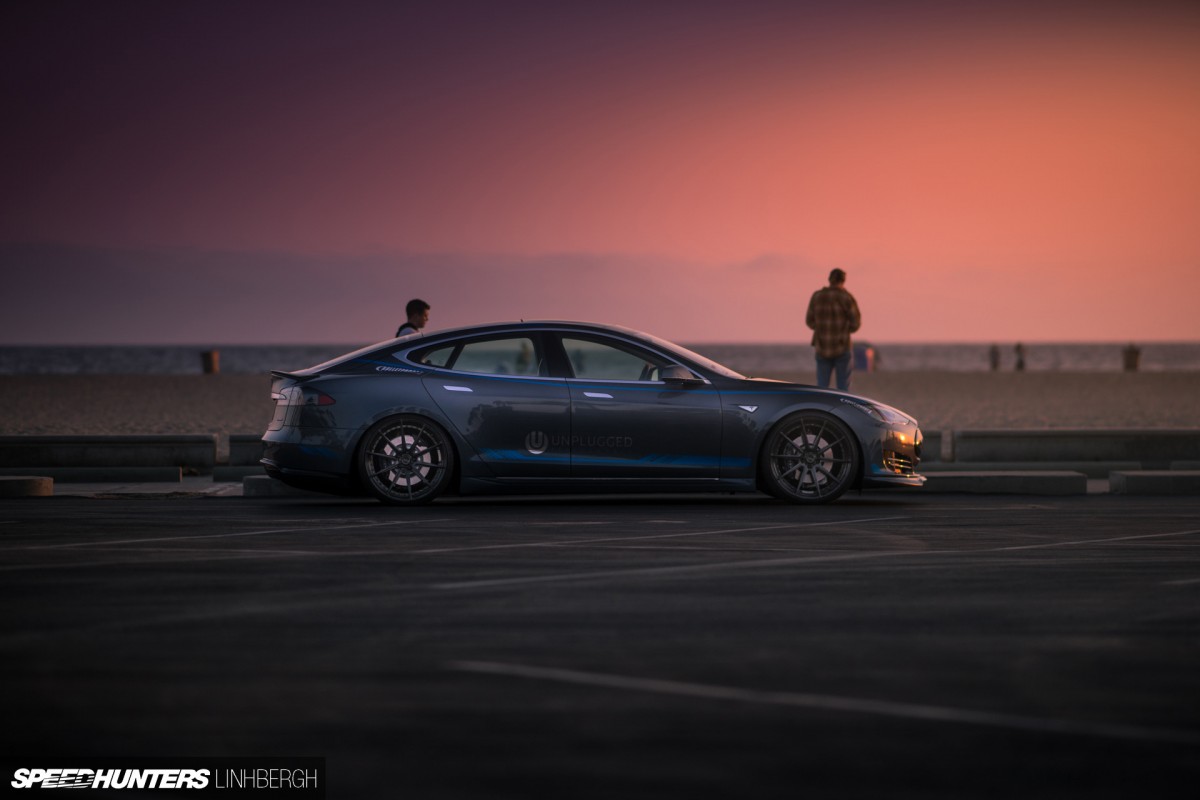 What you're getting here is the future. It's a future where we can have a car that produces zero emissions, is still fun to drive, looks great, and – thanks to pioneering companies like Unplugged – we're able to conjure up our inner gearhead, and modify these vehicles to be even more enjoyable. But what you're not getting is an internal combustion engine, the mechanical connectiveness of slamming through various gears, or an exhaust note. No, there isn't an RB26, or 2JZ, LS7,  EJ25, or M56 inside of it. What you are getting is, what could be, the saving grace of petrol-powered cars.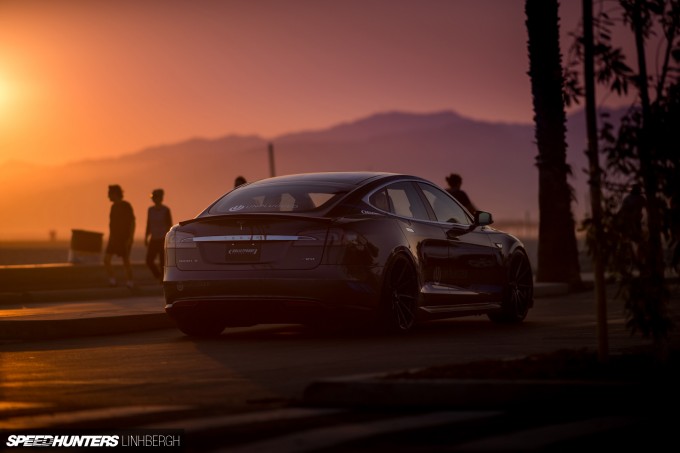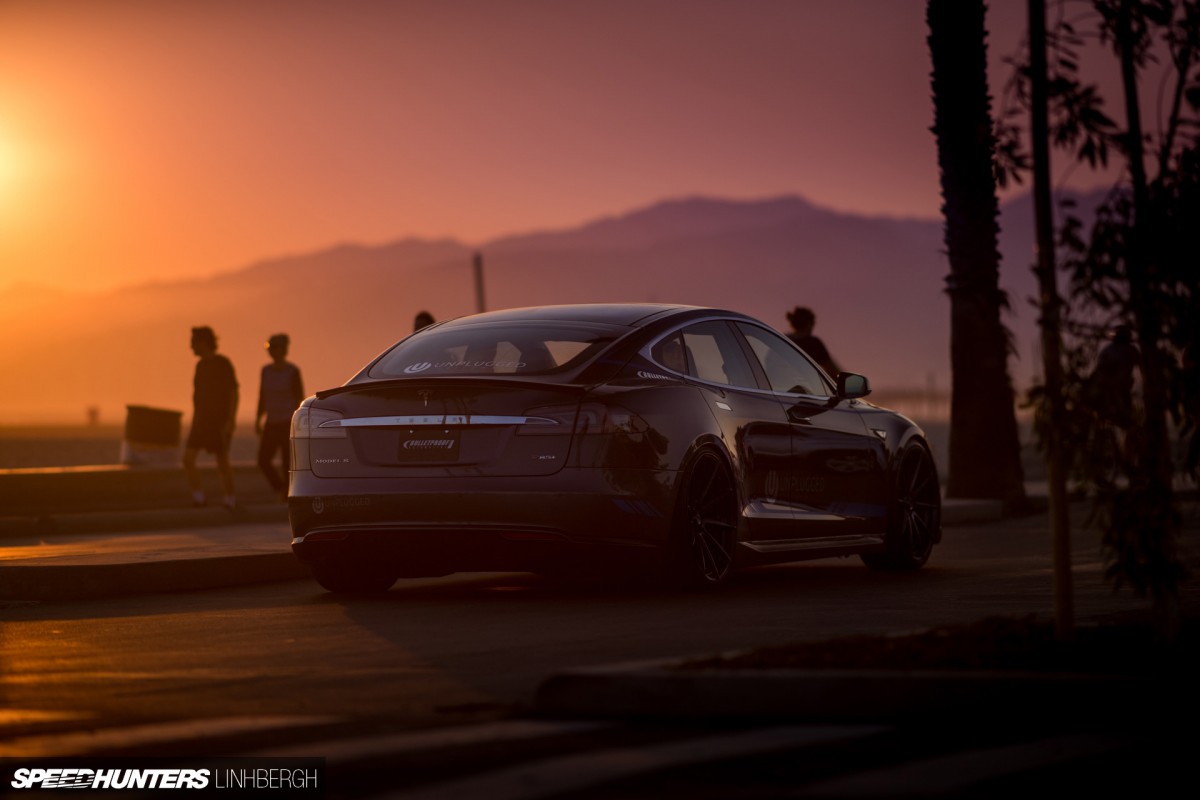 One day (and who knows when), the oil wells will run dry. What we will be left with are hunks of metal and a few gallons of of precious gasoline. Then comes that one day when with warm air, a fair breeze and the sun shining brightly, we will hop into our antiques, fire our fossil-powered internal combustion engines to life, and blast around our favorite canyon road while listening to the exhaust note bounce around from mountain top to mountain top.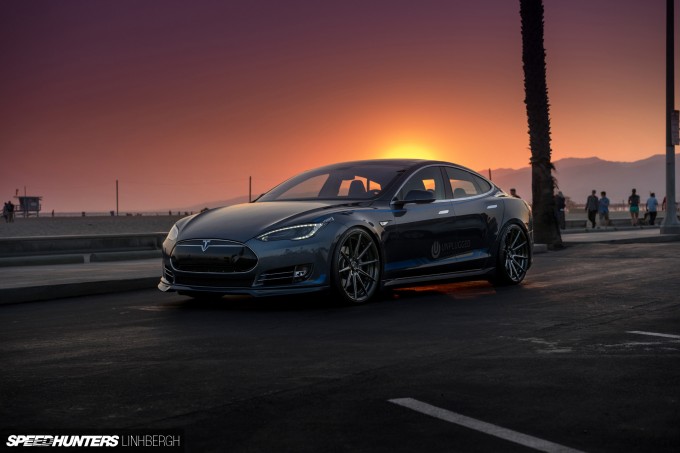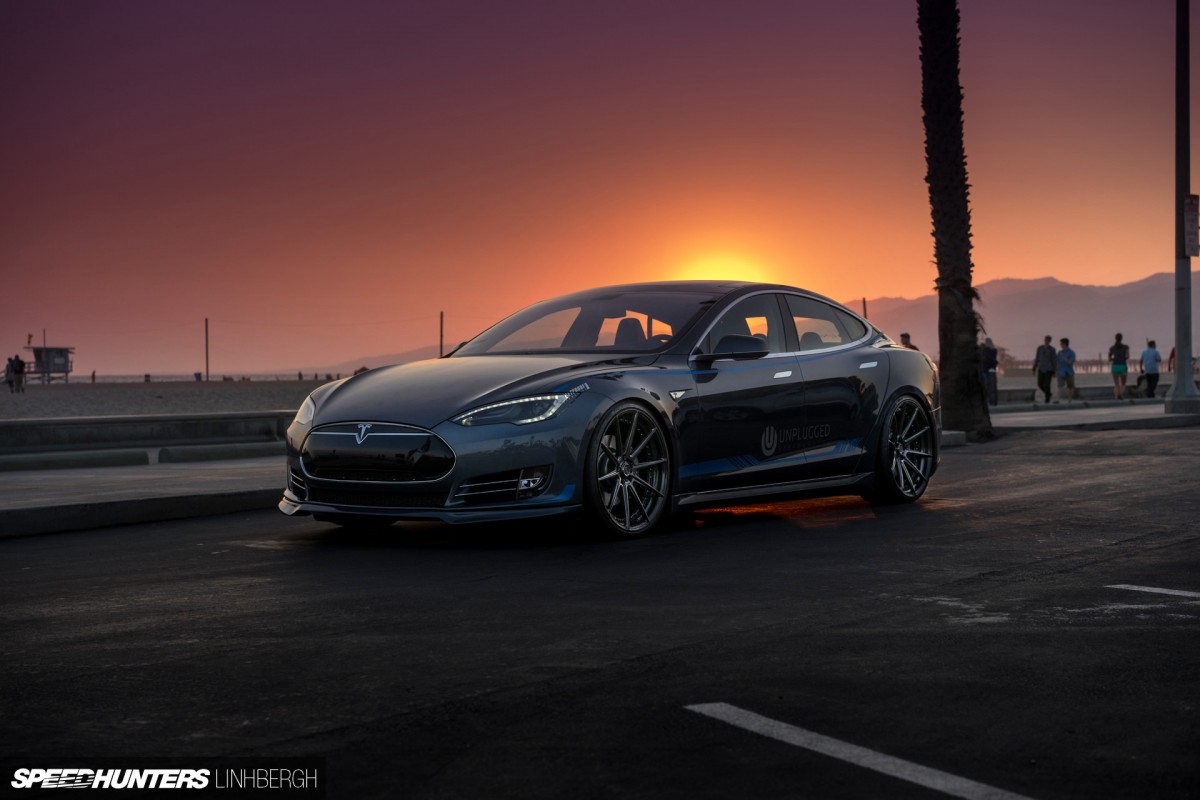 When that day in the near future comes, it will only be possible because of the electric car (or any other zero emissions vehicle). Our petrol-powered cars won't die off because of this new generation of automobiles. Instead, they'll become even more prized and coveted.
We will remember Tesla, the Model S, and those first few pioneer companies, like Unplugged, that started tinkering with them. When that day comes, we will love dinosaurs even more. And the sweet smell of high of octane gasoline will smell even sweeter.
Linhbergh
Instagram: @linhbergh
Twitter: @linhbergh
linhbergh@speedhunters.com
Twin-Engined & Terrifying: Monster Suzuki
Bulletproof Automotive related stories on Speedhunters