No Rules Rodding
If you were to imagine the perfect hot rod, what would you come up with?
Some might picture an ultra traditional '32 Ford Roadster with a Flathead V8, constructed entirely from original parts and staying perfectly true to the origins of the hobby.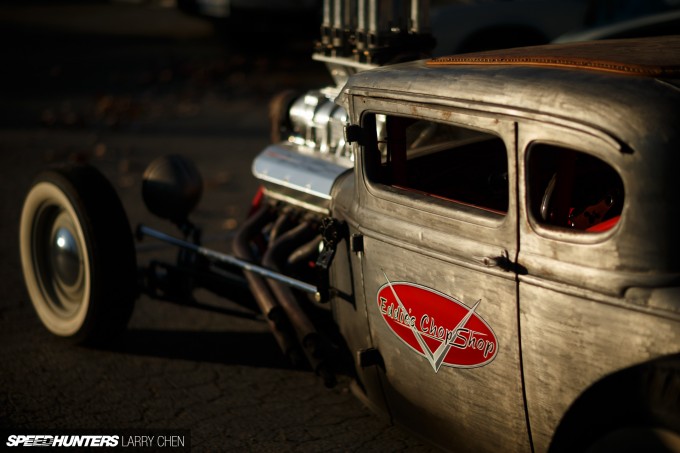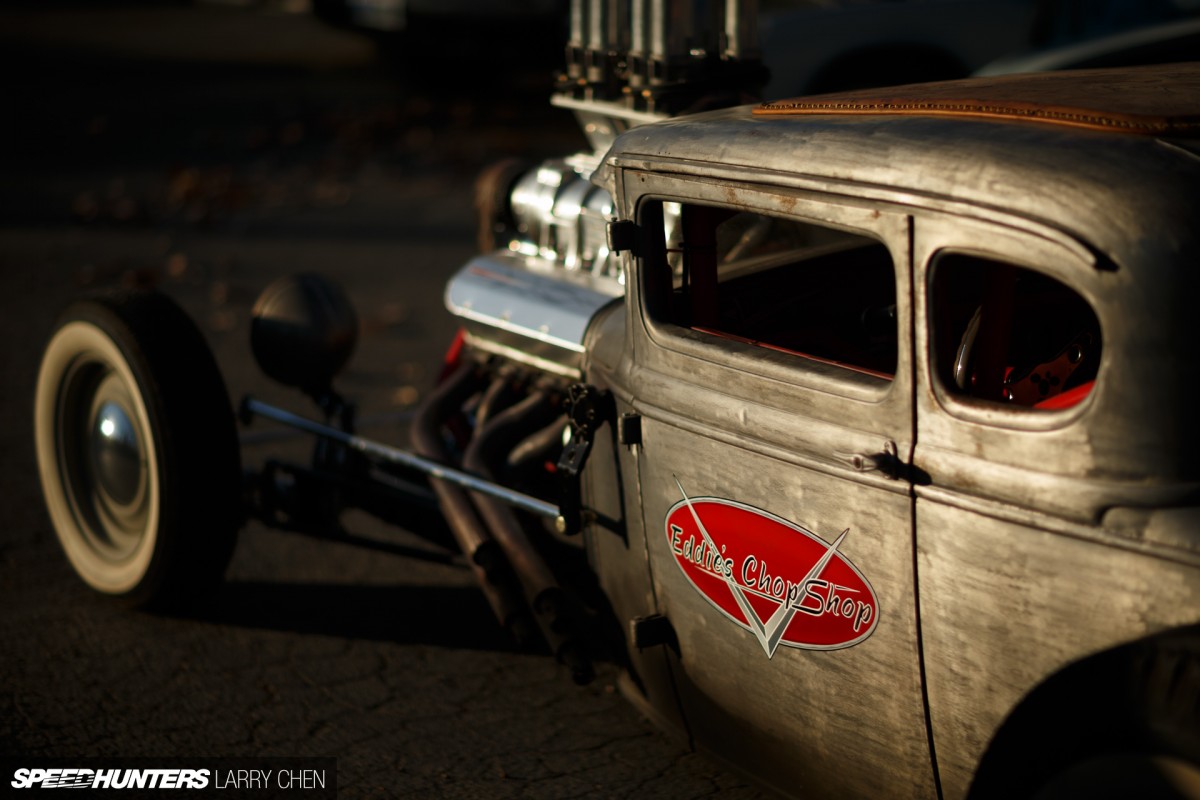 Others might come up with something a bit more adventurous – a classic shell with a modern chassis, upgraded suspension and the conveniences of a high-tech powerplant. The great thing is that there's no right or wrong way to go about building one.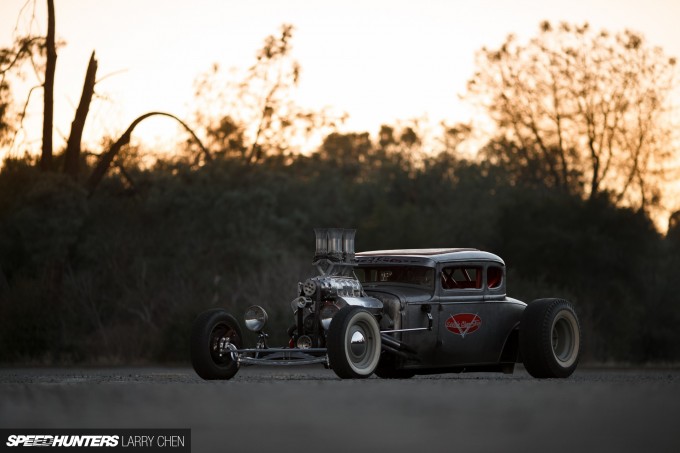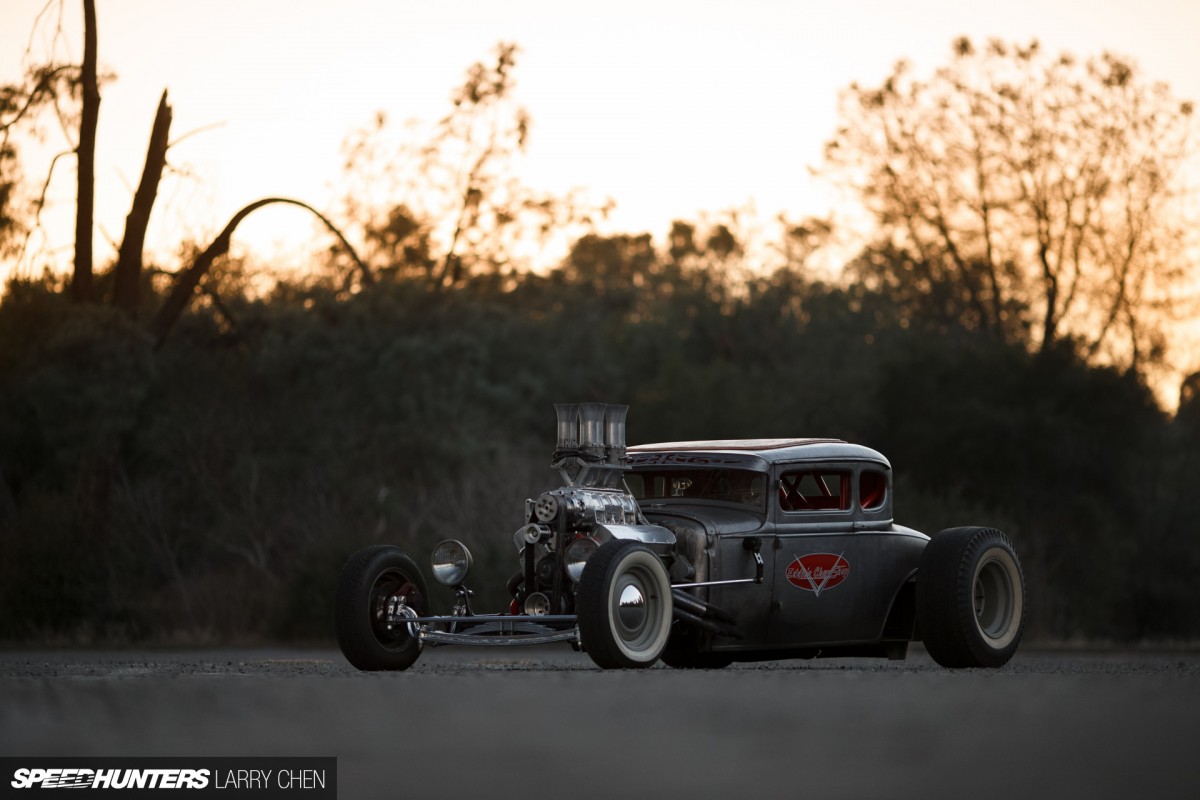 But no matter what your taste is, most will agree that a good hot rod should be fast, stylish and simple. That's why I'm convinced this 1931 Ford Model A Coupe built by Eddie's Chop Shop in Sacramento, California, is a perfect example of the breed.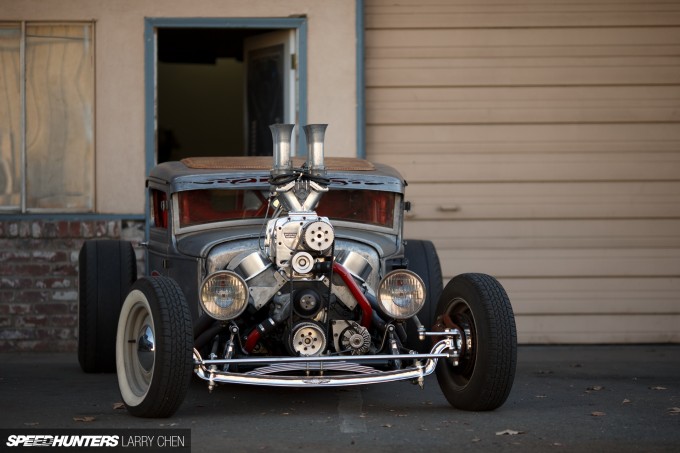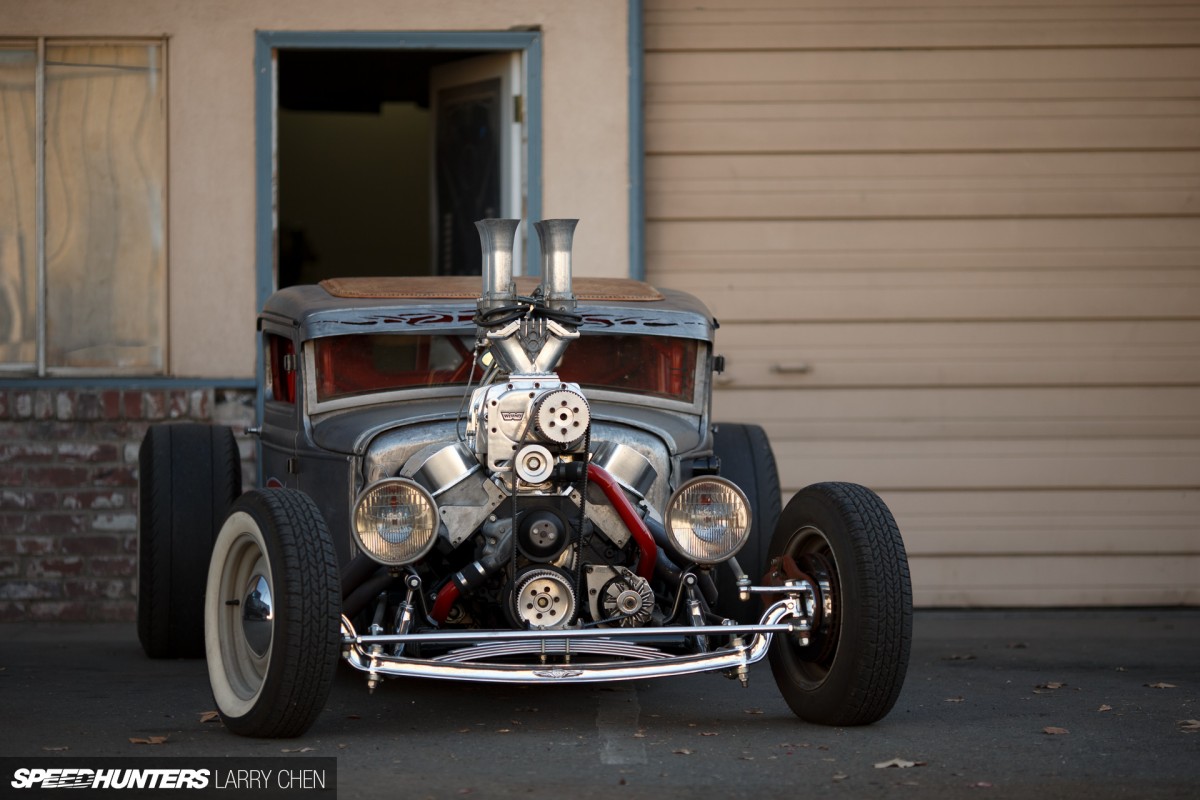 Its styling might not totally appease those who feel all hot rods should look like they came directly from a black and white photo from the '40s or '50s, but that's not what Eddie is all about. His cars have always blended traditional elements with aggressive style with modern engineering, and this Model A is no different.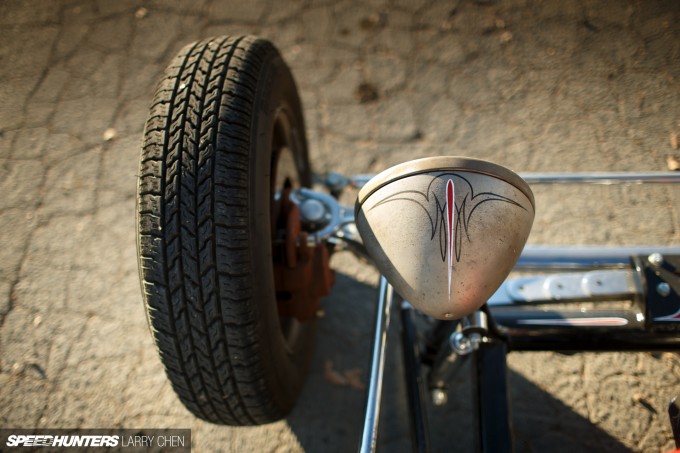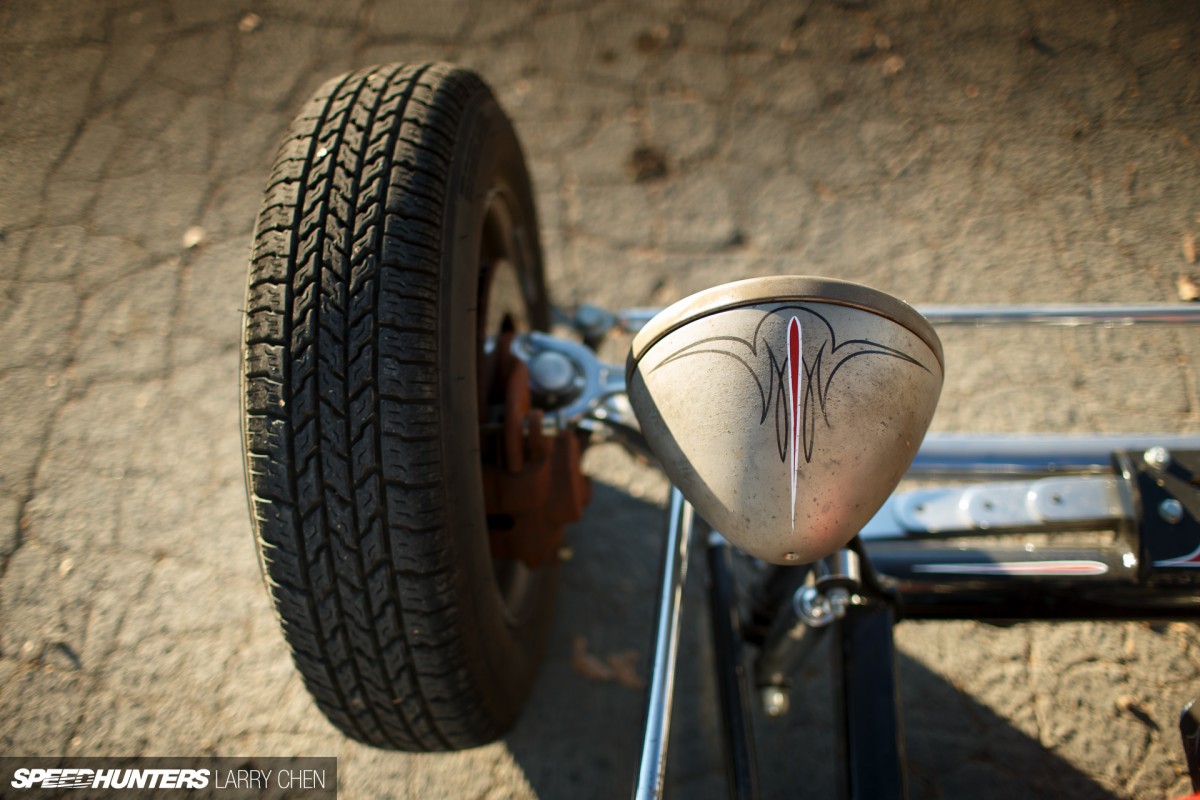 In fact, it was this very car that helped make Eddie's Chop Shop become the well-known facility that it is today. The story of this machine goes back about a decade, to a time when Eddie was a construction worker by trade and a hot rodder in his spare time.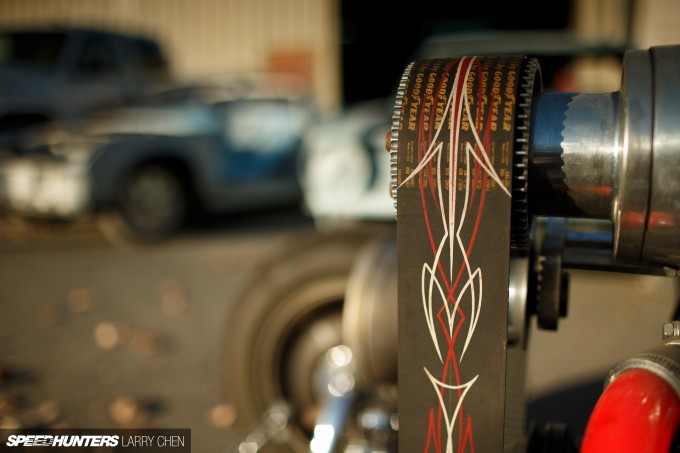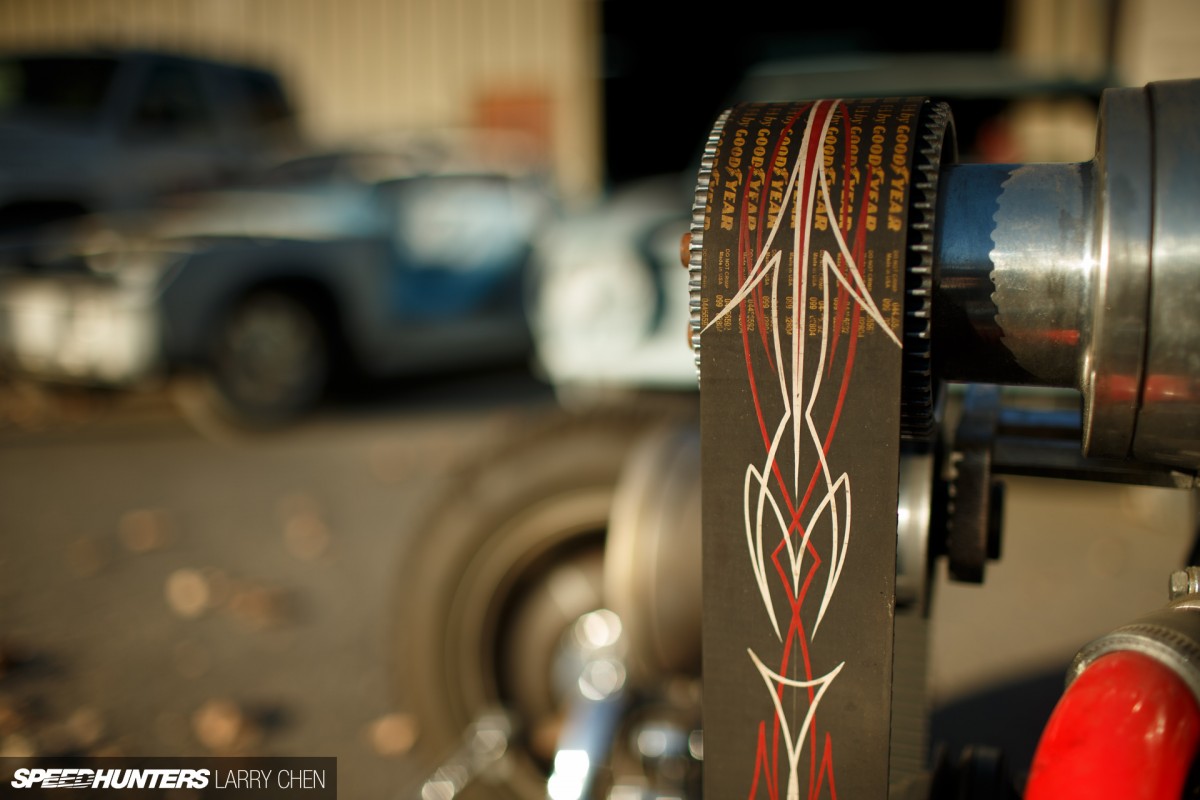 The Model A was originally a throw-away project for Eddie – a simple, low-budget machine built in his garage to cruise around town in and have fun. In its original iteration the Model A was a rough machine with a frame full of rust and mild small block V8 sitting between its rails. A 'rat rod' some might have called it.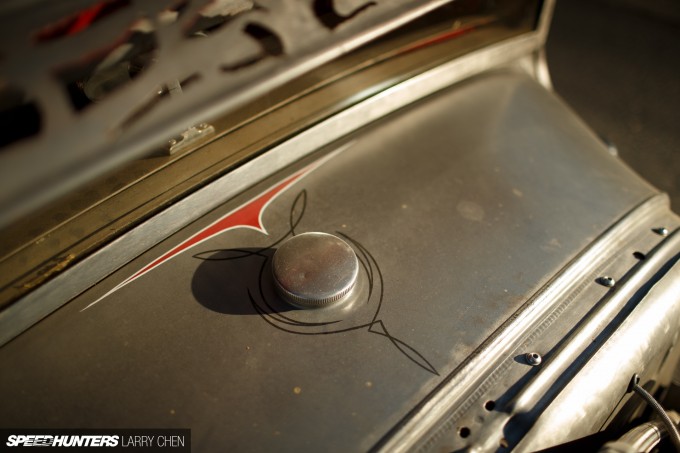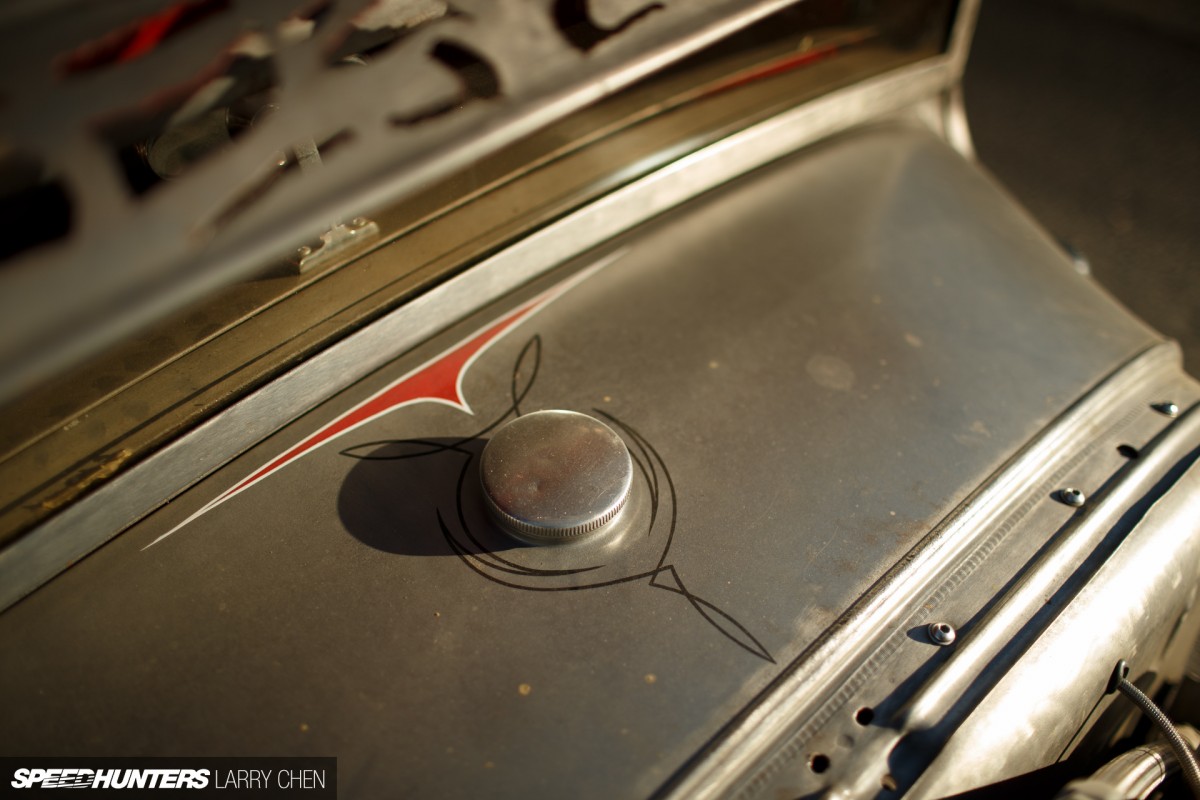 But as projects often do, one thing led to another and soon Eddie found himself completely rebuilding the the old beater rod into something a little more substantial.
One Thousand Reasons To Smile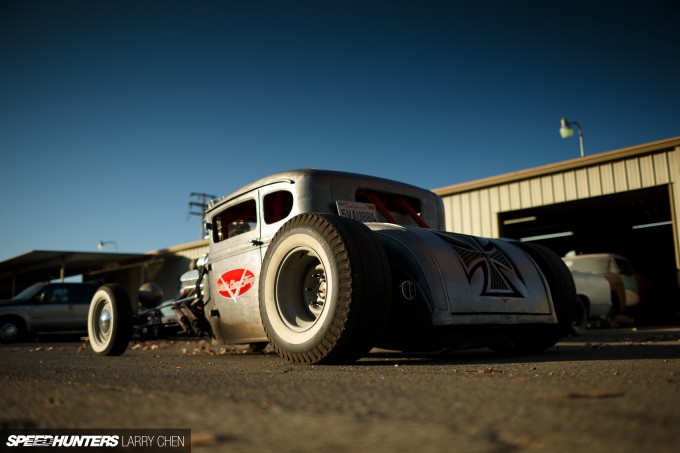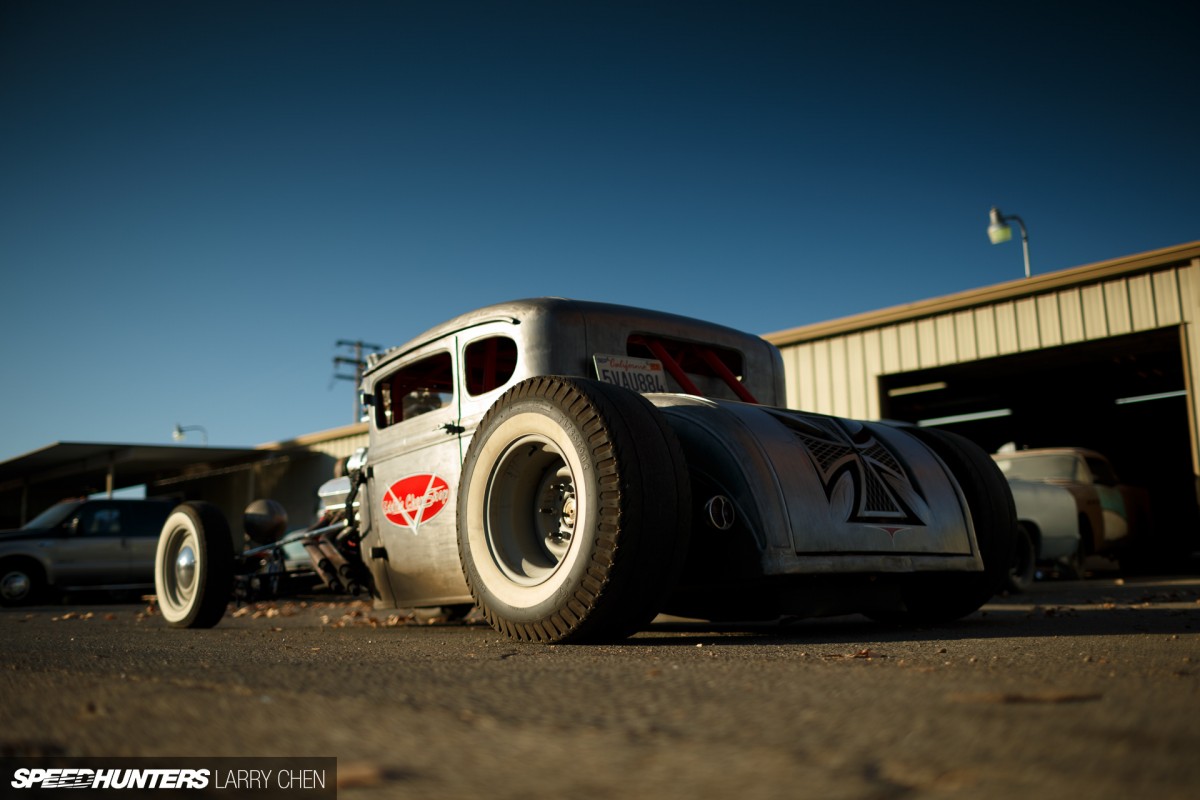 He began by recreating the rusty frame, fabricating a new one up from scratch with upgraded bits like front disc brakes and a custom four-link suspension in the rear.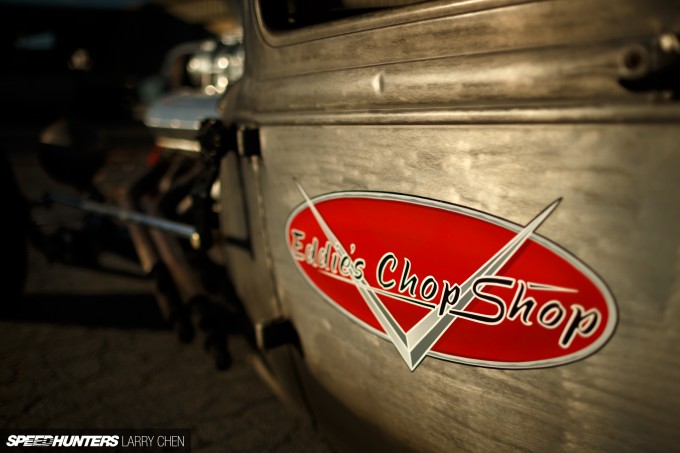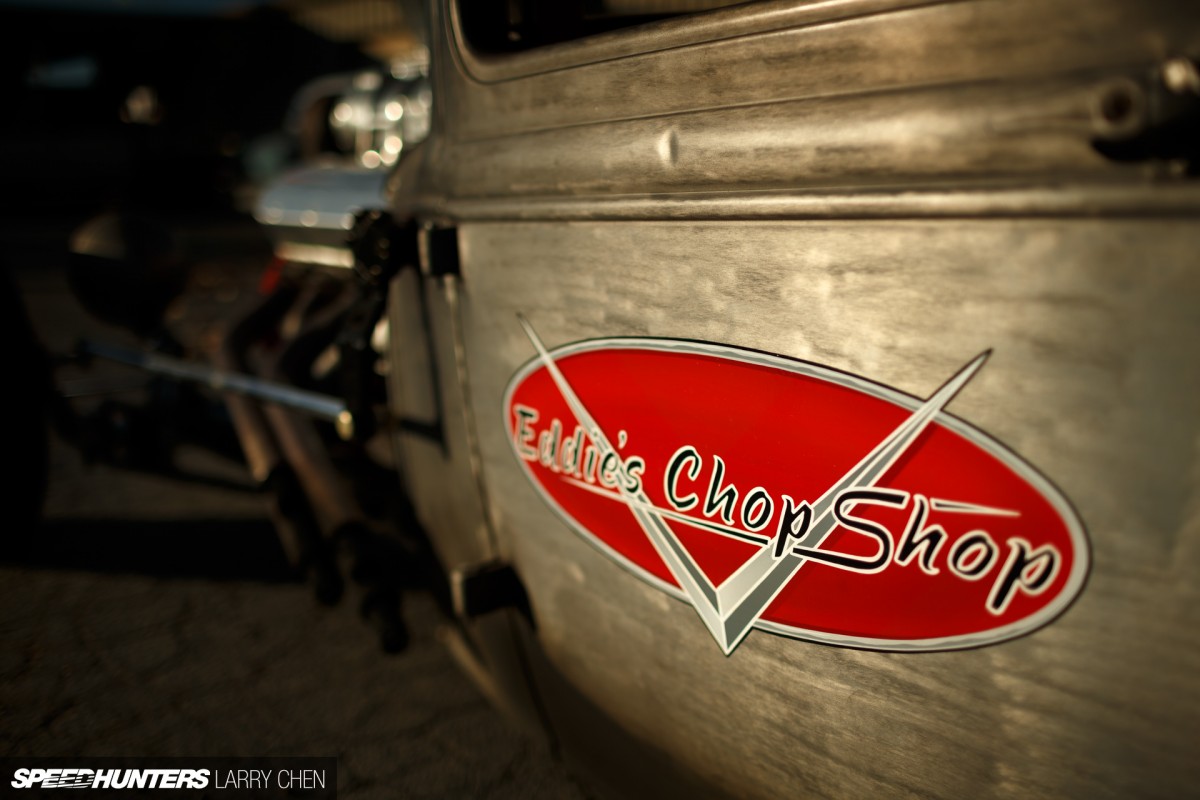 The body would remain in bare metal, but Eddie gave the car a clear-coat finish which adds just the right amount of flash to the exterior without detracting from the raw look.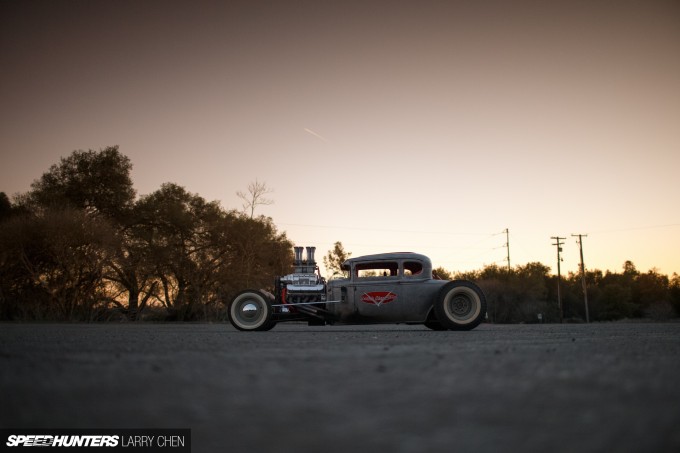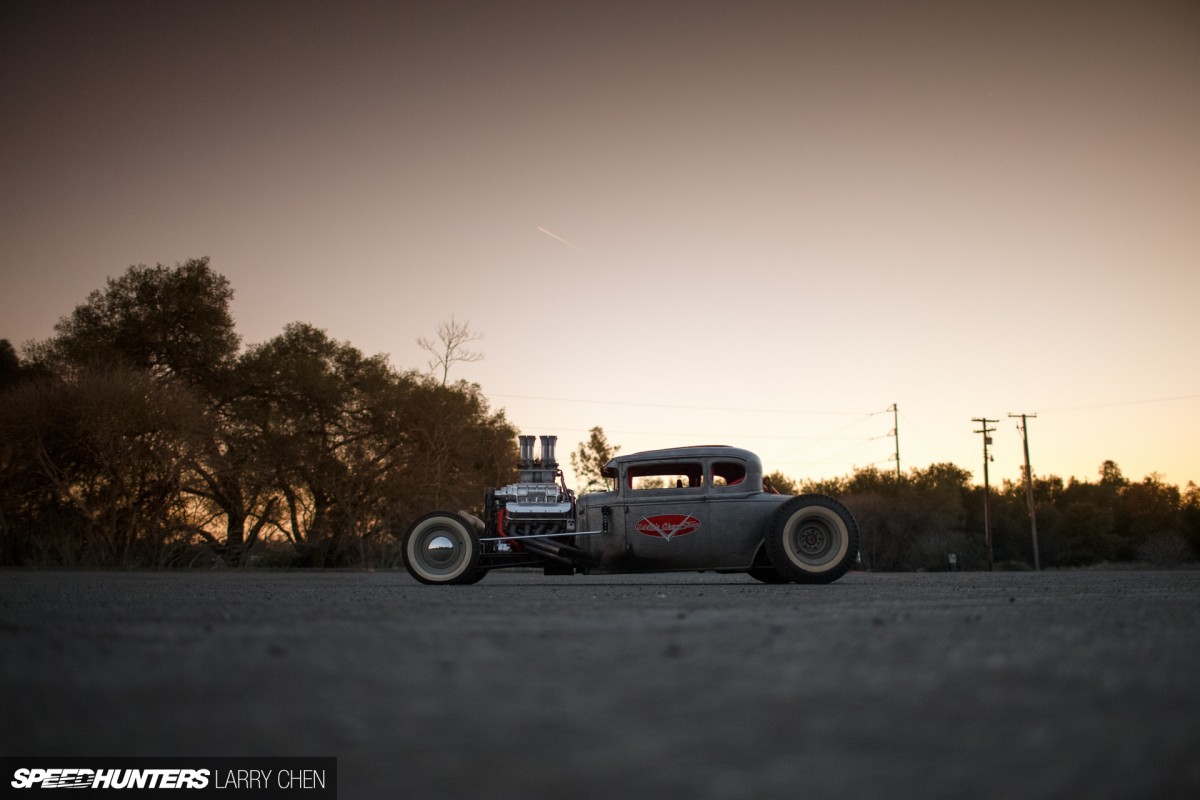 Along with the dramatically lowered stance, the Model A body has been treated to a four-inch channel and six-inch chop. The result is having a motor that actually sits above the roof-line, giving the '31 a look that could have easily come from Ed Roth's sketchbook.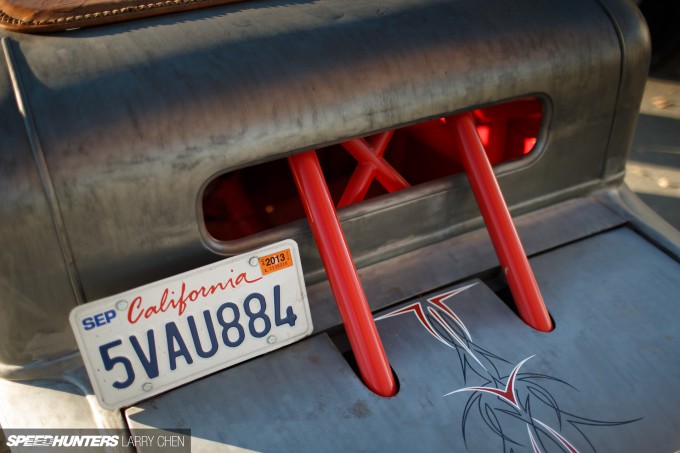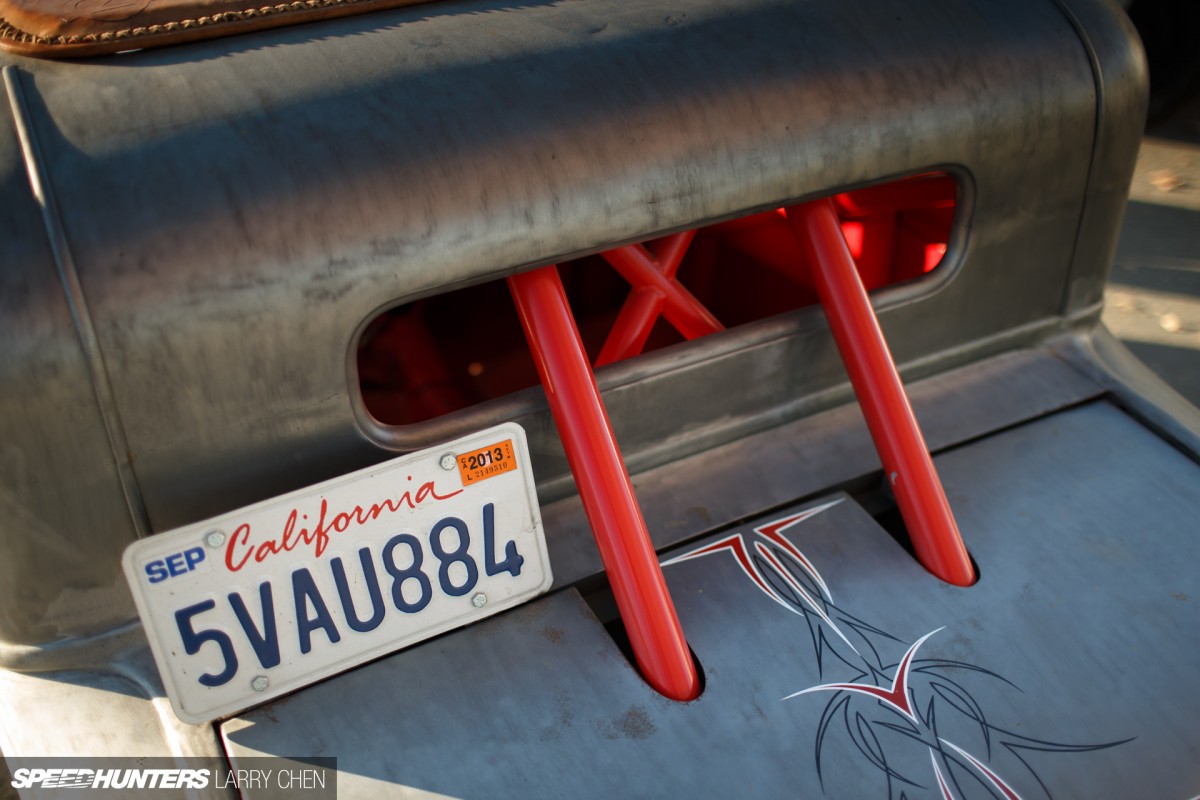 For safety and rigidity, Eddie also fabricated a custom rollcage setup that fully encloses the '31's cockpit and protrudes out through its gun-slit rear window.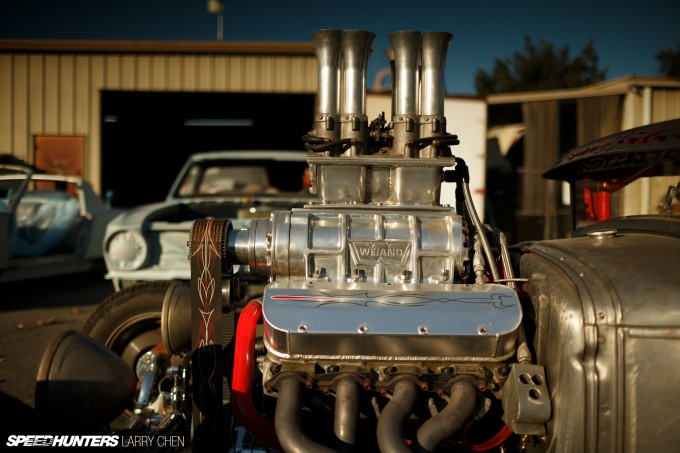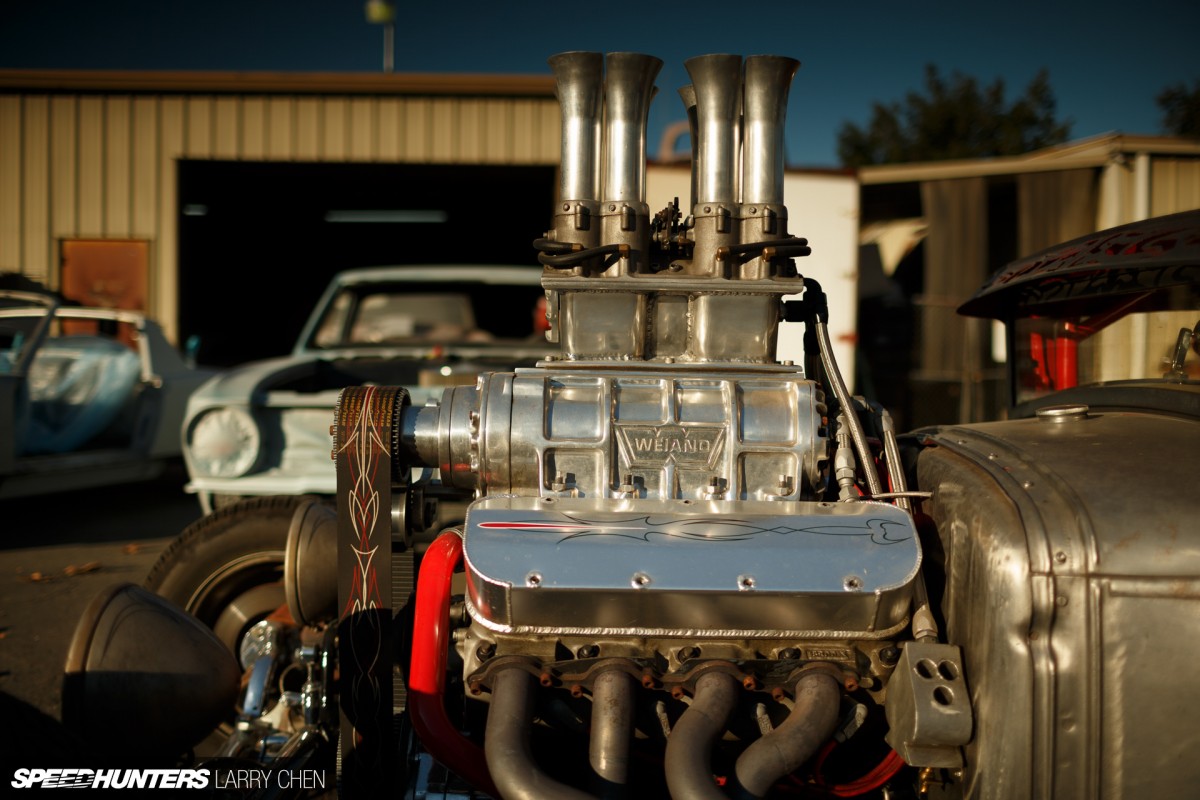 One of the things that sets Eddie's projects apart are the ambitious powerplants, and when he rebuilt the car he replaced its traditional small block setup with a massive Chevy big block. Five hundred and forty cubic inches worth to be exact.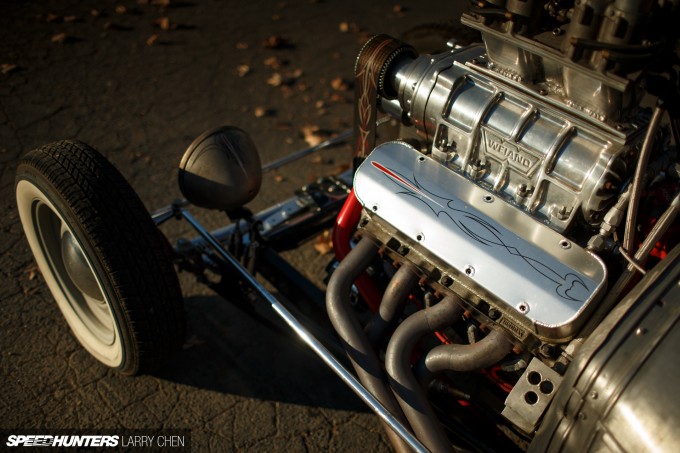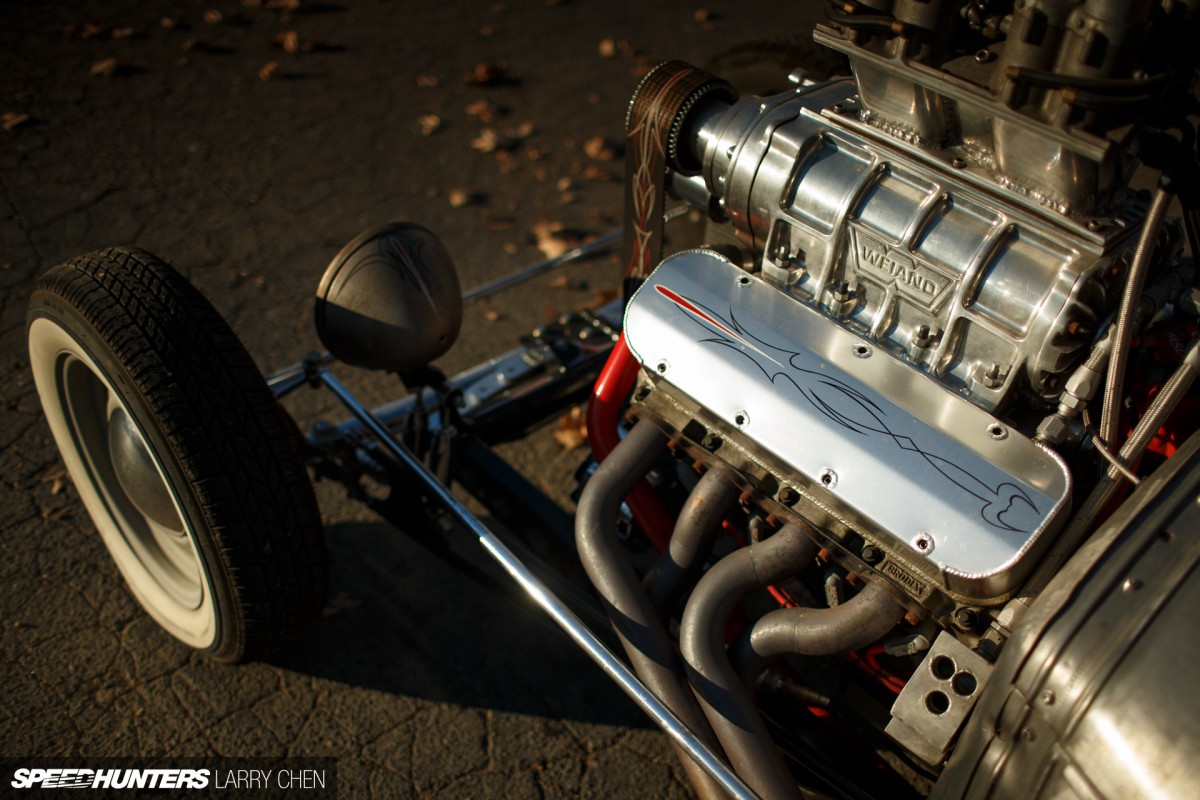 The rat motor has been built from the ground up for big power with a forged bottom end, I-beam rods, Brodix aluminum heads, along with other heavy duty upgrades.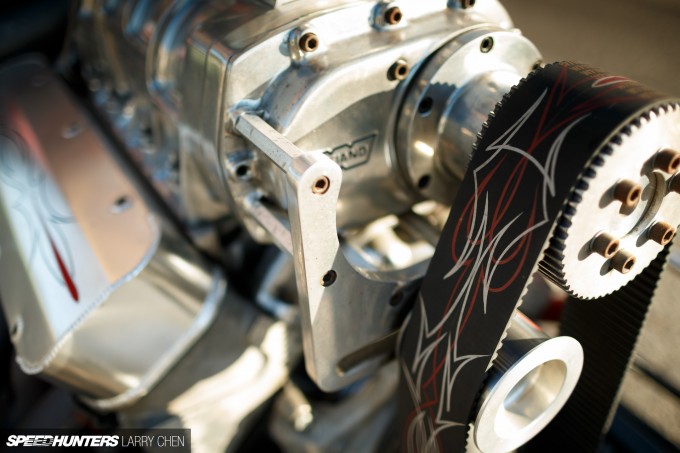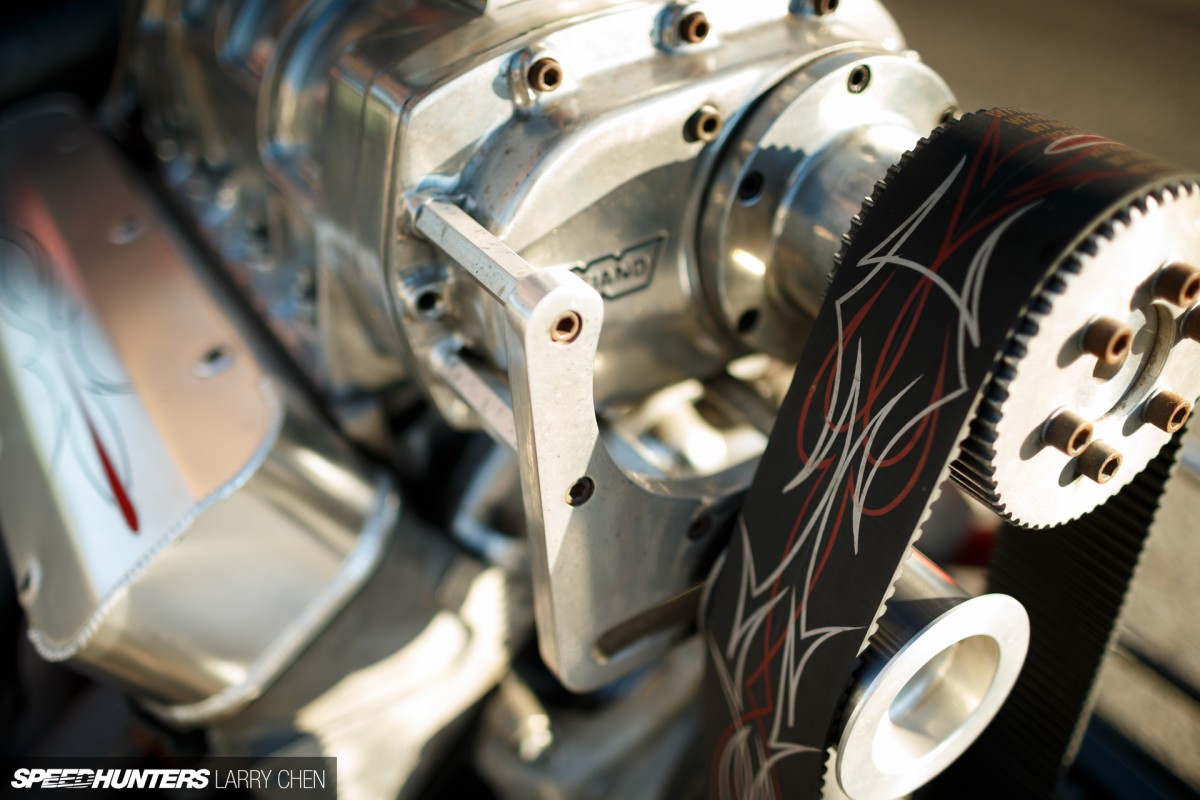 And if that wasn't enough, the big block has also been affixed with a 8-71 Weiand supercharger. And that's where this story really gets interesting.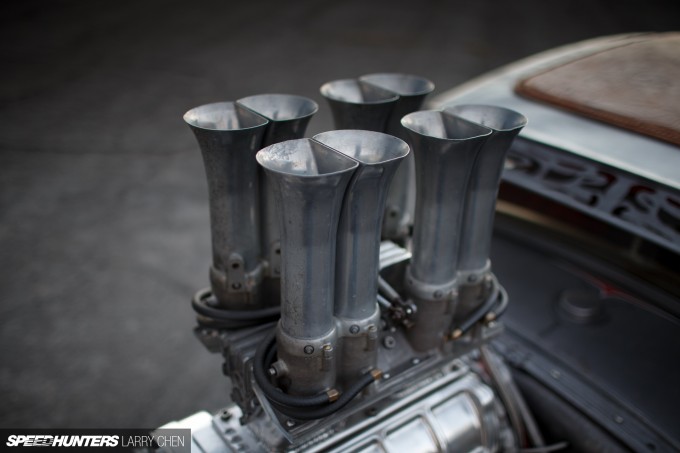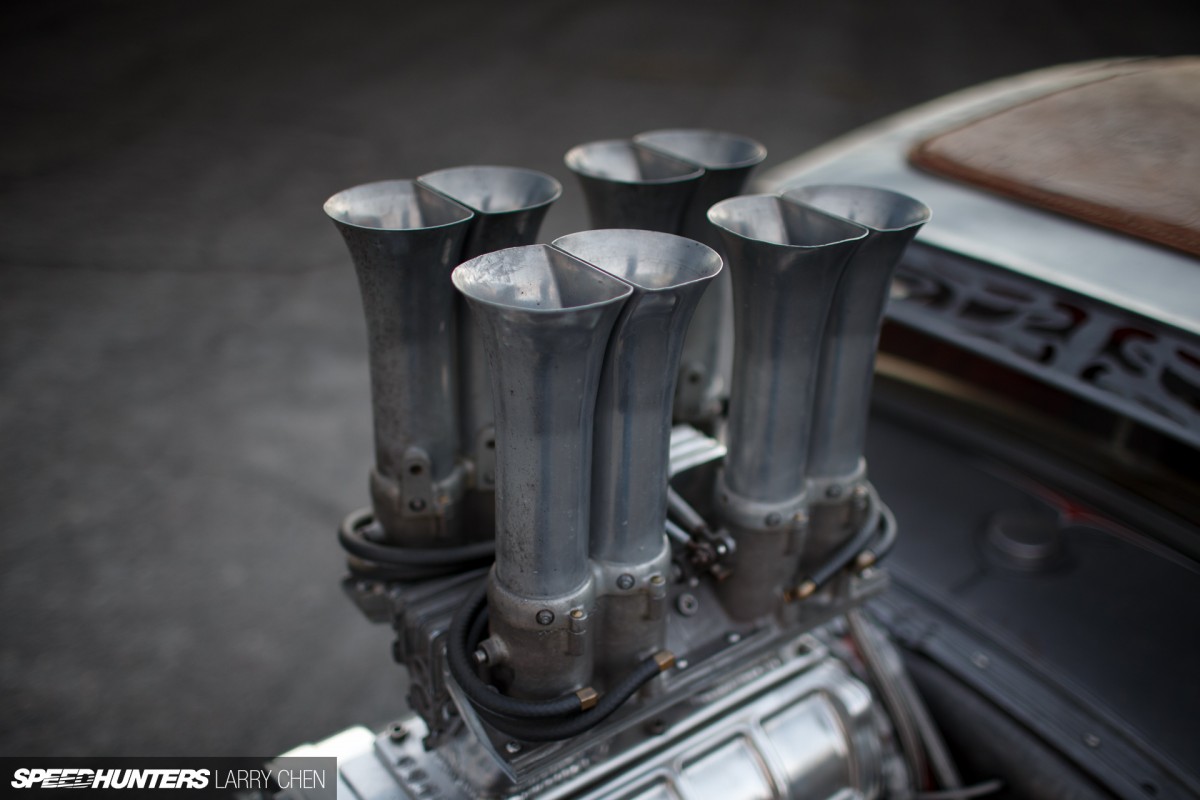 While the blower is fully functional, the velocity stacks that point to the sky are purely a homage to the past. The motor is actually running a complete electronic fuel injection setup which remains hidden beneath.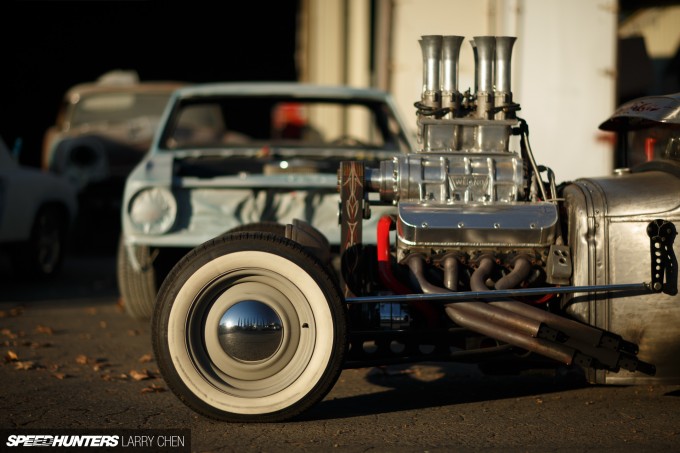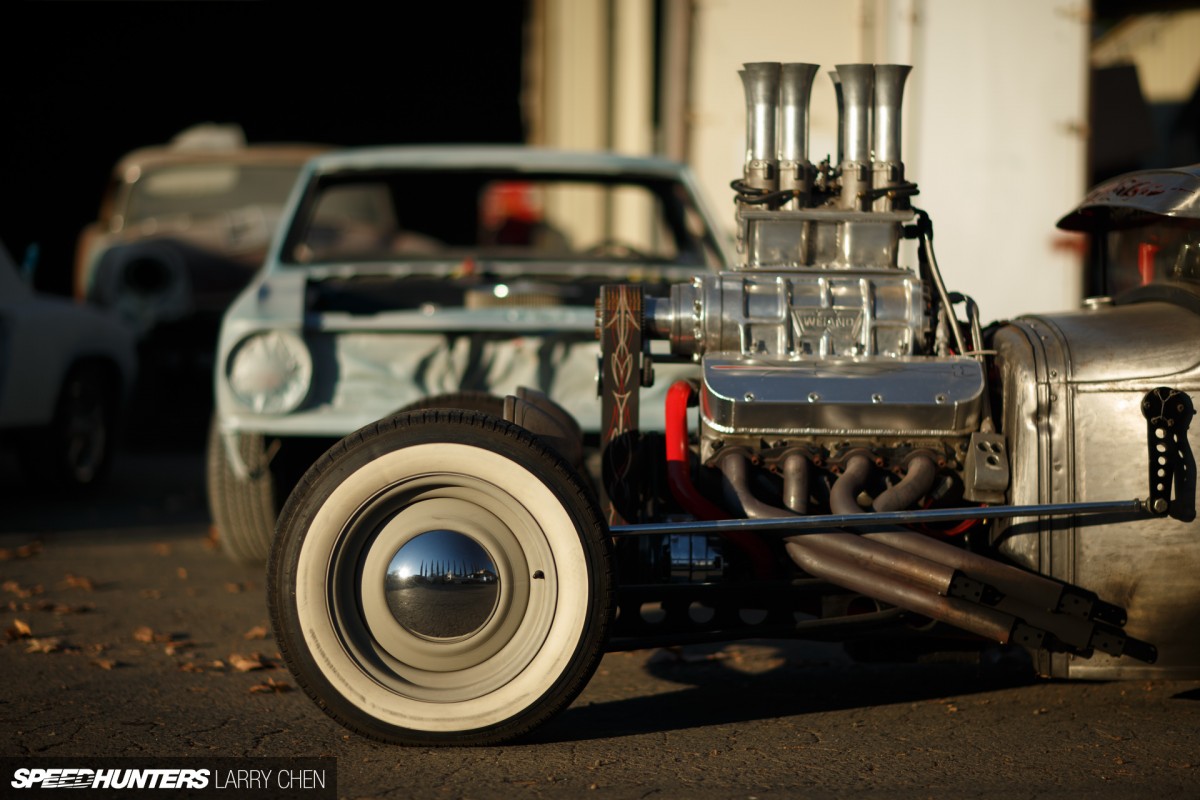 This car was built to be driven and there's just no matching the reliability of an EFI setup. This was actually Eddie's first venture into electronic fuel injection, and today building and tuning EFI motors is something that Eddie's Chop Shop has become known for.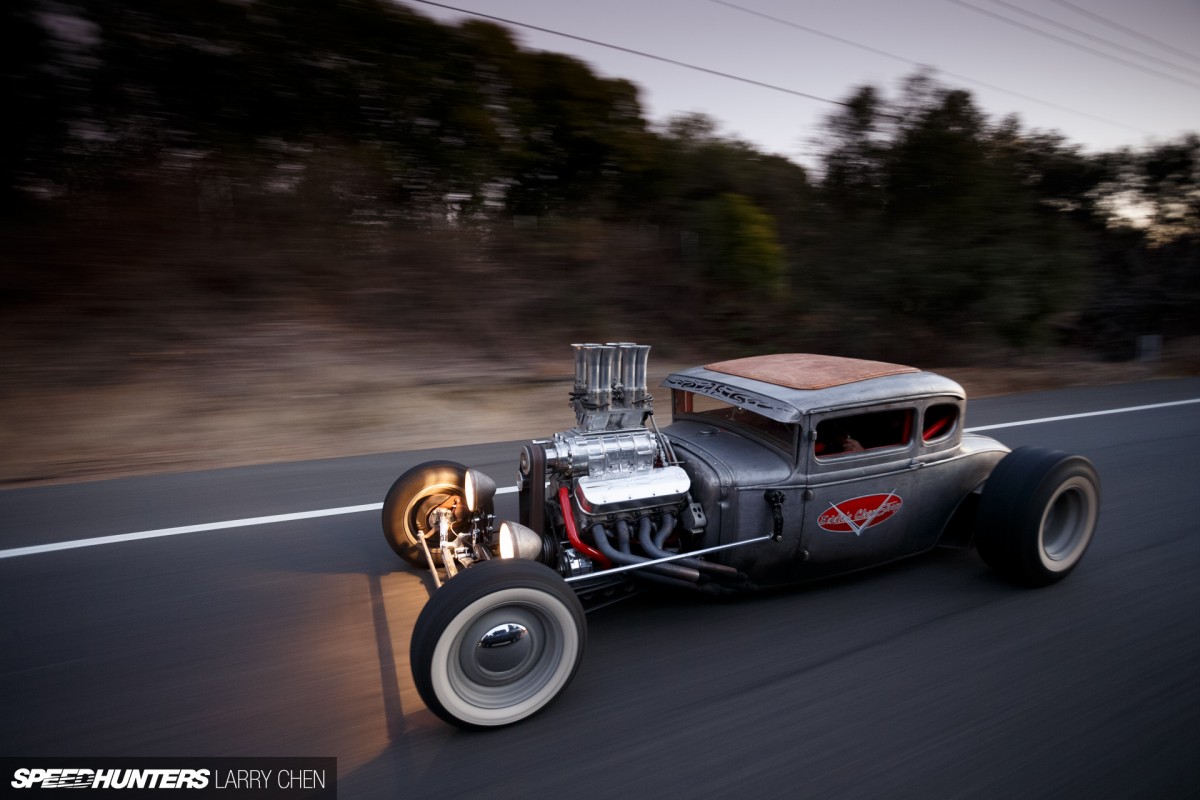 Eddie says the setup is good for about 1,000 horsepower – a radical number given the fact that this car was built primarily with street driving in mind.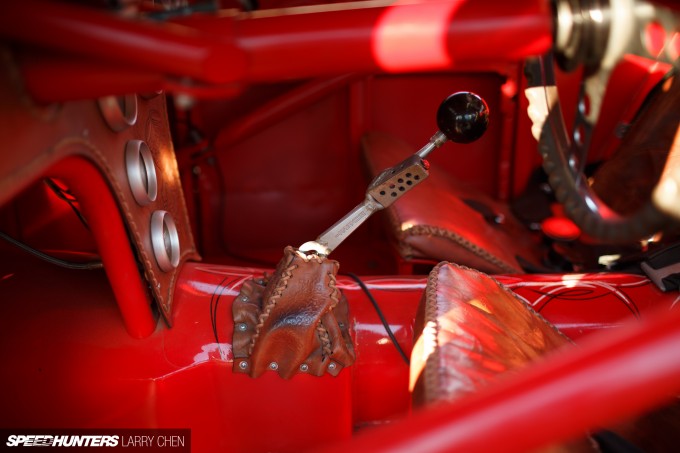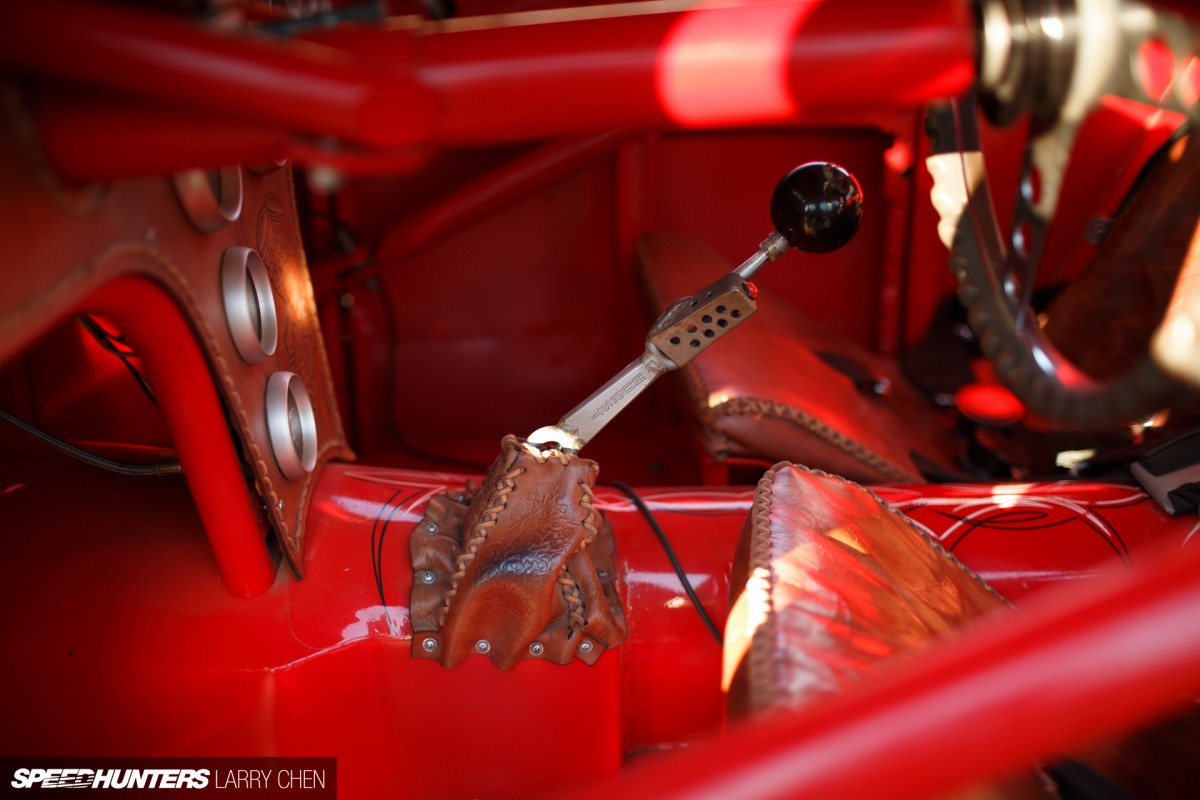 The blown big block is mated to an old school Saginaw four-speed manual transmission, which amazingly has handled the supercharged power quite well. Eddie does say that fourth gear is starting to show some wear and that he has another Saginaw ready to throw in once this gearbox finally bites the dust. Out back sits a Ford nine-inch rear end with 4.11 gears.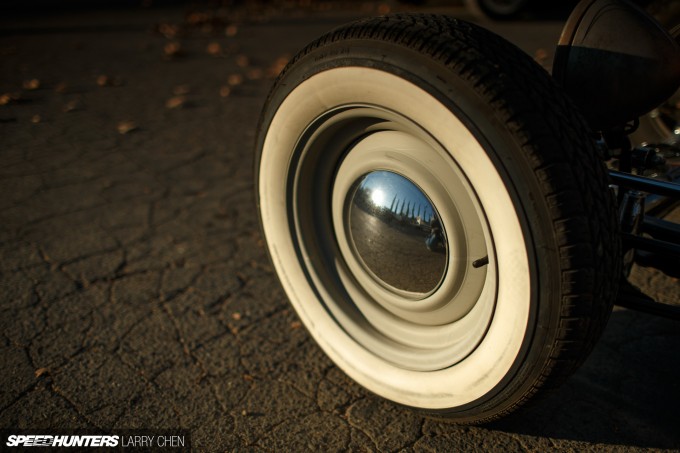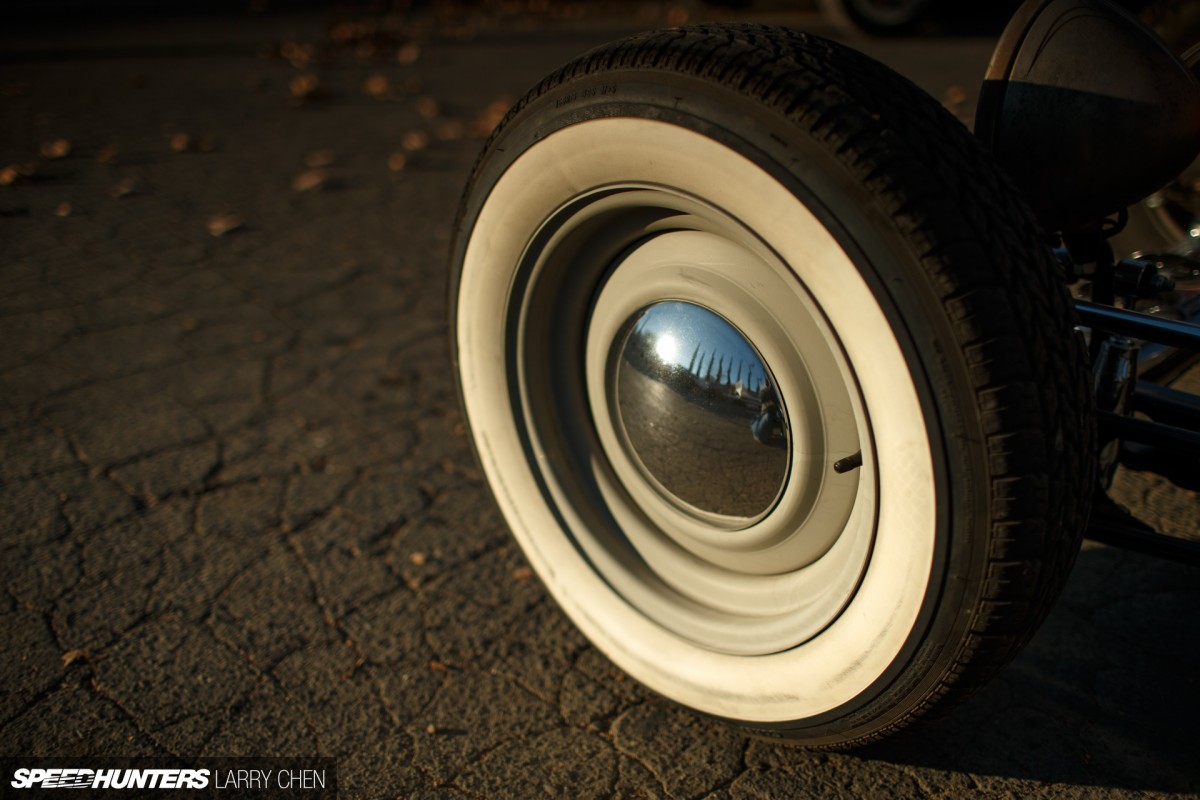 Much of the drivetrain's durability is due to the modest tires that Eddie runs on the car. If there were modern race tires out back, it's likely that he'd be breaking gearboxes, differentials and axles.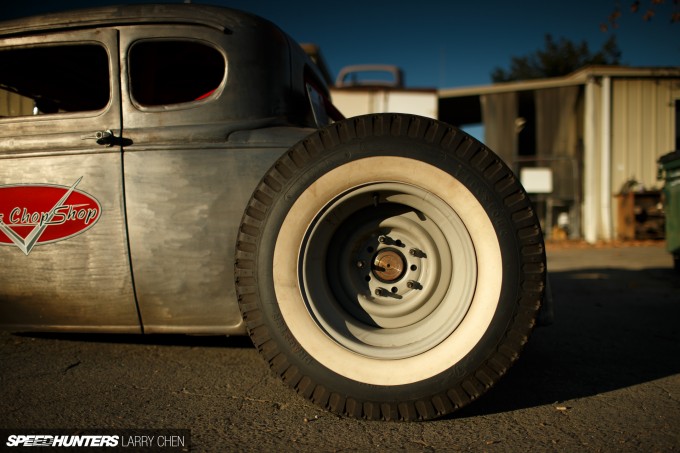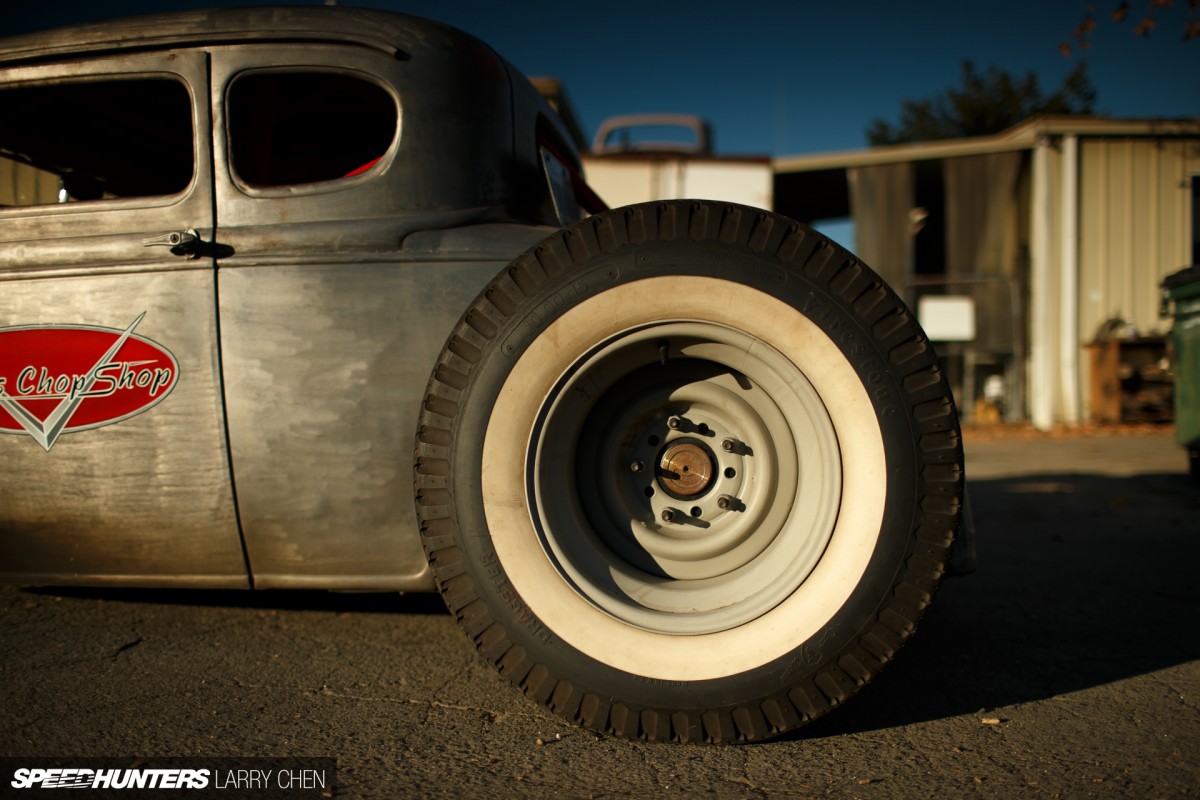 For now, he's perfectly content to let the tires smoke – and there's certainly no arguing with the look of the 15-inch steel wheels and vintage Firestone whitewall cheater slicks – even if they're not the ideal choice for quick 60-foot times.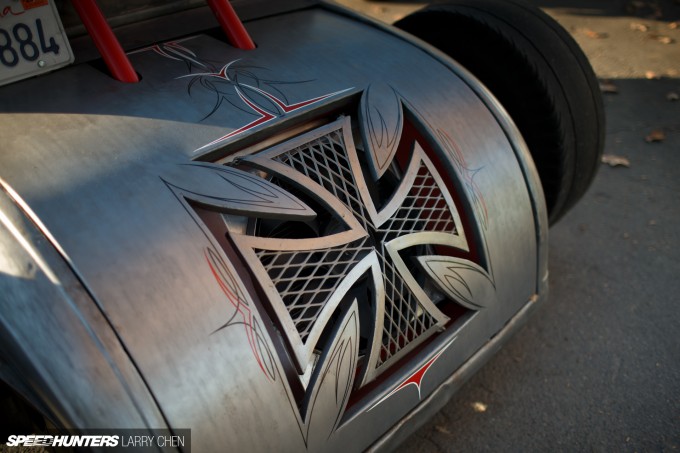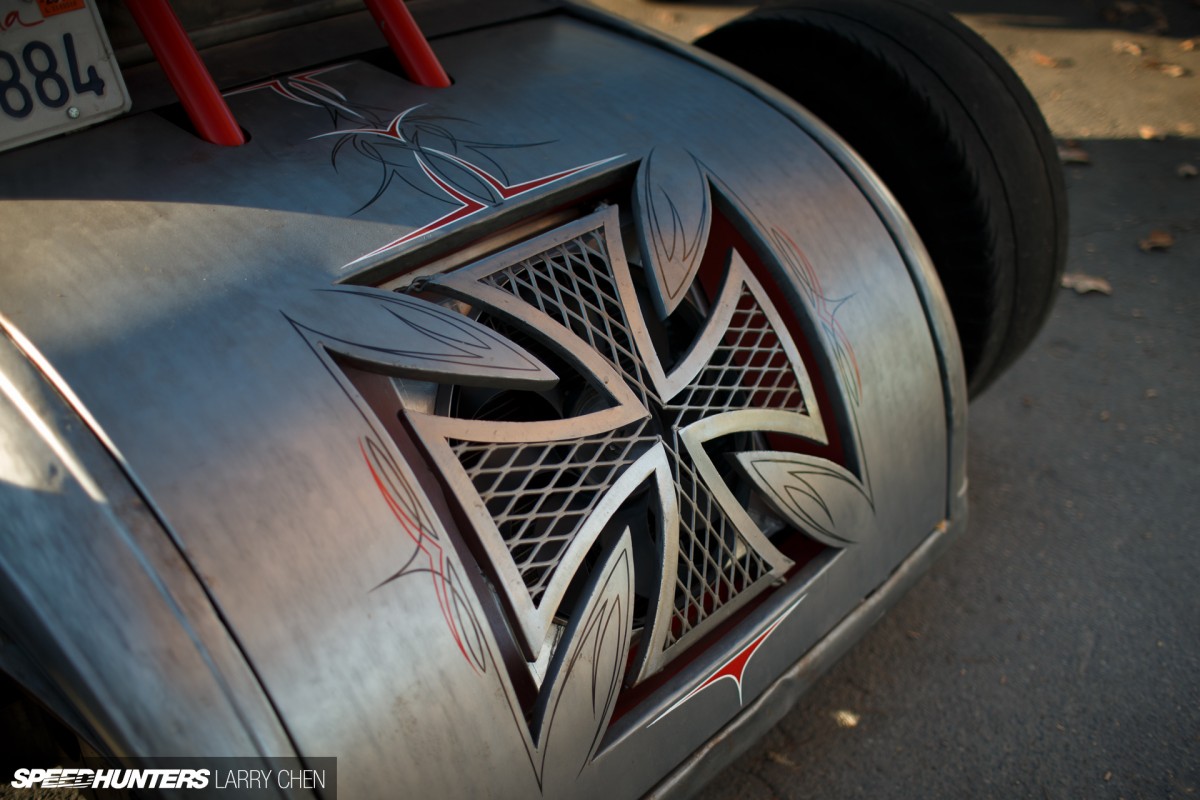 Another key feature of the car is the rear-mounted radiator setup, which has actually been part of the build since day one. When Eddie upgraded the powerplant, he also upgraded the cooling system, fabricating a new rear tub with vents to help funnel cool air in. Anyone familiar with the Sacramento area will know that it can get mighty hot in the summer, and Eddie says the custom setup has no trouble keeping the car cool on those 100-degree July days.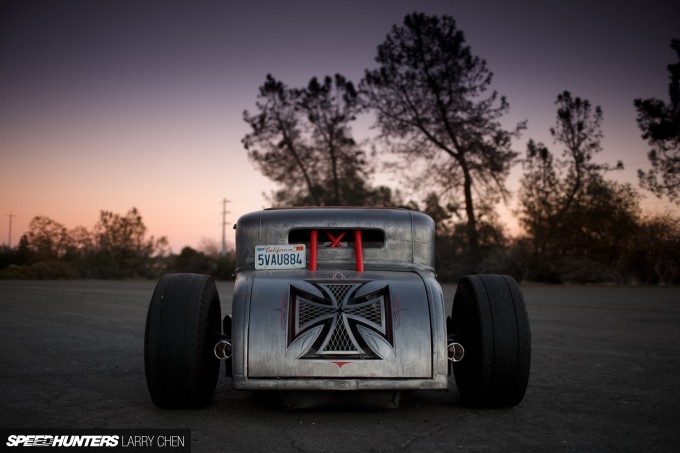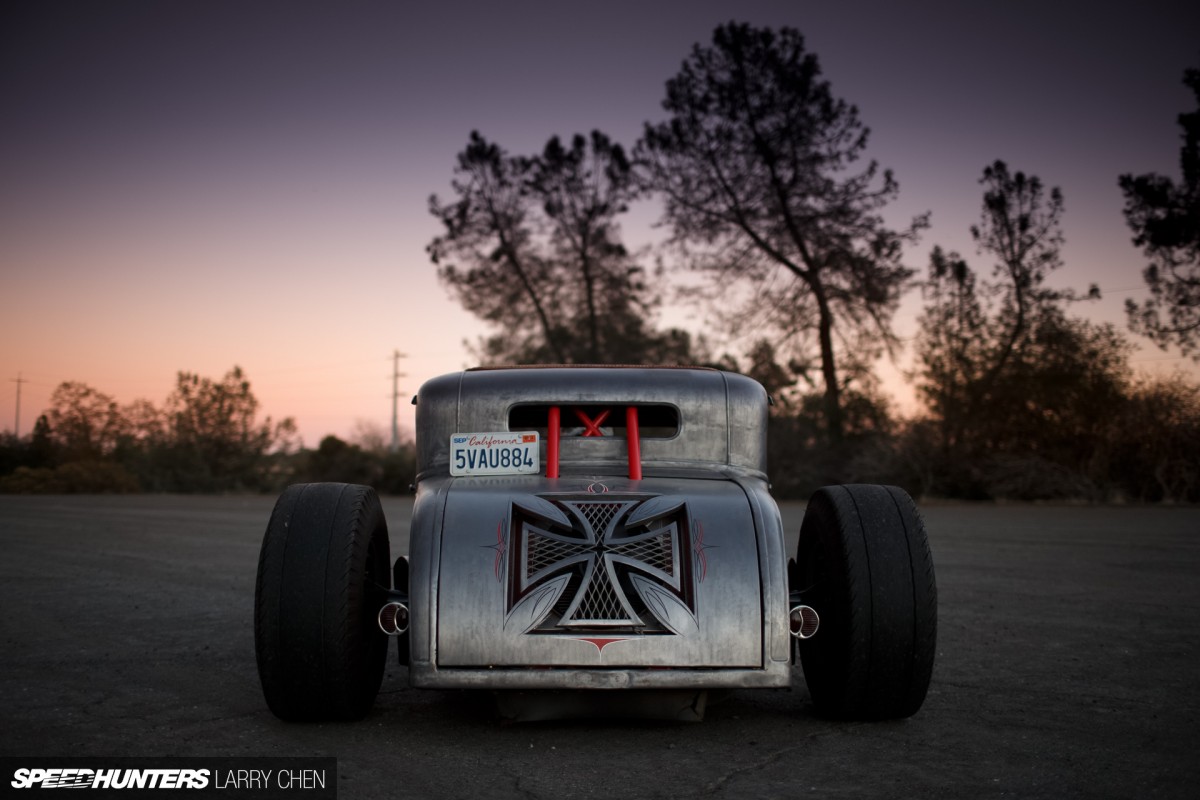 He also used the car's unique cooling setup to fabricate an iron cross shaped opening in the decklid, which not so subtlety draws attention to rear fan.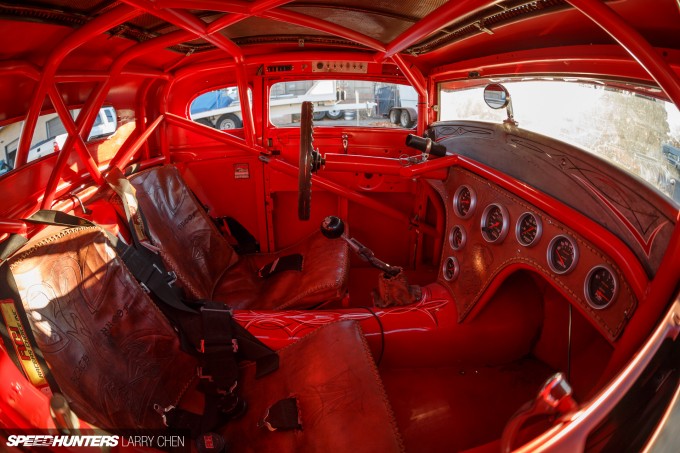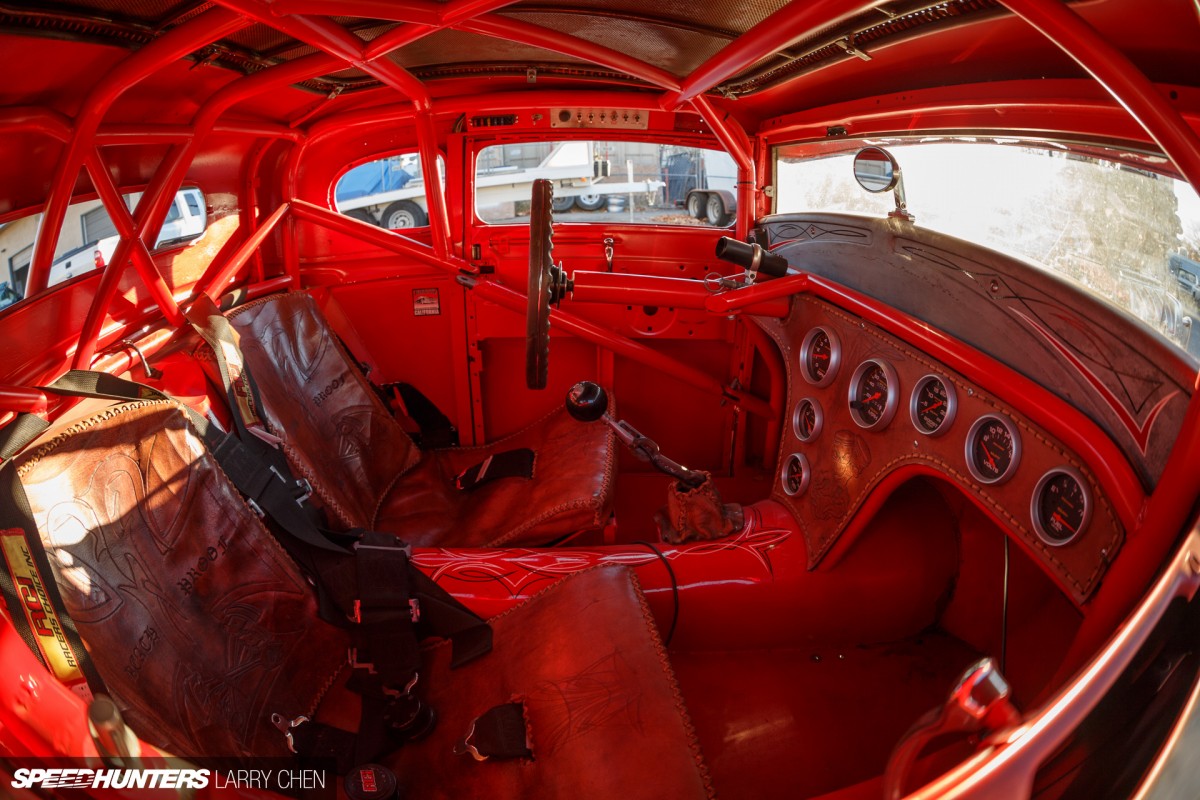 The custom touches continue into the interior, which is home to a pair of racing bucket seats and custom leather upholstery throughout the space.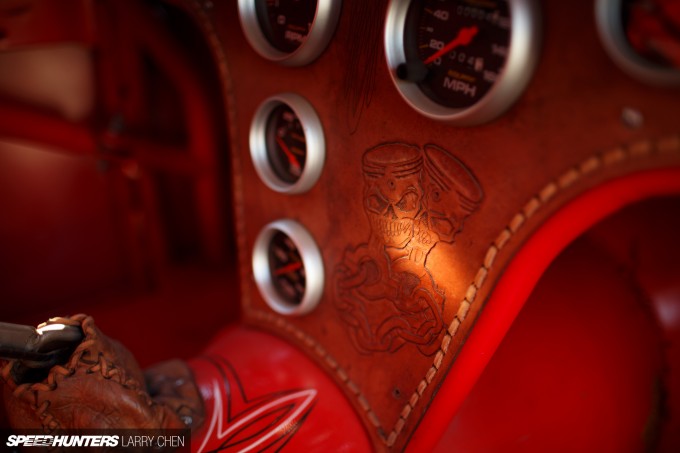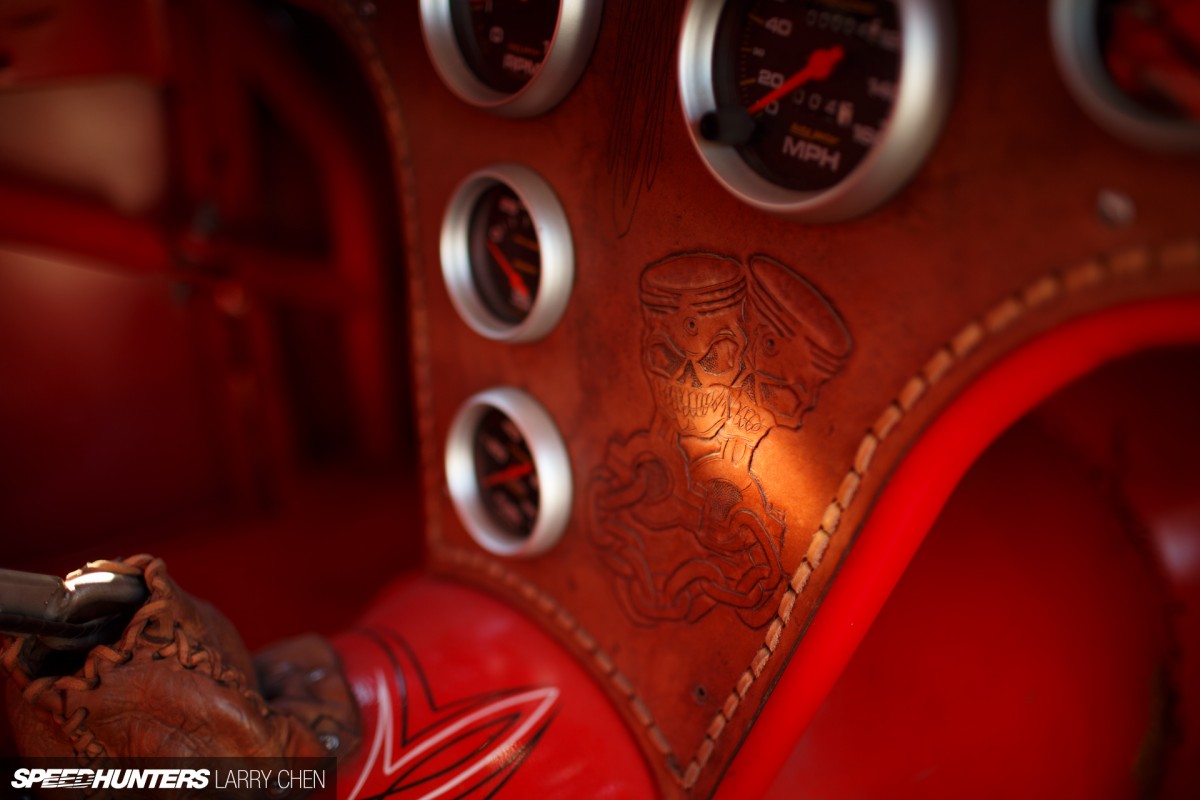 Not only does the leather cover the seats, it covers the dashboard and the custom instrument panel which is equipped with Auto Meter gauges.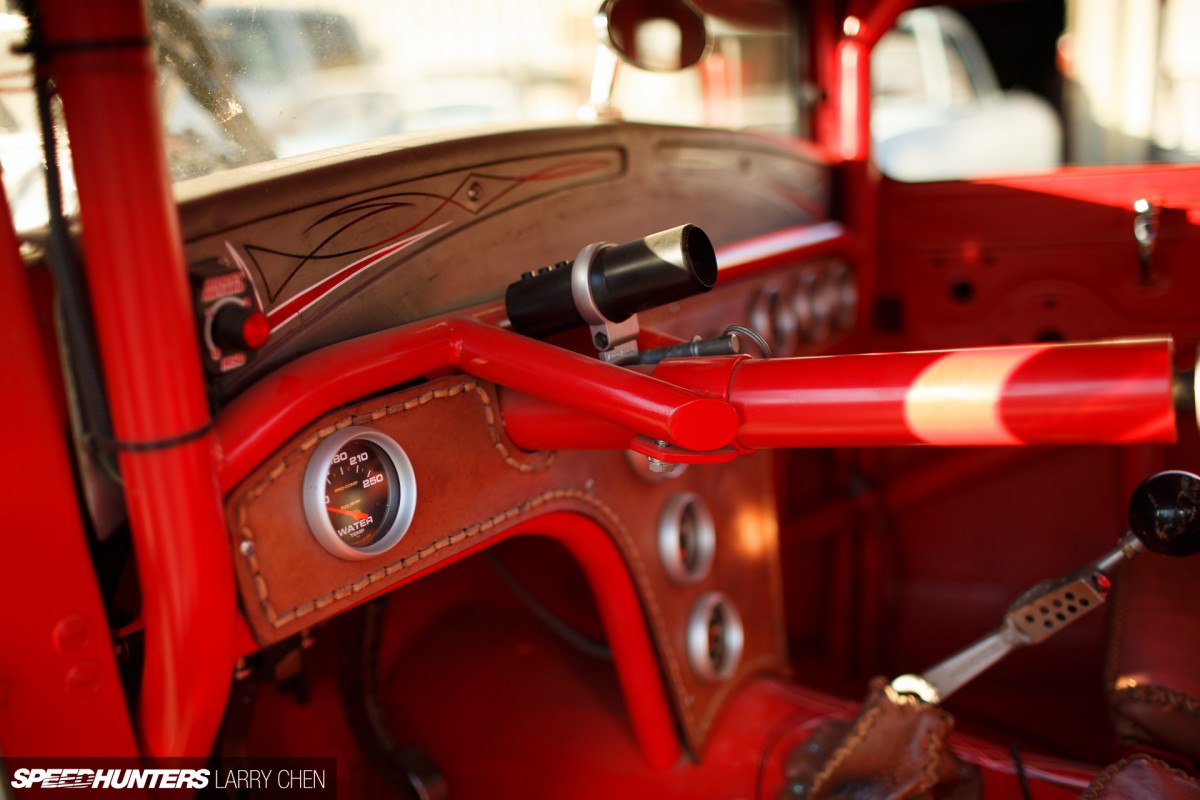 A gloss red finish also helps to provide some contrast from the bare metal exterior.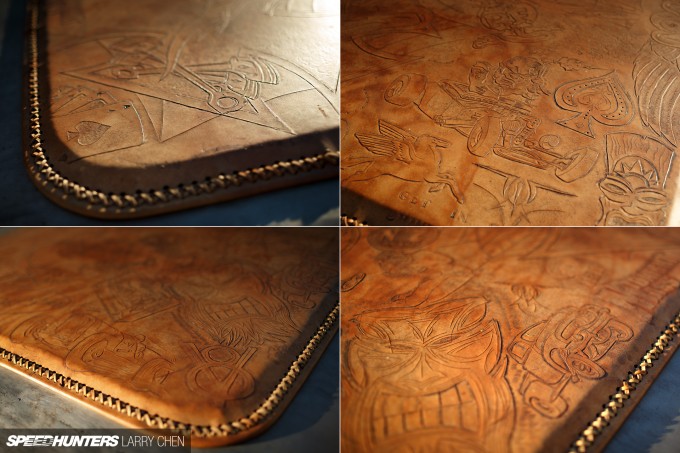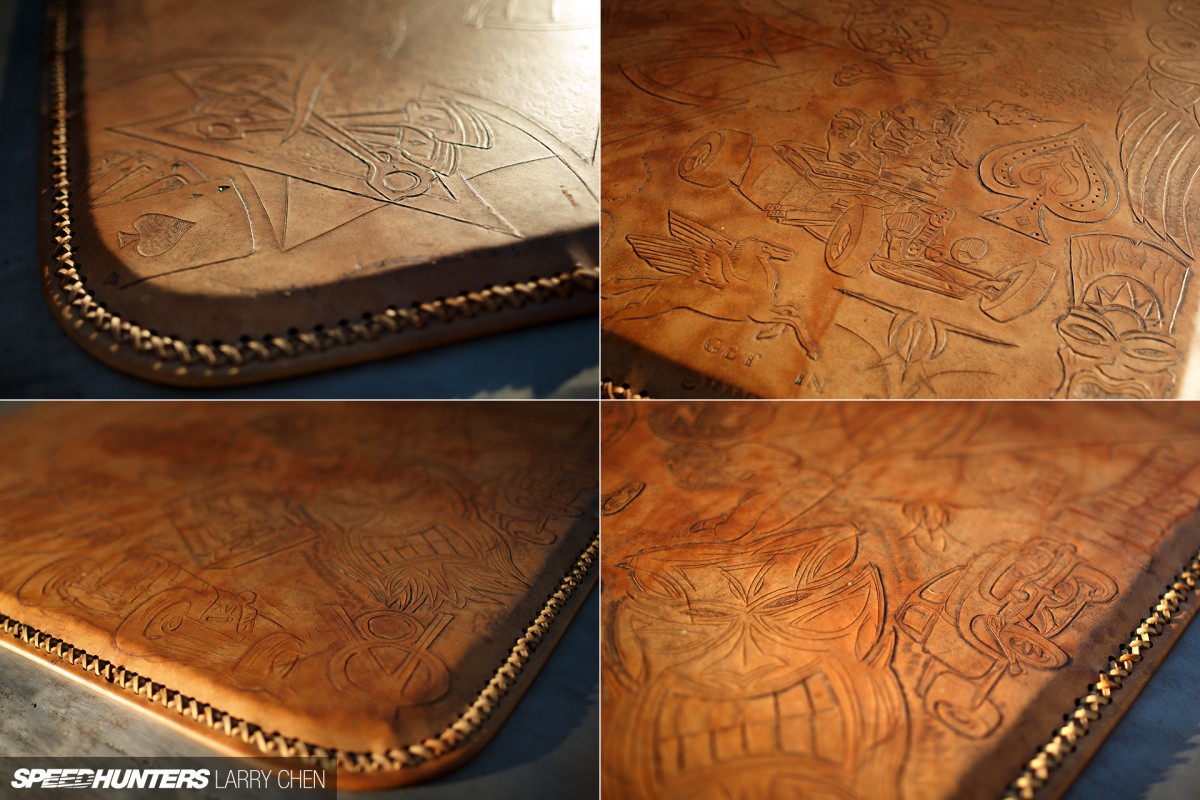 Also fashioned from leather is the hand-stitched rag top that covers the Model A's open roof, and it's been carved with all sorts of homages to the world of hot rodding.
The Car That Built A Career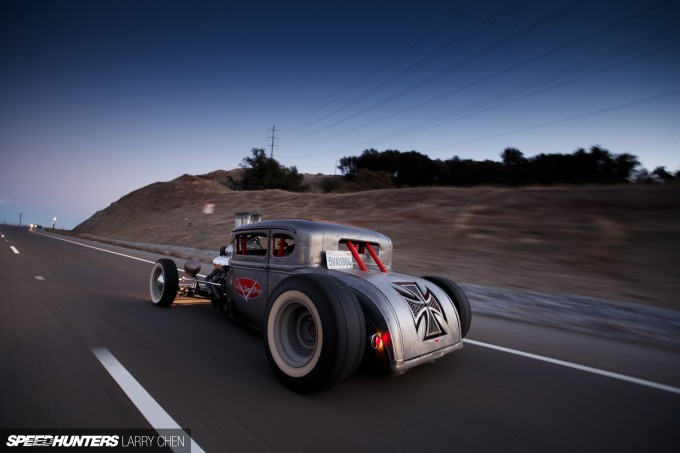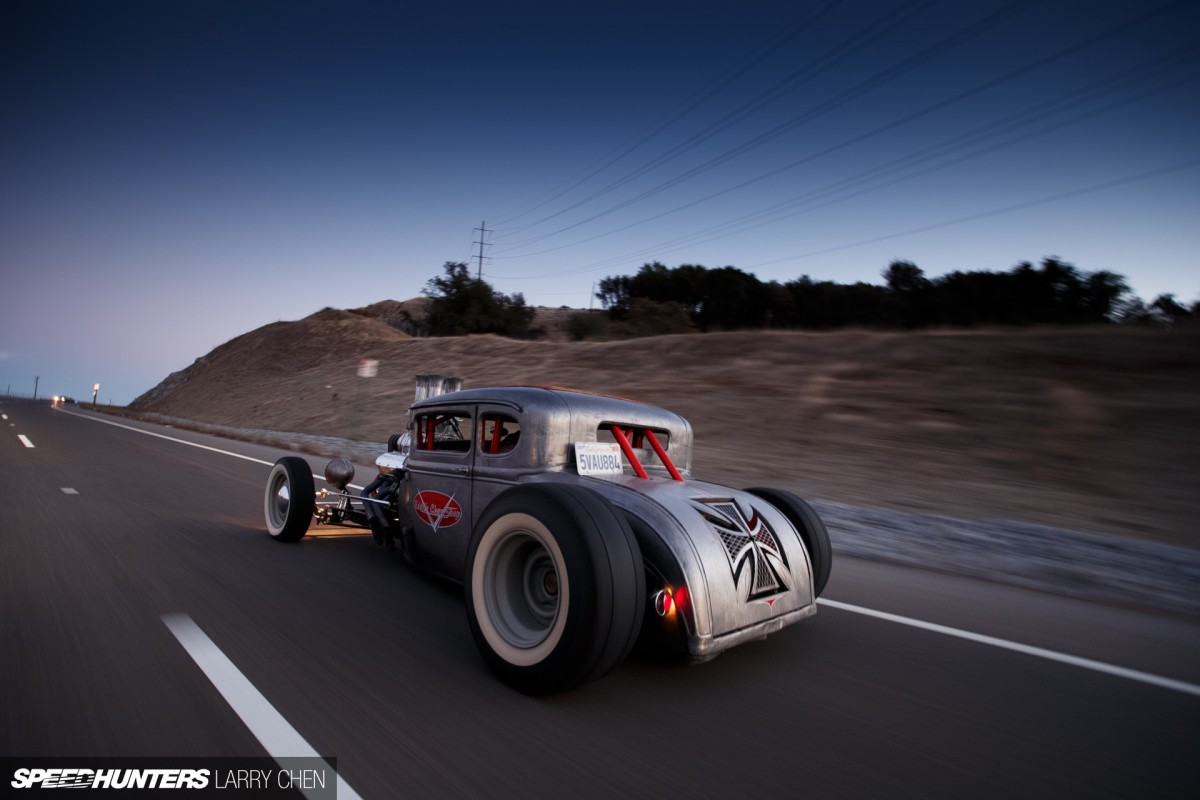 Business has been booming lately at Eddie's Chop Shop and that means there hasn't been much time to drive the '31. Eddie says at some point he might want to start racing the car, but that would likely require another rebuild to handle all the abuse that doing so would bring. He also brought up the possibility of perhaps switching to a twin turbo setup like the one the '34 Ford we featured a while back.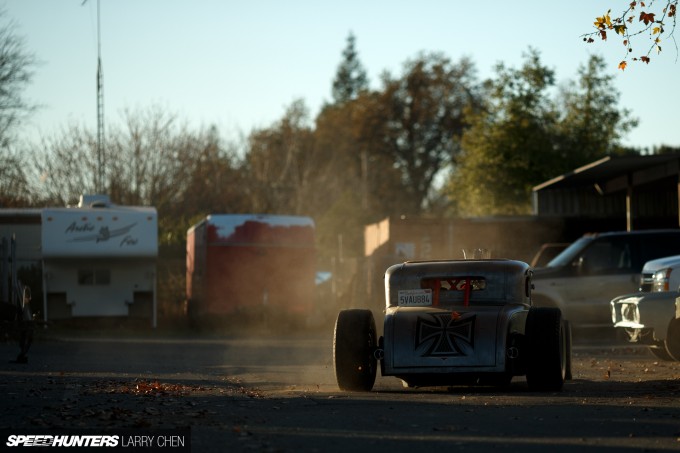 Whatever happens with the Model A, the car will always hold a special place in Eddie's life. It was after seeing this car that so many people began to ask Eddie if he'd be interested in building cars for them, and without it there would likely be no Eddie's Chop Shop.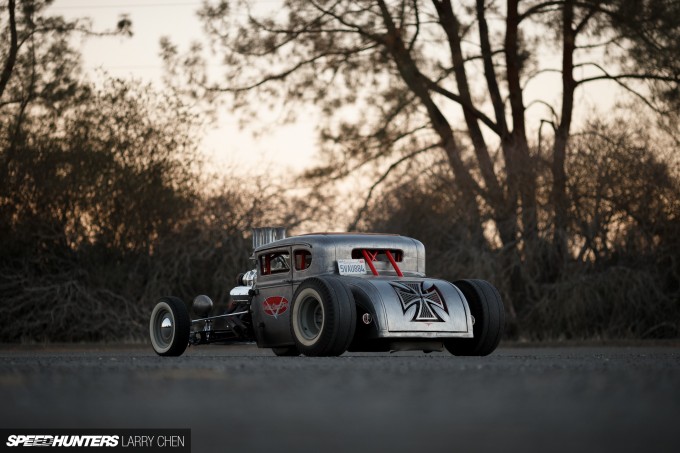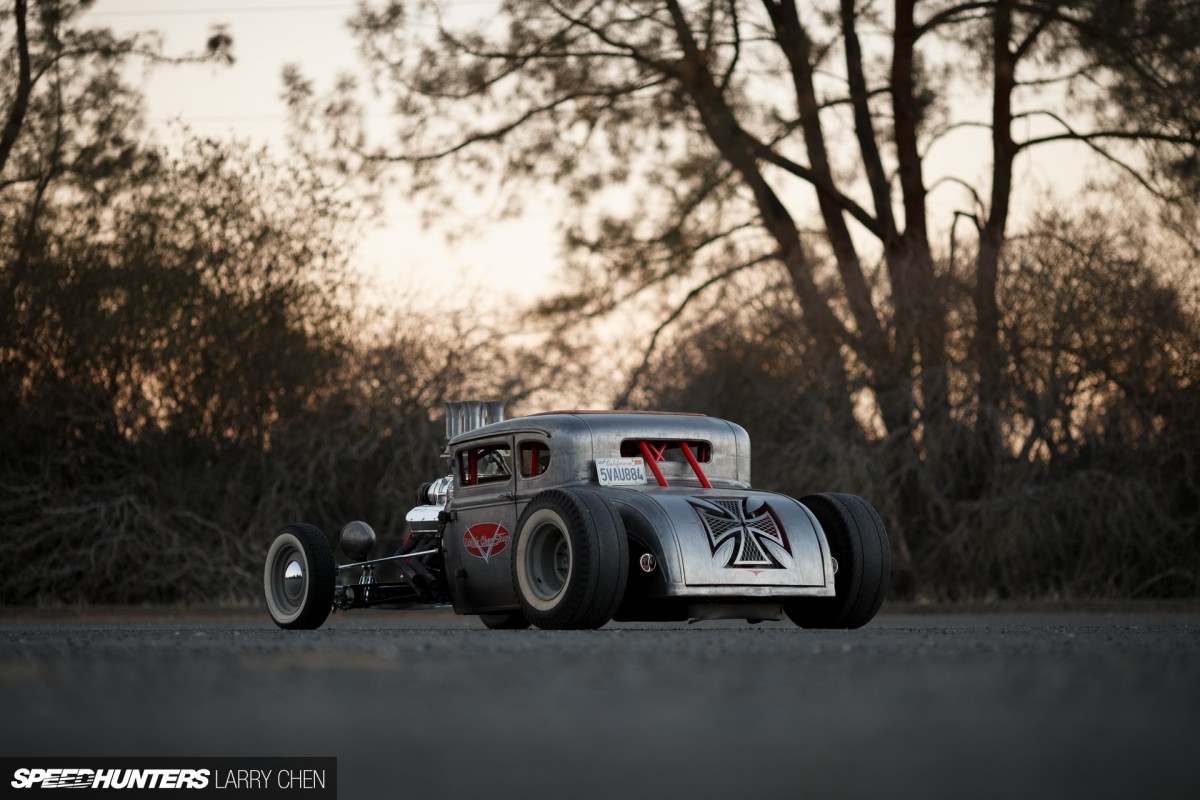 Hot rodding has always been a hobby that struggles to balance tradition and innovation, and this little Model A – like so many of the other cars that Eddie has worked on – nicely manages to straddle the middle. It's got the power and attitude of a full on race car, an aggressive interpretation of traditional hot rod styling and some clever engineering to back it all up.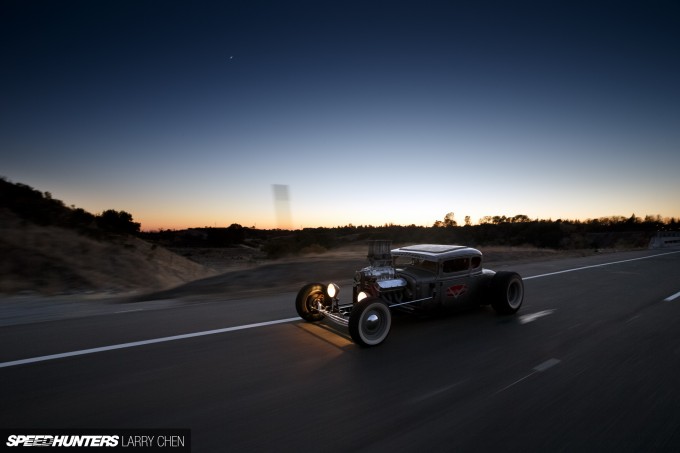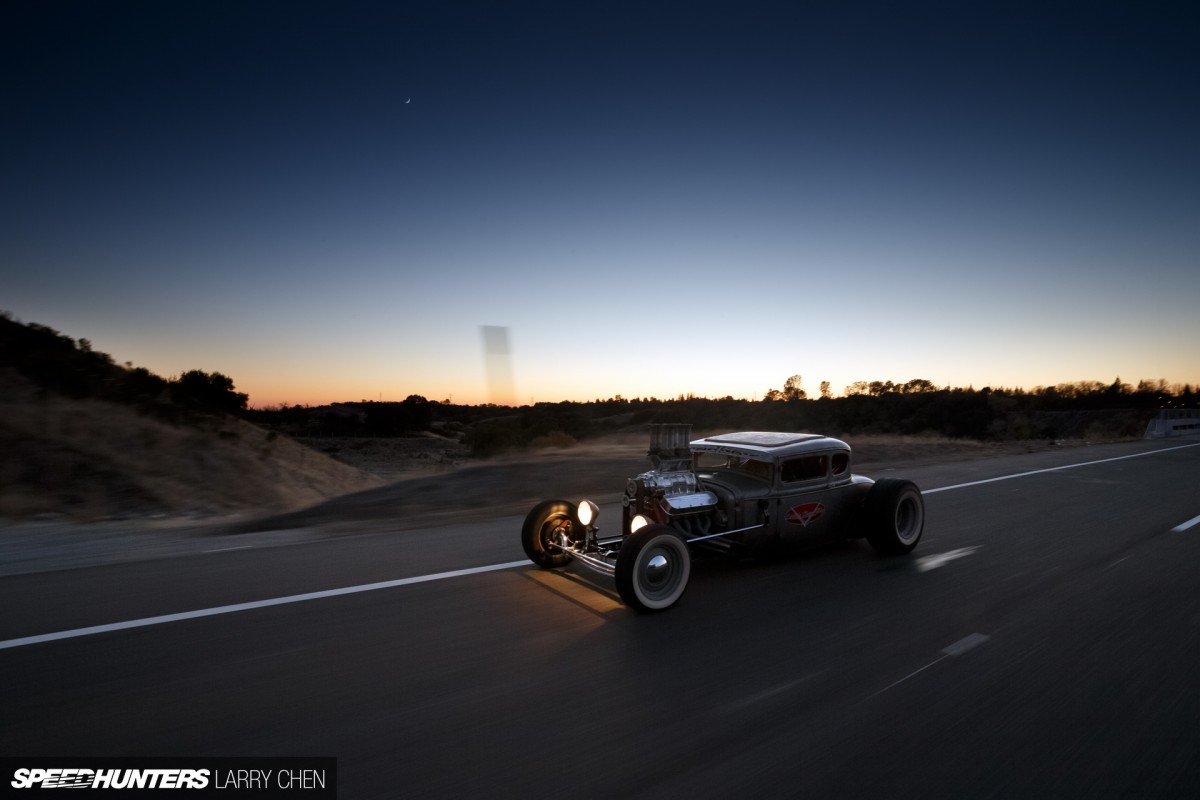 They say you can't please everyone, but when it comes to the diverse world of hot rodding it seems that Eddie might have done just that.
Mike Garrett
Instagram: speedhunters_mike
mike@speedhunters.com
Photos by Larry Chen
Instagram: larry_chen_foto
larry@speedhunters.com
Cutting Room Floor