Trendsetting by elimination
I may be the only one who's connecting the dots, or it could just be a fluke, but I think we may be on the cusp of a trend here: cars without fronts.
We saw it at TAS with the military-themed hot rod Miata, then it was Jared Seganti's '37 Dodge I just wrote about a few days ago, and now this. They all have a similar feel – half stylized car, half robotic machine, and all badass. Of course the idea of running your hot rod without hood-sides or even the hood itself dates back to the infancy of hot rodding, but I'm starting to feel some modern influences creeping in now too. Could it be we're now at the confluence of modern wire-tucked imports and traditional hoodless hot rods?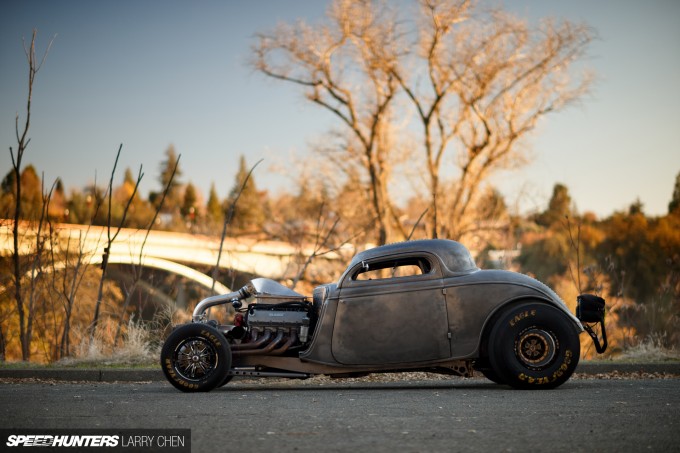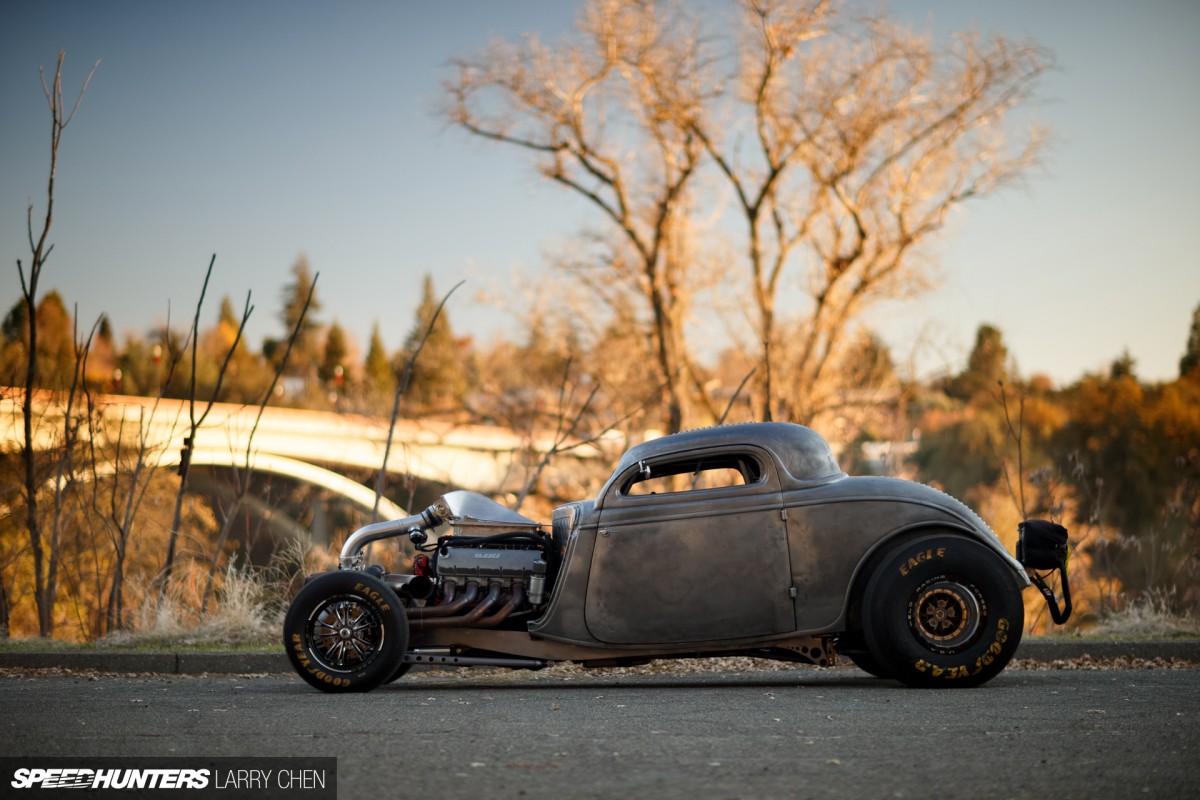 Obviously if you're going to use the engine as part of your visual statement, it needs to be clean. It also doesn't hurt if its a 1200hp, twin-turbo Big Block.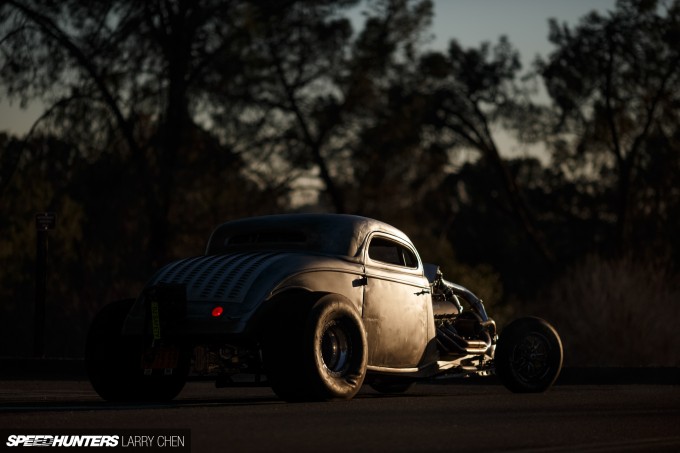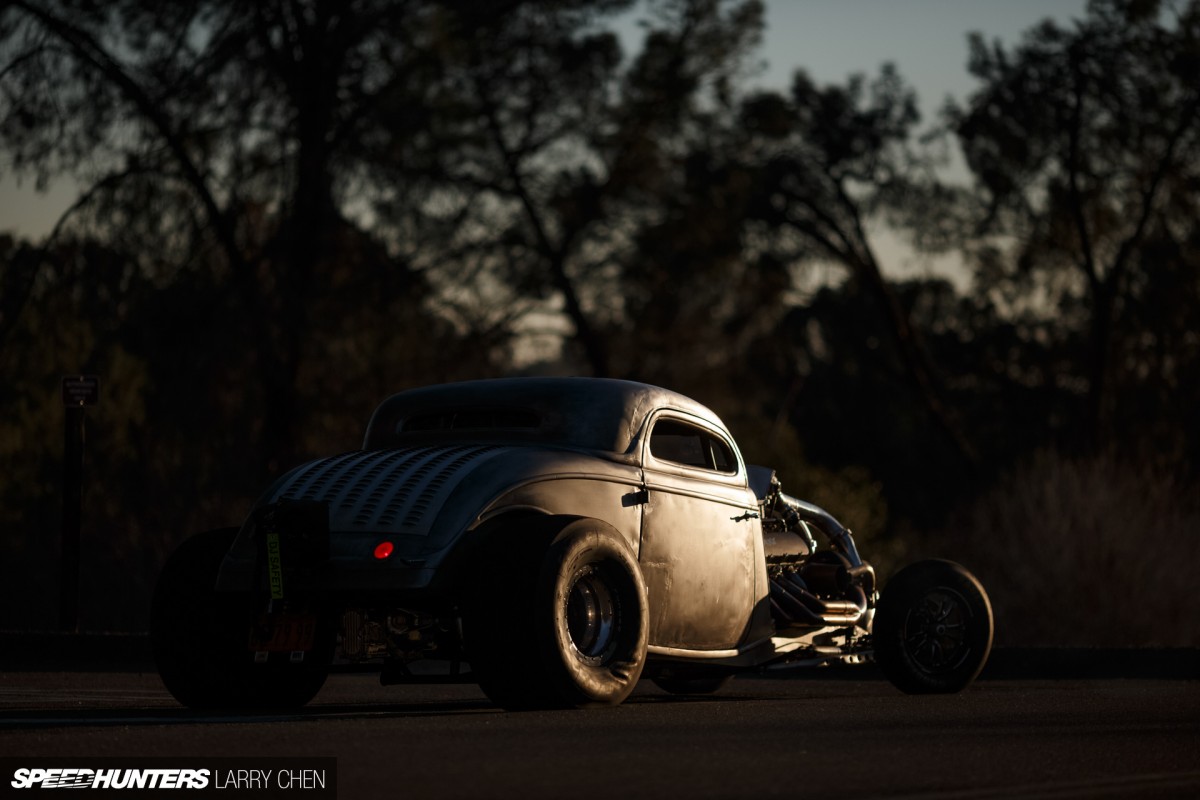 This is how Ed Umland, owner of Eddie's Chop Shop, does things – and it's why Rich Feicheer brought his '34 Ford to Ed when he wanted a cutting edge, gnarly as hell build.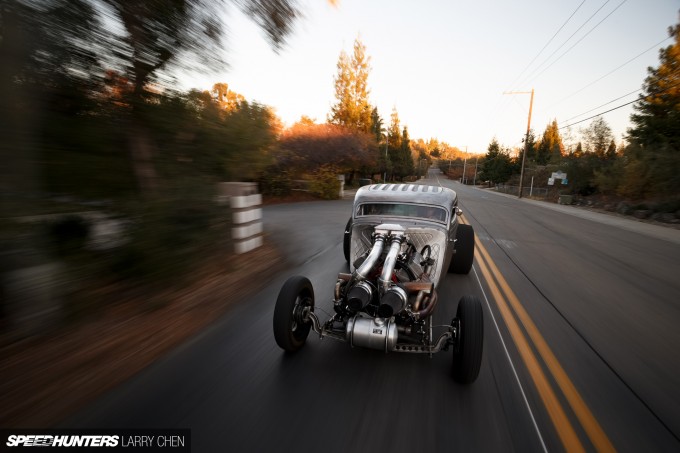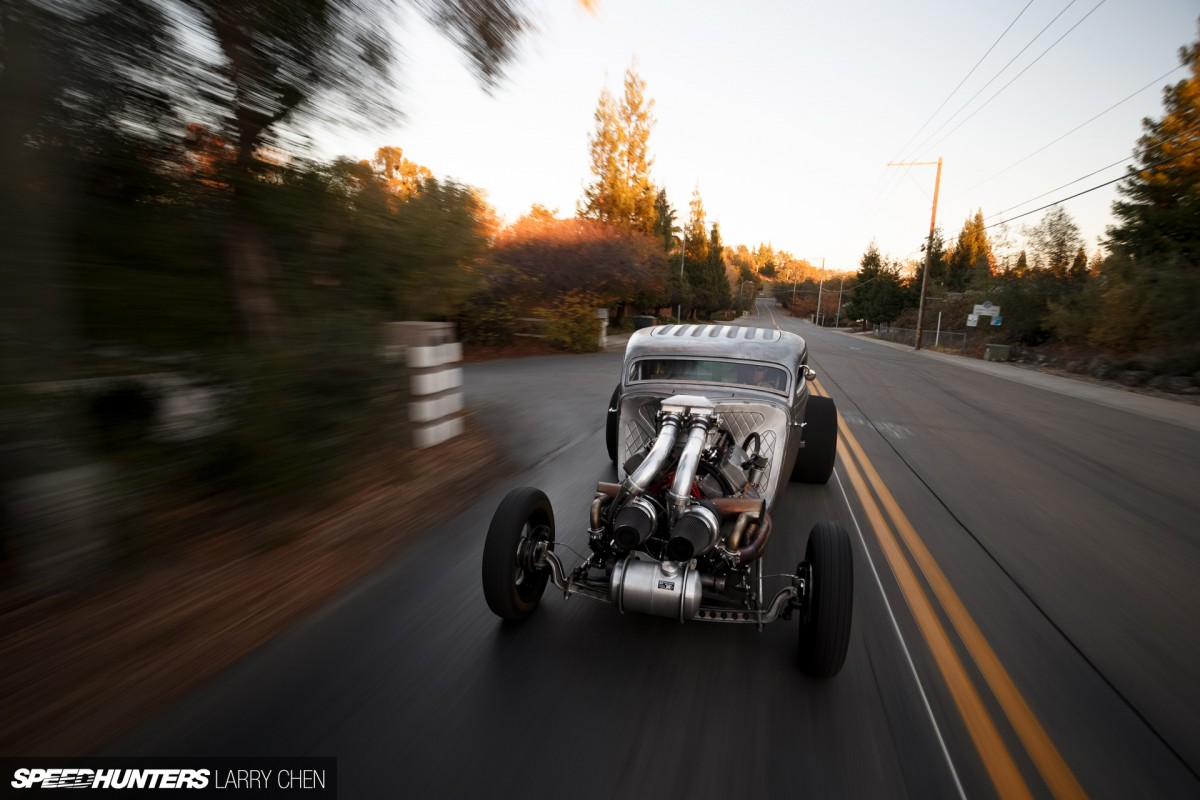 You can have it good, fast or cheap, pick two – remember that old saying? Well Ed subscribes to a similar theory, except his is that cars can't be more than two things at once, and even that's pushing it. Really, you should pick one thing and make your car the best you can in that certain arena, but there's no arguing that hot rods and dragsters are close relatives. When Rich came to Eddie's Chop Shop wanting a coupe to cruise on the street and run 7s in the quarter mile, Ed had to reel him in a bit.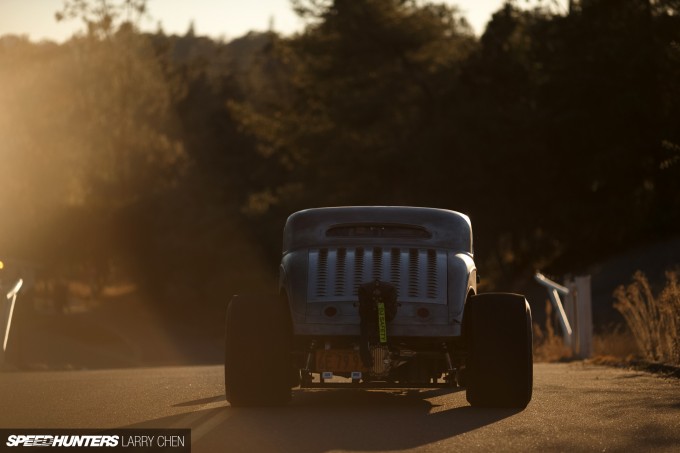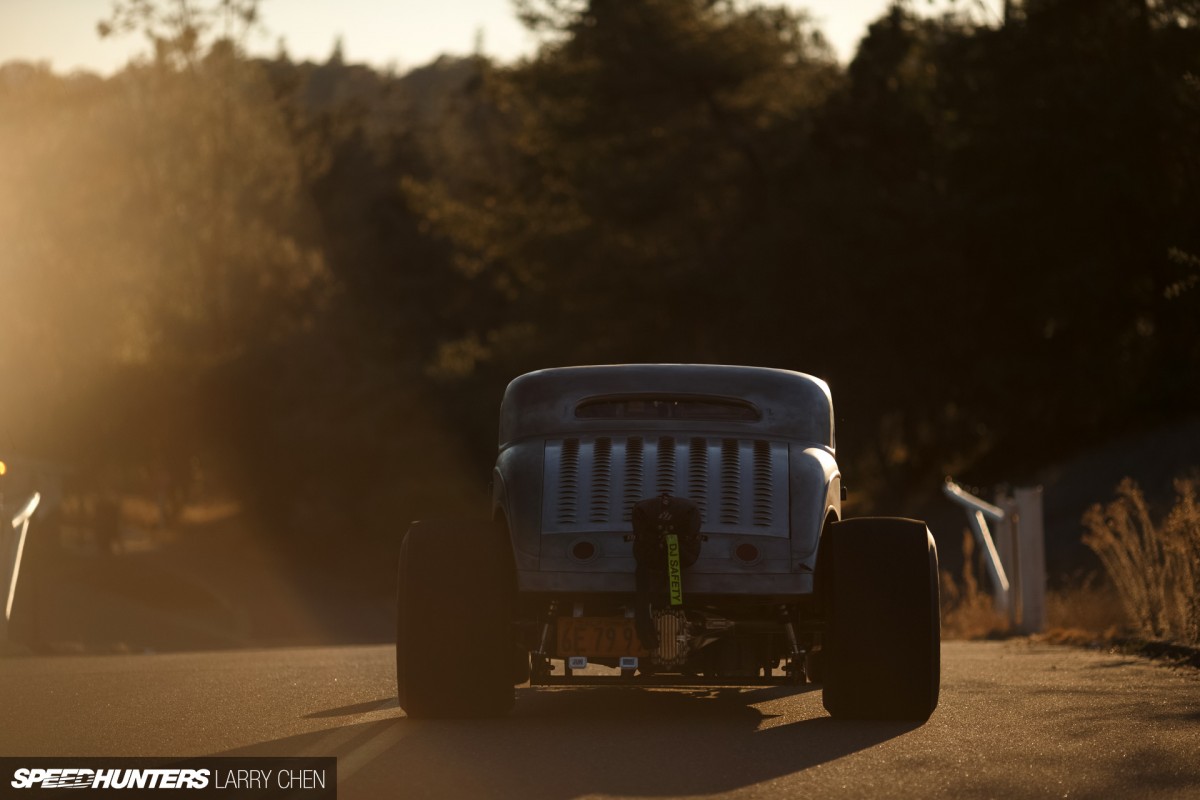 Just a bit. The guys went from 7s to 8 second ETs, and Ed convinced Rich to run twin turbos instead of the supercharger he originally wanted. Sounds like a fair compromise to me.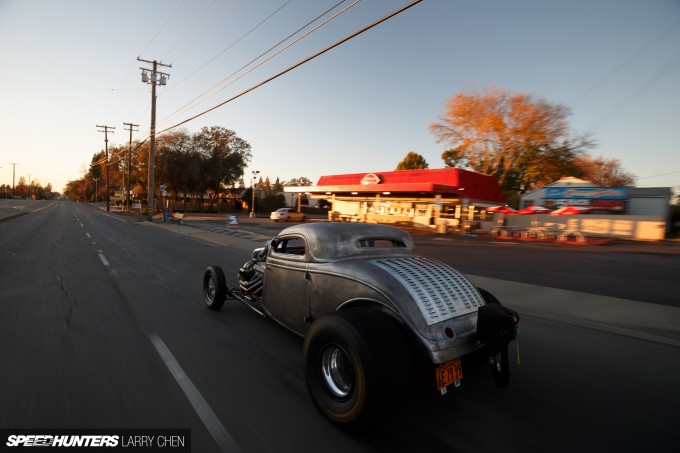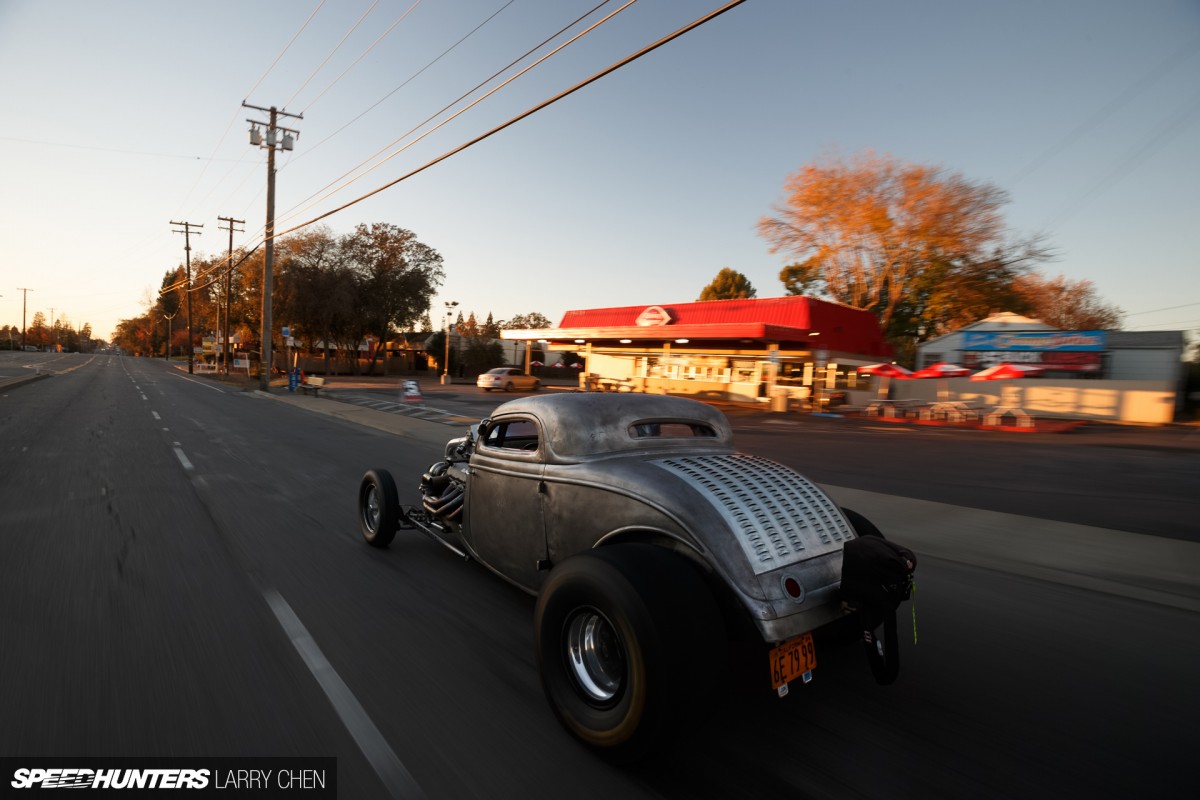 When's the last time you saw a car on the road with both a parachute and a license plate anyways?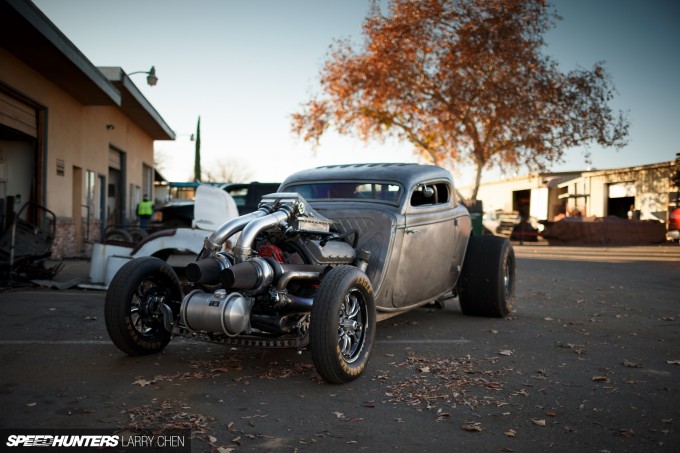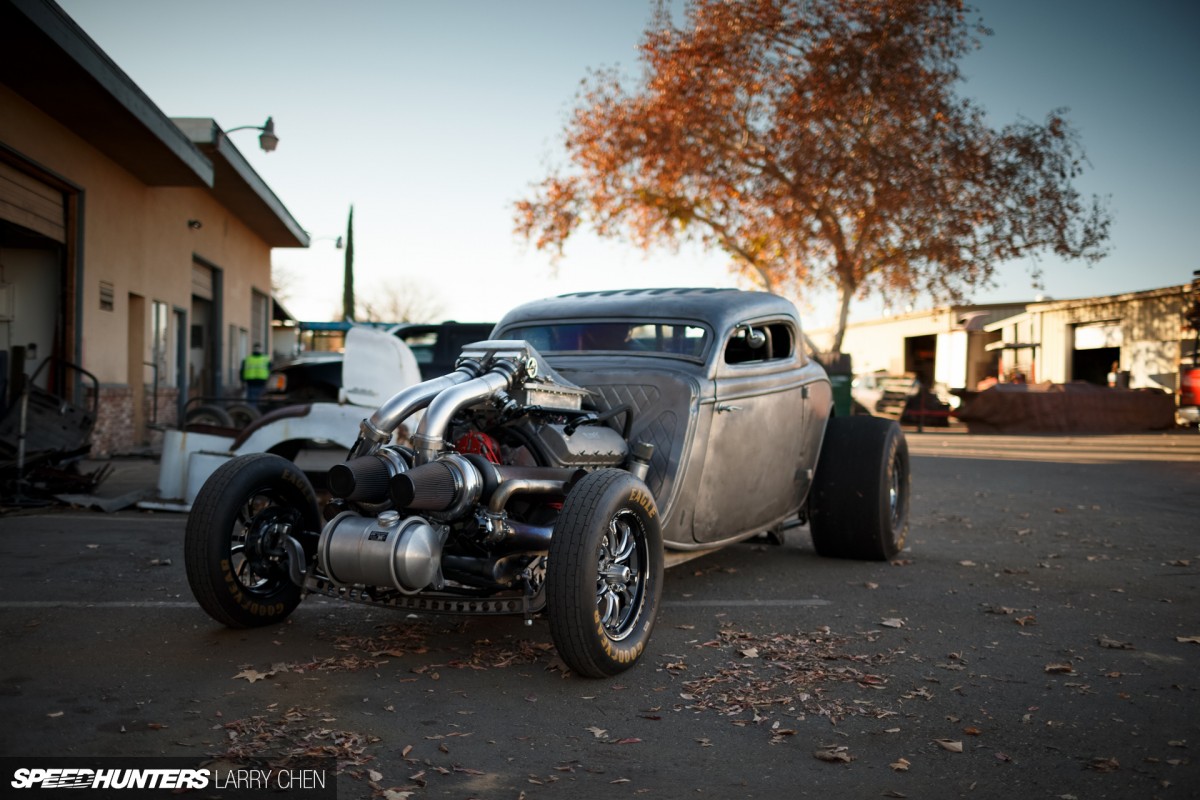 So back to the fact that this car has no front end, and it never will. With the massive BBC, twin turbos and all the associated plumbing, Ed knew a grille would look ridiculous hanging off the front. Let's not forget the '34 had a long, swoopy grille to begin with, and it would have been placed so far forward that, well, it just wouldn't have worked.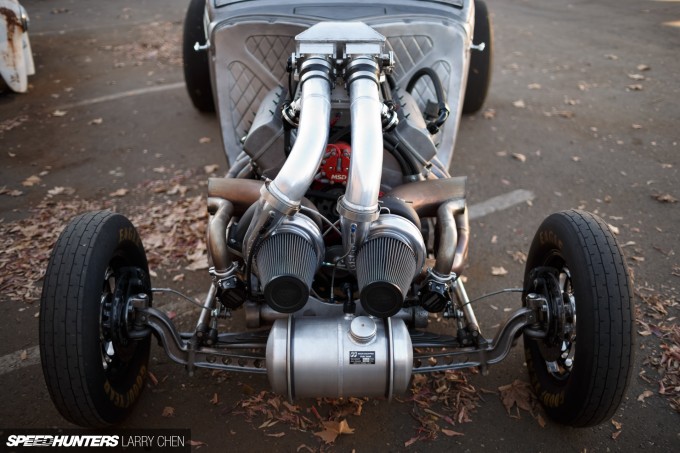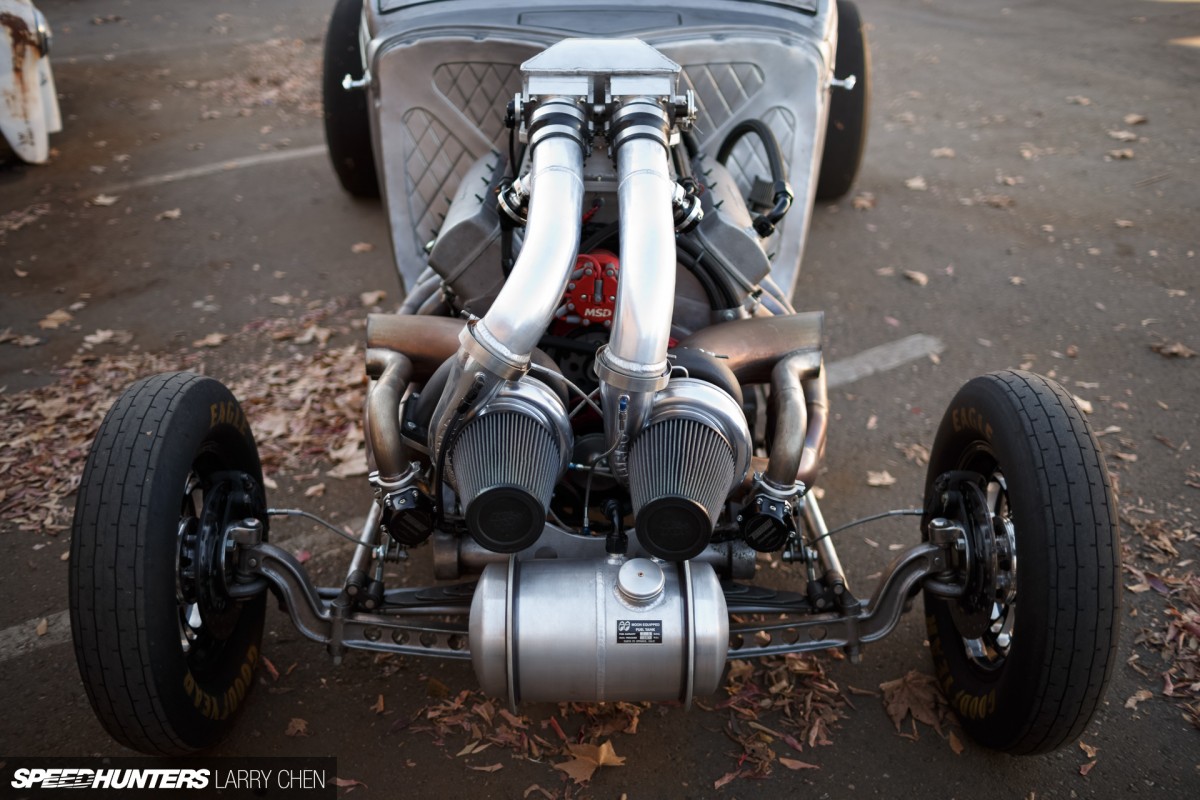 Instead, Ed just let the turbos do the talking. Hot rodders have been stretching wheelbases forever, but usually you consider the placement of the axle and wheels in relation to the grille. Without a grille for visual reference, the turbos, piping and ice-filled Moon tank became the car's leading edge.
Something else is missing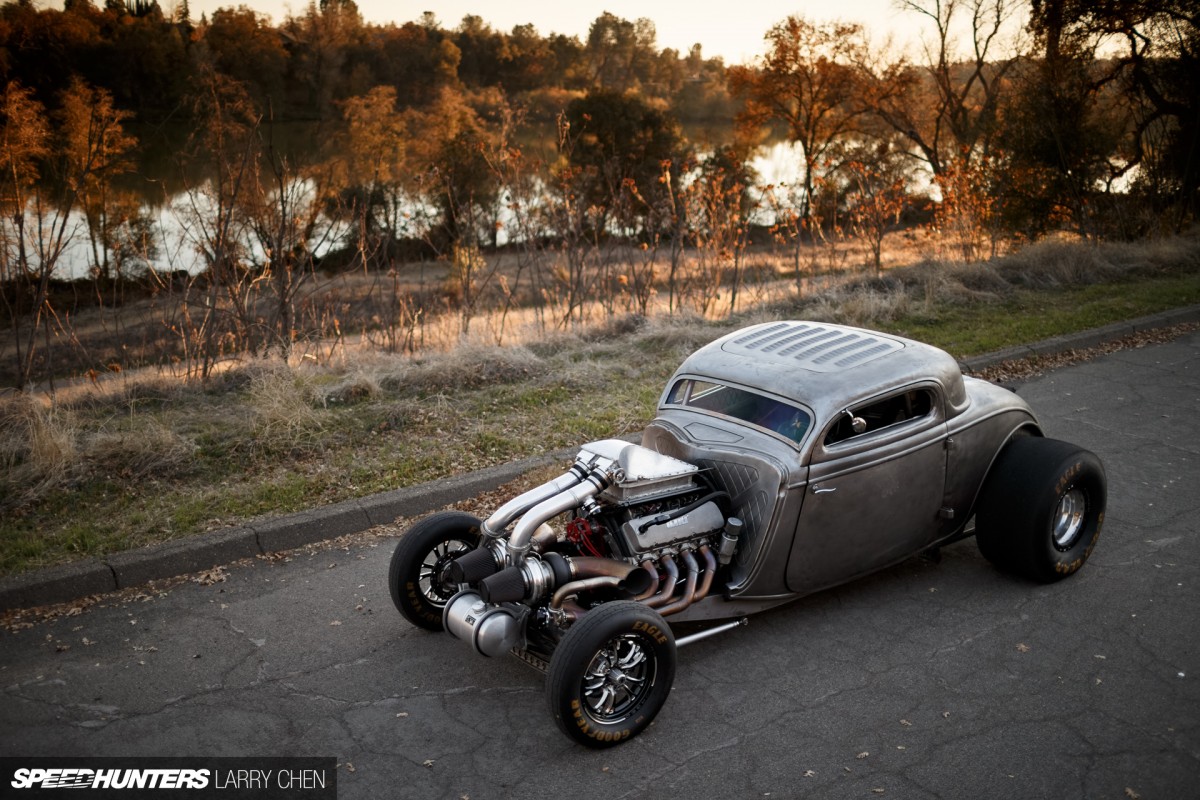 The next logical question is this: where did the radiator go? Is this some kind of air-cooled, twin turbo V8 I've never heard about?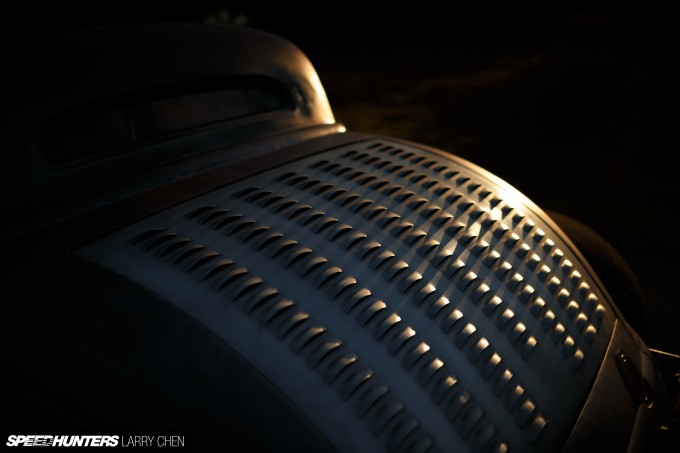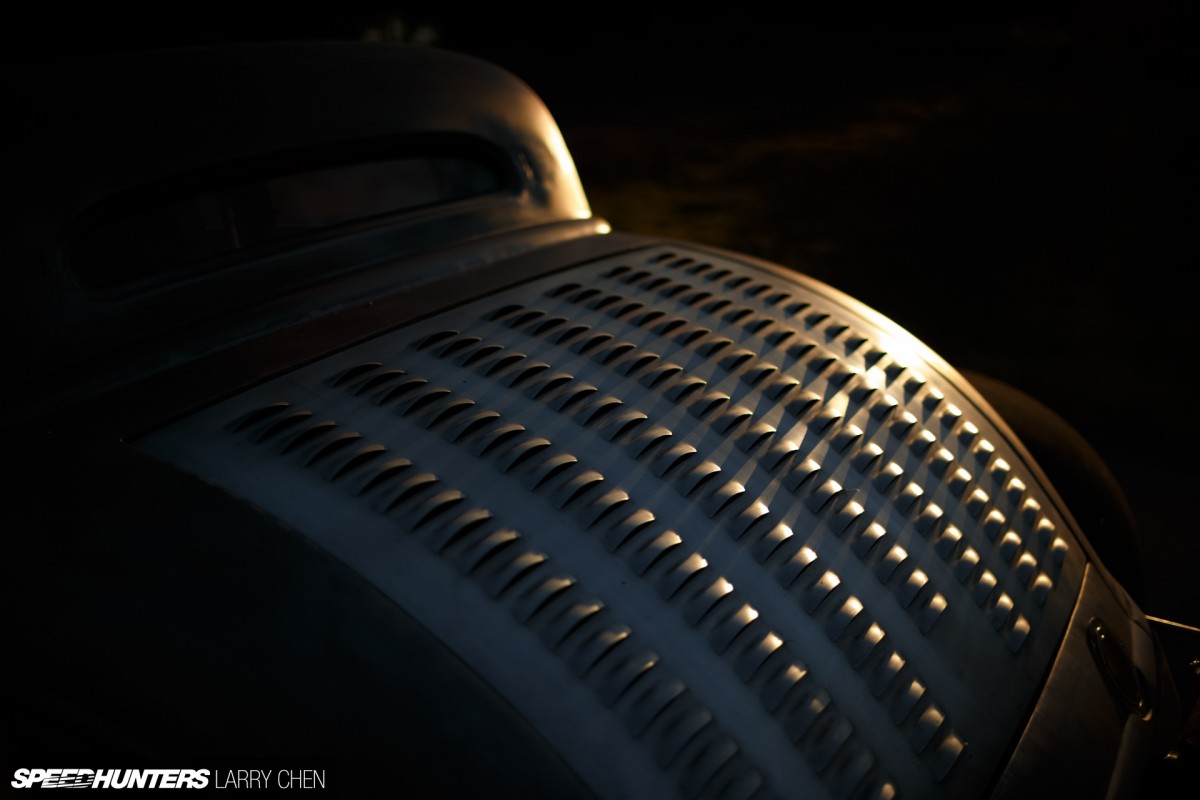 There must be a reason for all those louvers in the deck lid though.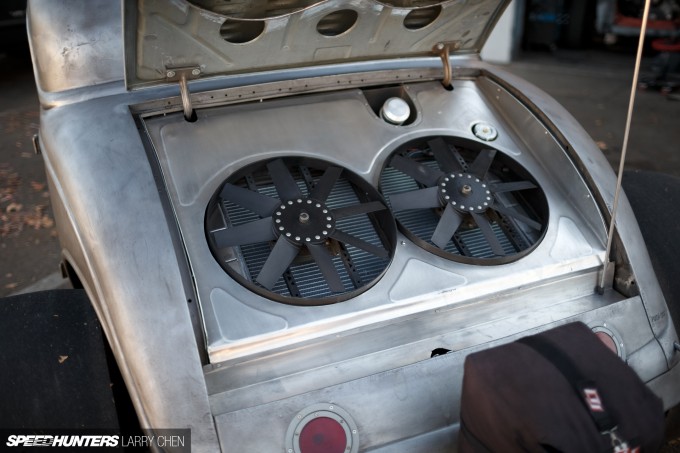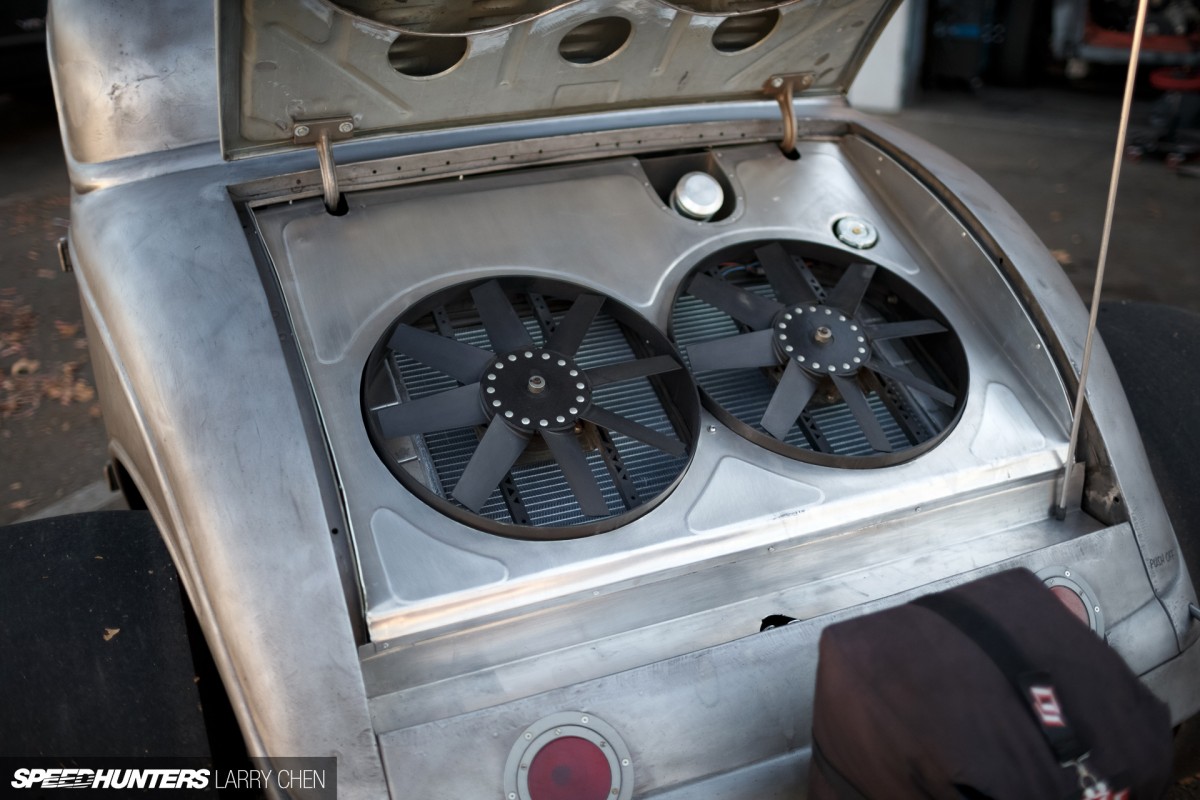 Eddie's Chop Shop hid the radiator in the trunk, and put the fuel cell underneath it. With a custom built shroud and two giant electric fans, it manages to stay cool enough to drive around on the street.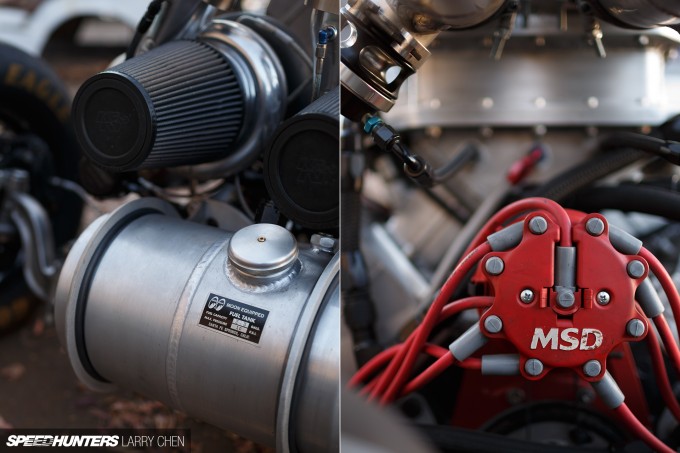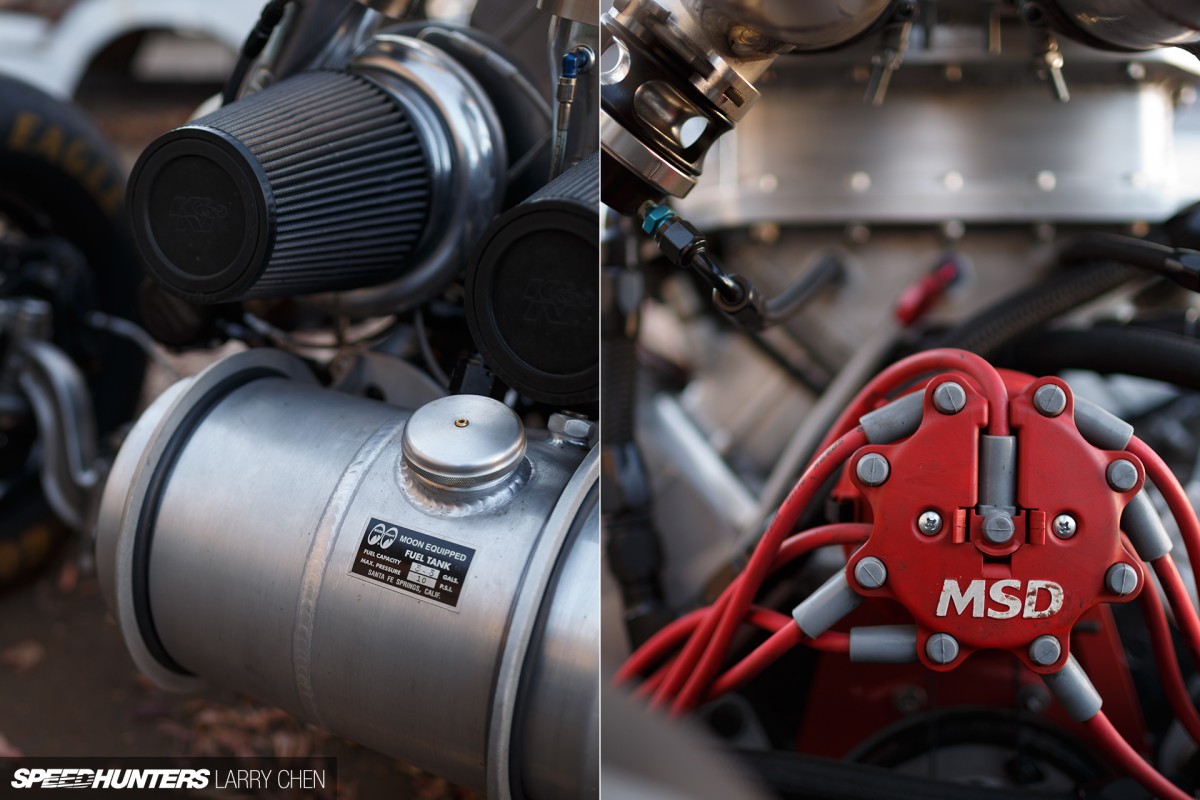 By using a computer-controlled electric water pump, the front of the engine was freed up for a belt-driven MSD distributor. The Moon tank feeds cold water to the intercooler instead of holding fuel.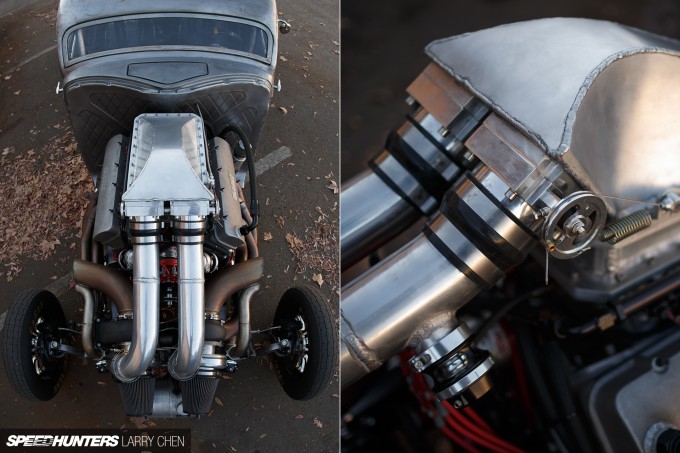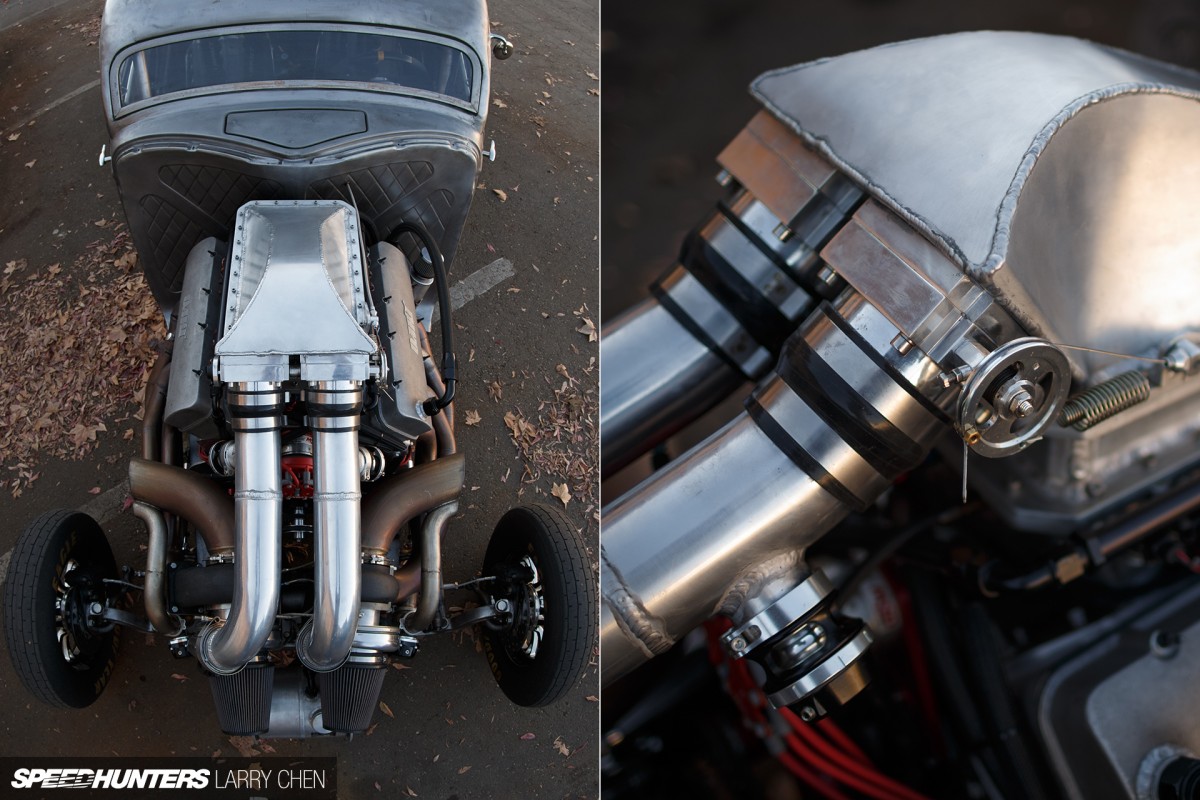 Two throttle bodies are bolted to the hand-fabbed aluminum intake manifold, which has a nice, stylized shape to complement the cowl of a '34 Ford and still flow tons of air.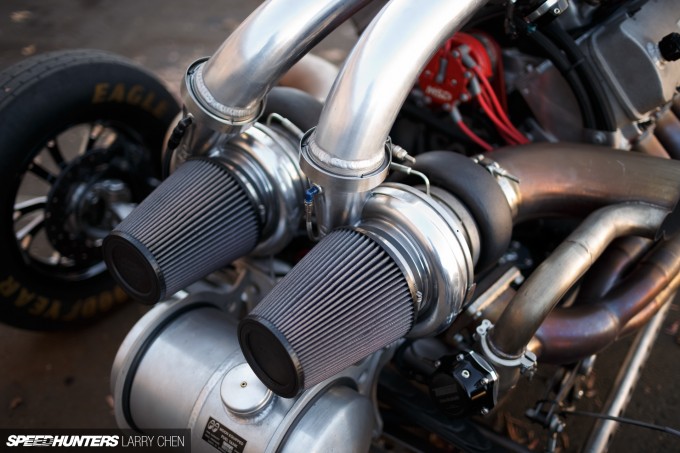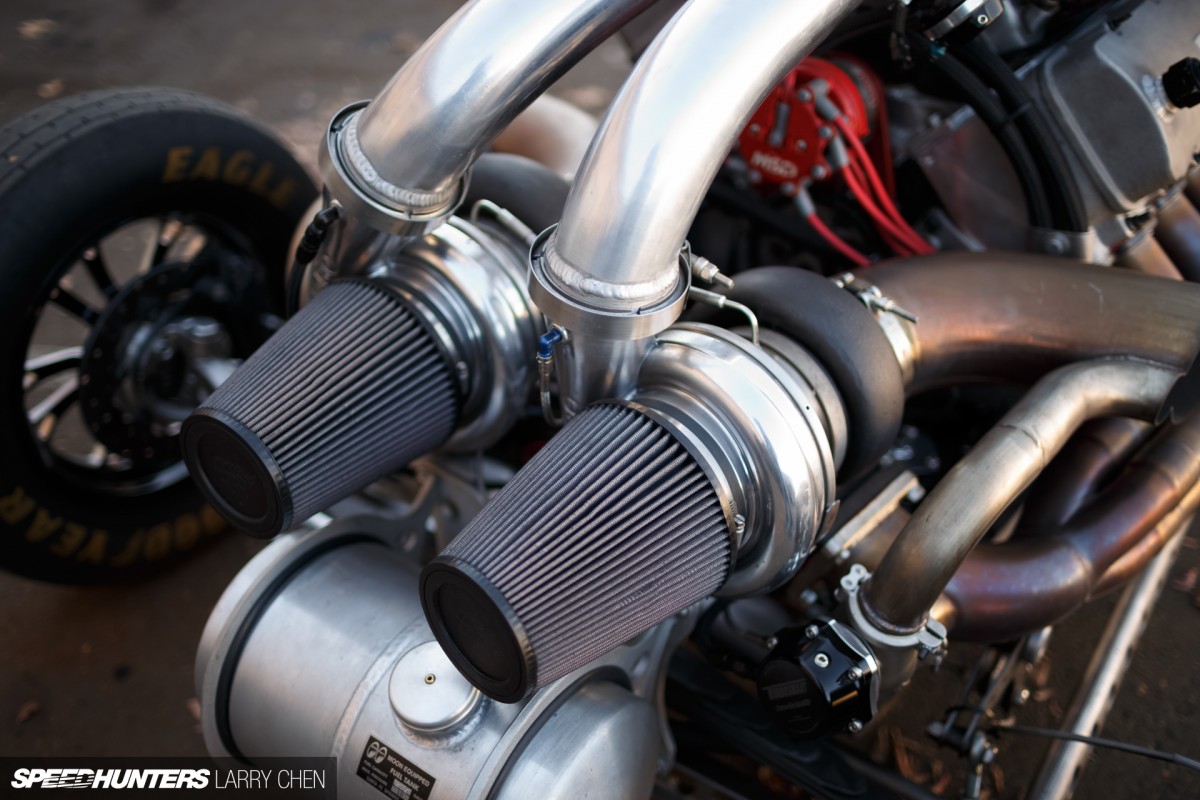 Topping it all off are two 88mm Comp turbos pushing unimaginable volumes of air into the big block. Displacement and boost? This is the Eddie's Chop Shop way.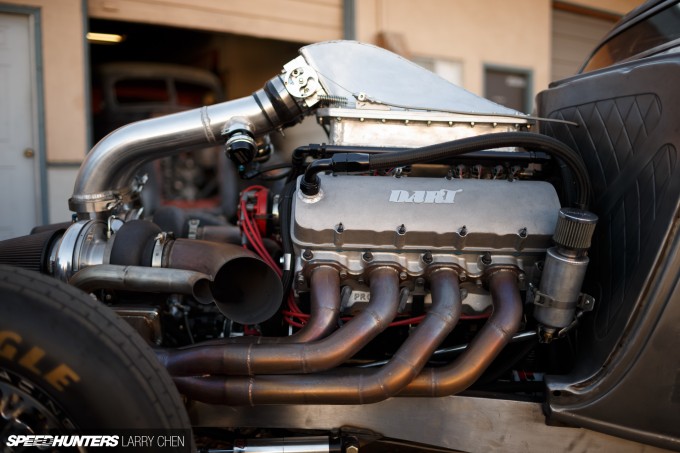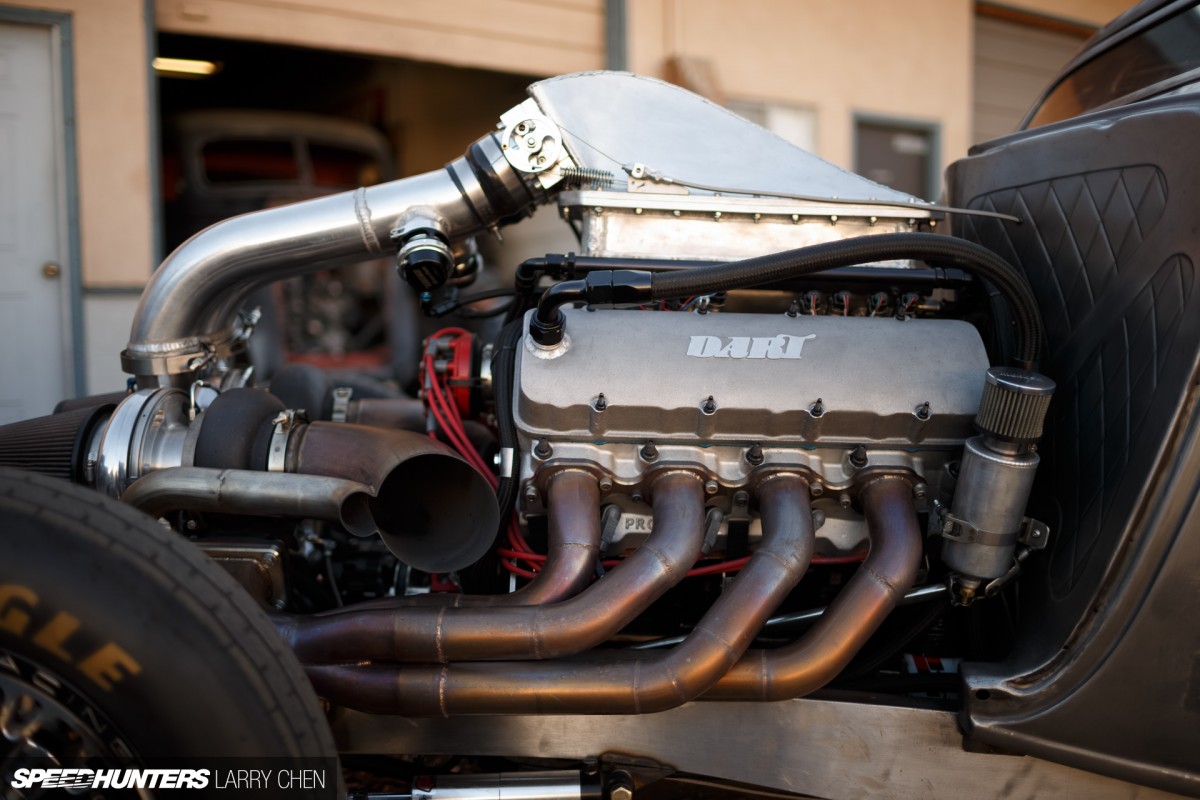 Those hairdryers move so much air in fact, that sixteen 130lb/hr injectors are needed to keep up with fueling. With so much going on, it's a wonder how simple the engine is to look at.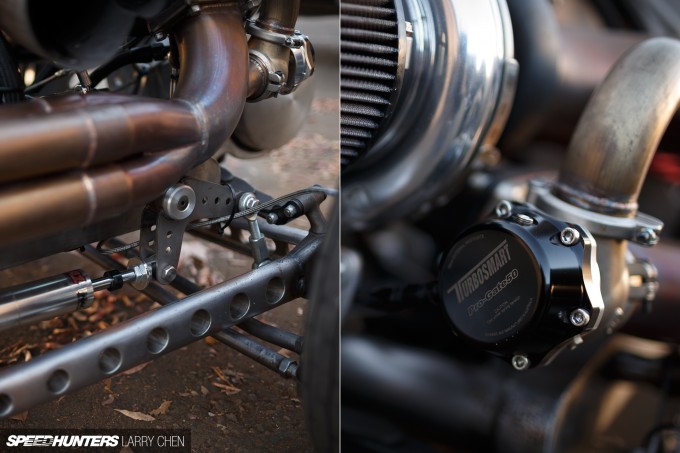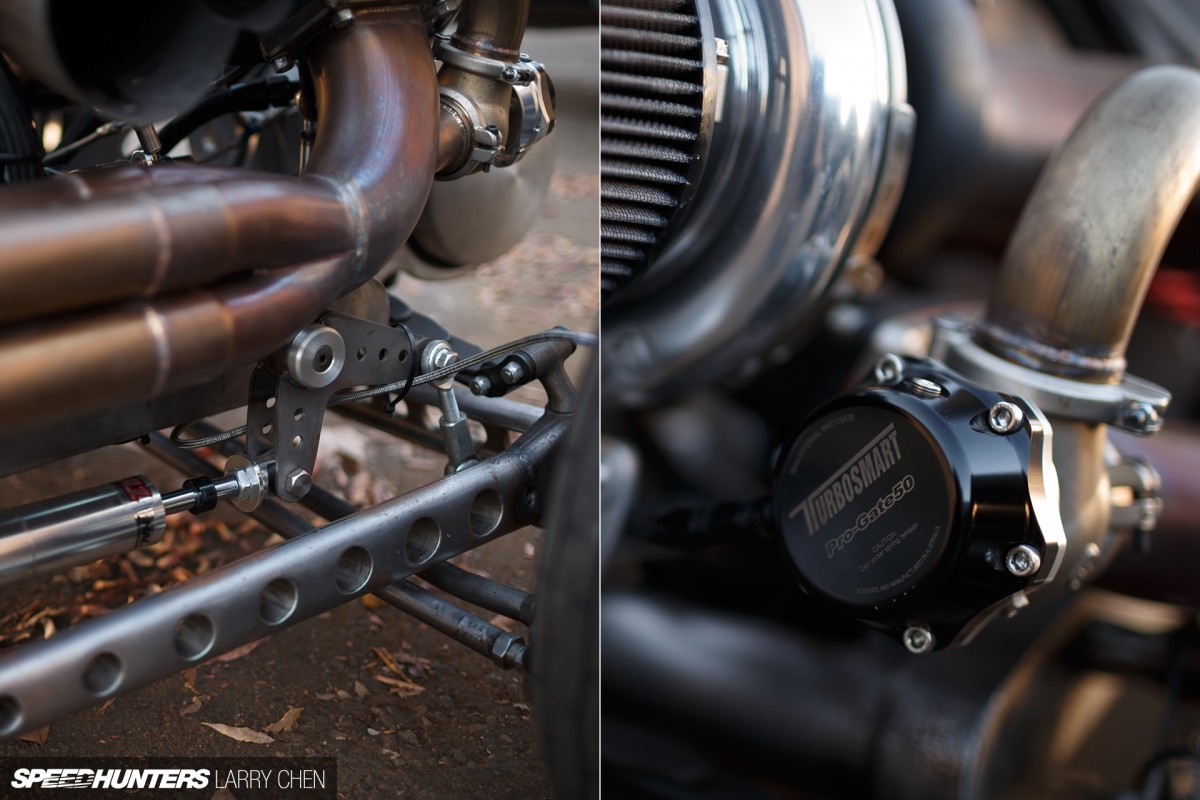 One thing that separates Eddie's builds from the rest is this infusion of real race tech. It's seriously high horsepower – like on a dedicated, competition race car level – but wrapped in a cool hot rod package that can get down the road without any drama. I know guys making half this much power whose cars are relegated to a trailer. Clearly this is a better way.
The hot rod part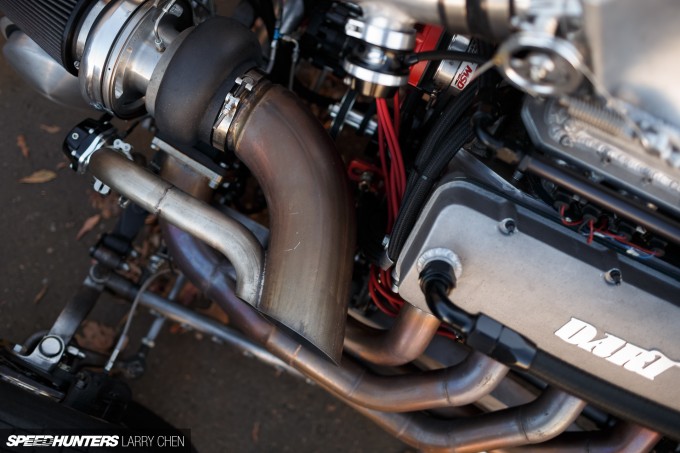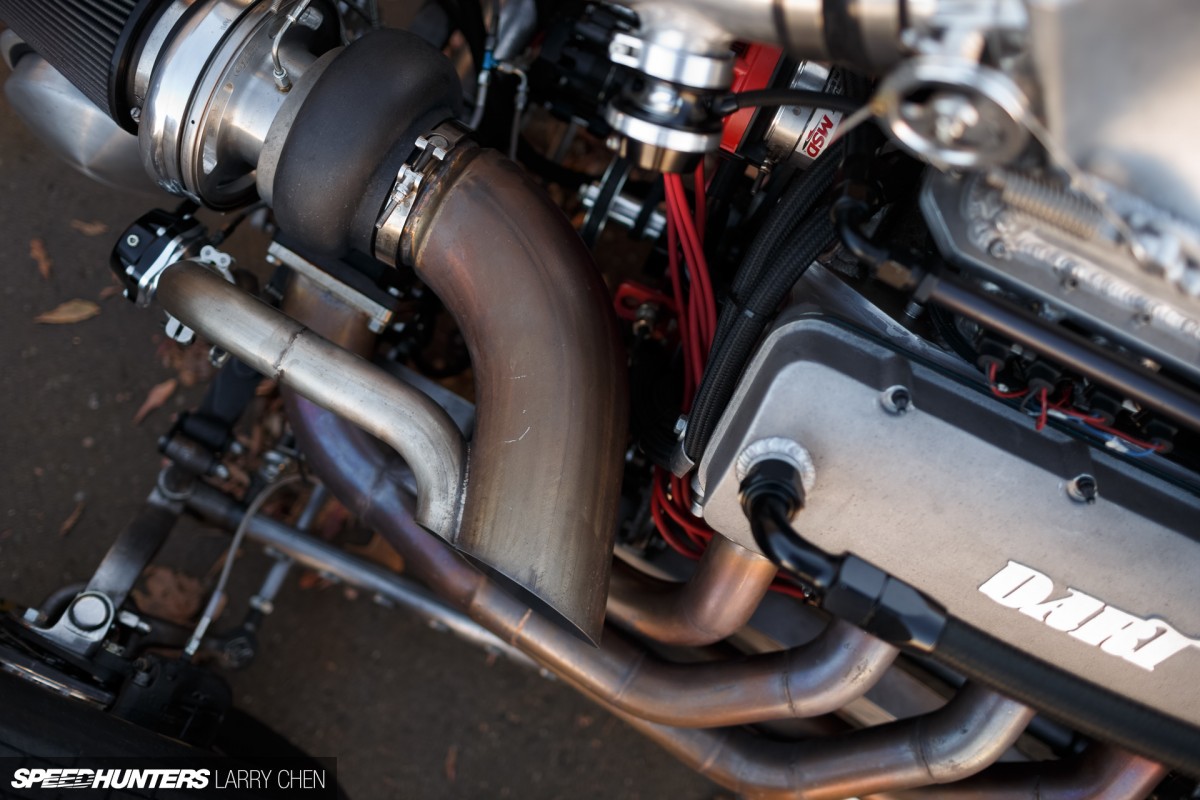 It's hard to pry yourself away from that pressurized motor, isn't it? But you have to remember that the owner wanted a hot rod too.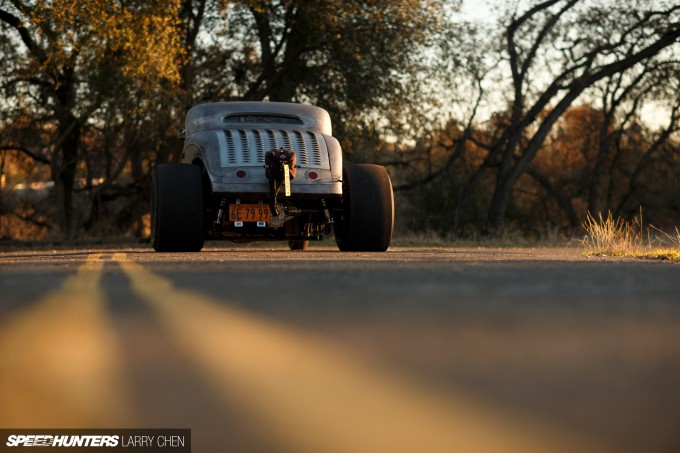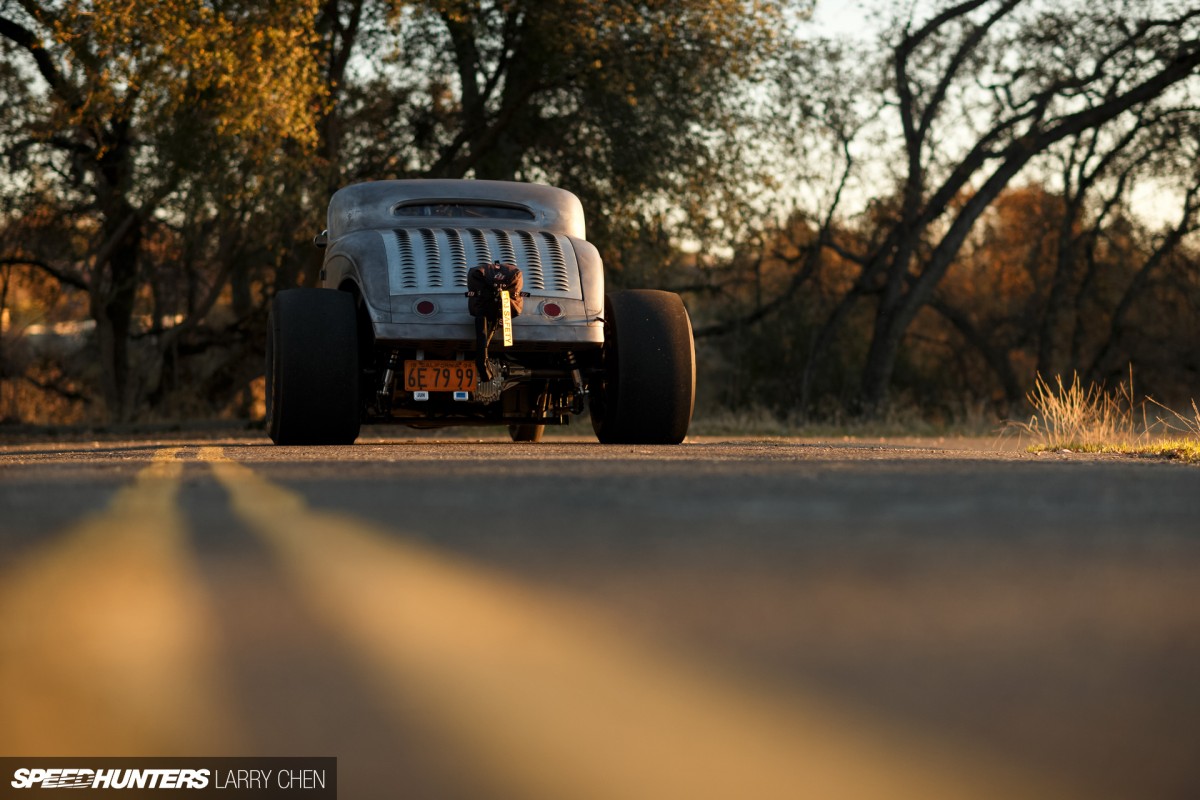 Usually a car packing this kind of power gets loaded on a trailer to go anywhere beyond a quarter of a mile. Of course hot rods have to be capable of going down the road to get to the next cruise or show, and so does this one, even if it is on drag slicks. Normal hot rodders accomplish this with a Flathead that makes a couple hundred horsepower, or maybe a small block that makes three or four hundred.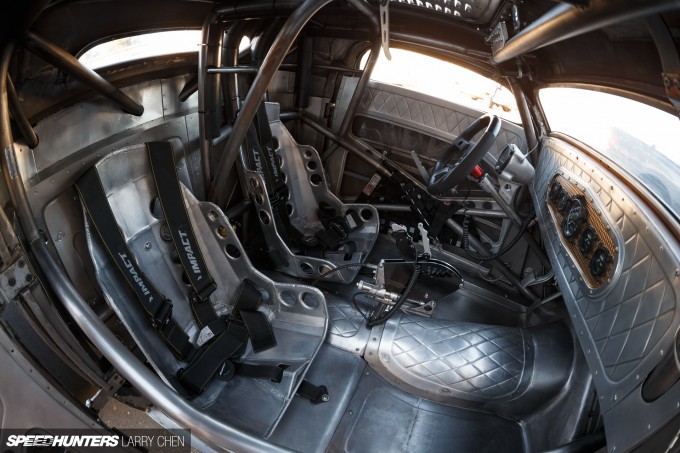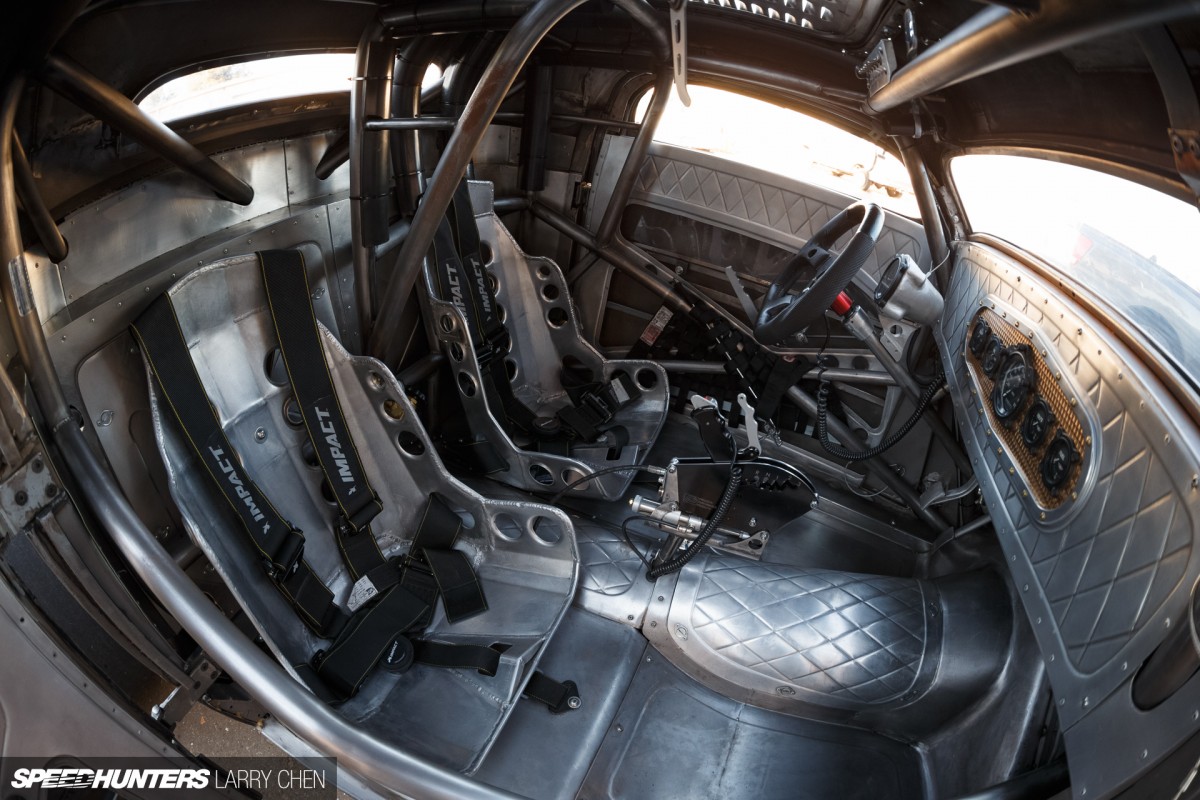 To this end, the '34 does have some creature comforts, like two seats and a fully paneled interior. It still looks awfully racy inside though. Take the driver's safety cell for instance.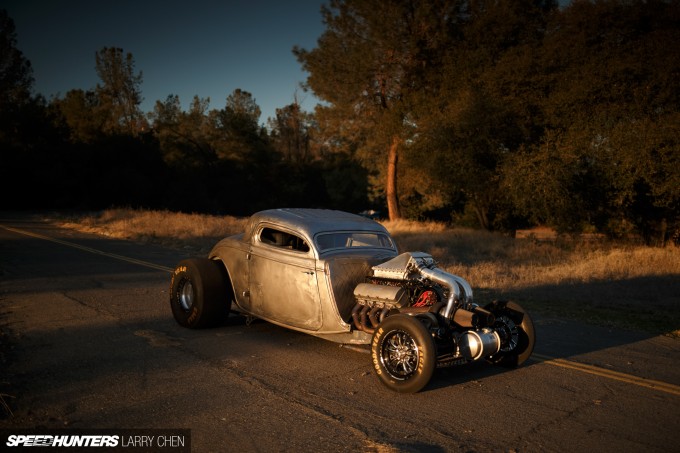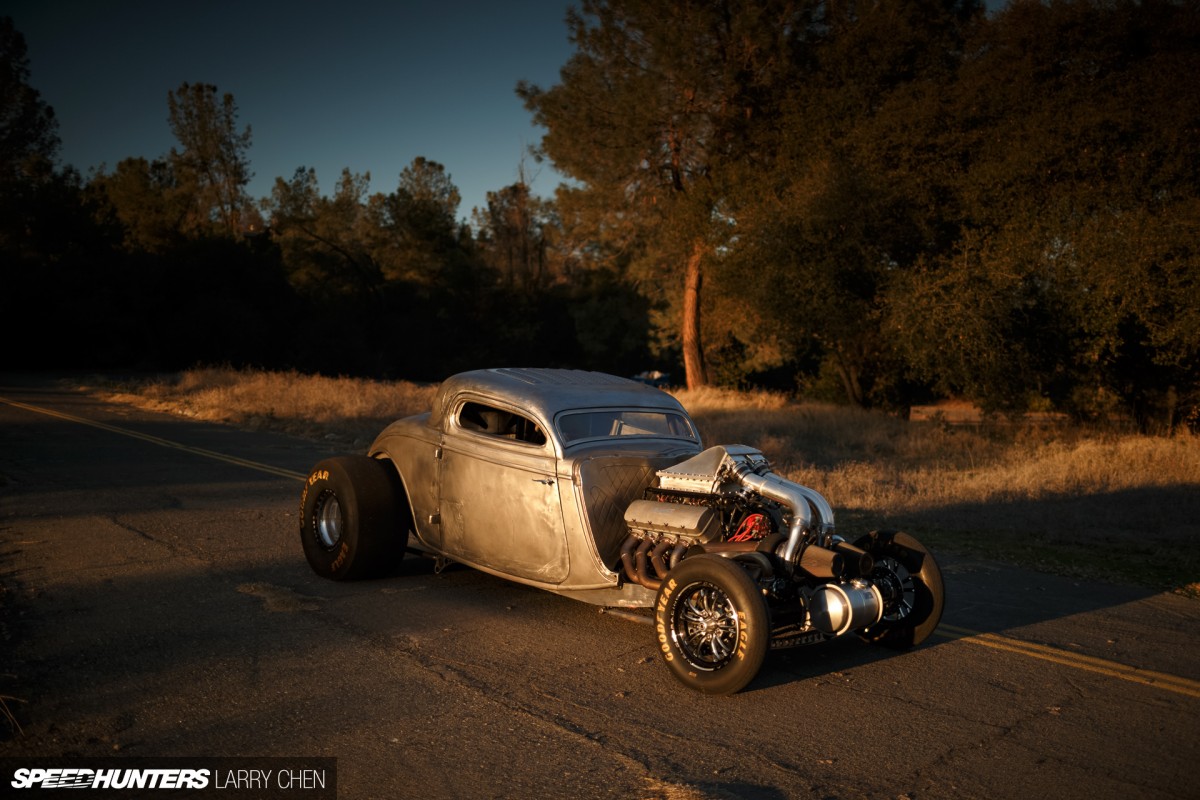 One of the most defining modifications you can do to a hot rod is chopping the top. Ed tells me this one was chopped long before he got his hands on it, and in very poor fashion too. He couldn't even tell me how much it's chopped now, because he just worked with what was there and made it right. Check out how the a-pillars are leaned back – a cue from the competition coupes that first raced at the Salt Flats.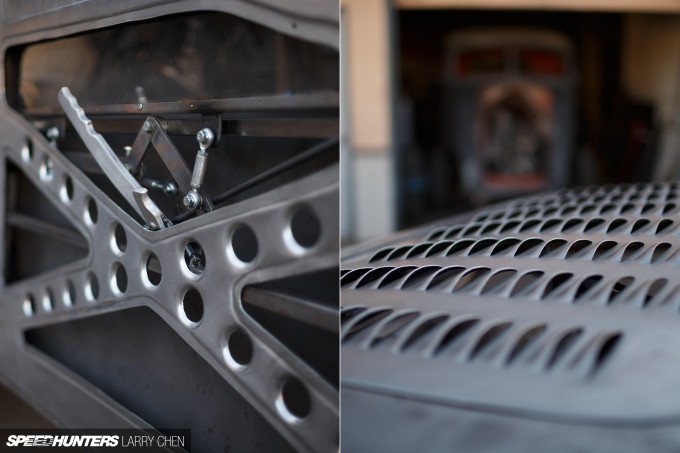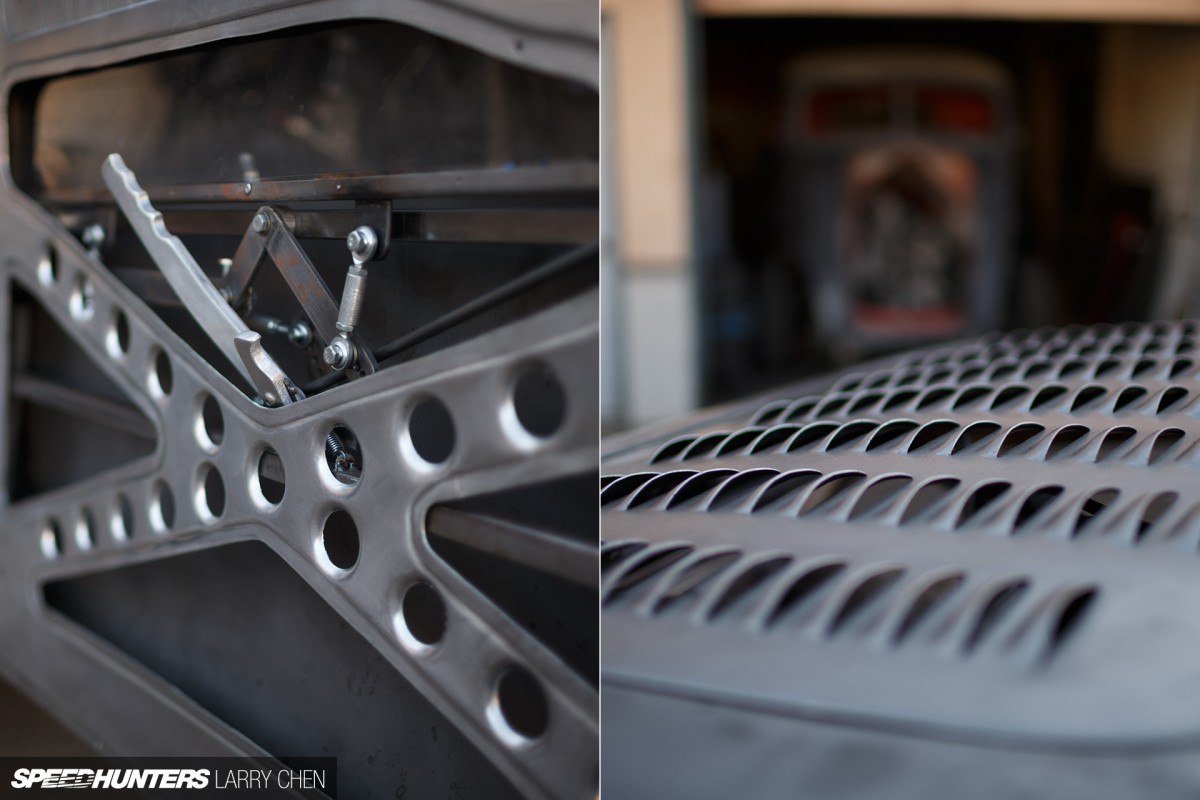 The fact that it has fully functioning windows pushes it a little more into the hot rod realm for me. The mechanical bits aren't Ford, they're Ed's invention, with all sorts of moving levers and pivots that apparently open the doors and roll down the windows. Of course the dimple died brace that now trims out the door was custom made, and that louvered roof filler is pure hot rod too.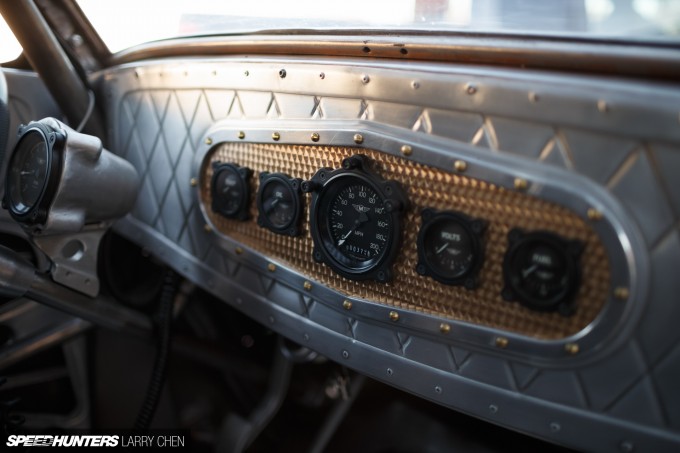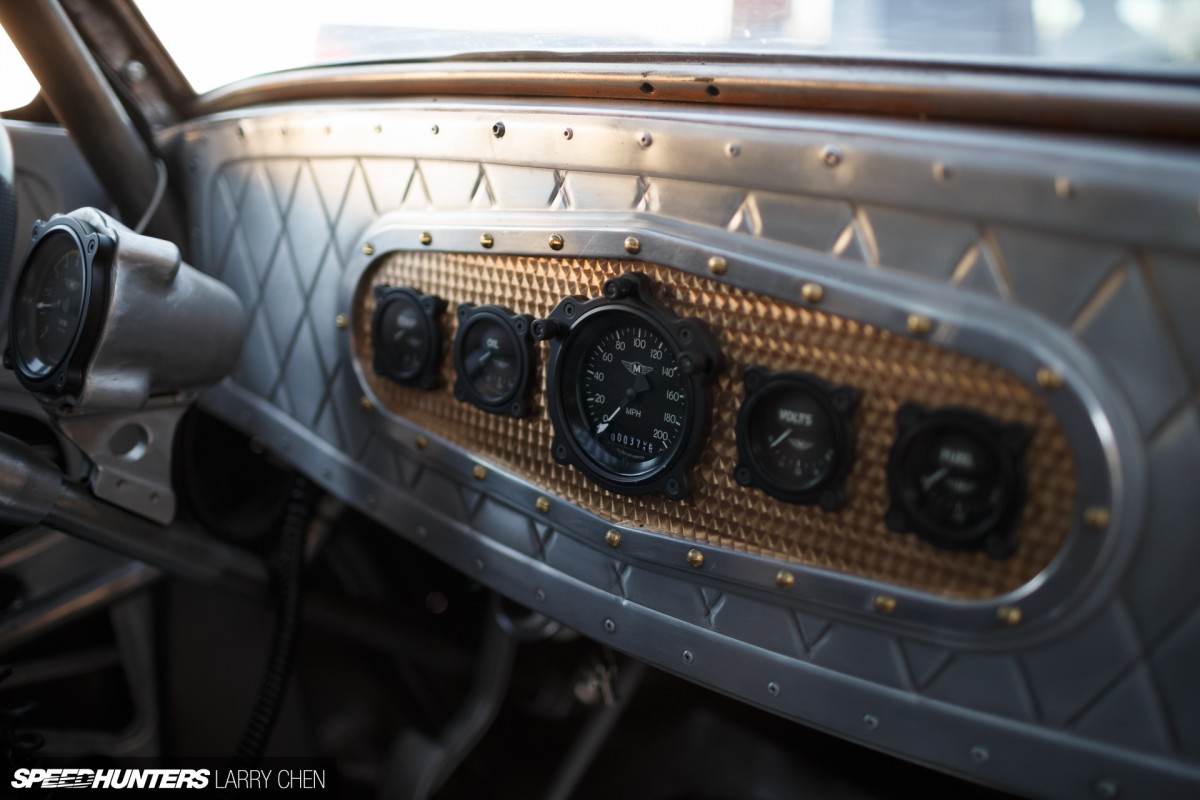 There's a full set of gauges inside, plus a trick bead-rolled dash: things you wouldn't usually find in a drag car. My favorite item is the cast aluminum tach pod mounted to the steering column.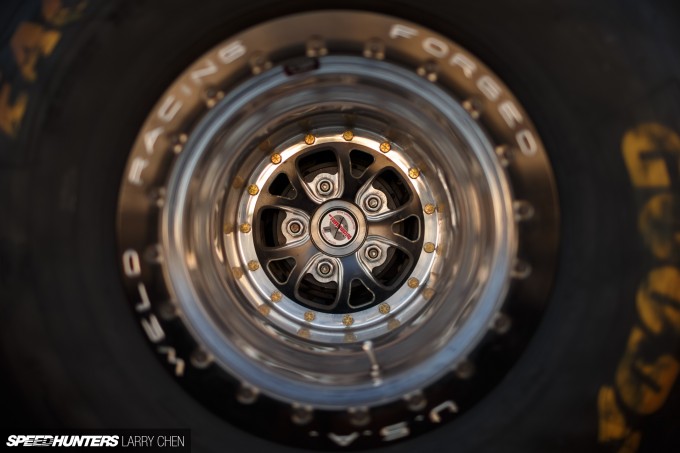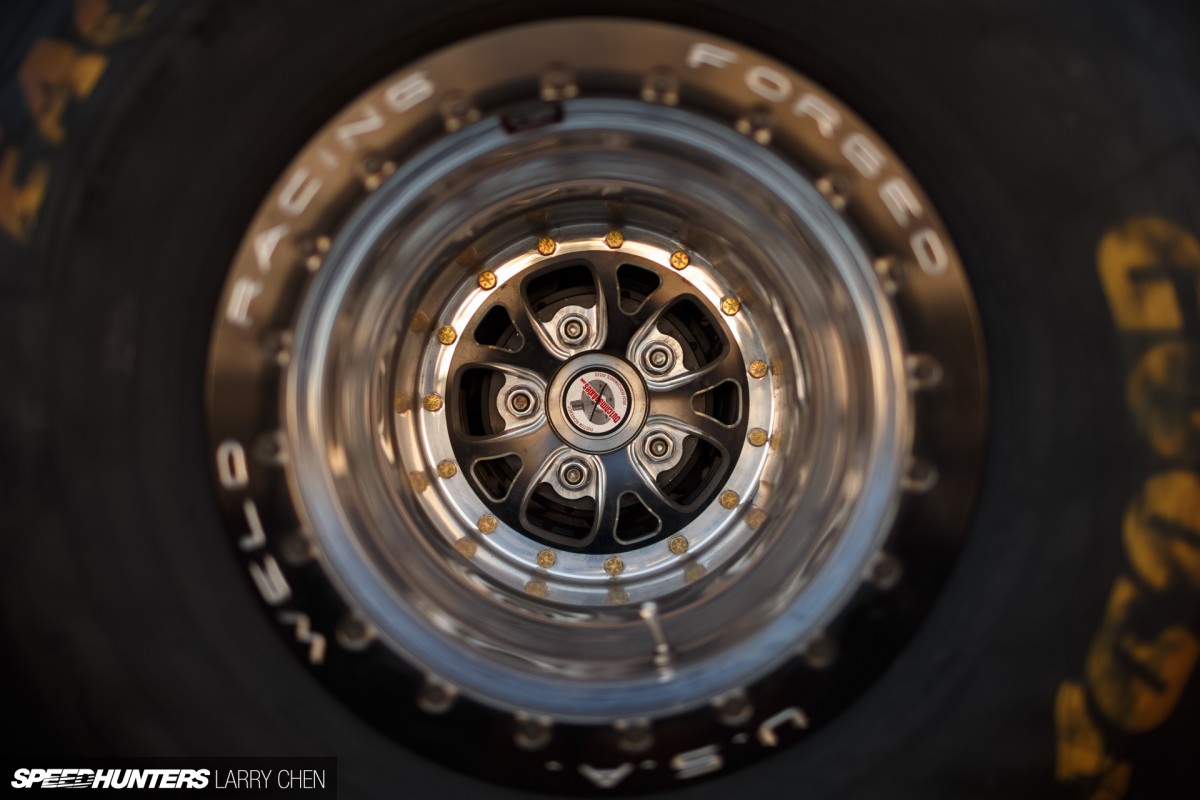 Running 8s requires some well-sorted suspension, and lots of tire doesn't hurt either. Impossibly deep modern Weld wheels hold 32 x 14.5 wide Goodyear racing slicks. Plenty to hook up on, but Ed says they still had to dial down the boost to get the car down the track.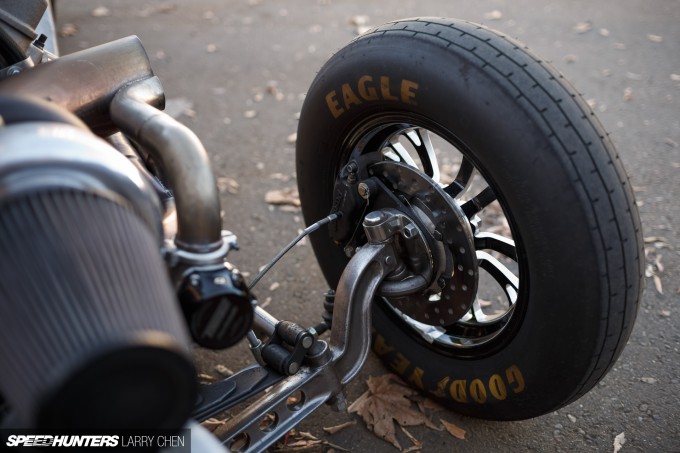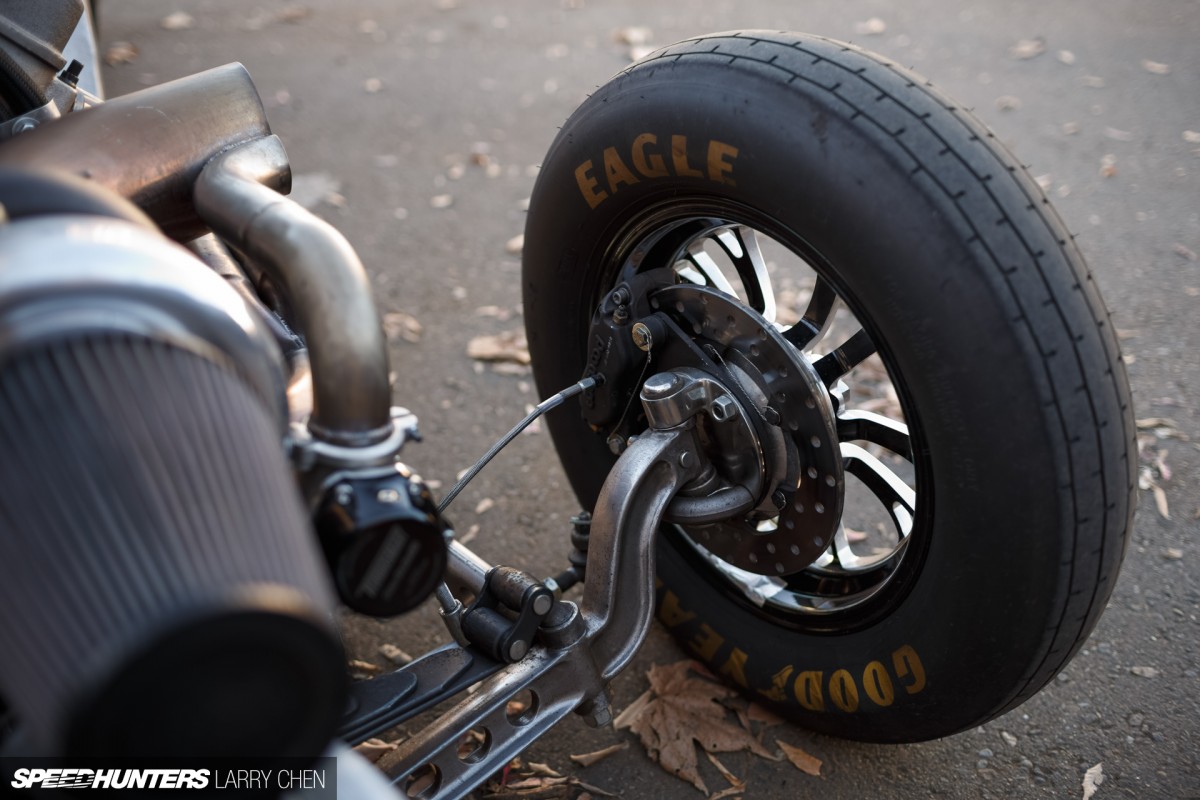 A skinny matching set is up front, along with modern Wilwood disk brakes. This is all mounted to a vintage-style dropped axle and leaf spring though. See how we just keep ping-ponging between modern drag car and old school hot rod?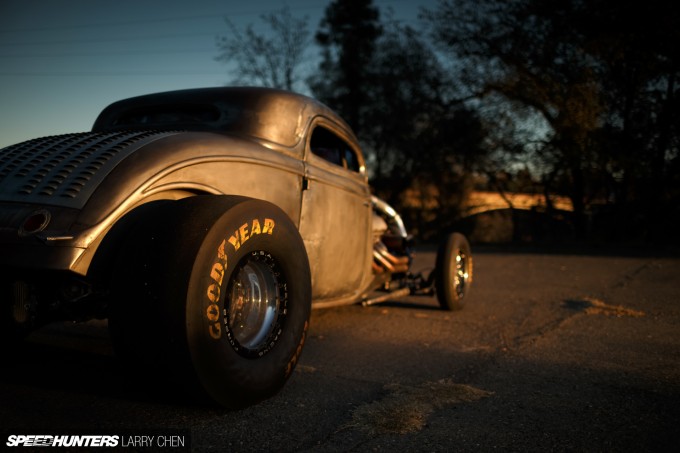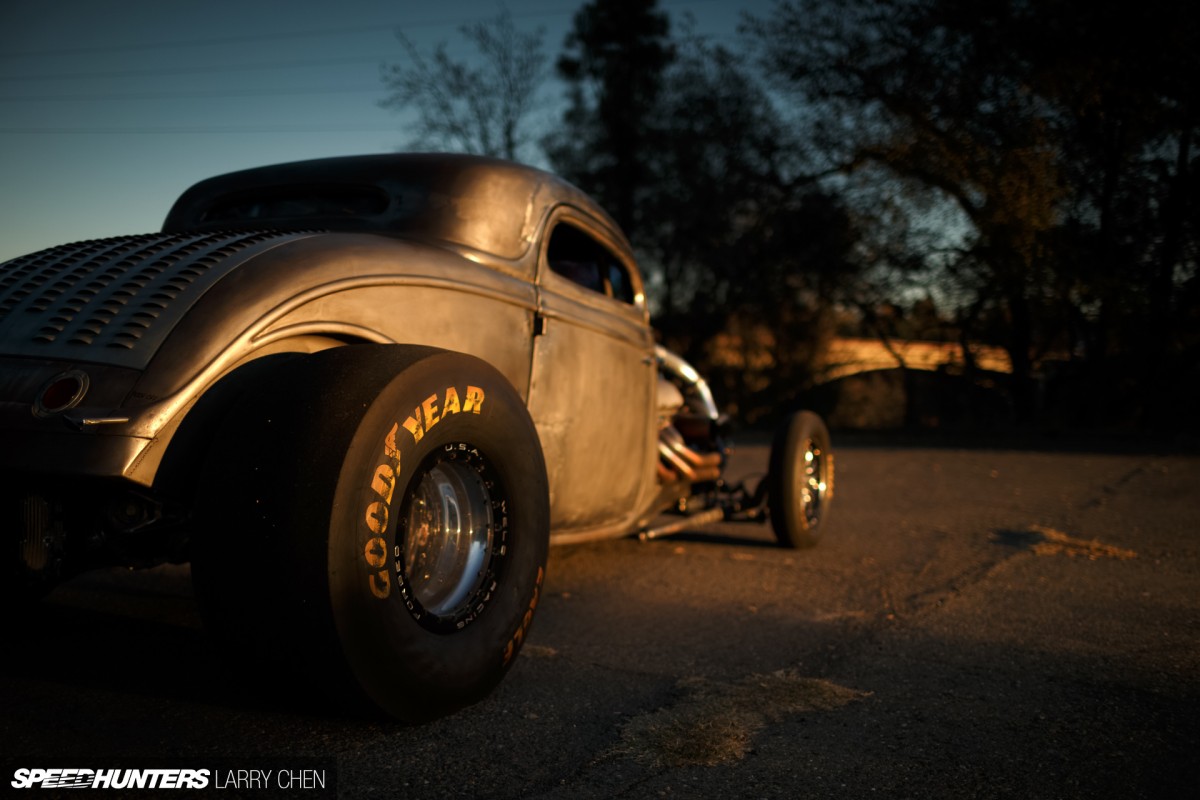 Yet it all works to make one badass machine.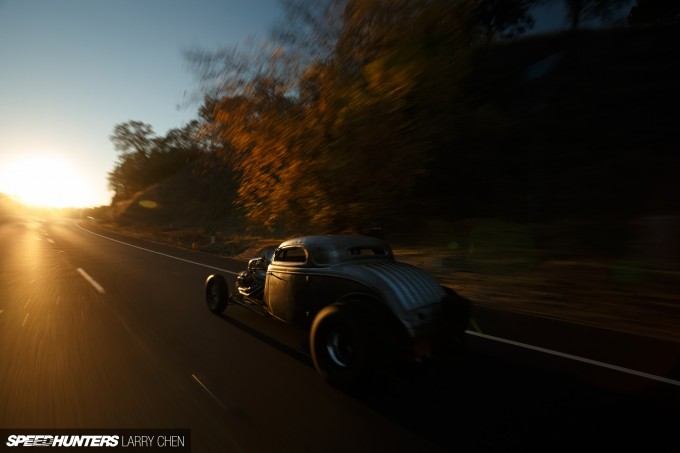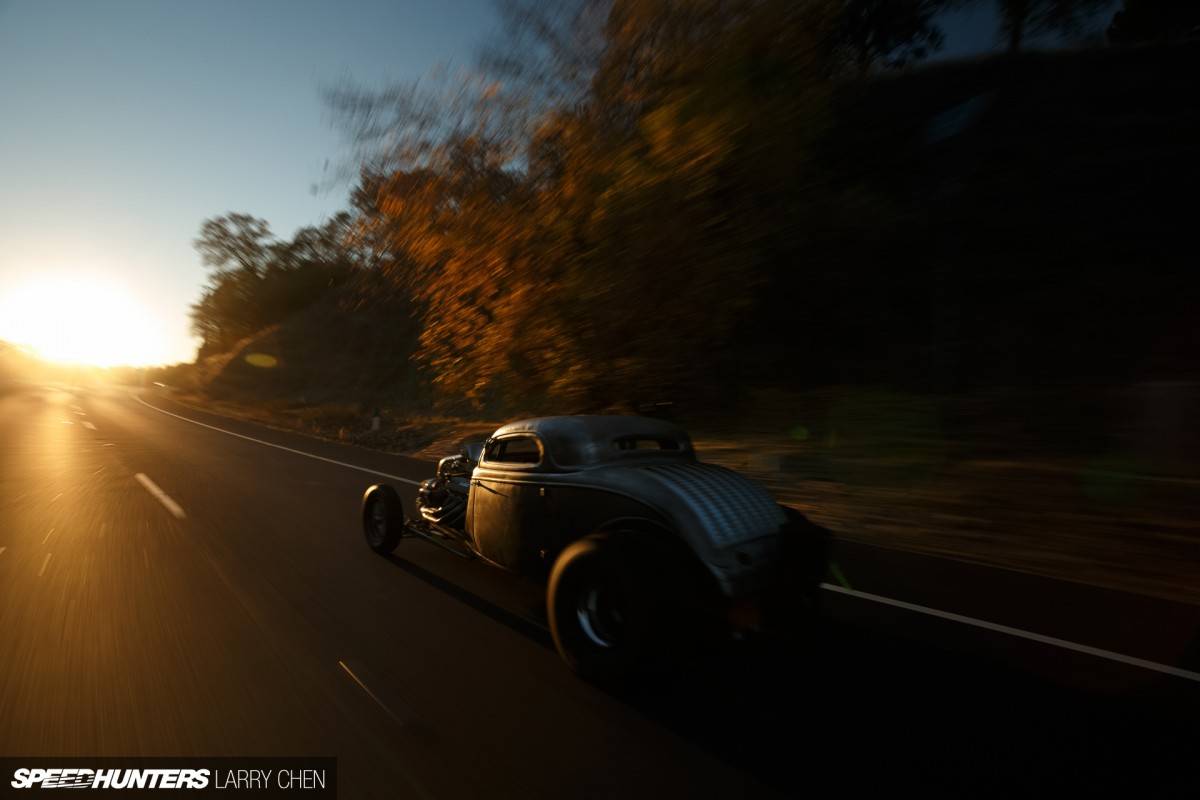 Is it a menacing street rod or a dragster with no trailer in sight?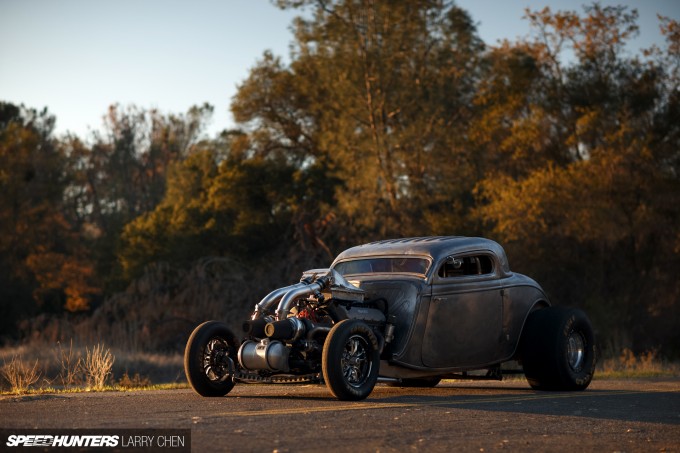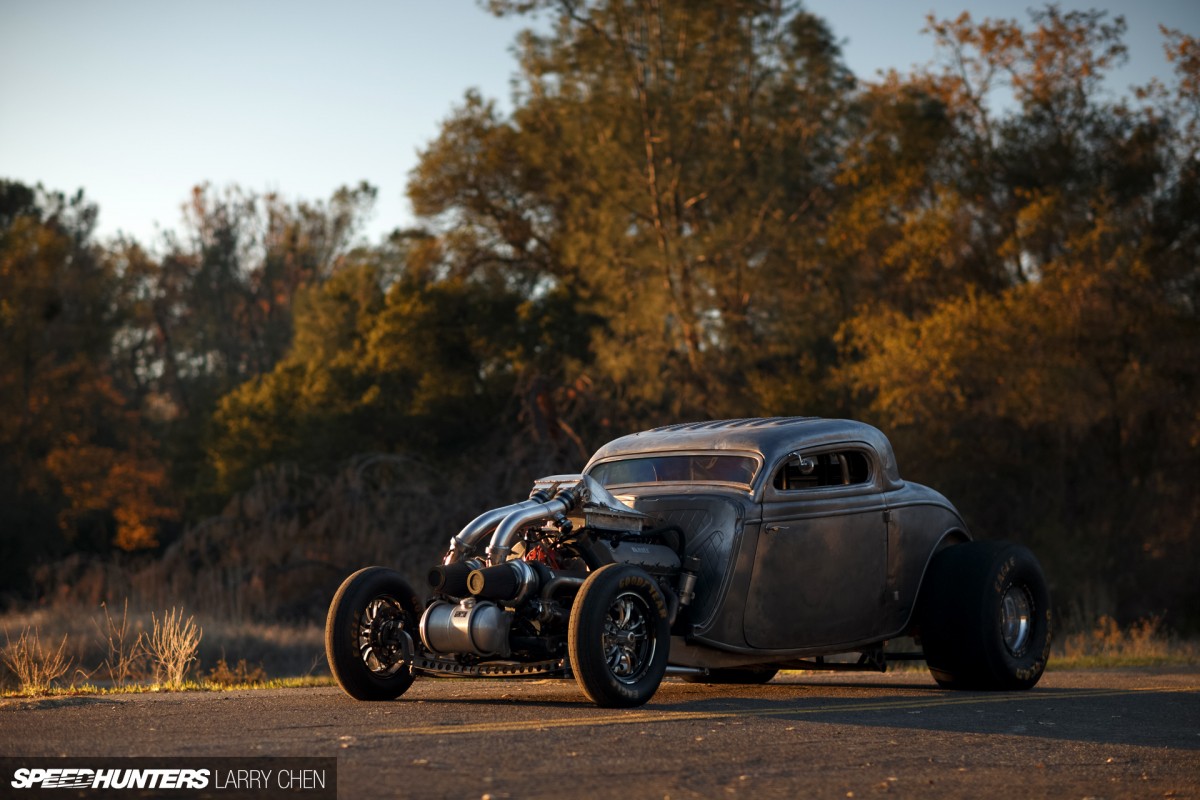 Or is it something even more than that? Could this be the start of a new trend – cars with half a body and an engine on full display? I guess we'll have to wait and see, but I think we're onto something here.
Keith Charvonia
Instagram: SpeedhuntersKeith
keith@speedhunters.com
Photos by Larry Chen
Instagram: larry_chen_foto
larry@speedhunters.com