V8 Swaps Around The World, Unite!
Last month we decided that it had been too long since we had published a story solely dedicated to your personal rides, so we took action and put out the announcement for a special Readers' Rides feature as part of our V8 Swaps theme which started earlier today with an awesome Chevy small block powered 1969 Mercedes-Benz 280S.
The response we received was massive, but it was your passion and enthusiasm for sharing your beloved projects with us that we found truly overwhelming. We discovered some fantastic builds hiding away in all corners of the globe; some of them shocked us, some of them made us turn our heads sideways and mouth silent ooohs and aaahs in front of our screens while our partners gave us concerning looks from across the room, and all of them put smiles on our faces.
Believe us, it was really difficult to pick just ten cars to show you, but we managed to get there in the end somehow! So without further ado, it's time to get personal and take a look inside your garages to see what sort of V8-related shenanigans our worldwide Speedhunters audience members are getting up to.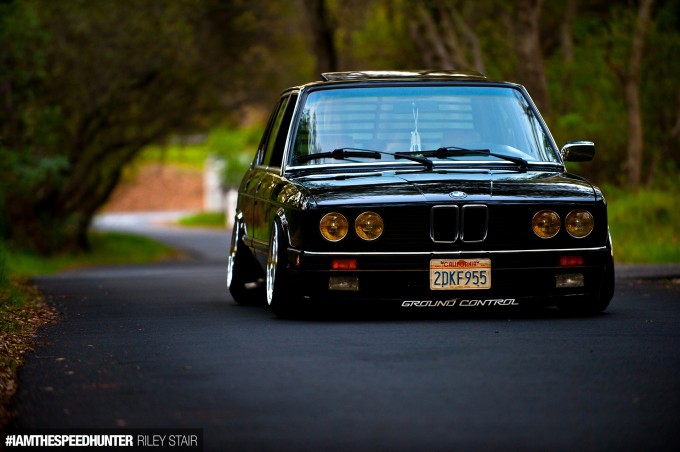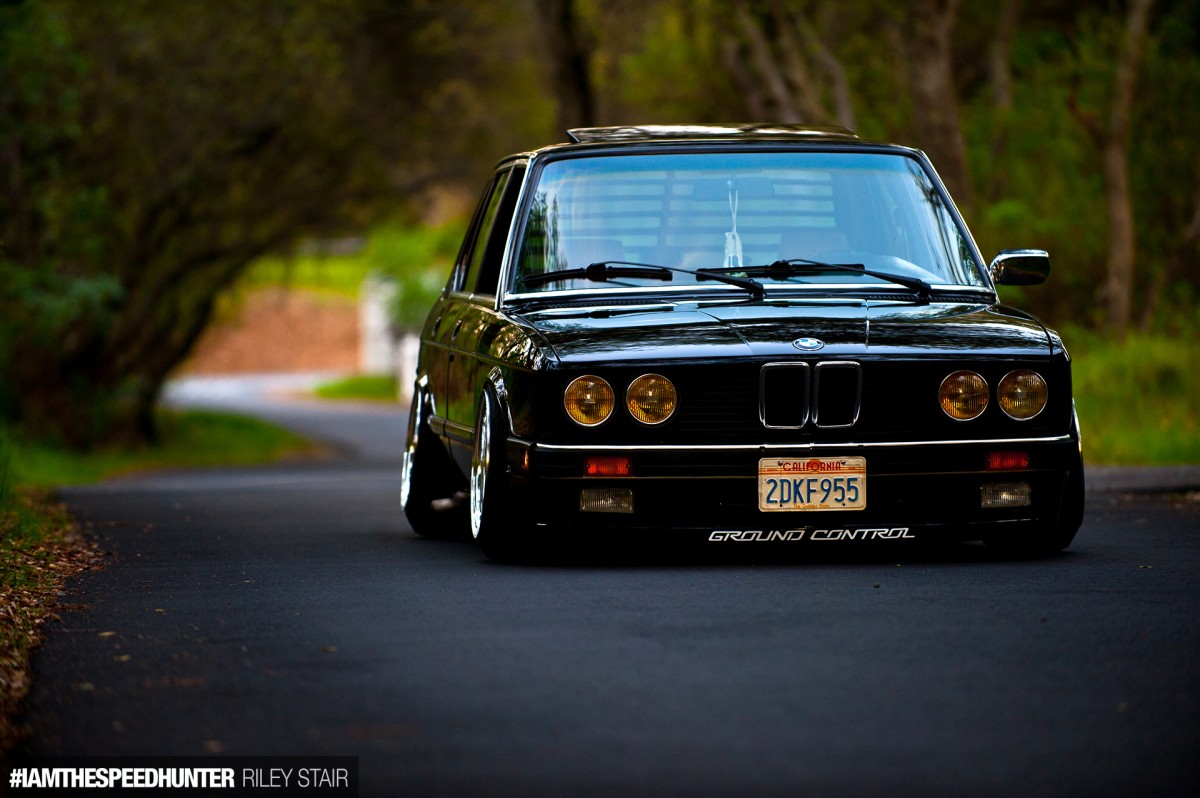 Our first submission comes to us from Riley Stair, who lives in Folsom, California. With its classic understated looks, if you walked past Riley's '86 BMW 535i sitting in a parking lot you'd just assume it would be running its stock engine. Of course, the car was originally equipped with a 3.4-litre six cylinder engine, which as Riley puts it, "still left a bit to be desired in the power department." Having grown up around V8s and after owning his 5 Series for five years, he felt that it was only natural to upgrade to something with a bit more grunt.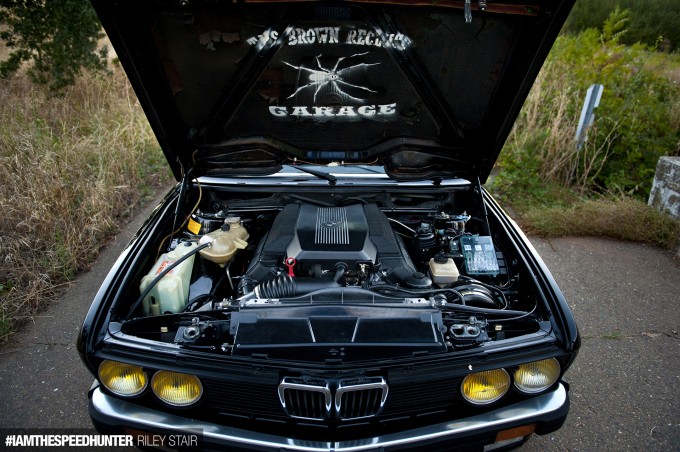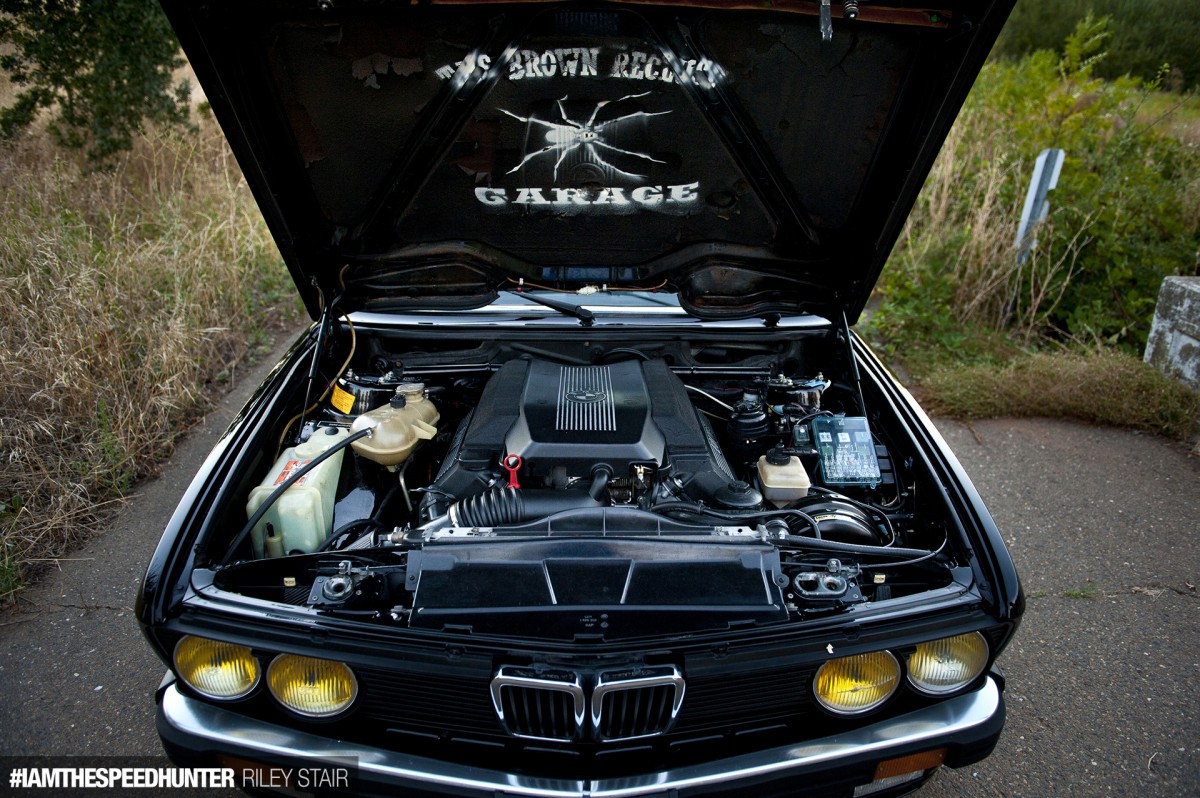 Keeping it in the Bavarian family, a 740i donor car was sourced and the 4.0-litre V8 was transplanted into its new home. A new transmission was found too, a short ratio five-speed manual from a 530i; matched with a lightweight aluminium flywheel. Riley also explains that because the car was built in his front yard at home, physically fitting the M60B40 lump due to its size and 90-degree V-shape was a large hurdle, which led to a lot of relocation and custom fabrication including completely new hand-built subframes.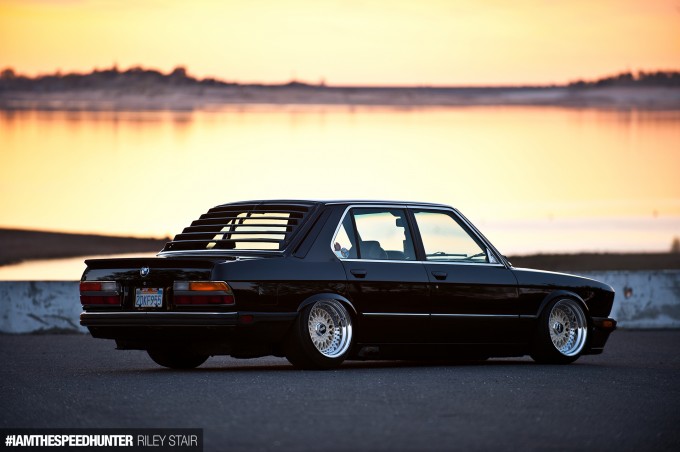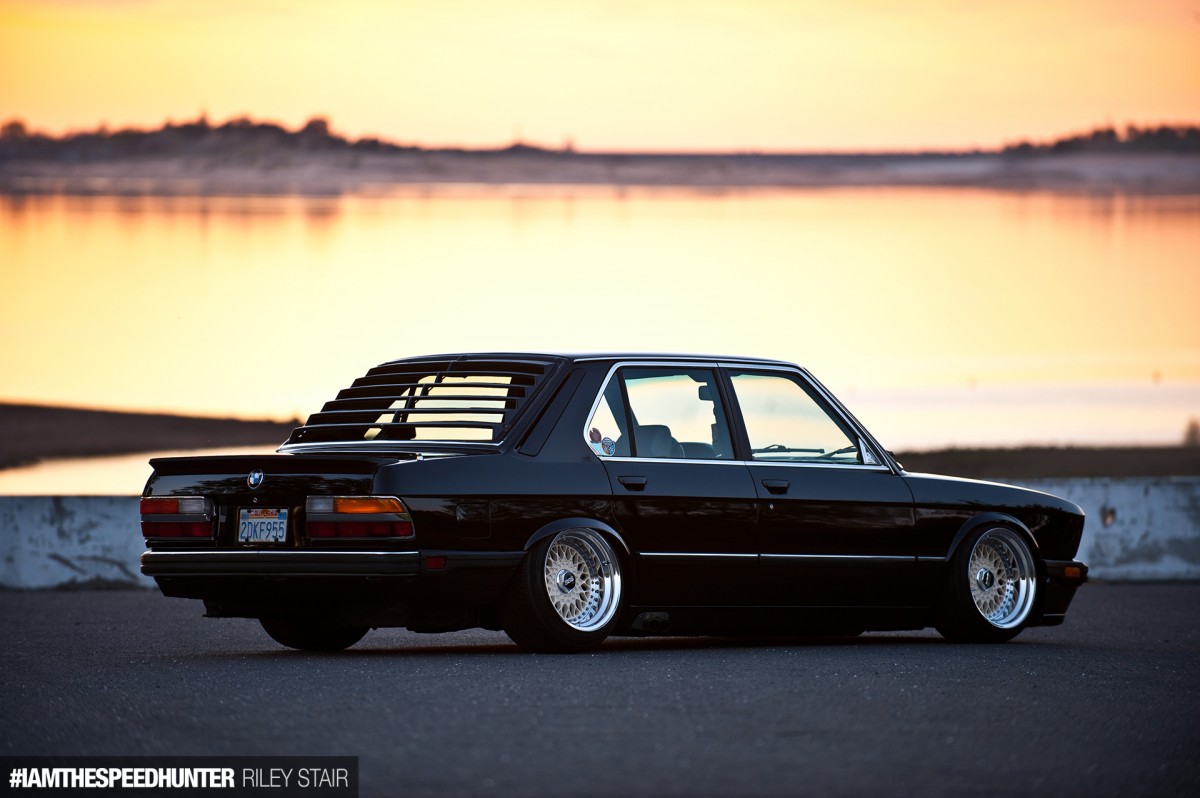 It looks like all that hard work and dedication paid off though, as now Riley's daily driver isn't just about good looks – with a beautiful set of 16×10-inch and 16×11.5-inch BBS RS wheels, a lowered ride height thanks to a custom coilover set up, and enough power to satisfy Riley's heavy foot too.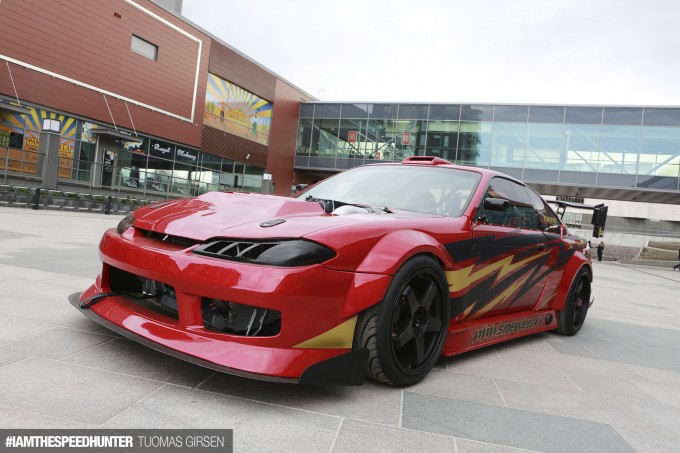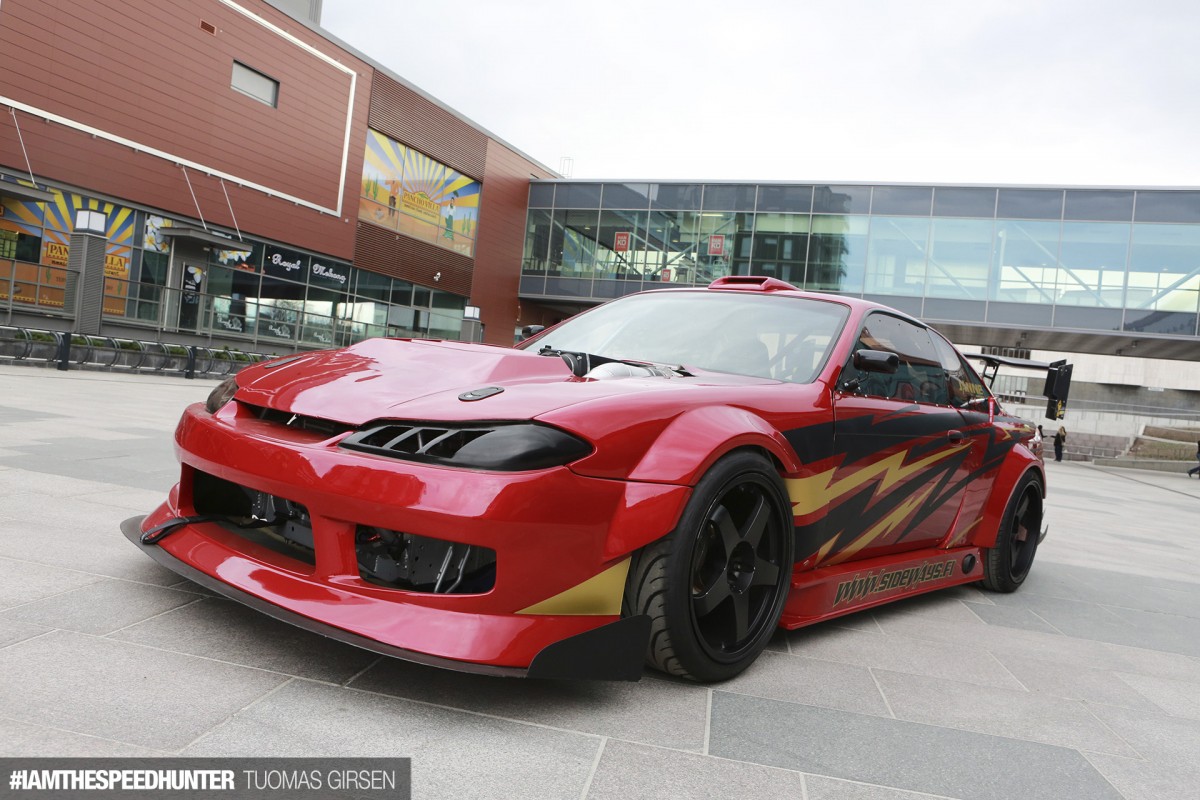 When we opened Janne Veikkanen's email and saw that he was from Finland, we knew that his '94 Nissan S14.5 Silvia would be something special. From what we've seen evidence of in the past with Finnish project cars like this, they always seem to have an incredible amount of detail put into them – and not to mention, horsepower. In typical Nordic fashion, Janne built the car himself with the help of his friends over a seven-year period, and he describes it as "A straightforward drift build with a couple of things to mention." Despite Janne's modesty, that couldn't be more far from the truth, as the S15 'strawberry face' conversion and custom aero you see here are only just the very beginning…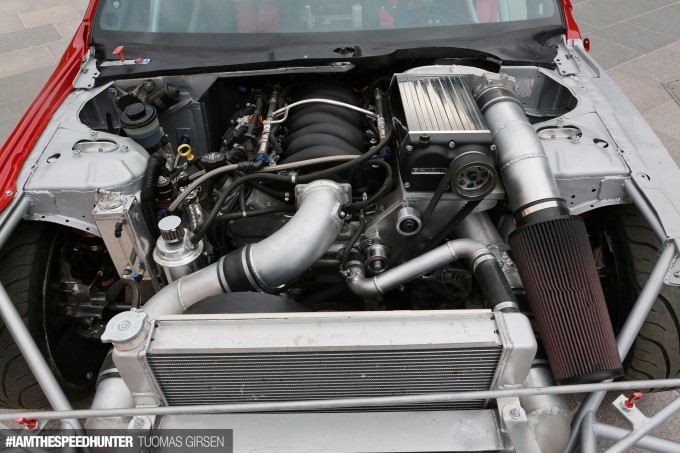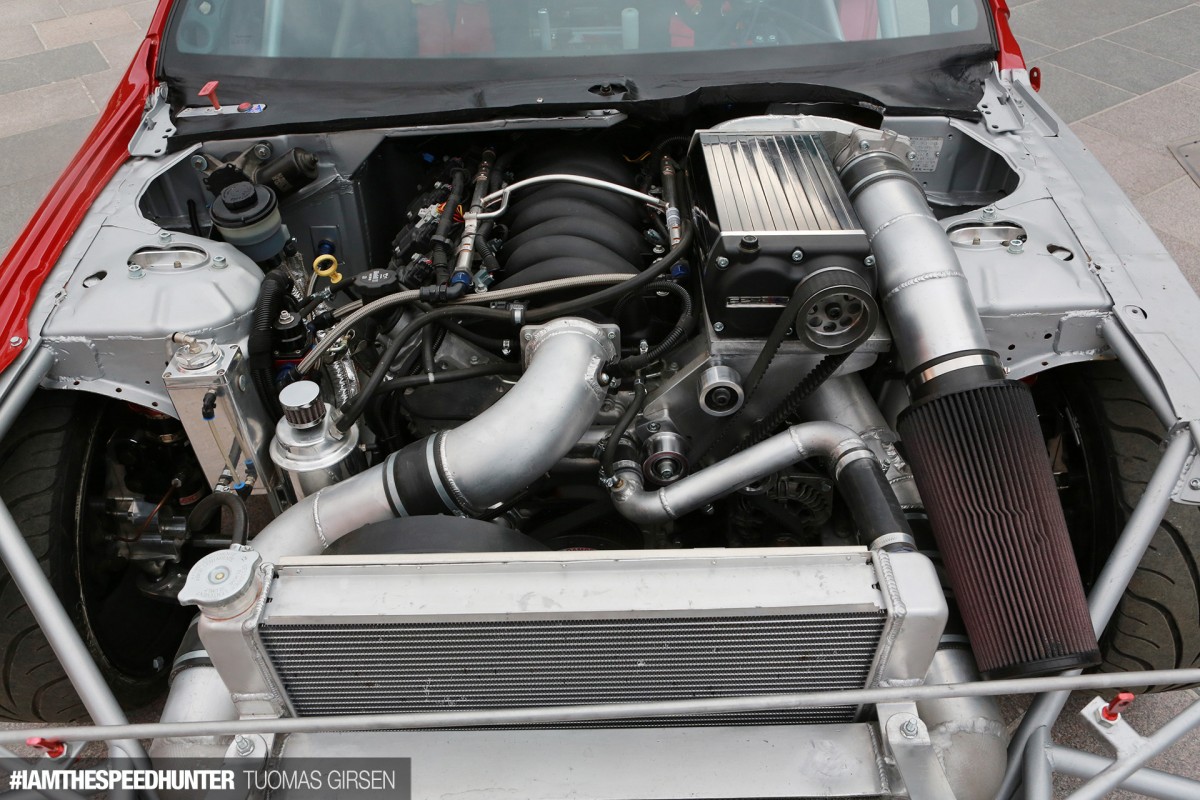 Janne has chosen to go with an LS3 crate engine, which sits far back behind the front struts and is mated to a G-Force four-speed NASCAR-spec dogbox transmission. With help from an HPS supercharger, the Silvia is making a cool 600bhp/800Nm at 0.2bar of boost. He hasn't actually run this set-up with any more boost than this yet, so those numbers will likely go upwards. Janne designed and fabricated the supercharger mounts himself, and you can just see the chromoly tube-framing in this photo too. Did we mention it has air jacks?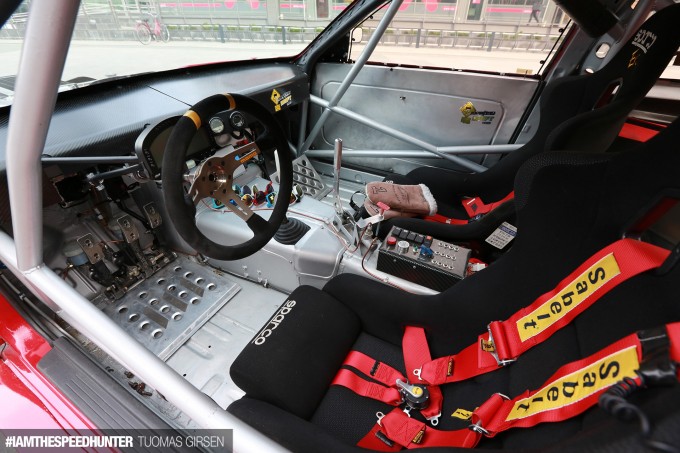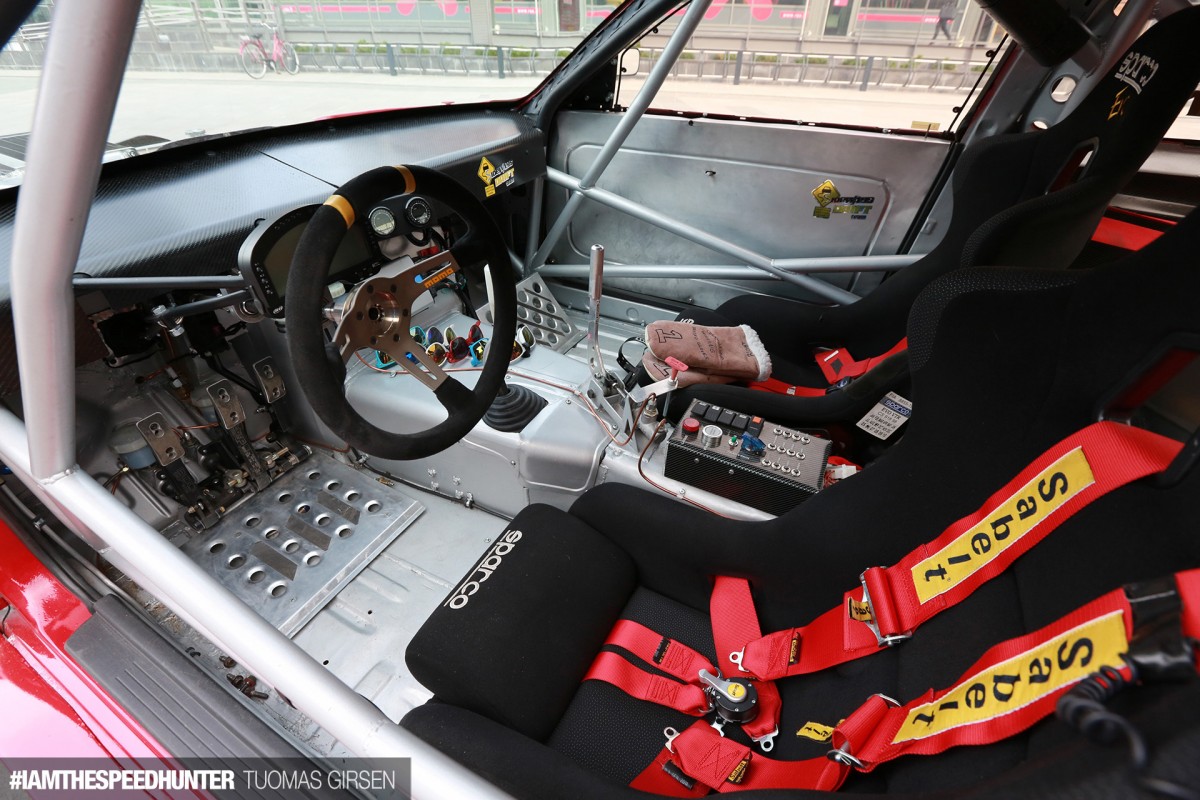 As the interior gives away, the Silvia has been built to drift competitively, with Janne having piloted it at events such as the Finnish pro championship series, the NEZ (North European Zone) drift series and even Gatebil, but most importantly, he built this car to have fun with. From what we've seen so far, some pretty serious fun must be being had with this impressive drift weapon!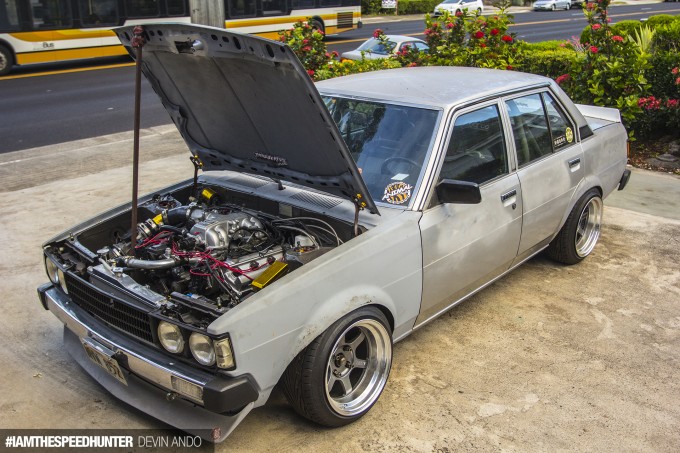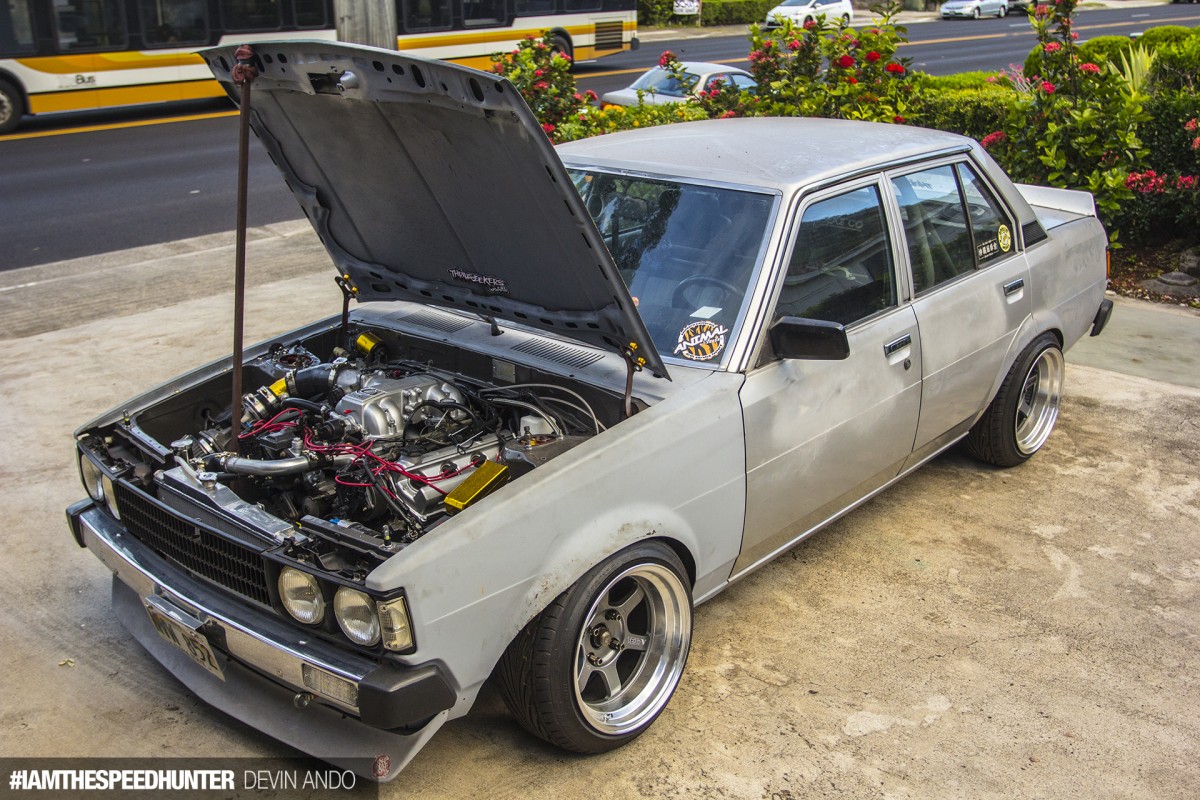 Brice Hiranaka's Toyota Corolla might not be the prettiest car, but you should never judge a book by its cover – or a car by its body panels! At 23 years old, the Honolulu local has already owned this '82 KE70 for seven years, and during that time it's gone through quite a few changes. The 3T-C engine was previously swapped out for the much-desired 4A-GE blacktop 20V motor, which Brice had running for a little less than a year before he started craving more once again.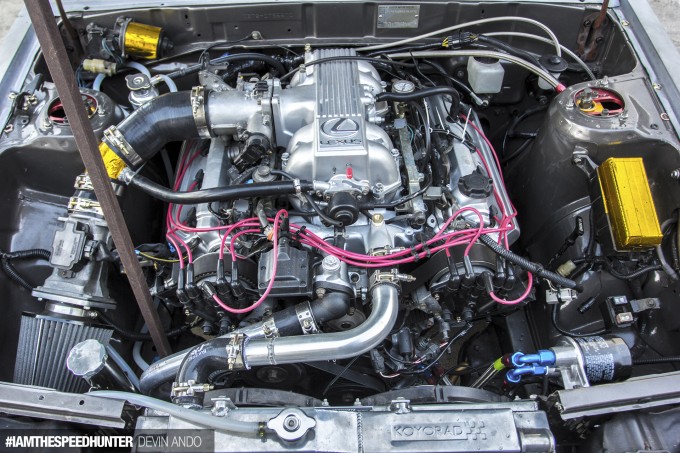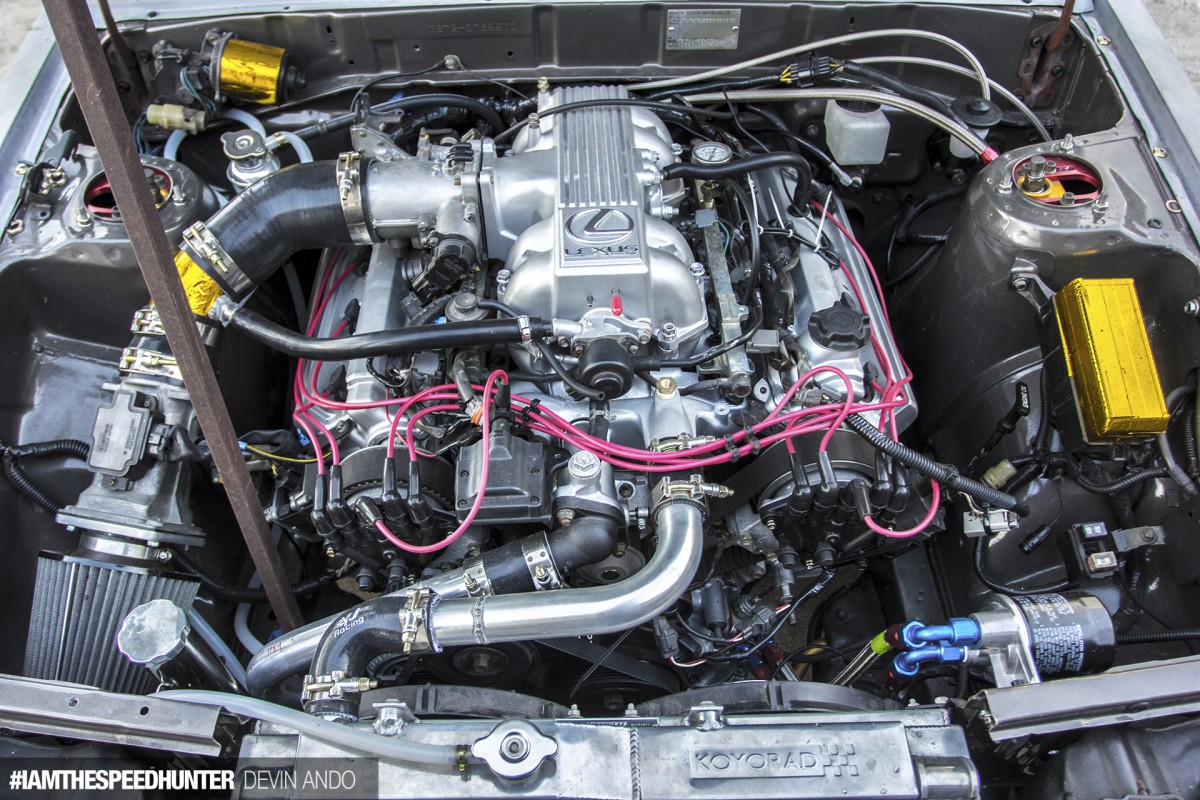 When Brice eventually got his hands on a 1UZ-FE from a '93 Lexus LS400, things got a bit more serious with his beloved Corolla. A MK2 Supra W58 transmission was sourced, an AE86 GTS rear end swapped in, and a whole lot of other subtle custom touches have been added too. Our favourite has to be Brice's rolling stock of choice – a set of 15-inch RAYS Volk Rays TE37V wheels and a modified S13 Rocket Bunny boot spoiler. It's cool to hear that even after all this time, Brice's relationship with his first car is still going strong. It's gone from something he picked up from an elderly neighbour for only $500, to a well-equipped street machine with enough power to throw your head back into the seat.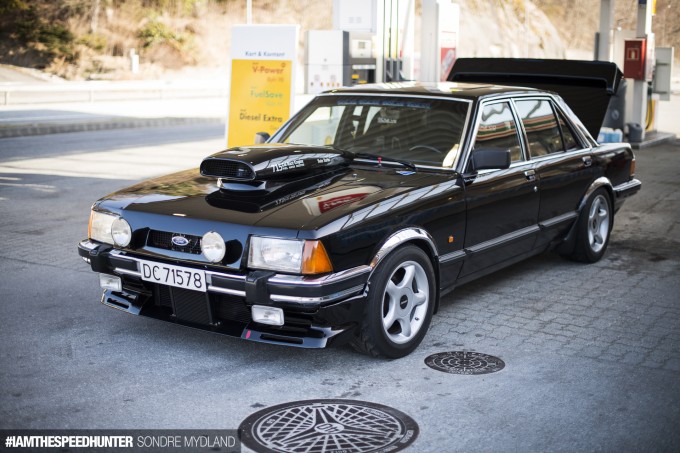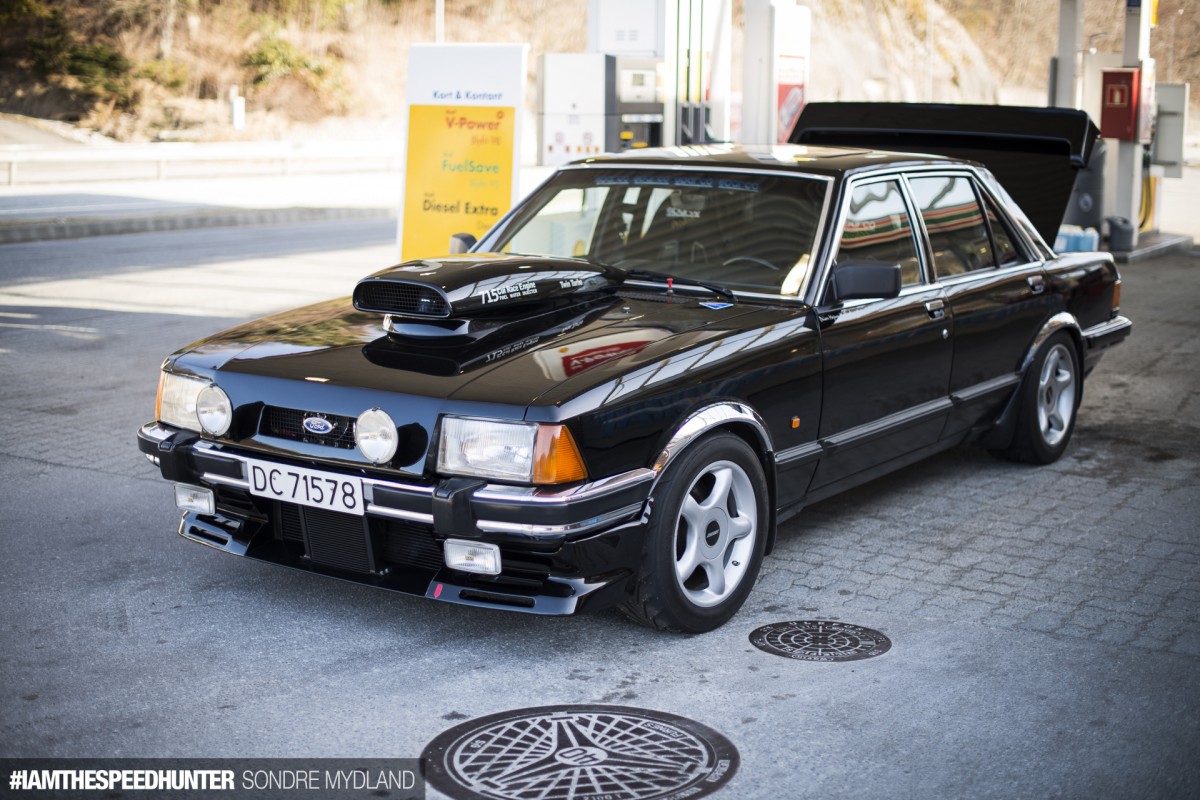 Did we tell you there was a lot of variety in the submissions we received for this story? You're about to find out just how much, with this epic '78 Ford Granada build sent to us by Sondre Mydland from southern Norway. Sondre explains to us that the Ford is actually owned by his dad, Magnor Mydland, and they have been building and modifying it together for many years now. In the traditional Scandinavian car-building attitude, it's the sort of project that will never be completed, and that massive bonnet scoop should give you some idea of how serious we're talking here.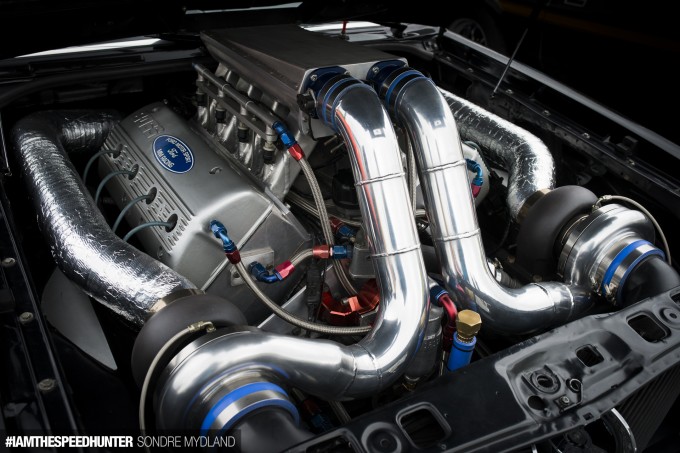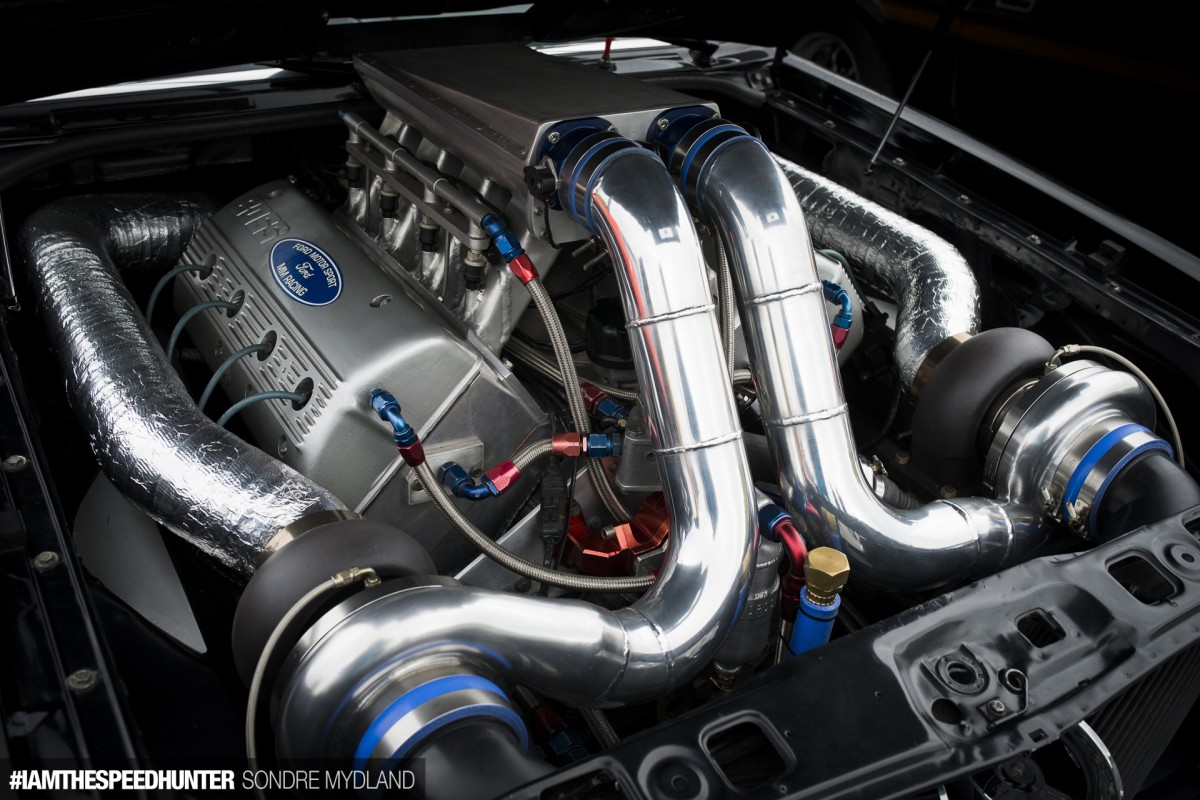 The original 2.3L V6 is long gone of course, replaced by a set-up that Sondre and his dad call 'Big Boy'. The massive 715ci big block HEMI was originally sourced out of the States back in 2000, and has been used in different configurations every year since. The car runs on pump gas, and with water methanol injection and its massive twin Comp turbos, Sondre and his dad estimate this set-up to be making around 2000hp-plus. Yes, you read that right!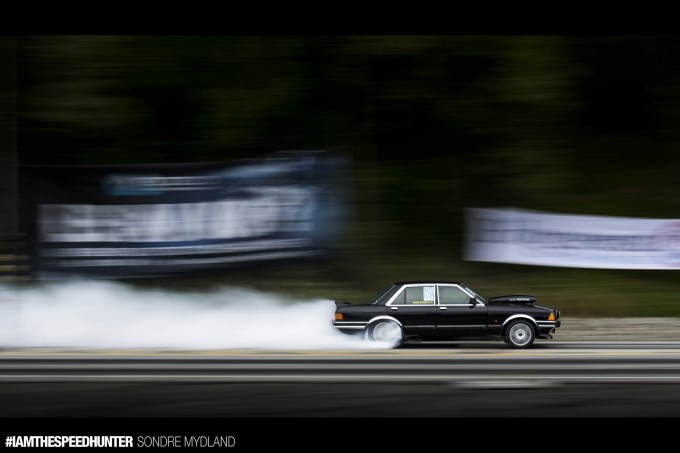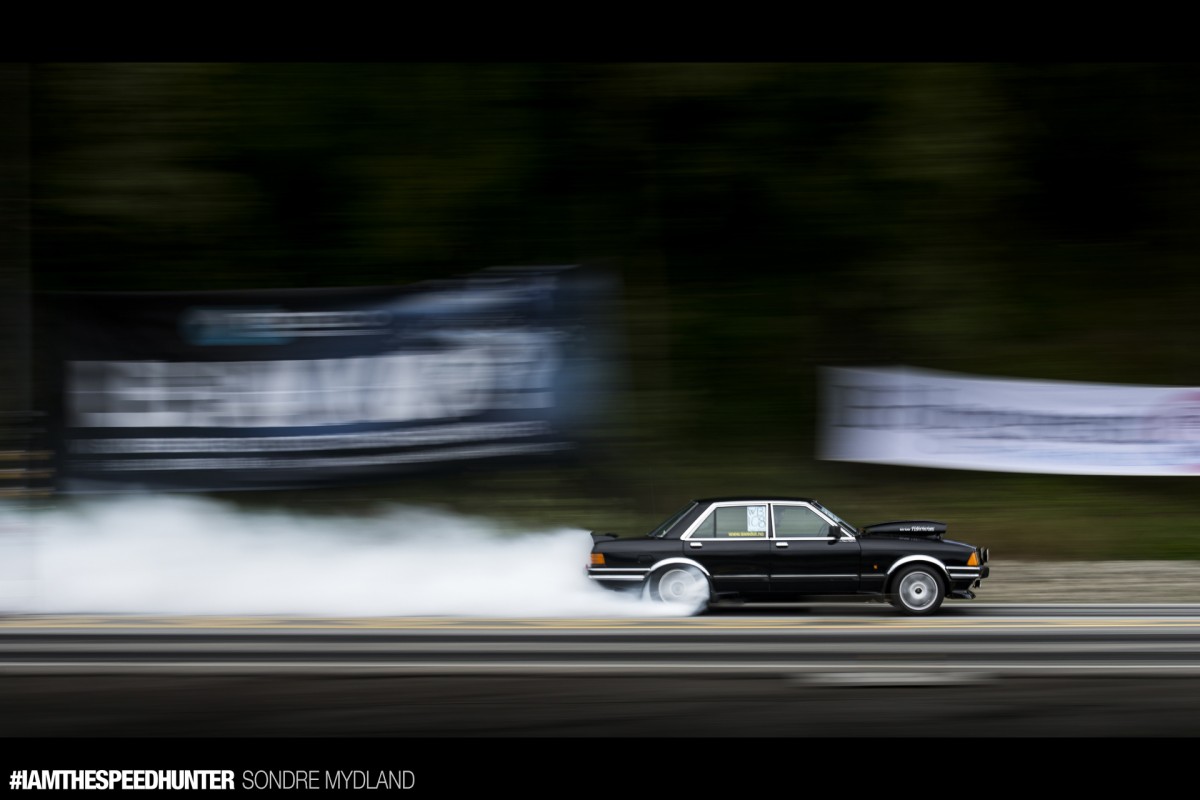 It's street legal too, and other than a full cage and Sparco bucket seats, the original Granada Ghia interior is still all intact, and the car is used every summer on road trips to various car shows and drag racing meets. Coolest dad ever!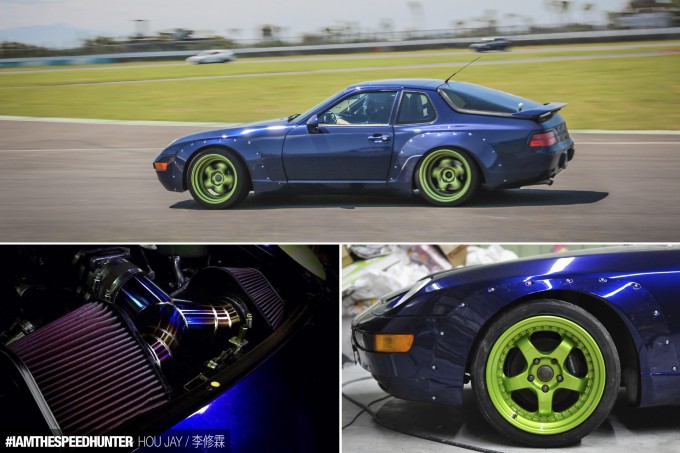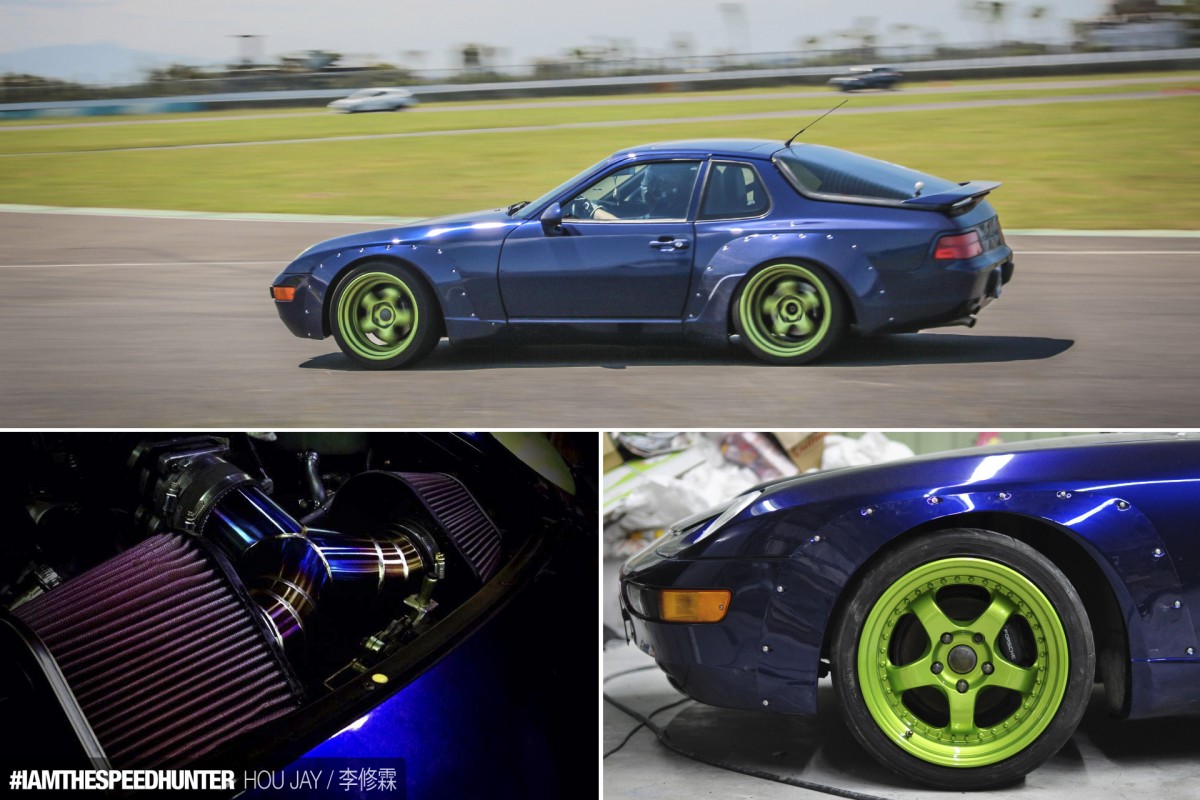 Next up, we have Jay Hou's LS1-powered Porsche from Taiwan. Jay explains to us that he's alway been a huge fan of the AC Cobra and American muscle cars ever since he was a child, but as he grew older, he fell in love with the way European cars feel and handle on the road, so he wanted to combine both of these things together somehow. The result is this very cool 968 with an '02 Corvette engine transplant. A keen track day enthusiast, Jay has modified his 968 with looks and performance in mind, with a long list of upgrades such as a Crane Cams cam, upgraded push-rods and rockers, long tube headers and a custom titanium intake with a 95mm throttle body, just to name a few. The colour scheme is eye-catching too, and Jay has gone with a set of bright green SSR Professor SP1 wheels in 18×9.5-inch and 18×11-inch fitment front and rear respectively. We bet this Euro-American hybrid turns heads wherever it goes!
In our second chapter, we take a look at some very unique V8-powered JDM machines from the USA, Australia and Thailand…
8 Cylinders Or Nothing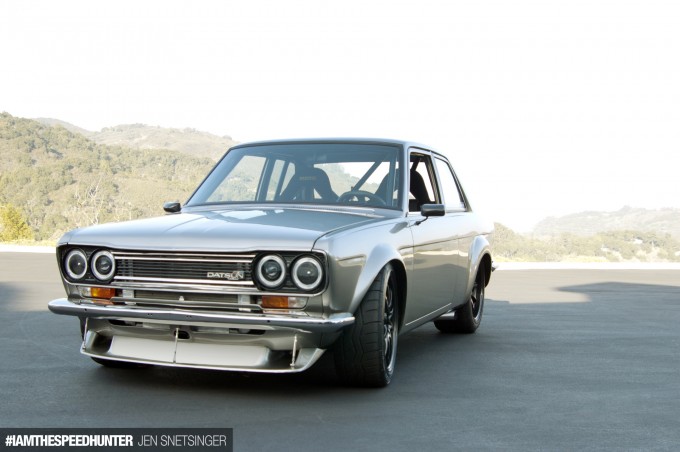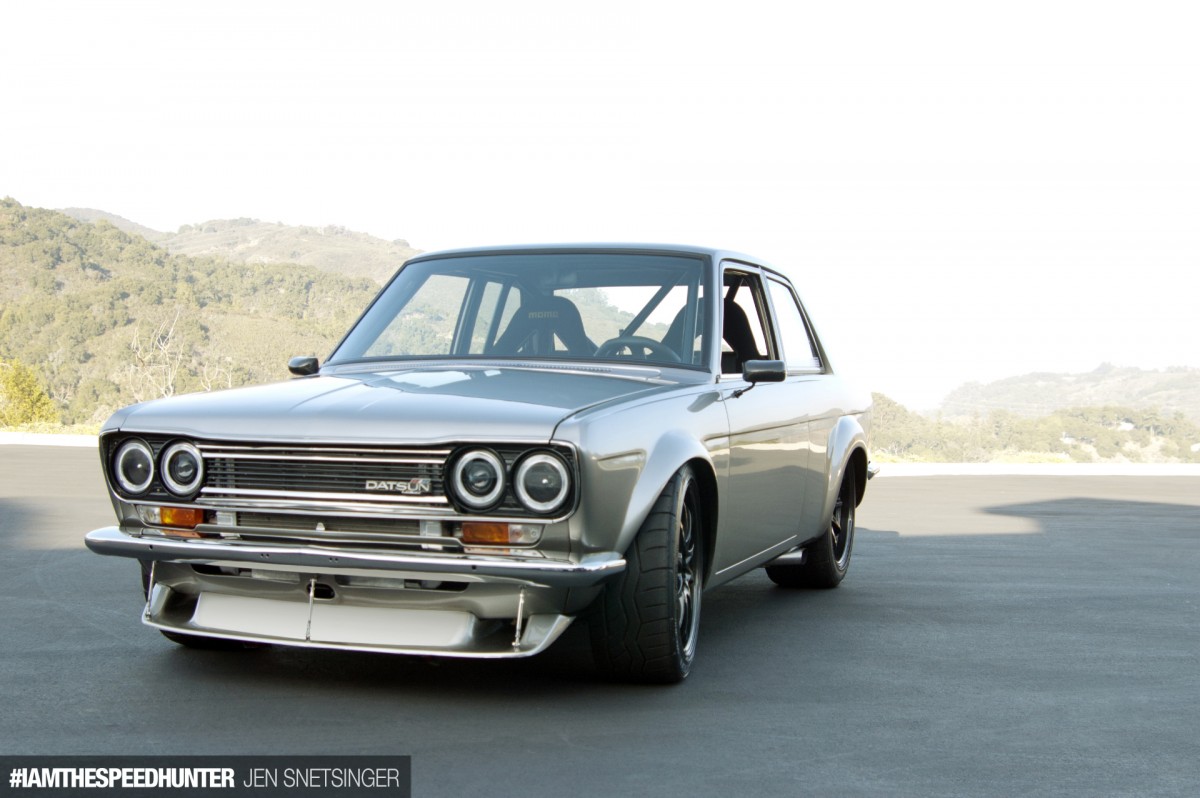 Jared Snetsinger's '69 Datsun 510 might look like a relatively tame mild build at a quick glance, but there's certainly a lot more to this very fast little Datsun than what first meets the eye. Jared picked up the Datto around seven years ago, and as they say, one thing eventually led to another. By now you've probably noticed details such as the BRE fender flares and carbon front lip, the shaved door handles and side markers, and the full cage and bucket seats peeking through the windscreen. That's just the beginning, though, as the chassis has actually been fully stripped back, powder coated and modified to some extent, with a rebuilt bulk head, firewall, floor boards, transmission tunnel, rear tubs and trunk pan.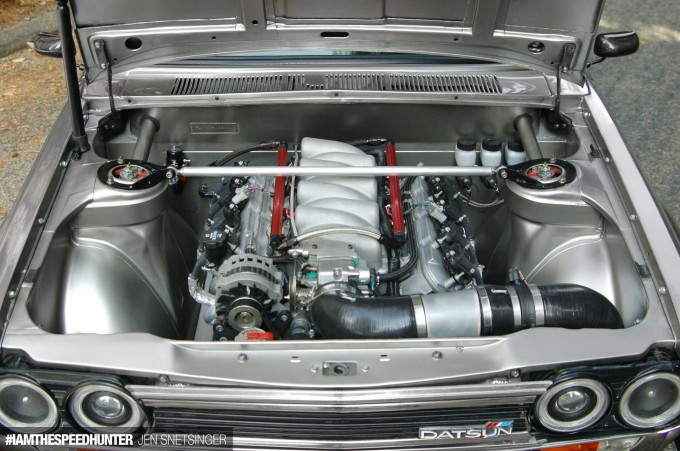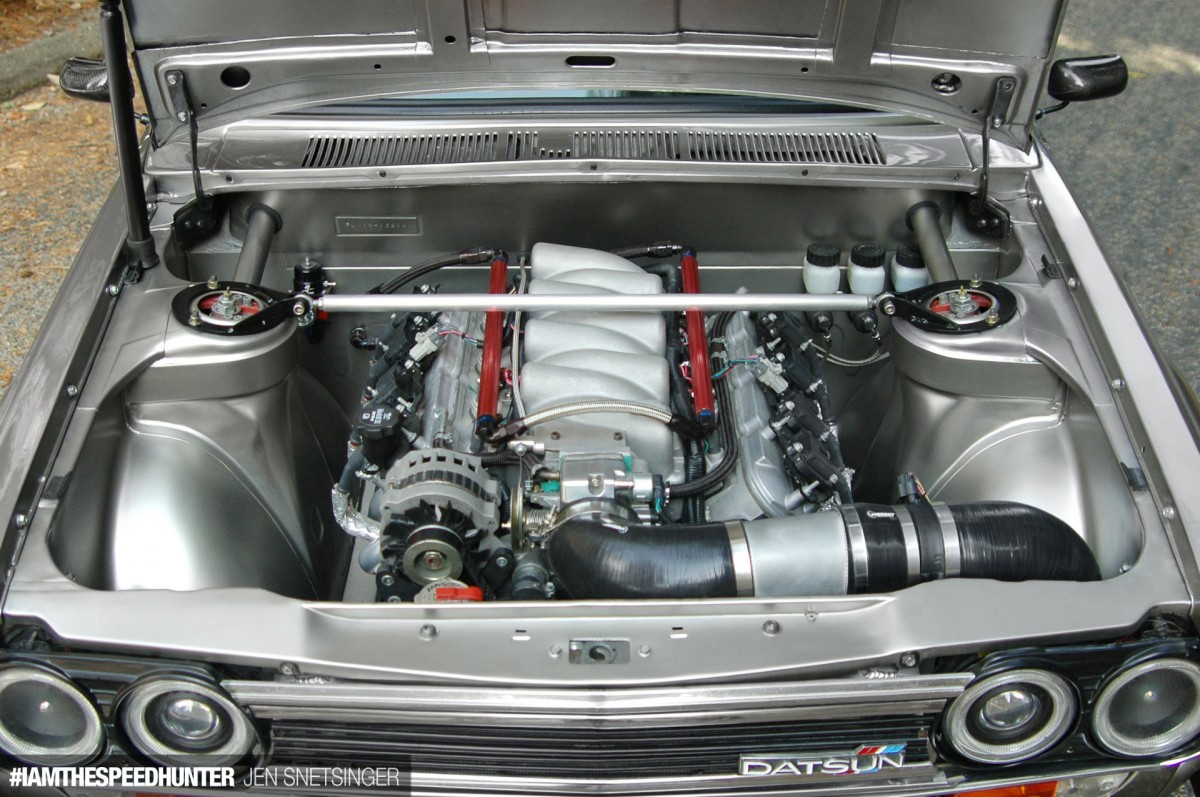 Jared was running an SR20DET set-up before this, but after he blew that up, he decided that he wanted to do something a bit more drastic. The 510 now runs a 350ci LS6 crate motor and was recently dynoed at 426rwhp. The engine bay has recently been detailed and repainted in the same shade of metallic silver as the rest of the body, and the result is very easy on the eyes.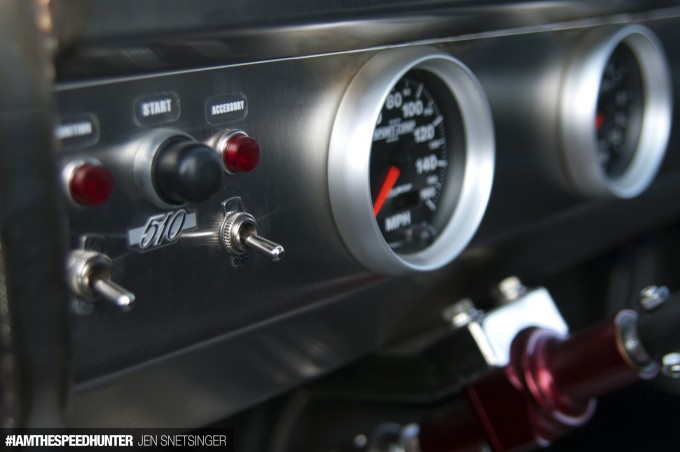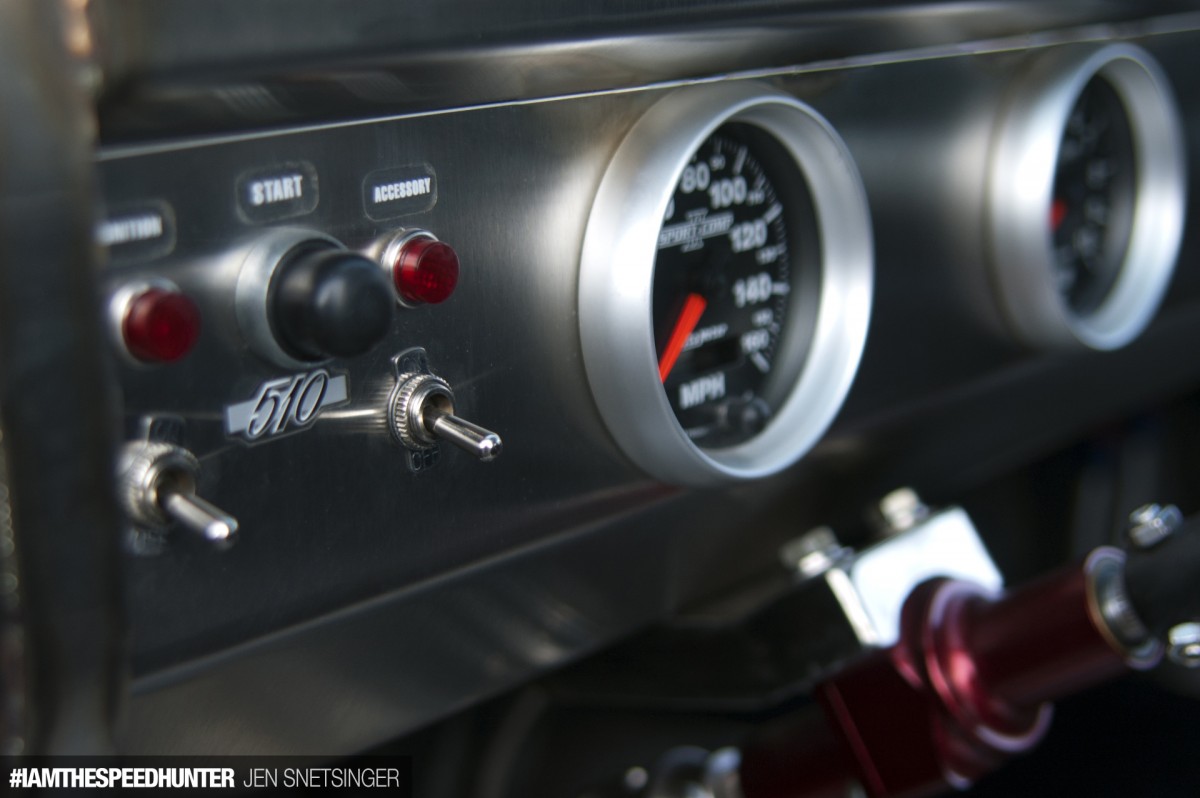 No detail has been left out, with the interior having been given the full race treatment too. The bare metal LandRockets one-piece dash and Auto Meter Sport Comp II gauges give the cockpit a raw, almost industrial look, and the 17-inch RAYS Volk Racing CE28N wheels carry on with the crisp metallic theme throughout the car. Overall, this is a stunning build with an incredible level of customisation and dedication from its owner. If you're a NorCal local, you might be lucky enough to catch Jared carving up some twisting driving roads in the Santa Cruz mountains, where he calls home.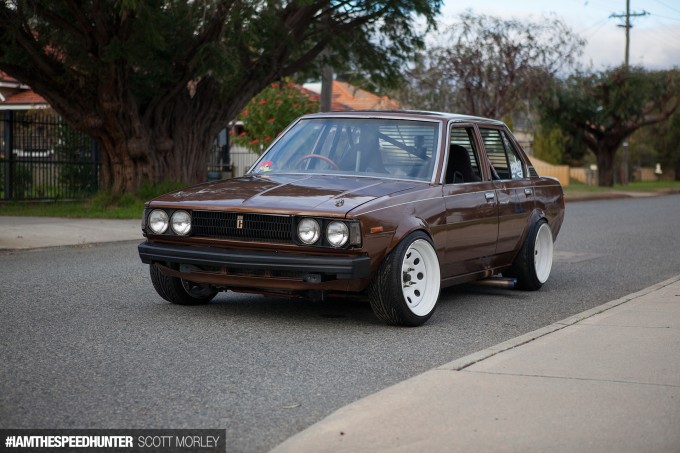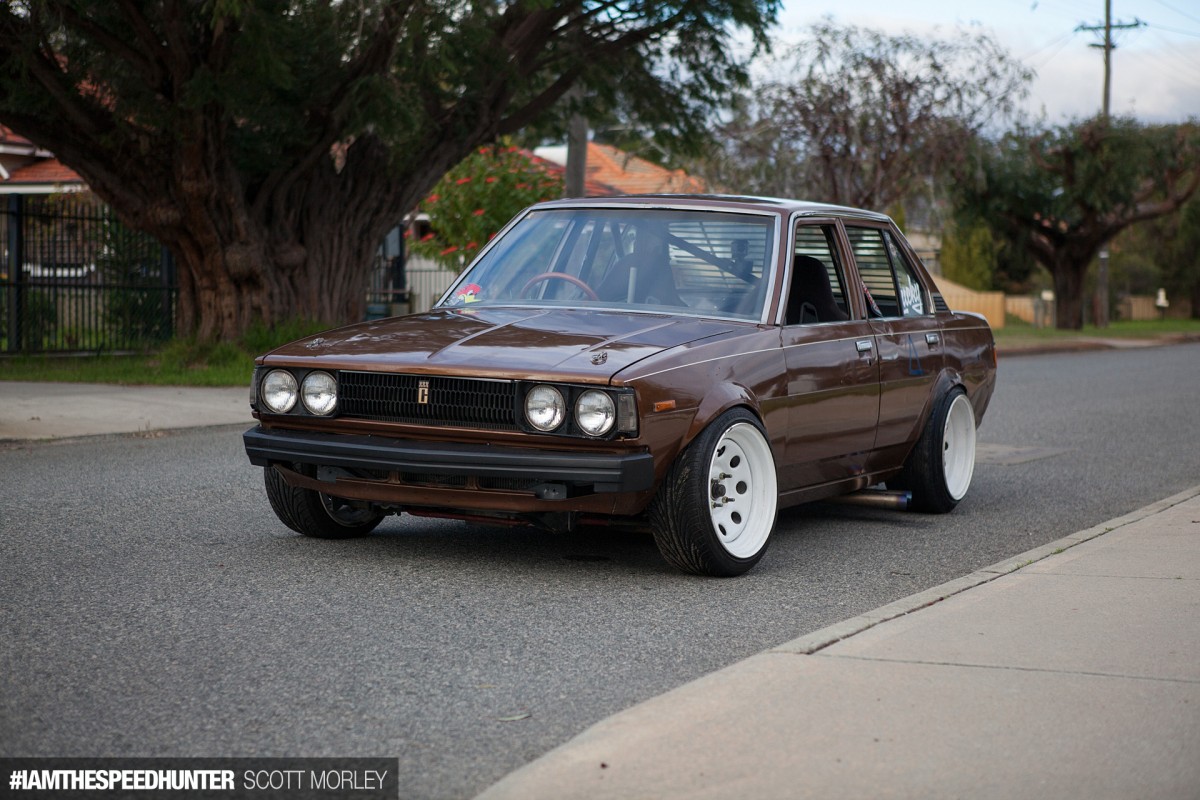 From the West Coast of America to Western Australia, Ben from Perth sent us these images of his 'tyre-killing' KE70 Corolla drifter, which he's built in true DIY spirit with the help of his brother and some friends in his shed at home.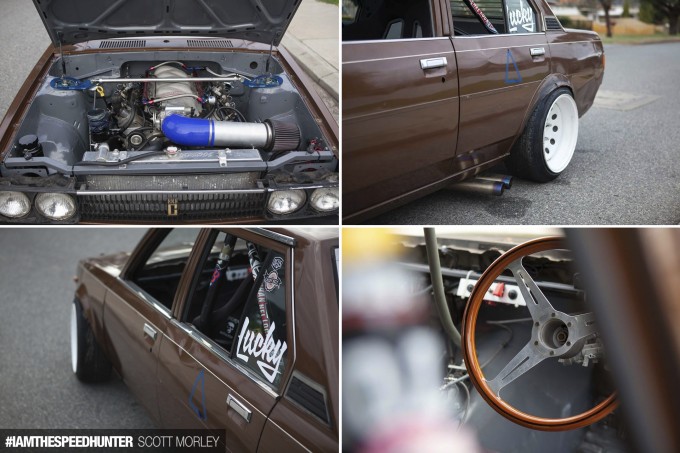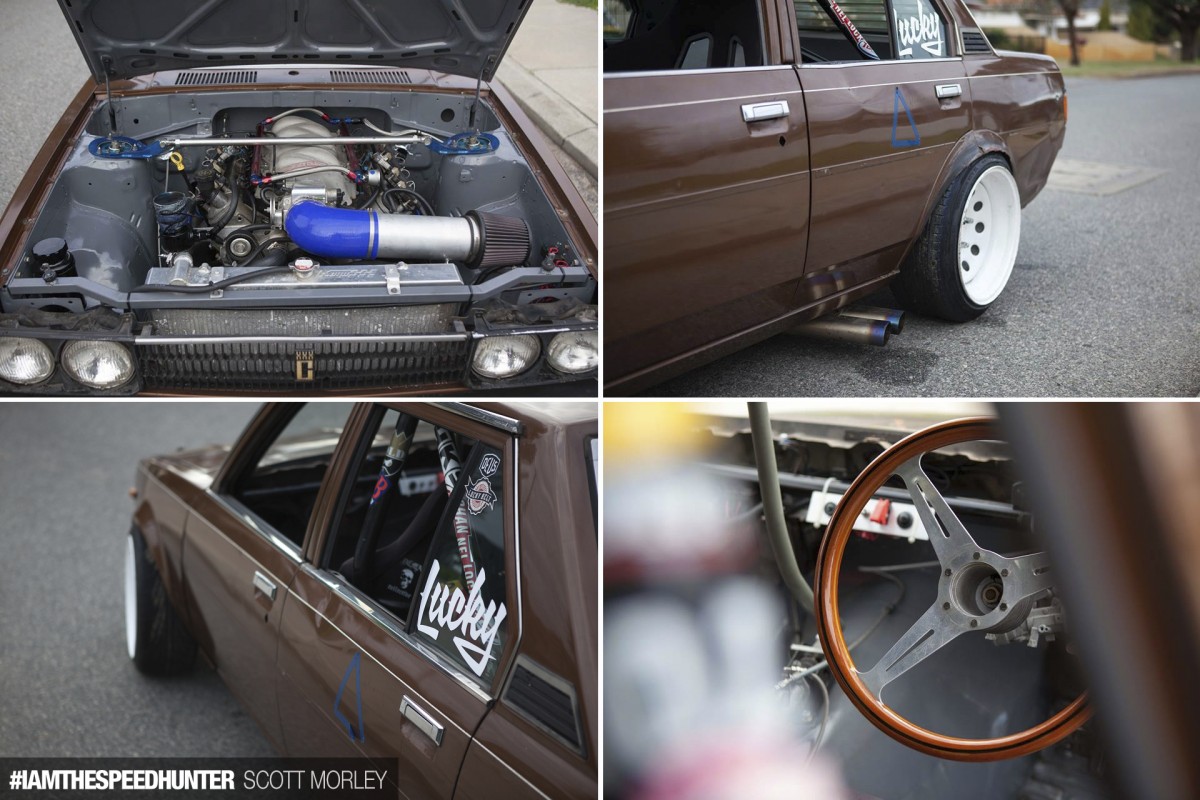 Together the dedicated Aussie friends have managed to recess a C4B Callaway LS1 V8 as far back as into the Corolla's firewall as possible, and the bulbous V8 features a bigger cam, worked heads and custom-made headers. Ben has dismissed the fancy stuff for a raw, functional interior with a Tilton pedal box, an old woodgrain Nardi wheel and not much else. We're digging the rough, 'don't care what you think' style of the exterior too, with the beat-up fenders and aggressive steel wheels.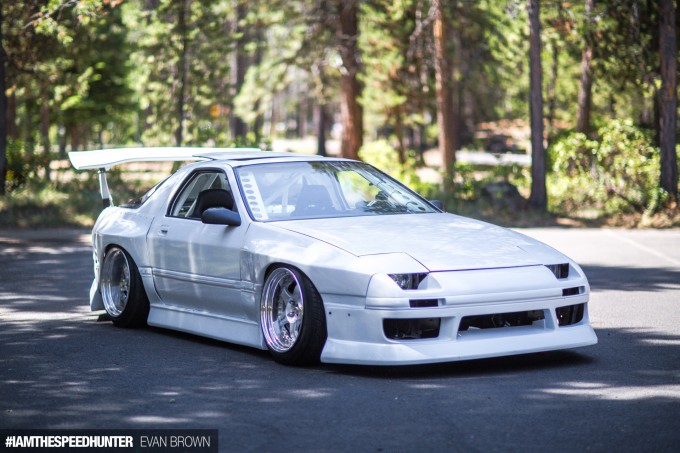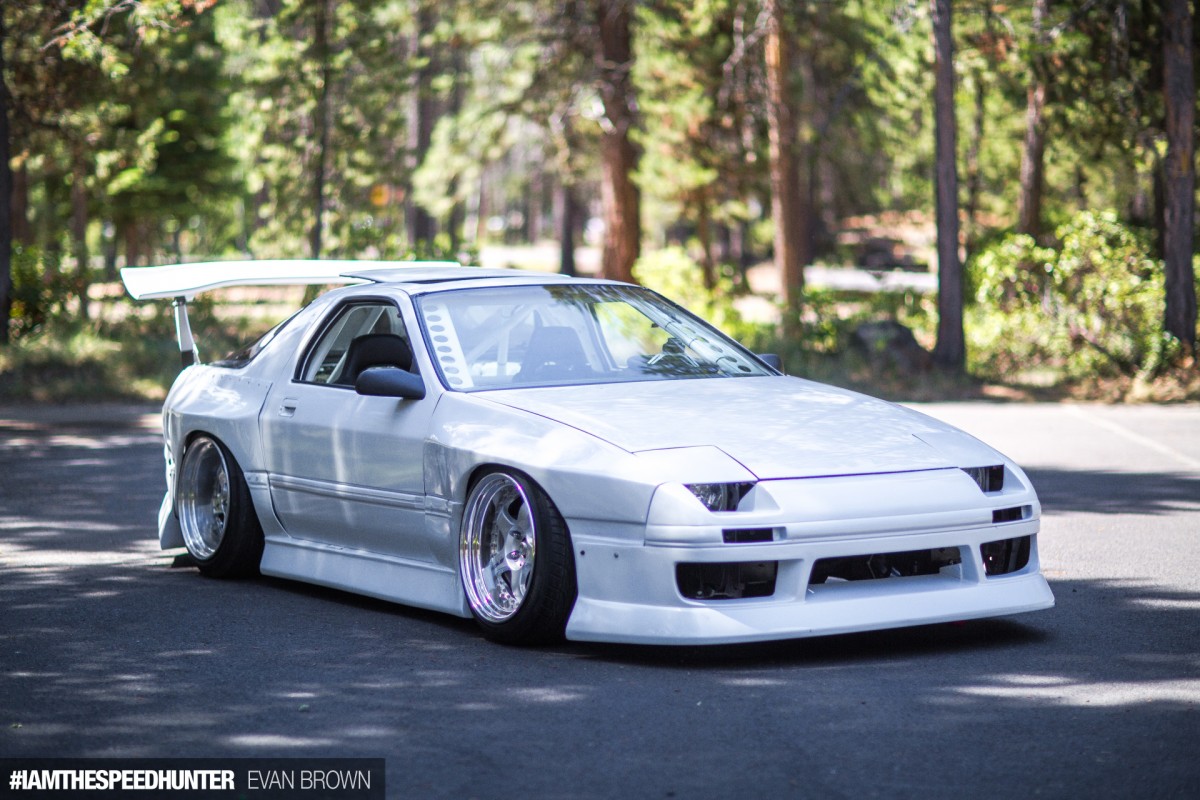 Evan Brown has spent two years putting his '87 Mazda FC3S RX-7 under the knife, and now it's finally out on the streets of Oregon and moving under its own power. Everything about Evan's build demands attention, with its Big Country Labs wing, custom FRP wide-body kit, BN-style bumpers and aggressive Work Meister S1 wheels. There's just something about a fresh drift car with no graphics that looks so damn good, don't you think?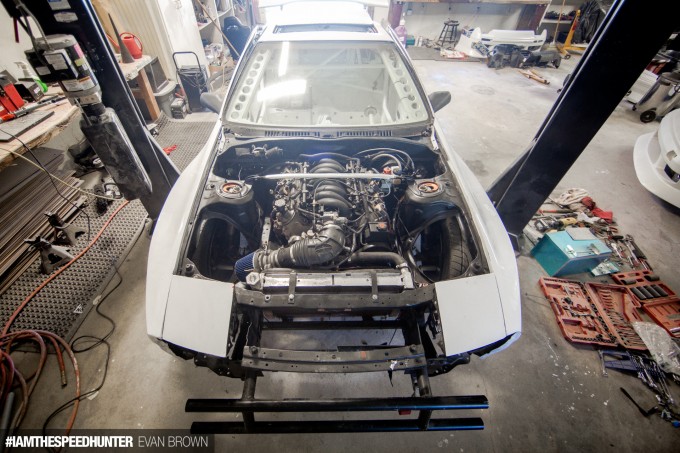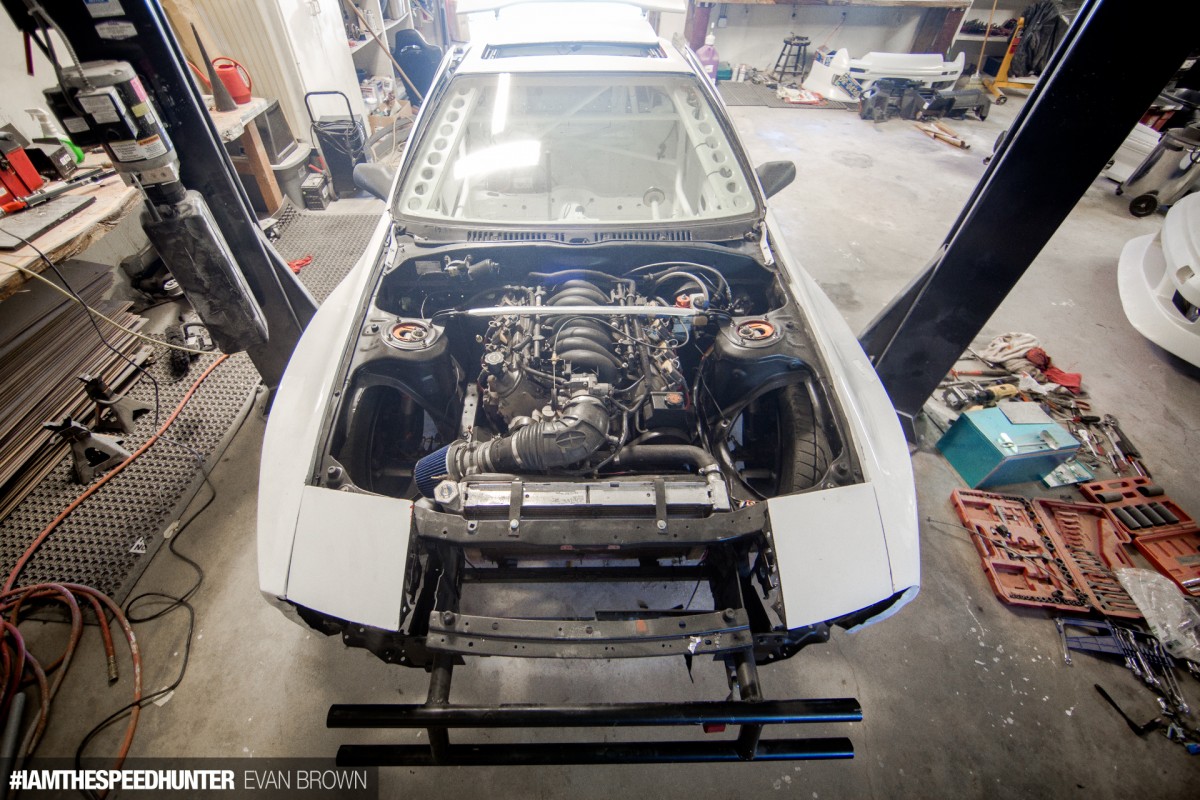 And here's what's lurking within: a Chevy LS1 lump with an LS6 intake manifold and ported throttle body. Evan has literally just repainted and re-wired the entire car, so it's all looking nice and tidy.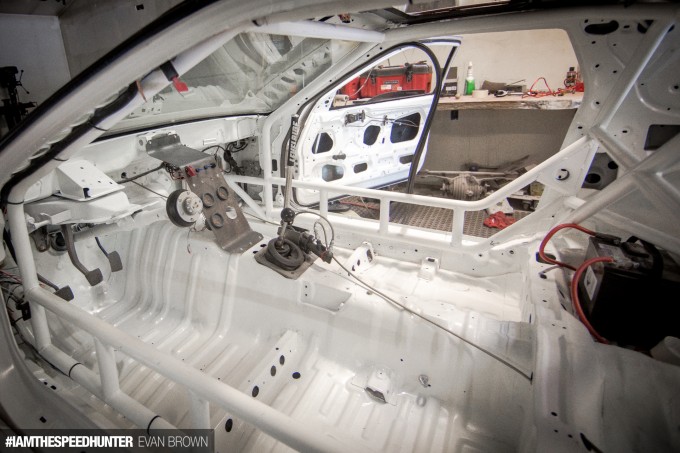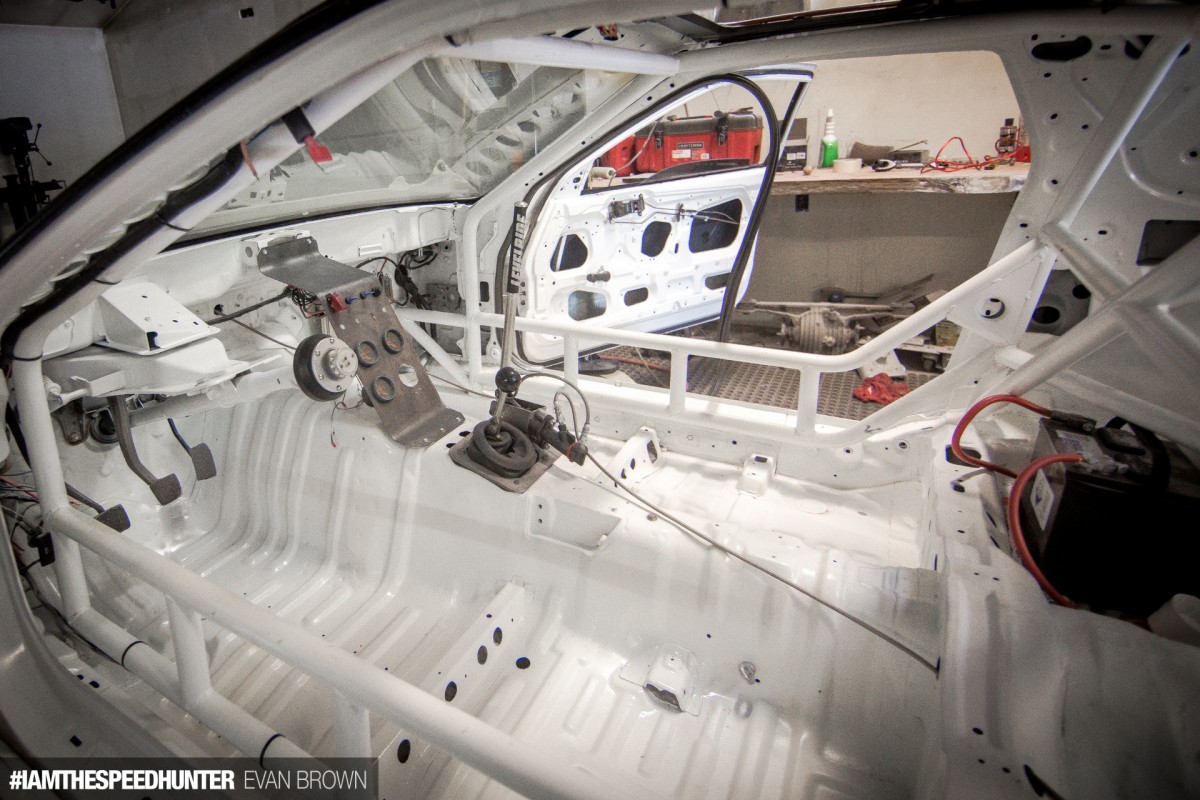 On the inside, the FC has been fitted with a Formula Drift-spec gusseted roll cage and hydraulic handbrake courtesy of Levelride Concepts in Oregon, and Evan is currently is process of having a custom aluminium dashboard made up. Built for drifting competitively – as you might've guessed by now – Evan plans on making the finishing touches and then spending some time dialling the car in at some local grassroots events, before eventually heading out with the Pro-Am class drivers and giving it his all. It's great to see that time has been taken here to factor style into this build, as well as all the important stuff!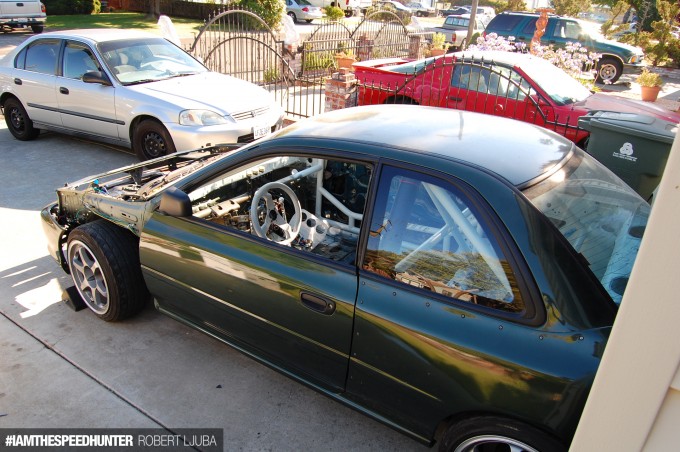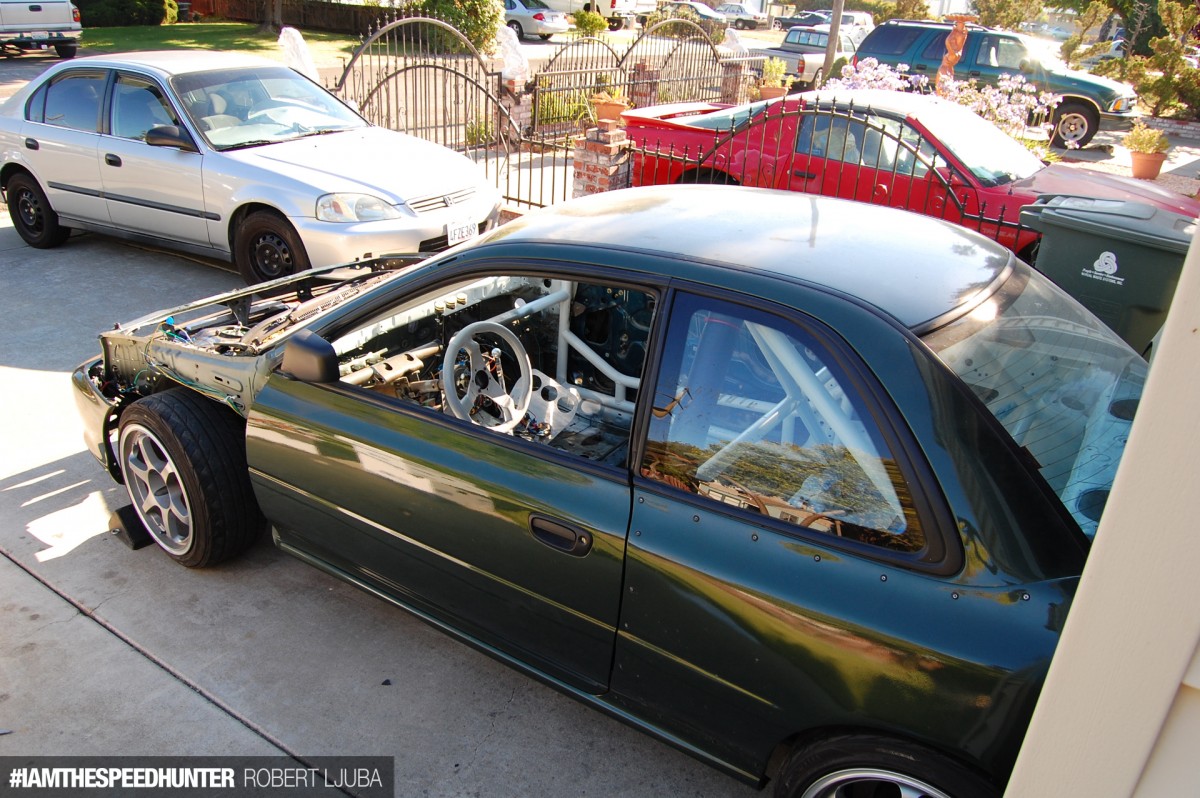 Car number nine on our list is Robert Ljuba's '95 Subaru Impreza L drift build, which like Evan's FC3S, has been a work-in-progress for some time now. An Impreza doesn't seem like the obvious choice for a drift car, but Robert is a loyal Subaru enthusiast and he simply loves the lines of the GC8 body – so much so that's already owned four GCs before this. When you imagine the car lowered with 40mm front and rear overfenders, you can see how Robert would feel this way. Built with functionality taking priority over formality, so far Robert's spec sheet for the RWD-converted Subaru is too long to list, but we'll start off with the Ford 302 EFI V8 under the hood.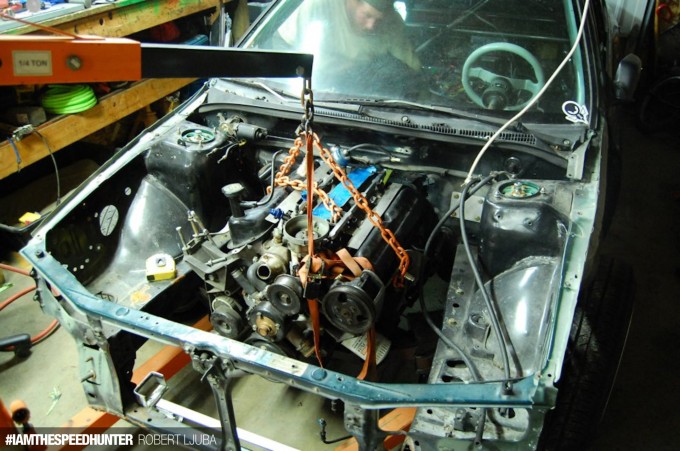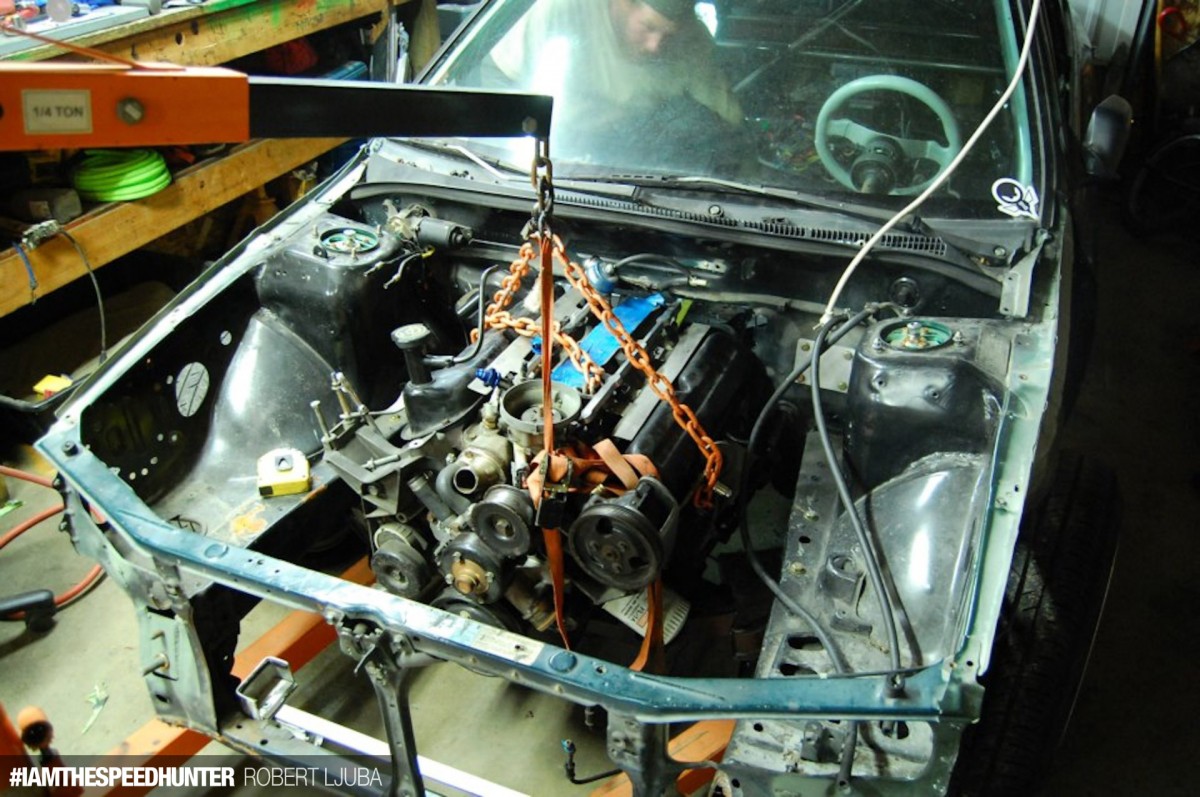 Like quite a few of the other builds we've featured here, Robert started with an SR20DET engine but soon grew sick of sourcing parts and coughing up cash, and suddenly an American V8 became all too appealing. Along with the extra reliability, Robert also found that it was much easier and cheaper to source parts for the small block Ford motor, and as he puts it, "It can take a beating with minimal issues, which is what exactly what I was after." Robert also credits his good friend Chris Filippi, who has carried out most of the fabrication work on his behalf.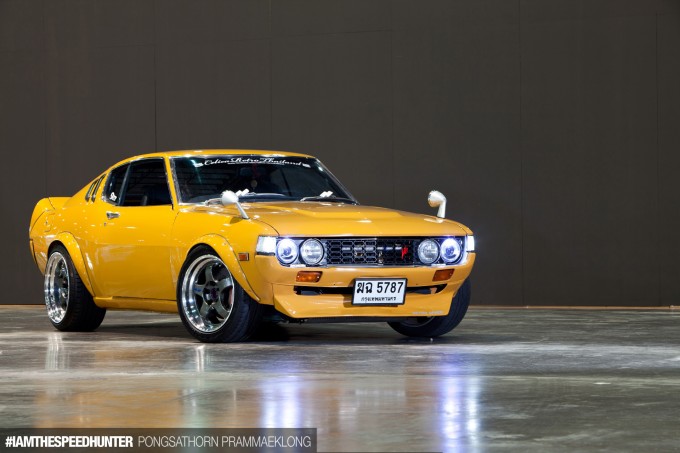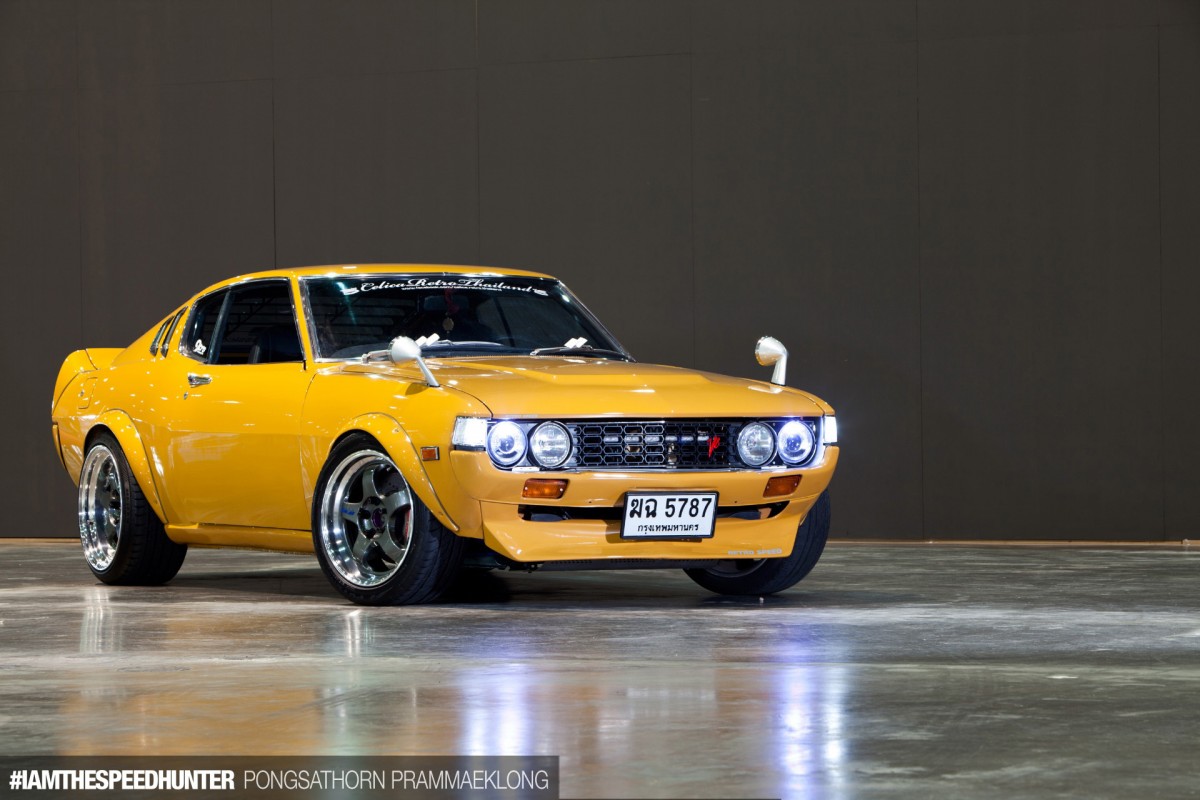 Last but not least, Prasart Koosermmit from Bankok sent us some fantastic images of his close friend Sirichai's 1UZ-FE-powered TA-28 Celica, dubbed the 'UZA-28′. The '78 Celica has been restored to beautiful show car condition, with a few modern improvements, as you'll soon see. With its larger modern wheels and bright yellow paint scheme, the Mustang-like resemblance is quite strong. The 17-inch Work Meister S1s are 8.5 inches wide at the front and a whopping 12 inches wide on the back!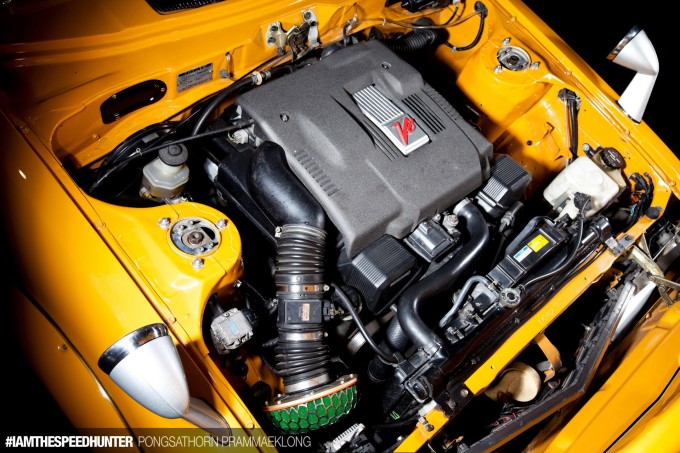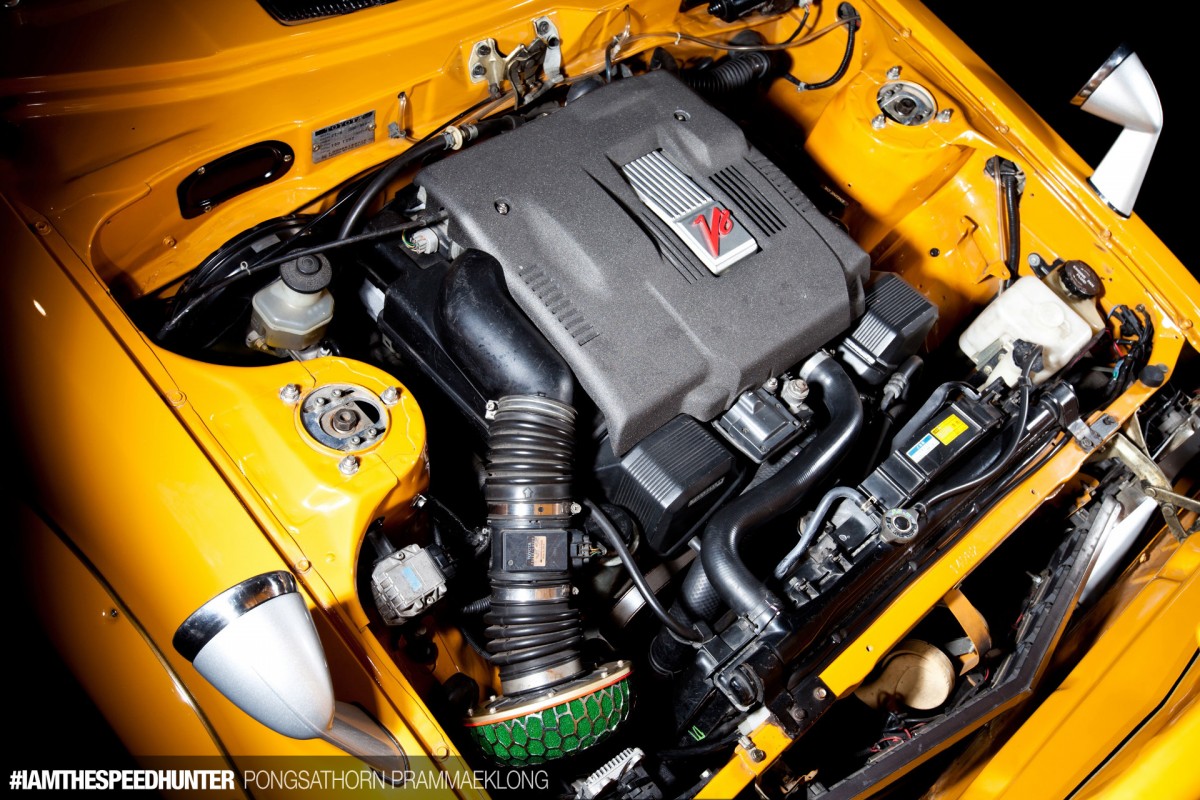 The 1UZ-FE V8 motor only just squeezes into the small TA-28 engine bay, but it provides a cool modern contrast to the vintage chassis. It's interesting to note that the stock four-speed automatic transmission was also transplanted along with the newer Toyota engine. Front suspension has been borrowed from an S13 Silvia, rear axles from a Toyota Crown and brakes from a JZS-161 Aristo.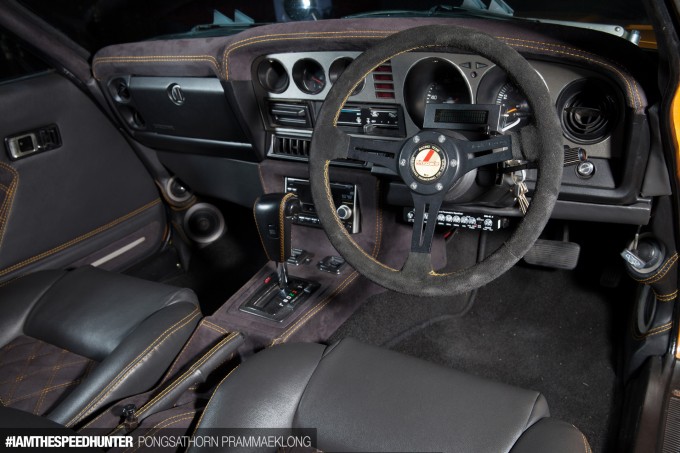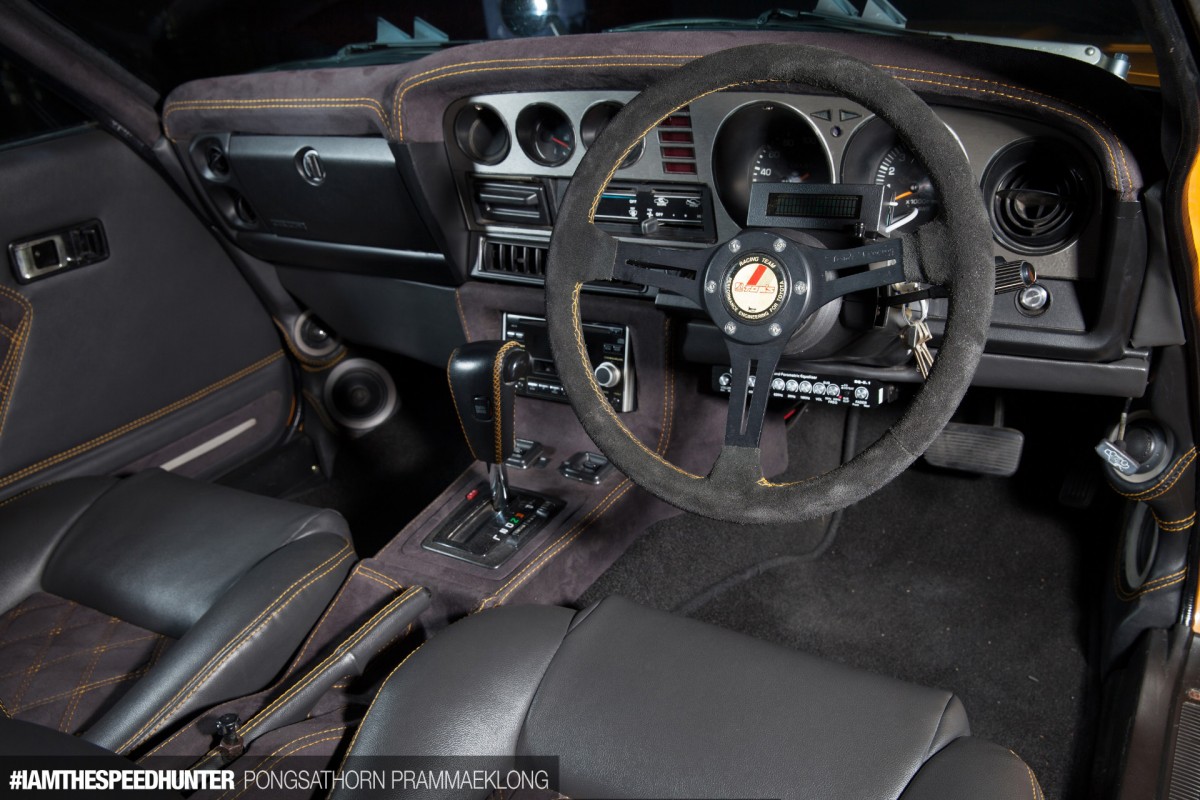 The interior also has a surprise – it's been given a full overhaul, styled around a Bentley Continental GT interior! We certainly weren't expecting that, but it's a unique twist that adds a touch of luxury.
That wraps things up for this themed Readers' Rides feature, but we've still got plenty of V8-swapped goodness to come. Seeing as we had so many great submissions for this, if you didn't make the cut or didn't have time to share your car with us this time round, why not post a picture of your V8-swapped ride in the comments below for everyone to see? Go on, show us what you've got!
Taryn Croucher
Instagram: taryncroucher
Twitter: @taryncroucher
taryn@speedhunters.com
About #IAMTHESPEEDHUNTER
We created #IAMTHESPEEDHUNTER to allow you the opportunity to share your skills and car culture experiences from around the globe with the rest of the Speedhunters audience.
How do you get involved? It's simple…
Flickr – Join our #IAMTHESPEEDHUNTER Flickr Group and share your favourite photos with us and others.
Instagram – Follow us on Instagram at @TheSpeedhunters and tag your own car culture images with #IAMTHESPEEDHUNTER
Twitter – Follow us on Twitter at @SPEEDHUNTERS and share your tweets with the #IAMTHESPEEDHUNTER hashtag.
E-Mail – If you've been to a cool event and captured some amazing images, be sure to e-mail them to us on iamthespeedhunter@speedhunters.com and tell us a little bit about the event.