A UFO For The Street
Speedhunting is all about unforgettable moments. The cars are why we are there, and the people are the reason for the cars – but for me it's always been the individual, unforgettable little moments that have defined this exploration of global car culture.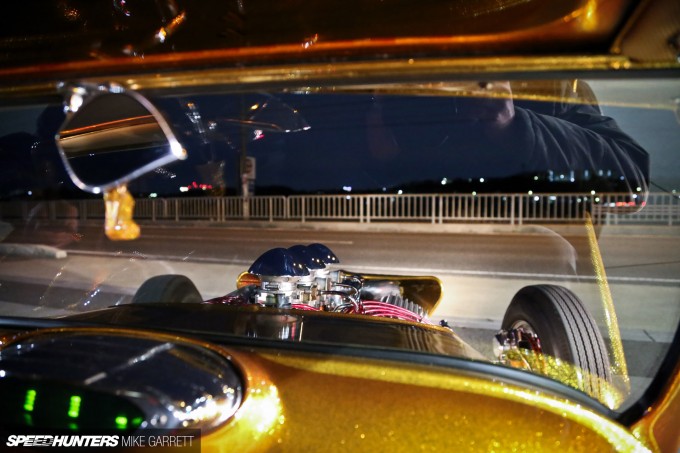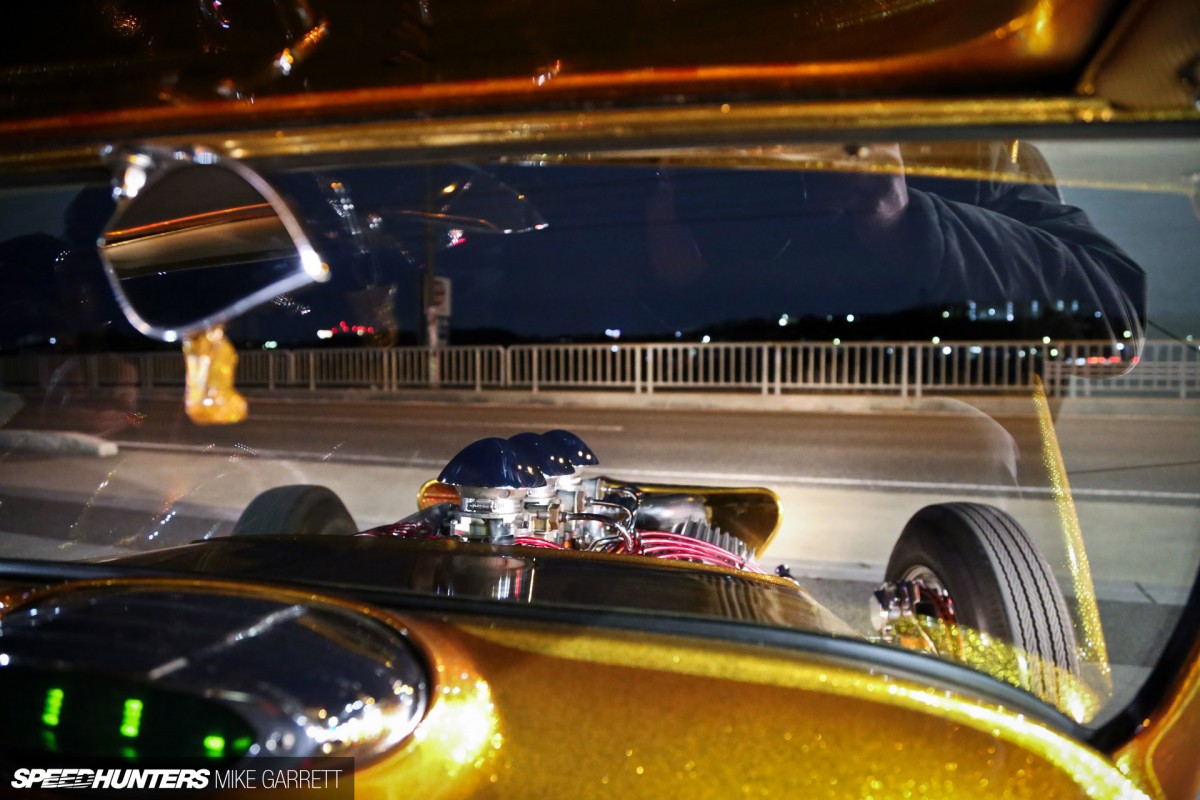 Often these moments take on a surreal feeling – and that was certainly the case one night this winter when I found myself riding shotgun beside Mr. Junichi Shimodaira as he unleashed one of the world's coolest hot rods on the streets of Nagoya, Japan.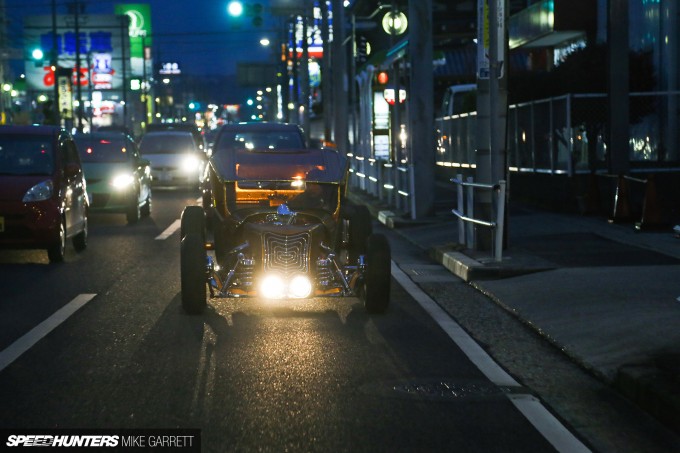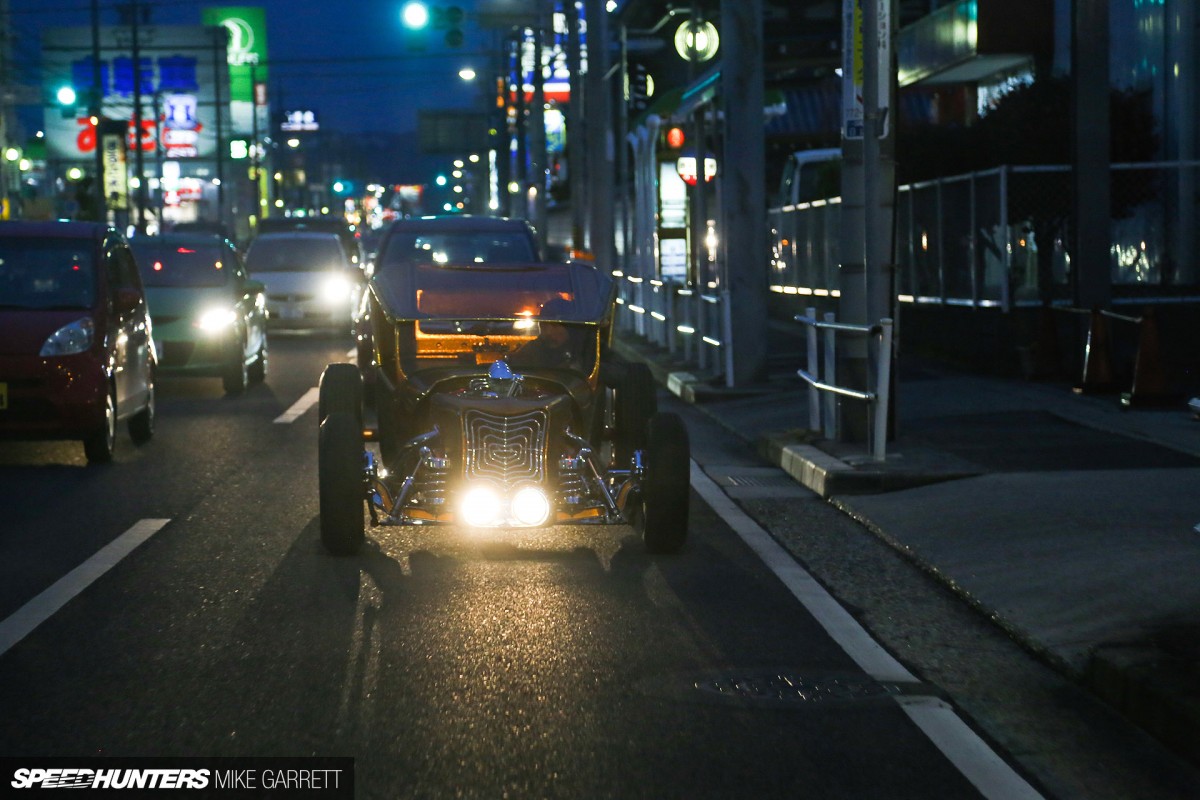 It was bitterly cold outside, but if anything the weather only added to the thrill of the moment. I could hardly even feel the chill as I sat hunkered down in the vehicle that some 80-plus years ago had began life as a 1927 Ford Model T.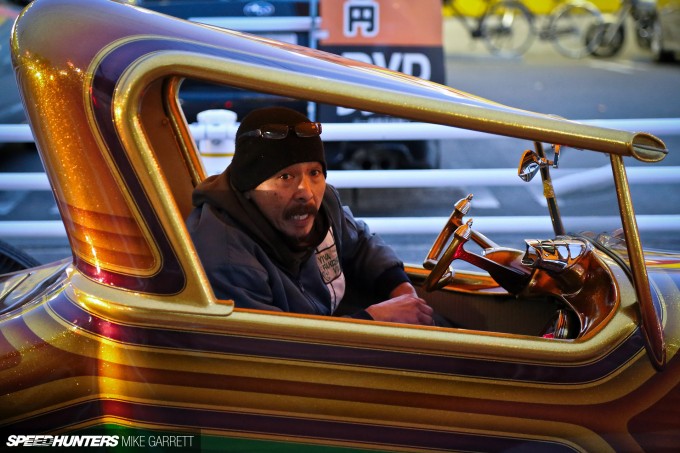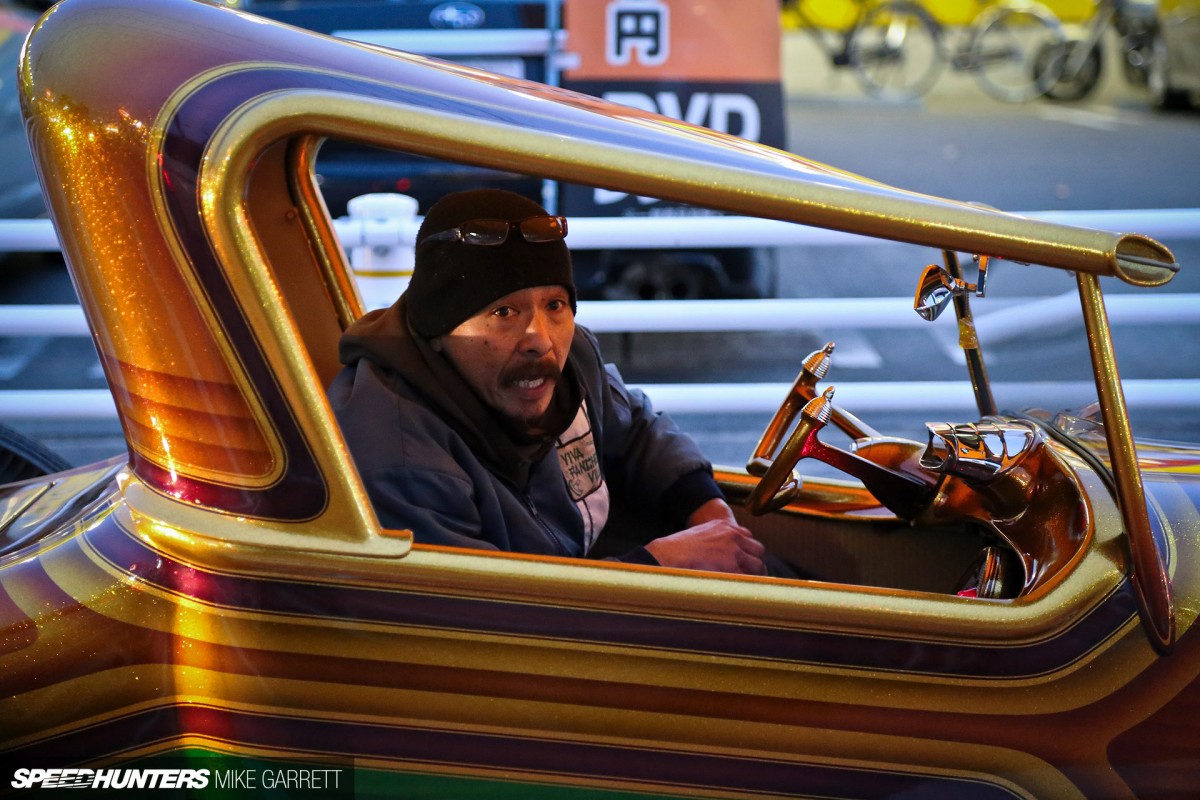 I look over at Junichi and laugh as he grips the strange steering wheel and lays into the big Chevrolet V8 that powers the road-going, UFO known as Galaxian. UFO, that's what I kept coming back to when thinking about this car. More specifically, Junichi's Model T reminds me of the campy, but cool machines that populated both indoor car shows and television programs during the 1960s.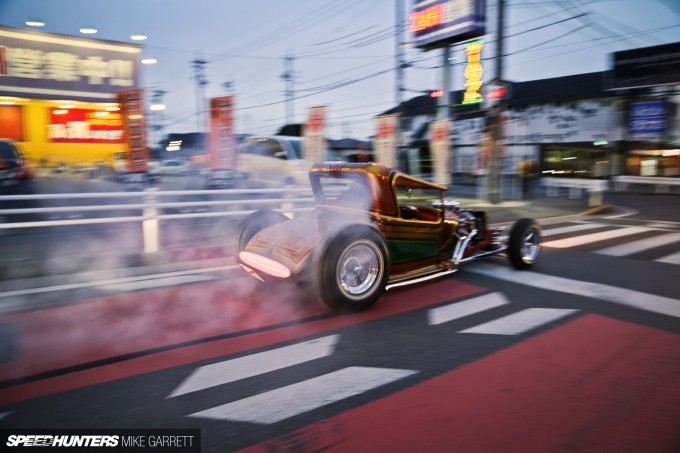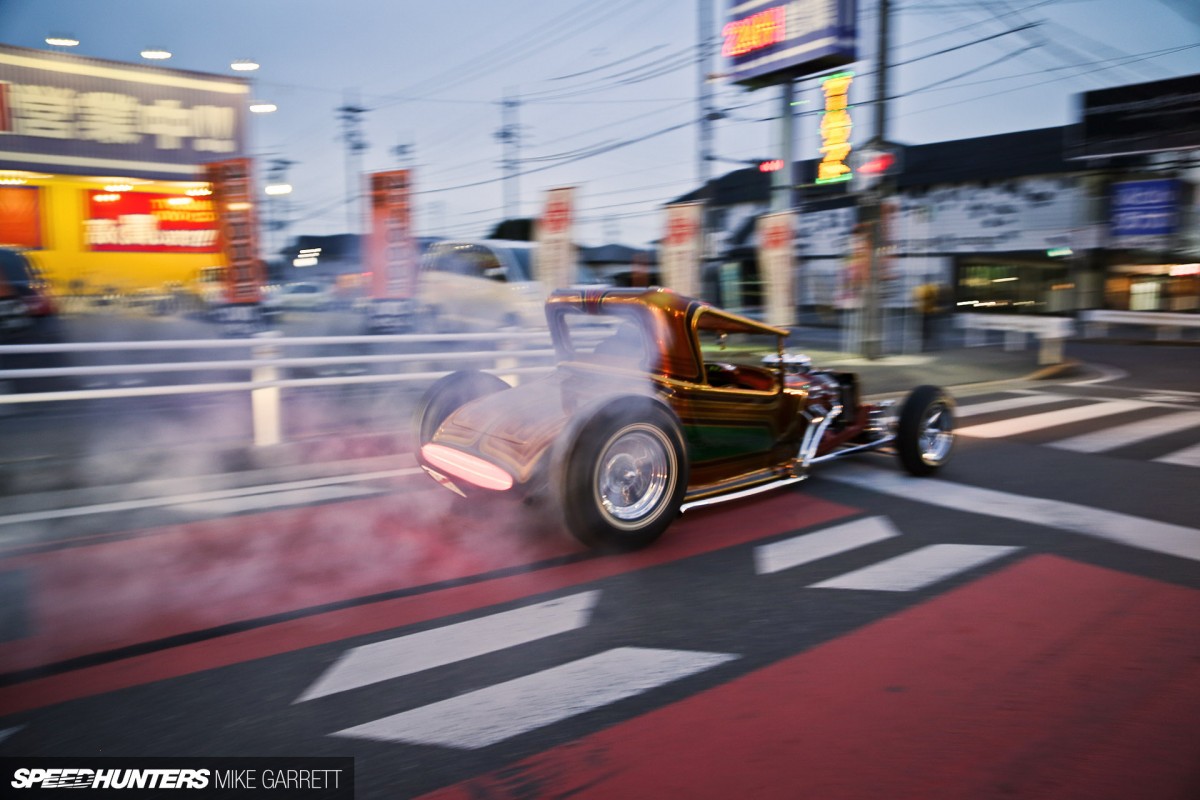 Only this thing is not a movie prop – it's a legit hot rod, and Junichi drives it like hot rods are meant to be driven. "Do a burnout" my friend Toshi yells to Junichi as the car idles at a stop light. Mr. Shimodaira doesn't think twice. He dumps the clutch and lights up Galaxian's narrow white-wall tires across the intersection, disappearing in a cloud of smoke.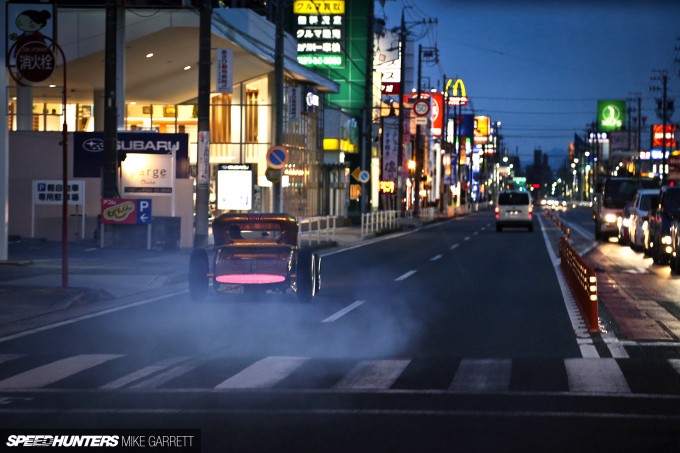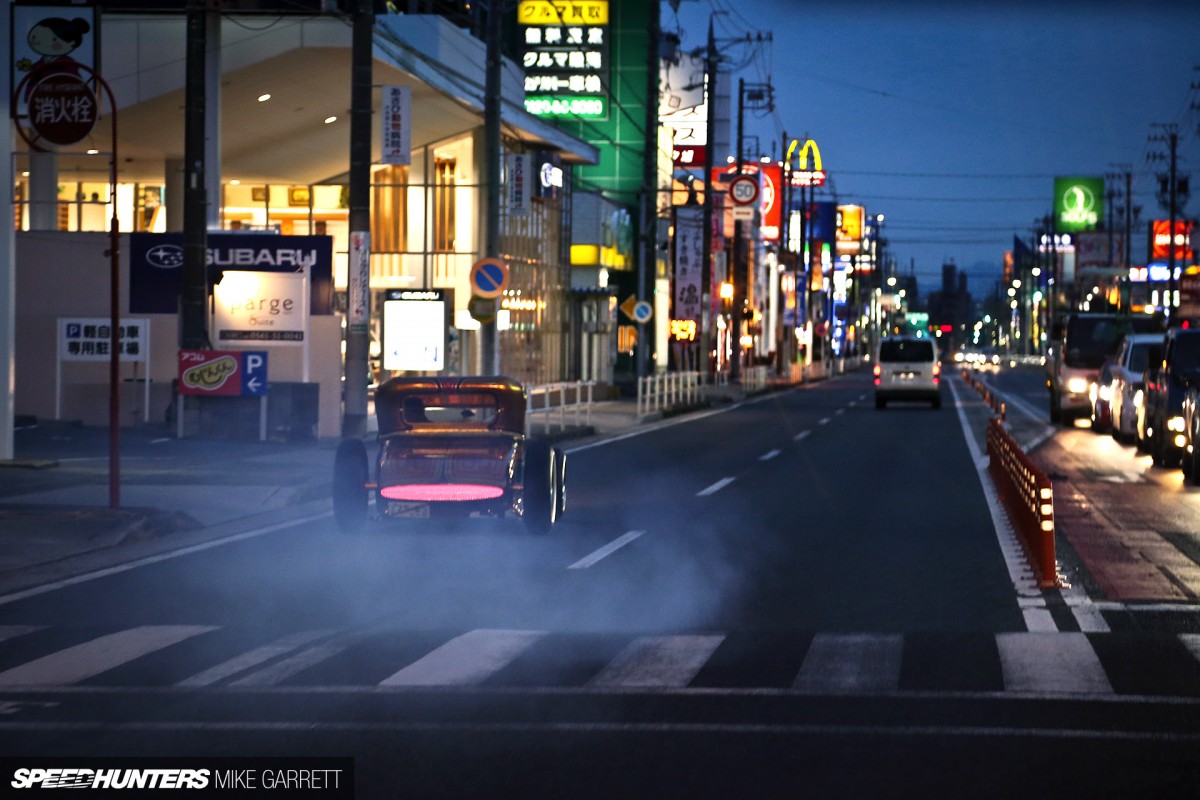 That's how they do it in Japan. Cars that might be reserved for roped-off show displays in other countries are not just driven on the street, they can roast tires with the best of them.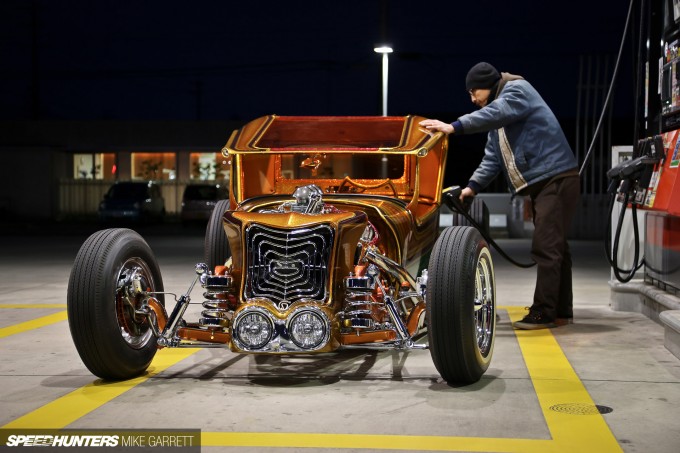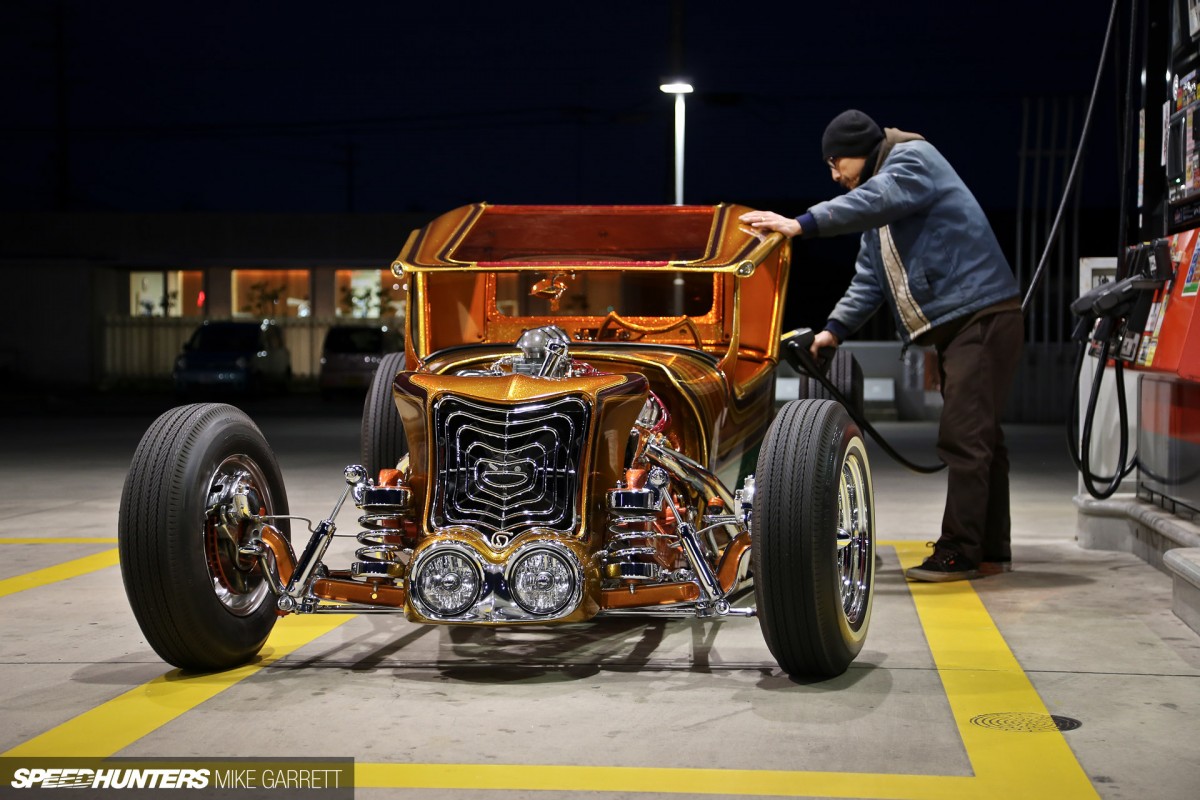 Galaxian is almost certainly Japan's most well known hot rod, built by the country's most well known rod and custom shop. You see, Junichi and his shop, Paradise Road, have been at the forefront of Japan's custom scene for nearly 30 years now.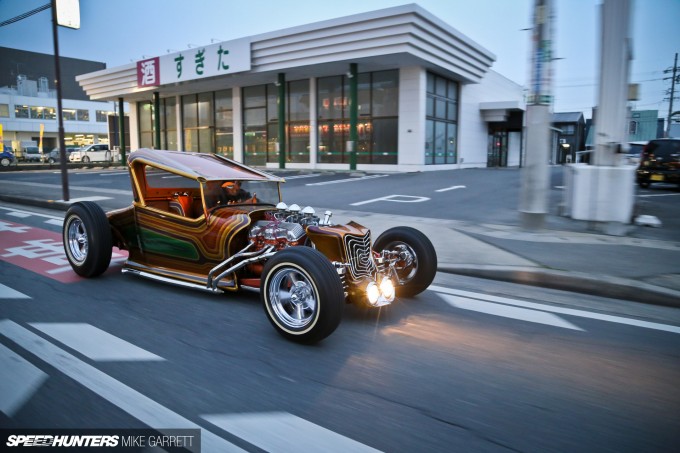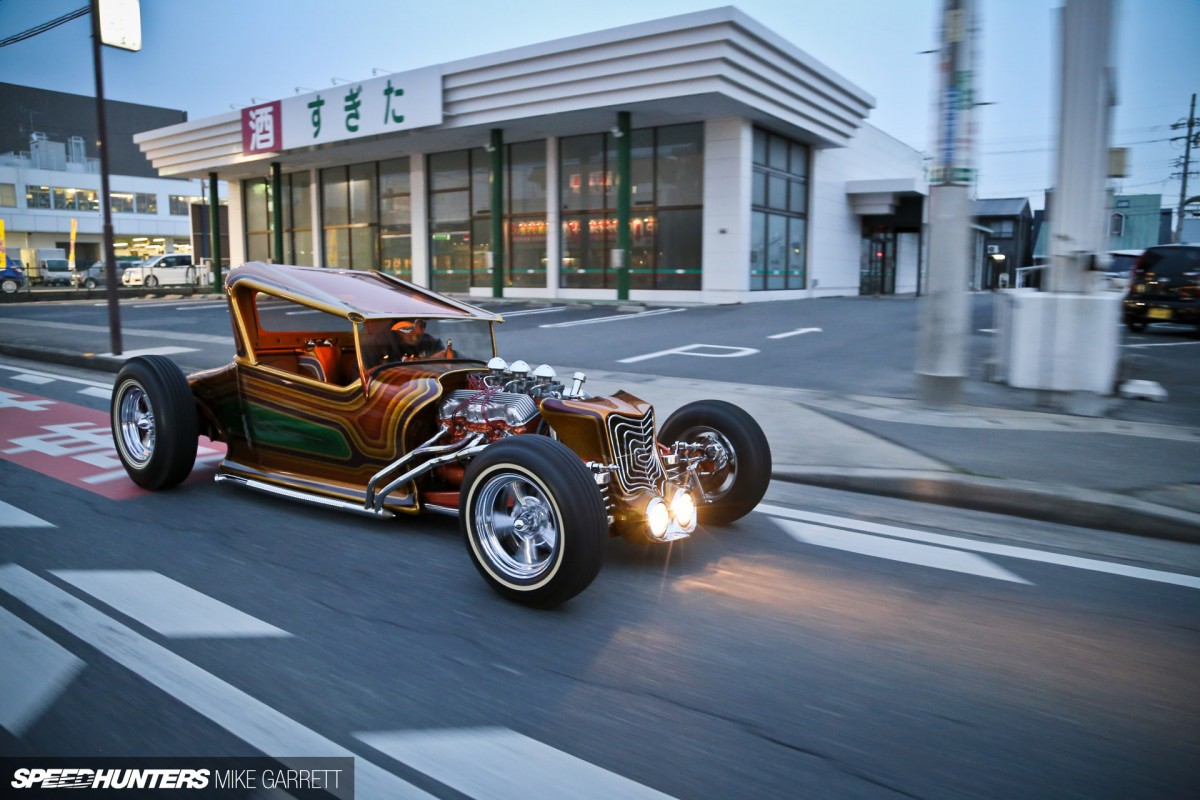 Before there was Galaxian, there was 'Rodriguez' – a 1930 Model A sedan that helped put Paradise Road on the international map in the mid-2000s. I remember very clearly seeing Rodriguez featured in Custom Car magazine about a decade ago, and being completely wowed that such a radical machine had emerged from Japan of all places.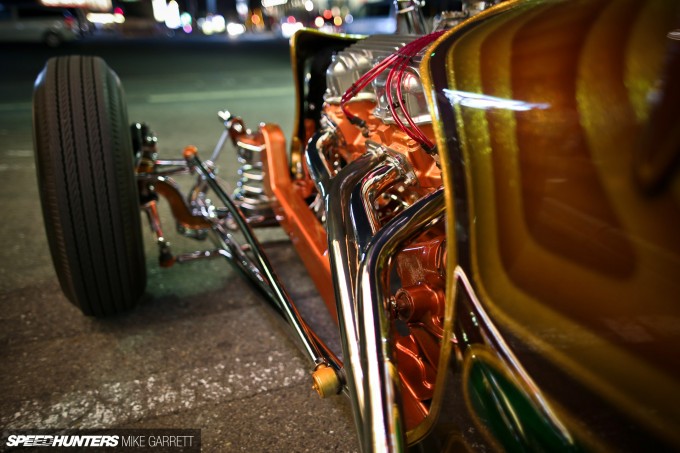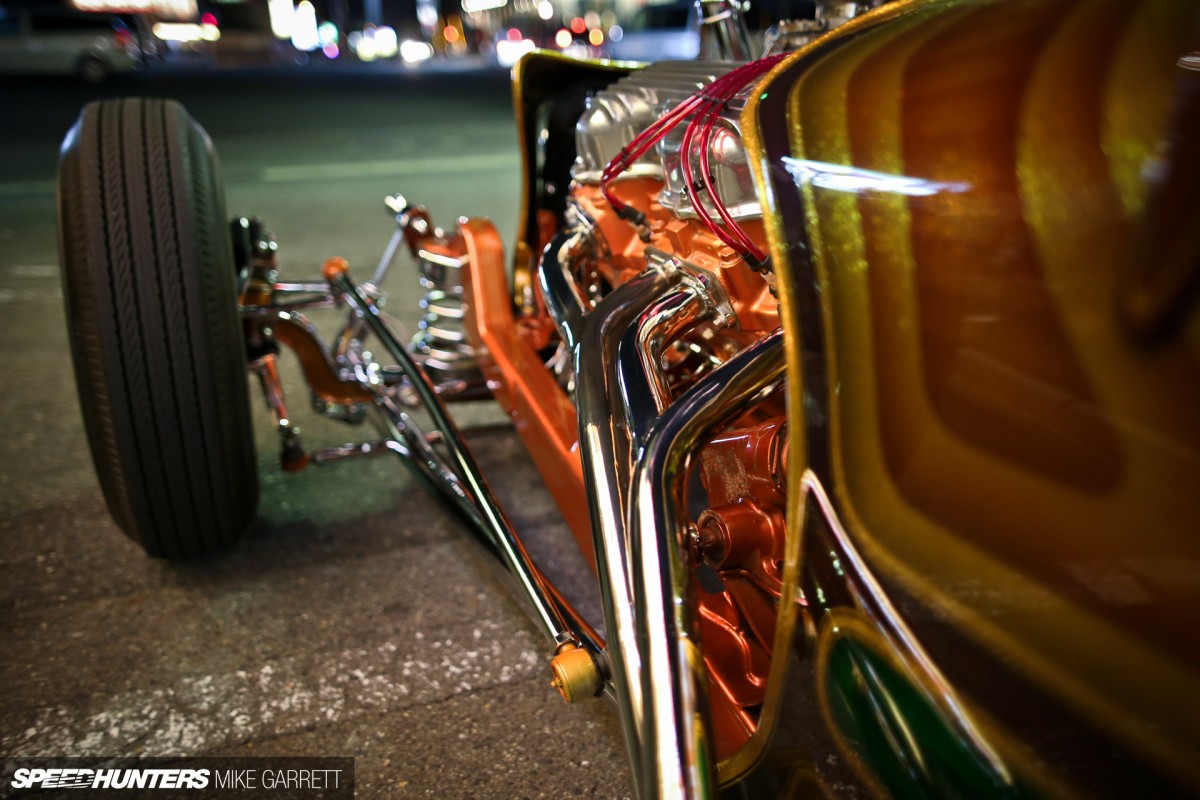 Apparently I wasn't the only one impressed with what I saw. Rodriguez eventually made its way to the US shores where it now happily resides in the hands of its new owner in Southern California and can still be seen at shows and events around the area.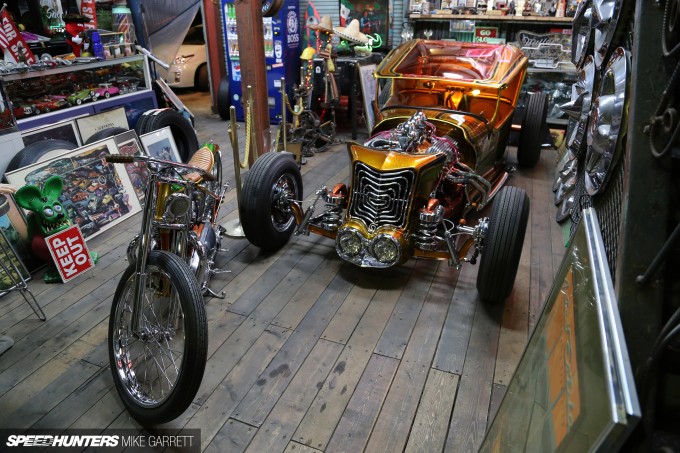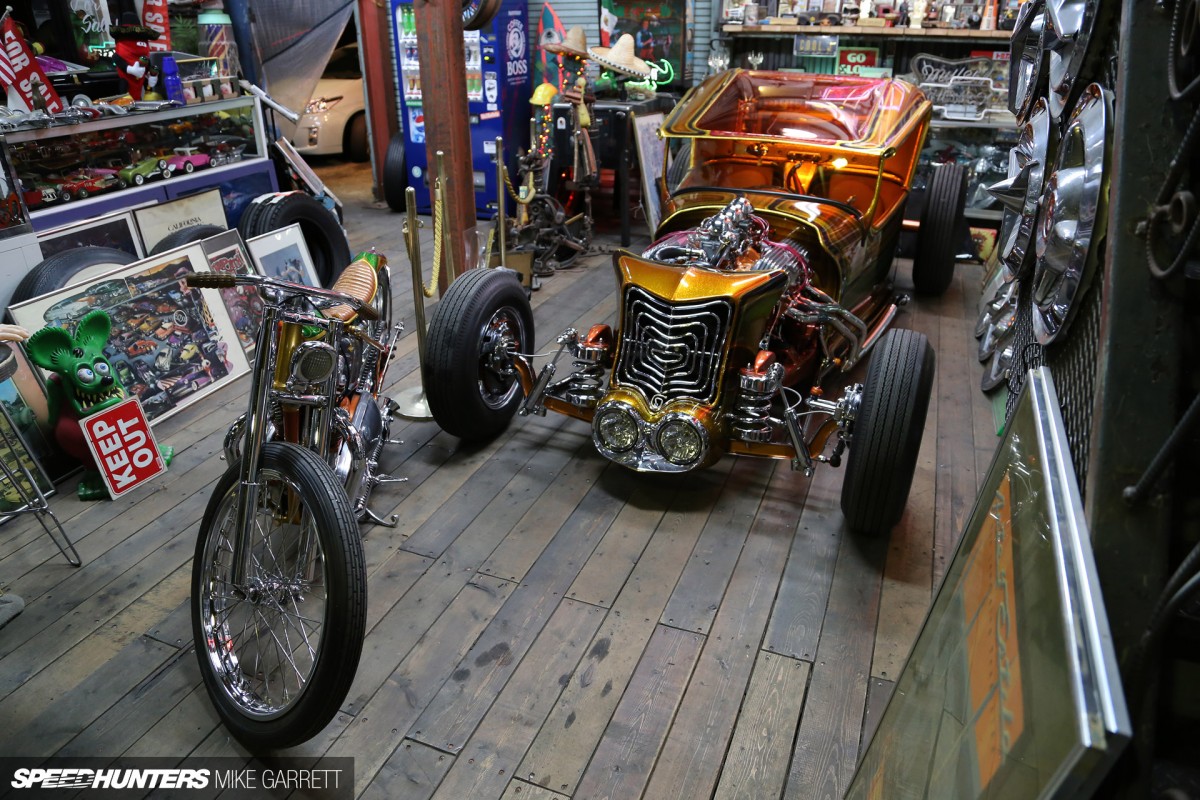 Along with hot rods, Junichi is massive fan of traditional customs and lowriders. So, when it came time to build a follow-up car for Rodriguez, he decided to build a Ford roadster with a lowrider show car influence – not something you see a lot in Japan, or anywhere else for that matter.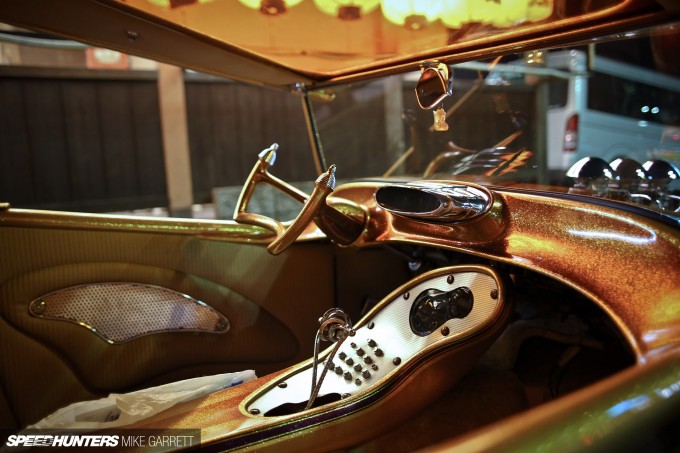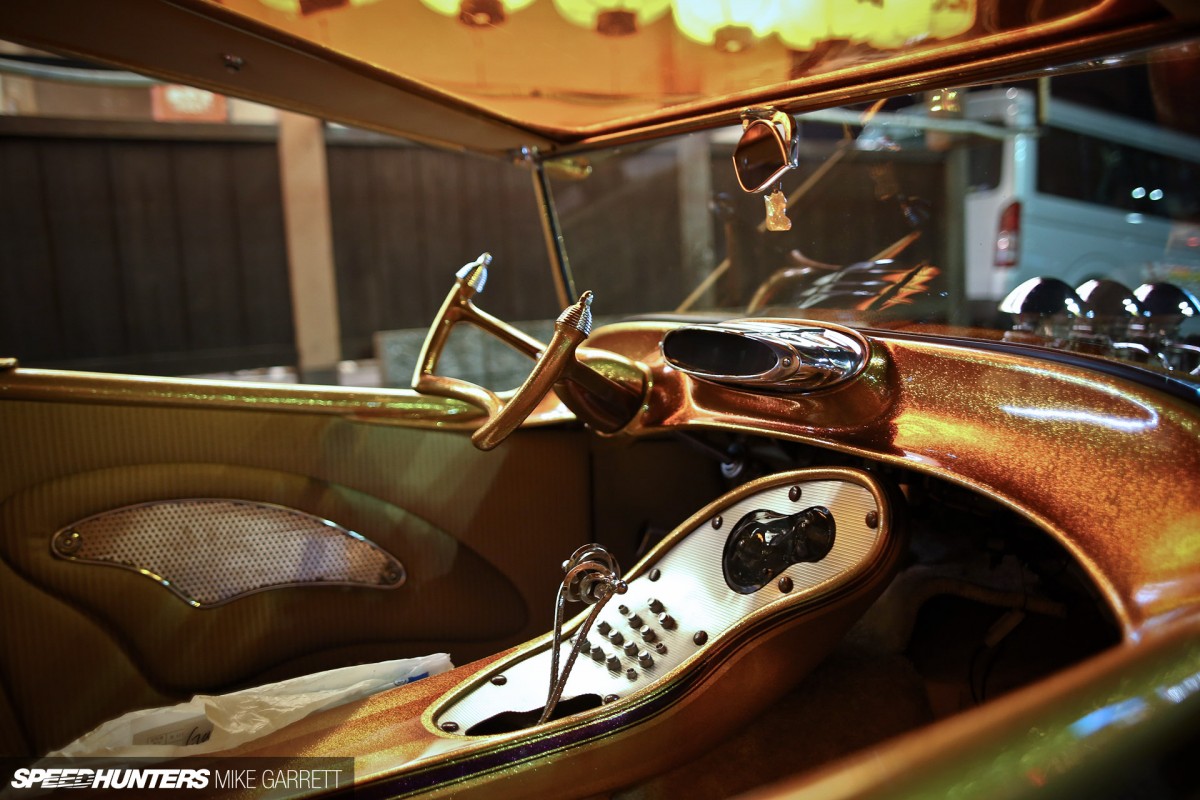 This hot rod would not be a stripped down jalopy, but a highly-detailed, extravagant machine that would recall the great show rods and futuristic concepts of the 1960s.
The Show Rod Lives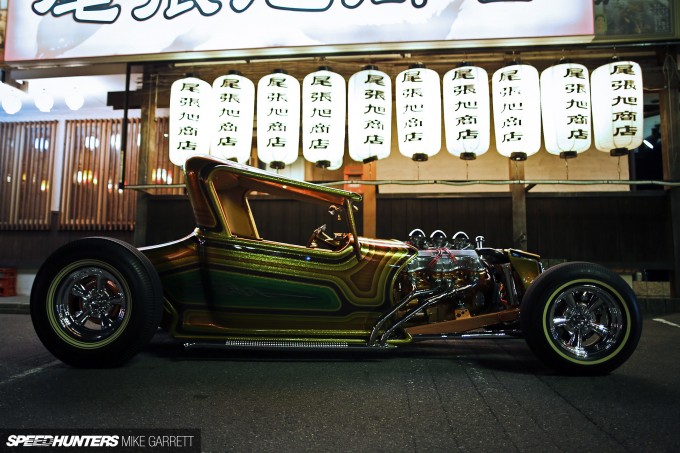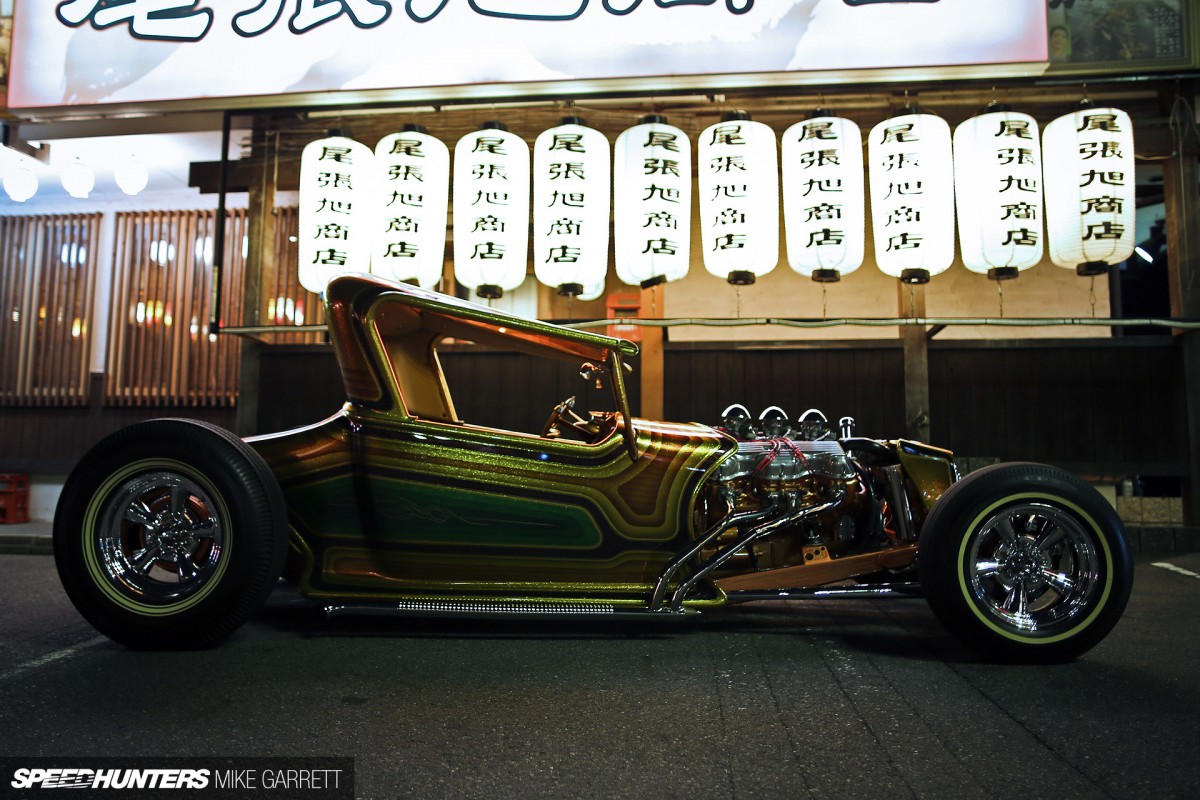 Back in July of 2006, Junichi got a hold of a '27 Model T Roadster with Model A rails from a friend. Thus began the build that eventually became known as Galaxian. At the time he didn't know exactly which direction he would go, but he always had that image of a 1960s-style kustom rod circling in his head.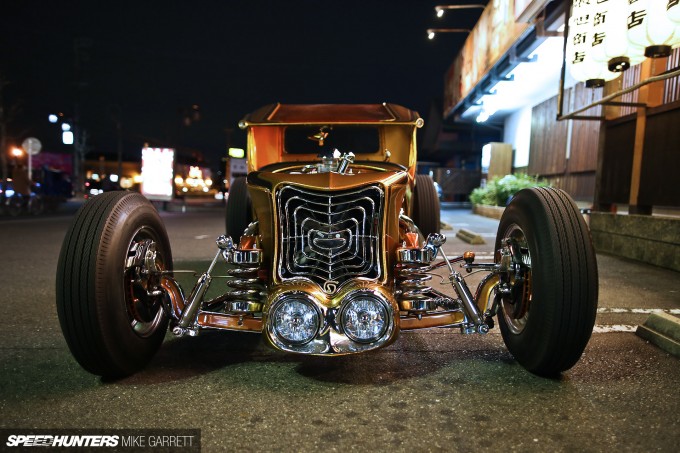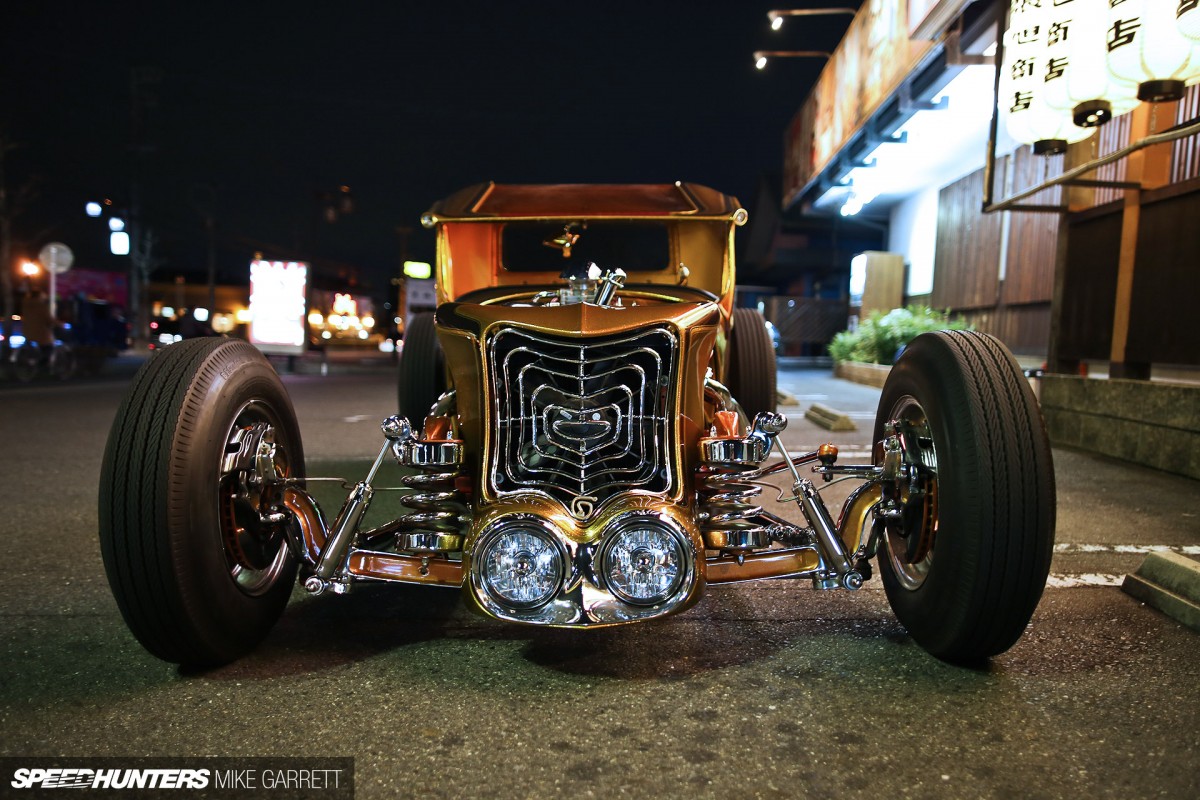 He began with the frame and suspension, fitting coil springs with tube shocks and disc brakes to the Model A rails. All the front-end parts were sourced from a '37 Ford street rod that was hanging around the shop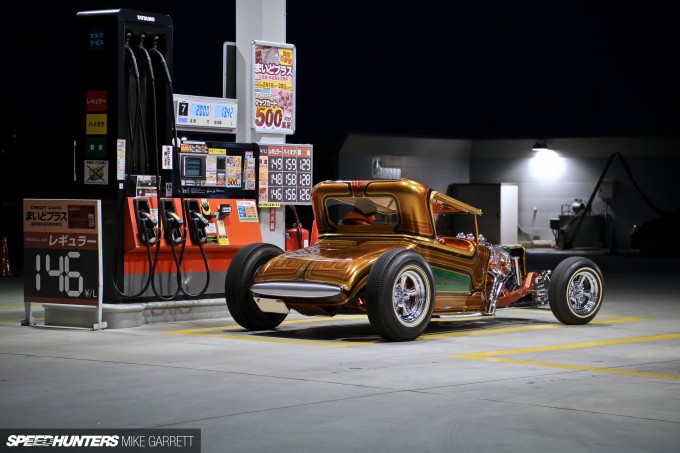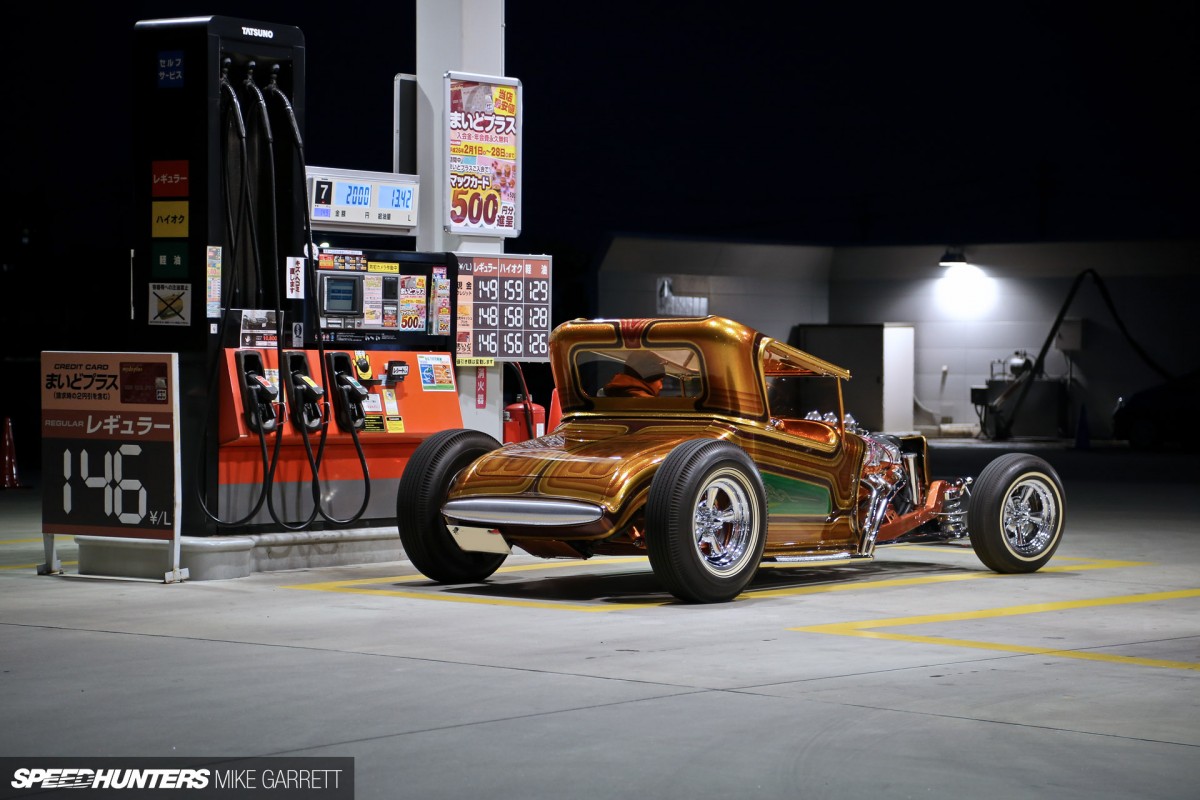 Out back he cut off the rear of the chassis, kicked up the frame rails and did a custom ladder bar suspension with airbags. This was all in aid of achieving what Junichi calls 'grand slam'.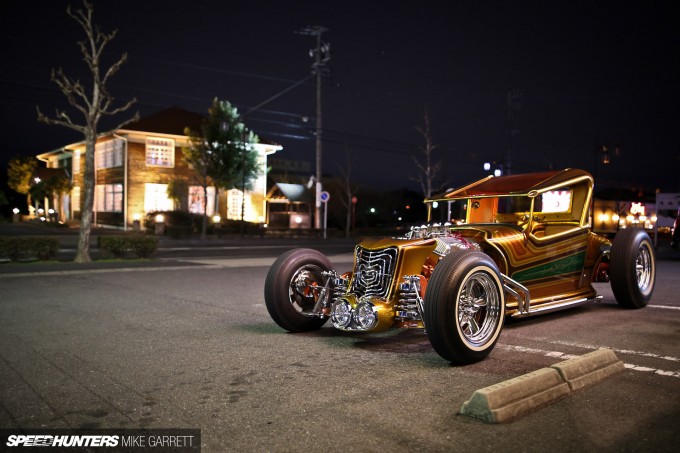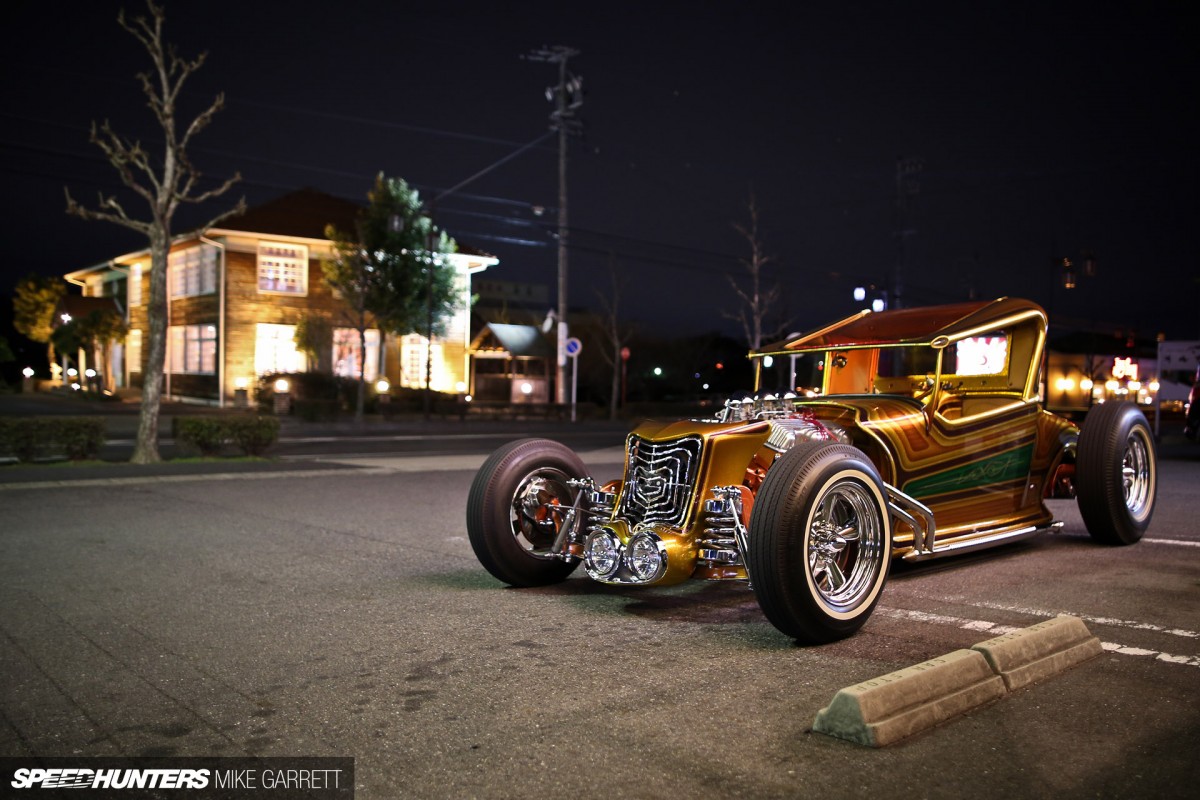 When he started the project, the '27 Ford body was in rough shape with a lot of rust, so he decided to rebuild the body from scratch. With images of show rods in his head, Junichi constructed the new body by using exhaust pieces to create a frame and then welding sheet metal in between.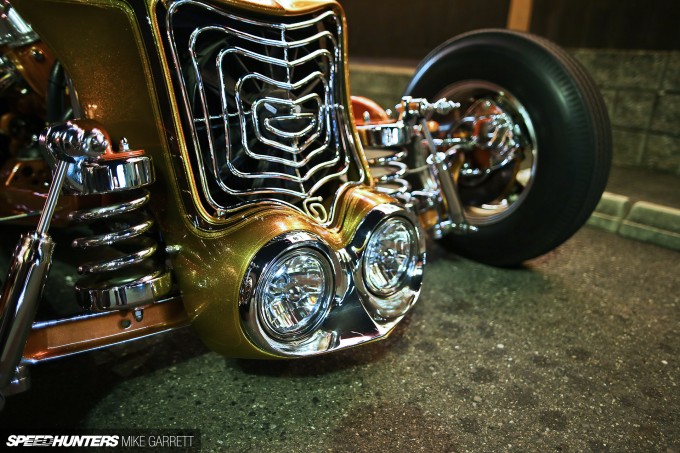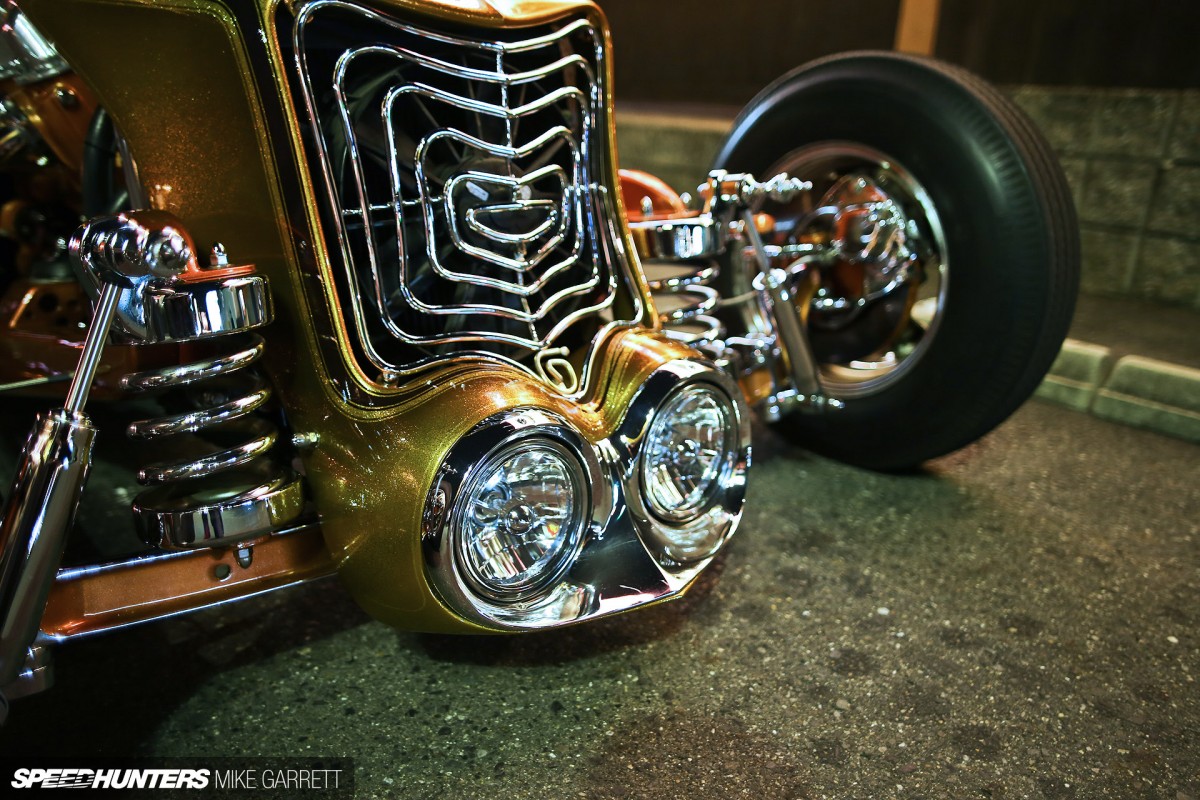 Up front he built a grille completely from scratch. He formed the outer shape in steel by hand, then added upside down '59 Caddy headlight bezels and a custom-made insert to complete the wild show car look.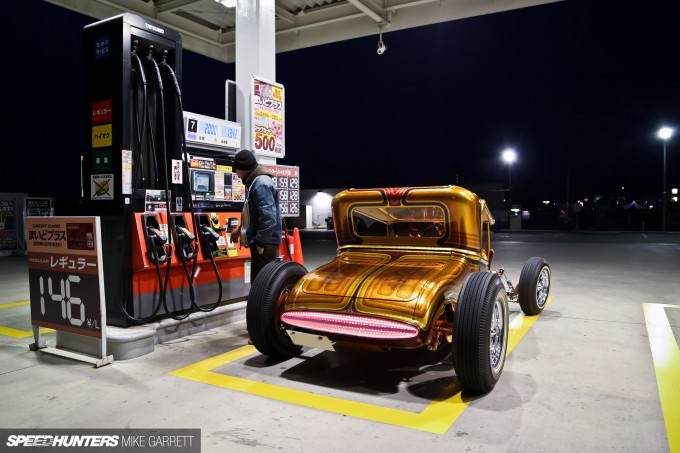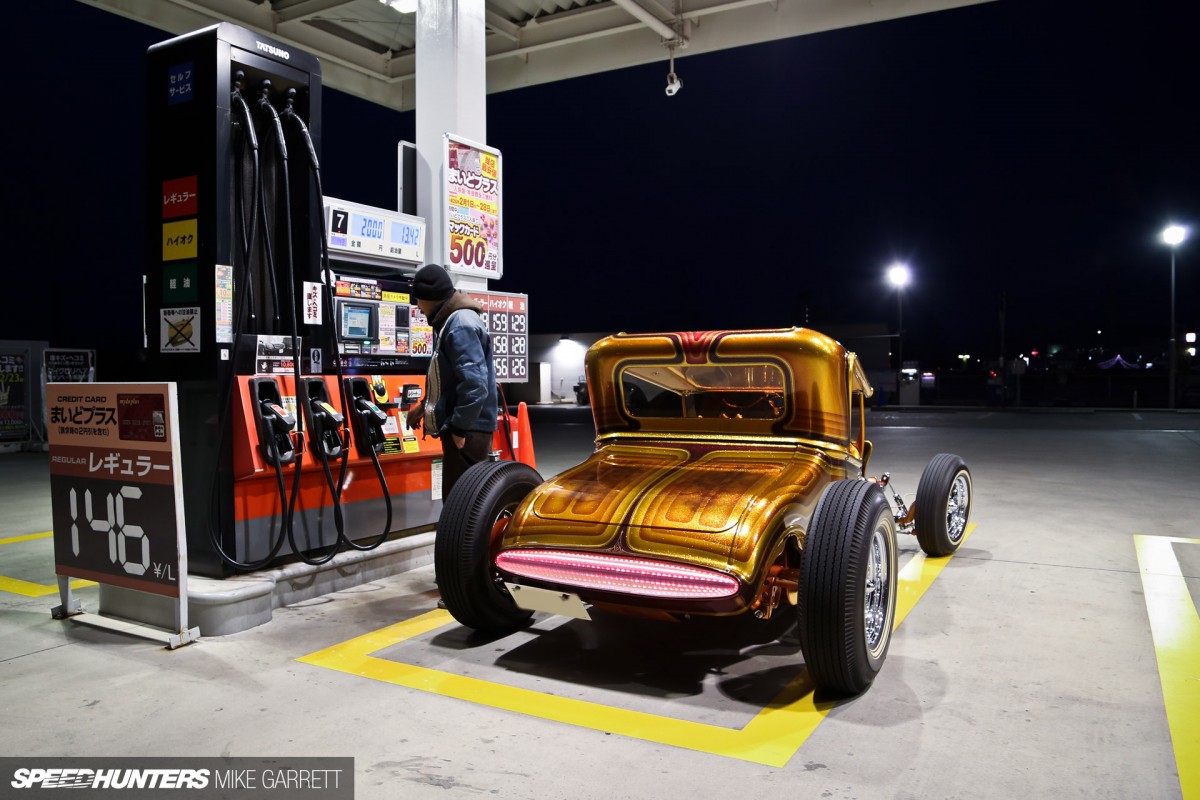 In the rear Junichi custom made a bubble-shaped acrylic taillight panel that stretches across the full width of the body. He then had it filled with 500 individual LEDs.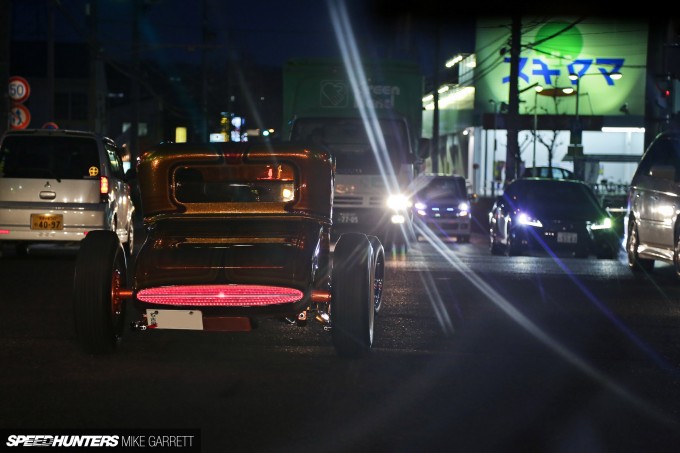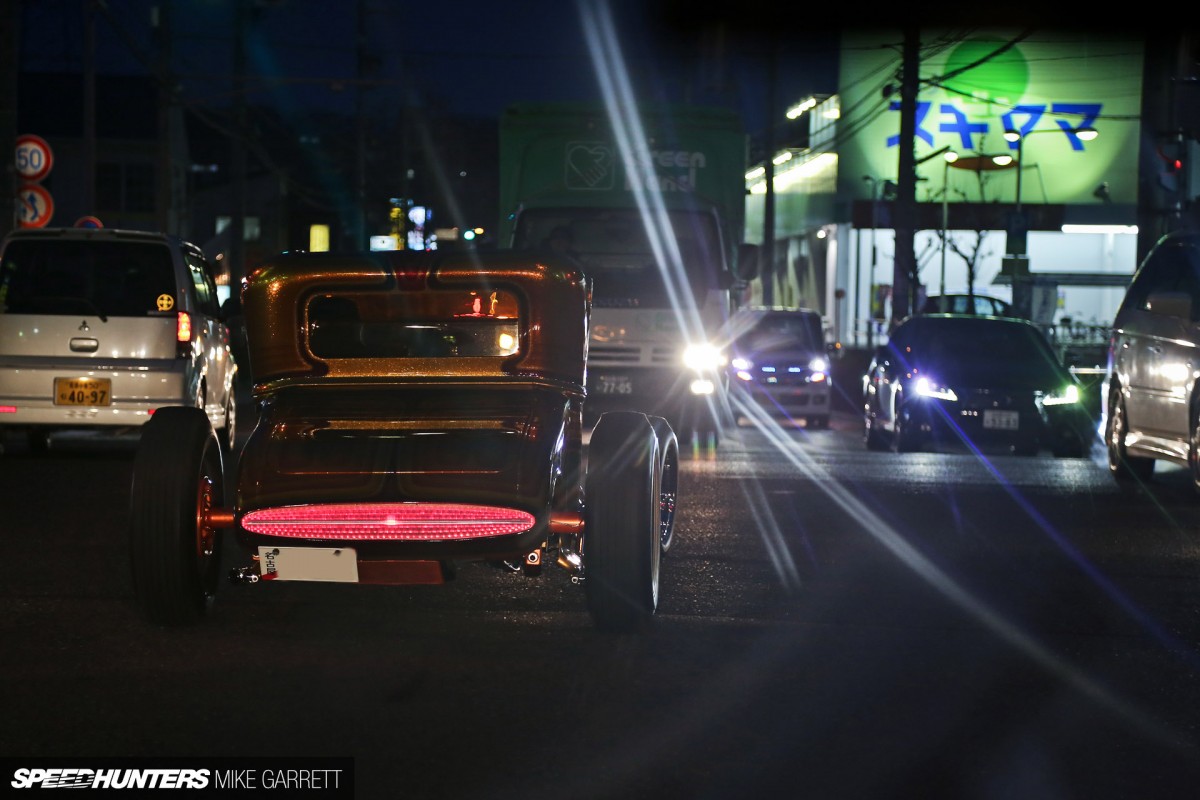 The LED taillights and turn signals further help to give Galaxian a science fiction look as it cruises the streets of Nagoya.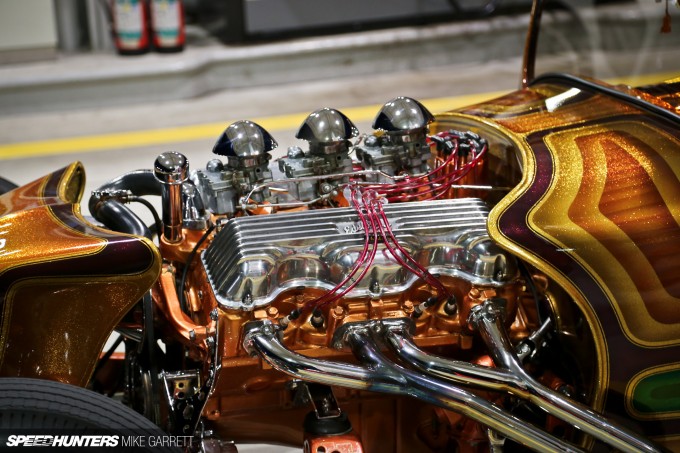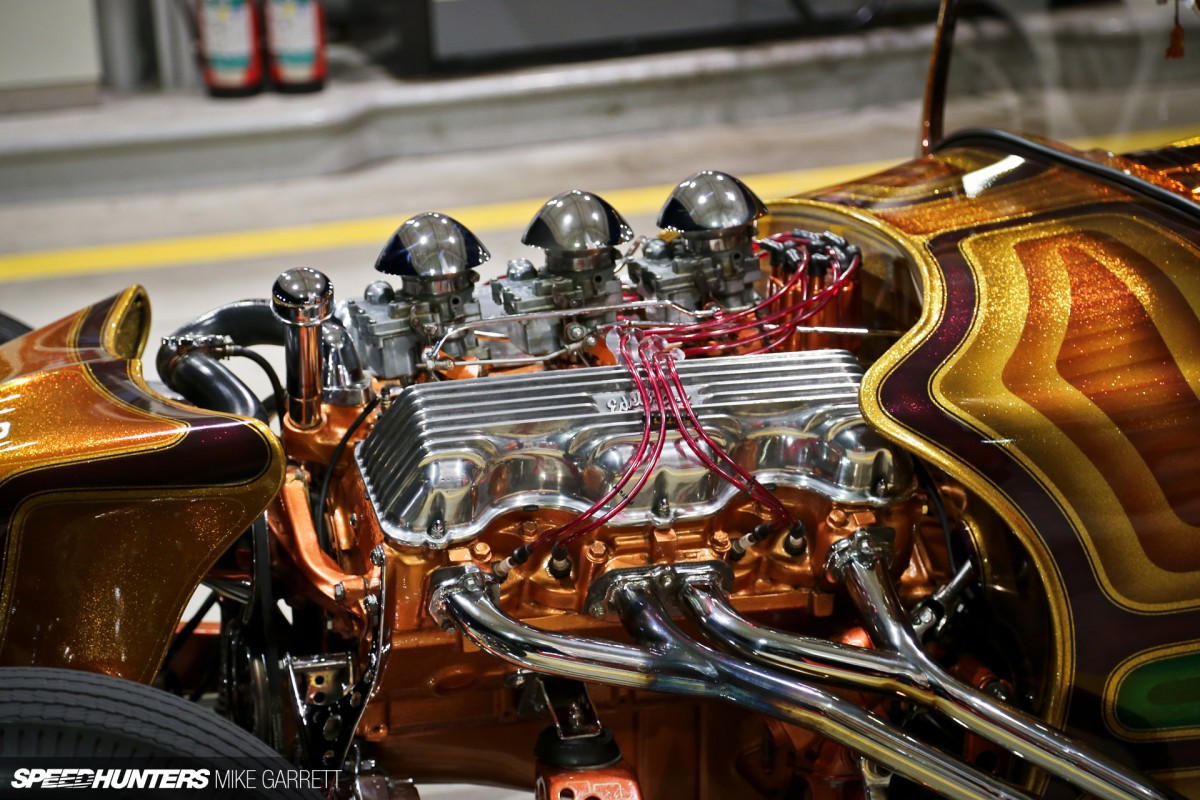 Junichi is a firm follower of the old school, so when it came time to find an engine for Galaxian he wasn't going to go the expected small block Chevy route.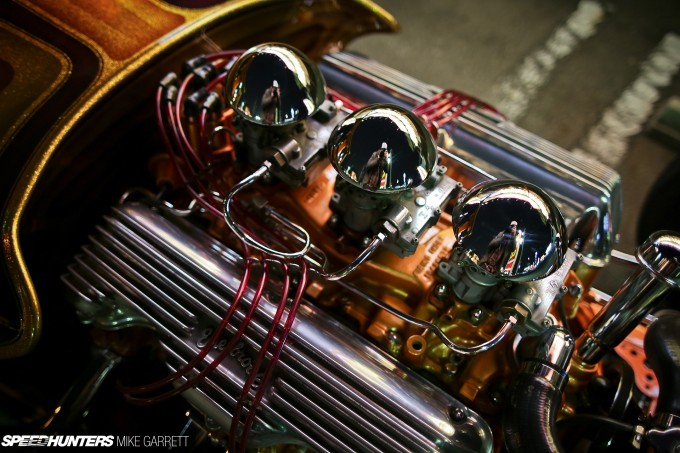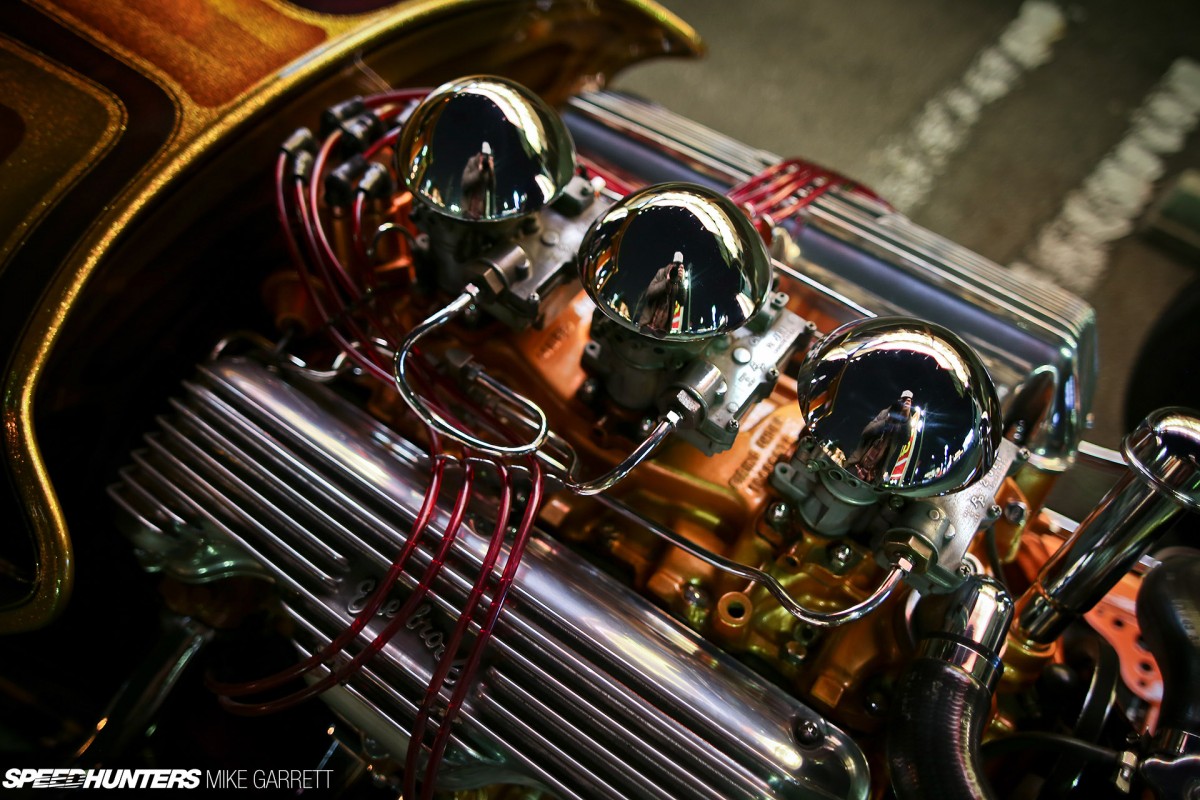 Instead, he scoured online auctions and a found a 1959 348 cubic inch big block Chevrolet V8 with triple carburetors. This would be the perfect fit for Galaxian's retro vibe, so he bought the motor and dropped it into the Ford chassis.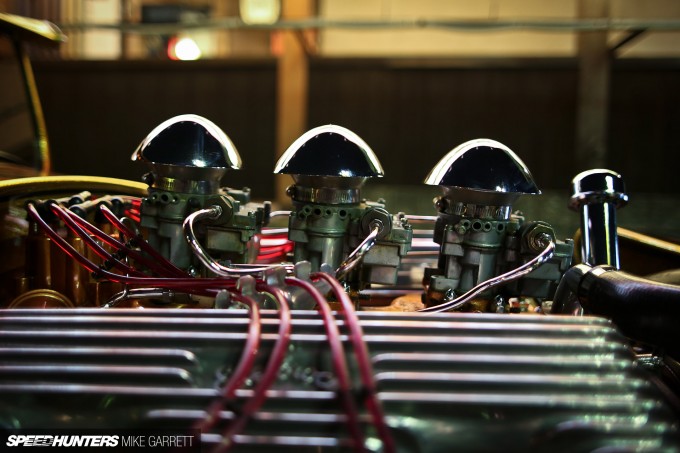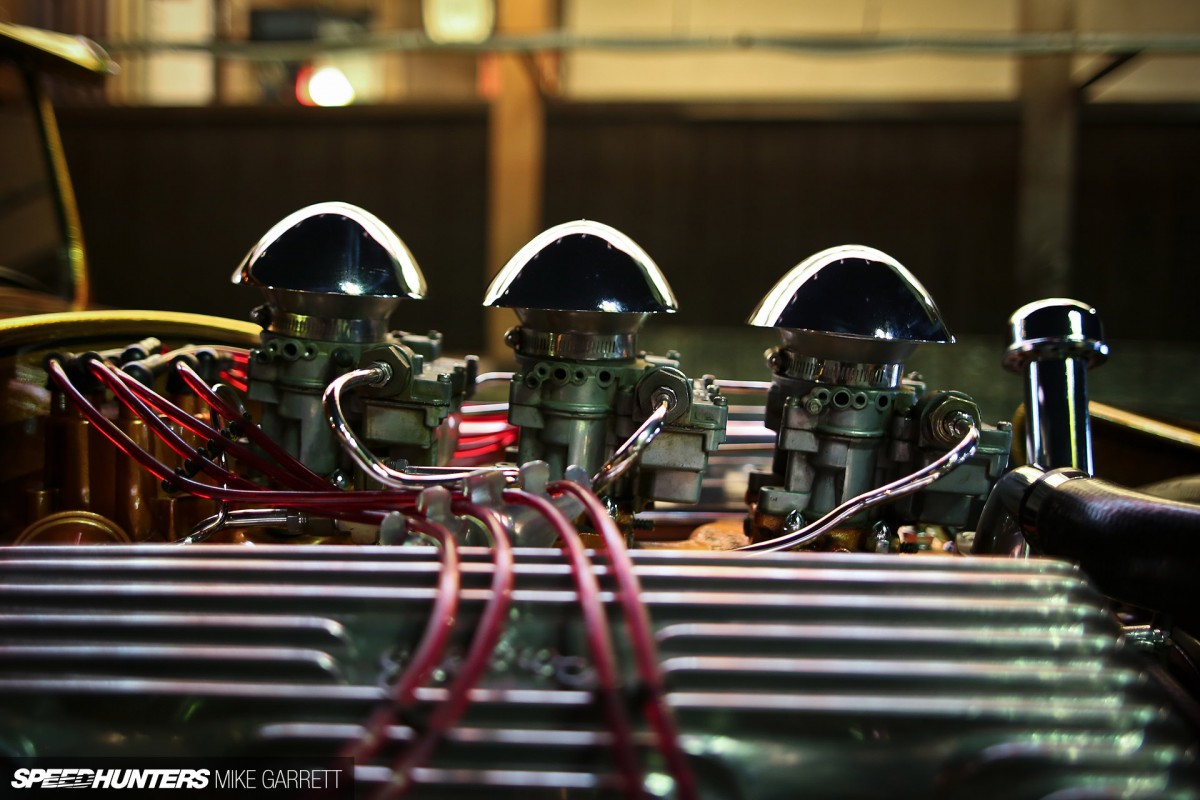 The 348ci is actually the predecessor to Chevy's legendary 409, so the big block moves the little Model T very well. The car pulls like no show rod ever did, and as mentioned, I witnessed its tire-burning prowess first-hand.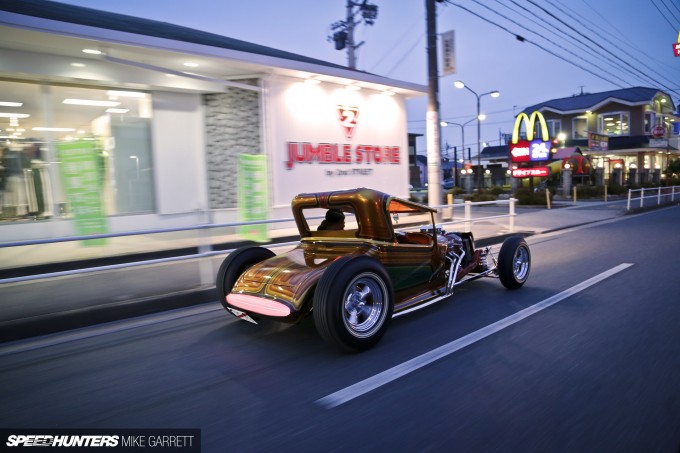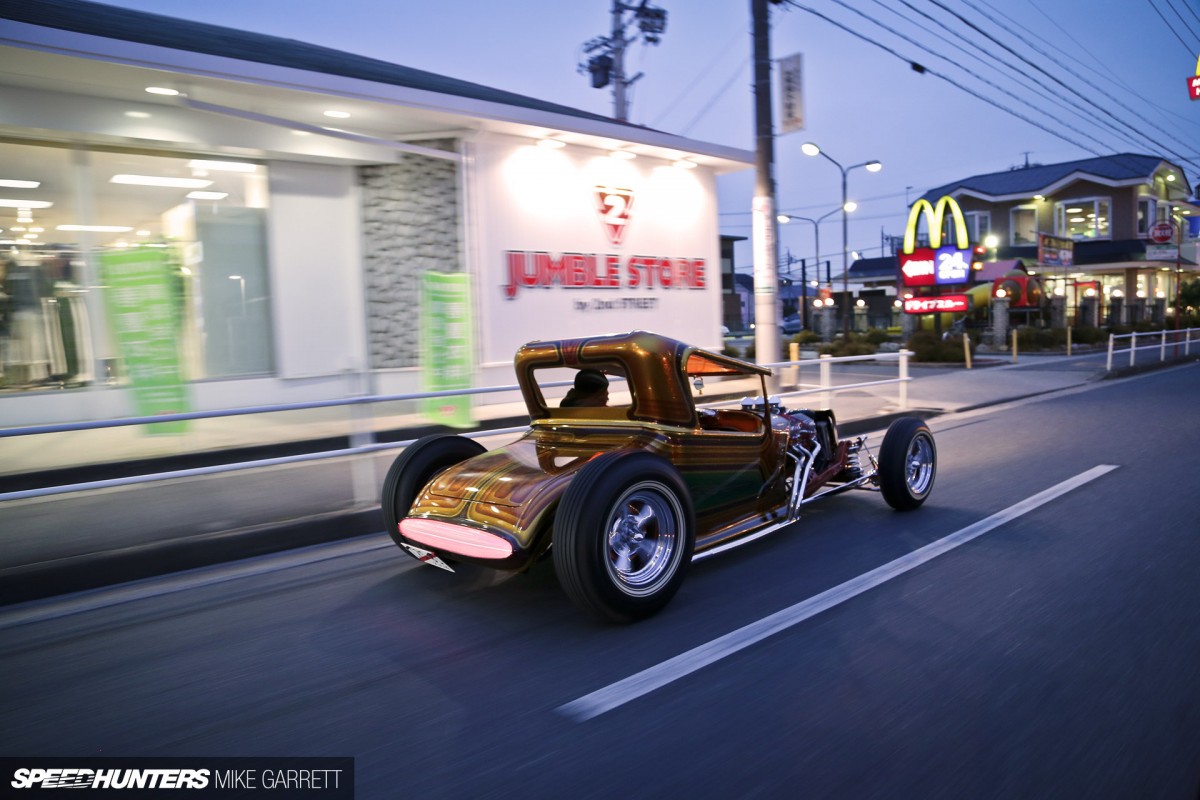 Junichi isn't the biggest fan of automatic transmissions, so he rows Galaxian's gears himself using a four-speed manual gearbox from a '71 Corvette. Like the motor, this was also sourced from an internet auction site.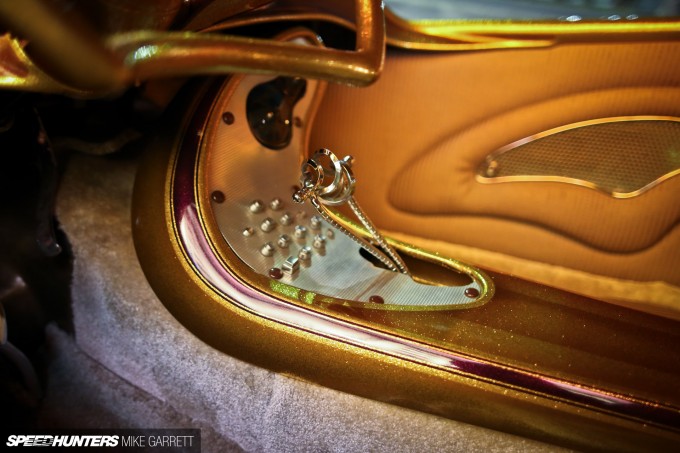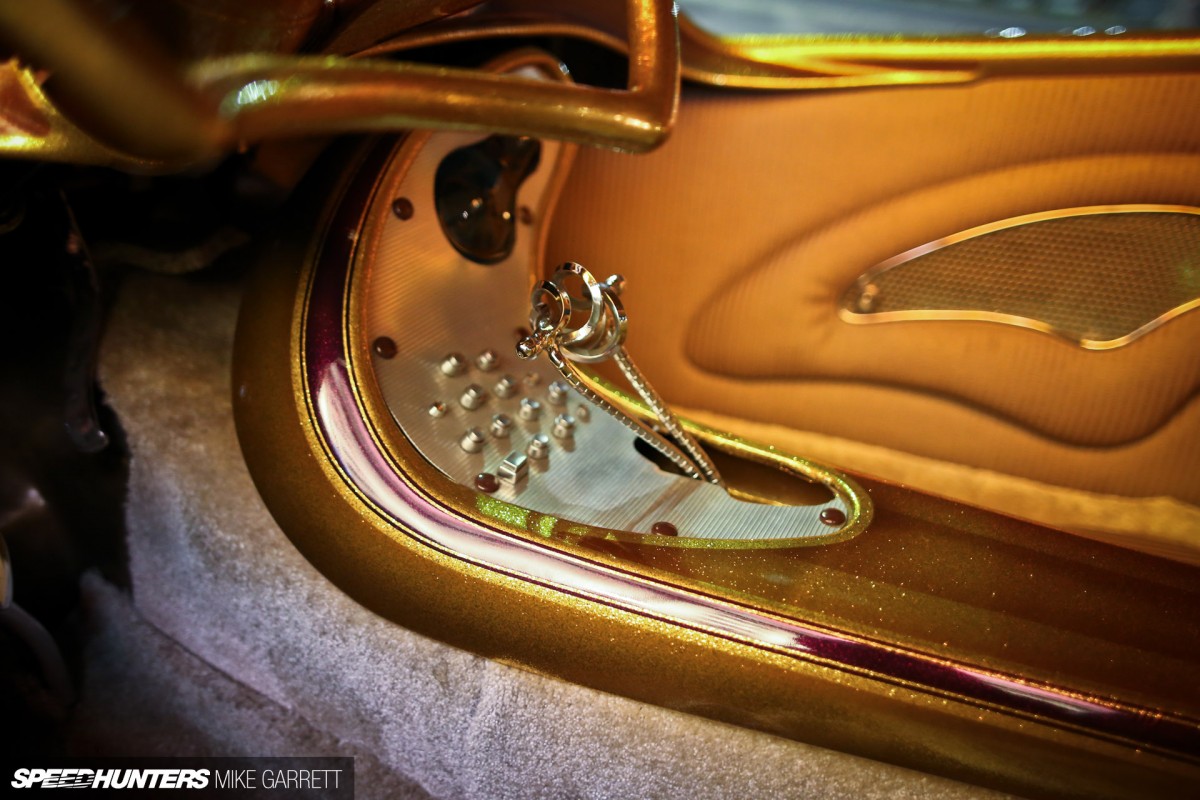 The shifter on the four-speed has been relocated inside a custom center console, which like nearly every other part on the car was hand-formed from steel. The console though, is just the beginning of Galaxian's space age interior.
Perfecting The Formula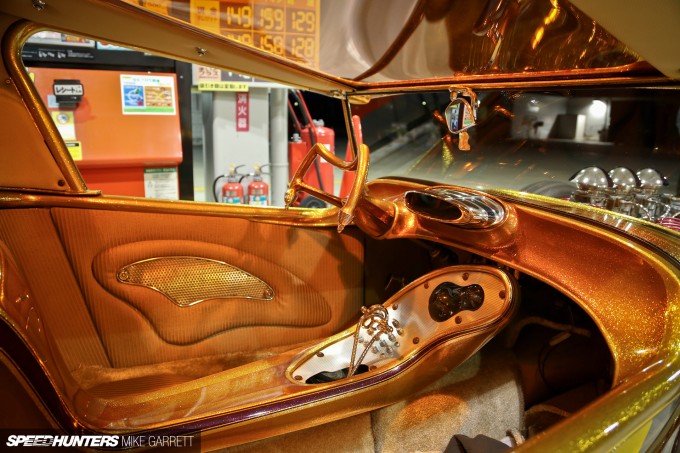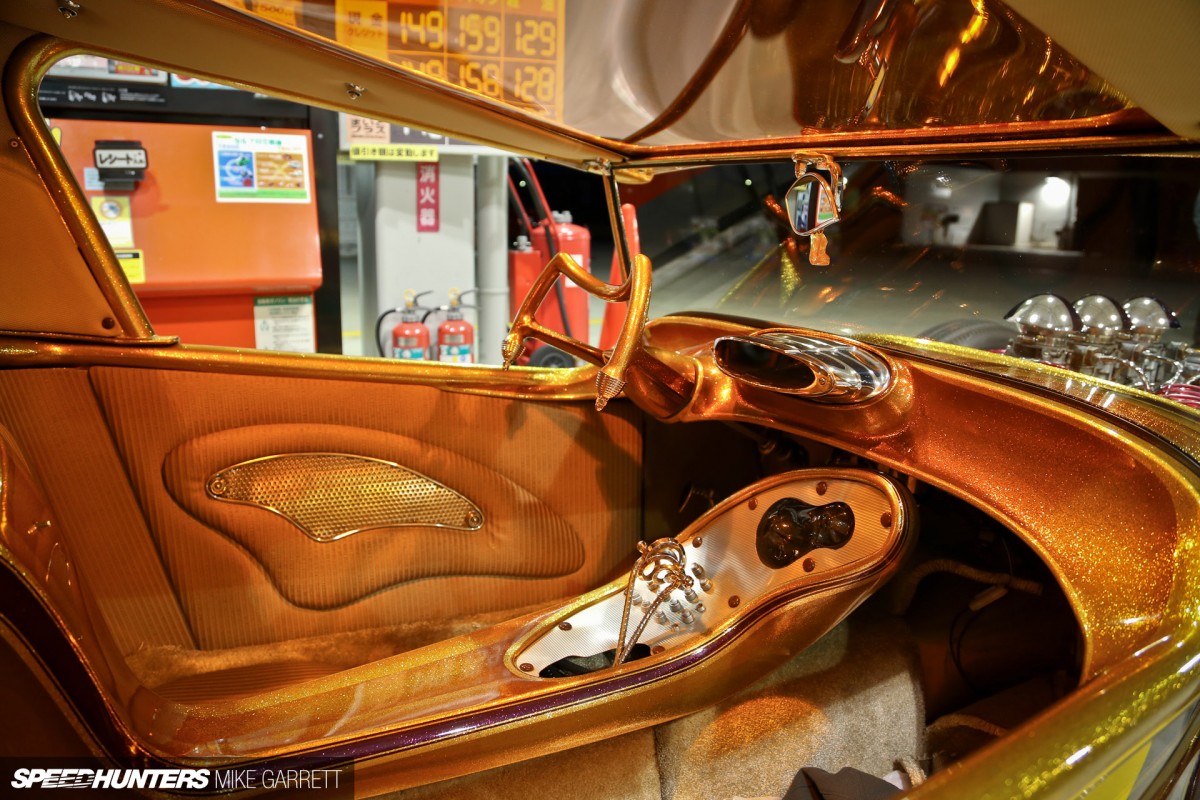 Junichi used an old aftermarket tailight housing to mount three Suntune digital gauges on the 'dashboard' of the body, and also added a trick digital speedometer and fuel gauge in the center console.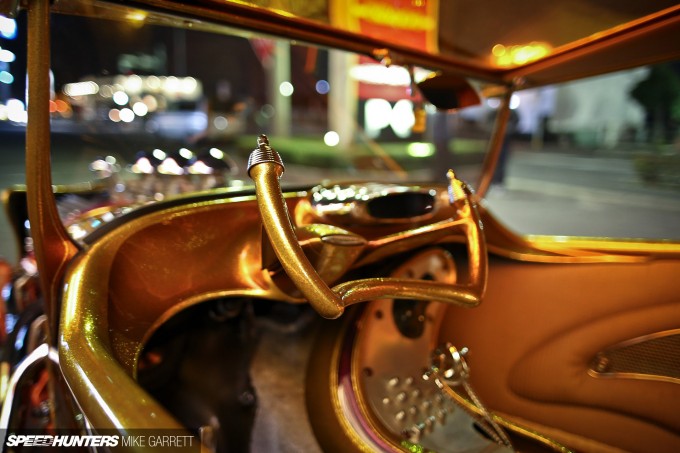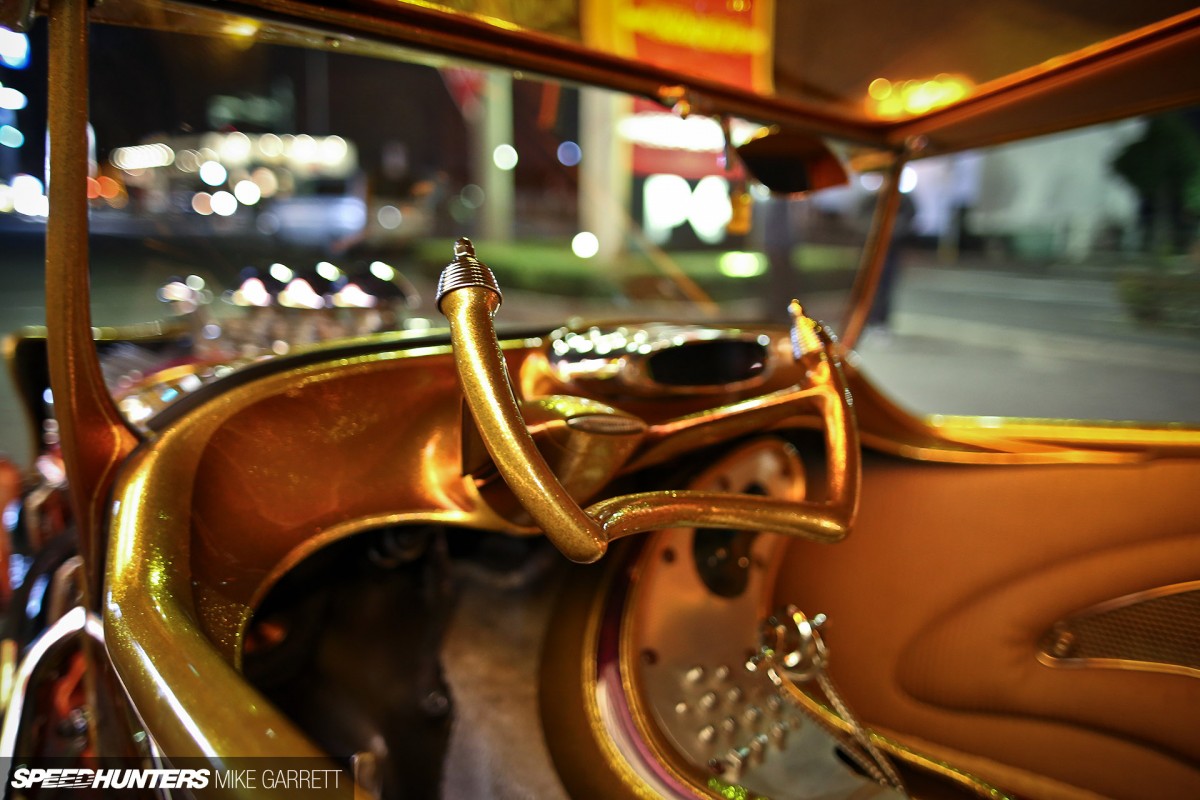 Then there's the steering wheel, which was made from the center section of a 1960s Buick wheel, then cut and welded into a portion of a Grant outer ring. Wild.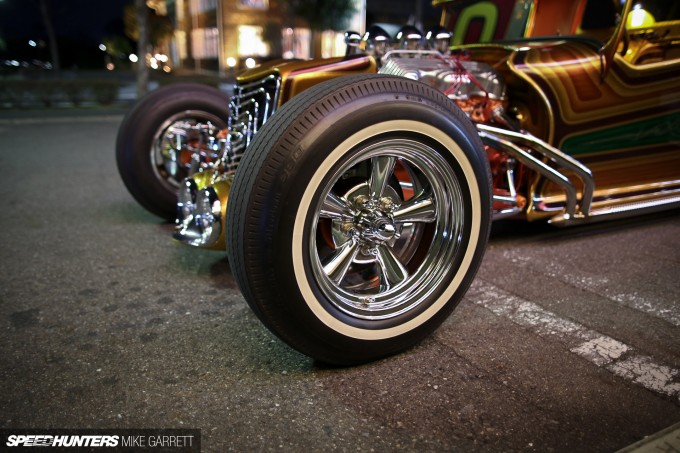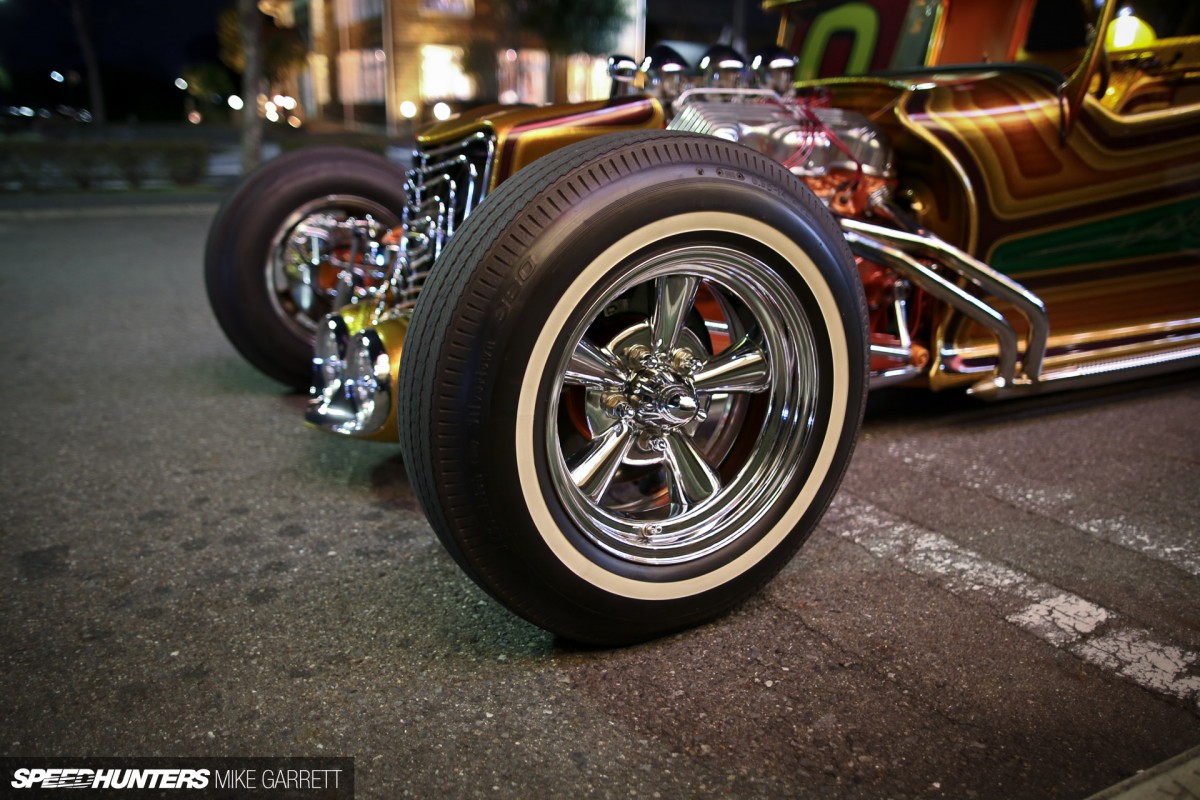 Last but not least were the wheels, and here Junichi stayed true to Galaxian's 1960s roots with a set of polished 14-inch Astro Supremes with BF Goodrich Silvertown tires.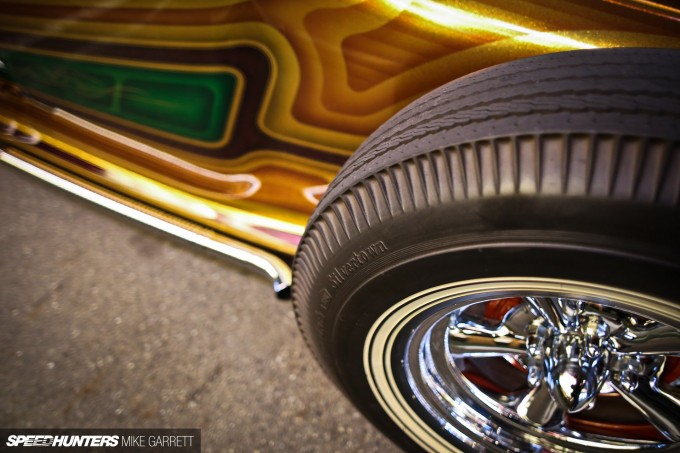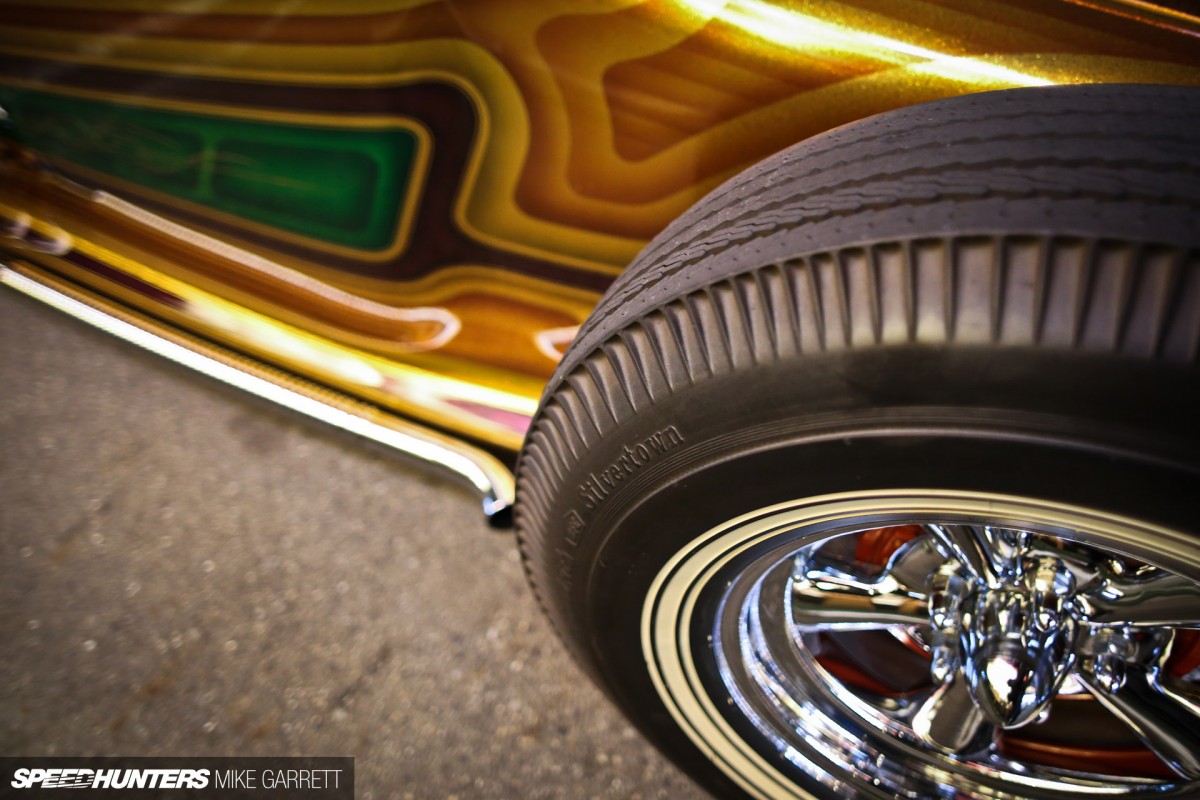 Amazingly, for all the work that went into the car, the first iteration of Galaxian was completed in just four months.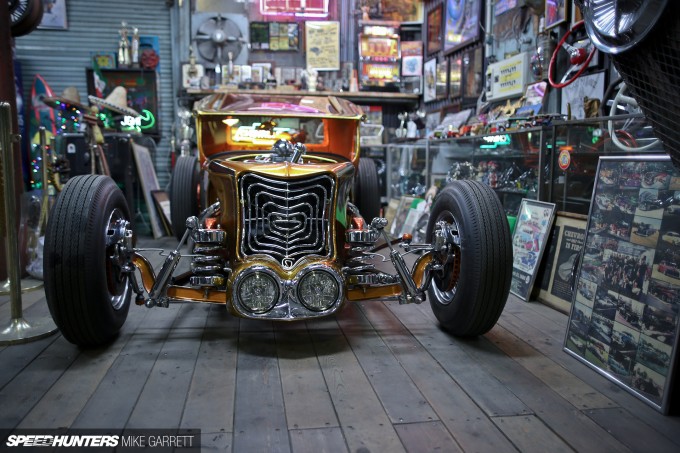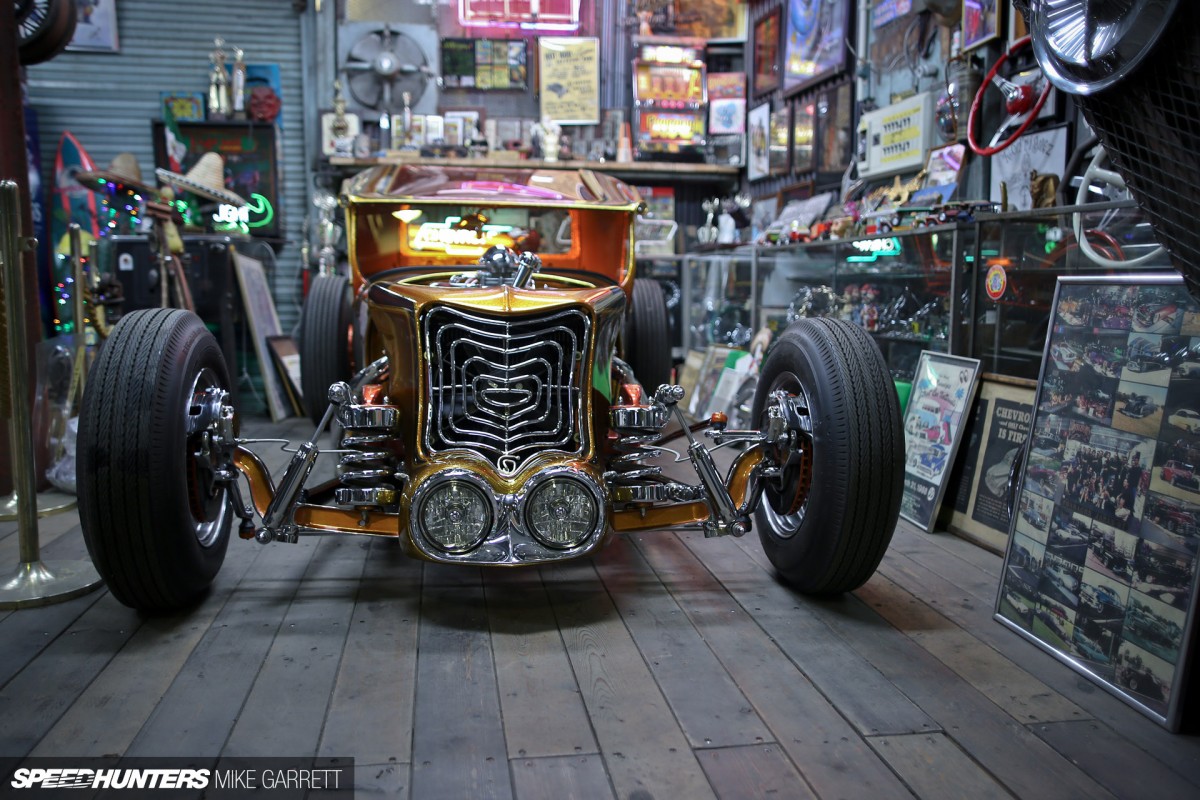 In December of 2006, Junichi took the car to the Yokohama Hot Rod Custom Show where it appeared with no roof and suede gold paint. He then went on to cruise the car for a couple of years before putting it back under the knife.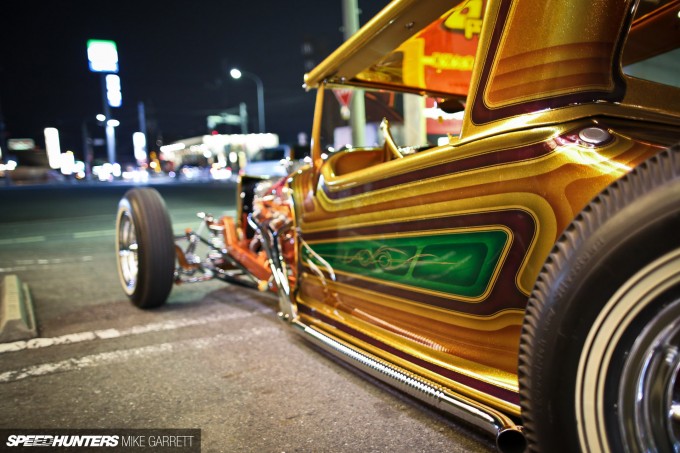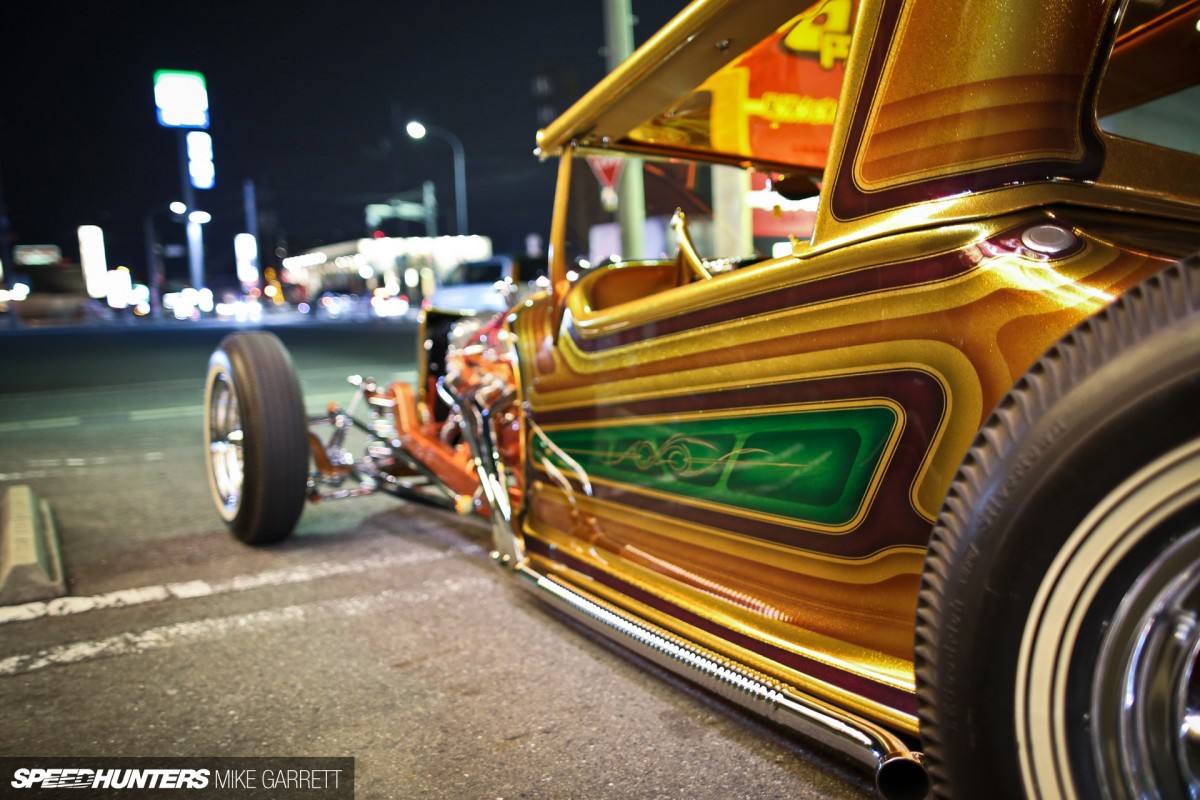 After a five-month rebuild, Galaxian re-emerged from the Paradise Road workshop with a number of changes, including a new glossy, intricate paint job heavily inspired by lowriders and 1960s customs.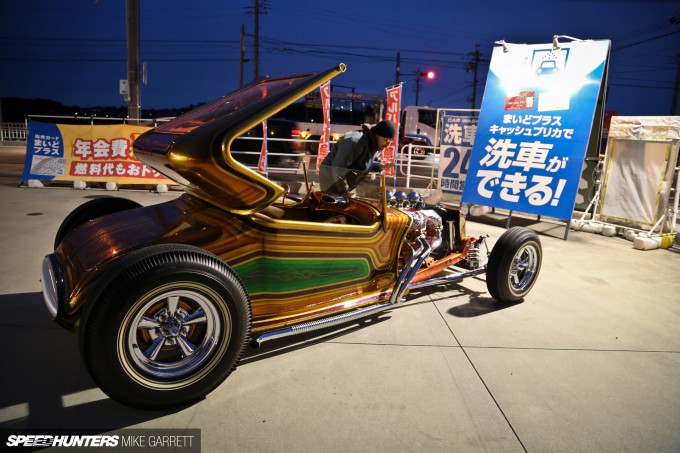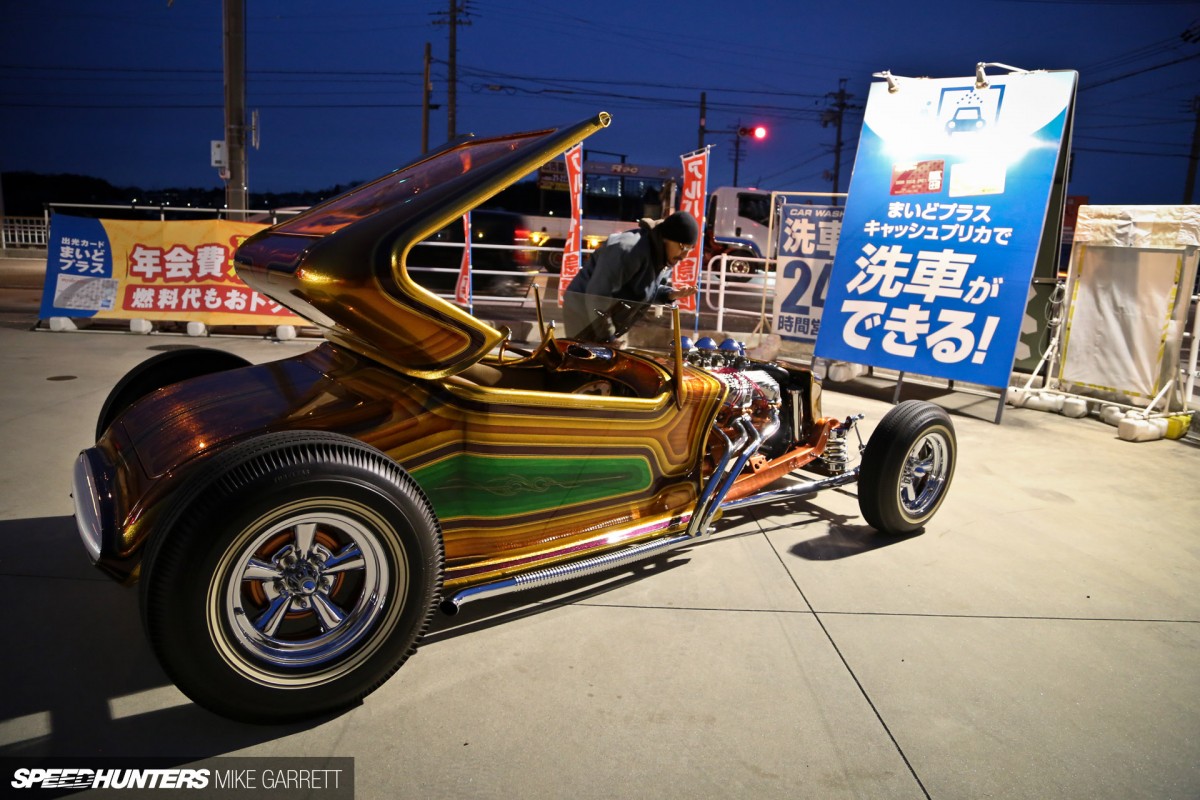 Along with the reworked body, Junichi also installed a custom top, which he built using a pipe frame and hand-formed sheet metal. Because the car has no doors, the top has a cantilever system for occupants to get in and out. The roof also has a super-cool removable acrylic bubble which helps take the show rod theme to a whole new level.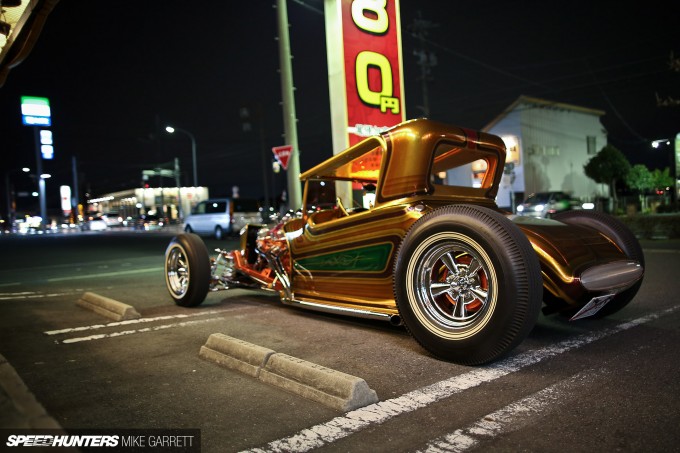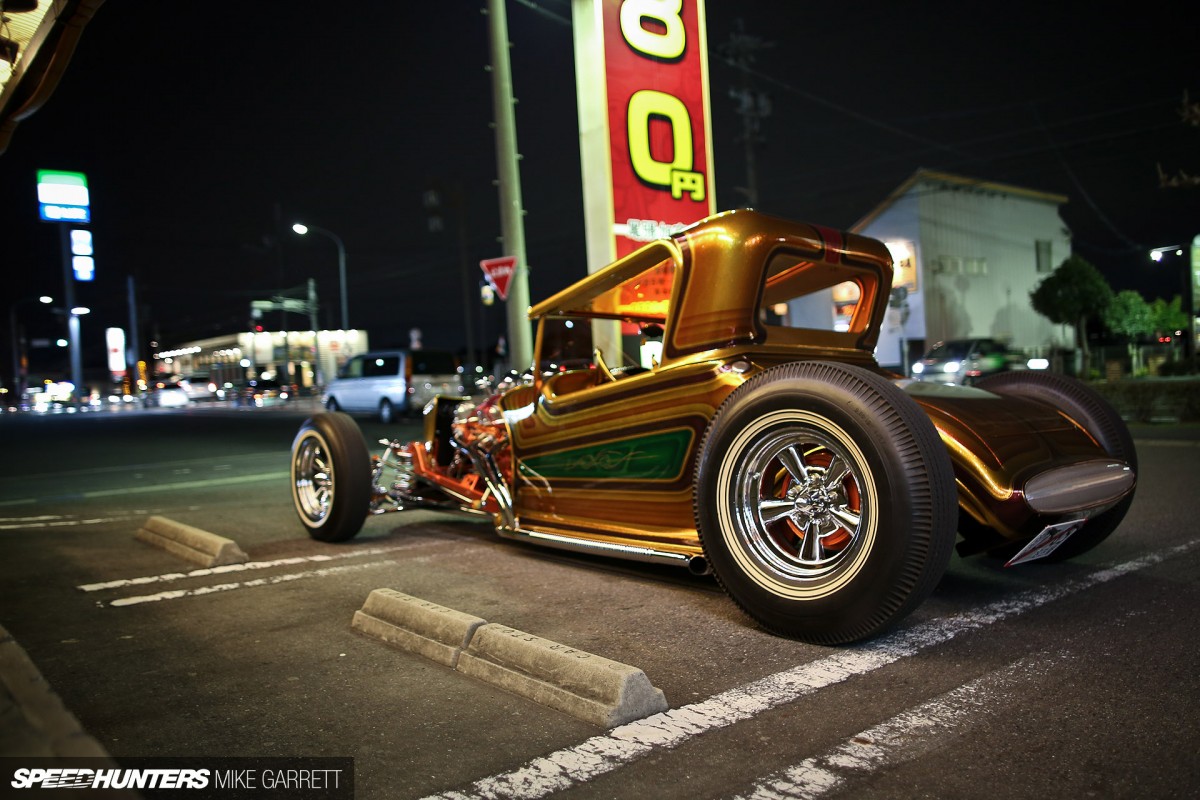 In December of 2008 Junichi took Galaxian 2.0 to the Yokohama HRCS where he was awarded the prestigious 'Best of Show' award – further cementing the car's place in Japanese hot rod history. Yet for all its accolades, the best thing about Galaxian is that it was never built to be a static show ornament.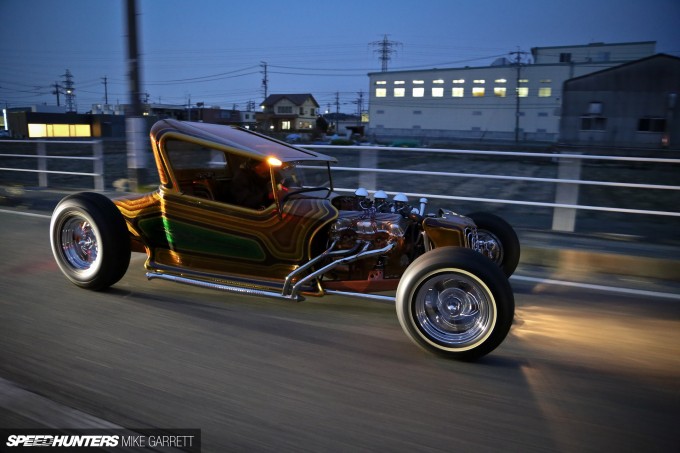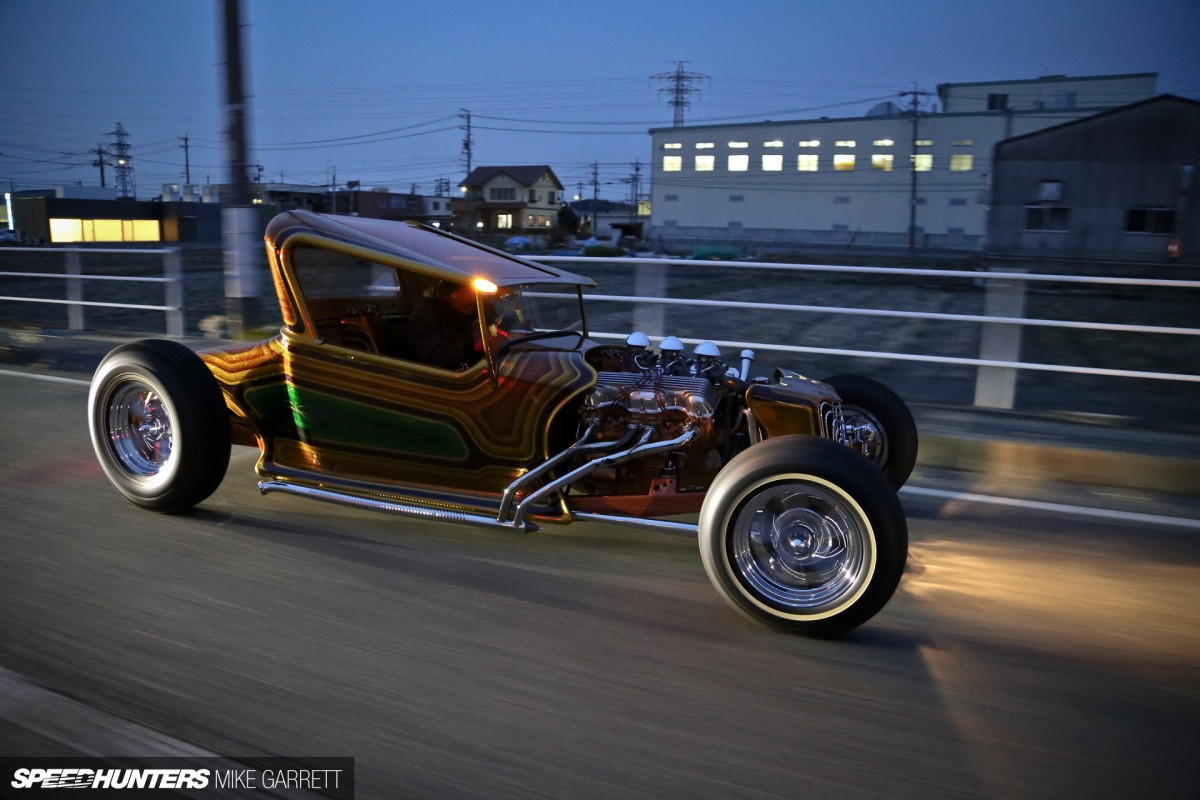 For a car with no seats, no doors and a pebble-scraping ride height, it's actually surprisingly comfortable – and that's important considering how much Junichi drives it. I've always loved the far-out looks of 1960s show rods, but didn't like how they were often limited to roped-off displays and trailers. Some of them never even ran at all. Galaxian, on the other hand, combines the over-the-top style of those cars with the blue collar attitude that made hot rodding so great in the first place.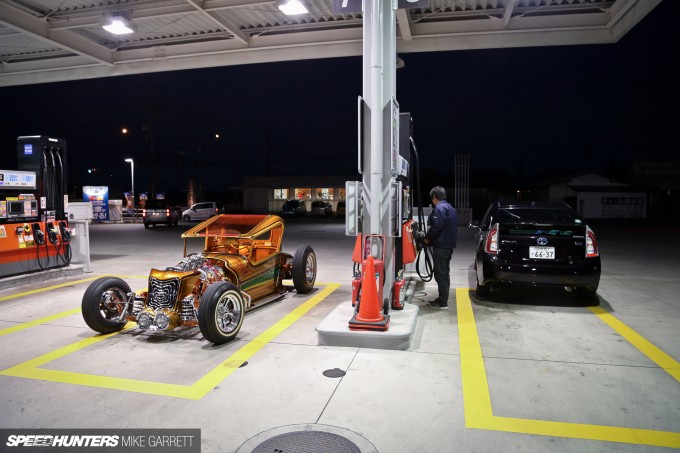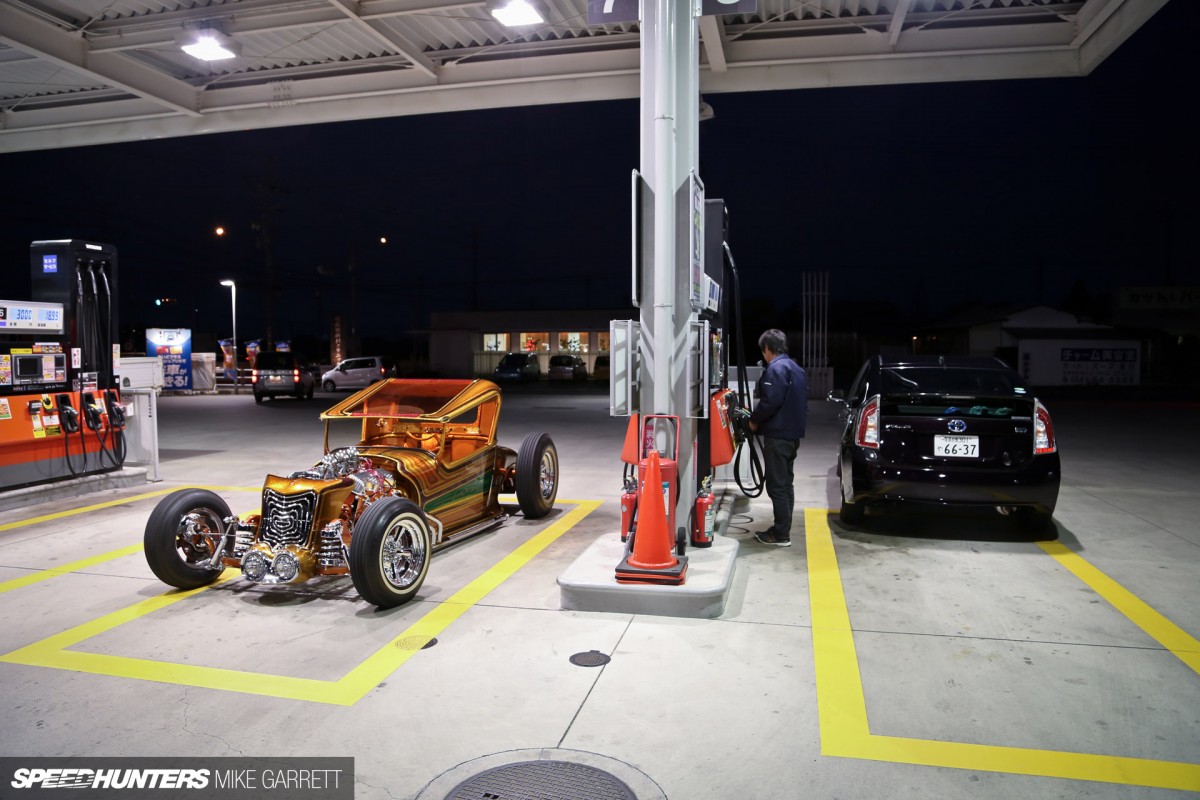 The thing I love about hot rodding is that while the cars, parts and style might have originated in the USA, it's such a personal form of car building that no one country can lay claim to it. I think Galaxian certainly shows that our brothers in Japan can do it as well as anyone.
Mike Garrett
Instagram: speedhunters_mike
mike@speedhunters.com
Paradise Road 'Galaxian' 1927 Ford Model T Roadster

Engine
348 cubic inch big block V8 from 1959 Chevy, factory triple carburetor setup, headers with full sidepipes, Edelbrock finned valve covers
Driveline
4-speed manual transmission from '71 Corvette
Suspension/Chassis
Modifed Model A frame rails, lifted rear section with ladder bar suspension, rear airbags, front coil spring conversion with tube shocks and disc brake conversion
Wheels/Tires
14-inch Astro Supreme with BF Goodrich Silvertown white wall tires
Exterior
Hand-formed steel body, retractable hand-made roof with acrylic bubble, hand-made grille with custom center and inverted '59 Cadillac bezels and headlights, custom acrylic taillight panel with 500 LEDs, custom multi-layer metal flake paintjob with '60s style design
Interior
Handmade steel center console with relocated shifter and Cyberdine digital speedometer and fuel gauge, custom dash cowl with Suntune digital gauges mounted in taillight bezel, custom steering wheel using '60s Buick center and Grant ring, custom upholstery and carpeting
Cutting Room Floor