Keeping It Rough
One of the most highly anticipated cars at the Art of Speed show held in Kuala Lumpur this past weekend, was a Nakai-san creation. The Furinkazan is actually one of two Porsche 911s that have just been built for the soon-to-open RWB Malaysia workshop, and it took center stage in the event's gallery section.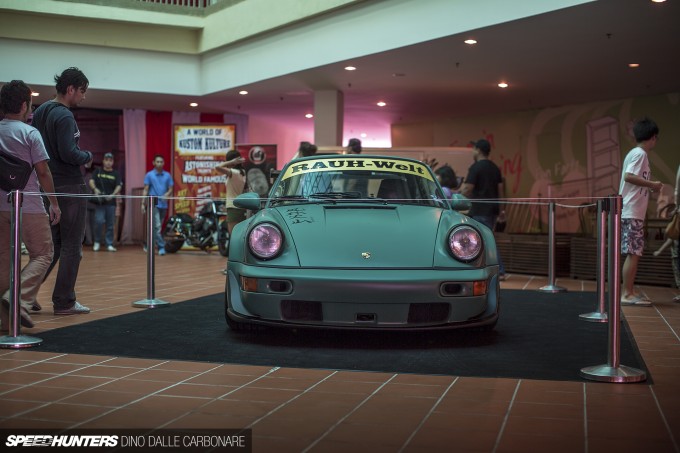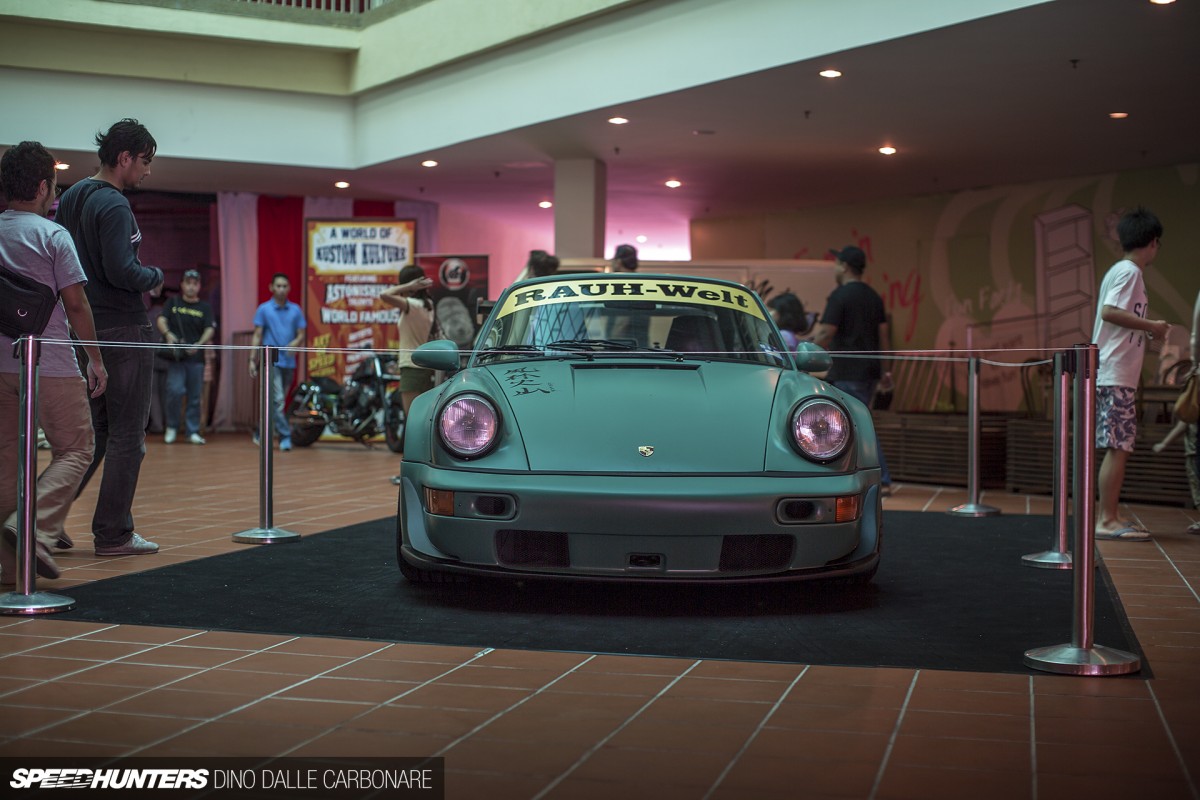 Along with the Rough World treatment that gives the 911 about 100 times more presence than its stock standard equivalent, this 964-based creation looked really fresh with its satin mint green paint.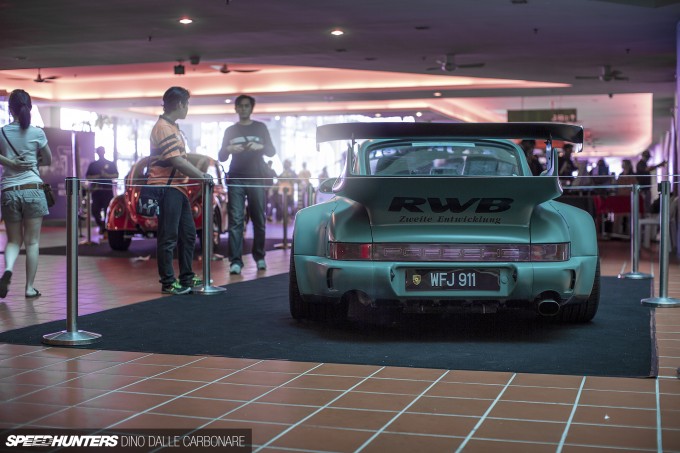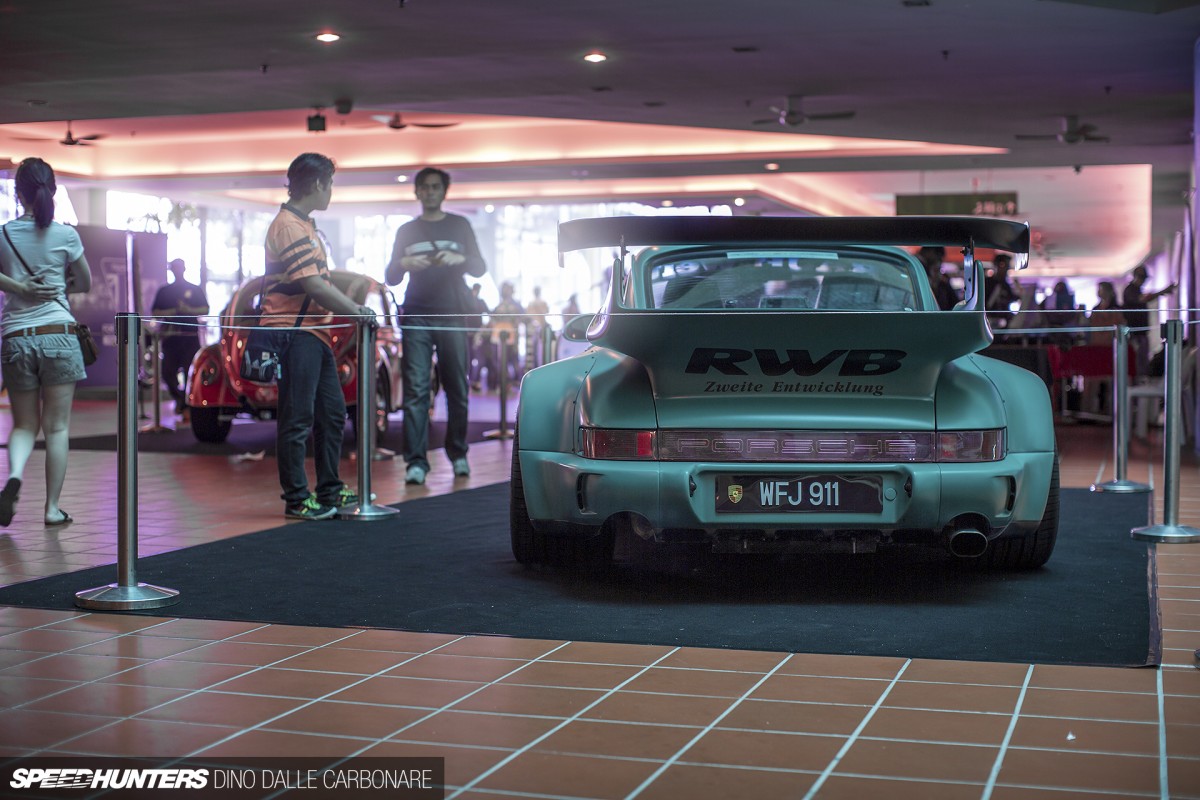 The rear end is dominated by RWB's signature stacked wing combo and the massive fenders that stretch outwards from the body to contain 335-section Pirelli P-Zero rubber.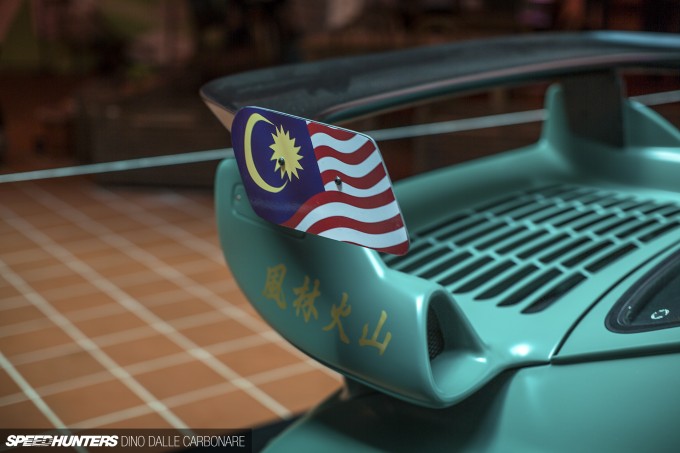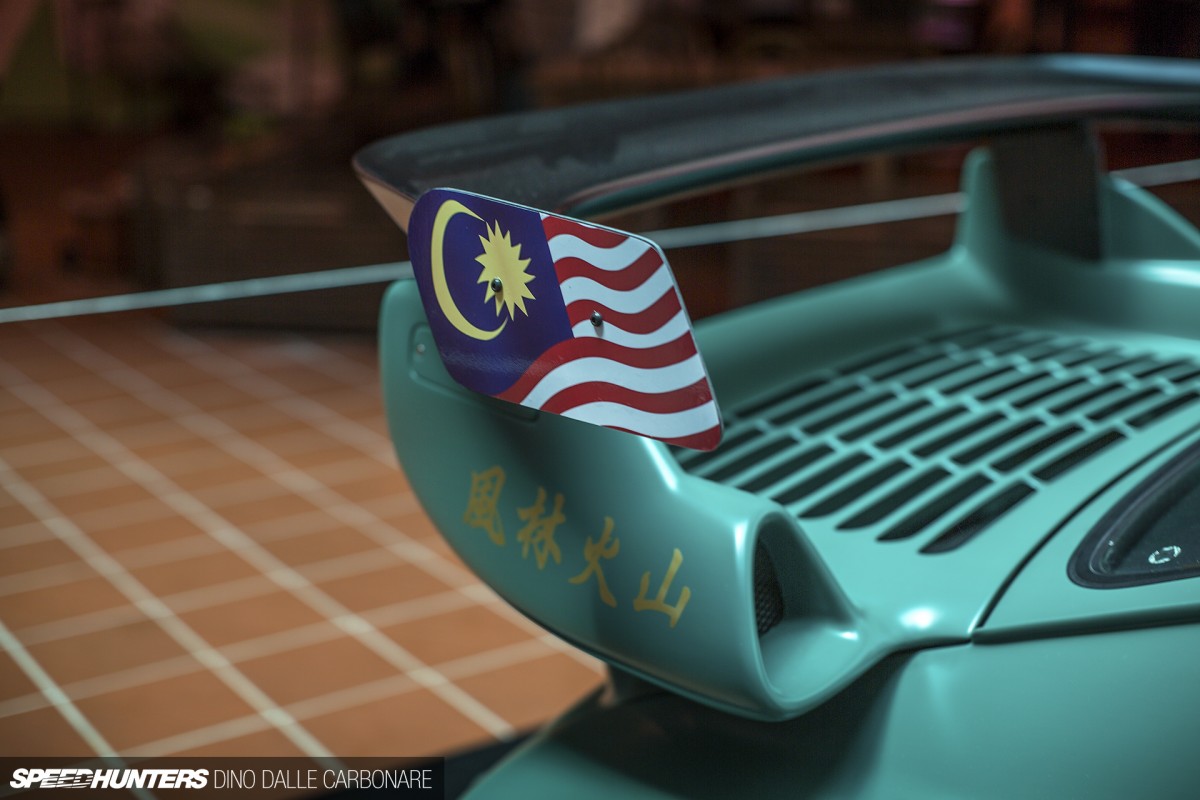 The Furinkazan (Wind, Forest, Fire, Mountain) name is joined by the Malaysian national flag – a symbol of two countries coming together out of pure love for the work of one man.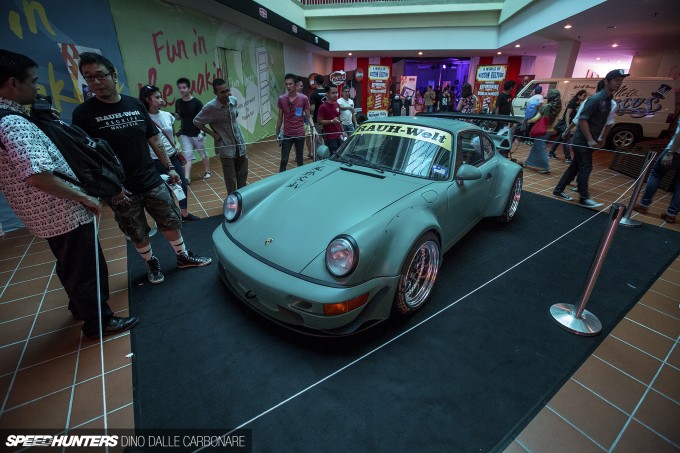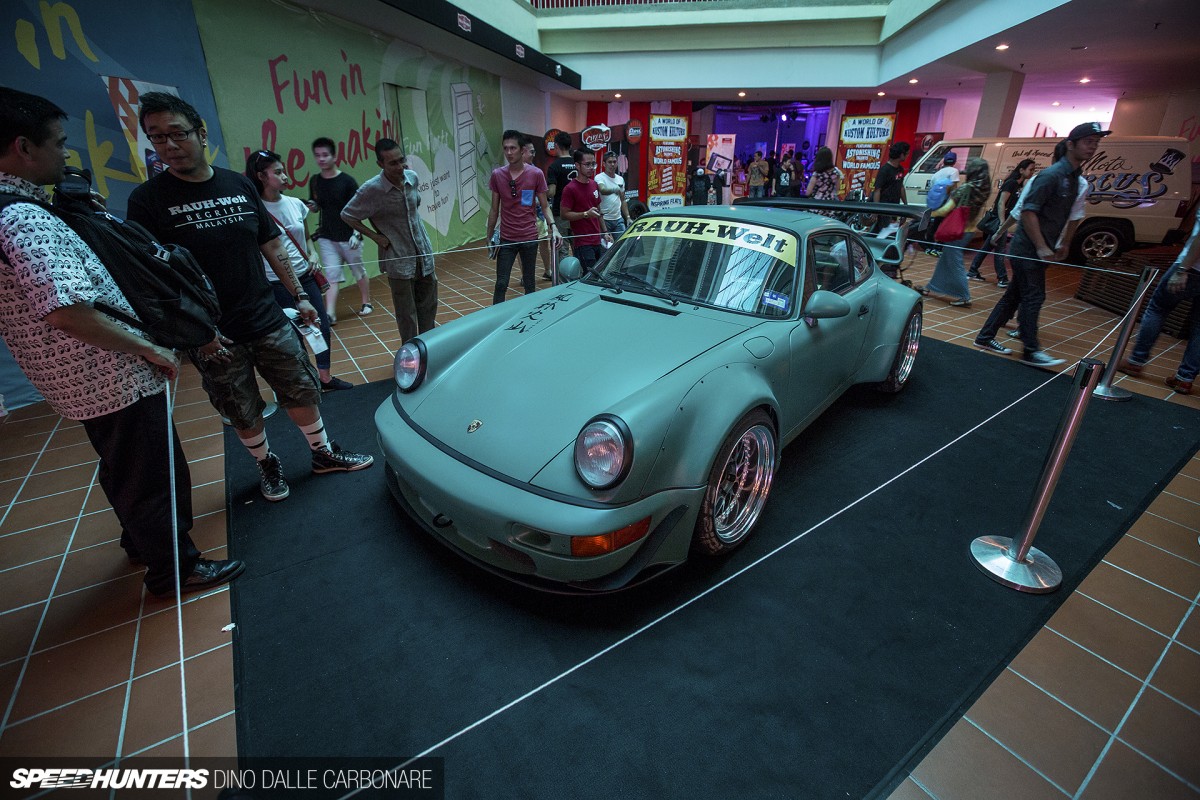 This might be the last shot I have of this car for this particular spotlight, but don't worry – I've got something else RWB-related, and very special, coming up for your guys next week. When I saw it for the first time it absolutely blew my mind, so make sure you check it out. More on that soon…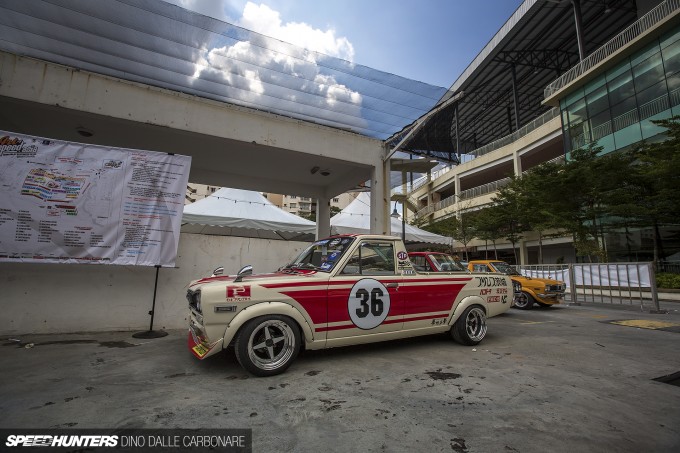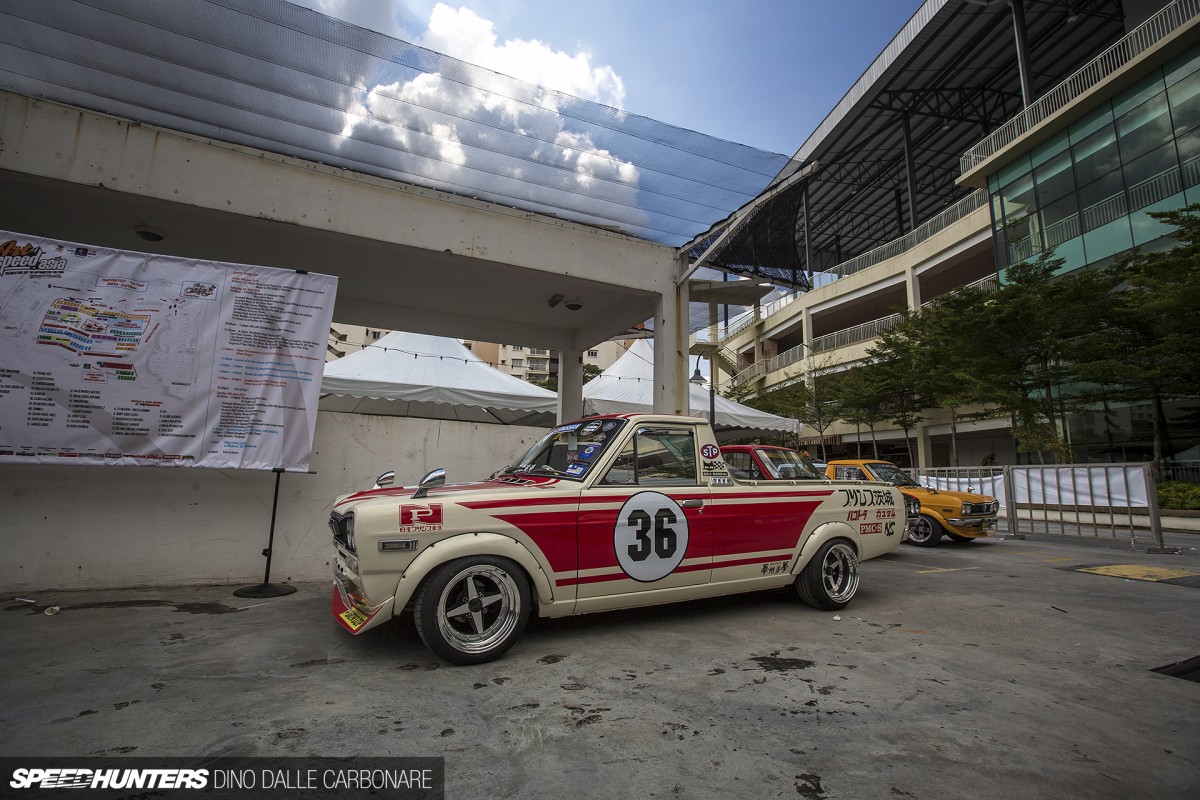 Next up it's a car that caught my attention as soon as I walked into the car park show arena – one of two Sunny Hakotoras being shown at Art of Speed (you can spot the other one in the background of this image). Sitting on Work Equip 01 wheels and rocking PMC•S-inspired livery, well, I just couldn't pass up the opportunity to take a closer look.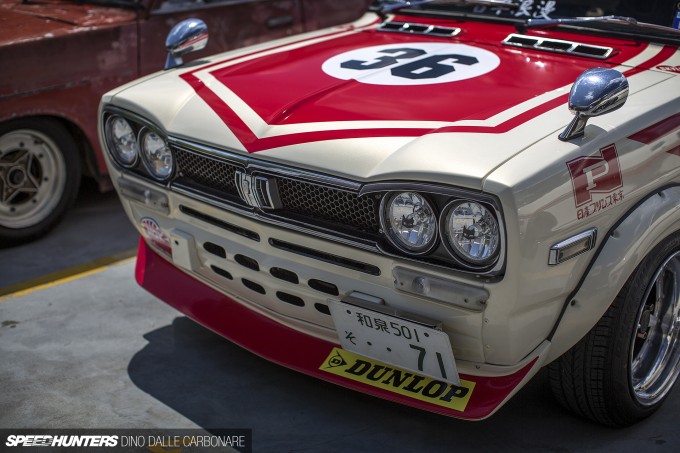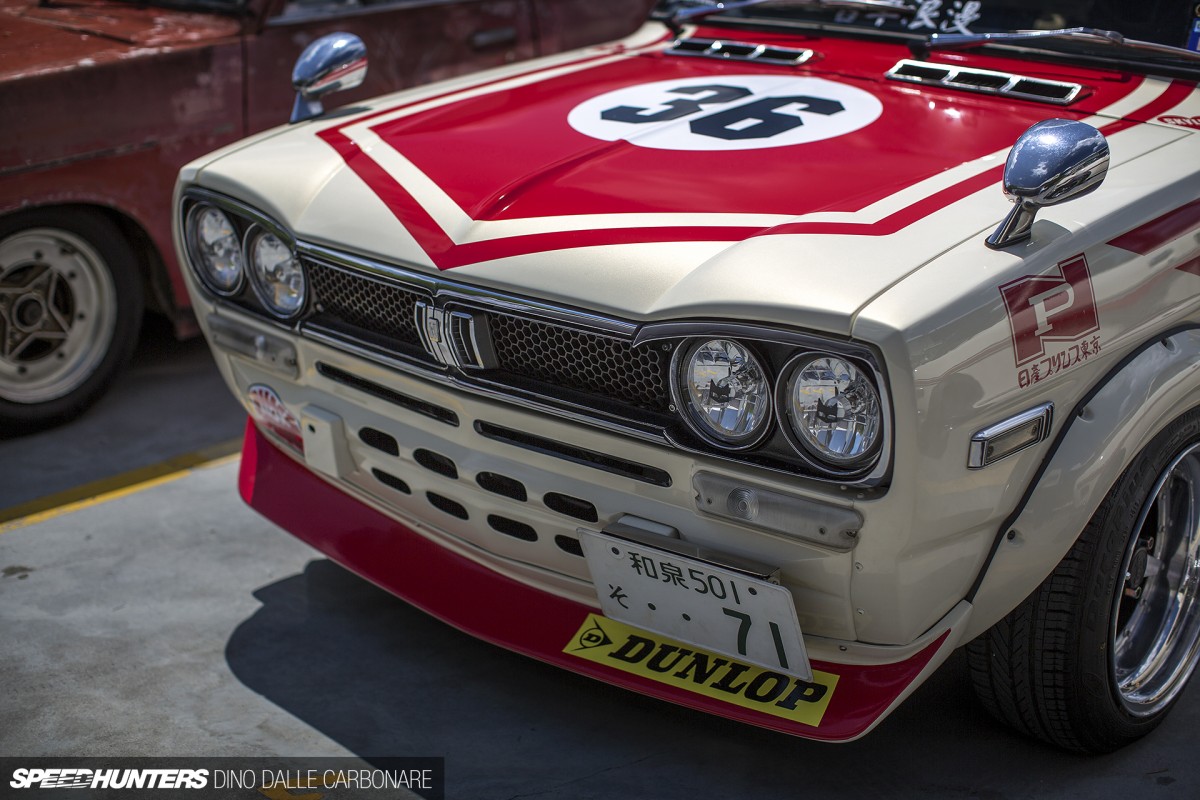 The Hakosuka front-end conversion was executed brilliantly – the iconic grille and quad round headlight setup turning an ordinary Datsun pickup into something very special. Throw in a bucktooth front spoiler and colour-matched fender flares and you're in business!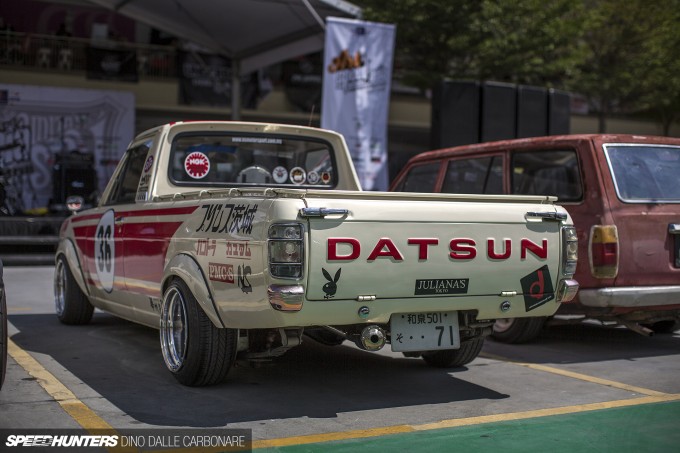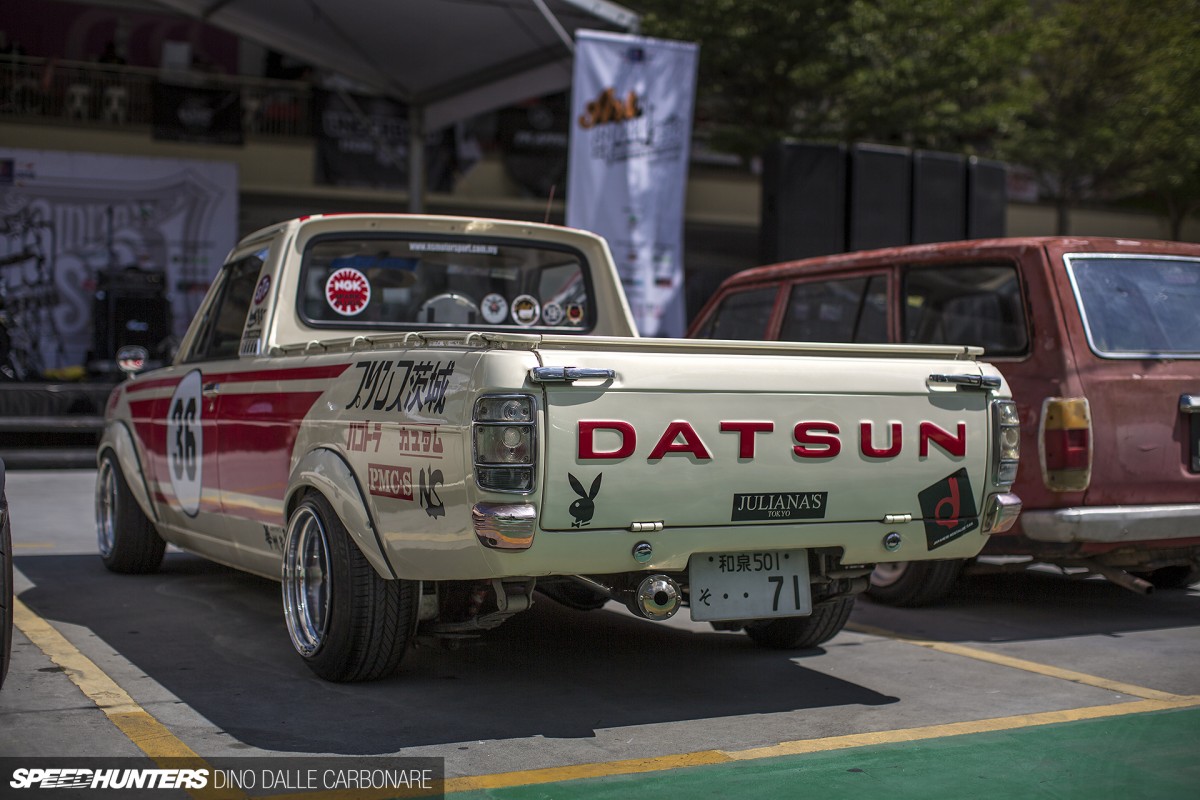 There were many little details to take in, including – to my extreme surprise – a Juliana's Tokyo sticker. This was an old and famous (and long closed) nightclub from Japan's extravagant bubble era of the late '80s.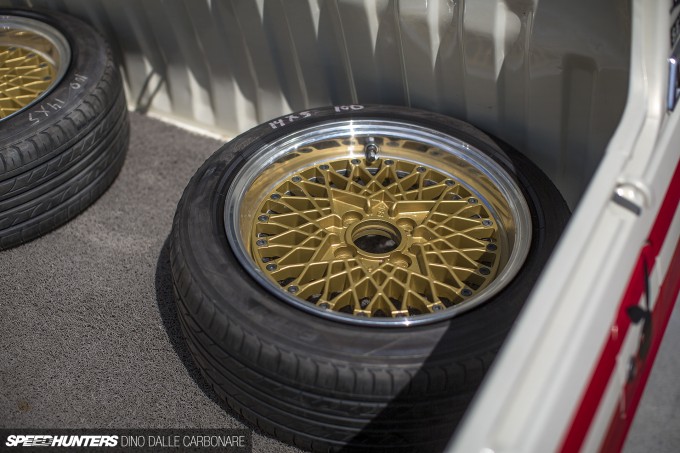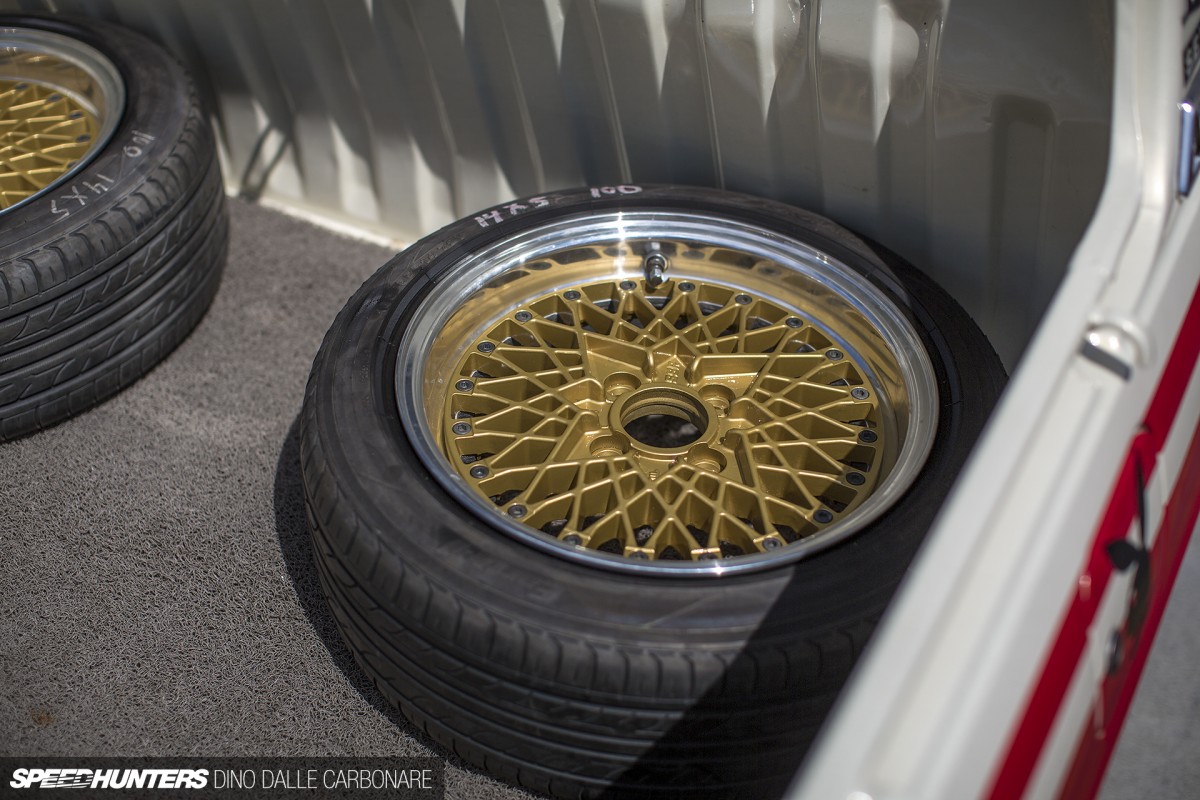 One of the cool things about pickups is the fact that they can haul around a ton of stuff. For Art of Speed the cargo was a spare set of SSR mesh wheels.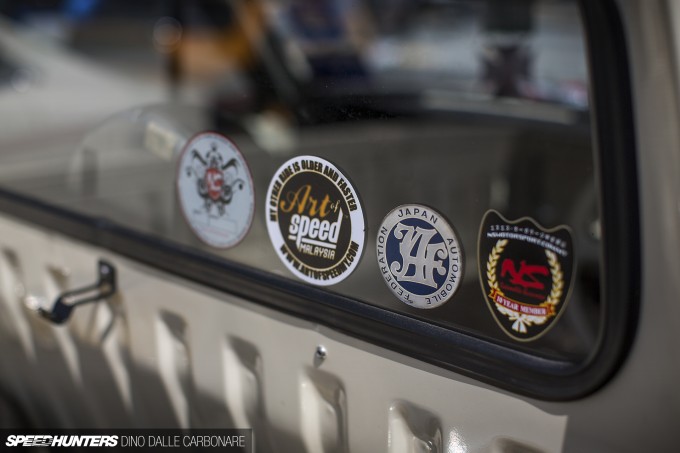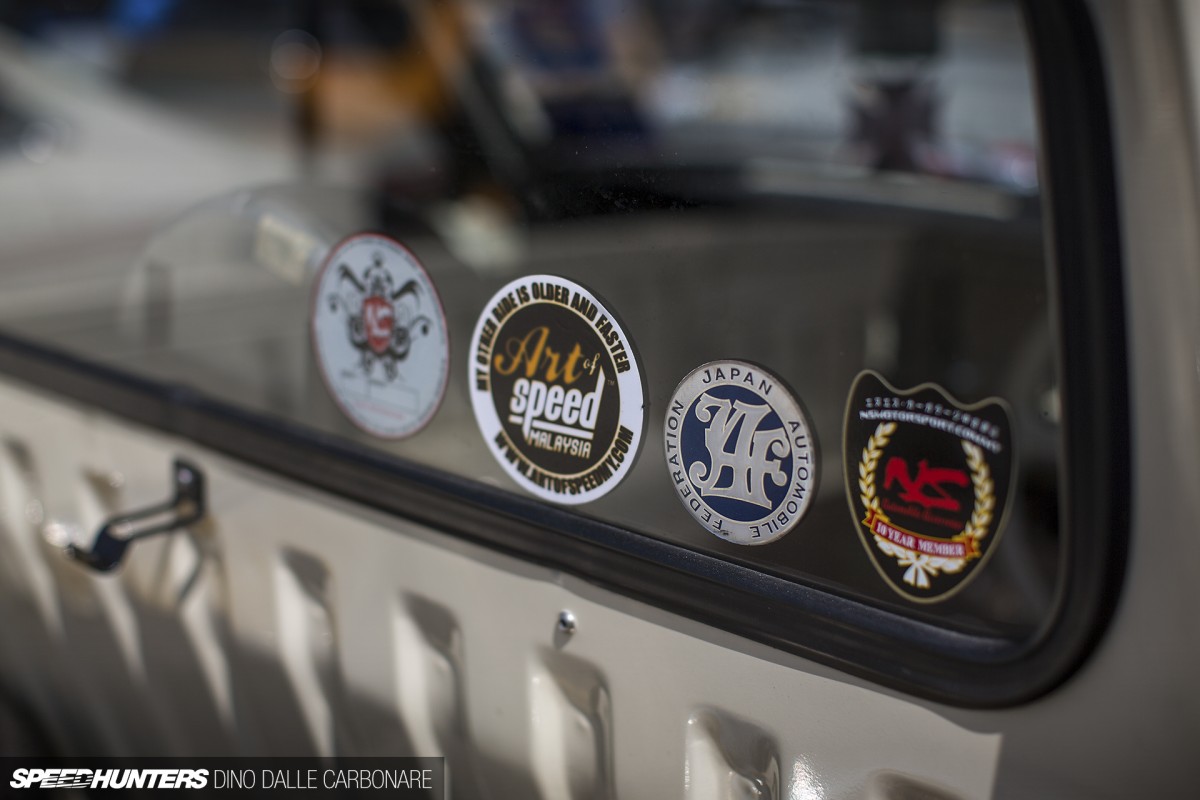 I noticed that many cars were wearing the JAF membership badge – the Japanese Automobile Federation, similar to the RAC in UK or AAA in the US. Authenticity counts for a lot I guess!
Rust'N Roll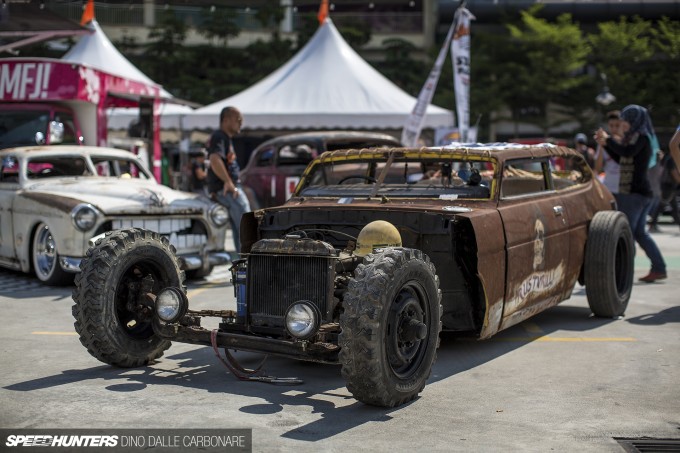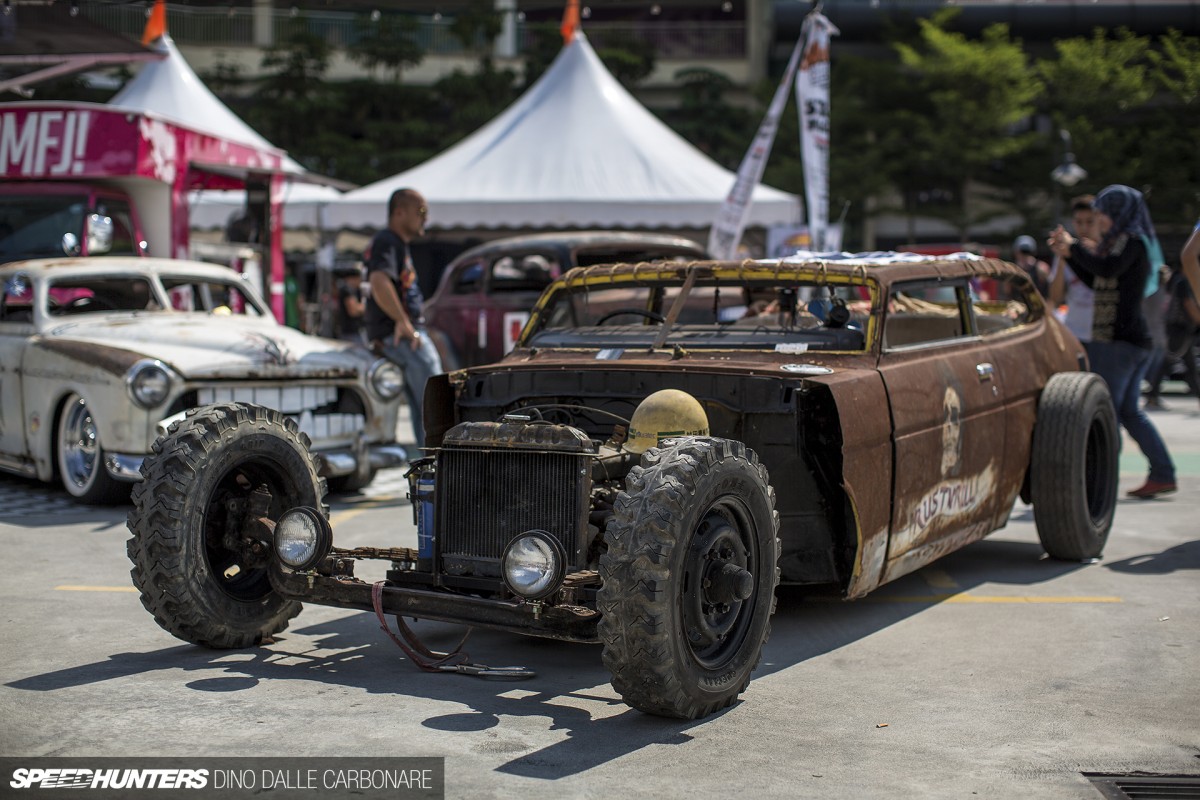 I love it when people think outside the box. Special things happen then and this rat rod – aptly named Rust'N Roll and sitting right smack-bang in the middle of the show – was certainly receiving its fair share of attention. I don't need to explain why, right?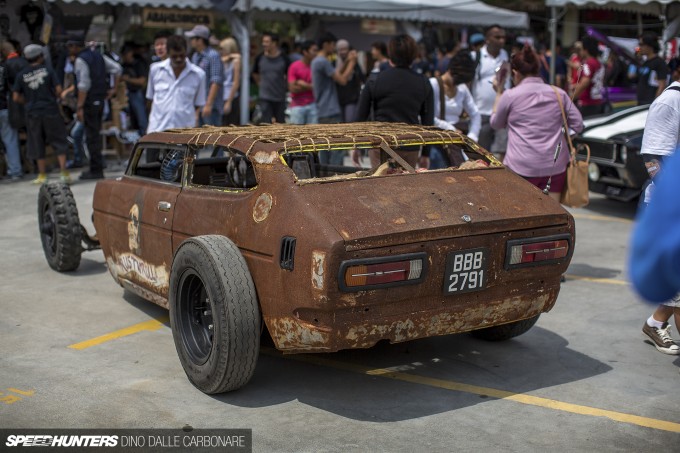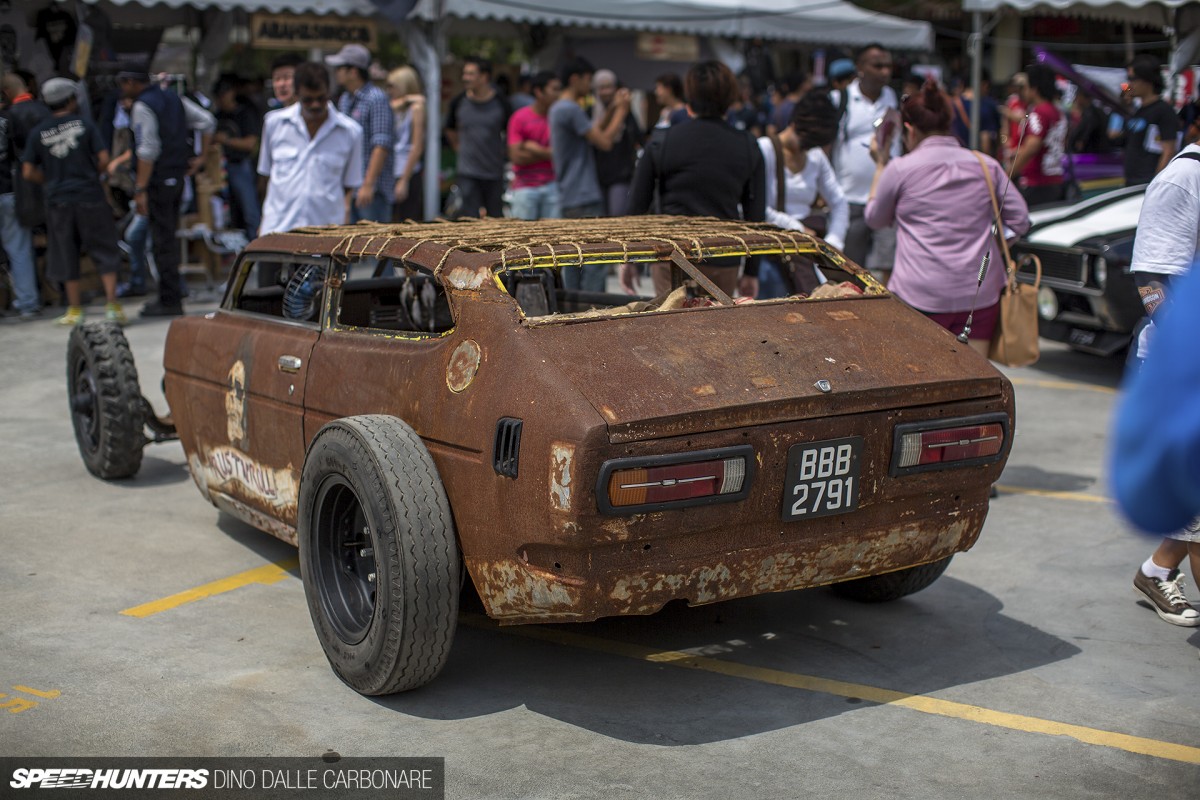 The thoroughly rusted-out Corolla body was accompanied by a rather massive roof chop. I assume custom windows will probably never be fitted…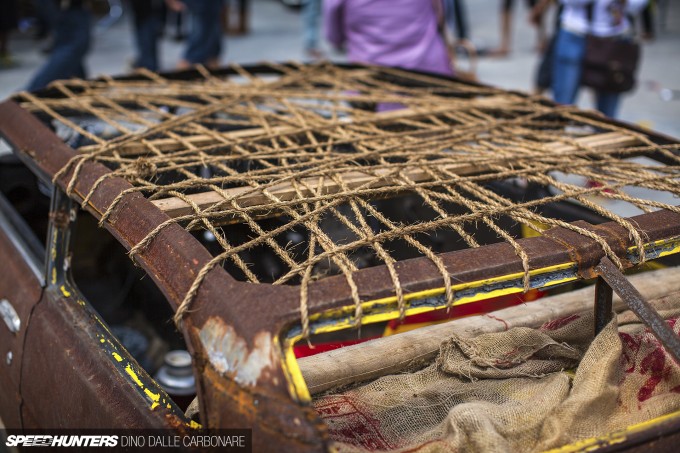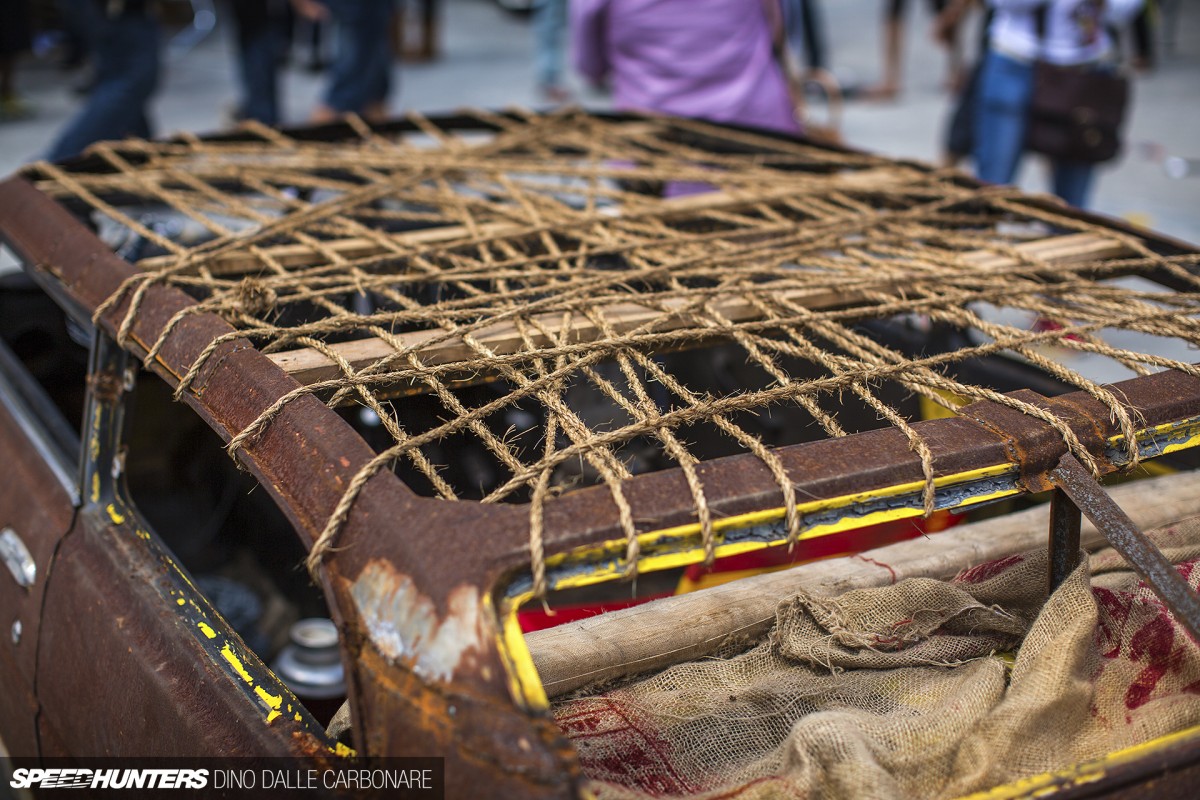 Mainly because the creation doesn't even have a roof! Instead, ropes hold up three pieces of wood that act as structural stiffening parts. Or not. But that's not really of consequence since this car is more art than it is a functional form of transportation.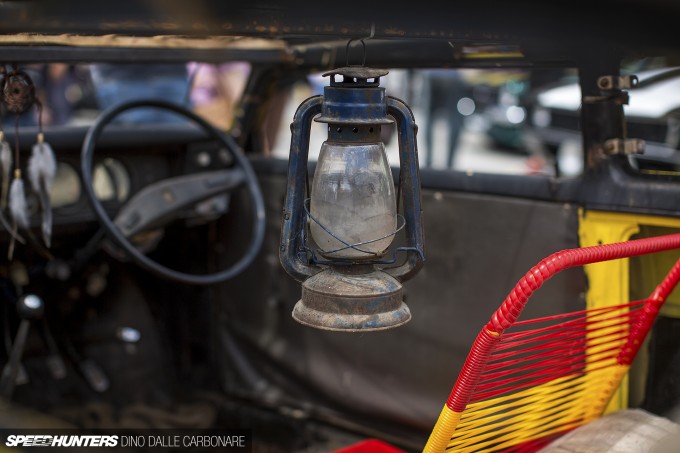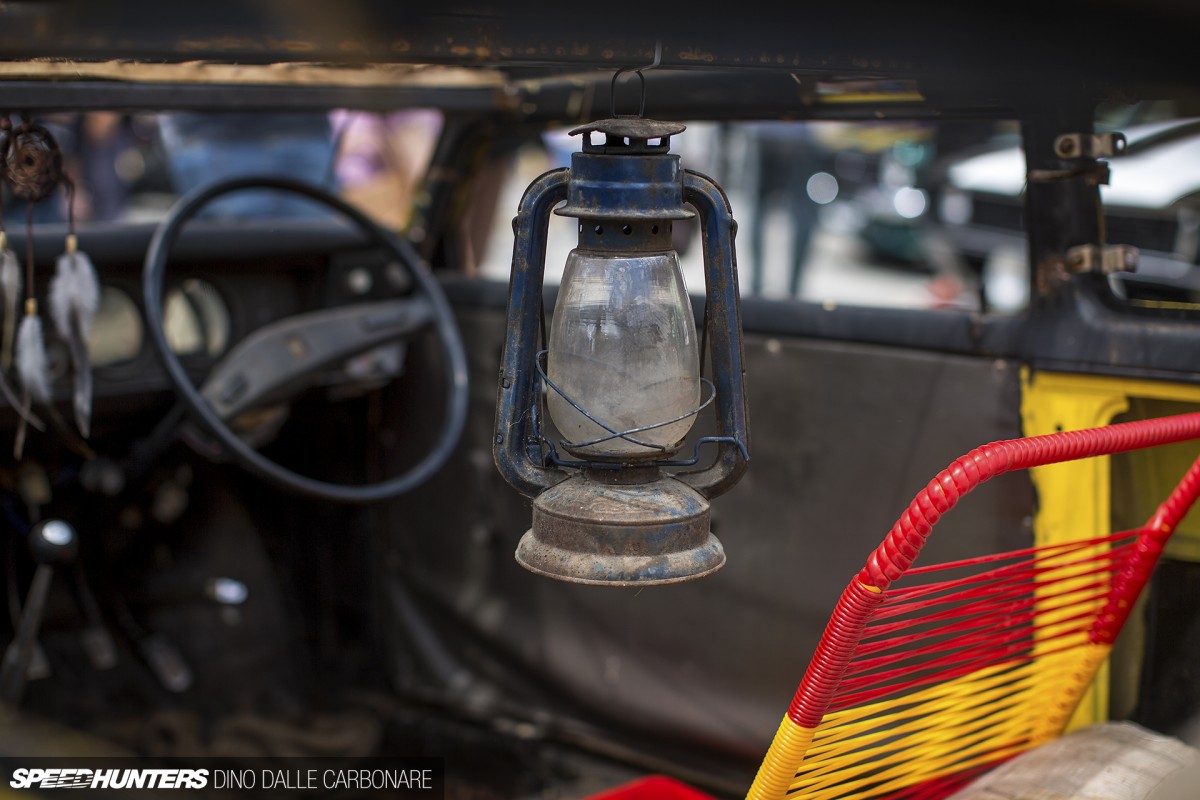 It was obviously built for laughs, so the driver's seat is a period-correct '70s beach chair with chopped legs and an oil lamp provides interior illumination.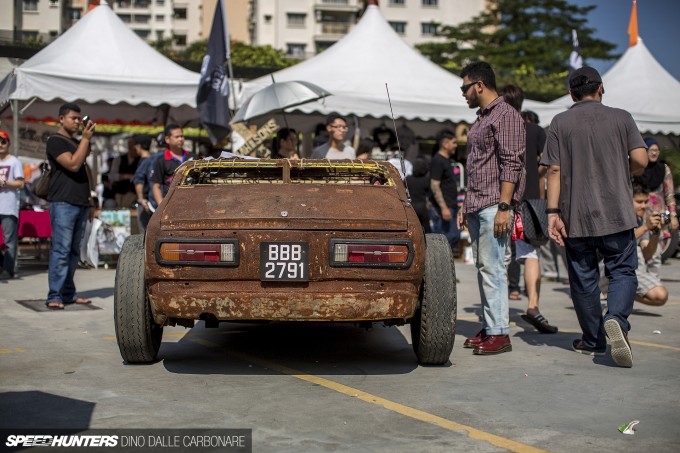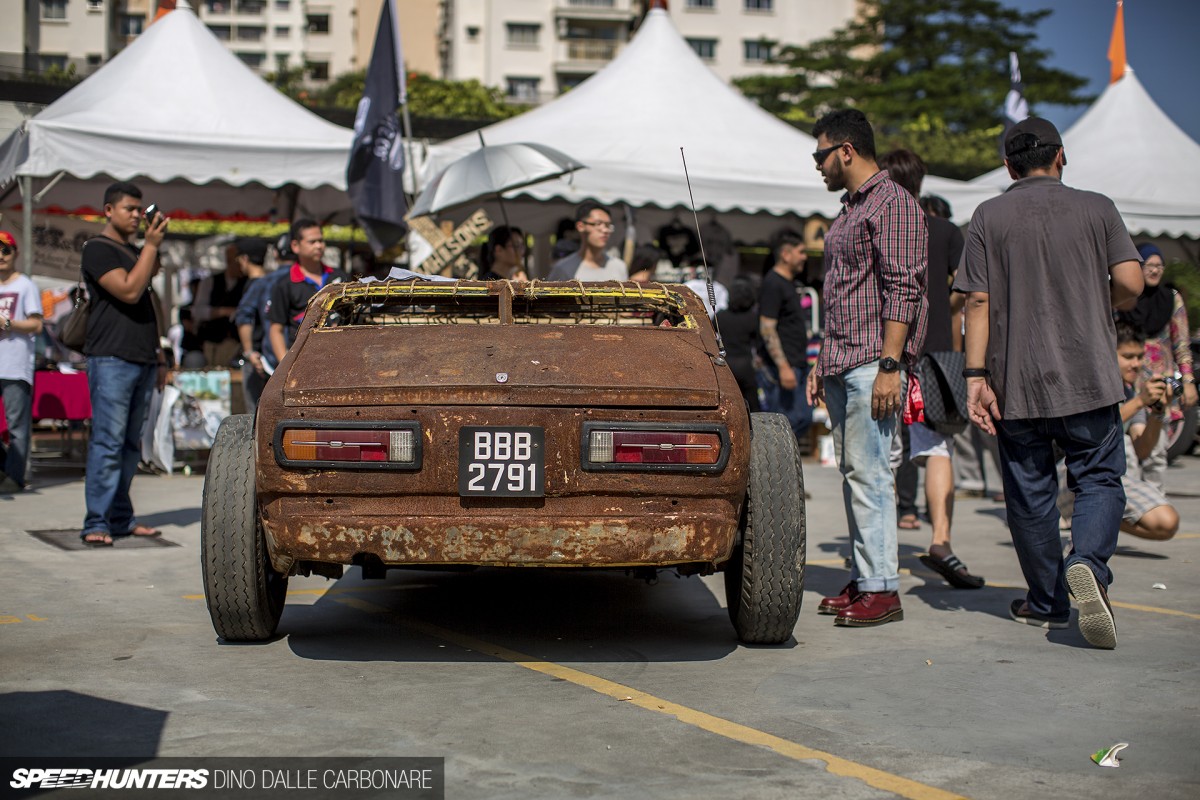 If you want to make a huge statement without an equally large investment, this is one way to go about it!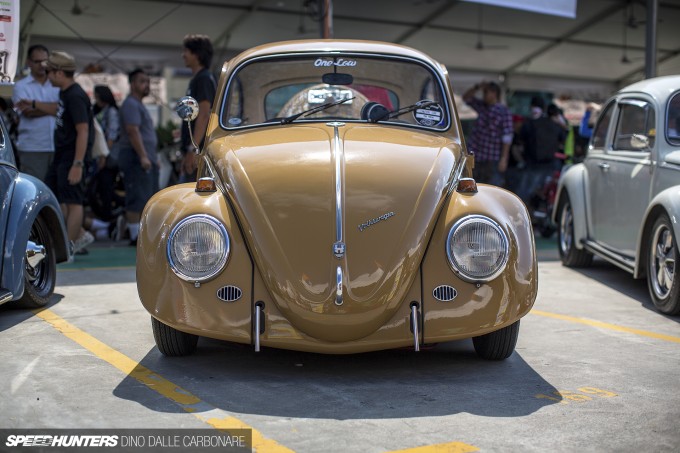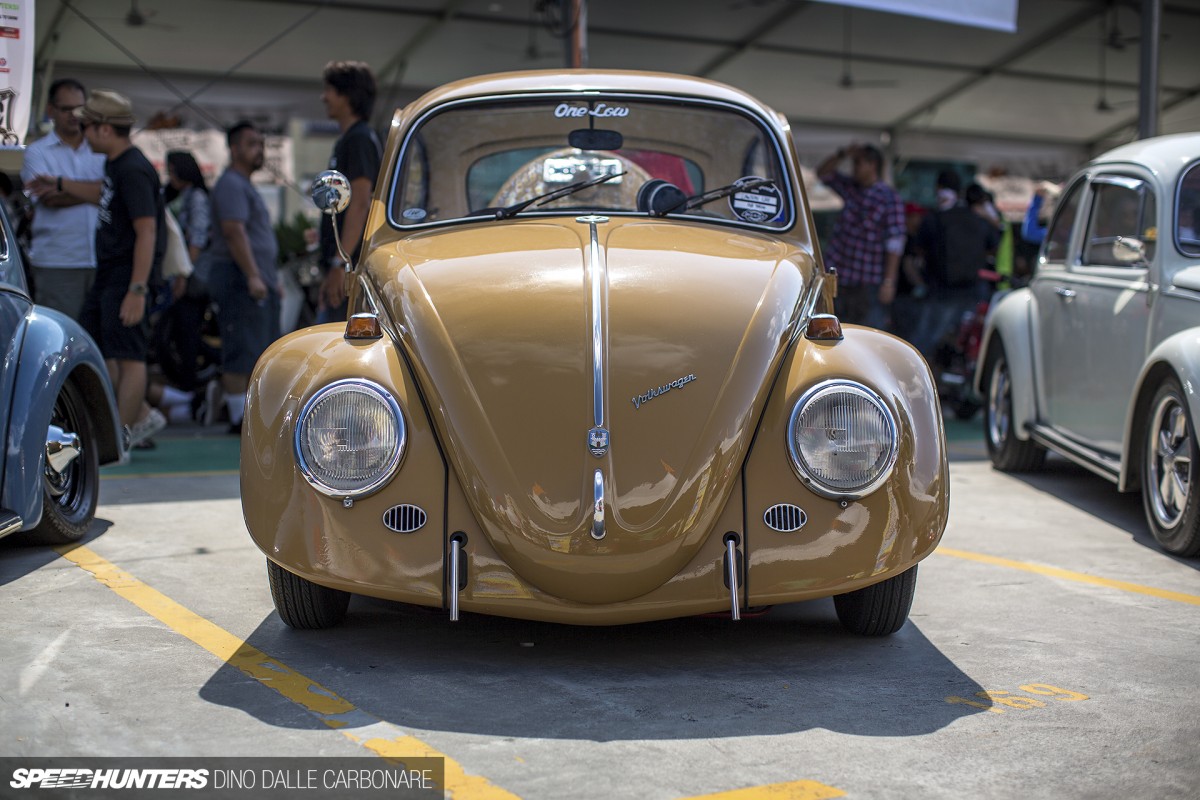 From a rusty rod, it's on to a build that represents the opposite school of thought. This 1963 Bug was picked by Shige-san of Mooneyes Japan as his favourite car of the show and received the Mooneyes Award. Despite some tough competition in the aircooled line up, this particular car stood out for its accurate California style.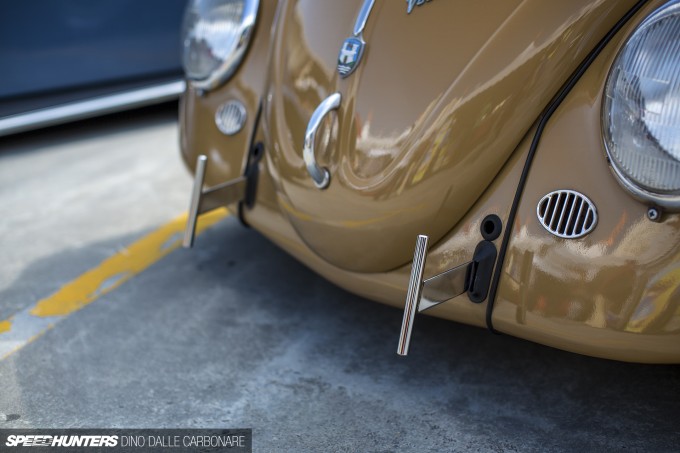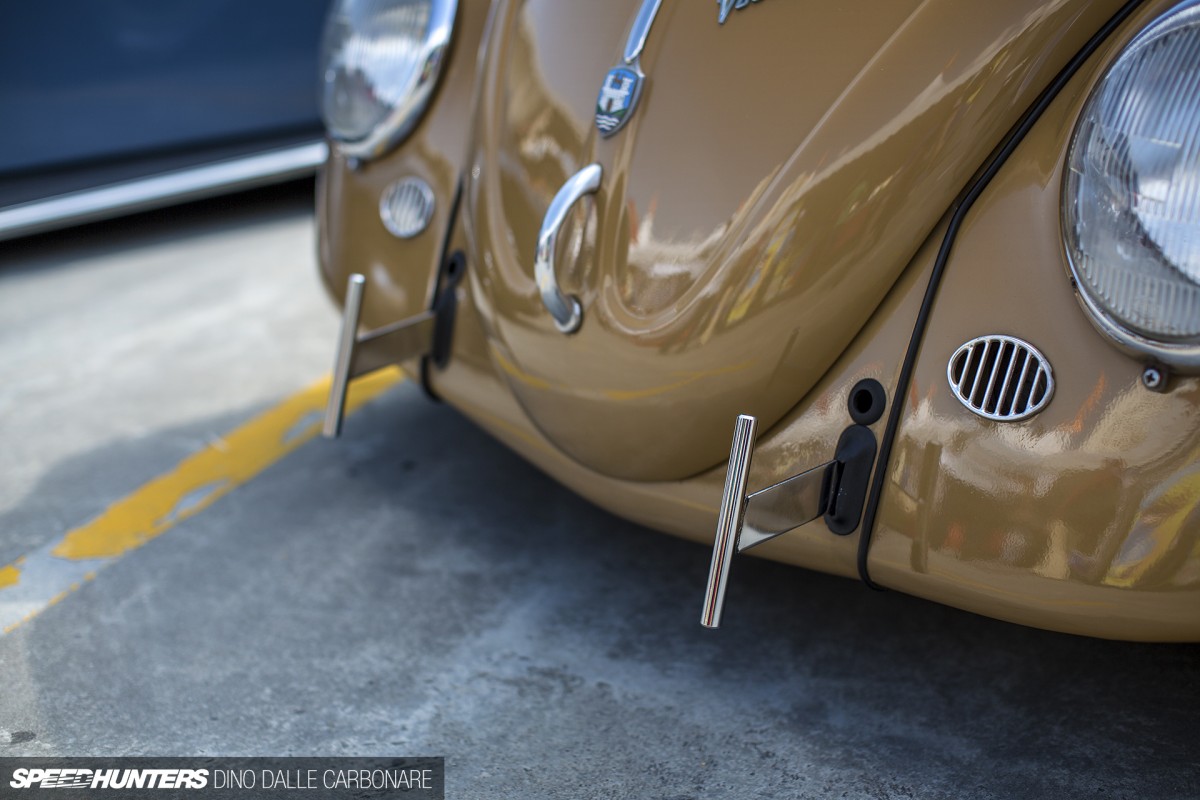 T-bar replacements for the bumpers always hint at a well-executed Cal look.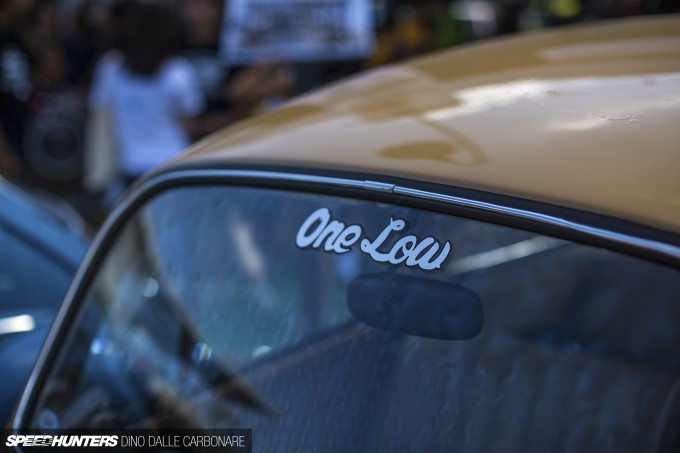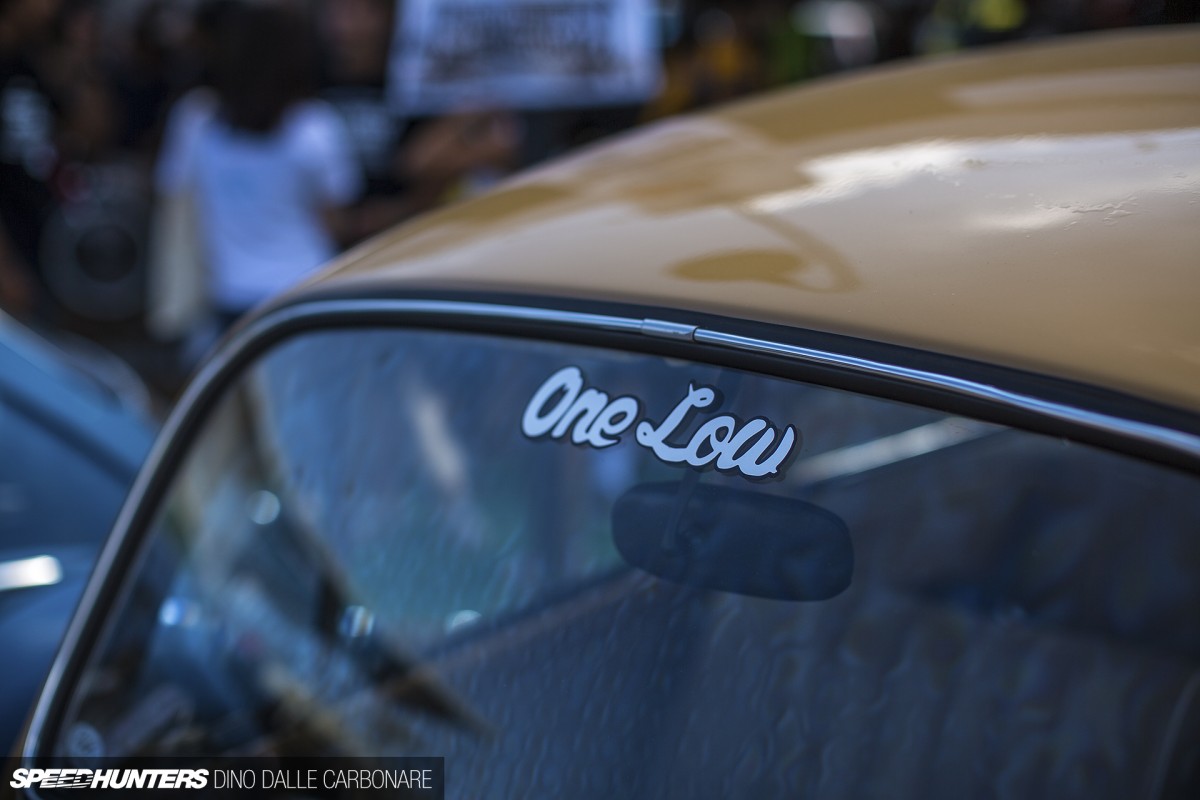 After visiting the Yokohama Hot Rod & Custom show last year, the owner got the okay from famed Japan-based car club One Low Vee-Dub to run one of their stickers. It's one of the first things that Naoto-san from Flat-4 noticed..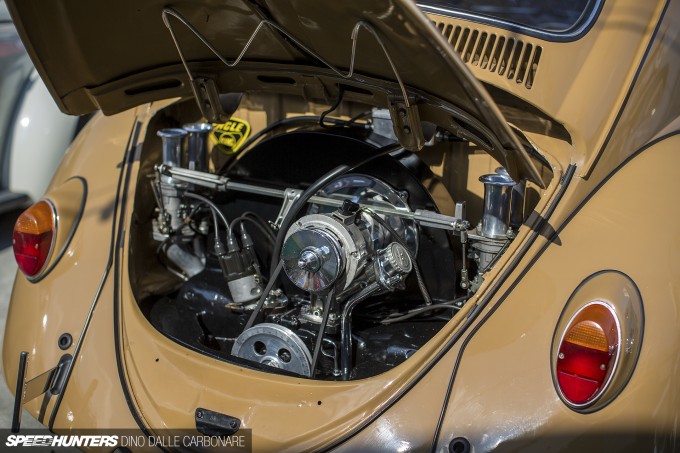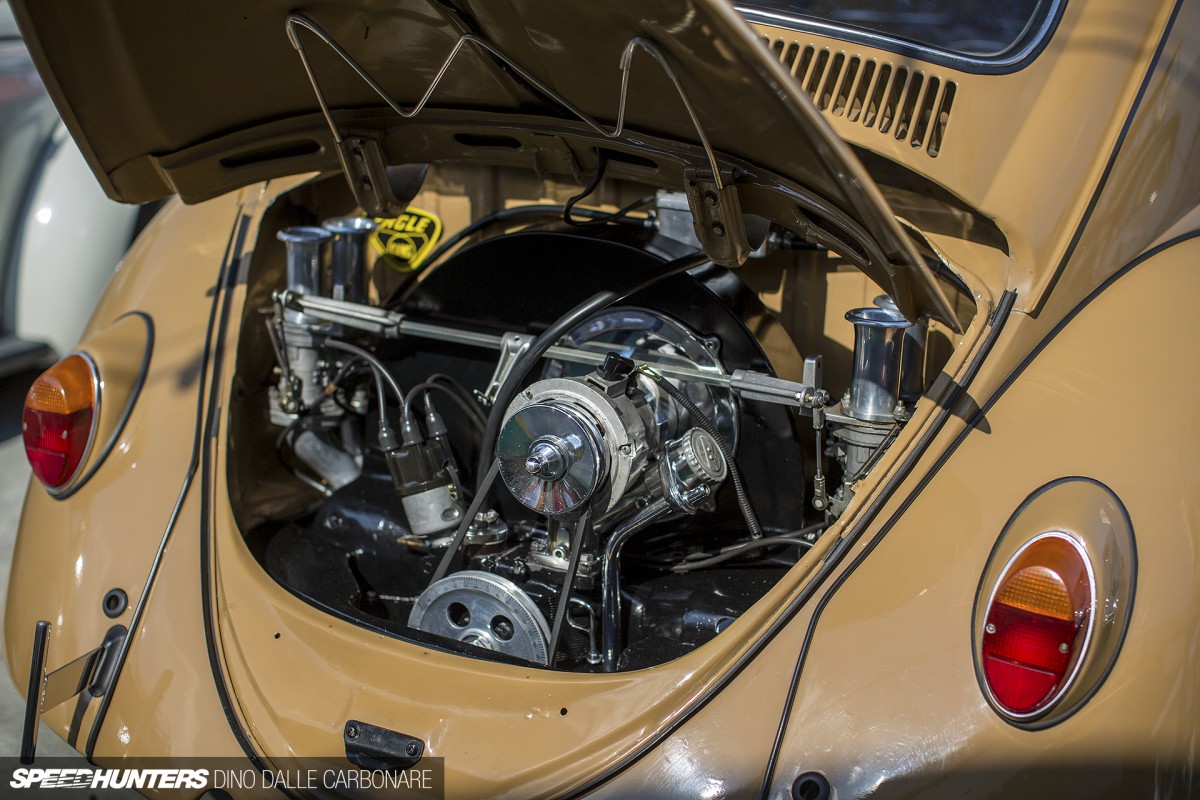 The attention to detail follows into the engine bay, where you'll find a clean setup featuring polished velocity stacks on the carbs and no shortage of dress-up goodies.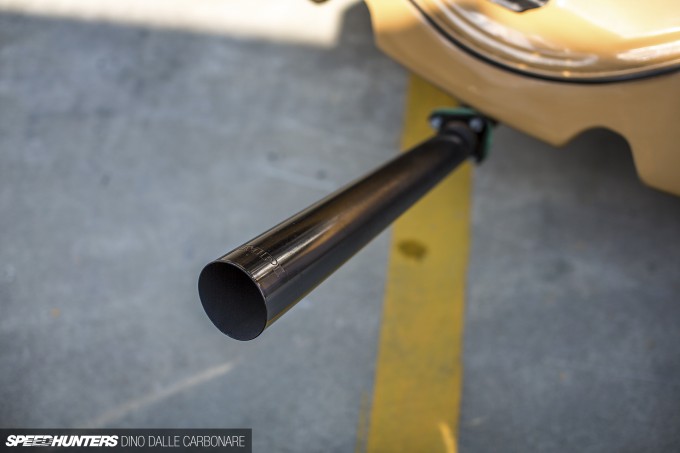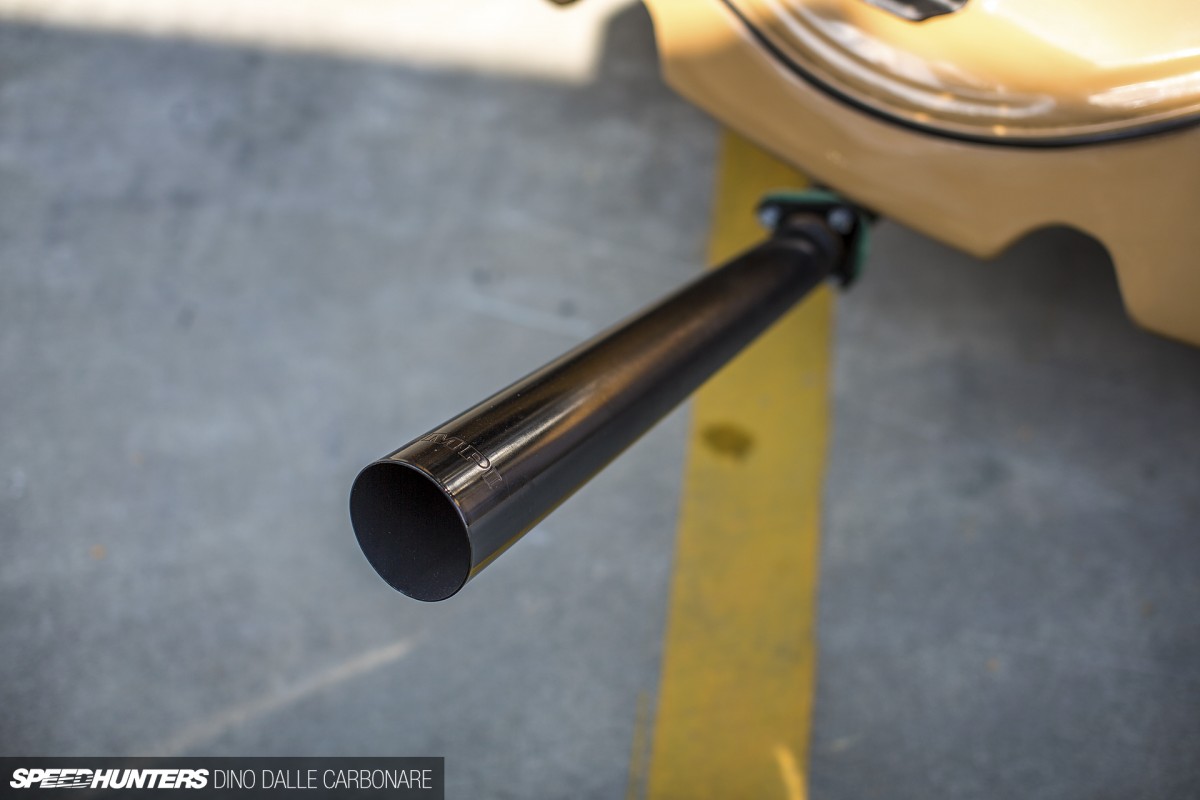 A long, in-your-face megaphone-style tailpipe finishes things off nicely.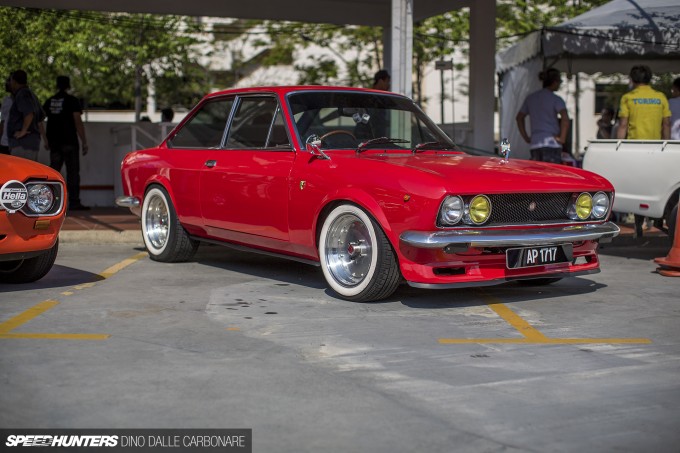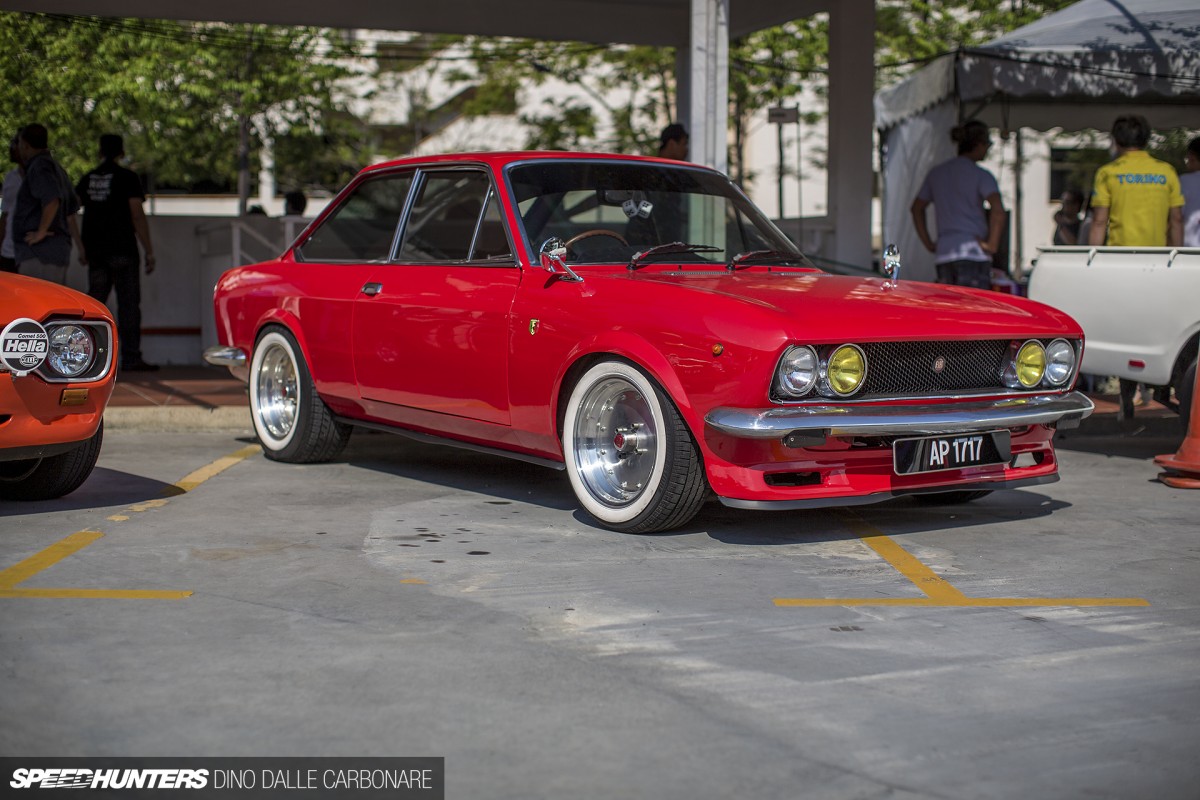 This Fiat 124 Coupe caught my attention for a couple of reasons. Firstly, back home in Italy these cars are quite rare would you believe. Design-wise it shares almost nothing with its popular, and pretty boring sedan counterpart, and was designed by Mario Boano who penned the Ferrari 250 GT  'Boano.' You could say that the 124 followed along the lines of previous Fiat coupes; always managing to look far more sporty than what the manufacturer badge hinted at.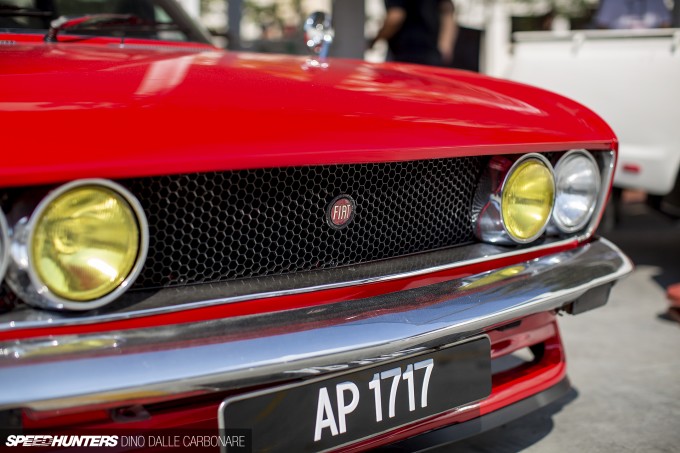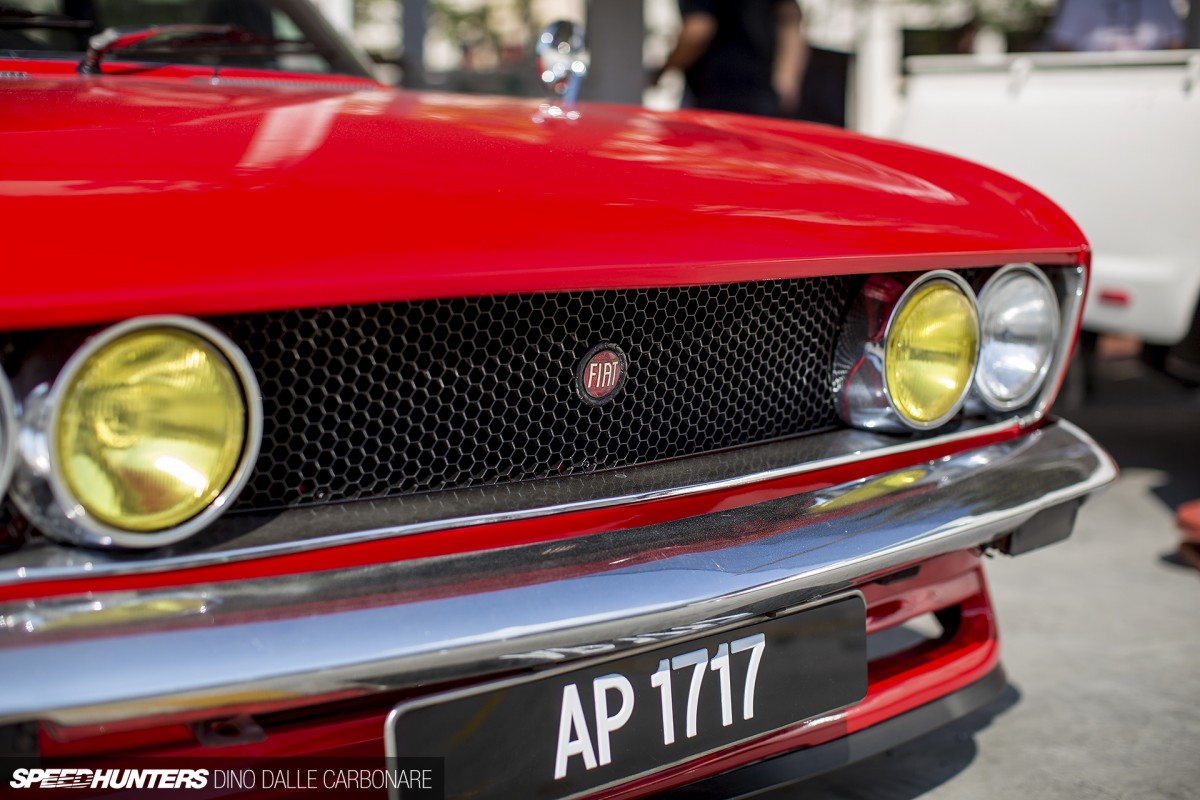 That's probably why it looks so special – a nice mix of angular lines mated to a glean grille and quad headlights. Almost Lancia-like in fact.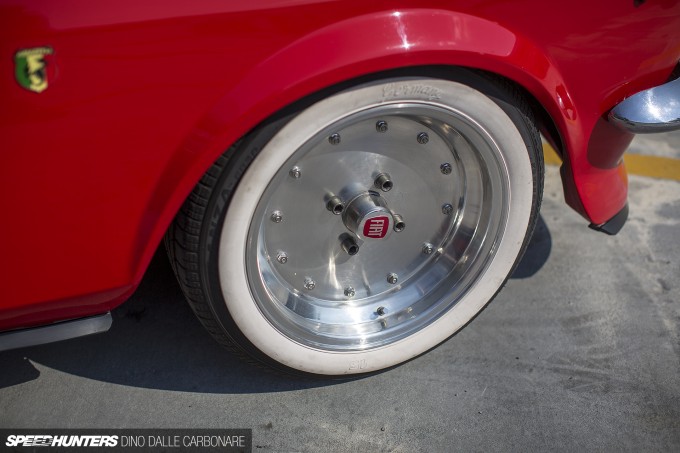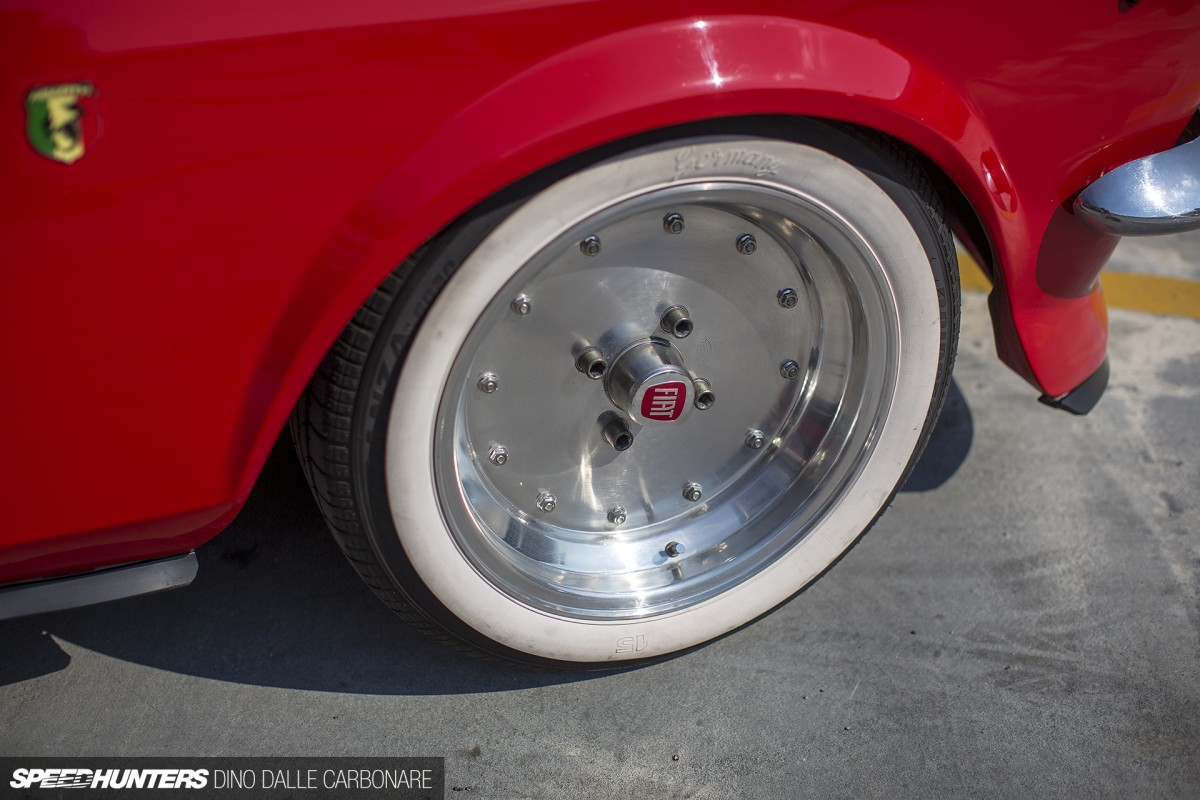 The second reason it appealed to me was because of the way it sat slammed on Centerline-style wheels with white-sidewalled tyres – not something you'd usually see on a Fiat of this style.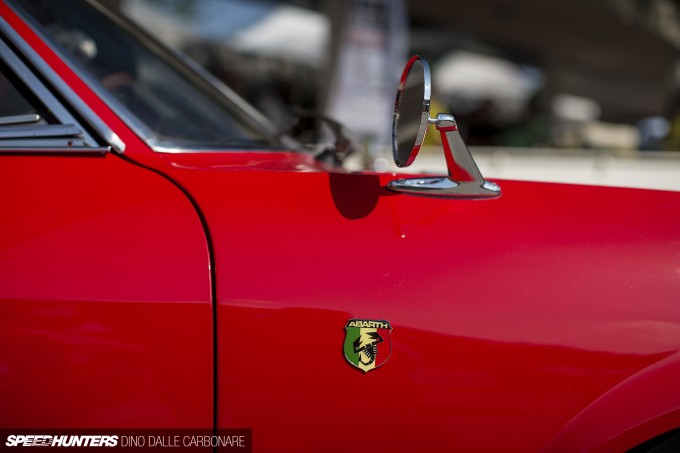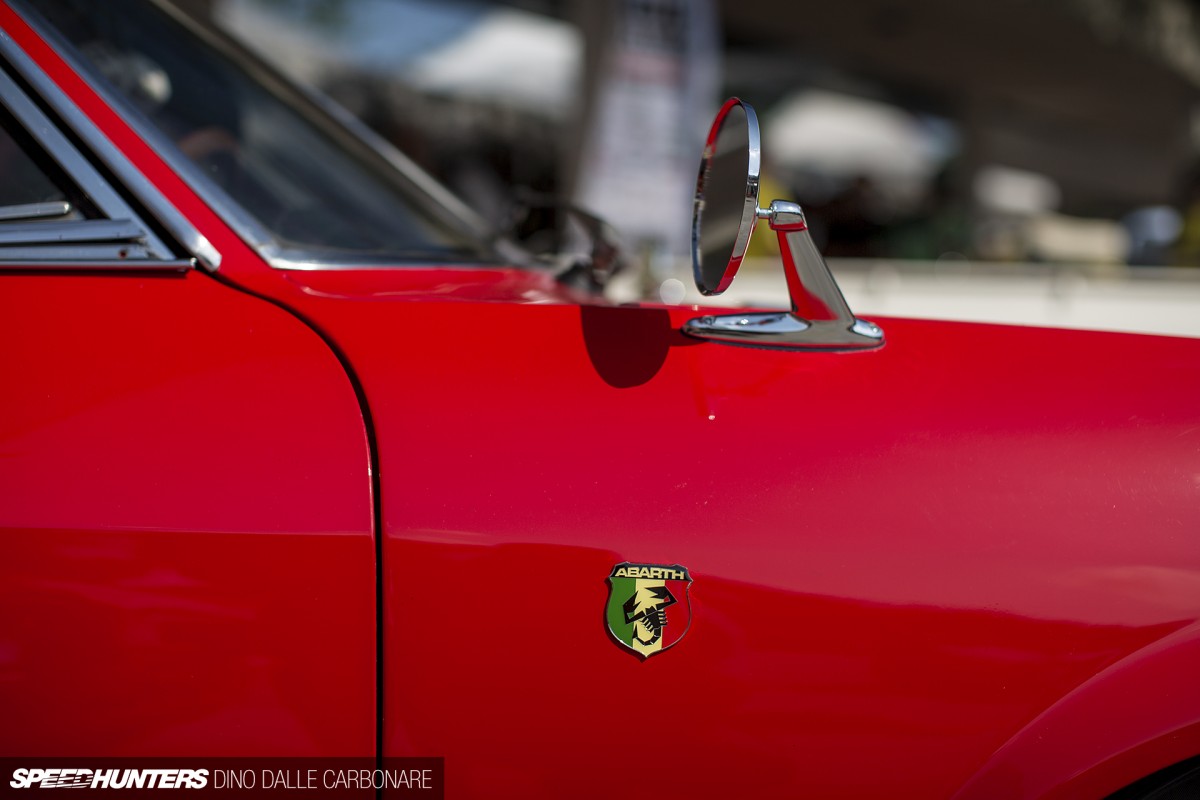 I can't be sure because I never saw under the bonnet, but there's a good chance some Abarth goodies live in there if the scorpion badge is anything to go by.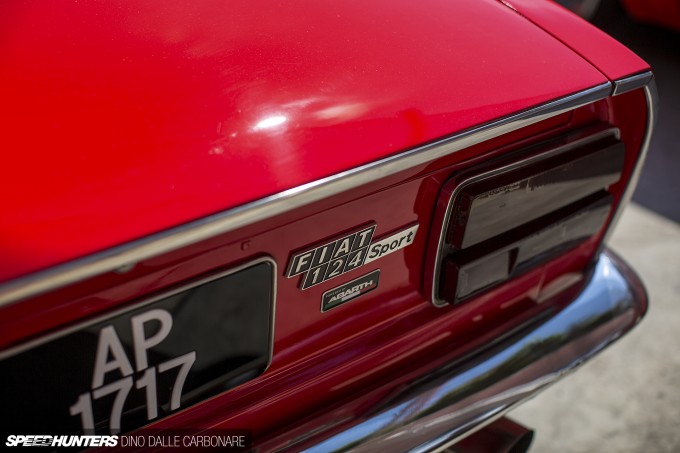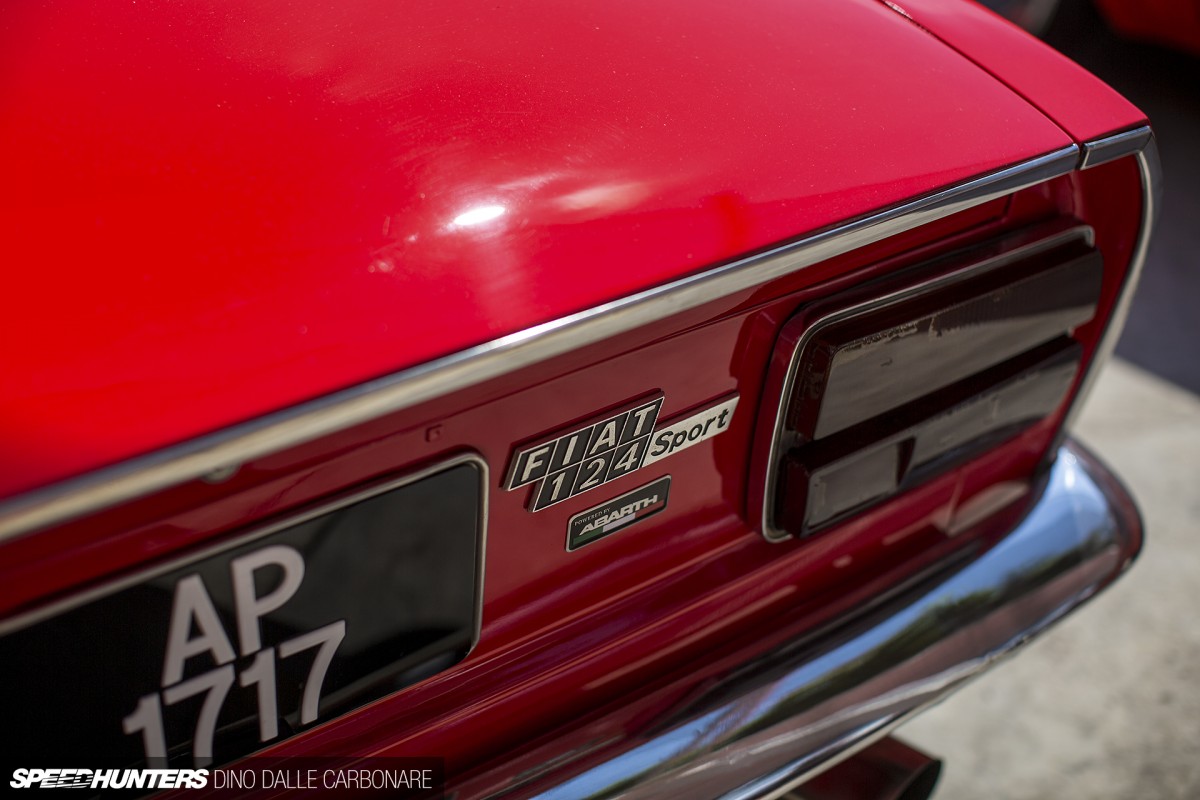 To me, these five cars serve as a good example of the impressive variety of machines that showed up to the third annual Art of Speed show – not to mention the unique approach to customisation that Malaysia continues to be known for.
Dino Dalle Carbonare
Instagram: speedhunters_dino
dino@speedhunters.com