How It All Began
Well where to start? It's always hard for me to introduce myself but here it goes. I'm Raees Amien. I'm a 25-year-old industrial designer from Cape Town, South Africa. I'm a huge car fanatic and a model builder. I've been building for the past 17 years, but my model building career didn't start with cars.
My story begins many moons ago; growing up with cousins when I was introduced into the world of model building…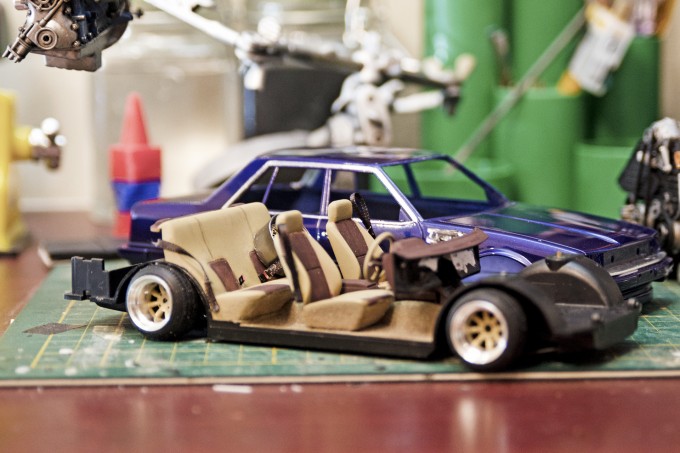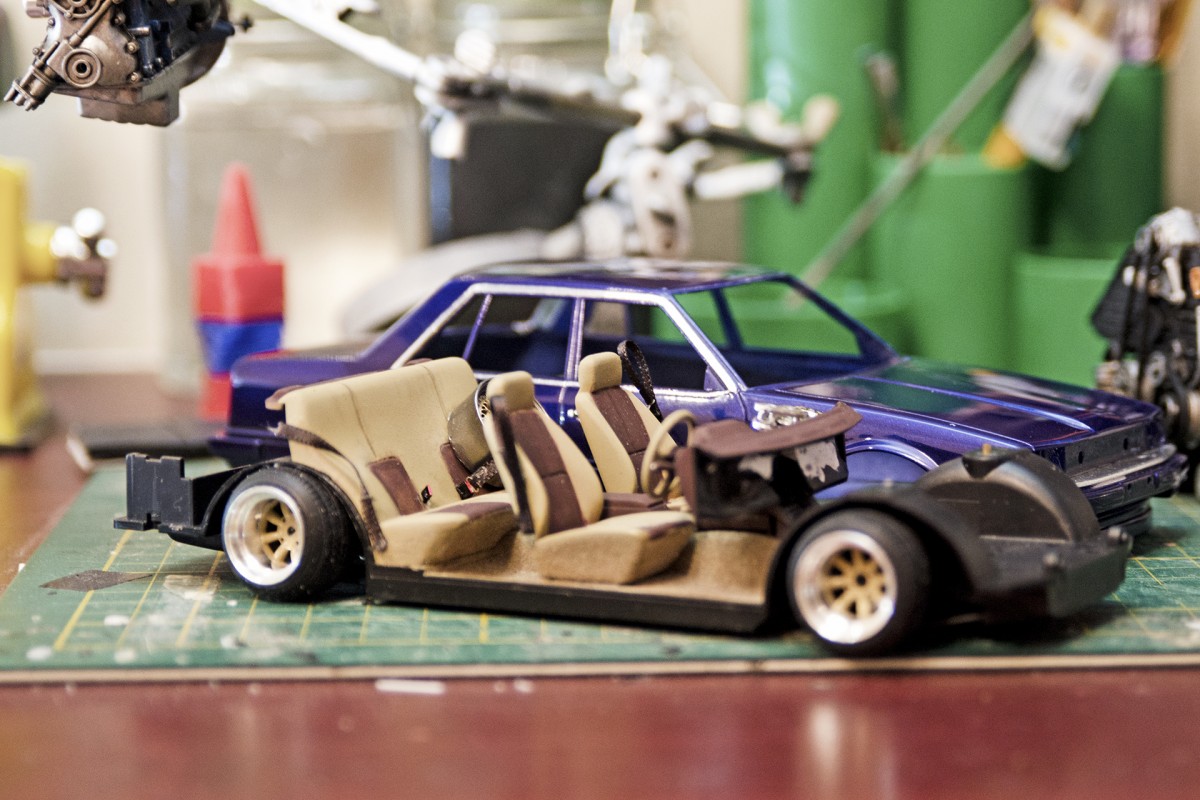 I've always been one to build things and when I was young I played with toys like Lego. As soon as I was introduced to model building I immediately took an interest. Back then I was building military planes and machines, as that was what I was exposed to at the time. The model building scene in South Africa, still to this day, is quite a niche market, but it's slowly picking up pace.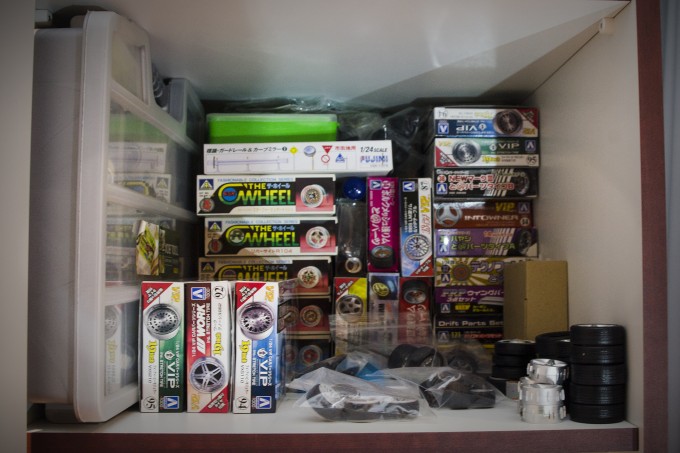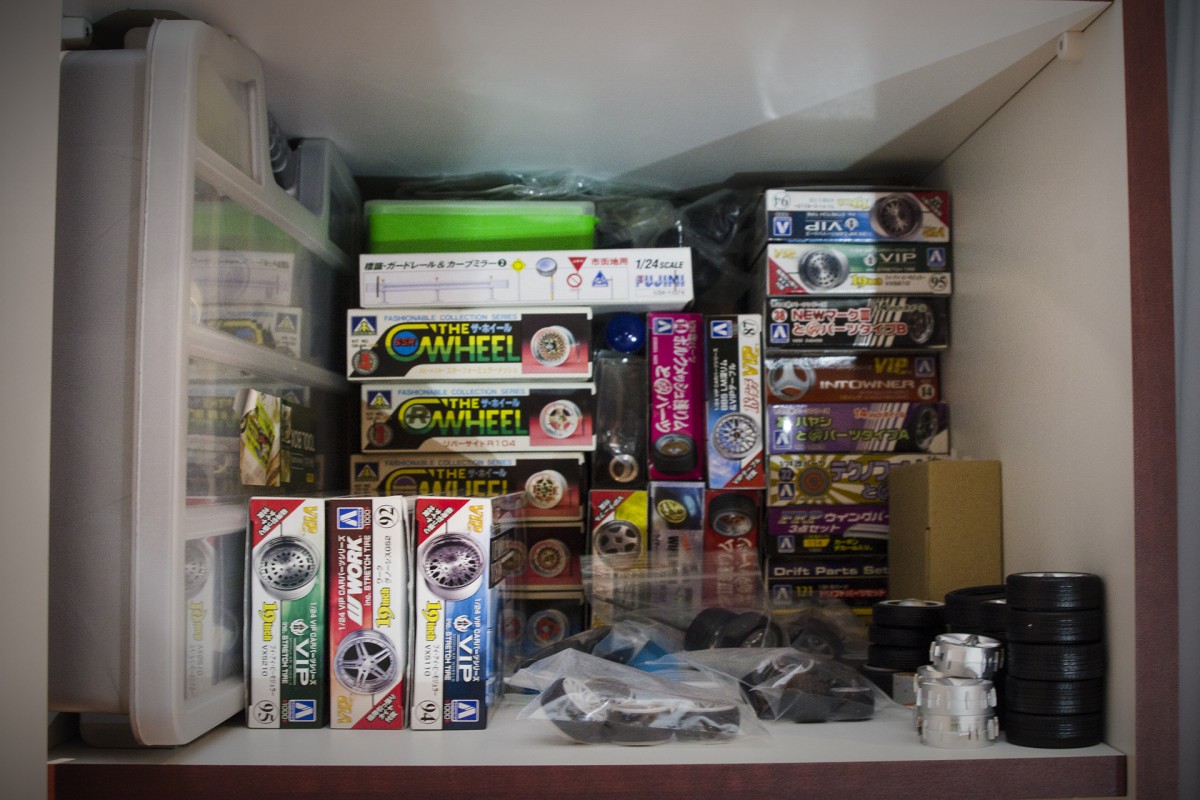 My first car was a Tamiya Ferrari Testarossa which didn't survive very long as it kept changing shape. Once it was built, I cut it up again to convert some strange airplane I had into a drag racer (yes, I know how crazy it sounds!) using the motor from the Ferrari. Later on the motor went into a 1/18th Ford Coupe, which I still have. Now we can skip over some of my early kit-bashing to my first real modified car.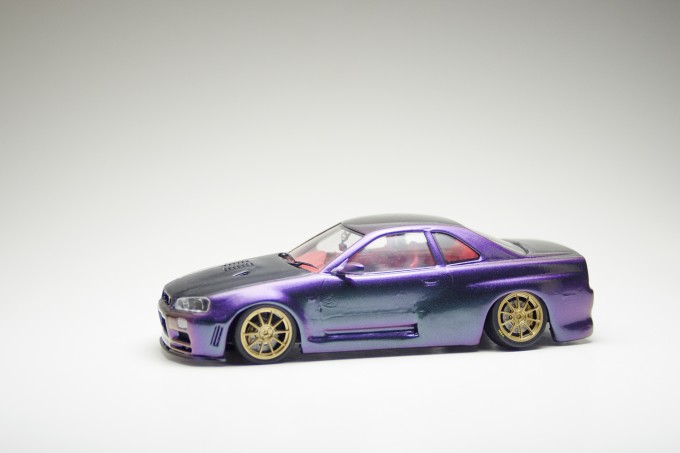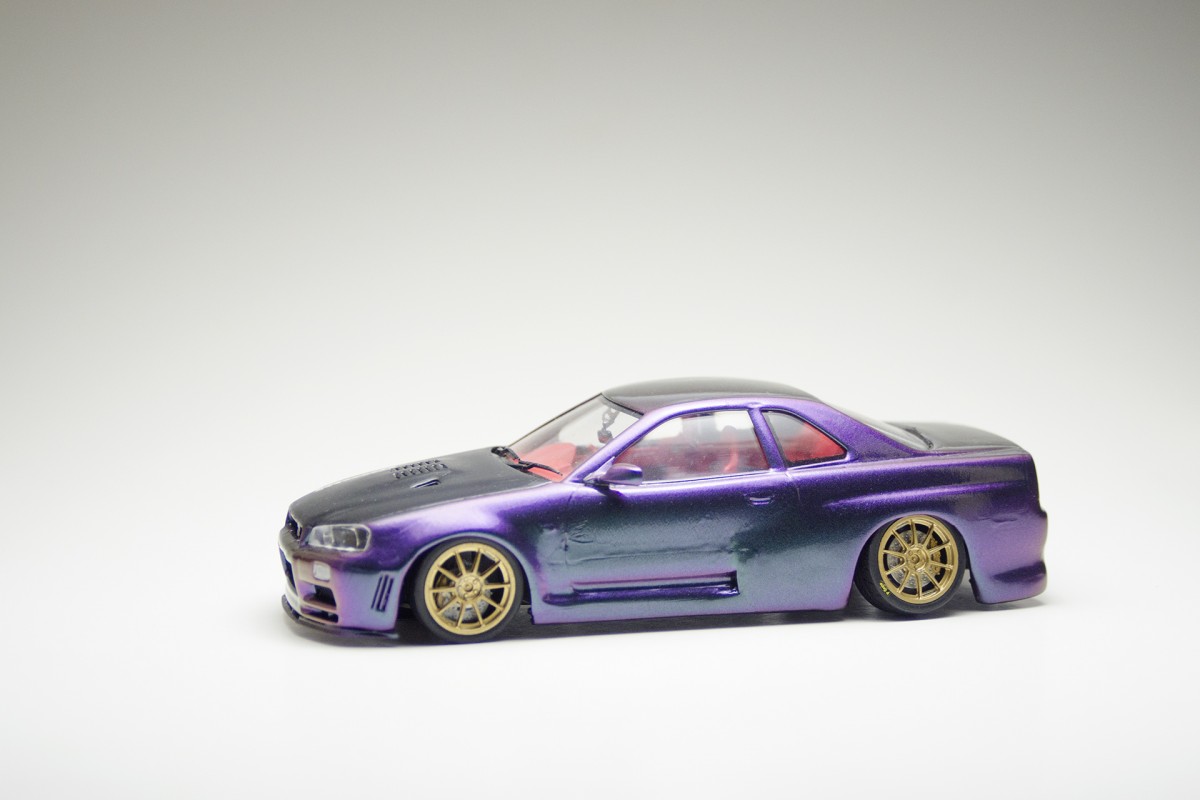 The Tamiya R34 GT-R was the first real kit that I attempted to do some crazy work on. Back then internet was not the first place I went to for inspiration and I had no idea that model building (outside my circle of friends) even existed – let alone the idea of modifying them. Things really changed for me when I met my good friend Jeremy Nolan – an airbrush artist and car lover. He introduced me into the world of customizing and I wanted the R34 to be my first. Being influenced by The Fast And The Furious, I added new side skirts and a rear bumper to the GT-R, and a crazy flip paint job. The wheels came from a bashed-up Subaru rally car to add some contrast to the colour.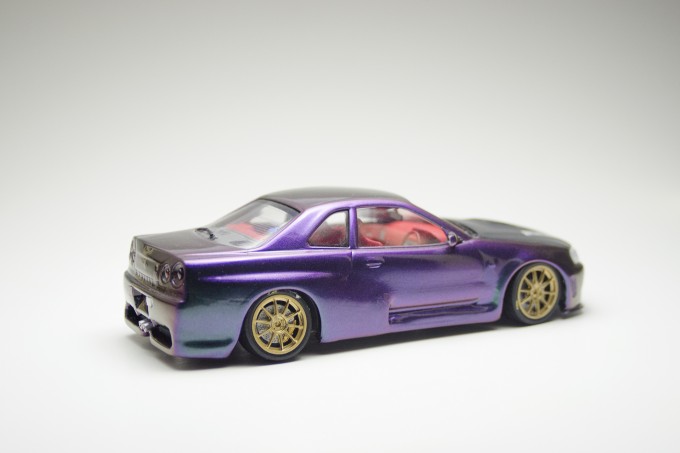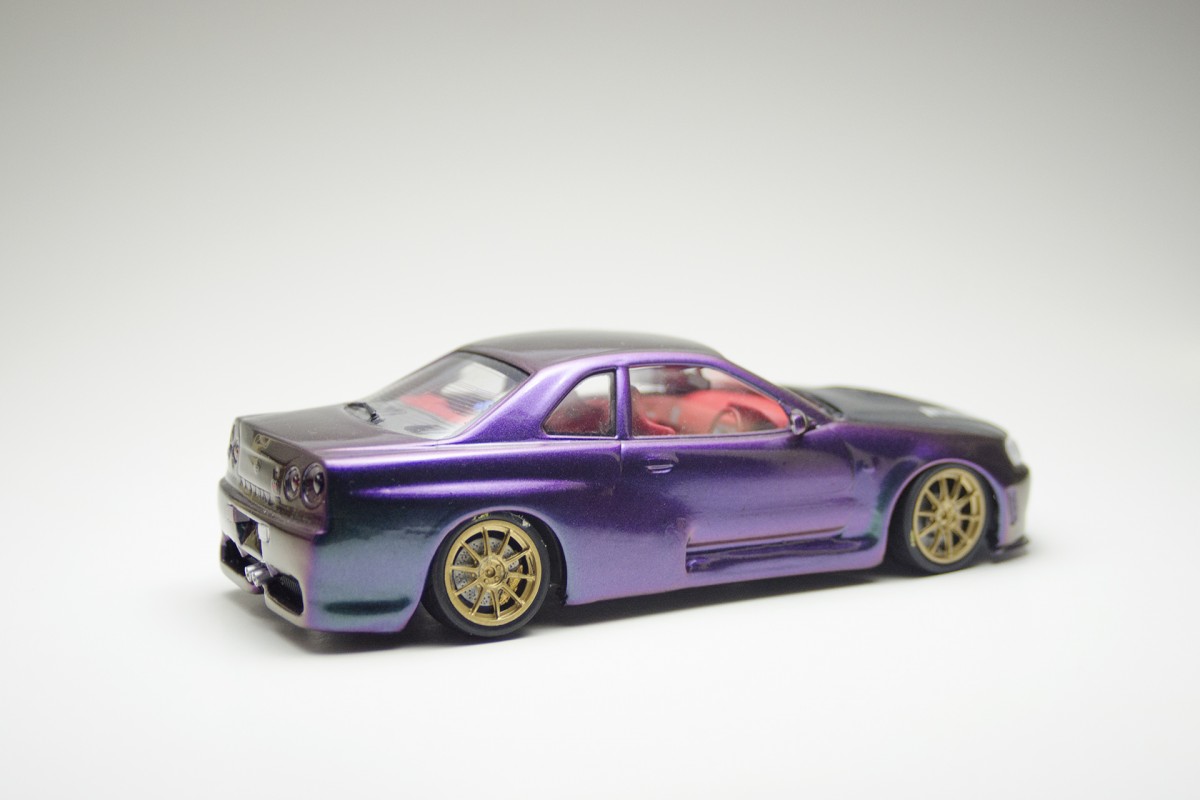 Looking at it now, it's terrible – but it's still the most important car I've built. After that car things really changed forever. I'd never really followed the instructions on these kits and haven't done a stock build since. That's something I don't see that changing any time soon either.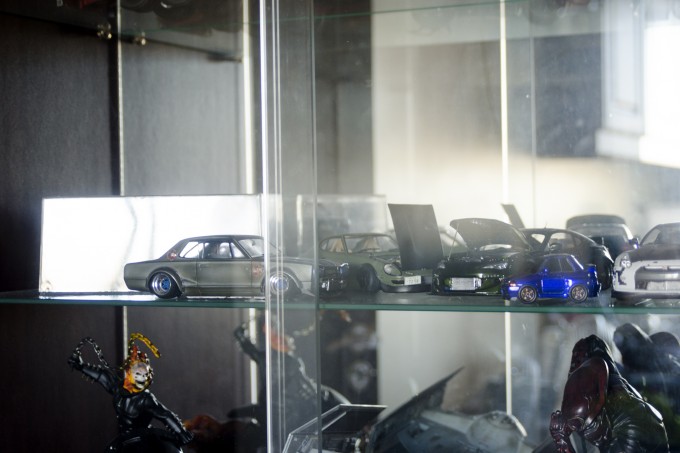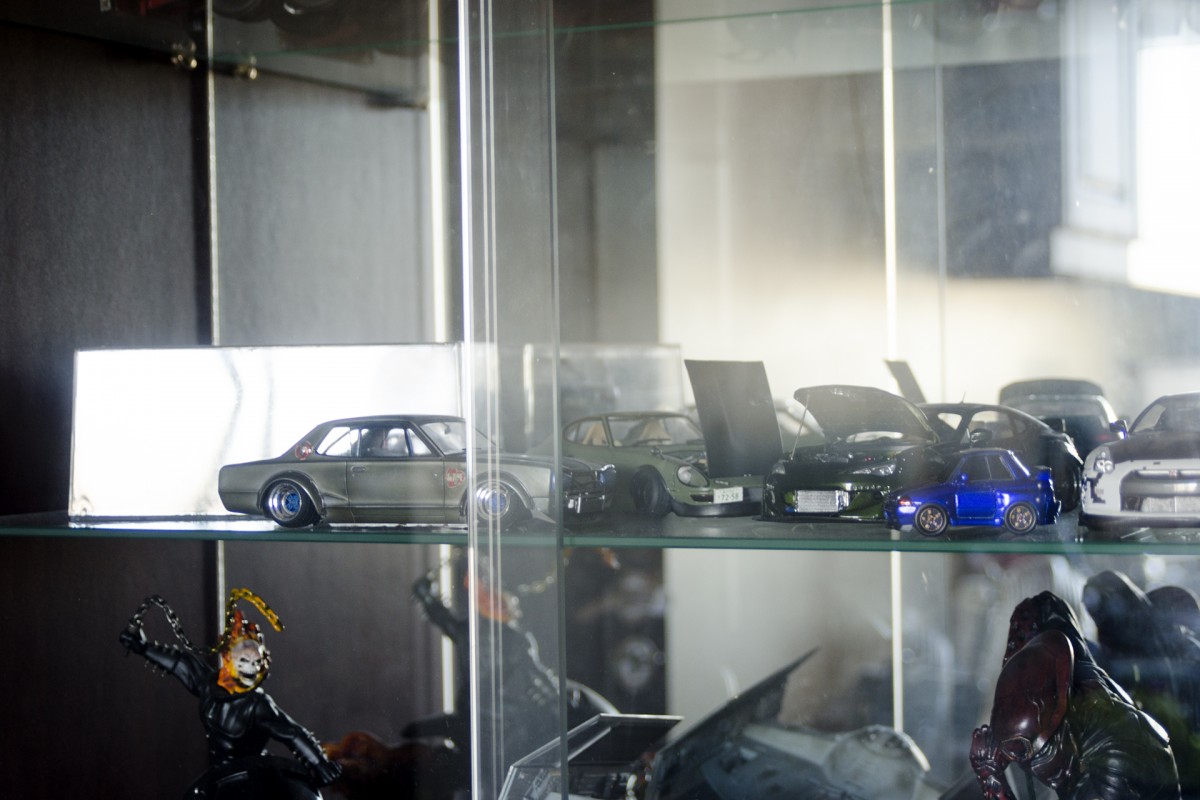 Since then, model building has become part of my everyday life and I hope that it will only expand into something bigger. About a year ago I started 12Twentyfour, which has been slowly getting its name out there. My idea behind it is to expose other car builders and to show the world what model building is about. Recently a good friend of mine, Luis Aguilar, joined me to help expand the name by interviewing and doing reviews on the site. For those who want to check it out go to 12-twentyfour.com. We are trying to update it regularly with reviews, and soon – tips and tricks.
Datsun Style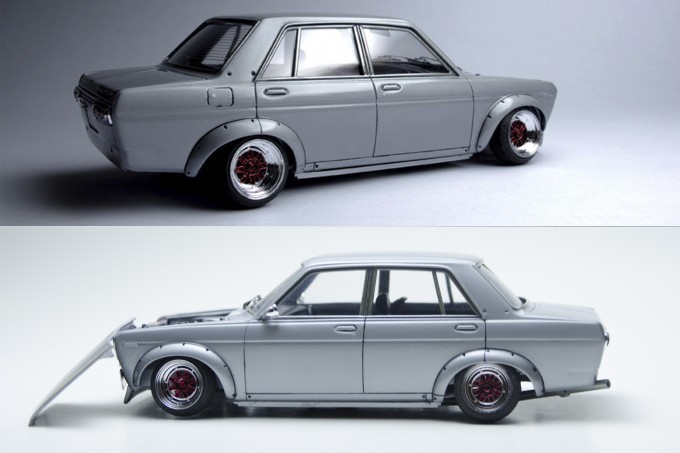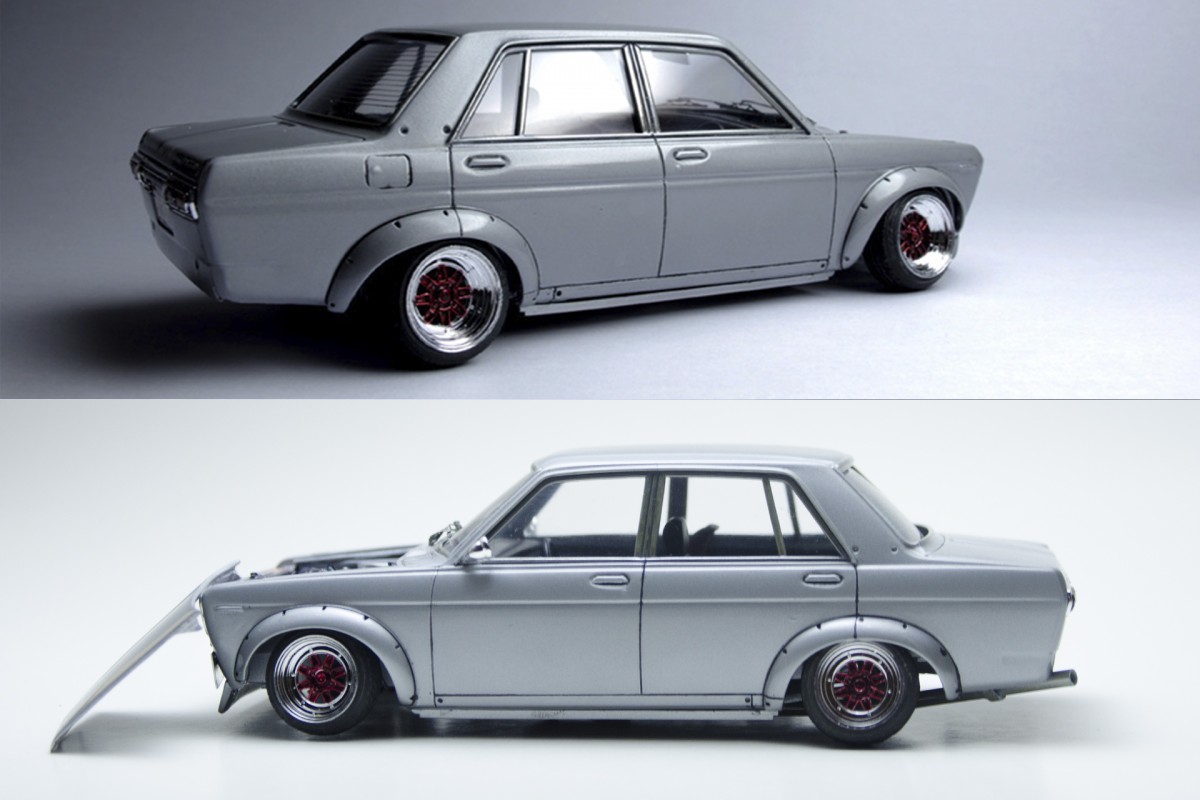 This Datsun 510 SSS is a particularly special build for me. There's just something about his car I love, although when I first got the kit I wasn't entirely sure about the direction I wanted to go with it. I looked for some inspiration on the net and came across a neat silver one that has flared arches and a beautiful set of SSR wheels. Now when I find inspiration I use it to some extent, but I always add my own flavour into it.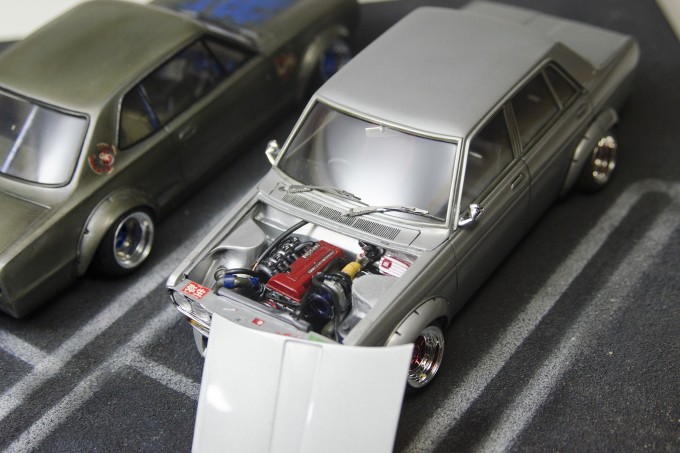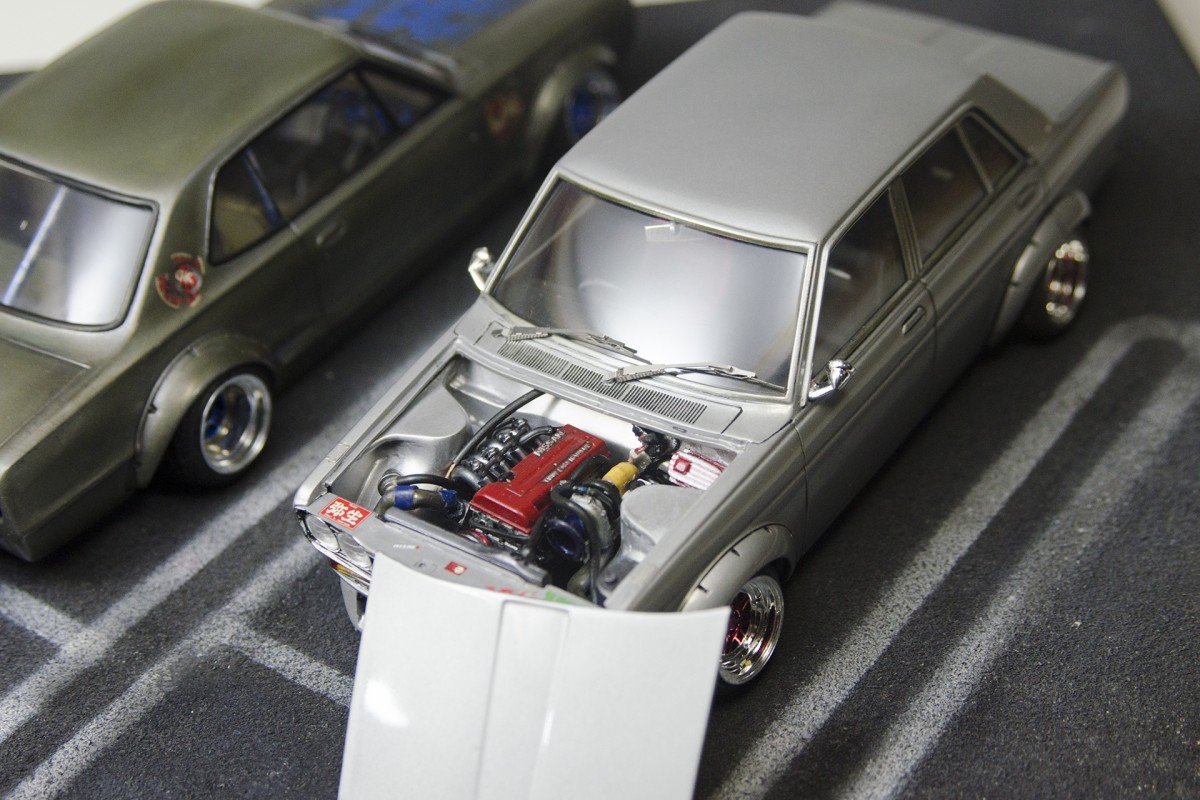 With that said, I sourced out some flares for the kit and a Nissan SR20DET to drop in. The kit didn't originally come with a motor, so the entire engine bay had to be built. It was my first bay build, which presented its own set of challenges – but it turned out well in the end.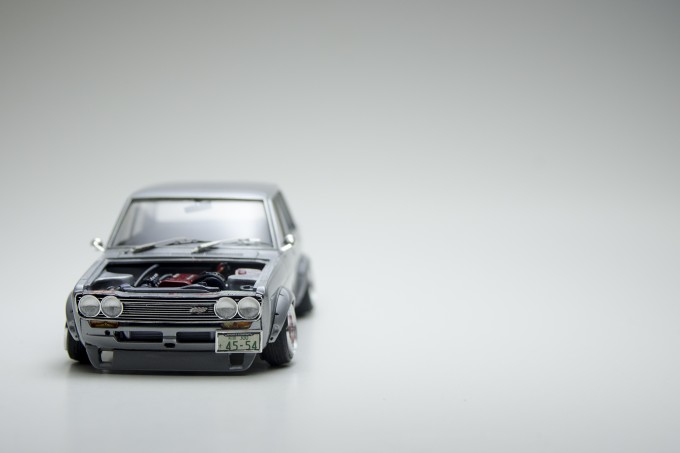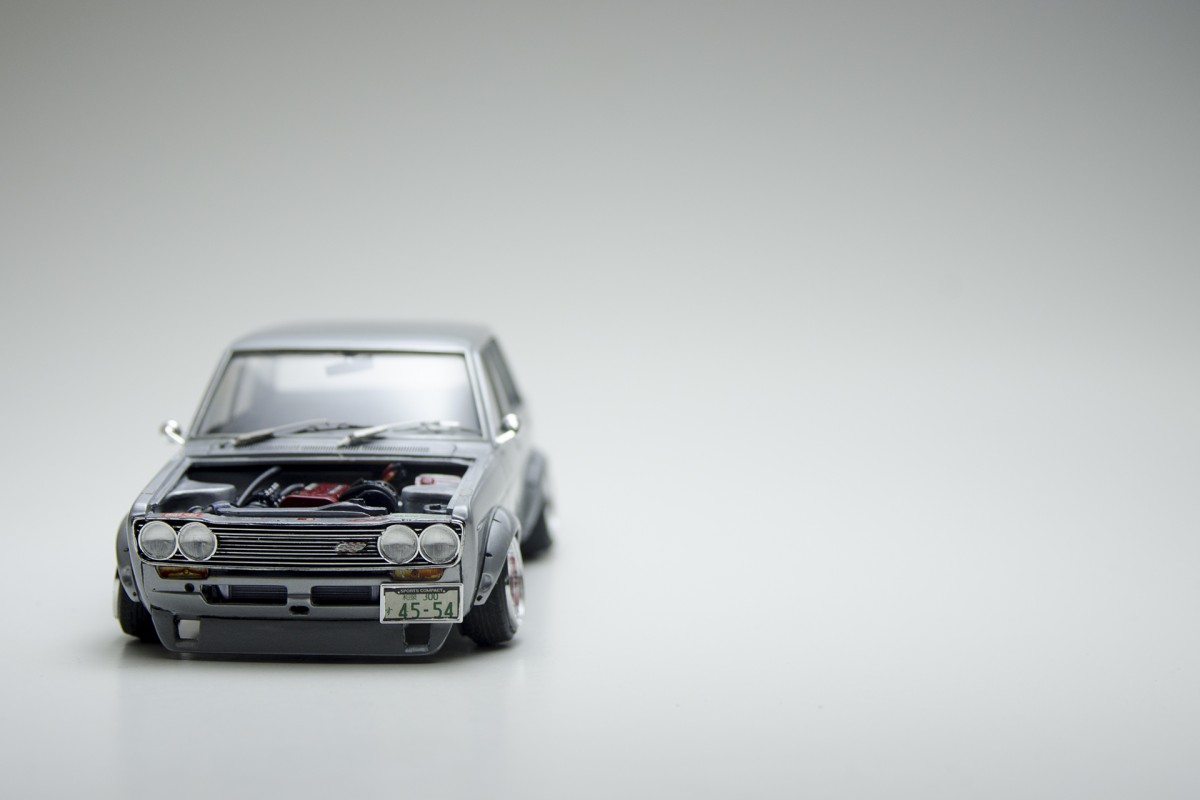 This build was one that really got me into my scratch building phase. From here it just grew. More pictures and a video.
Datsun 510 Specs: Hasegawa SSS kit, lowered suspension, Aoshima SSR MkIII wheels, scratch-built engine bay, scratch-built intake and turbo piping, engine plumbing added, straight pipe built, scratch-built front lip, new seat added with carpet and seat belts, Photoetch badges from rally kit.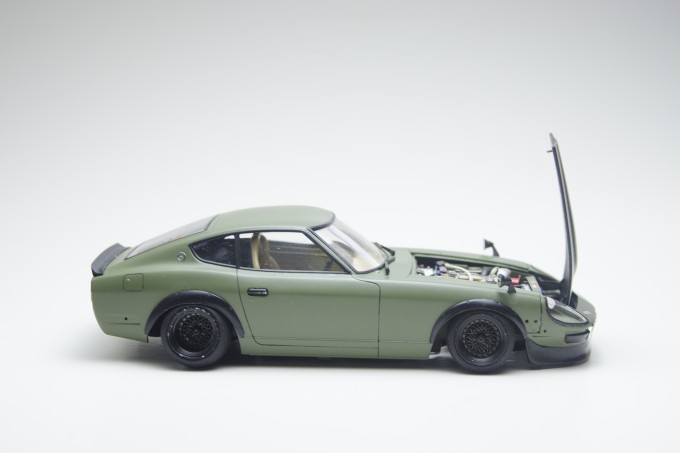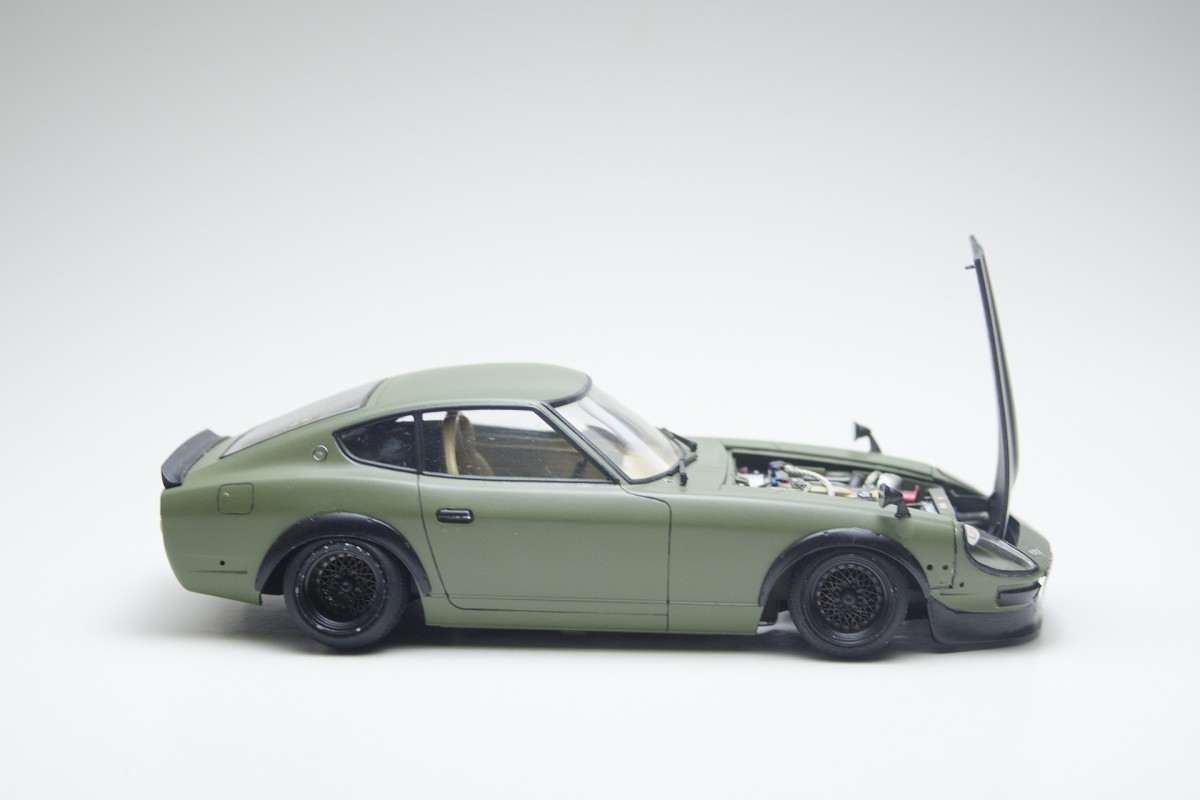 Yes. it's another Datsun. You may notice I love my Nissans. This is actually a bit of a funny story as this wasn't the kit I had planned to buy. Again, when I was looking up some cars on the net I came across a matte green Datsun 240Z that really caught my eye. I wanted to do my own version of that, but without knowing it I actually ordered the ZG kit. The ZG has a slightly longer nose and different bumper and was only released in Japan, so in real form it's quite a special car.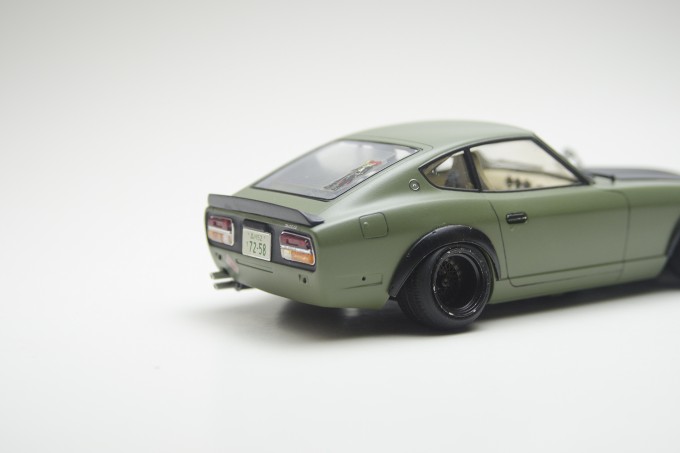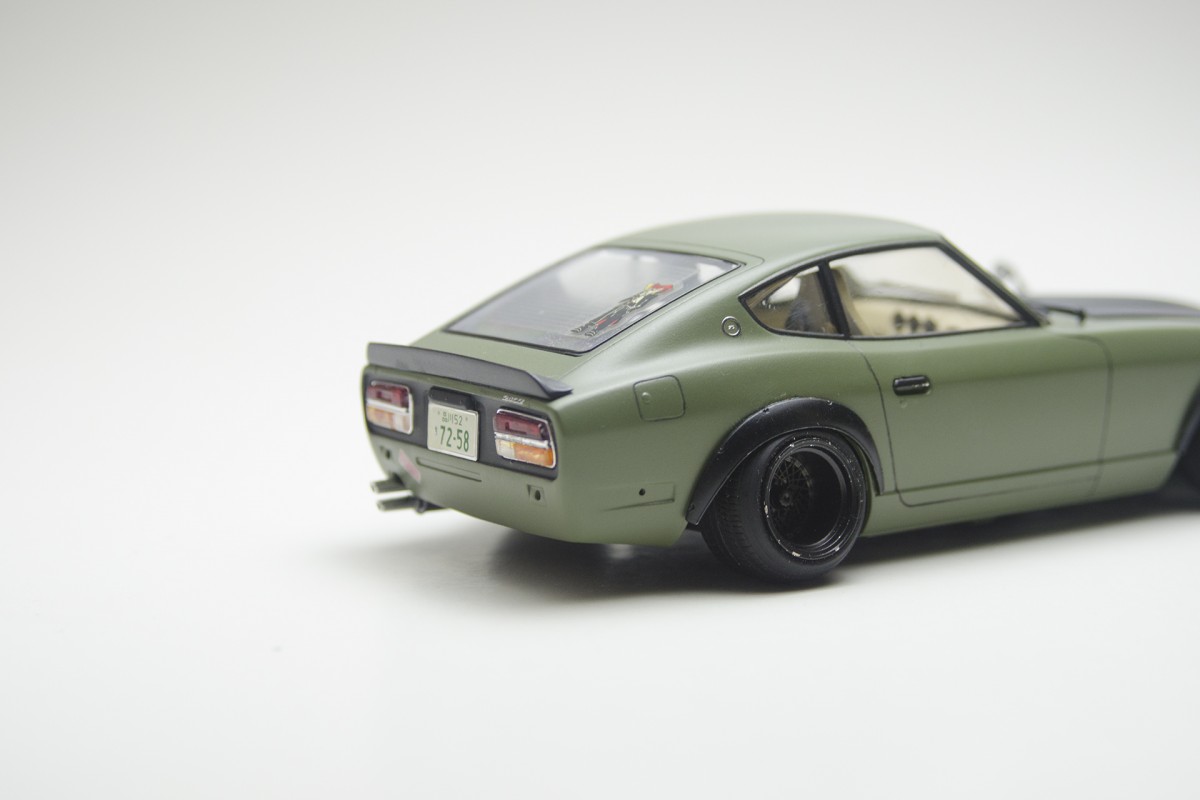 I went with the matte green paint and black bonnet, but a new lip was made to change the look up a bit. I do love a slammed car and this was one that I got really low. The proportions of the car are truly sexy and I felt that the Aoshima SSR mesh wheels would just finish it off nicely. While making the outside nice is one thing, I really wanted to add a motor as well. This, like the 510 SSS kit, didn't come with one.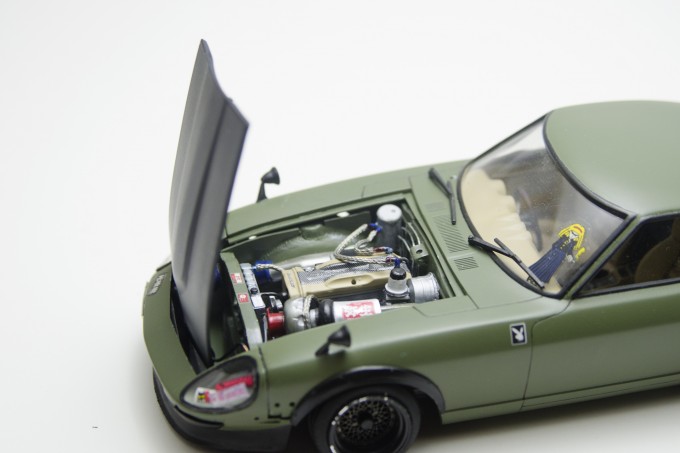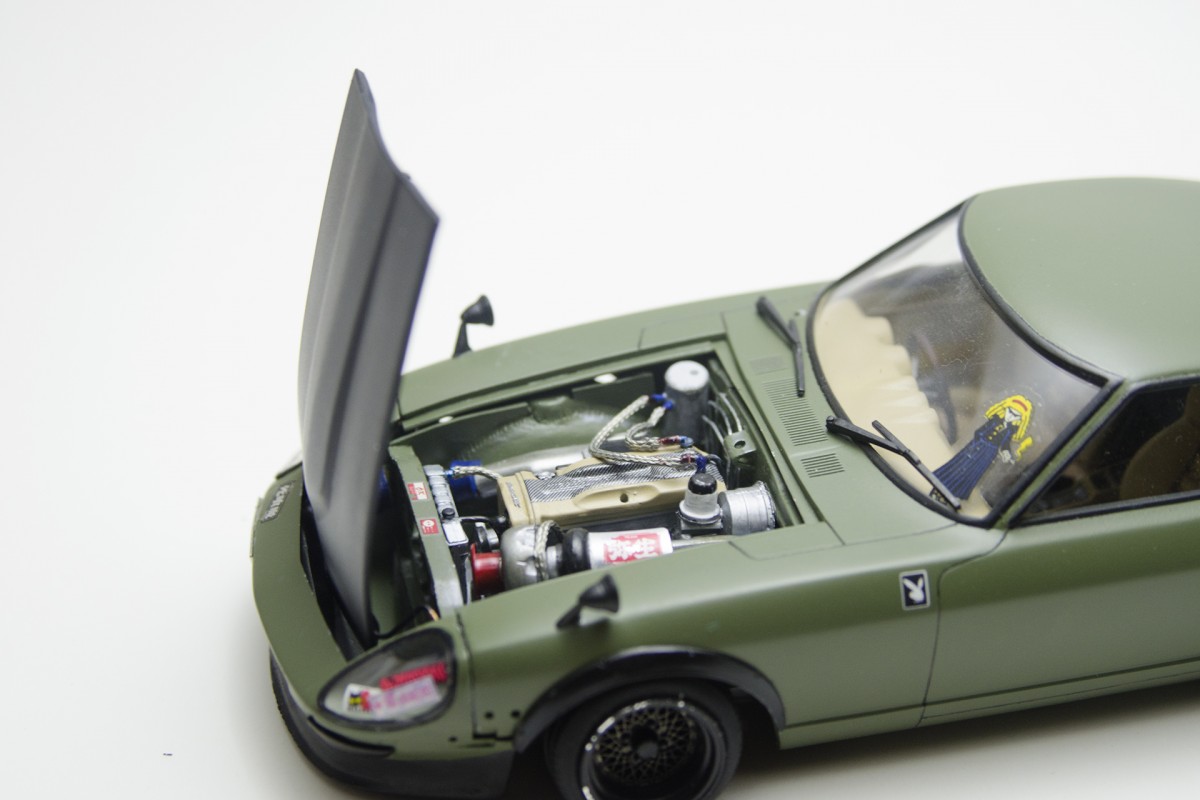 Again, an engine bay was scratch-built and a GT-R RB26 motor with a single turbo conversion dropped in. The interior also got some action with a set of 599 Fiorano seats.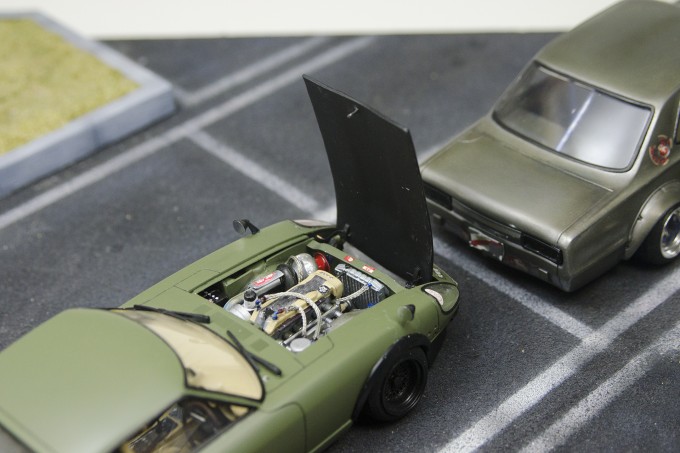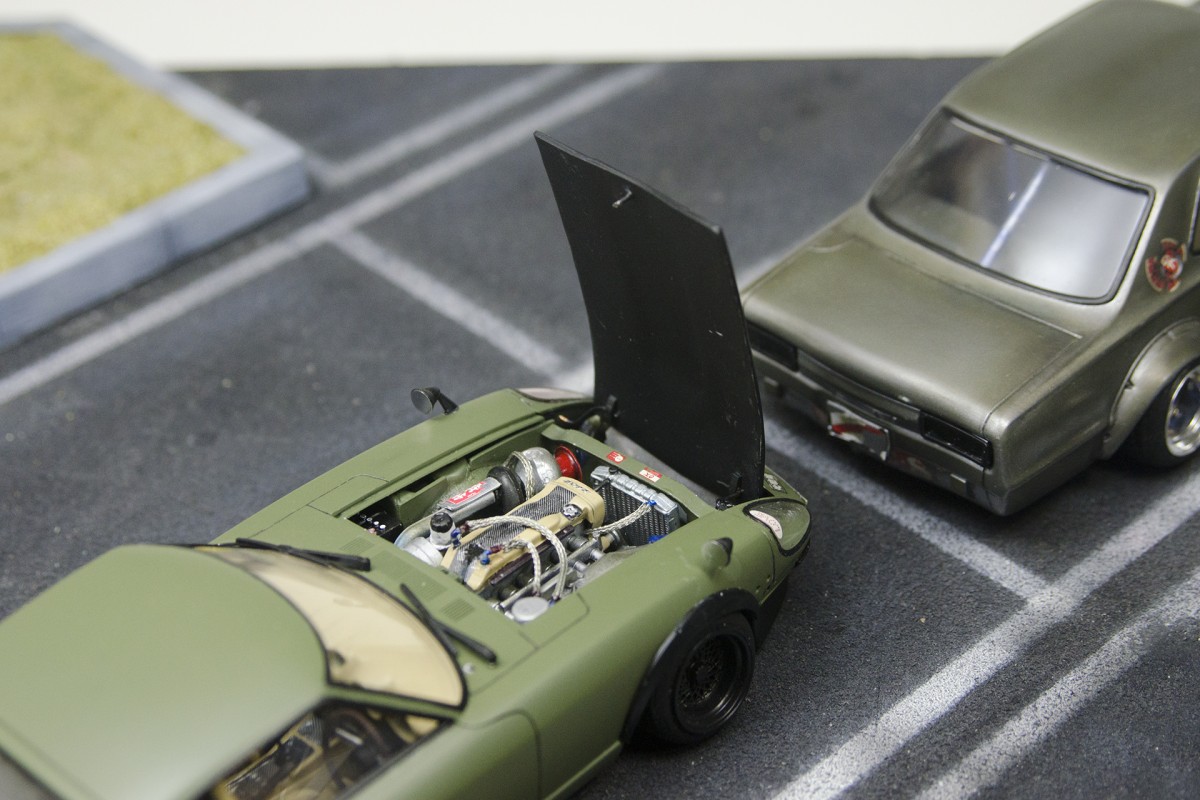 This and the SSS are special builds that will probably stay with me forever. More photos.
Datsun 240ZG Specs: Hasegawa Datsun ZG kit, Aoshima SSR mesh wheels, scratch-built lip, scratch-built engine bay, RB26 motor with single turbo, scratch-built piping and oil can, motor plumbed and wired, carpet and seat belts added, 599 Fiorano seats with carbon backing adding.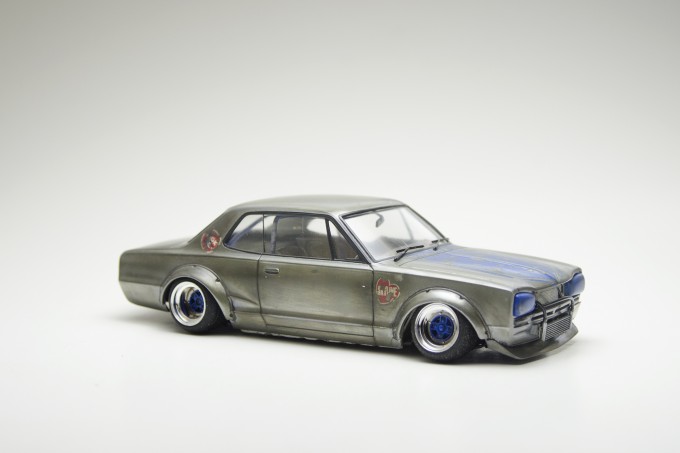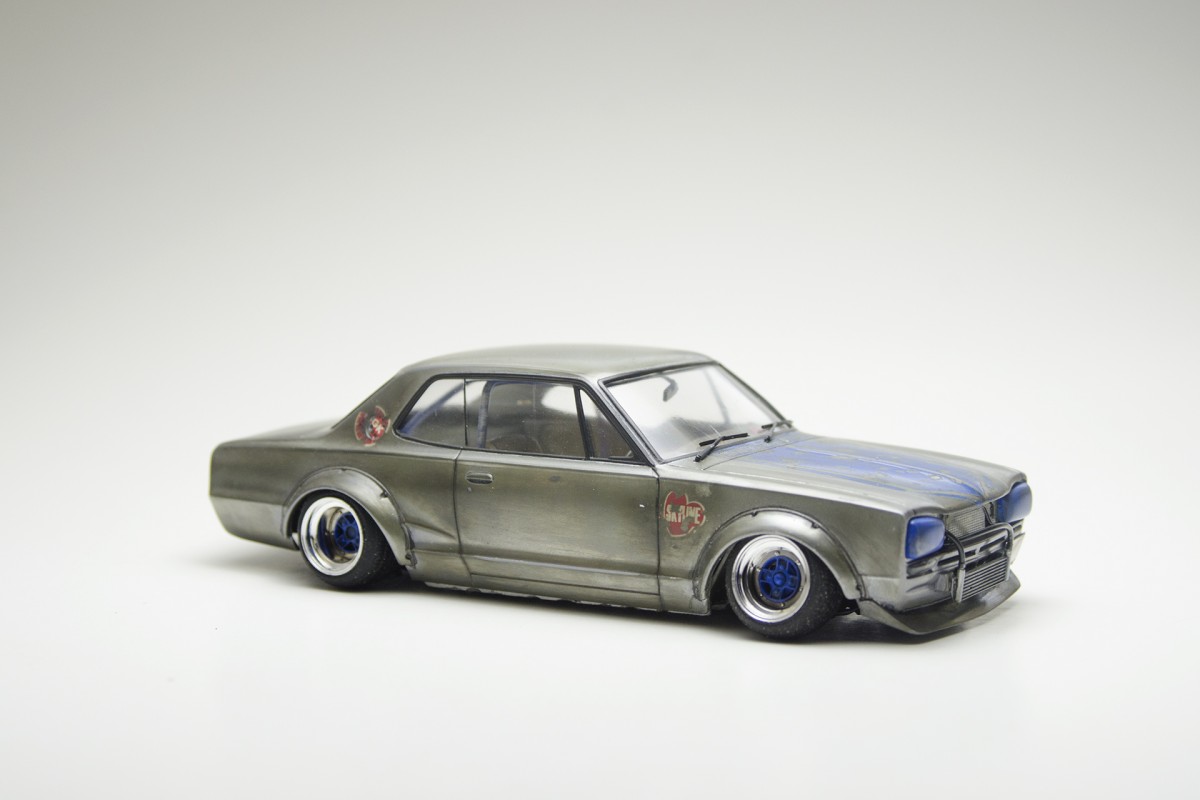 I mentioned above that the ZG was one of the lowest cars I've built, but that quickly changed when I found this Hakosuka Skyline Takahashi Racing kit from Fujimi. It was a local find and a must-have, and it turned out to be a great kit to build. I had no initial plans for it, so I just went with the flow on this one. The first thing I did though was to slam the car as low as possible – so low that part of the exhaust had to be trimmed so it could sit right.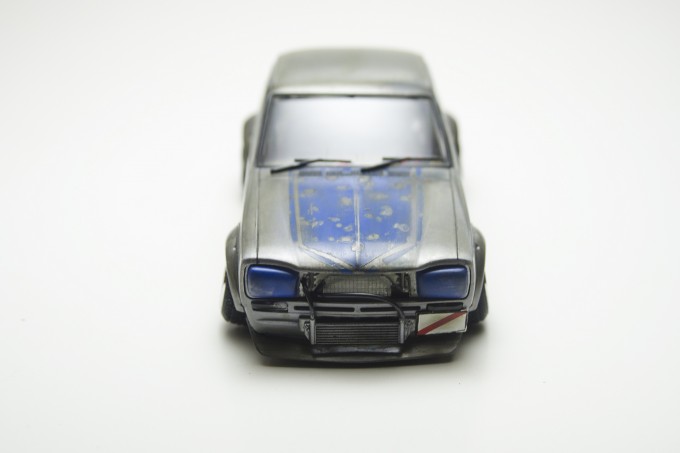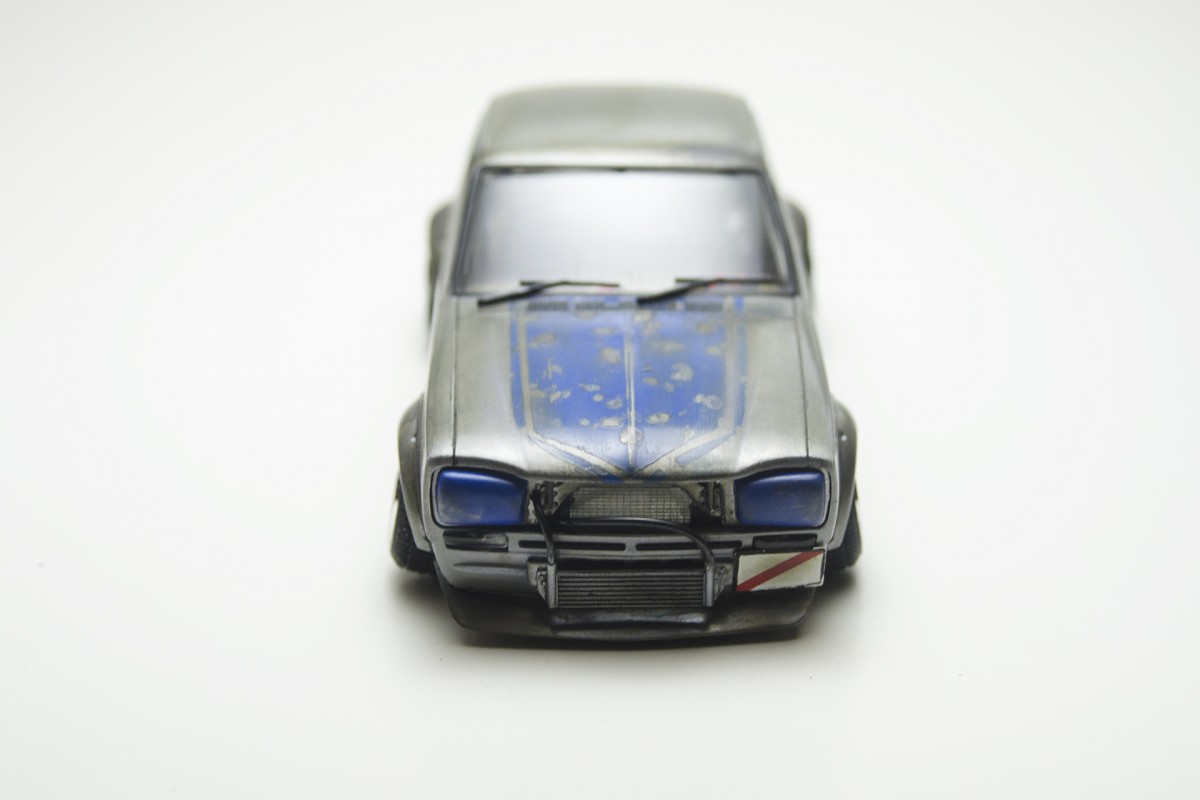 The paint job was a real interesting one. I had some spare silver paint left over from another build, but I was too lazy to clear the car. I also just received some new chrome powder I was keen to try out. So after rubbing some on the roof I just went with it and it turned out great.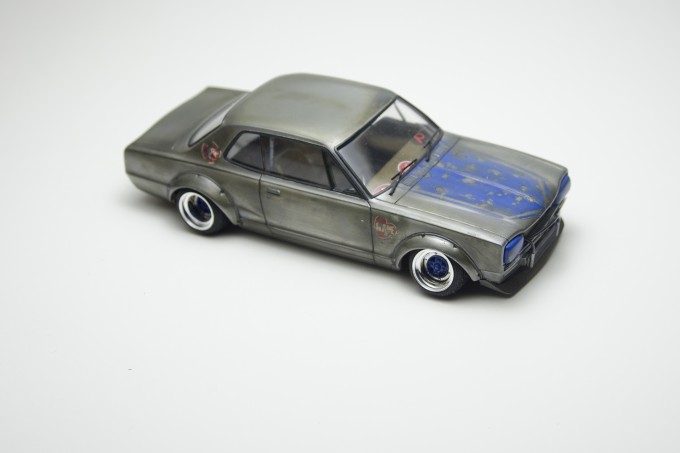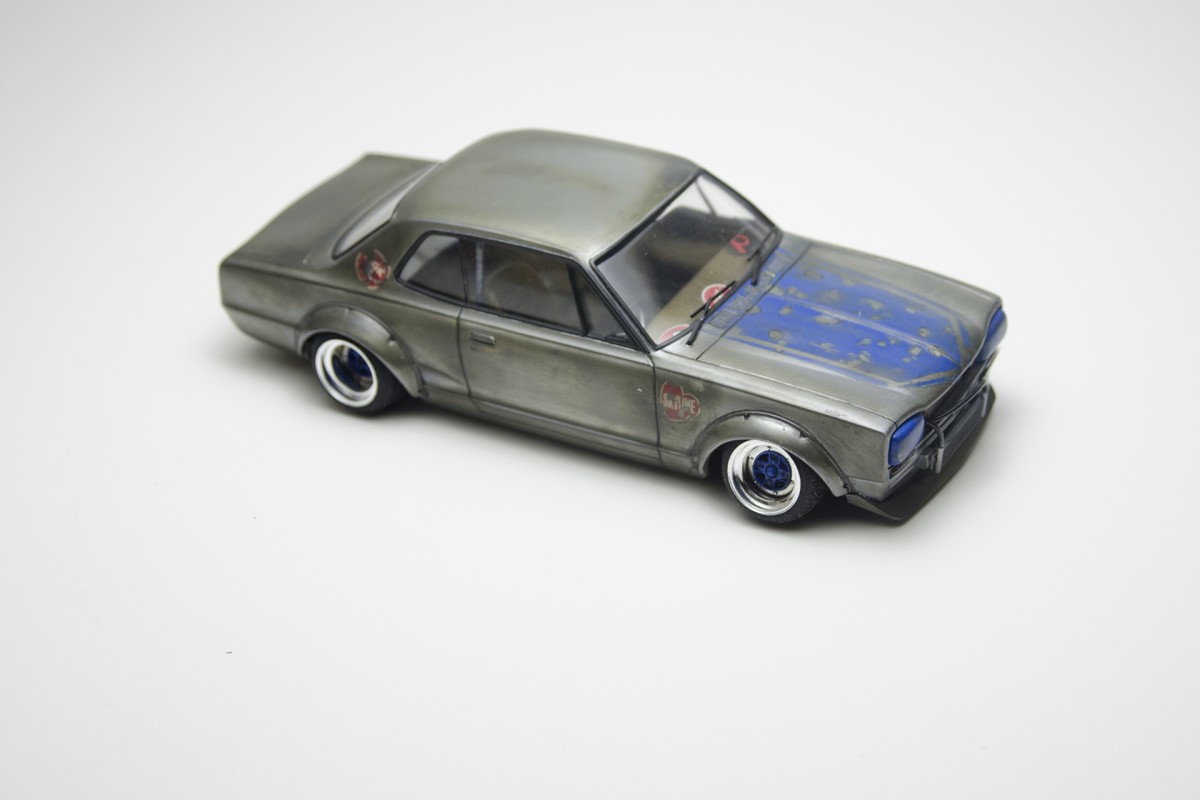 It had a strange metal feel, that coupled with the stance gave the Skyline a mean look. However, it looked like it still needed something to finish it off and that's where I went with the Takahashi Racing decals on the bonnet. But to keep it in tune with the paint job I used a special technique to make the paint look worn. The interior was kept stripped and raw as it just suited the car's character. More photos.
Hakosuka KPGC10 Skyline Specs: Fujimi Takahashi KPGC10 kit, Aoshima SSR MkII wheels, lowered suspension, Kevlar dash and racing seat.
From Boso to BRZ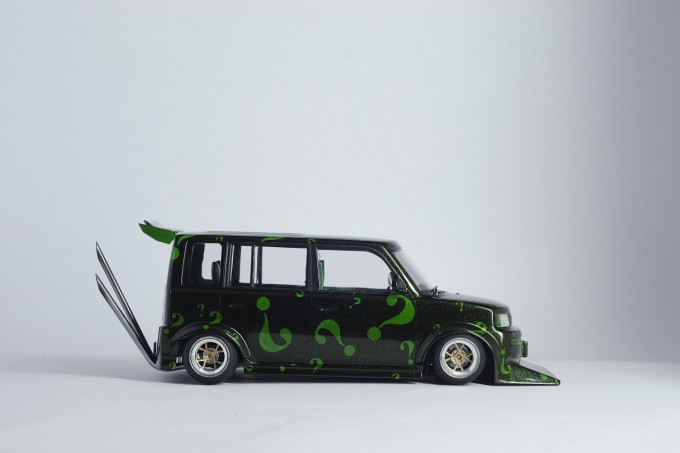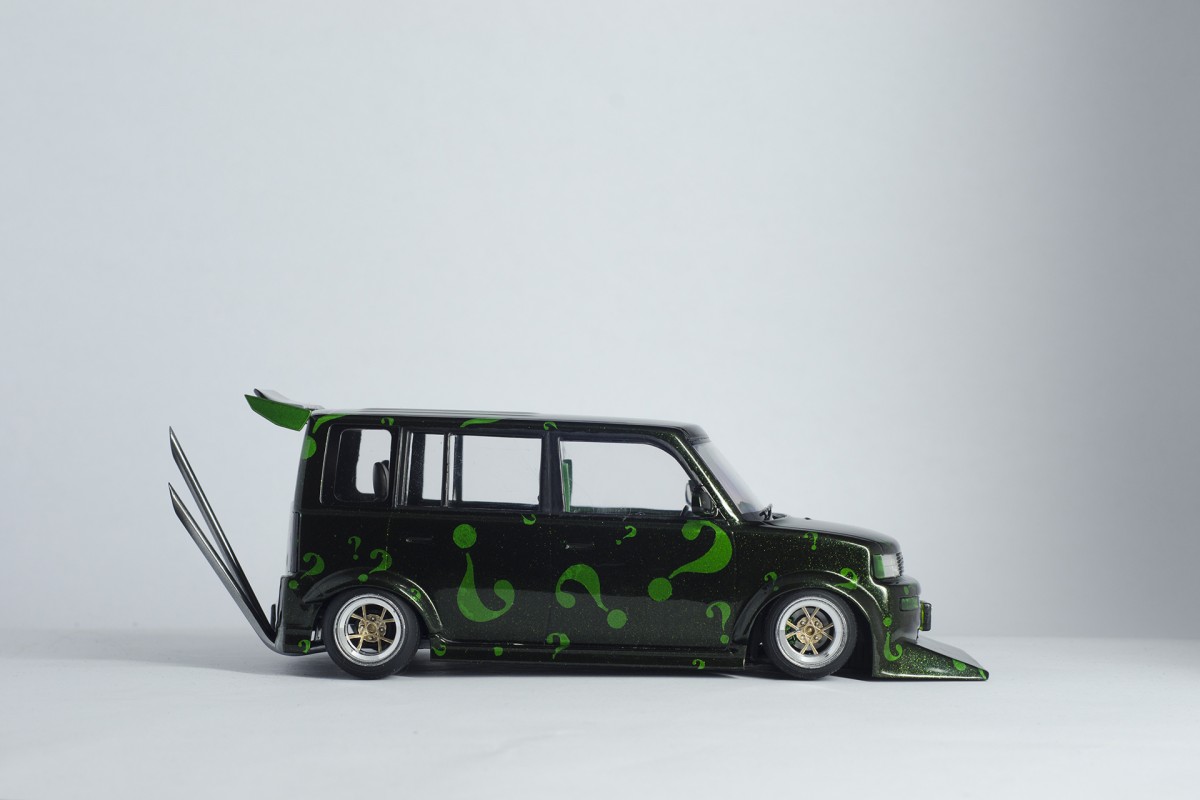 As mentioned earlier, I'm a huge fan of Japanese car culture. Now while being a big car fan, I'm also a bit of a superhero fan and for this build I thought it would be a good idea to combine the two. I've seen some crazy bosozoku cars with wild paint jobs online, but wanted to do something a bit different. I love the mysteriousness of the Riddler and his crazy personality, so that felt like the right inspiration for a boso-style build.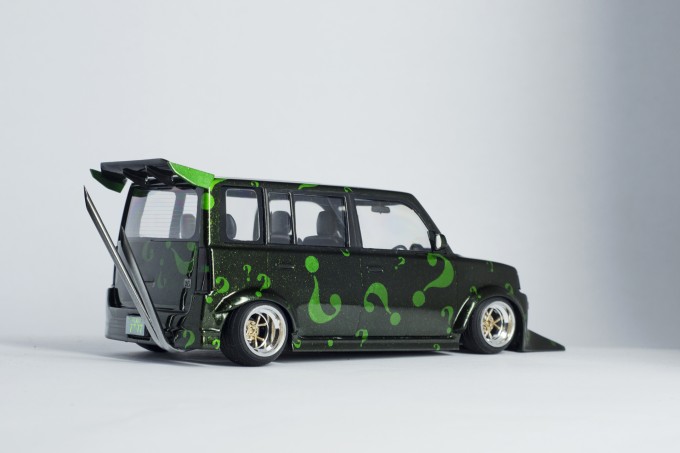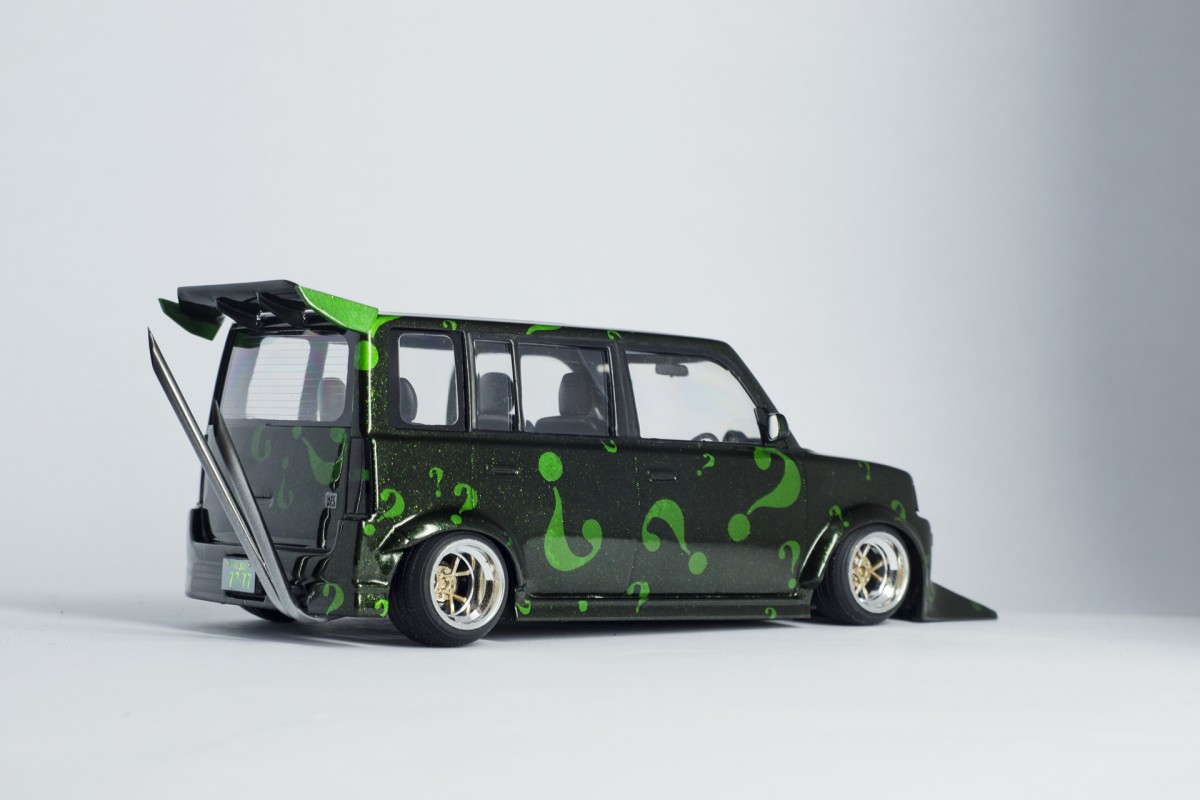 I also wanted to use something a bit crazier for a base, and Tamiya's Toyota bB kit just spoke to me when I saw it. The minute I got it the kit I prepped it for its wide arches and massive front lip. The wing was a bit tricky and I struggled with its shape, but after a few variations I got it right. The paint job is a mixture of different sized question marks but the colour itself – a specially mixed black with green flake and a coat of candy green – is what makes it all work.  In the sun it just pops, and this is still one of the best colours I've mixed up so far. The interior was hand-painted with a crazy green camo pattern which actually suits the build well. The wheels again are from Aoshima, but this time SSR Bilbos that were painted with pale gold centers. More photos.
Bosozoku Toyota bB Specs: Tamiya Toyota bB kit, custom flared arches, custom front lip and spoiler, custom painted livery, Aoshima SSR Bilbo wheels, green and black camo interior with carpets and seatbelts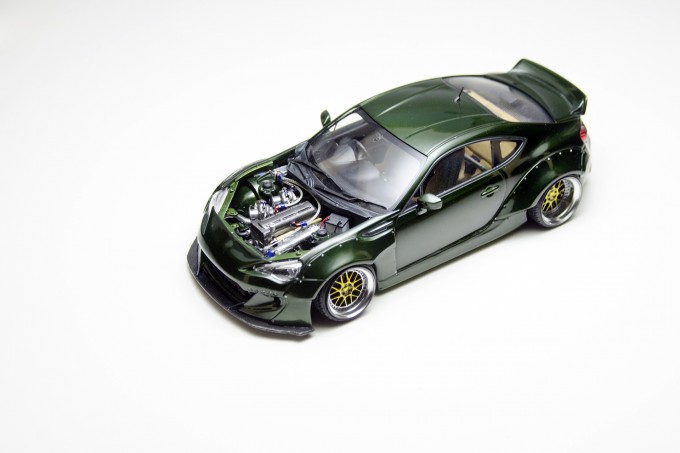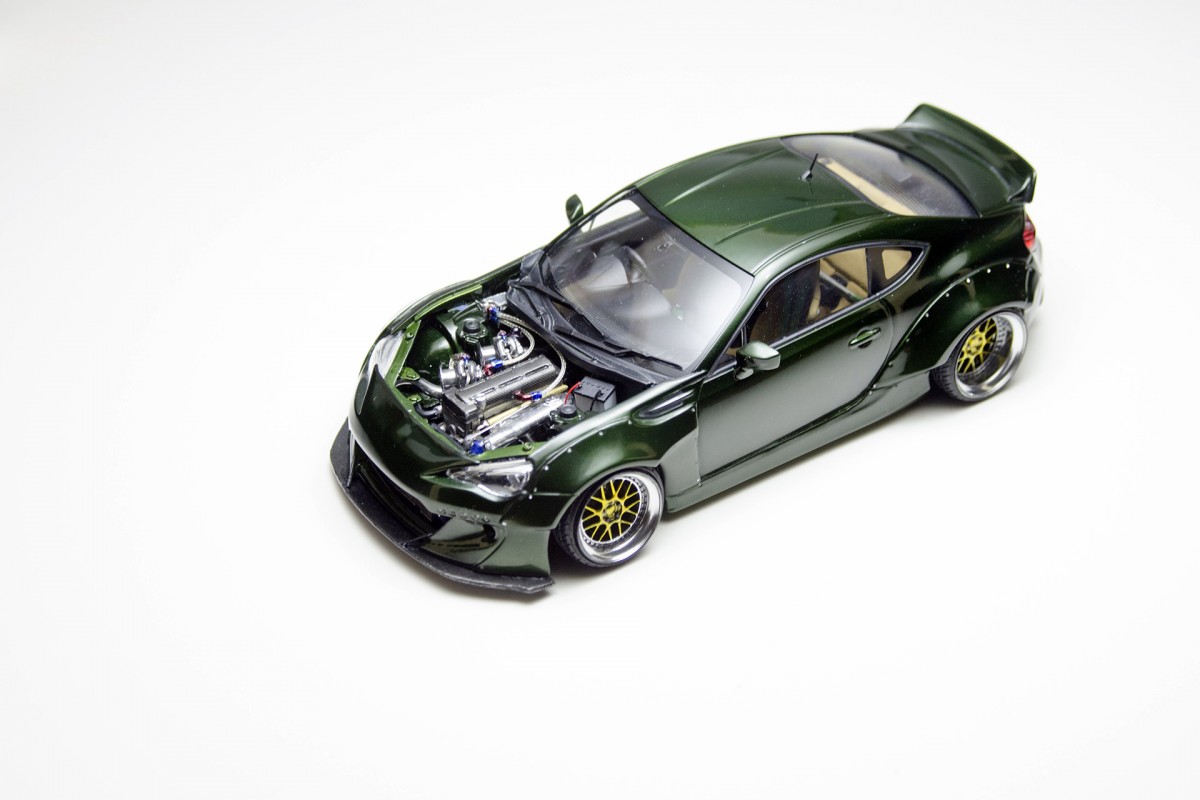 This is one the more recent builds I've done, and was fortunate to have the Eightyone V2 kit sent down to me. For those who want aftermarket accessories for 1/24 models do check out their site. When I got the kit I wanted to do something extreme, and how I imagined my own Rocket Bunny BRZ would look like if I had the means to own one. I knew it needed a really special colour to match the body kit and I really wanted it to stand out, so I went with candy green along with chrome and gold wheels.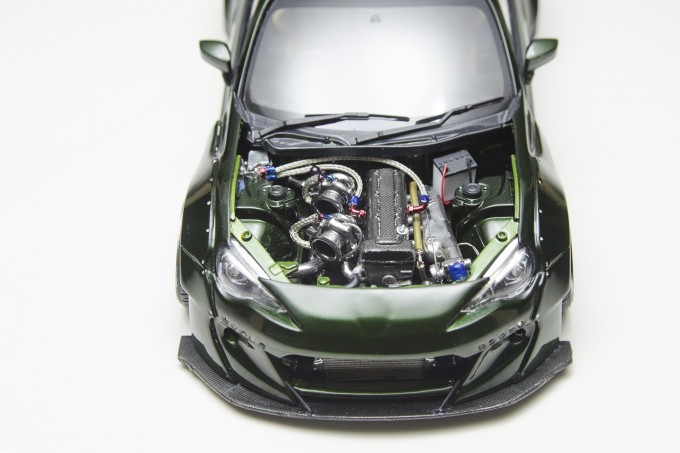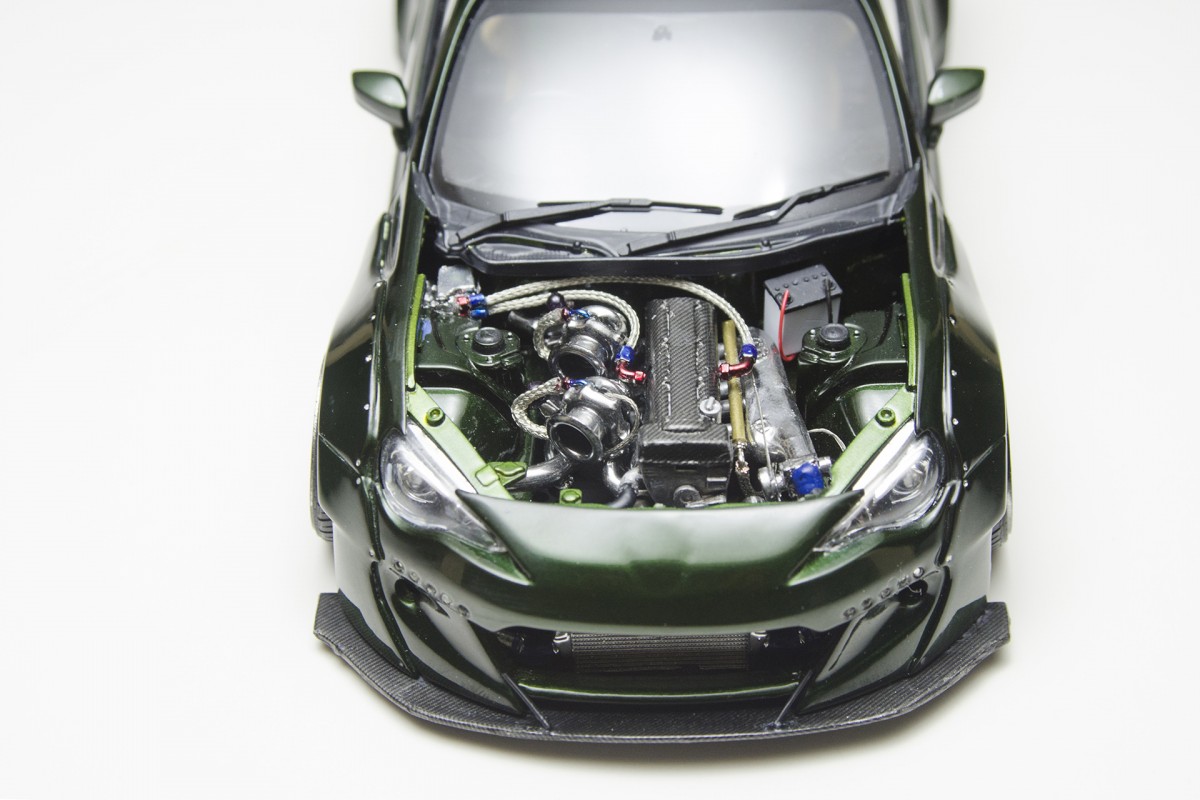 The interior was finished in black and tan to compliment the green and a small roll bar was added to highlight what was lurking under the bonnet: a 2JZ with bigger turbos.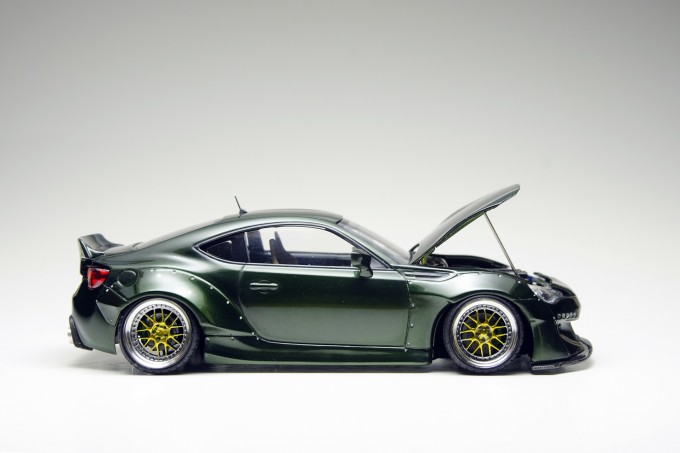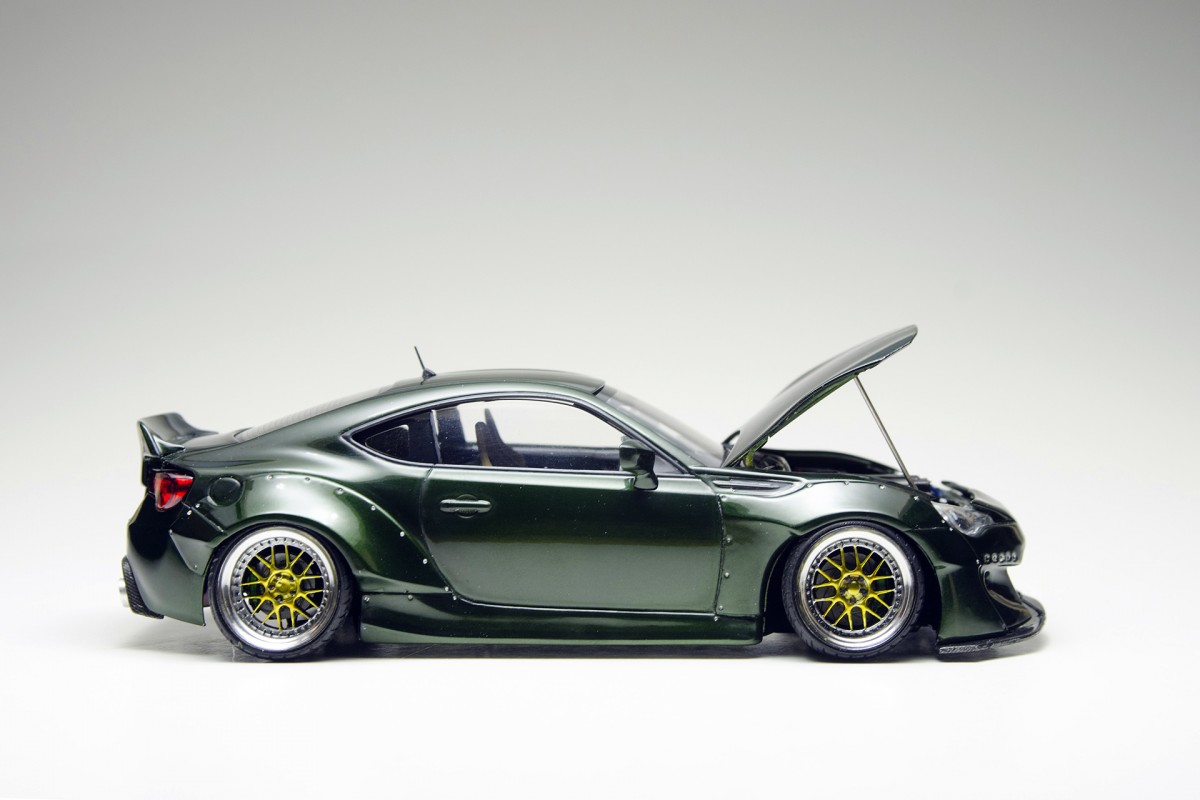 This being my latest build, I really wanted to put everything I could into it and see how far I could go with the details. The building of the engine bay and fitting the motor turned out to be quite a challenge – but in the end it worked out well. More photos.
Rocket Bunny BRZ Specs: Tamiya Subaru BRZ kit, Eightyone V2 transkit, lowered suspension, Tamiya 2JZ motor fitted, bigger metal turbos along with custom intake and manifold, motor plumbed and wired, carbon tappet cover, racing seats with carbon backing, carbon trim added, roll bar, racing harnesses and carpet, aluminium exhaust tips
Builds In Progress
While there really are too many projects to mention, I thought it be worth talking about a few that I'm working on at the moment. Most of the progress of my builds is on the 12Twentyfour site, so do check it out.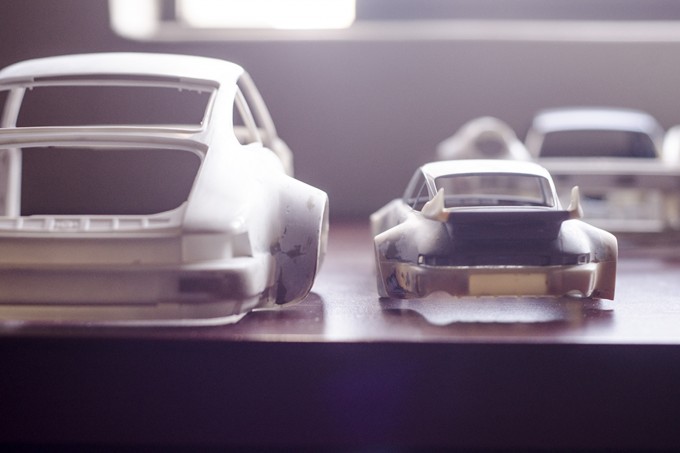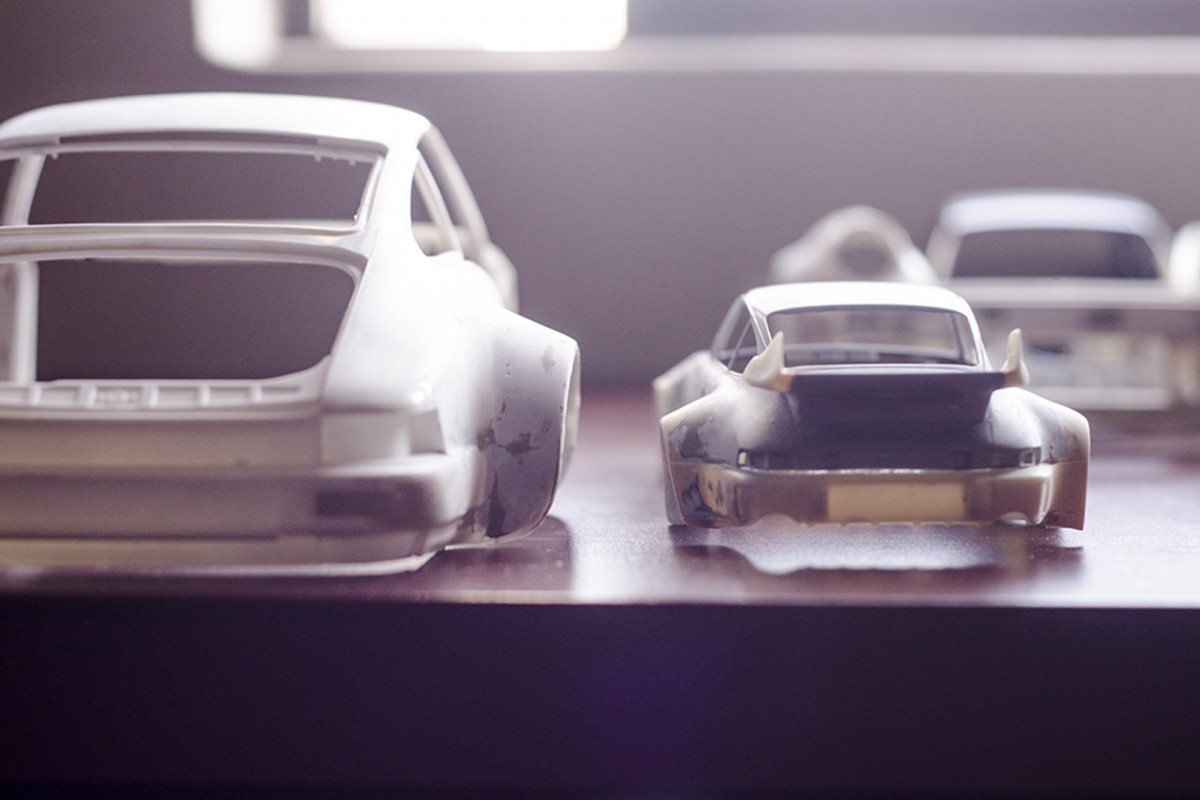 Those who know me will be well aware that I love RWB cars. To me, they are just pure motoring perfection, and I was lucky enough to have the opportunity to buy a 1/12th Tamiya Porsche RSR kit. They have become really sought after recently, but that didn't stop me from trying to convert this into a special RWB build. While the build is still underway – and has been for quite some time – quite a few things have been added already. It must be mentioned that the kit itself is truly amazing. It even has adjustable suspension!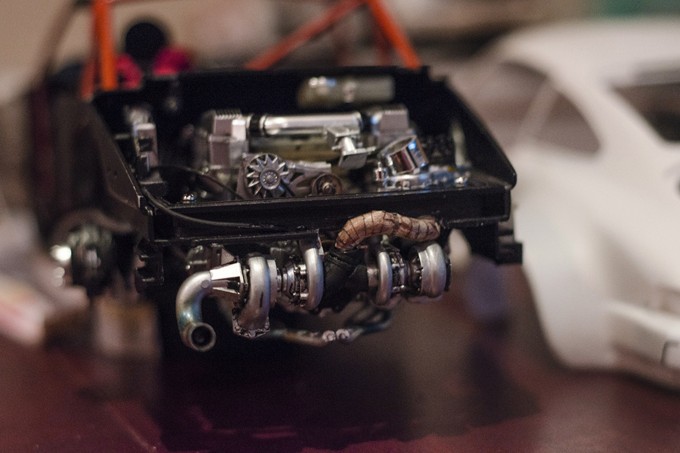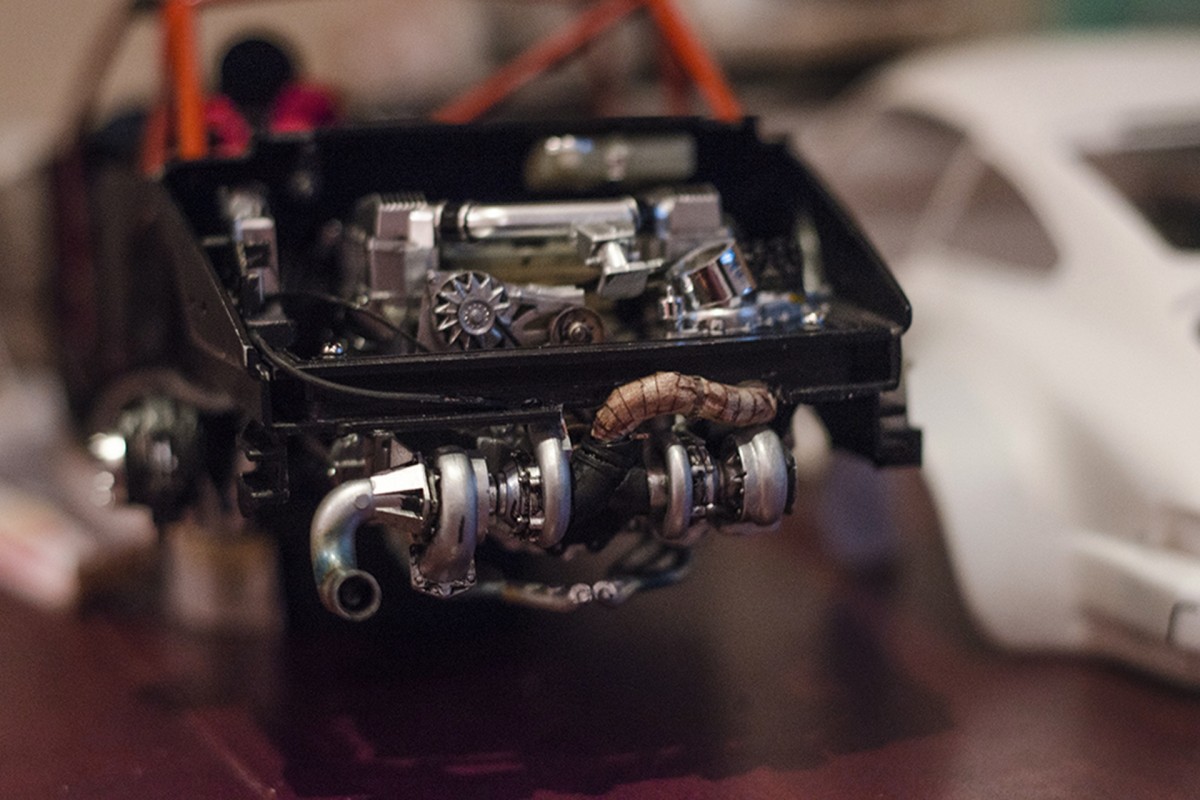 No RWB is the same, and I wanted to keep to that. The first thing that needed to be done was to add another turbo, so I chopped up the original piping for the turbo and redid it according to information I gathered. It still needs to be finished and plumbed, but it's nearly there.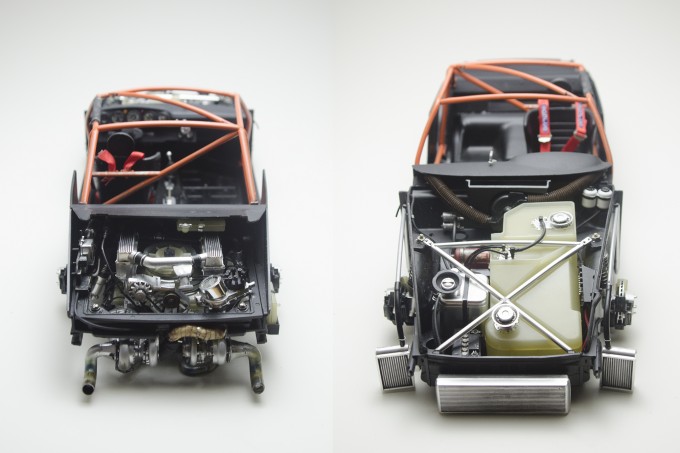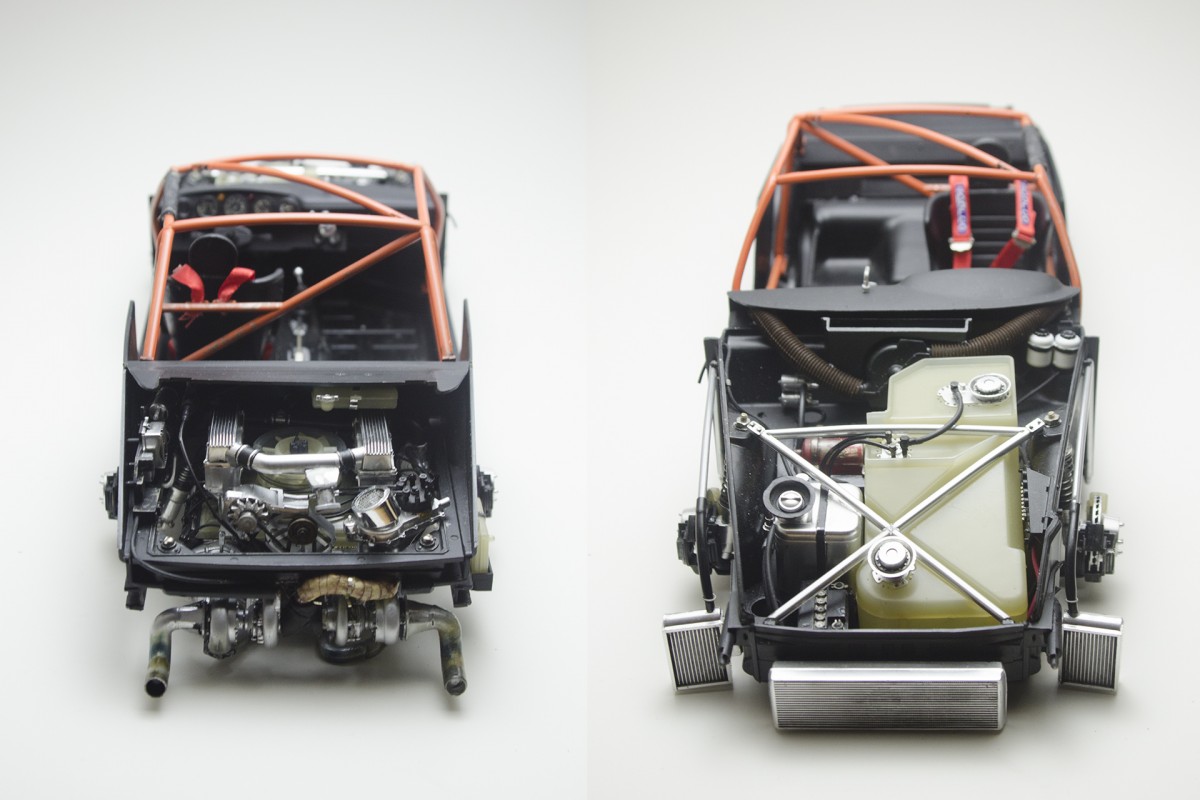 The body is still far from complete, but I'll be tackling that soon so that this build can be finished. One of the problems with 1/12th scale kits is that there aren't many around and parts like aftermarket wheels don't really exist. Fortunately, the 21st century has provided us with 3D printing and a set of wheels will be shortly be custom-made for this car. More updates on this build will be put on the 12Twentyfour site soon.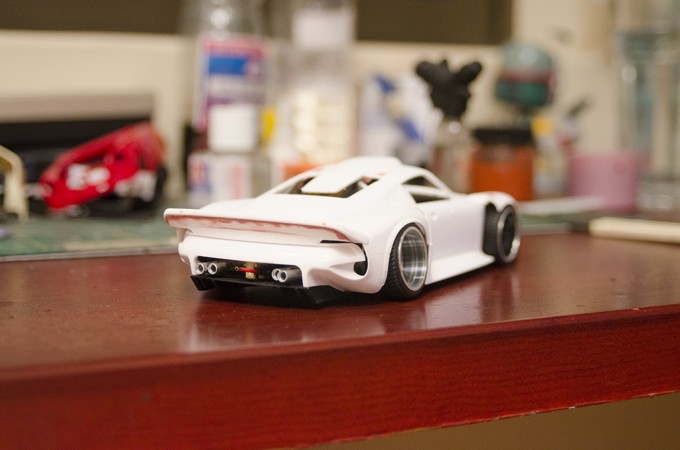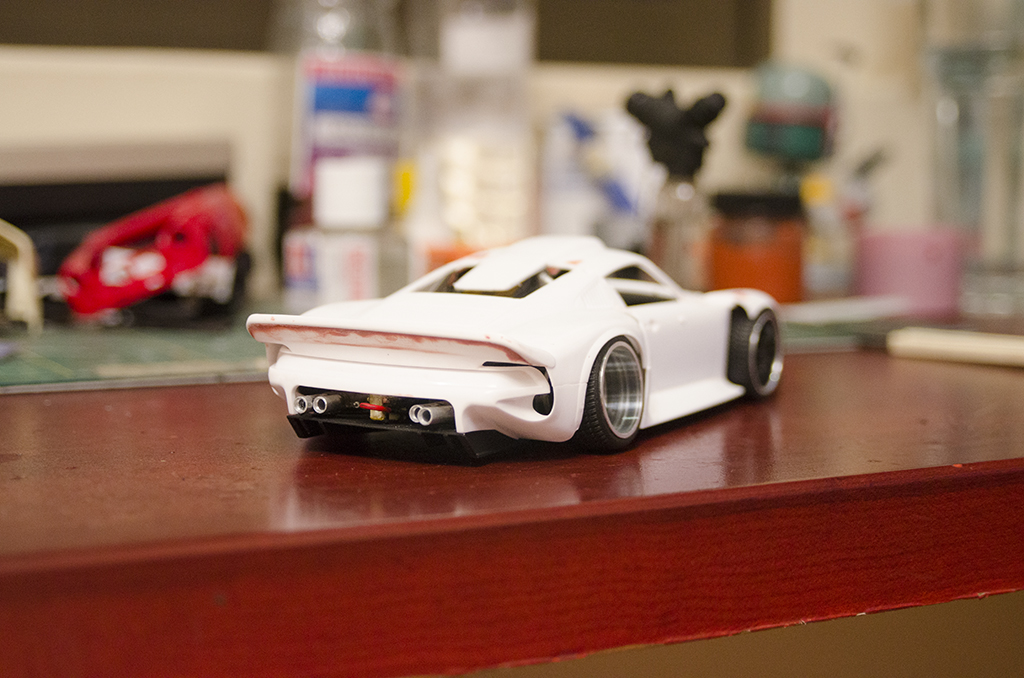 This GT1 build was part of a competition on the SPC modeling site. The idea behind the competition was that a group of three had to build cars that fell into a theme or group. Since Porsche celebrated its 50th last year, our team decided that it would be nice to build a few cars to celebrate. I however, did not finish in time.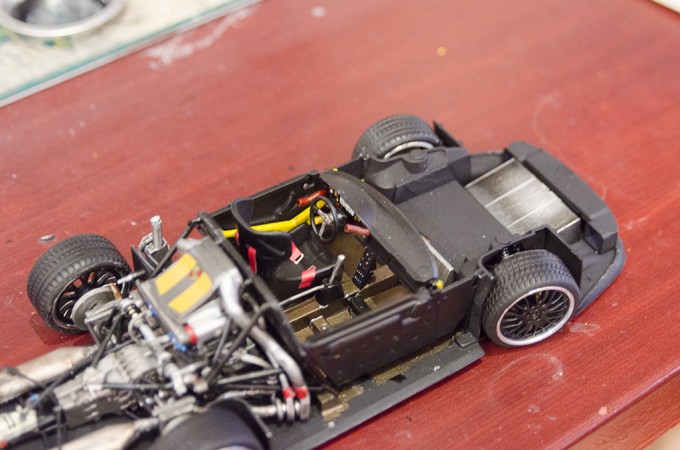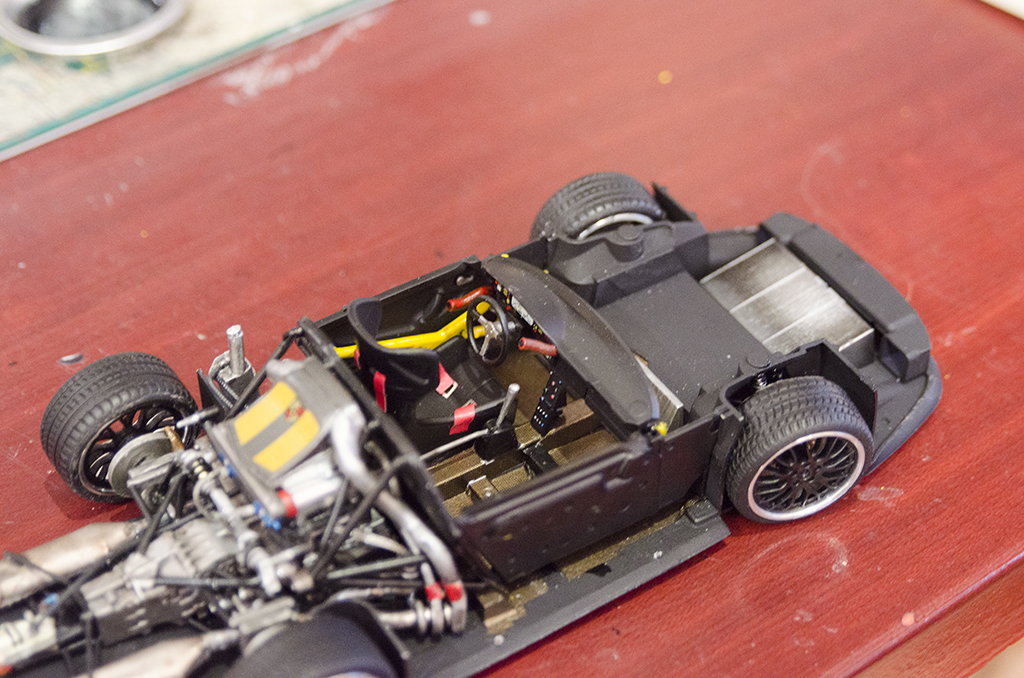 My idea behind the anniversary GT1 was to do a sleek road version with a sexy paint job. I added a number of details to the motor, but really wanted to focus on making the body unique – without losing the GT1 look. I smoothed out the front fog lights, cut the wing off and cut a hole in the engine cover to expose the engine.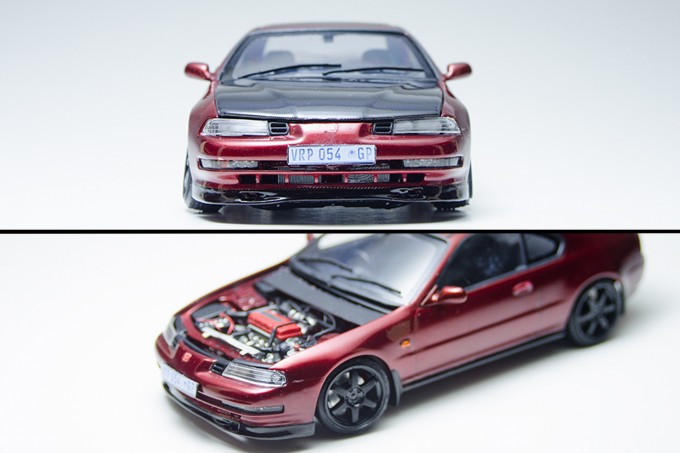 For the last few years I have been asked to build replica models for people. This all started when a friend asked me to do a scale build of his Prelude. It took me two years to complete this one; but it was a really fun build. It was quite a challenge for me as before this I had only ever built models for myself.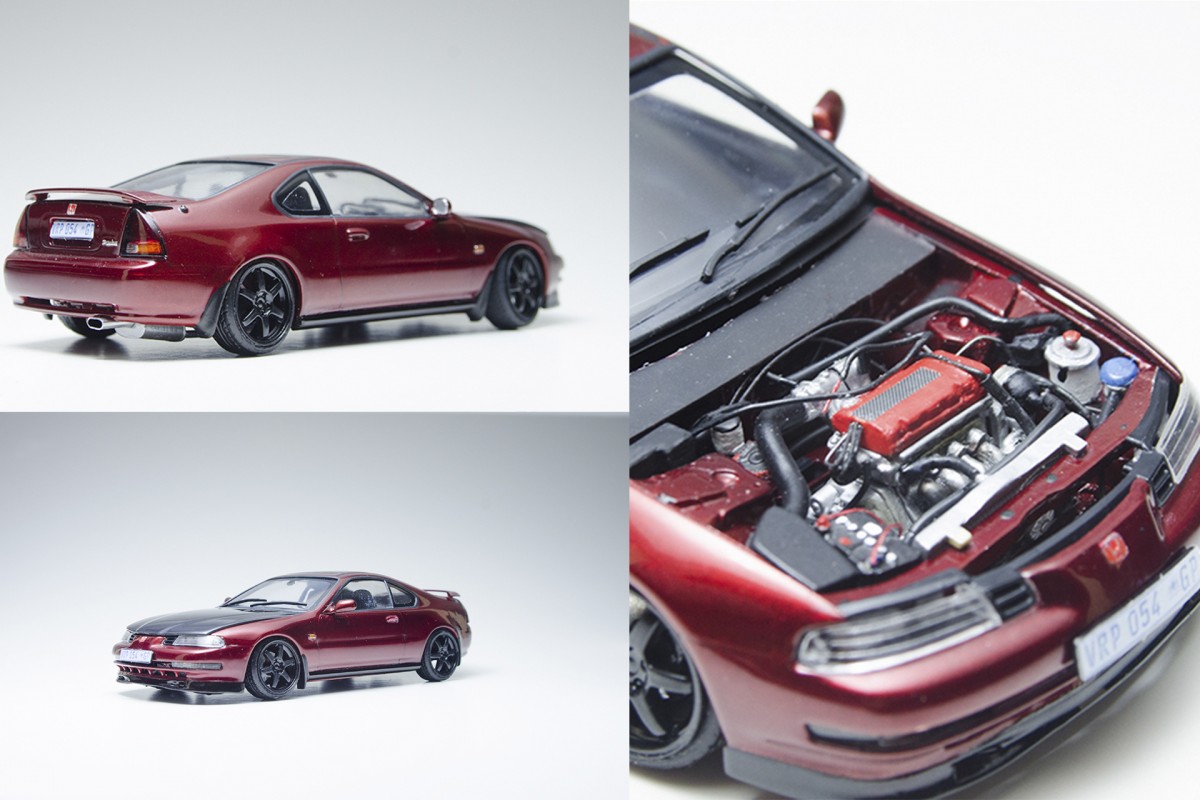 Being one to never disappoint, I went and did a full-on build which was not planned in the beginning. A full engine bay and detailed motor were added, along with some extra carbon goodies to match the car. The end result was really pleasing and this is one of the best builds that I've done. More photos and details here.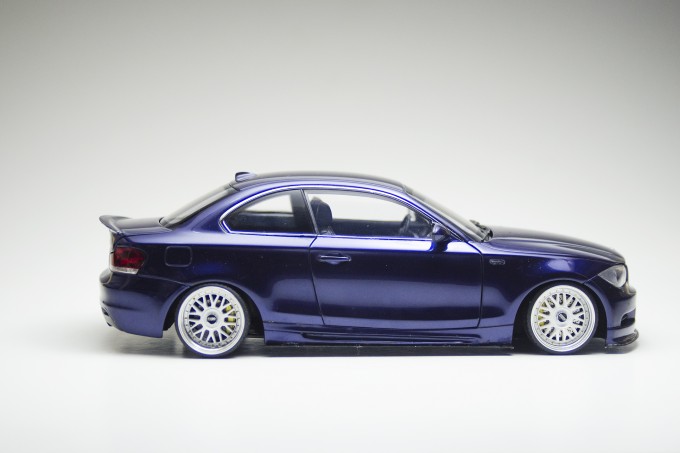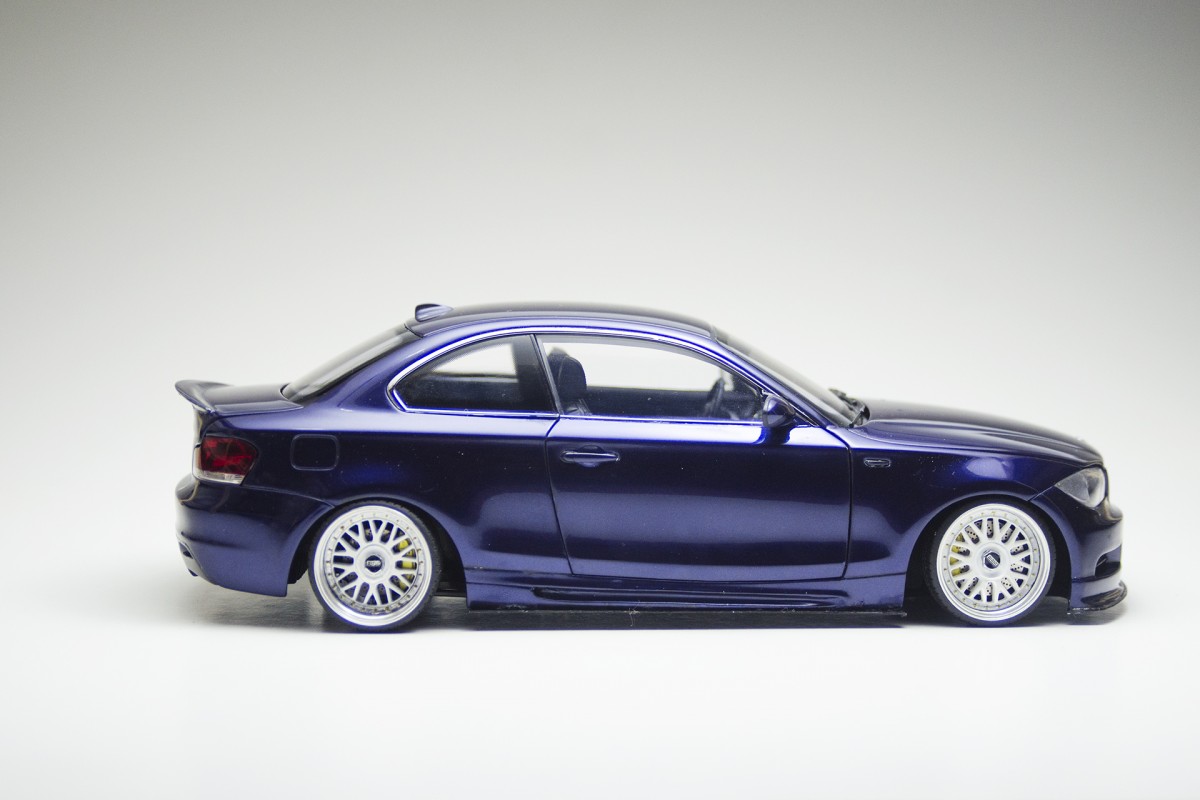 Automotive photographer John Zhang from 1013MM approached me some time ago about doing a build for him – a really amazing request. It was also quite scary, because due to the fact that not many BMW model kits have been produced the only way to build his replica was to get a 1/18th Kyosho diecast model.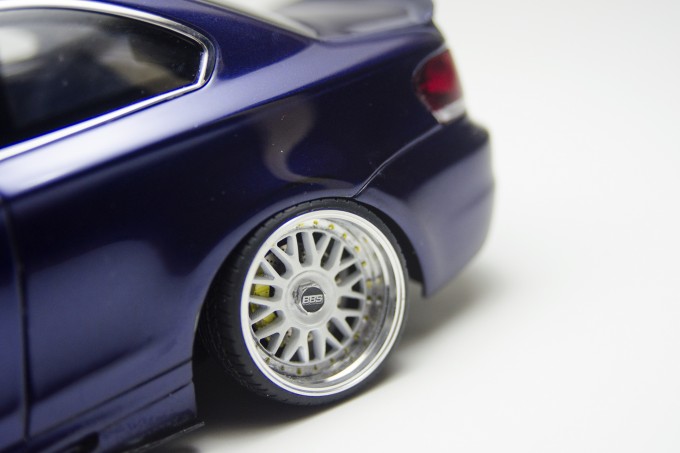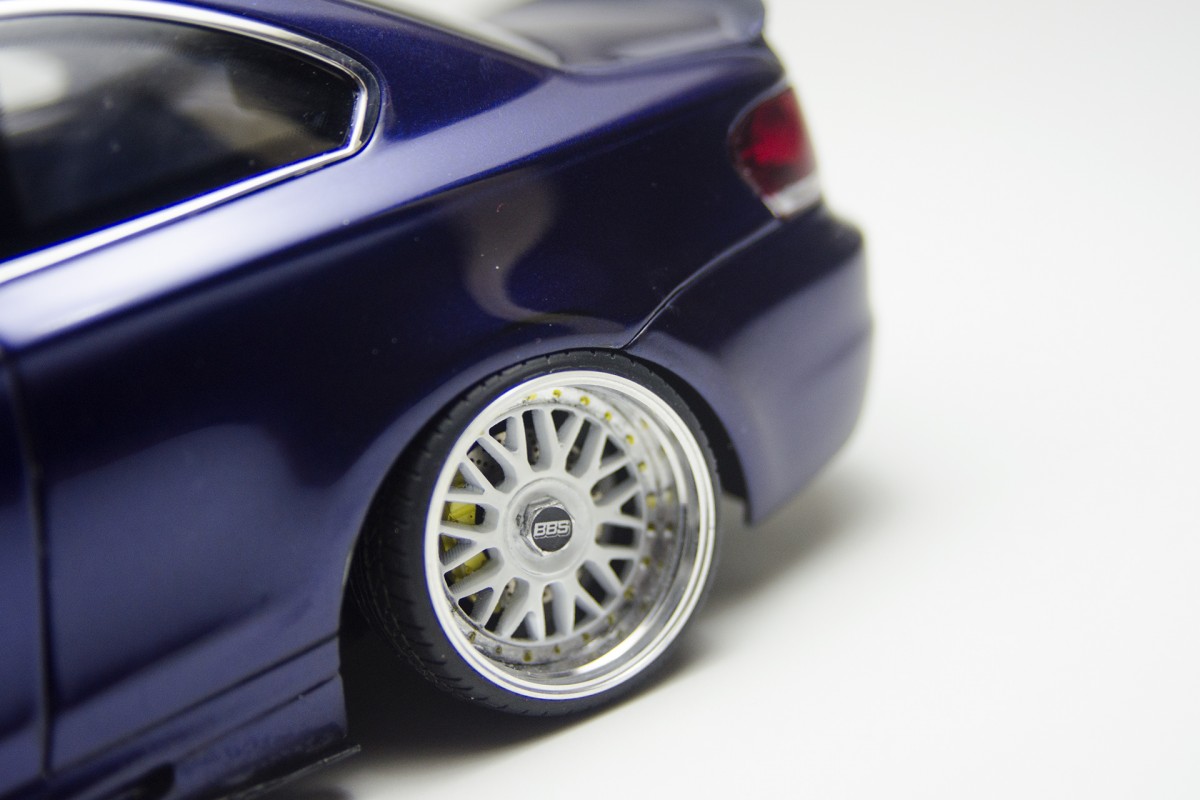 Lots of custom parts were made for this car along with my best paint job ever. This build was a real learning curve for me and I think to this date it's my best work. There's lots more on this car on my page: progress pictures, completed pictures and a video.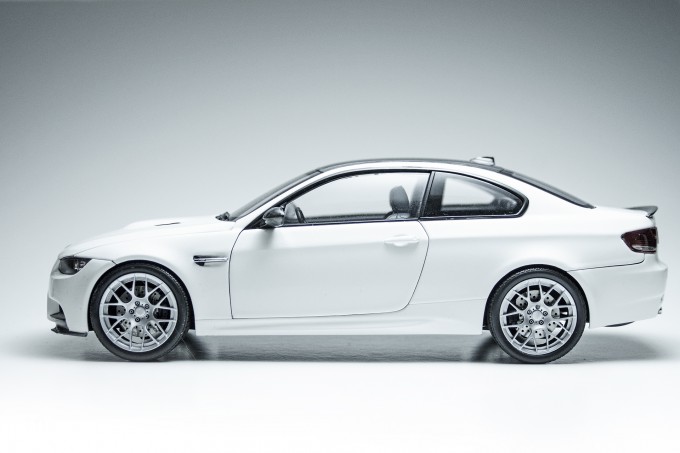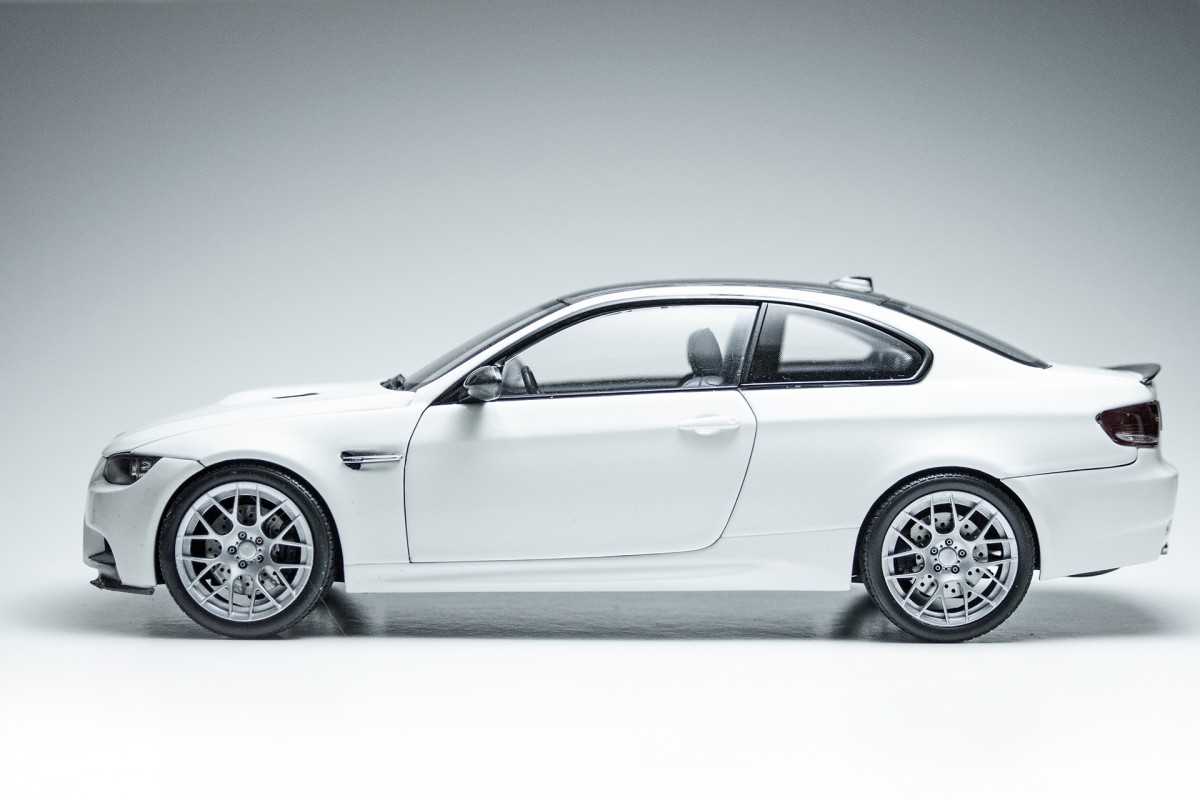 Since the 1013MM build I have received lots of requests for others (especially BMWs), and this is just one of many that I completed.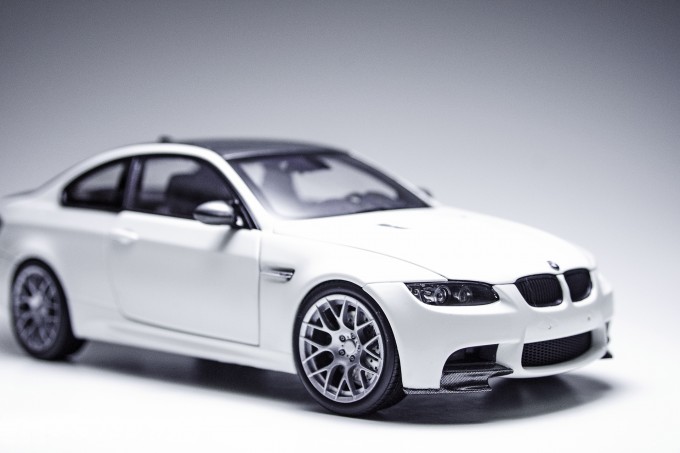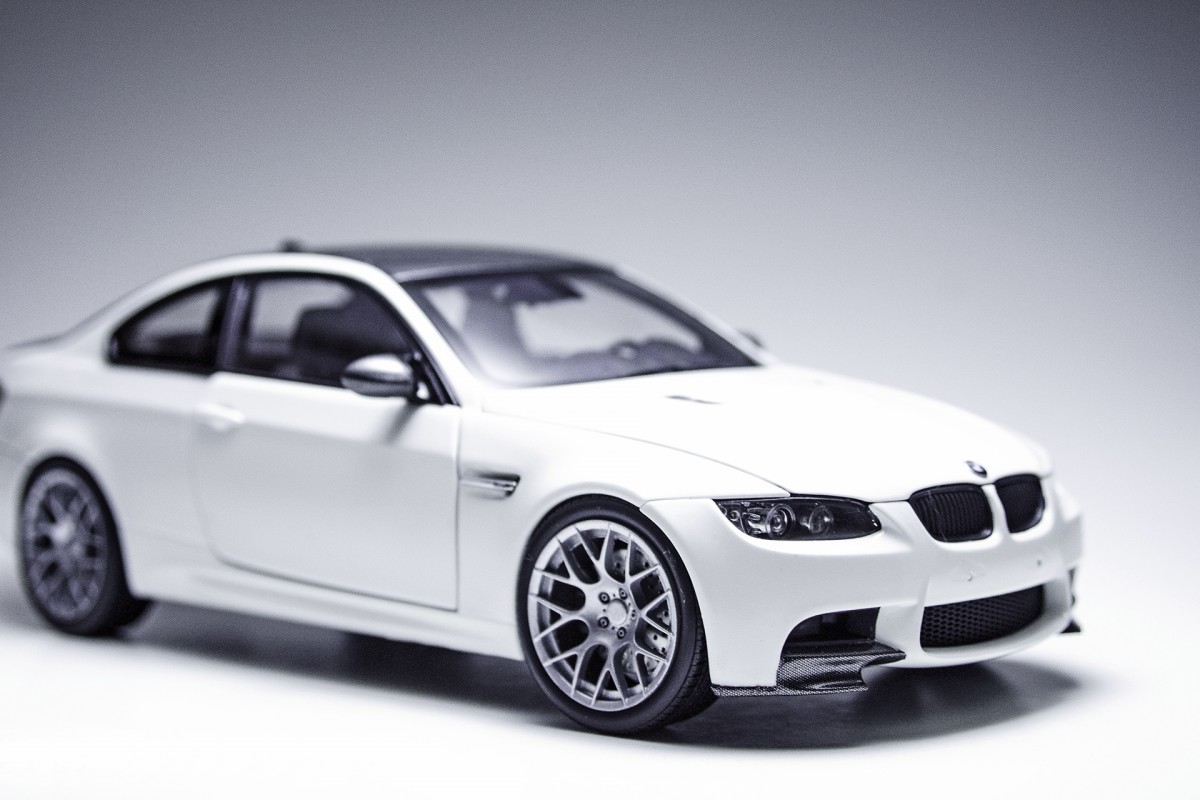 It started life as a 1/18th Kyosho M3 pace car, but it was completely stripped and repainted in Arctic White. A carbon fibre roof was added along with some other carbon goodies. Check out the video.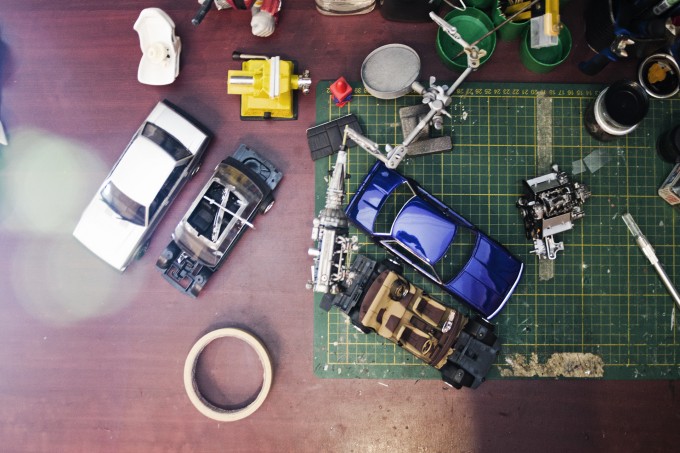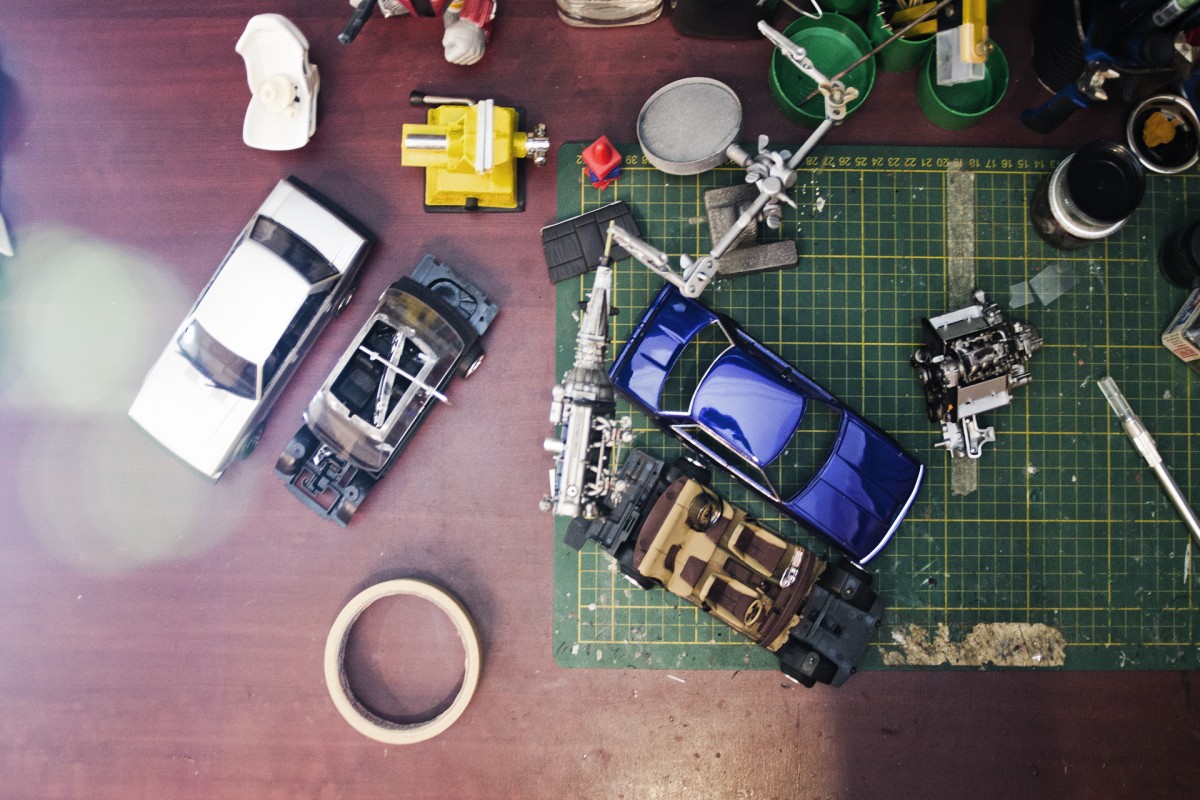 I would like to thank Mike Garrett and Rod Chong for taking time to look at my work. Also a few shout-outs to Thomas from Eightyone, Ken from Team-Hobby, Luis Aguilar, Jeremy Nolan and everyone else for all their help, assistance and motivation.
Raees Amien
12Twentyfour