Power, It's The Name Of The Game
I really feel like I've indulged in too many style-oriented events and cars of late. While there's nothing wrong with that, I like to keep things balanced in my world, so when a chance to stop by Garage G-Force recently came up, there was no way I was going to pass up the opportunity to take you on a little tour.
It couldn't have come at a better time either, because having made a name for themselves out of a little shop in Tsuzuki-ku, Yokohama, since 1997, they've just moved into bigger premises with plans to really expand the business.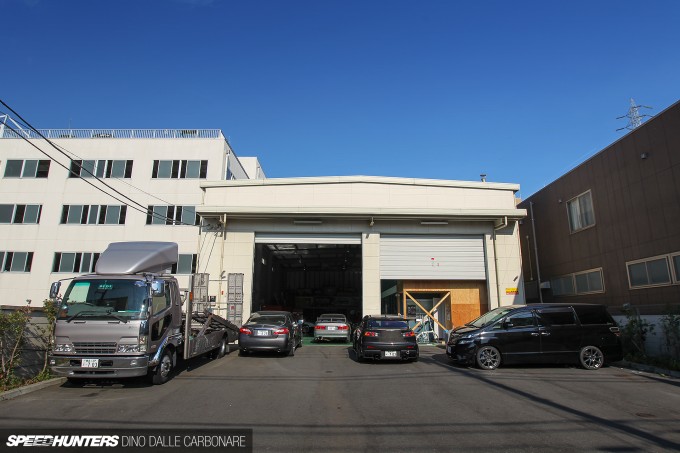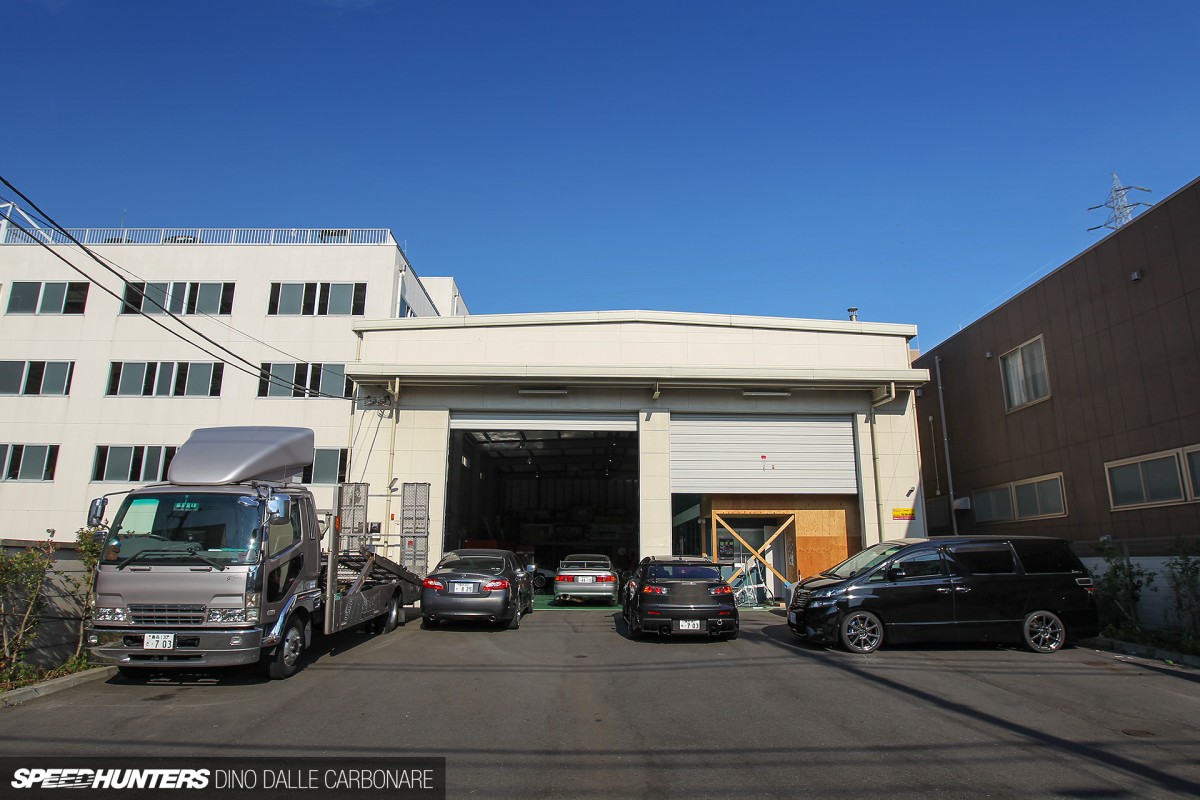 If you're into Lancer Evos then G-Force is one shop you will have heard about. If you haven't, then you definitely should have as they've been at the forefront of 4G63 tuning in Japan for a long time. First, it was high-power drag applications which earned membership in the prestigious RH9 Club, but over the last few years they've been moving more towards time attack and street cars builds.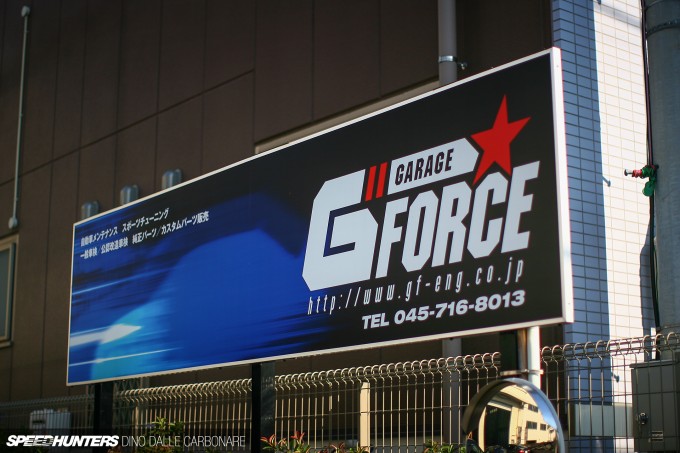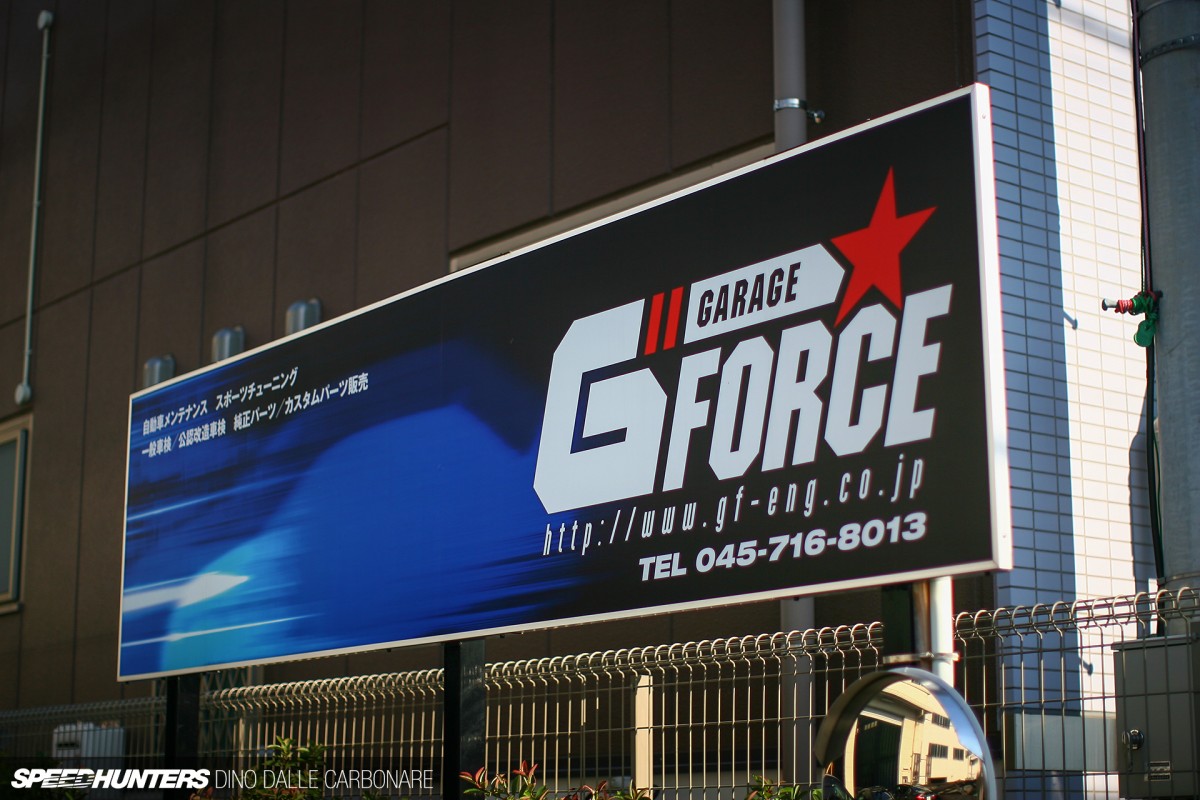 The company was founded in Aomori-ken – the very top prefecture of Honshu (Japan's big island) – and that's where the main HQ still remains today. However, the new shop I'm about to show you is still in Yokohama and is actually situated very close to the TRD headquarters. If it's not for a good selection of Lancers that can normally be found parked outside, it's pretty easy to spot G-Force from the main road thanks to the massive sign out front.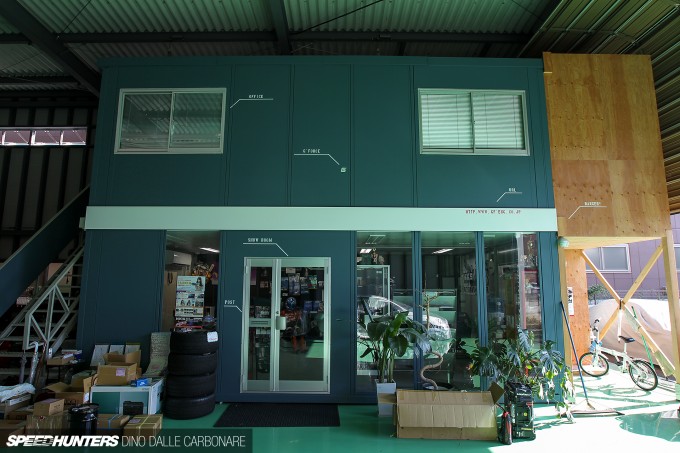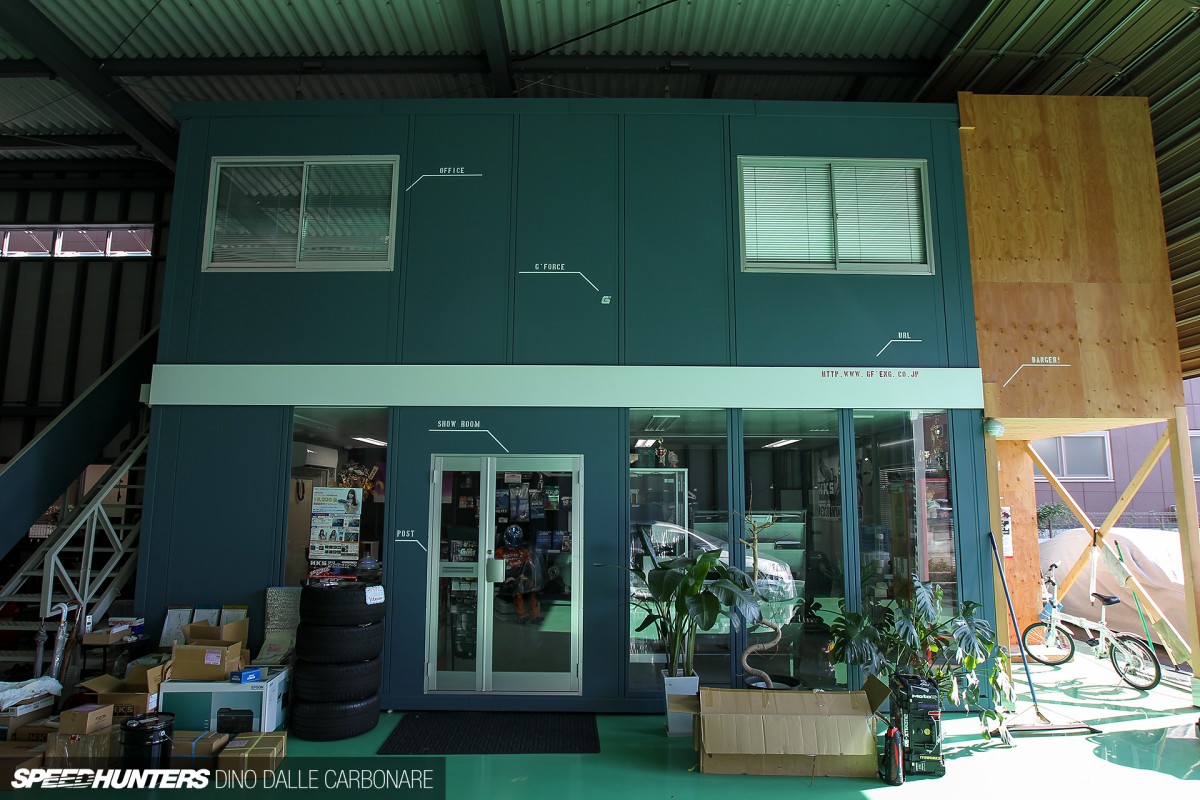 As you step inside the workshop the first stop is the showroom – a separate wooden building that also houses a top floor office for Tazawa-san, the president of the company.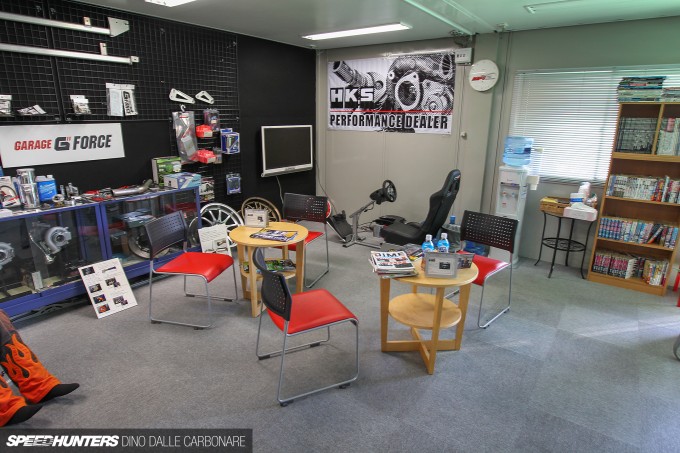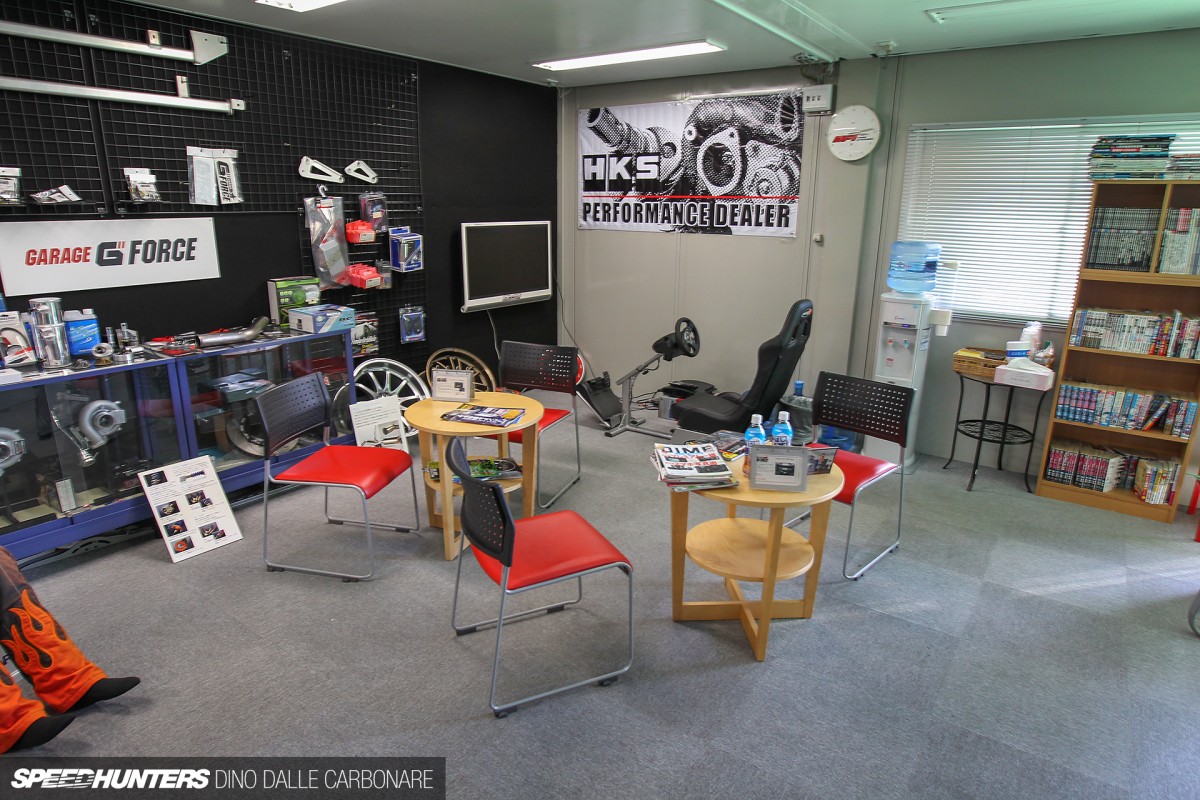 Here there's an open space for welcoming customers; a couple of tables and chairs; and a must-have racing simulator set up.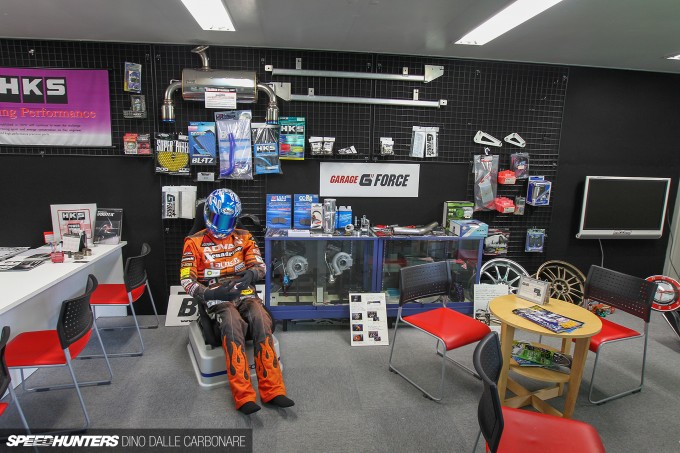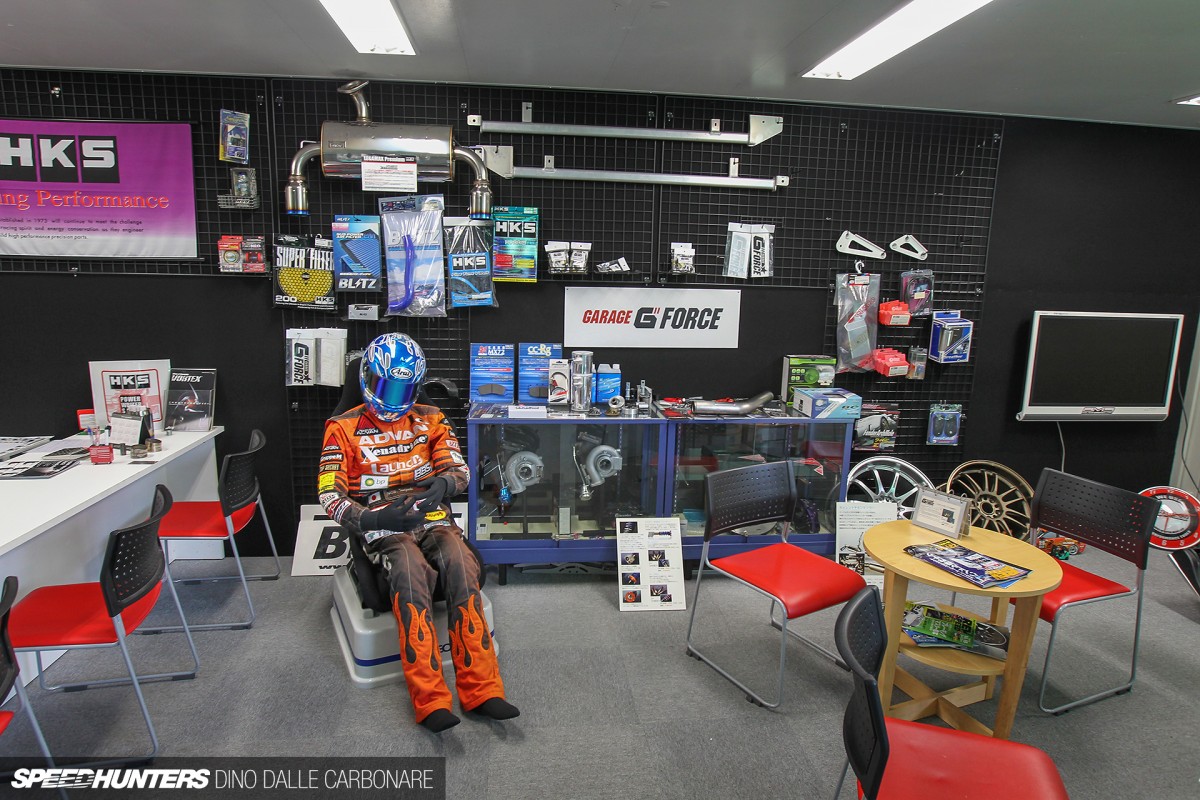 Sitting on a Bride display seat was a mannequin wearing a pretty familiar race suit. It belongs to Nobuteru Taniguchi – a good friend of Tazawa and a good customer of G-Force. Yes, this is the place where Nob gets his personal cars tuned. That fact alone should give you an idea of how well regarded Garage G-Force is in the Japanese aftermarket world.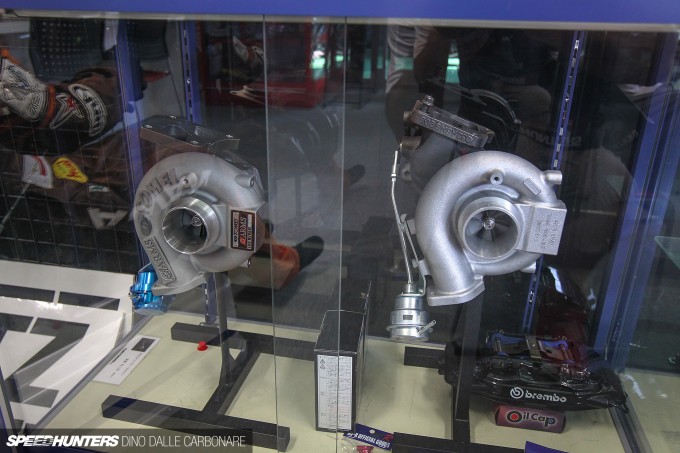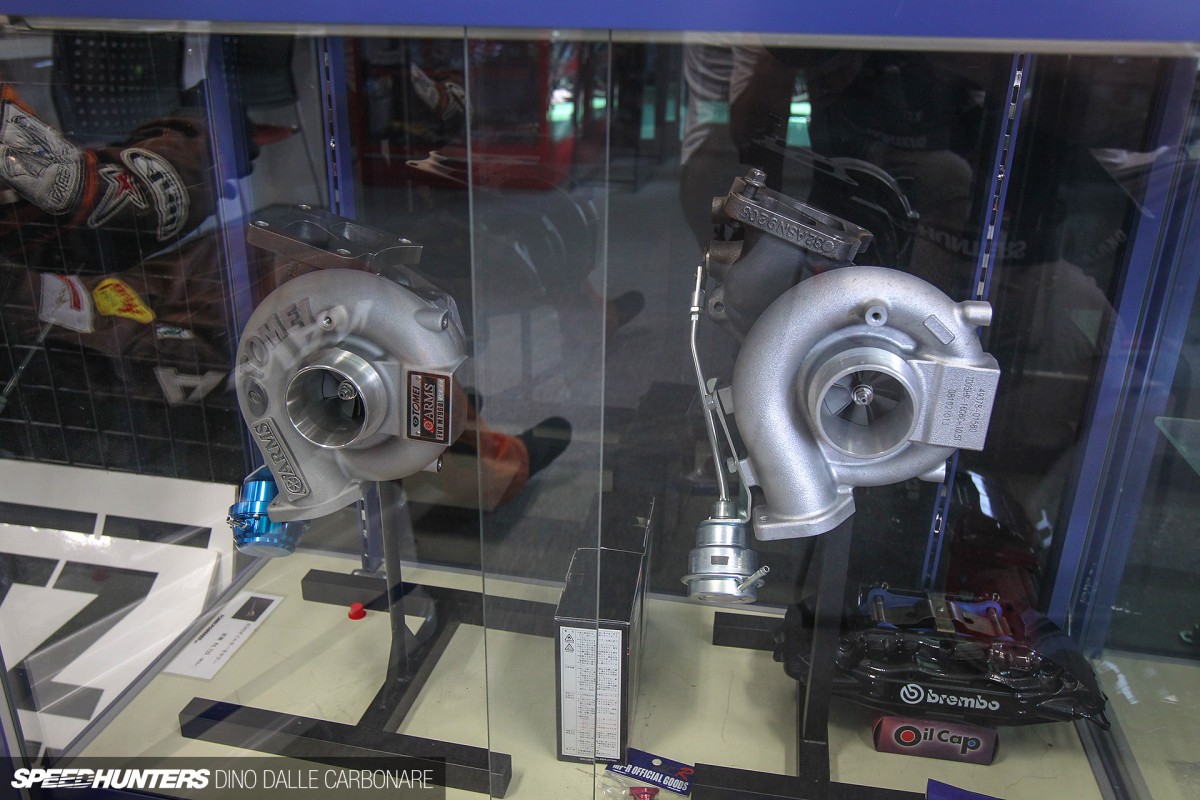 A little selection of parts on display is always a nice thing to see, as it gives you an idea of the brands the tuner deals in. Inside a glass cabinet I spotted one of Tomei's newest Arms turbos. After a very long wait, two similar units will soon be fitted to my BNR34 GT-R.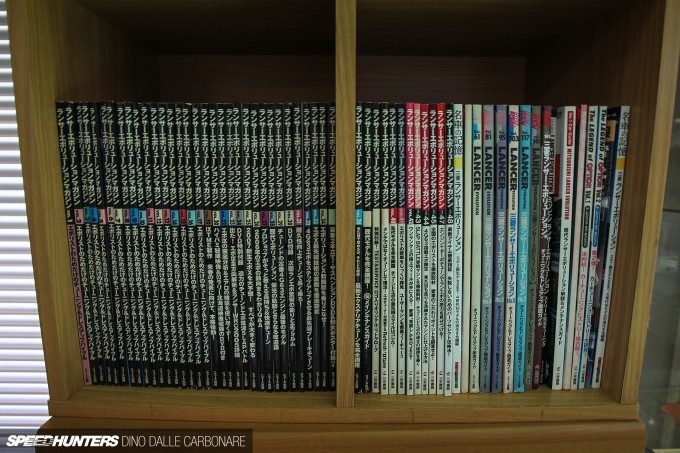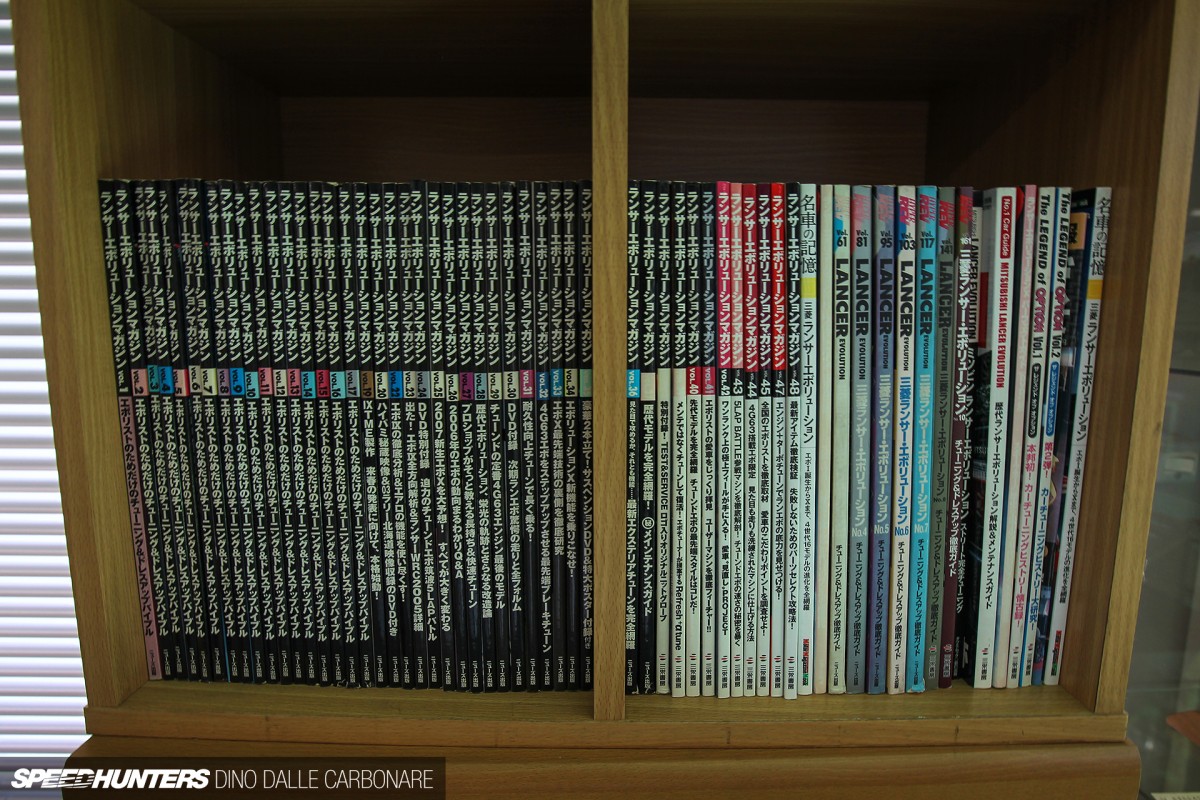 Lancer Evo fans may as well set up camp in the showroom as it would at least take a good few days to go through the collection of magazines that G-Force keeps on hand. It contains the entire Lancer Evolution magazine line up of course, plus the mandatory Hyper Rev tuning bibles.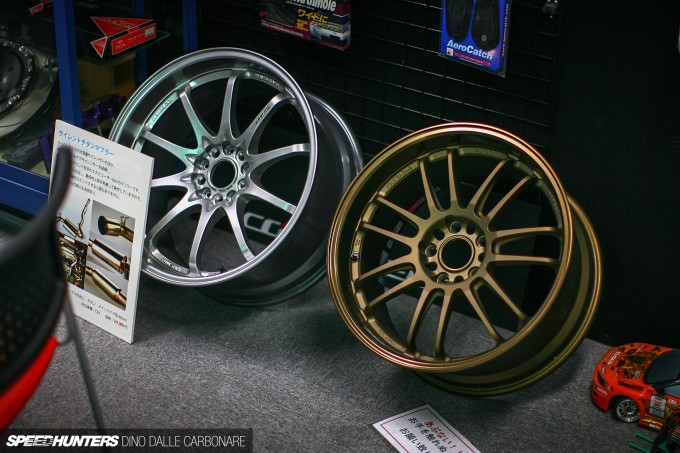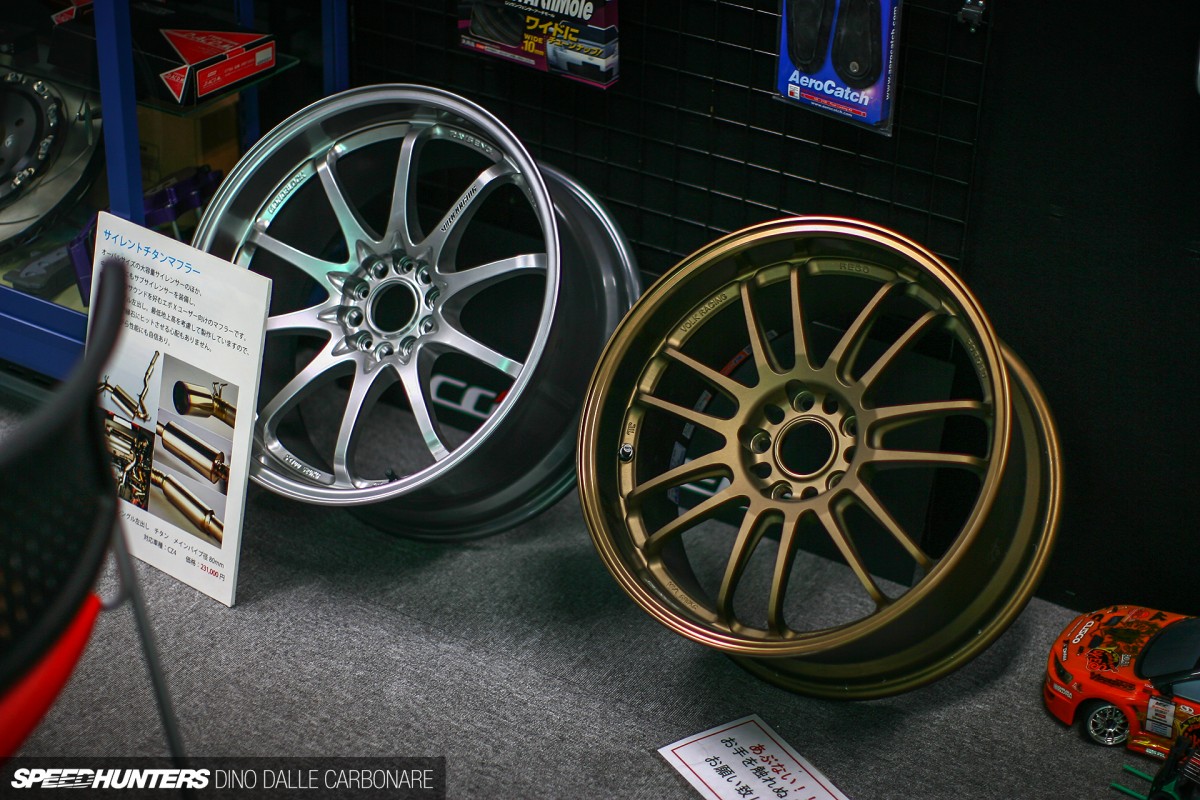 G-Force has partnerships with a number of big Japanese brands. One of them is RAYS, which is the reason why you'll only ever find lightweight forged wheels like these on their demo cars. In fact, back at last year's Tokyo Auto Salon the G-Force Evo X in the RAYS booth was the first car I ever saw wearing the then-new red Volk Racing TE37RTs – the same wheels I'm now running on my Skyline.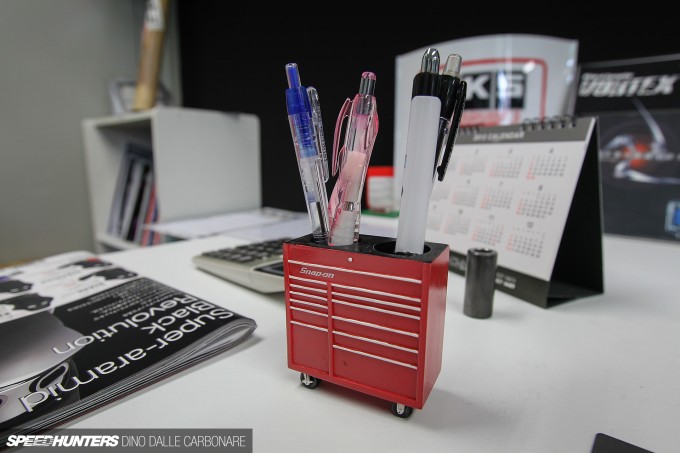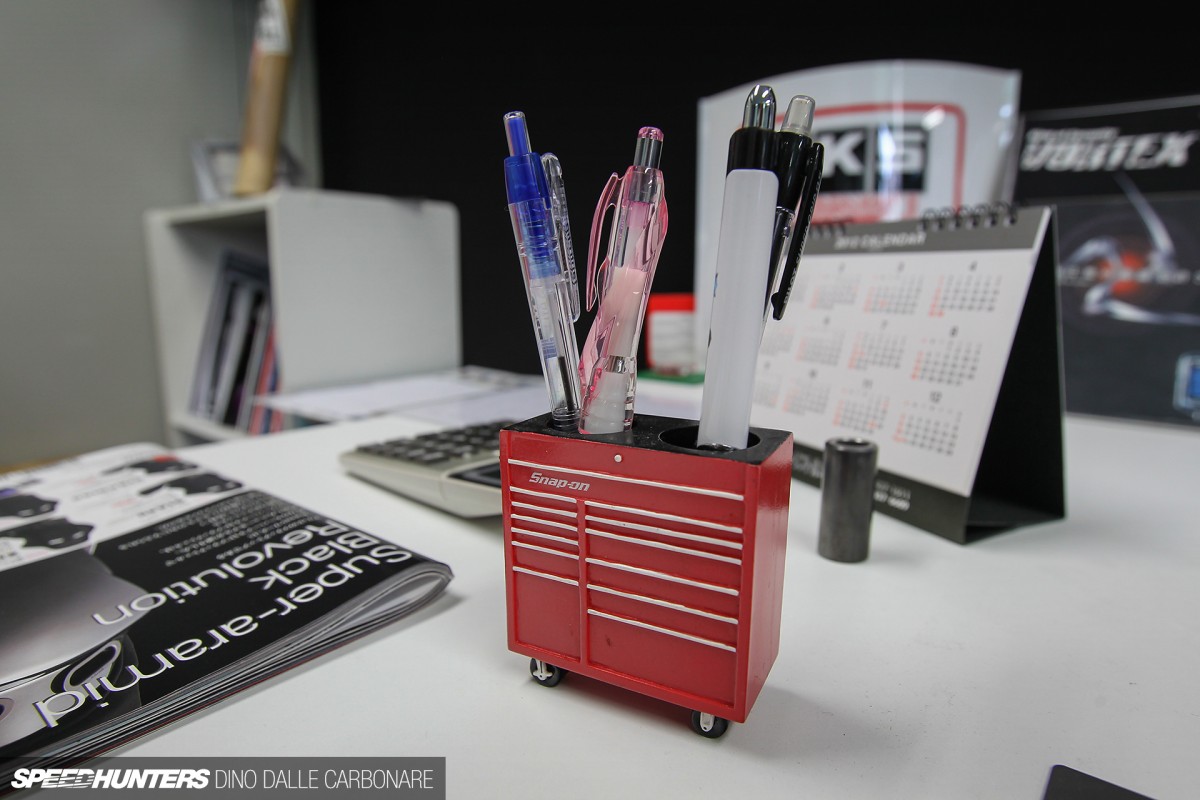 Now this is what I call a cool pen holder!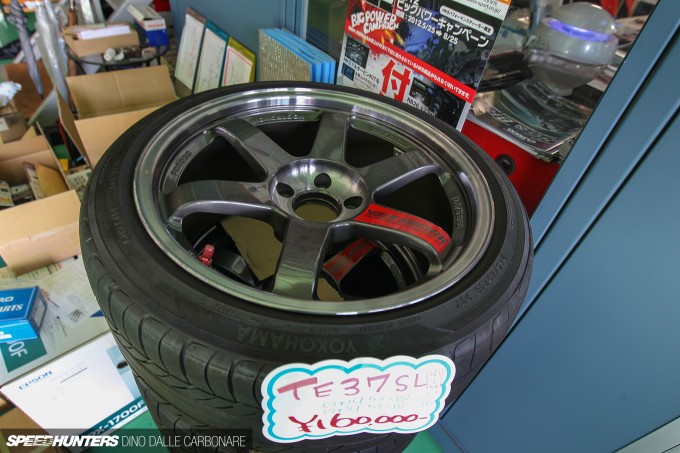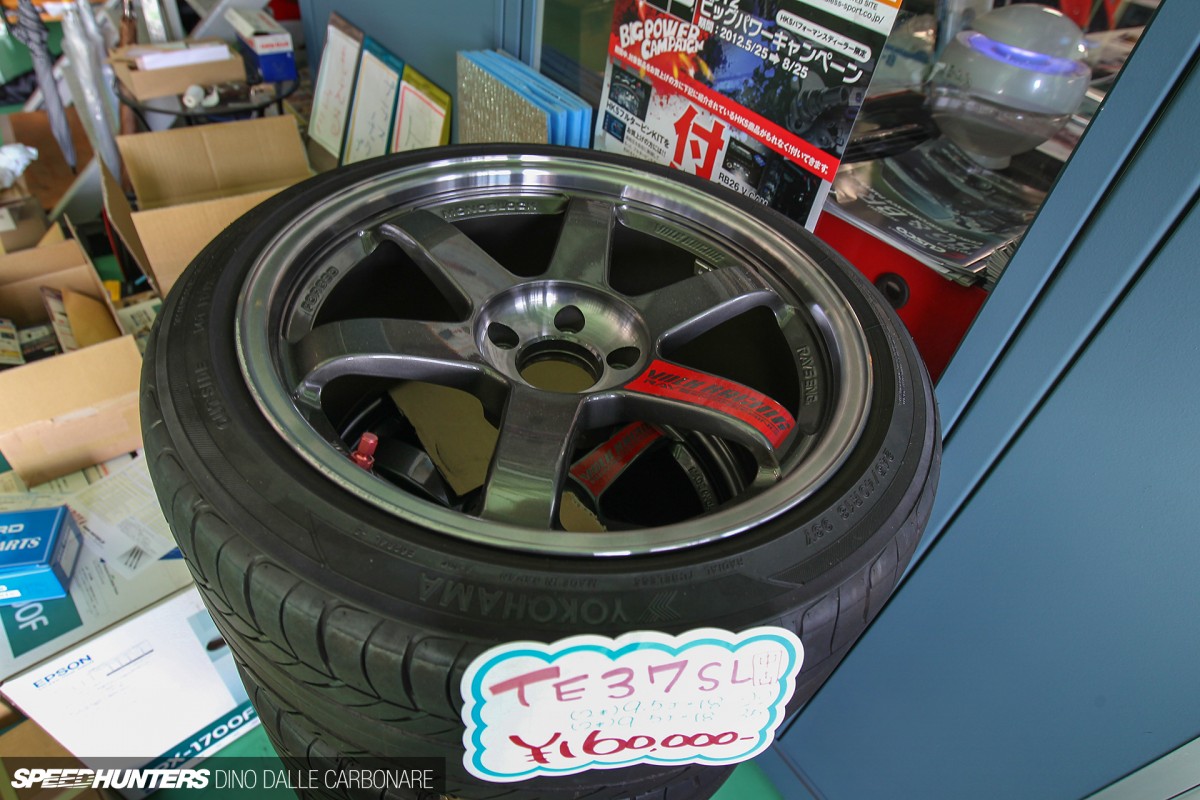 Right outside the showroom I spotted a couple of stacks of wheels. One of them was these four TE37 Super Laps shod in ADVAN Neova AD08 tires that were going for a very decent price.
Where The Magic Happens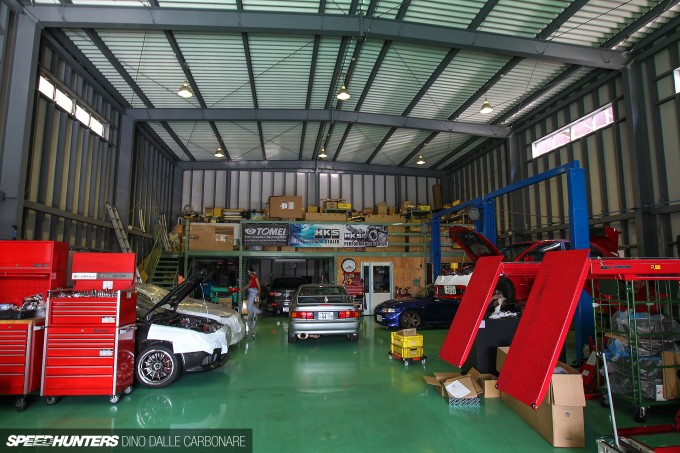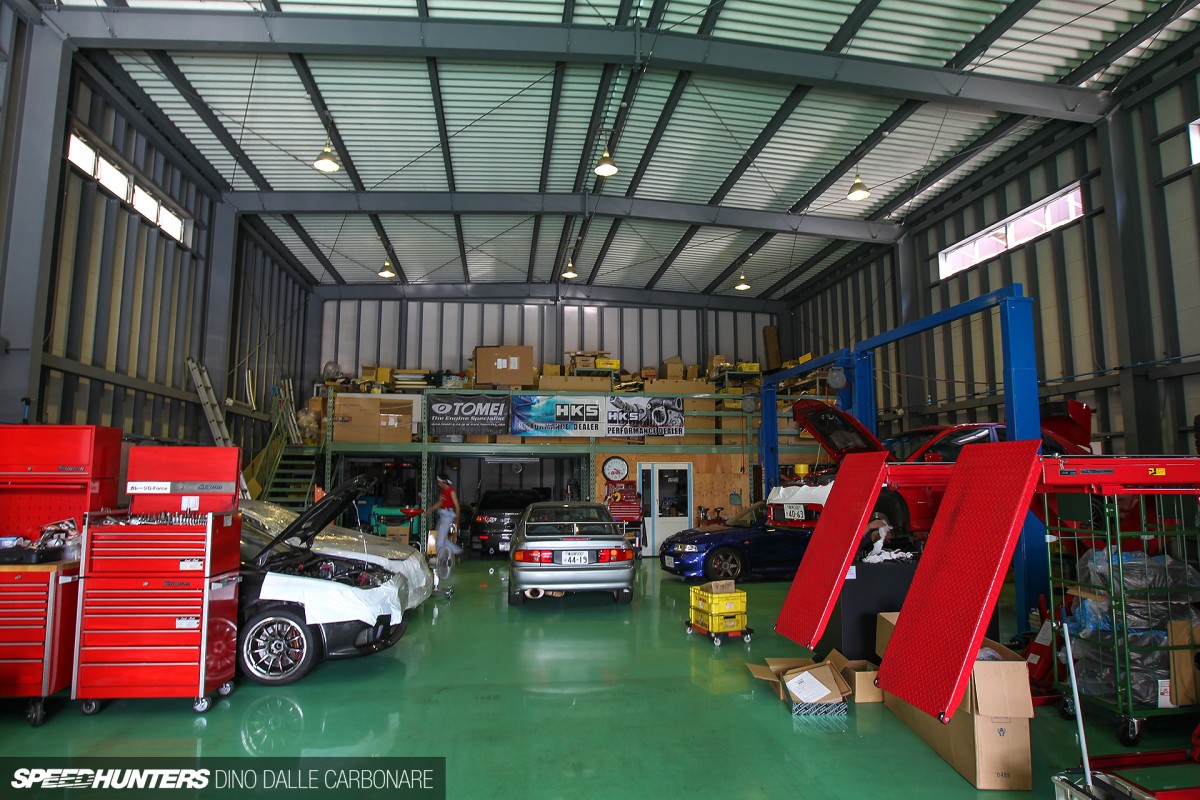 The workshop itself is very neatly laid out in comparison to many of the cramped Japanese shops we've seen in the past. Of course, everyone has their way of organising things in their own garage, so I'm in no way criticising – but it's nice to see a little cohesion to it all every once in a while. On the left side is where you find three car lifts – one of which is used for laser wheel alignment. On the right side are a couple of other work areas where cars that don't need to be lifted can be tackled.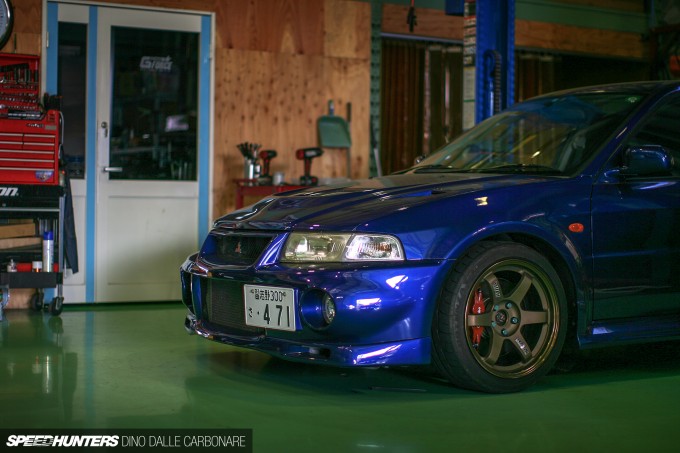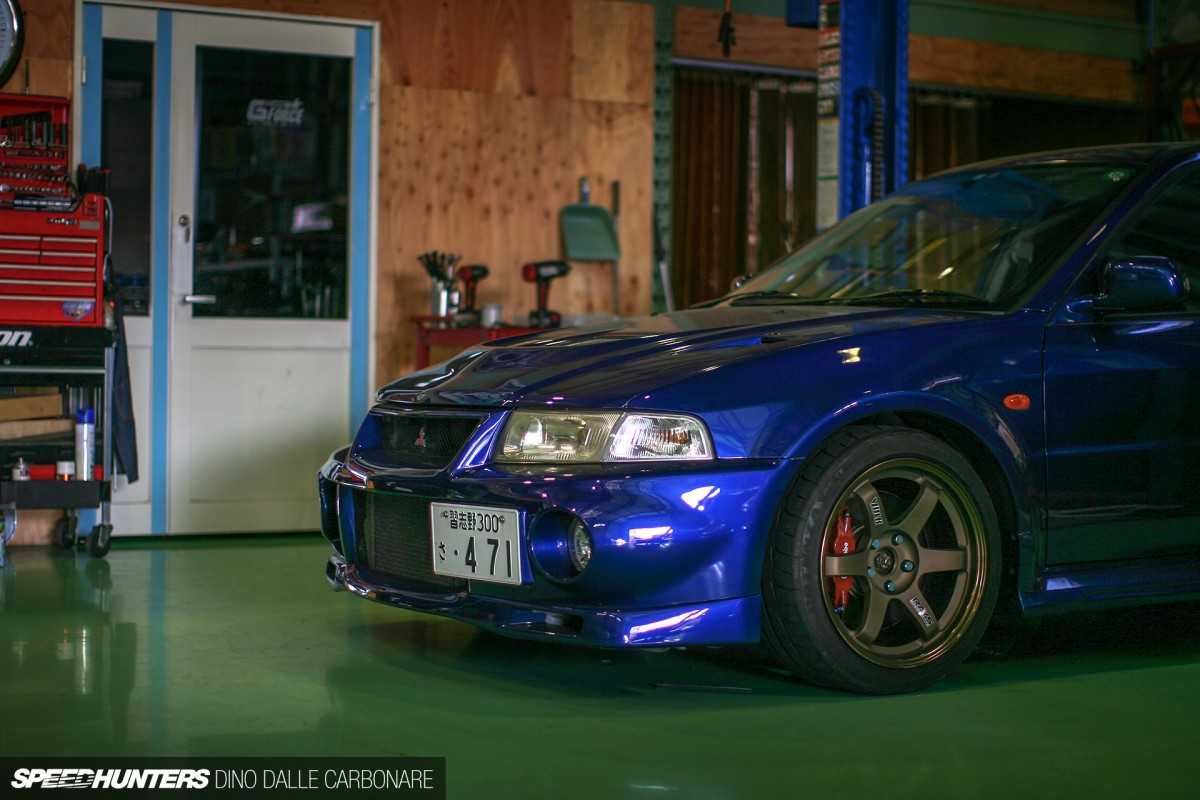 I'm one of those guys who has always believed that the last real Evo was the VI. So you can probably understand how happy it always makes me to see an example that has been meticulously cared for. If it was my choice I'd take a Tommi Makinen Edition every single time. These are true collector cars!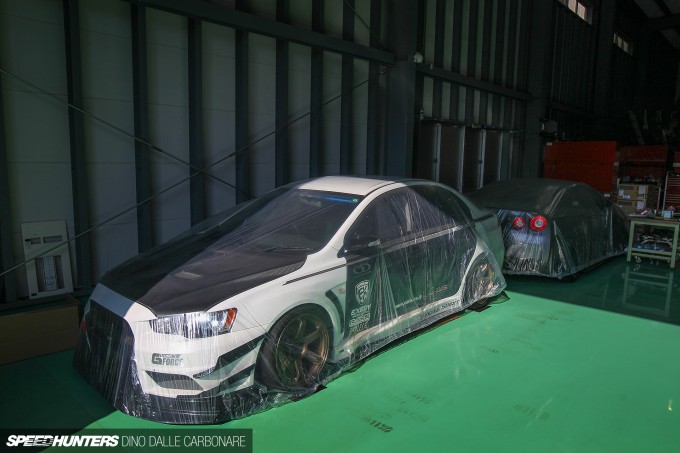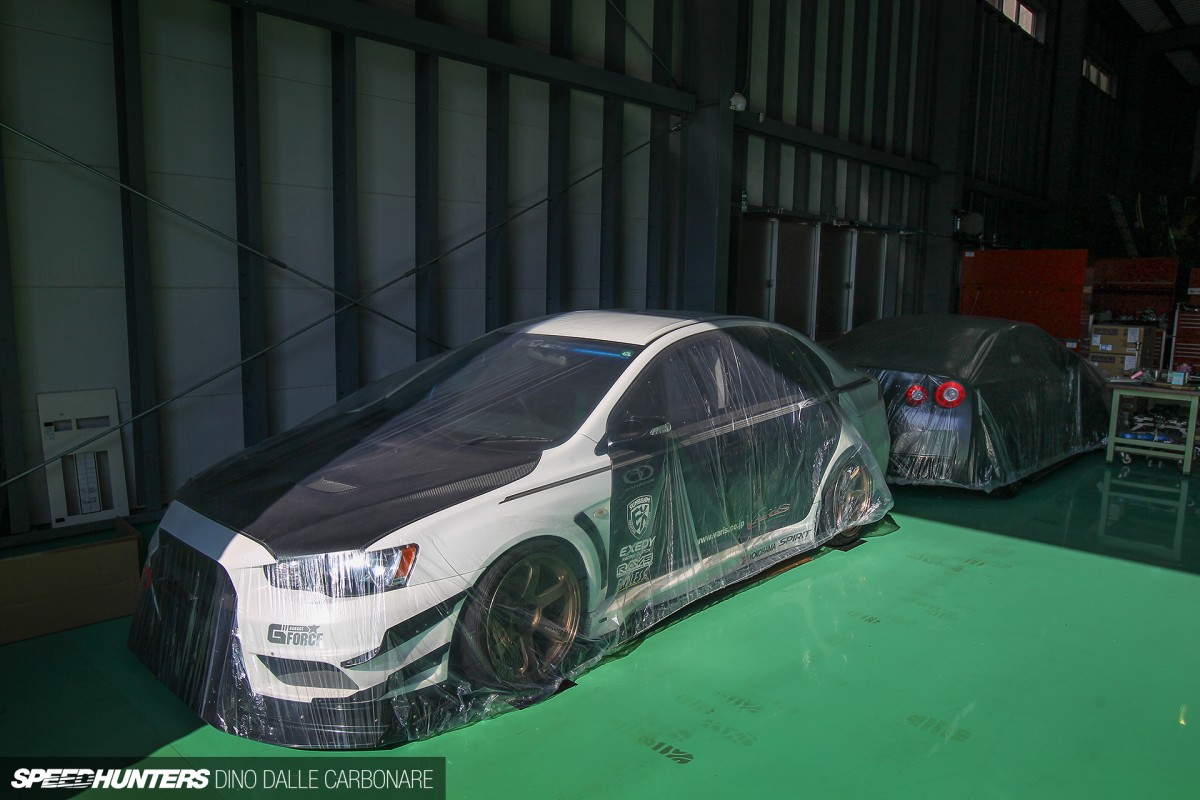 If your memory is good then this Evo X should seem quite familiar. I featured it back in 2011 after it ran an impressive 57.963 second lap time and become the quickest CZ4A around Tsukuba. The close-to-600hp monster was built in collaboration with a couple of other companies. Varis took care of the exterior and aero, and Sunbeam in Tokyo worked on the suspension, brakes and geometry. It's now sitting covered in the workshop while Tazawa-san figures out what to do with it next!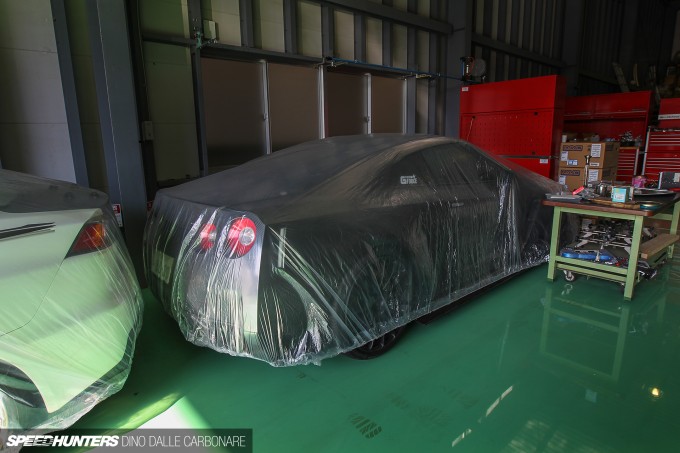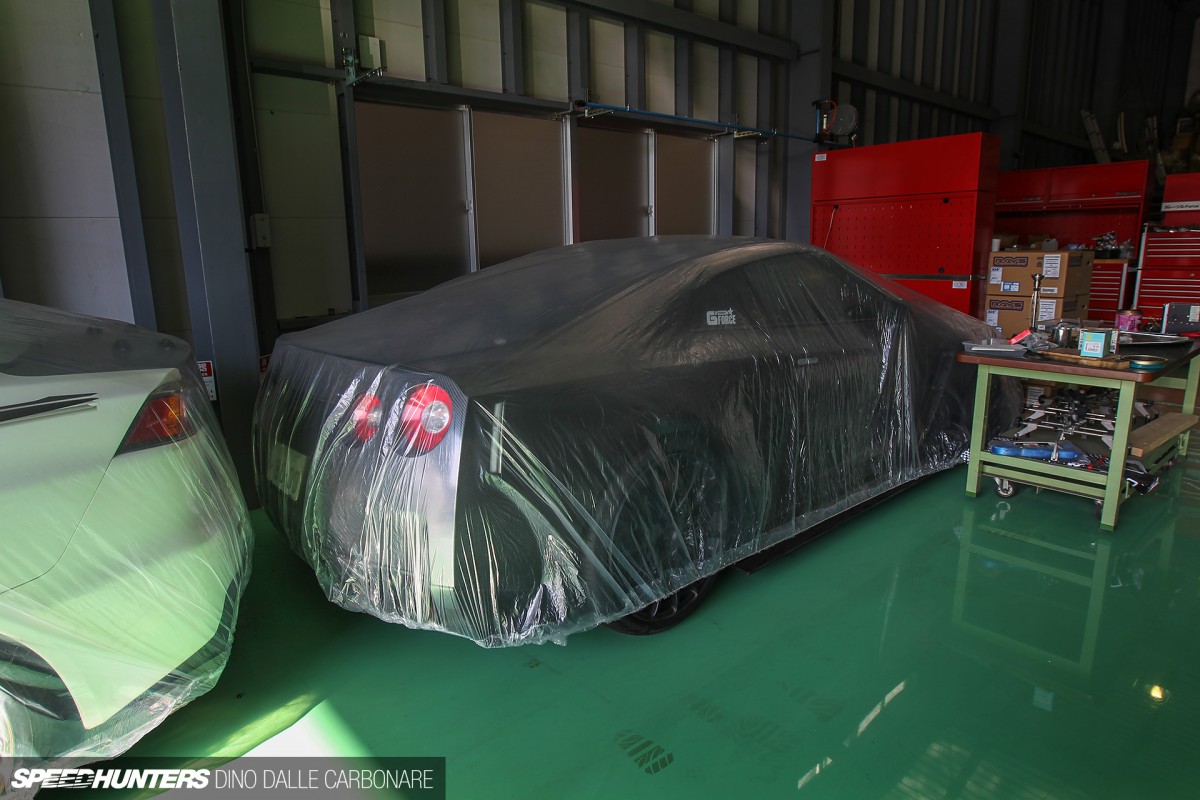 Right behind it was this rather special carbon-bodied R35 which was in for some maintenance. Well, if you call getting HKS's GT1000 engine kit fitted 'maintenance', that is! The car actually belongs to Nob, and he uses it when he's not driving his modded Nissan Elgrand around. Not too shabby and only a small fraction of his car collection, which also includes quite a few T&E kitted and prepared S-chassis machines.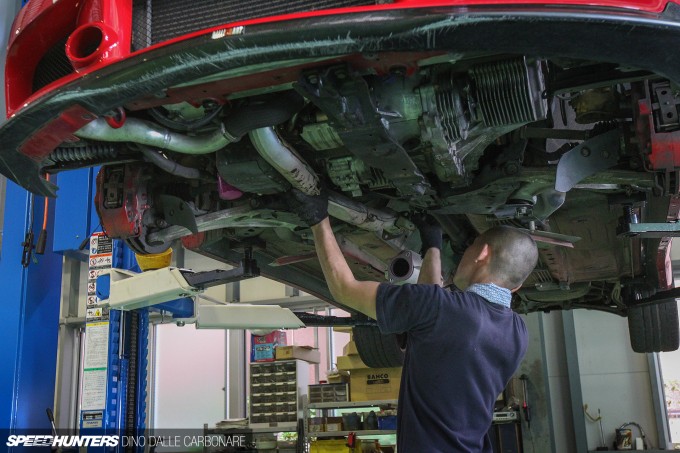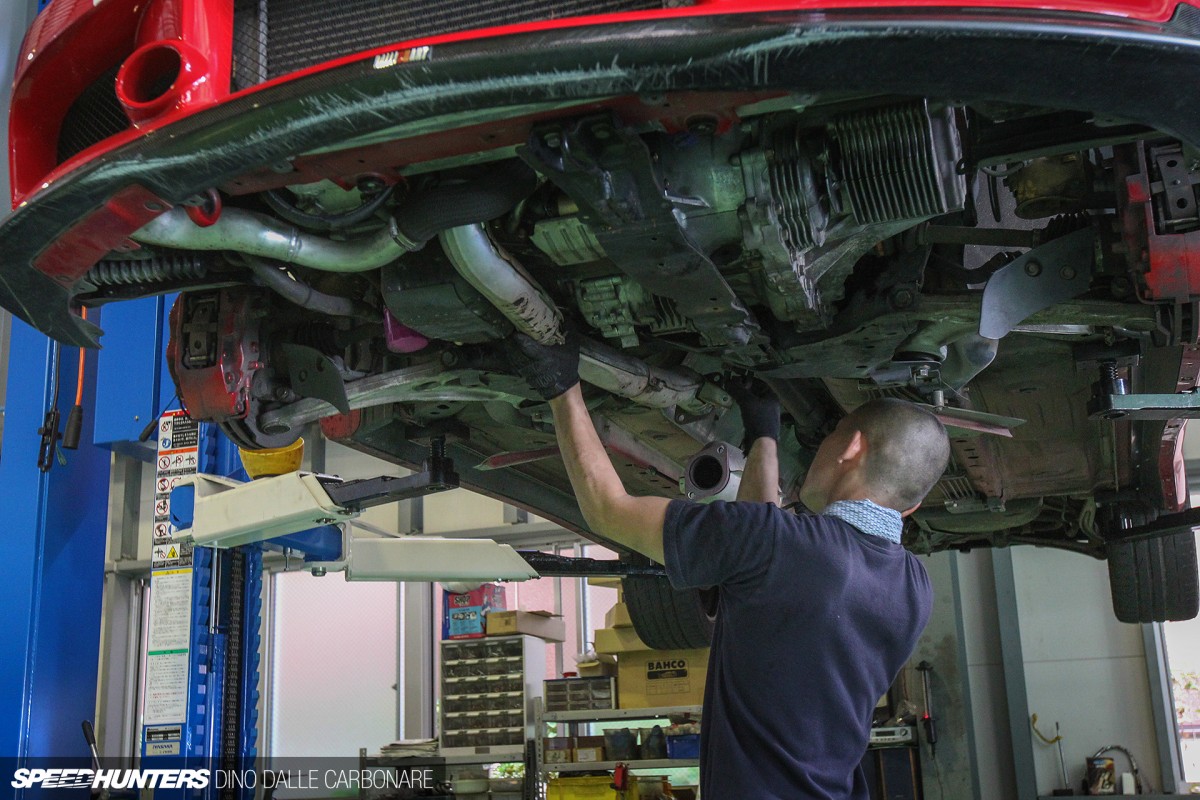 The red Evo IX on the lift in opening shot was in for some basic tuning. That included getting rid of the stock exhaust system all the way up to the front pipe, an induction upgrade, and then onto the dyno for some ECU fettling. A simple boost-up package like this can bring the car up to around 400hp, with some really big gains in the midrange where the MIVEC can be made to do its thing.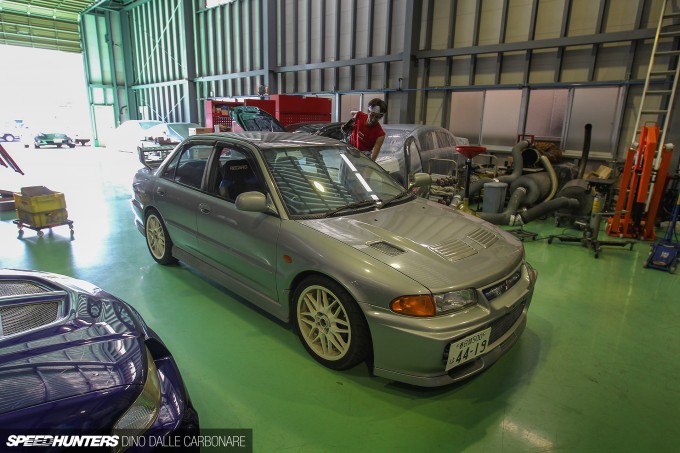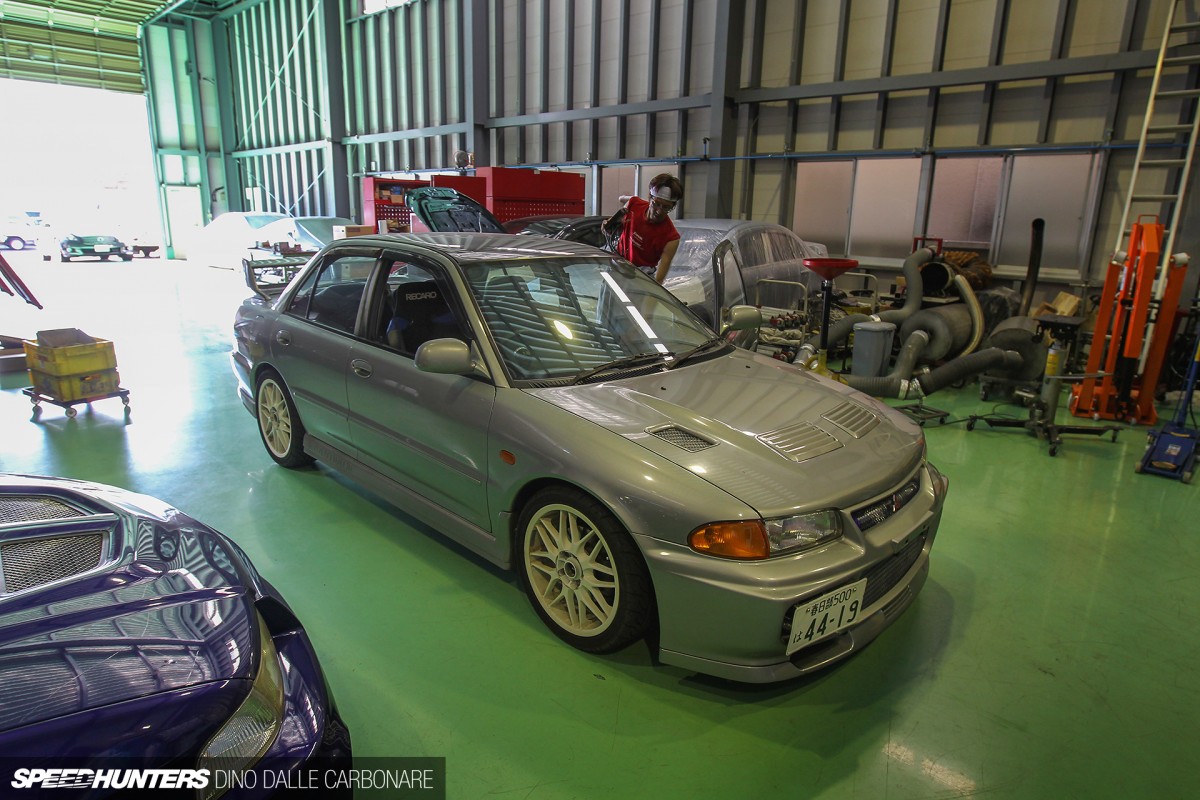 It was cool seeing the Evo III I featured last year – a car that you guys seemed to like a lot. Garage G-Force may be working with the 4B11 more often and moving into tuning R35 GT-Rs, but they sure don't forget the older cars. In fact, I have to return there soon to shoot their old school Lancer that I showed you earlier in the year during my Tokyo Auto Salon coverage.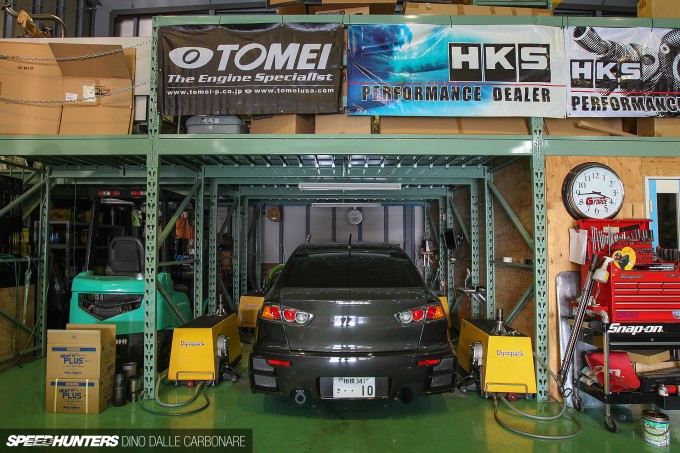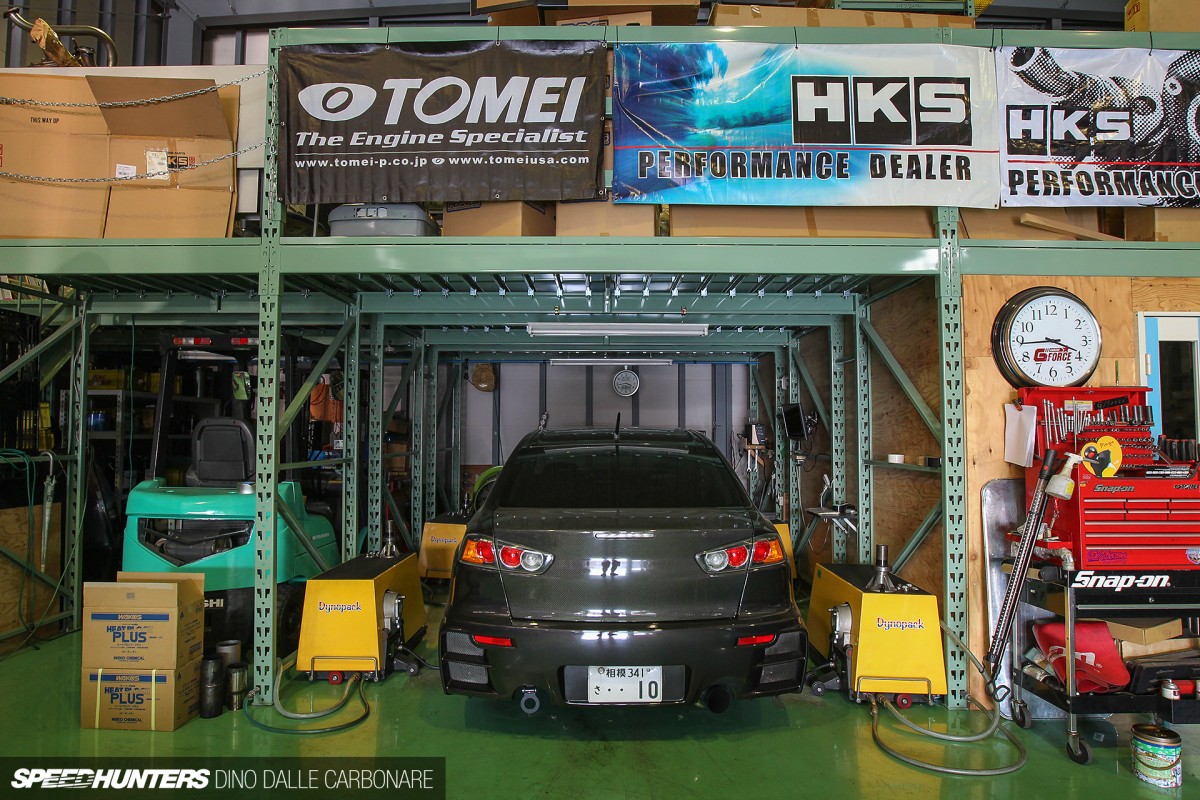 One thing that G-Force and Tazawa-san have always been highly regarded for is their ECU set-up skills and ability to get the most out of any engine set up with plenty of safety dialled into the maps. To do this they rely on a hub dyno which is run out of the bottom of the shop.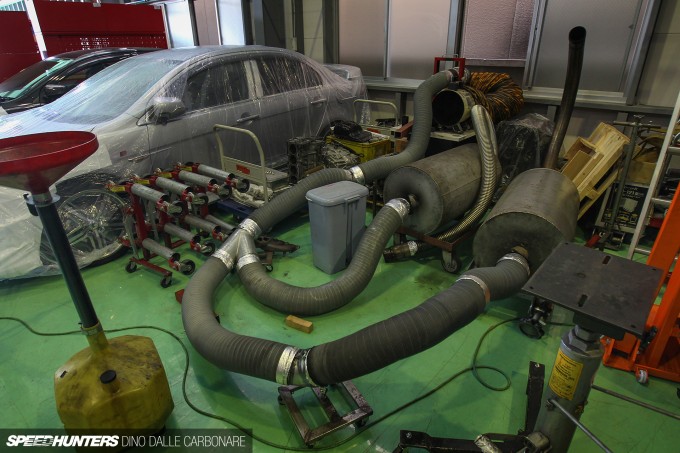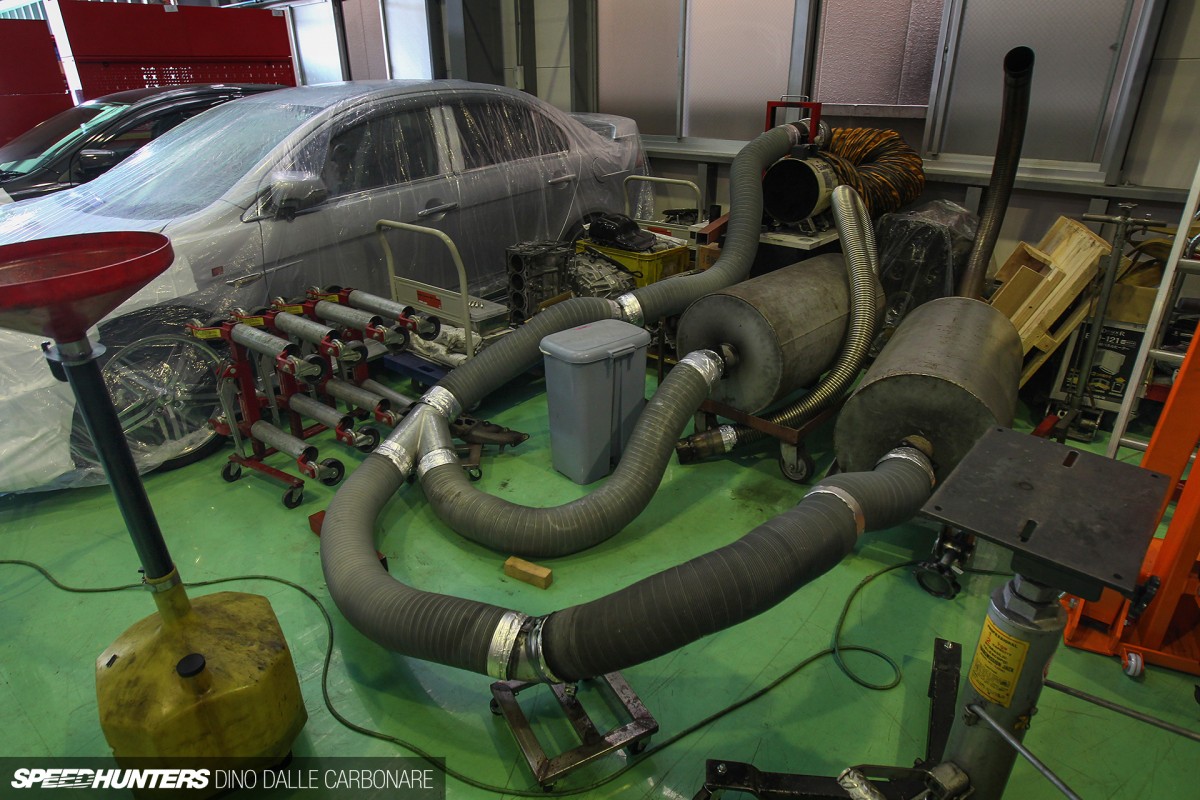 Keeping cars as quiet as possible and those nasty exhaust gasses out of the garage requires the use of some rather massive silencers. The tubing then routes gasses towards a big extractor.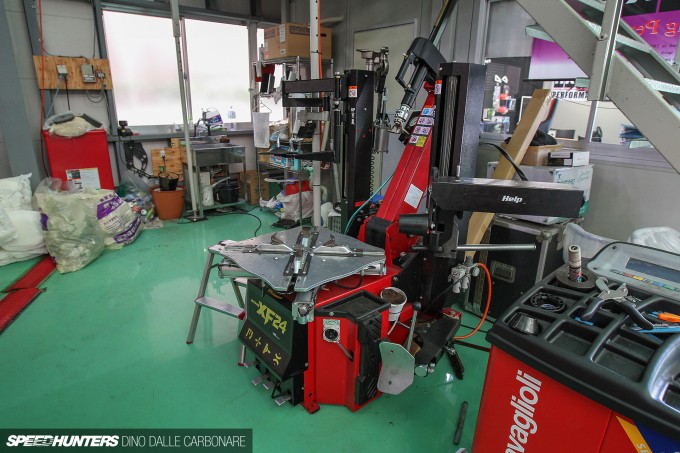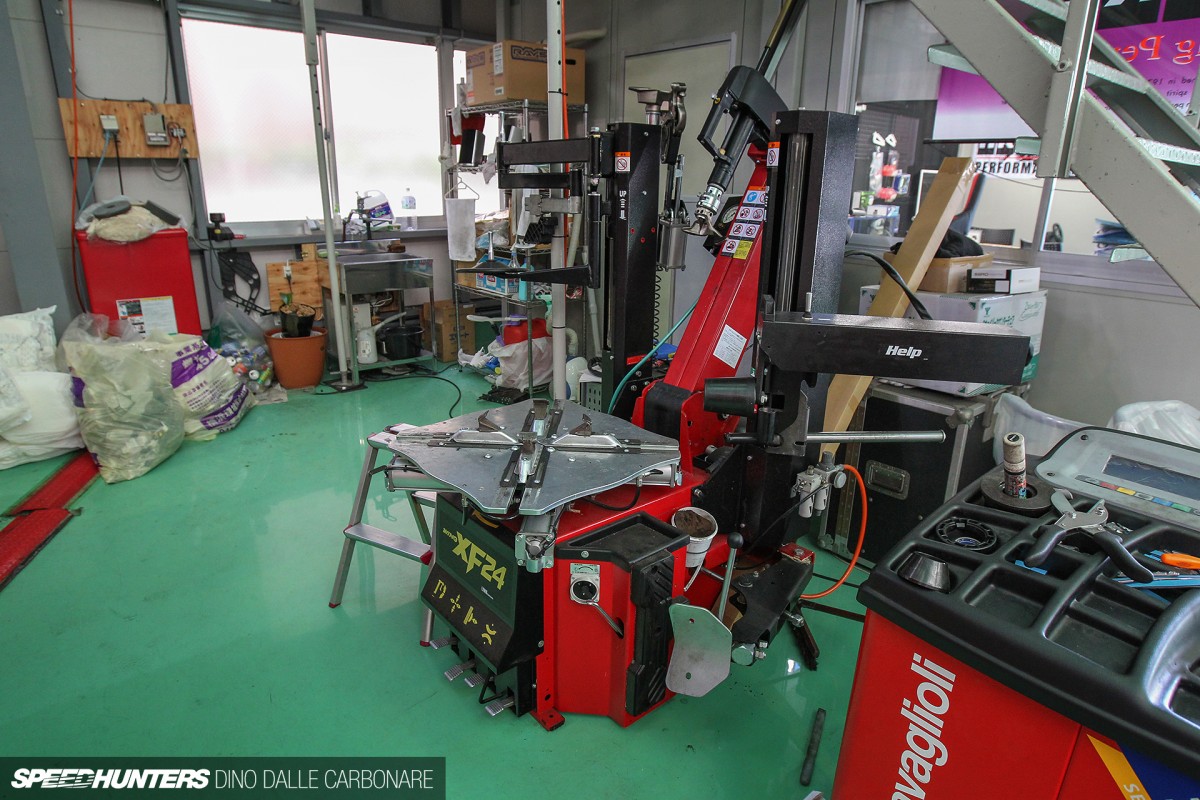 One of the most convenient and cost effective ways to get a set of new wheels and tires in Japan is letting your trusty dealer take care of it all. Not only are they able to offer prices that often challenge the main tire shops out there, but they're able to mount them and balance the whole set up on top-of-the-line machines.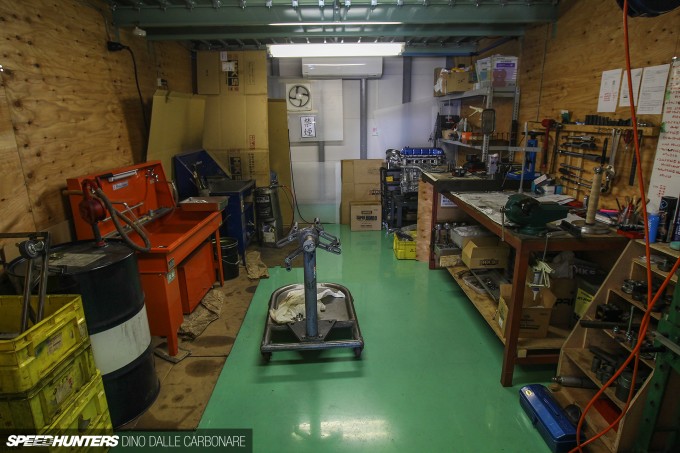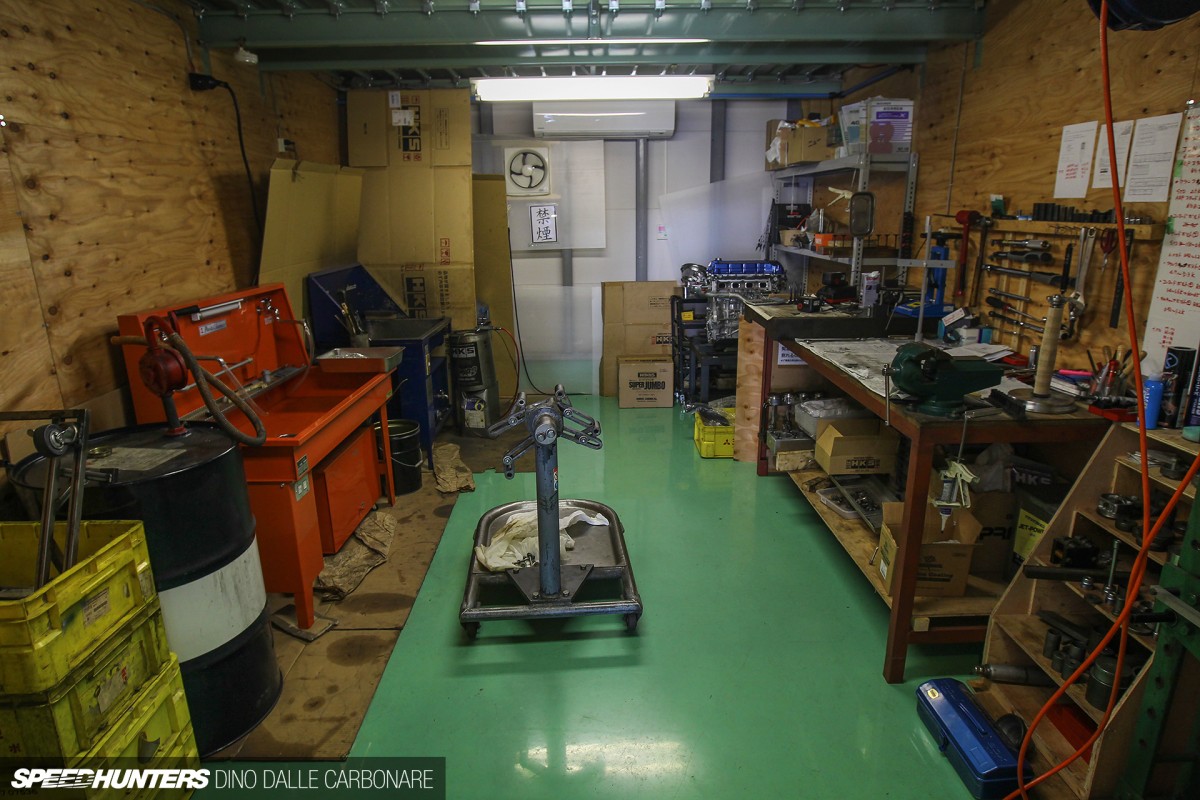 The final stop of the tour was the climate-controlled engine room where engines are taken apart, cleaned up, machined and finally mated to upgraded parts.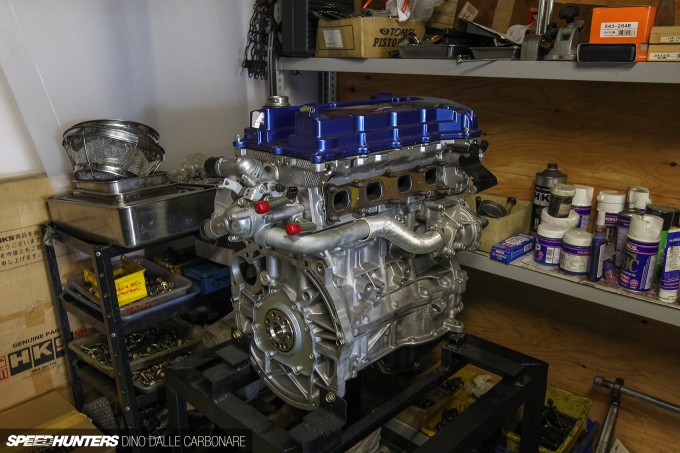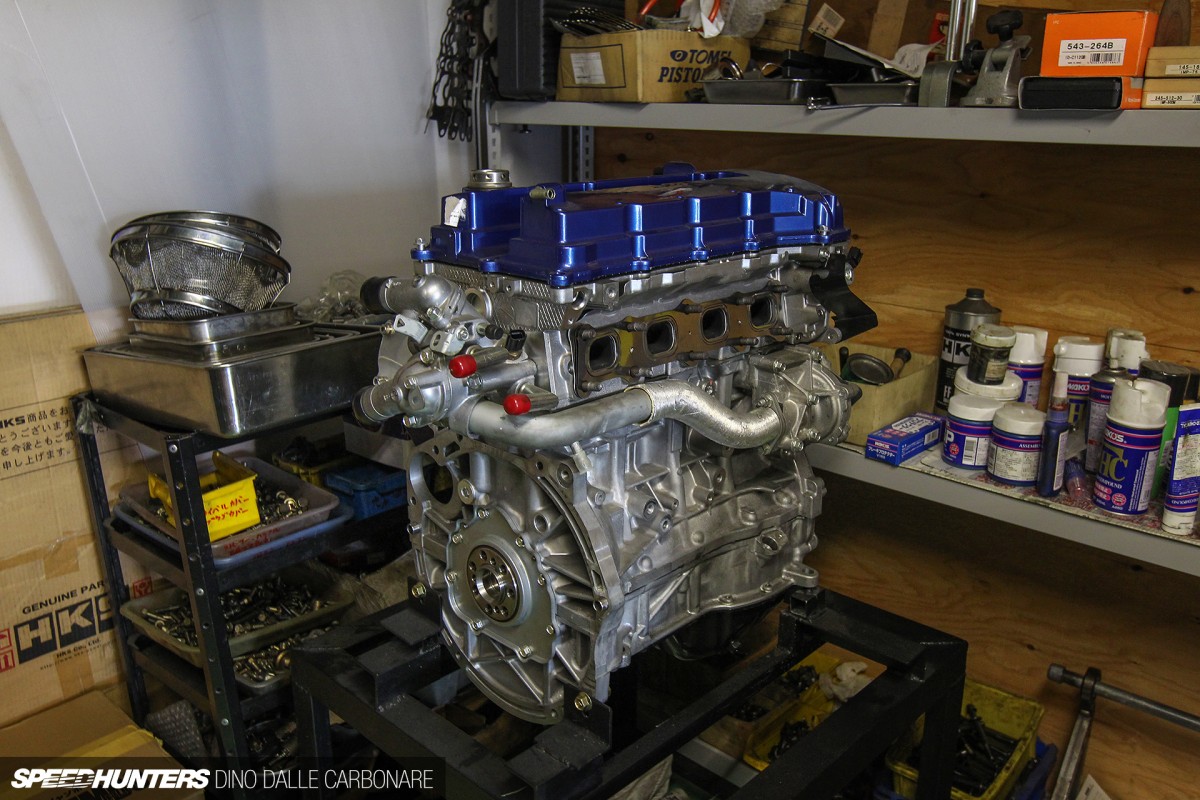 This 4B11 had just been pulled out of a car and was ready to be upgraded with a stroker kit and a much larger turbocharger.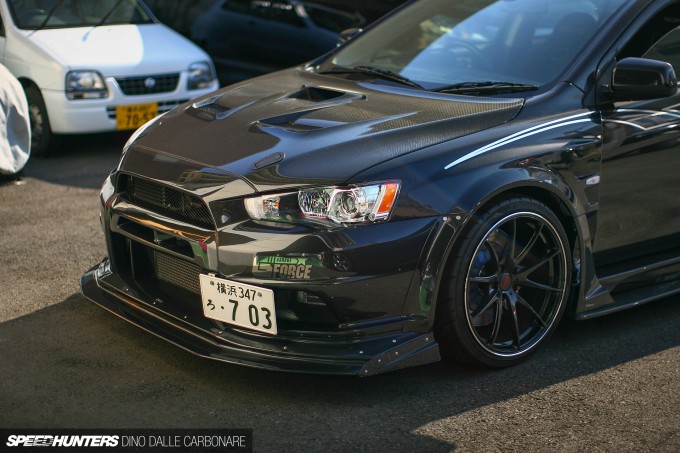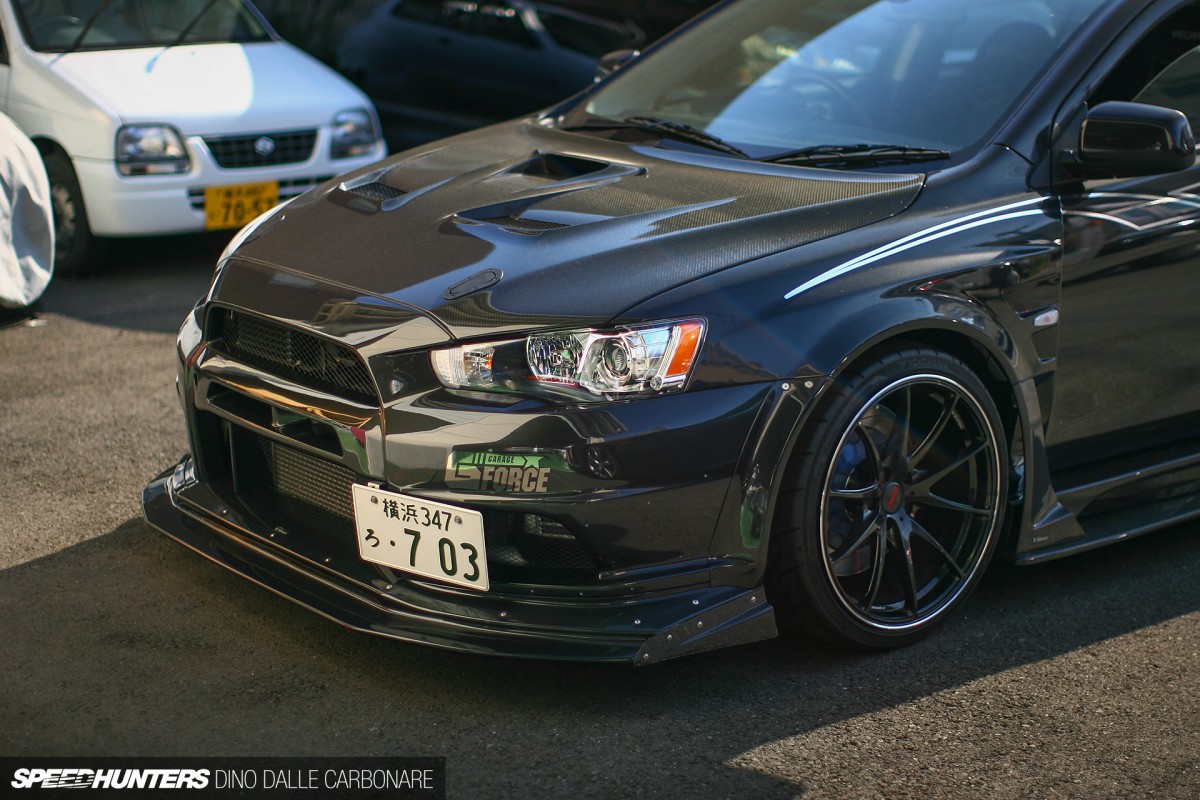 I'll leave you with a little sneak peak of Garage G-Force's Evo X demo car which I managed to shoot a full feature on the very same day. There will be a few other cars that I will have to return for too, because Tazawa-san is definitely one guy that never stops pushing boundaries!
Dino Dalle Carbonare
Instagram: speedhunters_dino
dino@speedhunters.com