The way it used to be
This is it for me right here: cars like the Endless Street Drag-R epitomise the Japanese tuning world. It's machines like this that originally lured me in; grabbed my attention and hooked me into a couple of decades worth of pure and almost indescribable attraction to the scene… and the Skyline GT-R. Despite not particularly being into drag racing, I just can't help but be fascinated with the whole street culture that it originally created in Japan – a scene that despite now being a shadow of its former self, still exists thanks to a few dedicated otakus.
Like we saw in my recent shop tour of Endless, Sugino-san, along with member shops of the RH9 alliance, continue to cater to the demands of customers that enjoy bettering their times at the drag strip. And despite the R35 having come in and introduced whole new levels of performance and dynamics, it's the RB26 that still captivates the minds of owners out there.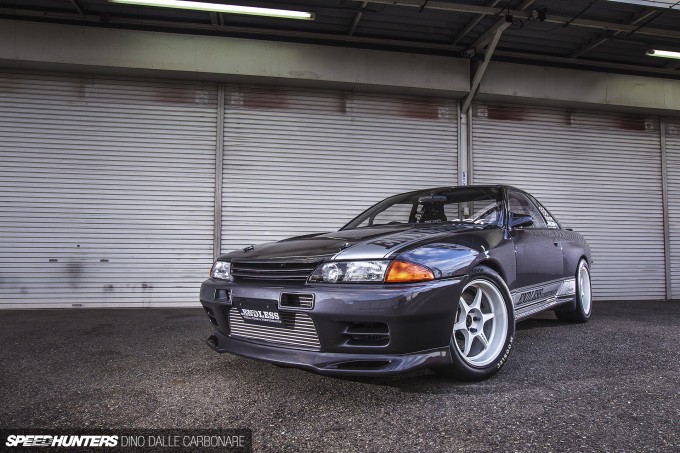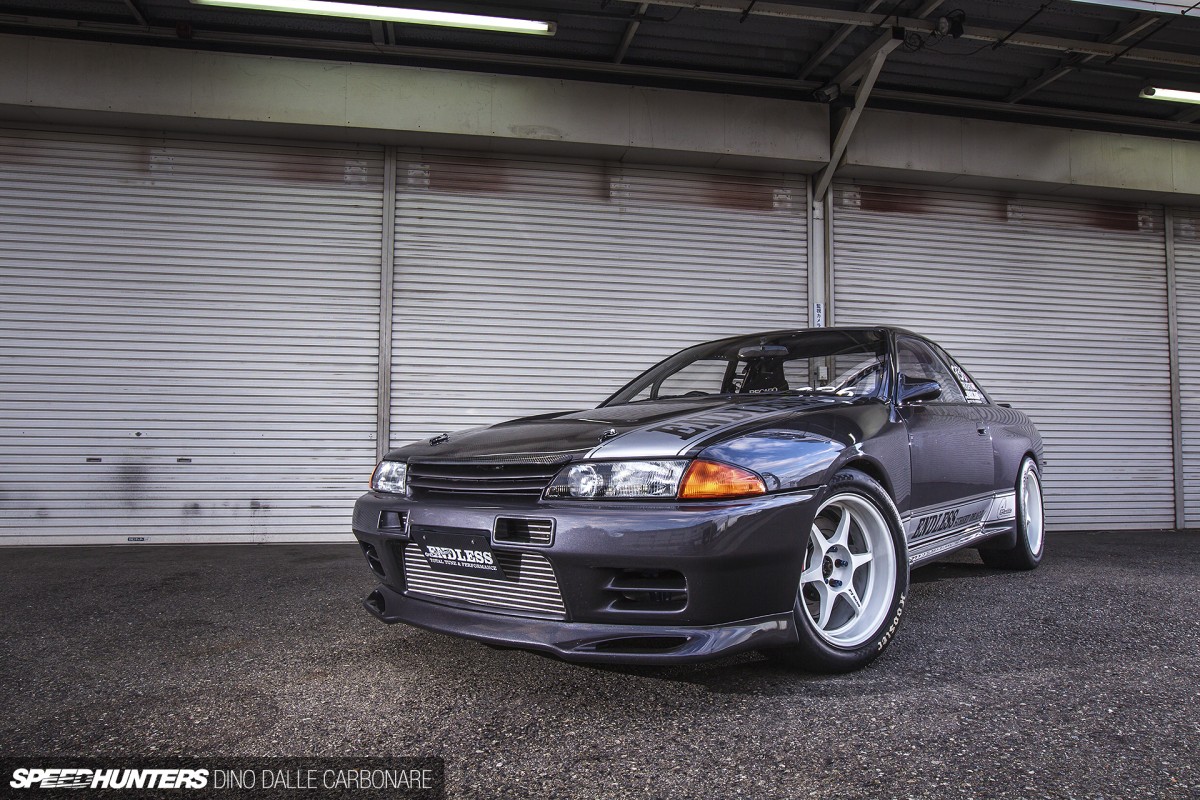 It's not surprising either, because as tuning knowhow evolves these older cars continue to hold up their heads high among the latest crop of supercars. Nissan certainly got a lot of things right when it designed the RB26, because this is an engine that first and foremost was destined for racing – an underlying quality that's always shone through as soon as you began fettling with it. The biggest mistake I think Nissan ever made was to drop it and move onto V6s, but that's a whole other issue, and one I could probably dedicate a whole post to! But let's go back to the car at hand here and find out what makes this seemingly-sedate looking, street registered BNR32 able to run 9.013 at 274km/h on an unprepared track. If you have even a remote interest in Japanese tuner drag racing, you will know that's an important number, and one that could potentially be a little faster on a proper drag strip. But unfortunately, there aren't really any of those in Japan.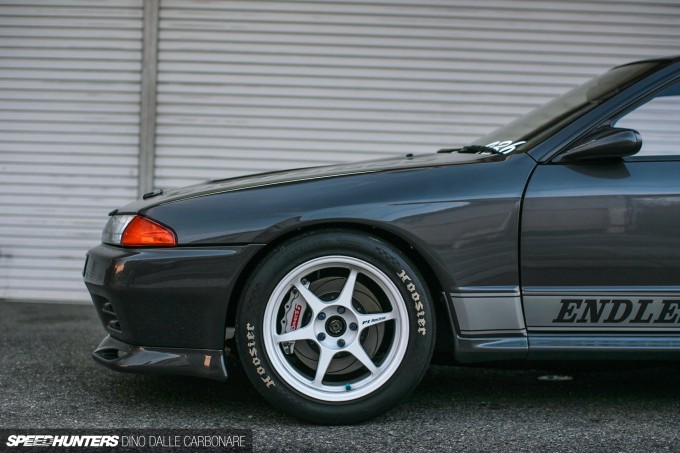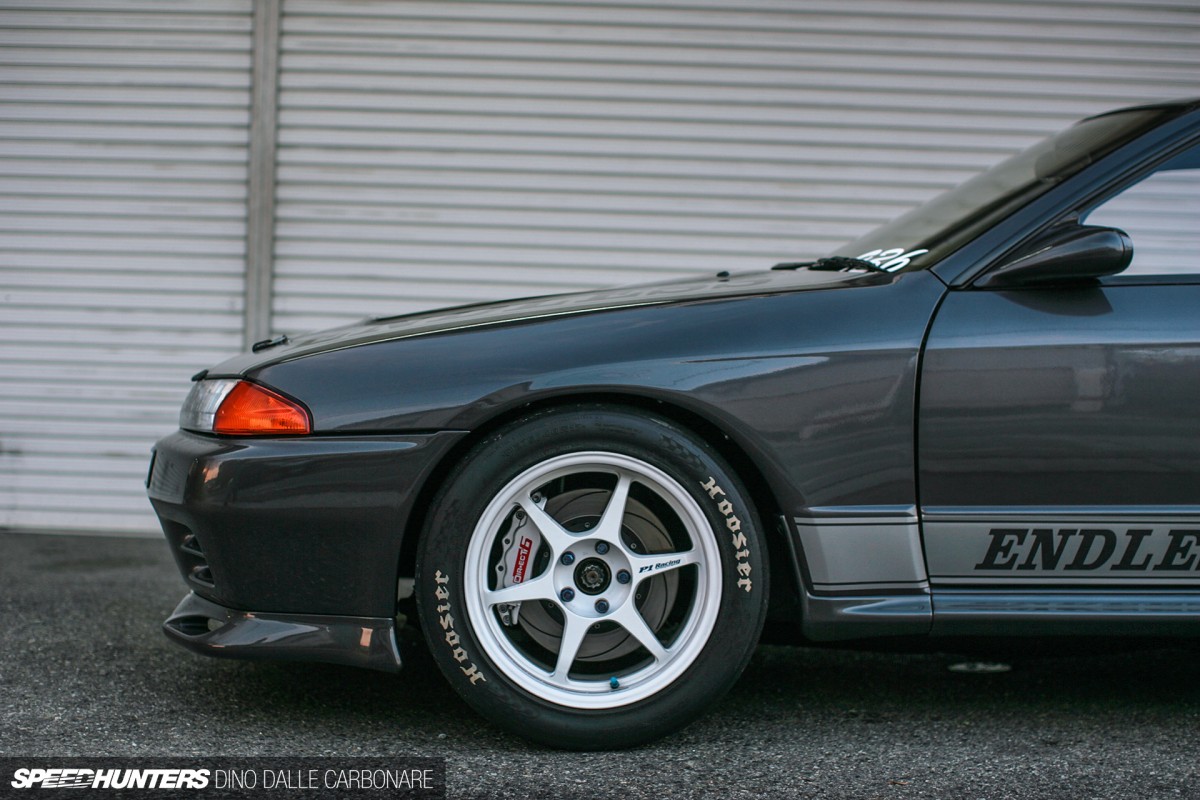 The whole approach to this car is spot on. It's simple and to the point, and oozes functionality no matter which area you care to look at. Take the body for example. Despite a few additions it's still boasting that stock shape, albeit smoothed out at the front with a lip spoiler and a carbon fiber bonnet – both from Endless. If you know your GT-Rs you will instantly notice the way it sits a little high compared to say, an R32 built for circuit.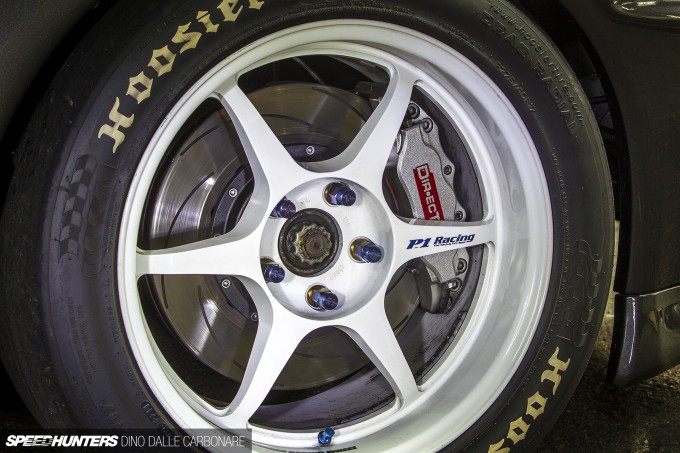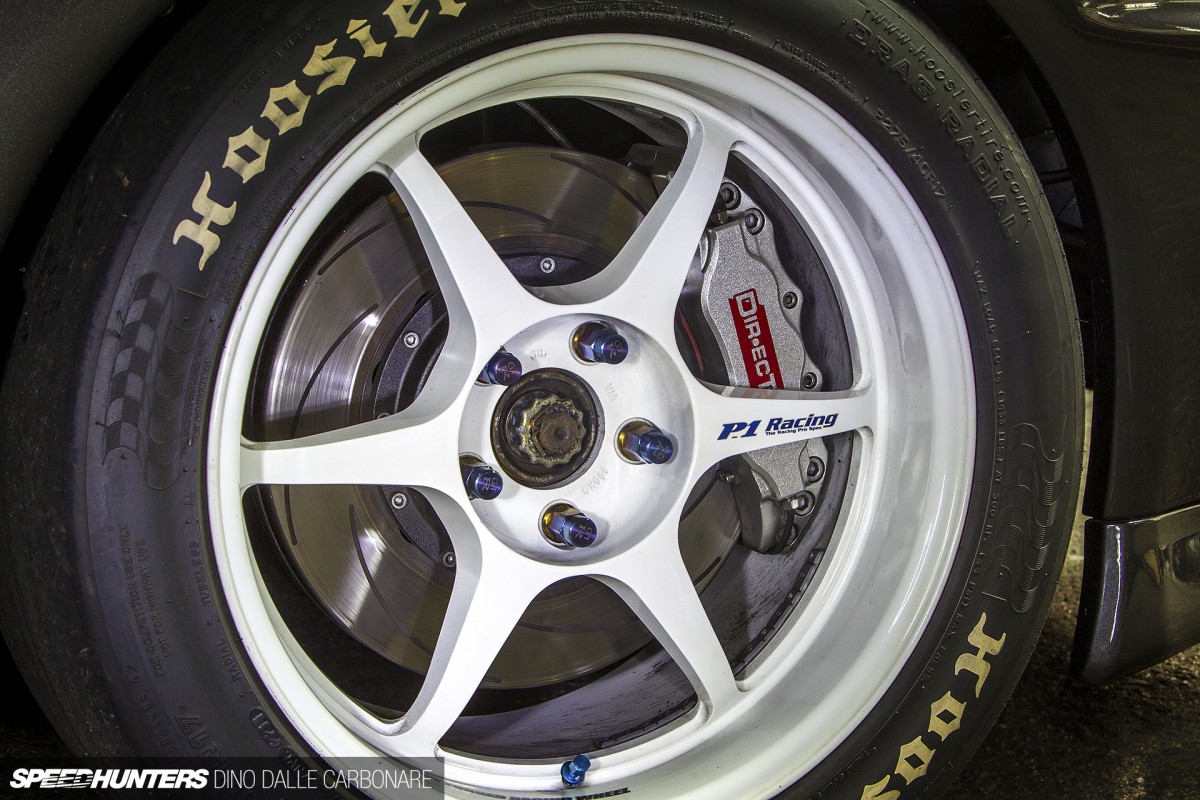 The 17-inch Buddy Club P1 Racing wheels are a fitting older design, and shod with a set of Hoosier drag slicks are a dead giveaway at what this car has been built to do. Hiding behind the thin spokes at the front end is Endless's own six-pot caliper brake kit – a necessary addition considering how quickly this car can pile on speed.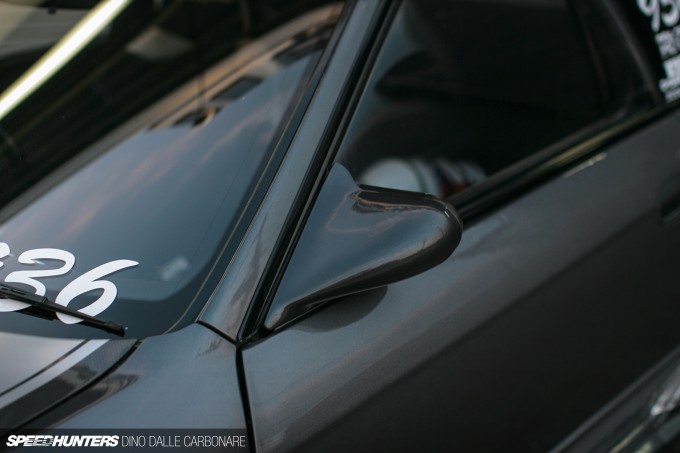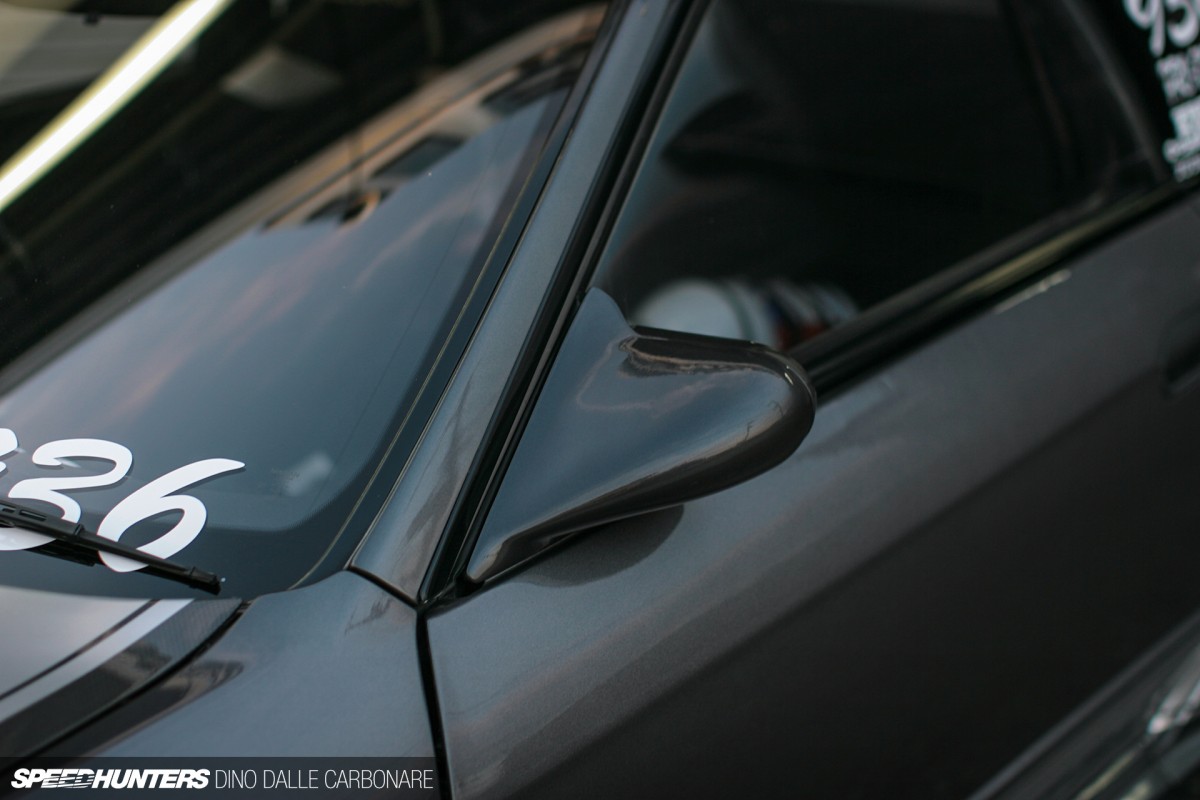 The aero mirrors are another subtle touch and there to cut down on aerodynamic drag. They're a functional addition, much like the lightweight Endless FRP doors which shave off a ton of weight from the center of the car.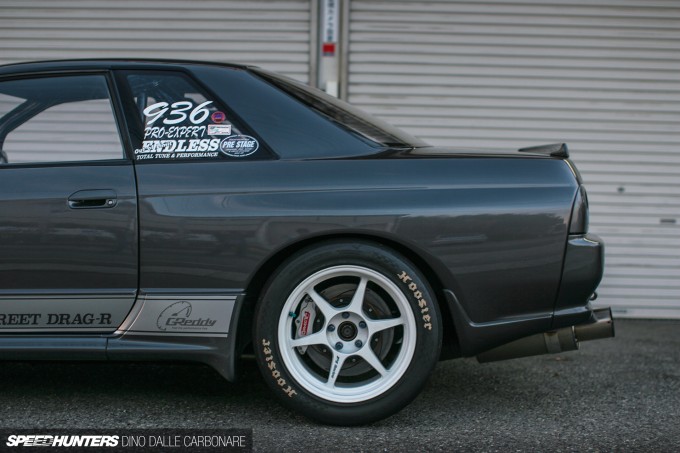 I've always been of the opinion that the R32 should either have a massive and functional GT-style rear wing, or nothing at all. Again, this is one area where the Endless car does it completely right. The omission of the factory spoiler is a great touch and the little carbon Endless trunk lip finishes things off nicely. To balance out the newfound braking power up front, a set of smaller Endless four-pot calipers replace the stock two-pots at the rear, fitted along with grooved two-piece rotors and special drag compound brake pads.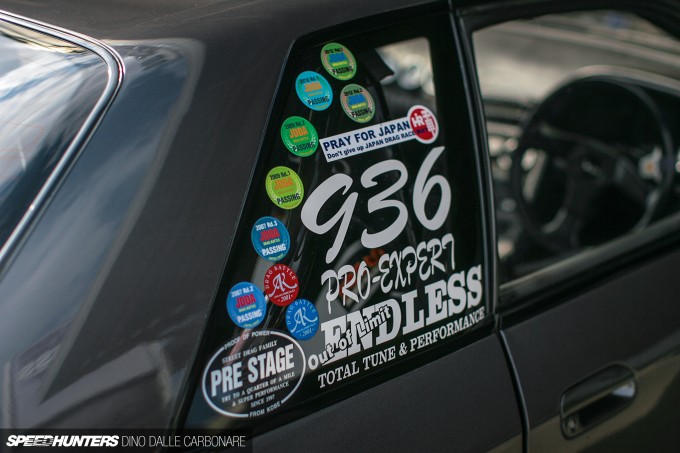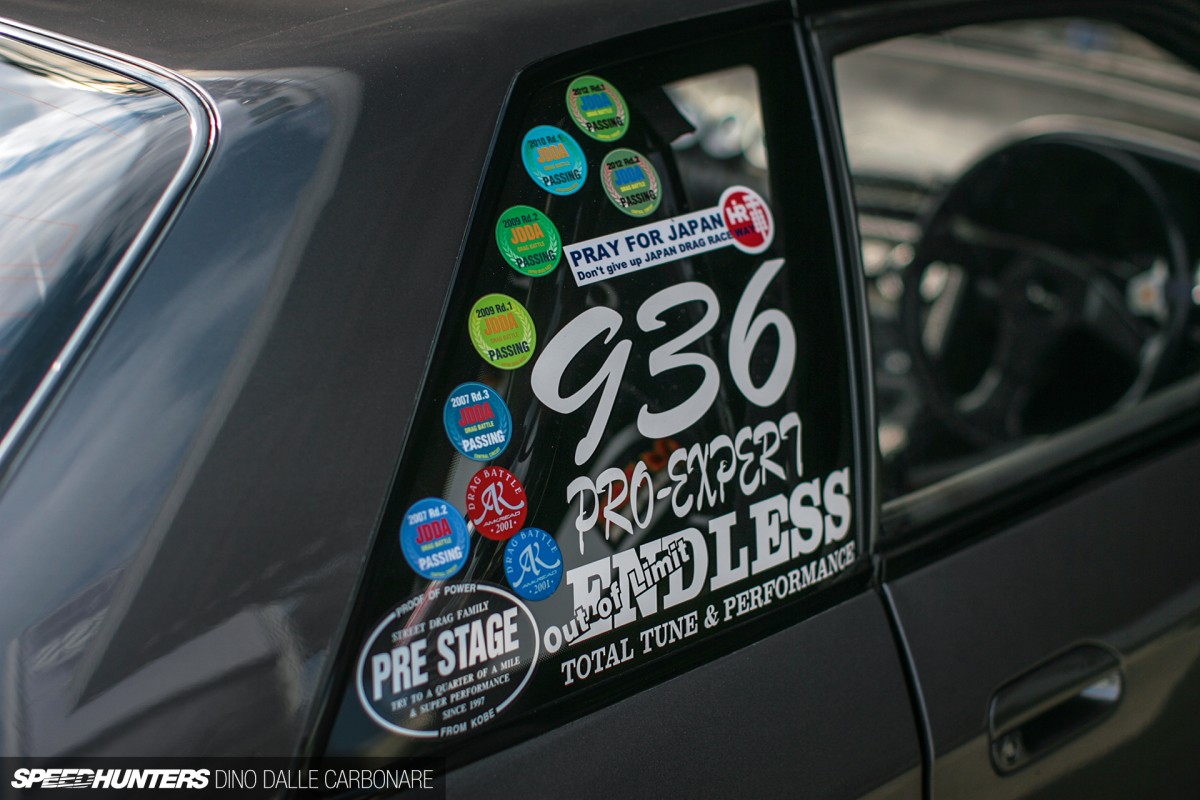 The driver's side three-quarter window proudly displays all the JDDA (Japan Dragrace Driver Association) events the car has been entered in. It's pretty cool they've kept all these don't you think?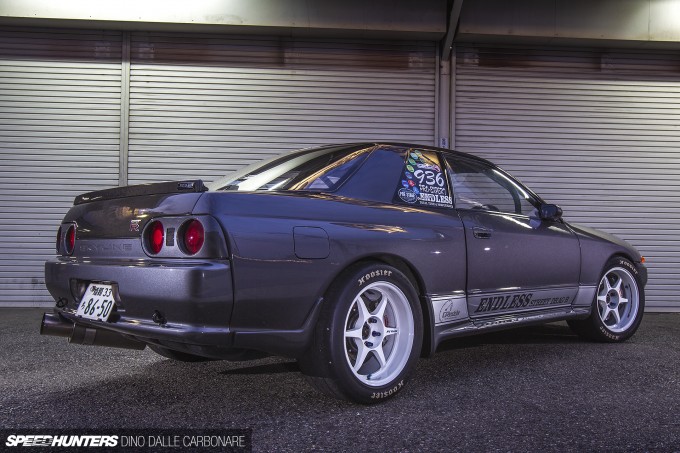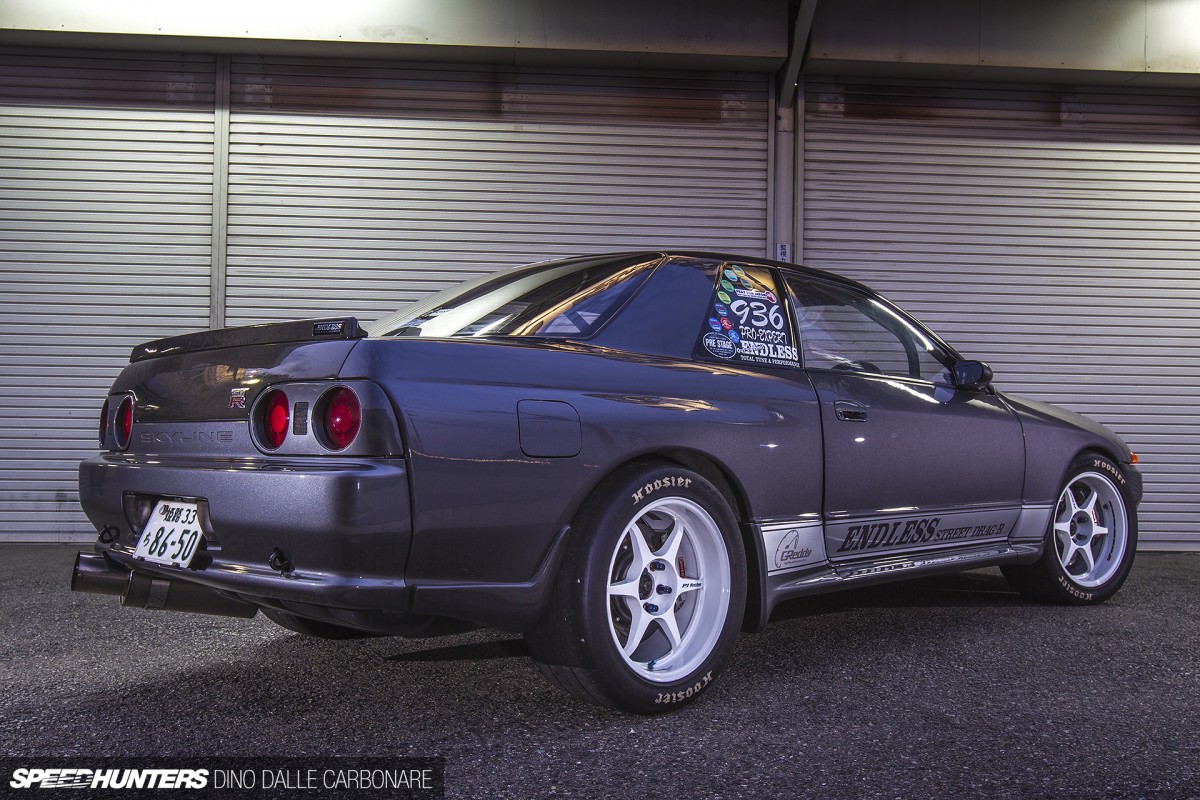 You hear the word 'stance' so often these days, but to me this is what its all about. I've got nothing against cars that sit well, but I'm sure you know what I'm getting at here! That carbon fiber trunk lid with the little Nismo-inspired lip spoiler are the such nice touches, and you know they are there for a reason, not to merely dress up the exterior.
Eat your heart out VR38DETT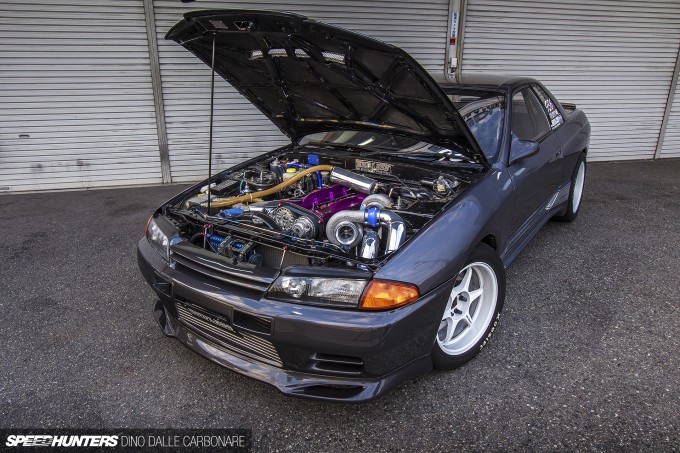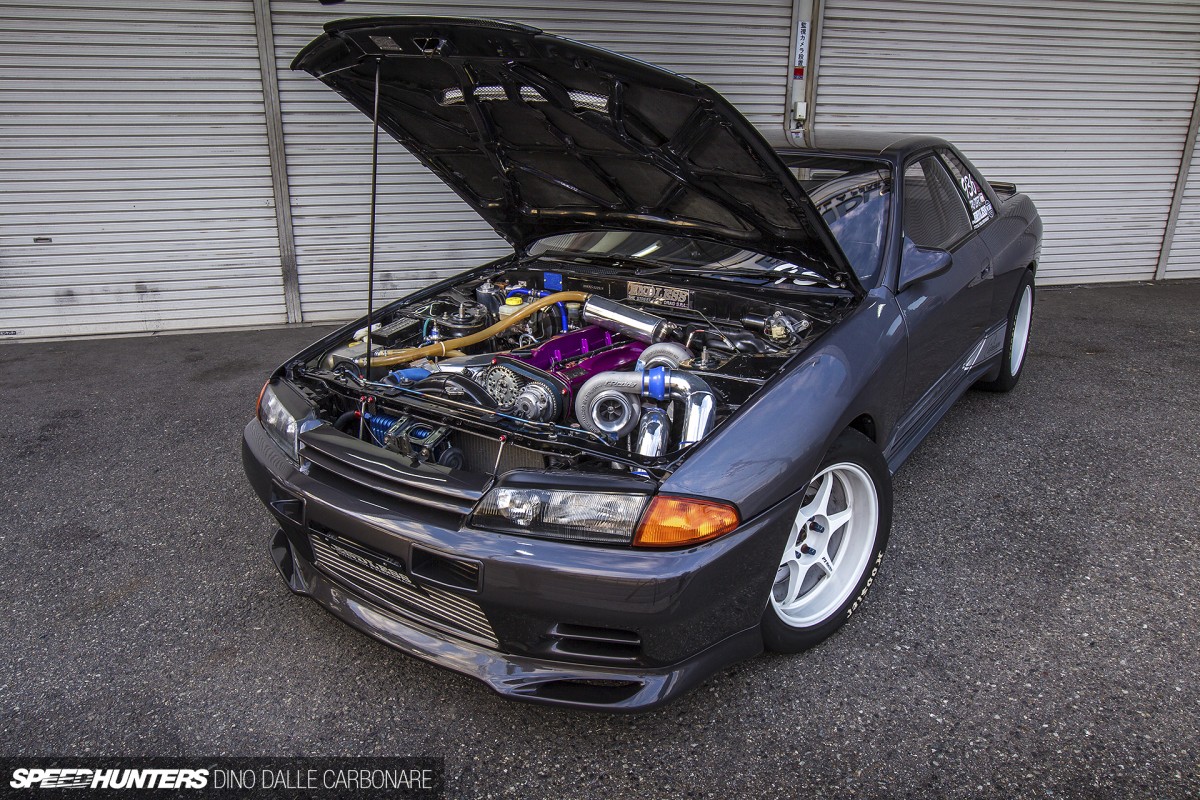 We have seen R35 GT-Rs get up to ridiculous power figures well above the 1000hp mark, but am I the only one that thinks that even at those levels their engine bays leave a lot to be desired? No such problems with this BNR32!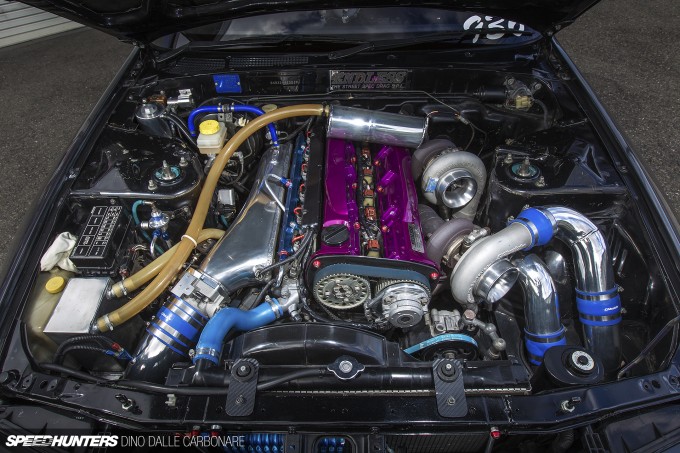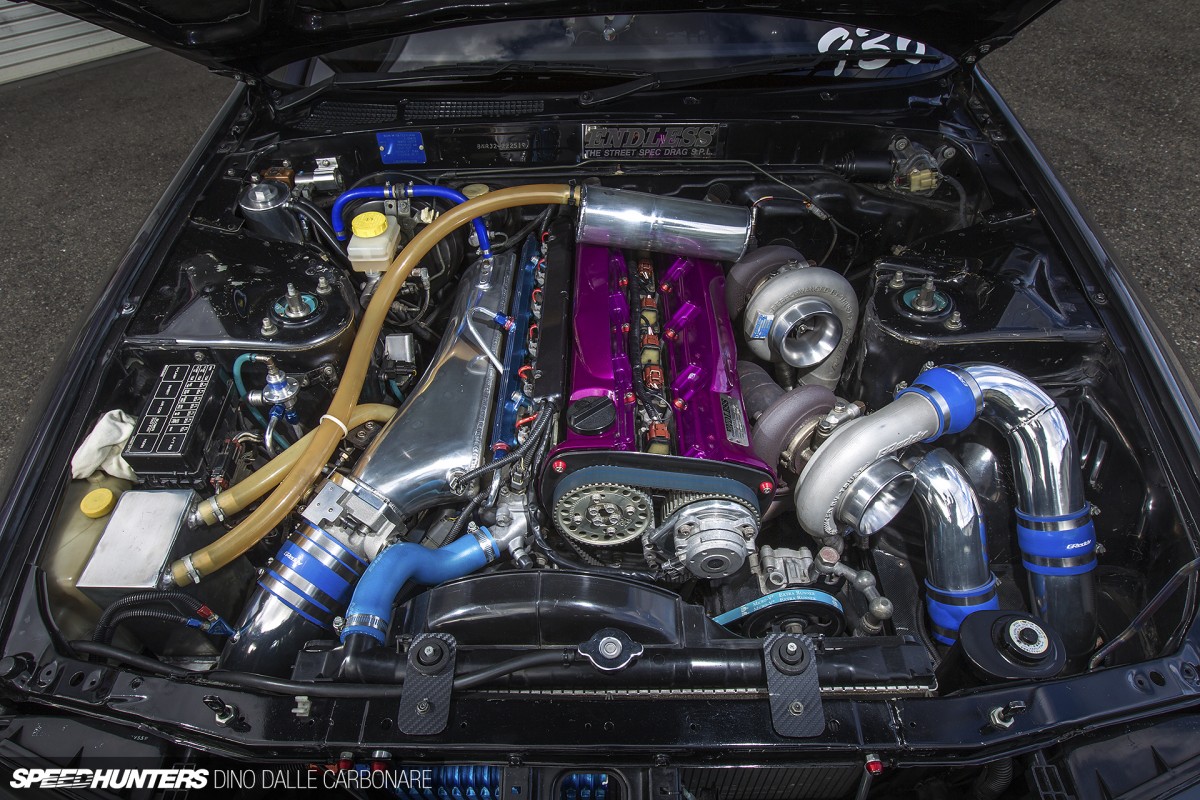 Sugino-san really went to town on this motor, throwing at it all the tricks that Endless has learned over the last few decades in the JDM drag scene. To start things off the whole engine is built around a thicker-walled N1 block, making sure that things don't go pop when throwing silly amounts of boosts into it. On these builds it's all about making power at high RPM, and hence there is no real need to extend the engine's capacity much over the stock 2.6L. However, making sure that the bottom end is up to the task of being pushed to its limits, lots of attention to detail was needed. Things like the stock crank, which was carefully balanced to the tightest of tolerances to make sure that it rotates freely and with negligible vibrations, along with H-section connecting rods and 87mm forged pistons, both from HKS. Keeping the oil in ample supply and where it needs to be at critical times is a modified 8L Endless sump with a custom pick up, and an HKS oil pump and cooler. Tons of custom work went into the head which was hand-ported and polished with intake and exhaust squish removal, and the best possible components thrown at it, such as A'PEXi Drag SPL valves, lifters and retainers, along with HKS high-lift camshafts.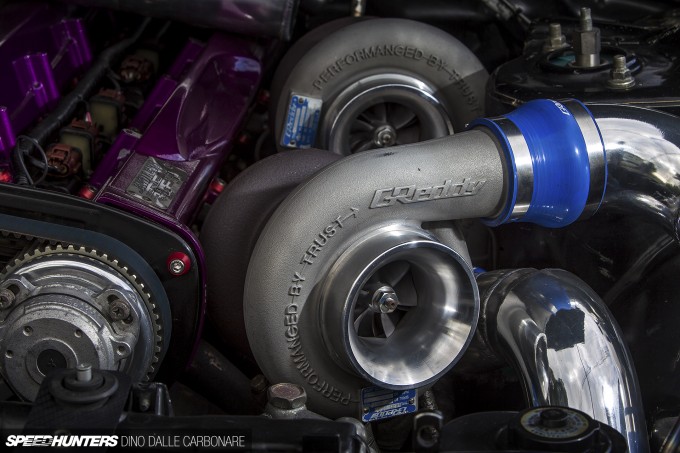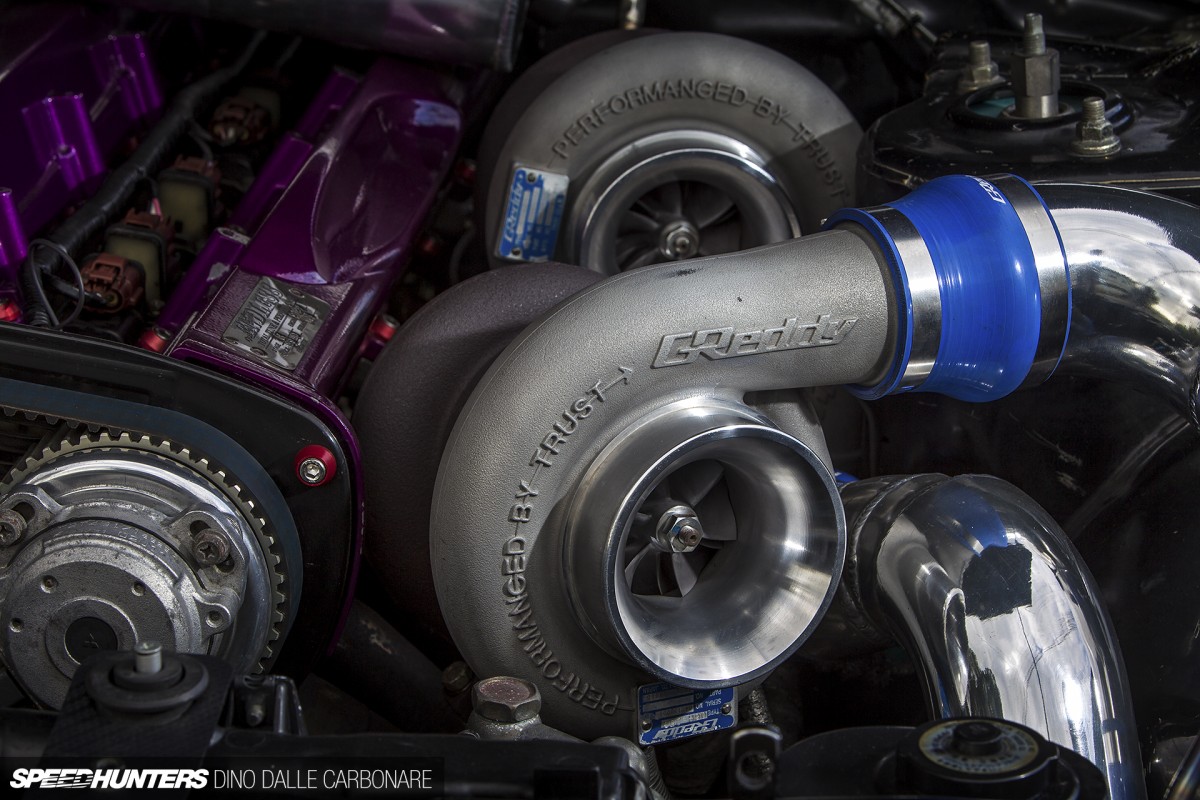 This is so the twin top-mounted Trust TD06SH-25G-10cm turbochargers could safely do their job of supplying the RB26 with 2.3bar of boost. Like typical GT-R drag applications, there's literally no space to properly line up turbochargers of this size, which is why they sit at an awkward angle to one another on special Endless stainless steel drag-spec exhaust manifolds. These filter-less beasts channel compressed air into a twin-entry Trust five-core intercooler which has the job of cooling down the intake charge to maximise its potential.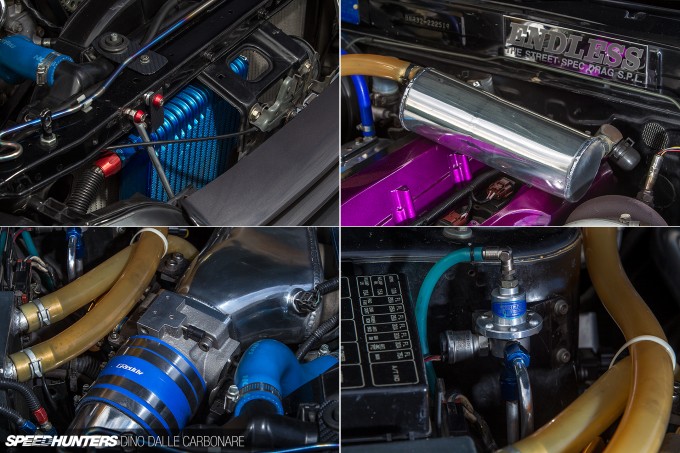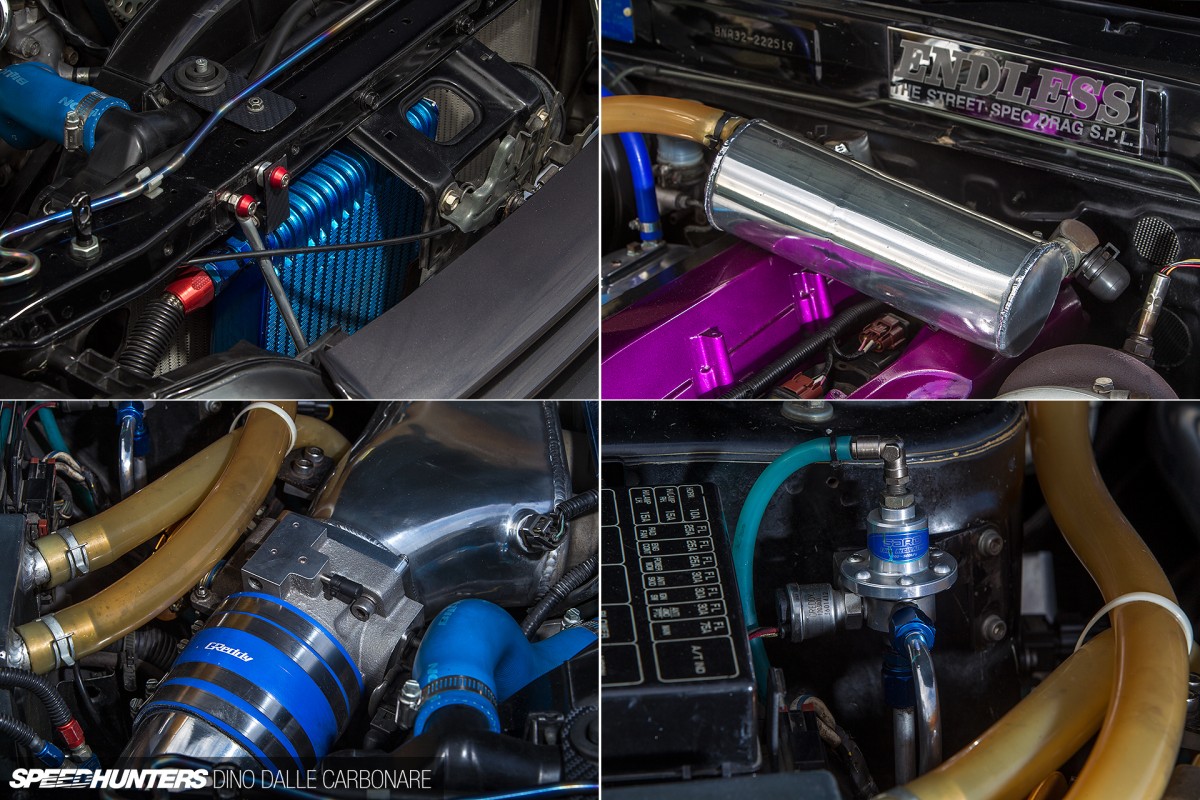 All of that is then passed through the 100mm single throttle body and into the Endless intake plenum which is polished to a mirror-finish to match the rest of the piping and miscellaneous components.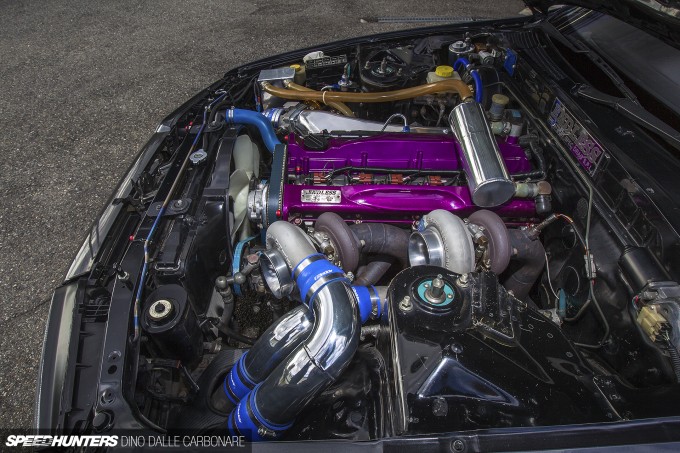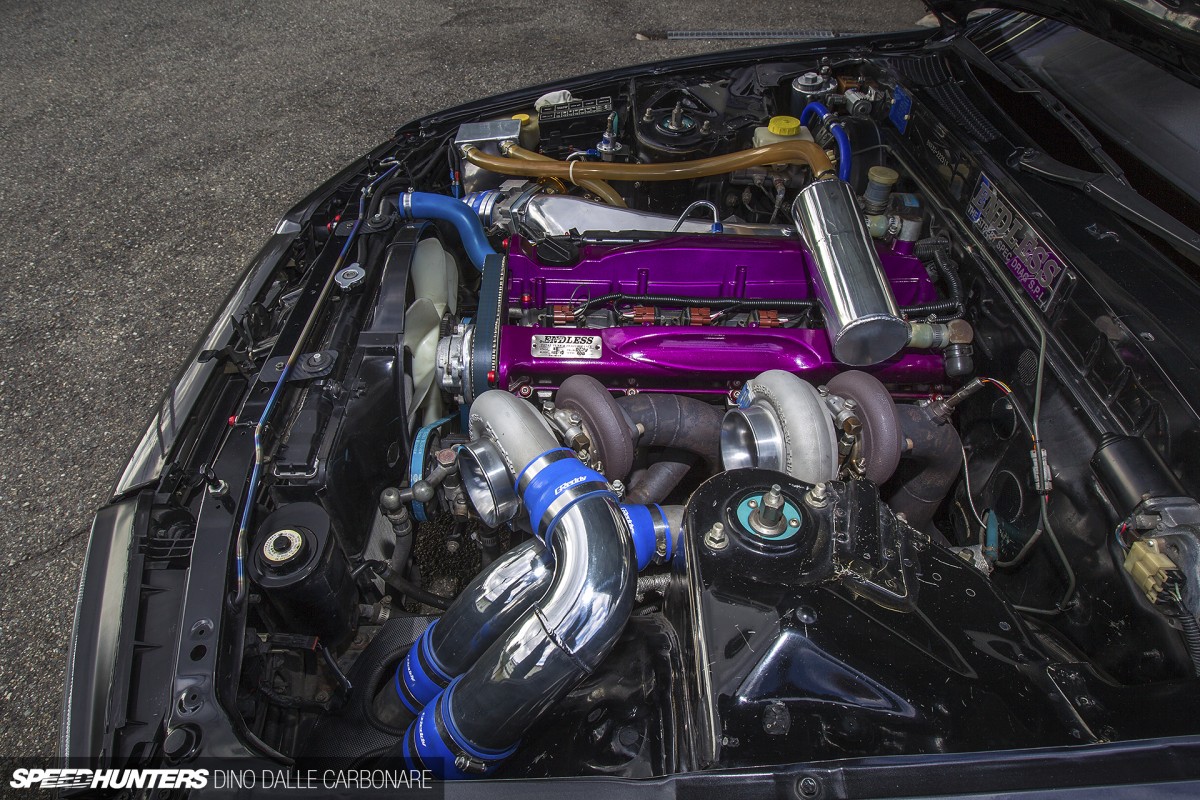 Fuelling is handled by a set of Sard 1000cc/min injectors, which at full duty have the potential to supply six liters of hi-octane fuel into the engine per minute.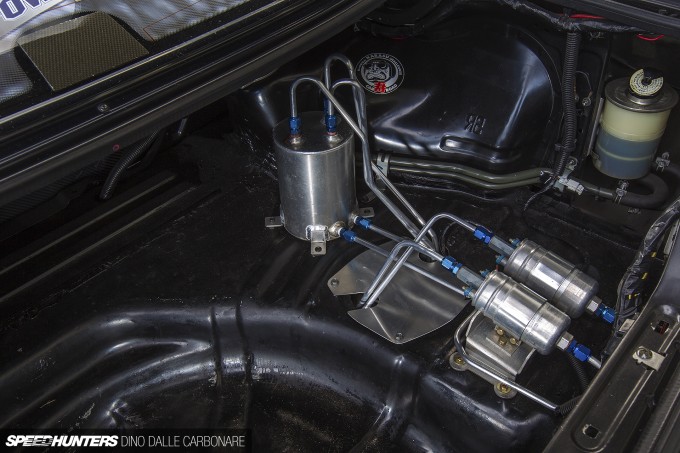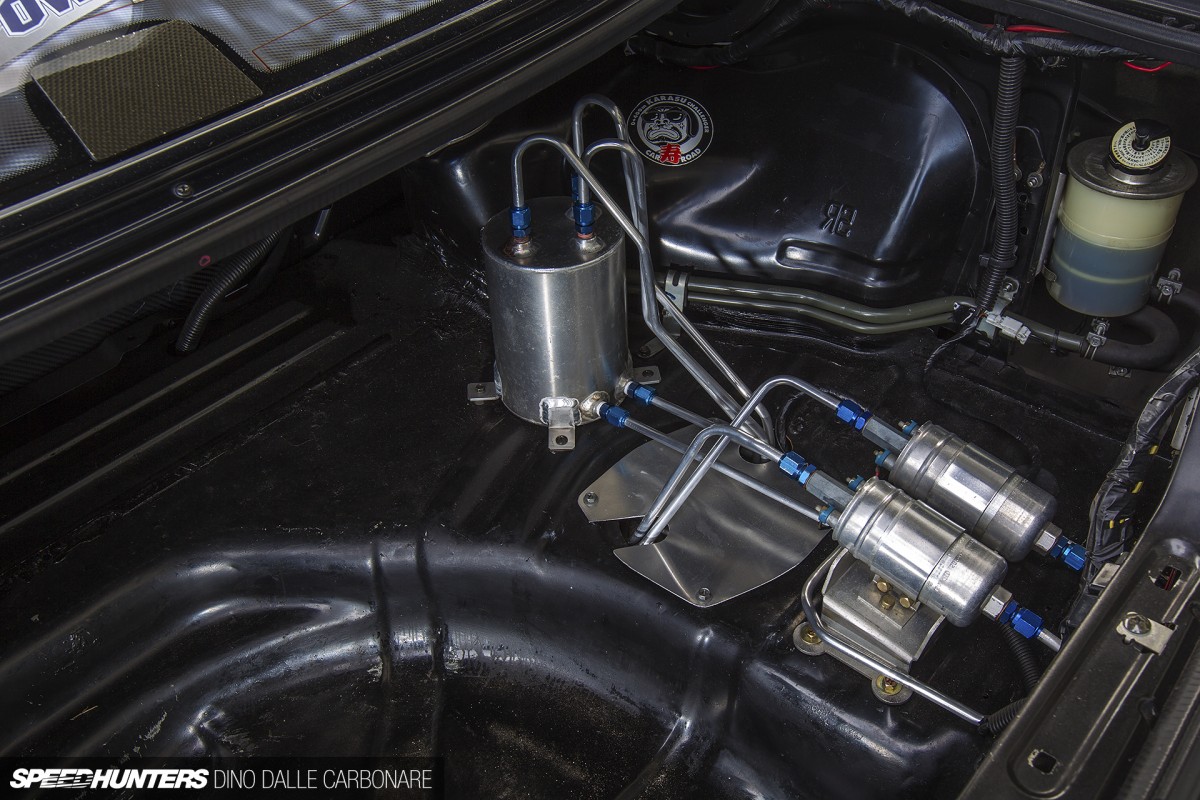 To keep that sort of thirst well topped, an in-tank fuel pump has been joined by a pair of externally-mounted Bosch Motorsport pumps. They're neatly laid out in the trunk and plumbed into a surge tank before the fuel is sent up front towards the engine.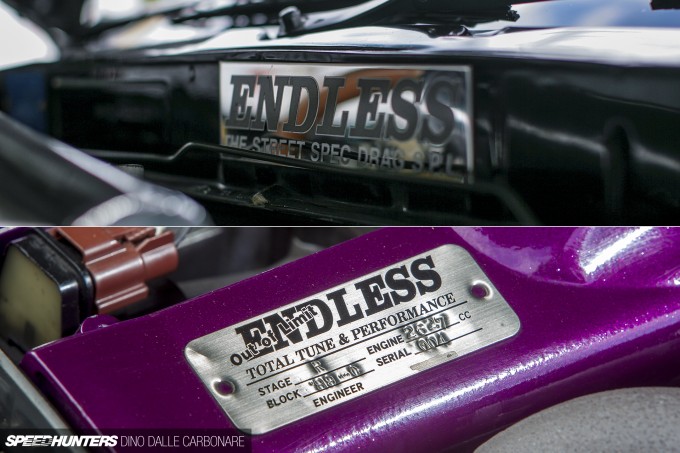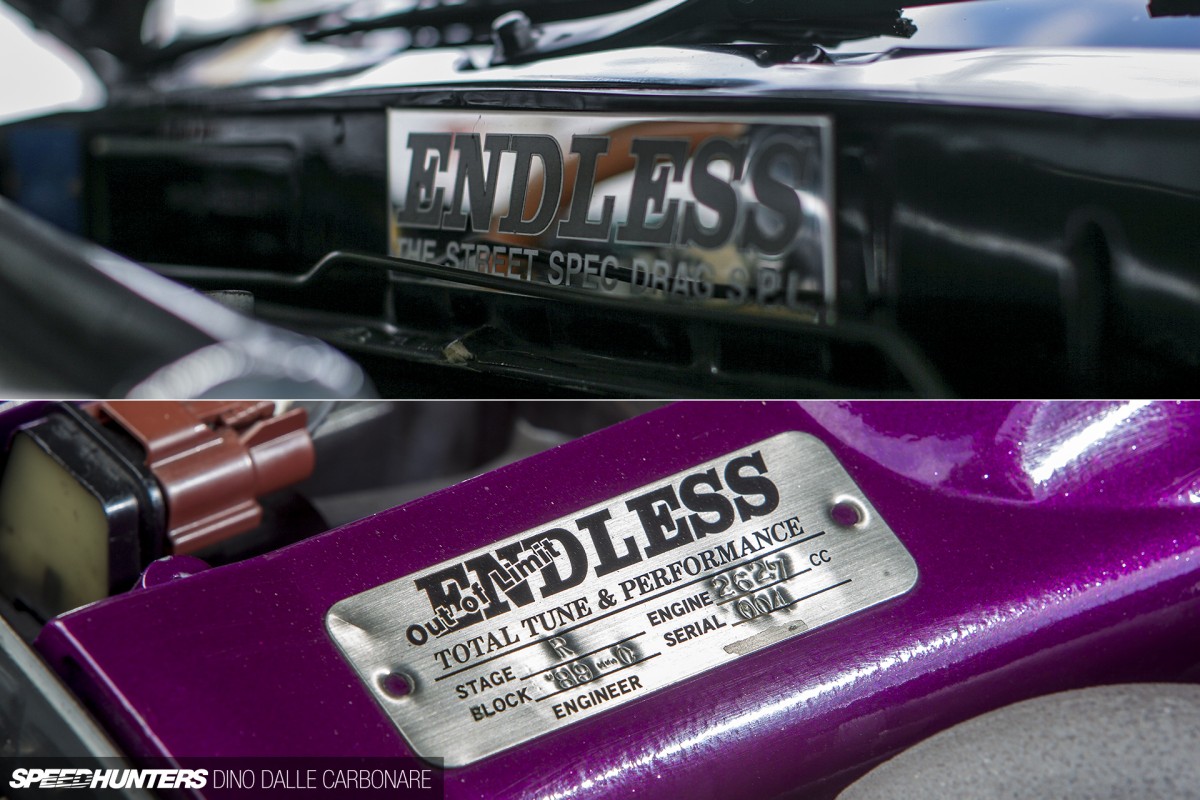 Like all custom-built engines of this level, the purple RB26 (Endless's signature color) proudly wears a tag to show its basic spec.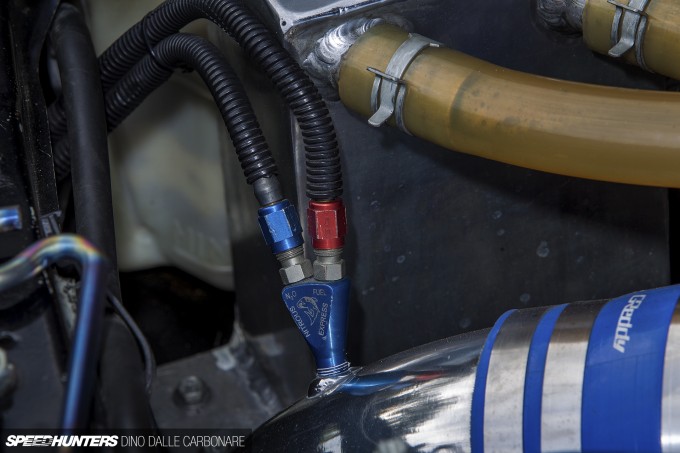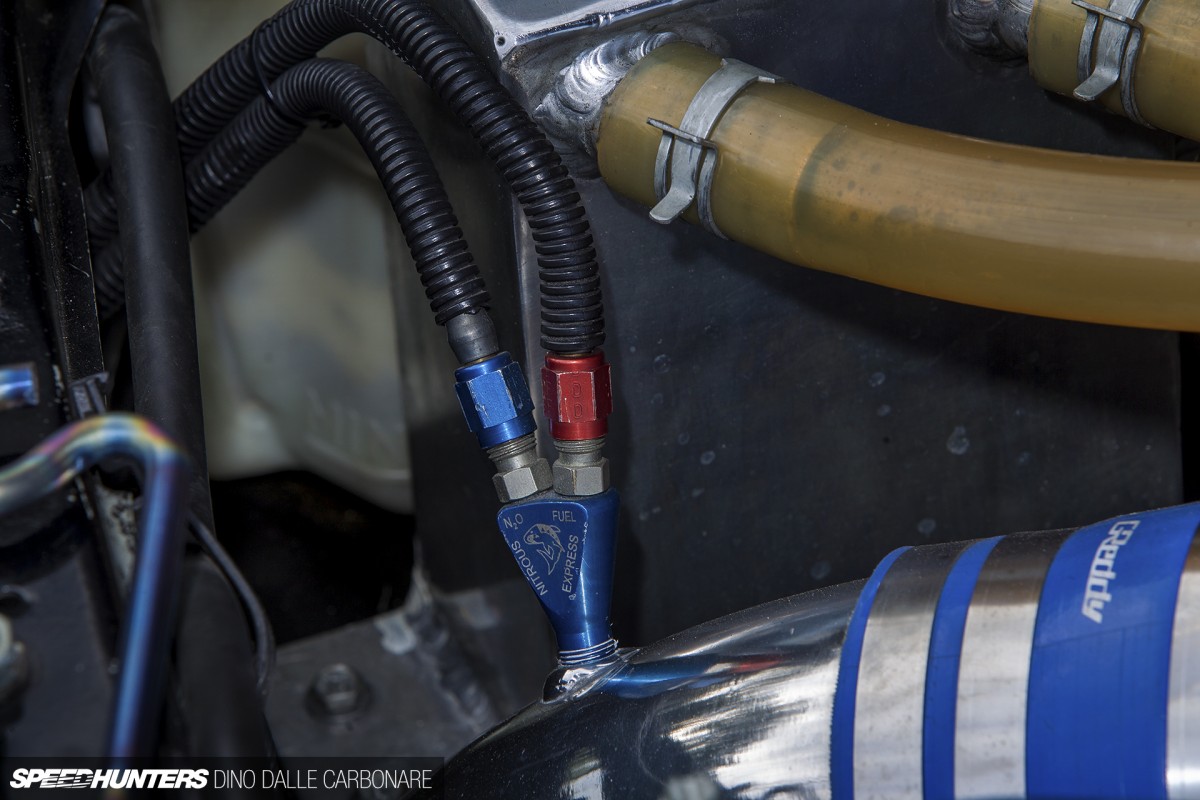 But it doesn't end there. Right before the throttle a nitrous oxide fogger has been positioned to aid both top-end power and the mid-range torque curve and spool-up. Managing it all is an HKS F-CON V Pro ECU which has been mapped and refined by Sugino-san over countless dyno and street runs. That best equates to a power level of 1170hp and 1030Nm (759lb/ft) of torque when the nitrous is used – a set up able to produce consistent flat nine-second passes. Putting that sort of performance down to the ground is one of the GT-Rs hidden talents, but to aid in this some driveline upgrades were of needed of course. Things like the Holinger six-speed sequential and carbon fiber propeller shaft. HKS supplied the SPL quad-plate clutch and the beefed-up driveshafts, while ATS took care of the front and rear LSDs.
True to its calling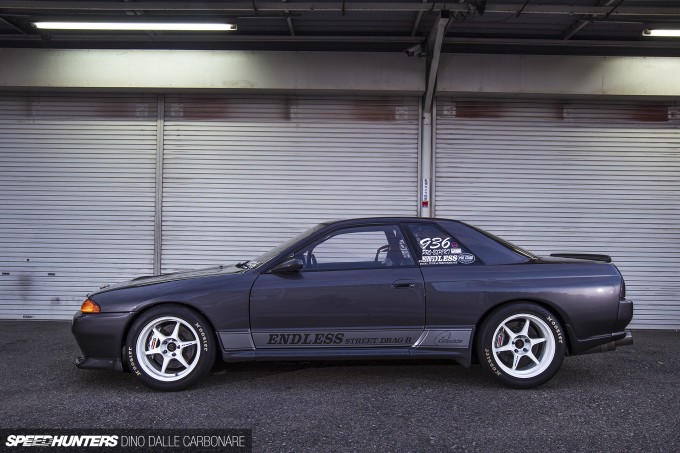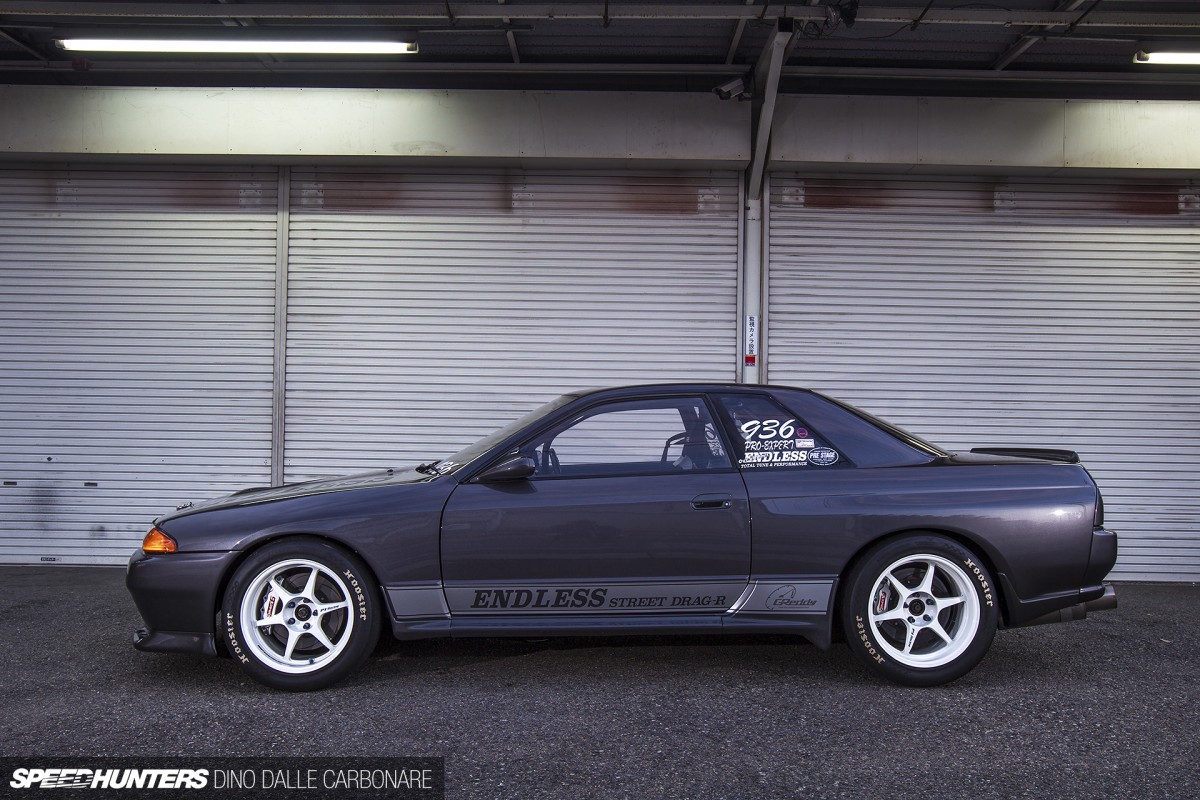 Veilside Pro Drag SPL adjustable coilovers are fitted at each corner, set quite high in a typical street drag set up, and mated to Endless drag-spec arms & tension rods. To get the most out of the geometry and in-turn maximise that all-important grip off the line, Endless got rid of the stock R32 subframe and replaced it with an R33 item.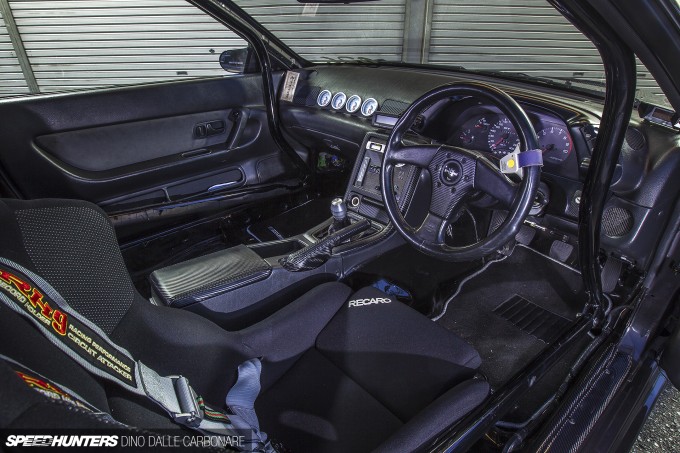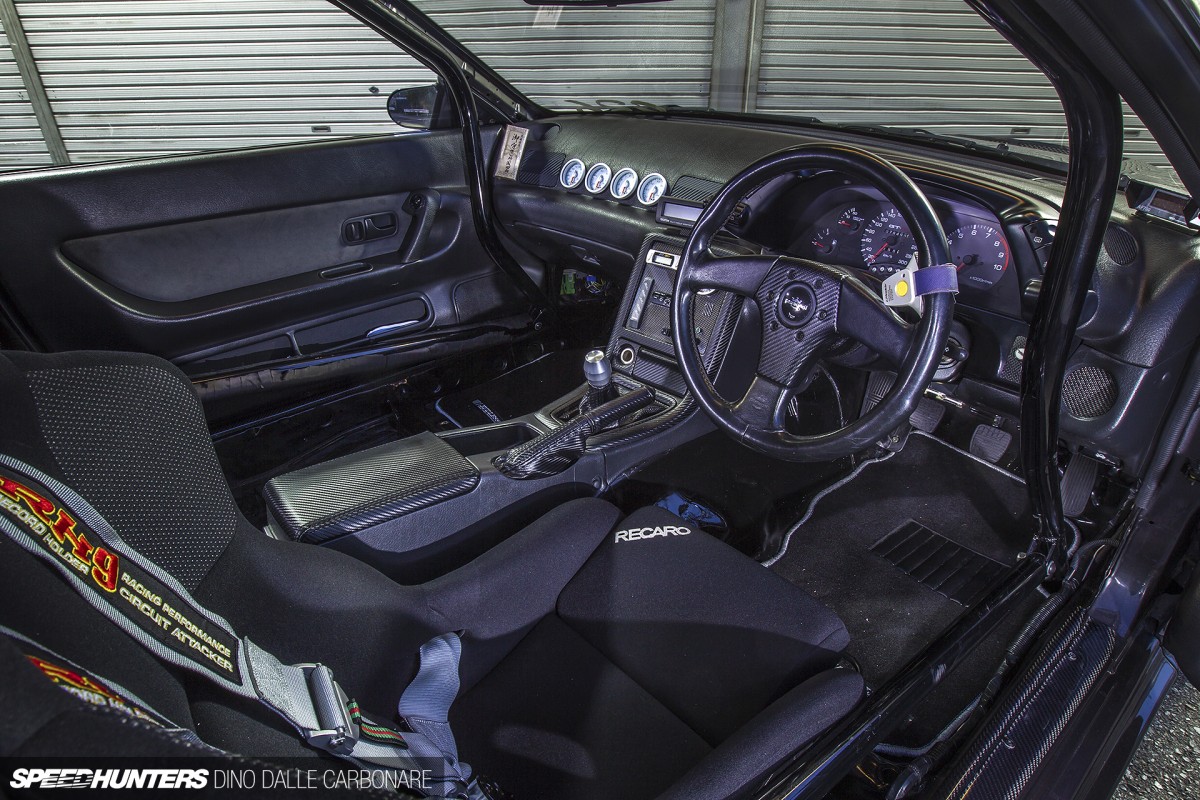 Okay, so the interior is where some will call me out. Maybe this isn't a true street car per se, as there's only one seat and a lot of the trim has been stripped out. But it does still have that all-important license plate, and it does get driven to and from drag meets – so I'm sticking by my statement!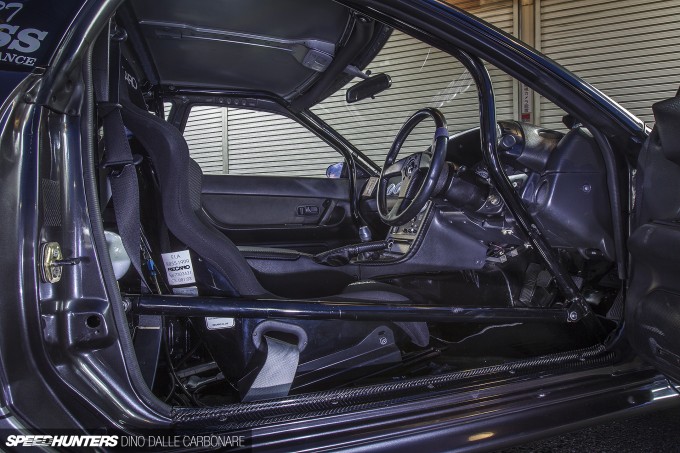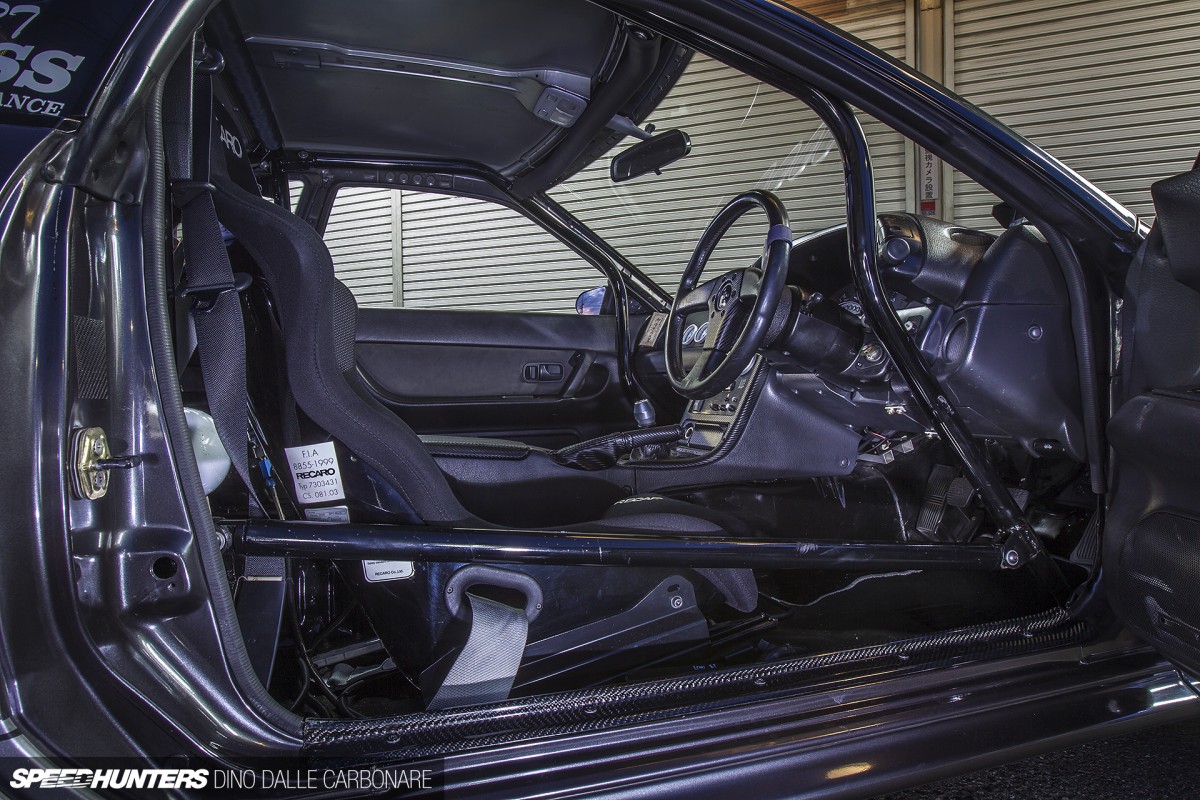 An eight-point bolt-in cage keeps things safe, and while it may seem like a strip-oriented sort of car in here, the owner went to some lengths to clean everything up and add a high-end feel with a few carbon fiber touches.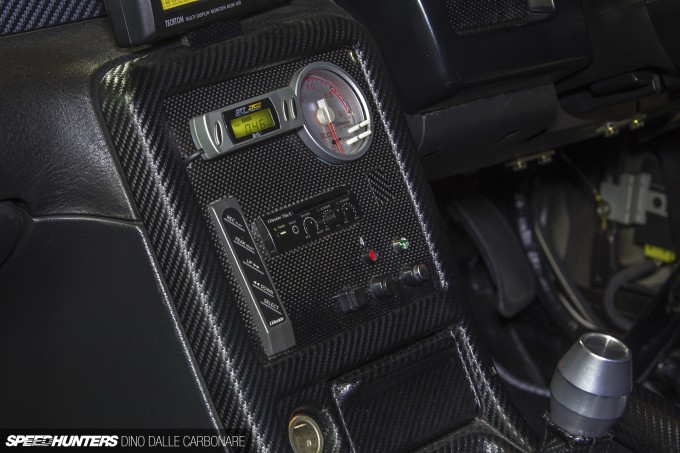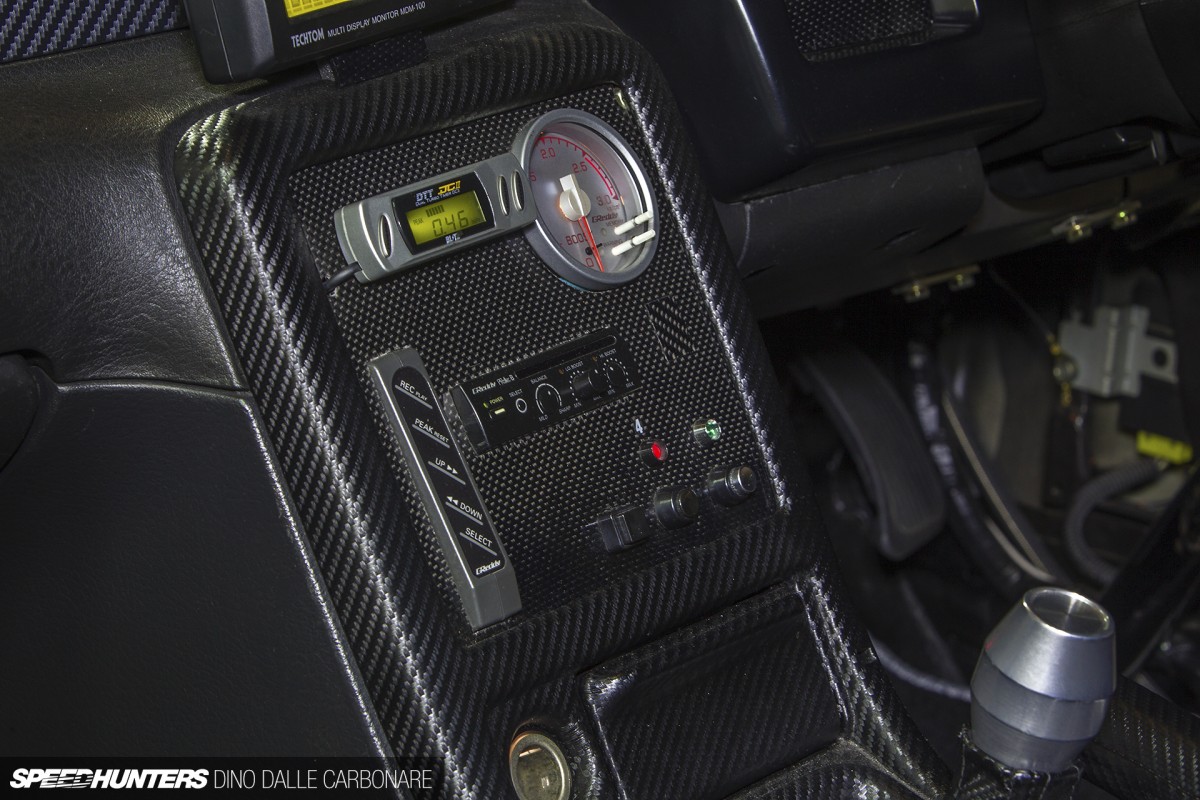 The center console has been stripped of the stock A/C controls and radio as none of that was needed, and now serves as the perfect location to house some auxiliary instrumentation like the 3.0bar GReddy boost gauge and the Profec B boost controller.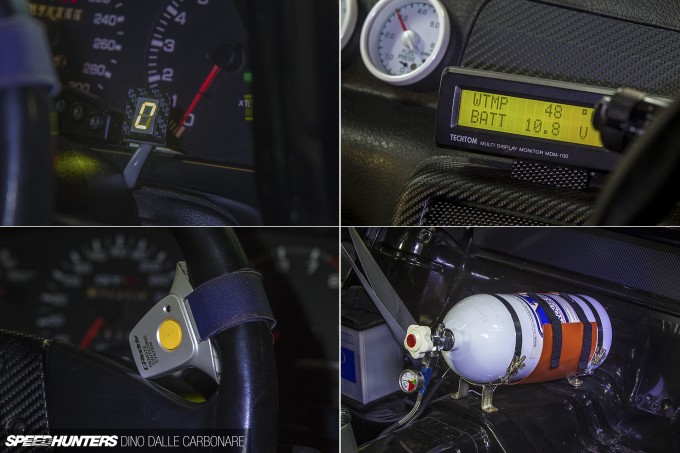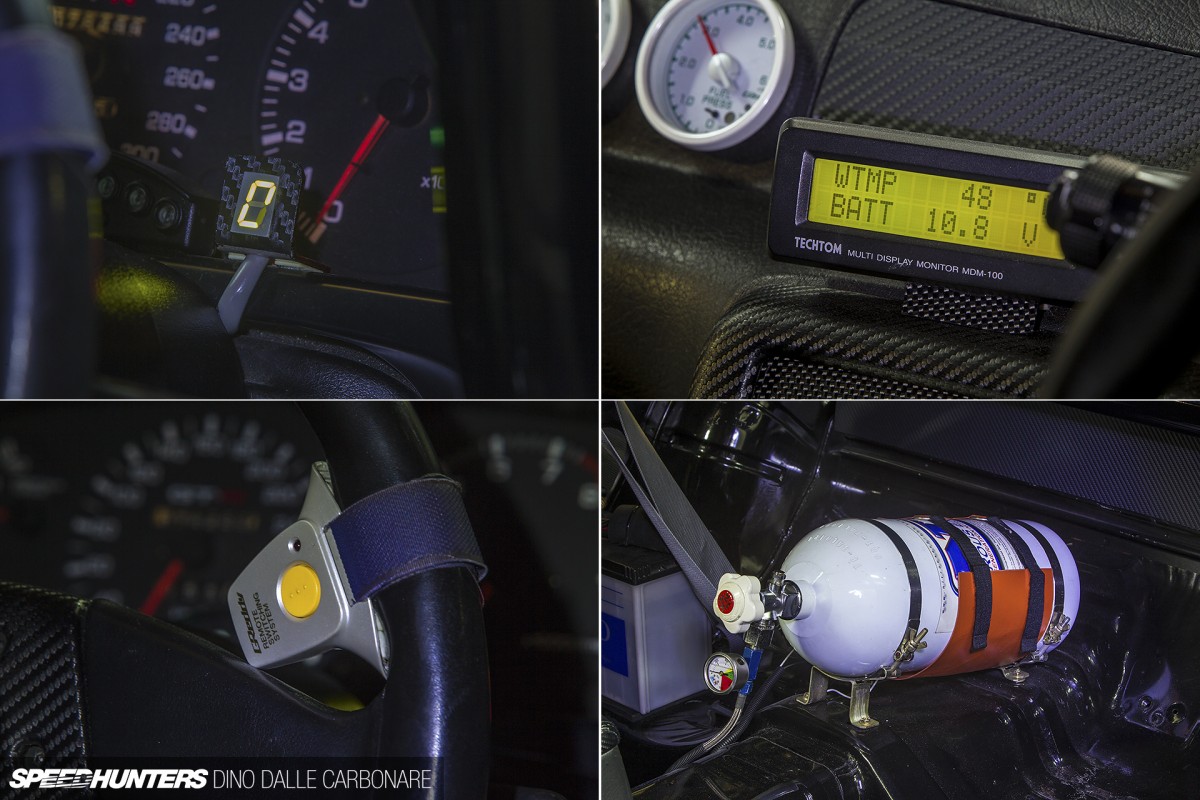 Where real carbon fiber was out of the question, a simple touch of 3M carbon-look vinyl had to do on areas around the center console and even on the Holinger's gear position indicator. It's always cool seeing old school modules like the Techtom MDM-100, which is like having a gazillion gauges – in true JDM style – conveniently accessible via the clean dual-line LCD display. Oh, and that trigger button on the steering wheel? That's for the giggle gas…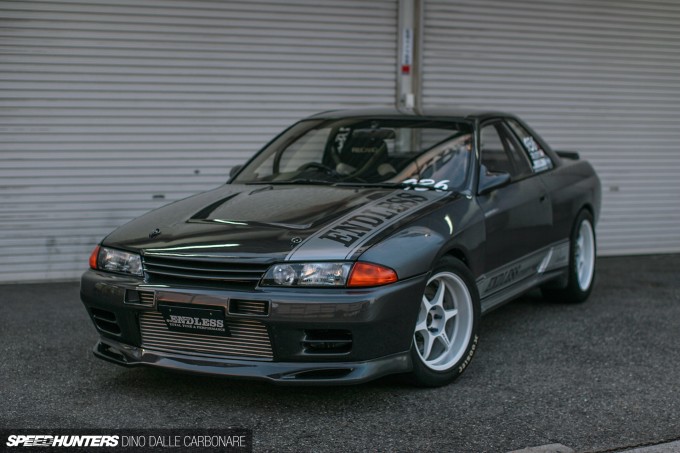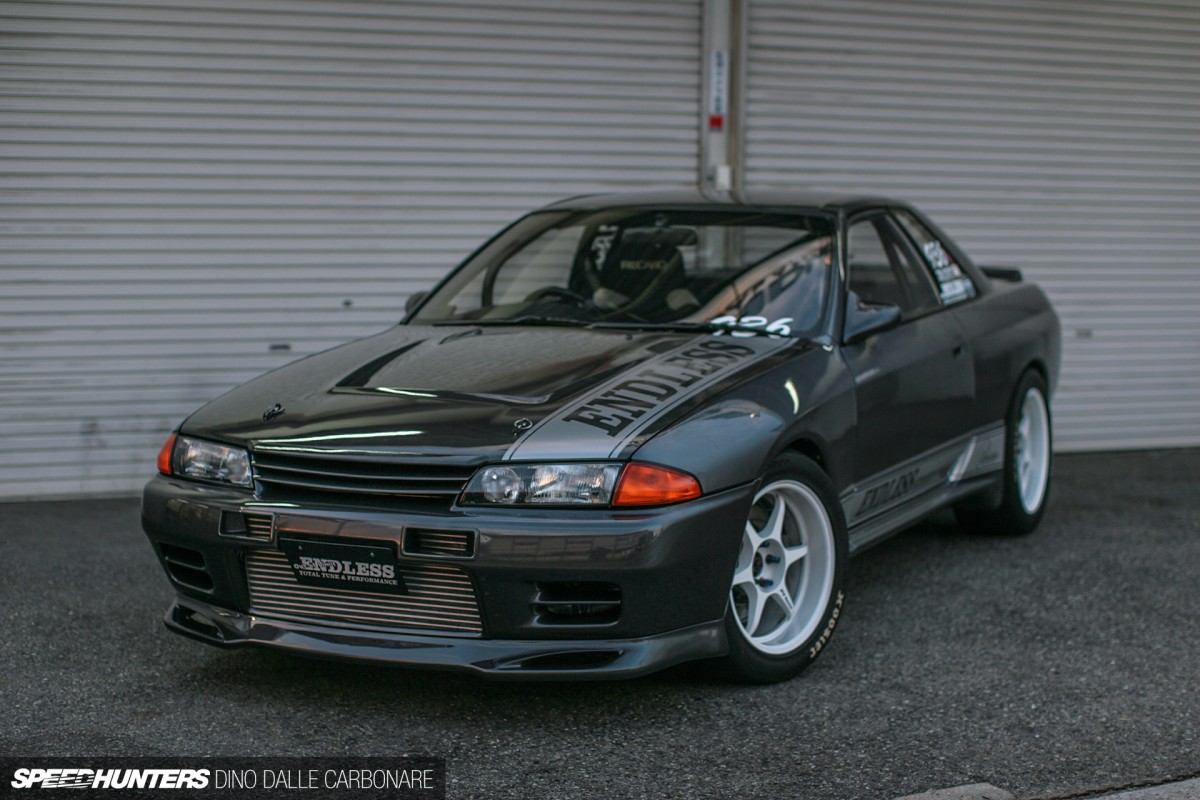 A GT-R built to this spec level certainly ridicules some of more aesthetically-driven facets of the modern day JDM movement. It may be an old car with an old approach to things, but the execution is so jam-packed with functionality that nobody dare argue with it. After all, a GT-R will always be a GT-R!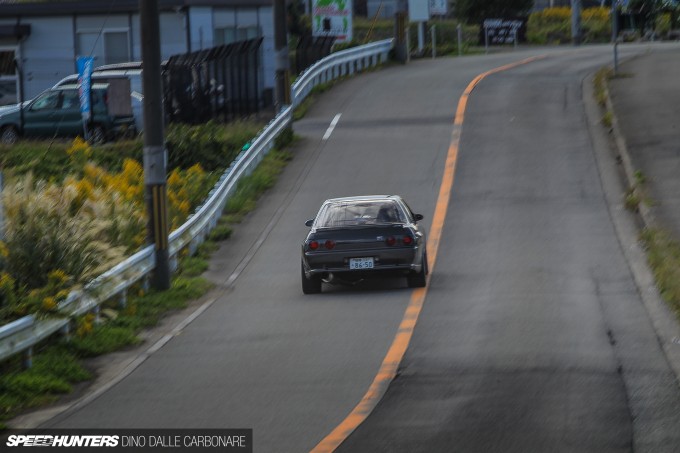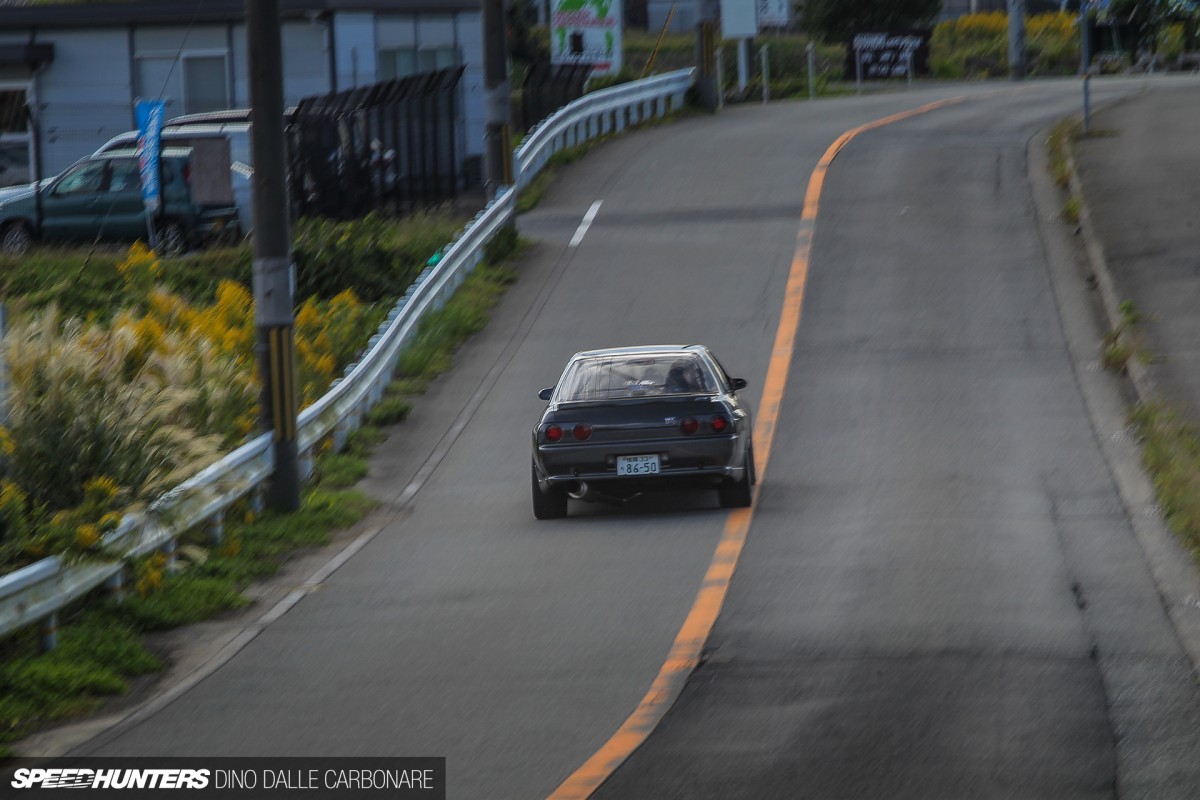 Hats off to Sugino-san and his staff for staying true to their calling. It's these few individuals and shops that we can thank for their continuing support of a now small, but defining slice of Japan's crazy and wild aftermarket world.
Dino Dalle Carbonare
Instagram: speedhunters_dino
dino@speedhunters.com
 Endless Street Drag-R BNR32 Skyline GT-R
Numbers
Max Power: 1170ps, Max Torque: 105kg/m, Boost: 2.3bar, Best 1/4 Mile Pass: 9.013 @ 274 m/h (on unprepared track)
Engine
Nismo N1 engine block, Endless custom 8L oil pan, HKS oil pump, N1 water pump, HKS 87 mm forged & nickel coated pistons (2,627cc), HKS H-section connecting rods, fully balanced crankshaft, crank damper, HKS drag-spec metal head gasket, resurfaced cylinder head, polished intake and exhaust ports, intake & exhaust squish removed, specially modified water galleries, HKS camshafts 280º/11.5 mm, 290º/11.5 mm ex,  A'PEXi Drag SPL head system (valves, lifters, retainers), Trust TD06SH 25G-10cm turbochargers x2, Trust R-Type external wastegates x2, Endless drag-spec exhaust manifolds, HKS racing-spec 100mm titanium exhaust system, Trust twin-entry 5-core intercooler, Endless intake manifold, 100mm throttle body, Bosch Motorsport external fuel pumps x2, Endless collector tank, braided fuel and return lines, Sard FPR, Trust billet fuel rail, Sard 1000cc/min injectors x6, Trust oil cooler, Endless direct ignition system, Nitrous Express nitrous oxide injection, Endless twin-tank oil catch system, HKS F-CON V Pro ECU
Driveline
Holinger 6-speed sequential transmission, HKS SPL quad-plate clutch, rebuilt and modified transfer box, carbon propeller shaft, ATS front/rear LSDs, strengthened drive shafts
Suspension/Brakes
Veilside Pro Drag SPL adjustable suspension, Endless Drag-spec arms & tension rods, R33 rear subframe, R34 master cylinder, 6-pot Endless Dir-Ect6 front calipers & 355 mm 2-piece slotted rotors, 4-pot Endless Dir-Ect4 rear calipers & 330 mm 2-piece slotted rotors, line lock
Wheels/Tyres
Buddy Club P1 Racing 17×9.5-inch front/rear, Hoosier drag tyres 275/40R17 front/rear
Exterior
Endless front lip spoiler, Endless carbon fiber bonnet, Endless FRP lightweight doors, aero mirrors, Top Secret rear fender trim, Lexan windows all round, Endless carbon fiber trunk lid
Interior
8-point roll cage, Personal steering wheel, Recaro racing bucket seat, RH9 drag harnesses, custom carbon center console, GReddy Profec B boost controller with over-boost function, Blitz turbo timer, GReddy gauges: boost, oil temp, oil press, exhaust temp, fuel press, GReddy gauges control unit, Nitrous Express N2O tank, Techtom MDM-100 multi display monitor, Holinger gear position indicator