Those golden years
Japan; one word, one country, yet saying it out loud conjures up so much to any car enthusiast. To me, one of the most important periods in its performance car-related history was the '90s, and I'm pretty sure a lot of you would agree too. It was a time when tuning was widespread, where the pace was fast and fierce, and competition was rampant with everyone attempting to outdo each on the track and the street. Back in those golden years the GT-R was king and Japanese drag racing was more popular than ever. And at the center of it all were car shops like Endless.
For that very reason, for many years Endless has been on my must-visit list. I just wanted to see the place where some of Japan's fastest zero-yon (1/4 mile) cars came from – cars that I used to see on those old Option videos, that in a way originally fuelled my passion for this scene and the machines that make up it.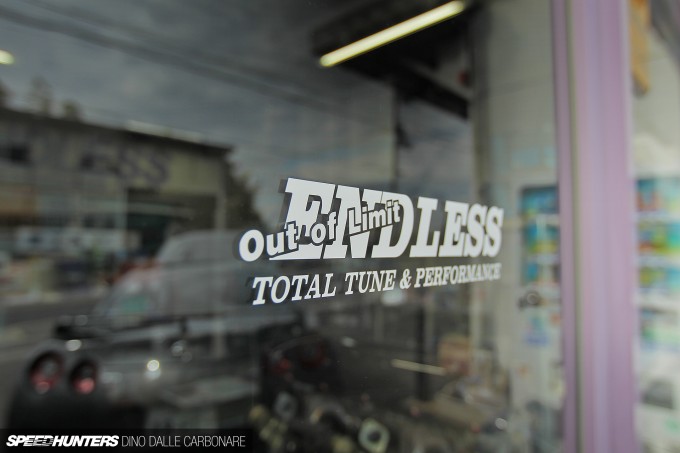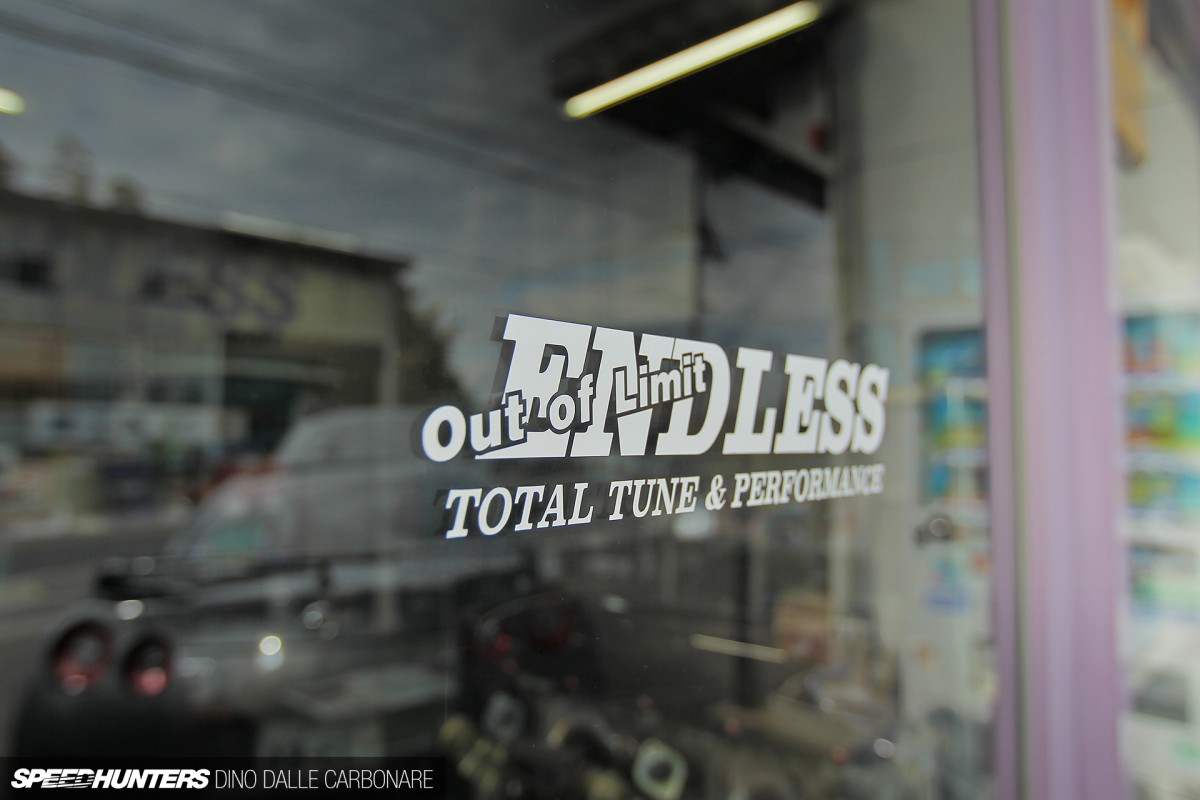 Unfortunately, Sugino-san, the man that created Endless, wasn't there when I dropped by the Hyogo-ken countryside shop, but his staff were more than helpful at showing me around and letting me take a closer look at some of their latest builds.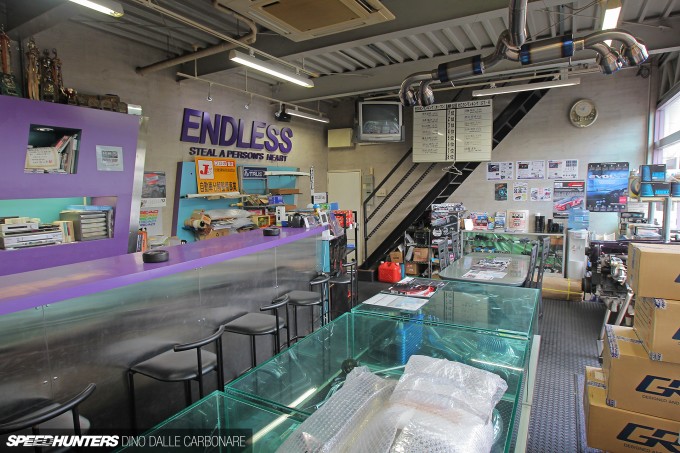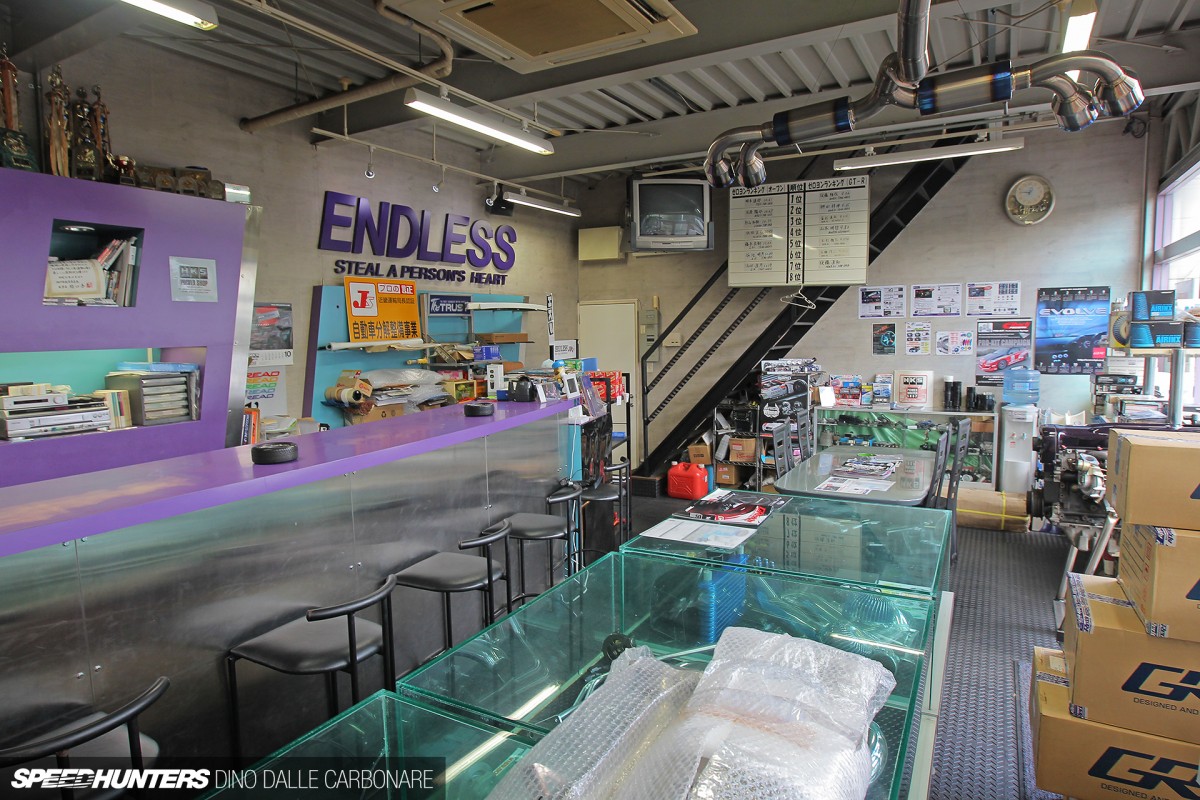 Unsurprisingly I have some very cool cars to show you, but before we get to those there was much to explore in the main shop area. This is where Endless customers spend a good deal of time in, sitting down with Sugino-san and his mechanics and figuring out the goals they have for their cars, and the modifications required to achieve them.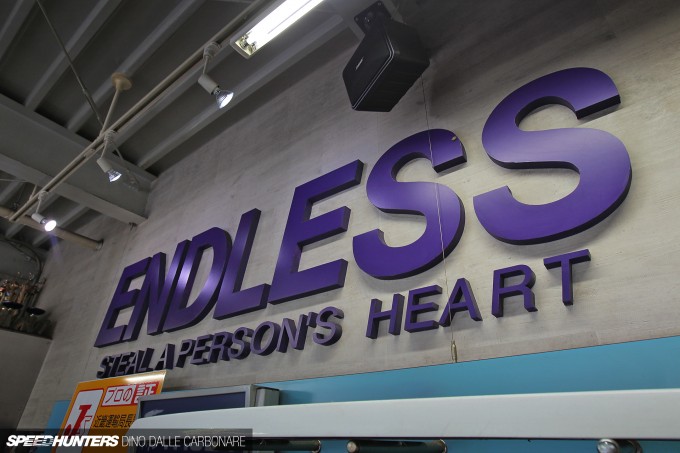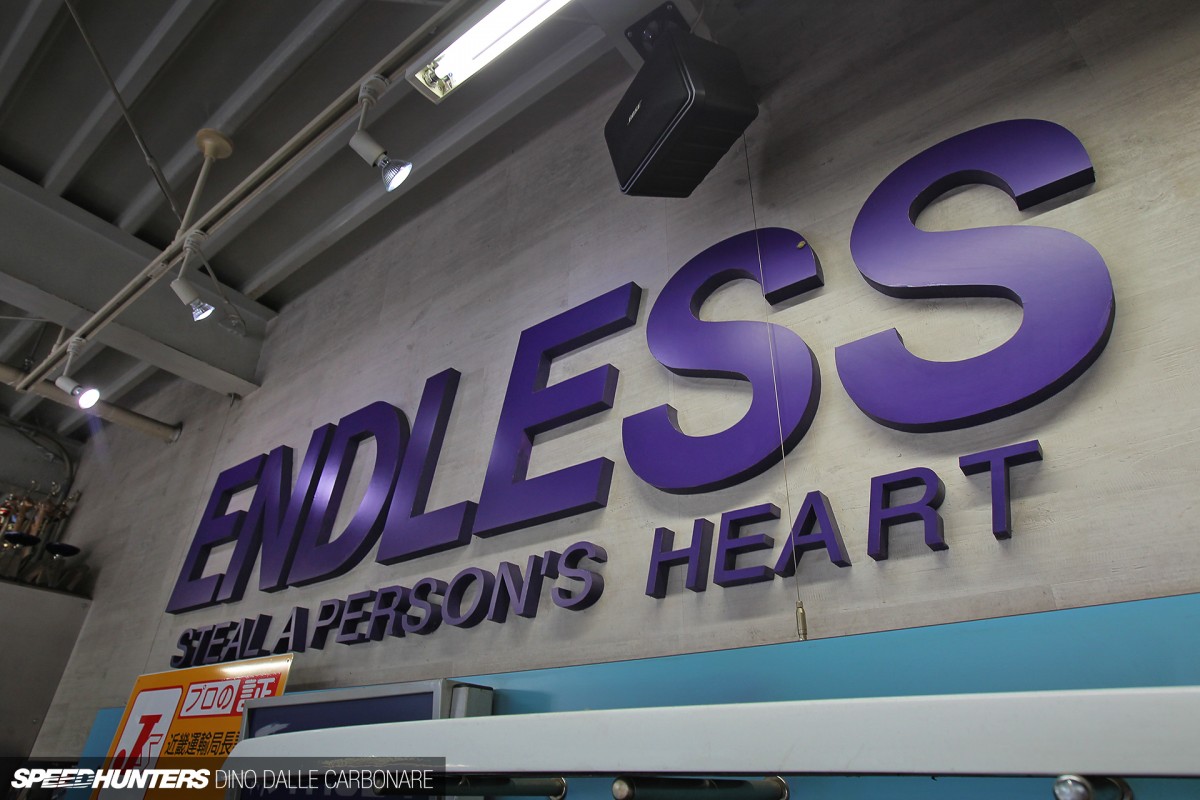 Back in the day it might have all been about crazy power and not much else, but things have obviously moved on quite a bit in the last two decades or so. Big numbers are still what people come to Endless for, but at the same time they want drivability; they want their cars to be refined all-rounders that can cope with the odd daily commute and occasional family outing.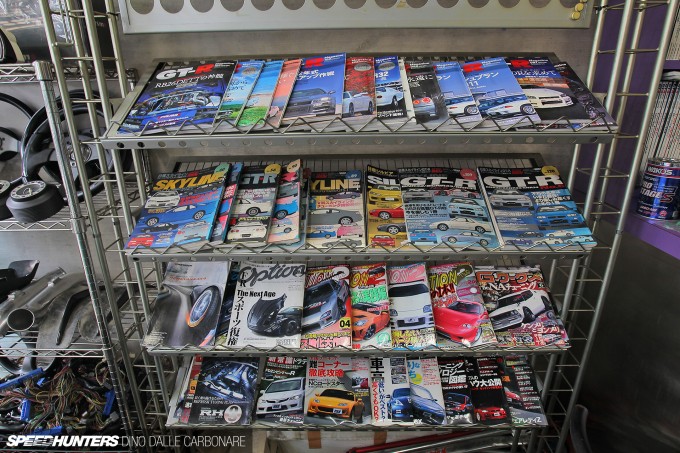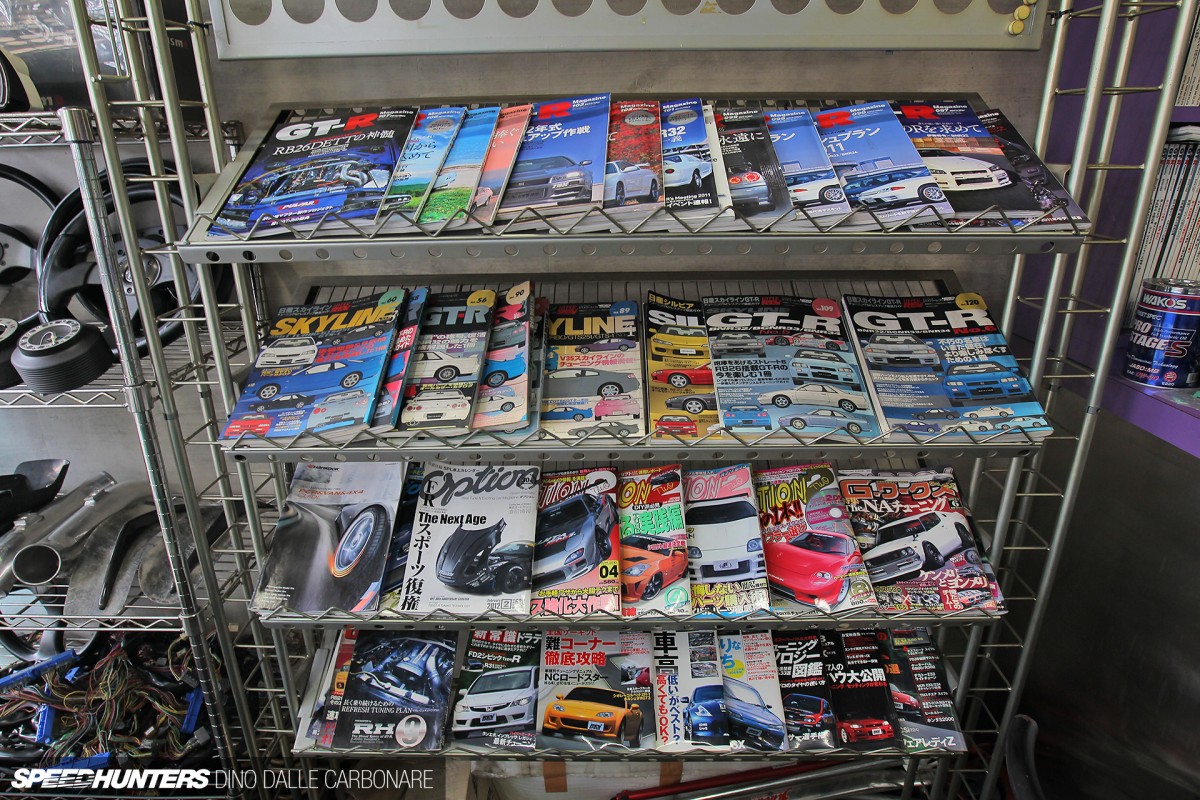 Reading is always a good way to get the ideas flowing, and I have to admit it was pretty hard to keep shooting around the shop when I was confronted with this nice selection of new and old magazines, not to mention those must-have Hyper Rev volumes!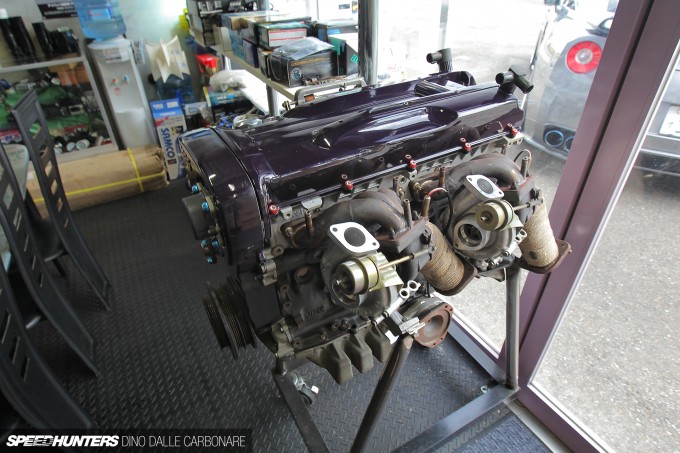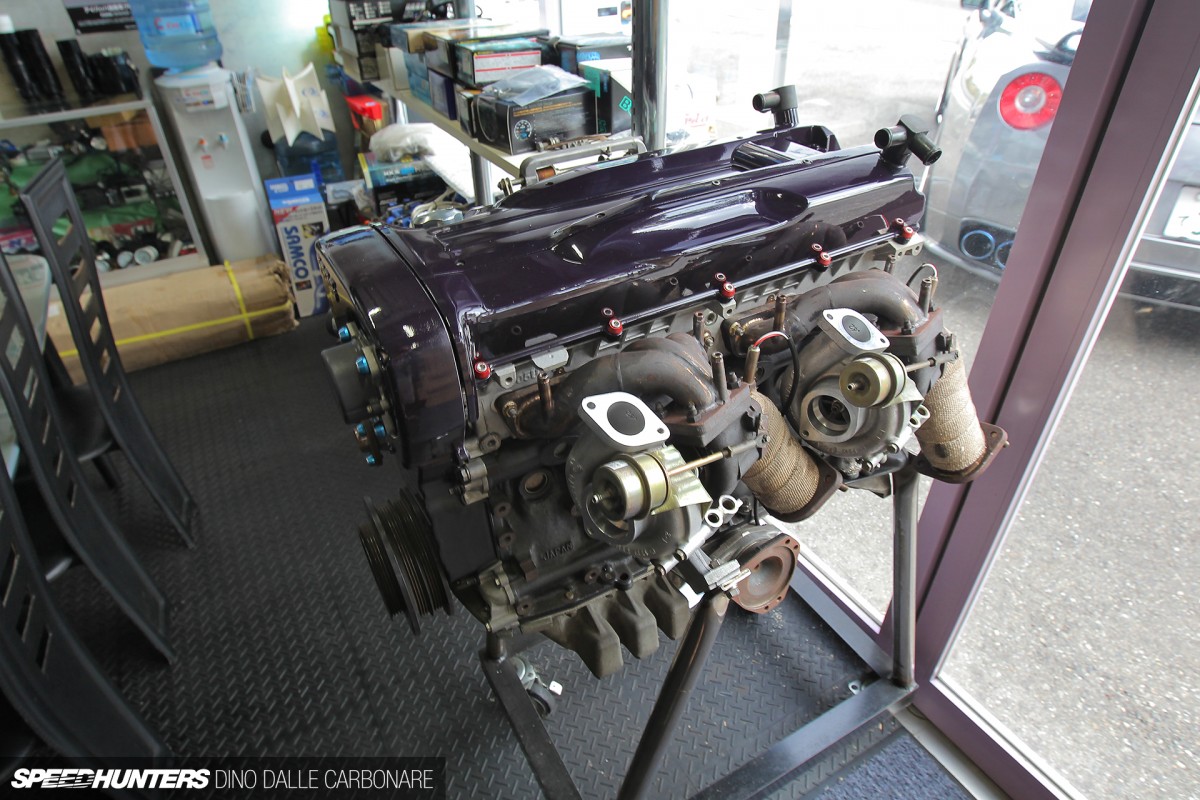 While many of Sugino's customers may have moved onto the R35 GT-R, the majority of his clientele are still attracted to the RB26 as yours truly is. Sure, it might be an older engine now, but things the iconic straight-six is still capable of achieving is pretty mind-blowing – something thanks in part to the continuous attention it still receives from the industry.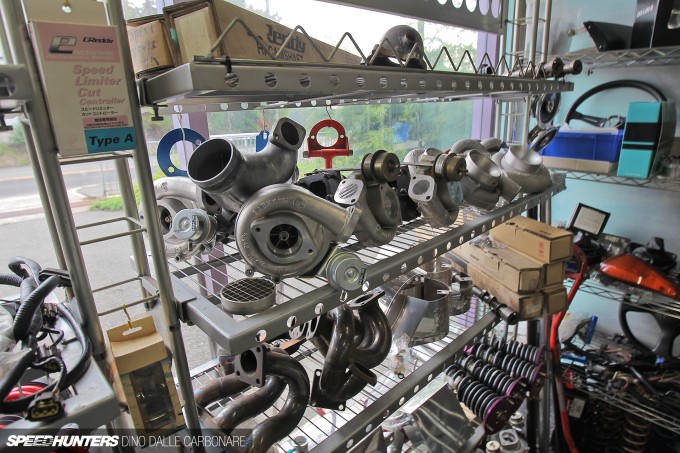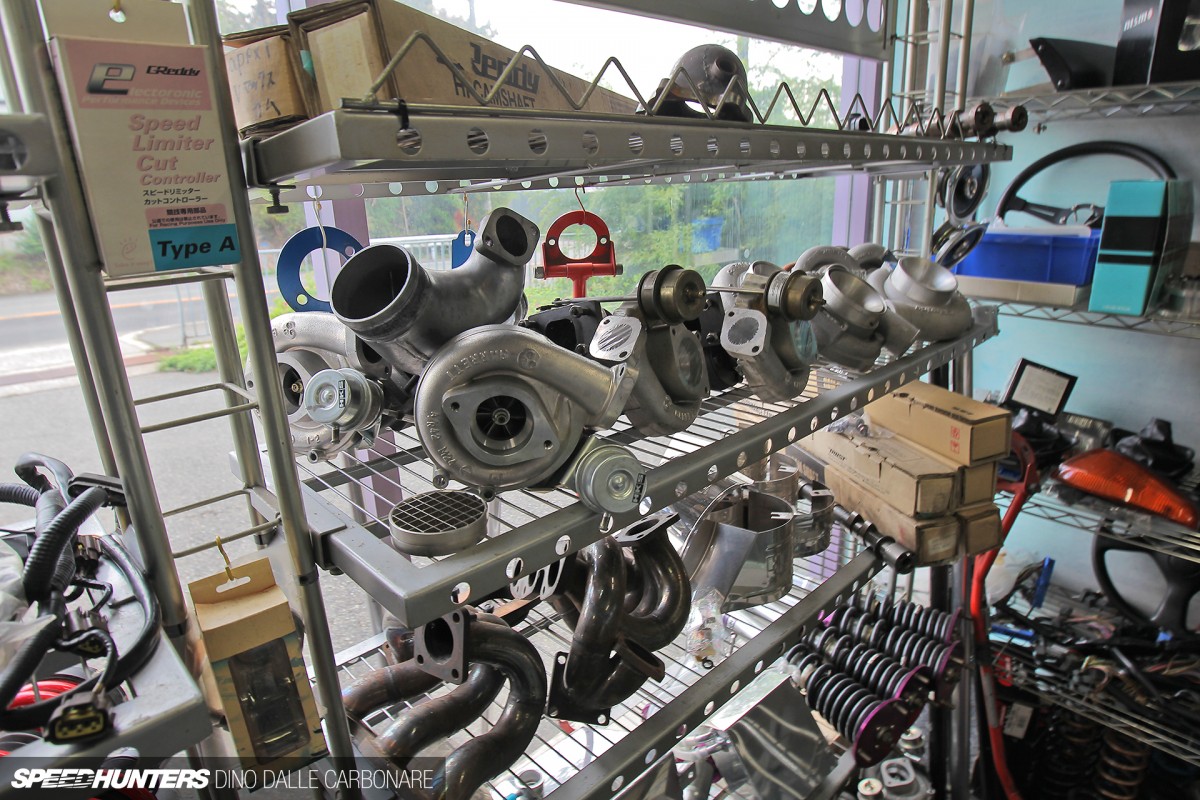 Looking around revealed a pretty cool selection of parts, and everything from custom exhaust manifolds to larger turbo kits.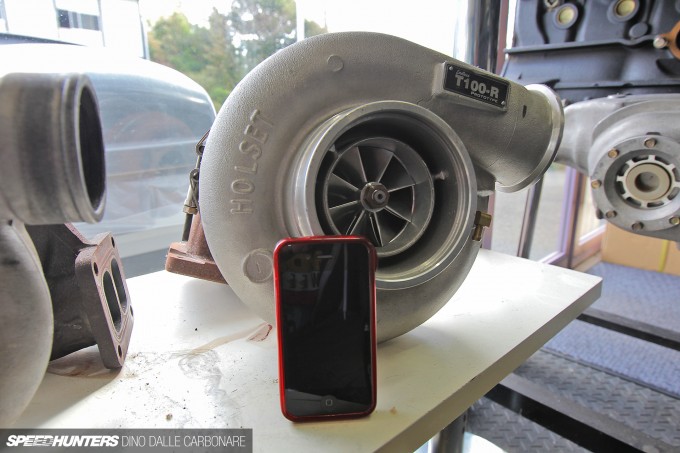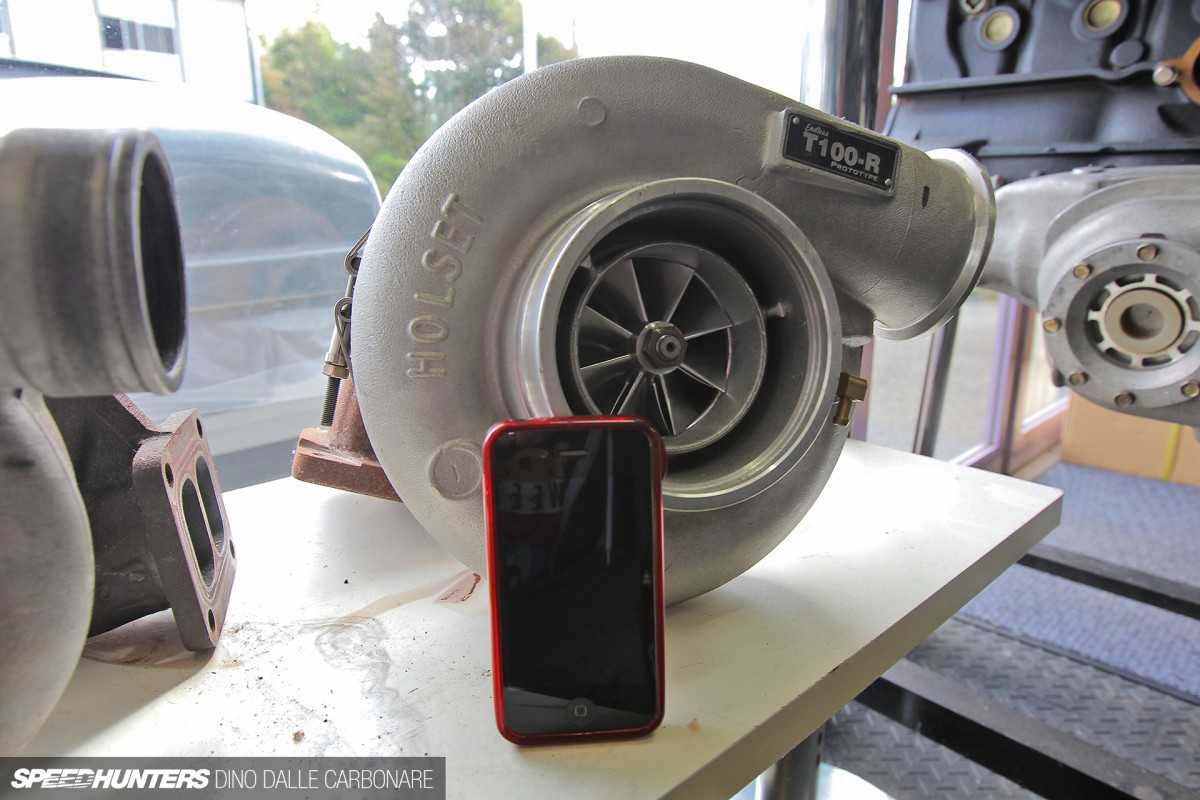 And of course big power comes from big turbos!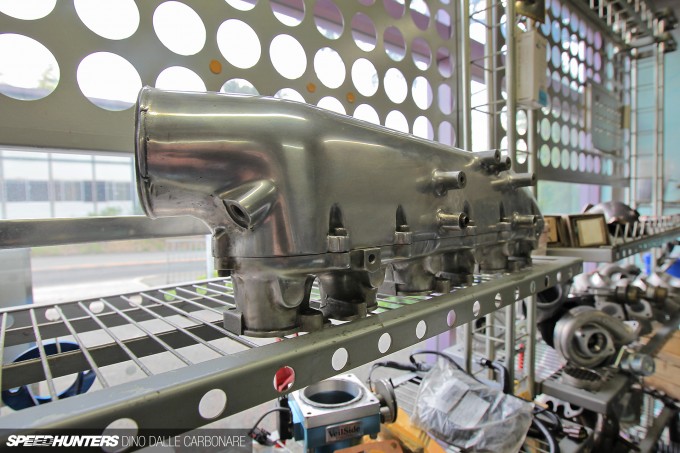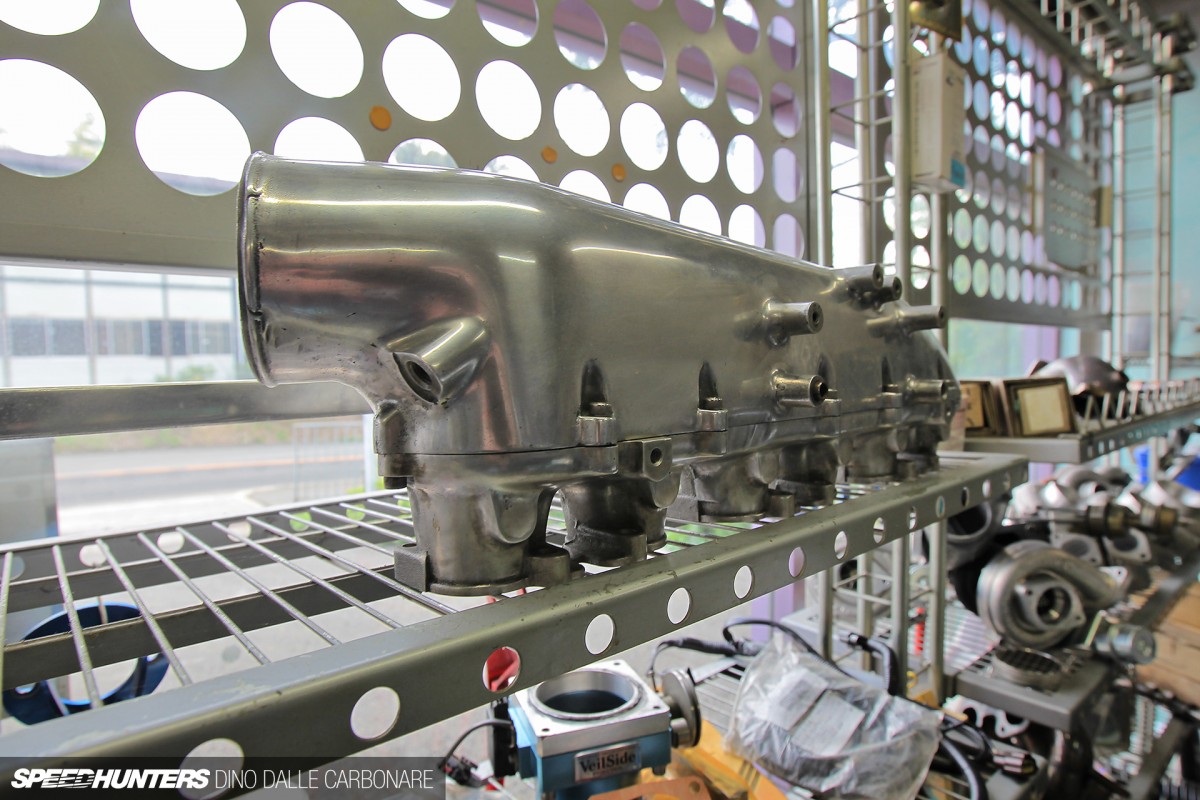 I found it cool how everything was separated into their own display areas. From the turbos you moved along to the intake side of things with a few large-volume inlet plenums on show.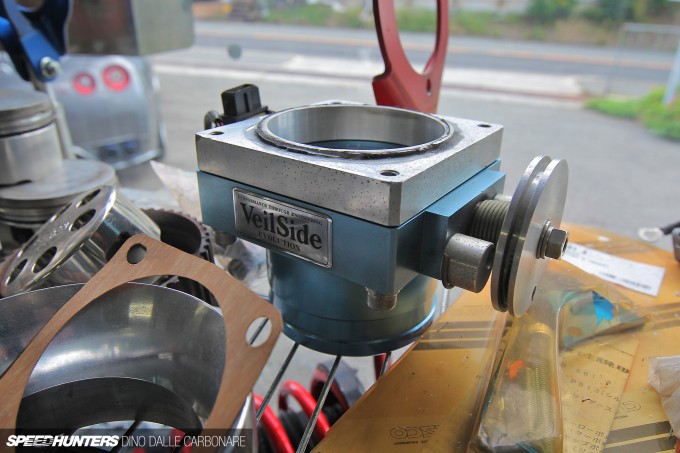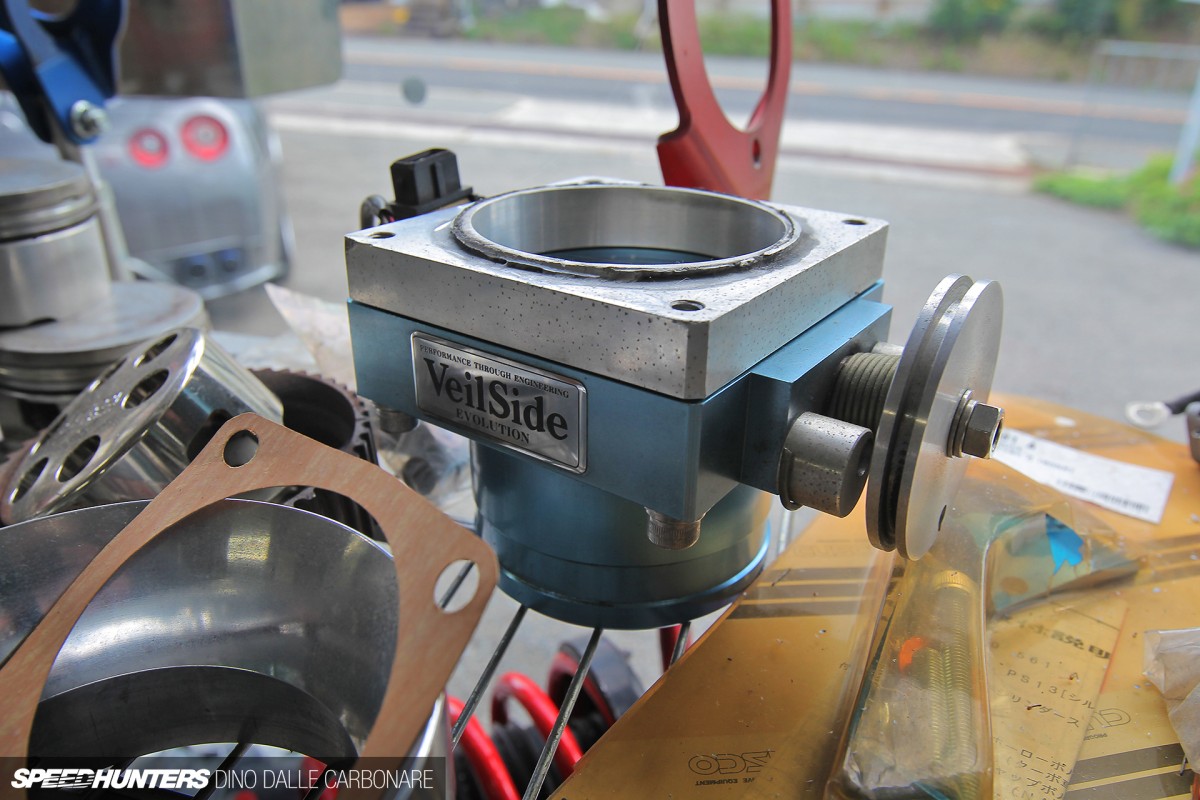 Here's a blast from the past – the famous Veilside 100mm throttle body, one modification that once upon a time you'd be pretty much guaranteed to find under the bonnet of a drag GT-R. Veilside might not be into the whole drag or high-power tuning game any more, but it sure left a mark. Now that I think about it, I should probably talk to Yokomaku-san about shooting his legendary 0-300km/h BNR32 which was still in the shop last time I visited. I'm sure many of you would love to see that in detail!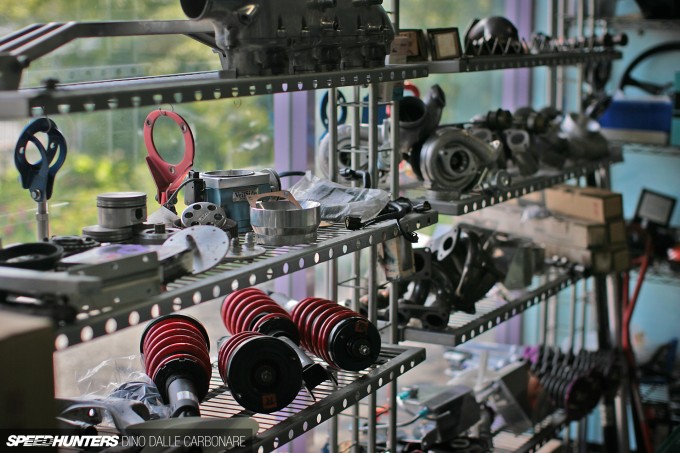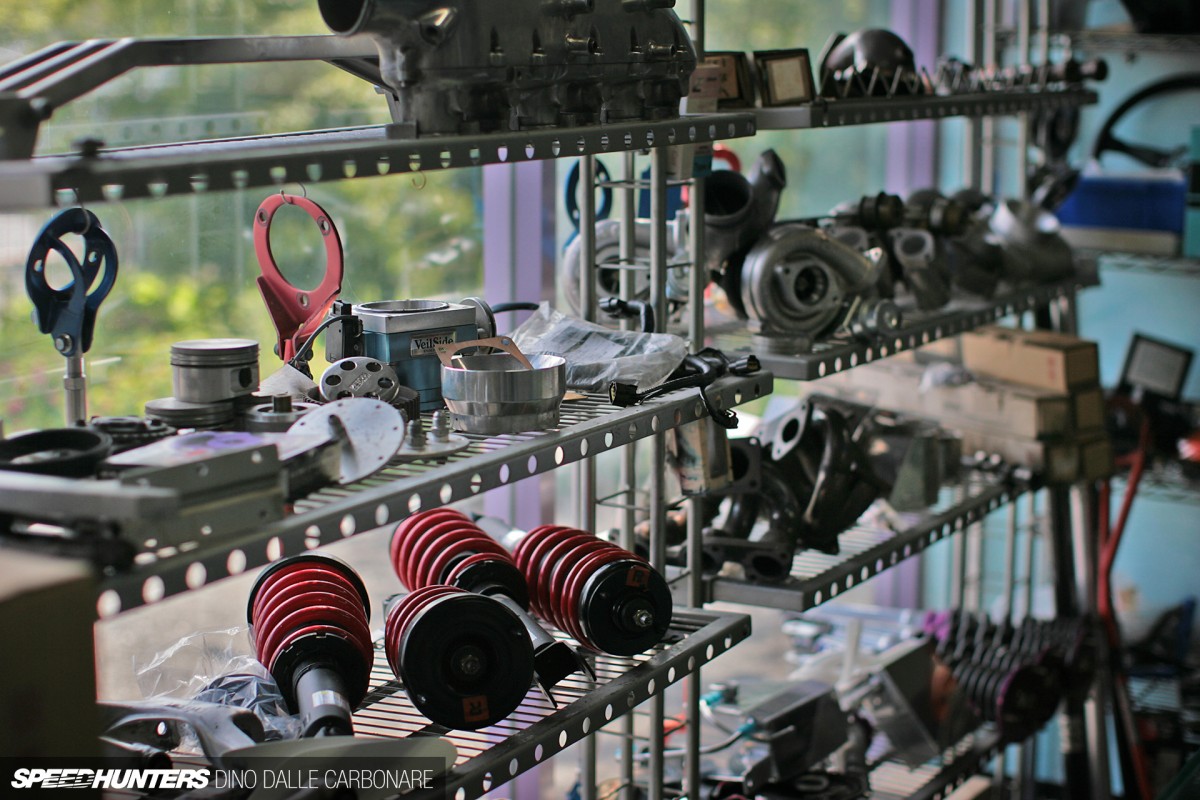 Along with power, there is always the need for a specific suspension setup, regardless if you're into circuit driving or straight-line speed.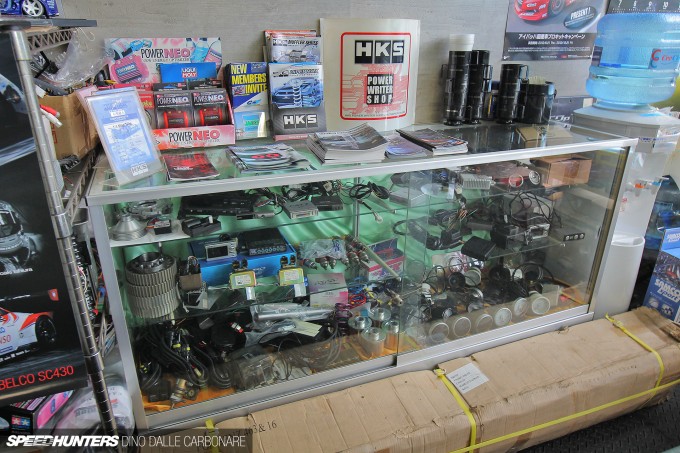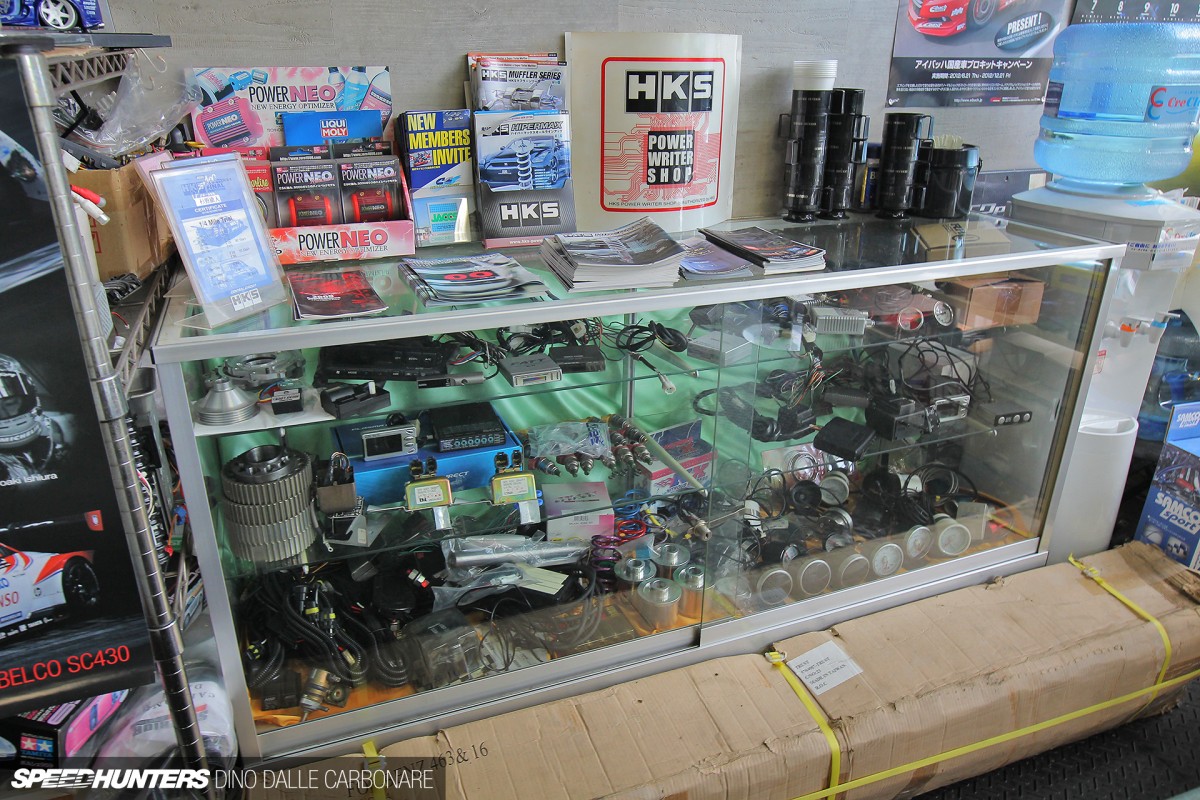 I always enjoy looking in these glass cabinets at tuning shops as they usually have some vintage electronics along with the newer stuff. And spotting a vintage HKS fuel computer sitting next to a set of old school high-flow injectors, I was not disappointed. Most of these older bits and pieces were for sale too.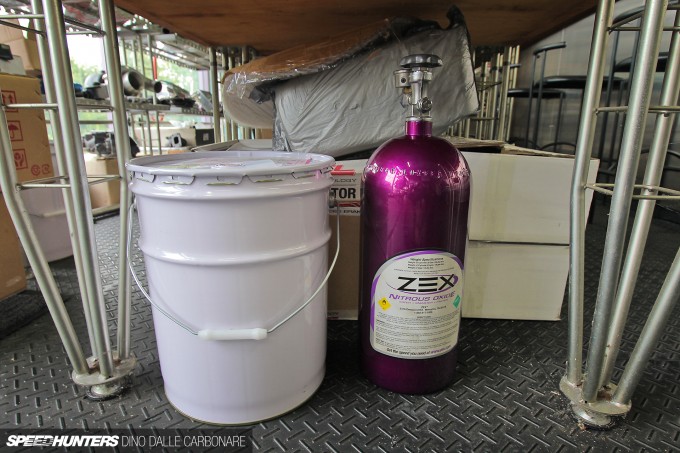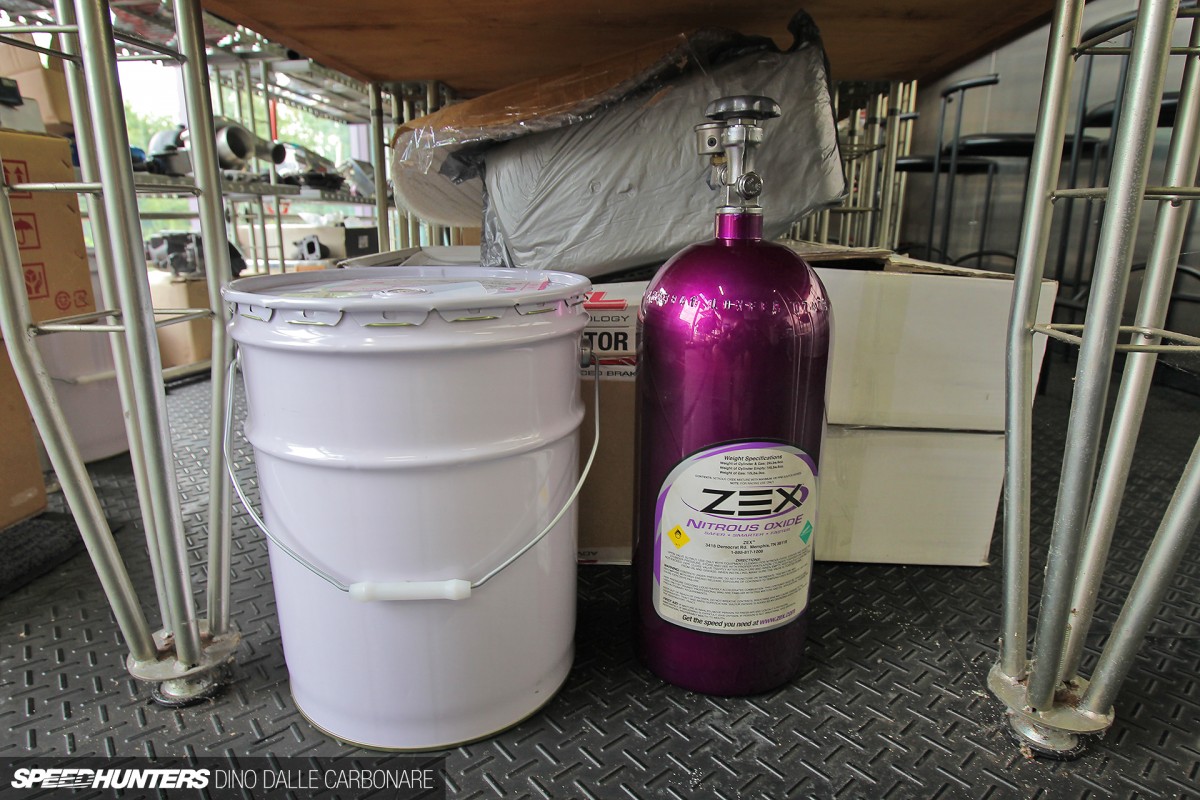 Not surprisingly I spotted a few bottles of nitrous oxide around the place. This is a drag shop after all…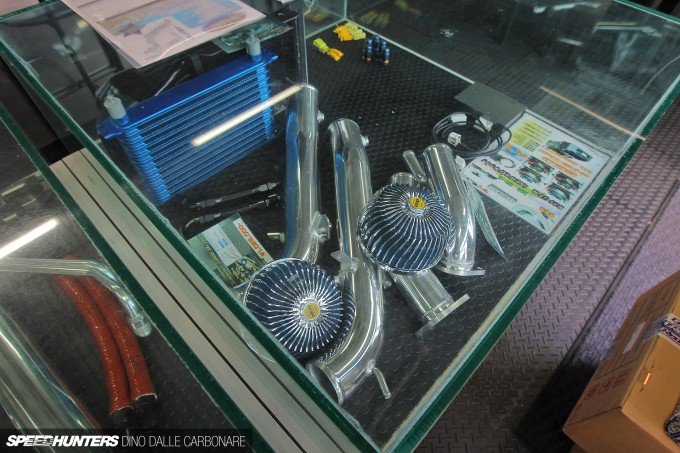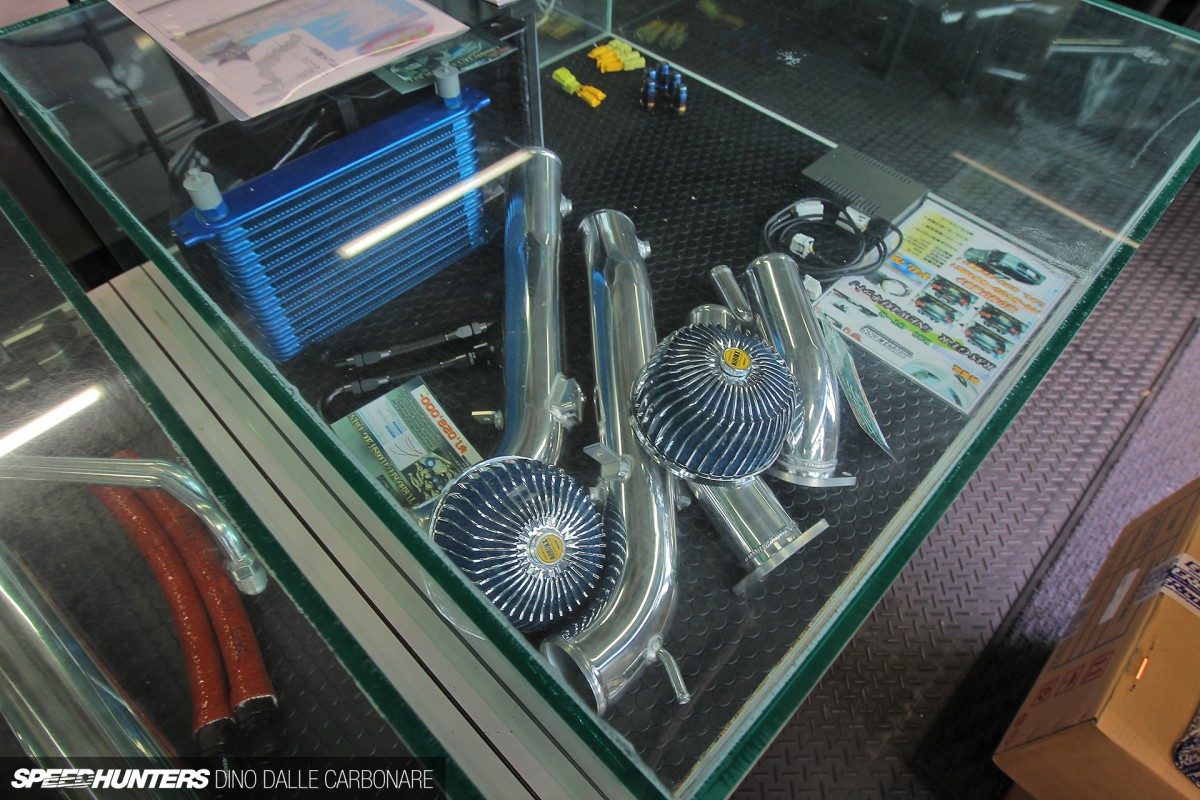 The R35 GT-R already comes with a decent level of power but it's impressive what a few minor modifications can yield. One of the most popular upgrades Endless perform are to the VQ38's induction, and this Trust hard pipe kit with AIRINX sponge filters seems to be a favourite among R35 owners.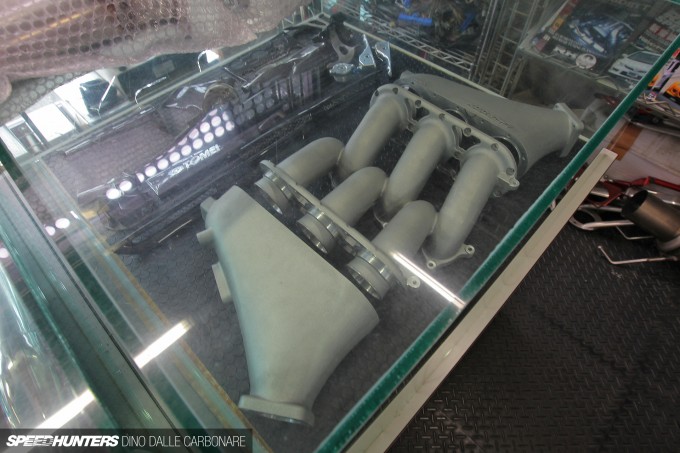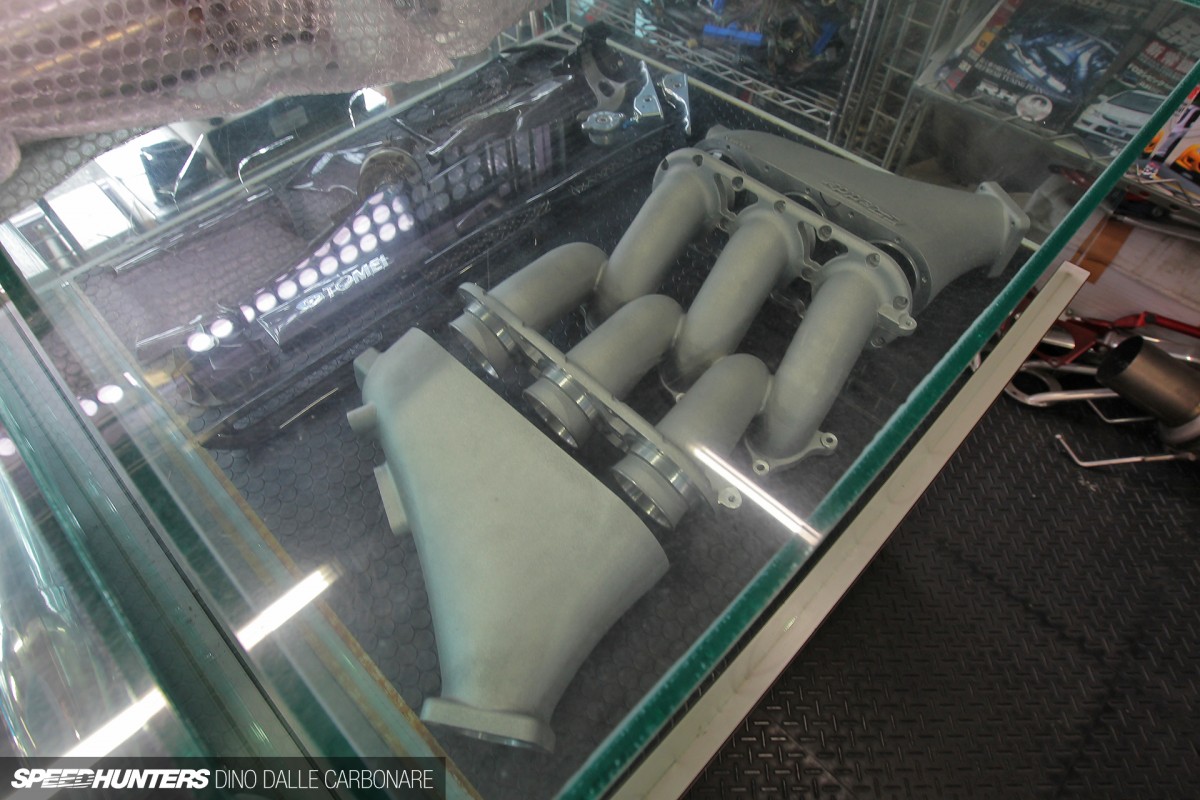 Provided you also upgraded the turbos, GReddy/Trust also has this larger capacity intake plenum designed to supply a a lot more air to each of the engine's six cylinders.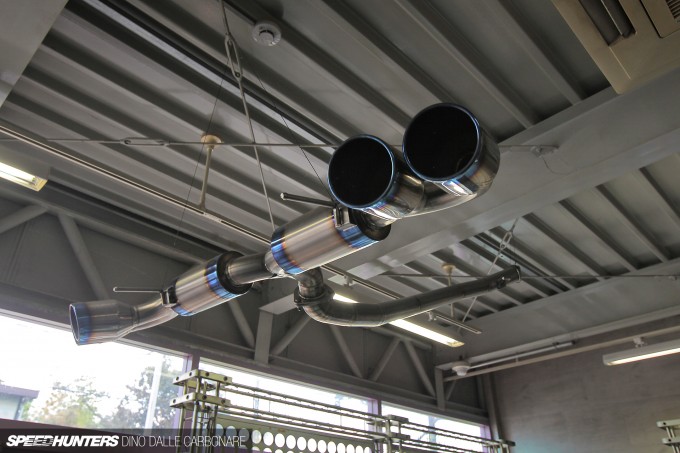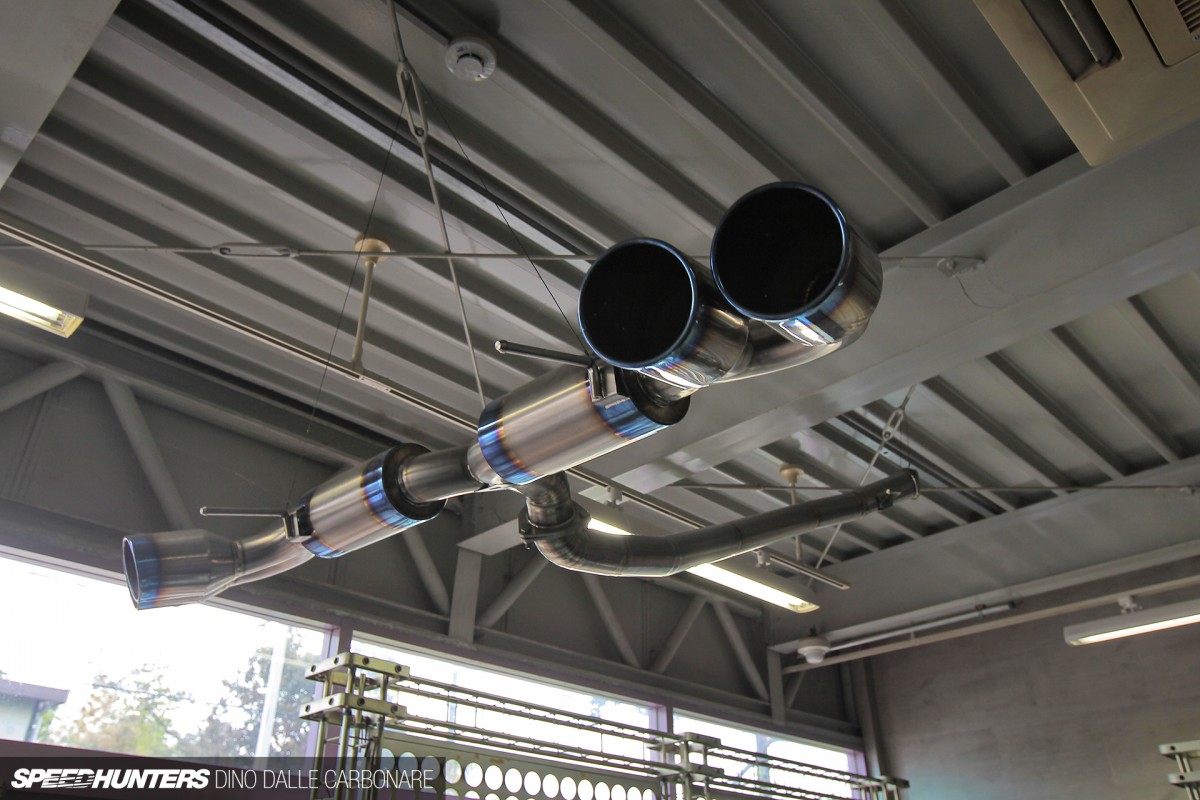 One of Endless's own hottest and newest parts is this R35 titanium exhaust system, which suits everything from a factory-spec car to one pushing substantially more boost.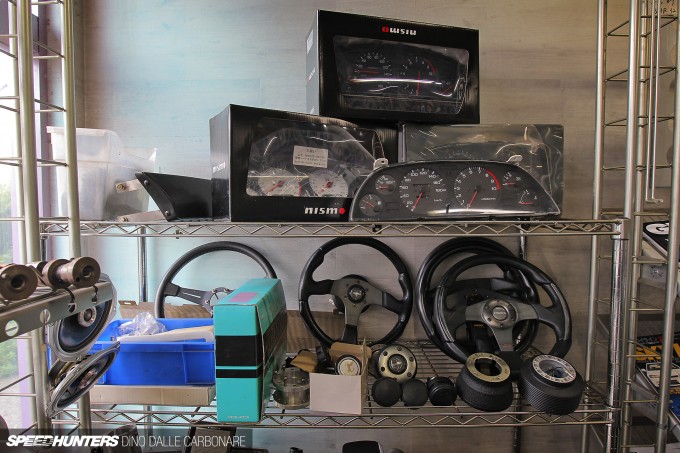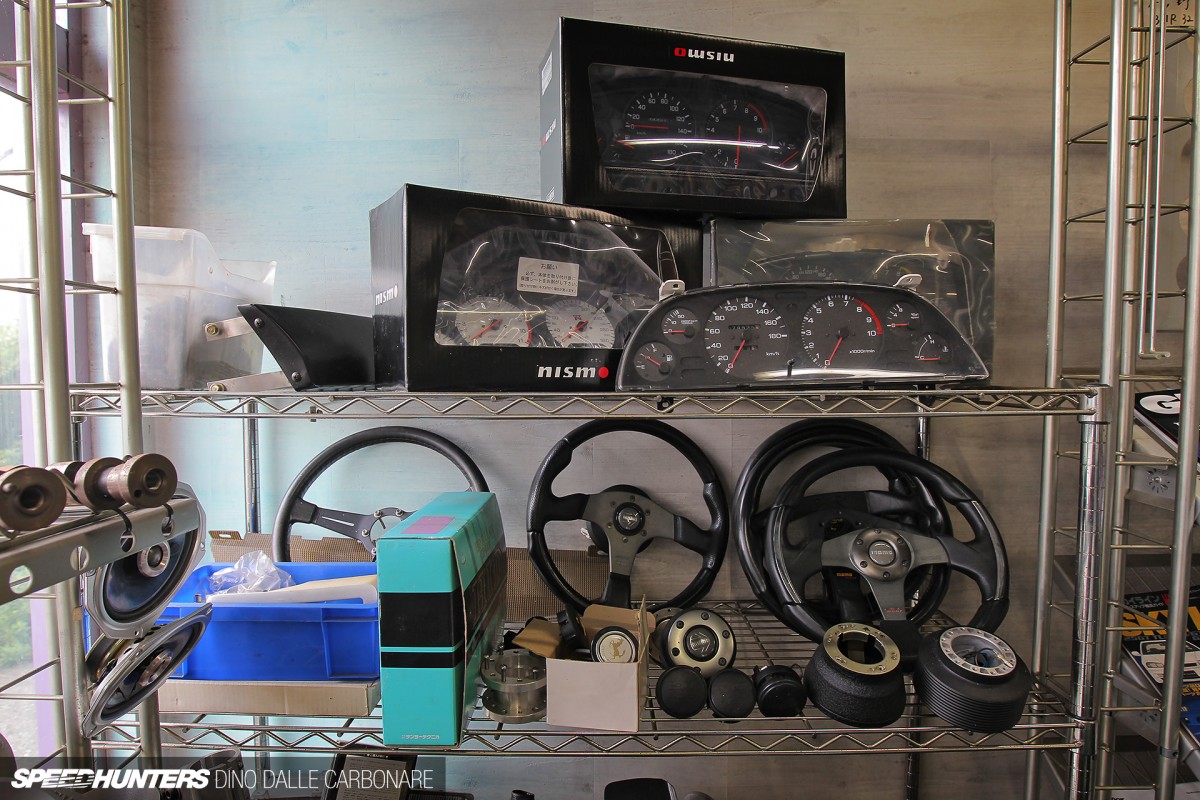 It was also really cool to see an original Nismo BNR34 combination meter still boxed and on display. I have the exact same box with the stock meters gracing one of the shelves in my office.
Getting those hands dirty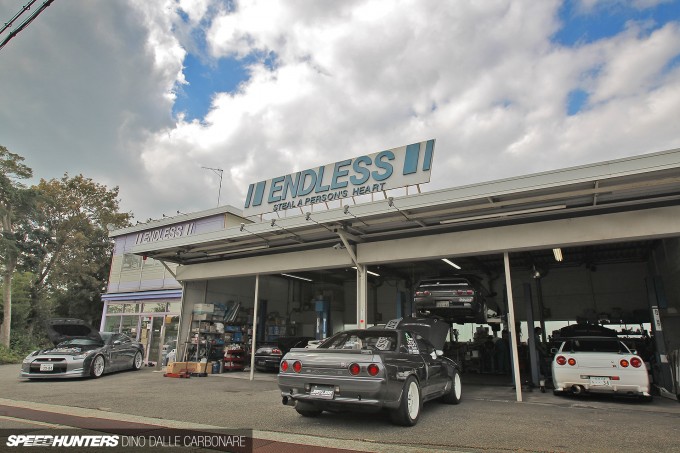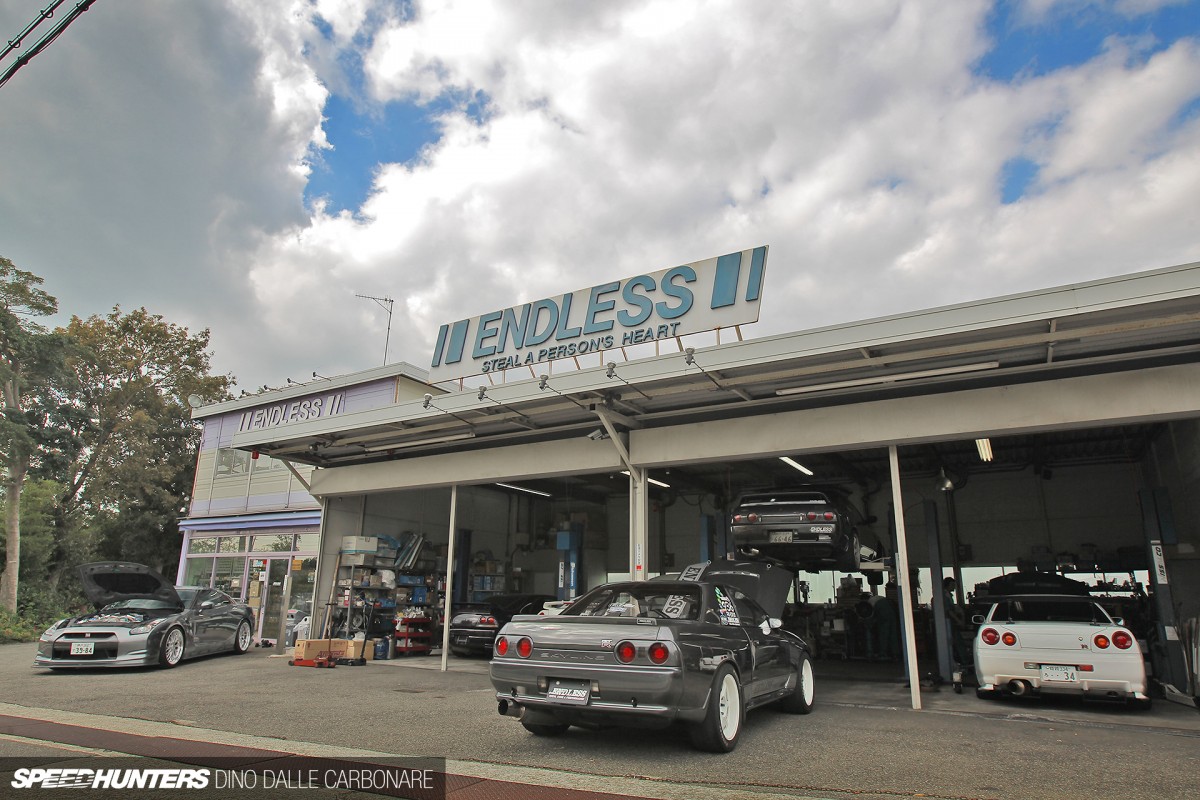 The workshop however, was where I was itching to get access to next and I'm sure you can see why! During my visit there were some cool cars in for work – some major and some more maintenance-oriented.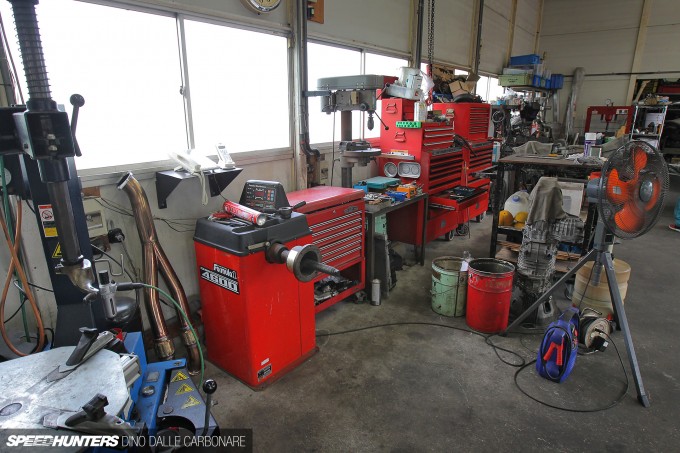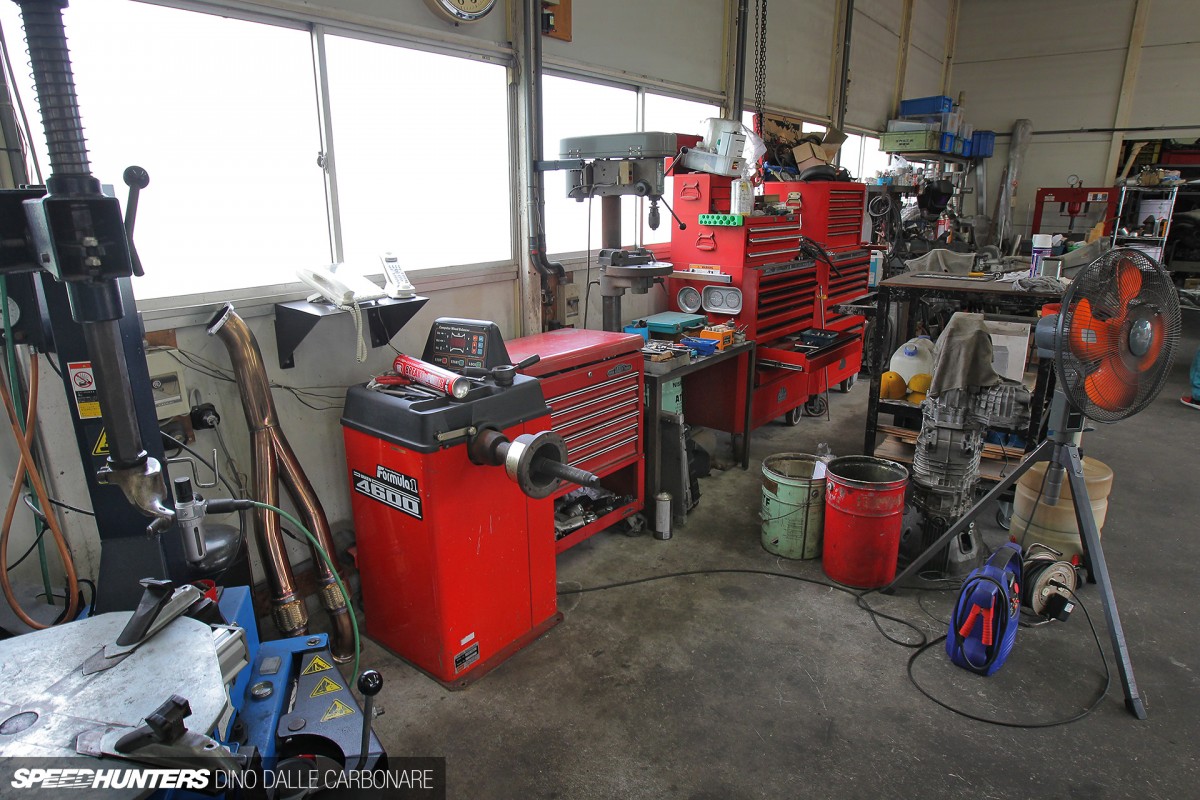 Like most tuning shops in Japan, Endless is equipped to tackle a wide range of jobs. Trusty customers even drop off their cars to get new tyres fitted, or other such things a dealer would normally look after. This allows tuners to get to know their customer cars very well, which is always important when you begin taking those steps up the modification ladder.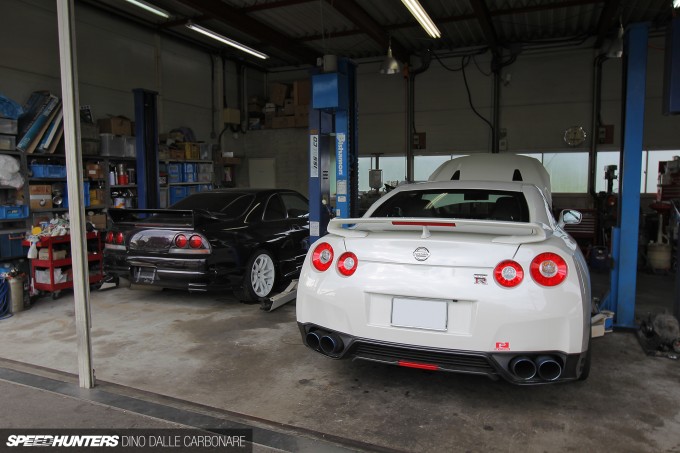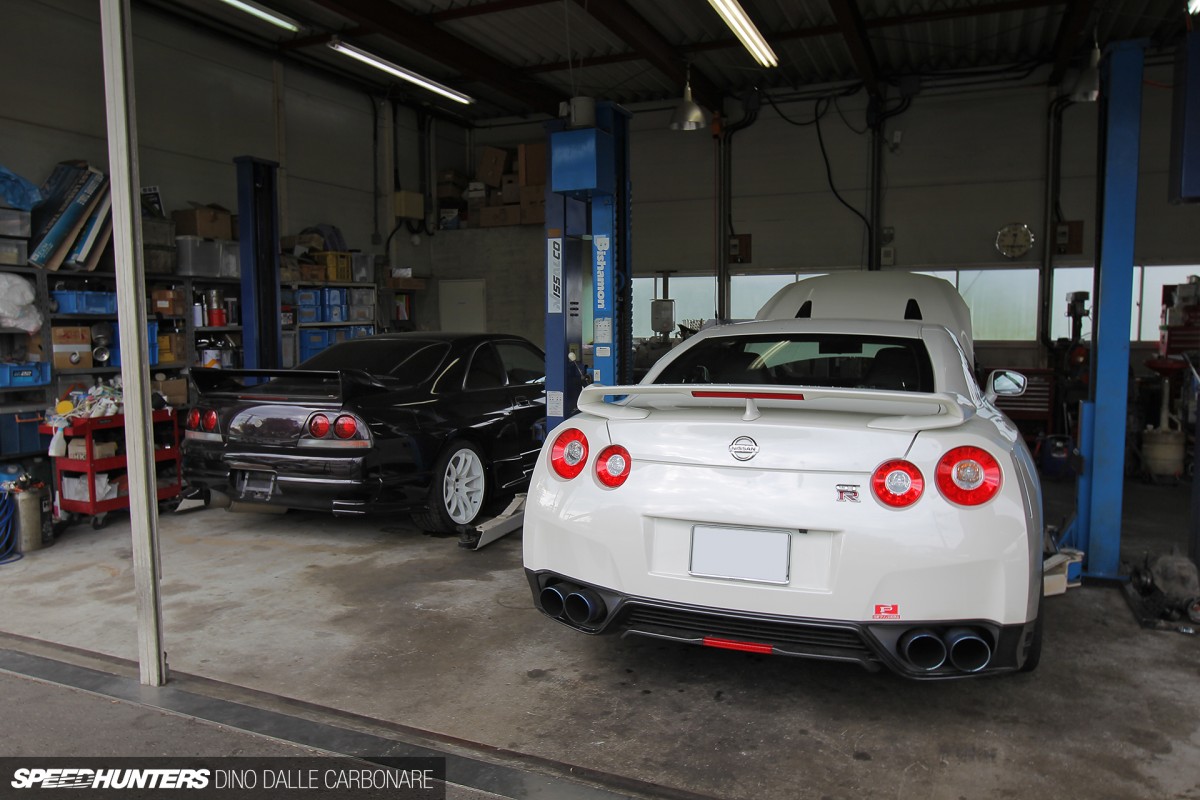 During the few hours I spent at Endless, two of the mechanics managed to drop the engine out of this brand new white GT-R. After putting only a few thousand kilometers on it the owner had ordered up all sort of cool parts from Trust, including a turbo upgrade to bump power up to 800hp. Nice!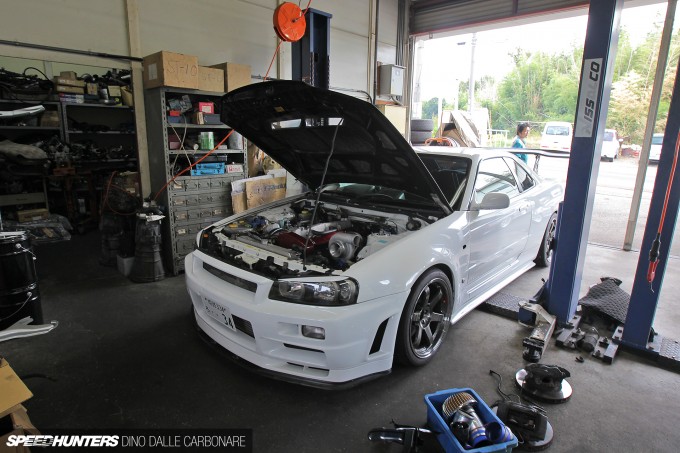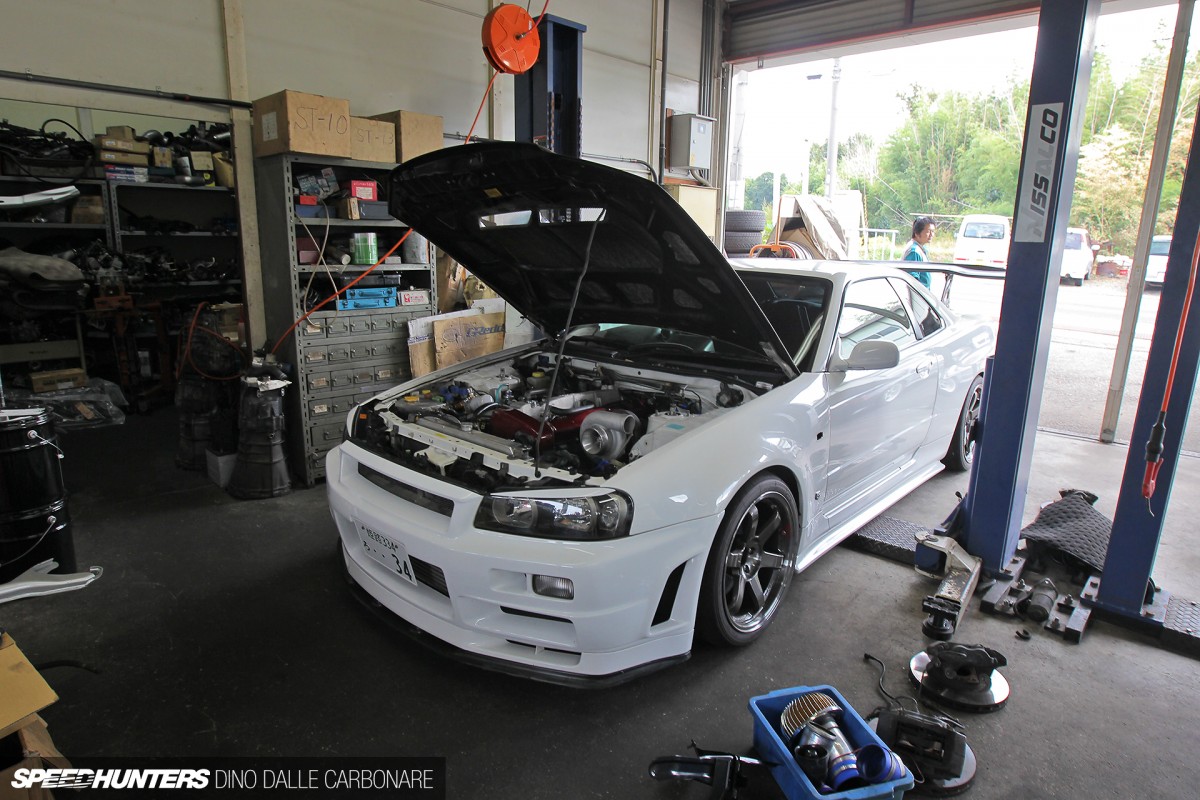 Not surprisingly it was the white R34 a few pit spaces up that caught my eye. On top of the nice exterior additions like the Nismo Version 1 front bumper and side skirts, there were some serious engine modifications being undertaken.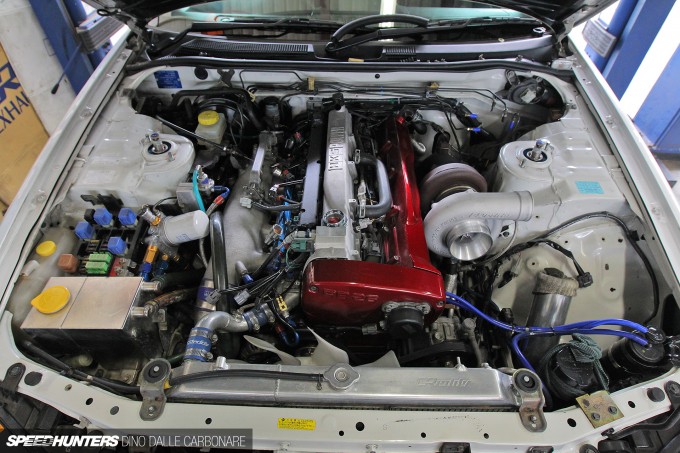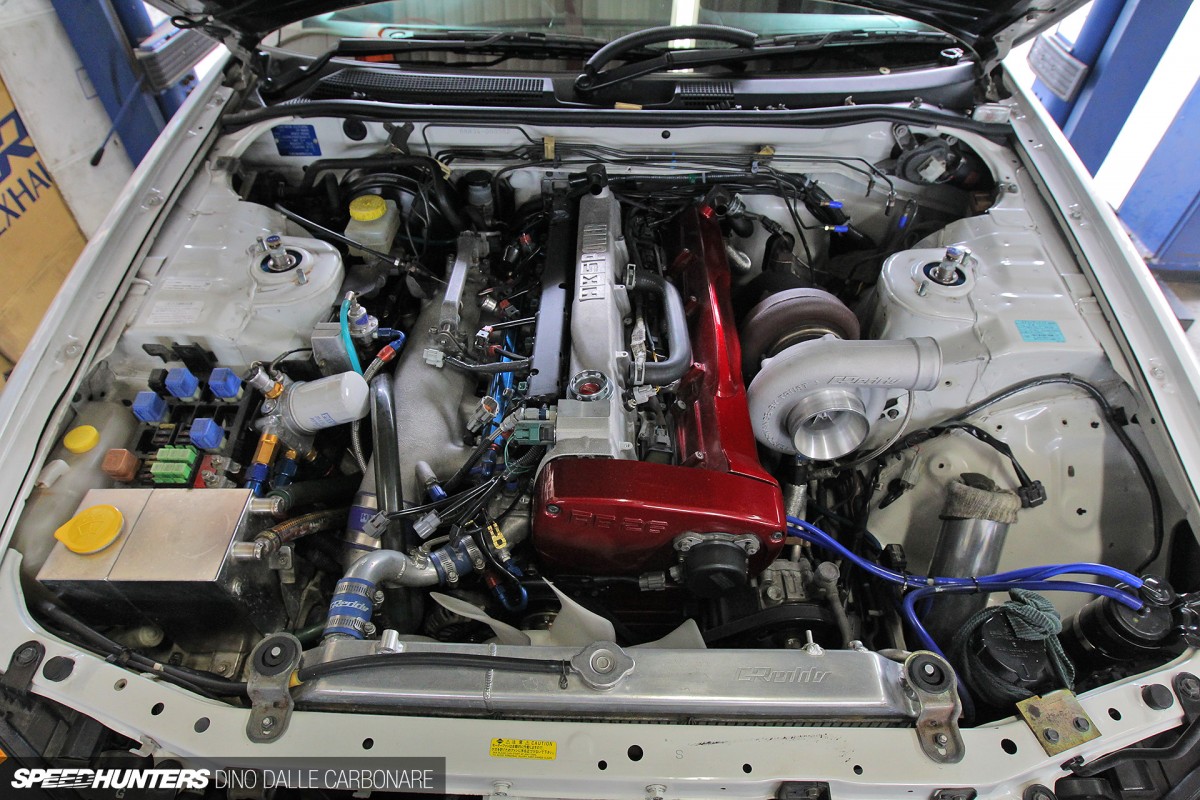 After being freshly built up with an HKS Step 2 V-Cam kit. the engine had just been dropped into the bay.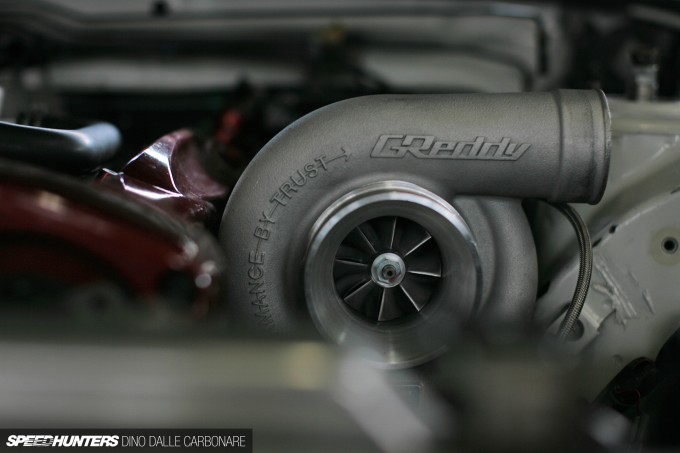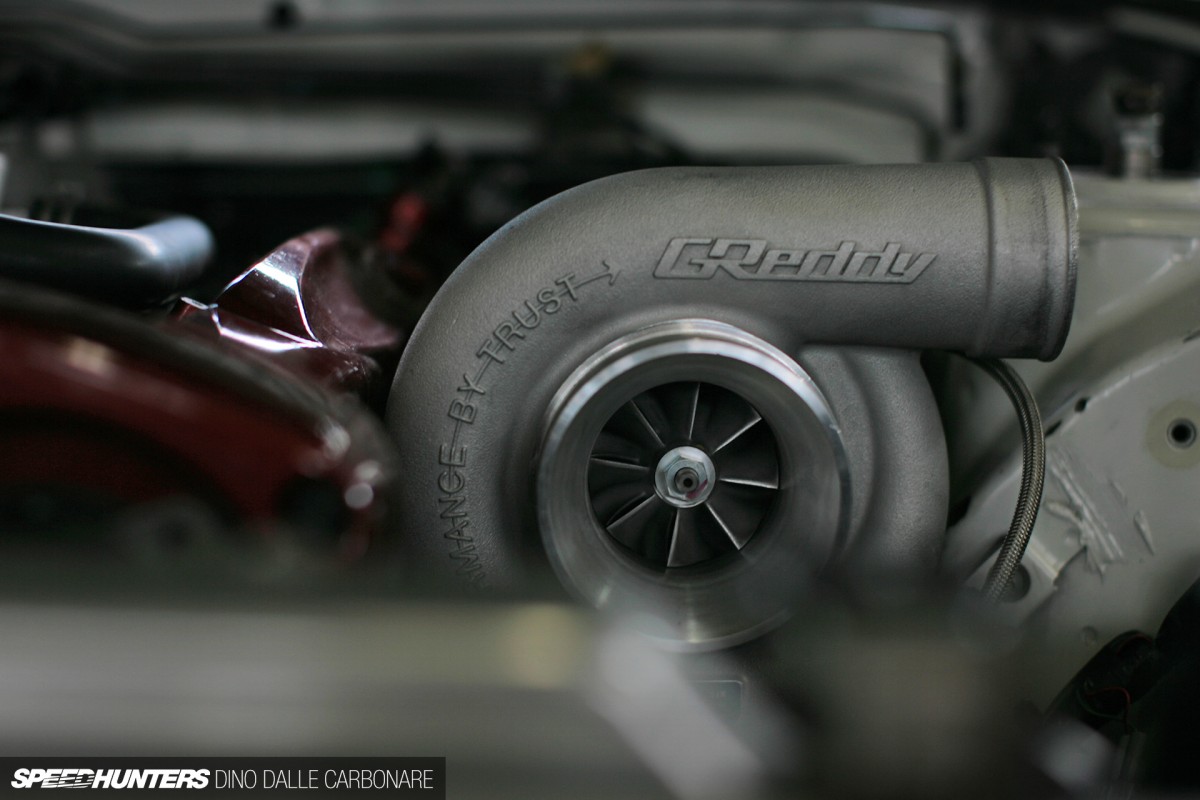 With the variable timing on the inlet cam and the 200cc bump in capacity it would have no problem spooling up the Trust T88 that was being piped in place. When finished up and mapped, this setup can produce anywhere between 700 and 800hp, which isn't bad for a street registered car, right?  While the lag associated with these single turbo conversion has always put me off, the sound these things make with their externally vented wastegates is something else!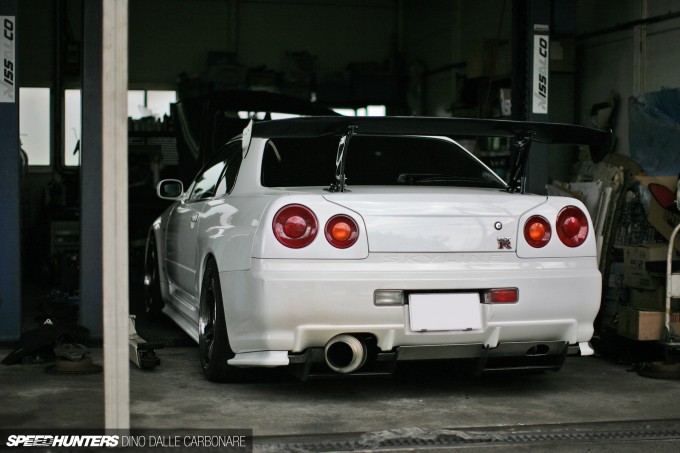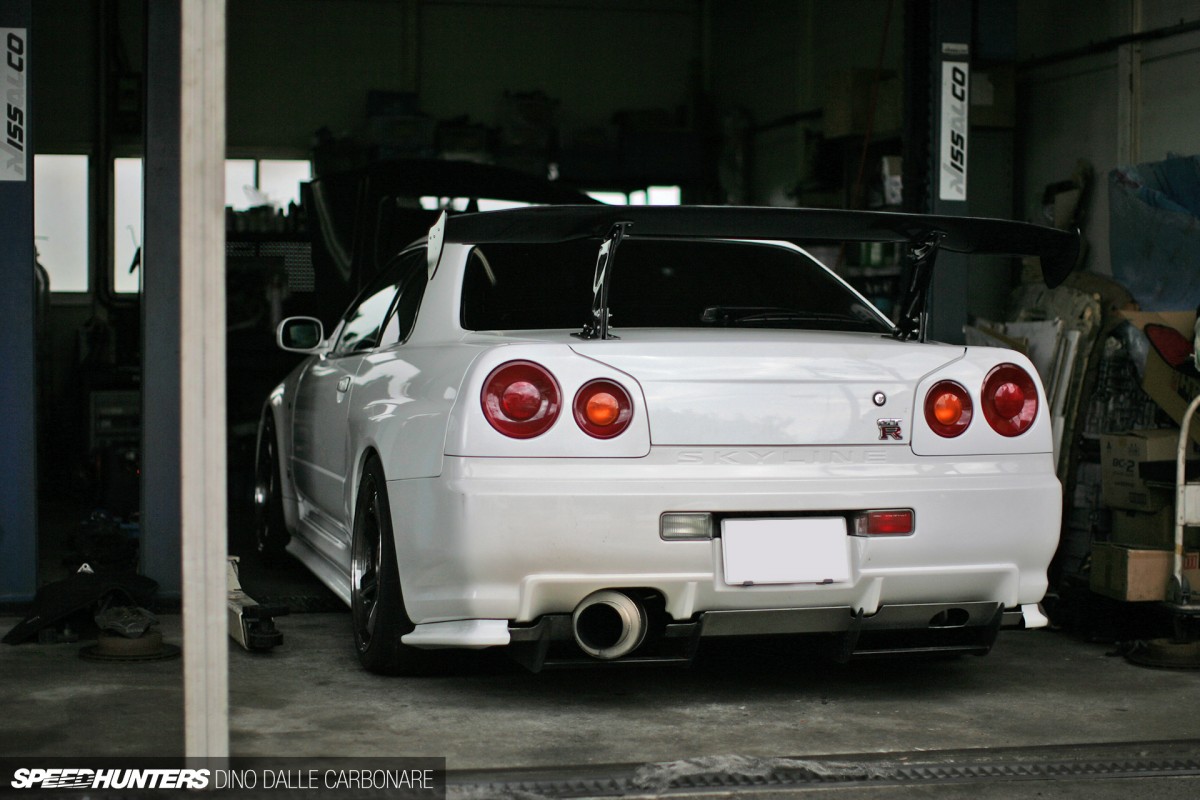 This non-V-spec model was also fitted with an ARC rear diffuser – something I haven't seen in close to a decade.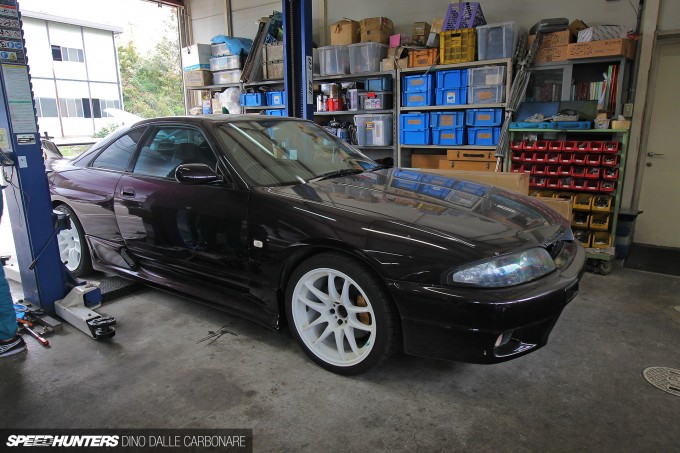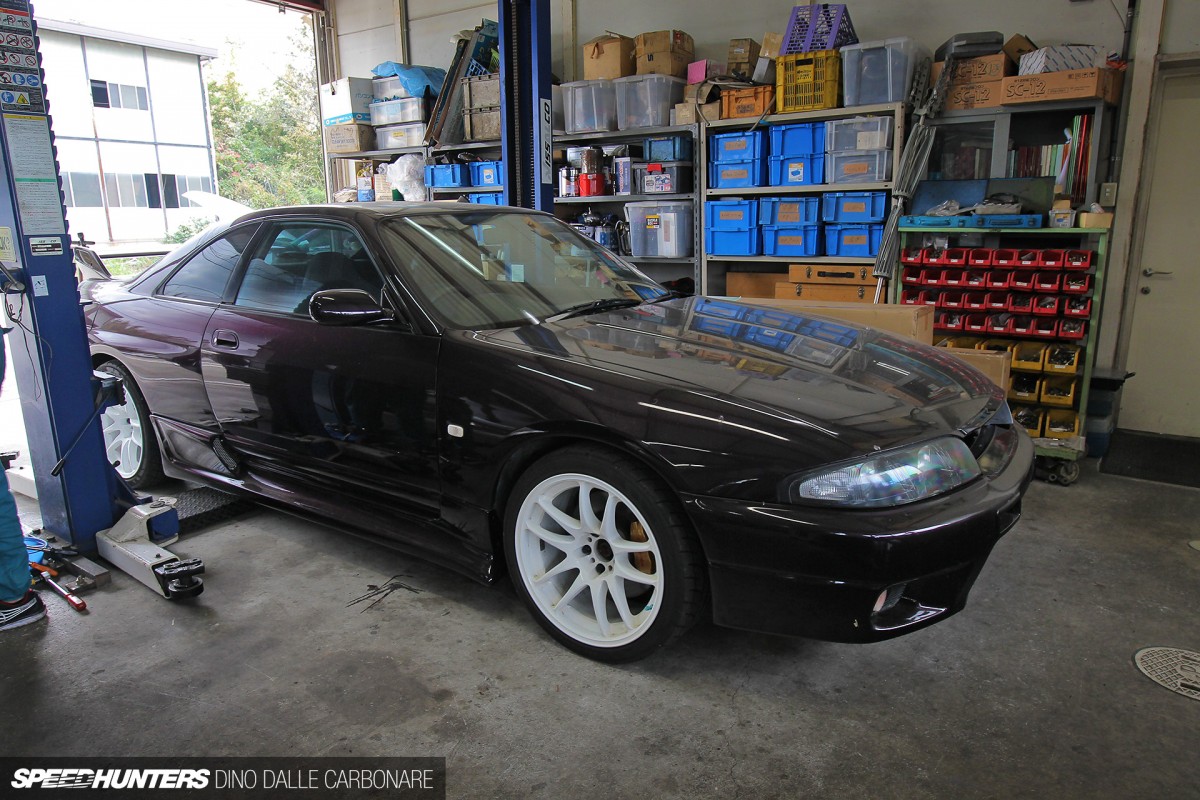 In for similar work was this BCNR33 on white Work Emotions.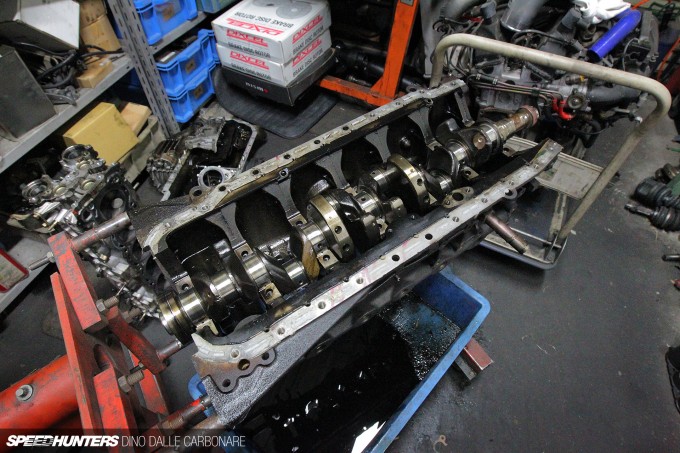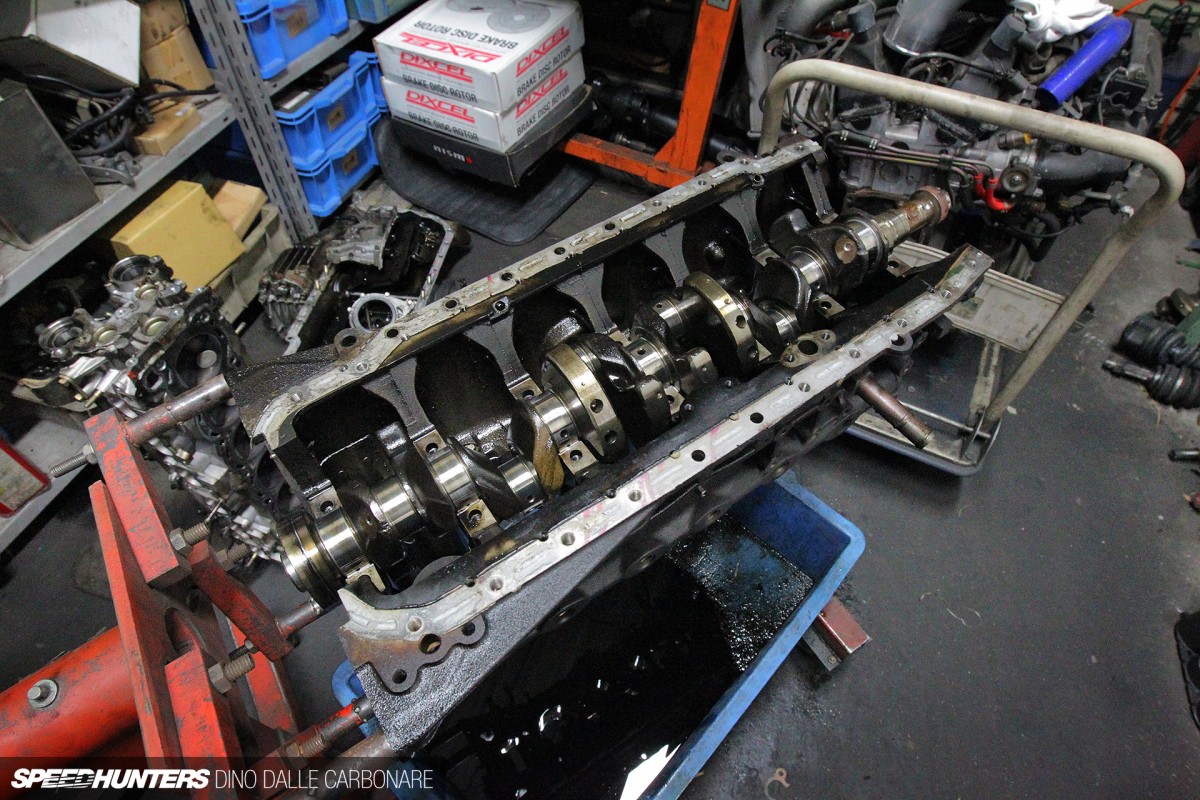 Not too far away was its opened-up RB26 which was about to receive the full Endless treatment.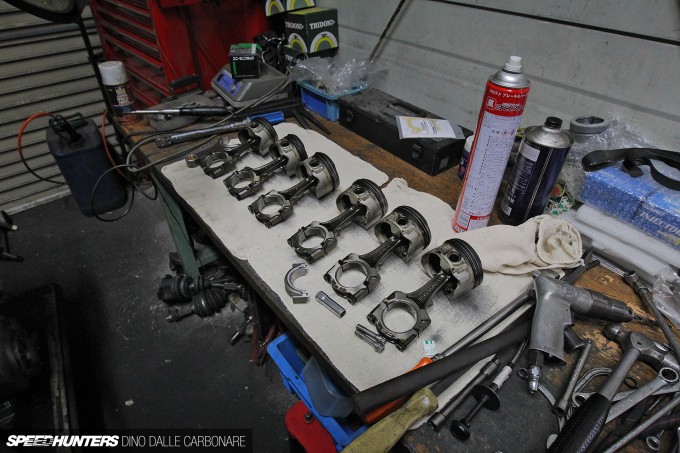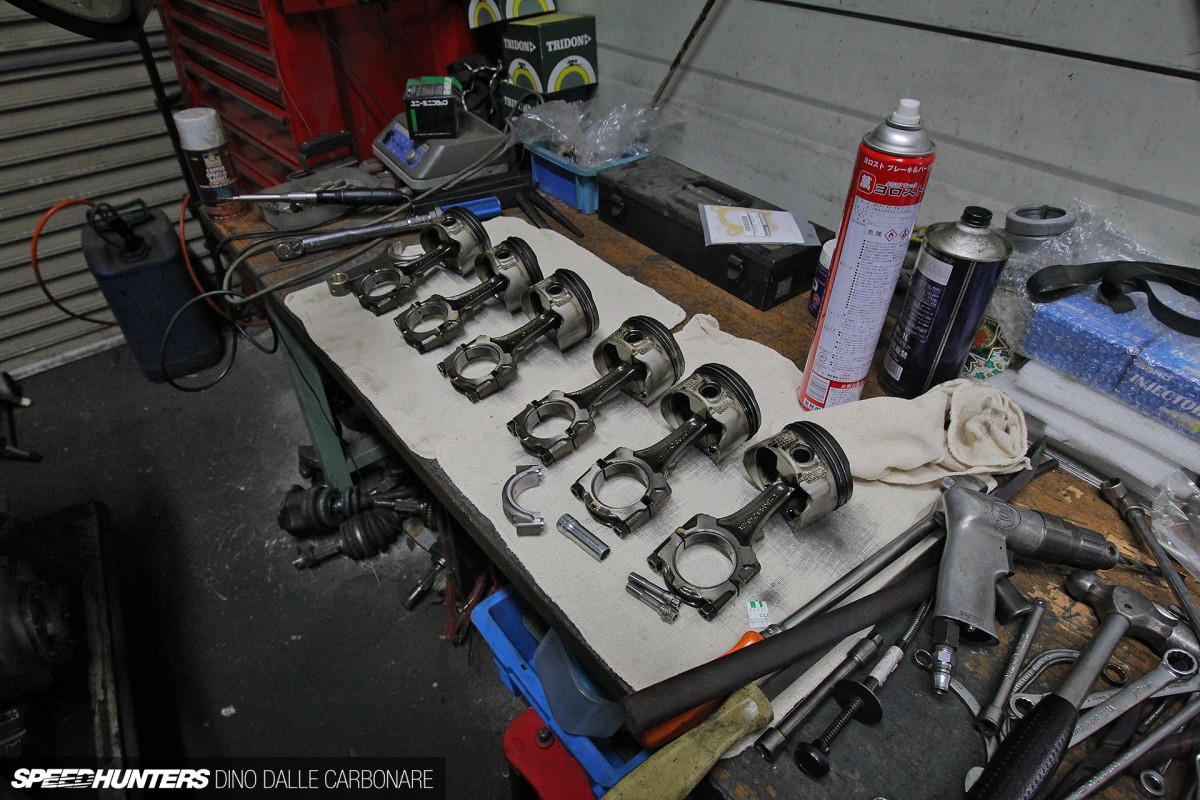 Here are the stock pistons and connecting rods which up until recently served the engine well. You can see one of the new H-section rods on the far left that will soon be fitted along with a bunch of other parts.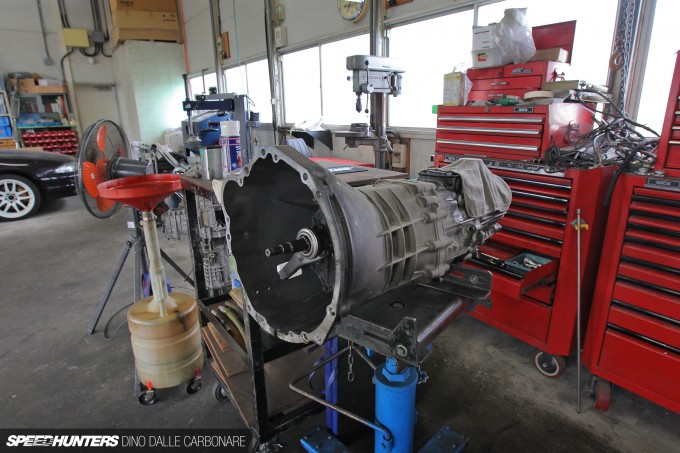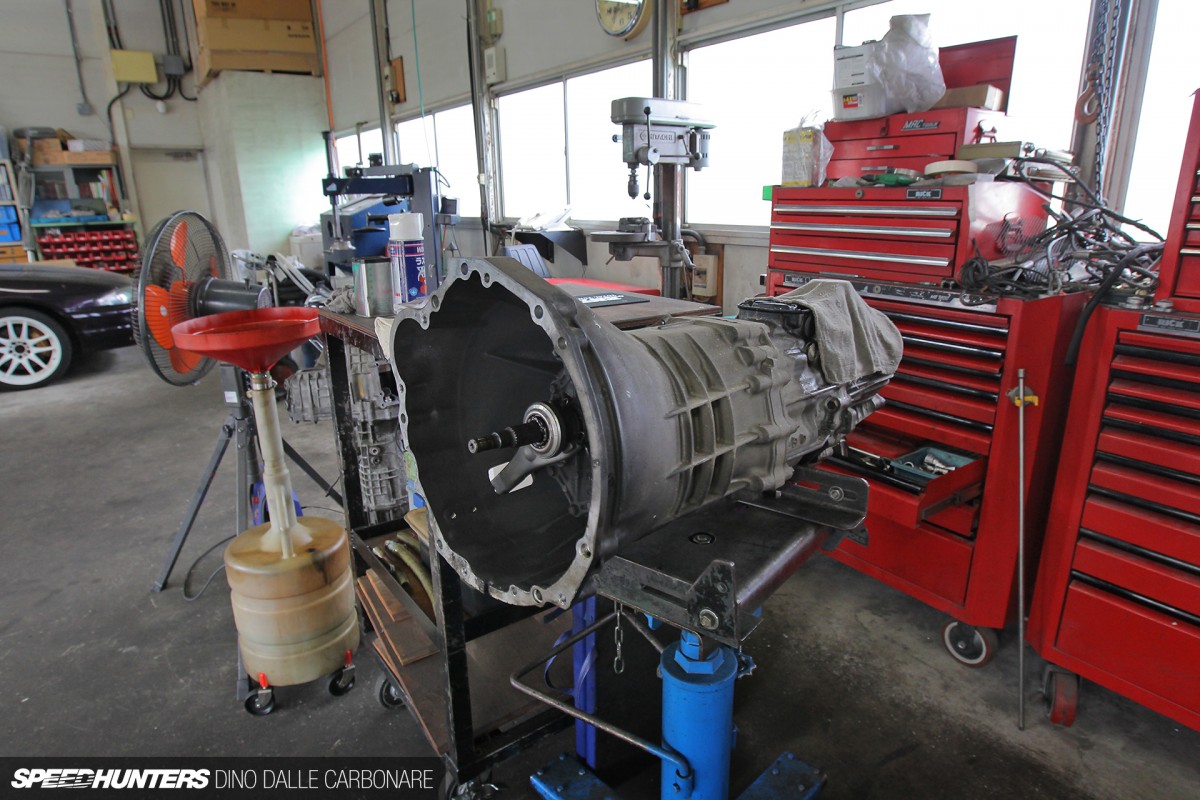 And here's the R33's gearbox, patiently waiting to be reunited with the soon-to-be rebuilt RB26.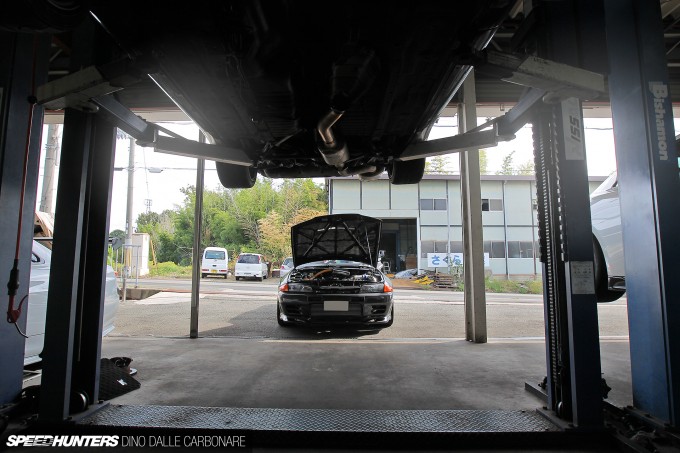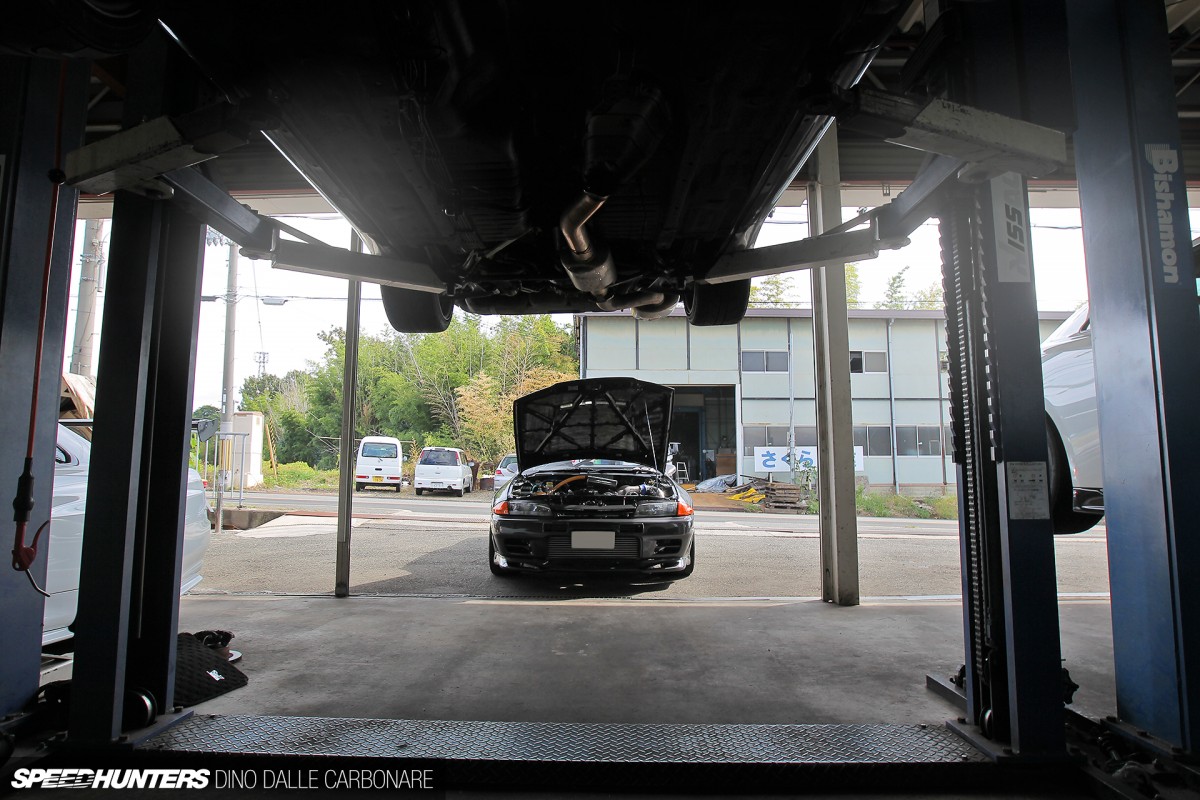 The main reason I was out at Endless was to shoot one of the most extreme cars Sugino-san has built in recent years – a car that despite boasting a four-figure power level is still road registered.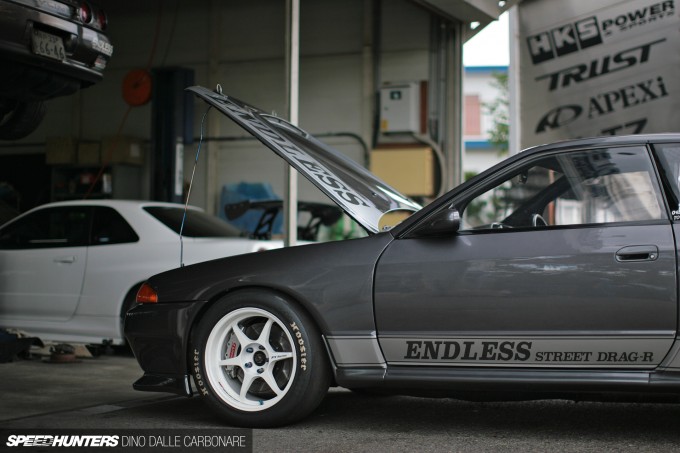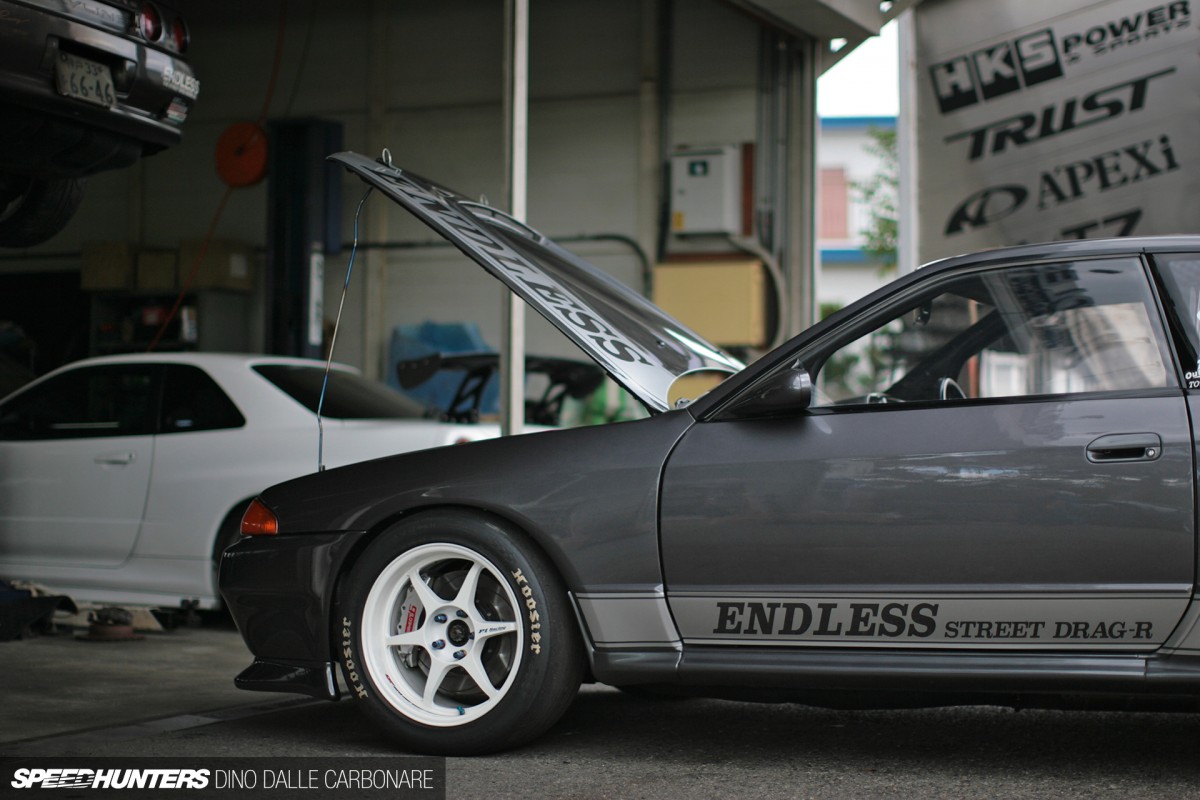 I'll end the shop tour right here, but hopefully I've managed to show you what Endless is all about – not to mention whet your appetite for some GT-R feature cars that will be coming your way soon…
Dino Dalle Carbonare
Instagram: speedhunters_dino
dino@speedhunters.com