This isn't cool, it's freezing
Cars are cool. But, you'll already know that if you're reading this though… Be it a Group 2 race car from the '70s or a daily driven classic in Malaysia, they all evoke a sense of emotion in us. The reasons might be different but the results are the same; our pulses quicken, hairs stand up on the back of our necks and time goes faster as we greedily soak up the atmosphere.
Right now all of that is happening to me. It's minus-something-stupid cold and it's late/early in the day depending on your perspective and body clock. But this is cool. Really cool.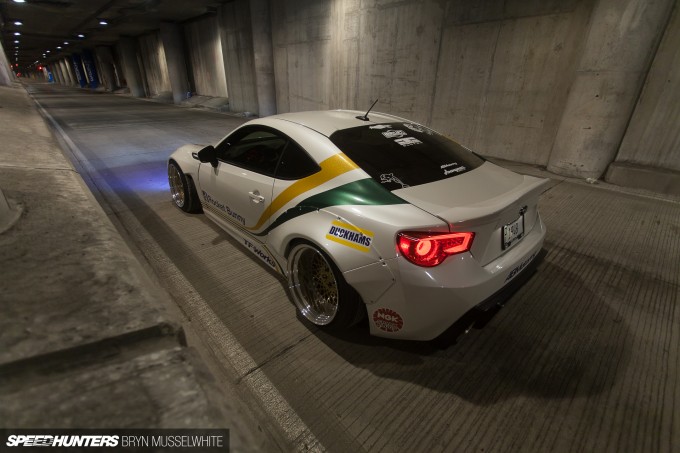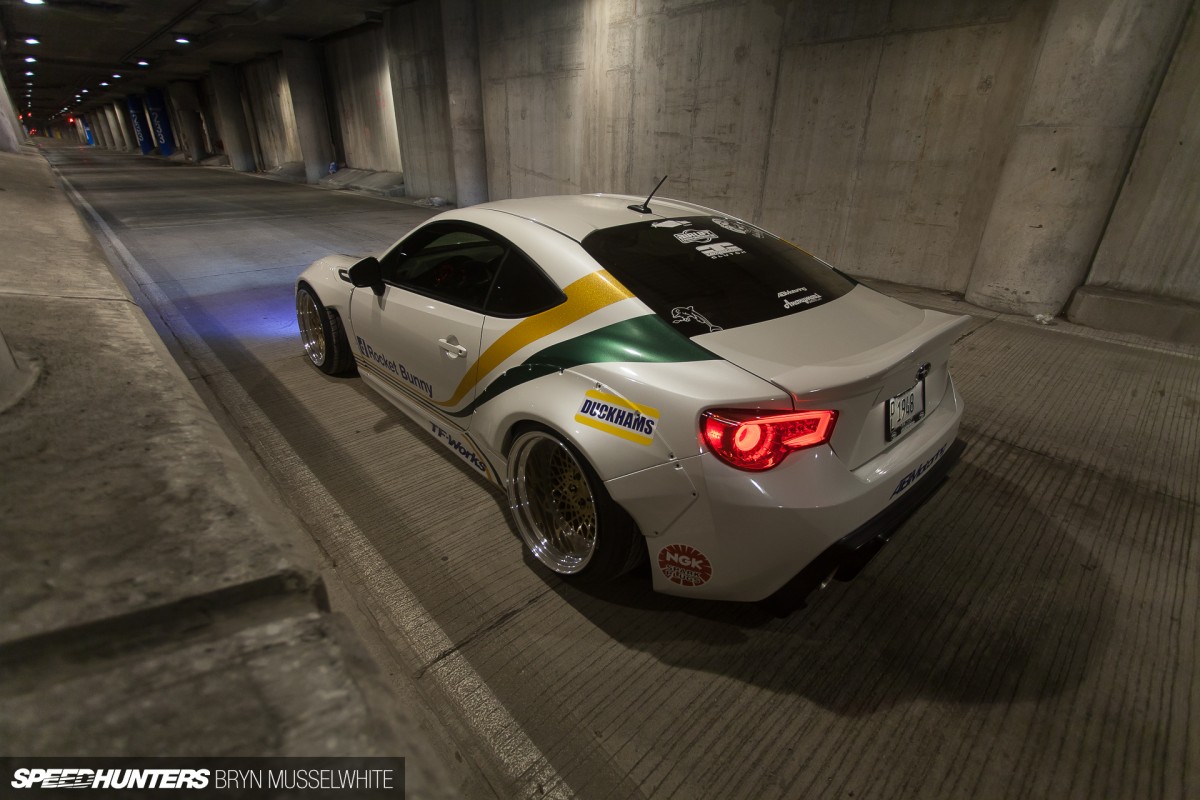 I'm stood somewhere in the middle of a maze – at least that's what it is to me. Truth be known, we're on an undergound network of roads called Lower Wacker. To the locals of Chicago it's a way of getting under and around the city during the daytime and avoiding traffic. Above us on street level there's Wacker Drive and I'm told that somewhere nearby and below us is Lower Lower Wacker Drive.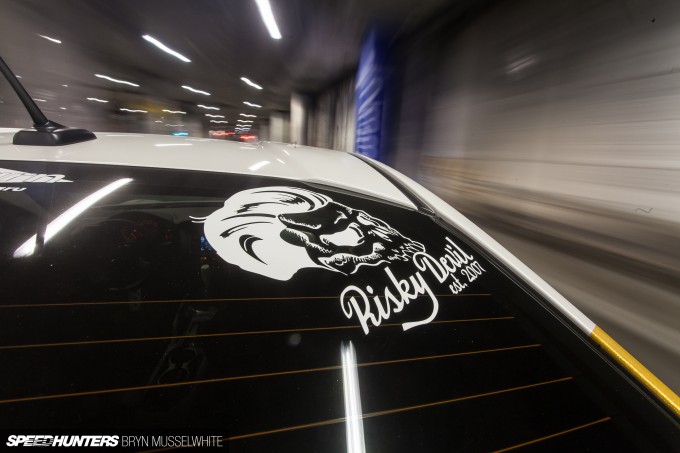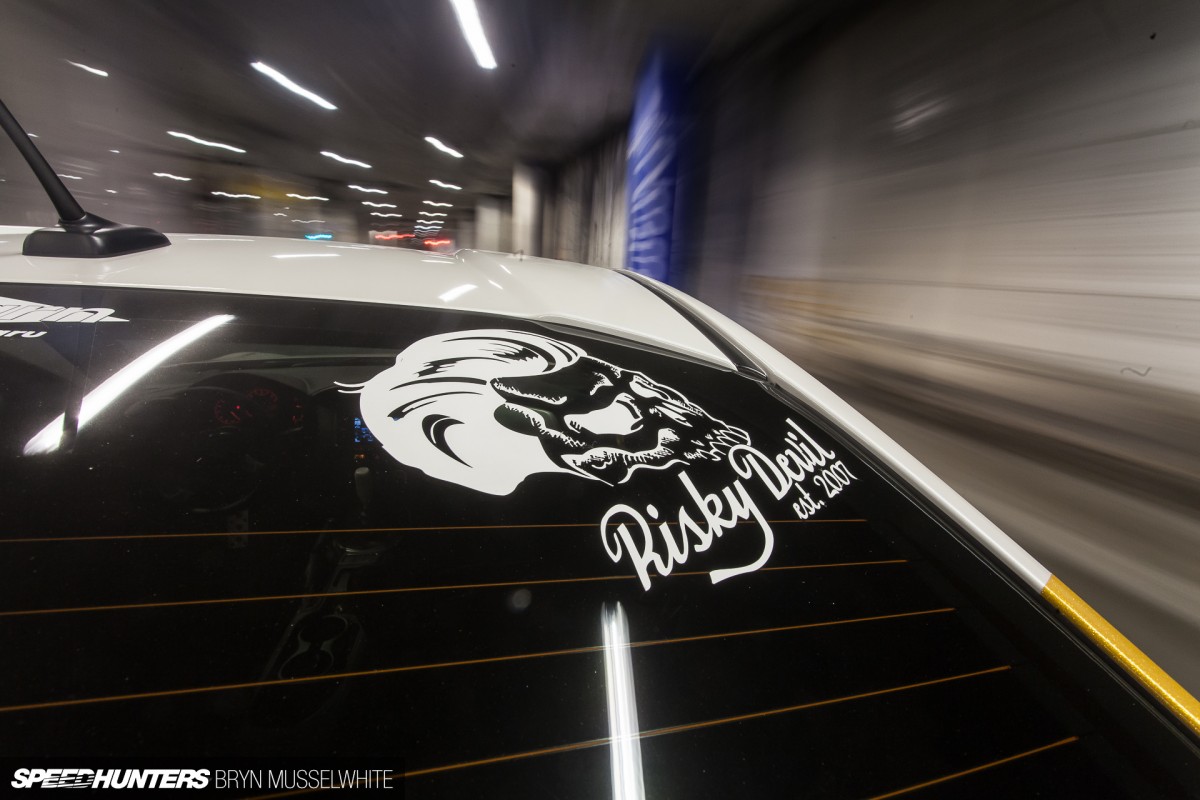 This is where Risky Devil – a loose fitting group of friends who've been the back bone of the Chicago drift scene since it came to be – come to play. You've probably heard of them before and I've found there's a mixed reaction when you mention the name. So I'll spell it out now – they're good guys with great cars having a good time. Plain and simple.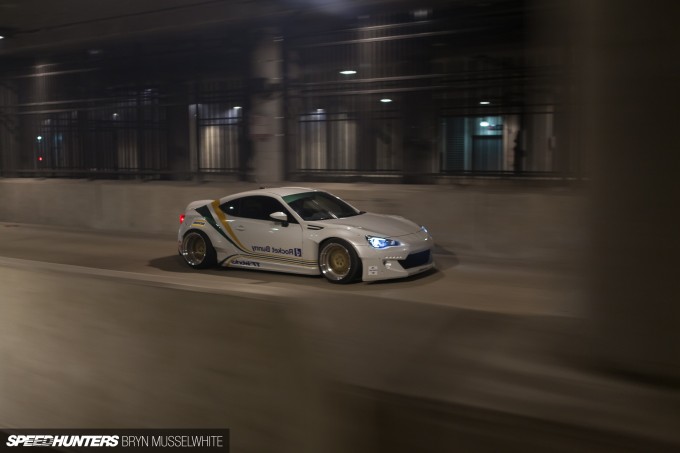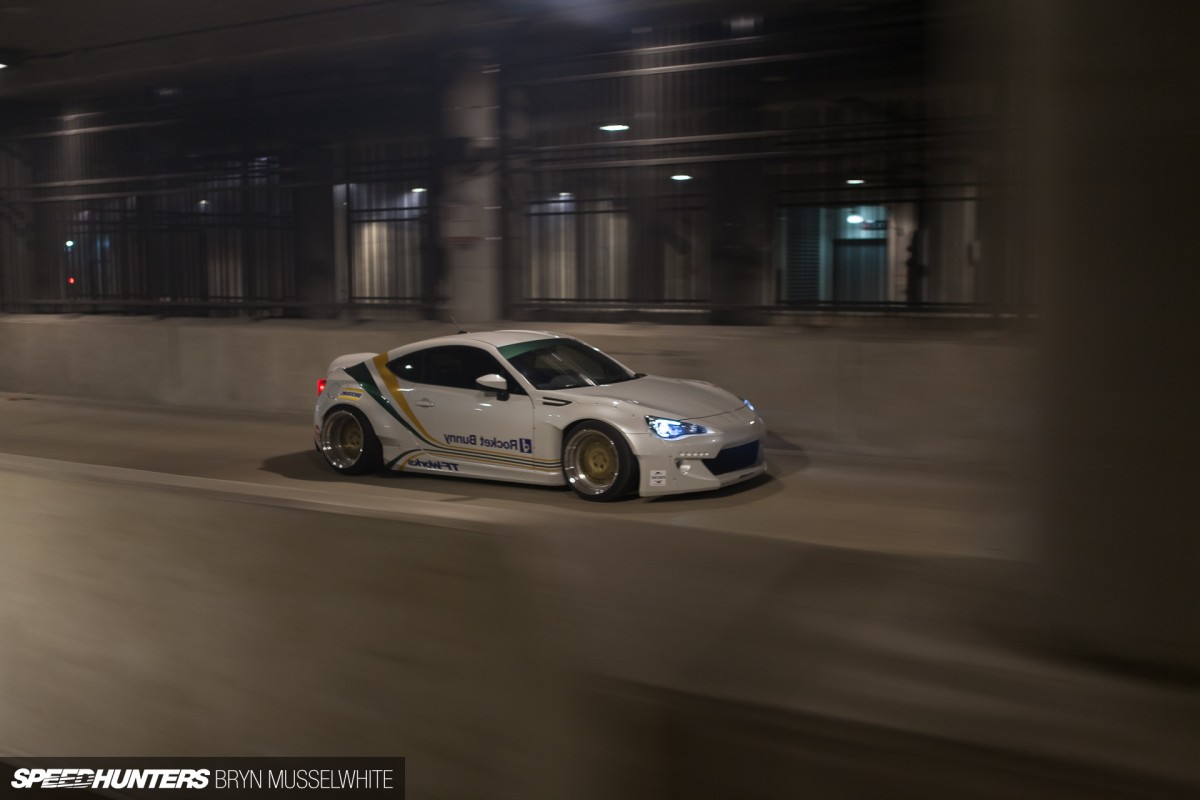 The reason why we're down here in mid-January when the rest of this part of north America is wrapped up warm at home is this: Richard 'Fish' Fisher's Subaru BRZ. As far as ZC6/ZN6 chassis cars go, this one is my favourite, and now that confession is out of the way I can tell you why.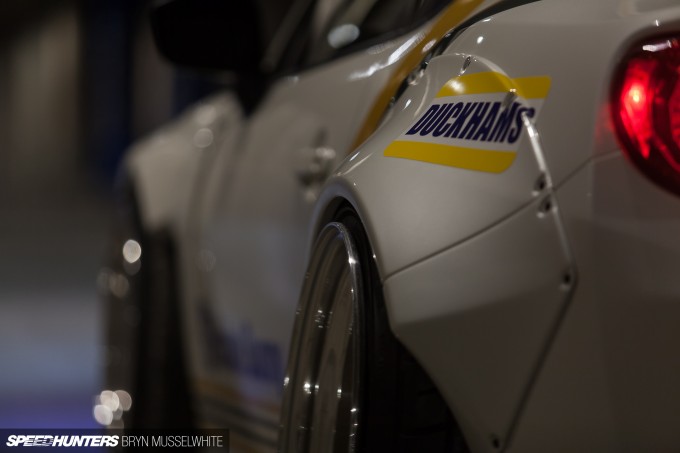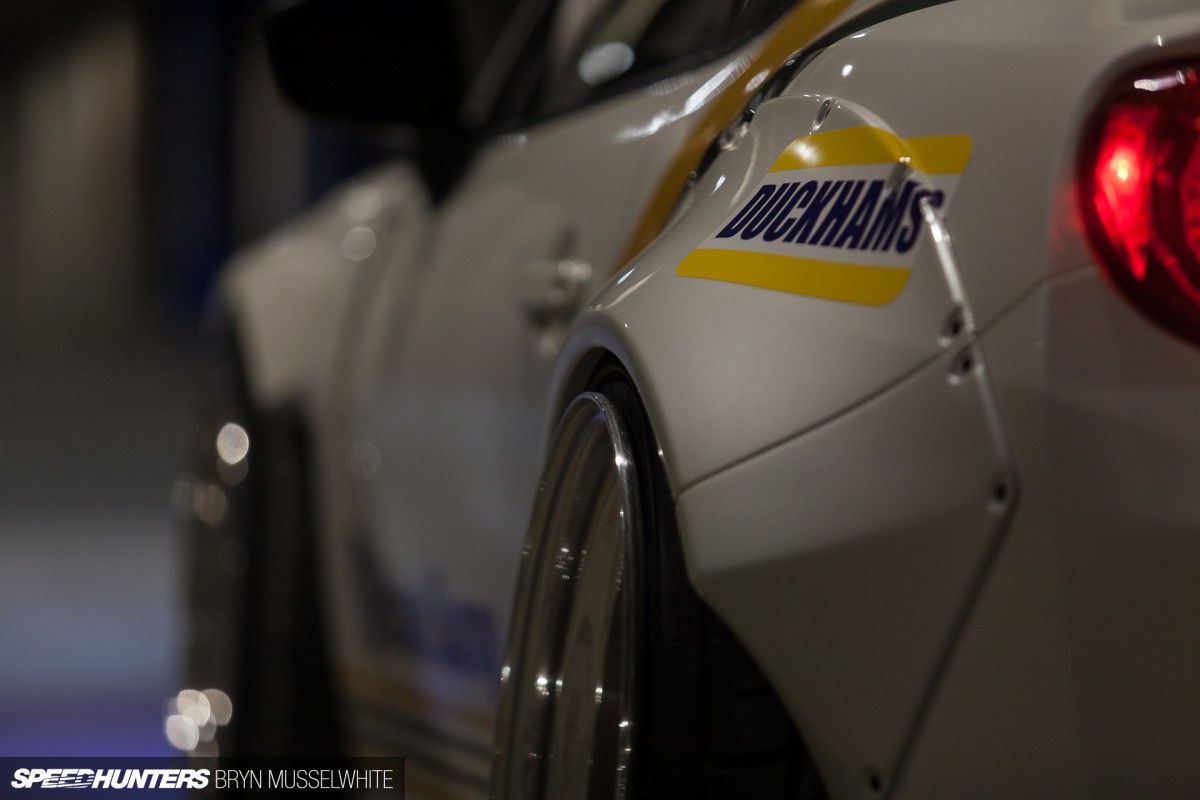 Prior to the late-night rendezvous we had spent a couple of days hanging out at the Air Lift Performance base in Lansing, Michigan, looking at how they do things. Given that Risky Devil's stomping ground is relatively local (when you're based in Europe that is), it made sense to catch up. I also find it very interesting that a lot of their cars run full Air Lift setups. That's right, drift cars that run air – surely this is some sort of mechanical voodoo, right?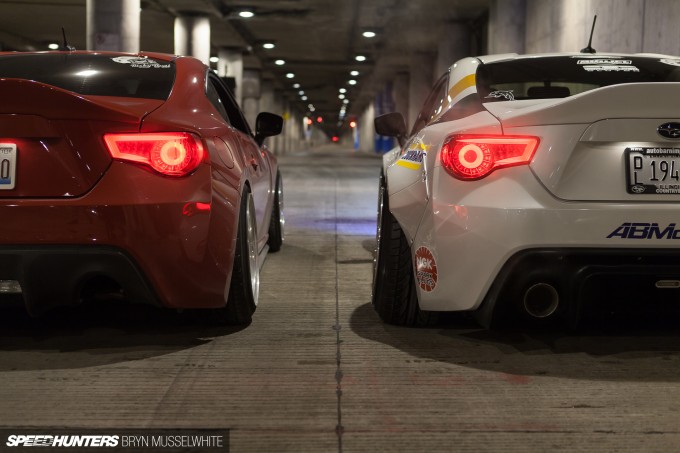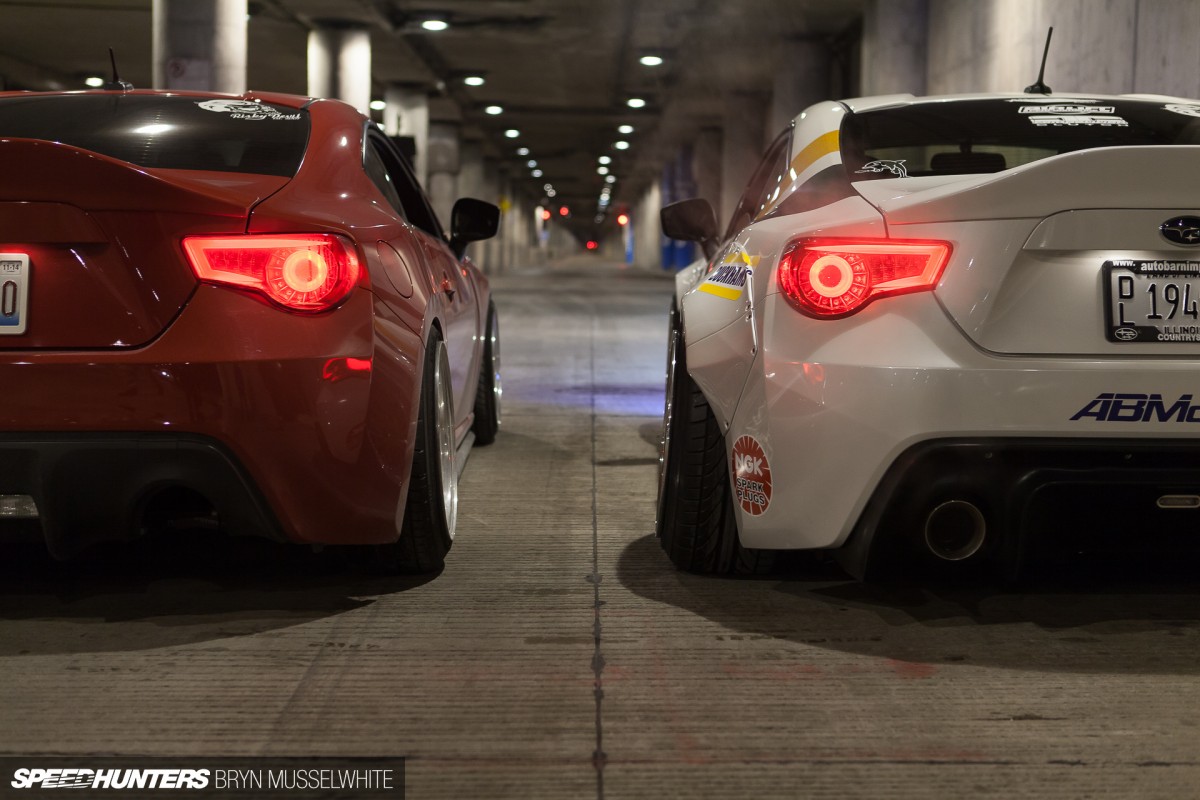 Well no actually, because it works. But more on that shortly… Looking at the BRZ, the Rocket Bunny kit adds a flared girth to a body shape that I think definitely needs it.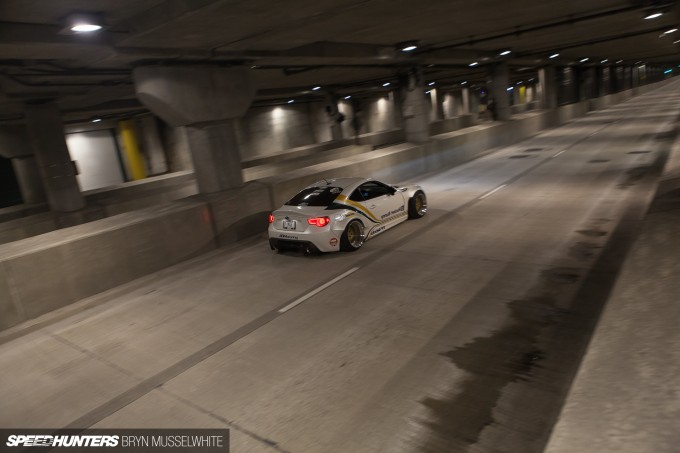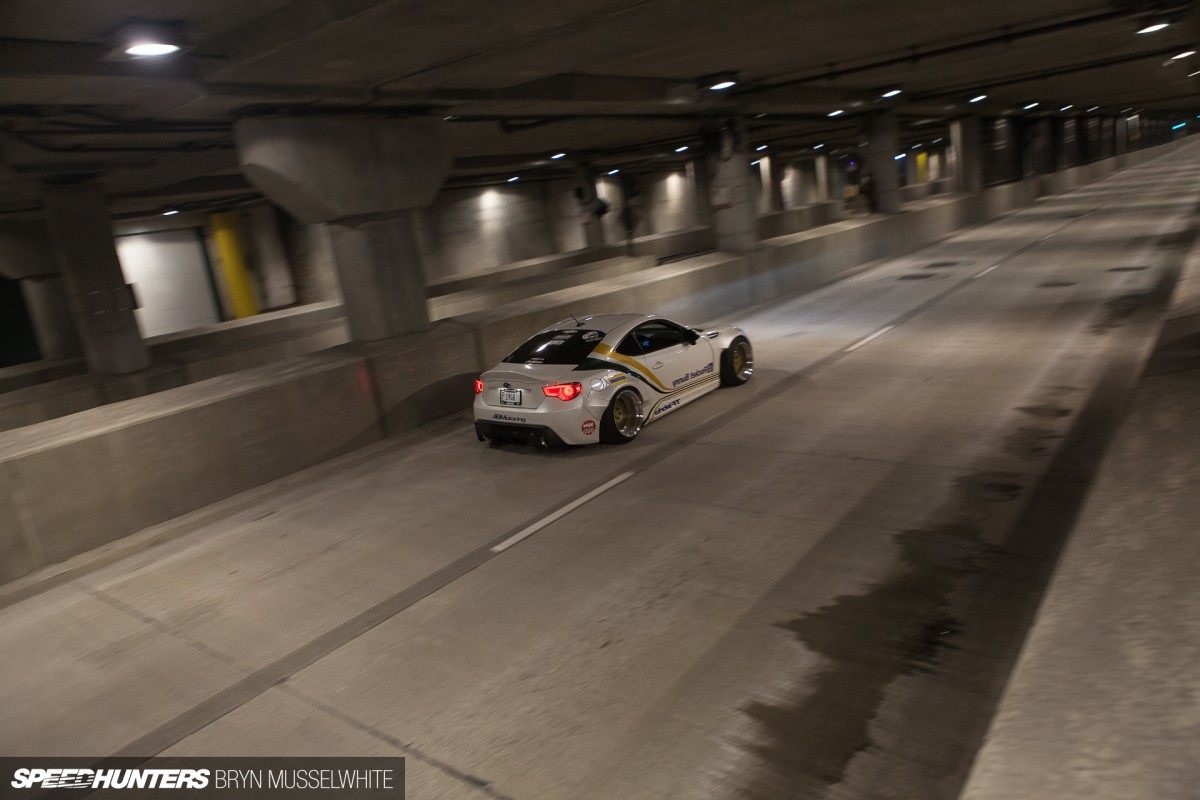 Wider is generally better, but the way the flares have the factory lines continued through them and the bolts exposed, keeps them trim and purposeful instead of feeling bloated. Authenticity is the key to a lot of the builds within the Risky Devil community and the BRZ's TRA Kyoto-styled kit is just the start of the well observed details which go to make up the package.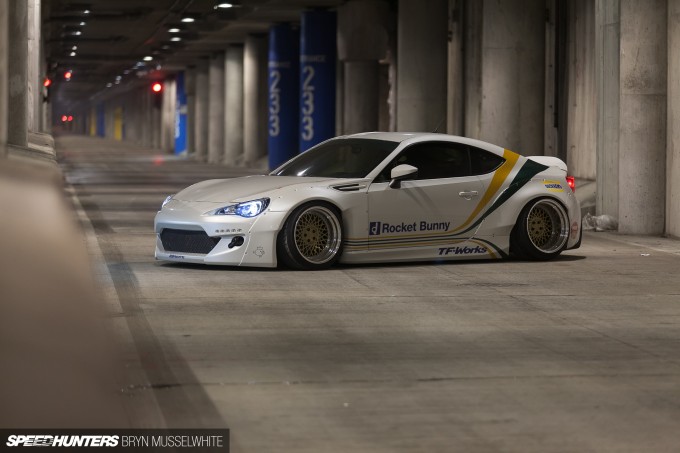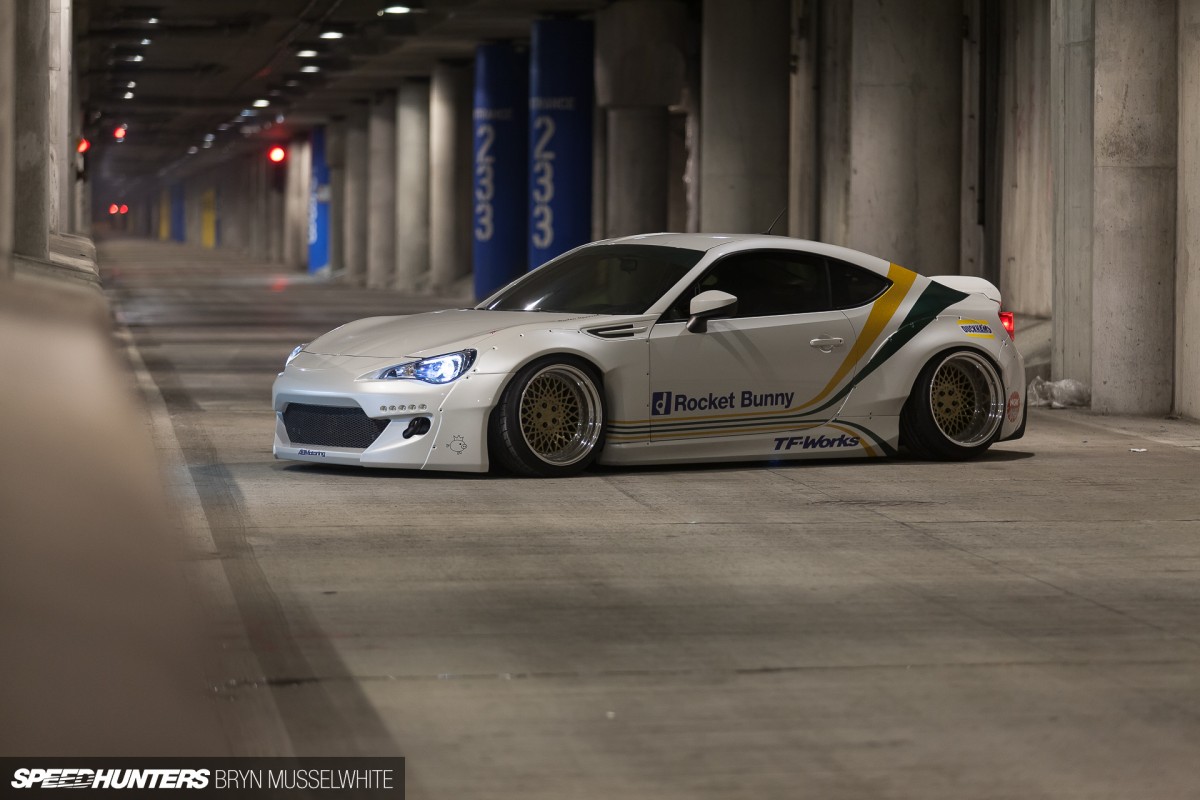 Fish is a firm believer in air ride, and with the BRZ laid out it's easy to see why. This is not just about a kit though, or even the Rotiform LHR wheels.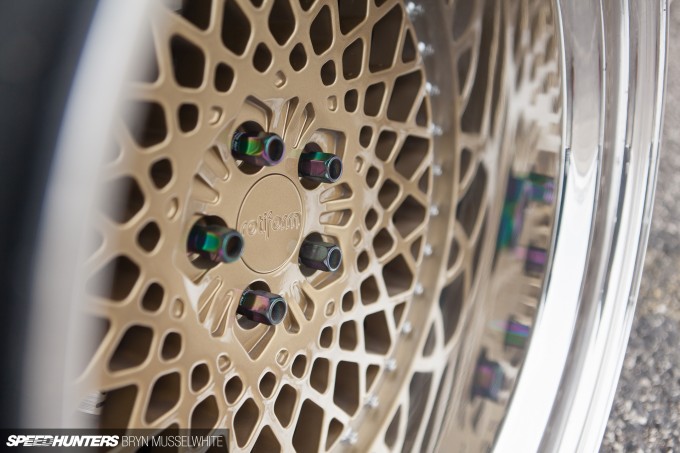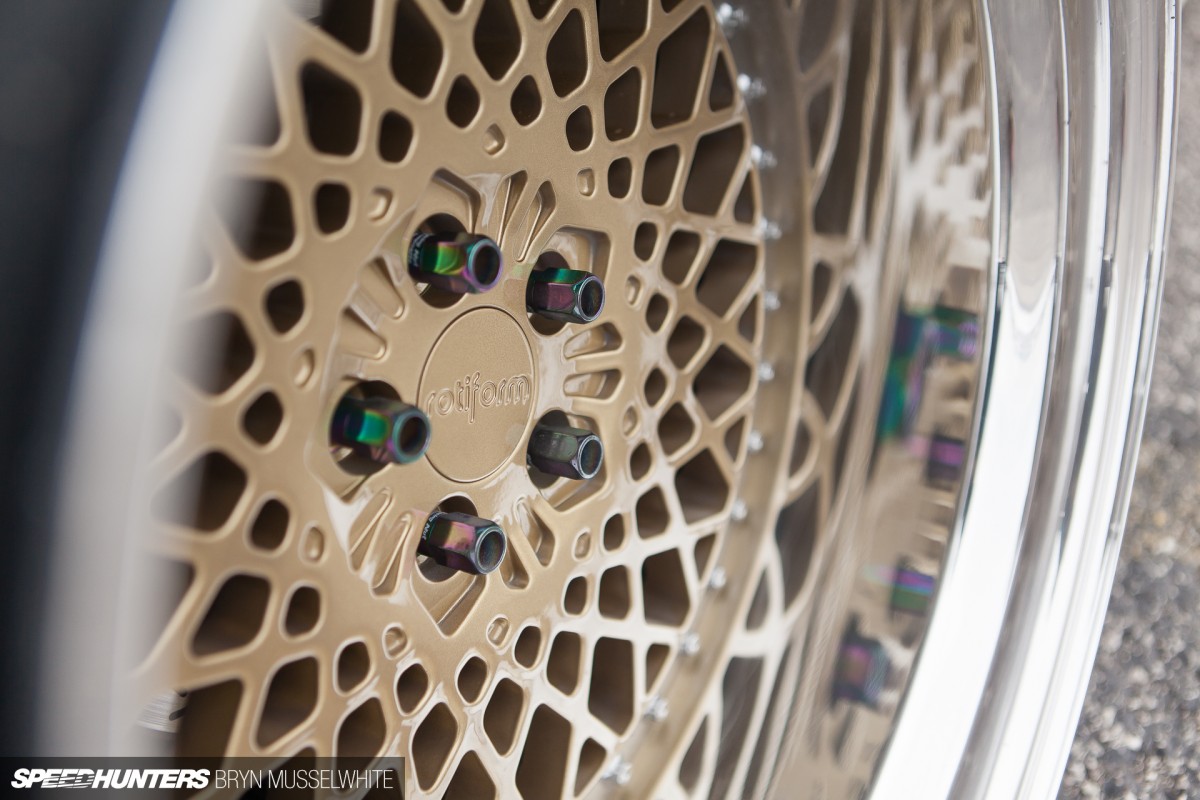 They're just names after all, and we all know they can't bring you style or satisfaction alone. It's what you do with them that counts.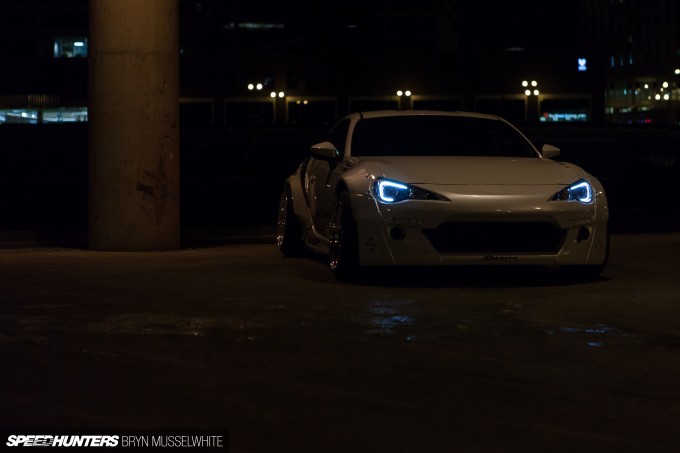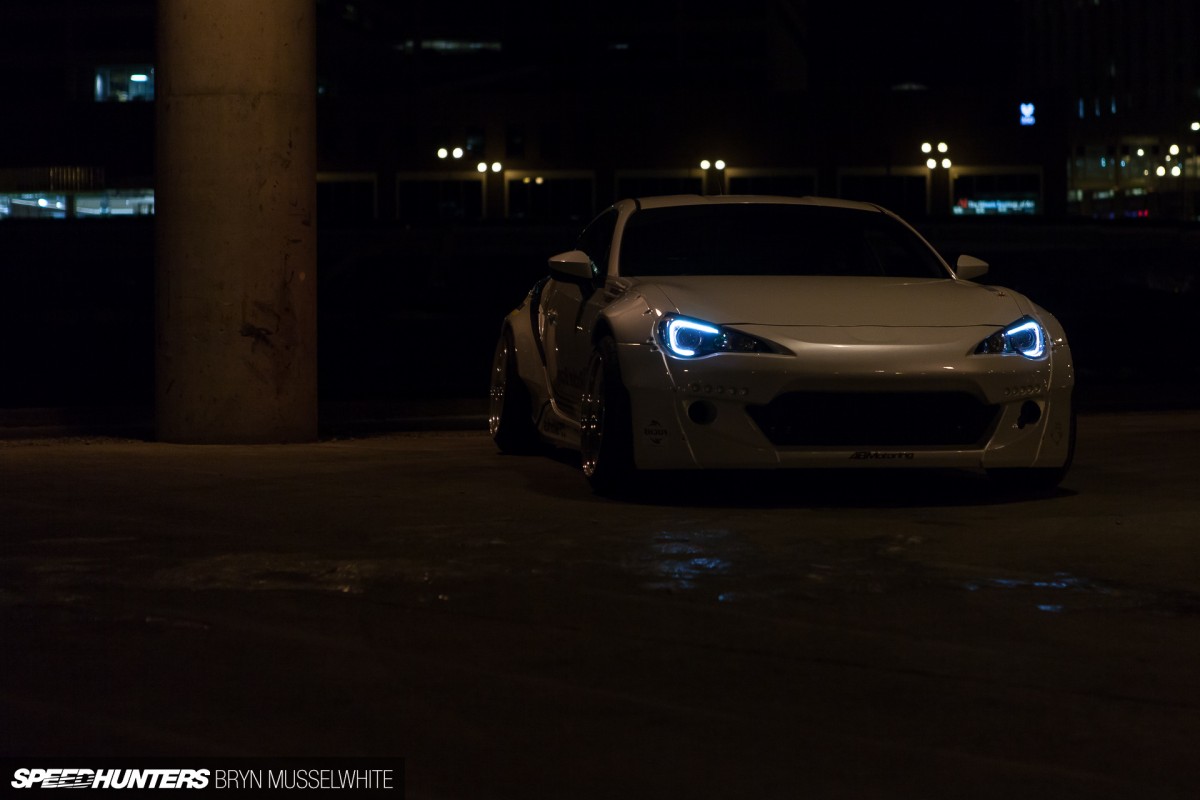 No, there's a whole load of other stuff going on which makes this build so damn good.
Ticking every box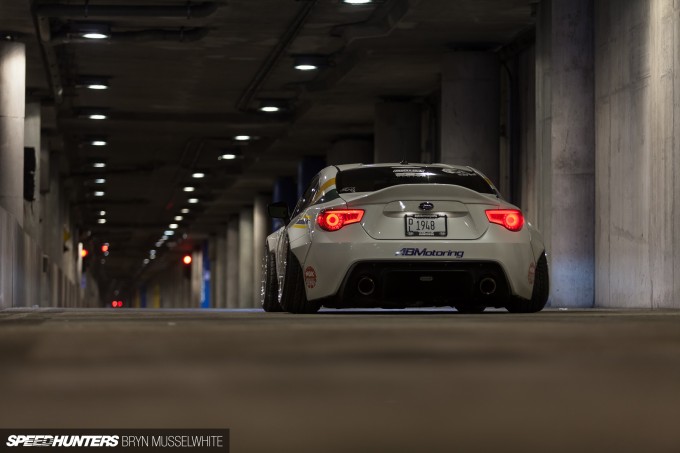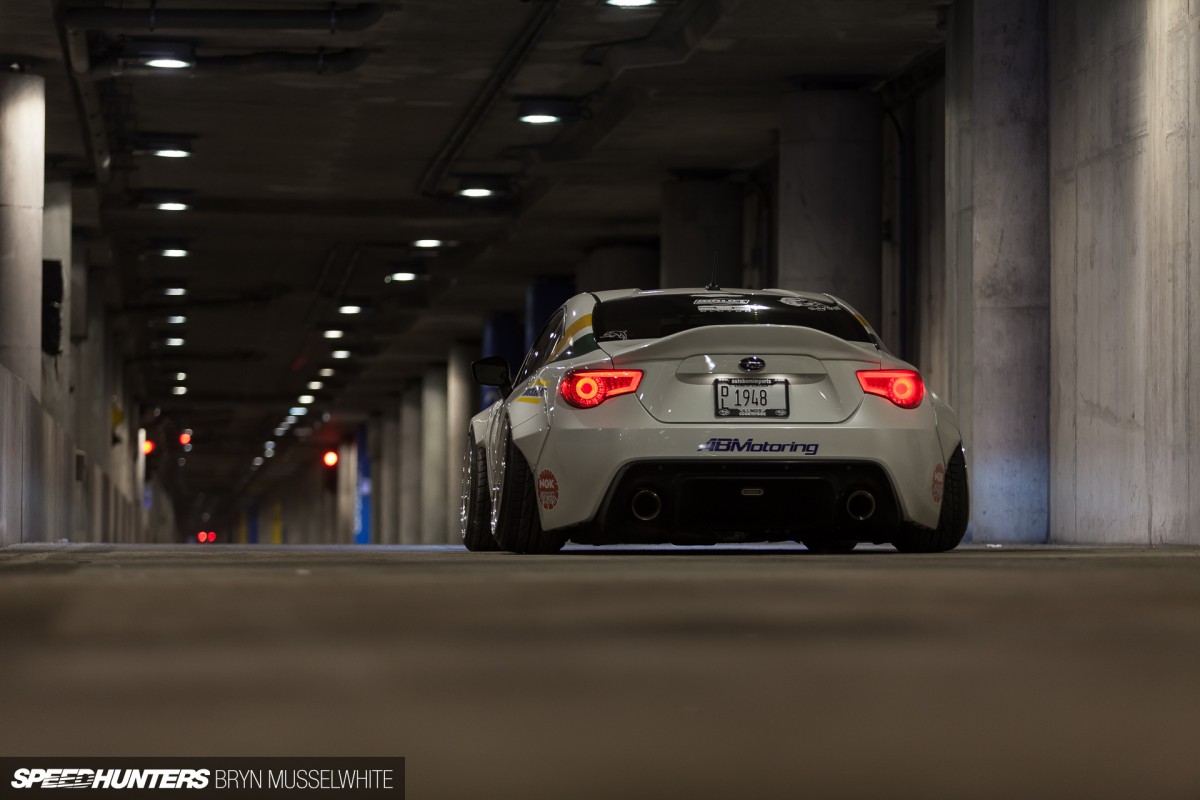 So why is it such a complete build then? From what I can see, it all stems from Fish's almost religious attention to detail. He's got a pretty impressive line up of cars in his garage, and all of them in one way or another show that he understands what can make – and often more importantly – break a car.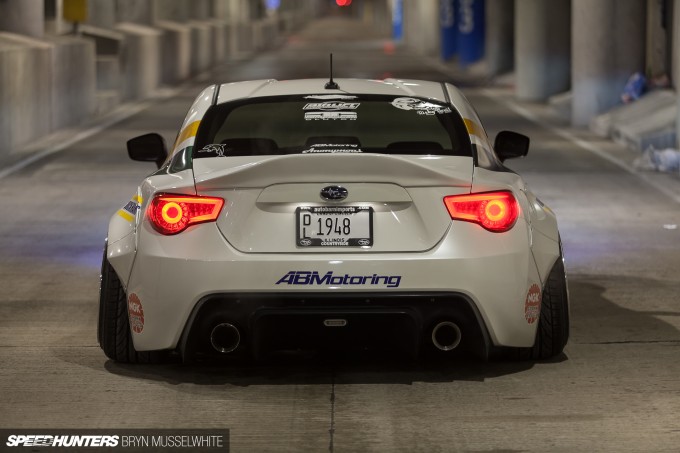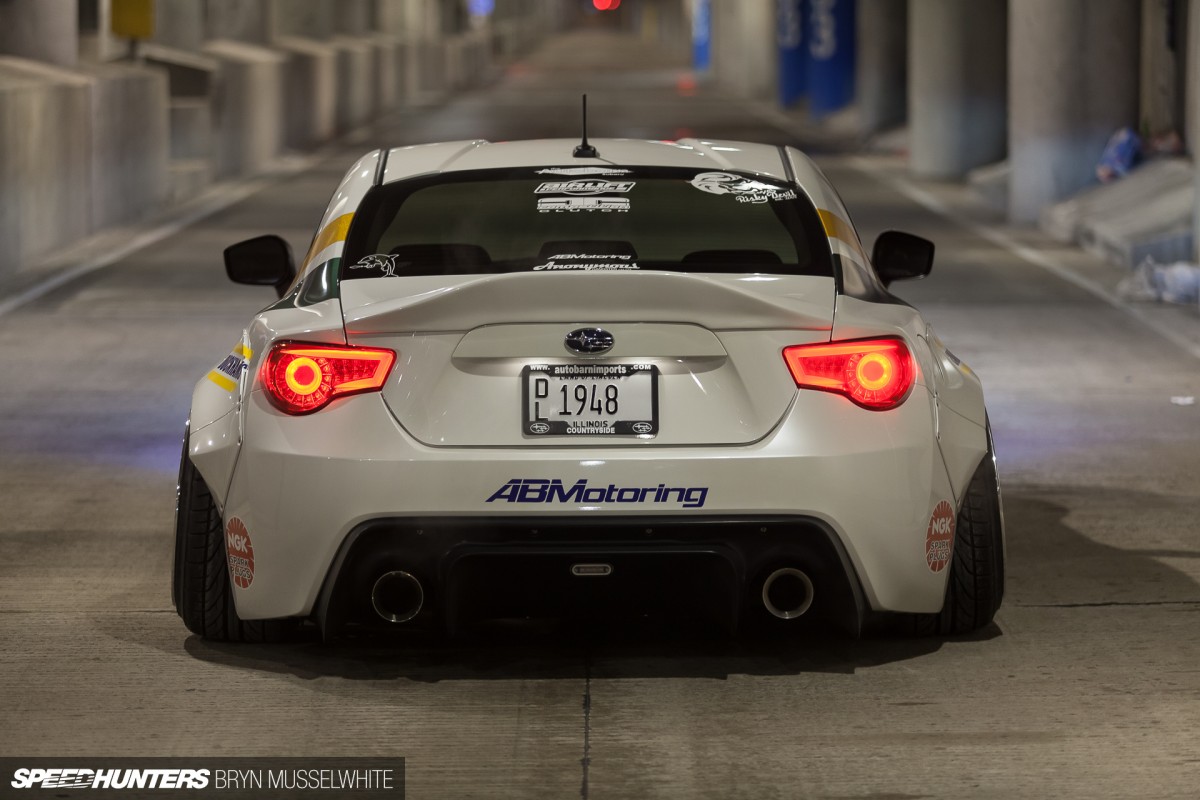 That rear lip spoiler for instance, isn't a Rocket Bunny item. Instead, Fish and fellow Risky Devil AJ Gillett (his is the other red ZC6/ZN6 pictured before) have both gone for a Leg Sport equivalent. Although sometimes you might think the whole Rocket Bunny 86/FR-S/BRZ look is everywhere, I'm here to remind you it's really not, and seeing one in the wild really grabs your attention. Visually, it's such a striking style that the fine details of a finished build could really get in the way, but not here though. I'll happily say they make it even better. The pair did a lot of research and discovered this slightly more subtle duck tail and personally imported one each from Japan. I guess the secret as to where they came from is out now guys!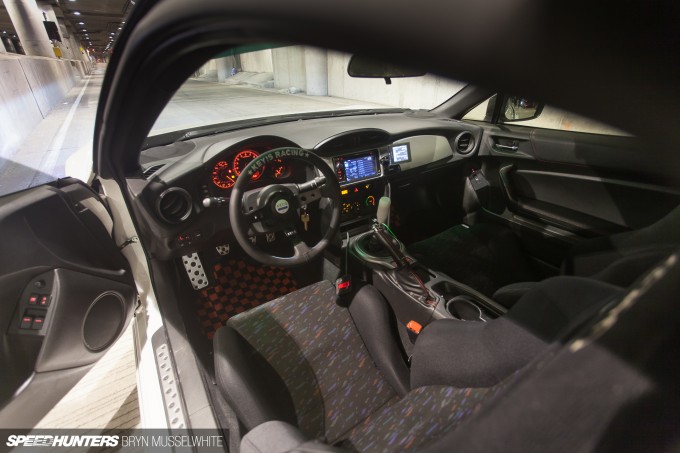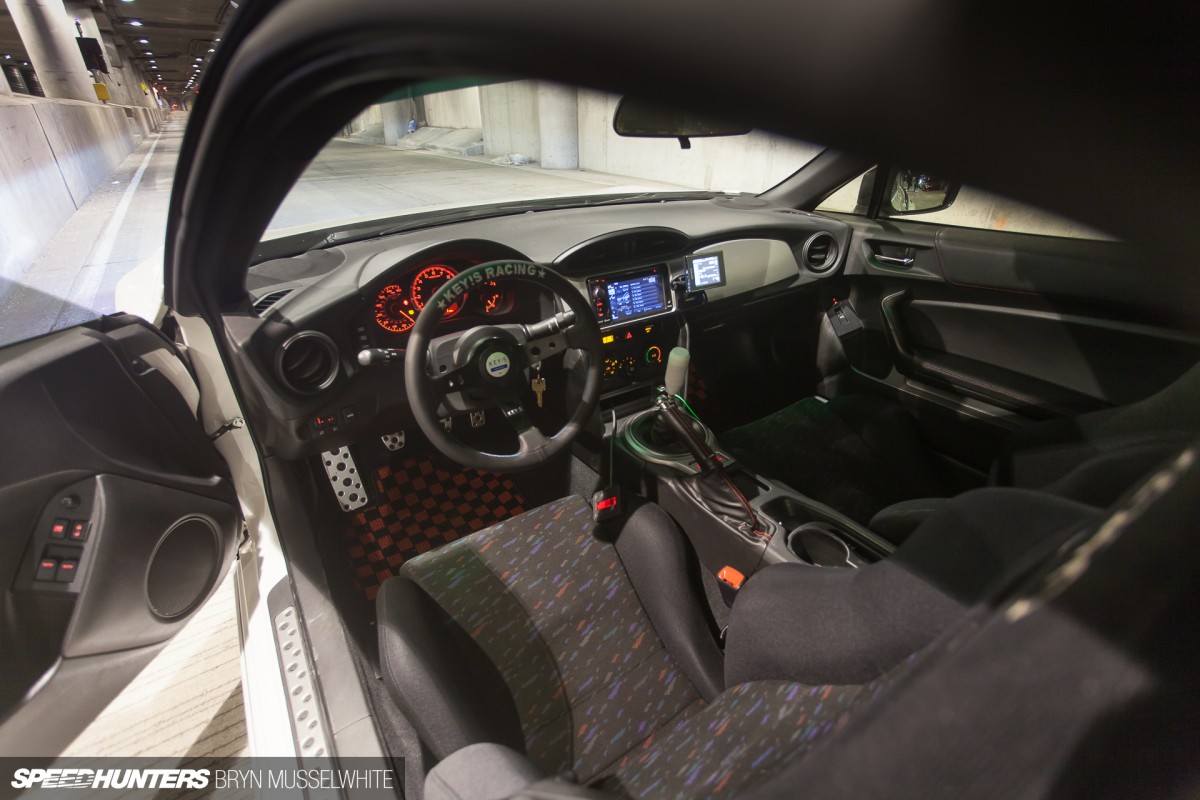 Take a look inside and it's a similar story – the Key's Racing steering wheel is an instant sign of deep cultural knowledge. You can keep your Nardi, these are produced by professional Japanese race car driver Takayuki Kinoshita via ATC, and are subsequently used in all sorts of high end Japanese race series. They're not cheap either – the $400 retail meaning they're a discerning choice, but a quality one at that.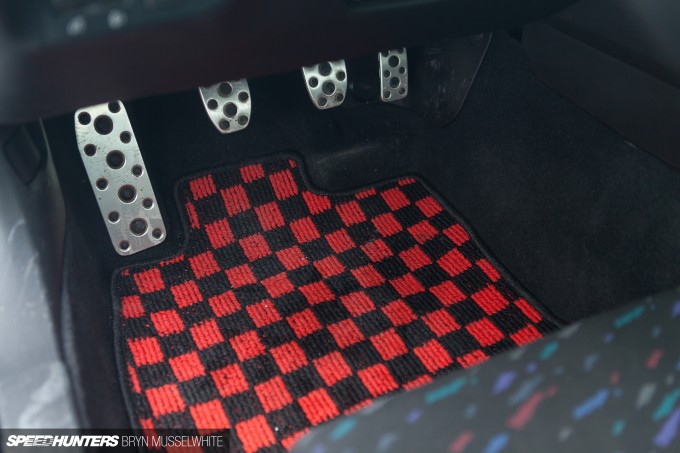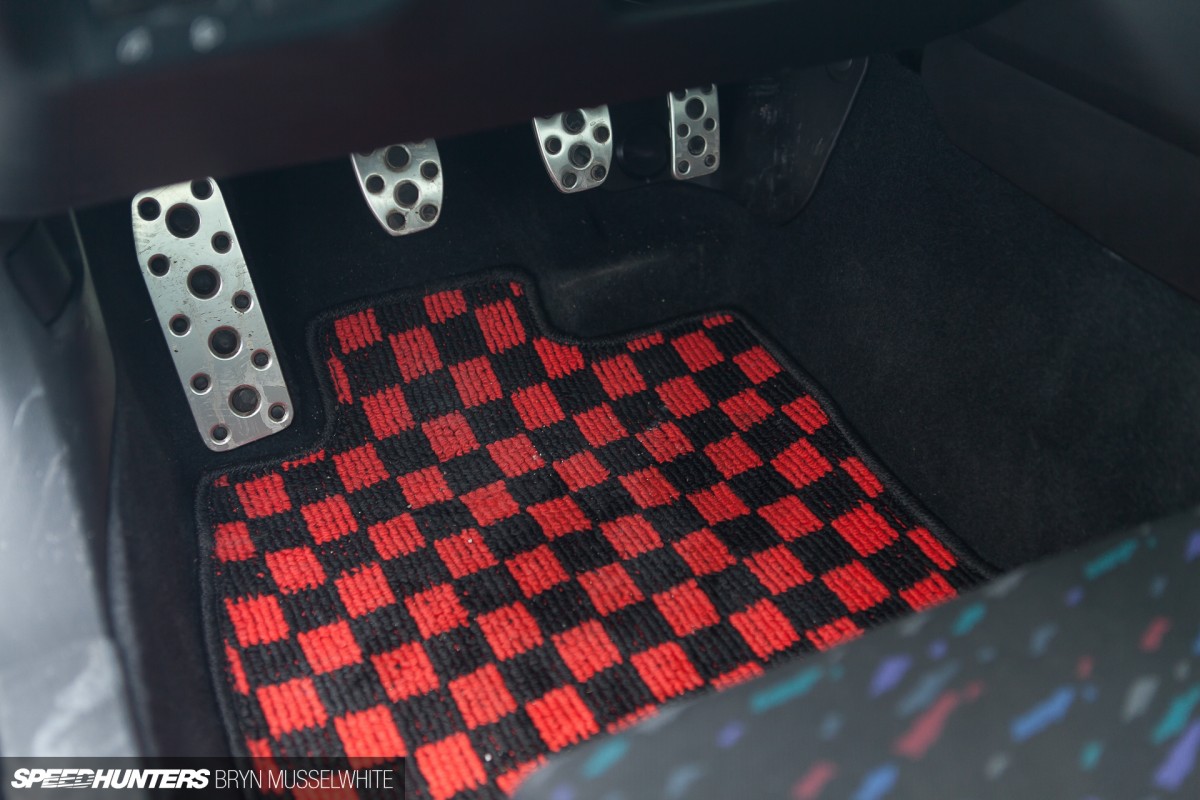 Other nods to Japanese build styles are the 'confetti' Recaro seats on custom made runners. Maybe you'd be more used to seeing these in a Honda, or some other JDM model? But again, they add that taste of originality that just seems to fit so well. The floor mats fit right in but are from a little closer to home, TF-Works in Chicago taking care of those.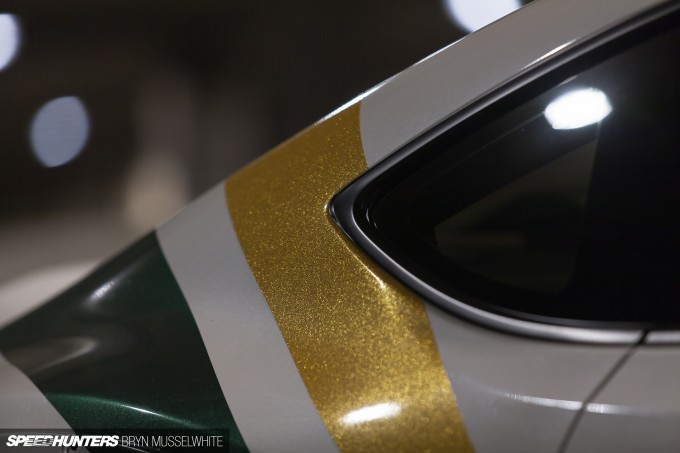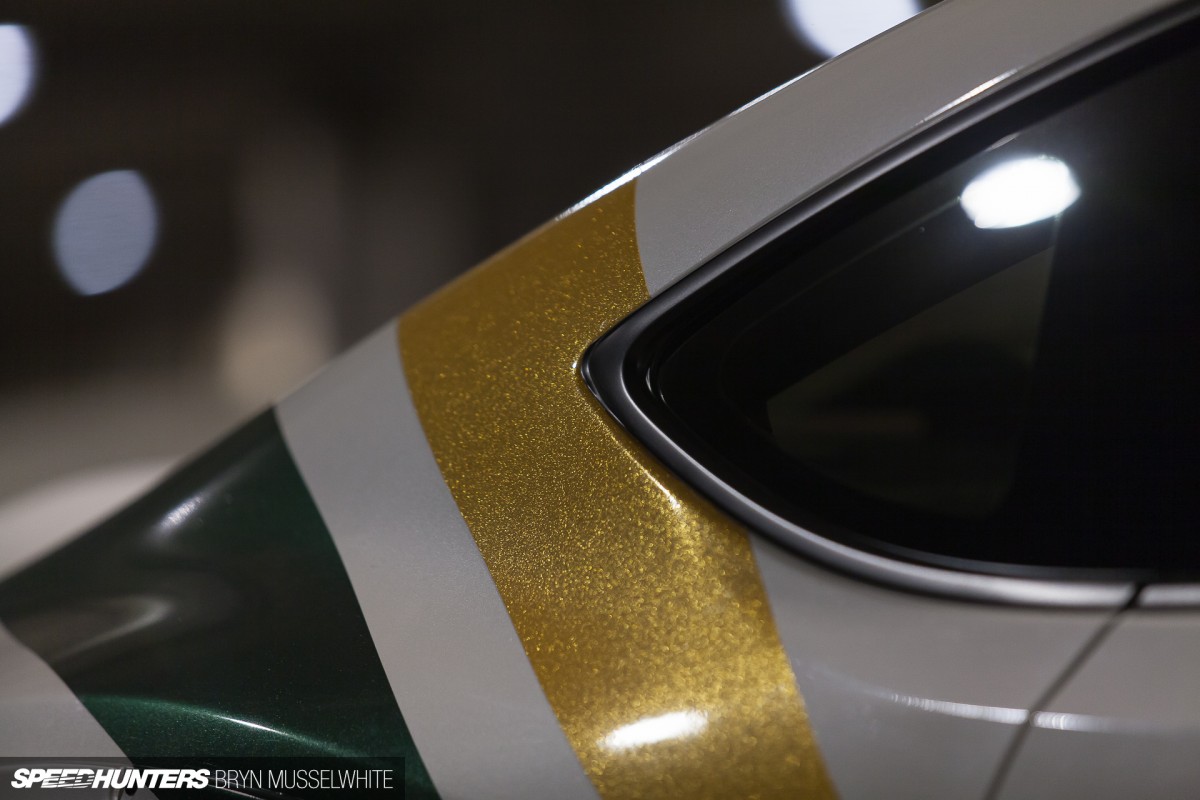 TF (an acronym for Touge Factory) also took care of the BRZ's graphics. I love the mix of solid green and flake gold with the lines originating in the front arch. Tied in to the Duckhams Oil stickers it screams old school on this very new school shape.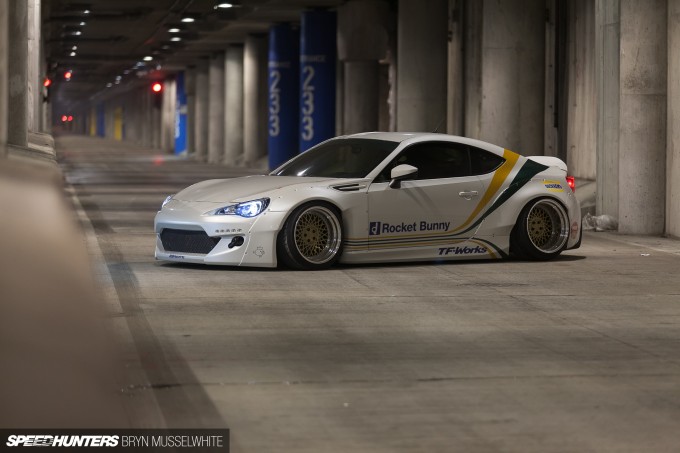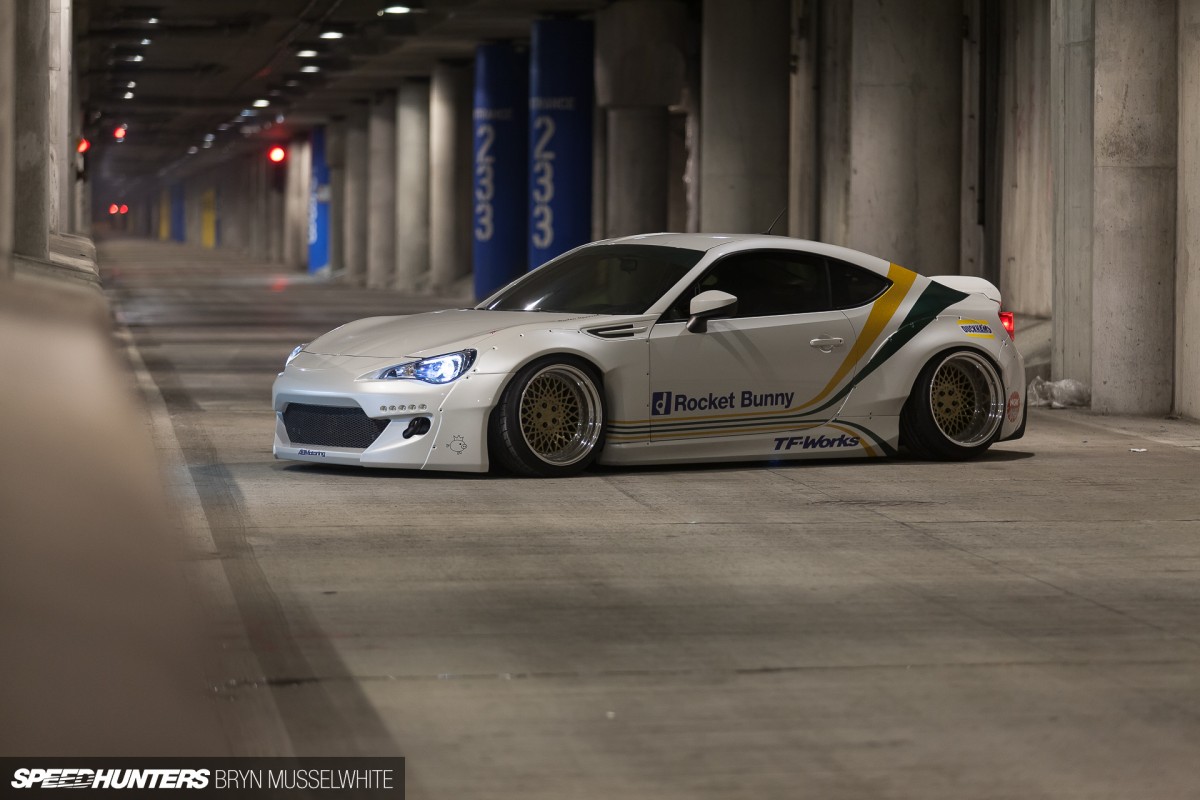 Fish and TF-Works drew their inspiration from the S-chassis cars that have been built by Miura-san. Looking at them here the graphics work so well, but if you try and describe them to somebody it doesn't quite make sense. You'll get enquiring looks back as if to say, 'Really? That looks good?'. Yes it does.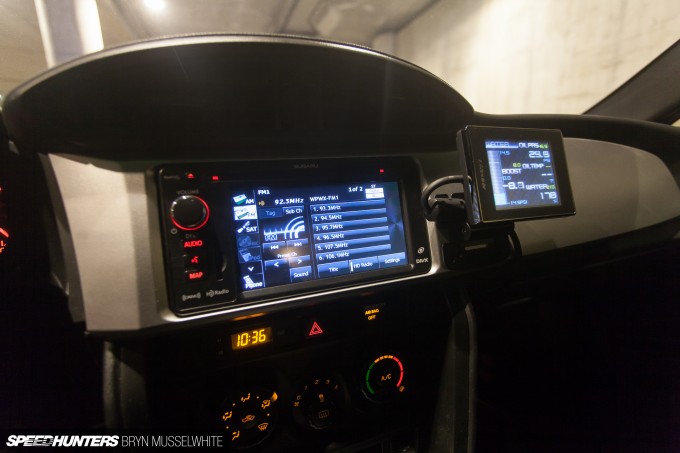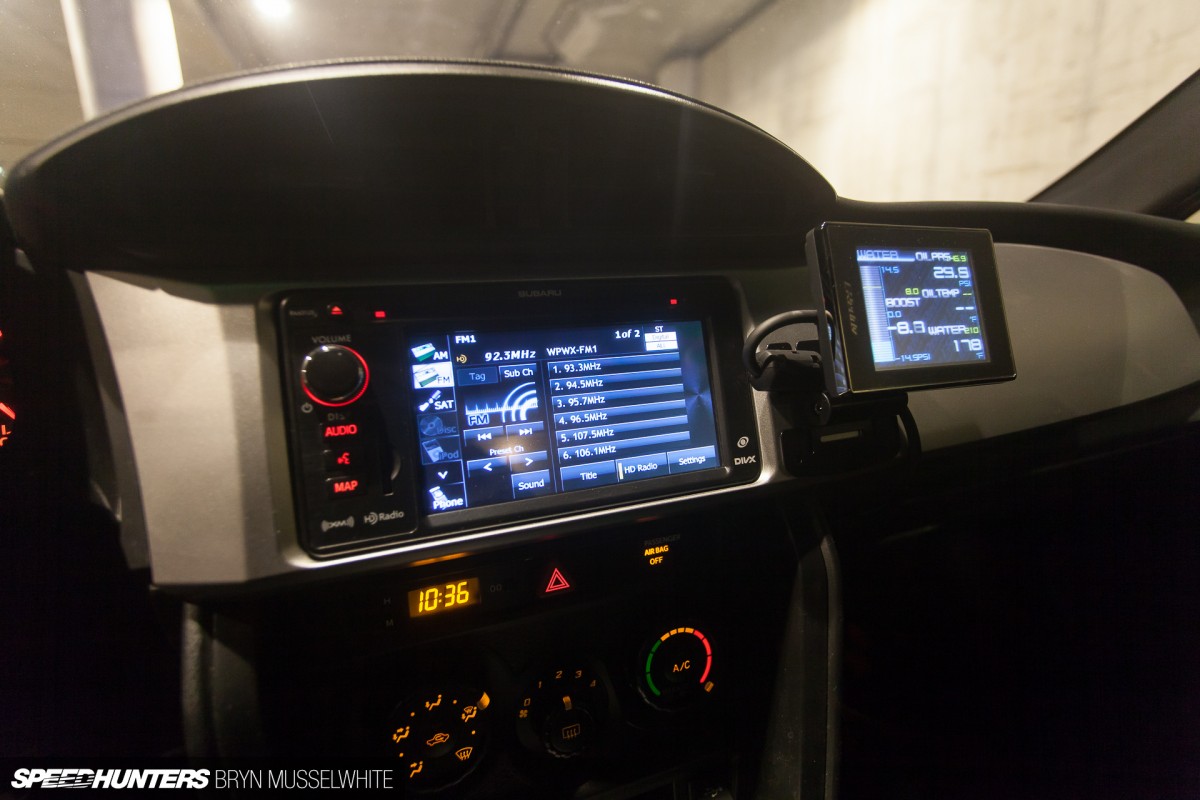 Oh just quickly, you did you spot the GReddy Informeter Touch screen display, didn't you? The one that shows boost pressure…
Show, go, low…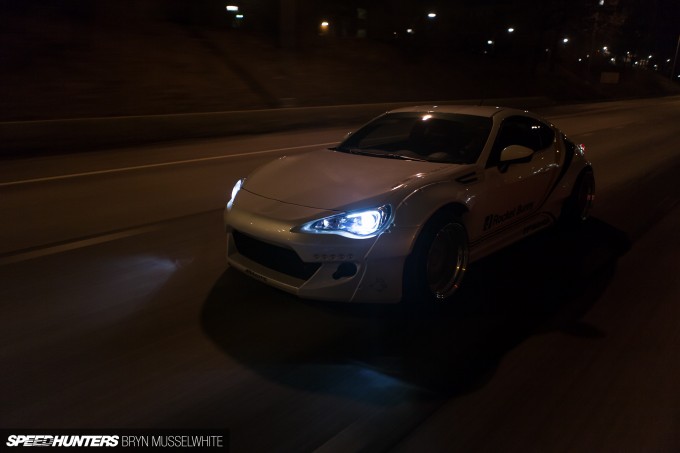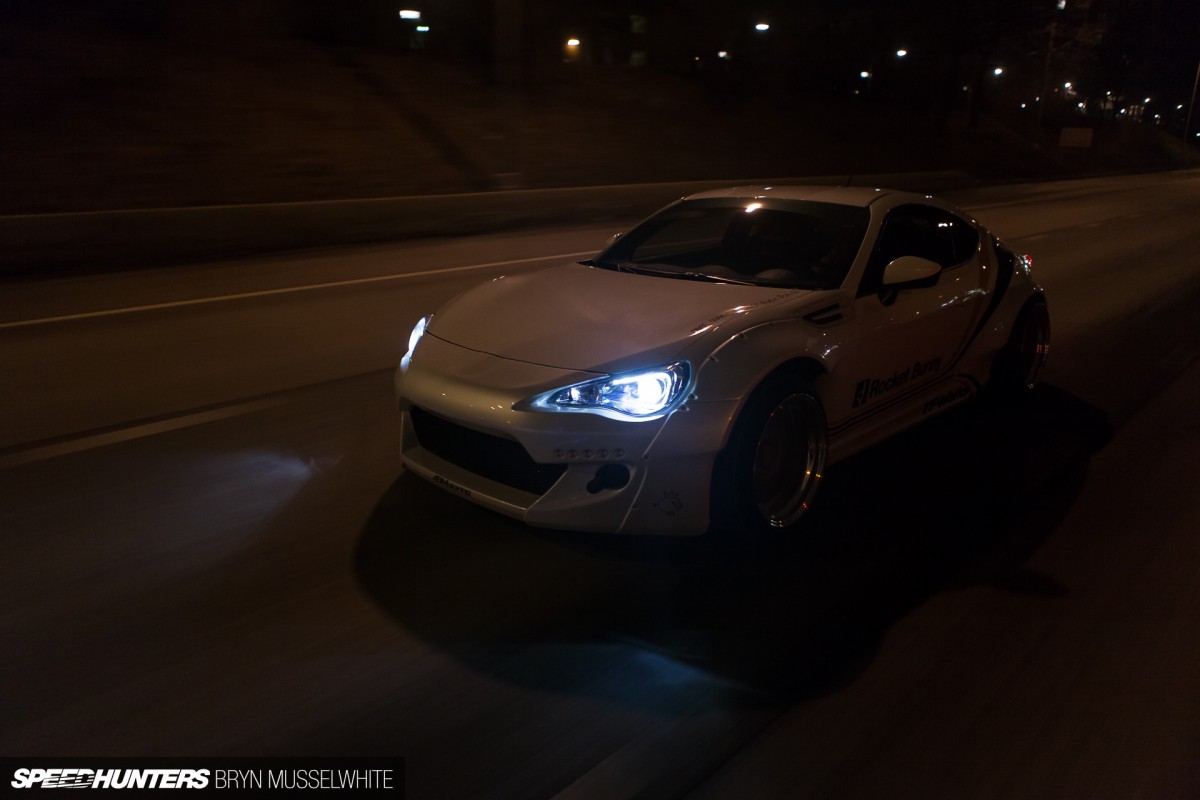 Well, you didn't think it was all for show now did you? Fish and the rest of the Risky Devil crew all enjoy using their projects, so there had to be a power upgrade. This one was still fresh having only come out of the shop a couple of days before our shoot.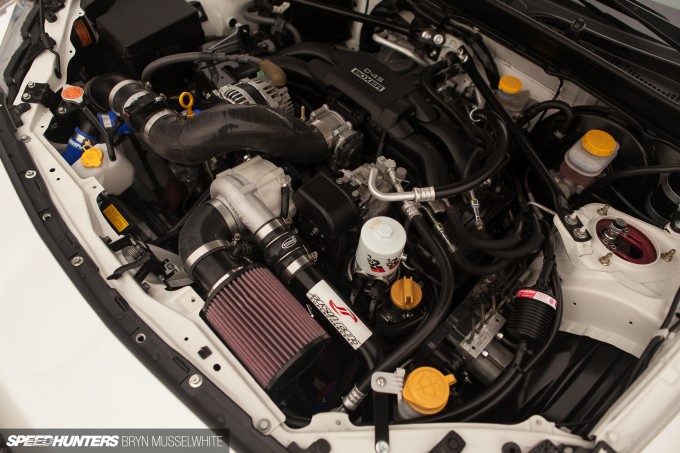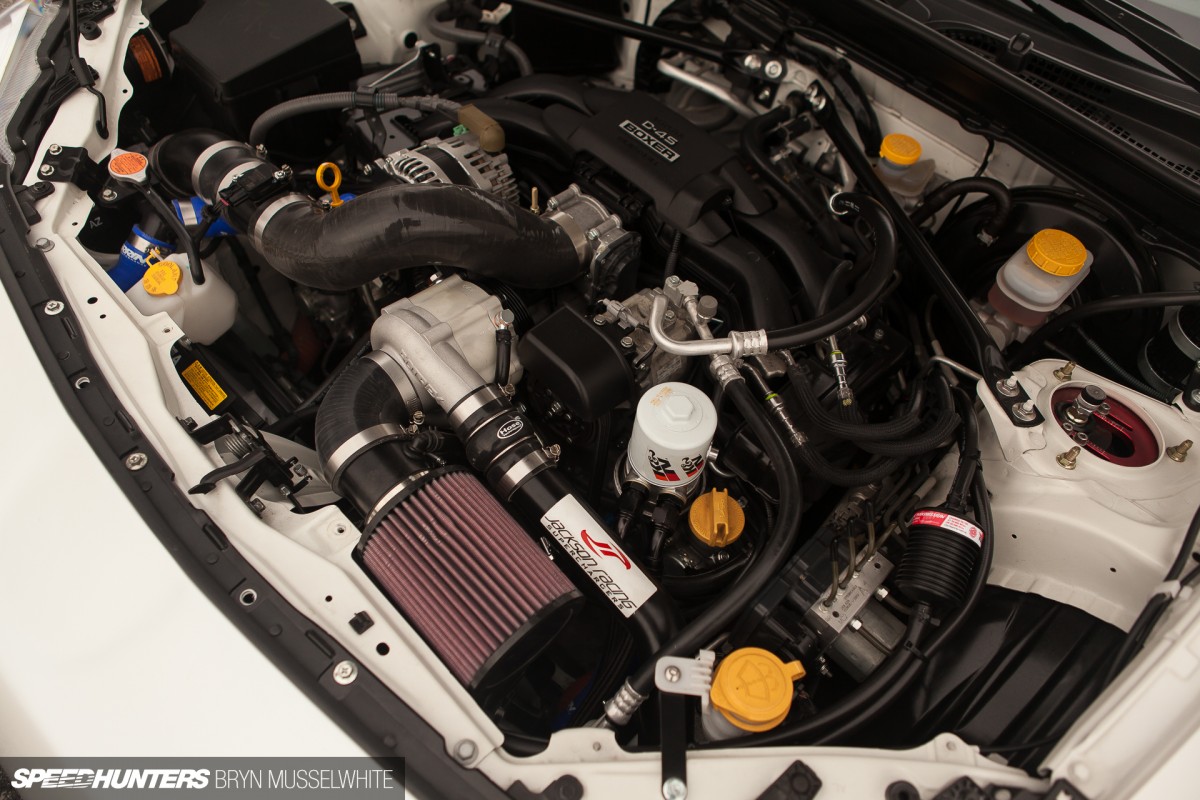 For the literal boost, Fish selected a Jackson Racing Stage 2 Supercharger kit for the 2.0L FA20 motor. There's a Go Fast Bits pulley kit too along with a remote Setrab oil cooler and Koyo radiator down in there somewhere.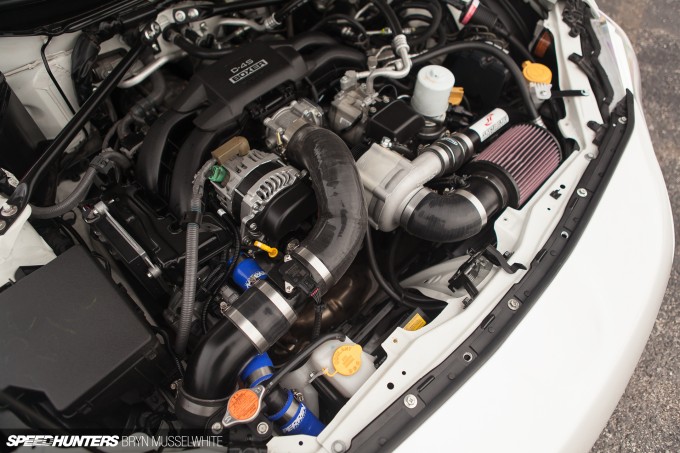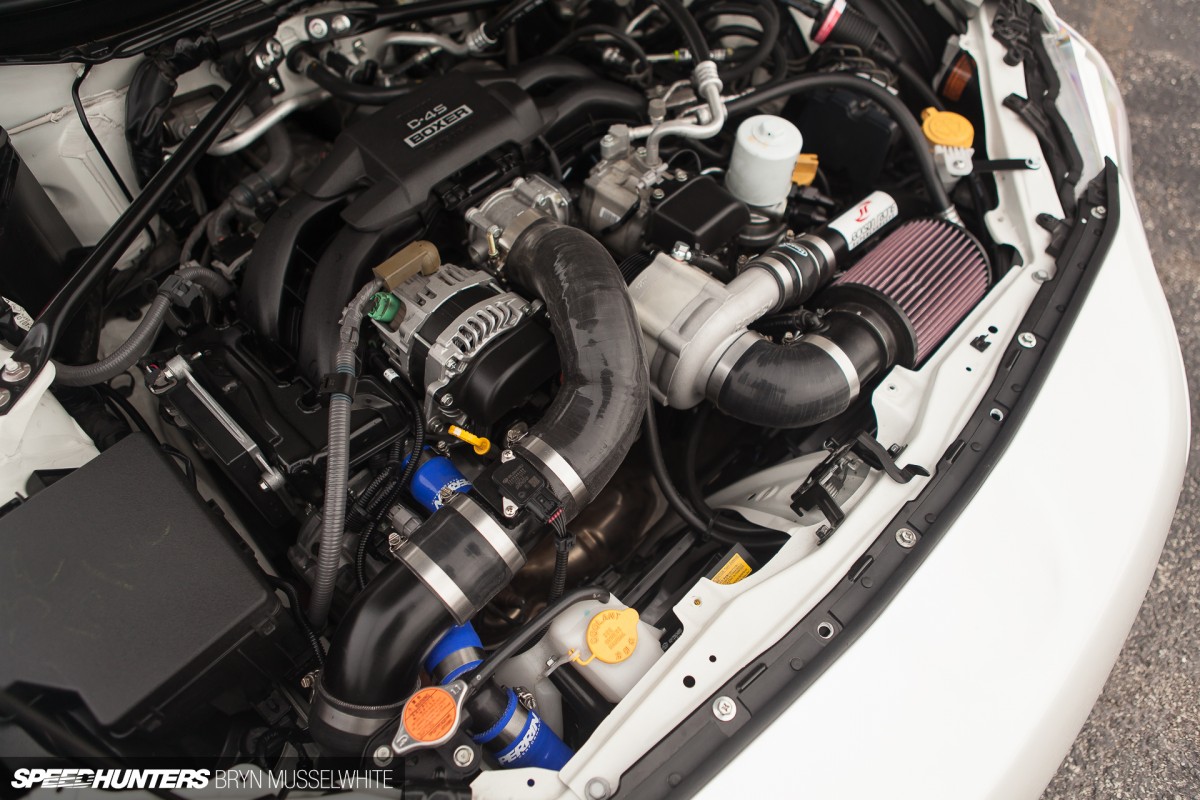 But it all looks pretty factory in there don't you think? Again the level of workmanship is high. With everything being neatly finished and cared for, it makes you wonder if the engineers at Toyota and Subaru specifically left enough space for the aftermarket to come in and do their thing? Hidden away is a Jackson Racing intercooler and the OEM ECU has been reflashed with one of their maps too. Although it's yet to go on the dyno, the estimate is around 280whp.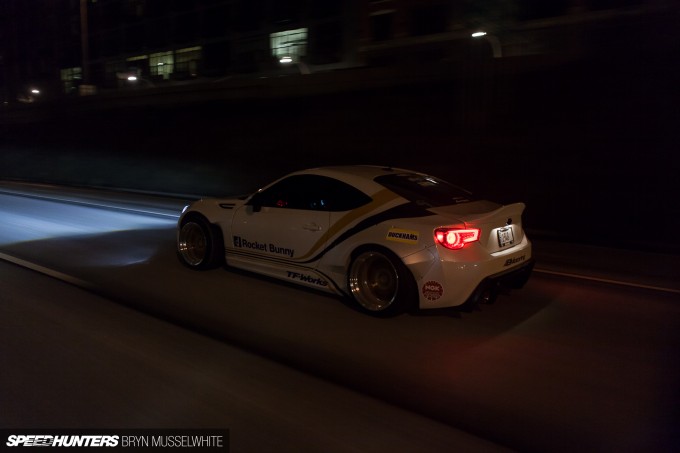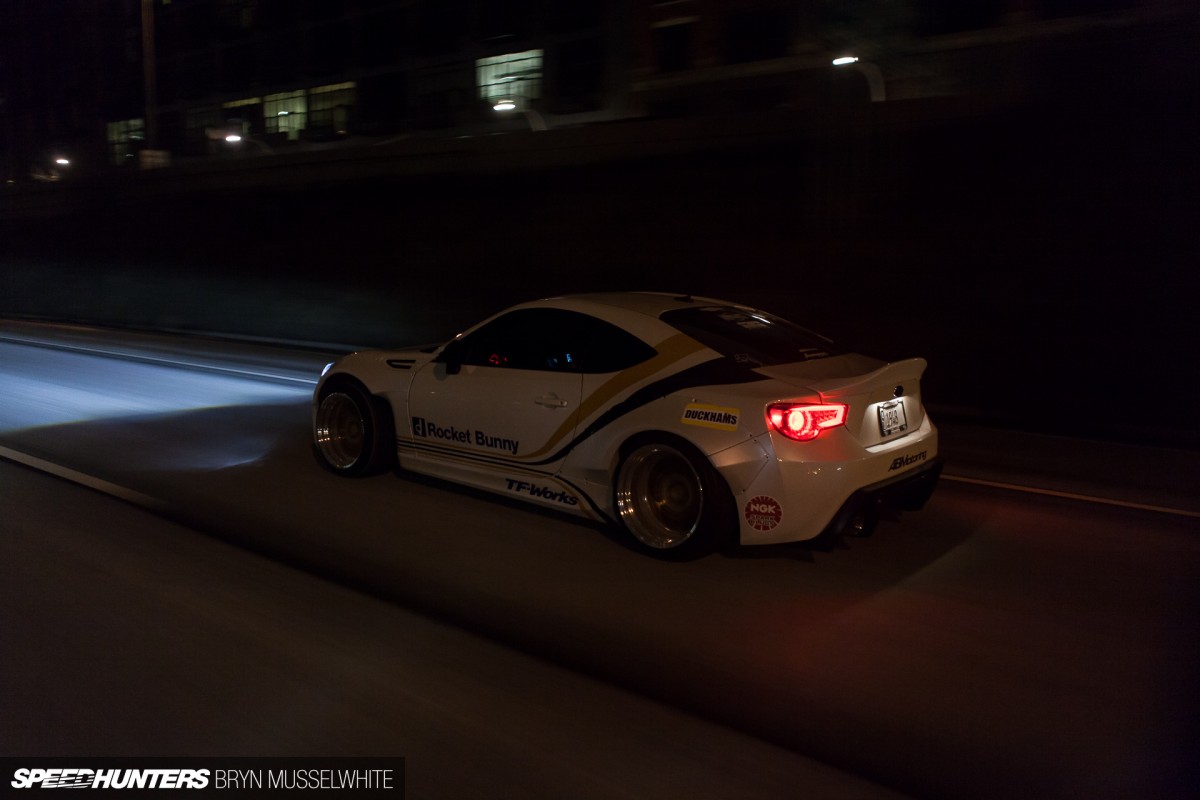 As the cold night air engulfs my head and quickly turns any fluid to ice, my fingers instinctively keep stabbing at the shutter on my camera. I stayed in the French Alps for a while and we'd often get biting, howling winds through the valley I lived in. Although the temperature would only be around -10 degrees centigrade, it would often feel like -20 or lower. Believe or not, that's what it feels like when you stick your head out of a truck window at 1.00am in January in Chicago. But you know what? I like the fact this isn't California and that we're not on some sun-kissed canyon road. I'd imagine this is what it feels like in the middle of the night blasting around Tokyo.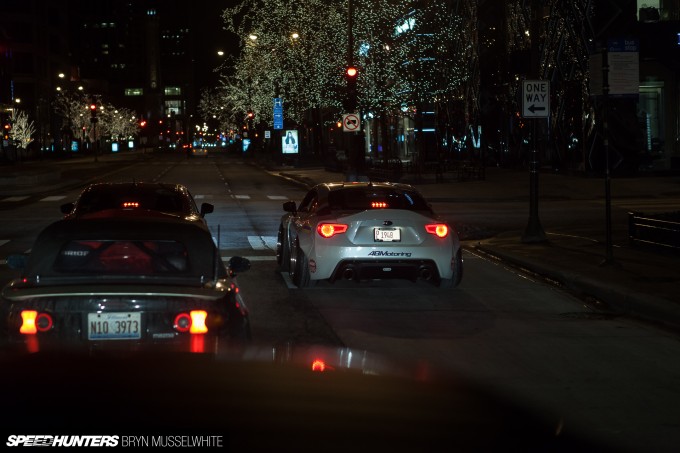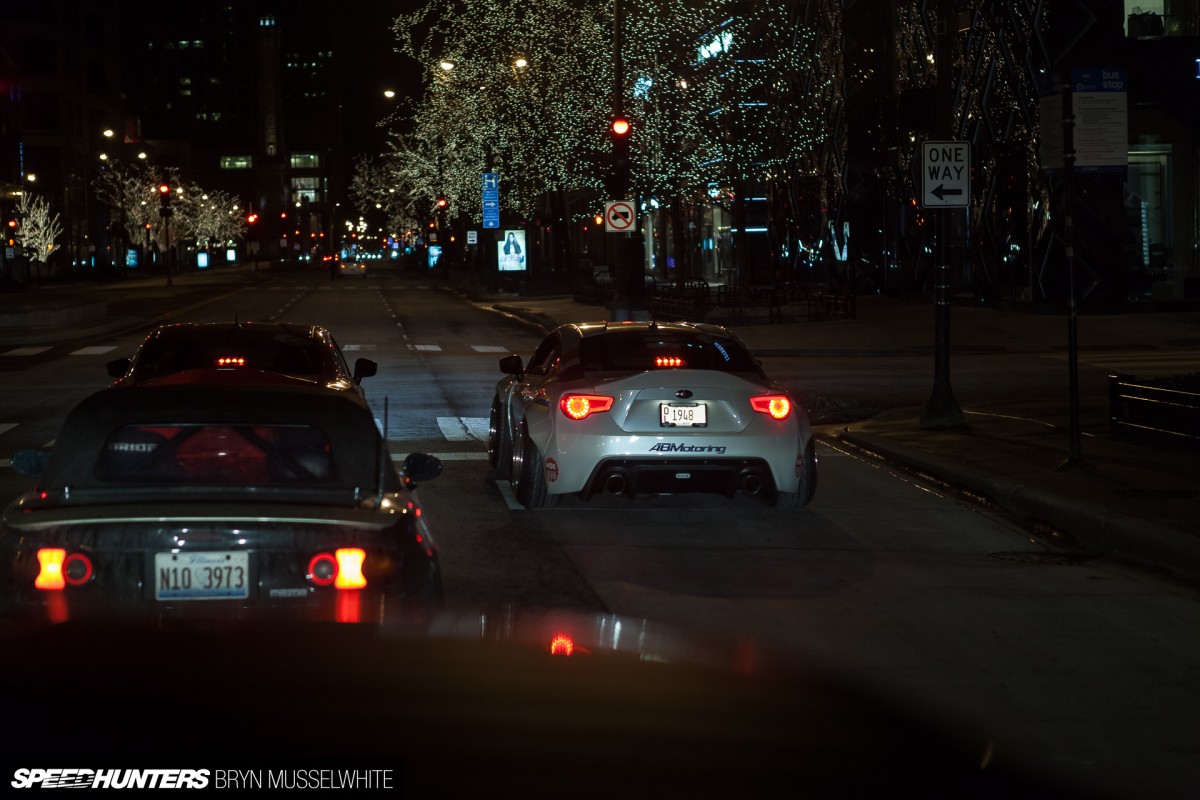 Maybe I'm being overly romantic about the whole situation? But roaming virtually deserted streets with a group of like-minded friends is cool no matter where you are.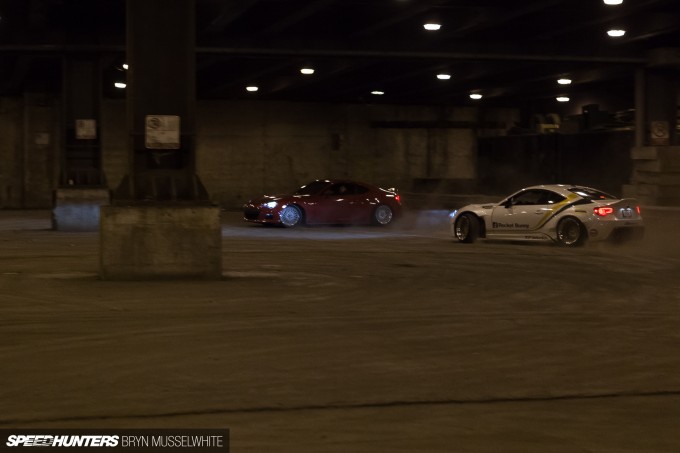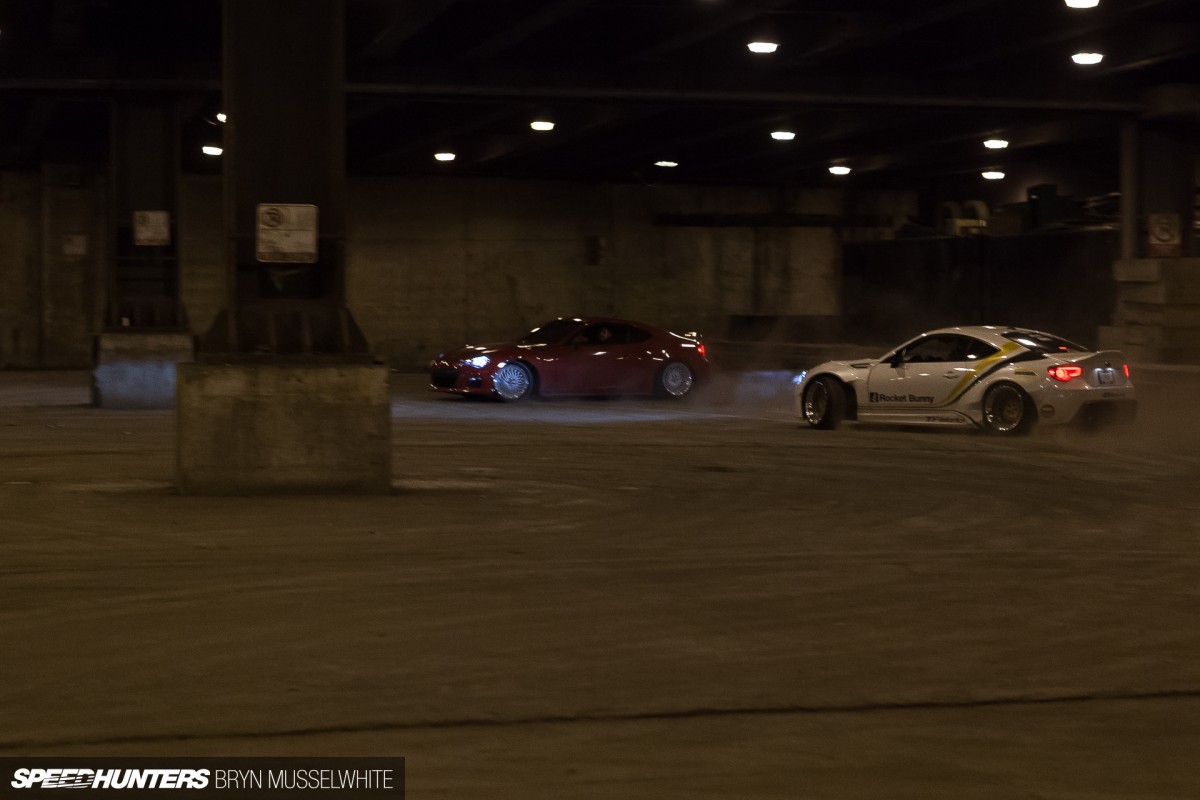 Which is what Risky Devil are all about – getting together and making some fun happen. Yes, Rocket Bunny-style is alive and well in Chicago. All too often I read comments on the internet about the practicality or originality of these kits, but this one picture sums it up for me. Fish and AJ aren't afraid to use their cars for what they built them for. They both run low and look good, yet here they are mixing it up and taking risks.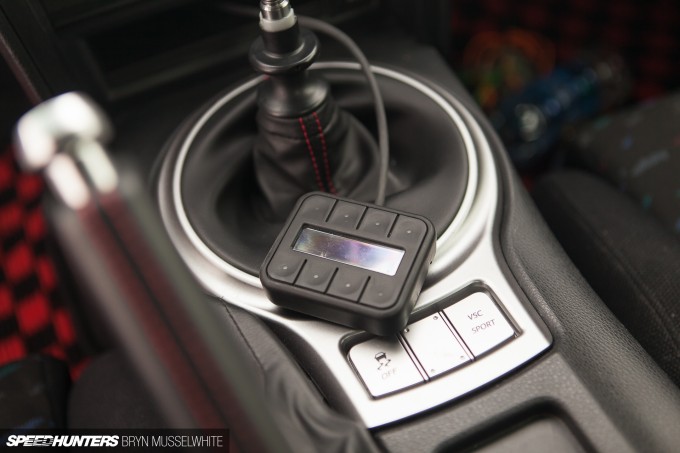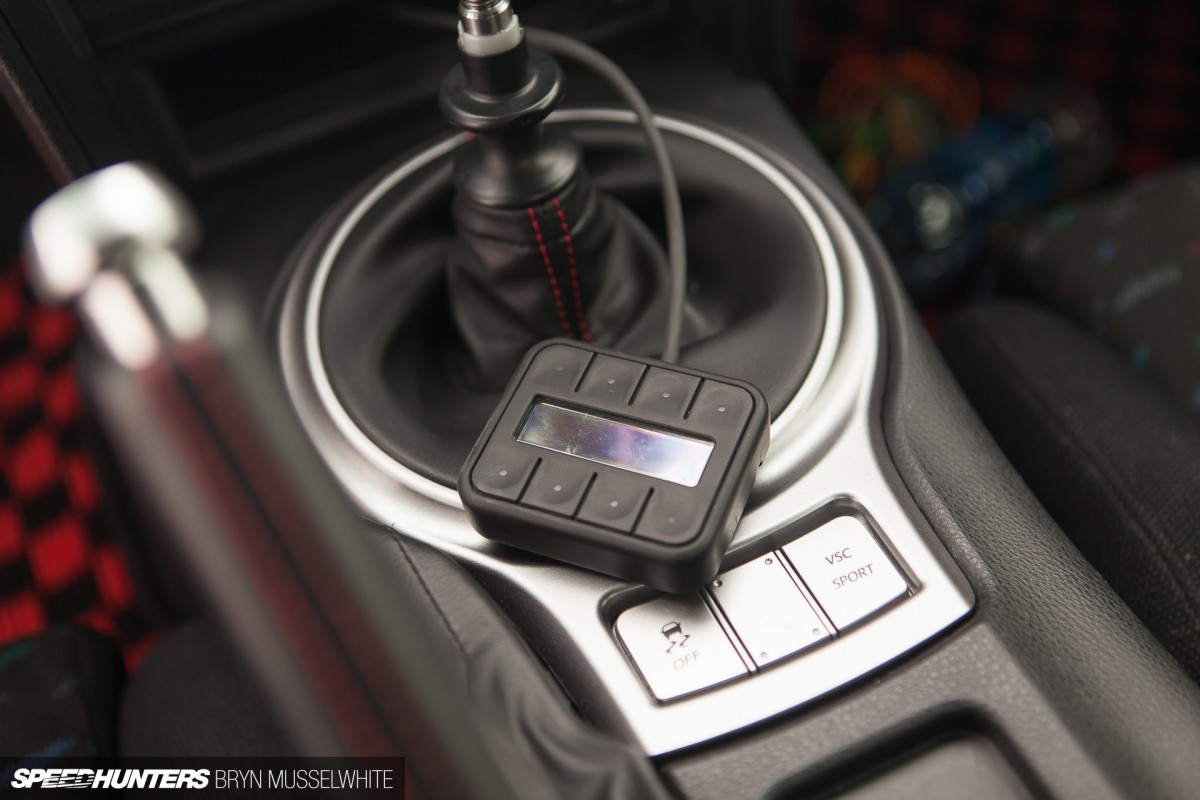 Then with the press of a button on the Air Lift controller it's back to the business of making jaws drop.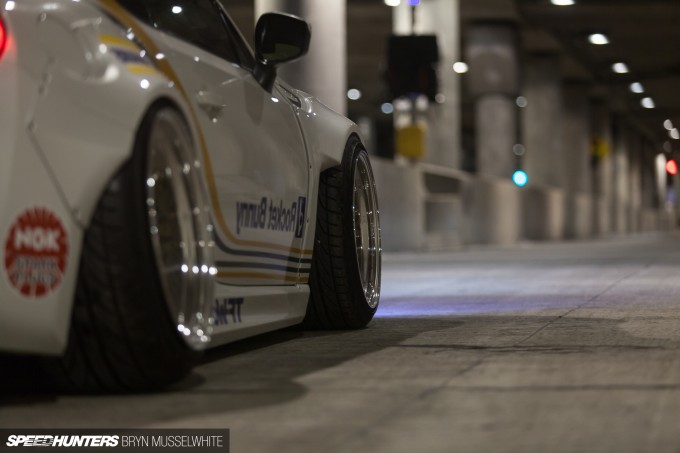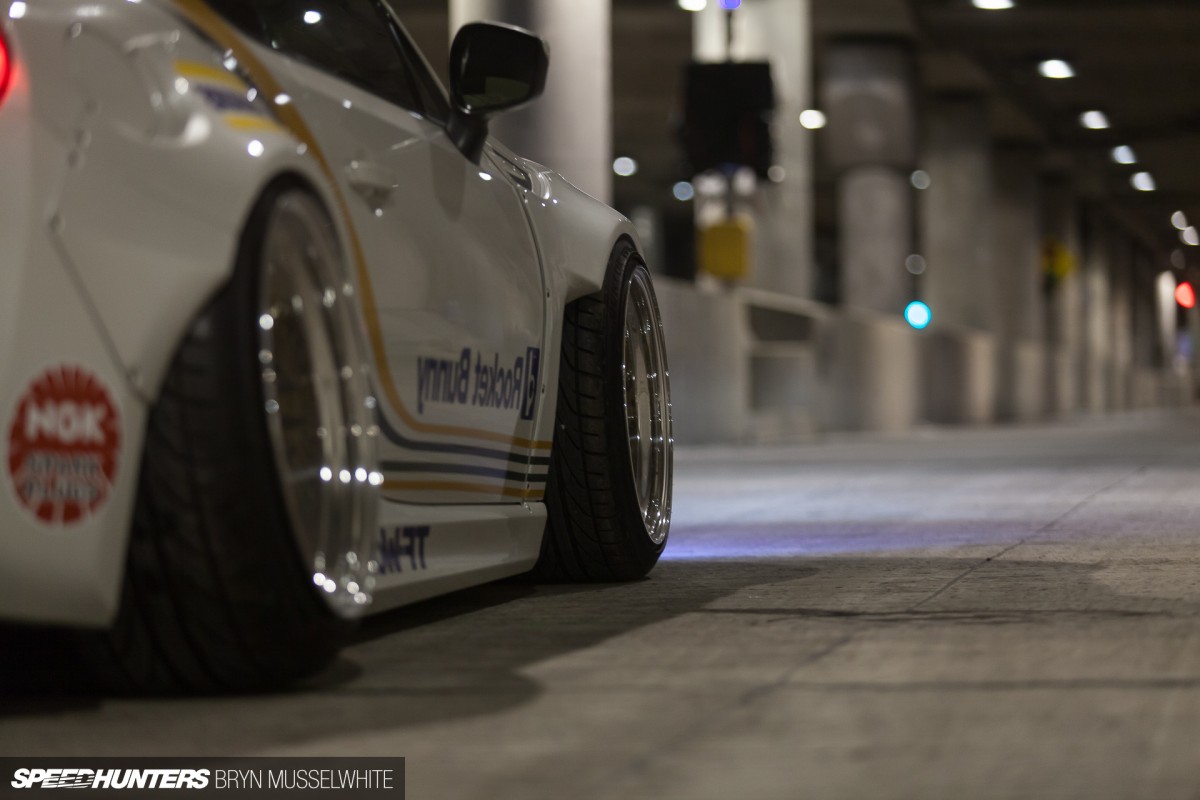 I'm a big fan of works style arches. Cutaway like they are to reveal the tyre tread, it adds the element of purpose that I think is missing on kits that cover everything up. This kit is as little as you could get away with to cover the wheel, keep it just about legal and remain lightweight.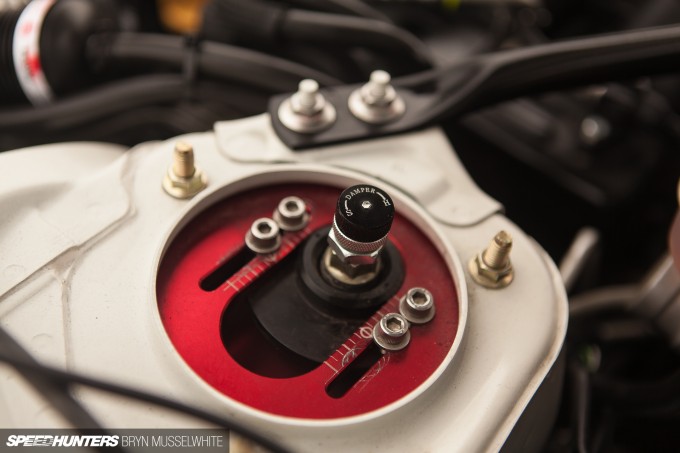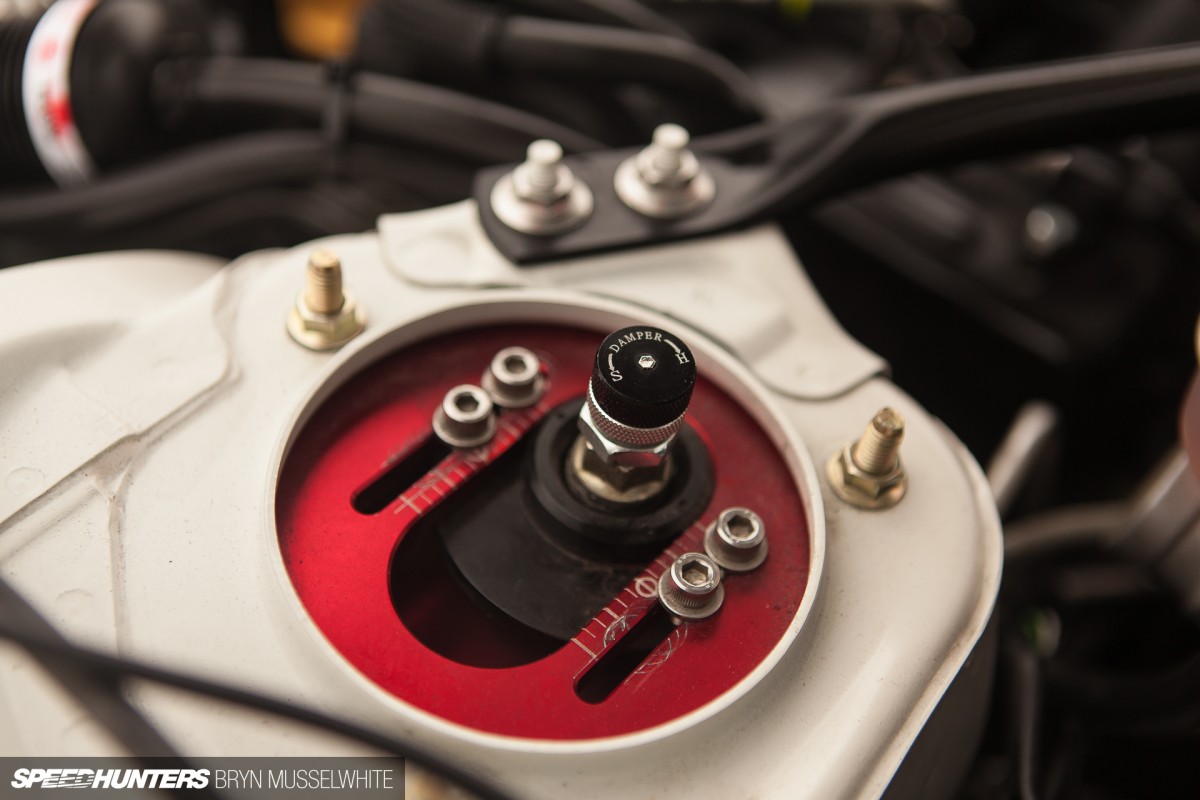 Don't think that Air Lift suspension is some sort of voodoo though, because it really isn't. The guys can get the settings dialled in that they need – the air giving them a compliant ride while being responsive enough and just downright stiff enough that they can throw the cars around.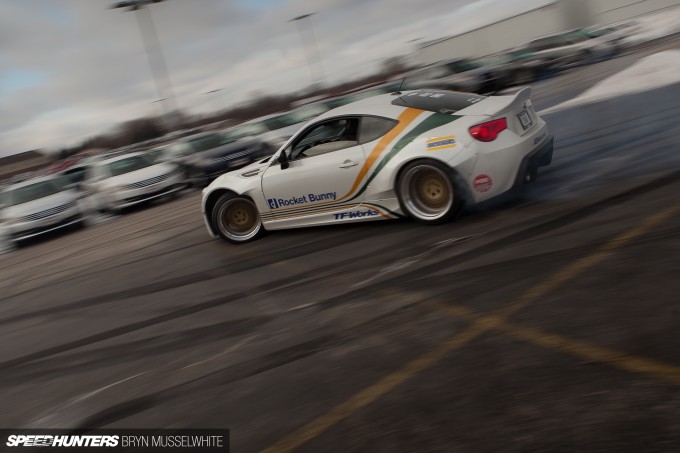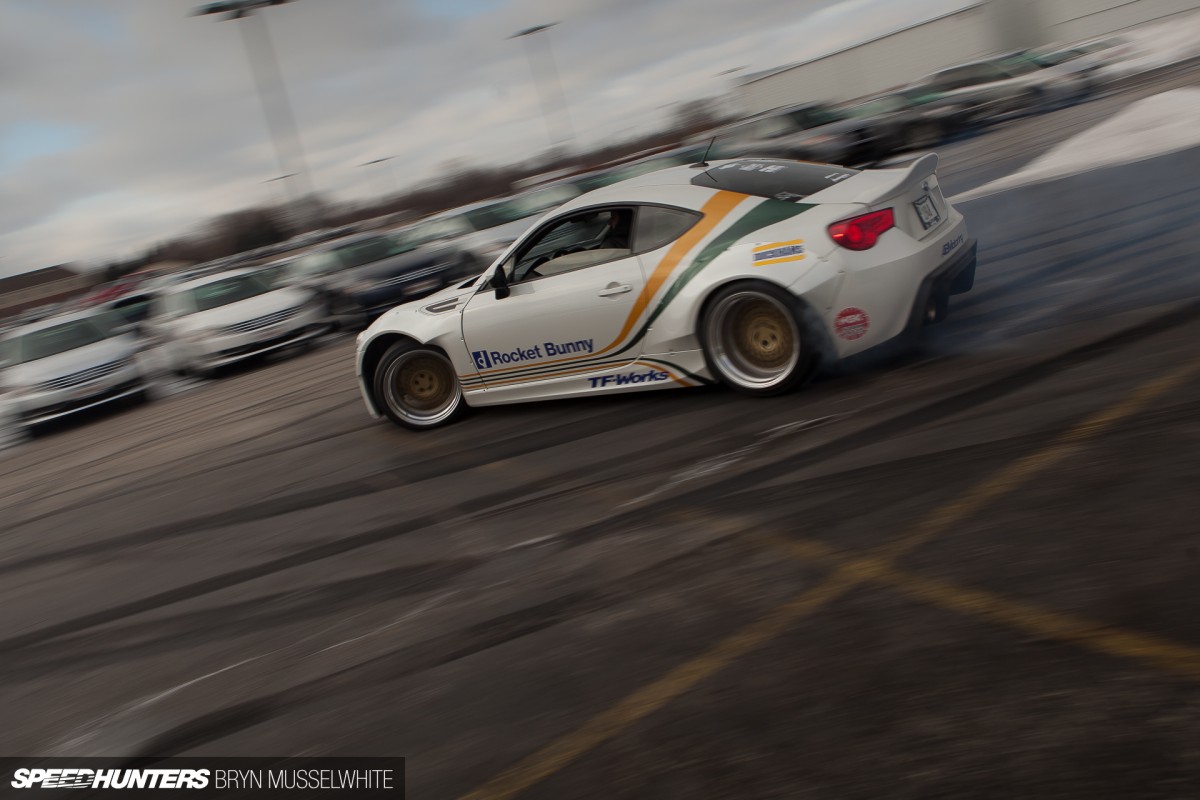 Which they do at any given opportunity. This is the parking lot of ABMotoring the following morning, about an hour before we're due to leave. Why? Because we can.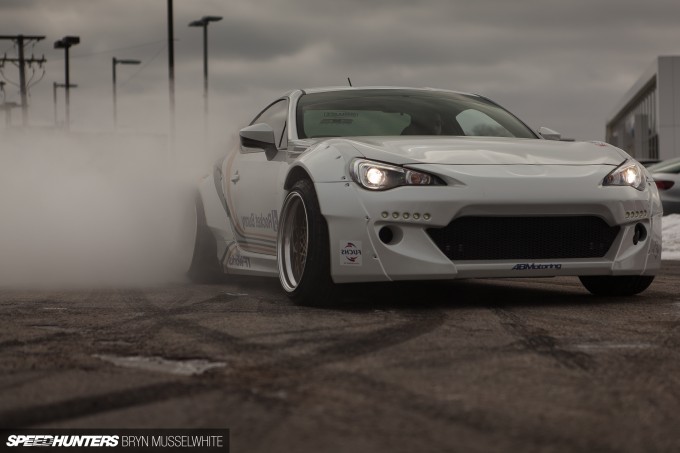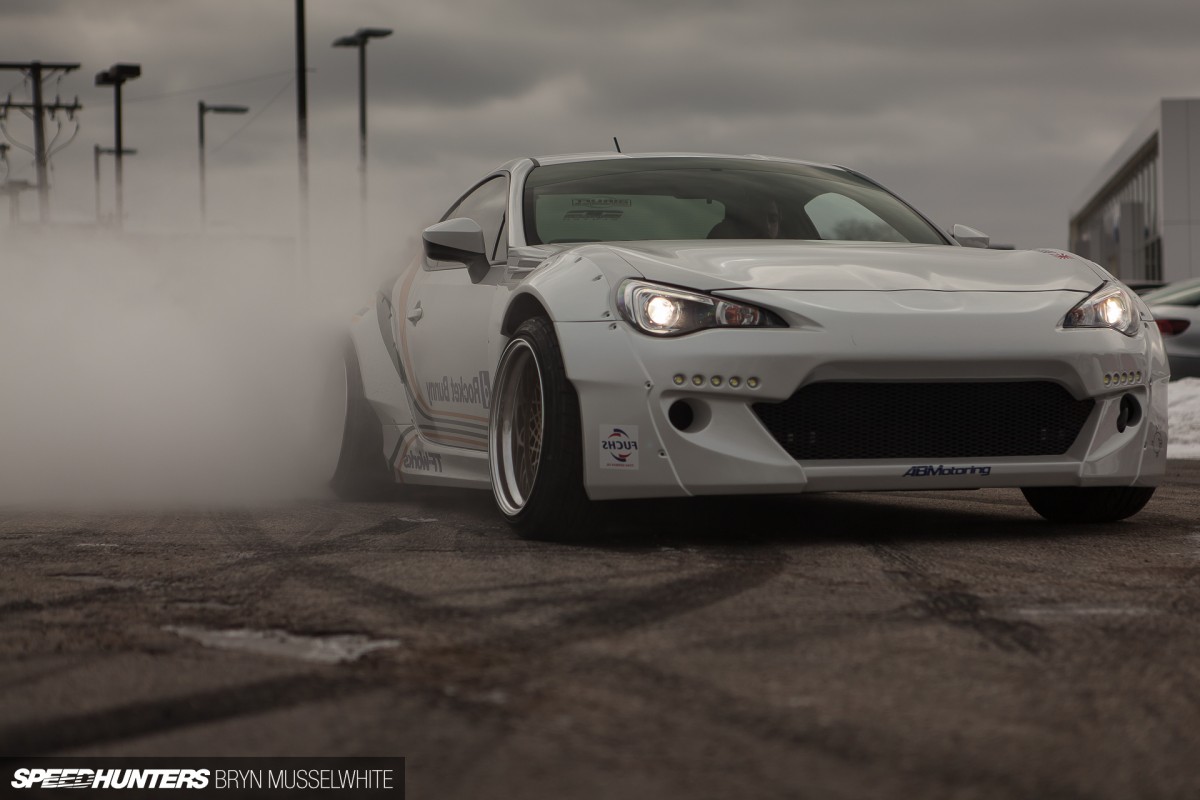 I think it's quite fitting that a project I didn't even know existed three days before this shoot took place, is signing us off with a massive burnout. The Speedhunting journey is all about discovery. That's what keeps it interesting and what makes it so, well, cool…
Bryn Musselwhite
Instagram: speedhunters_Bryn
bryn@speedhunters.com