Round 1. Fight!
If drifting is a fad, it's been one hell of an 11-year ride so far. With attendance numbers higher than ever before – prompting Formula Drift's organisers to provide extra grandstand seating for the first round of the new season – I think it's safe to say that the automotive action sport is here to stay.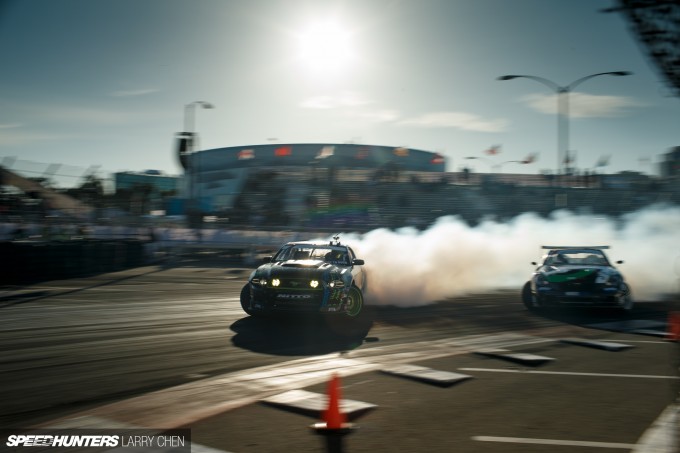 Once again, the series is kicking off in beautiful Long Beach, California. Sun shining, engines revving, smoke billowing out from under high horsepower drift machines. It feels good to be back.
When you come to Long Beach we can't forget about our good friend Bil Baldwin – the corner worker with legs borrowed from Chuck Norris. I know the FD season has begun when I see Santa Claus throwing yellow and red flags.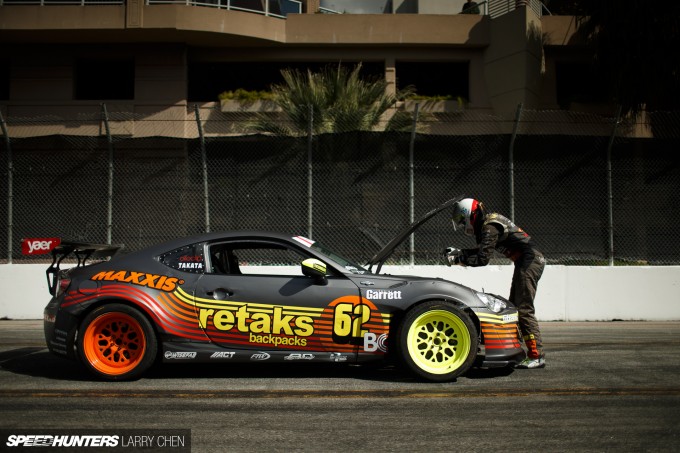 The first round of competition is always hectic, as there's almost no time for practice. However, there is a media day where a select few drivers have a chance to let it rip.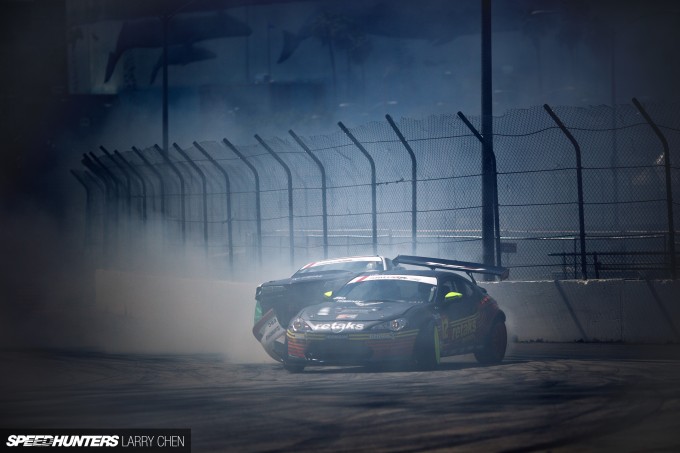 Given the little margin for error on this tight k-rail-lined street course, crashes come with the territory at Long Beach. But in all my years of covering Formula Drift, I don't think I've ever seen a incident at the media event as big as the one earlier in the week.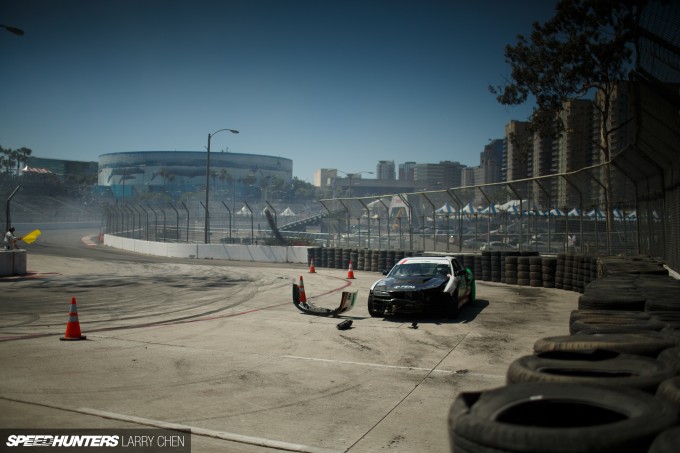 Odi Bakchis's LS3-engined Nissan Silvia lost its power steering going into the final corner and plowed straight into Ryan Tuerck's refreshed 2JZ-powered ZN6.
It was unfortunate, but these sort of things happen. It is drifting after all.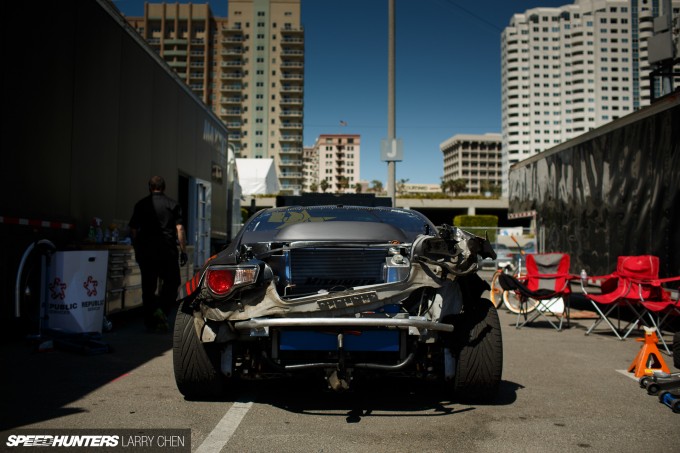 Ryan and the rest of the team put their heads together and did what they could. In the end though, they took the car back to old sponsor Sam's Auto Land for some emergency body repair work.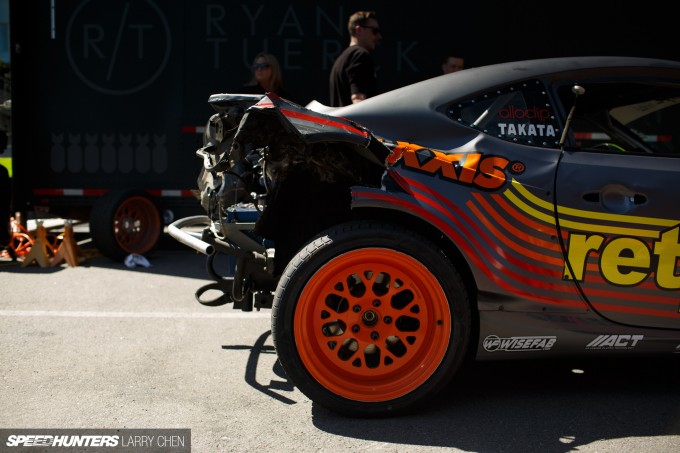 You wouldn't believe it, but just two days after the rear end resembled this, the Scion FR-S was back in the paddock and looking absolutely brand new again.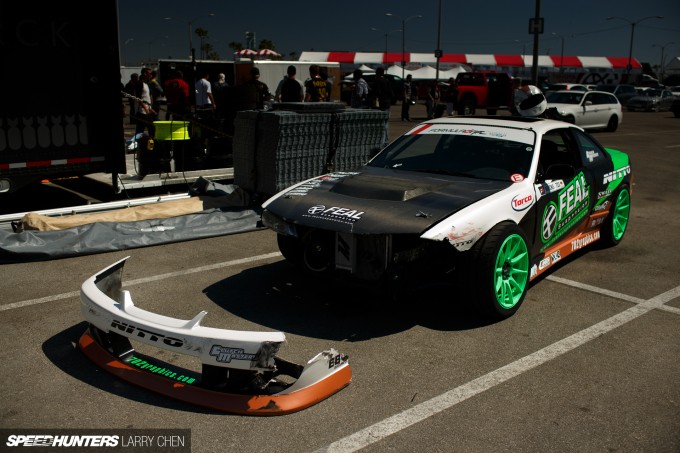 Even though it was not really his fault, I think everyone felt bad for Odi. Some things are out of your control, and there's no way he could've known that the hydraulics in his steering system were about to fail.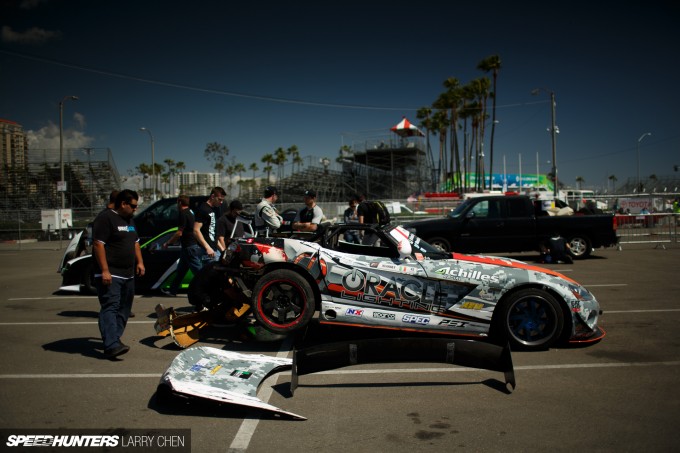 Irish drifter Dean Kearney didn't have much luck either, stuffing his 1000hp Dodge SRT backwards into a tire wall.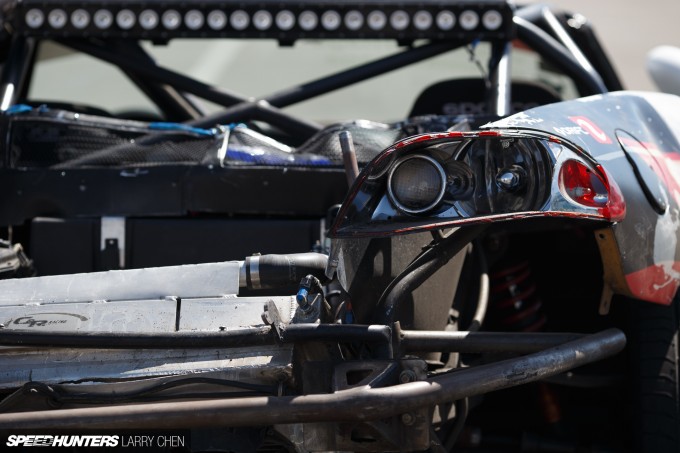 It looked really bad – so bad in fact that there were whispers of the chassis being a complete throwaway.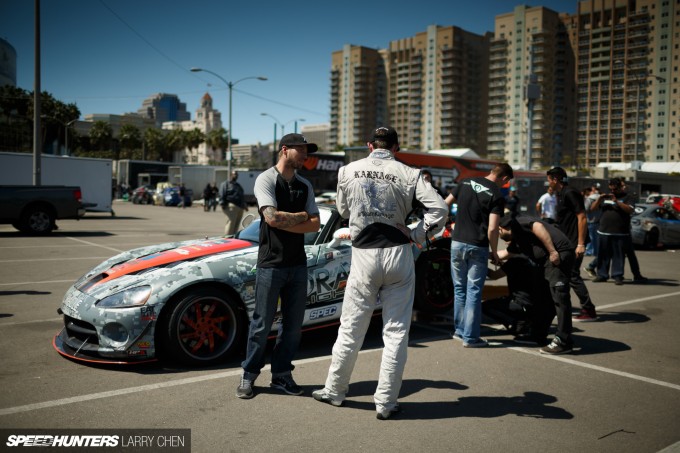 But just a few days later the Oracle Lighting team showed up with the car looking straight again. Dean ended up qualifying the Dodge in 18th position.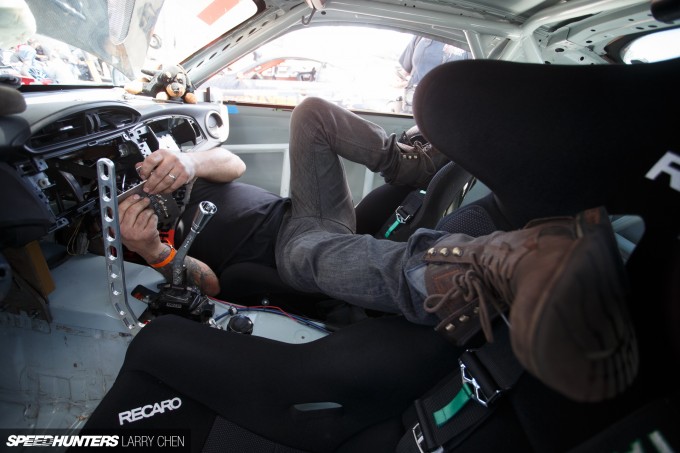 With refreshed cars and new builds there will always be teething problems. During the media day Tony Angelo spent much of the morning under his dash, but eventually got it all buttoned up in time to lay down a few practice runs.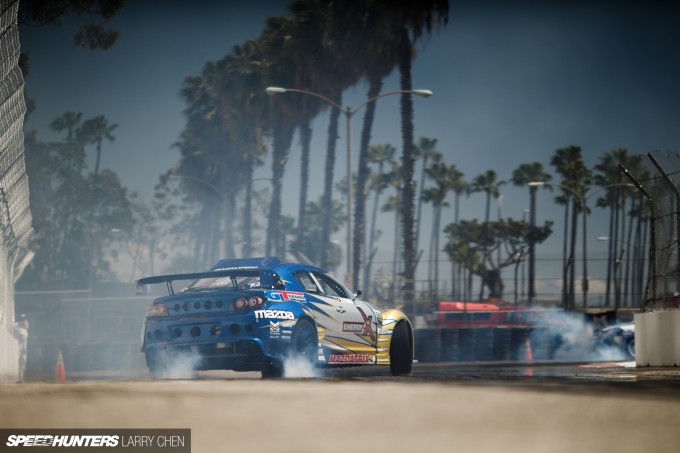 Kyle Mohan was worried that he would have to run the season without a tire sponsor, as his supplier pulled out of Formula Drift all together. After spending thousands on building a turbocharged 3-rotor Mazda rotary engine for his RX-8 things were looking bleak. Thankfully though, GT Radials stepped up at the last minute and put Kyle's program back on track.
New season, new cars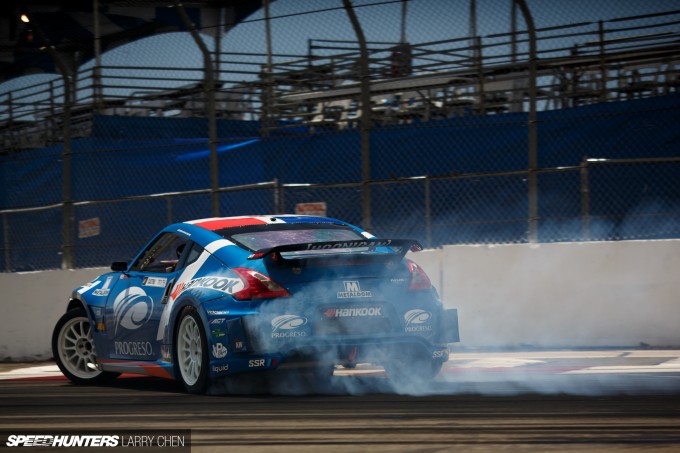 The start of the season is especially hard for those who have to come to grips with a brand new chassis. Jhonnattan Castro signed up with Chris Forsberg Racing this year in an all-new Nissan 370Z powered by a VK56.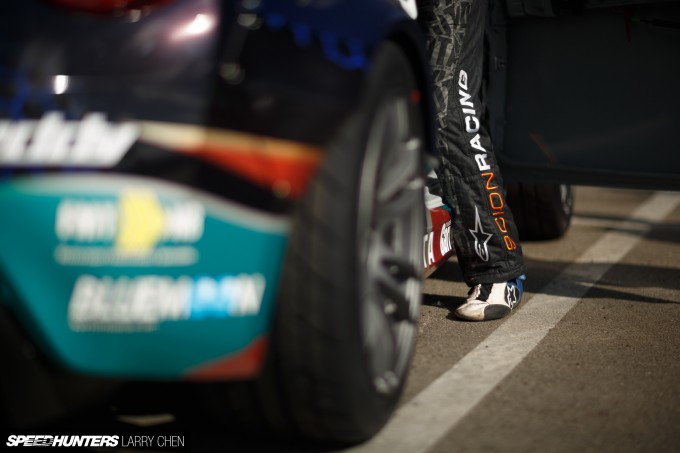 Ken Gushi still drives a ZN6, but this year he has a high-power 2JZ lurking under the hood.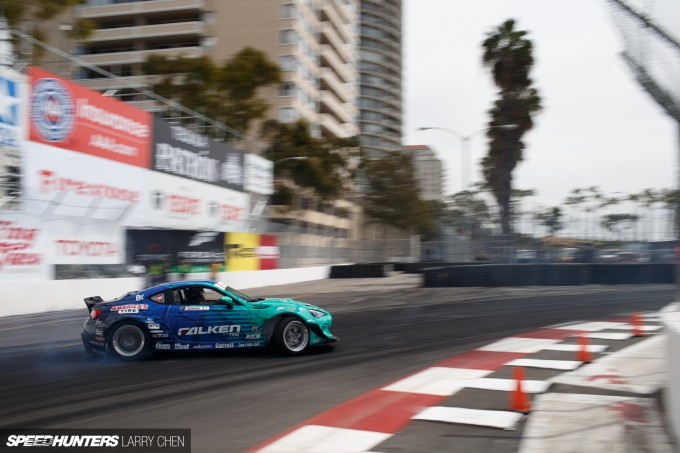 Daijiro Yoshihara is driving a ZC6 chassis, but his is powered by a Chevy LS7. It's definitely a very different beast compared to the rest of the FR-Ss and BR-Zs running the series.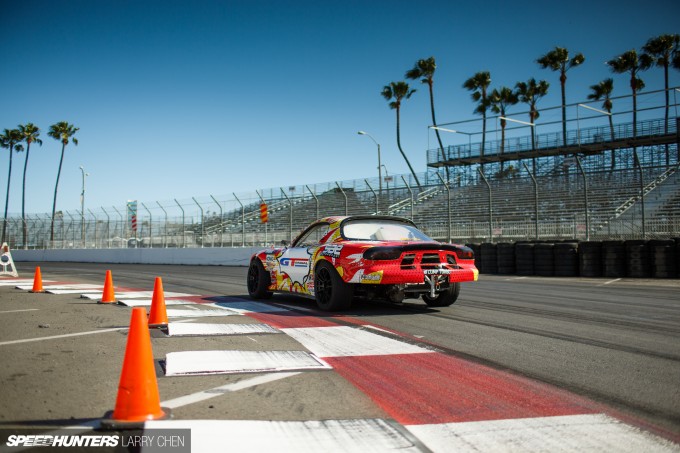 Bring the first round, there are rookies competing in the Pro ranks for the very first time.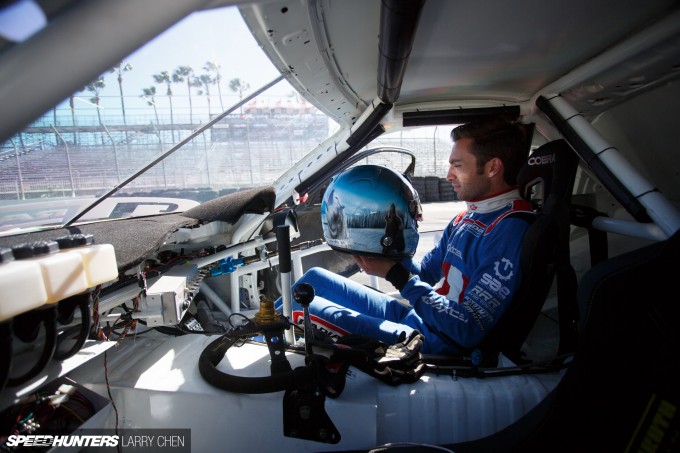 San Diego native Tyler Wolfson had a tough Pro-Am season in 2013, but he moved up the ranks and definitely earned his 'Rookie of the Year' accolade. Like every new driver that steps into Pro, he'll have his work cut out for him this year.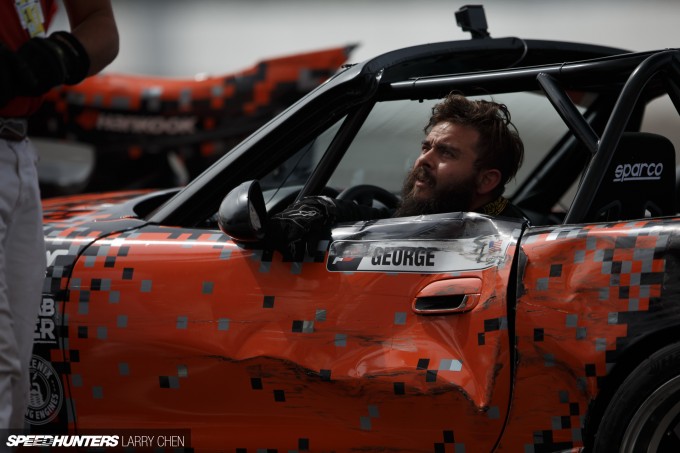 The 'People's Champ', Danny George ran into problems of his own. Even though he got a three-month head start, Danny only just made it to qualifying in time after crashing his Miata in practice.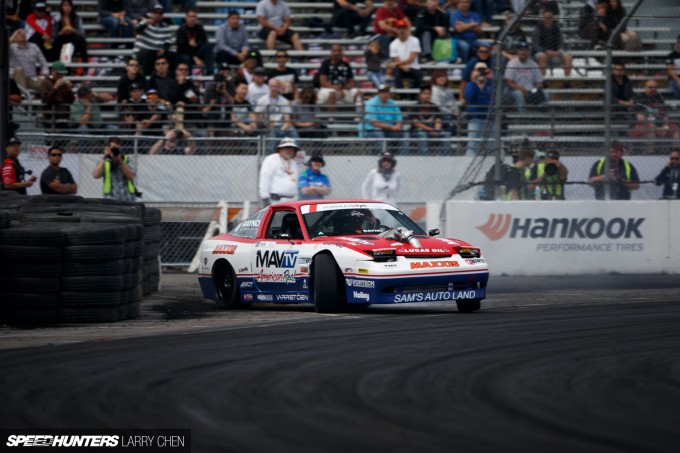 No one has had it harder than Joon Maeng though. Armed with with a brand new car, he wasn't messing about on his first qualifying pass.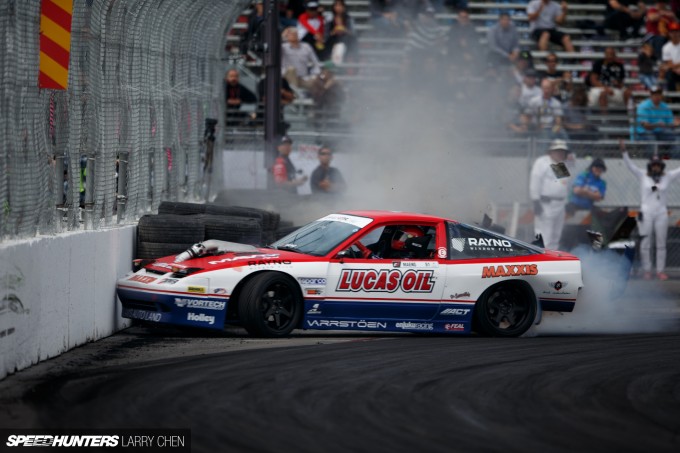 But he went in too hot and ended up in the marbles, which led him straight into a tire wall.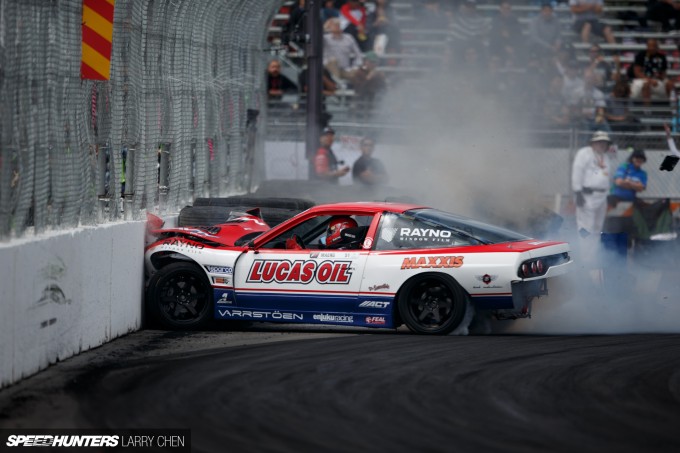 Still hard on the gas, he continued at speed into the concrete k-rail, doing some serious damage to the front end in the process.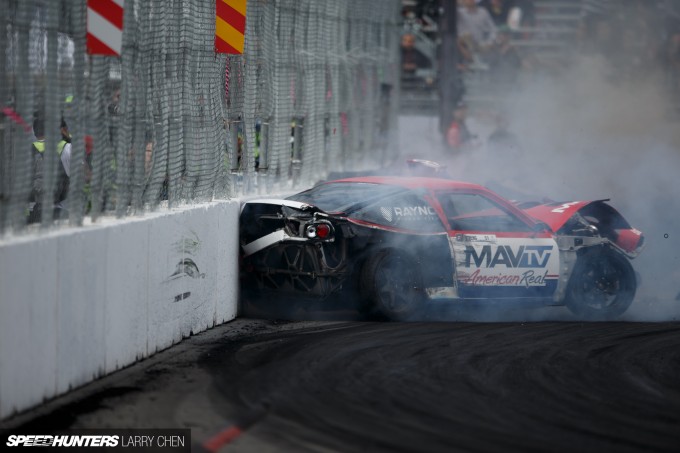 And if that wasn't enough, the momentum swung the car around and finished off the rear.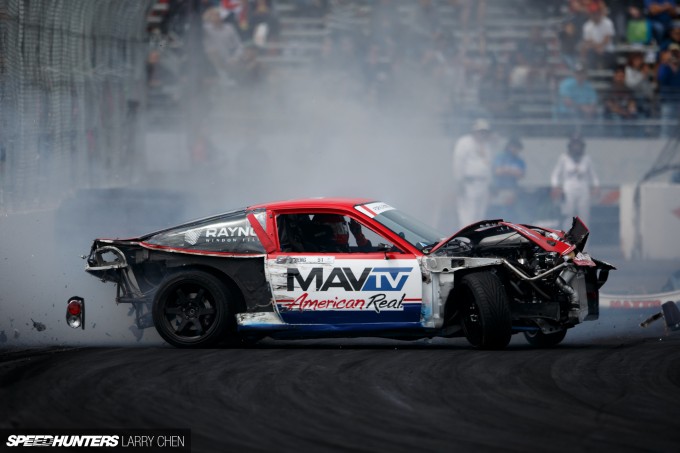 When the Nissan finally came to rest it was evident just how bad of a shape it was in. This is definitely the worst wreck I've seen in Formula Drift for a while.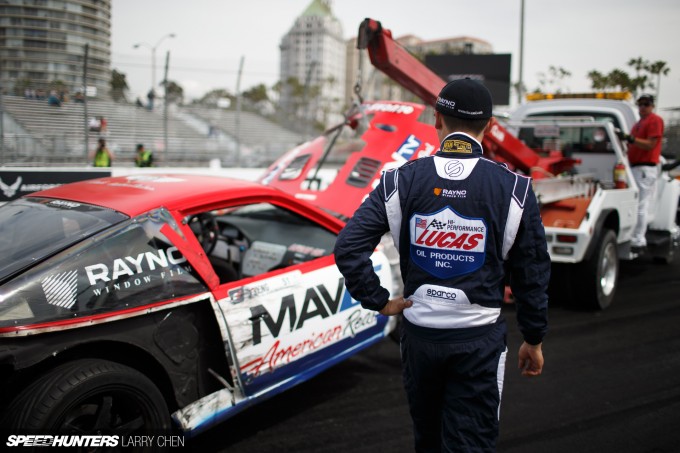 It's game-over for Joon at Long Beach, but hopefully he and his team can get the car back together in time for Round 2 in Atlanta.
Pushing for P1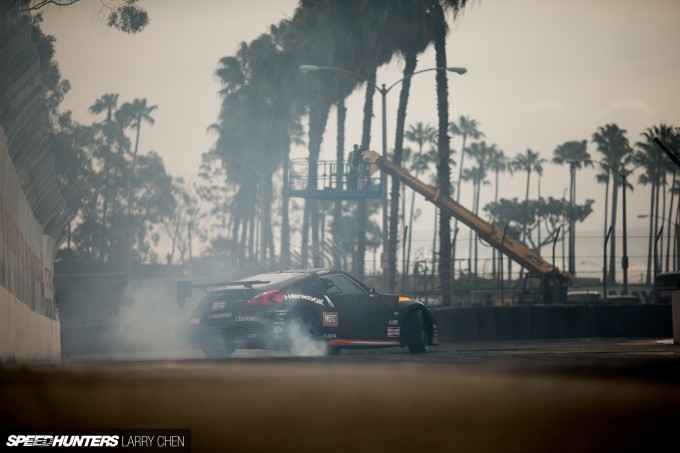 The top qualifying spots were filled by the usual suspects; Chris Forsberg landing in seventh place.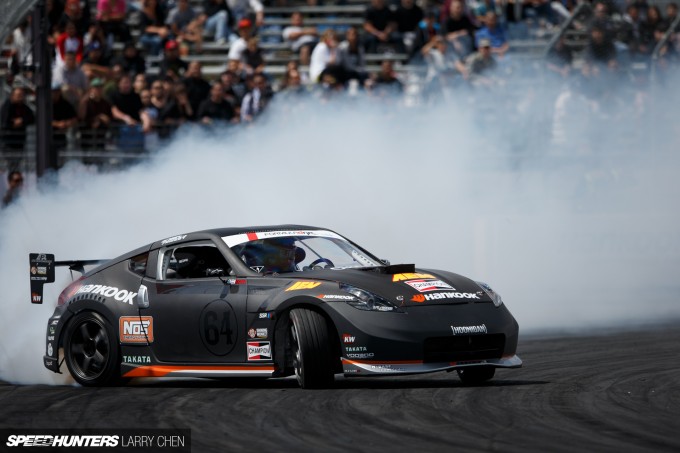 Chris has gone to the dark side this year with a total dry carbon look. It's pretty cool.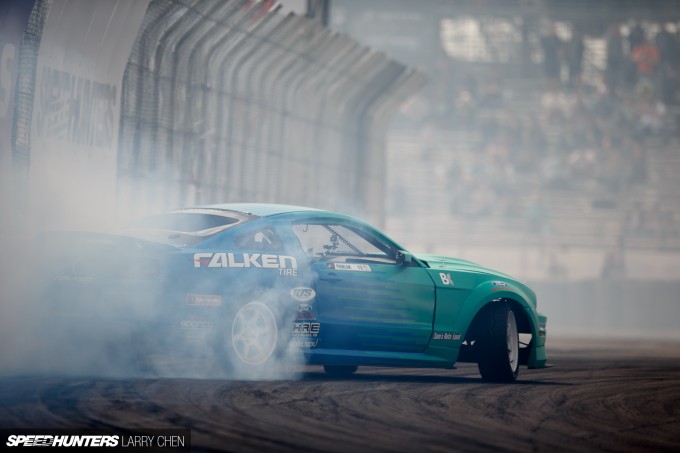 Appearing to have finally got that Long Beach monkey off his back after embedding his car into the k-rail during qualifying last year, sixth place went to Justin Pawlak.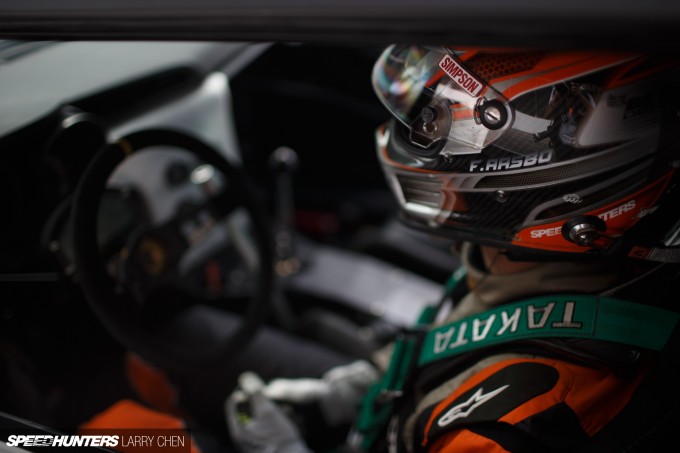 Fifth place went to our very own Fredric Aasbø, whose Scion tC was sporting its new one-off Rocket Bunny kit and a fresh new livery.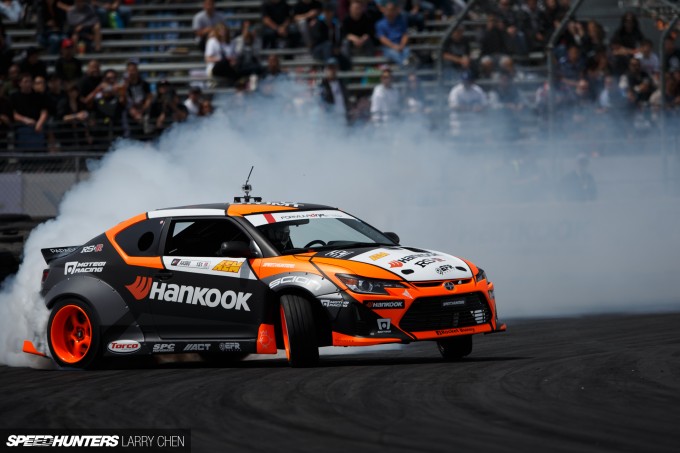 People are often surprised to hear that Fredric hasn't won a Pro championship round yet. He's come very close with a second, though.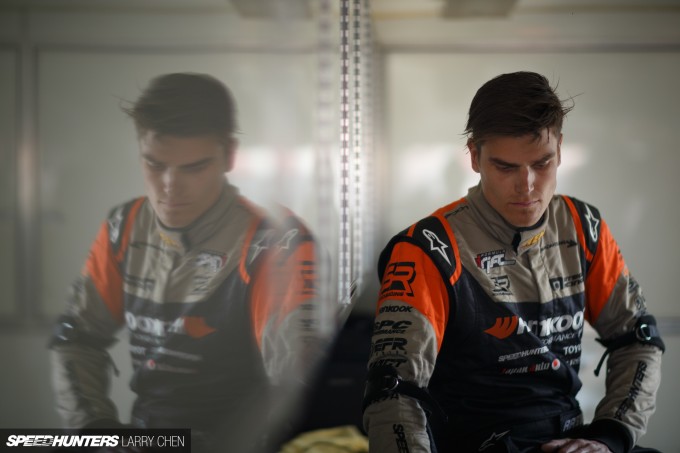 The only person who beats Fredric is himself. If he's as consistent as he was in 2013, he'll definitely be in with a chance to nab the championship this year.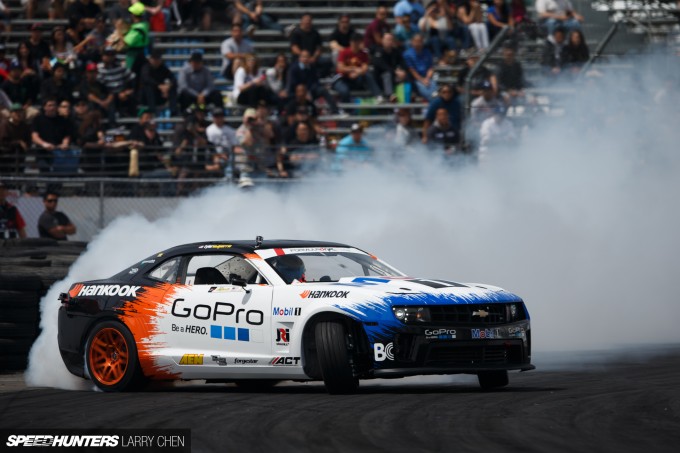 Tyler McQuarrie finished off last season with a bang, crashing out in the finals against Daigo Saito in a 'One More Time' battle. Well, Tyler is back with a rebuilt car, and obviously has his mind in the game. He took third with a clean line and big angle.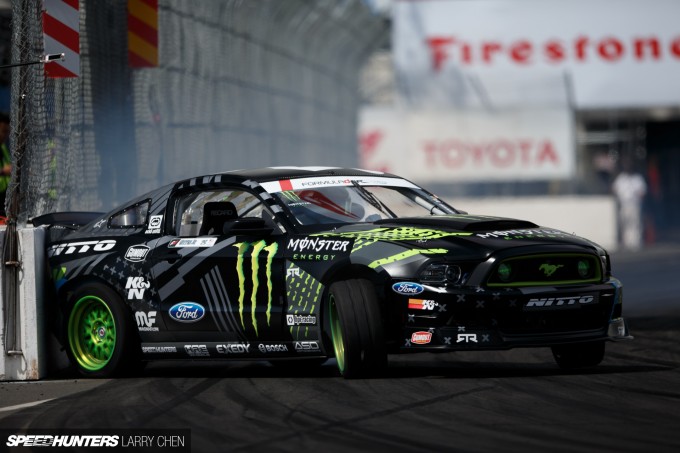 No one hates Long Beach more than Monster-backed Speedhunter Vaughn Gittin, Jr. In 2011 he mis-shifted during a critical moment, causing him earn a zero scoreline for the round and putting him at a disadvantage for the rest of the season. Yesterday he came out swinging with a perfect wall scrape that helped land him in second.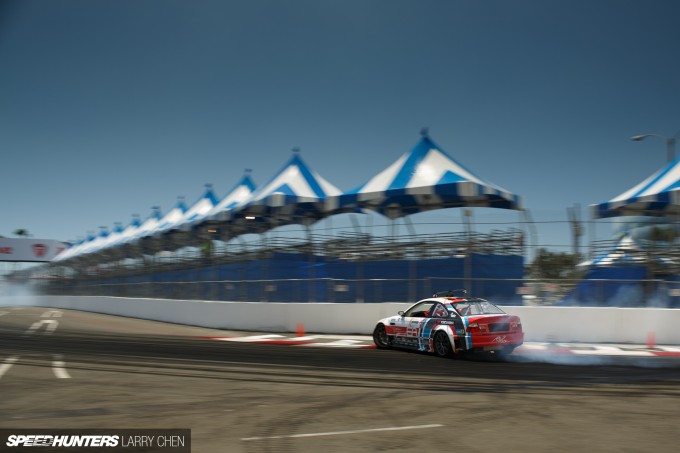 Was there any doubt that Micheal Essa would not qualify in first place? I don't think so, because this guy is on fire. He even forfeited his second qualifying run, because he figured there was no way he could do any better.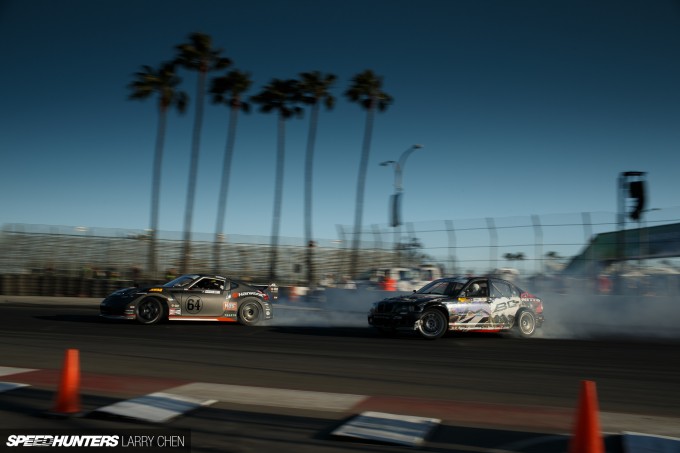 As the battles are about to begin here at Long Beach, I really can't wait to see how Round 1 pans out. This is the start of what is going to be a crazy year, and I'll be there every step of the way.
Larry Chen
Instagram: larry_chen_foto
larry@speedhunters.com