It's all about the ambience
In the quest to shoot the best cars, meets and events Japan has to offer, Speedhunting has taken me to the far reaches of the country. Being exposed to so many facets of Japanese car culture, you could say that I've seen and covered it all – multiple times in some cases. But every now and then I come across something, or someone, that makes me look at this amazing modified and custom automotive scene in a fresh new light. That's the feeling I got when I recently visited Nori-san at Common Snapper in Iga City, Mei.
On ambience alone, this is probably the least 'Japanese', Japanese tuning outfit that there is, and Nori is one of the most atypical guys I've ever met. He likes to do things his way, and the further away this is from the norm, the better. In a country that pressures everyone into conformity and in many ways looks down upon those that challenge the system, Common Snapper's approach to car building is a real breath of fresh air.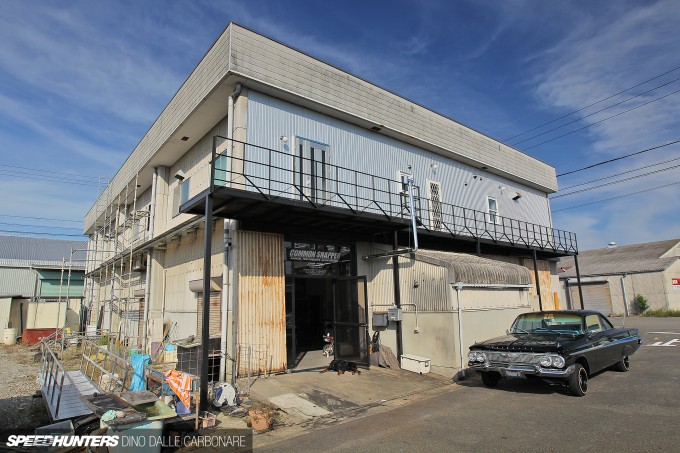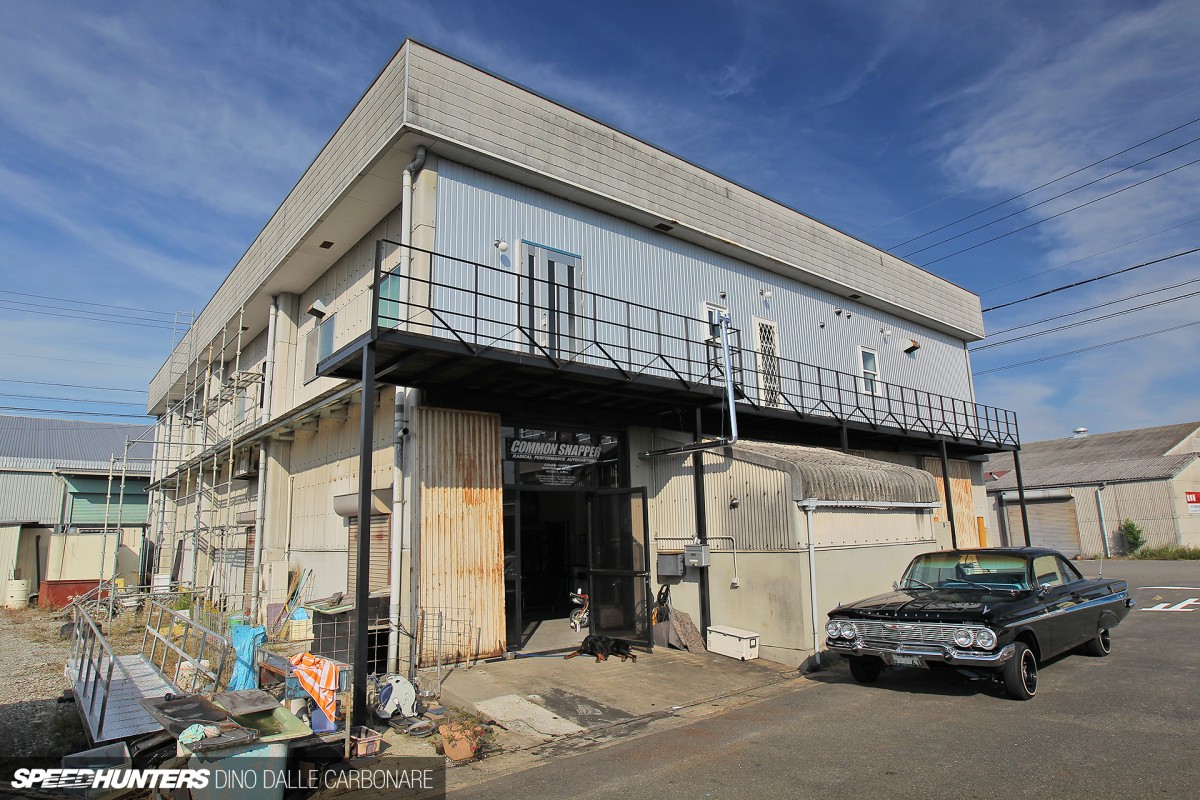 It's a feeling that instantly hits you when you first show up at Nori's shop. Actually, I don't know if I should even call it a shop, because previously it was a small factory that use to produce and package food items. But around 18 months ago it was put up for sale. Nori saw the potential and put down a deposit immediately. And while he was at it he also acquired the plot of land next to the shop, because you never know… right?! Quite obviously by the location, Nori had no intention of getting stuck in a tiny little one-lift garage for the sole purpose of begin located in, or close to, a big city like so many tuners do.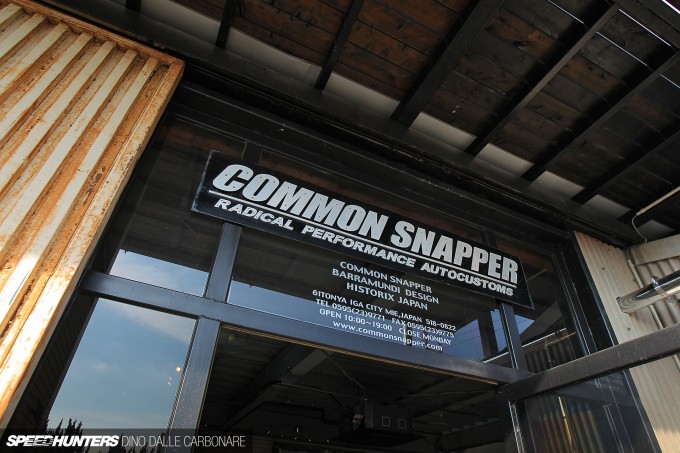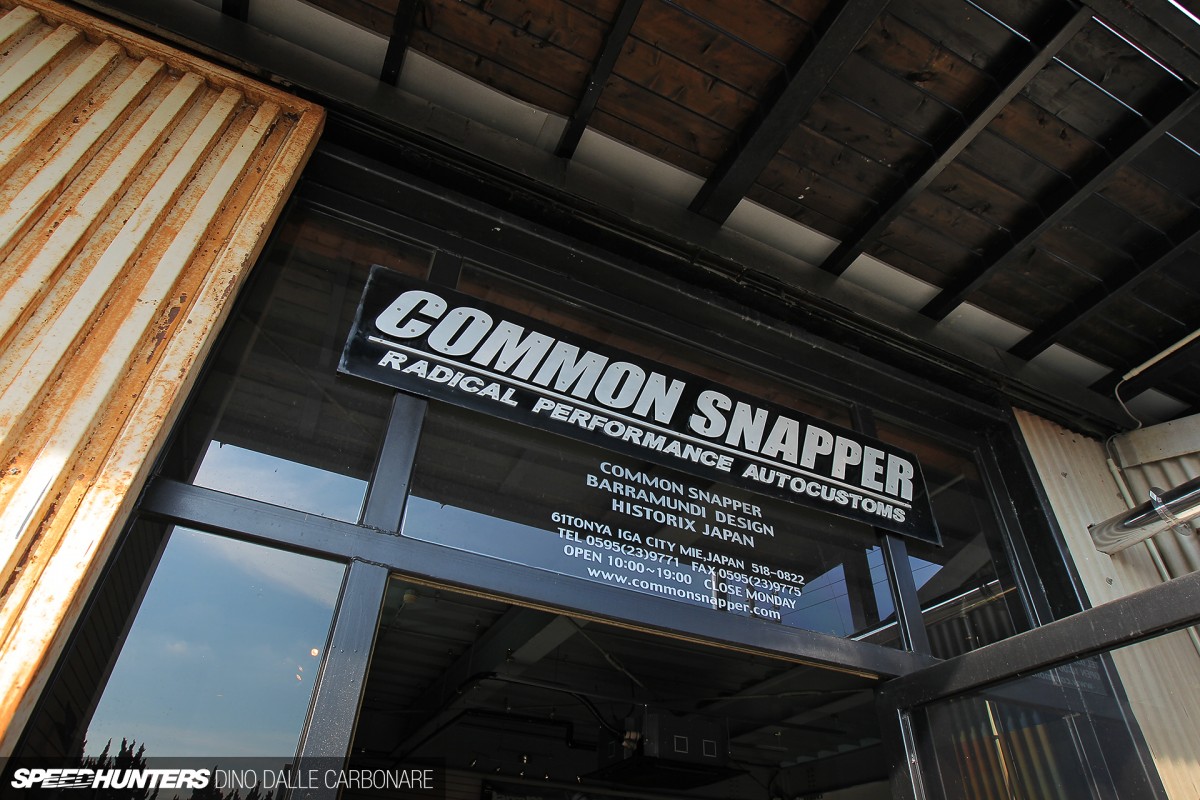 Nope, he much prefers the countryside, as do his customers who look at each visit to Common Snapper as a getaway from their stressful lives. Visiting offers the chance to chill and talk cars for a few hours in a cool and relaxed setting.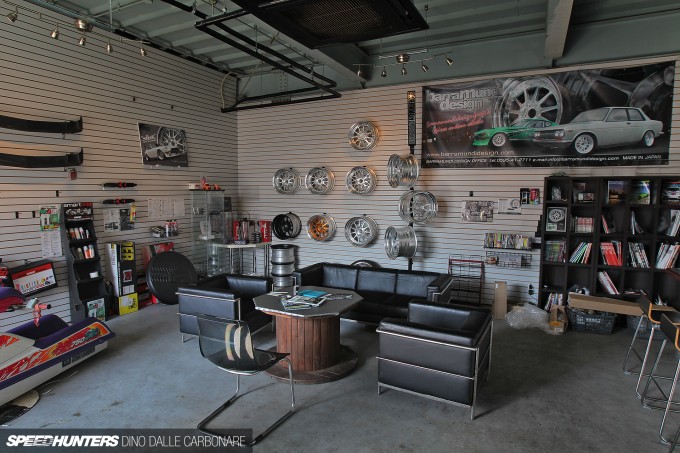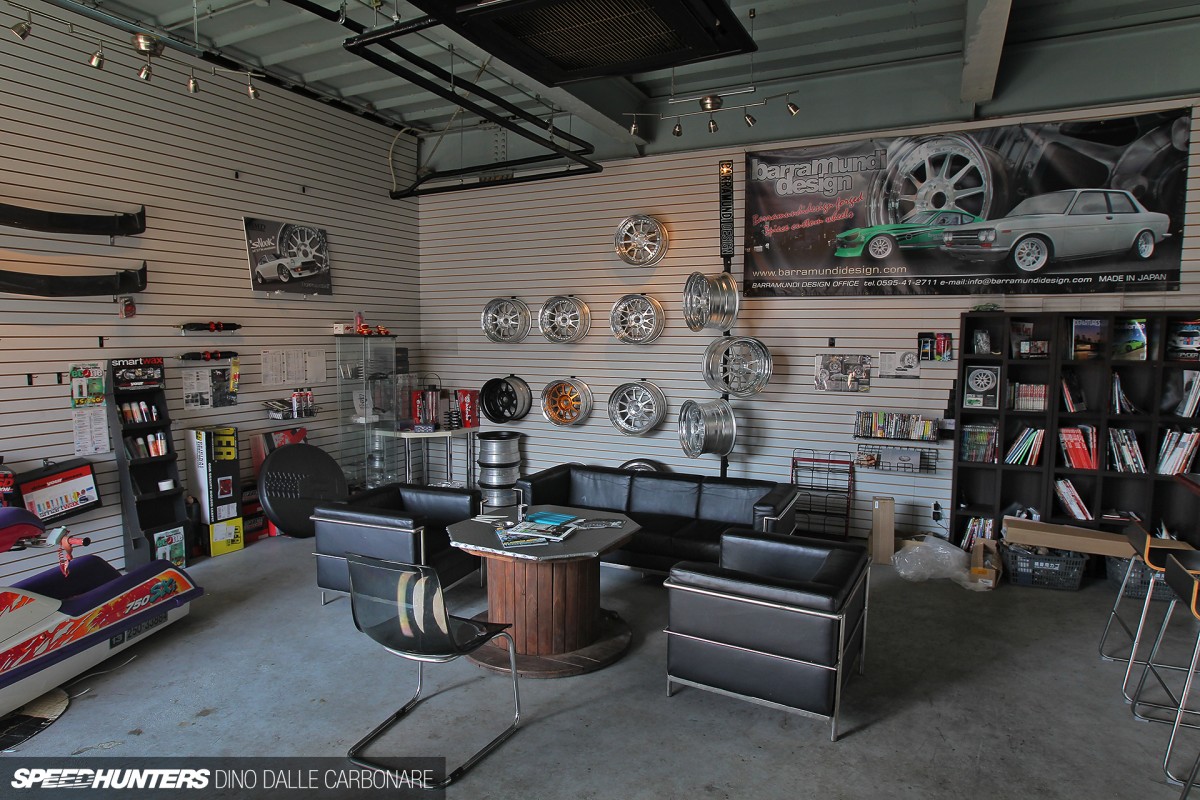 Because Common Snapper has been in these premises for a relatively short period of time, there's still a lot going on. The first thing that Nori did was remodel the entire second level into living quarters for himself. A house with a massive sized garage and office space underneath? This pretty much sounds like the dream of every car guy I've ever met! As you step inside the shop area you are first met with little lounge area – a place for customers to sit down, flick through magazines and smoke a few cigarettes while sipping on canned coffee – Japan's unofficial national sport.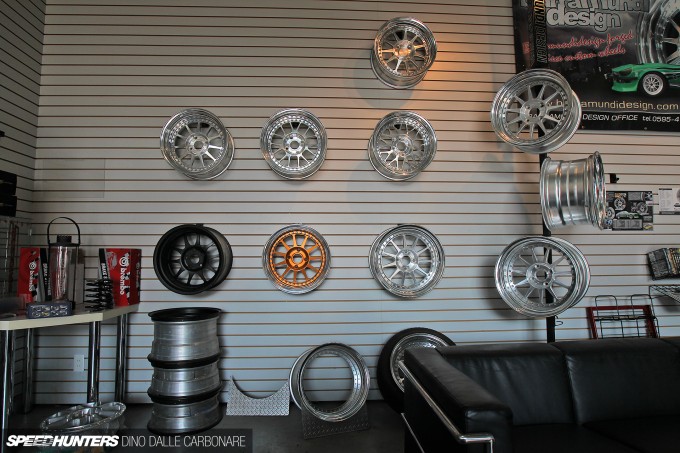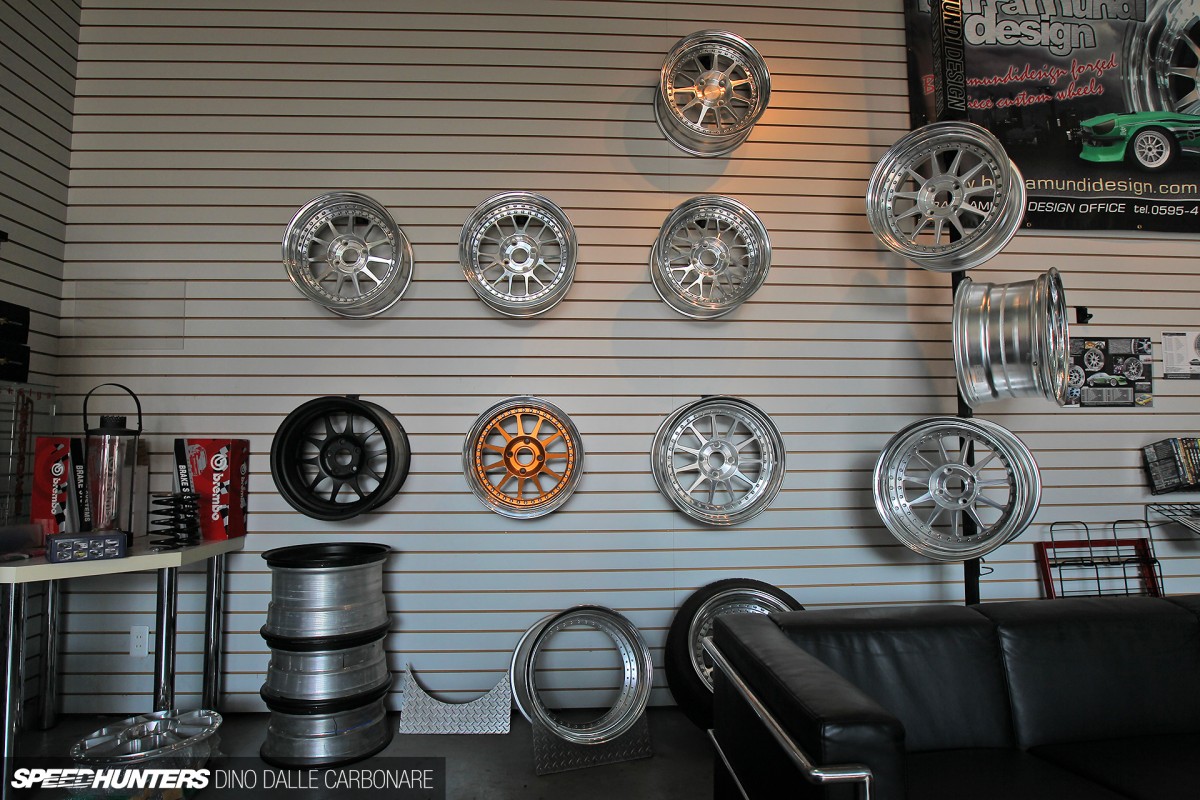 As you might recall from my recent F20C-powered Datsun 510 feature, Common Snapper also boasts its very own wheel brand. The Barramundi Design line-up is primarily aimed at stance-oriented kyusha, but its design works really on a wide variety of machinery.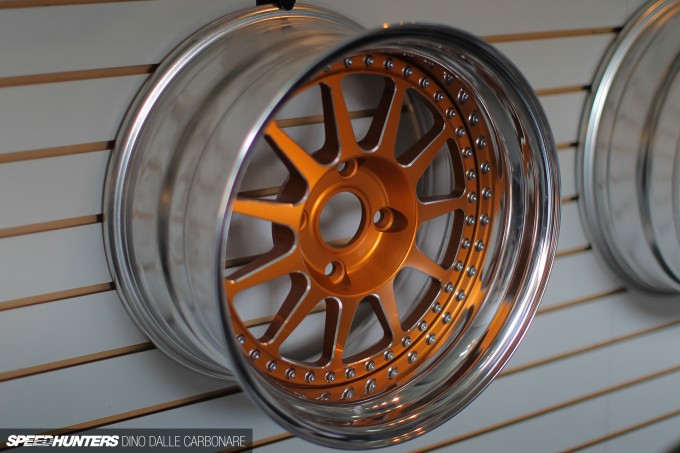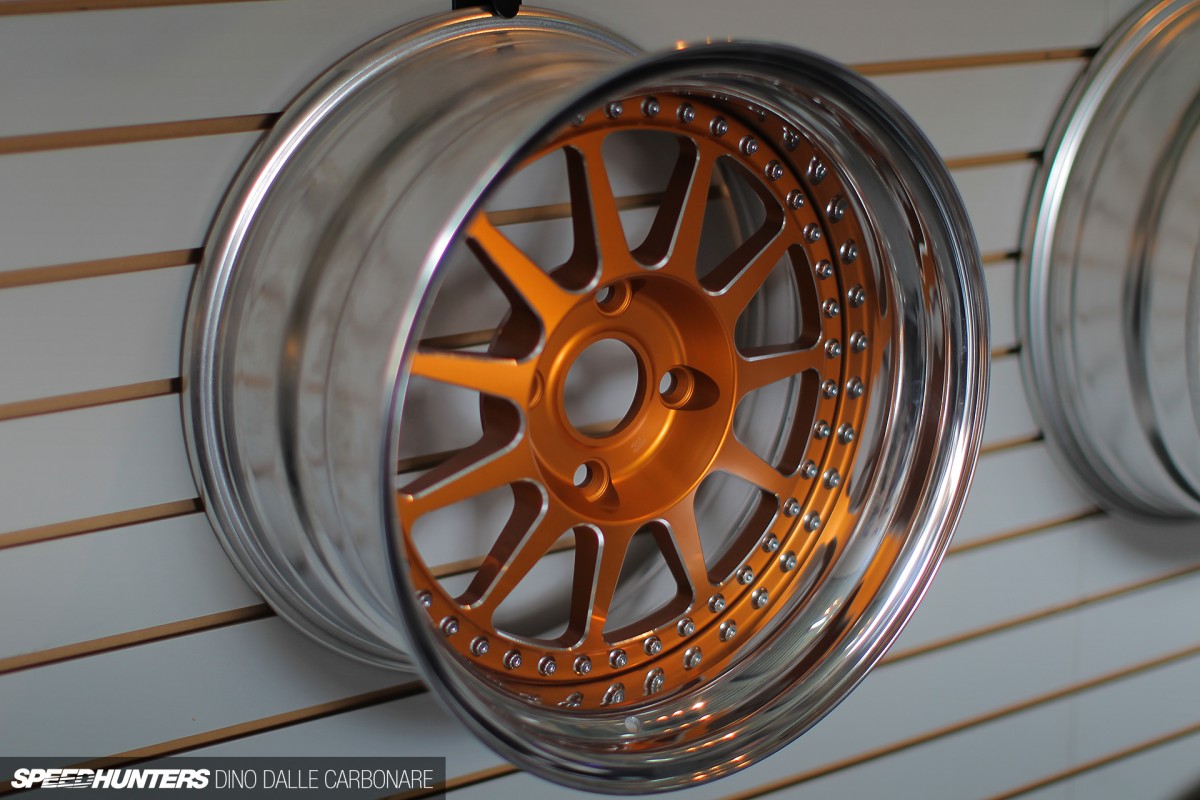 Nori's wheels are produced by Work Wheels and are available in a multitude of size configurations and bolt patterns. And because they are all of a two-piece design, there's plenty of choice when it comes to offsets.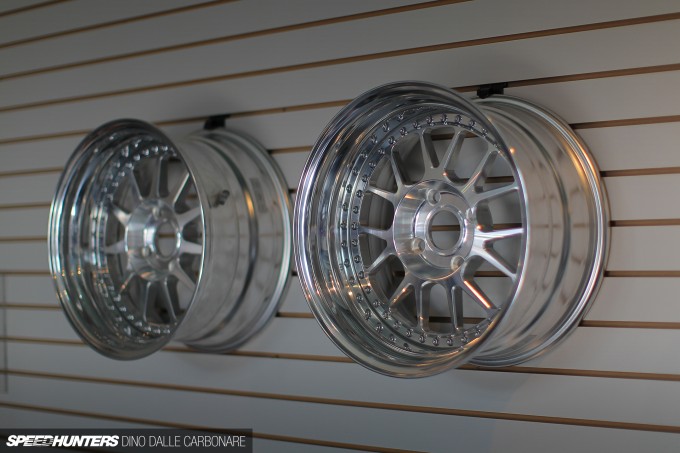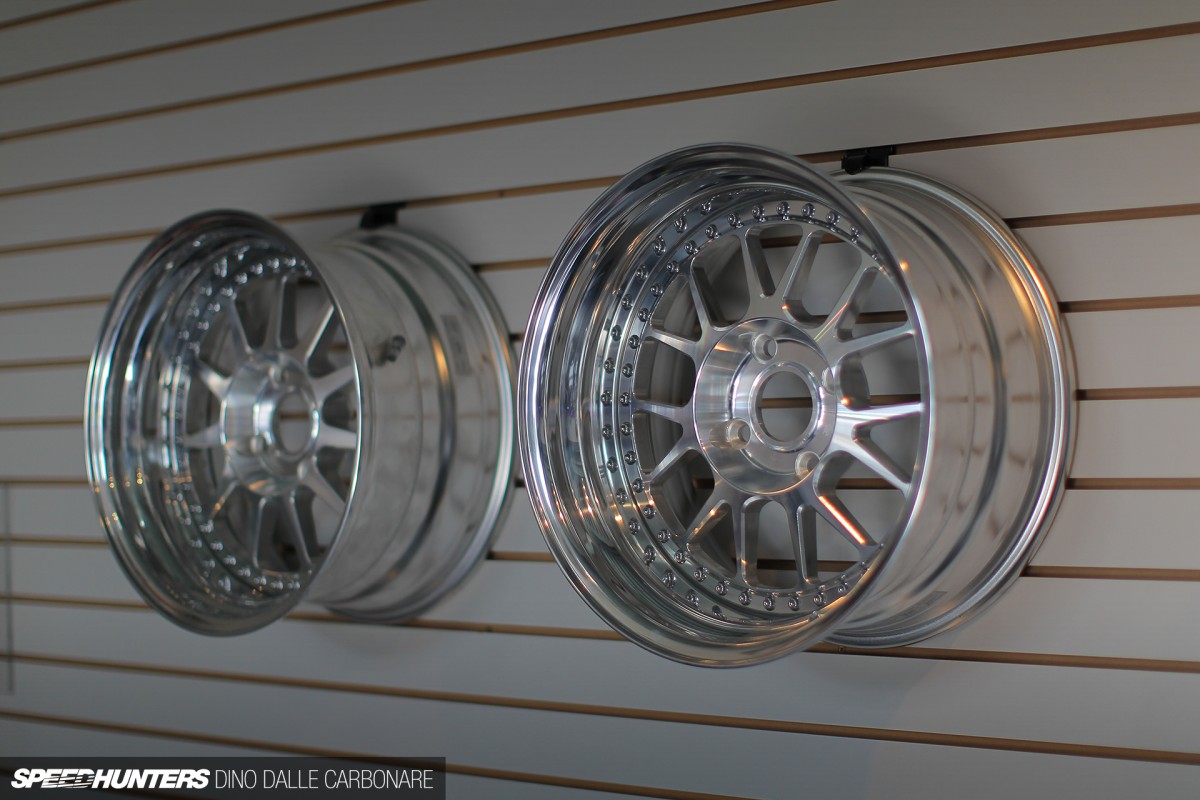 There are currently seven models, all available in a few different color choices. When building his cars Nori felt there was something missing from the wheels that he was considering, so he went ahead and started designing them himself – and that's pretty much how Barramundi Designs came to be. See what I was getting at with the whole 'thinking outside the box' thing?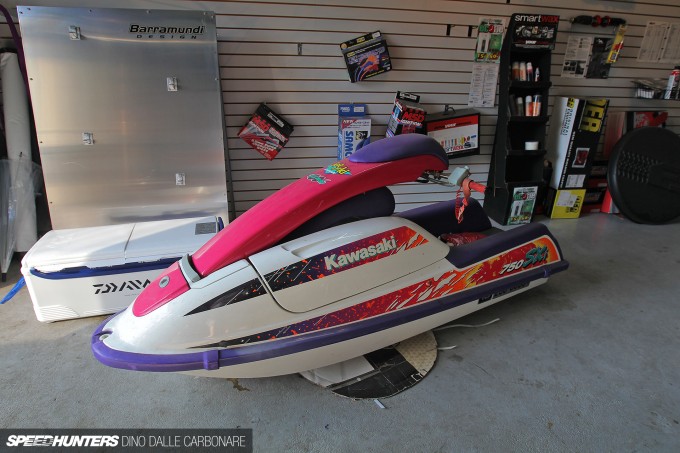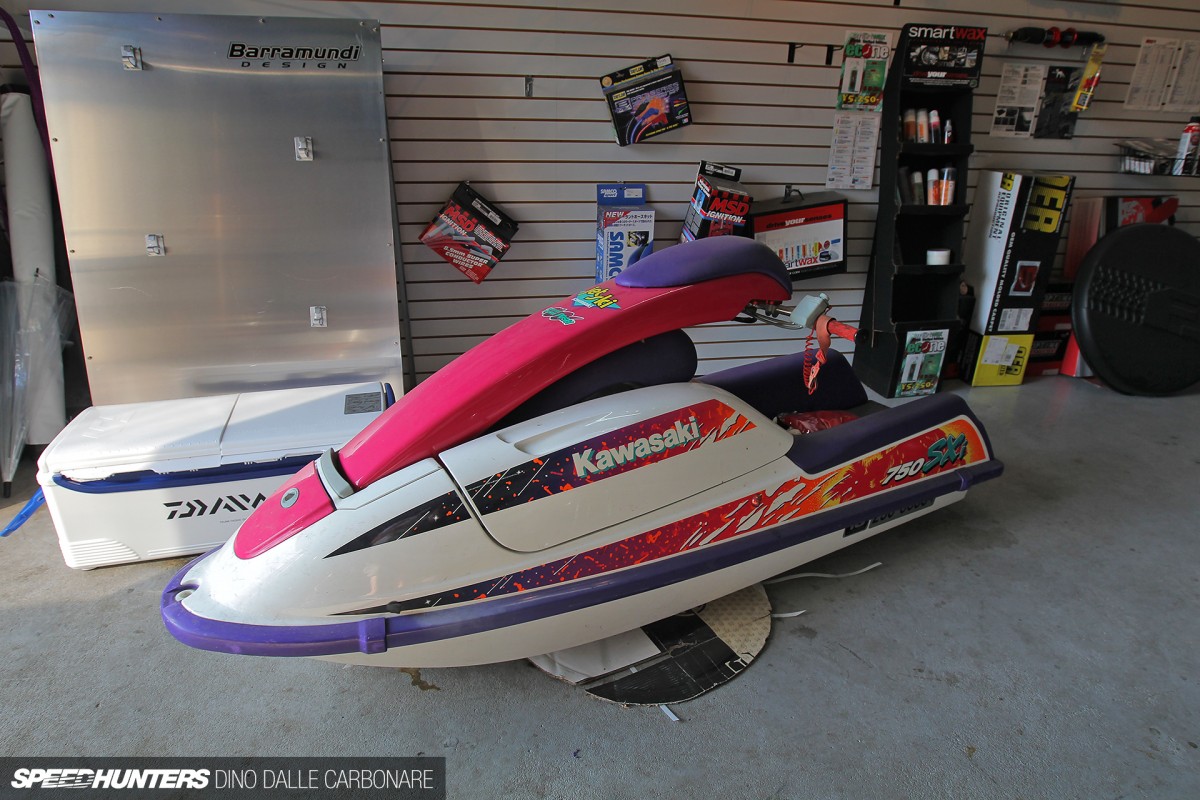 Yep, Nori likes to play!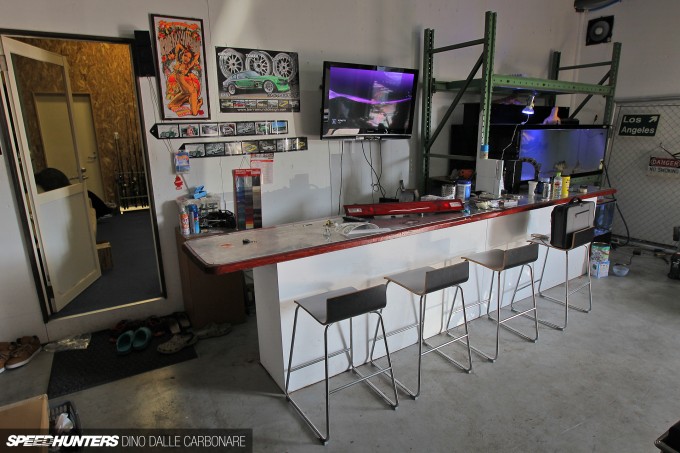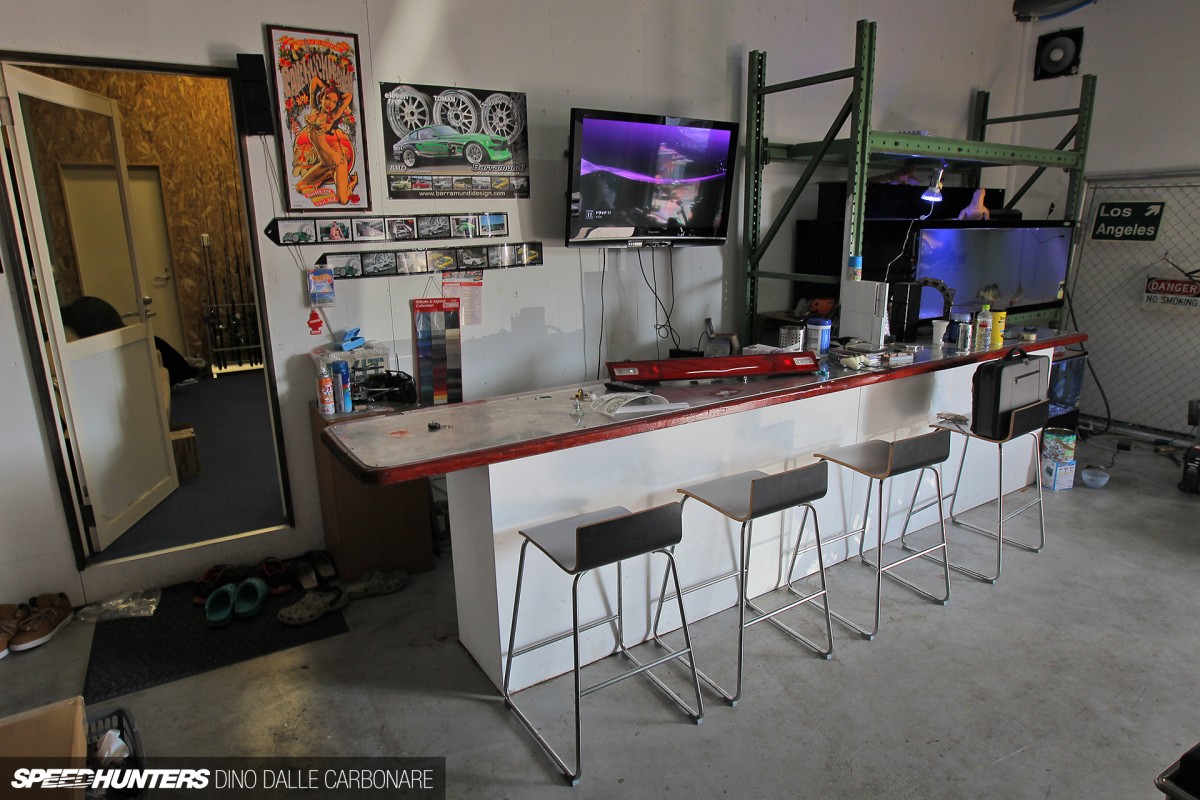 On the other side of the shop is a bar-style area decorated with pictures of his cars or posters of his wheels. There's a really cool vibe here, and I could have easily spent the whole day relaxing in the surroundings. But the life of a Speedhunters leaves little time for such things. I had to keep moving!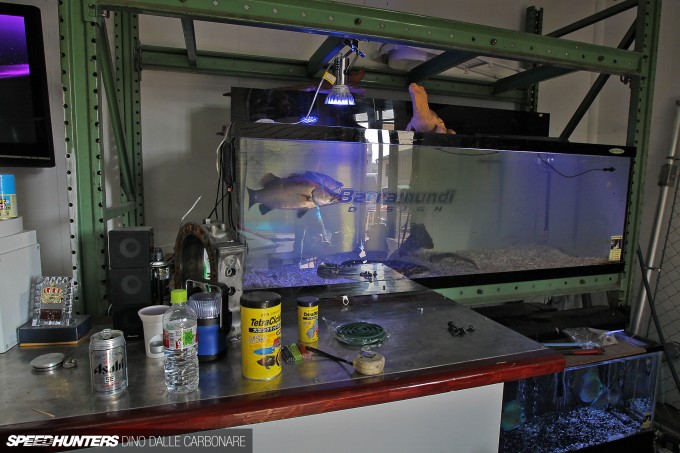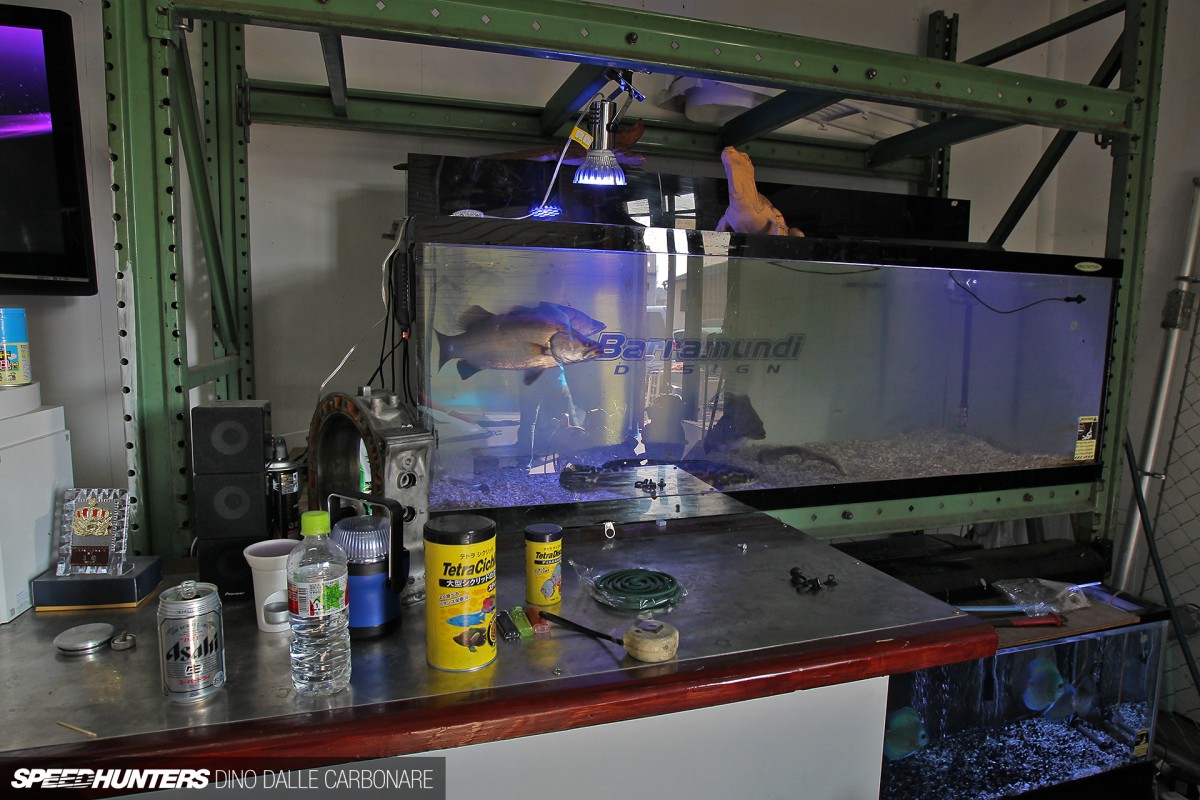 If you are wondering where the Barramundi name comes from, the big fish tank and its occupants should give you a few hints. Nori likes relaxing with a rod and reel in hand, and in particular catching Barramundi, aka Asian Sea Bass.
Stepping outside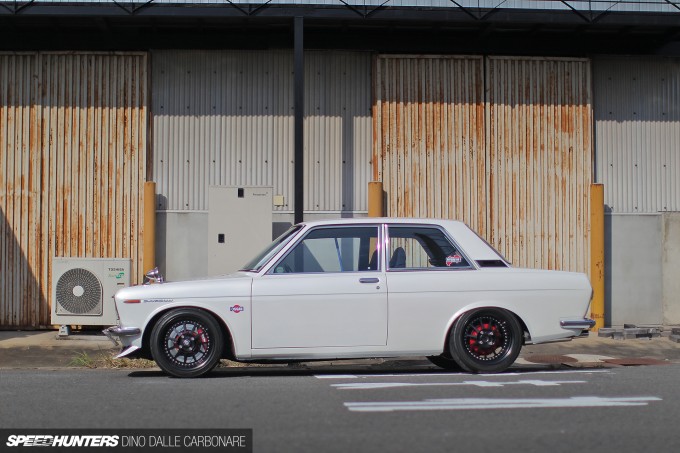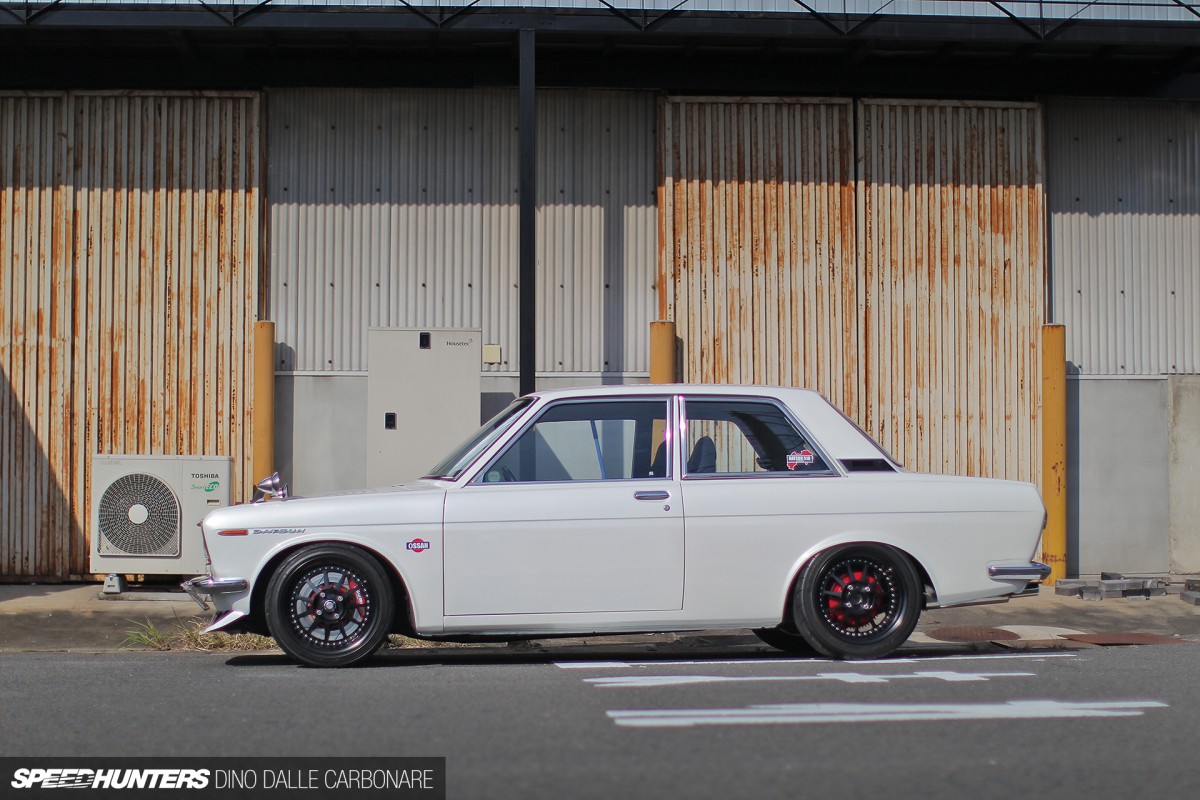 Before I continued on into the workshop there was a little more I wanted to see outside. By this time Sugimoto had shown up with his 510 and parked it in front of the two main shutter doors. Having only seen the car at events in the past, I was really excited to start shooting it, but with the sun still a little too bright for my liking I carried on with my little shop tour.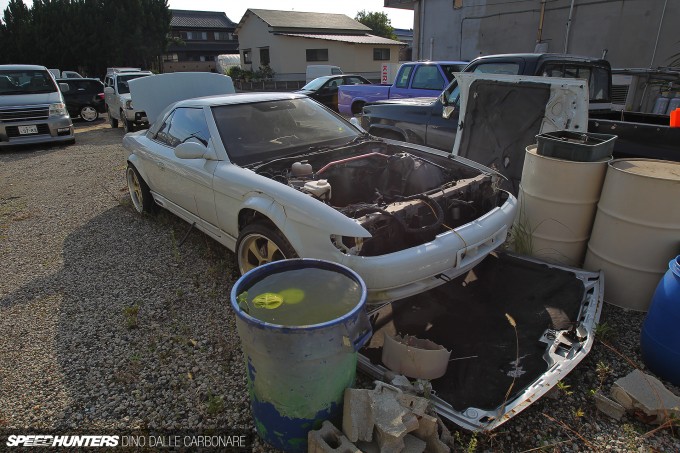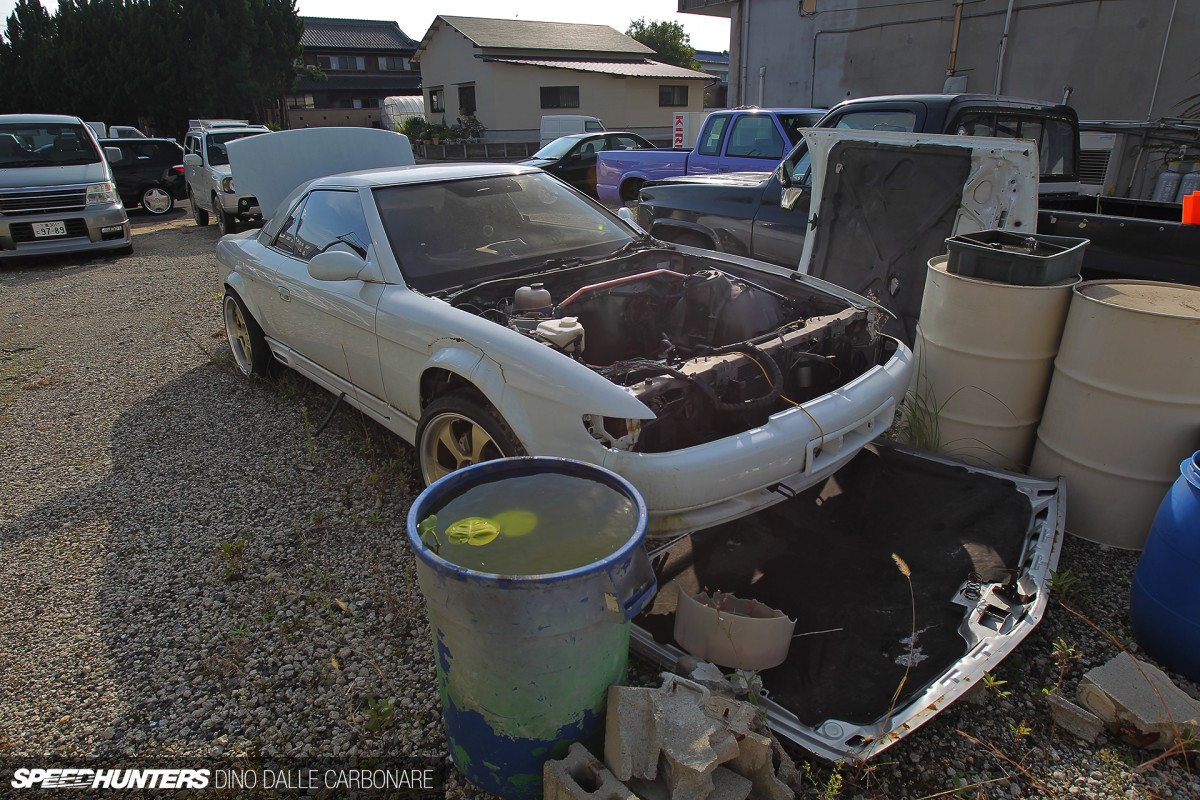 Nori is well known for crazy engine conversions, and the one that we all associate with Common Snapper is a certain green, 20B-powered S30 Fairlady Z. I have a feature coming up on that too, so I won't say too much more for now, except to show you the empty shell of the Mazda Cosmo that donated its three-rotor heart for the project. I love the JC Cosmo, so seeing this car left to rot outside was somewhat emotionally stressful. It's pretty useless without an engine though!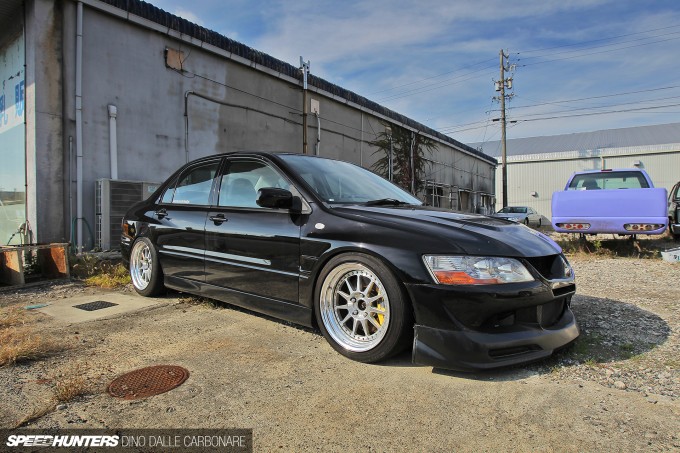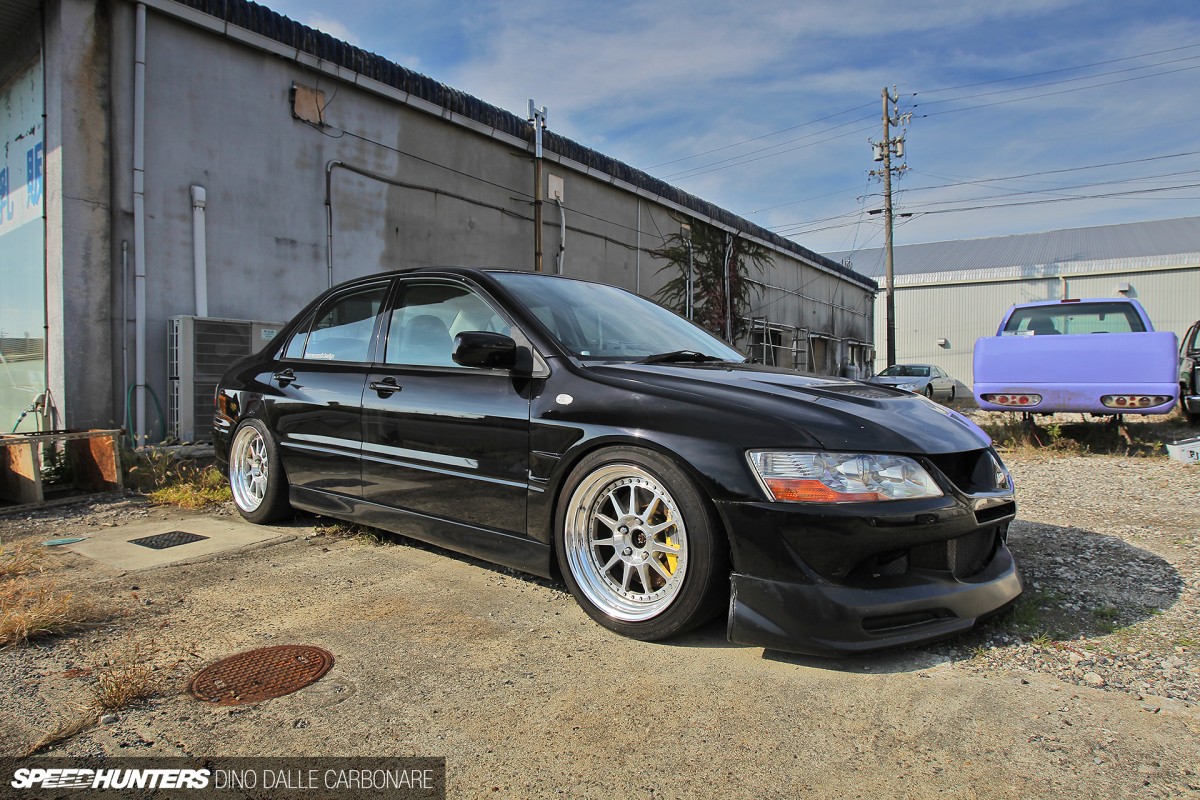 See what I mean about the Barramundi wheels? So much for only looking good on old school cars!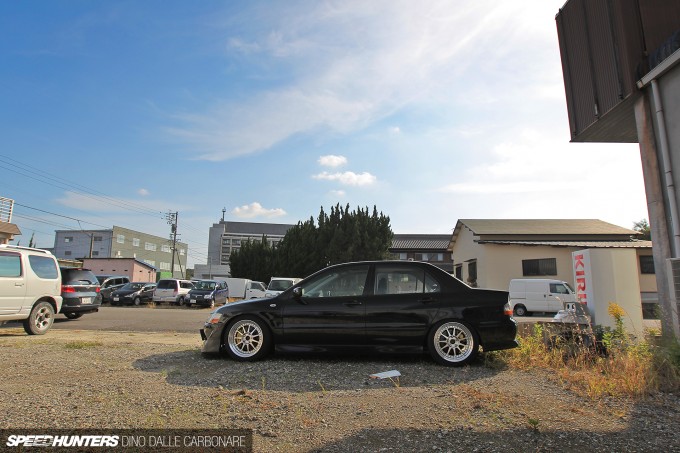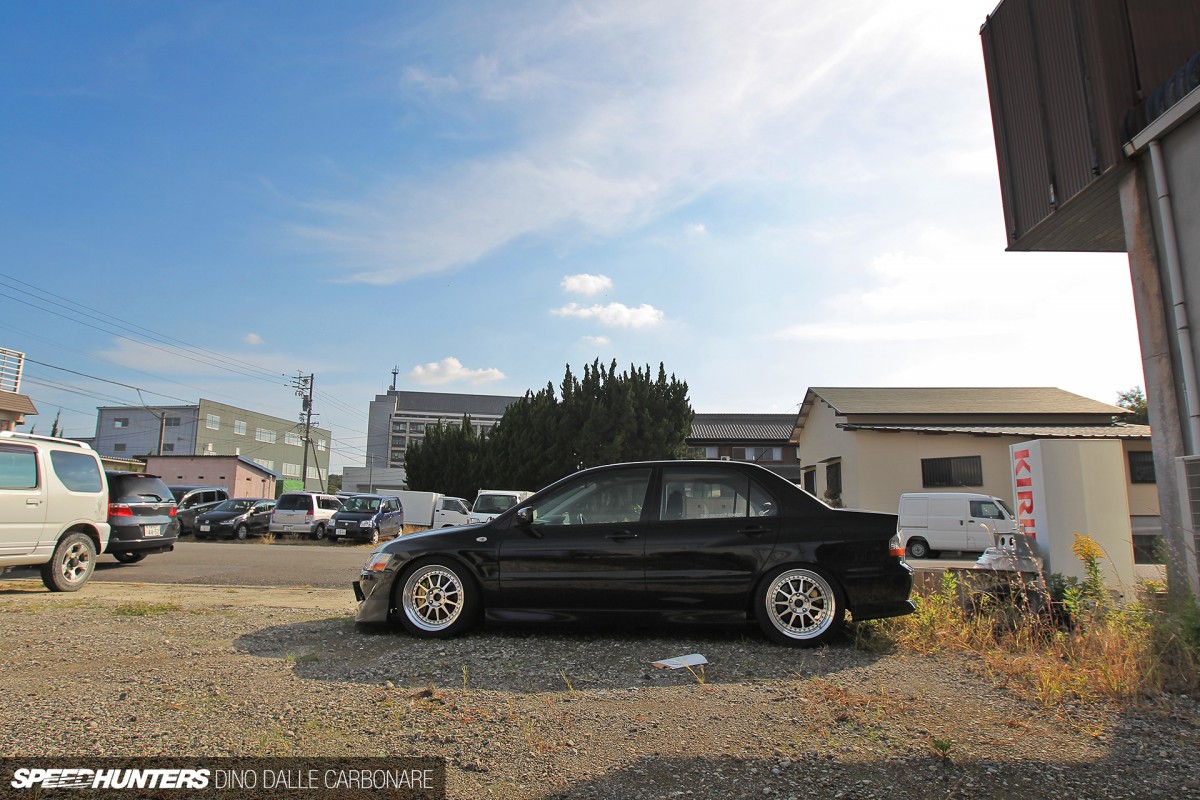 I think the detail that really made this Lancer Evo look so damn good was the removal of its big factory wing. It almost looks sedate without it.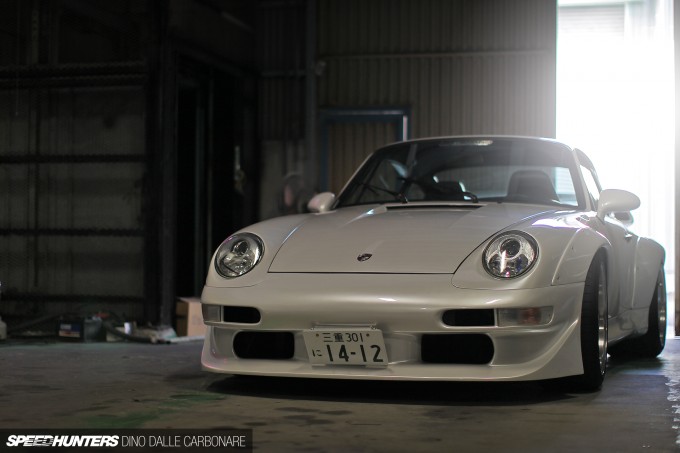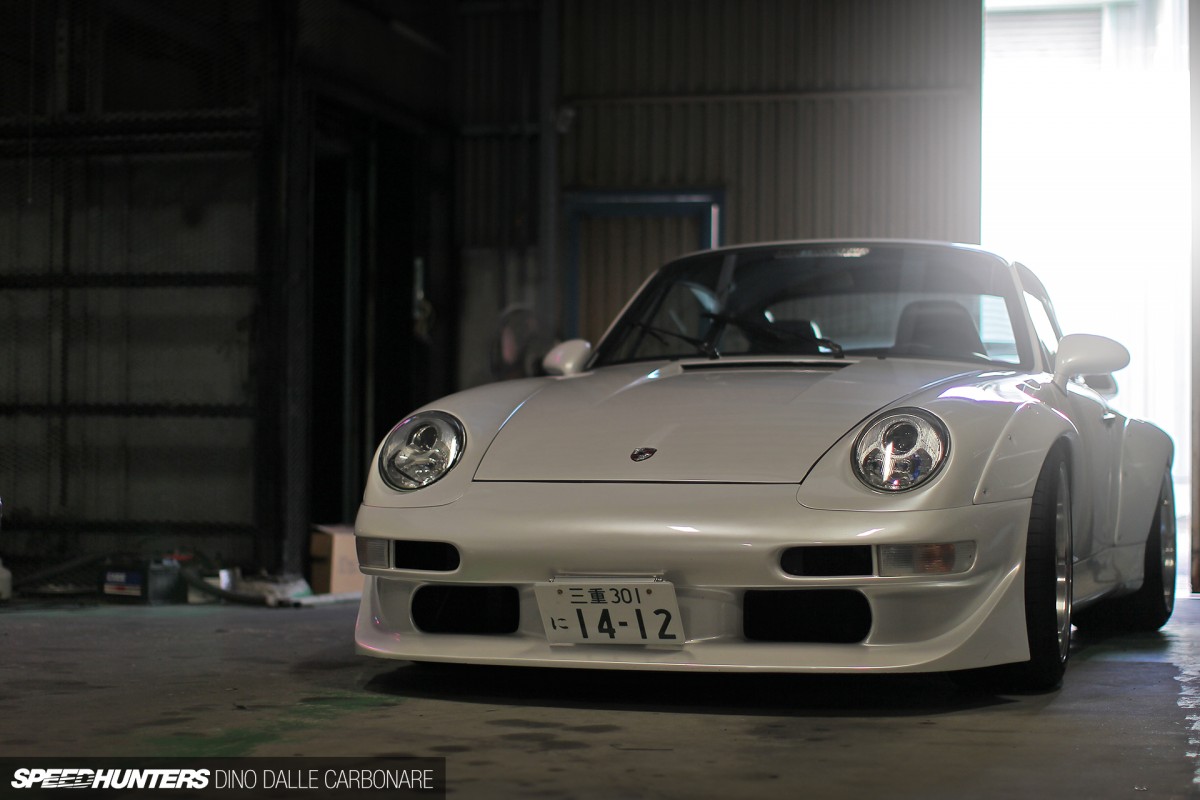 After walking around the building I entered the main workshop through the back door, and that's when things really began to get interesting.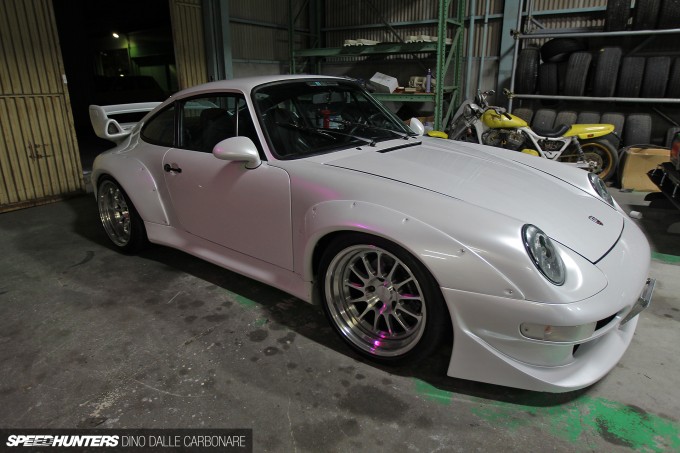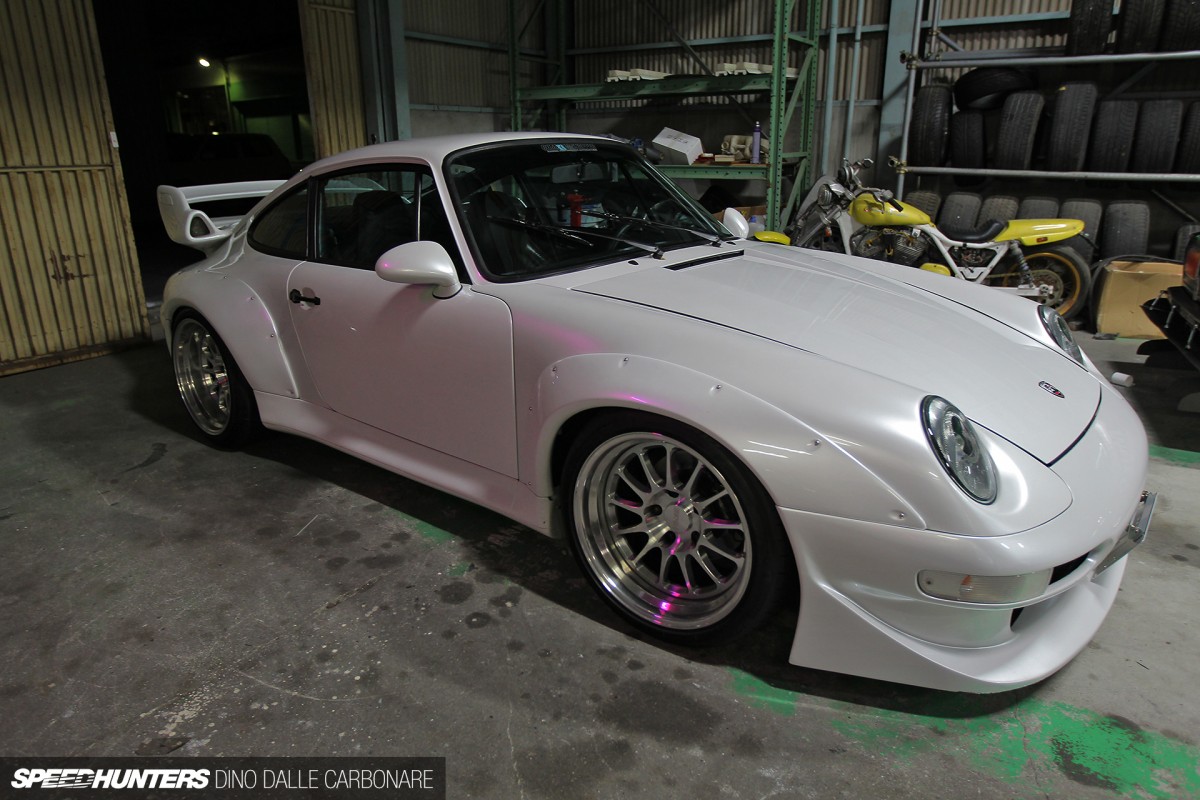 My first encounter was Nori's own Porsche 911 which is dropped down low on a set of custom 13-spoke Barramundi wheels sporting a healthy dose of lip and offset. Mild GT-inspired flares contain the wider wheel and tyre combo and the whole look is pulled together with a silky pearl white respray.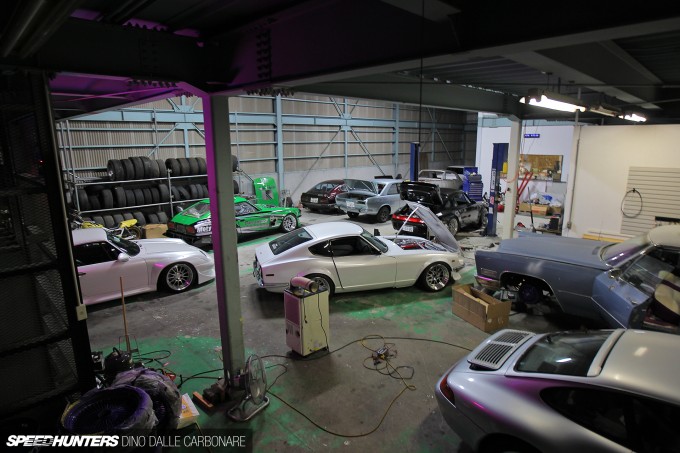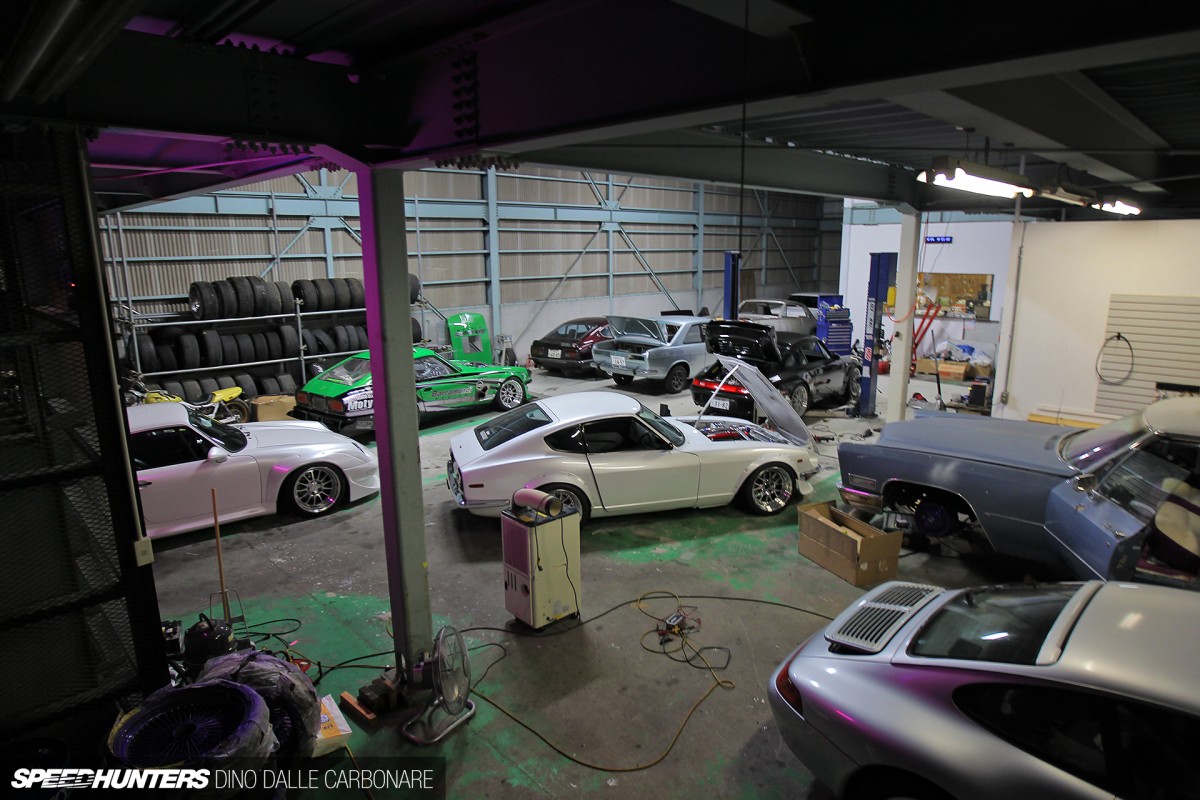 It didn't dawn on me until then, but what further sets Nori aside from many other car builders is that he enjoys tackling a variety of makes, models and styles. Old school Japanese metal is his true passion and the main focus of his work, but lately he's been doing a lot more with Porsches too.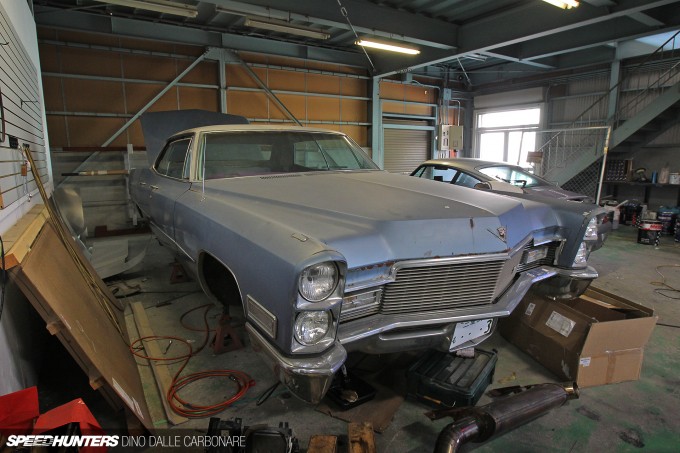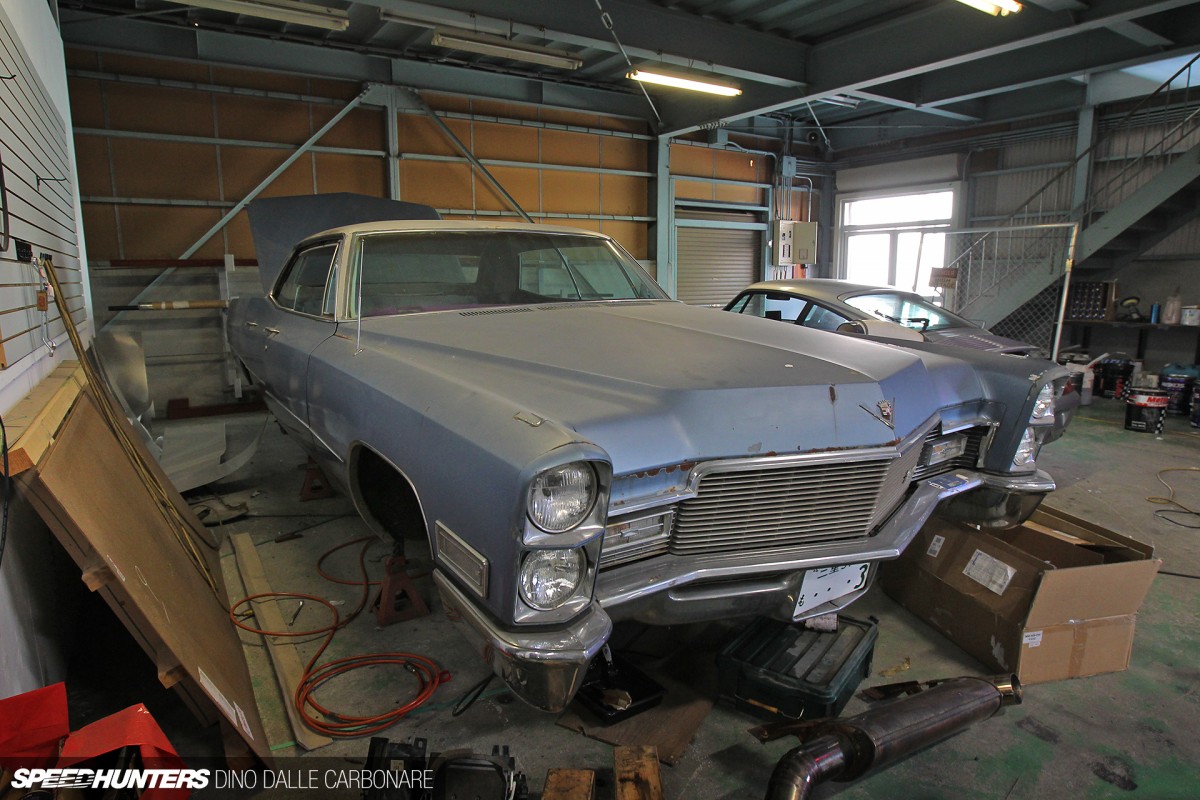 You may have spotted the Impala lowrider parked outside the shop at the beginning of the post. Initially this seemed a little strange to me, but then I came across this massive Cadillac jacked up on axle stands in the garage, ready to go under the knife and get the full custom treatment. It seems nothing is impossible for Nori! In the background you can see that he's been fabricating American-style metal fences too, something he's using to decorate the shop with to give it more of a stateside feeling. There's still a lot left to do on the decor side of things, but he is well on his way to creating a very cool shop to work and live in.
Meeting a legend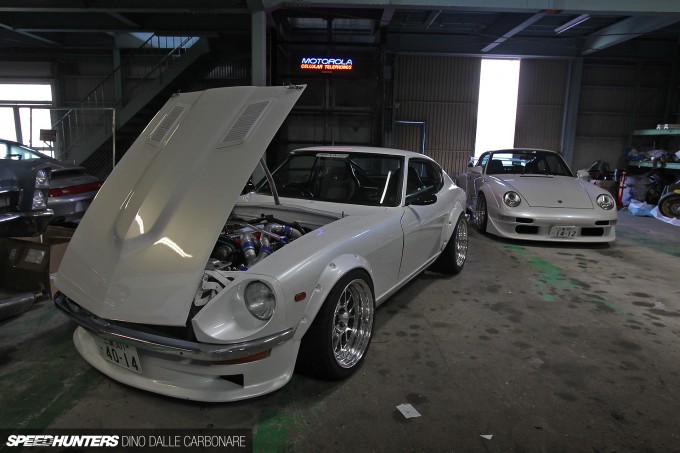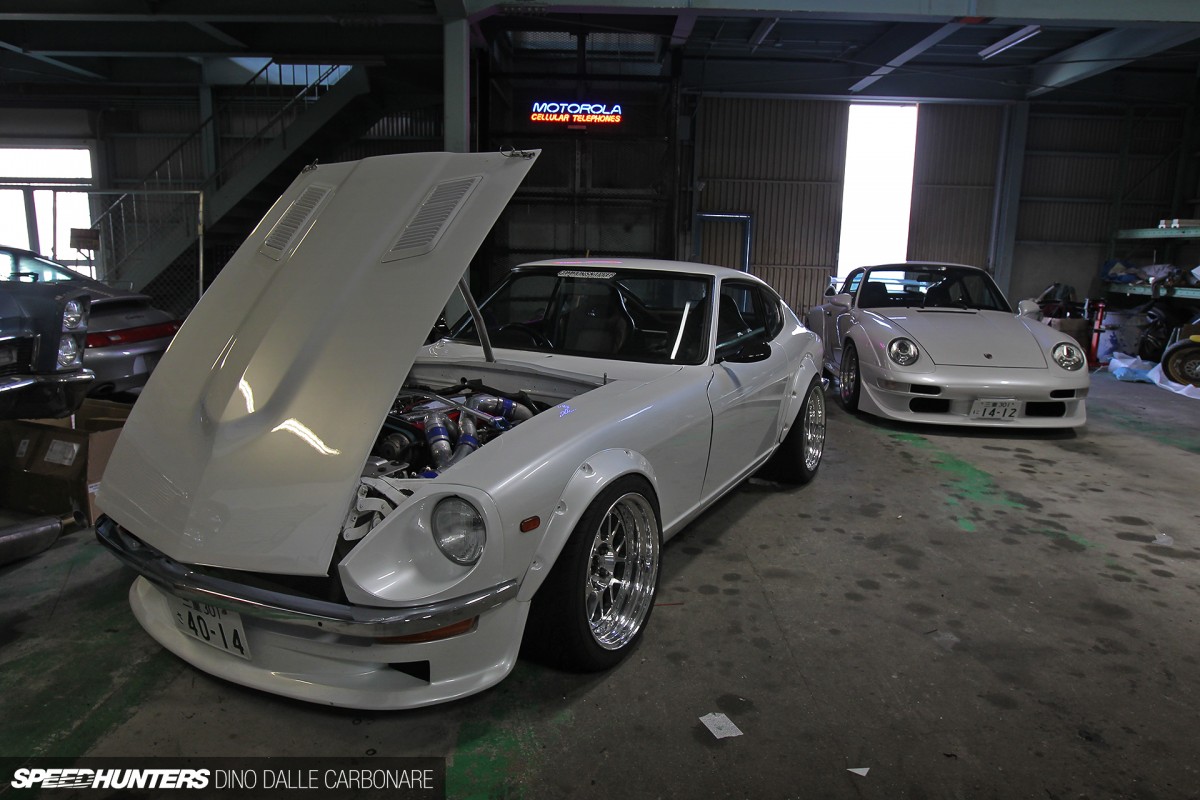 And then I laid eyes on the machine that put Common Snapper on the map for me – its pearl white S30. I think it was the Mooneyes Hot Rod & Custom show in Yokohama that I saw this car for the very first time. I went to the exhibition center early and watched Nori arrive with his transporter and unload the Datsun right in the middle of the hall. It was automotive love at first sight, but little did I know that the spotless exterior was hiding even more awesomeness underneath…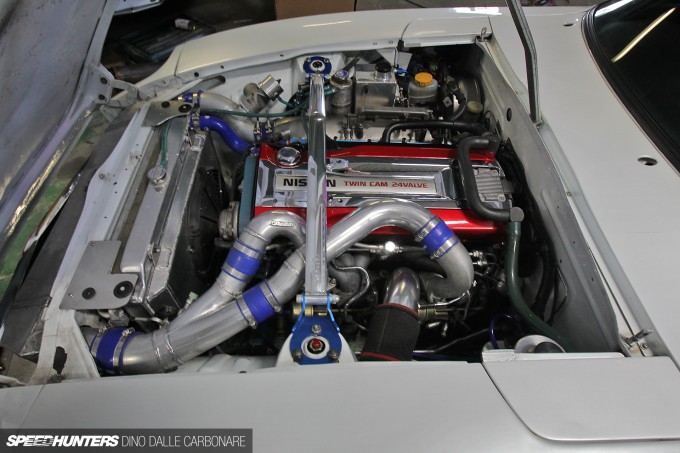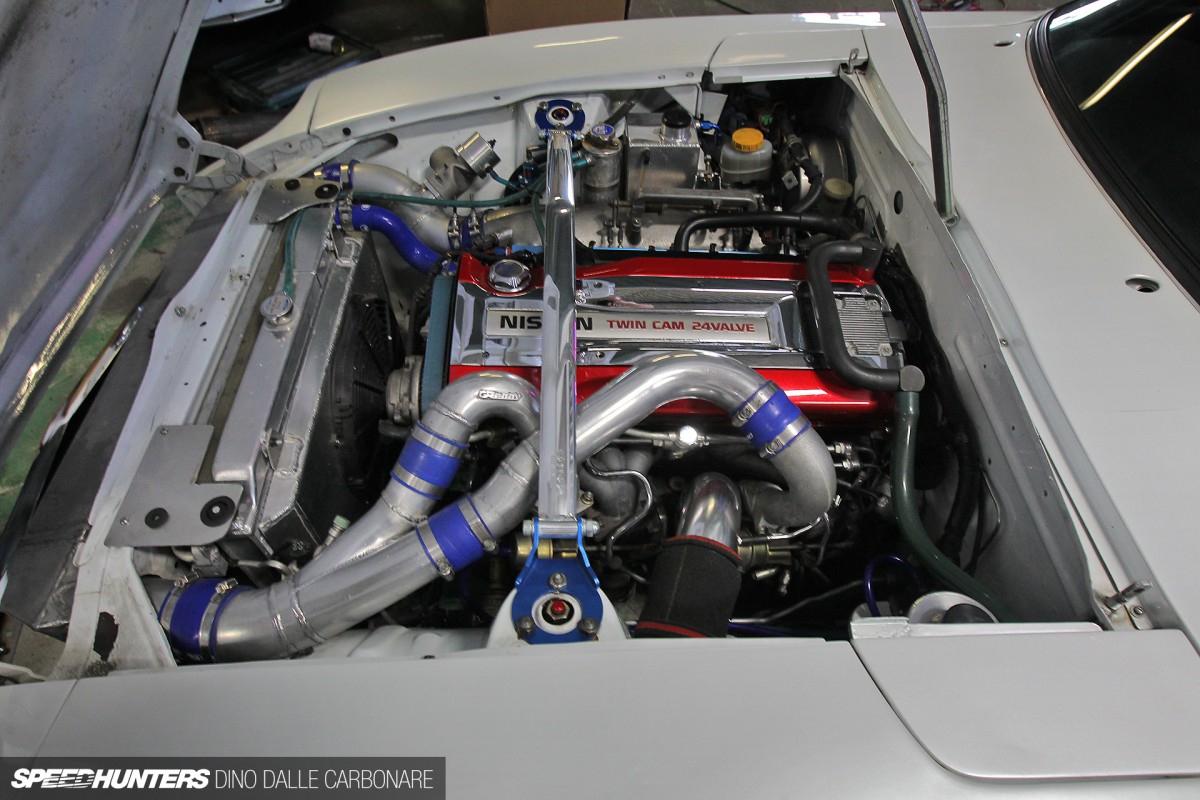 You just can't go wrong with an RB26 swap, can you?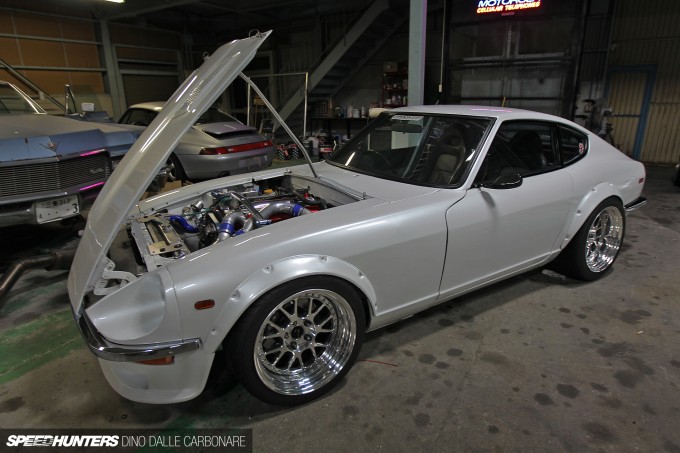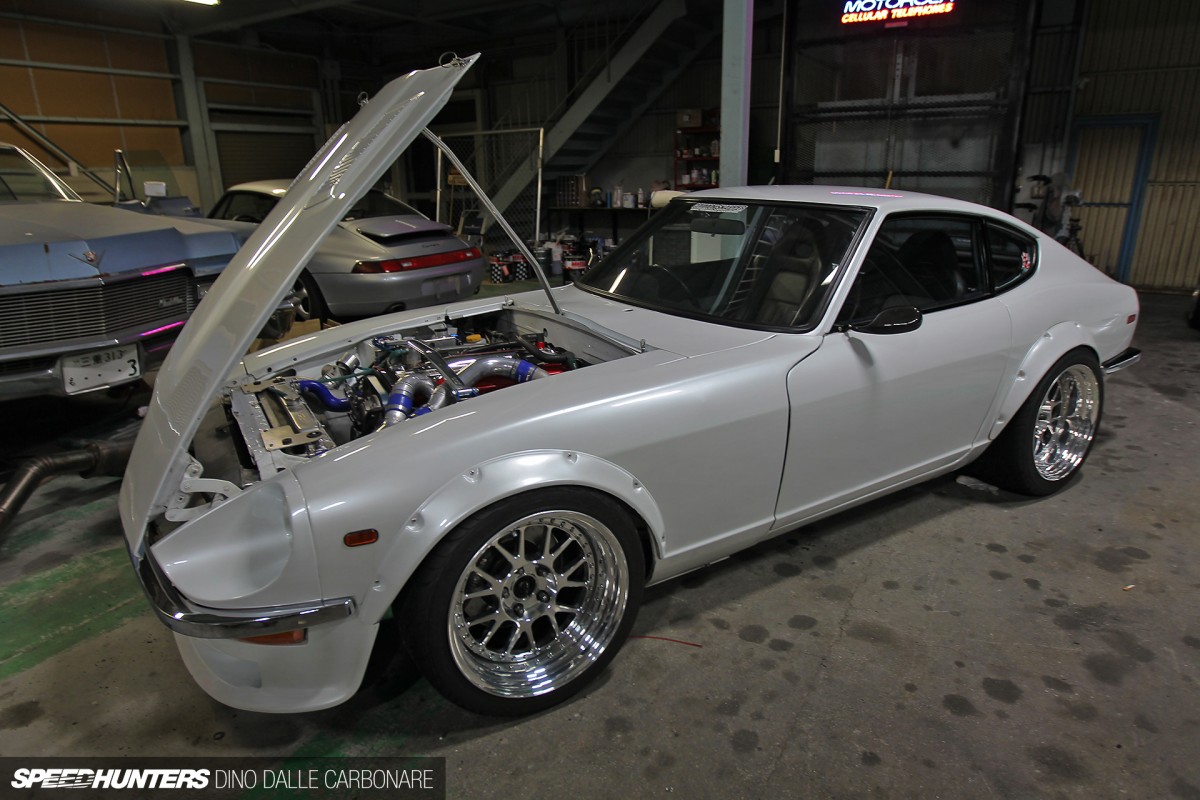 With close to 500hp on tap, this has to be one of the meanest and baddest Zs in all of Japan. And it just sits so well on polished Barramundis.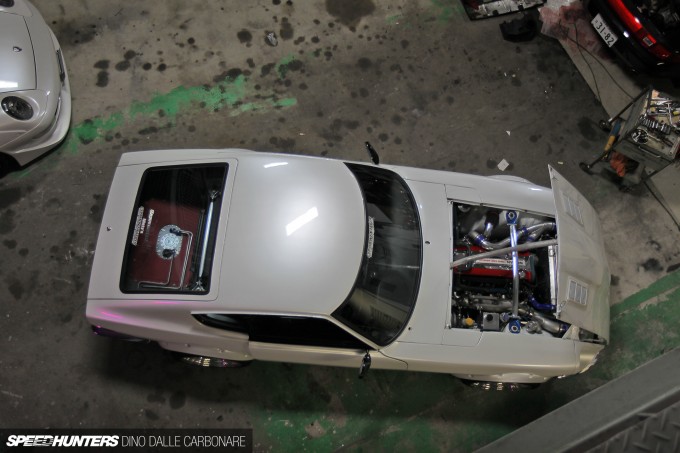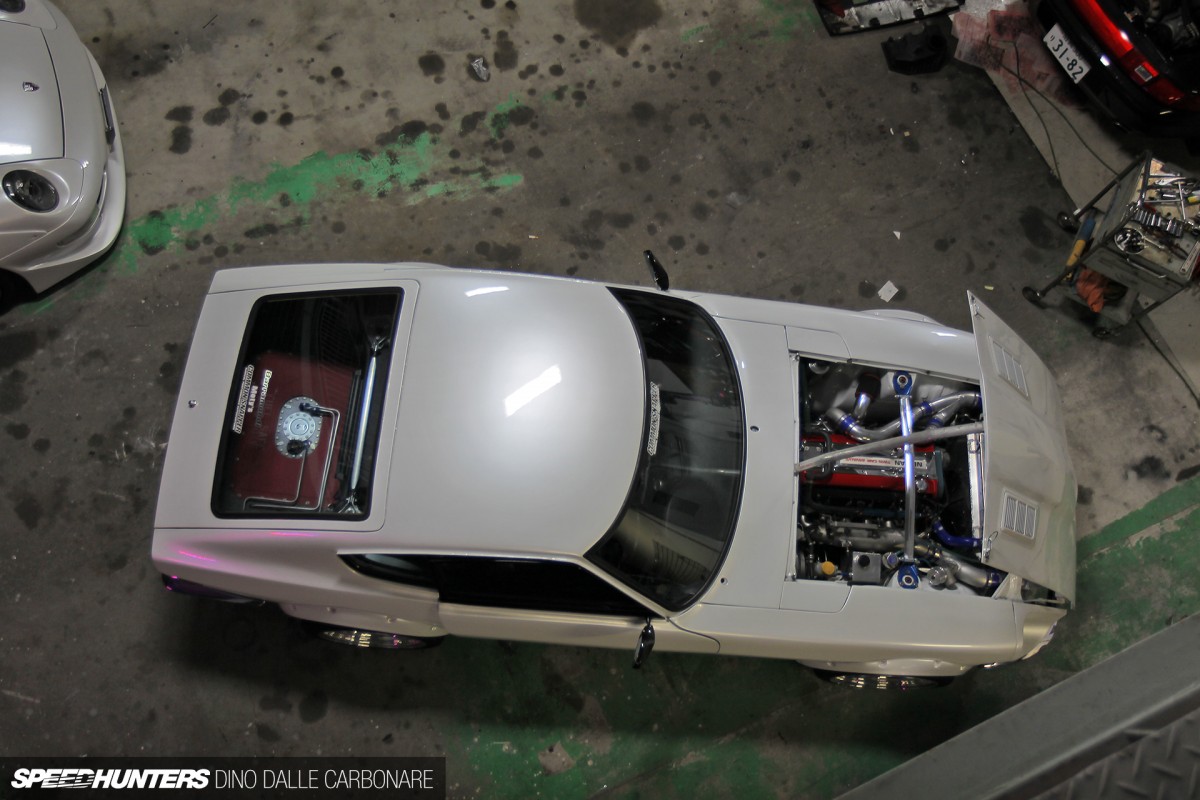 Every time I looked at the car I seemed to discover something new – like the safety fuel tank in full view through the rear hatch screen.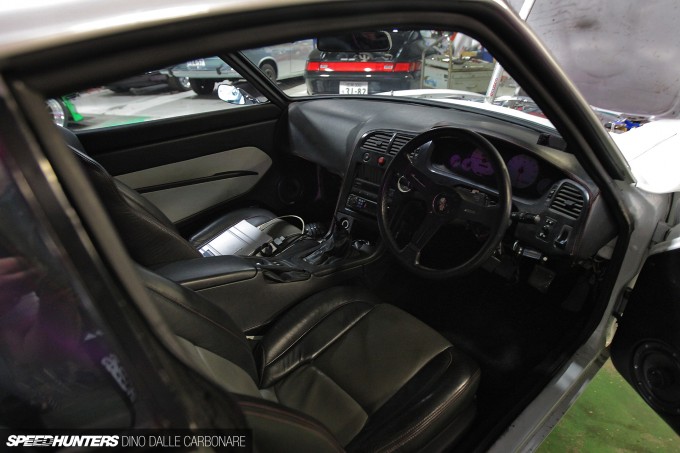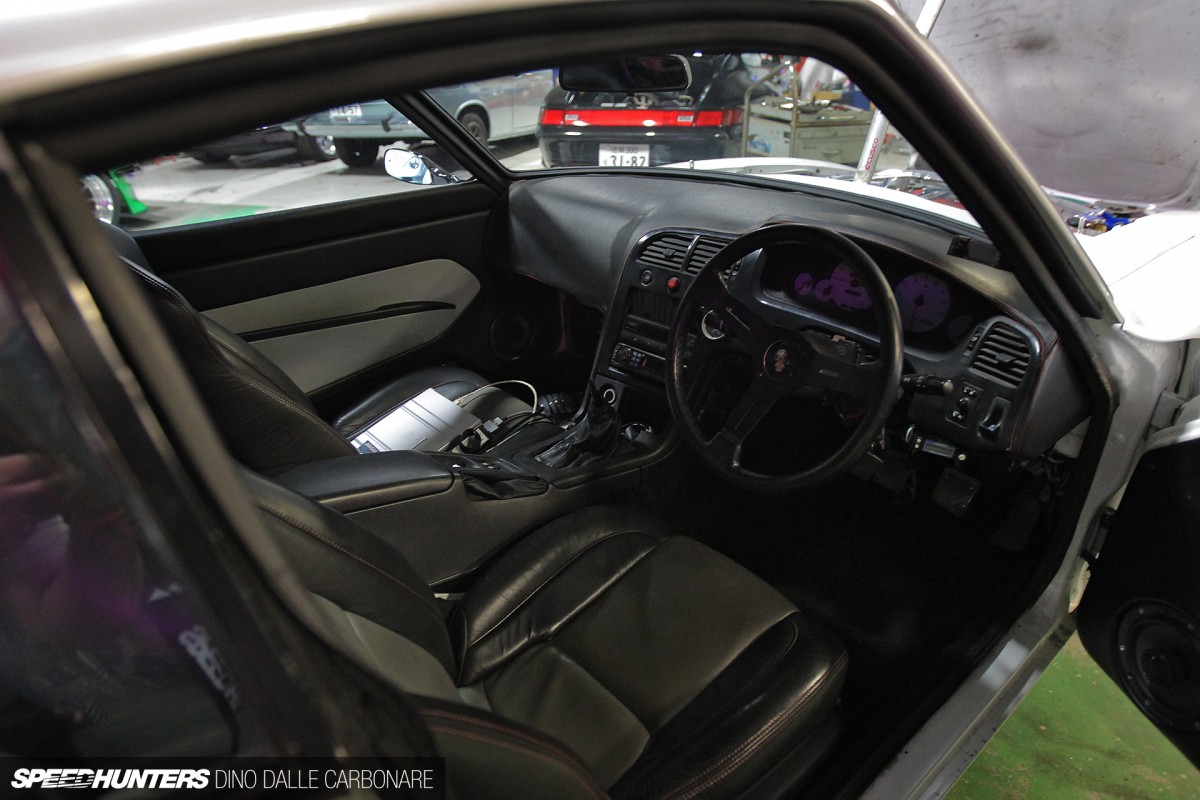 The engine wasn't the only thing that's been swapped over either. The stock S30 dash has given way to an R33 Skyline equivalent, including the console on top of the transmission tunnel. That might not be to everyone's taste, but there's no doubting the quality execution here.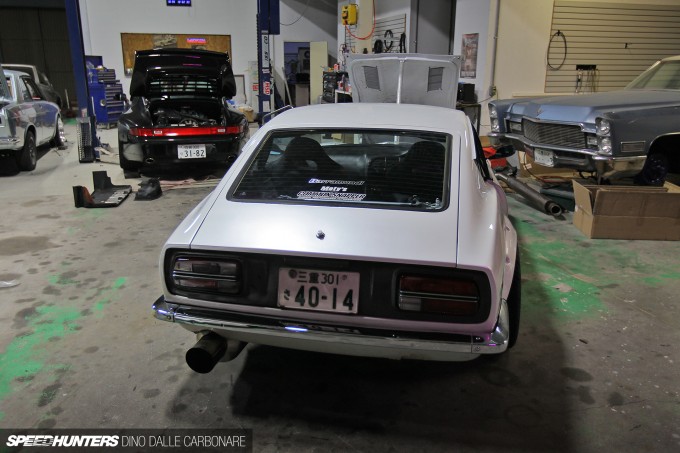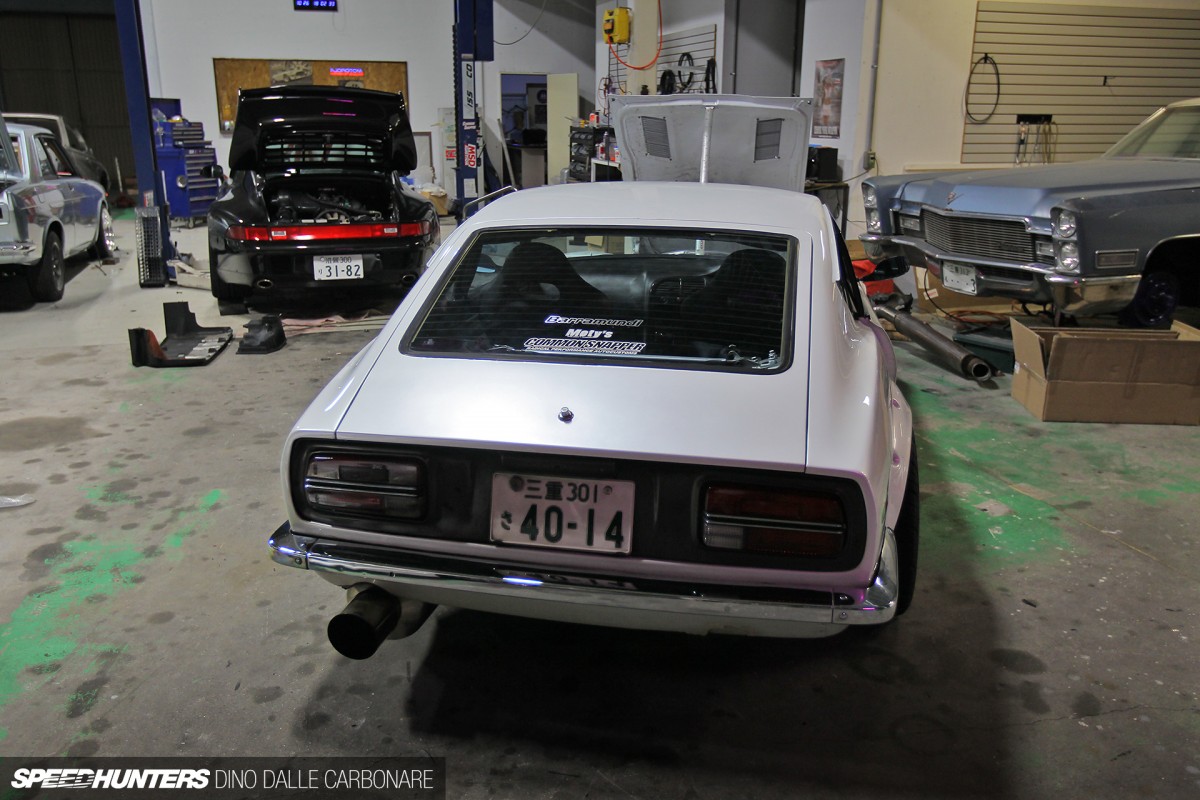 Really, there's only one thing that gives the swap away, and that's the big bore exhaust – or more precisely the trademark sound that emits from it.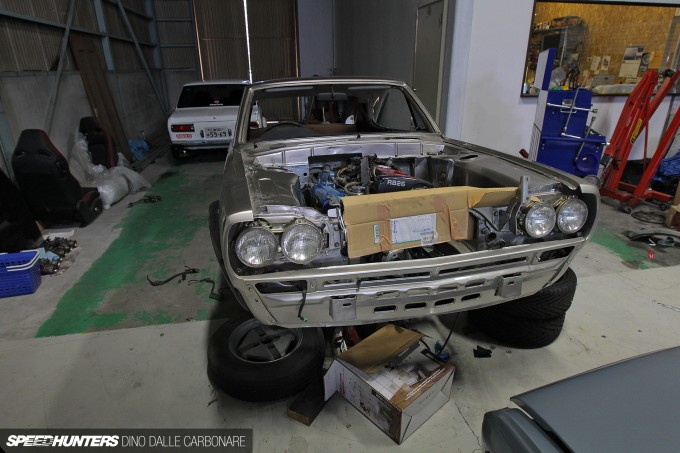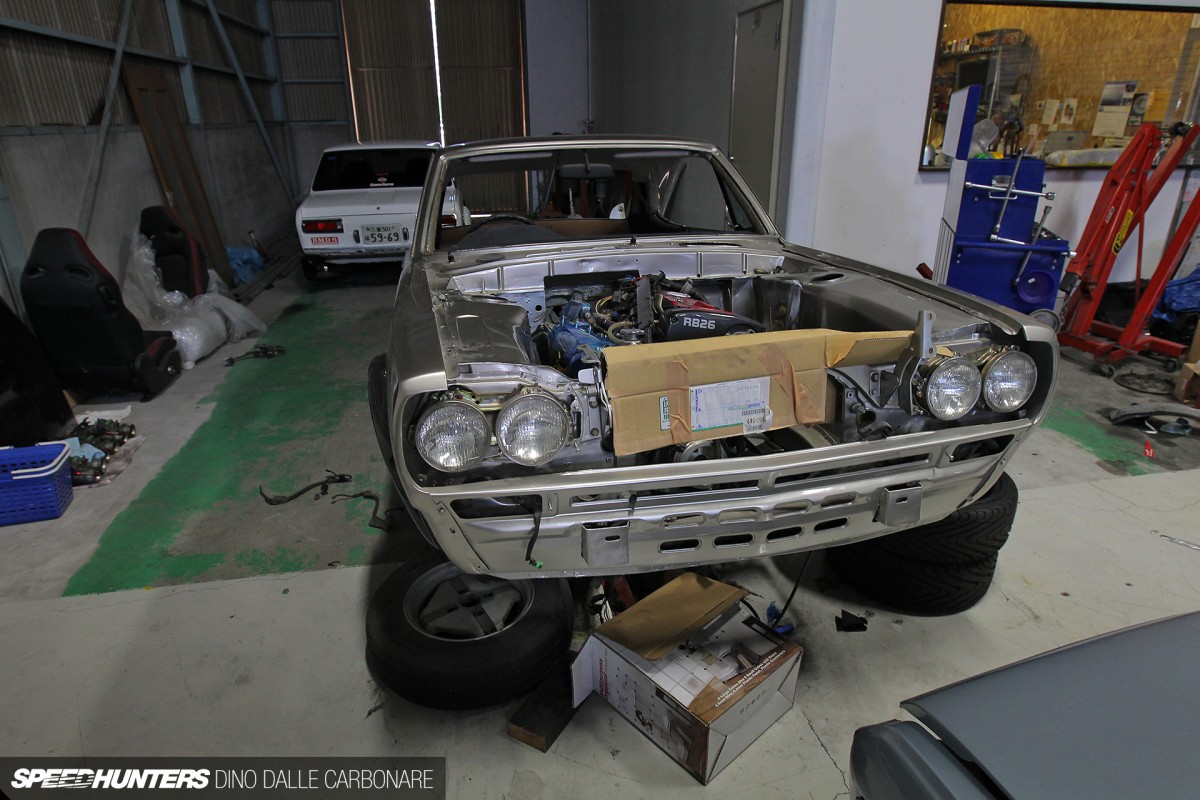 When I visited, Nori was working on a bunch of projects at the same time, including this soon-to-be-completed RB26-powered Hakosuka. Can anyone identify the wheels under the car?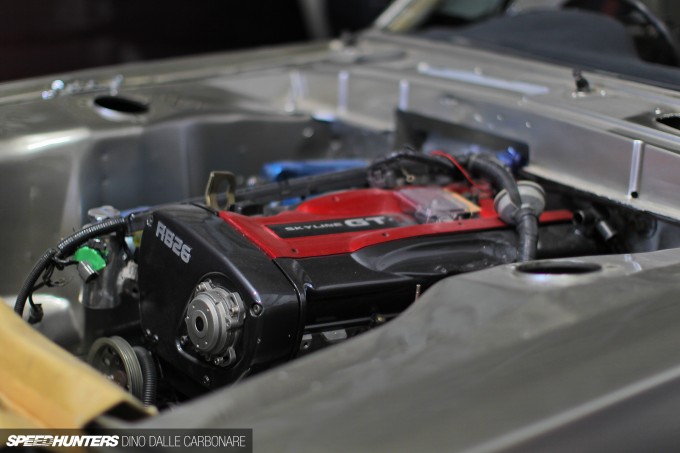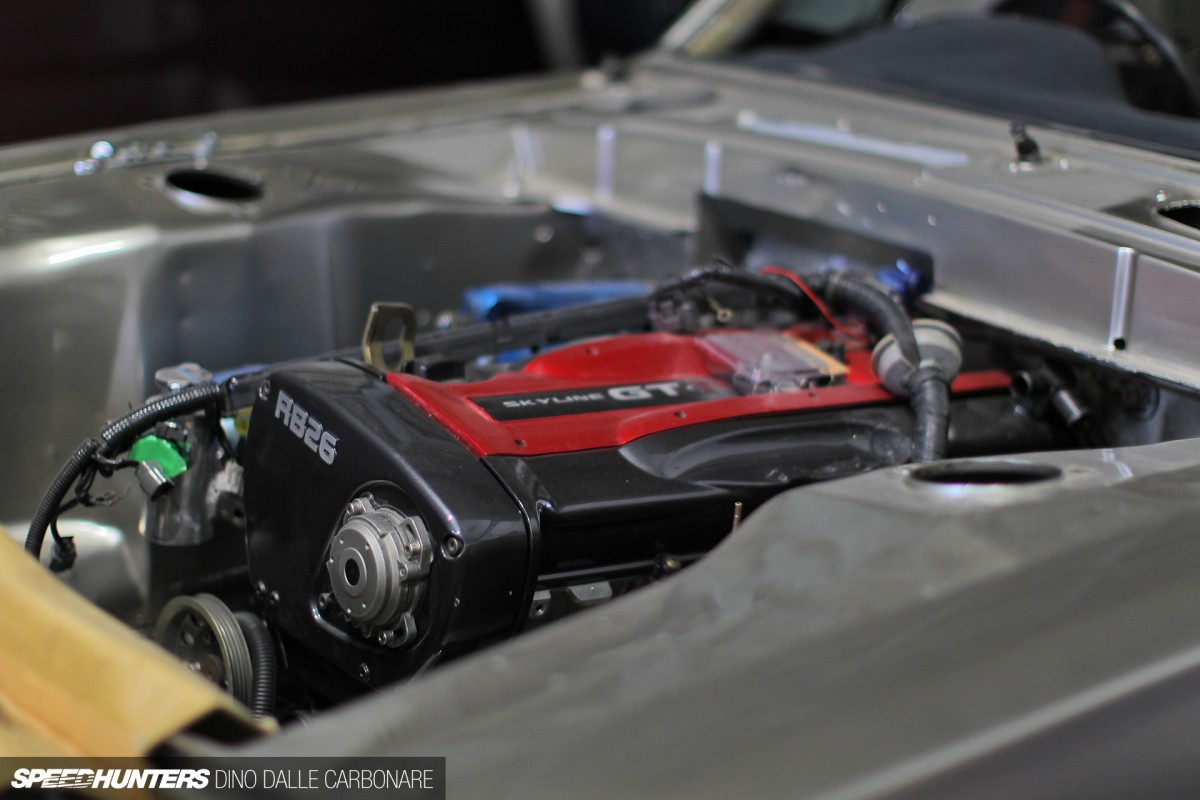 The turbo six had temporarily been positioned in the C10's big engine bay, ready to have all the ancillaries test-fitted, to see what other modifications would be needed to make the swap work.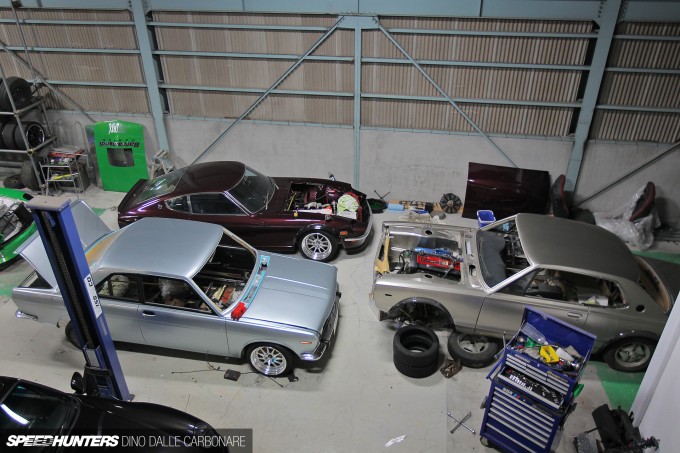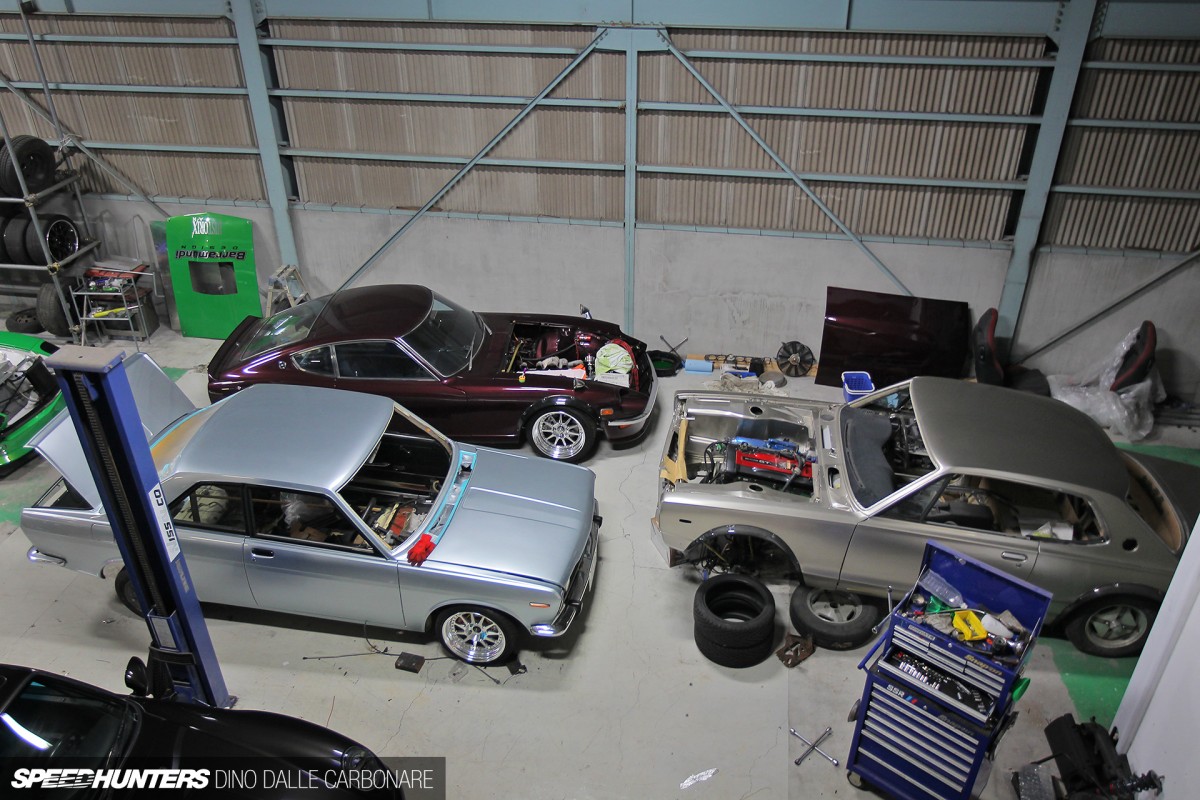 Awaiting a new breath of life was a recently-painted 510 sedan, and the maroon S30 next to it was about to receive a motor swap as well.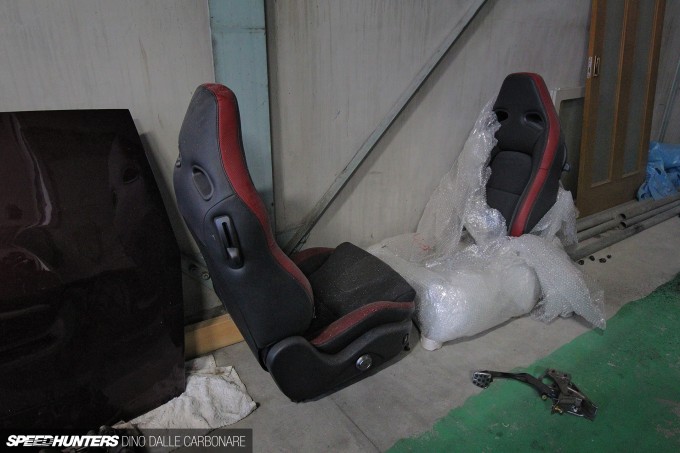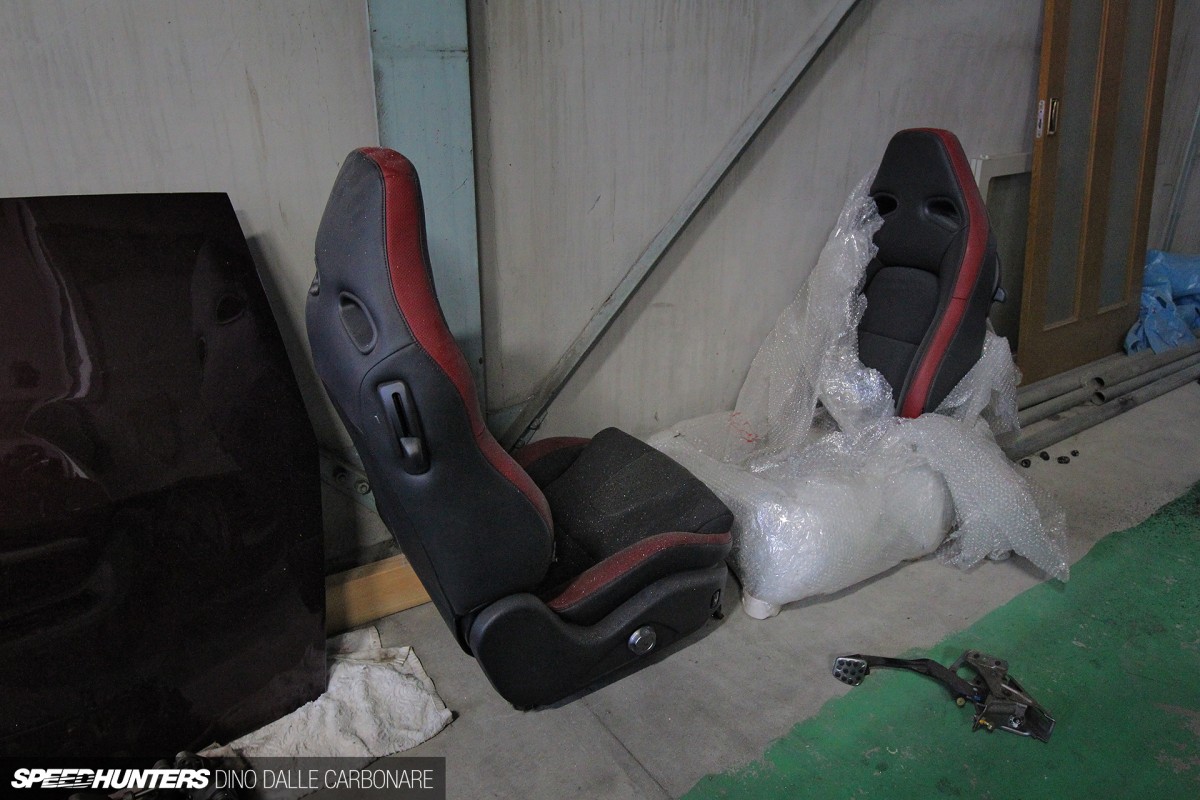 Nori does a lot of interior work too, and I thought it was quite cool that he's considering dropping this pair of electrically-adjustable R35 GT-R leather seats in one of his projects.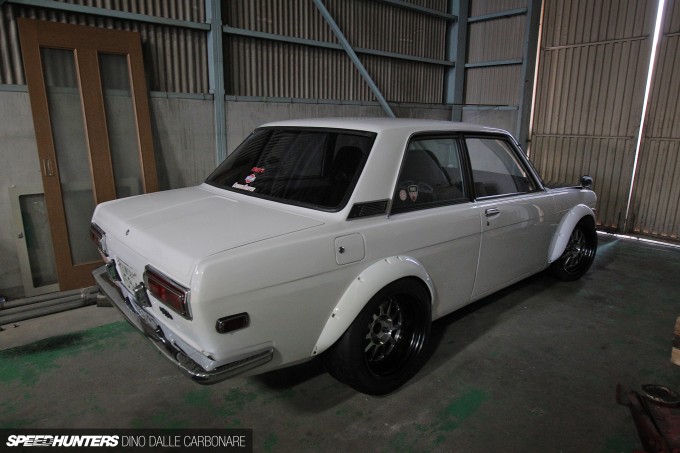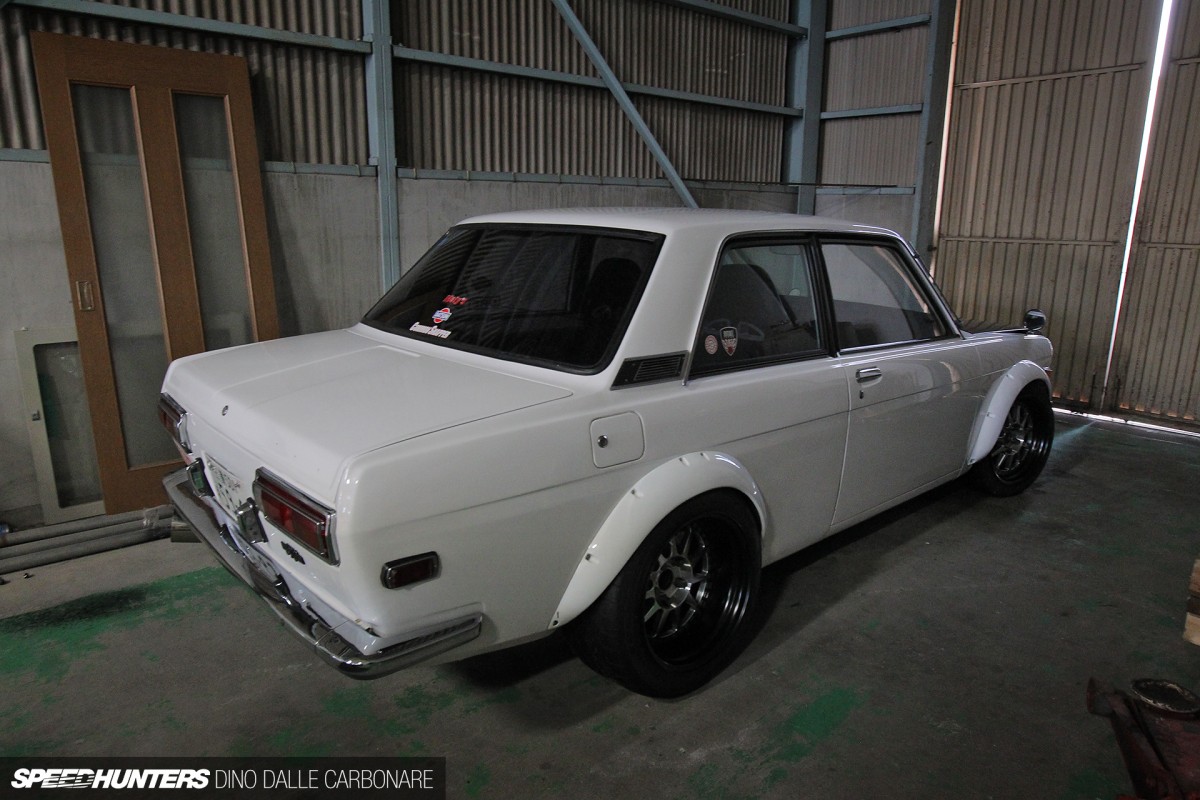 More killer 510 style? Yes please – as long as it's served up with nice and chunky fender flares and custom painted wheels.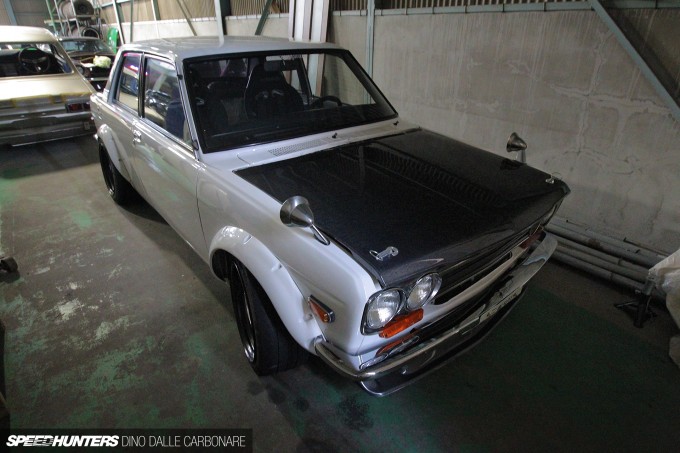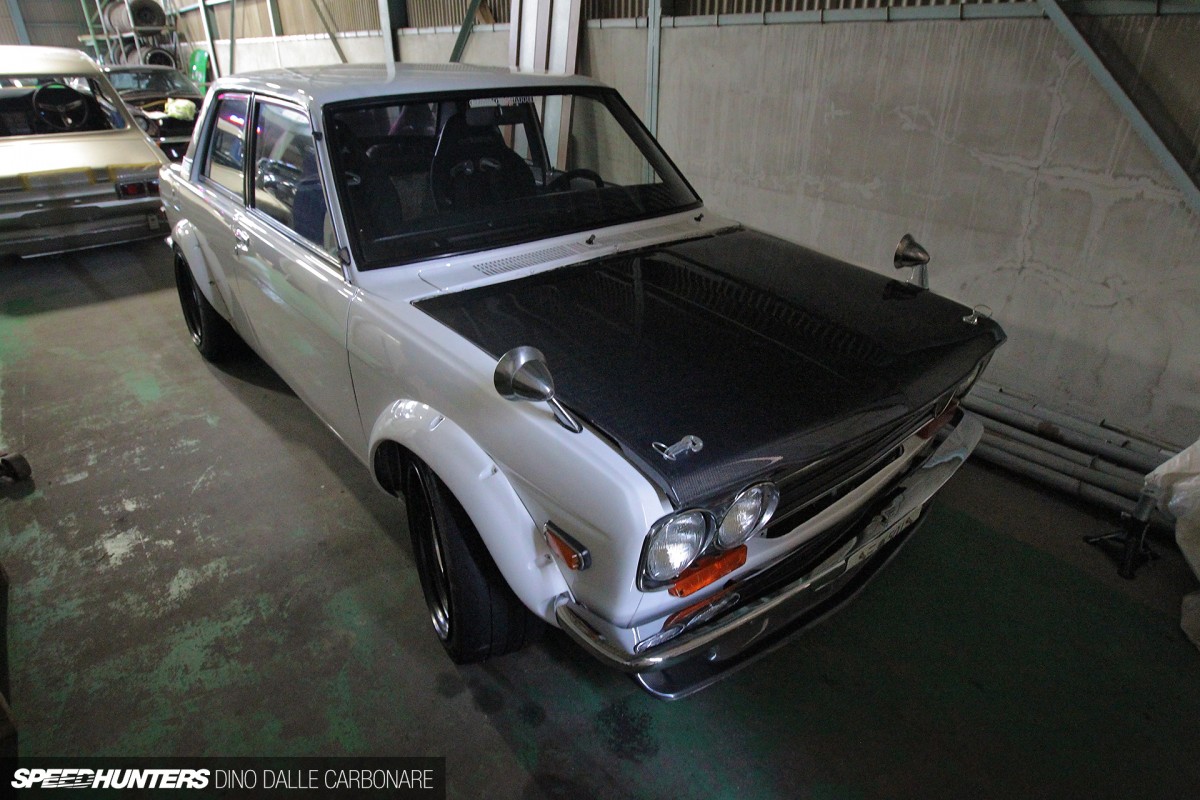 Wondering what's hiding under that carbon bonnet? Could this possibly be a future feature car? You'll have to wait and see…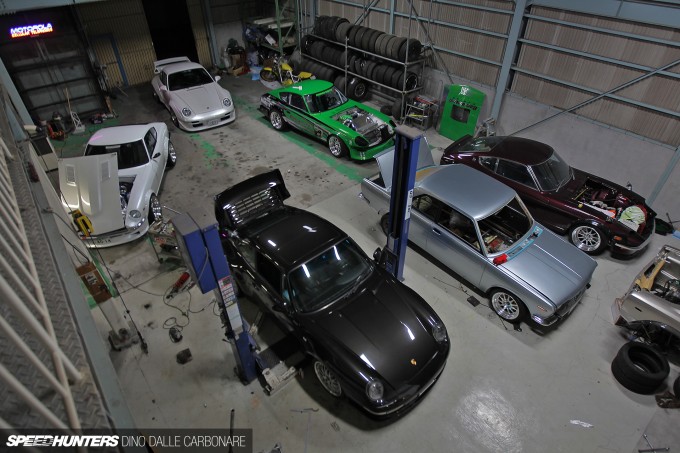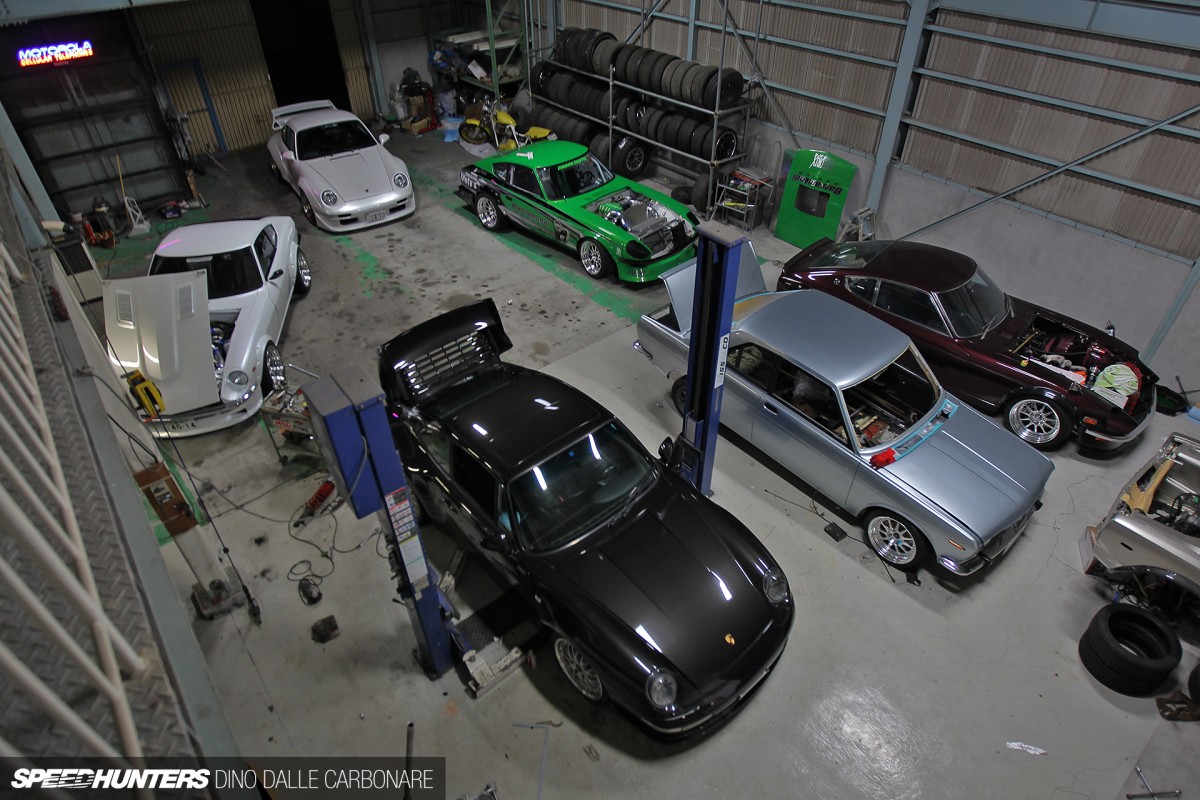 Here's another angle of the main workshop area looking down from the front door to Nori's apartment. I could get use to waking up to this sort of sight every day!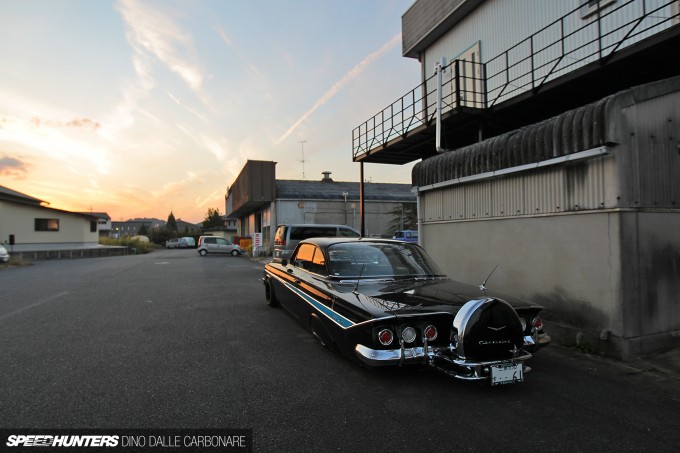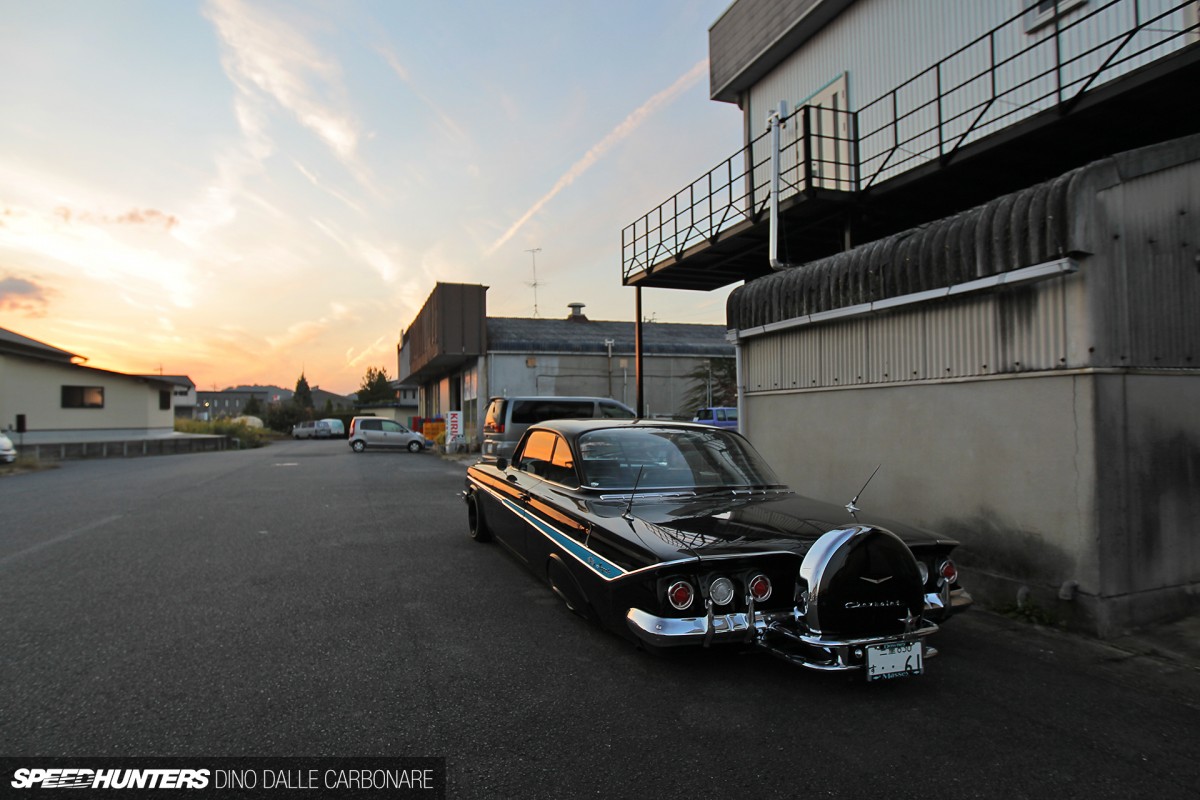 So there you have it, Common Snapper – probably the most uncommon shop you could ever wish to visit in Japan. A place where creativity runs high, where conformity has no place, and where many styles come together to create unique results. I think we'll be seeing a lot more from Nori during the course of the year…
Dino Dalle Carbonare
Instagram: speedhunters_dino
dino@speedhunters.com