To fettle or not to fettle
Restomodding is a touchy subject. I get it: there's a fine line that sort of separates what is acceptable and what just takes the base car and tarnishes its original lure or persona, if you will. That fine line is what separates a well-executed car from something that has been overdone. Like most things, personal taste has a lot to do with it; some like it more authentic, others don't really care but there's definitely somewhere in between – a sweet spot where the best of these sort of cars lie. Sugimoto, the owner of this Datsun 510 Bluebird Coupe, is a designer by trade and being a creative professional sort of dictated the car he was going to drive.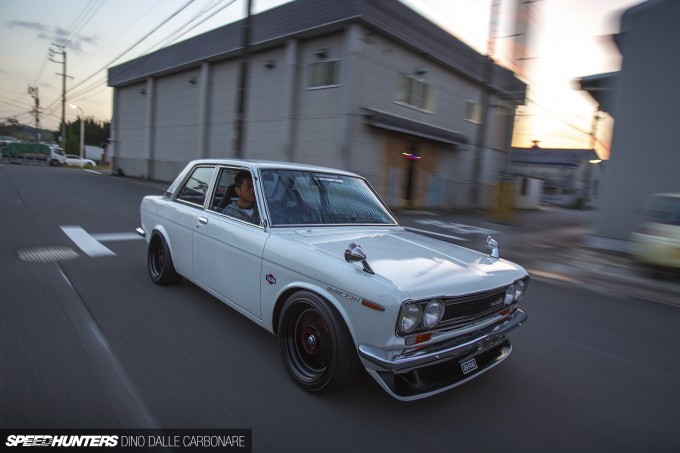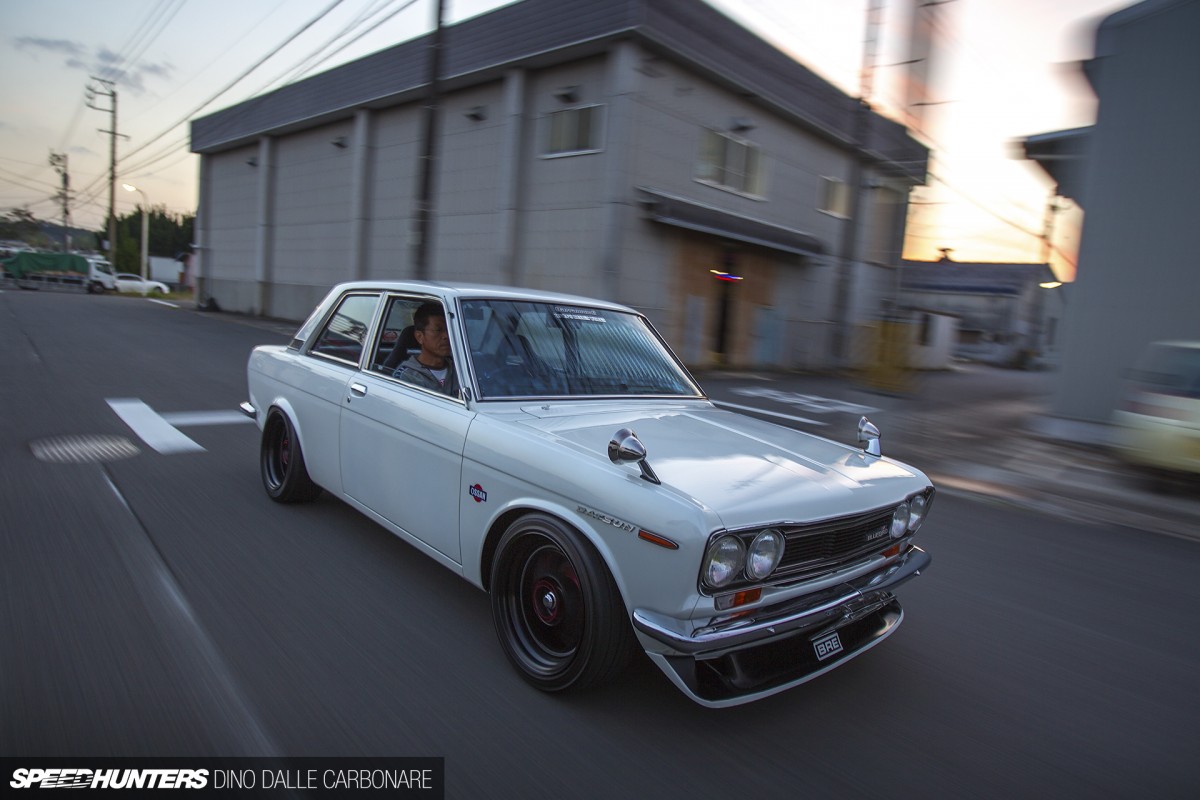 Nothing oozes style like an older car and that's a good thing because that is precisely what he wanted to base this project on. It just so happened that his studio isn't too far from the Common Snapper workshop in Aichi-ken, where Nori Miyamoto has for years been building some of the most unique kyusha in Japan. This is a place I've been meaning to get to for quite a while because Nori is one of a select bunch of individuals in Japan that has managed to create a very distinct personal style – one that is instantly recognizable.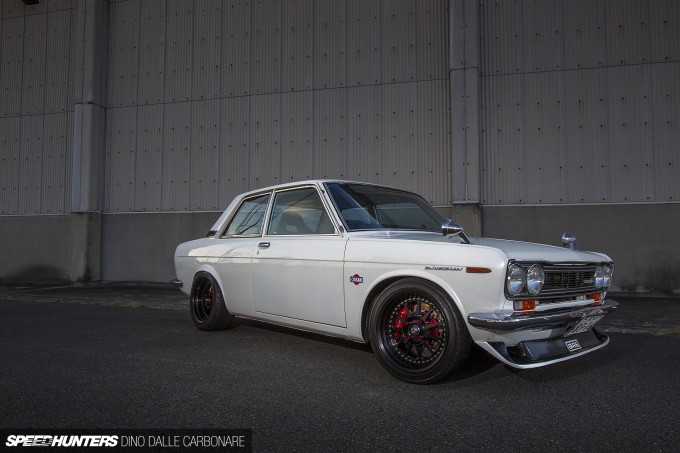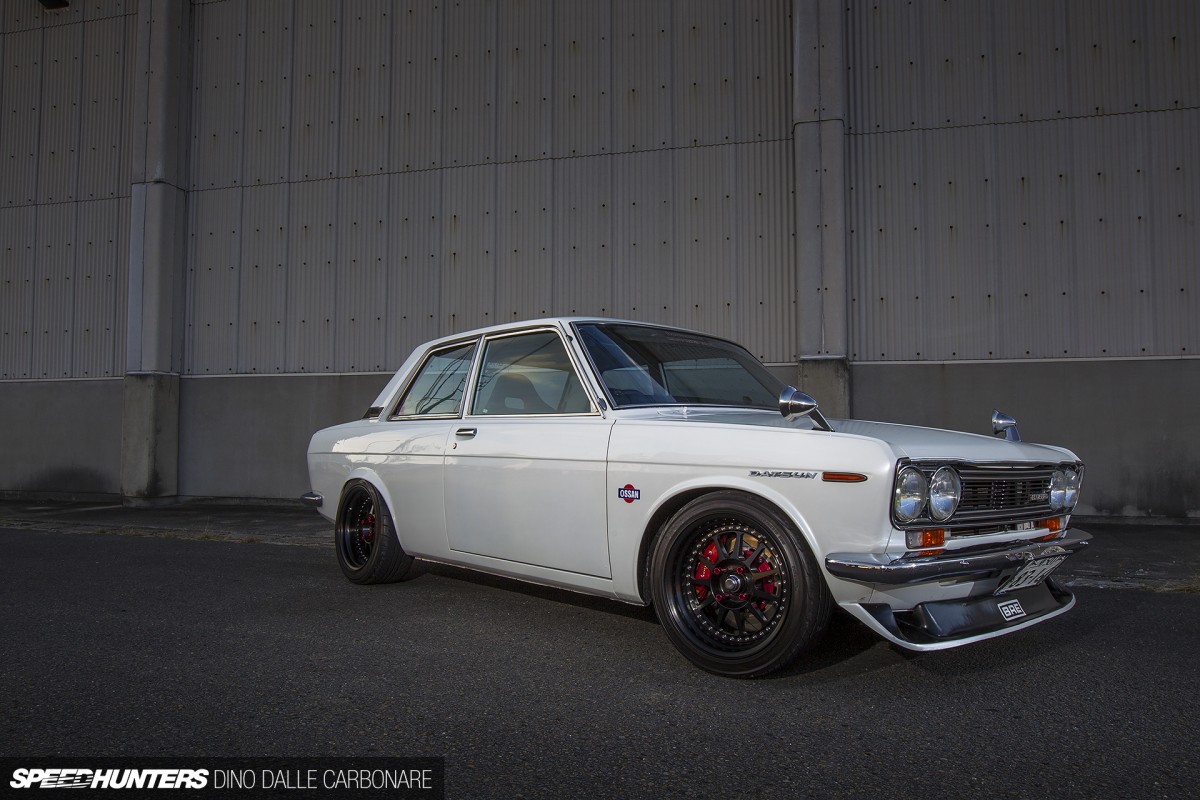 His cars speak for themselves, which is probably what had Sugimoto-san call on him for his services. There was a rather long list of objectives that had to be met with his little 510, the first one being about style. The car had to appear simple and very stock-looking, yet imply to those in the know that it had been fettled with in all the right places. With such an iconic shape – which even Nissan themselves are thinking of embracing again if the recent IDx concept is anything to go by – it was a question of hitting all of the subtle details in the right way.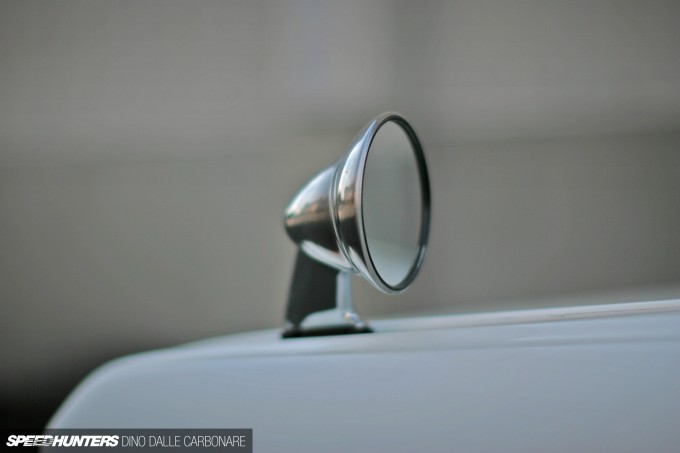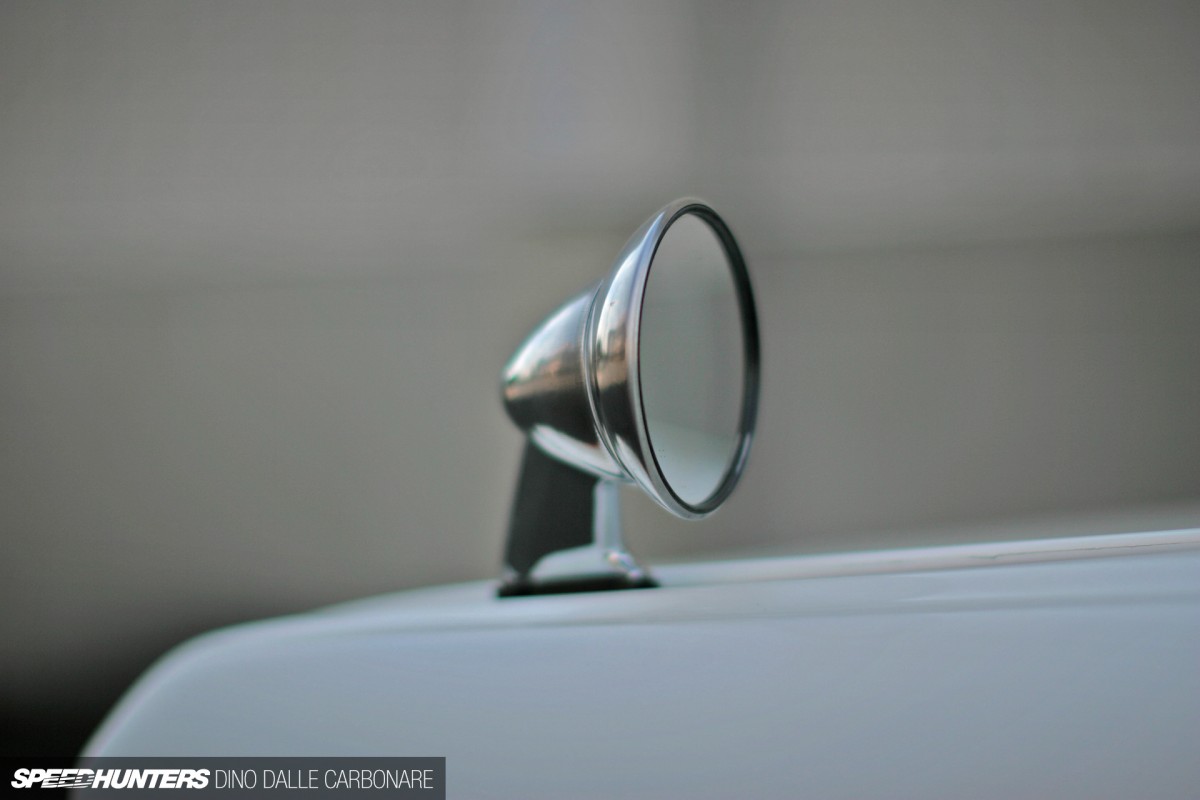 Things like the fender mirrors: some people replace them with regular door-mounted items, or aftermarket carbon ones but here the stock ones have been left just where they were from the factory. Maybe a little buff job to polish the tarnished chrome but the idea here was not to mess with simplicity.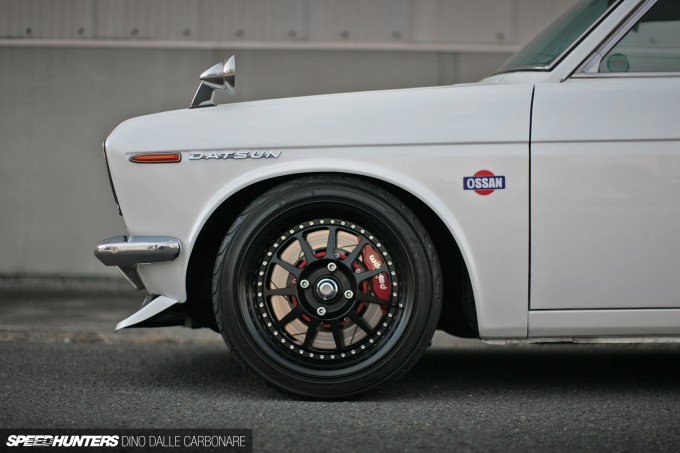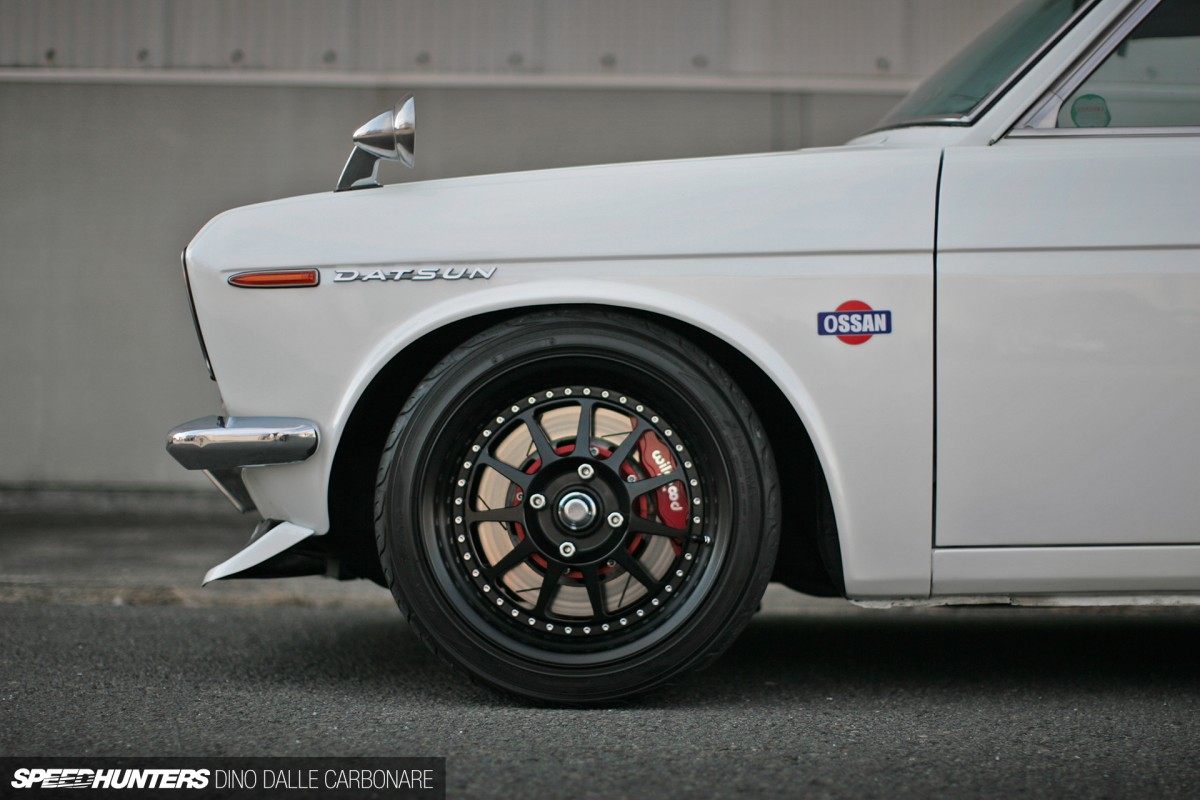 Next up is the first restomod touch we come across. The 510 has been lowered on a set of Common Snapper adjustable suspension to get just the right balance between stance and handling.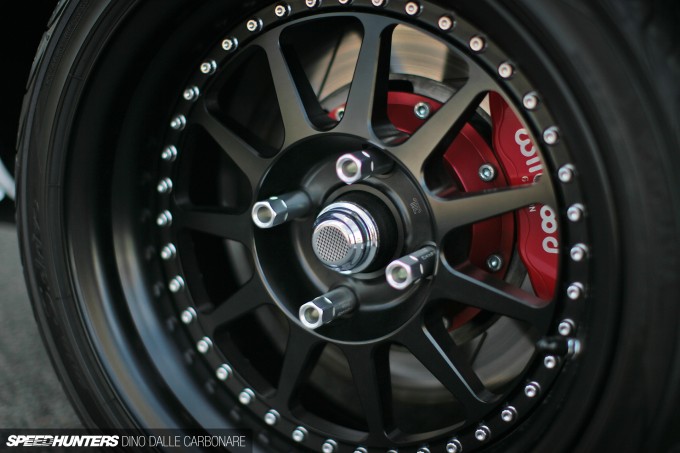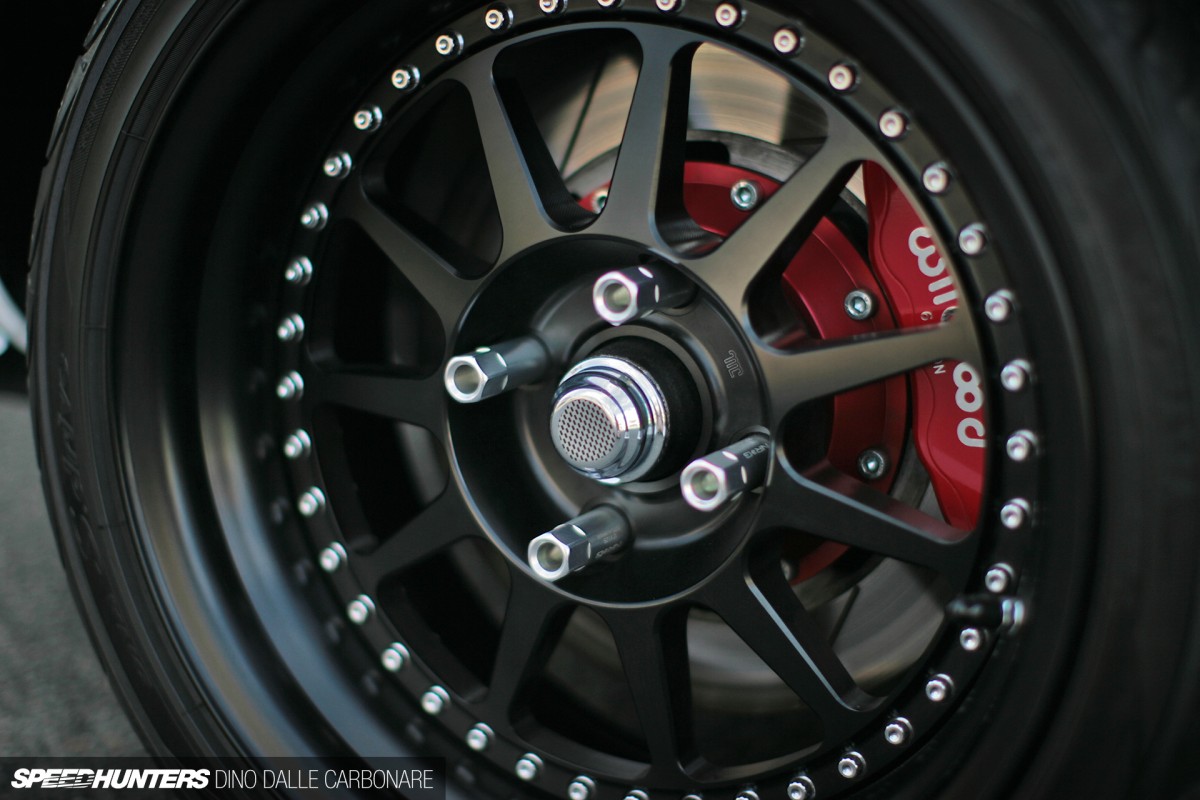 The wheels too are from Common Snapper, Nori's very own design from the Barramundi Wheels line-up he has created. His wheels are built by Work and on this particular Eleven model, sport a black anodized lip with a satin black center. They are fitted in 7×16″ up front and seem to barely contain the Wilwood braking upgrade which has been custom ordered in anodized red to stand out behind the black spokes. Sugimoto selected Yokohama Advan Neova AD08 rubber all round as it's his favourite tyre at the moment.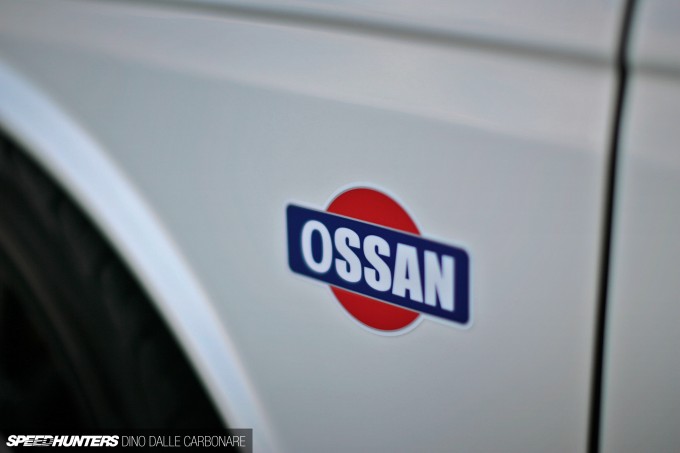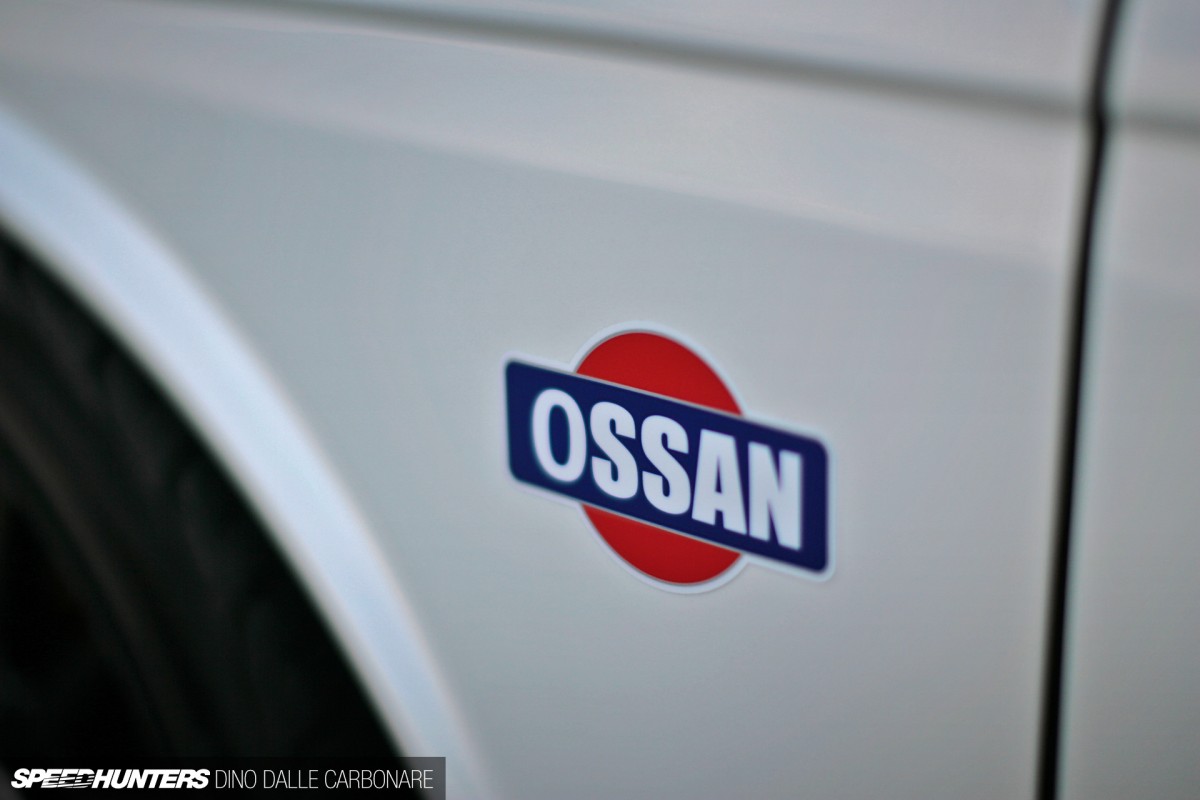 The Ossan badge is a bit of a joke: styled like the old Nissan emblem, it's a bit of a derogatory term that translates as old man. When asked why he applied this to his fenders, Sugimoto simply replies he's an ossan, so that's why he sports it with pride!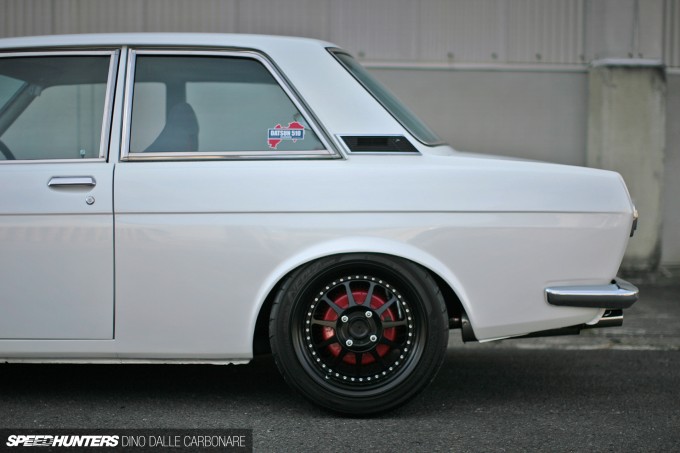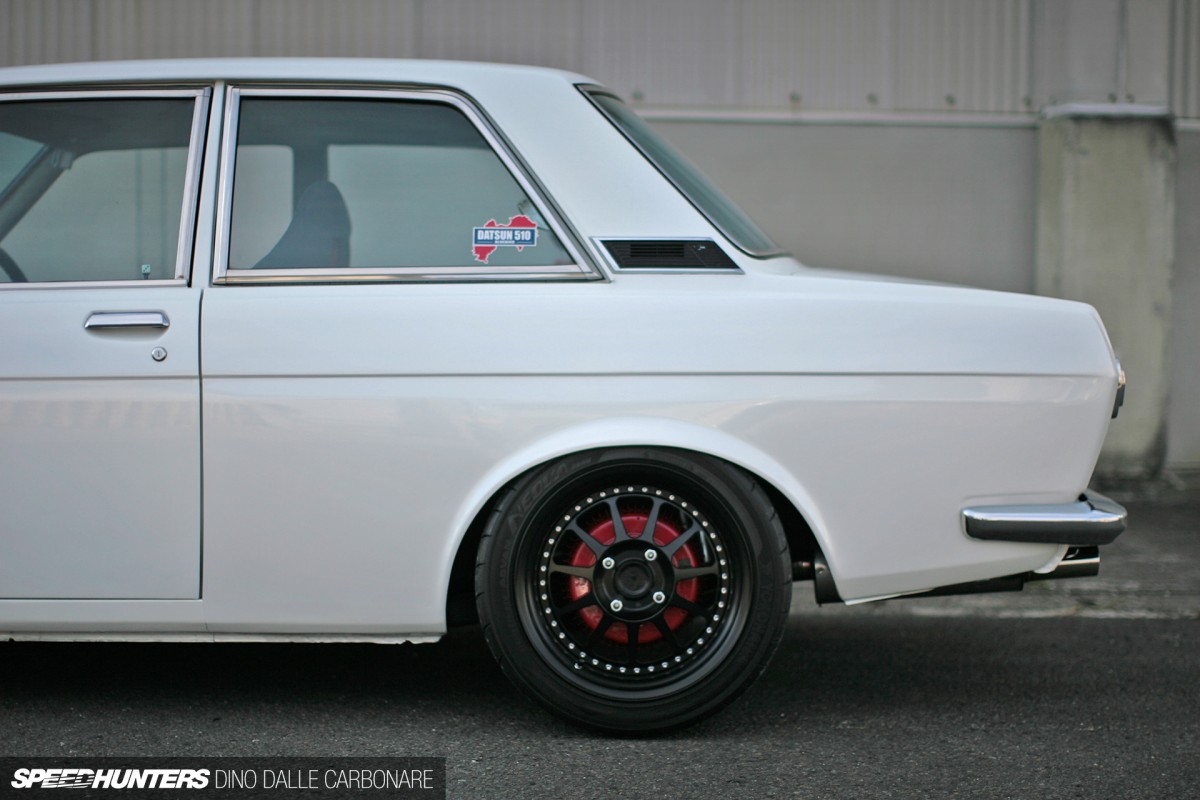 The rear wheels are one inch wider than the fronts and Neova AD08 rubber makes an appearance here too, in the same modest width of 195/45R16. The same red anodized look has been applied to the rear drum brakes to help balance that infusion of color which is pretty much the sole one along the whole white exterior.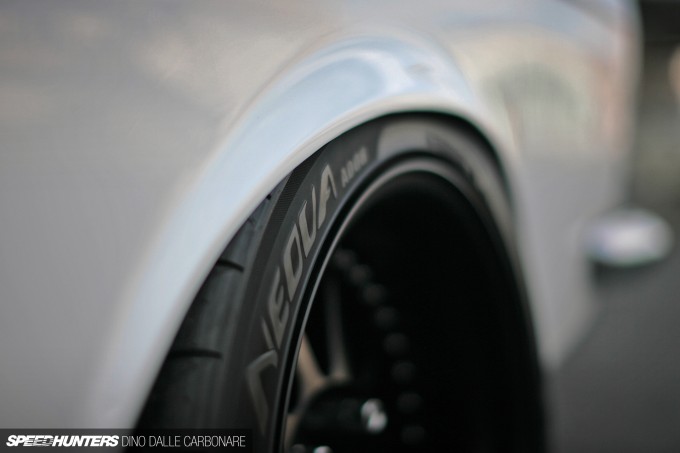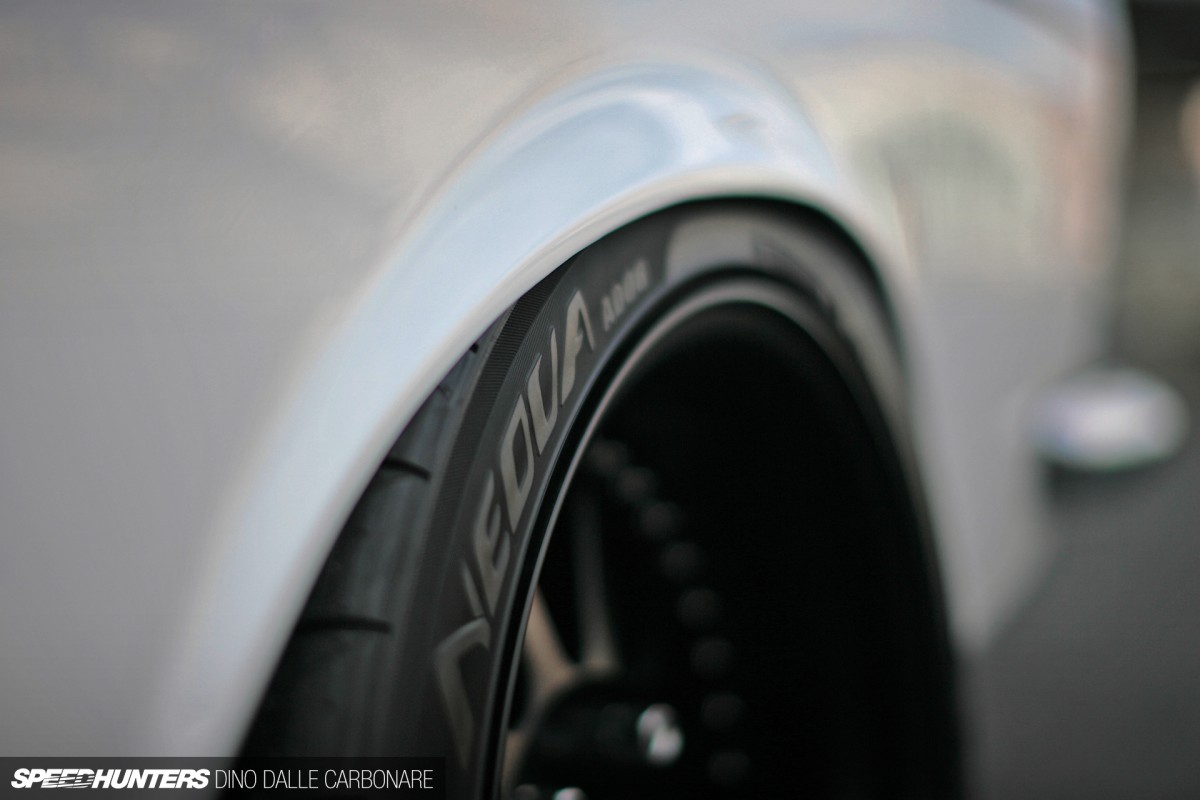 To get the rear to sit just right, the fenders were slightly flared, extended and smoothed to fall right over the tyre's sidewall. It's a small touch that's so well-executed, you really have to wonder if it was there from factory or added later on!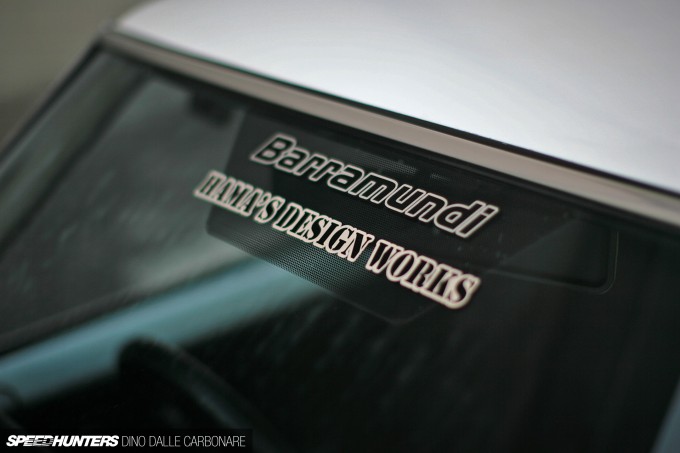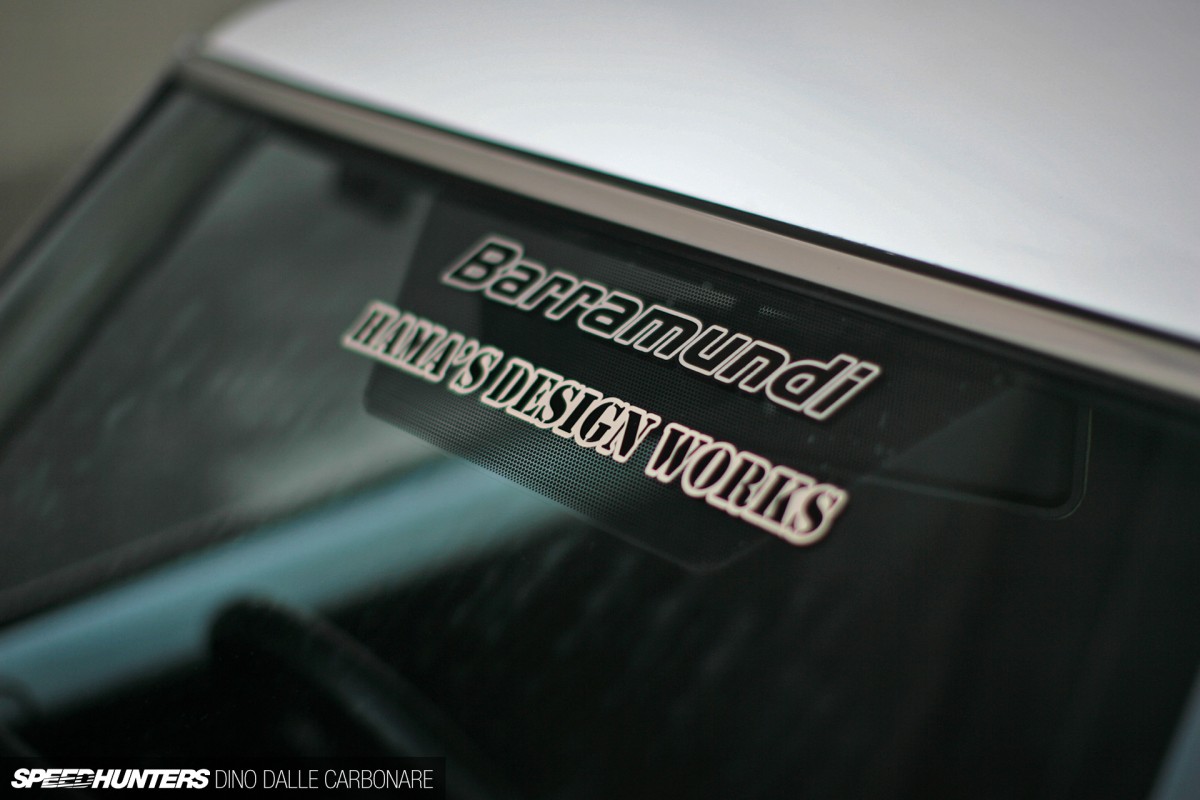 Along with the Barramundi logo, Sugimoto-san also proudly displays the name of his design studio on the Bluebird's windscreen.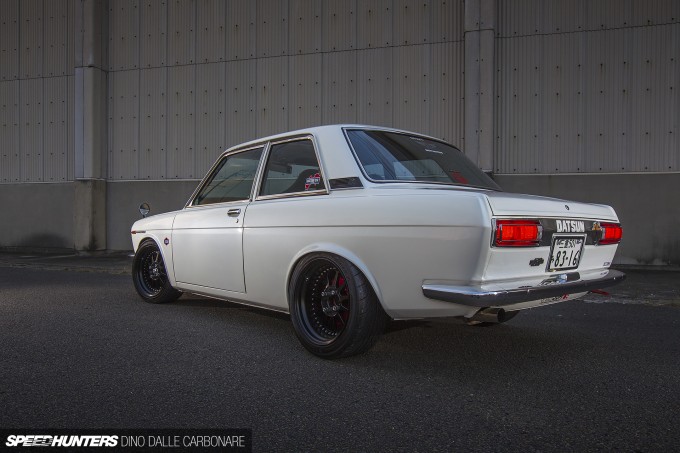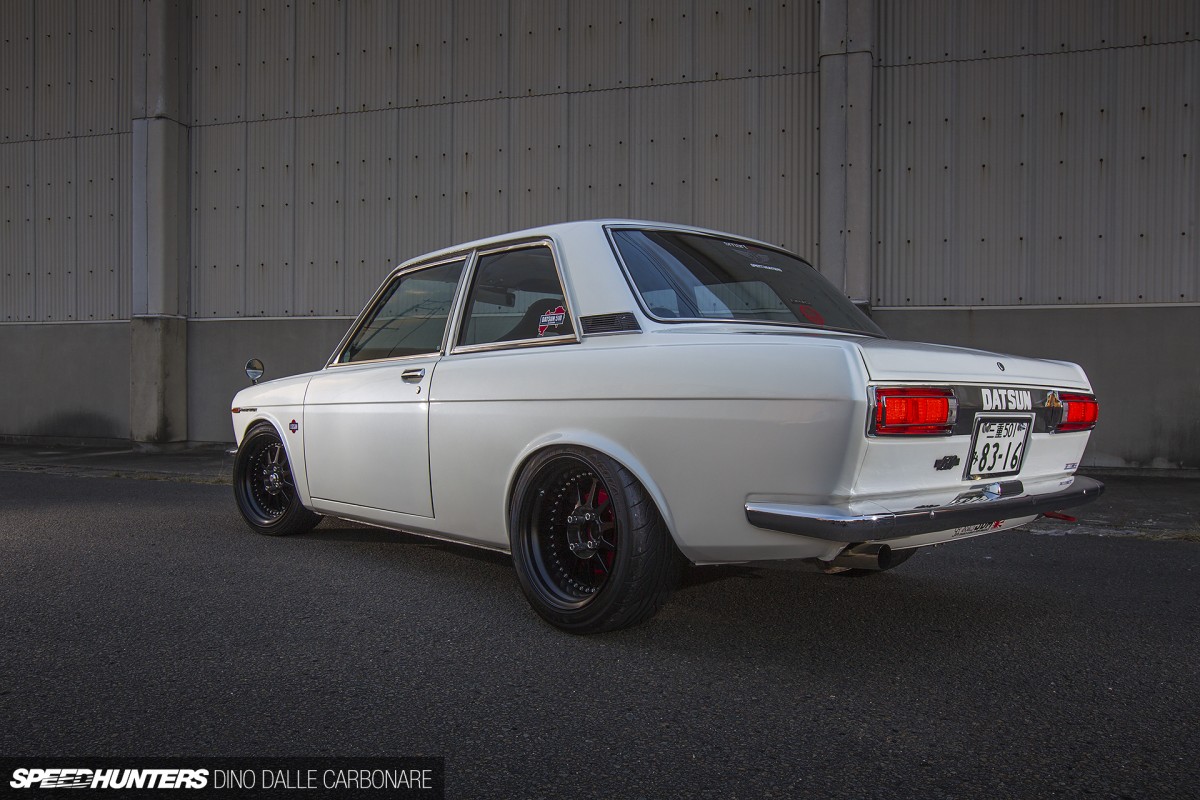 The execution truly is commendable, the clean and simple approach making the car stand out more than one that boasts more extreme visual upgrades like say overfenders.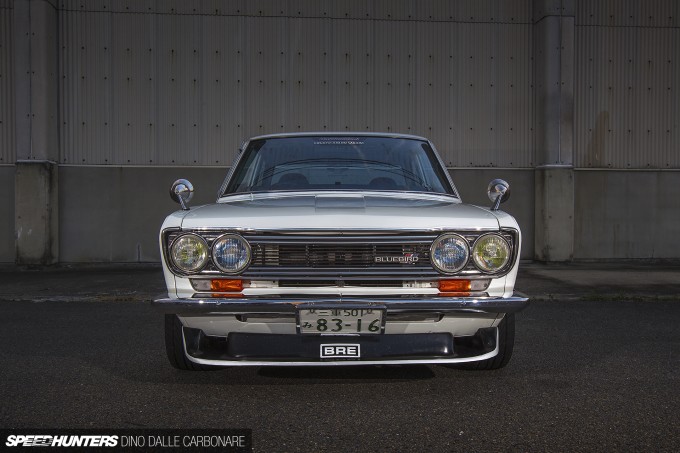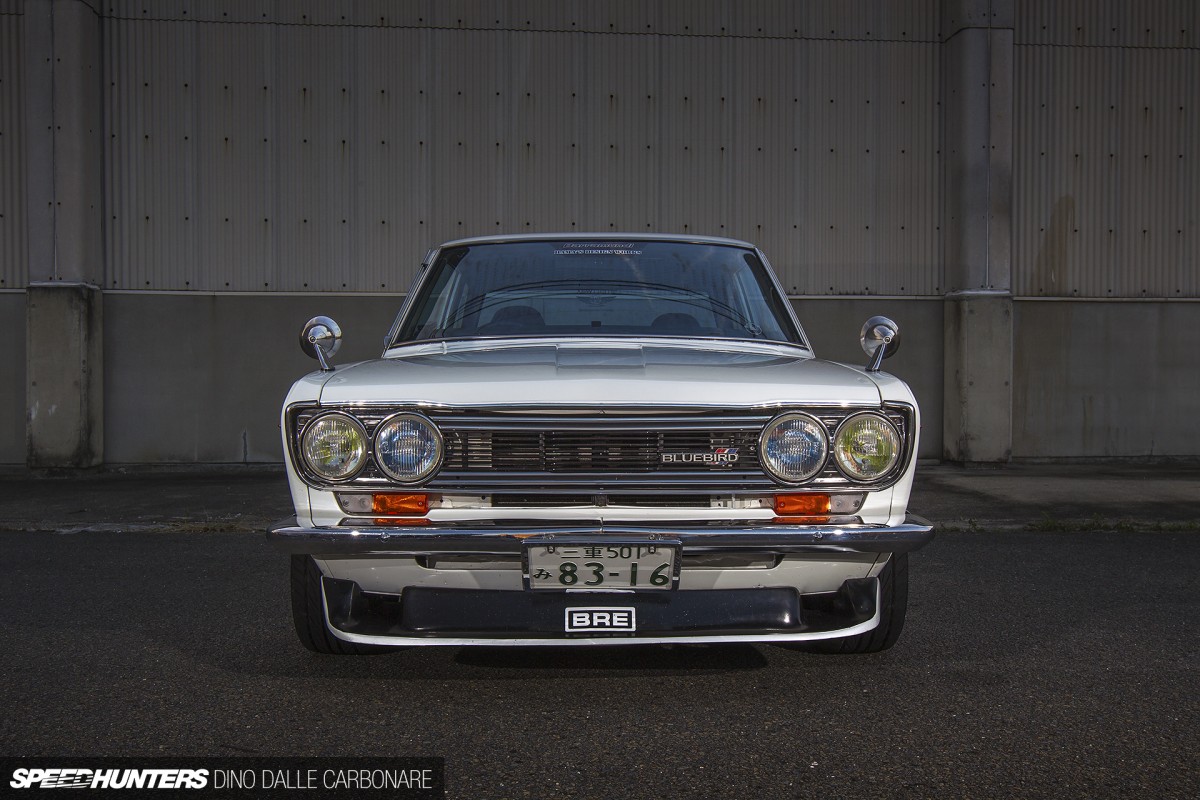 A little tip of the hat to Peter Brock is given up front with the only true exterior addition, the BRE-logoed front bucktooth lip spoiler, helping the car seem a little lower and a little more menacing when viewed head on. The projectors have been equipped with slightly brighter bulbs – always an area where vintage cars fail miserably – which give that curious blue and yellow tint to the lenses. Satisfied with the looks, Sugimoto did make a little special request to Nori and that was about performance. He wanted decent power, but delivered in a fun and modern fashion, and that's precisely what makes this 510 rather special.
Powered by Honda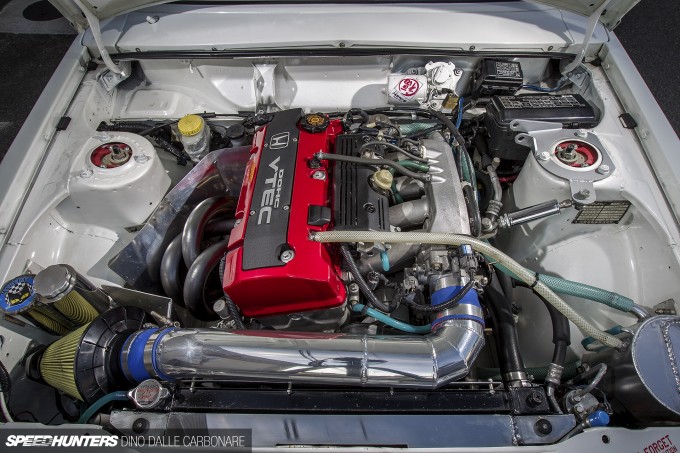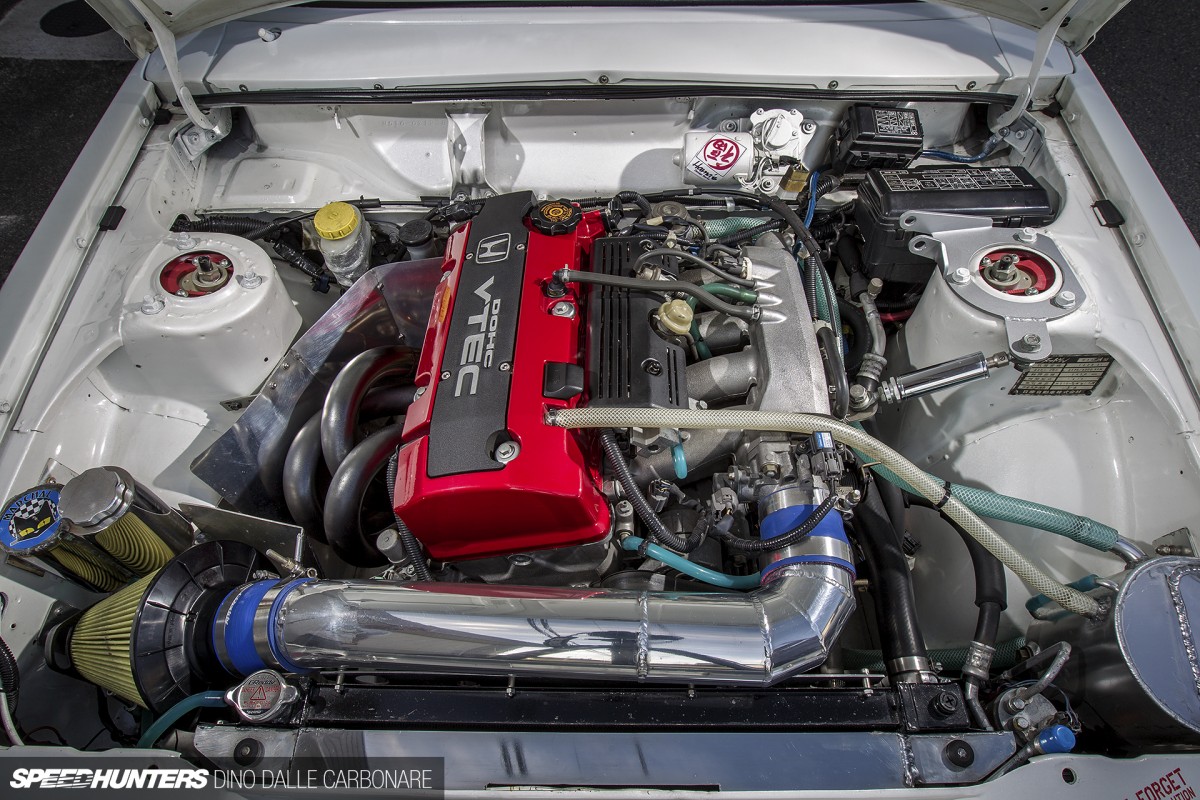 Sending drive to the rear wheels is an F20C borrowed from a Honda S2000. The longitudinally-mounted VTEC unit fits like a glove in the Datsun's compact little engine bay; that unmistakable cam cover making you instantly wonder what 250 high-revving horses will feel like propelling 900kg of Datsun 510.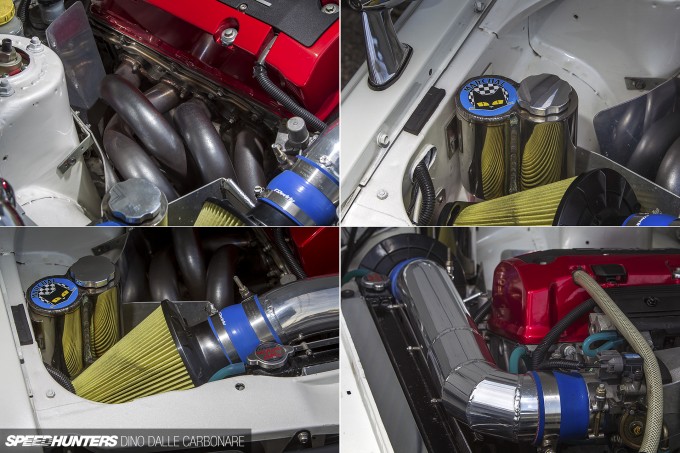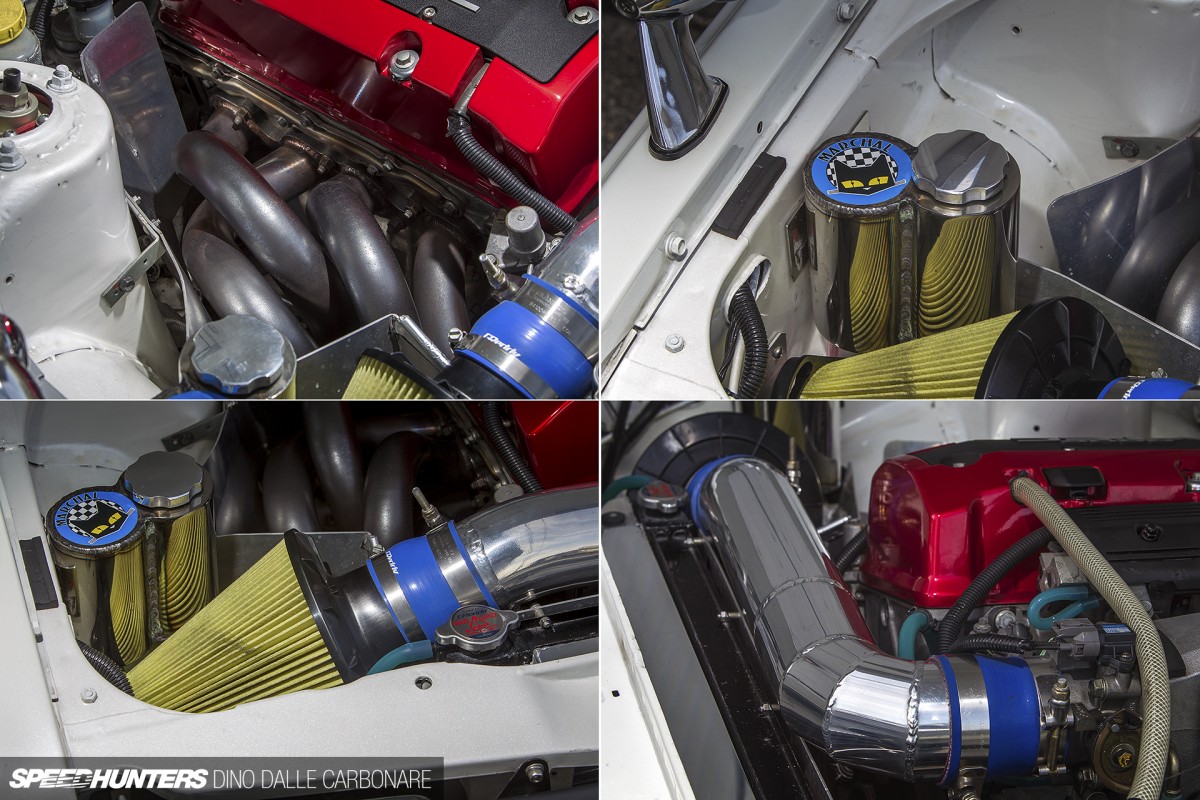 But it doesn't end there. We still have to look at the details that complete this most awesome of swaps – things like the cold air intake that is shaped so that the paper cone filter fishes only the coolest of air entering the engine bay. Or the custom headers, hand fabricated out of inconel from a shop in Suzuka that in the past used to make F1 manifolds.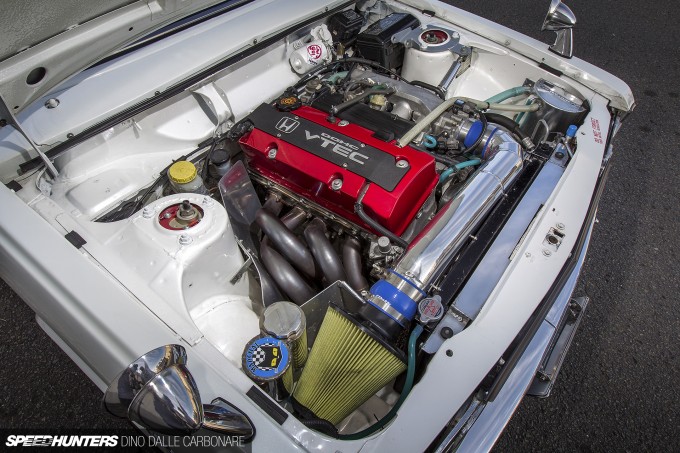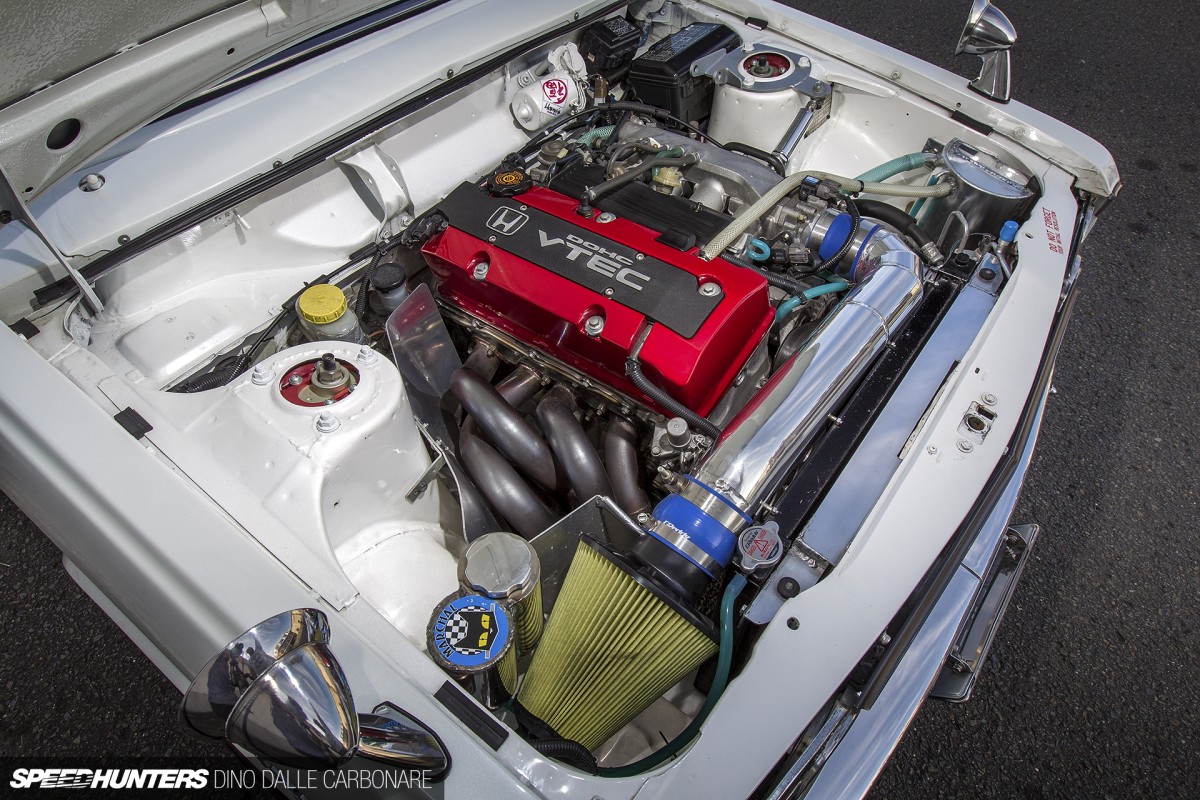 The F20C was swapped over along with the S2000's six-speed transmission, so it's just as much as a pleasure to select gears through the tight and precise shifter. A full AP1 harness and ECU were also part of the swap, helping keep things easy. Simple was definitely the operative word in this project, despite the complexity of shoehorning a different motor into the car.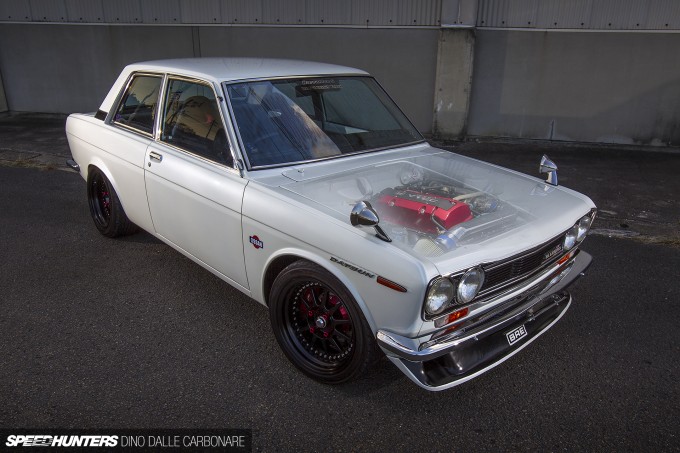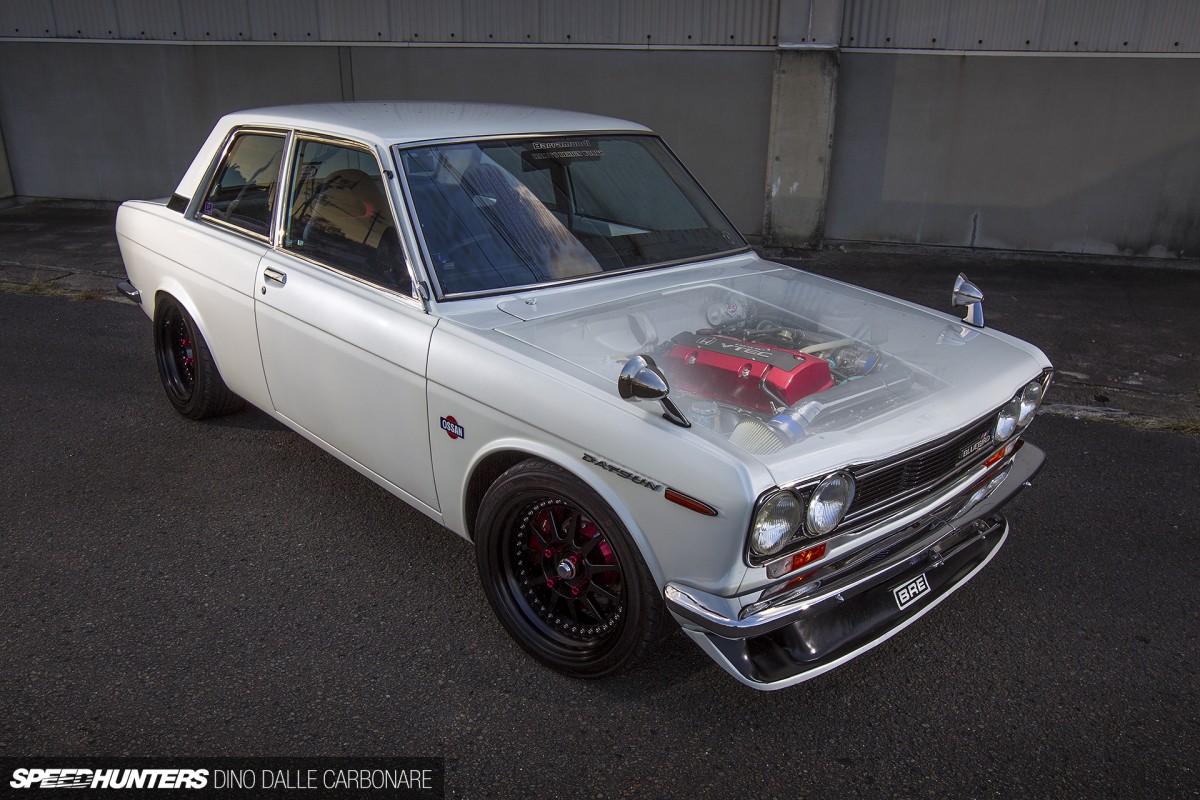 Best thing of all is that of course when you close the hood, you would never know what lies beneath. Sleeper? Yes, for sure!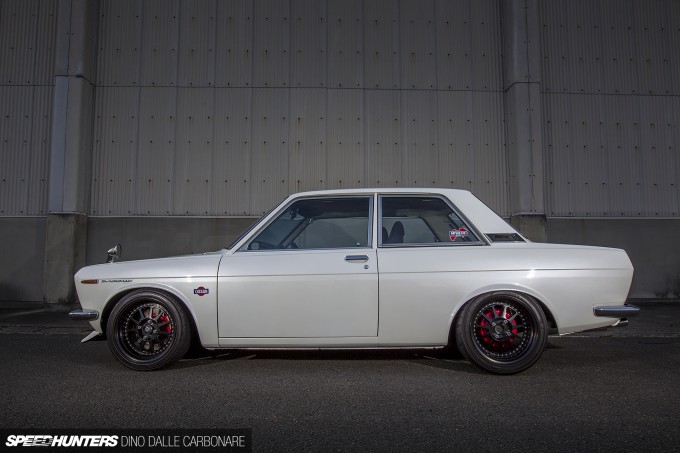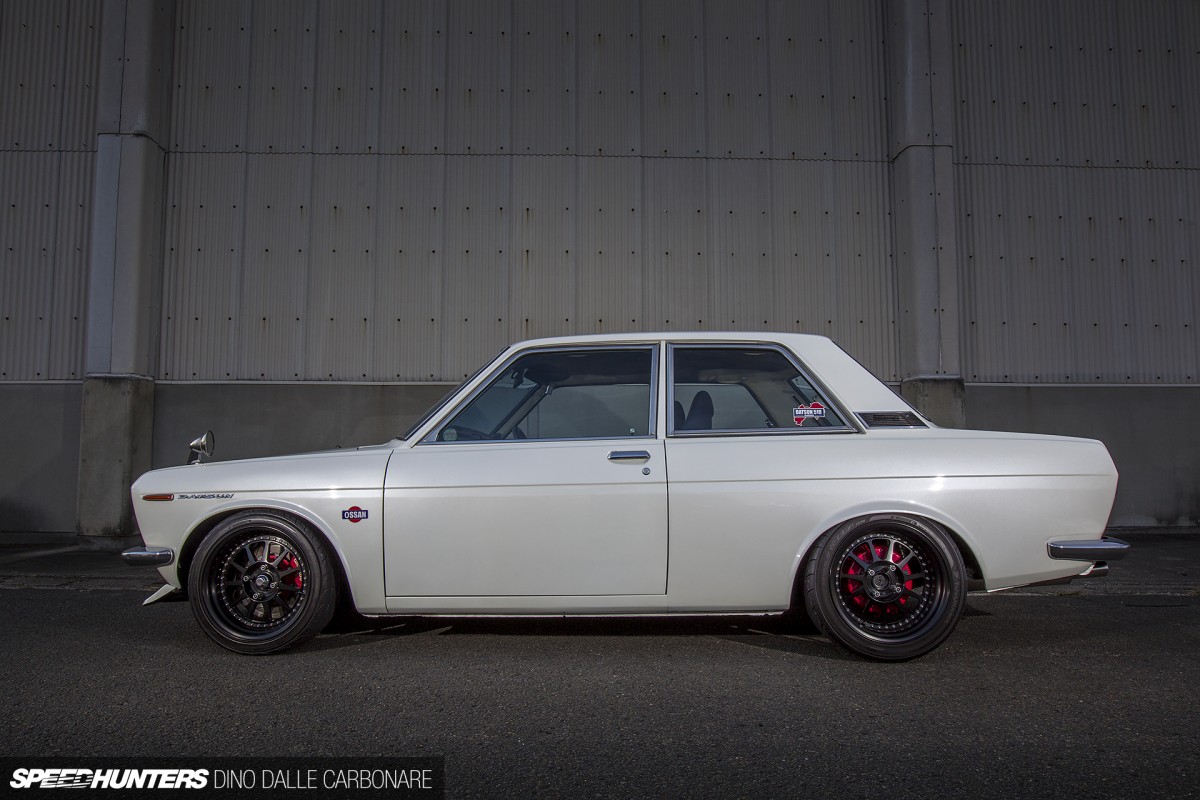 Call Sugimoto's car a more modern take on what the 510 used to offer back in the seventies, only one that pushes that performance envelope forward. The kyusha style remains but it is joined by a host of newfound capabilities serving as a perfect example of that restomod approach we were talking about earlier. 

The digital choice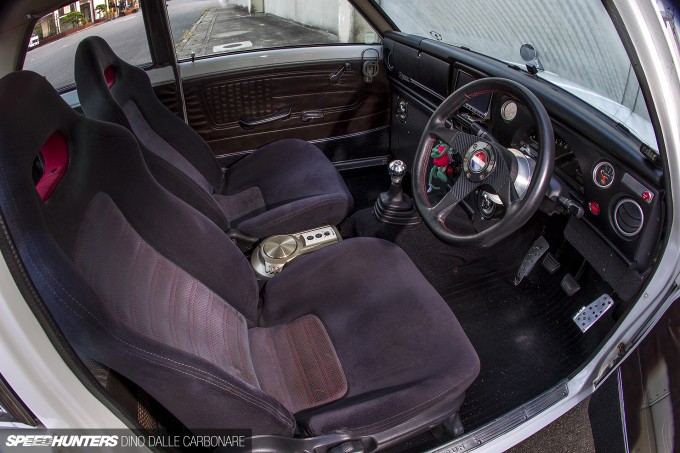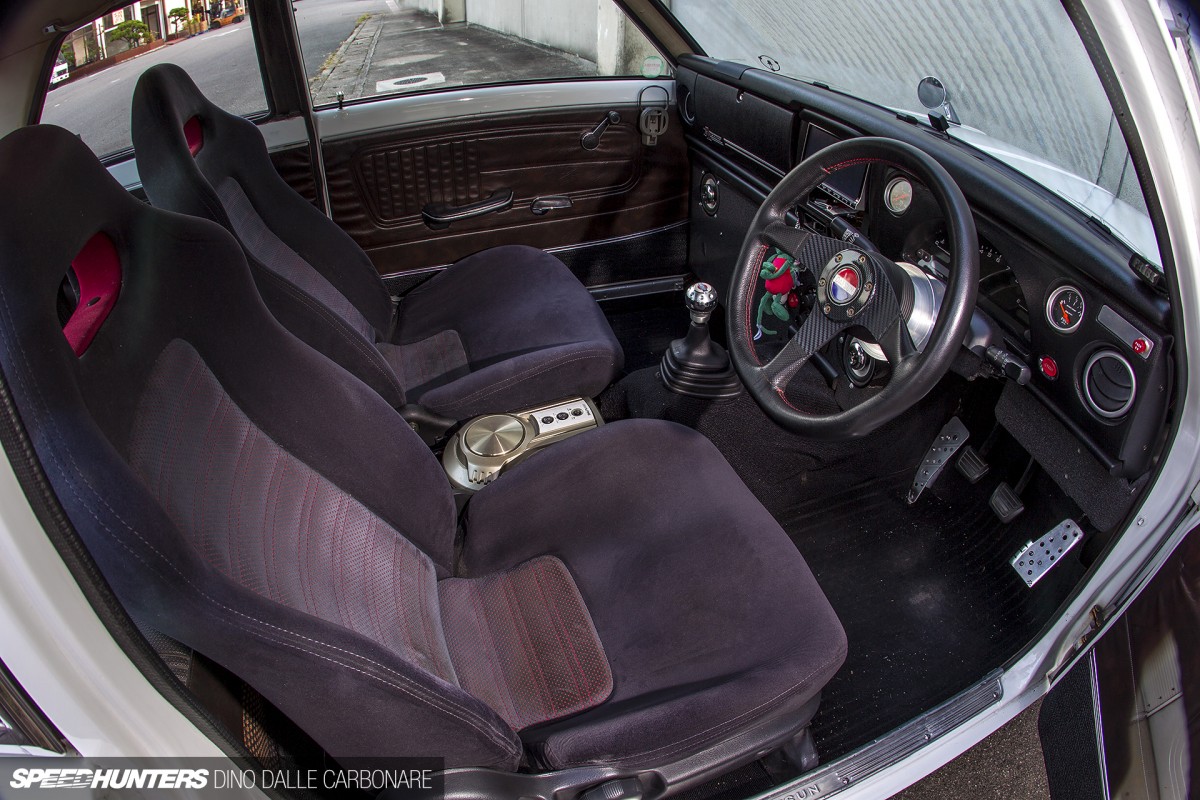 All of this extends into the cabin too, every touch adding to the car's drivability and comfort rather than taking away from it with unneeded details and alterations. The R33 GT-R seats for example: Nissan items, so a fitting upgrade and one that helps keep Sugimoto and his passenger nicely supported through the corners and at the same time comfortable on those day-to-day drives.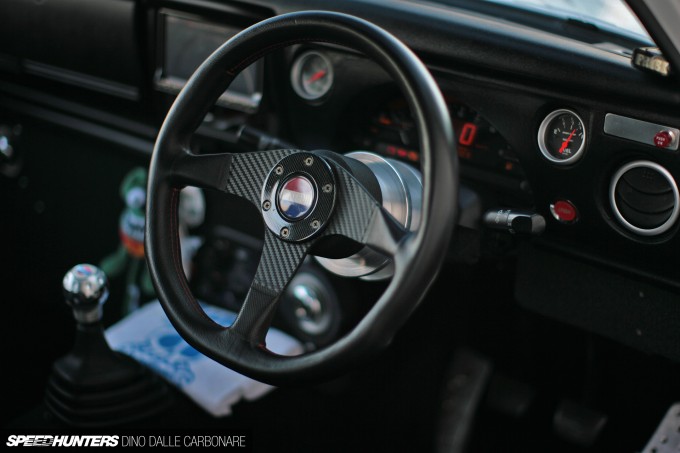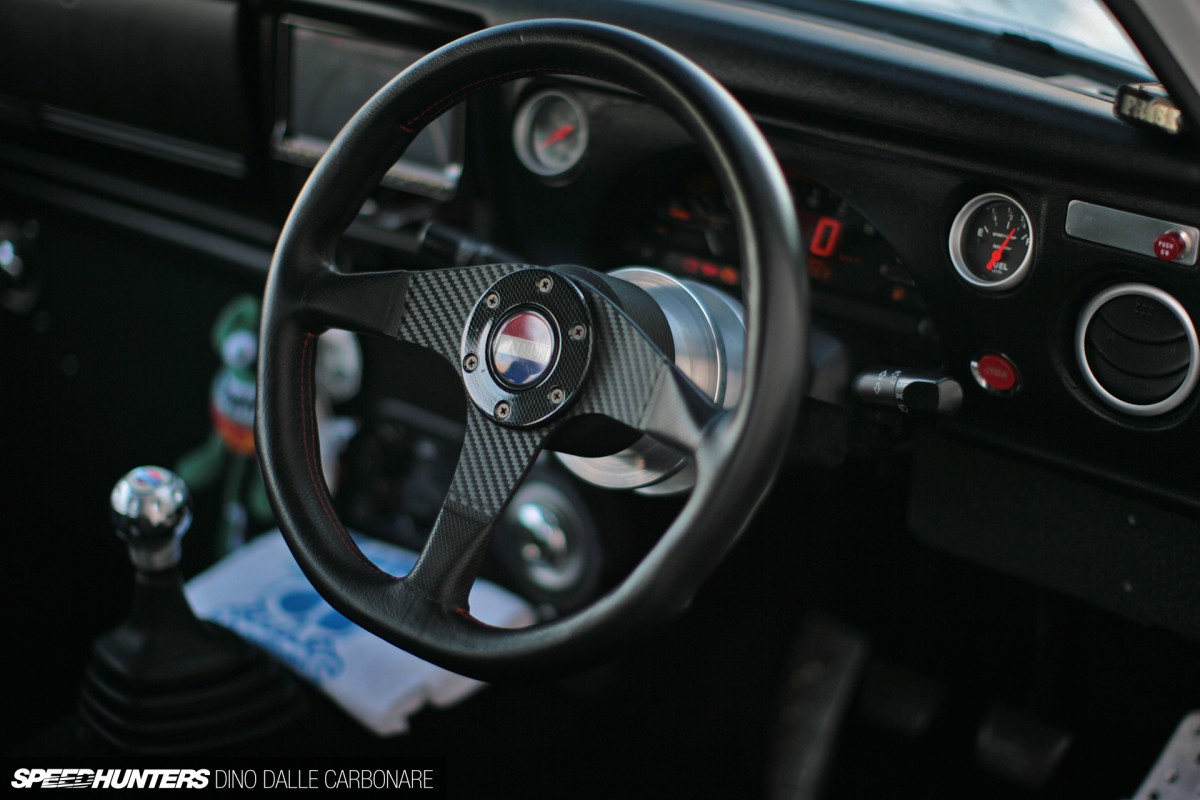 With the newfound handling characteristics, not to mention the performance that makes the car a little wilder to tame, there was a preference to move to a modern Momo steering wheel, its chunky rim custom wrapped in leather and the spokes in carbon vinyl.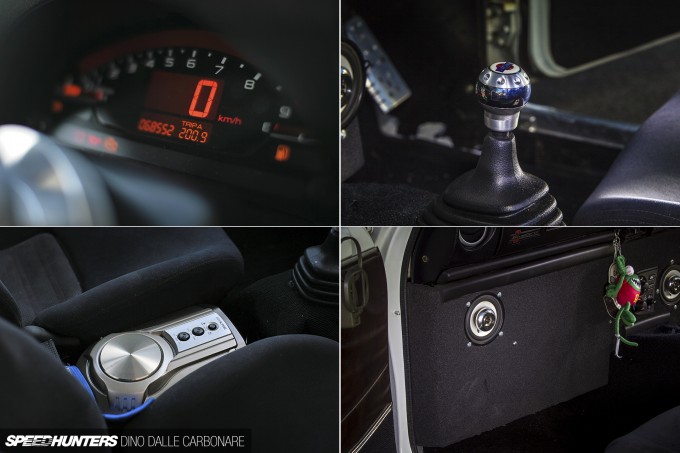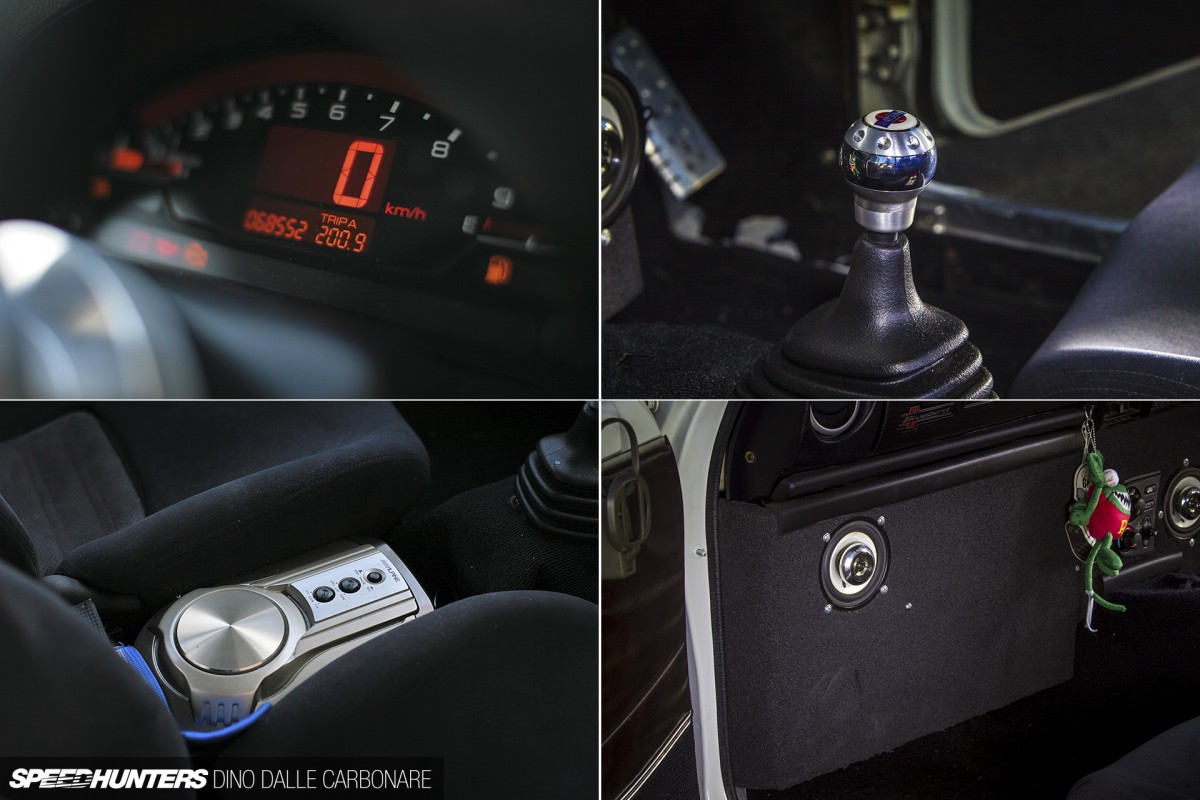 Along with the F20C and wiring loom, the S2000's digital instrumentation was also carried over and it's by far the detail that not only makes the car's cabin so special, but adds that touch of completeness to the Honda thing that is going on here. Custom Alpine audio was also added along with a navigation system which up until a few years ago was a real must on any Japanese car; now we have mobile phones for that stuff!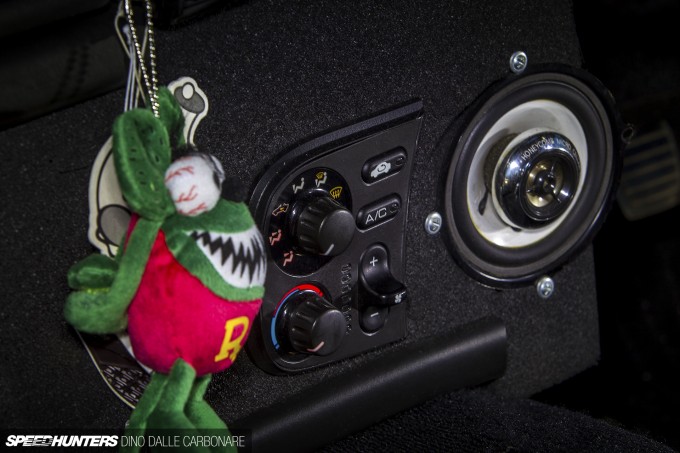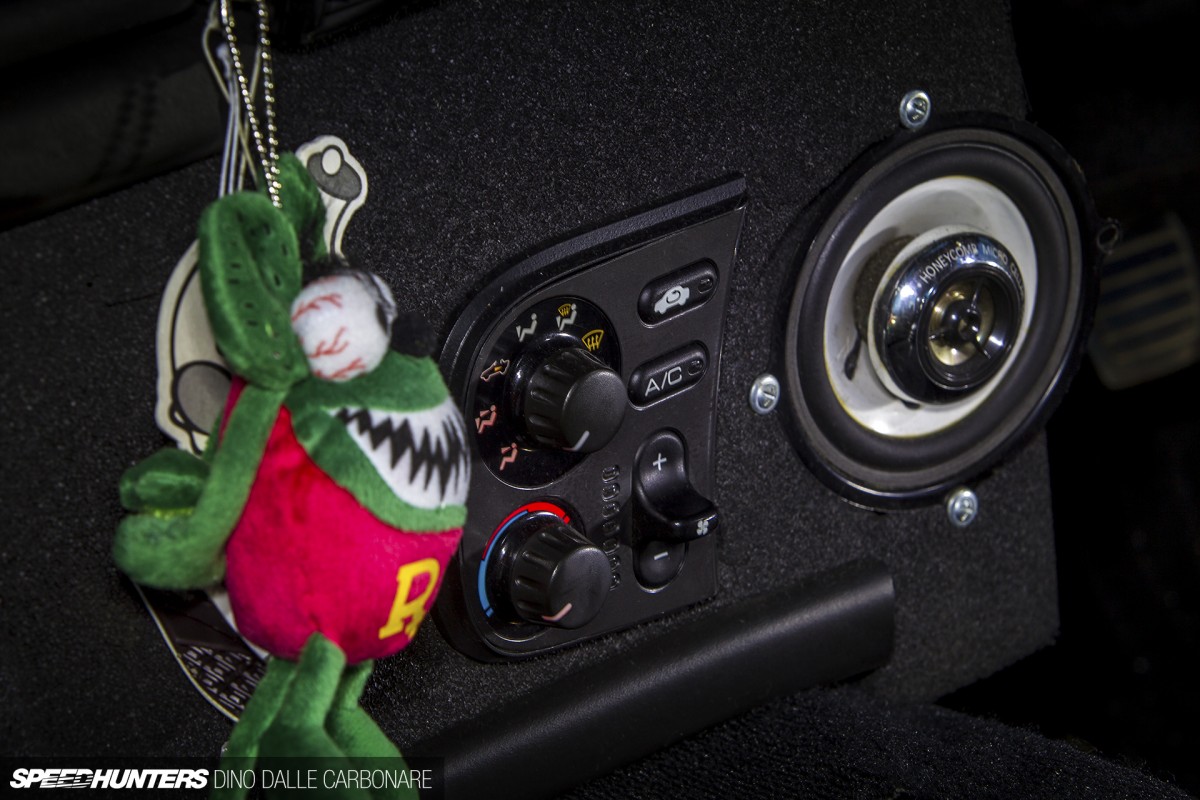 Do those HVAC controls look familiar? That's because they too are from the S2000 that donated everything else I've listed so far.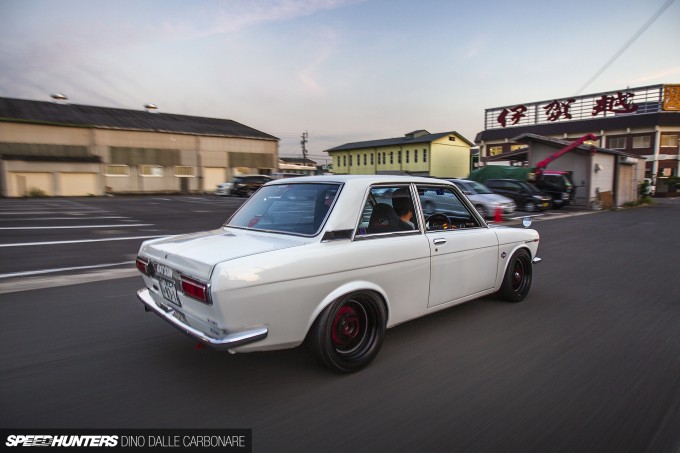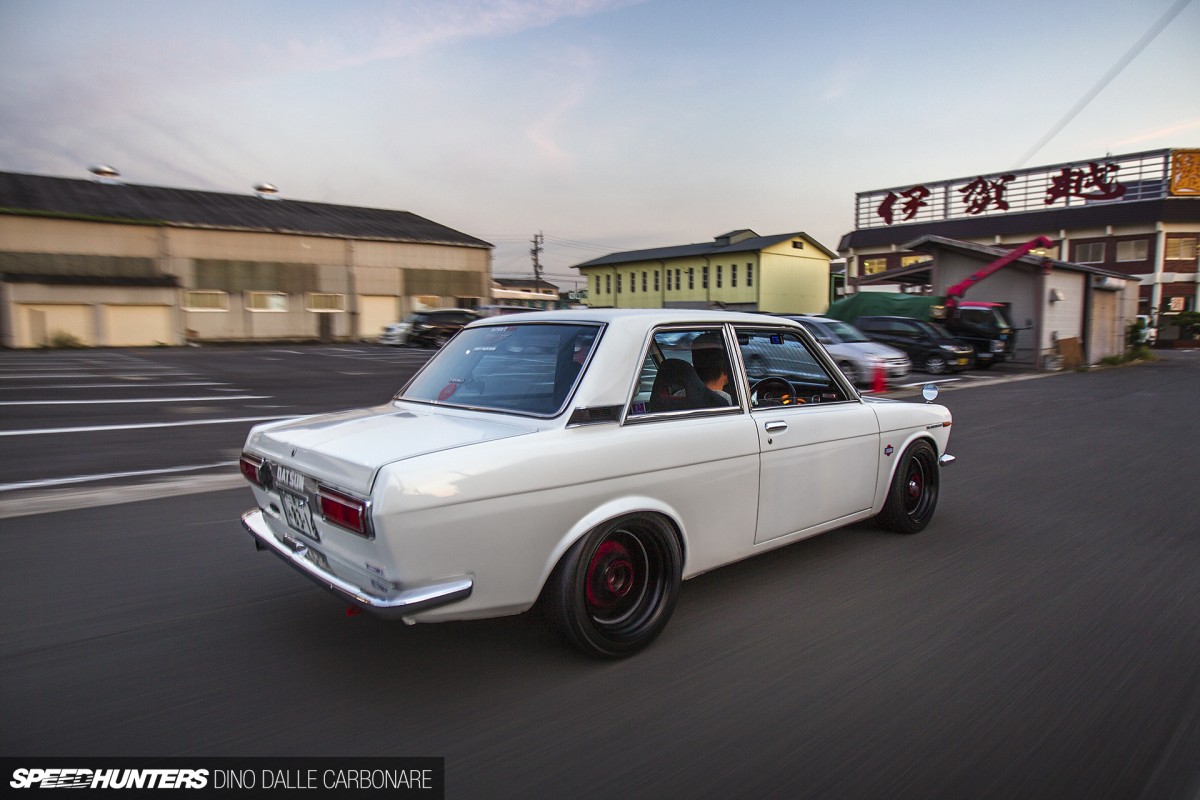 The 510 probably is one of the most popular platforms for restomod-type builds, and with the kyusha trend gaining more popularity in Japan, it will be cool to see what other interesting takes guys like Nori at Common Snapper will take. We've already seen his personal car recently at the Nostalgic 2 Days also running an F20C swap, but something tells me he has something else up his sleeve. ..
Dino Dalle Carbonare
Instagram: speedhunters_dino
dino@speedhunters.com