Function leads the way
Execution is probably the single most important attribute of any build. It doesn't matter what the aim is – if it's related to performance, functionality should always be coupled with presentation that's pleasing to the eye. If looks are what you're after, then this becomes even more of a necessity – regardless of what the style may be.
If you've been following our adventures through Japanese car culture, you'll know how popular over fenders are right now. But what about other approaches? What about good old fashioned blistered and pumped fenders? Have we forgotten about those?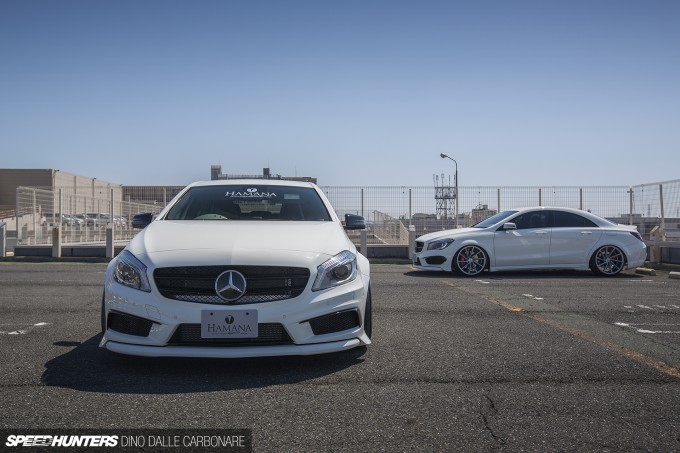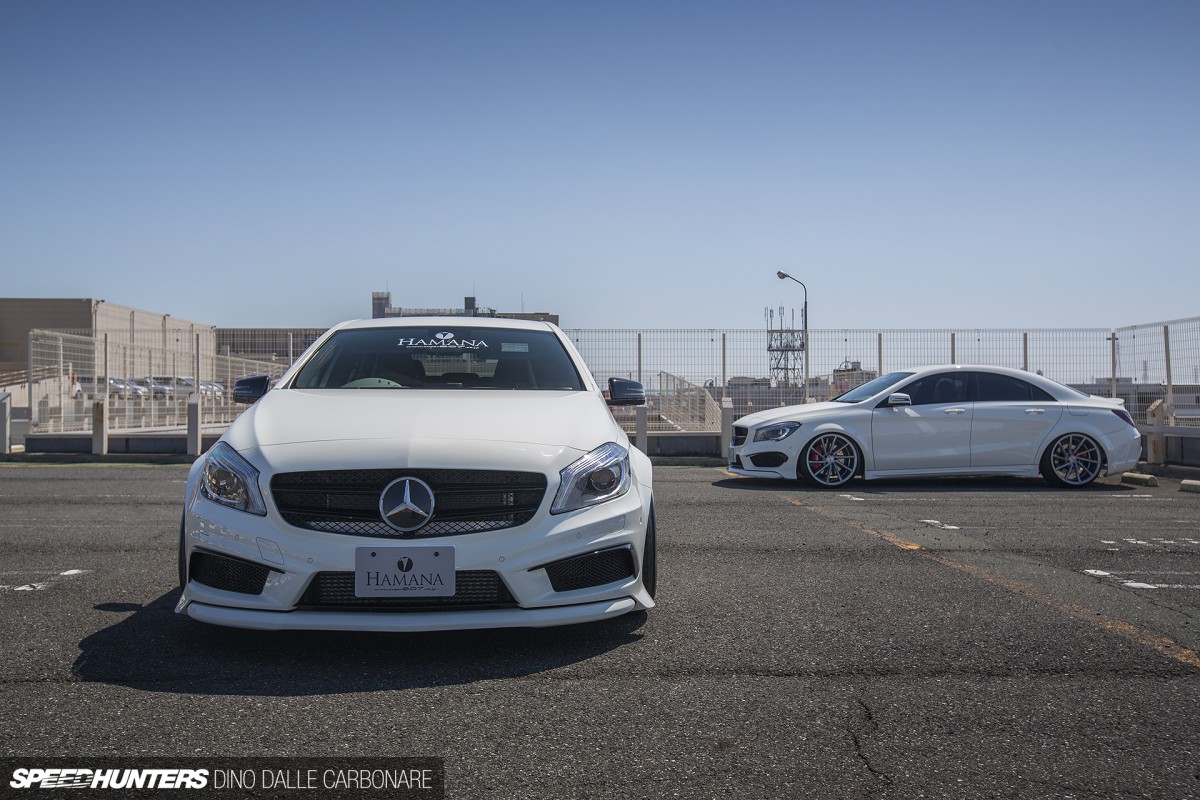 Of course not. Japanese bodyshops dedicated to the VIP and custom scene have really been pushing the boundaries of what is achievable of late, and while shops like Bee Dragon represent one extreme, others out there have turned a pursuit for ultimate stance into an art form. And that's where Hamana comes in.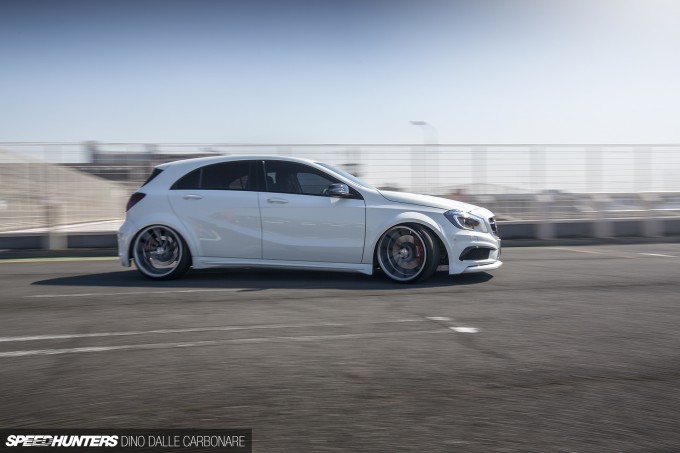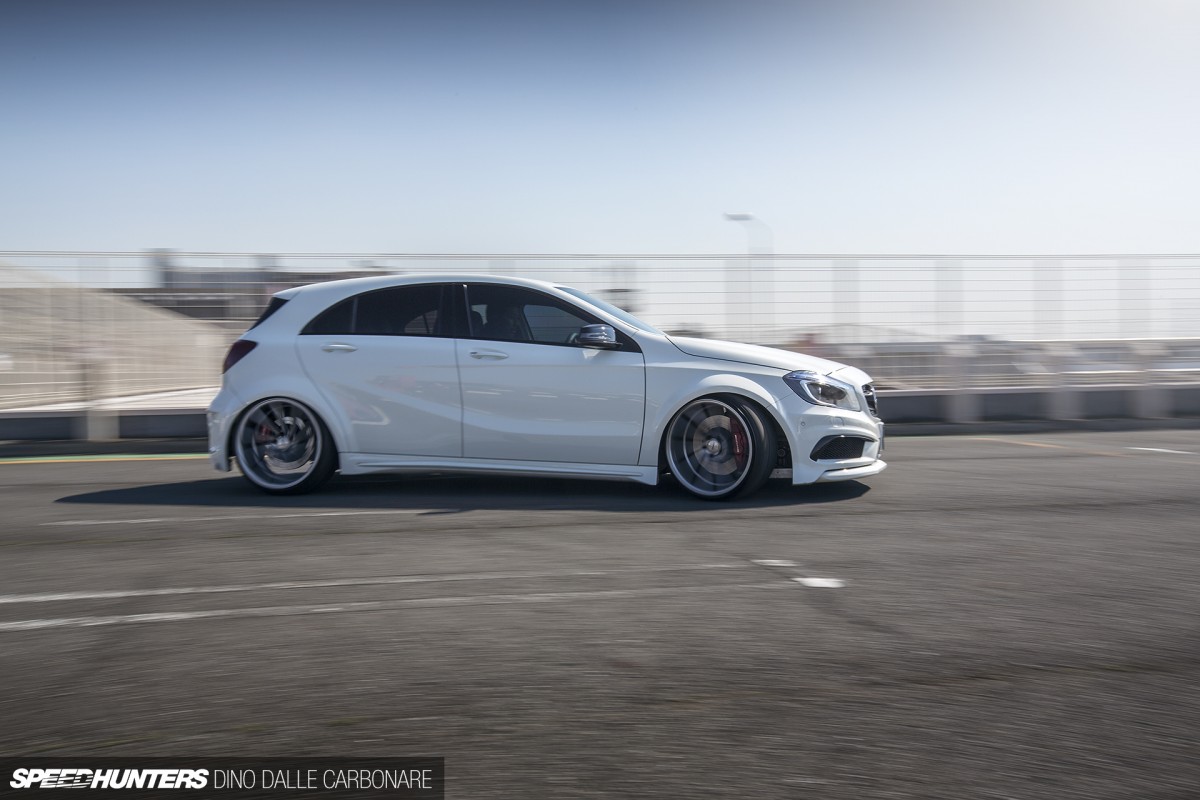 With a history spanning back almost half a century, Hamana is one of the oldest and most respected bodyshops in the Kanto area. The company offers a wide range of regular repair services, but custom work is something they've always concentrated on, and what they've become best known for. At this year's Tokyo Auto Salon the two cars that stood out on their booth were a couple of Mercedes-Benz models – or more specifically, the white CLA and A-Class that I'm about to show you. 'Perfect stance' was the inspiration. Larry also spotted this pair when he parachuted in to the Japanese leg of Vossen's World Tour, so we made some calls and arranged a time to find out more.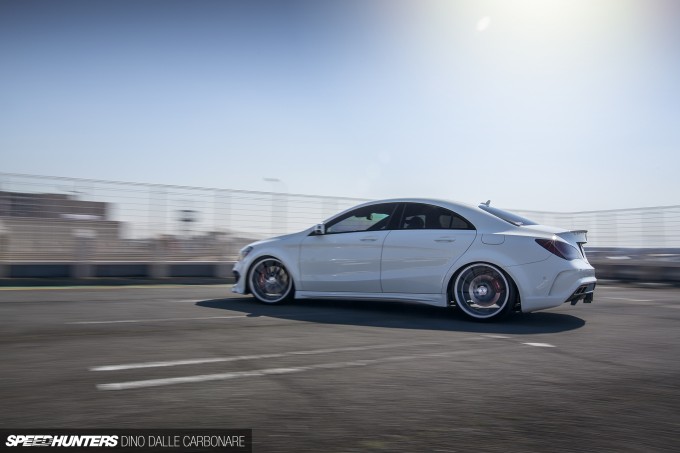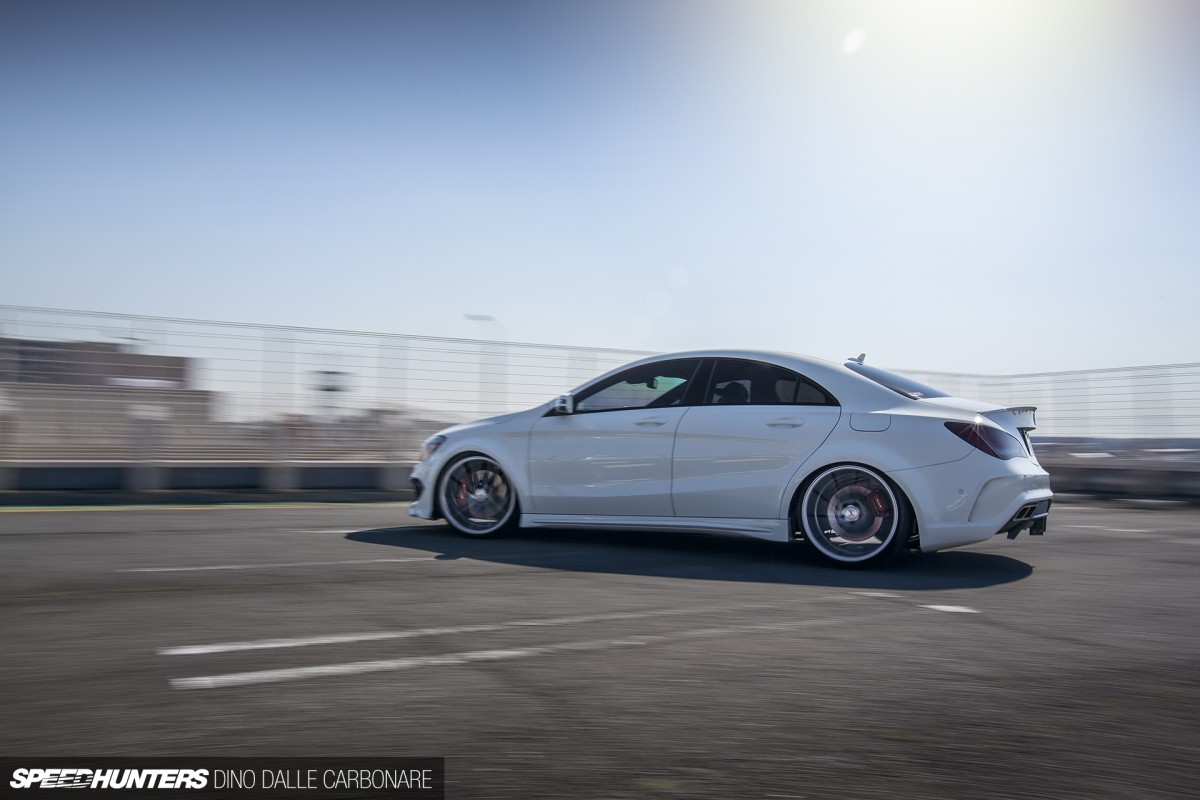 Stance is a word that's bandied around a lot these day and loosely describes a car that sits nice and low, but possesses a touch of aggression achieved through a variety of methods. Offset is always important when choosing your wheels, as is the interaction between the wheels and tyres, and the tyres and the fenders. And to top it all off, there's the functionality aspect. In my mind, it's the last point that's the most important. Don't get me wrong, I'll be the first one to say that a car looks crazy-cool if it's slammed to the ground with touch of negative camber. Most cars modified in that way will  look good in a photo – but that's pretty much it. If it scrapes all over the place and becomes a pain to drive, I'm one that fails to see the point…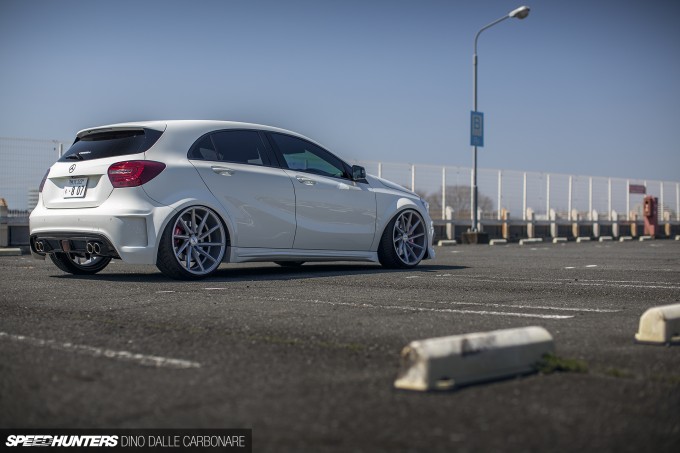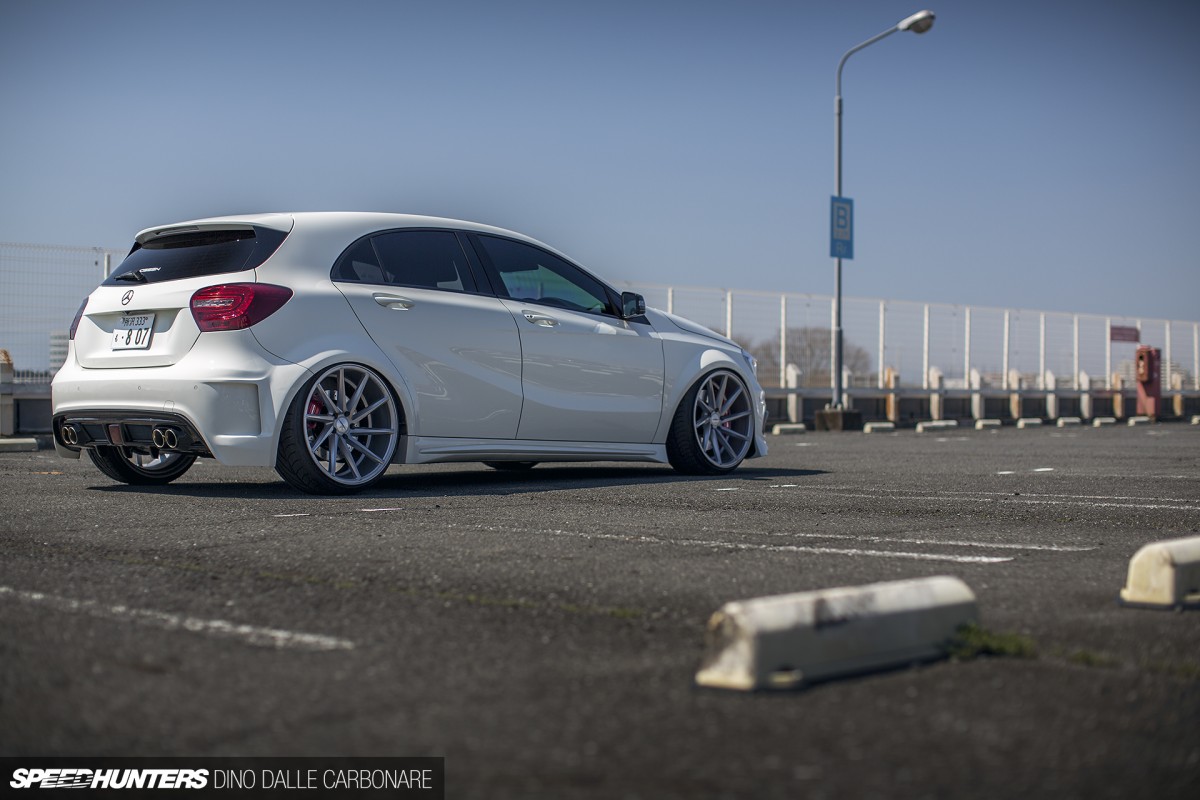 Upon meeting up with the Hamana guys last week, I was glad to find out I'm not the only one with that opinion. In building their Tokyo Auto Salon demo cars, the main aim of the exercise was to create something visibly cool, yet completely and utterly functional at the same time.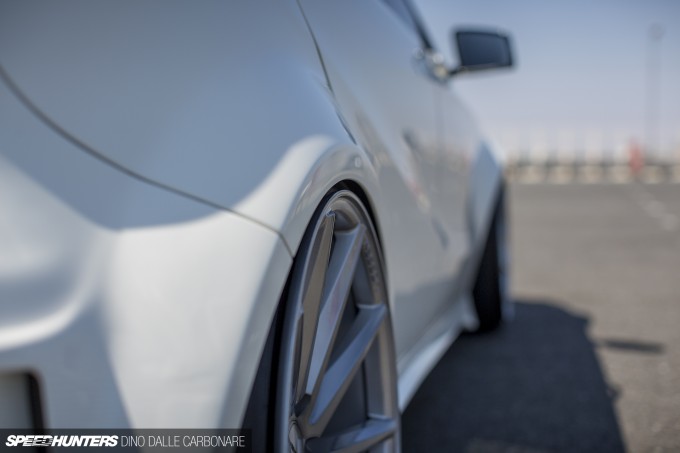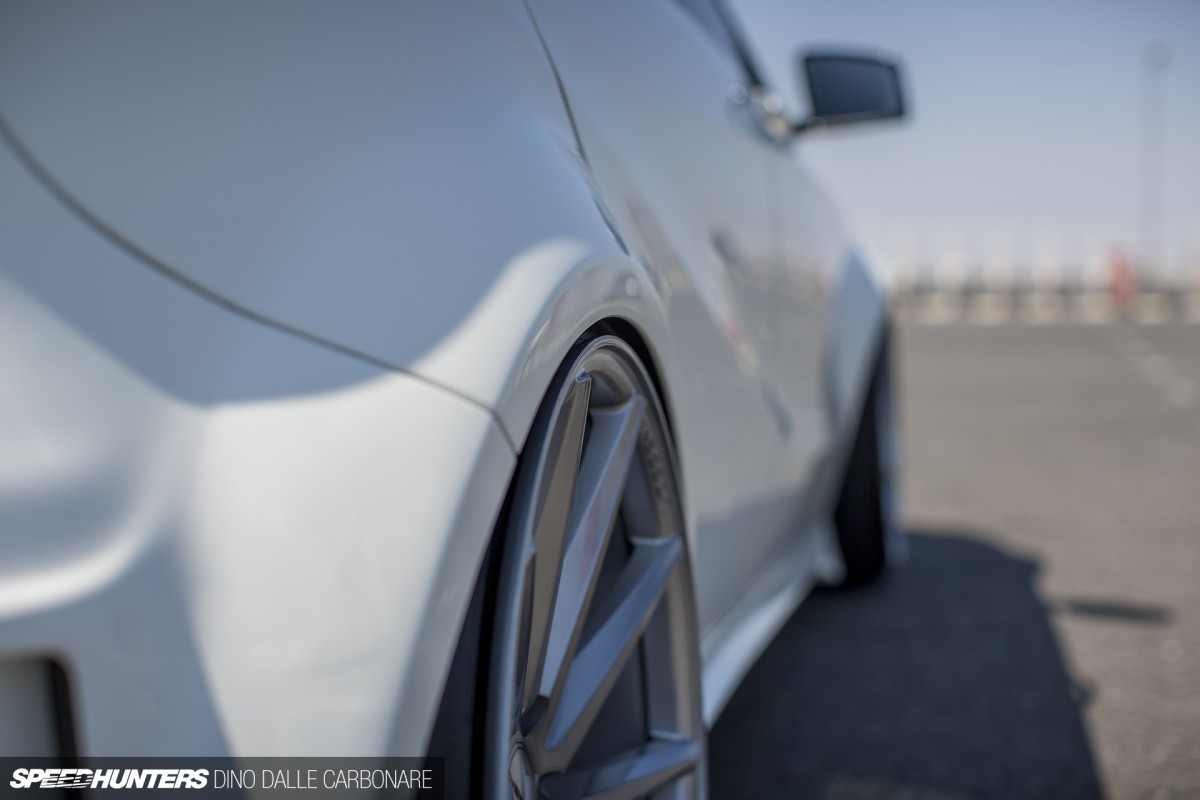 That's what I said, functional! If you can have the perfect ride height and the perfect offset, but still be able to use your car on a daily basis without having to continuously calculate alternative routes to avoid particularly bad roads or ramps you can't tackle, then you've already sold me on it!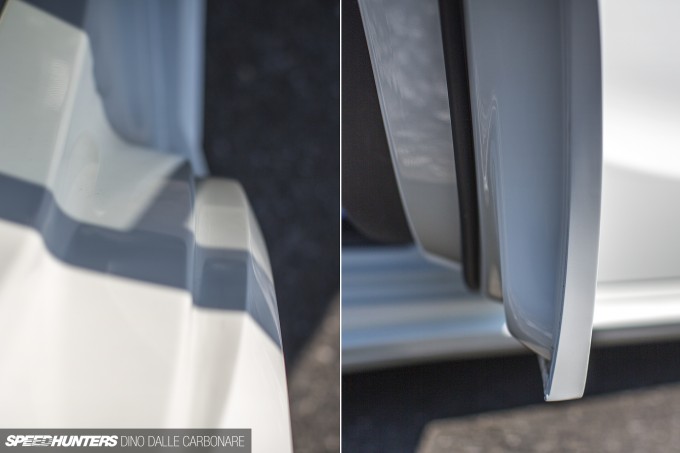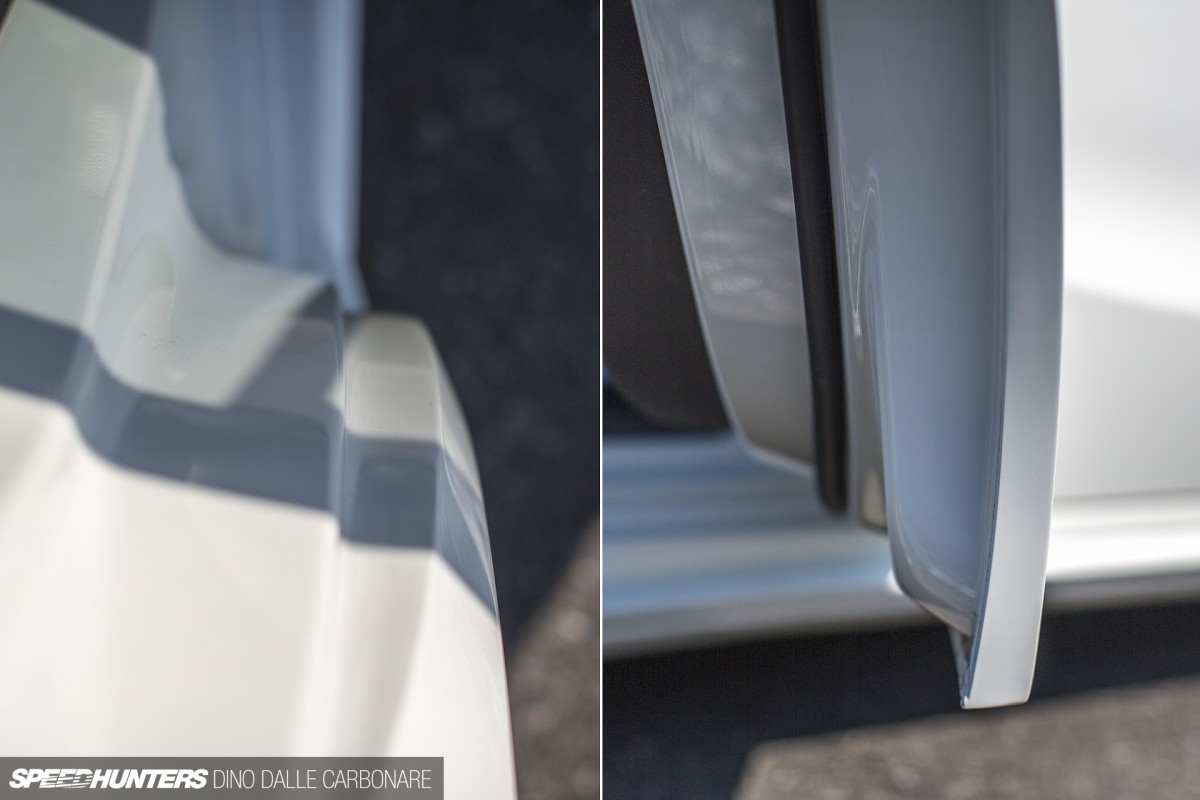 Both the A-Class and CLA cars started off as base-spec '180' models with 1.6L turbocharged four cylinder engines. The idea here was to show people that you don't necessarily need to fork out for the top-of-the-range variants in order to create something special. After all, if you build a car to be driven every day, it should be a proper daily, right? The first order of business was to tackle the fenders, and here Hamana didn't cut any corners. They hand-sculpted the stock metal fenders to increase the wheel arch curvature before welding on metal extensions that were shaped to follow the lines of the original design. There's also blistering that fades out on the rear doors and bumpers. The aim was to achieve an aggressive look, but in a way that the manufacturer might do it.
Directional spokes to stand out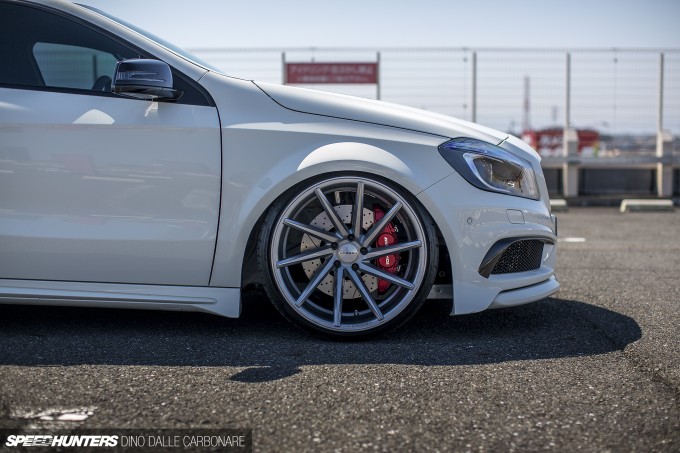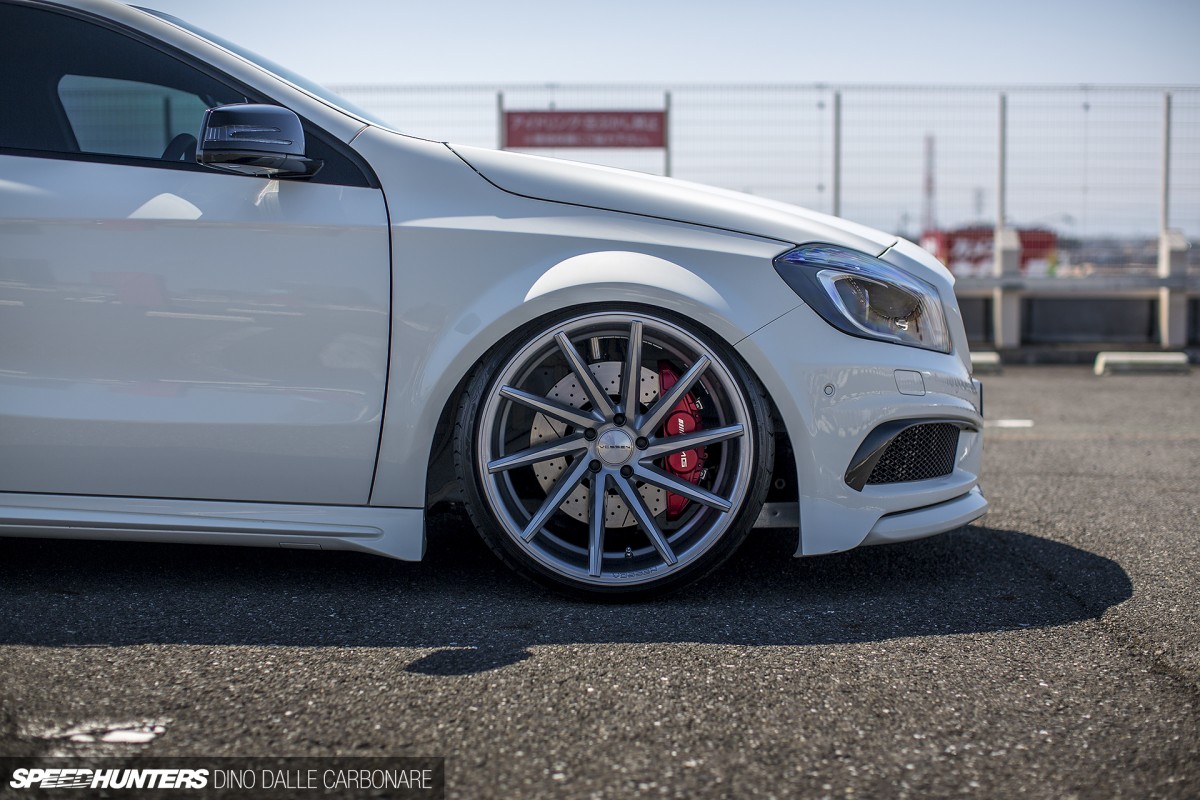 On both cars the custom bodywork was shaped and finished around stunning 20×10.5-inch Vossen VVSCVT wheels. It was the directional design of the spokes that first drew Hamana toward this particular model and Vossen developed the wheels with offsets that allowed a radical look, but still enabled full functionality. When somebody is investing in a brand new Mercedes- Benz, they don't want to compromise the look because a wheel size isn't right. So Vossen have spent a lot of time considering offsets in the search for perfect fitment across the board. As an example, the fenders were carefully shaped on the inside for a little more clearance and when the desired stance was set, the wheels don't rub – even at absolute full lock. When was the last time you heard of that?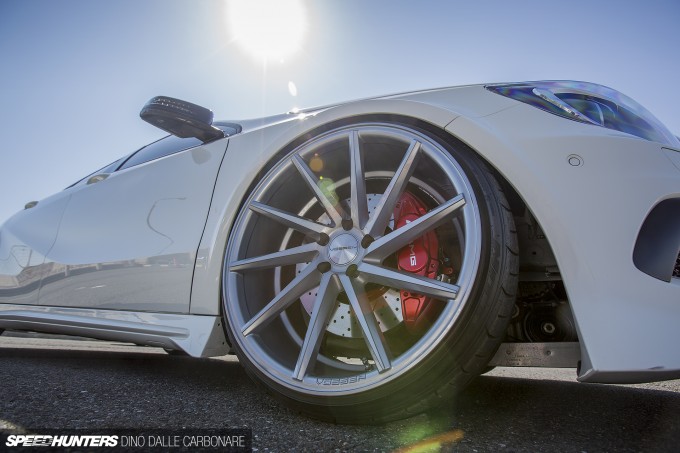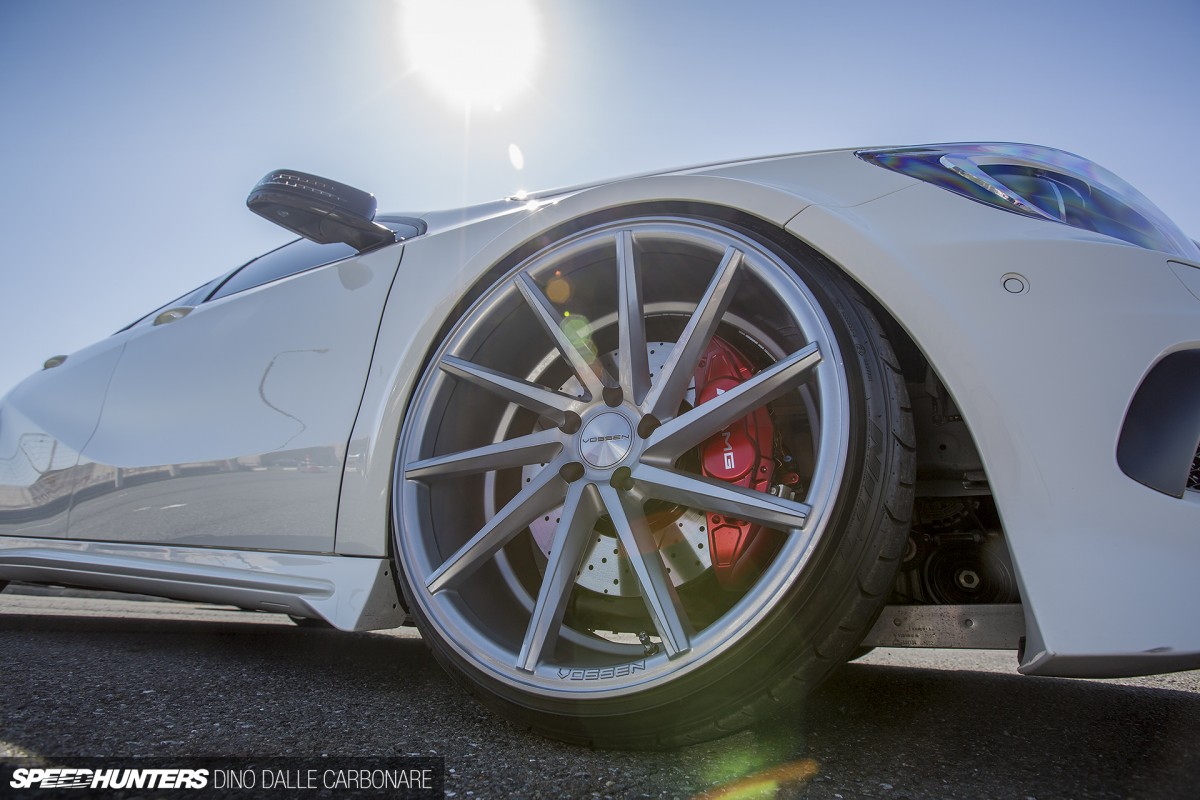 A set of KW Variant 1 adjustable suspension takes care of the ride height while providing ample compliance so there's no detrimental affect on handling and ride quality. High performance AMG A45/CLA45 brakes with larger calipers and slotted and drilled rotors were added at both ends too.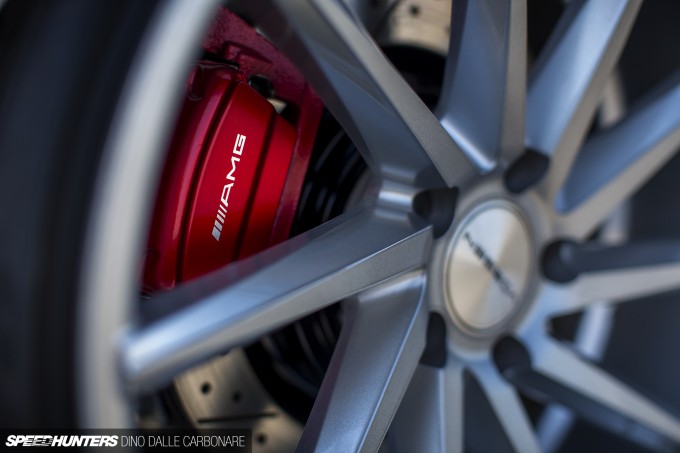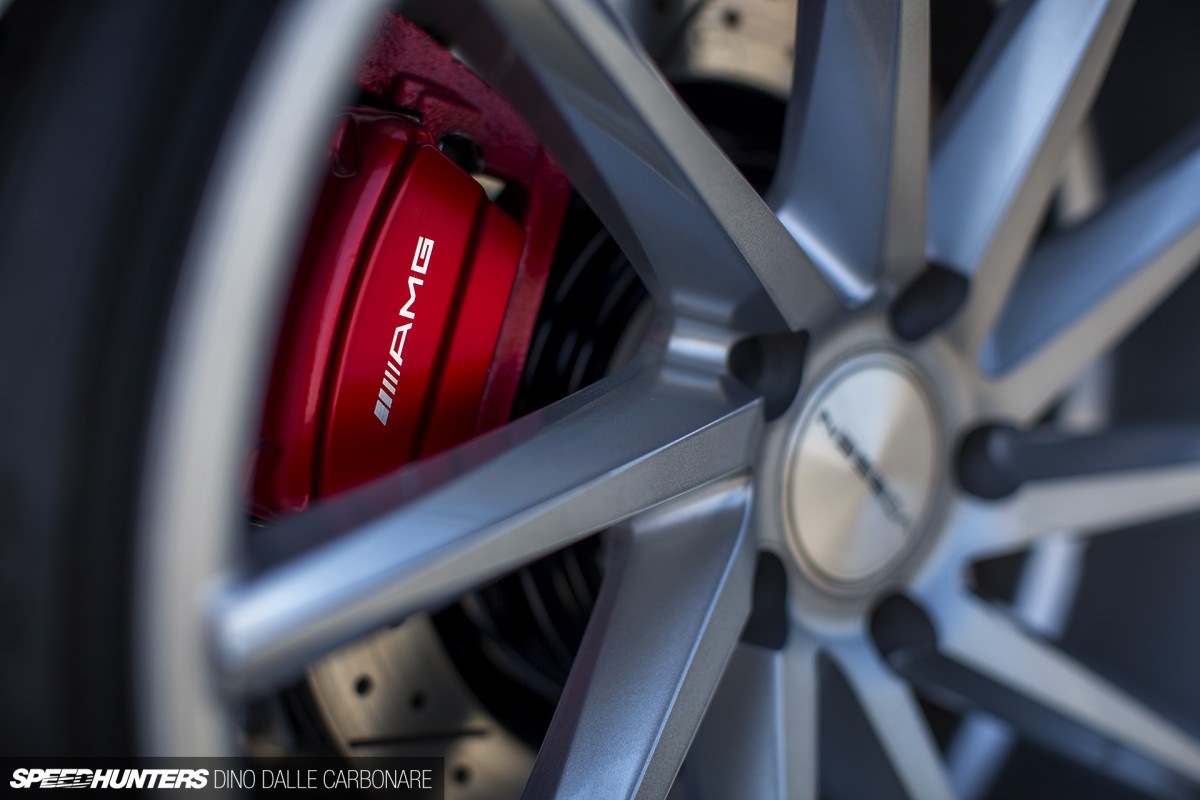 The new calipers presented an opportunity to add a splash of colour – in this case a custom-mixed Candy Apple Red – to an otherwise almost monochromatically-themed car. The Vossens were repainted too with a slightly darker metallic silver hue that looks very sharp. Subtle and dare I say it, almost factory? The whole package is very slick.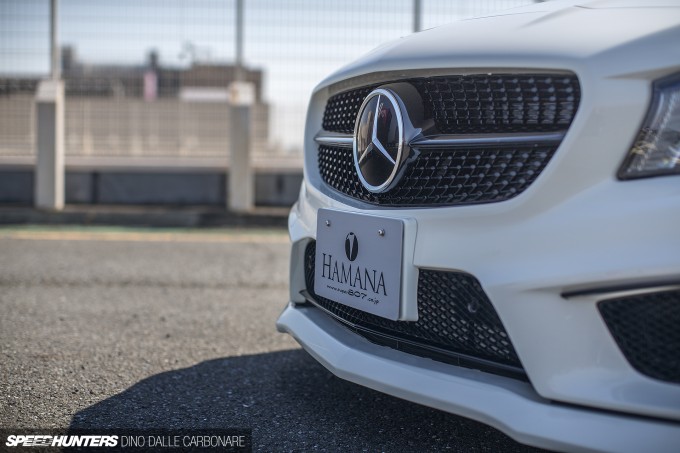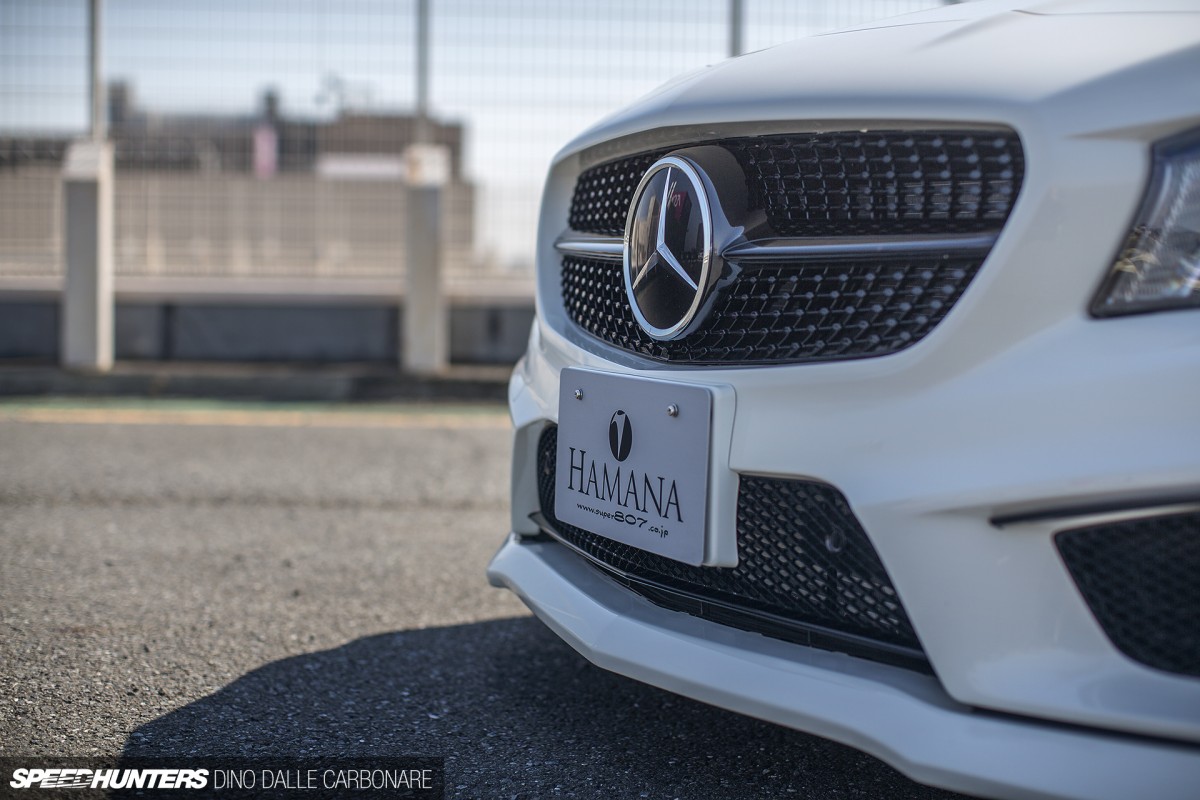 But the Hamana touch definitely doesn't end there.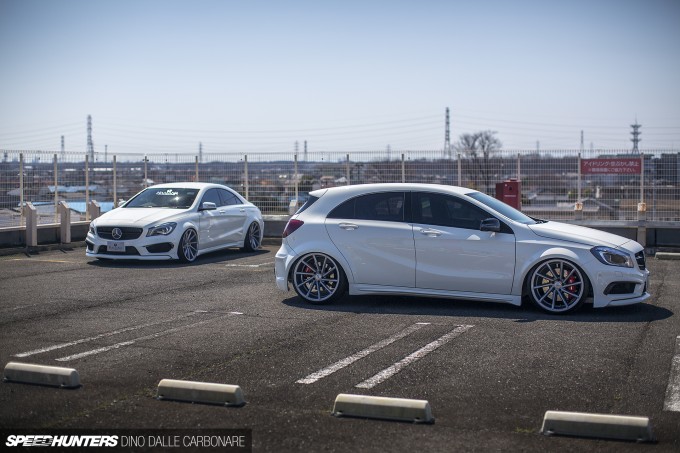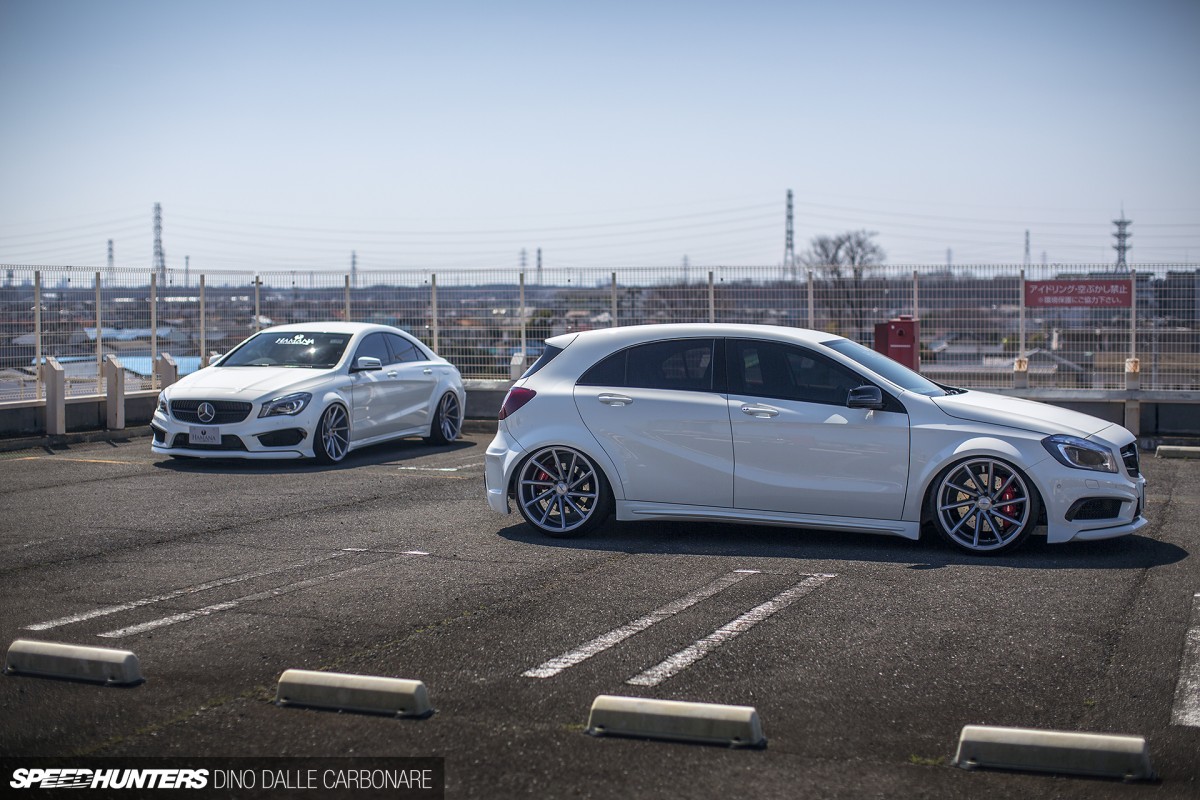 Seeing that both the front and rear fender mouldings had to be extended onto the bumpers, they went ahead and fitted AMG replacements front and rear. But before that could happen, there was the task of remoulding the sides with increased dimensions and a more angular fender profile compared to the stock AMG versions of the cars.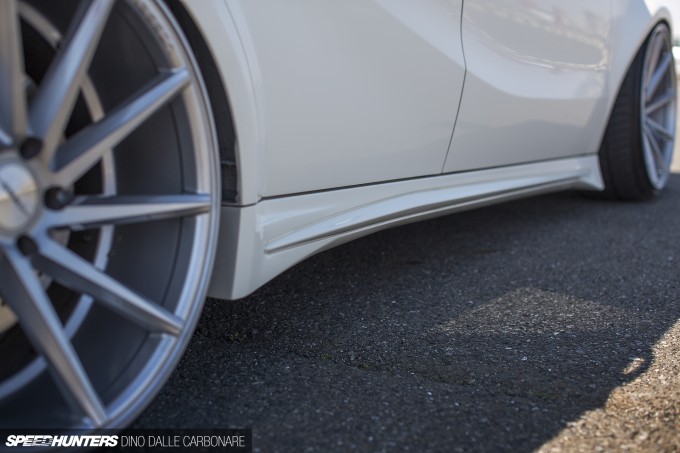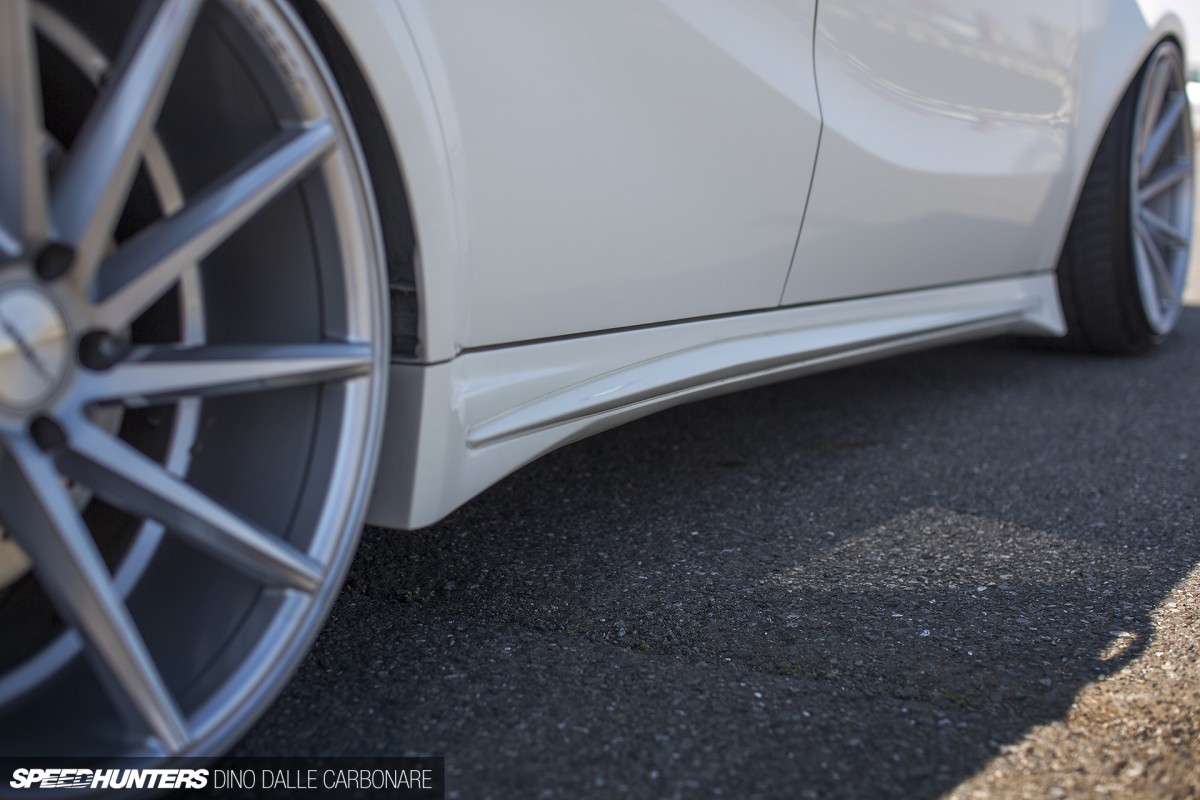 That included re-styling the side skirts, getting rid of the aluminium-look (colored black on the CLA45) center trim, and extending both ends to follow the arches further downward.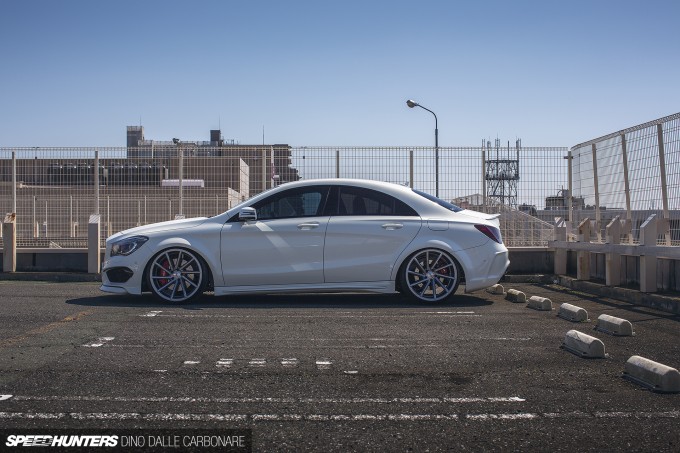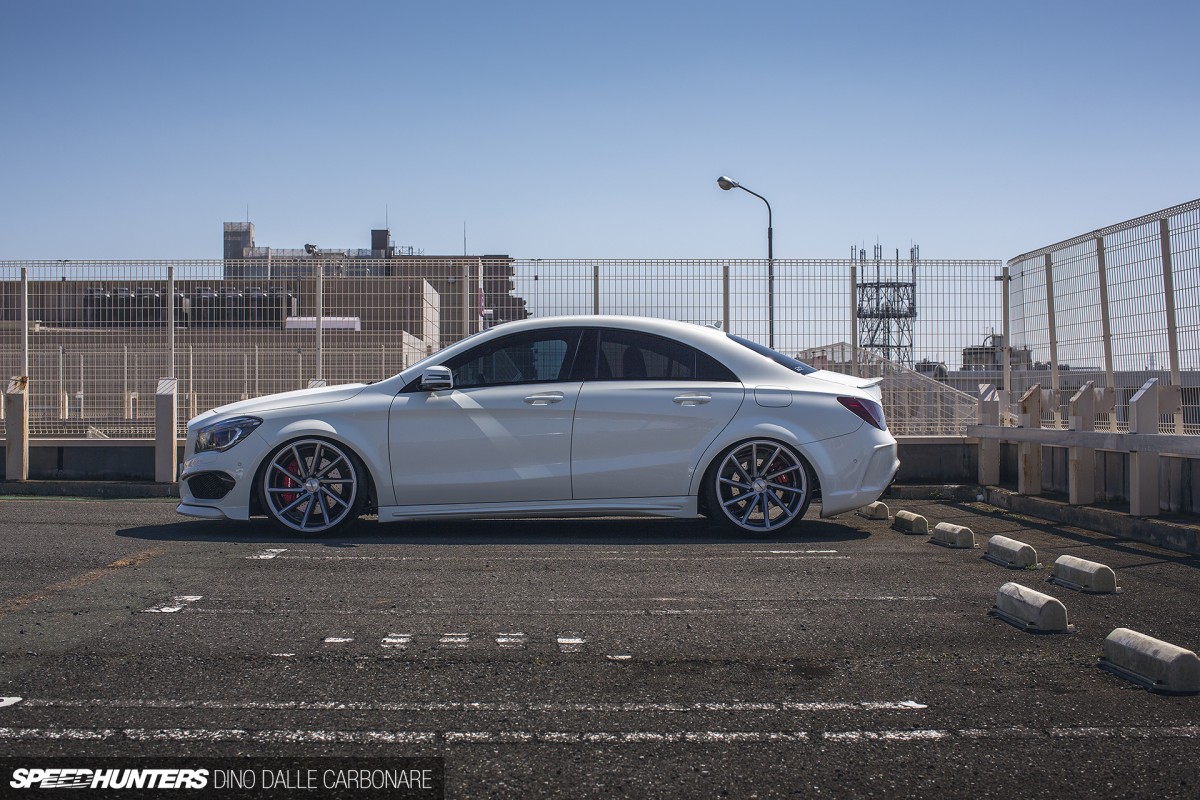 Collectively, the enhancements improve the profile by making the cars seem lower than they really are. Call it an illusion, but if it works, why not use it, right? The 20in Vossen wheels seem more at home here too, it's refreshing to see that diameter on a smaller car not seem ungainly.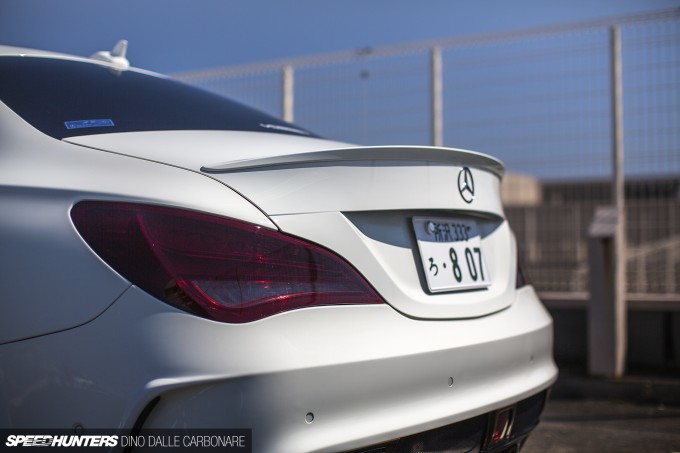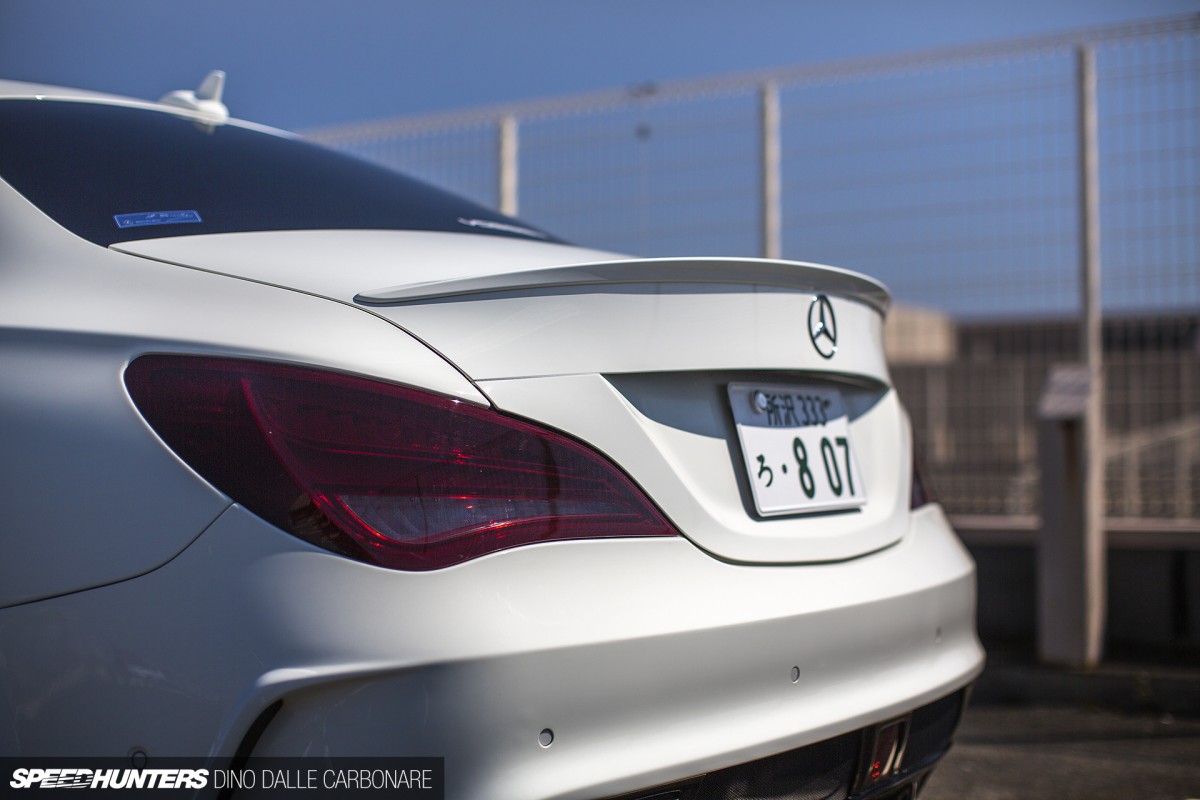 Along with an AMG-option trunk spoiler, the CLA has had both its headlight and tail light lenses smoked. It's yet another small but important detail that adds to the overall effect.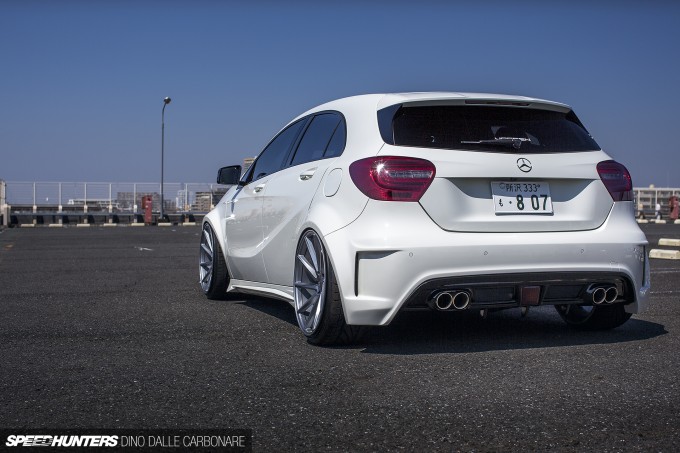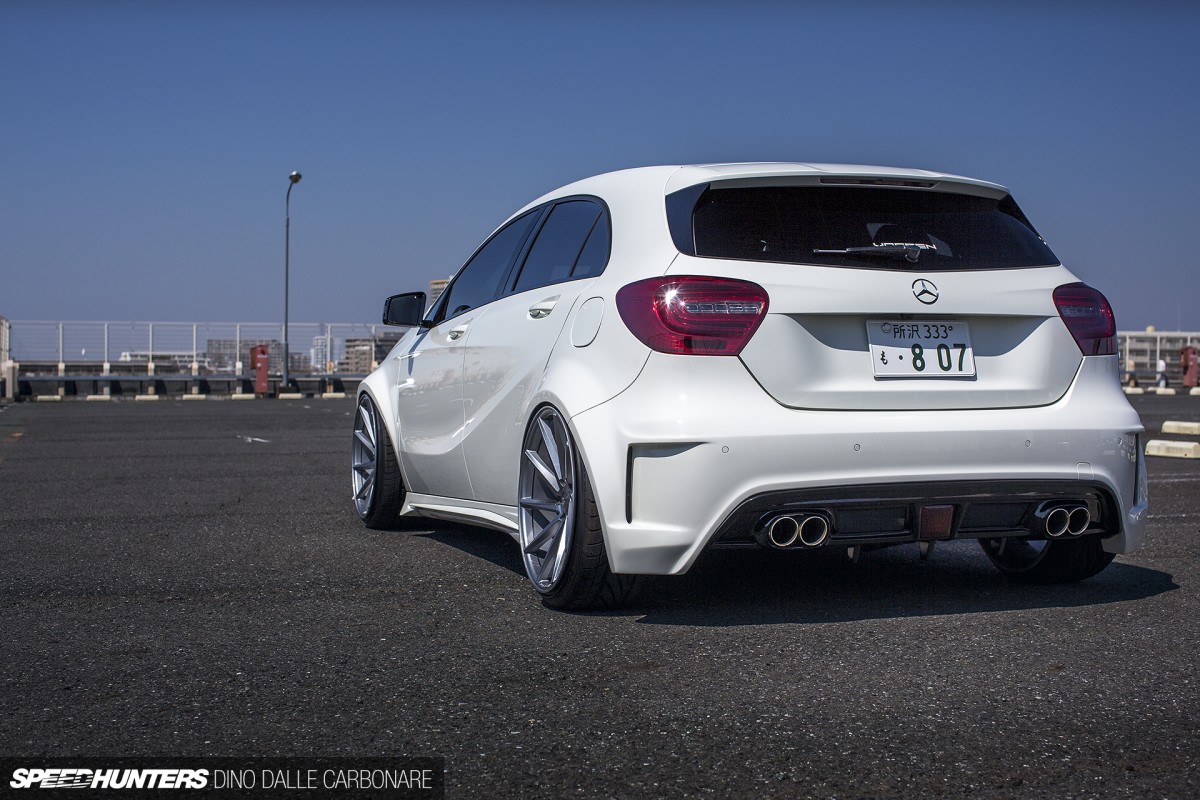 Both cars definitely look the most aggressive when viewed from the rear three-quarter angle. Seeing all the details come together – including those pumped fenders which are barely able to contain the VVSCVTs – makes all the hard work Hamana puts into these cars worthwhile.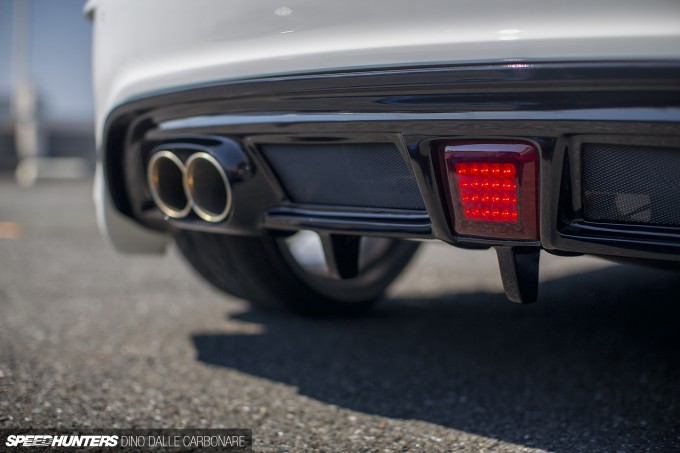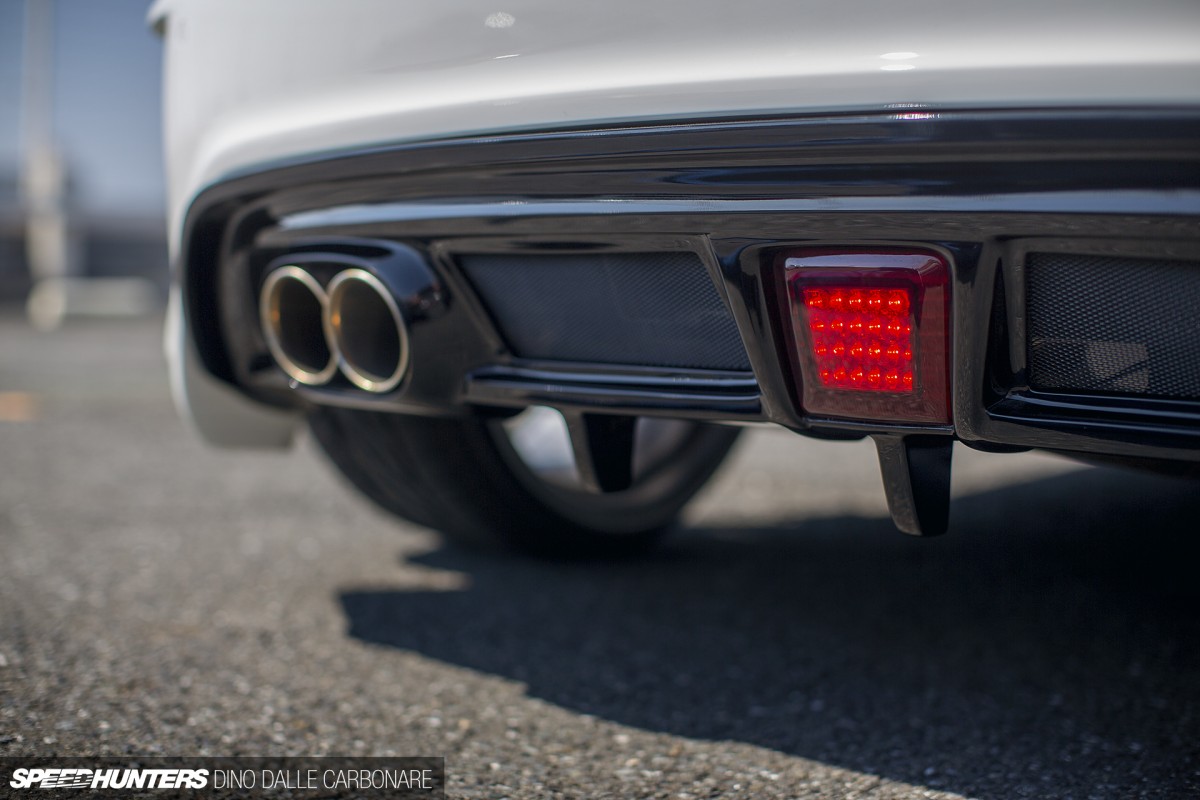 There's more still though… The diffuser-like section on each car's rear bumper was completely re-imagined and an F1-style flashing LED fog light added in the centre. The A-Class was also treated to twin oval exhaust outlets where a Hamana custom stainless steel system pops its four round tail pipes out. The exhaust's design helps the compact 1.6L four banger spool its little turbo up faster, giving a slight bump in both power and torque.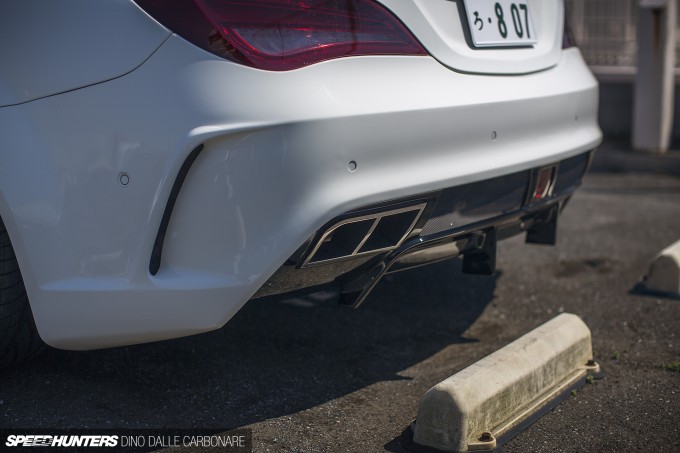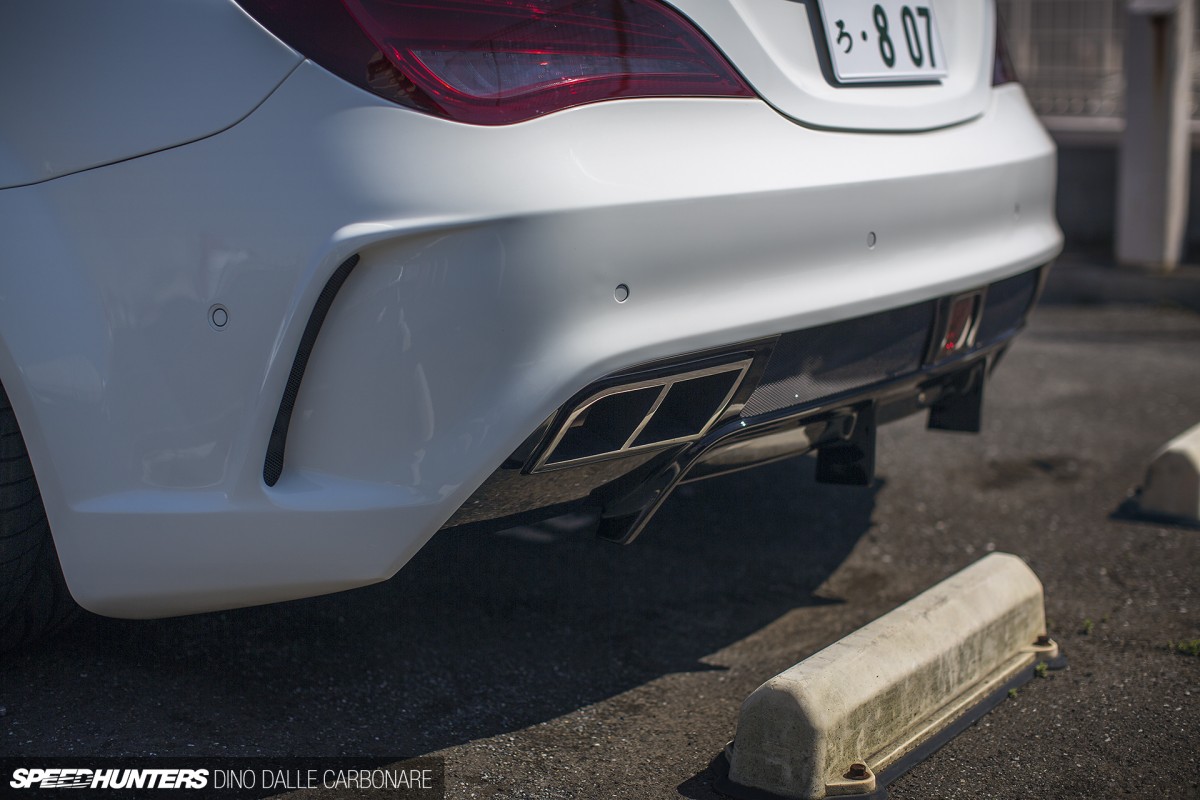 Hamana retained the square quad exhaust trims from the CLA45 on the CLA – albeit in chromed form rather than blacked-out as they are on the stock AMG model.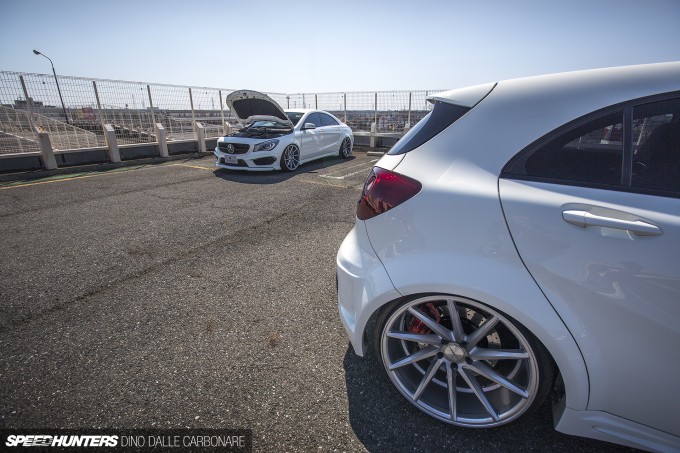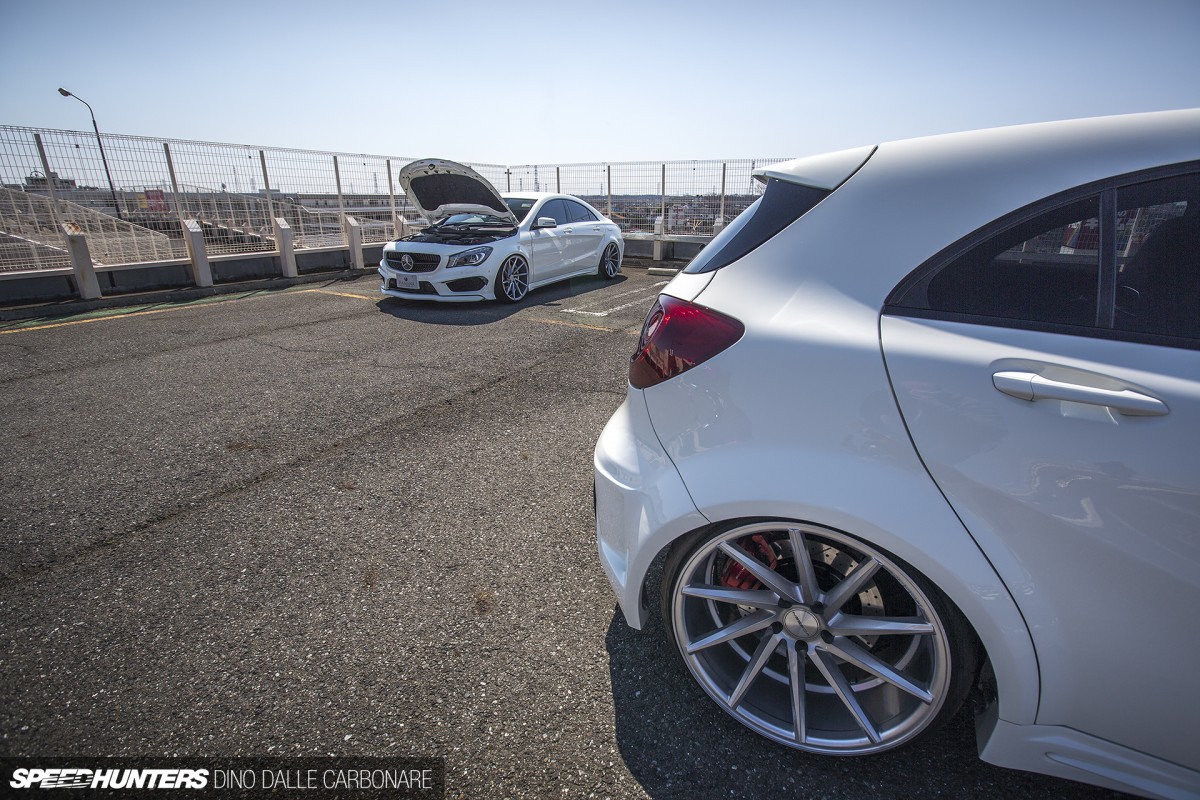 As Hamana's idea was to create a couple of cool daily drivers, added performance was never really a part of the equation. But I thought a little peek under the bonnet wouldn't hurt…
Turbo daily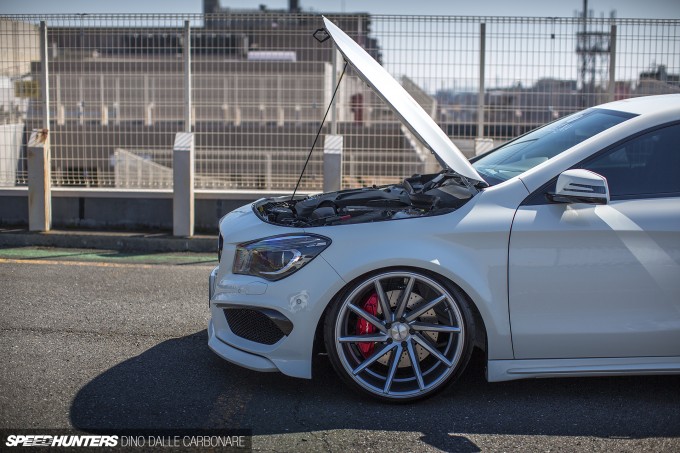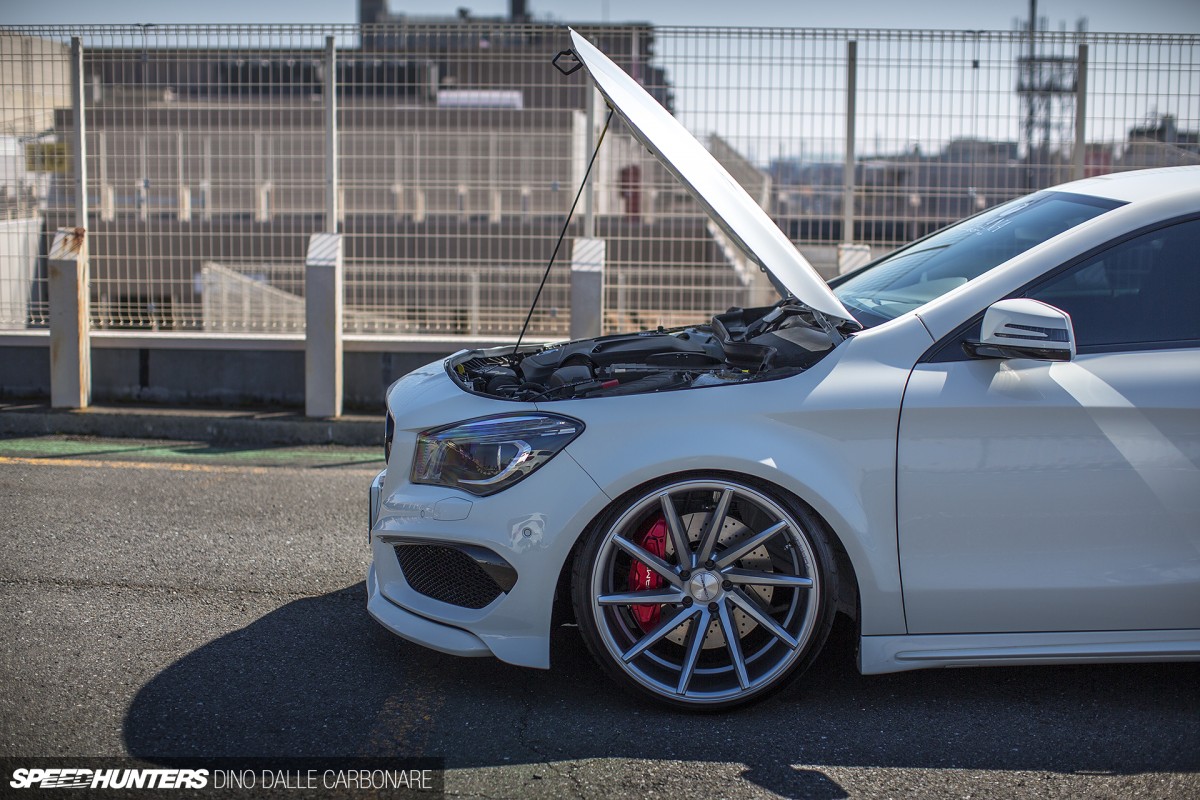 I never actually noticed how the nose of these cars almost forms a 90-degree angle with the bonnet line. So many modern day cars seem to be getting this sort of treatment, perhaps due to the pedestrian safety regulations.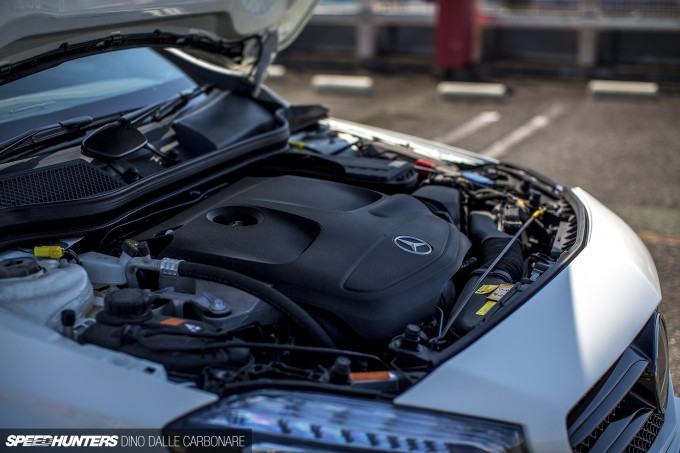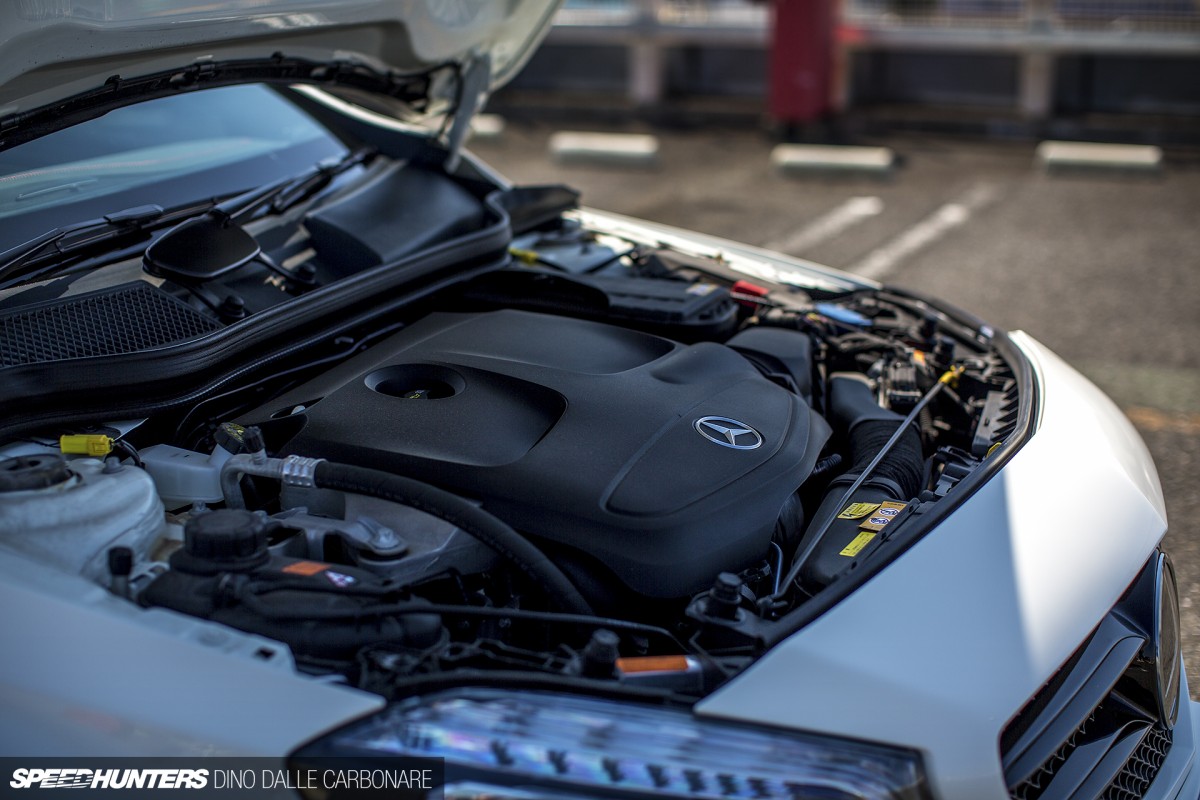 Just as I thought, there's nothing too exciting under the hood. Being entry level cars, there's only 122hp to play with, so it's safe to say that this pair are more about returning low fuel consumption figures than super-quick 0-100km/h times…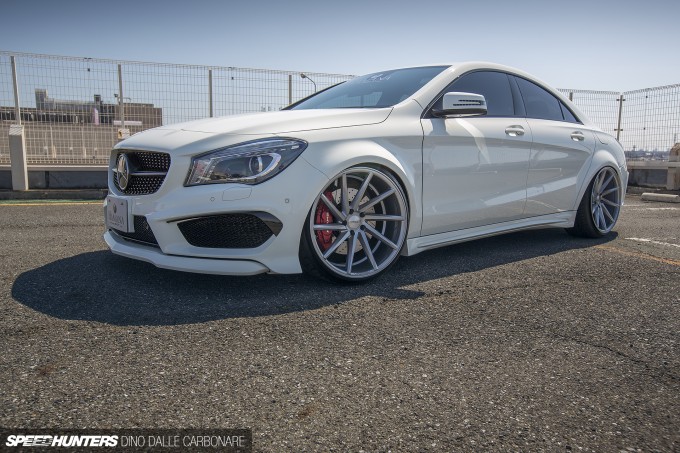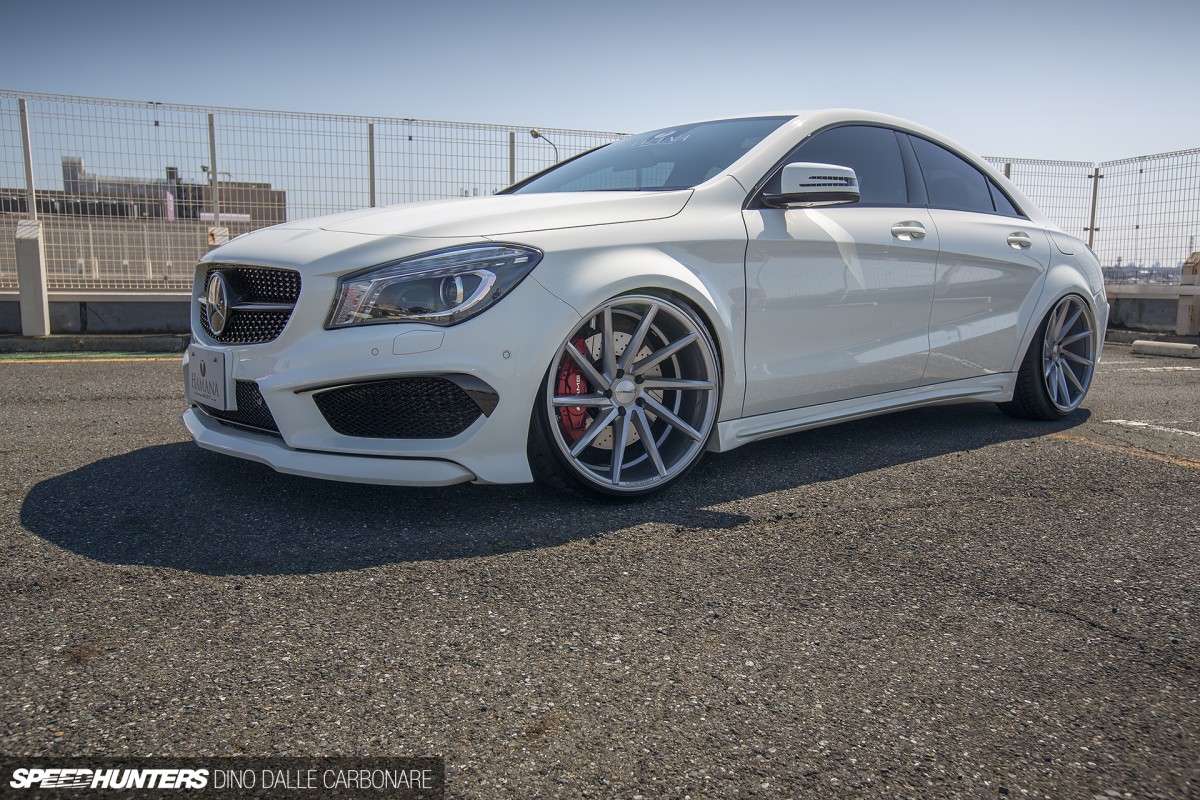 I'm not sure about you, but I've always thought that the CLA looks like a CLS that's been squashed horizontally. Bearing a resemblance to the sleek CLS is not a bad thing of course, but in factory guise it does so in an almost caricature-like way.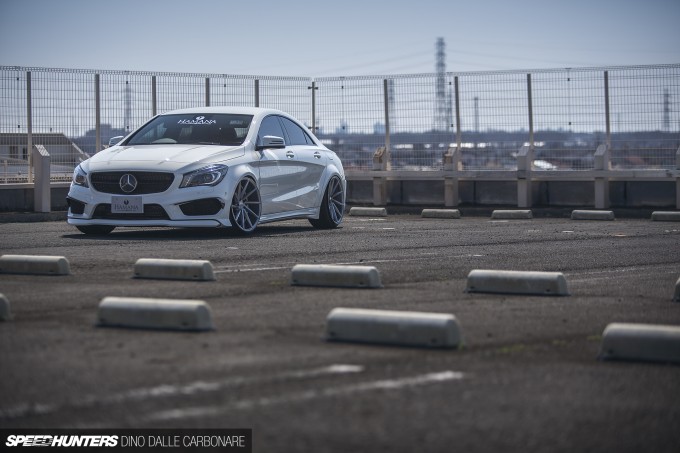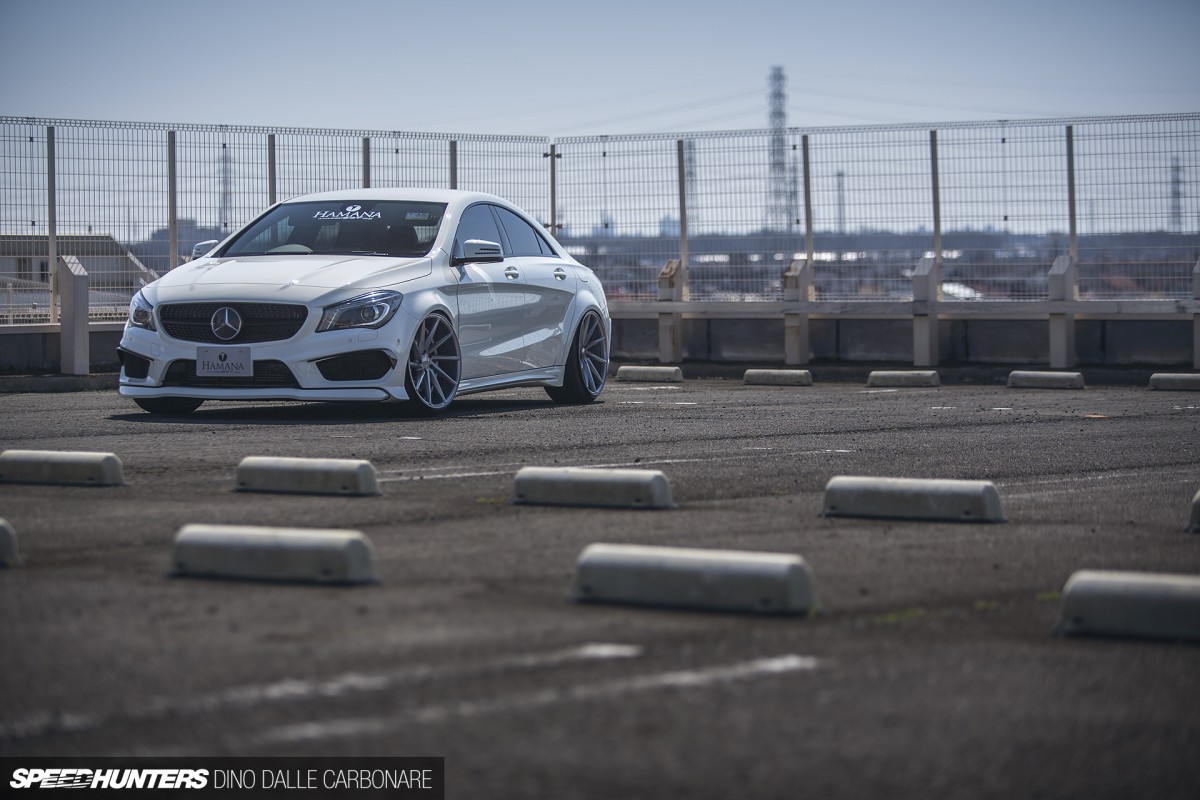 Not so the Hamana demo car though. Those widened fenders and that perfect fitment give it a much broader presence. In some ways, I think it makes it look a little more grown up.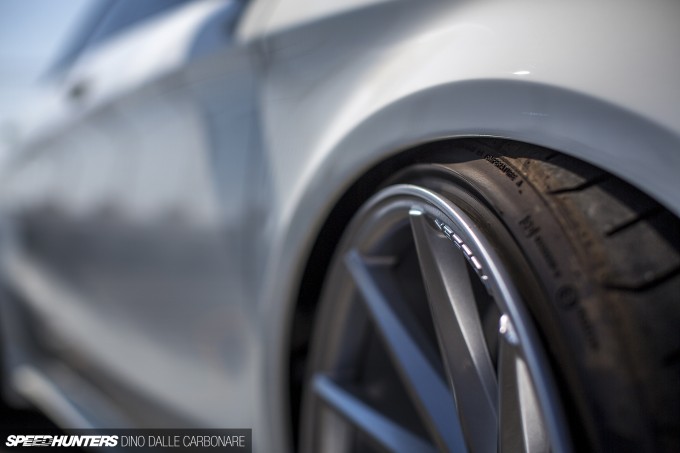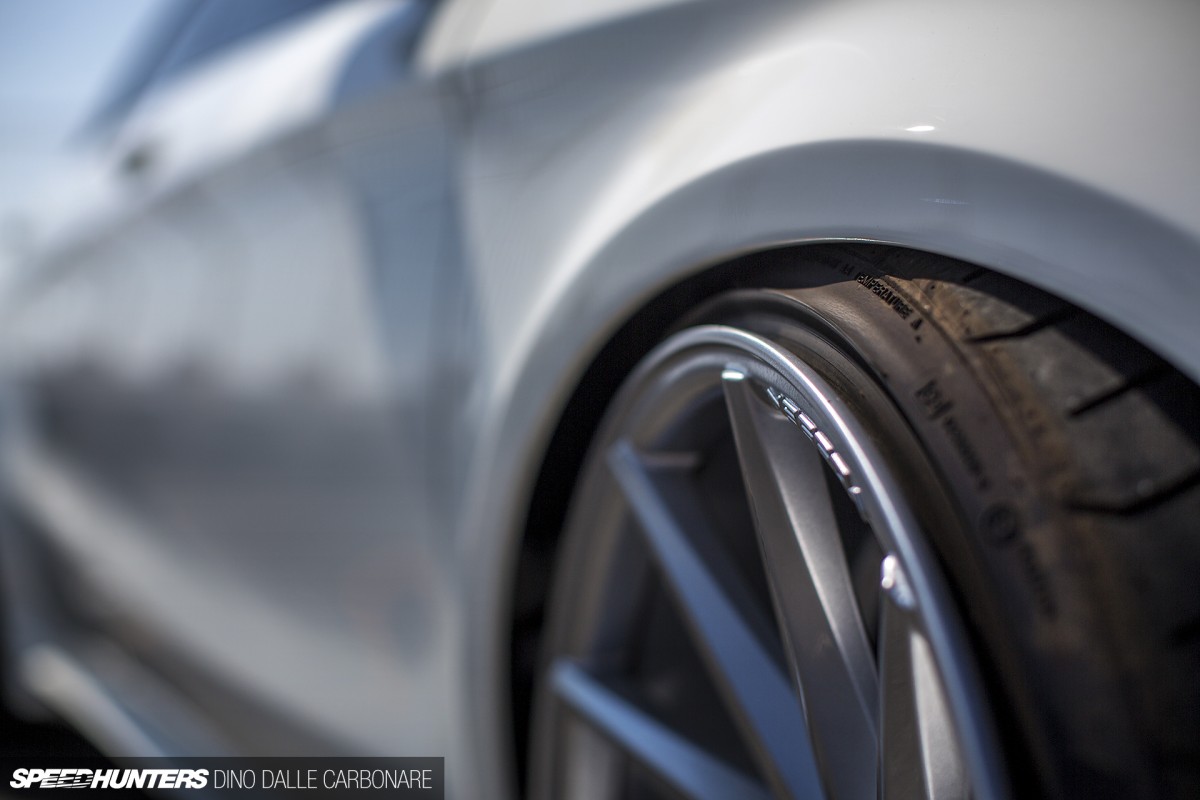 Any issues with rubbing were taken care of during the first stages of the build when the fenders were being shaped. I had to see it for myself to believe it, but there's no tire-to-fender touching whatsoever – even on the back section of the inner wheel arch. Of course, to achieve this most of the original plastic trim had to be either cut or removed completely. But you'd never know looking at it.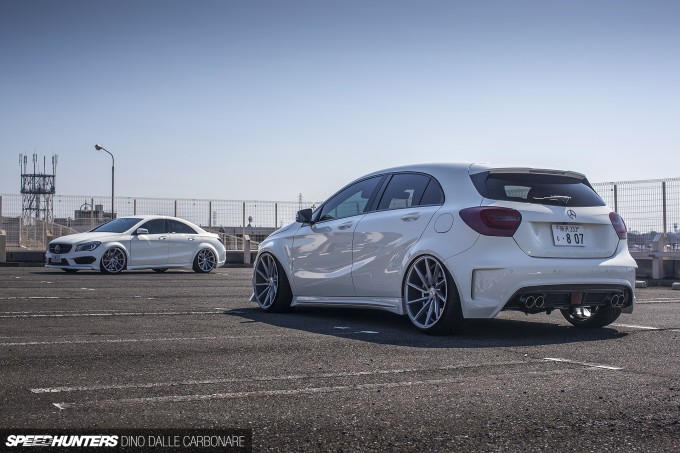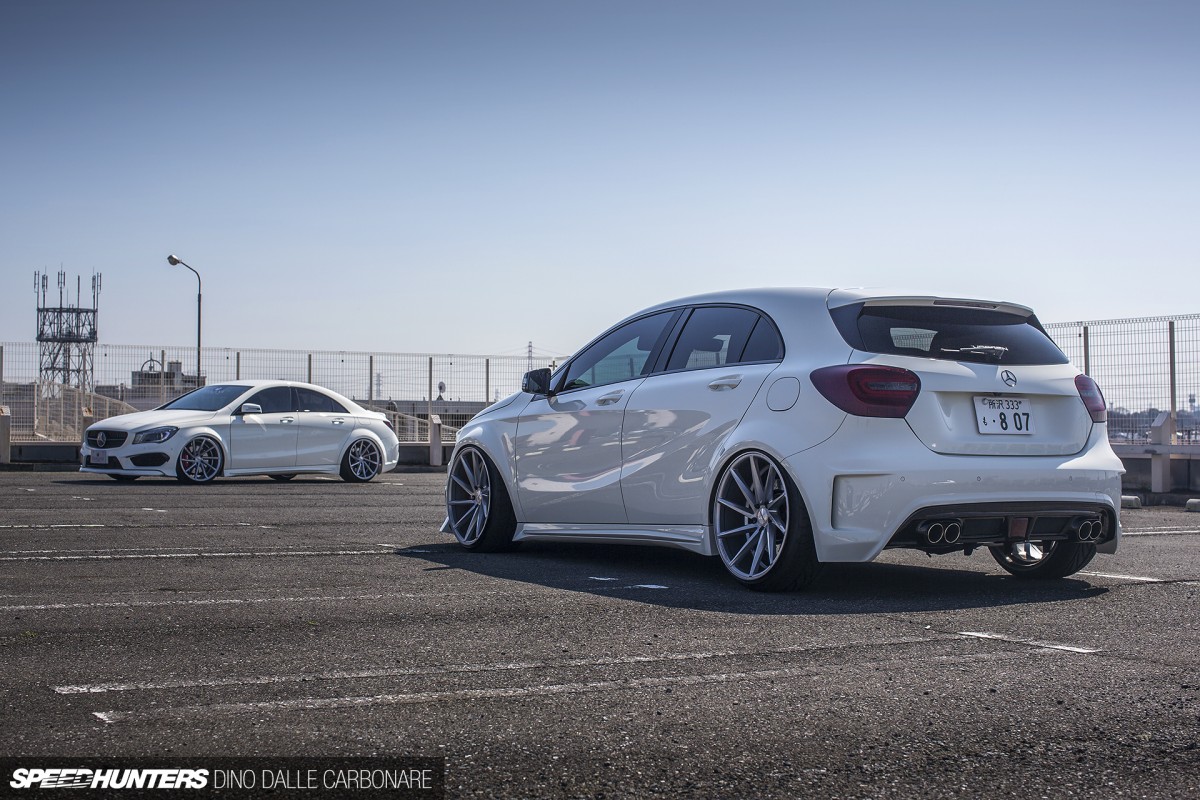 As the two cars sat parked on the rooftop of a supermarket in Tokorozawa, I couldn't help but think that this is what the AMG A45 and CLA45 should have looked like from the factory.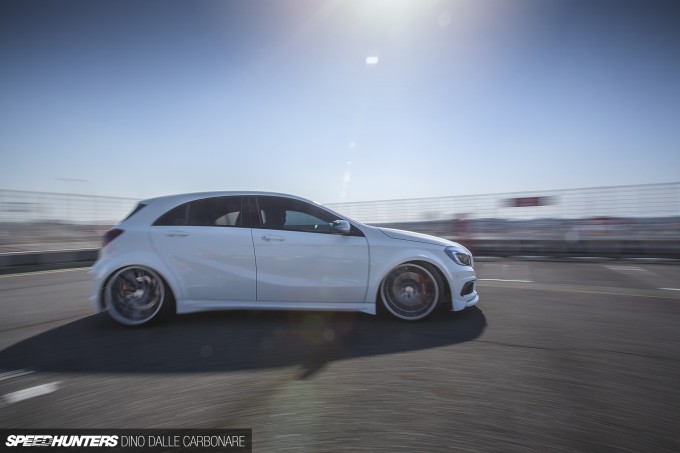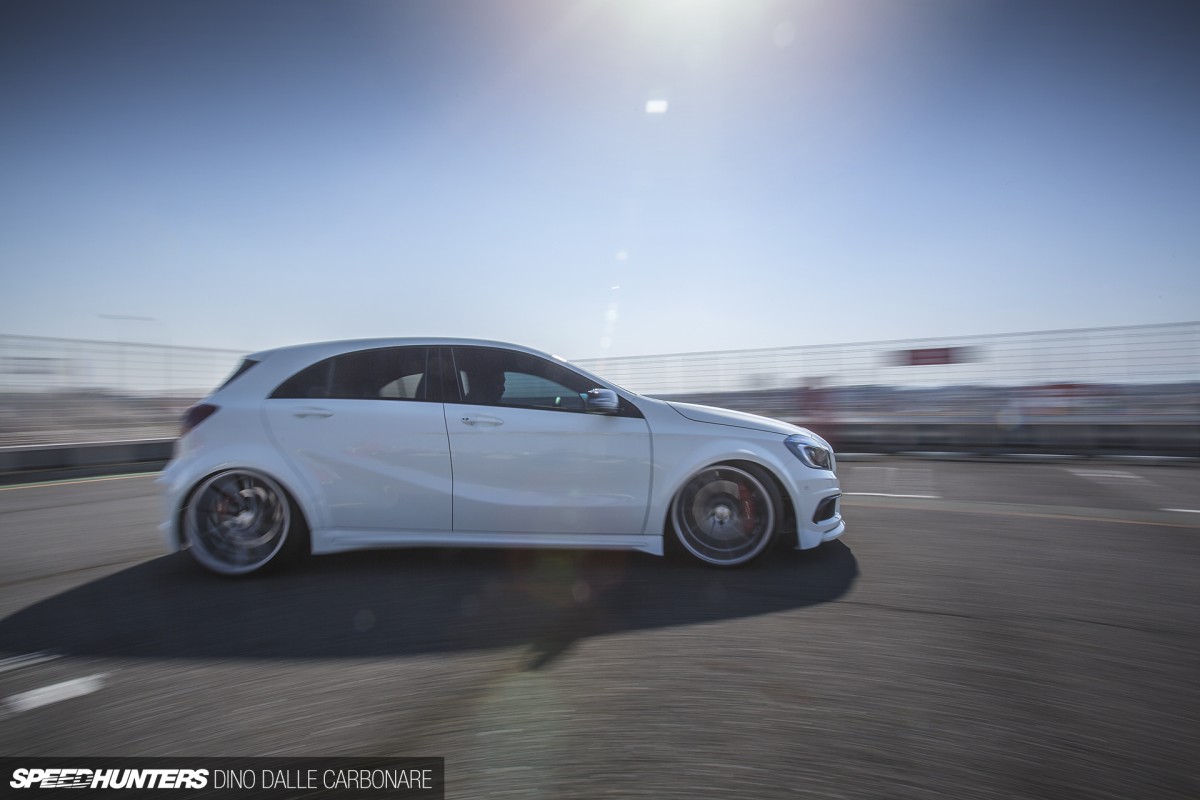 When you think modified cars appear factory-like, it's a sign that a lot of time, effort and talent has gone into making them look that way.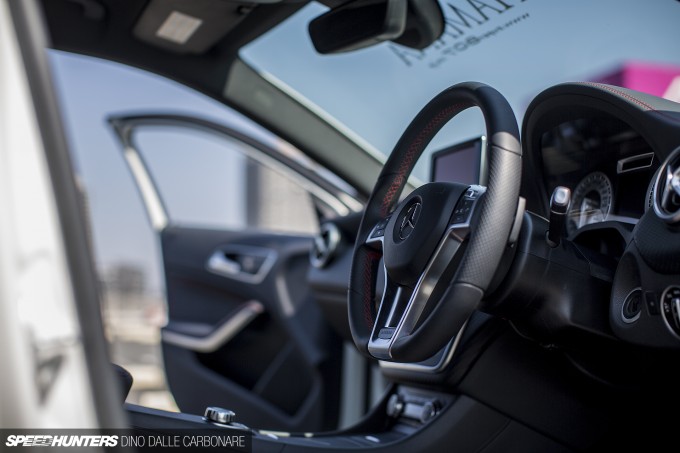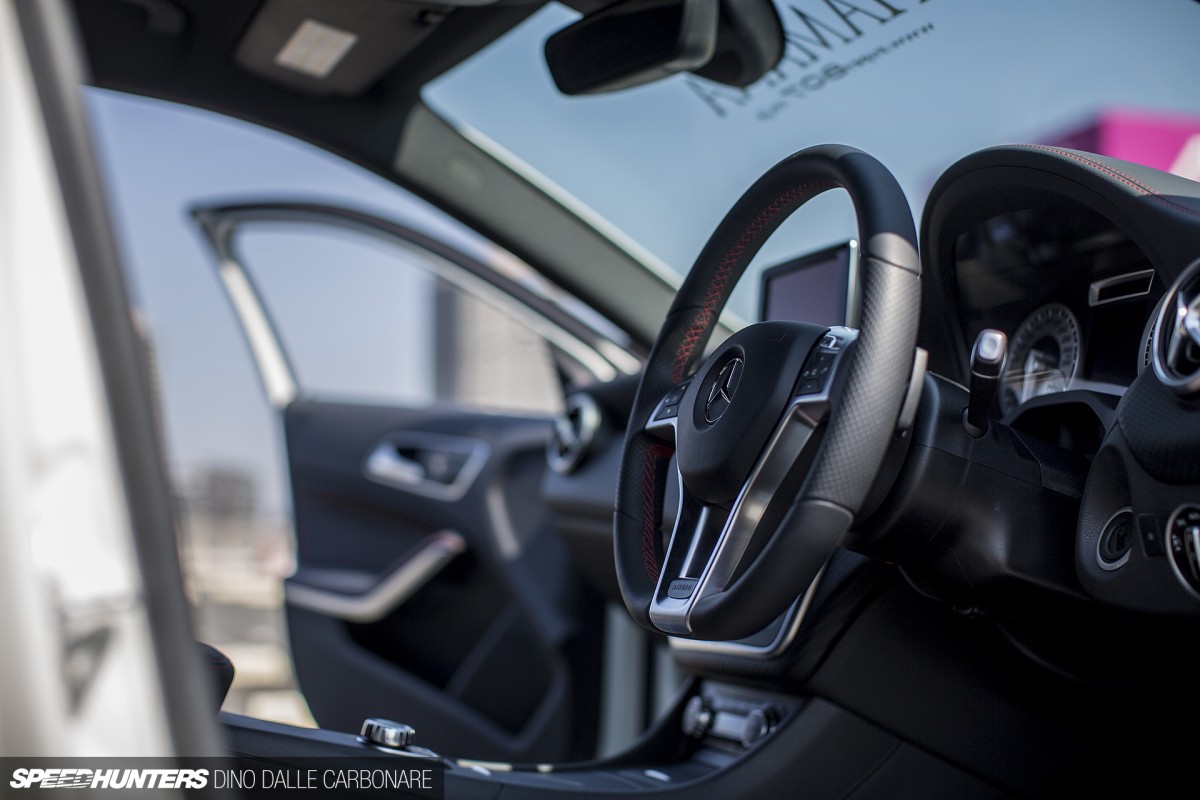 Seeing that Mercedes-Benz targeted these two cars at a younger audience, the interiors are quite sports-oriented, so Hamana saw no need to alter them in any way.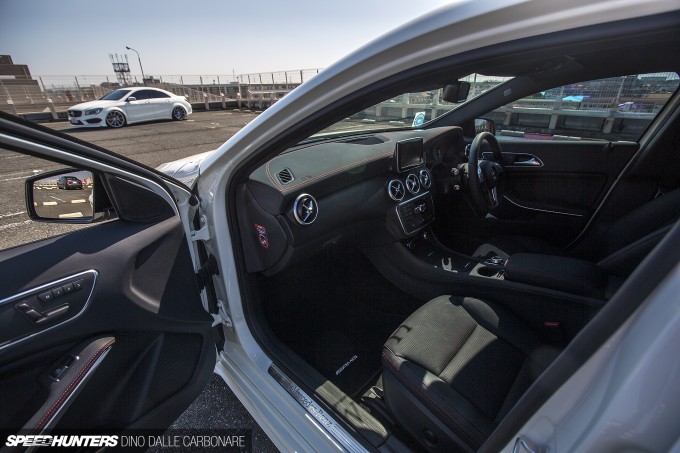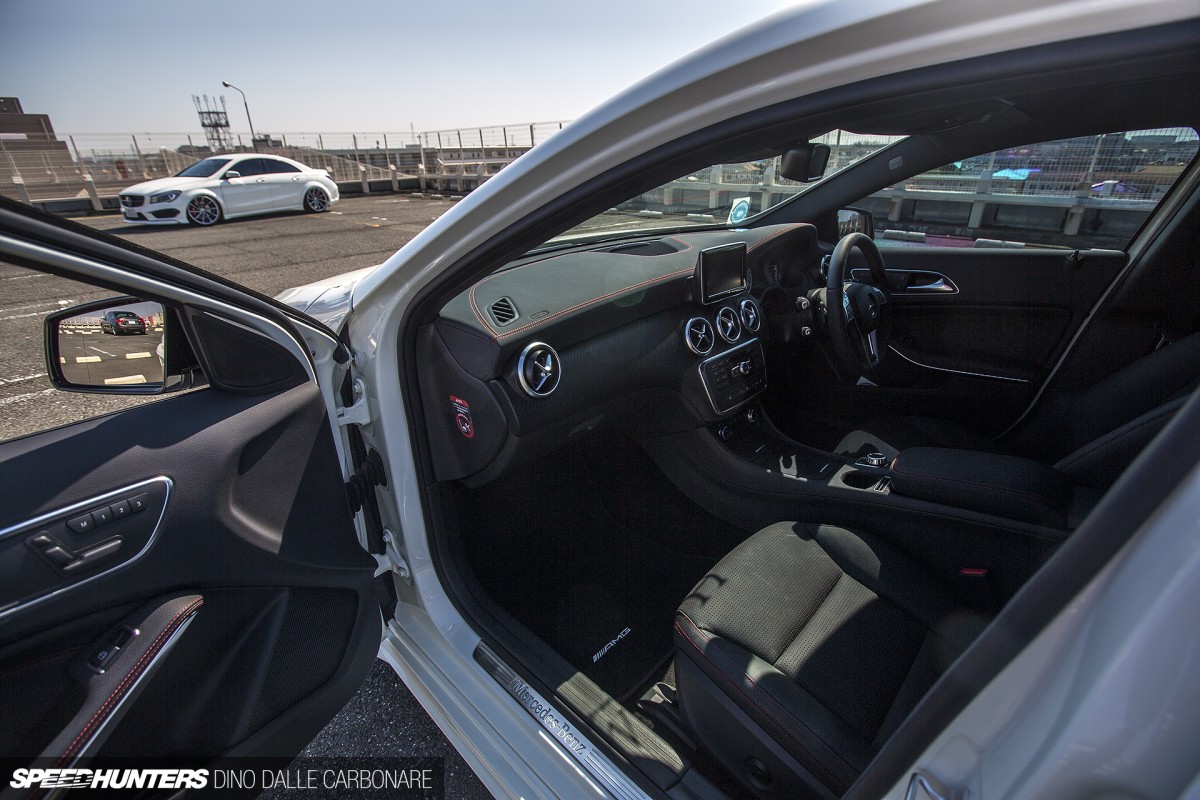 From the square-cut lower portion of the steering wheel, the simple dash layout with floating LCD navigation screen and the carbon-look trim – it's actually a pretty nice place to be.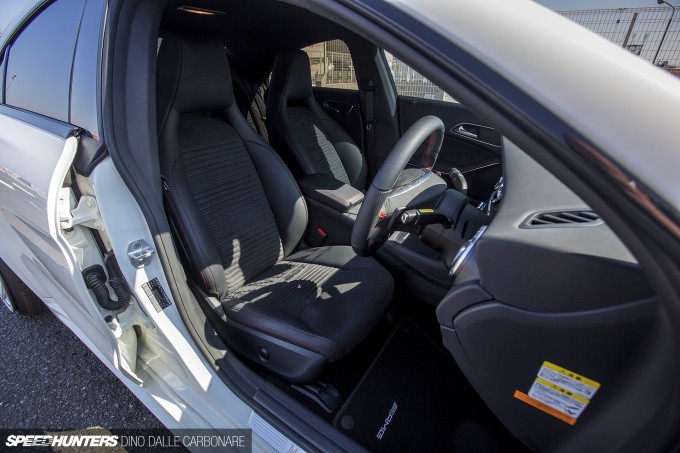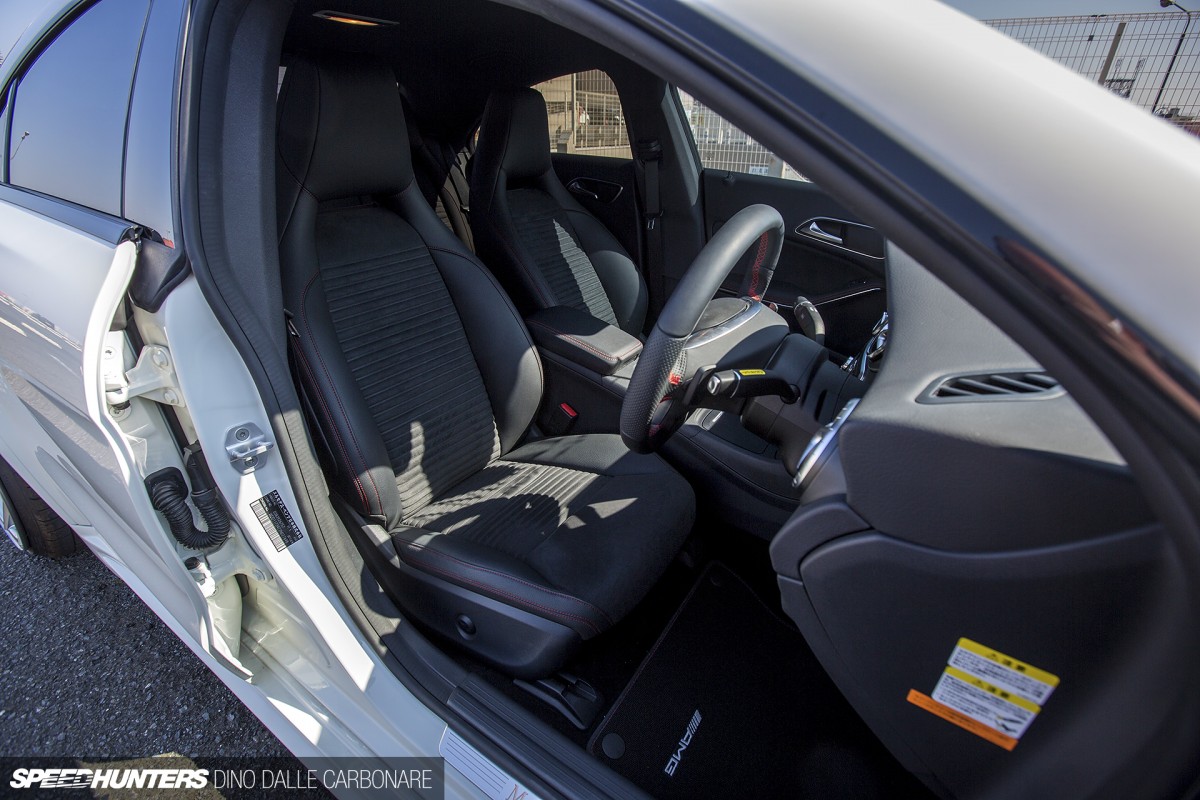 The only difference in the CLA – aside from the fact that it's a lot cooler since both the front and rear doors don't have window frames – are sportier-looking seats with the ribbed centers.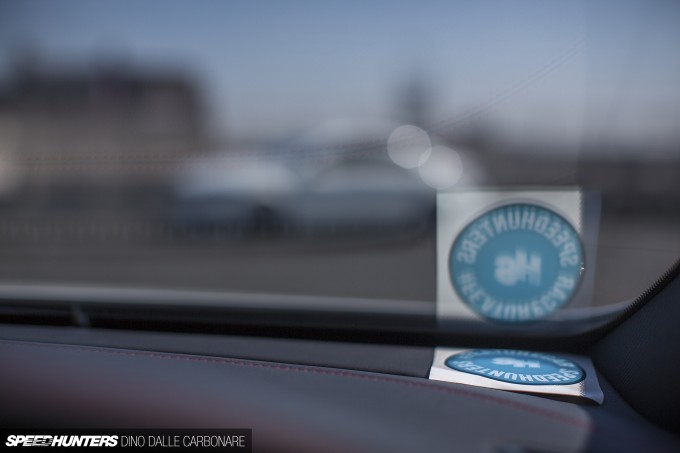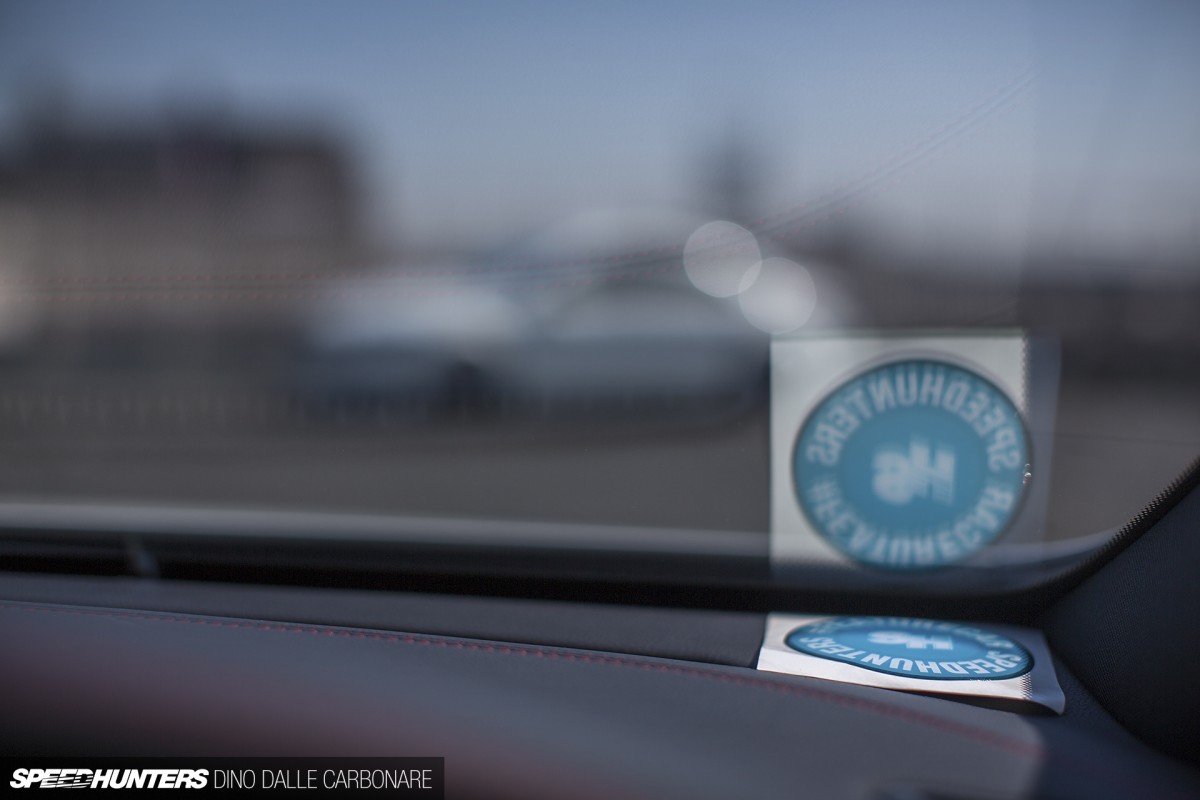 Both cars will soon sport the coveted Speedhunters #FeatureCar sticker and join an exclusive club in Japan.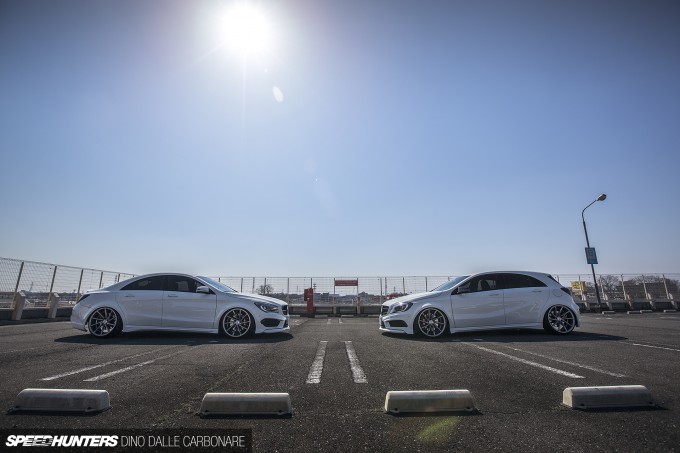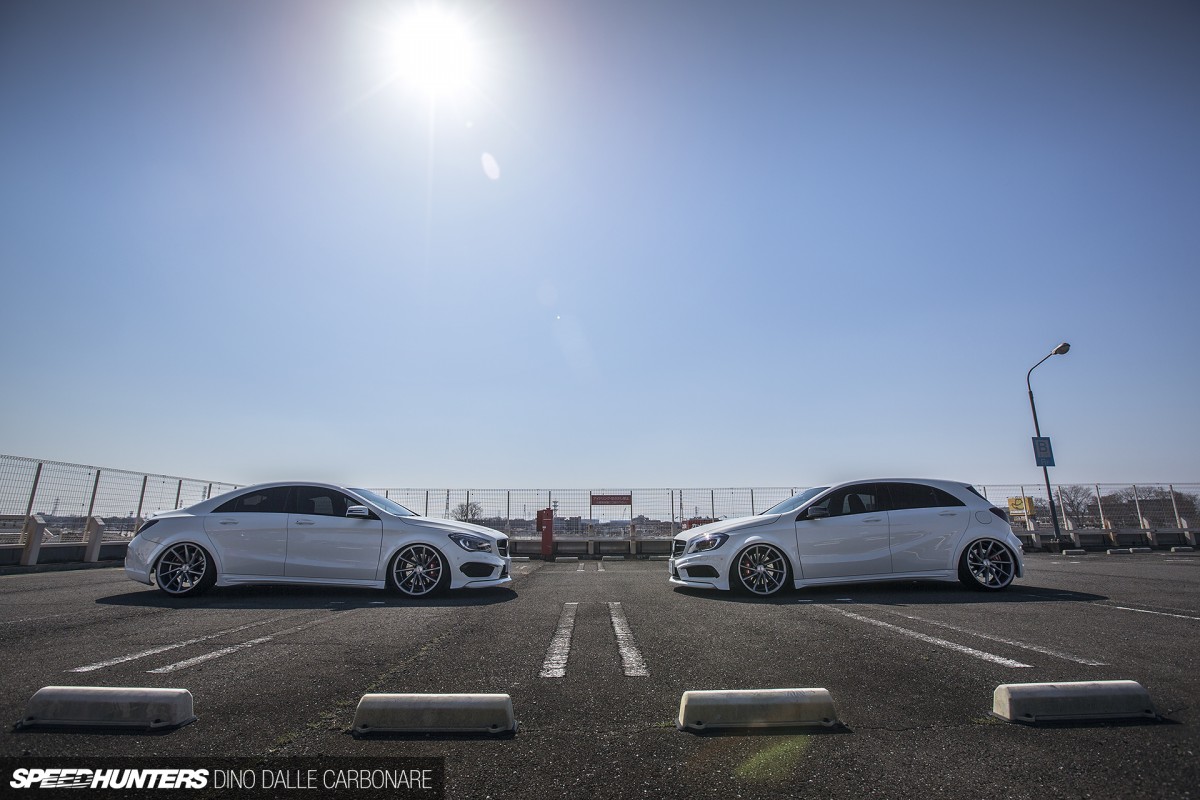 Much was learned during the afternoon I spent looking at these two cars in detail. Many questions were answered about the mysteries of obtaining that perfect stance. And by perfect, I mean functional too. The truth of the matter is, you just can't cut corners to get there. If you are the pickiest of the picky and settle for the best approach, then what Hamana has done with the help of Vossen is the standard that you should be aiming to achieve. This is stance done right.
Dino Dalle Carbonare
Instagram: speedhunters_dino
dino@speedhunters.com