Vossen Wheels
We've been doing it all wrong. Everything and anything I knew about car shows went out the window at the Vossen World Tour meet in Hamamatsu city in Japan. It's not so much a show as it is a ballet with cars that are slammed to the ground. Let me explain…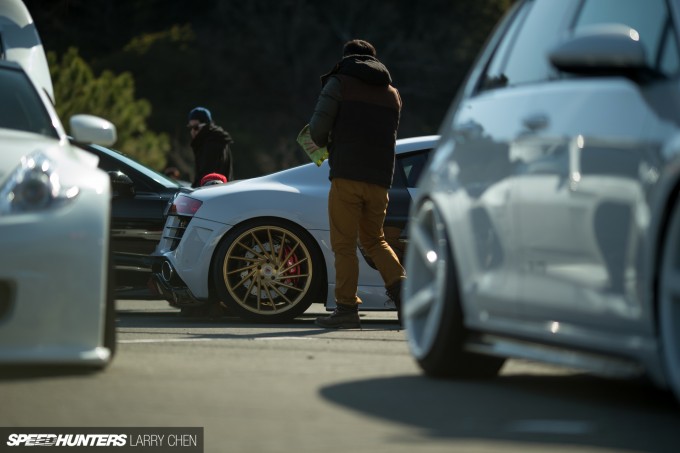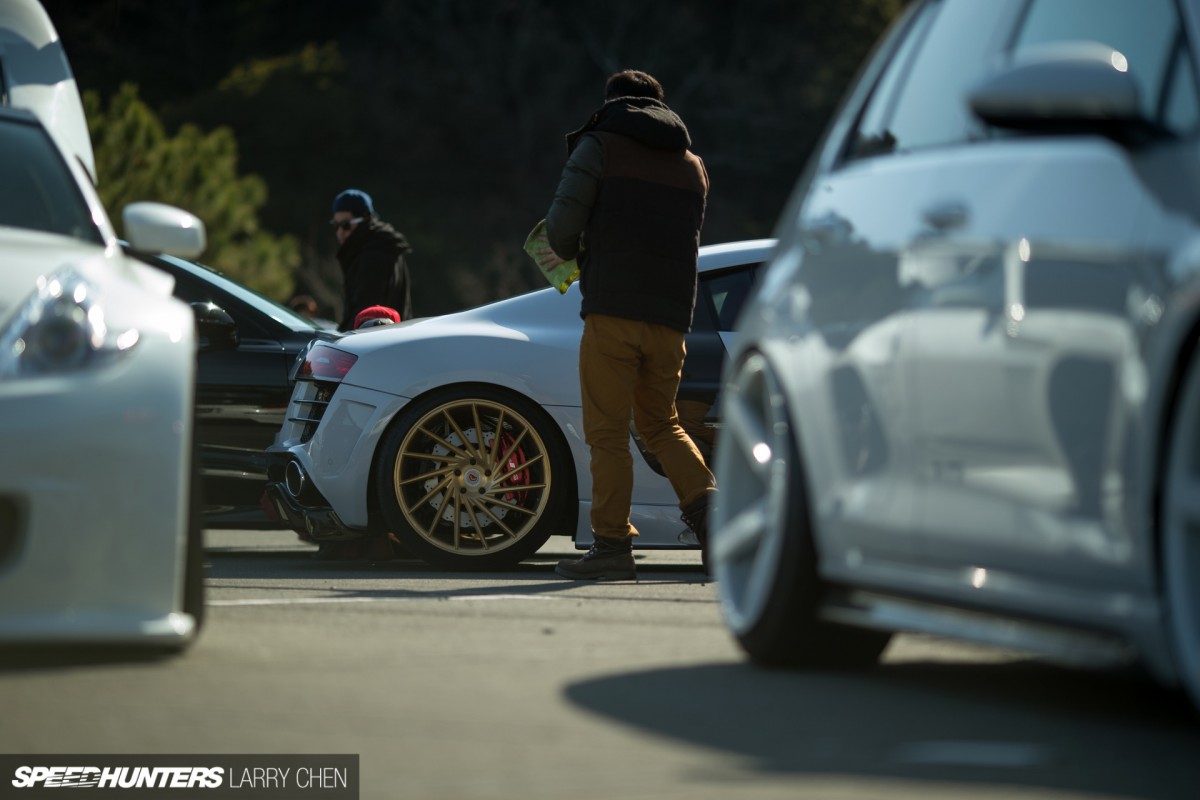 This was my sixth time to the land of the rising sun. Last time I came and met with Dino for the 12 hours of Motegi, but I had yet to check out any car shows besides Tokyo Auto Salon. That needed to be addressed.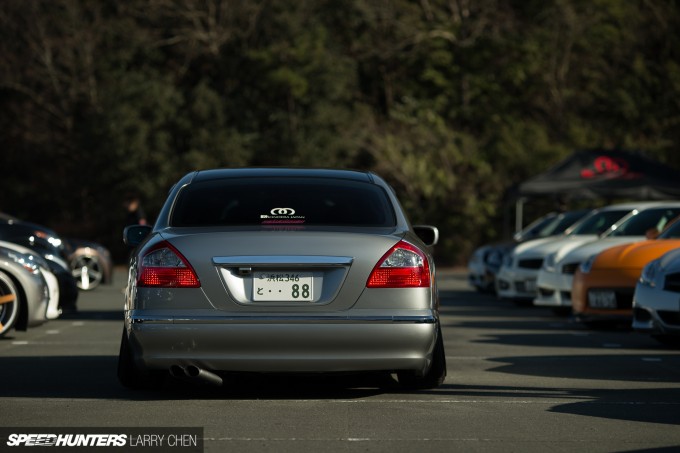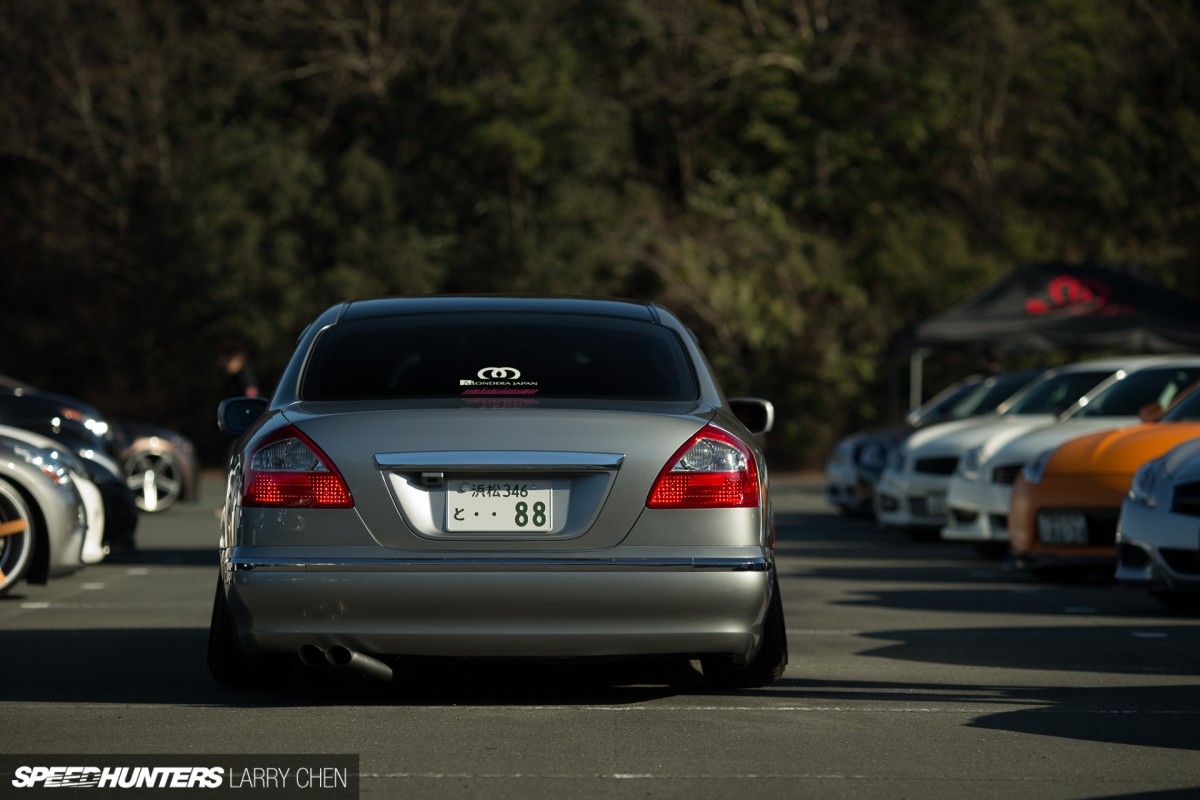 I wanted to see what it was like for the grassroots guys. I wanted to check out a parking lot show like the many that happen all across the world, every weekend in local supermarket car parks.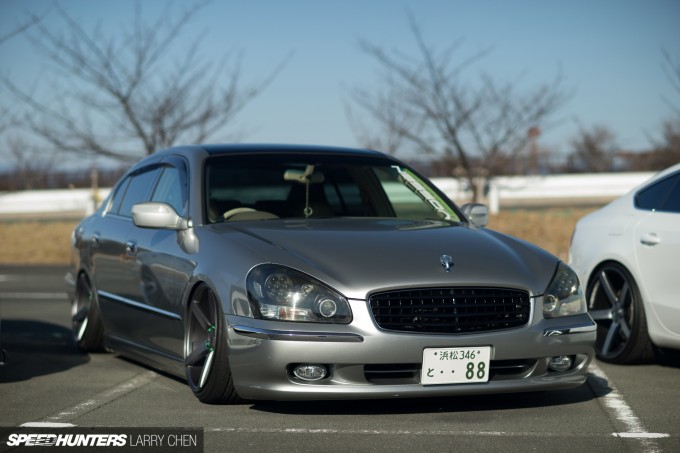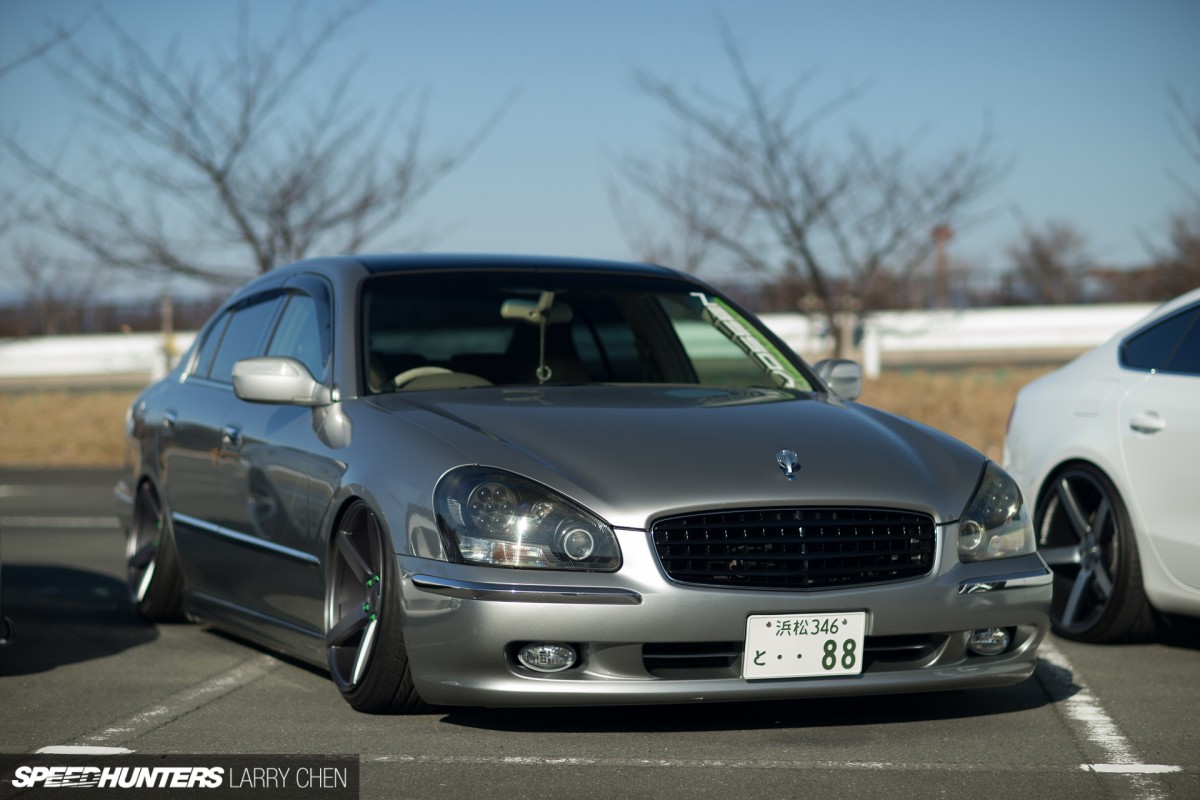 I already had a ticket booked and I was ready to go to Tokyo Auto Salon to kick off my Japanese Speedhunting tour, but of course my frail body had other plans, and I got the flu. Which meant I had to cancel my plans to rub elbows with some of the most well-known Japanese tuners and car culture enthusiasts in the world.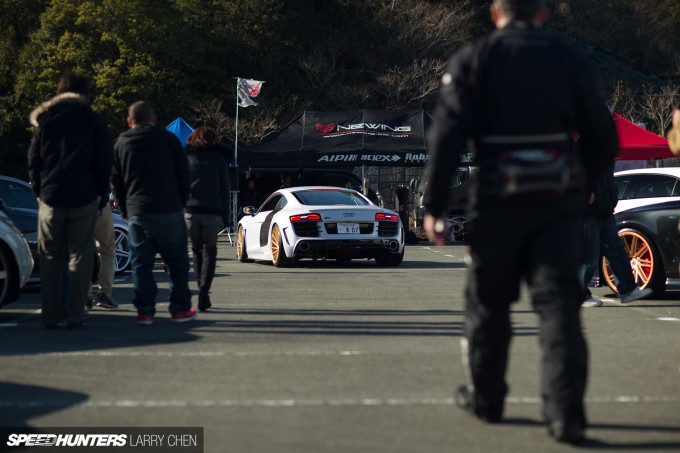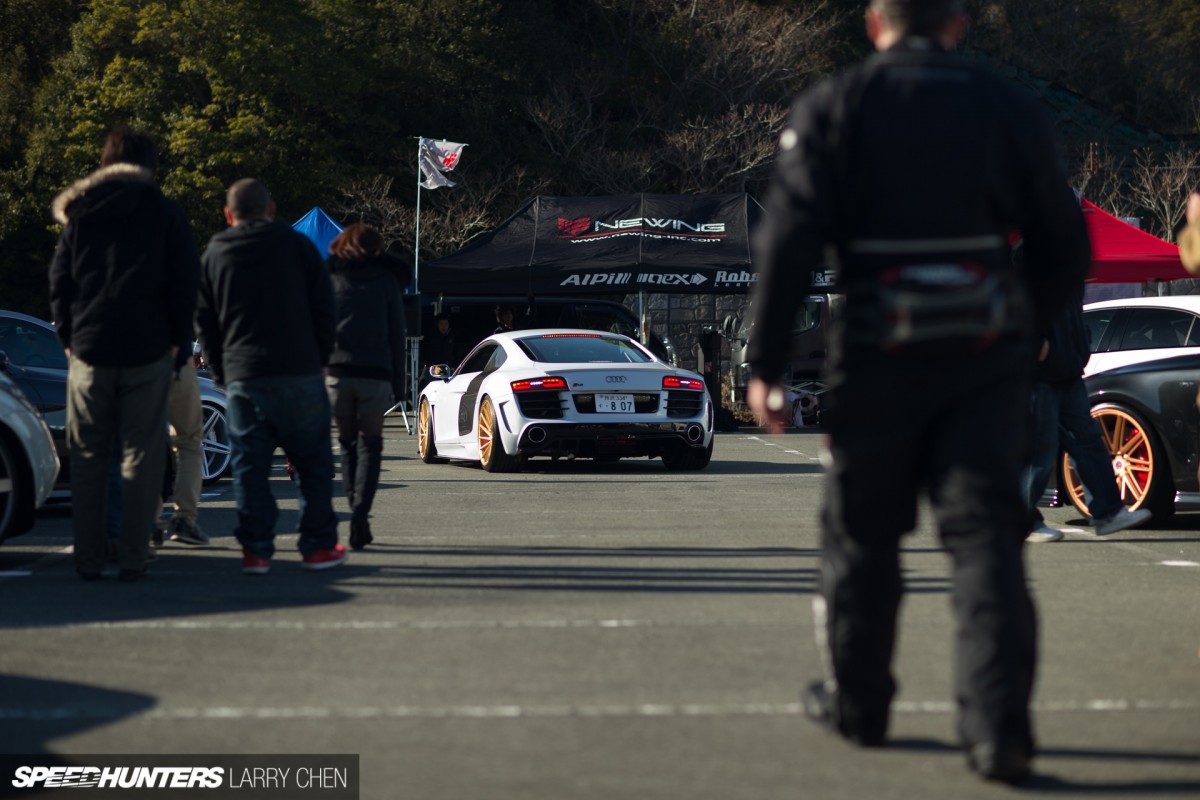 I left Dino out to dry, as he had to cover the entire show all by himself. Luckily for me, the airlines let me move my flights around so I could still make it to Japan for some post-TAS Speedhunting.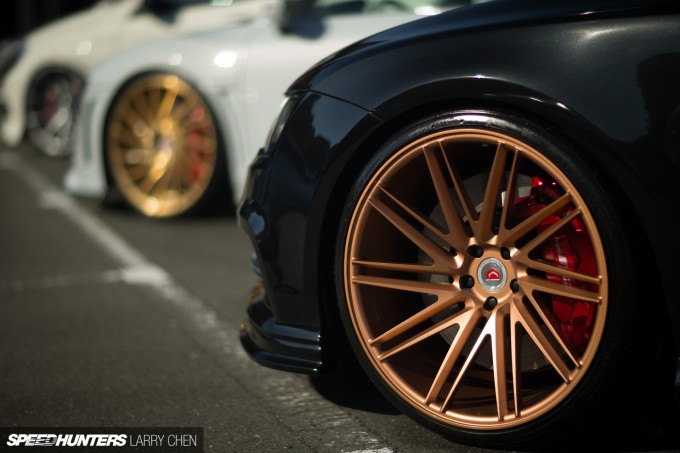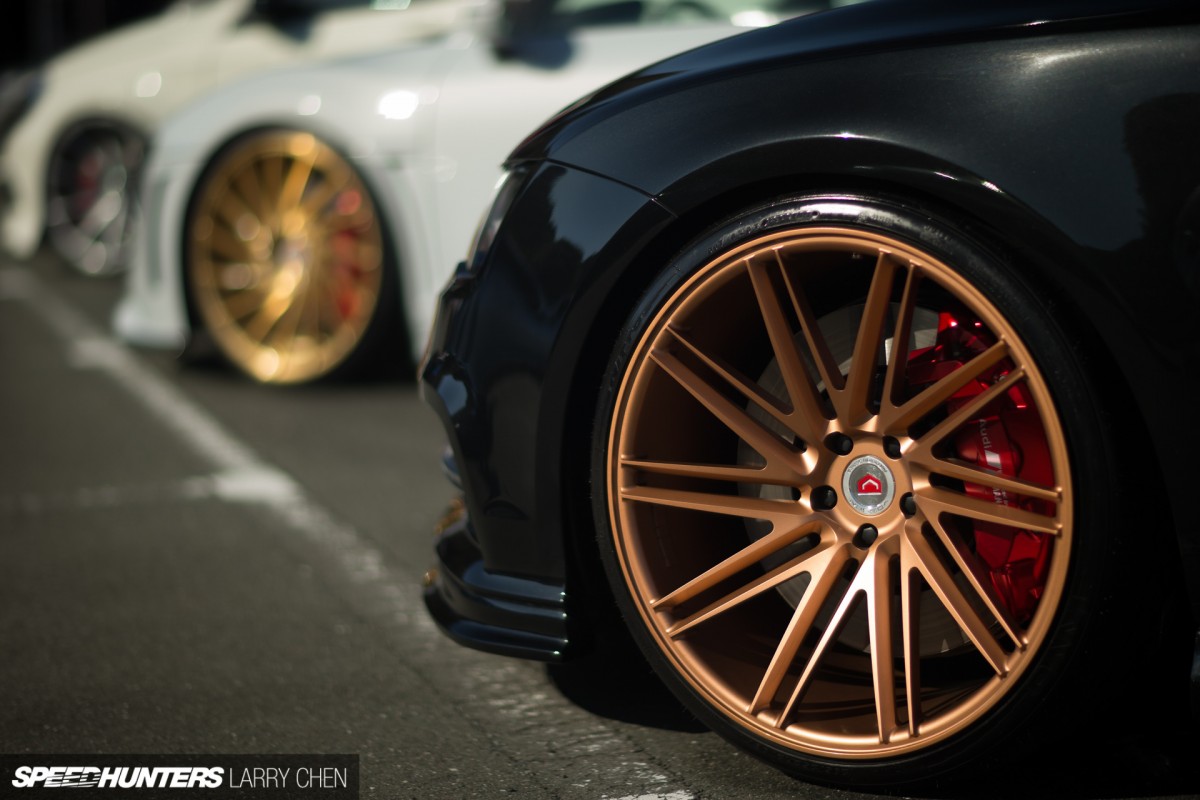 Vossen wheels is actually based out of Miami, Florida, and their wheels have been available in Japan for a while now.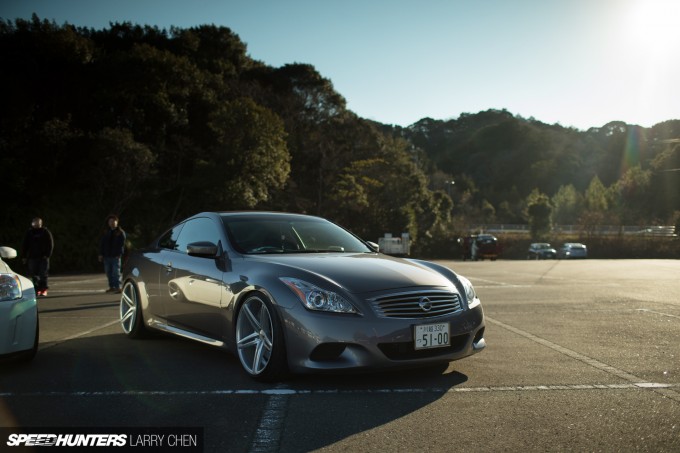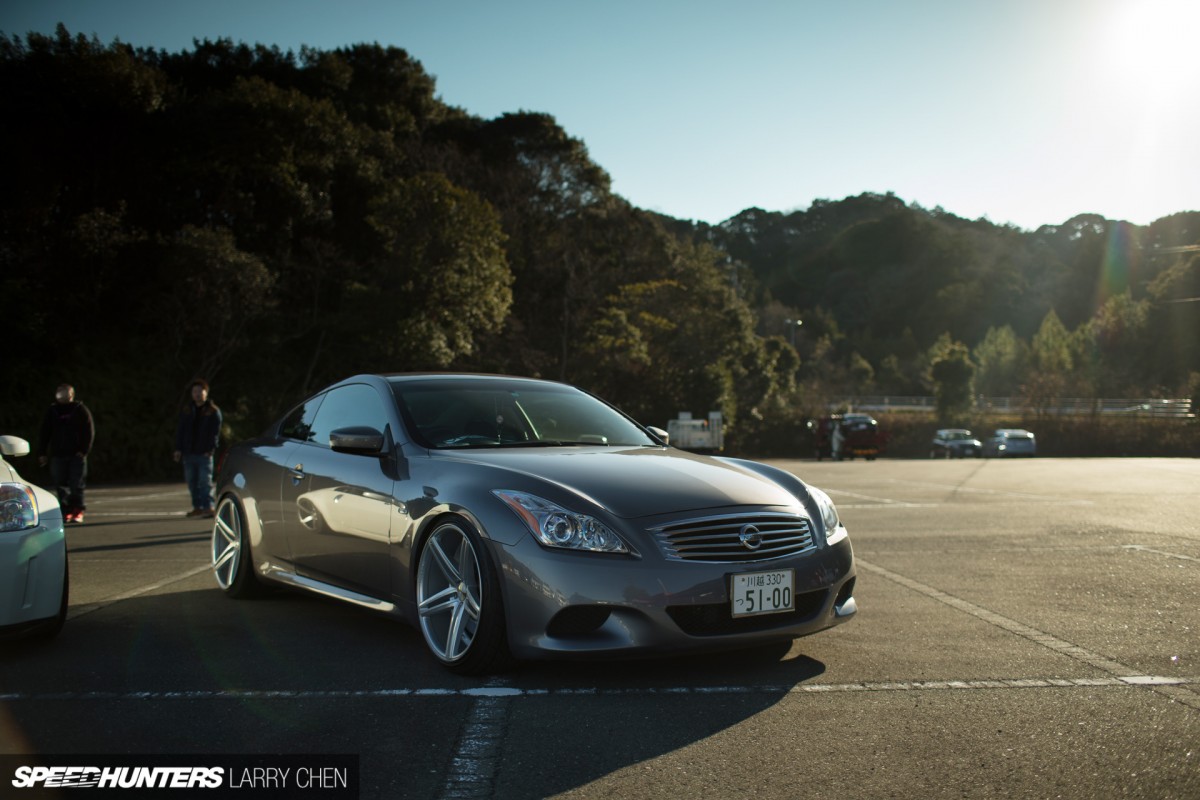 The Vossen team was out in Japan as they had a booth at the Auto Salon, so they figured why not organize a meet for customers and dealers? This was their very first event in Japan, and the turnout was impressive.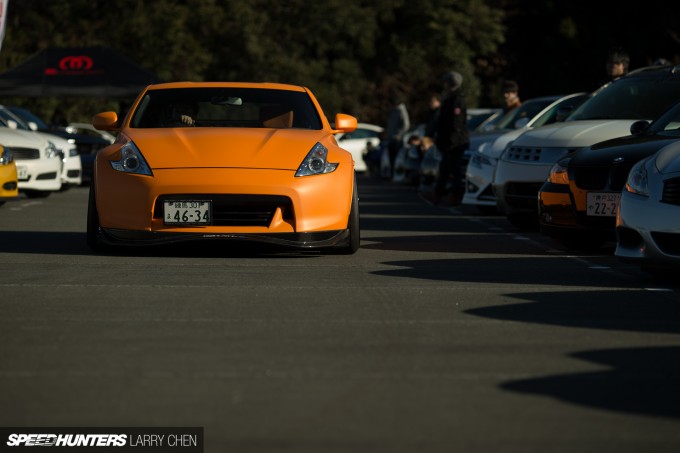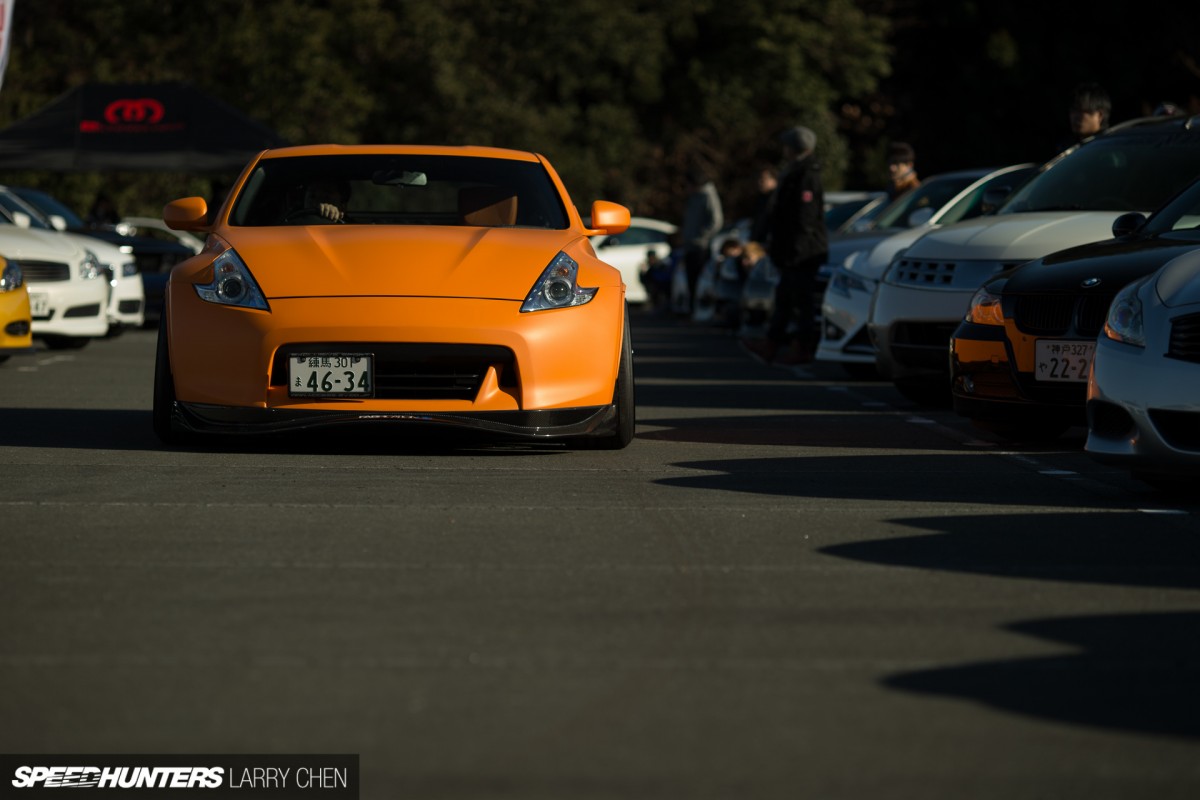 Guys came from all over Japan just to be a part of this meet. In fact we drove three hours from Tokyo, because this meet was held in a parking lot smack in the middle of Japan's two largest cities: Tokyo and Osaka.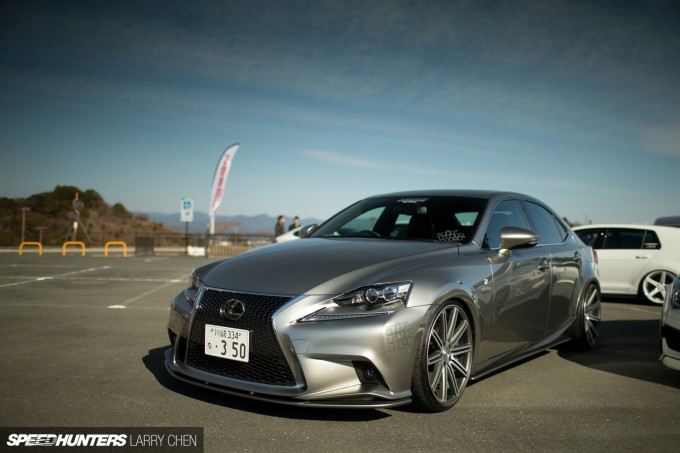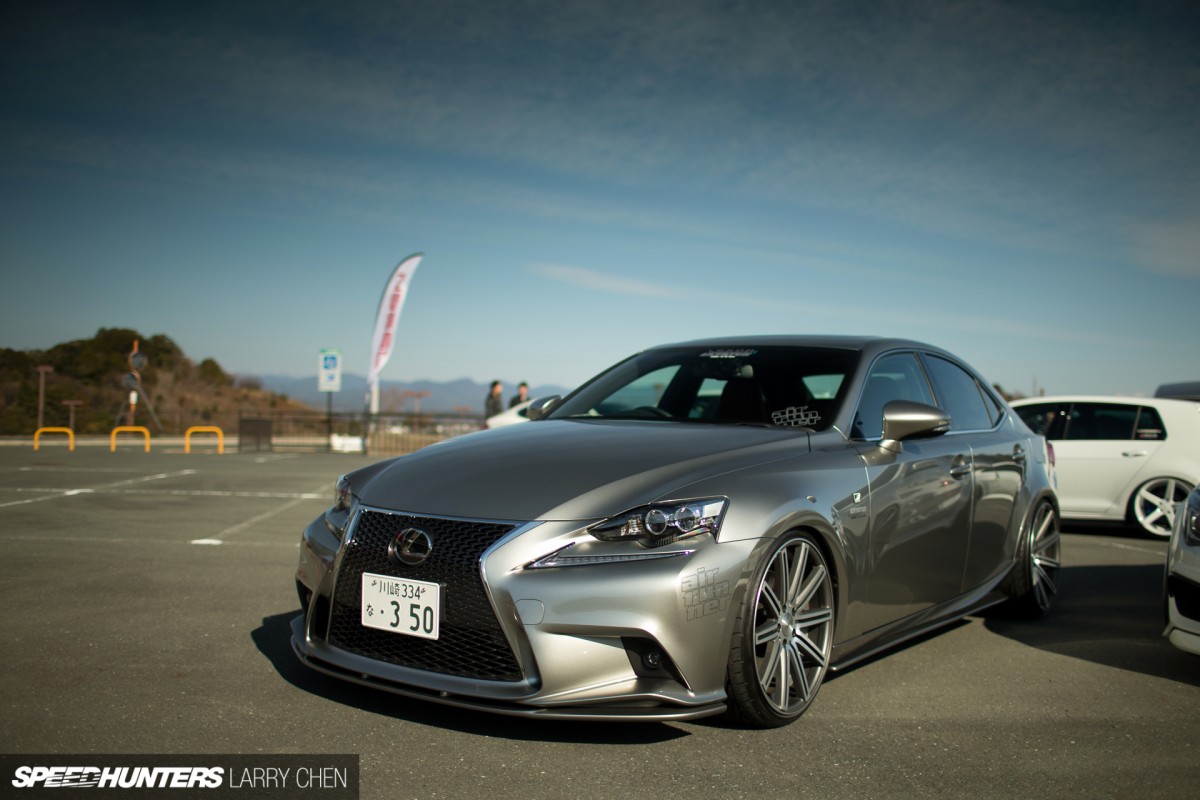 I've become used to stateside car shows which always end up turning into organized chaos; usually people like to take their time and show up fashionably late. After all, what better way to make an entrance, right? Well the Vossen meet started at midday, and guys were already parked detailing their pride and joy three hours ahead of time. This was entirely new to me.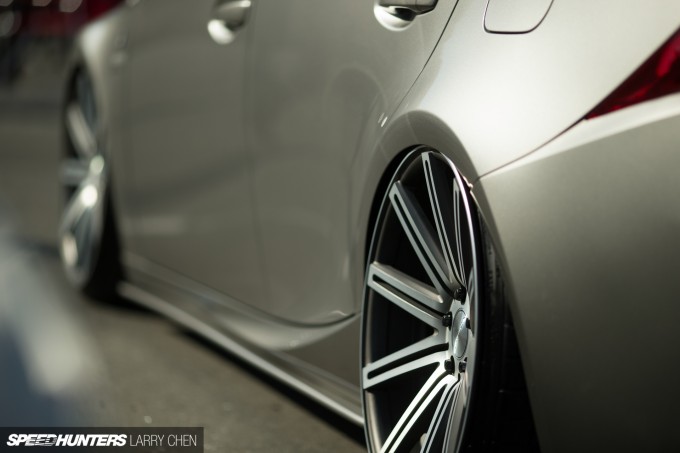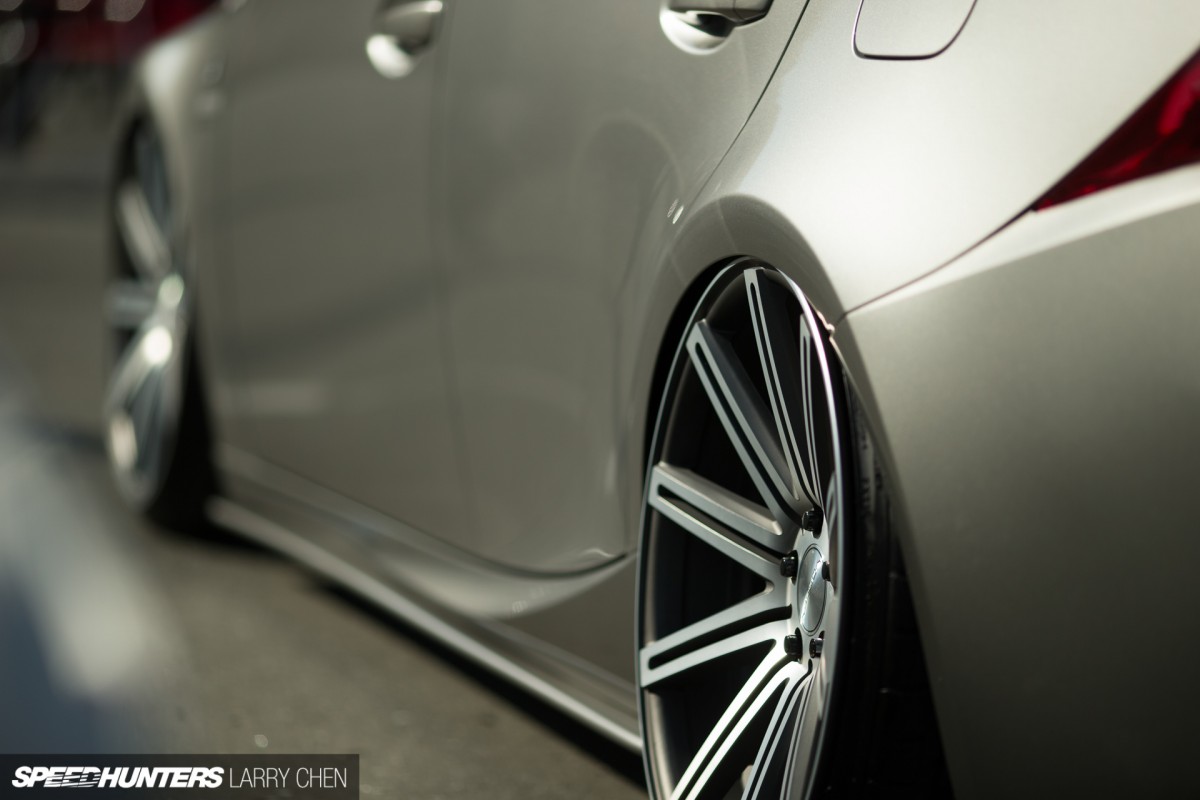 I was picked up in a brand new IS350 by my new friends at Lexon Exclusive, who are one of the premier dealers for all things car-related, including Vossen Wheels. We rode in style of course.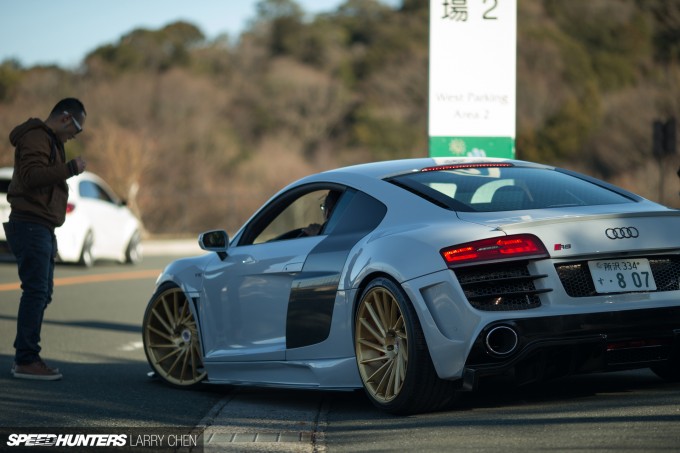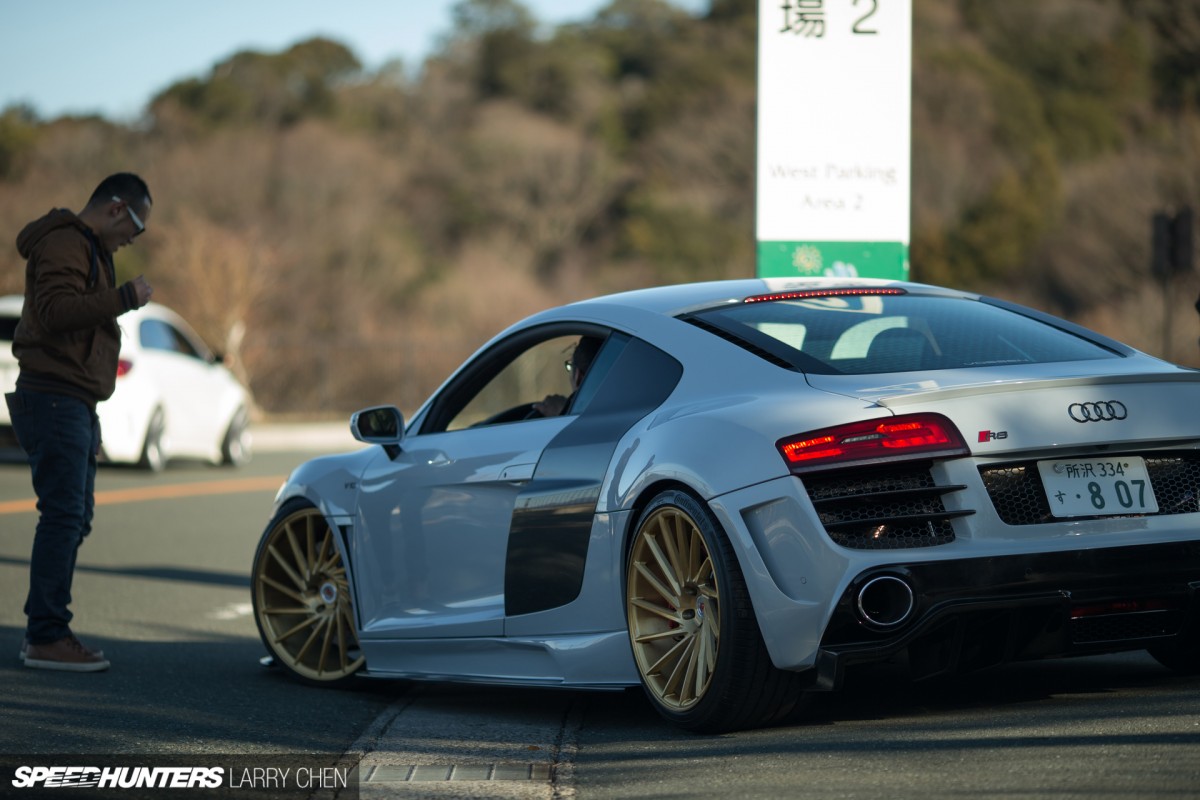 Each and every car was meticulously guided into their designated parking spot. Some marked for dealers and some marked for customers. Everyone took it slow and steady as there was no point in damaging anything shiny.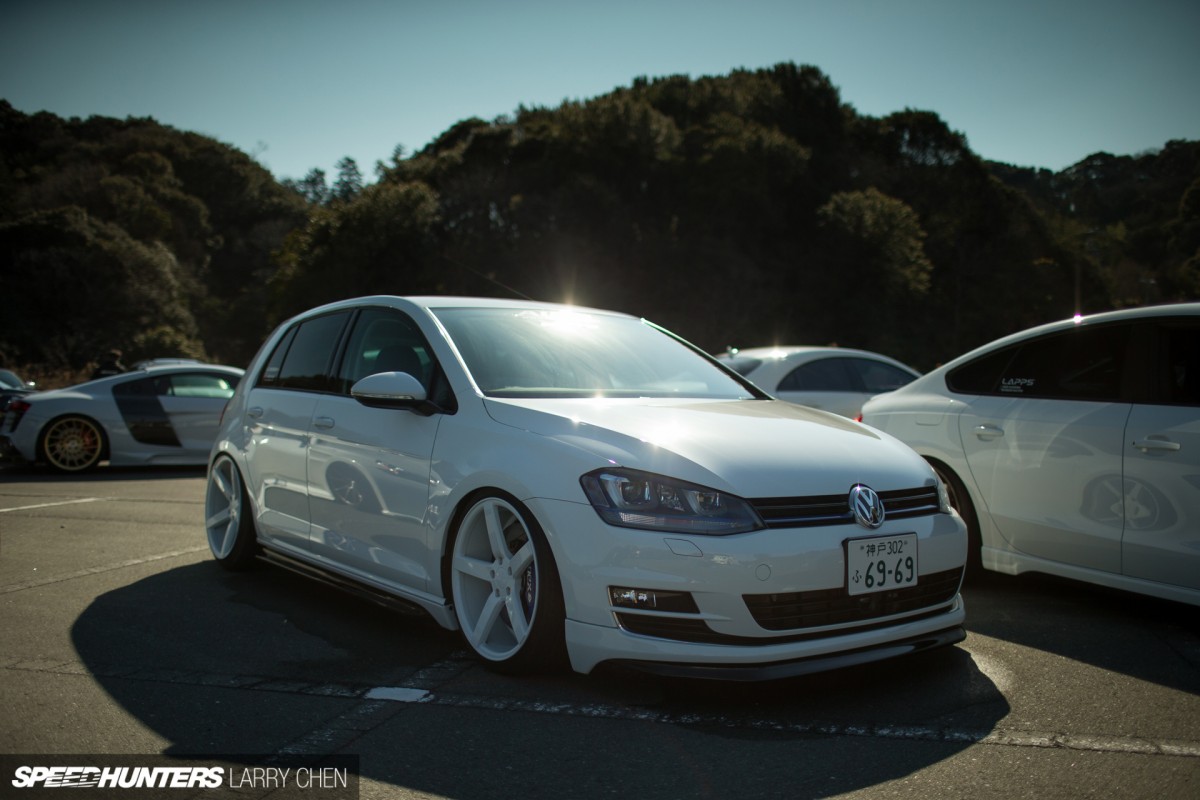 There were no burnouts, no e-brake slides, no drama. I've never seen anything like it. Even though many of these clean rides were equipped with some serious stereos, there was no ear-shattering music while they pulled in. It was all so civilized.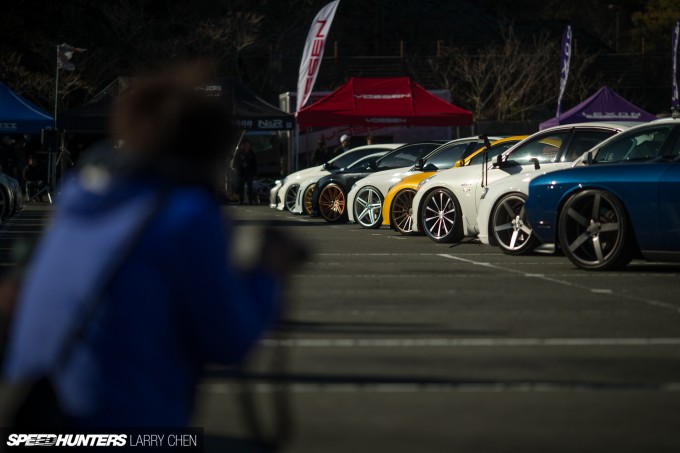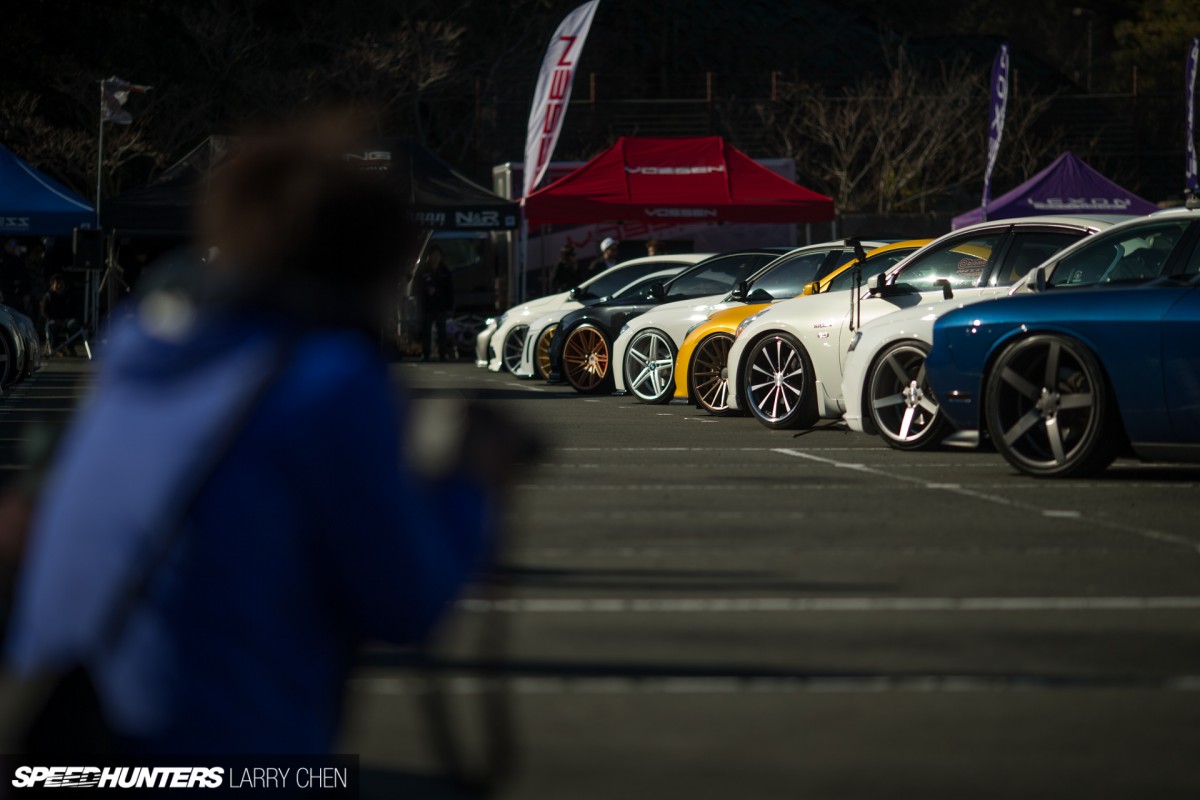 Everyone was parked perfectly. What better way to show off the cars, right? On top of that, one of my pet peeves about car shows in general are the guys and gals who bring folding chairs. They sit next to their ride, chatting it up all day, just watching people walk by.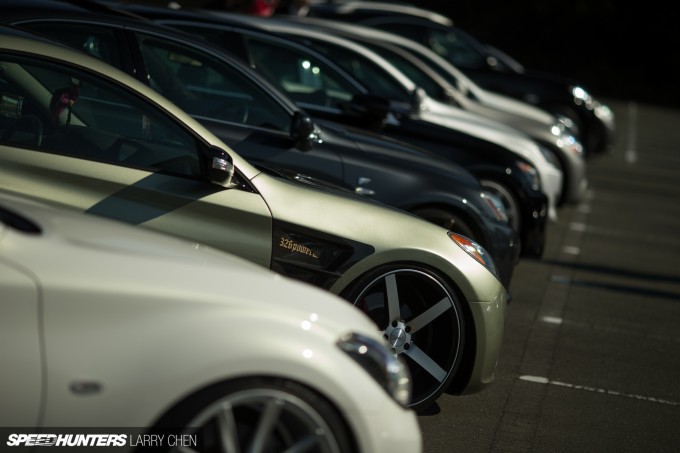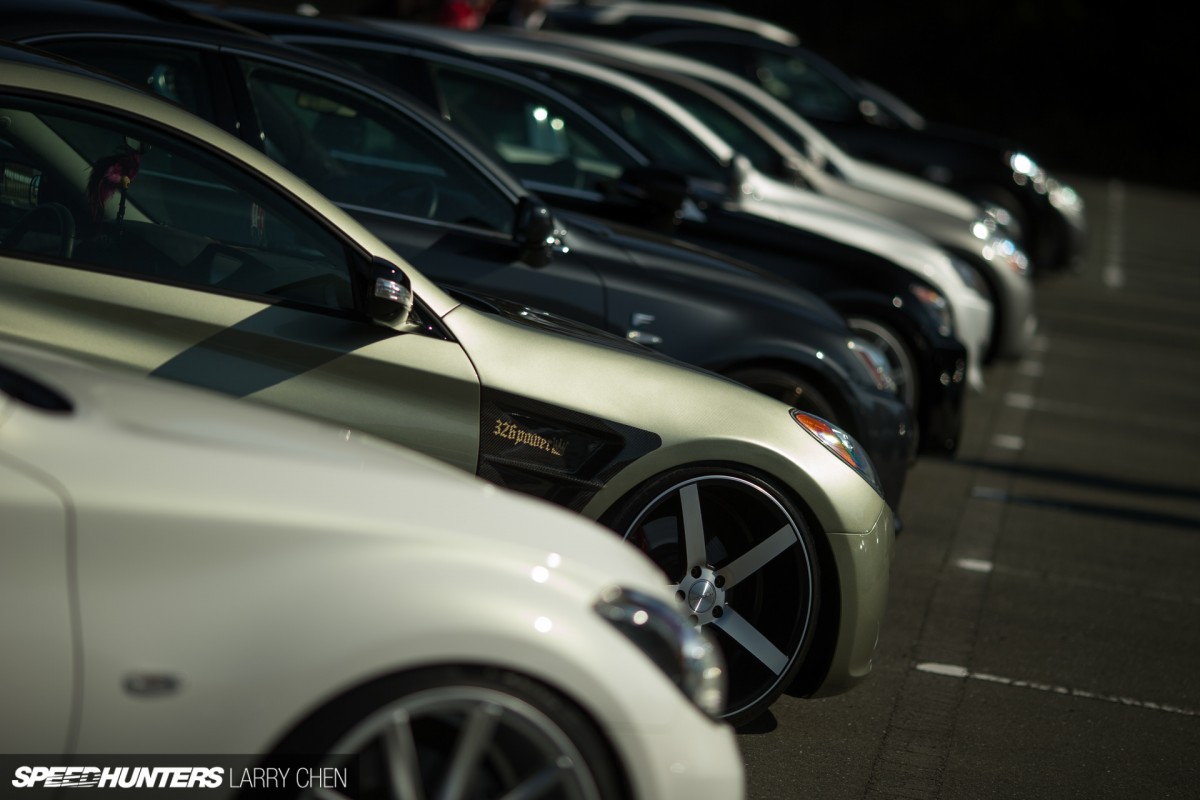 Let me give you a pro tip: if you want people to photograph your car more, please don't set up chairs right next to it. Luckily for me, there was none of that at this Vossen meet. Nothing obstructed the view of any of the cars. I mean that's why there's a gathering in the first place right? To check out everyone else's rides.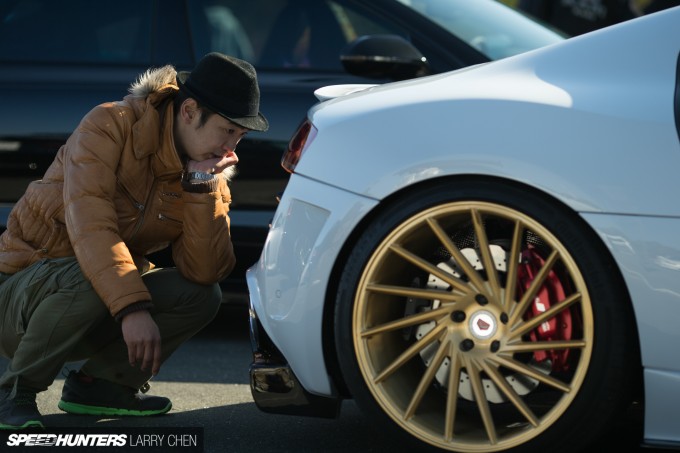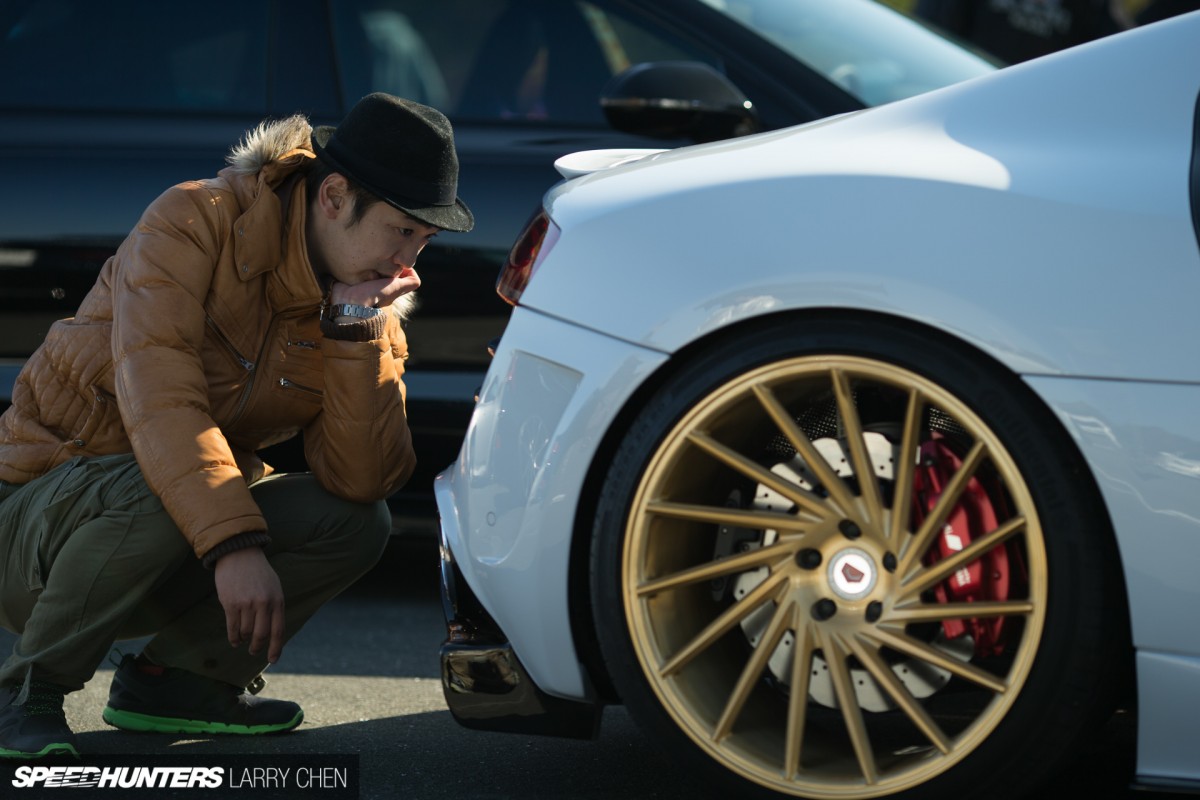 The fans who came to the meet really appreciated the cars that were there. They would enjoy them like a fine painting. I've never seen anyone stare so hard at a car show. After all, it is automotive art.
It's all about the cars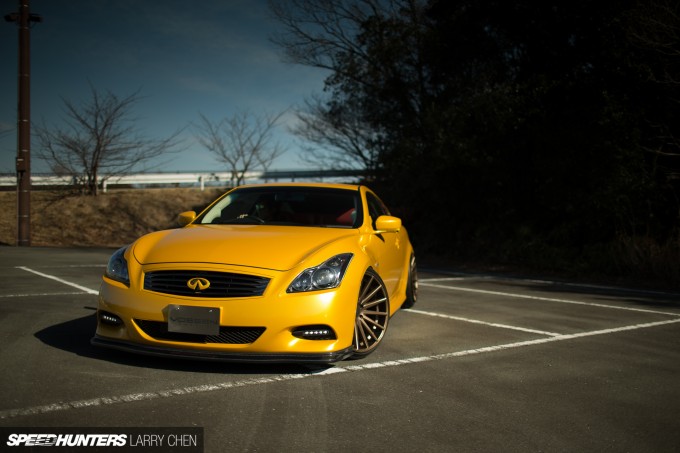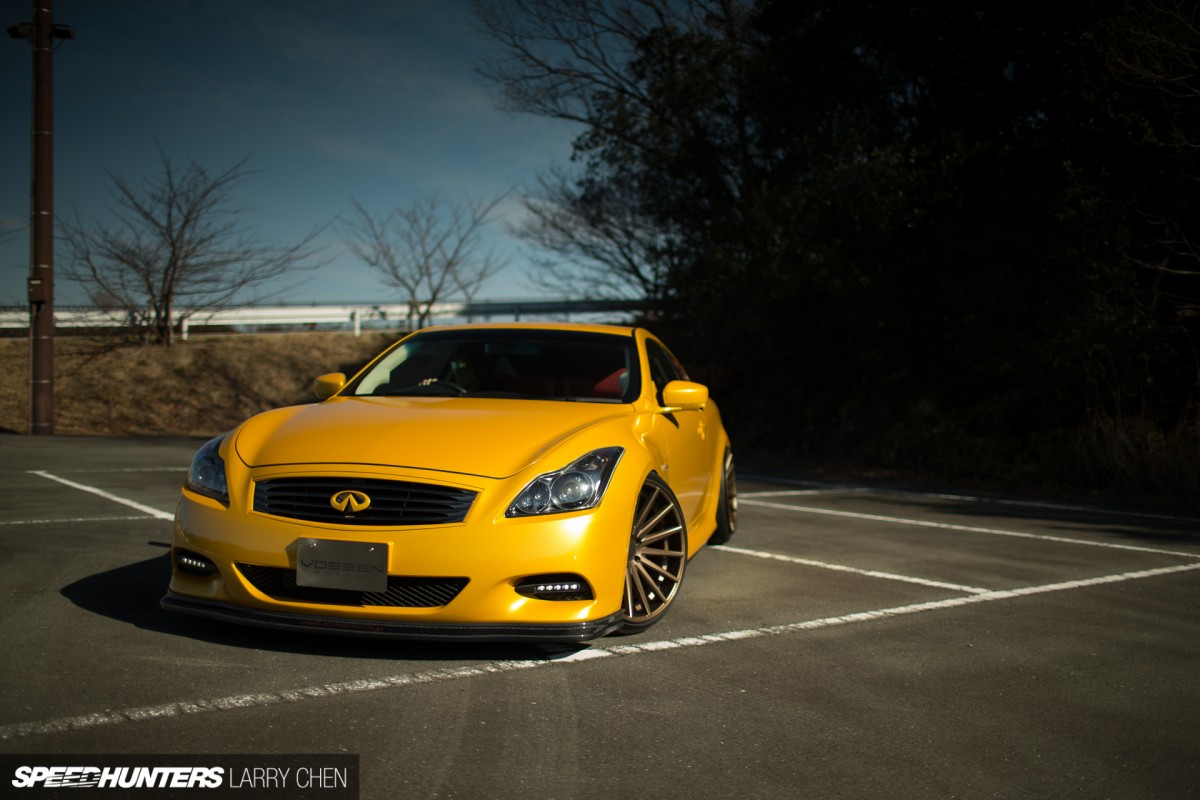 Some of the cars that had static drops were trailered, as the risk of driving three hours with just a couple of centimeters was too great.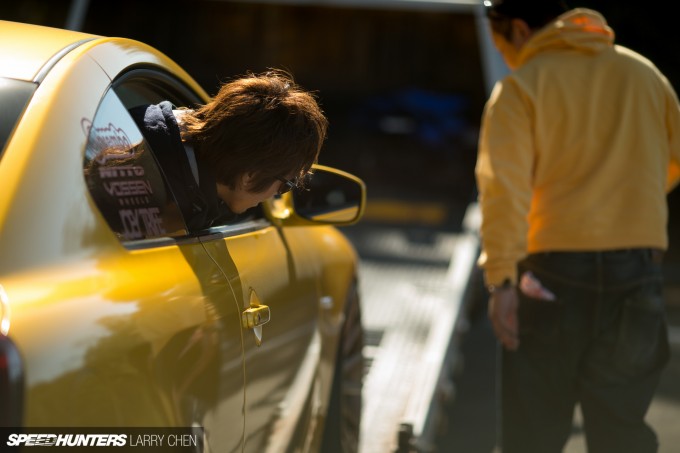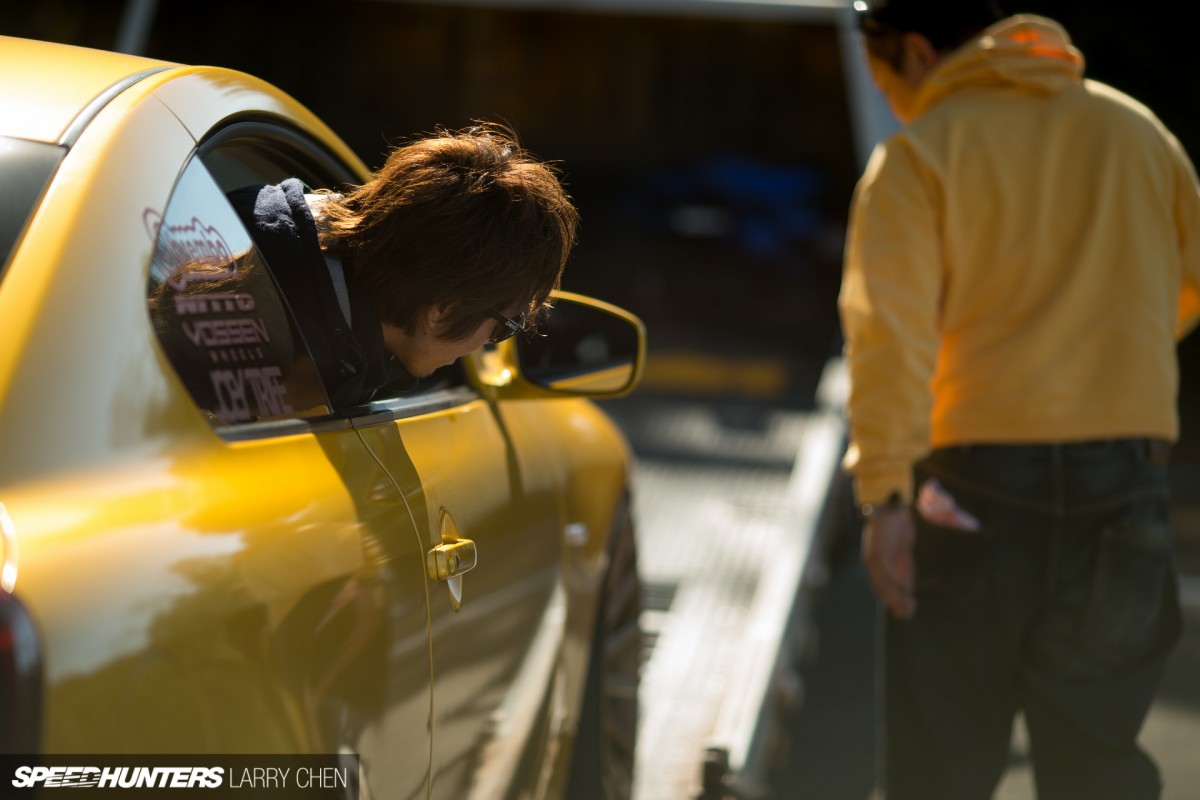 Owners unloaded each of their cars with care. No dented wheels nor cracked lips.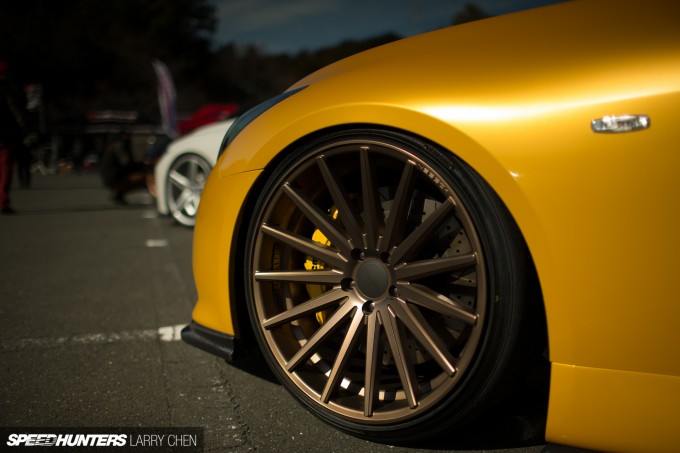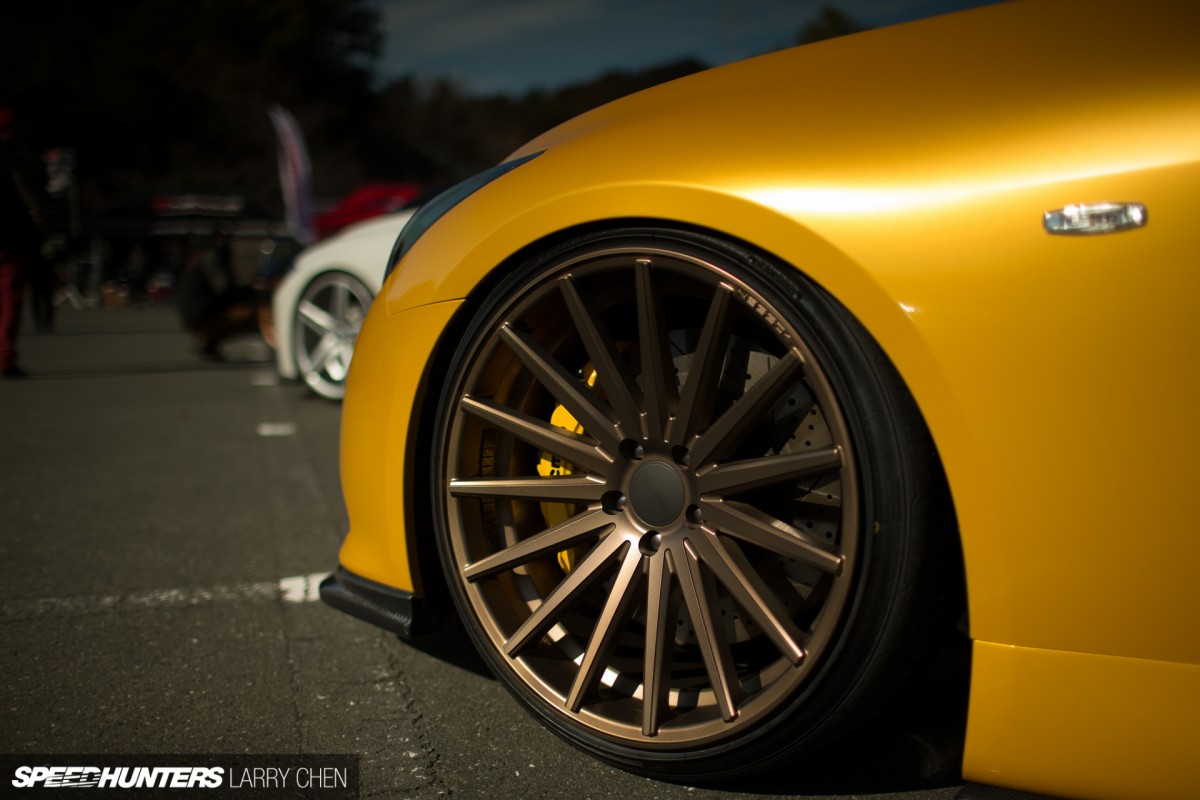 I've always had a soft spot for these Infiniti G37 Sport coupes, although I can't say I agree with the choice of color. It's a bit loud for my taste, but the paint was flawless to say the least.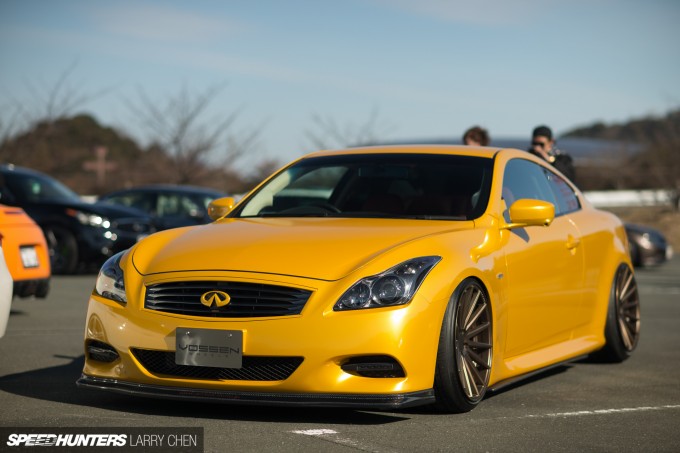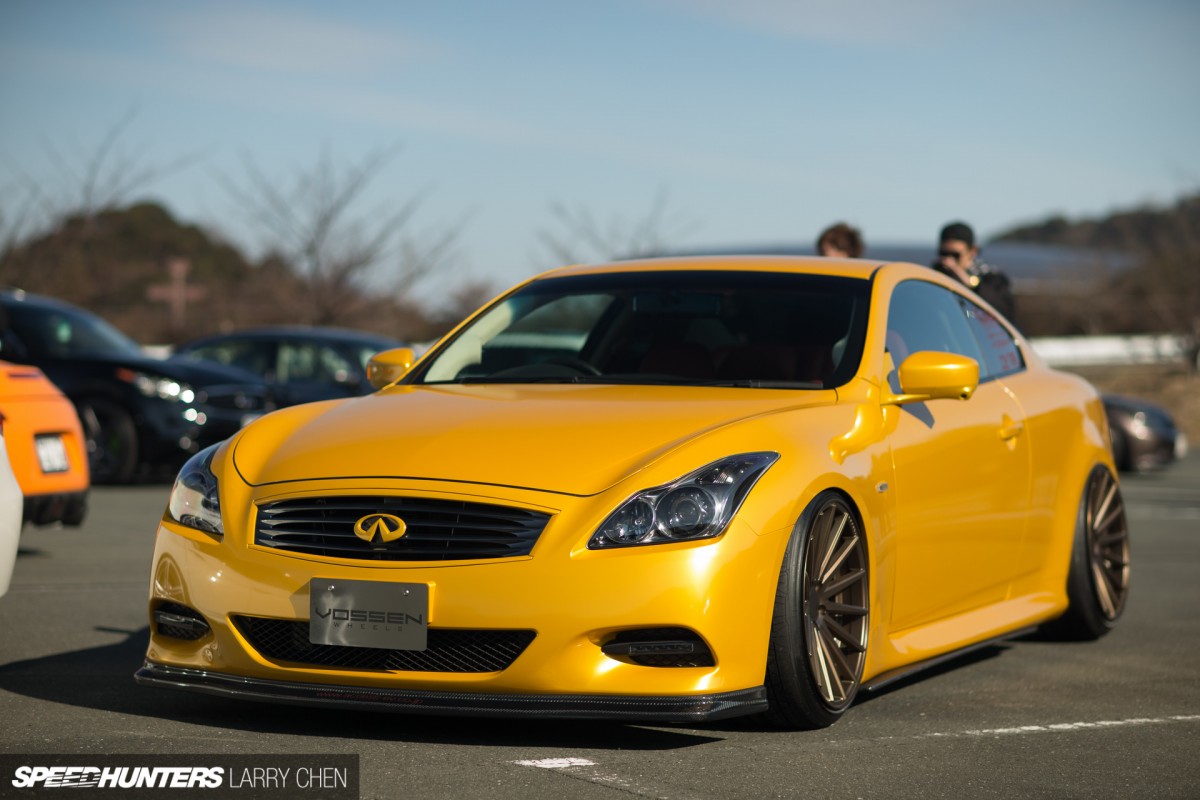 The rest of the car looked just as amazing; the flat bronze wheels provided the perfect contrast to the shiny paint.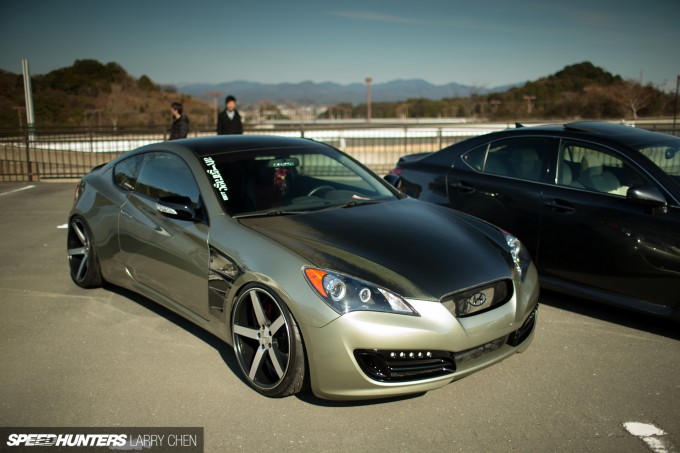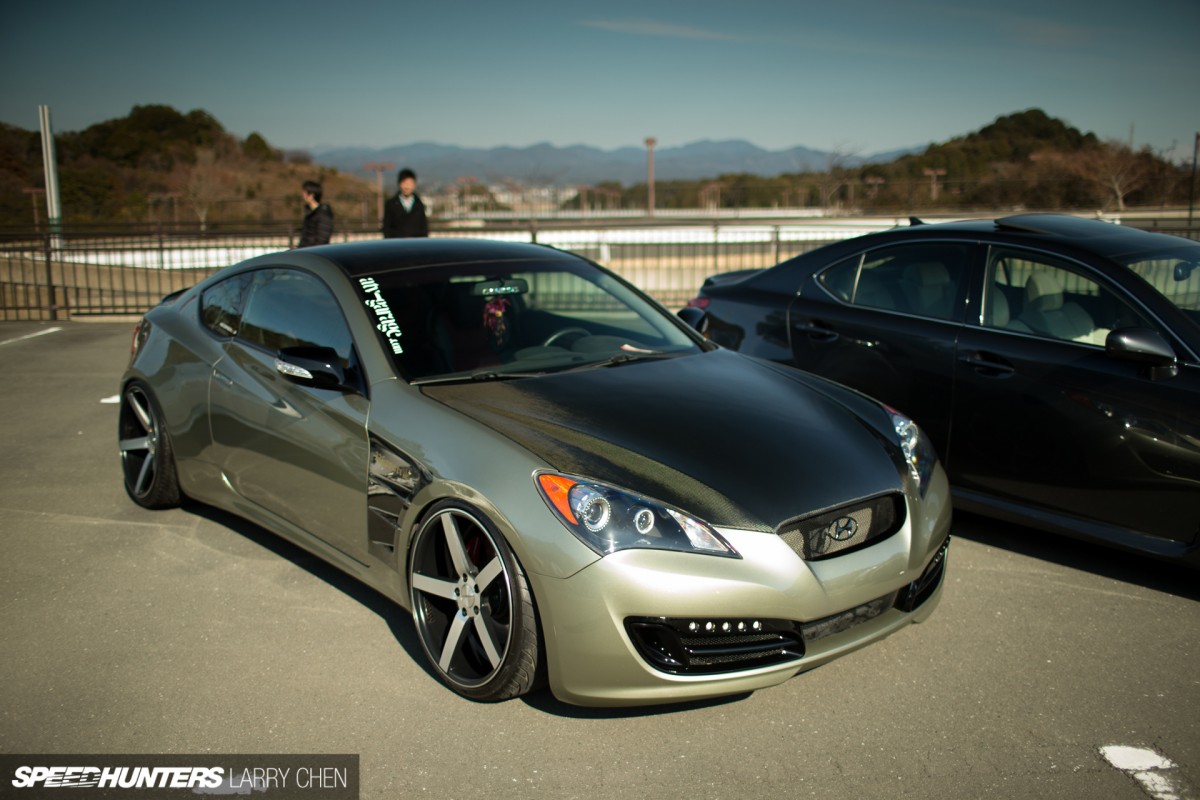 The selection of cars was not just limited to European and Japanese manufacturers.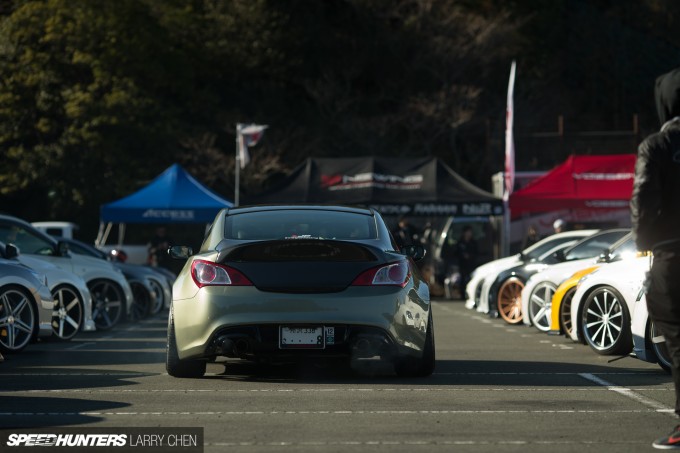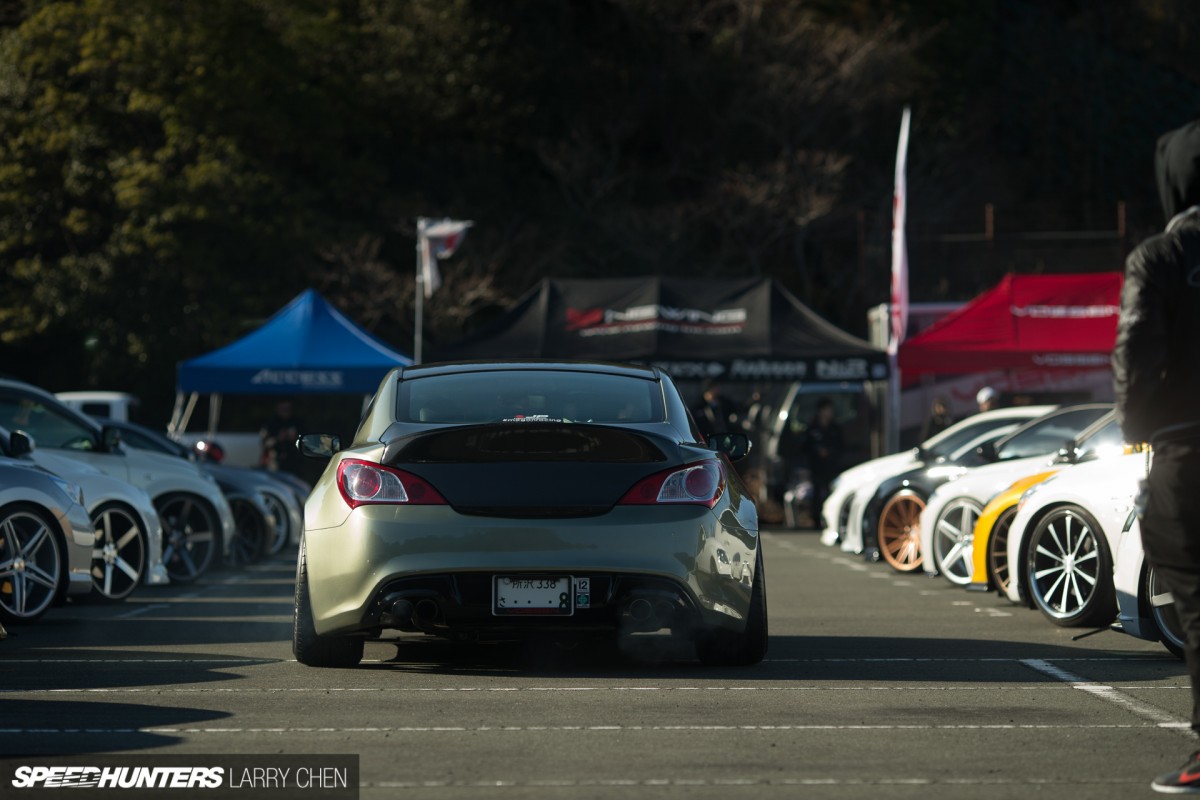 This Hyundai Genesis coupe was turning heads. It sat perfectly and had quite the aggressive stance.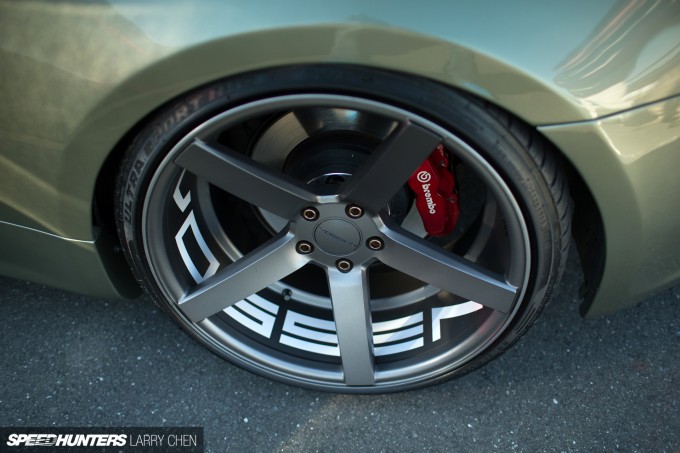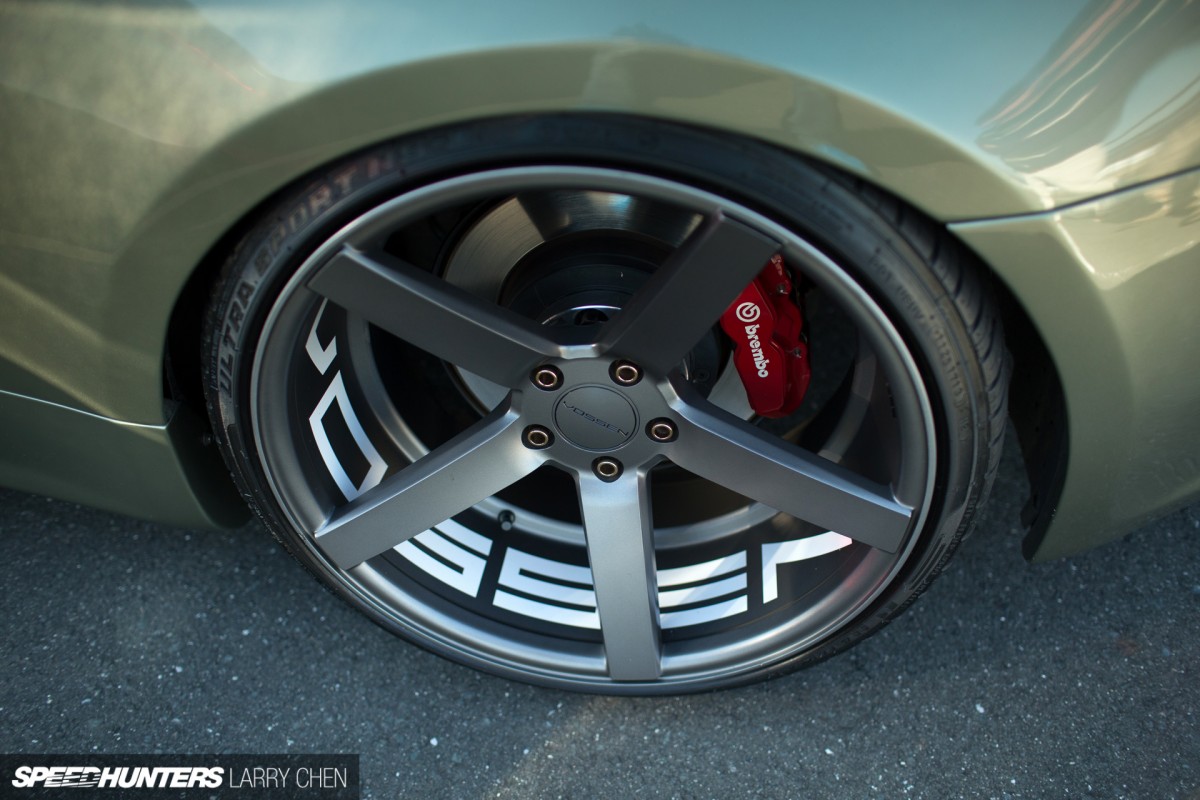 I'm really digging the look of wheels with designs on the inside, although I'm sure they're not easy to keep clean.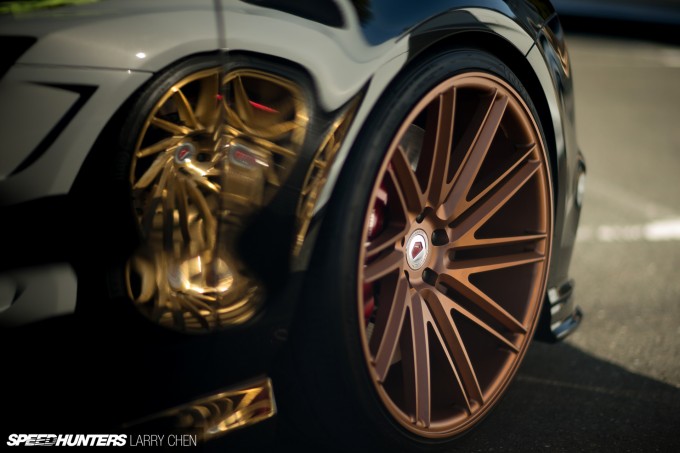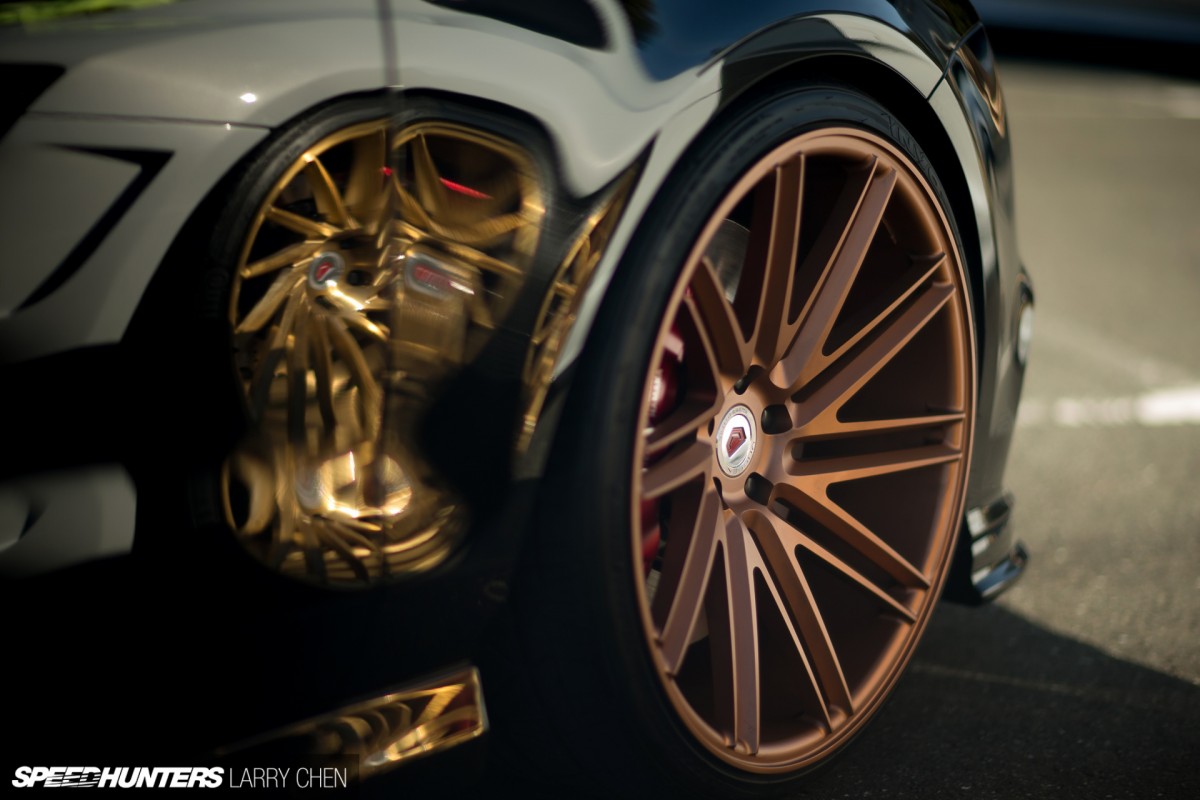 At the end of the day, this meet was about the wheels and everyone was crazy about them. In many cases, the cost of the wheels equaled the cost of the car. It's also the first time I've seen most of these Vossen wheels in person. It's a totally different experience to see the wheel in the flesh versus seeing them in pictures.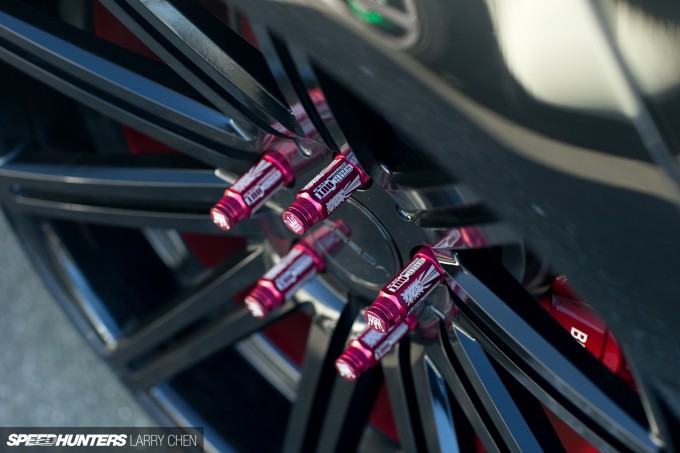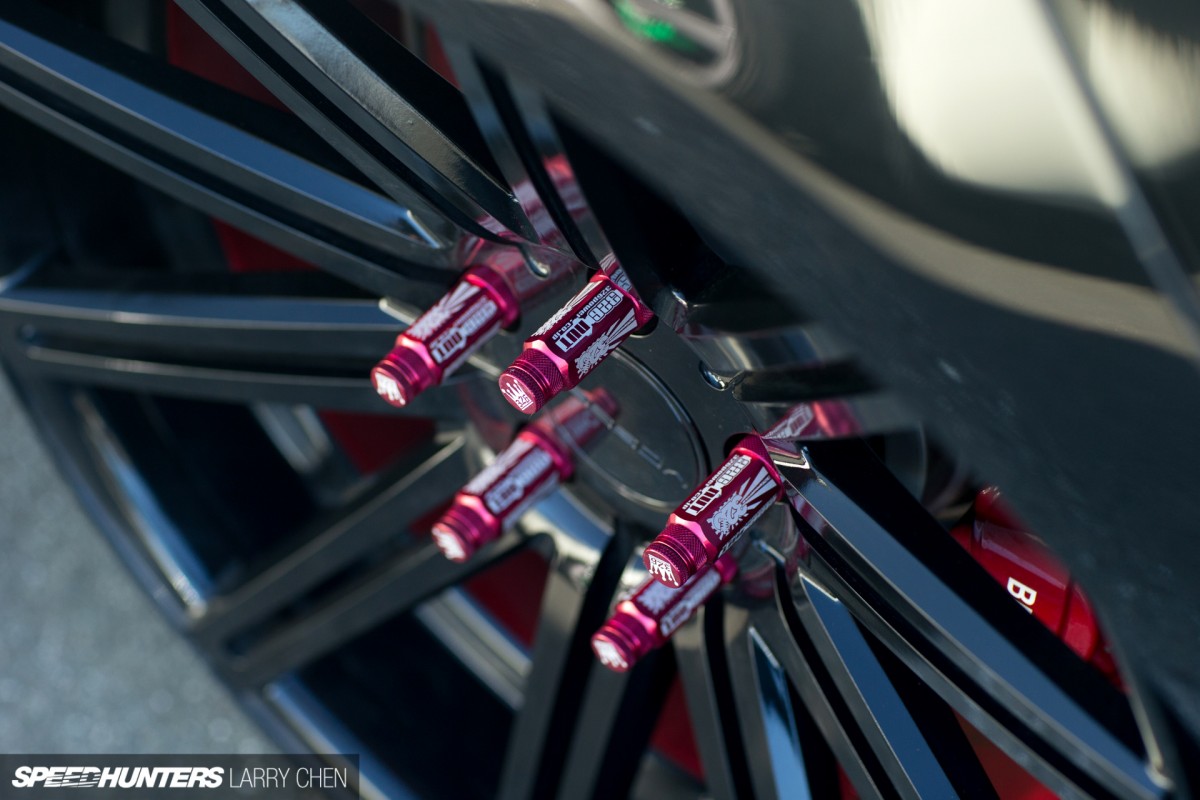 Premium parts like wheels are a lifestyle. It's amazing just how much they were into it. They wore the T-shirts, and had all the right accessories. Check out those awesome 326 Power lugnuts.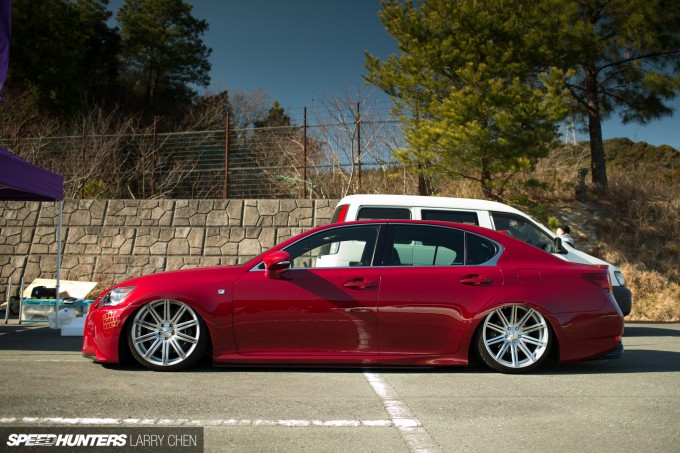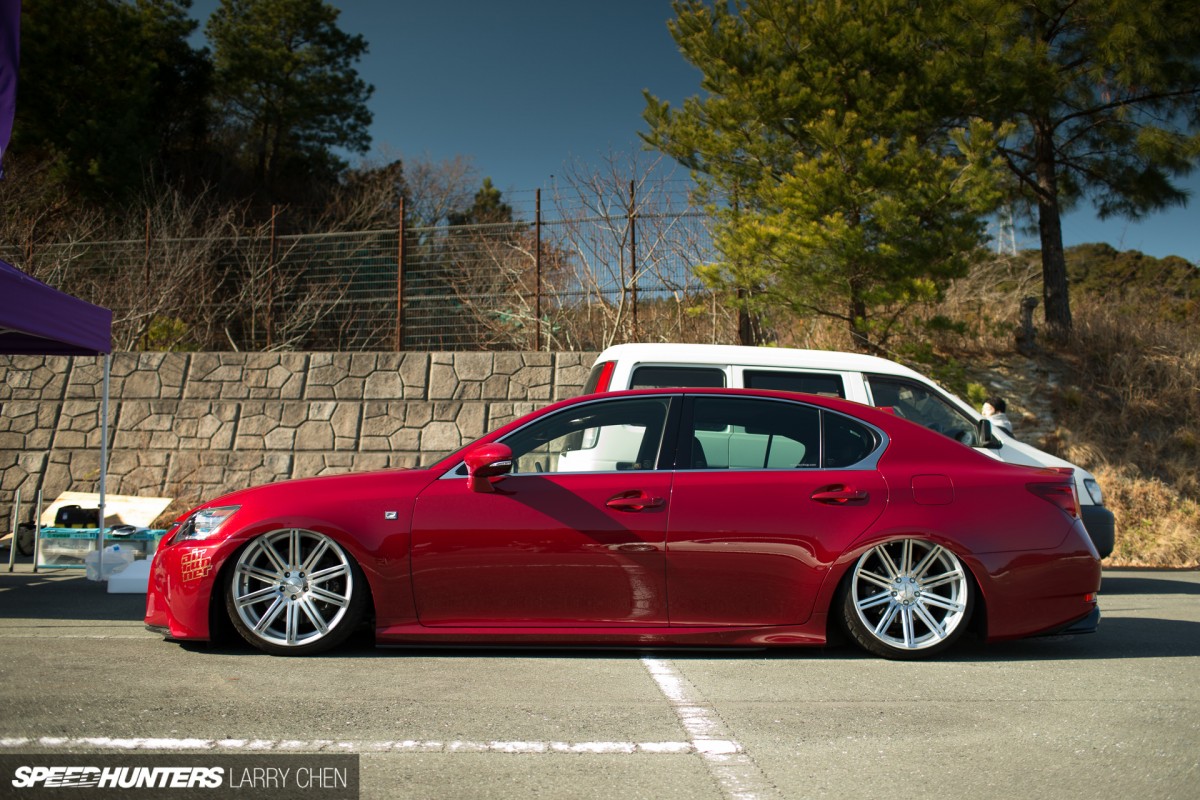 The Lexus GS platform is quintessential VIP, although I didn't see one curtain or tassle in any of the cars at the meet. Nor did I find any beverage holders affixed to the dashboard.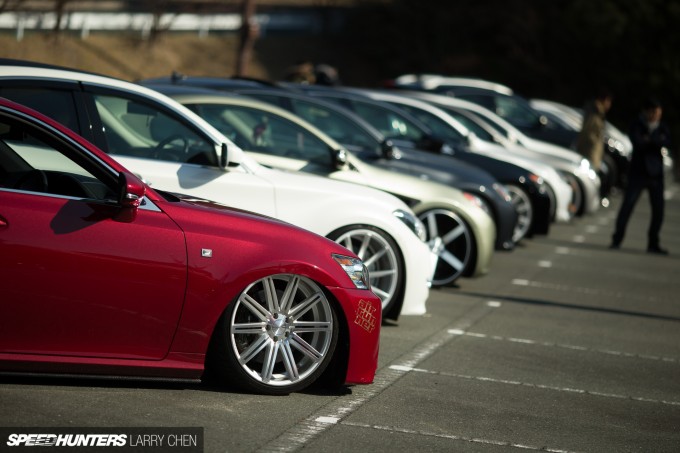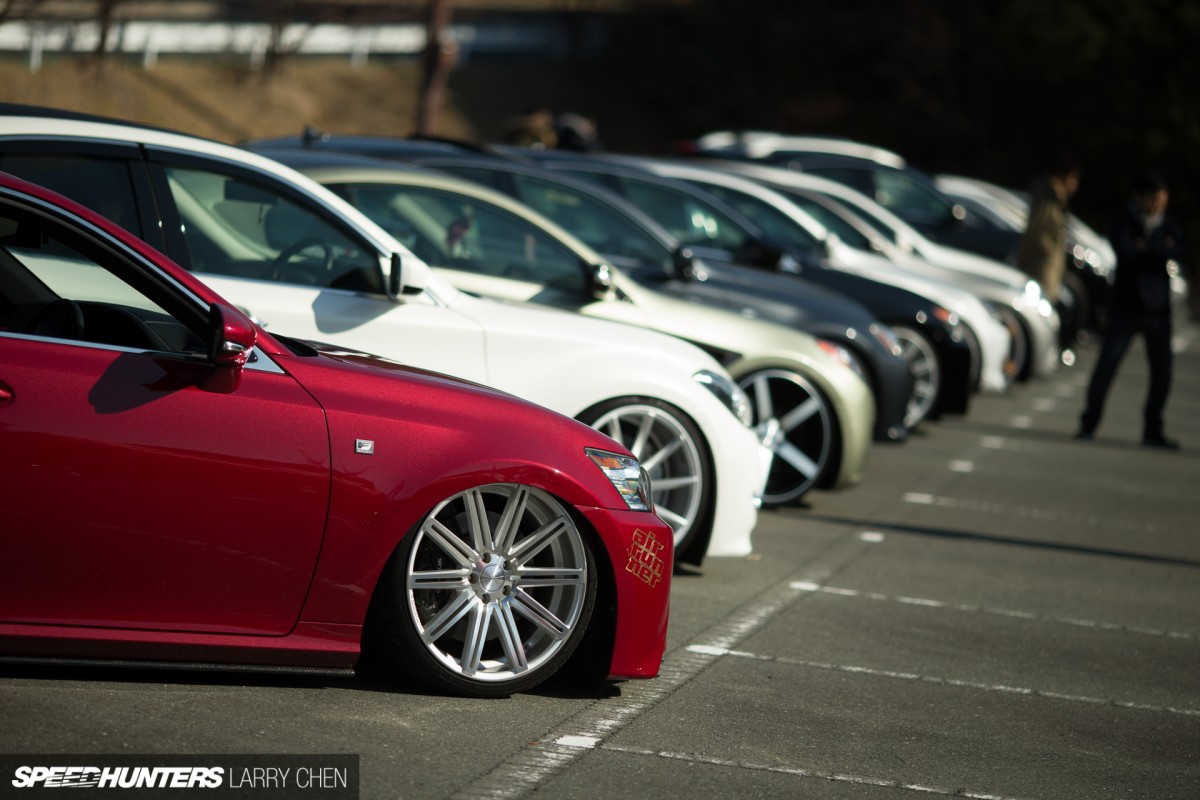 What was present was a simple and clean style, each car featuring a tasteful selection of modifications, with most of them running on air bags.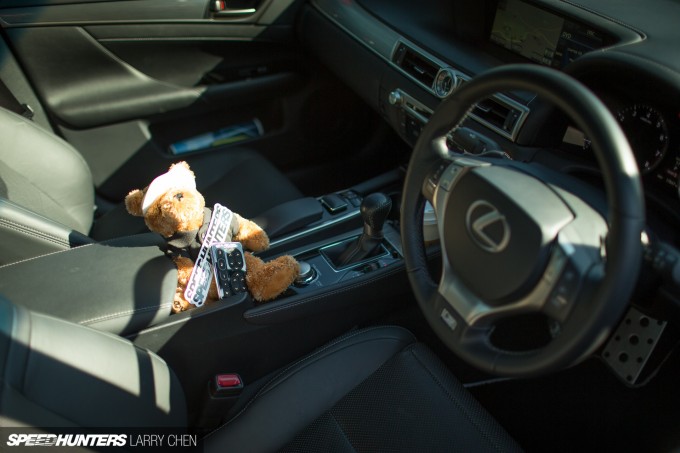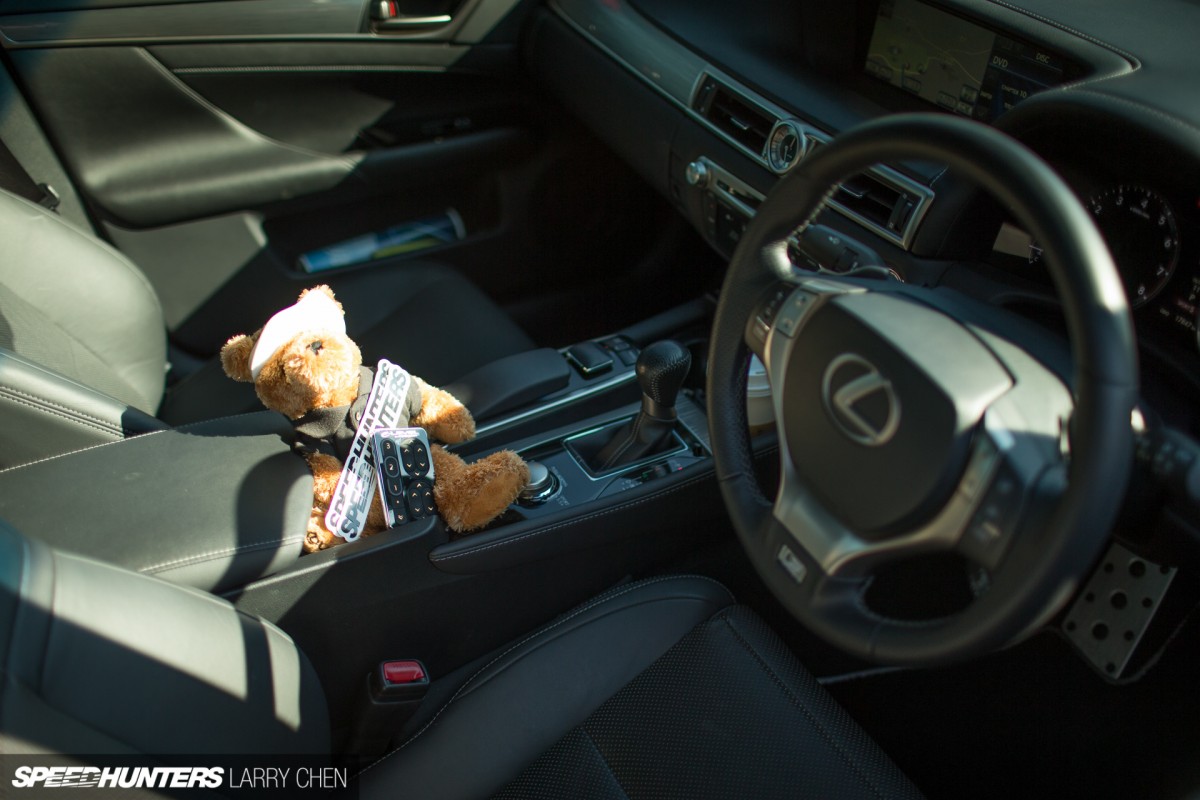 I really took a liking to this classy GS350, so I left them a little gift. I'm sure the little teddy bear didn't mind holding onto it for me.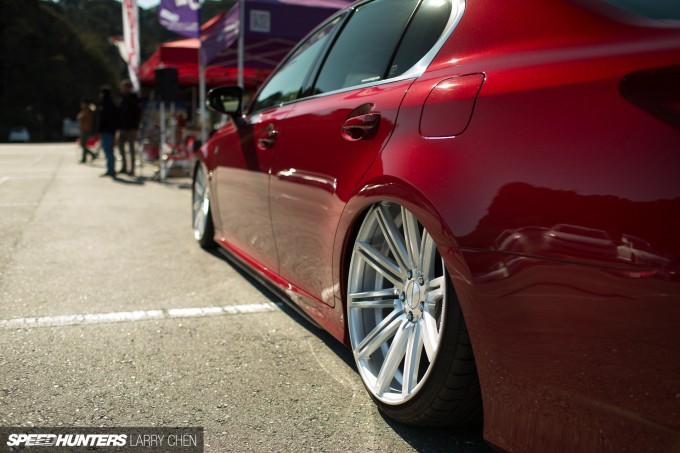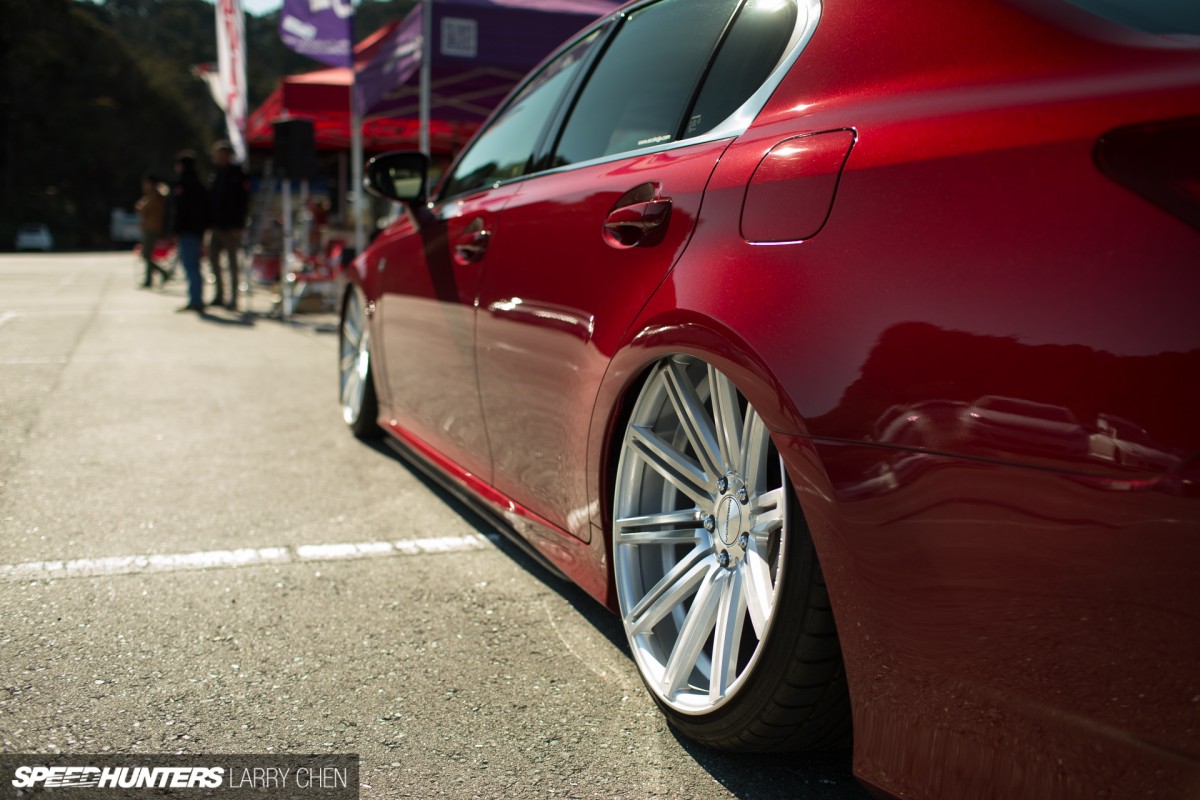 Just the perfect tuck on these VVSCV4s. No three finger gaps at this meet.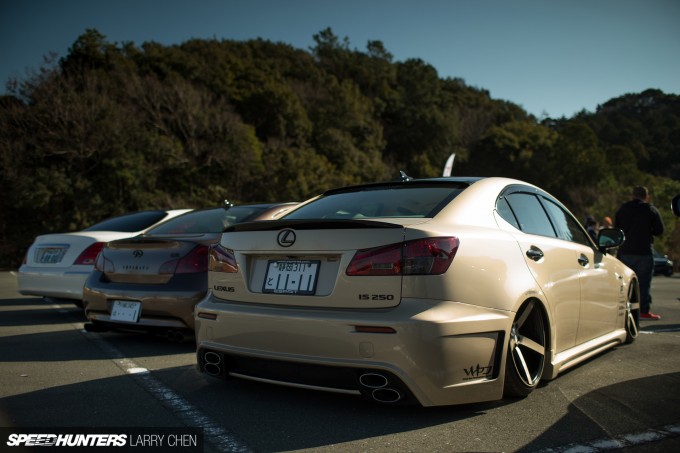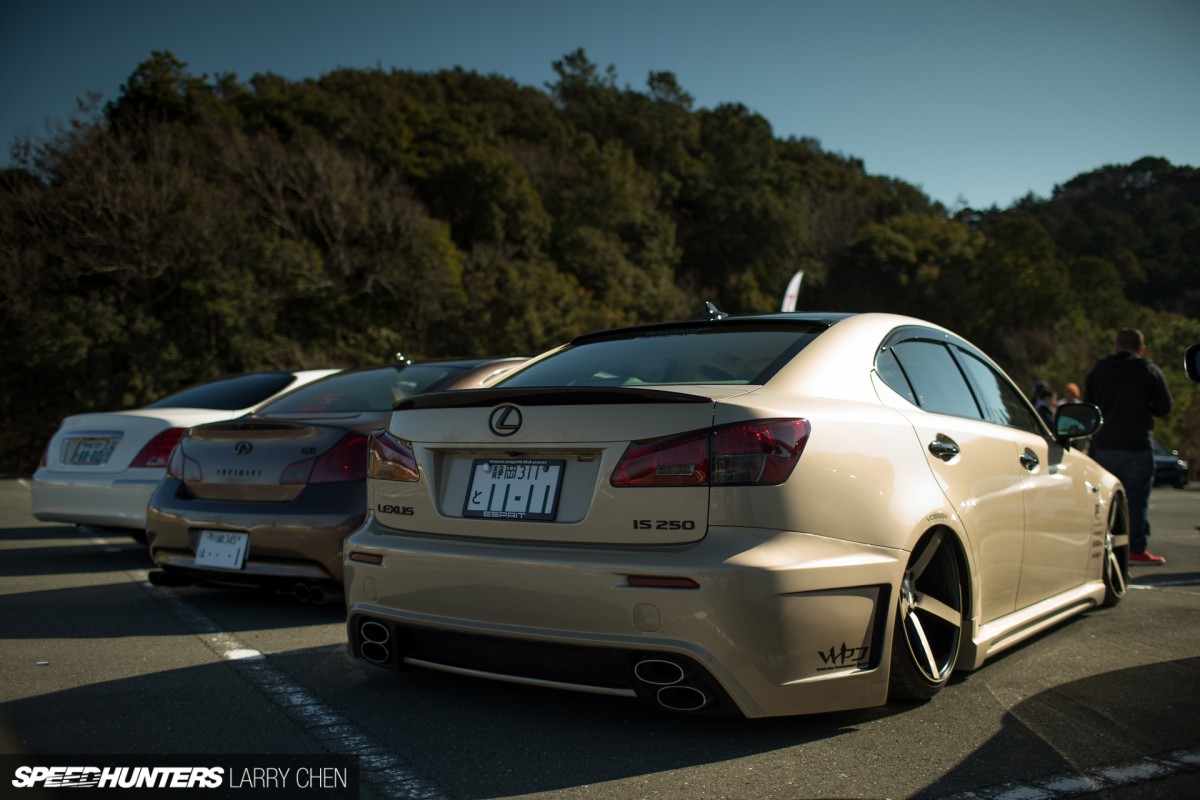 This generation of Lexus IS 250/350 is definitely my favorite. Of course, if it were up to me, I would have the IS-F. I get all warm and fuzzy just thinking about the sound that car's 5 liter V8 makes.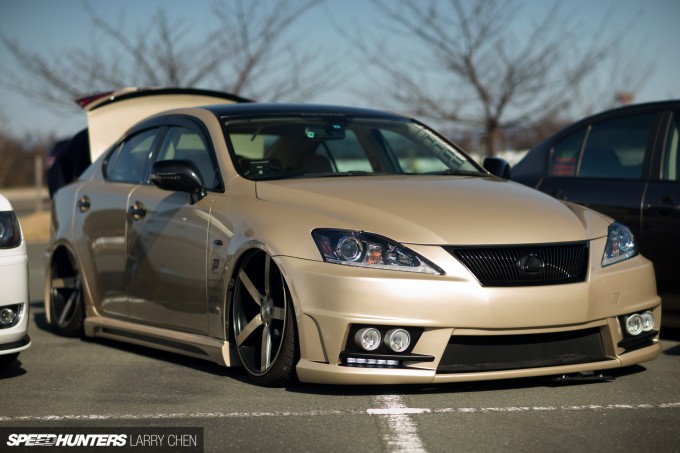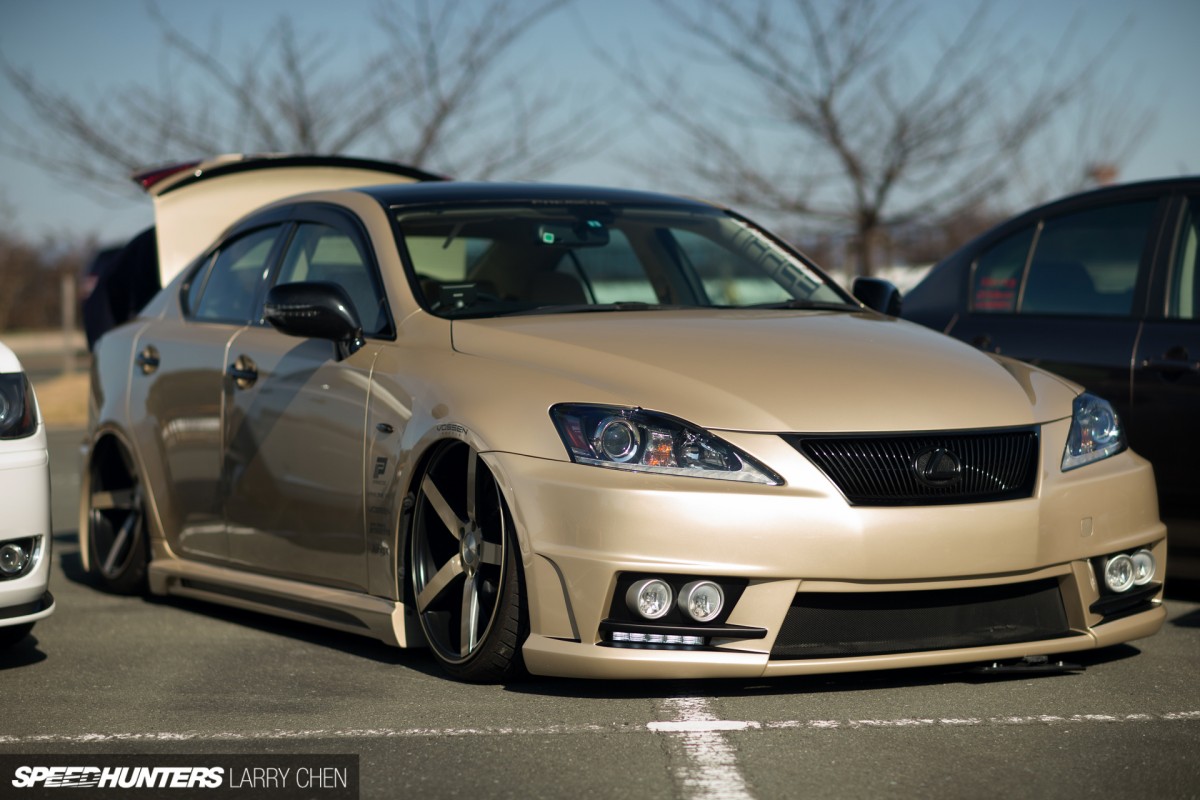 I'm usually not that big a fan of color-matched wheels but this worked quite well. This IS 250 was also one of the more wild cars at the meet in terms of exterior styling, and to my surprise this was driven on the street to the show.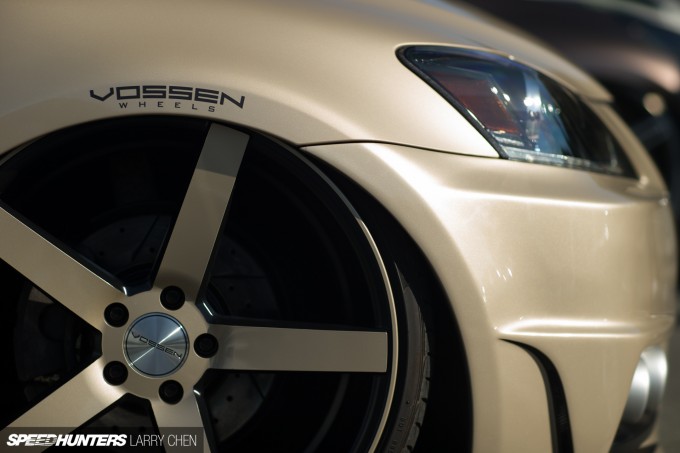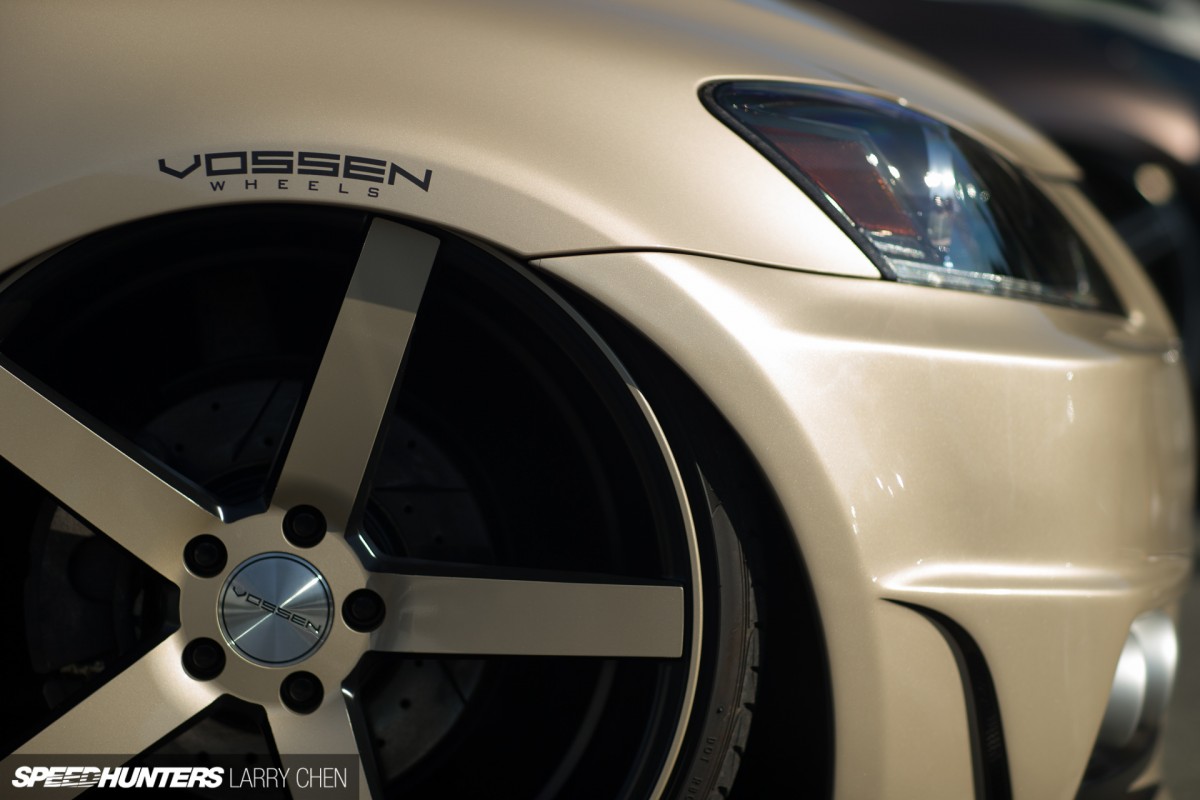 You can't go wrong with a five spoke like this VVSCV3. In an effort to make everything as clean as possible, the owner even colored the wheel weights so they would blend seamlessly into the wheel.
Only in Japan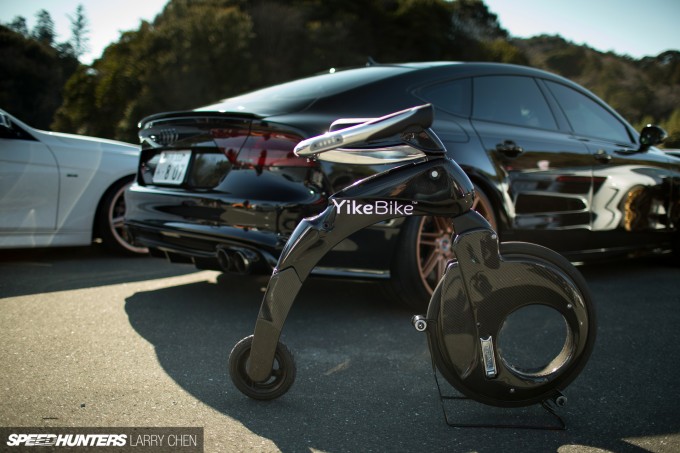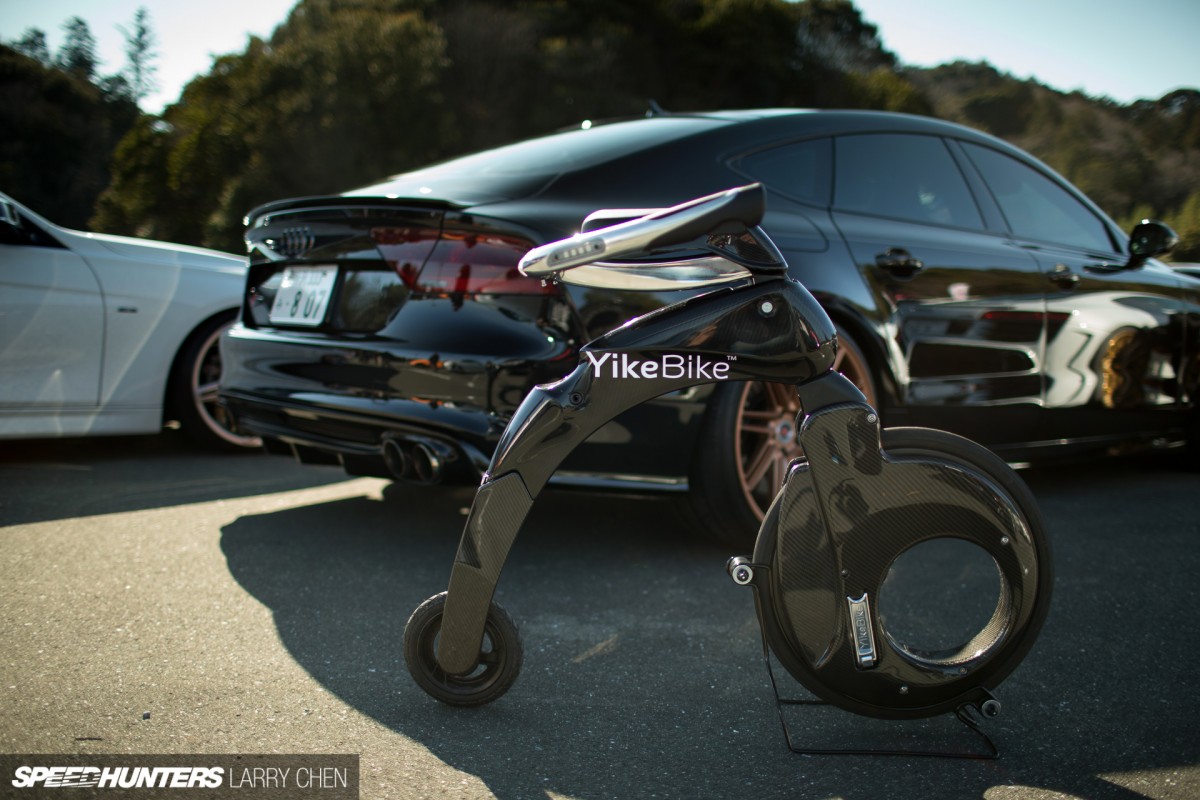 Somebody had the bright idea of bringing a tiny electric bike. Many tried to ride it but few succeeded.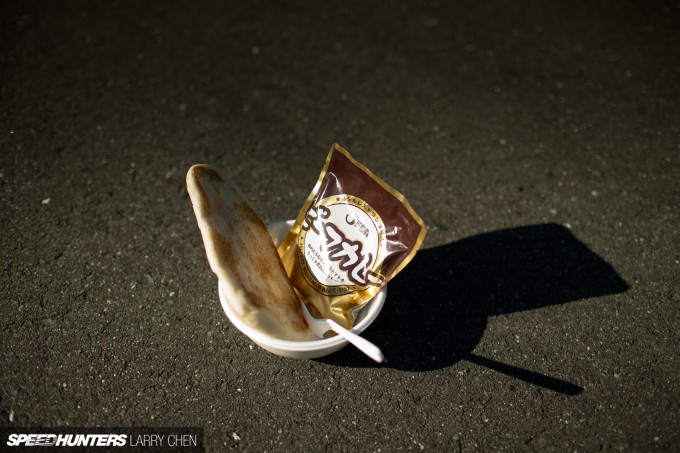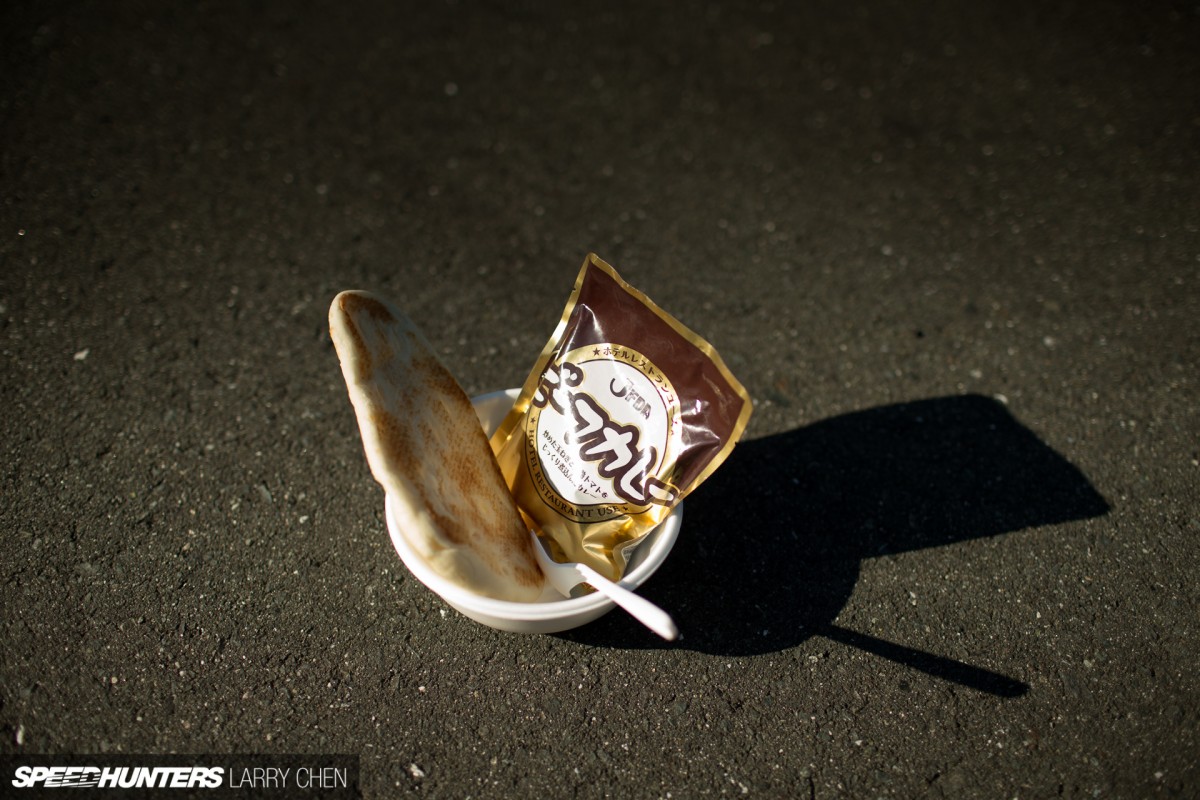 Having come from Southern California where it's absolutely scorching right now, the Japanese weather was something that I was not really used to. Luckily for me, they had hot beef curry bags on site for all the attendees. This is also something I think the car shows in North America need to adopt. Beef jerky for all!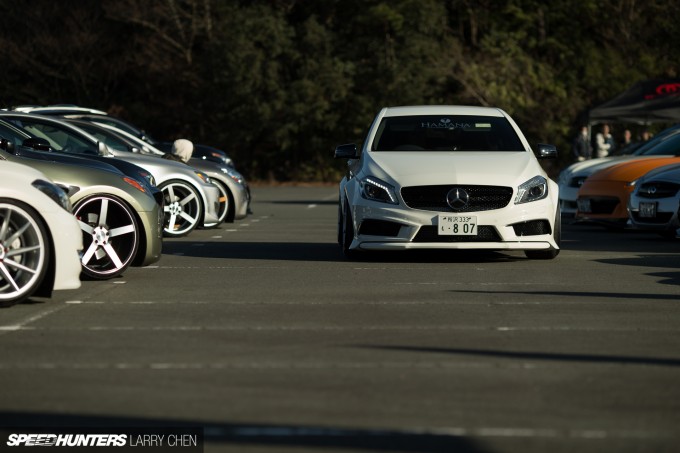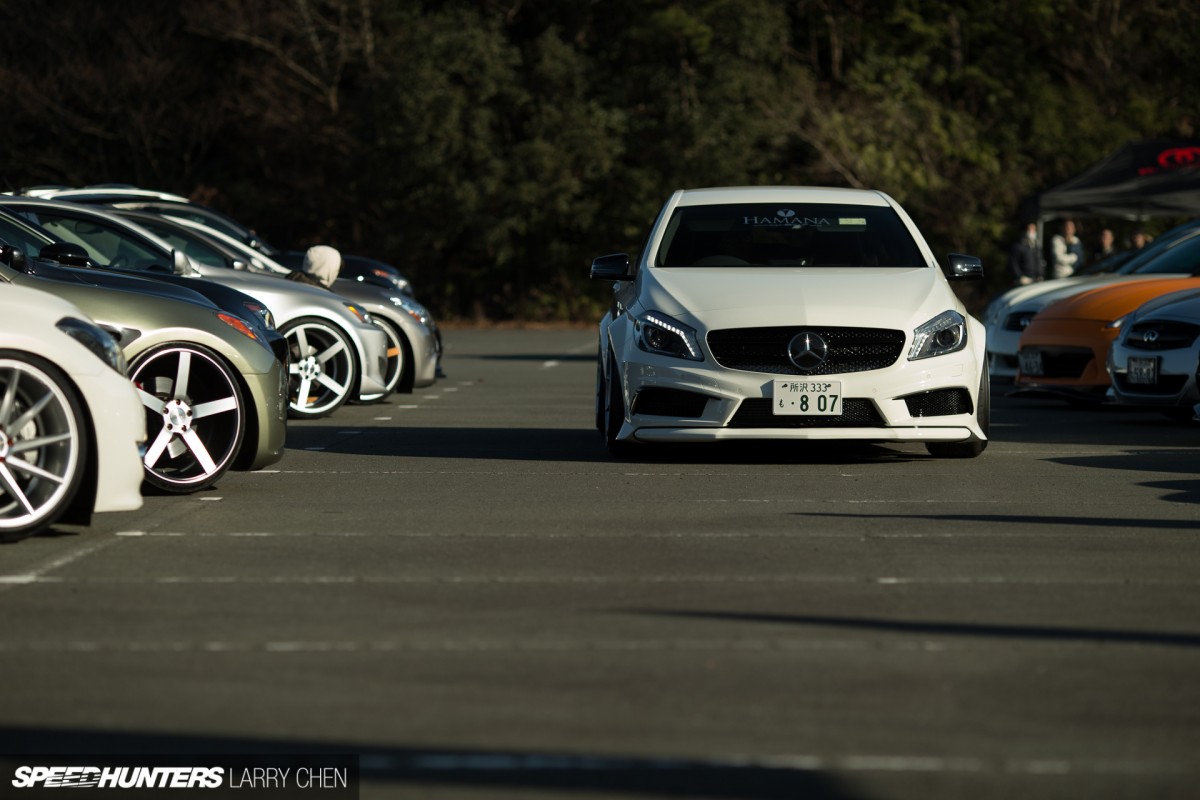 Aside from the Japanese cars, there were quite a few European ones, many of which were never available in North America, including this Mercedes A-class.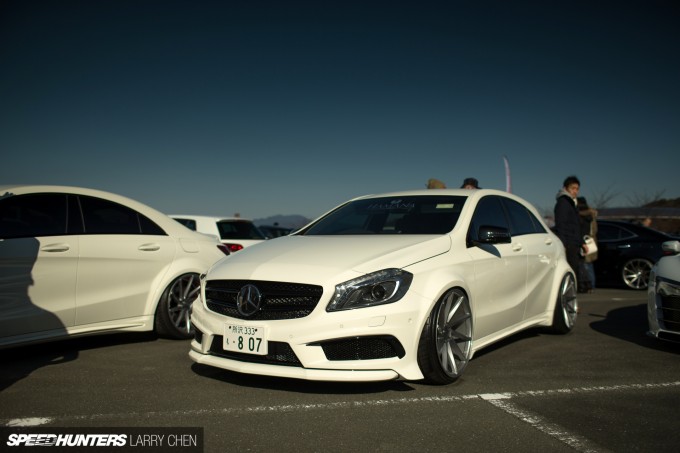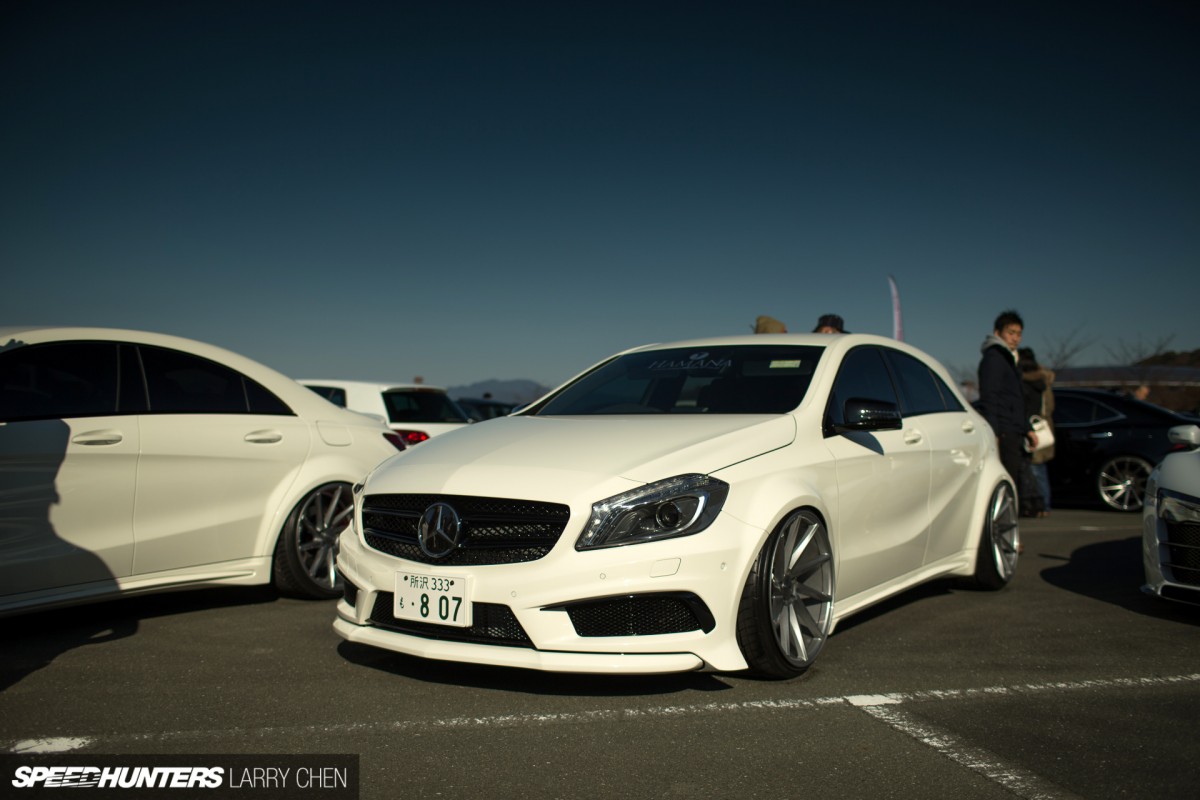 I don't get why Mercedes didn't export these hatchbacks to the states. I think they look great. I could totally see myself driving something like this if it came with three pedals.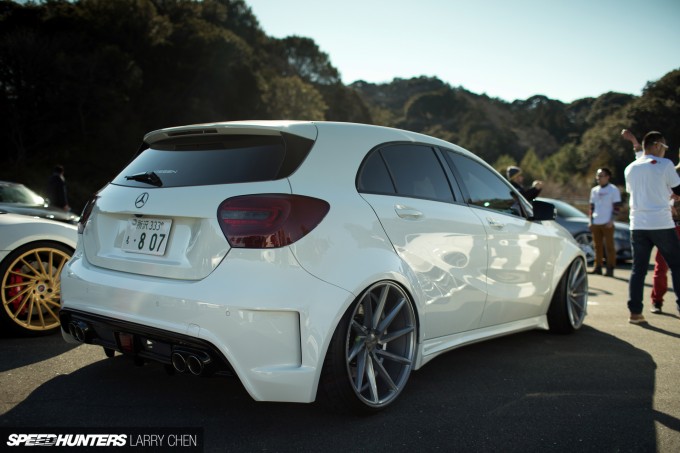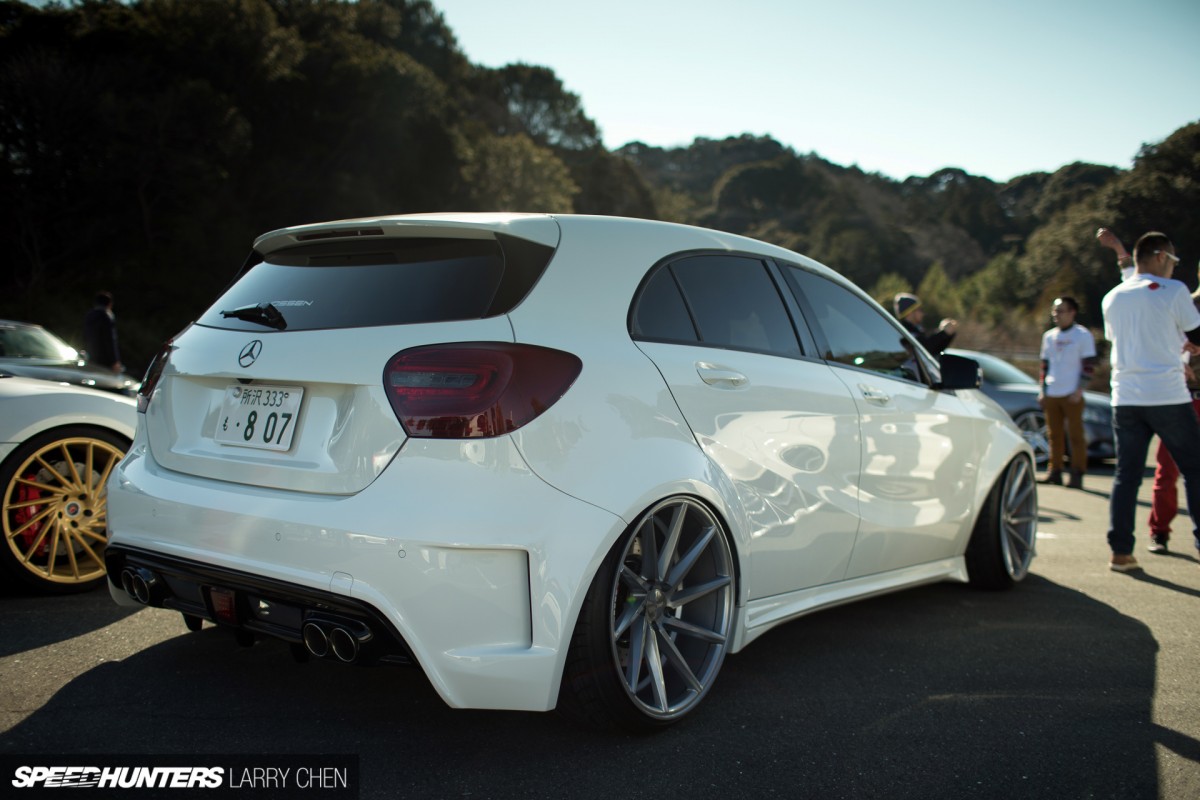 After being lowered on a set of directional VVSCVT wheels, this hot hatch was one of the best-looking cars at the show. It even had upgraded AMG brakes.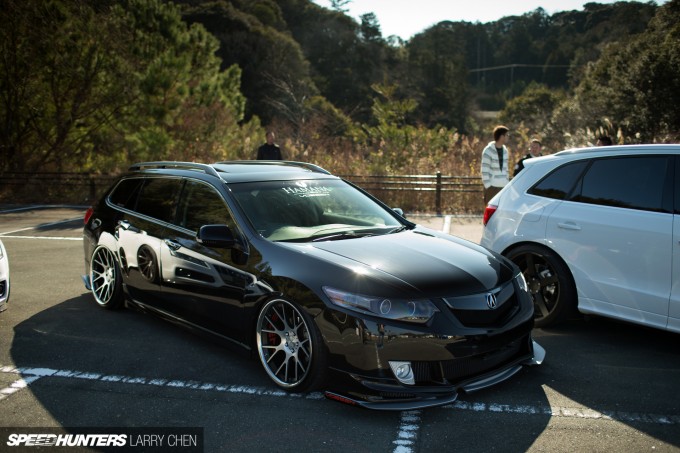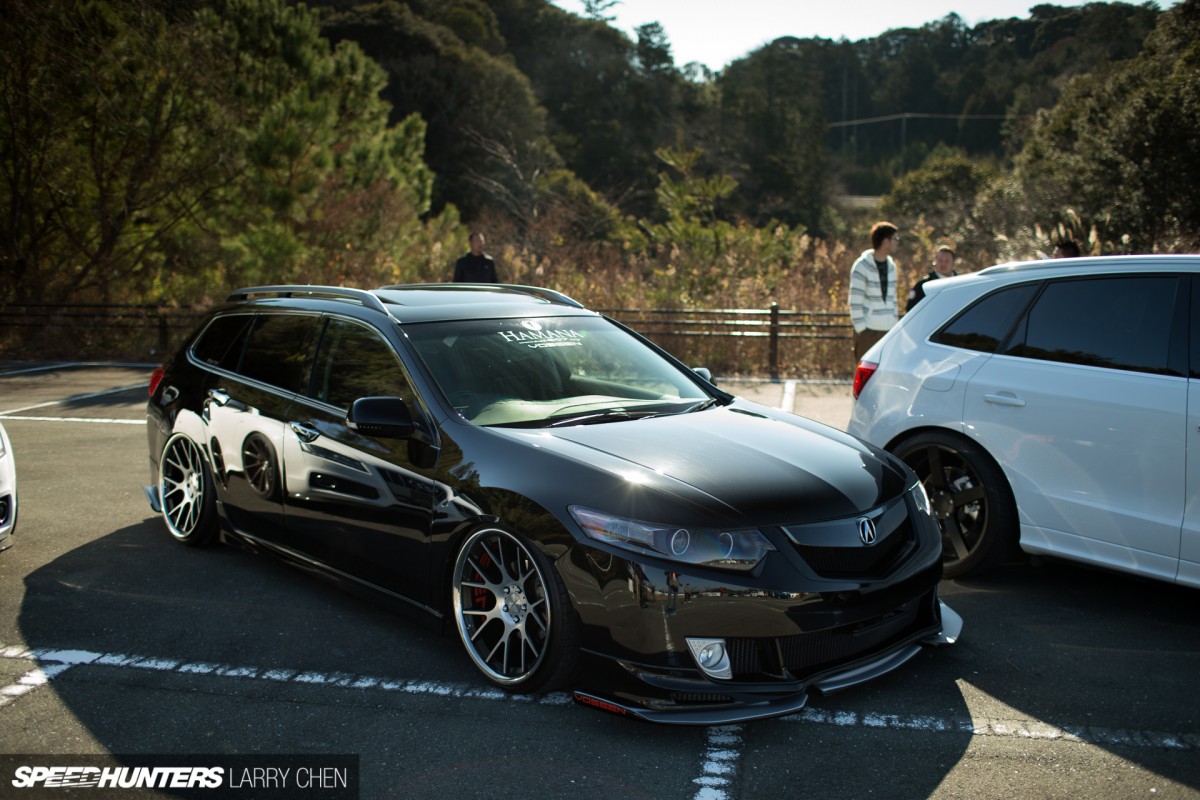 I don't know why we always get shafted for the nice cars in North America. This Honda Accord wagon looked amazing. There were just enough tasteful visual mods to really set it apart.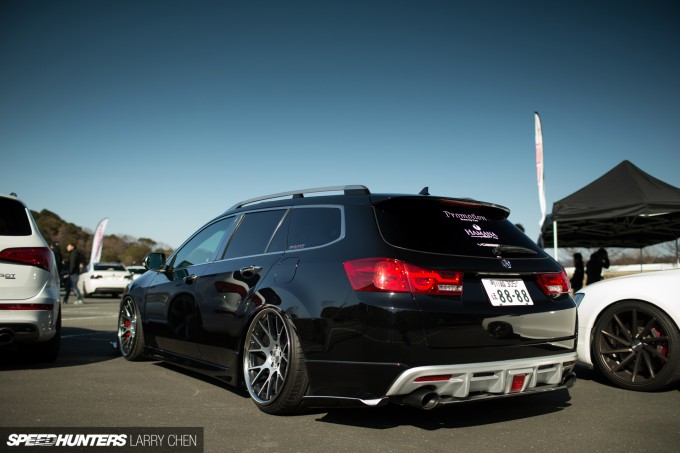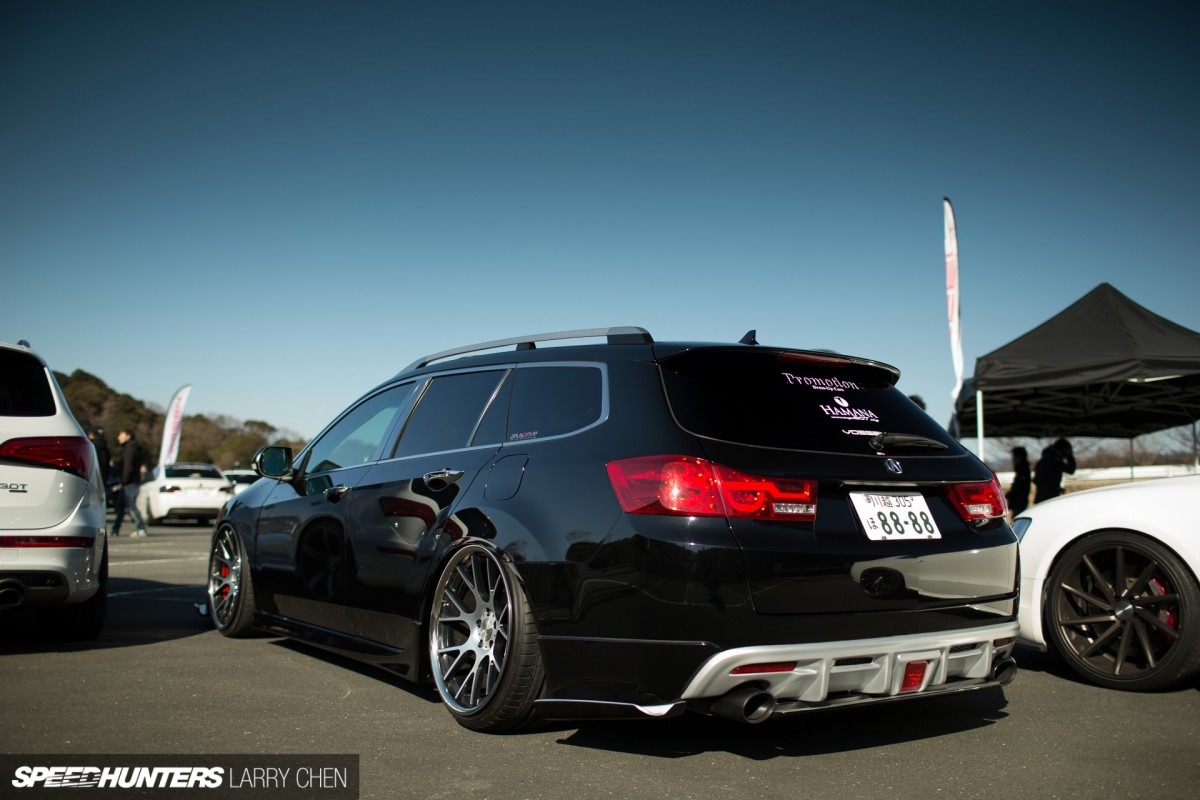 This would be such an awesome people hauler, with plenty of room for whatever you need. I posted this on Instagram and Dino caught a glimpse of it. Now he wants these VVSCV2 wheels – with their matte black body but machined lip and spokes – for his Legacy Wagon. He would paint them red though.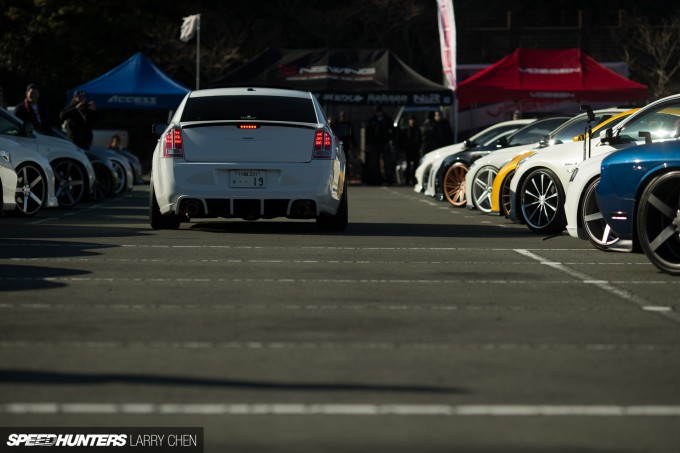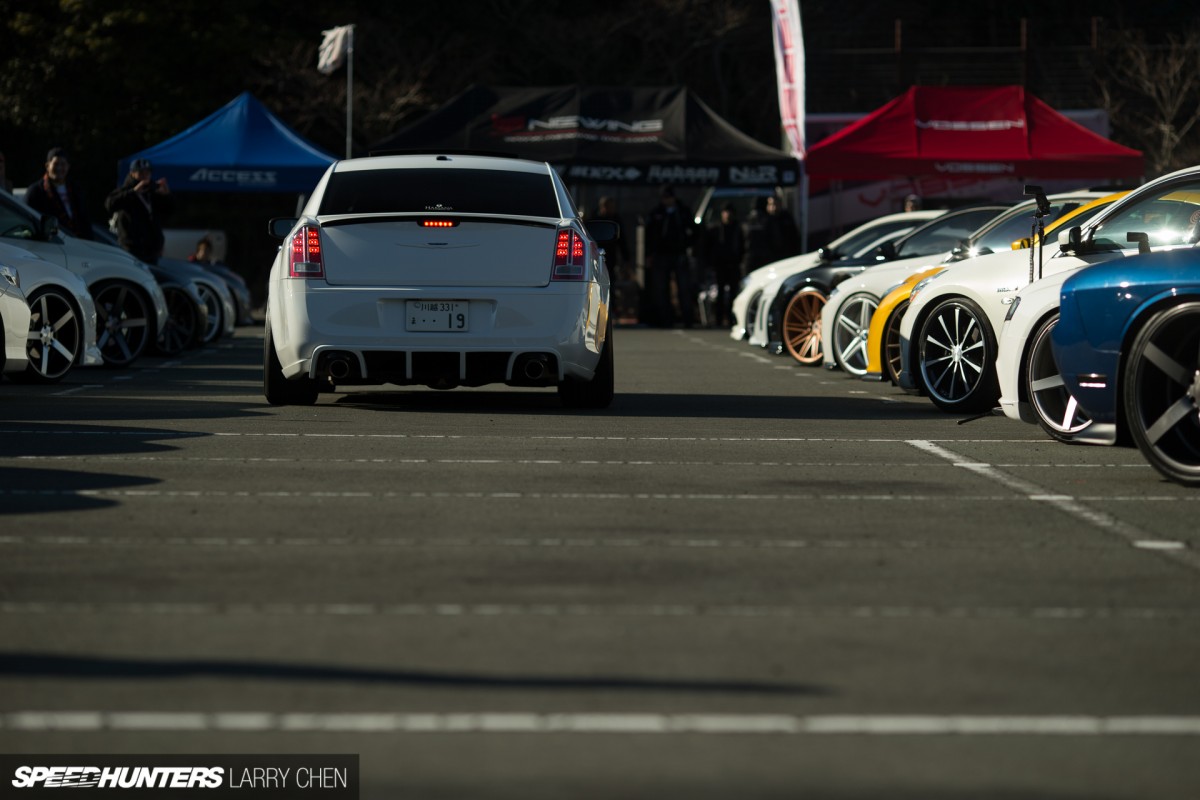 After everyone had a chance to check out the cars up close, the owners got back into them and drove down the 'catwalk' slammed to the ground, making turns along the way, just to show off how brave they were and how low they were willing to go without scraping. This was really fun to watch as some cars would get so close to rubbing their chassis on the ground. You can bet that after making their rounds, they went right back into their designated parking spot like they never left.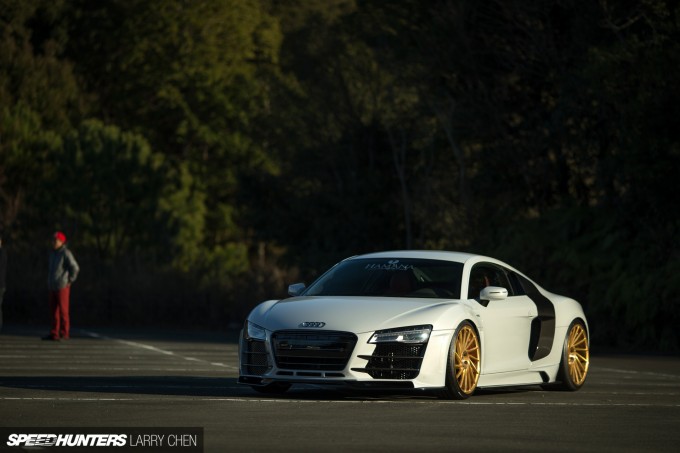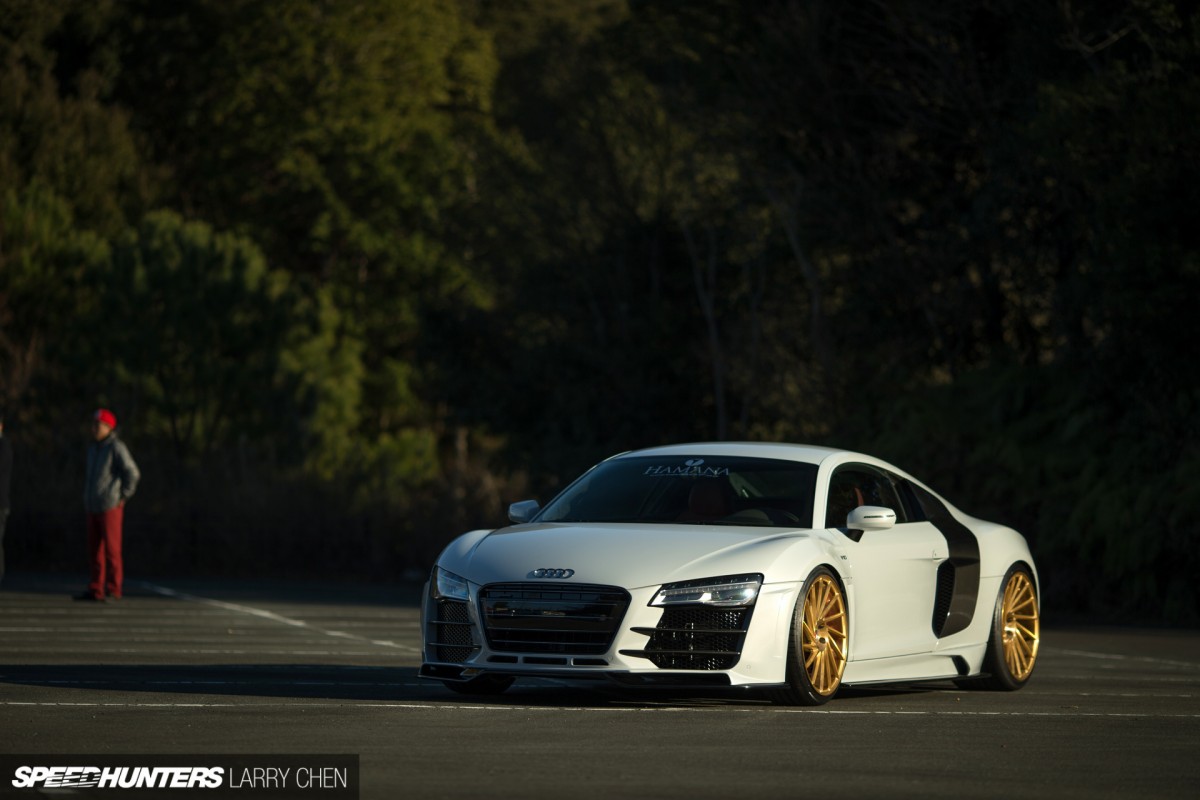 As always with every meet, there's always one show-stopper. The one car that everyone just can't stop looking at. In this instance, it was this classy Audi R8.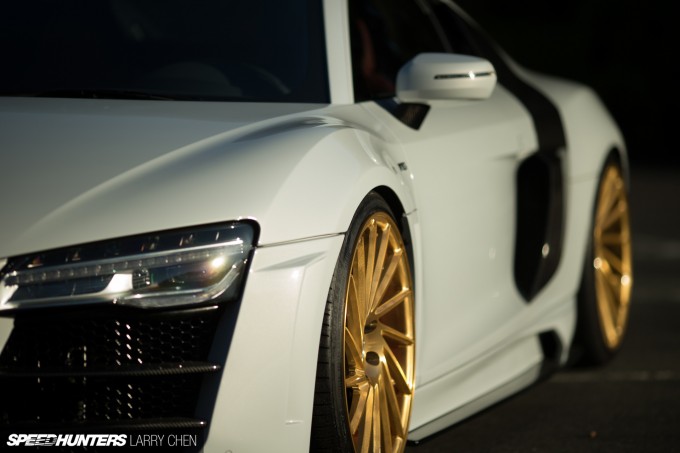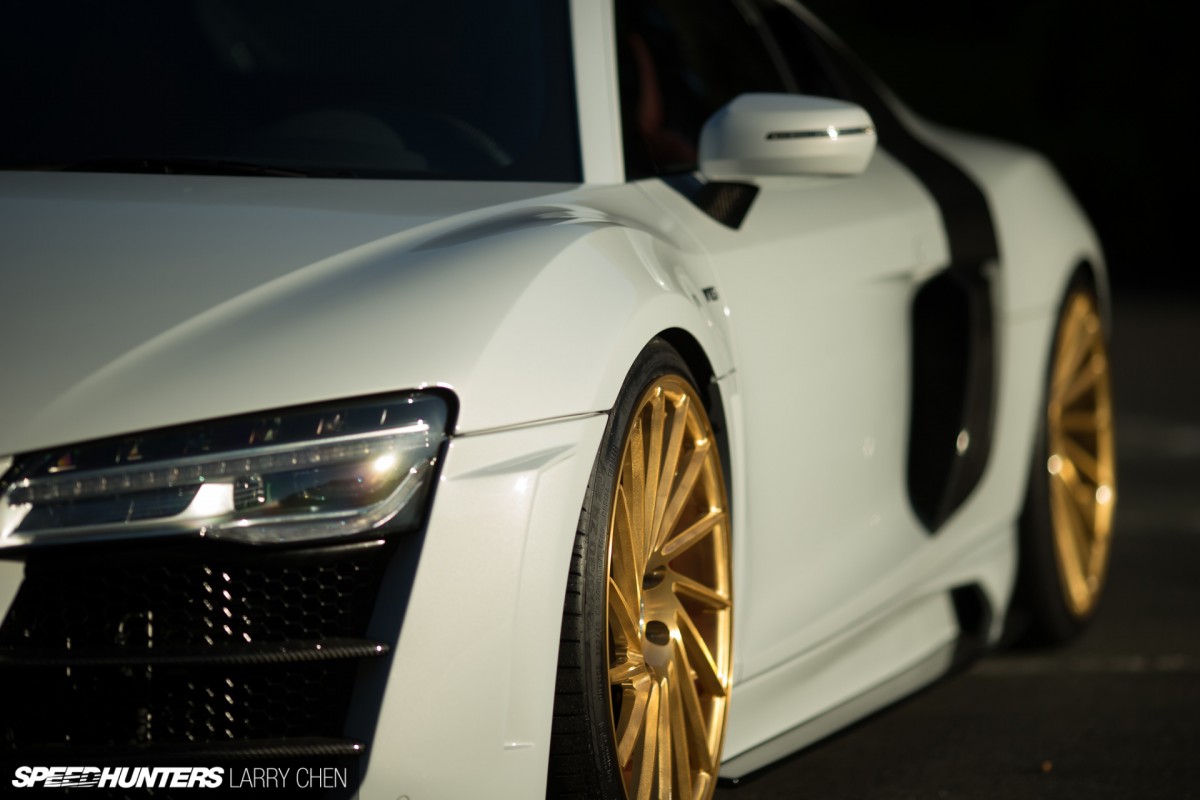 The R8 in general looks great as a stock car. It is, after all, a supercar. These amazing gold forged directional wheels from Vossen, called the Precision series (that will go on sale in April) really set the car off perfectly. Each side runs different wheels so that they all point in the same direction.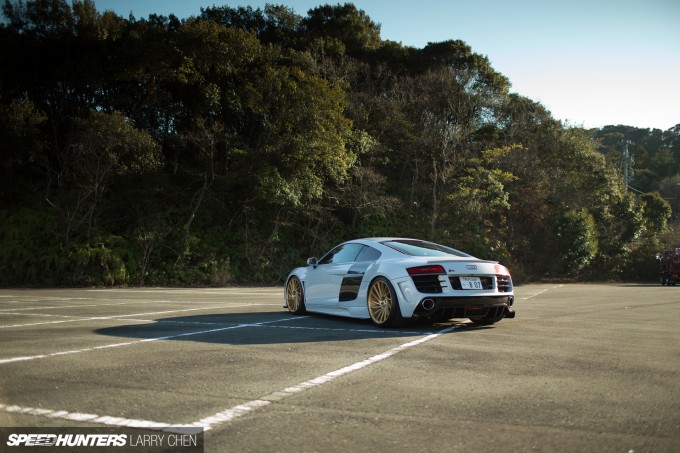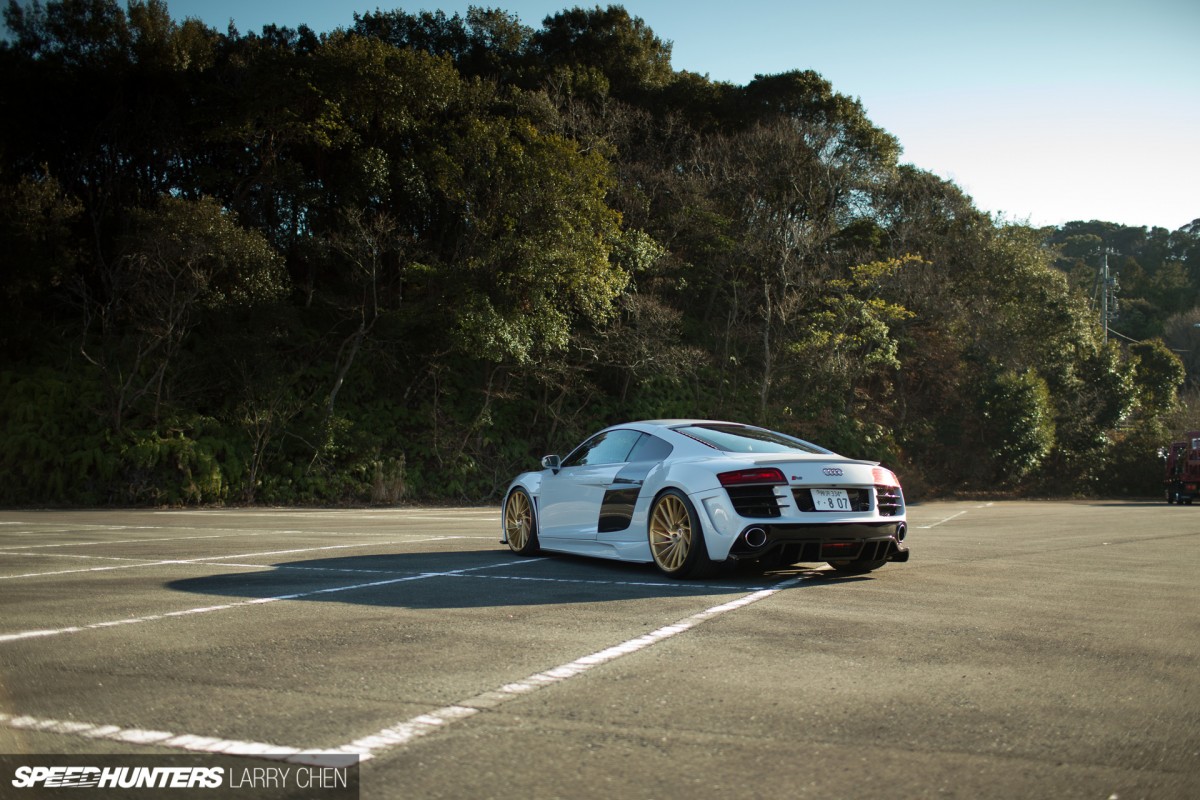 I just couldn't stop staring at it. The owner was nice enough to let me get a few shots of it after everyone left. Everything was just right about the way this car looked.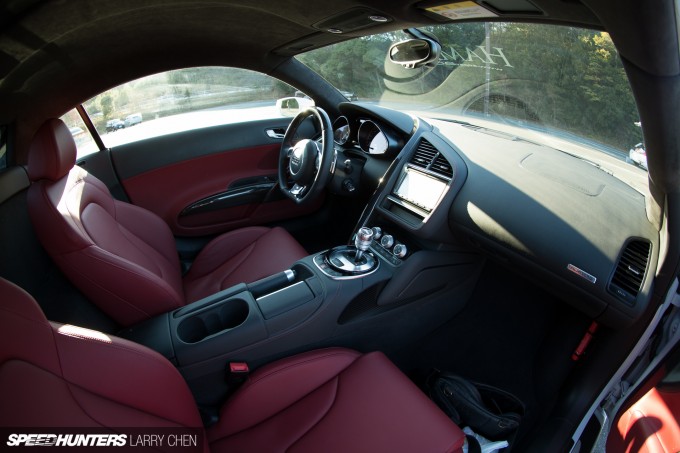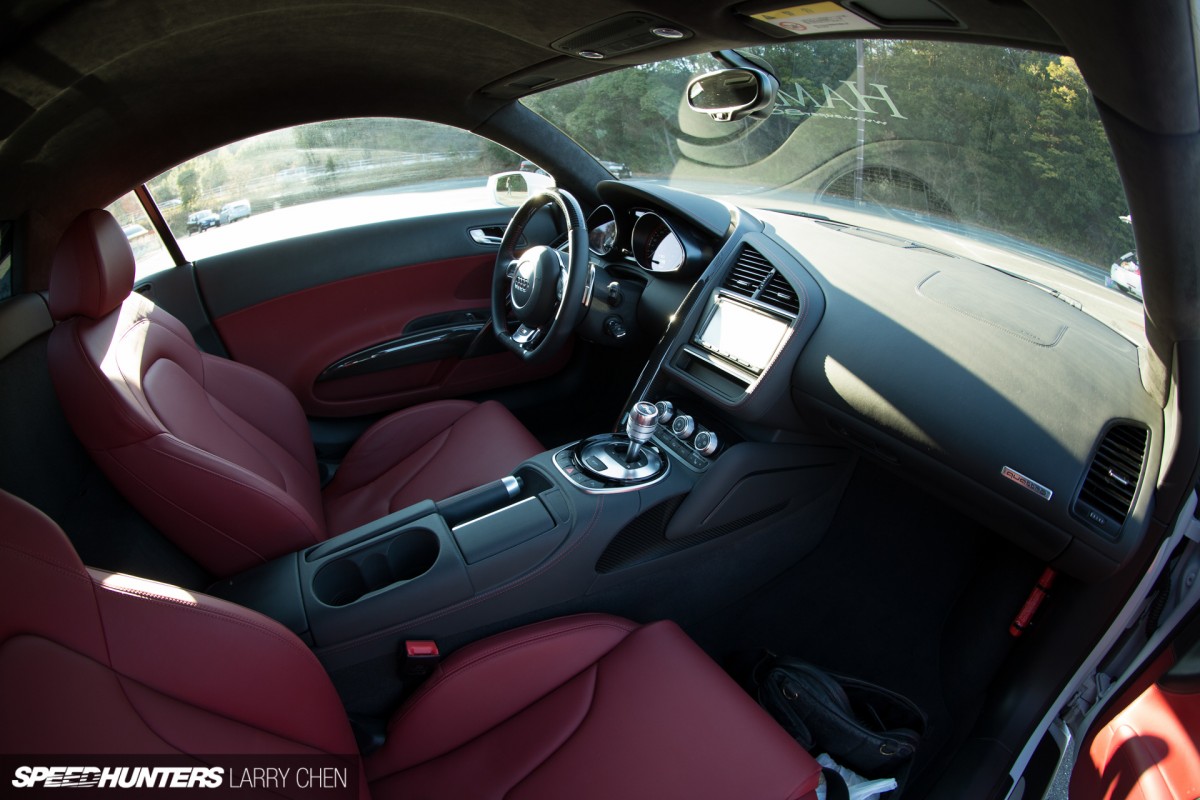 The interior was stock, but I wouldn't change a thing.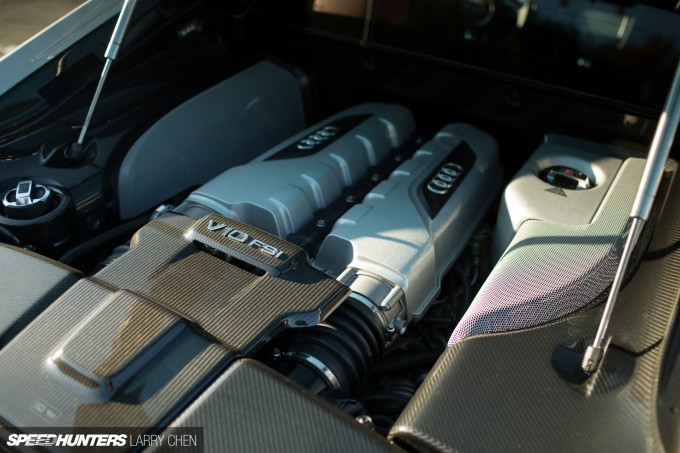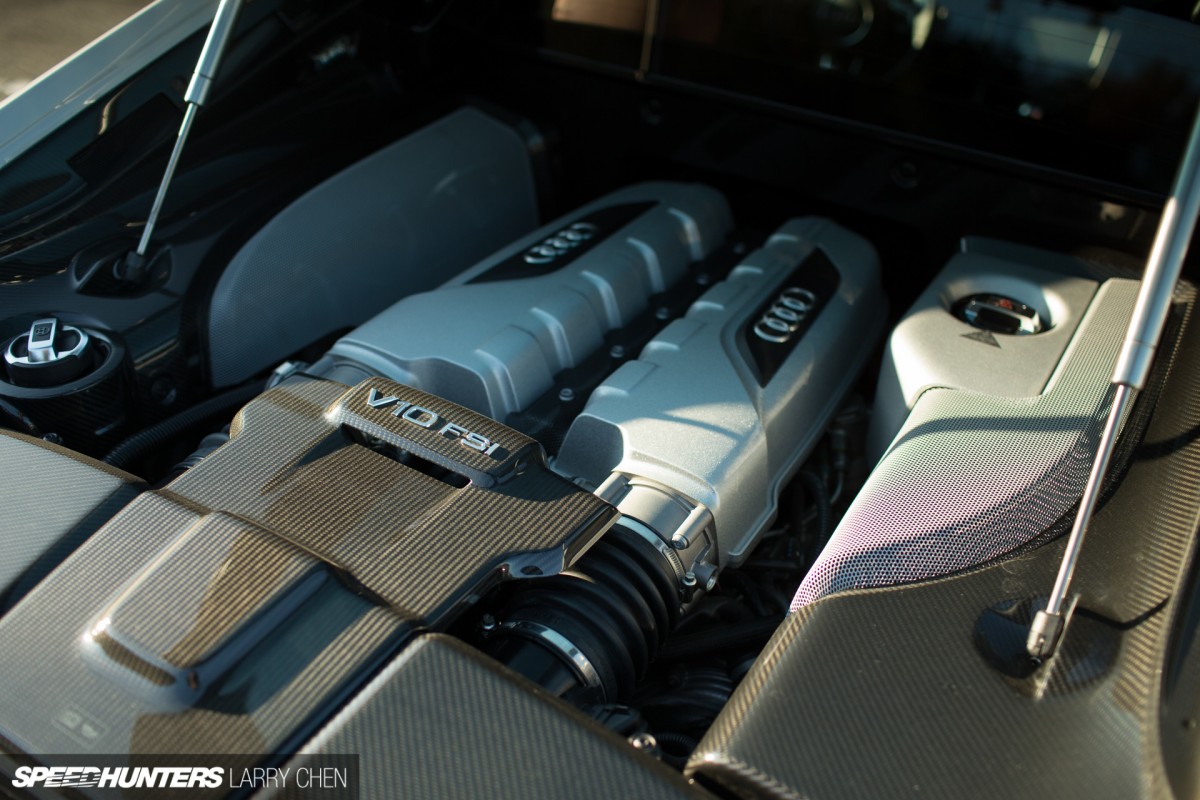 As for go-fast mods, it did have an upgraded exhaust, which gave it a much deeper note. And with the 5.2 litre V10 kicking out over 500 horses anyway, it hardly needs much doing to it.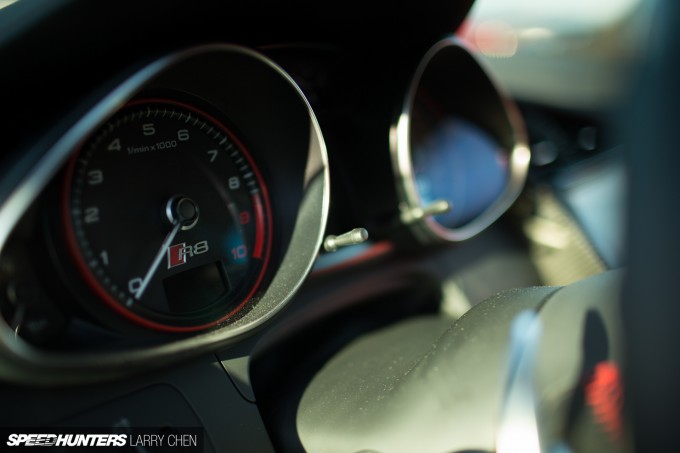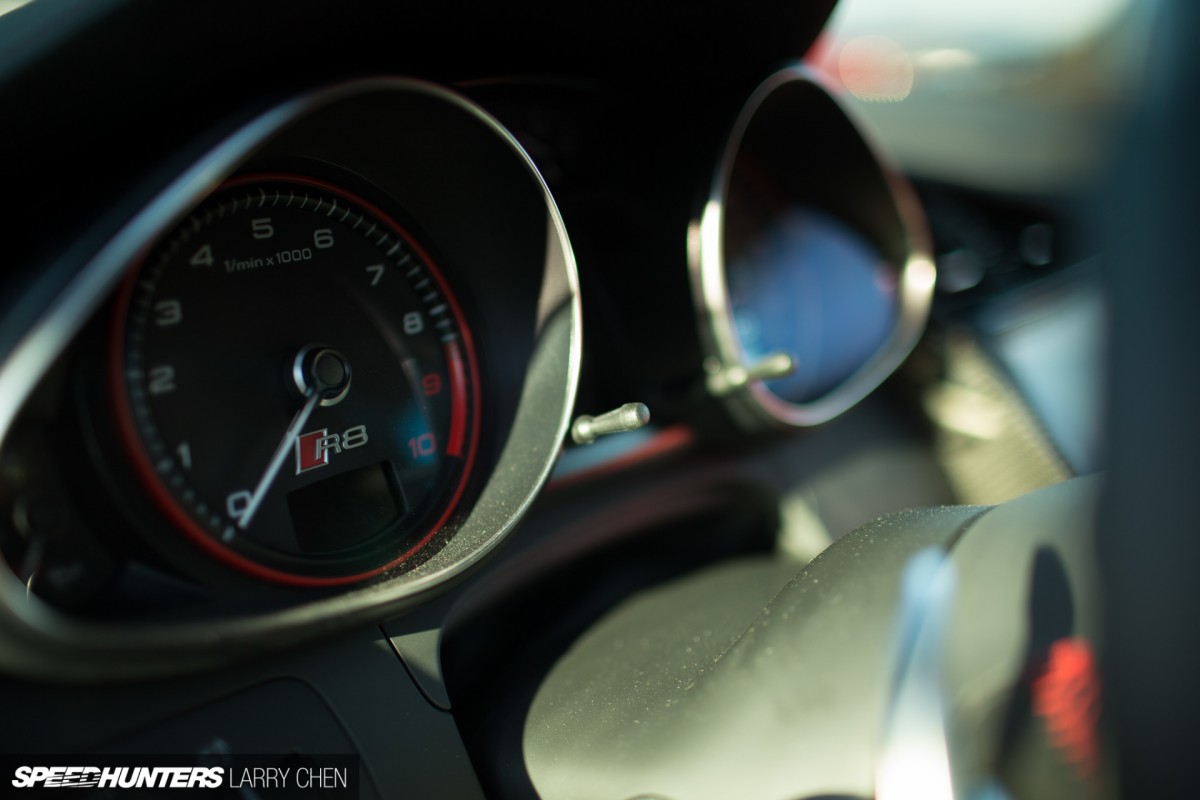 I've yet to drive one of these beasts, so hopefully I can source one in the near future for a dream drive.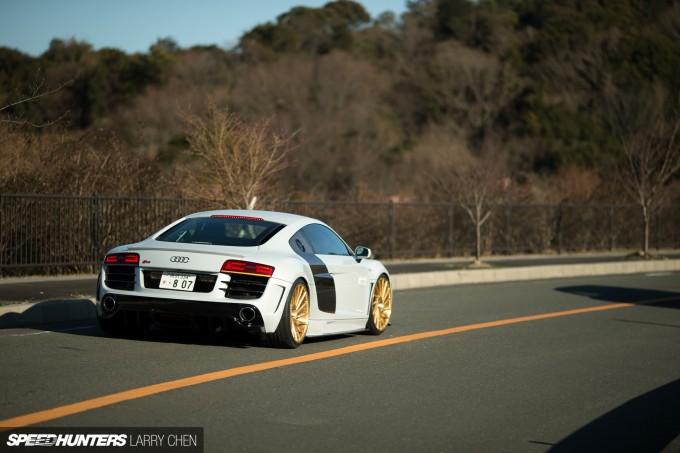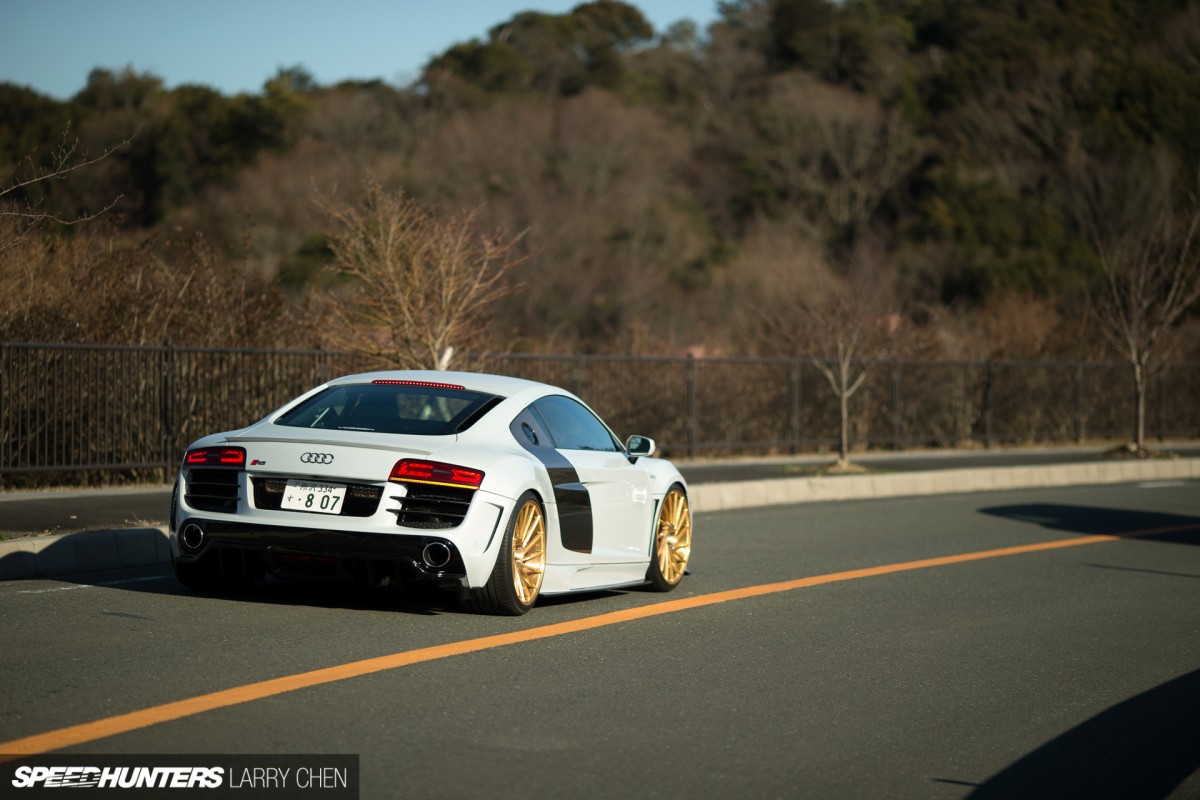 I freeze up driving on Japanese roads. If I'm not following anyone, I would get lost really easily. I've never really had a chance to drive right-hand drive cars. This R8 was actually left-hand drive.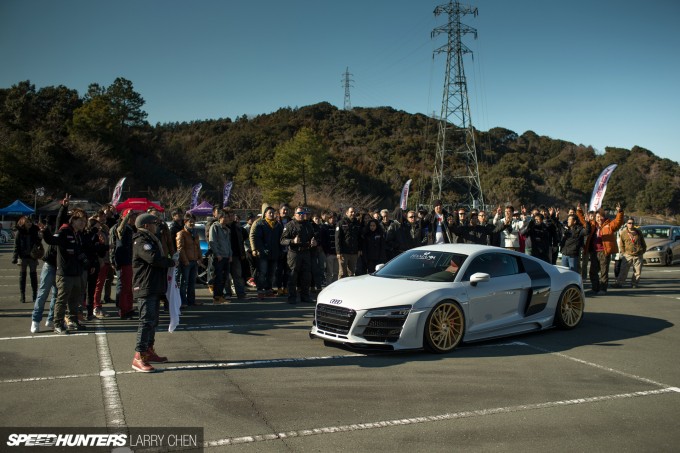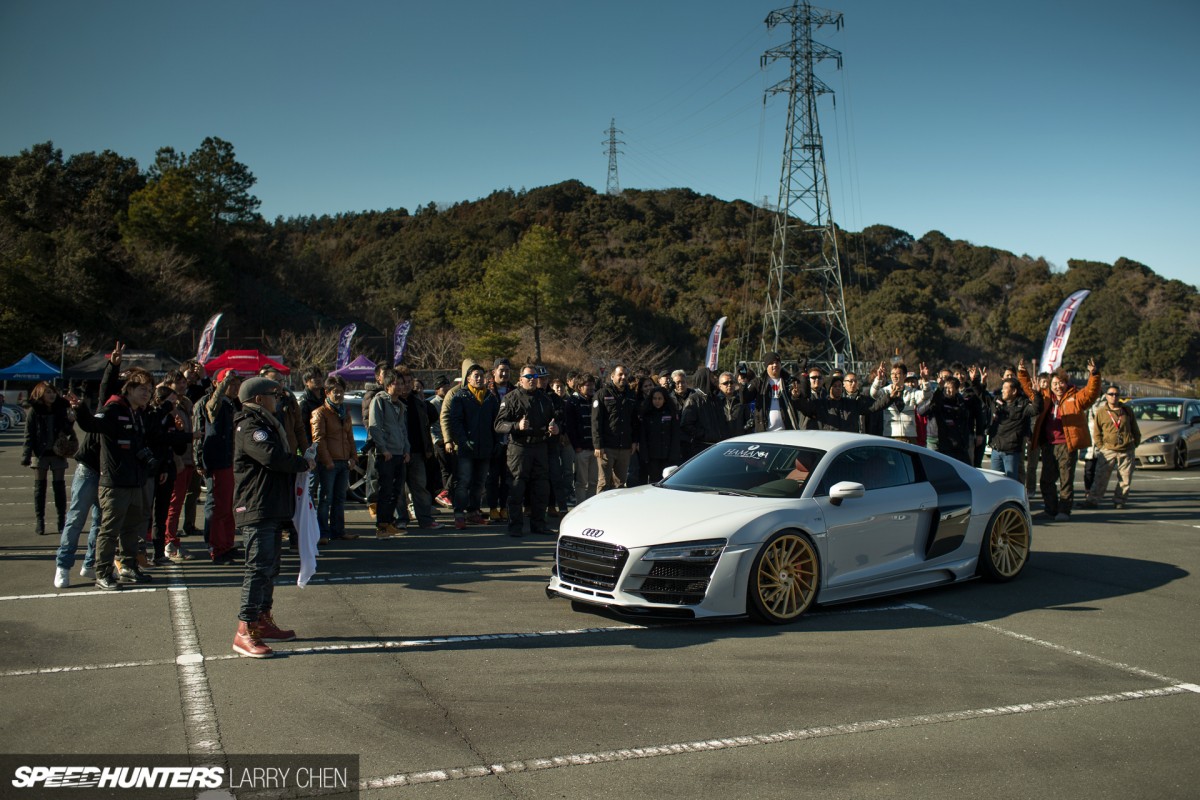 Another thing that I noticed was that these guys came early and stayed late. The official flyer stated that the meet would end at 3pm. Not a soul left before then. If one car took off, it would just leave a big ugly gap in the perfect formation of pristine cars. No one wanted that. So come 3pm, everyone rolled out one by one, in style. Not before a group photo though. This was Japan after all.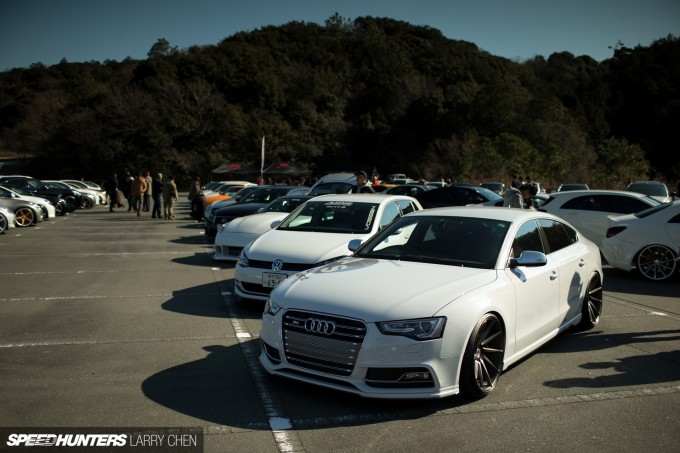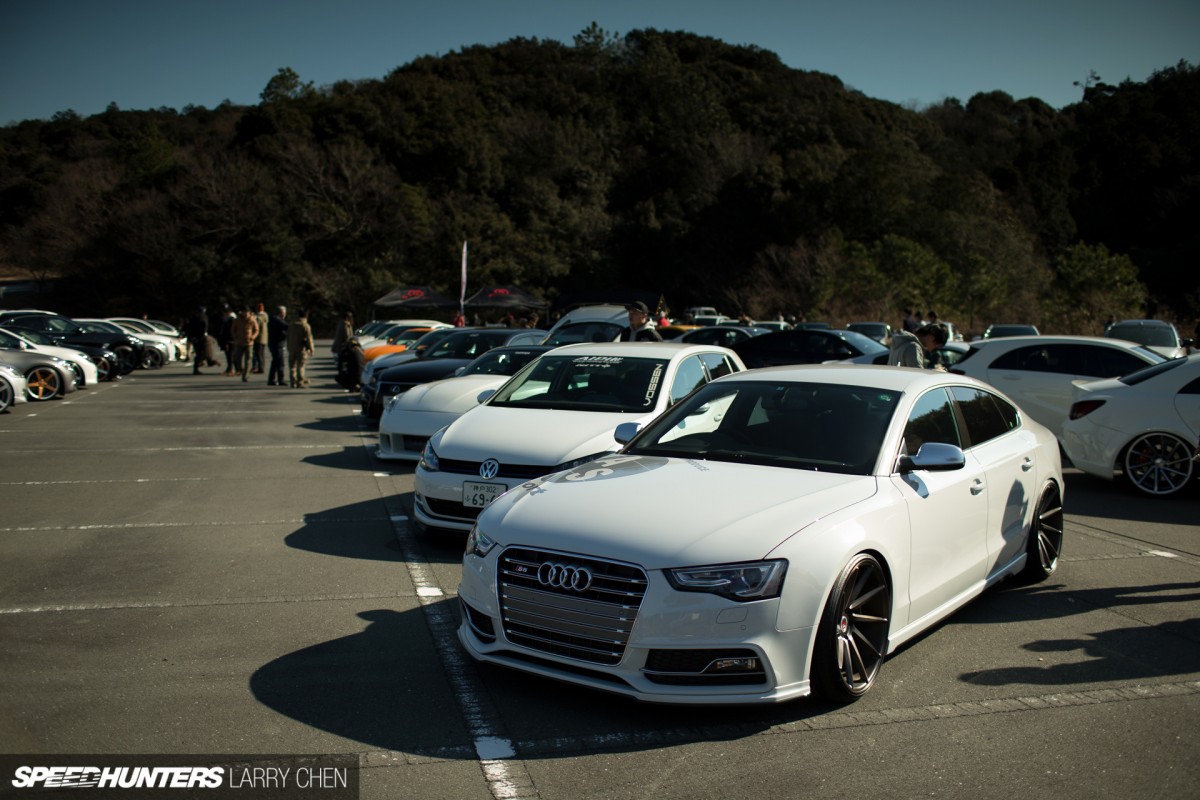 Most of the meets that I go to have incentives for people to come out. Usually it's in the form of raffle prizes or if it's a judged car show, giant man-sized trophies. There was none of that going on at the Vossen show. At the end of the day, these guys are enthusiasts and they all made the trek to hang out with friends and check out some cool rides.
Half naked import models and glittering prizes have their place at certain car shows, but don't forget the core reason why these gatherings exist. It's all about the cars, and always has been. I like going to meets that keep it that way.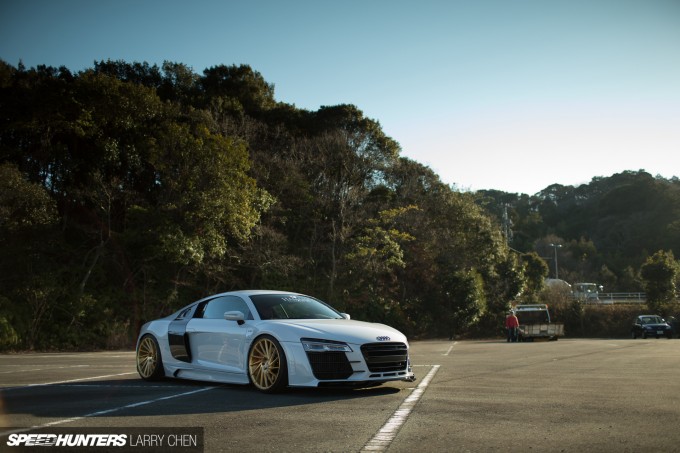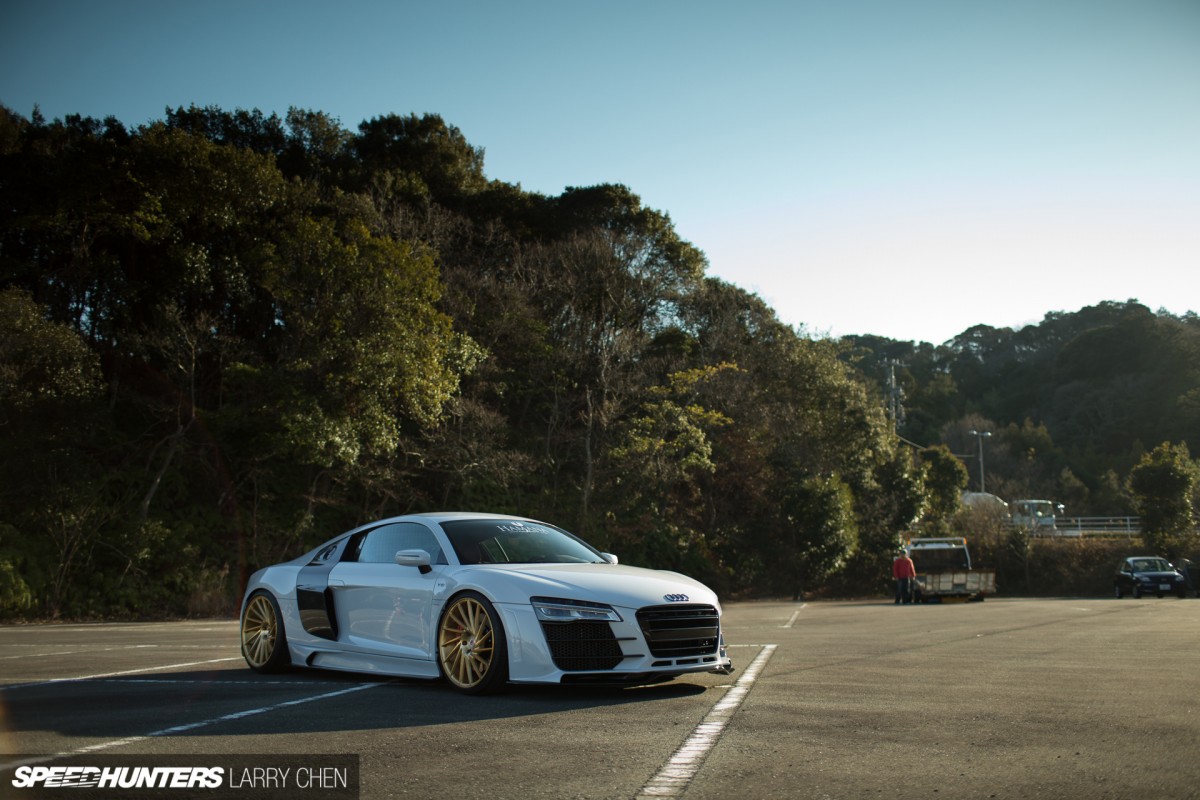 And until this Vossen meet in Japan, I've not seen such enthusiasm for a simple parking lot gathering. This makes me wonder what car shows are like in other countries. I guess I'll just have to wait till my next Speedhunting trip to find out…