Redefining the 911
Why do we love the Porsche 911? More specifically, why do we love the early models of this legendary automobile? Well, there are lots of reasons: they look great, they're fast, they handle well and they have a rich history behind them.  But there are plenty of other cars you can say that about – there's something else about the 911.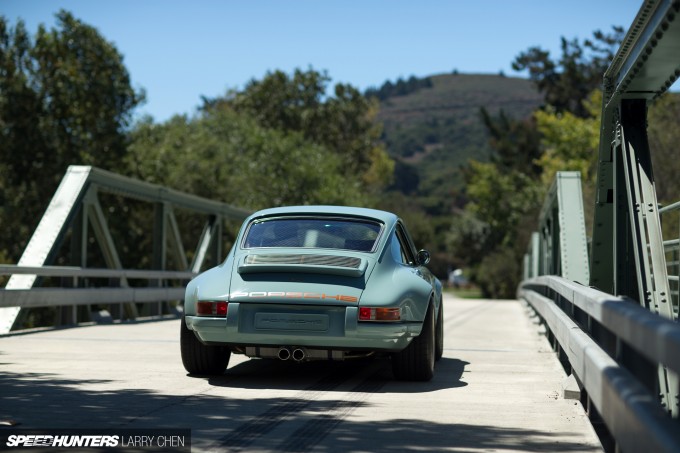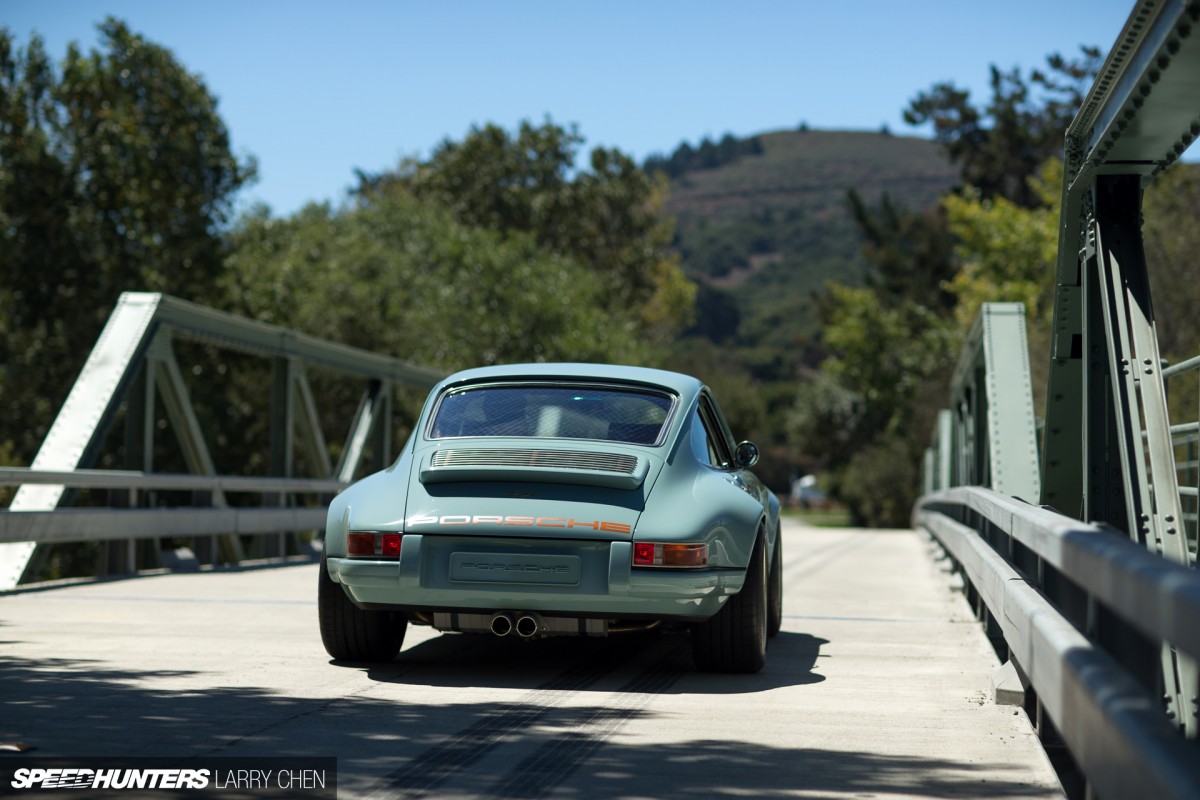 In recent years the popularity of early 911s has skyrocketed, as so too have the prices they demand on the collector car market. The fanbase seems to be growing by the day.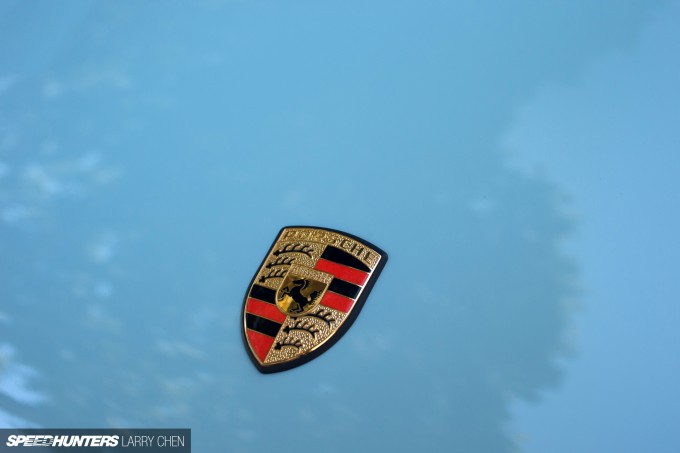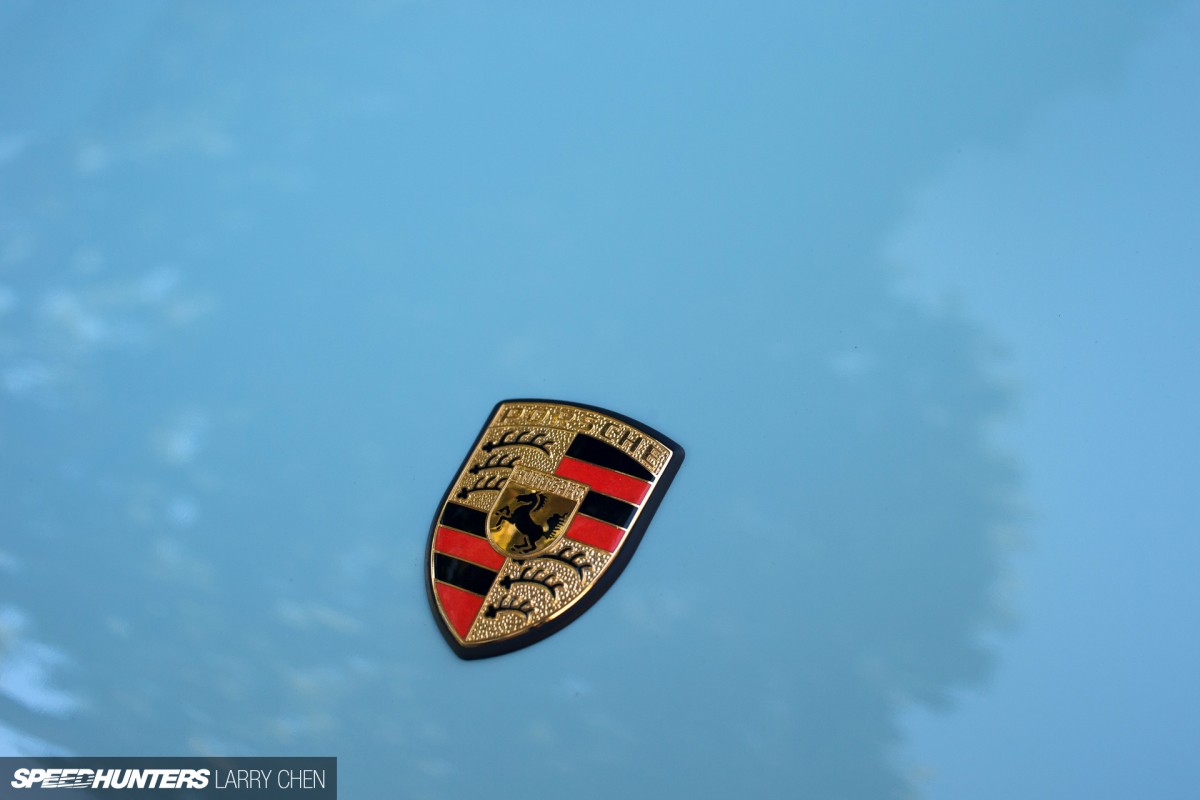 What is it that sets the 911 apart from its competitors? Simplicity. Compared to its rivals from Italy or the UK, the 911 is a rather basic car – and to many enthusiasts that's what makes it so great. It's got the look, the performance, the history and the quality of a classic European sports – but it's not exotic enough to scare off weekend mechanics and DIYers.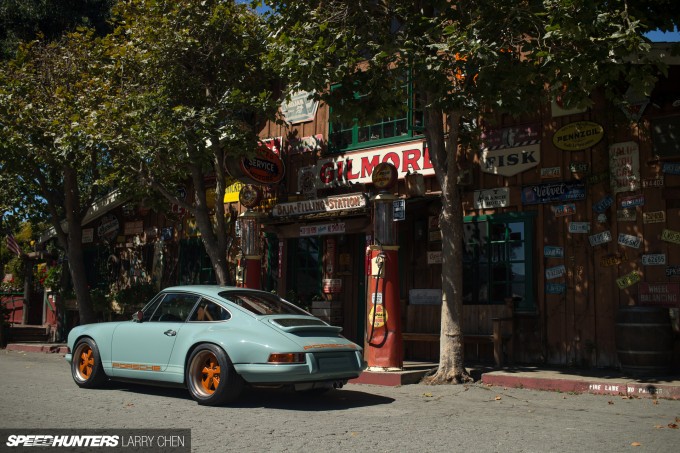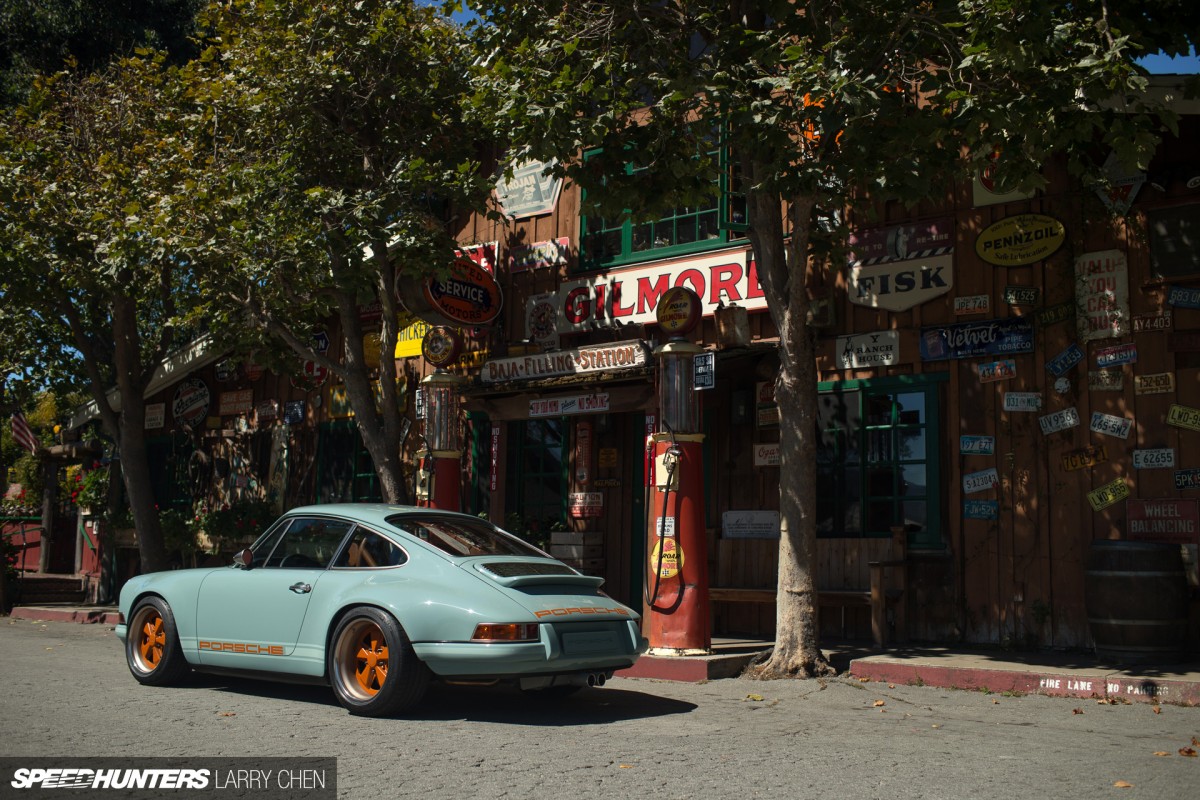 While some might call the 911 a fancy VW Beetle, to me that's exactly what makes it cool. It's also the reason why you'll find a lot more modified 911s than you will Ferraris or Jags. Just ask someone like Nakai-san from RWB or Mr. Magnus Walker. Porsches are cars to be played with.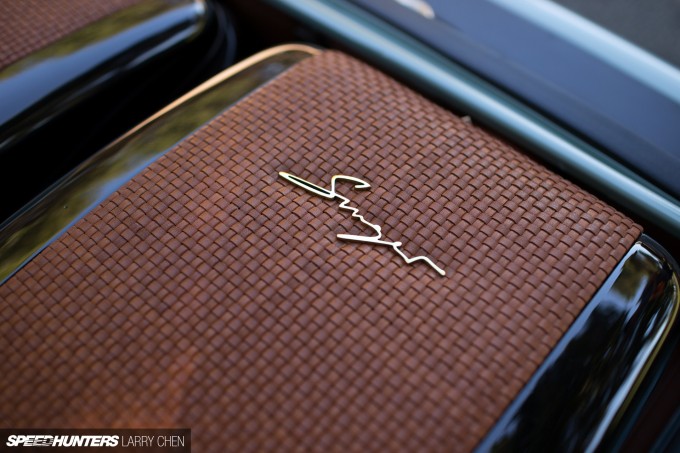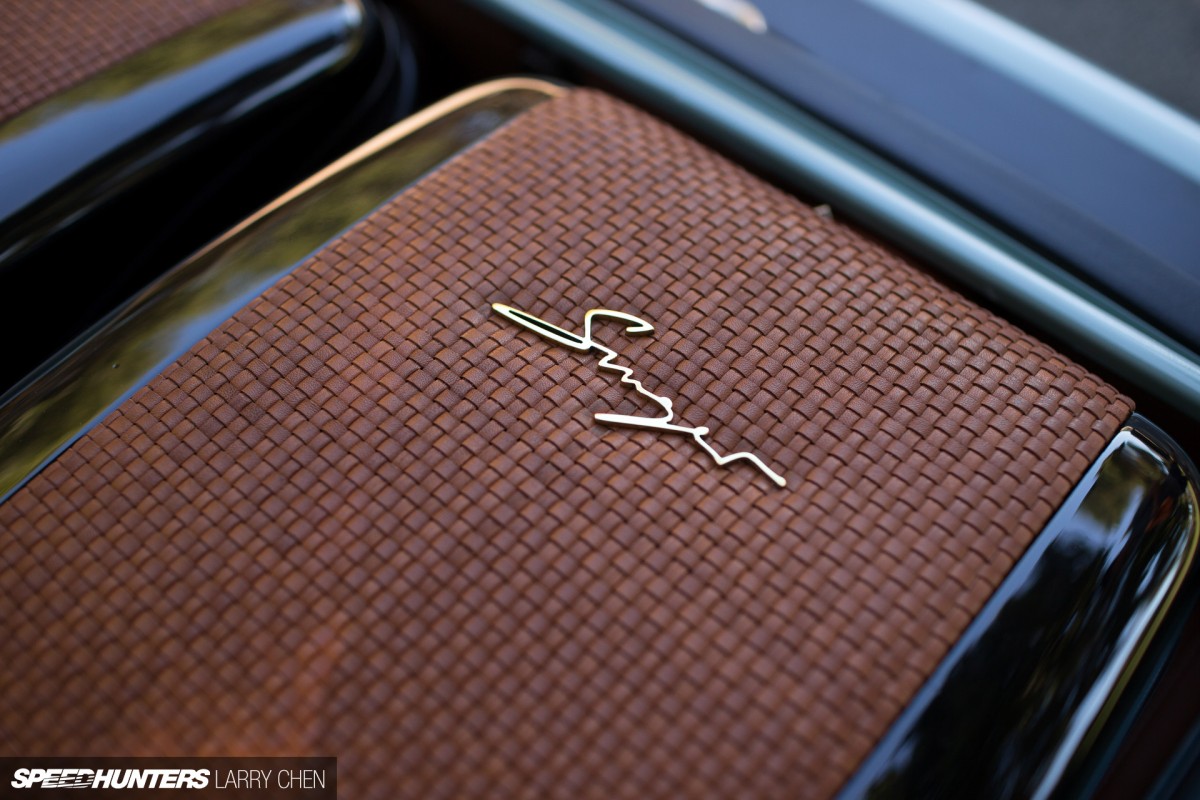 And when it comes to building modified 911s for the street, few do it better than Singer Vehicle Design. In a few short years, the California-based company has become known around the world for its re-imagined versions of the classic Porsche 911.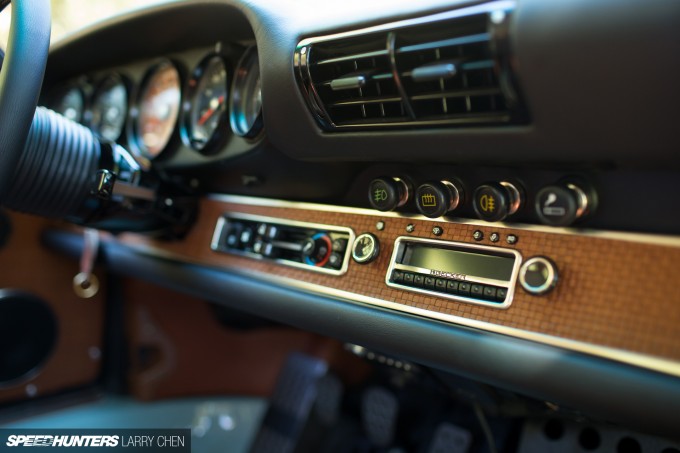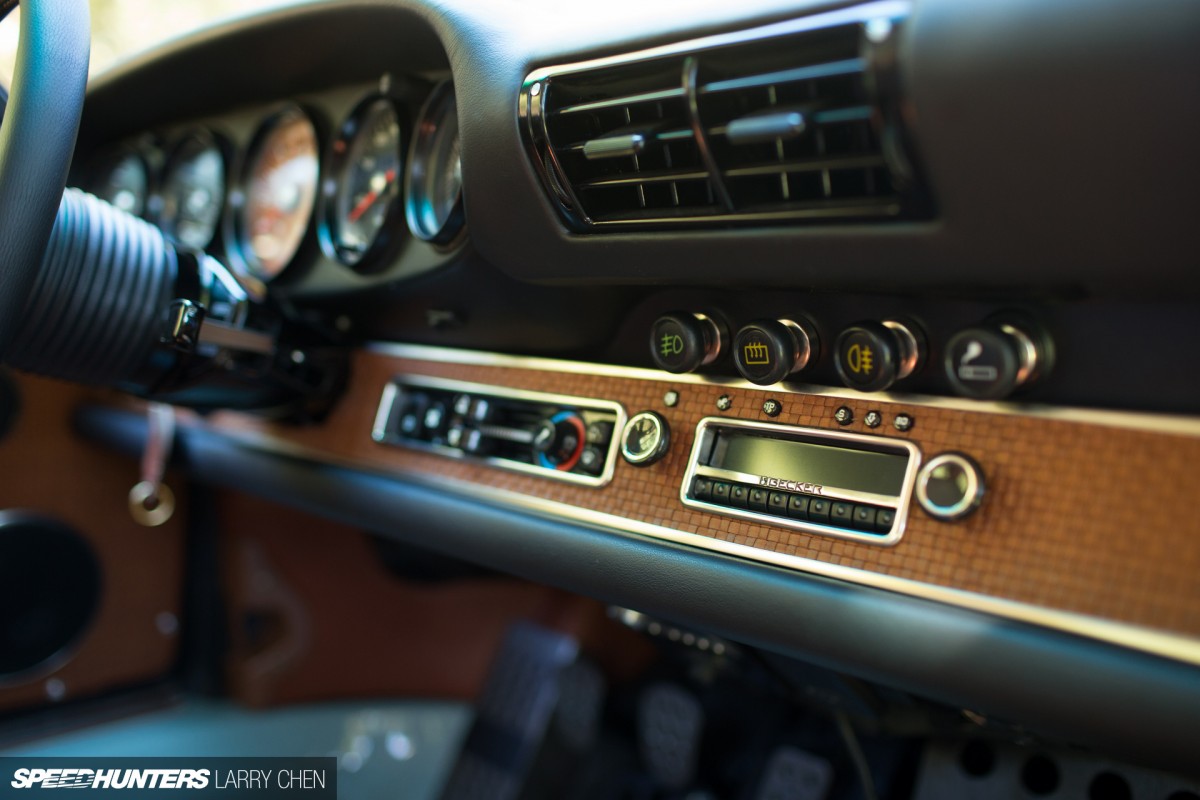 If you want a refresher on exactly what goes into one of Singer's project cars, make sure you check out Sean's shop visit story. I dare you to read that and not come back feeling inspired.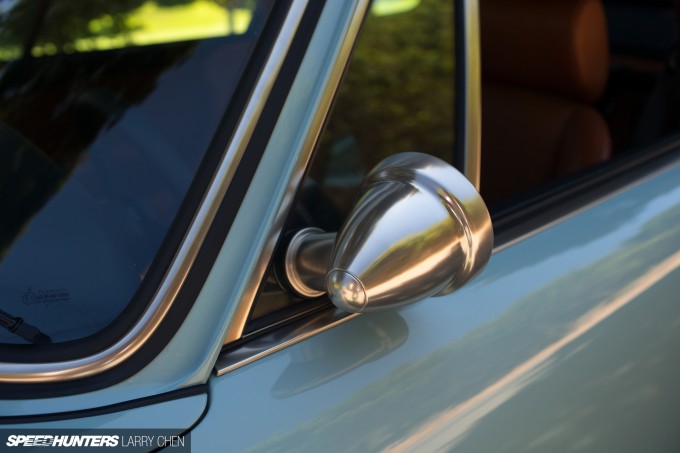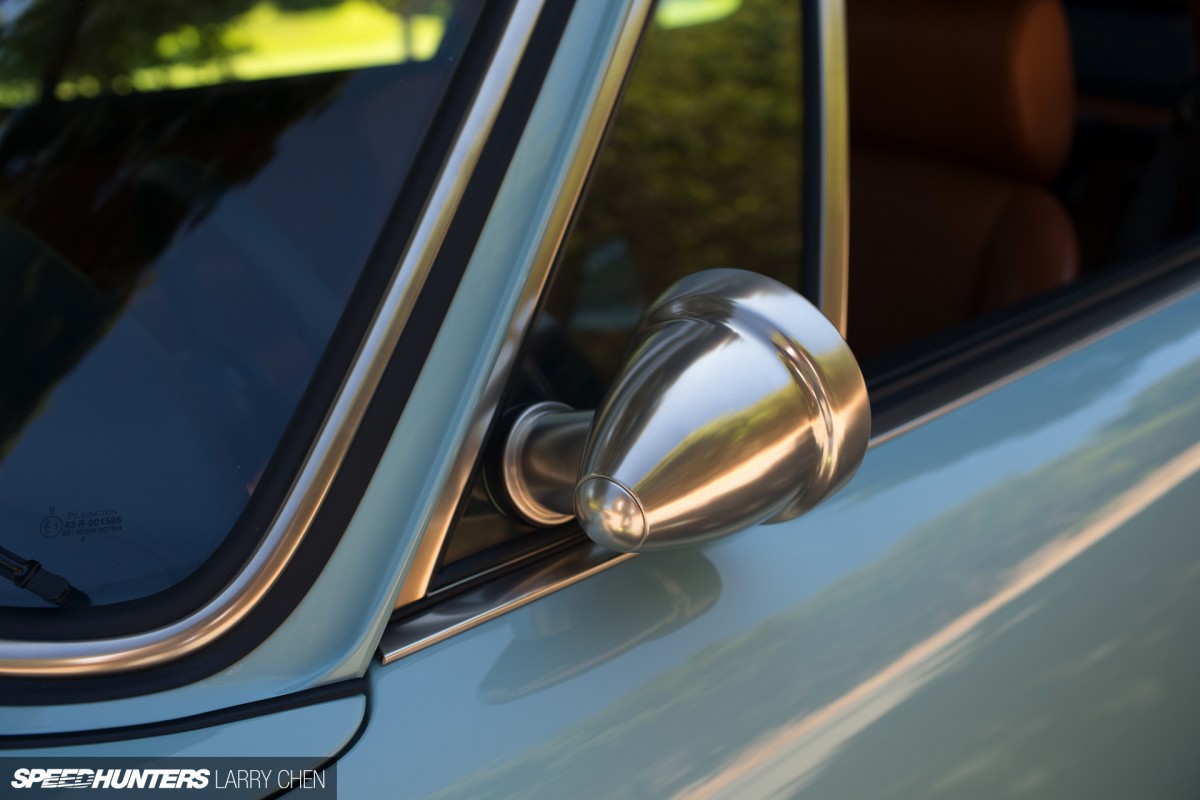 In the time since, Singer has continued to roll out increasingly impressive 911s and I'm happy to be able to share one of their latest and coolest projects to date.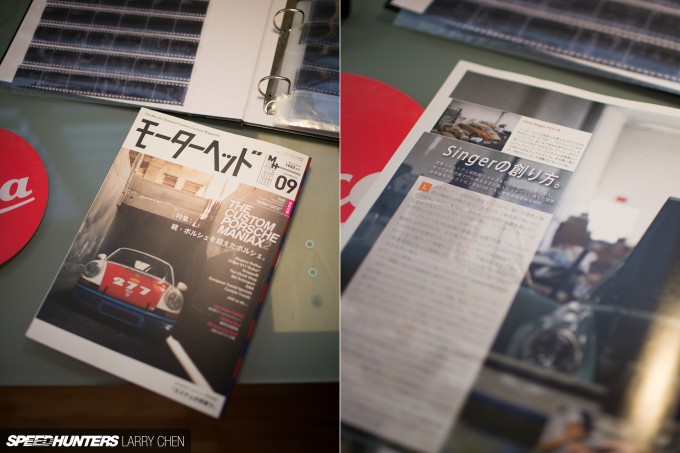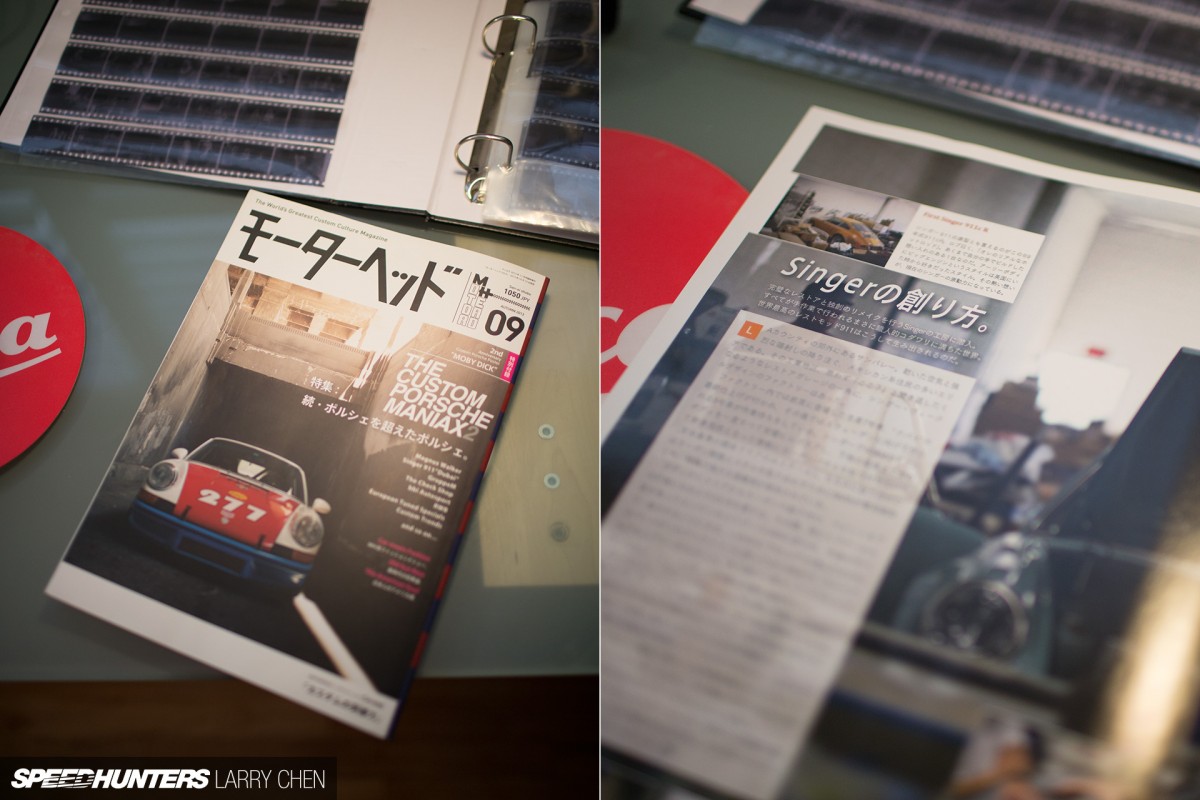 Larry Chen originally photographed this car for Motorhead Magazine, but our friends at Motorhead were nice enough to let us share the car here on Speedhunters – and what a car it is.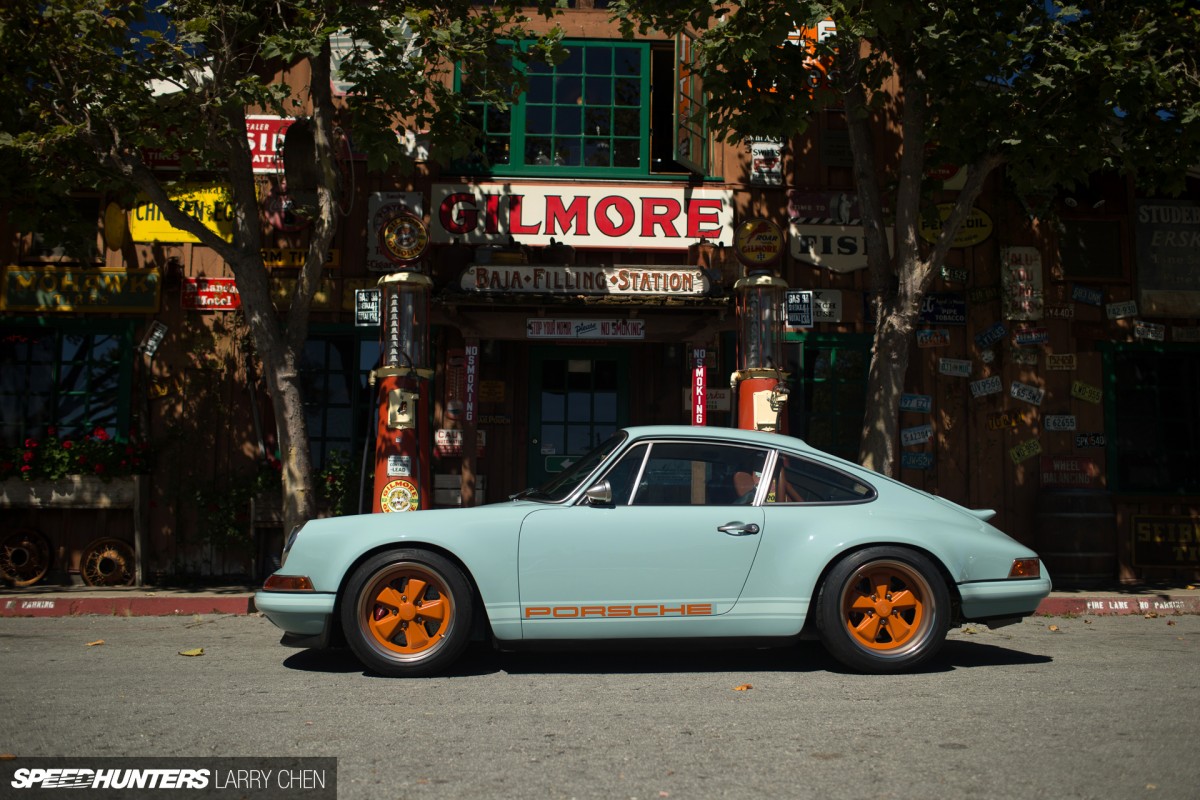 While the base car is a 964 model from 1992, it's hard to tell that by looking at it. In typical Singer Fashion, the 911 has been rebuilt, restored and modified from the ground up to be the ultimate classic 911. When vintage Porsche style meets modern Porsche performance and reliability, it's a beautiful thing.
The recipe for perfection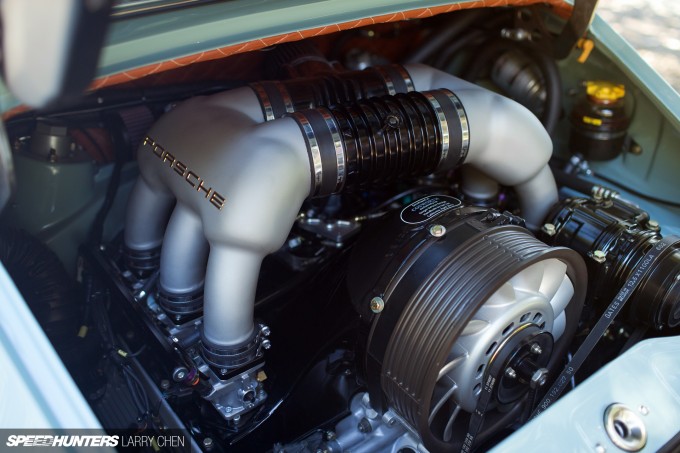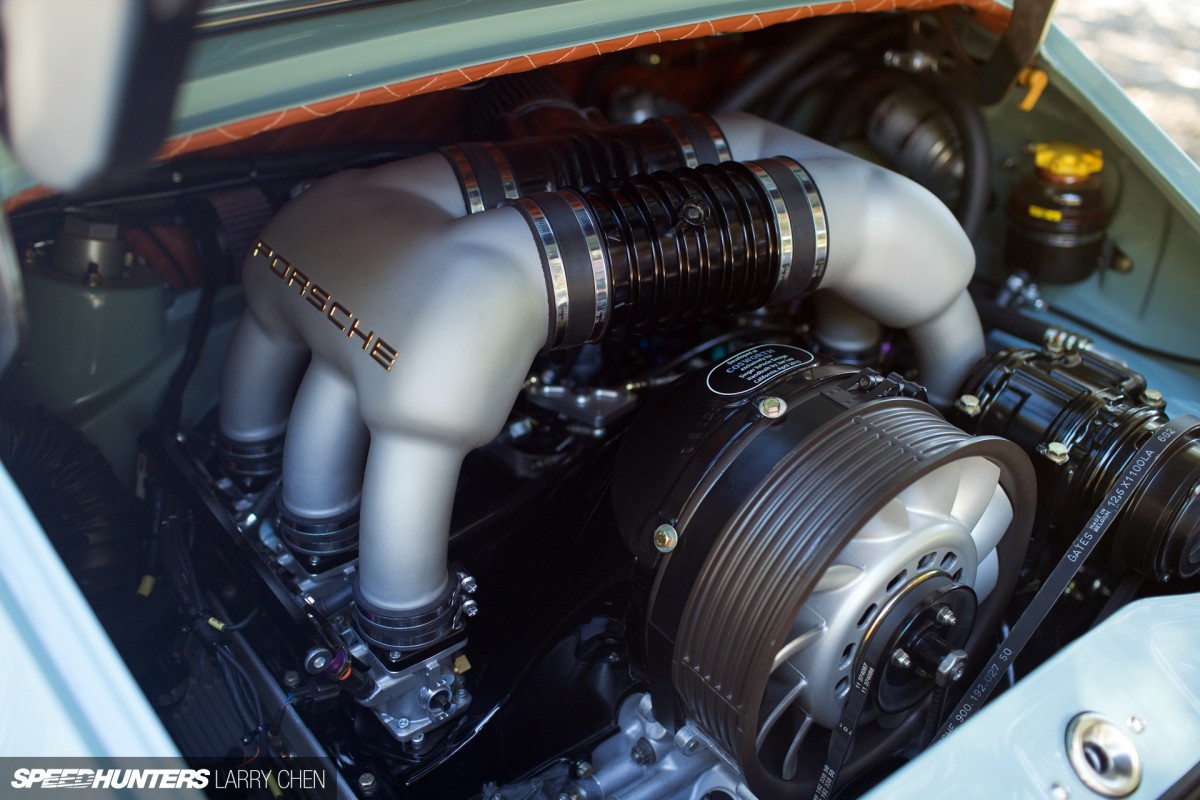 Lifting the decklid of this car, you'll find a 3.8 liter Porsche flat-six – air-cooled and naturally aspirated of course.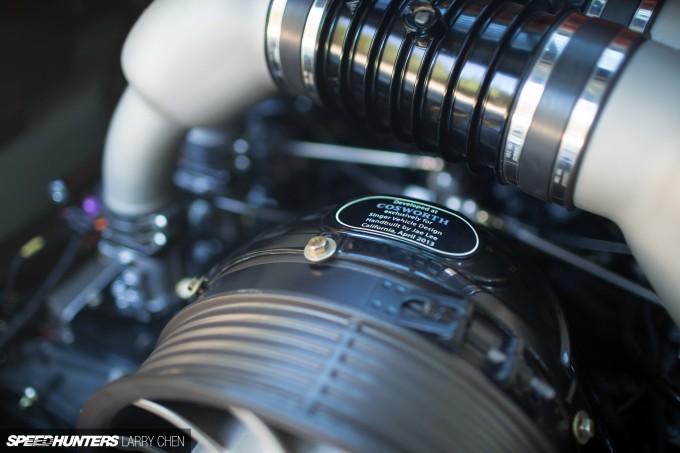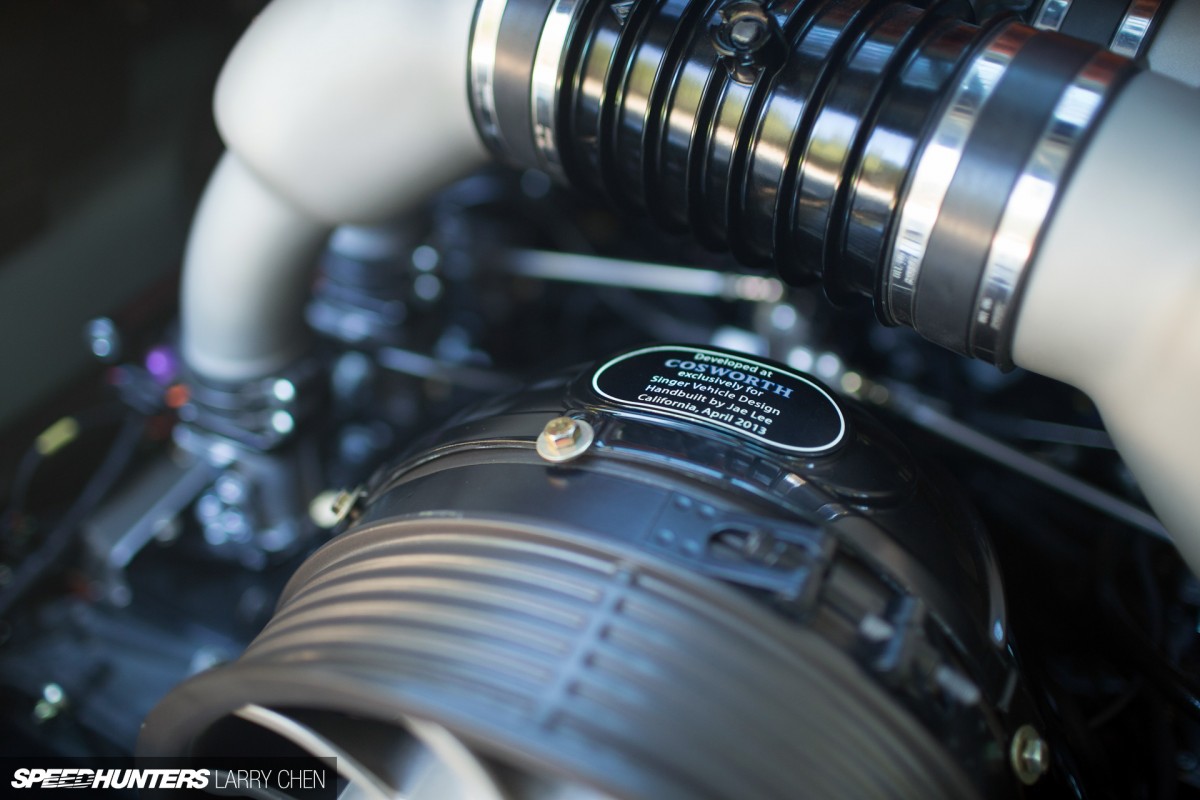 But this isn't just a standard Porsche motor, it's one that's been fine-tuned by the engine masters at Cosworth for the best in power and response. There's also a state of the art AEM Infinity engine management system to keep everything running smoothly.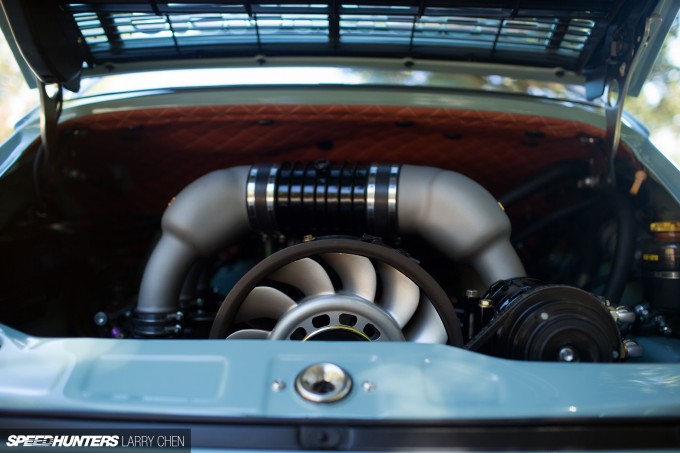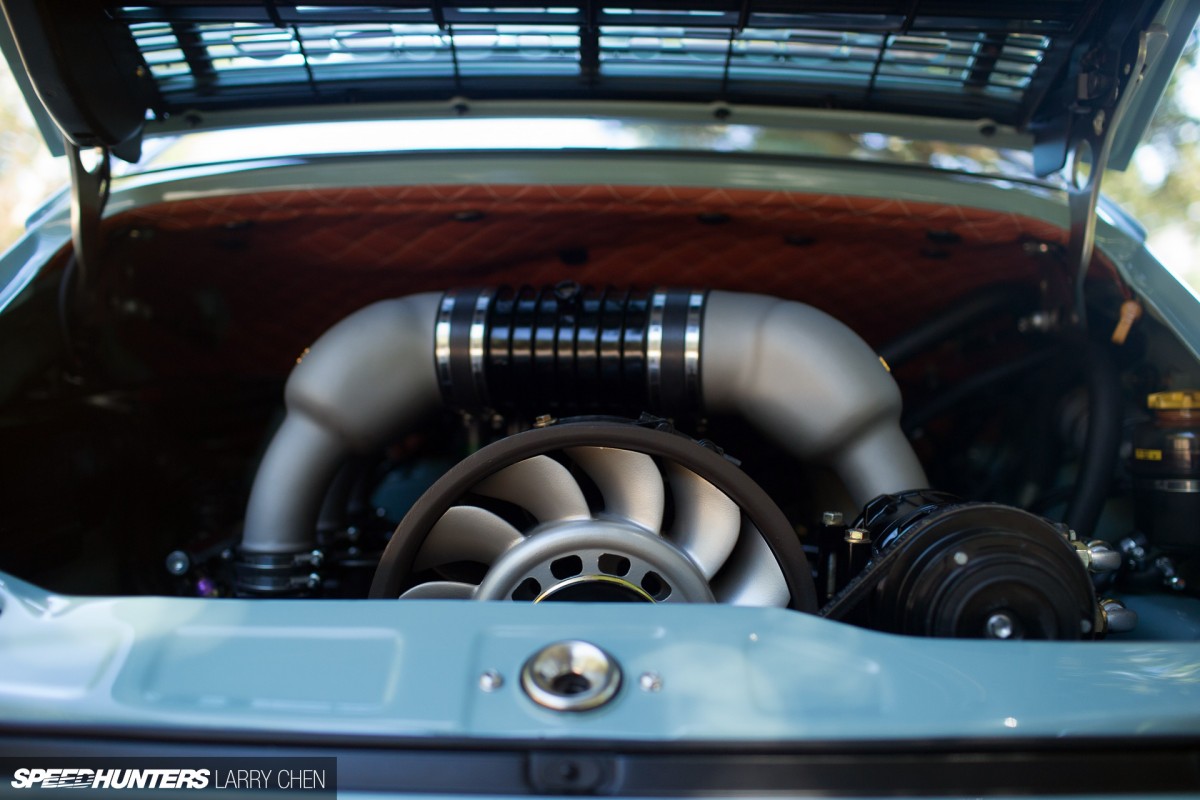 Power output is 360 horsepower and 280 foot pounds of torque, which to me is the perfect amount for a street car without overwhelming the chassis or the driver.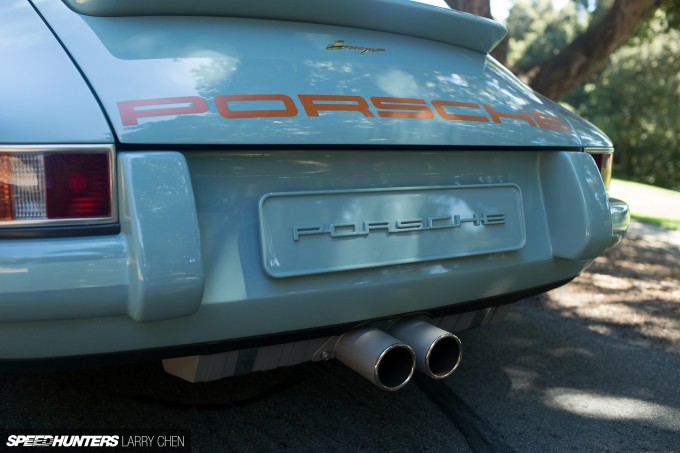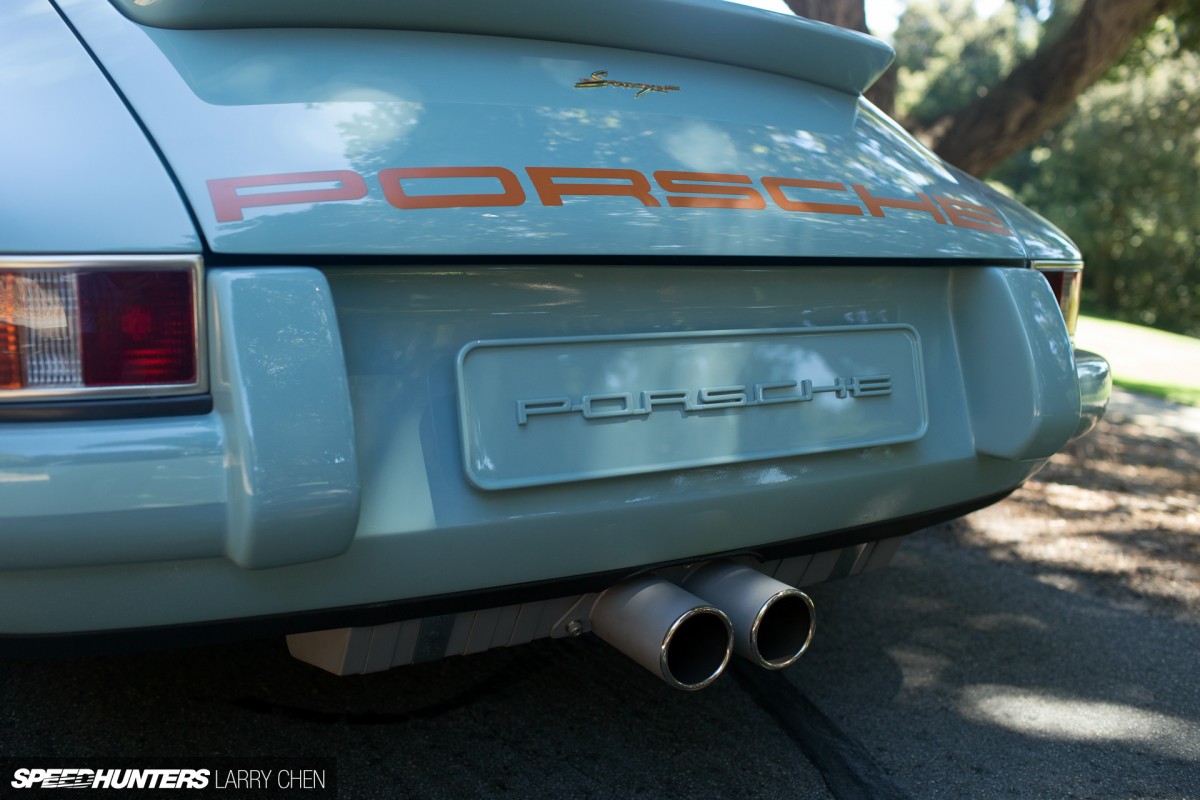 Just as important, the car belts out beautiful flat-six music through a bespoke stainless steel exhaust system with custom headers and a muffler exiting directly beneath the rear bumper.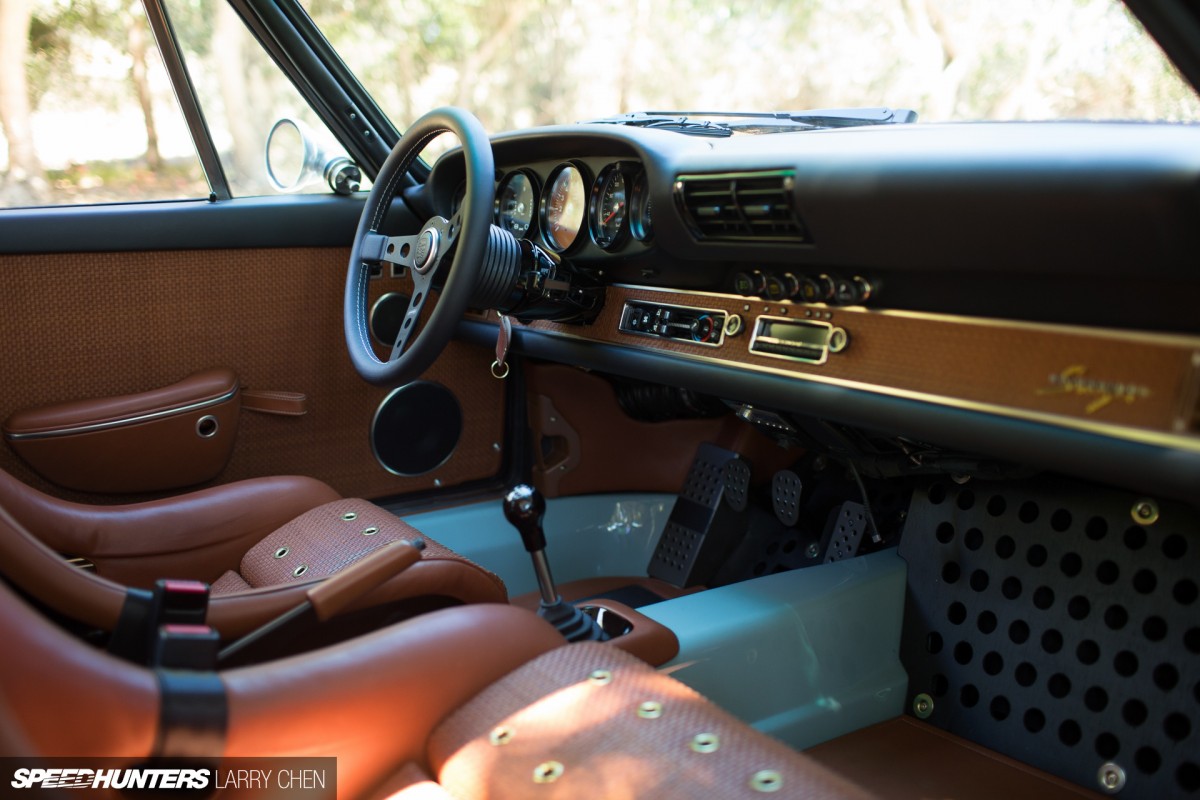 The engine is mated to a Getrag close ratio six-speed transmission and of course there's an LSD under there to help put that power to the rear wheels.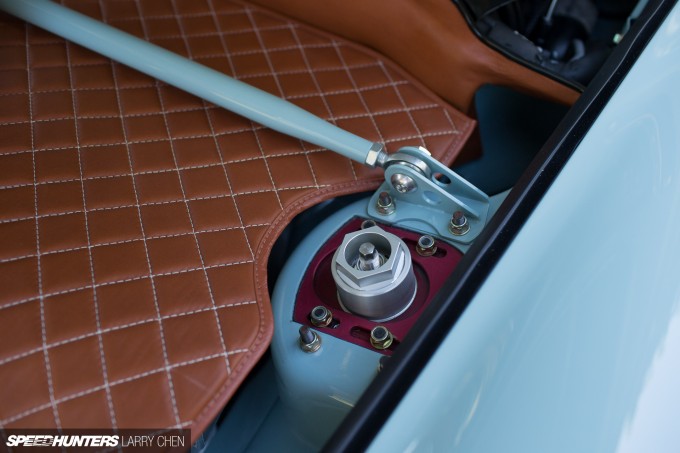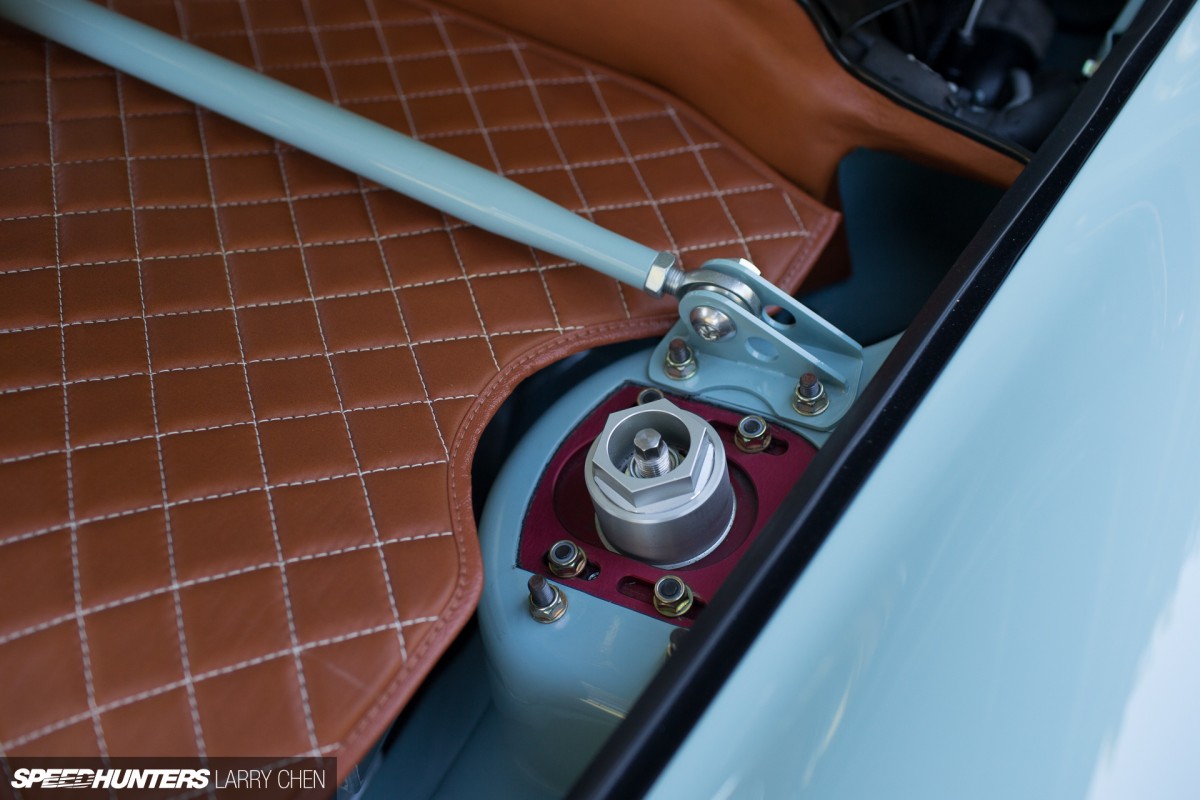 Suspension and chassis-wise, the car is running fully adjustable Öhlins dampers at each corner, along with 993 GT2 EVO uprights and sway bars from a 993 RS.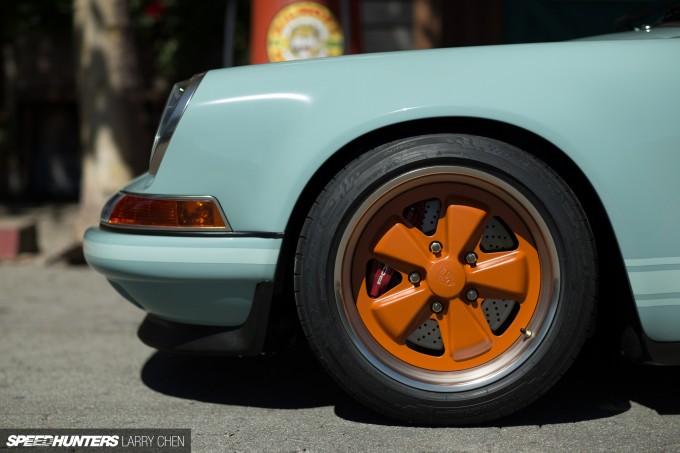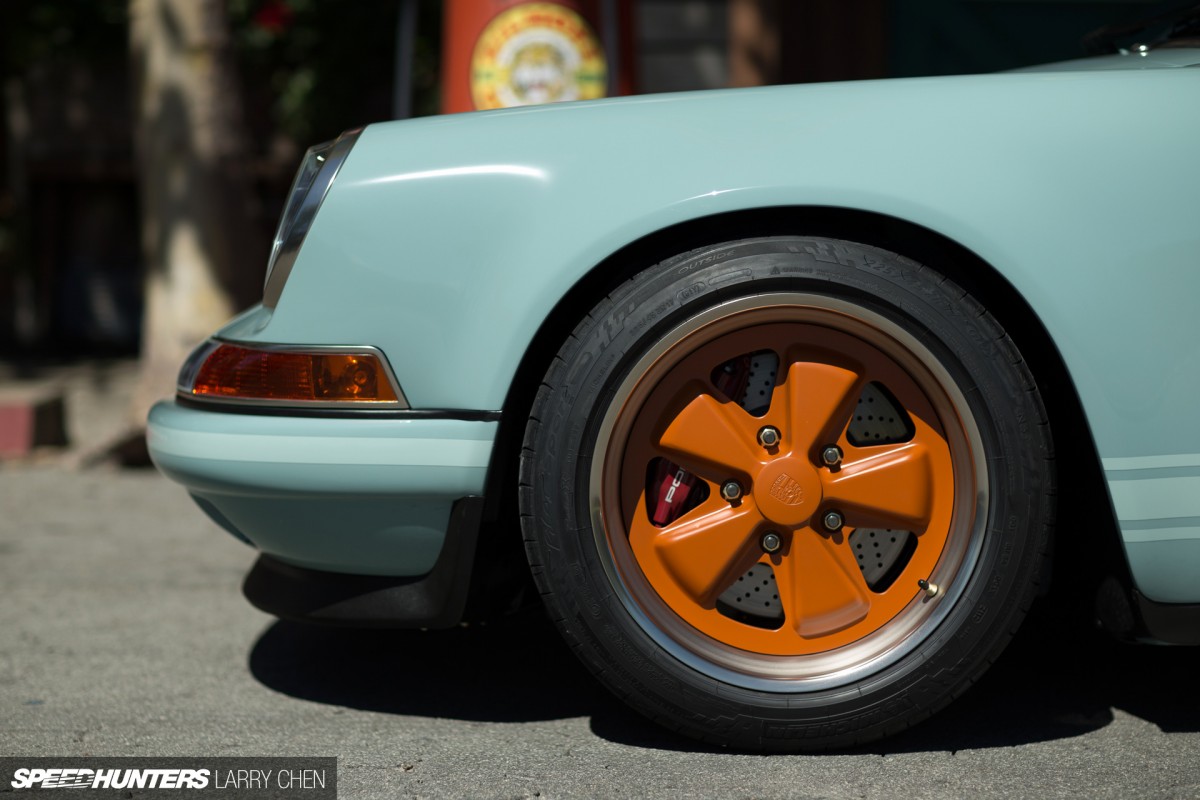 A 993 Porsche also donated its brakes, more specifically a set of 'Big Red' Brembos from a twin turbo model. You might have a hard time seeing them though after being distracted by the car's beautiful wheel set-up.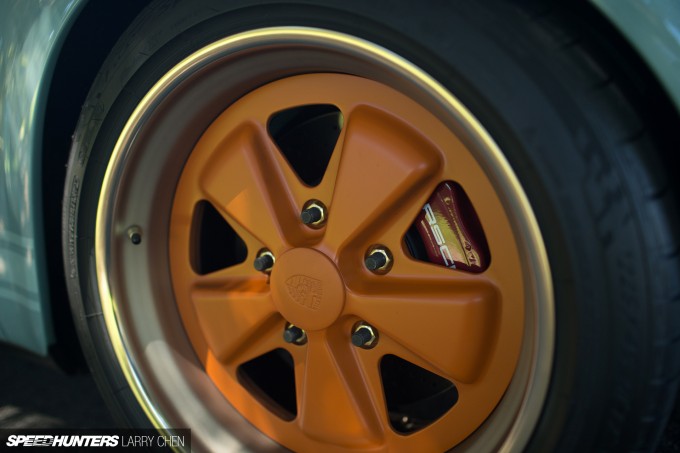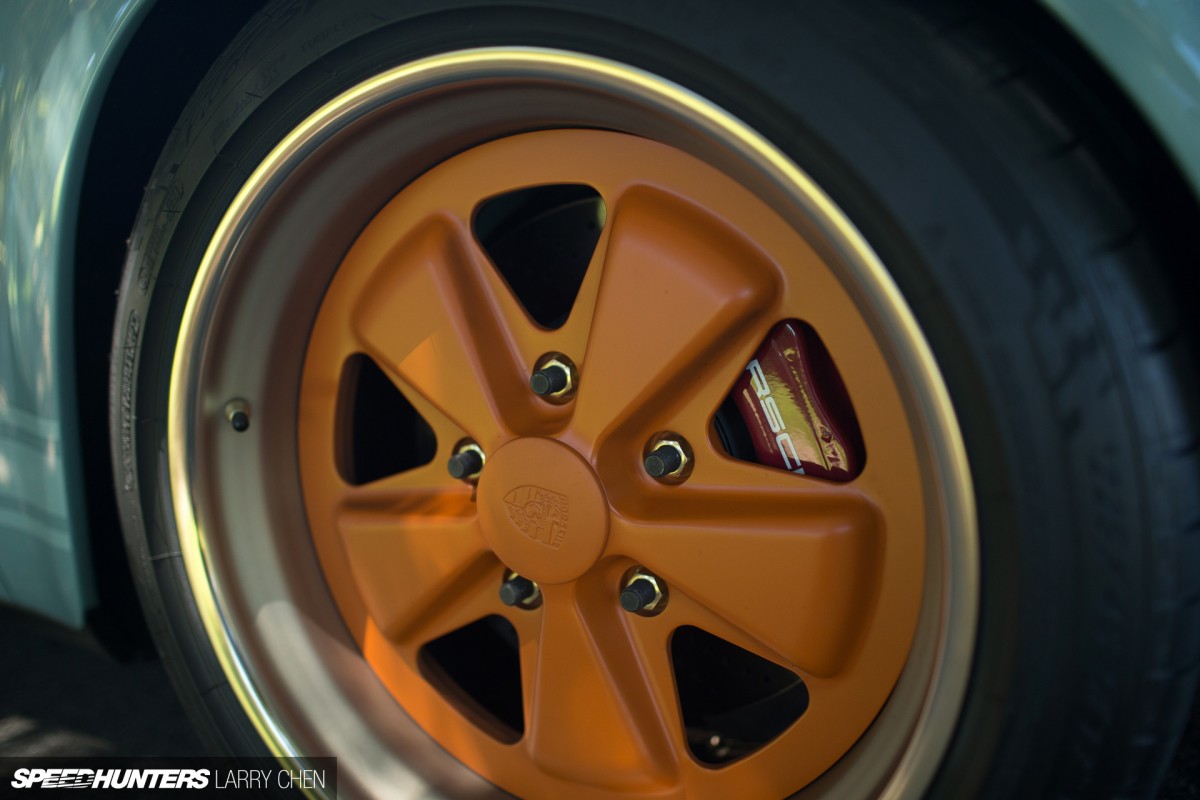 Those are custom-made forged Fuchs-style wheels measuring 17"x8.5 up front and 17"x10.5 in the rear with sticky Michelin Pilot Sport PS2 tires on each corner.
Modern heart, classic soul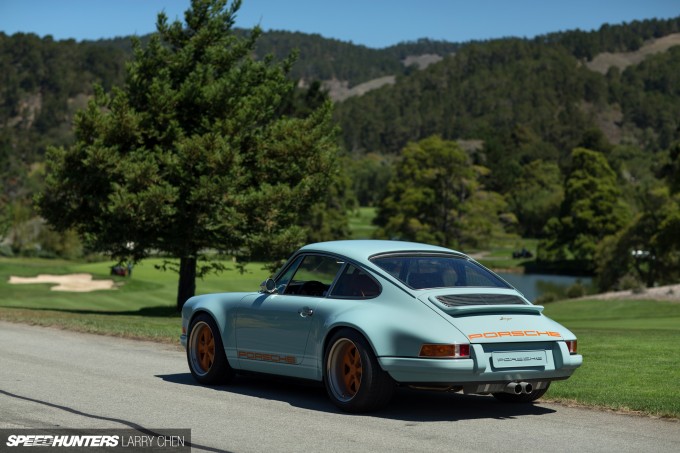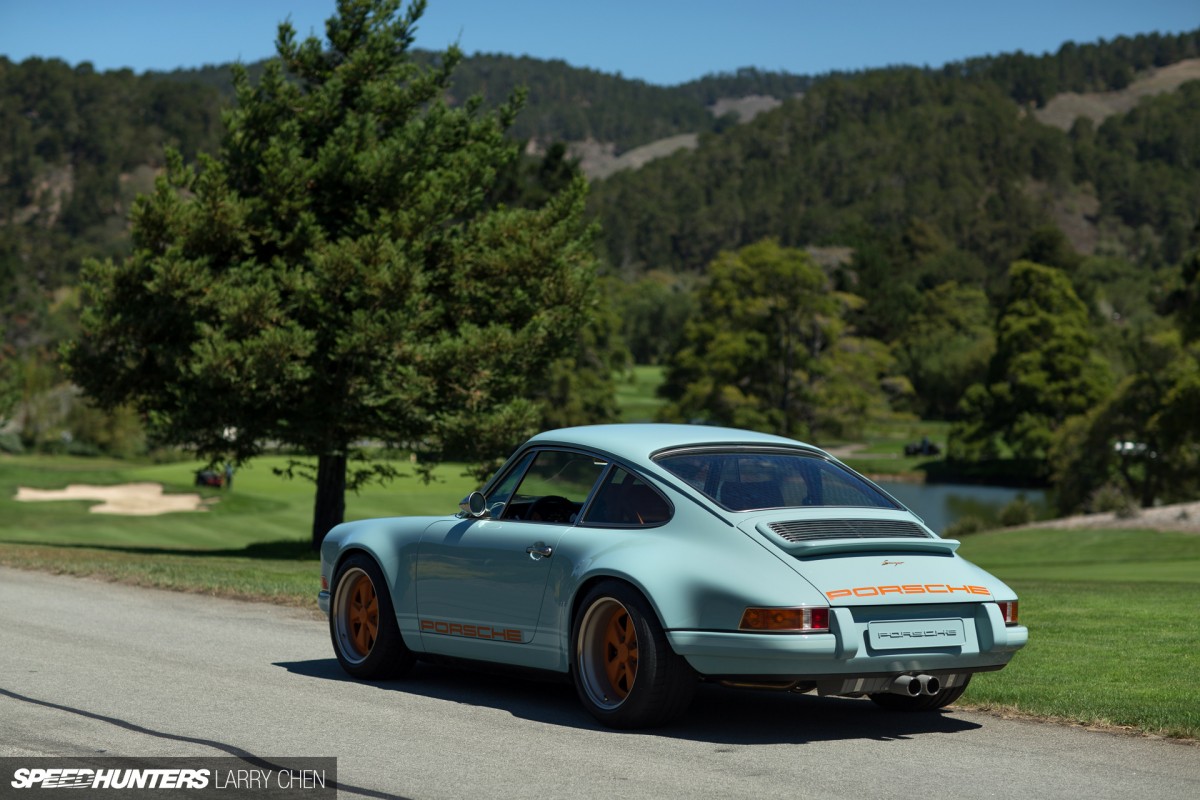 The base chassis might date from the early 1990s, but Singer has outfitted the car with early type body panels that are constructed completely from carbon fiber. Actually the only parts that aren't made from carbon are the doors.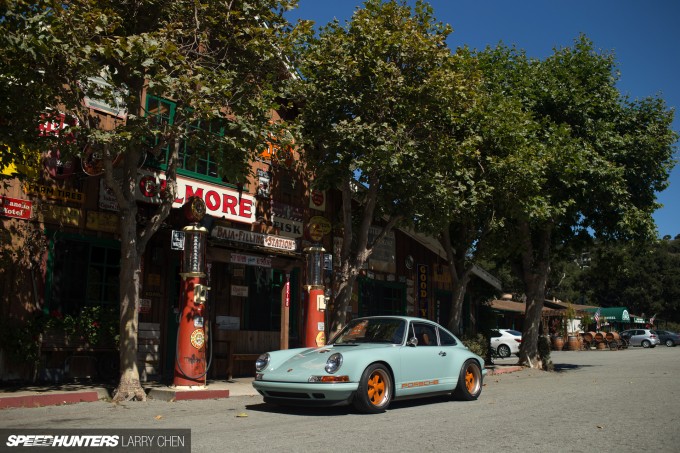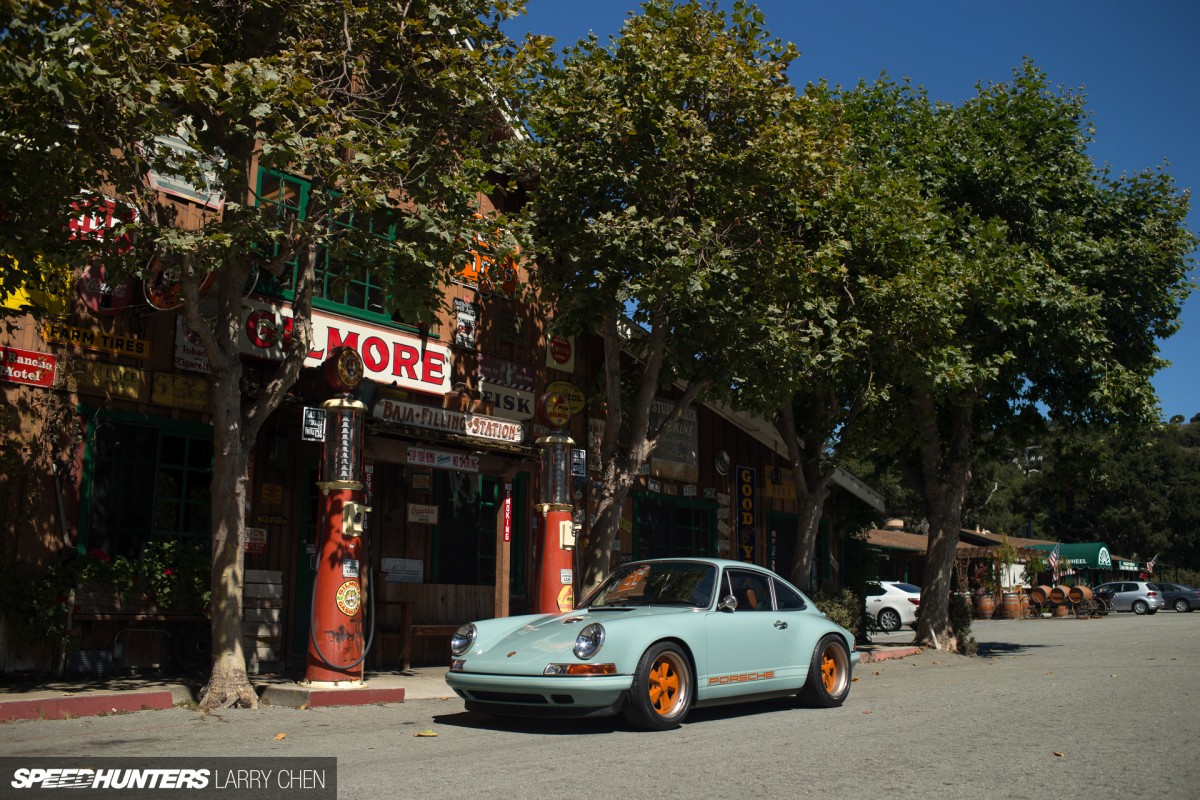 The car is also the first to wear the company's new color scheme of Singer Racing Blue on the body and Singer Racing Orange on the accents and wheels. Steve McQueen would be satisfied.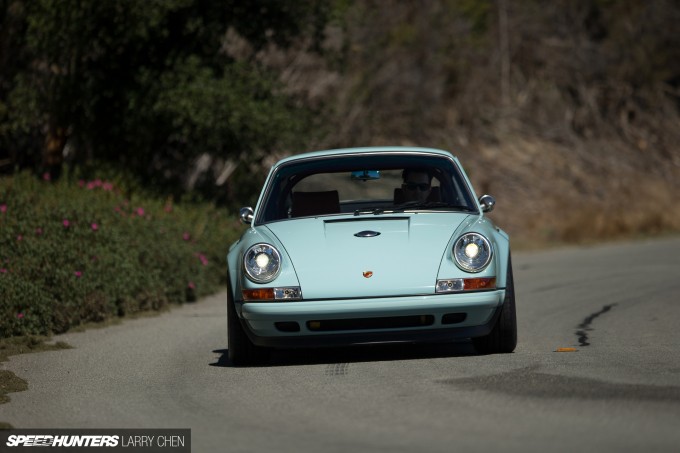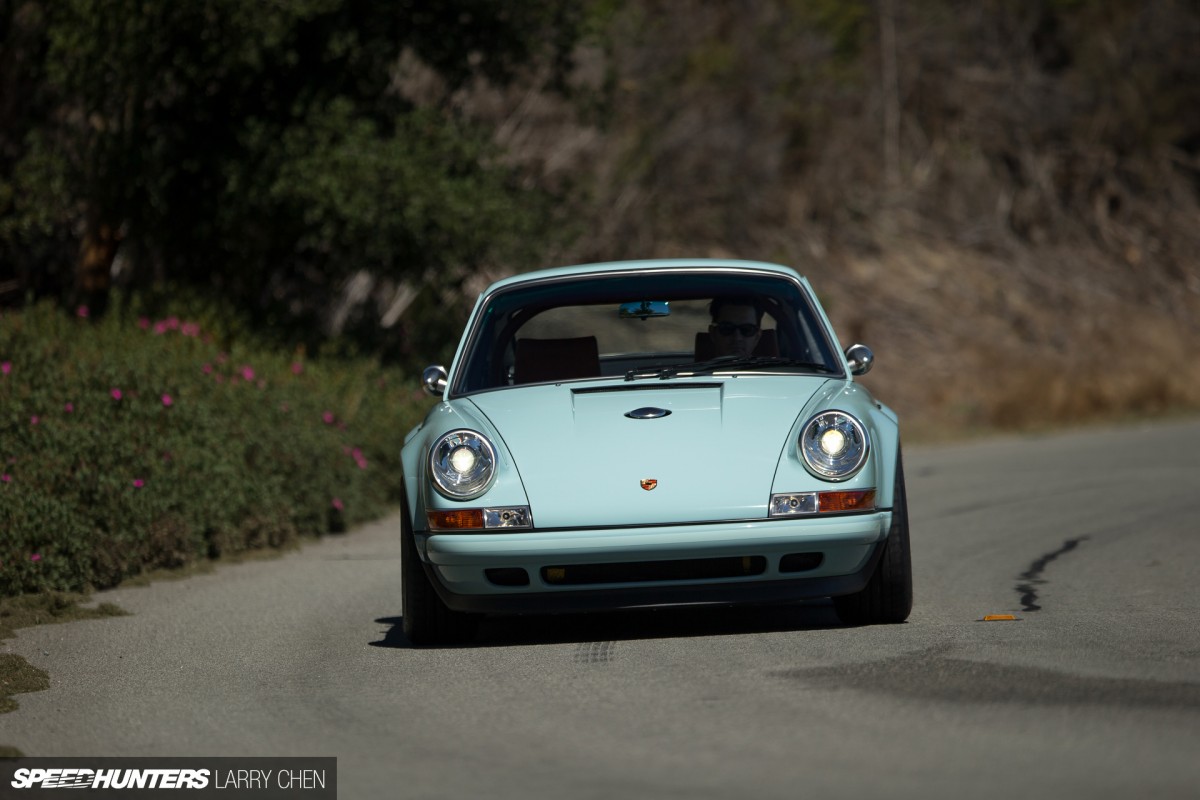 And while the car looks and sounds fantastic when you see it driving down the road, you really need to get up close to truly appreciate all the work Singer has put into the project.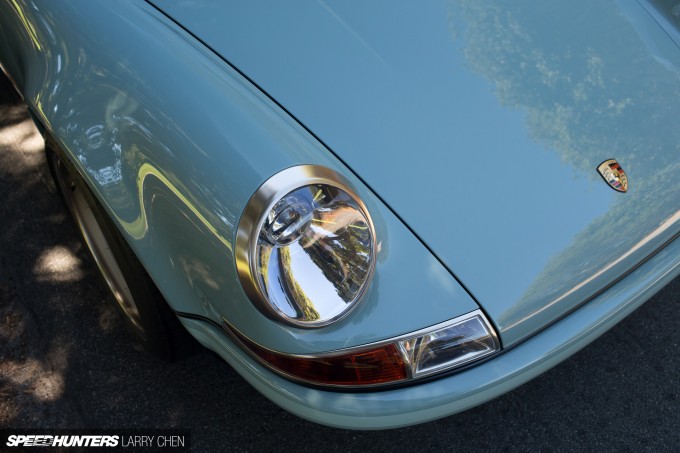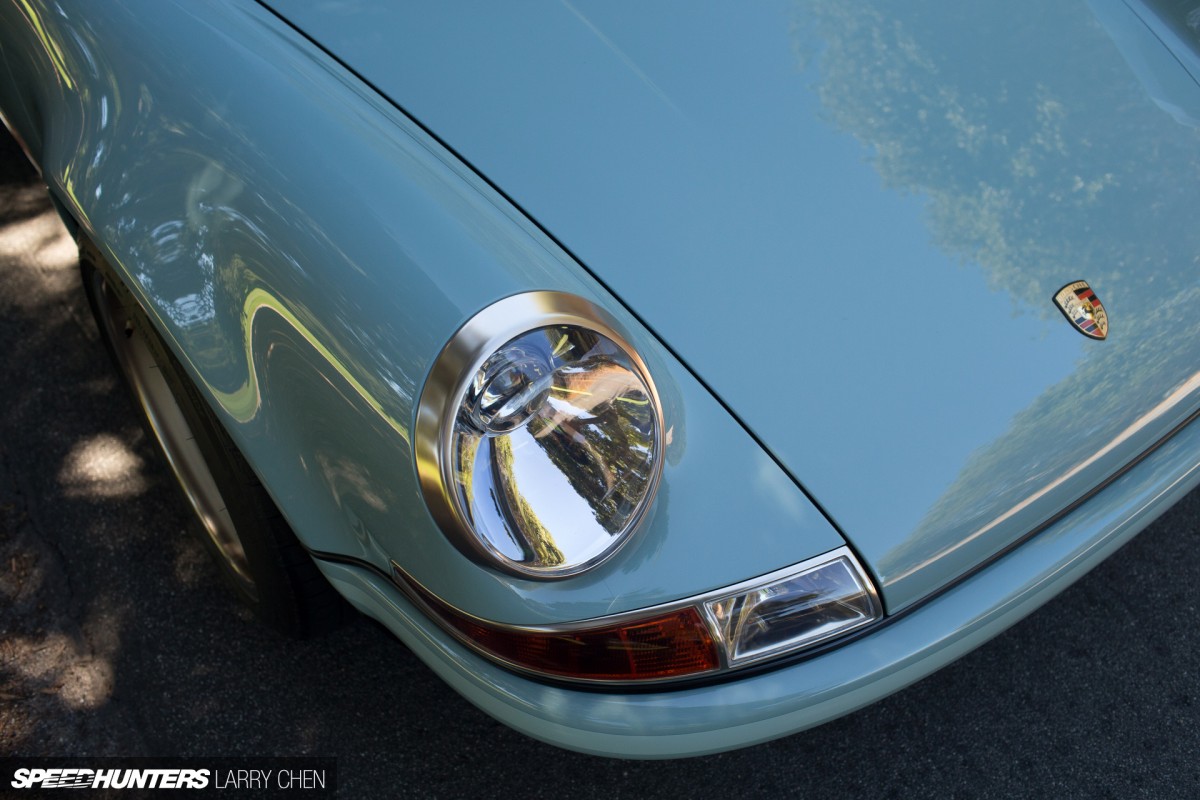 It's only then that you start to see things like the nickel trim on the body, and the Xenon projector headlights that have been mated so perfectly with the vintage-inspired exterior. These are things that set Singer's projects apart from your typical restored and modified 911s.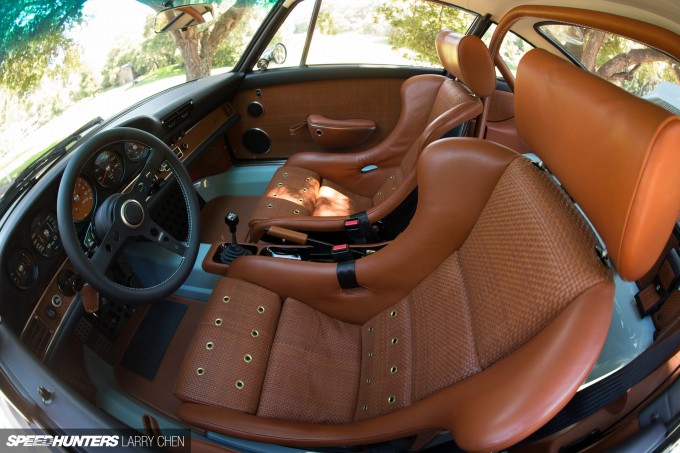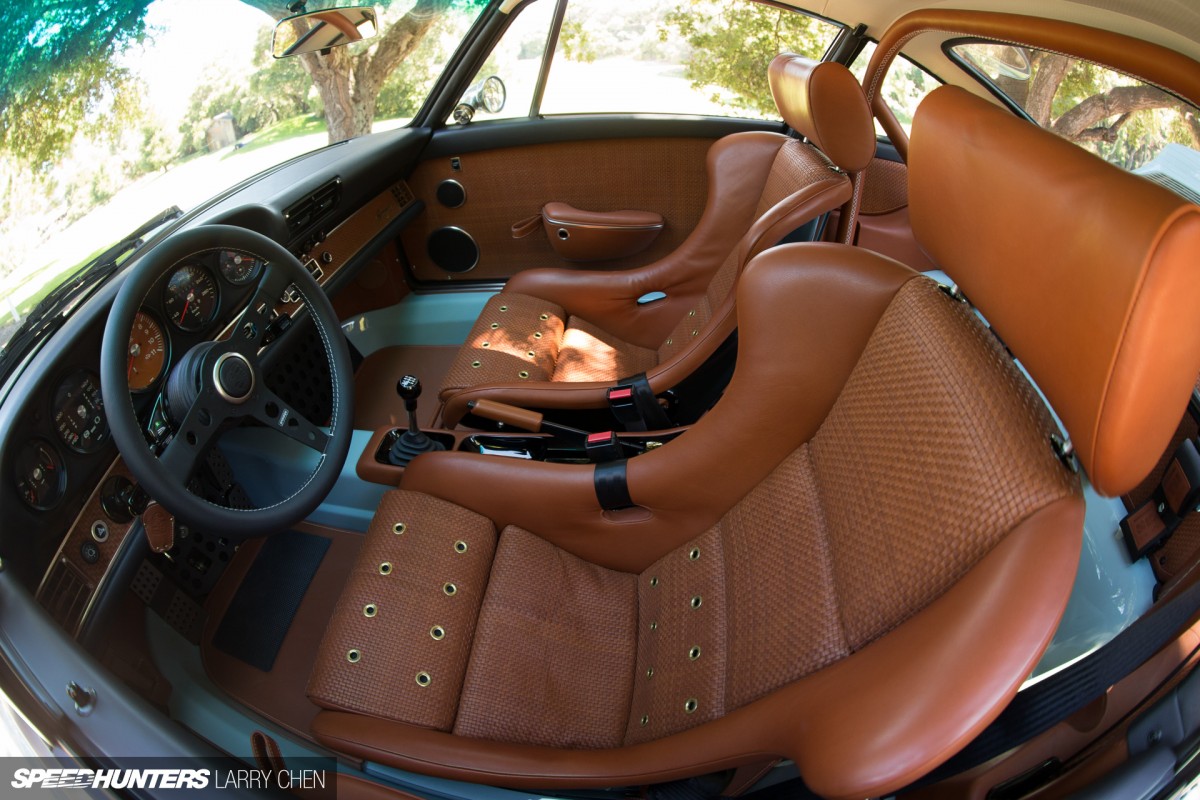 It gets even better when you peek inside the interior. In fact, while the running gear and exterior are great, it's the cockpit that takes this 911 into the stratosphere of coolness.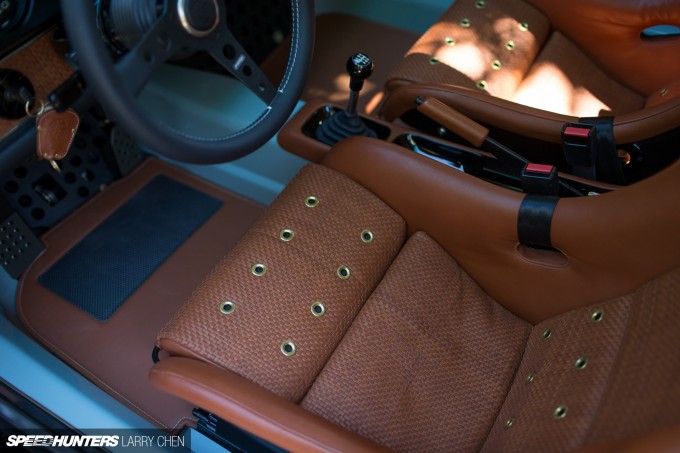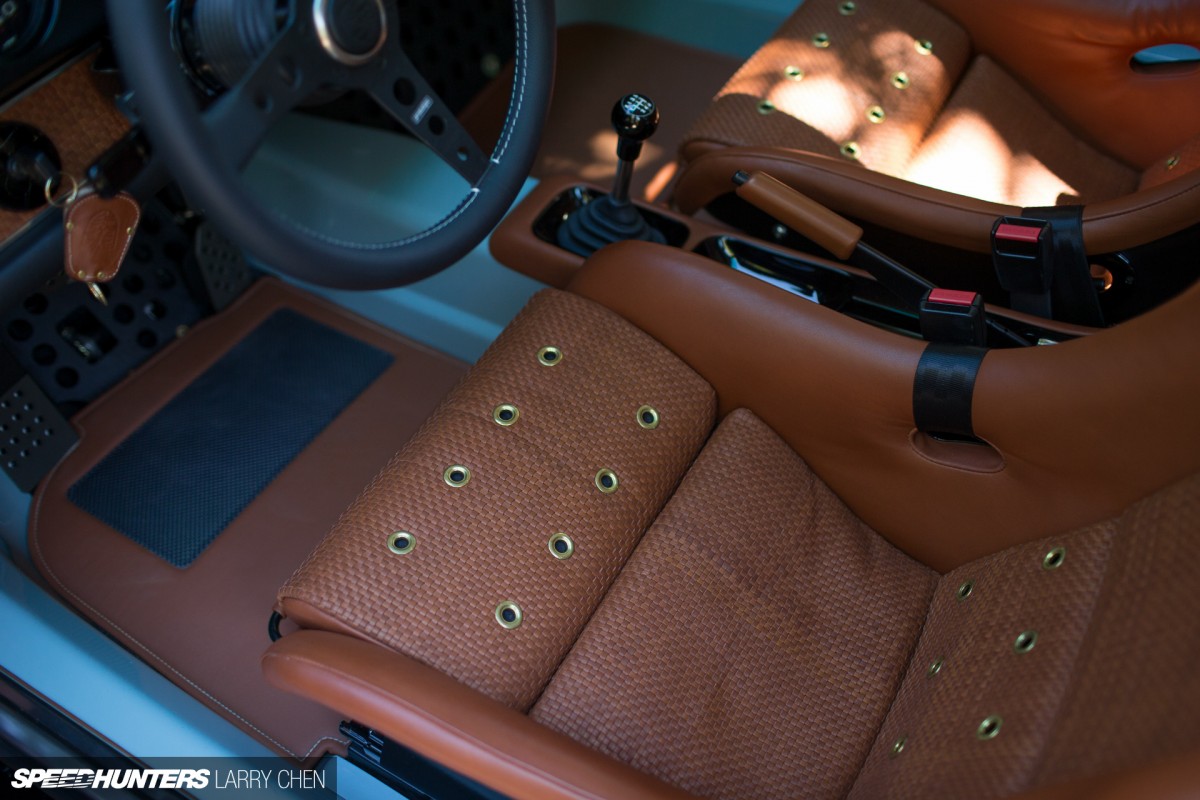 The seats for example are modern carbon fiber buckets, but they've been covered in a custom Cognac aniline leatherweave for a stunning retro look.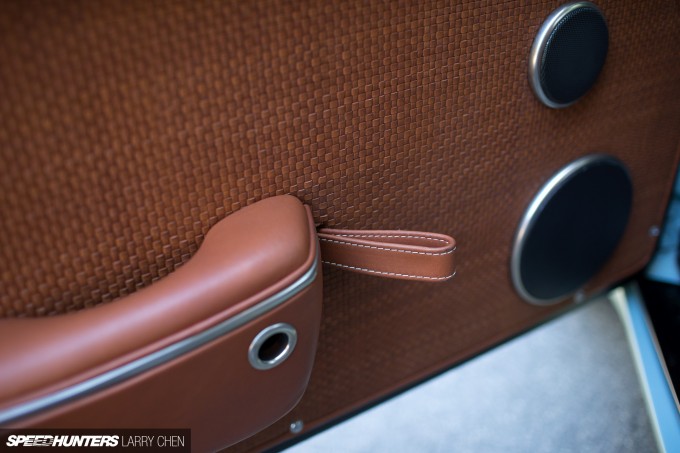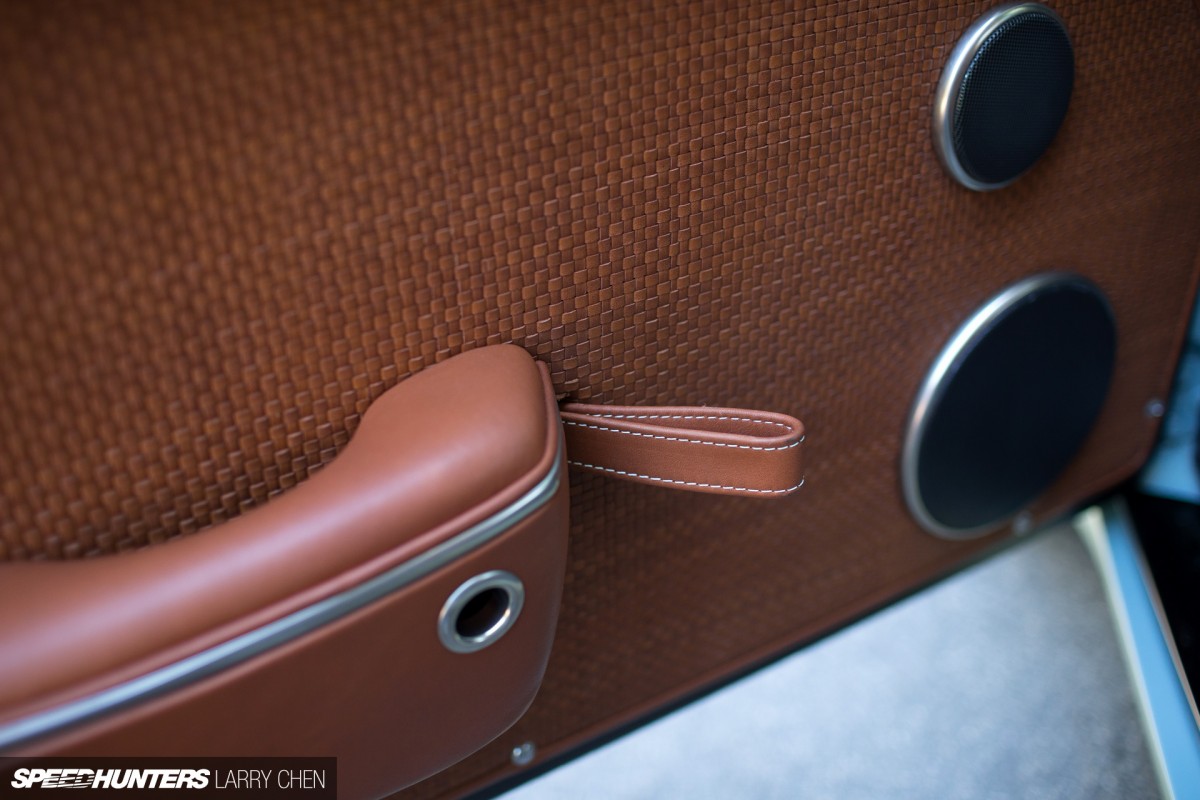 I'd actually say that the trick leatherweave and the body-colored composite paneling help to give the car a look that's somehow even more classic than a stock 911 from the '60s or early '70s.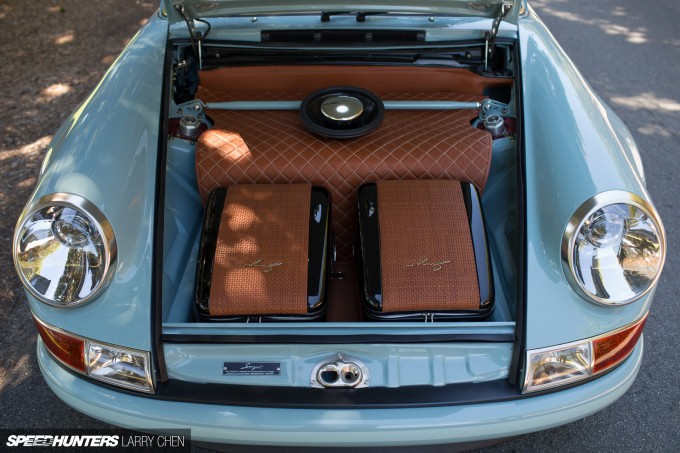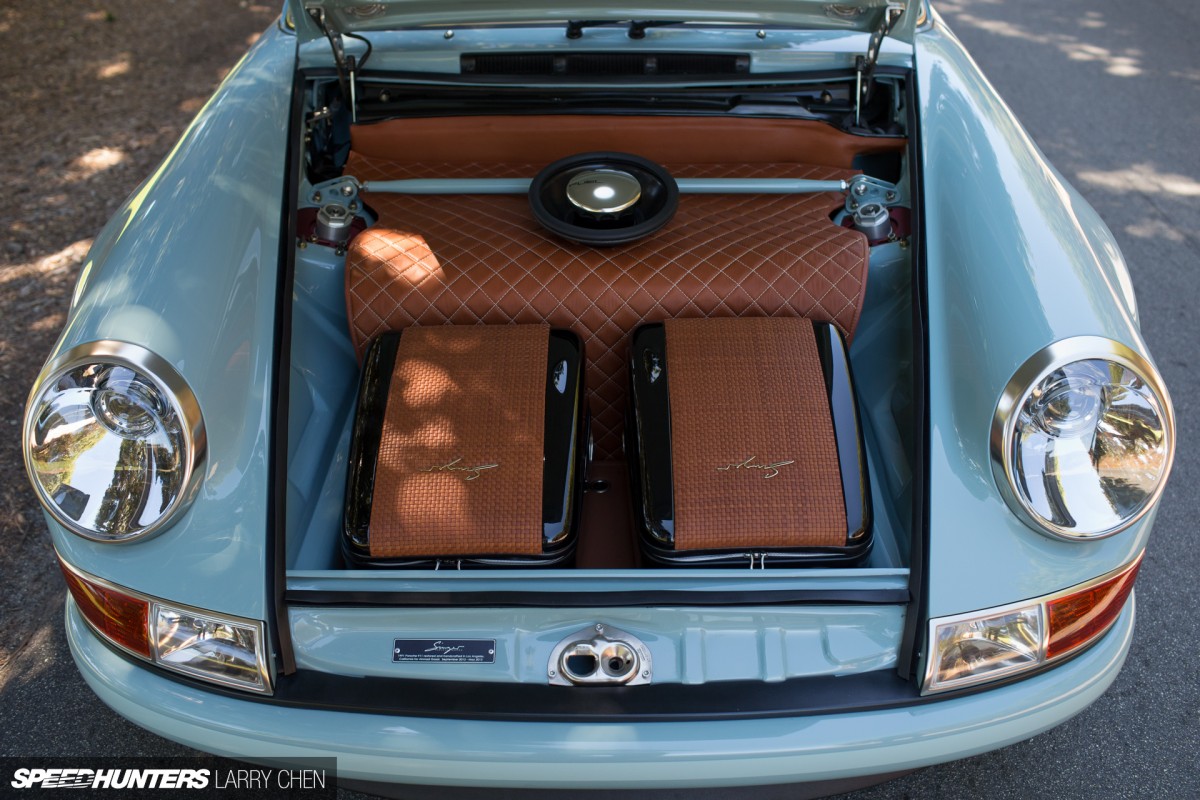 Even the cargo compartment up front has been completely refinished with style that should make Rolls Royce and Bentley owners jealous.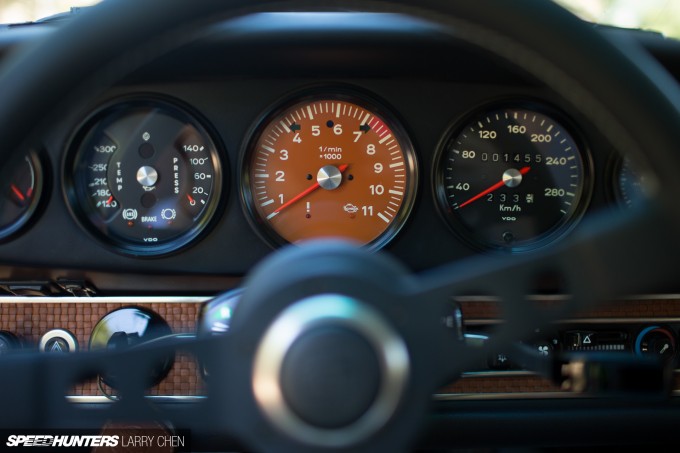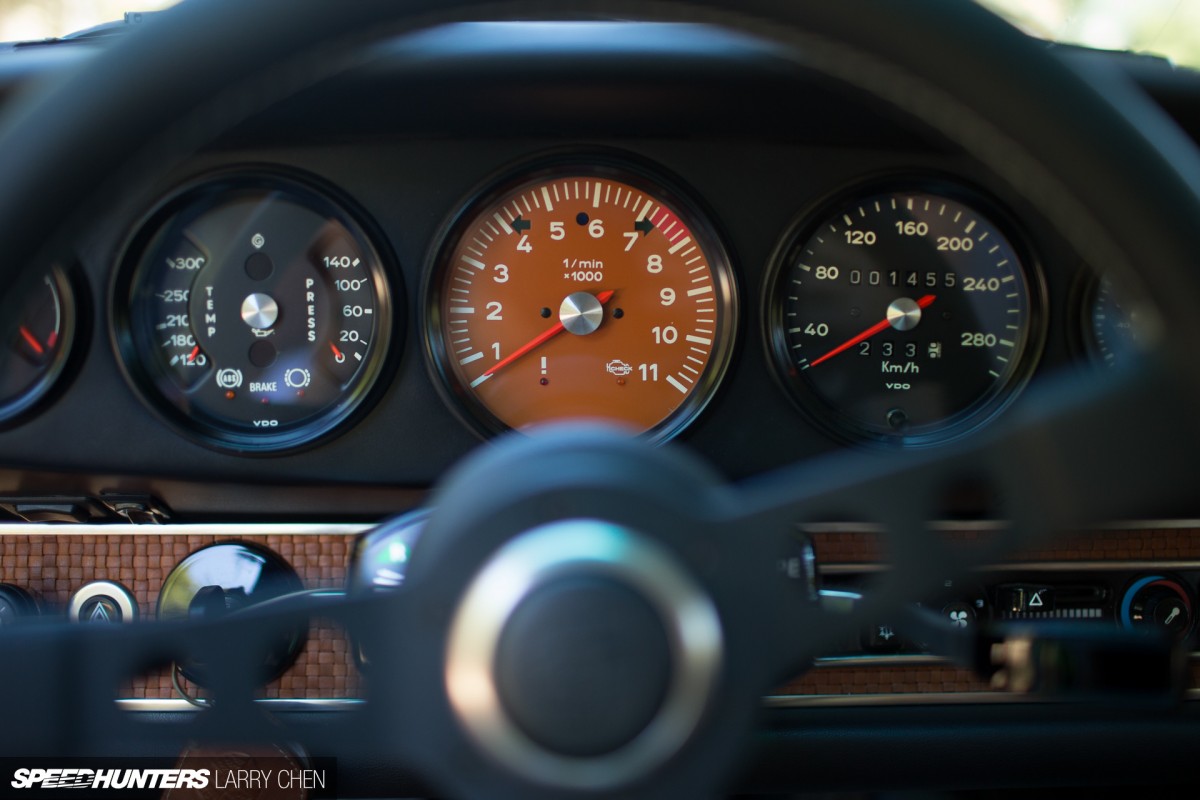 Yet with all the work that's been done here, great care has been taken not to overdo things. Singer has done a fantastic job of preserving the beautiful simplicity that's made the classic 911 so popular in the first place.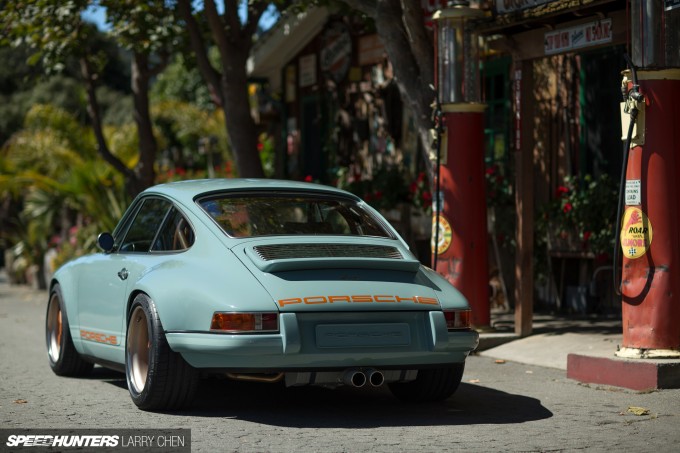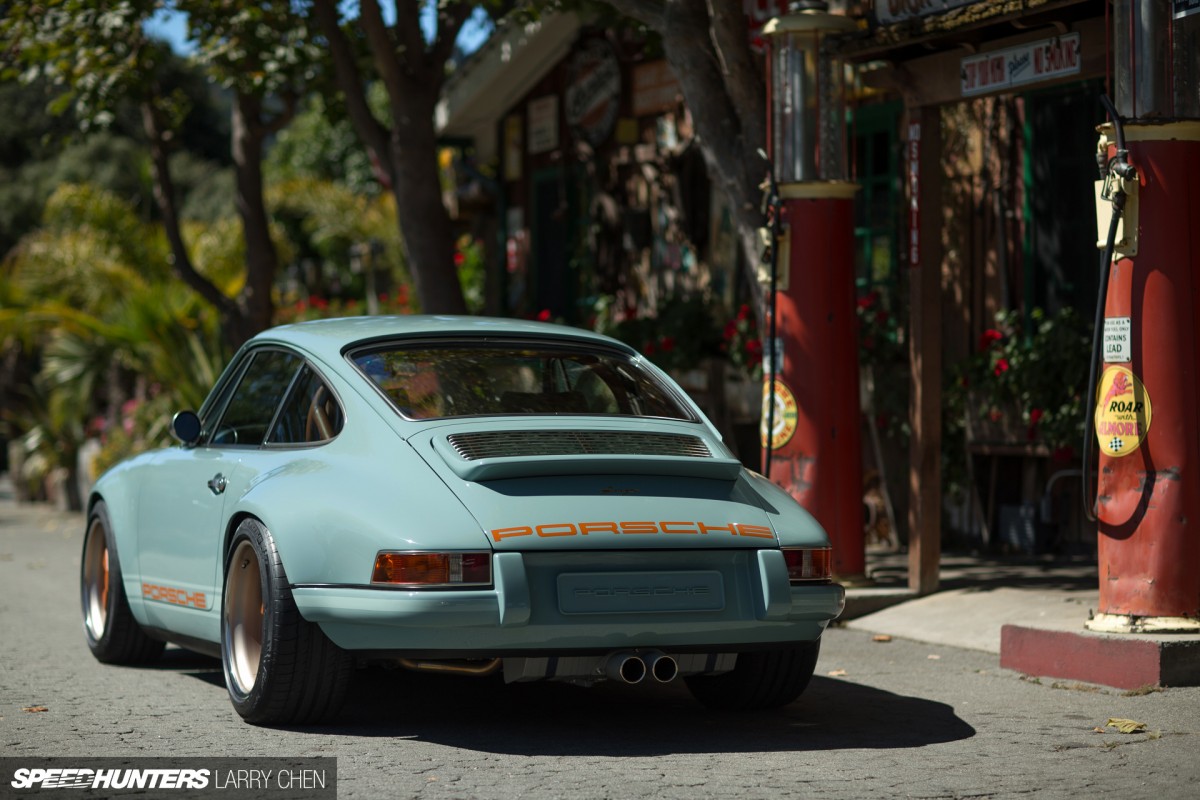 While Larry photographed the car in beautiful Monterey, California before it made its debut at the legendary Quail Gathering, it would soon be bound for its new owner – a Porsche fanatic in Dubai. Another one of Singer's satisfied customers from around the world.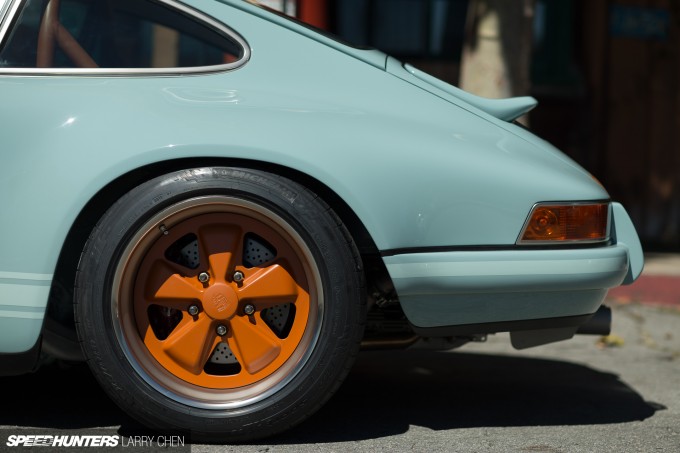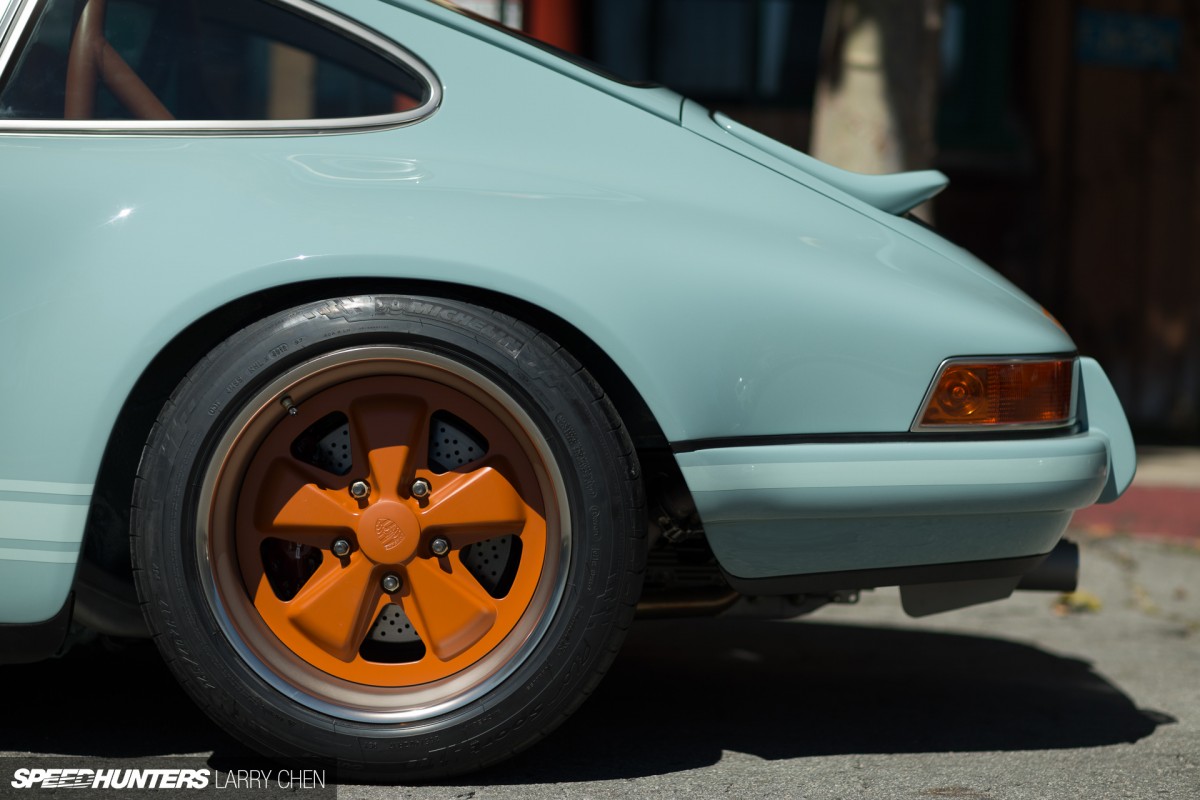 Perfect might be a word that we overuse a lot these days, but I honestly can't think of anything I would change if this was my car. It's beautiful, functional and timeless all at the same time.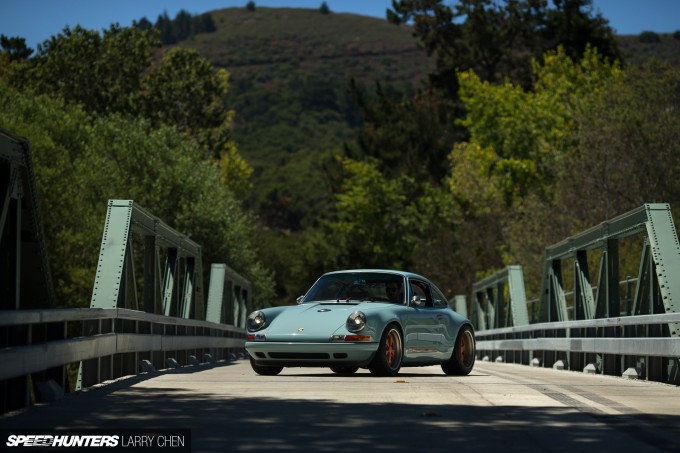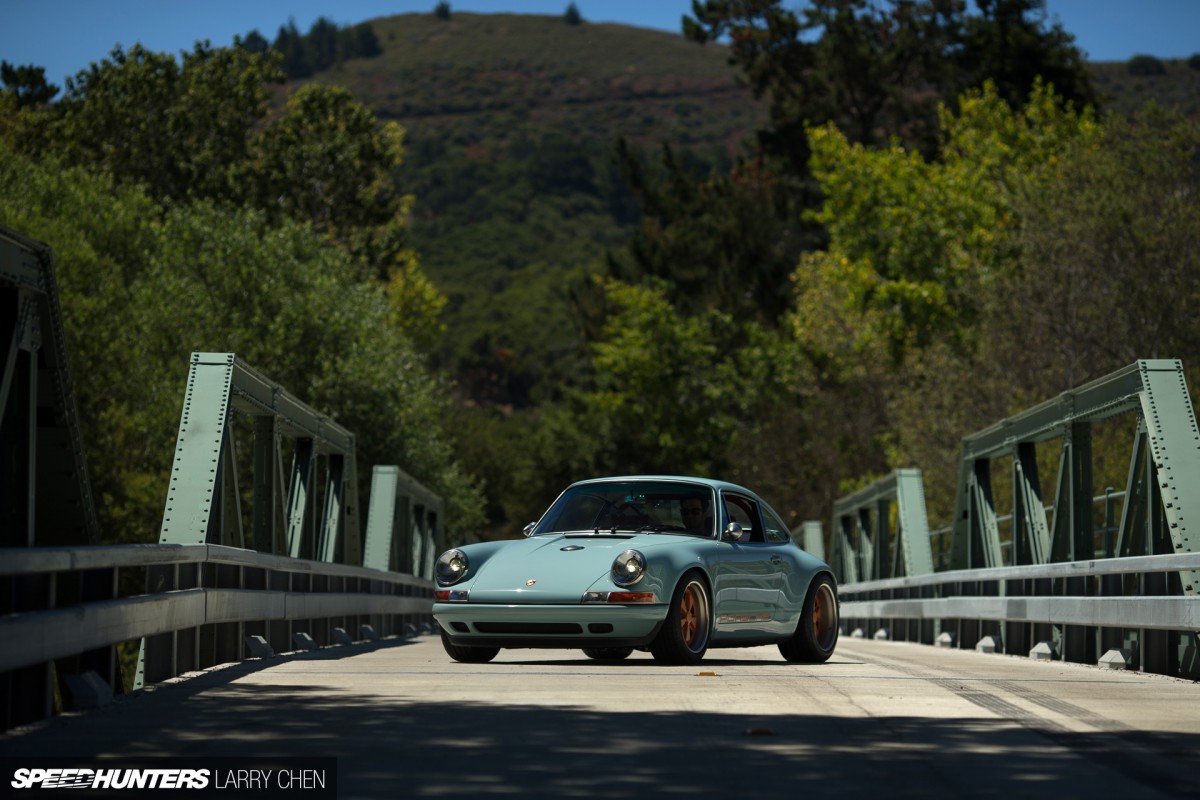 It's always fun to think about what we'd do if we were suddenly presented with a bunch of money. After seeing this car I'm quite sure one of the first things I'd do would be handing Singer Vehicle Design a big stack of cash so I could have something like this to enjoy everyday.
Who's with me?
Mike Garrett
Instagram: speedhunters_mike
mike@speedhunters.com
Photos by Larry Chen
Instagram: larry_chen_foto
larry@speedhunters.com