The post you loved the most
Thinking back to last year, I'm still amazed at the fact that our most popular post of 2013 had nothing to do with cars. Well, ok, so that's not exactly true, it was about scaled versions of cars wearing tiny little plastic tyres so they can drift smoothly around a carpeted track. RC drifting's popularity in Japan continues to grow – actually, evolve would be a more suited term – as makers continue to come up with interesting new solutions to make the cars easier to control and at the same time faster. And just like in the real world, there's a massive hop-up scene propelling it all, because nobody in their right mind would show up to an RC drift track or event with a stock, entry-level remote control drift car. As you can imagine, the Japanese have taken this little hobby and truly transformed it thanks to the sheer dedication of the most die-hard RC drifters out there, pursuing that same individualism that for a lot of us car guys, pushes us continuously to make our cars better and more focused – not to mention cooler.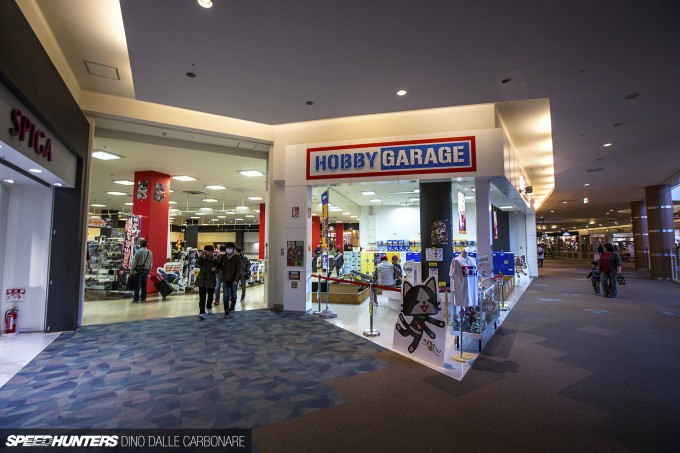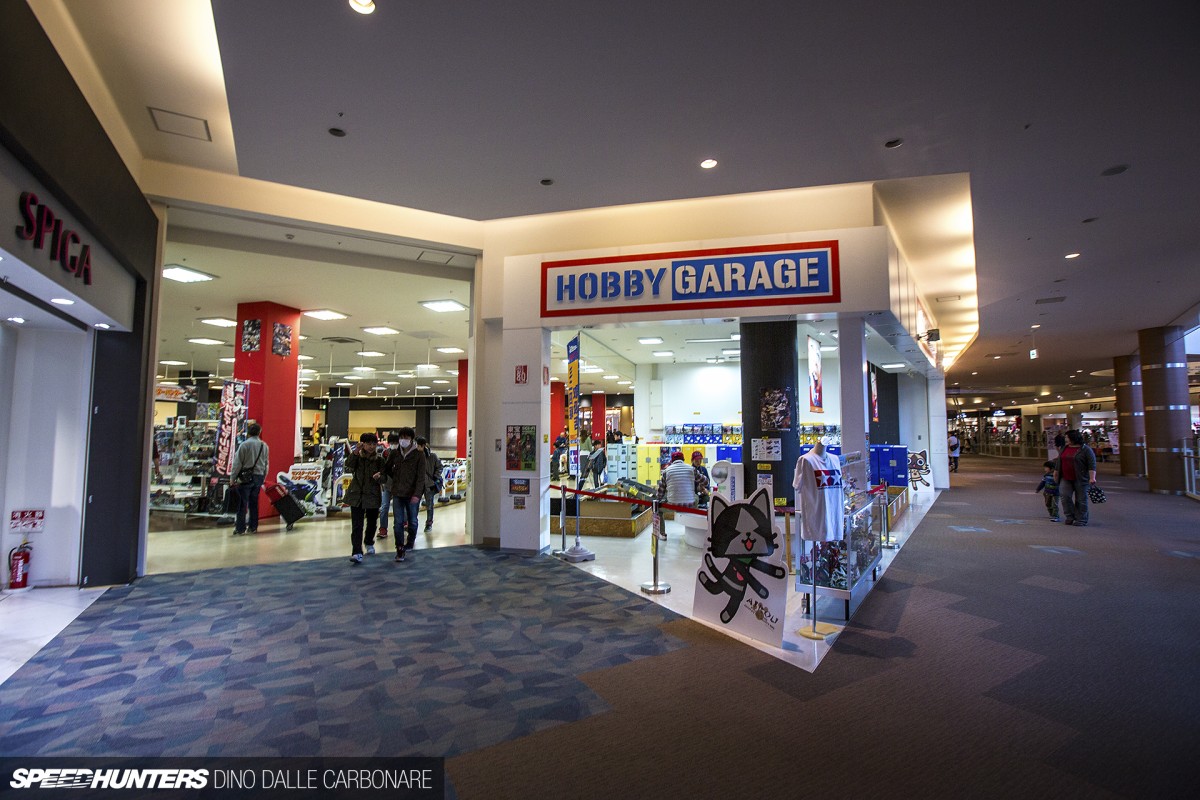 So with all this said, it's not a surprise that I found myself back at the Hobby Garage shop this past Sunday.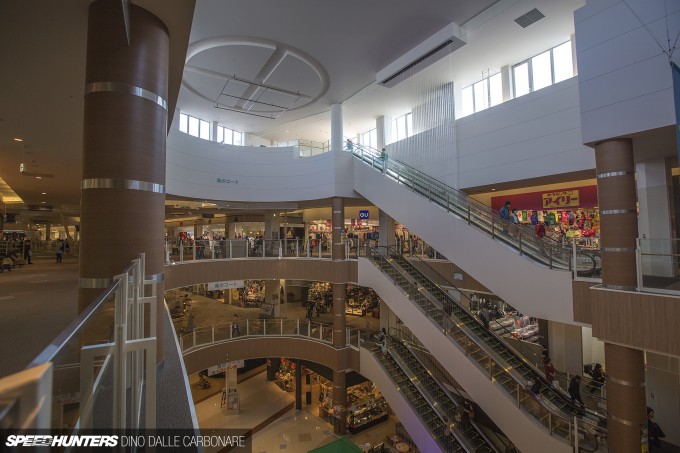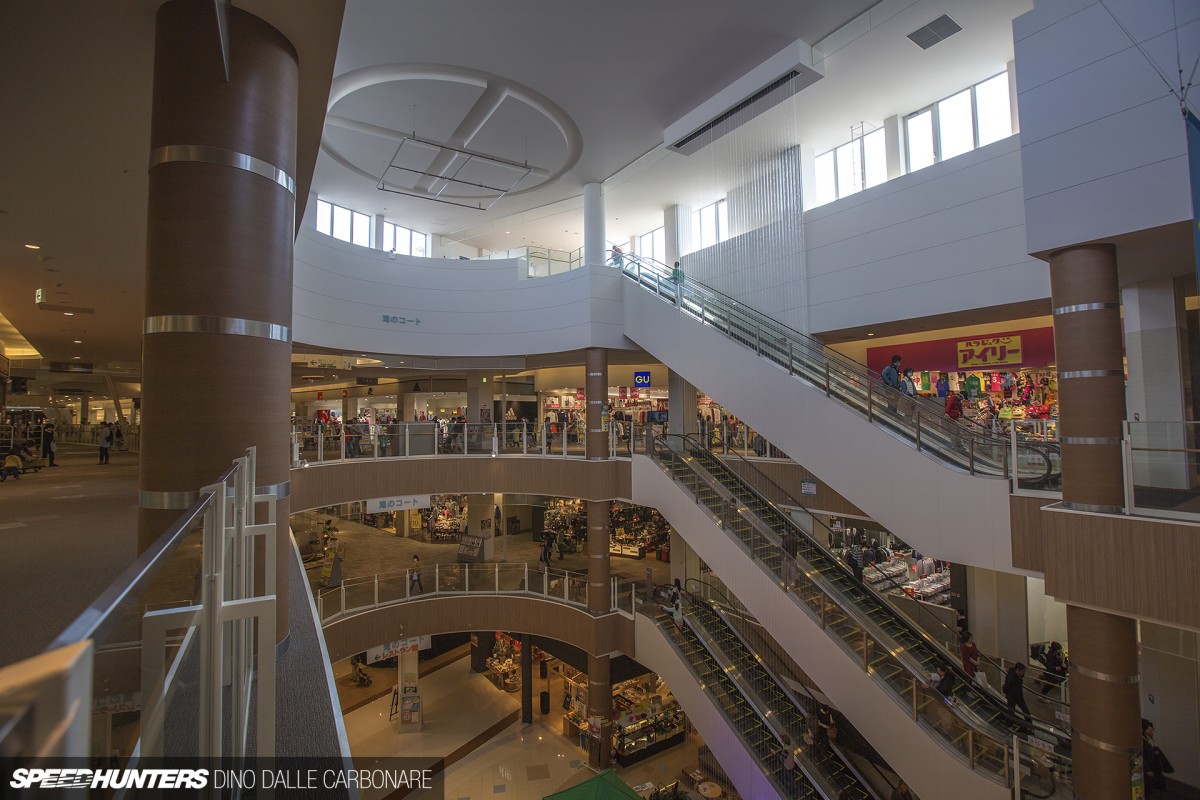 This massive hobby shop, located in an equally massive shopping mall in Saitama, was once again to be the host of an RC drift contest like no other, focusing only on the car's polycarbonate bodies, the imagination of the hobbyist and of course the execution of it all. Think of it as a stance-oriented meet in miniature and you aren't too far off from the whole atmosphere of it all.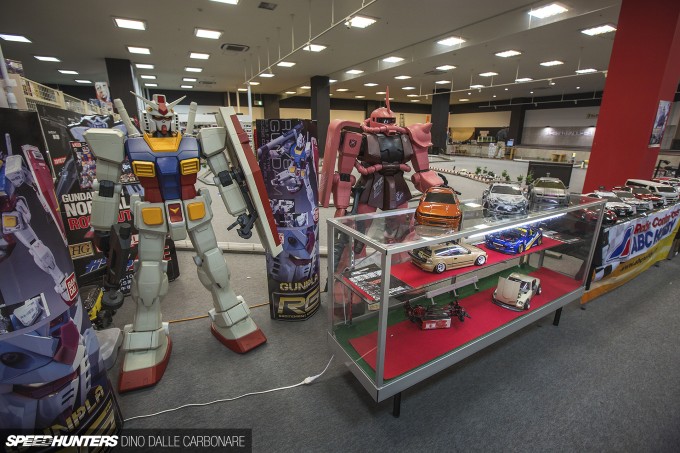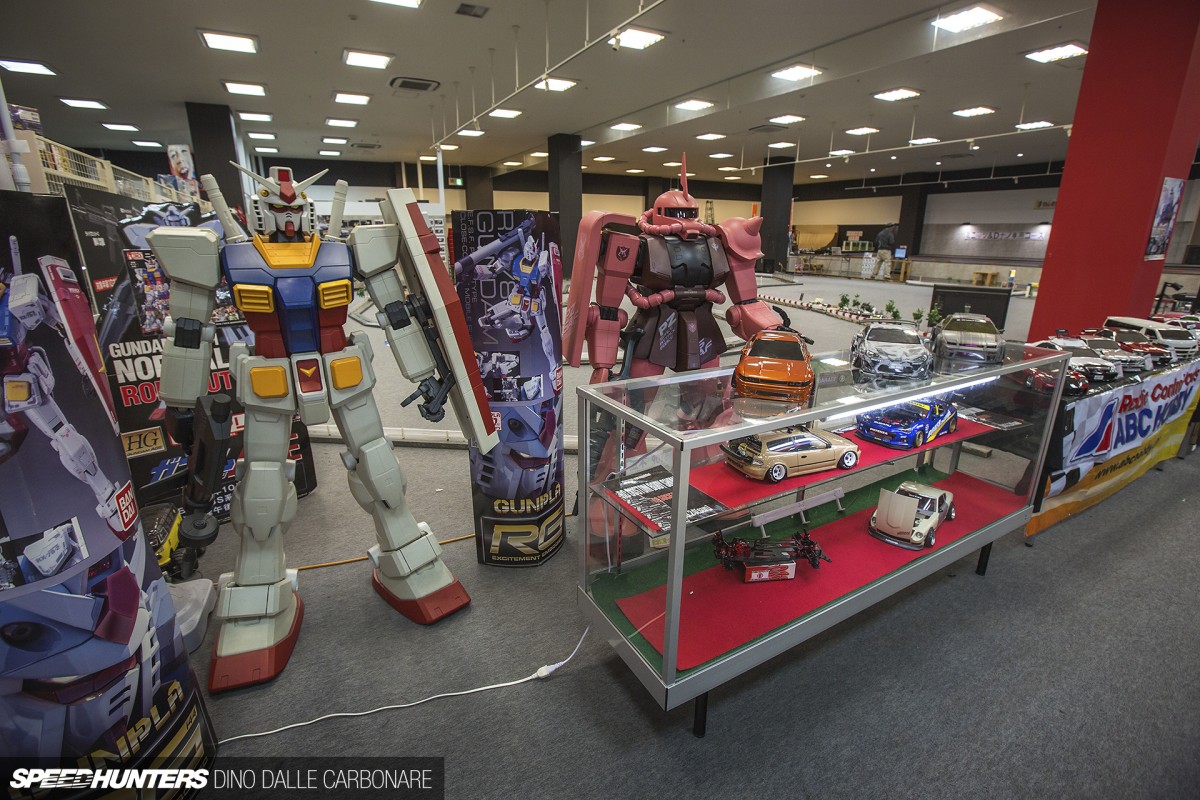 Stepping inside the shop I was greeted with a pair of human-sized Gundams guarding a nice little display of RC drift cars.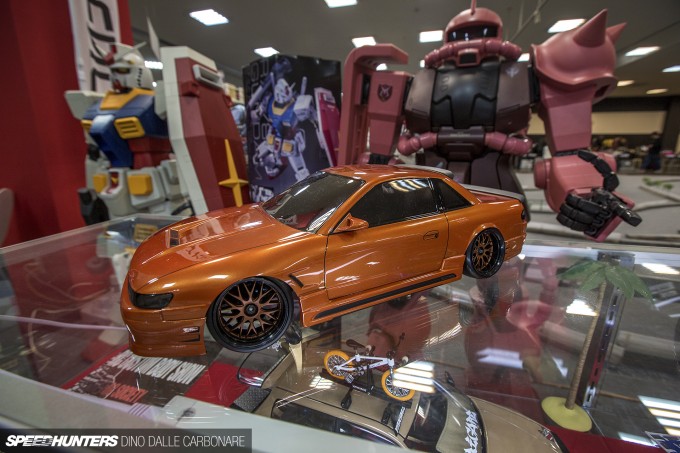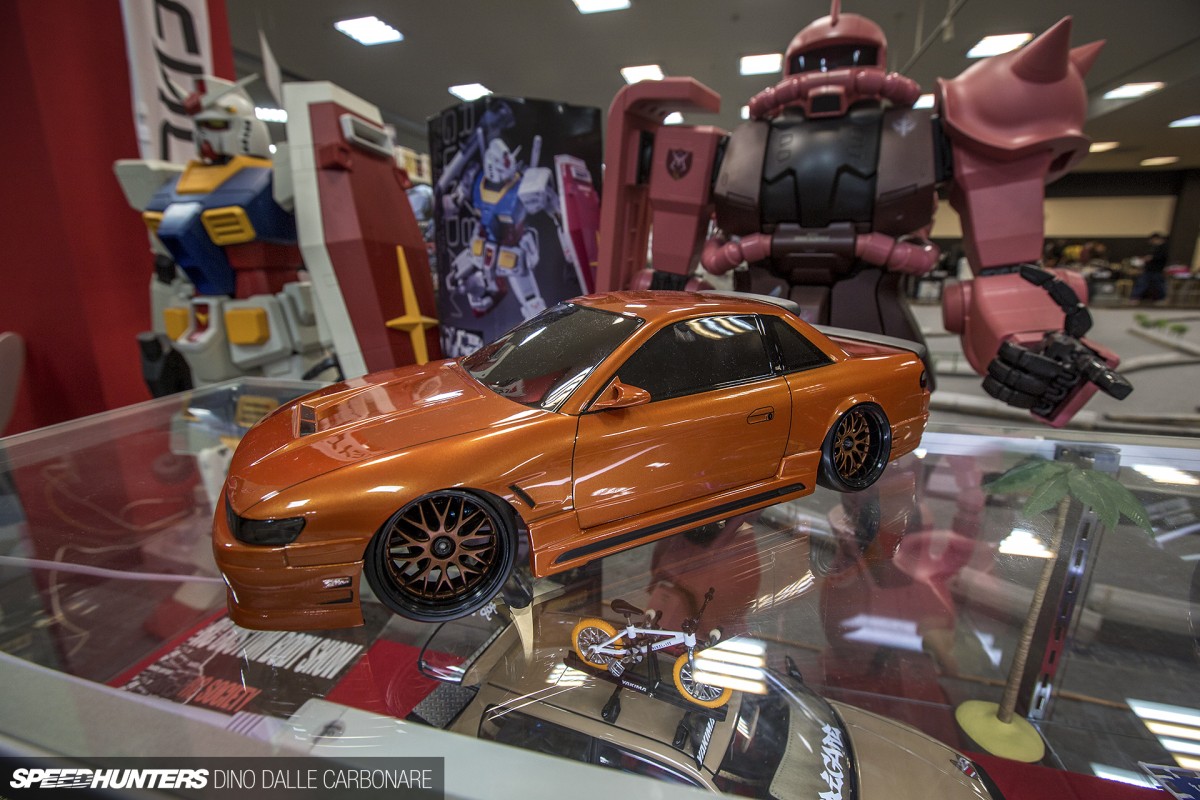 Realism has always been a top priority for any sort of model car builder, be it from static plastic model to remote control versions. But what separates the RC drift guys that compete in these style competitions from the norm is their knowledge of the scene, the way in which they can recognise popular trends and replicate them faultlessly in miniature form.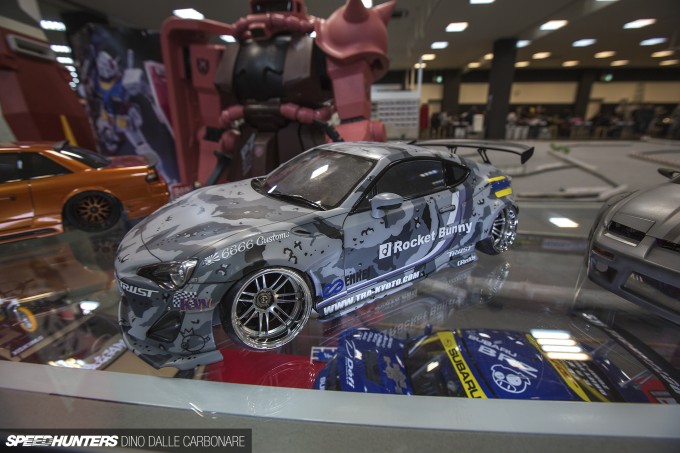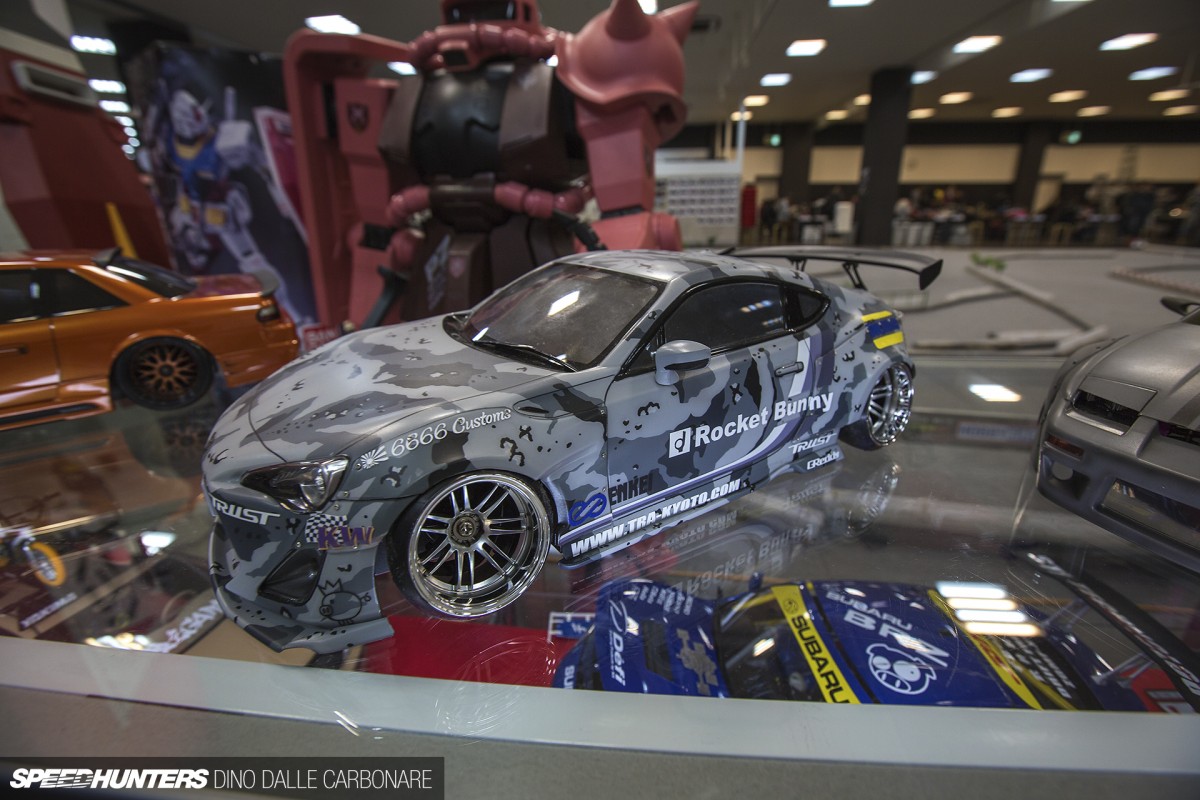 Now considering most of these guys are actually into cars themselves, it's not surprising that they can pinpoint trends, draw inspiration from them and create something impossibly unique. Take the whole unstoppable Rocket Bunny movement – that's obviously one style that has been embraced open-handedly as this Toyota 86 shows. Check out the detail in the over fenders, side skirts and front spoiler – all parts that are hand -sculpted out of plastic.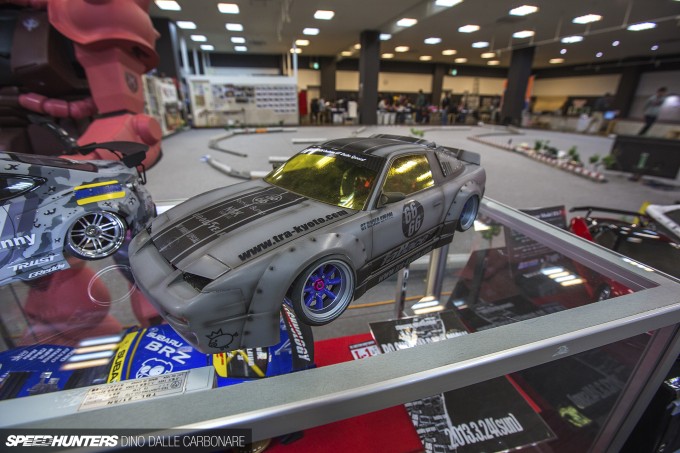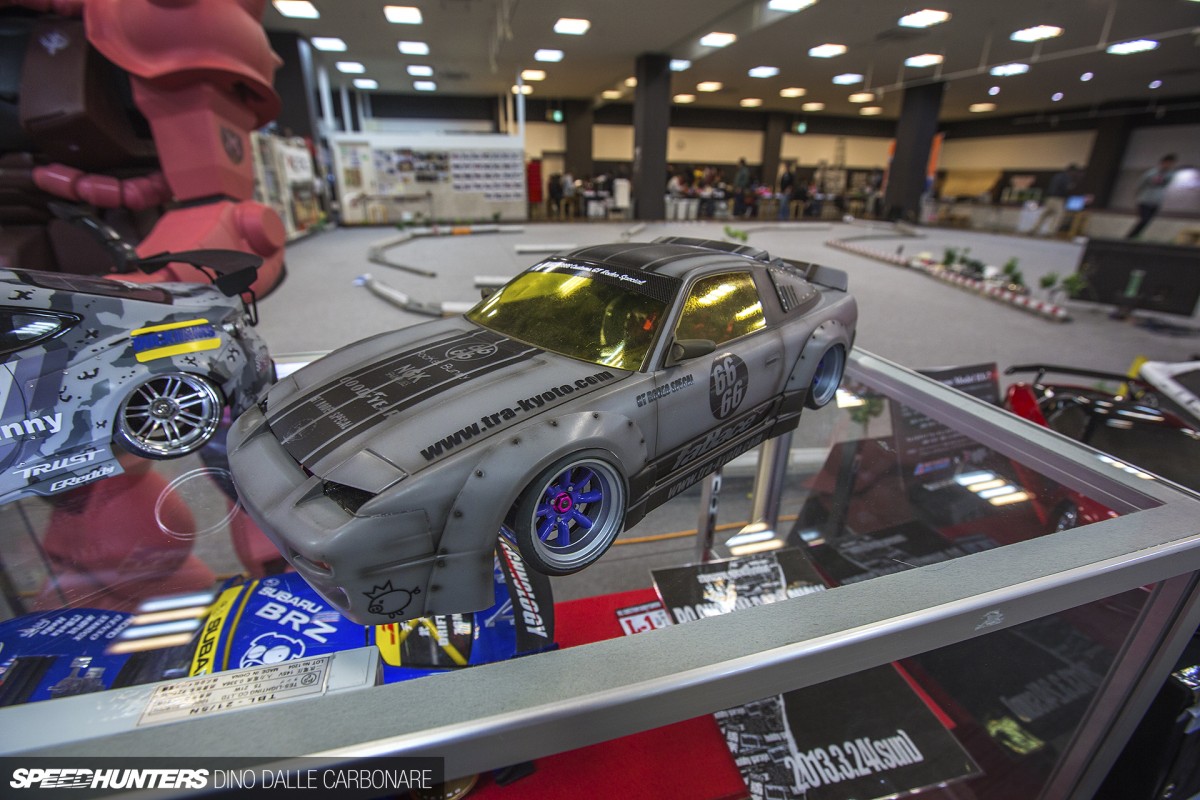 Of course even the military theme we've seen in the Volklinger S14 and Tomcat S13 couldn't possibly escape the skilled hands of the Japanese hobbyists that came up with this 180SX.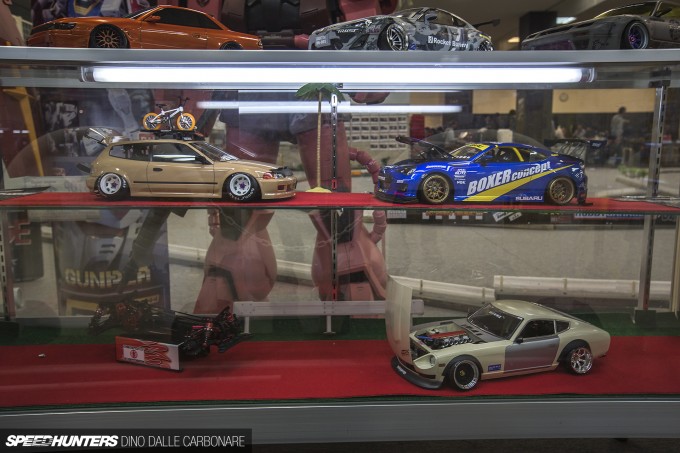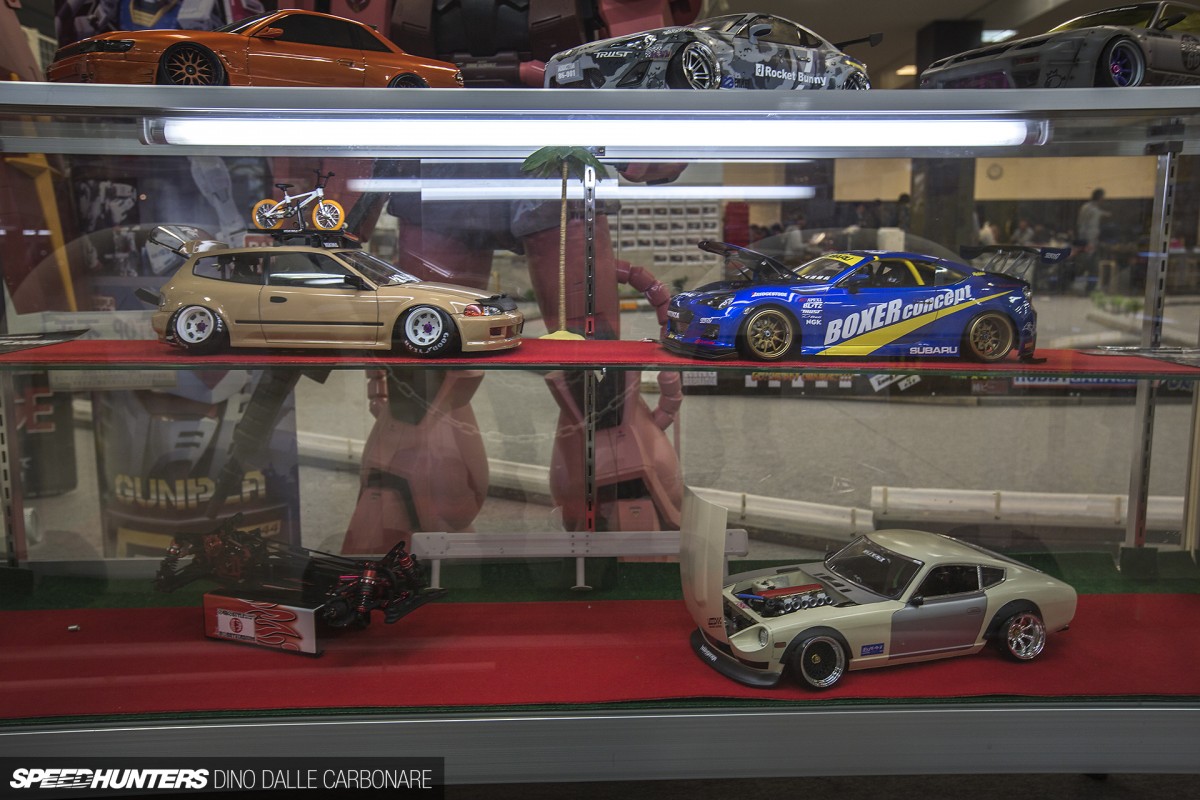 Below in the display cabinet, were the winners from last year's events; if you recall the incredibly detailed engine bay of the S30 Fairlady and the Subaru BRZ that at a press of a RC button could drop its top!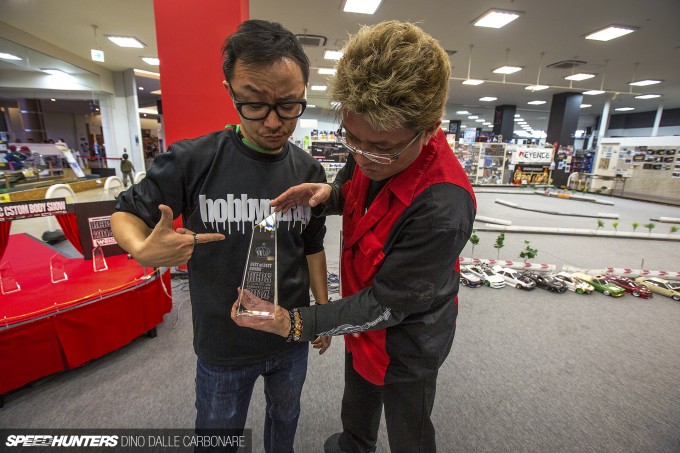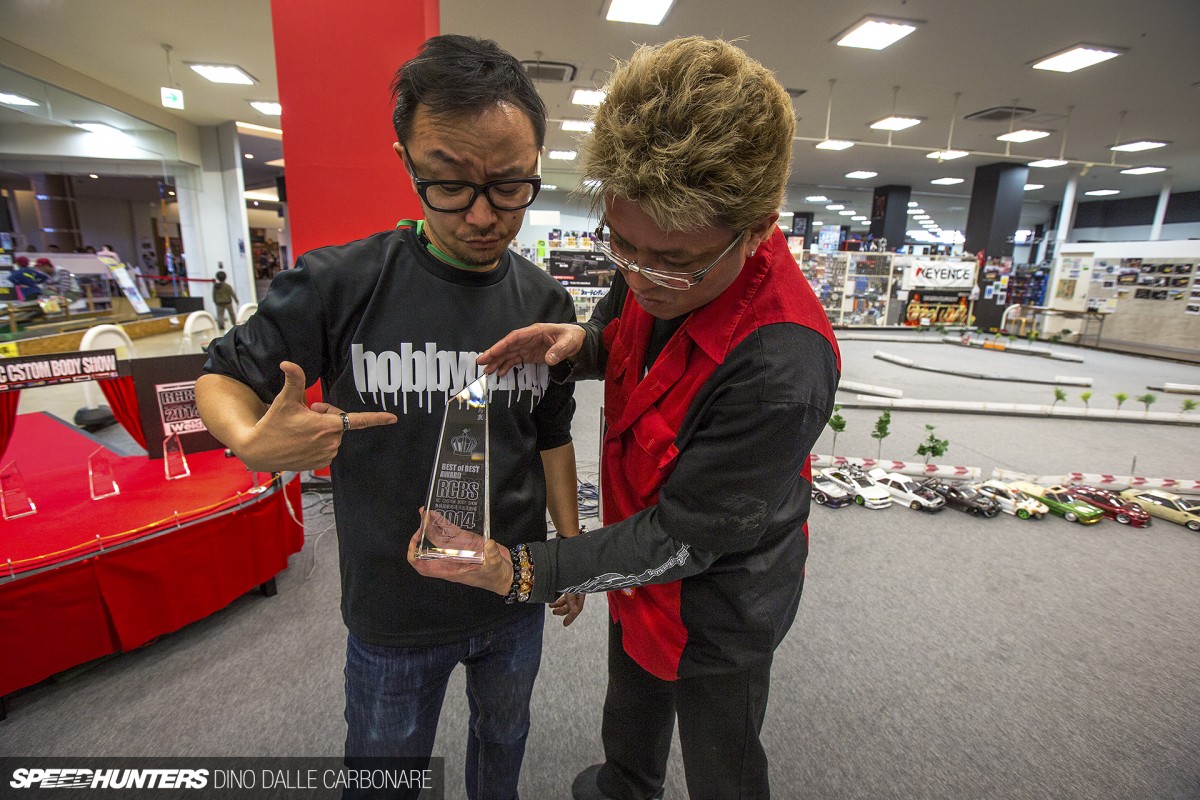 The Hobby Garage guys once again teamed up with Johnny from Weld who also heads up the Overdose RC parts brand and organized this year's competition. For 2014 they also had an awesome set of laser-etched glass trophies made up which they're proudly displaying here.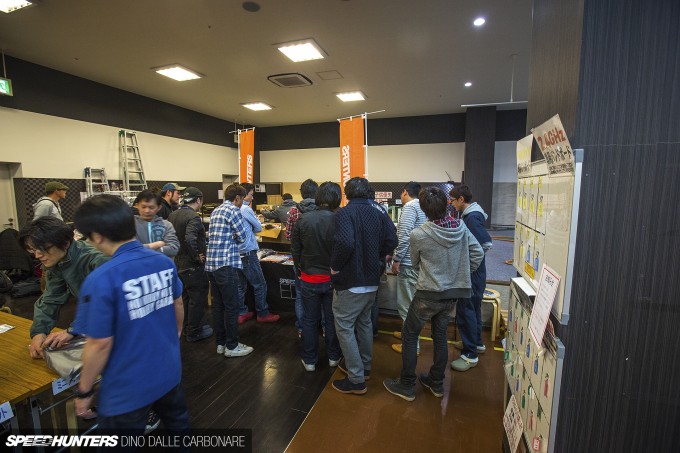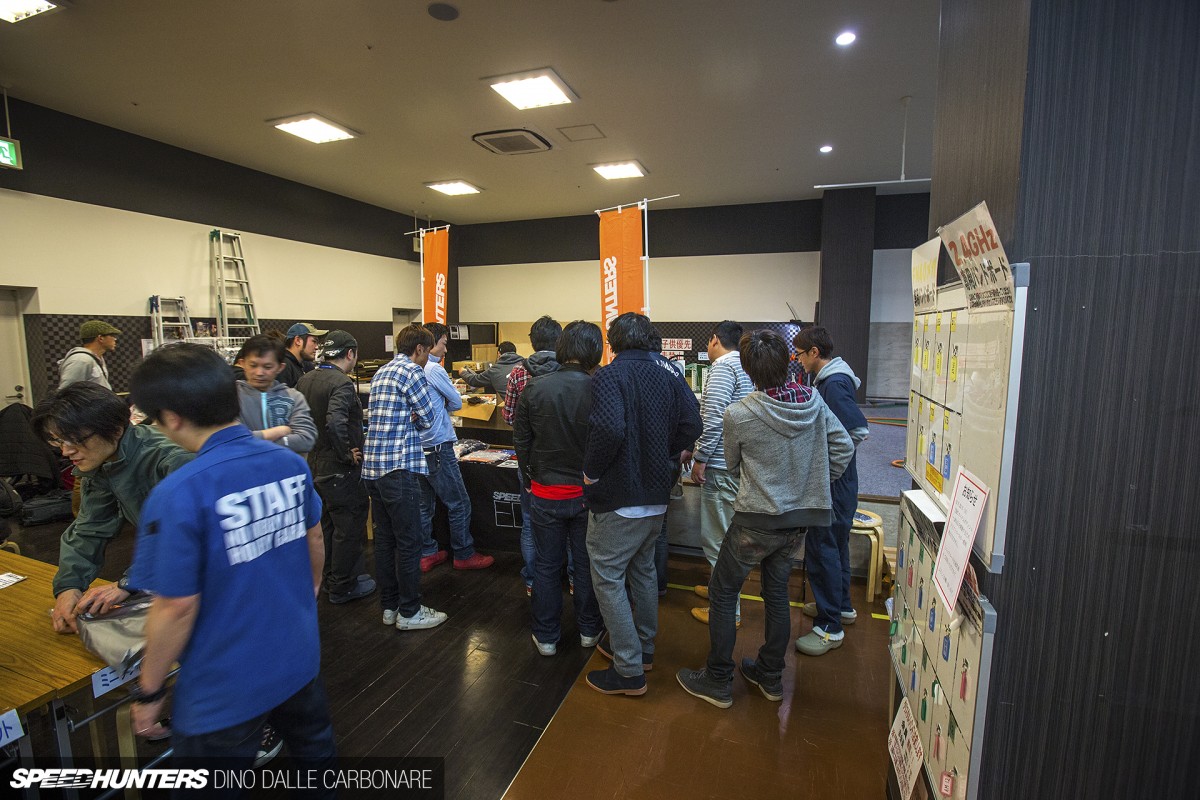 It's probably unusual to see a Speedhunters merchandise booth at an RC event but the sheer crowds circling it throughout the day hinted at something. As many told me, they all check out the site religiously, getting a lot of inspiration for their projects and at times downloading hi-res pictures so that they can get a better look at details, helping transfer them in miniature onto their polycarbonate shells. Hearing these kind of stories sure makes it all worth the hard work we put into the site!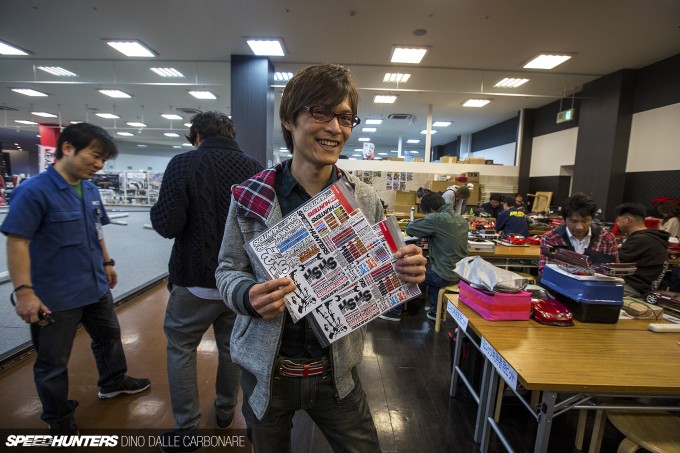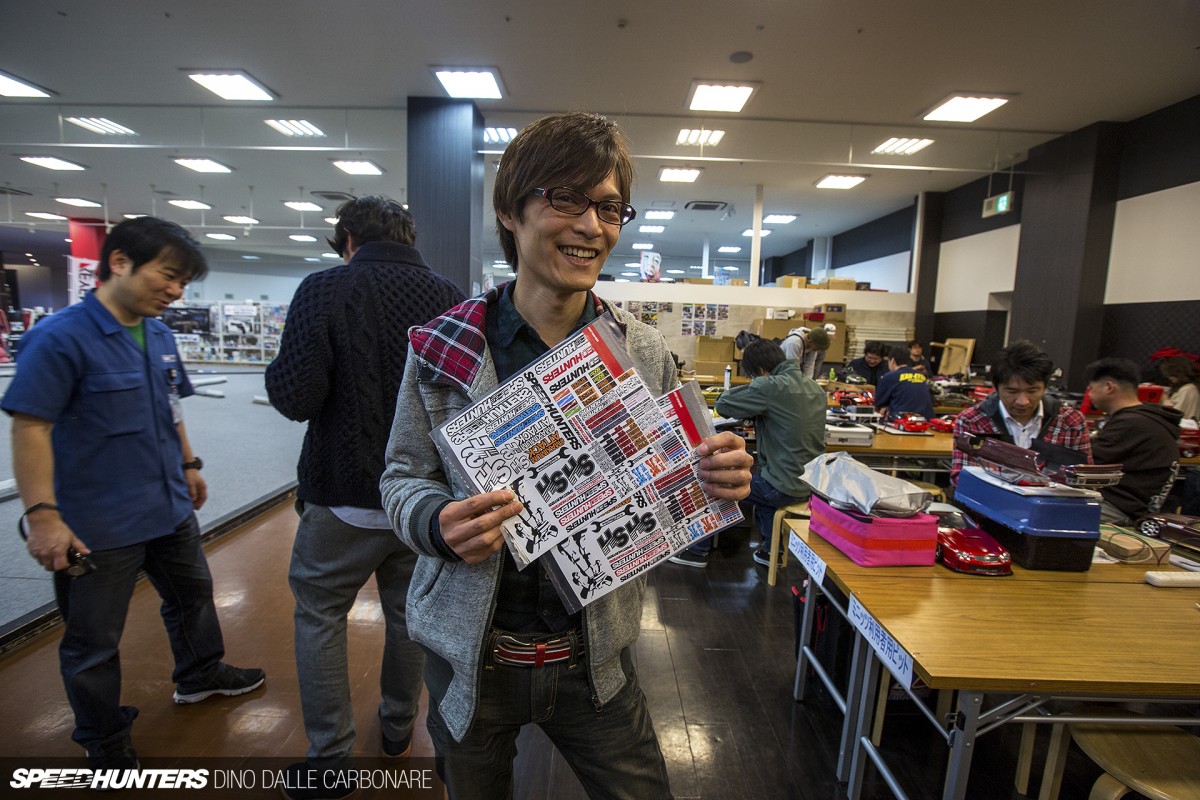 Not surprisingly, the hottest selling item on the day was the RC sticker sheet, with some guys picking up a couple or more each! I guess we'll be seeing more JDM RC cars getting stickered up this year! #MiniMaximumAttack
True masters of detail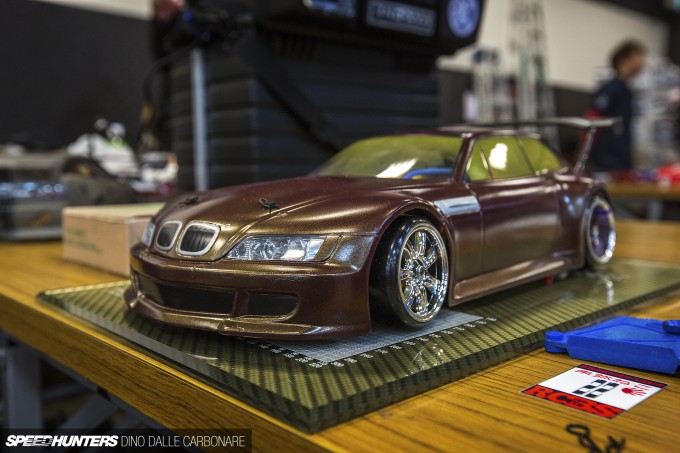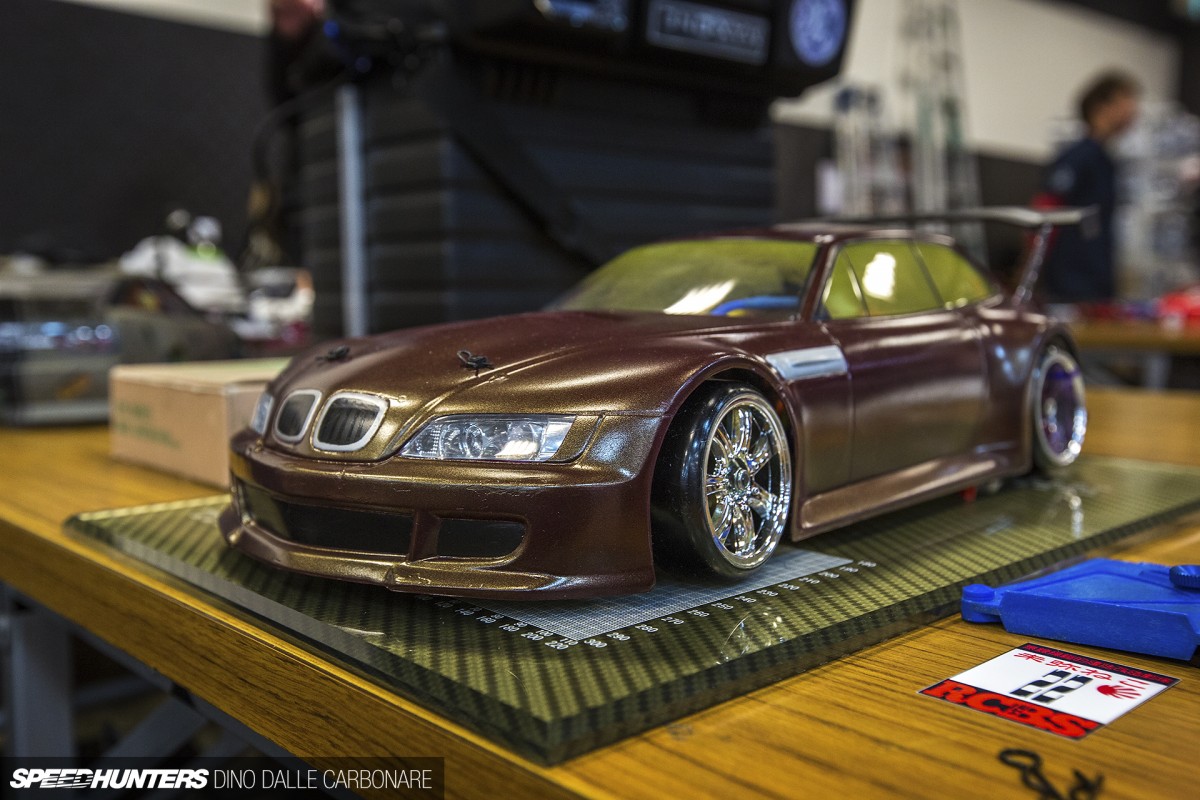 As ever, preparation is key before the event starts. As you can see with this BMW Z3 GT racer, getting the alignment perfectly set just like on a real drift or track car, is key. The bases have grids so you can set your camber, caster and toe just right both at the front and at the rear.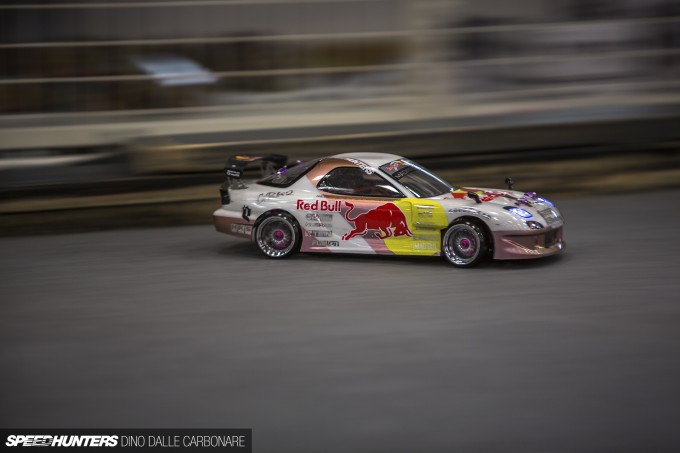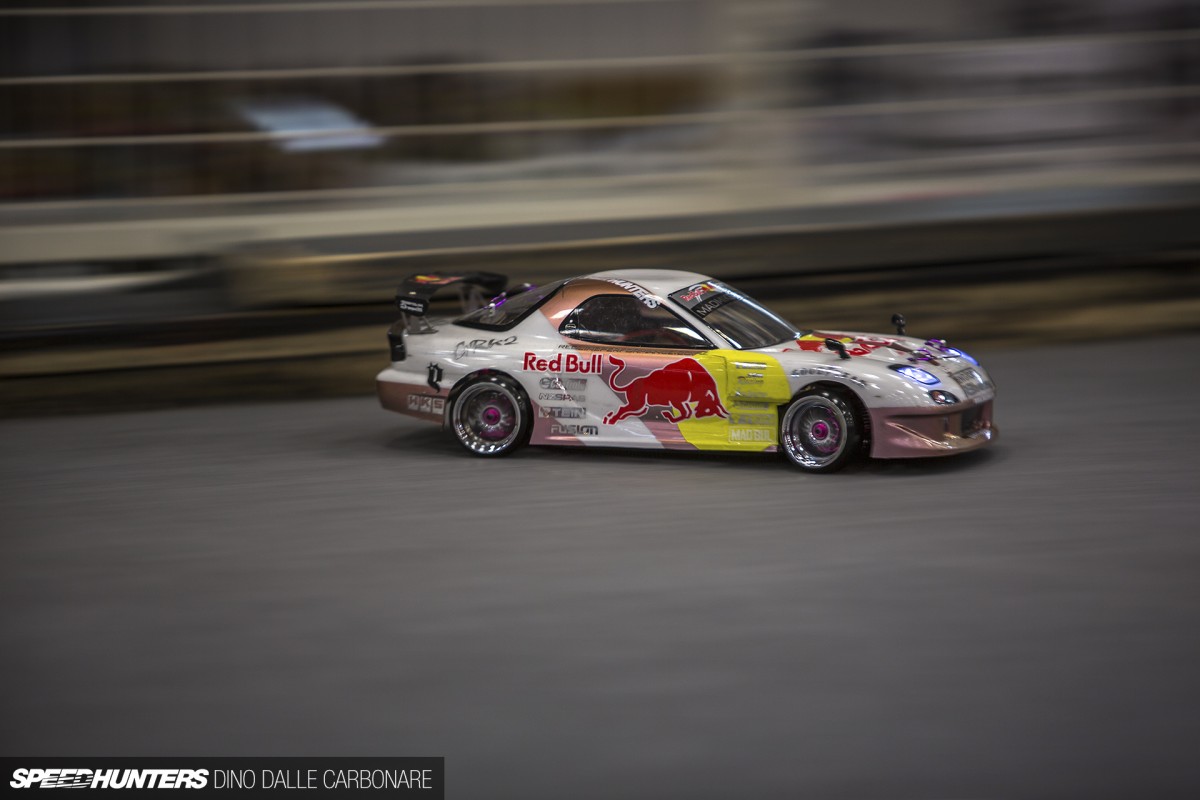 Participants had about an hour to set up their cars, and if they wanted they could also have some fun running them on the track.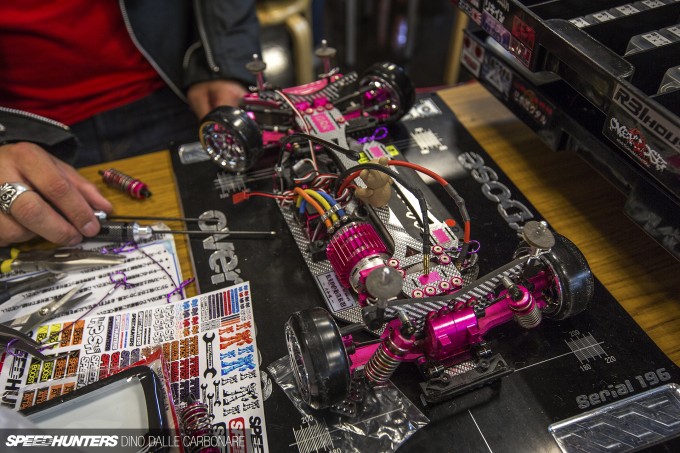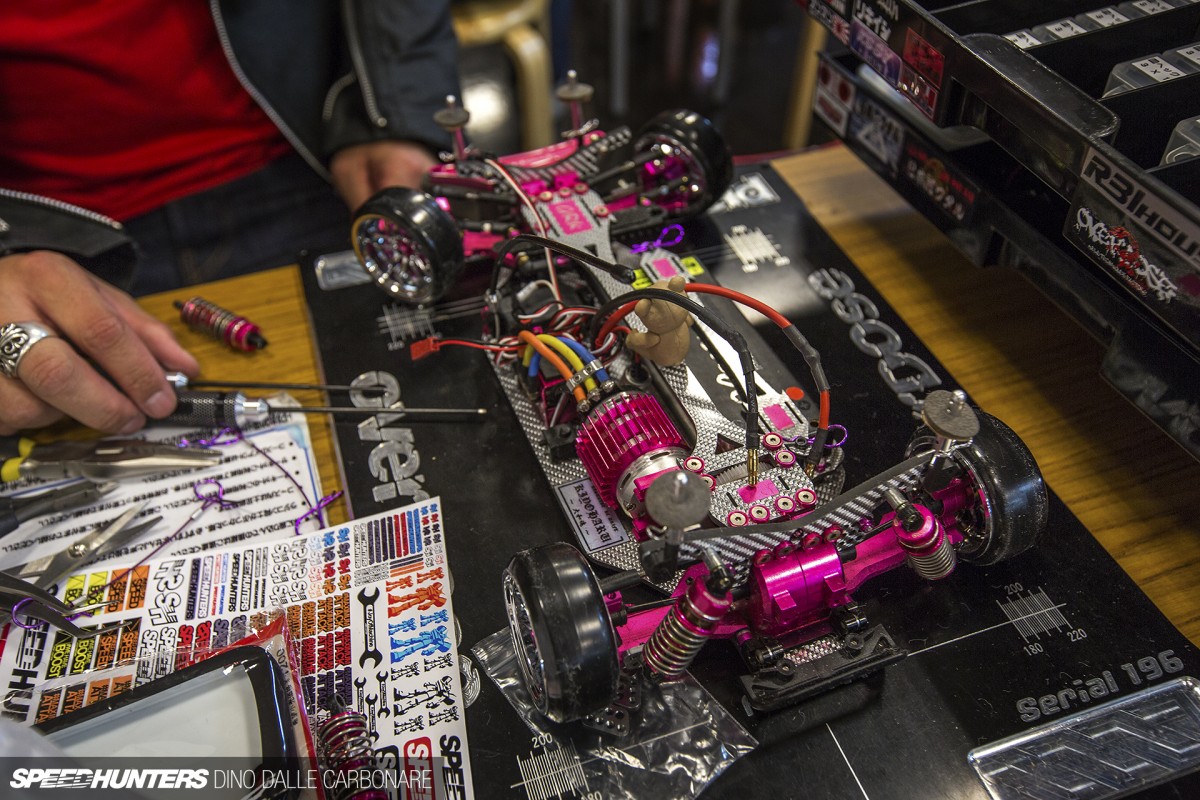 All cars that enter, especially from this year as you'll see further down this post, have to be functional, which of course in some of the more extreme cases makes it even more of a challenge.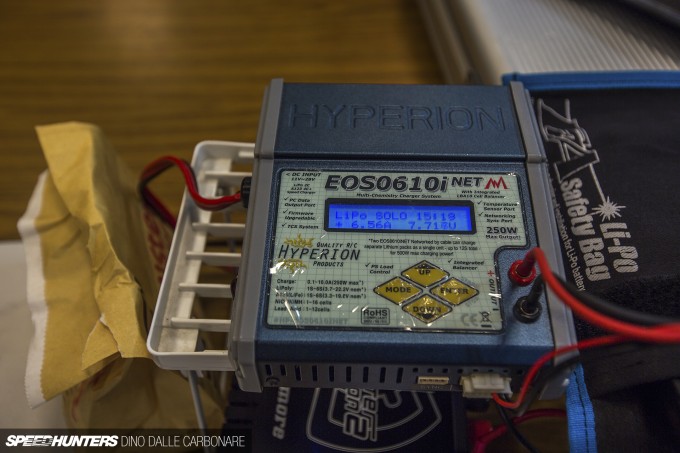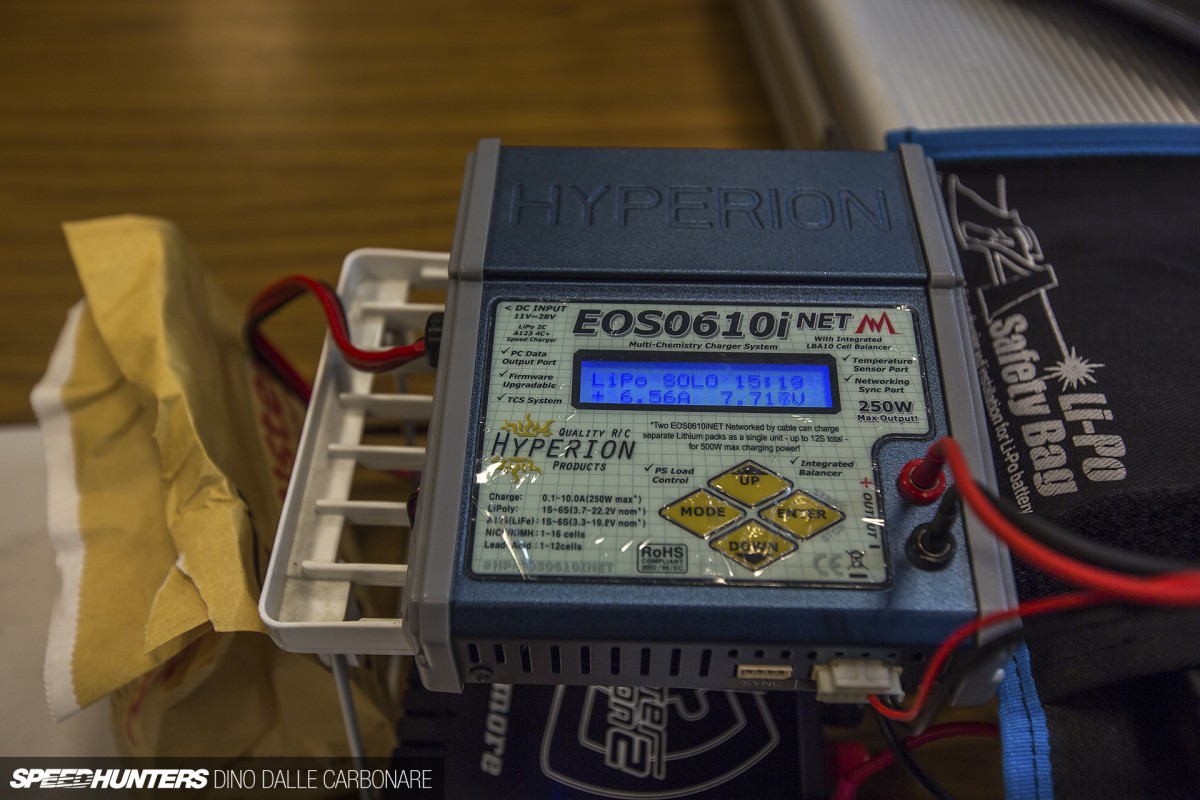 Having multiple battery packs is a must if you want to maximise your time out on track. Here's an example of a high-end hi-power charger that is used when juicing up LiPo batteries, the most advanced packs that everyone uses at this level.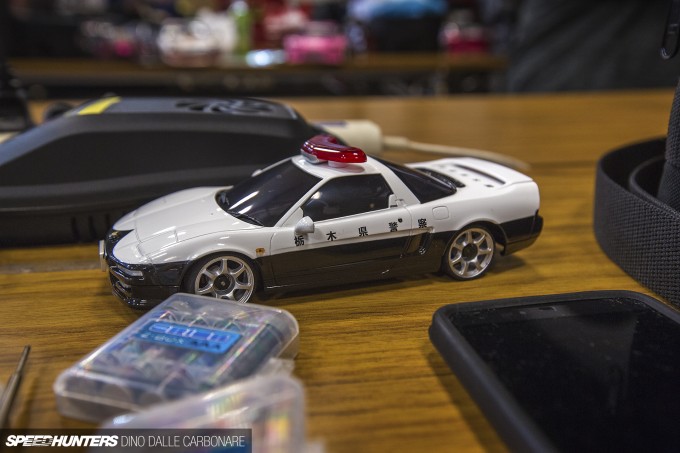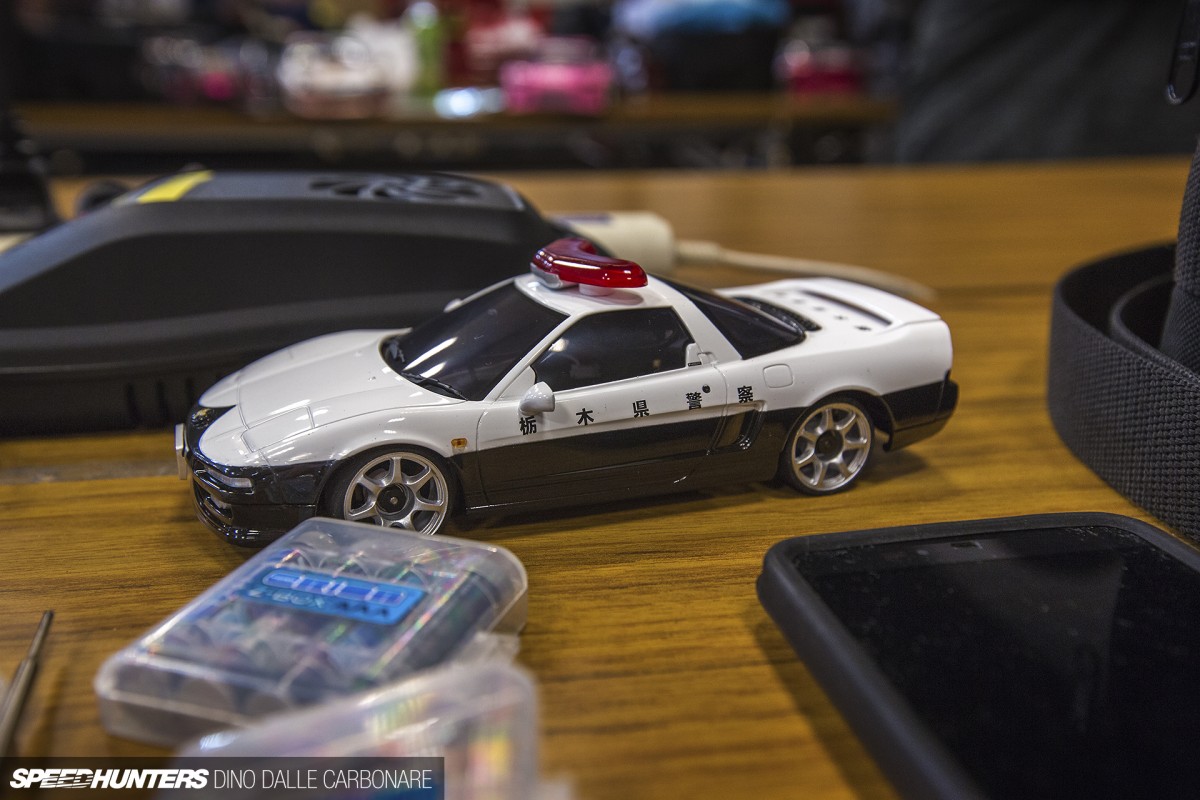 Some of the guys also brought micro RC cars to play around with on the small track while they had a few spare minutes. These really are some of the most intriguing forms of RC car culture; they aren't made to drift but to grip at ridiculously fast speeds. They have to be seen to be believed and as you can imagine, there's a massive list of tune-up parts available for them as well – anything from motor and battery upgrades to the actual wheels and bodies.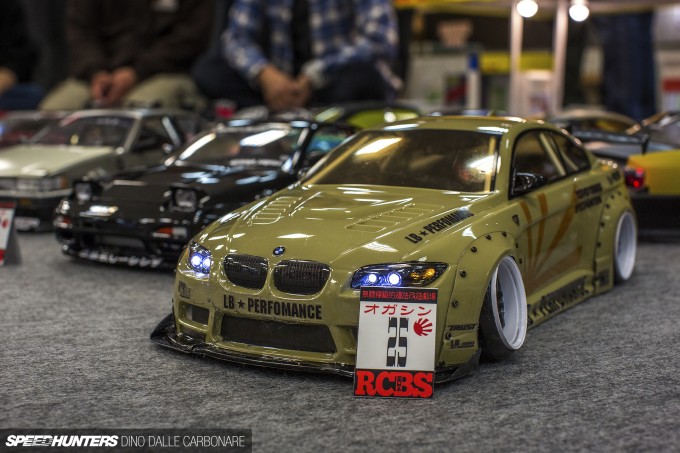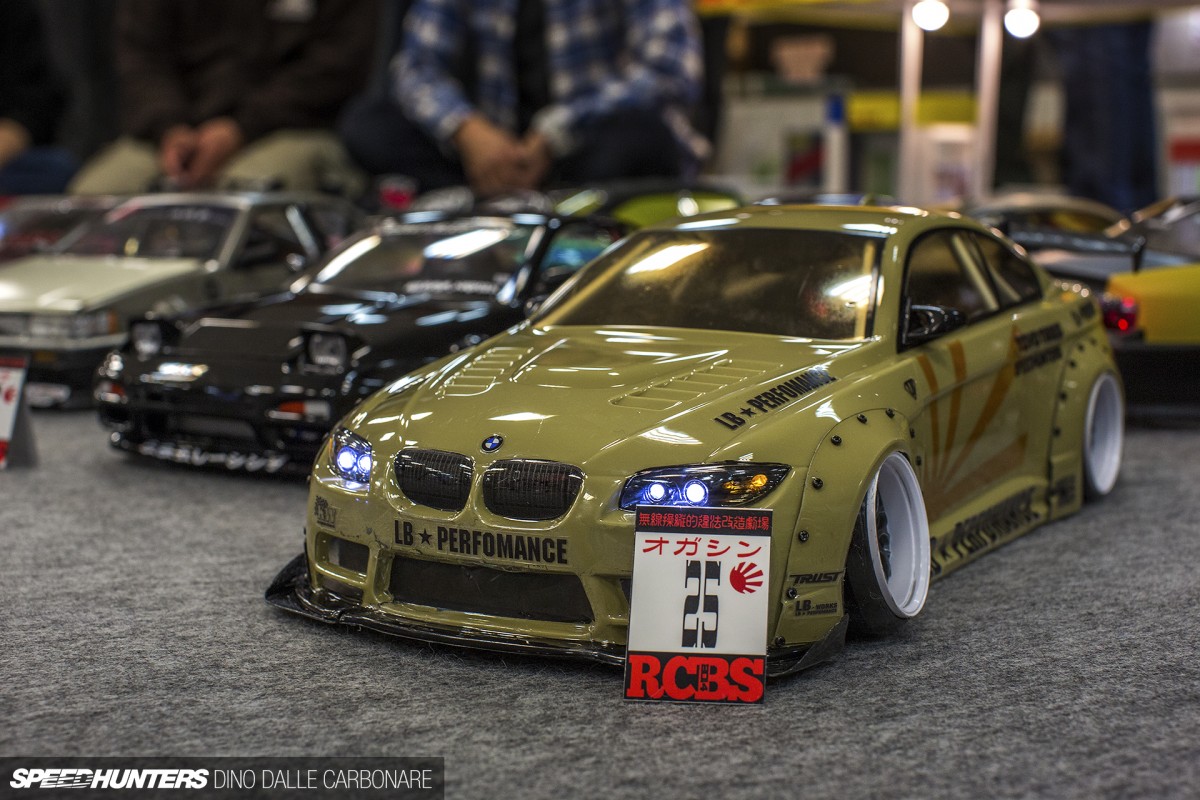 But it was the bigger drift cars I was there for and after a quick look over at the 40+ entrants, it soon became obvious that the envelope has definitely been pushed. You either have those guys that prefer to do their own thing by mixing up a variety of styles from real cars they have seen on in the internet, or as this Liberty Walk M3 shows us, some prefer to create the perfect RC replica. Stretched tires and devil camber are a must it seems.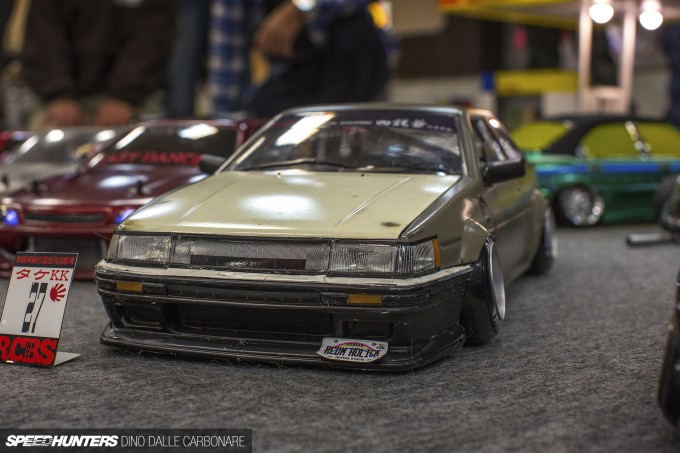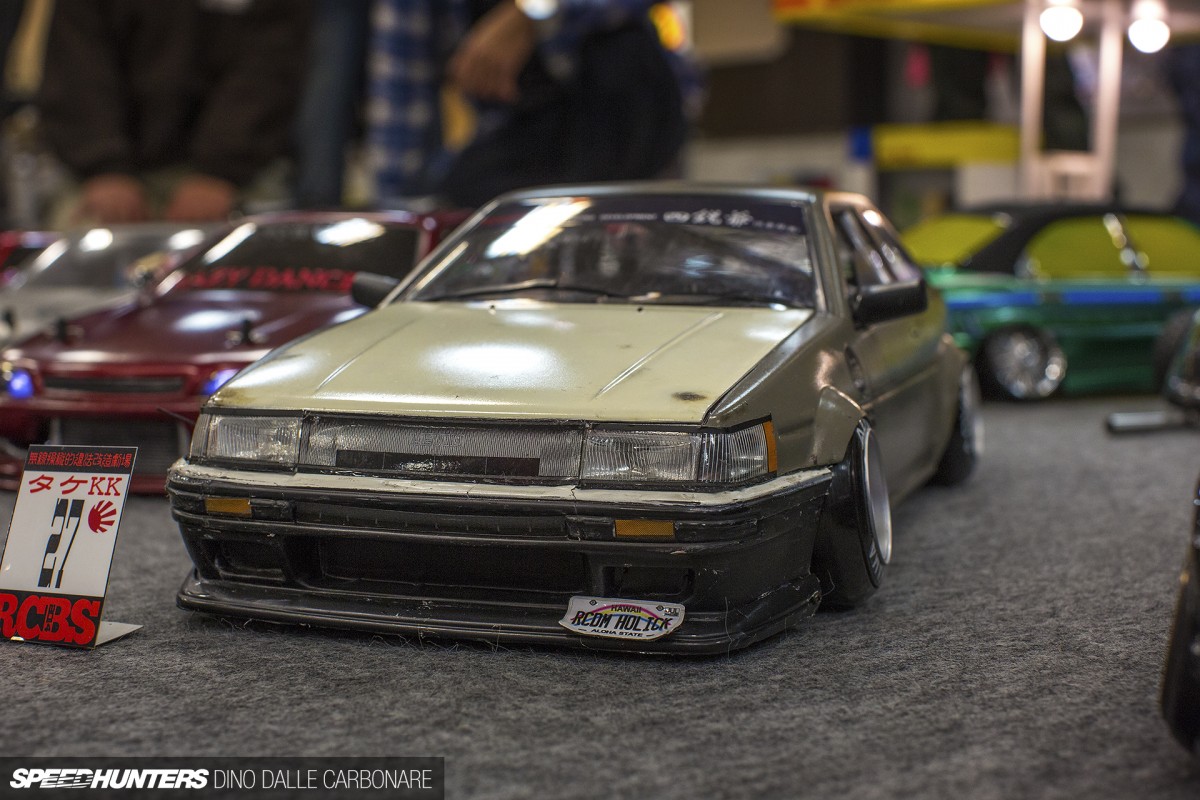 For those more into the authentic grassroots drifter look, this AE86 really stood out. The mangled up Hawaii plate is a very cool touch too, and that's precisely it: you have to take time to look at each car and notice all these little details. That was especially important for me as Johnny said I had to pick my favorite car which at the end of the day would be given an award! No pressure then!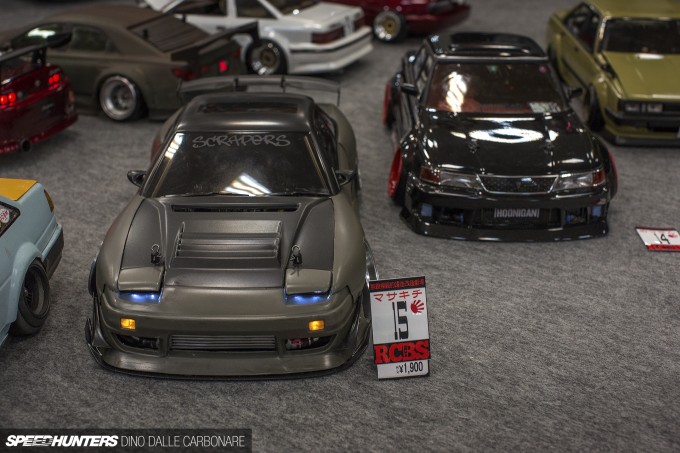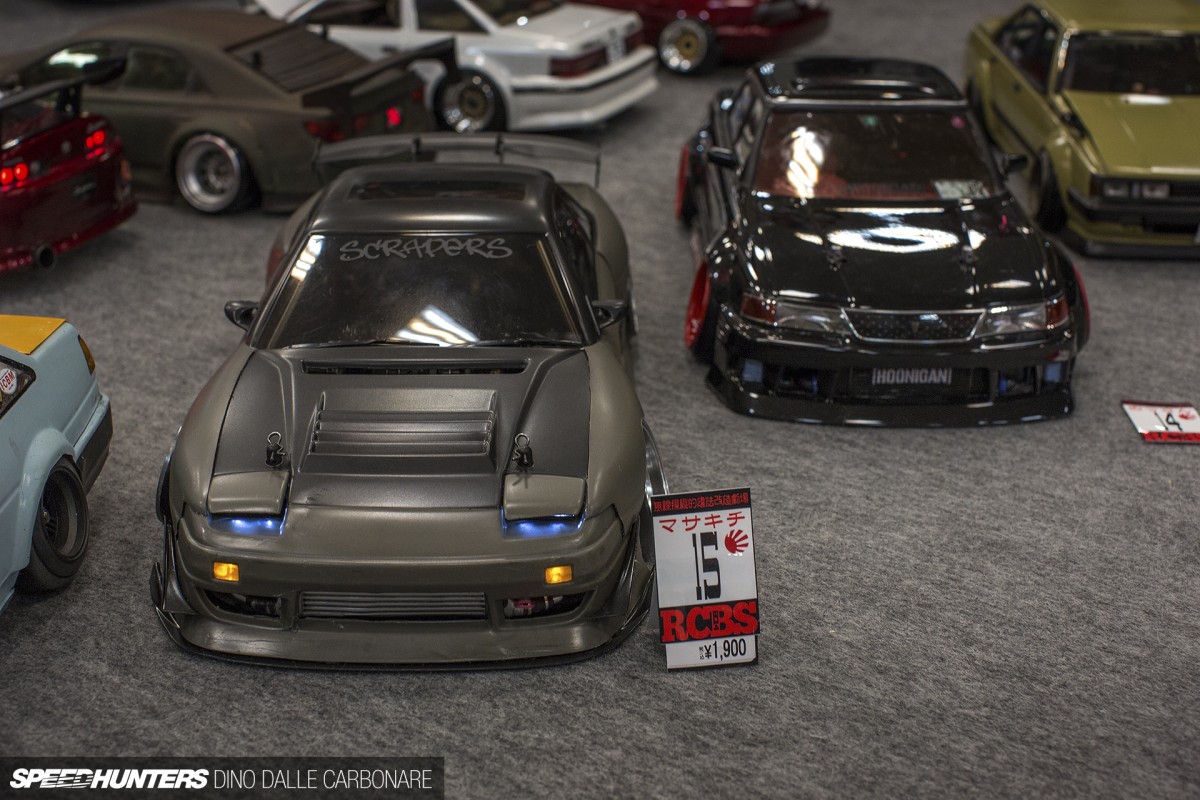 I was impressed by the pumped fenders that this 180SX was running, as well as added lights for an extra touch of realism. The only thing that spoiled it for me were the grab clips sticking out from the bonnet. Thankfully with the introduction of the new magnetised body mounting points it's no longer necessary to drill that beautifully painted body, as the shells are held in place from underneath!
Let the competition begin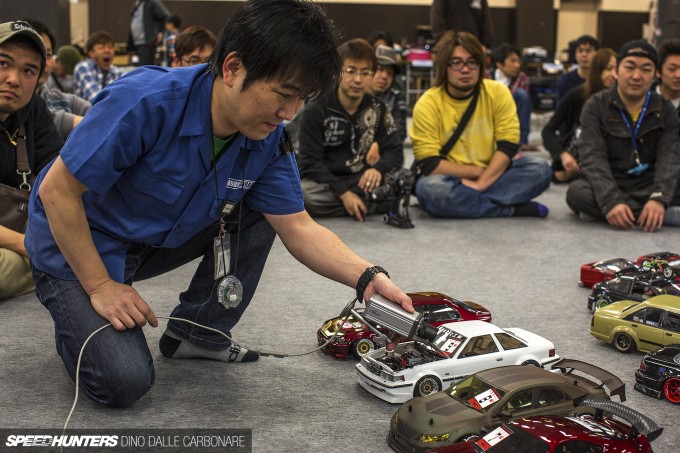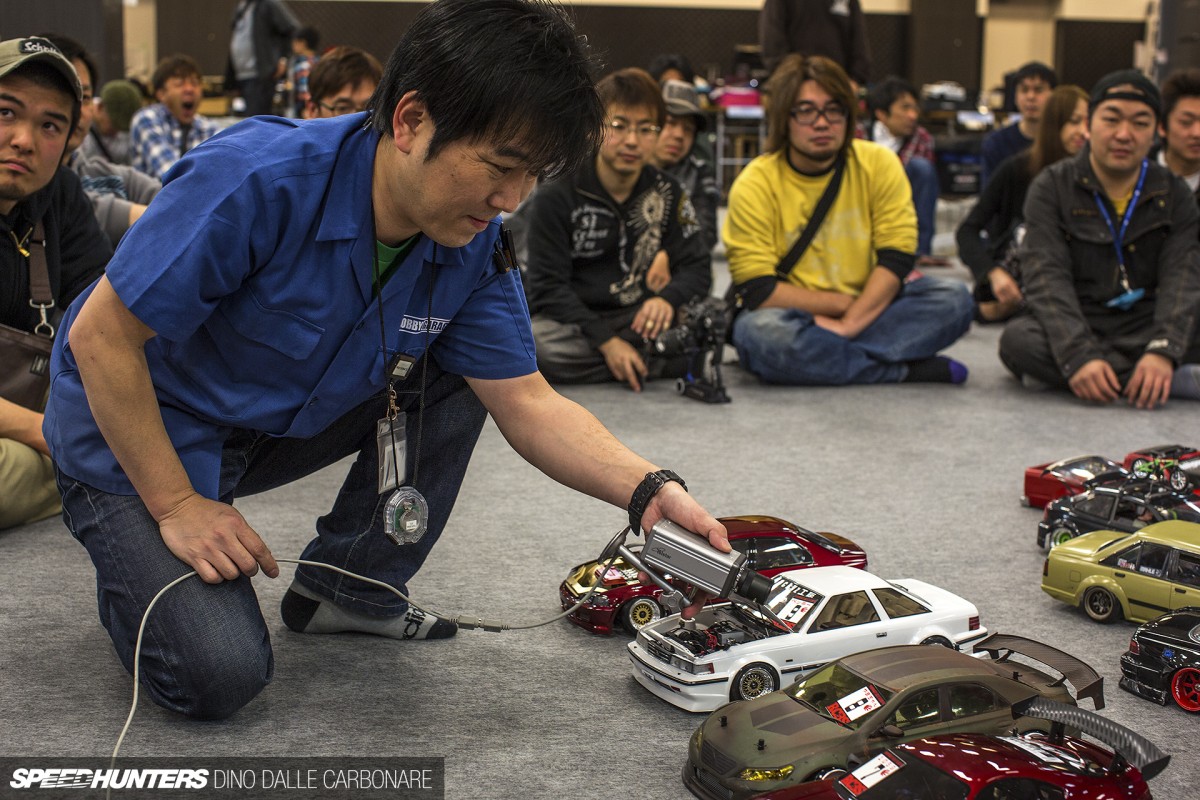 The presentation part of the event consisted of a detailed introduction of each car, the Hobby Garage staff using the same macro-camera set-up as last year.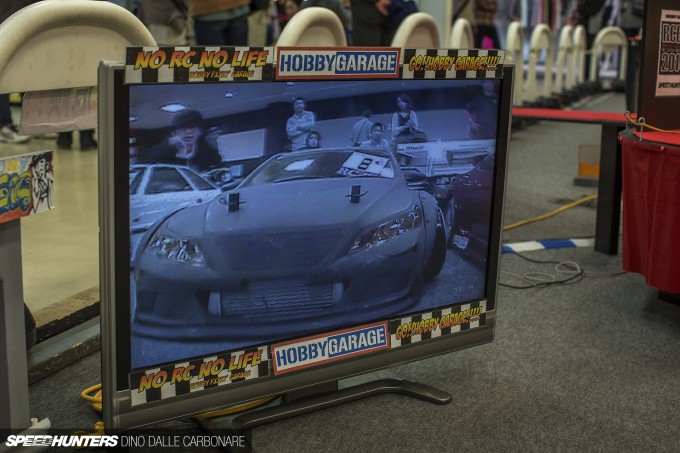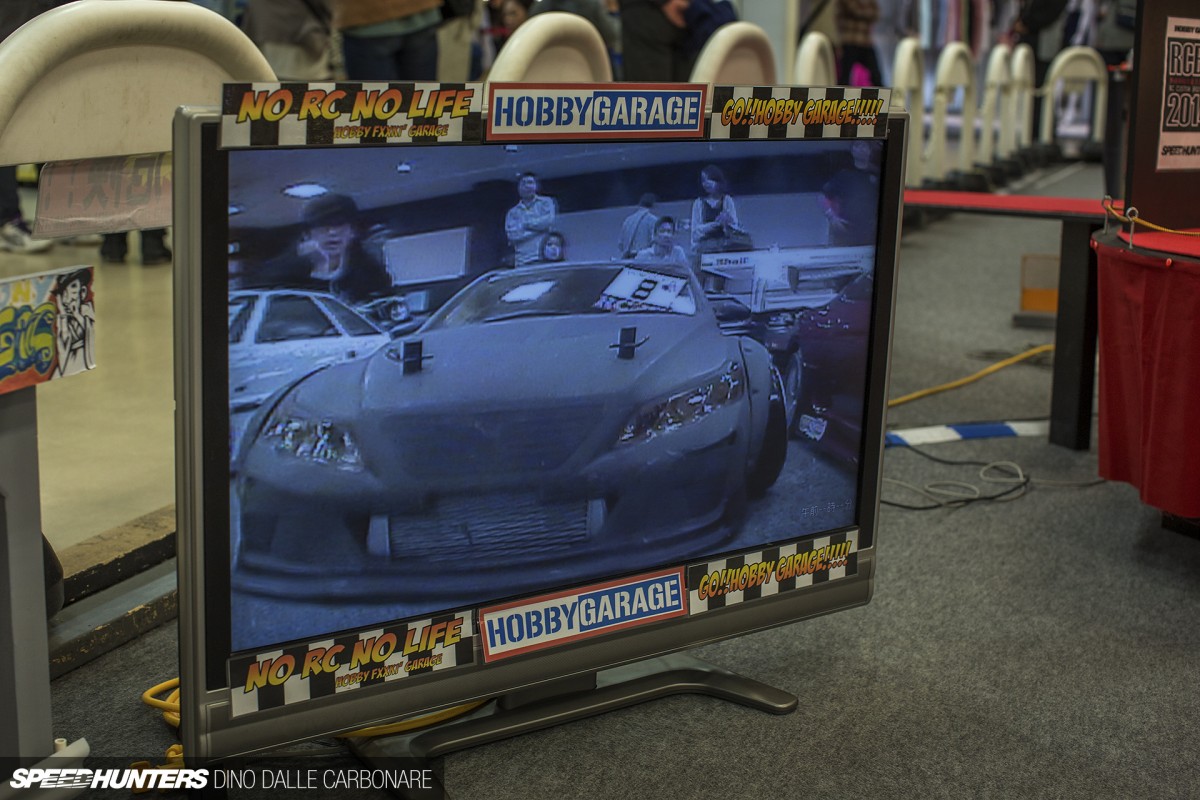 This is an awesome way to show off each car as it's just so easy to miss stuff sometime. Seeing that I was part of the judging, I was attentively watching the big screen monitor.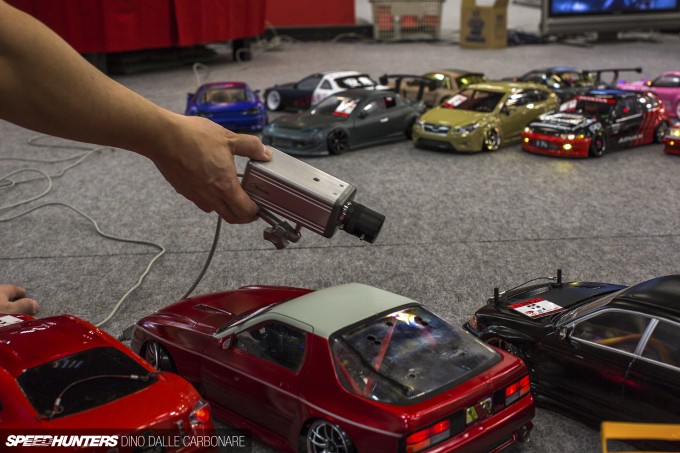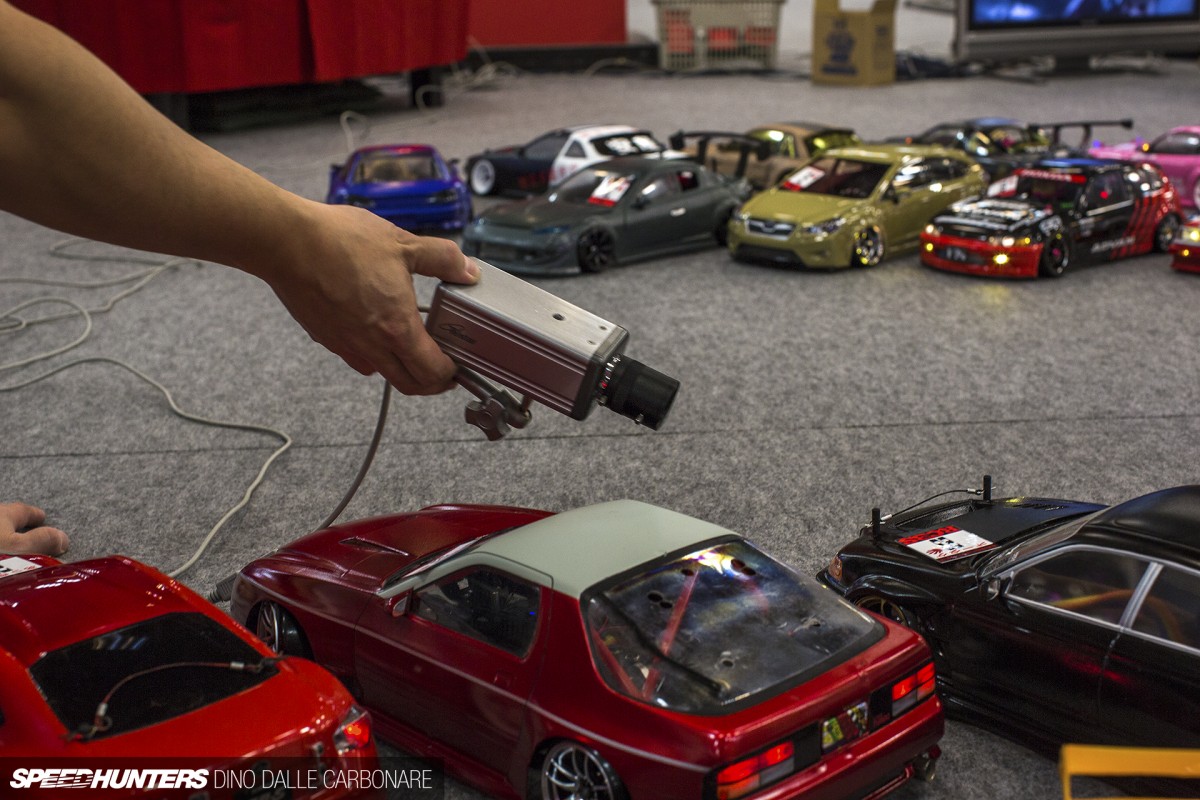 You've just got to love the otaku approach. The Japanese are masters of this sort of stuff!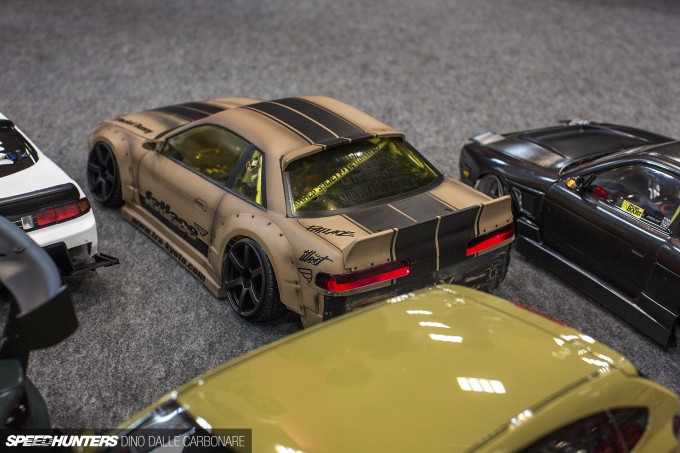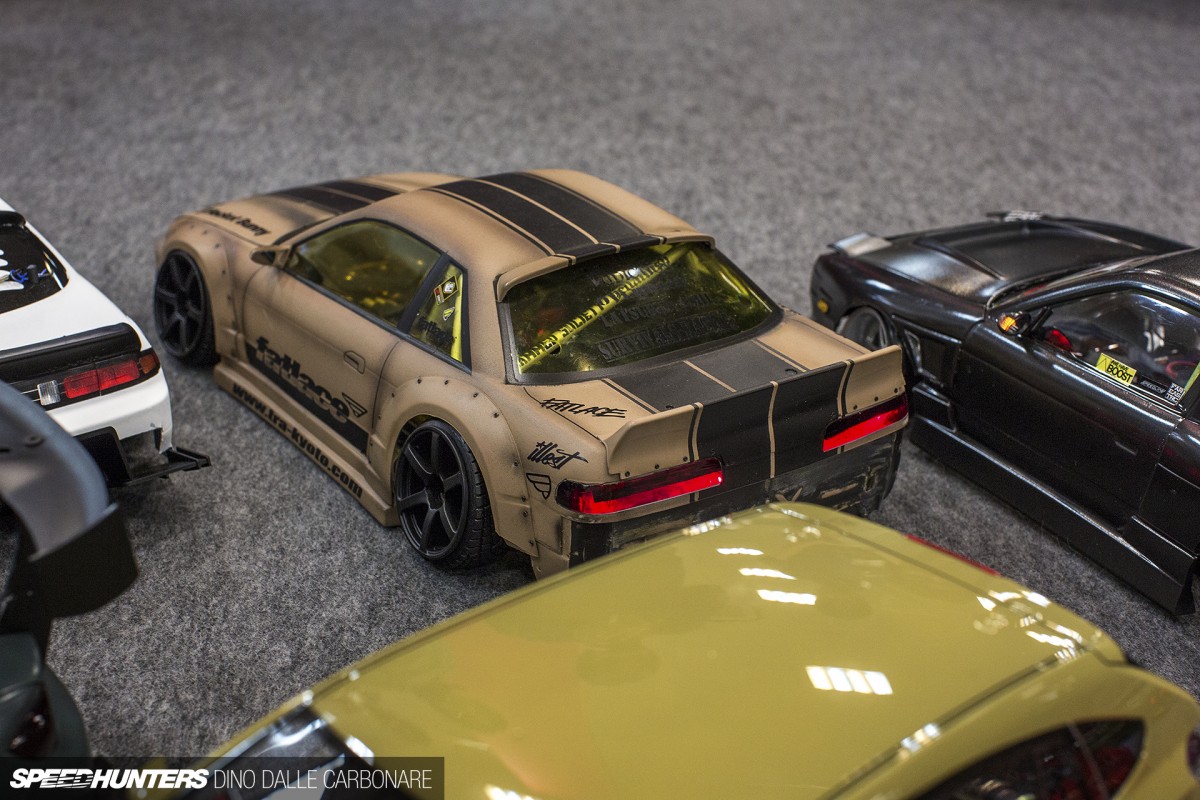 Here's another take on that military look, this Rocket Bunny S13 sitting on perfectly stanced Work Emotion XT7s and sporting a beautifully airbrushed matte finish. Oh yes and there's no bumper at the back! Miura continues to lead the way!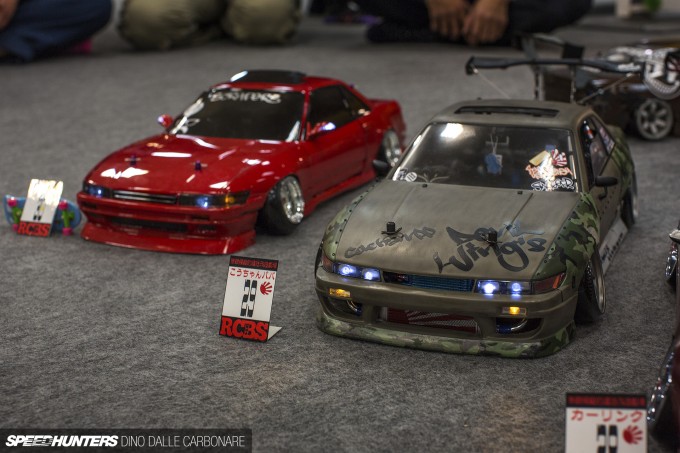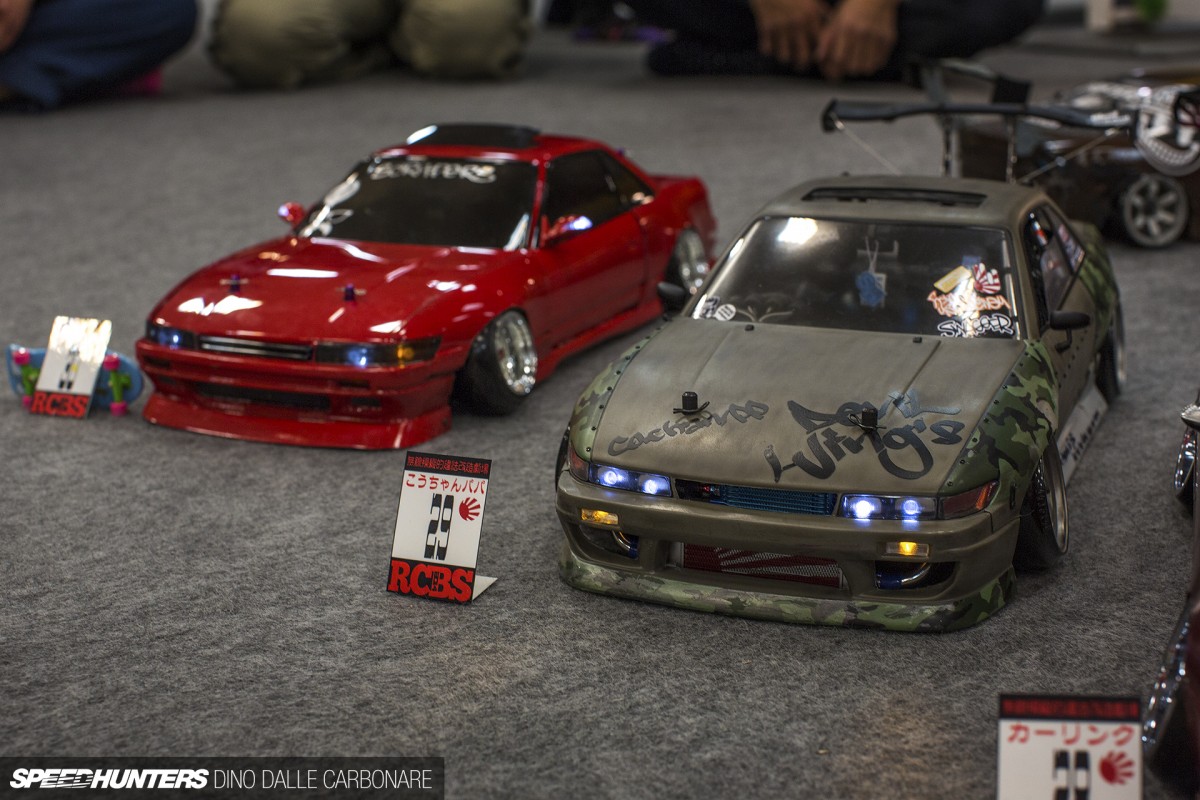 Squint and it looks real! What really made this other S13 especially interesting was the mix of camo and a rattle-can type finish on the body as well as the tiny custom stickers.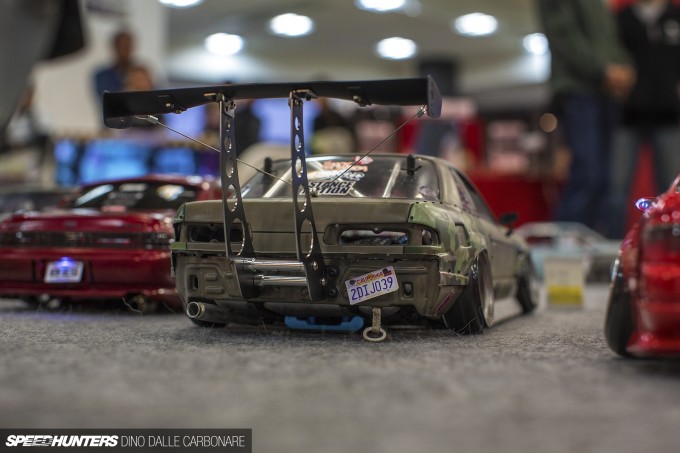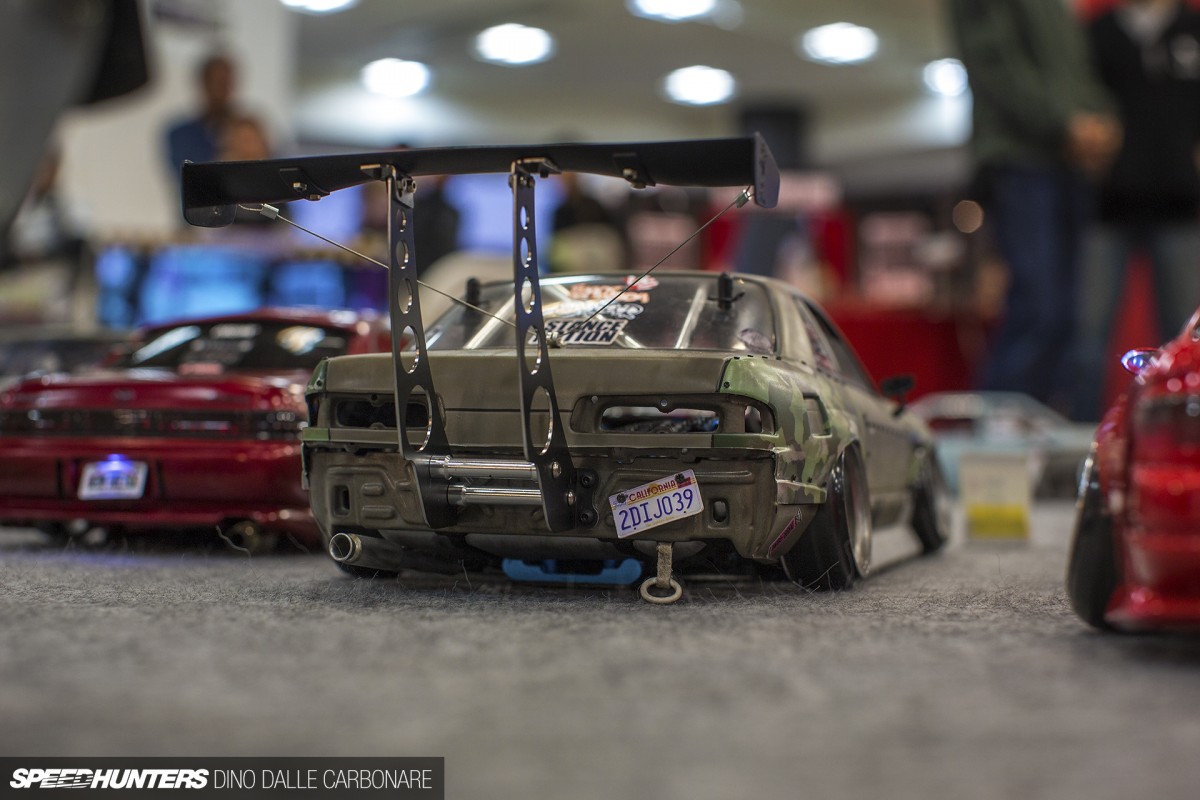 Oh yes and the crazy rear wing with huge aluminium drilled stays! The beaten up drifter look was certainly executed beautifully. Again we have the Miura-BenSopra-style rear bumper delete and the tsurikawa subway train handle, a little touch of bosozoku counterculture to finish things off.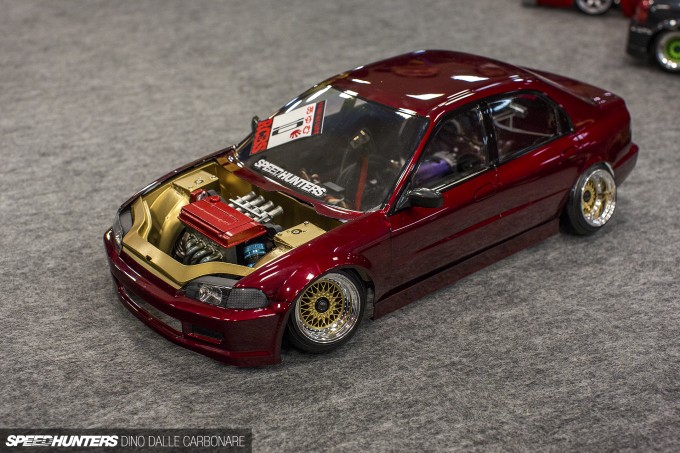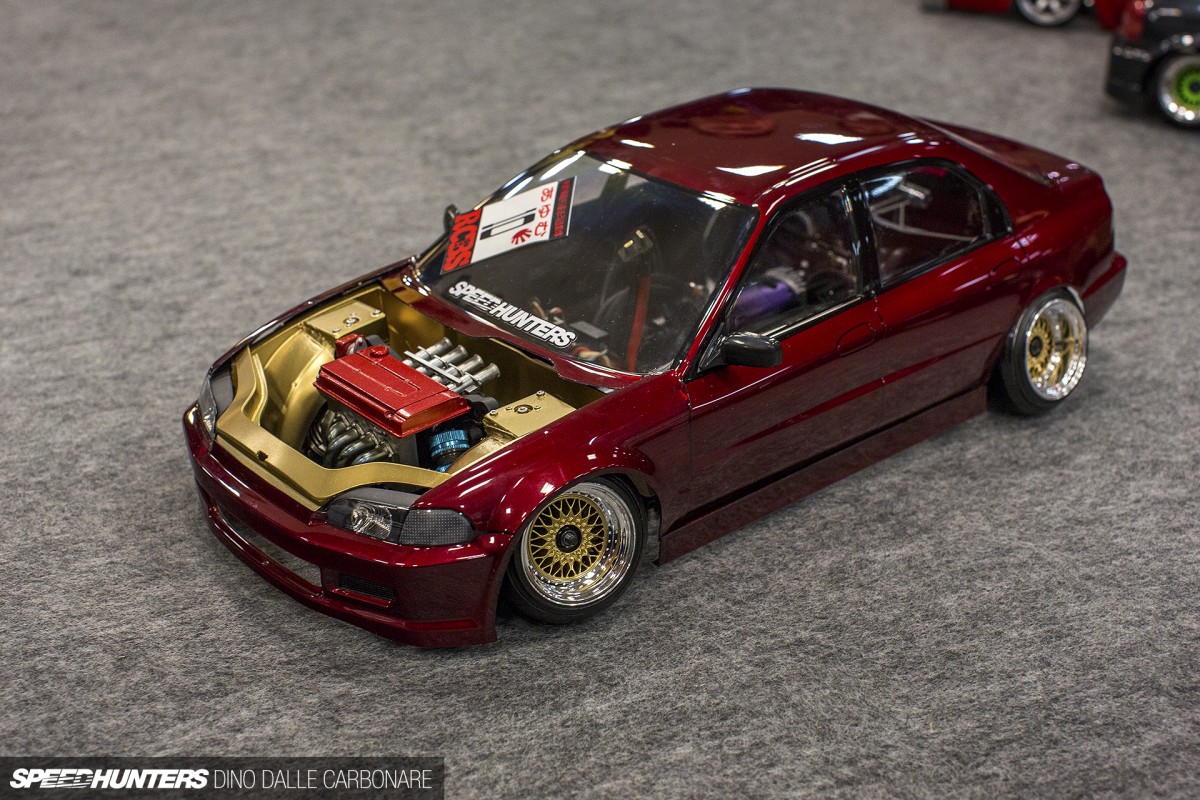 The USDM look is certainly getting its fair share of attention in Japan, and sooner or later it was going to spread to the miniature world!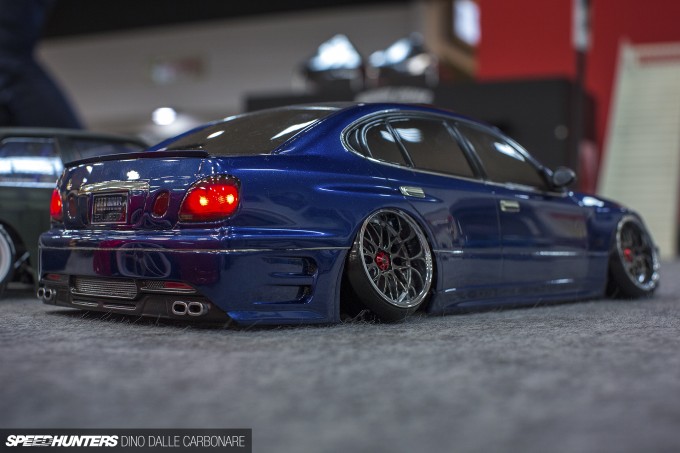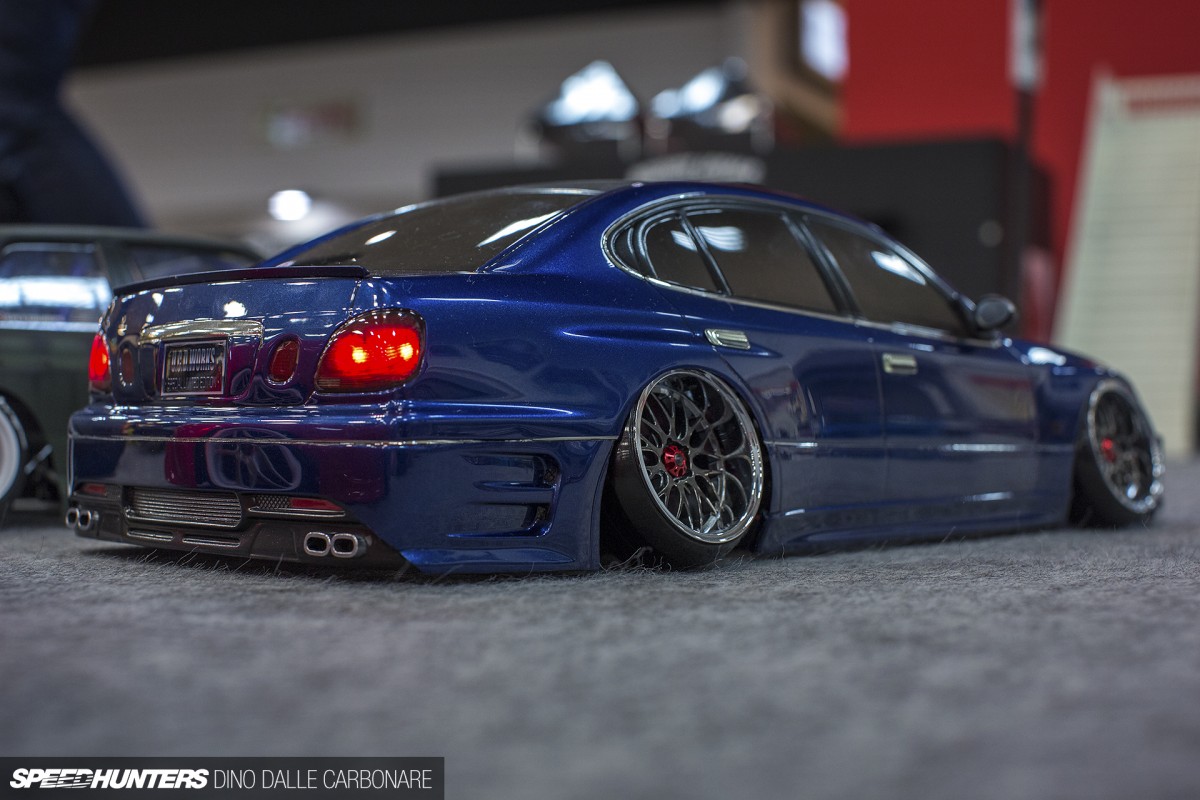 Here's a rear shot of the Aristo in the opening image. This is modern day VIP style represented beautifully and ridiculously accurately in scaled version. Onikyan FTW!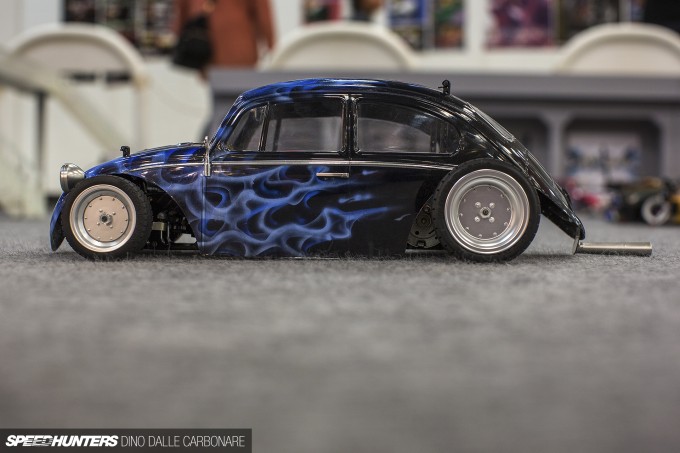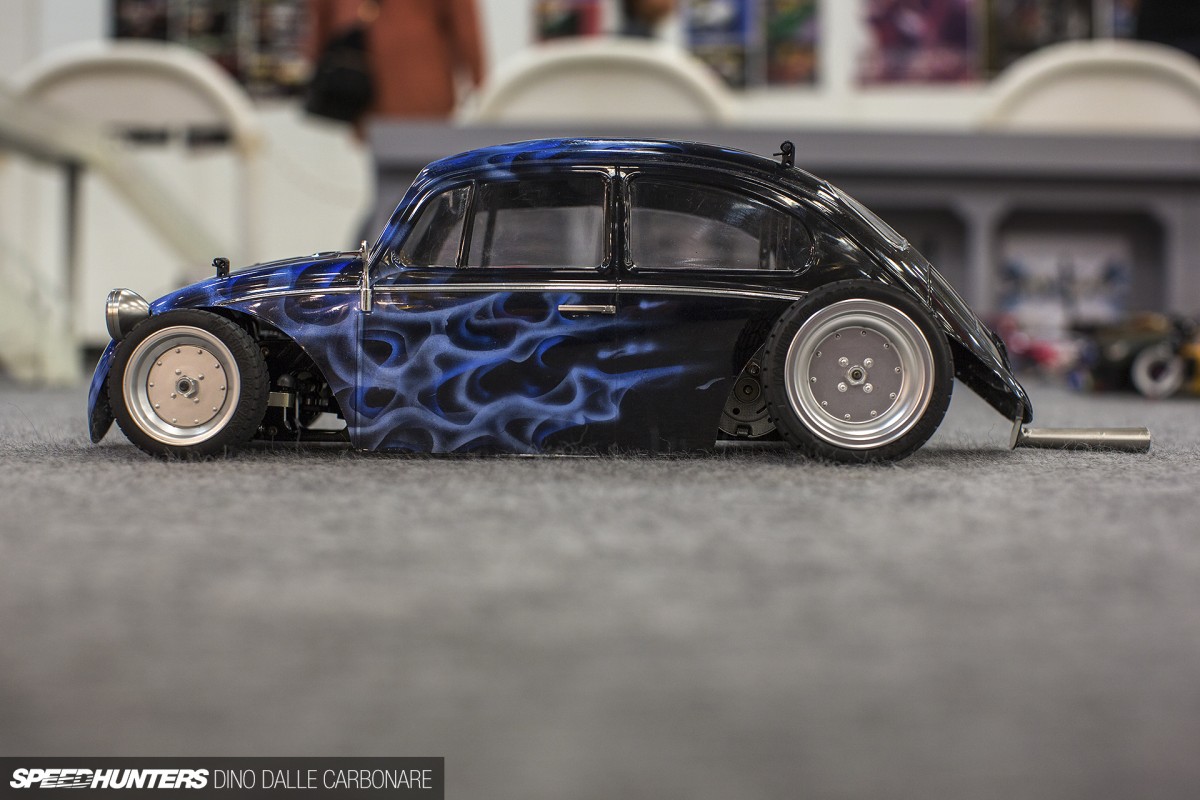 The rubber wheels don't really make this Bug a drifter but still it was hard to overlook the unique style it was sporting. It sort of made me wonder if anyone has ever made a hot rod RC drift car? Now that I'd love to see!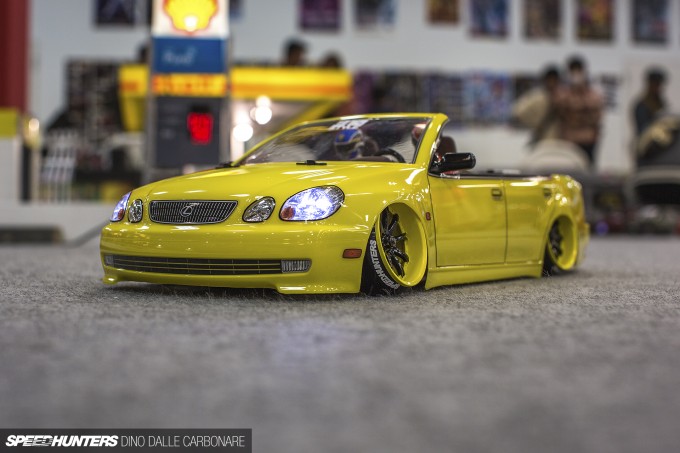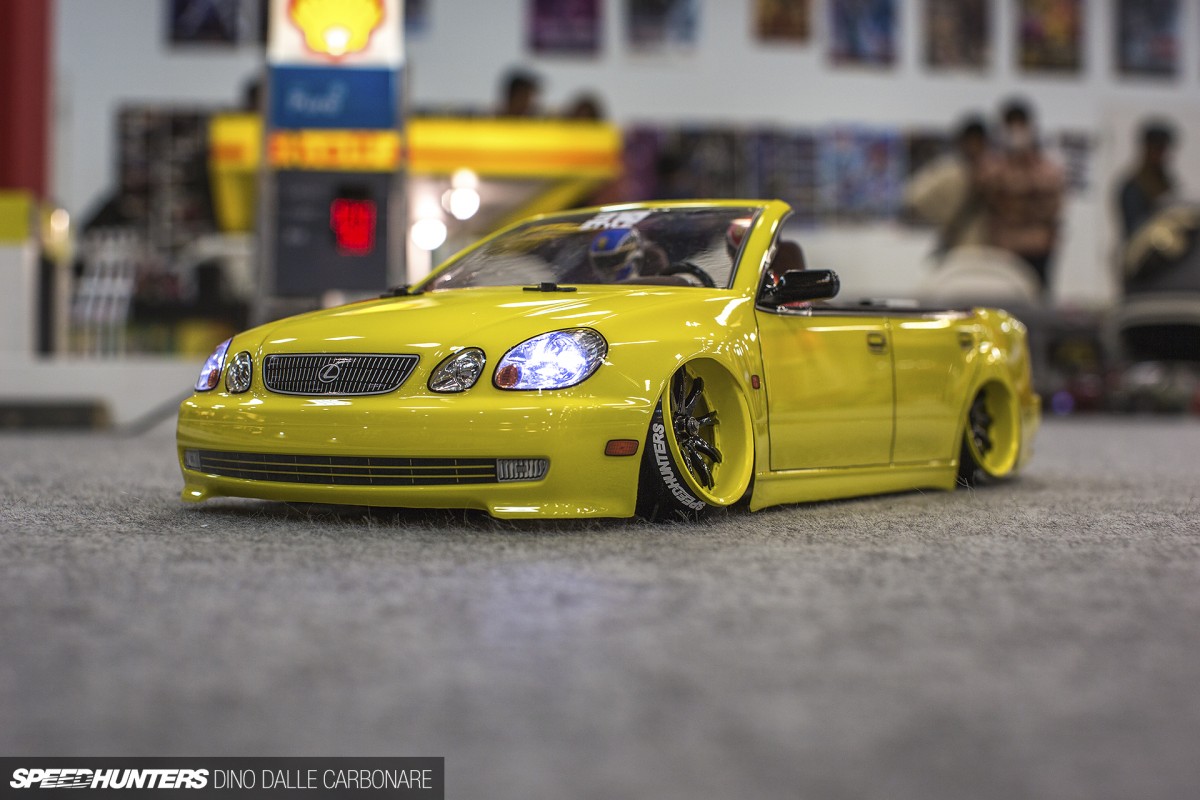 I was curious as to why the owner of this dumped Lexus GS convertible was walking around with two controllers.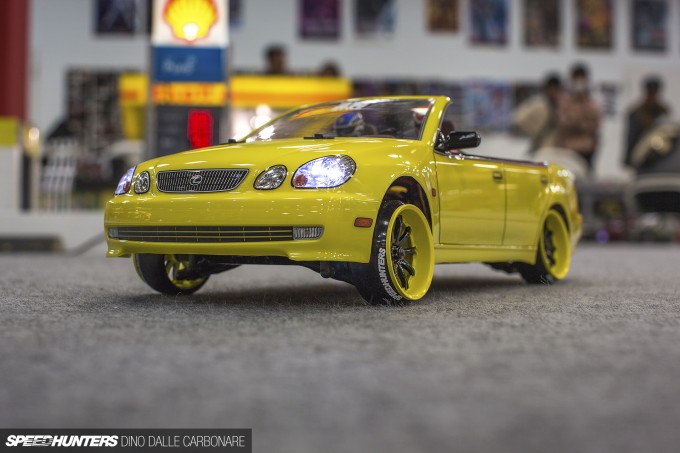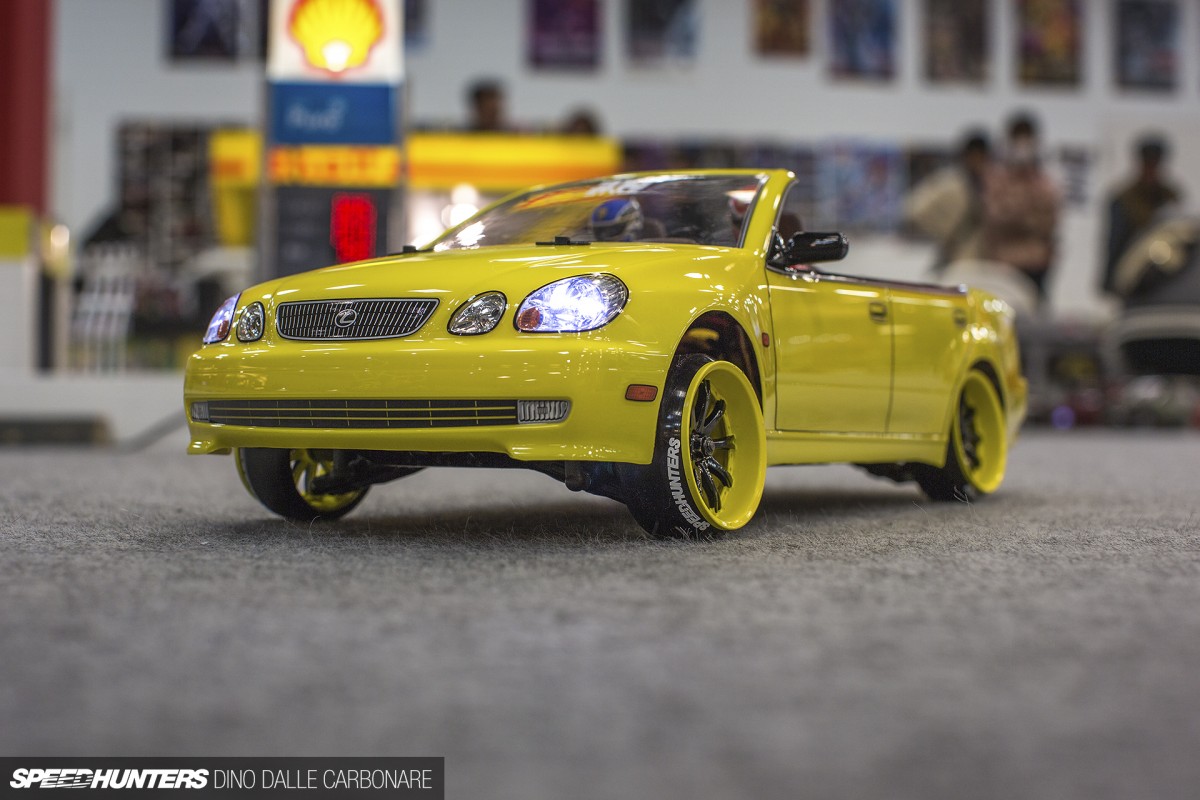 One little demo later and all questions were answered. A low-rider that drifts? Hell yes! I love it when things are done with functionality in mind. To achieve this, the owner had to get rid of all four dampers and replace them with servo-actuated cranks to independently control each corner. Hence the second controller. Also can you spot the Speedhunters tyre bombing that has gone down here? Crazy!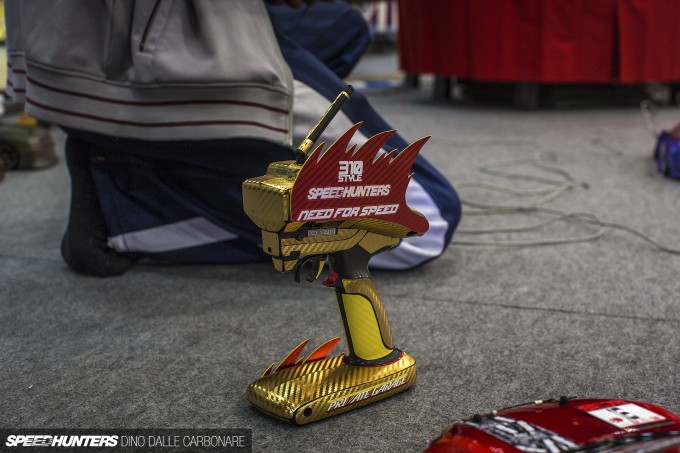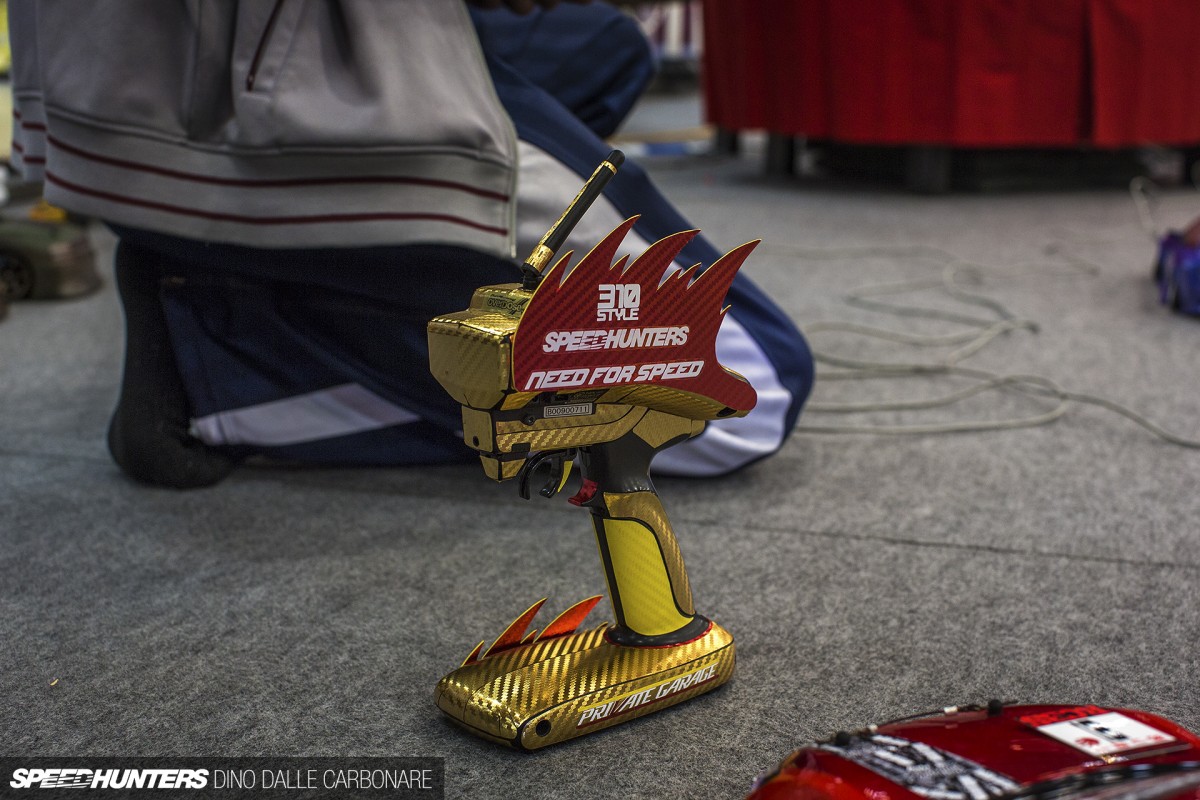 The customisations didn't stop at the car: he also made sure his controller would be as unique as possible!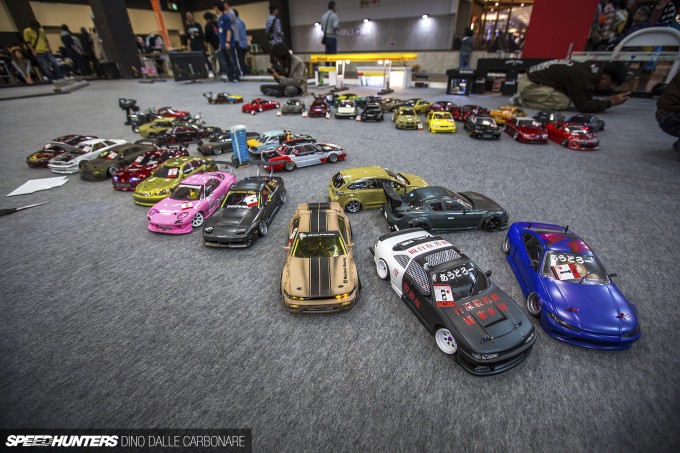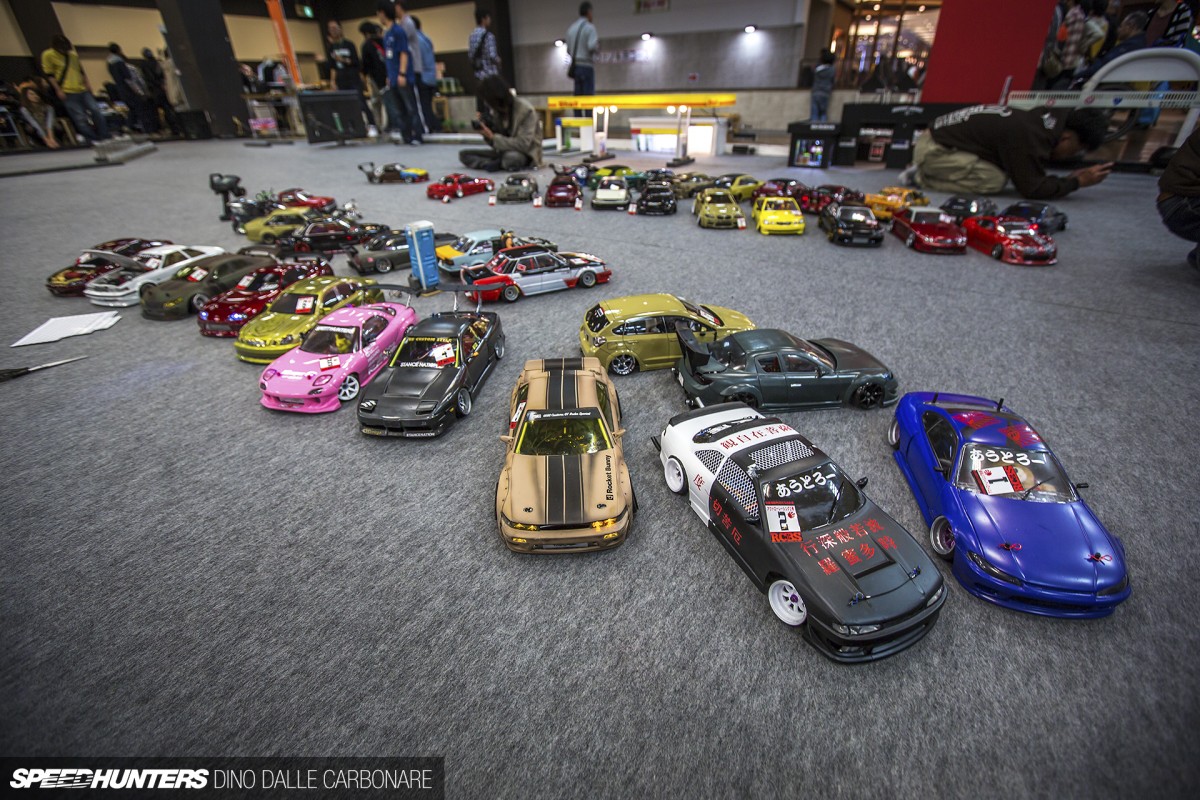 Luckily a short break for lunch meant I could spend some one-to-one time with all the cars entered in the competition, I needed this both to get the detailed shots of each but also to pick my favourite. Trust me, it was really hard, but in the end my favorite one was picked because of pure attention to detail.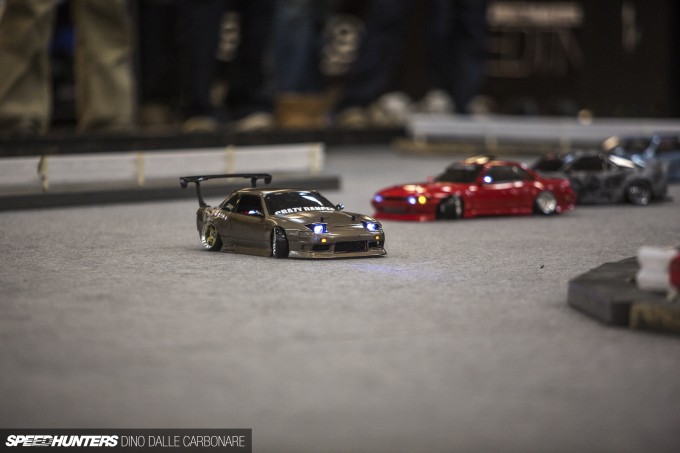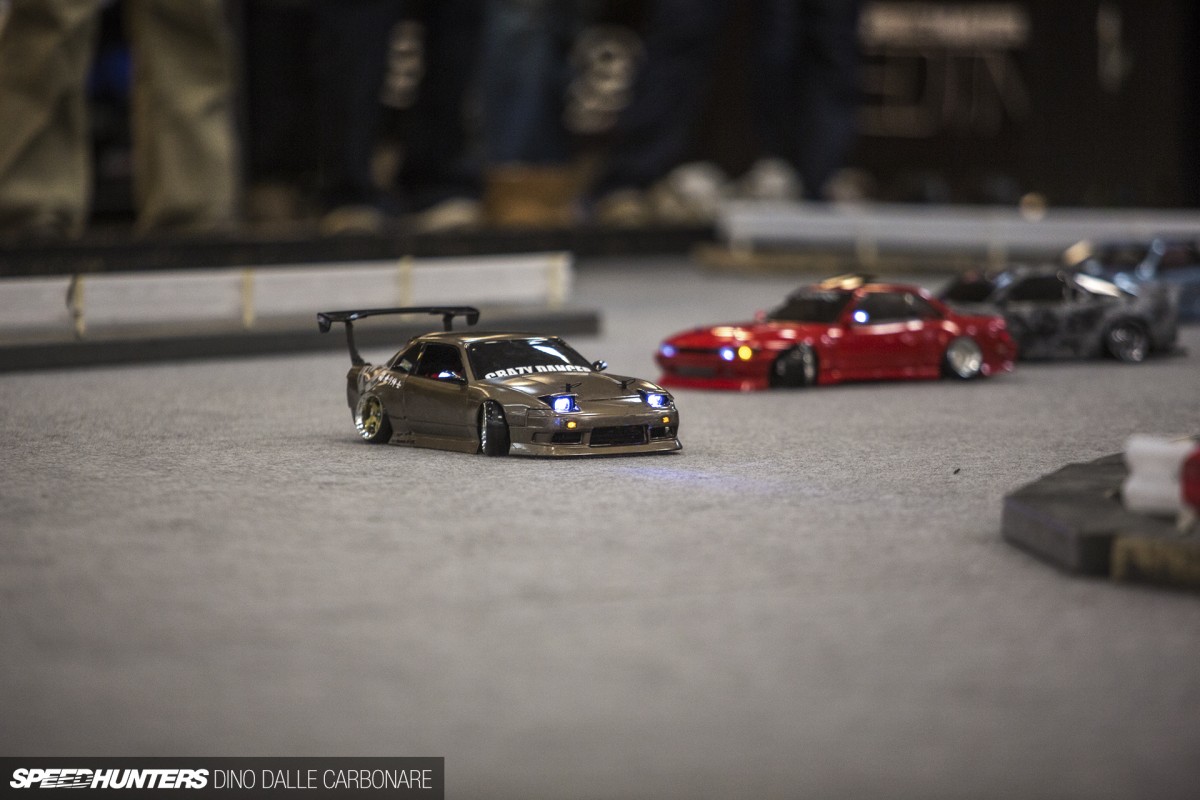 Things were run a little differently to last year; in order to emphasise the importance of regaining function, cars had to participate in a series of challenges which started off with some drifting on track to get warmed up.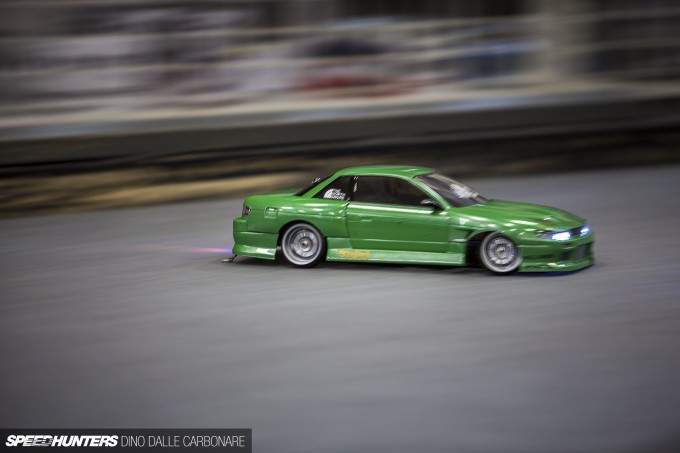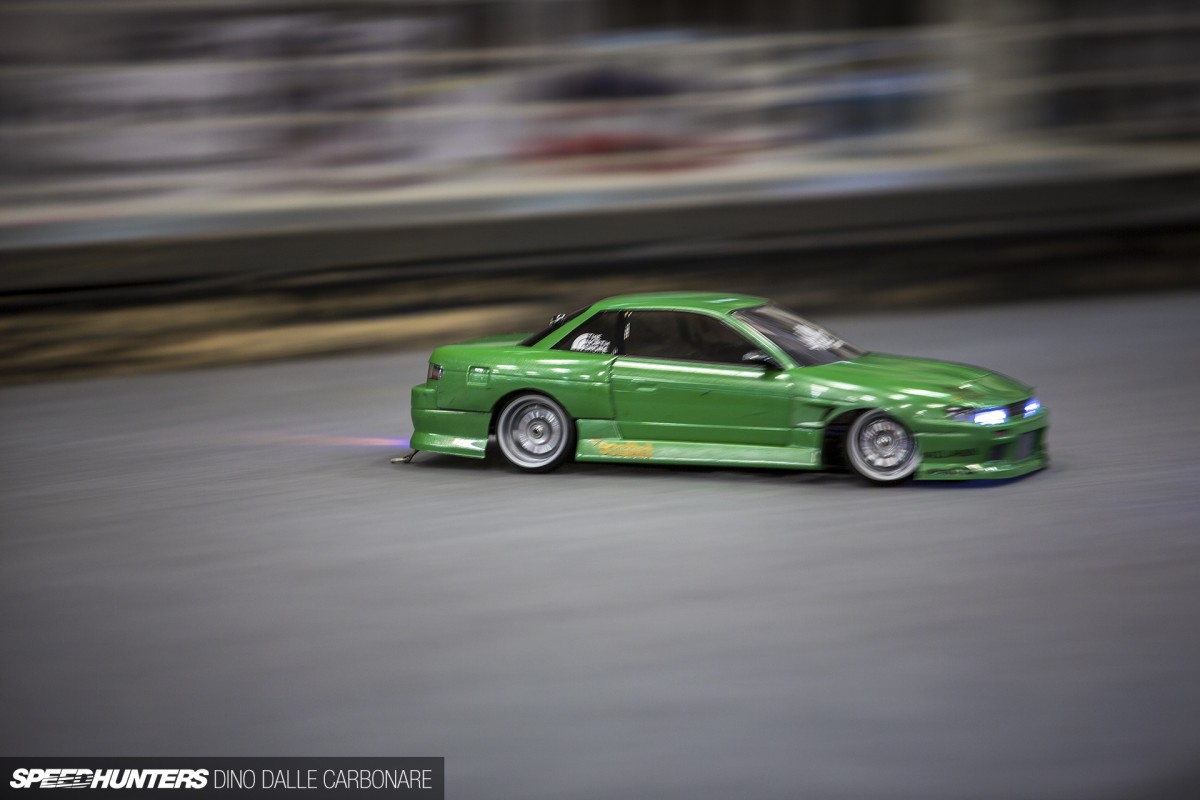 It's here that I spotted something really cool, the backfire-effect light. This little multicoloured LED inside the exhaust lights up when you back off the throttle and just provides a quick flash. It was probably the hardest thing I've ever had to capture in a picture but after bursting a gazillion pictures, I managed to nail it. Pretty cool effect! And anyone out there who is thinking this would look cool on a real car – no!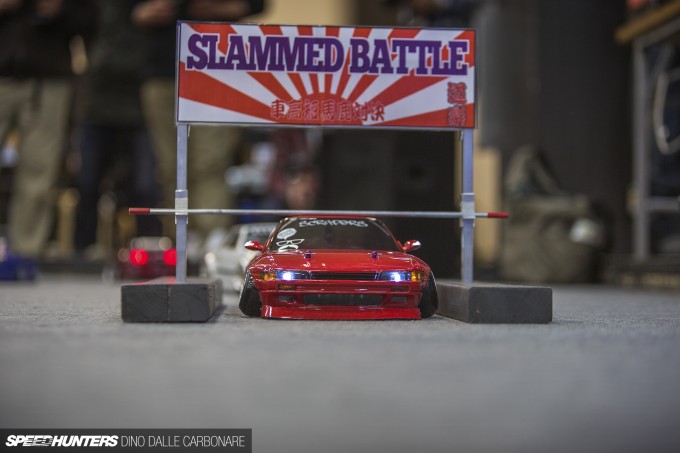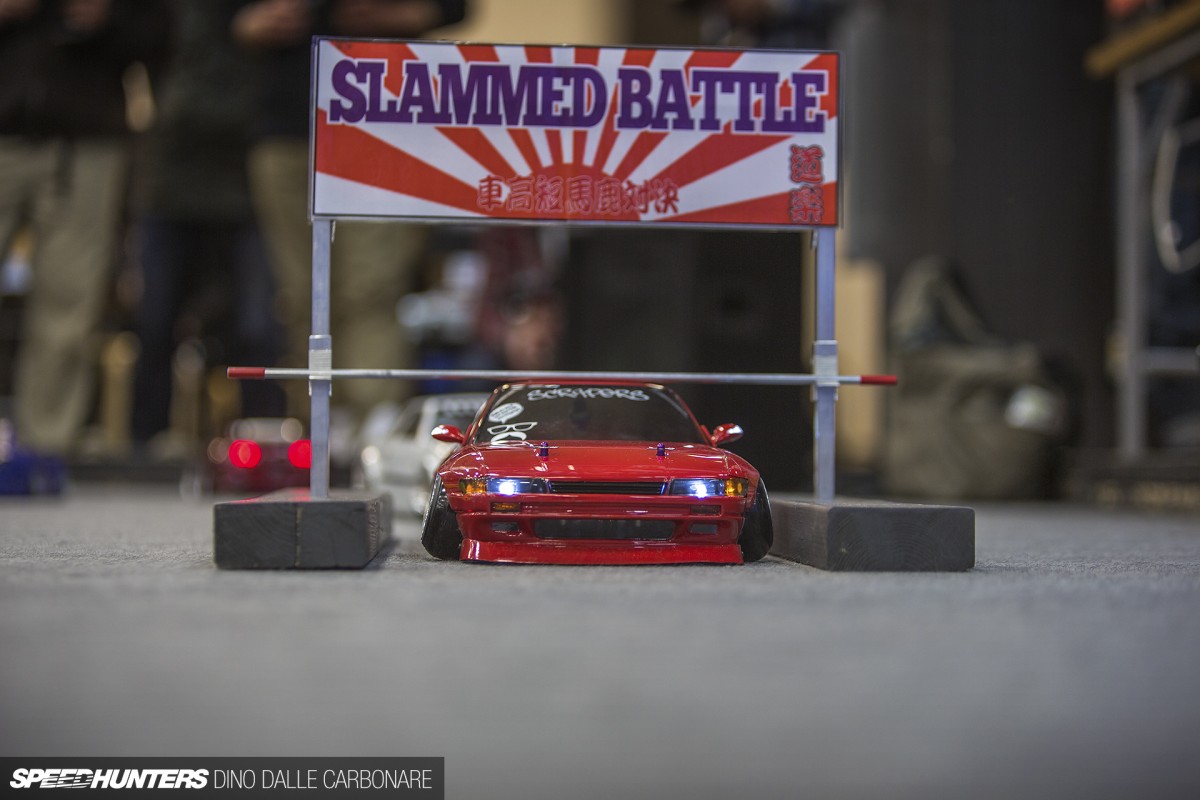 One of the tests was set up to set aside the low cars, from the really dumped ones: the Slammed Battle! This was done in a really fun way by setting up an adjustable height bar, sort of like a limbo dance for your RC car.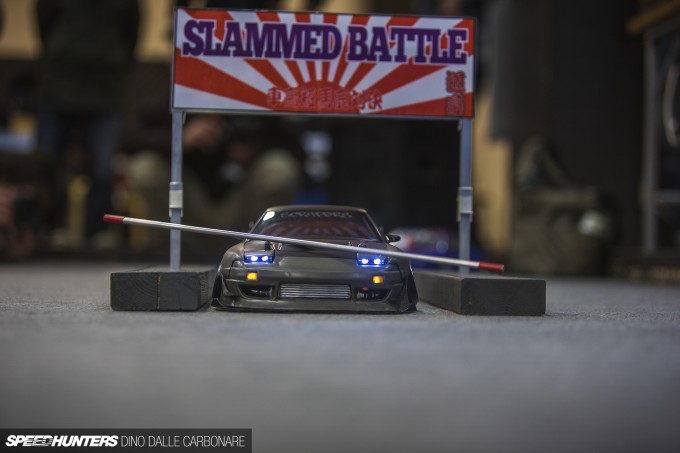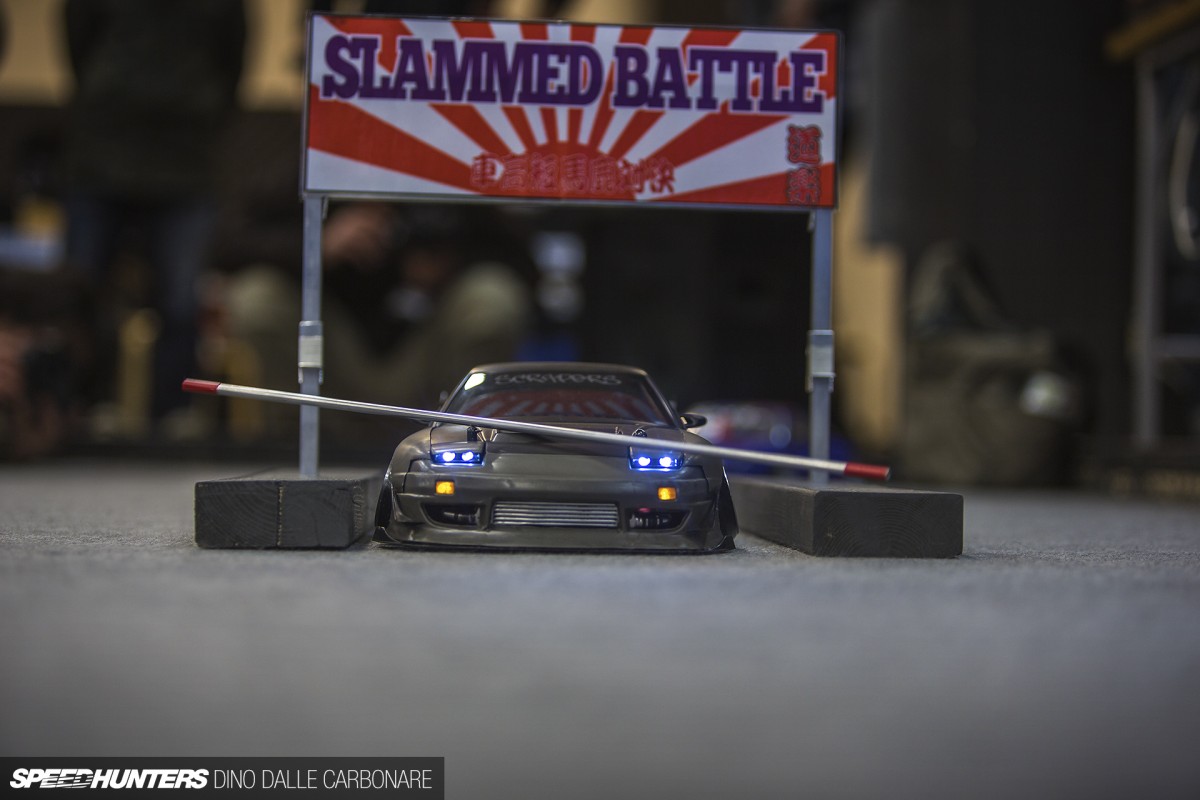 Eventually even the lowest of the low had to fail!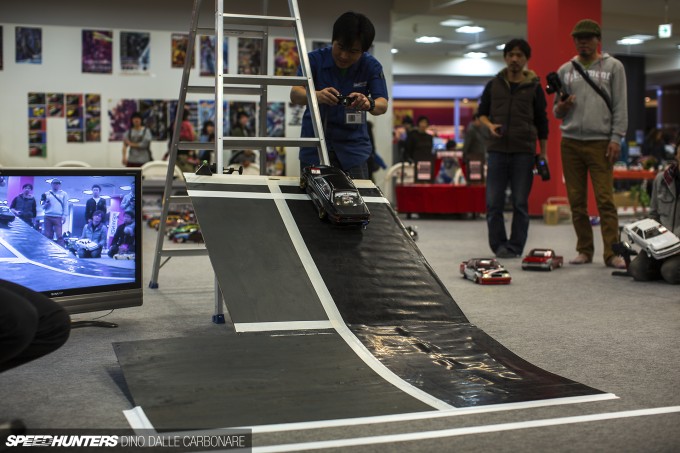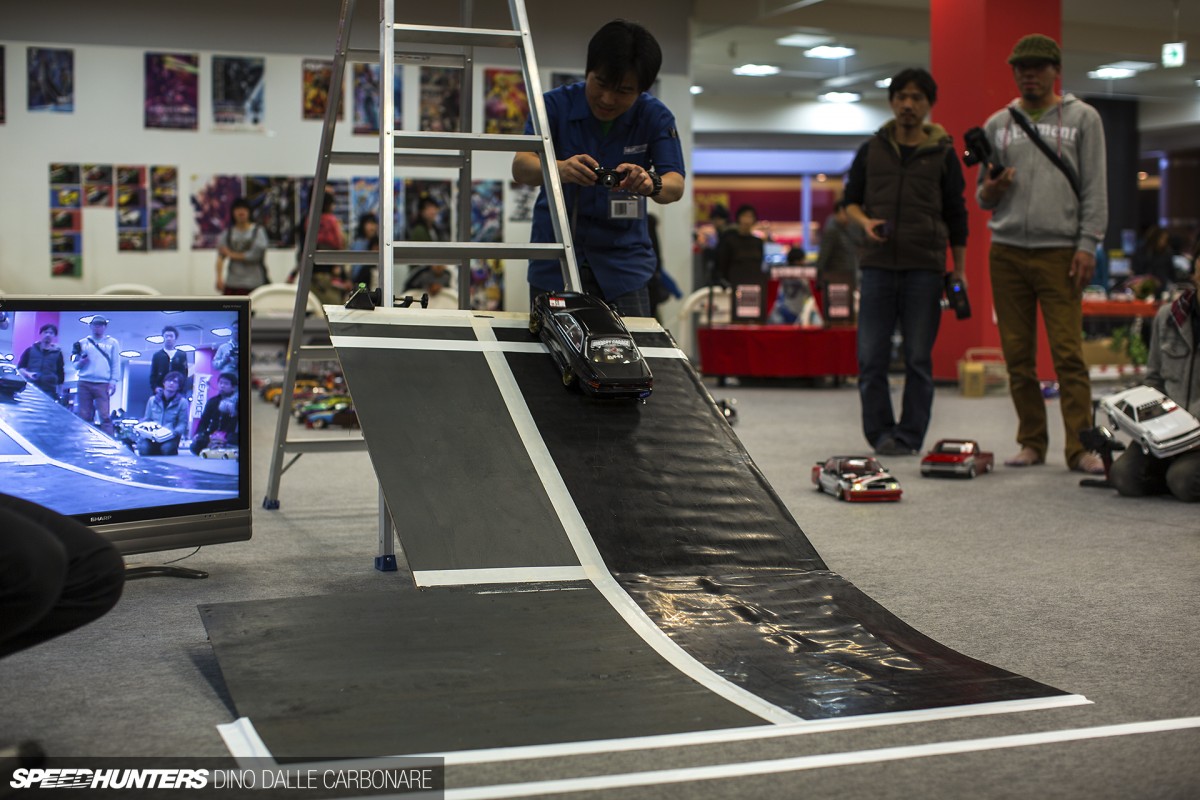 Next up was to determine angle of attack. Can your car be low but still make it up an incline? Most cars failed obviously, either getting grounded by the mid point or losing traction and falling off to one side.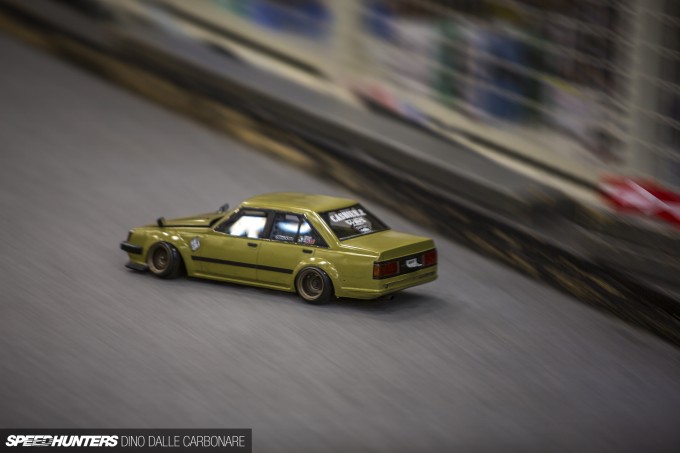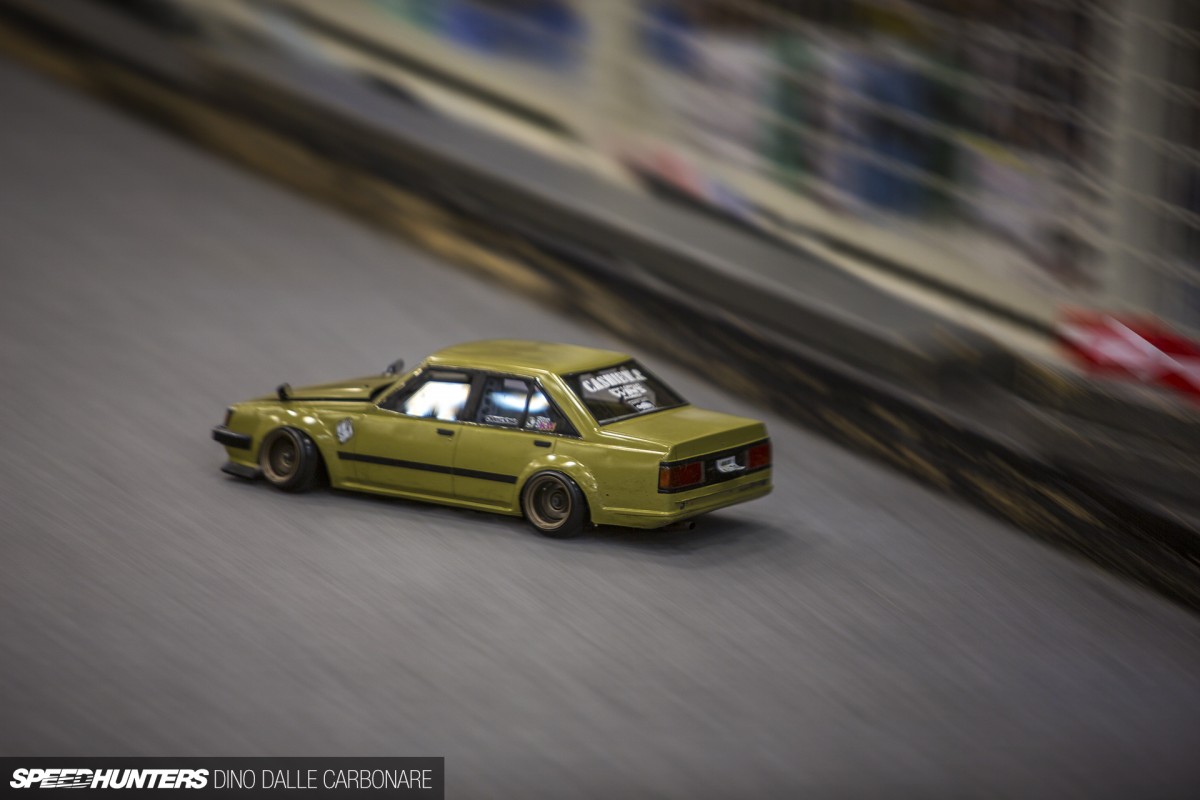 Next up, with all the driving and events finished, it was down to the judging. Join me in the second part of the coverage to see yet more of these awesome cars in details and to see who we chose as the winners!
Dino Dalle Carbonare
Instagram: speedhunters_dino
dino@speedhunters.com