Honmoku style
We are back up at the Honmoku Hill Top Park for a final indulgence in all things custom thanks to the awesome turn out at this year's Razzle Dazzle. There's still a lot to see, and following a little taste from part one of the coverage, it's now time to check out the rest of the cars that made the drive to Yokohama this past Sunday.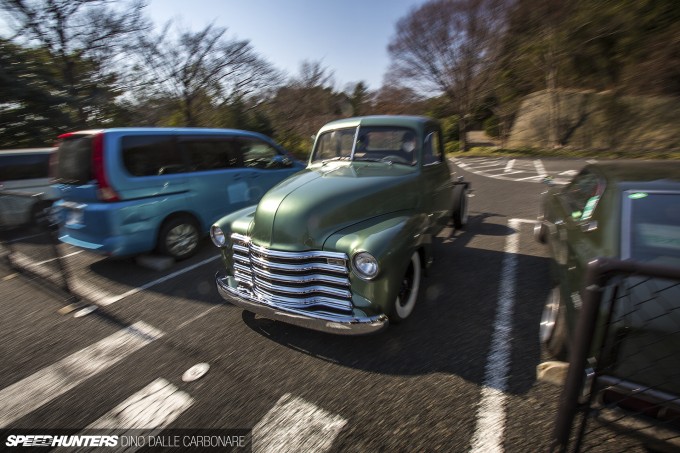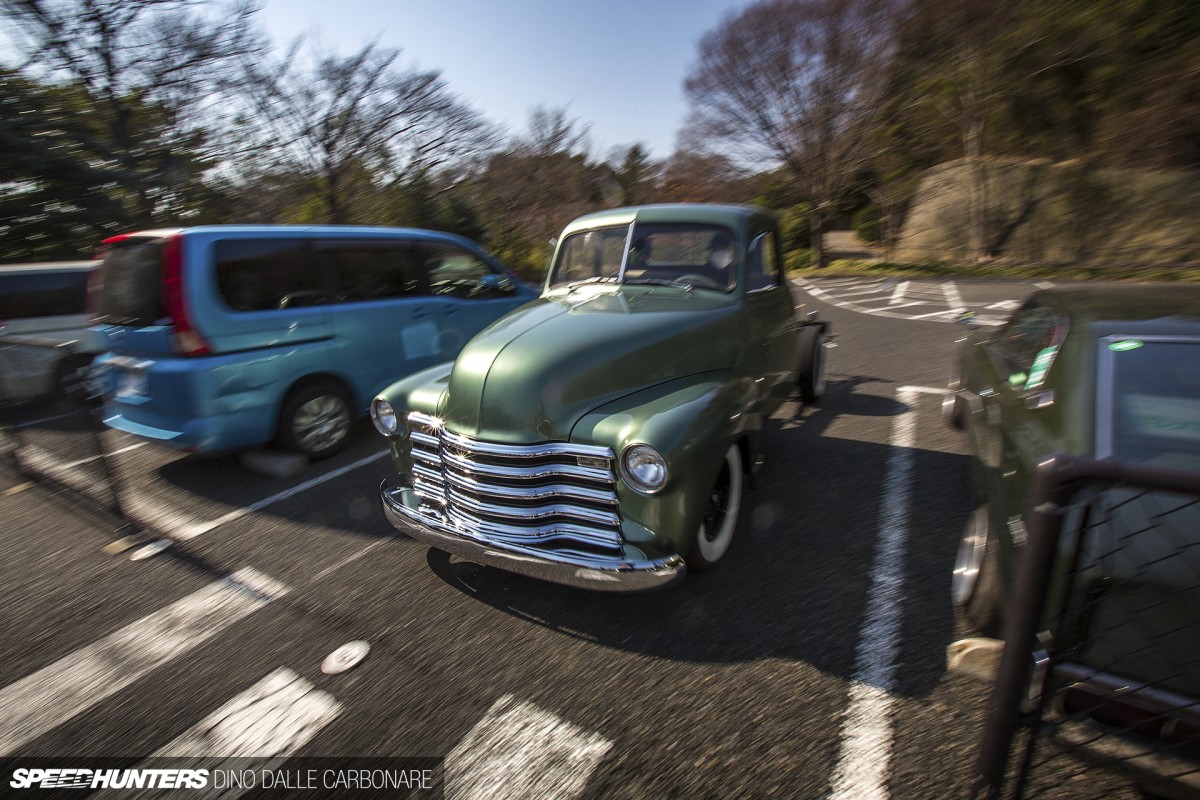 It's really funny as exactly a week before, I was doing the exact same thing but with a very different bunch of people and a very different bunch of cars. And this being Japan you can bet there were dozens of other meets, gatherings and events happening at the same time around the city; just pick your style and you're usually spoiled for choice. It's hard not to love Japan for this – car culture is all around you if you are prepared to hunt it down and do a bit of travelling.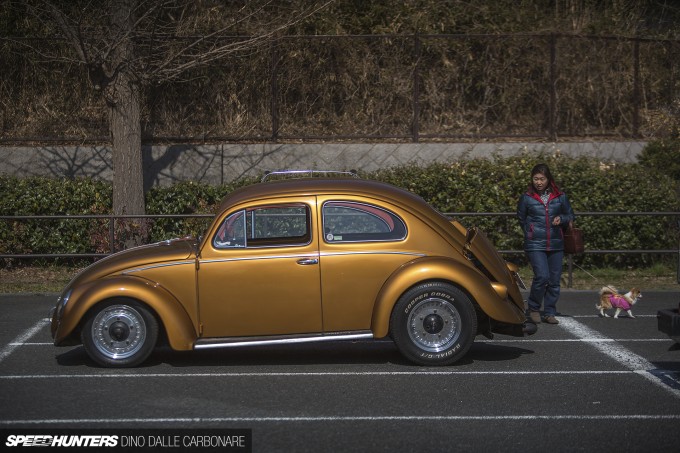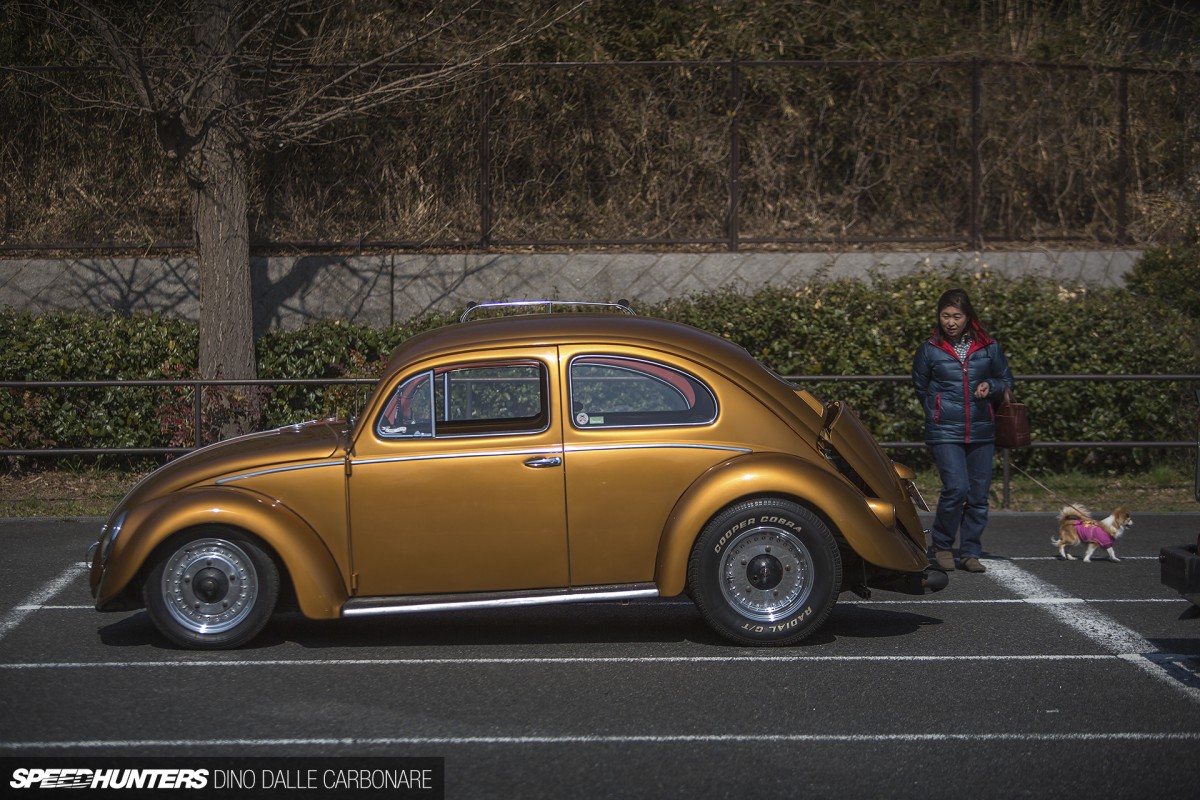 But this particular day it was all about doing it old school, and with the car park overflowing with brightly coloured one-offs, even regular people doing their Sunday morning walk with their doggies were dropping in for a closer look.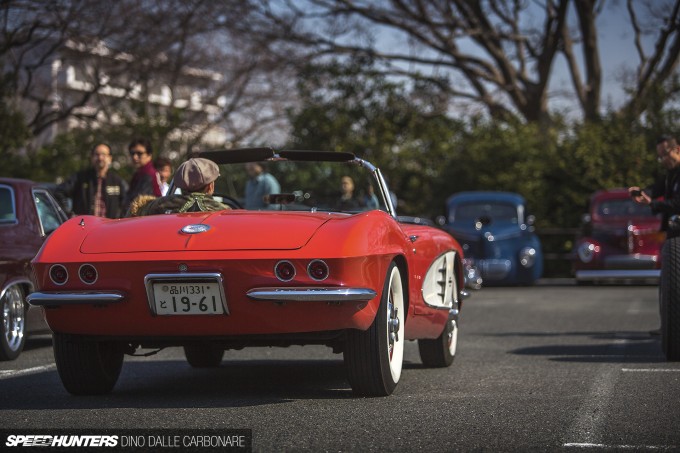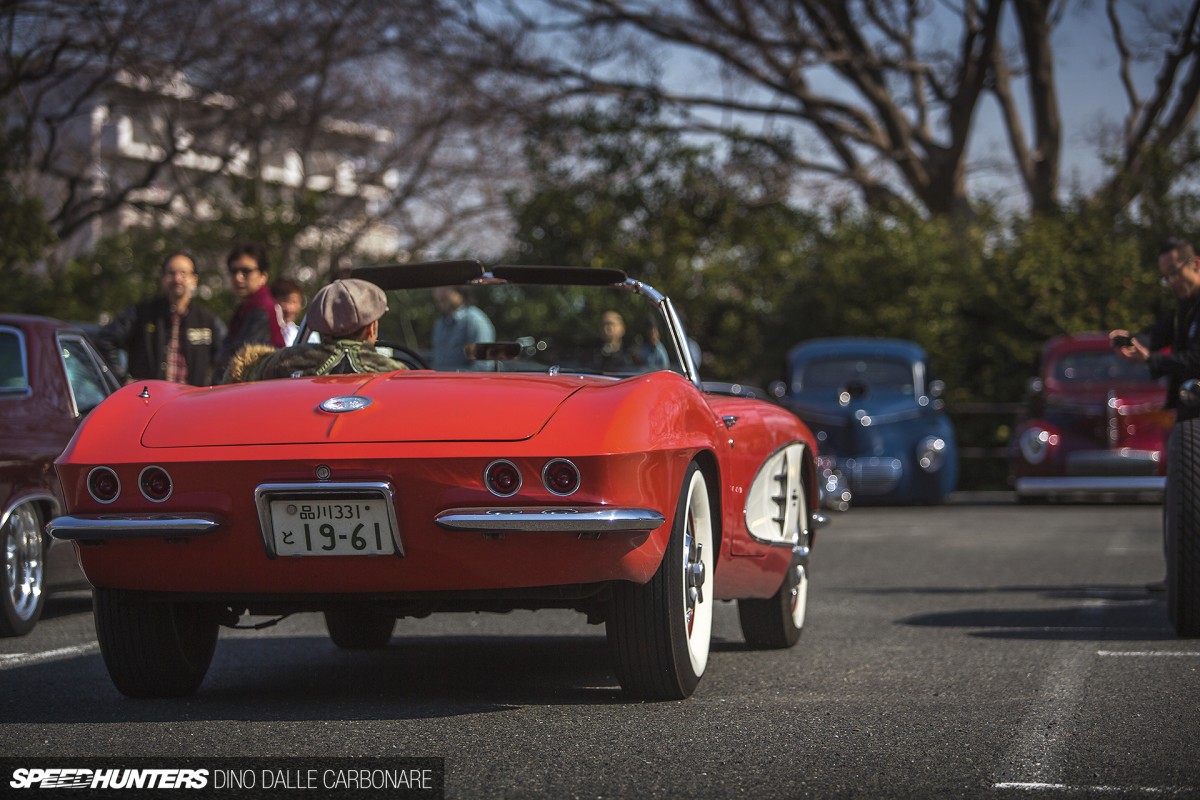 Cars kept arriving as others left and it was like a little parade every time one would enter to look for a spot; once this Stingray showed up, everyone stopped and went in for a closer look. No custom here, as stock and period correct as you can get. Check out the period bias ply tyres! Barring the plate this could be in Ohio.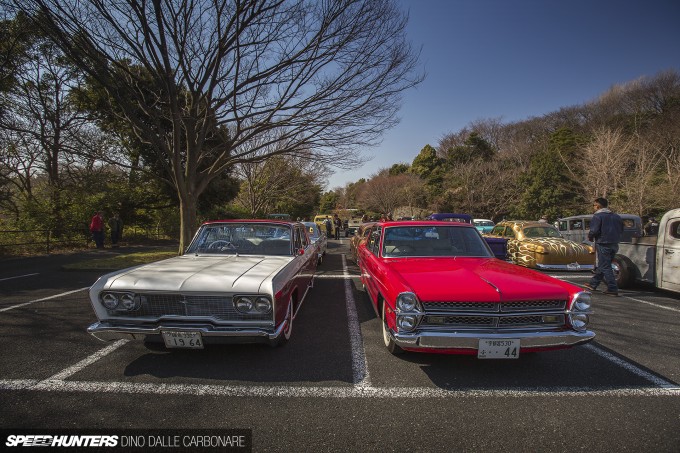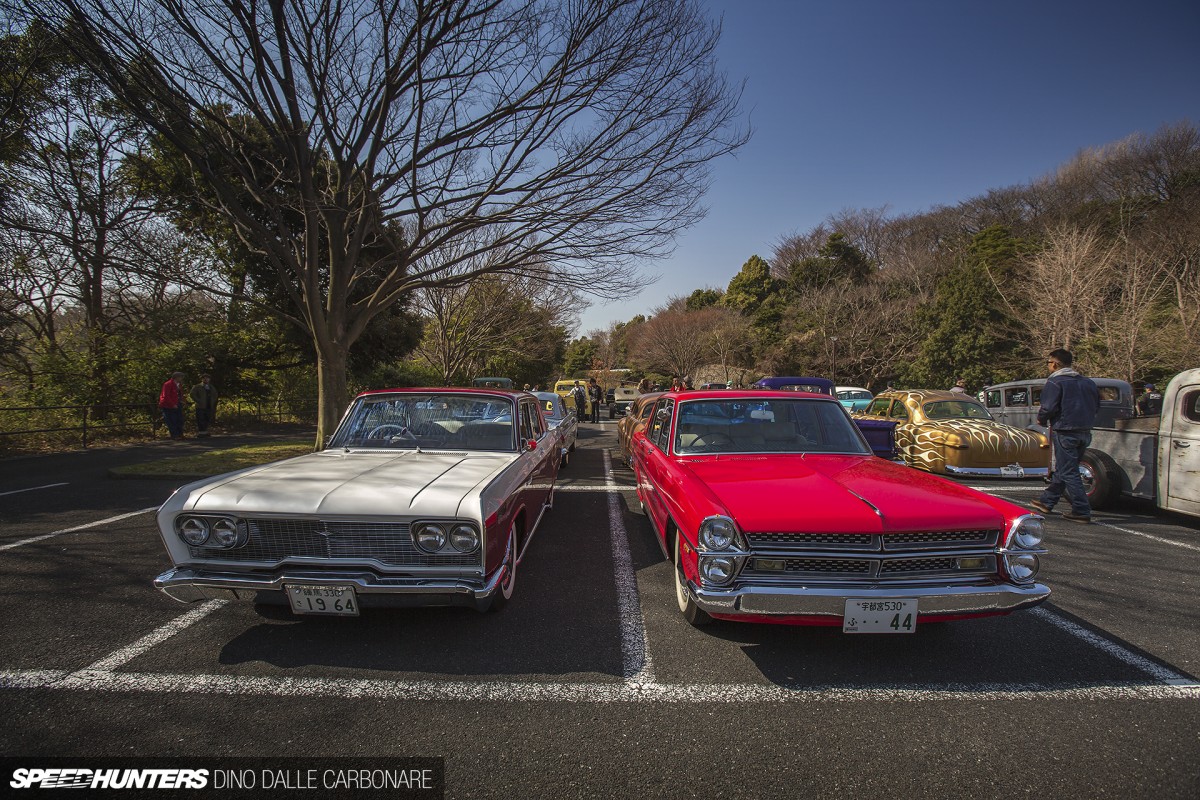 I did continue to keep an eye on the domestic corner and it wasn't long before the lonely Debonair we saw yesterday was joined by this fiery red Prince Gloria.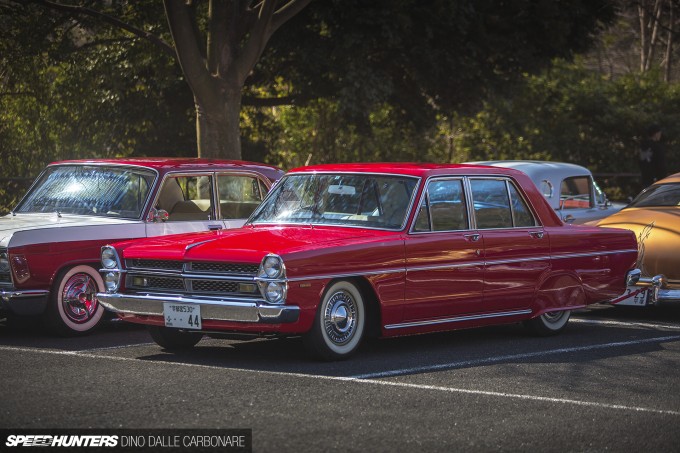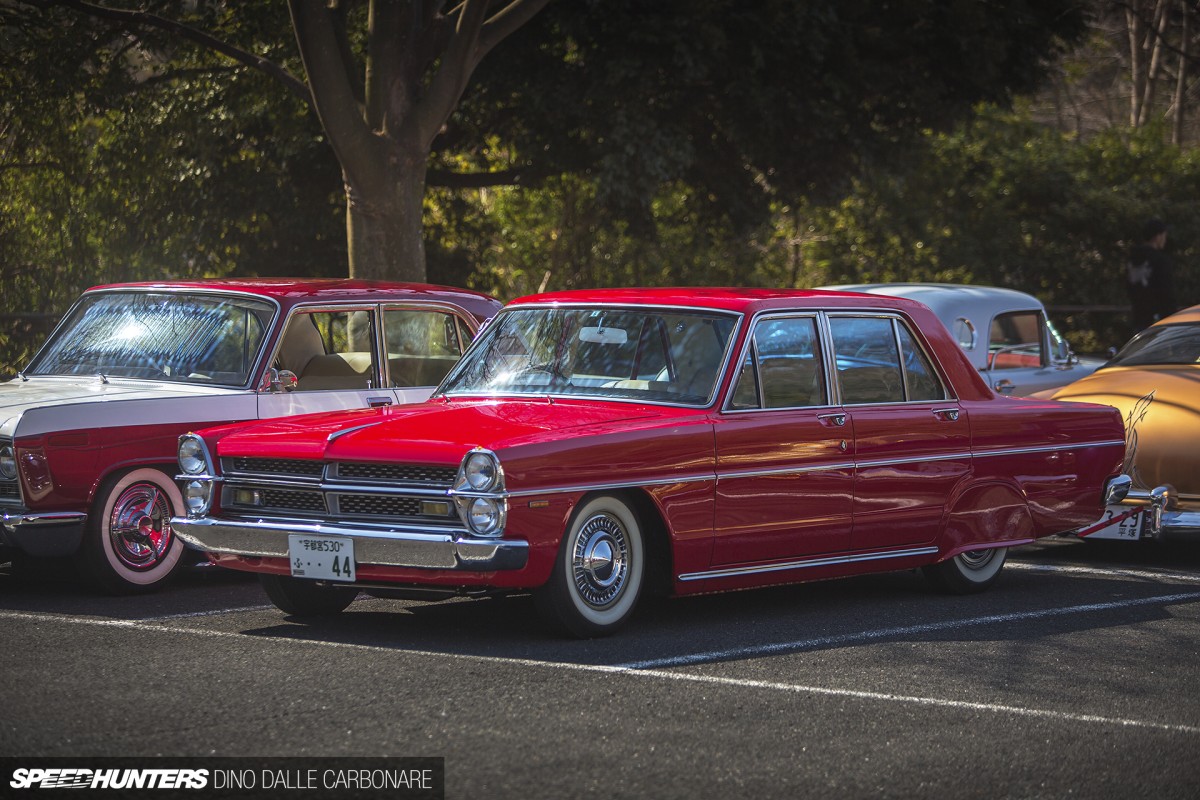 This Kustom was done up with some interesting touches like the white-walled tyres as well as the closed off fender skirts: something I've never really seen done to these old Nissan/Princes.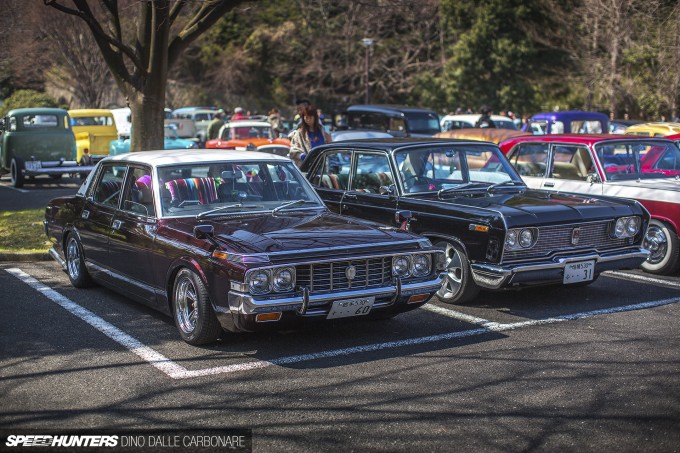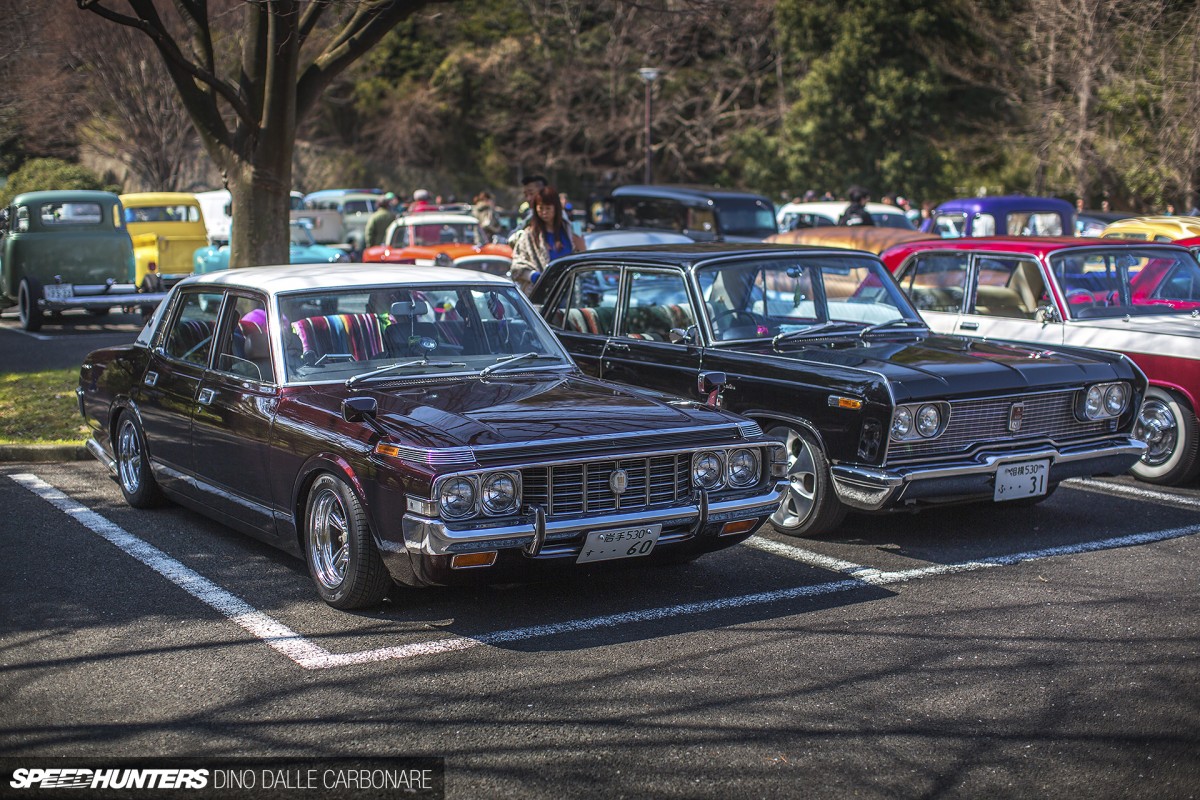 Further up the line was a very cool S60 Crown parked up next to a mean-looking Debonair.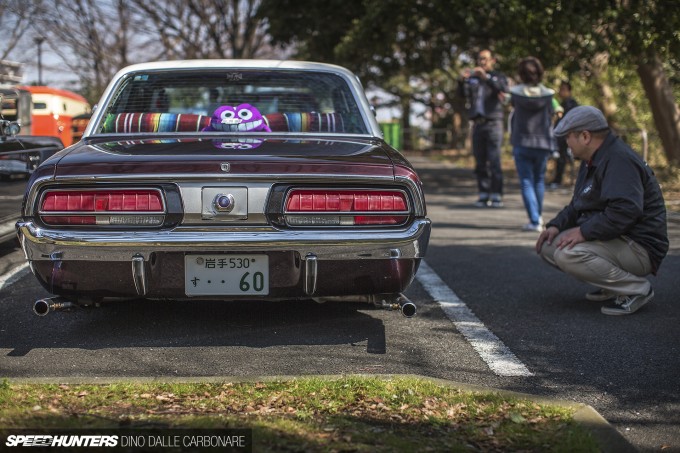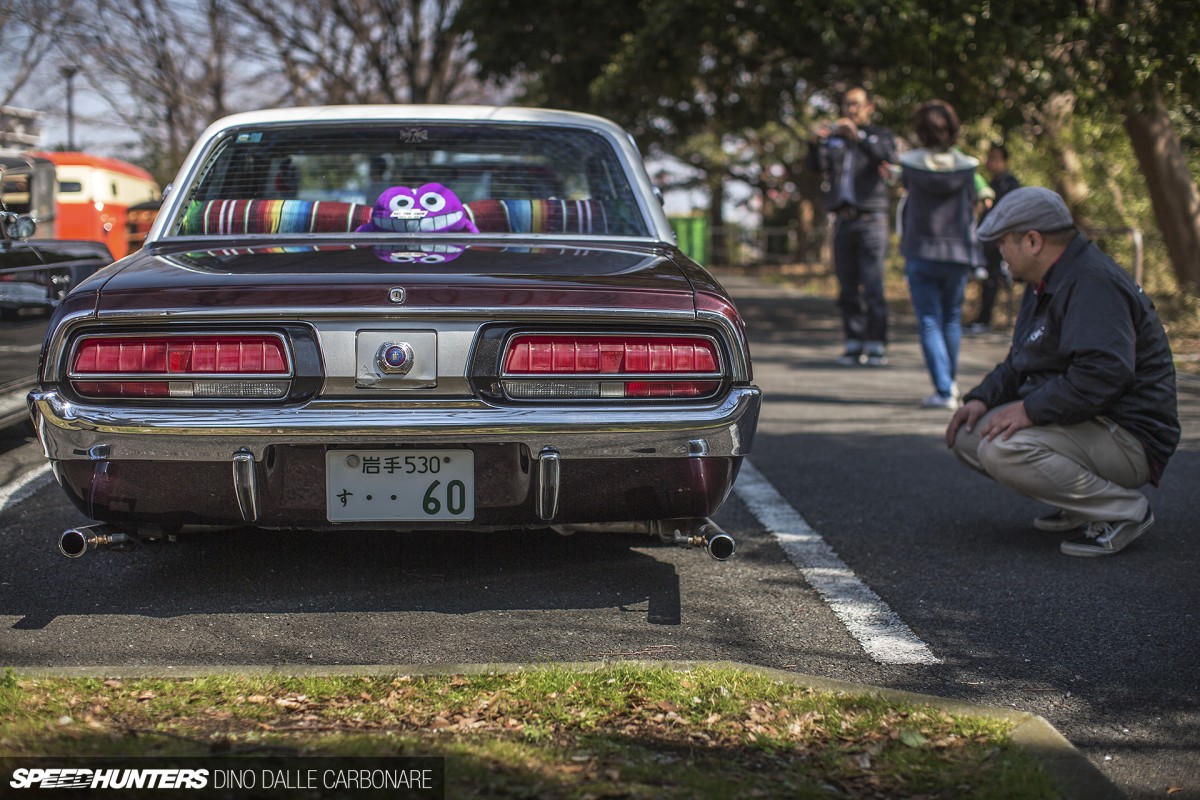 Something a lot of people have been doing in the Kustom scene for decades is adding spark plugs into the extended exhaust pipes. Flip a switch and rev the engine – usually equipped with rich running carbs – and the unburnt fuel ignites as it leaves the tail pipe. Every part of the scene has their own party trick and flames are a pretty neat one at that.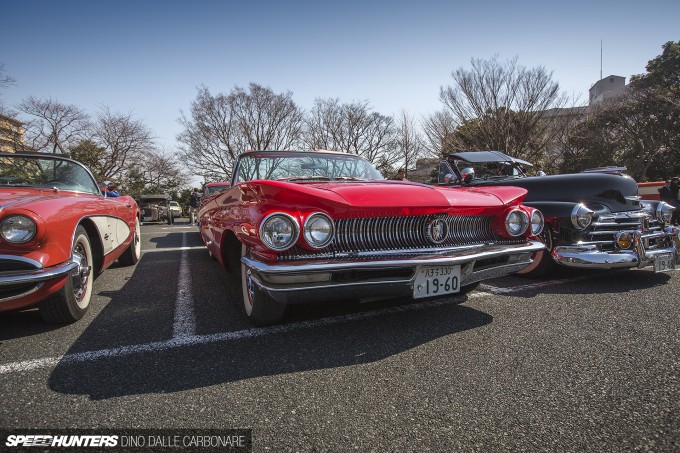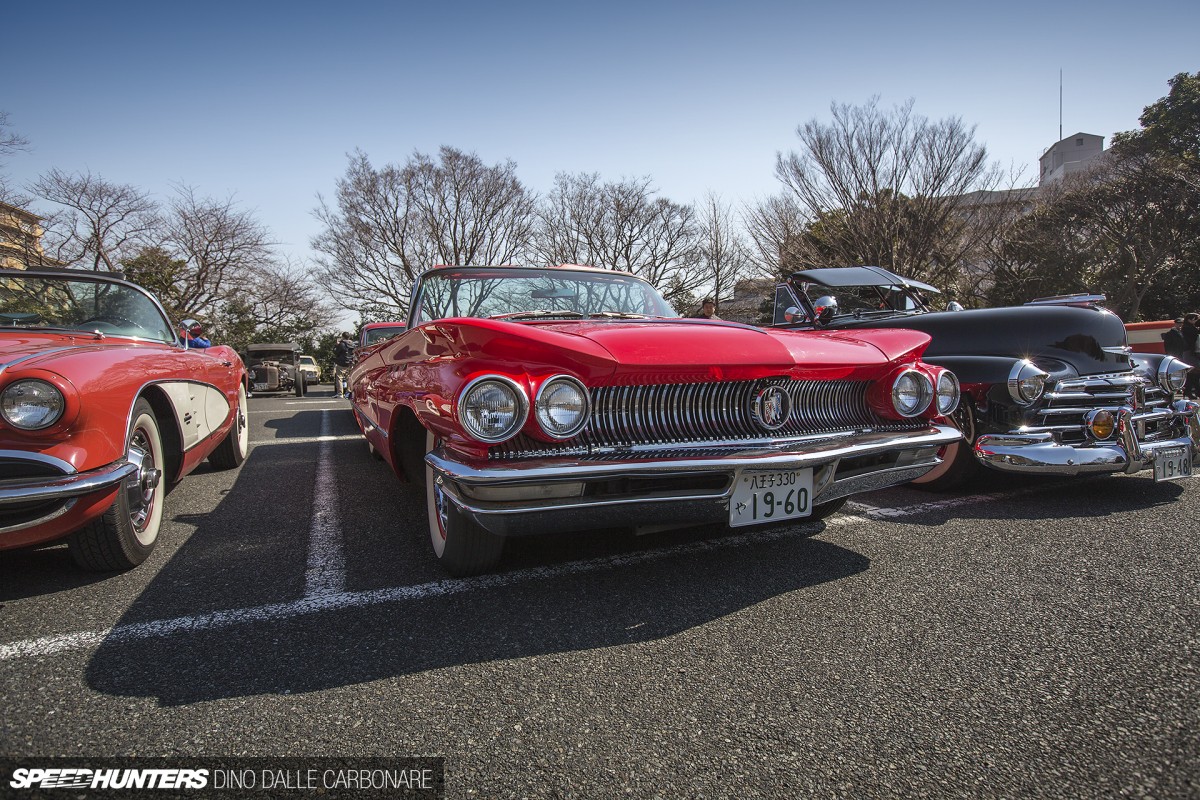 The award for most eye-catching car there definitely went to this Buick Le Sabre Convertible, which as the number plate points out dates back to 1960.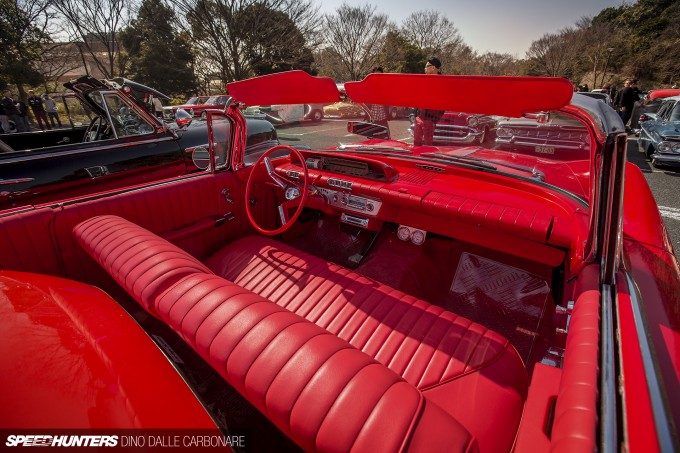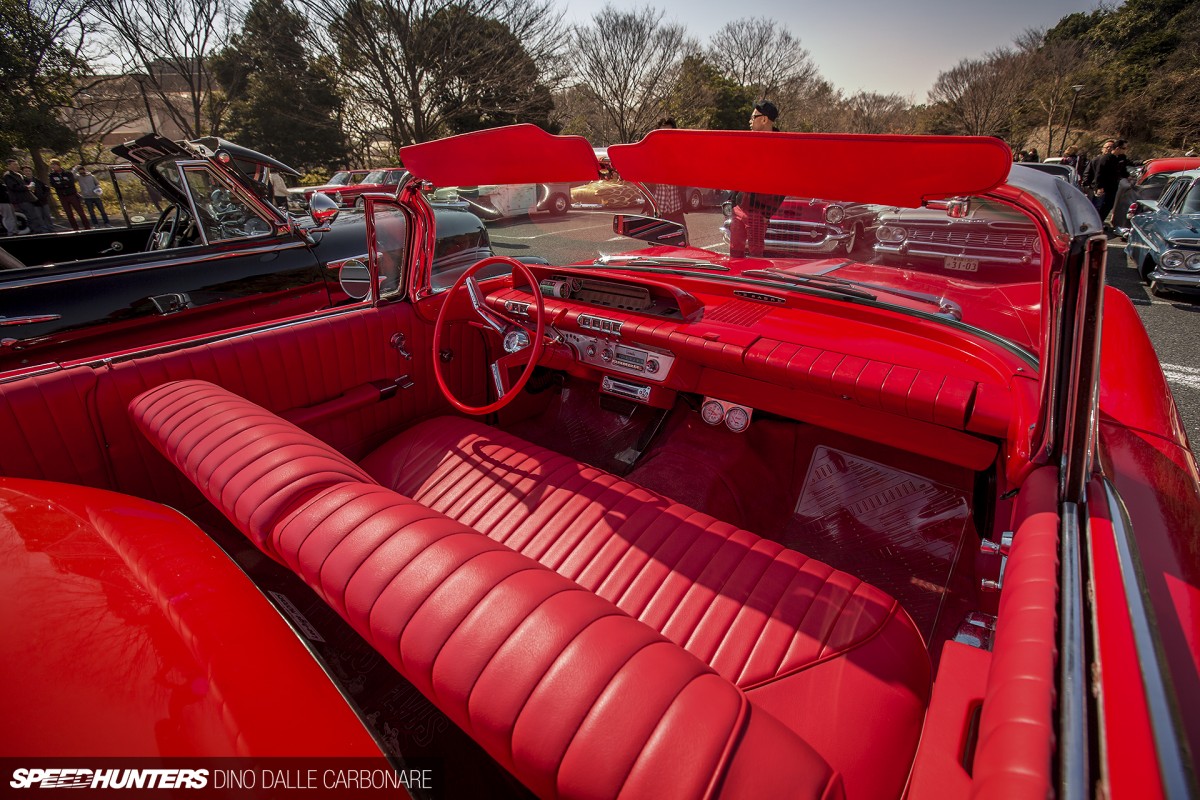 You'd really have to be a lover of red to be able to drive this thing around; it sort of reminded me of the elevator scene from the Shining. Still, it was impeccably looked after and what really surprised me the most was the roof.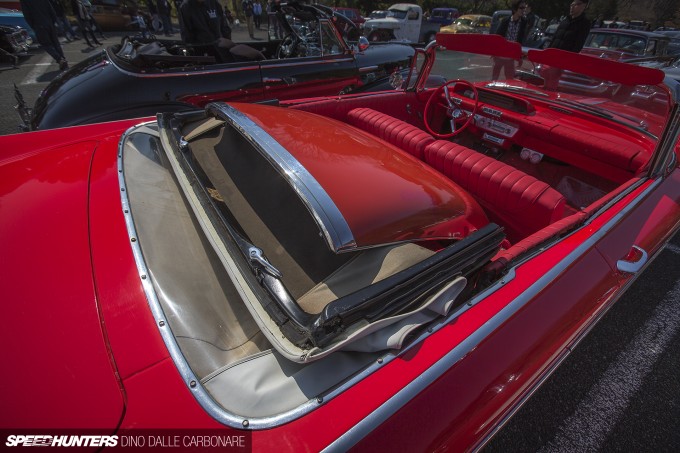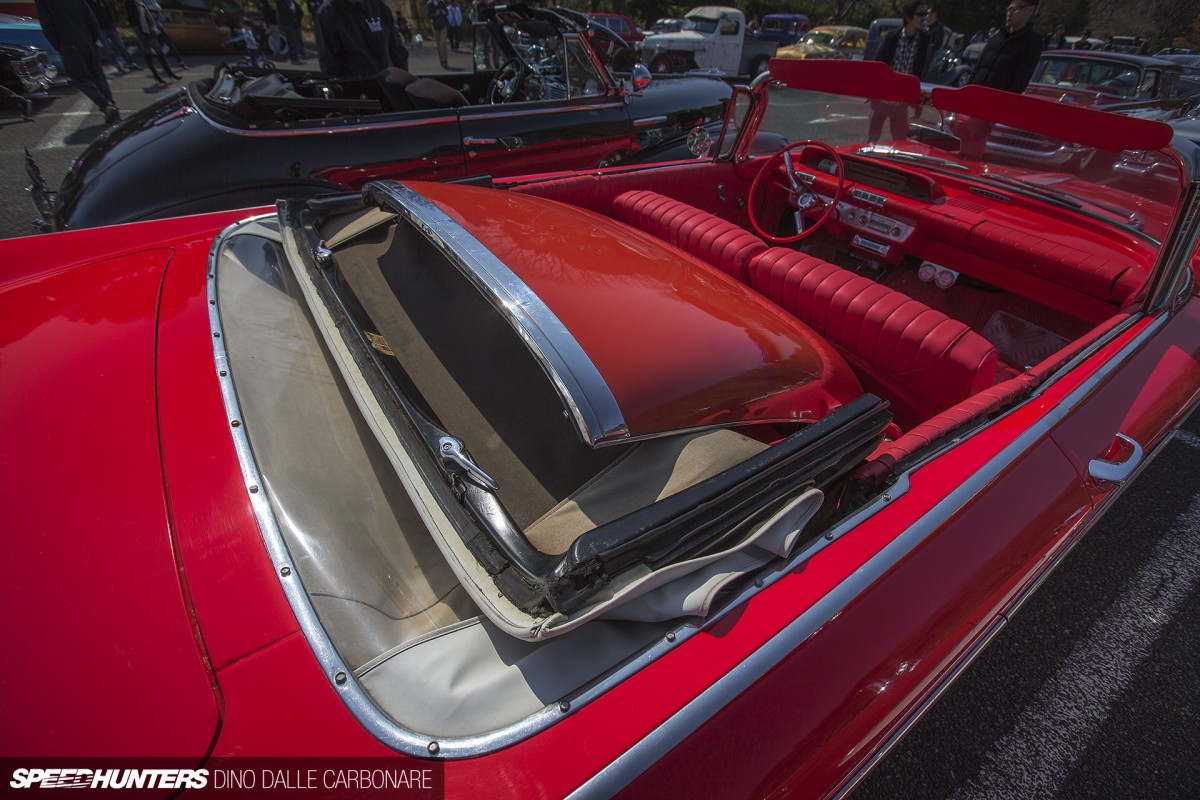 Or rather how the optional hard top is able to fit on the rear seats on top of the foldable canvas roof. Packaging masterpiece? Well not really, this thing was massive – you can probably fit a Japanese Kei car back there!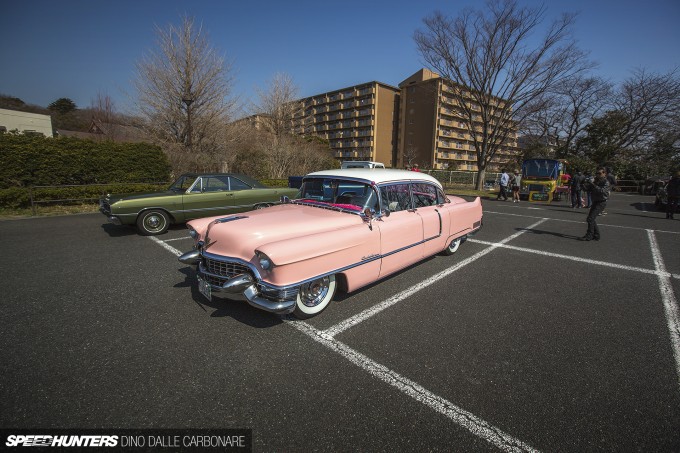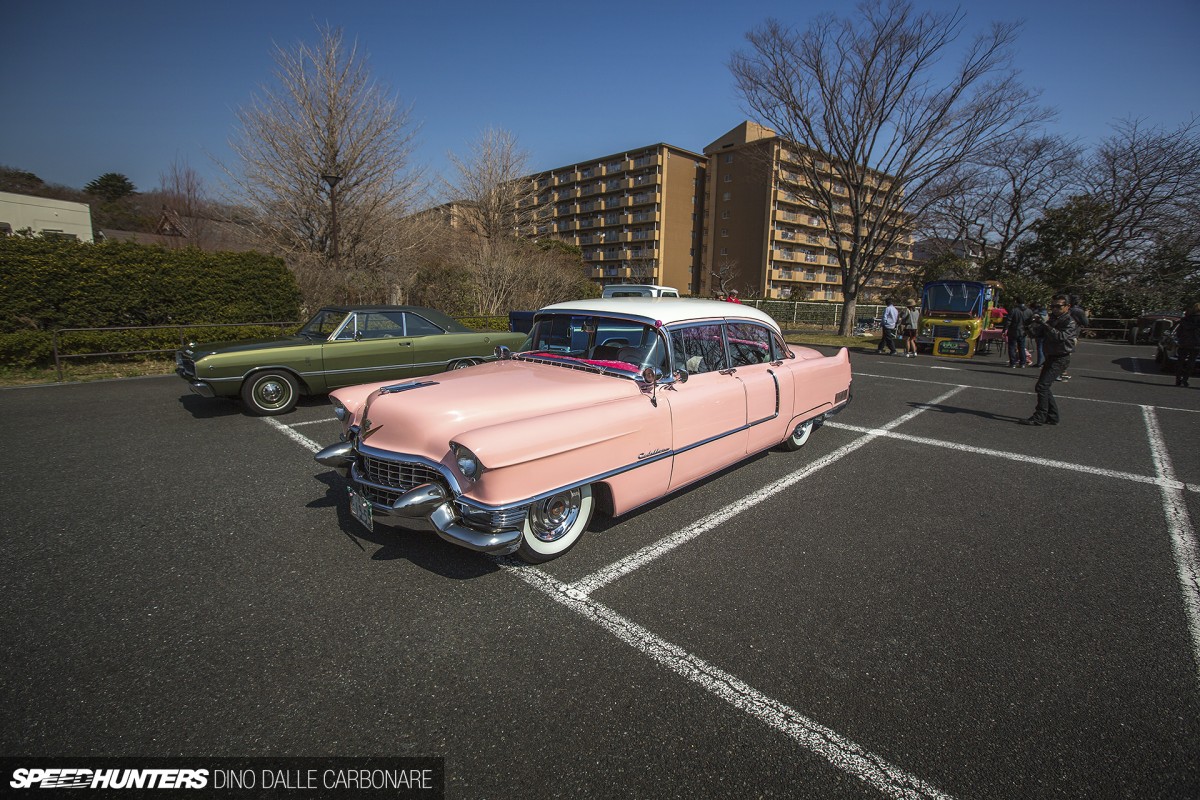 These collectables are all weekend rides, obviously. It's not like big V8-powered American iron is the best choice for self-proclaimed eco-friendly Japan and running them more than a few days a month is probably not a good idea considering the price of gas out here.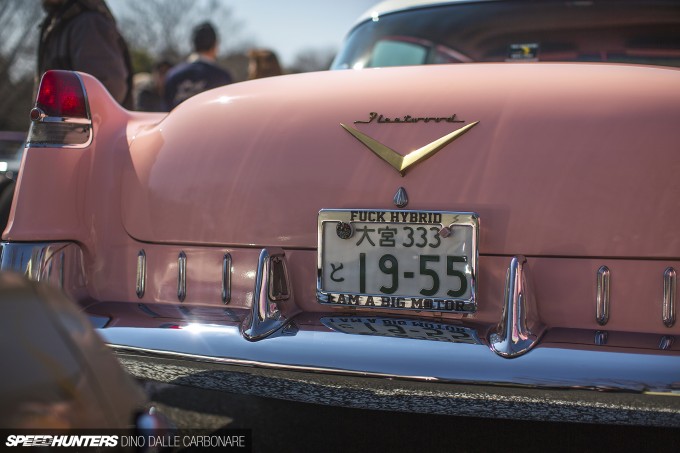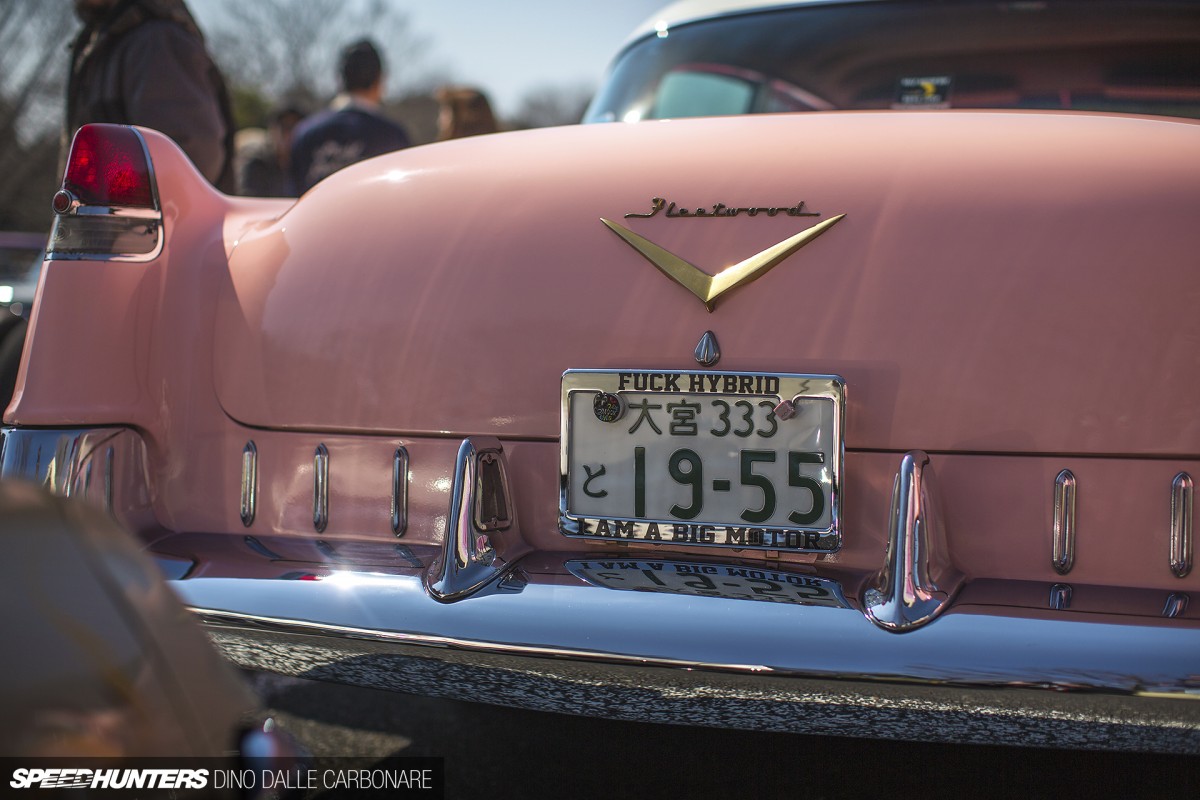 This Cadillac Fleetwood is in no way ashamed to be powered by a big motor. So there you go hybrids, have some of that!
Thunderbird with a difference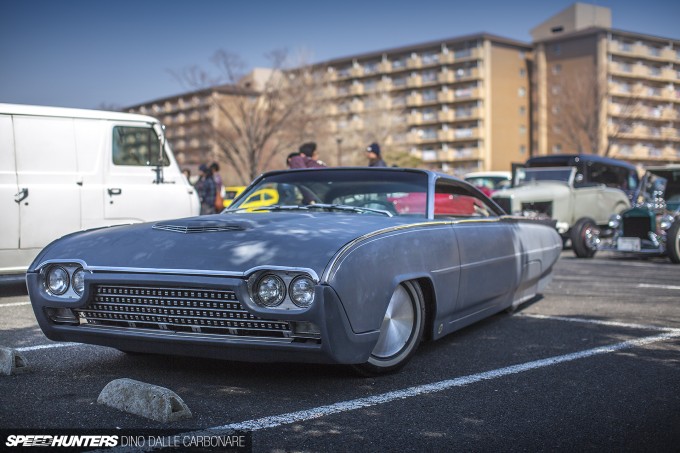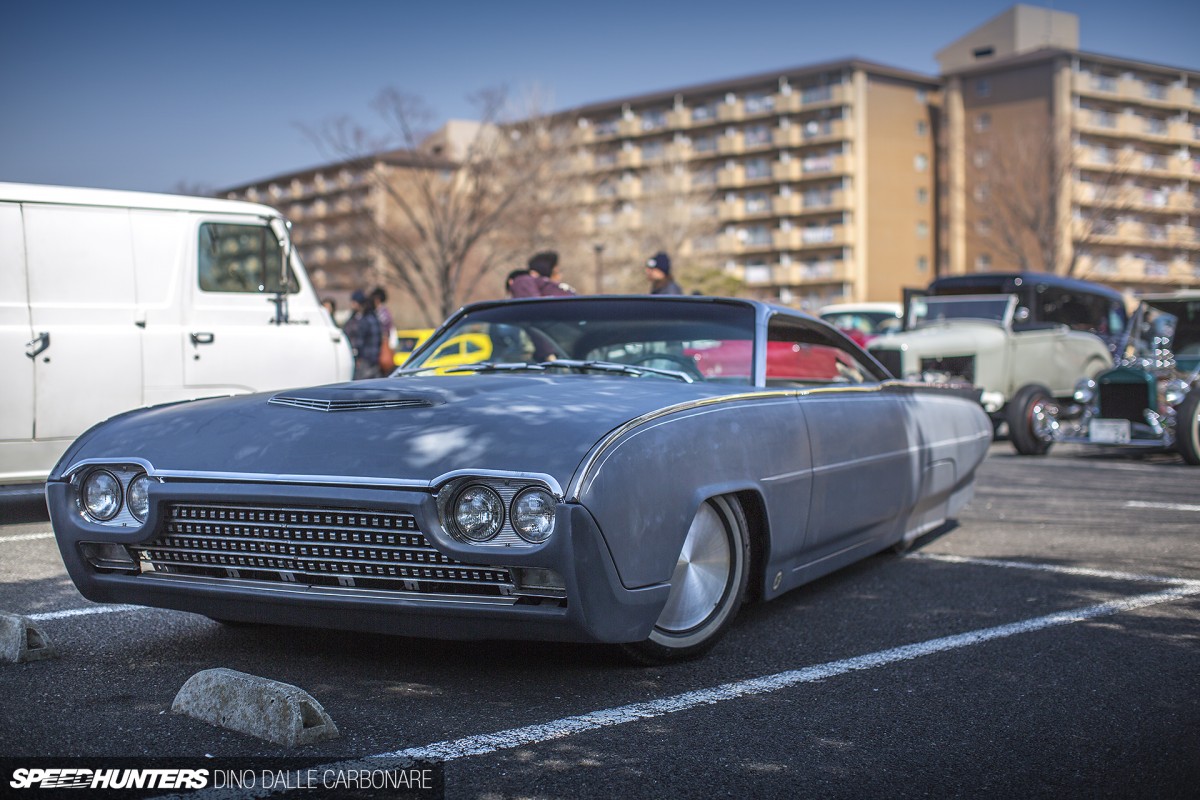 When this thing rolled in, people stopped whatever they were doing and stared. It's also because the car's engine died right in front of the gate and had to be pushed in, but who cares when it's on its way to becoming quite the crazy custom creation. It's not every day you see a '62 Thunderbird with a pretty hefty roof chop and slammed on some Moondisc-equipped wheels.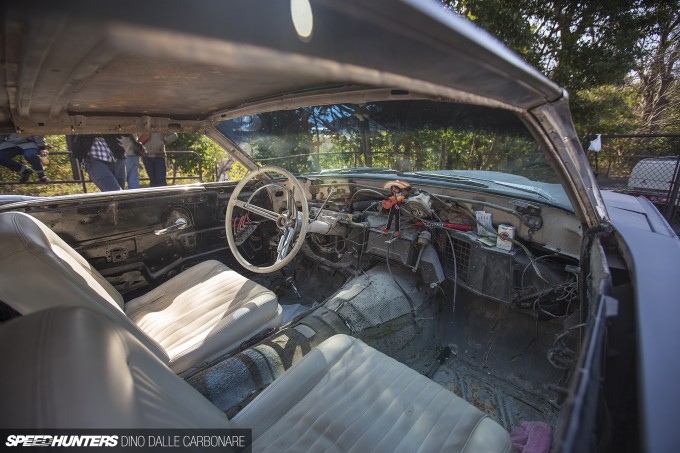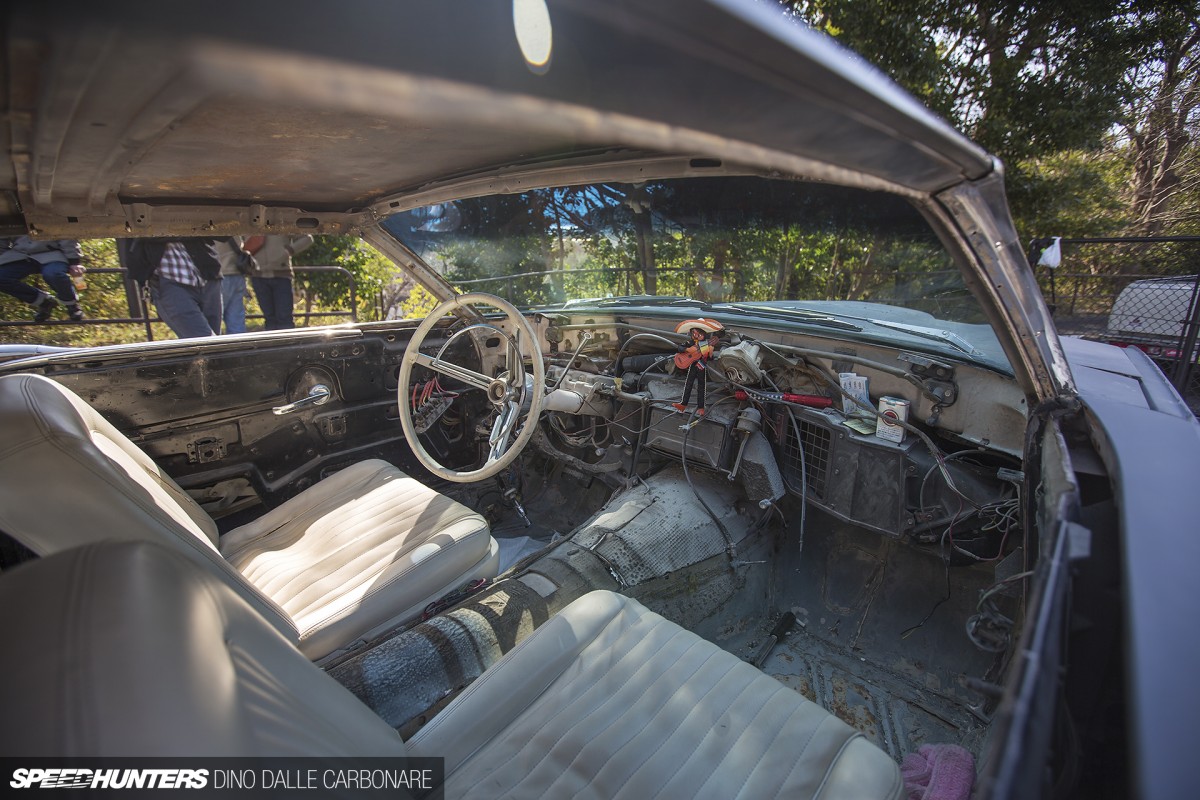 I love it when people show off their work-in-progress builds, and this Bullet Bird (so called because of the body shape) is definitely one I can't wait to see all finished up at the end of the year at the Hot Rod & Custom Show. There's much work to be done on the interior, but there's plenty of time still left.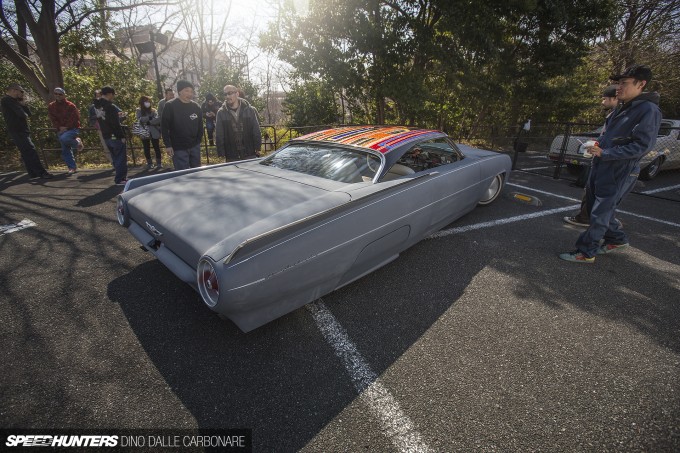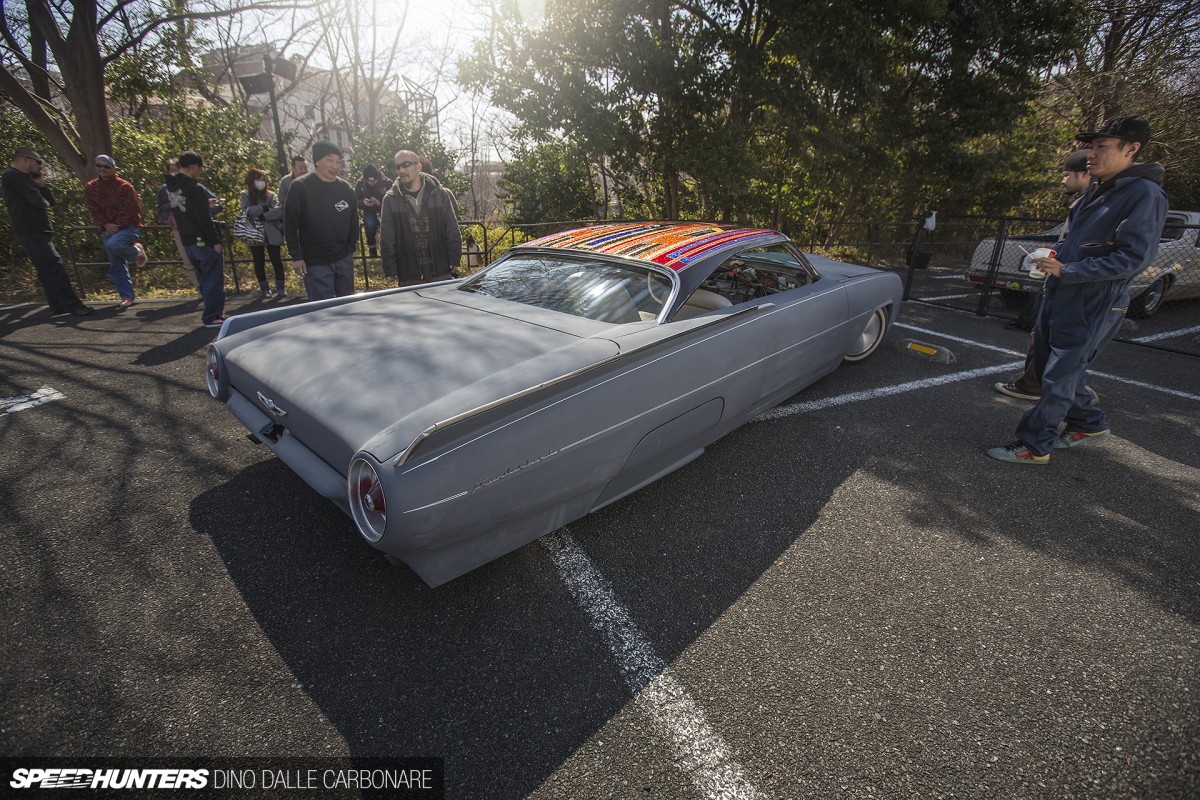 The exterior is pretty much on its way to getting prepped for paint and curiously enough the roof had already been custom painted with an intricate design.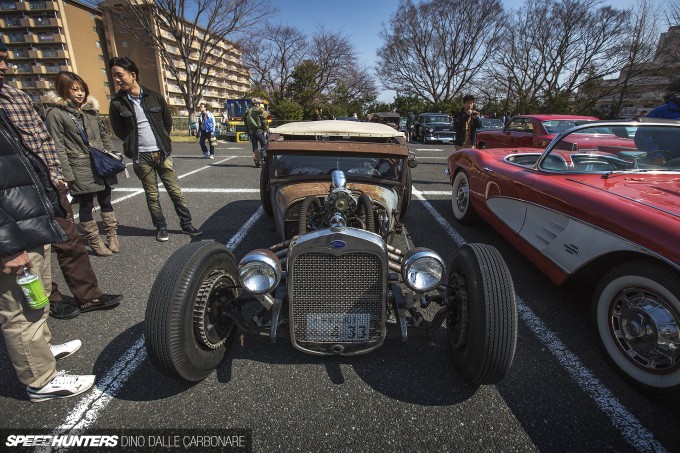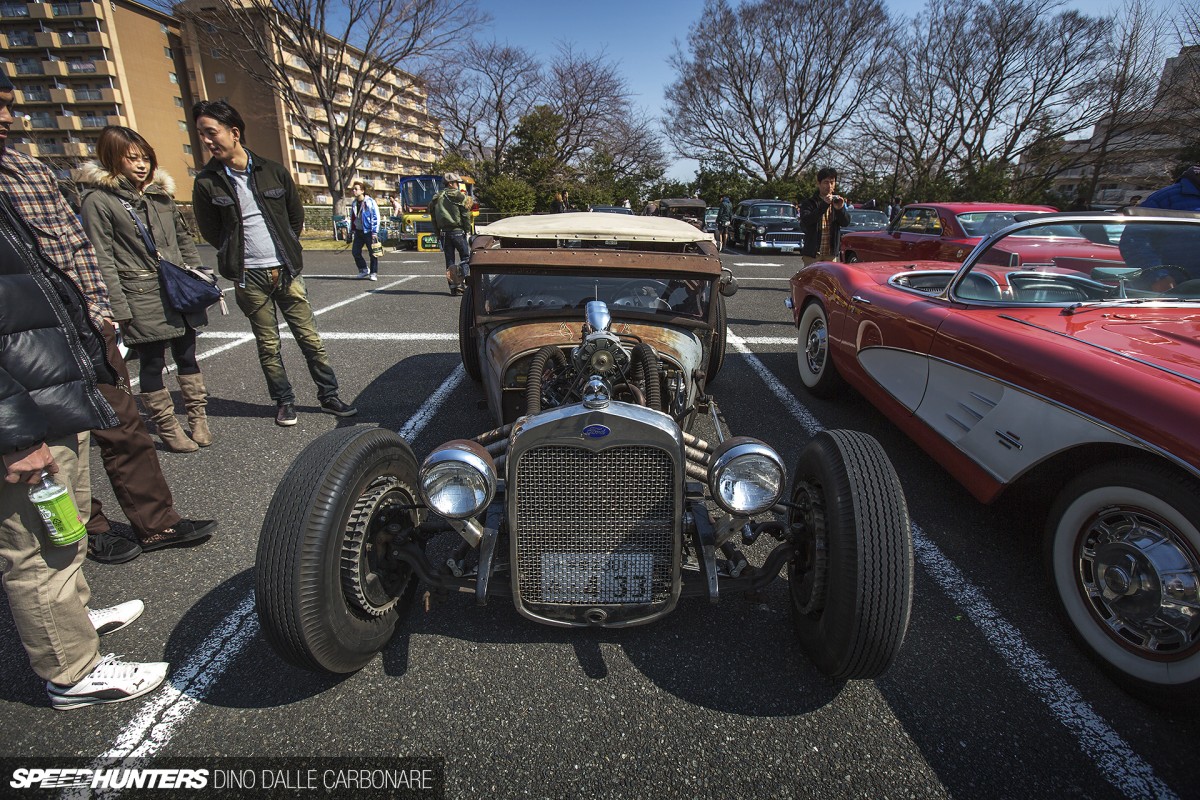 Of course there were plenty of other rods worth looking at and this Ford model A was one that I really liked. It just had a real mean look about it, what with the aggressively chopped roof and the exposed rust throughout.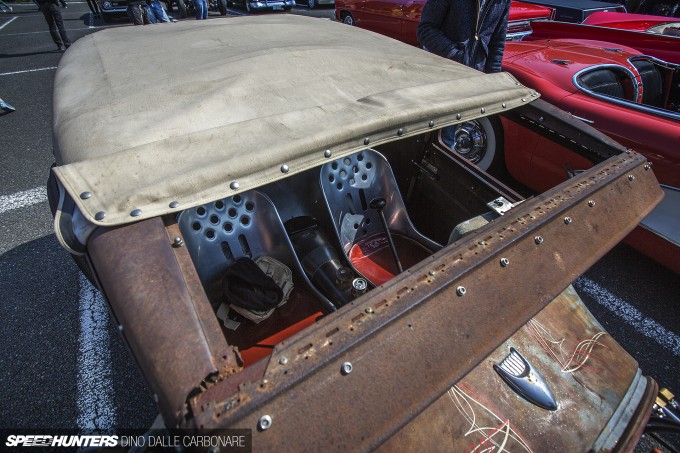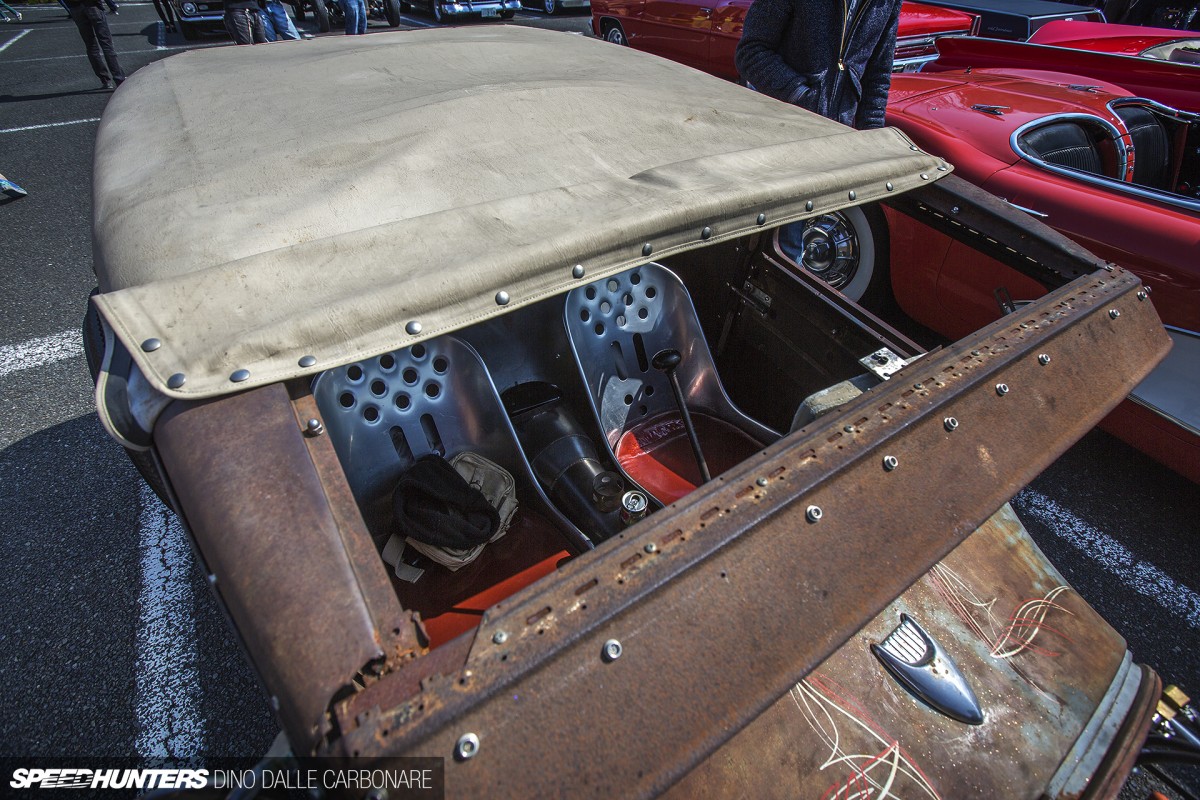 The interior was especially cool! The bomber style seats might look pretty harsh at first, but their beautifully hand crafted curves probably hold you pretty well. Just a little nod back to the early days of hot rodding when the builders raided parts from planes as much as other cars.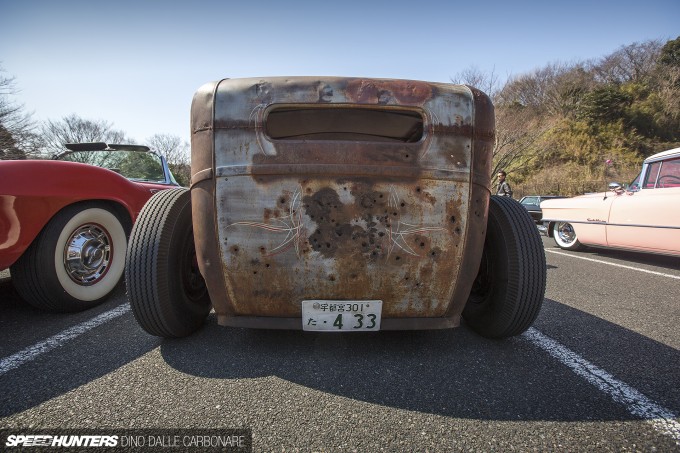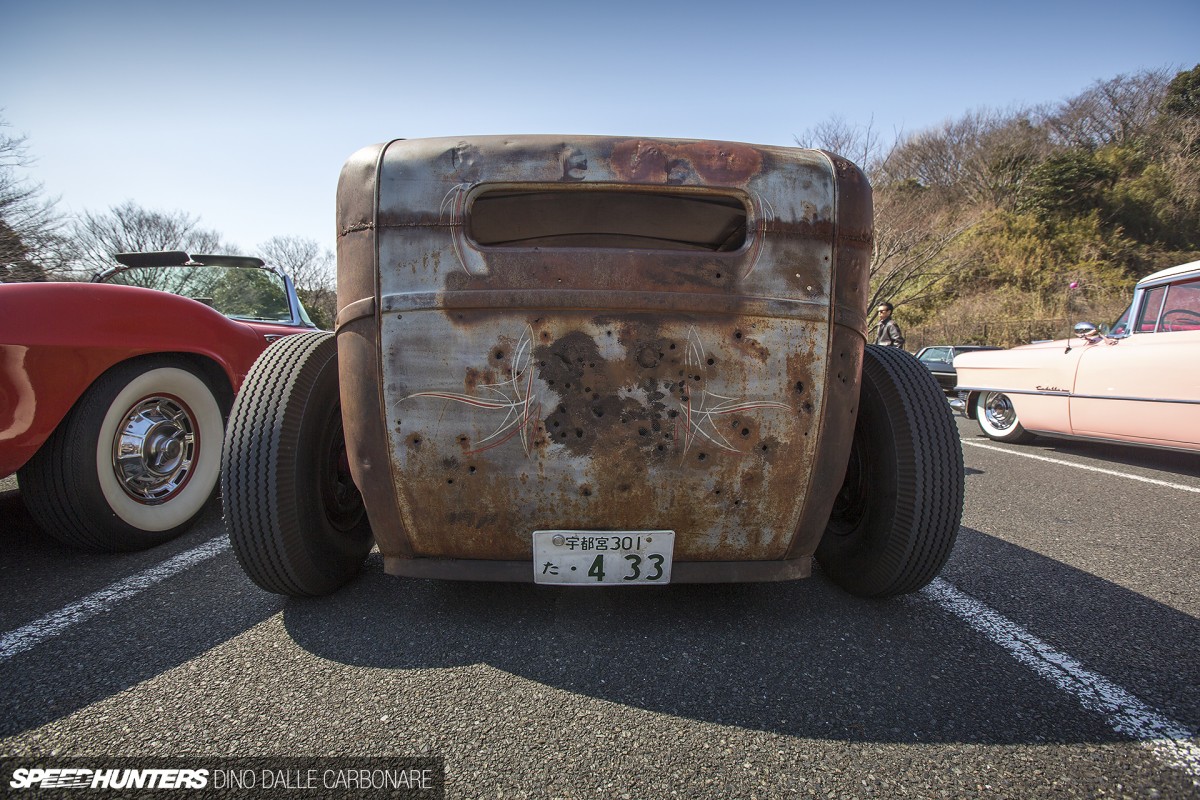 Bullet holes in the back? Hell yes, who knows what this thing went through back in the States in its previous life.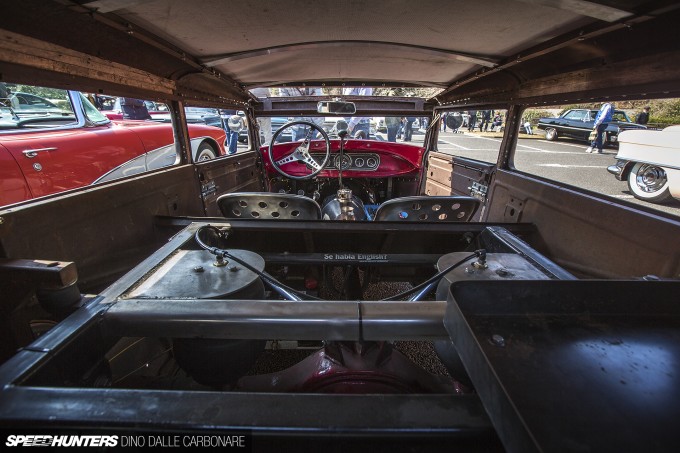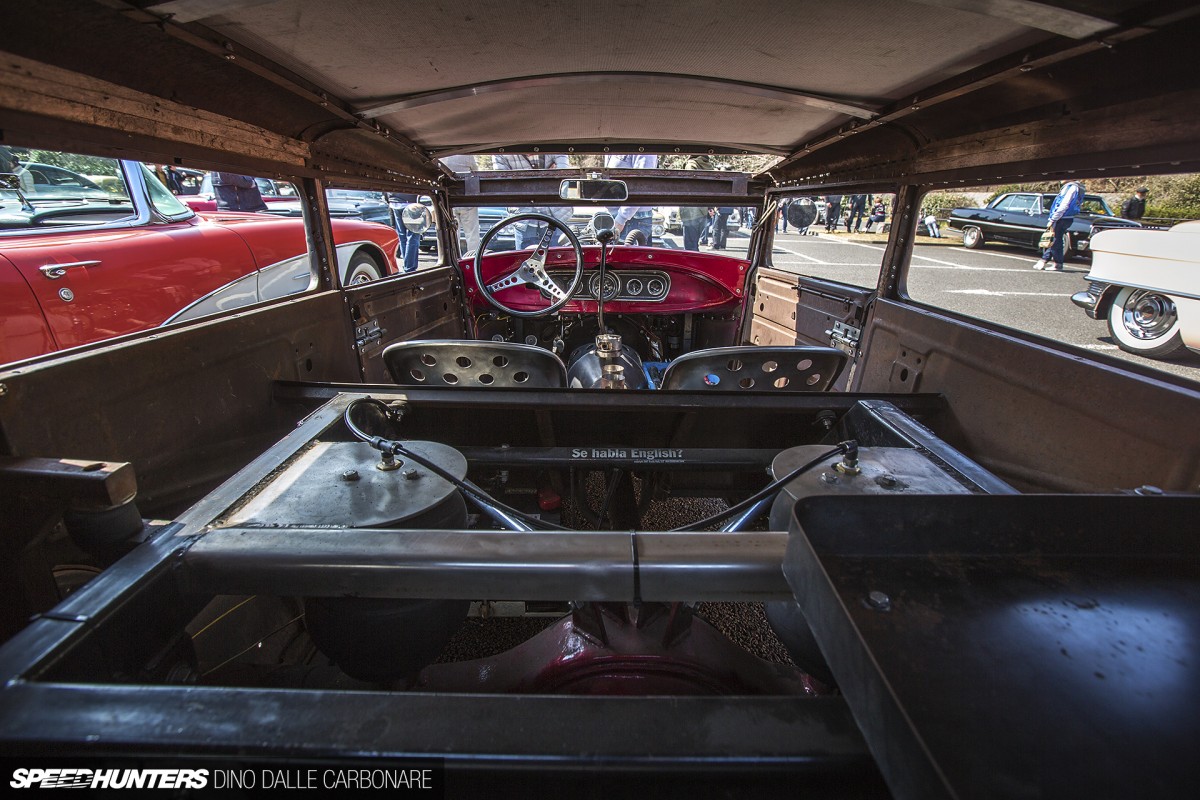 Take a little gander through that narrow rear opening, usually referred to as the rear window, and you can see the work that has gone into the chassis rails to make the whole thing ride as low to the ground as possible. Check out the size of those bags!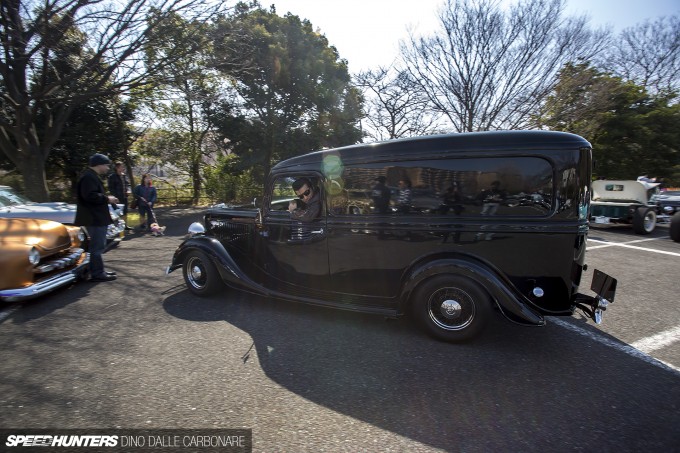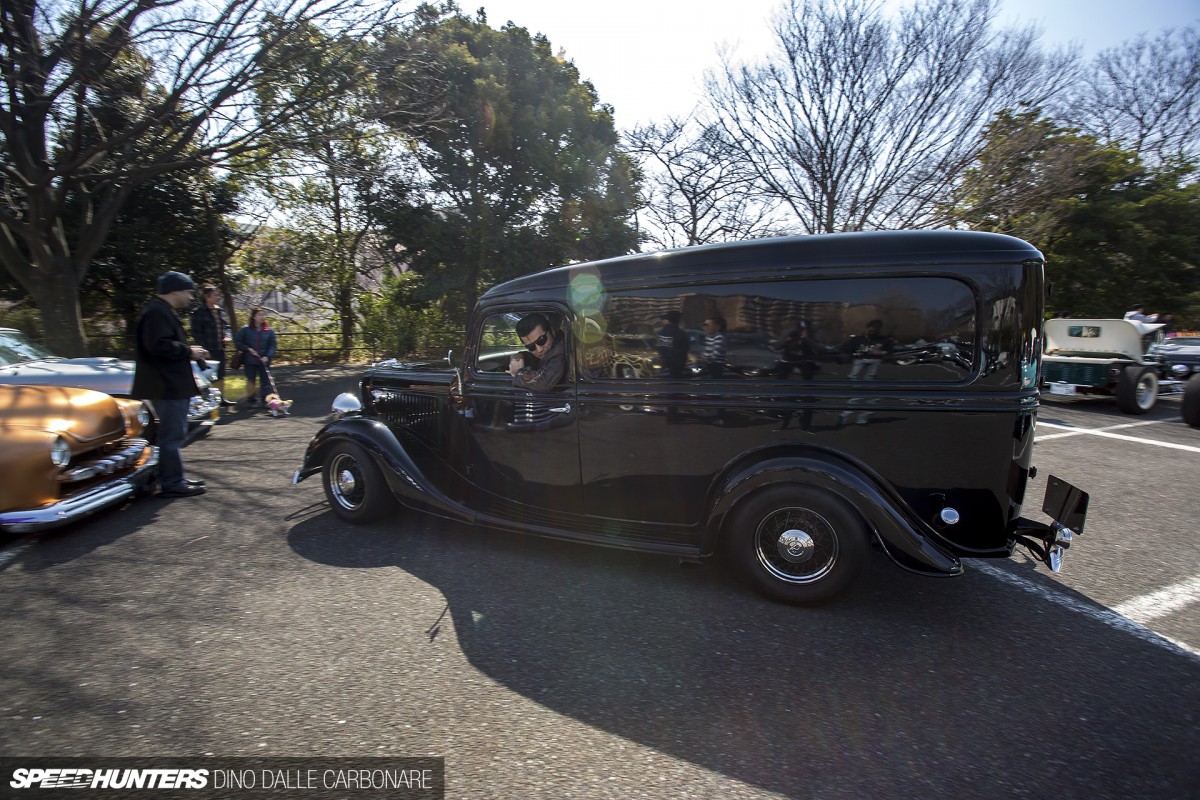 I thought the Grim Reaper had rolled in at one point! This big '34 or maybe '35(?) Ford panel truck was arrow straight. Check out the reflection in the side. Then consider what this thing has seen in the last nearly 80 years. Beautifully executed, running lower than stock with obvious hidden upgrades, it's one way to take care of business.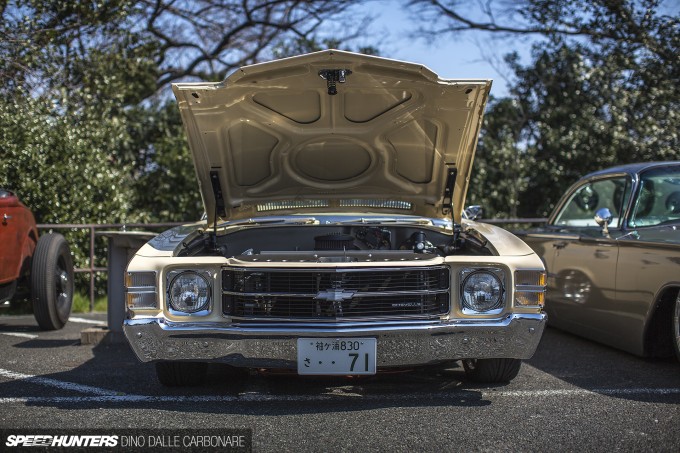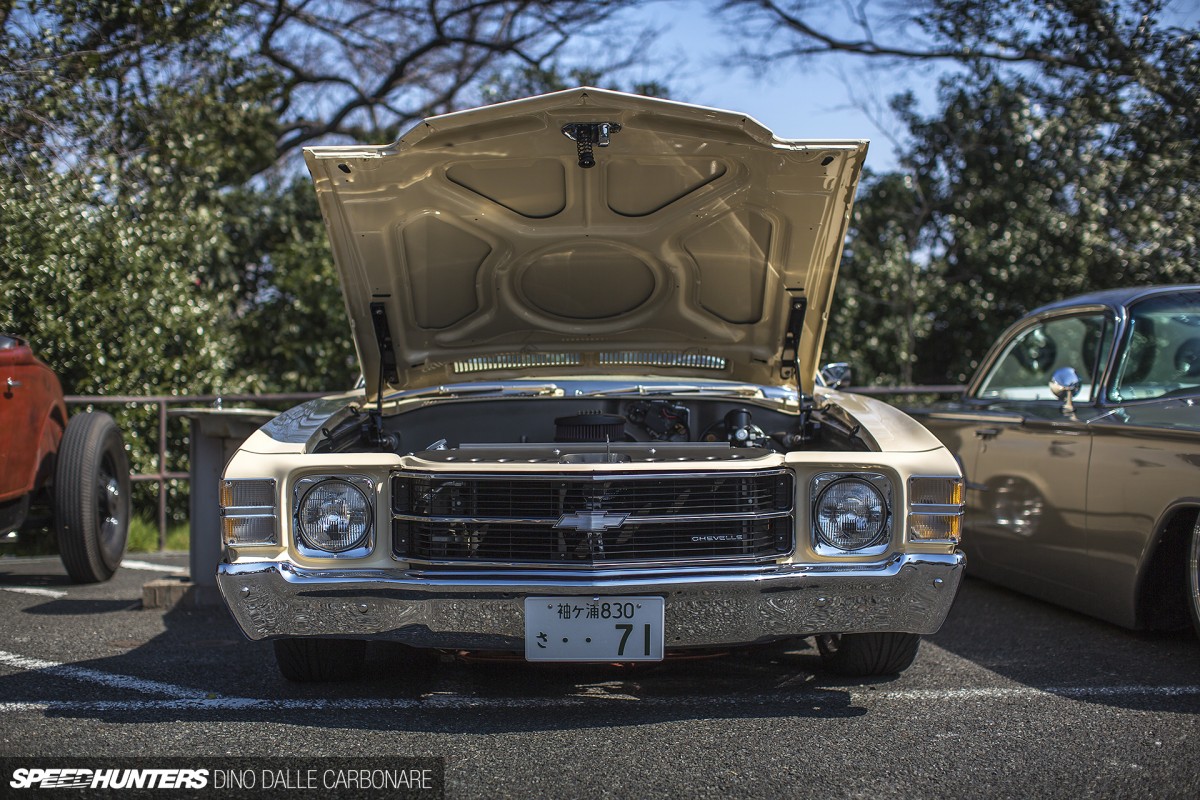 Like at the other Mooneyes events throughout the year, it's the more performance-oriented builds that are more interesting to me. Nothing like a bit of substance to finish up any build right? This '71 Chevelle wagon, had I not gone over to take a closer look, is a car I probably wouldn't have taken a second glance of. In fact it had been sitting there for most of the morning, but then its owner popped the bonnet.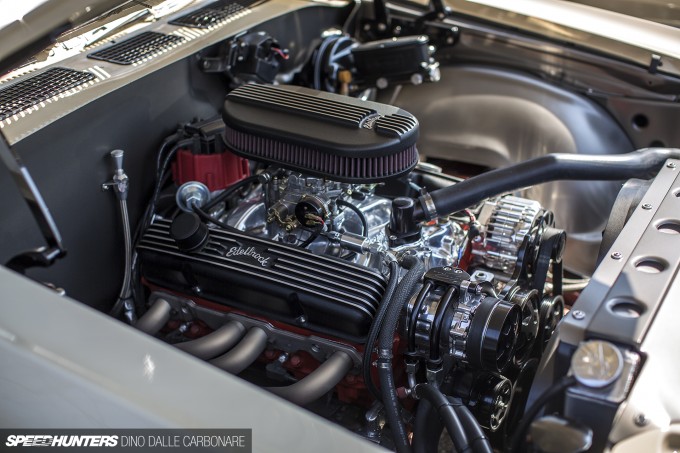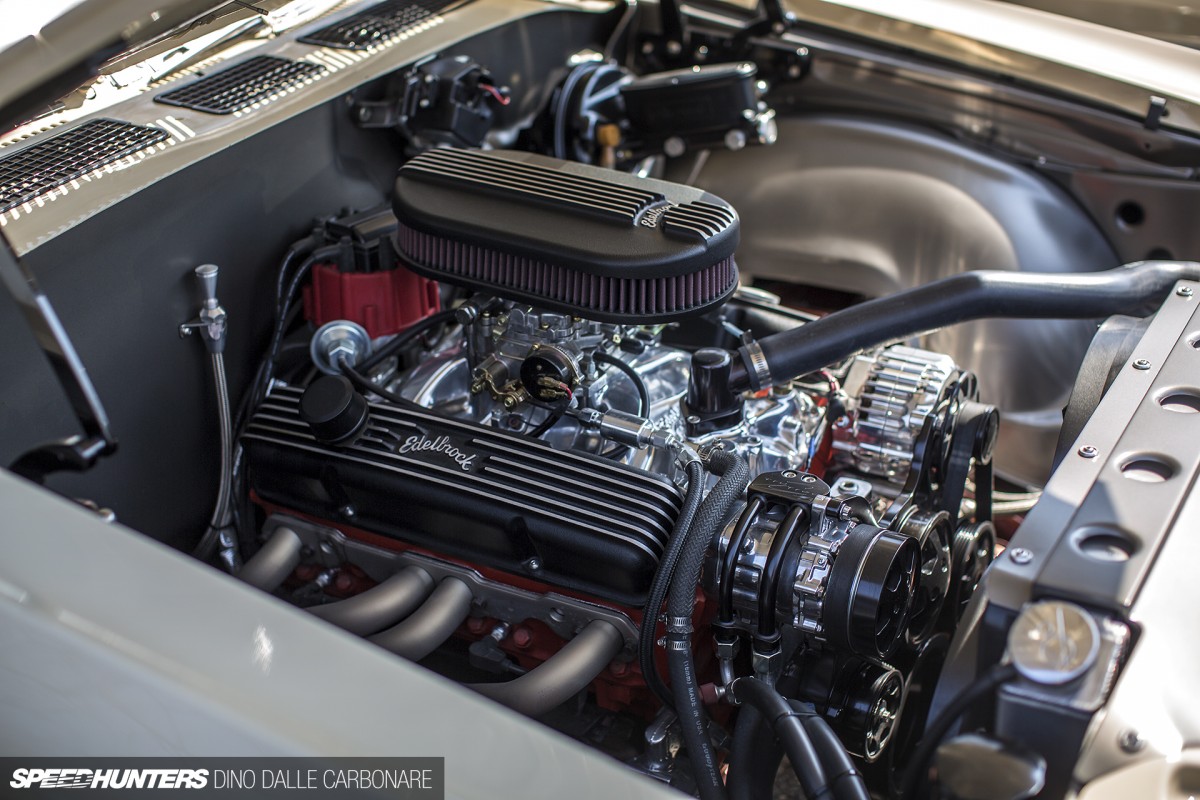 Now this is seriously impressive. Aside from the whole Edelbrock catalogue having been thrown at the engine, the presentation of it all was nothing short of show car level. The whole engine bay had been shaved, cleaned up and beautifully done with every little addition well thought about, even down to the exposed orange suspension arms.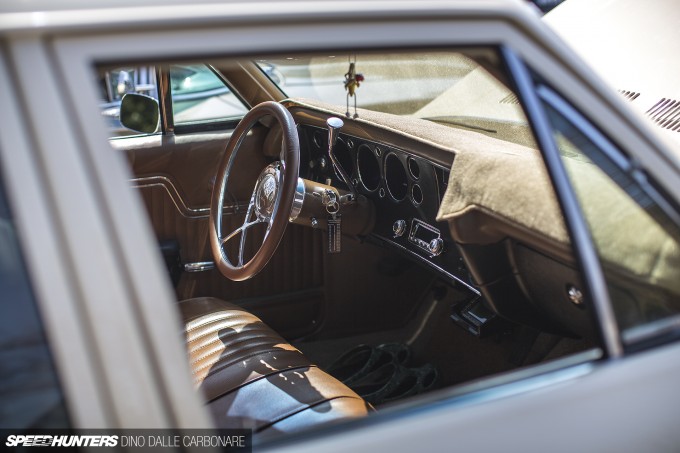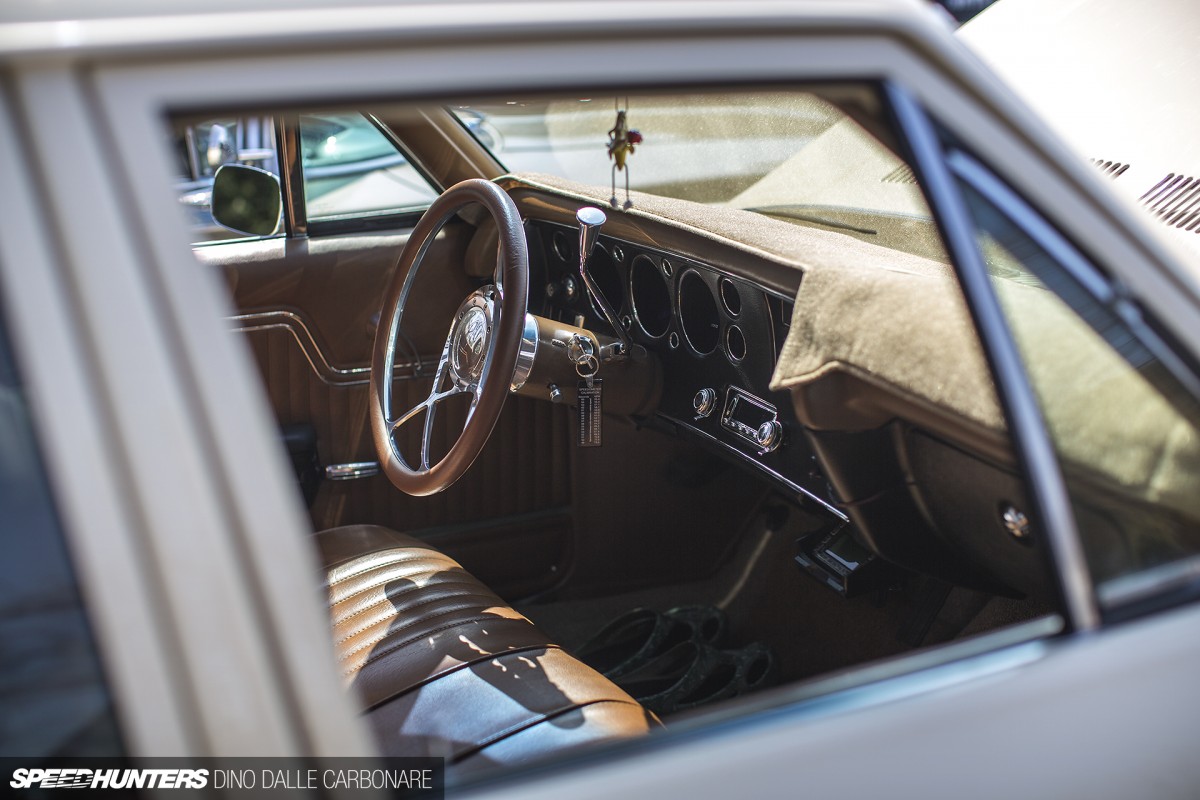 Aside from a few little touches, the interior was pretty much stock – but a very well maintained stock of course.
Muscle rules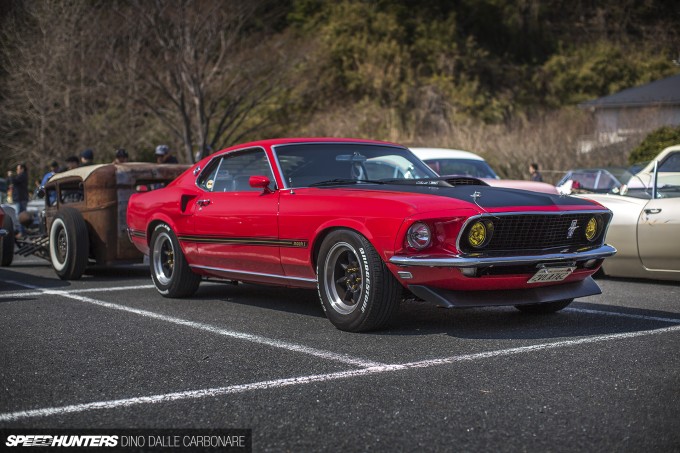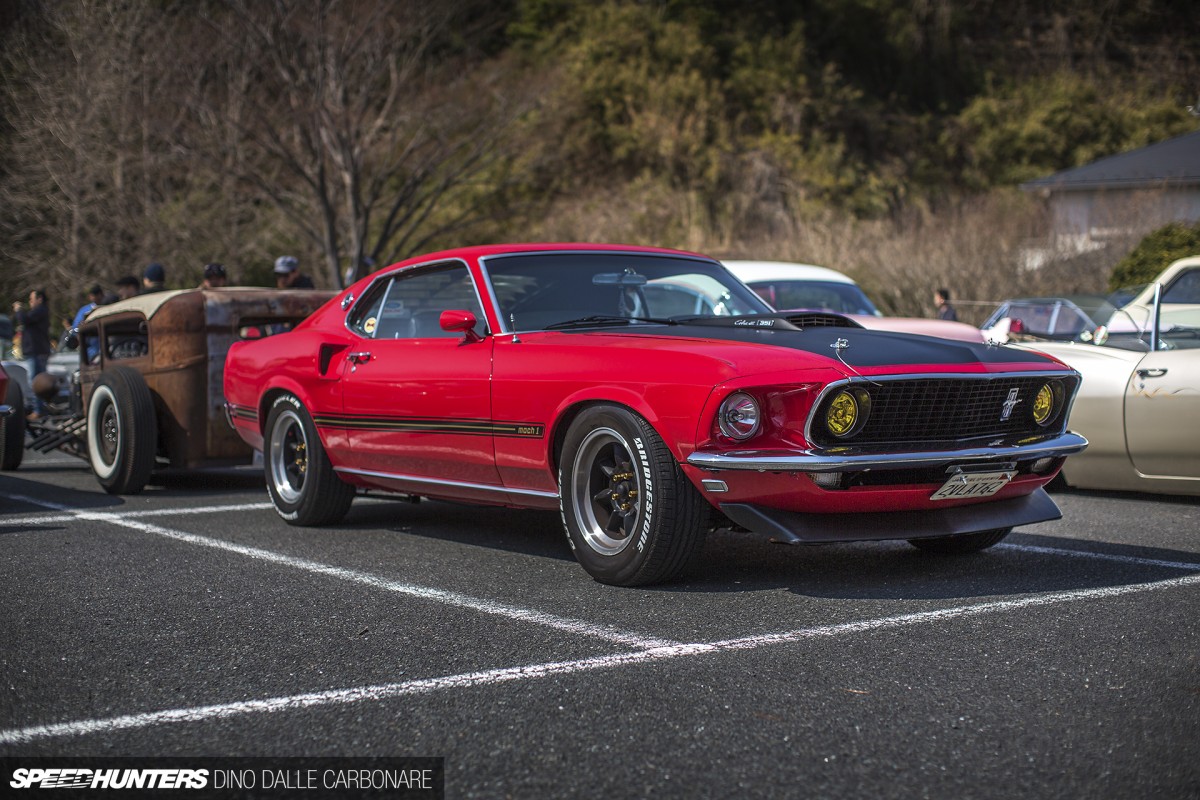 There's nothing like a bit of muscle to spice up a gathering like this and this red Mustang Mach 1 certainly wowed a lot of people. Equipped with the biggest motor offered in these performance Pony cars, the Supra Cobra Jet 428ci (7 liters to you and me) delivered about 340hp.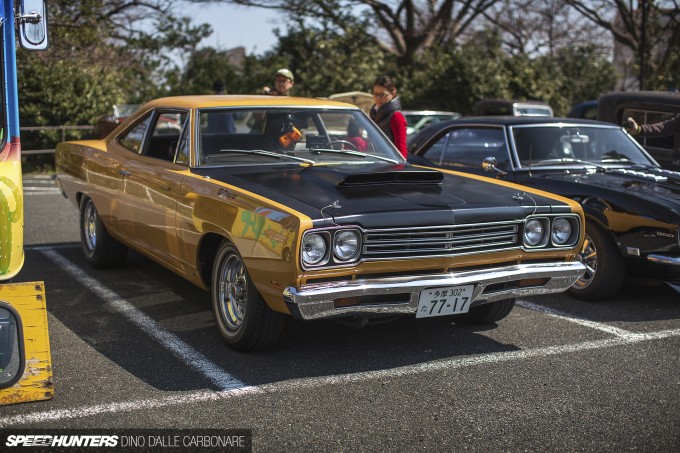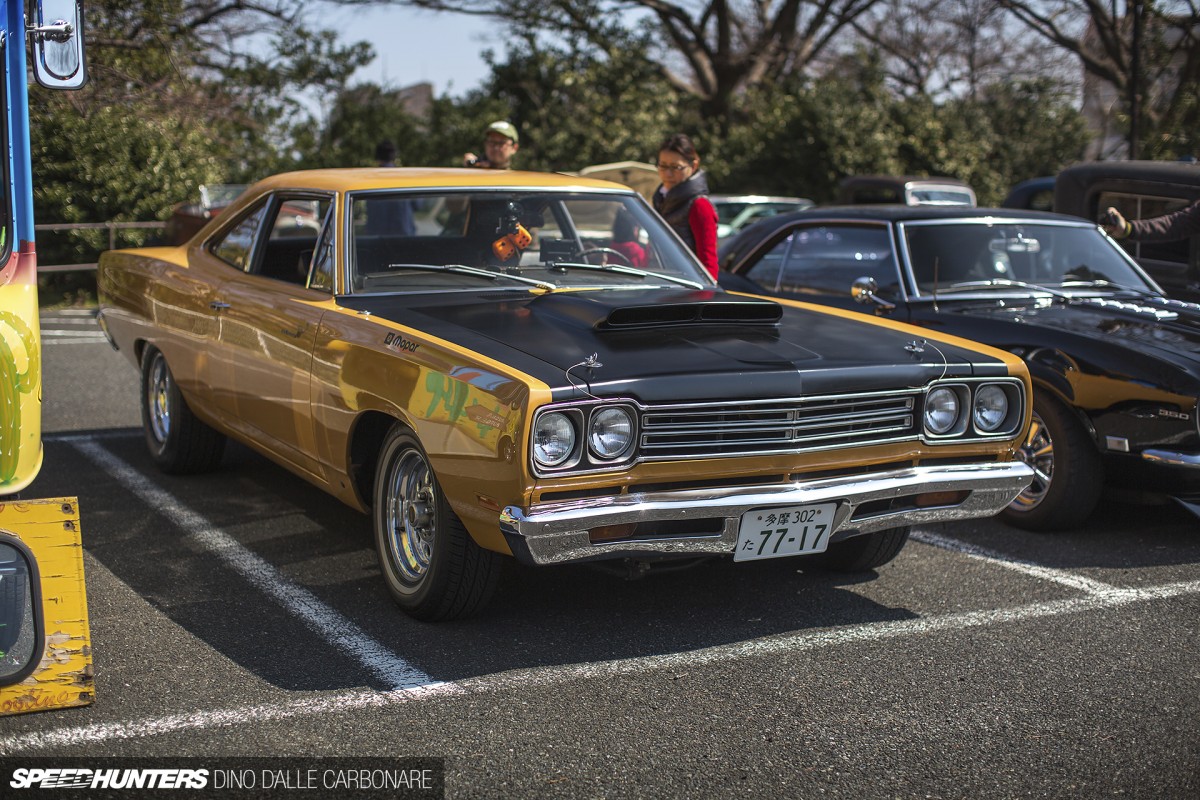 Not too far away was this Road Runner which by the sounds of it was very, very far from stock. Too bad the owner took off before I had a chance to have a little look under that vented bonnet.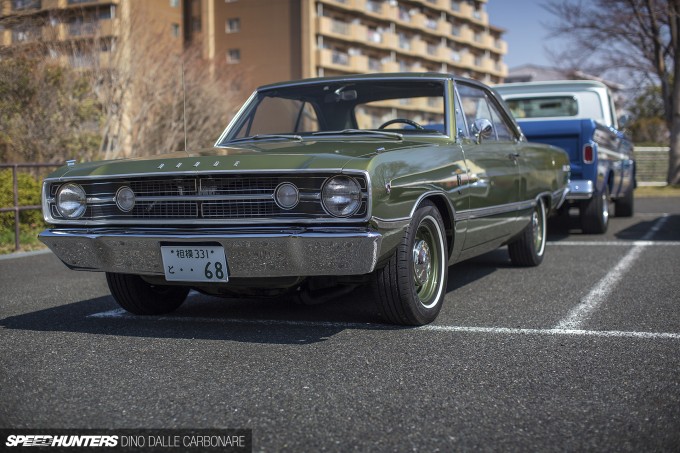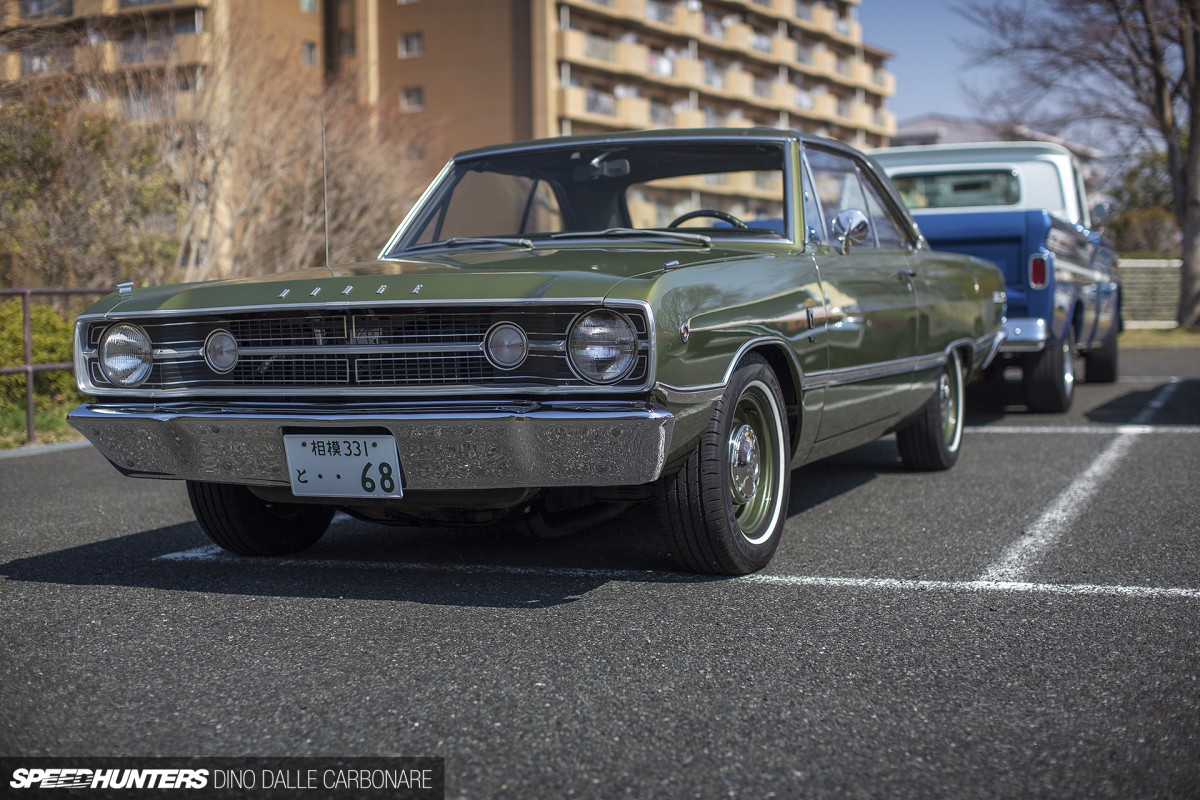 Aside from shows, I think this was pretty much the only time I've seen a Dodge Dart out in the open in Japan. Loved how well this one had been restored.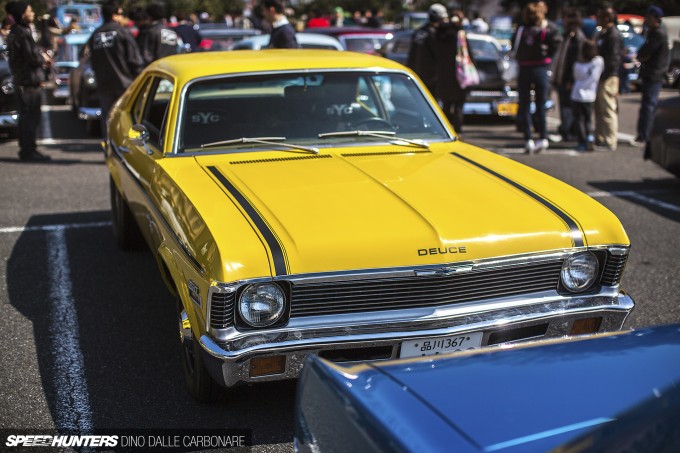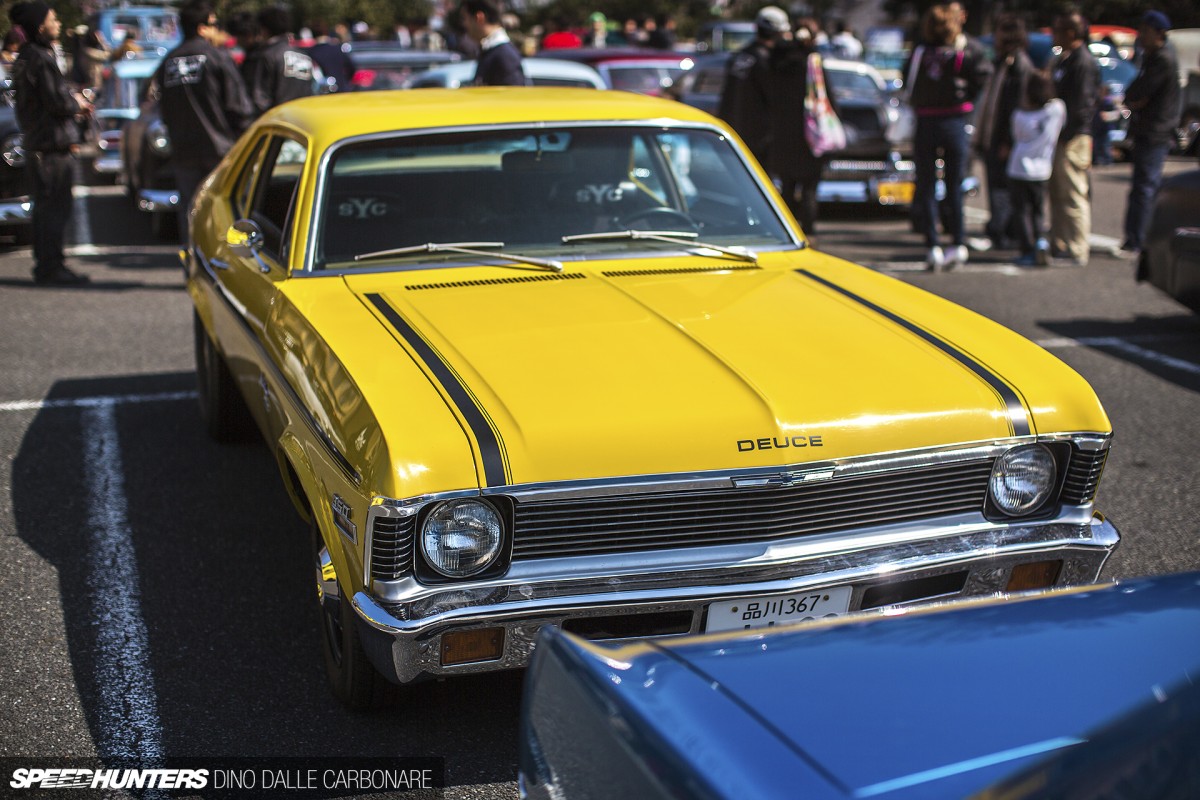 And talking of rarities, I was recently watching an episode of Jay Leno's Garage where they showed Jay's Yenko Stinger and here I was staring at another Yenko special, the Deuce. These are actually a really cool 'little' muscle car. Don Yenko put the modified Nova together to get around new clean air regulations in 1970. Powered by a Camaro-sourced Z/28 LT1 V8 motor, roughly 170 were made and the last time I can find record of one selling was in 2009 for $110,000. So this is one rare car in America, let alone Japan.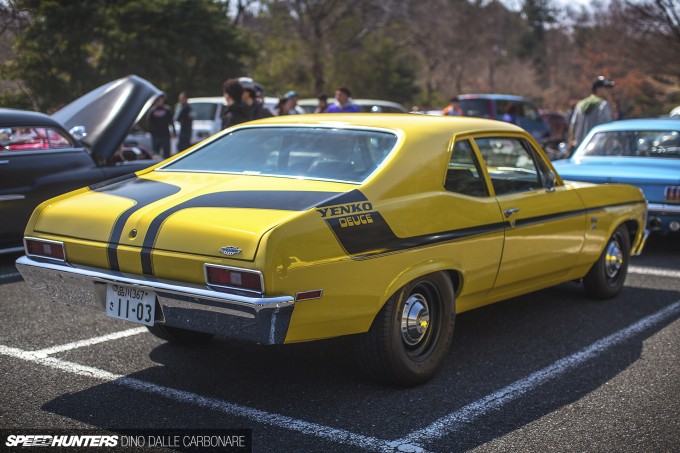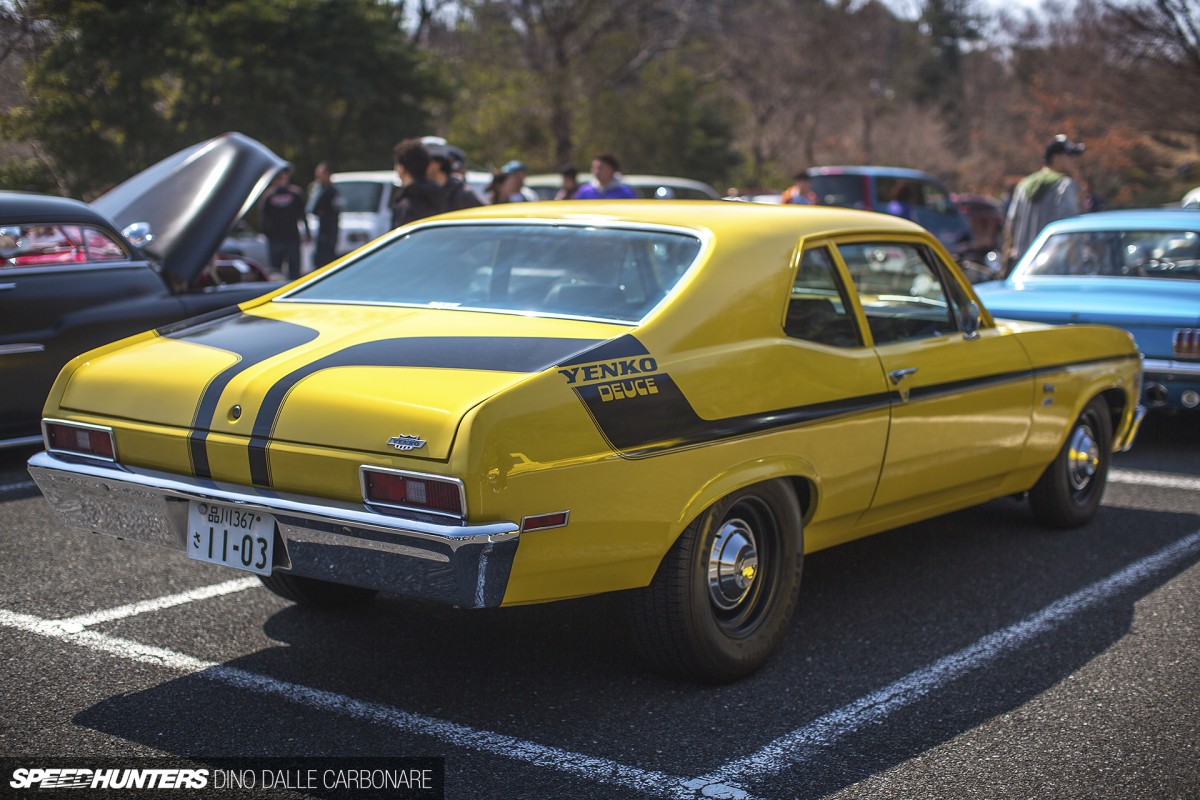 I just find it so fascinating at how deep the whole sixties and seventies muscle car culture is, and for someone living outside of the US, it's a pleasure to be seeing cars like these, all helping you to broaden your overall car knowledge.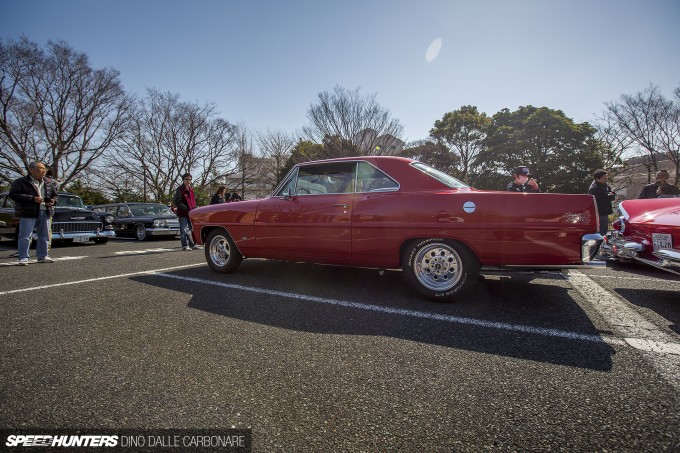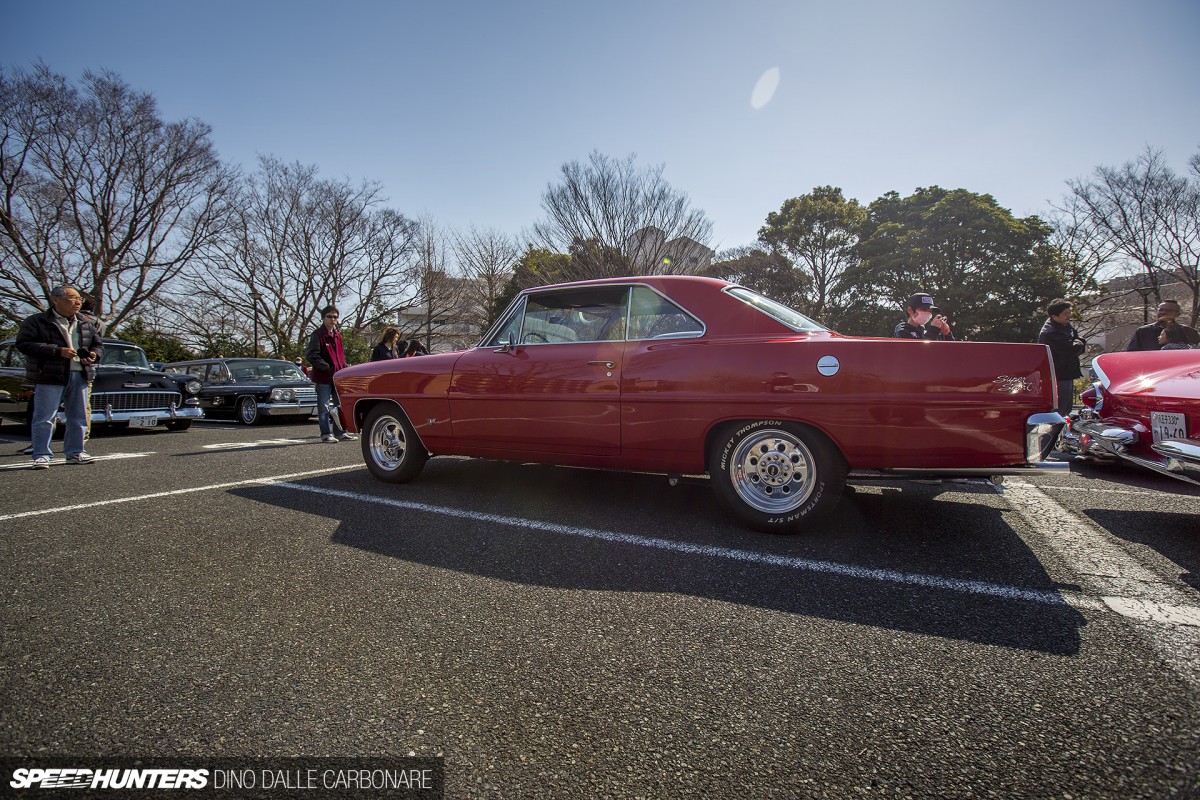 This thing looked like it was ready to light up those rear Mickey Thompsons and do a fat burnout! But of course this is Japan and everyone is exceptionally well-behaved at these sort of meets.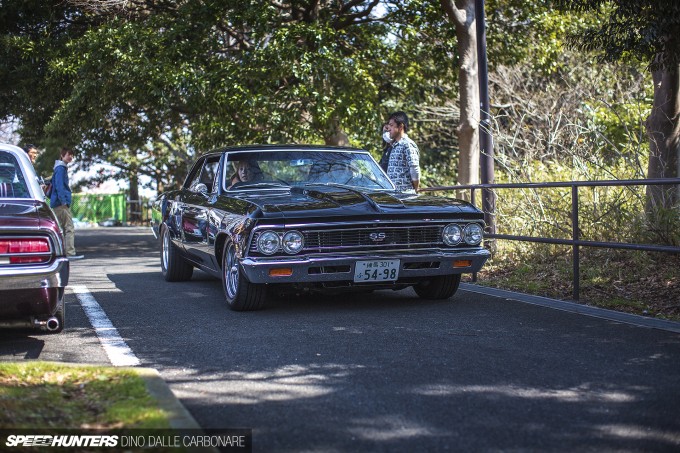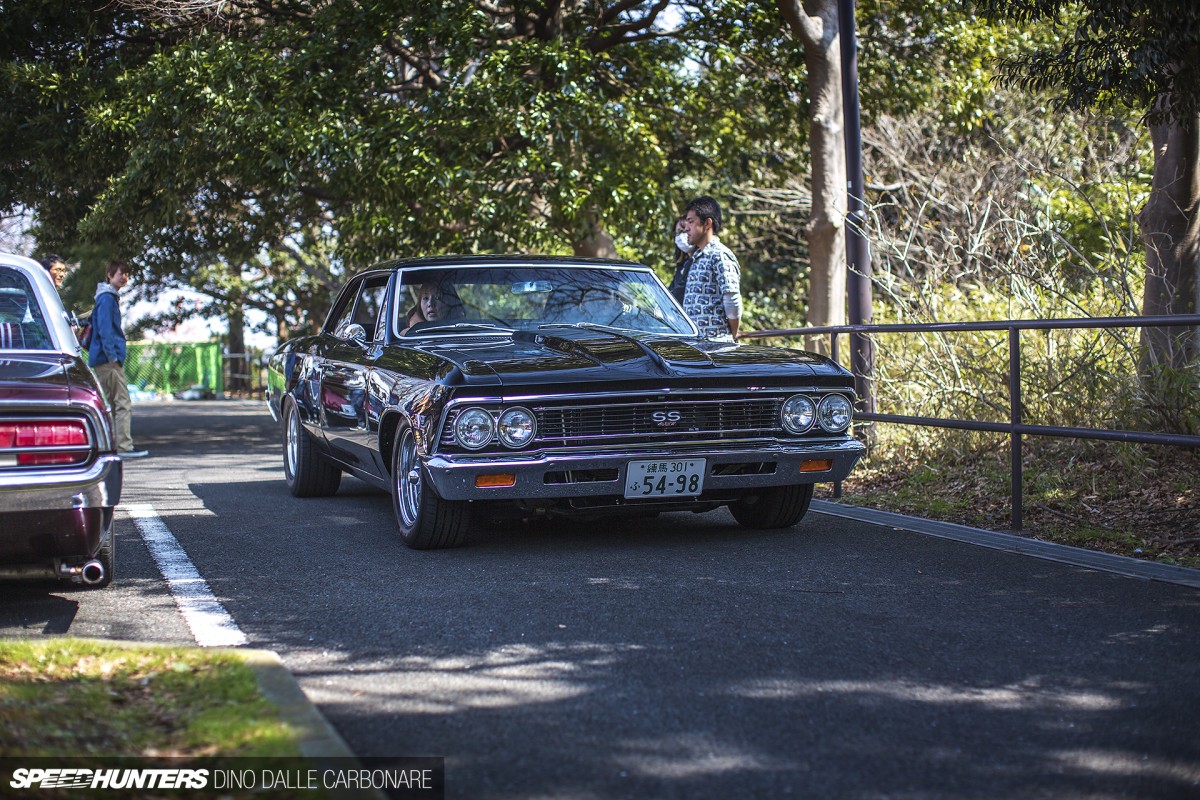 It's a good thing I went around to capture all the muscle cars, as a lot of them decided to take off a little before the meet ended. Maybe they had another venue to head for like I did last weekend?
The best of the rest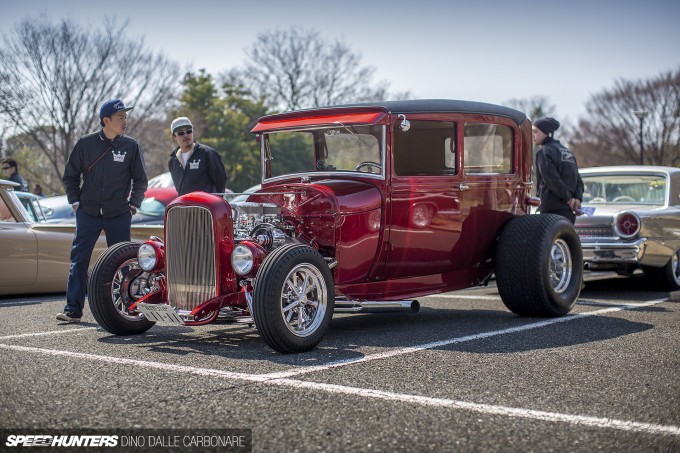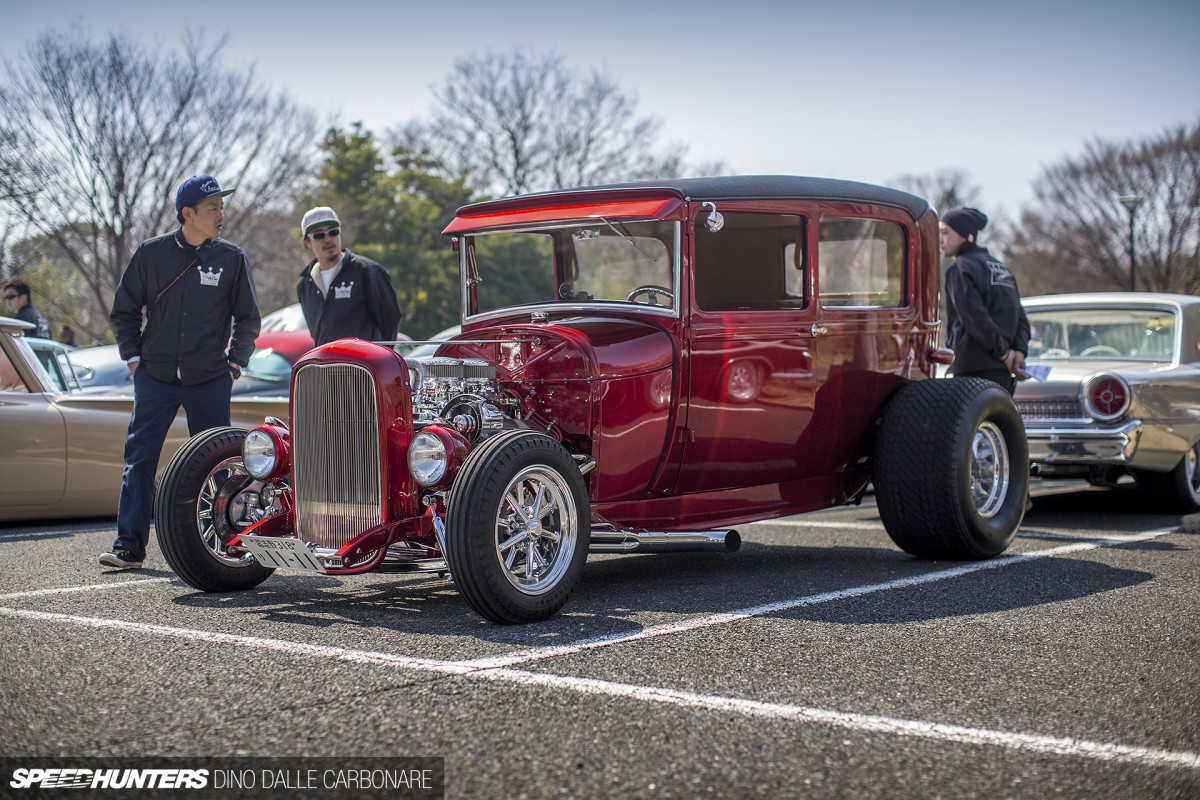 It's always interesting to see just how many different interpretations of hot rods there are. I always find non-chopped ones quite refreshing; not that the chopped look is overdone or anything, it's just that it gives the car a very different stance.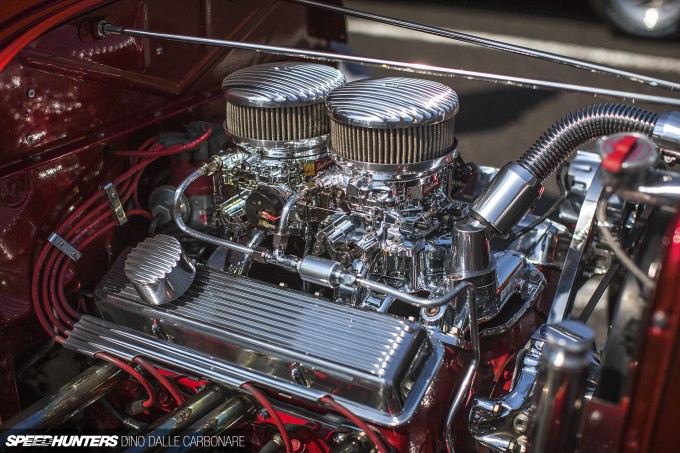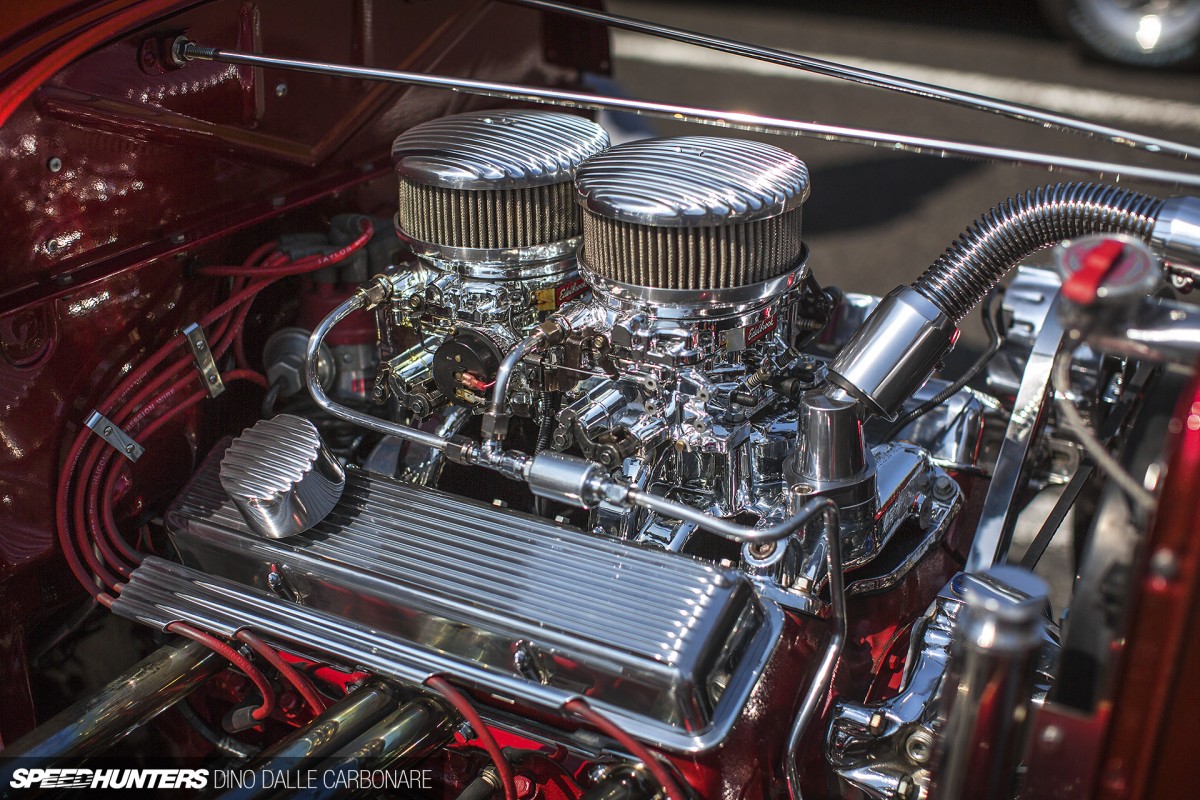 This model A displayed a real mix-up of styles, from resto mod with the highly detailed twin carb engine…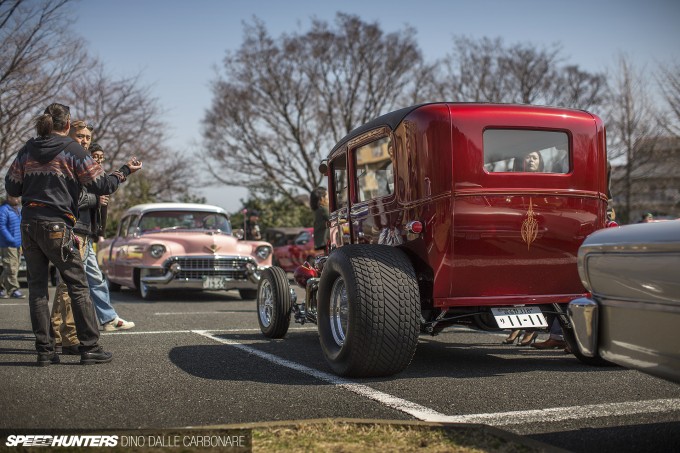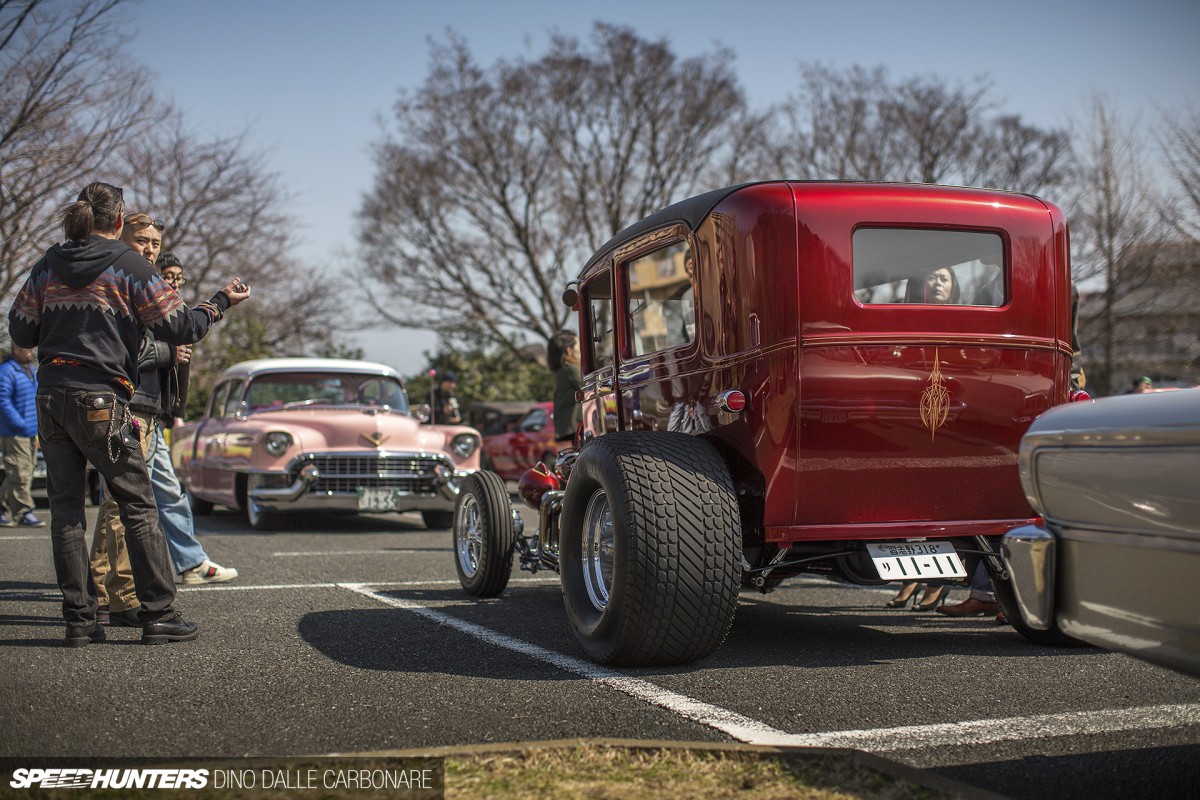 To the massive exposed rear tyres, with rolling stock more usually seen on a Pro-Street build.  One thing I couldn't help wonder was if the motor was even able to smoke those steam-roller rears without making mince meat out of the diff or any driveline component.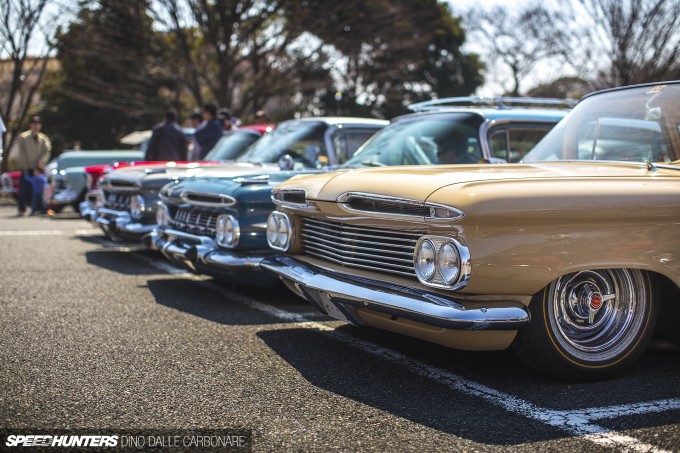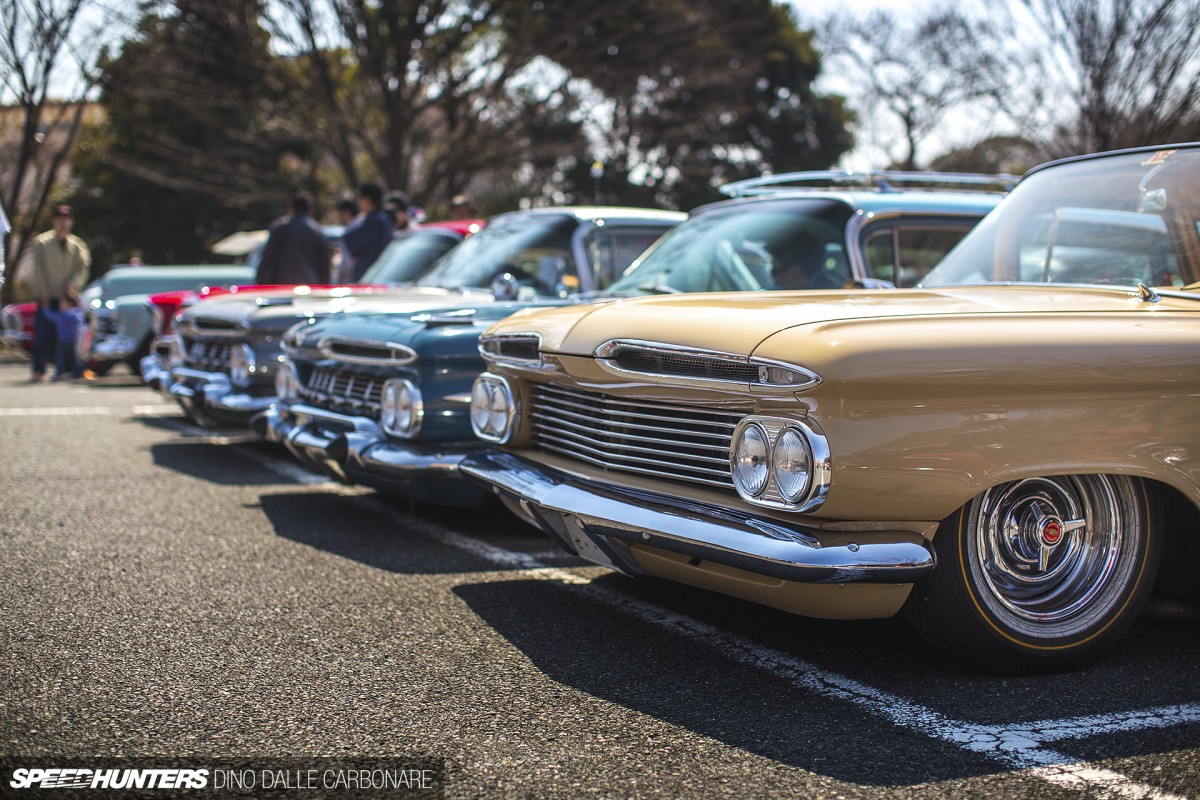 Oldschool El Caminos, always a treat to check out!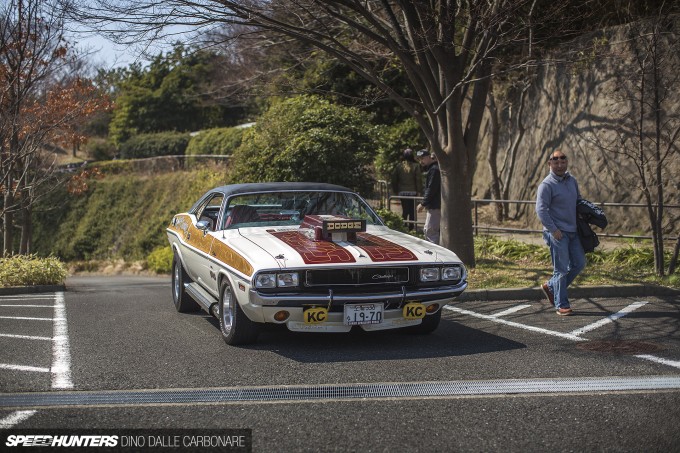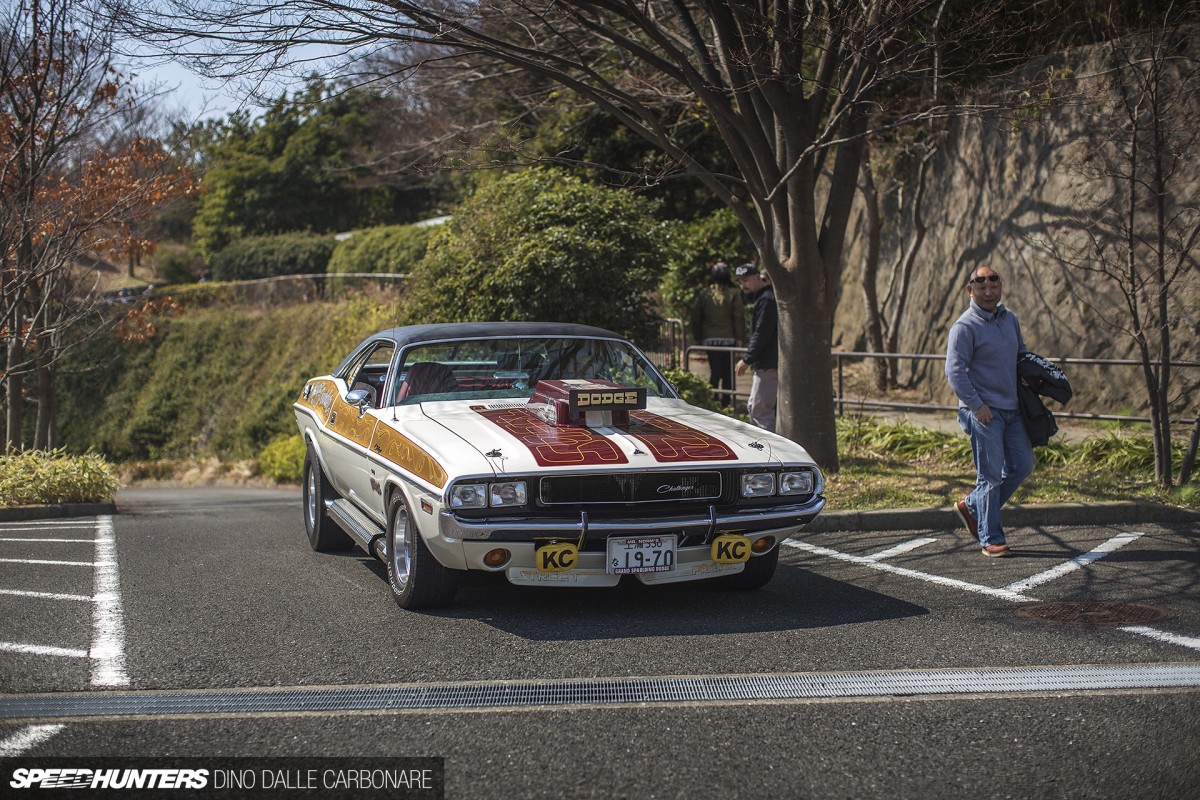 We've seen this Challenger at pretty much every single Mooneyes event since I've been covering them back in 2009 and it's crazy to see that the owner still hasn't finished with the custom work. Latest addition I could spot were the KC fog lights with yellow covers and that dummy bonnet scoop.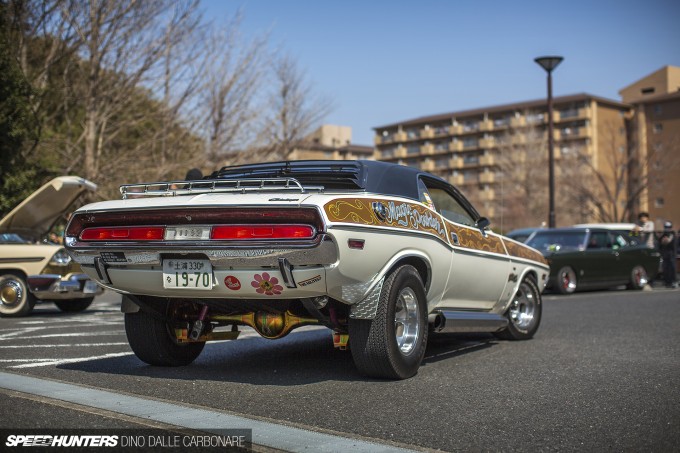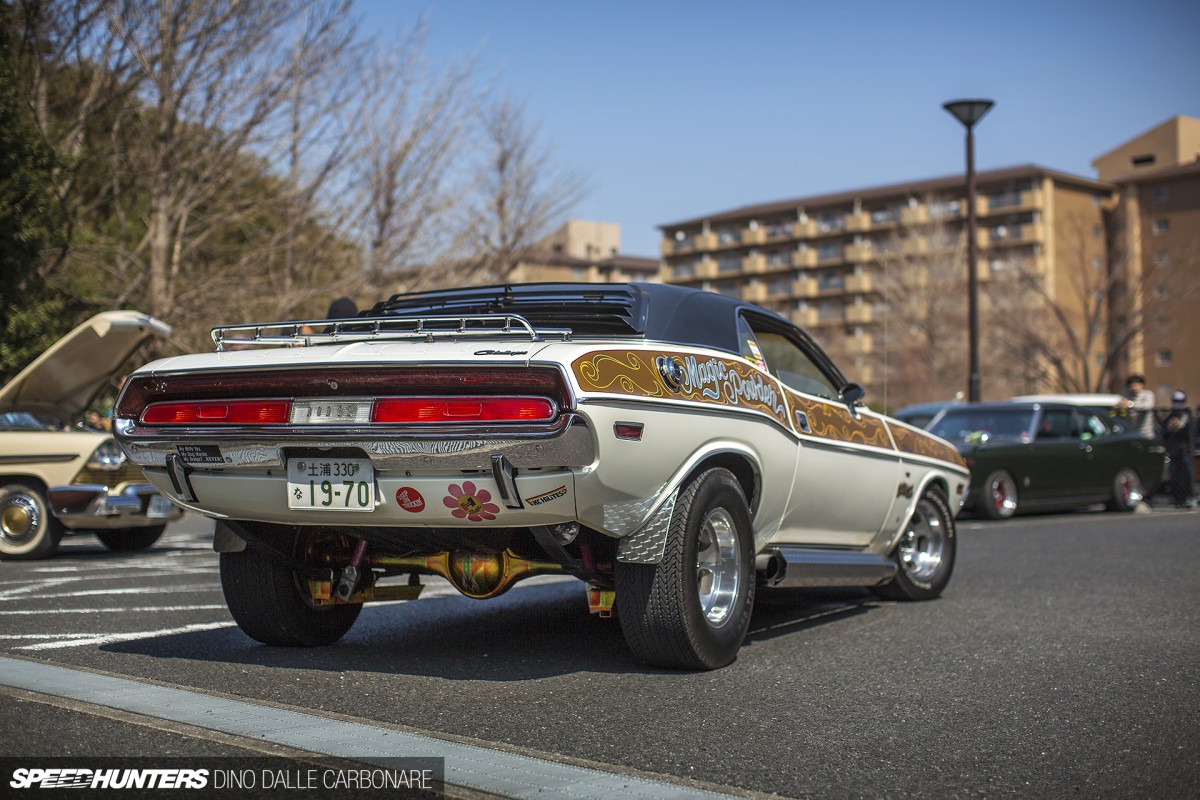 You know, what I love about this particular build is the fact that as values of these models goes through the roof, this guy or gal continues to build their own homage to the '70s. All the key parts are here: big and little slot mags, the louvred rear window, boot rack and period stickers. Named Magic Powder (I'm saying nothing!) by its owner, the 'street freak' look as it's called has made a partial comeback recently and you know what? I can only applaud somebody who goes all out and commits to something.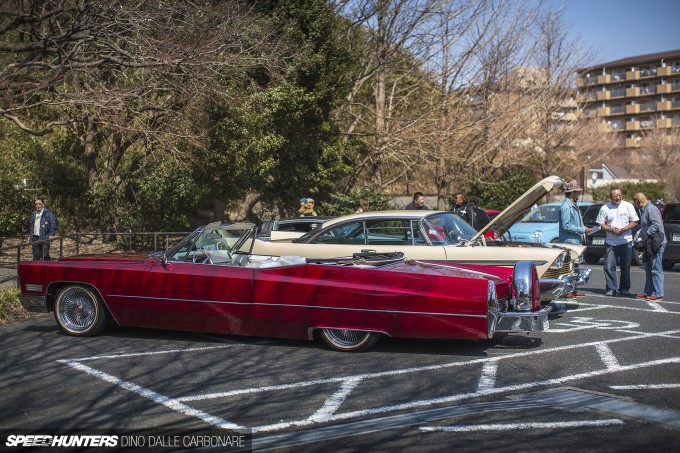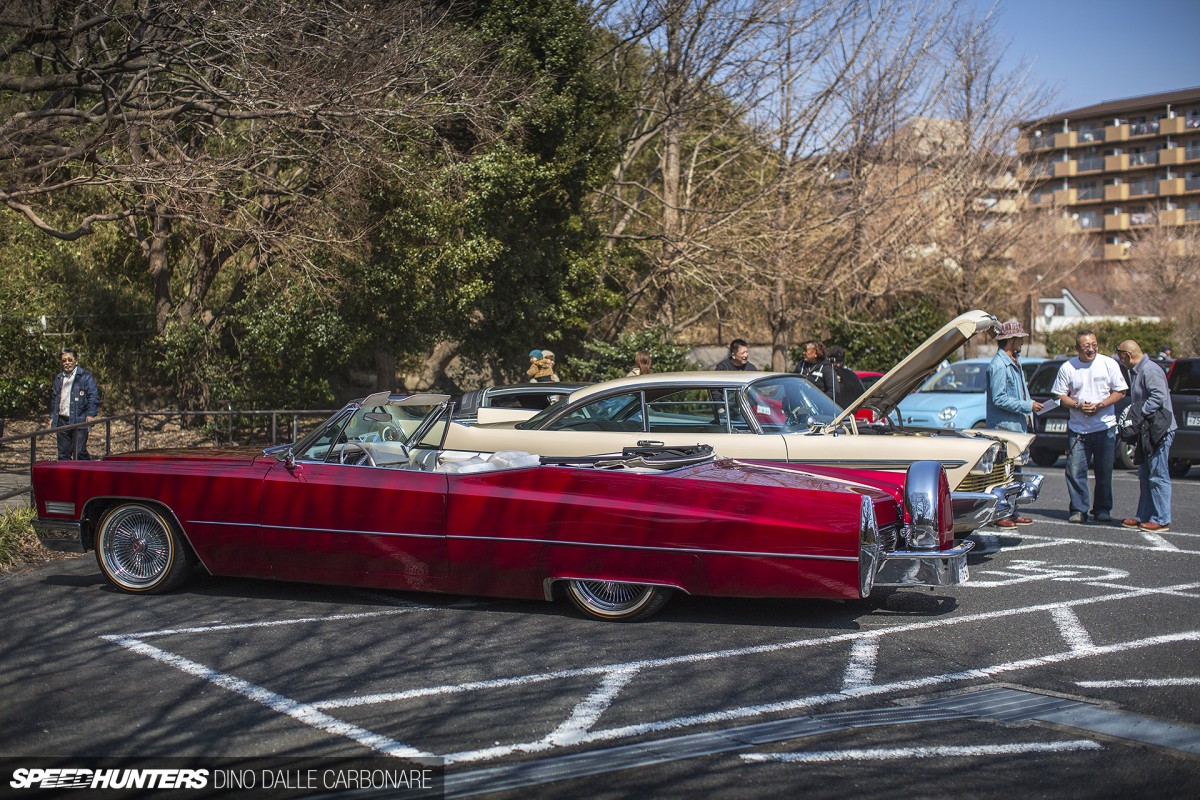 By close to lunchtime, the car park was so full that late arrivals had to start parking up outside the main gate. That's where I spotted this Coupe de Ville Convertible. Large diameter wire wheels and slightly tail down stance ooze class to me.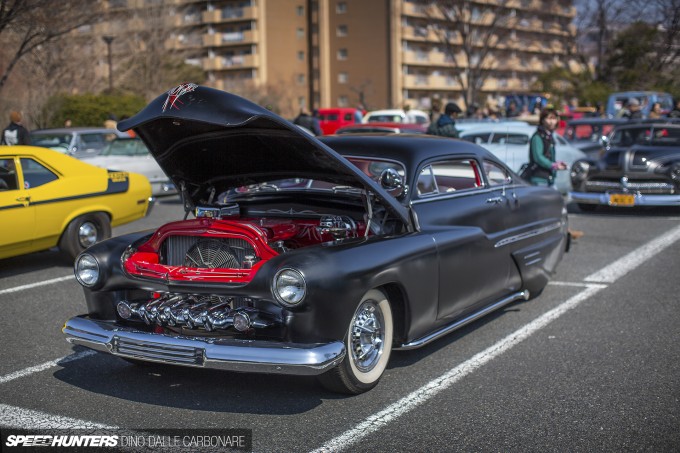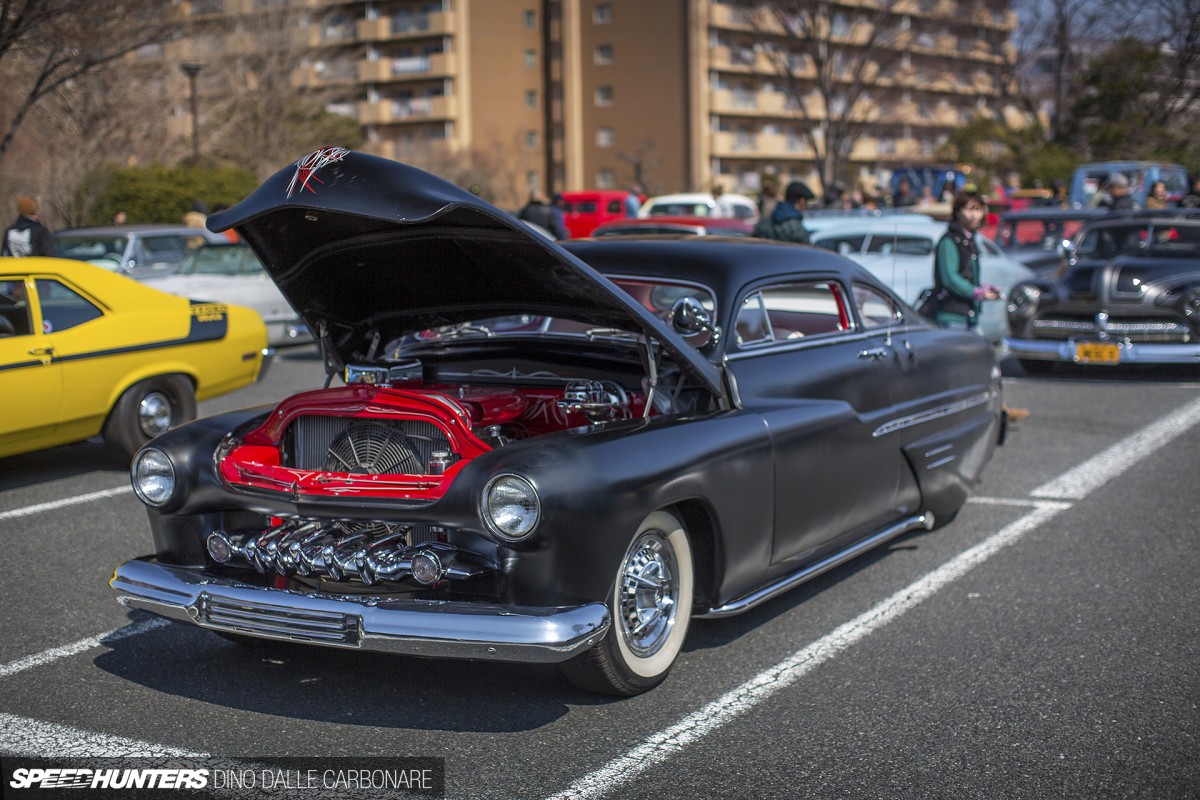 Here's another sled from the Pumpkin Sally crew. The iconic Mercury body shape is instantly recognisable and one that will always work with a healthy roof chop. It also had a cheeky surprise for anyone following too closely.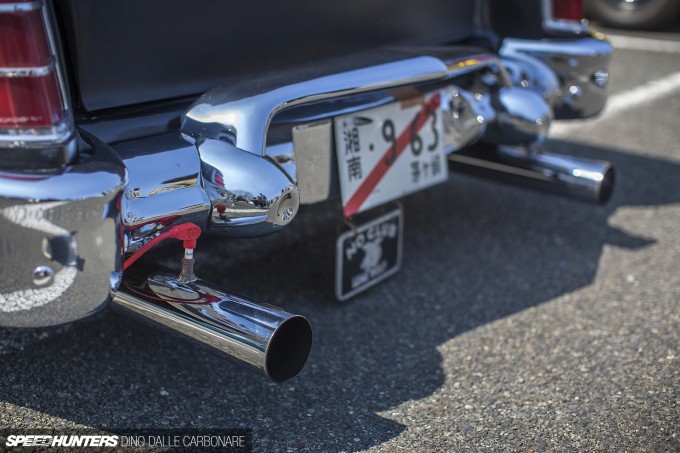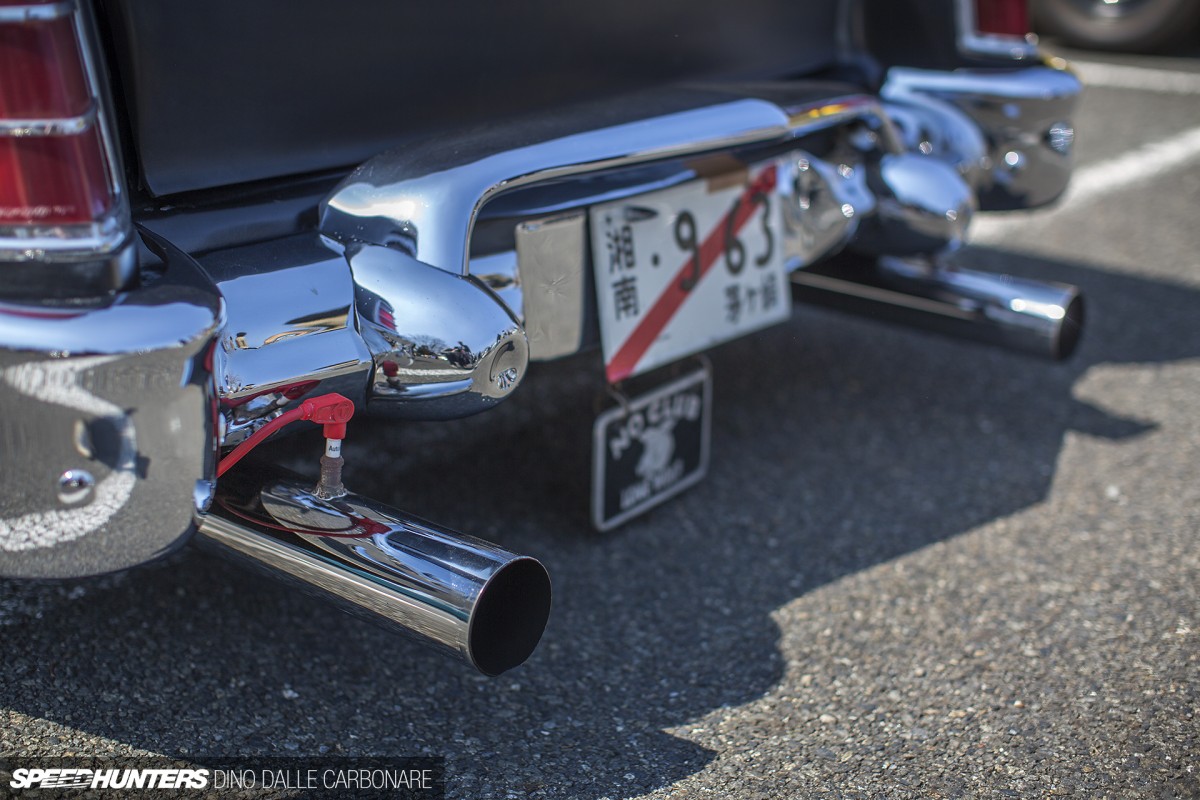 Yep, you've guessed it: flame throwers, courtesy of a couple of spark plugs welded into the rear tails. Here you can see clearer how simple the system is: bolt a coil somewhere nearby in the boot and you're good to go. The length of these tailpipes extending away from that expensive body mean the flames are probably pretty large.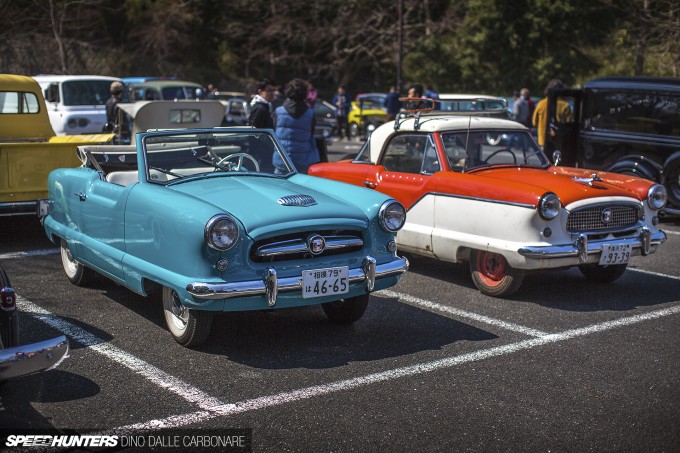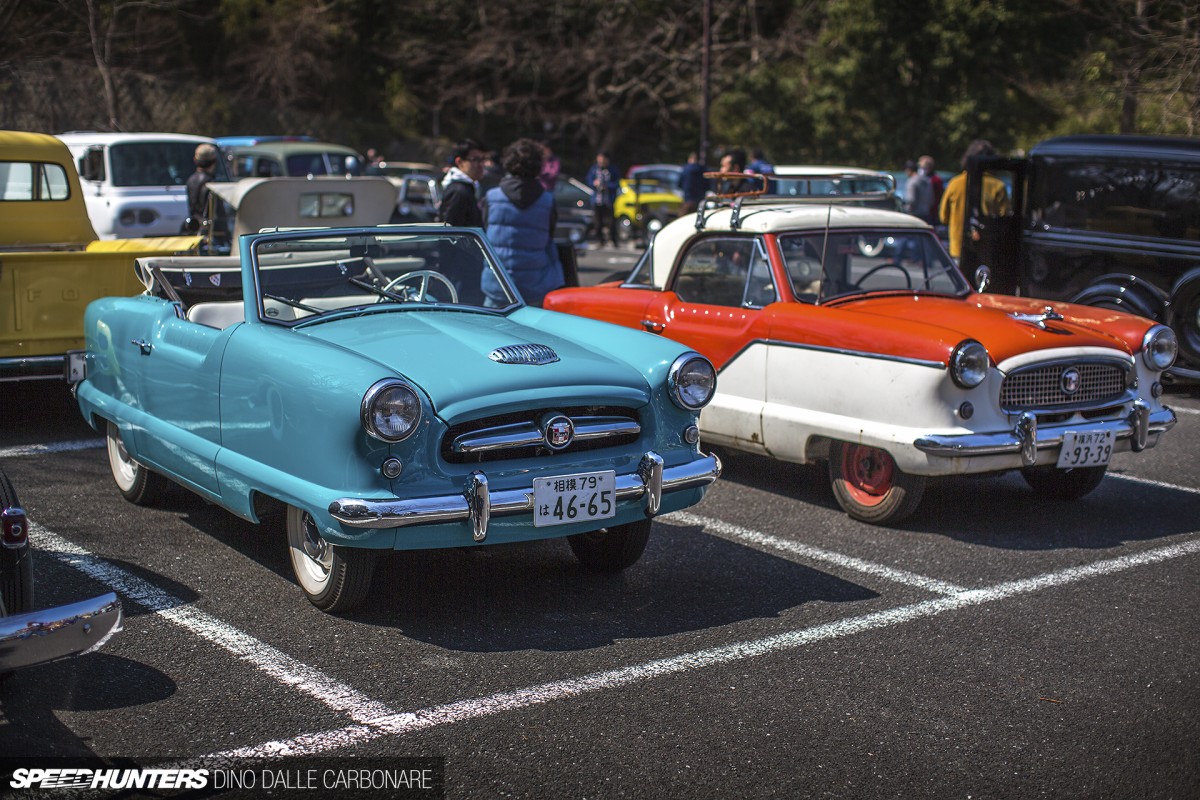 I saw my first Nash Metropolitan at a Mooneyes event, so it's only right that I'd see more at Razzle Dazzle! With three present, it looked like the Japan crew were having quite the gathering.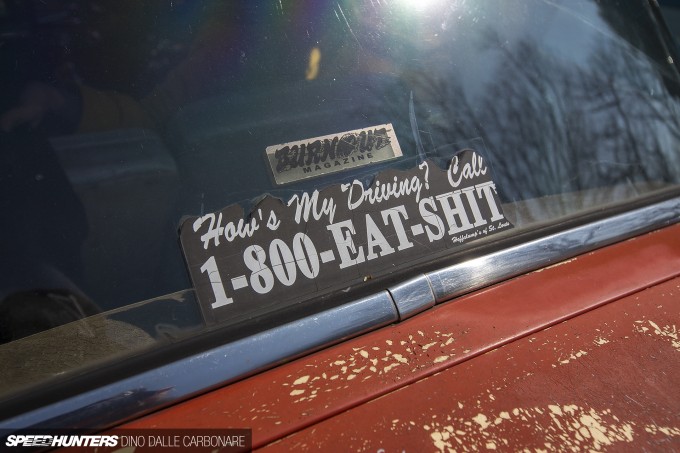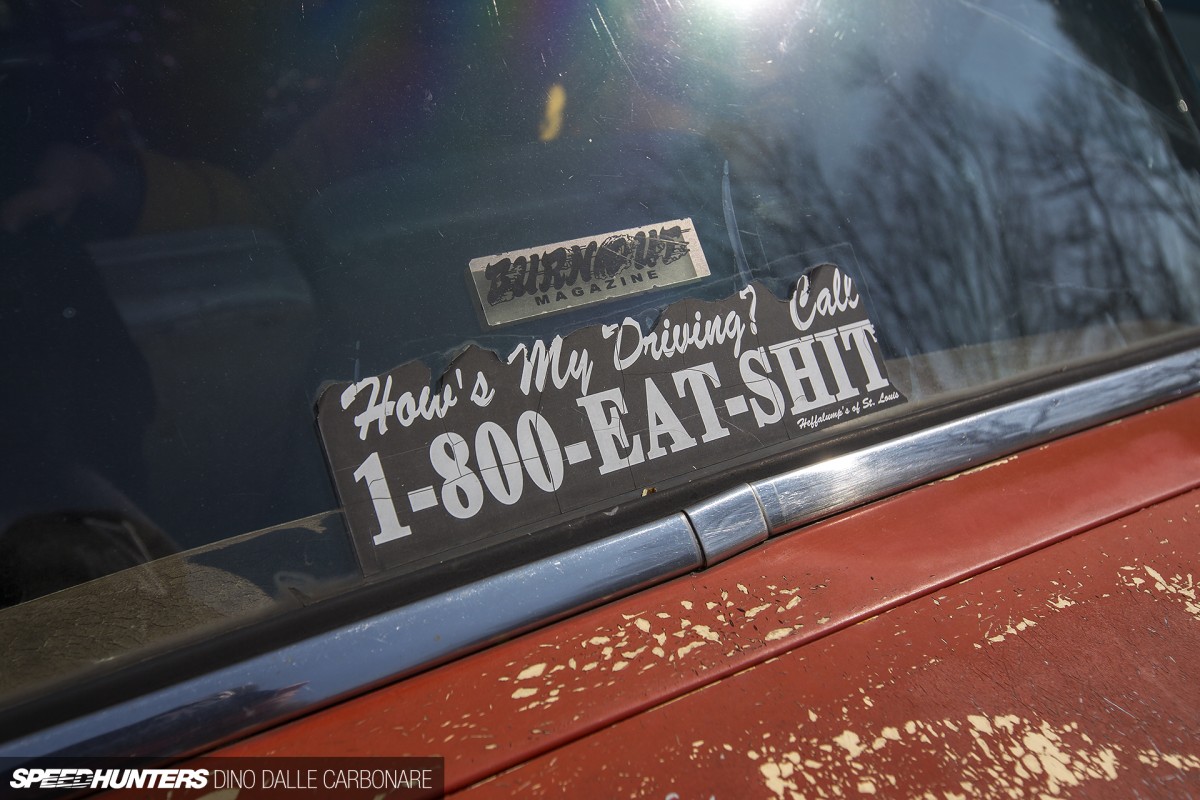 And despite them not having a brute V8 power under the hood, their drivers haven't given up on a bit of an attitude!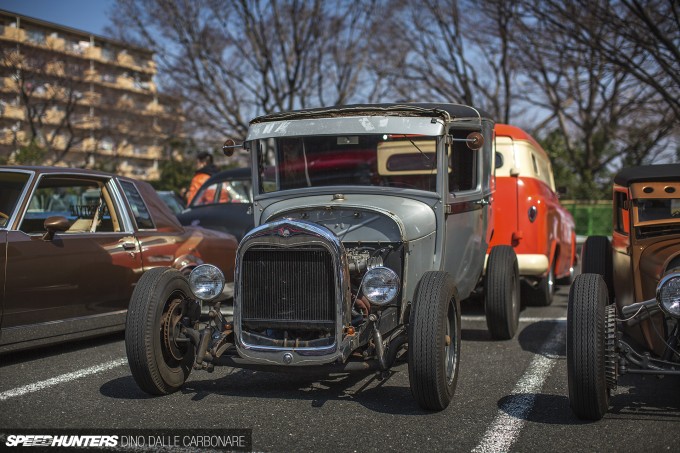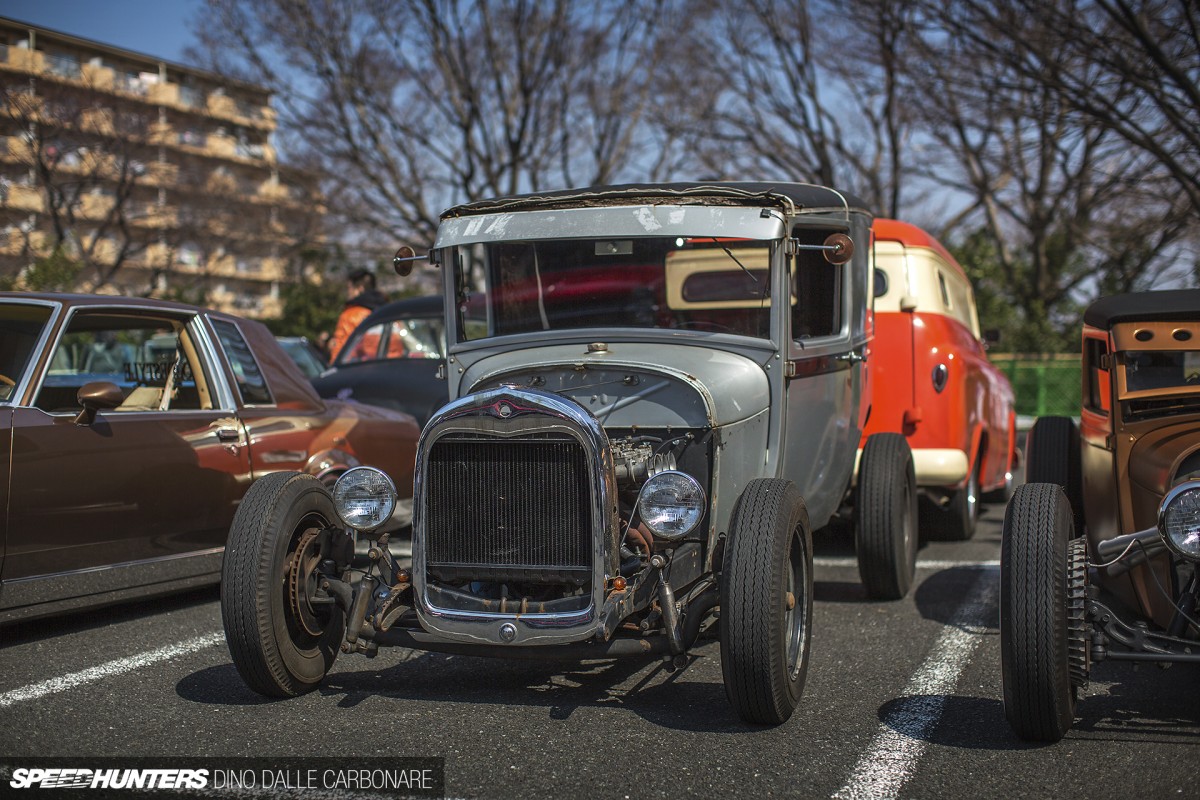 The best way to probably refer to this particular custom creation is to called it a 'J-Rod'. A unique blend of old school American metal and…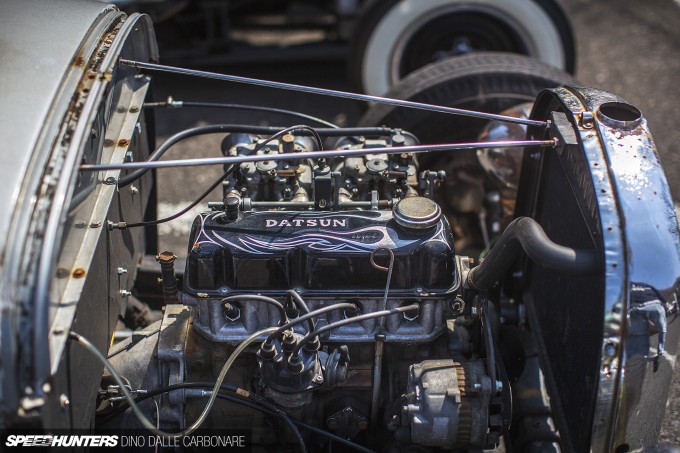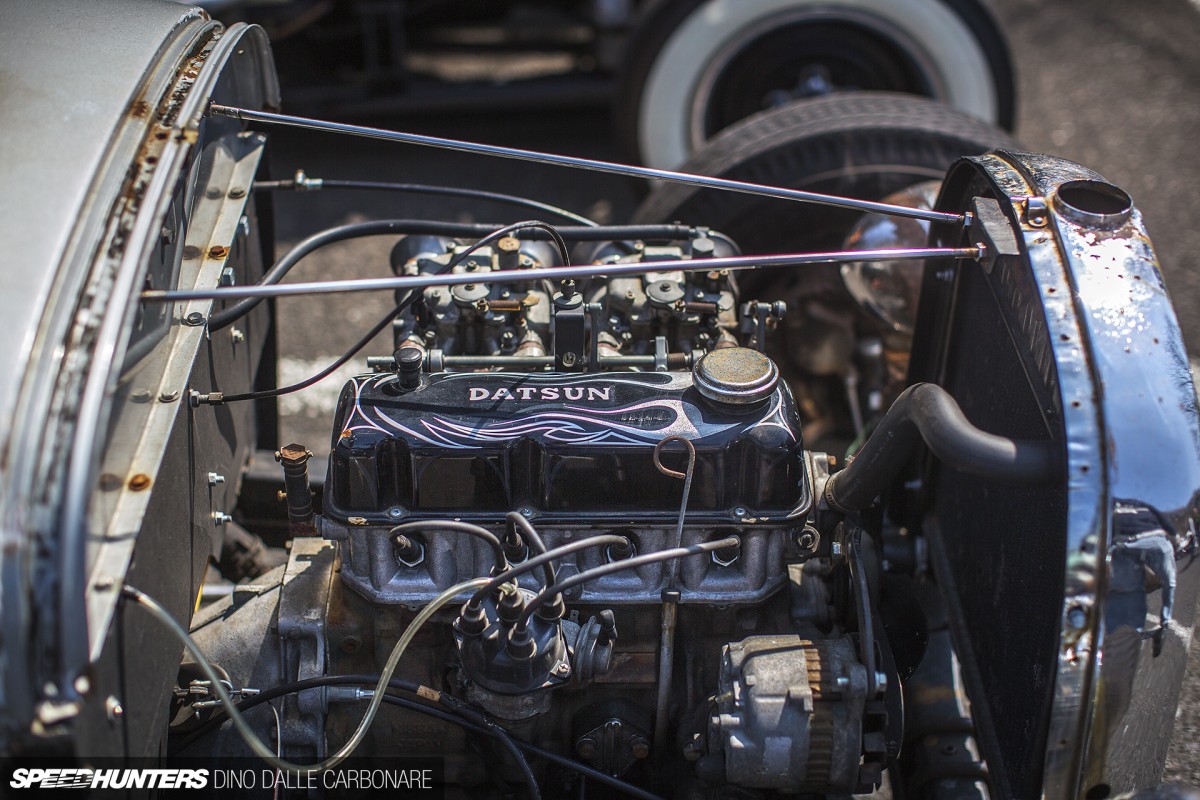 A little Datsun four-banger out of a 510 Bluebird. The owner said it might not be too powerful but it's light so it makes his car quite a fun thing to throw around. That's what hot rodding is all about right?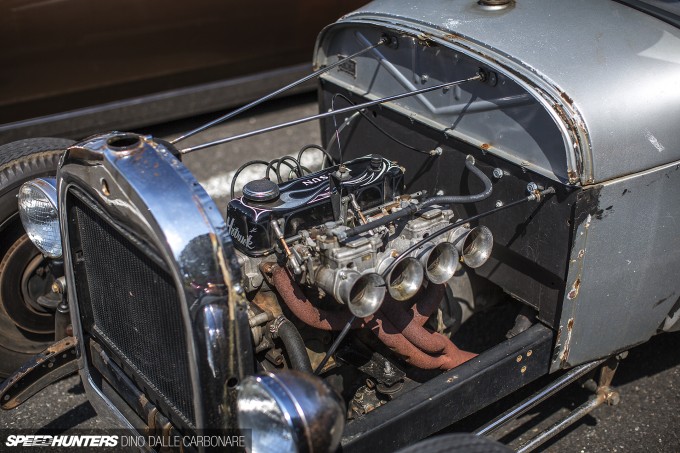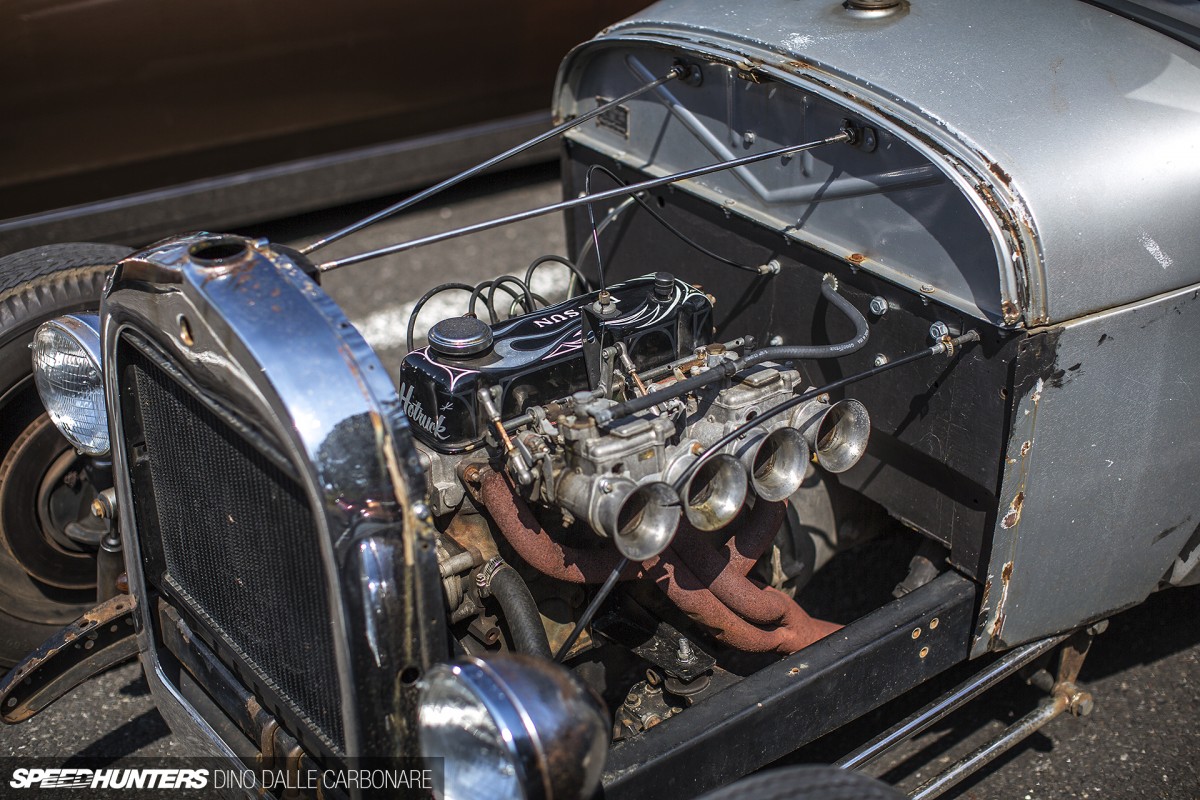 Along with the motor, the Datsun 510 transmission was also swapped over for a full Japanese-spec driveline.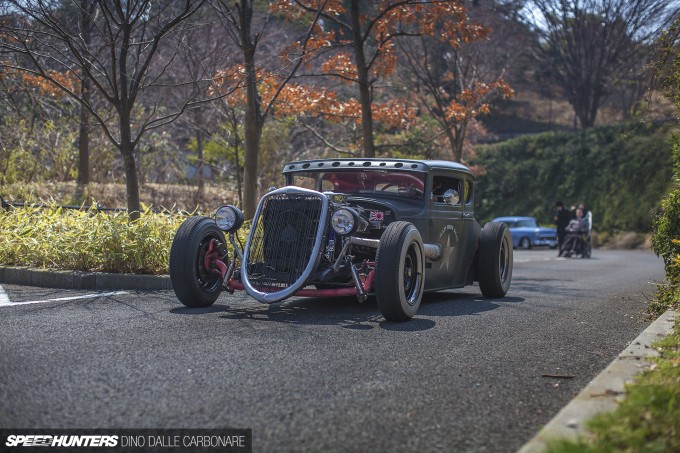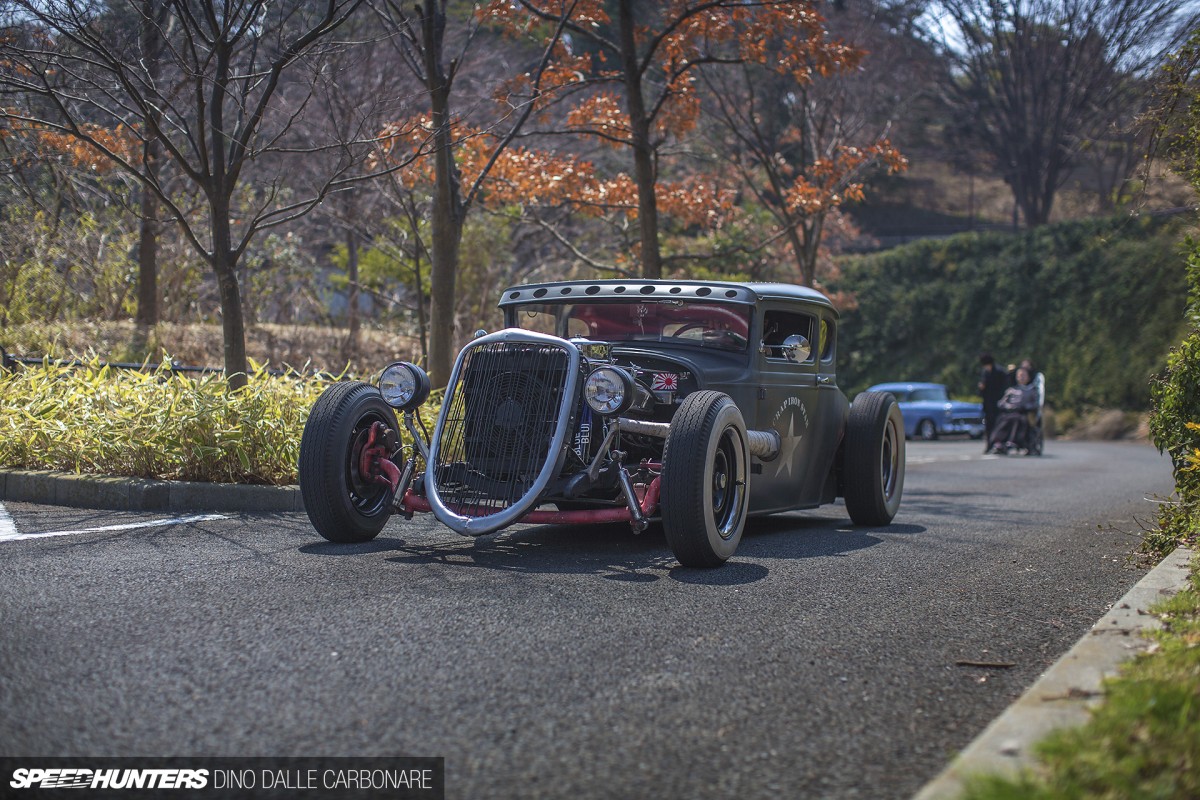 I'm sort of glad that Razzle Dazzle happened to get delayed as if it hadn't, I wouldn't have had the chance to check out what turned out to be a very unique, almost family-like type of gathering with top quality cars being brought along and paraded. Coming up in a couple of months we also have the Street Car Nationals in Odaiba, so the 2014 Japanese Custom car calendar is just getting started.
Dino Dalle Carbonare
Instagram: speedhunters_dino
dino@speedhunters.com