Ready to Dazzle
The Mooneyes Japan crew has been trying to put on the yearly Razzle Dazzle meet at the Honmoku Hill Top Park since late January. An unexpected snowstorm made sure that wasn't going to happen, and then earlier this month the rescheduled gathering was called off again as the weather turned for the worst and more snow was forecast. But third time's a charm as they say, because Sunday morning just gone, hot rod and custom guys really couldn't have hoped for better weather.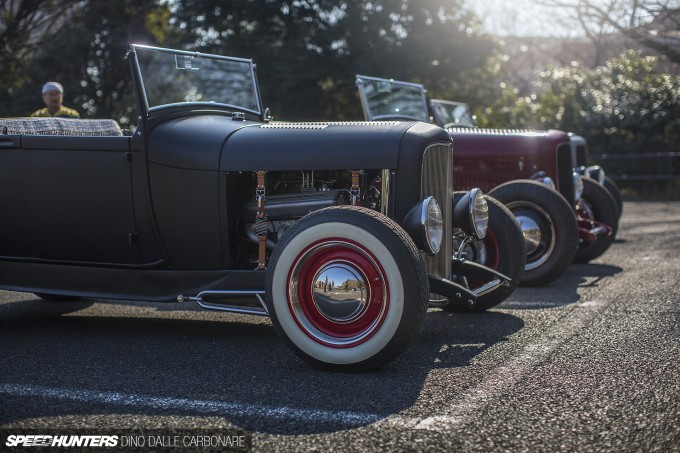 With slightly higher temperatures and that welcome whiff of spring in the air, it made getting up at the crack of dawn that little bit easier, and like every meet I head to on the weekends, I always try to get there way before people start actually arriving.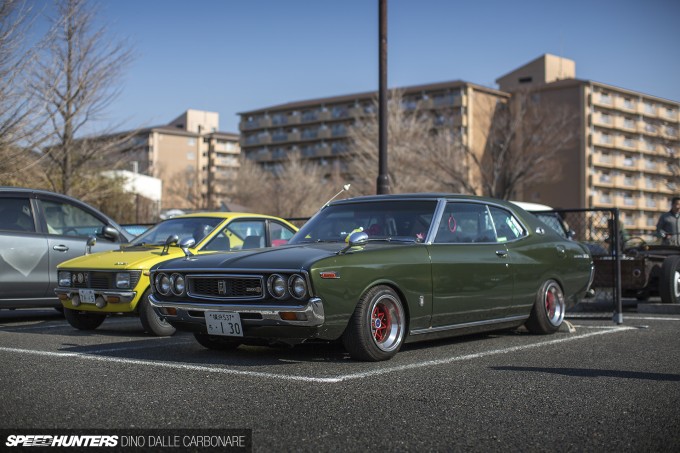 Why? Well aside from the fact that in most cases it's the only and best way to beat traffic in good old overpopulated Kanto, for me it's the best part of the day – seeing, hearing and smelling the cars rolling in. I met up with the Mooneyes crew at Area-1, dropped off my car there and then as they all took their cars up to Honmoku Hill Top Park, I walked across the main street and up towards the koen, taking a stairwell up to the car park that every year hosts the event. There were literally only a handful of cars there, starting off with this little JDM selection. The second generation of the Laurel really does it for me. If I had to pick a kyusha to buy right now, I'd definitely get a C130 butaketsu (pig's butt). It sums up all that is great about Japanese cars of that period and it looks so sick lowered on a set of pretty much any vintage rims you care to mention!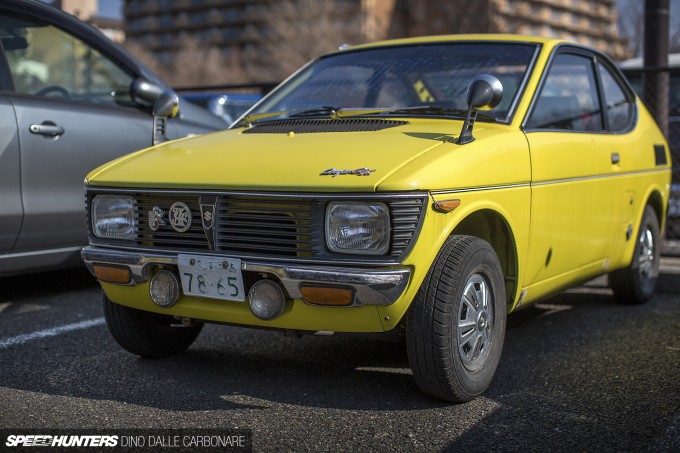 From one of the biggest seventies Japanese coupes, to probably what was one of the smallest! You just don't see Suzuki LC10W Frontes around, so this was quite a surprise. A very cool-looking car, and that's probably because it was designed by Giugiaro. Is it just me, or don't Japanese manufacturers really need an infusion of Italian or foreign design, to spice up the somewhat uninspiring line-up of mundane cars that make up the majority of their arsenal today? The answer is yes of course, or by 2020 every car on Japanese roads will be a hybrid minivan.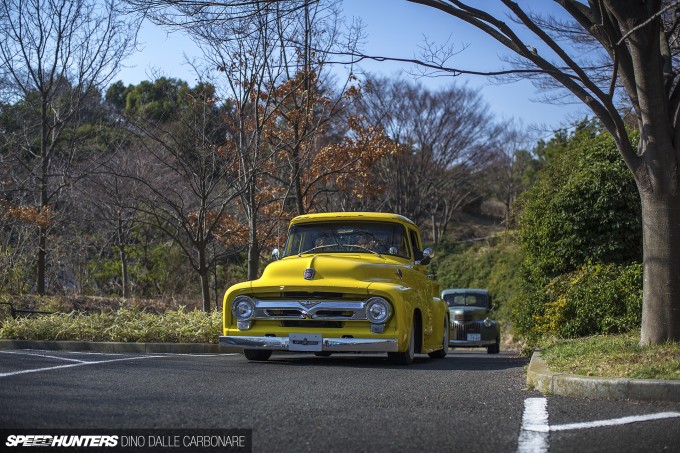 And you know what? It was a little after the inflow of customs cars and trucks started rolling in, that this sentiment kept resonating in my head. Not only regarding Japanese cars, but also American rides. The more you look at older cars, the harder it is to keep questioning what on earth happened to design, or rather the lack of individuality. It's like there's no more excitement in the majority of cars out there, and that's just plain wrong. But anyway, enough with my ramblings. There was plenty more to see by about 9:30am…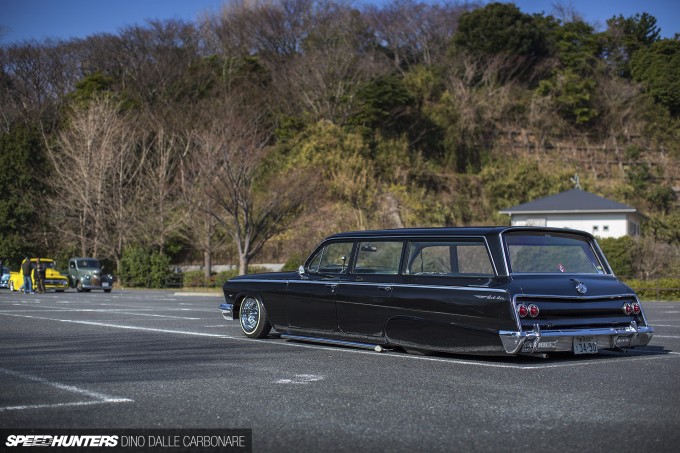 When applied to car guys, the saying 'the early bird catches the worm' is sort of turned to 'the early bird catches the parking spot', which is what was going on as the first few people arrived. The idea is to grab a good location and hold a few other spots for your friends, maybe part of the same club or owners of the same model car you drive. My attraction for wagons made it hard to stray too far away from this mean black Bel Air; it looked so cool with the closed off rear fender skirts and pretty much resting its rails right on the ground.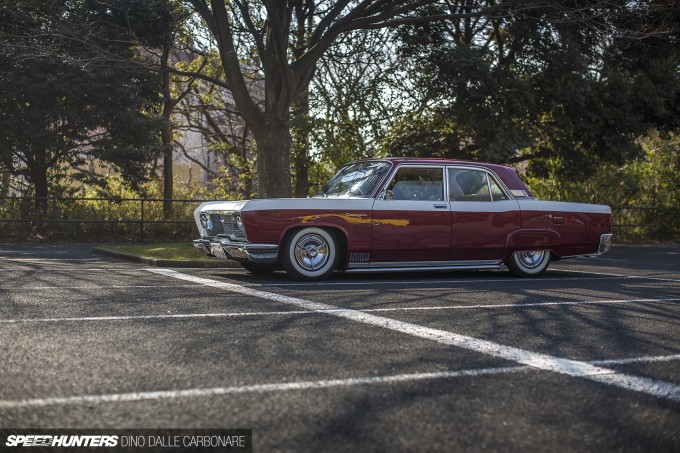 With the arrival of this Mitsubishi Debonair, the JDM corner had begun to take form. Back in the day, before MMC was just another creator of generic entry level city cars with as much brand identity as a white roll of toilet paper, they used to knock out some pretty cool-looking rides, including this massive luxury sedan. The Debonair was the car that company presidents would get chauffeured to and from work in, and now that Lincoln Continental-like profile is pretty sought after by custom guys.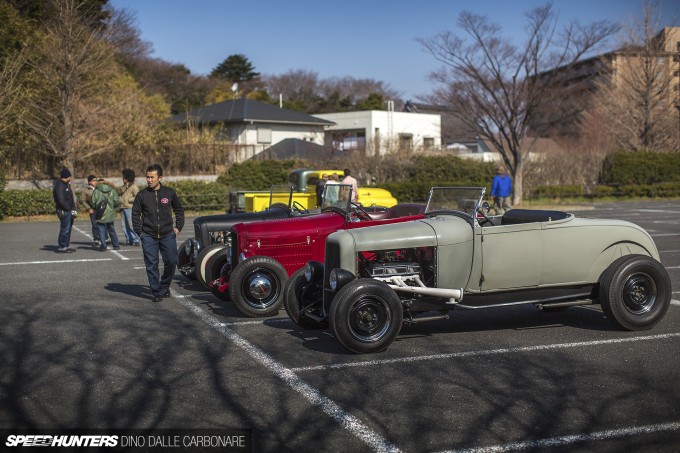 It wasn't long before a few hot rods started arriving; next to the red one, you can see Matsui-san of Mooneyes, aka Kid Rocker, whose own '29 Ford I featured last year.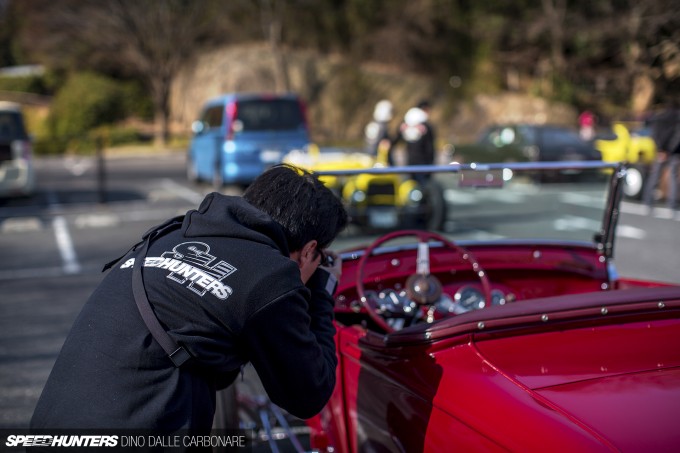 Last year's Razzle Dazzle event was covered for us by Hiroaki Kageyama from The KAGE Blog, who is never too far away from a hot rod and custom car event in Japan. He was also modeling a rather nice and still very rare hoodie in Japan!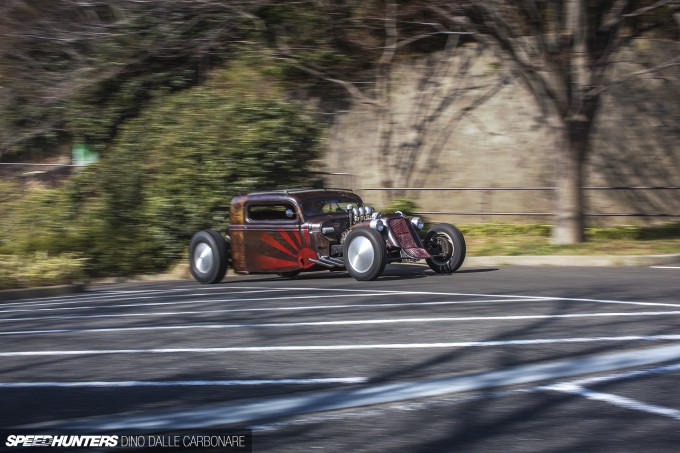 For such a big city, Yokohama is so wide open and spread out compared to super-cramped Tokyo, so even if we were in the middle of the Honmoku neighbourhood, it was all so quiet and serene at that time of the morning. That's until the Pumpkin Sally built 1935 Ford pickup rolled in!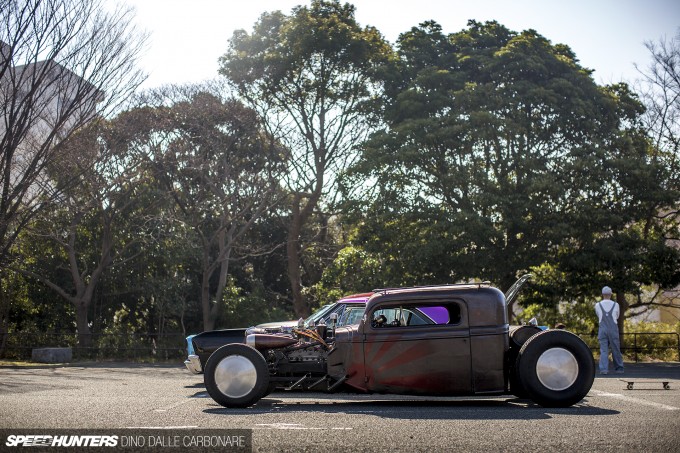 This thing is known for being 'the hot rod with no name'. Maybe I should do a feature on it before they sell it off.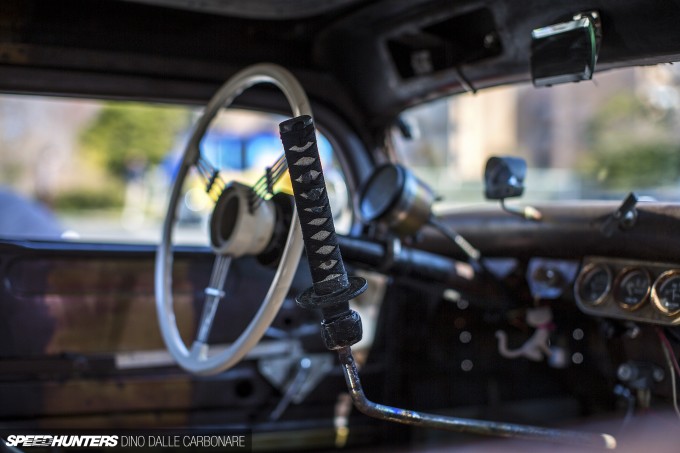 The Japanese sure know how to embrace styles and make them all their own. Check out the katana-grip shifter inside the Pumpkin Sally rod!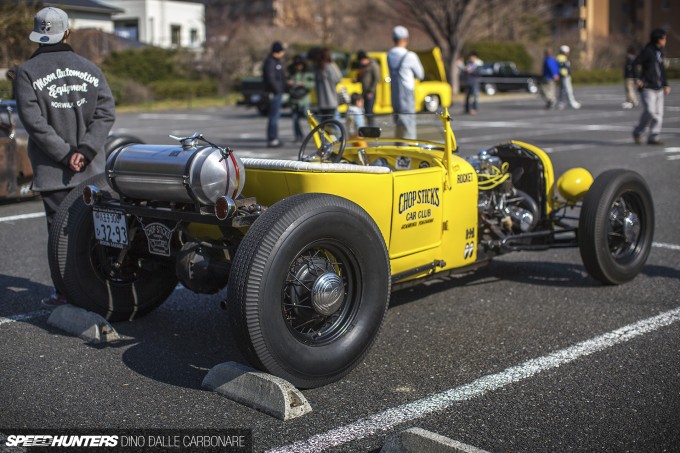 And talking of hot rods, one of the first ones there was the Chop Sticks Rocket which is pretty hard to miss thanks to that bright yellow paint job.
Whatcha talkin' 'bout Willys?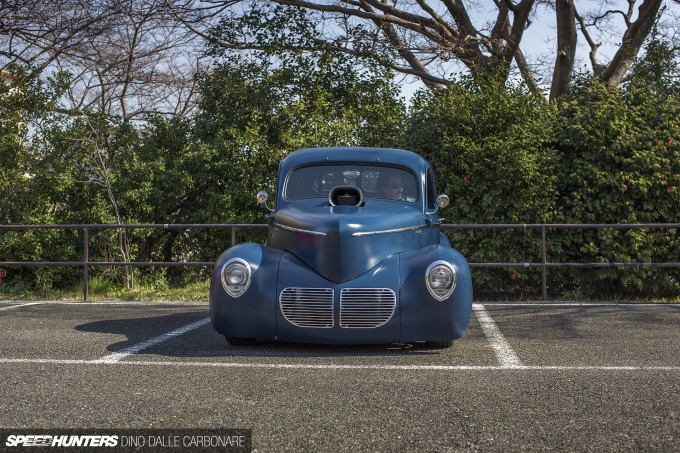 The Willys Coupe is a rare and very pricey hot rod base in the US, so just imagine how much this split grille one all the way in Japan must be worth. We've been seeing this particular car for years at Mooneyes events, but it's just impossible to stop looking at it over and over again.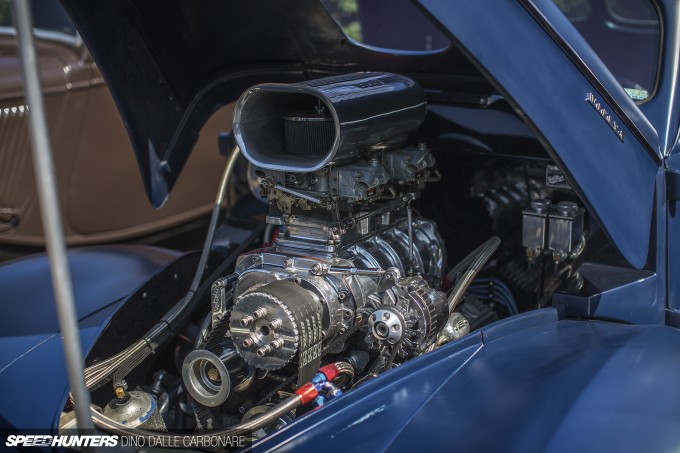 Under the hood it packs some serious power and most of the cabin is stripped out with a half-cage protecting the driver in case the unthinkable happens during a drag race.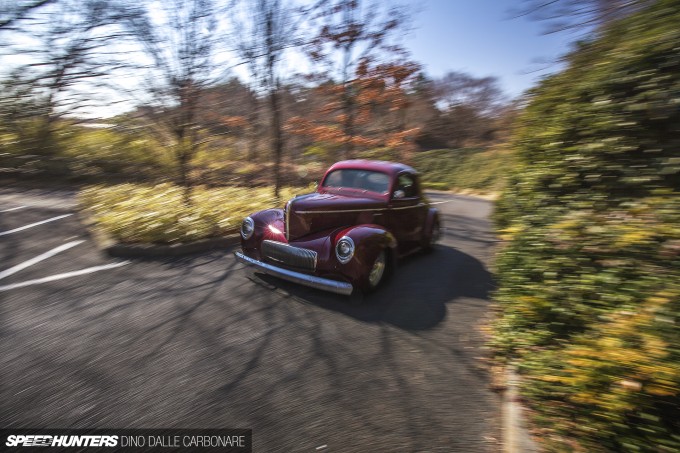 Right behind it, this other Willys arrived!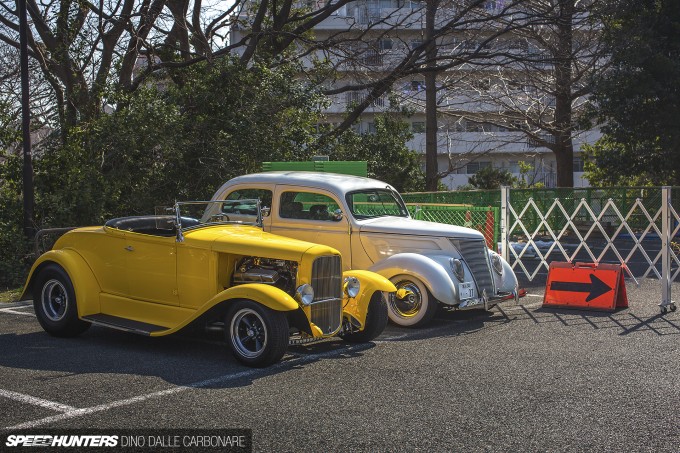 If you had to choose, what would it be: roof or no roof? On a day like yesterday morning, it sure was a hard choice.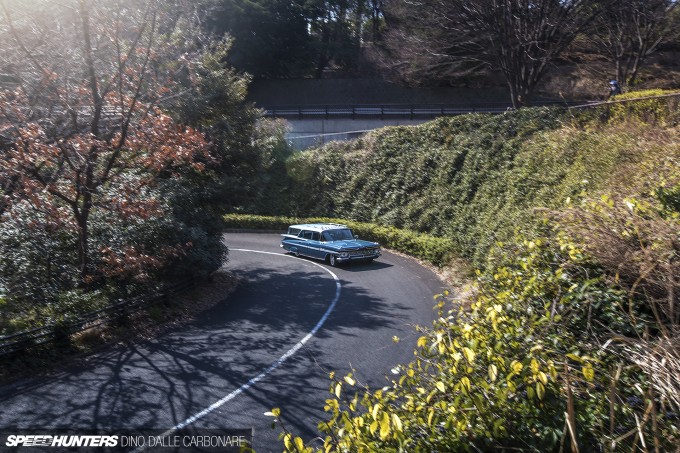 The road that leads up to the hill-top parking lot is quite picturesque at this time of year, and with this rather particular stream of cars rolling in, I thought I was no longer in Japan for a split second.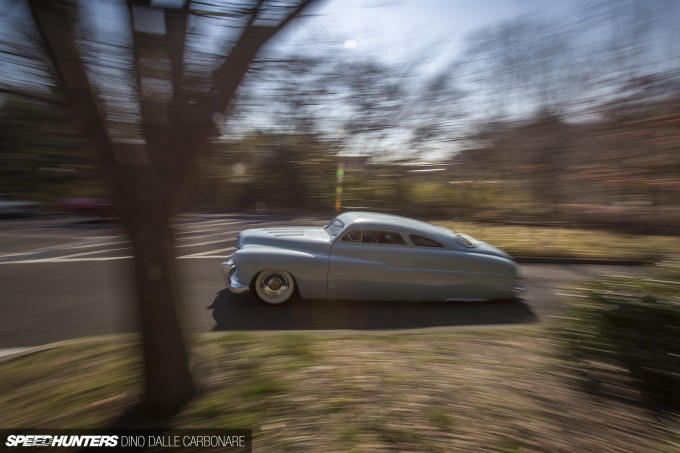 Right after the massive Chevy station wagon in the previous picture, this roof-chopped Mercury made an appearance.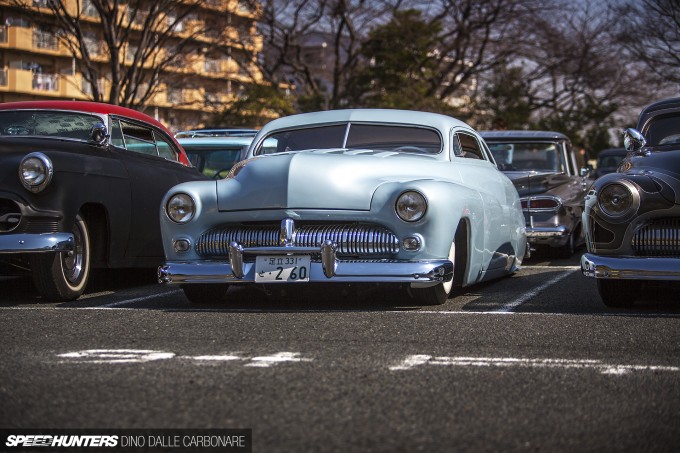 Naturally I had to go for a closer look. Stunning!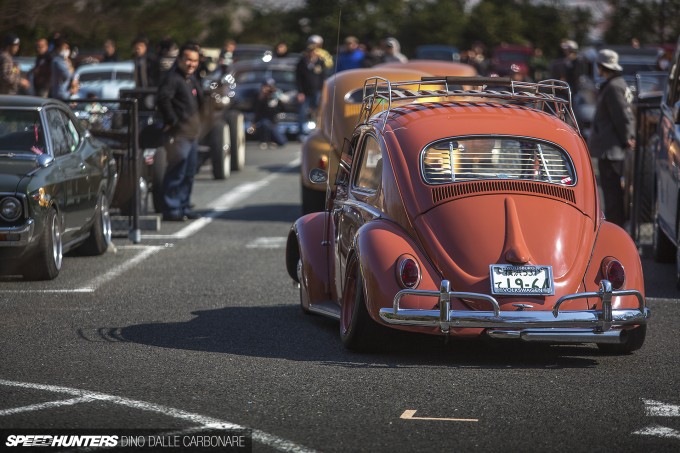 By 10am it was taking longer and longer for people to park up as spots were harder to find. Check out this dumped Bug. Is that onikyan I spot back there?
Keeping the style alive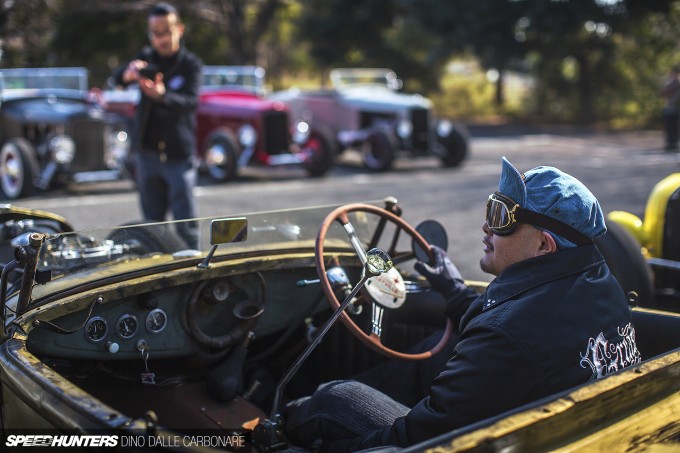 Like anything the Japanese get into, custom cars and hot rodding are more of a lifestyle choice than a hobby, and as you can imagine, personal style is just as important as the vehicles themselves.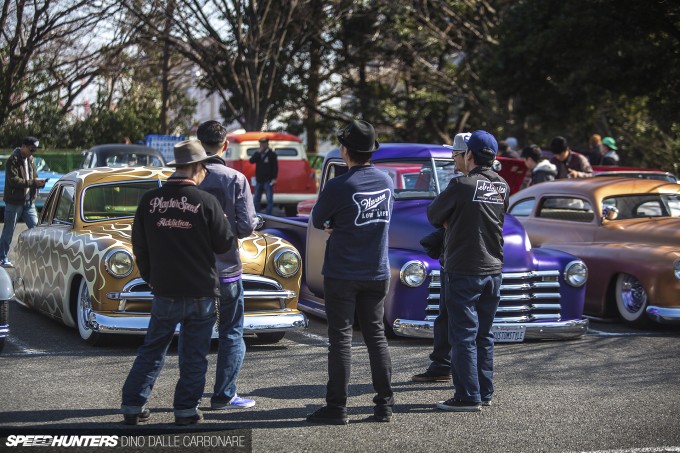 Club jackets, jeans, work boots or sneakers are a bit of a must, as is headwear of course.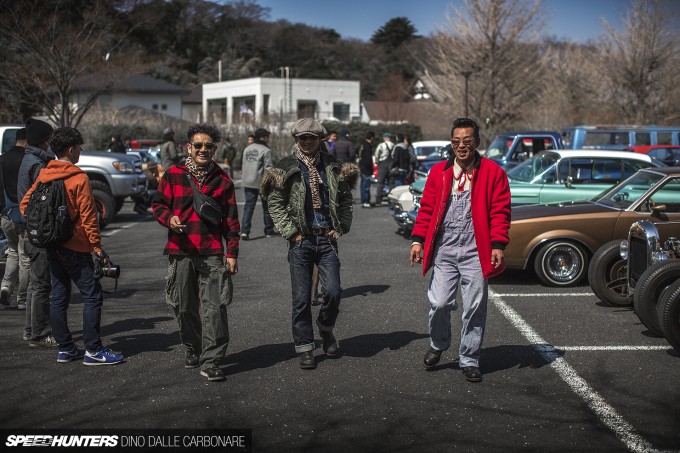 Failing that, you can always go for the trusty overalls and slicked back hair – if you're lucky enough to still have some on your head!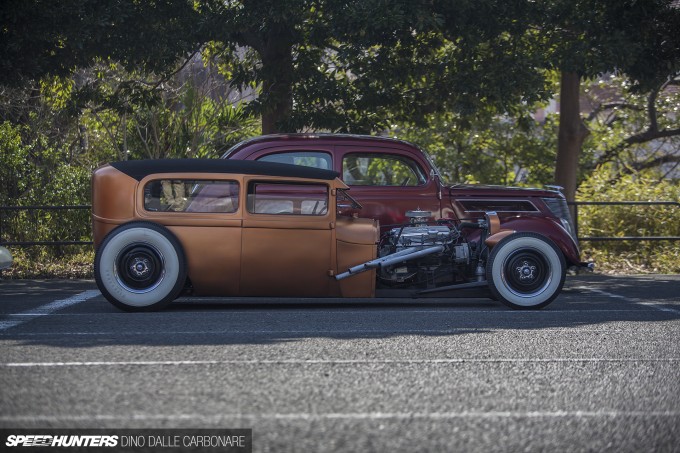 I very much like this approach to rodding; I mean if you're going to go out of your way to create something so cool and unique, at least make sure there's space in the back to carry your whole family! Check out the wheelbase on this bad-boy!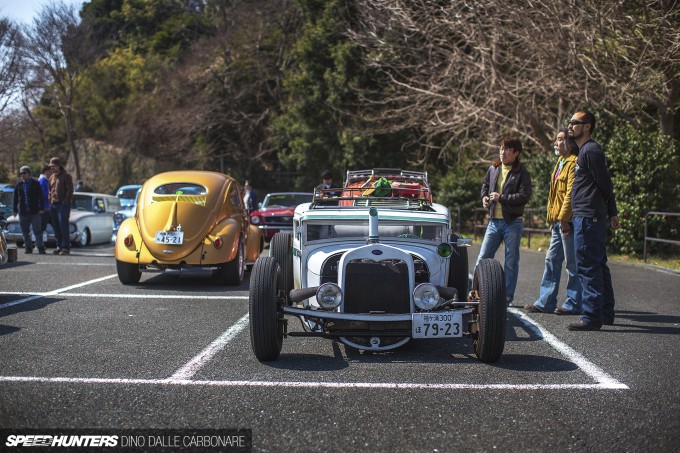 Oh yes and let's not forget allowing the possibility to carry miscellaneous things; a roof-rack is definitely a must.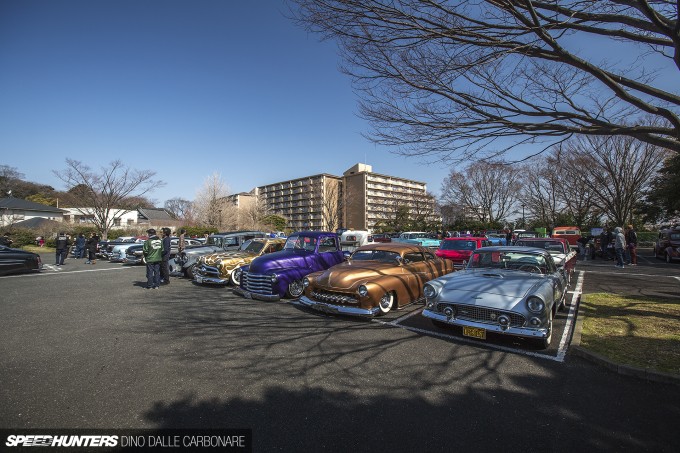 By mid-morning, things were looking positively inspiring, with an impressive selection of some of Japan's baddest and coolest custom cars all grouped up in this little spot on top of a hill. Even a Thunderbird made an appearance.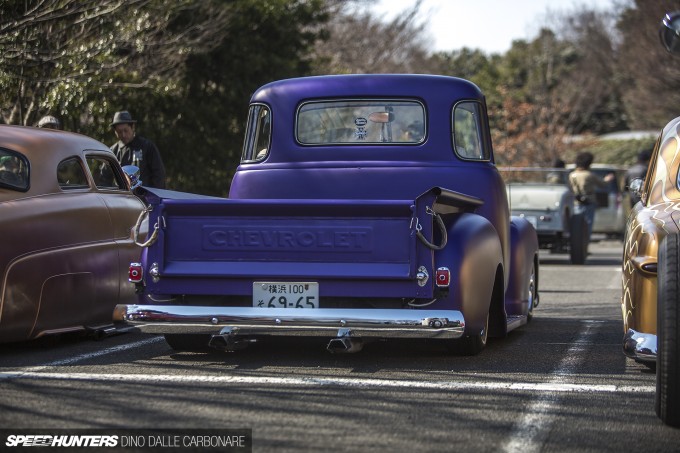 And for those that like to haul things, there were plenty of cool trucks to check out too, like this flat purple Chevy.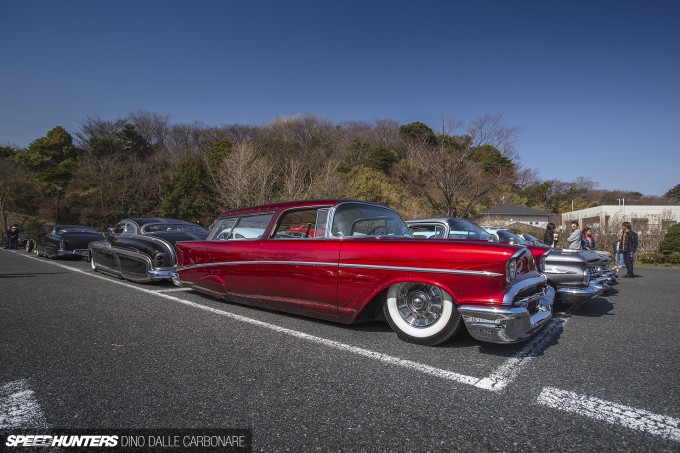 If I had to do some hauling in style however, this is the car I'd do it in. What could possibly be cooler than a two-door wagon – as this candy red Chevy Bel Air Nomad beautifully showed us. Along with a general clean up of the front end and custom paint and airbrushing, the rear fender trim had been filled out and removed as well as rear wheel arch covers put in place to hide those rear wheels away.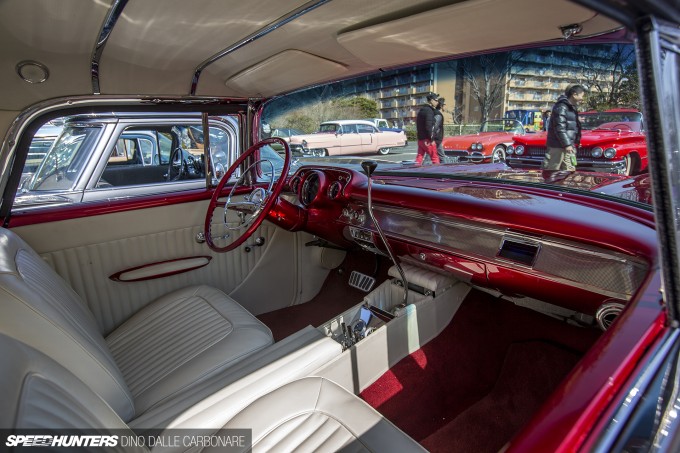 The attention to detail continued inside, with lots of nice touches like the suspension controls hidden away in the center console and that extended shifter.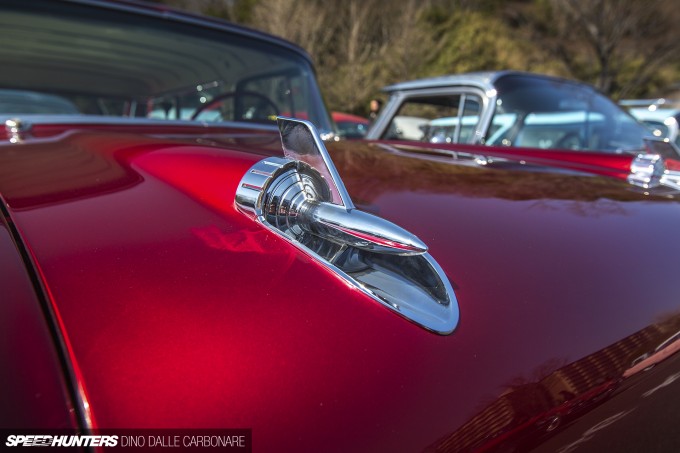 Rocket launchers? Yup, gotta have those!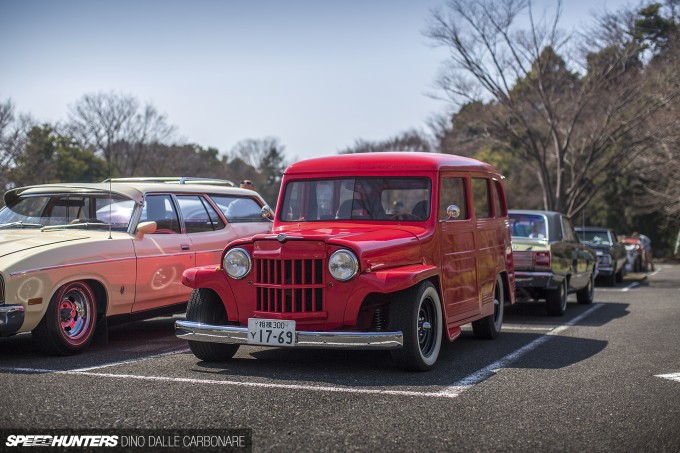 How about this for something different? I first bumped into this Jeep Willys Overland Wagon last year when I went out for a night cruise with the Chop Sticks car club from Mooneyes Area-1. Since then, the owner has fitted different wheels and white-walled tyres which I think look really cool.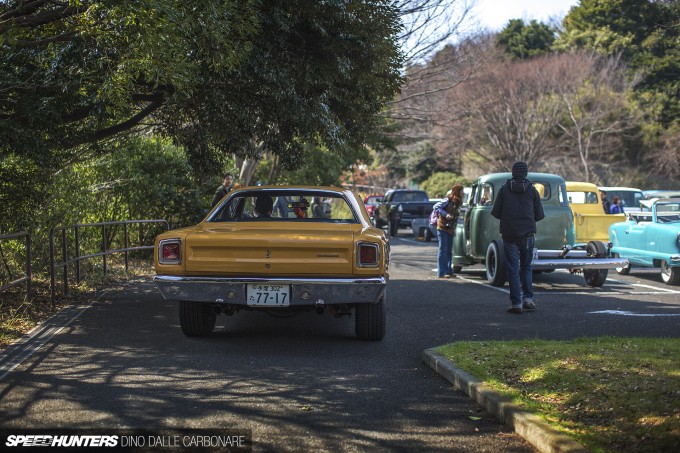 I think I'll end this first installment from Razzle Dazzle here, but make sure you check back for the next part as I've got a lot more to show you, including some pretty wild engine bays and muscle car awesomeness!
Dino Dalle Carbonare
Instagram: speedhunters_dino
dino@speedhunters.com