Hammer time
It's really hard to convey how awesome it was for me to watch rock crawling for the first time. I will never forget it. I just remember thinking that there was no way any vehicle could travel over such obstacles, but I was wrong. Those skilled drivers went over boulders almost twice my height and made it look easy. It takes a certain finesse and like all motor racing, it's about approaching things with the right line. The fact that these guys have to do it over and over again for an entire day, covering 200 miles of desert terrain, makes the King of the Hammers the hardest single-day race in the world.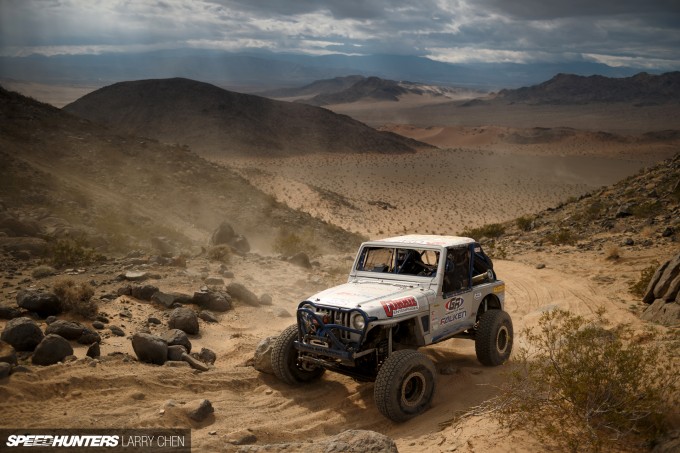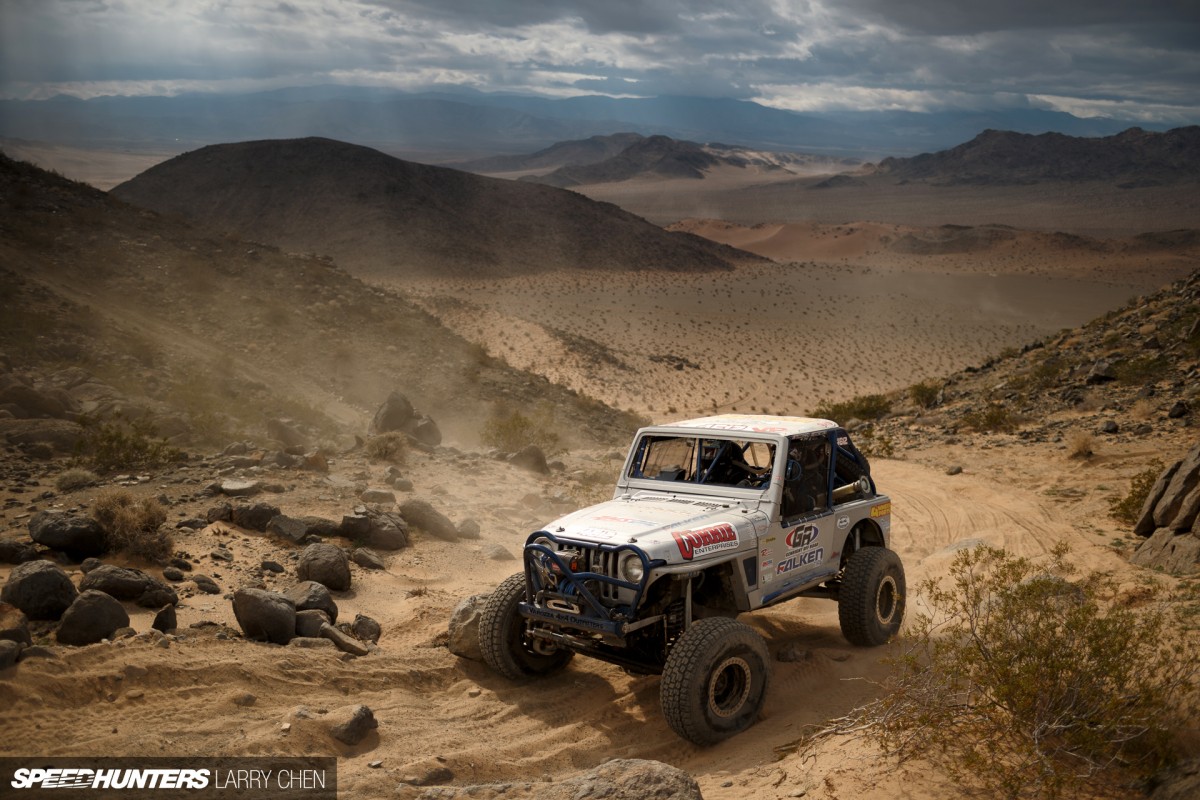 There's a grittiness to it. The race rigs are rough and tough and the terrain is harsh and jagged, but if you take a step back and look at what's in front of you, sometimes you just can't believe how beautiful the scene is. I wanted to show you guys what it was like to be on the sidelines – like a spectator looking into a foreign motoring world…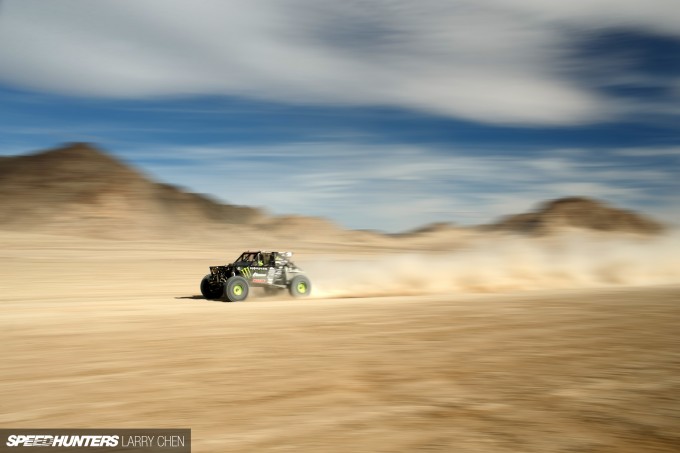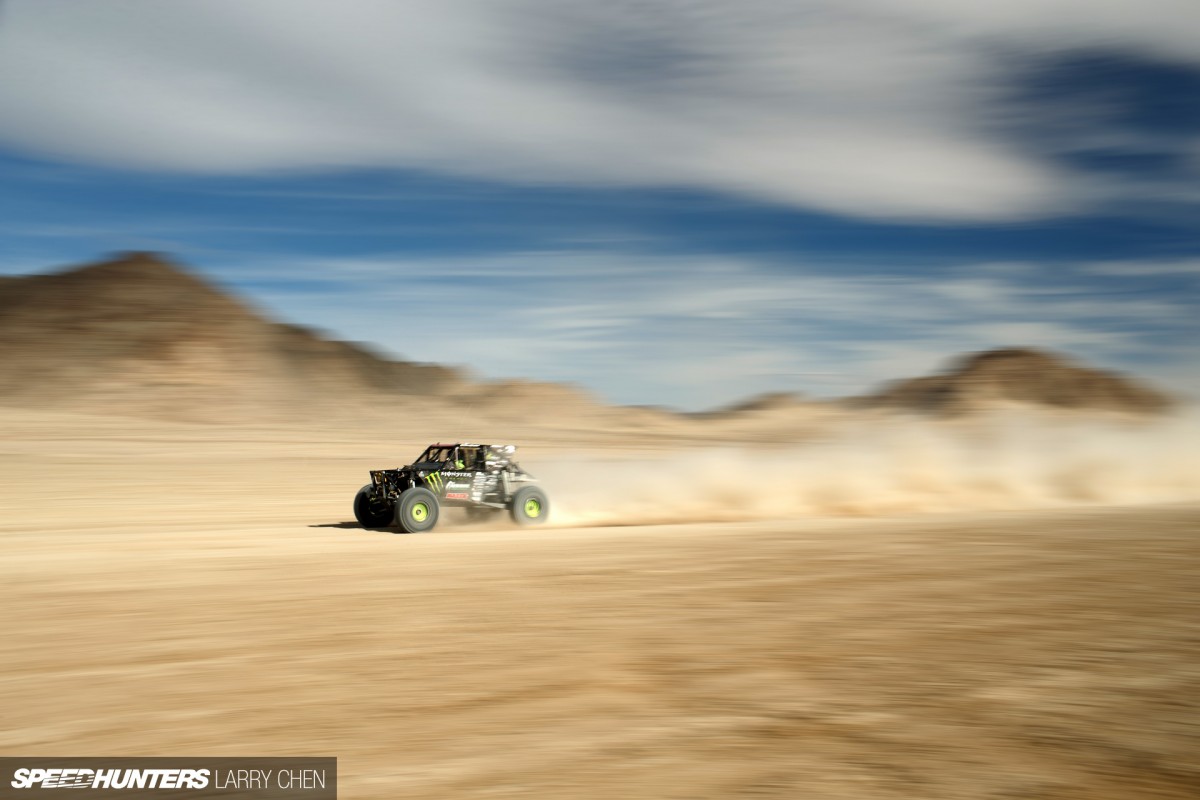 This was my second time at King of the Hammers, but at one point it seemed like there was a chance that the event was not going to happen. Last year, many fans believed the race was being run for the final time due to the expansion of the nearby military base. Apparently they wanted to use the public land to train soldiers for desert combat.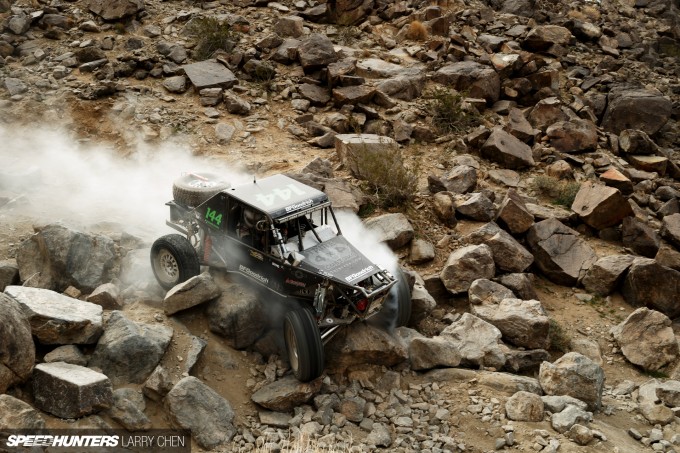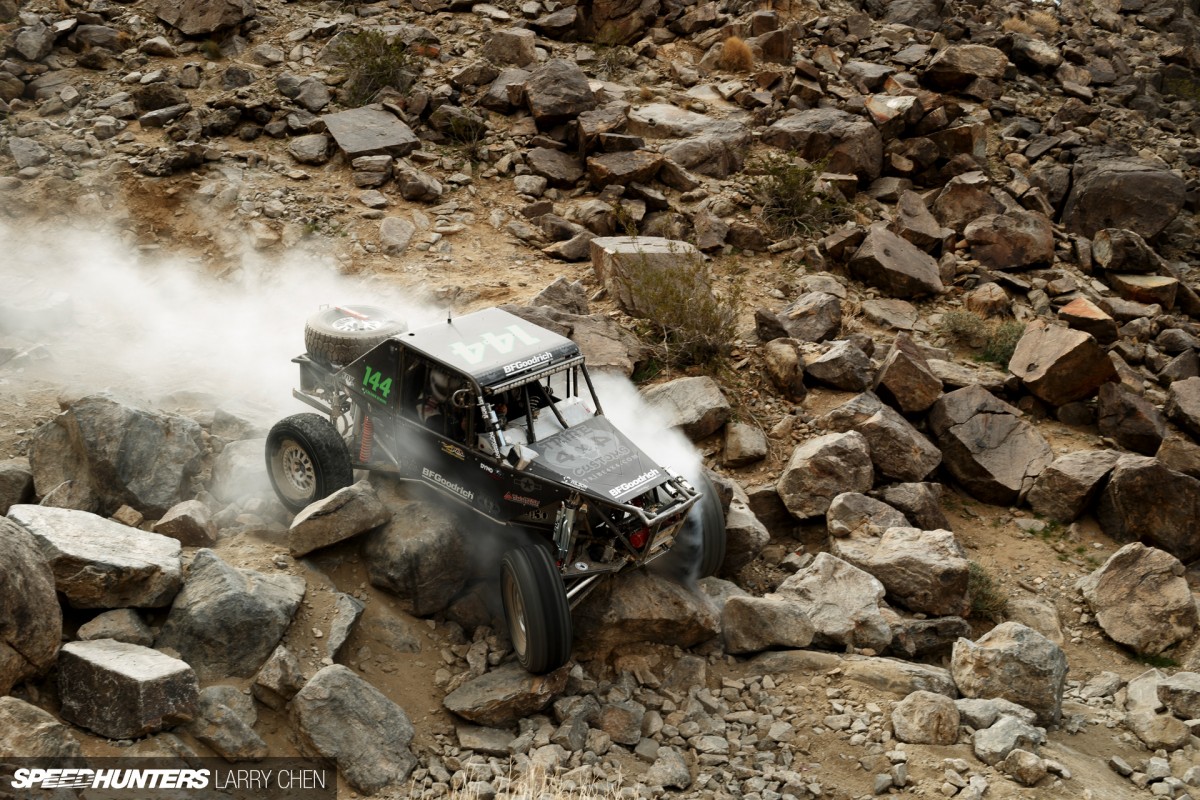 Thousands signed petitions and many within the off-road community put through calls to any government official who would listen to their plea. 'Save the Hammers' was a tough battle but when all was said and done, it worked. One of the greatest off-road races in the world was saved.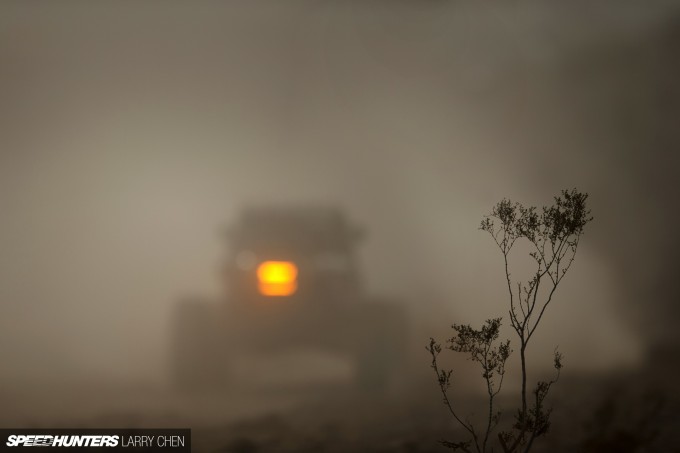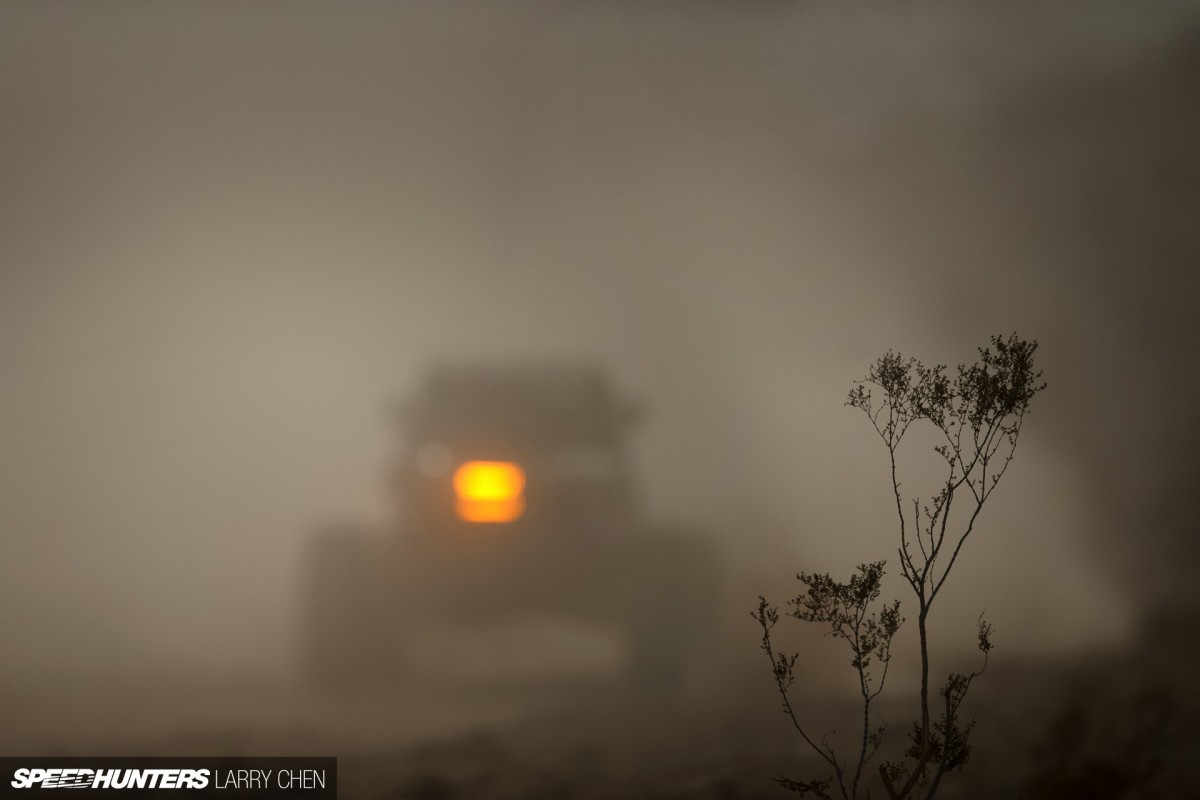 This land belongs to the people and this off-road haven is something that needs to be preserved.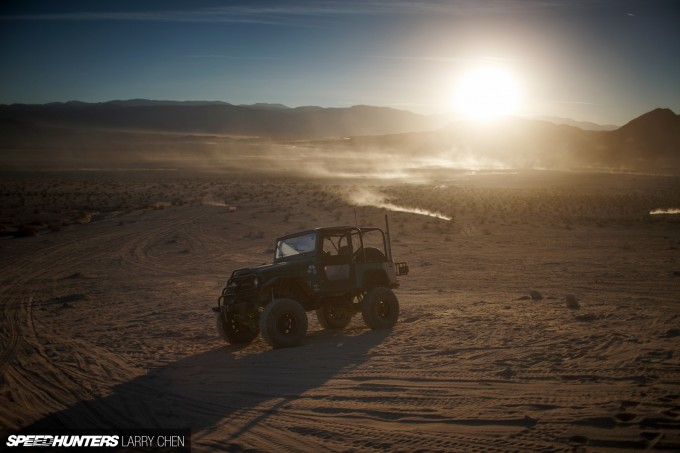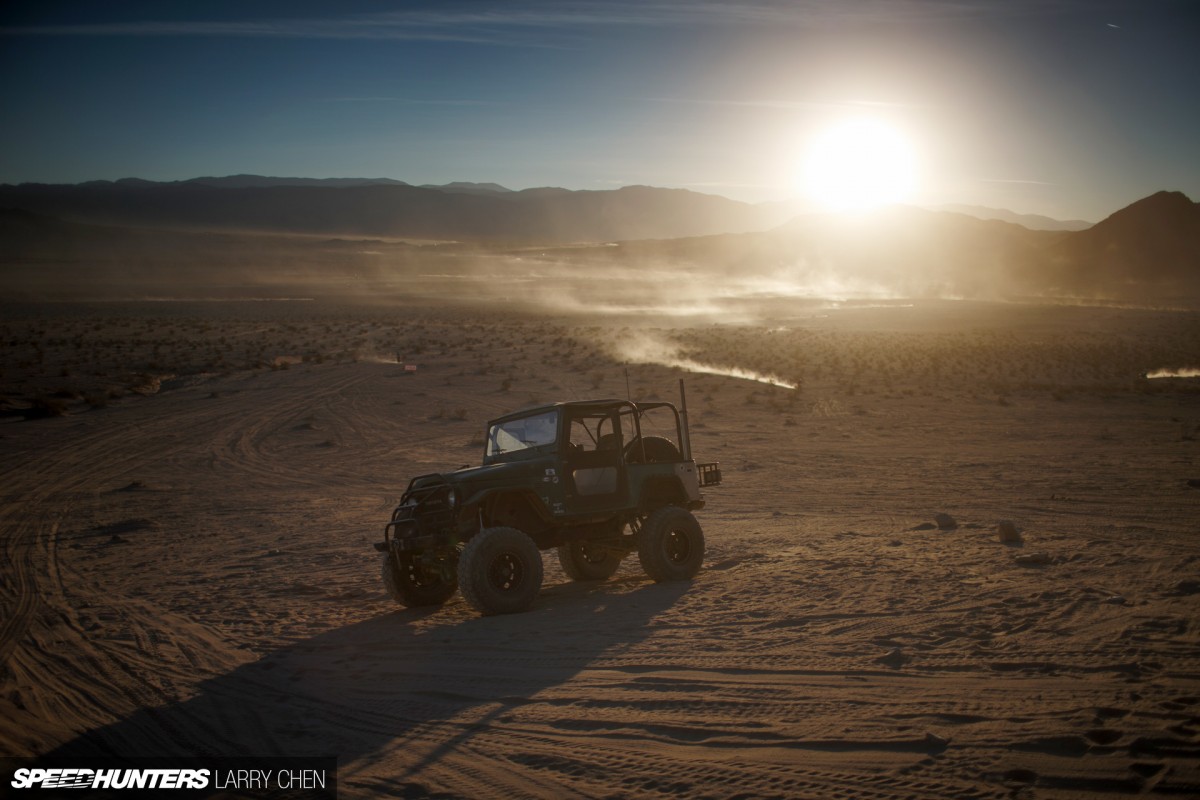 Almost all year round, you can bring your off-road vehicles here to enjoy what nature has to offer.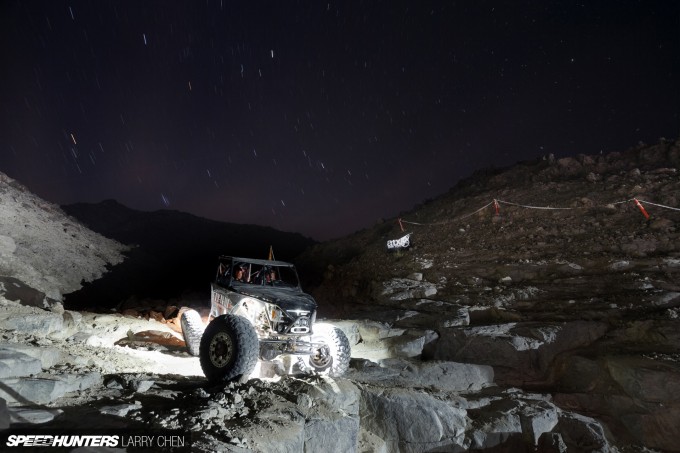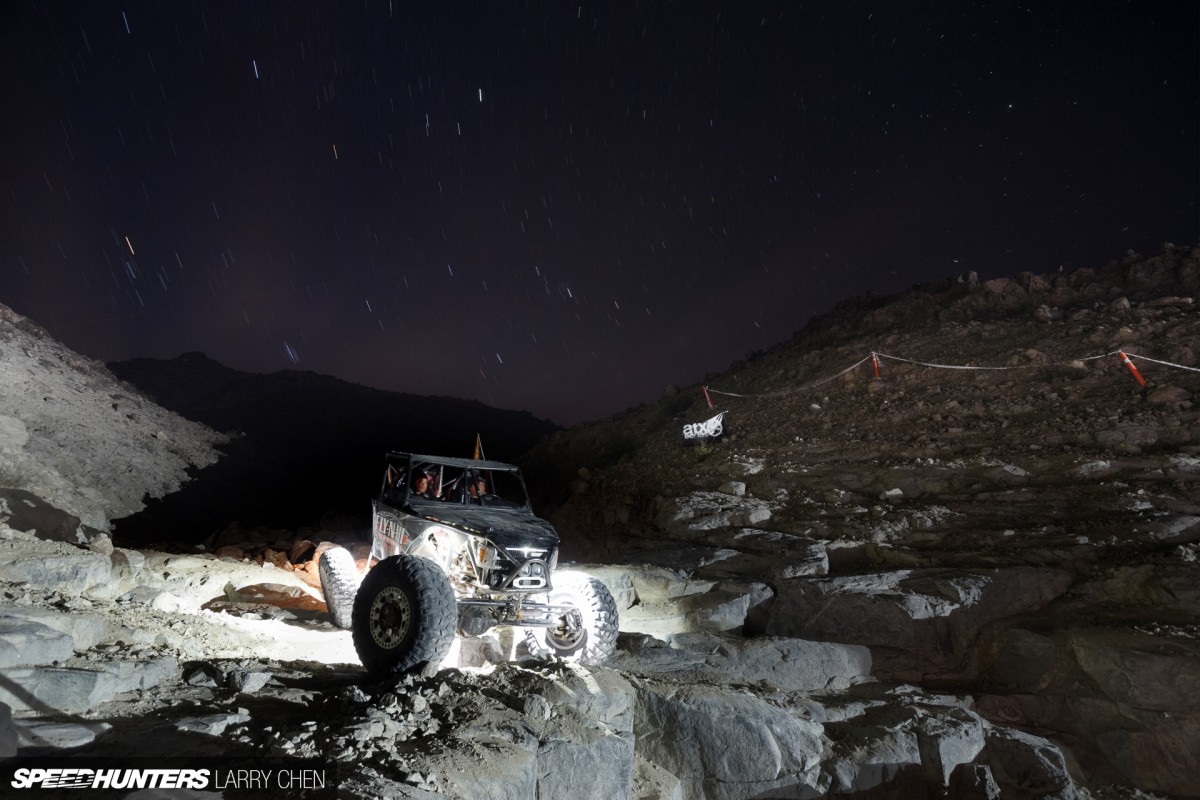 It's disappointing that I only recently had a chance to experience this world. To think that it's been going on for many years just a few hours away from where I lived.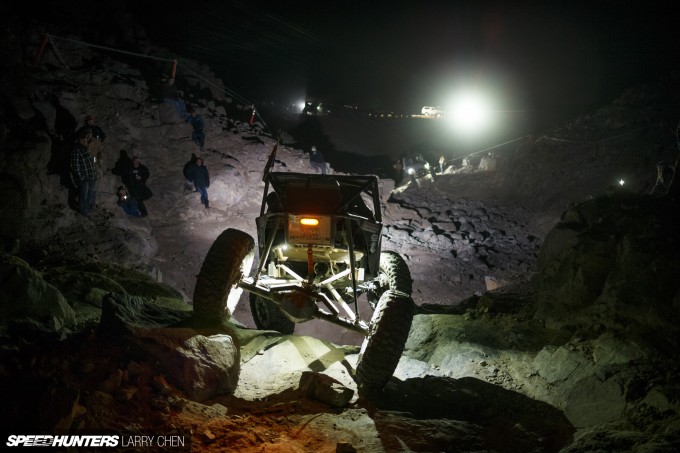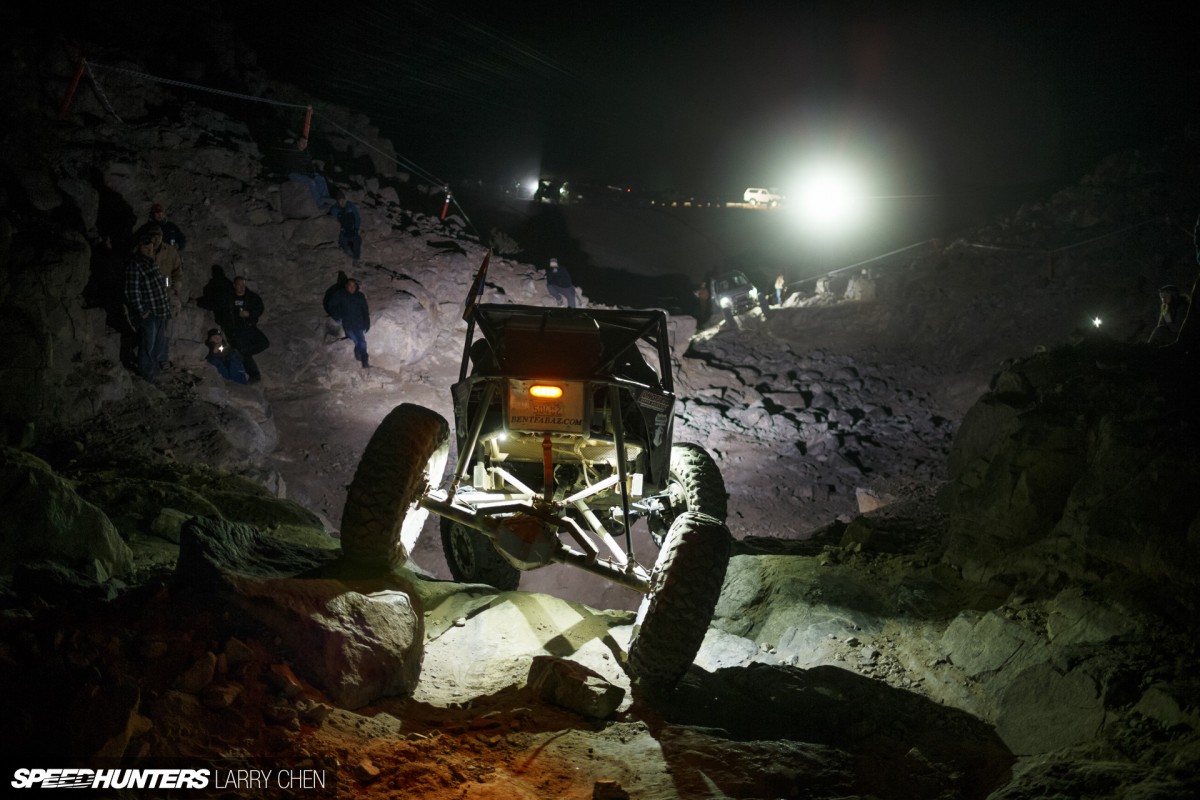 The whole point of Speedhunters is to introduce you guys to interesting forms of car culture that you may not know about. So even though it might not be your cup of tea, you have to appreciate the sheer awesomeness of these rock-crawling rigs.
Not like Baja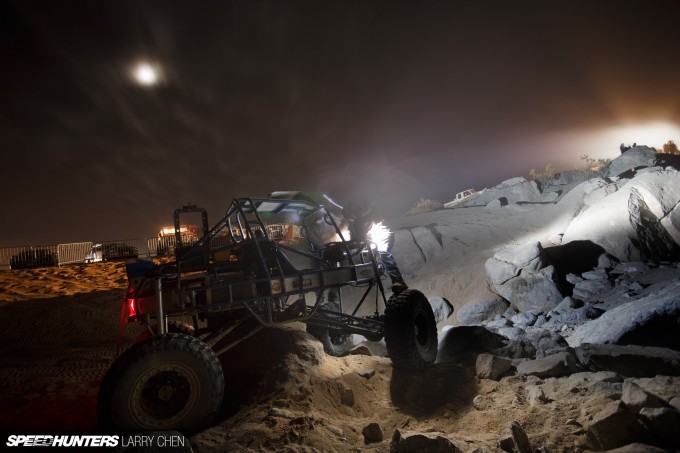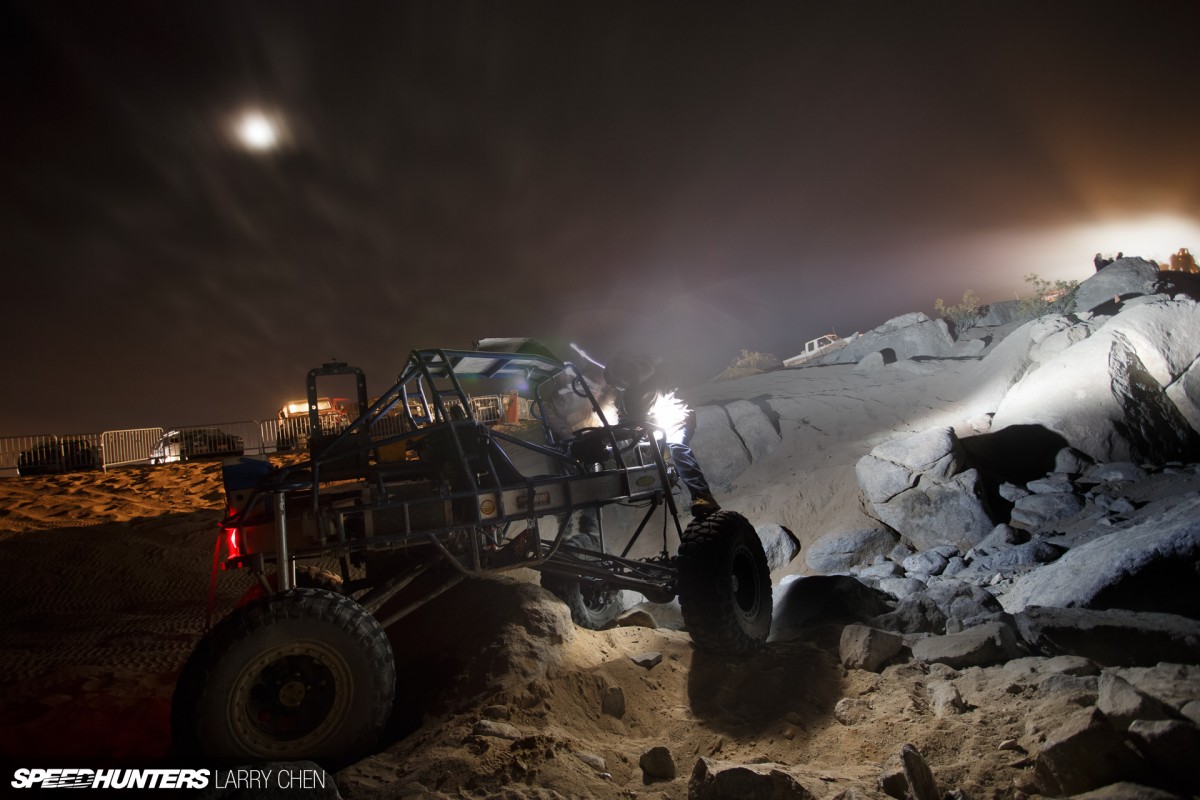 I noticed comments on my social feeds about how King of the Hammers is like Baja 1000, but way slower. But you know what? Those two races could not be any more different.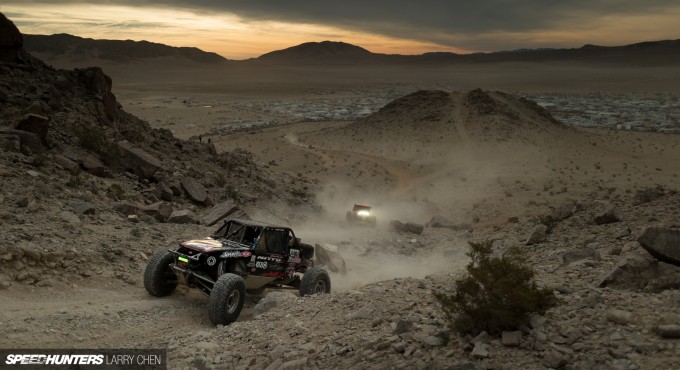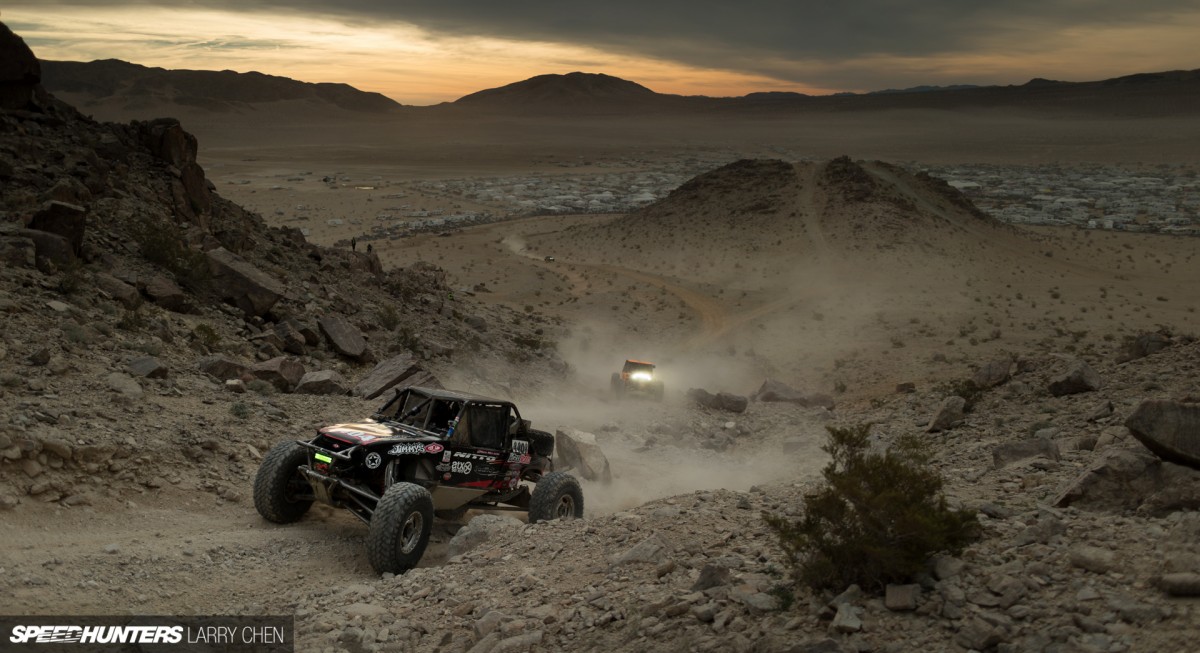 Yes, Baja is all about endurance, speed and distance – which is great. I love watching all types of racing that involve going off-road.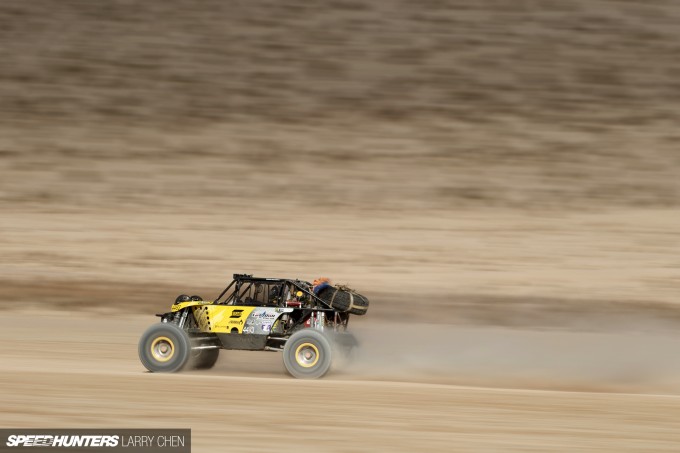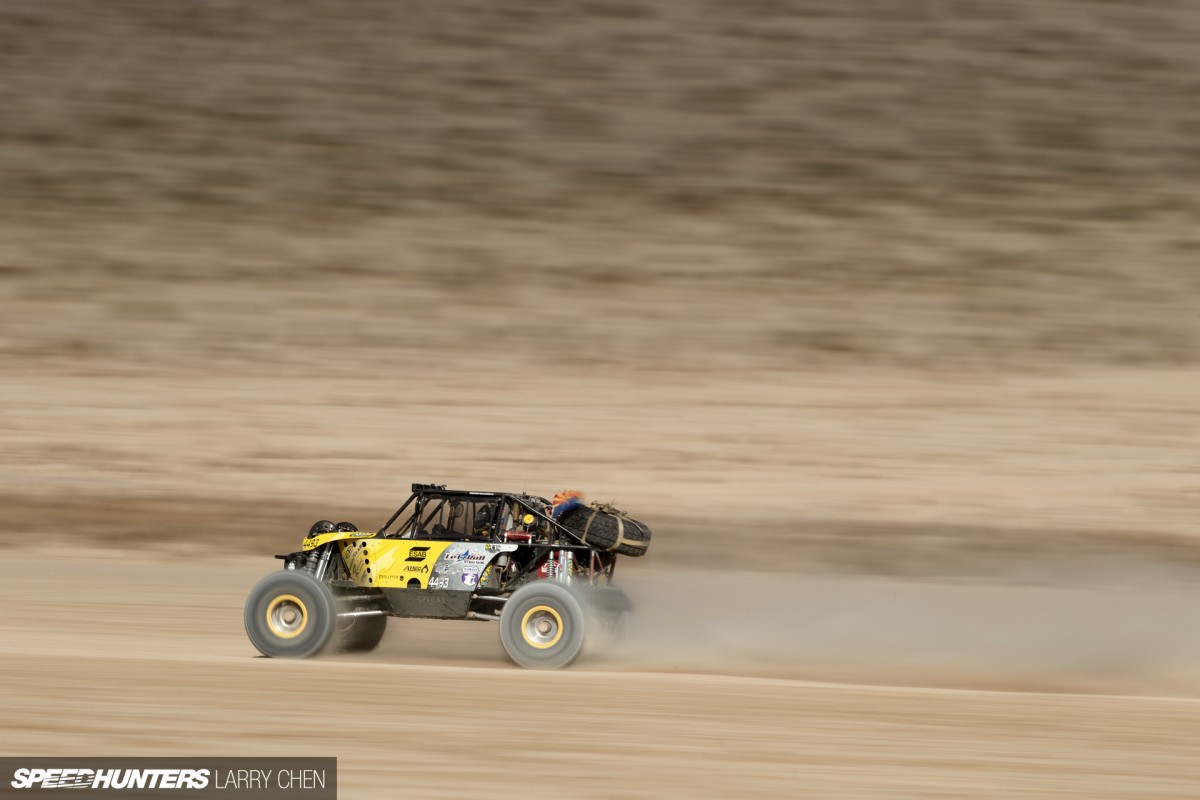 But the King of the Hammers tests man and machine to the absolute limit over the course of 14 straight hours. There's no question that it's a gruelling race. I couldn't imagine driving for 14 hours on public highways, let along crawling through and over some of the hardest rock obstacles you're ever likely to come across.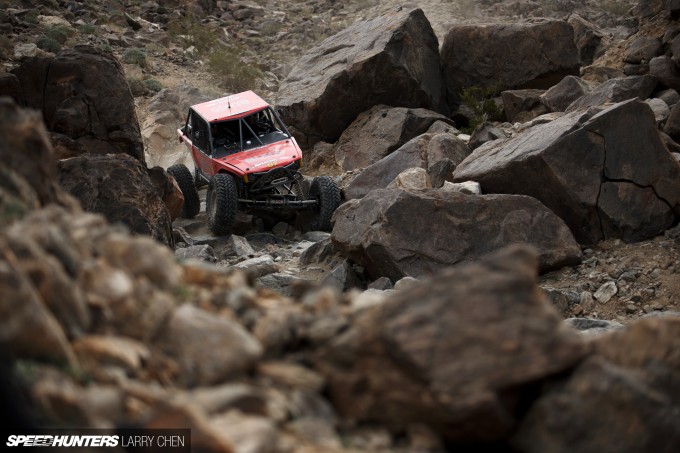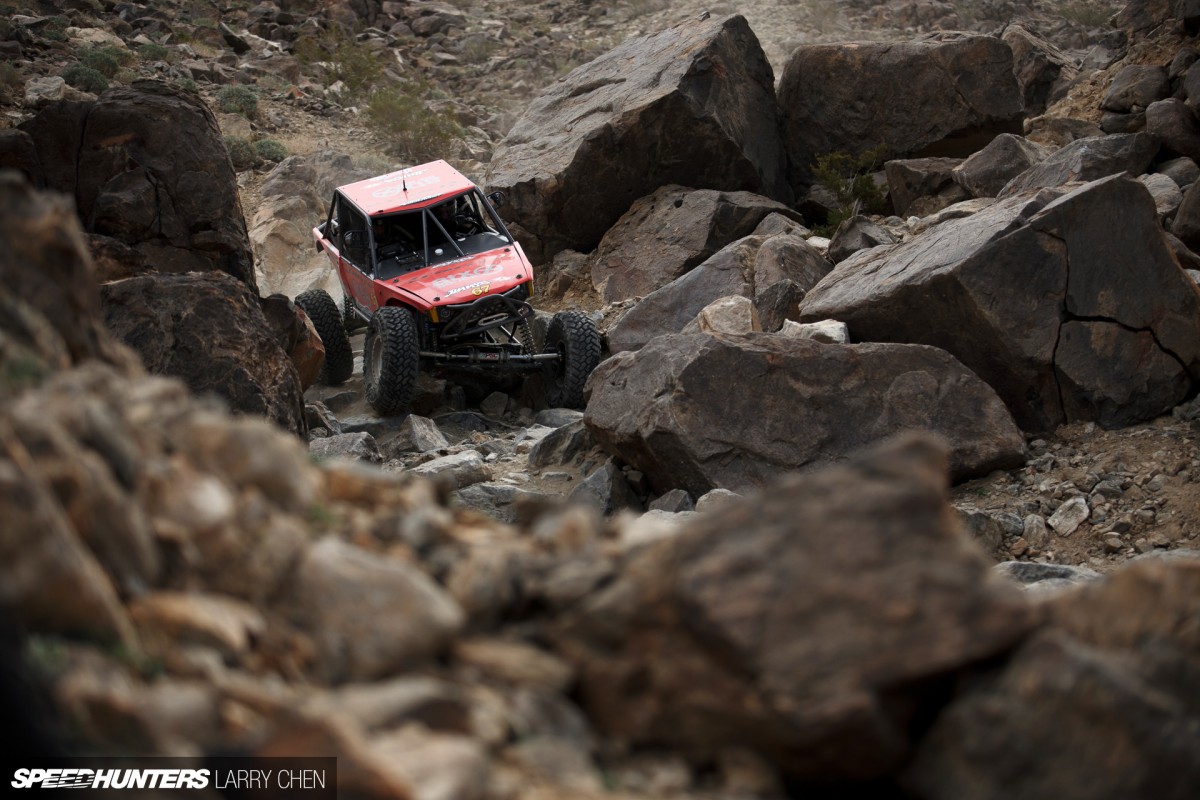 Just ask Loren Healy who took the crown this year. The terrain was so rough that a floor jack attached to their rig came loose and punctured their radiator. They had to limp their way to the nearest pit, where somehow the team managed to slow down the leaking. But after continuing on, they still needed to add water every few miles. Amazingly, after racing for eight hours like that, they finished more than a minute ahead of any other team.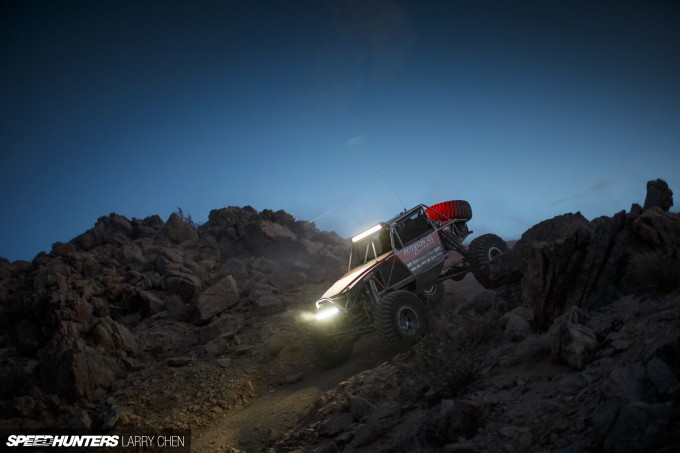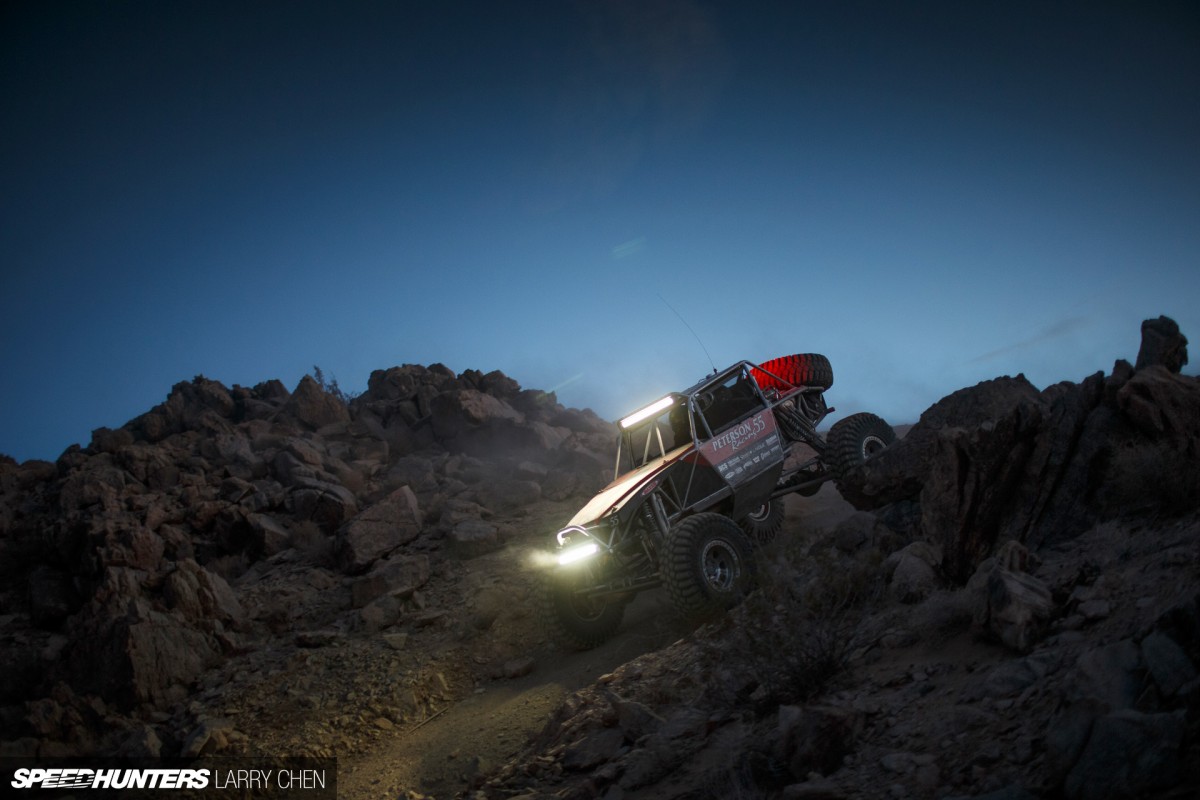 To give you some idea of just how tough this event is, of the 158 drivers who were given the green flag at 8am, only 32 of them had finished by the 10pm cut-off time. That's barely more than 20% of the starting field…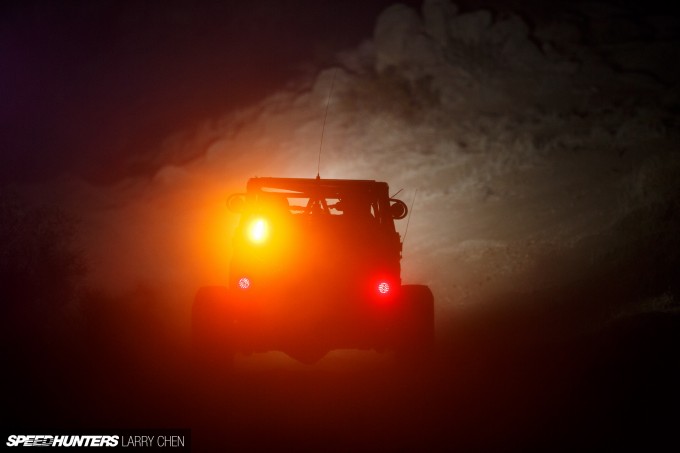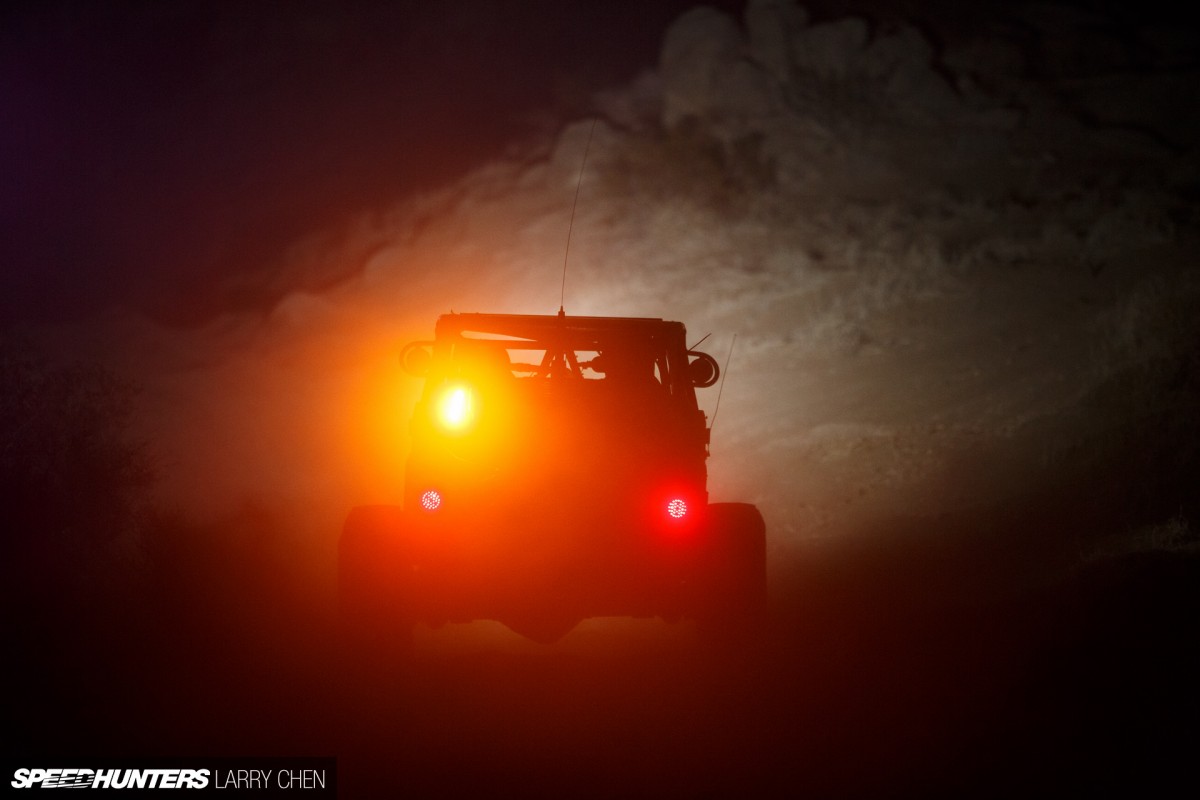 Over half of the 32 finishers had to cross the finish line in darkness. But really, just finishing the race is a win in itself.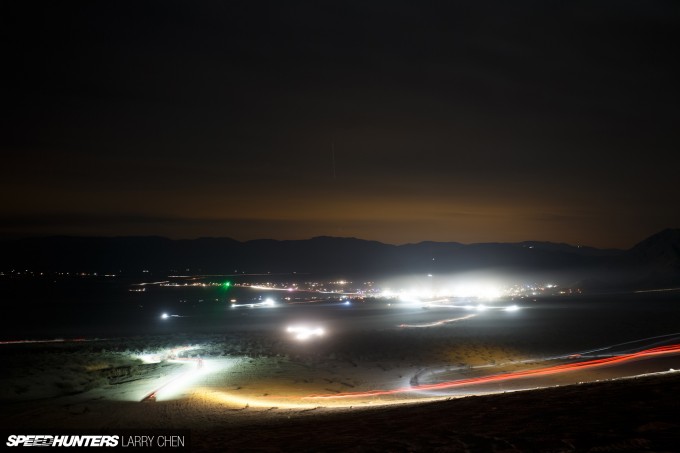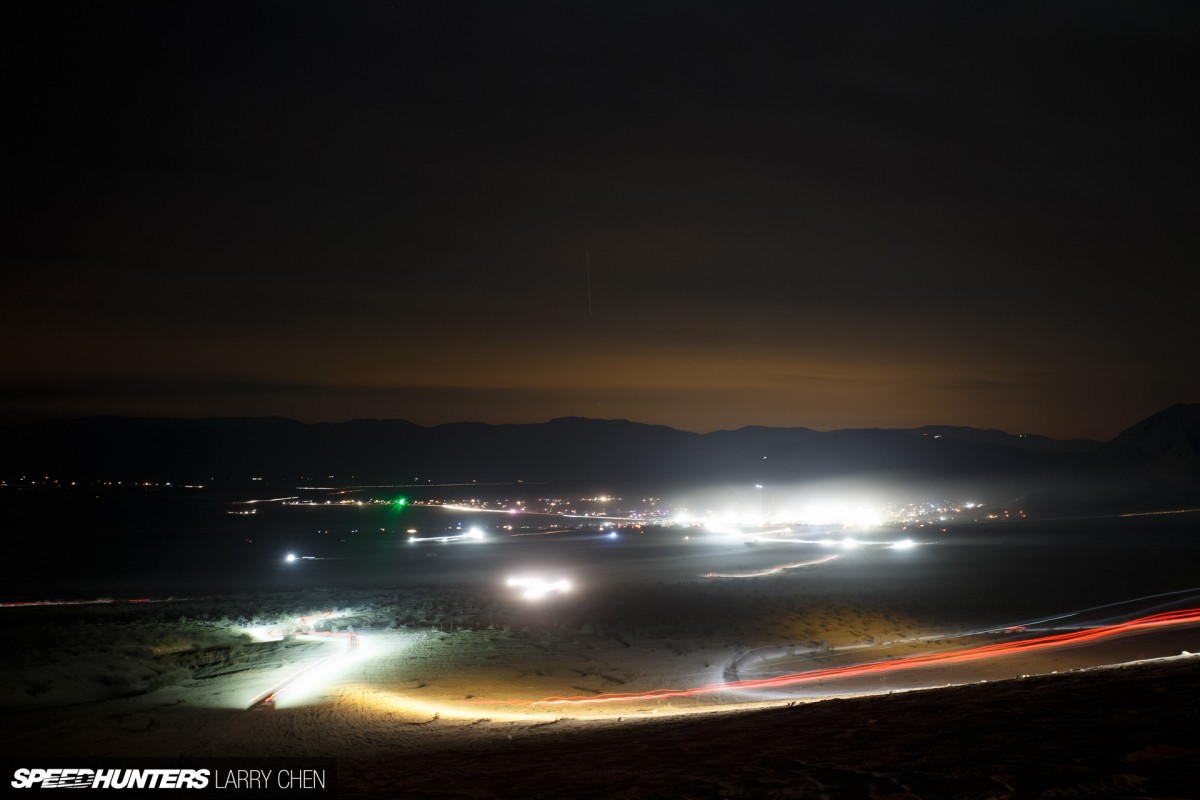 An estimated 40,000 spectators gathered at Johnson Valley, California, to join in on the festivities that week. It turned the barren landscape into a bustling off-road metropolis. At any other time of the year, this area would be perfect for stargazing, but light pollution from the makeshift mini city prevented it.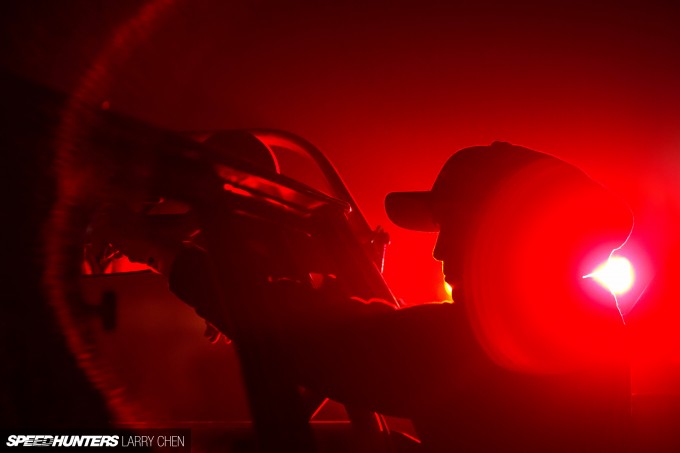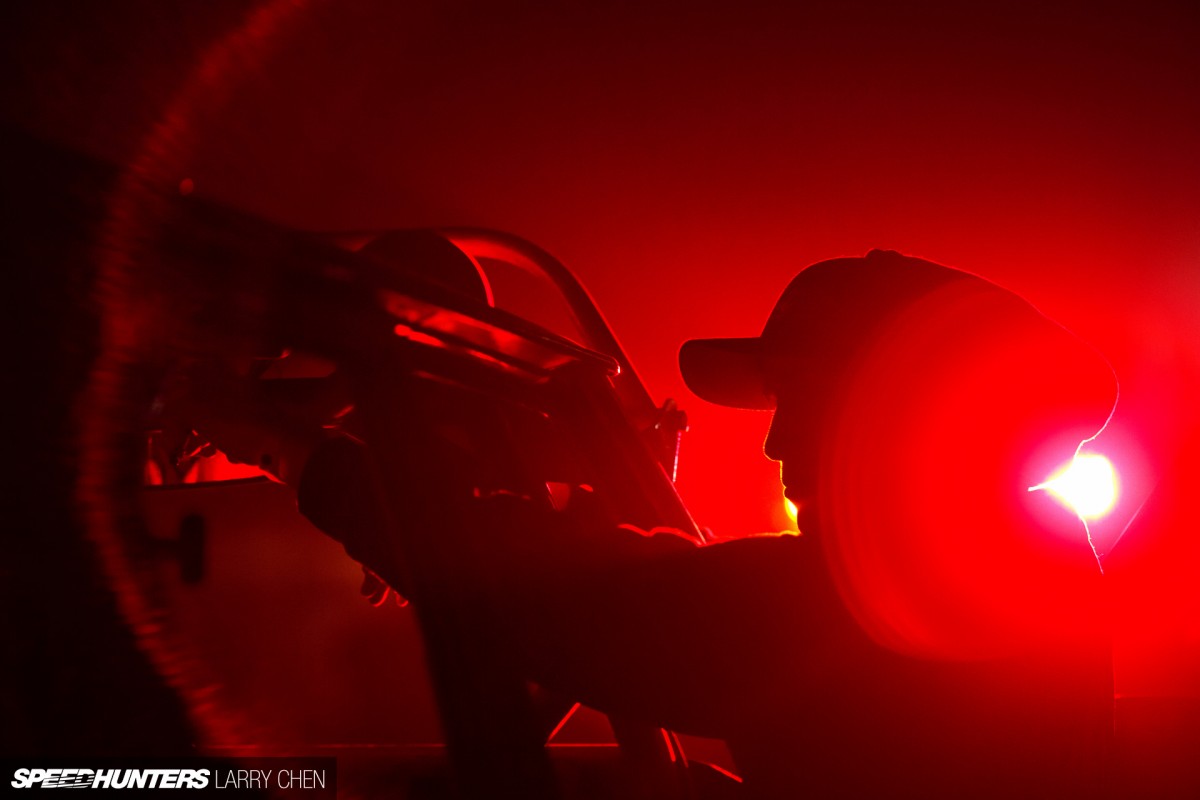 As always, the pits were filled with teams preparing for the big race. Everything had to be checked and then re-checked again.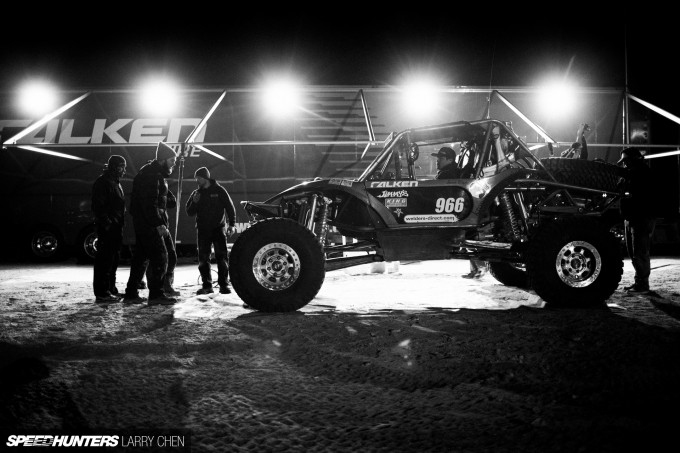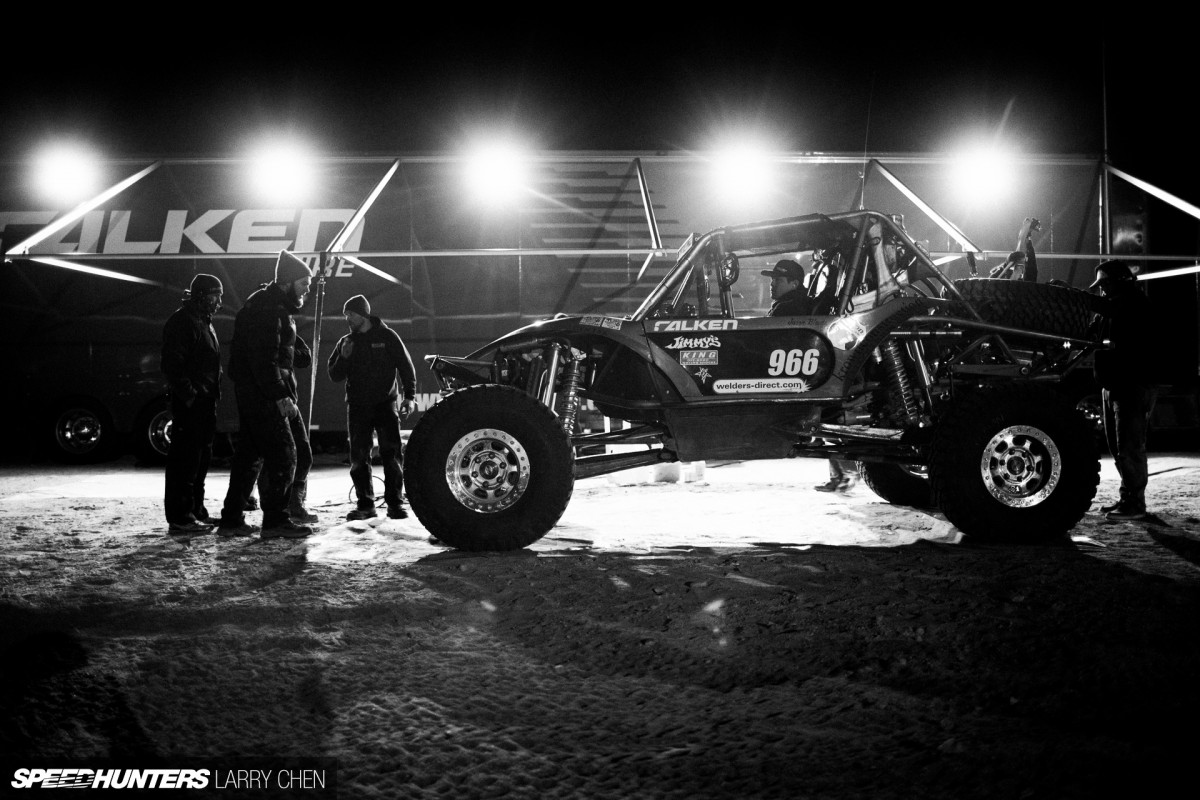 Team Falken went all-in this year, supporting many teams with on-site tire mounting services. It seems they're putting in as much effort here as they do with drifting.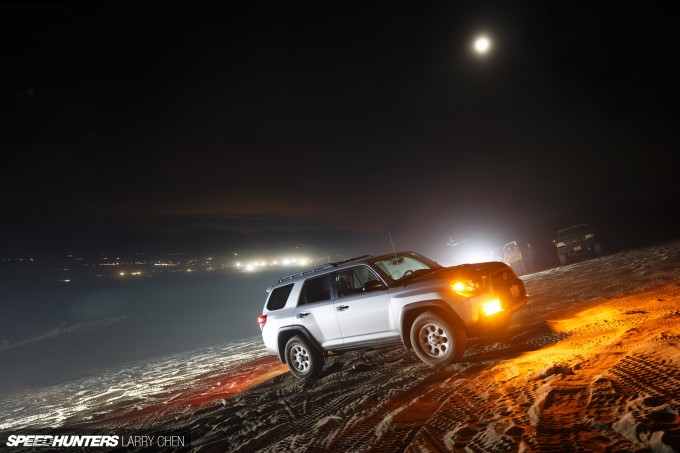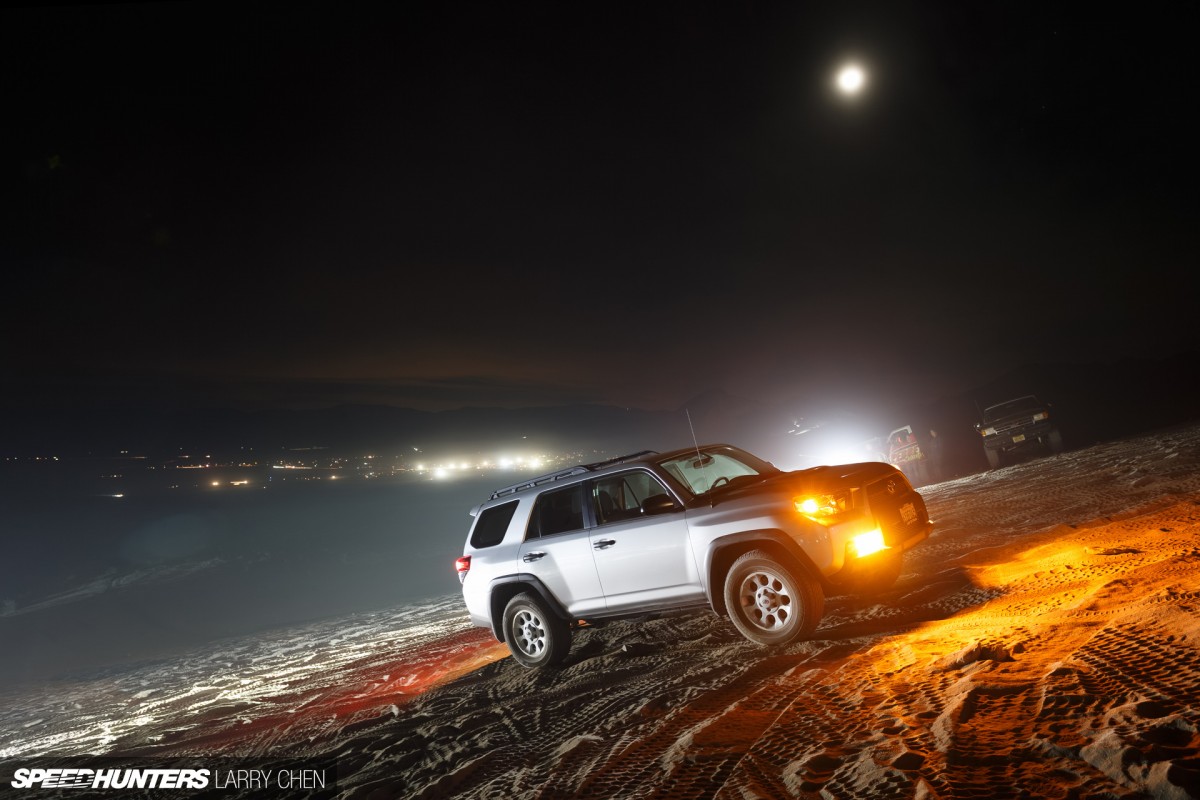 In 2013 I tagged along with a friend in his stock '90s Ford Expedition, but this year Toyota was nice enough to lend me a 4Runner Trail Edition. It was the perfect vehicle for the task of chasing race rigs all over the 198-mile course – something I'll touch on a little bit later.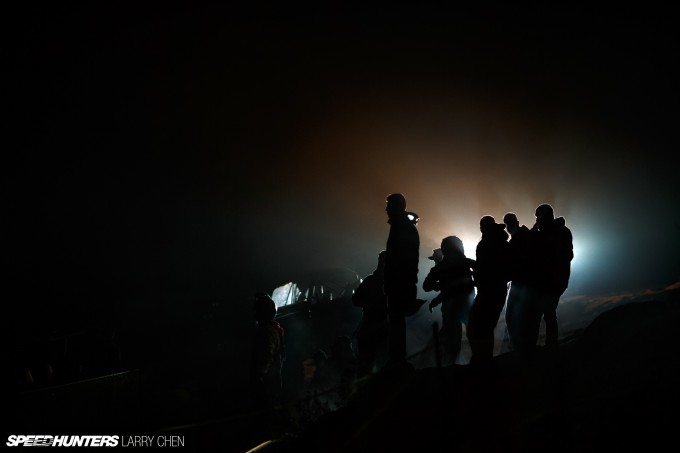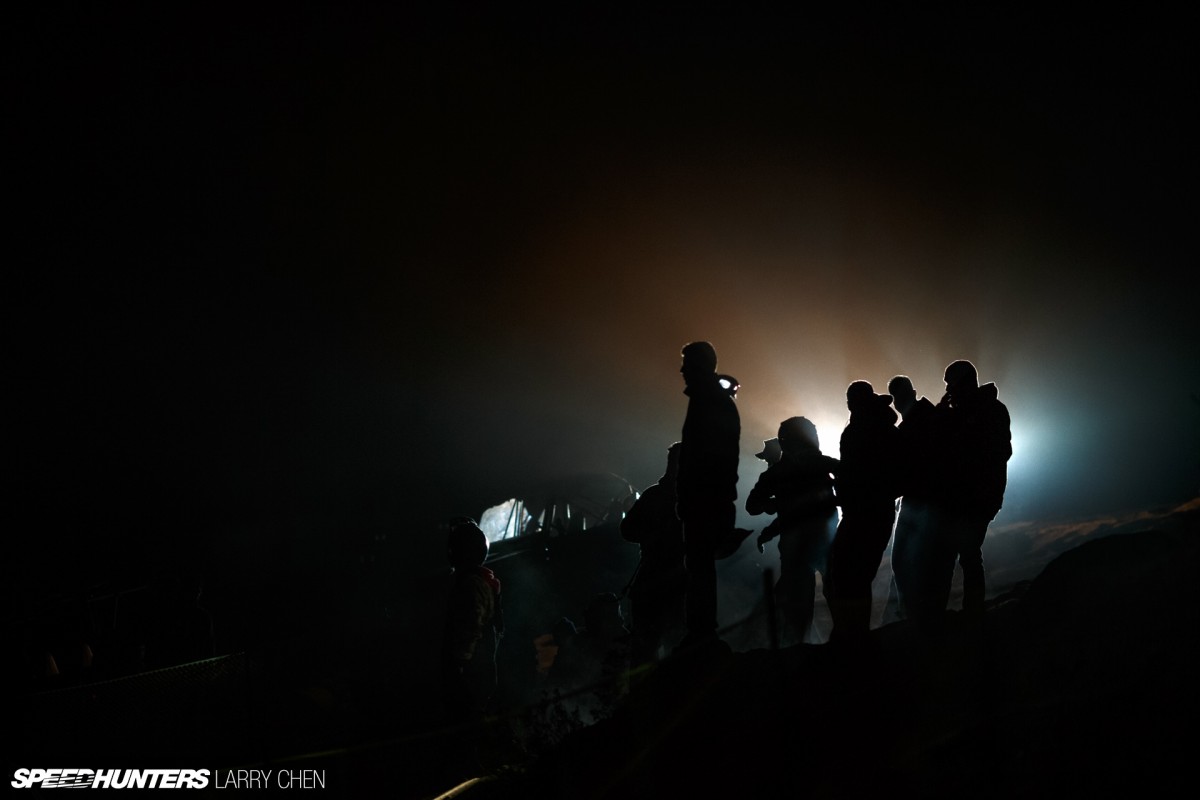 The number of fans out and about seemed to have increased since the year before. I had to be very careful not to run into anyone, as many times there were no roads so people just drove wherever they wanted to. It was like driving on a 15-lane highway that goes in all directions.
Night train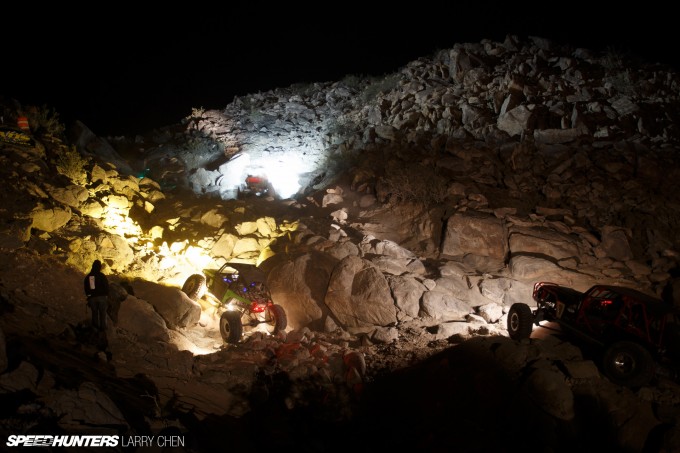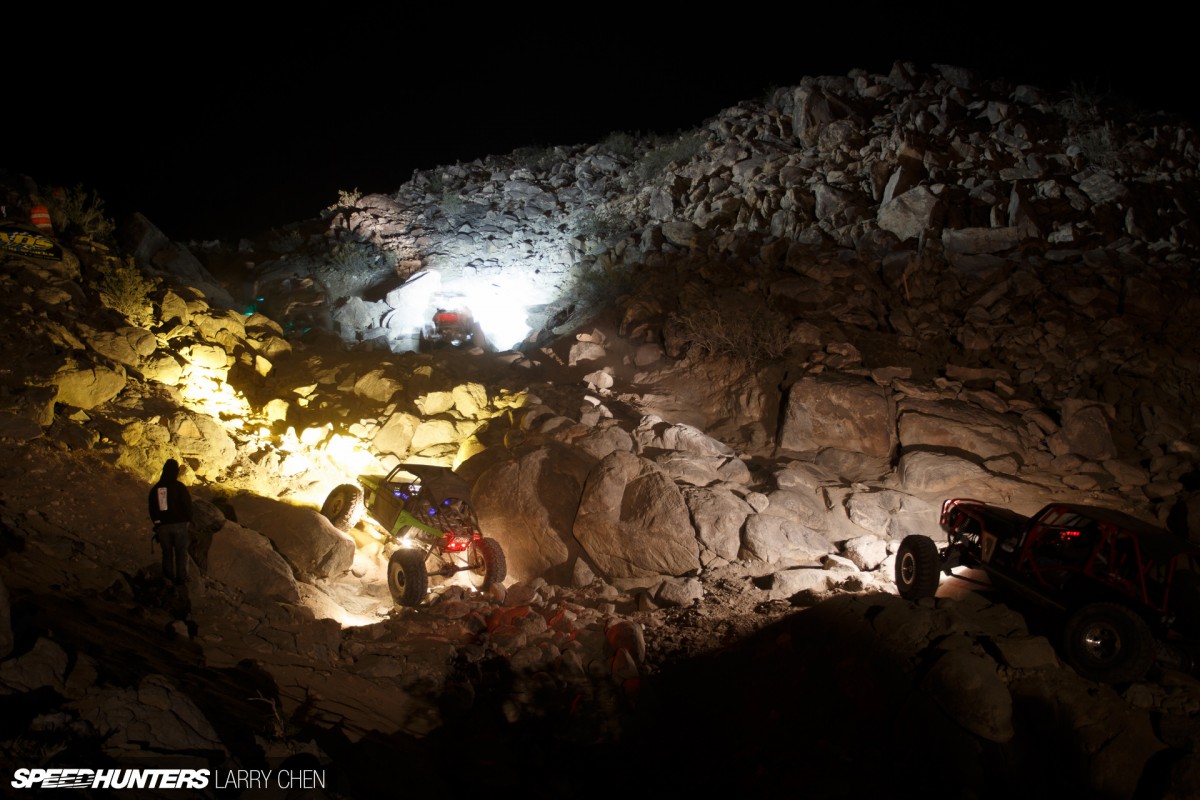 I hit up a few of the popular spots that I covered in last year's post, which brought back lots of good memories. This obstacle was called Chocolate Thunder.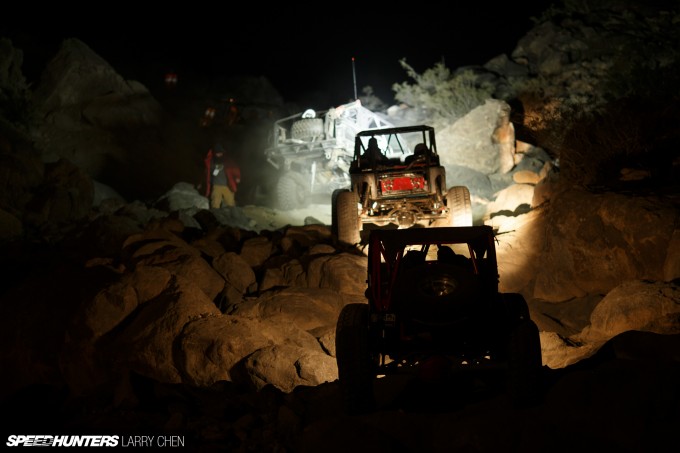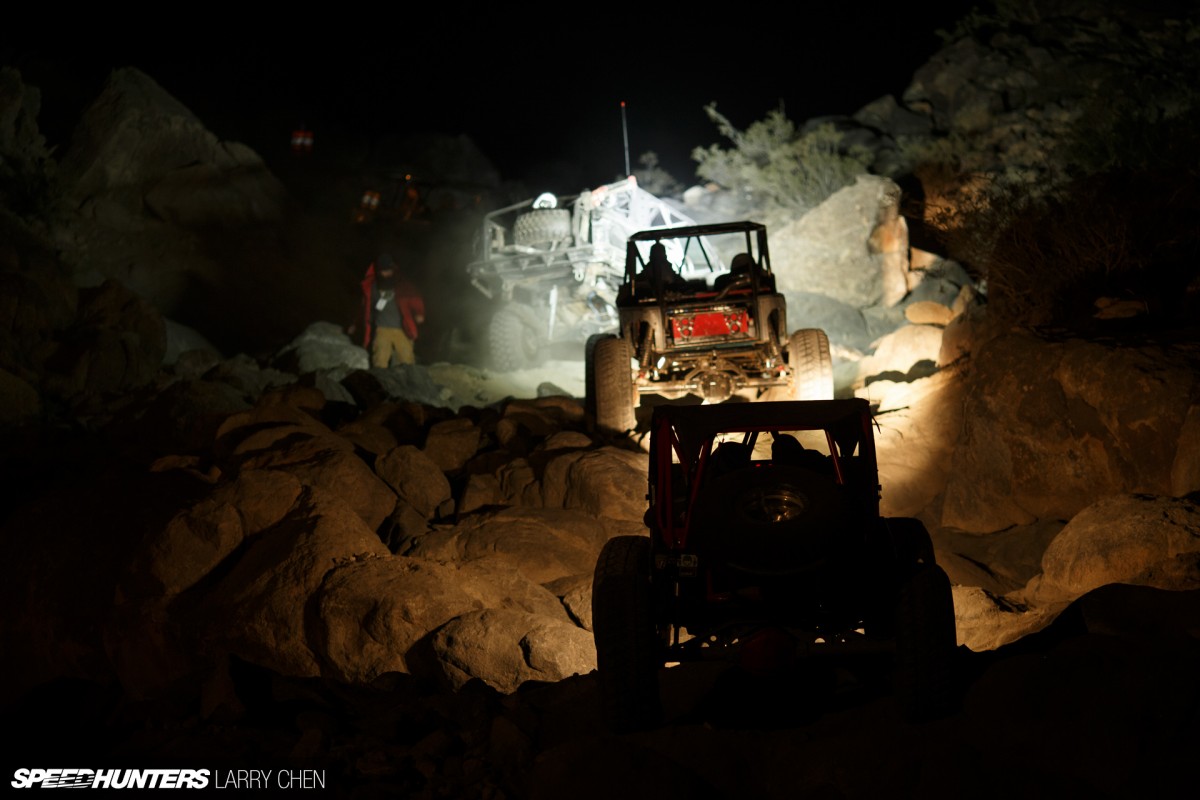 I found myself just sitting back to enjoy the sights and sounds. There's just so much to capture, but it's impossible to get it all. This stuff is so interesting to me, so I put down my camera every now and then just so I could soak it all in.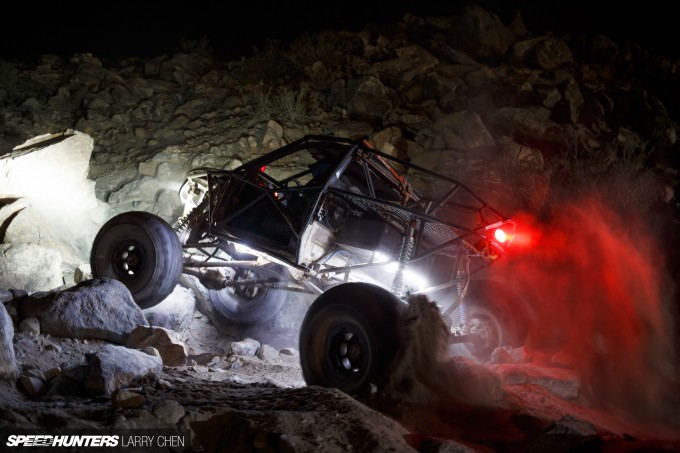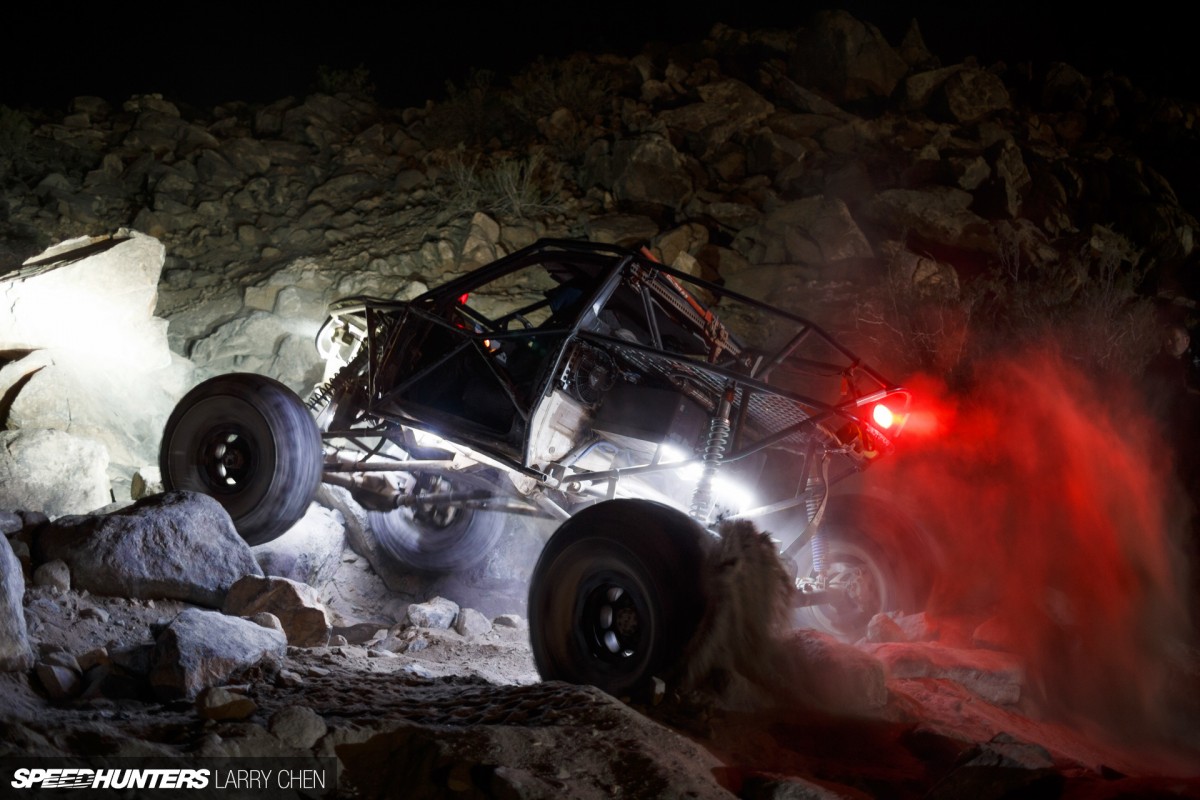 If it's not one guy doing a burnout going up some giant boulders, it's another, just a few feet away, high-centered on a sharp rock.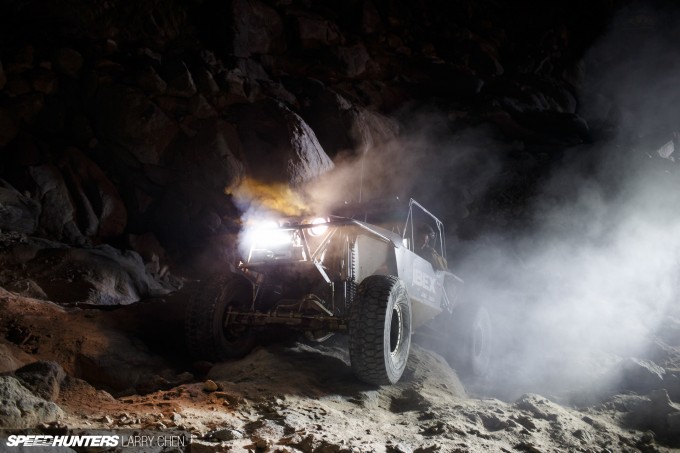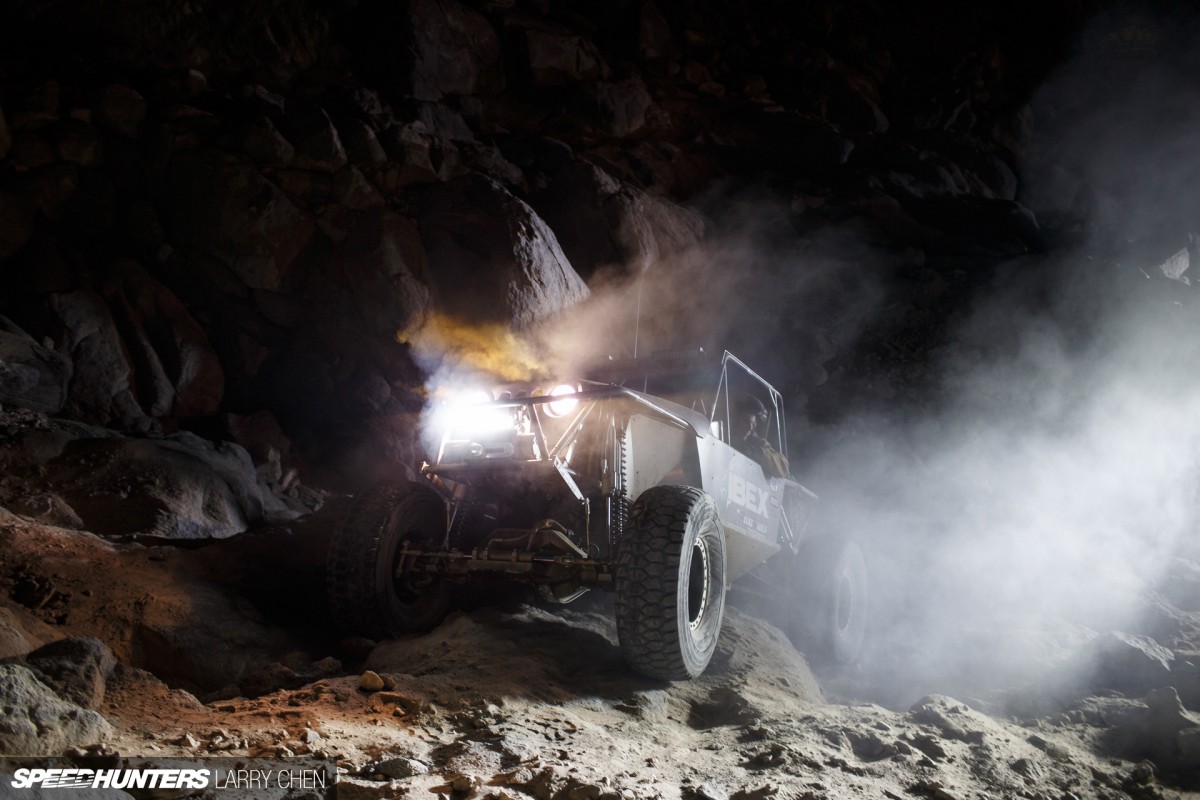 These guys came out to play and it makes me jealous that I don't even know where to begin with rock crawling. I made an effort to push myself to drive as much as I can this year at events, but I can only imagine what the sensation must be like to steer one of these machines over giant boulders, almost tipping over around every corner.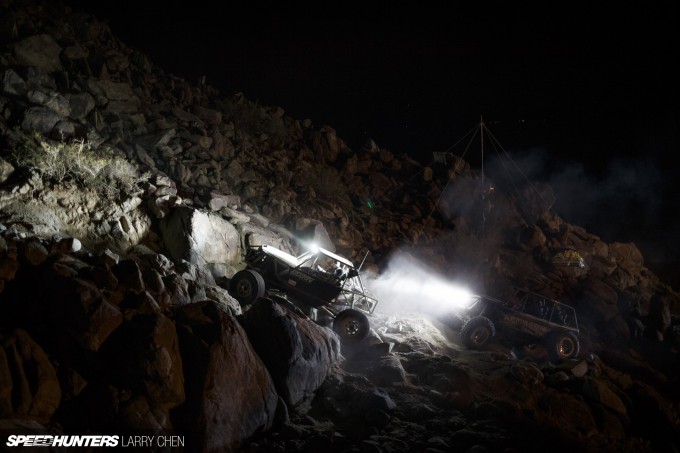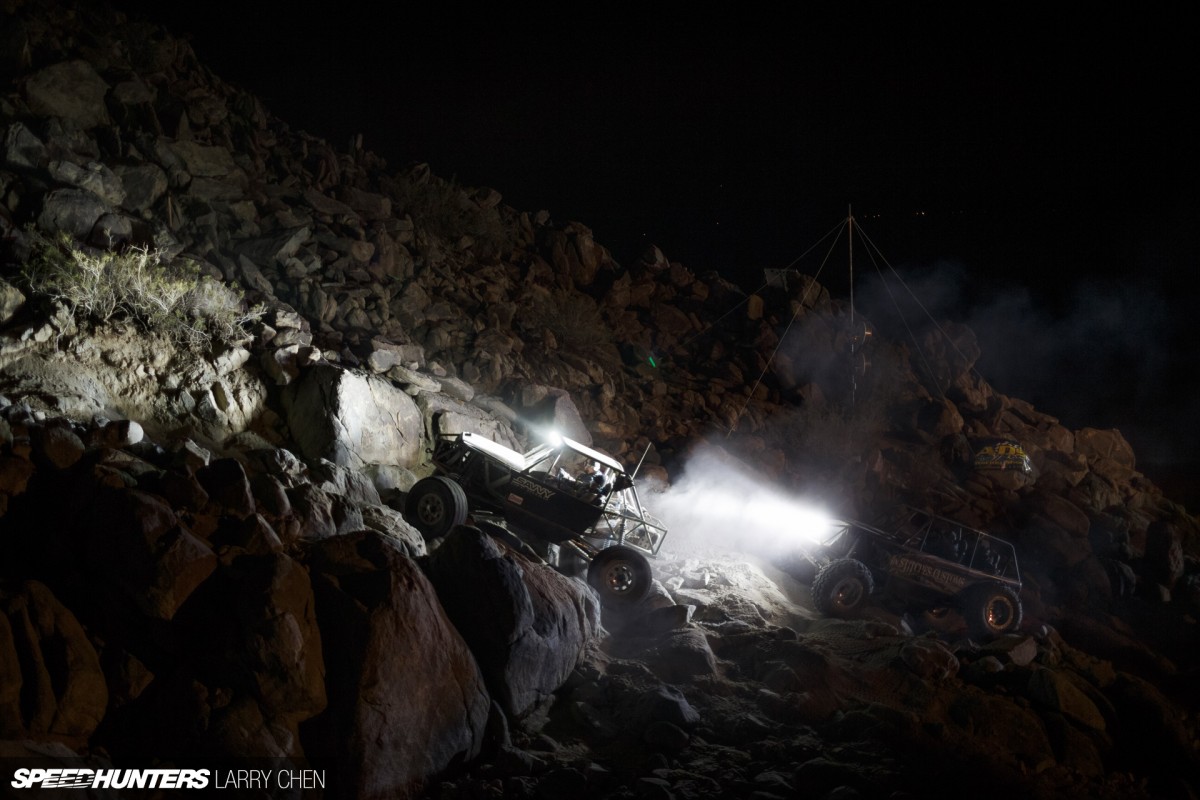 Sometimes the only way to see what you're stuck on is if the guy behind you shines some light on the subject – literally.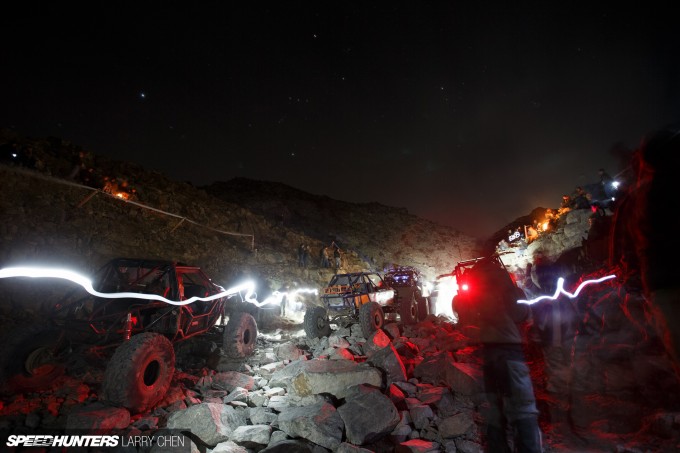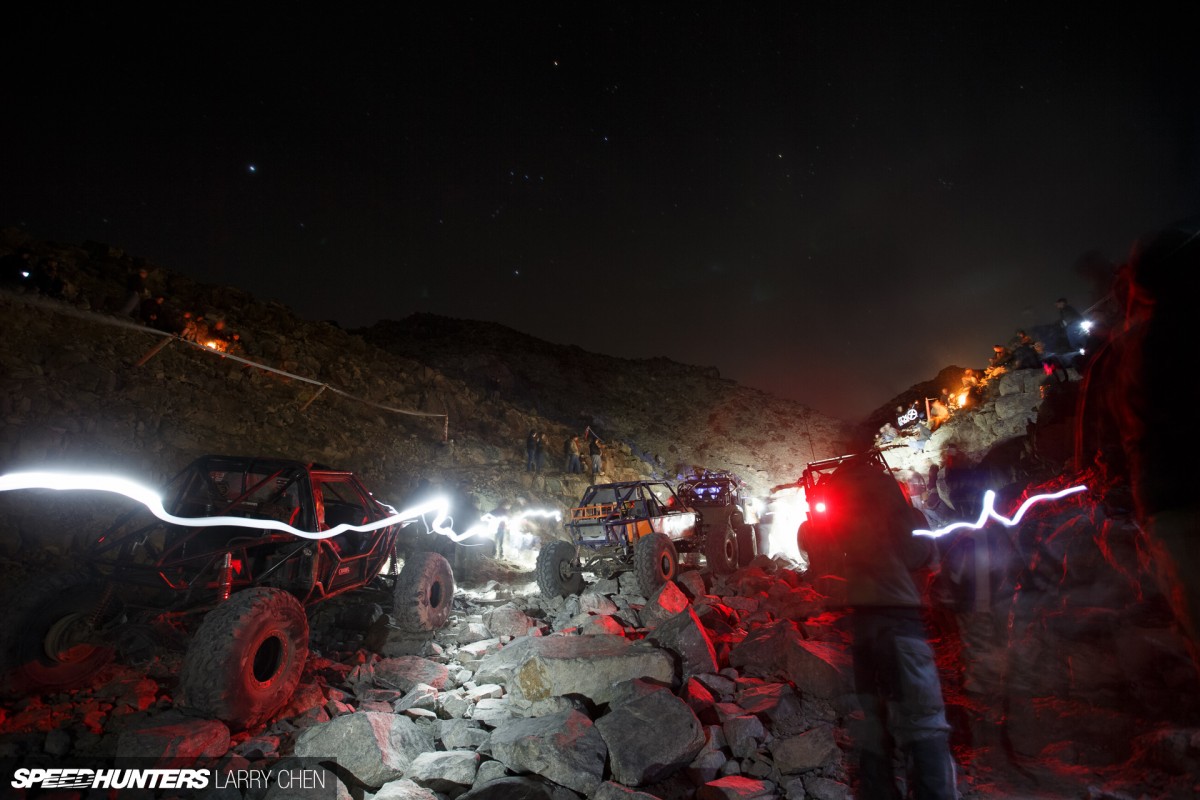 As always, the most popular spot was the 'Back Door' obstacle. It's regarded as the toughest of the lot, and this year it was more difficult than ever due to wear and tear on the rocks and dirt below. Even if they used the exact same route every year, it would still be different because of the naturally changing terrain.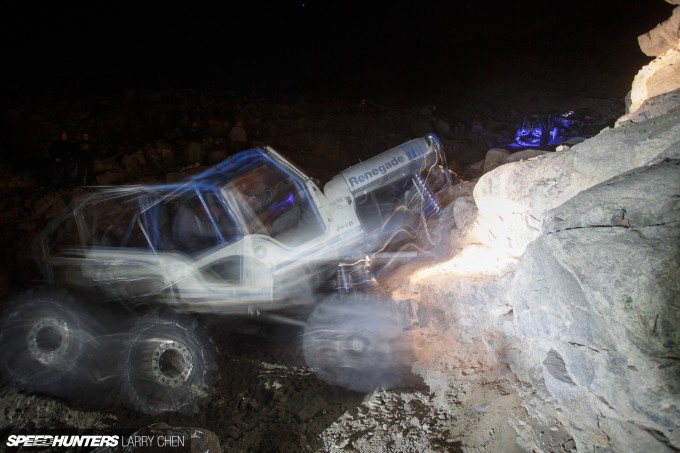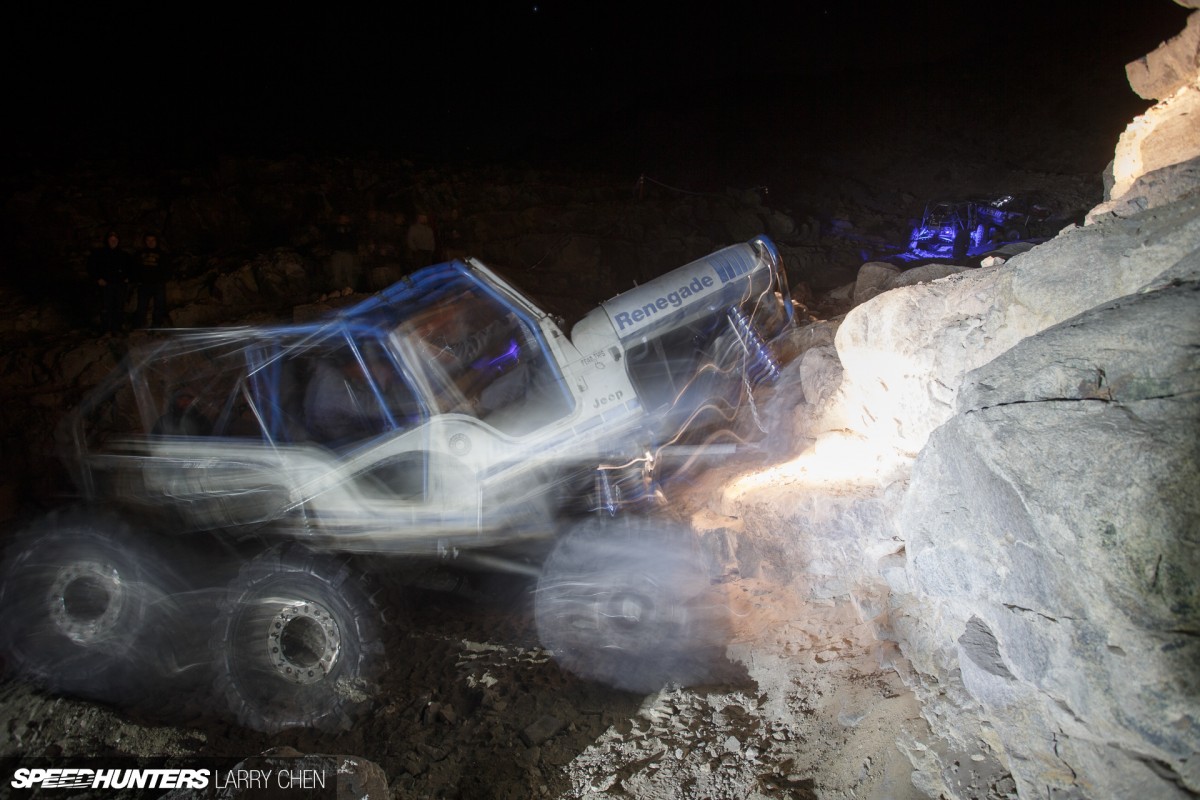 'Back Door' is actually a dried-up waterfall and the height of the initial climb is around ten feet depending on where drivers start.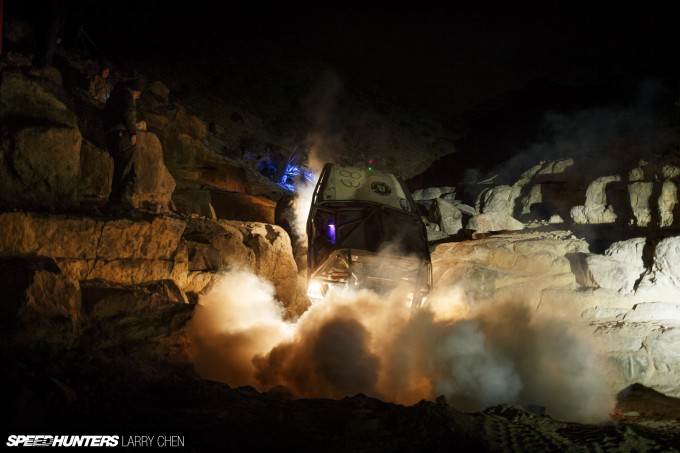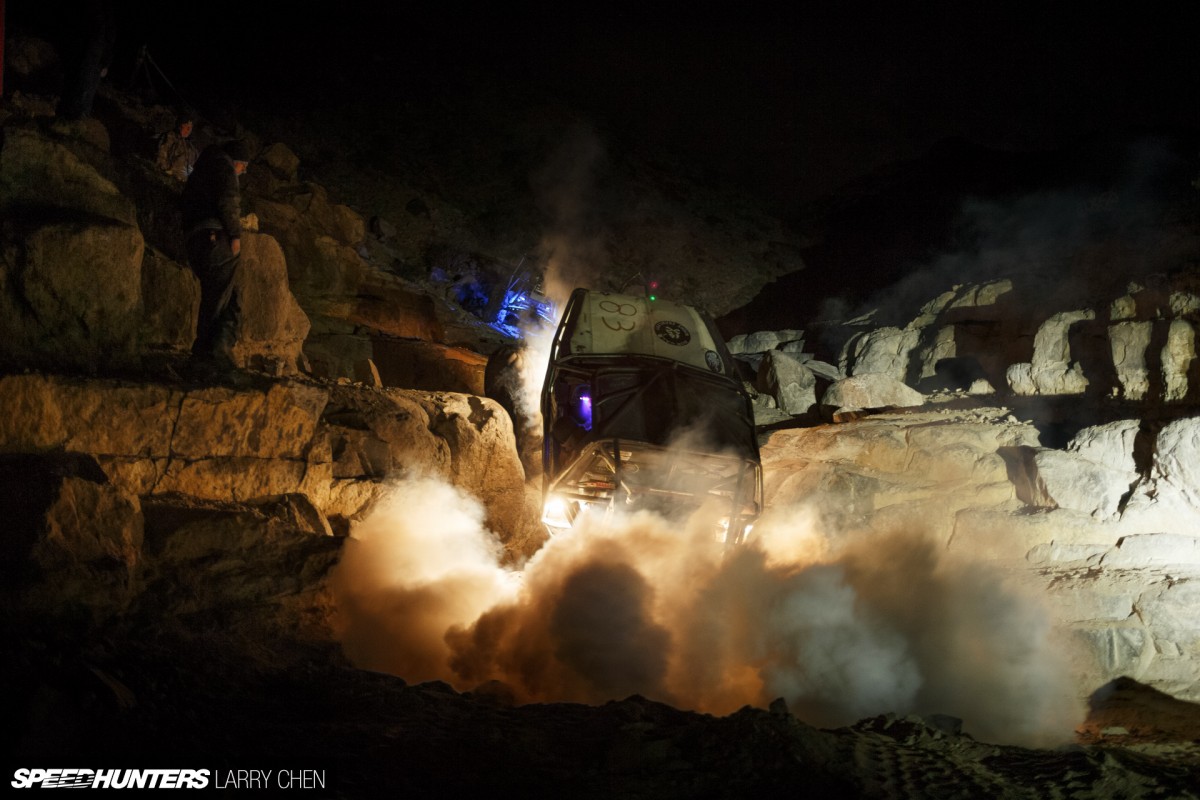 Vehicles will often spend a while completely vertical trying to get up the obstacle, and run-by-run it becomes a tougher ask as rear tires dig deeper holes.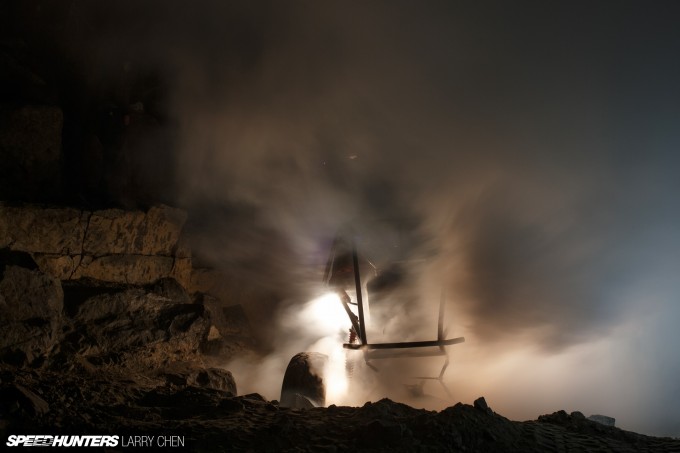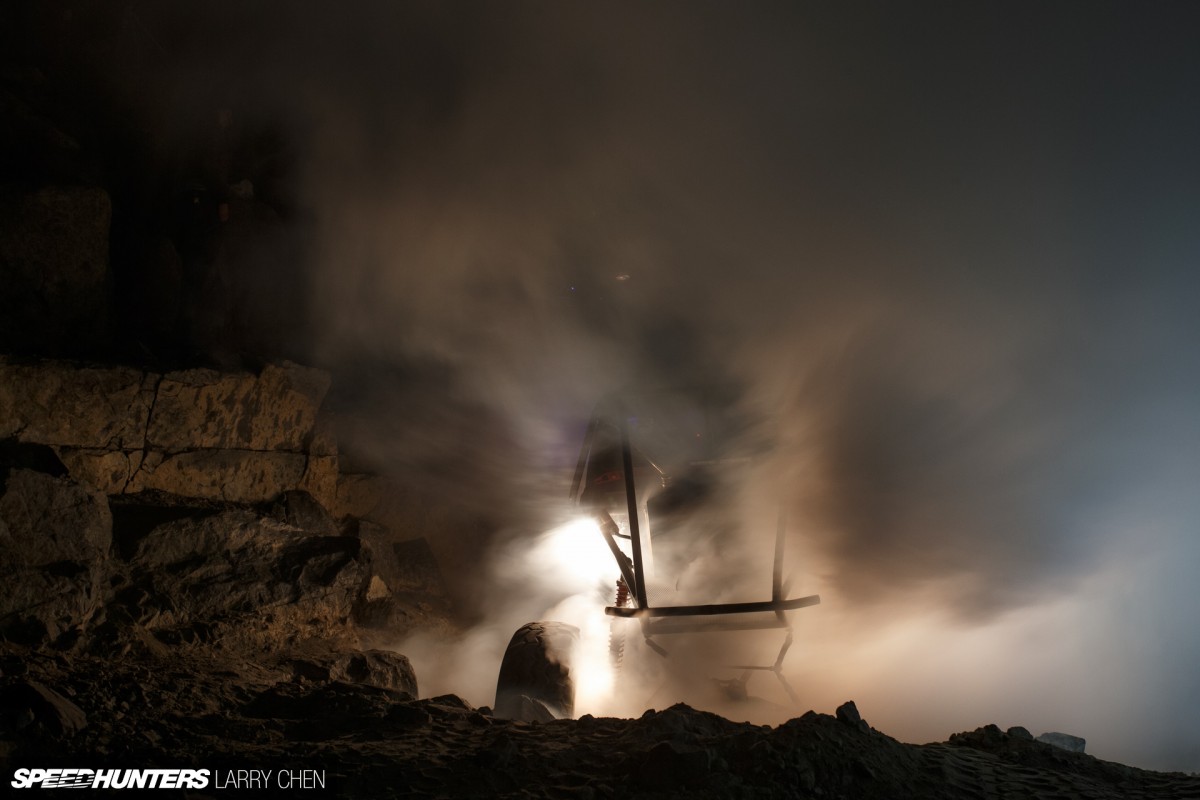 Sometimes the vehicles sit vertical for too long and the crank oil gets into the cylinders and it burns motor oil.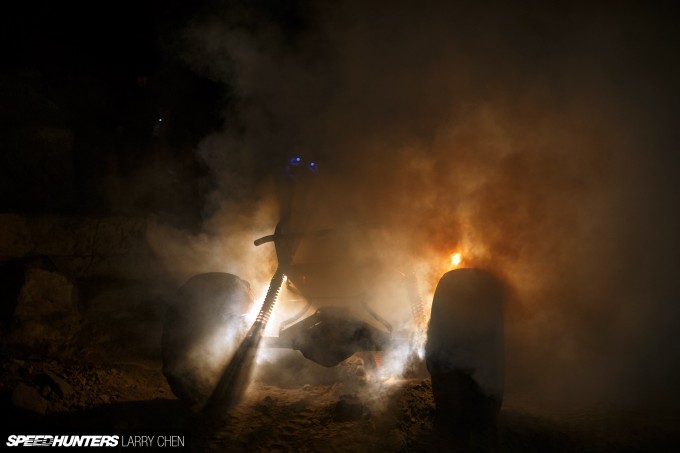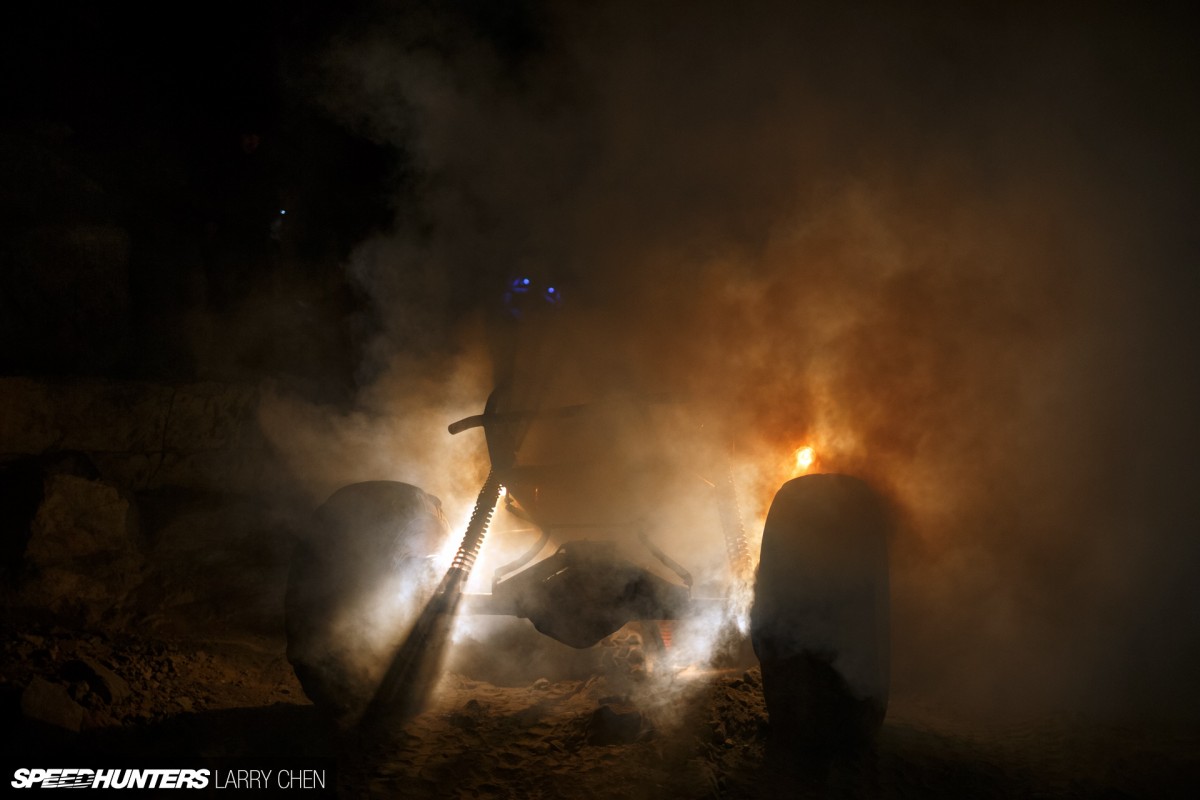 The first manned mission to Mars would probably look something like this. It was like a scene out of an early sci-fi movie.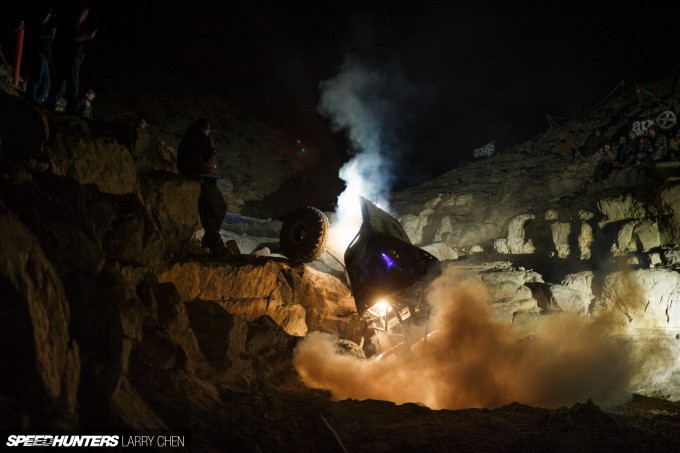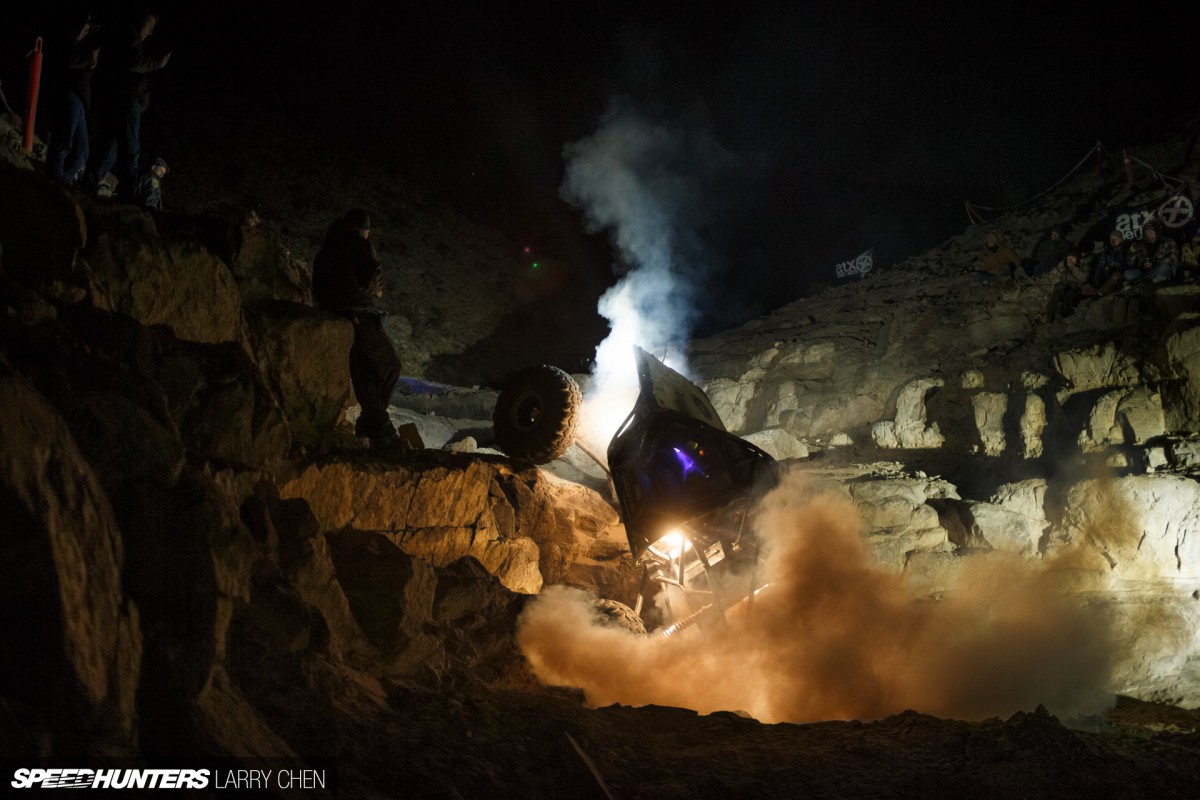 When you watch someone struggle to get up 'Back Door' for such a long while, you just can't help but wish that they would make it already.
It seems like no matter how much this guy tried, the rocks were just too slippery.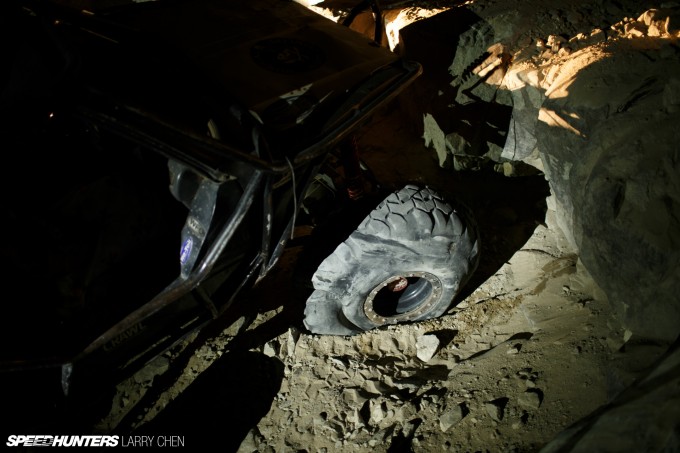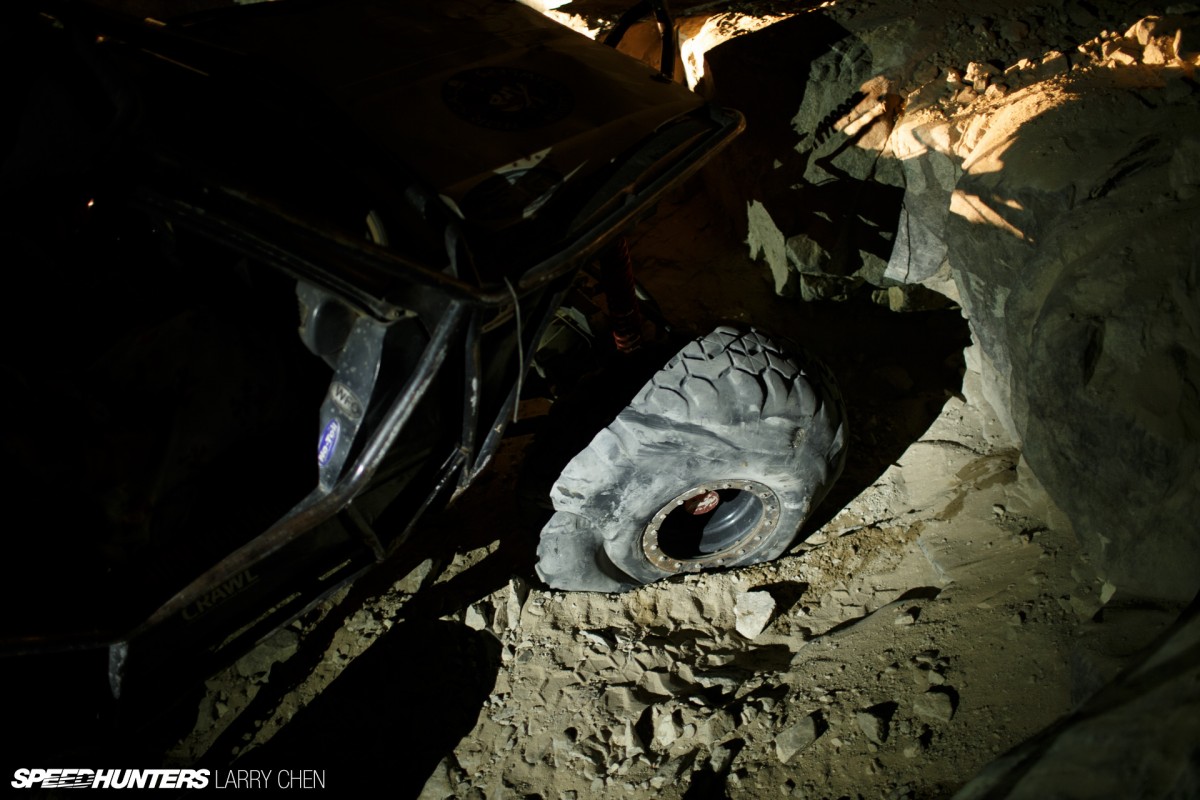 Within just a few more attempts he made it though, only to end up with a flat tire. Somehow he had found the sweet spot, with just enough traction to bring him over the edge. The crowd cheered when he made it up and over.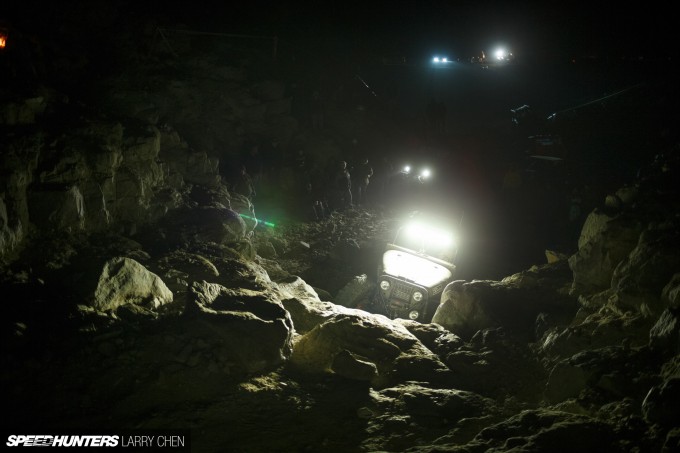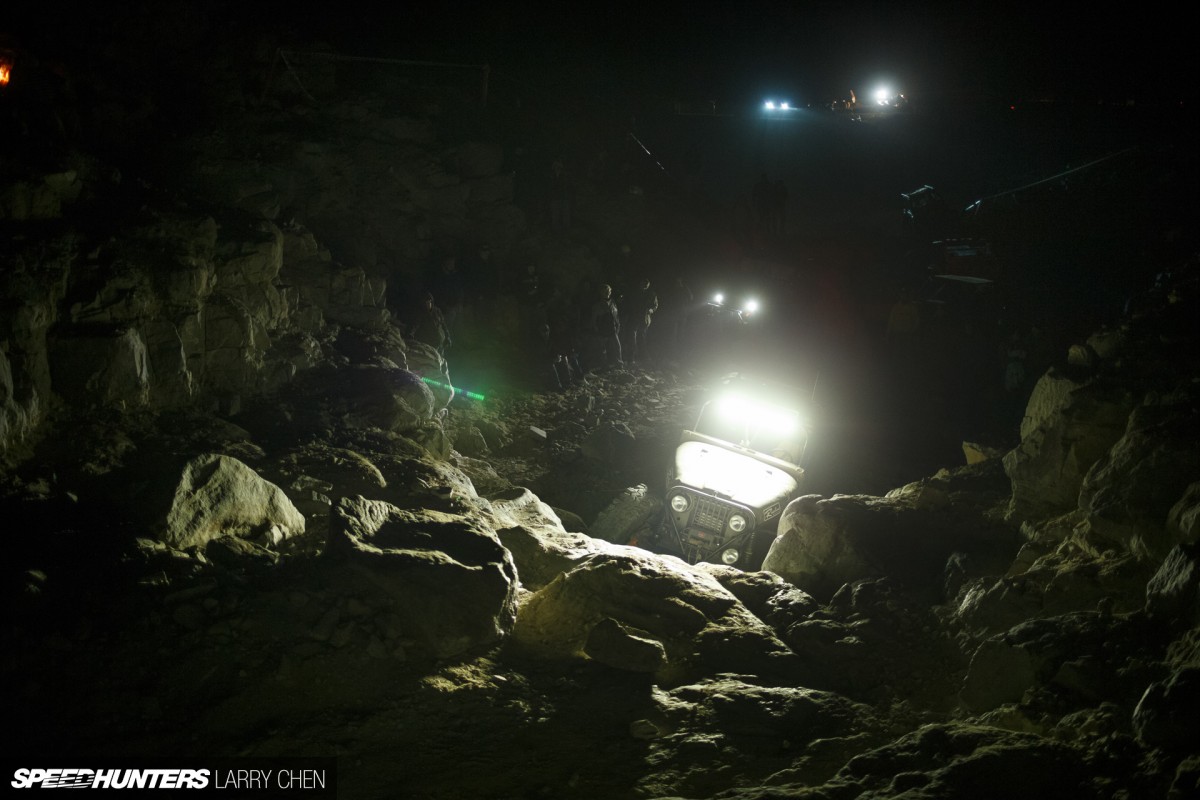 The obstacle was so popular that earlier in the week the organizers of King of the Hammers held the 'Back Door Challenge'.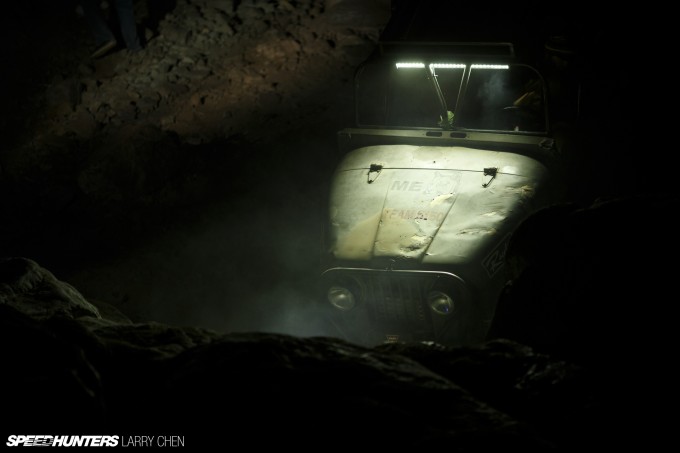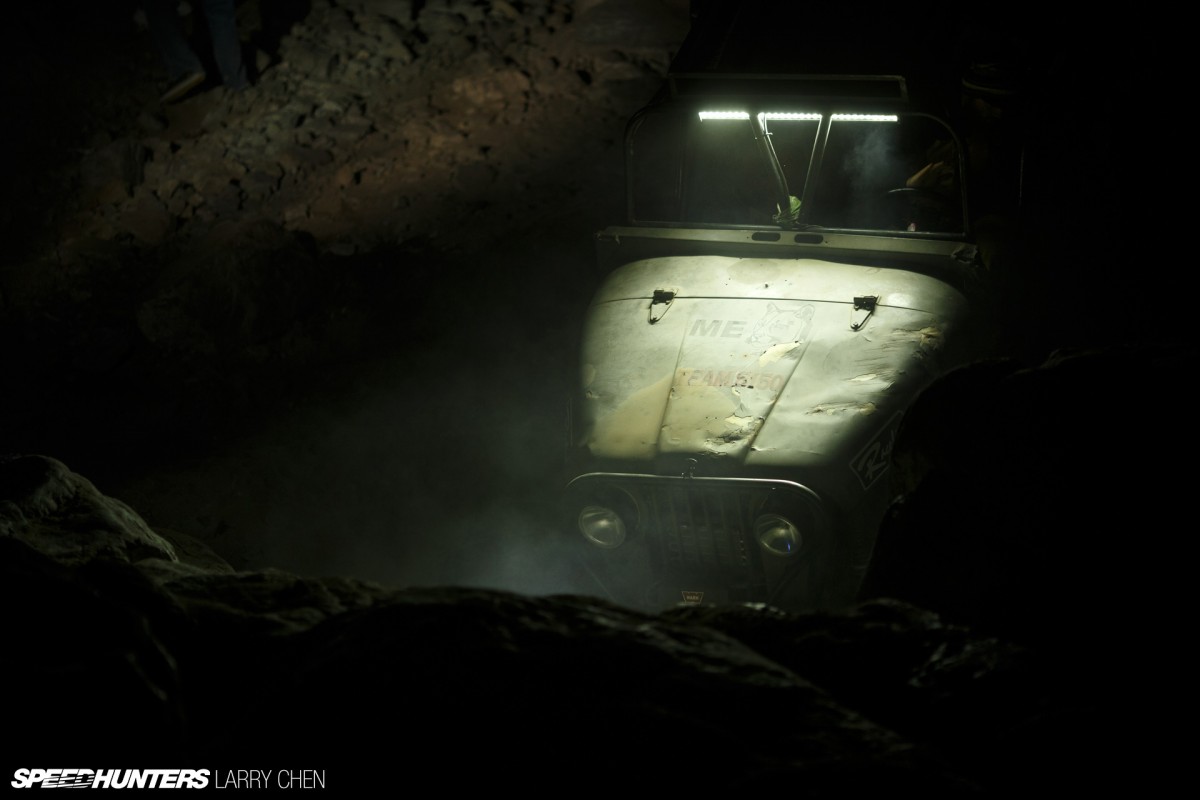 In previous events the main course ran down the dried waterfall, but seeing as it's made harder and longer each year, they had to include going up as an obstacle. With challenges like this it allows for anyone with a capable vehicle to practice.
We have a challenge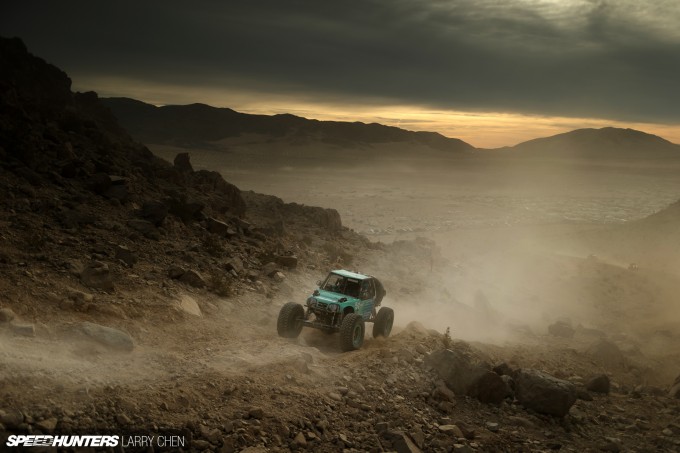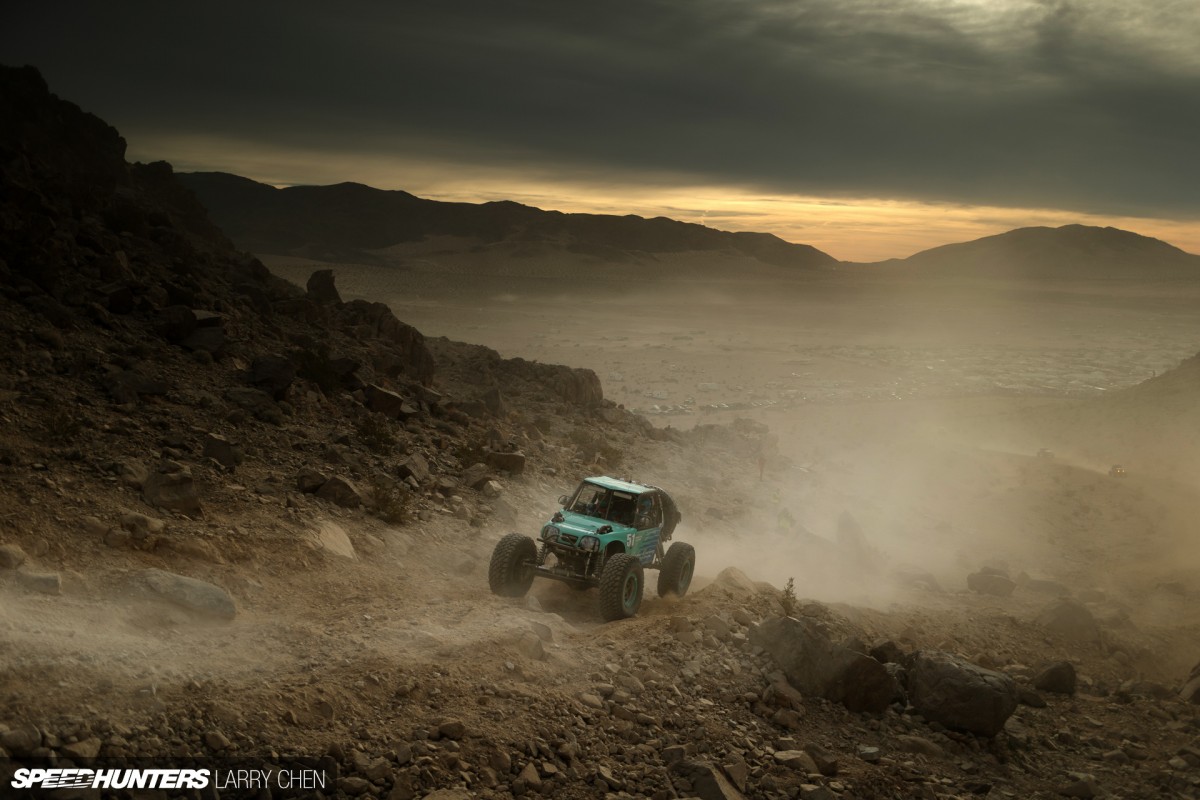 Along with the King of the Hammers, there's the Everyman Challenge, which is essentially a modified, shorter course that runs a little over 100 miles. Some drivers competed in both races on back-to-back days. Quite a few of the Falken rigs changed to bigger tires overnight after running in the Everyman Challenge as the rules allow for it on the main race day.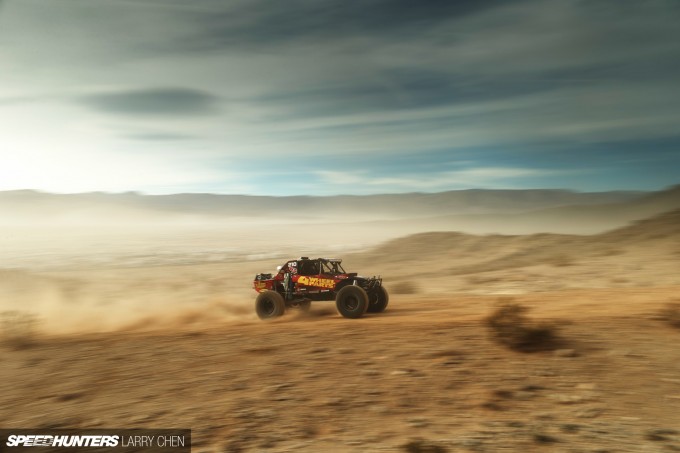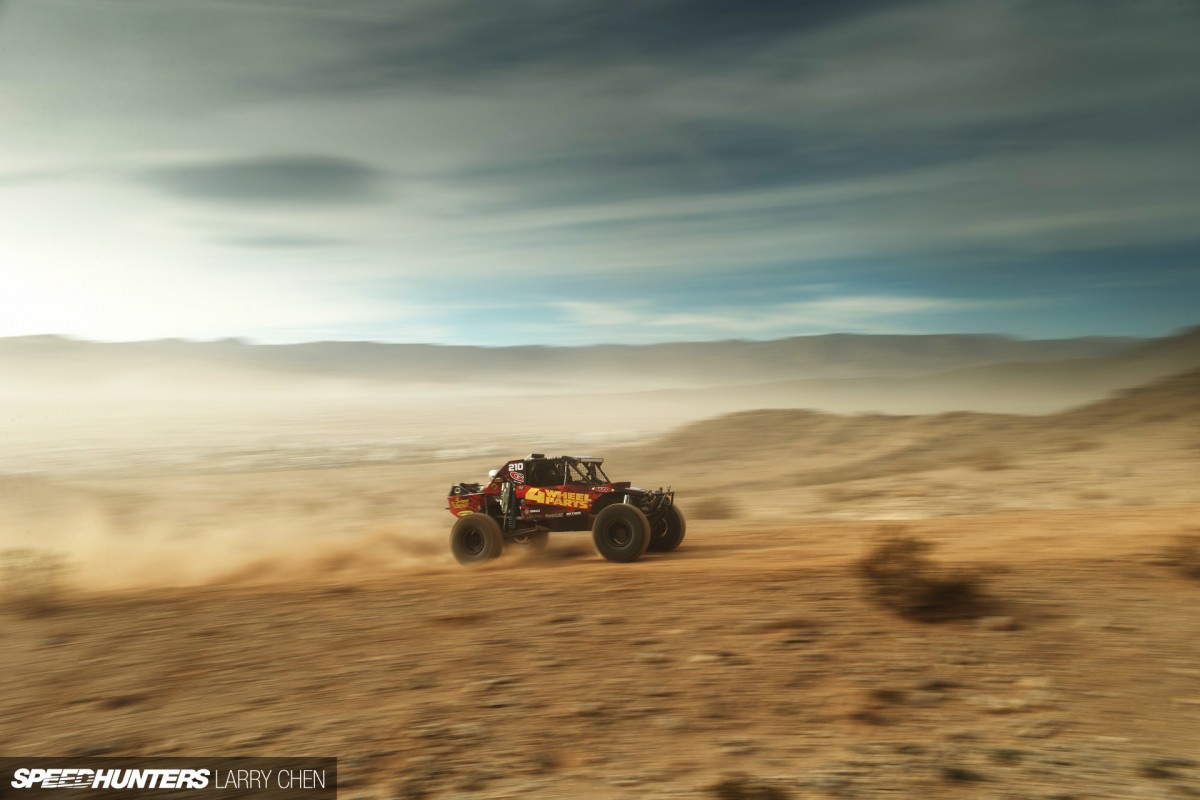 Running both races is also a great way to get a preview of the course under race conditions, so many drivers used that to their advantage.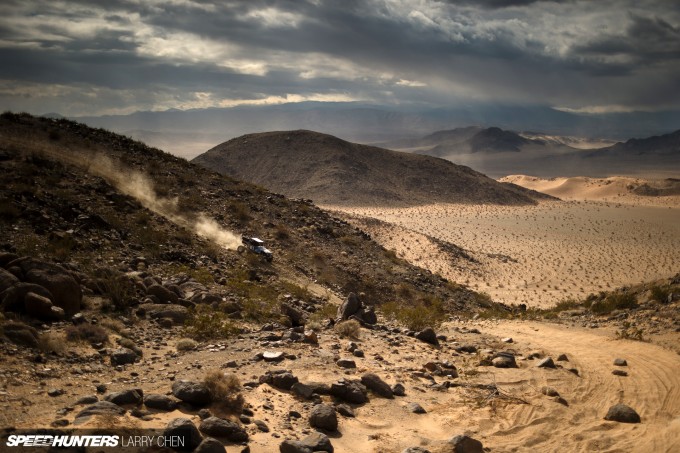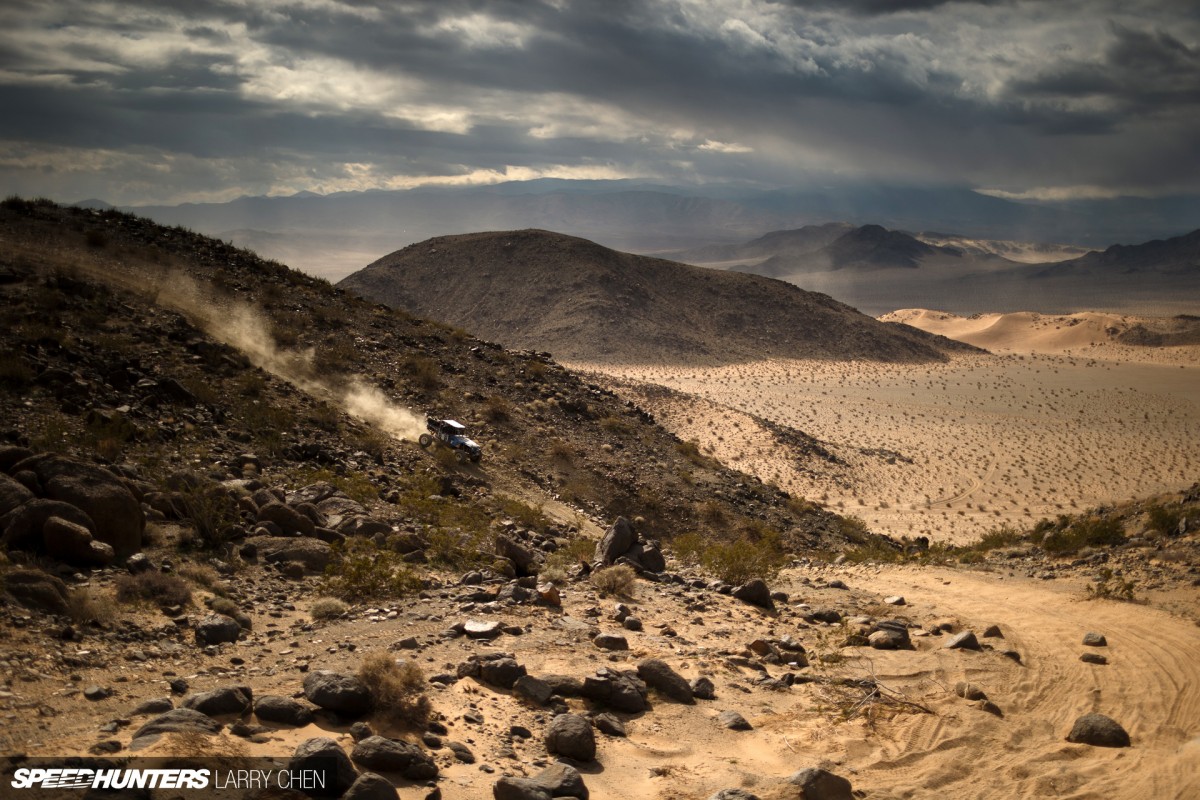 Out of the 77 cars that started the race, only 21 finished the journey through the desert.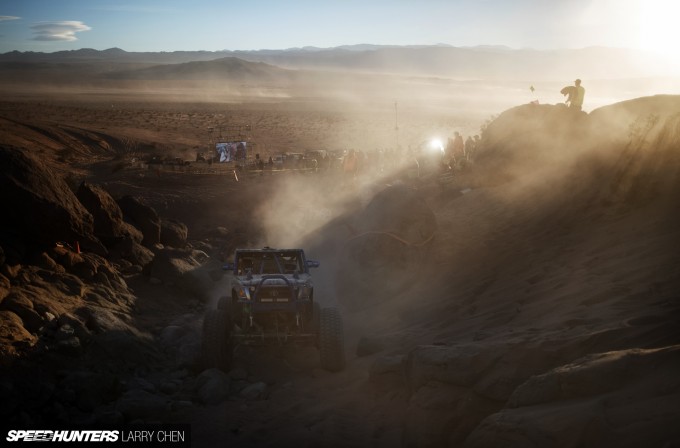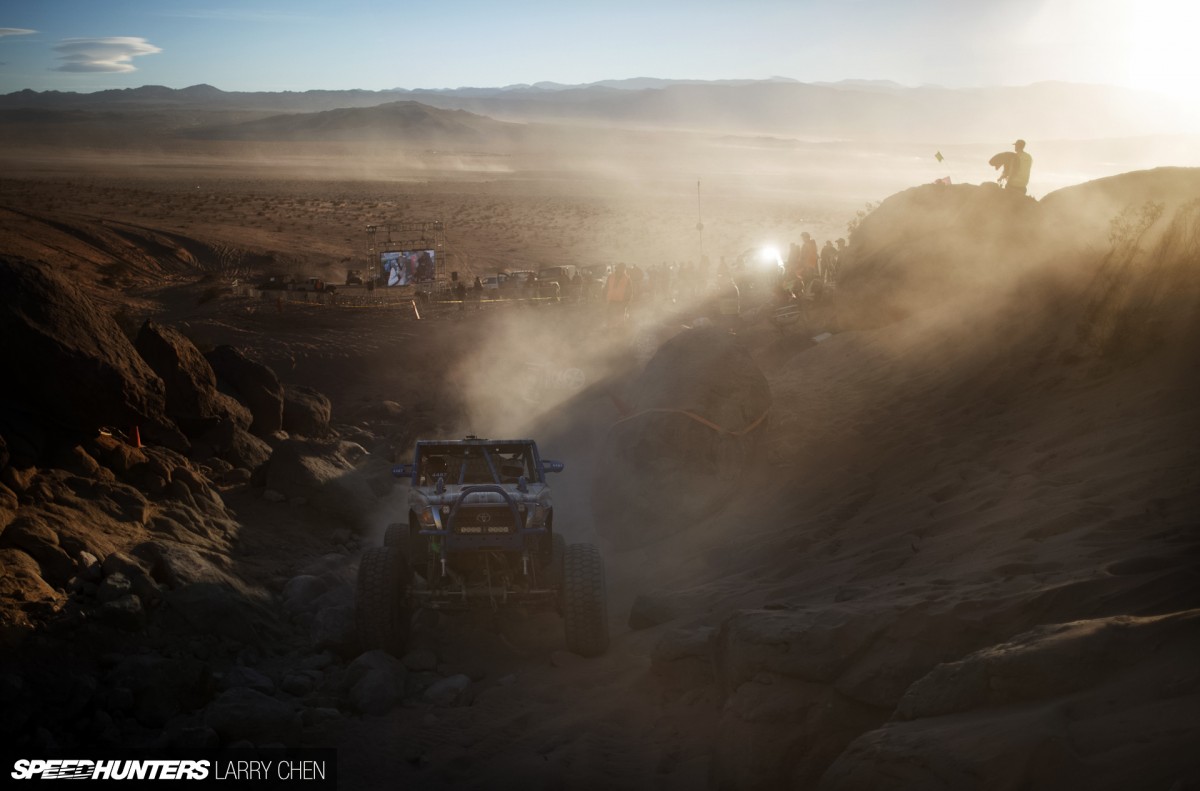 The greatest thing about this race is how close you can get to the action. The course is huge but you always have a good view of the action.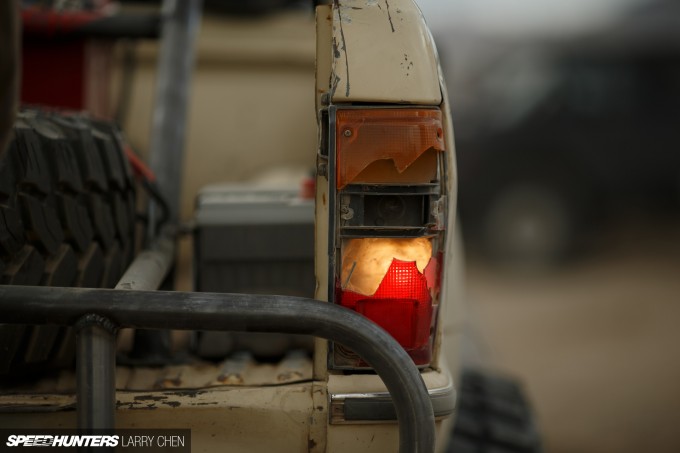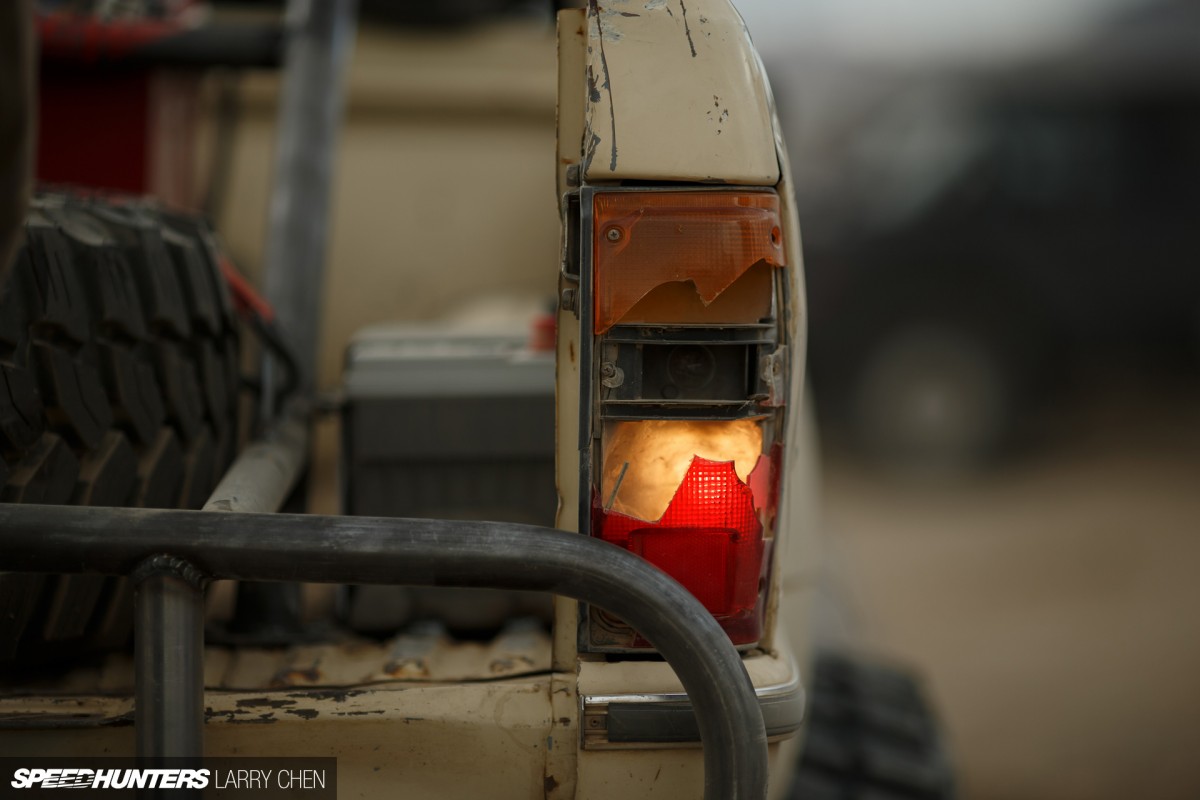 You can get as close as you want to experience the textures of the off-road vehicles. Some are more weathered than others of course.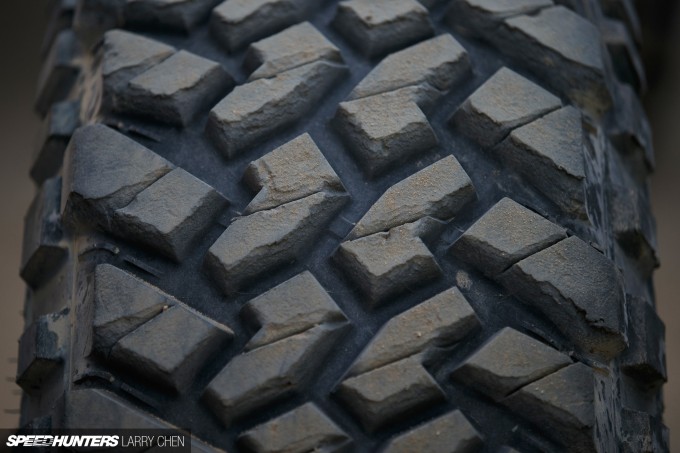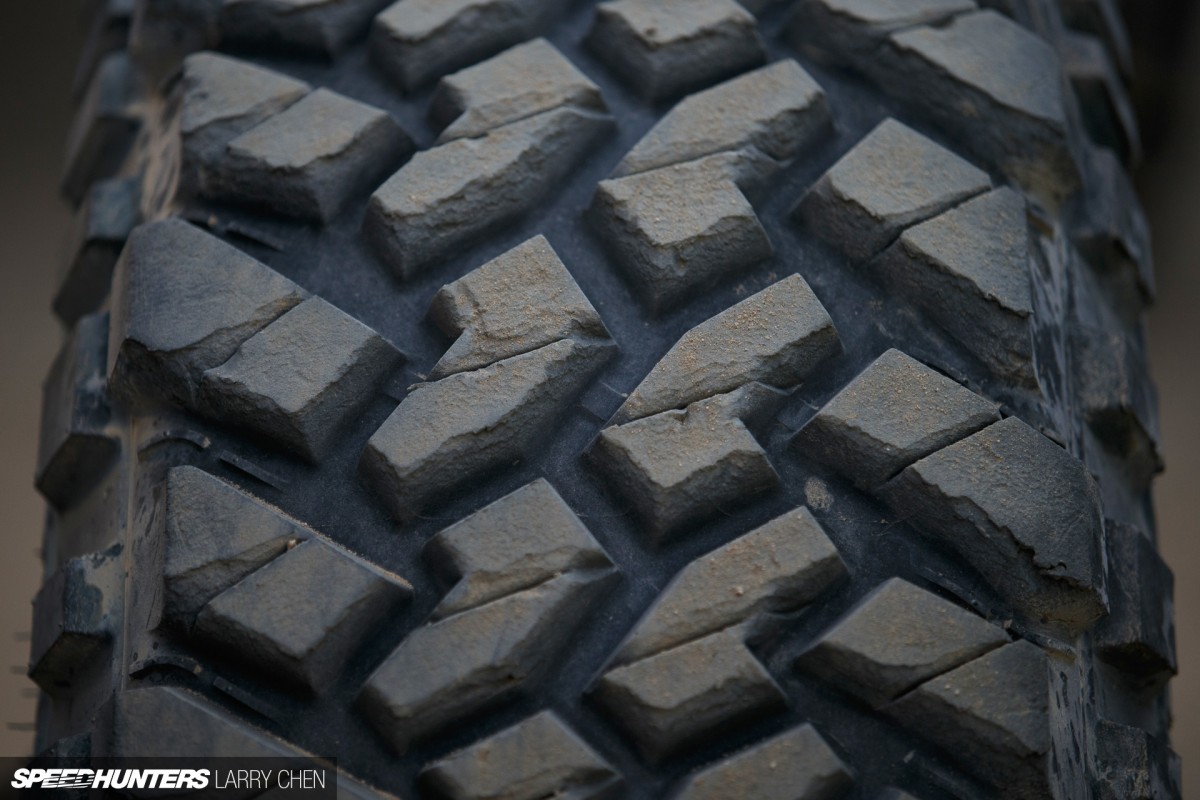 These rigs have to do everything well. Therefore they always need to make a compromise when it comes to things like tires.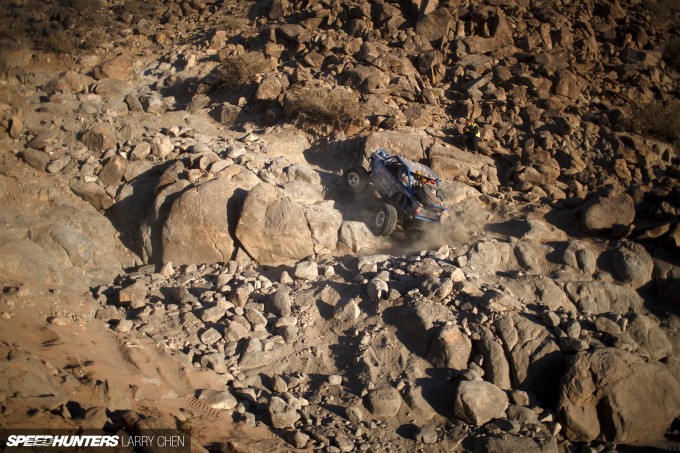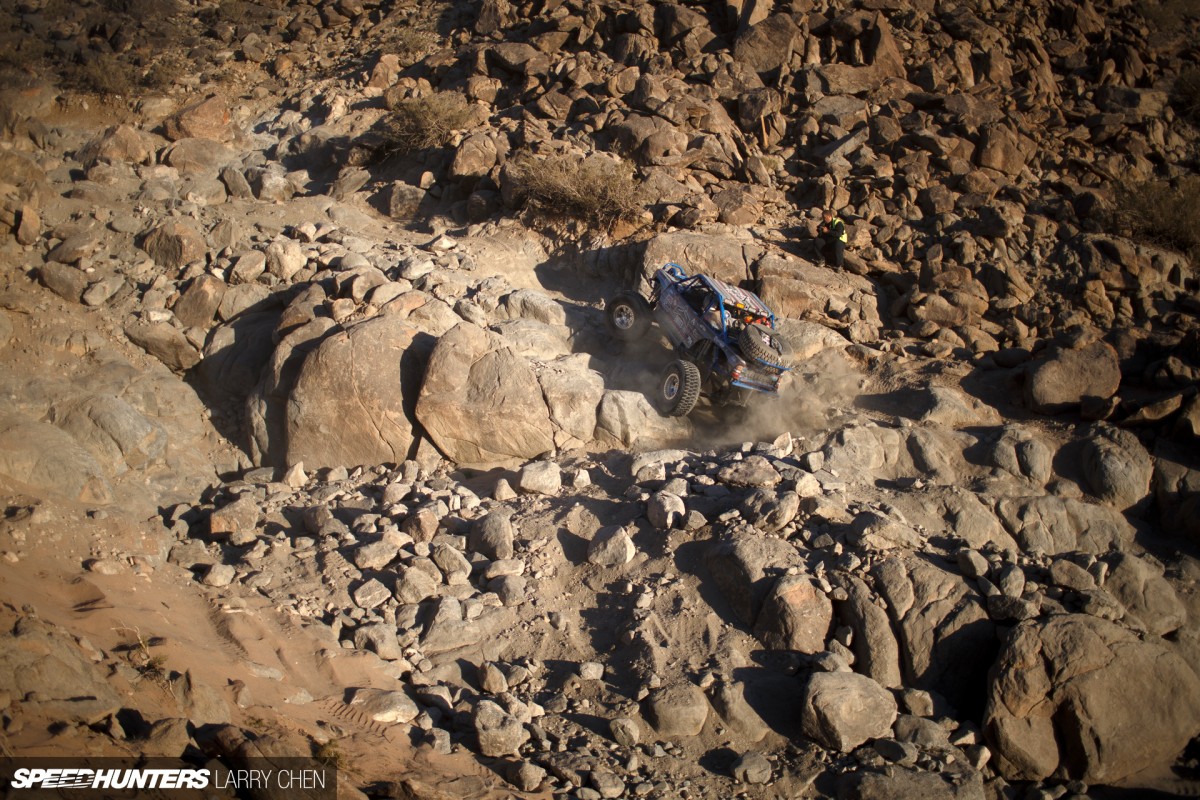 Can you guys see why this obstacle is called Chocolate Thunder? Just imagine climbing over mountains of chocolate…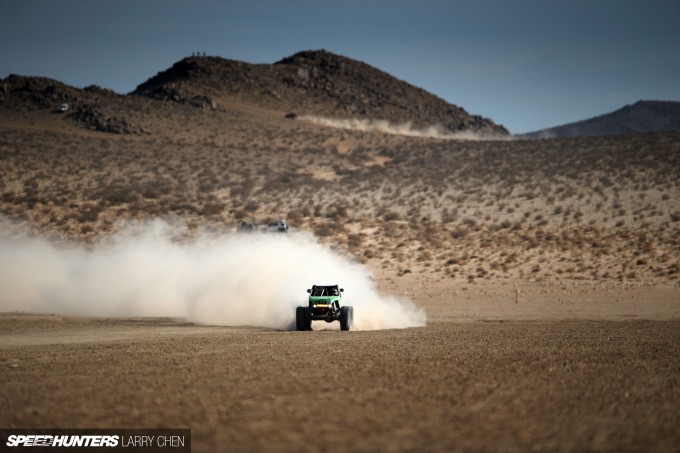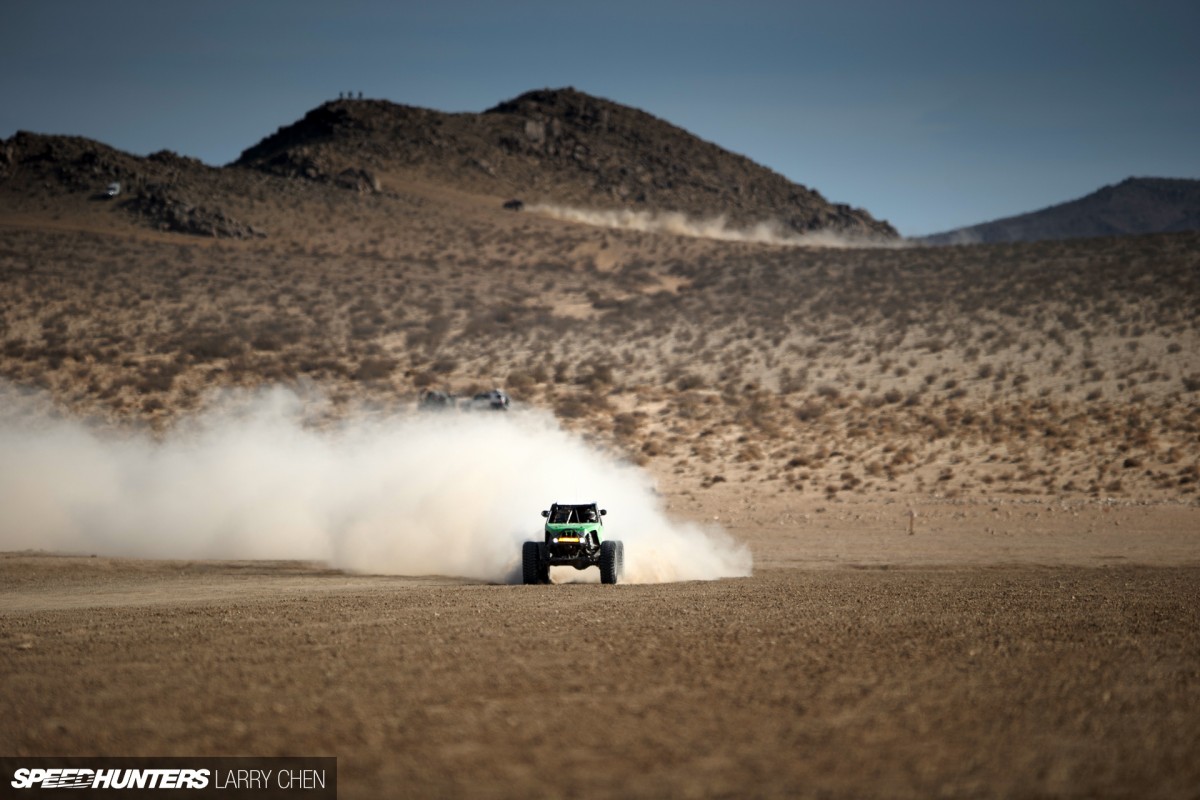 After getting some involuntary dental work going through the rock trails, drivers get to really stretch the legs of their vehicles on the dried-up lake bed.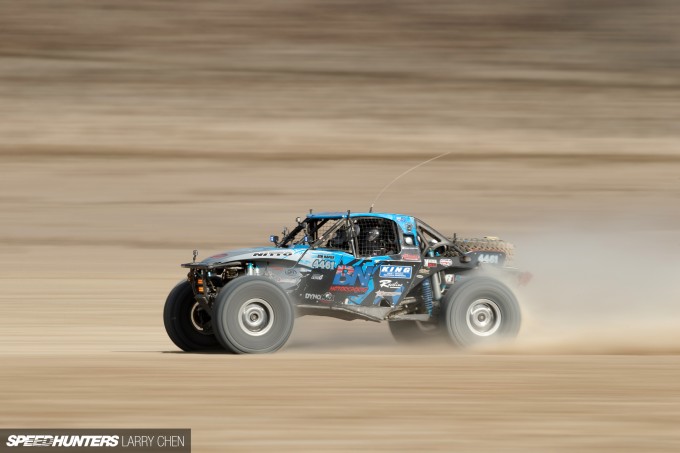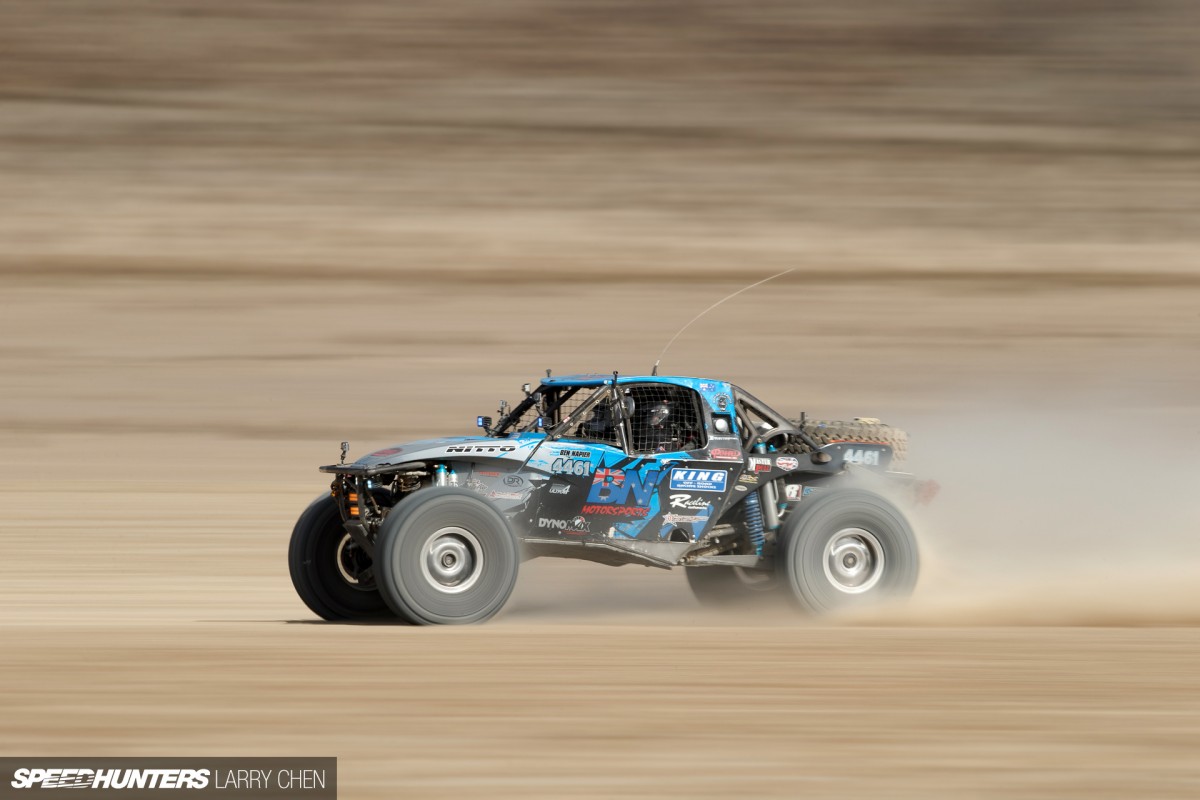 Last year I posted a few photos from my buddy at AmDrift.com, and this year I got the exact same rig, at the exact same location in a similar shot. I couldn't have planned it this way even if I'd tried, because it's super-hard to know exactly where a certain team is on the course.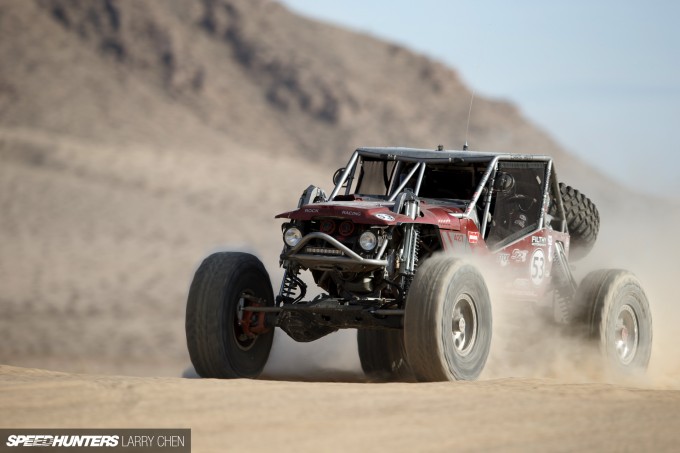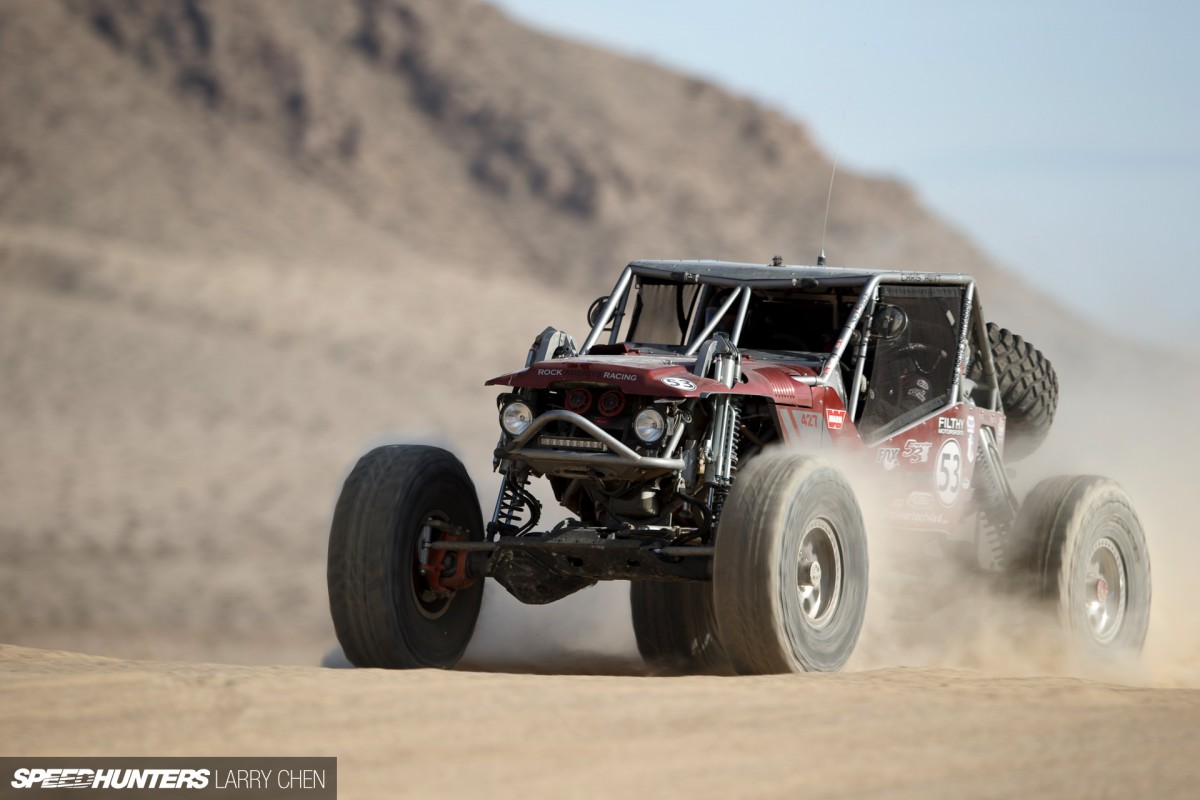 There are just so many machine, and even though there's a FM broadcast charting positions, as soon as you trek away from Hammer Town, you lose reception.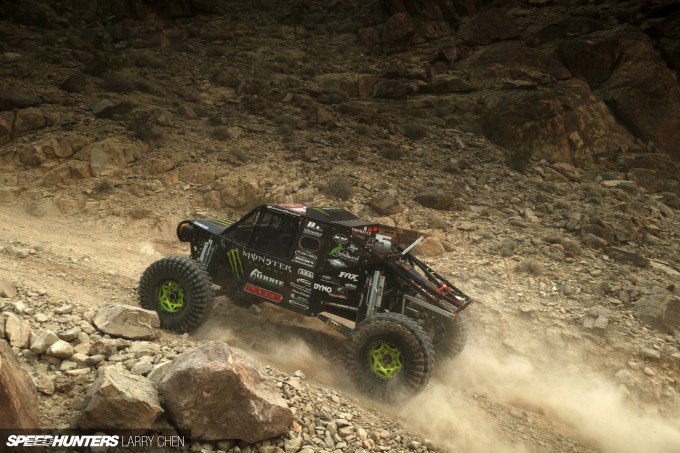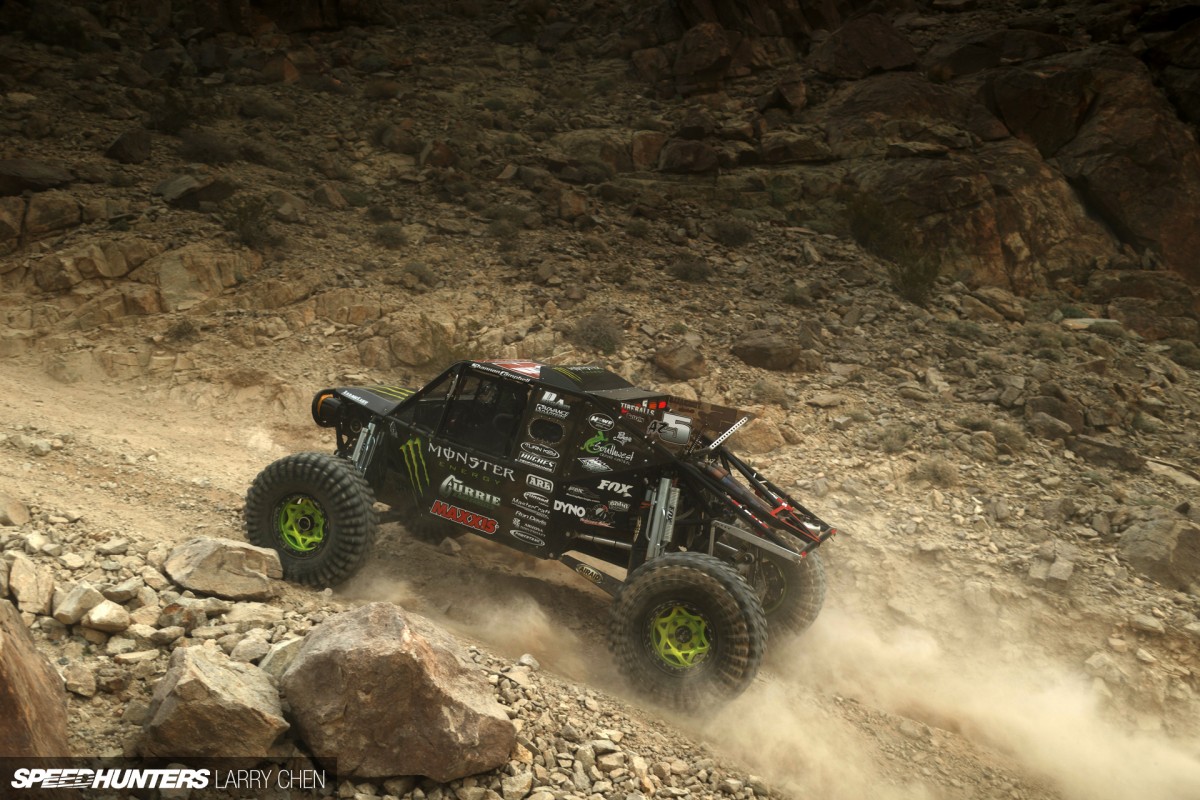 It was easy to keep one step ahead of the leaders like Shannon Campbell, as there was always a chopper hovering above. It's how we found out that Shannon's rig had suffered catastrophic engine failure just a few short hours into the race. He was the first driver to ever win this event in a vehicle with independent front suspension.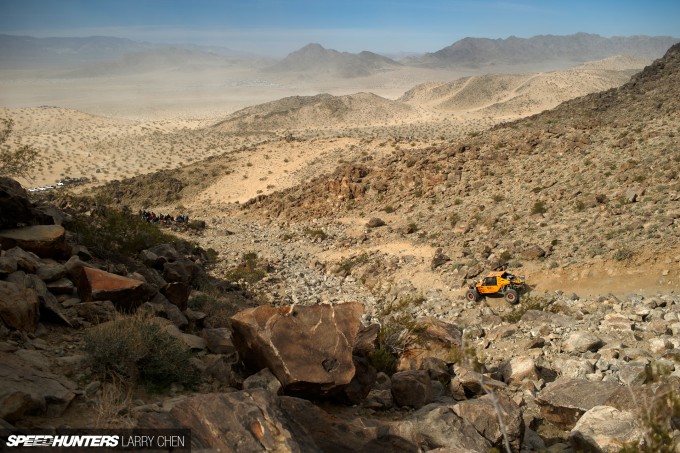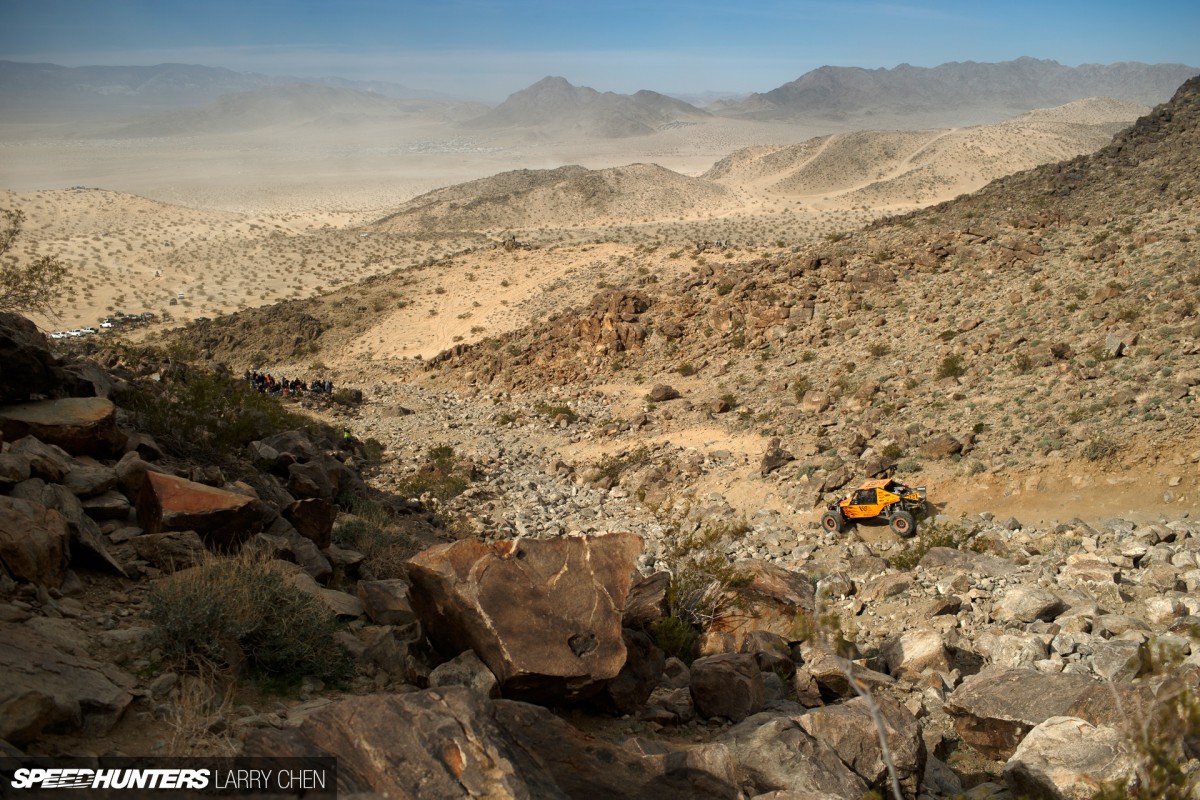 Crowd favorite Tom Wayes led the pack for the entire race, but he ran into some navigational issues and skipped a couple of major obstacles. It probably didn't help that he didn't have a co-driver either.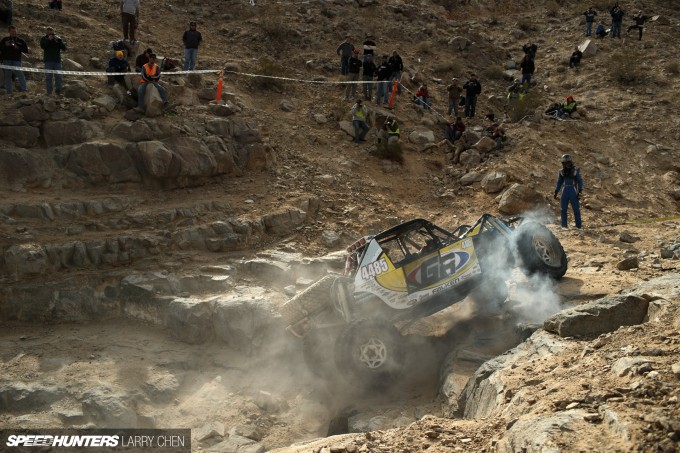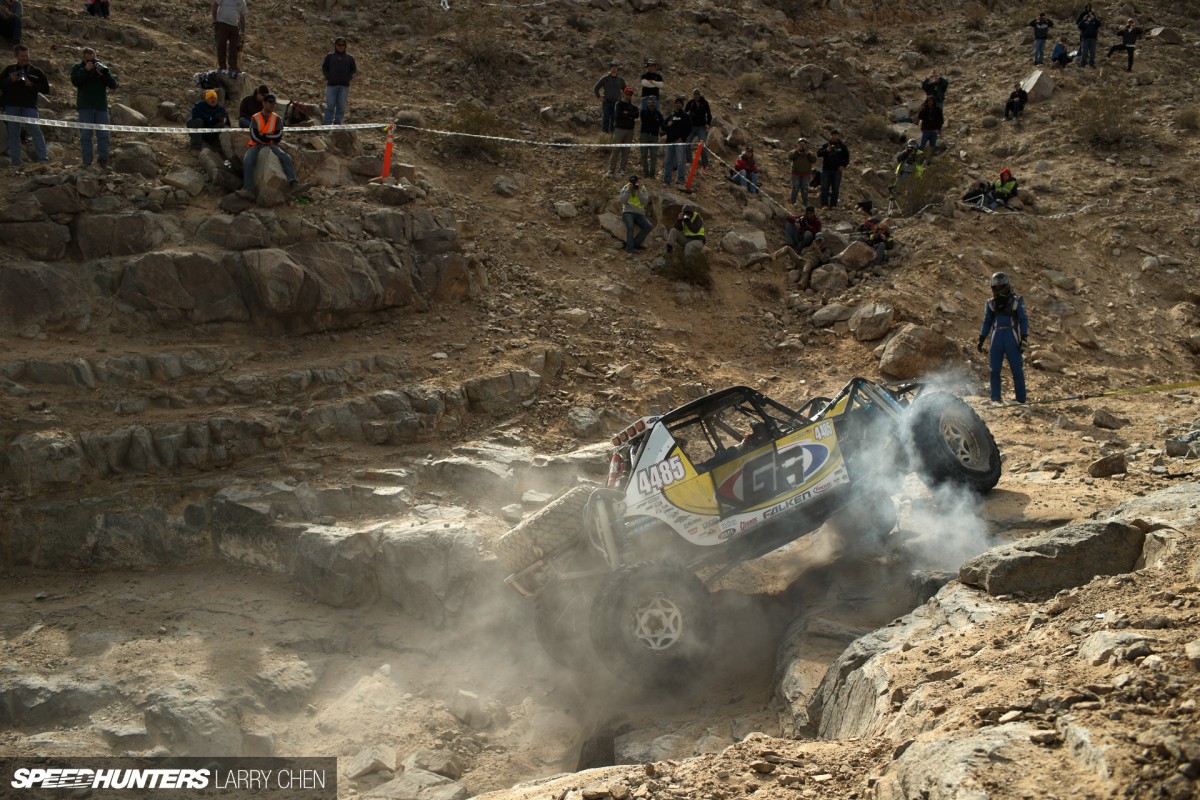 Second place went to Tony Pellegrino, who is shown here going up the second part of Back Door, while his co-driver watches on. A little bit of guiding from the outside could mean the difference between flipping over and getting over an obstacle. It's more of a race of attrition than anything else.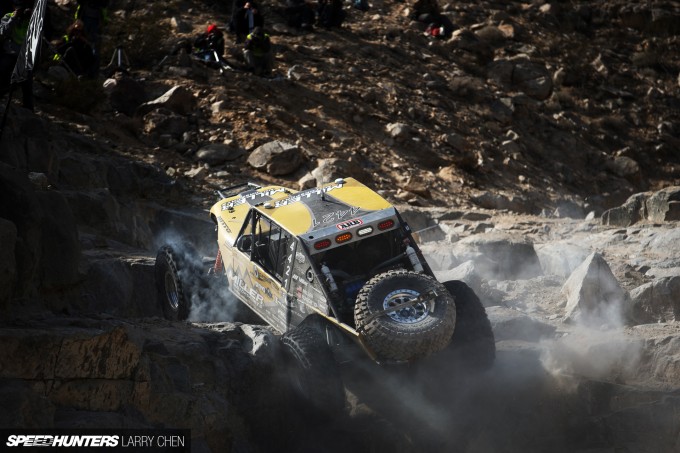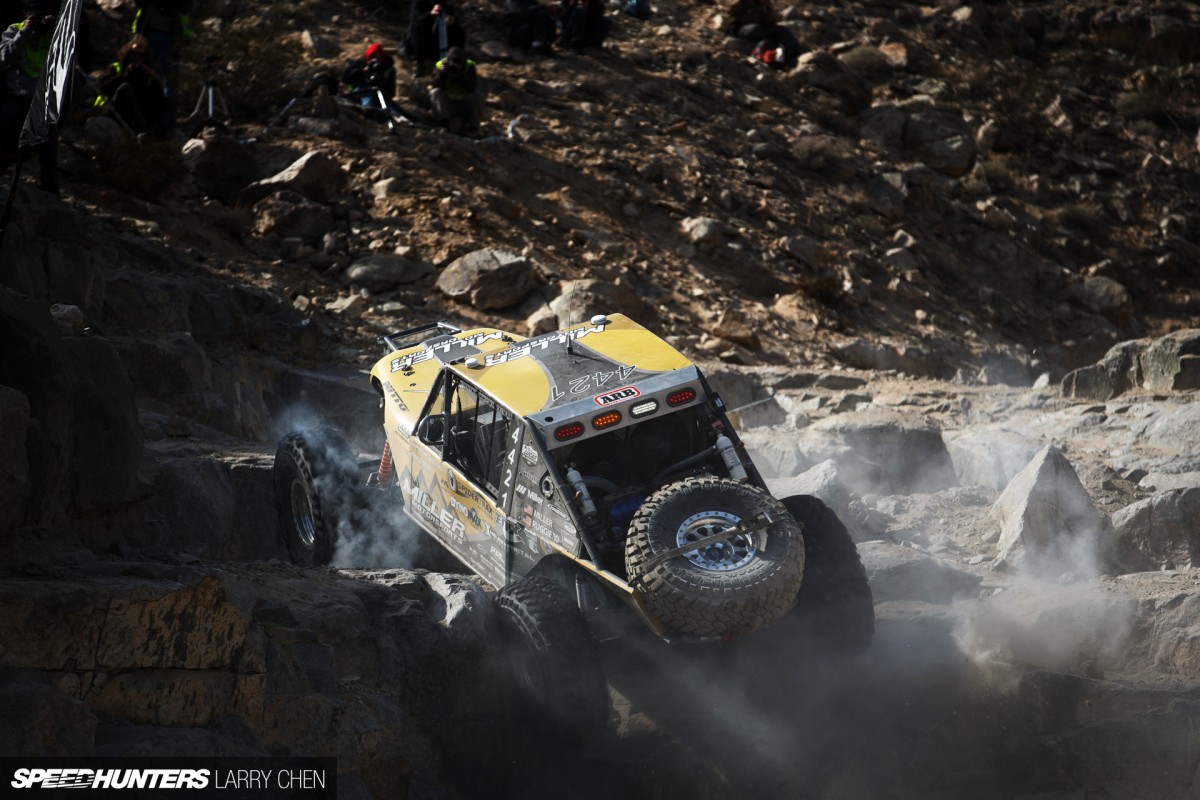 It just comes down to experience, and some guys put the pedal to the metal without having to winch their way up.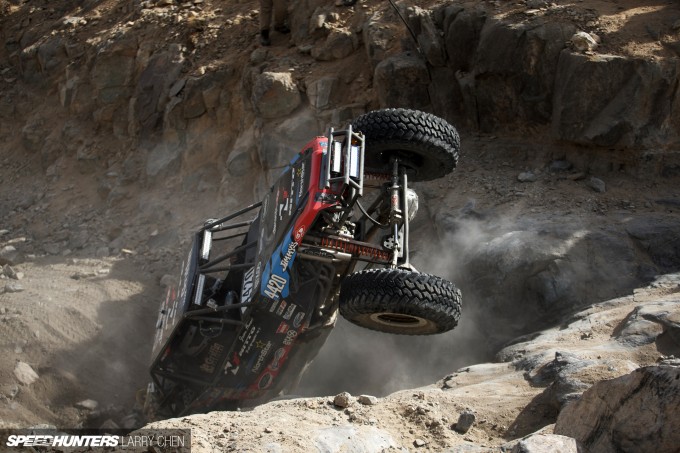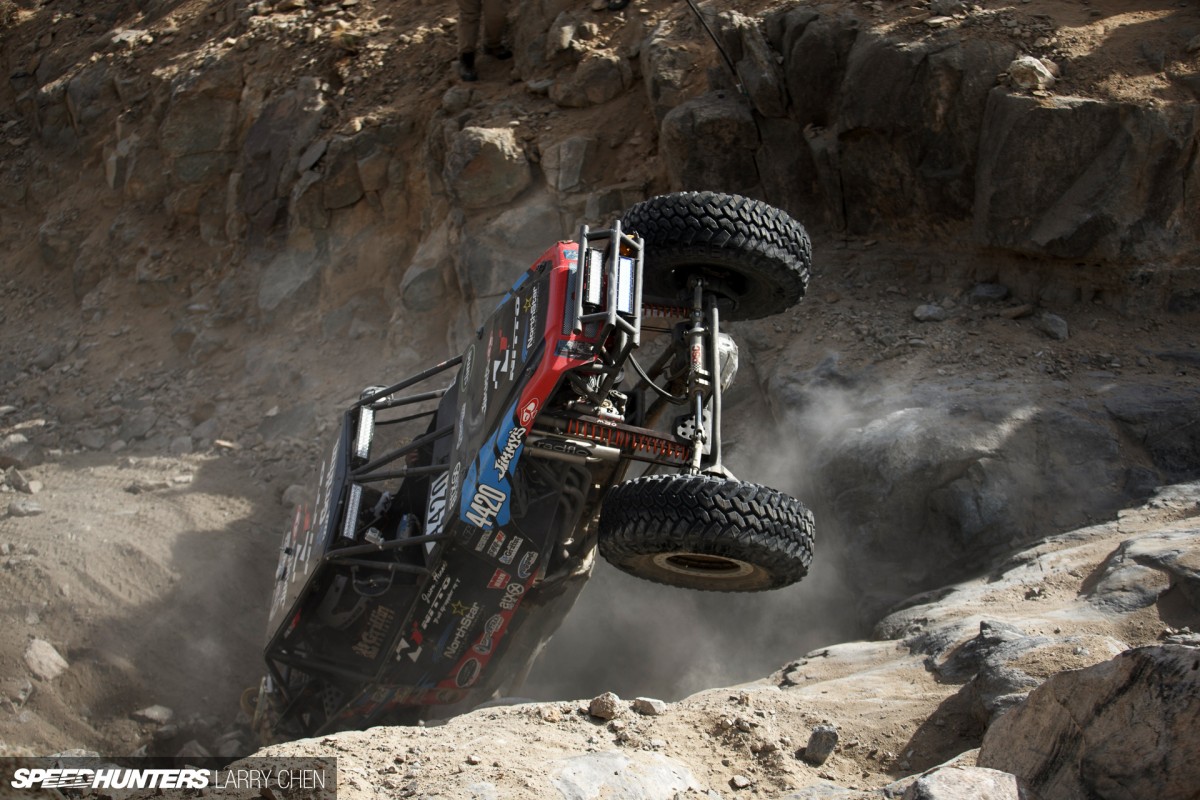 Others struggled a bit, having to take more time on certain obstacles.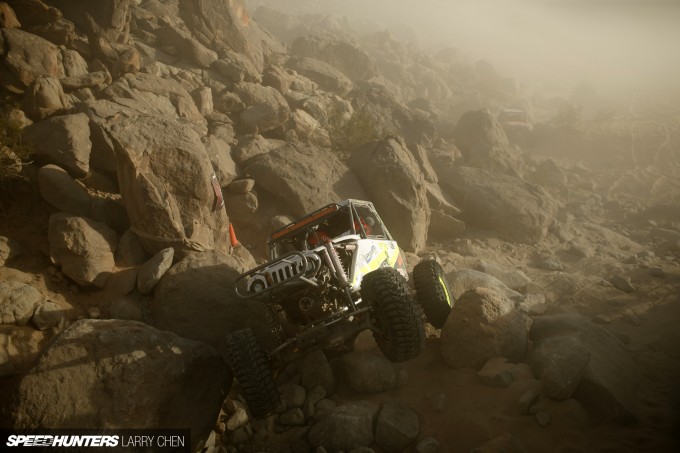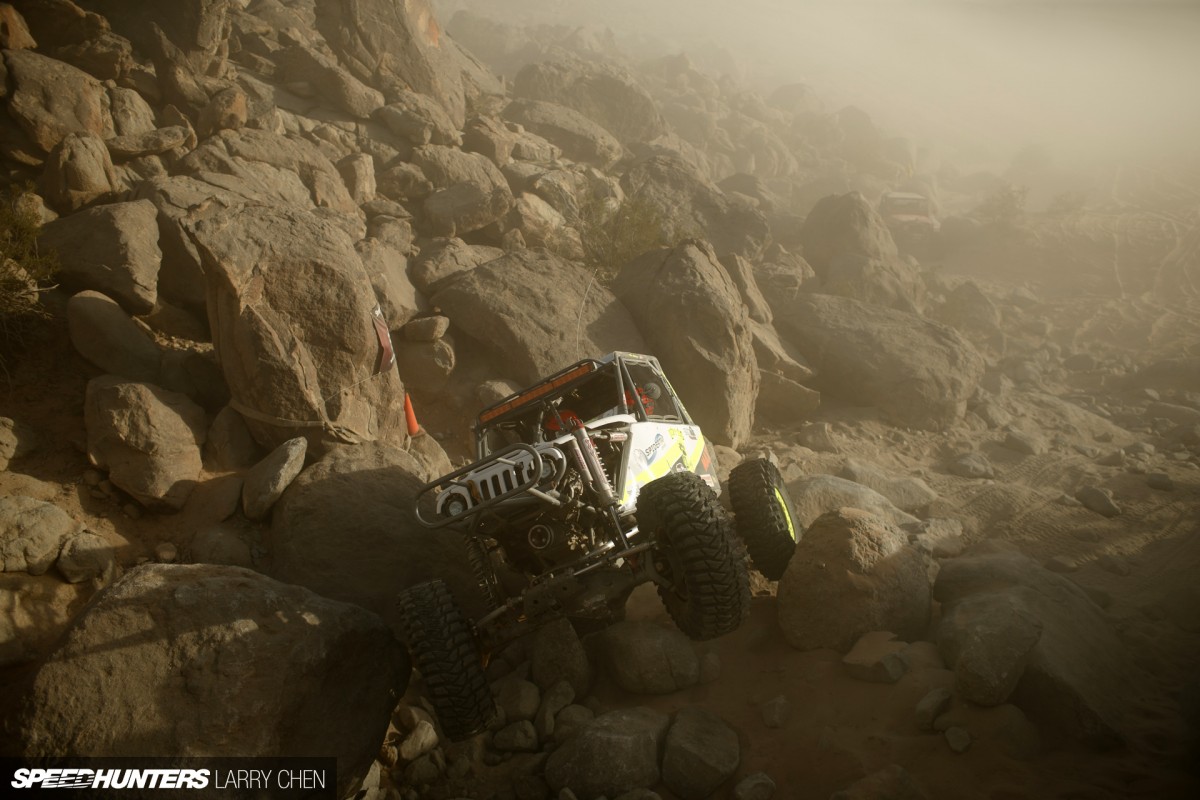 There were those moments where the wind was so intense it would blow sand in my eyes and I could barely make out if a car was coming over the hill. Shooting in the middle of a sandstorm was not so much fun, but I will get into that more in a later post.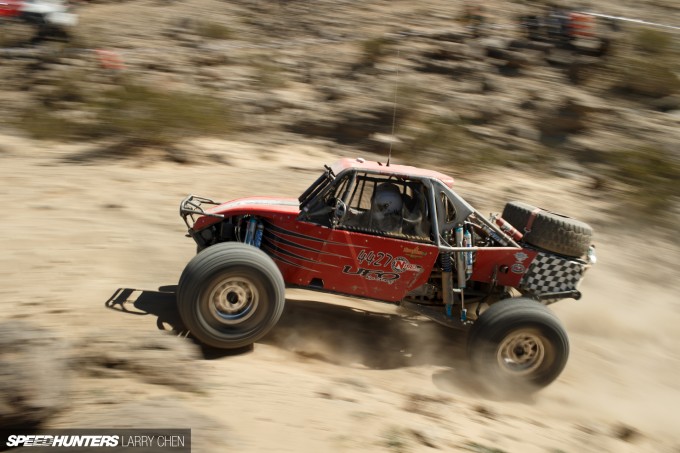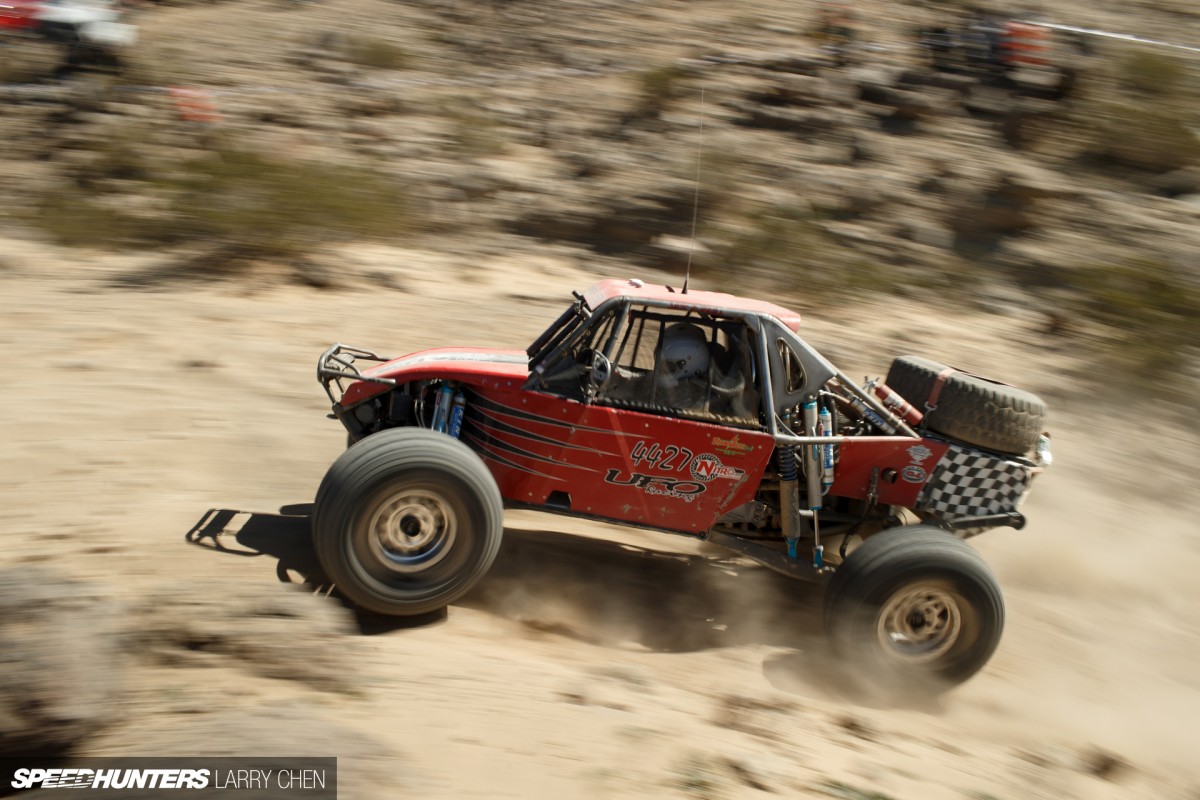 When you hear the motors, and the creaks and squeaks of the suspension as they roll by, you kind of forget about everything else.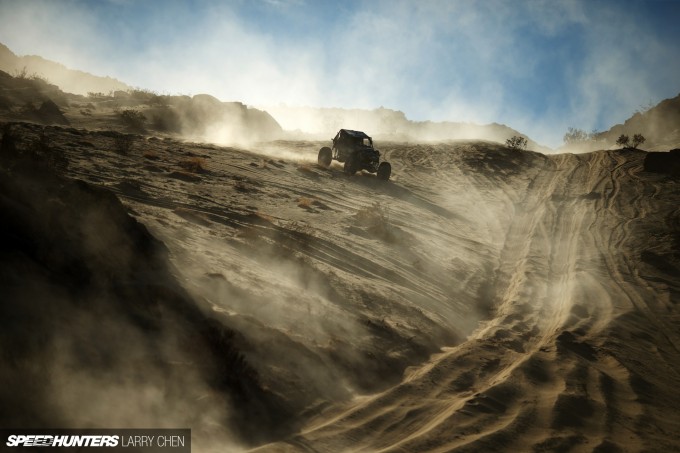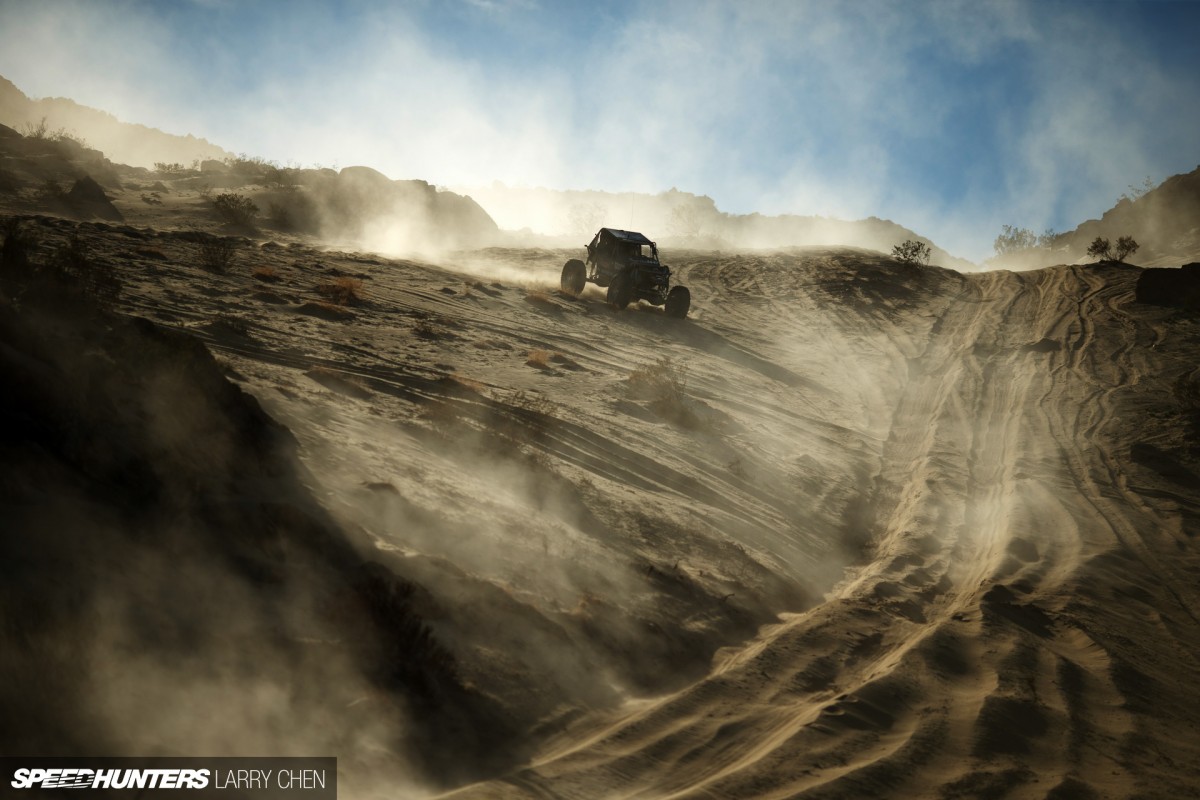 It's one of the most beautiful races in the world and it puzzles me why it's not in the spotlight more often.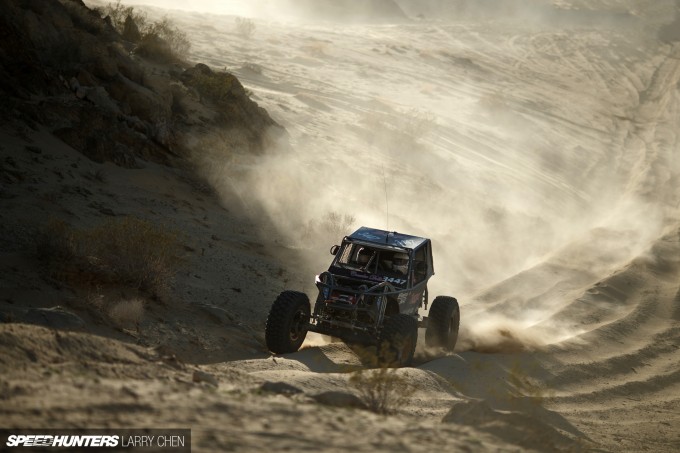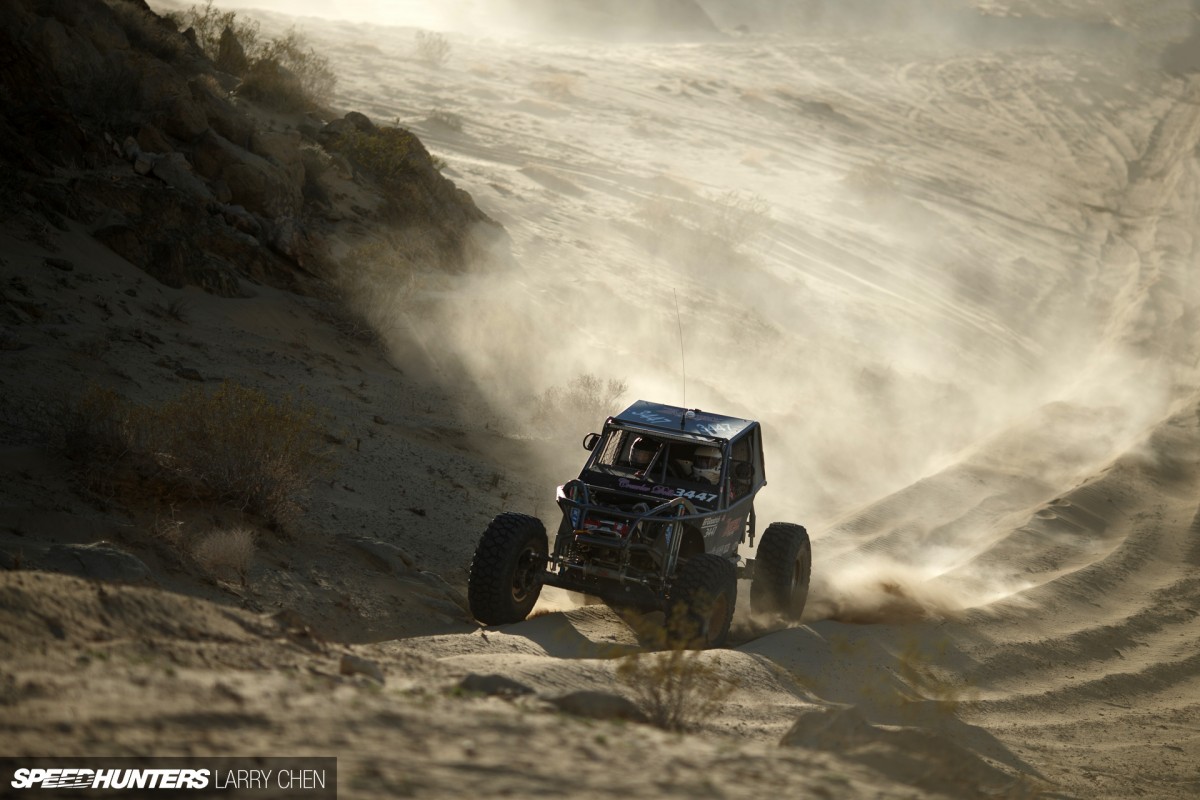 It's hard to believe that there's not another race like it in the world, but then again, I guess that's why people travel from all over just to compete and take a shot a becoming King.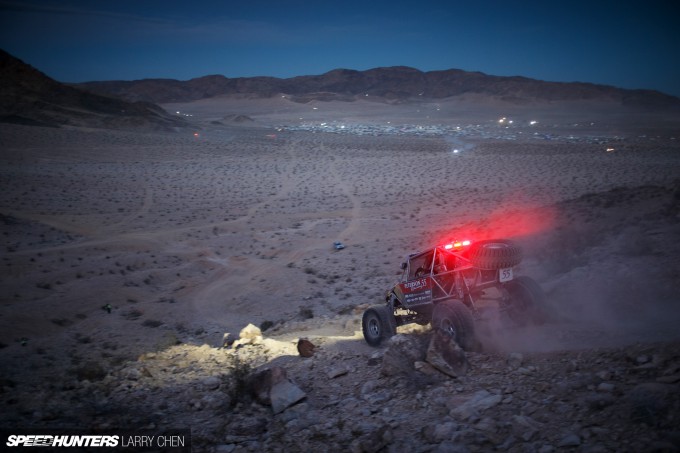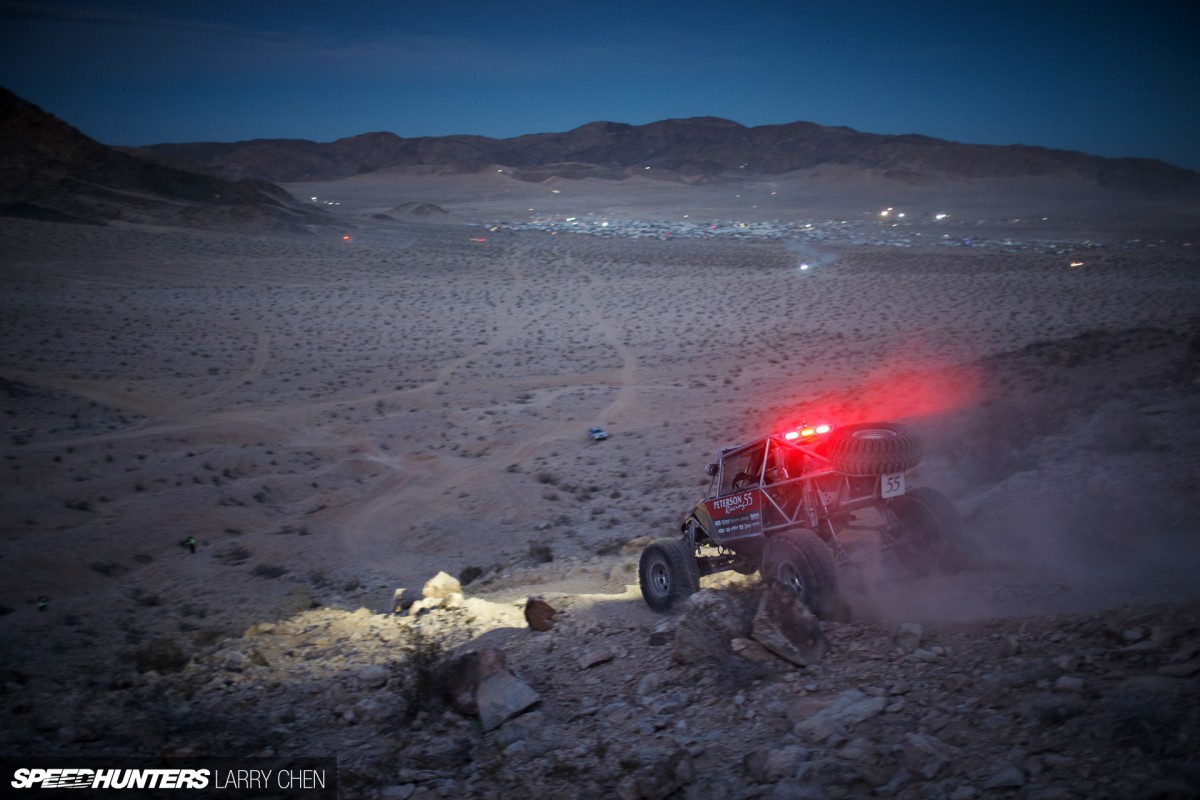 Long after the race leaders cross the finish line, 80% of the field is either still battling hard to finish, or stranded somewhere waiting for help.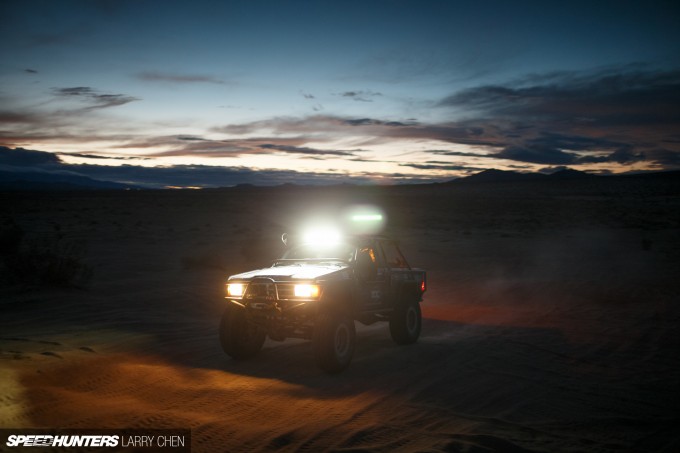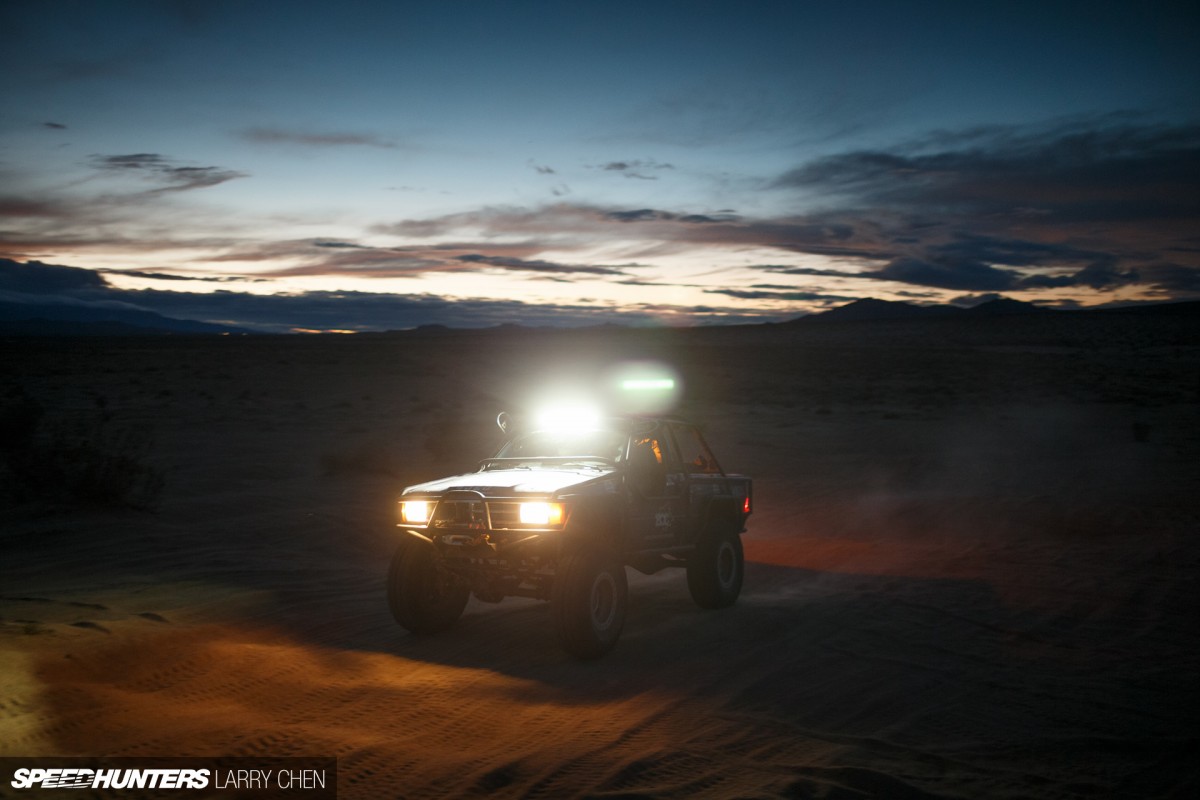 In both the Everyman Challenge and the main King of the Hammers race, I watched drivers push it hard through the night, even though they wouldn't receive an official finish.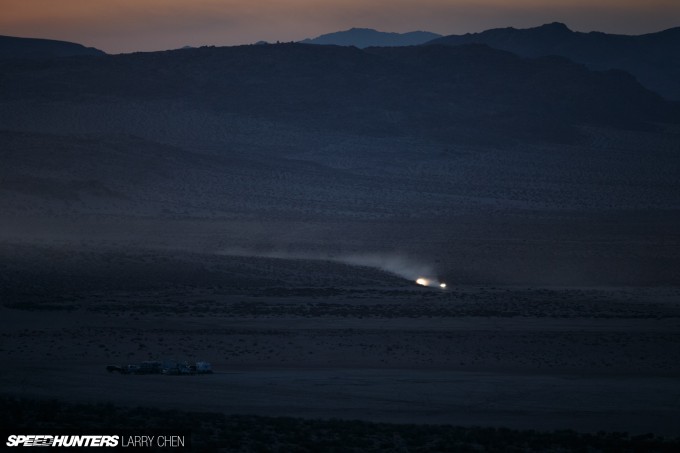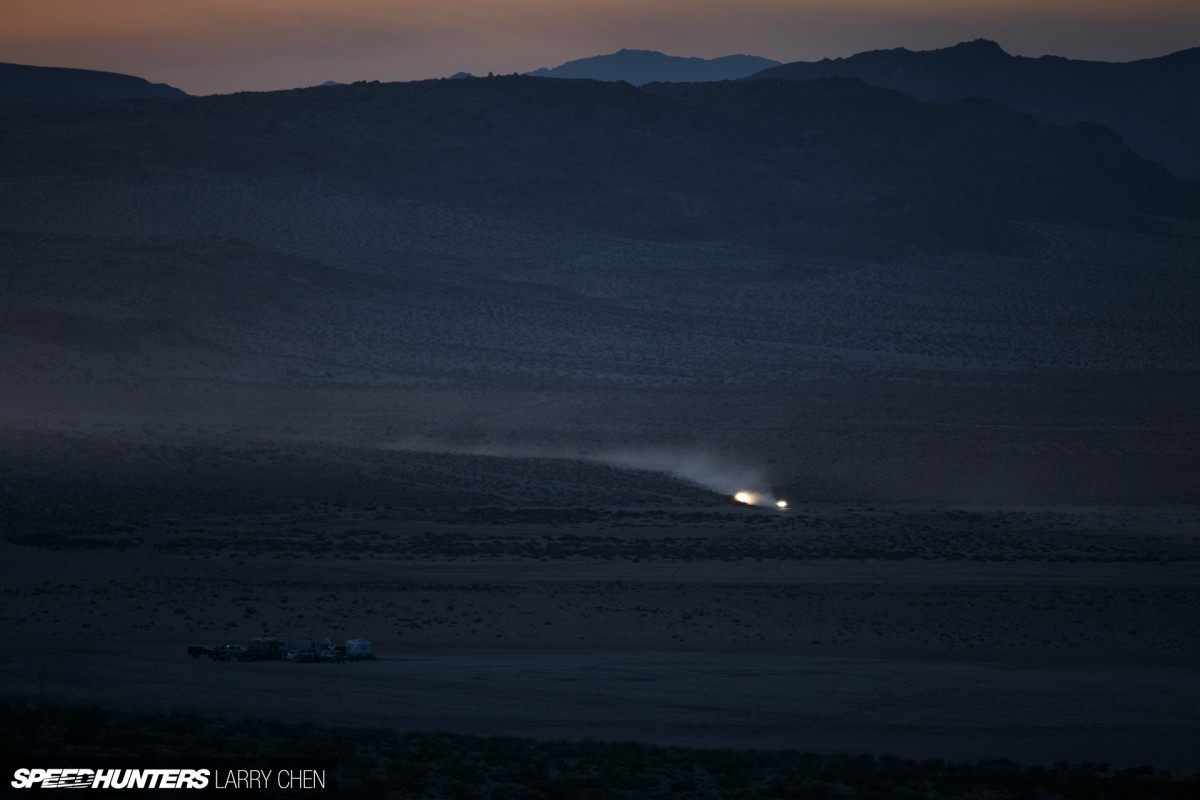 As we were about to leave, we could still see tiny lights flickering in the distance, followed by tiny rooster tails of dust and smoke.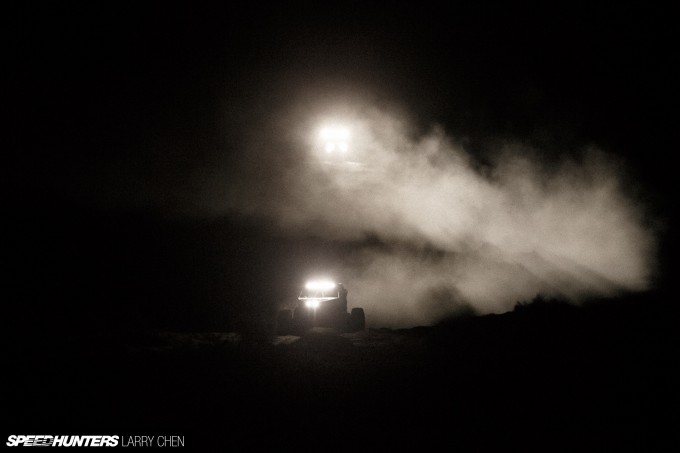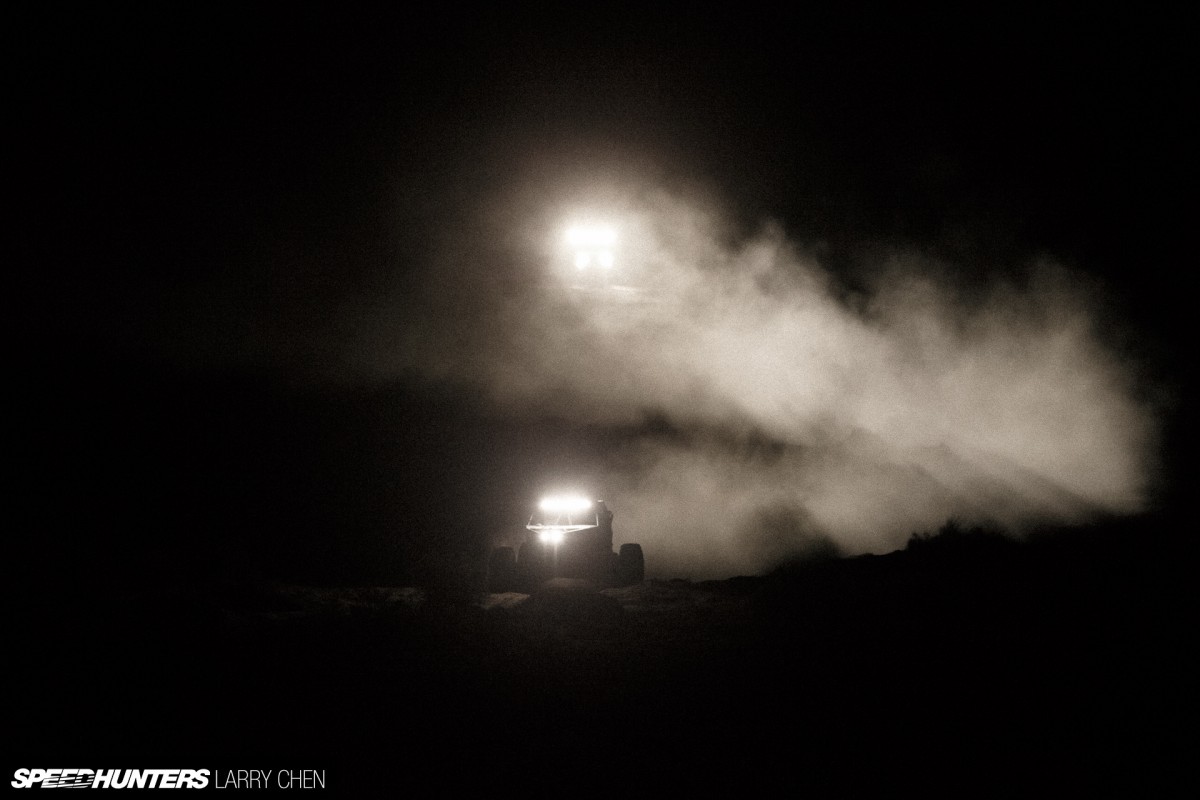 Just a few more shots, I thought to myself. It's never-ending though, and in order to get photos of everyone, I had to brave the freezing temperatures through the night.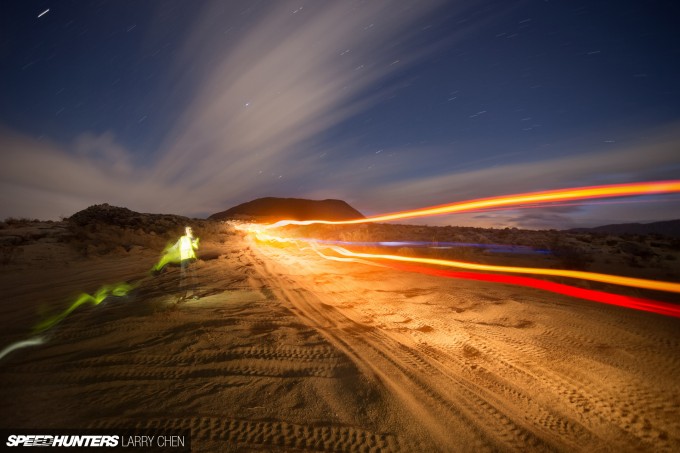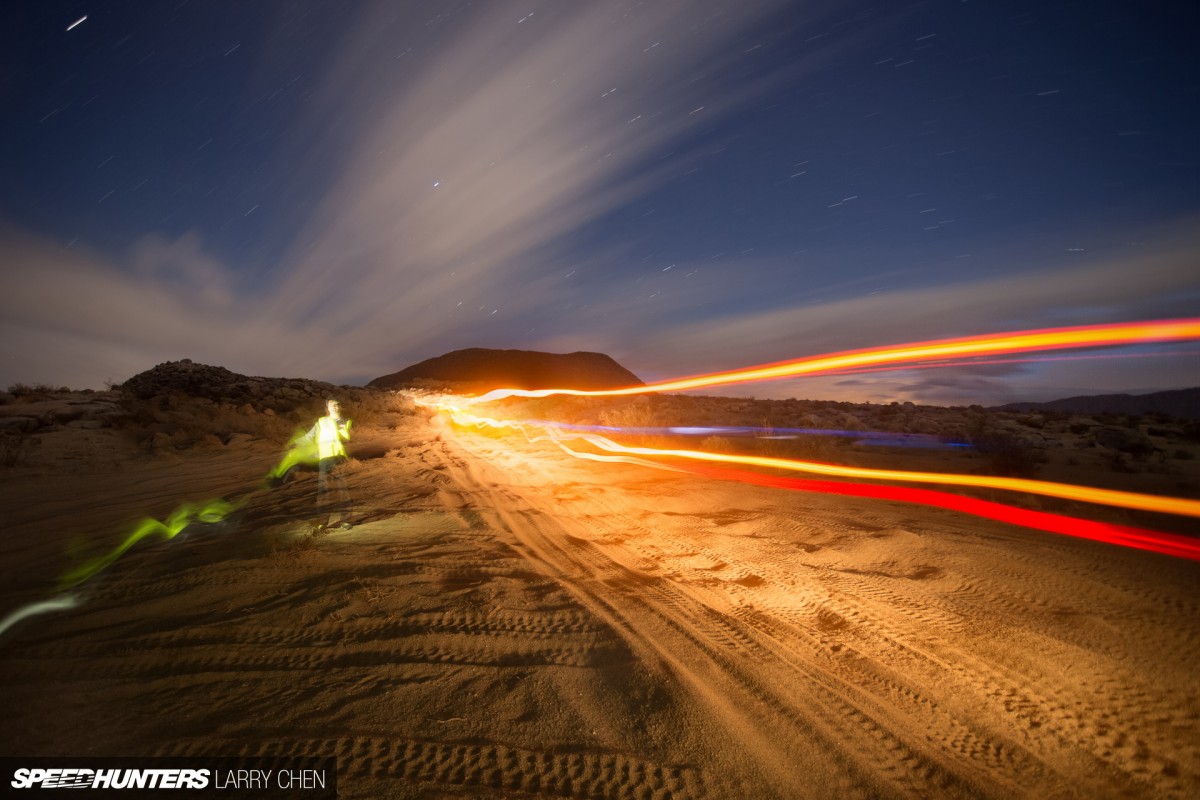 It really is amazing that no matter what kind of car culture you're into, if you want to check it out in person it's usually just a short hop, skip, and jump away. So if you like rock crawling or off-road racing in general, you should make an effort to camp in Johnson Valley California next February. I guarantee you won't regret it.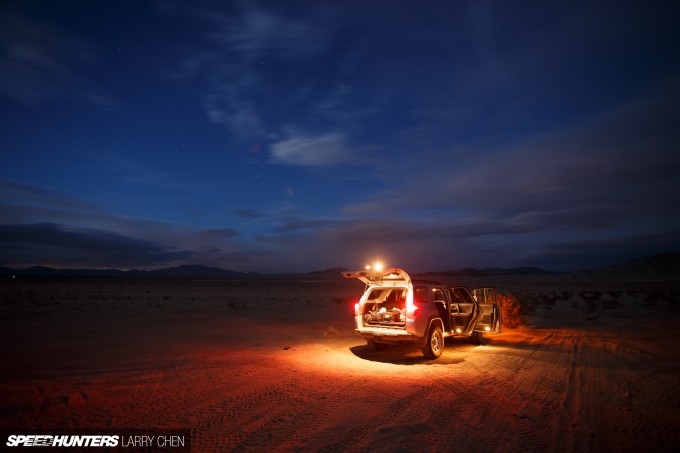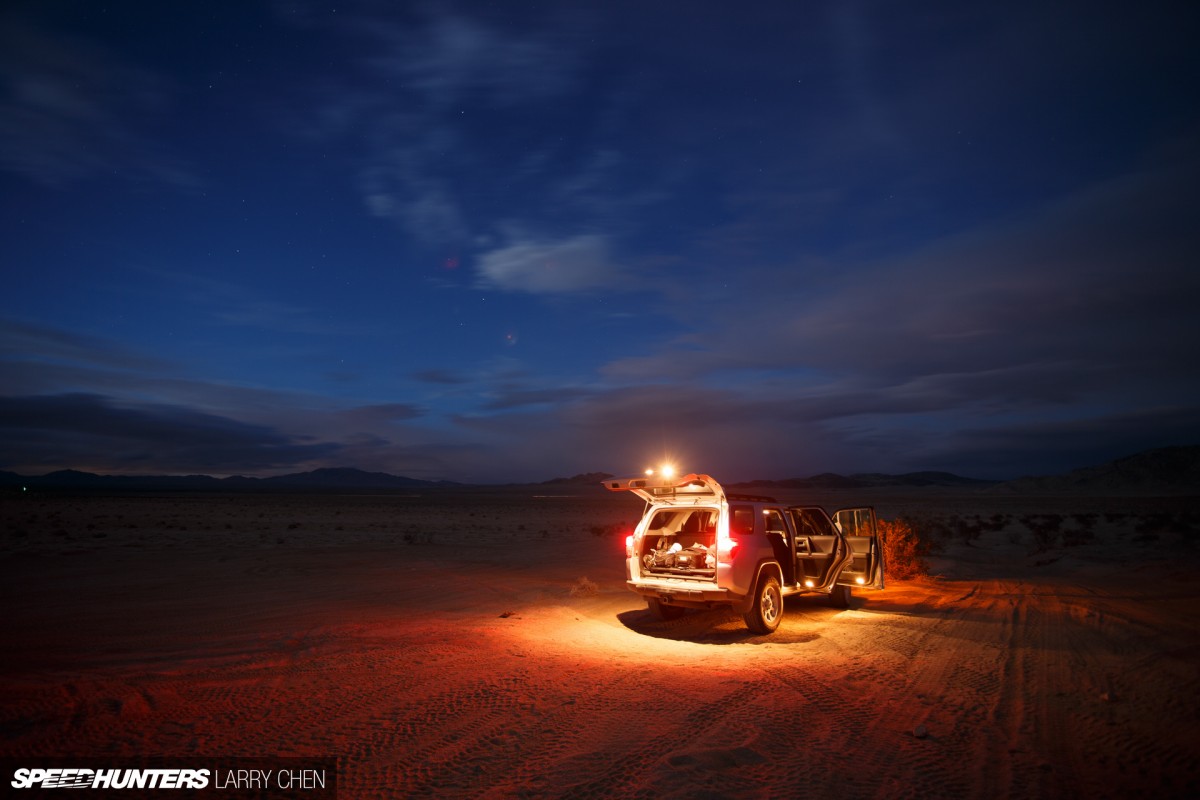 In my next post I'll touch on what it was like to do a bit of off-roading myself, as you have to pass through some harsh terrain just to reach parts of the race course. Until then, enjoy the photos. For more info and for all the results check out the Ultra4Racing website.
Larry Chen
Instagram: larry_chen_foto
larry@speedhunters.com