Every year, thousands of off-road racing fans gather in Johnson Valley, California, for the King Of The Hammers. After shooting motorsports for over eight years, I have never seen anything like this.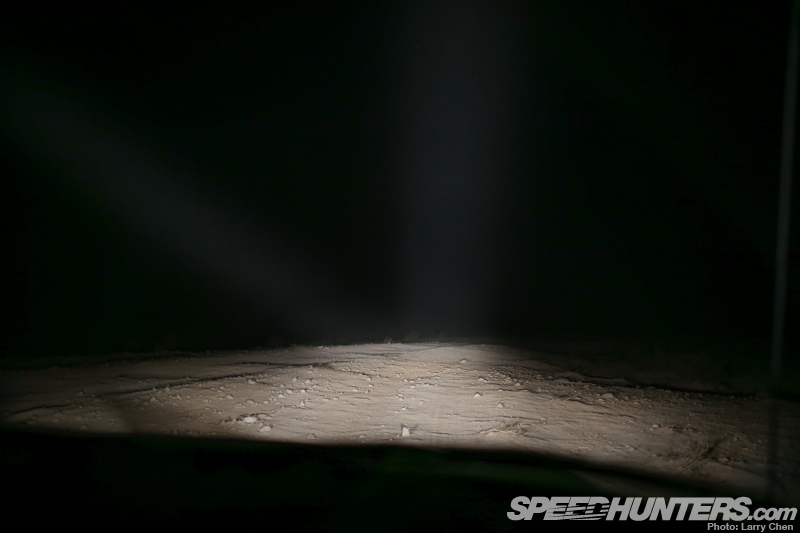 We arrived in the desert at night, and after we setup our camp we headed out to the most popular spots to check out some of the rock crawling.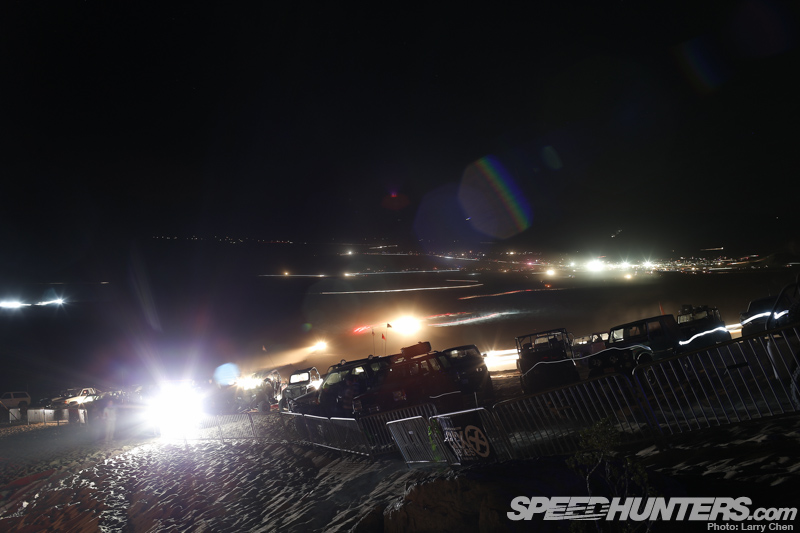 For the rest of the year, Johnson Valley is completely deserted. But every year for two weeks, a city of tents and recreational vehicles emerges, known as 'Hammer Town'. The entire town is within the area of a dry lake bed.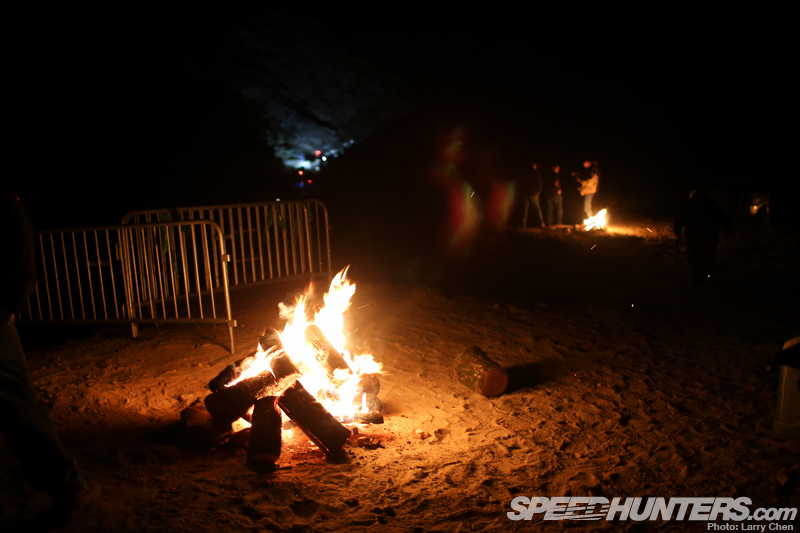 Temperatures at night drop to 32 degrees fahrenheit (0 degrees Celsius), and the air was thick with dust and campfire smoke.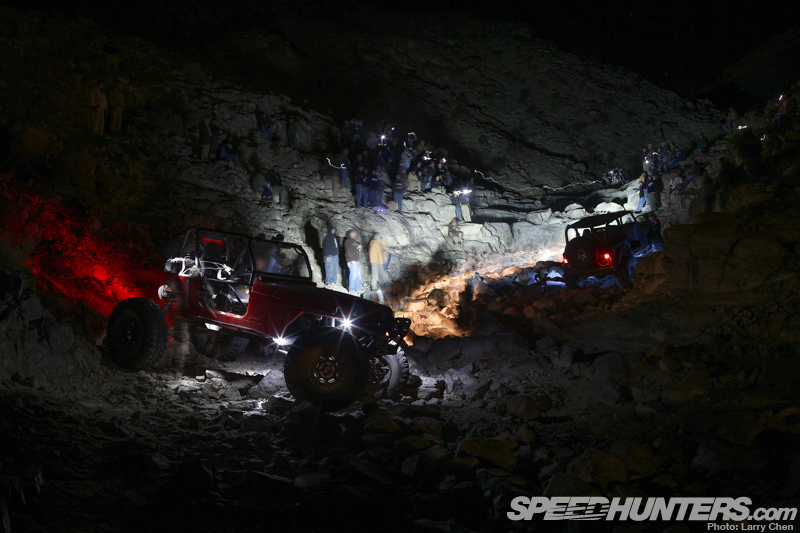 The first spot we hit is known as 'Back Door', and it was one of the most popular rock crawling locations of the entire race. It is also one of the hardest areas to conquer.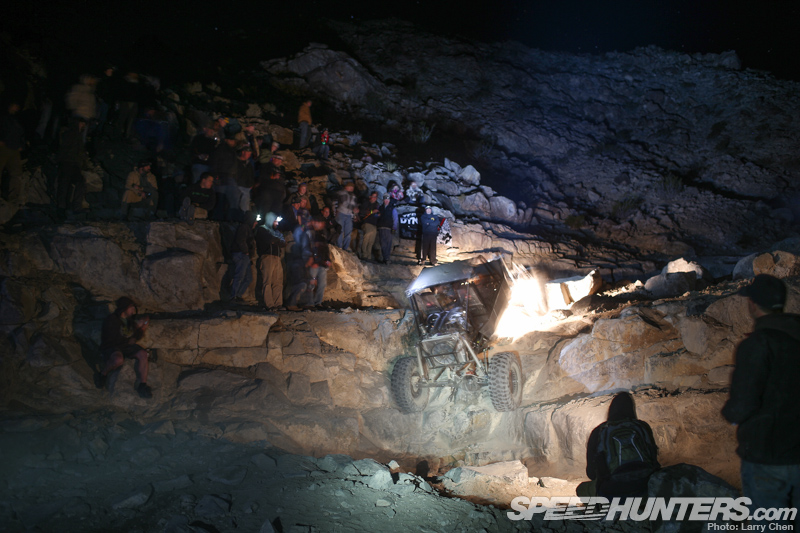 It is actually a dried-up waterfall, and the rock crawlers that were tackling it that night were mainly spectators! I thought this was the coolest part of this race. Many of the spectators participate in the festivities and run the exact same routes that the professionals hit during the main race.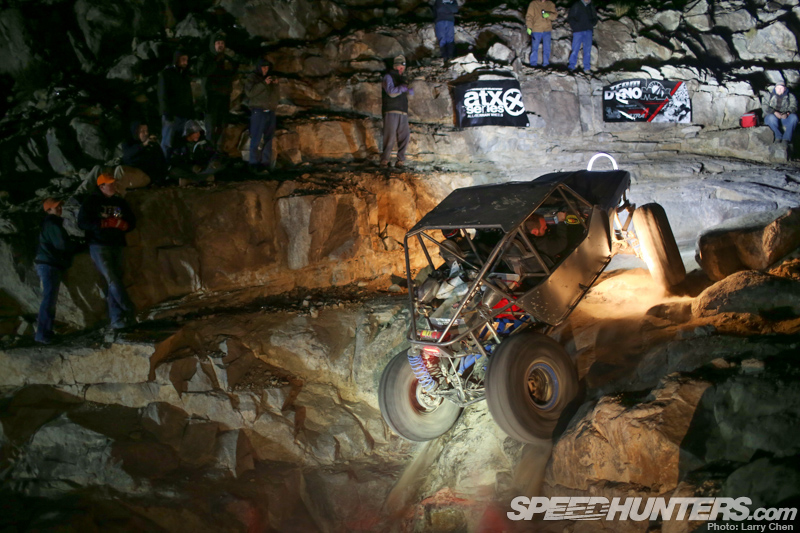 Many of them are aspiring to eventually tackle the entire course, which is one of the most grueling races in the entire world.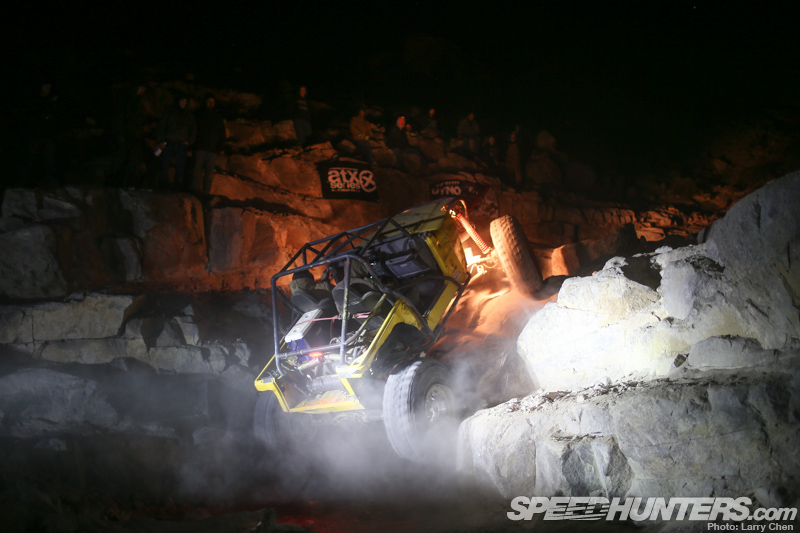 Fans filled the surrounding hills providing lights with their torches, but at the same time they were also providing very intense commentary. Much of which was about the mothers of the drivers…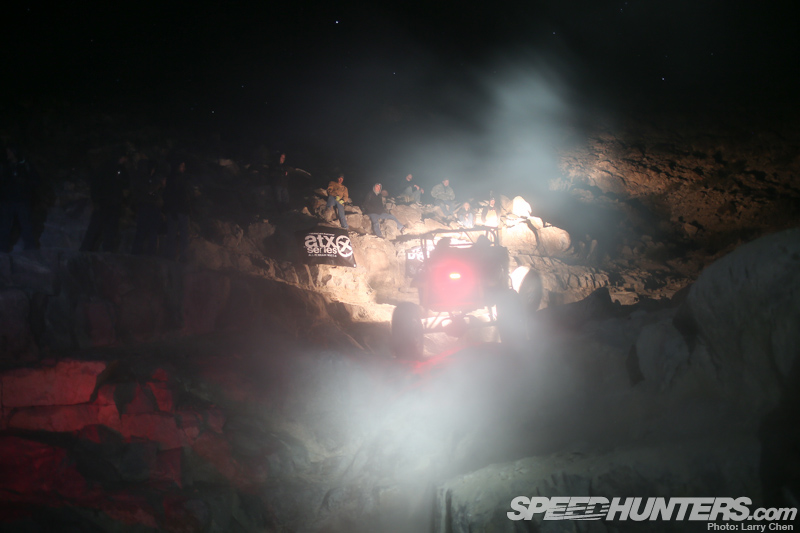 …or sisters, depending on if they made it up Back Door or not. Once someone made it up everyone cheered and stopped with the mother insults.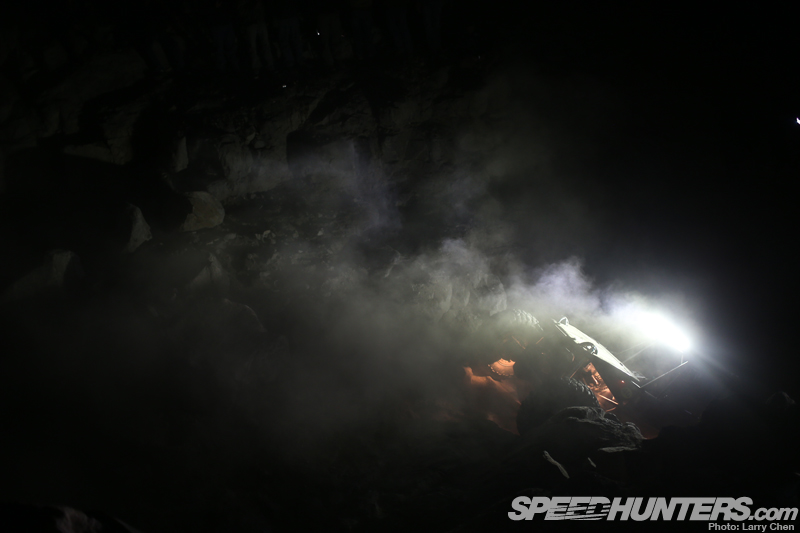 This was my first time seeing this kind of motorsport, but I noticed that everyone had their own technique.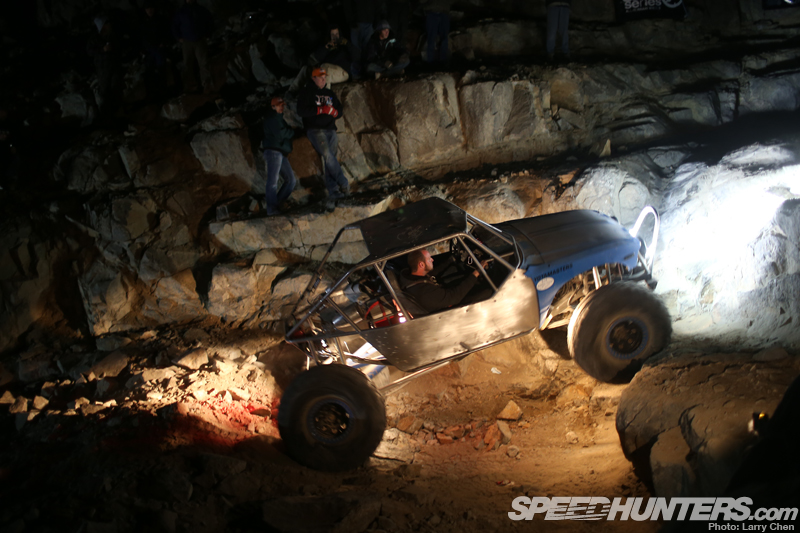 Some of the guys tried to go very slow and crawl up the rock, hoping to have enough traction on the slick surface to make it all the way up.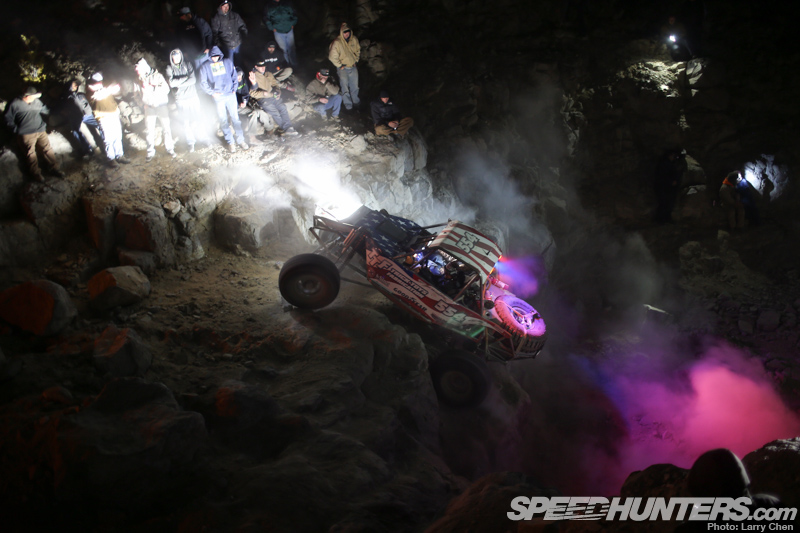 Others would floor it, kicking up lots of dust and doing-four wheel burnouts in the process. This rock crawler was actually practicing for the main competition.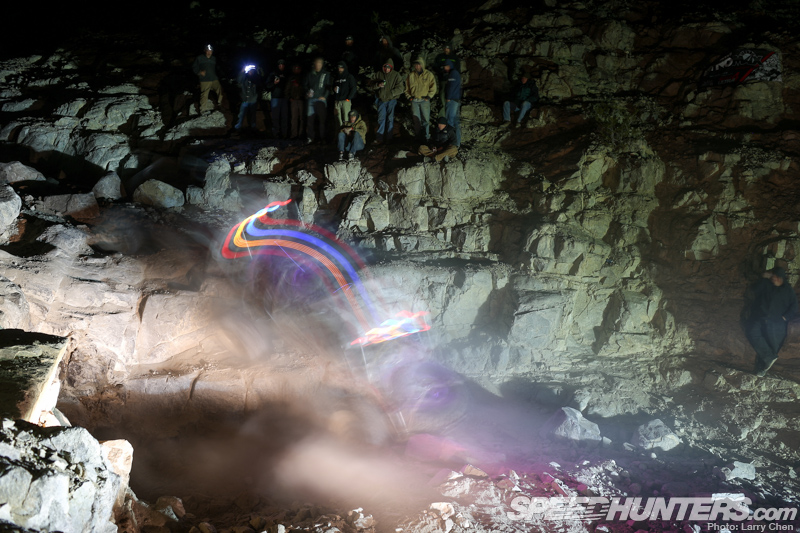 He made it up very easily using the normal line, but during the race the easiest line may be blocked by a competitor who is stuck, so he tried alternative routes.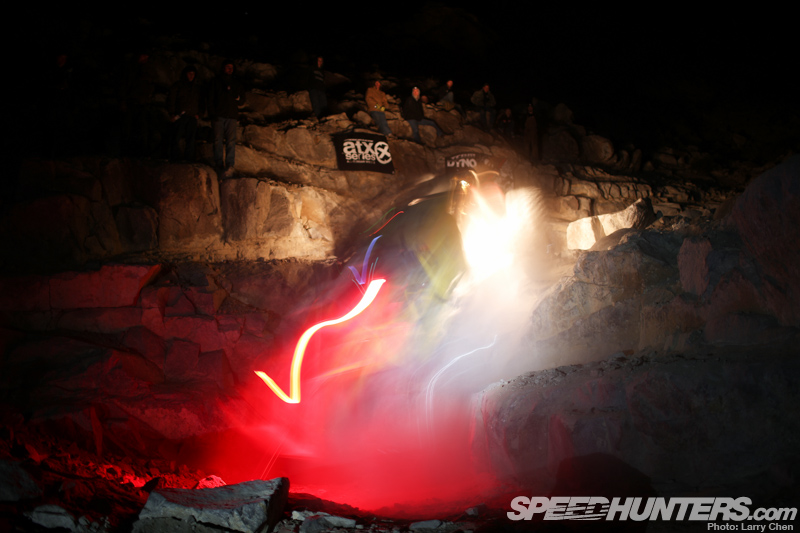 Not everyone who tried going up Back Door would make it. Some would leave with hurt prides and even more hurt gearboxes.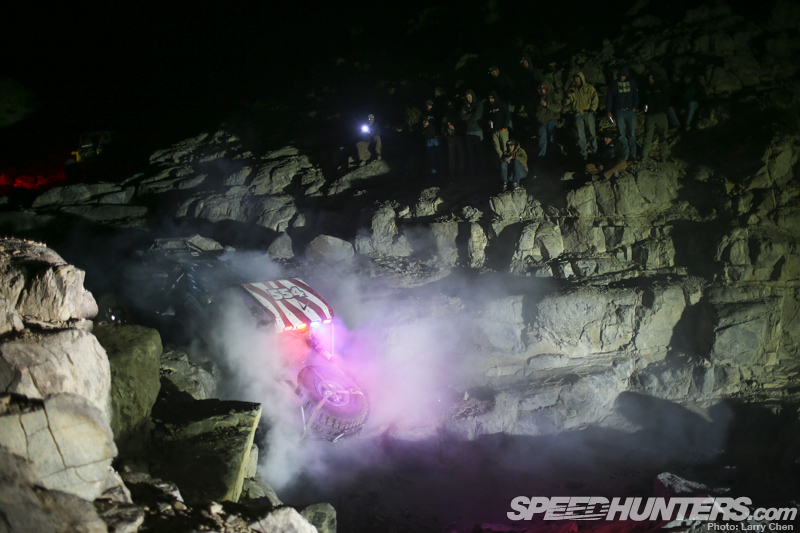 Just check out that awesome four-wheel burnout. The tire smoke and dust mixed together and filled the entire area.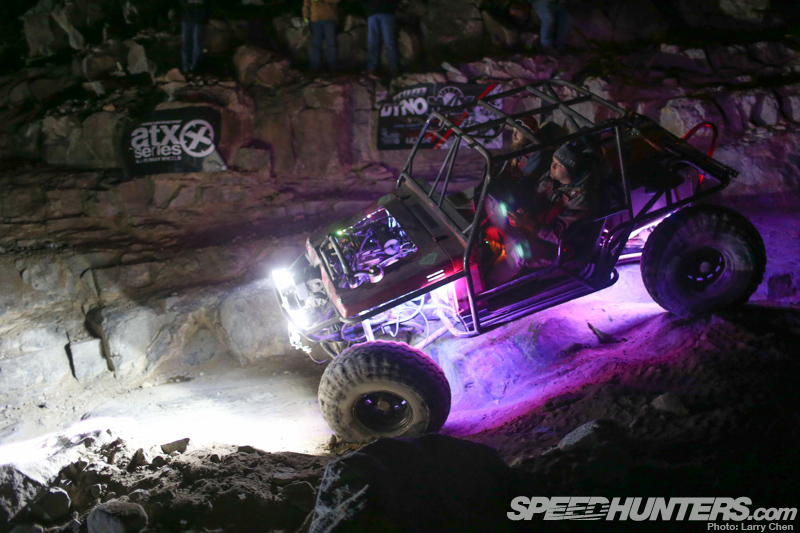 Many of the amateur guys provided the spectators with entertainment in the form of music and a light show. This poor fellow got a full barge of  mother insults when he played music that was not favored by the crowd.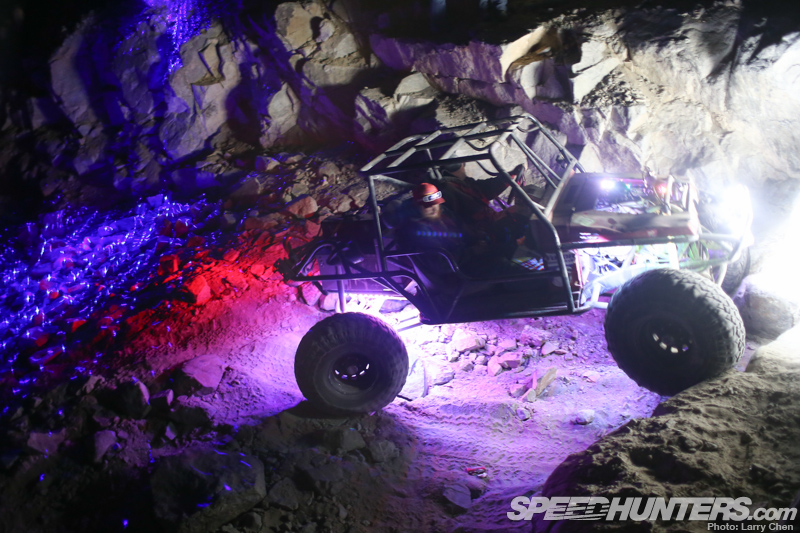 He tried very hard to make it up the notorious route, but he was unsuccessful.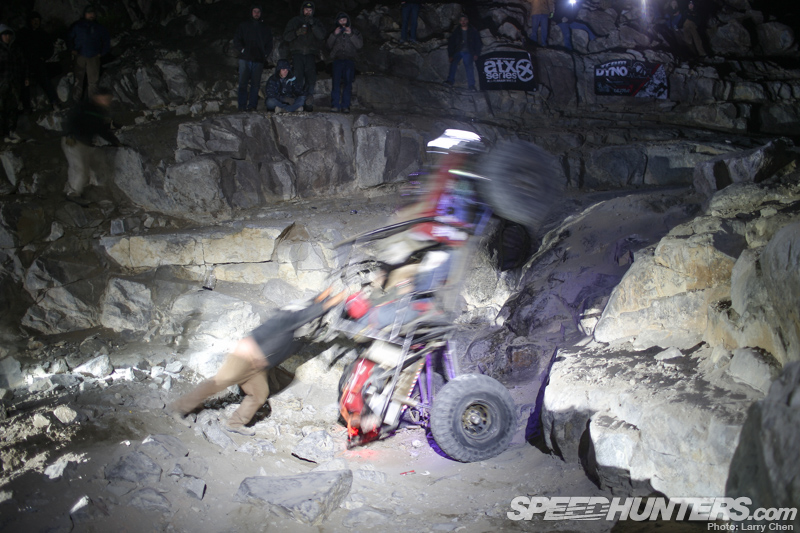 He almost flipped over and one of the spectators had to push him back on all fours. You can't blame someone for trying.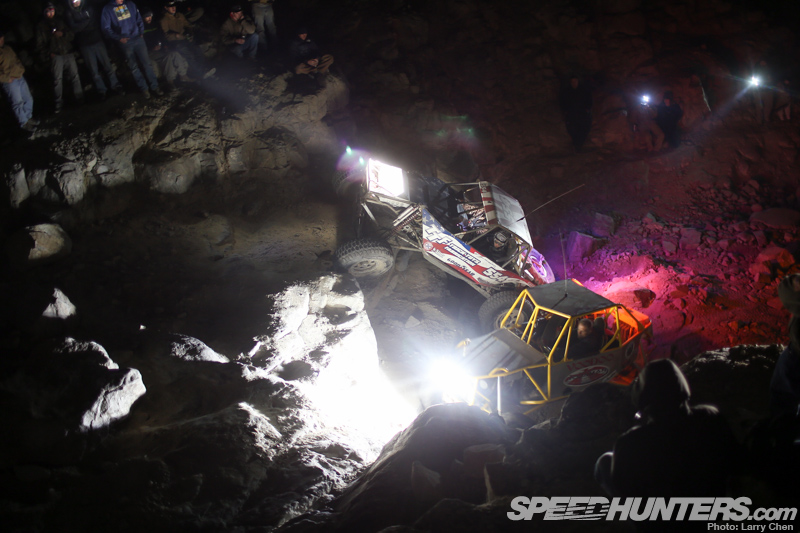 While the pro truck was trying out his experimental line, other crawlers would just tackle the normal route. There was more than enough room for two crawlers.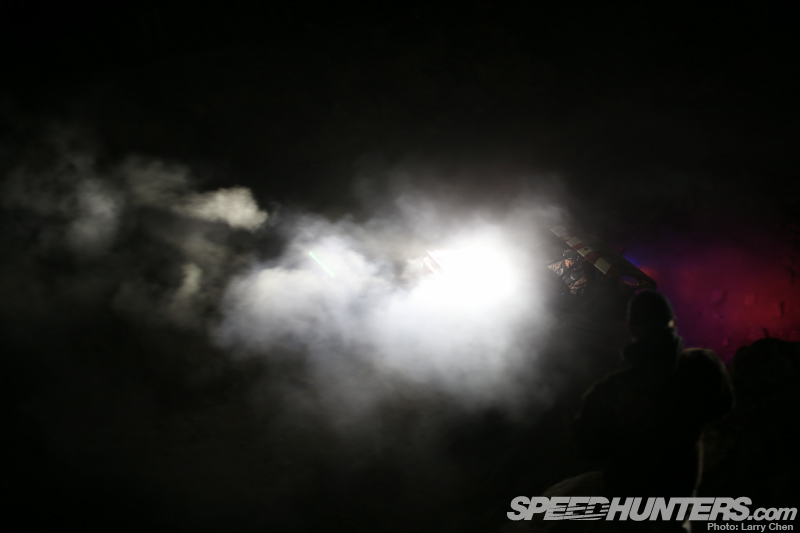 Pretty soon it was evident that there was no way he could make it up without going the normal route as he was just constantly spinning all four tires.
Just to give you guys an idea of what it was like out there, here is a quick raw video clip that I shot.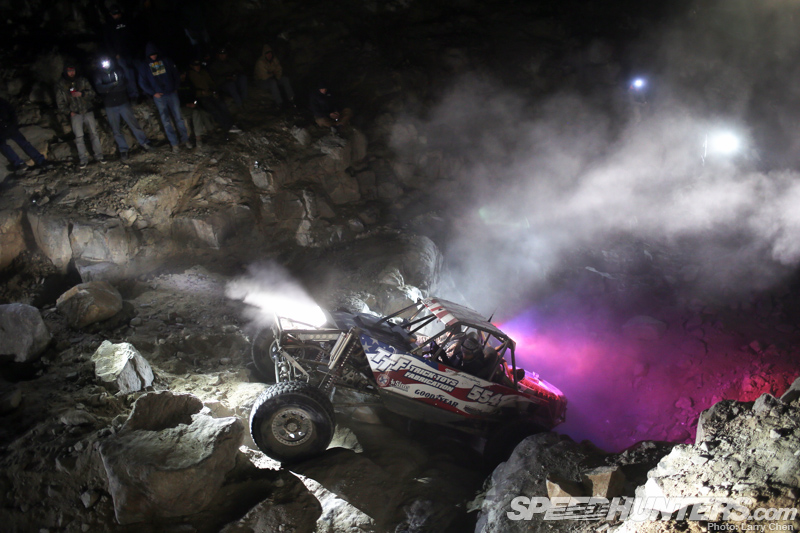 Throughout the night he made it up four separate times and on the fifth try he broke an axle. It's a good thing there was a few more days before the start of the main race.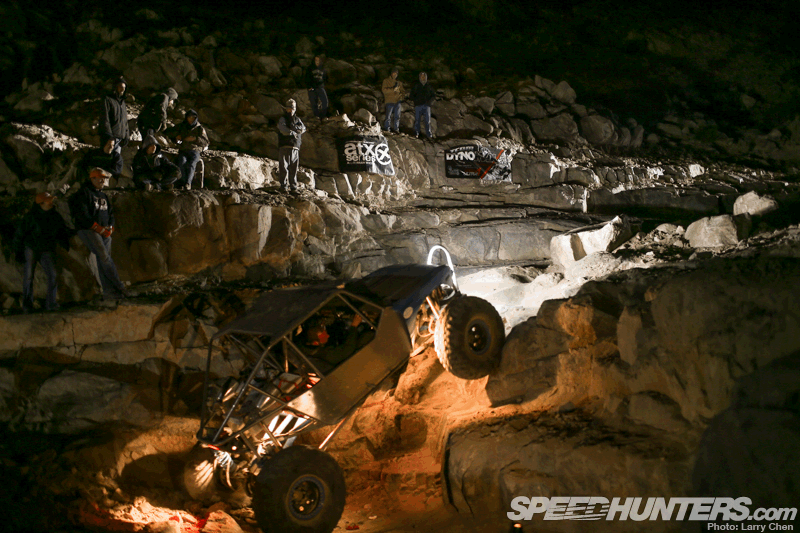 This was the 'easy route' many guys made it up that night, but on race day I did not witness a single rig make it up Back Door. Most of the guys did not want to risk their truck, as they had the rest of the race ahead of them, so they just used a winch to get up the steep waterfall.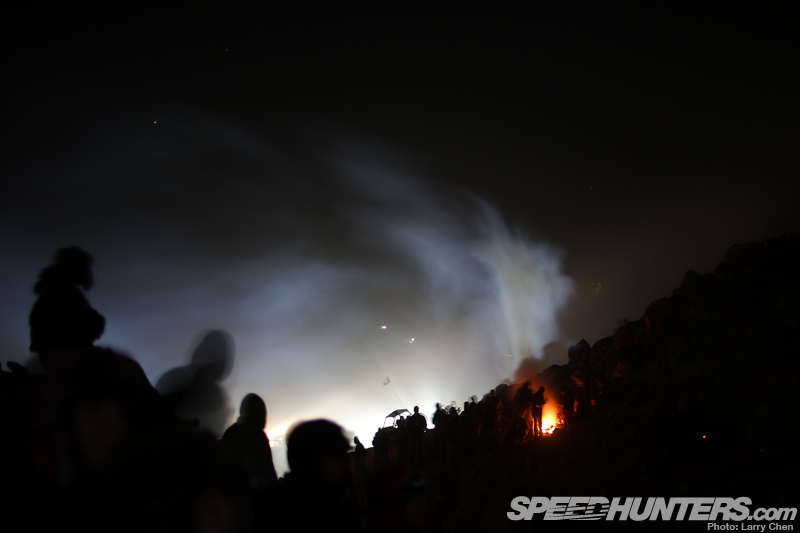 The crowd was still coming in and it was nearing midnight. Spontaneous camp fires popped up all around the area as it got colder.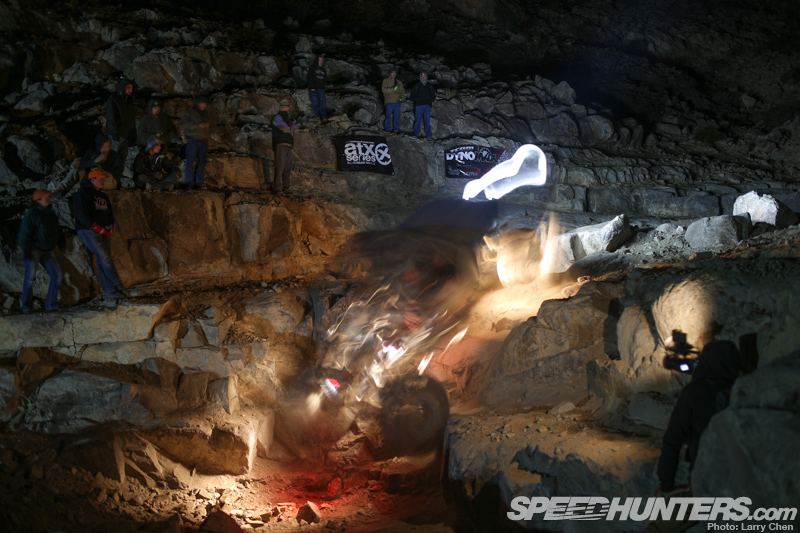 There was still a long line of cars waiting to tackle Back Door, but we decided to check out other routes.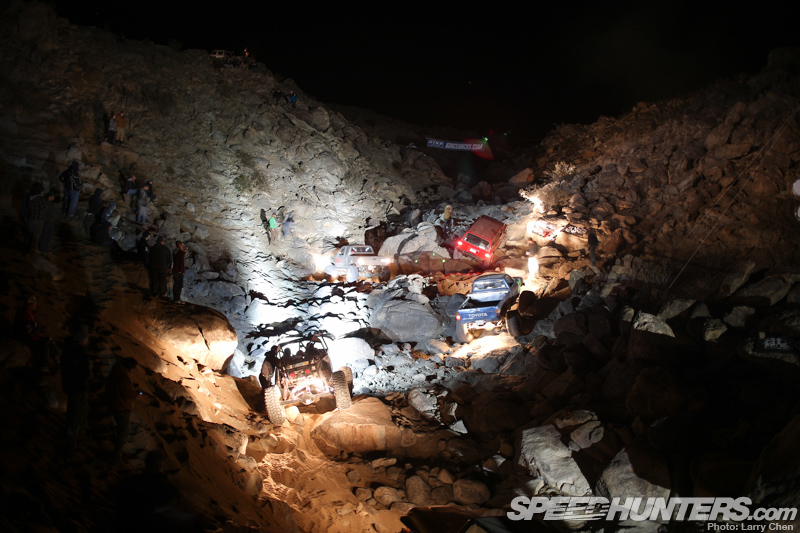 After a mini off-road adventure of our own we made it to another very popular route known as Chocolate Thunder.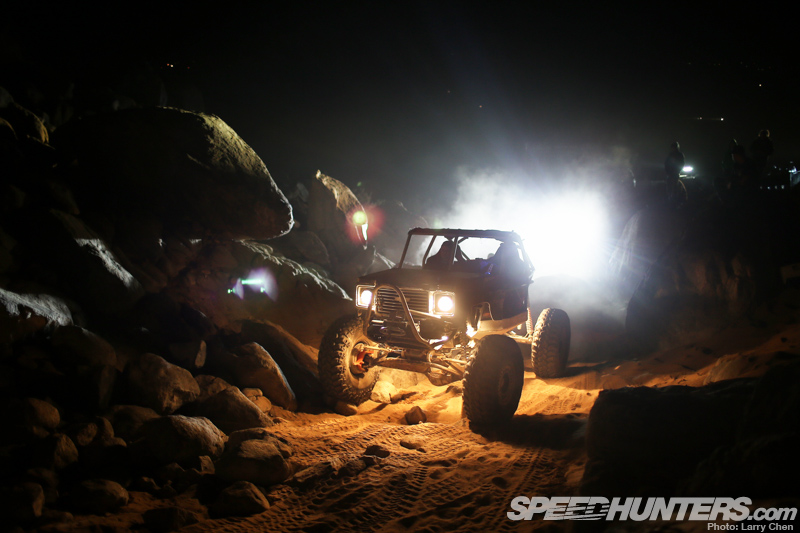 It was super packed with many rigs in line waiting to slowly make it all the way up to the top.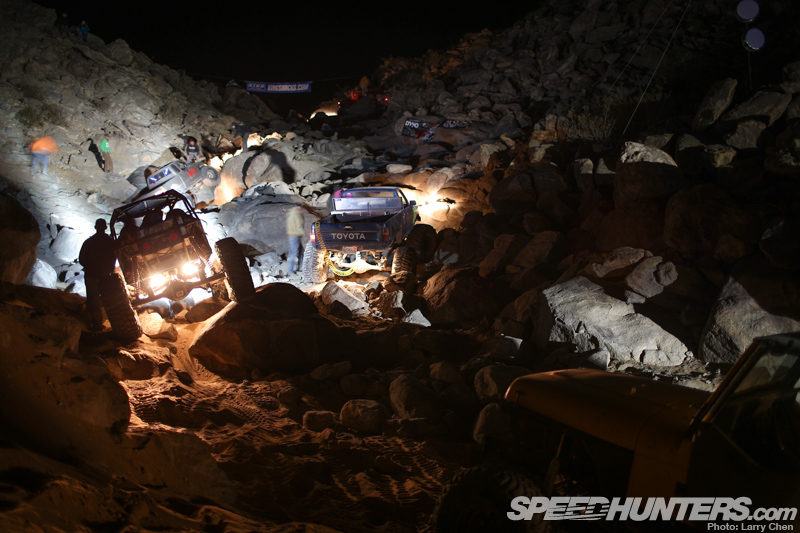 This area was much bigger, which allowed many trucks to tackle different routes at the same time. It was a free-for -all and for me it was a sensory overload.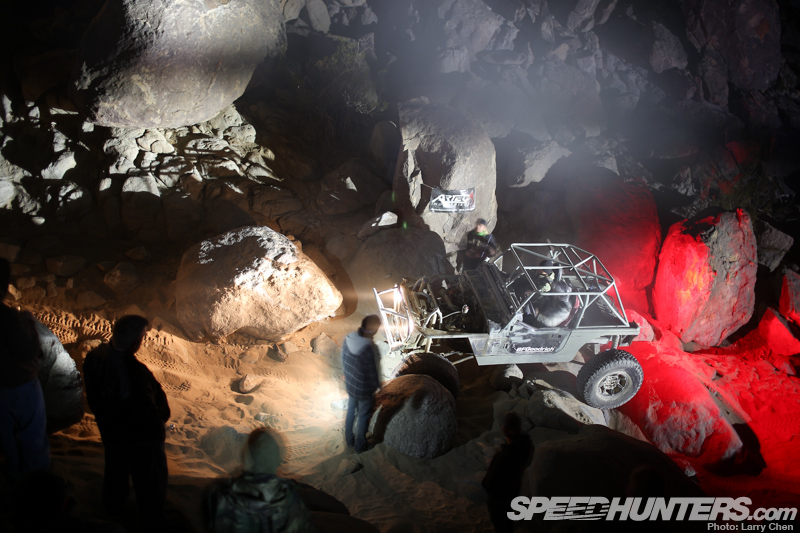 I loved that spectators always provided input on which line the driver should take, calling them out as the rigs tackled different parts of the course.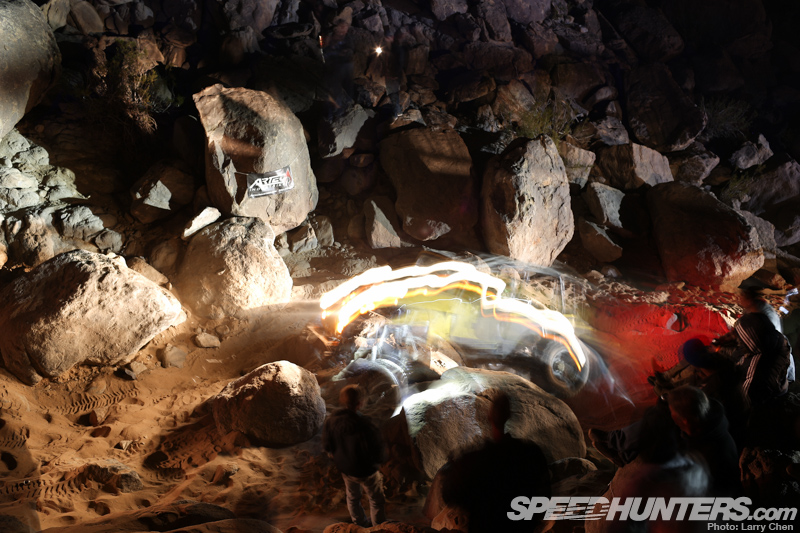 Just when I thought there was a single line that every took to get around an obstacle someone would prove me wrong.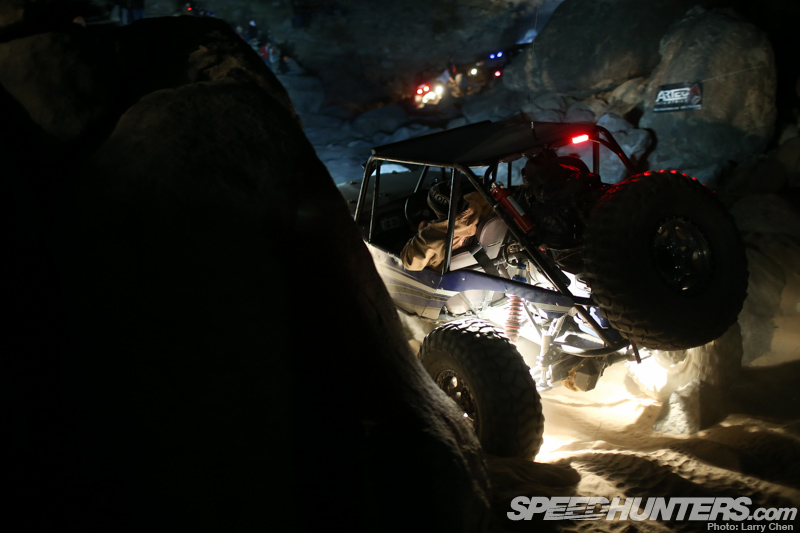 There were endless ways to get around. This one in particular is the first major one on Chocolate Thunder. Talk about getting stuck between a rock and a hard place!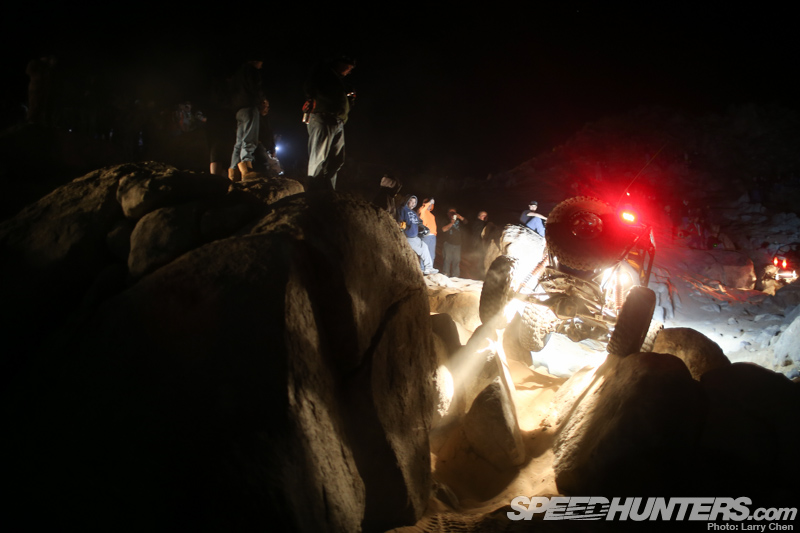 All of the rigs had 'rock lights' shining brightly under their cars, which was a must-have for night crawling.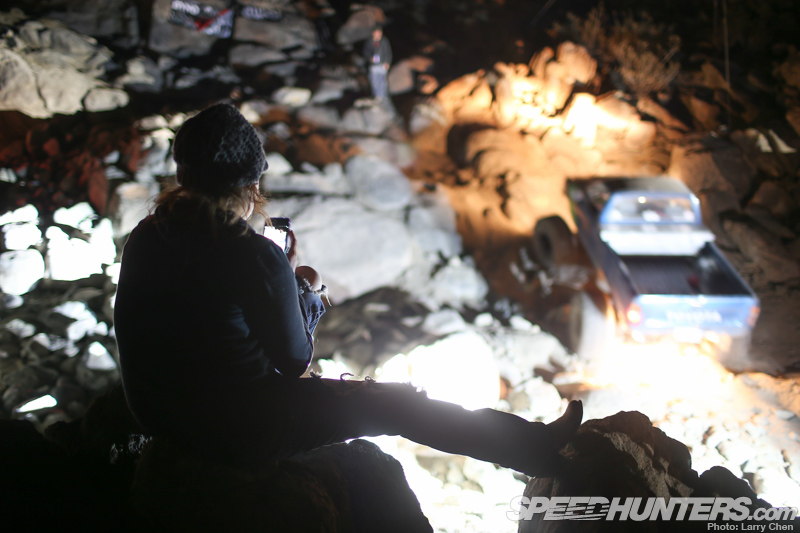 These guys go until the sun cames up or until they break something. It is a once a year festival and they really knew how to make the most of it.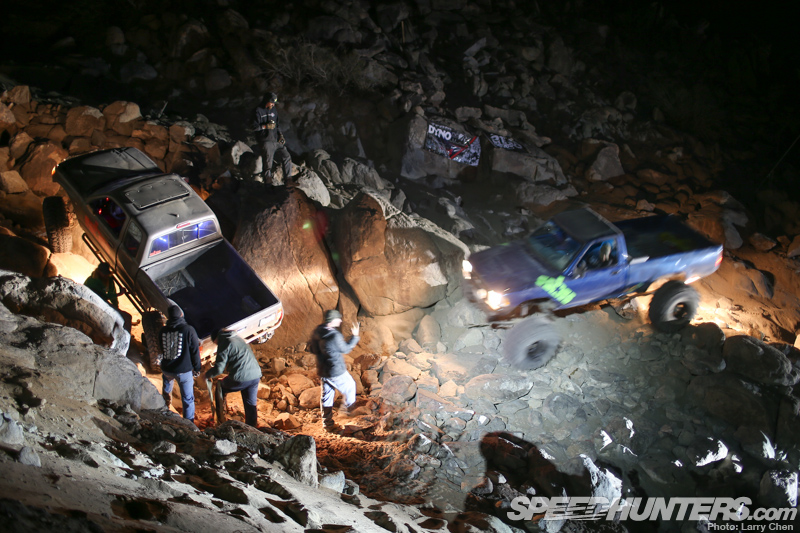 This group of friends had old Toyota trucks and one of them was in trouble.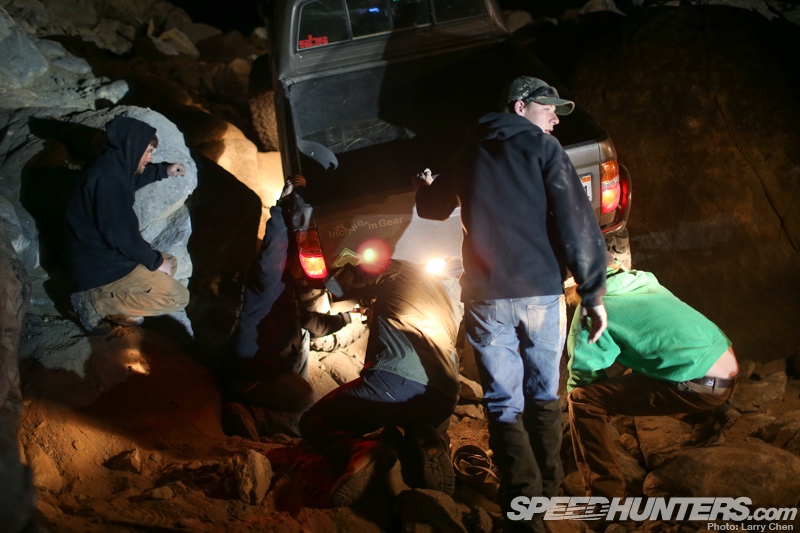 Everyone stopped what they were doing to come and help get the truck unstuck.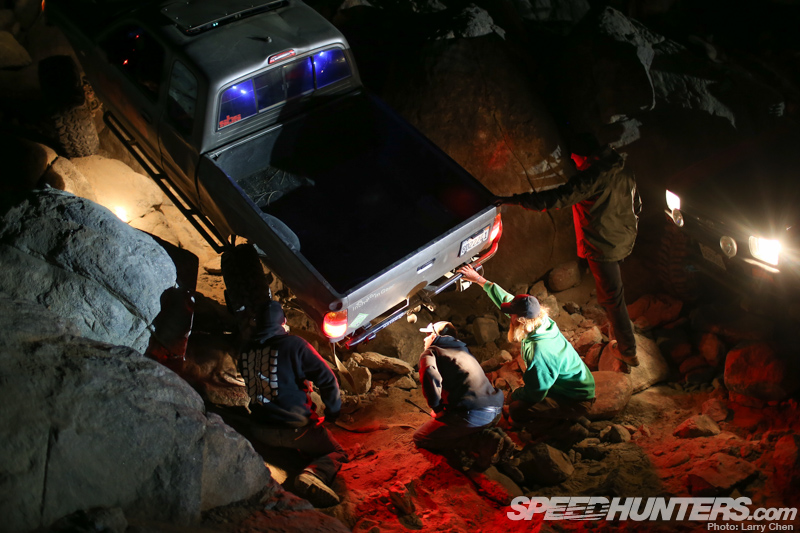 It was stuck in a very bad place and it would take hours to get it out.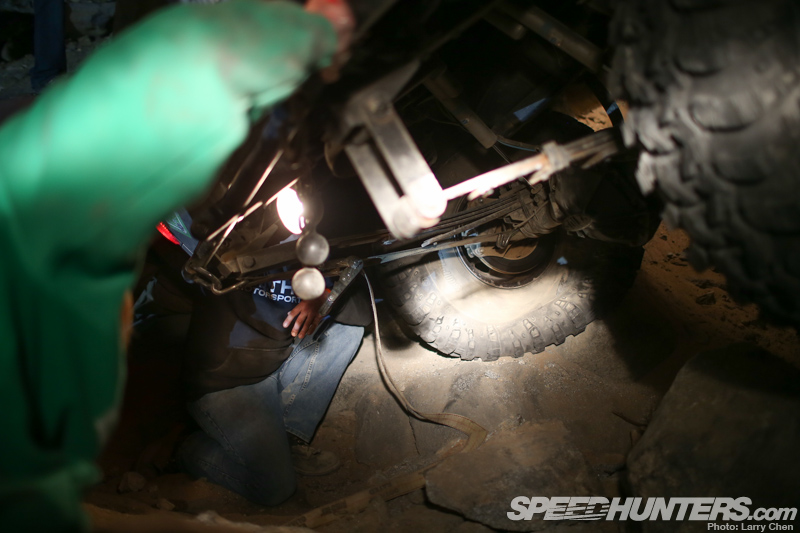 The rear driver side tire was deflated and the truck was wedged in between two huge boulders.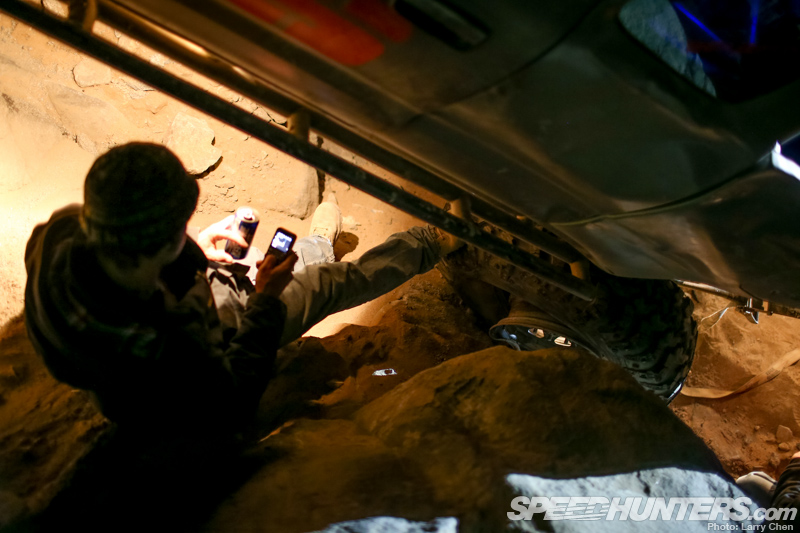 Upon closer inspection it looked like the wheel was bent and the tired just de-beaded with ease.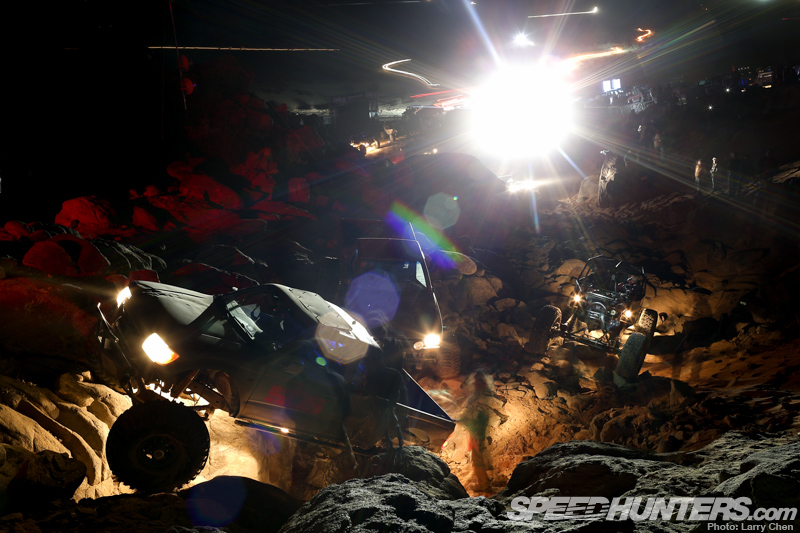 Help arrived and the plan was to winch the truck free.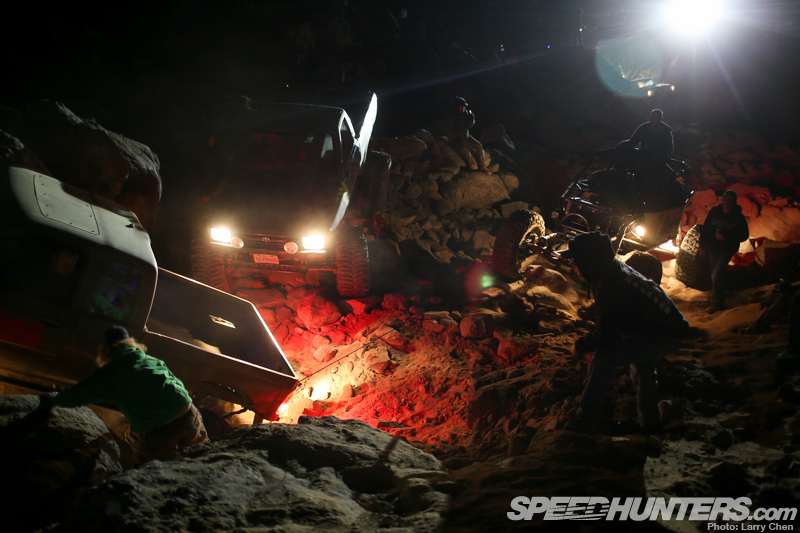 Little by little they pulled it out.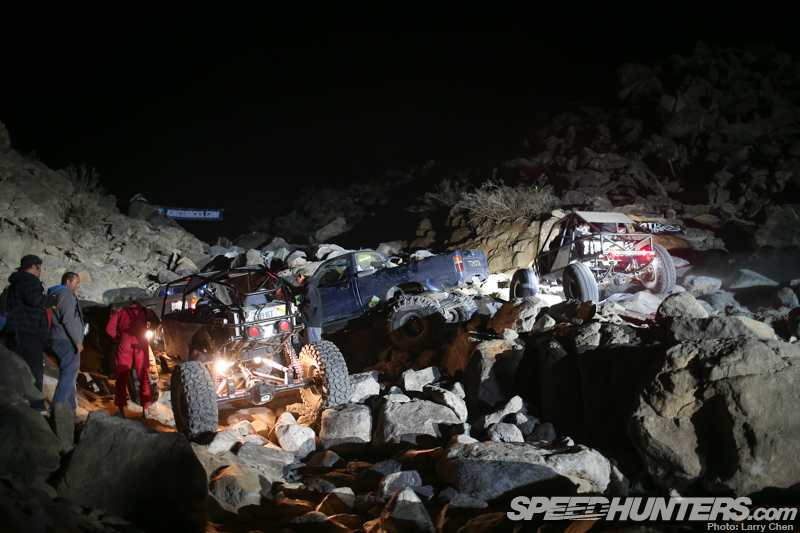 While all that commotion was happening there was a clear and open line for everyone else waiting in line to tackle Chocolate Thunder.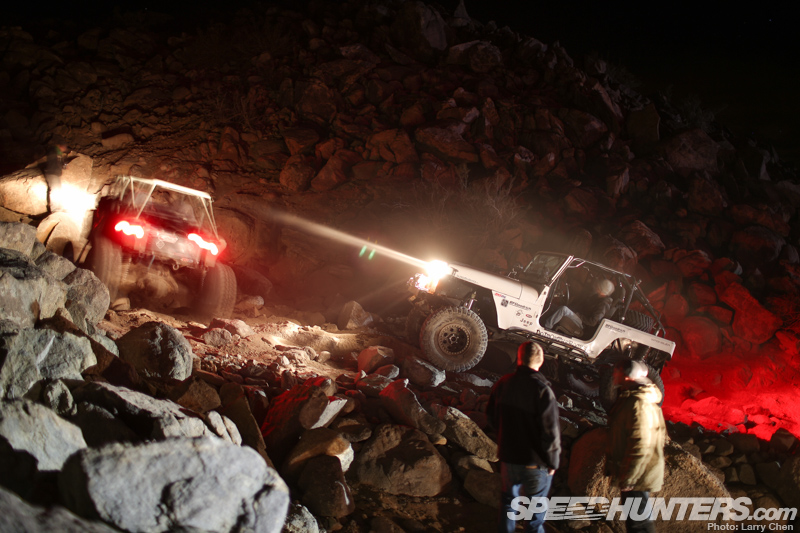 From an outsider who has never shot rock crawling before, the cars can be deceiving.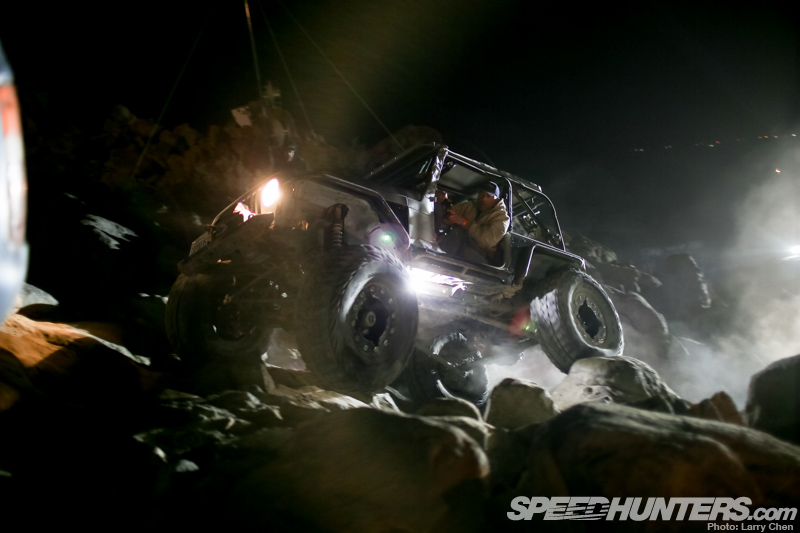 Some of the rigs were more mild-looking than others, but just when I thought they would have trouble going up the steep rocks, they would just walk up like it was nothing.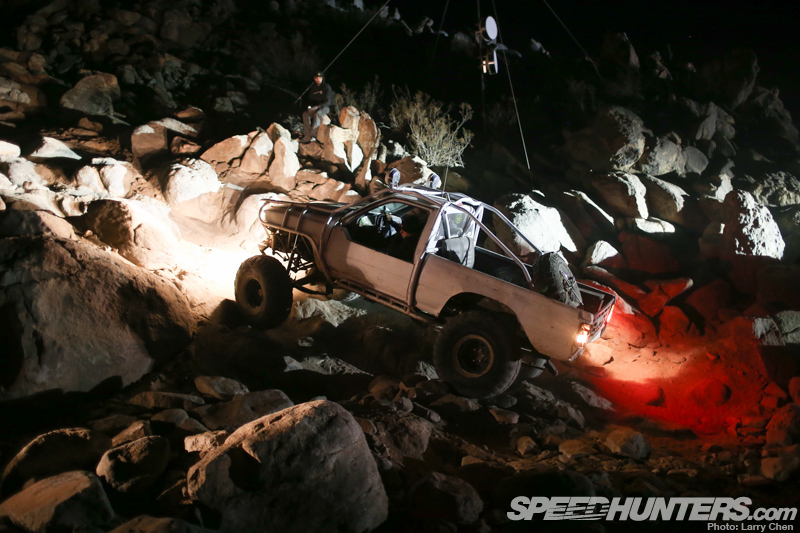 Like this Toyota truck with an exo-skeleton for example. I thought that it would be to big and bulky to make it through the tight obstacles, but it was quite the contrary. He drove up like it was on rails. It was just mind blowing. I love that he modified the door for a better field of view of the rocks below.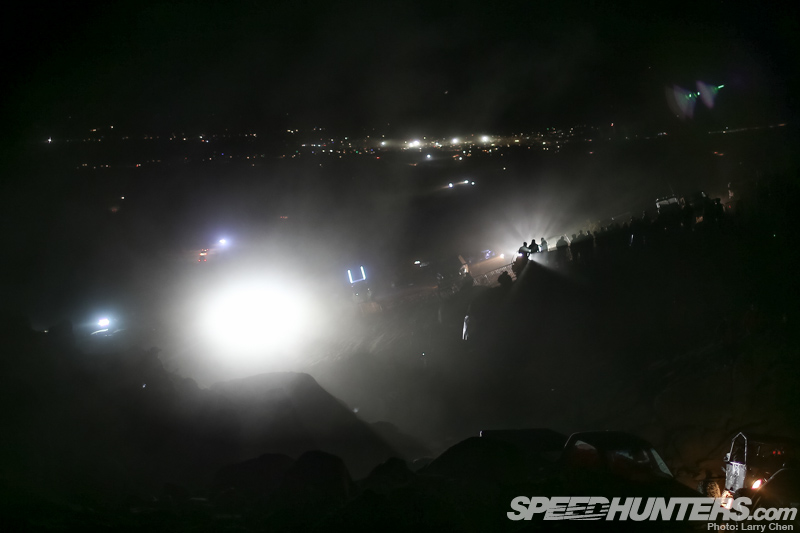 It was nearing 2am so it was time to call it a night, but the rest of the spectators were rowdy as ever.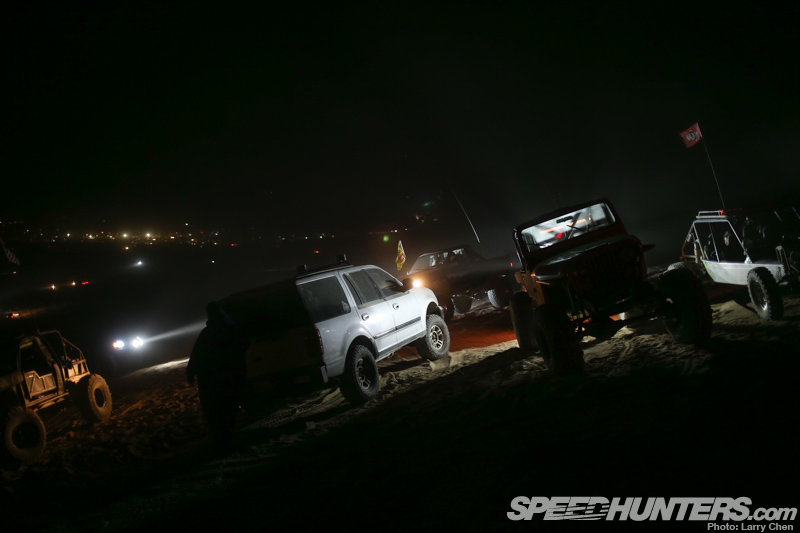 We got in our stock Ford Expedition and headed back, but not before a little scare. It was so heavy that it sank into the sand. We were sure it was going to flip over down the mountain.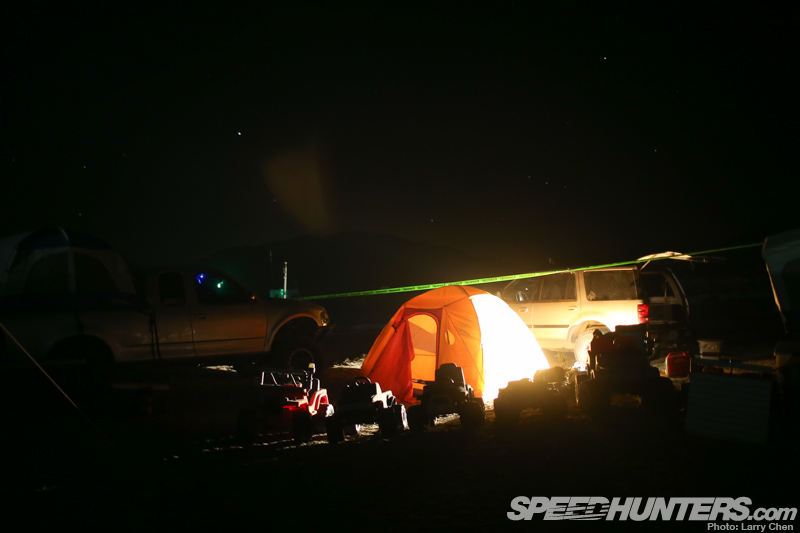 Back at camp we had a late dinner and relaxed for a bit.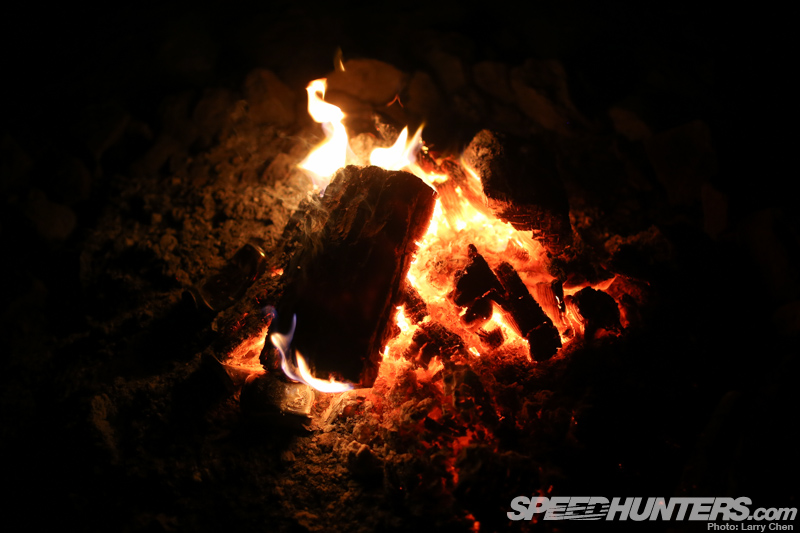 I thought to myself, if I had this much fun just watching the fans bang around on the rocks, I could not imagine what the actual race would be like.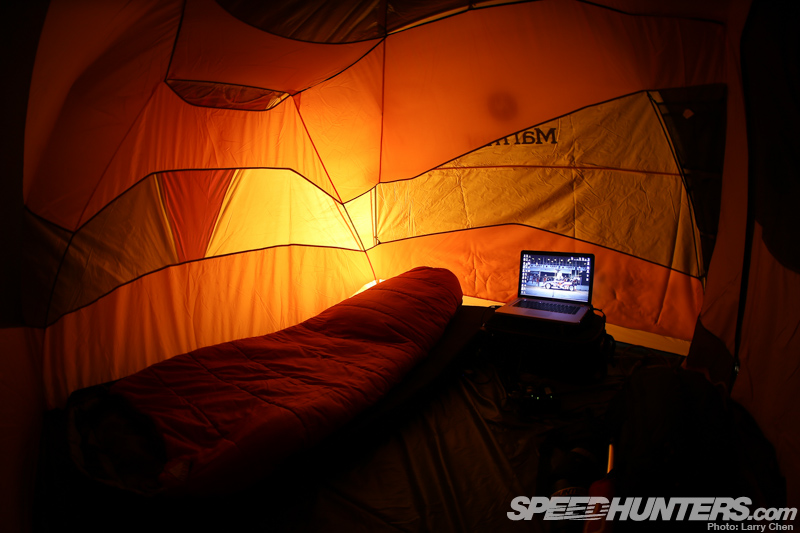 This was my cozy setup for the weekend, we were lucky as my tent braved 50mph winds without a hitch, but right before we left it started to dump snow, even though we were only staying at 2,500 feet above sea level.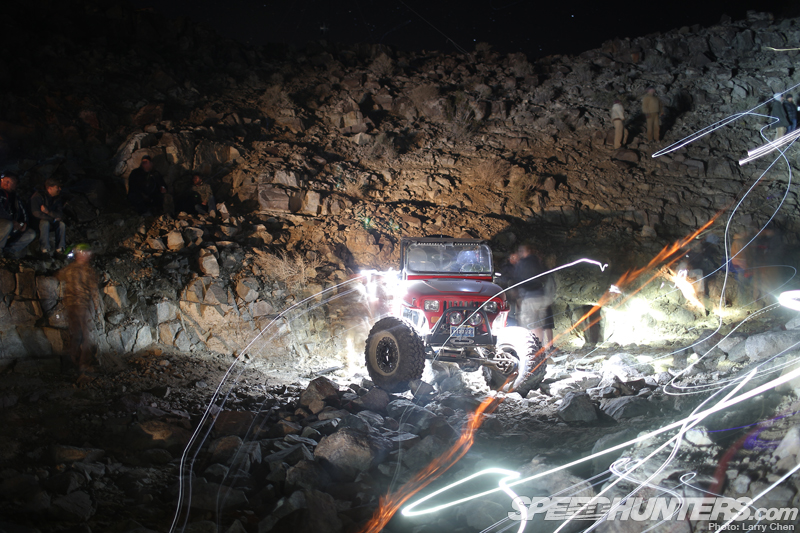 Two of my favorite events are Pikes Peak and Bonneville. They are both very spectator-friendly and you Speedhunters out there have just as much access as I have. The King Of The Hammers is no different. You can be really close to the action. Although, just like how the salt is disappearing at Bonneville, the King Of The Hammers may be gone as well. The Marine base just next door is trying to take the area over. If you want to help you can follow this link to sign the petition to stop them in their tracks.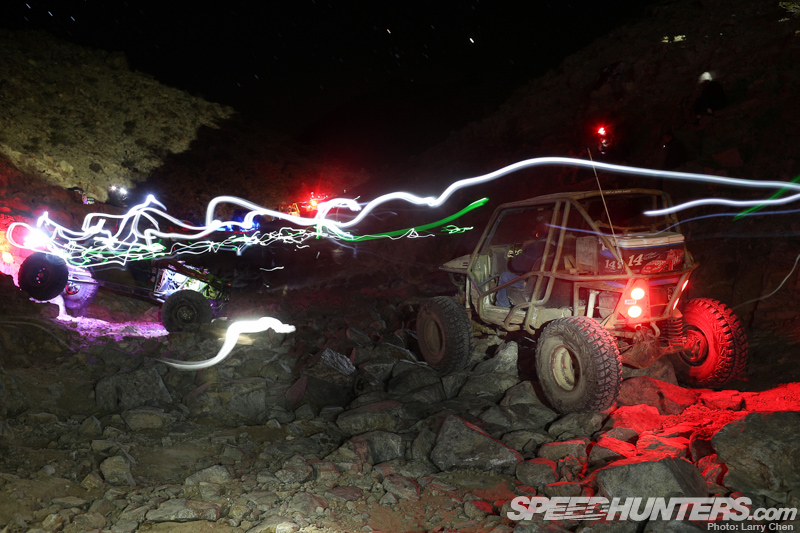 I can't express enough how much I enjoyed this form of motorsport. This was just the night crawling. Wait till you guys see the daytime stuff in my next post. Till then you can download some desktops from below.
Larry Chen
larry@dev.speedhunters.com
More stories from Larry Chen on Speedhunters
More stories from King Of The Hammers on Speedhunters
---
---
---