My name's Luke Huxham, I'm 27 years old and currently living and working full-time as a freelance director/cinematographer under the name of Maiham Media in Japan. Born in New Zealand, I was like most kids – I enjoyed climbing trees, playing with ninja turtles and causing havoc. I can honestly say I was never into cars when I was young. I spent most of my days skateboarding with friends; cars were only needed to get from one skate location to the next. But ultimately it was skateboarding that led me to get into filming. Every skateboarder knows how to use a video camera to some degree – how else can they film their mates throwing themselves off high ledges and down sets of stairs? Cameras and skateboarding just go hand in hand.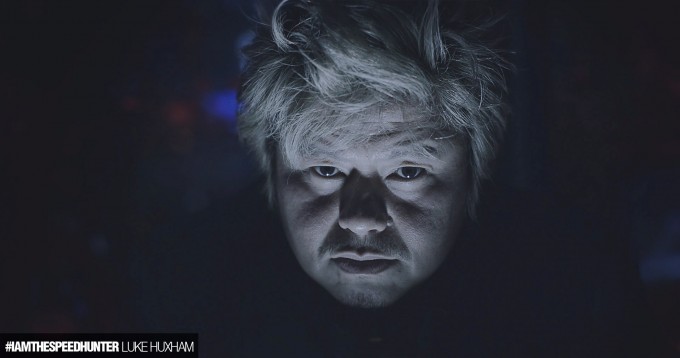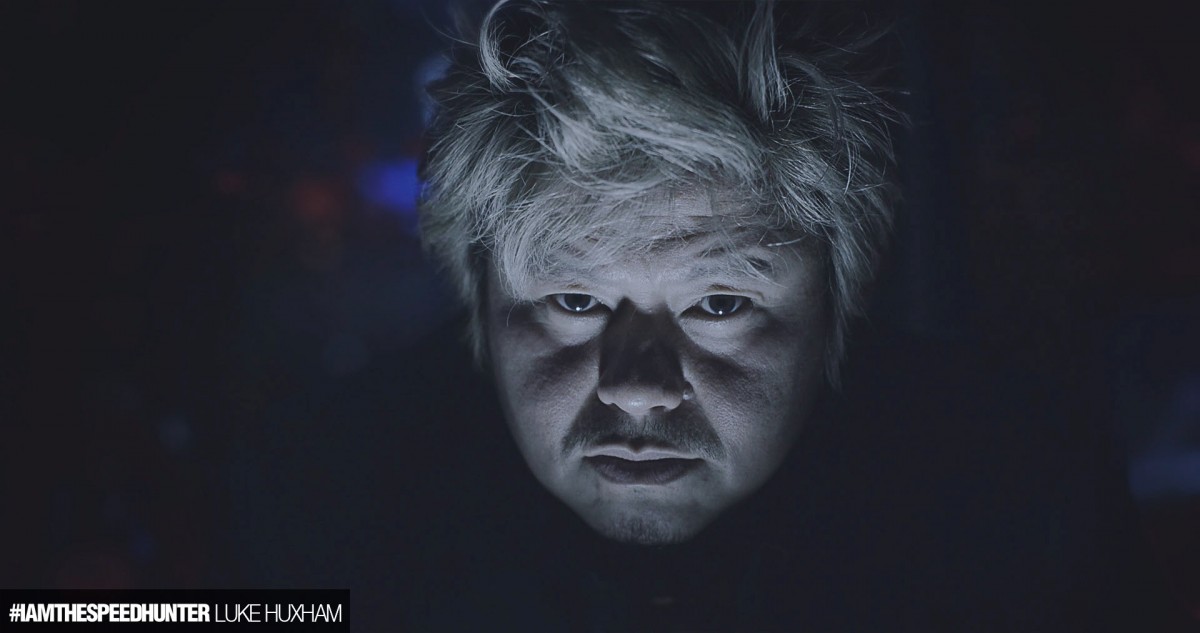 This is the now infamous Morohoshi-san from Underground Hero: Love To Hate Me. Unlike videos where you can rely on a narrative or sound to enhance your imagery, a photo is just one click. The challenge of telling a story or expressing an emotion in a single photo can be a refreshing and instantly rewarding break from video.
My most popular film of 2013 – Underground Hero: Love To Hate Me. I really took a cinematic approach to directing and shooting this film. At this point of my career, I was looking to really push myself and get noticed. With 400,000+ plays in the first five days, I reckon that's mission complete. One-man-crew films like this are some of the most stressful, but rewarding projects one can do.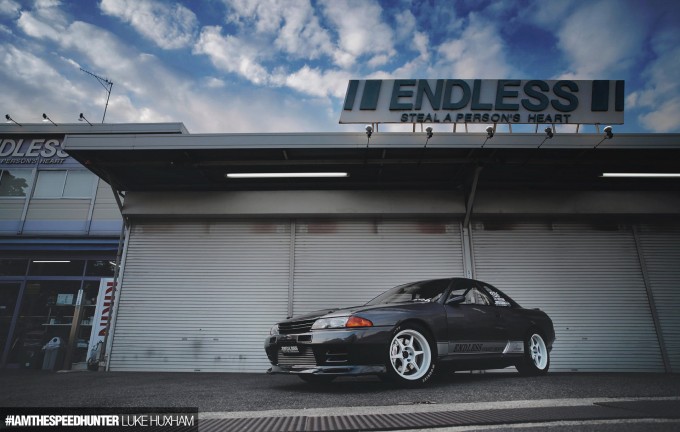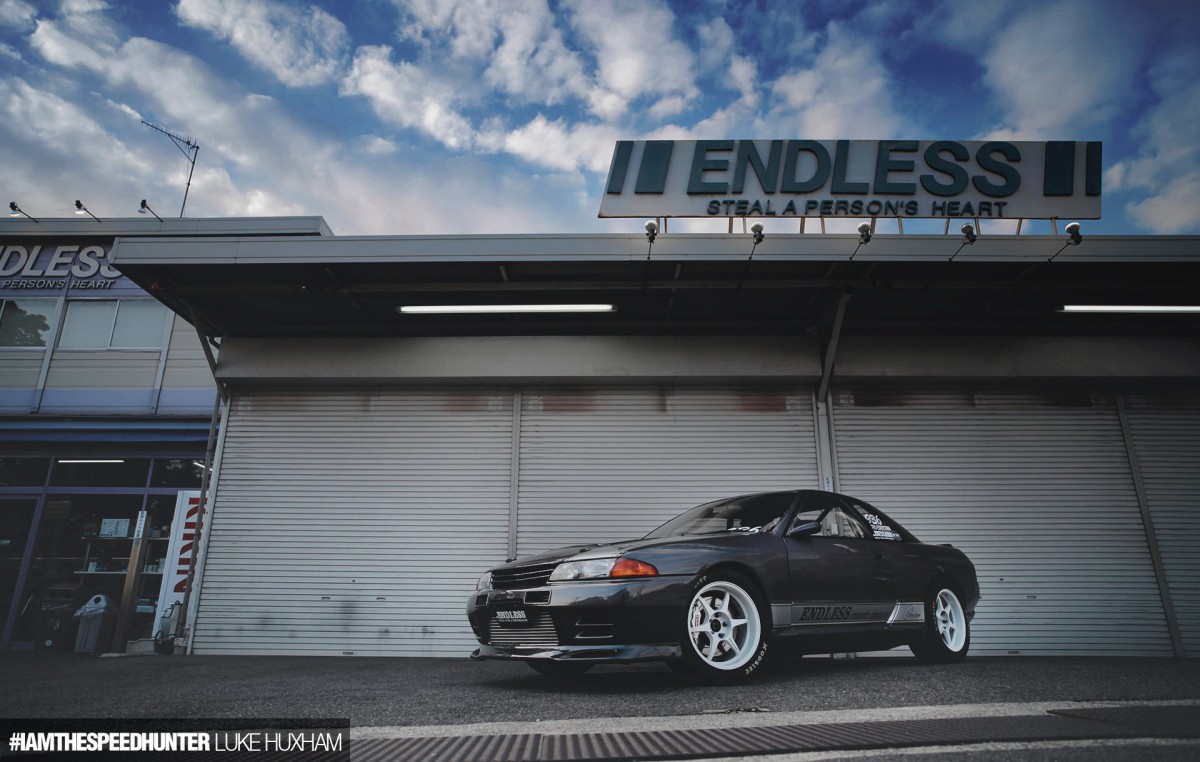 I was never really interested in school. I'm not the type of person that soaks in information from reading about it in books or being lectured at by a teacher. I wish I was – I would be much smarter for it! But nevertheless, we all have our own style of doing things and the hands-on approach was for me. I ended up just not going to school and focusing all my time on subjects that I felt mattered to me. I never studied cinematography or photography, I just enjoyed watching films and tried to approach all my subjects from a different angle. I try to think about how to make something interesting for someone who doesn't particularly have an interest in what I'm shooting. I enjoy documenting humans and their interactions, be it with cars or anything else for that matter.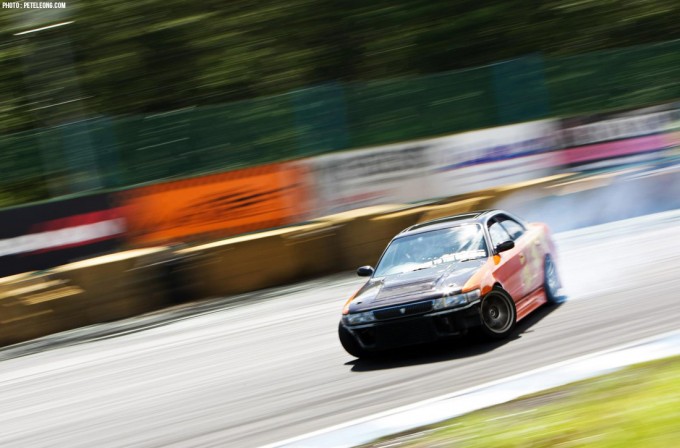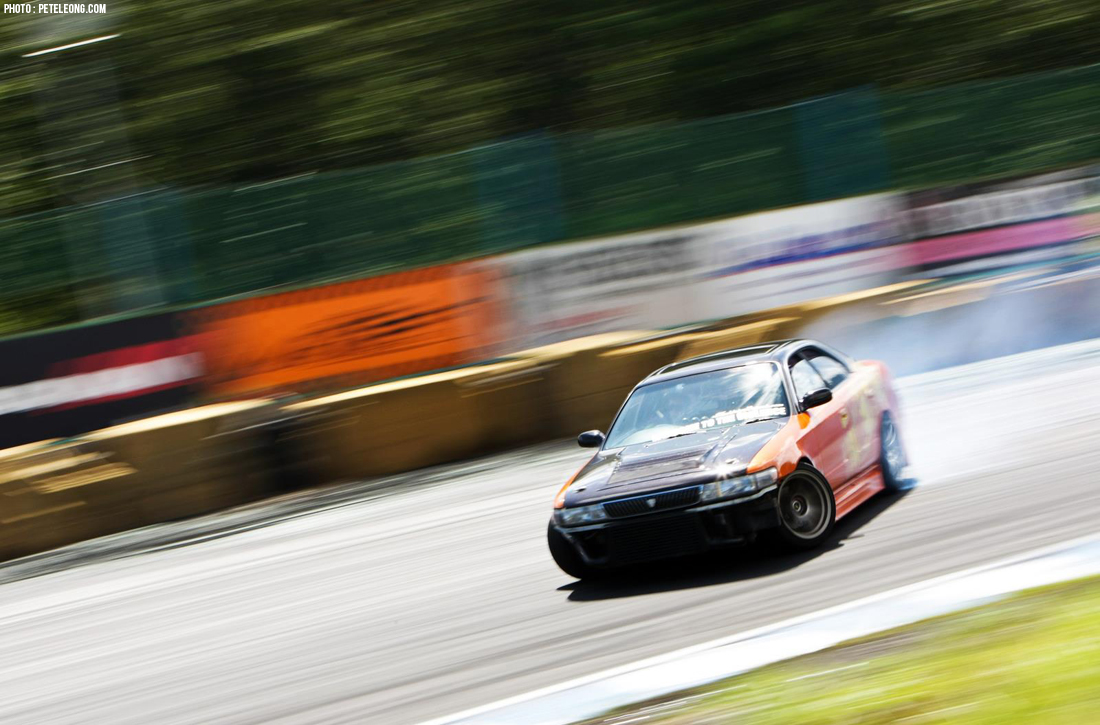 After taking a holiday in Japan to meet up with some of my car friends, I decided to sell up, leave everything and move over. I spent my first year in Japan drifting cars with friends two or three times a month – living what some would call 'the dream'. It was a great time having no responsibilities and spending every last cent I earned on cars. This is me drifting my old Toyota Chaser JZX90 at Ebisu circuit, Minami course. Thanks for the photo Pete!
I decided to give driving full-time a break and got my hands on a friend's Canon XH-A1. I had so much fun drifting and meeting so many awesome people, I thought why not try and capture some of this on film? This is where I started to learn about cameras and video editing. I spent the next couple of years travelling around Japan, filming drift events and working two jobs, day and night to support my new-found filming addiction and the costs associated with it. I said to myself, 'I'll give this hobby four or five years and see where it goes from there.'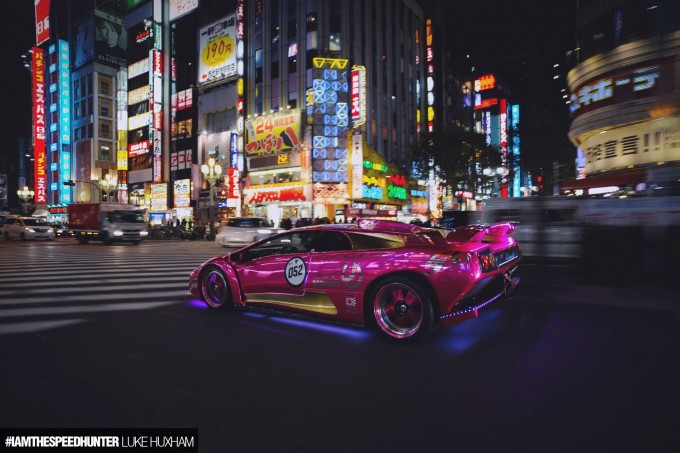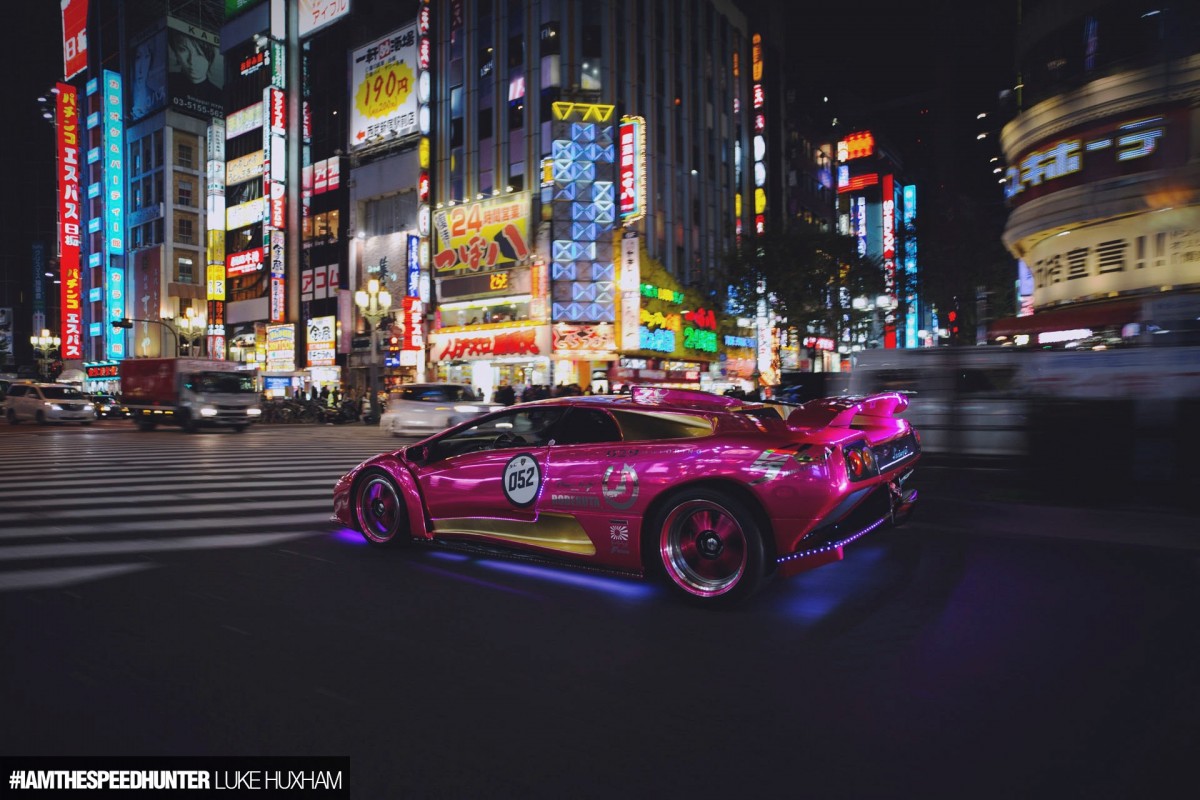 I think the worst thing you can do in life is to blend in. Don't be afraid to stand out, no matter the costs. Morohoshi-san was never afraid to show his true style, leaving a lasting impression everywhere he goes in his Lamborghini Diablo.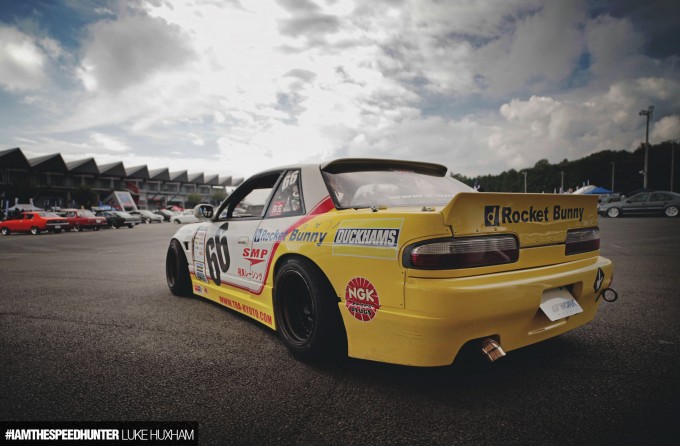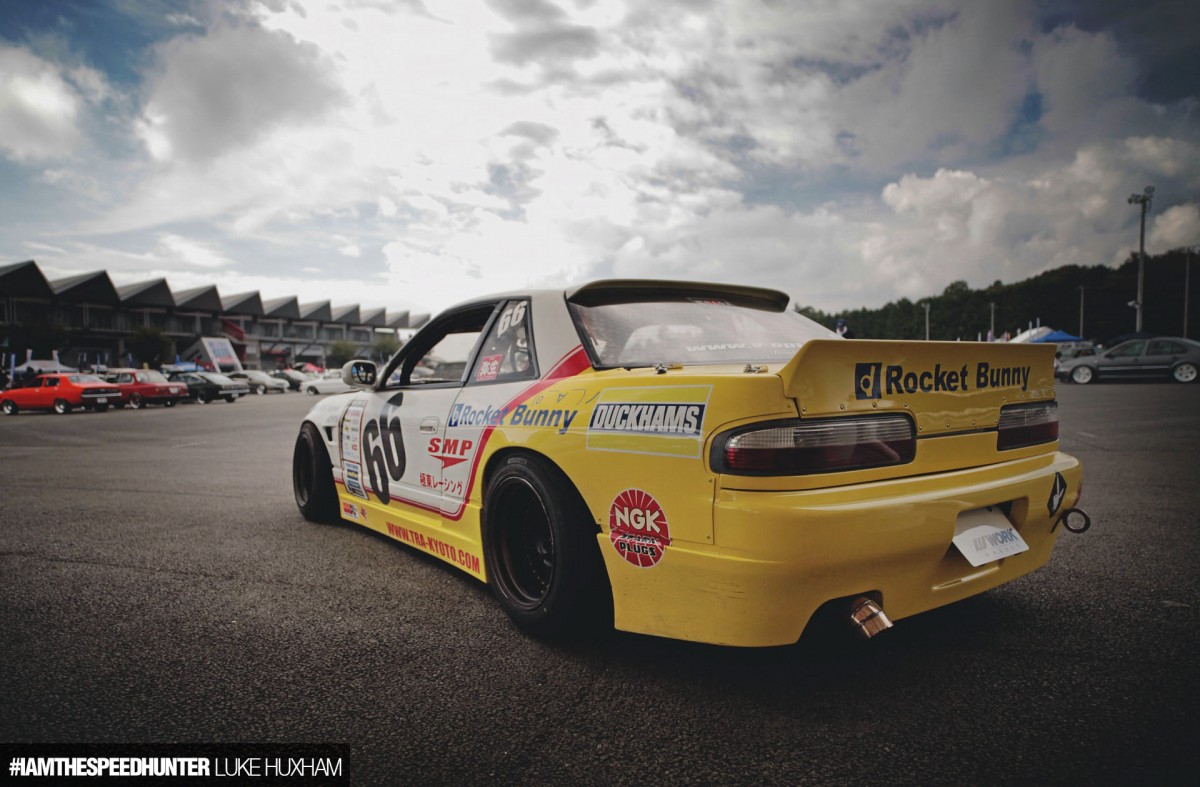 I think it's important to note here that nobody should expect to get paid while they're still learning how to film and making mistakes; this type of mindset can really discourage some people. Put in your three to four years of hard work, learn everything you can by yourself and from others, and learn how to take criticism and improve from it. If you can do all this while holding down jobs, having no sleep and paying bills, I think you're in good form to pursue it as a possible career option.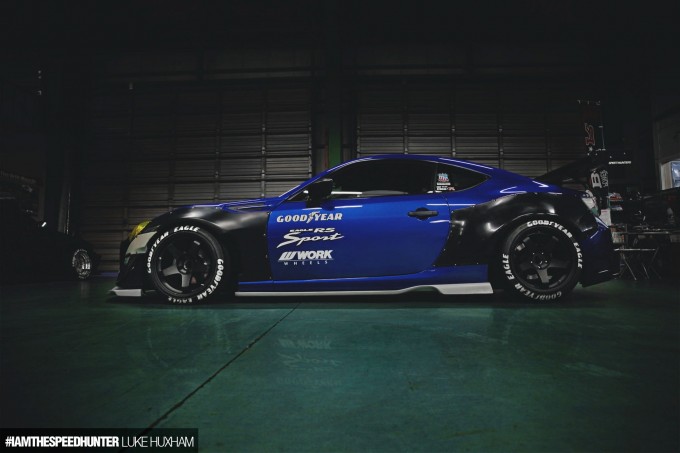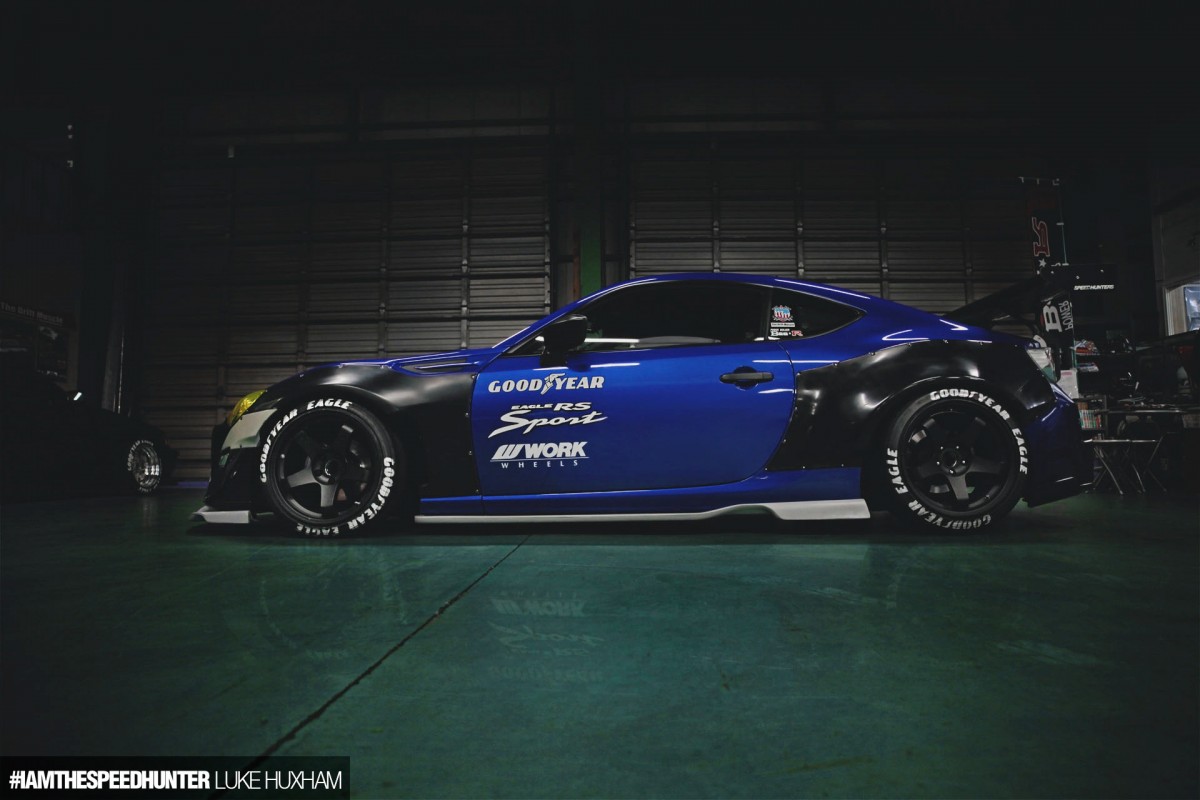 This was one of the first ever BRZs in the world to sport the Rocket Bunny kit. The Bee-R BRZ is now sporting a bright yellow coat of paint but I quite liked it in its pre-finished state.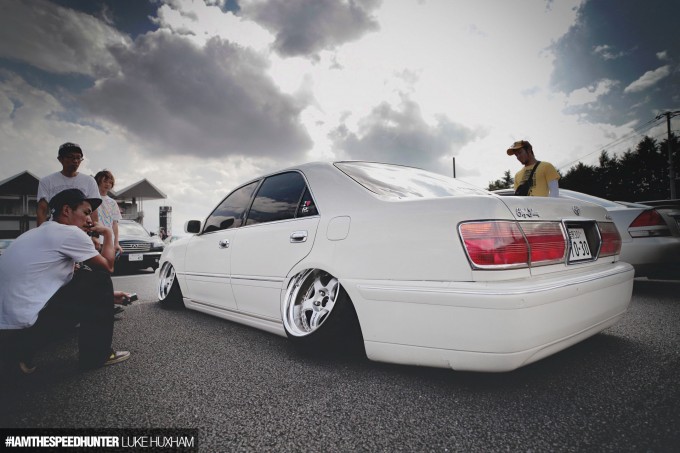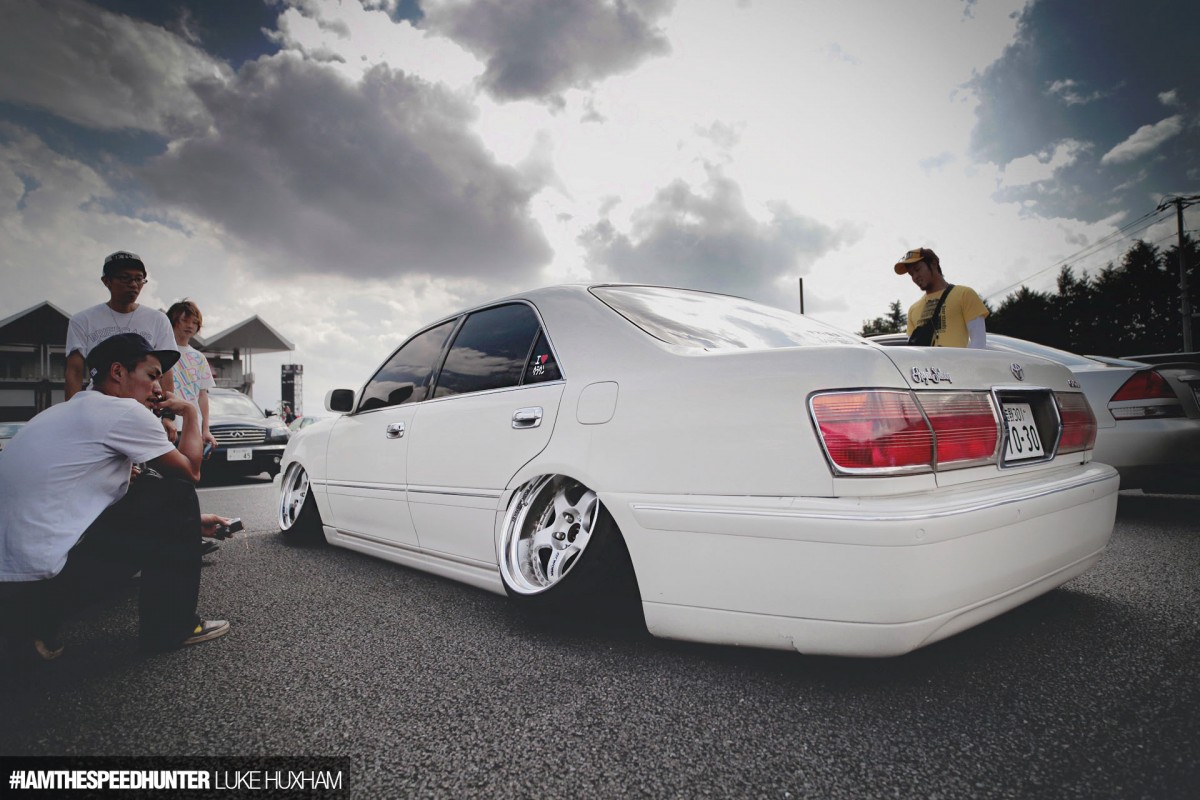 After editing in Corel VideoStudio for many years, I finally outgrew the program and luckily enough found a job editing videos for a Japanese hobby company which allowed me to switch over to a Mac and start learning Final Cut Pro. Now on my fourth year of filming and still working full-time, I decided to try and take filming seriously, finally feeling comfortable to take on small, paid, client projects. This was a major step for me, as being bit of a perfectionist meant never feeling my work was worth getting paid for. This attitude meant I would systematically rip apart my work after it was complete and figure out how I could make something better the next time around.
The next time around was not too far off, as I got hired to produce what was the first interview video with Nakai-san from RWB at the time, an introduction to the mastermind behind these insane Porsche creations. After the release of this video, it got featured by quite a few websites, including Speedhunters. After watching this film, I felt like the four years of grinding away at this video hobby had started to finally pay off. I was happy with a project for the first time. I got a real buzz from capturing someone's story and emotions on camera; this was the catalyst behind my video style. This was also the first time I storyboarded and put pen to paper for a film. I found out very quickly that being organized instead of just winging it, made the whole filming and editing process much easier.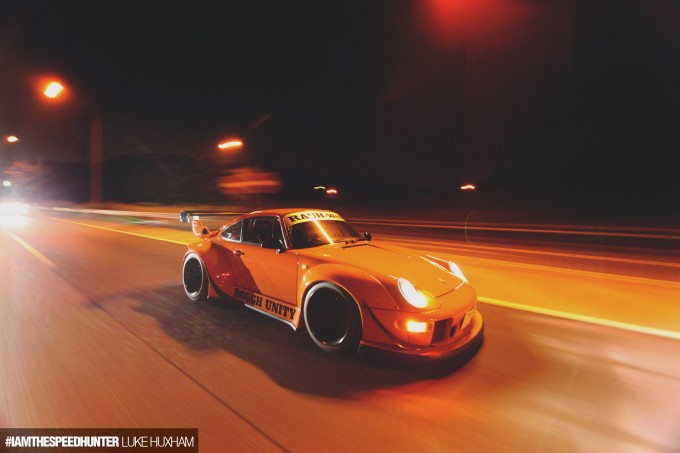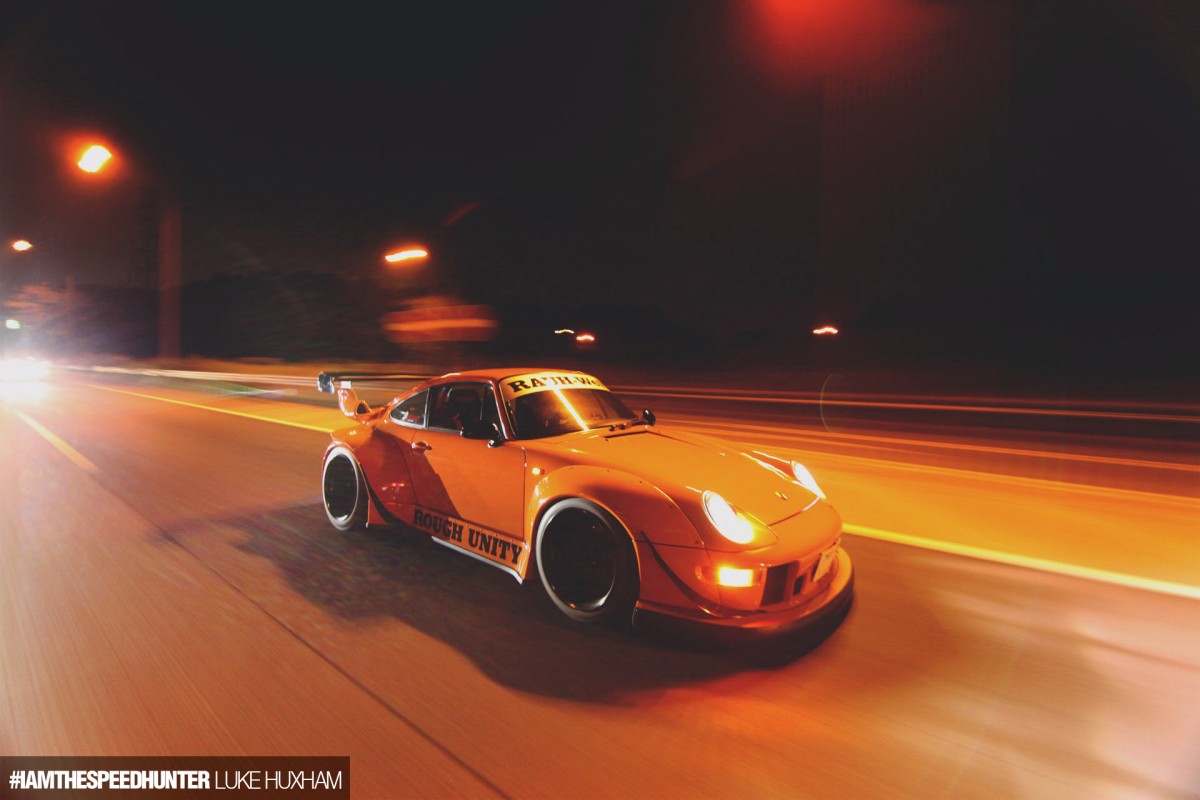 RAUH-Welt Begriff 993 attacking the night. Believe it or not, this is basically straight off the camera. The camera's white balance was confused by the headlights and the whole image turned orange to match the car. Sometimes these unintentional things lead to some of your coolest shots.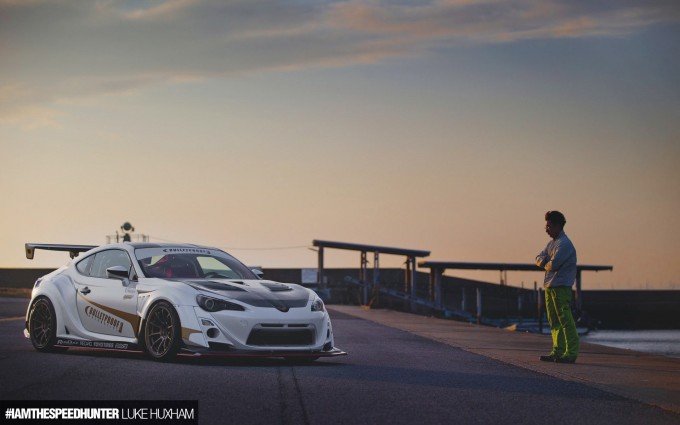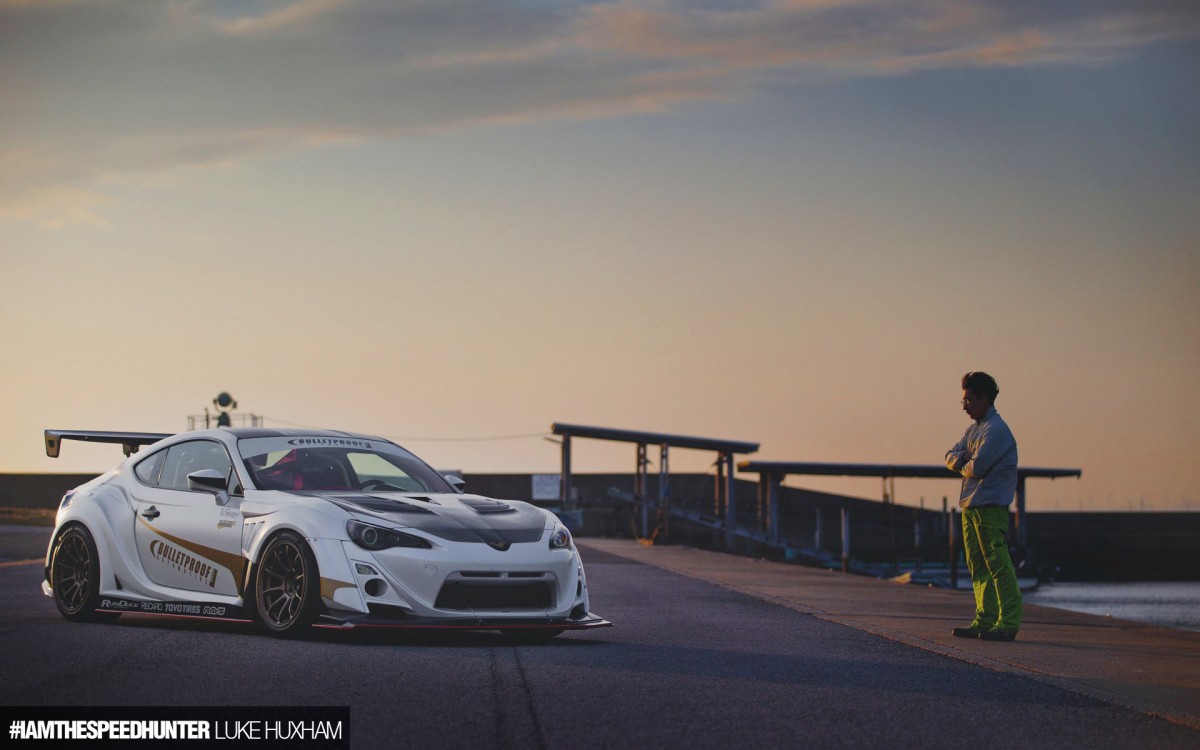 (Above) Matsui-san from Amuse taking a brief moment to appreciate some of his work on a collaboration Scion FR-S project with Bulletproof Automotive. Cars are not just point A to point B transport, they can become personal.
I took this same passion with me every time I clicked the shutter, always trying to incorporate people into my shots, provoking a story or feeling. I never had enough time to dedicate to taking photos but I loved the immediate results so much that I wanted to build on my skills as a photographer. I barely even knew how to use a DSLR beyond manual mode for filming.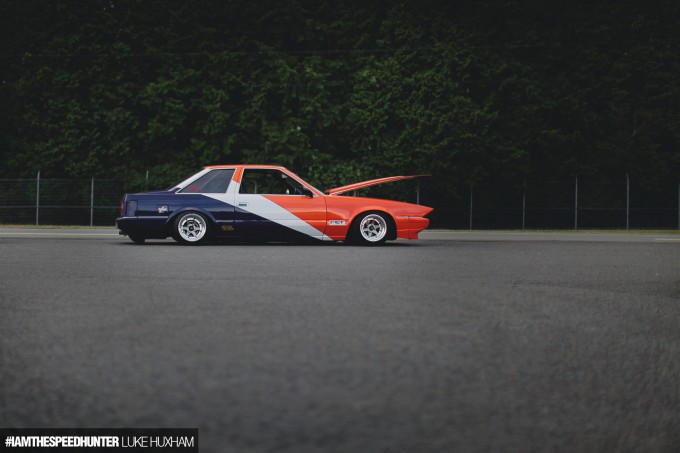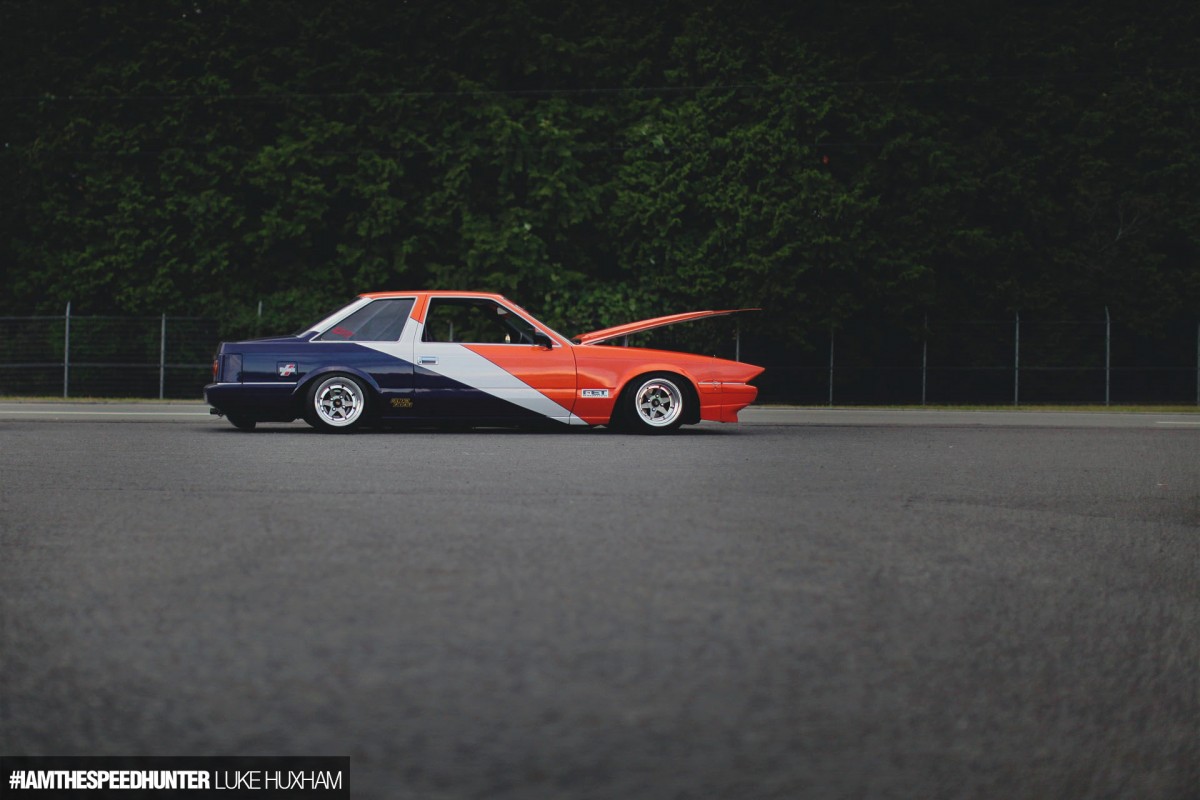 (Above) Shake nose Z20 Soarer: nothing screams classic '90s Japanese automotive culture quite so loud.
Every time I would shoot a project, I would try and spend a couple of minutes taking photos, trying to learn how to use my DSLR as a photography tool but still all in manual mode. I must mention that I hate reading manuals, so the aperture/shutter priority modes went unnoticed for a good year or so. My bad! Trying to capture spur of the moment photos in manual mode all the time proved quite hard.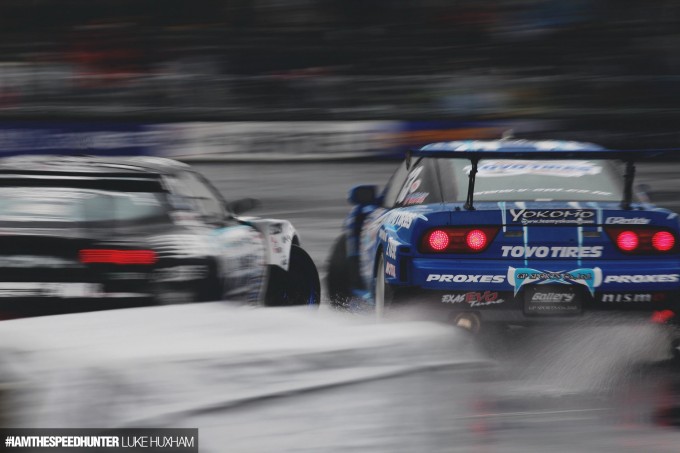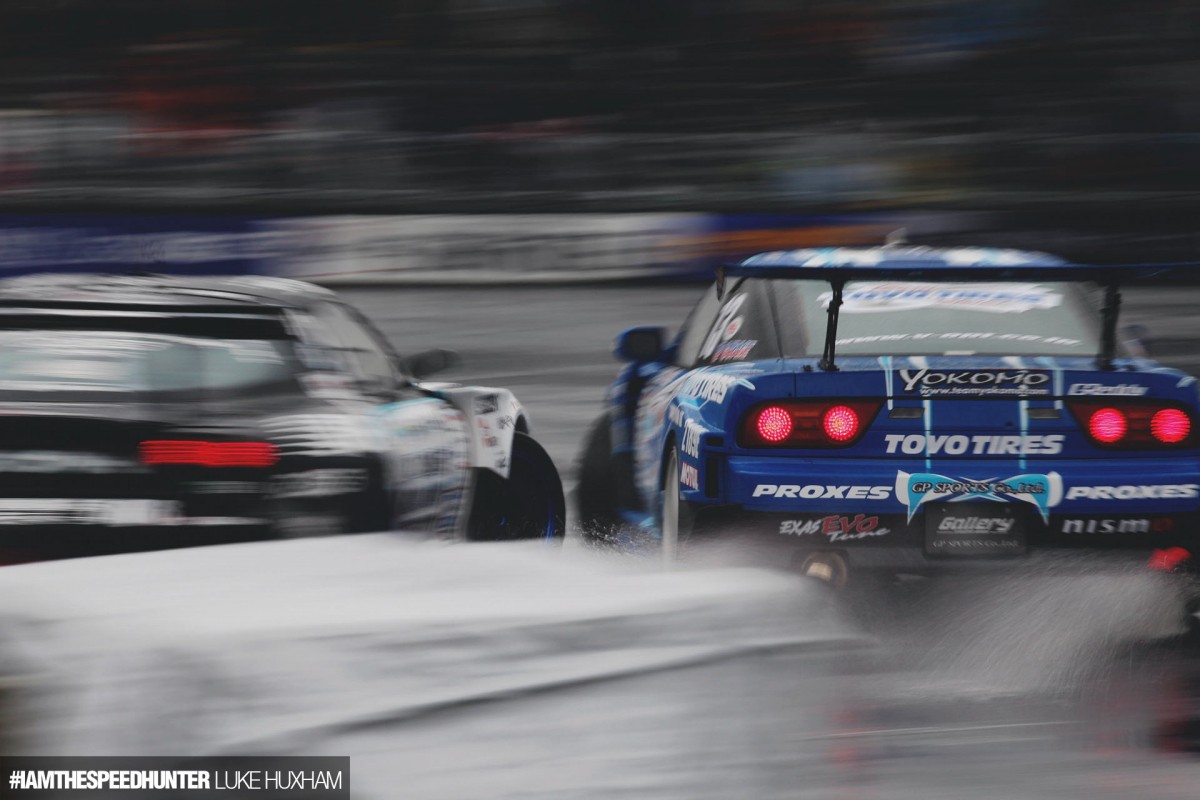 (Above) D1GP Odaiba, learning the art of low shutter pans in torrential storm weather with my new-found shutter priority mode.
After attending the Nagoya Showdown with Dino, I asked him how he took photos so quickly without adjusting all of his settings. He mentioned the priority modes. "The what modes" I said. He looked at me like I was an idiot, then explained to me how to actually use my camera for taking photos. An idiotic life-changing moment, it felt like IDDKFA (Doom reference god mode) had been activated on my camera. These modes really allowed me to spend more time composing my photos and trying to adapt my style of cinematography shooting to the situation. Creating your own style after all, is what will set you apart from all the static on the web.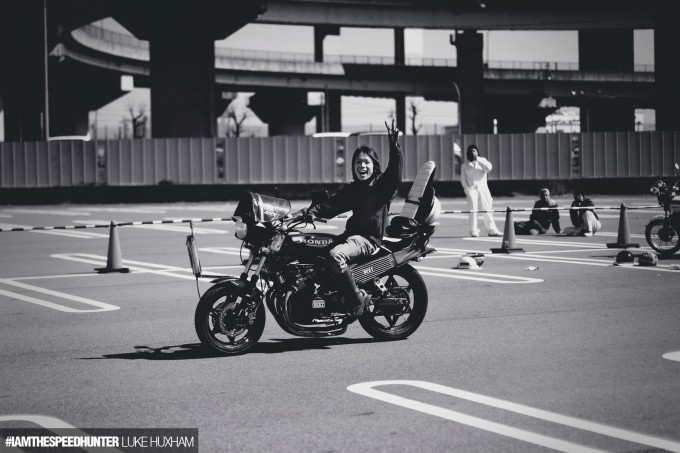 Oh look, spur of the moment photo opportunity – no problem in aperture priority mode. Bosozoku biker kids: extremely entertaining, sometimes annoying but most usually pretty happy when you point a camera at them.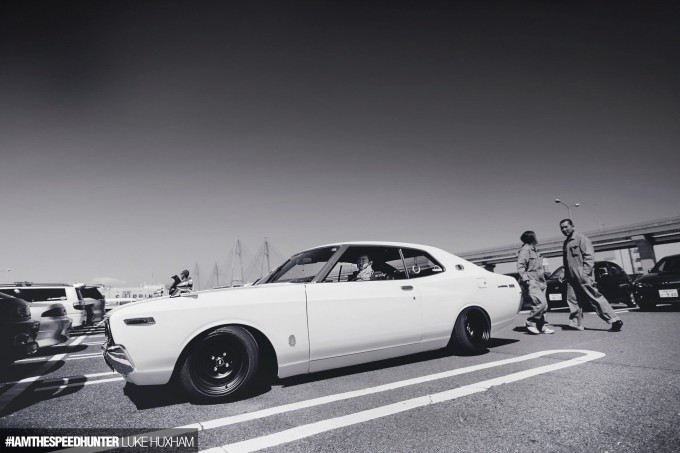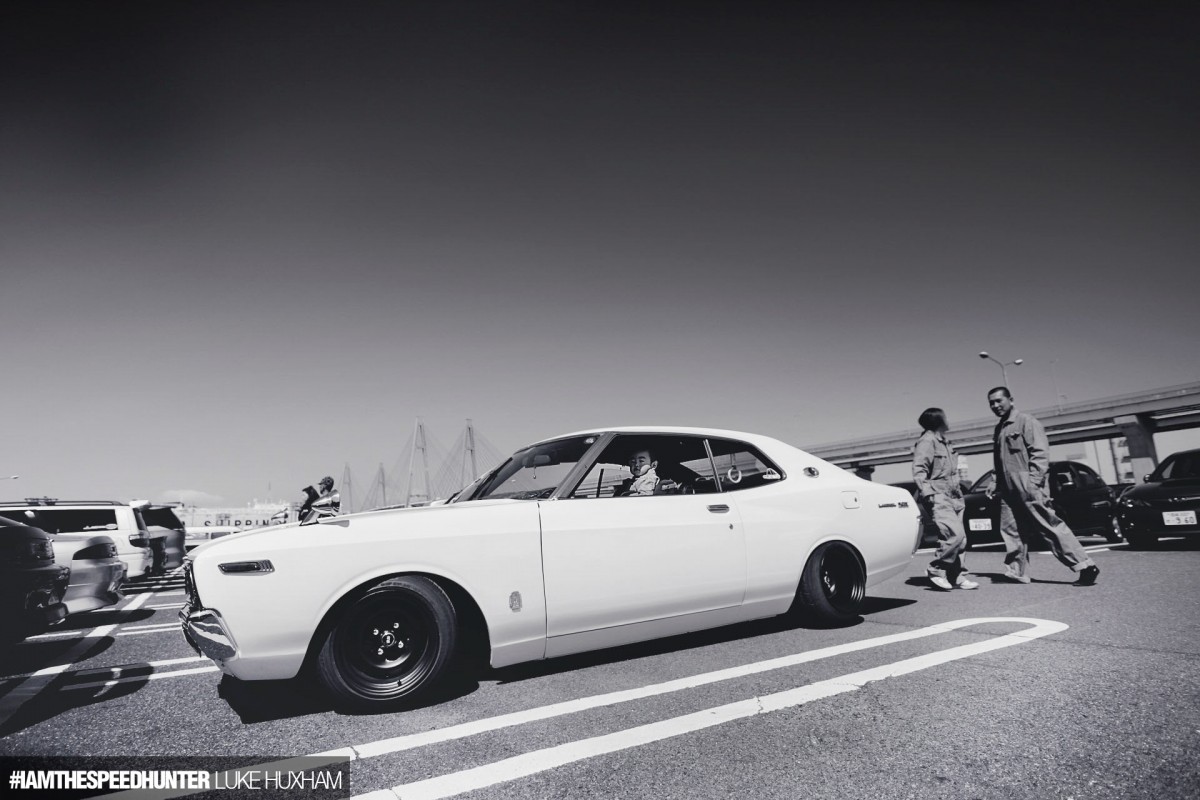 Did I mention how much I love working in black and white? This classic Laurel is bit of a family affair; mum and dad at the back while their son rides shotgun up front in the passenger seat.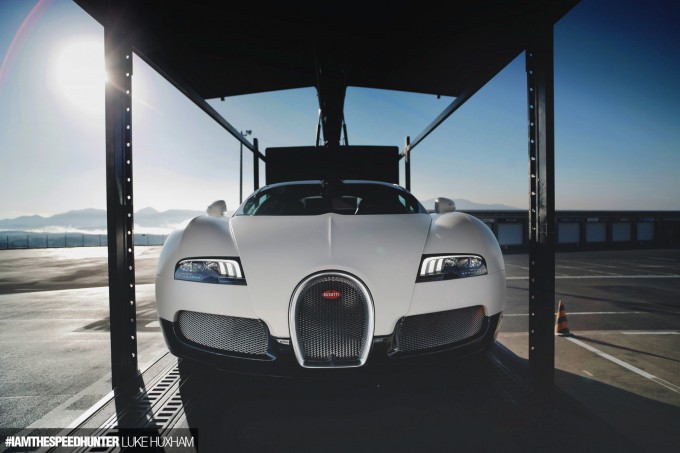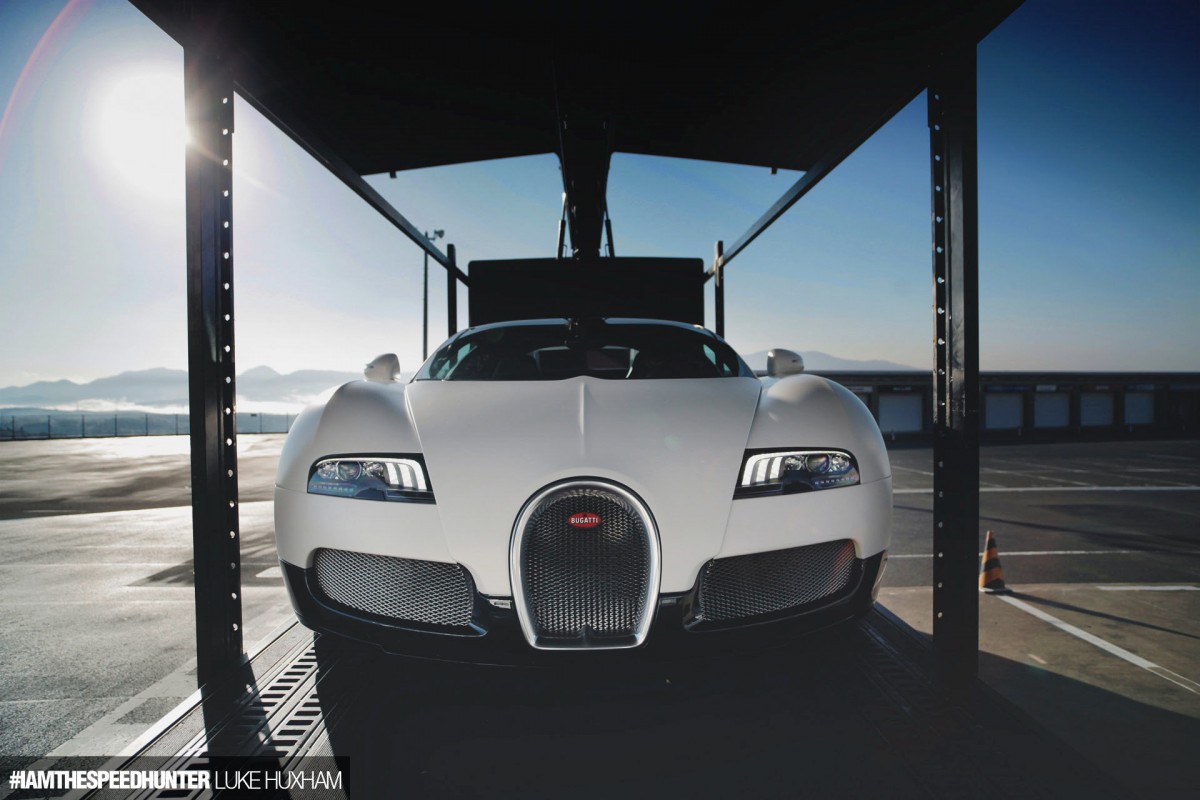 Fast forward ten months or so. By this time, I had picked up monthly video work and had finally made the big decision to quit my full-time job and attack my new career as a freelancer head-on; the biggest but most rewarding decision all full-time freelancers must face at one point in their life. This led to getting to work with some pretty cool cars. Bugatti Veyron – not a car; simply put, it's a teleportation device. In the blink of an eye, you're travelling at 300km/h and you didn't even feel it happen.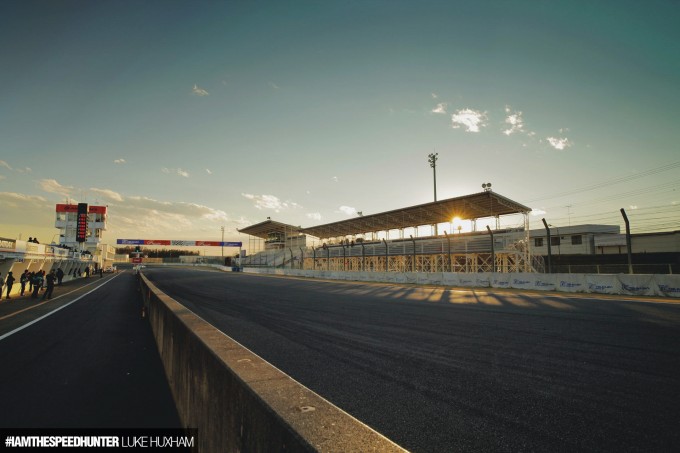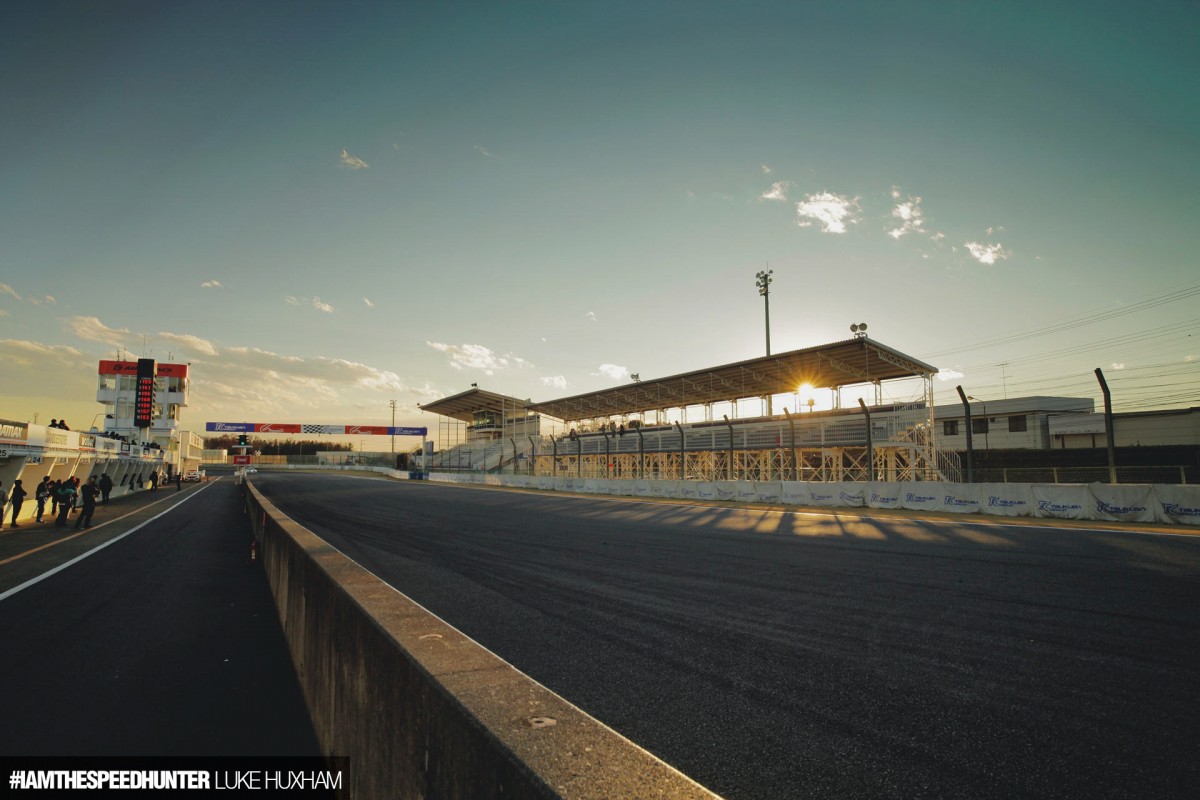 I also got to travel around Japan and shoot at some of the world's most famous circuits. Tsukuba circuit: I think by now we all know this circuit like the back of our hand after playing it on our gaming devices for years. There's nothing like experiencing it in person for the first time though, soaking up the sights and sounds. This is where records are broken…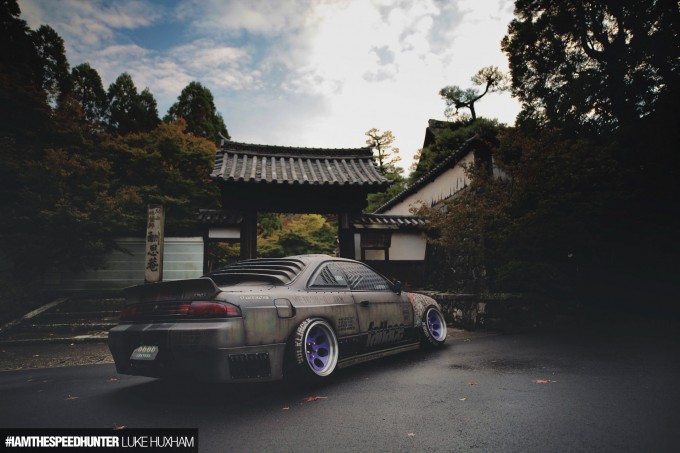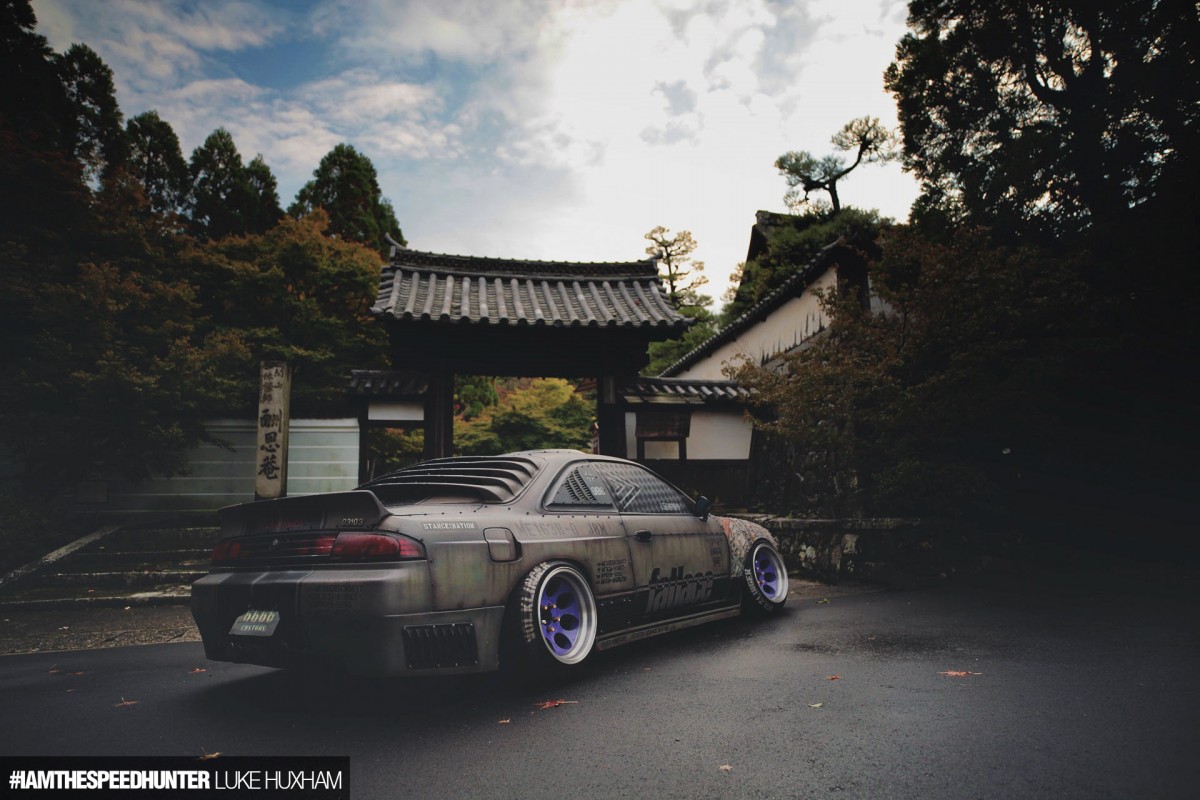 Not only circuits but plenty of unique locations. Satomi-san's famous military Nissan S14. Truly a work of self-expression and what better backdrop – a local temple in Nagoya.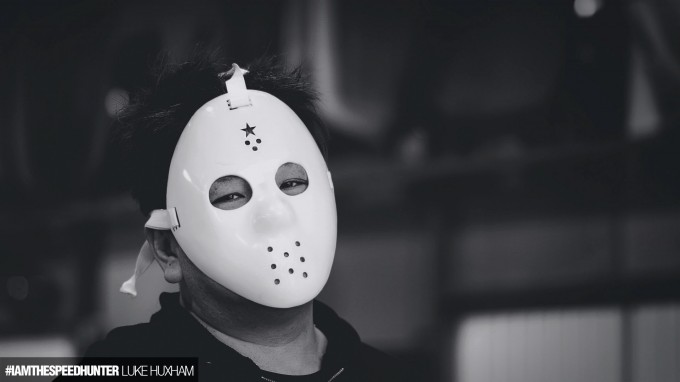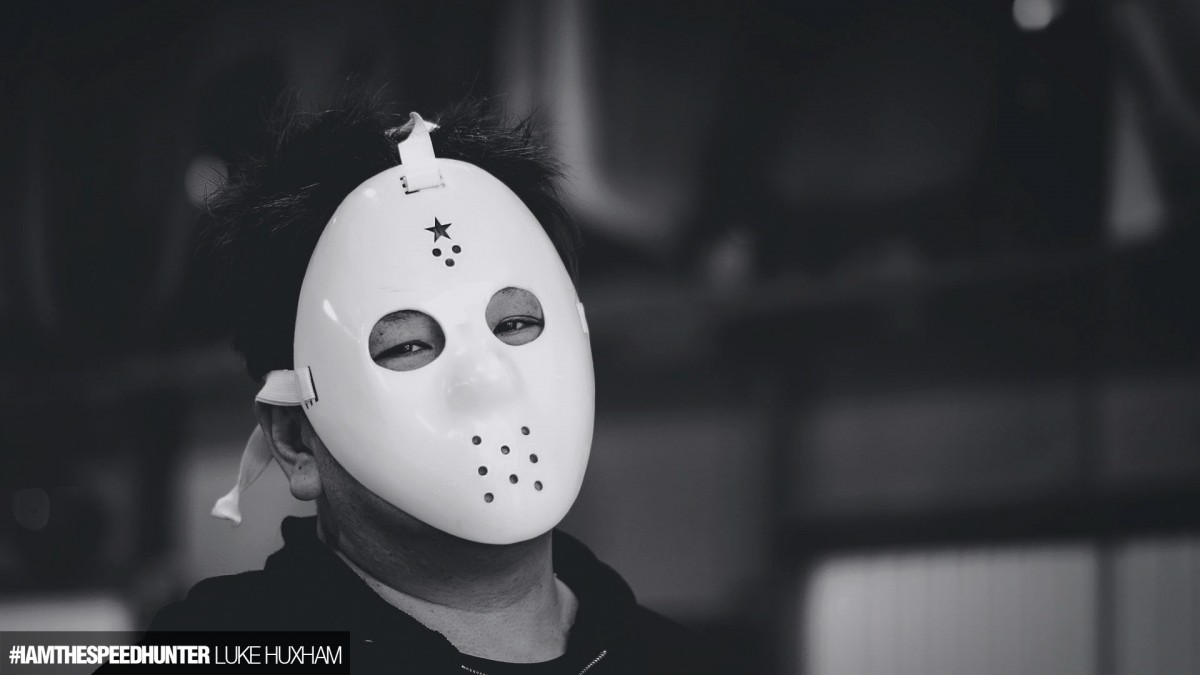 Unique people. The famous and truly crazy Kanjo racers from Osaka.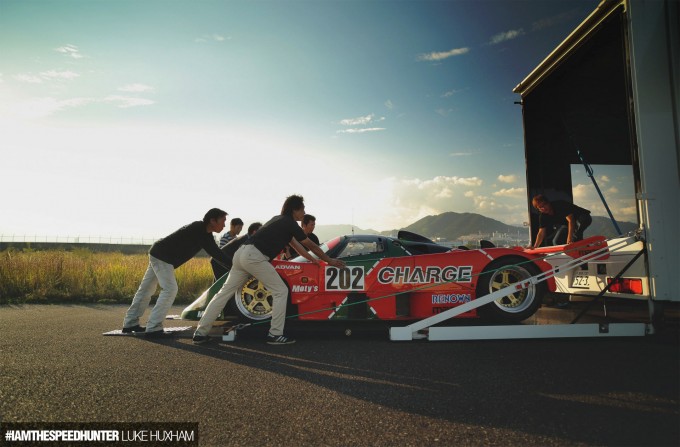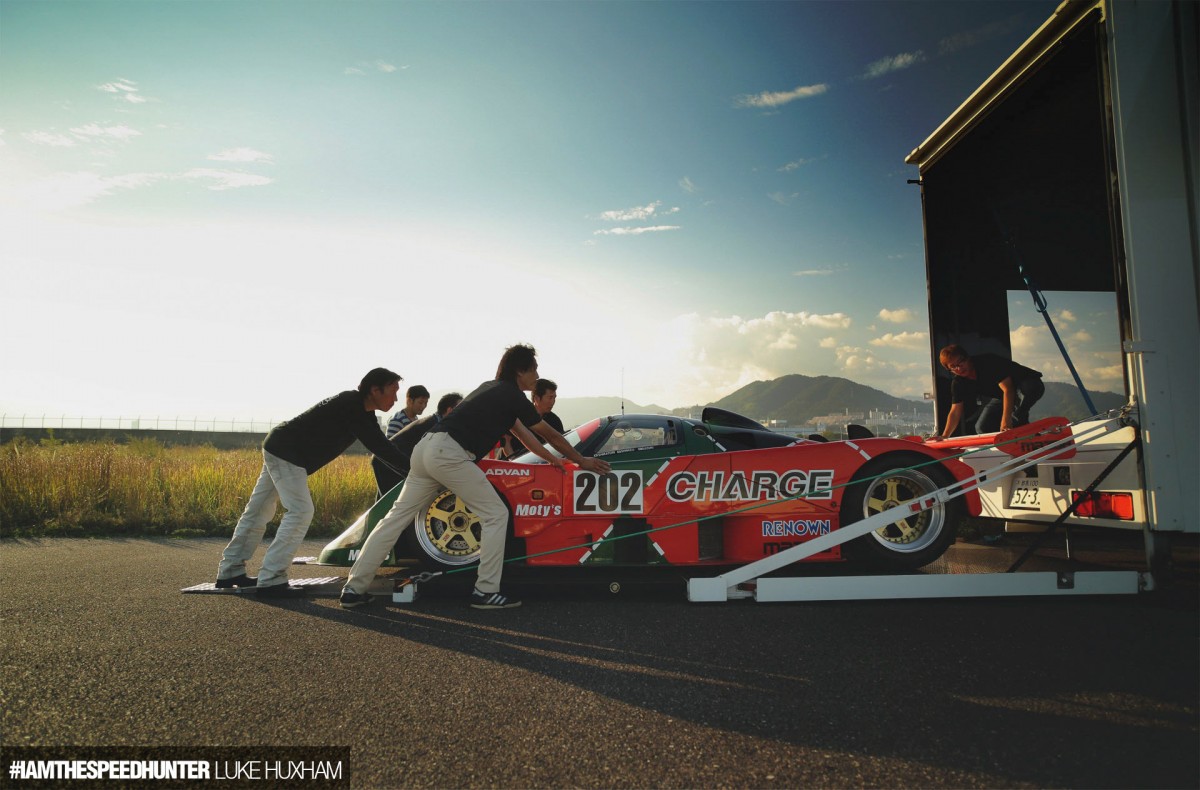 Unique projects. Like one of my most recent film projects: a scene from Car Maniacs: Life with LeMans. Hoshino-san's 767B being loaded onto the transporter.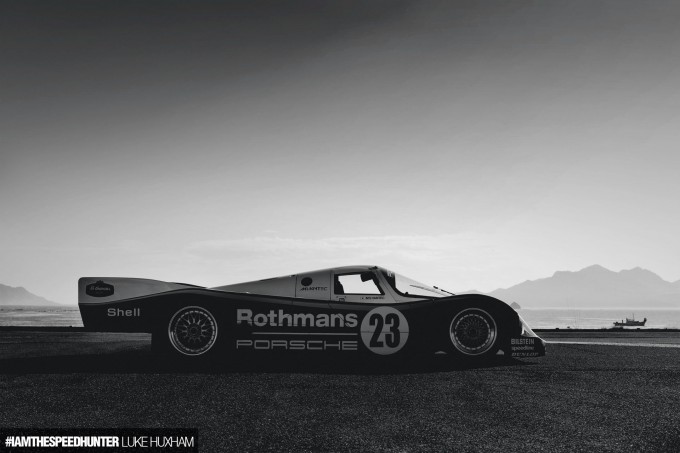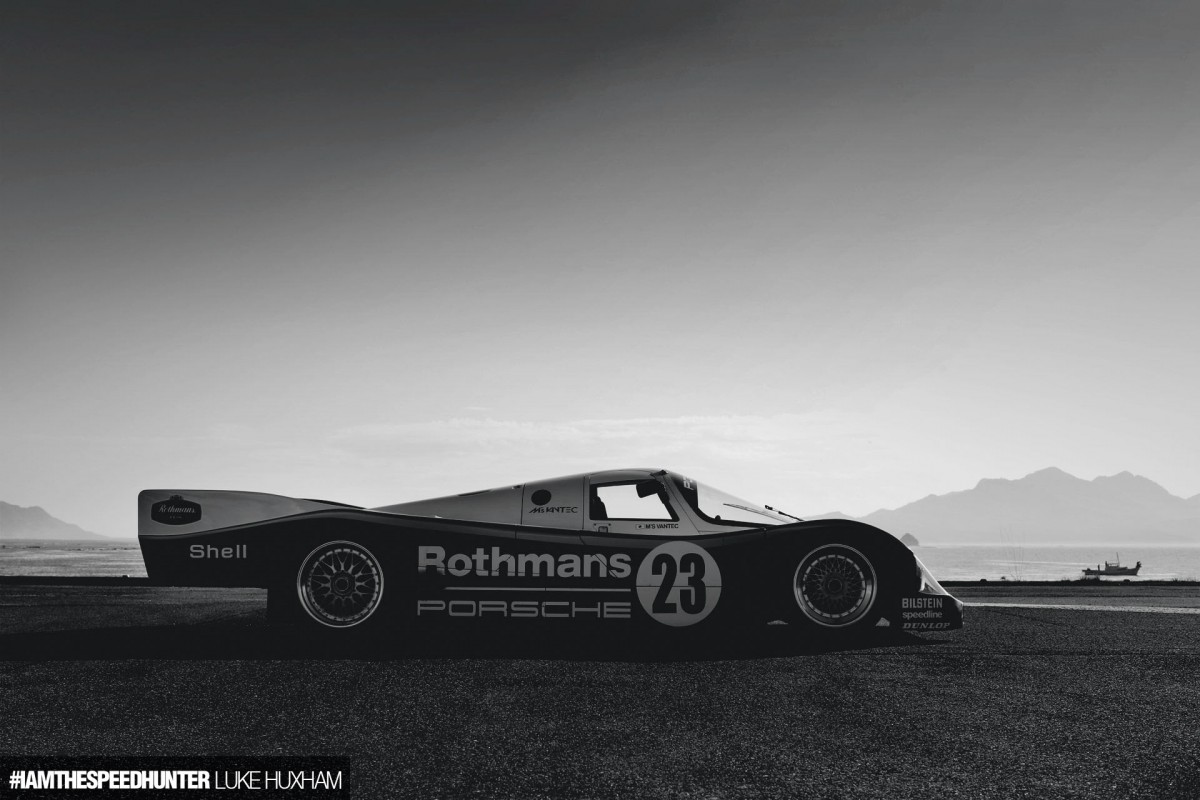 Yes, more black and white! Moroi-san's famous Porsche 962C, pictured here in Hiroshima.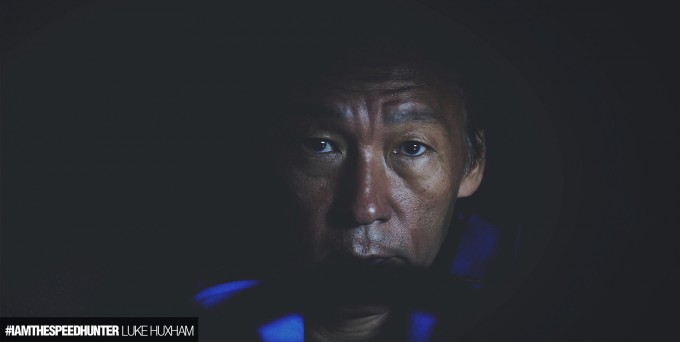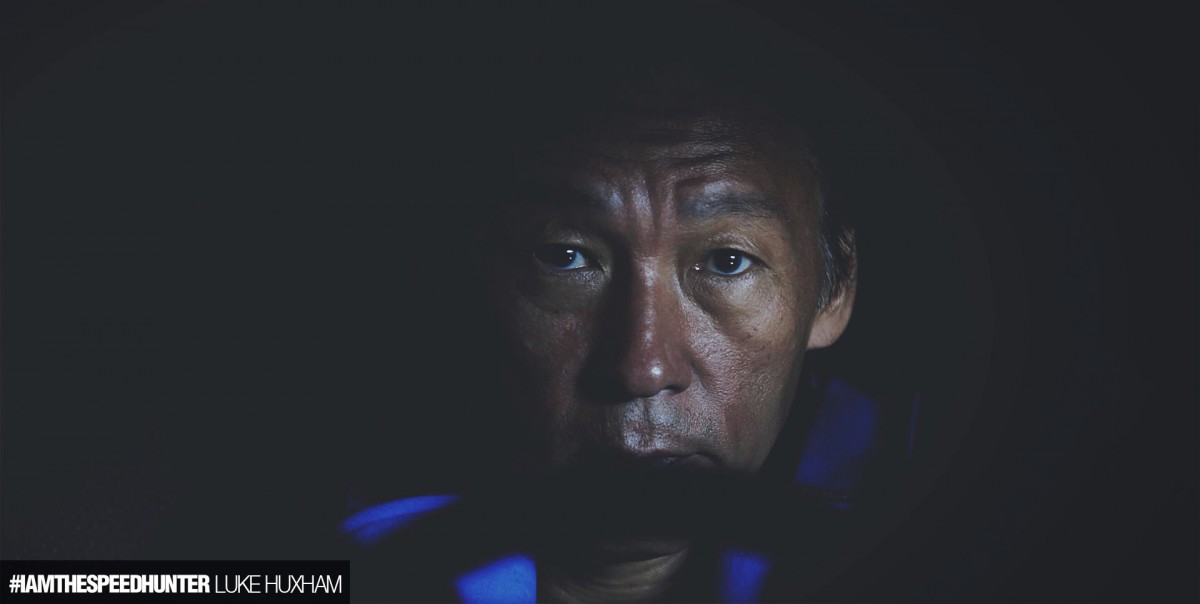 By now you might see a pattern forming of close-up, powerful face shots. This is Mr-X, the Jaguar XJ220C high speed bandit.
For those of you who've not already seen the film…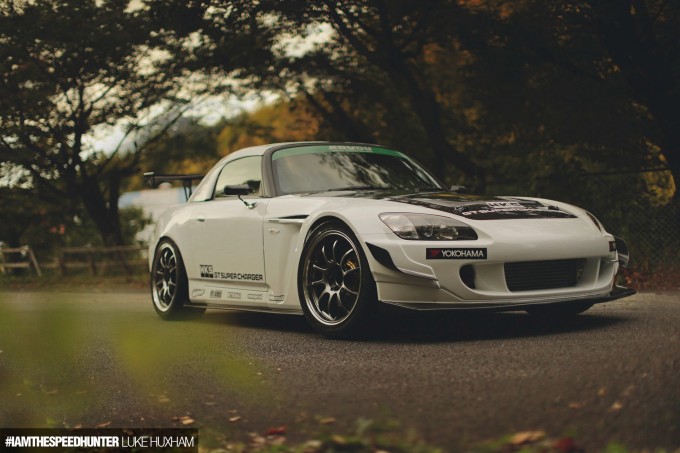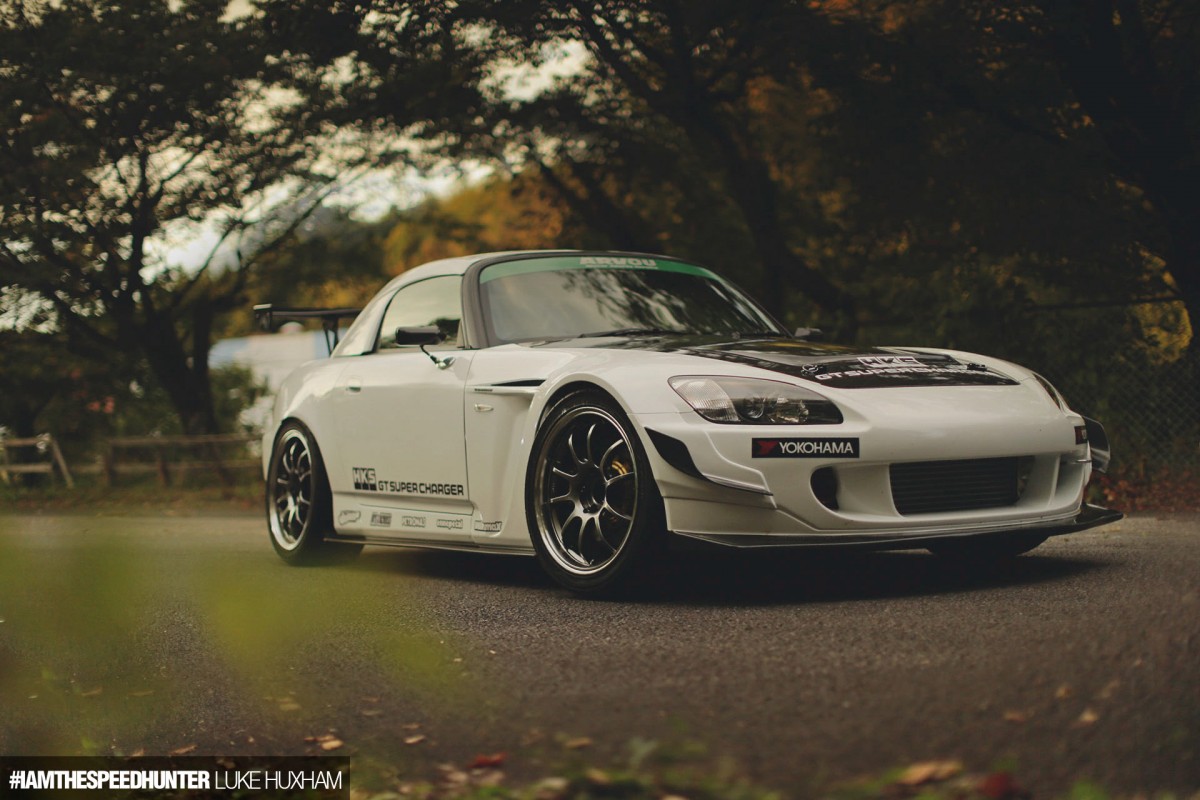 (Above) The supercharged, 426hp Arvou Honda S2000: truly a corner-attacking monster.
My life thus far in Japan has been a journey, with large amounts of stress and four years filled with 18+ hour back-to-back work days, holding down two jobs while pursuing my filming hobby. Even now that it's my full time career, I still find myself having sleep comas at my keyboard, operating on four hours of sleep every day with no signs of it slowing down any time soon. But like anything in life, if you want something bad enough, you'd better be prepared to work for it. Standing around waiting for things to happen is going to get you nowhere.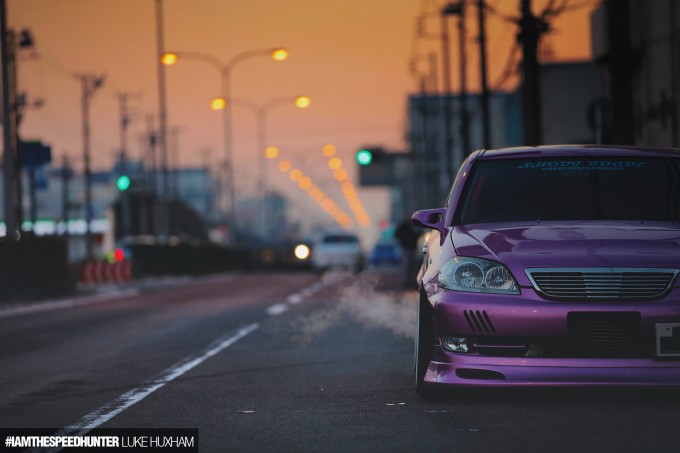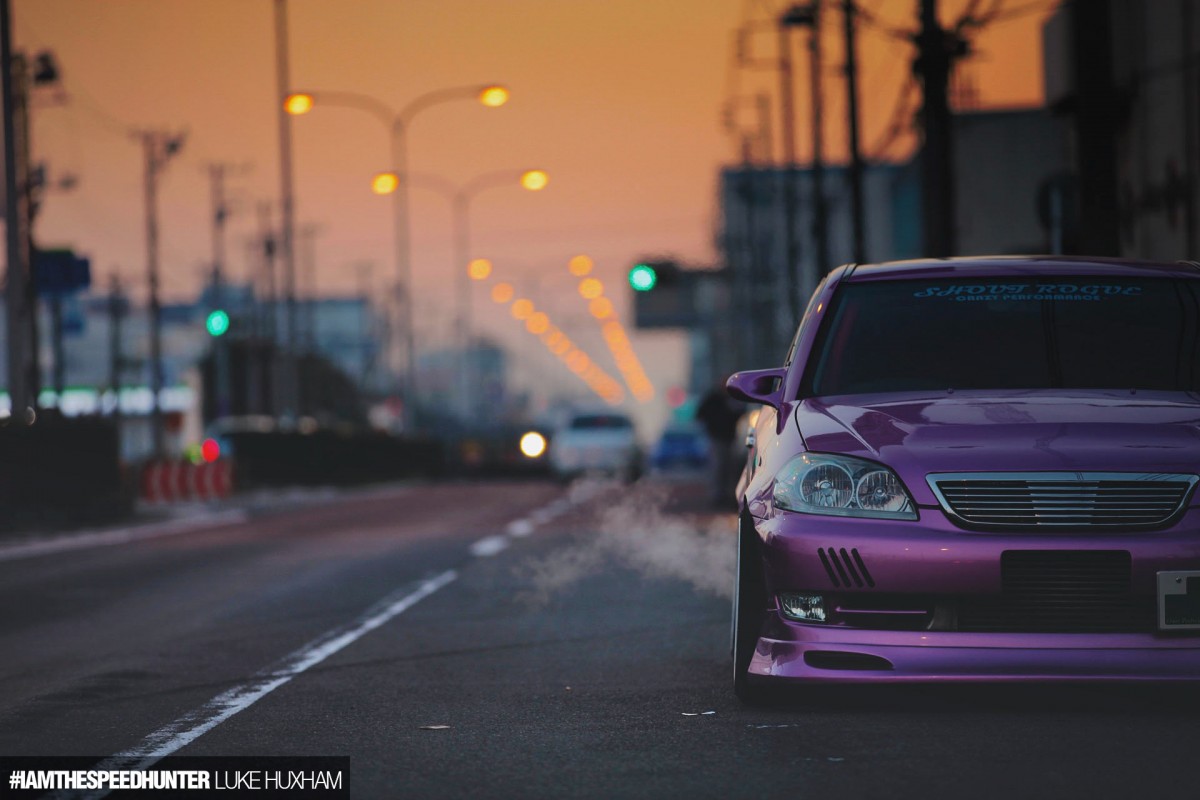 I'd like to thank Paddy for the opportunity to share a little insight into my life and Speedhunters for supporting media creators and allowing us to be put in the spotlight for a few brief moments. Speedhunters has been one of my largest inspirations over the years – the content produced by their team serves as motivation to work harder and hone my skills. I'm humbled to be featured on here.
Hopefully I've answered some questions for those of you who contact me about this type of stuff on a regular basis. I would also like to thank everyone who's ever watched my videos, hated them, loved them or told me how rubbish they are. Your feedback and clicks have helped get me to where I am now.
Many thanks,
Luke Huxham
Maiham Media
About #IAMTHESPEEDHUNTER
We created #IAMTHESPEEDHUNTER to allow you the opportunity to share your skills and car culture experiences from around the globe with the rest of the Speedhunters audience. Now, it's your chance to prove you have what it takes to join us on our adventures.
How do you get involved? It's simple…
E-mail – This is the most reliable method of contact. If you've been to a cool event and captured some amazing images, be sure to e-mail them to us on iamthespeedhunter@speedhunters.com and tell us a little bit about the event.
Flickr - Join our #IAMTHESPEEDHUNTER Flickr Group and share your favourite photos with us and others.
Instagram – Follow us on Instagram at @TheSpeedhunters and tag your own car culture images with #IAMTHESPEEDHUNTER
Twitter – Follow us on Twitter at @SPEEDHUNTERS and share your tweets with the #IAMTHESPEEDHUNTER hashtag.
Tumblr – Visit our Tumblr page to view the latest #IAMTHESPEEDHUNTER tagged images.
All submitted images must be 1920px by 1280px before they are considered.
Have you submitted already but not yet been featured? Here are some tips to help you…
DO – Tell us your name
DO – Read and understand the brief
DO – Submit only your best work
DO – Take your time shooting and consider each detail
DO – Submit each image no smaller than 1920PX wide
DON'T – Put a huge watermark on it. We'll make sure you're credited
DON'T – Send us huge image files that kill our e-mail system
DON'T – Send us scary ZIP or RAR files. We won't open them