Doing things the right way
There has always been one thing that has bothered me about Japanese tuners. Don't get me wrong – like you and I, I appreciate the sometimes raw approach that some shops have over here, concentrating only on the important things on a car: those upgrades that make the car faster around a track and benefit it purely on a functional level. But at times you can't help but wonder, 'You know, if they'd paid a little more attention to detail in say the interior or tidied up things in the engine bay, it would be such a perfect car.' I've had plenty of discussions with you guys in the comment sections regarding controversial aspects like roll cage construction and racing harness placement among other things, and it's definitely made me notice these sort of things more. So when I caught a glimpse of the Bulletproof FR-S at the Tokyo Auto Salon, it got me thinking.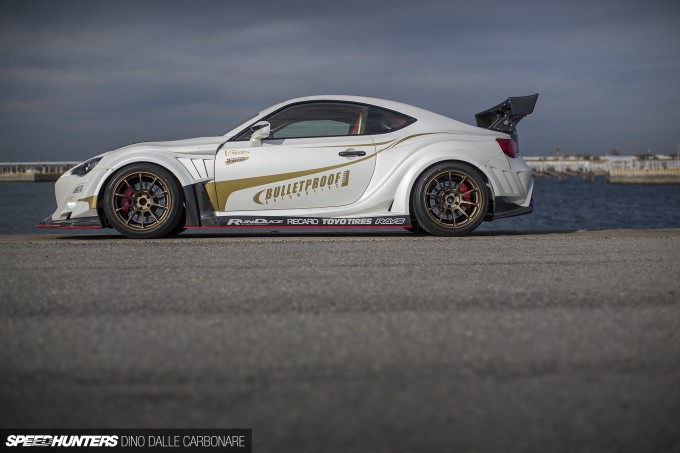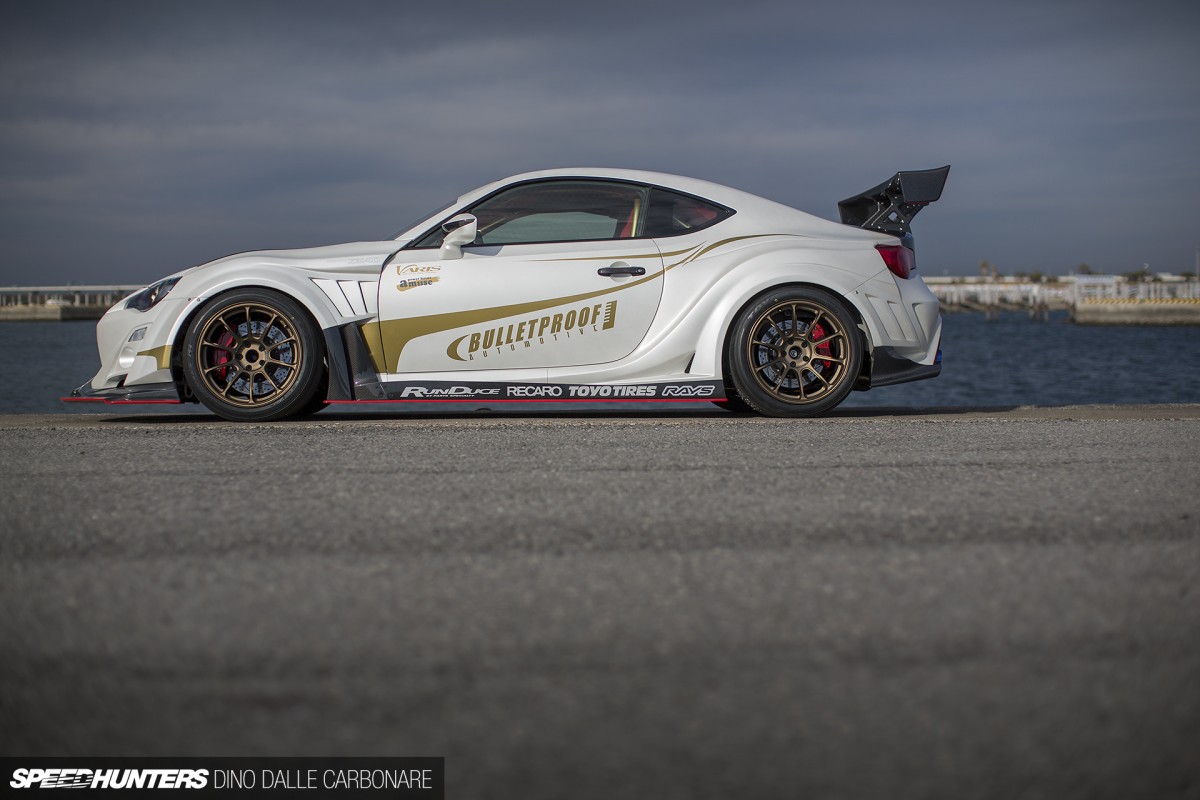 The car was shipped over from the US and showcased at the RAYS booth, sitting on a fresh set of impossibly cool new Volk Racing ZE40s. We've seen this car before; it was in fact unveiled at SEMA a few months back, but to see it up close at TAS… well, let's just say I didn't dismiss it as just another show car. What seemed to set it apart was its substance. Here is a car that was built to look good and feel good out on the street, as well as tick all the right boxes when it's time to take it to a track. In fact, one of the main reason that it was sent half way around the planet is because it had an appointment at a certain little track in the Ibaraki countryside and with a guy called Nobuteru Taniguchi. But more on that at a later date…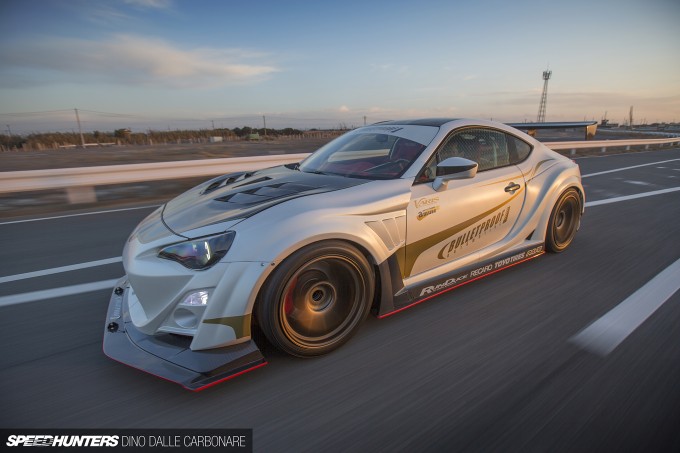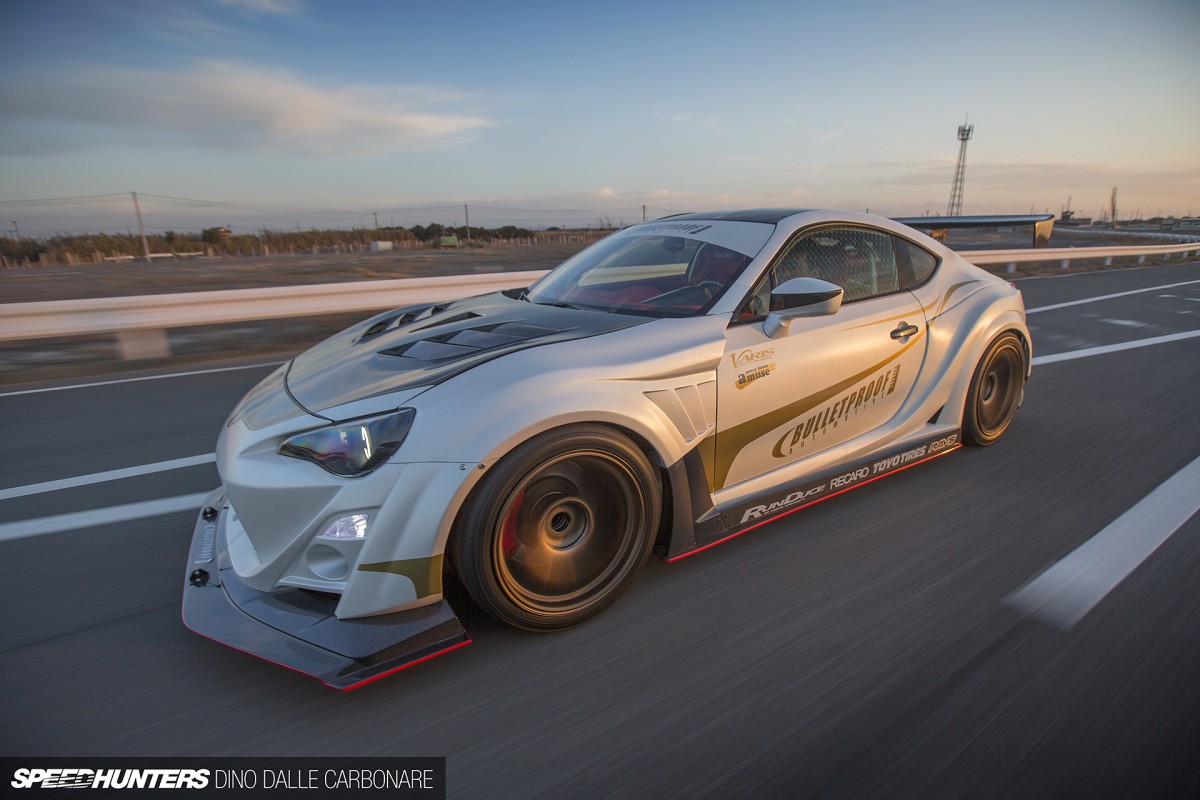 There was only so much I could check out during the hustle and bustle that is the Auto Salon, so as soon as the show finished, I called up Ben at Bulletproof Automotive and asked him if I could take out the car for a couple of hours and indulge in its detail. That's why a few days later, I found myself at Power House Amuse, who not only have collaborated in the build of the FR-S but are entrusted to look after it during its stay in Japan.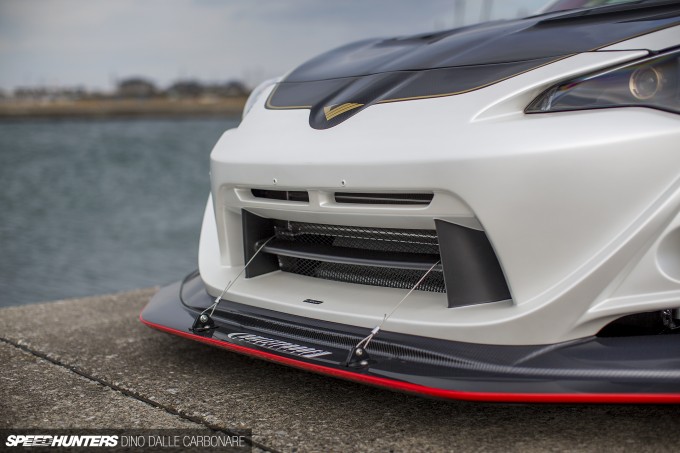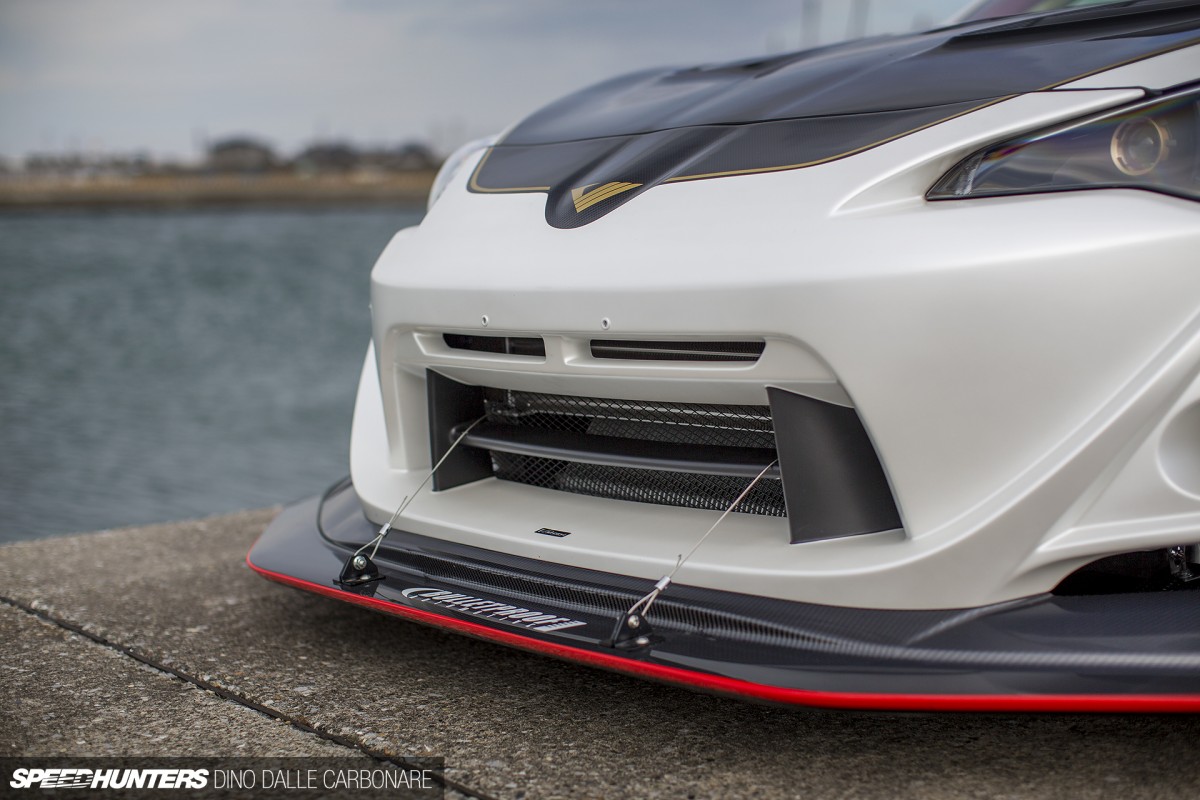 Matsui-san, who after Tanabe's death a few years back has taken over the famous and renowned brand, was keen to make sure I found a cool location to shoot the car, so after a little consideration we headed to one of my favorite locations on the Chiba side of Tokyo Bay. There, as I walked around the car, I was finally able to take in all the details – and believe me there are plenty. If I had to categorize this ZN6, I'd probably call it an extremely authentic JDM tuned car; it wears all the right sort of parts from brands that Bulletproof Automotive import into the US, starting off with the full Varis widebody kit. We've seen this kit fitted to Varis' own demo car, but the black color they chose for that car I feel never did the kit any justice to be honest. There are a complexity of lines, flowing beautifully from the front all the way to the rear.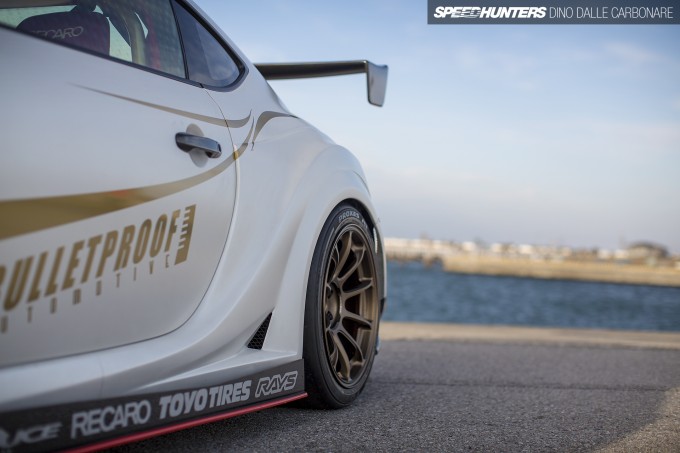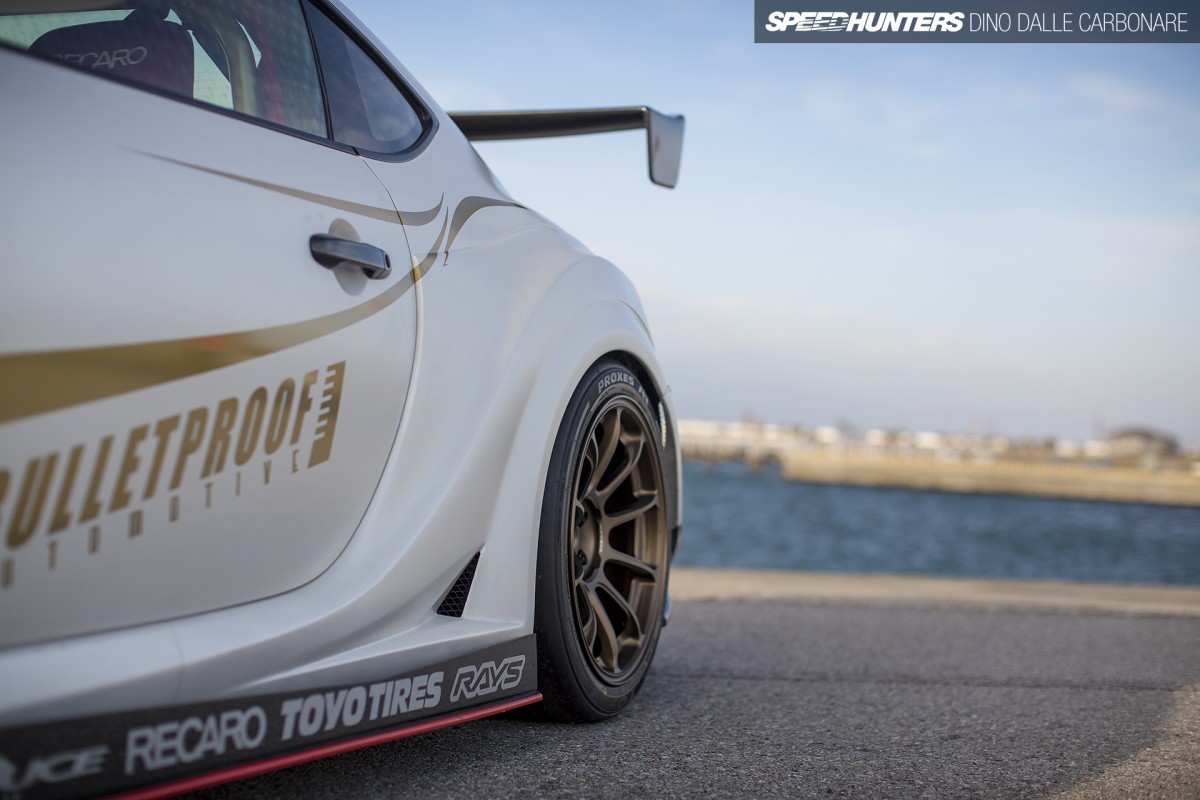 Along the way, air intakes, vents and outlets spice up the design that has obviously taken a few styling cues from Super GT race cars. I'm not saying they're all functional – they haven't tested the aero in a wind tunnel or anything – but their know-how alone would guarantee that some gains in downforce and a reduction in drag are obtained. There's plenty of exposed carbon fiber to act as a contrast against the faultlessly applied flat white pearl Lamborghini color; a great choice that couldn't show off those lines any more dramatically if it tried.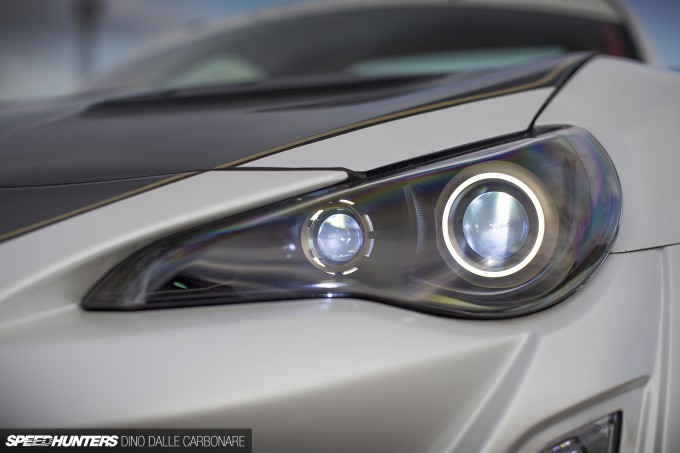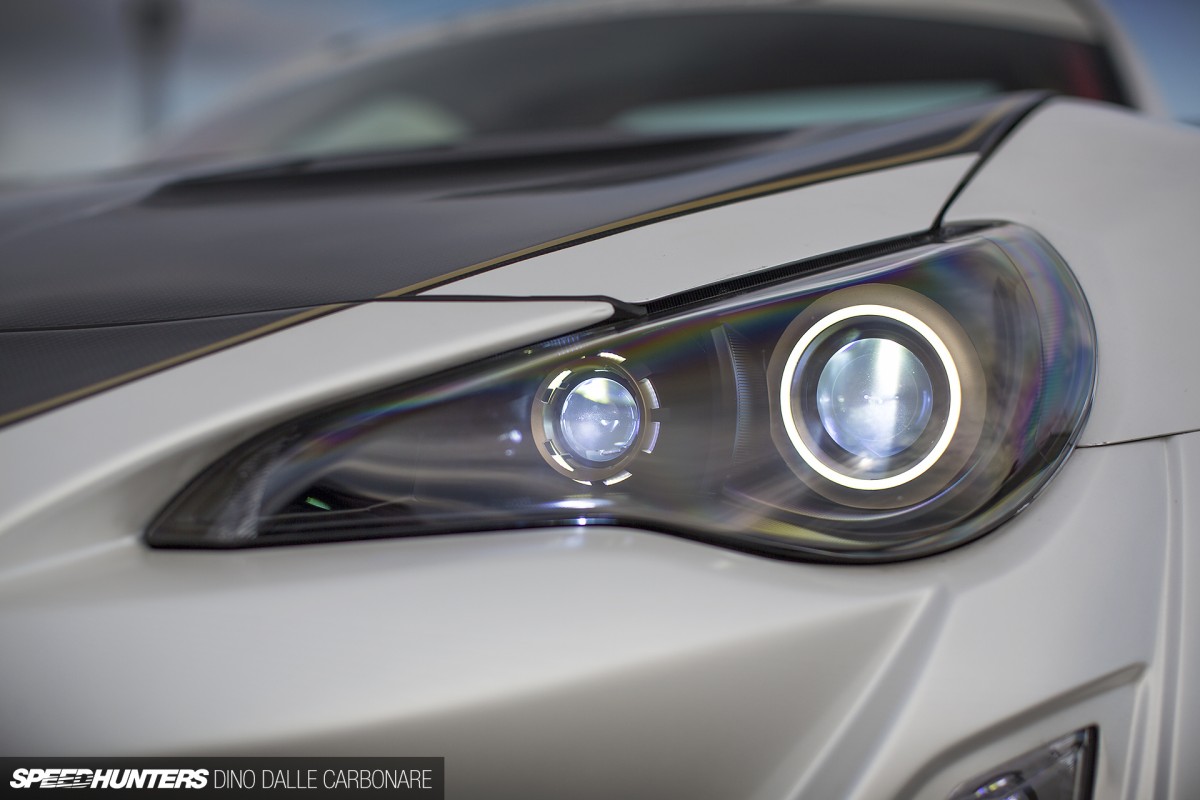 Bulletproof weren't just going to leave things at that, so added the bespoke touch in a variety of places like the custom carbon detailing around the front bumper as well as gold graphics and logos. One thing I instantly noticed was the custom headlights featuring BMW-style angel eyes around twin HID projectors.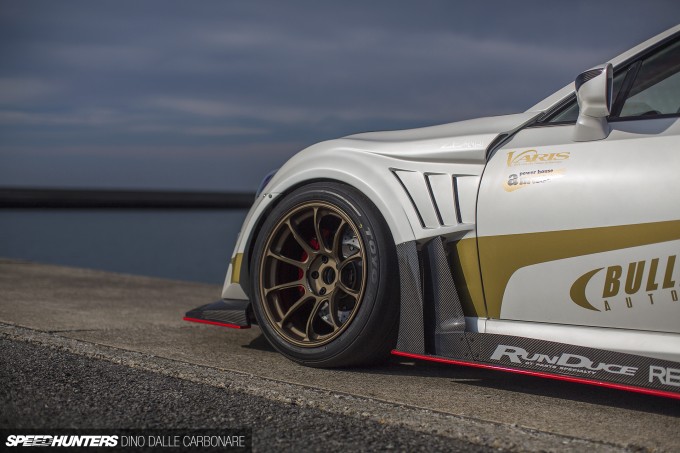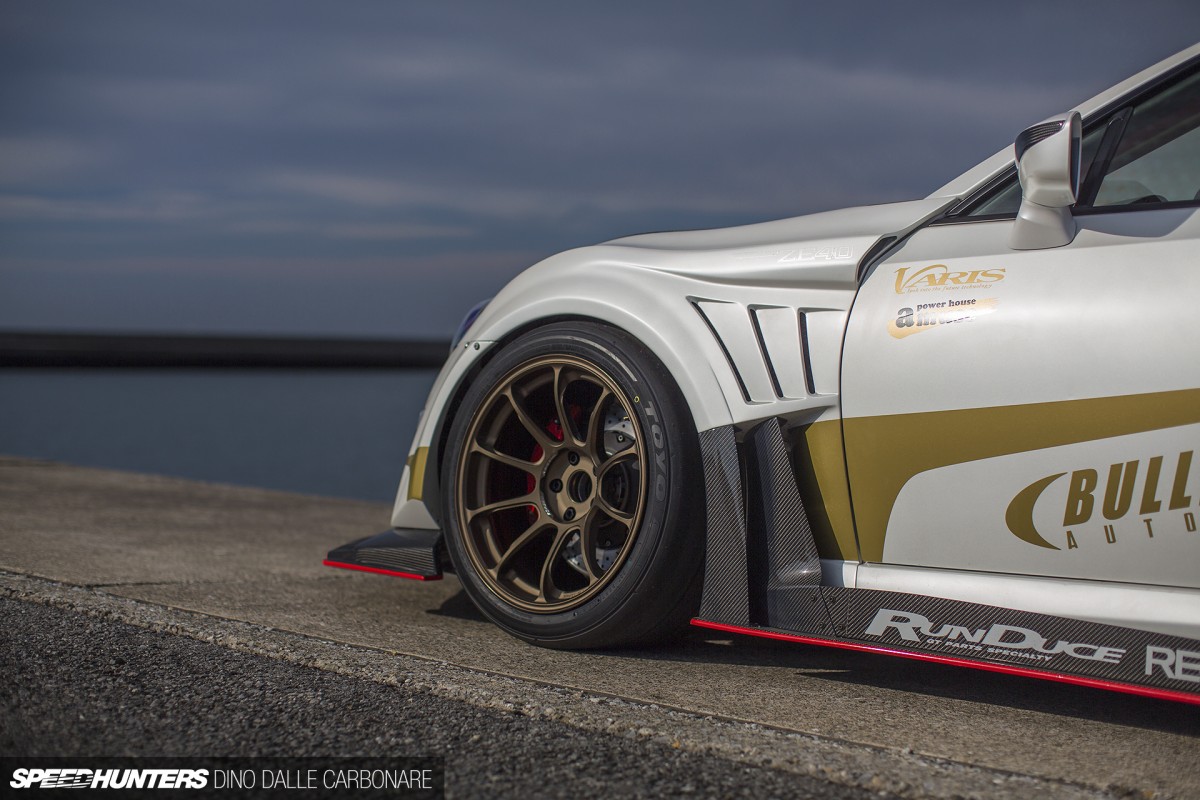 The wheels followed next, and while the car was shown at SEMA sitting on a set of 19-inch RAYS Volk Racing G25s, it was running 18-inch ZE40s at TAS and at the time of our shoot. This new 10-spoke racing wheel is the strongest forged rim that RAYS has ever made, every aspect of its design set around lightweight construction and max rigidity.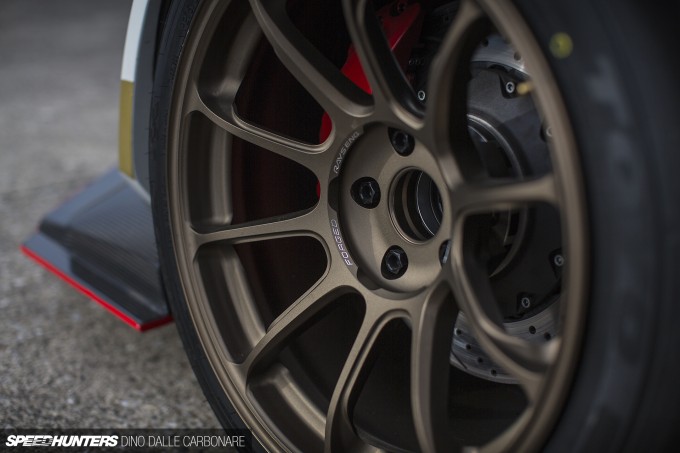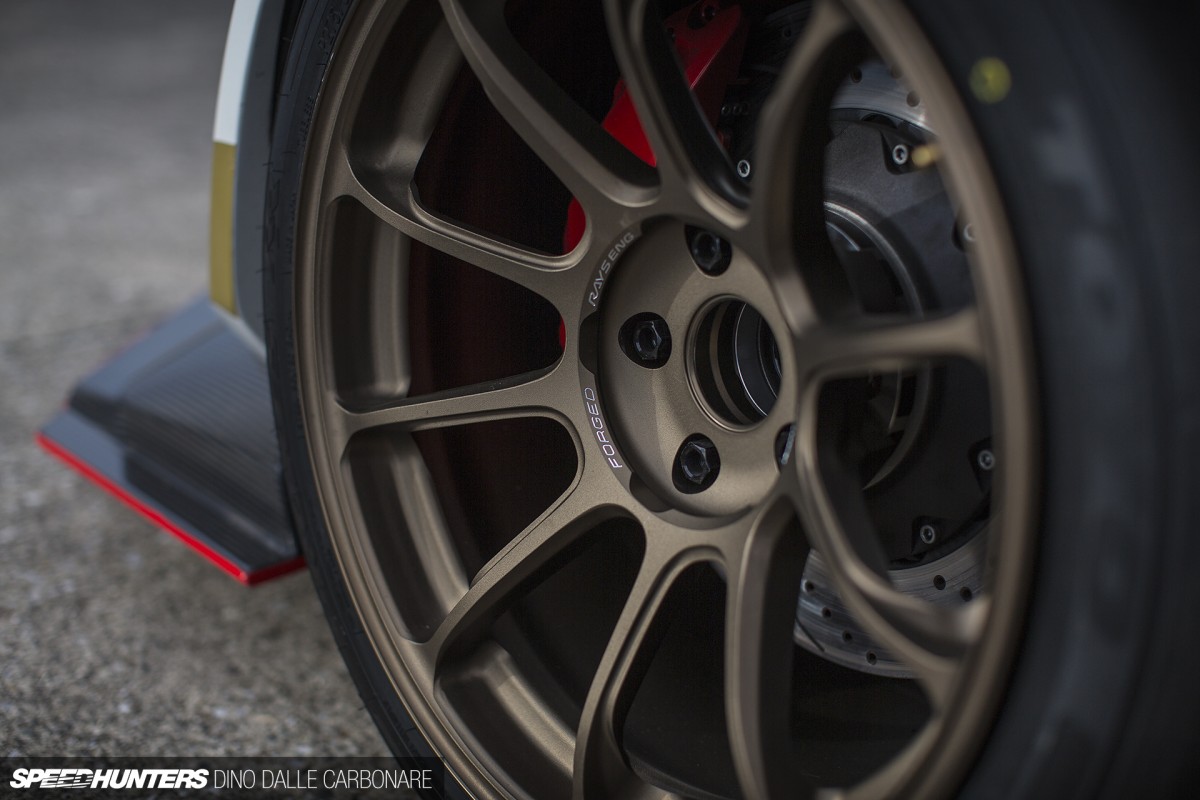 Wrapped with grooved 275-section Toyo Proxes RR slicks, the 18×9.5″ rims are a superb match to the FR-S.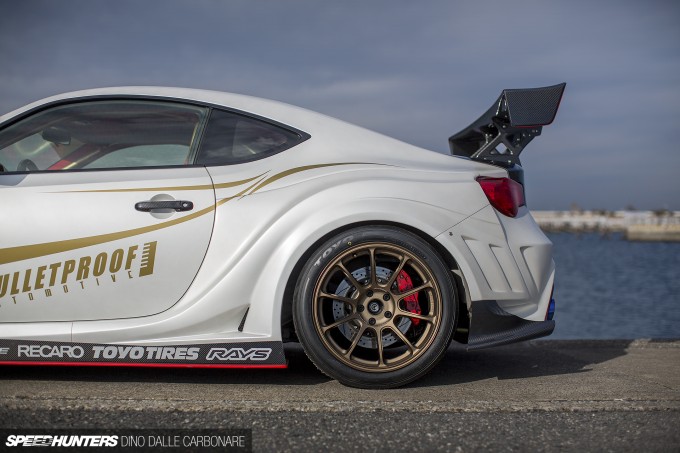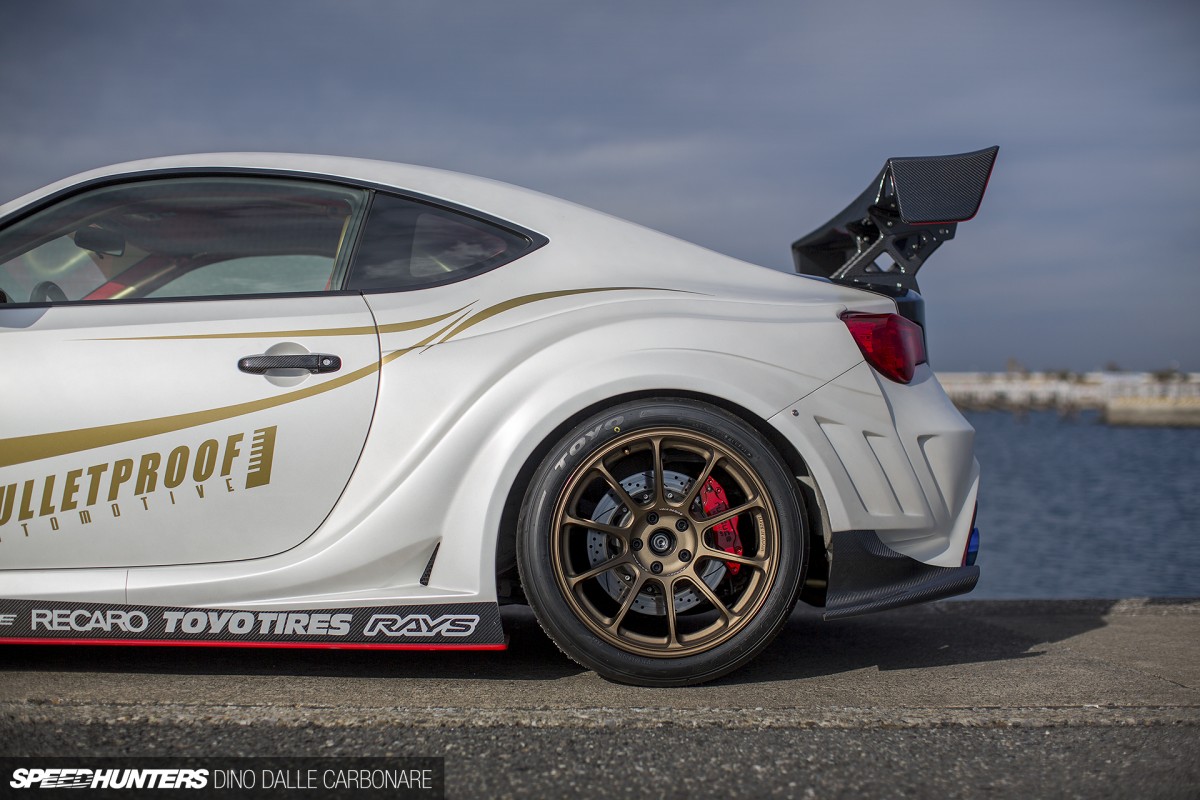 The Original Runduce suspension has been set pretty low, not for looks but for the fact that its initial Tsukuba shakedown had been held a few days prior to the shoot. The adjustable and remote-reservoir dampers are matched to 12 kg/mm springs front and rear: a good compromise between comfort and outright performance, maintaining that all important compliance that well-balanced sports cars need to offer. Suspension upgrades don't end there – on top of the Cusco front and rear strut tower braces, a rear lateral arm kit from the same parts maker was also added.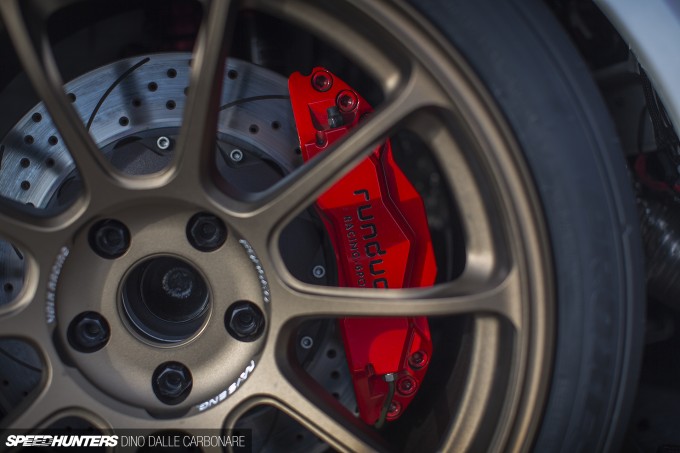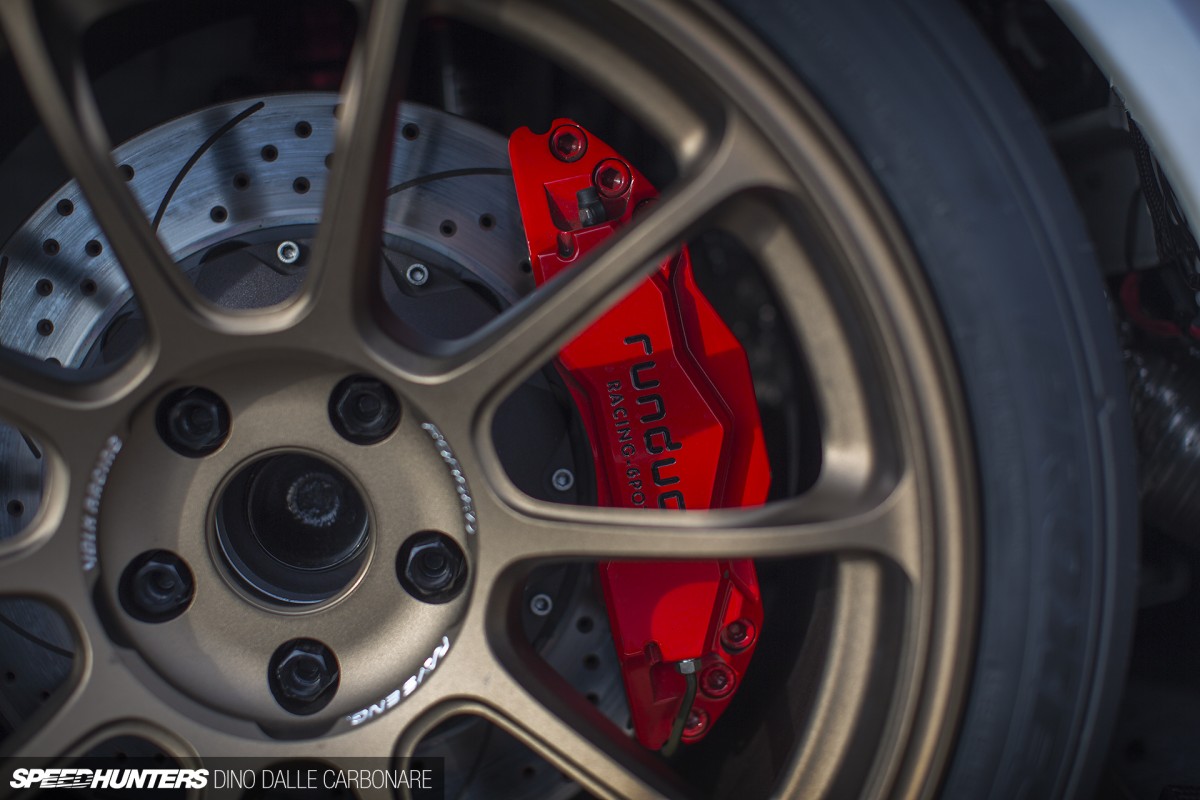 Hiding behind the thin contoured spokes of the ZE40s is the Original Runduce brake package consisting of six-pot calipers at the front and more compact four-pots at the rear. Grooved and drilled oversized rotors complete the package, a set-up that offers the sort of braking power you would need on a car that now has more than double its stock power level.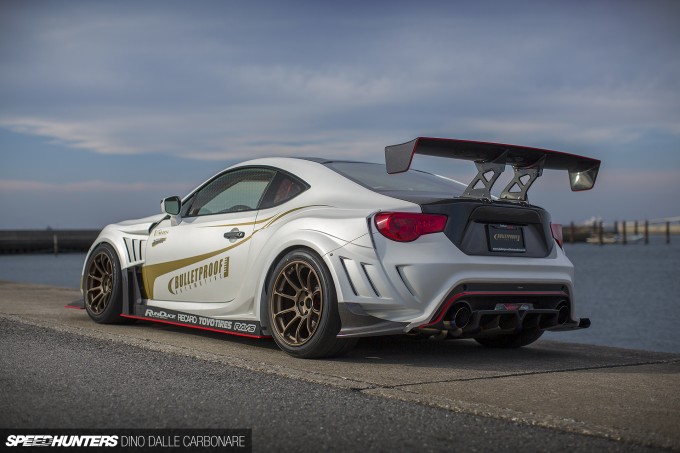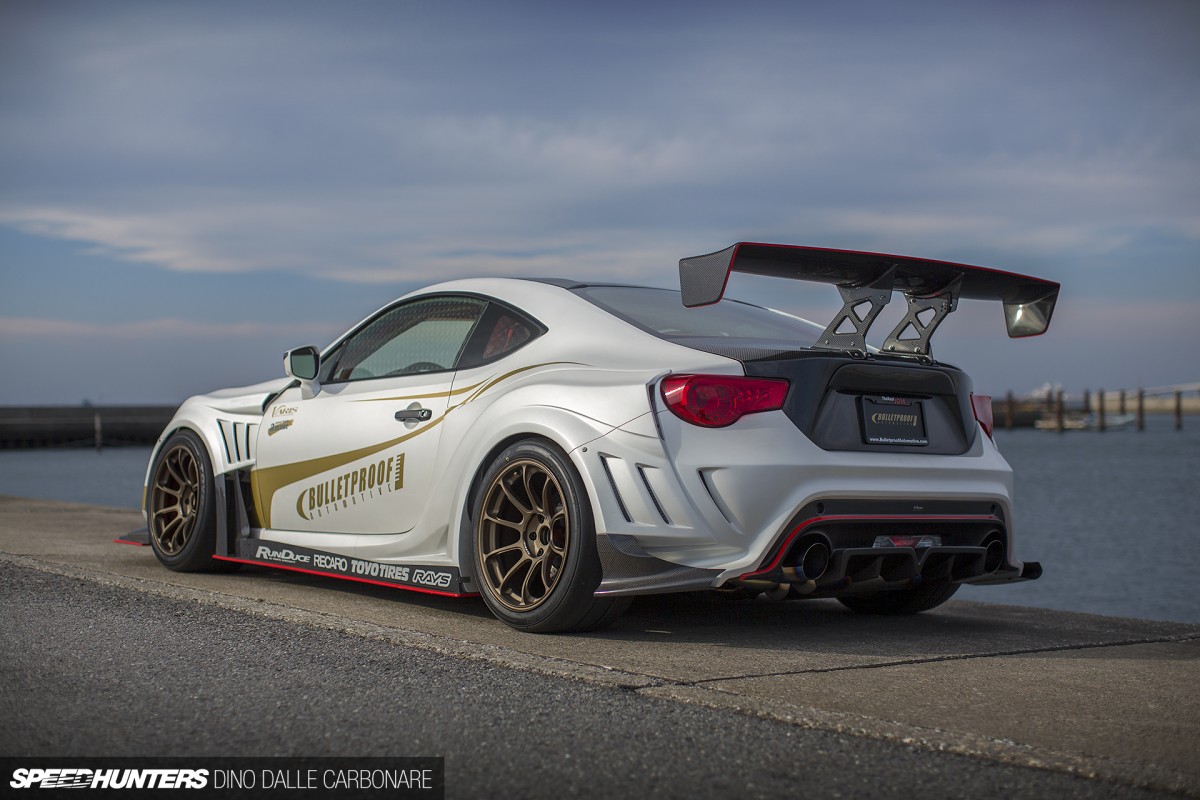 For me, the best angle of the Bulletproof FR-S is definitely the three quarter rear view; it's here that you can see the full aggression of the Varis kit, the wide vented fenders, all the carbon detailing and the way the car just sits so square on its wheel and tire combination.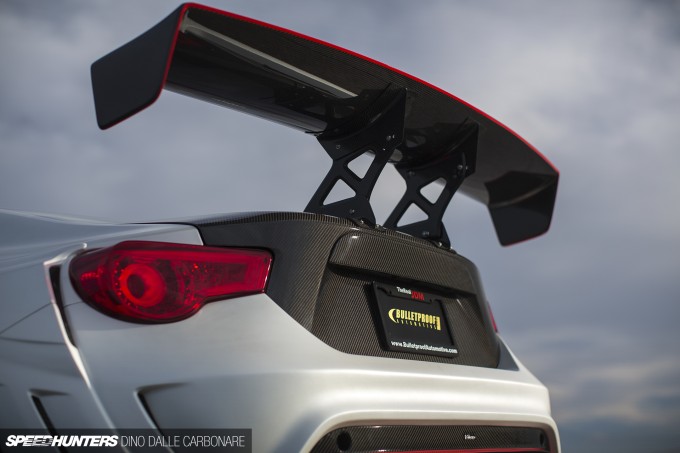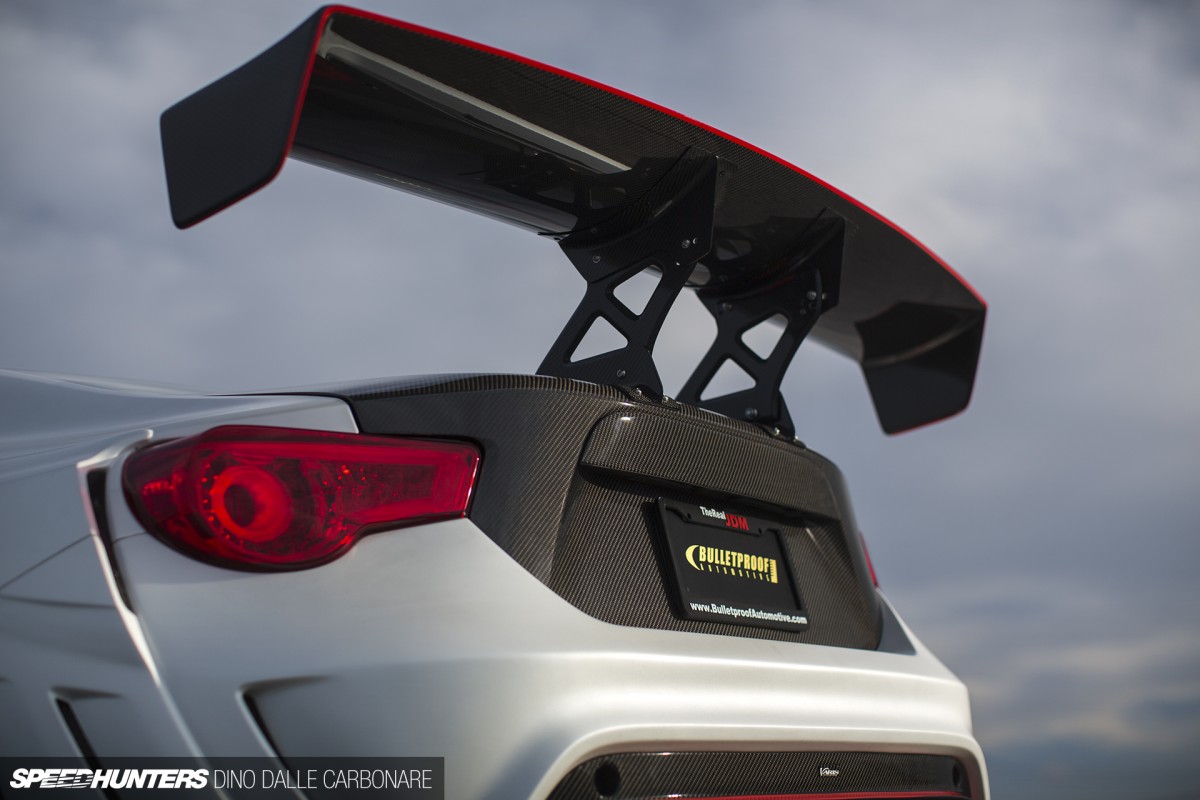 Then of course there's the rear end, highlighted by the glossy Varis lightweight carbon trunk lid and the centrally supported GT-wing.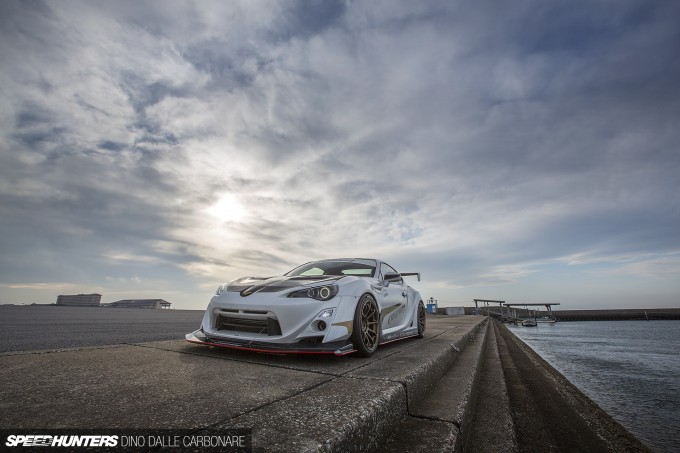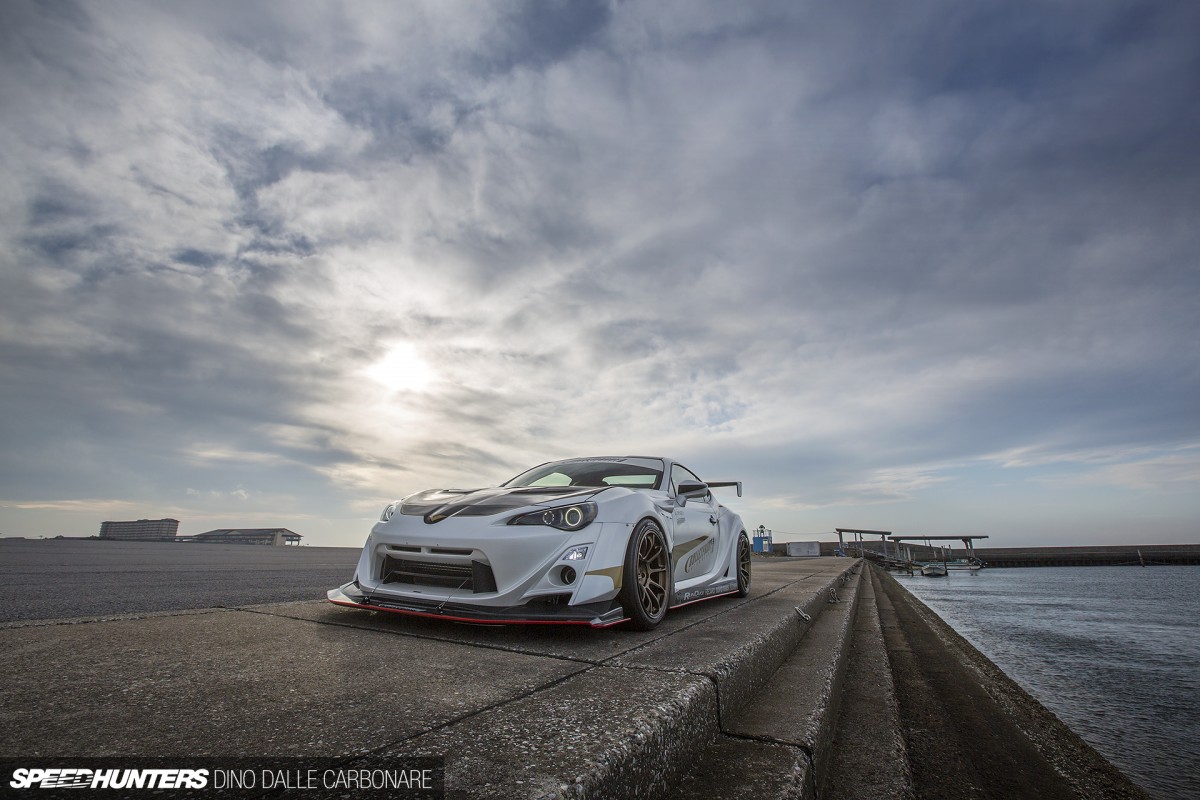 Suming up all these additions makes you quickly realize that this is one project that has had a focused goal before work even started on the car. The true goal of this ZN6 was to aspire to something so much higher than the class it belongs to from stock, turning what is in all effect an affordable entry-level sports car into an outright supercar. But wait. Is that even possible? Are we kidding ourselves here? No matter what the final result is, can a car like this ever be defined a supercar? Let's continue looking at the remaining details before we attempt to answer that question.
Ticking all the boxes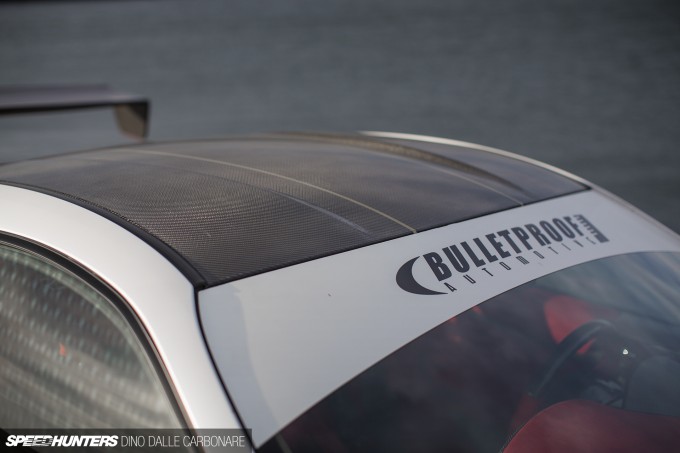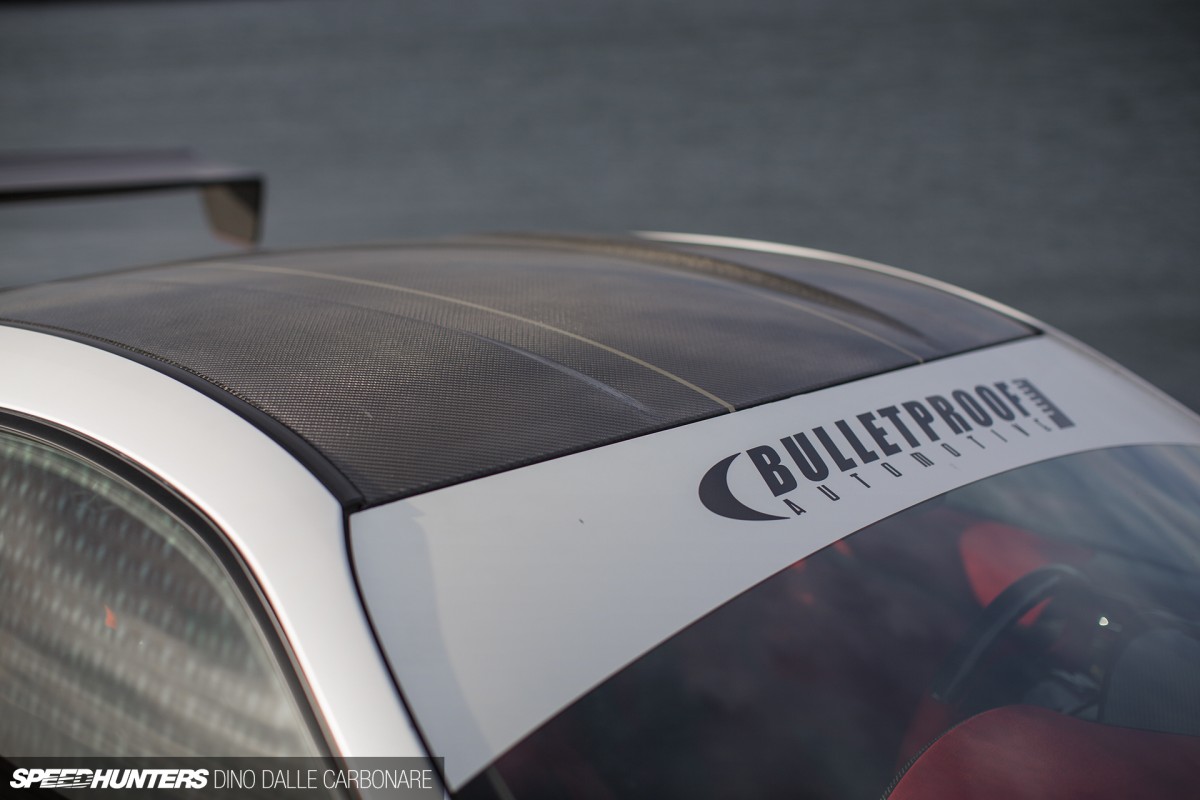 To be taken seriously and when attempting to play with the big boys, you really have to make sure that you address every single aspect of a car and as I continued to look it over, I really couldn't find any faults or omissions. Take the roof for example; even here the Bulletproof touch was applied, the stock steel roof being removed and in its place, an extremely light Esprit dry carbon replacement bonded down in place. This, as you know, is something you would find on any pure driving machine, helping to shave weight off the top of the car to lower its center of gravity and thus improving its handling behavior.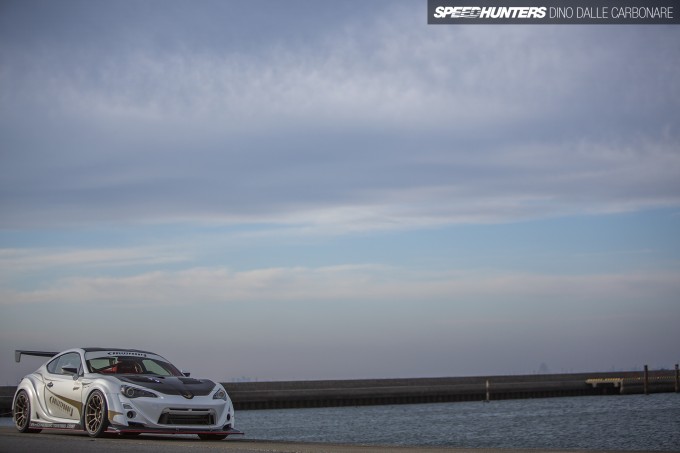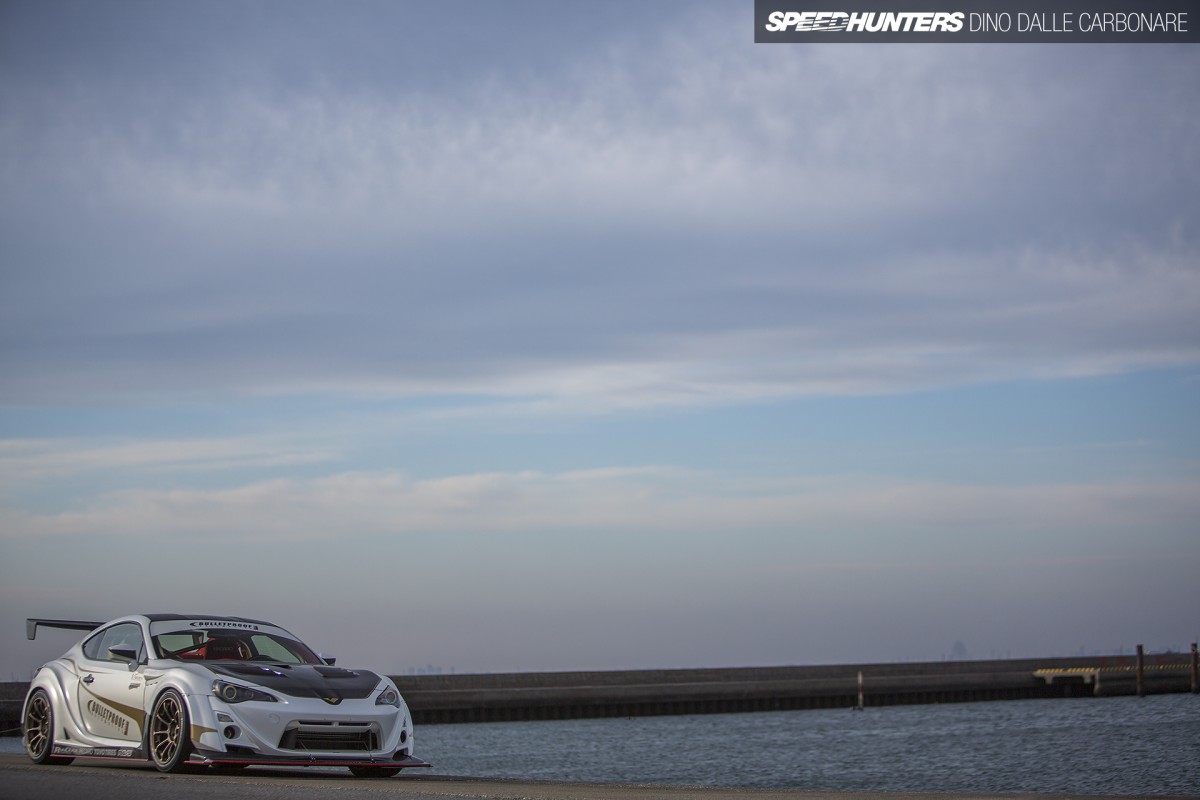 Aesthetically it seems all boxes have been ticked: style, aggression, function, details and bespoke touches all very much present. But a car is as much about performance as it is about all of the aforementioned parts, so what's been done to the engine I hear you ask?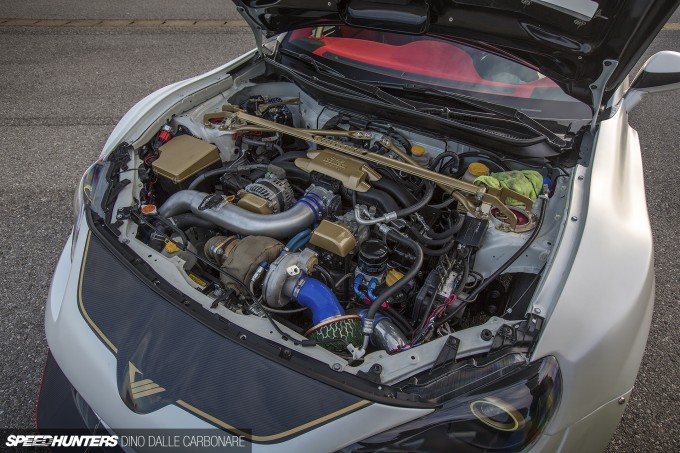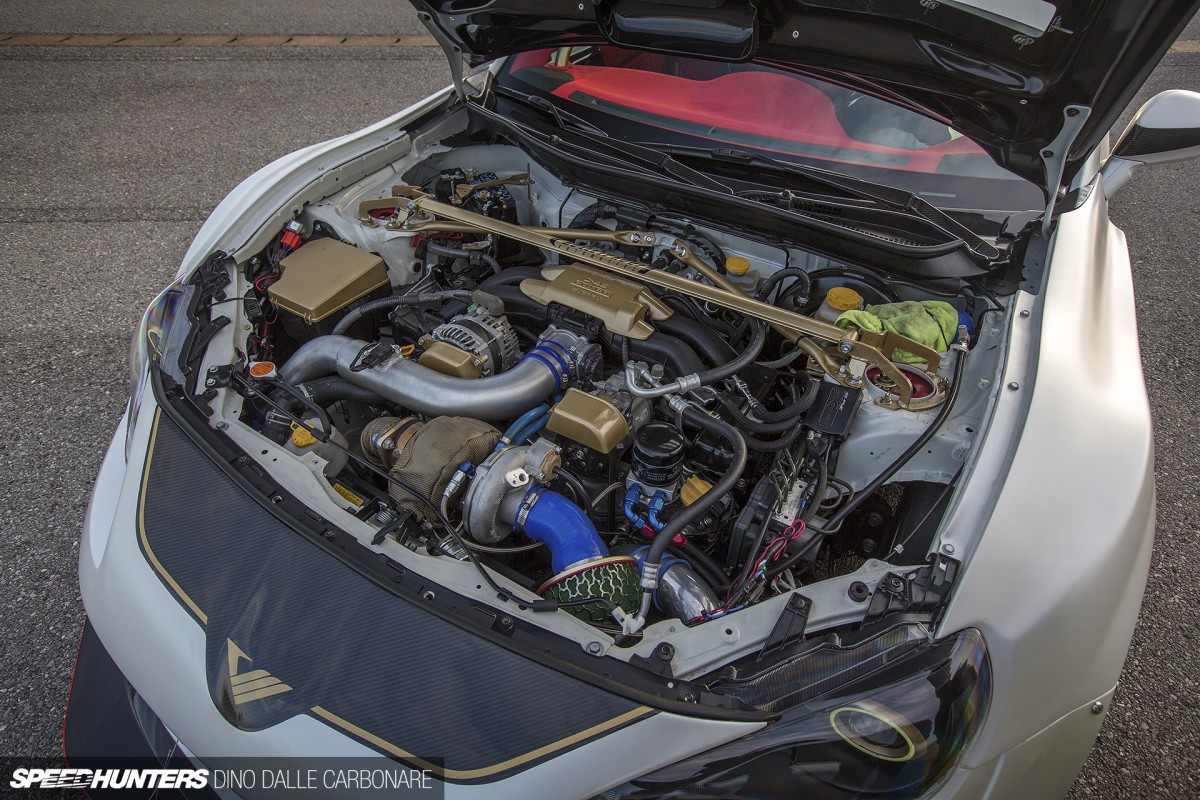 One quick look under the Varis vented carbon hood reveals quite a lot, starting off with a base rebuilt FA20 sporting oversized forged pistons and reinforced connecting rods. These were necessary upgrades because the stock 200hp just wasn't going to cut it in the big bad world of supercars, where this car wants to be judged. Joining the strengthened engine is a Power House Amuse turbo kit based around a latest generation Borg Warner EFR 6758 turbocharger, positioned in front of the engine.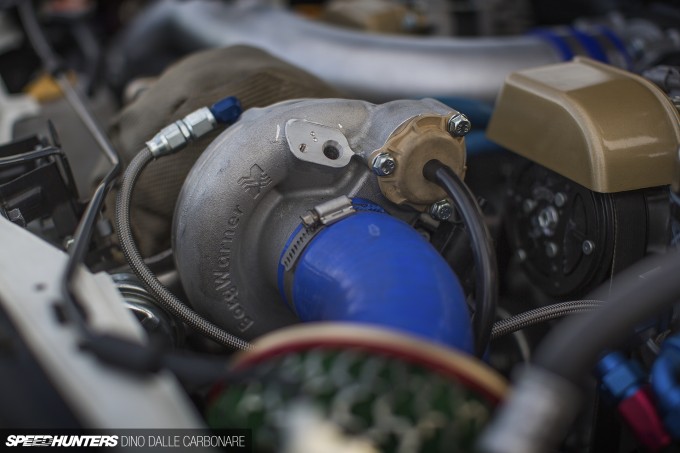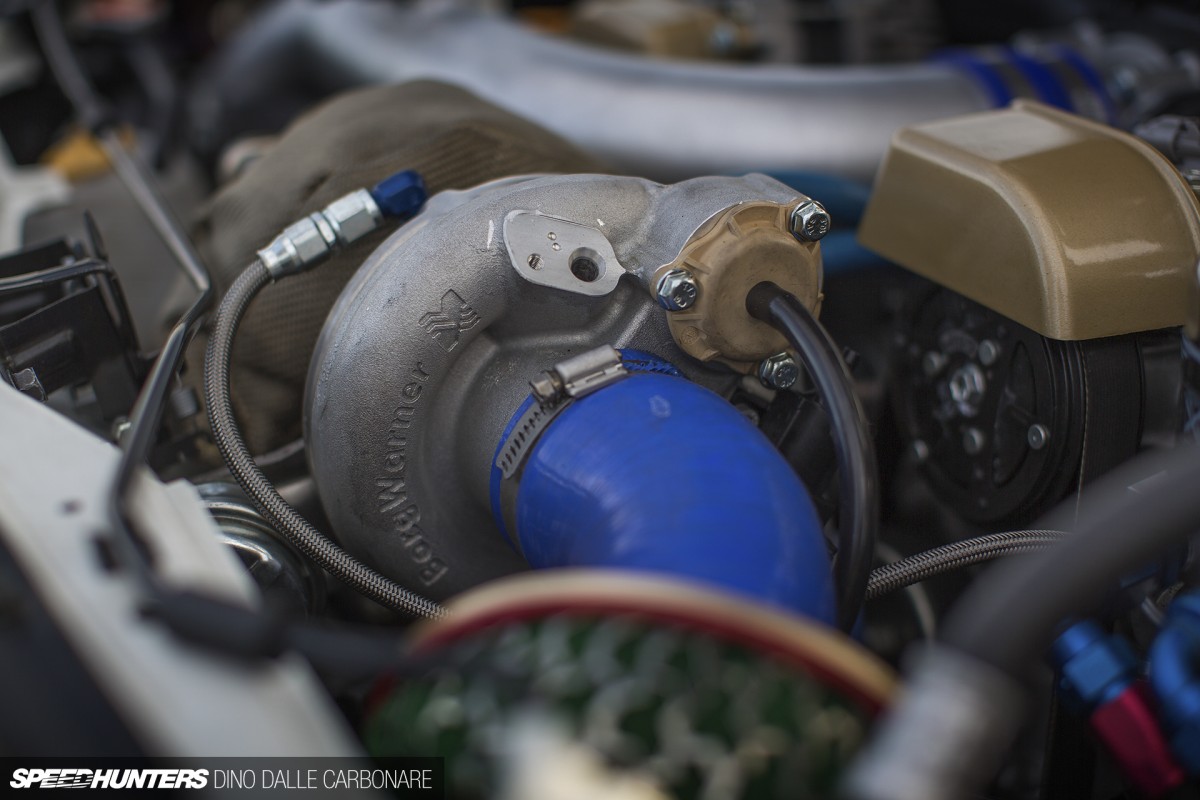 The blower has been set up along with an Amuse ECU to supply two distinct settings, the first using low boost of 1 bar for 400hp – what was used at its first outing at Tsukuba – and then the second high-boost map running 1.2 bar, good for 500hp. The Amuse touch includes a full titanium exhaust system, all the way from the turbo outlet pipe and the front pipe.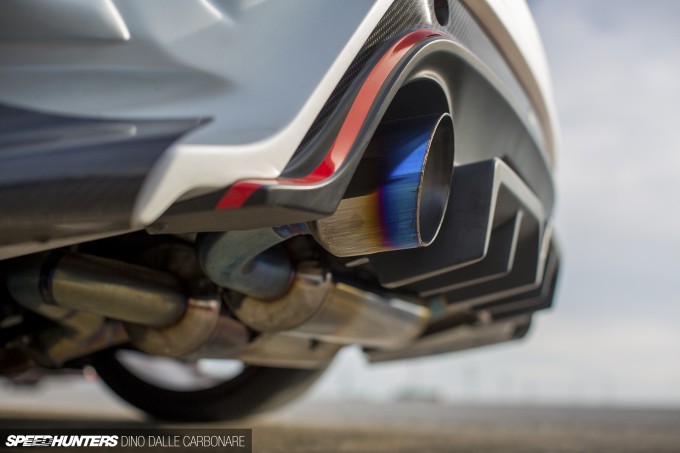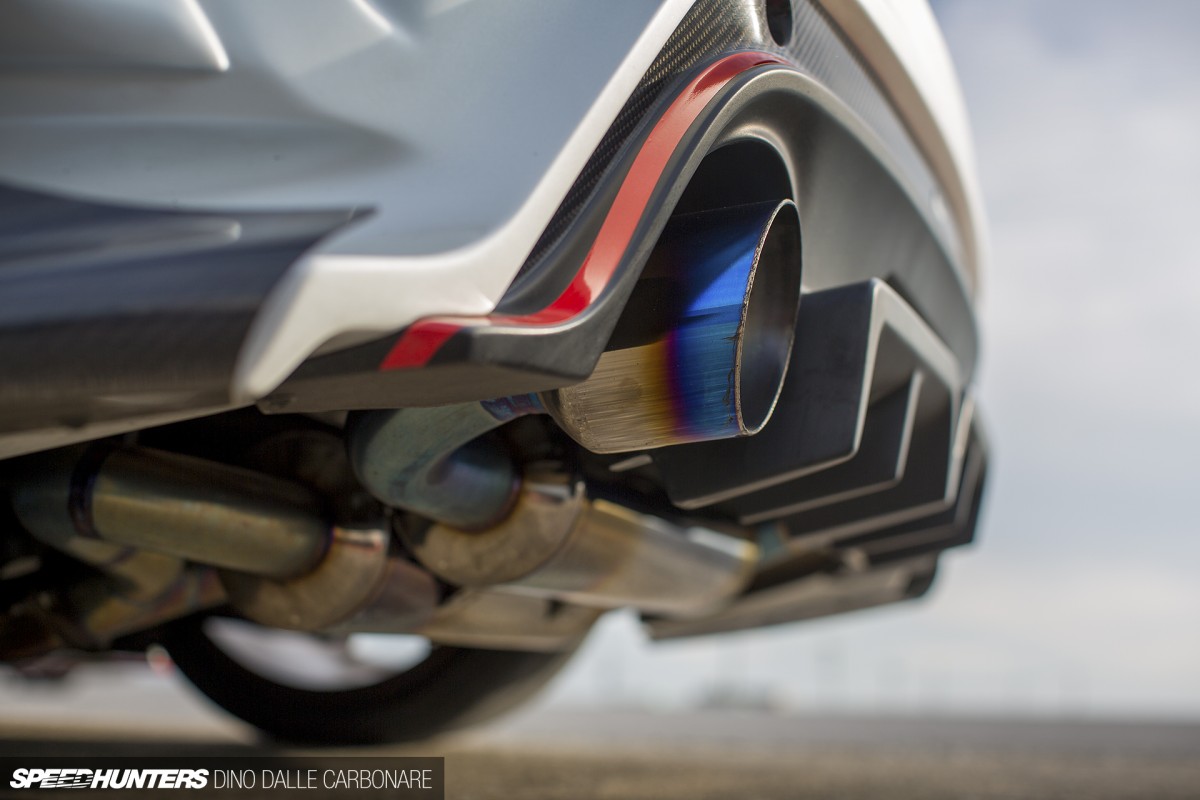 It ends with a twin-exit, twin silencer set-up that really stands out for the usual quality of construction and finish that Amuse has been known for over the years. 900cc/min injectors join the stock direct-injection set-up to provide the necessary fuel supply for the little two liter to crank out well over double the horsepower it came with from factory. With the engine barely run-in, and only 300 miles on the odometer, Matsui-san was able to extract a 1:03.2 lap at Tsukuba. The goal is to get around the 1:01 mark with the high boost setting, which would make the FR-S as fast as pretty much any supercar has ever managed to lap the little technical 2km circuit. In fact, that's what an LF-A manages. It all begins to make sense now, right?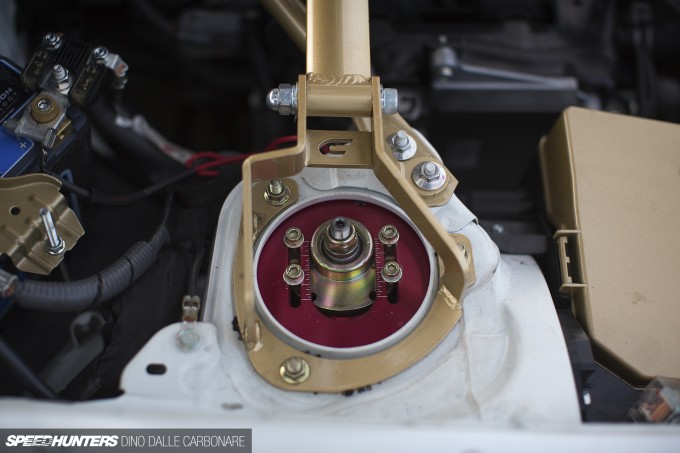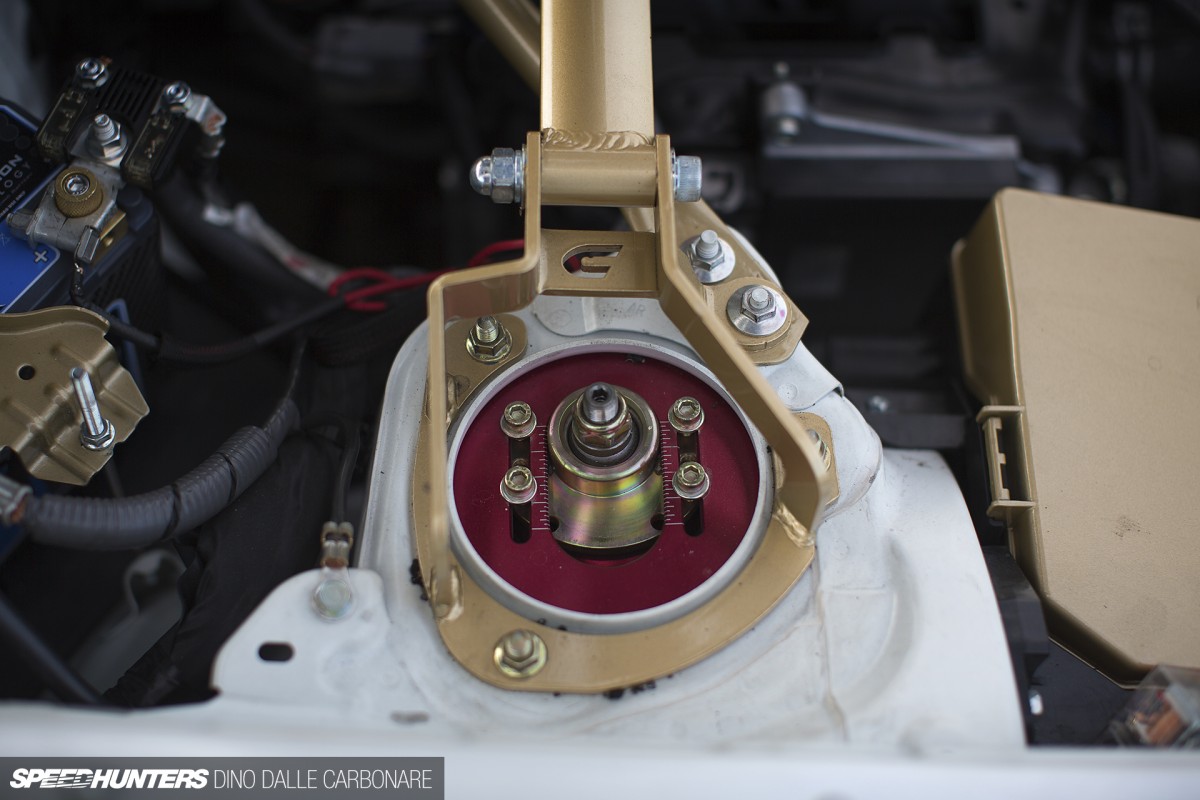 Color-matched highlights have been used to spice up the engine bay – things like the Cusco strut tower bar and engine cover. To get the car looking as mean as possible for the pictures, Matsui set the camber to its furthest negative setting, but this is not what they were running at Tsukuba with the 19-inch G25s and street rubber.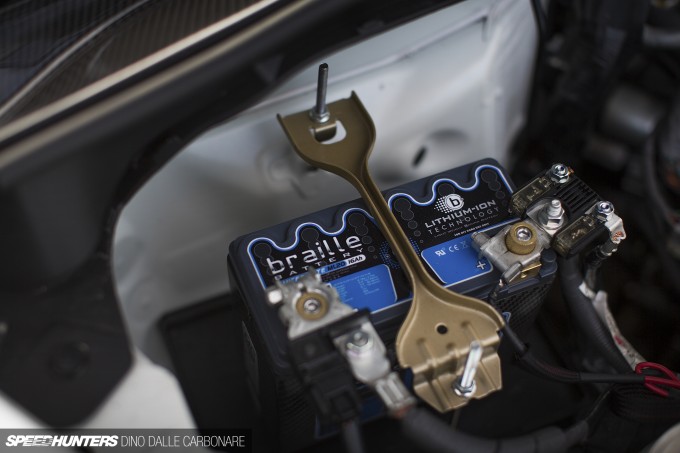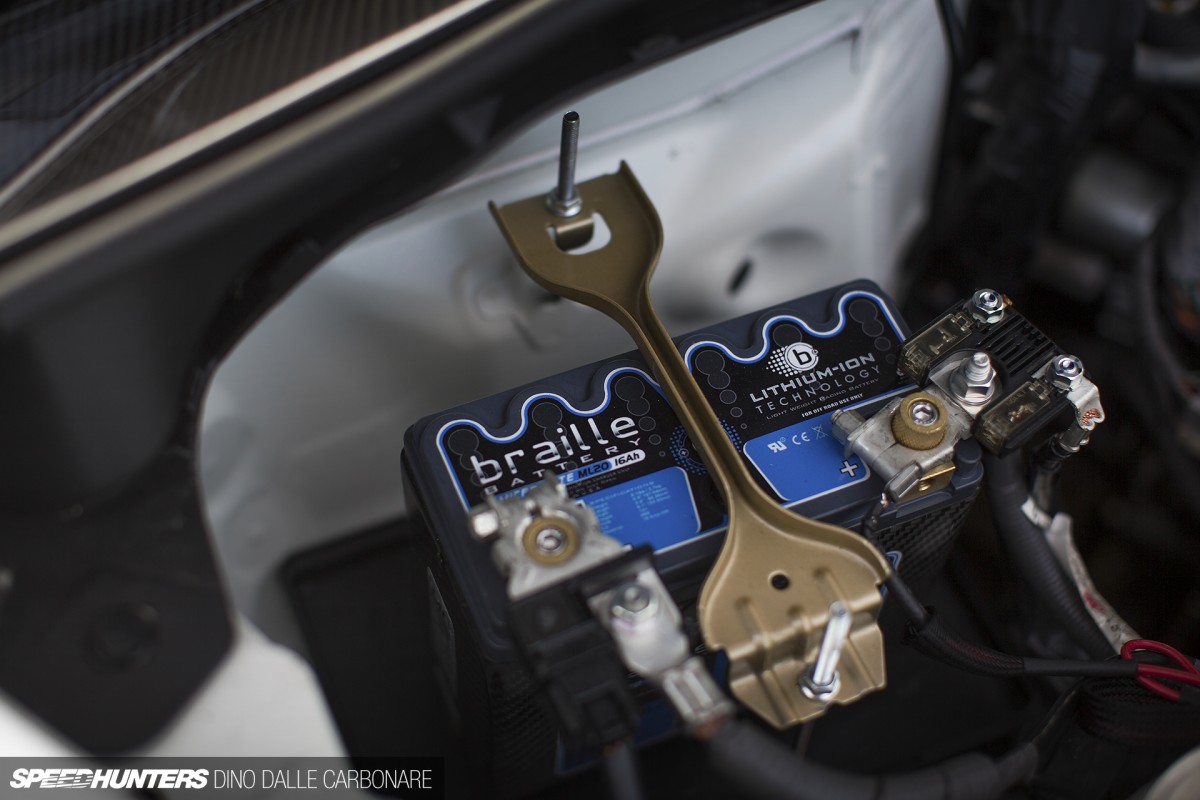 I though this was a cool little touch, and I emphasize the little because that carbon-fiber-shelled Braille lithium-ion battery is quite small and extremely light. I was beginning to think this might be a nice addition to Project GT-R but then I found out the actual price these batteries go for! Still, it's just another example of the no-compromise approach that has been used to put this car together.
Do you like carbon?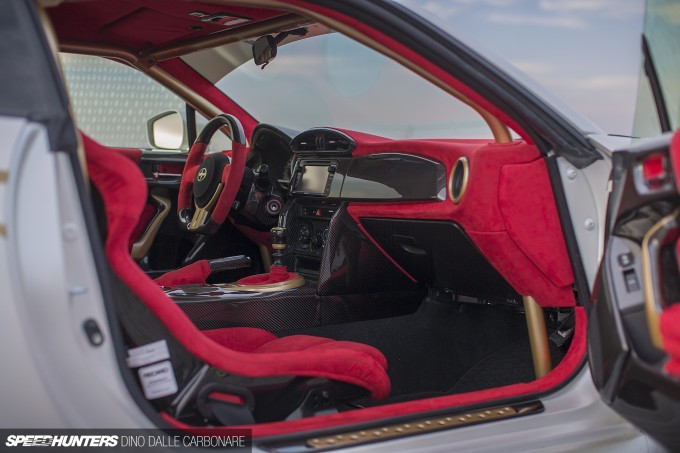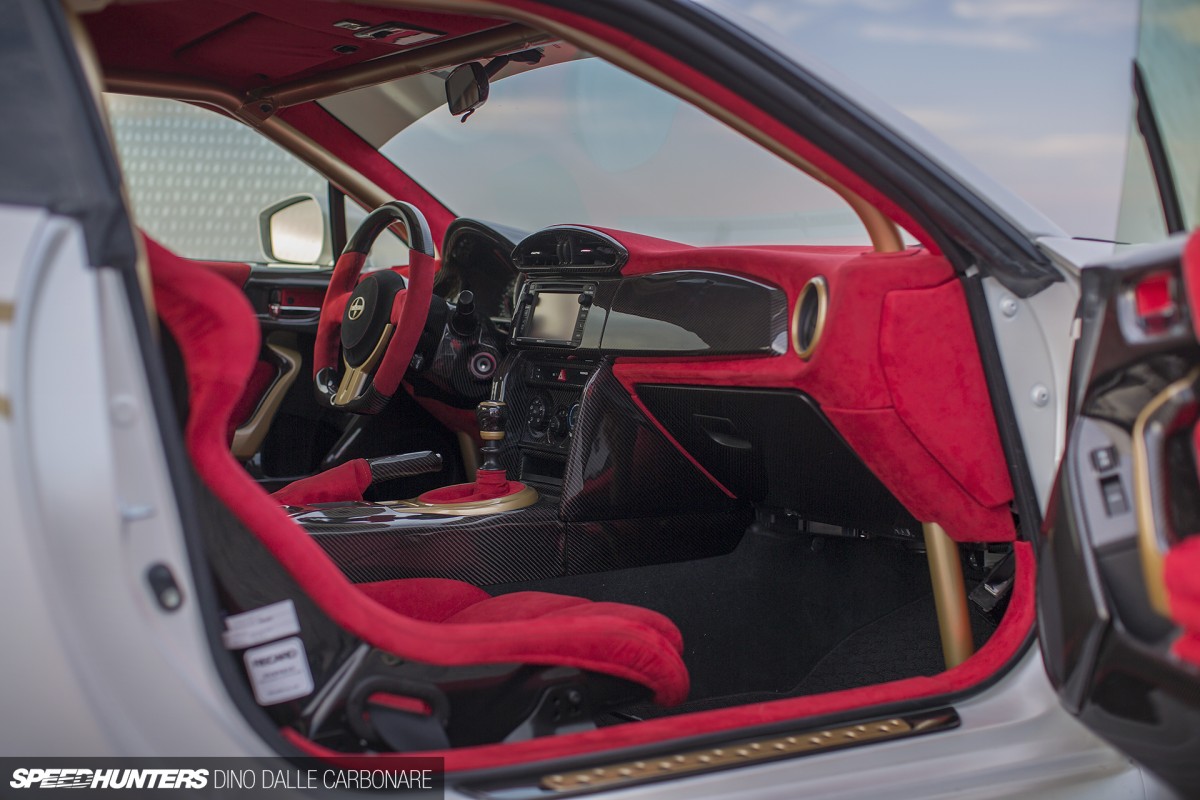 What sets supercars or any high-end car a notch above your entry level sports cars is always the interior – the materials used and the way everything is put together; so it was very refreshing to see that even this side of things didn't escape the guys at Bulletproof. Everywhere you lay your eyes, all you will see is either beautifully-executed glossy carbon fiber or soft, plush red alcantara.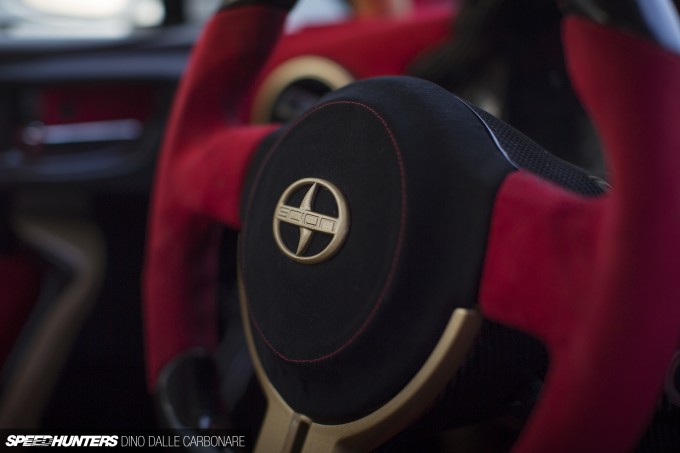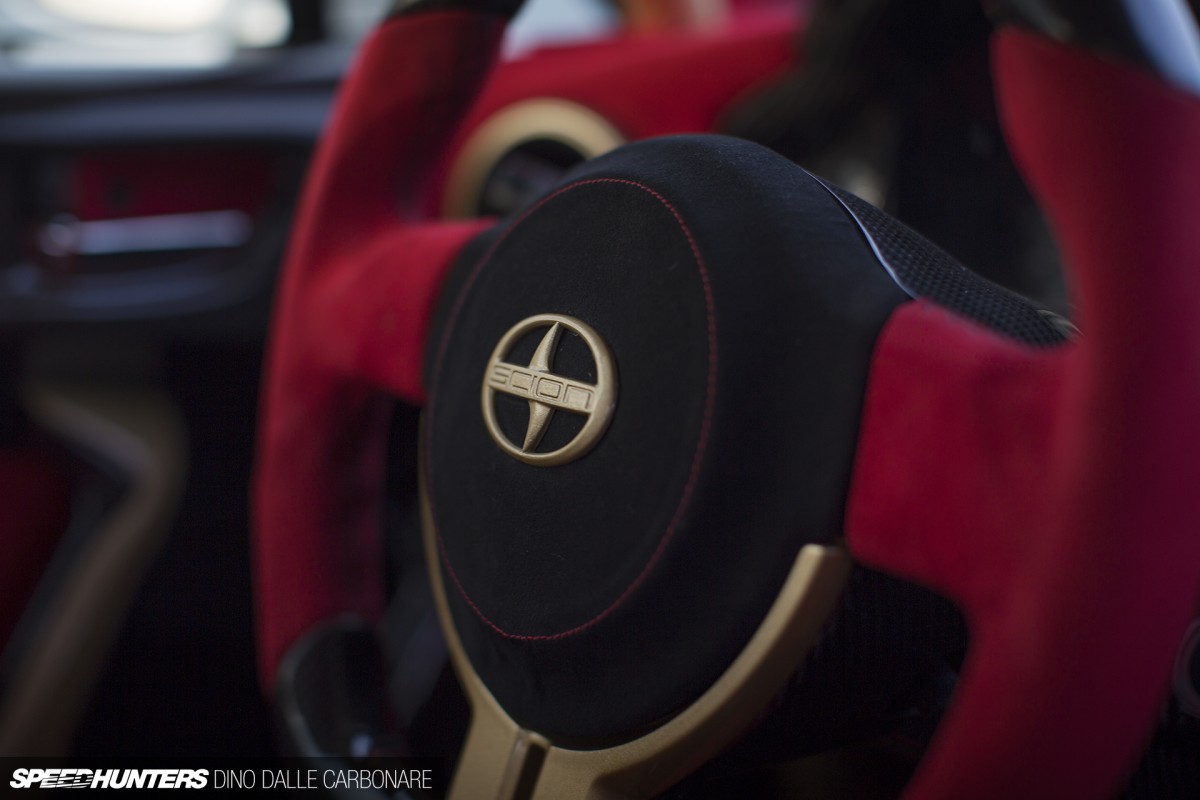 No surface has been overlooked; a true tactile experience for your fingertips… and rear end when it meets with those soft, yet supportive Recaro RS-Gs.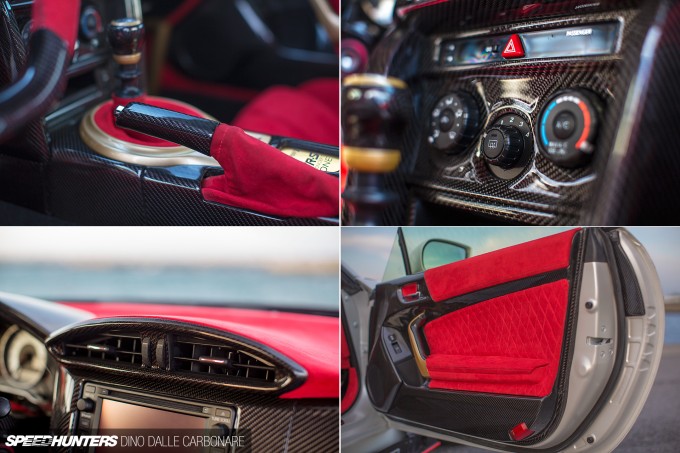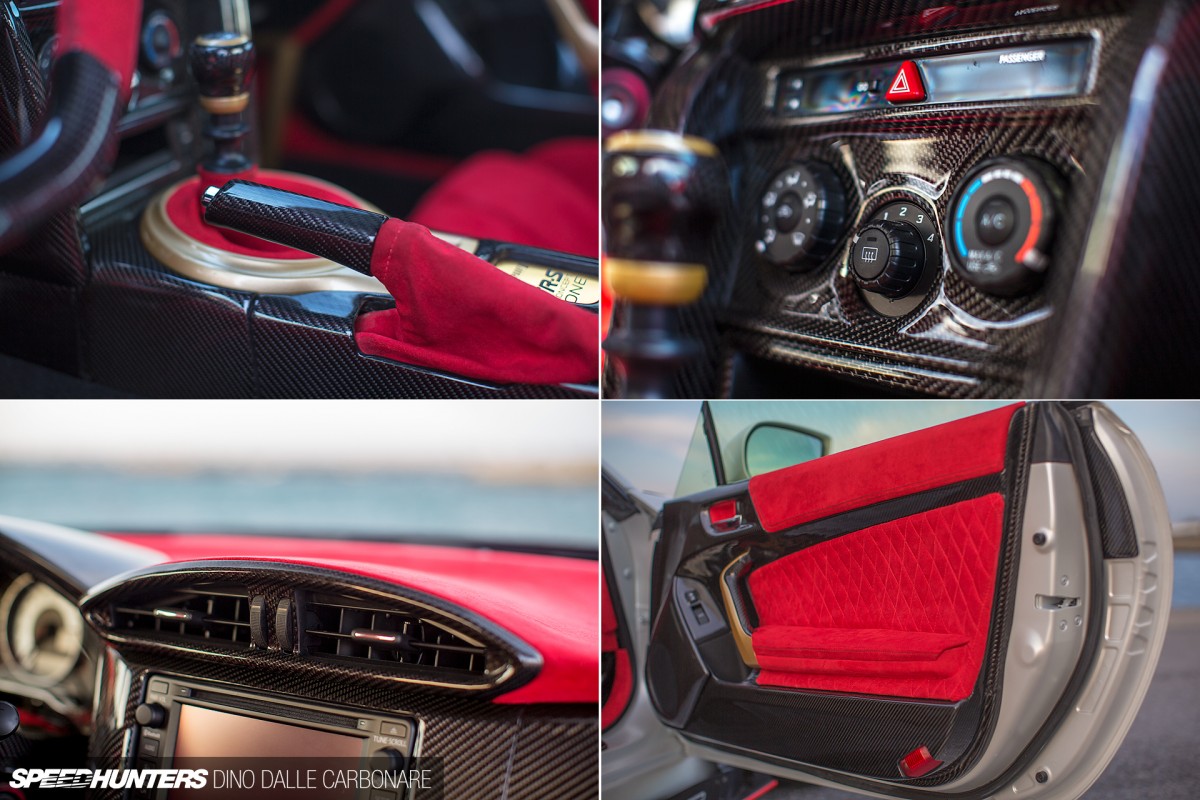 I wasn't joking when I said every surface. Plus check out the quilted door trim.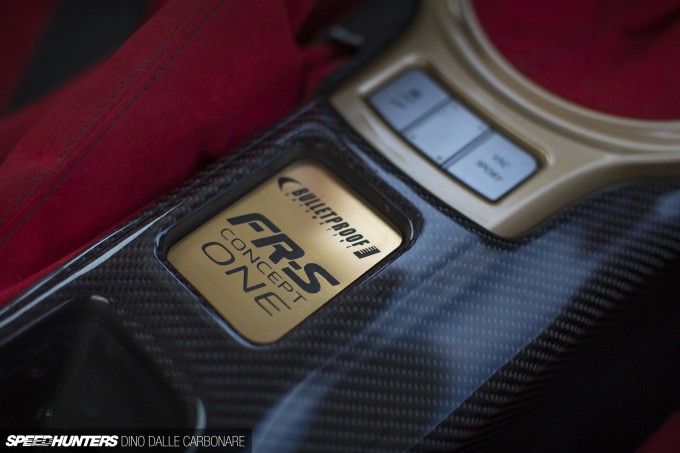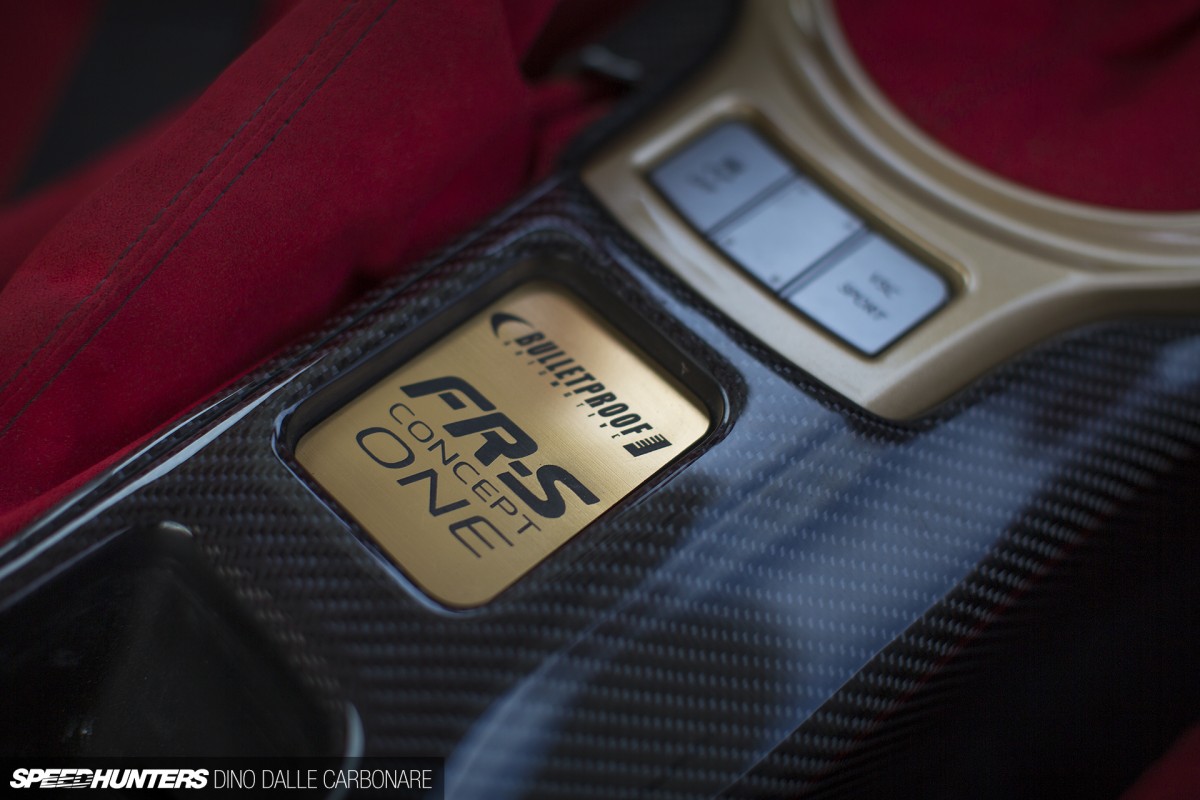 Bulletproof have built the FR-S as a one-off concept, with tons of bespoke parts and trim at a substantial investment.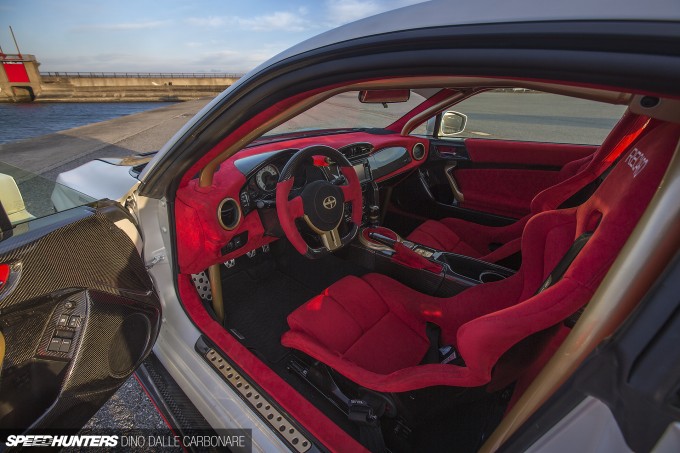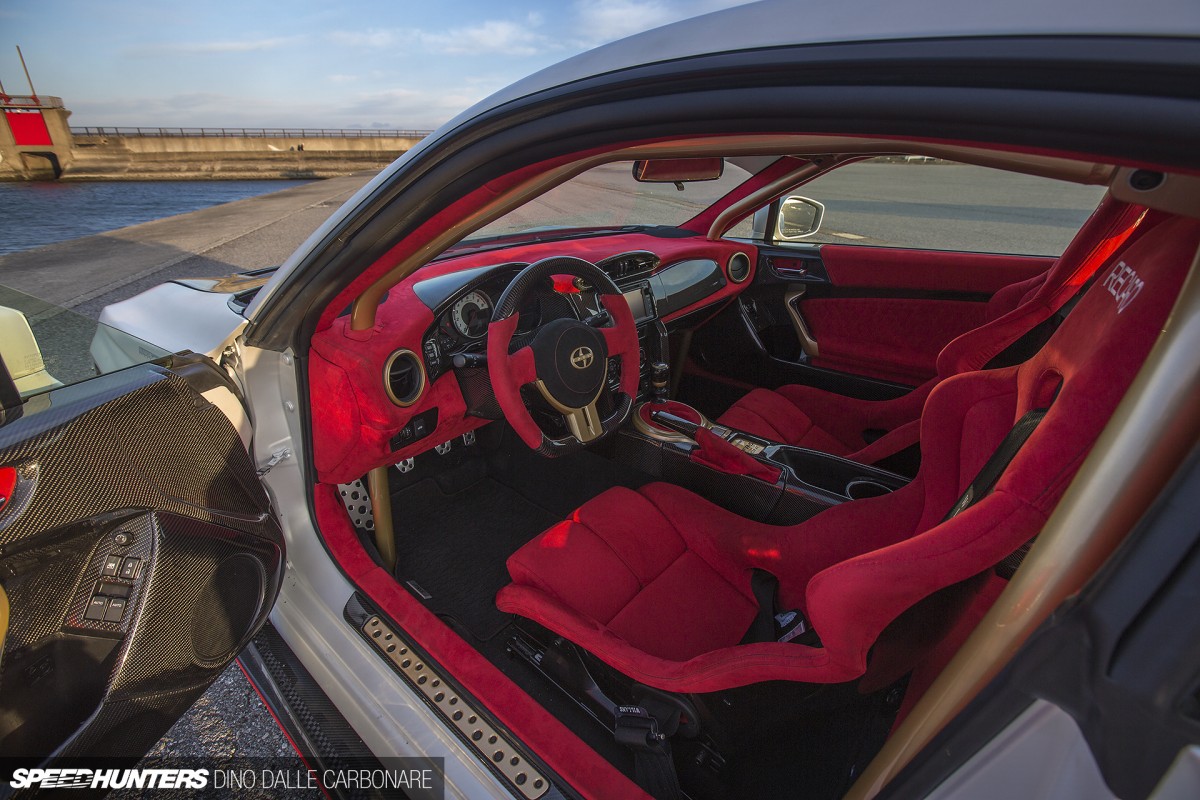 Safety has not been forgotten thanks to the color-matched Cusco roll cage and Willans harnesses, completing the meticulously-appointed cabin.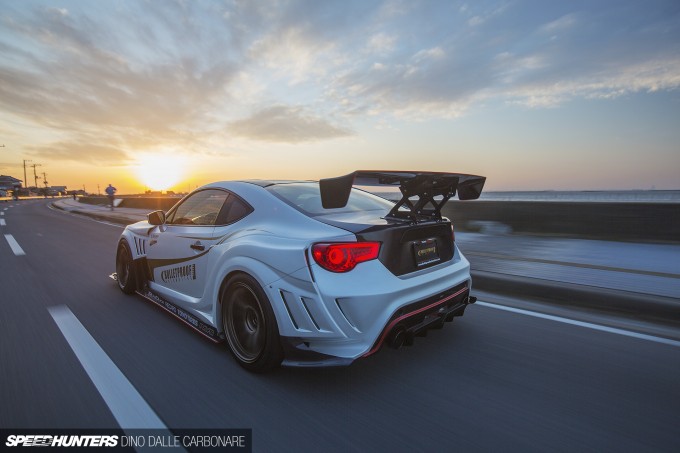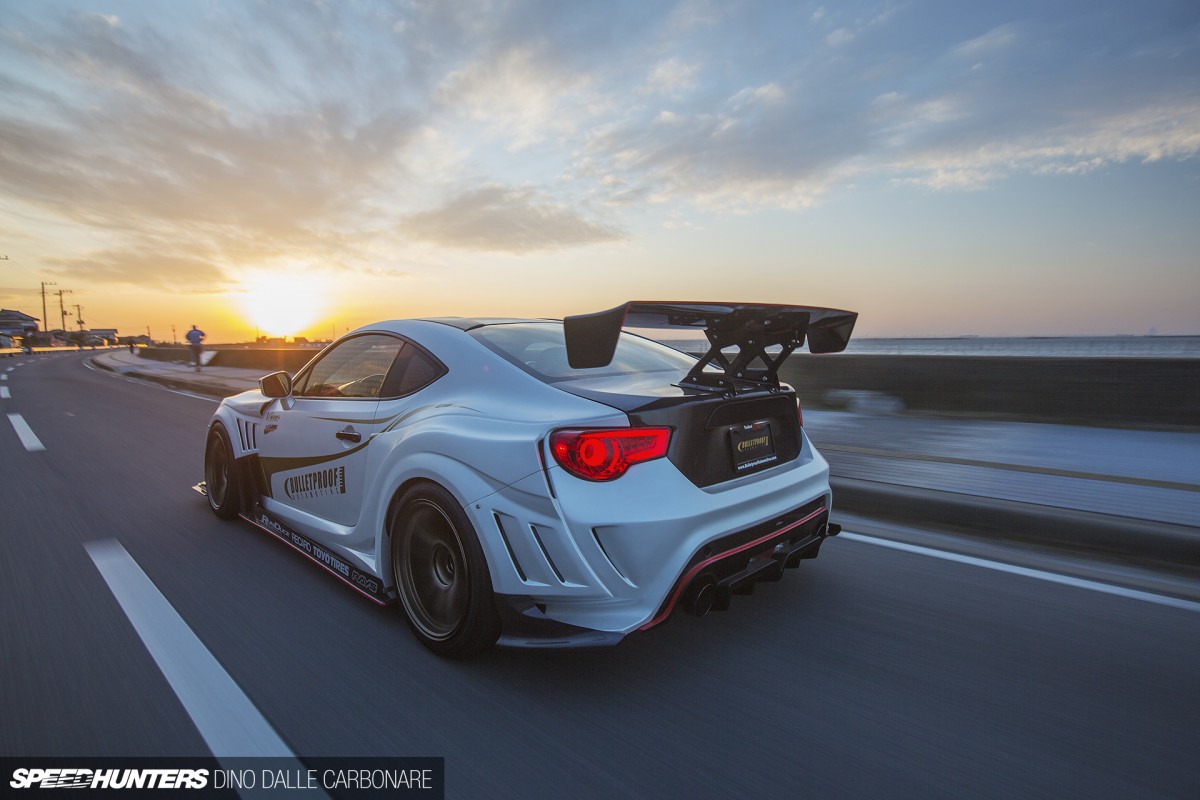 So after seeing it in all its details, the question remains: can an FR-S really be turned into a supercar? Can a tuner car based on an entry level affordable sports car ever be considered as such?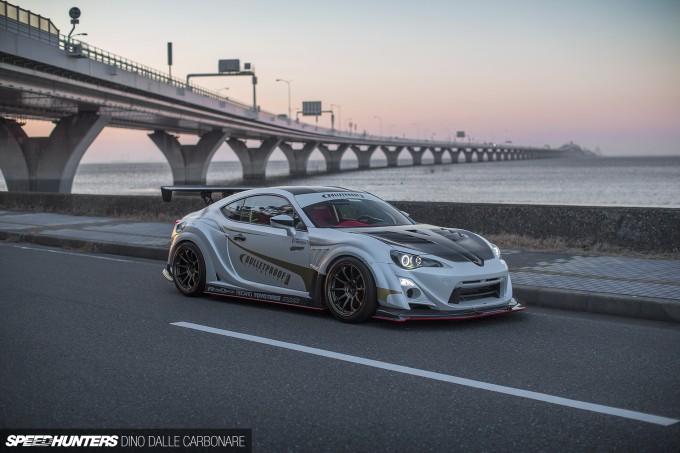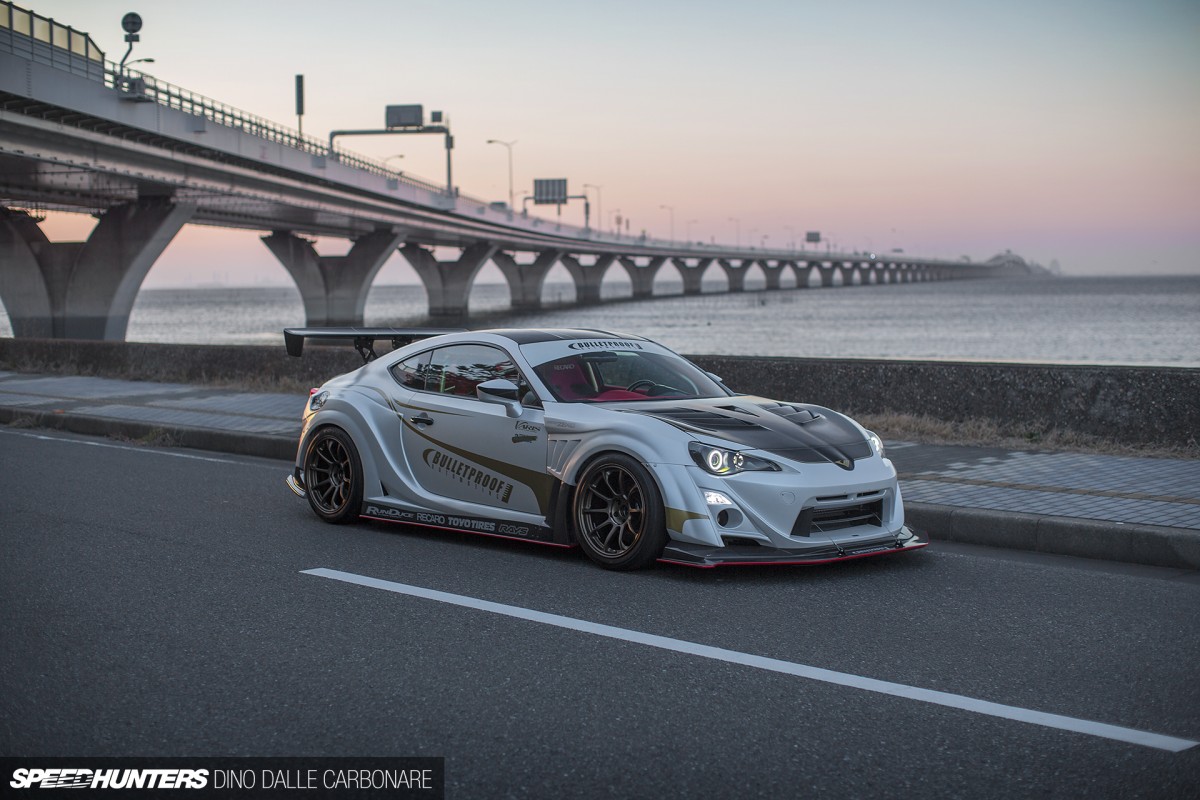 I'll let you answer that one for yourselves, but you definitely can't ignore the fact that in each area of its abilities, everything this FR-S has set out to do has hit the mark full on. I can't wait to see what Bulletproof's next complete car project will be!