Something for everyone
Barrett-Jackson bills itself as 'The world's greatest collector car auction' and I'm sure that's quantifiable using any number of measures: sales volume, attendance, sheer number of events, values of cars. This is the top auction, period.
I've been quite a few times, usually with my dad, who's a numbers guy through and through. For me it's always been about seeing cool cars since Barrett-Jackson has the cream of the crop. Meanwhile my dad enjoys it because he can trace the values of certain marques and see what's bringing good money and what has declined year over year. These are just two reasons to enjoy this annual event though. What I've discovered is that there are many more reasons depending on who you are…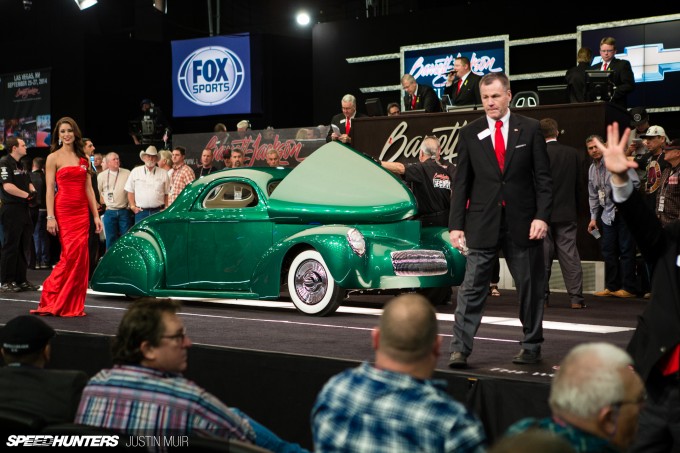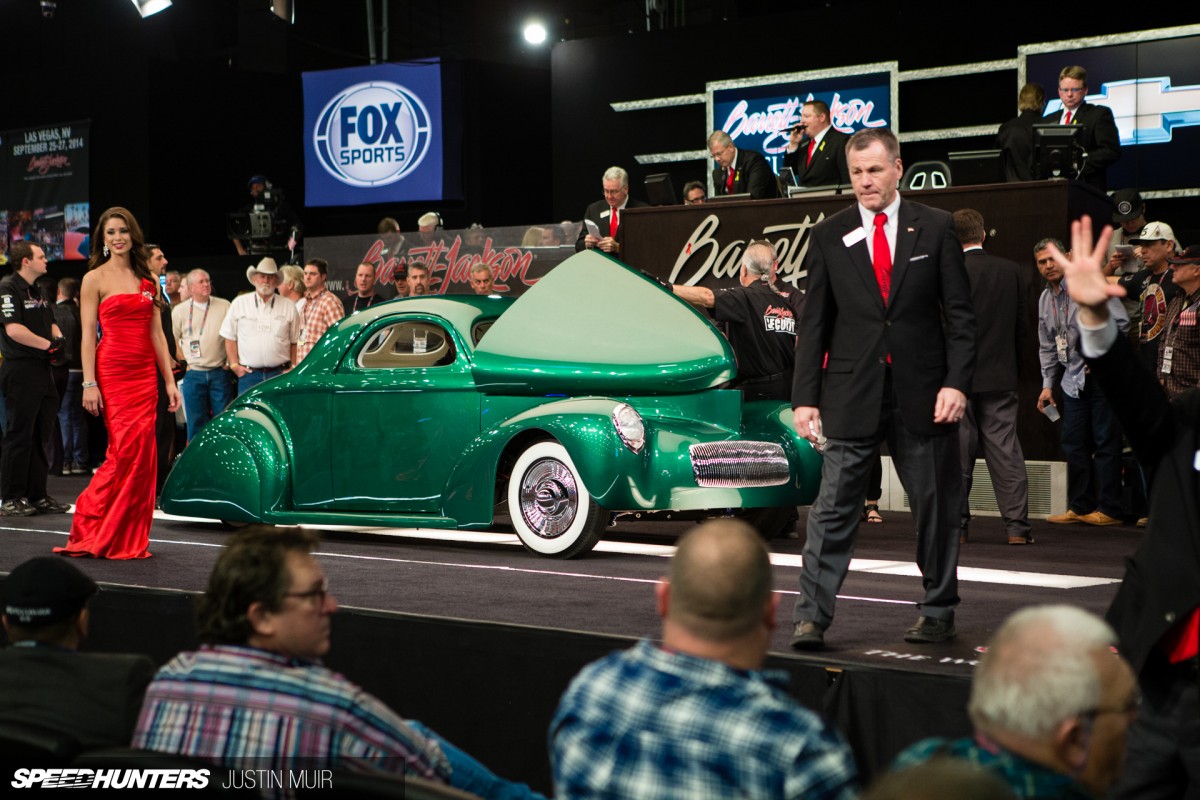 Barrett-Jackson may be an auction first, but it's a lot of other things too: a car show, charity event, history lesson, fashion show, social destination, or just an excuse to have a drink amongst friends.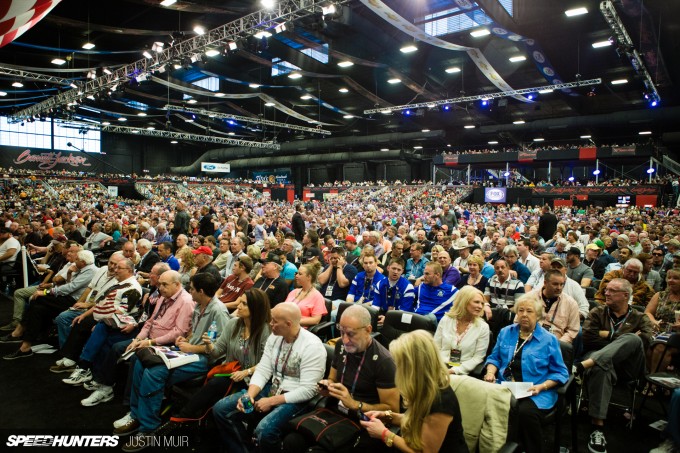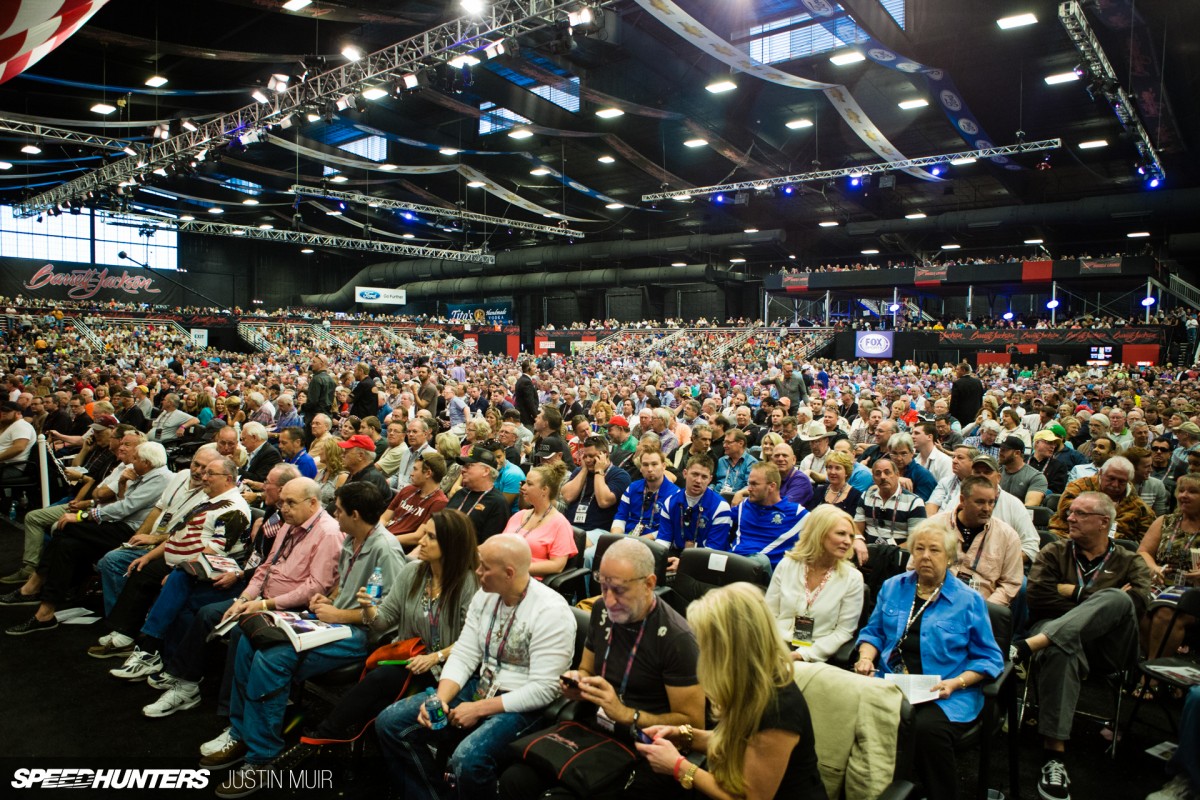 This year it was something different to me too, as I set out to hunt speed and give our readers an idea why 300,000 people make their way to Scottsdale, Arizona for the week-long event. I stopped by the auction a few times throughout the week, but I spent the most time on Super Saturday as Barrett-Jackson calls it. It's the last Saturday of the auction and it's when all the action happens. As you can see, it was a full house all day.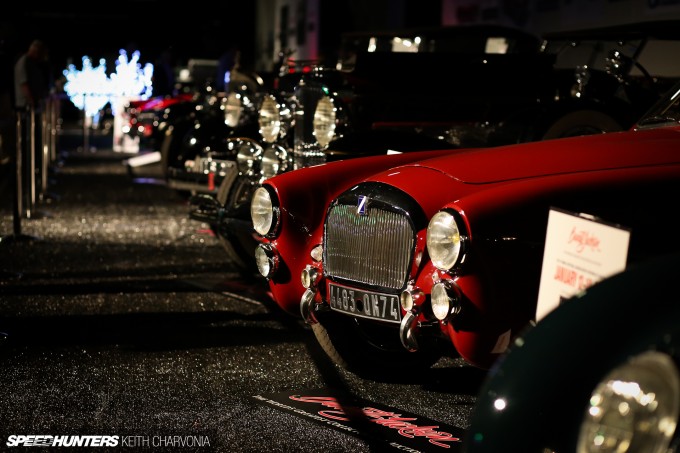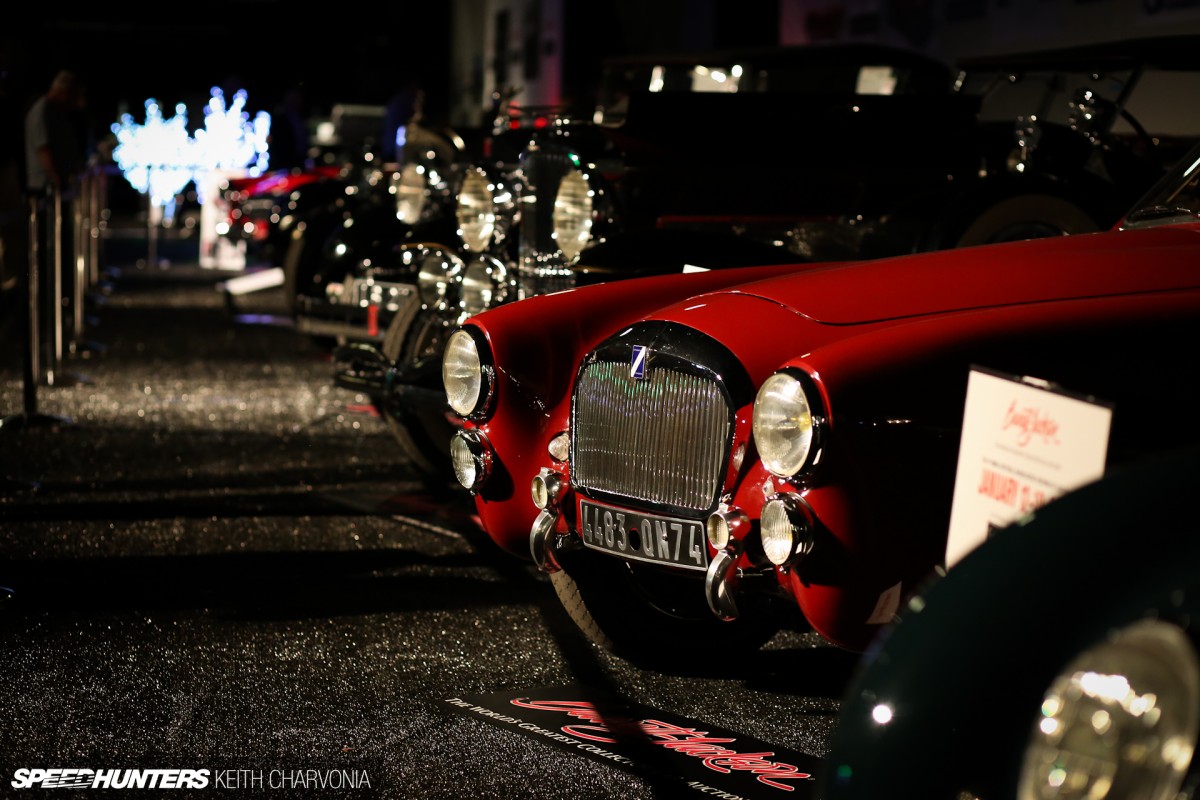 All those people couldn't possibly be there to buy uber-rare and expensive cars though, could they?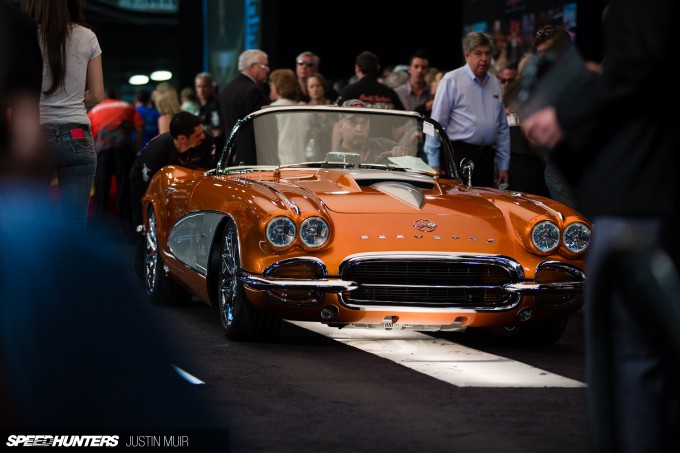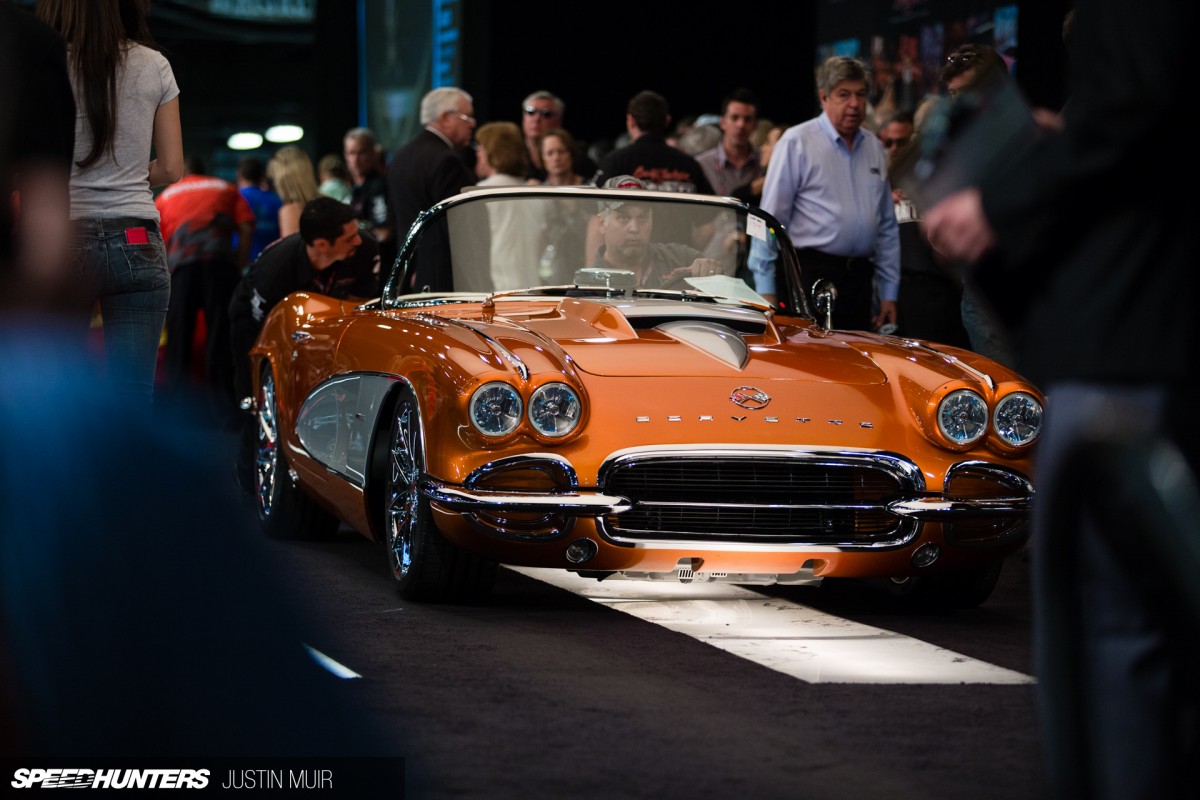 Surely most of them were there to scope out beautiful cars – just like me.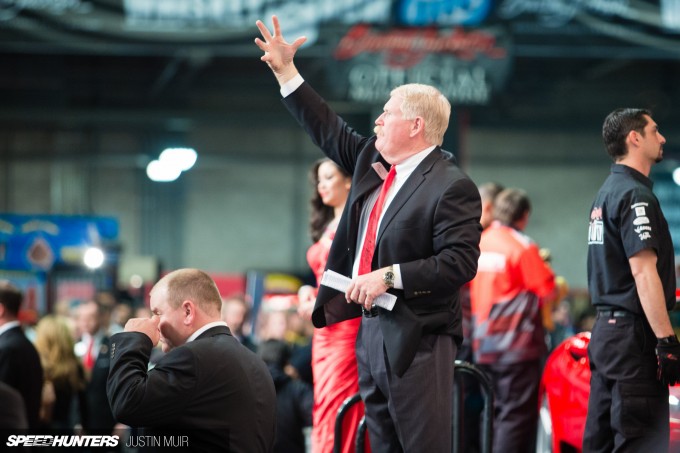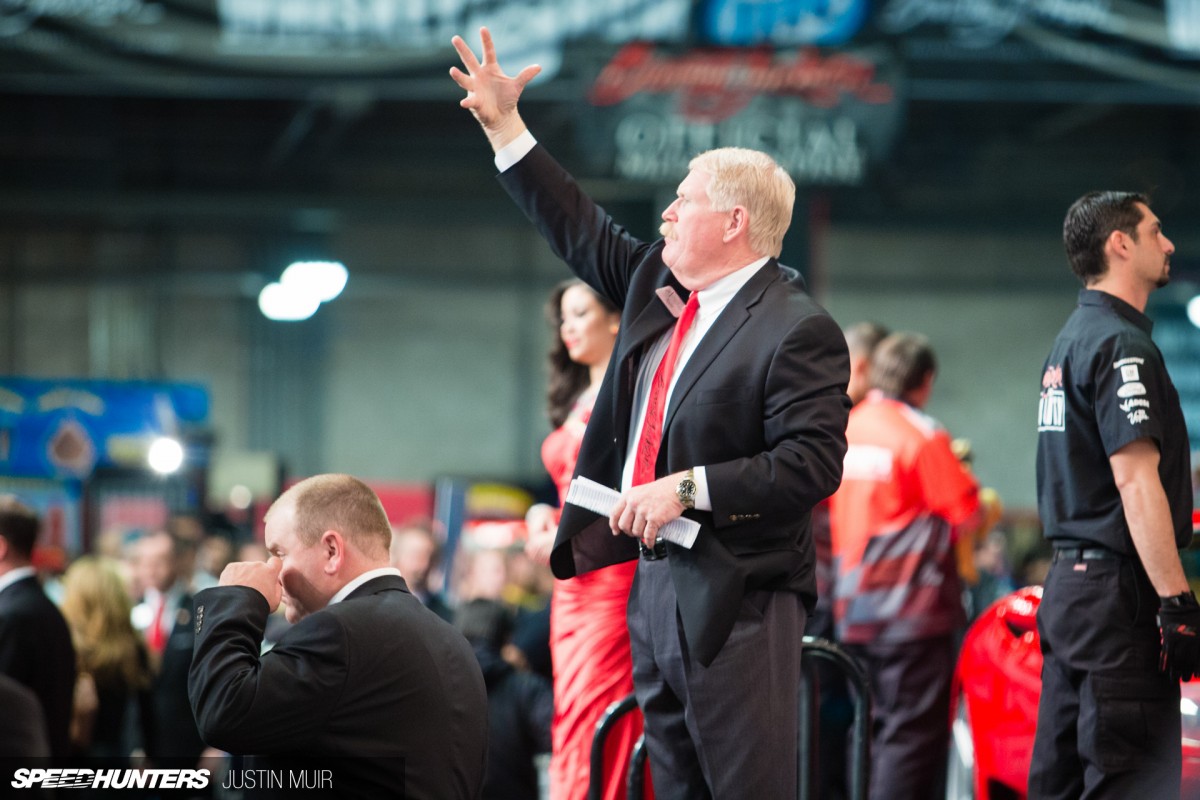 The fascinating part about Barrett-Jackson is that while you can just walk around and look at cars like you're at a car show, there's also a much bigger show going on all around you. If you pay attention, you start to notice who the players are and what they're up to.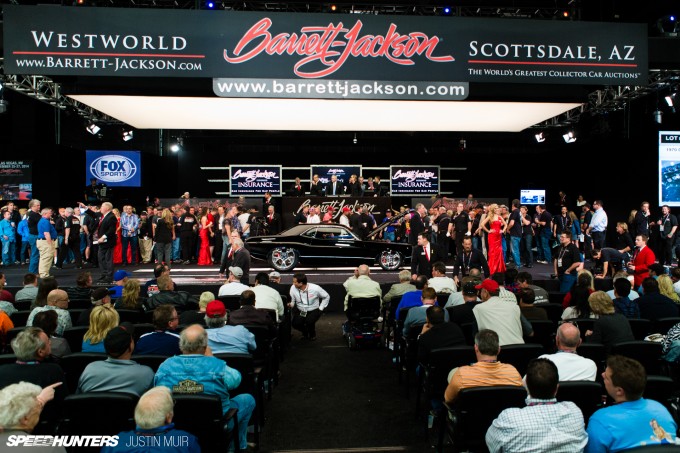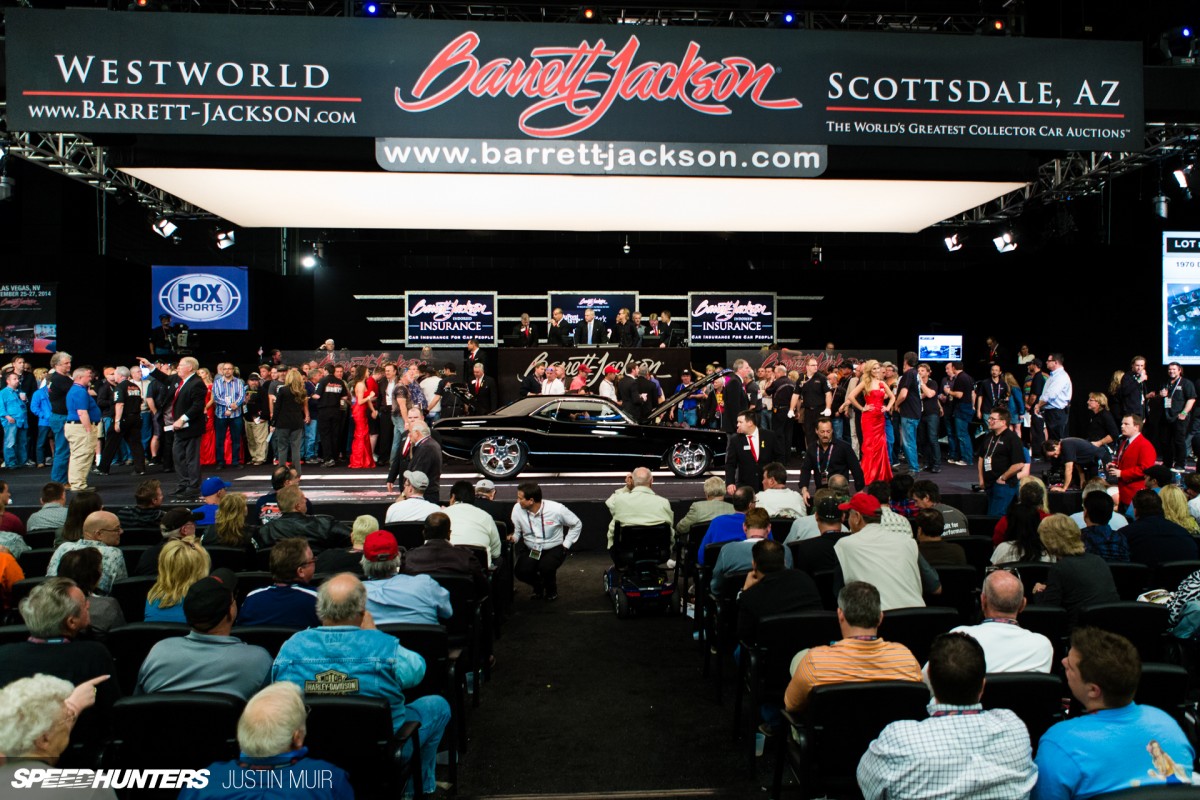 As each car rolls across the stage, a carefully orchestrated process occurs. The auctioneer is rattling off numbers so fast your brain can't process them, and the bidders' assistants are hollering from the stage and crowd to place bids. Potential buyers check out the cars on stage, celebrities and automotive legends take the microphone to push the sale as high as possible, and waitresses keep the crowd well-hydrated. There really is a buzz in the air, and the energy hits a high point on Saturday night when the high-dollar auctions take place.
Hype it up!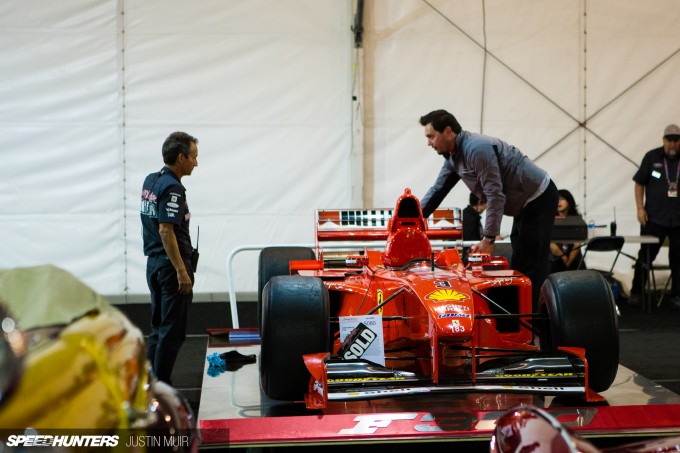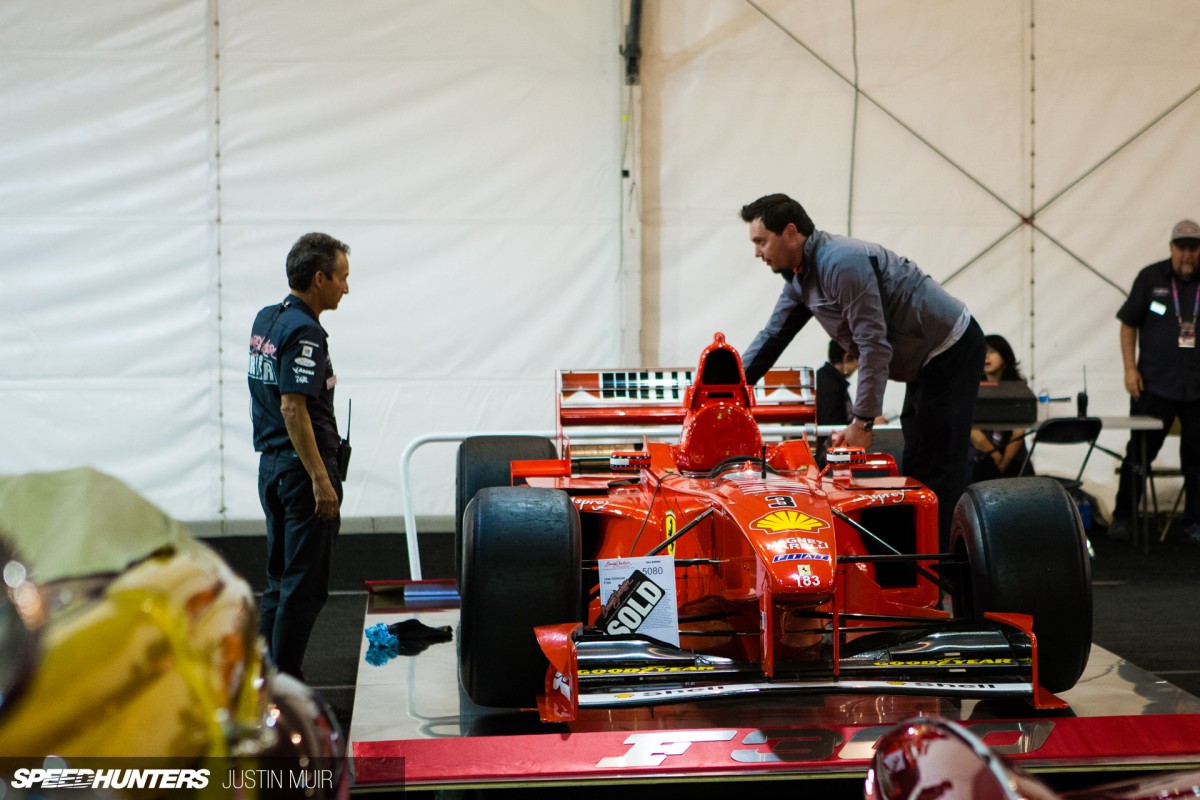 I like to compare the energy at Barrett-Jackson to a major sporting event. When a big car comes on stage and the price just keeps climbing, the crowd roars to life. It can get so loud you can't even hear your own voice any more. It's cars like this one that have that power over the crowd: Michael Schumacher's Ferrari F300 which he raced 38 times in 1998. As the price climbed to a final value of $1.78 million (USD), it got pretty exciting!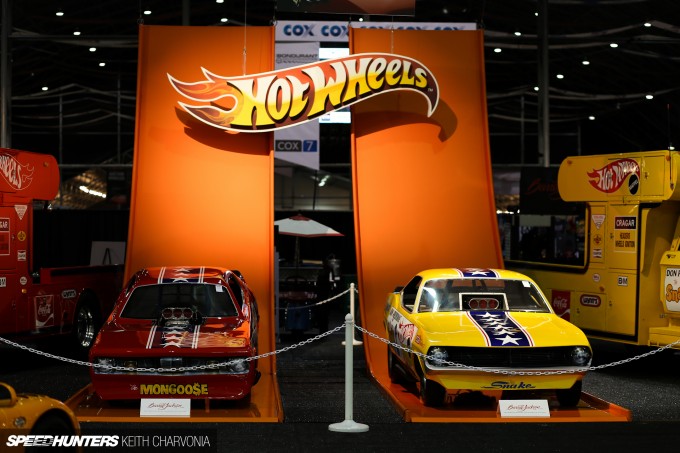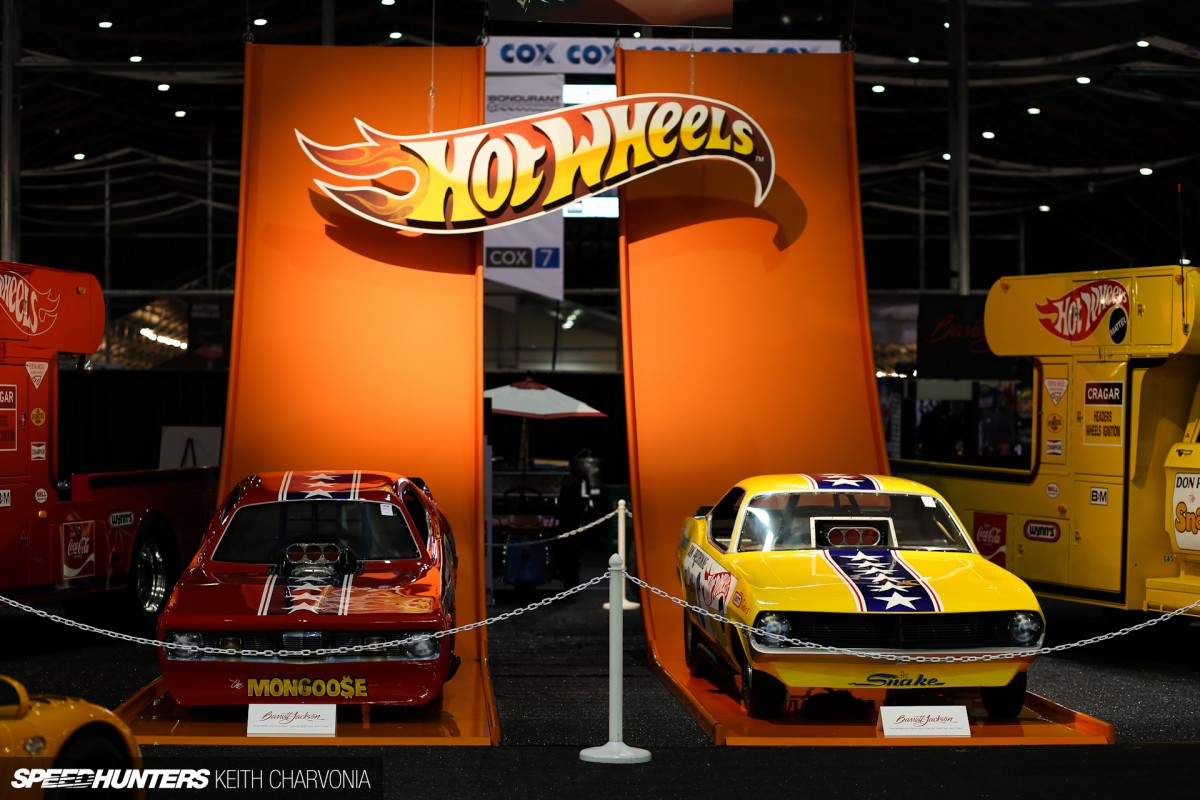 This is what everyone expected to steal the show though. Don Prudhomme's timing in restoring this entire set of historical Snake & Mongoose funny cars and haulers was impeccable, with renewed interest since the movie came out this year.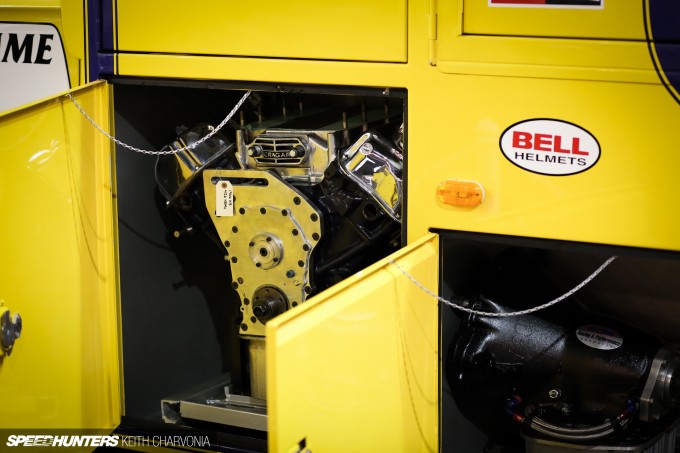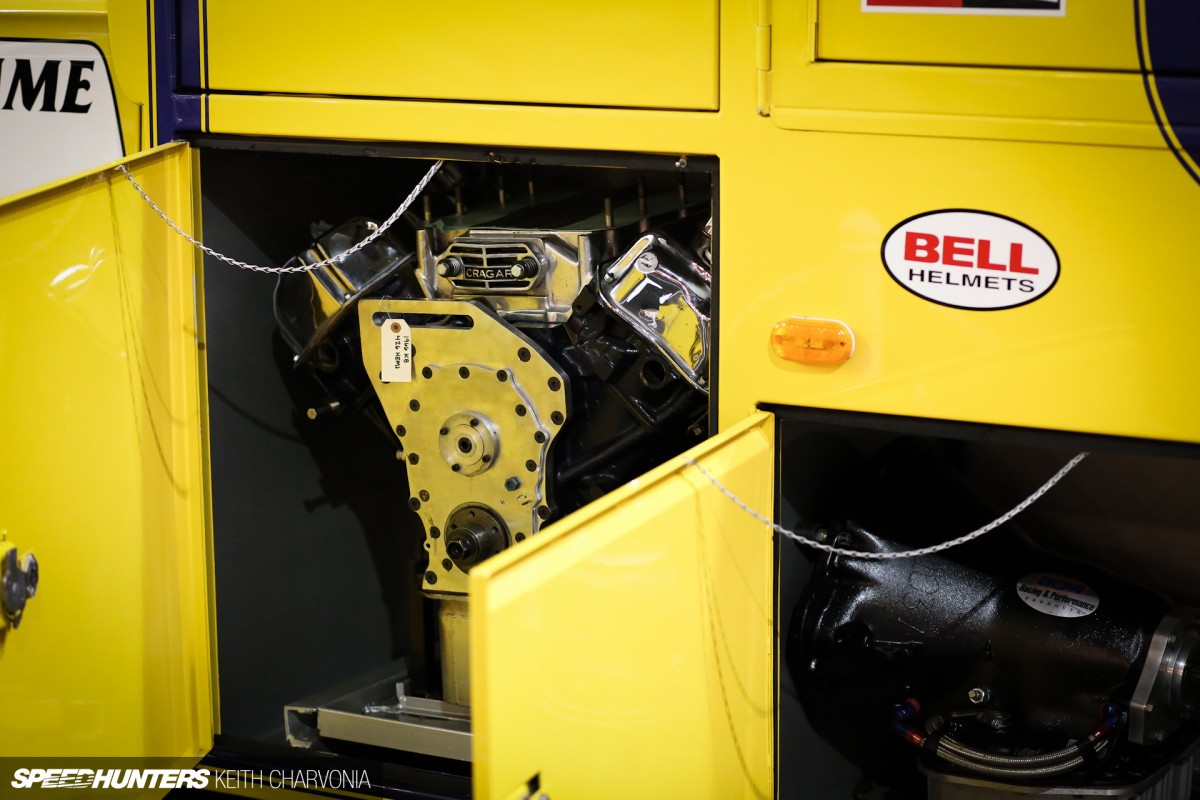 It appeared he left no engine block unturned, as even the haulers were completely outfitted with spare engines and transmissions. Everything was just like back in the glory days of drag racing, except probably nicer now that they had been restored.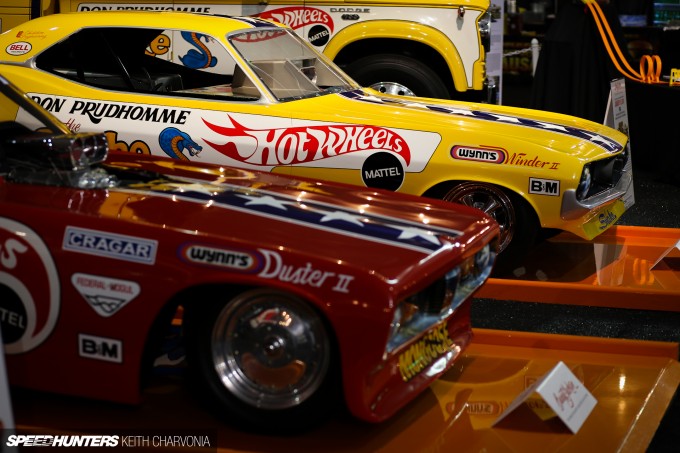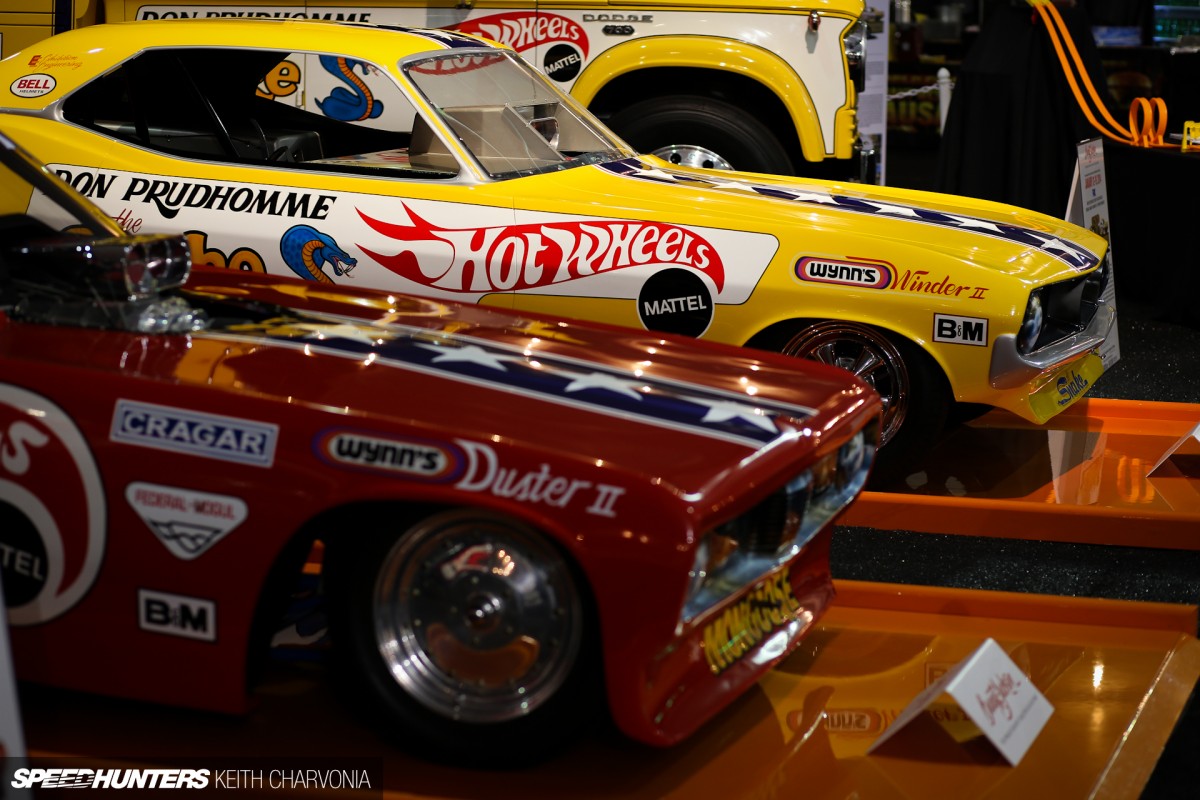 The auction turned out to be a serious buzz-kill though. Bidding stalled out at $1 million, shy of the undisclosed reserve Mr. Prudhomme had placed on the ultimate Hot Wheels collector's set. After the auction was closed, NASCAR team owner Rick Hendrick made a private deal with Don Prudhomme, reportedly for around the same $1 million price tag.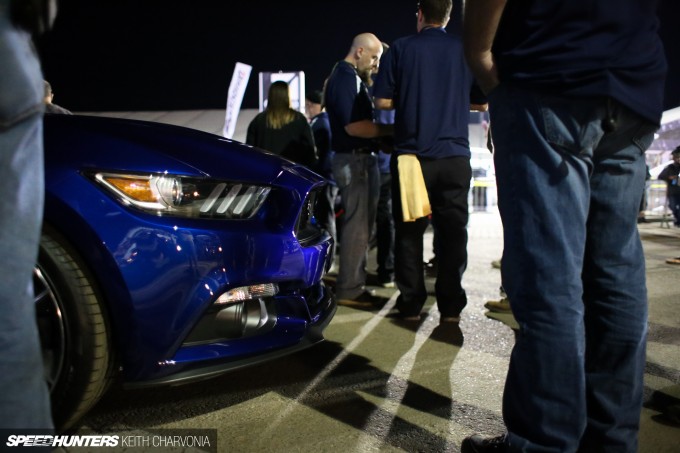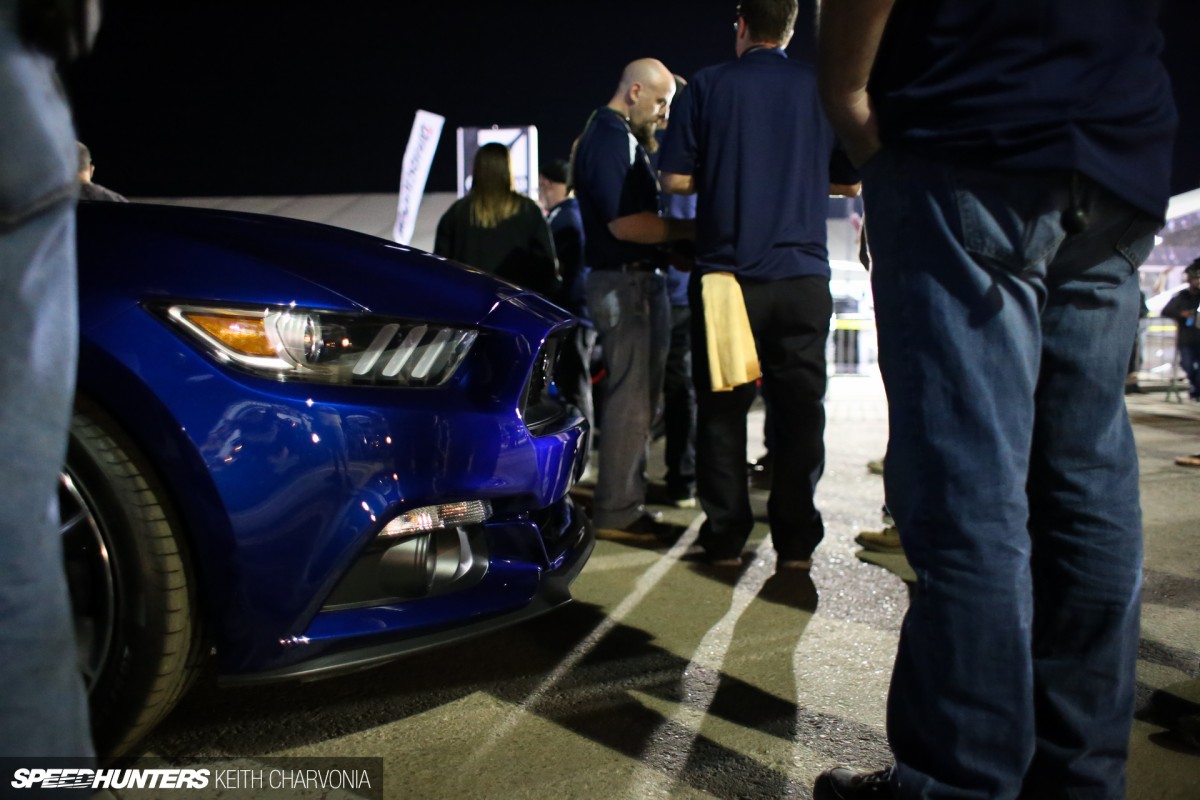 Another exciting auction was for this 2015 Mustang. Well, not this exact car: it was actually for the right to buy VIN #001. The auction was also for charity, which usually means you can't base the price solely on the car's value.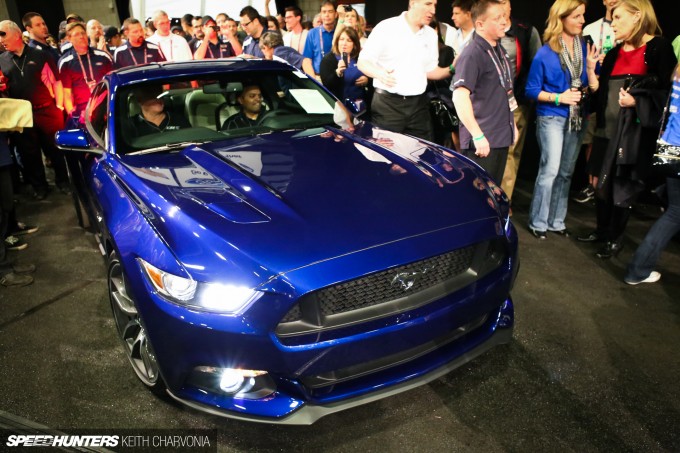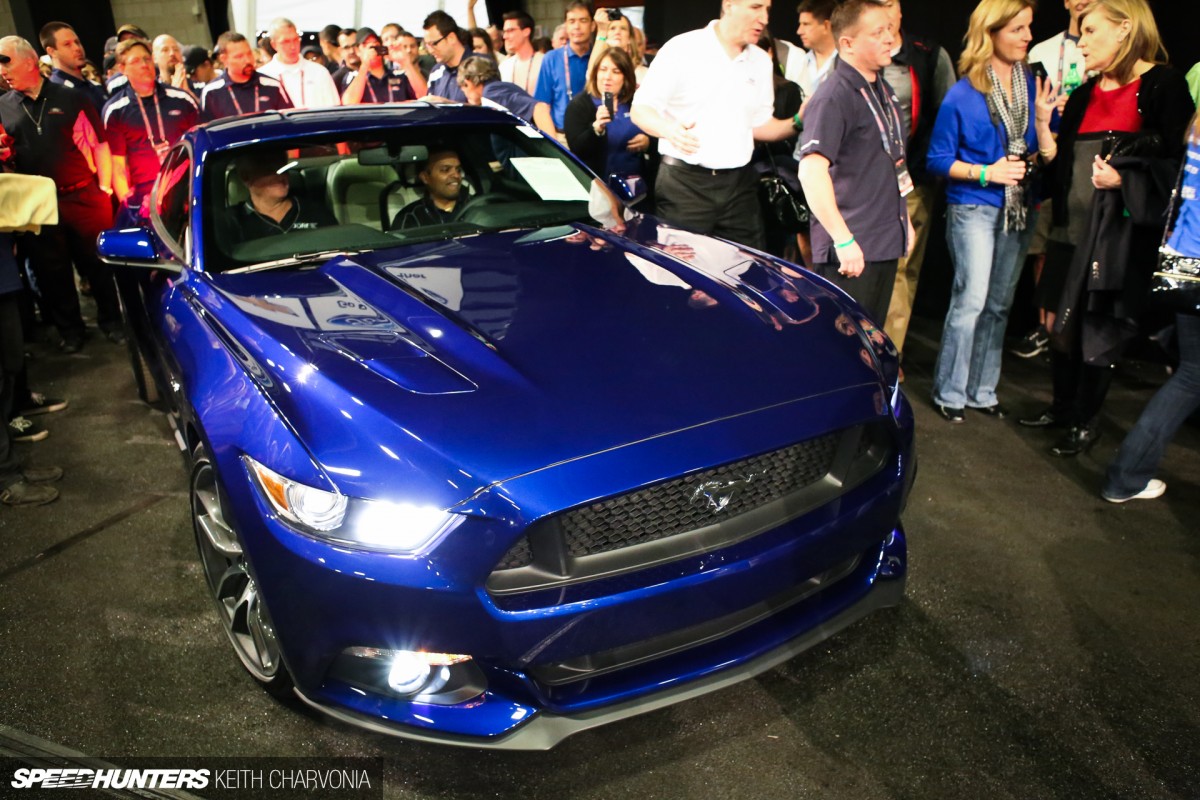 Ford had dozens of people on hand to walk in with the car and they did a good job hyping up the crowd by cheering and clapping. It seemed to be contagious because they got the whole building in an uproar.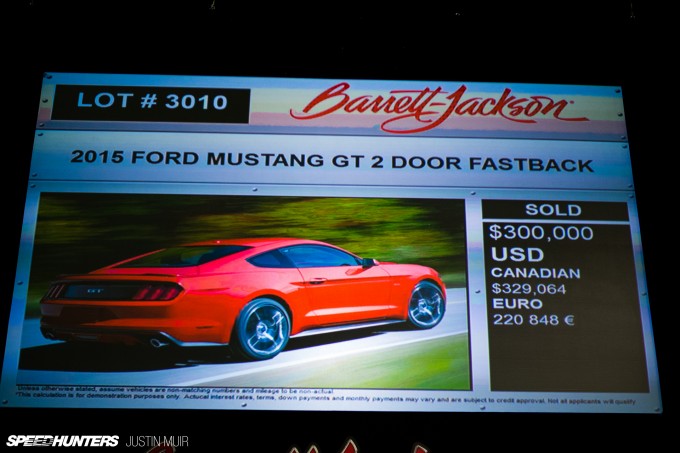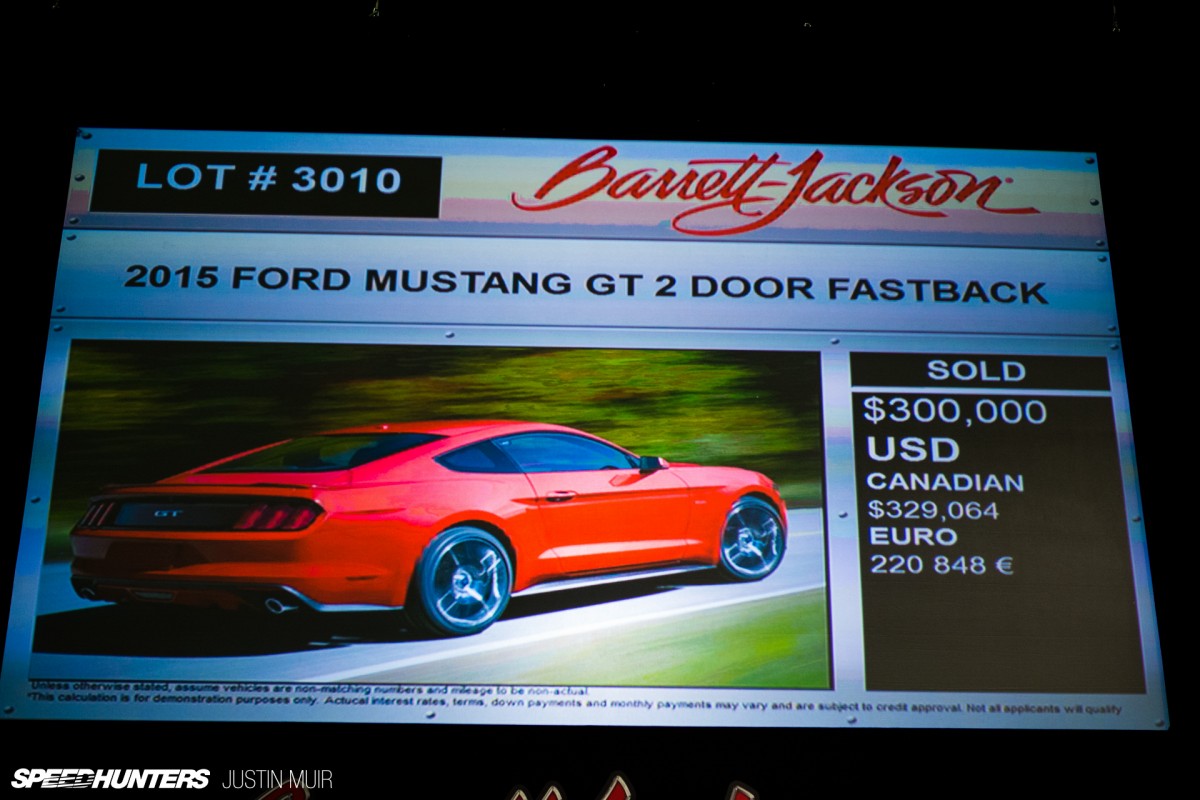 It did the trick, with a final price of $300,000. That's an expensive Mustang! But you have to remember that whoever bought it likely plans to mothball the car to retain its collector's value.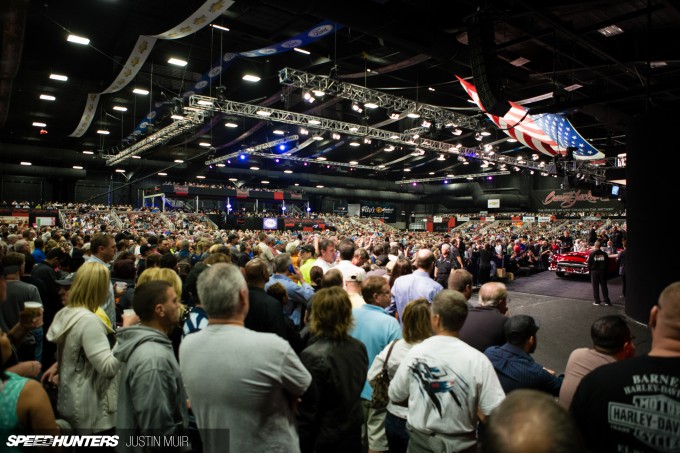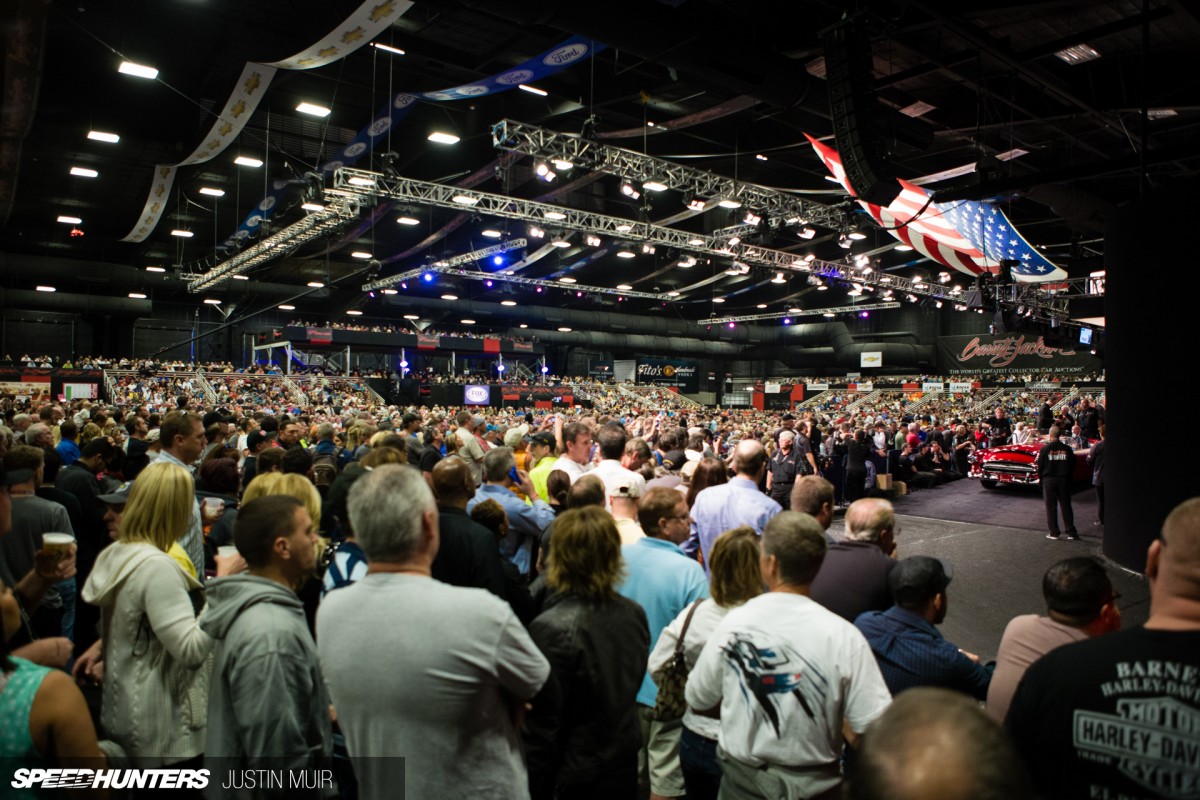 With standing room only, my personal favorite rolled onto the stage: a one-of-one 1954 Plymouth Belmont concept car.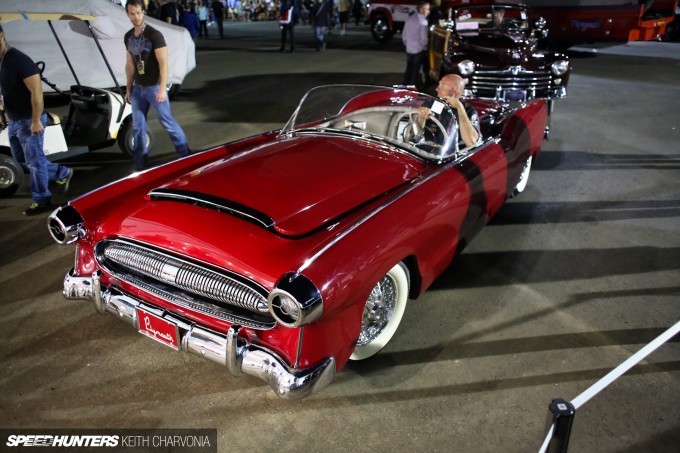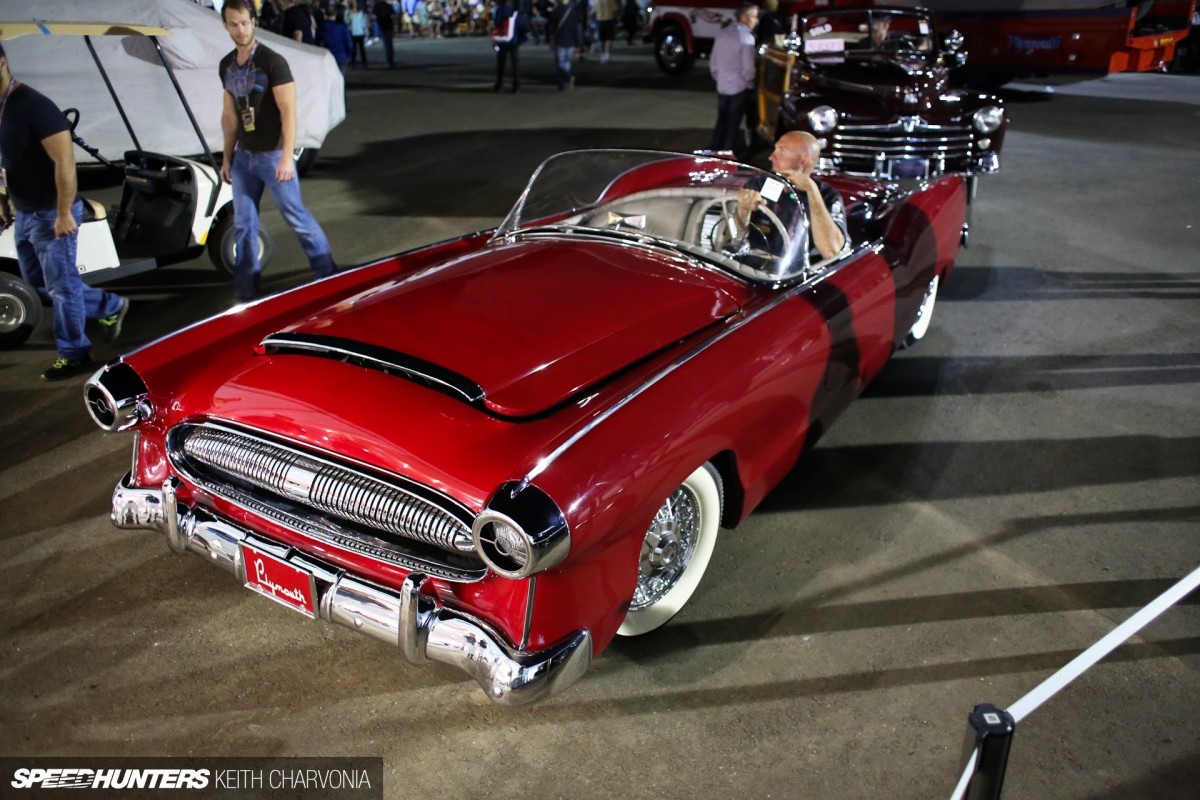 Bidding hit $1.2 million and it was so loud it was hard to tell what had happened. We followed it back to the tent after the auction for more photos because I just couldn't get enough of the Exner-styled fiberglass body. I later found out this one didn't hit the reserve either!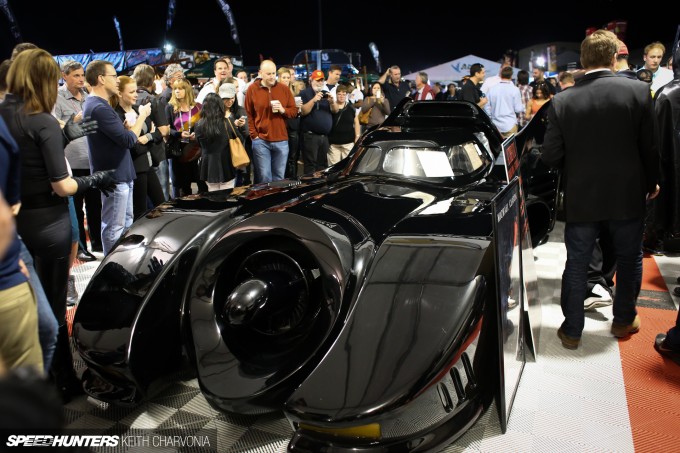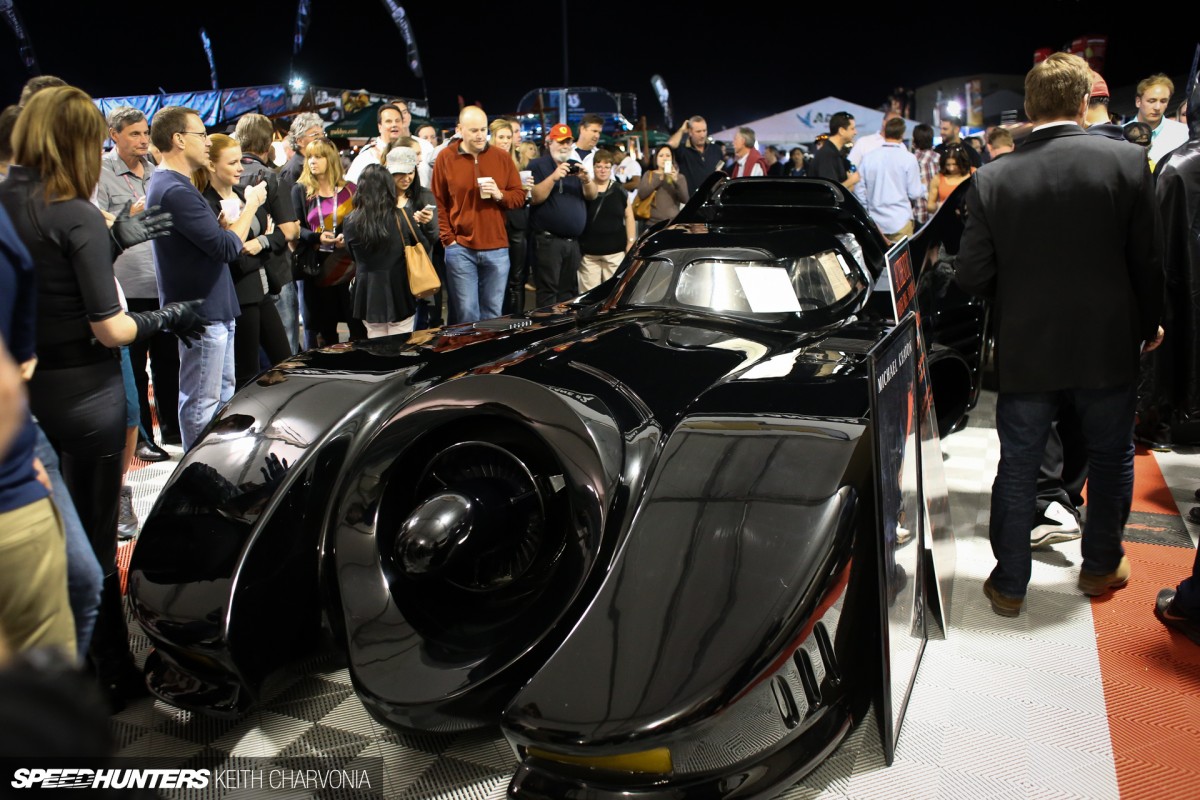 As it got later, things just kept getting crazier. If you watched the auction last year, you might remember the original Barris Batmobile fetching north of $4 million. It seemed a couple of others wanted to ride that wave this year. First was the Batmobile I remember from my childhood, complete with a driver dressed in a Batman costume and Batgirl riding shotgun. It would bring $110,000, nowhere near the millions the Barris car sold for.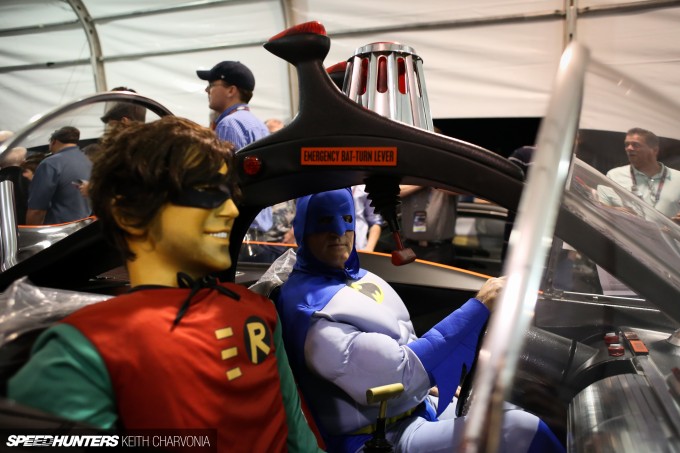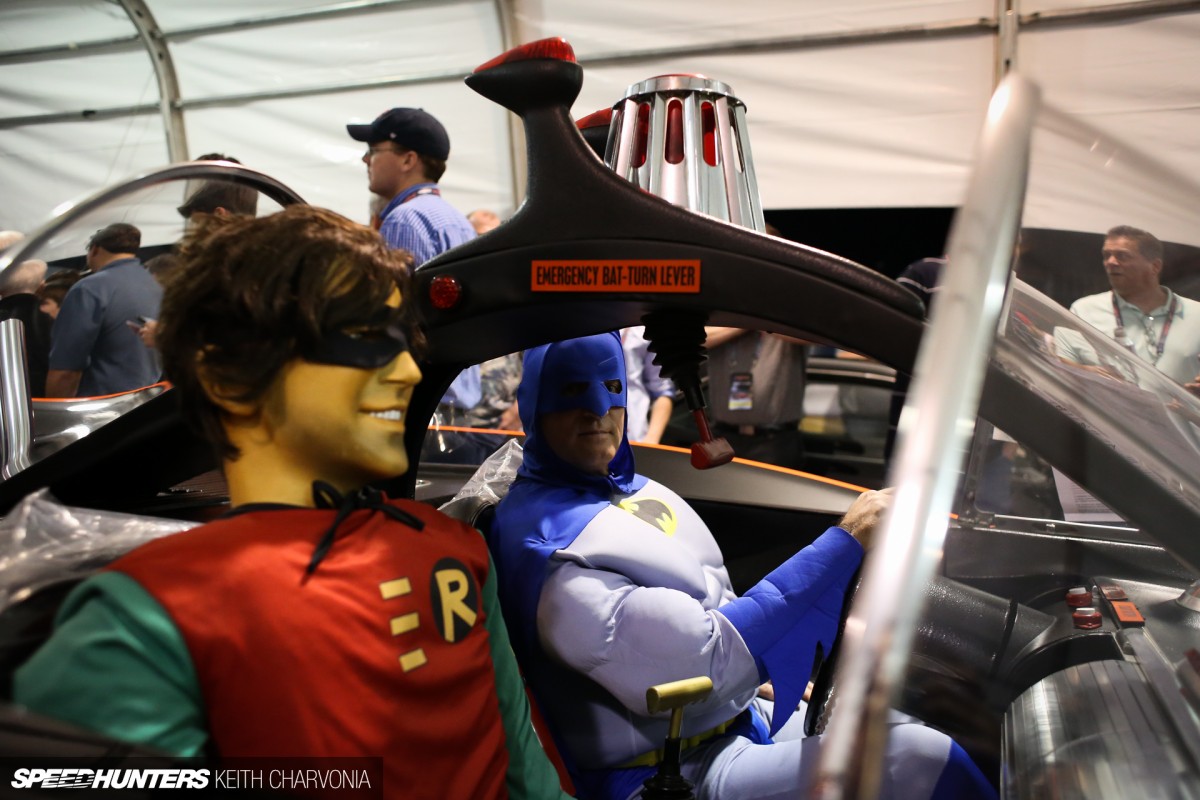 Right next to that was a clone of the original Batmobile, with yet another Batman and an especially creepy inanimate Robin. Since it was a re-creation of the $4 million original it fetched $220,000, which seems pretty good to me. As an added bonus, this Batmobile is street legal.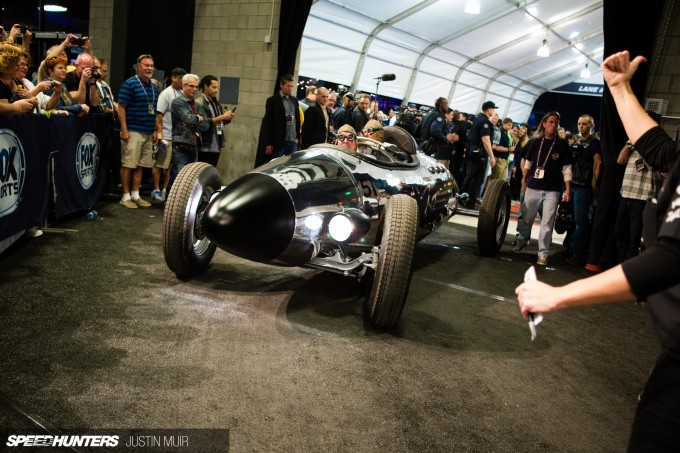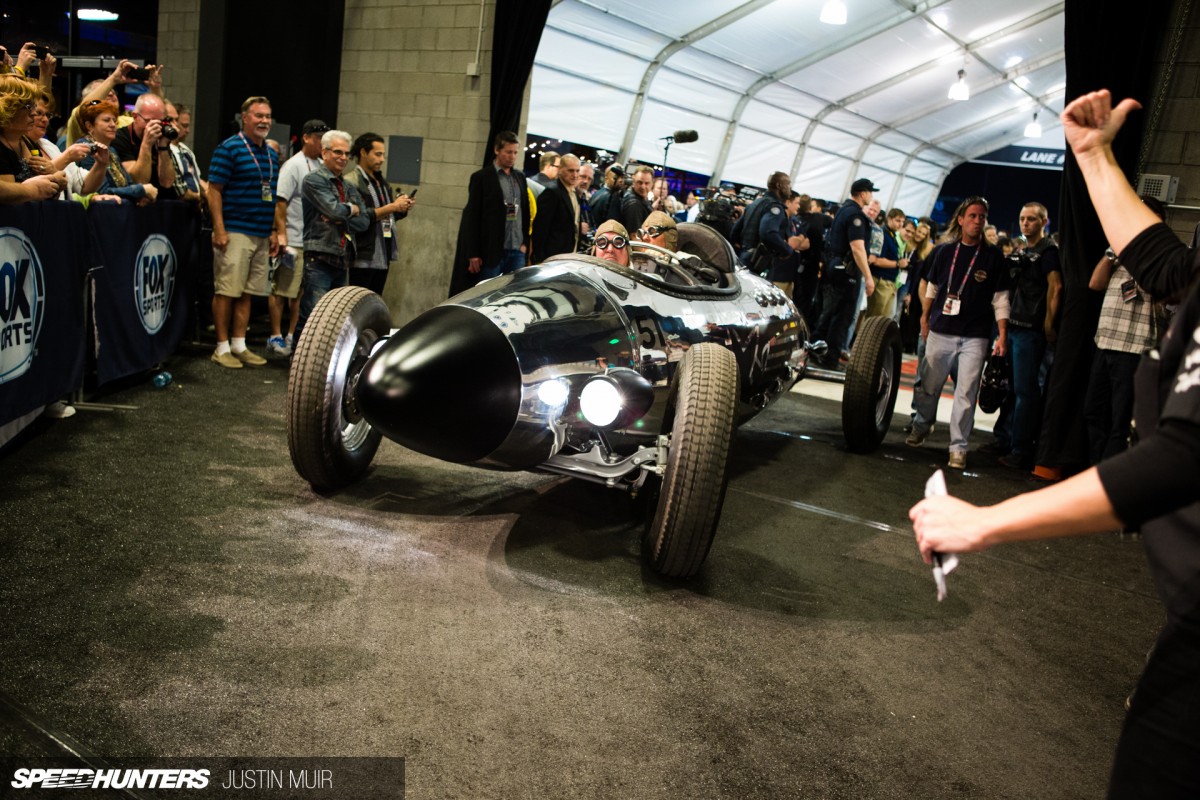 The costumes continued with these guys, donning leather helmets and goggles to bring in a 1917 Crow streamliner. The bellytanker was especially bizarre, with the front driver working the gas and brakes while the passenger in the rear steered!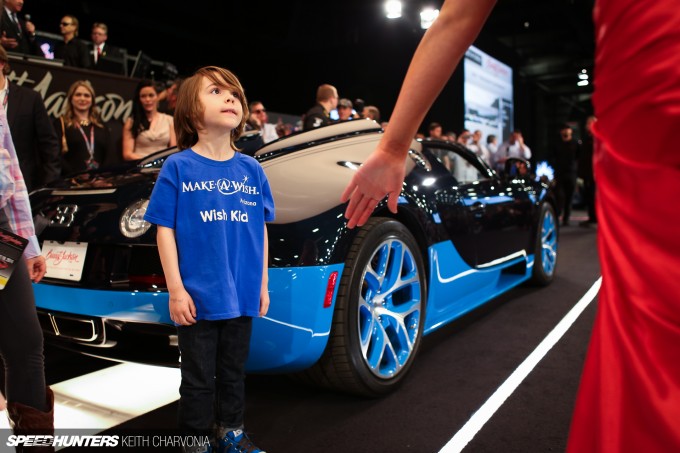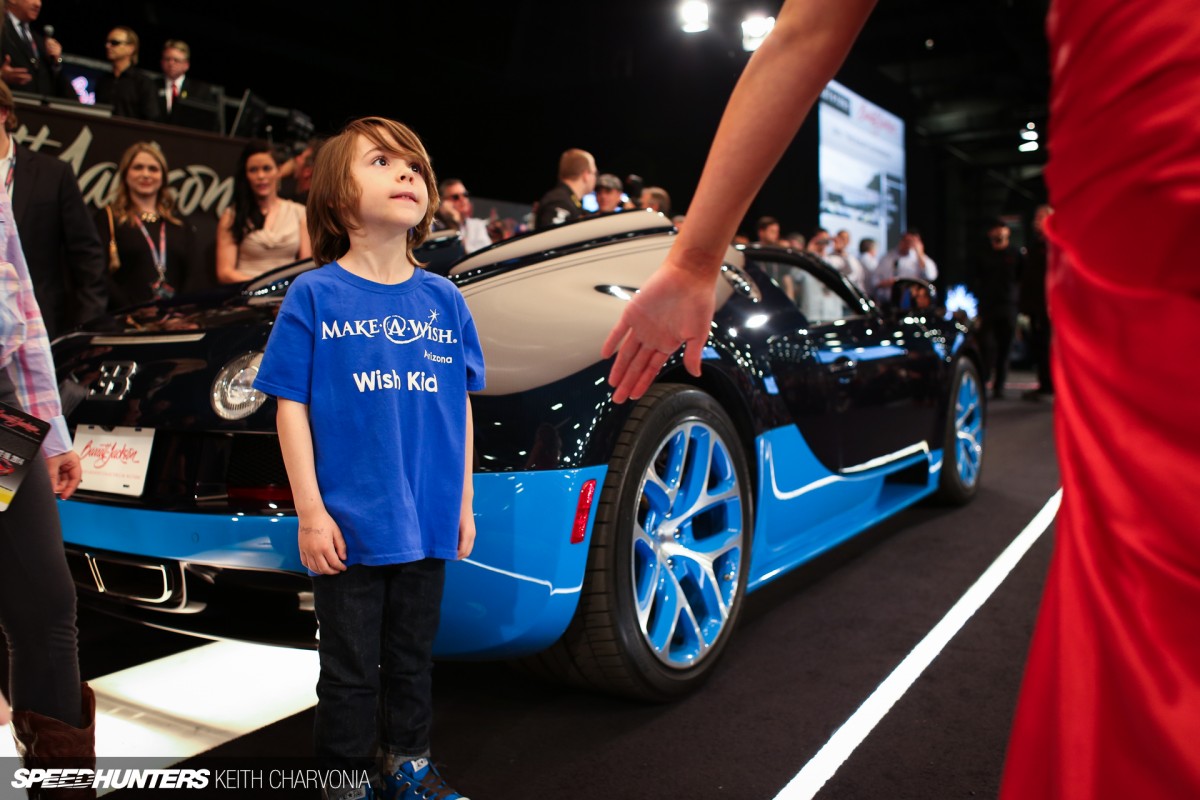 There was another type of hype too – a really good one. This is my friends' son, who narrowly survived a series of medical issues as a small child. Thanks to some very skilled doctors and the Make-A-Wish foundation, he is living out a perfectly normal and healthy life now. The foundation auctioned off a dream trip to tour the Bugatti factory and drive a Grand Sport Vitesse on a Formula 1 Circuit at over 200 mph. There were quite a few charity-type auctions like this throughout the week.
Car show on steroids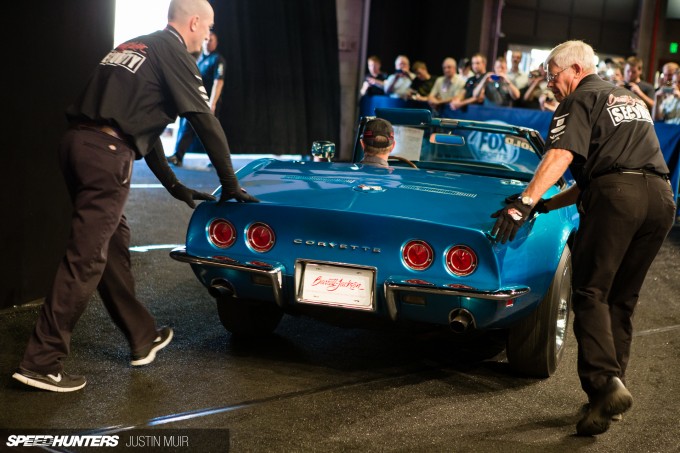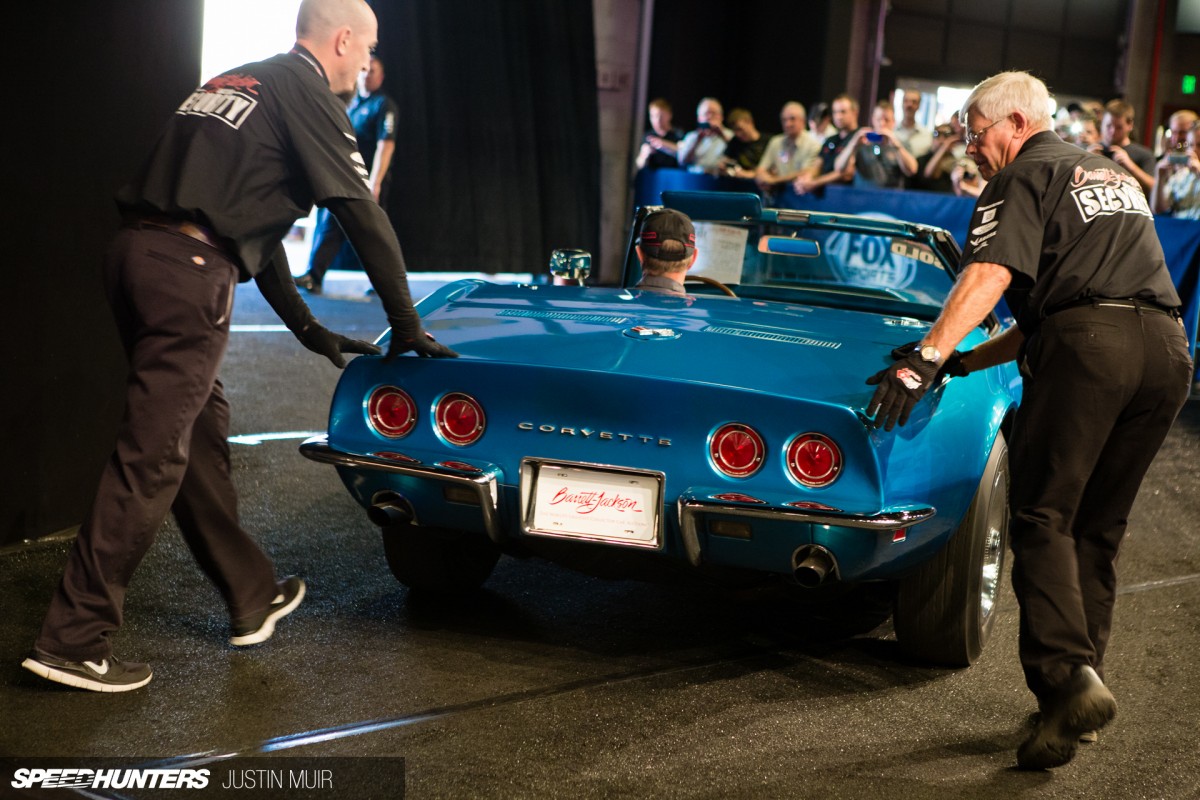 Clearly there was a whole lot of action going on in the auction building, but if you took the time to wander away, you would discover there were over 1400 cars to look at too.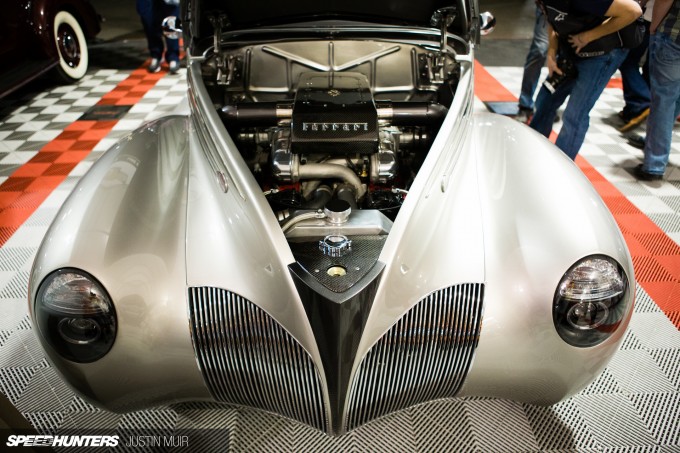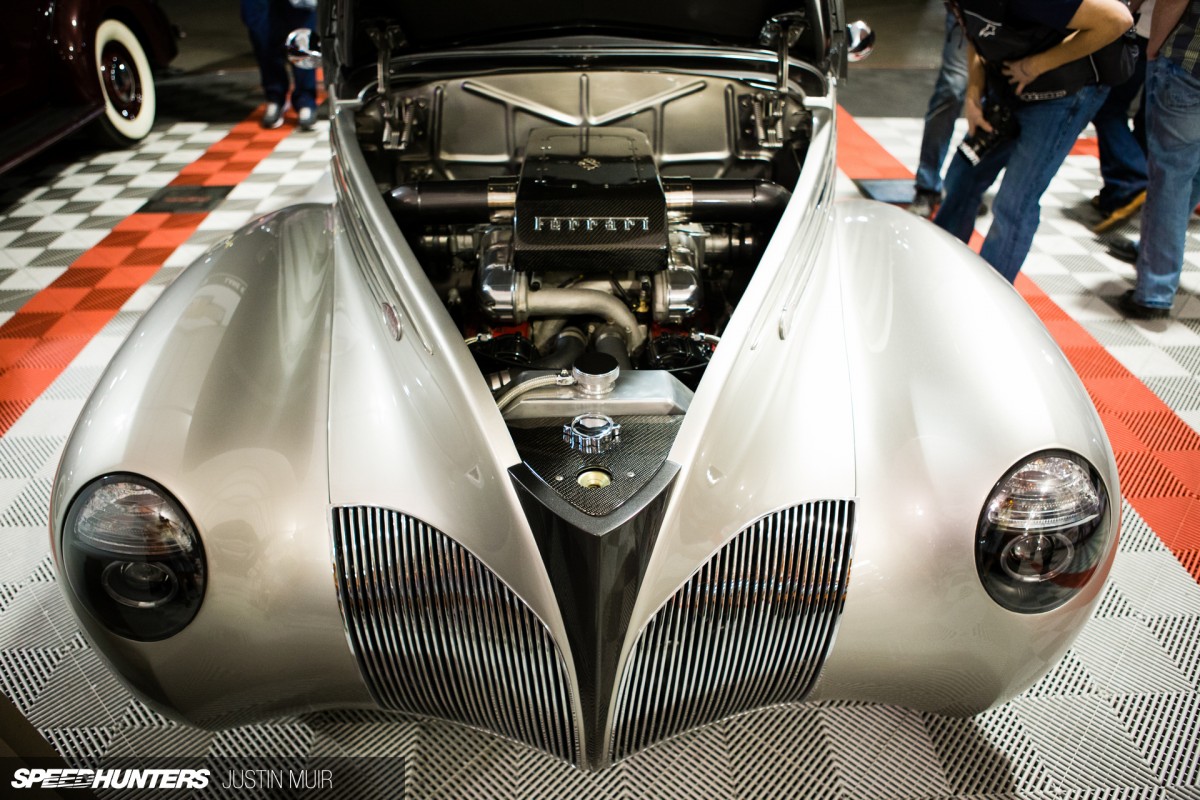 Each one of them was there because the seller thought it had something interesting or special; a reason someone else would want it. Like a Ferrari-powered street rod!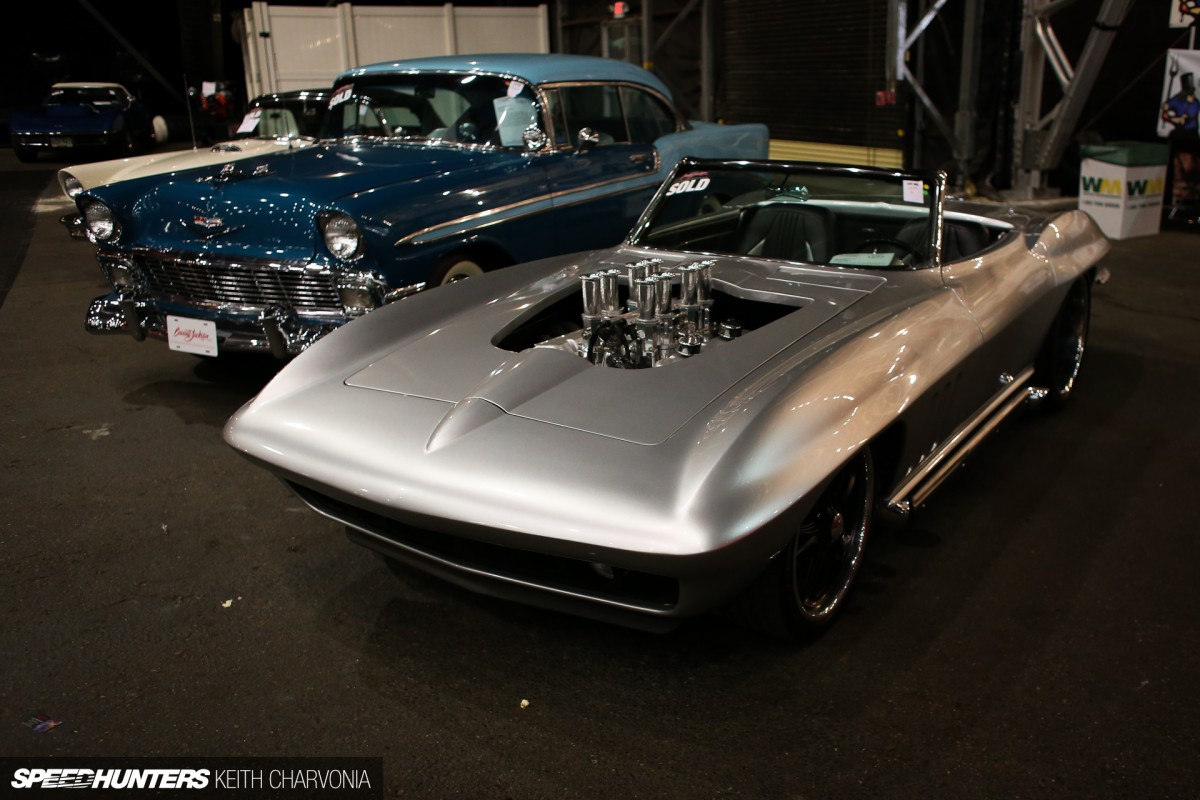 This is a stark contrast to what you'll find at a car show, where the owners proudly display their cars. It's a different feeling knowing that each and every car you look at it is hours away from potentially changing hands. It makes you wonder: is the owner wiping away a tear as the car rolls away? Or is this just another commodity to be bought and sold?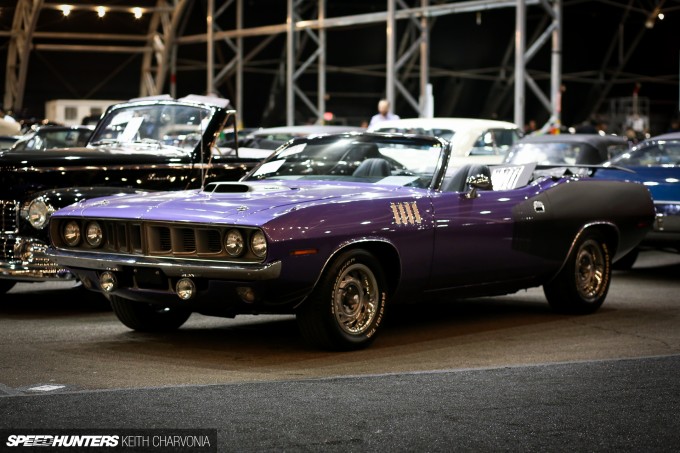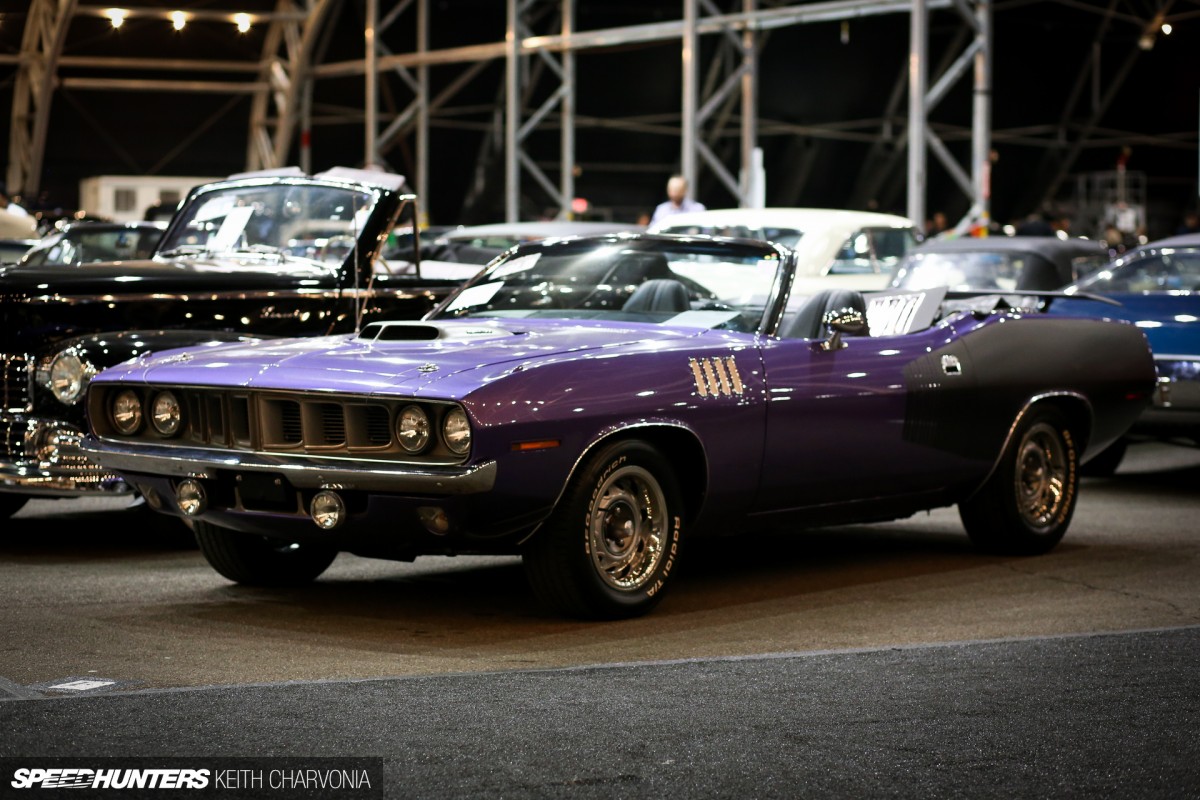 With Mopar prices soaring, there's no doubt that some collectors only look at them as investments. If you have the right year, drivetrain and color combo, that Hemi Cuda could easily be worth millions.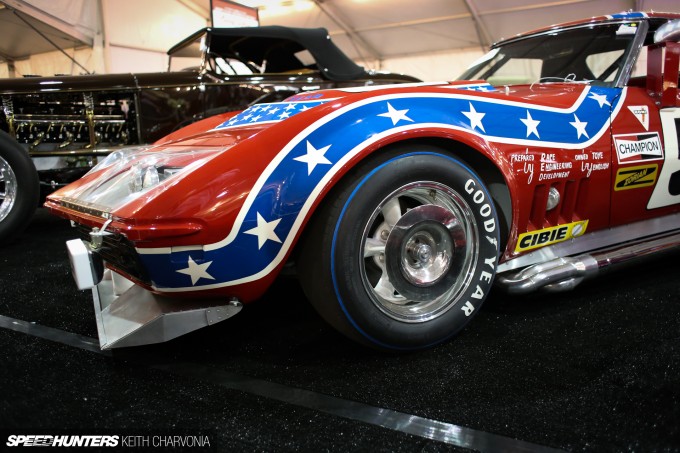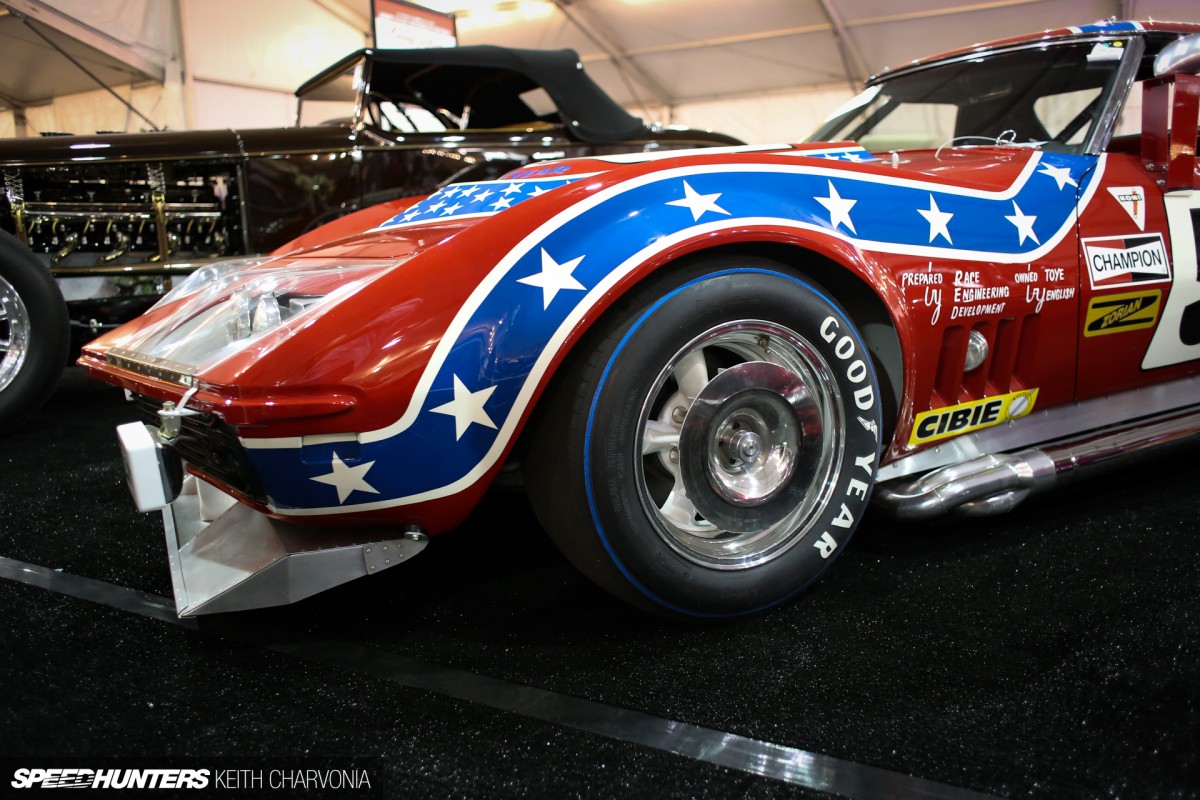 Historic race cars can bring huge money too. This L88 Corvette Rebel wound up selling for $2.68 million, along with a couple of other rare L88 examples that brought similar money.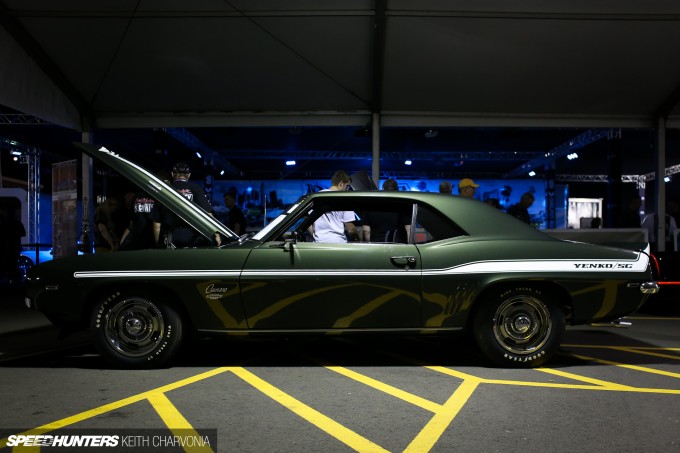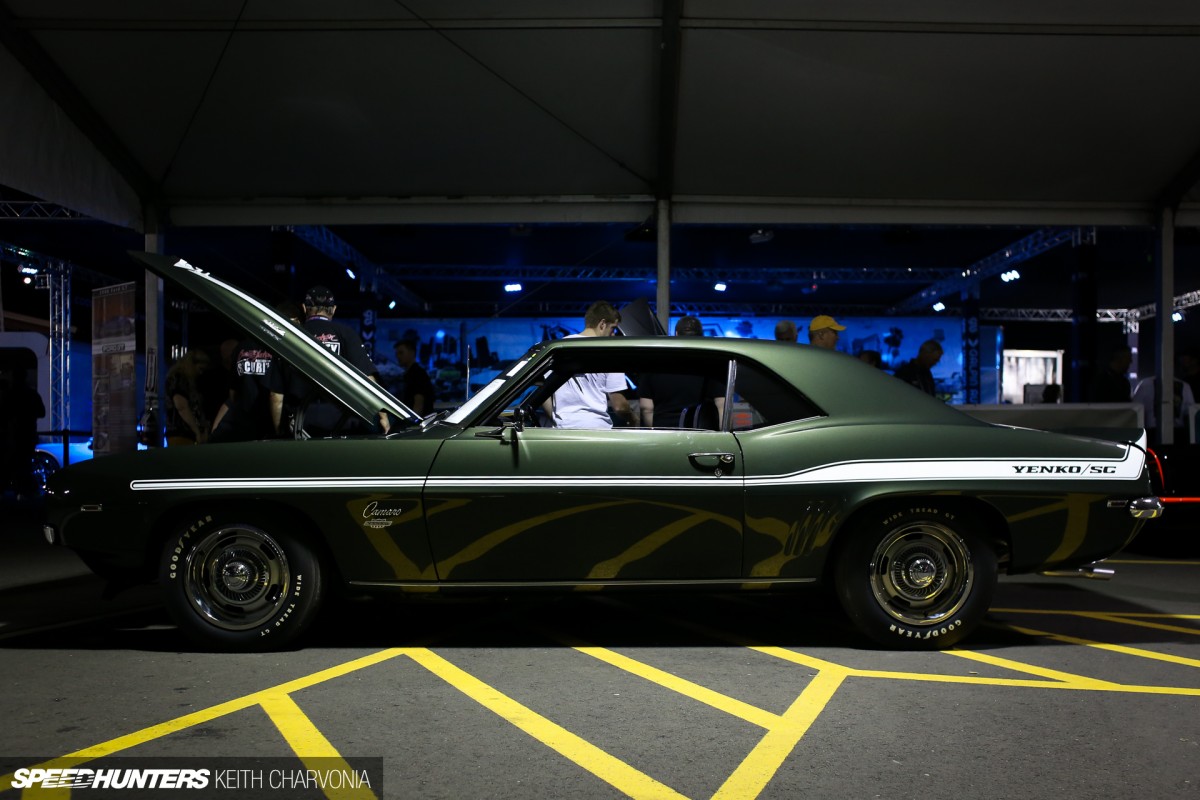 Outside we found a Yenko Camaro – a real one. It almost felt strange to be in the presence of an authentic Yenko after seeing countless clones at shows and cruises. I had to stop to take in all the genuine details and smell that original upholstery.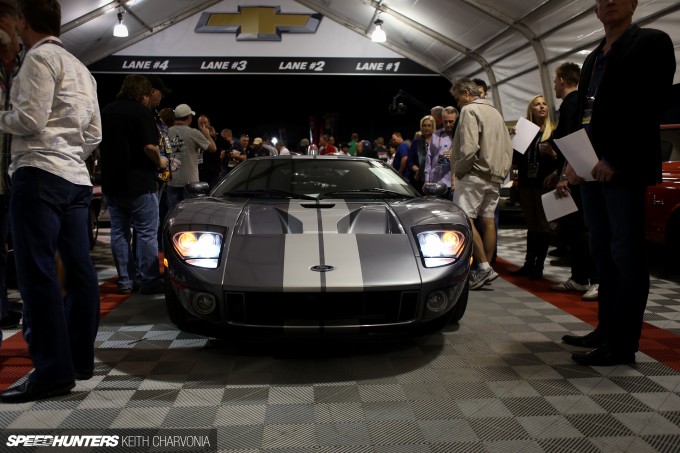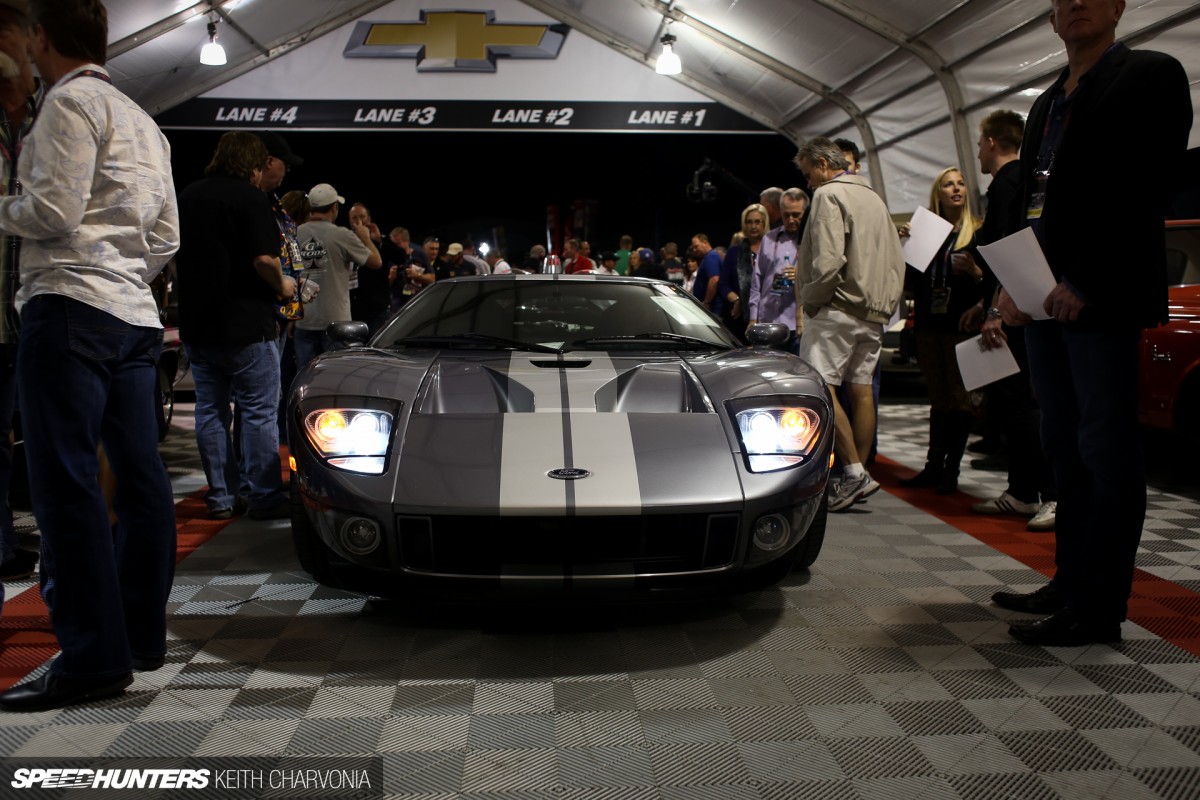 Not everything was worth a million dollars; some were just nice cars that needed to be sold like this Ford GT.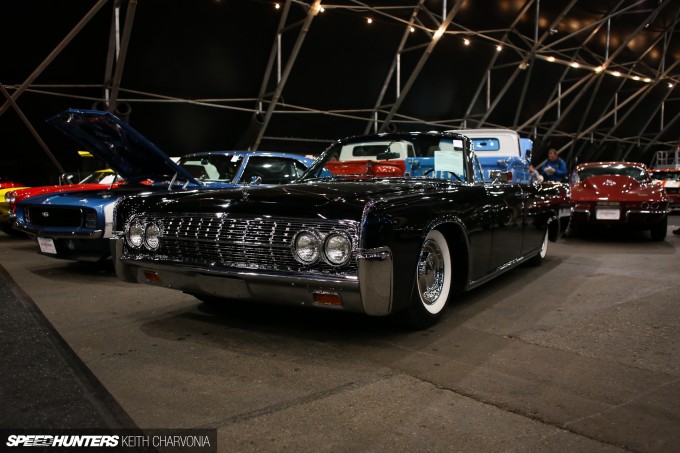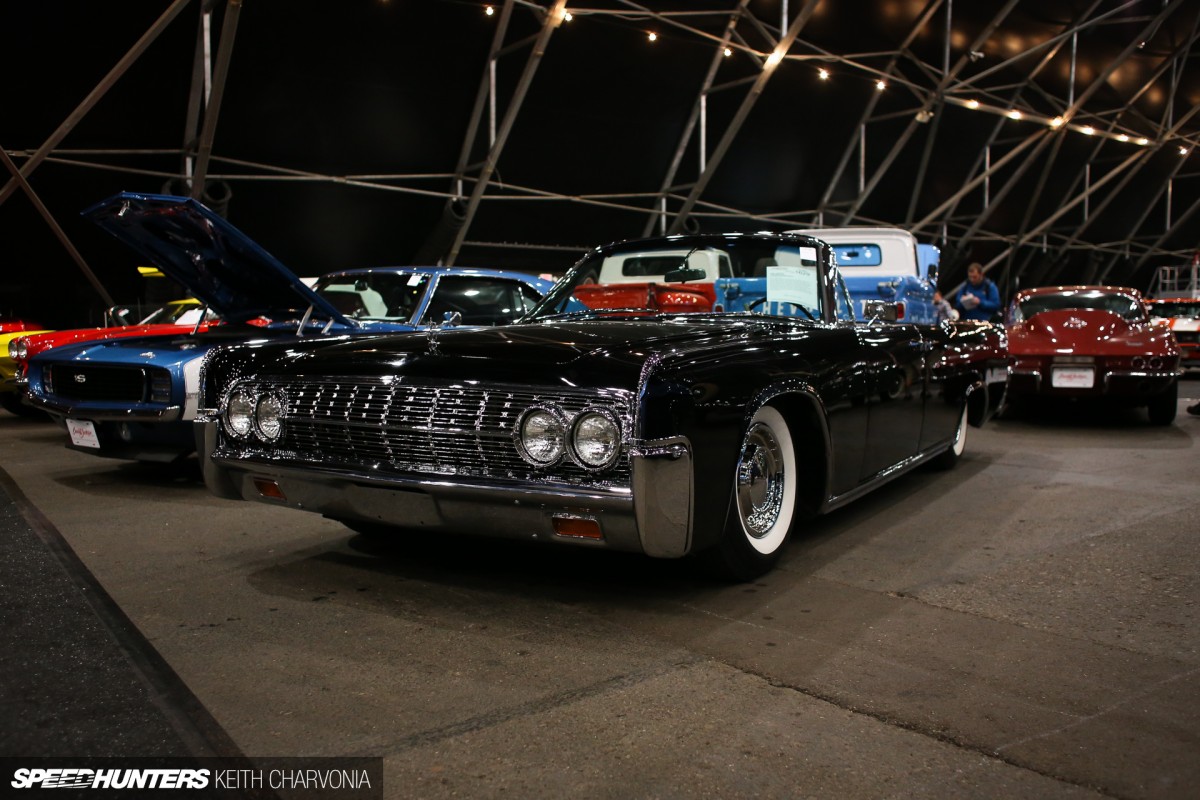 Who wouldn't want to buy a slammed Continental convertible? This is one of those cars that just needs to be polished up and lowered on a nice set of wheels or whitewalls.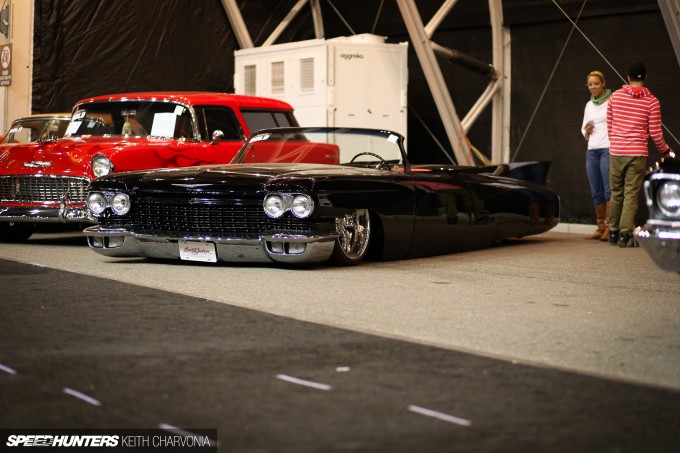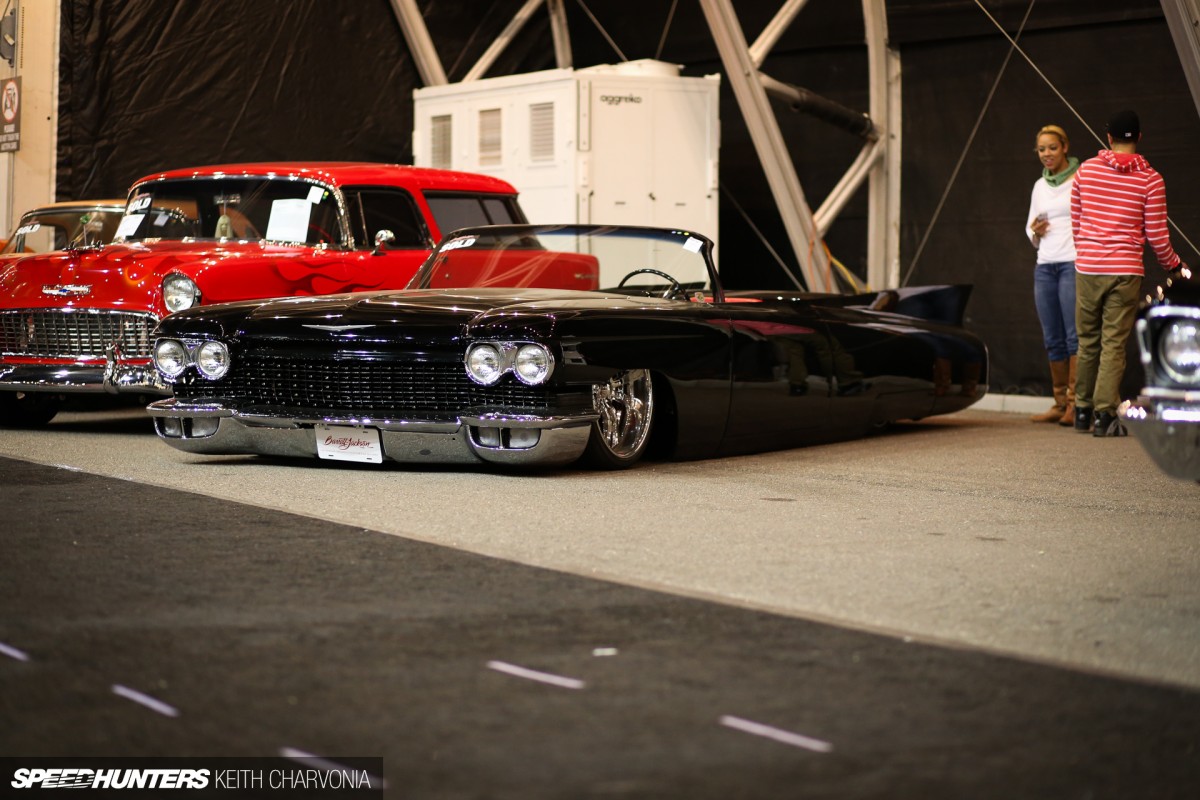 Nearby we found an even lower Caddy. My friend joked that the beauty of owning this car would be that you only have to buy two nice wheels for the front.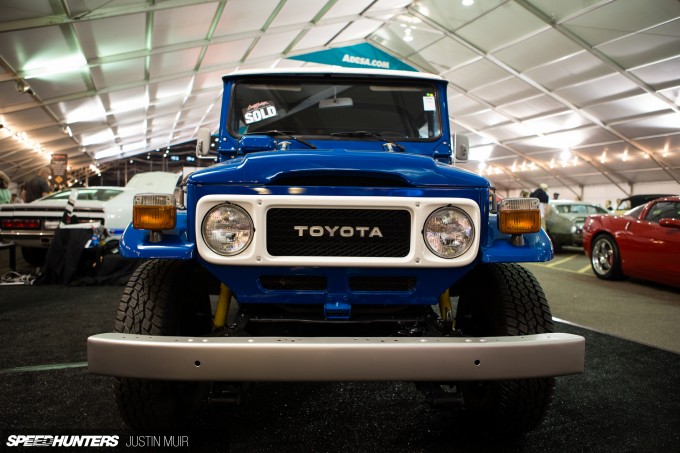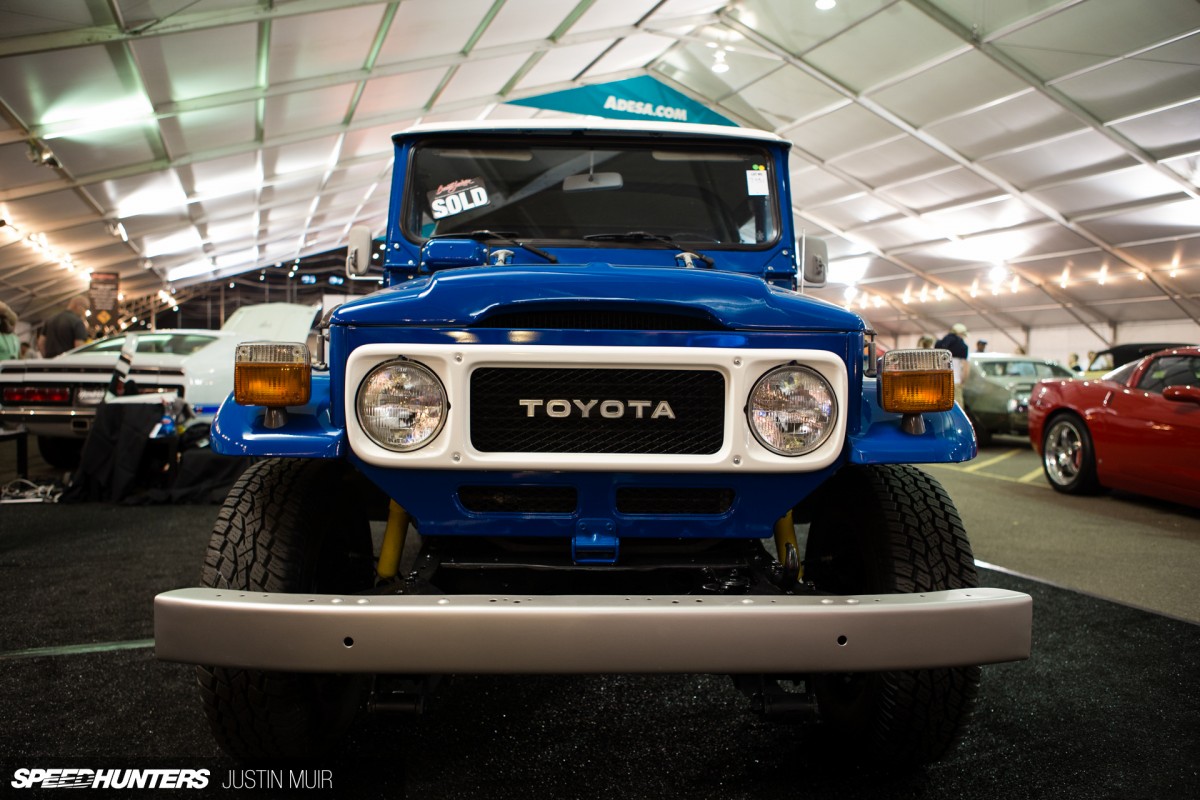 There were trucks and off-road vehicles too. I bet a nicely restored FJ40 like this could be pretty valuable at an auction.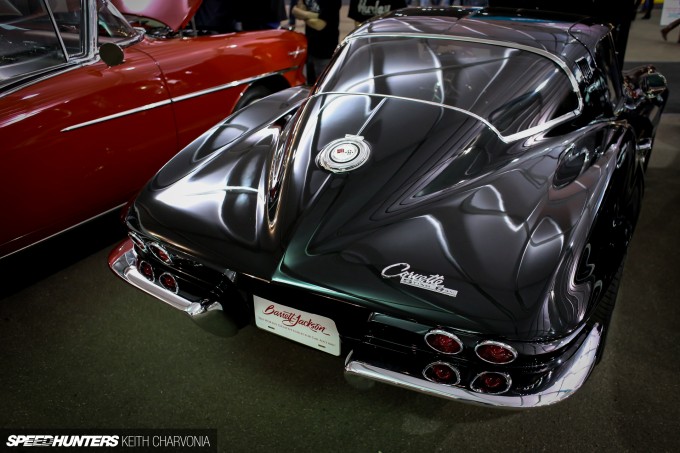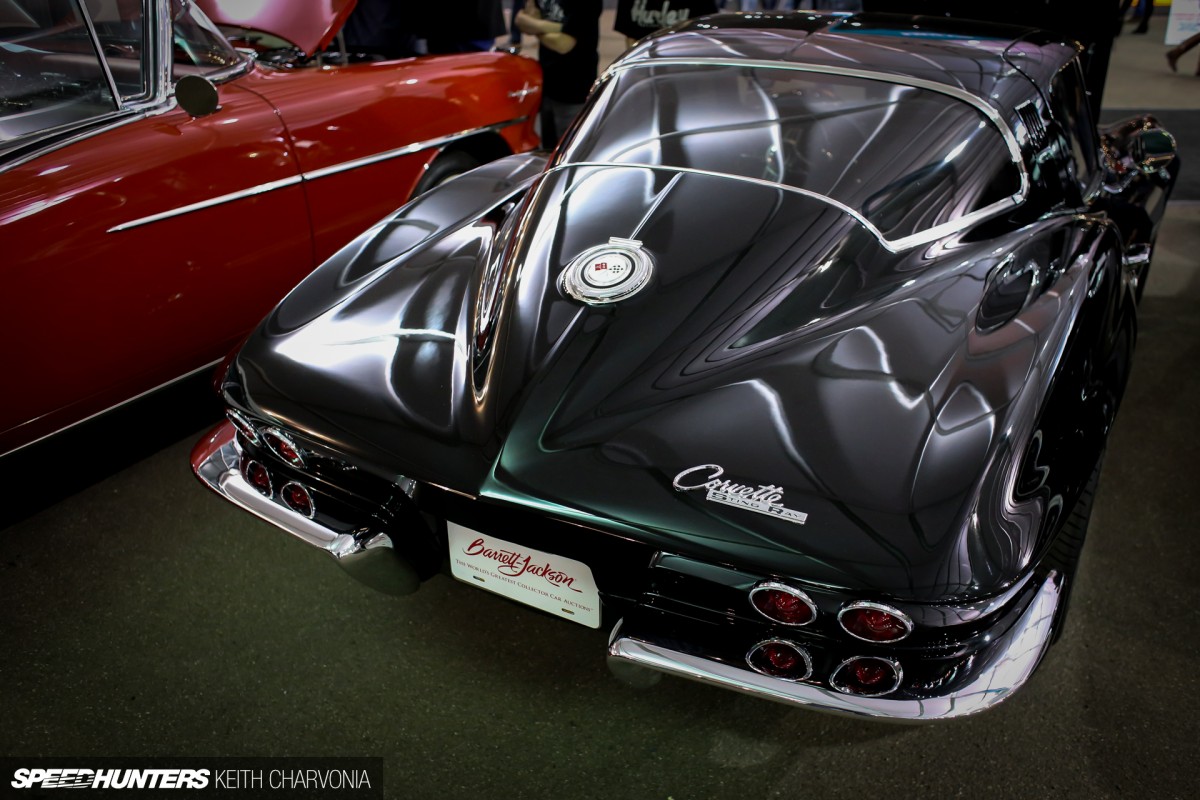 Probably not as valuable as a Stingray 'Vette with a 100 point resto though.
History in the making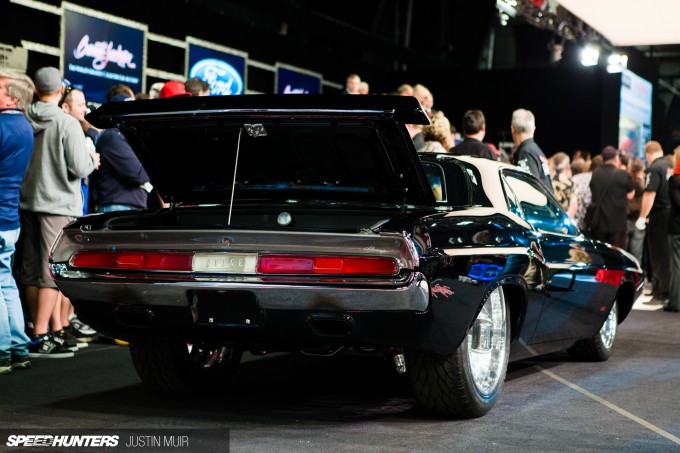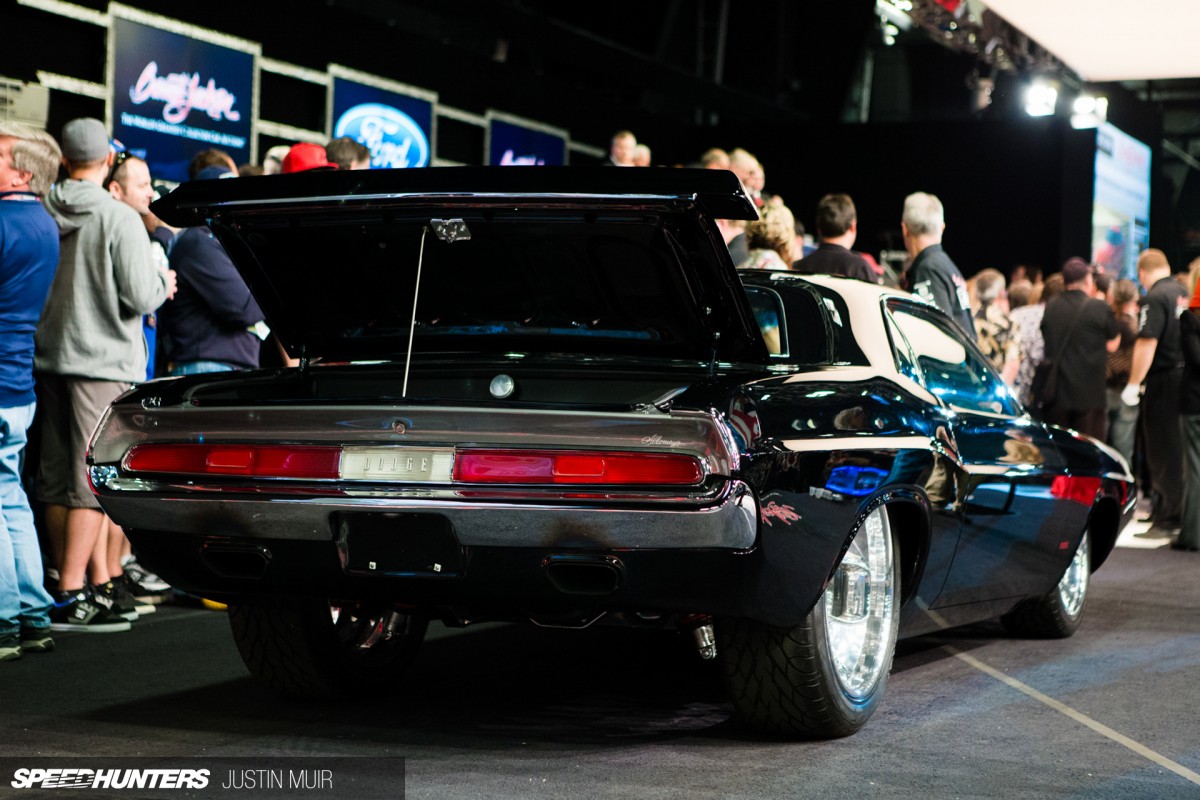 There were plenty of valuable original and restored cars, but the stuff that really caught my interest was more recent and heavily modified. Take for example this 1970 Challenger built by Bobby Alloway. Cars like this are history in the making to me; they're fairly recent builds that people will remember some day.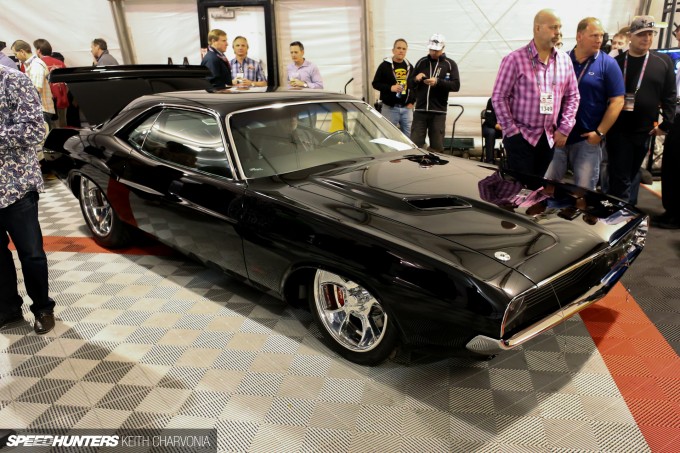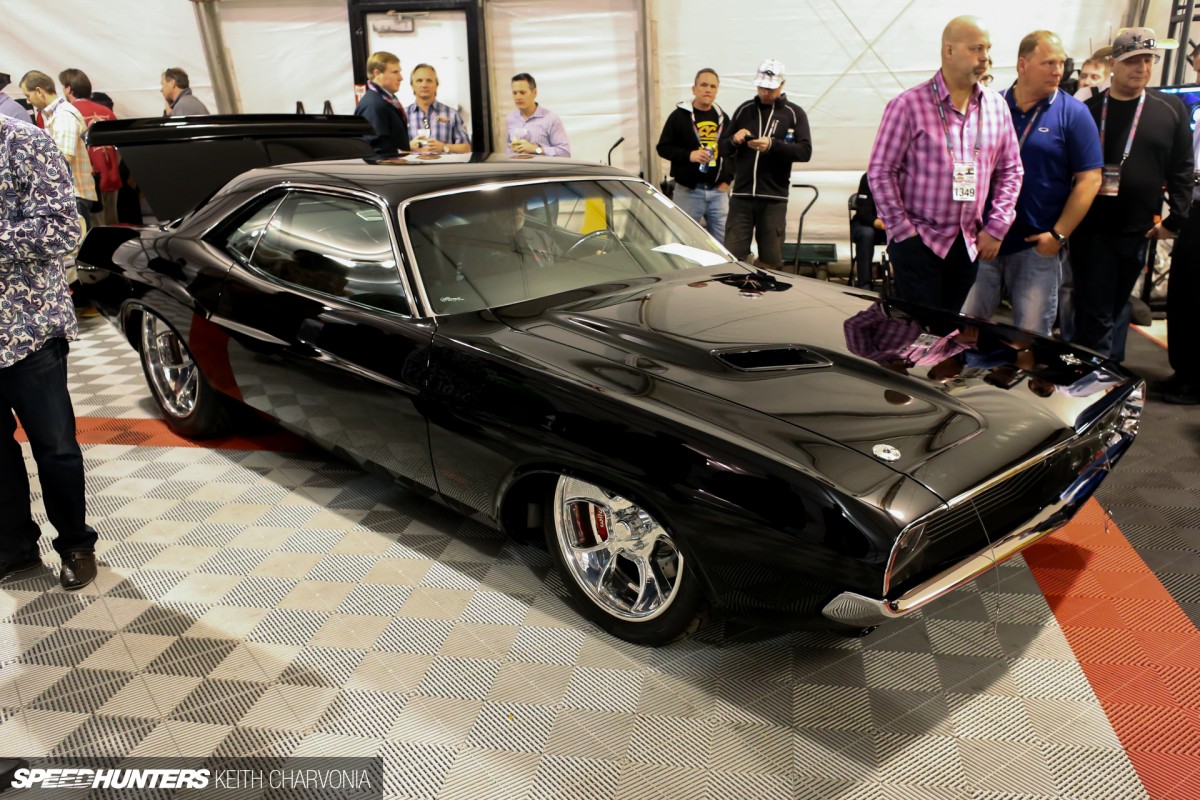 I don't care if you like big-inch wheels or not, you just can't argue with a stance like that.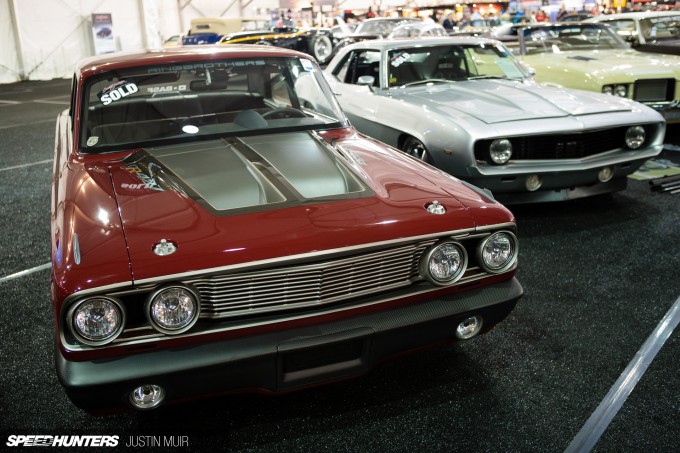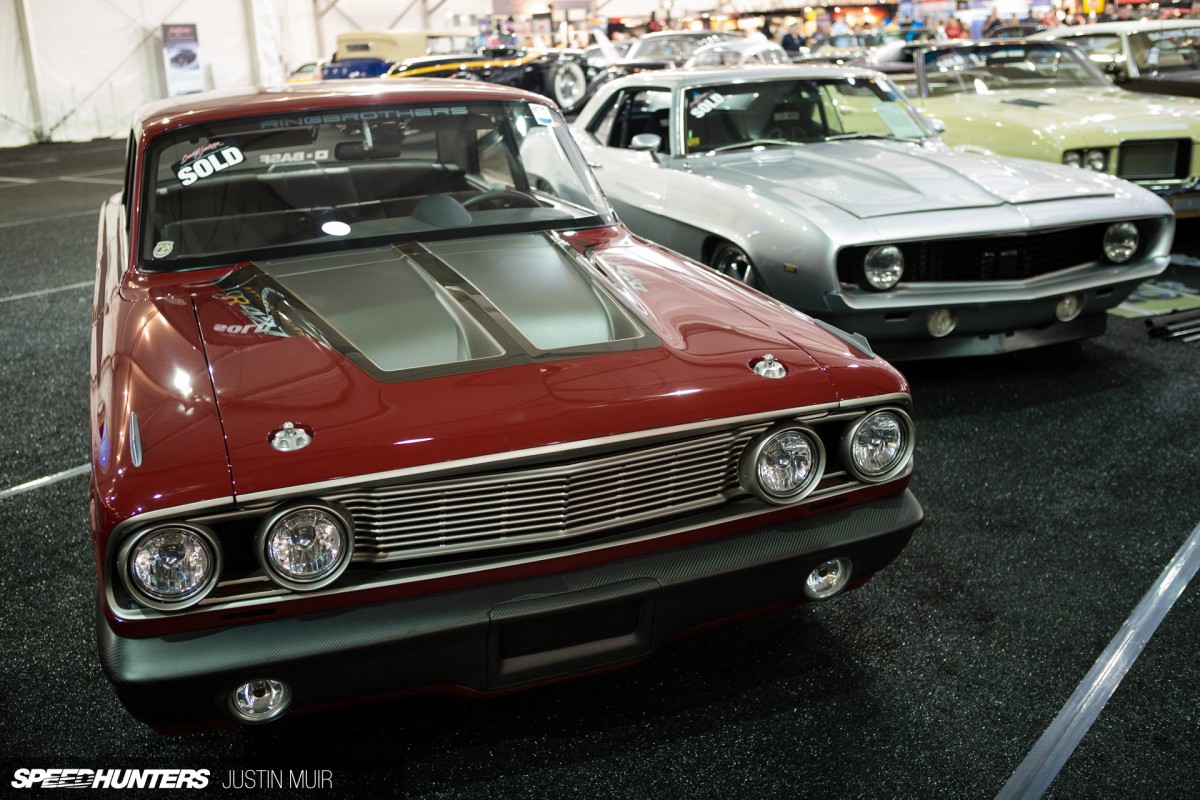 Remember this Ring Brothers Fairlane I featured at SEMA? I was surprised to see it at the auction, then relieved when it crossed the block for a strong price. Right behind it is the famous Mule '69 Camaro built by Mark Stielow, who arguably started the pro-touring movement with cars like this one.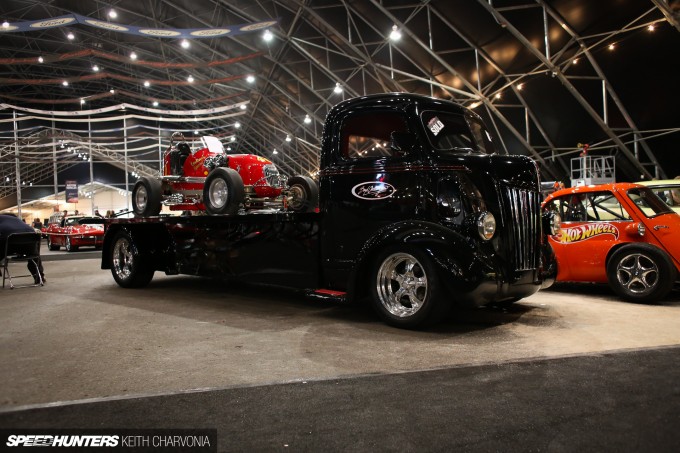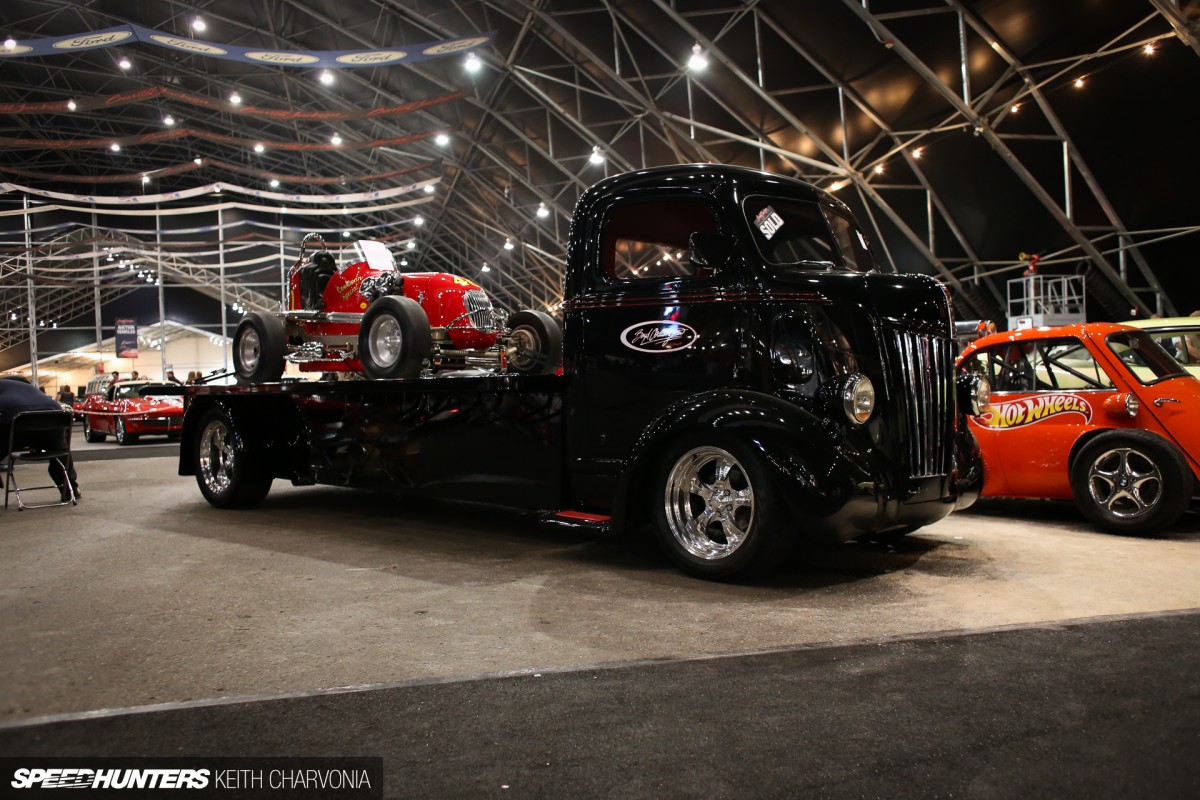 A '47 Ford cabover built by the late Boyd Coddington is another example of a fairly recent build that will be remembered fondly some day. It even came with a vintage sprint car on the flatbed.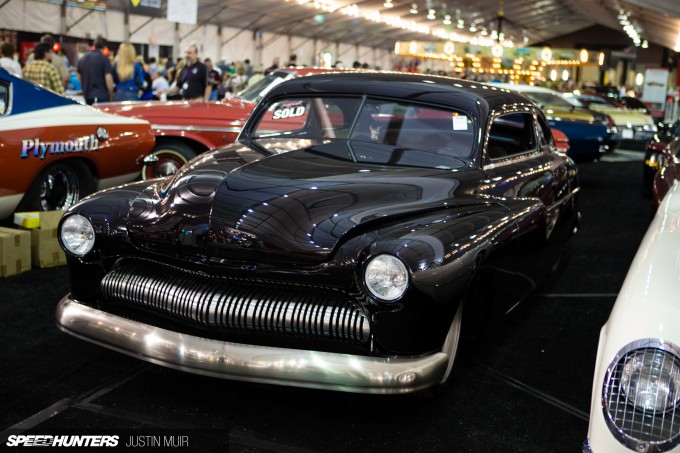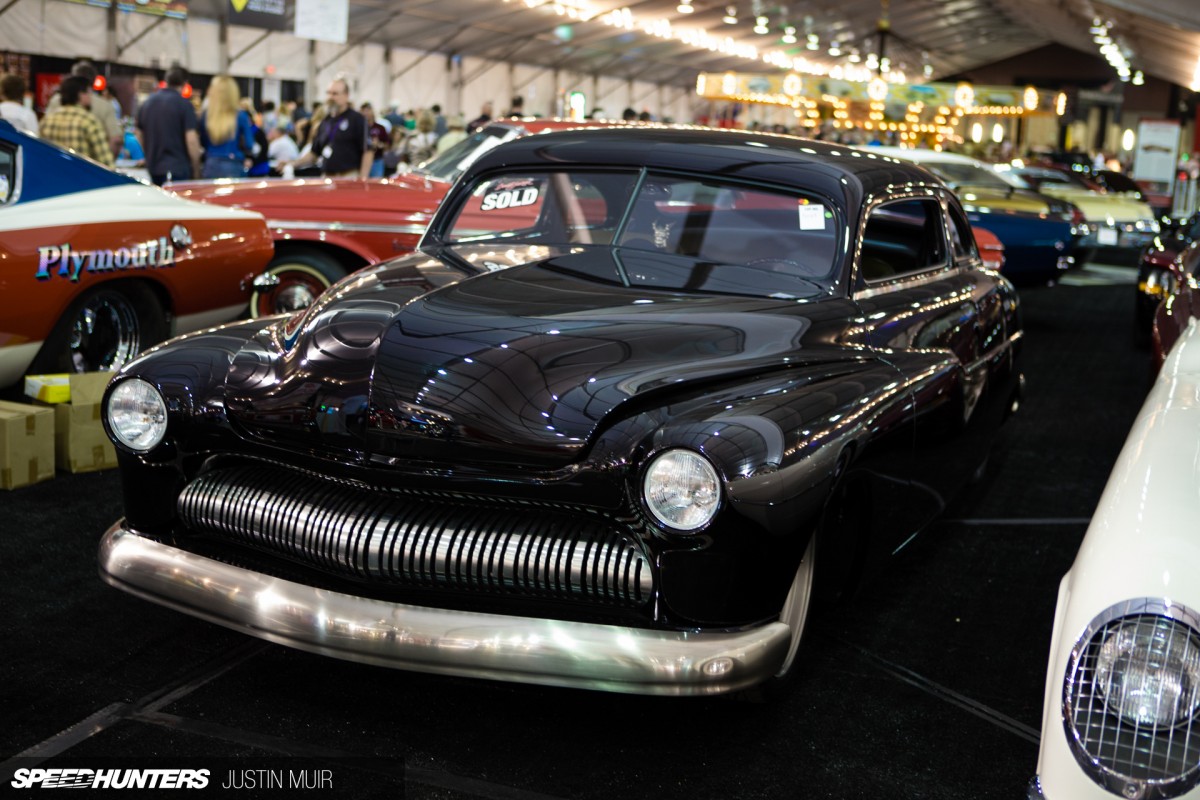 Kustoms usually don't do well at Barrett-Jackson and I'm convinced it's just not the right crowd for them. This Merc cost $400k to build according to the ad and sold for about half that. That's still a strong price for a kustom, perhaps because it was once owned by Lost star Matthew Fox. Check out the brushed nickel bumpers: a nice touch but also a clear indication that this is a modern build.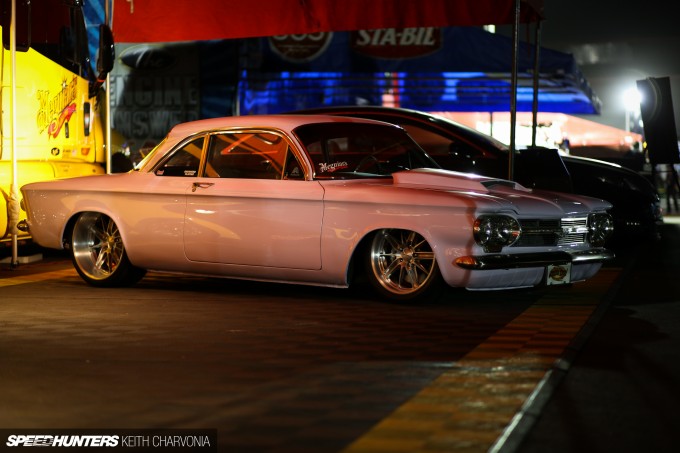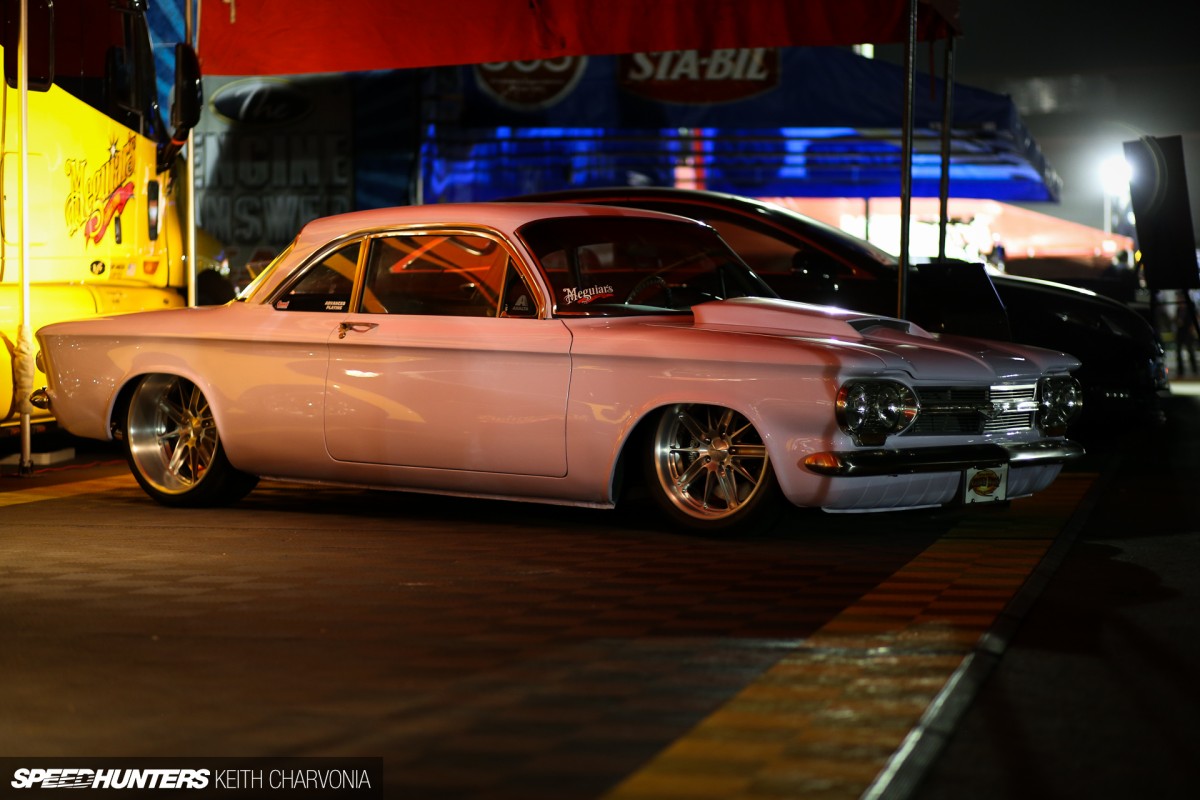 Strange Motion's latest build, a slammed and raked Corvair, was on display outside in the Meguiar's booth. I missed this one at SEMA but was really glad to finally get to see it here.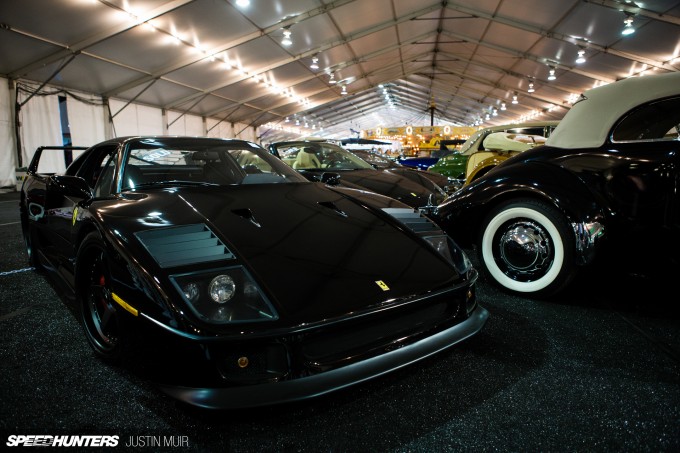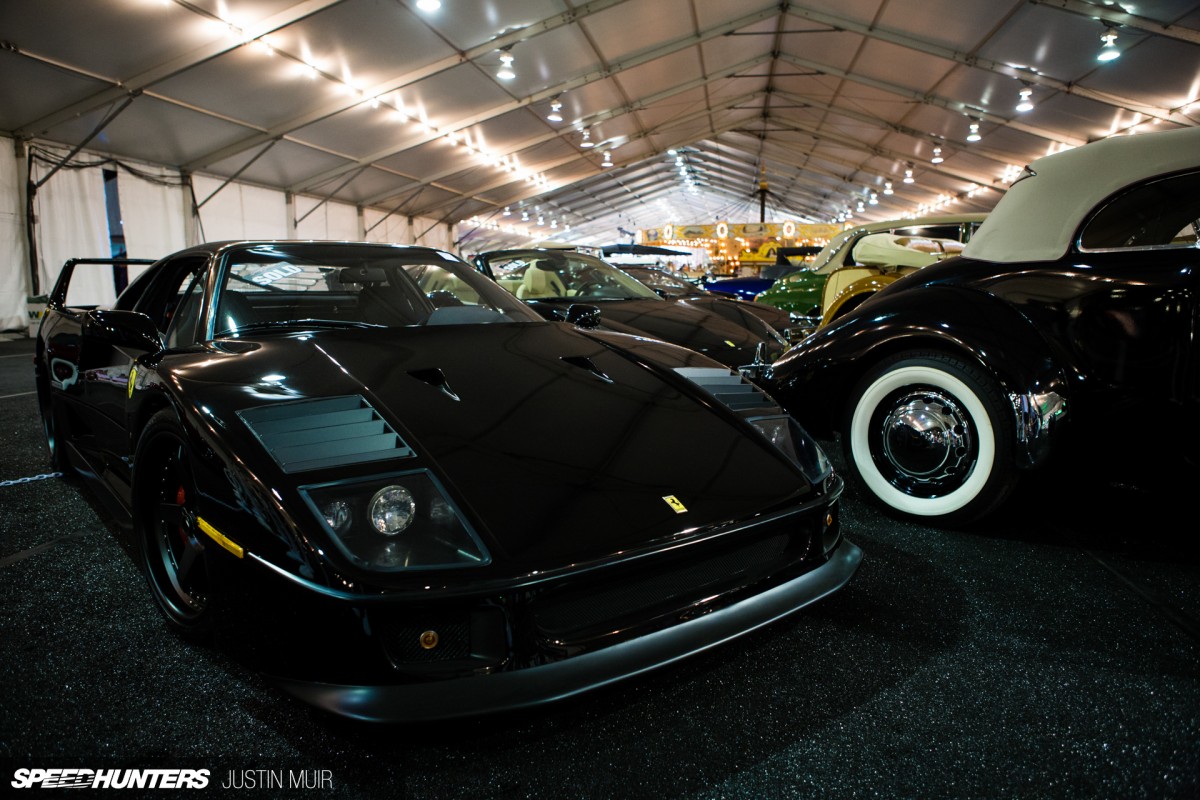 Gas Monkey Garage's customized F40 caused a big stir, but it was hard to say if people loved it or hated it.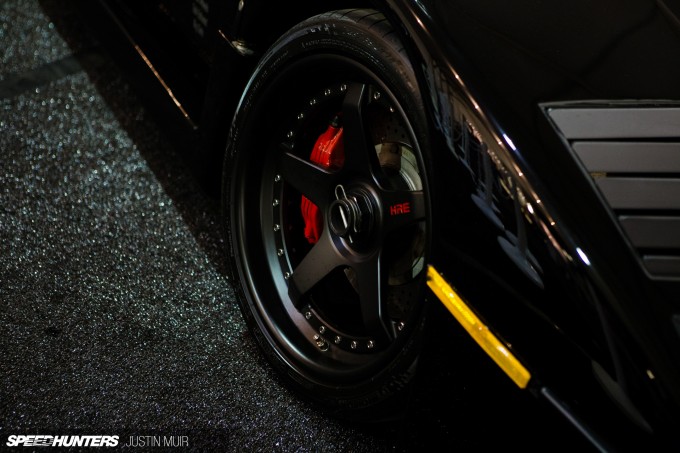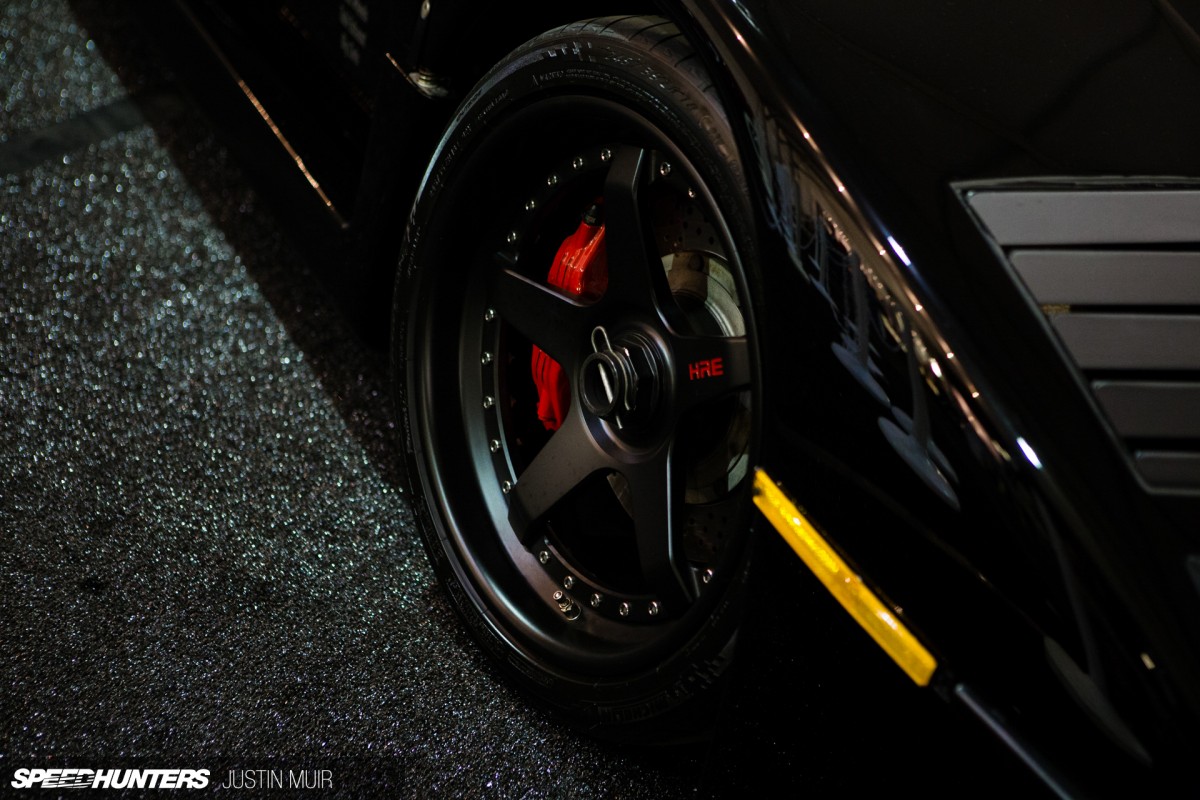 Did Gas Monkey ruin an F40 or make it cool? You can be the judge, but I will admit those dished spindle-mount HREs look mean.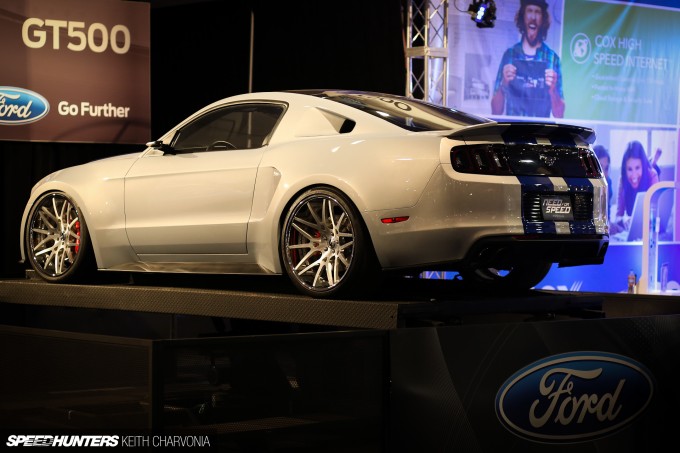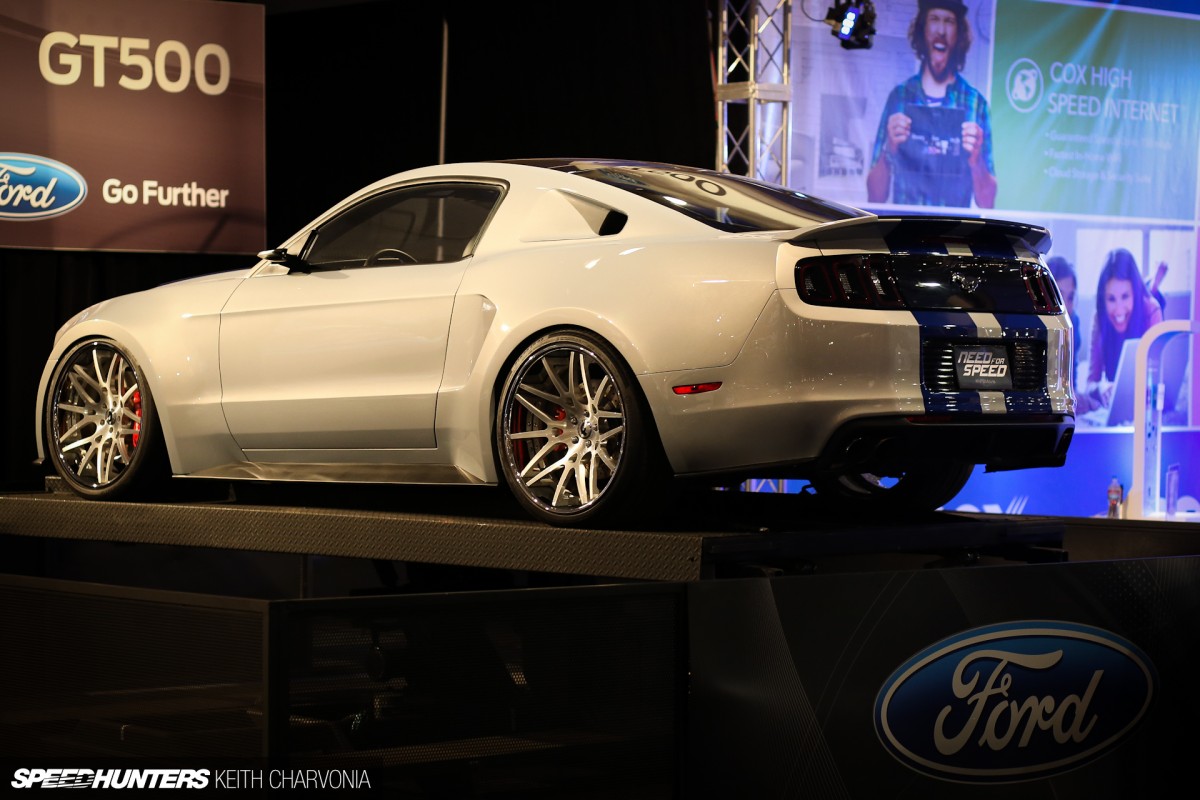 There were a few other notable rides on display that weren't there to be sold. Ford had the Need For Speed Mustang in their booth.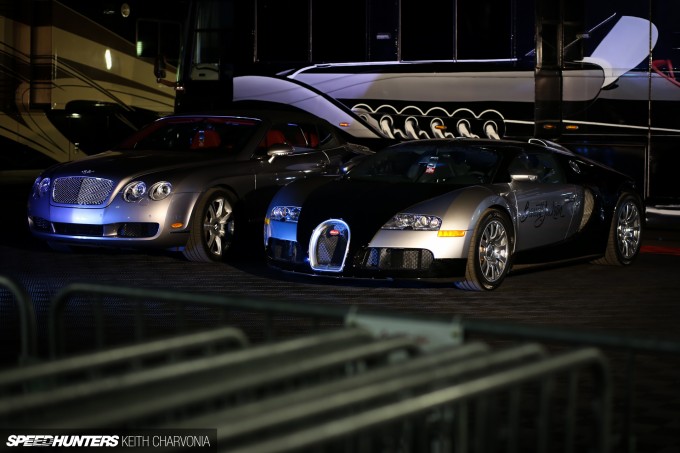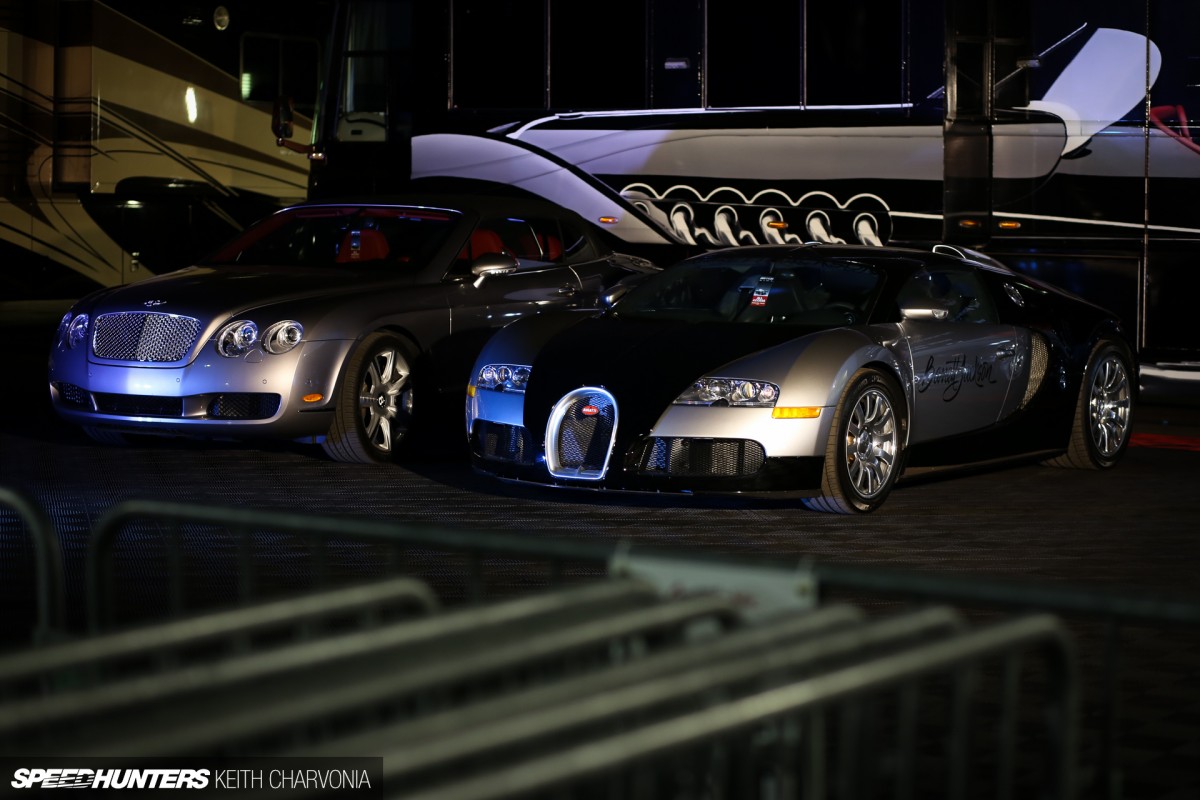 Craig Jackson, CEO of Barrett-Jackson, had his Veyron parked just outside the auction. I can only assume that's his Bentley and coach too. Wouldn't you want a personal living space if you were running something of this scale for a week?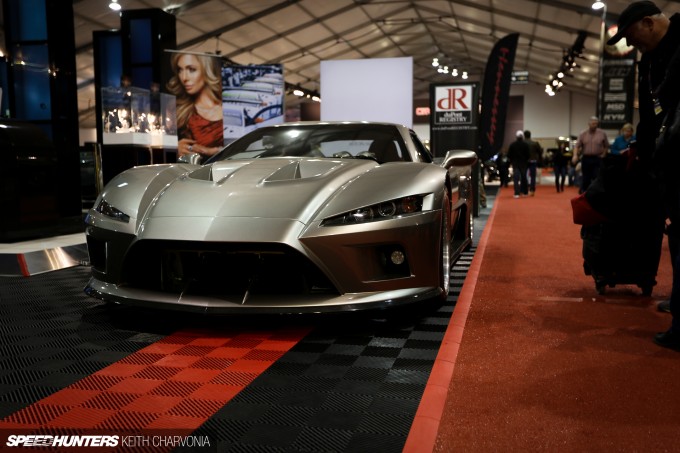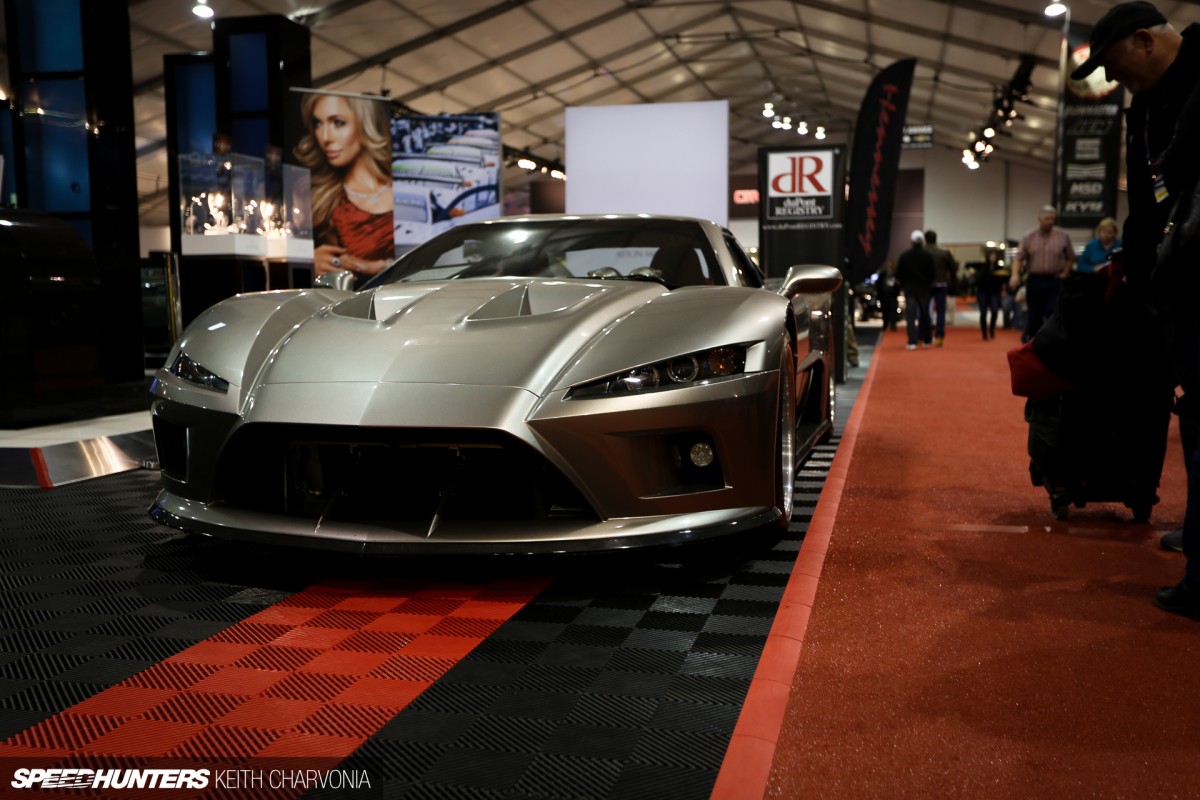 I walked by this Falcon F7 multiple times because it was in a prime location in the DuPont Registry booth. Eventually we struck up a conversation with owner/builder Jeff Lemke and even got him to bring it out for a photoshoot after the auction closed.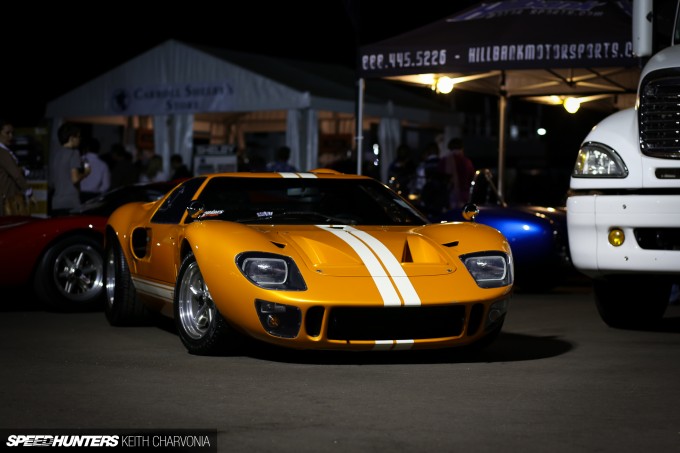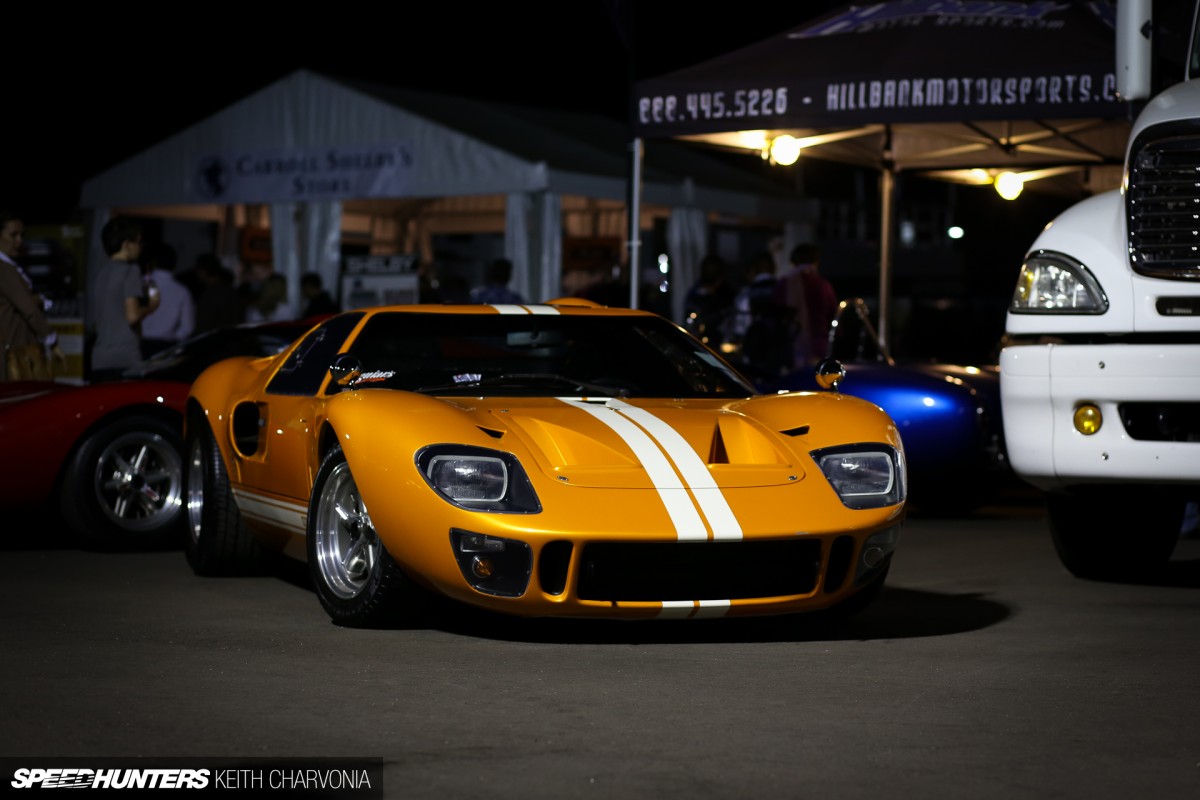 As you can see, Barrett-Jackson really had something for everyone. Maybe you're into historic race cars like the GT40?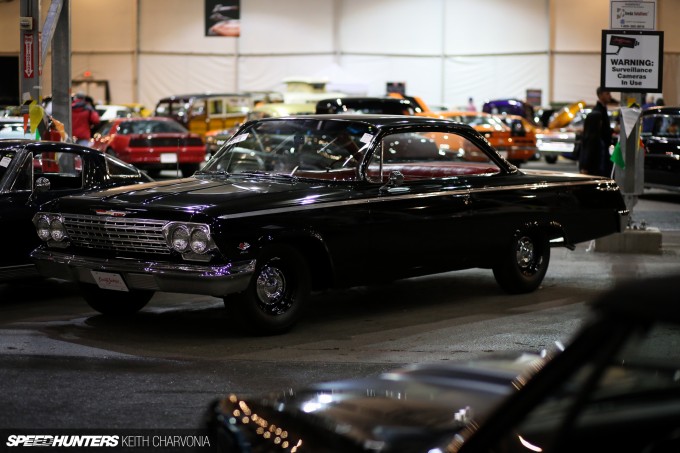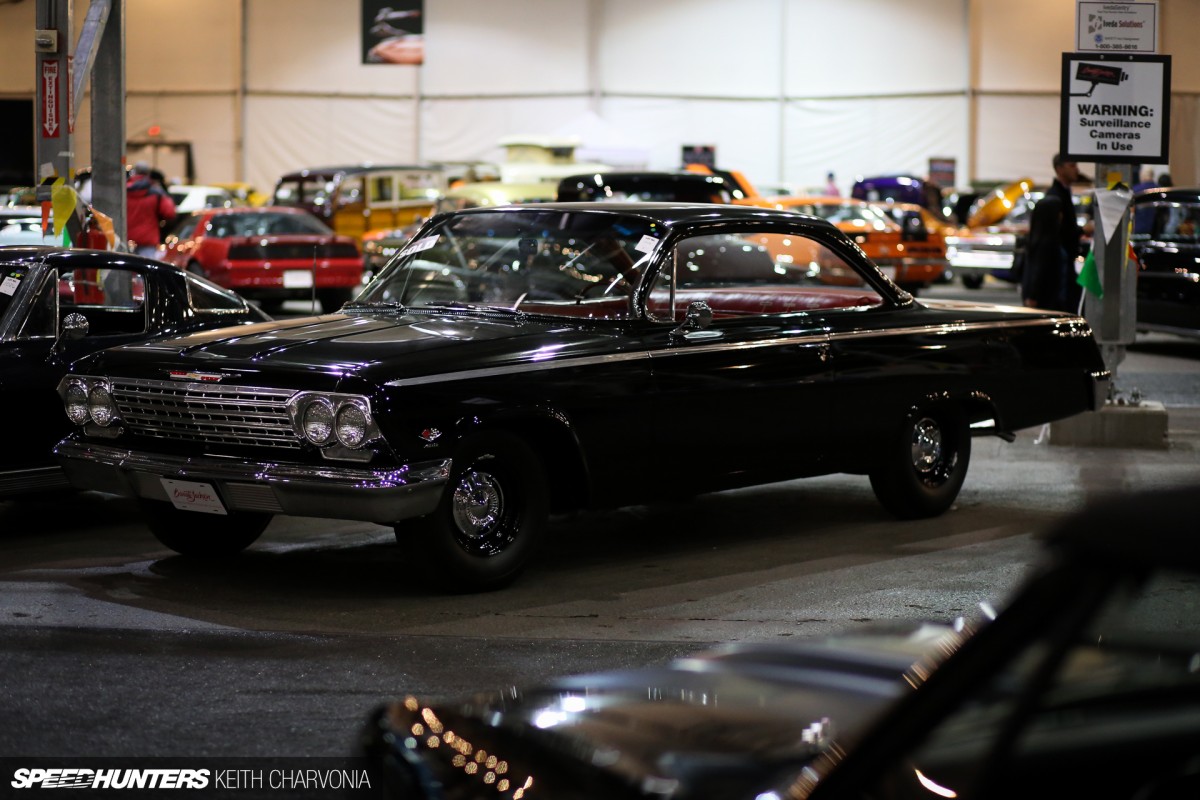 Or perhaps a perfectly restored bubbletop Chevy is more your style?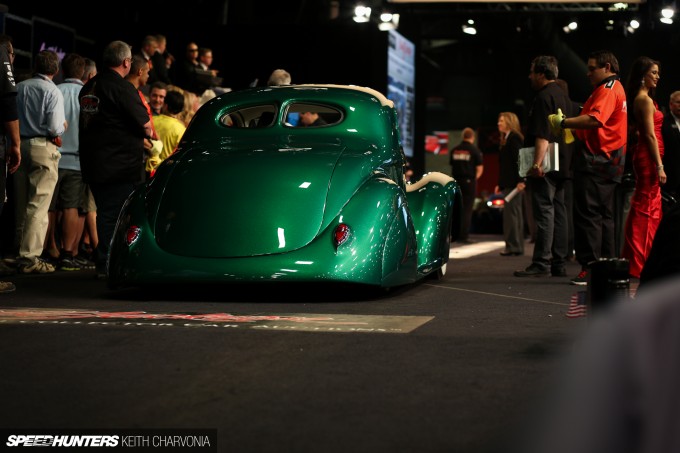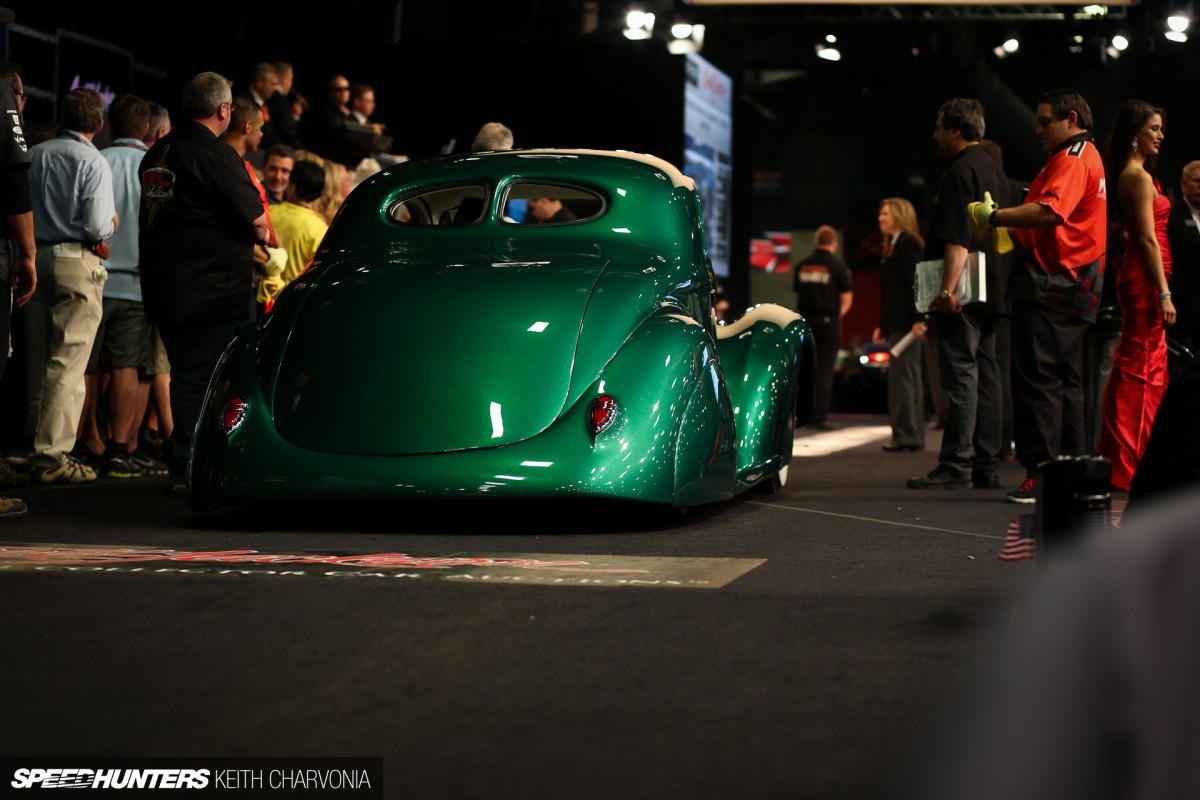 Personally I'm more of a kustom guy, and luckily they had those too. That's the beauty of the Barrett-Jackson Collector Car Auction: when the only qualification is that the car be compelling enough for someone else to purchase it, you really do get a little of everything and a lot of quality all in one place.