D-dimension
Within ten minutes of Fredric Aasbø picking me up from Olso International Airport, I asked myself the question, "Is it impossible for this man to drive straight?" He'd just won Formula Drift Thailand two days ago; how much drifting can a human handle? The Norwegian Hammer picked me up in his parents' diesel BMW 5 Series wagon with an automatic slush box. Despite the disadvantage, he was still linking ten to fifteen turns at a time.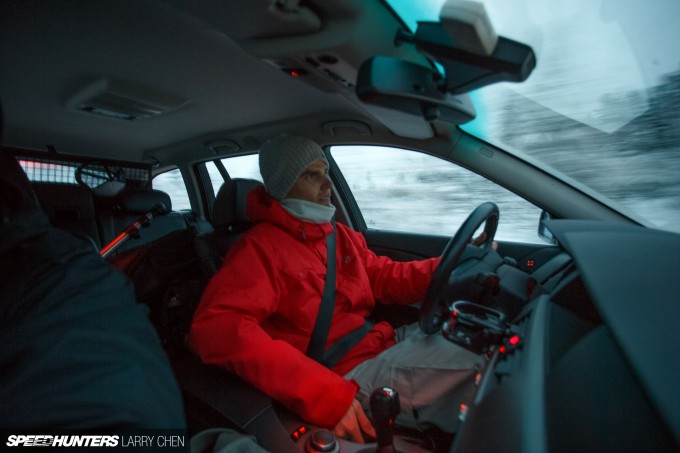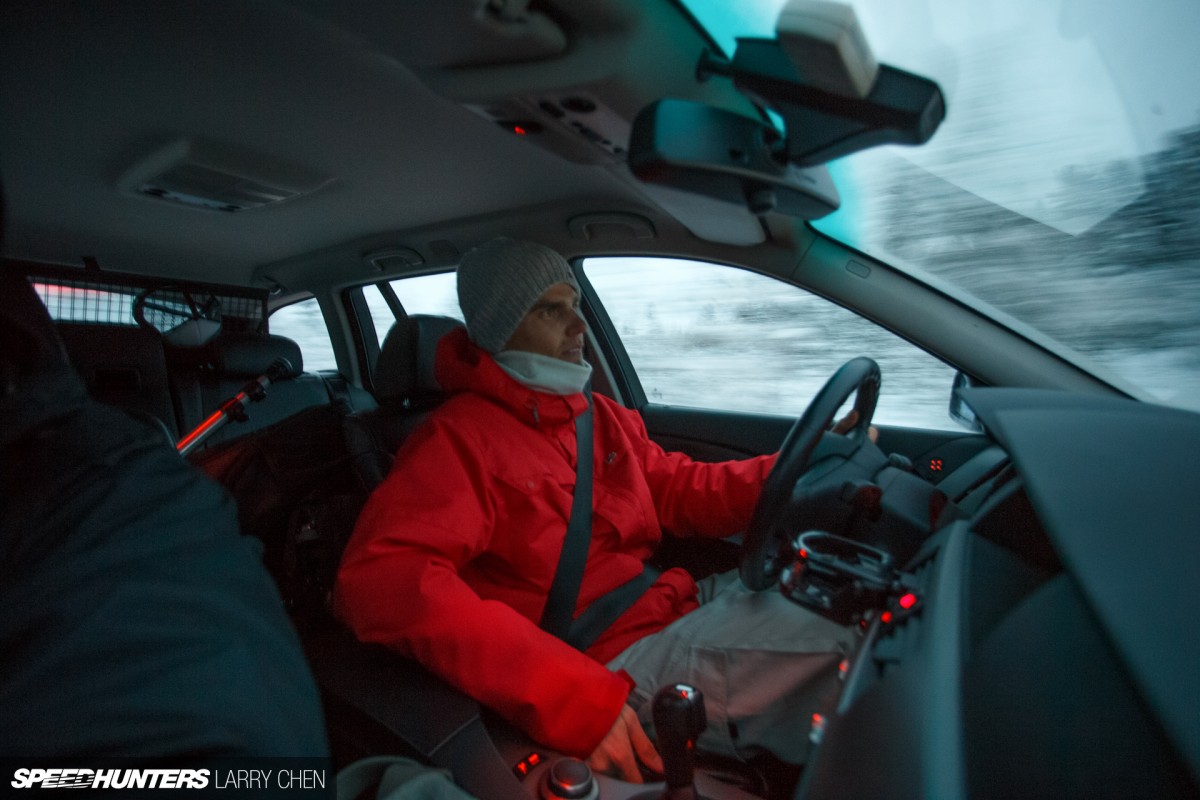 I was in Norway because the Gatebil guys had invited me to come and cover their annual ice event – a one day festival where the hardcore guys come out to drift on a frozen lake. I came in a few days early to hang out with Fredric. He was actually meeting up with a TV crew in the morning, because he's now a host for a Norwegian television show.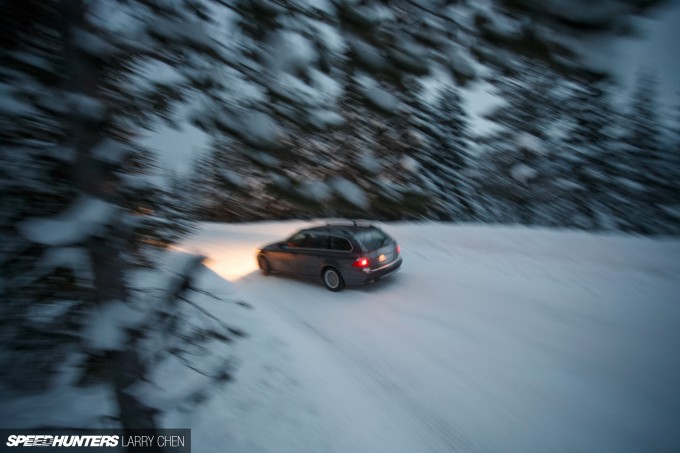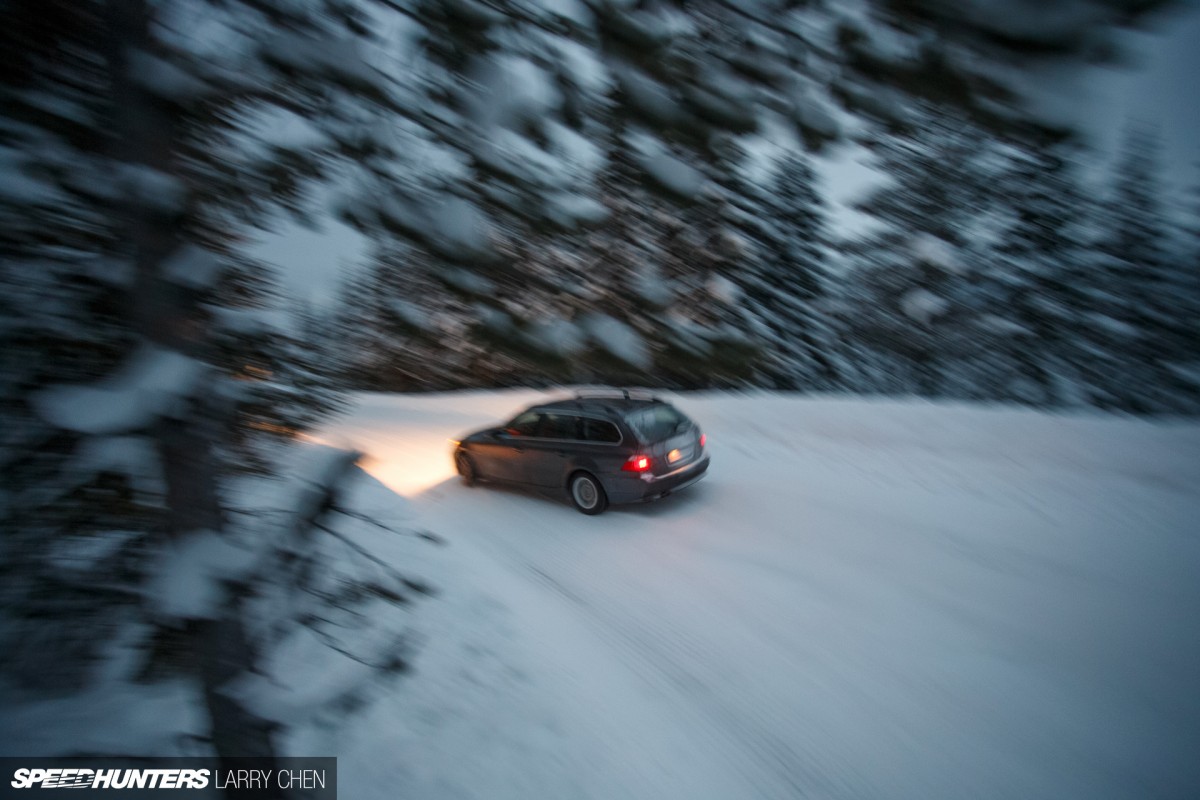 We were heading to some ski slopes a few hours away from Oslo, and luckily for Aasbø, the roads always had a bend to them, because god forbid if he had to drive straight even just for a little bit. It's like he was the wicked drifting witch of the west – if he stopped drifting, he would melt.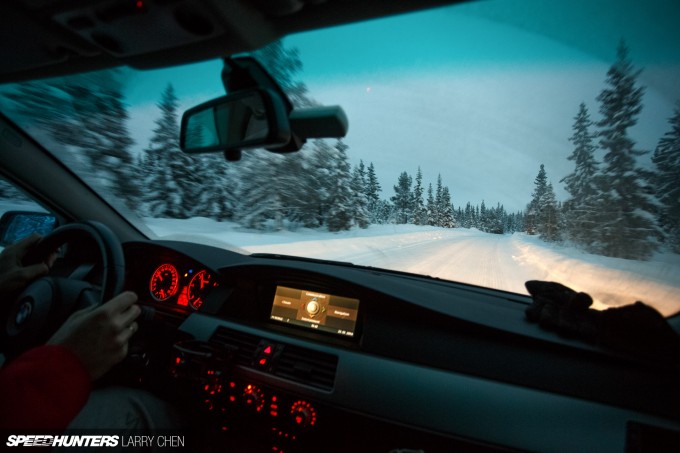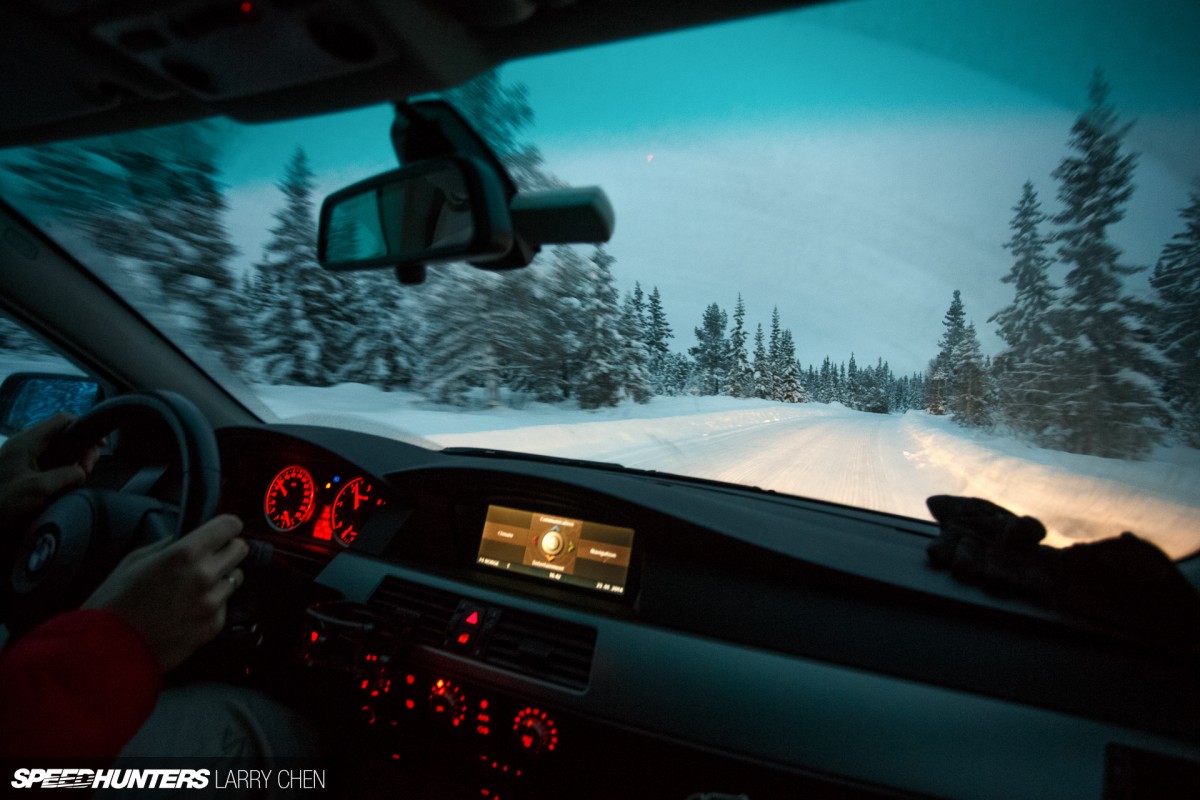 The TV crew has been following him around the world; they were even shooting last year at Irwindale. This time they were out to include Fredric riding with a big Swedish rally team as they were practising for the up-coming WRC round in Sweden. I'd be tagging along for the ride.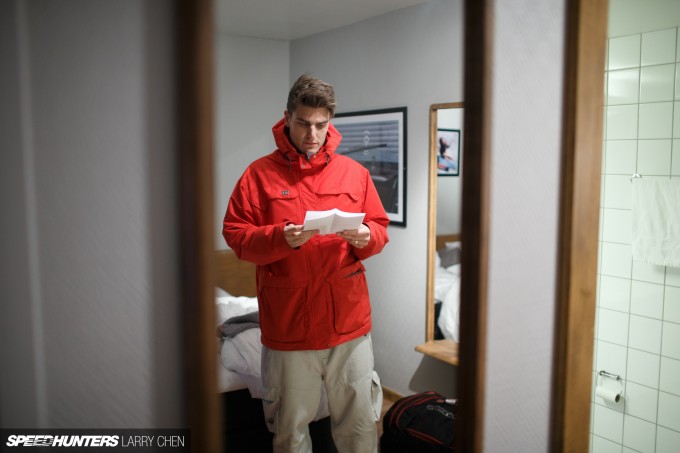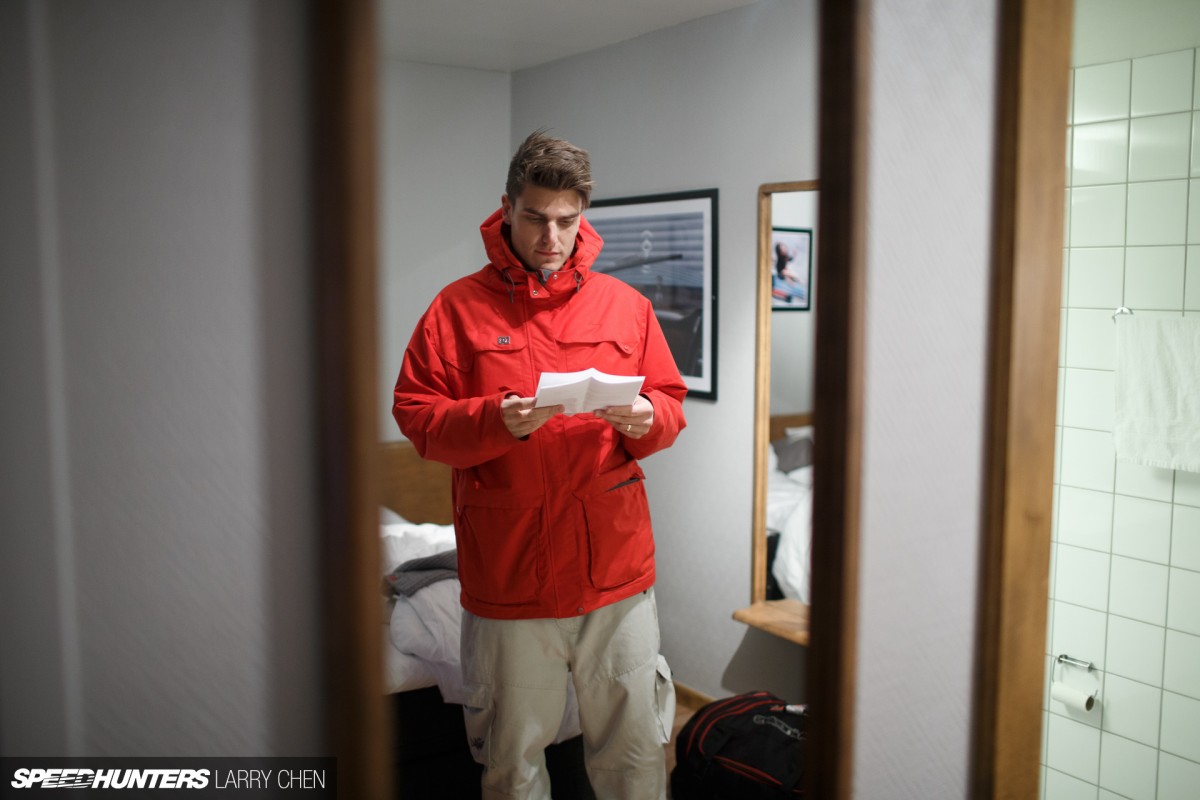 In the morning I found Fredric in his room rehearsing his lines. The TV show was about all things car culture-related, and Freddie Aasbø was the young face of motorsports in Norway.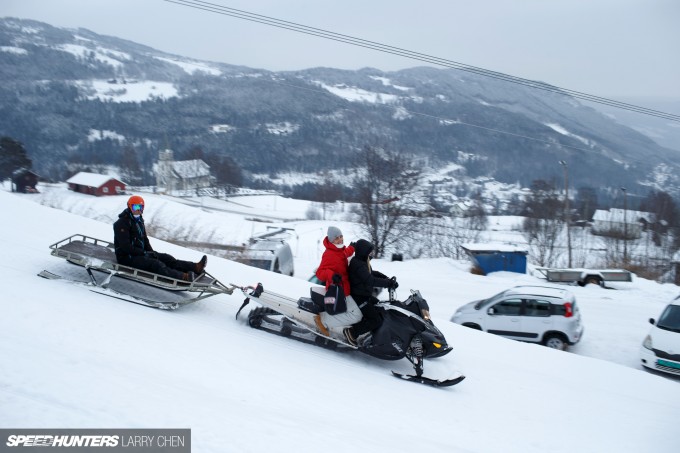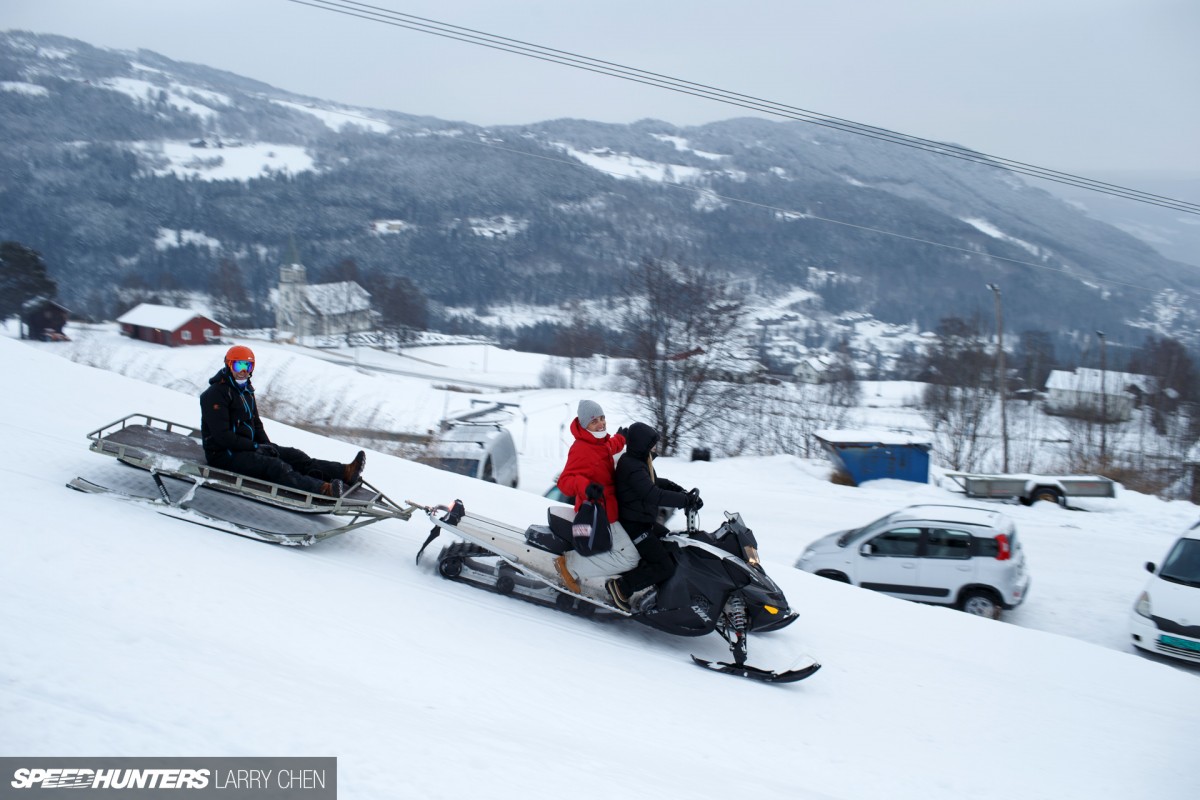 While Mr. Hammer went off to shoot a few segments, I played around in the snow with a Tesla Model S.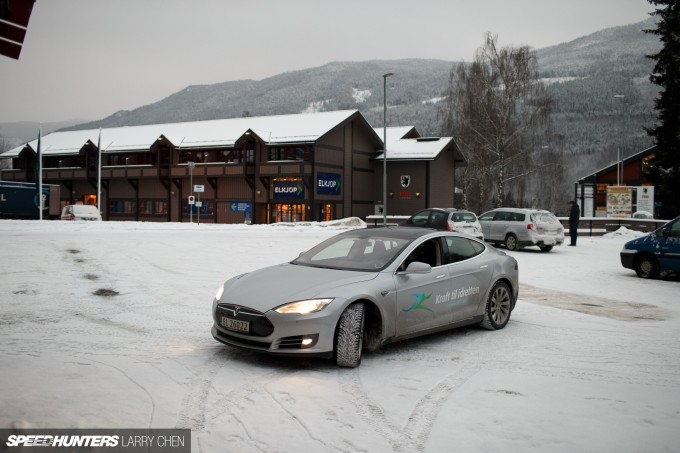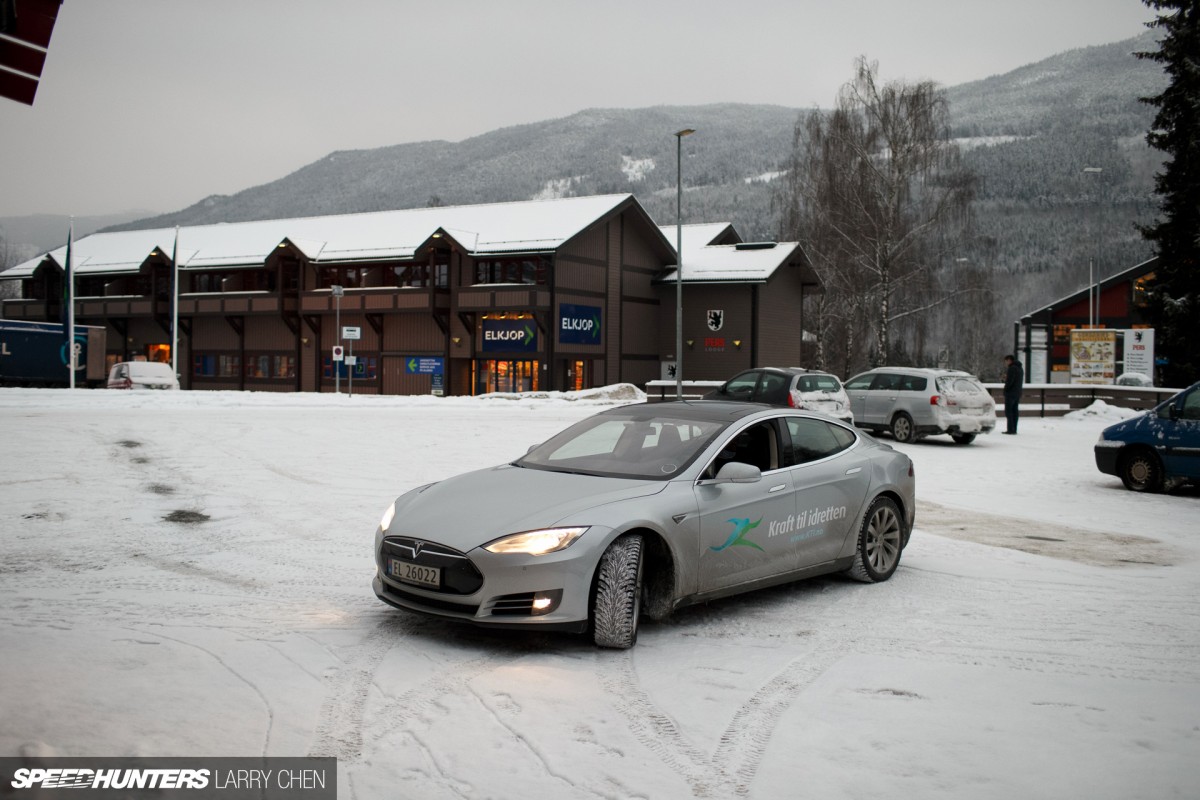 Norway likes to tax cars with even a smidgen of sportiness heavily. If you buy a used E46 BMW M3, it will cost about $90,000 after taxes. Electric cars on the other hand pretty much don't get taxed at all. However they did overlook the fact that the Tesla Model S is very sporty, with comparable horsepower to an older M3 like the E46.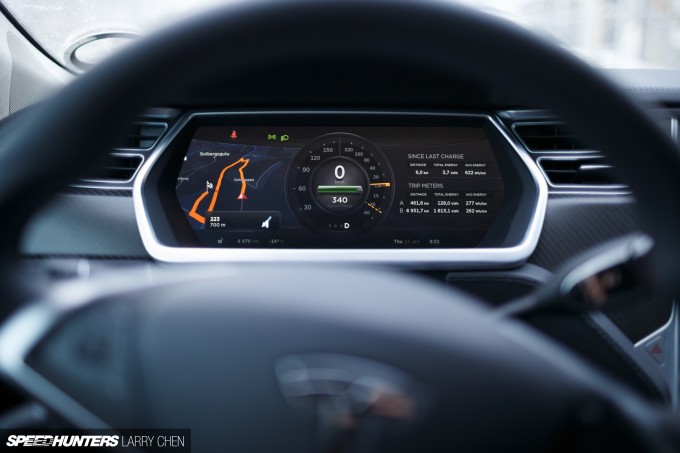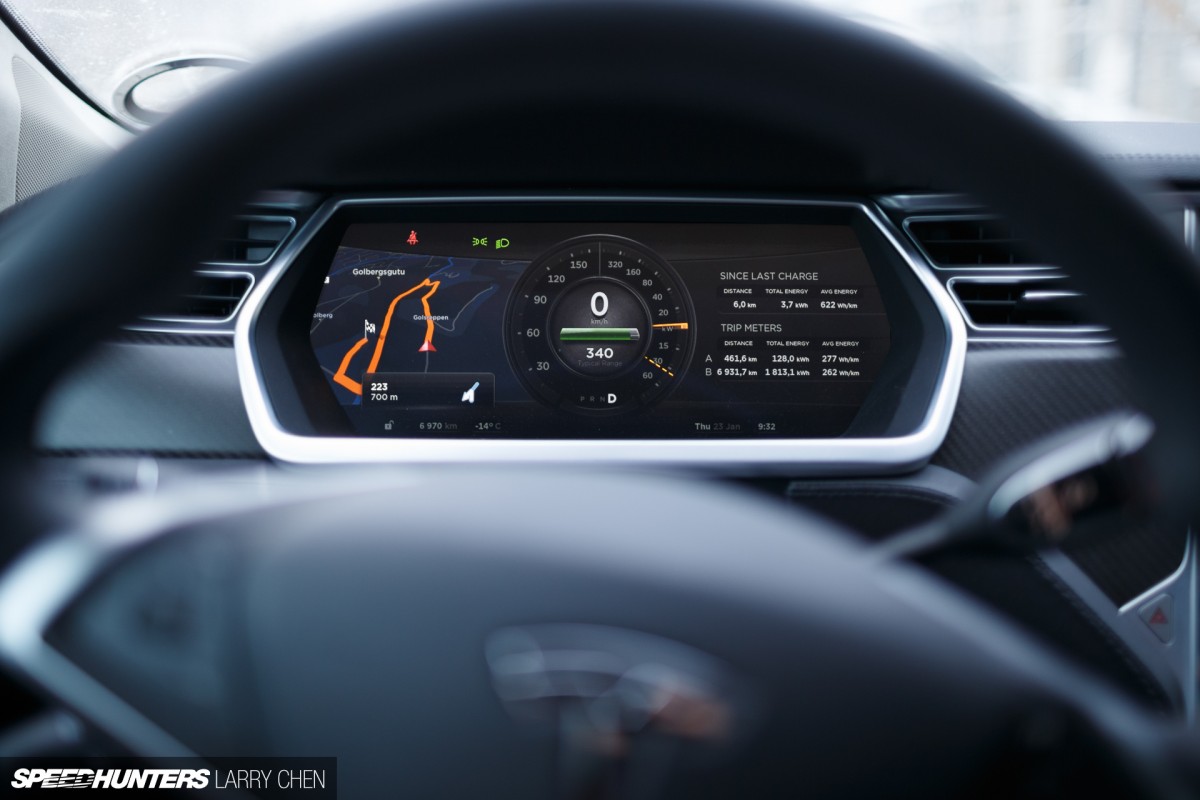 All I can say is wow, was it weird to drive. No gears – it just accelerates smoothly. On top of that it decelerates really quickly when you let off the gas, as it charges. When you put your foot down, it somehow finds traction, even in the snow. It's possible that Fredric Aasbø could not pitch this car sideways.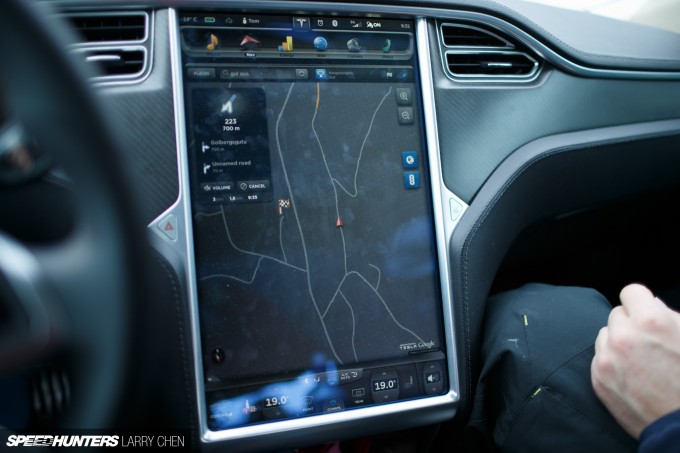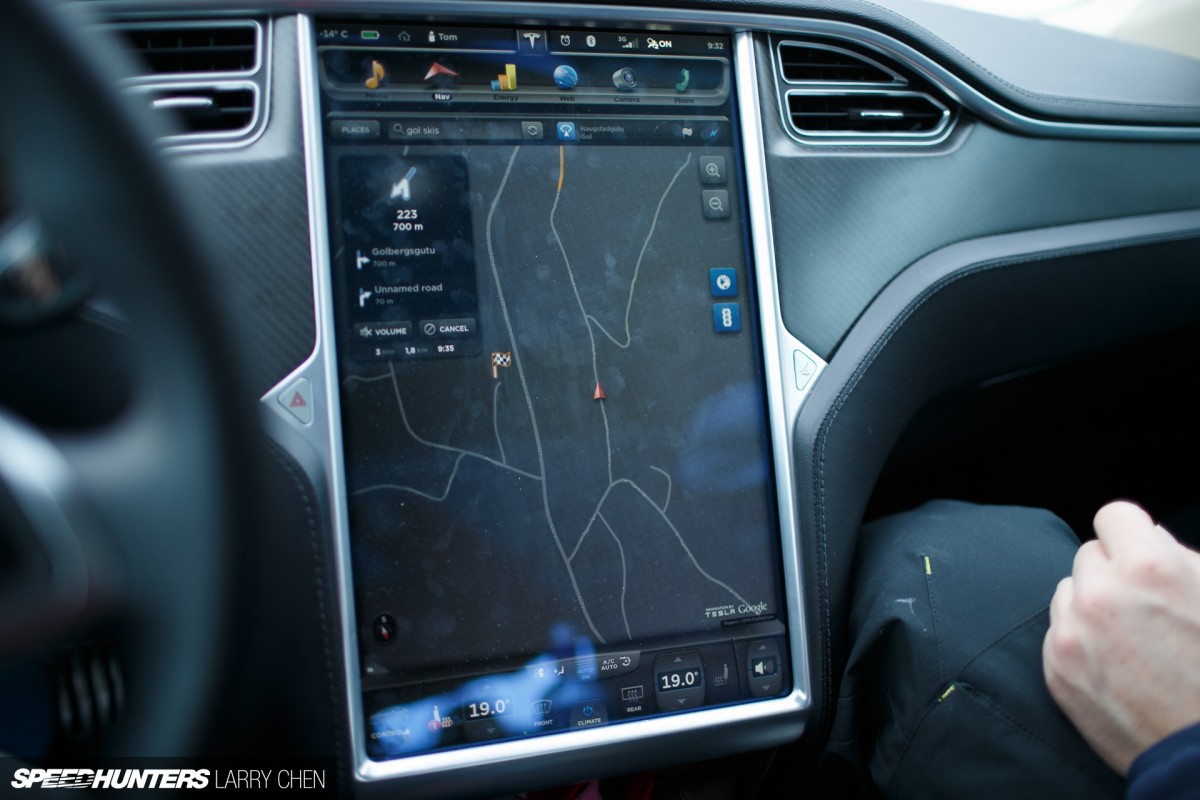 The interior was very nice with a huge display in the center console. It was my first time driving an electric car, and I have to say it wasn't bad at all. I'm looking forward to trying out some more of them, but hopefully not in the snow.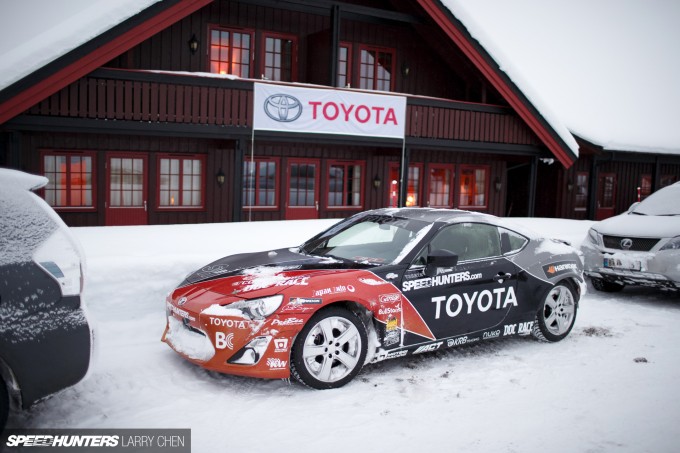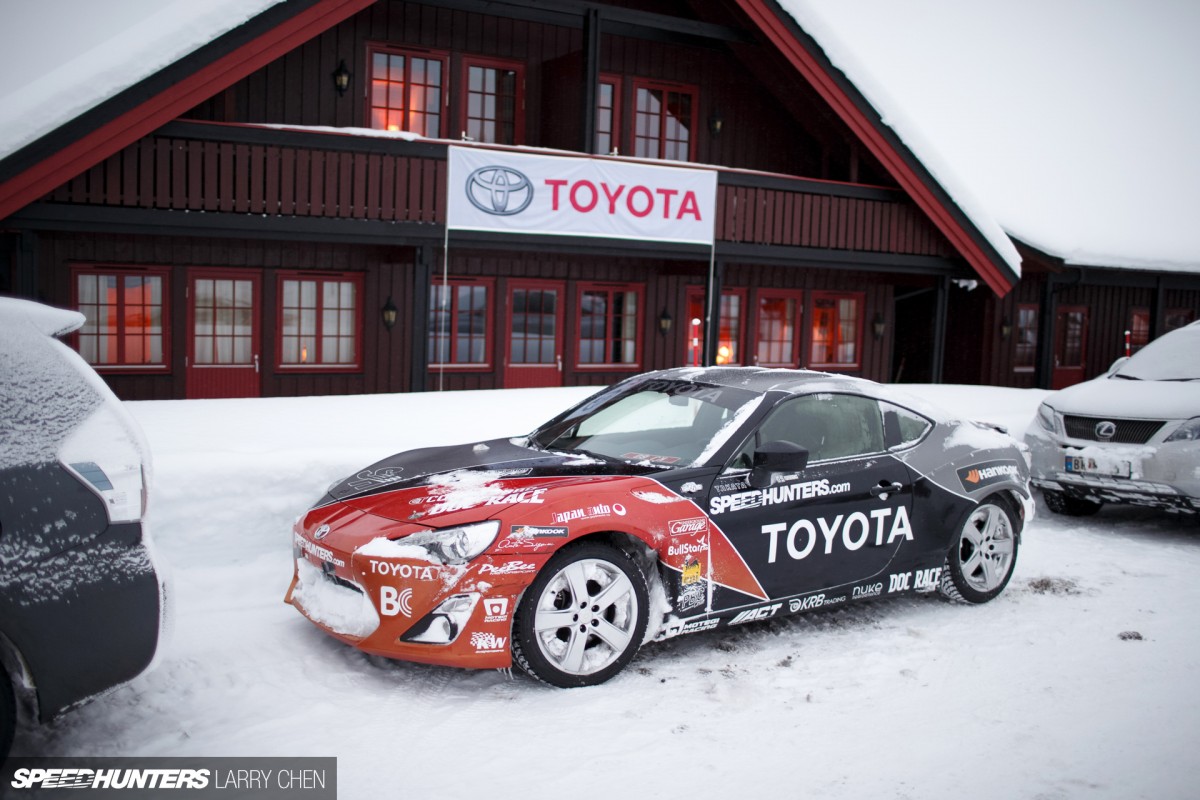 Later that day, we headed to a popular spot for all sorts of car manufacturers and race teams. Lo and behold, Toyota was actually testing in the same area, and a clone of Fredric's 86-X just came back from the snow-lined race course.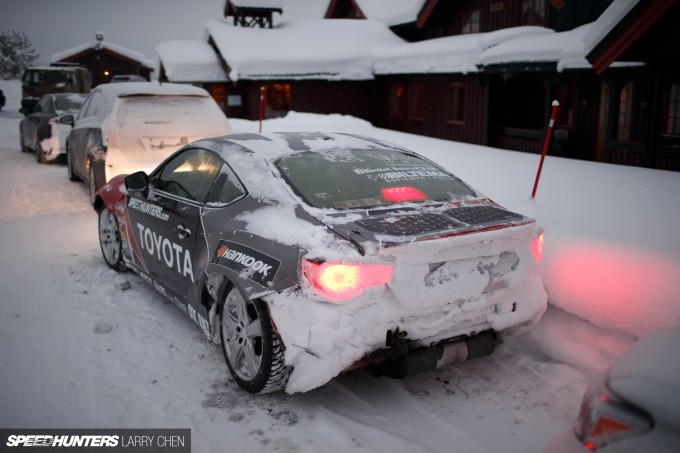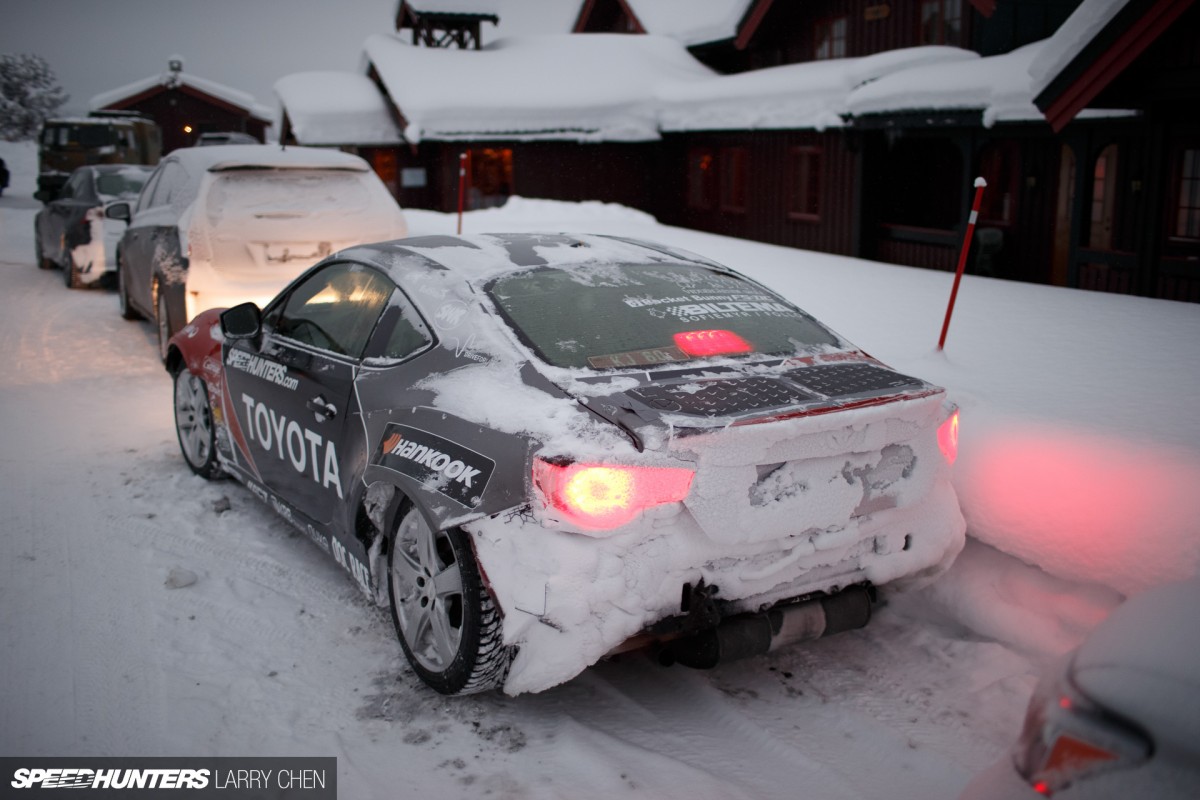 They actually built this clone for a movie that they were shooting, but now it's used by Toyota as a demo vehicle.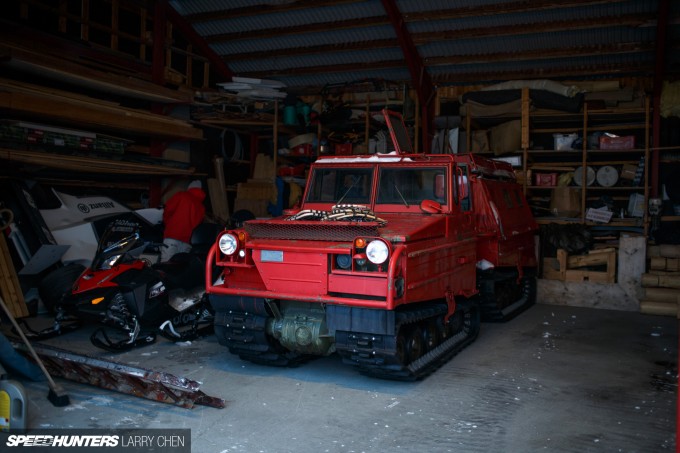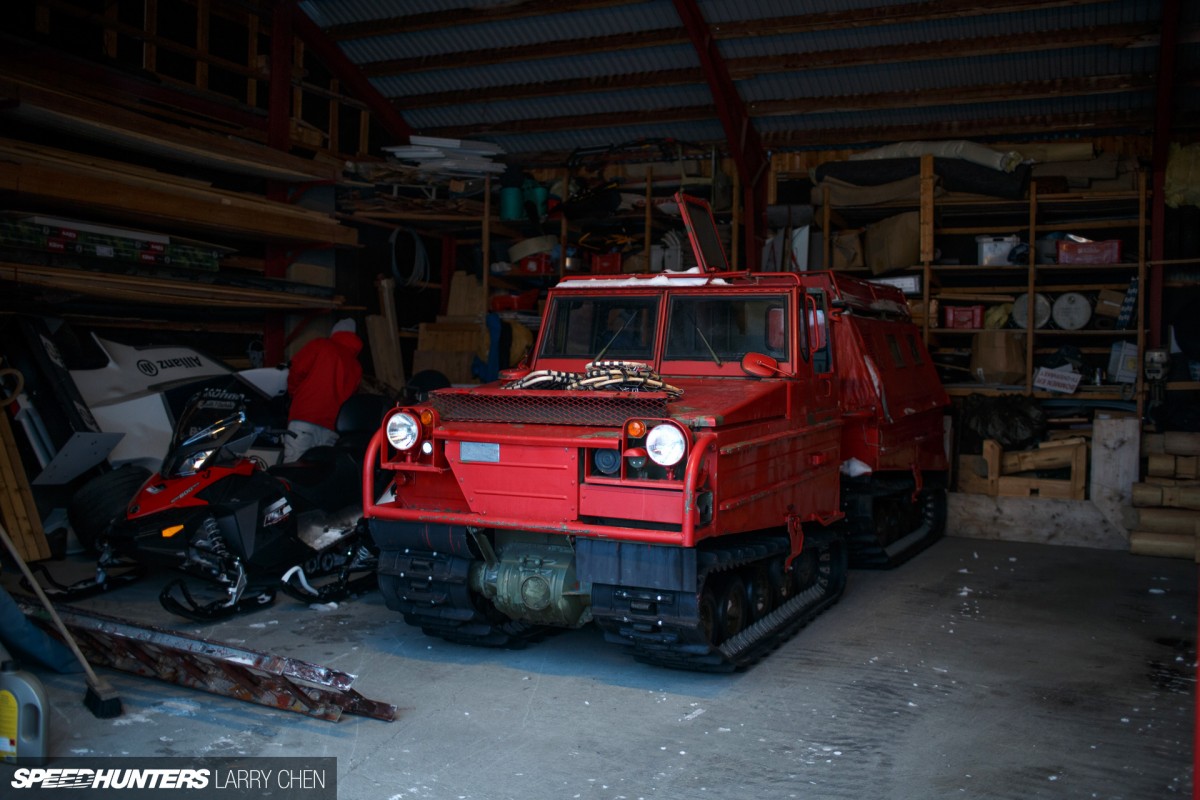 There proved to be some pretty cool vehicles littered around…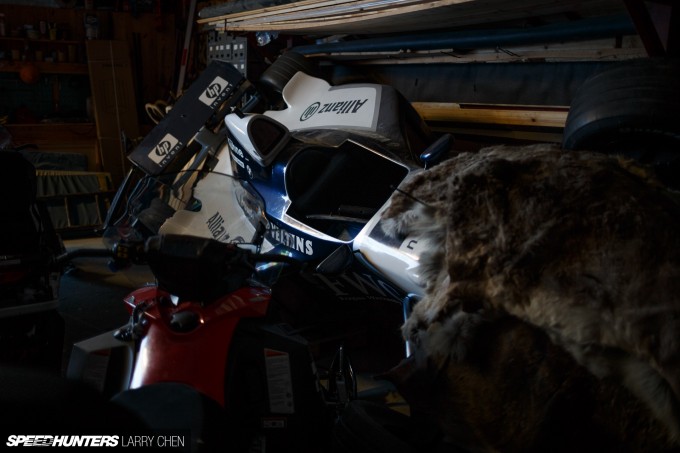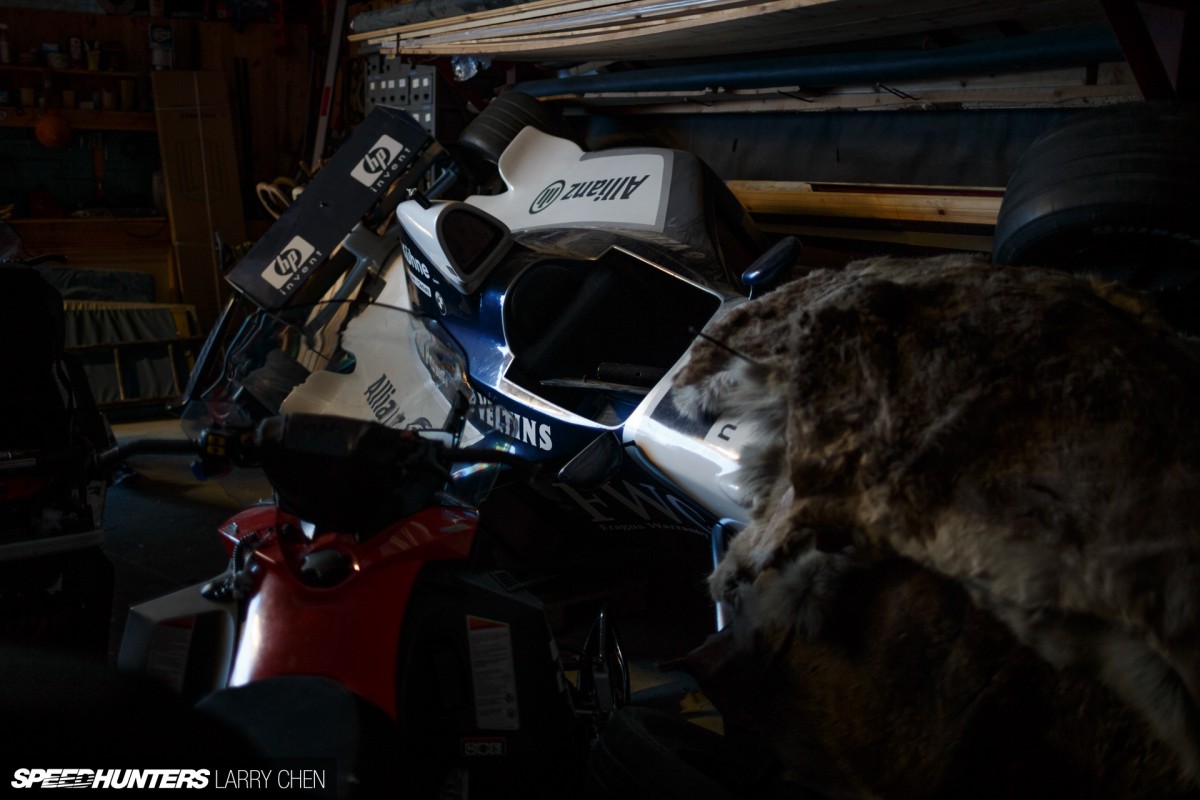 We even found this old champ car. It's a good thing there's moose skin covering it, because we wouldn't want it to get cold.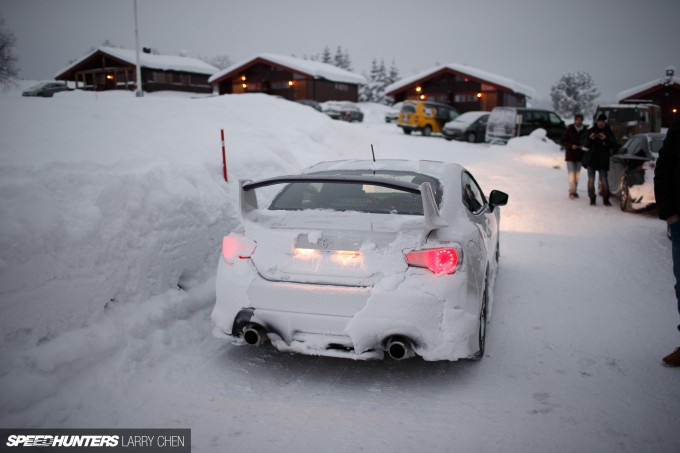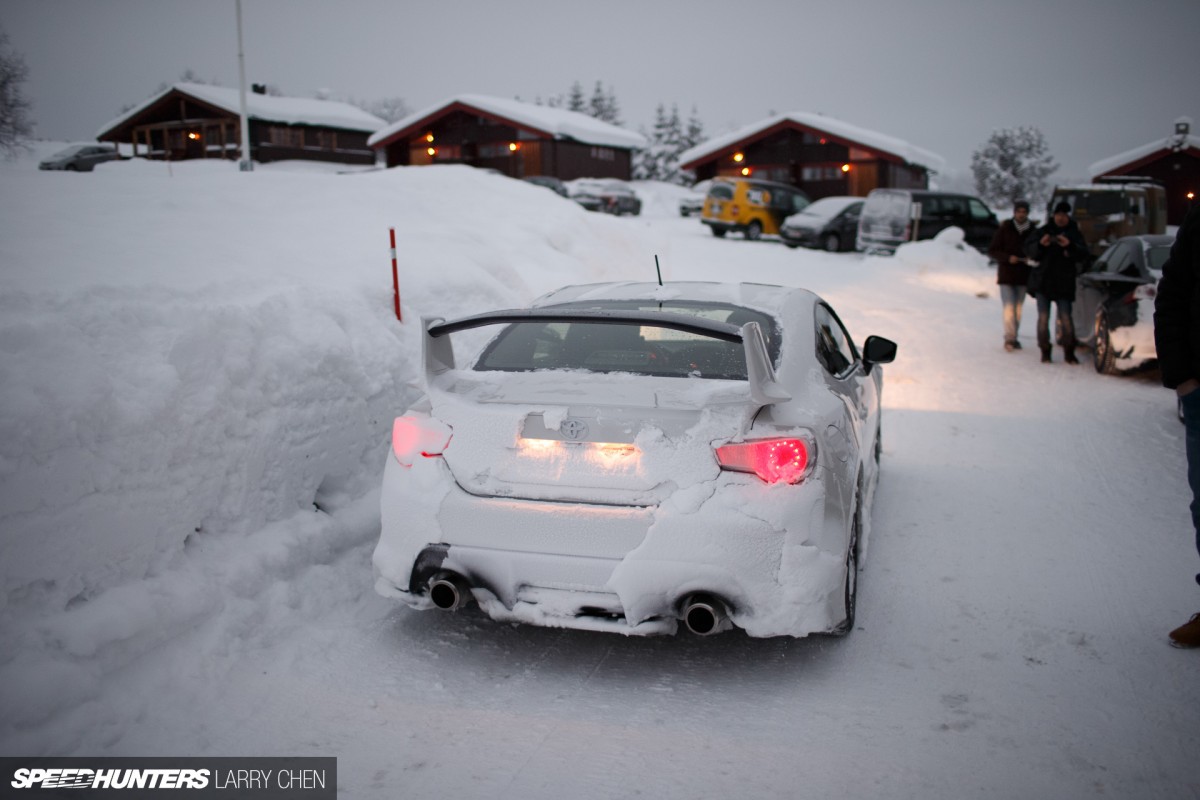 We got word that the rally team actually could not make it due to the extreme weather conditions.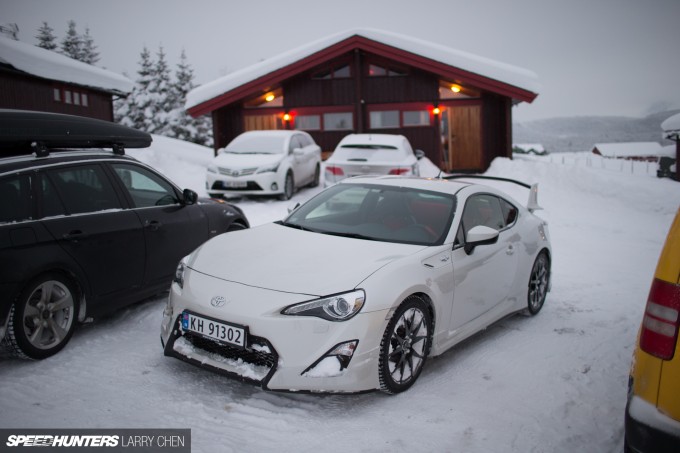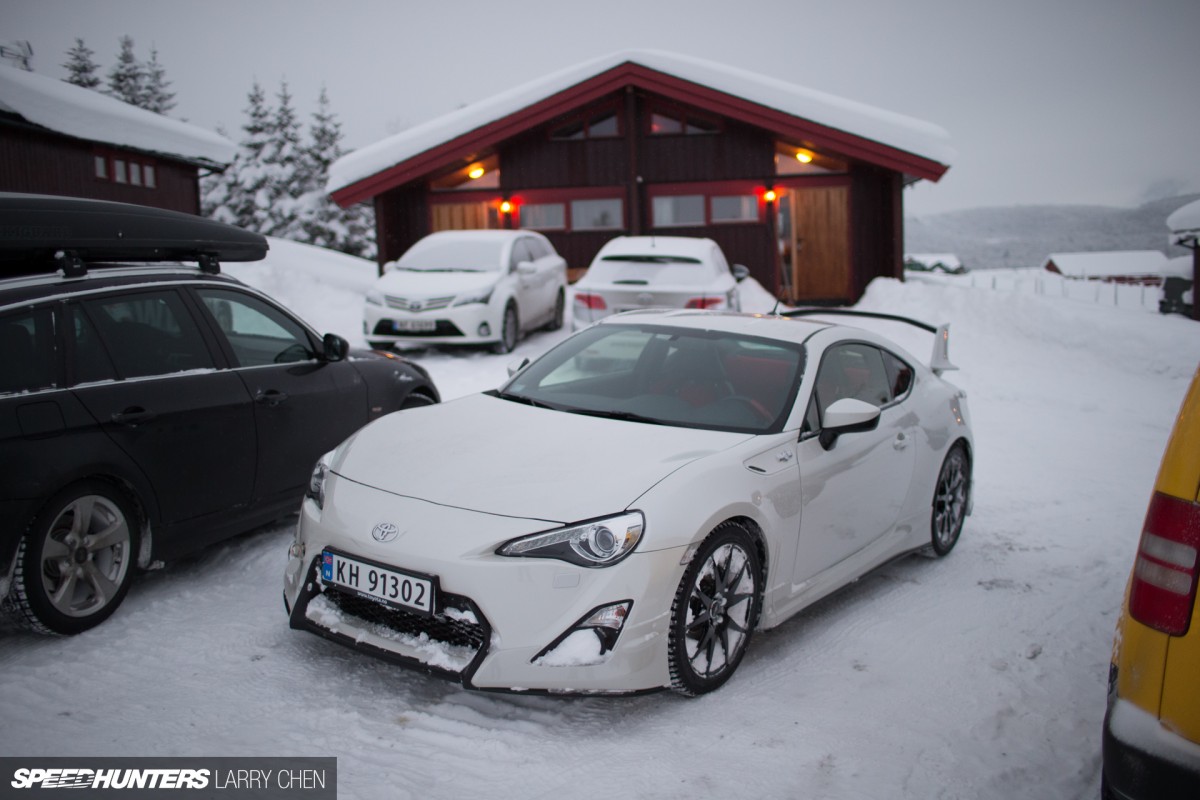 So we hung around for a bit and then headed back to Fredric's place. The last time I saw this GT-86, it was in the hands of our fearless leader, Rodbot Chong.
Home sweet home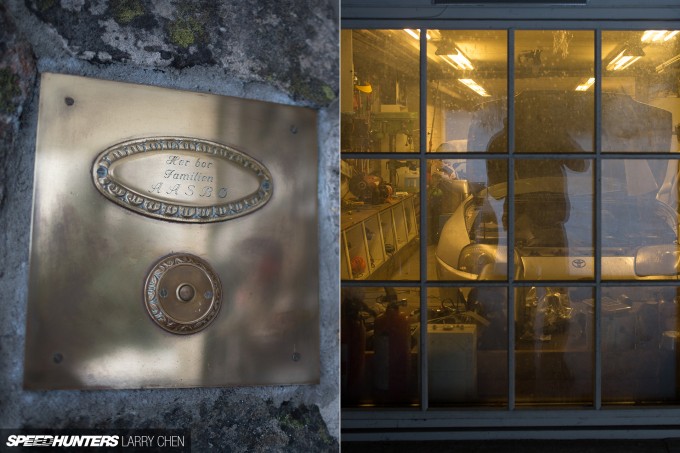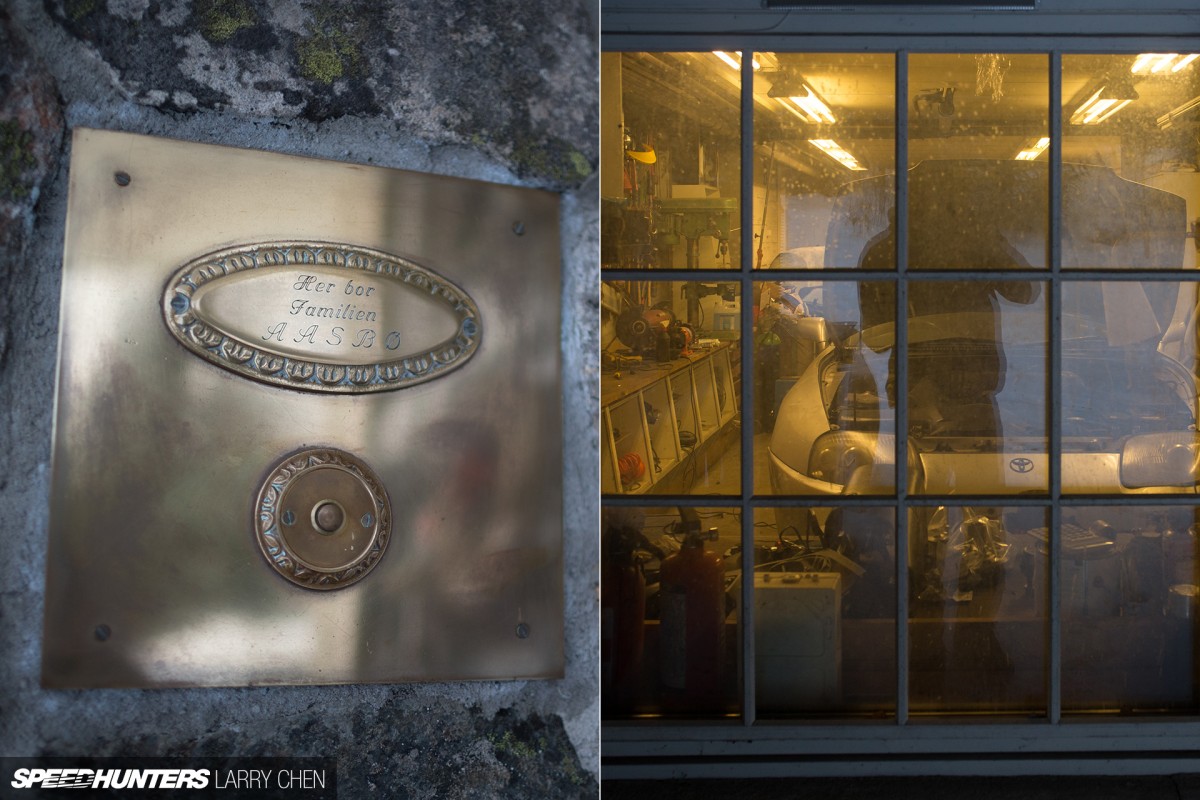 There was no doubt that this was the house of Aasbø. Fredric's family built this wonderful place from the ground up. His beater Supra sat in the garage, ready for some sideways action.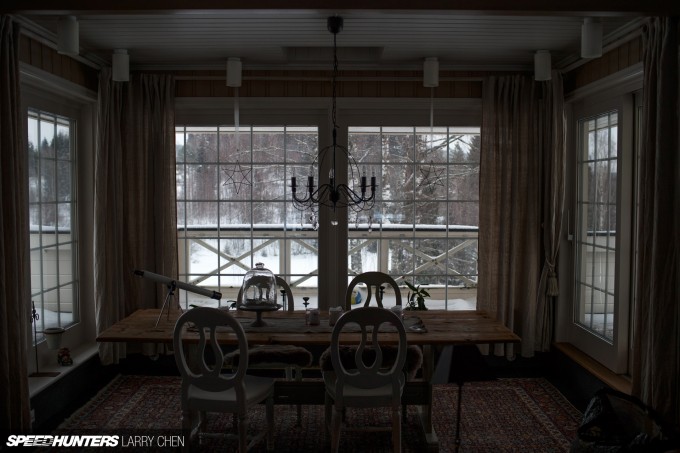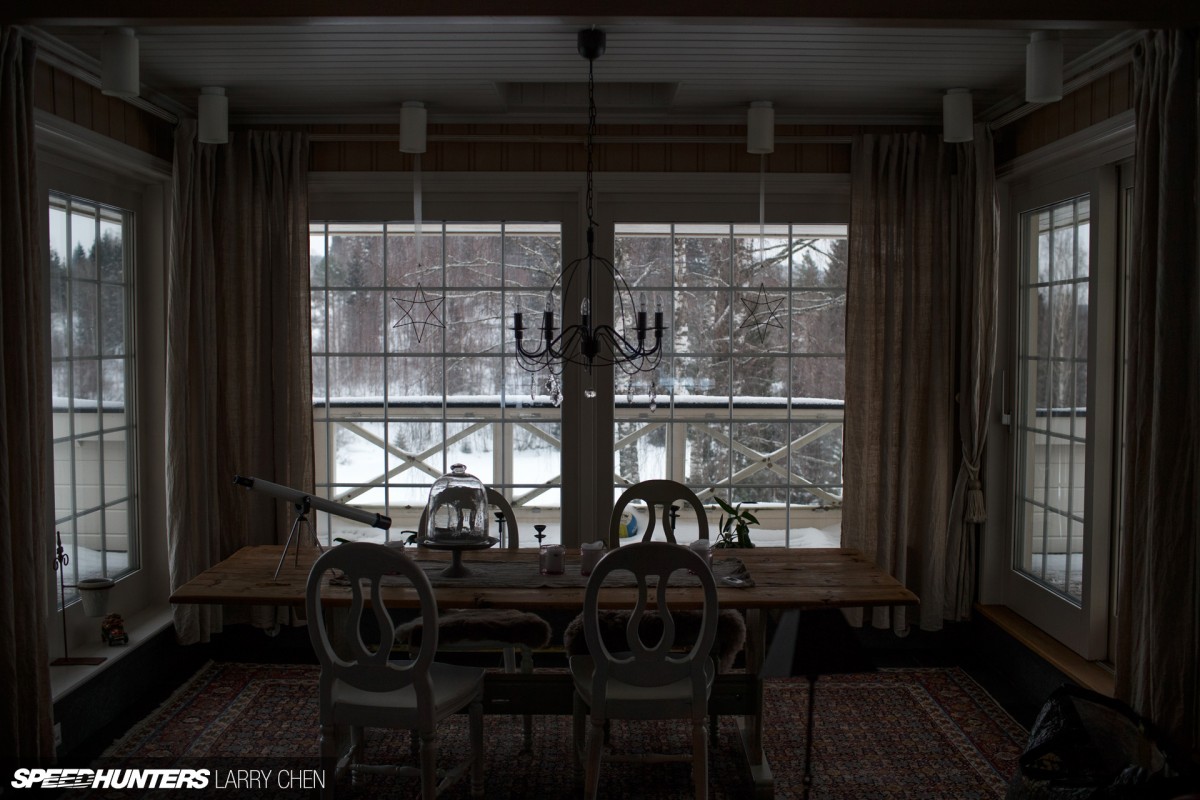 The last time I was there was back in 2011, right before my first taste of Gatebil. It hasn't changed much. Apart from the view of course. No grass and crystal clear creek this time, only snow.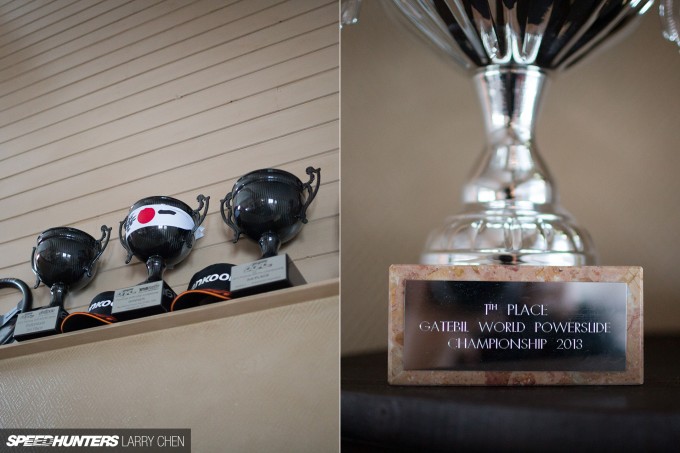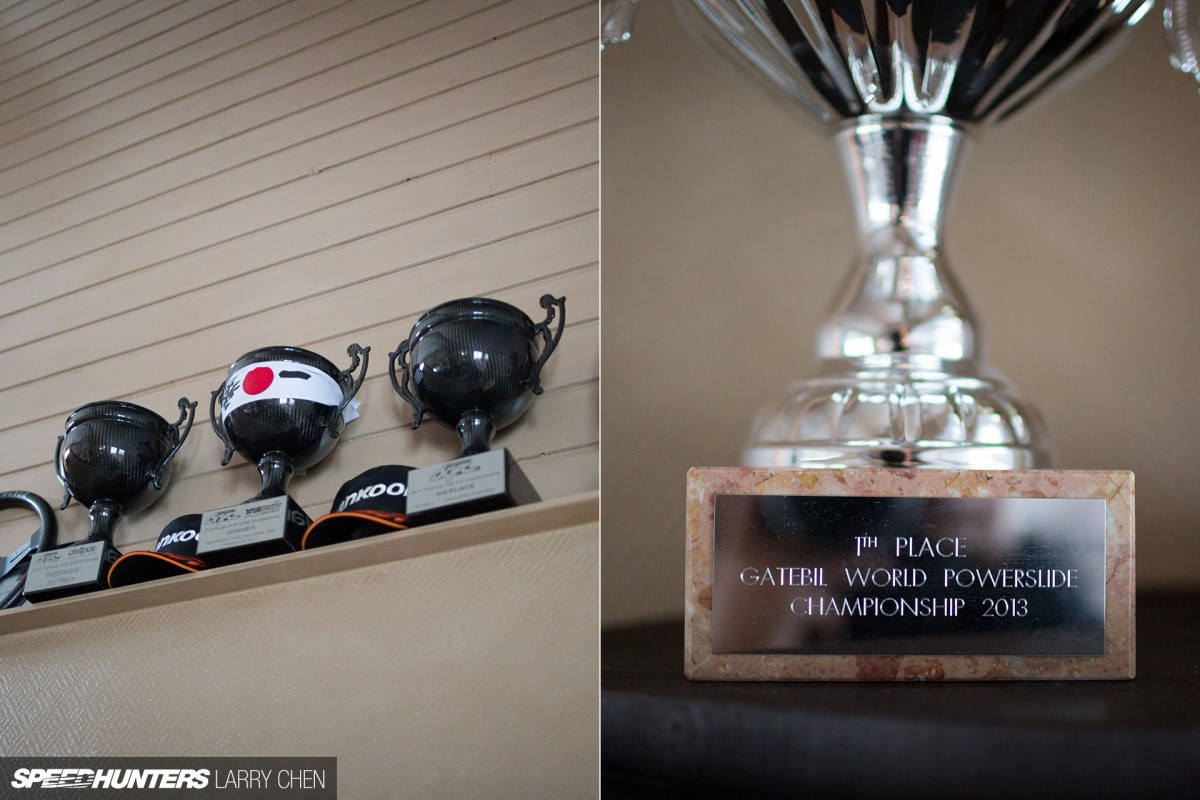 One thing that has changed though, were the amount of trophies that Fredric has earned. He proudly displays them all over the house.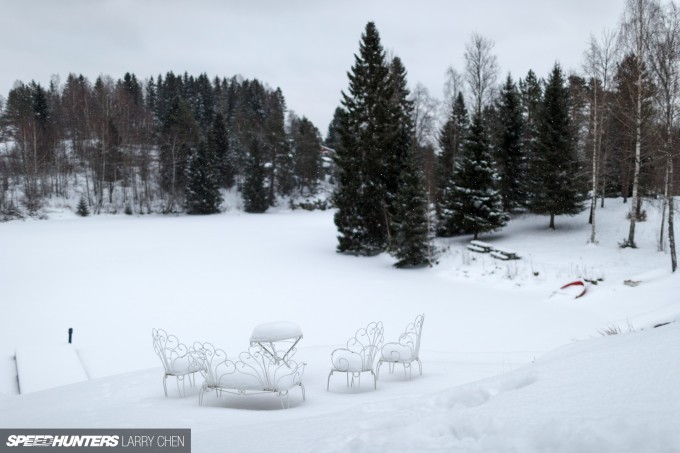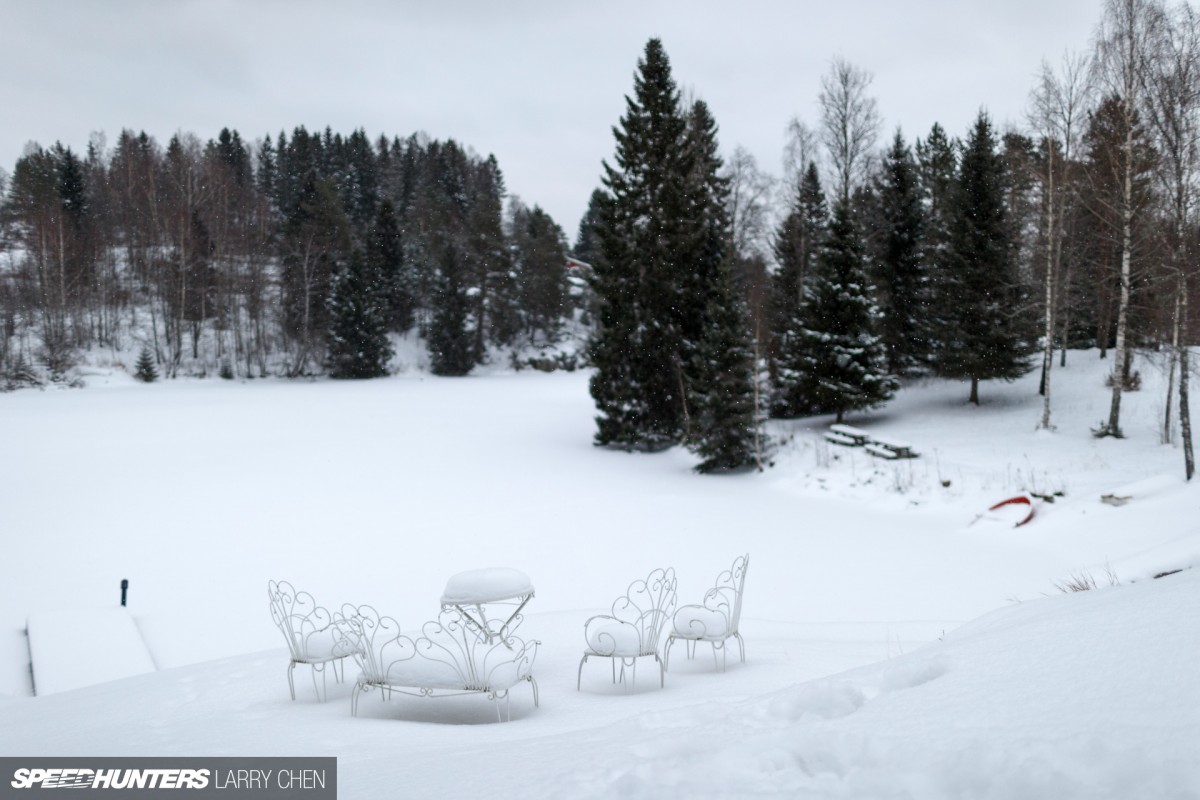 It was fairly chilly – about minus 12 Celsius, which is quite a bit colder than I'm used to around this time of year in Los Angeles. I was really missing the 27 degree weather, and my Thai iced tea at this point.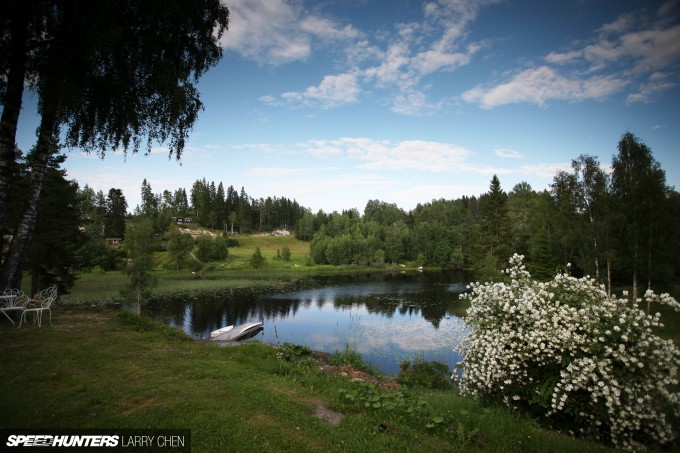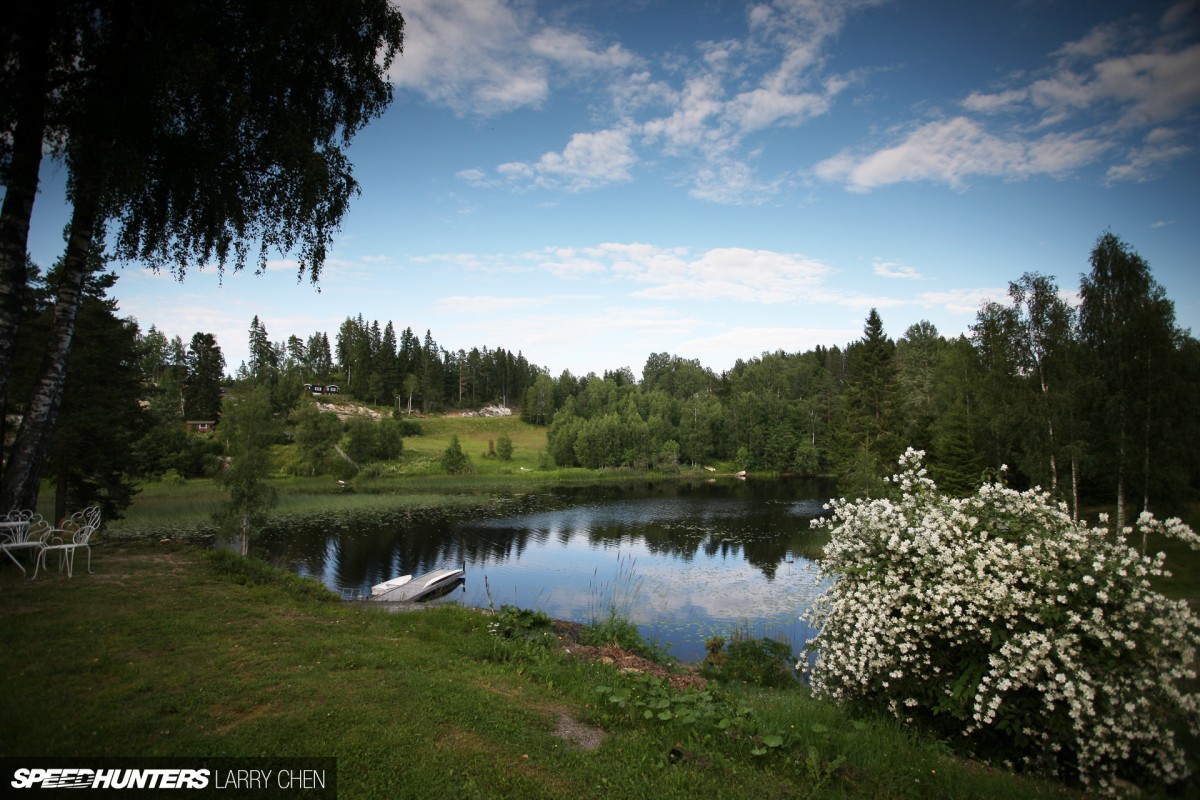 Here's what it looks like without the snow. It's not even the same place. Having four seasons is such a crazy idea to me.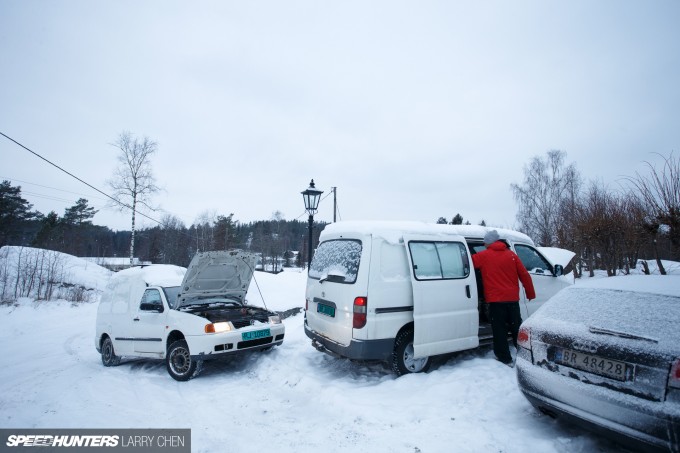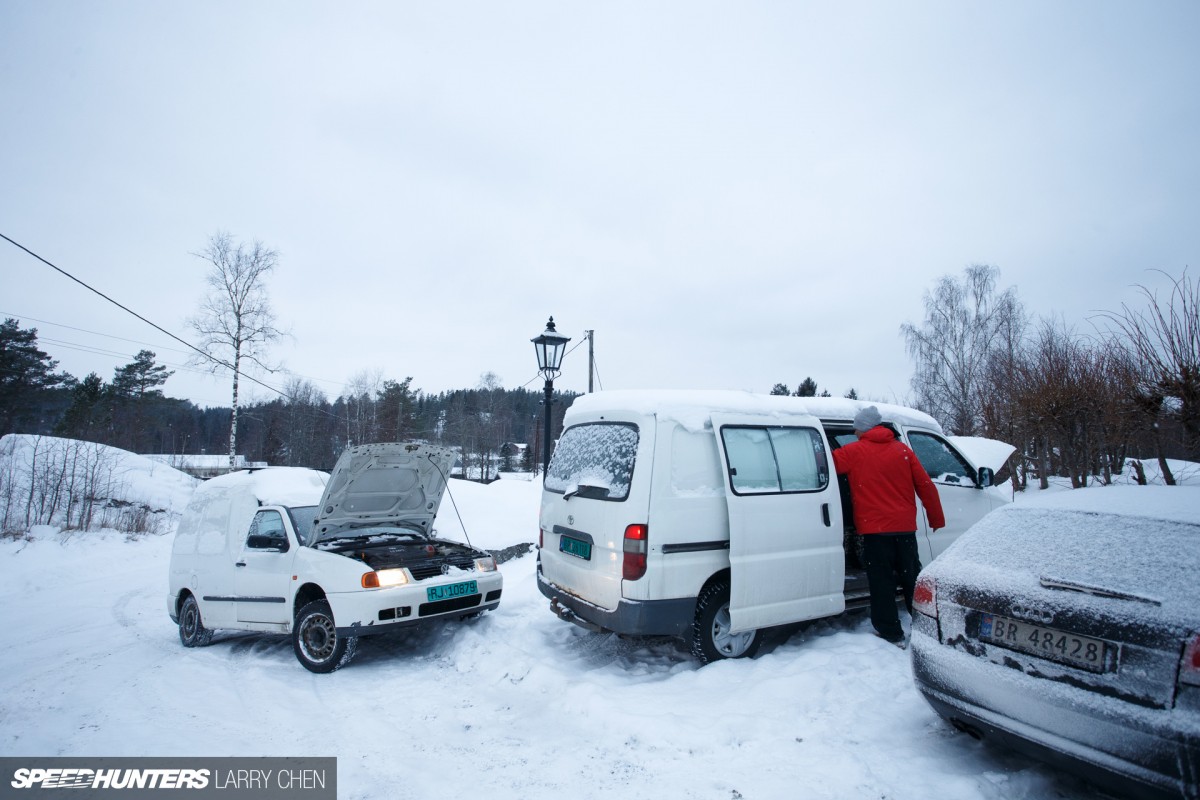 Talk about contrasts. Fredric told me that he thought it was funny that just a few days prior, he was champagne-soaked and on top of the world. Fans wanted to take pictures and get his autograph. The drivers wanted nothing more than to be in his shoes. Now, all of that glory was gone, along with the electricity in his battery.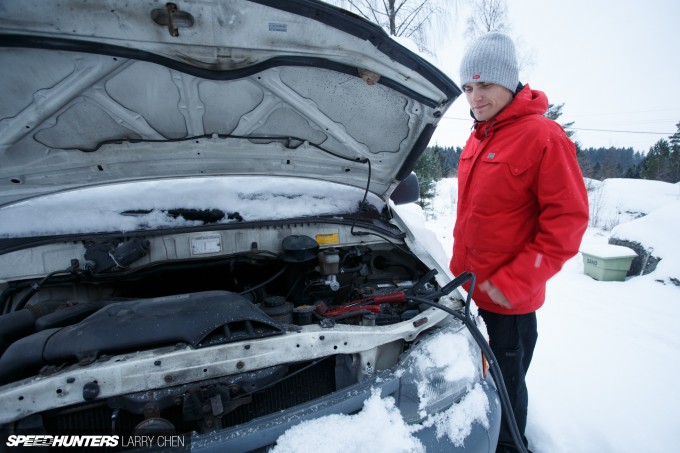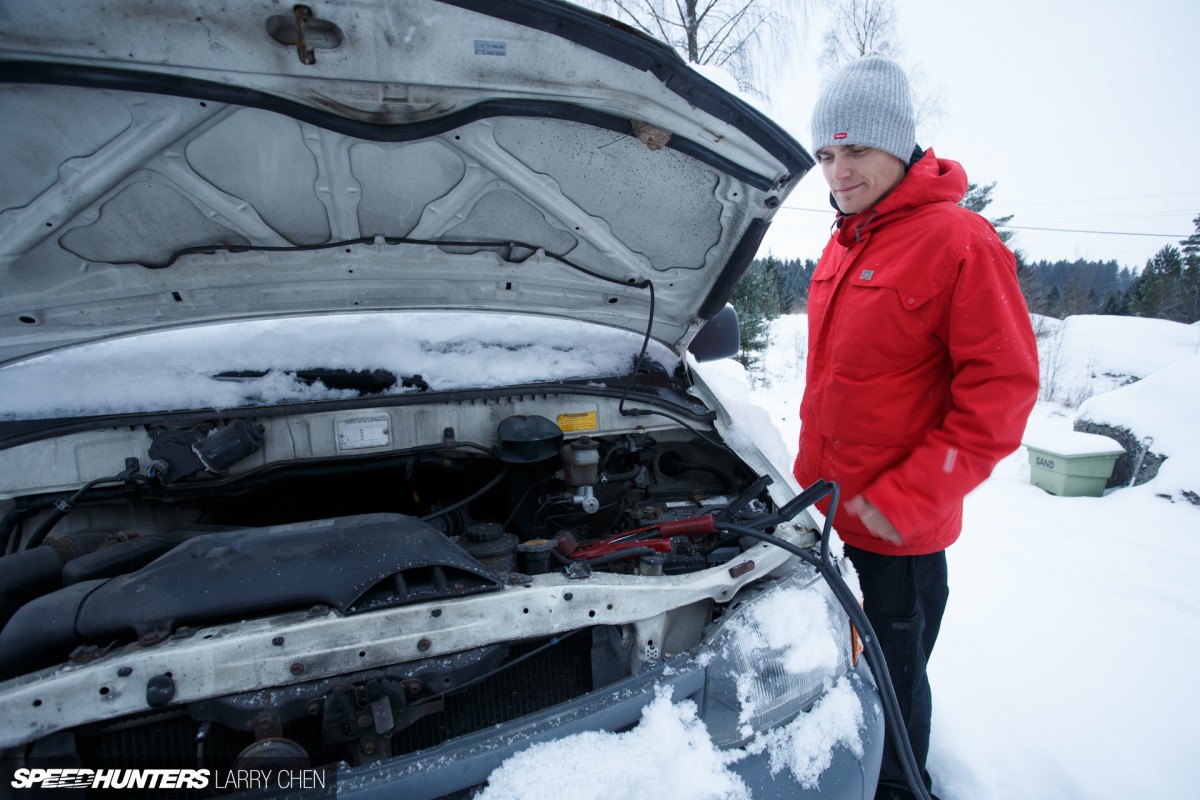 Now he was in his driveway jump-starting the dead battery to his Toyota diesel van. I called it Mr. Mule. That's the life of a racing driver I guess. It's a job, and it takes dedication and hard work. It's not always going to be about winning events.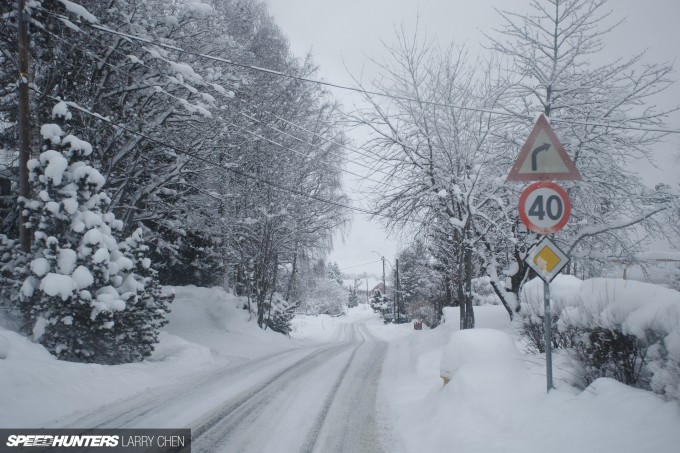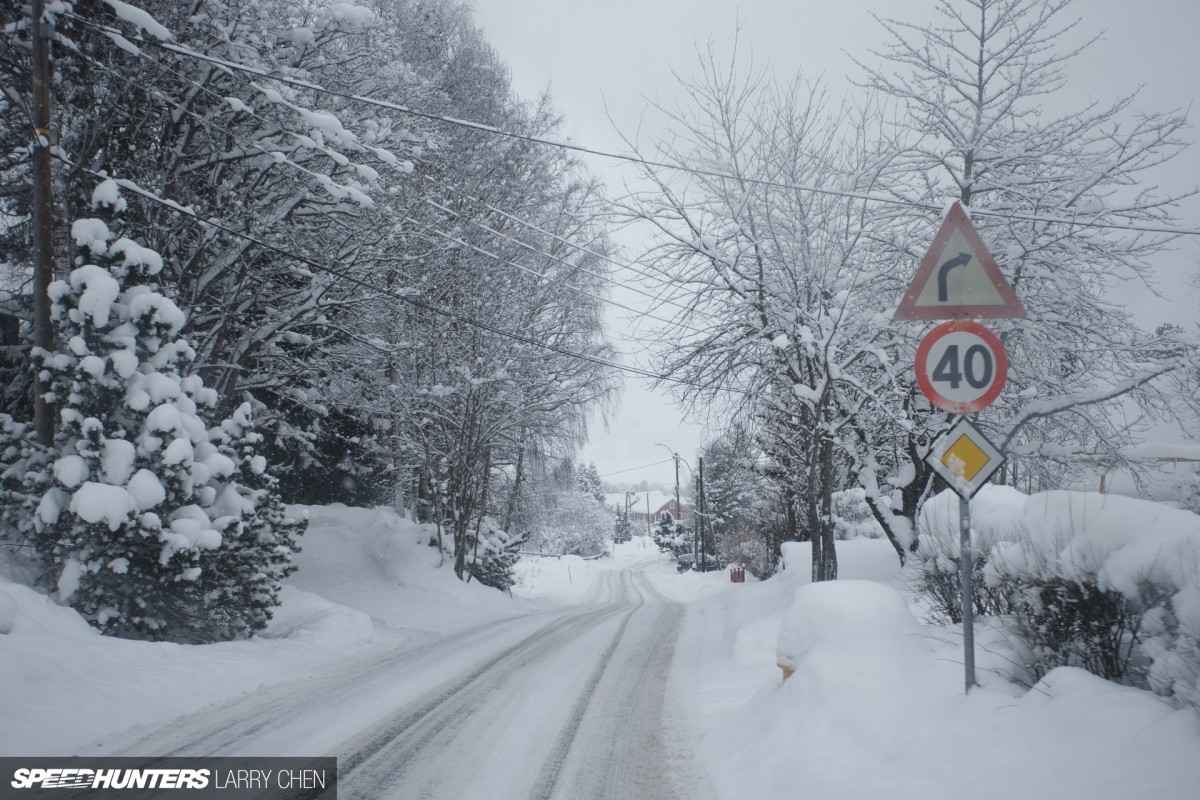 We jumped in Mr. Mule and trundled our way to where the real 86-X was hiding. It was most definitely colder than Bangkok; I could tell by how much more snow there was on the ground.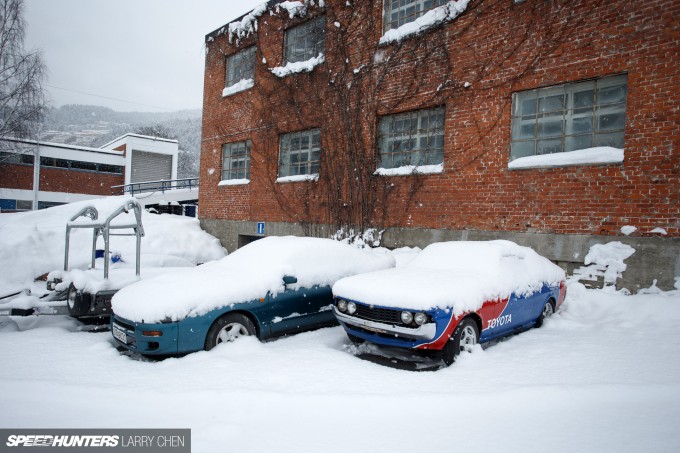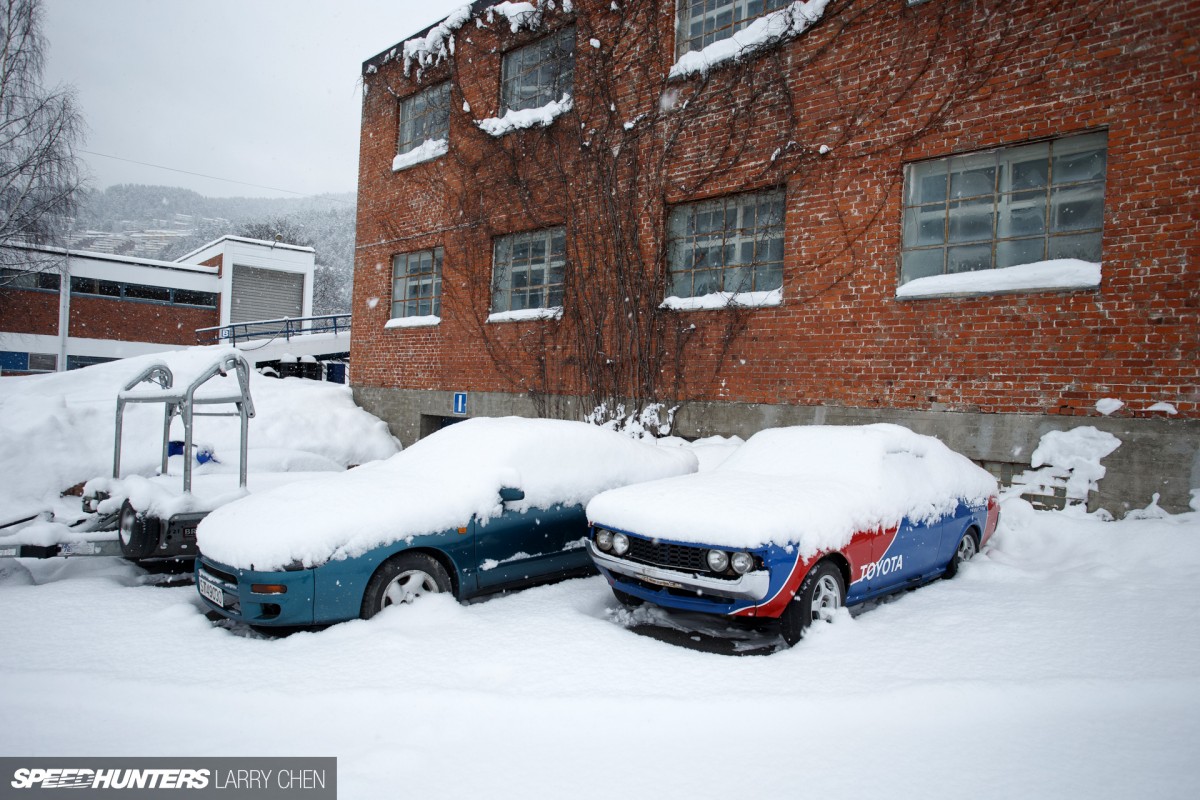 We arrived at an undisclosed location with a bunch of interesting Toyotas parked outside. There's an old school Celica under that snow somewhere.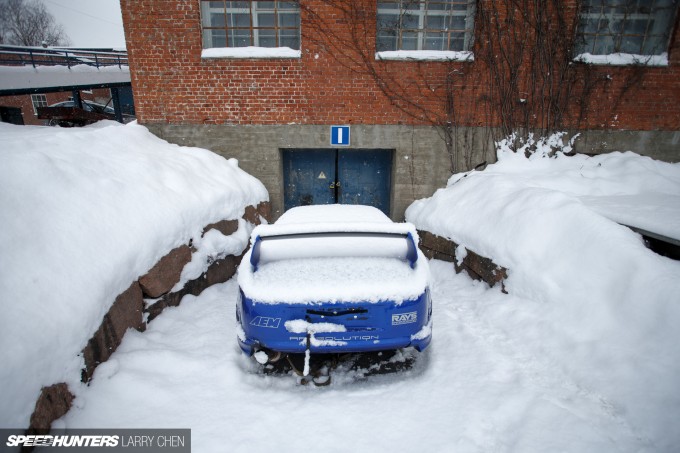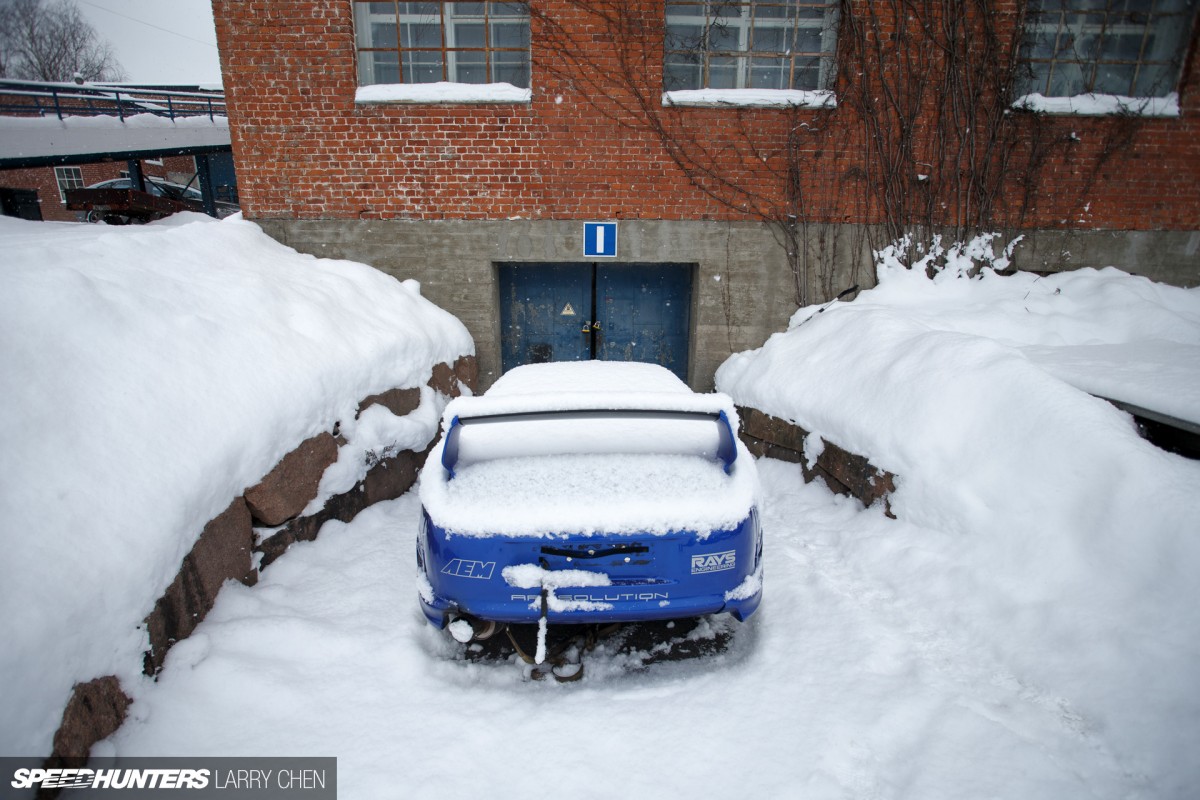 Parked in the driveway was a blue fourth-gen Supra, just caked with that white stuff. The name of the shop was, fittingly, Underground Garage.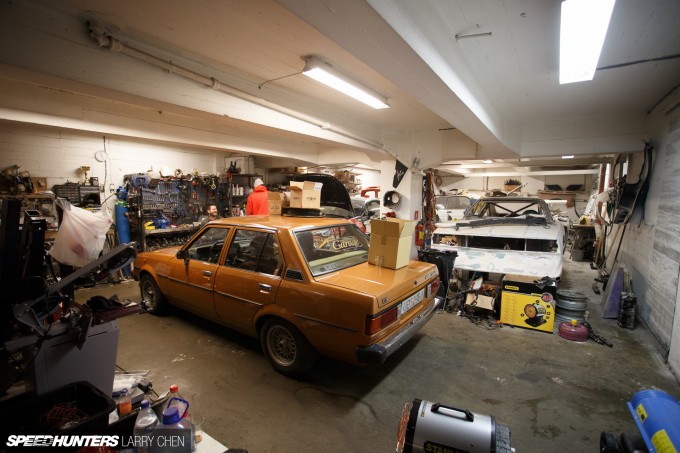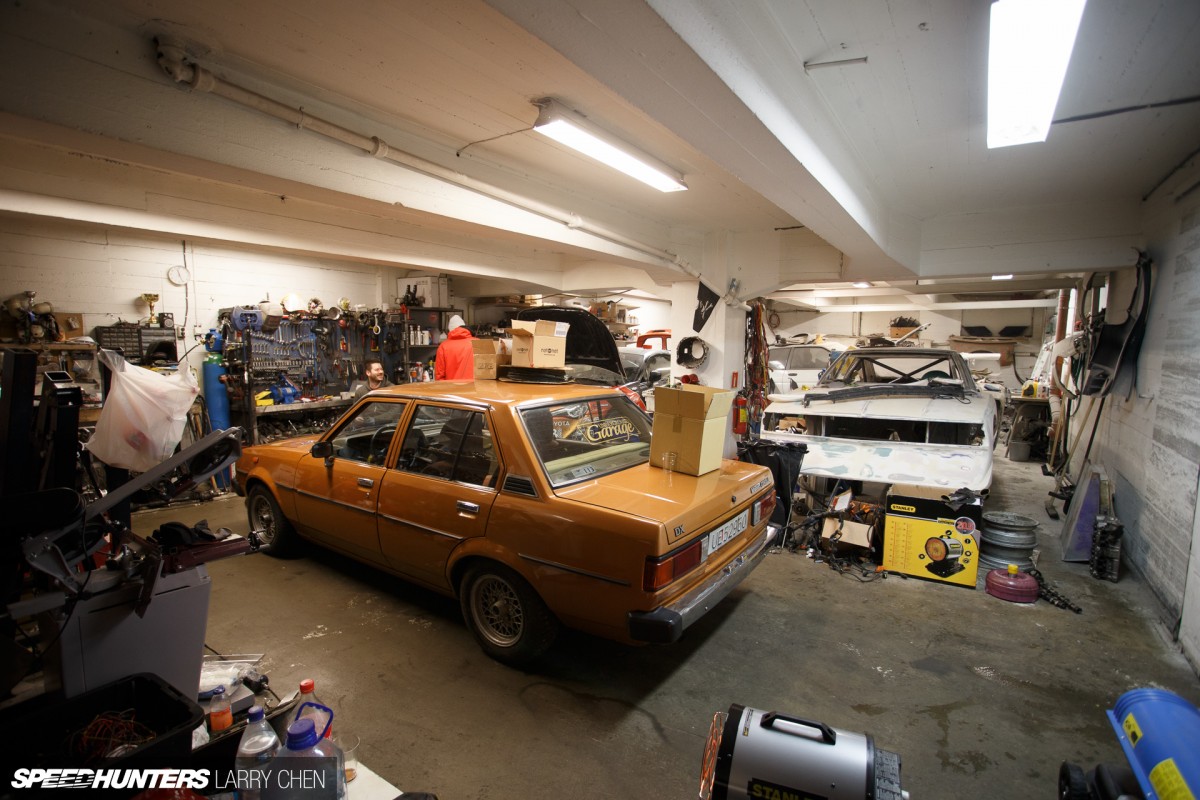 It was literally in a basement. When the owner of the shop, David Riiber, asked his friends what he should call his new tuning shop, they thought why not call it Top Garage. For obvious reasons, that did not really fit, so they went with Underground Garage.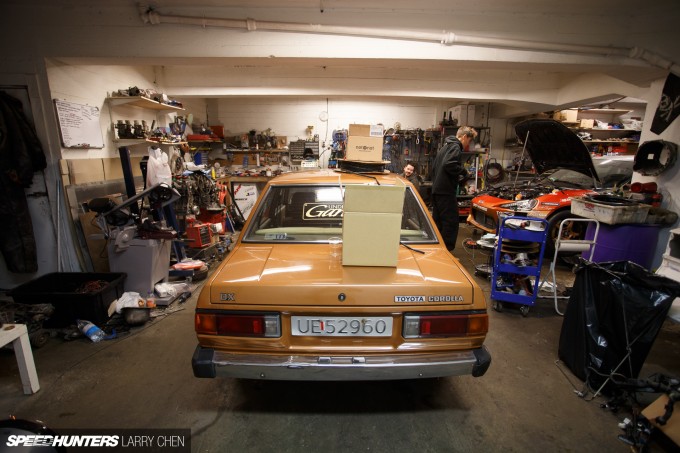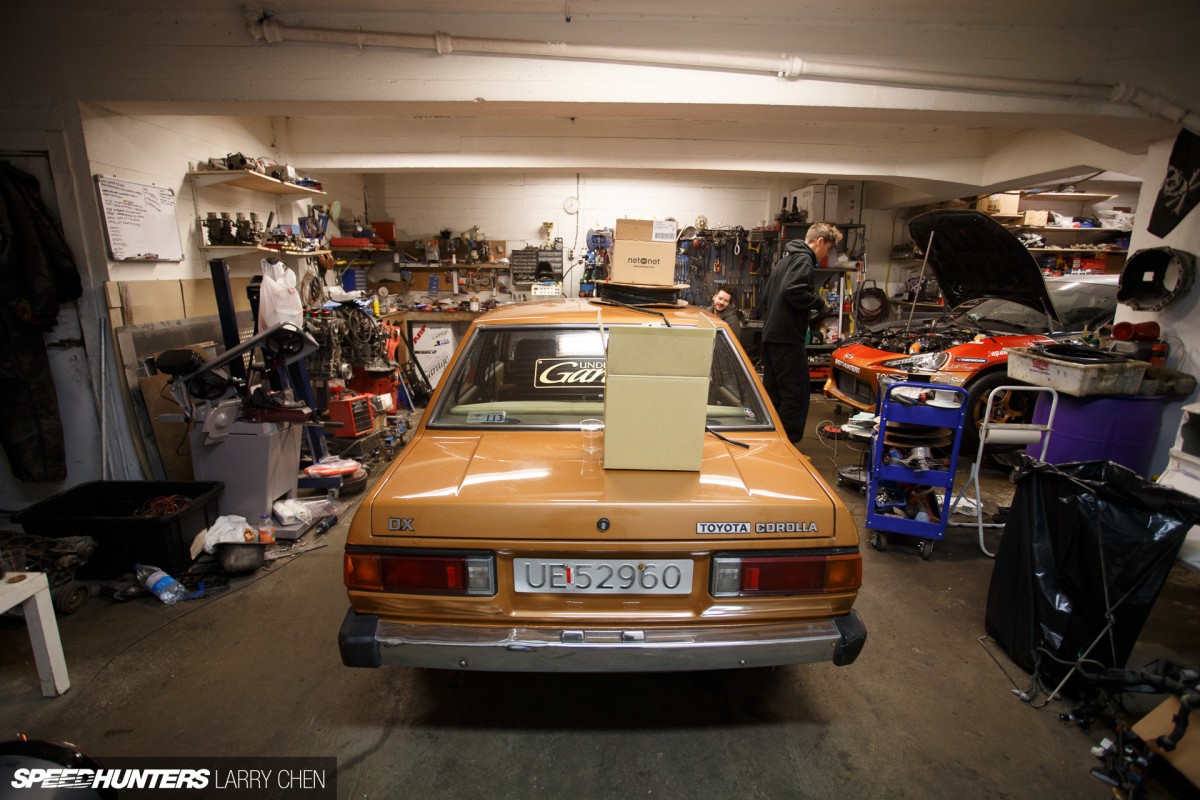 What really stopped me in my tracks was this early '80s Toyota Corolla. It really brought me back to my childhood, because this is the first car I ever remember riding in.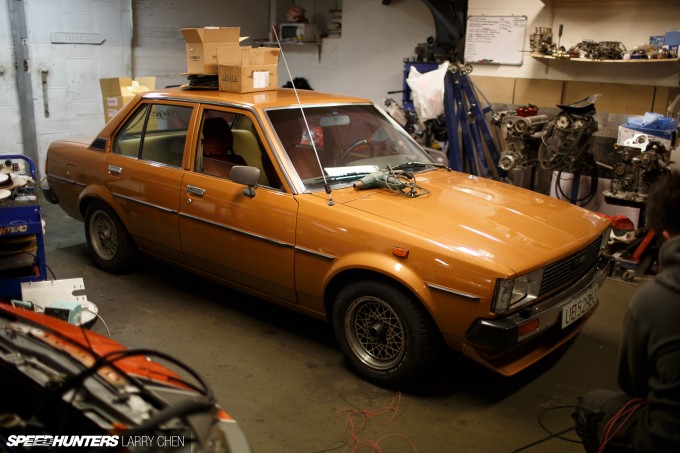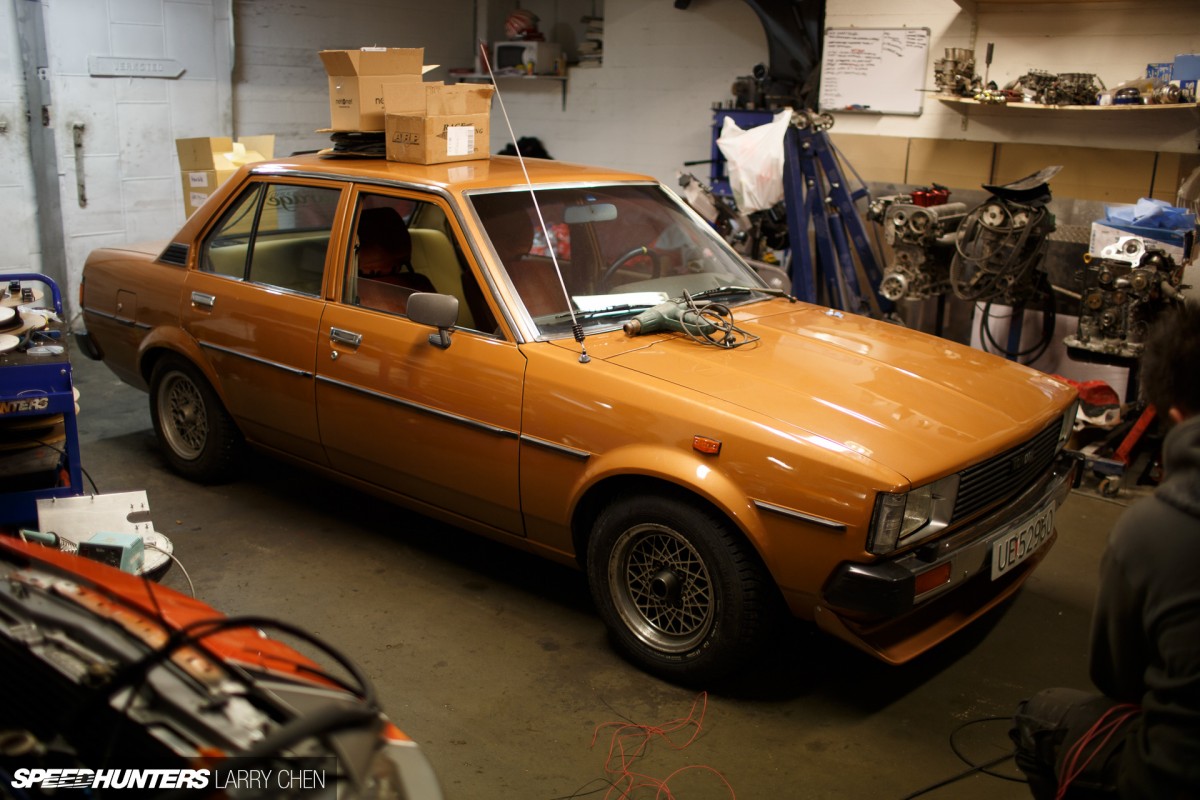 I specifically remember the annoying noise the car would make when the door was open while the key was in it. I also remember how much the car would vibrate, especially the gear lever. It would shake like crazy and I was so short back then, that thing was all I could really see. It's funny to think about what you remember of certain cars when you were younger.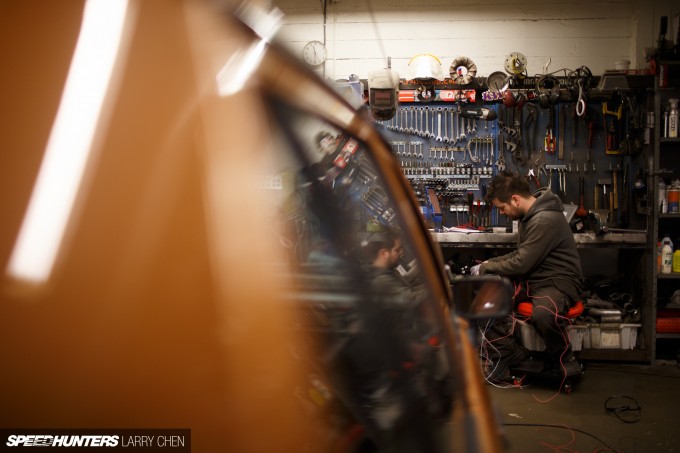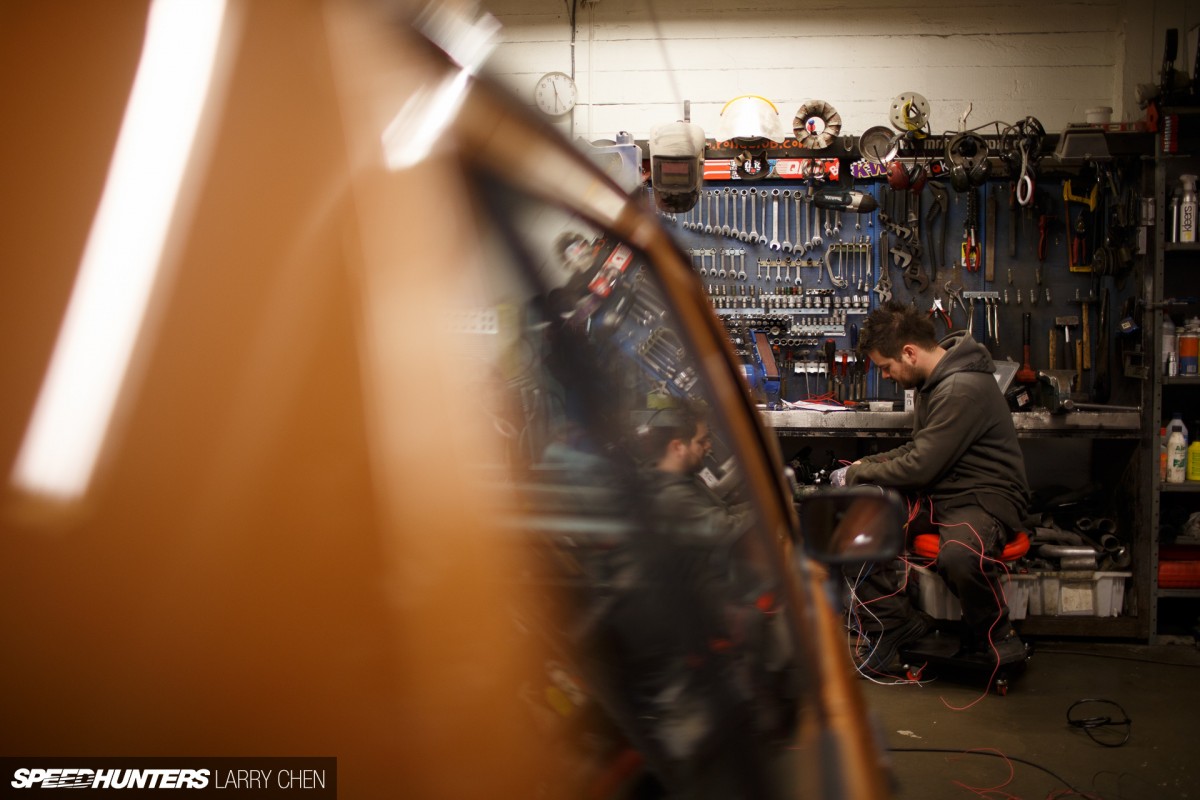 David does all things Toyota, new and old. He loves what Toyota can do for him. In fact, he bought that Corolla, sight unseen, off the internet.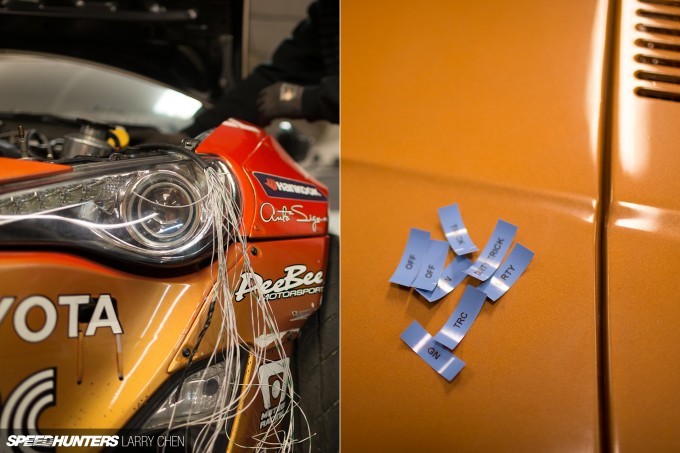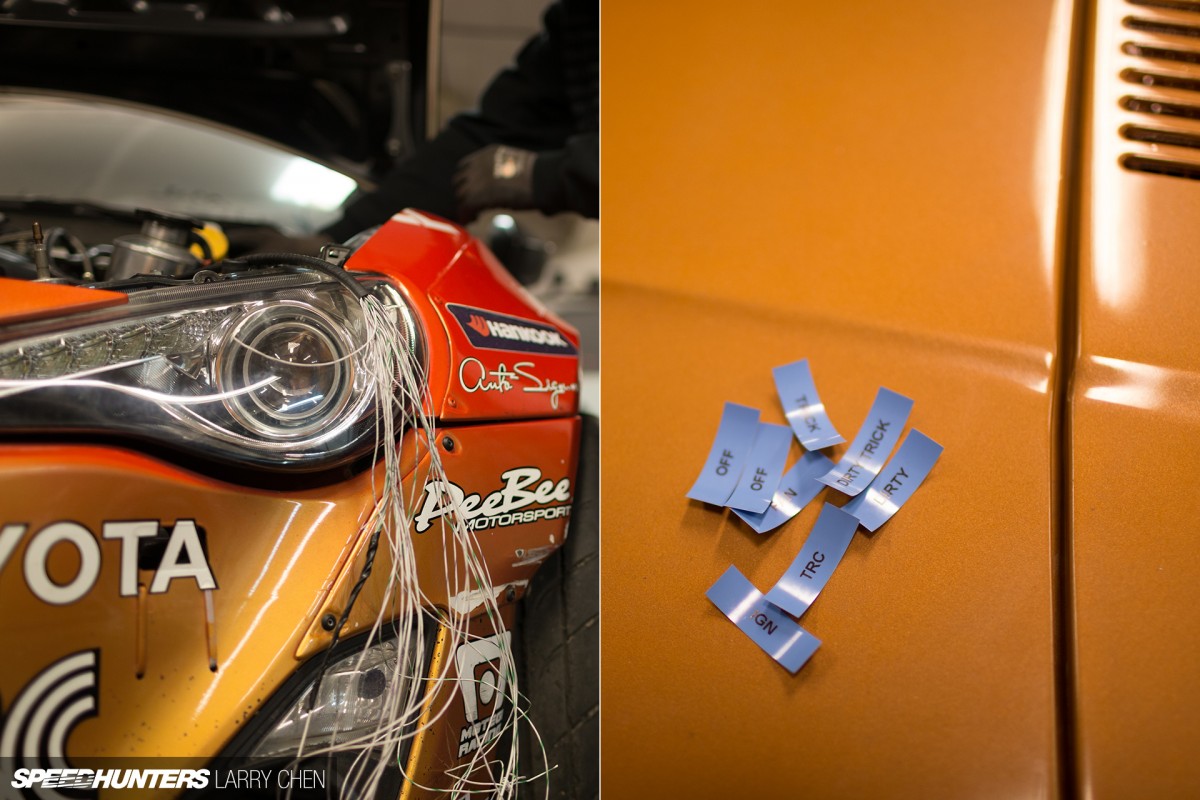 Gatebil On Ice was less than 20 hours away, and the task that lay before Fredric and David was great.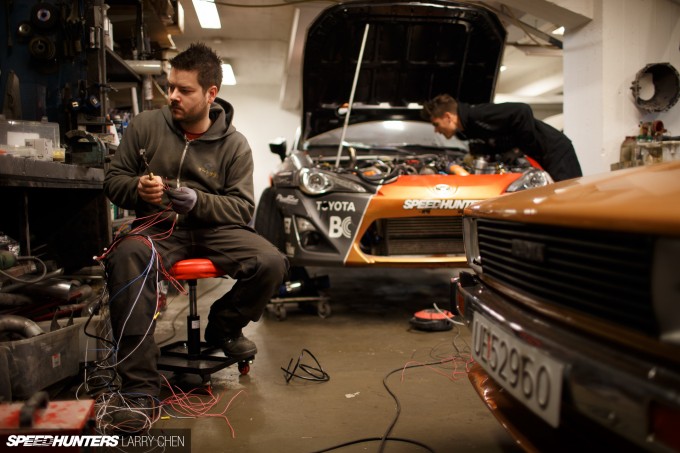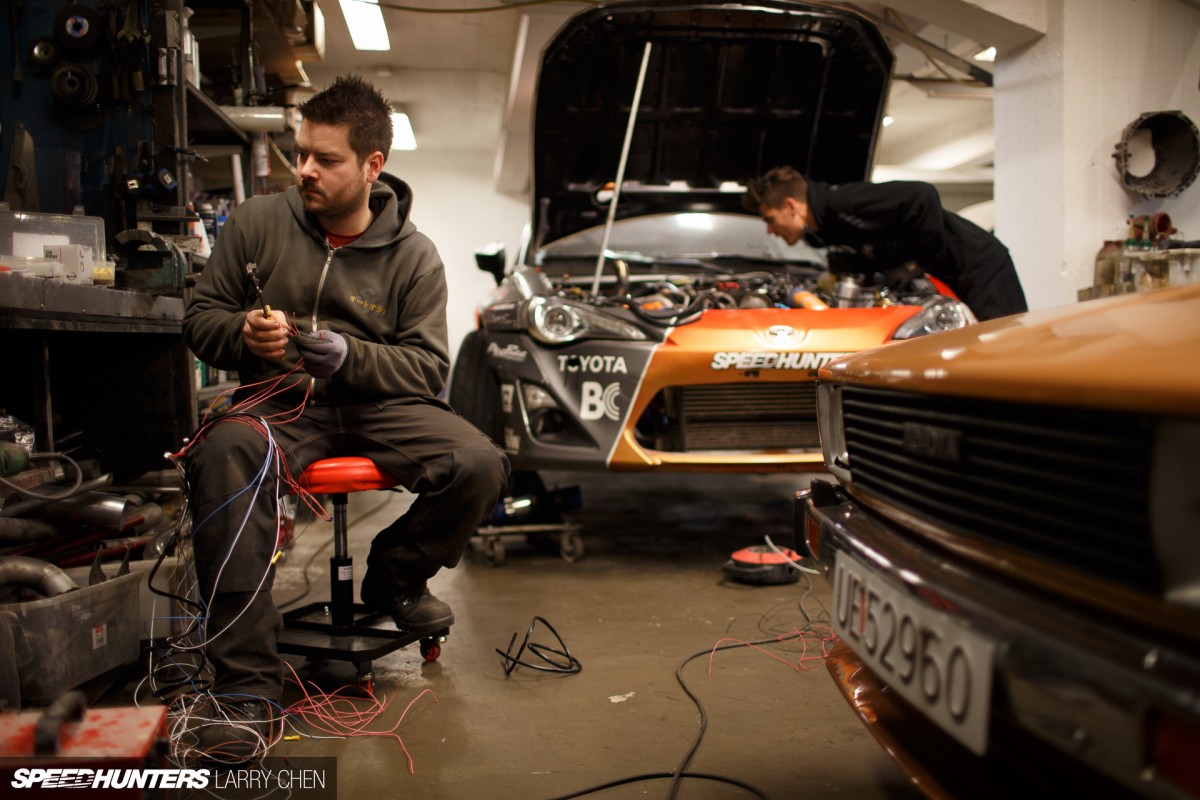 They were changing the standalone ECU system to AEM Infinity. David would create a whole new wiring harness, then they would install the system, and dyno the car, all before sunrise.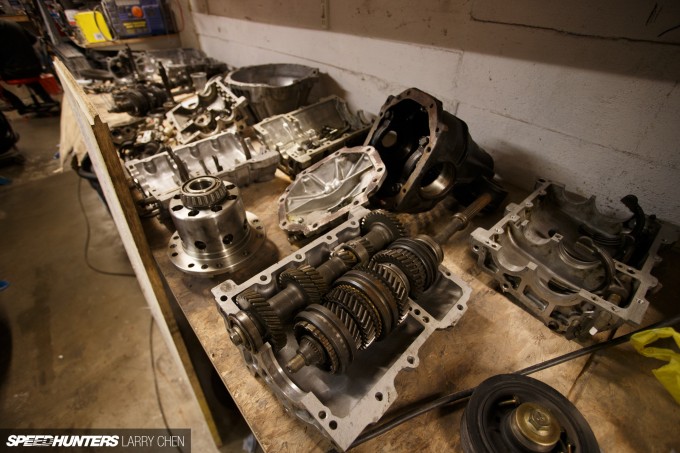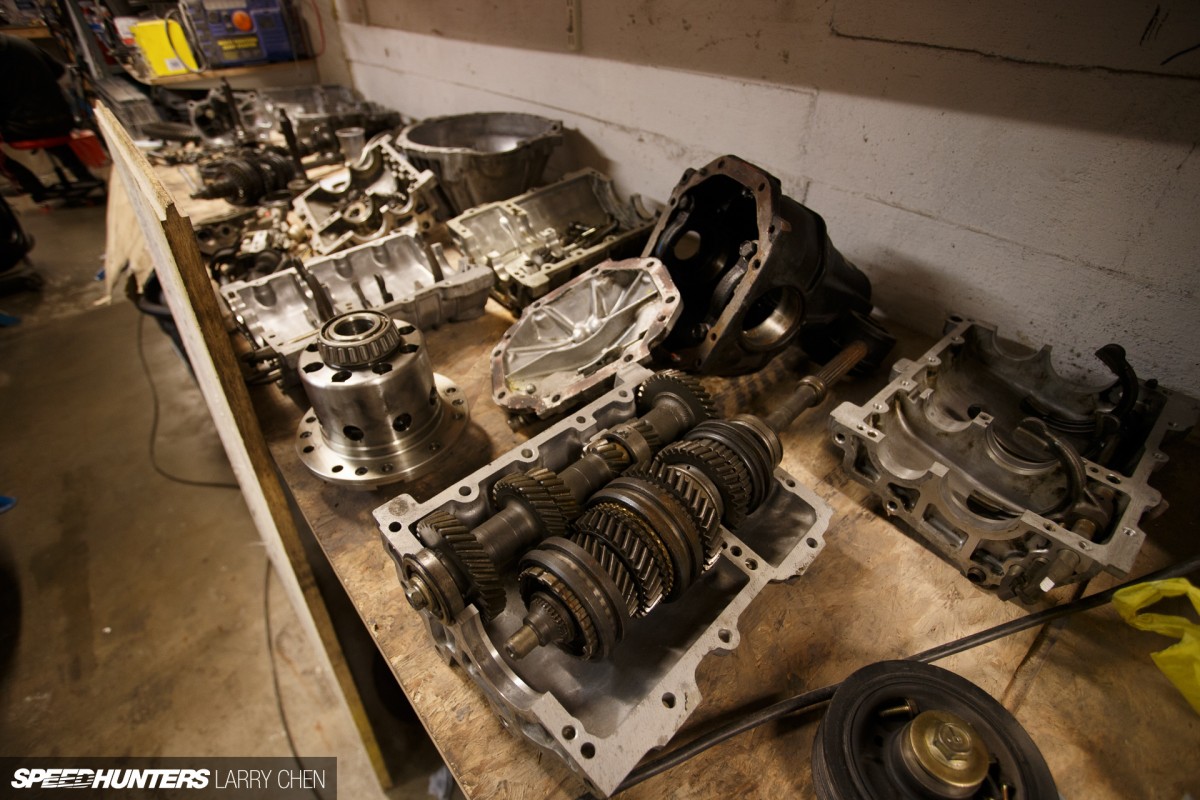 Knowing that if I helped I would only slow them down, I decided to take a peek at what else this basement had to offer. There were exploded motors everywhere.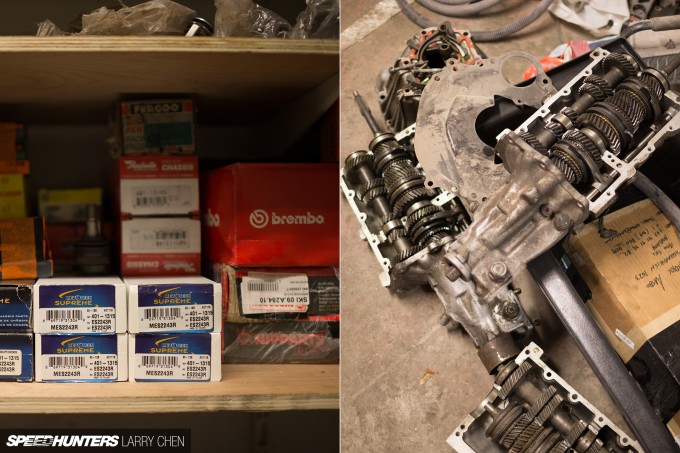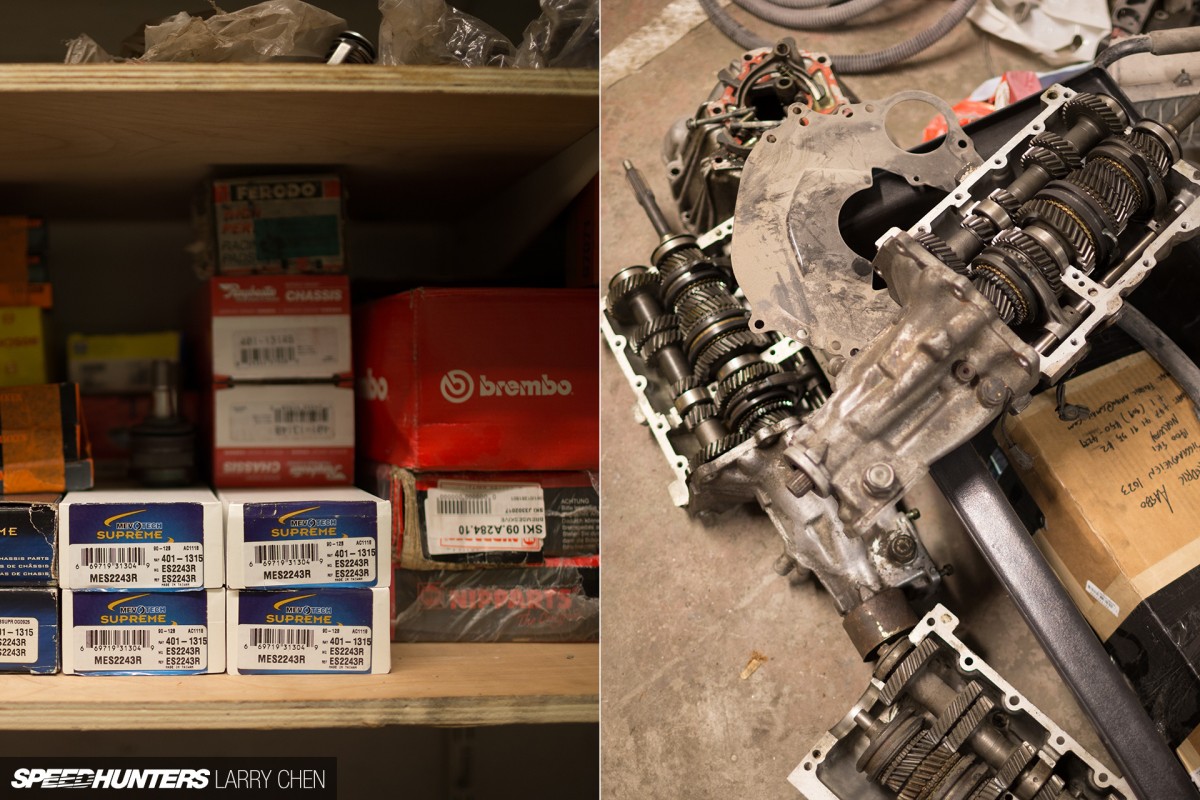 It seems as if David has enough parts to build a couple of AE86 drift cars.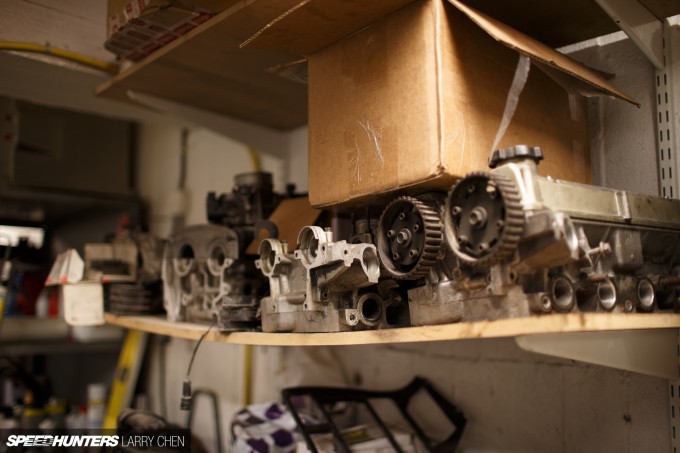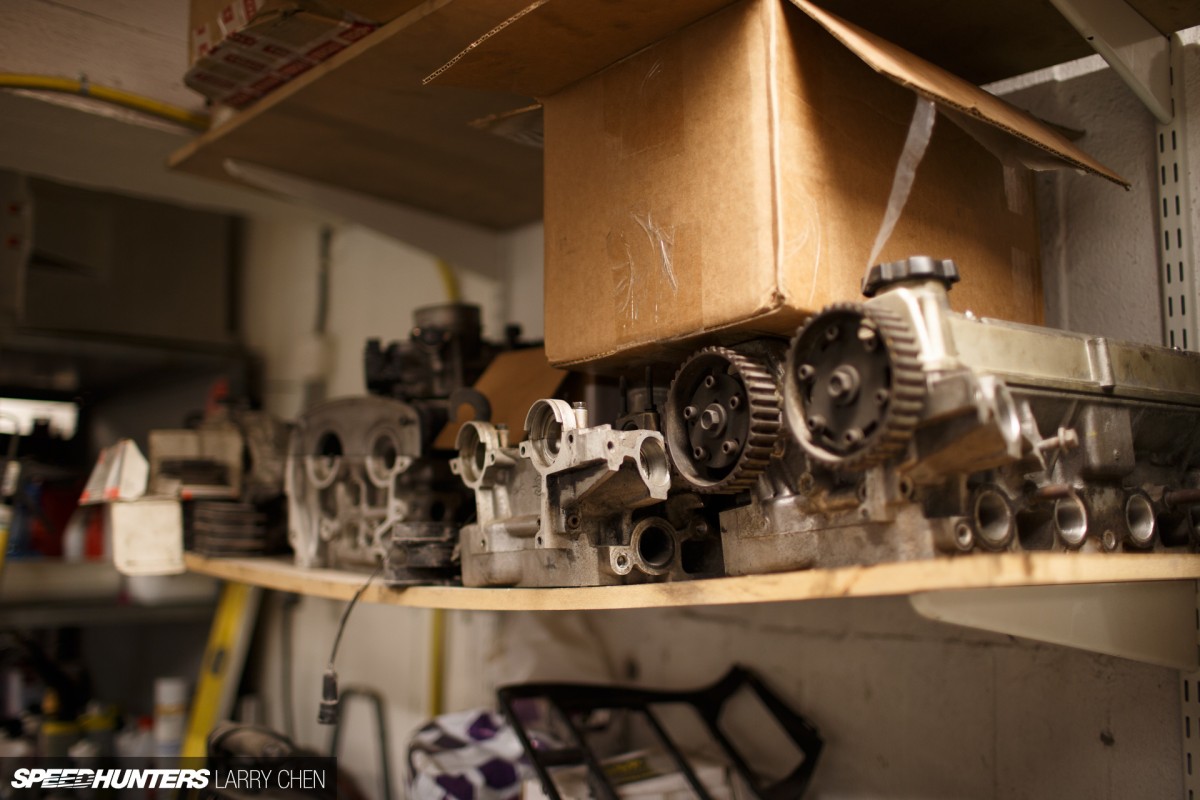 There's so much stuff that his shelves were bending from all the weight. Maybe it's time for some new shelves!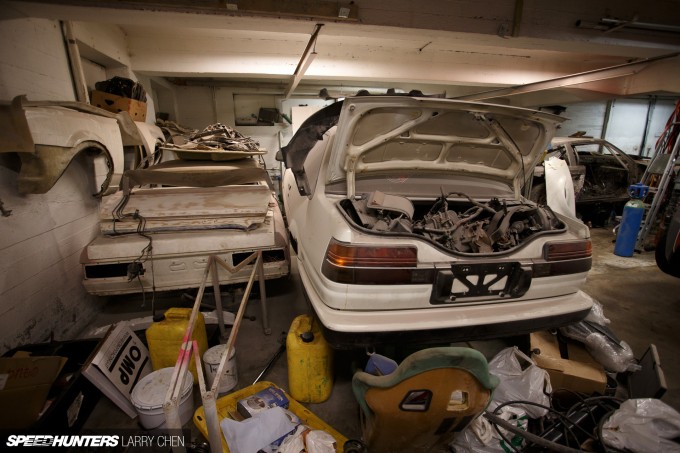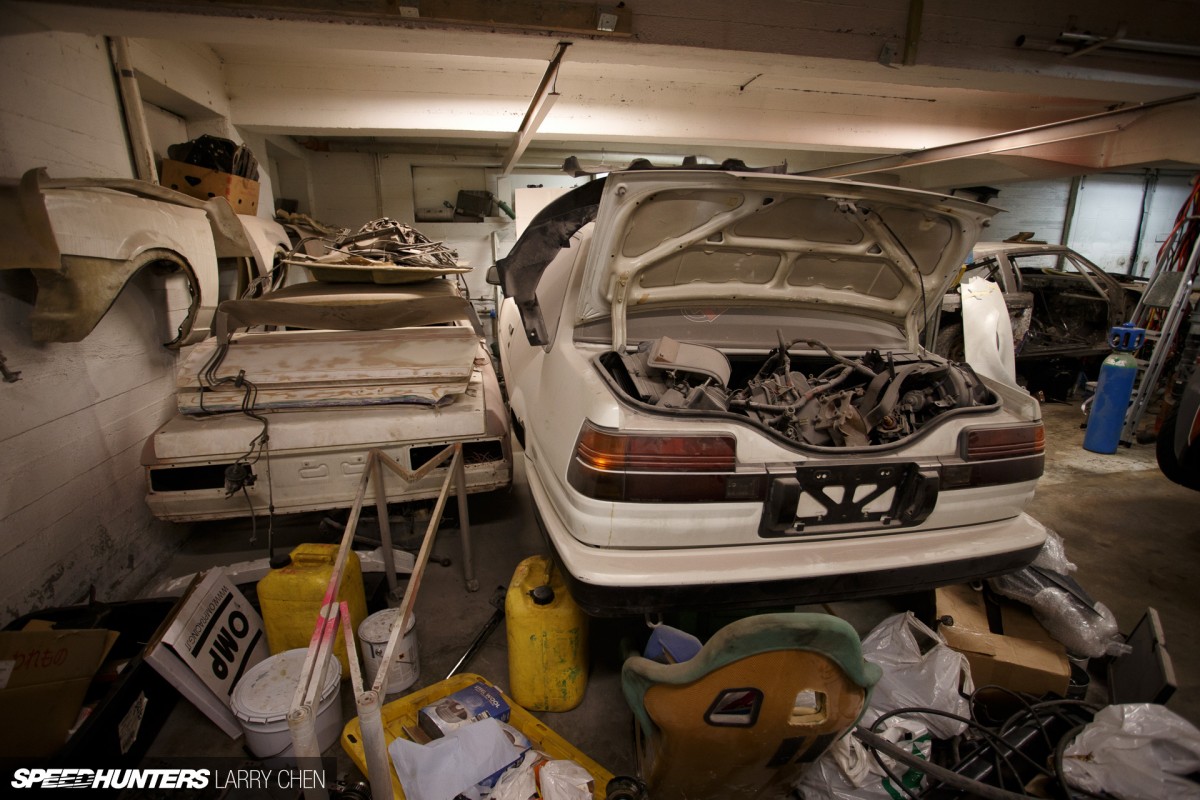 There were a few projects on the back burner, as recently everyone's focus had been on getting Fredric's 86-X ready for Gatebil On Ice.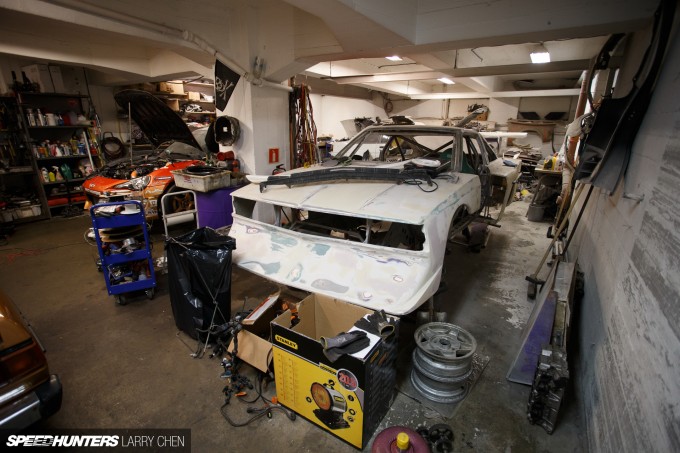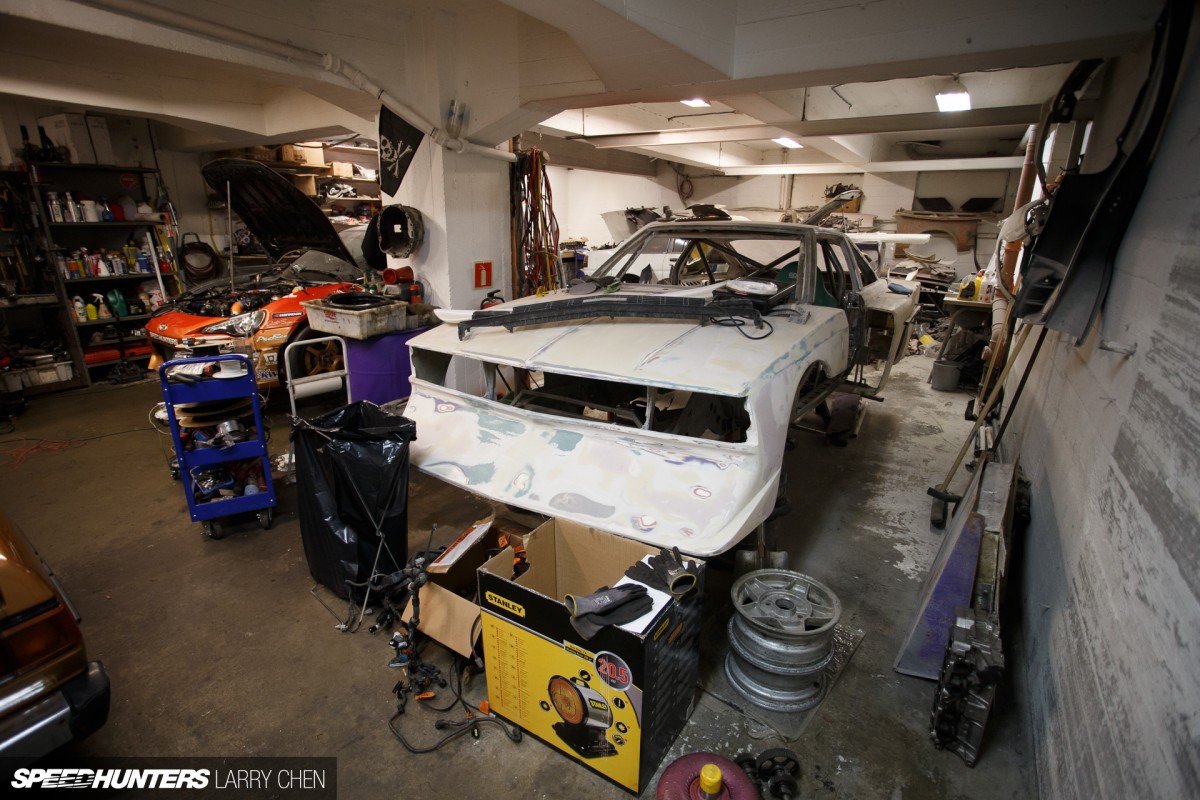 The crown jewel of David's collection was this 1981 Group 5 Toyota Corolla. When he bought it, the car was in rough shape but it was still fairly nice. It didn't have a motor, but David was planning on putting his own mad scientist creation in there anyway.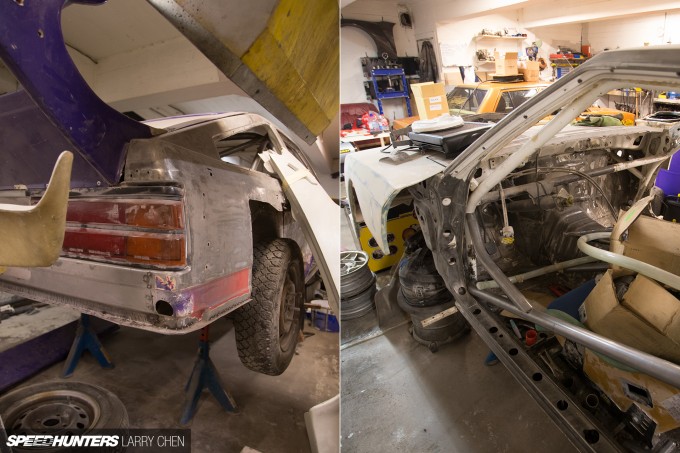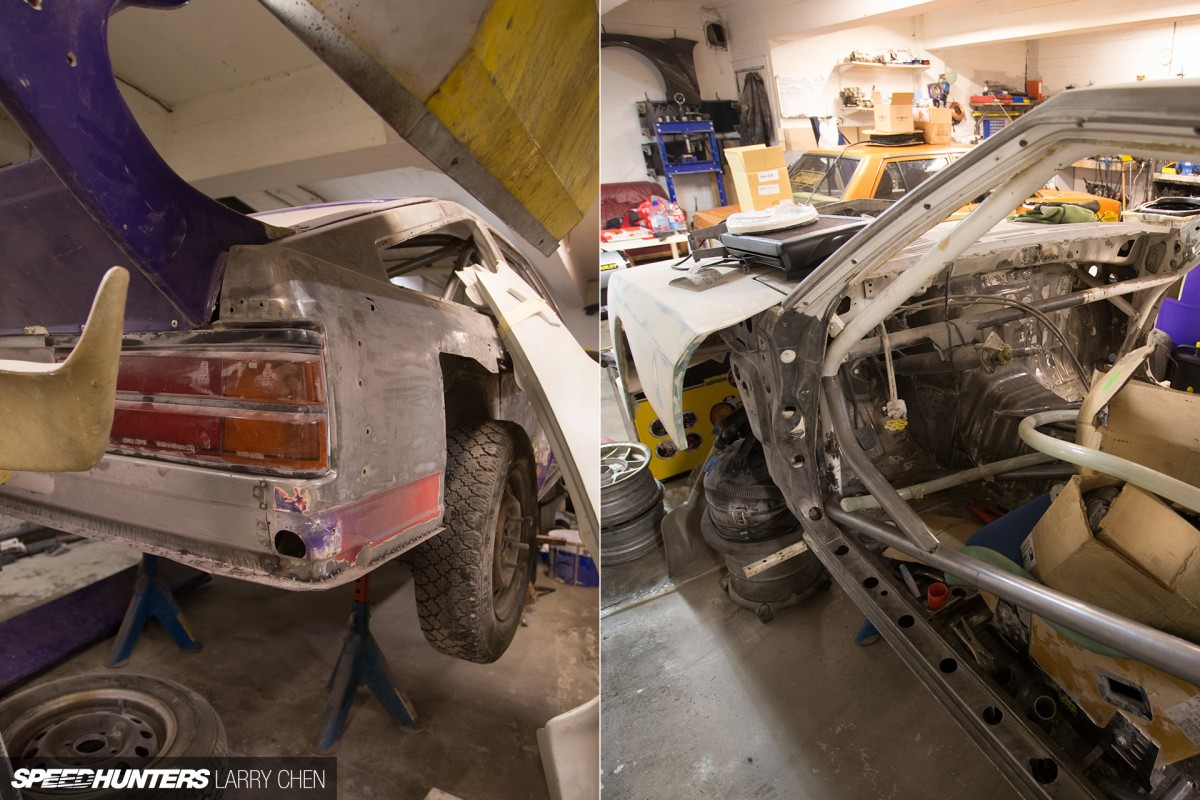 The reason why he's restoring it from the ground up is because when he bought it, he was towing it to his shop on an open trailer and just a few kilometers away from the shop, he was rear-ended. Hard. It destroyed the fiberglass front and rear of the rare Toyota.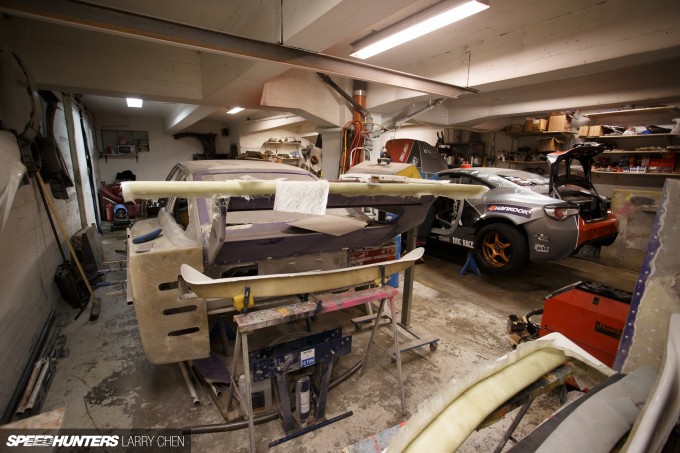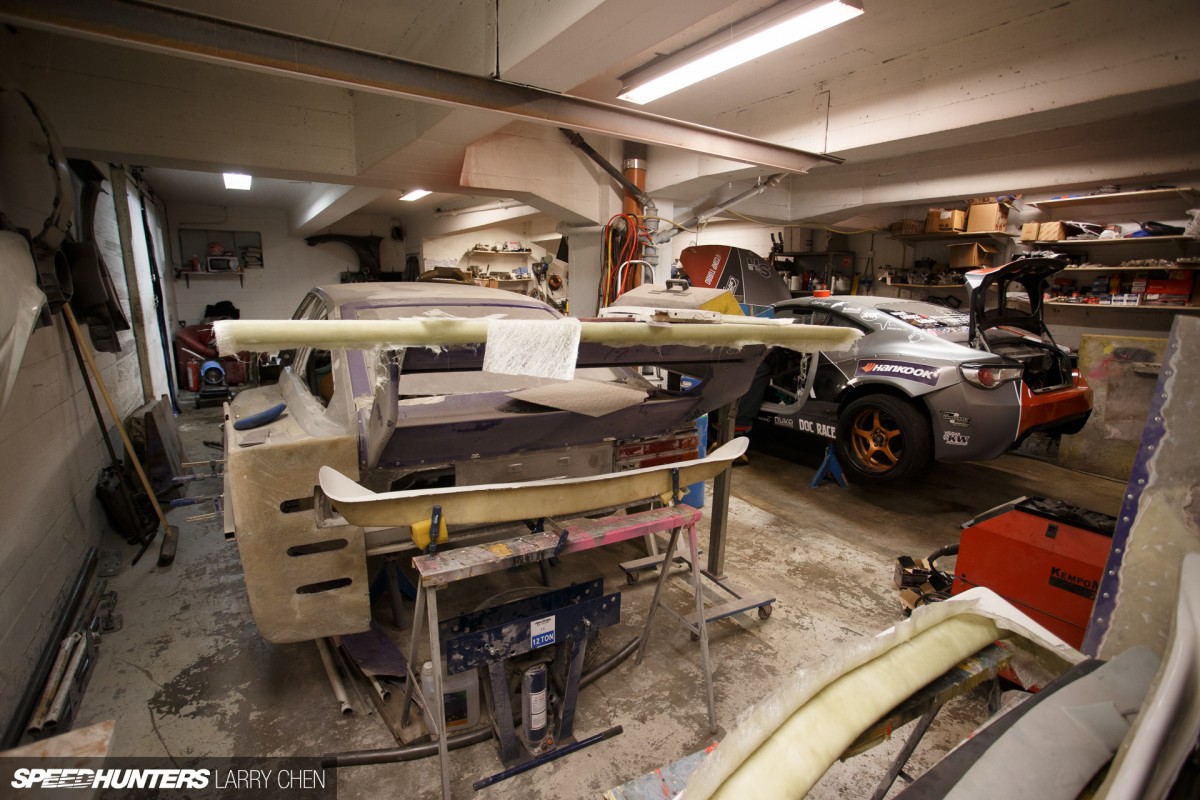 He's planning on restoring it to its former glory and dropping in a turbo 3SGE; with the car looking to weigh in at around 800kg, with about 600hp, it will be quite the monster. Perfect for Gatebil. You can be sure we'll be featuring this car when it's done.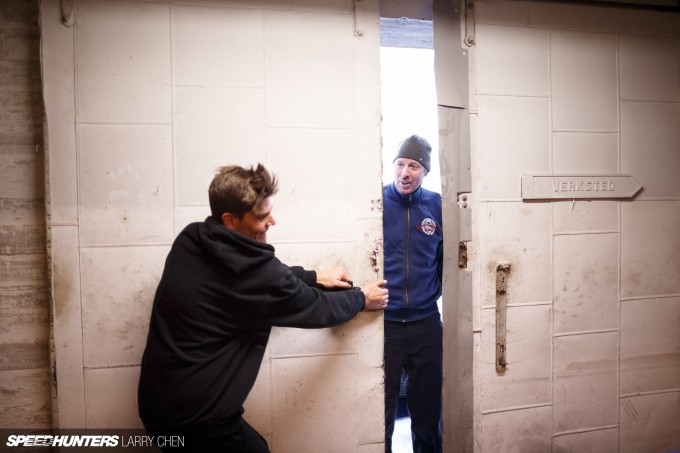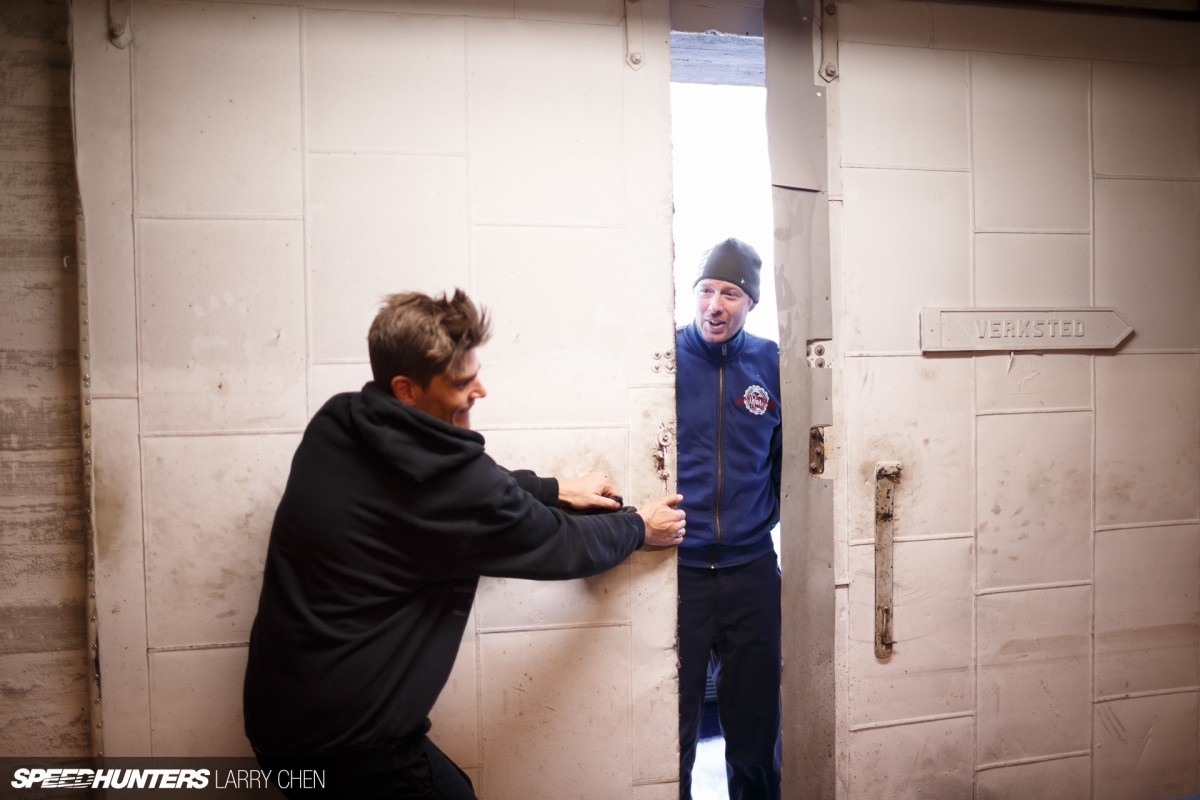 Just then, there was a knock at the bomb shelter type doors, and it was Hans Andersson, from Gatebil.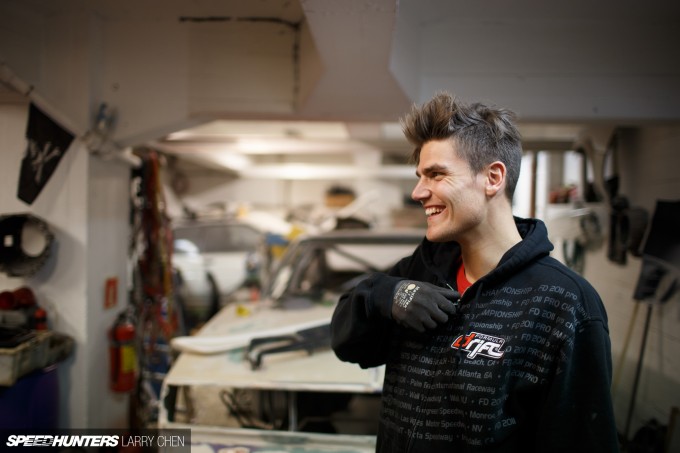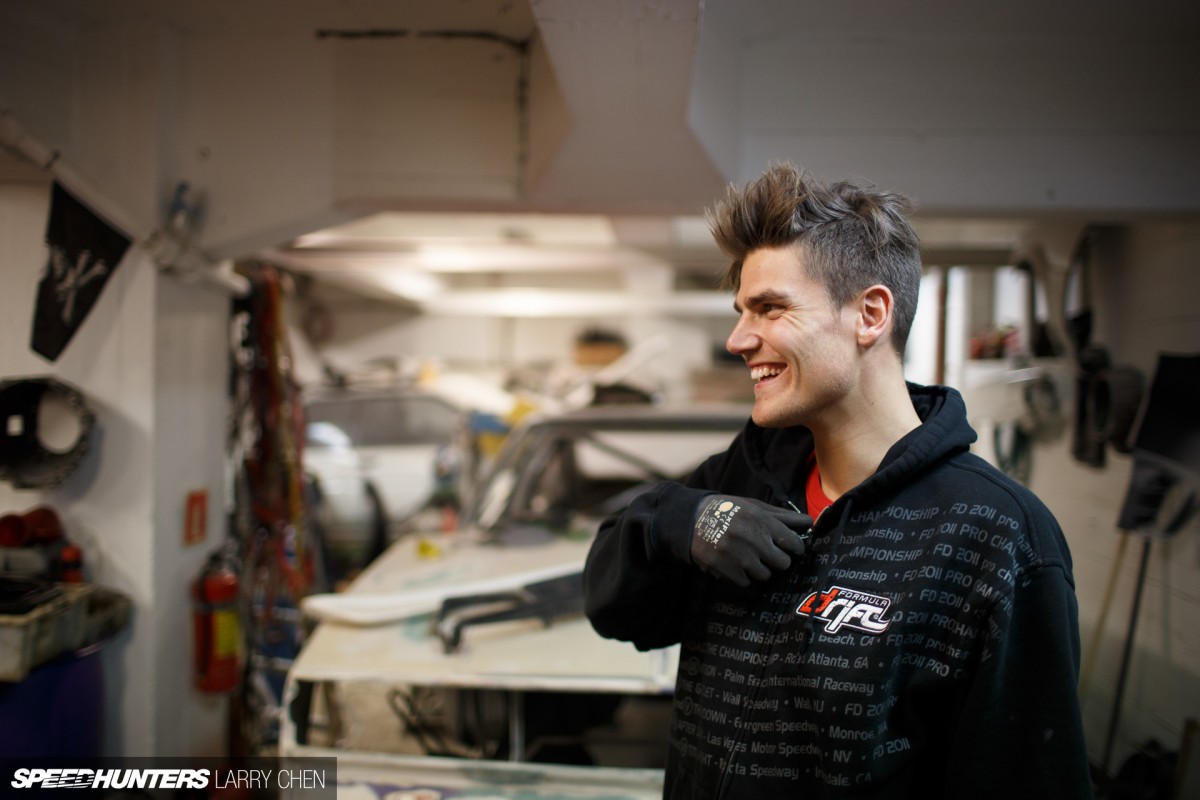 He saw Fredric's progress and thought it was looking pretty grim. It seems like that's the style with car guys though. If there's an event, you always have to wait till the last minute to get the car ready.
New frontiers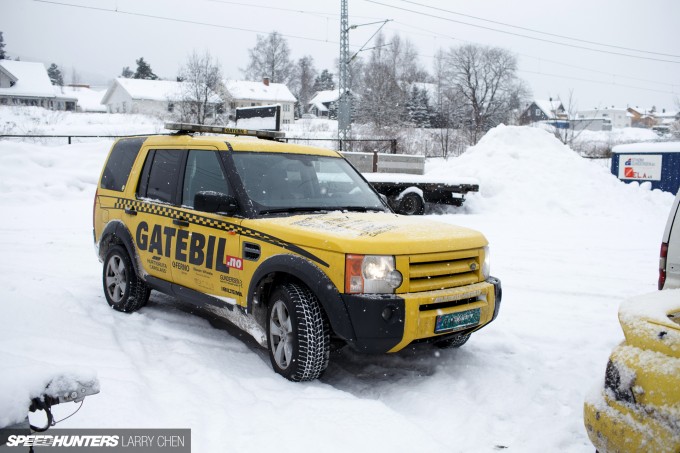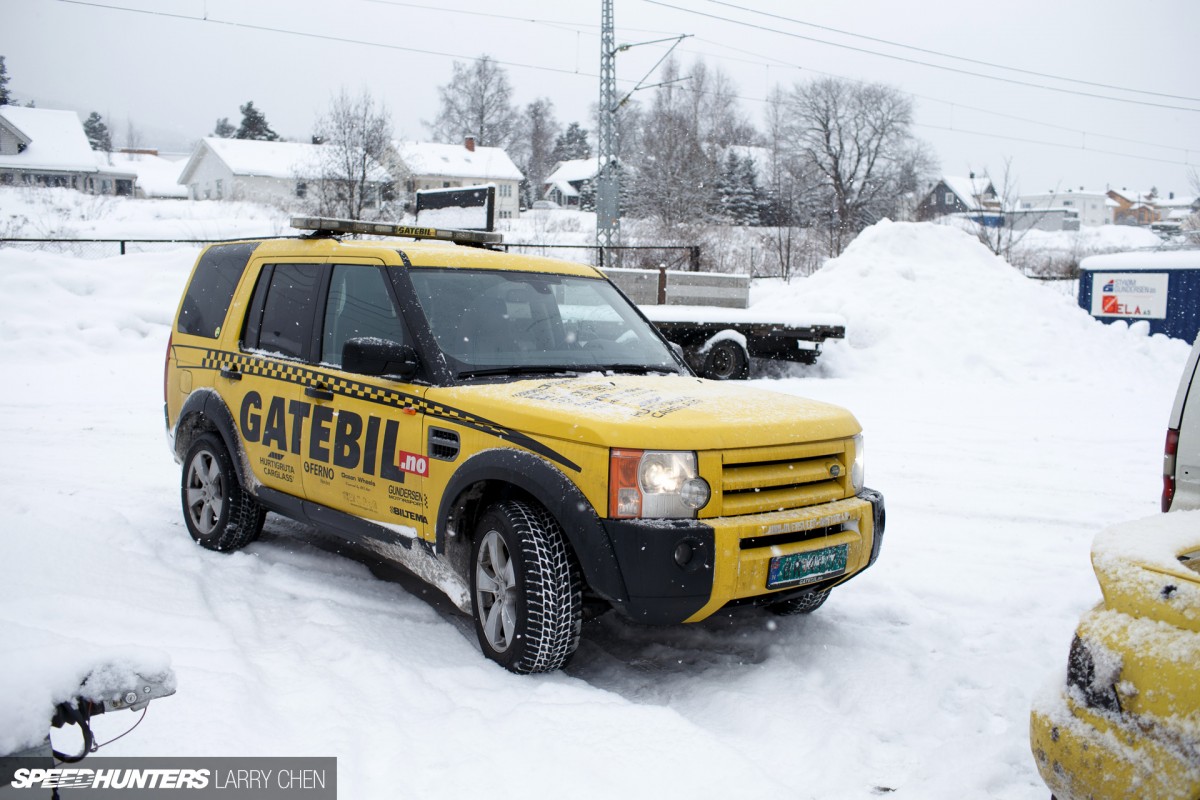 I've explored around town a bit over the past couple of years, but I've never had a chance to hang out with the Gatebil crew, so Hans invited me to go snowmobiling with them in the woods. I figured I wasn't doing any good sitting around watching David and Fredric do their magic, so I decided to go along.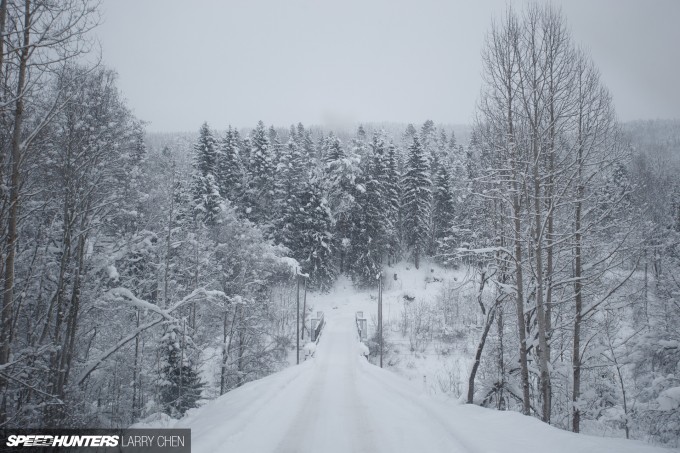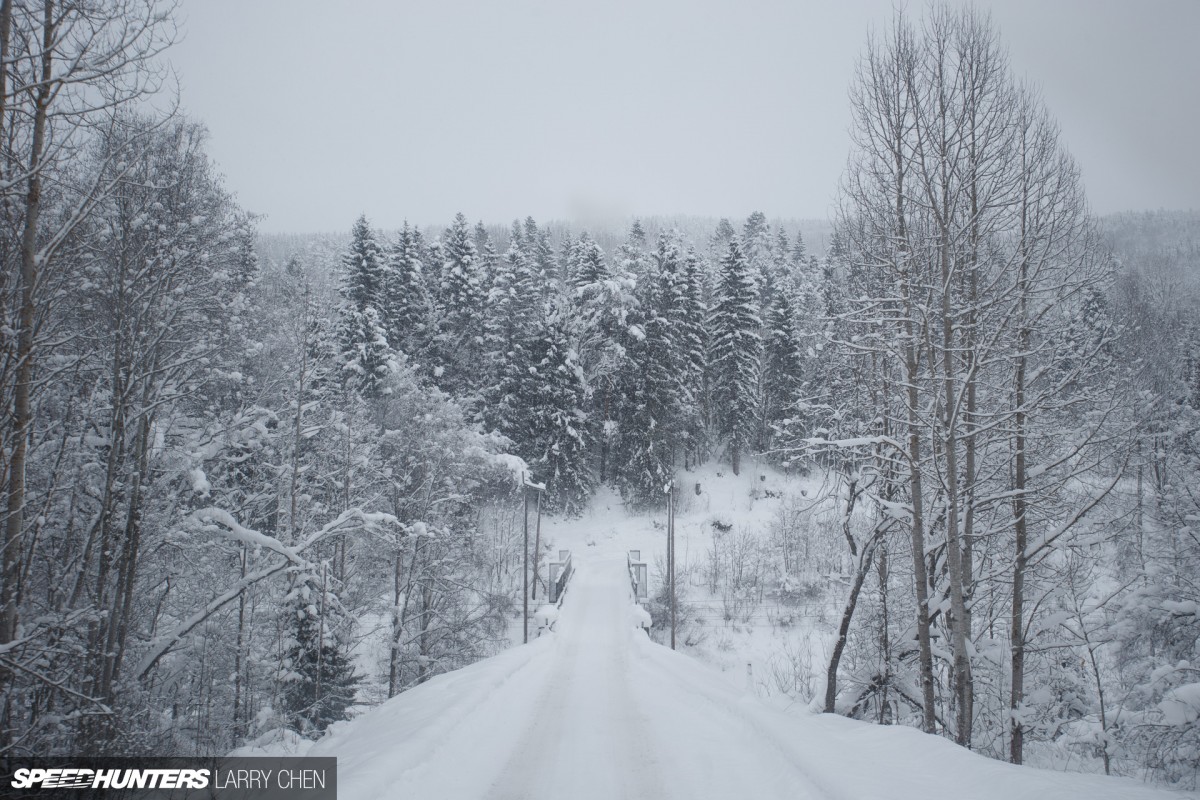 The drive was amazing but without four-wheel drive, we would have never made it. It was snowing incredibly hard.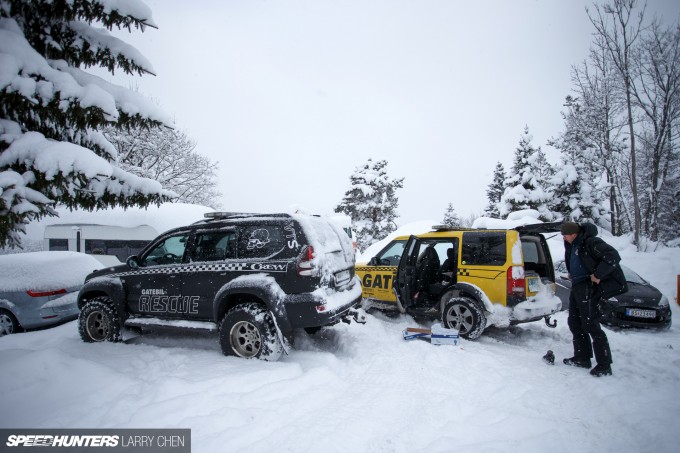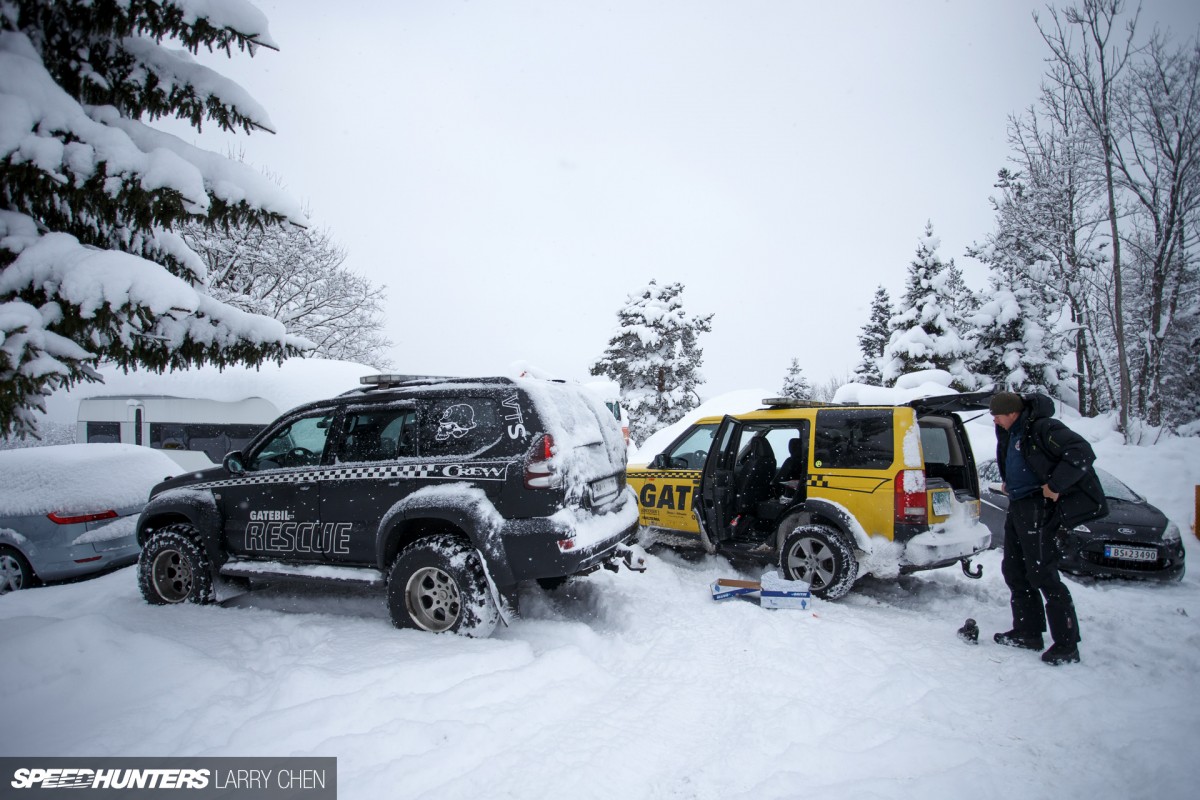 It was neat to see these support vehicles outside of the Rudskogen Motorsenter because usually they're circling around, towing cars off the track. Now they were covered in snow.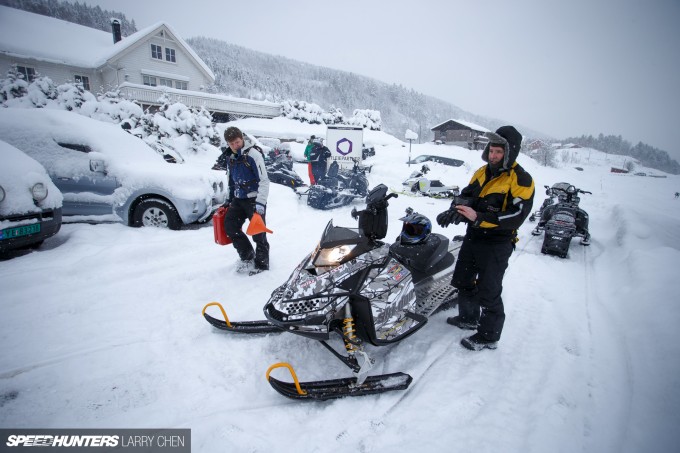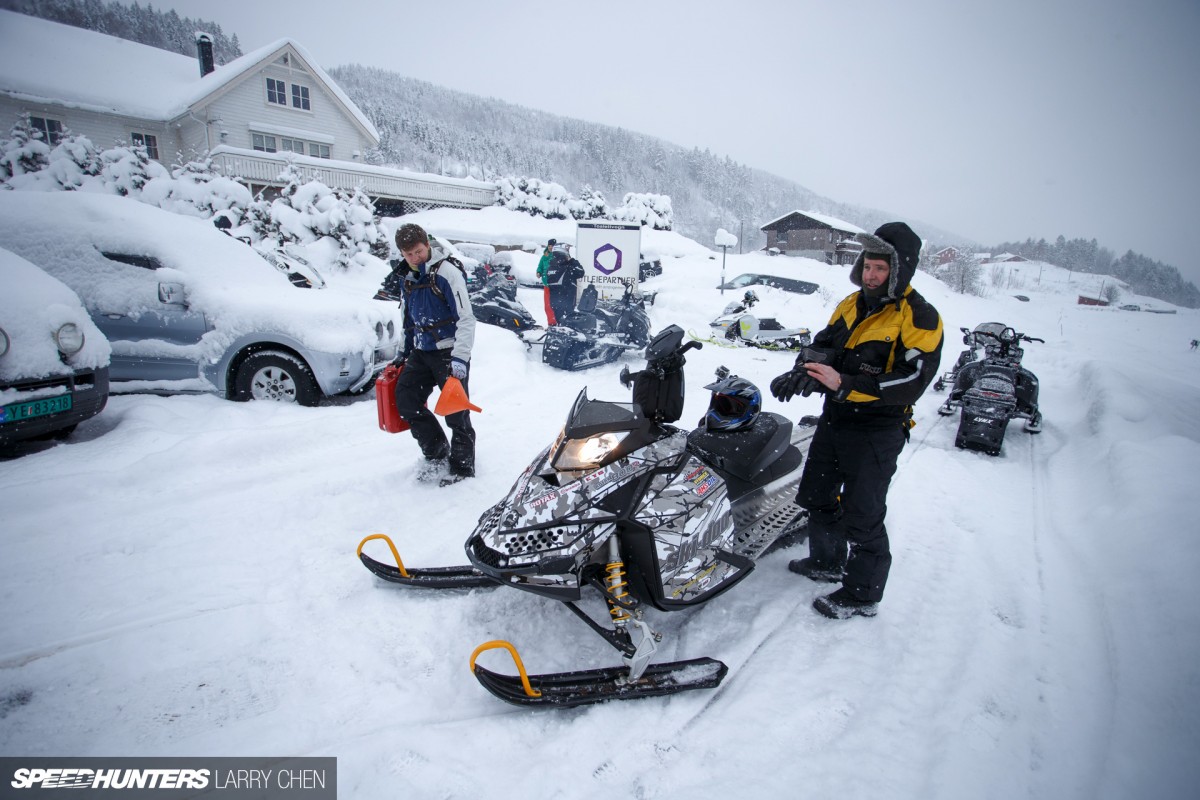 This was actually the first time I've ever attempted to ride a snowmobile. Remember I grew up in Southern California. Where I usually have to drive three and a half hours just to touch what the locals call snow, which is really just man made mush. In the yellow jacket was Bjørnar Iversen: he drives the famous Gatebil taxis.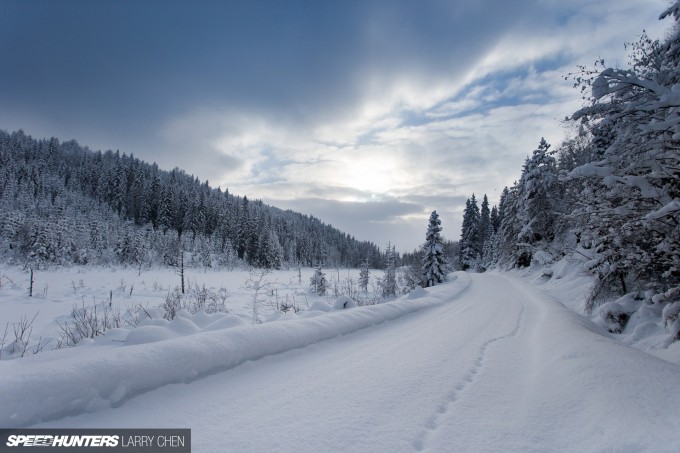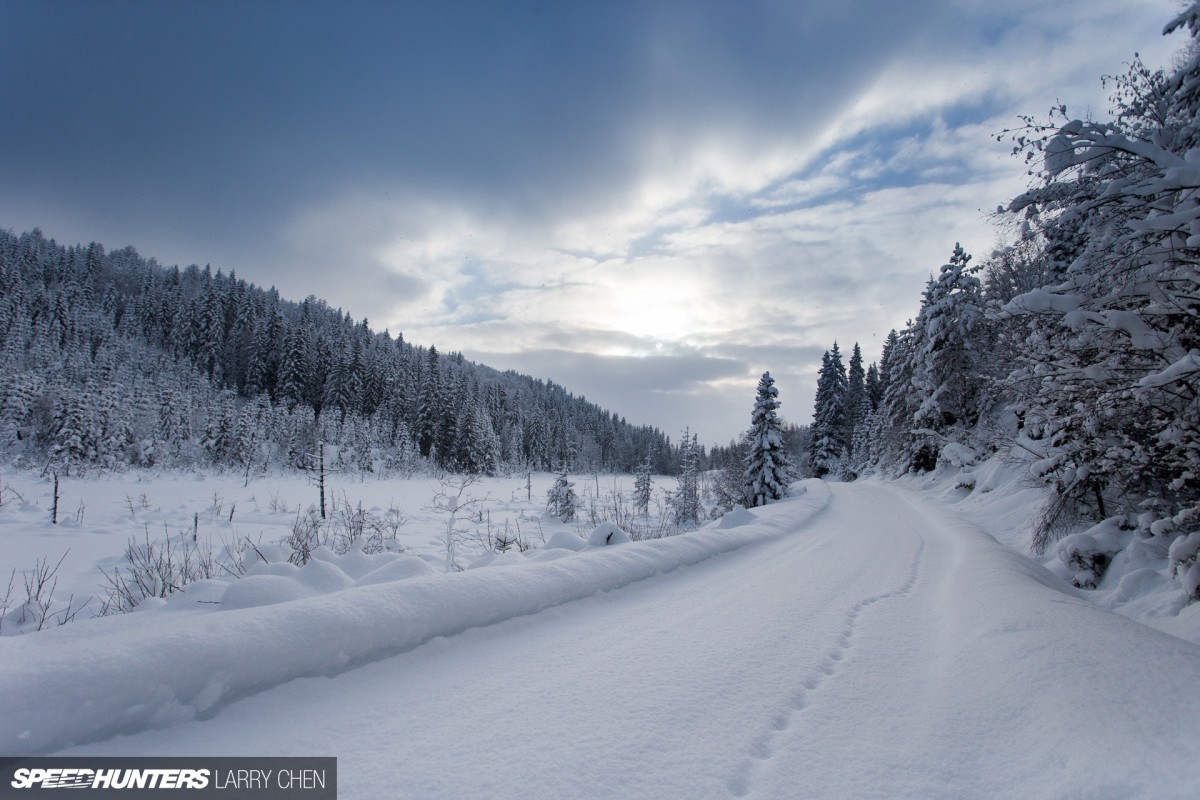 I took it slow and followed the gang of eight through the woods and out onto some of the most beautiful winter wonderland landscapes I've ever seen. It's like it wasn't even real. Like it was made just for me.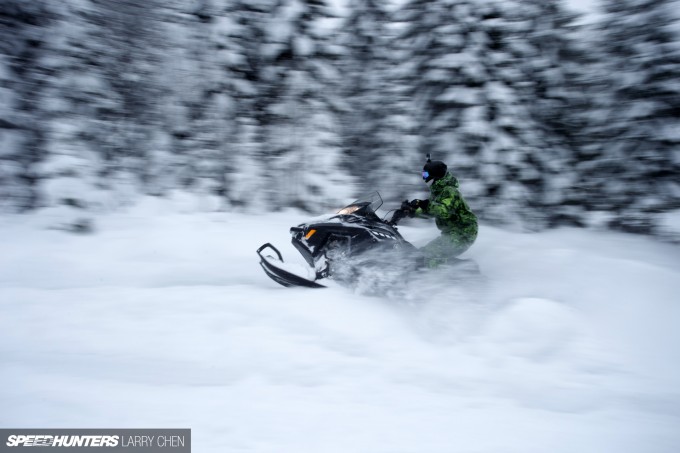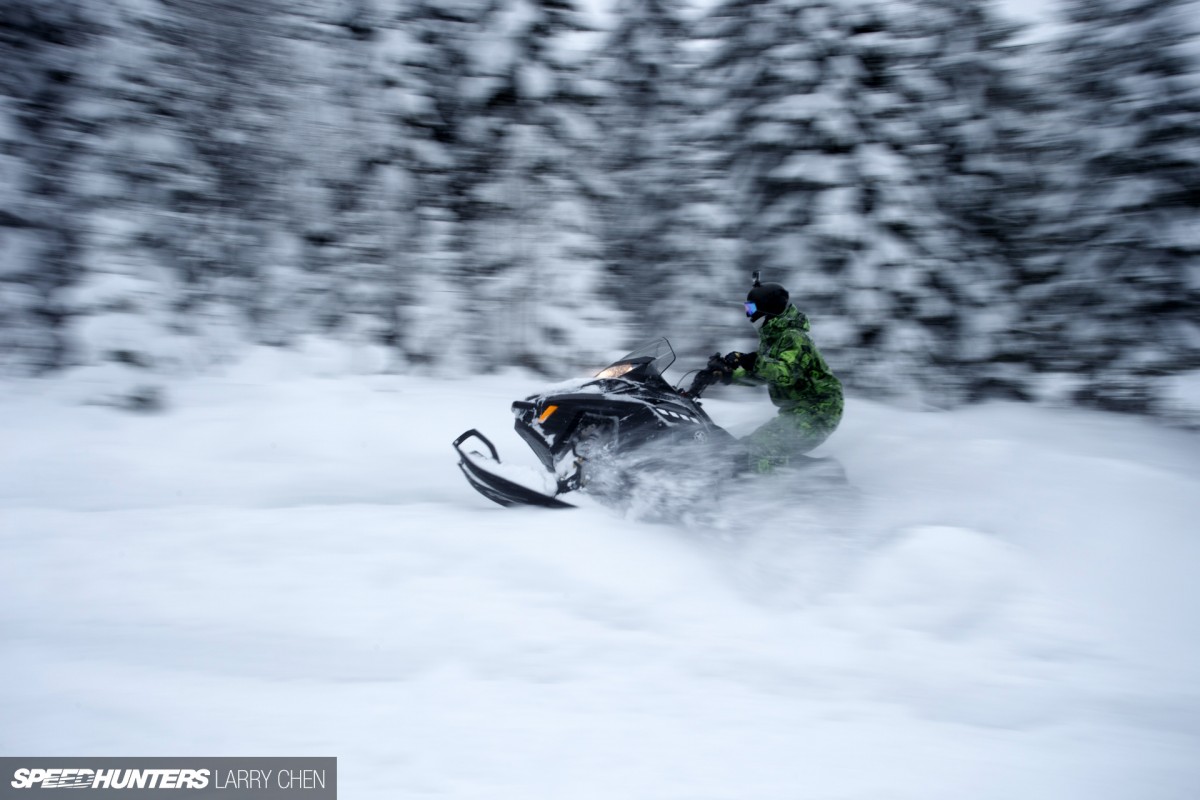 All the other guys were super experienced doing all sorts of fancy stuff; I barely could make a corner without driving into a mound of powder.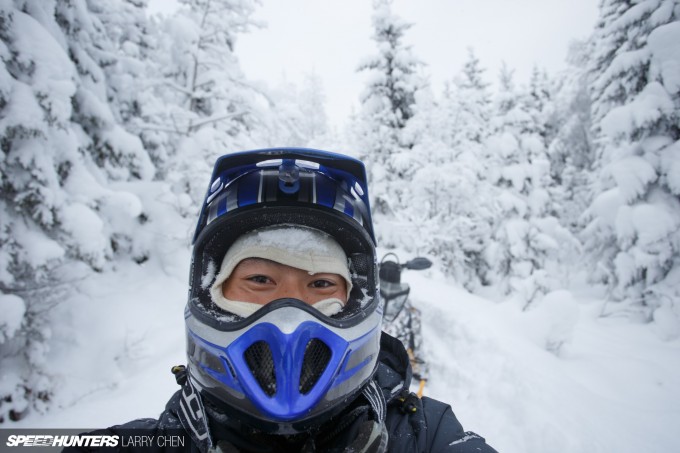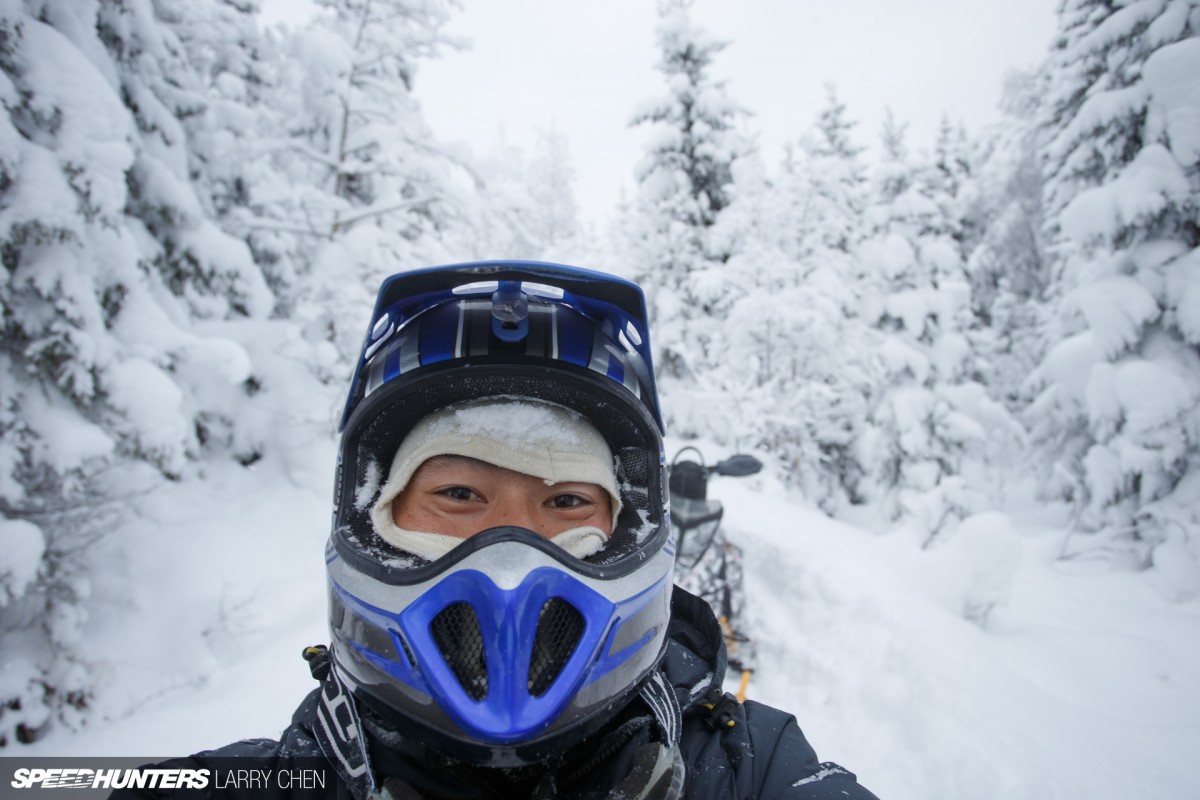 I've never been good with motorcycles, but this was different. I can't believe how much fun it was. I was thinking of how lucky they were to be able to experience this kind of thing every winter.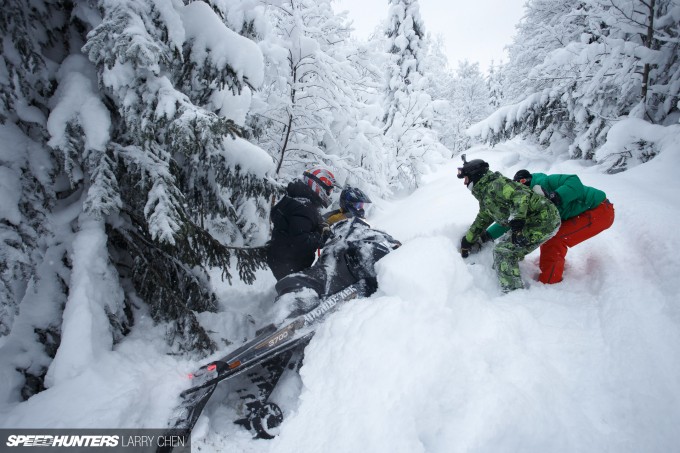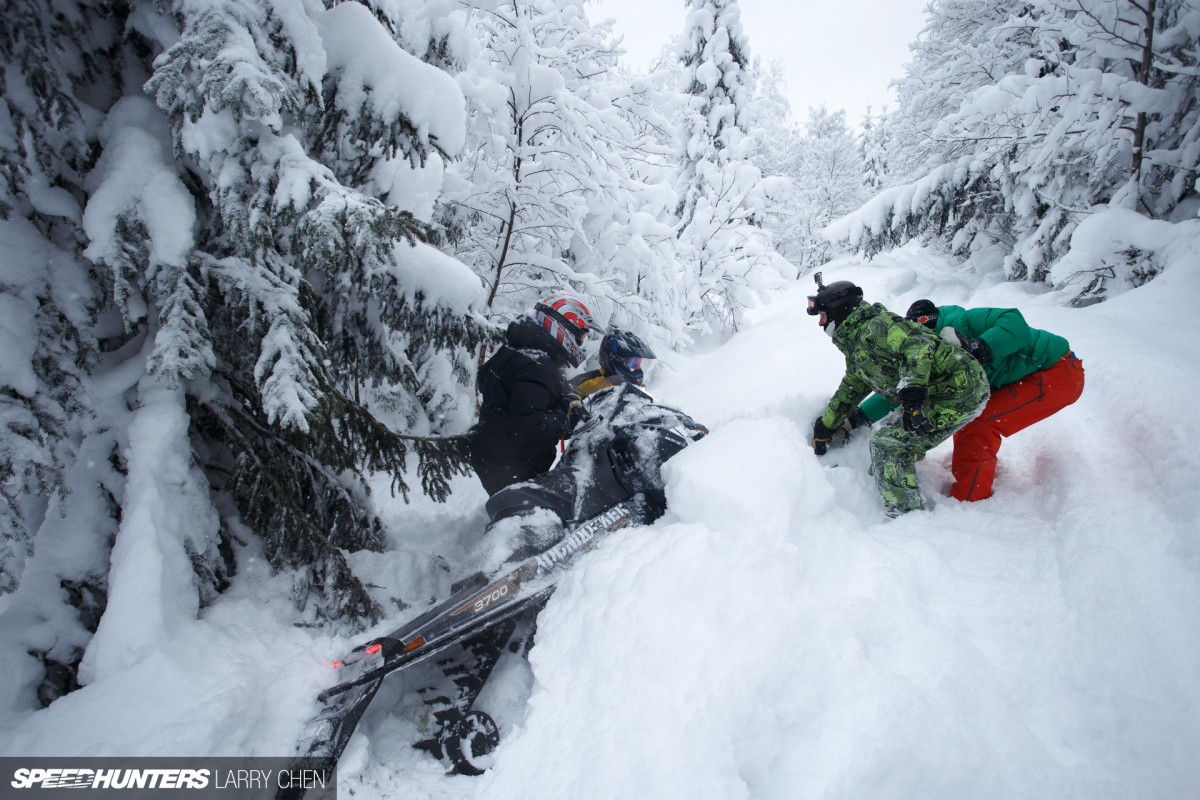 Then the inevitable happened. The snow got deeper and deeper, as it just didn't stop falling from the sky. We started to get stuck. It's unbelievably hard to keep from tipping over when the snow's a meter and a half deep.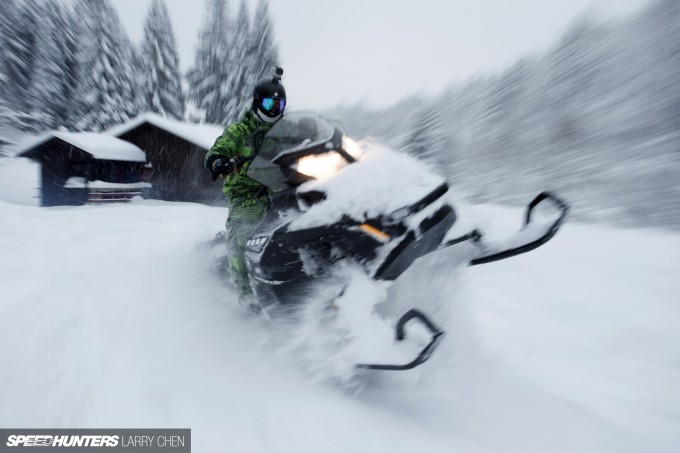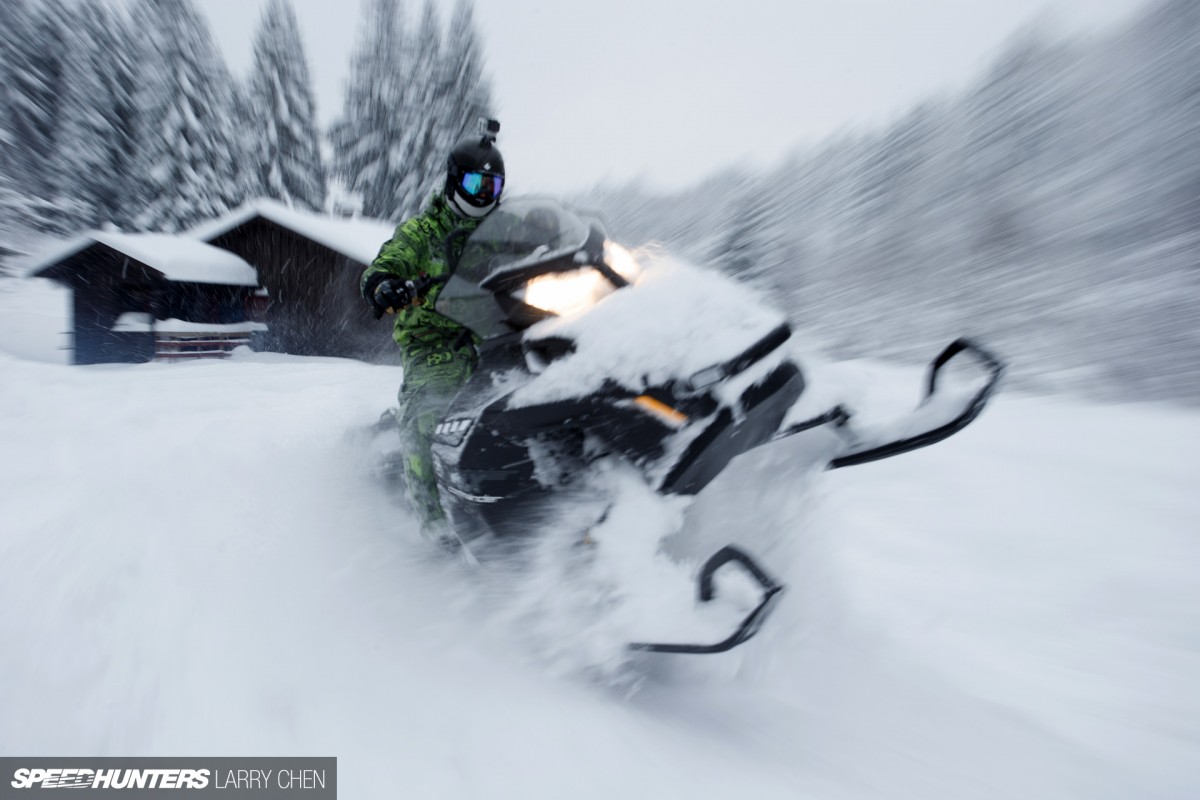 Even with some fancy riding the guys would get stuck. There was only so much the paddles could grab onto if it was just all powder.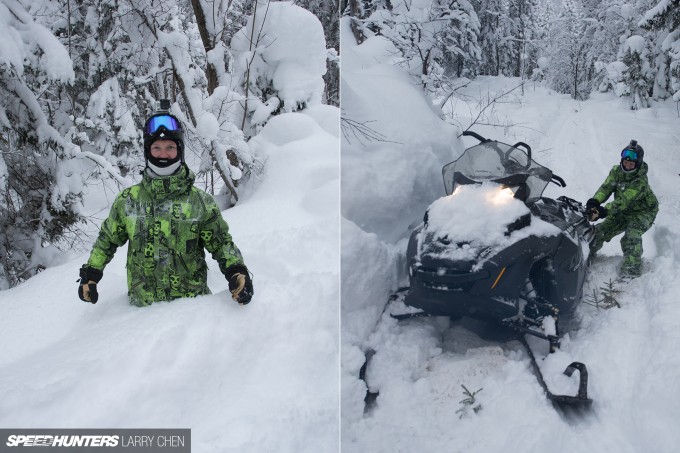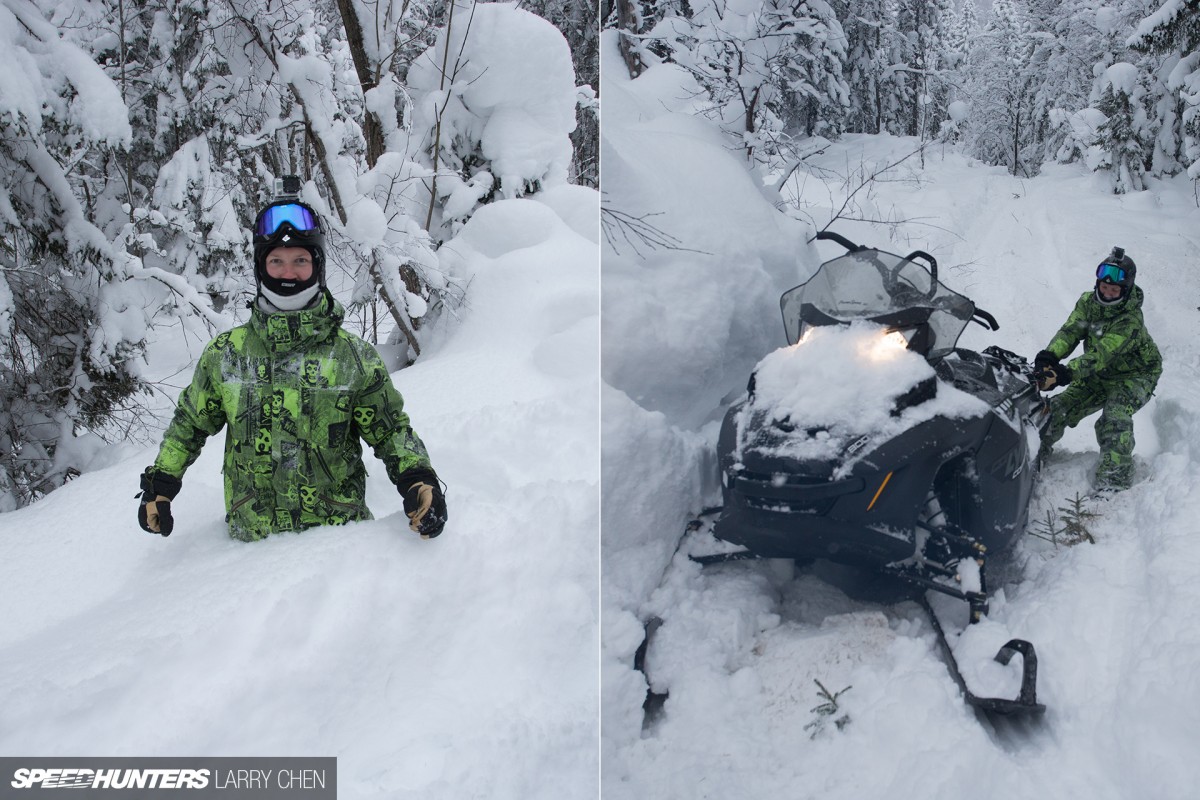 It seemed like every few meters, one of us would get stuck and we'd need to back up to find some traction. Here's my friend Henrik Frisak, as I encouraged him to get unstuck.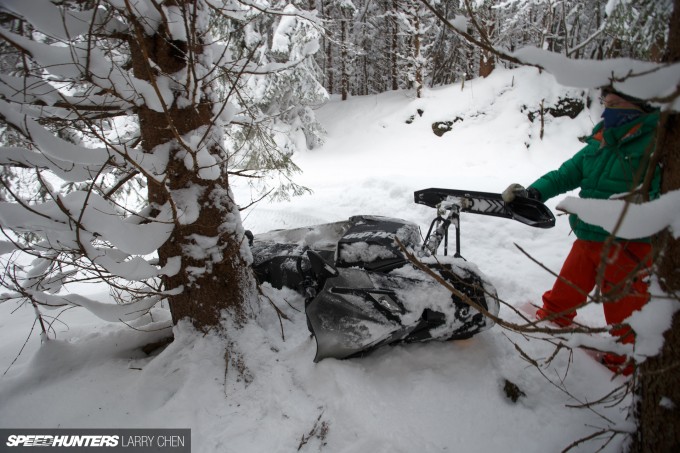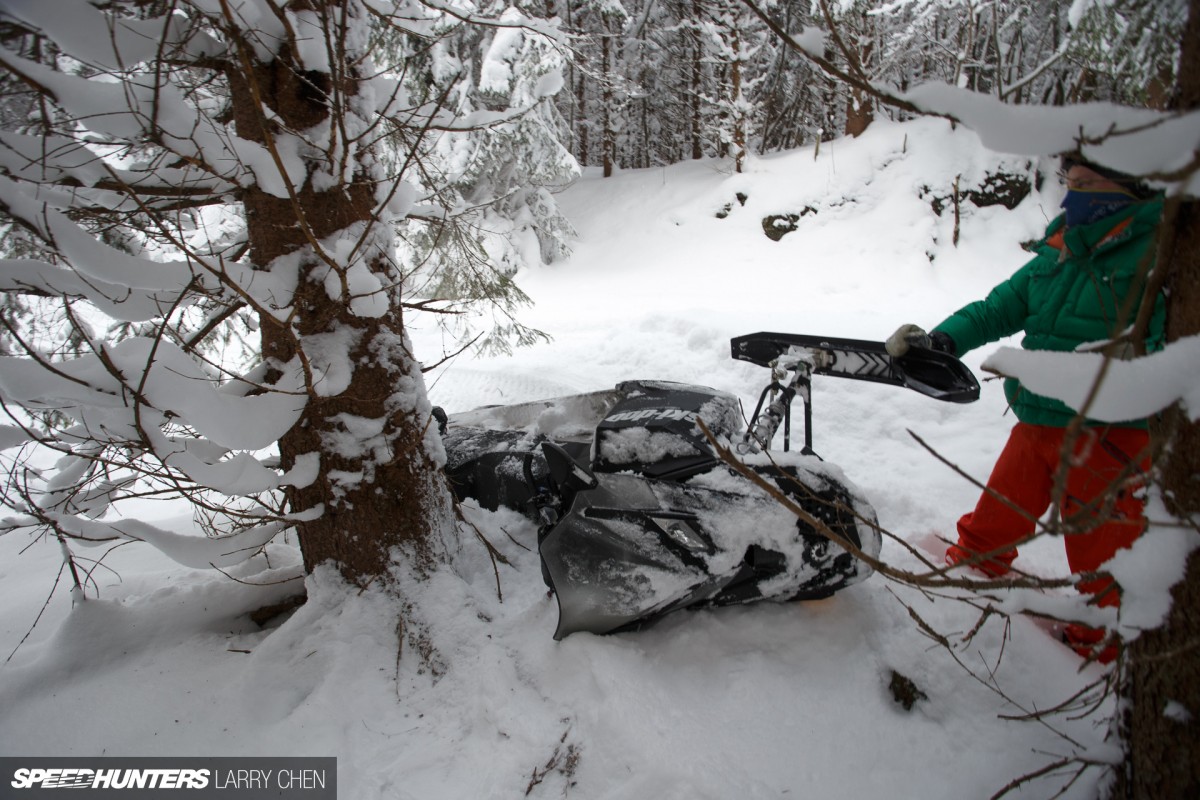 Then I crashed into a tree and almost killed my Norwegian passenger. Just kidding – it was probably the slowest and saddest snowmobile crash ever.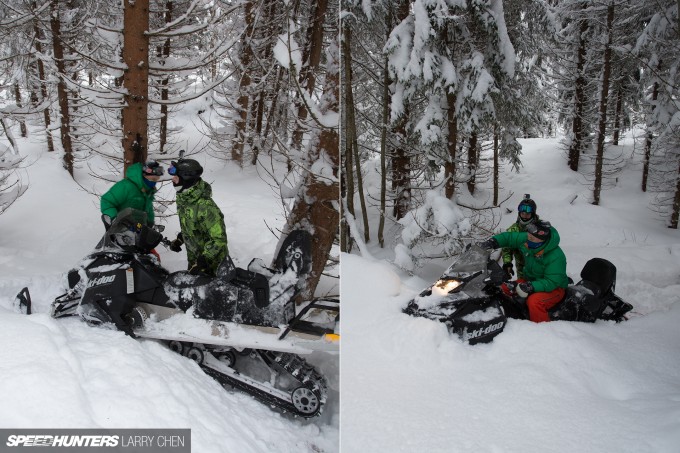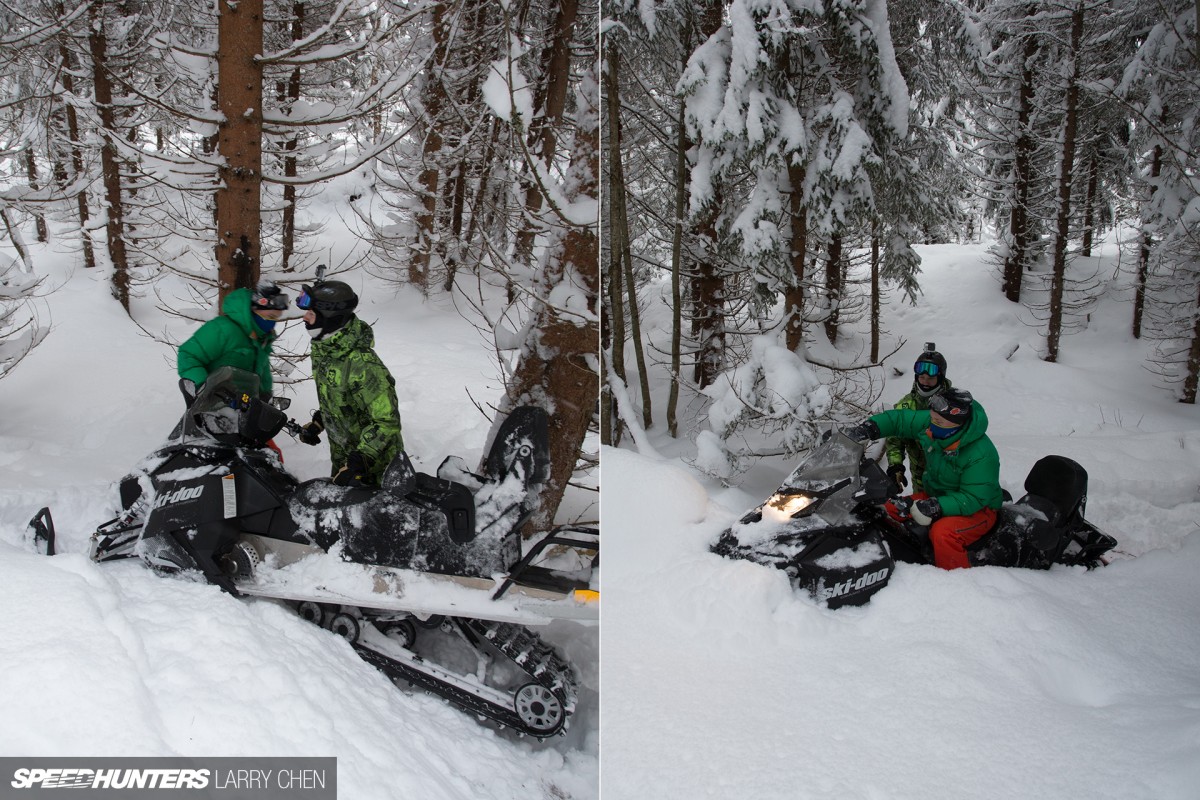 Of course I helped with the extraction process by supervising and taking photos. Thanks guys!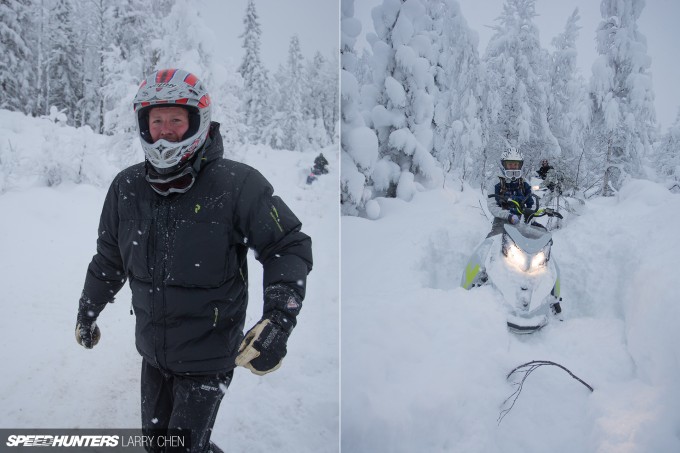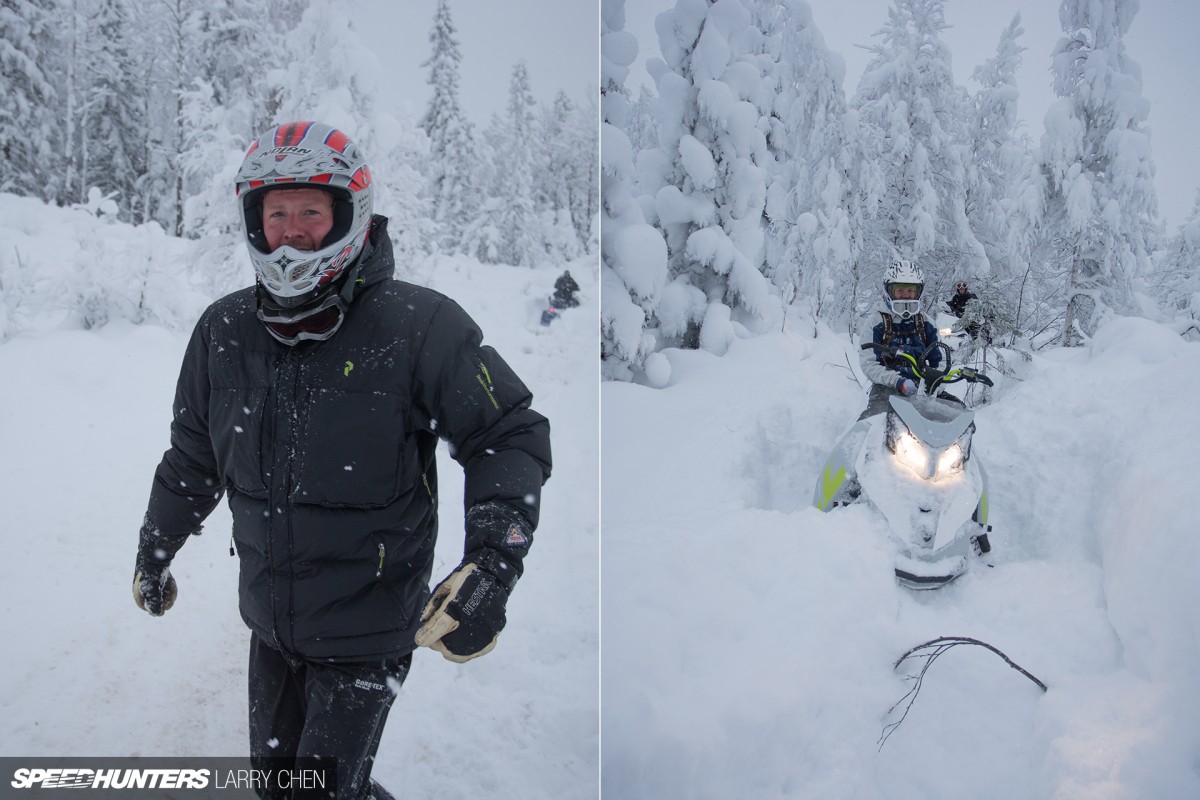 This was actually Hans' first time going this deep into the woods. Although he was doing much better than I was.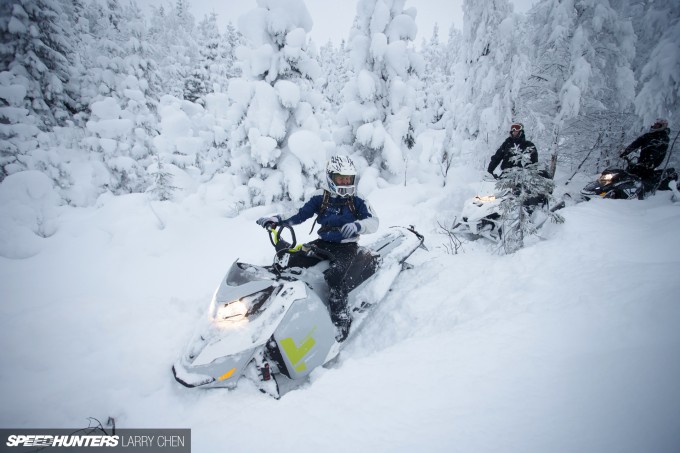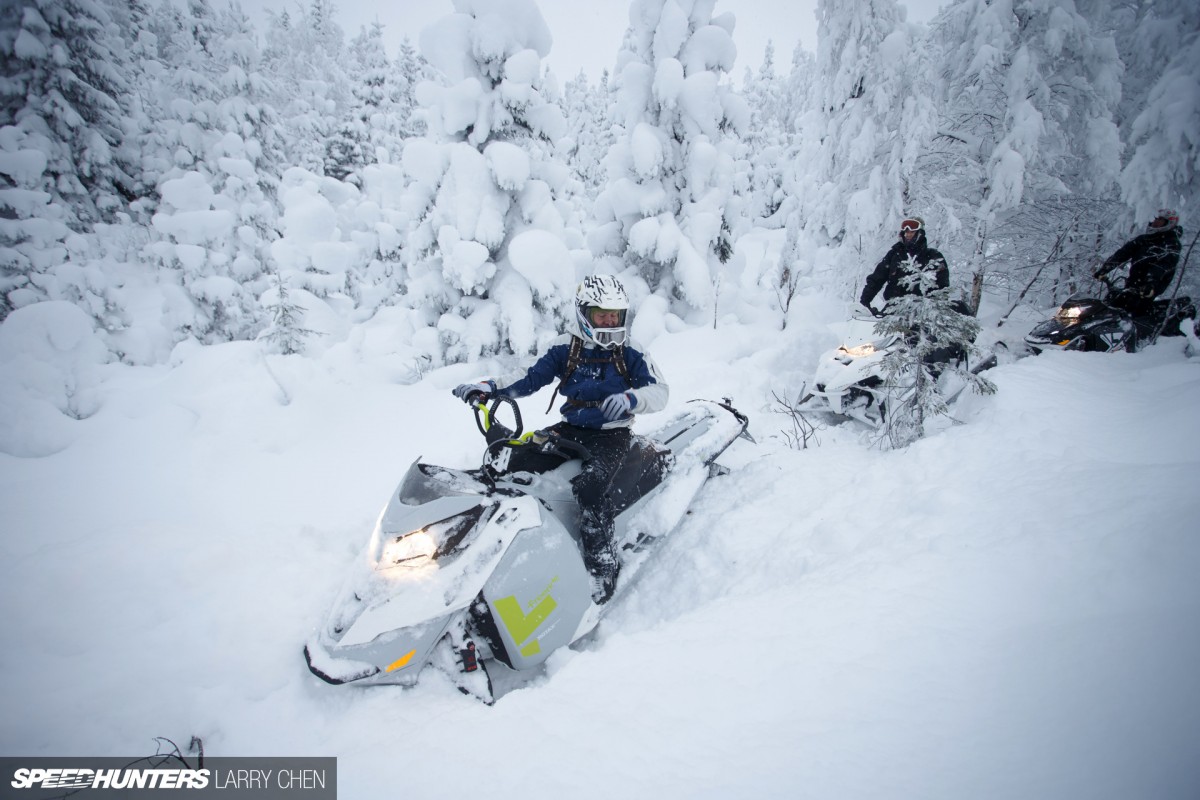 We kind of lost our way and had to turn back, but eventually we found the frozen lake that we were looking for in the first place.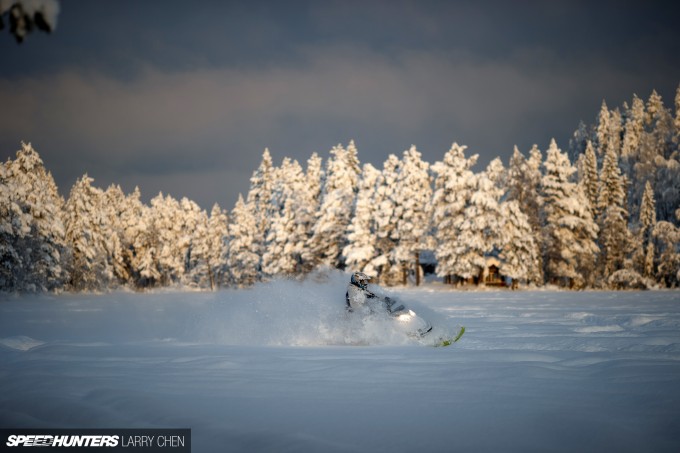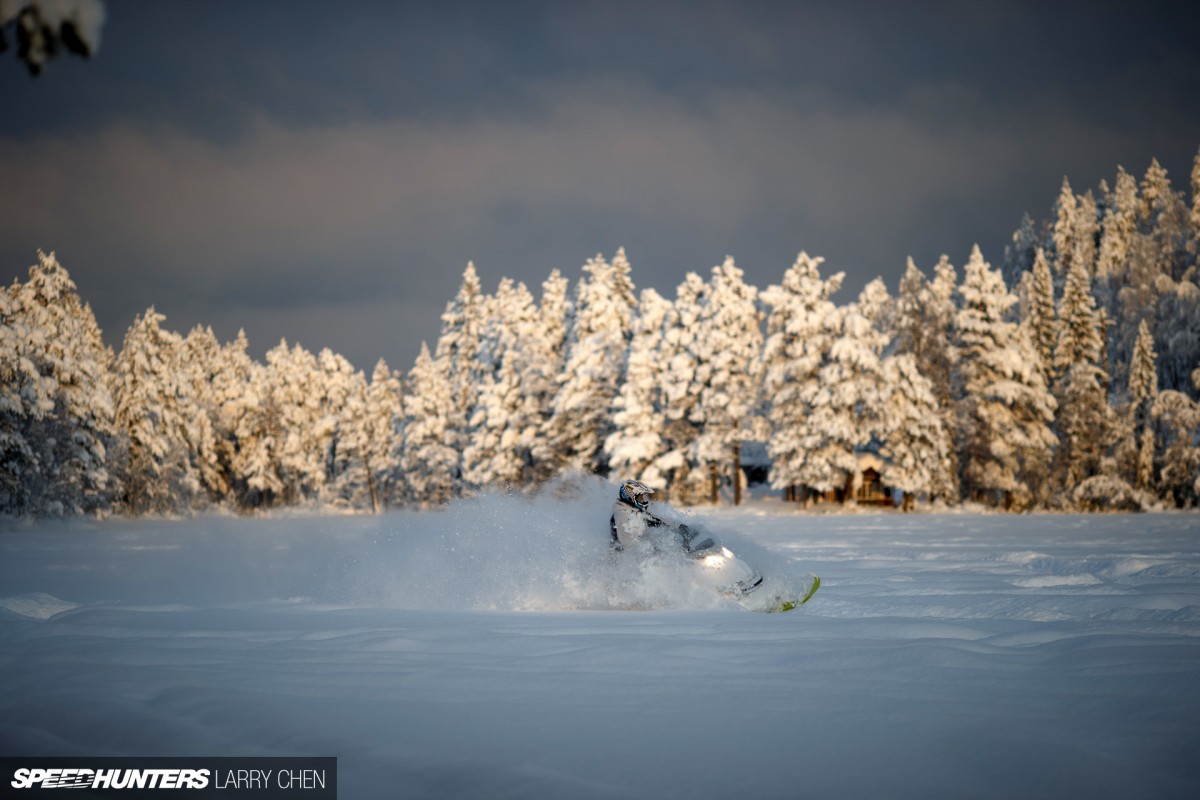 It was so beautiful, and the sun even came out for a split second. I almost forgot the fact that I couldn't feel my toes, fingers, ass and face.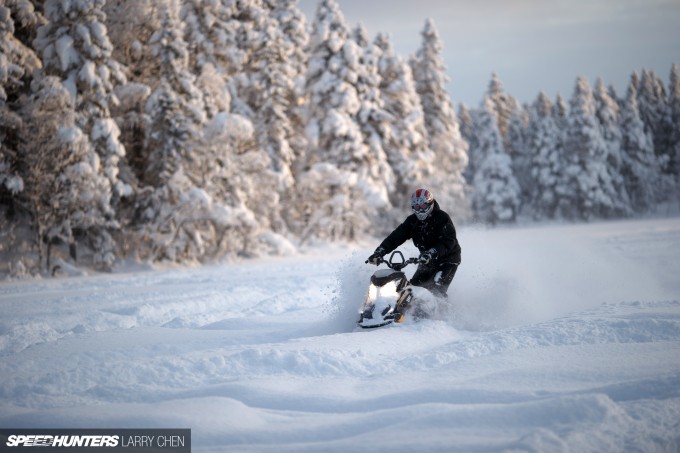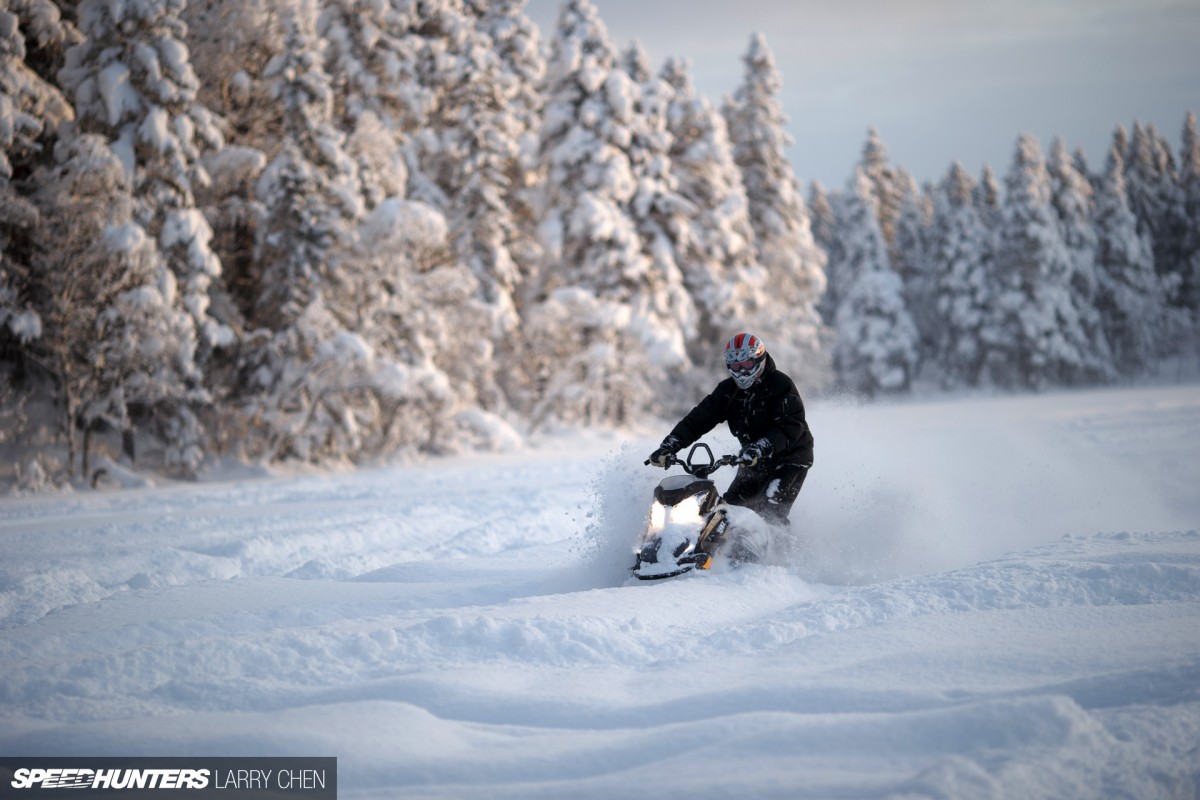 Here, we could actually ride at speed, but the ice was fairly thin so stopping was not an option.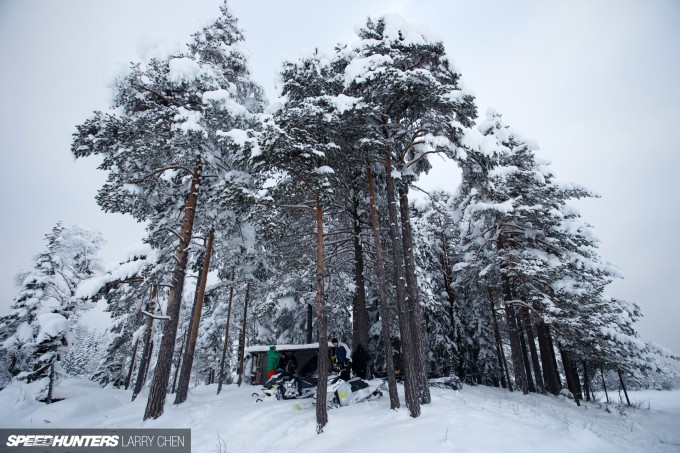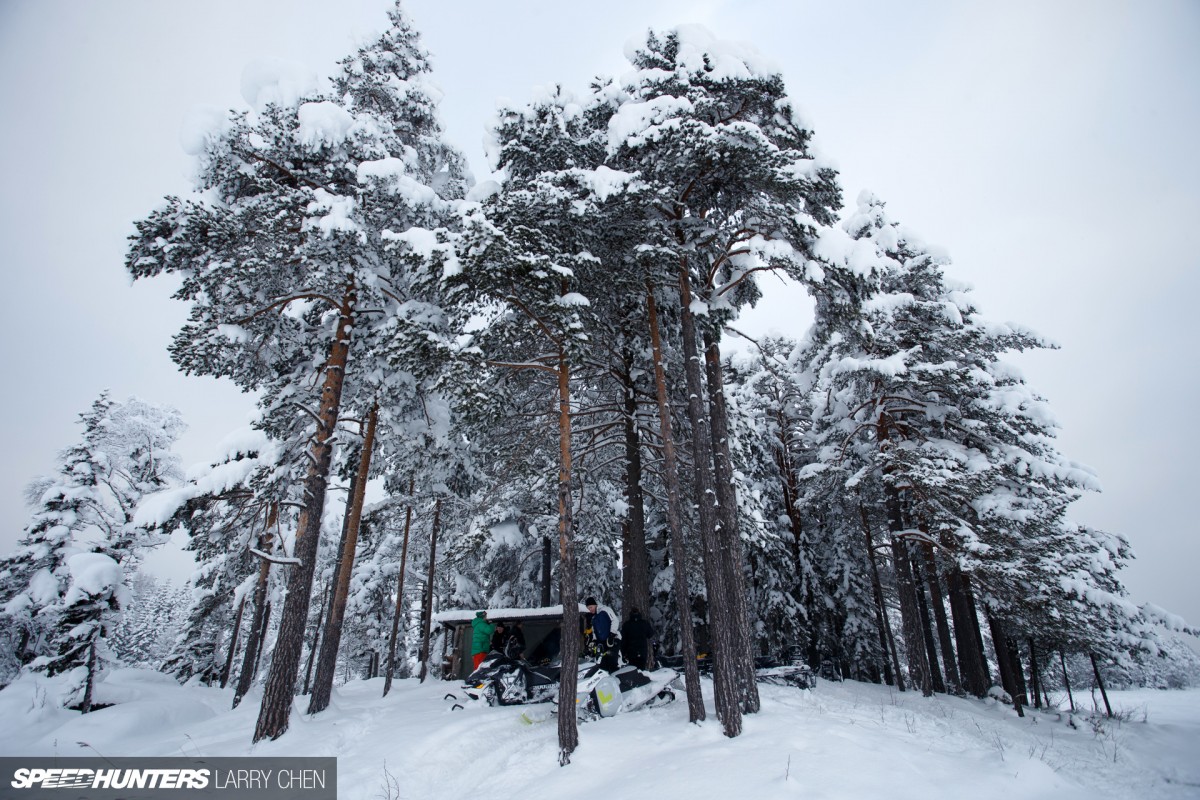 We took refuge on this tiny island in the middle of the lake.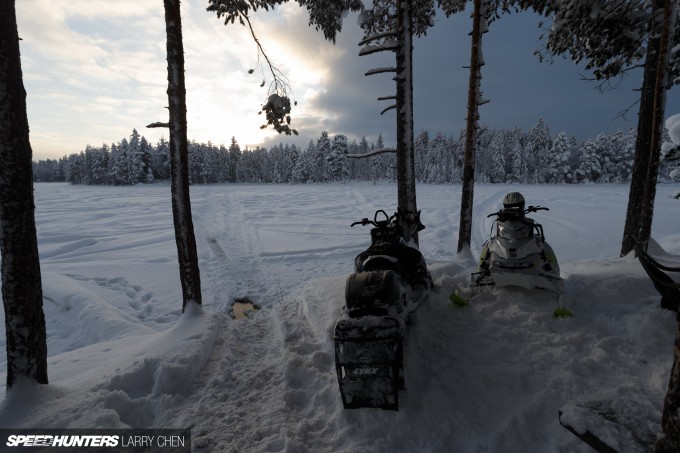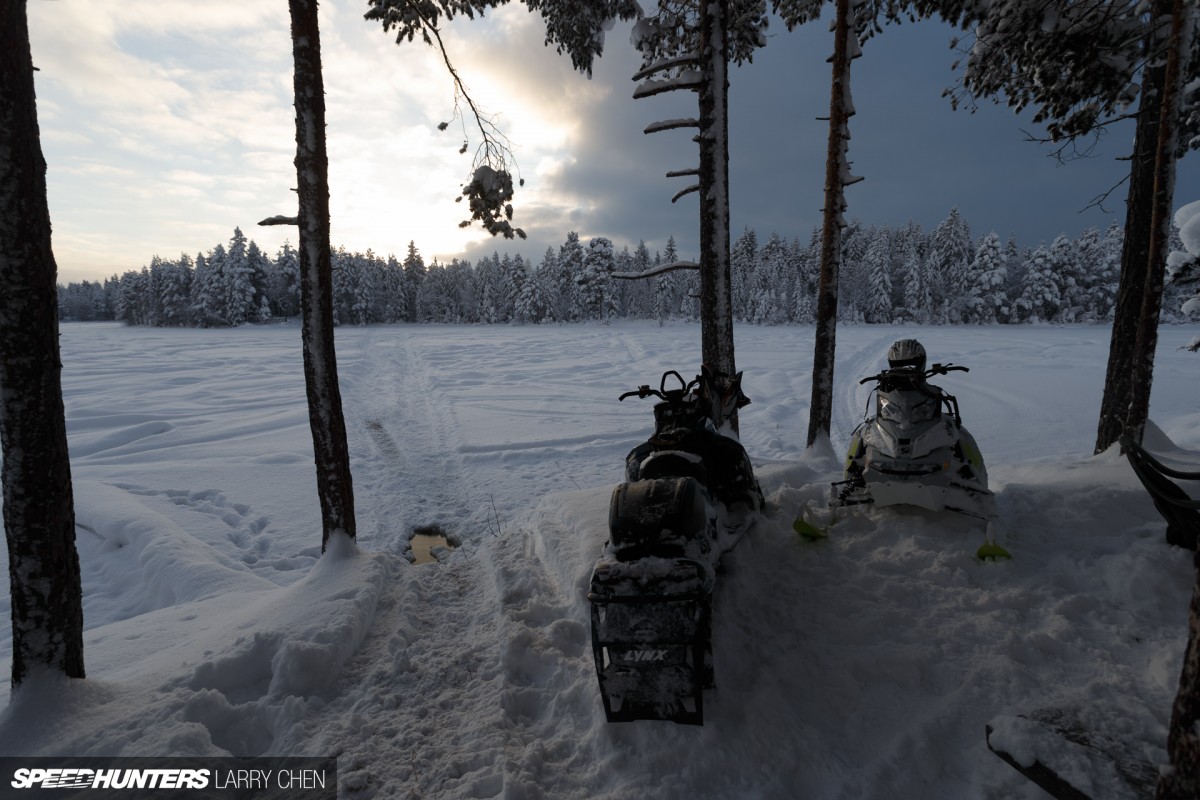 You can see the water coming through the ice where we hopped on and off the island. It looked a bit sketchy to me, but these guys knew what they were doing, so I trusted them.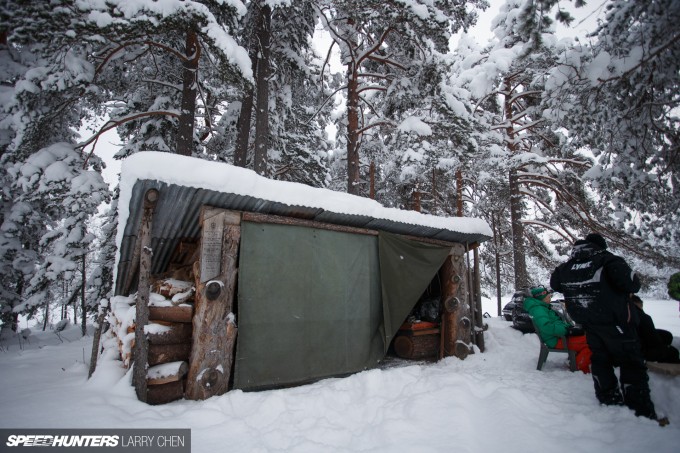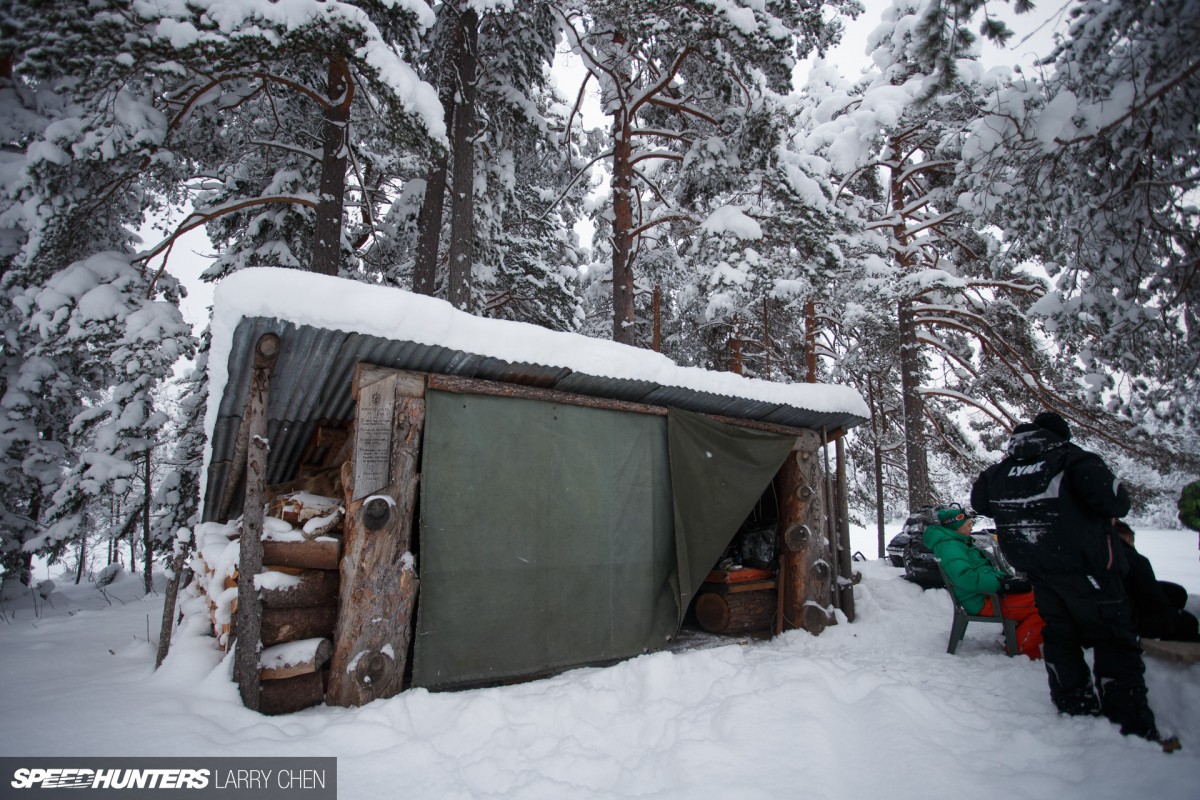 In the middle of the tiny island was a log shack.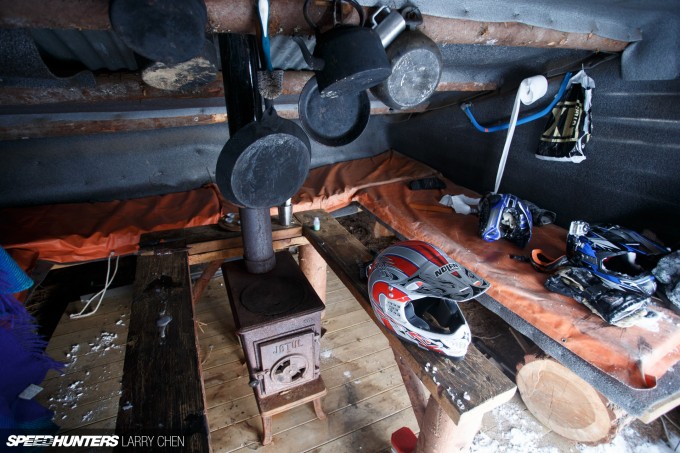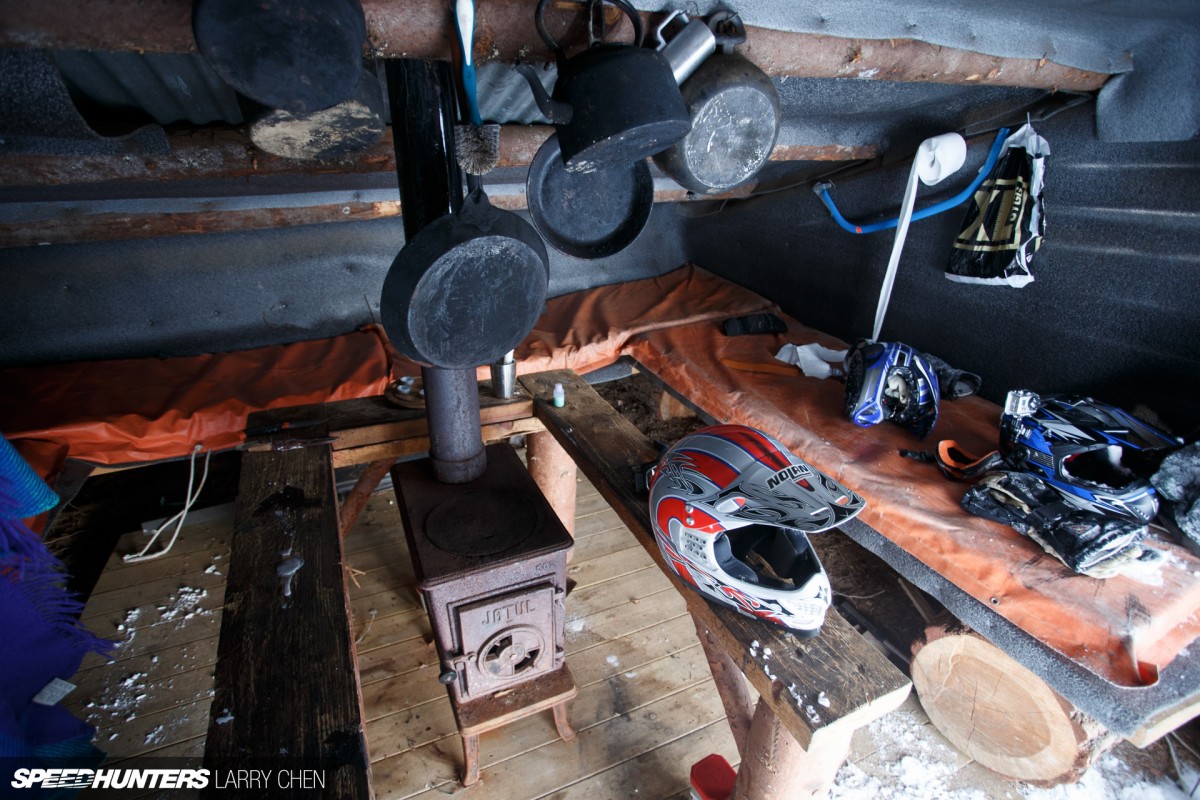 Inside the shack was a comfortable little place to spend the night, so we let our gear dry a bit inside. These Norwegians really know how to live.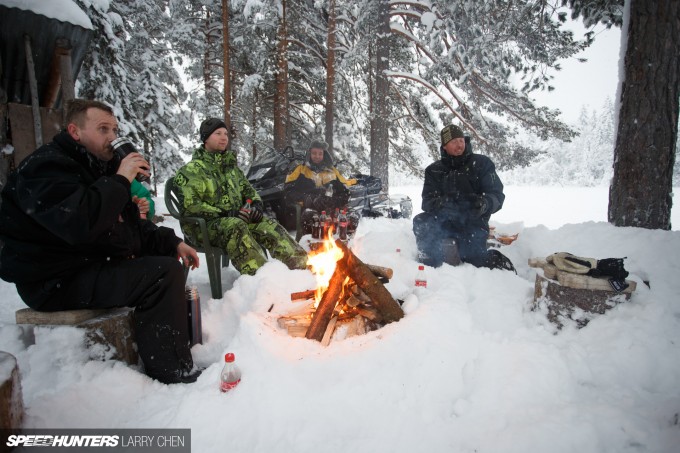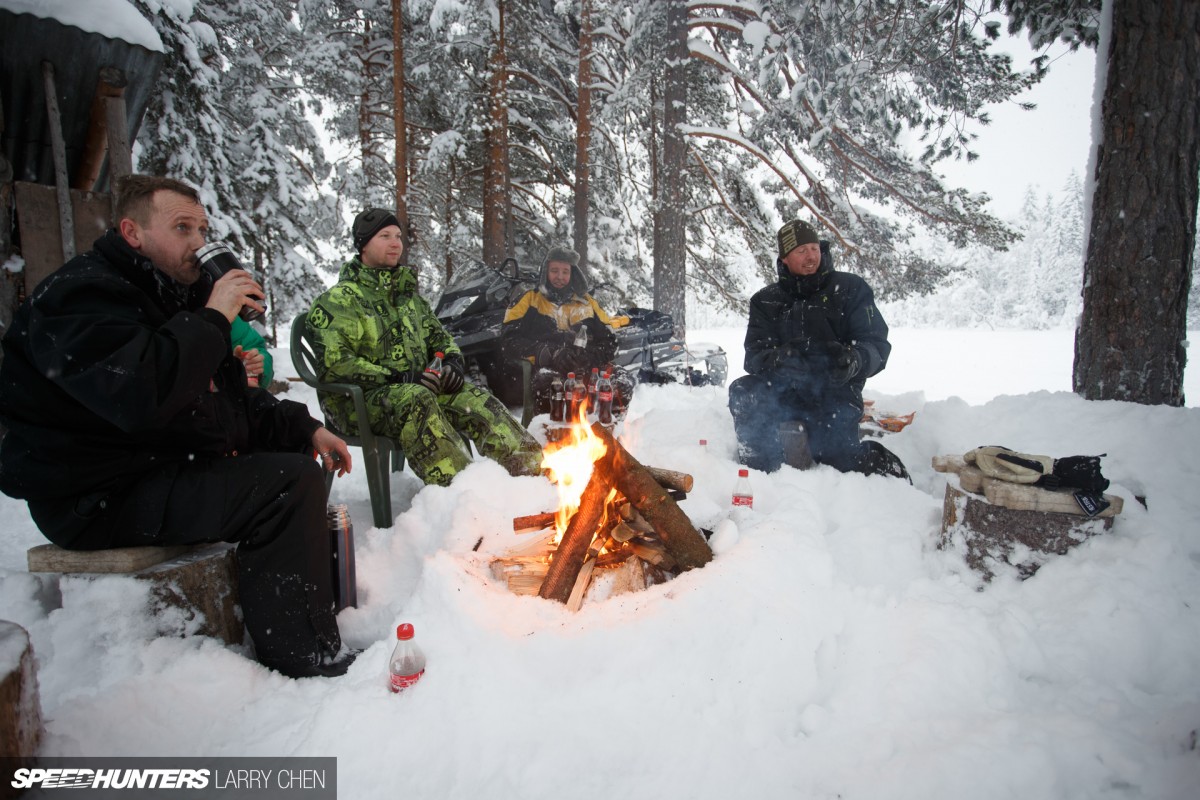 The guys started a fire, and I lent a helping hand by enjoying the warmth. We ate a quick lunch and headed back out onto the trail.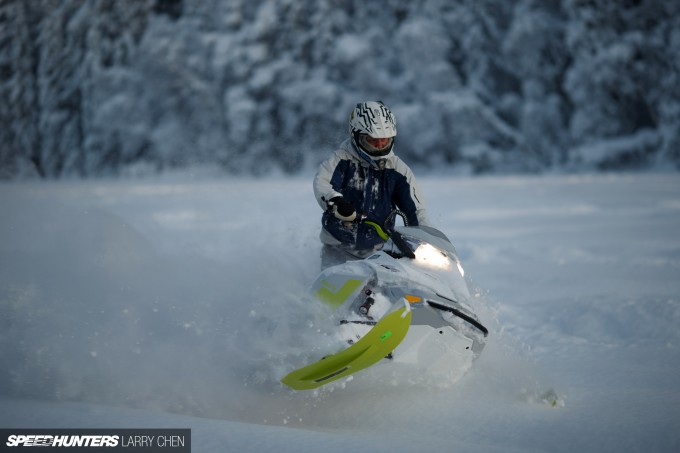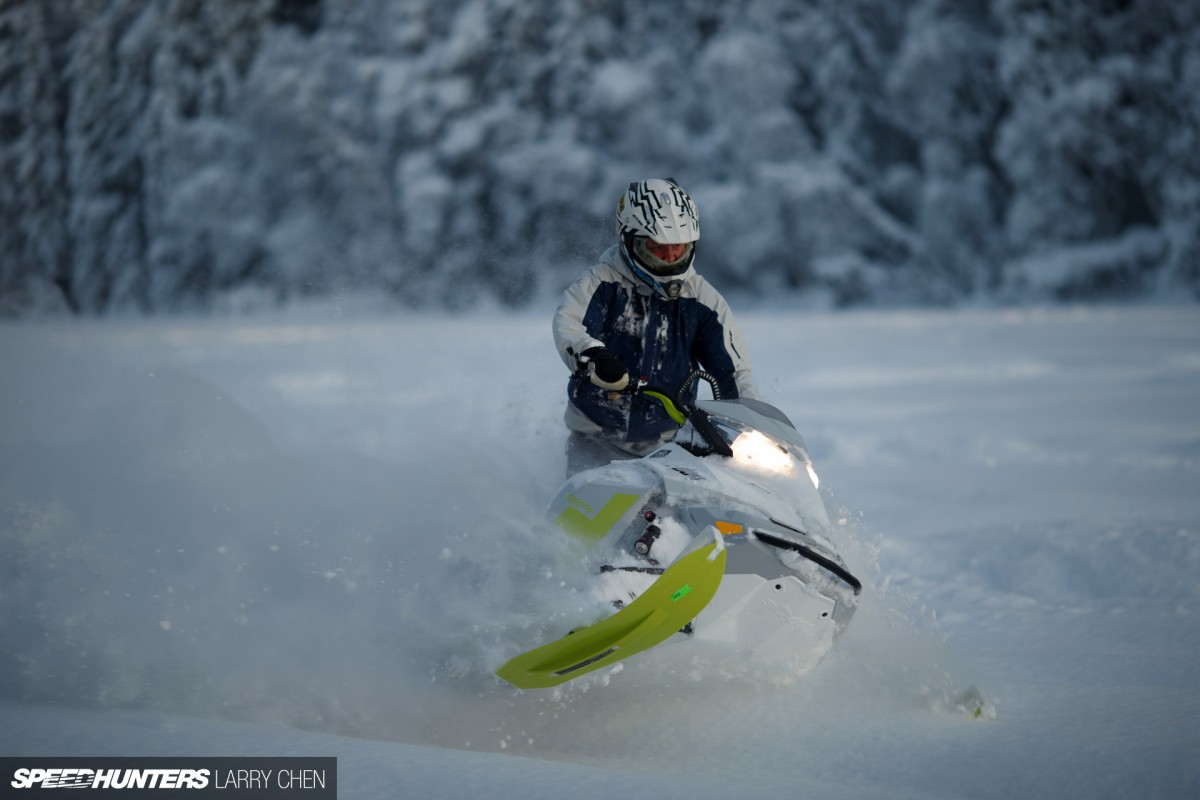 It's so hard to turn in deep powder, it's almost as if the skis don't do anything at all. You really have to lean into it to get it to go in the direction you want.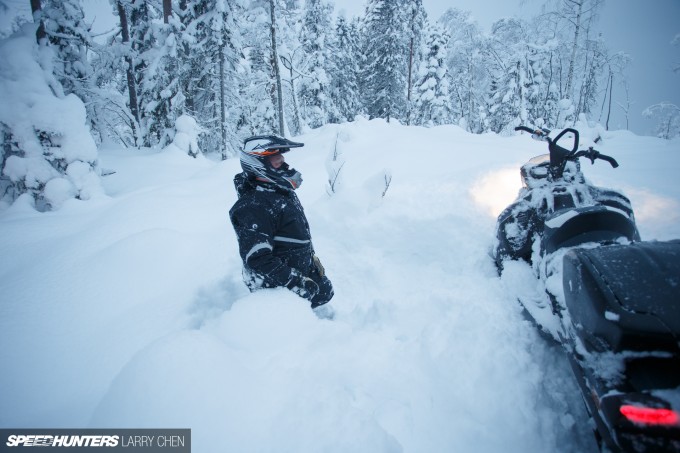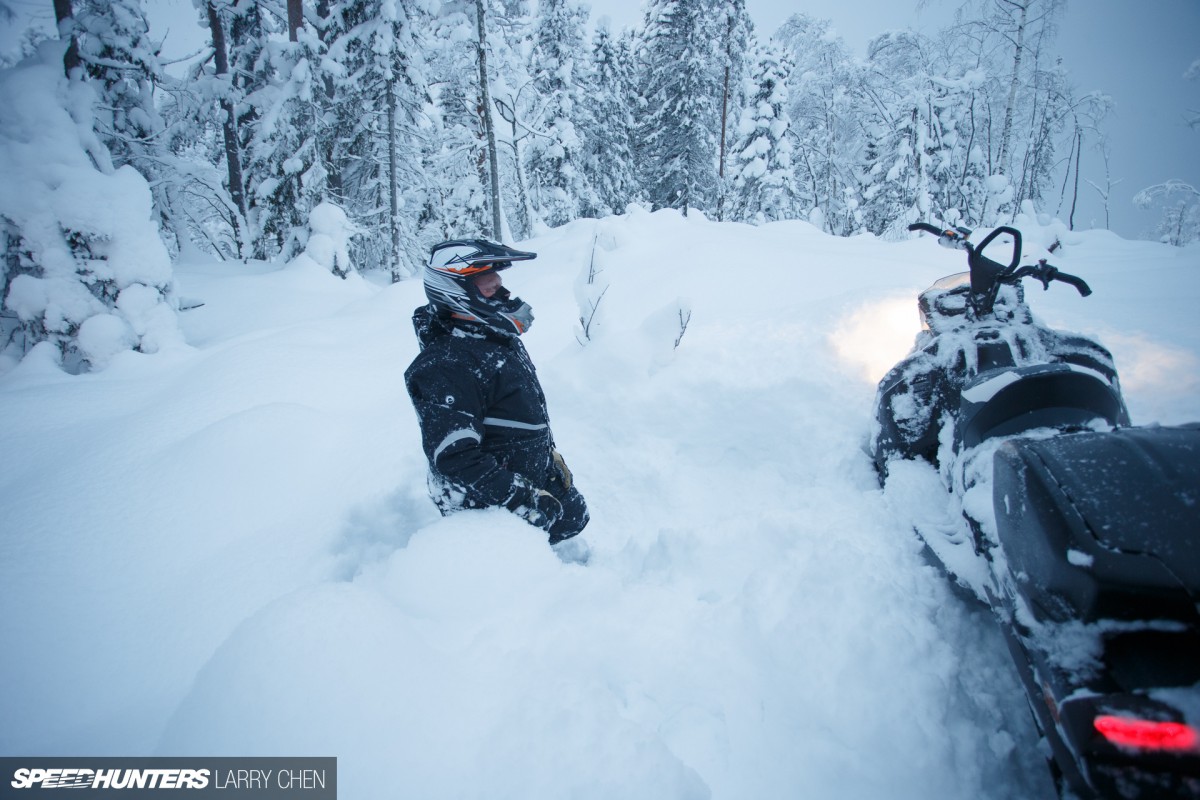 So we headed to another trail, but there was no chance of us getting though. The snow was up to my chest at a few points. Even one of the most experienced riders, Jo Flattum, was stuck.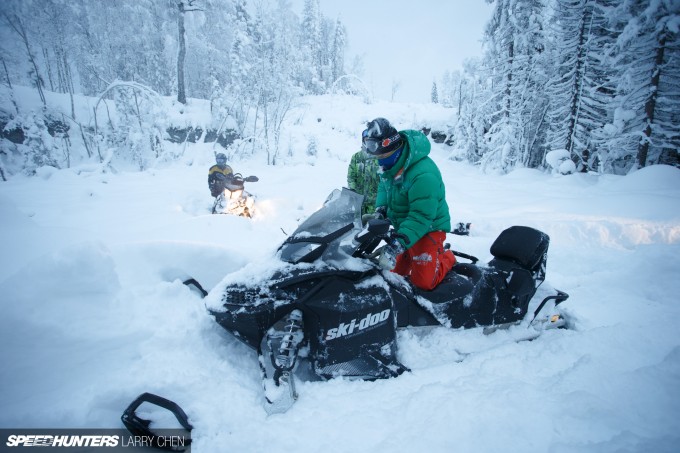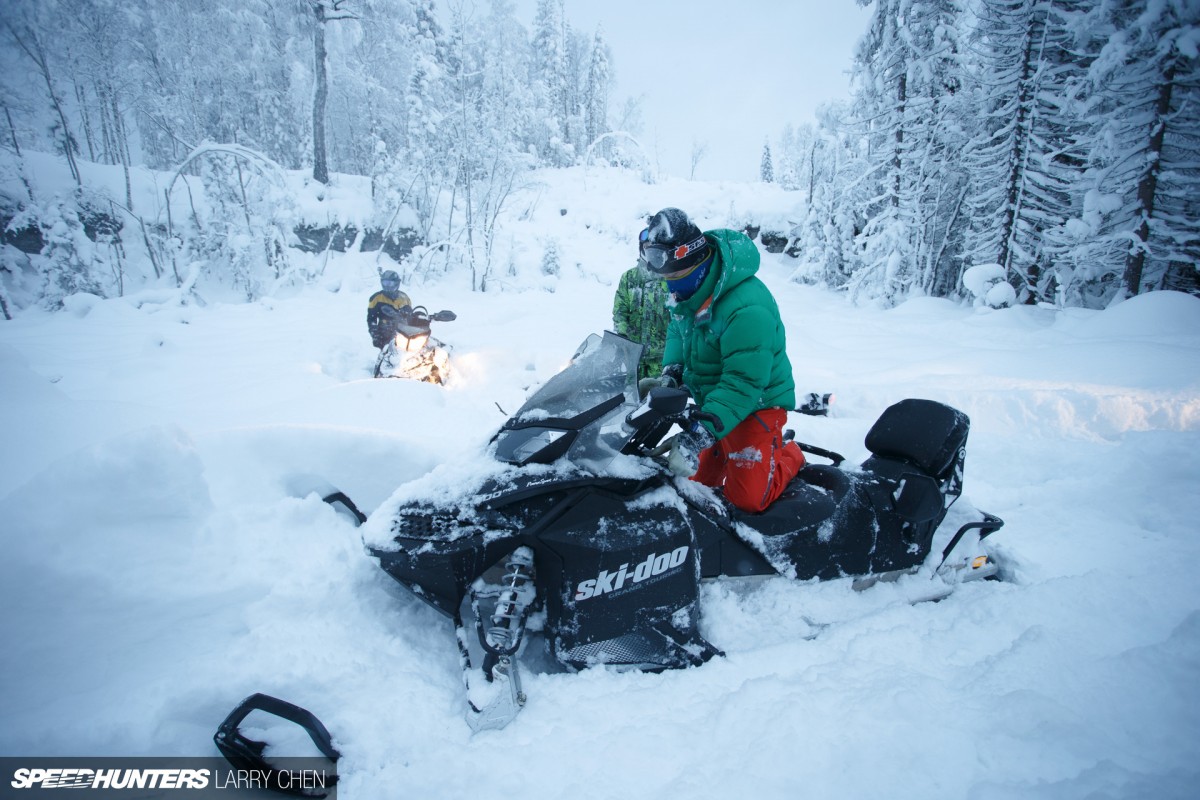 So we picked up the snowmobiles and turned back around. Here was Morten Gulbrandsen, fully recovered from me nearly decapitating his Norwegian head.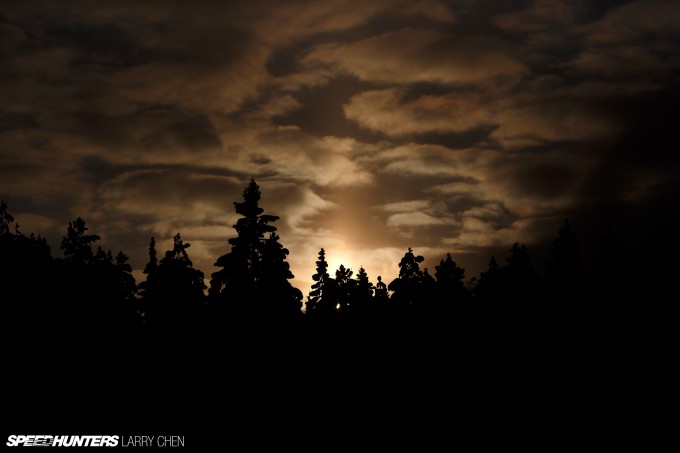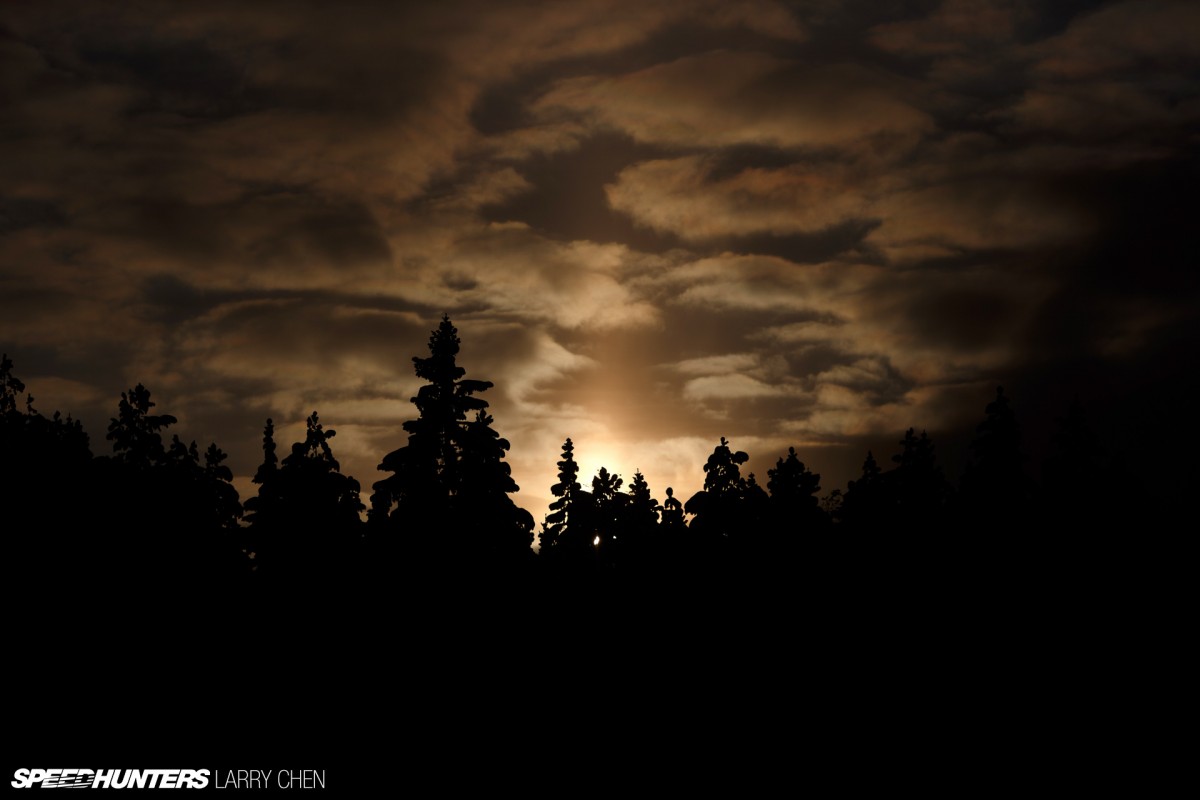 By the time we were all unstuck, the sun was going down and it was time to head back.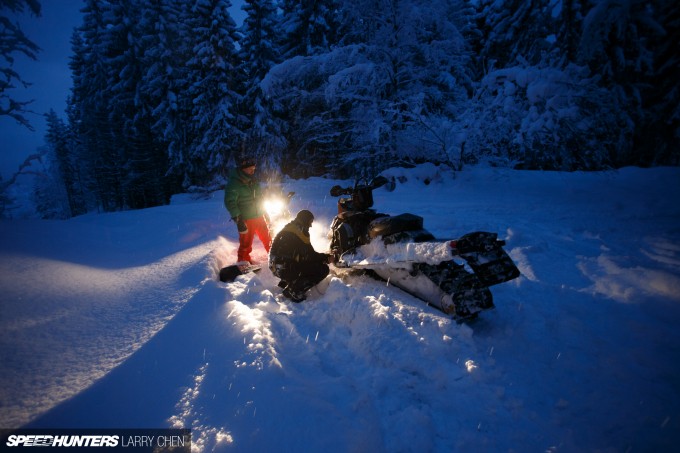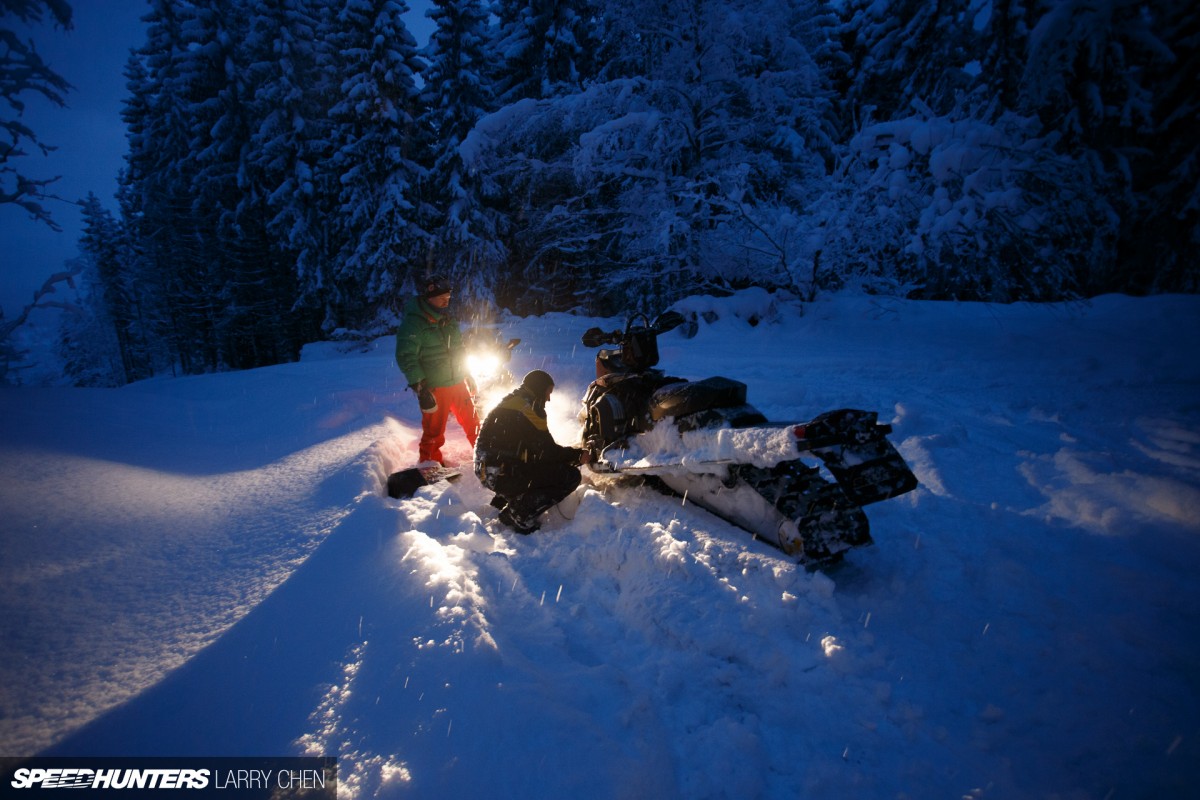 Of course, this was the perfect time for one of the scooters to break down. I don't know what the temperature was, but it was cold enough that the bottle of Coca-Cola in my pocket was frozen solid. I banged it against my snowmobile so I could extract its sugary goodness.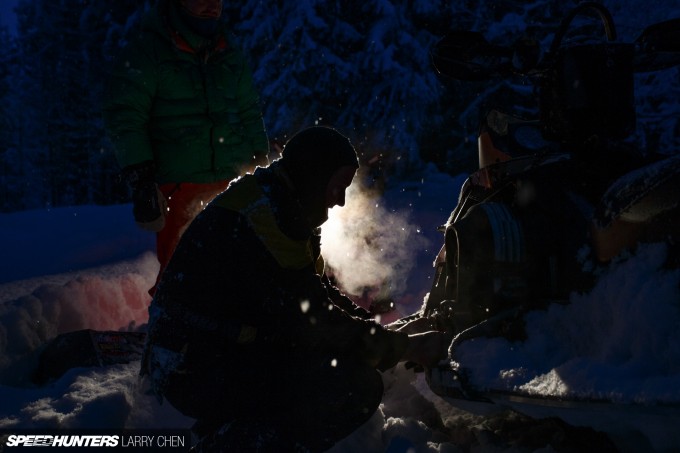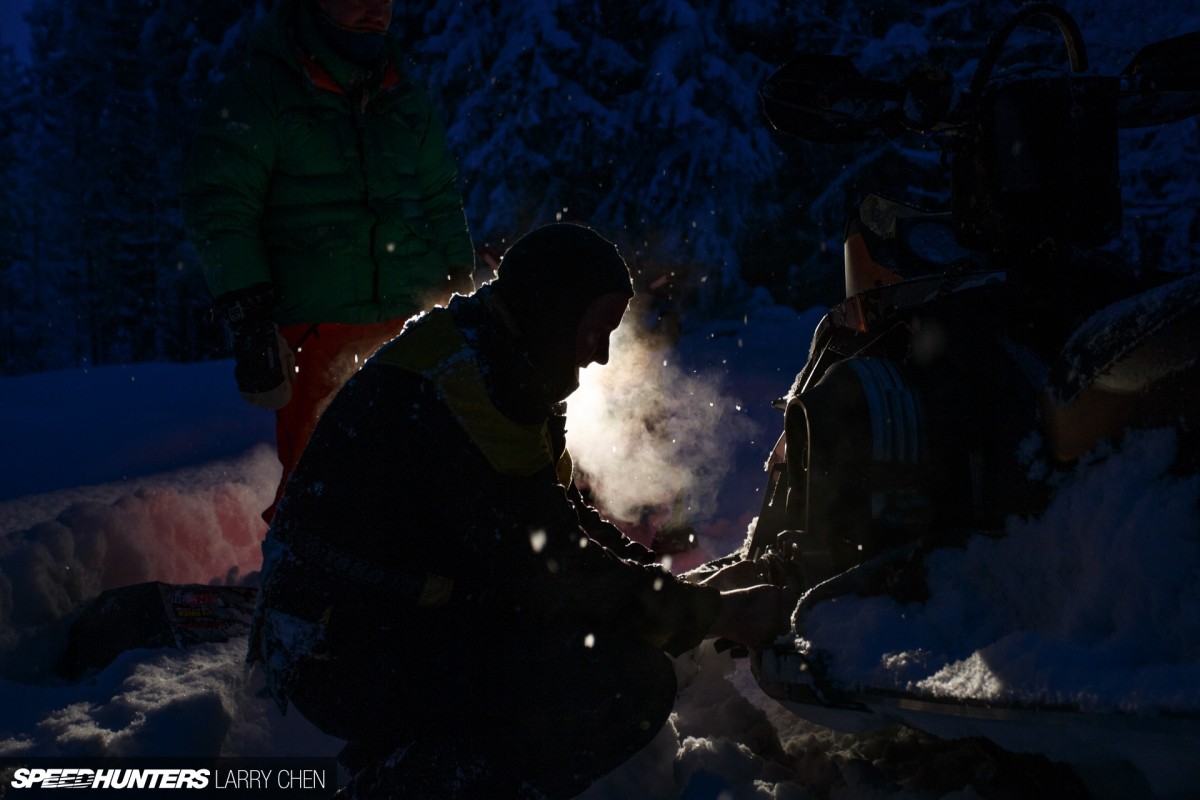 What happened was Bjørnar rolled over and the throttle was pinned. When they rolled it back over, it wouldn't start, so he pulled on the cable trying to start it back up, till it snapped. So now the snowmobile was sitting there with no pull starter.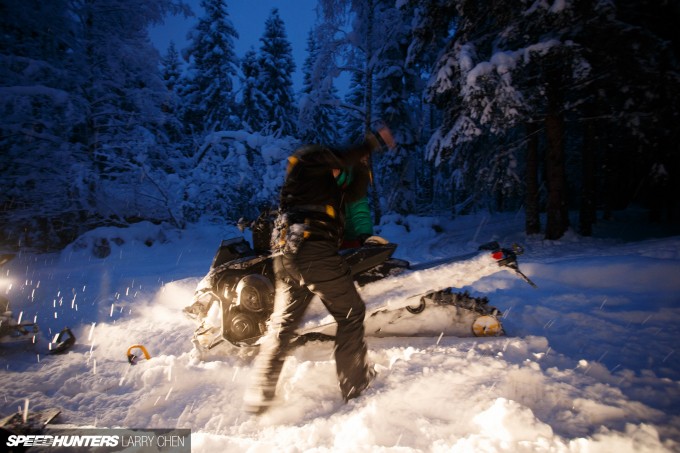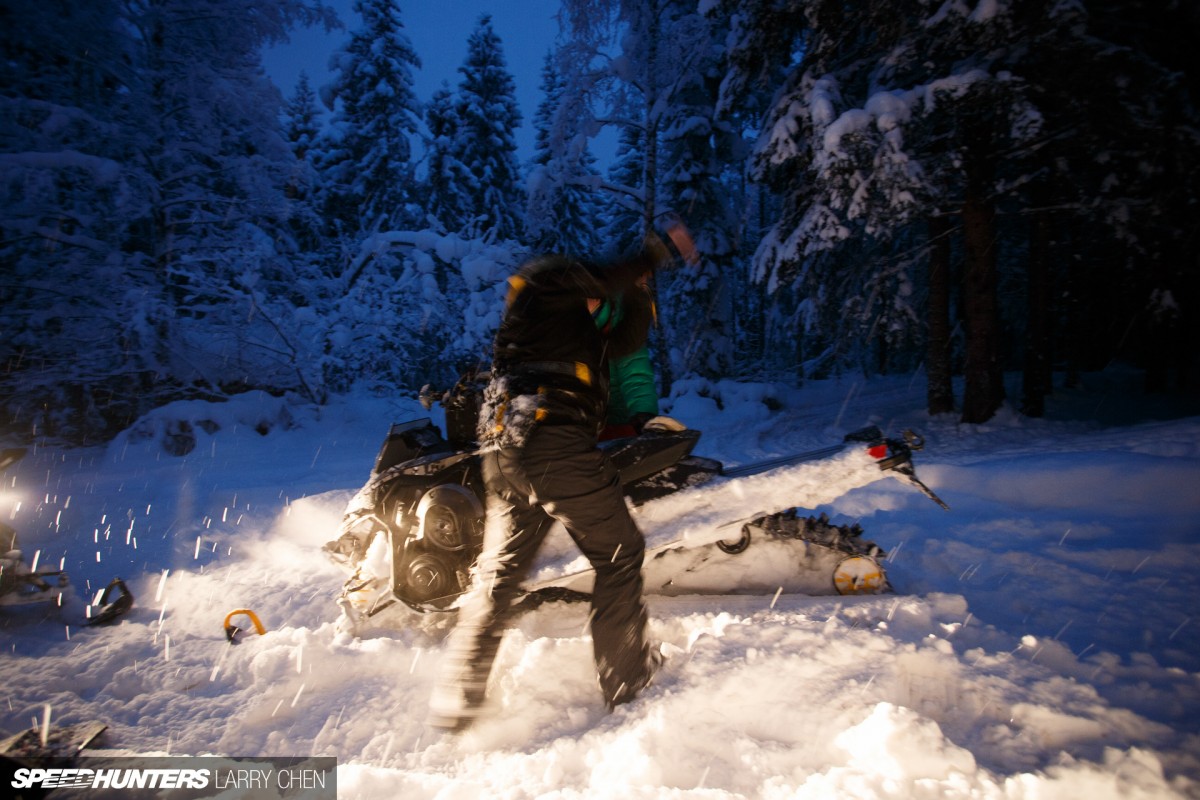 Some of the guys left to head back to home base to pick up a sled, just for these exact kind of occasions. Luckily for Mr. Roly Poly, the broken pull starter cable was long enough to wrap around the flywheel. After 30 minutes or so, the motor finally started.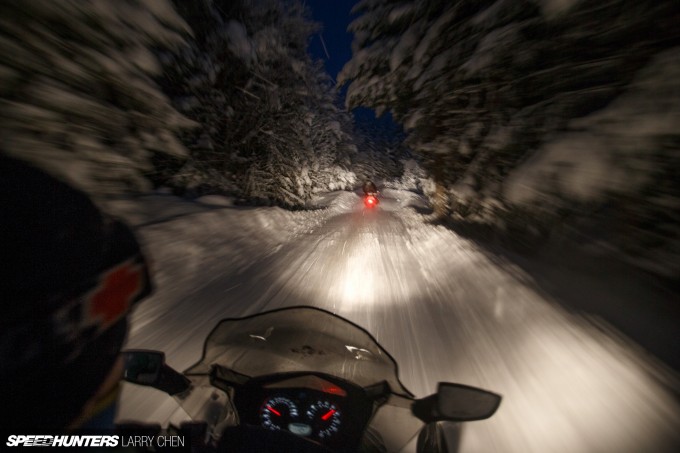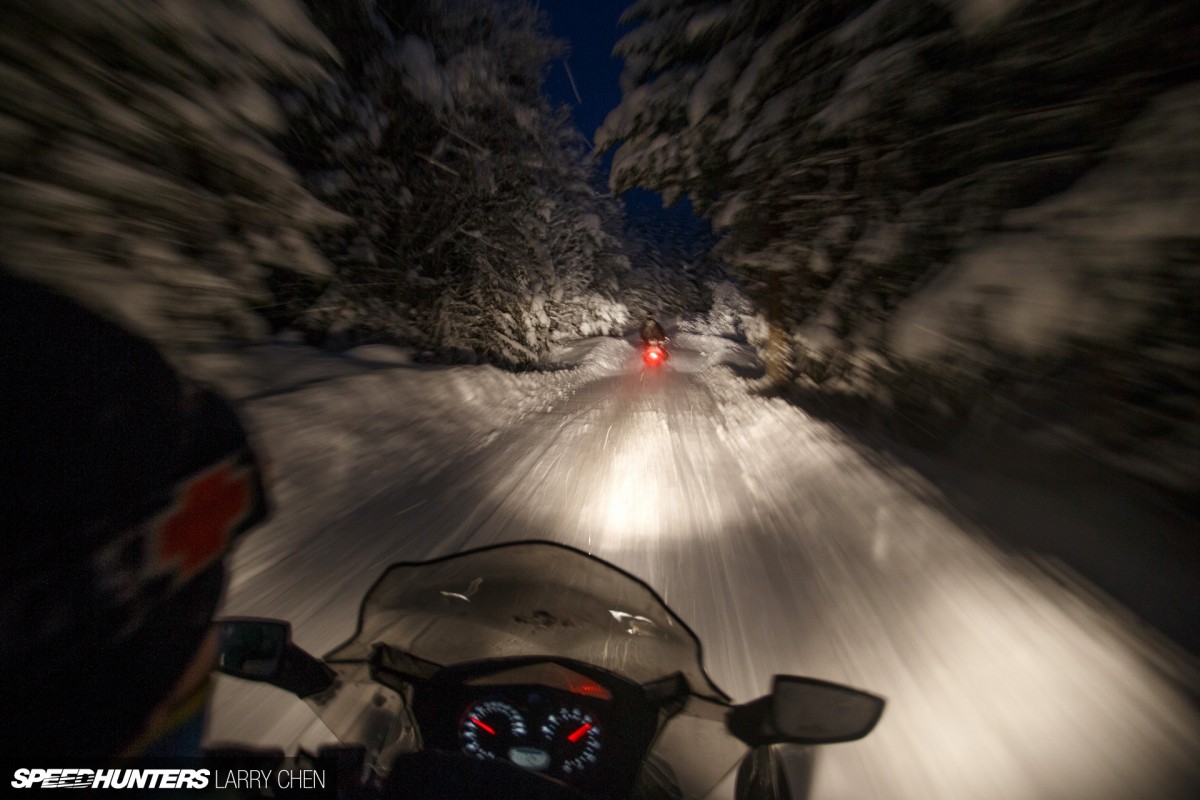 I didn't dare to ride at night. Sometimes there were super steep drops into questionable frozen lakes, so I let my buddy Morten, who I almost killed earlier, guide us back to safety.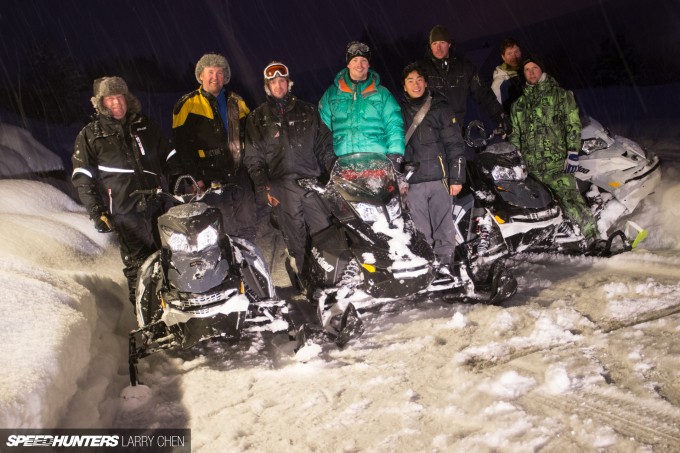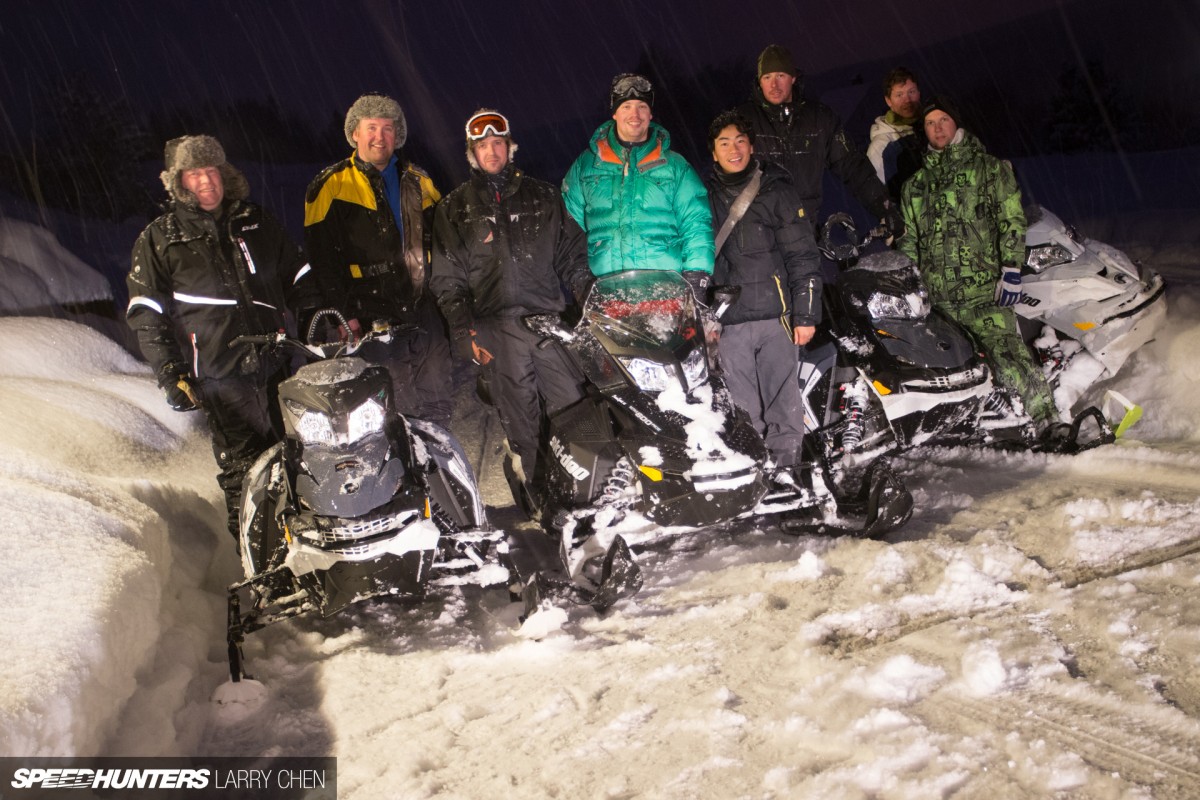 I realized something as we got back to home base: in just a few hours, these guys will be running Gatebil On Ice. The hottest motoring festival in Europe is only possible because of a core group of friends. Without these guys, there would be no Gatebil. And you know what? They really know how to have a good time. I guess that's what the Norwegian lifestyle is, even if I only got a thin slice of what they experience.
Sleep is for the weak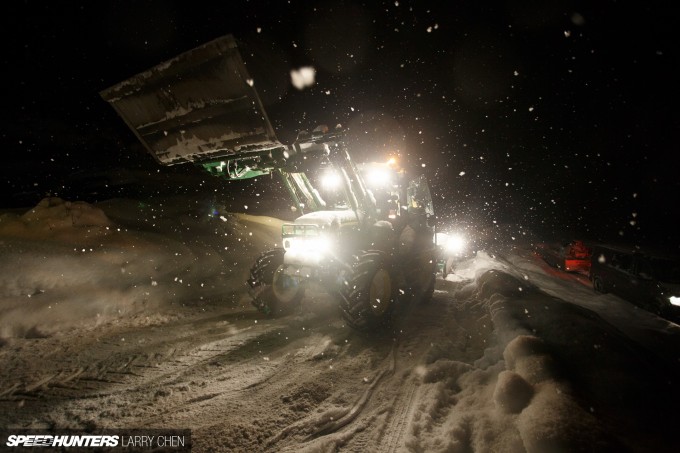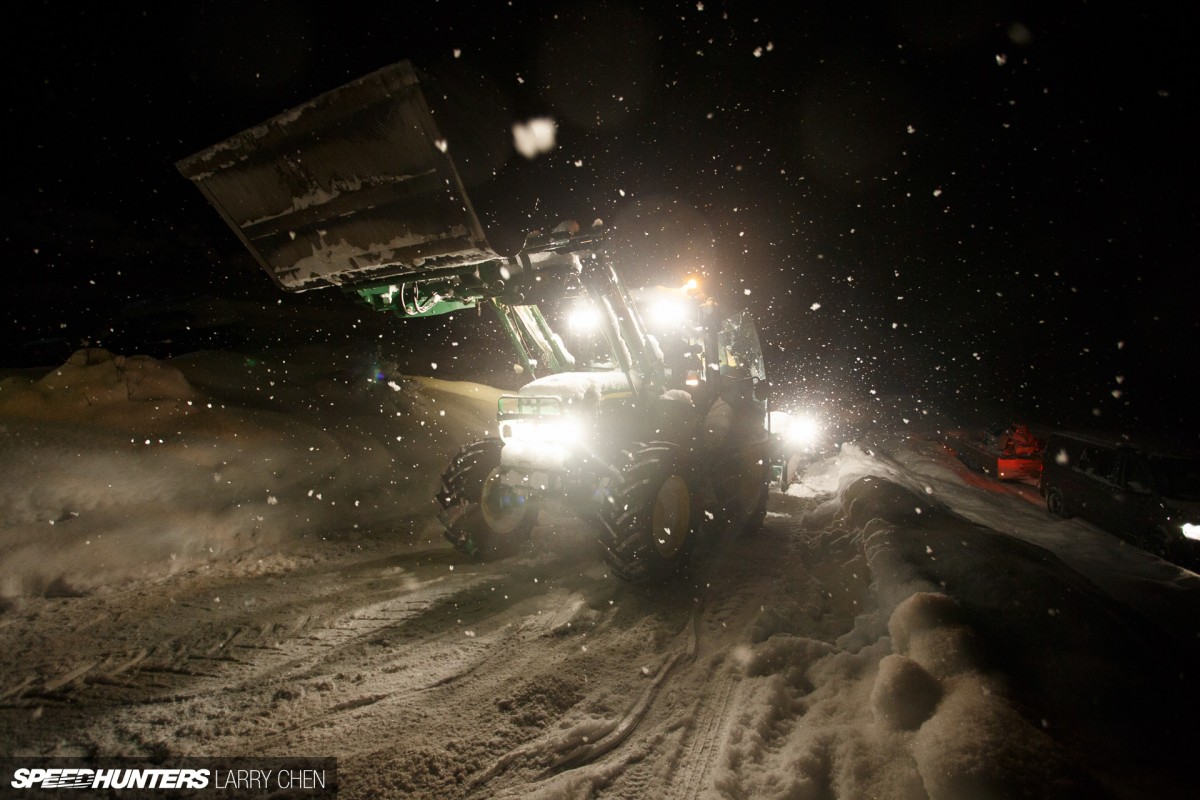 When you live in a place that snows for weeks straight, you need your own tractor/bulldozer. From the moment I landed till the moment I left for Los Angeles, it didn't stop snowing for one little bit.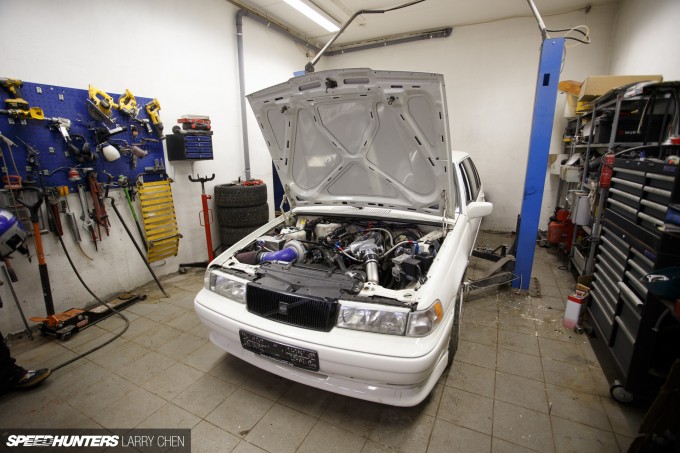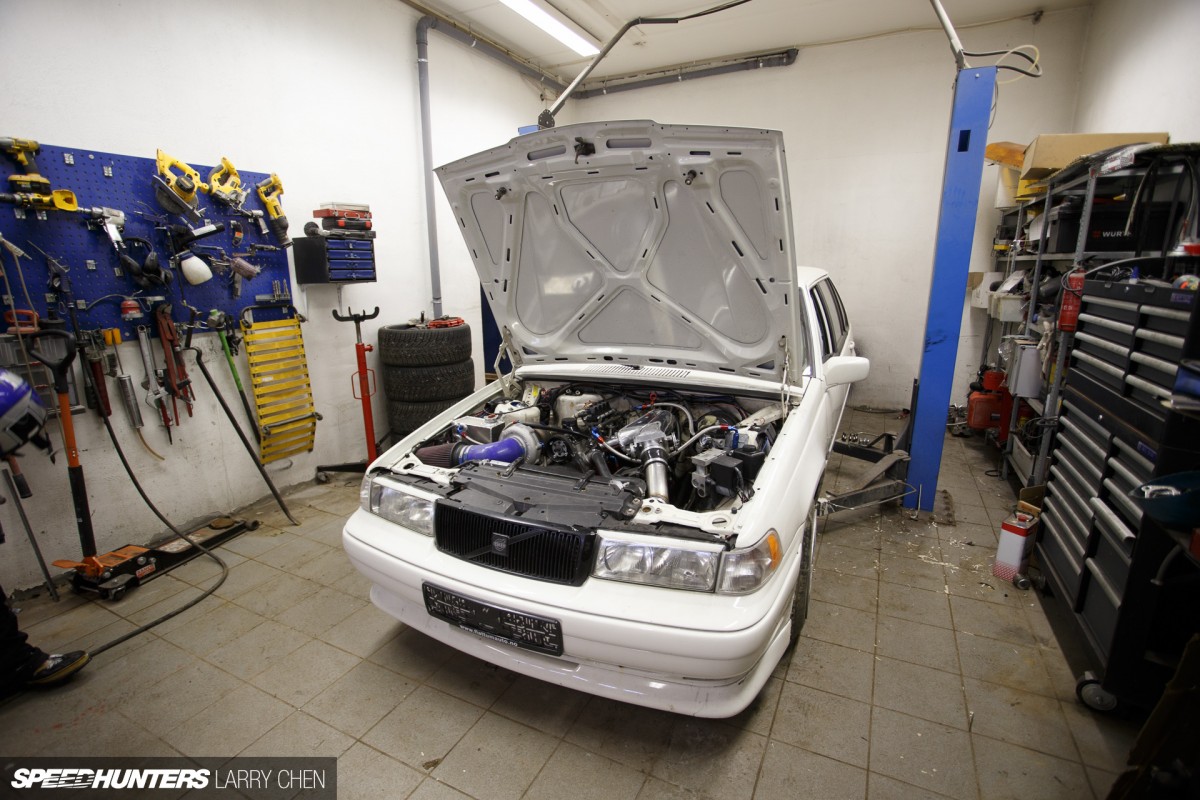 So big deal, the guys who run Gatebil like to hang around on snowmobiles. But of course, they love to drive as well.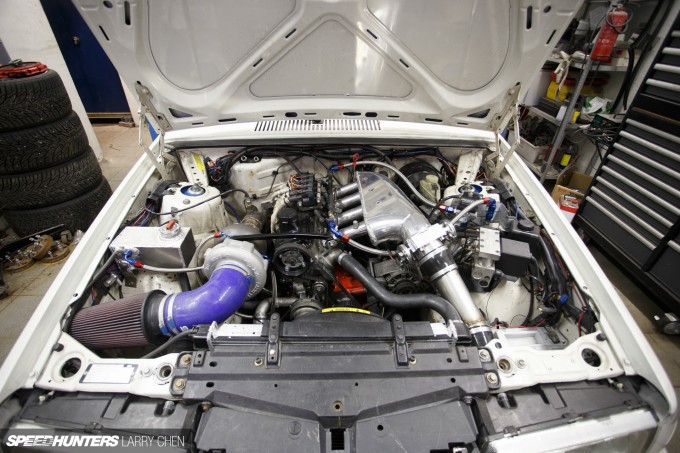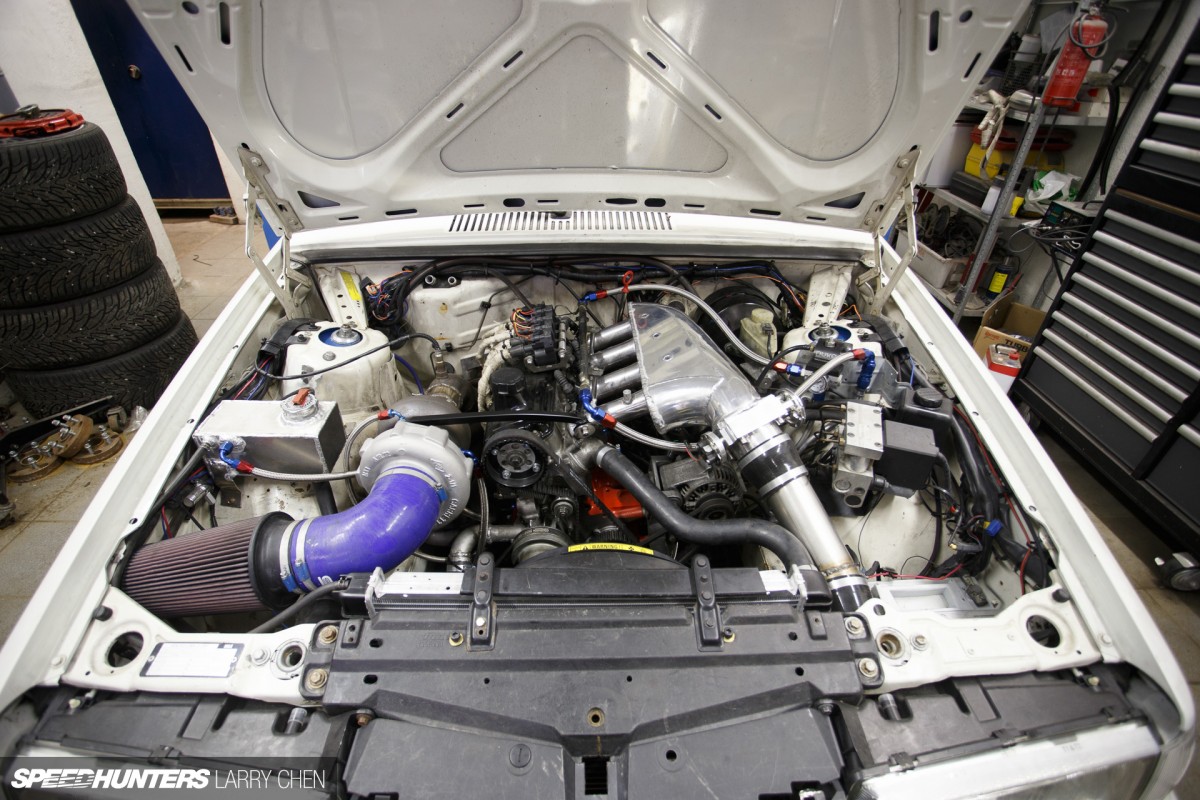 In fact, this Volvo belongs to Jo Flattum and he barely got it together just a few days prior.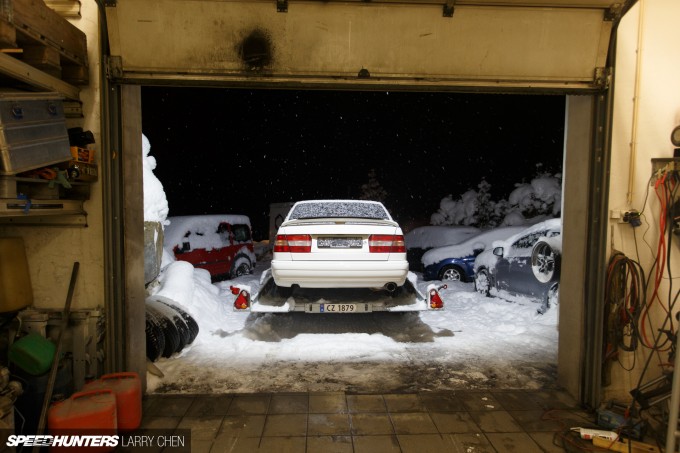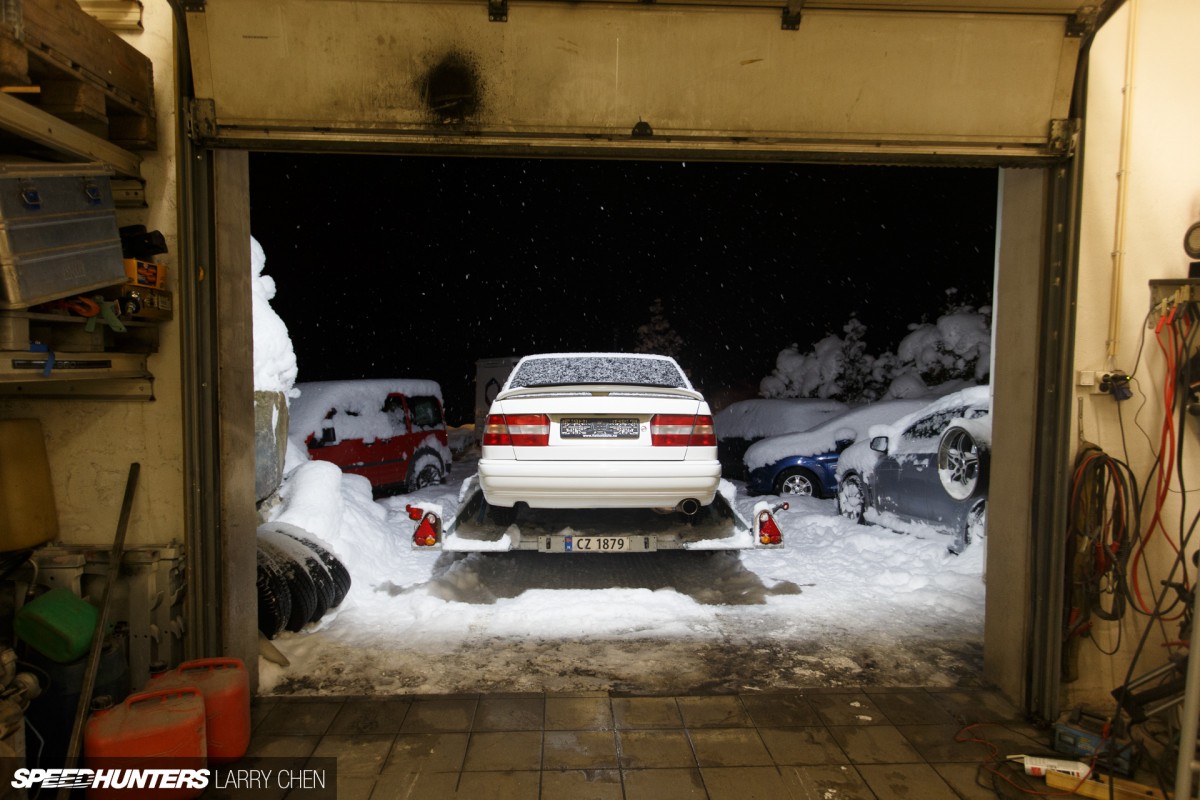 Just like that, it was loaded and ready to go. By now I was absolutely exhausted, but we headed back to see how Fredric and David were doing.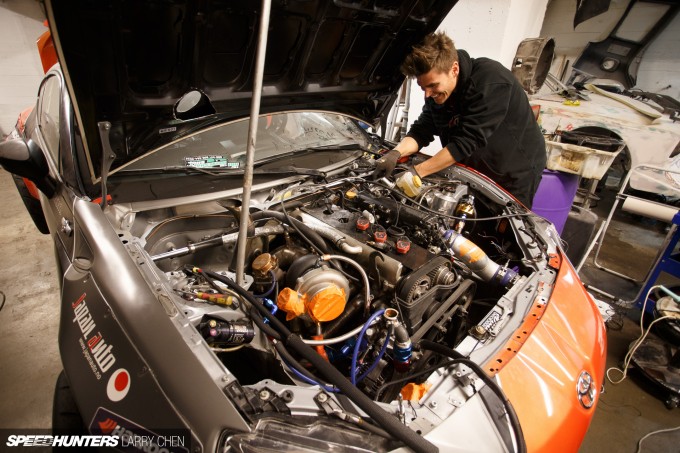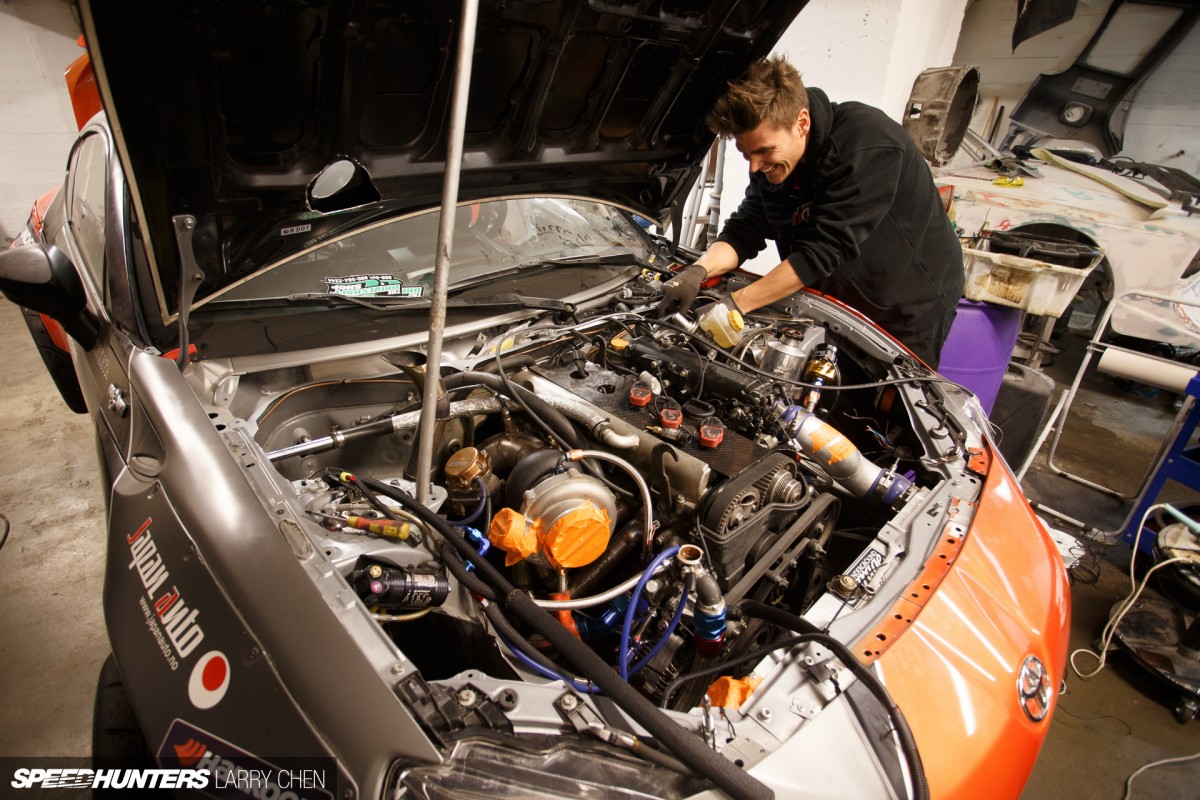 At this point they were a bit hysterical. Fredric had been working non-stop to upgrade the braking system. Just two days ago, he had a crew of twenty five to help out. It was no big deal though, as Fredric grew up getting his hands dirty.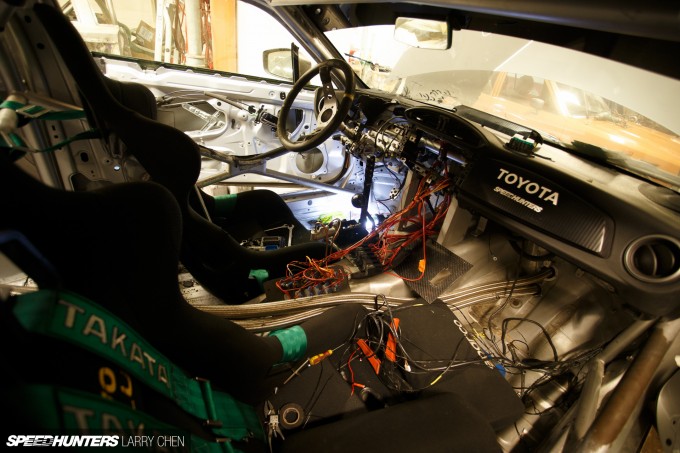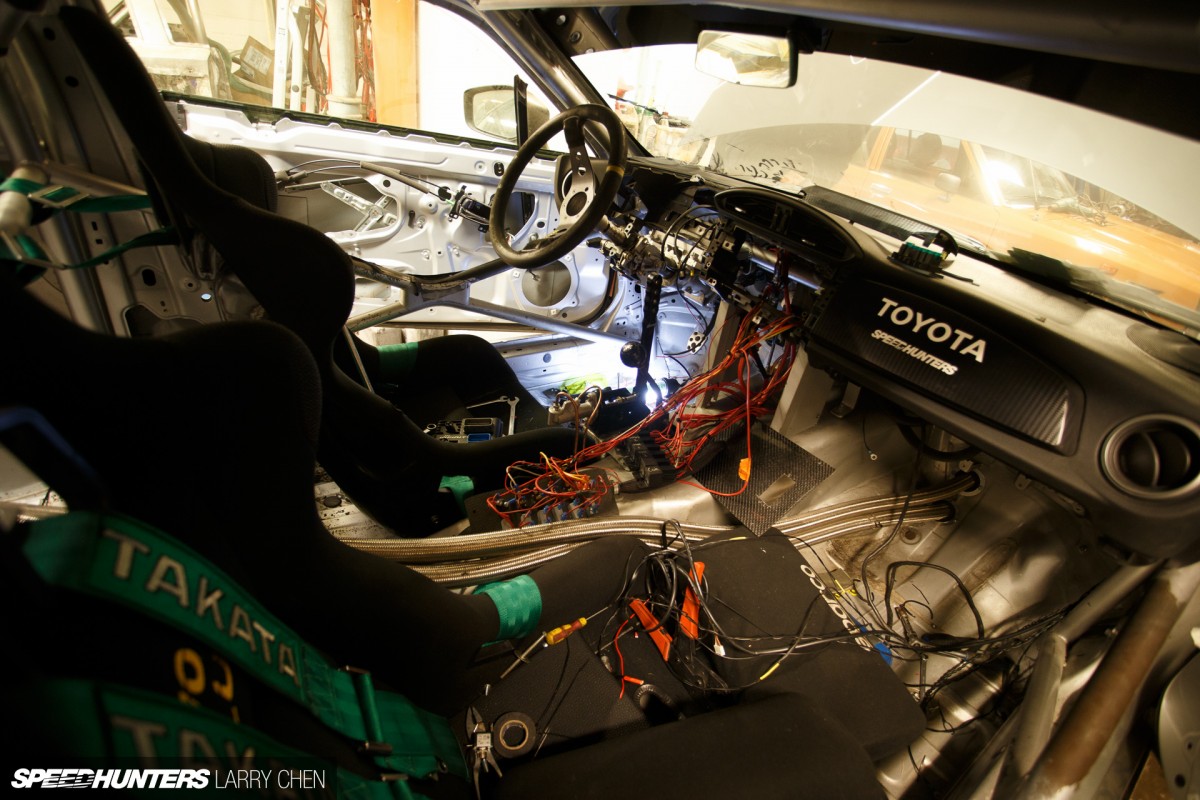 The issue was how much time was left. They had to leave for Gatebil in less than eight hours and the inside of the car still looked like it had exploded. David and Fredric had their work cut out for them.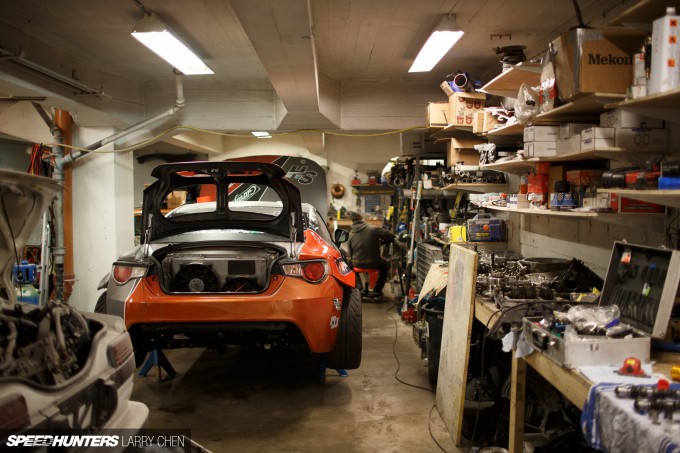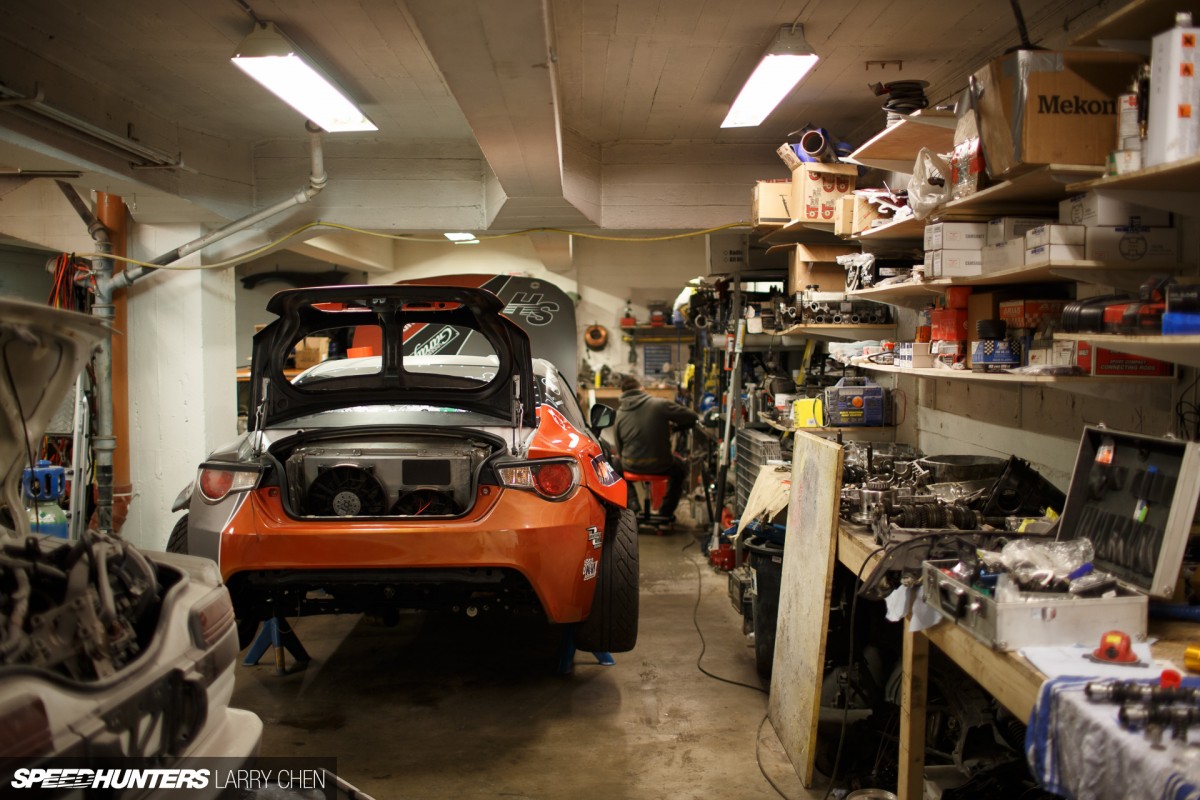 It was coming down to the wire, and it looked like they weren't going to make it. They still had to go and dyno tune the car after they were done buttoning it up, and that was at an entirely different shop.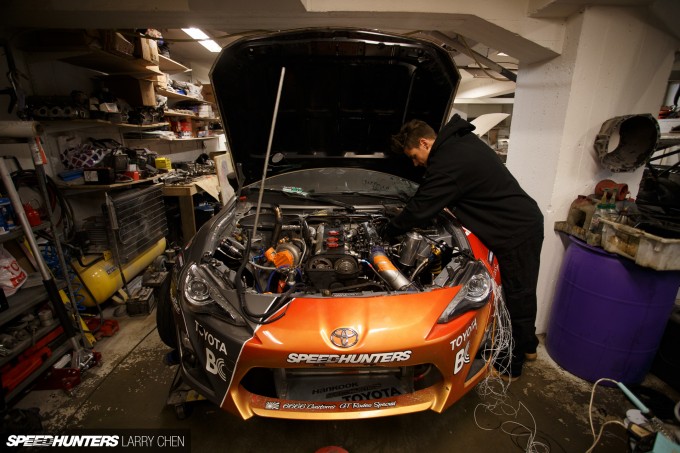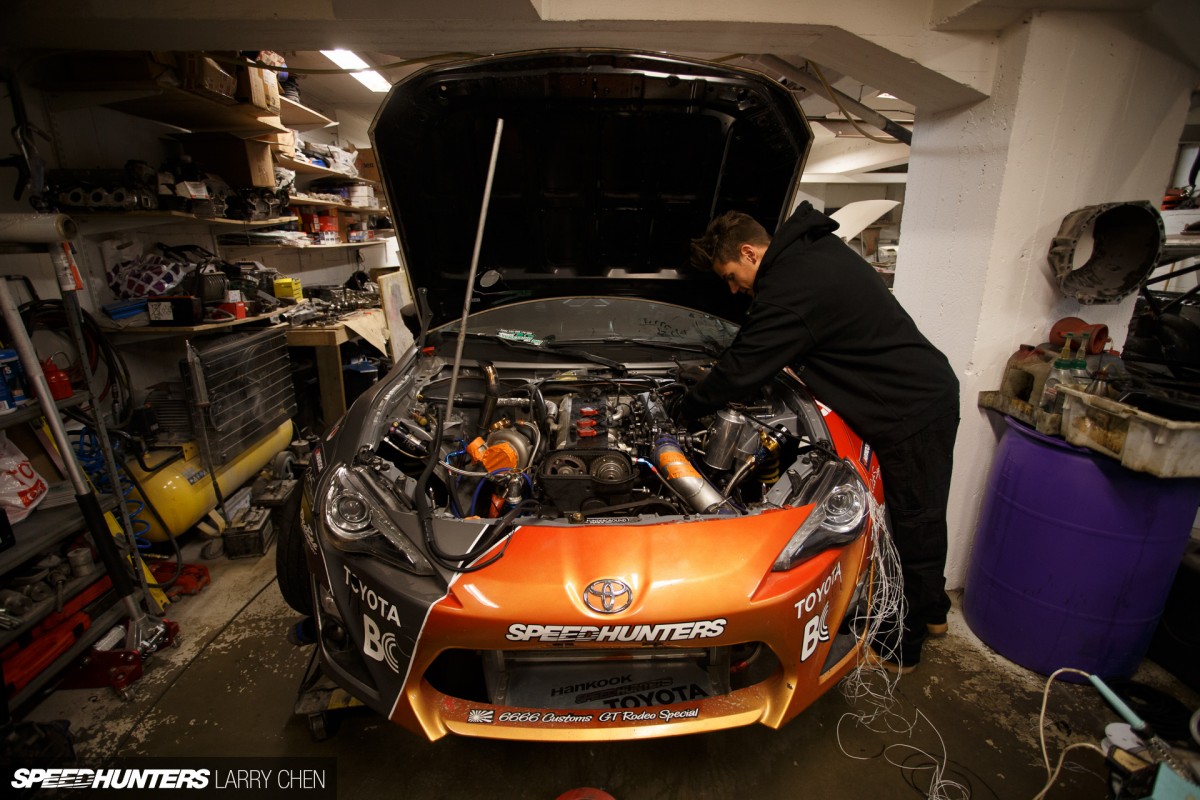 This was nothing new for Fredric though and at this point, getting any sleep at all would be a bonus. If he missed this event in his home country, it would be such a blow coming after such an amazing weekend of competition in Thailand.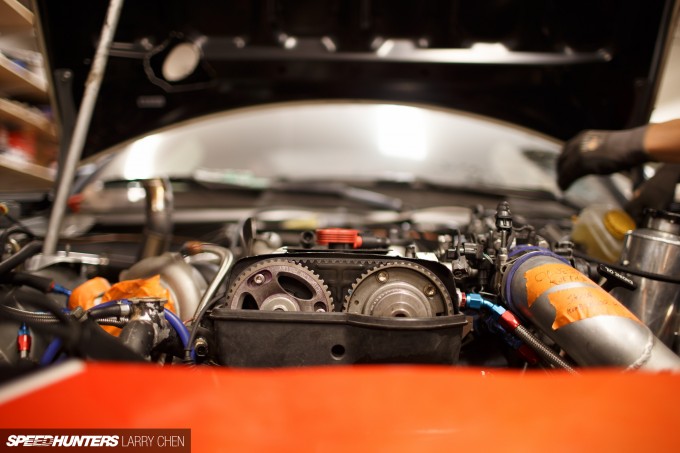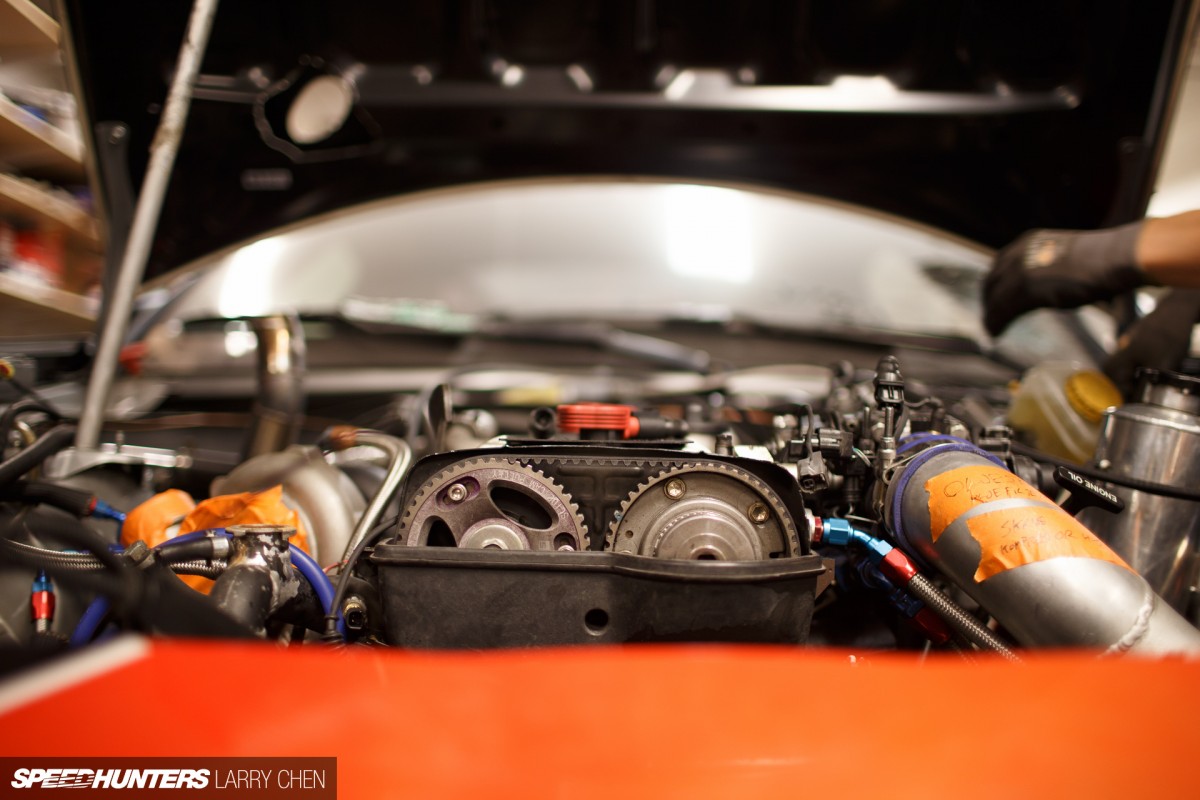 I left Fredric and David for the night. I needed at least a few hours of sleep before freezing my rear end off on a frozen lake for twelve hours. I was really hoping that they'd be able to finish; it would have been such a shame if Fredric could not make it. Stay tuned to see if they did…