New space to create
Much like when I first visited the Fat57 Customs guys back in 2011, the highlight of this year's WTAC trip down to Australia was once again a stopover to their shop. Except this time round we were invited to see their recently opened operation which can only be described as an impressive step up from the garage they were all working out of next to their house. Mark Jones is one of the most important figures in the Australian custom car scene and after building some defining machines which included the FATGTO and the FAT57, the sheer demand for his and his son Harley's workmanship was so much, that an expansion was kind of inevitable. Keith has already talked all about their fun gasser side project, but it's the cars that I found in their shop that I want to concentrate on now – projects that perfectly define what these guys are all about.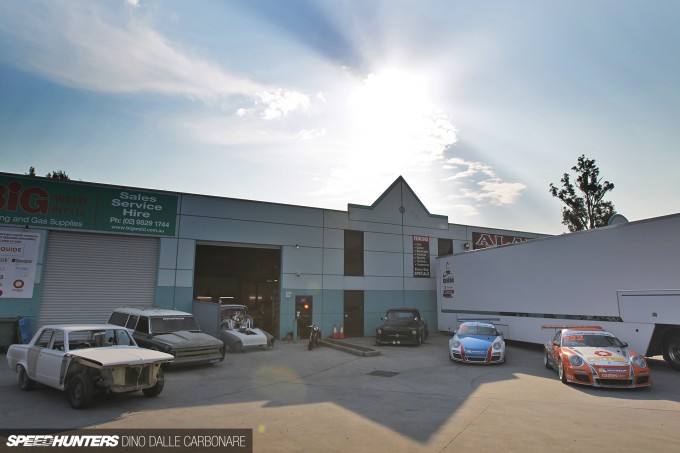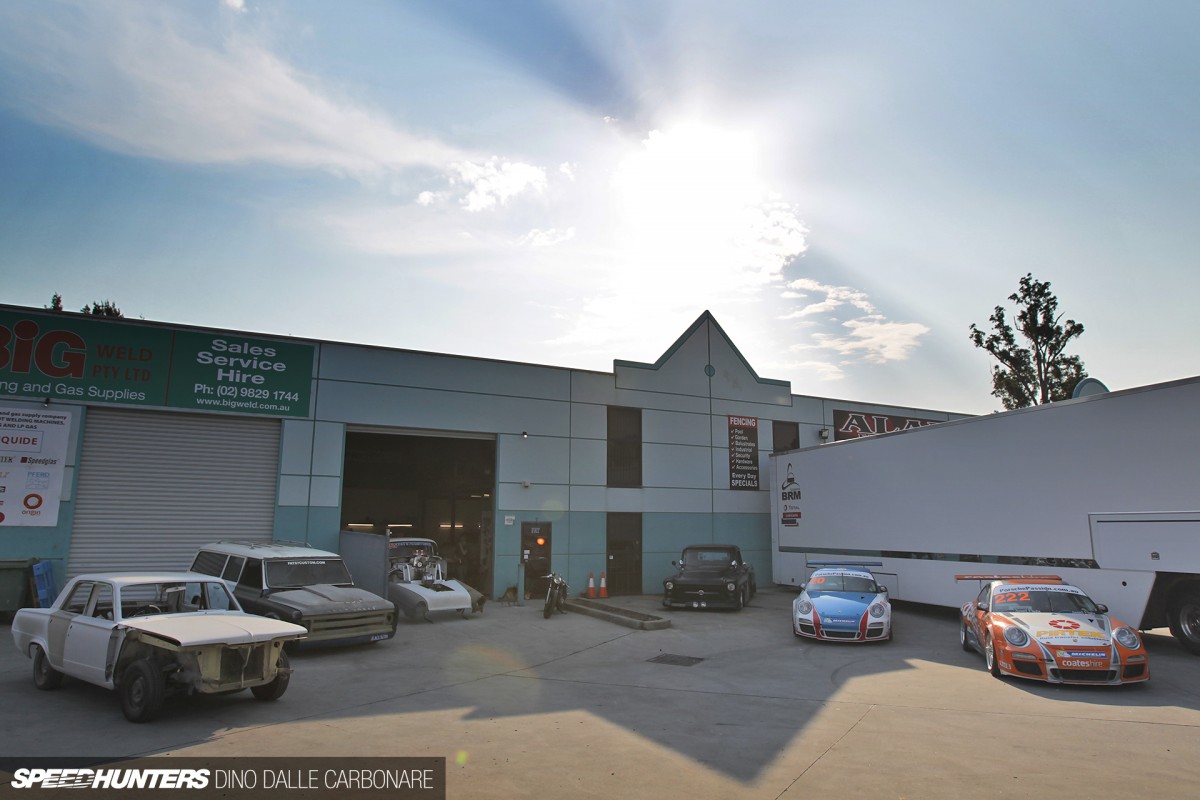 This is probably not the selection of cars you expect to see at a custom and hot rod shop, but the truth of the matter is, the Joneses are able to cater to a pretty diverse selection of jobs and cars, and that's precisely what defines them as fabricators. The big rig parked in front of their shop at the time of our visit belonged to a Porsche 911 GT3 Cup team who had to quickly get one of their race cars fixed before the next round.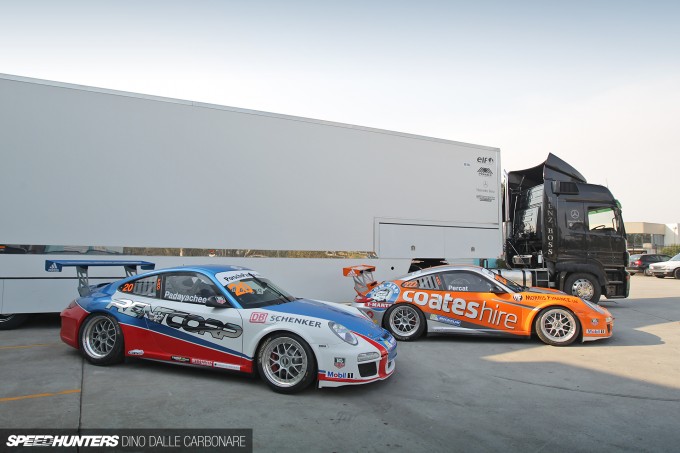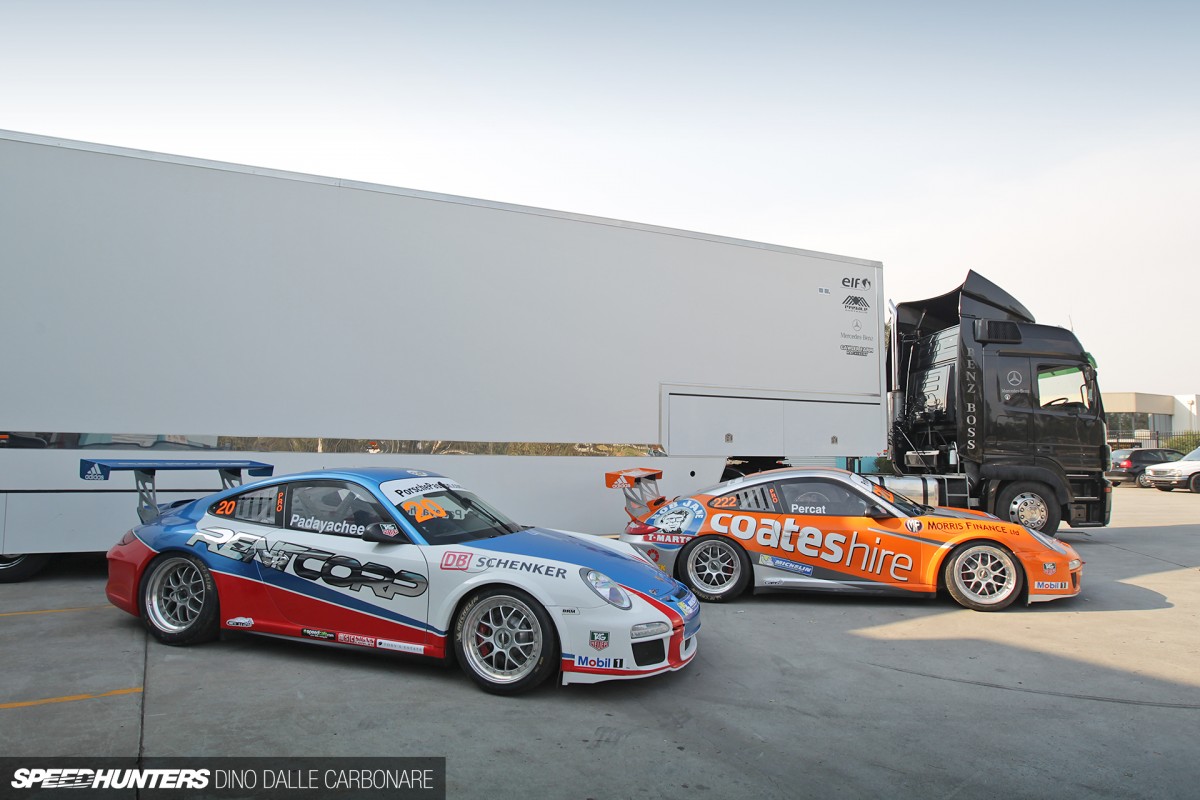 Being specialists in metalwork, Mark and Harley were able to get the big dent in the 997's sill and the damage on the composite door all repaired and then repainted in a couple of days.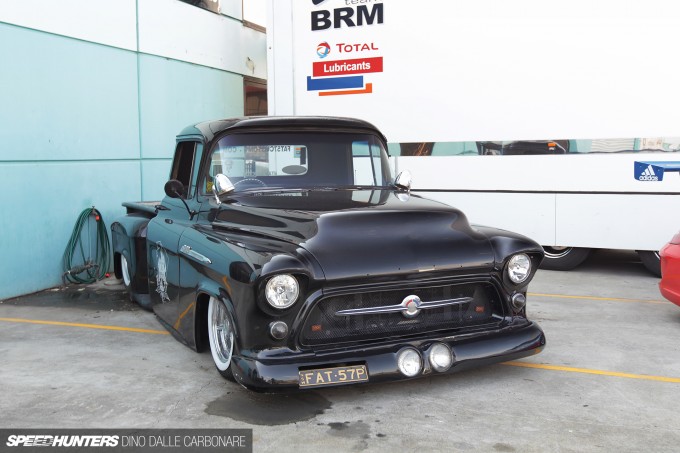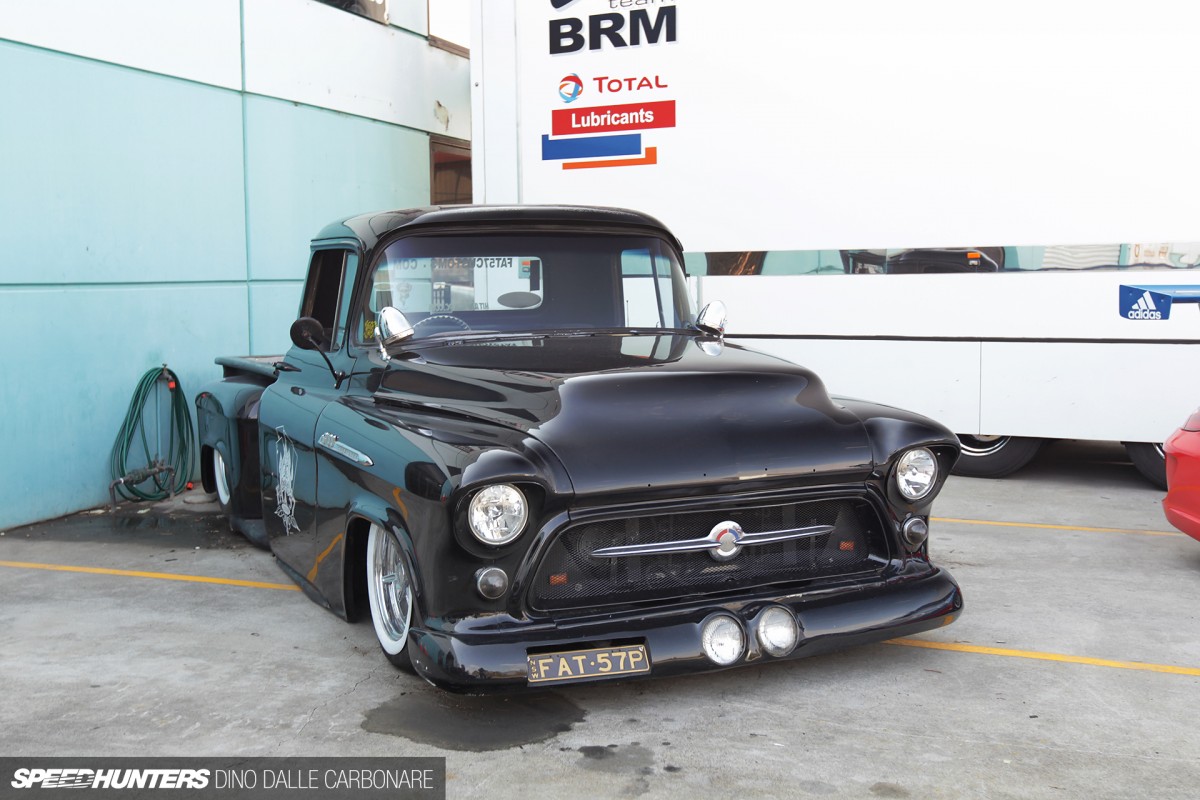 The two German race cars offered quite the contrast sitting next to the bagged '56 Chevy truck we featured three years ago. Much like all the cars and parts that have been stored, collected and accumulated back at their house, everything has been slowly making its way over to the new shop which has only been open for a couple of months.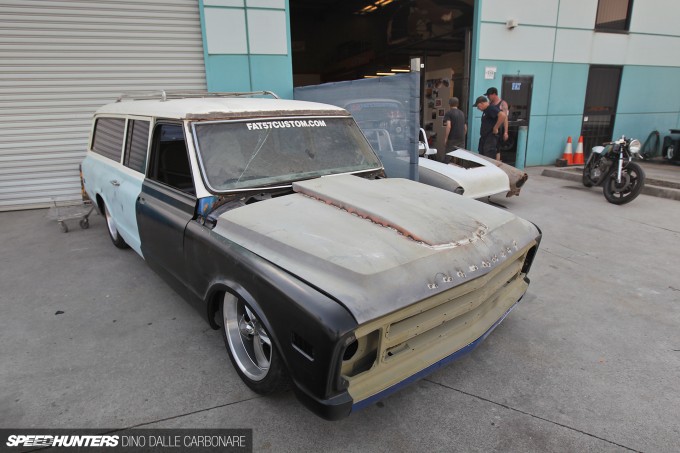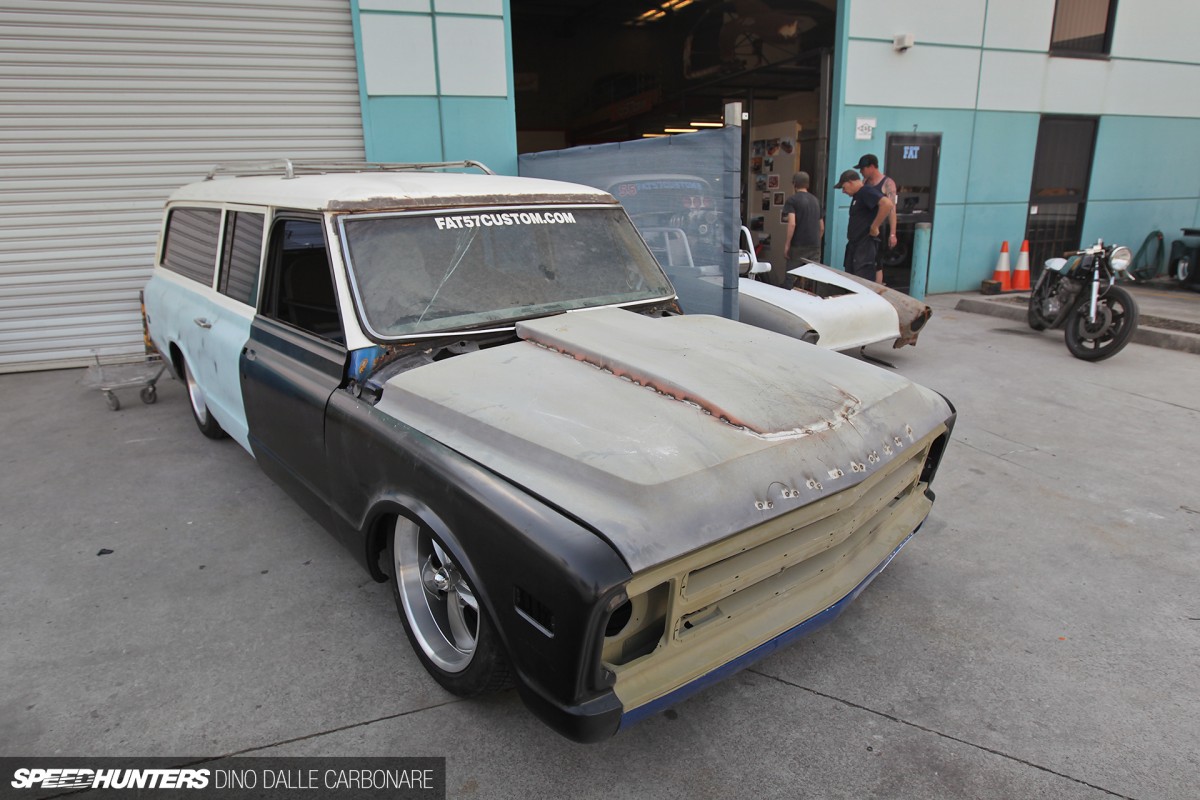 Another project that has made its way over is this huge Chevy truck: another of those side projects of the family that just has to wait for when they have free time to dedicate to it. With the amount of work they have right now, this is one slammed beast that will have to wait a little longer!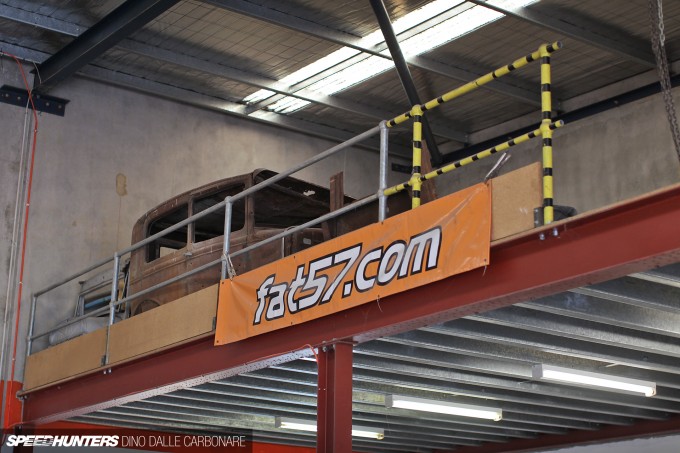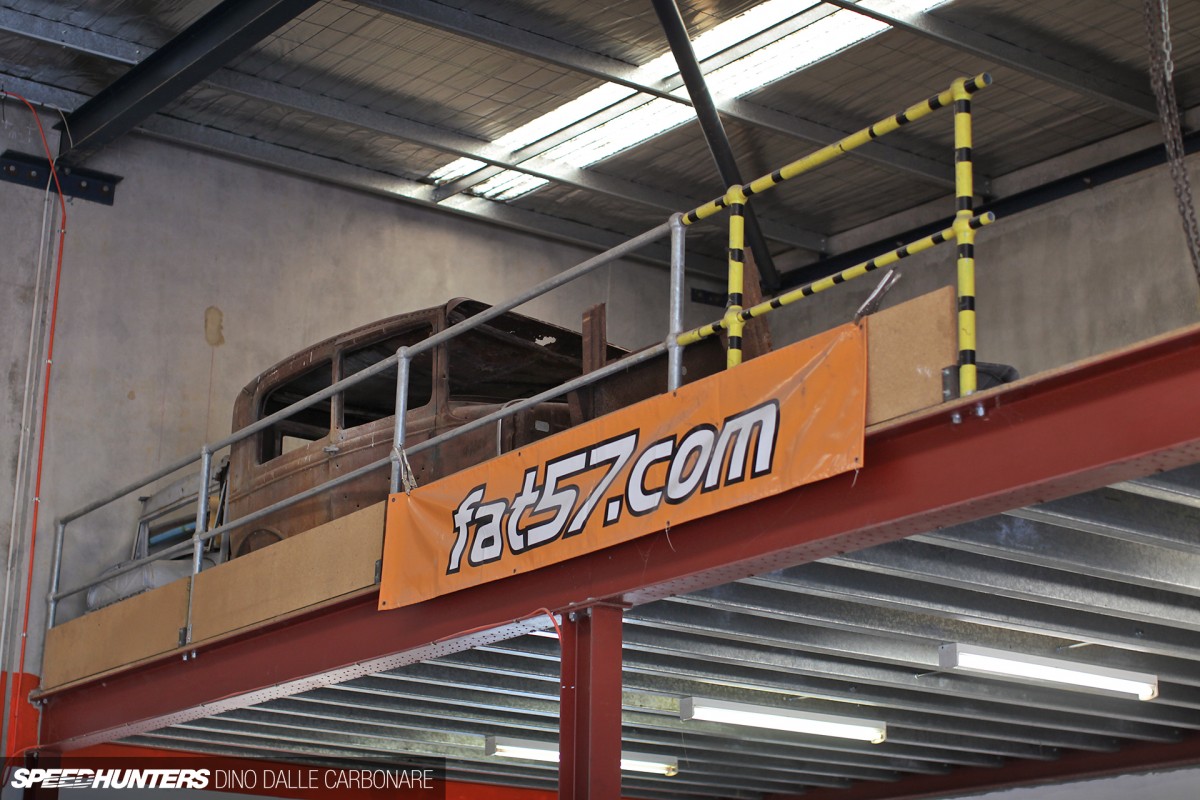 One of the things that Mark and Harley have put a lot of thought into is getting the most out of the space inside the new workshop. Being able to work on three to five cars at the same time with plenty of space to move around in, is already a great thing in itself. As soon as they finish carrying over all of the parts and miscellaneous bits and bobs they have collected over the years, they'll have a fully stocked up storage space on the second floor of the building too.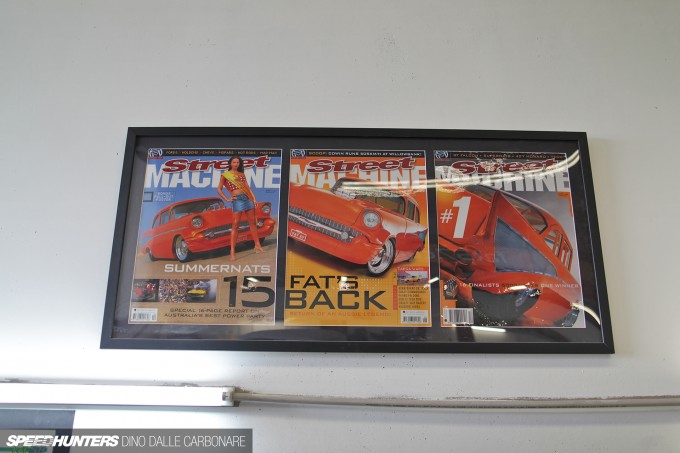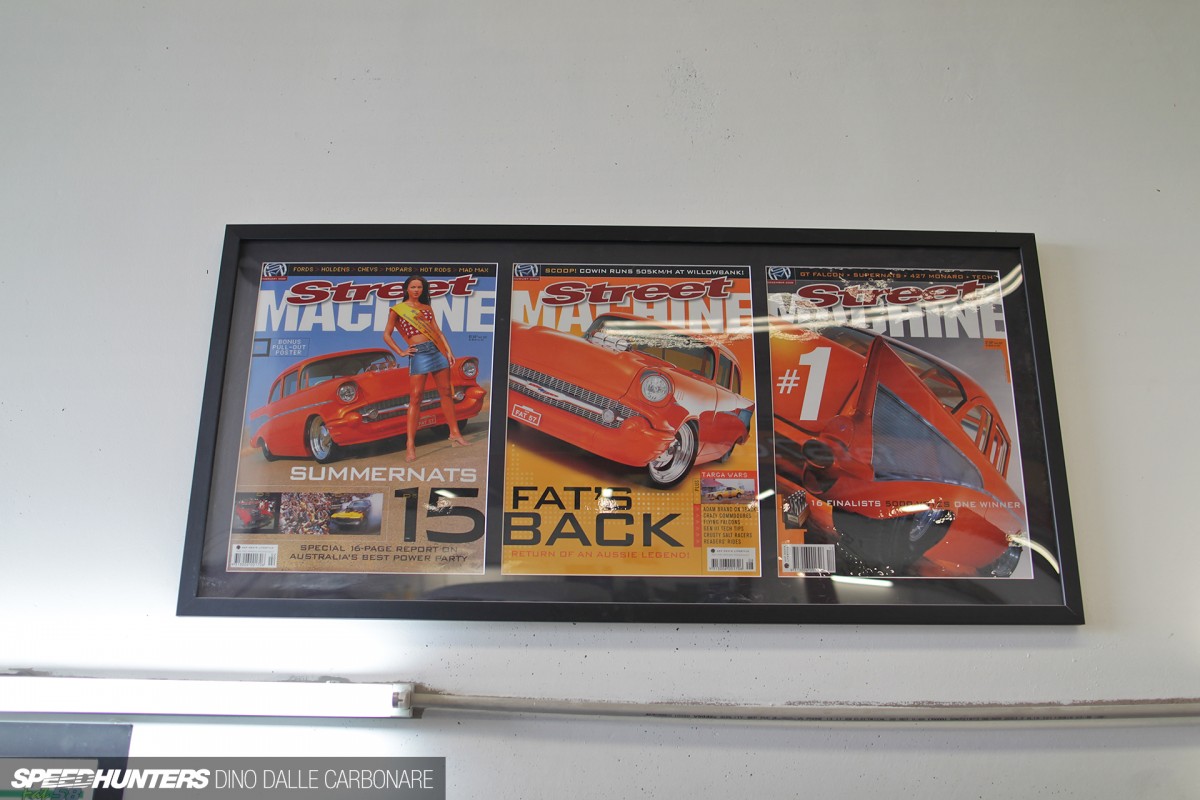 The walls of the shop proudly display magazine covers and spreads of some of the cars they have created in the past like the original FAT57, which before being sold off at a Barrett-Jackson auction in the US and being built up to the car you see above, served as the Joneses' family car for quite some years!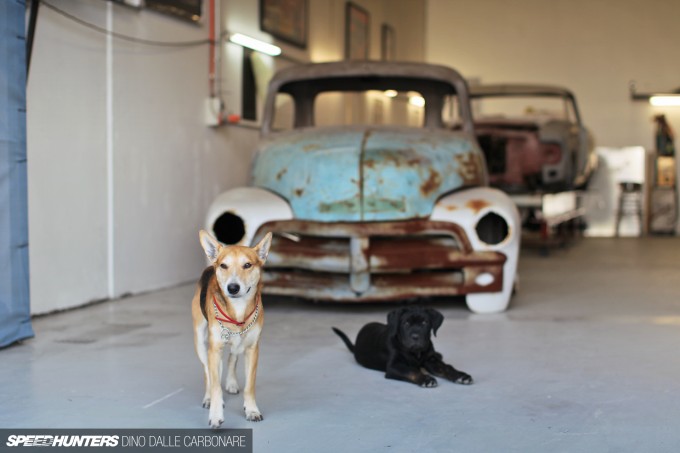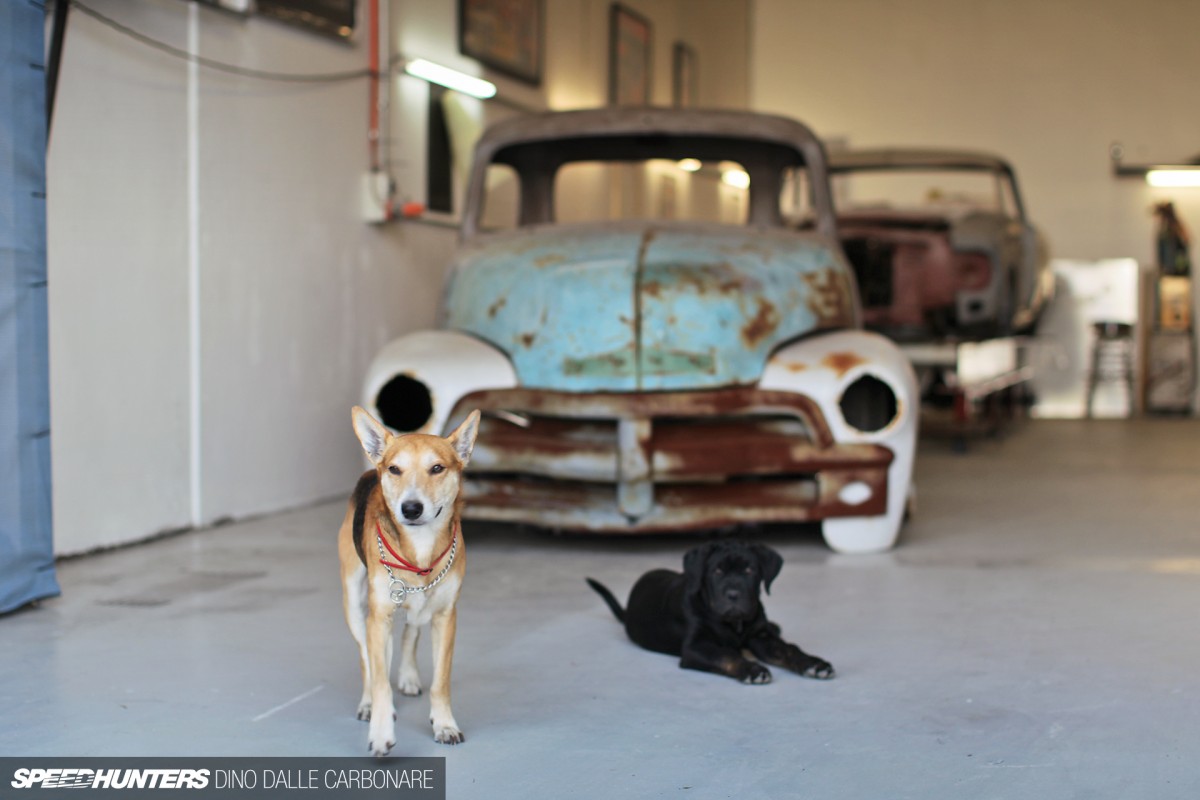 It was good to see that Cash, the family pet, is still serving as the shops' 'guard dog' and is his usual friendly self. He's also got a little brother to play with now!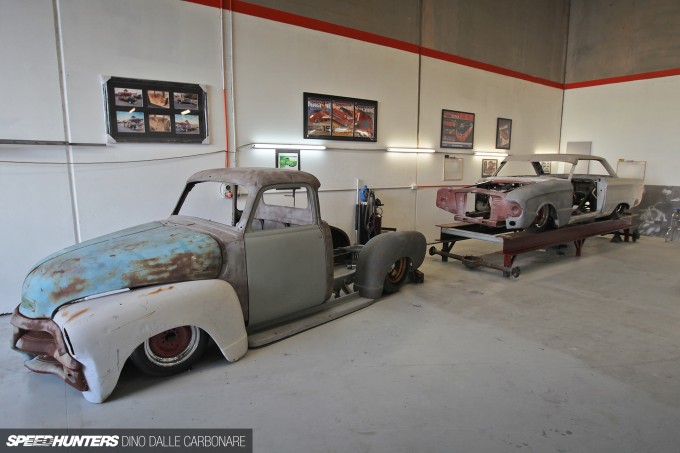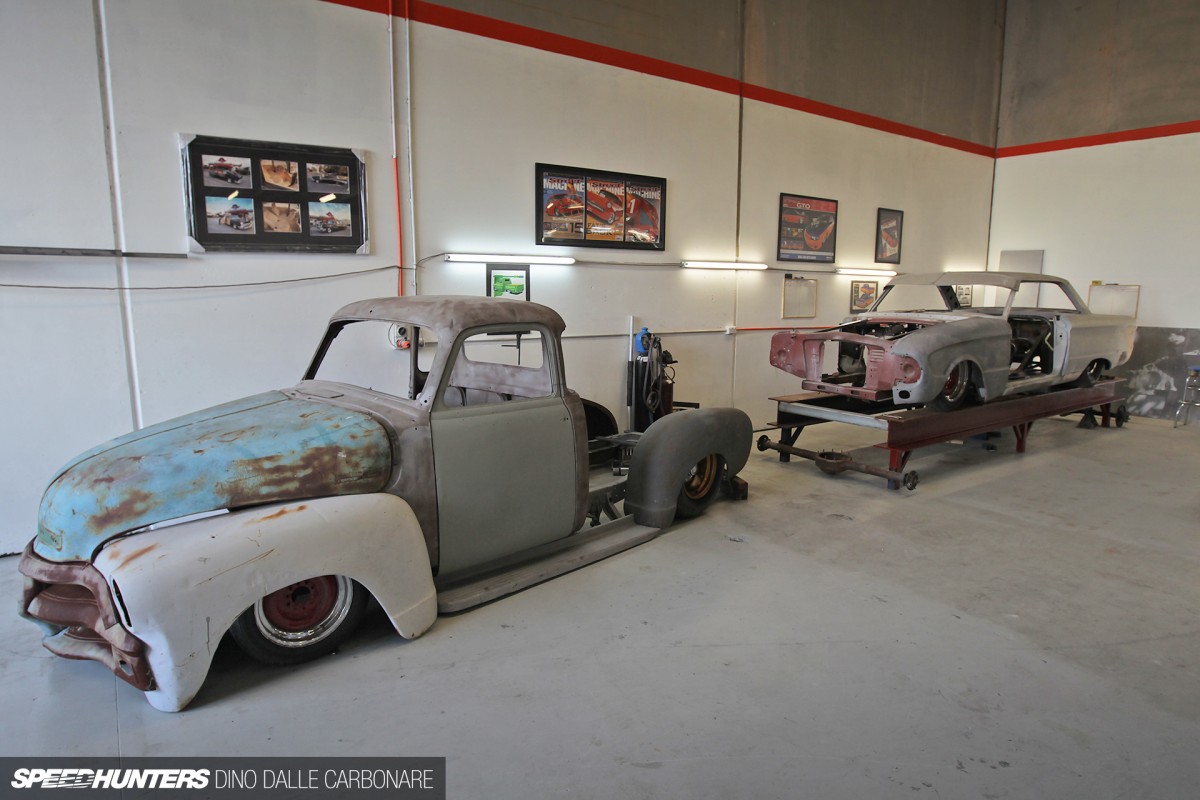 You know how when you walk into a shop, there's usually one car that usually grabs your attention? Well for me, it was the one sitting behind the recently started Chevy truck project.
One special Ford Falcon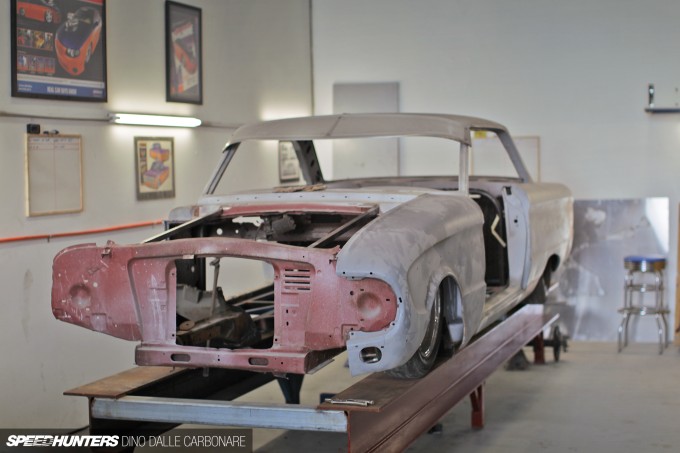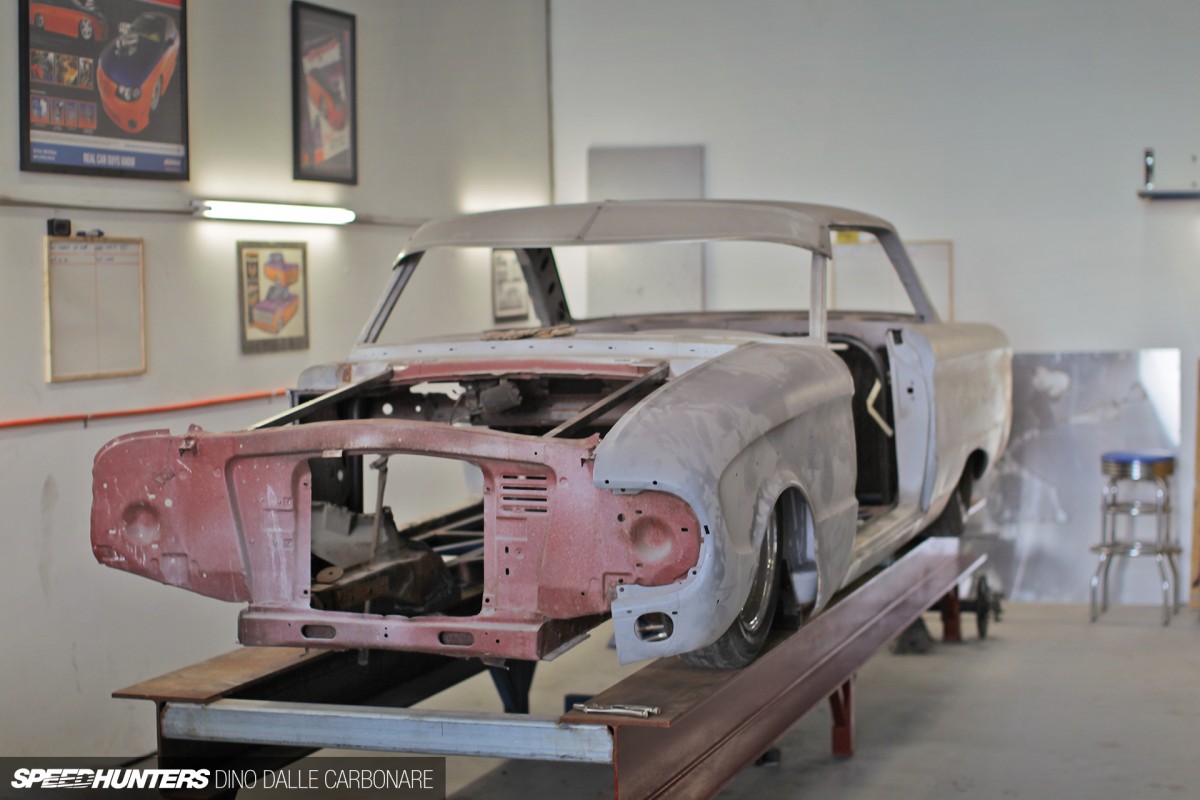 First up, for most people around the world, it's already pretty rare to see a mid-sixties Australian market Ford Falcon. But to see one being given the Fat57 touch? Well, it was certainly a treat. This 1964 XM Coupe is a car they've been building for a close family friend, on and off for a few years now. The Falcon was initially supposed to be a built as a pretty mild street car with a rear chassis clip, a blown 351 Cleveland and 4-linked 9-inch diff.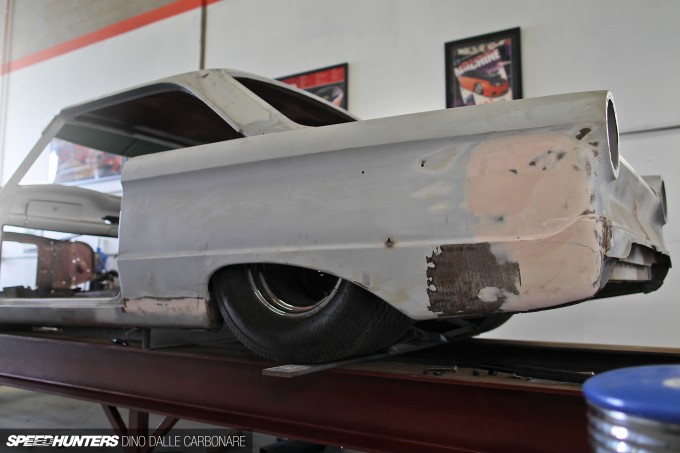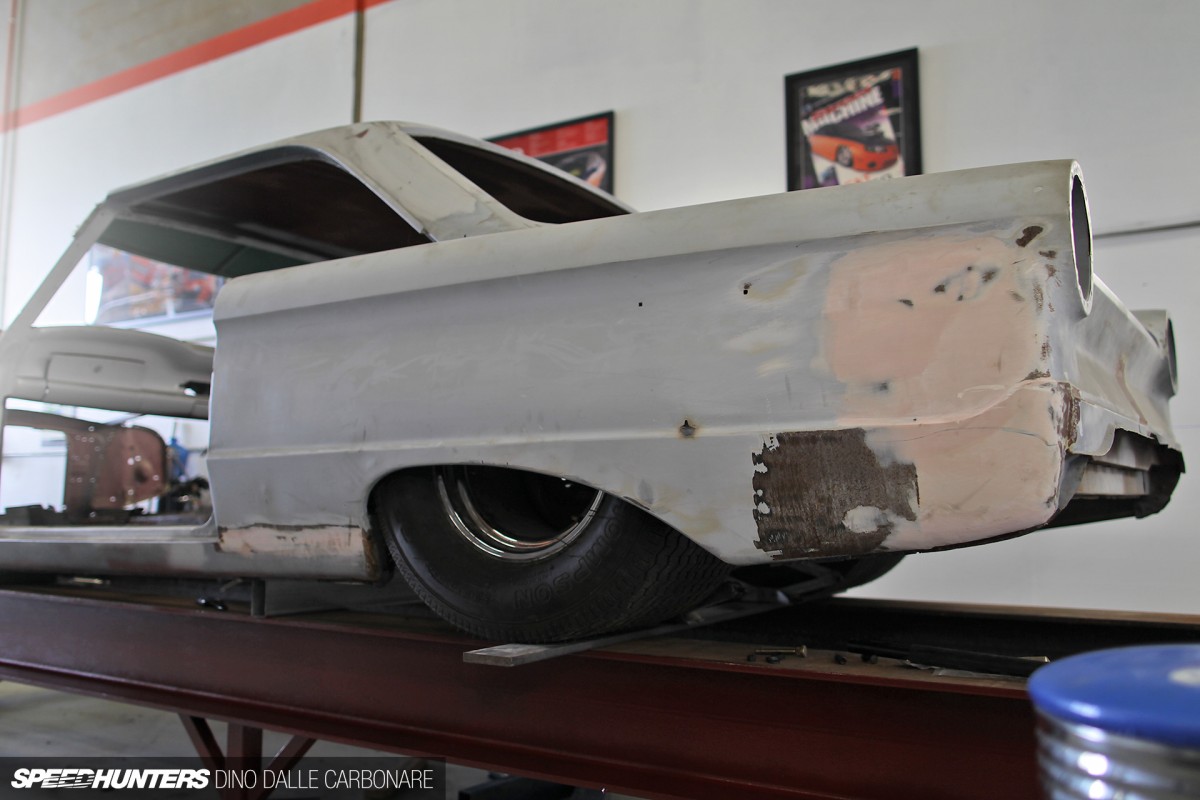 However as work continued, Harley was just not happy with it. He saw far more potential in the car, so even if the replacement floor and chassis were 90% completed, with the rest of the top side ready to be addressed next, he got trigger happy with the plasma cutter and cut everything out, gutting it to a bare shell, leaving only sills, A-pillars, quarters and roof!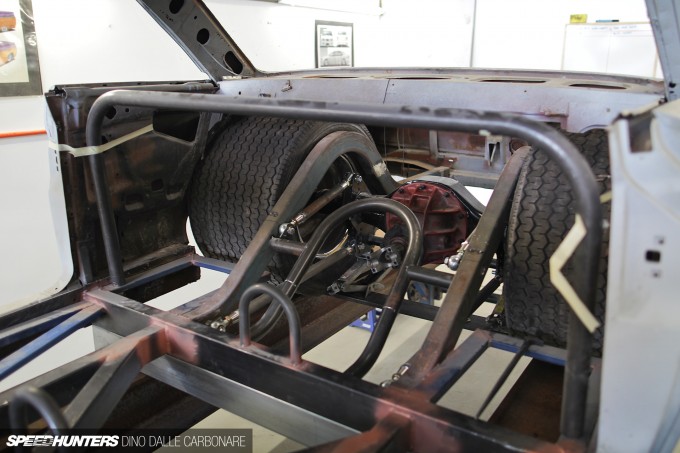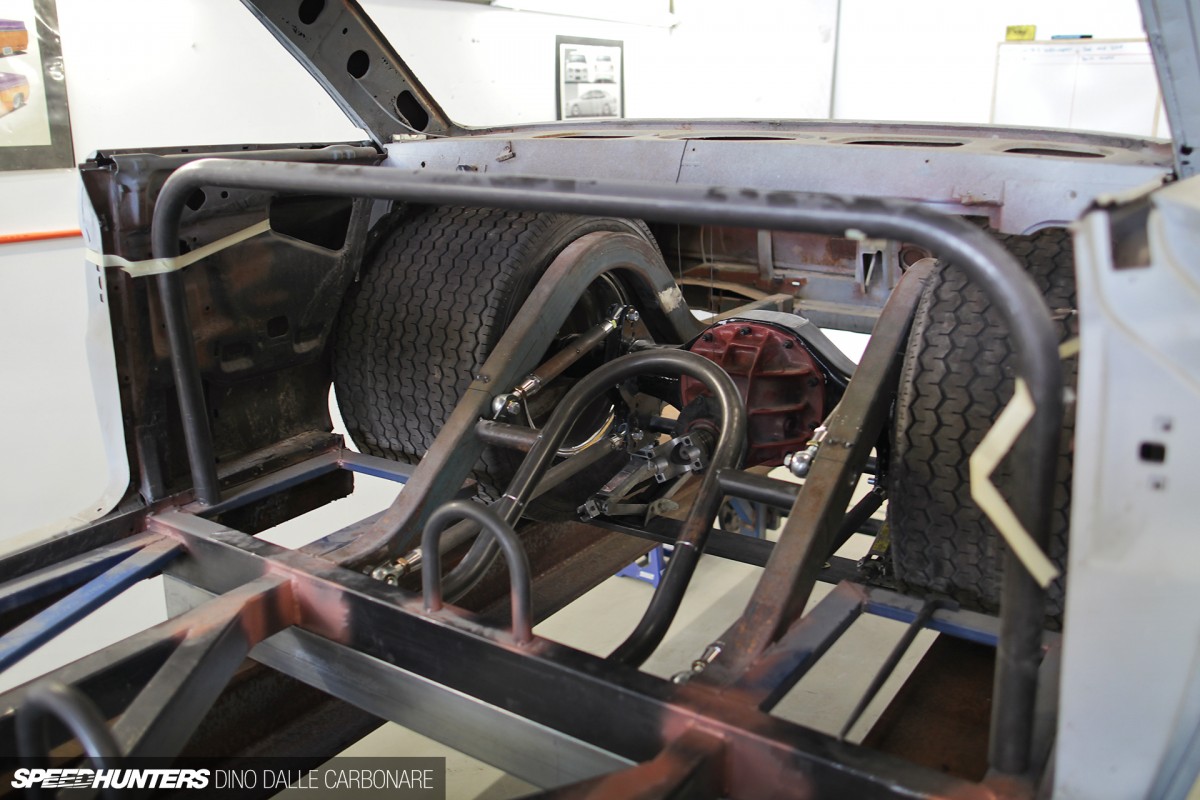 It was quite the brave move but I guess when you're not getting the right sort of feel out of a specific build, you just have to trust your instinct. With the plans Harley now has for the Falcon, there's no doubt it will turn out pretty damn special. After doing a complete U-turn, he had the main rails, cabin floor braces and X-member all welded up within the space of a week.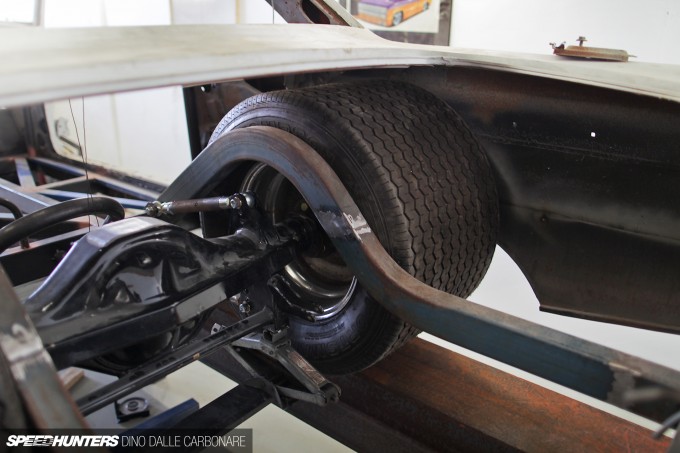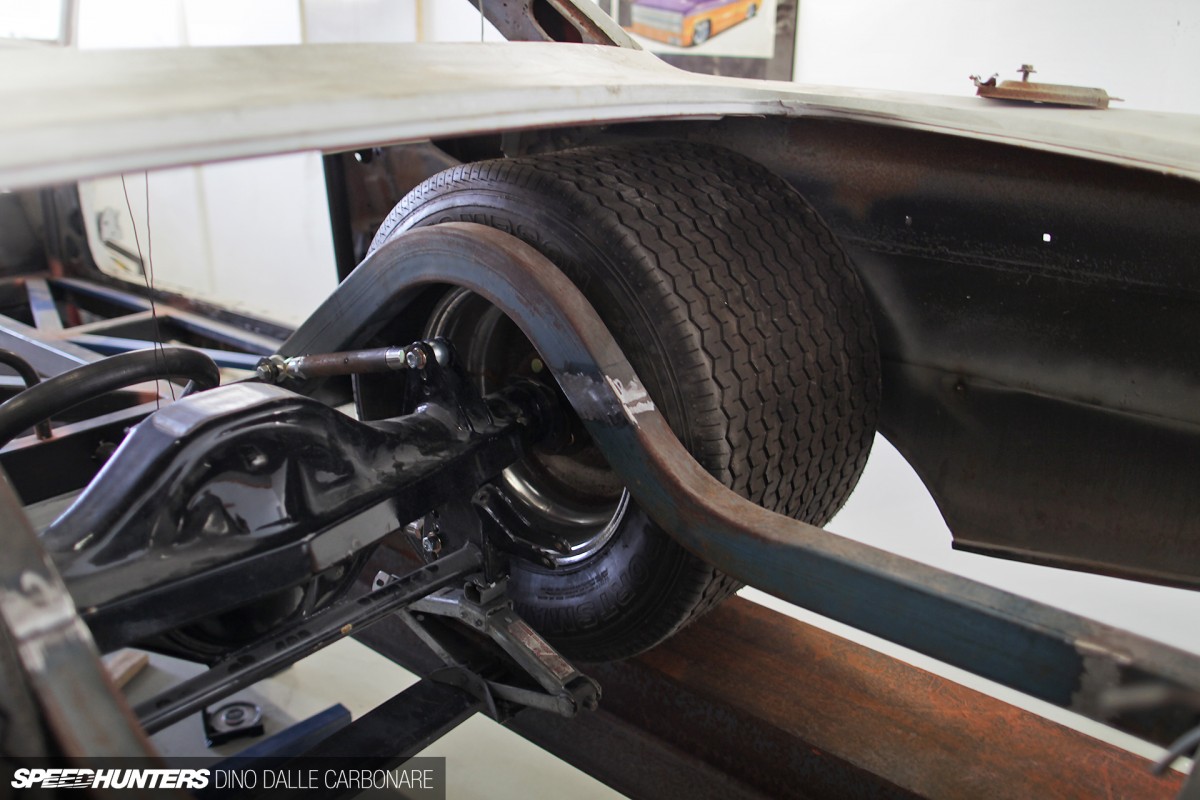 All of that custom work joins up to the rear clip which has been given a new shape by modifying the ladder rails, as you can see above.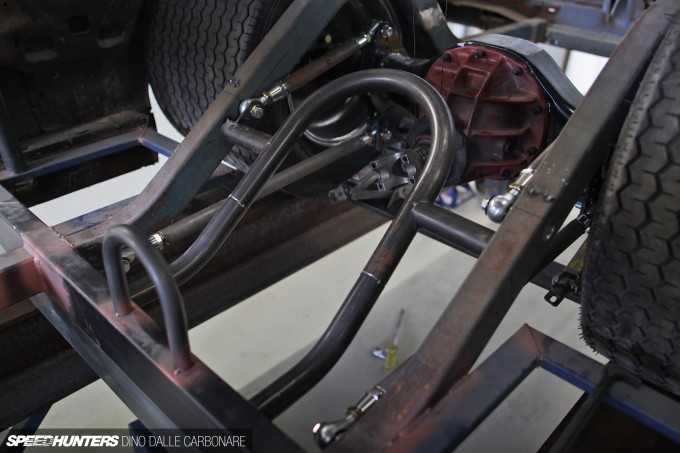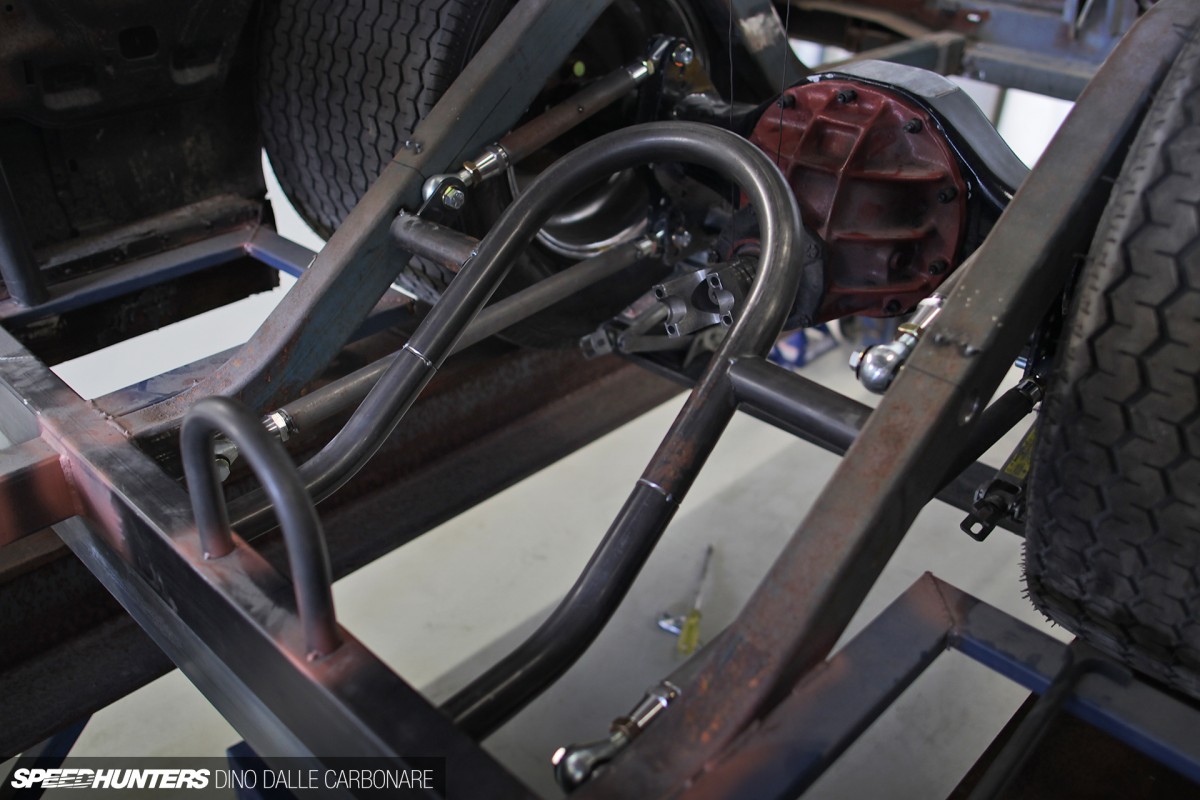 The Falcon has been coaxed into running 15×15 wheels with 18″ x 29″ tires at the rear with smaller 15″ x 6″ ones up front.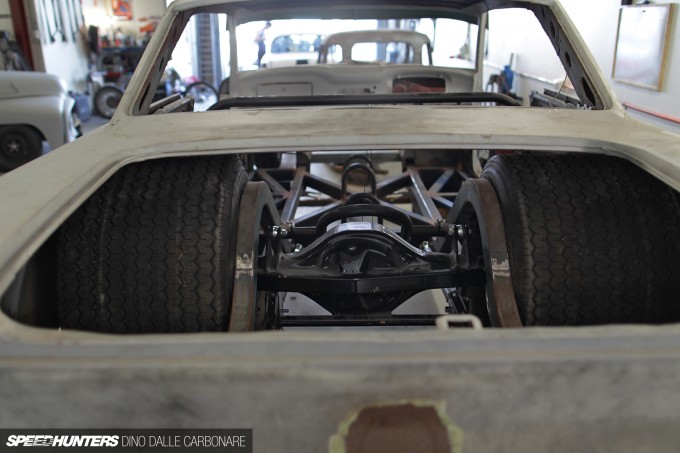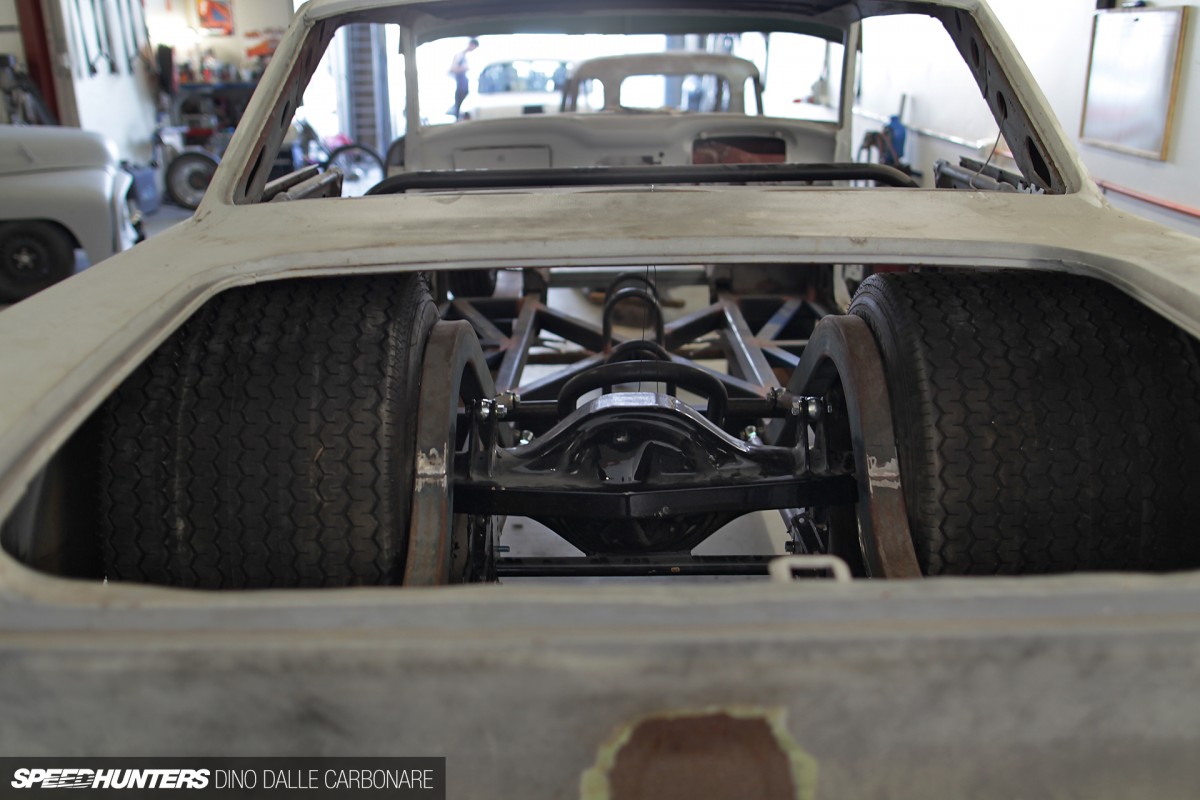 If that doesn't look badass, I really don't know what does! The 9-inch diff sits suspended by a 5-link set-up which eliminates the Panard bar and Watts linkage, all designed and fabricated in-house. This coupe will still end up being powered by a blown 351 Cleveland mated to a C4 automatic transmission. As they like to do on a lot of custom builds of this nature, they'll end up running a Scott's hot rod front end and then once that is all in place, Harley will weld in a chromoly roll cage which will tie the front rails to the rear rails, eliminating twists and bends in the frame – seeing that the car also has no B-pillars and is therefore pretty weak. They're looking at having it ready for the 2014 MotorEx in Melbourne and if all goes well, taking it over to SEMA.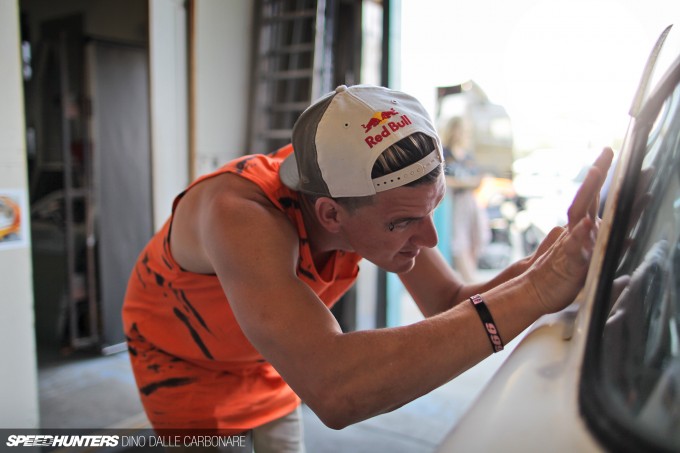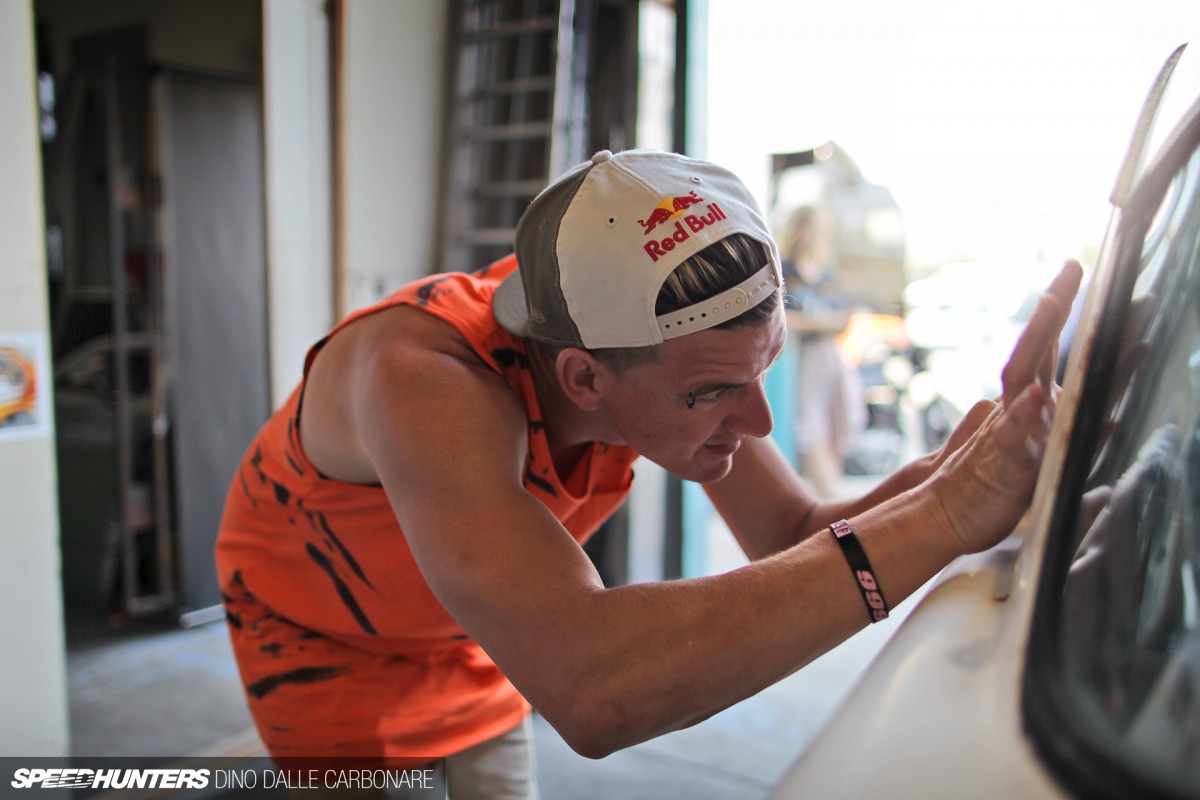 Mad Mike accompanied Rod and I that day as he also wanted to visit Fat57 and talk custom cars with the Joneses. As you know, Mad Mike has built some pretty unique custom trucks of his own and is as much into this scene as he is into drifting.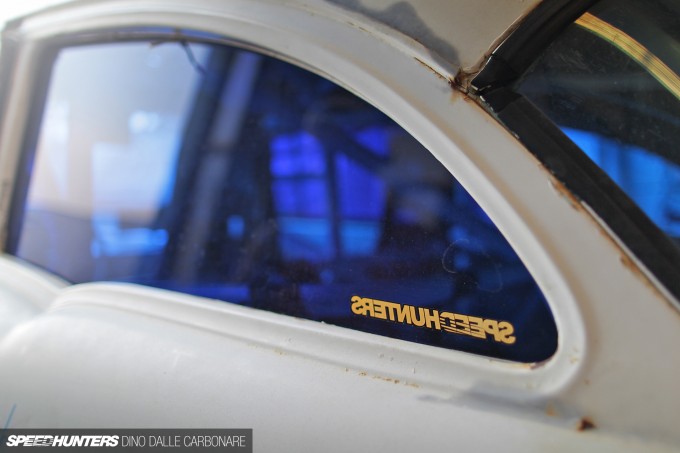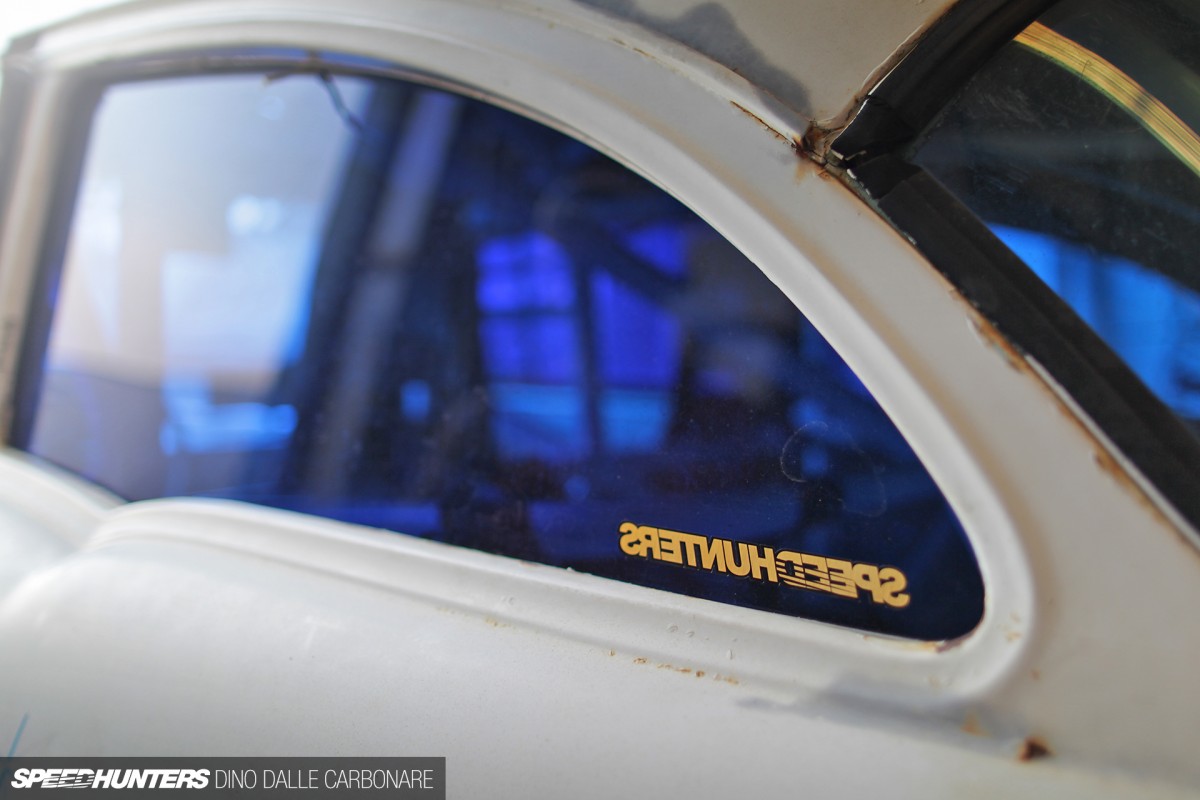 He made sure to stick a few prototype brushed gold reversed Speedhunters stickers onto the gasser before we trailered it to the shoot's location down the road.
Porsche or electric?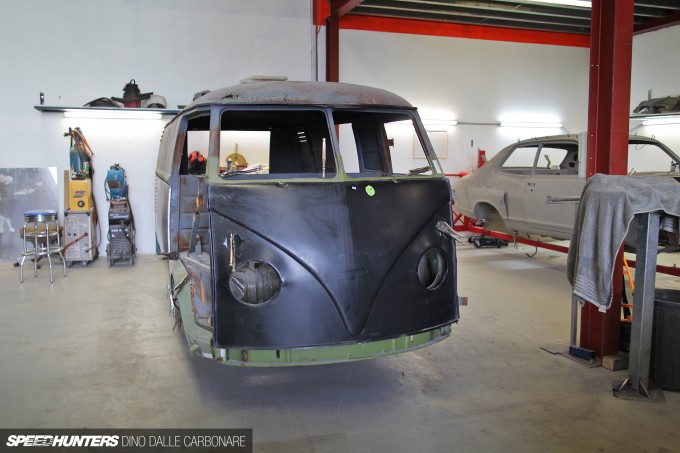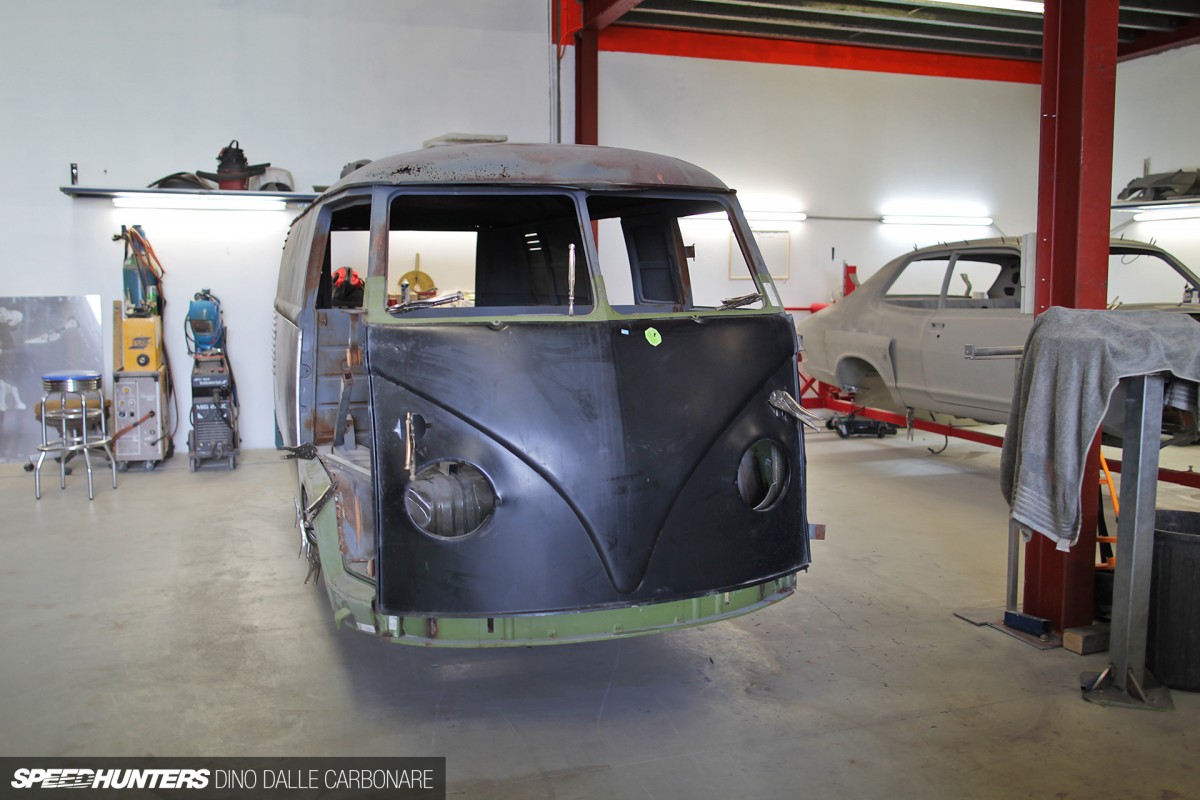 Next to the Falcon was this '57 split-window Kombi bus. When this showed up at the workshop, it was in a pretty sad condition. Every panel was damaged, bent or rusted through.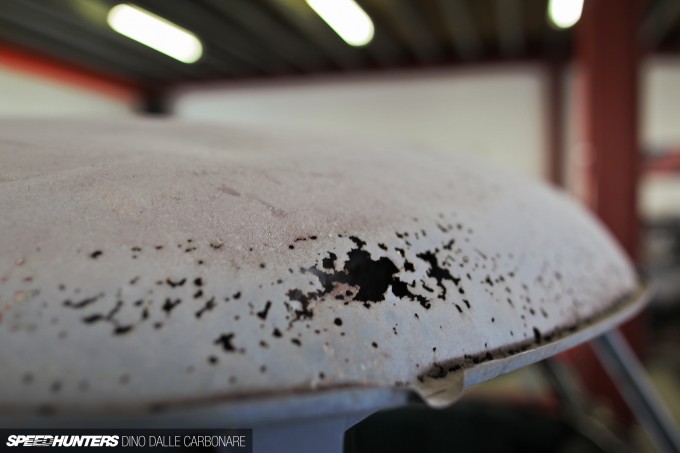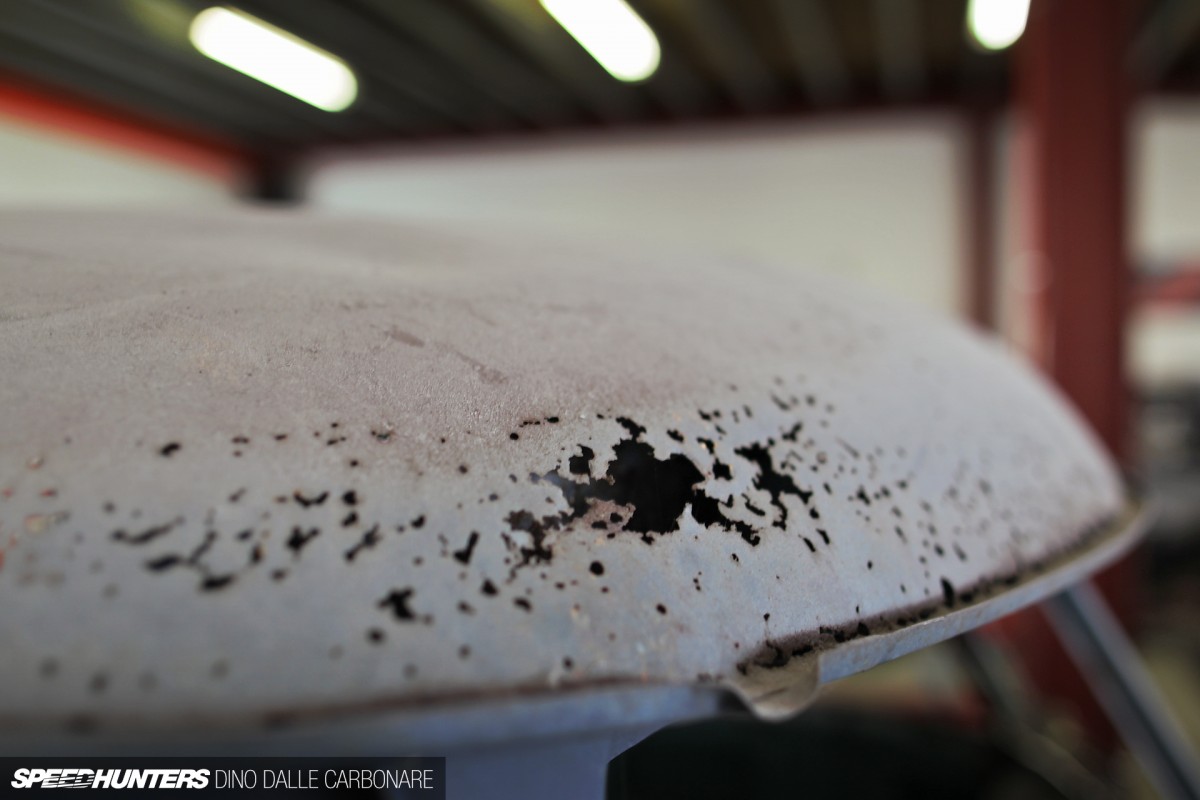 As you can see, that included the roof!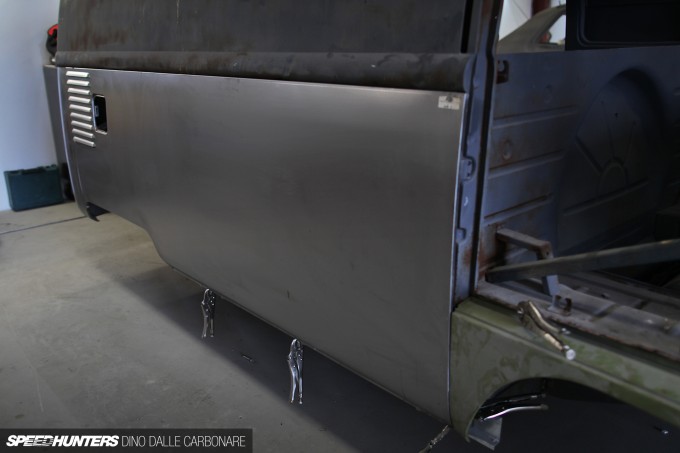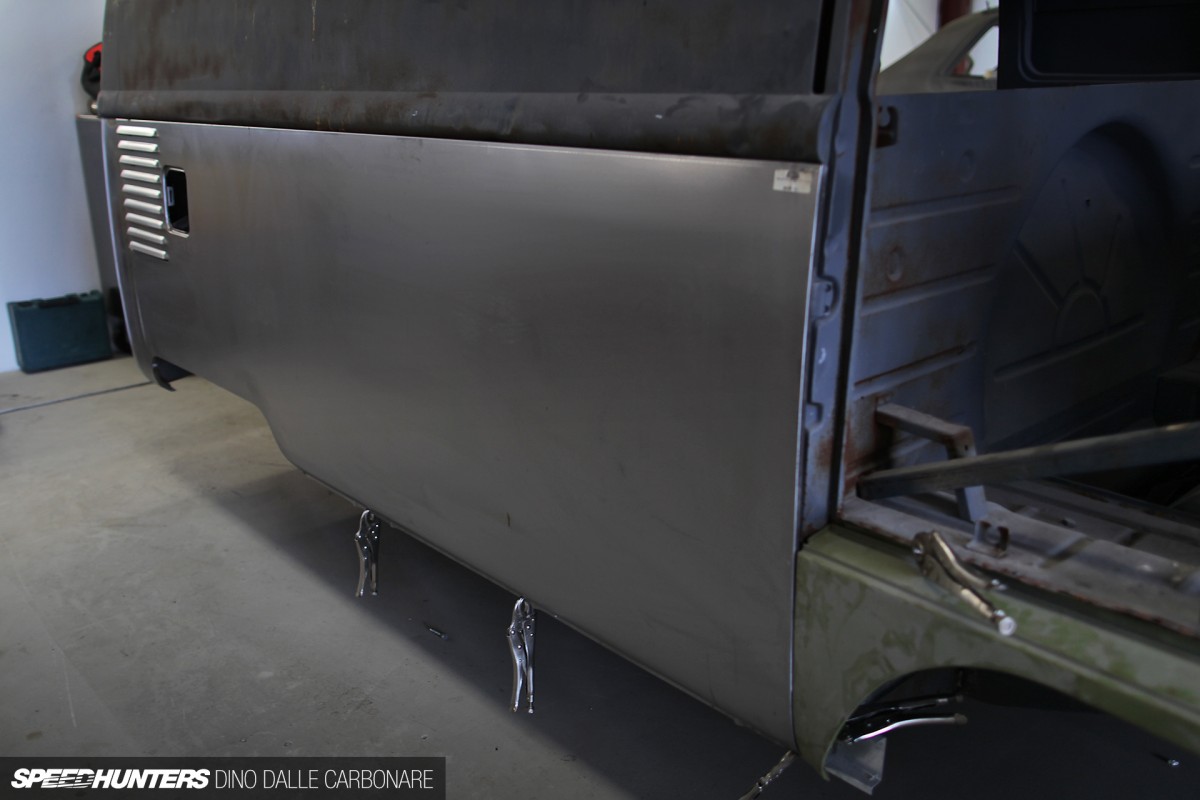 90% of the body is being replaced with either parts the Joneses can dig out in Australia, or like in the case of the side rear panel and front end, shipped straight from Germany. It's great that there's still such good support for these cars as it means less man hours of work for the customer, which helps keep the price on this sort of restoration lower.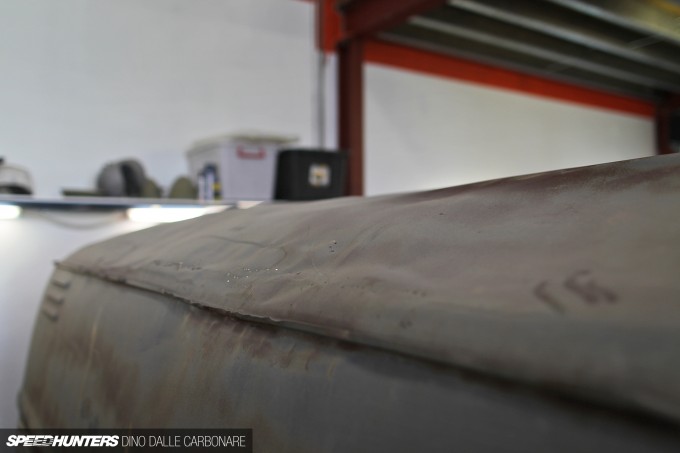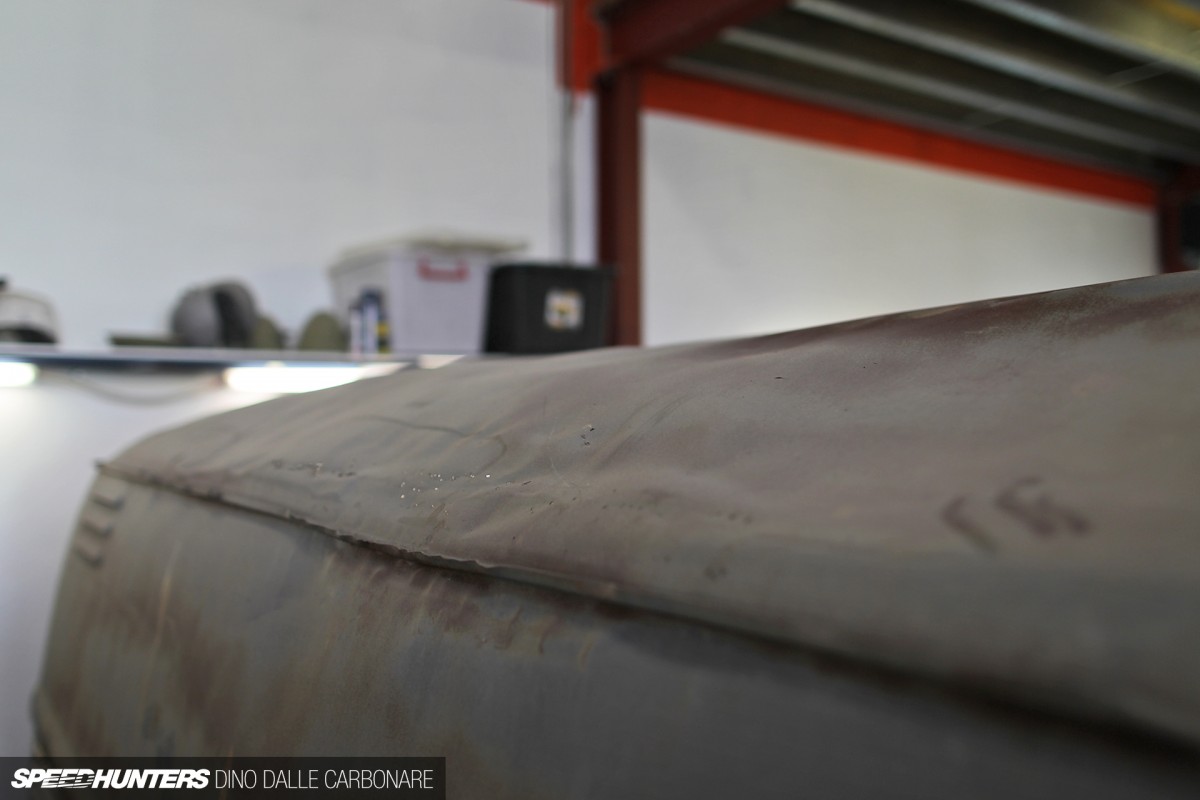 Where not eaten away by rust, the roof was looking pretty dented and weathered! They've yet to finalize what to do with the Kombi but it's either going to be driven by a Porsche engine or, get this, an electric motor! Regardless of which option they'll take, it will still be getting a high-end suspension set-up, serious brakes and a lot of other custom work.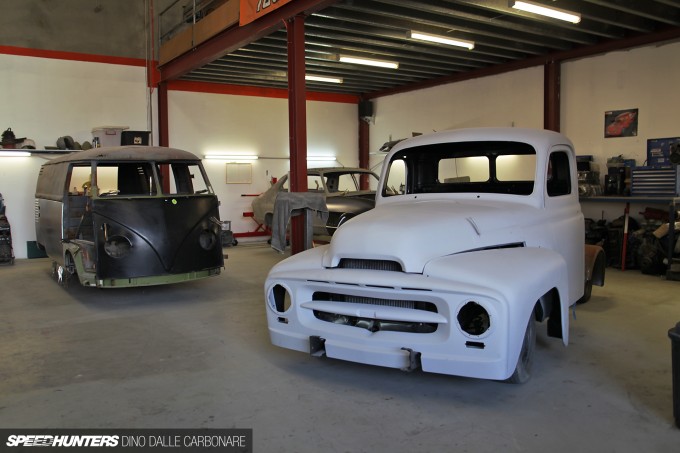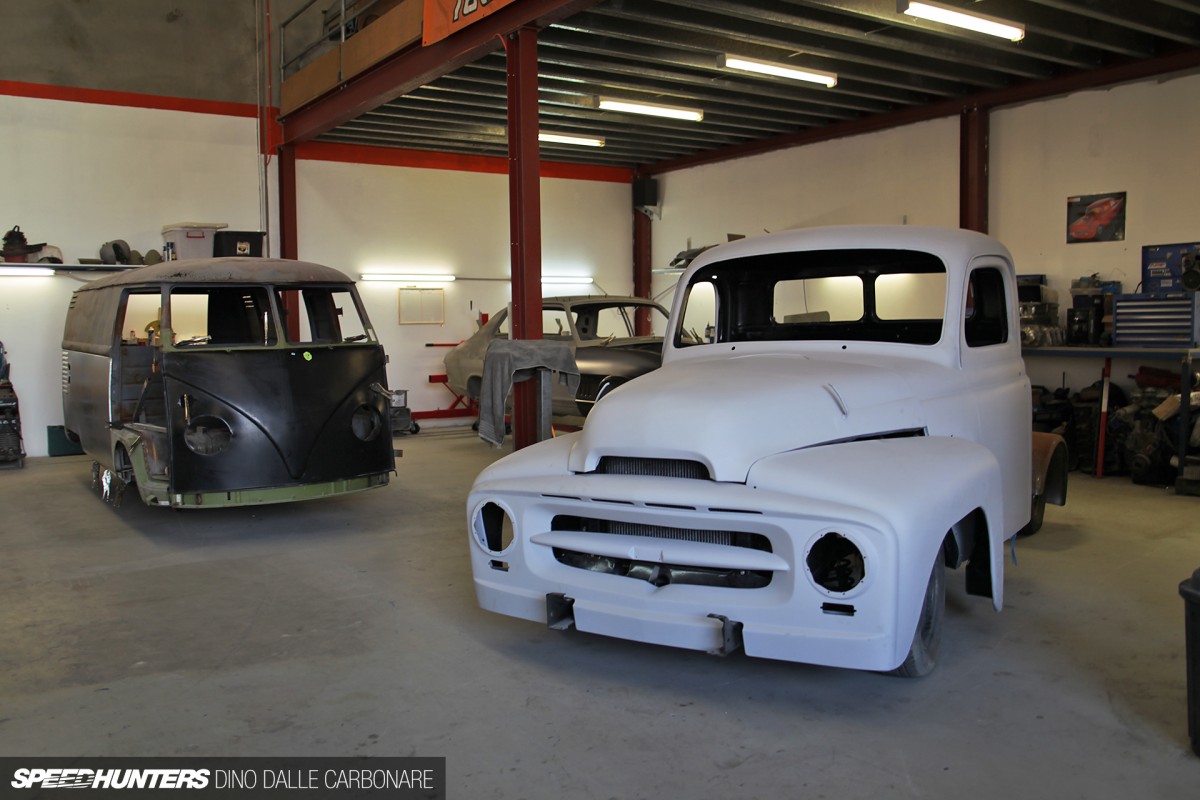 This 1954 Chevy five-window pickup is a little side project that Harley works on when he has some spare time. The truck has been mocked up using a bunch of parts that they gathered over the years, and is currently awaiting an owner willing to take the project on board and make it his own. If nobody shows interest, Harley just plans to continue to slowly build it up and see how things go from there.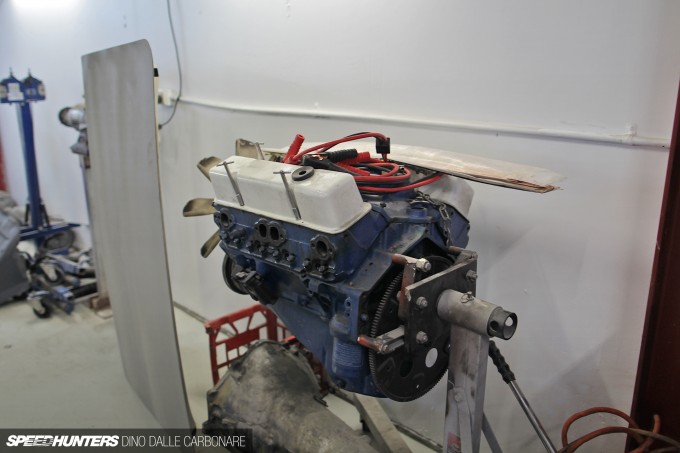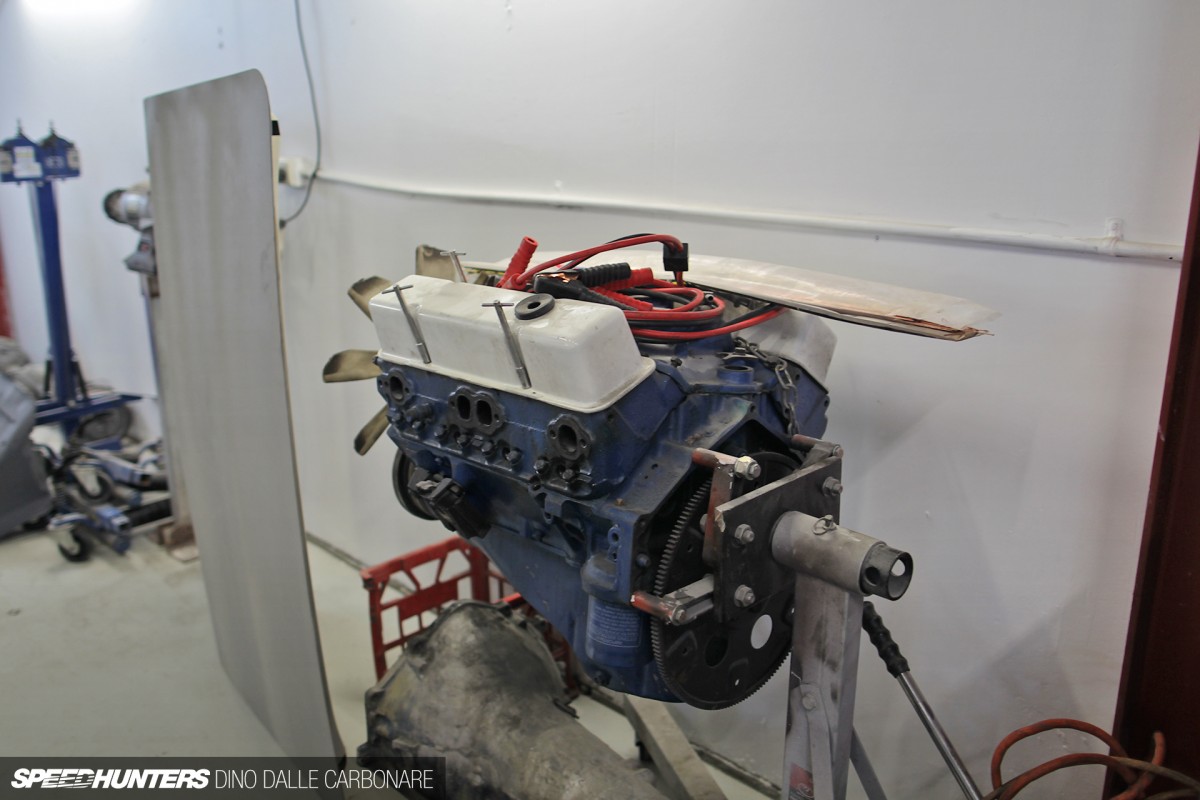 As Mark tells me, they've just started to move the engines, parts, tools and machinery over into the new shop, so there's plenty to see dotted around the machine area of the workshop floor.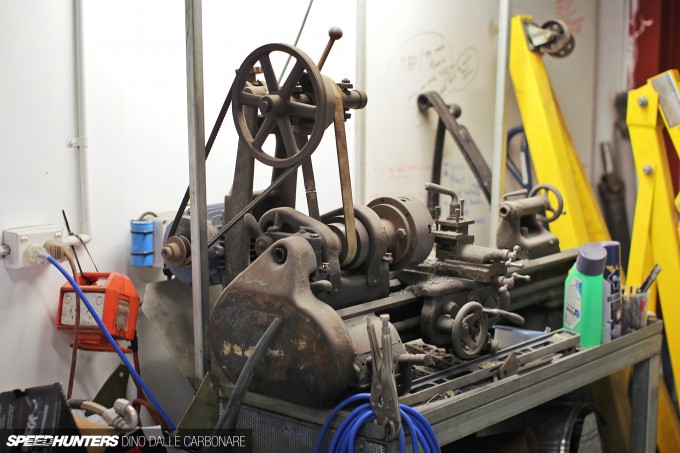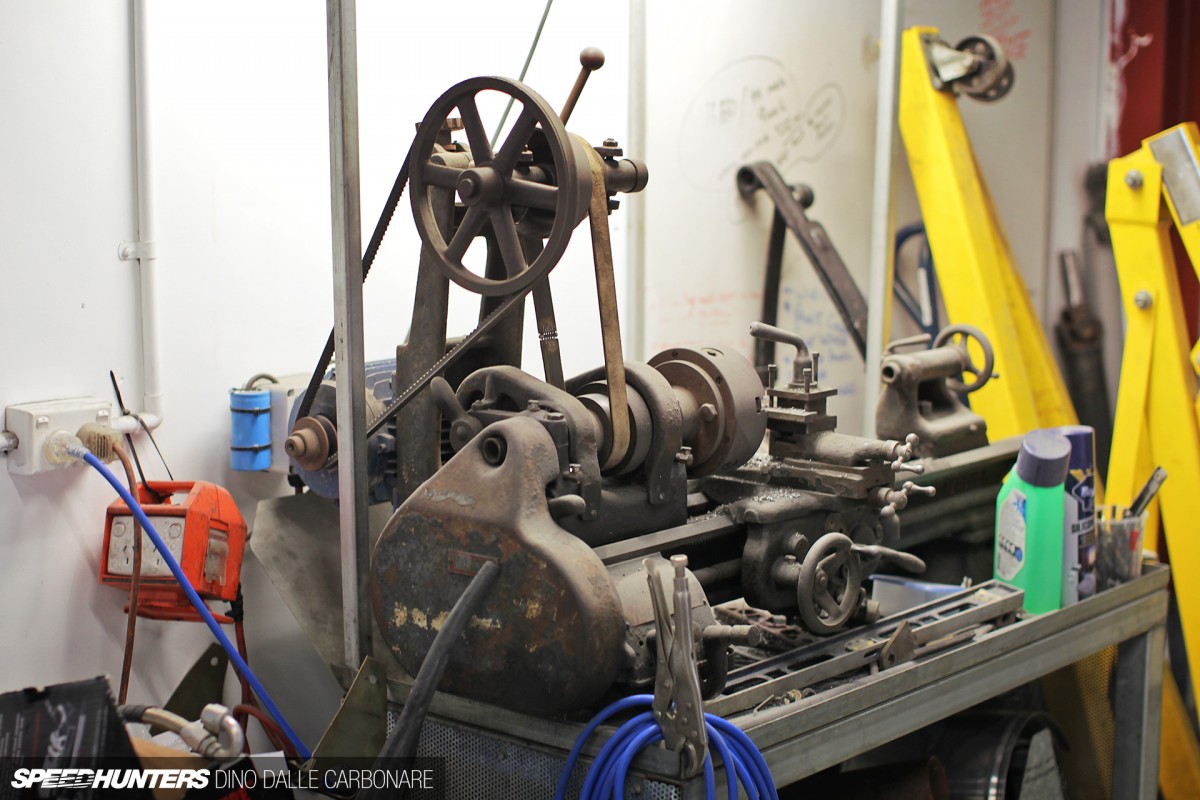 This is just scratching the surface of what still needs to be slowly moved, and organized along the way.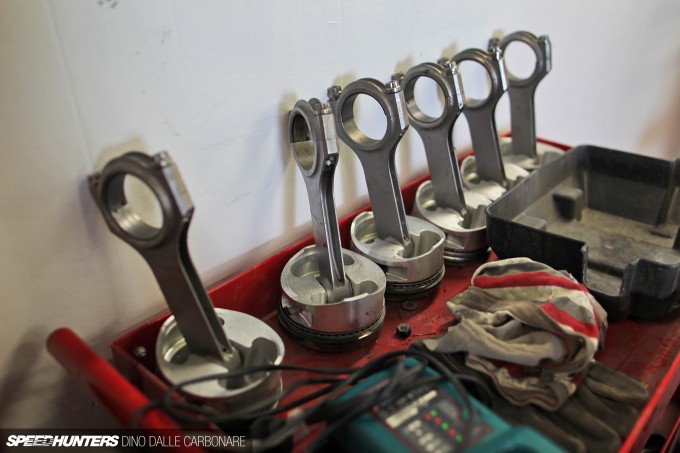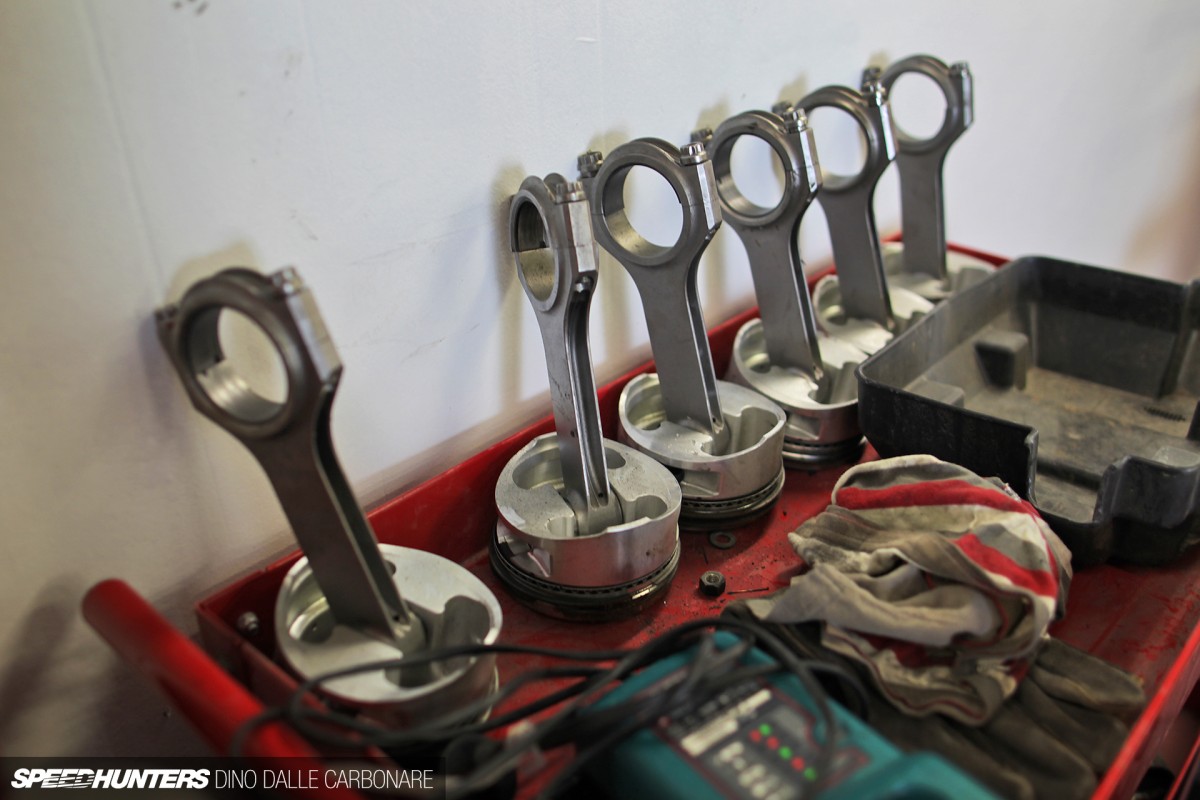 These pistons were out of an engine that's currently being rebuilt. Pretty big bore by the looks of it!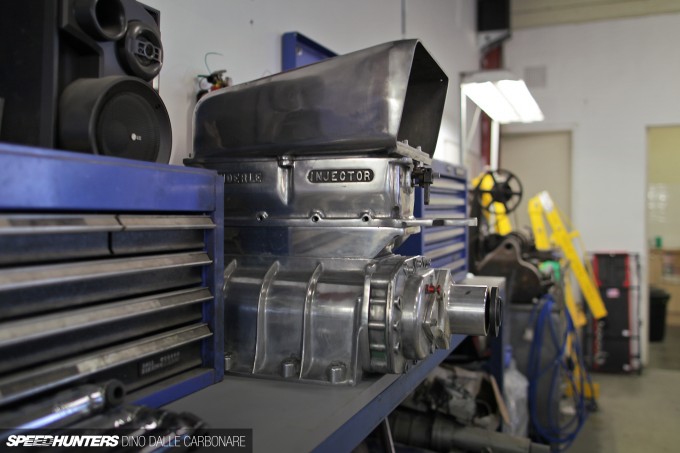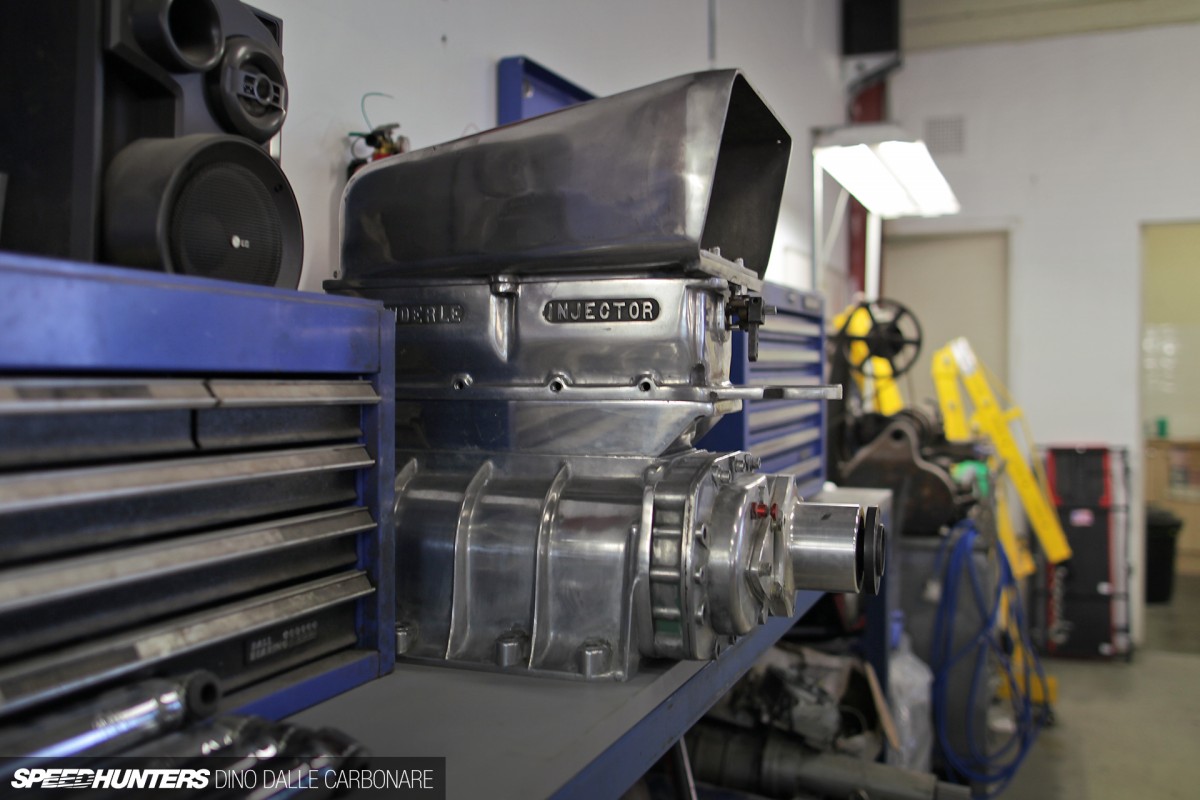 Once they get the Chevy two-door gasser fixed up, this is the supercharger that's going to be sitting on top of the 598ci Dart Big Block! 1500hp for you sir?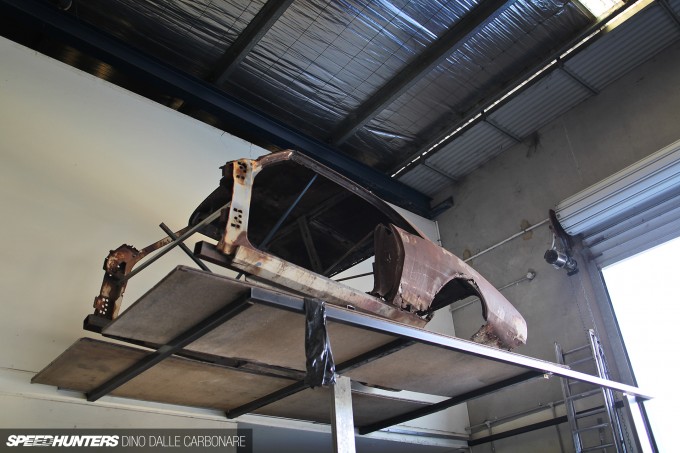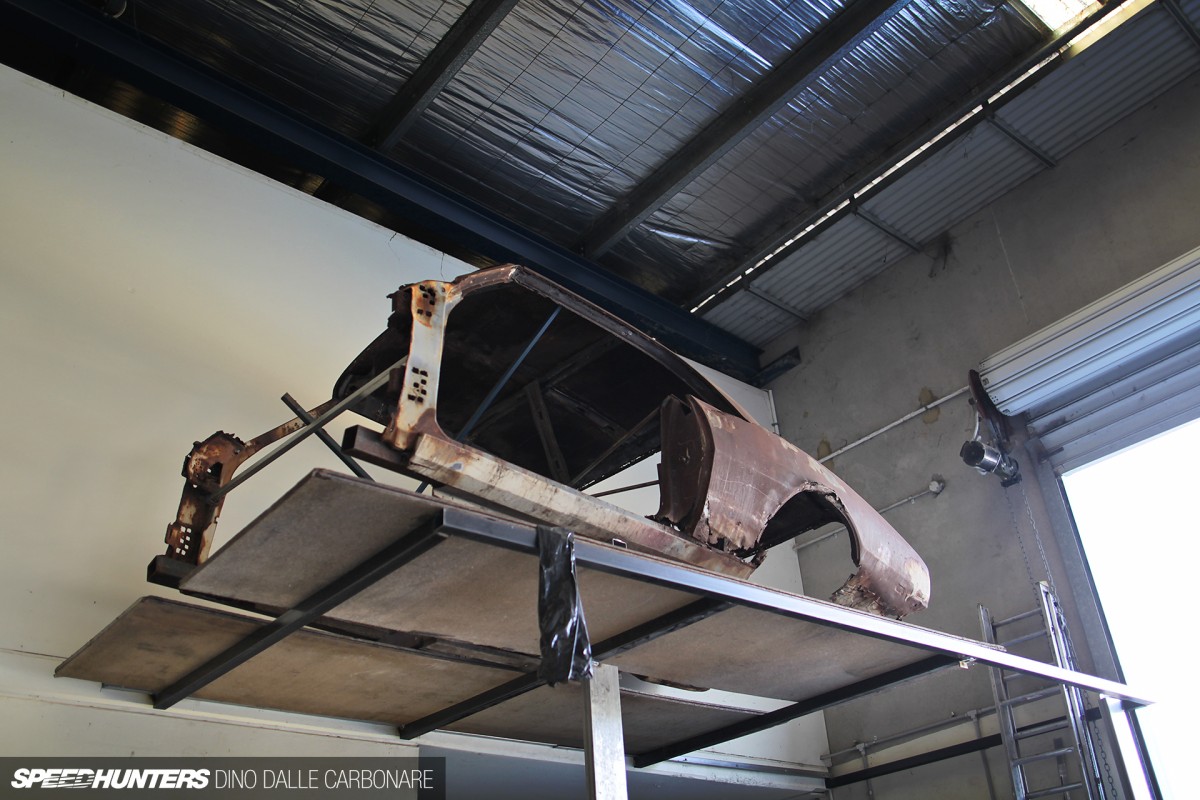 Sitting high on a temporary platform next to the garage shutter sits an old Mustang shell, or what's left of it. This is another of Harley's future projects and apparently there's just enough of the original car left for him to start working away on it! It's amazing how to the causal observer, this rusted-out hunk of steel looks like nothing more than a pile of unusable junk, but to those with a vision – and the skills – it represents the beginning of something special. I think this is precisely what attracts me to the customs scene: the way in which guys like the Joneses can look at something so derelict and already make mental plans of the various custom creations they can pull out of it.
Bone stock Torana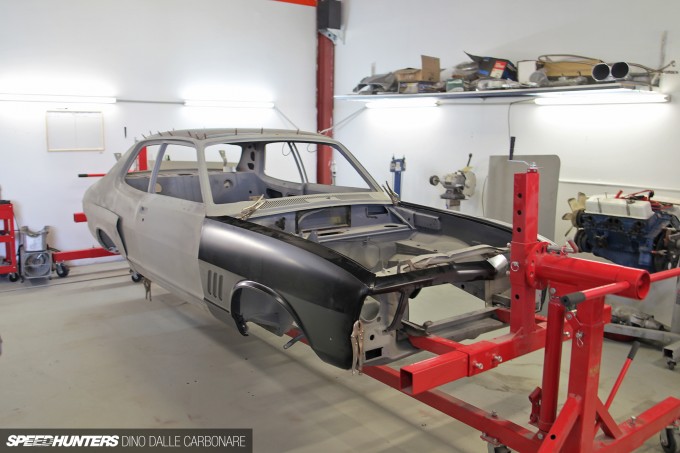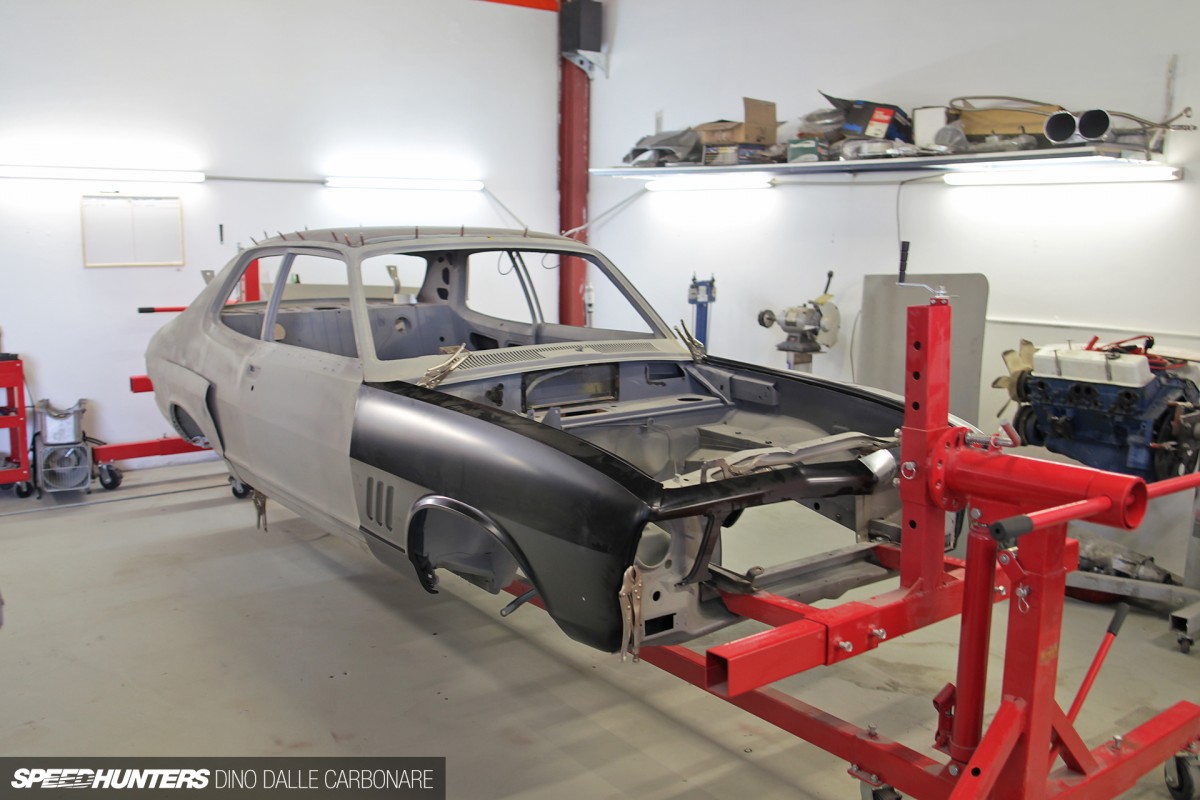 That said however, it's not only custom work and the odd race car repair that Fat57 does here. They've been getting more and more requests for factory condition restorations. A perfect example sitting on the jig to one corner of the shop was this rare 1973 Holden Torana GTR XU-1.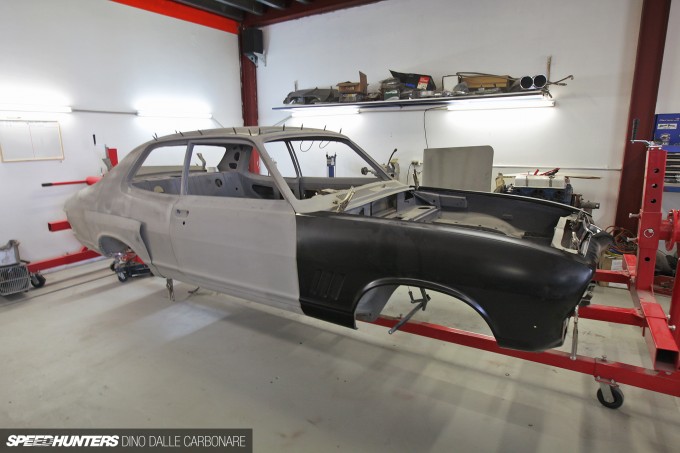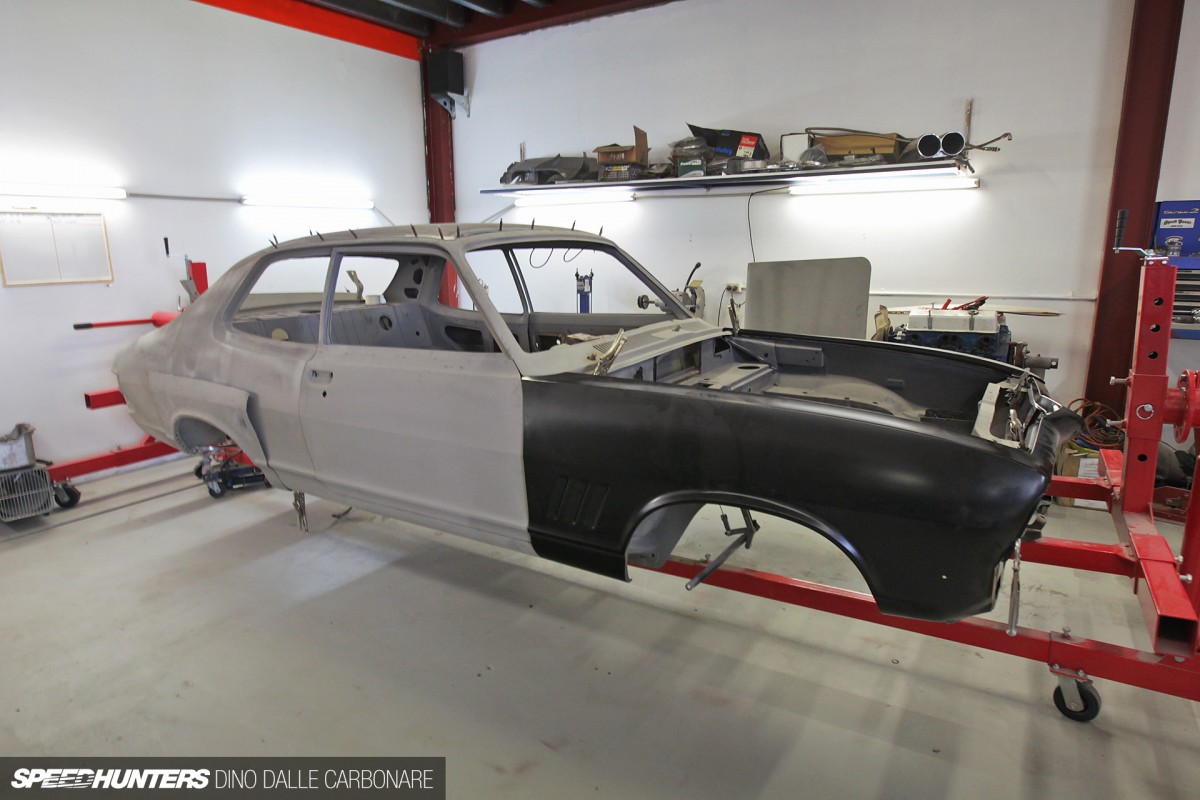 This seventies Holden was brought in by its owner who wanted the car to look perfect again, removing the sun roof that had been fitted at one point in its life, as well as the Bathurst style rear fender flares.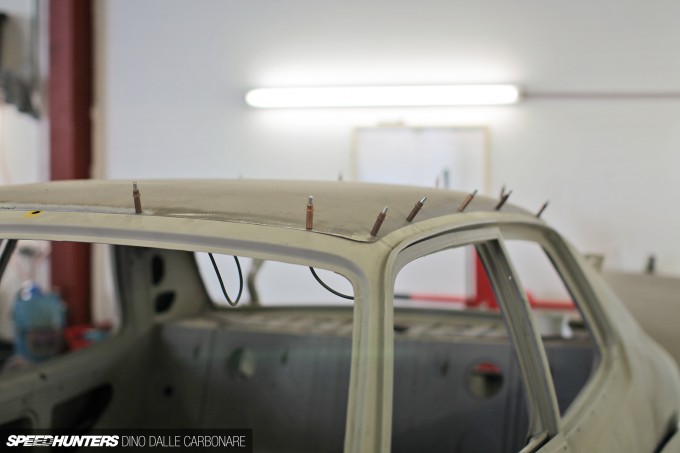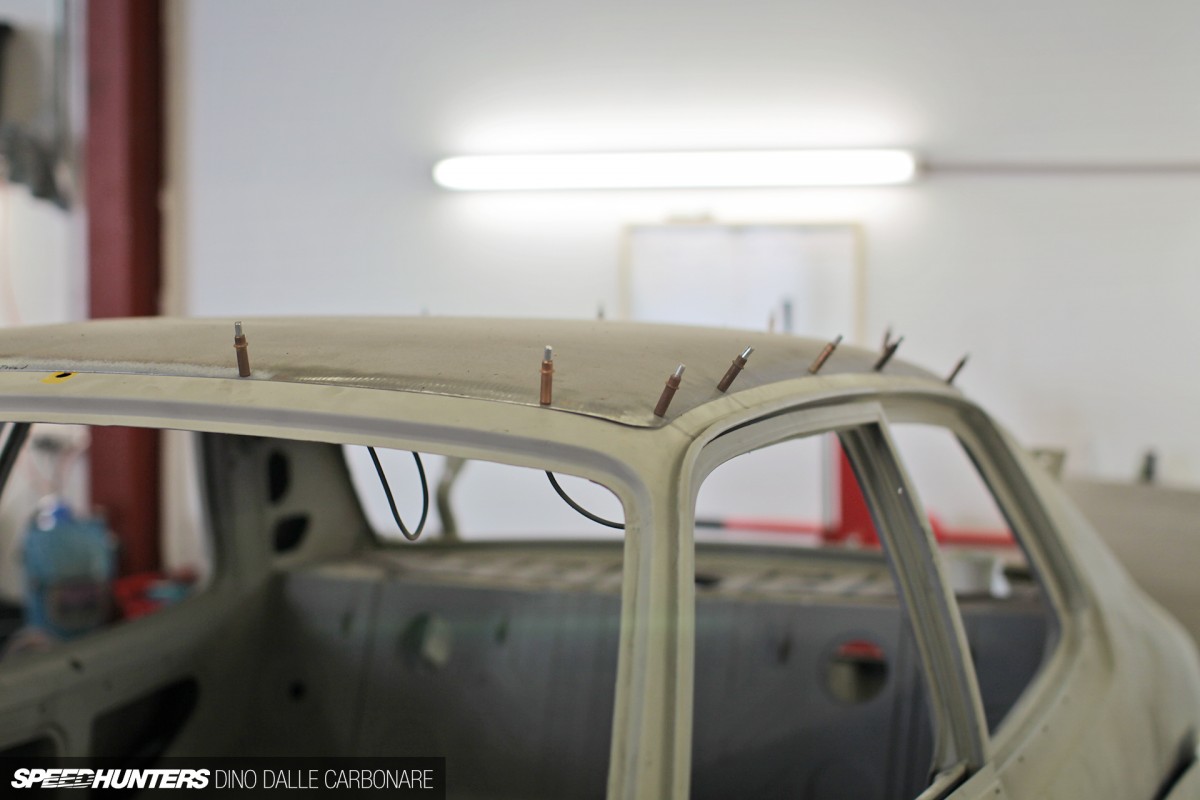 The car has been stripped down, and a donor roof and pair of rear fenders found and put in place.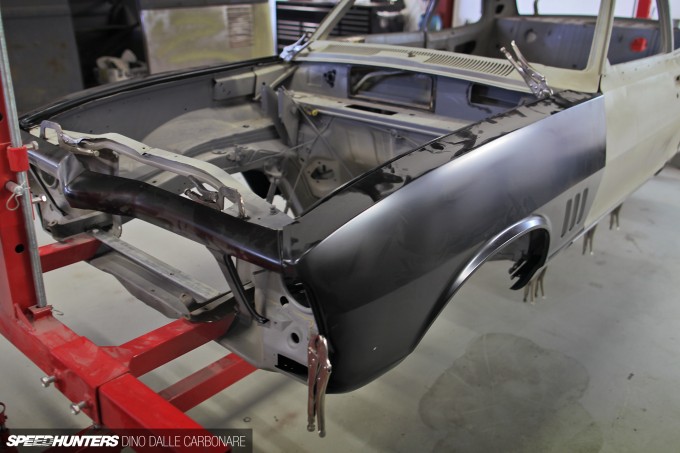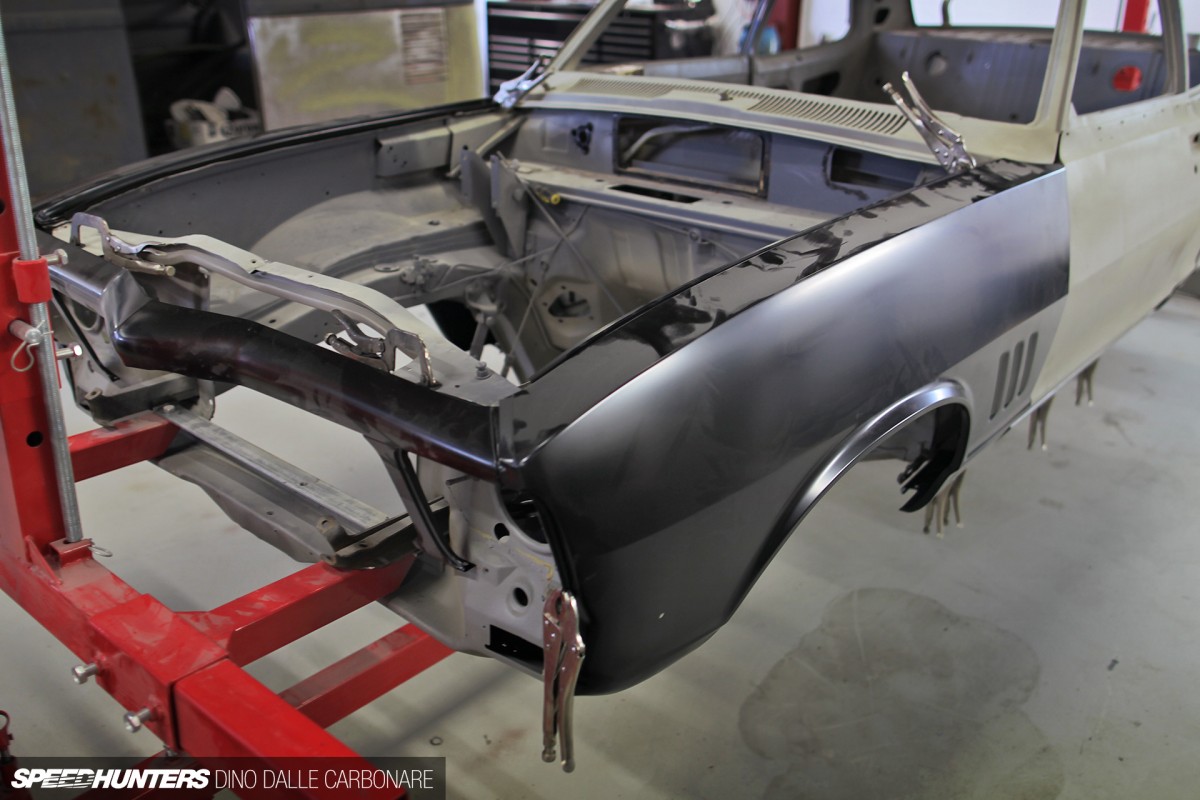 This joined a brand new replacement pair of front fenders with the signature vented sides. Every piece has been lined up and clamped in place; the next step was to TIG hammer weld everything up and then file down the seams to a perfect finish. In these sort of restorations, attention to detail is extremely important as Harley explains; every nut and bolt and every paint process for every part of the car has to be done in the exact same way as it was done from factory. For the Torana that will include a coat of red oxide inside and under the car, all topped with a black undercoat. Even the car jack needs to be painted in the same original blue color in which this particular car came in – a little touch that hints at it being built in Adelaide.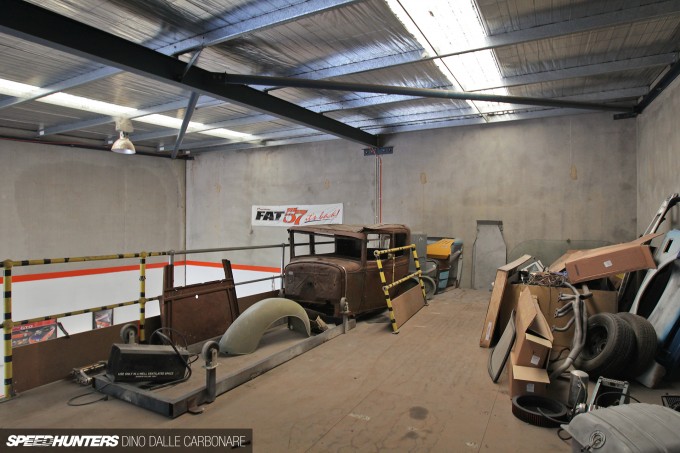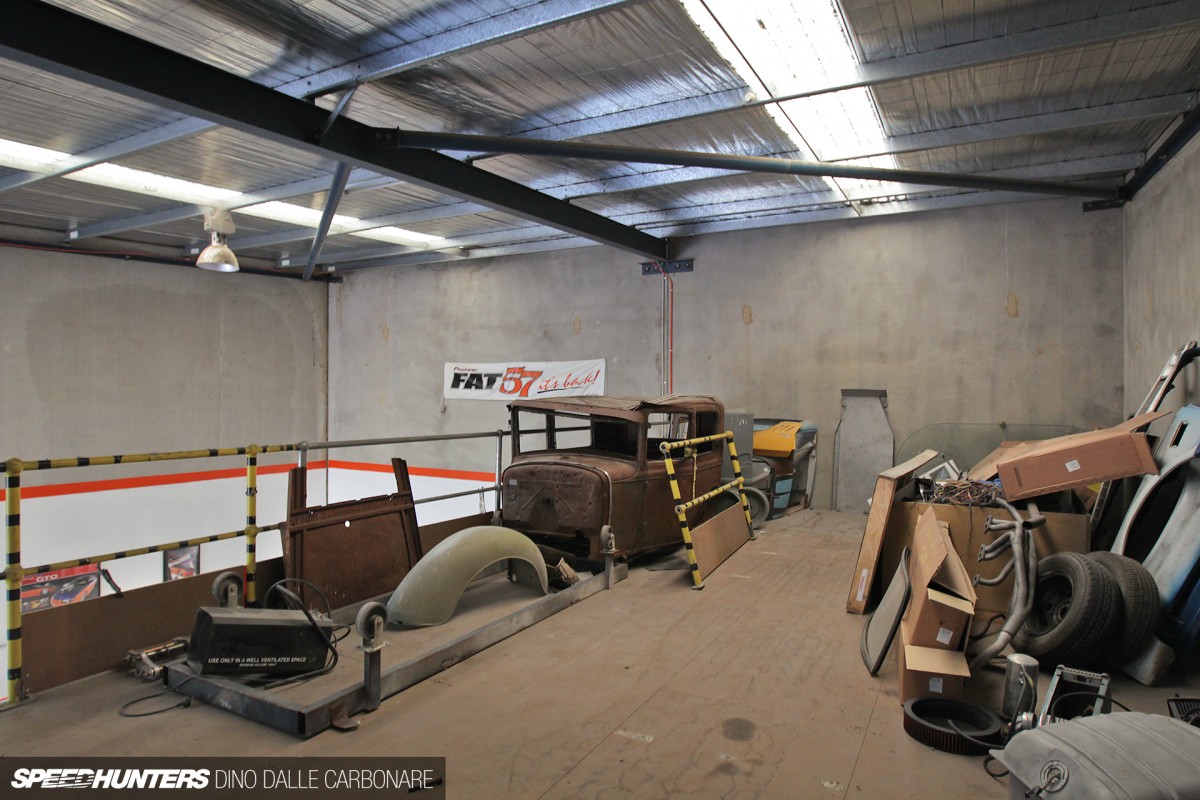 I couldn't resist having a little snoop around upstairs in what will eventually become the parts warehouse and a place to store all the stuff that the family has accumulated over the years; things that sooner or later will end up being used as part of a restoration or a custom project.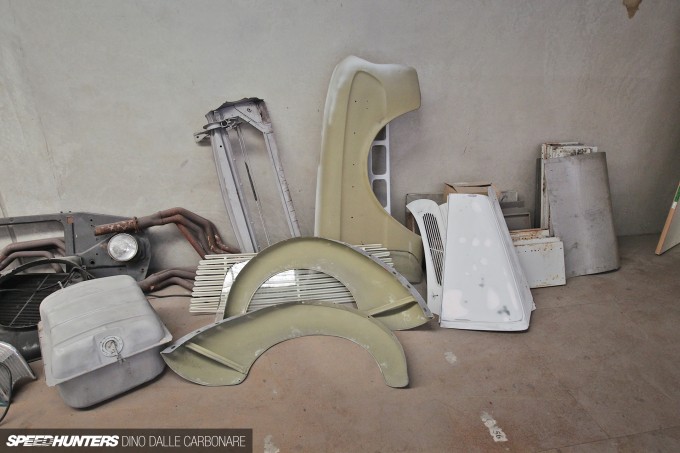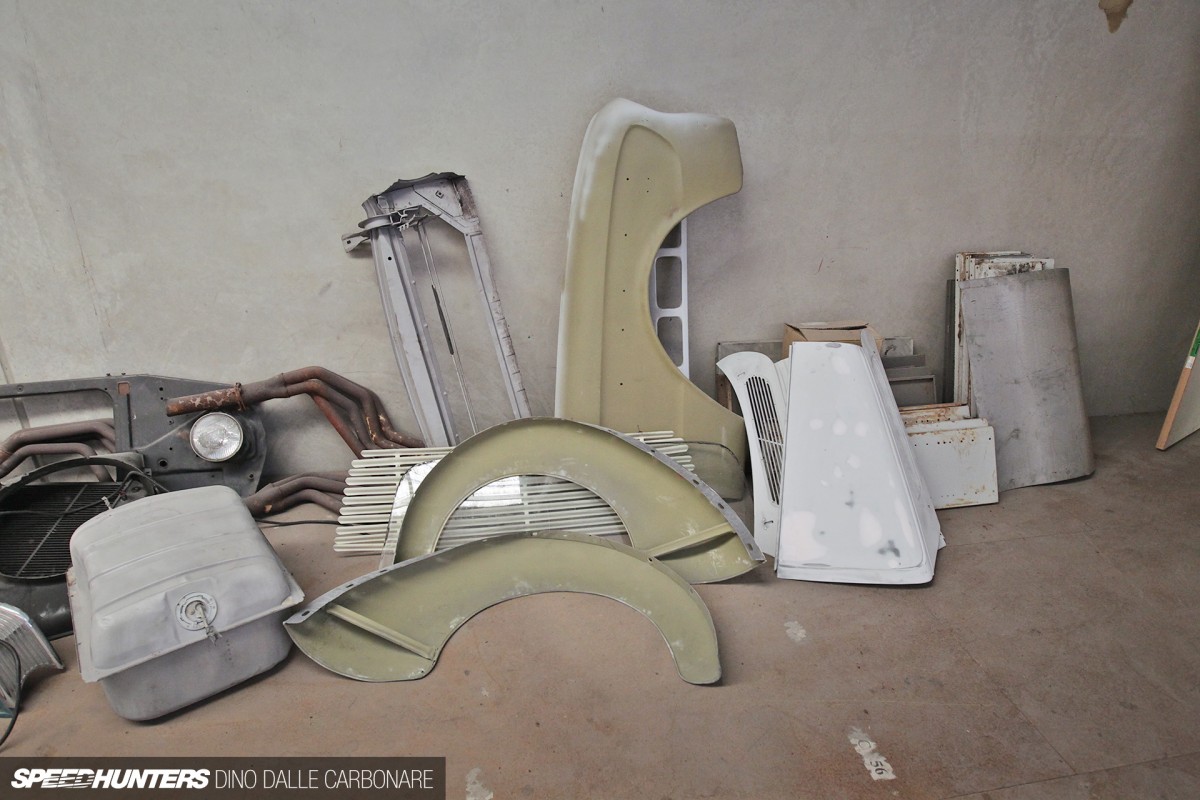 Here are some bits that came with the wild Ford Falcon project that Harley has big plans for. By the time everything is brought over, there won't be much space to move around up here.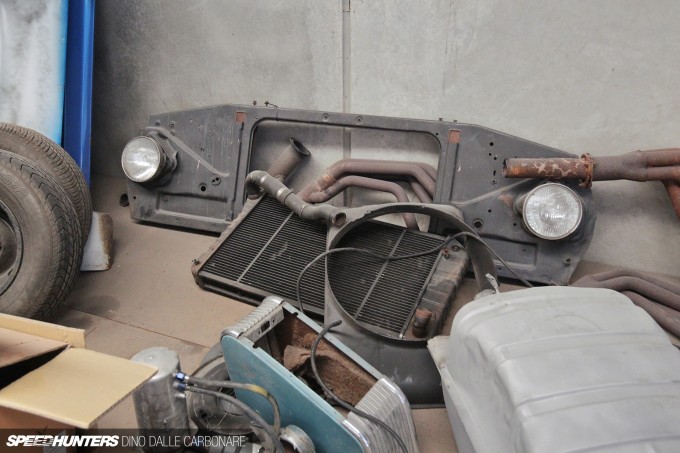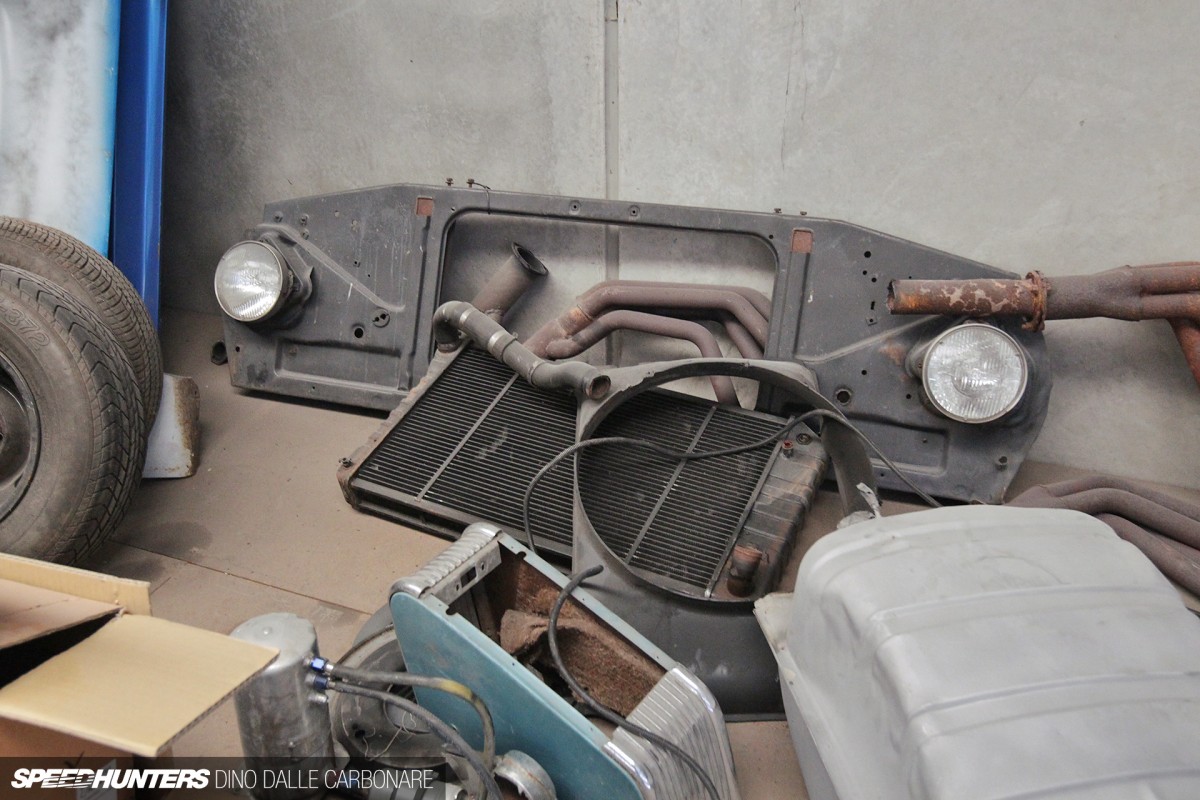 Can anyone guess what car or truck that front section is from?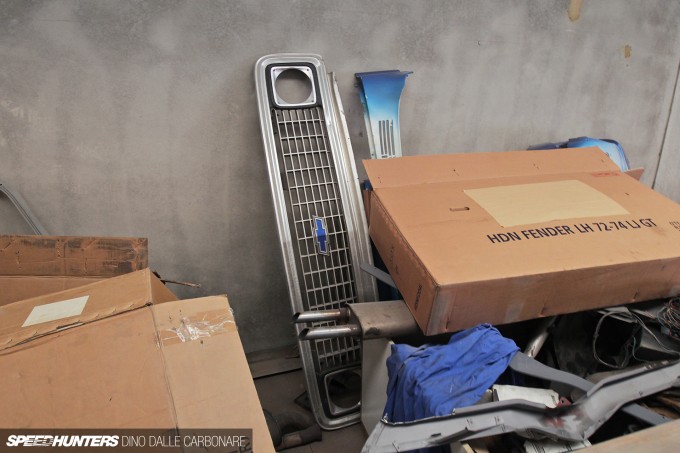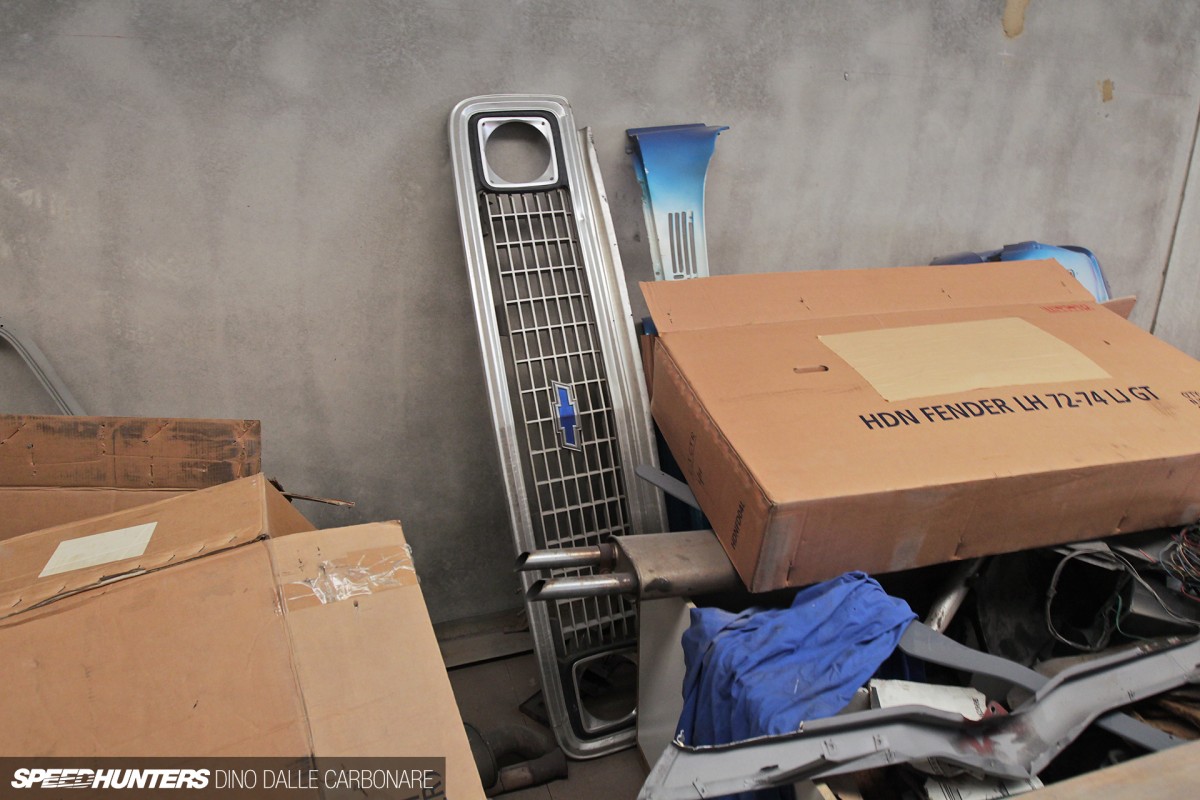 The sheer variety of stuff upstairs is a perfect reflection of the type of jobs Fat57 will take on. A truly versatile operation.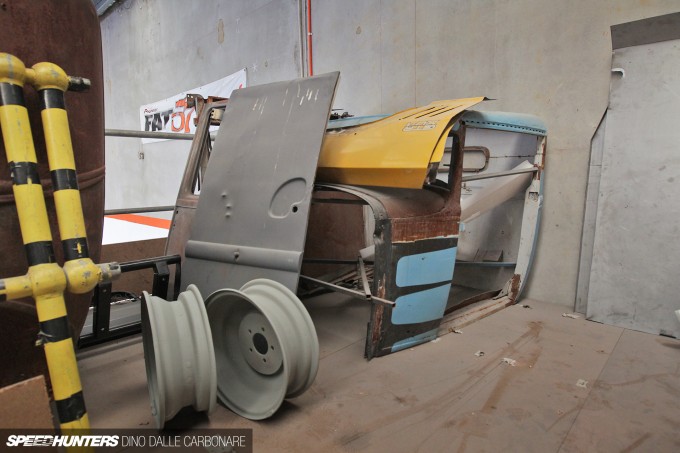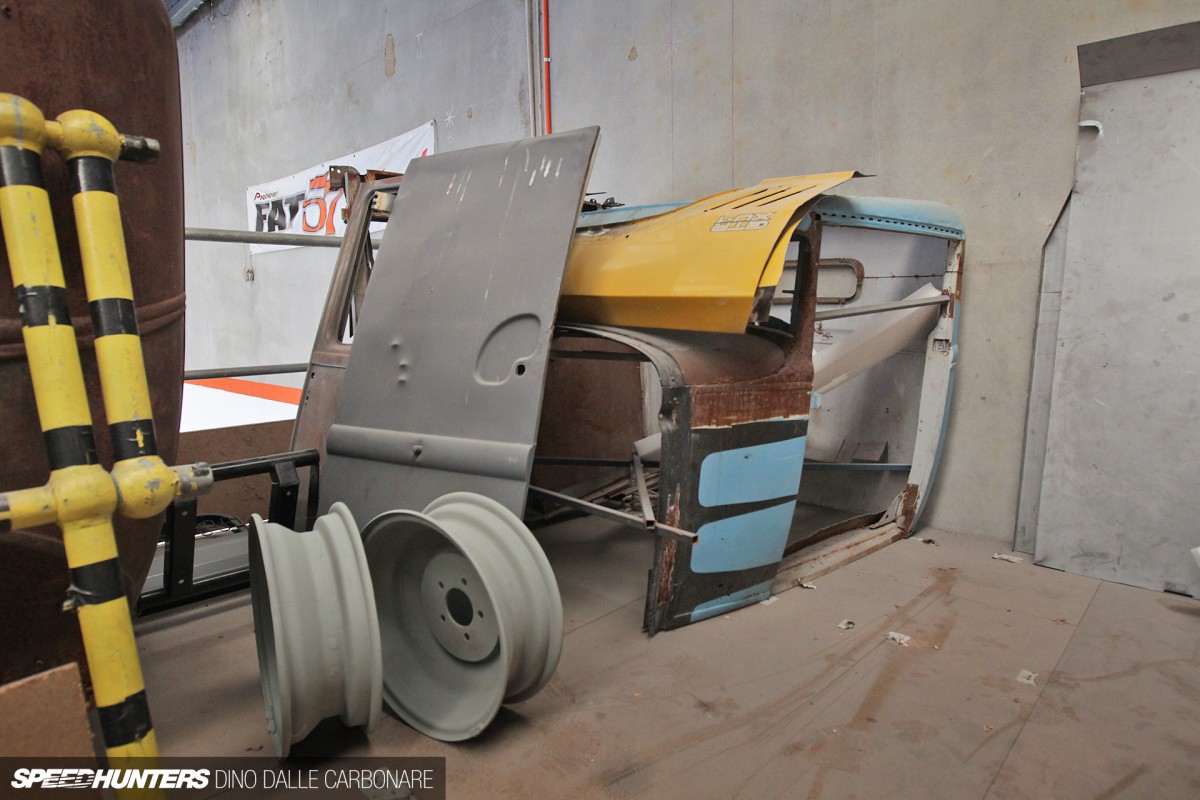 If you recall, on my first visit to Fat57, I spotted a 1930s Model A hot rod that Harley built up back when he was sixteen years old. Well it seems that there's still a few more hot rod projects brewing in the minds of the Joneses, if the Ford truck shells upstairs are anything to go by!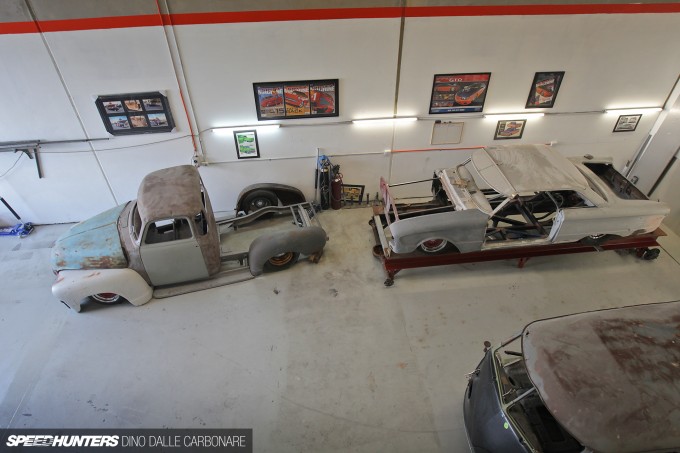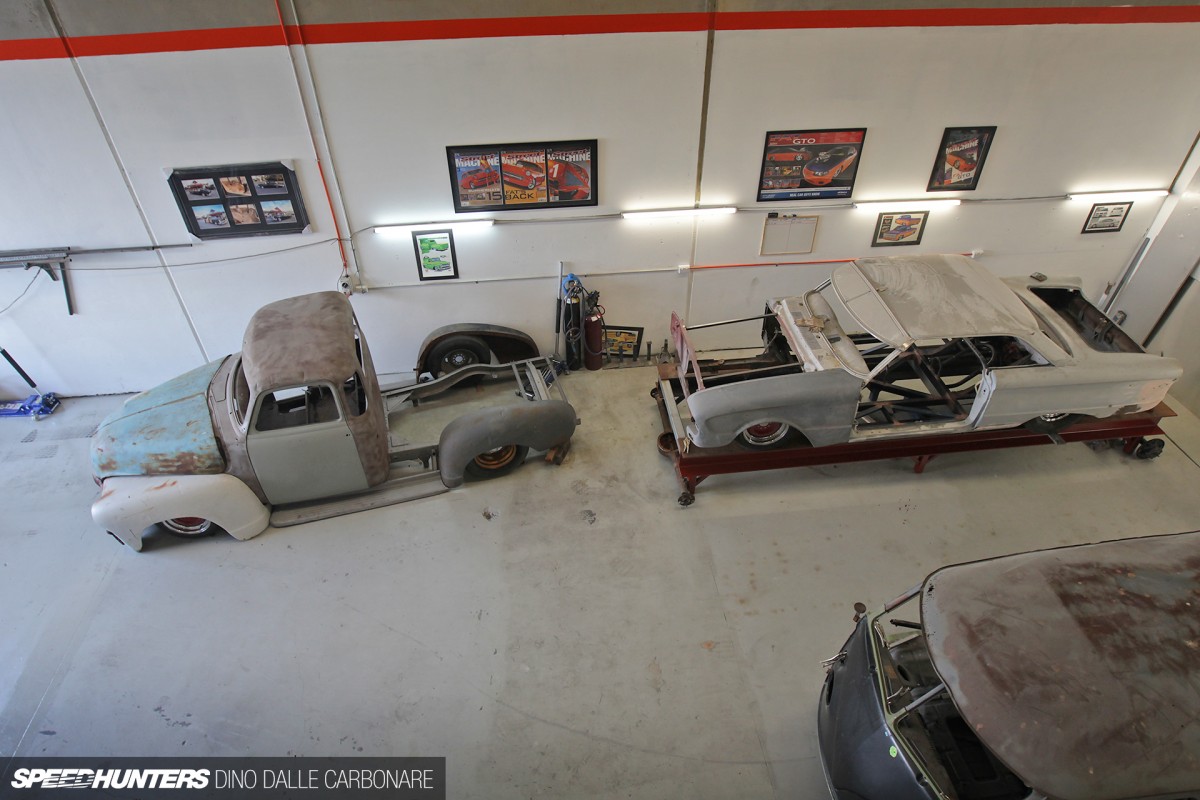 Aside from showing us all the great cars they were working on, the best part of the day was grabbing lunch with Mark and Harley when Rod, Mad Mike and I had a chance to chat about all things hot rod and custom car related for a couple of hours.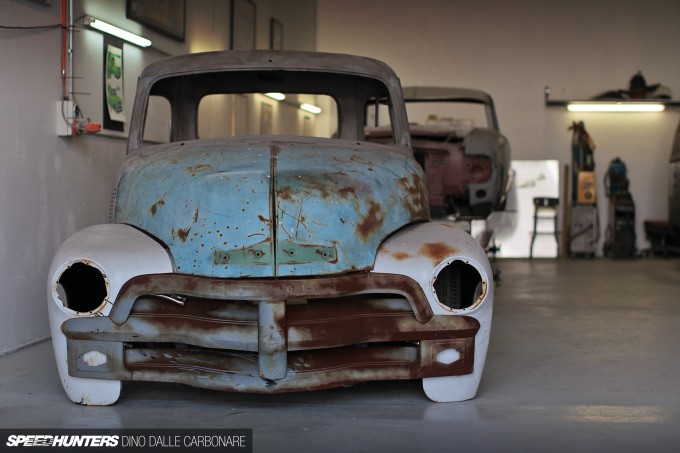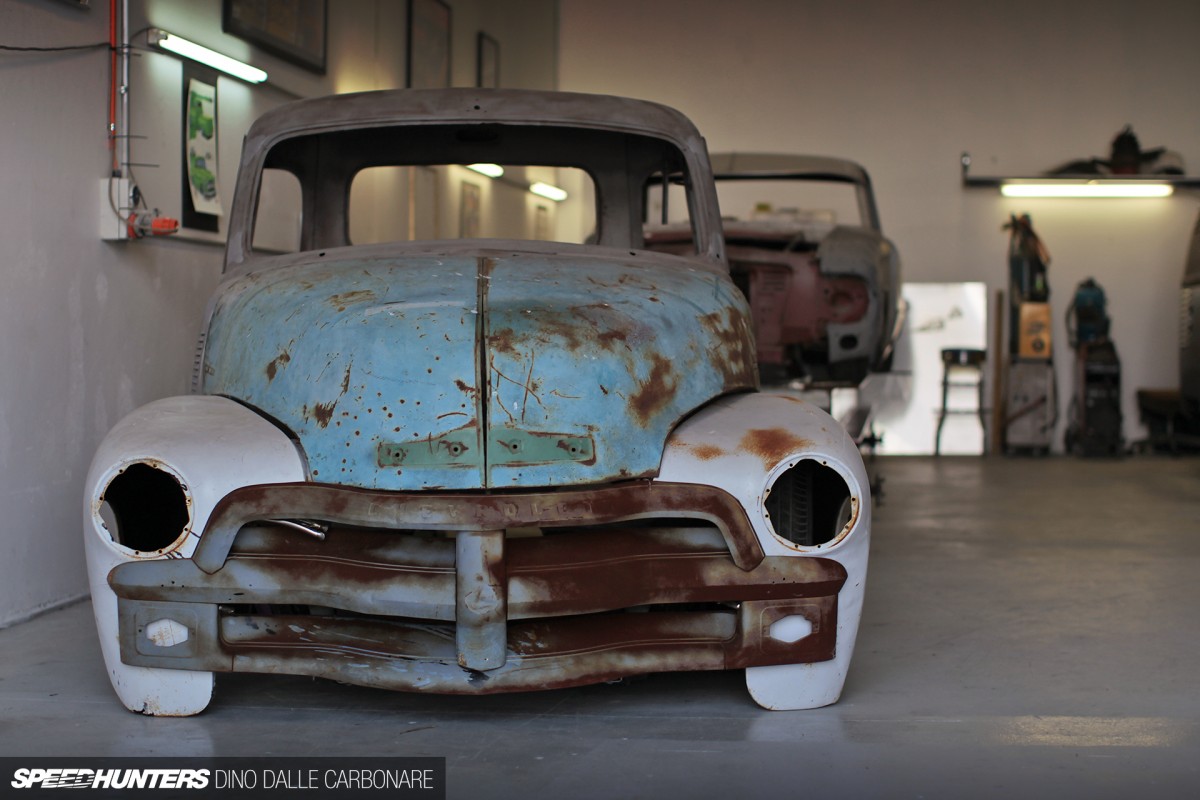 I'm sure sooner or later we'll end up back at Fat57 Customs when the chance presents itself. Seeing how the Joneses have turned their passion into a lifestyle just makes the visits all the more special. It's always great to see not only how the custom scene is developing in different parts of the world, but how everyone that is part of it is always in tune with what others are doing, yet striving to push the culture forward as a whole. I guess it really is a case of keeping up with the Joneses.