The devourer
I really believe the cars we build have personalities. Looking at the Fat57 Customs '55 Chevy, all the adjectives I can think of could just as well be describing a person: scrappy, rough, stocky, crass. This is the guy you don't want to meet in a dark alley, embodied in automotive form.
Just looking at this opening photo I can picture Dino with his camera on a tripod, nervously setting up his shot and hitting the shutter before he jumps out of the way. From all this I can only draw one conclusion: this car wants to devour you.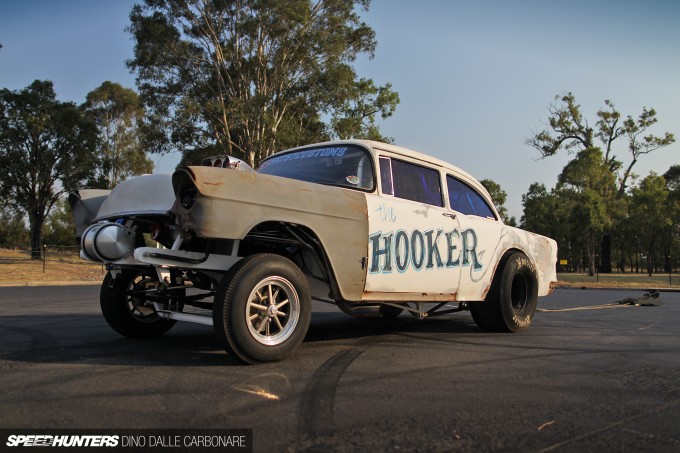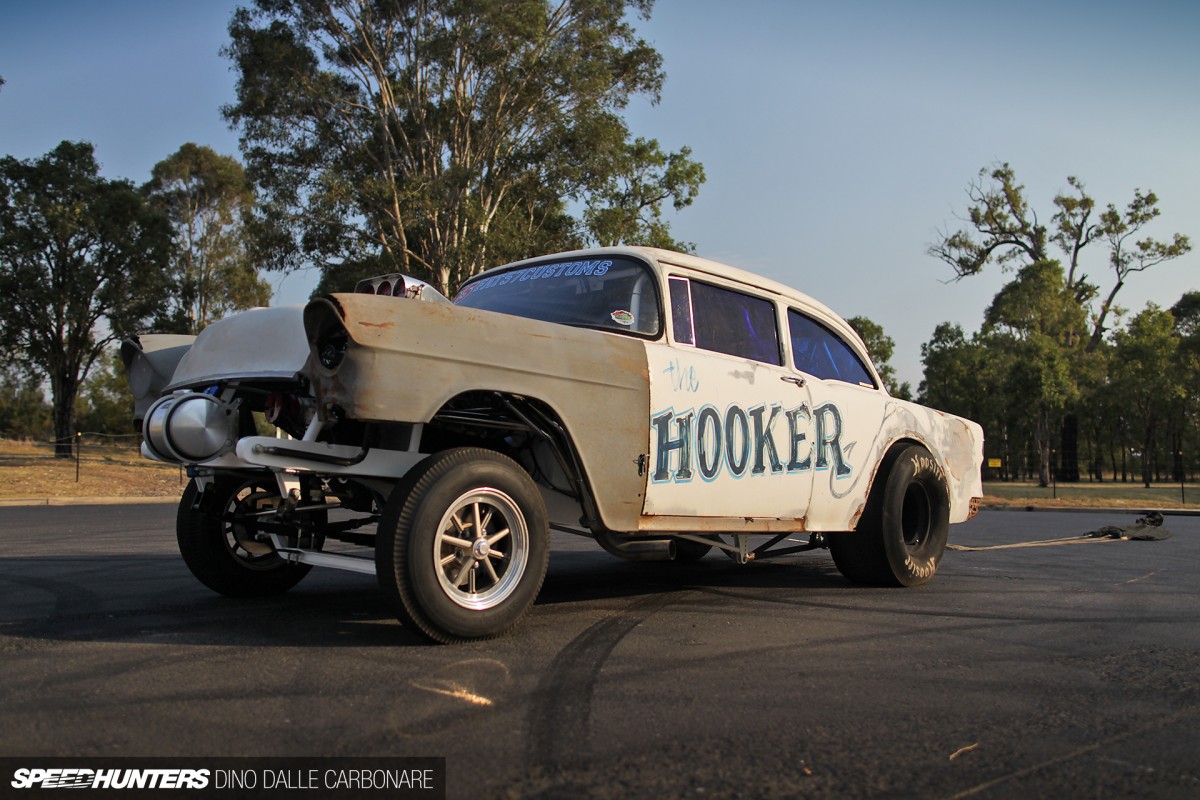 It wants to unleash all 1500 of its horsepower from the 598 cubic inch big block, spin those portly Hoosiers until they stick, then gobble you up and spit your bones out.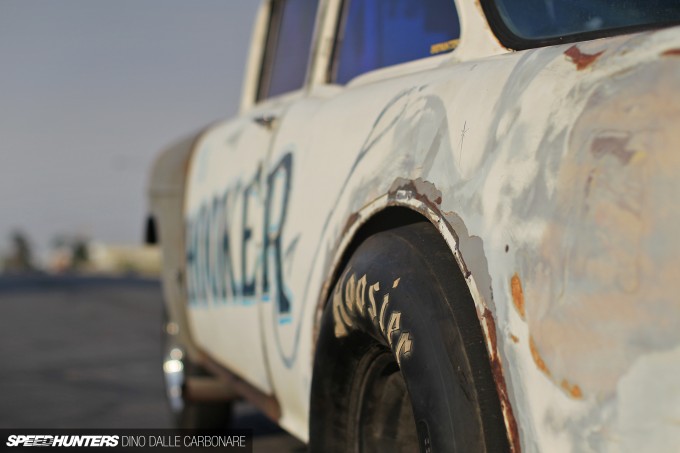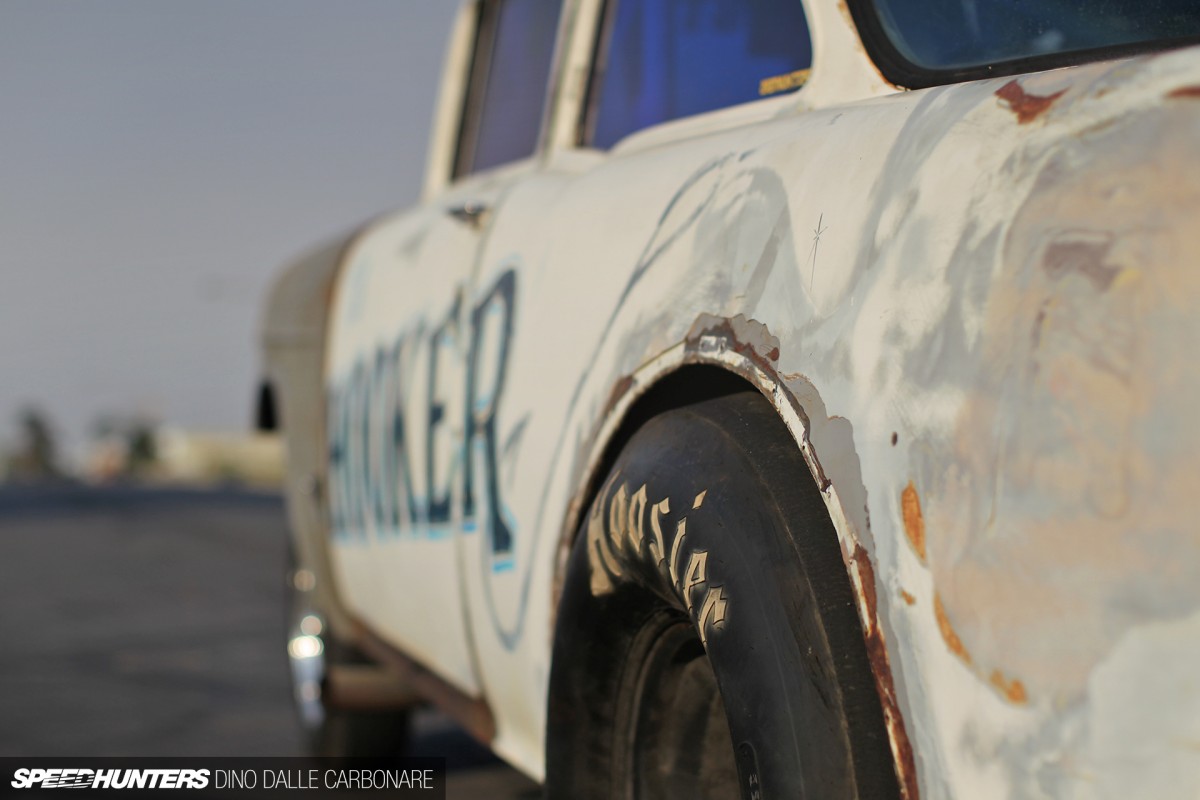 Who builds a car with so much personality that it can scare people standing still? Mark and Harley Jones do. They're a father and son team from Australia with a penchant for building wild street machines like this. Clearly they're good at pumping them full of attitude too.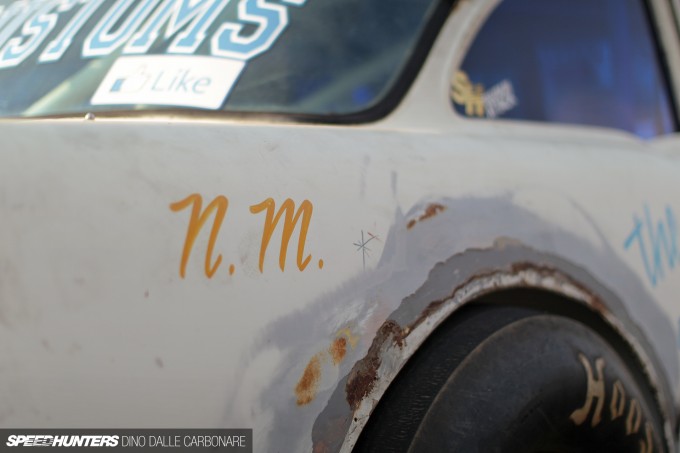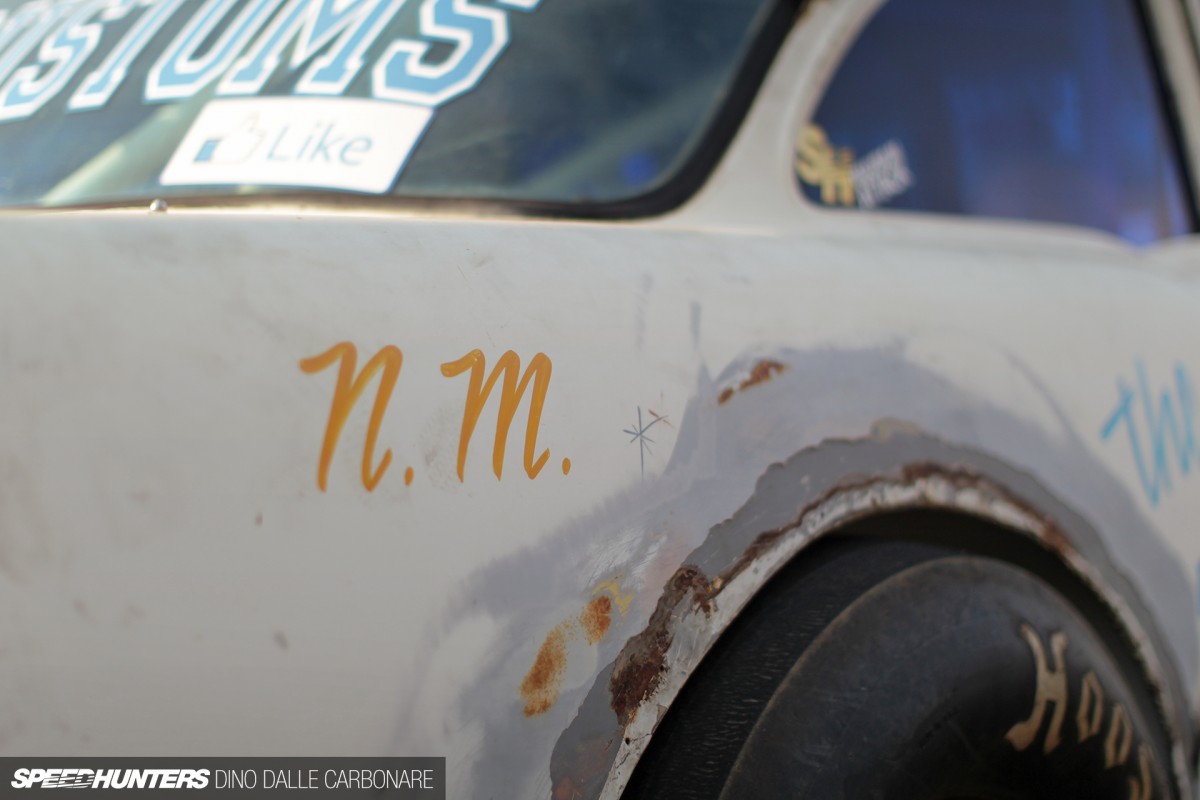 I got to chat with Harley and Mark at the SEMA show and was surprised to learn that their gasser '55 actually came from New Mexico, just next door to my home state of Arizona. Somehow the menacing hunk of metal made it halfway around the world into their capable hands, and now I sit back here on the other side of the globe writing about it. What a small world it is we live in.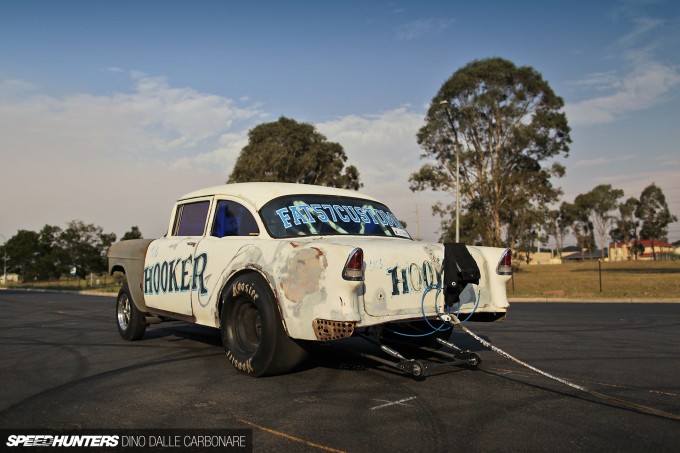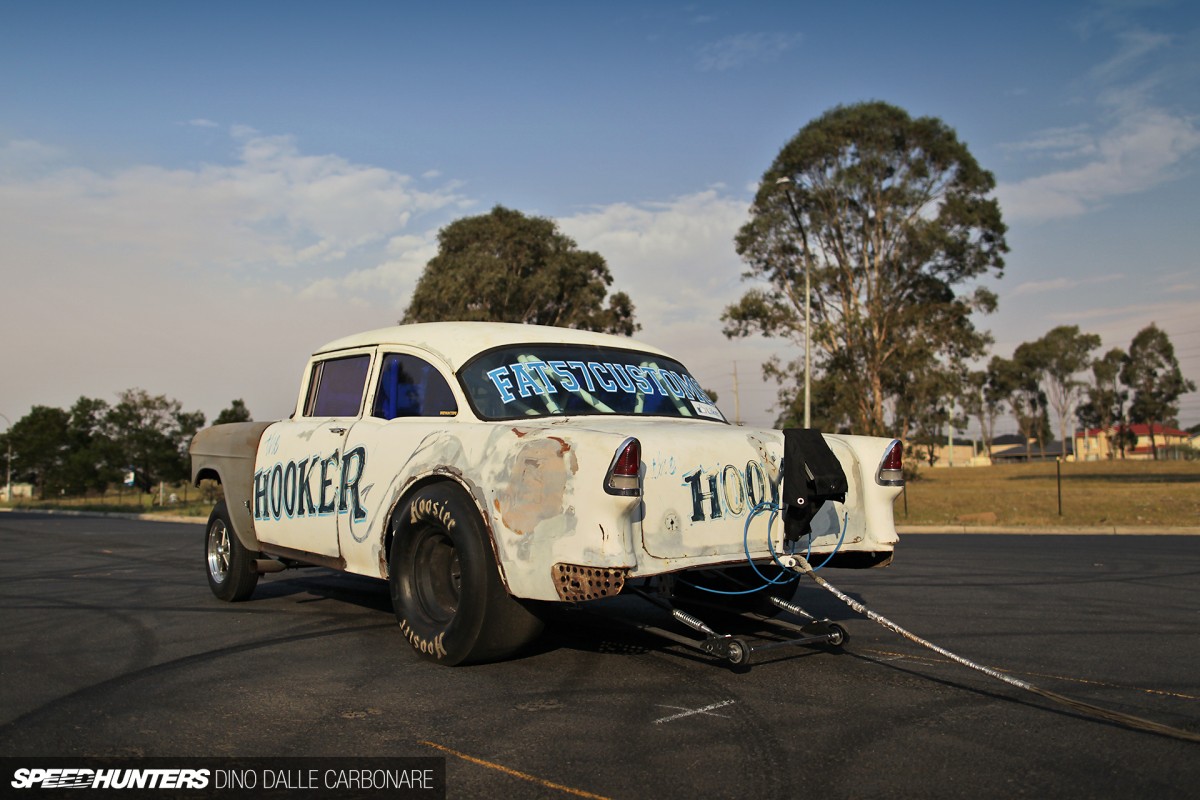 While the boys did a ton of work to make the car into what you see here, one thing they didn't do was change the body. They wouldn't dare sand off the original '70s Hooker paint scheme; it's still exactly as they found it.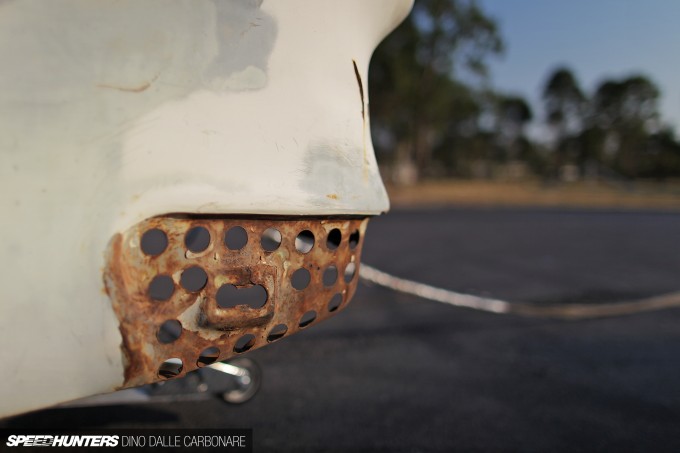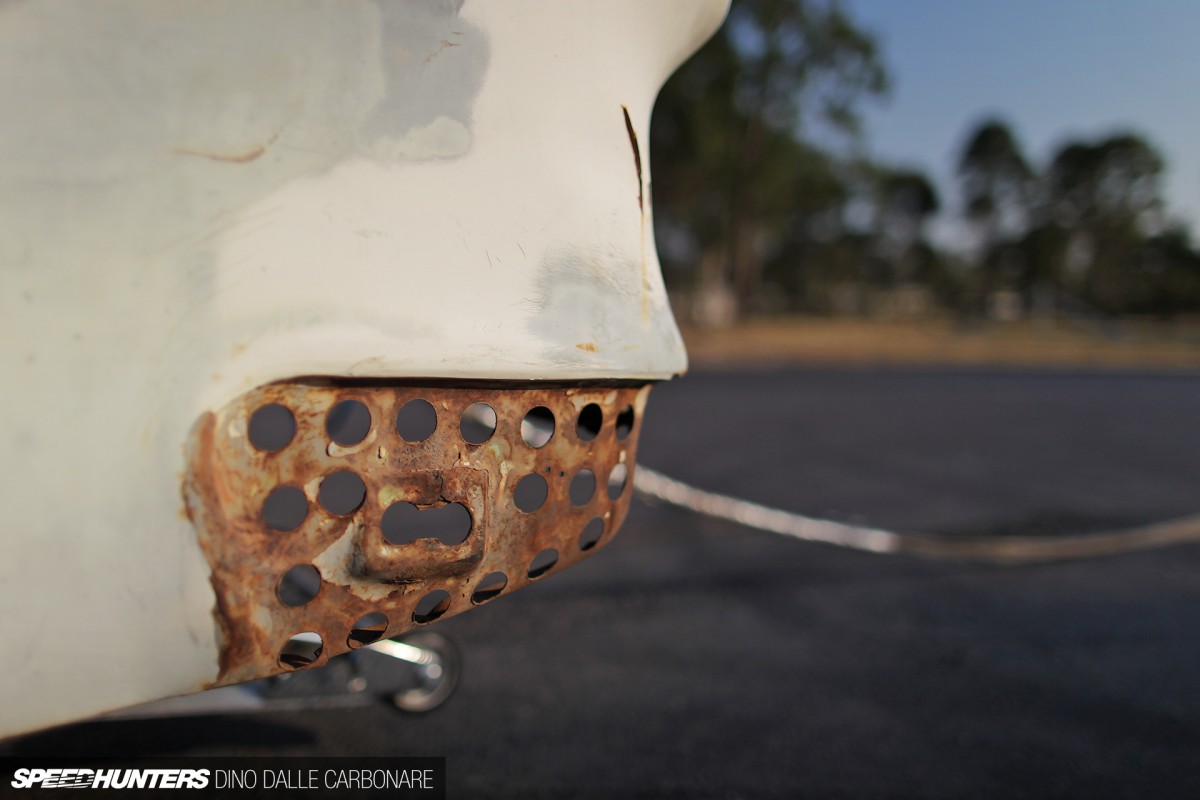 This car seems to have a bit of history behind it, which is precisely why the Fat57 crew wanted to resurrect it.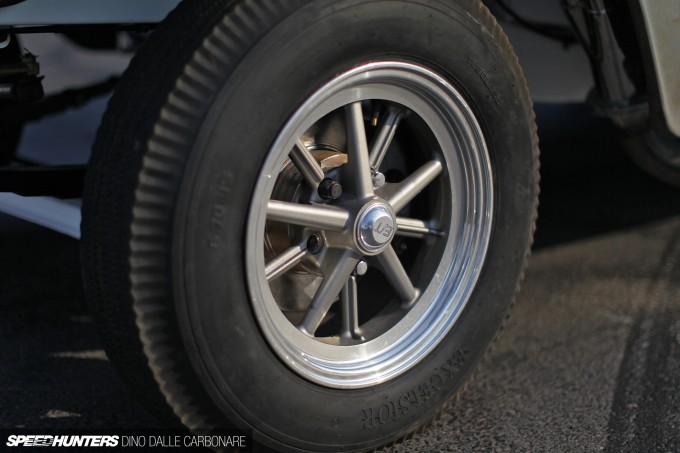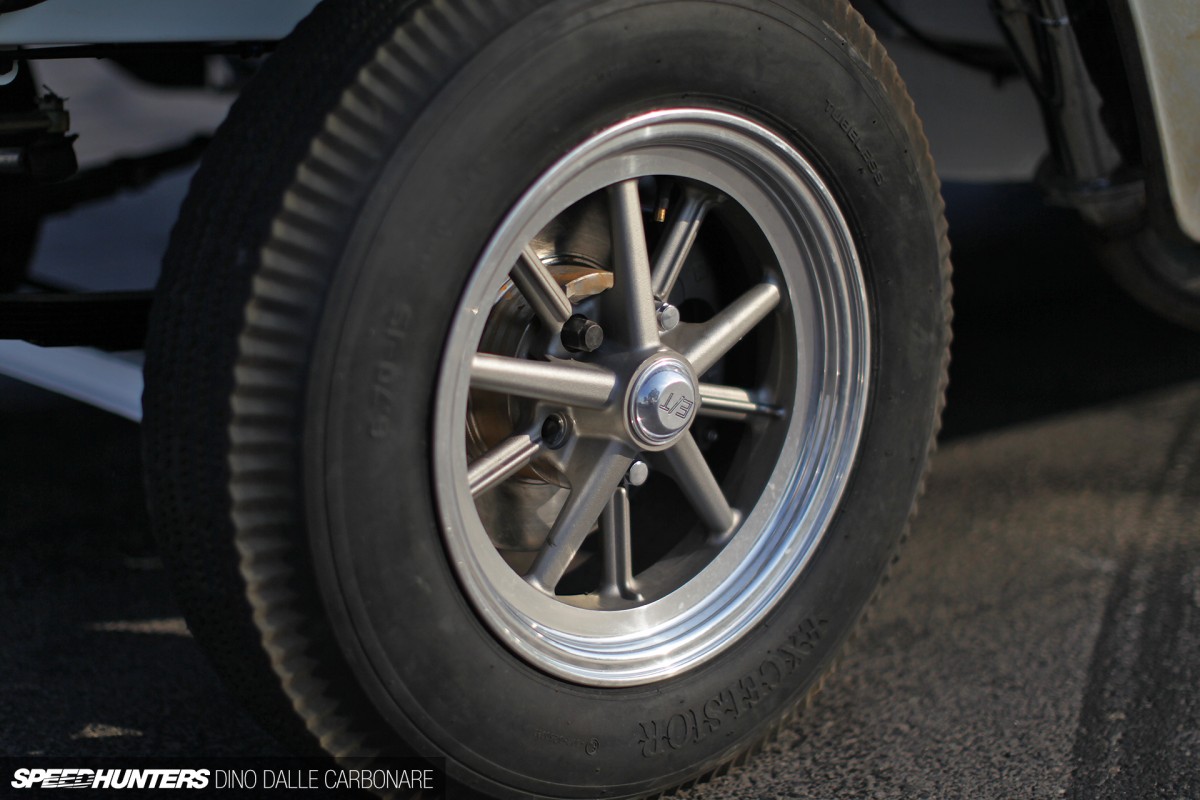 Crucial to any gasser is the big and little tire combo. The '55 wears skinny bias ply front runners on 15×6 E/T ten spokes.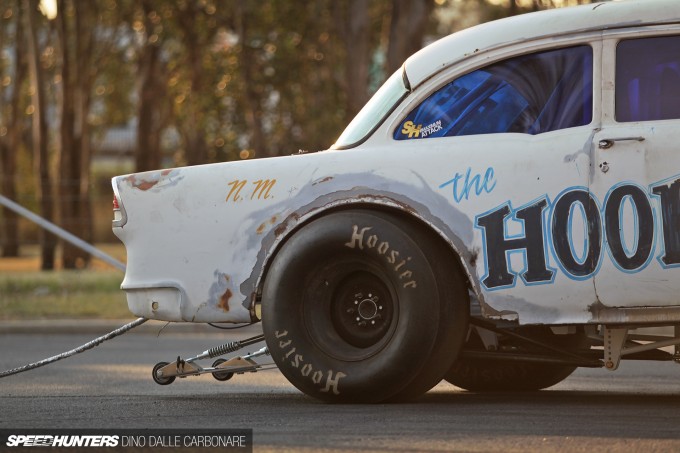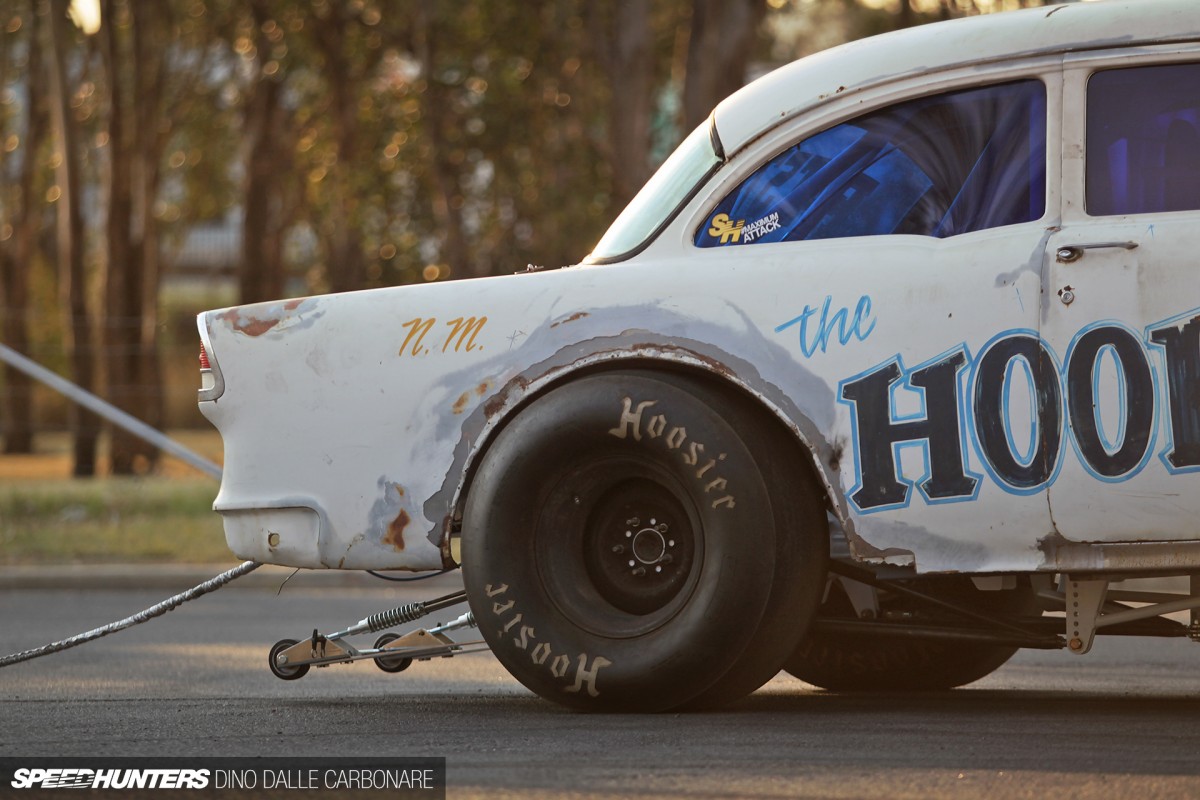 The rears are twice as wide, with meatier tires still. Deep dish steelies are just another part of the scrappy street vibe.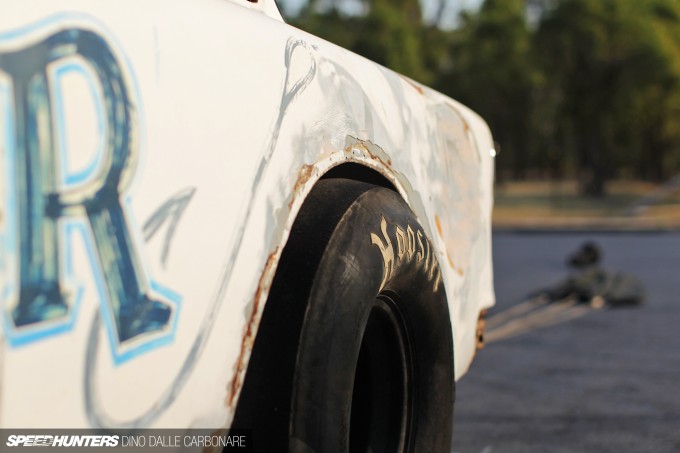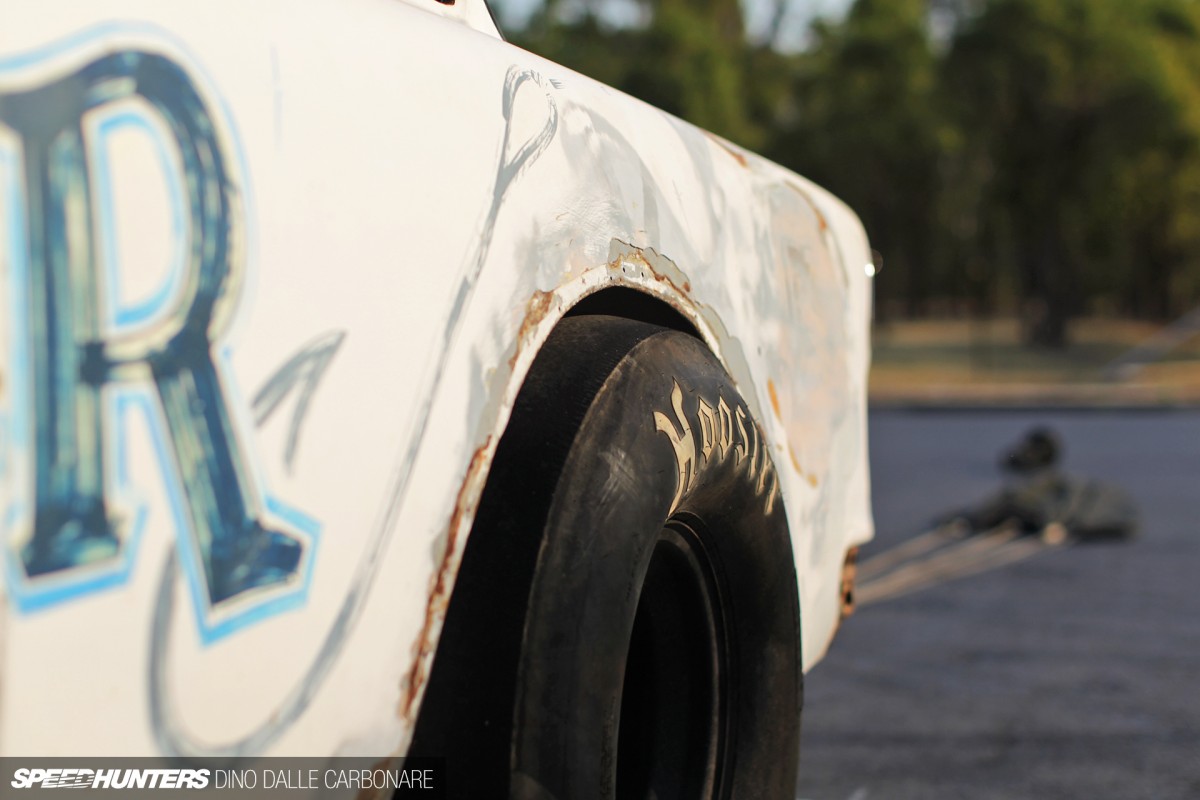 Of course one doesn't simply bolt up tires this size: the rear fenders have to be radiused. Fortunately this was attended to in the car's previous life.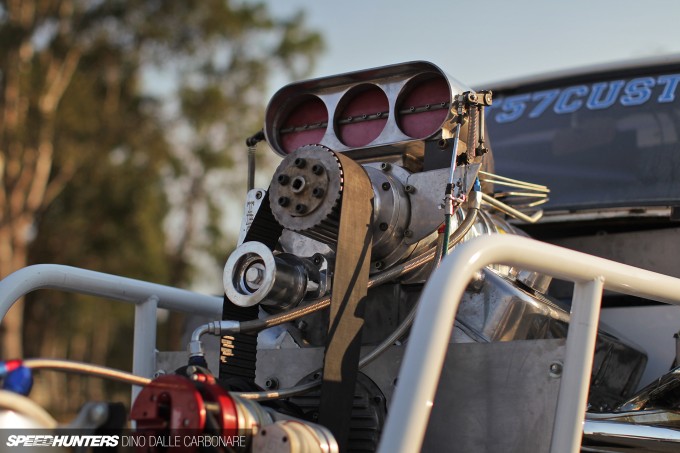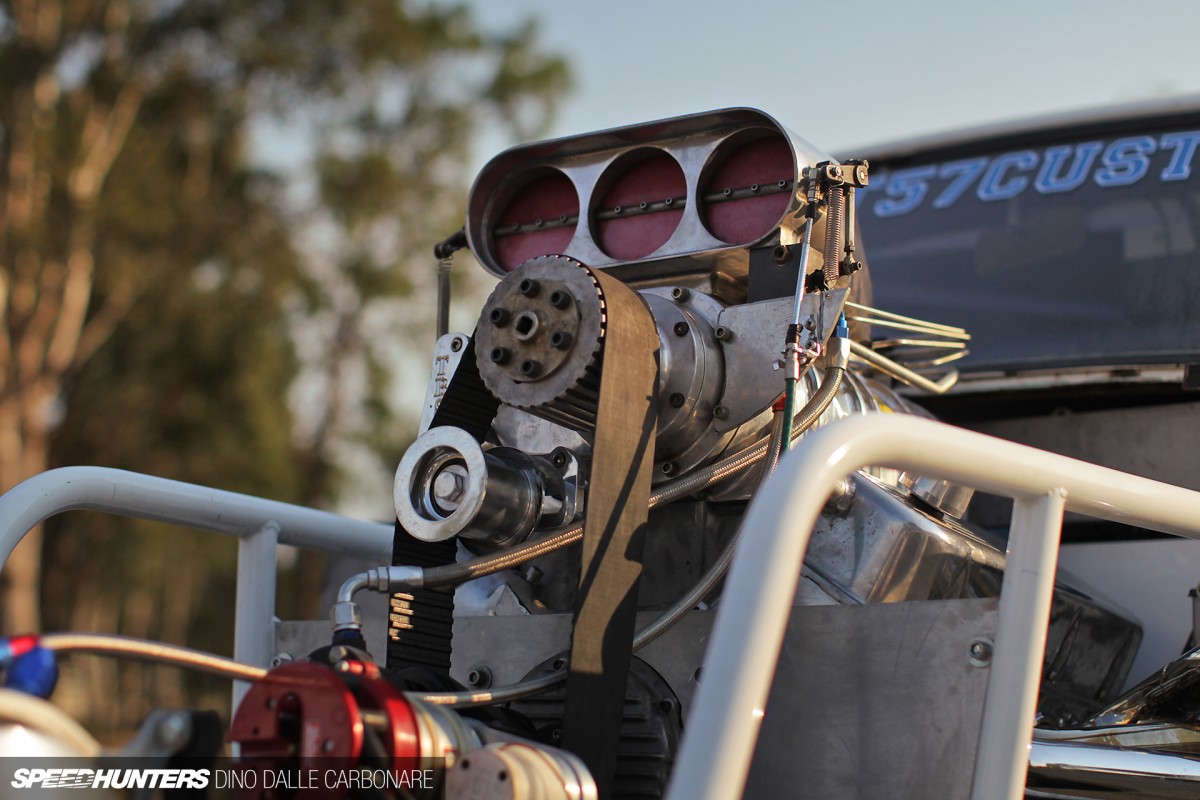 Also one doesn't simply bolt up huge tires without a way to spin them. You would need a blown, methanol-chugging Dart big block for that.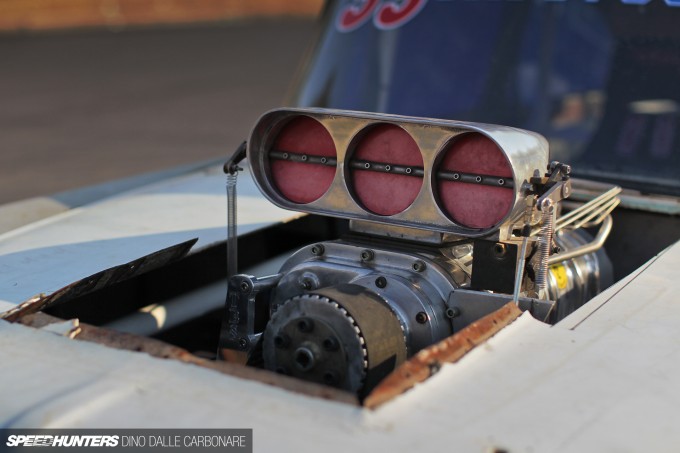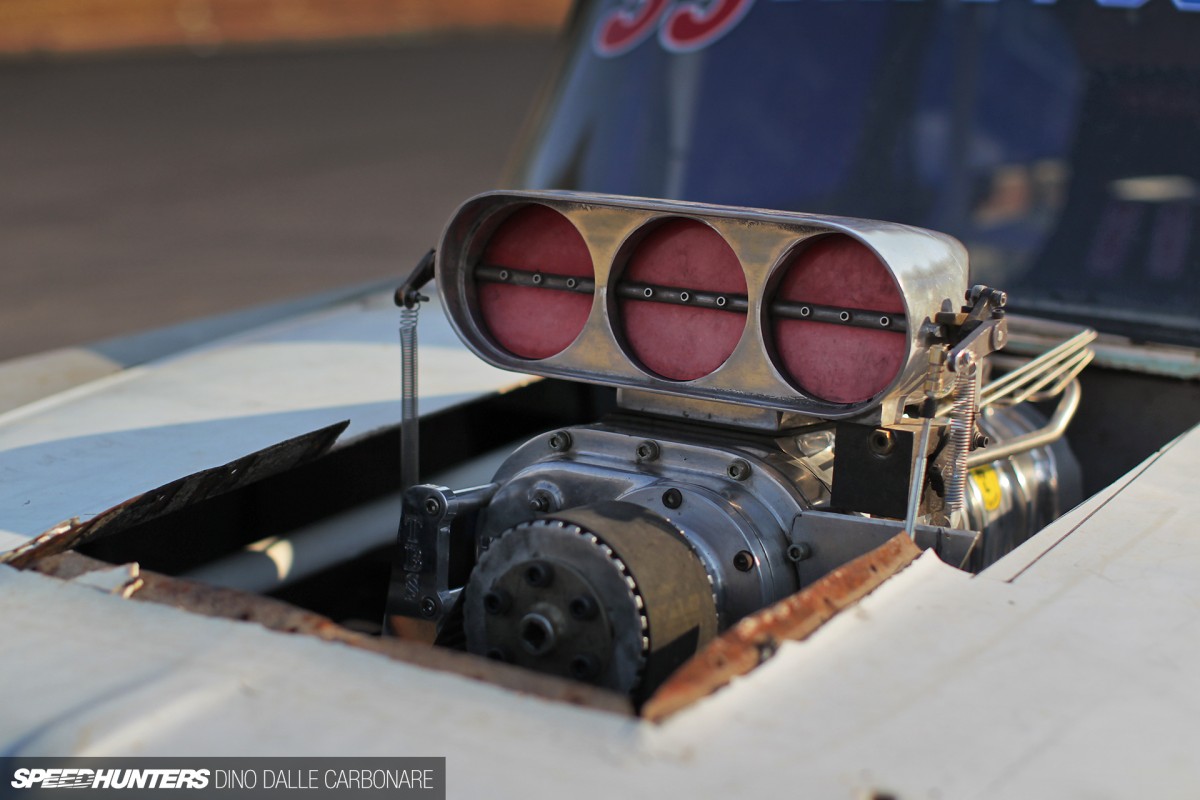 Compressed air comes from a Littlefield blower.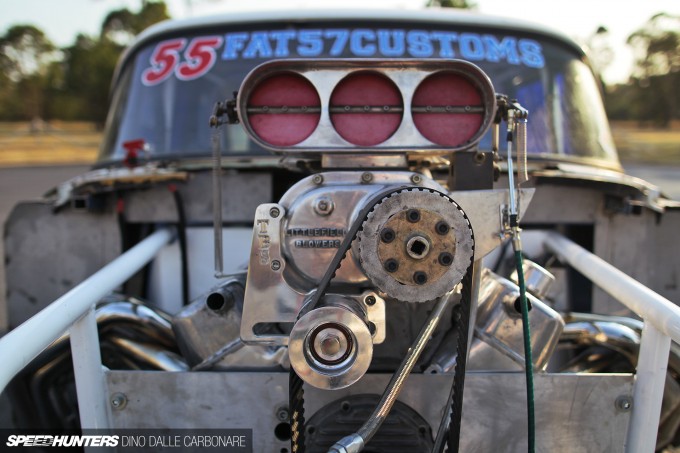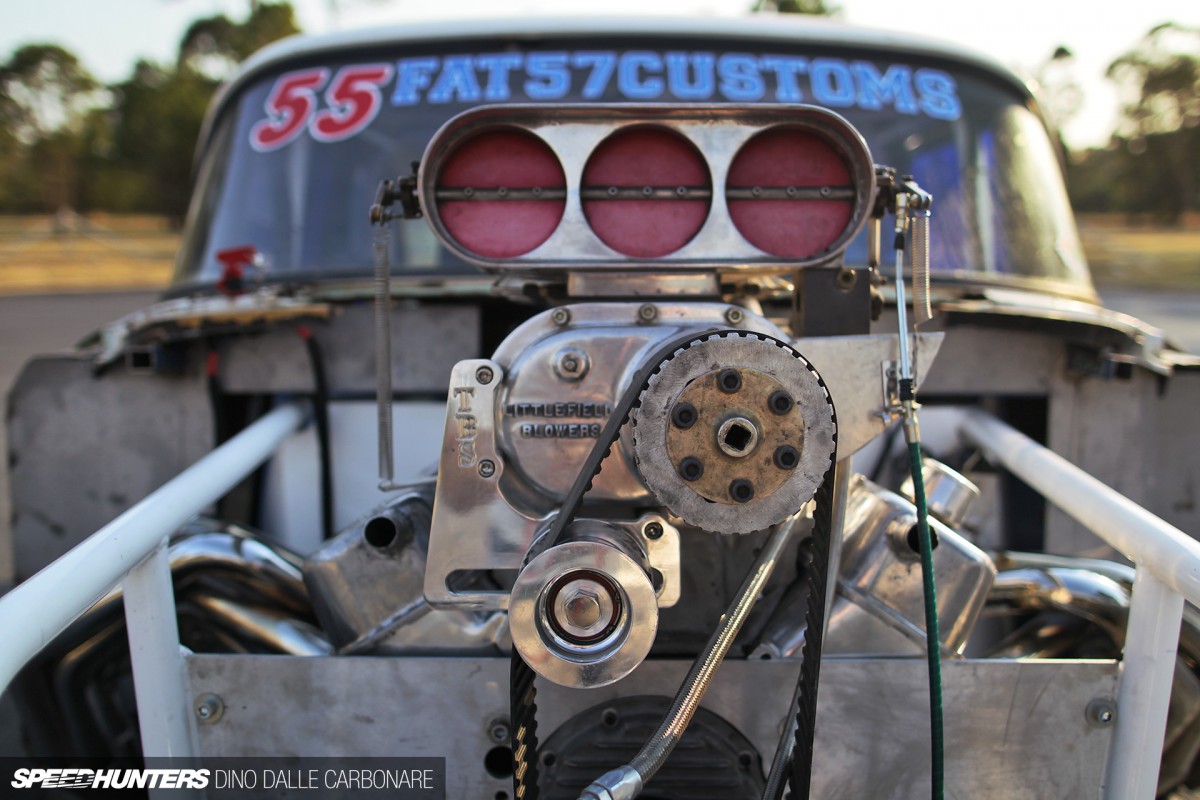 I was surprised to learn that this is already the second engine that's been in the car. They had a brand new 468ci motor that blew on its very first launch due to excessive boost from the blower. Can you imagine the heartache?
Under the skin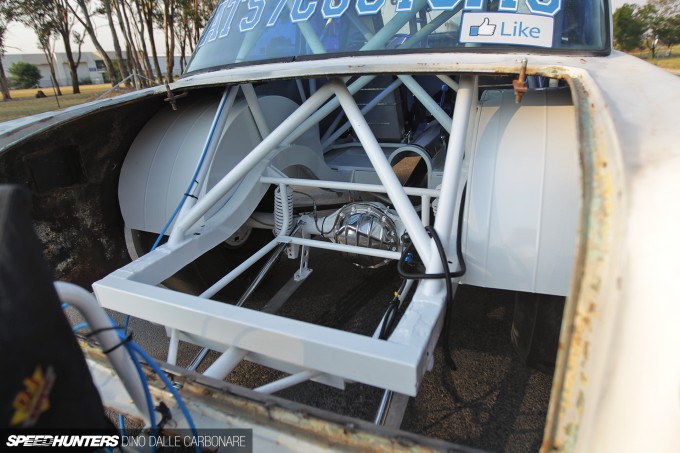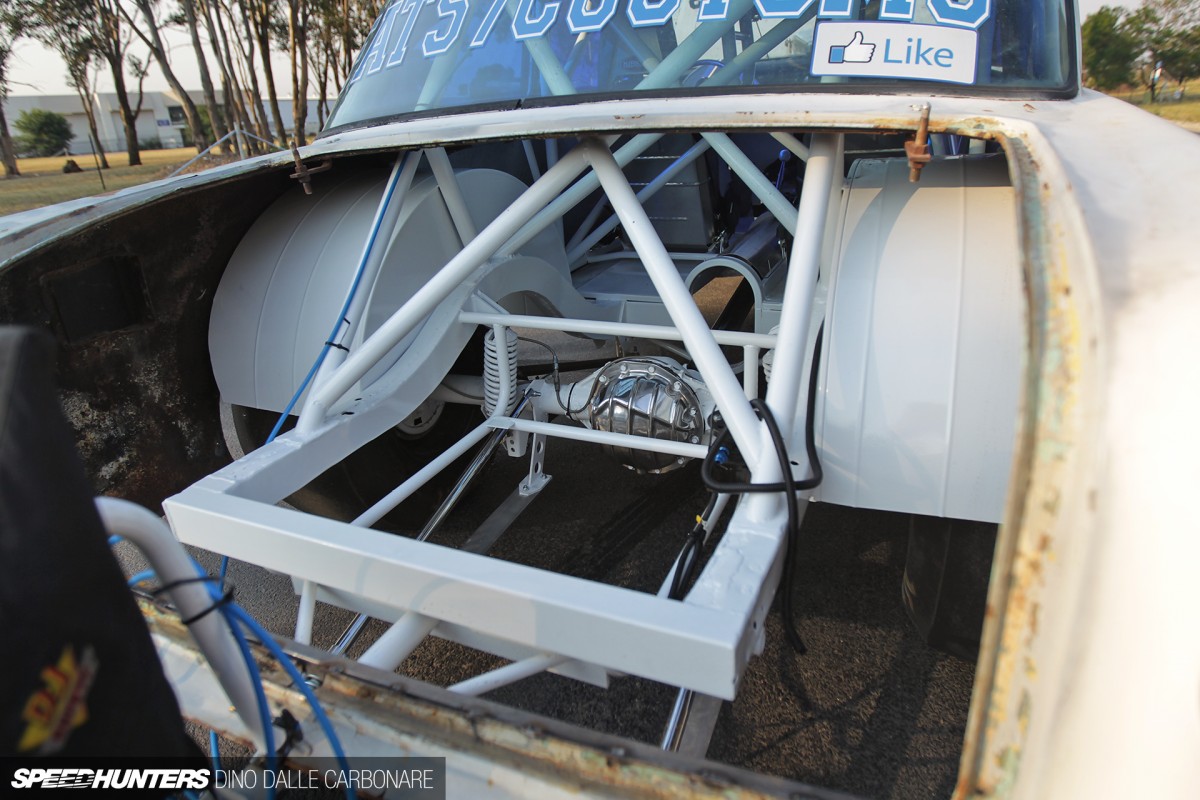 Big wheel tubs were made to fit the big tires, and now we start to see where most of the work took place. The chassis was almost a build in itself and was a learning experience for Harley and his dad.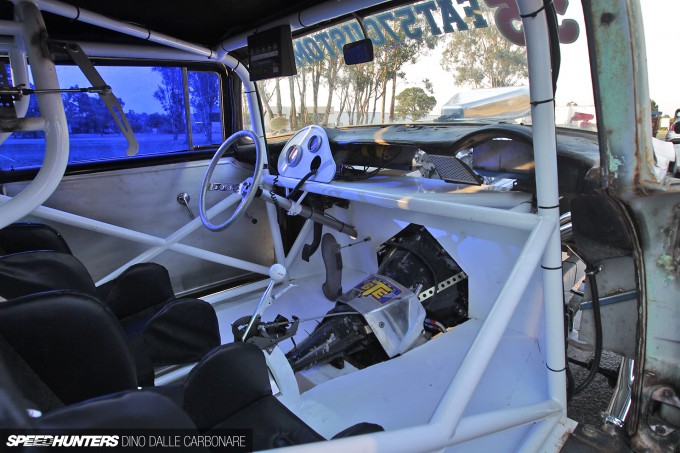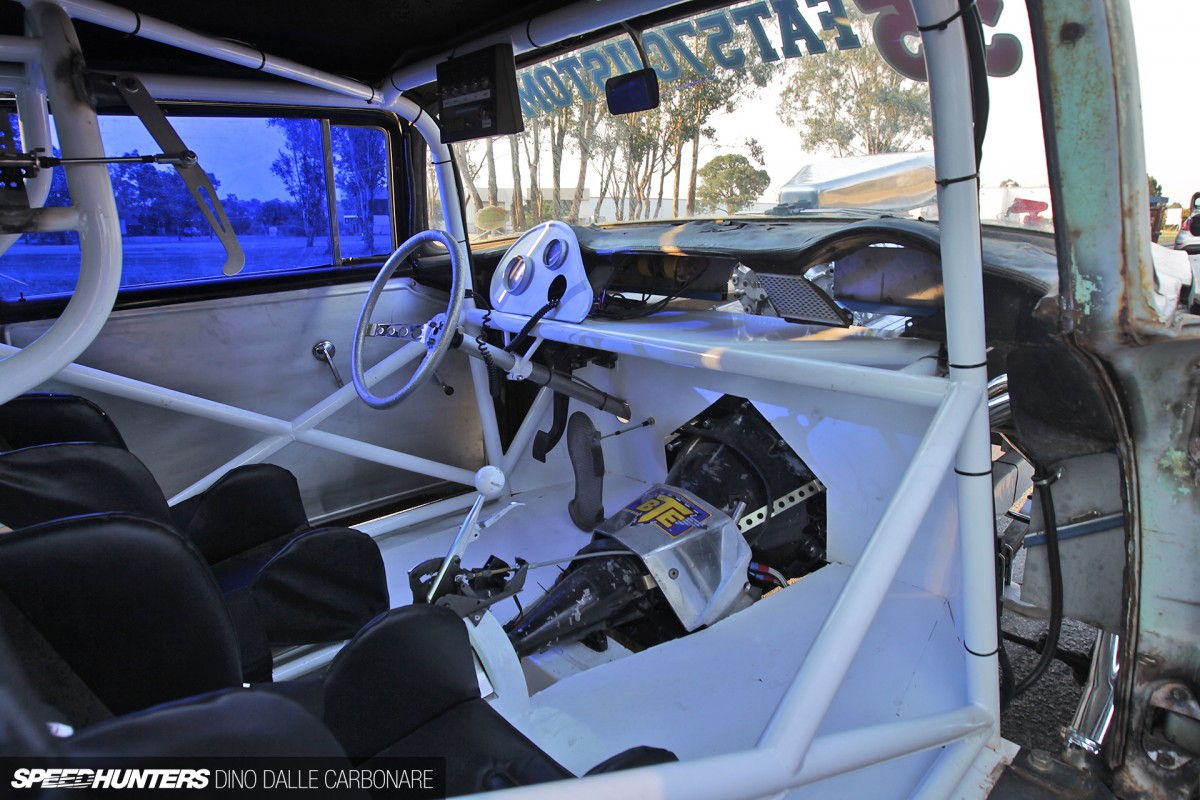 The cage is all TIG-welded chromoly and is approved by the Australian National Drag Racing Association for an 8 second pass. Twenty-three-year-old Harley and his buddy Luke Phillips TIGed the whole thing.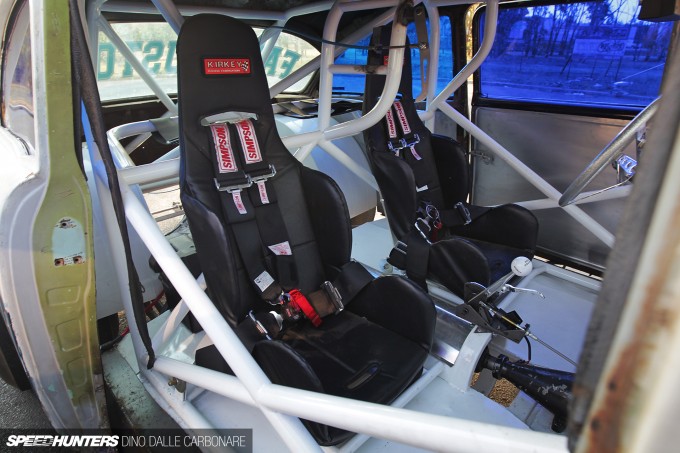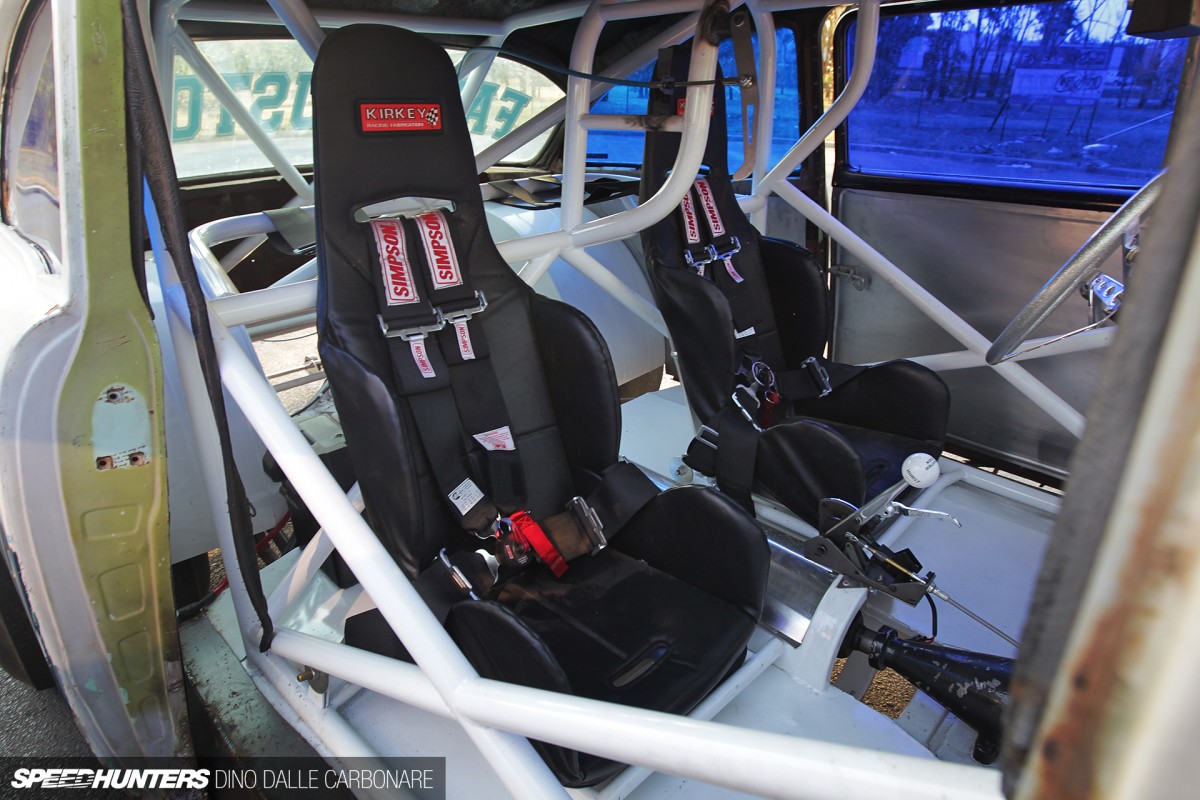 Despite the vintage exterior the structure of the car is very much up to date and legal to race.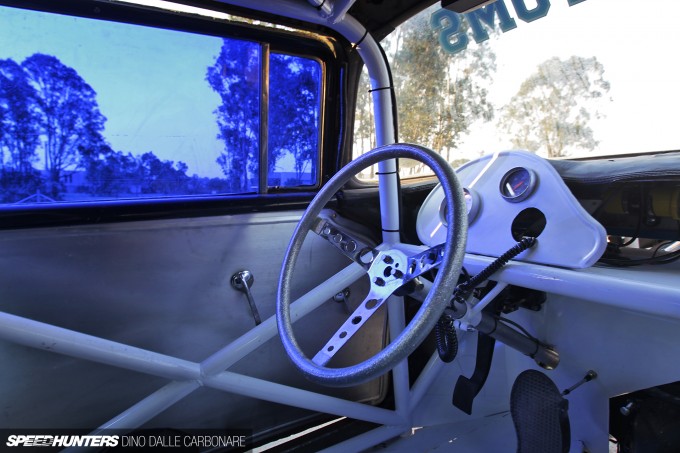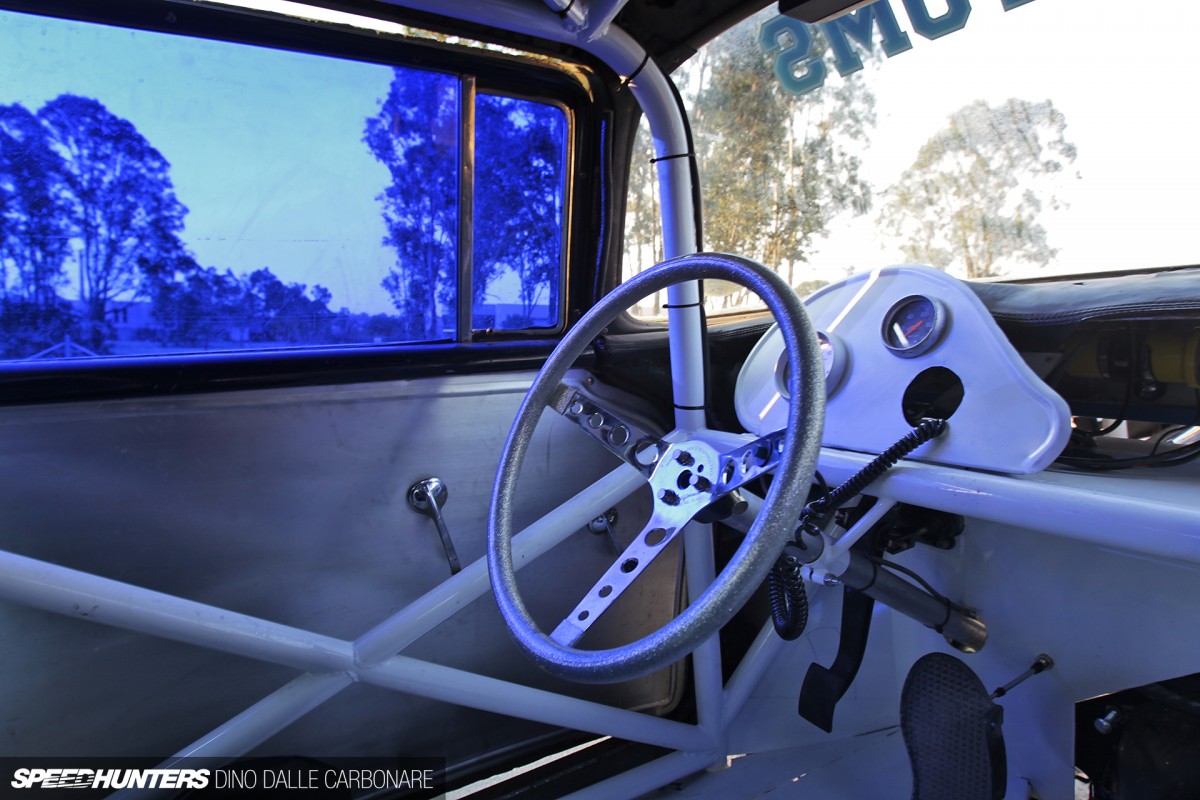 A Mooneyes metalflake steering wheel and blue acrylic windows adhere to the vintage drag race feel.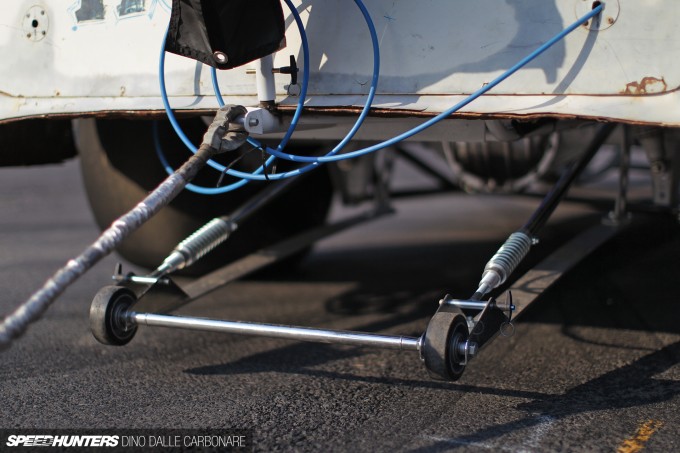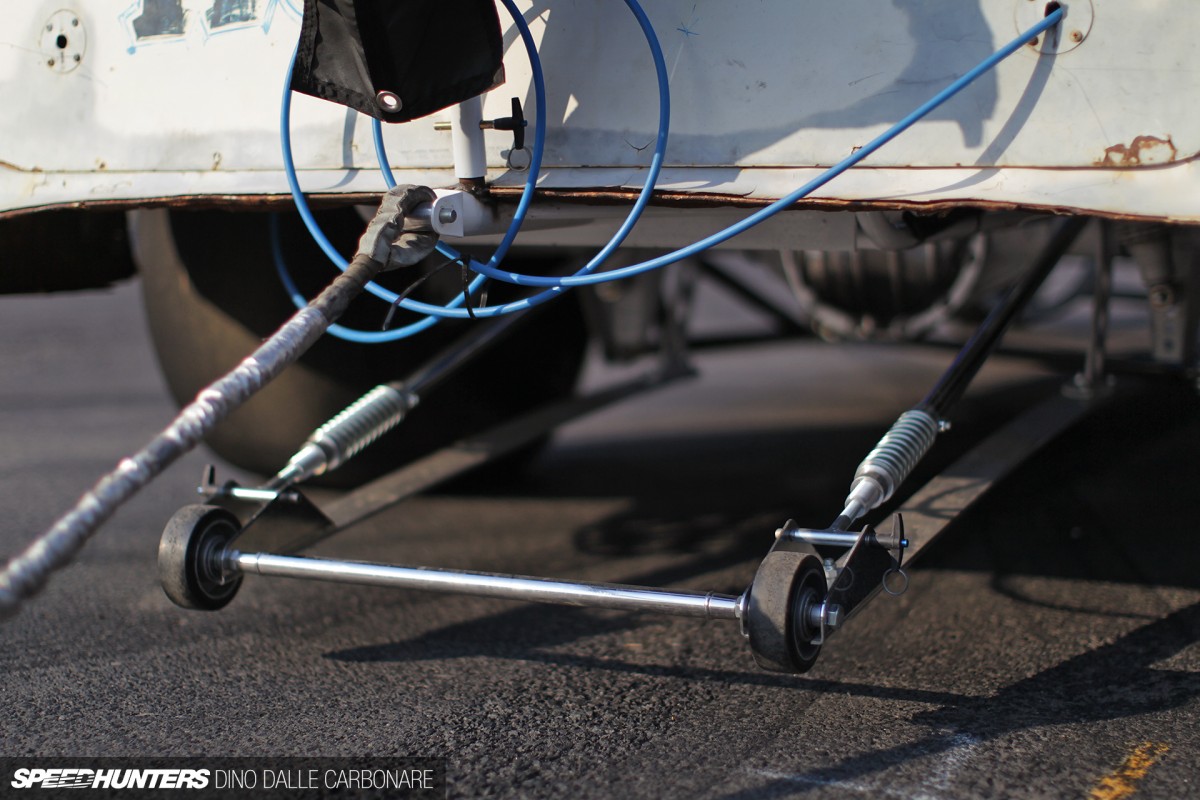 When you're making 1500 horsepower, a wheelie bar and parachute become necessary…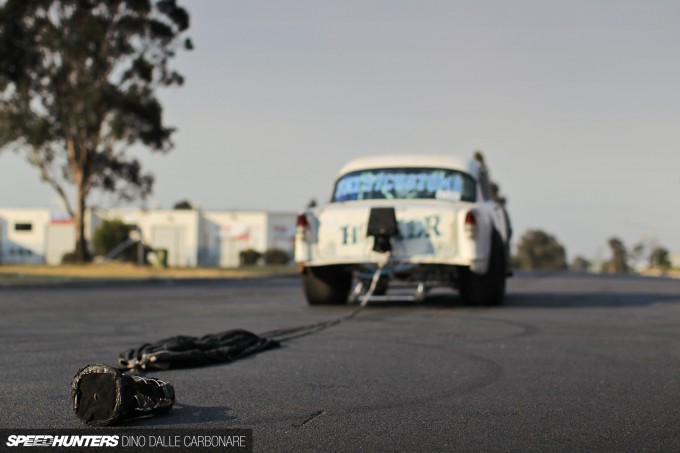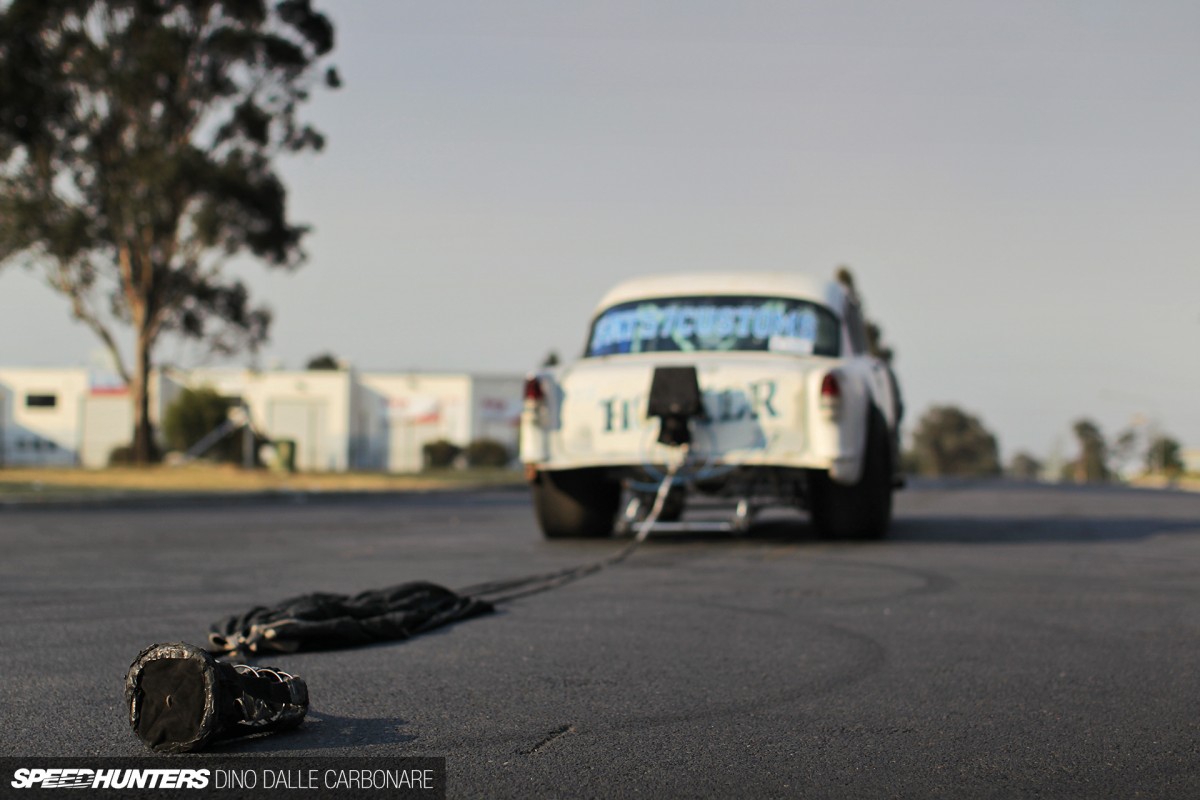 …which are obviously modern items too.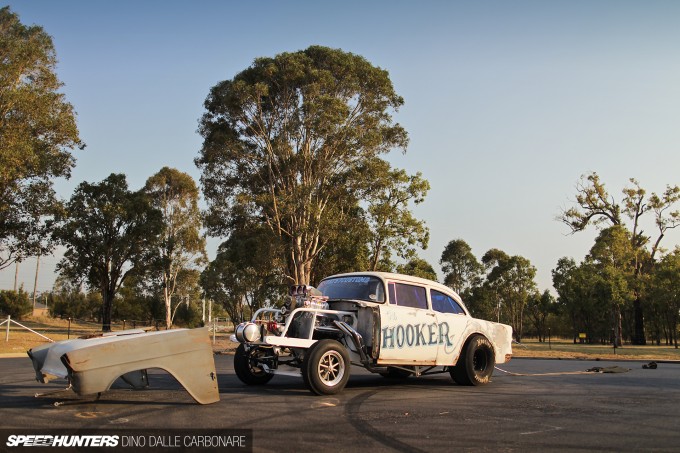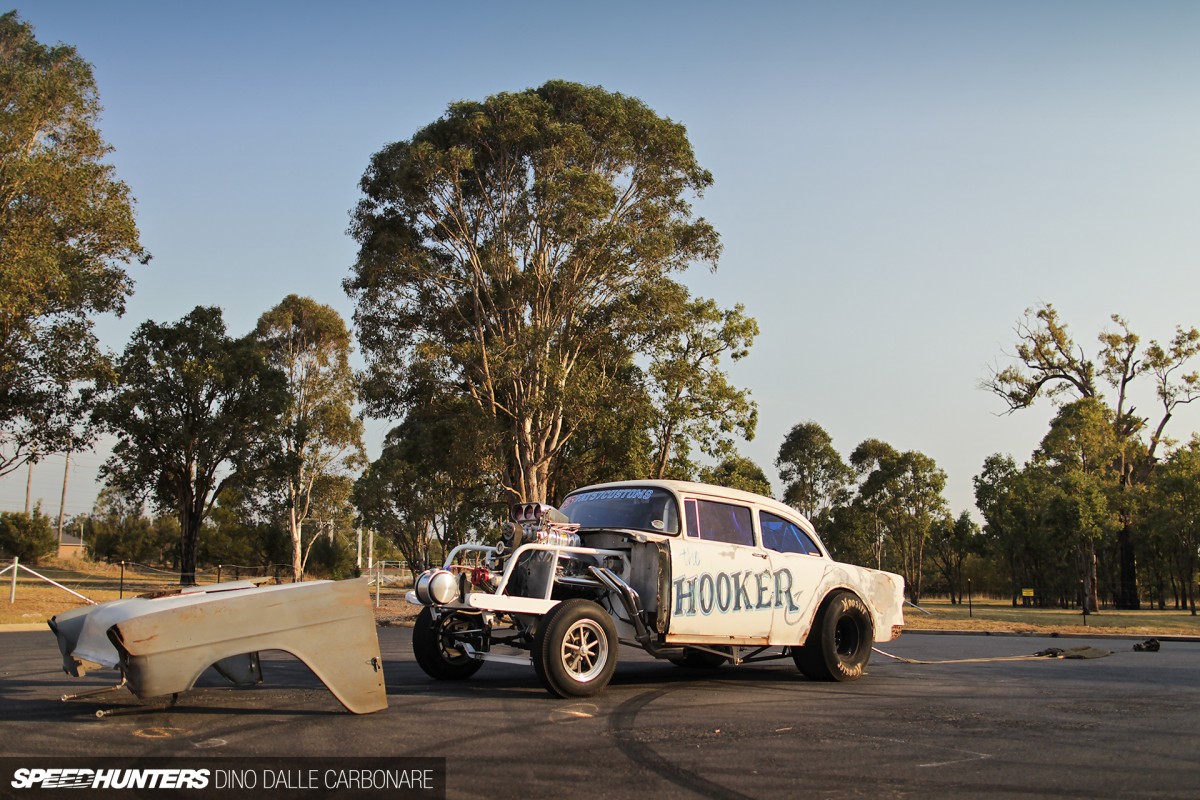 Do you notice the freshly-painted, modern chassis under that original sheet metal now?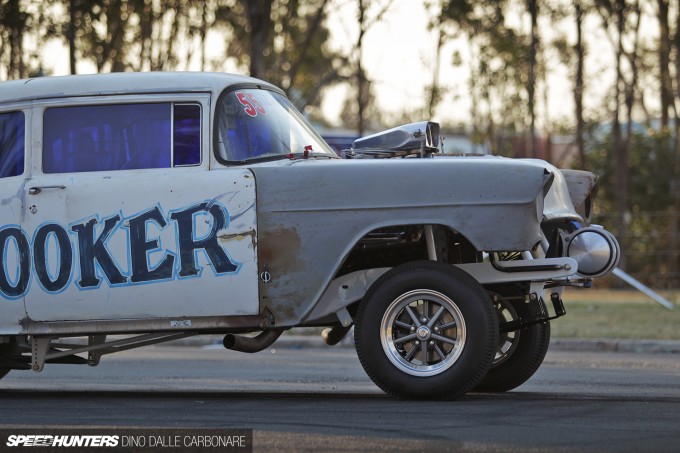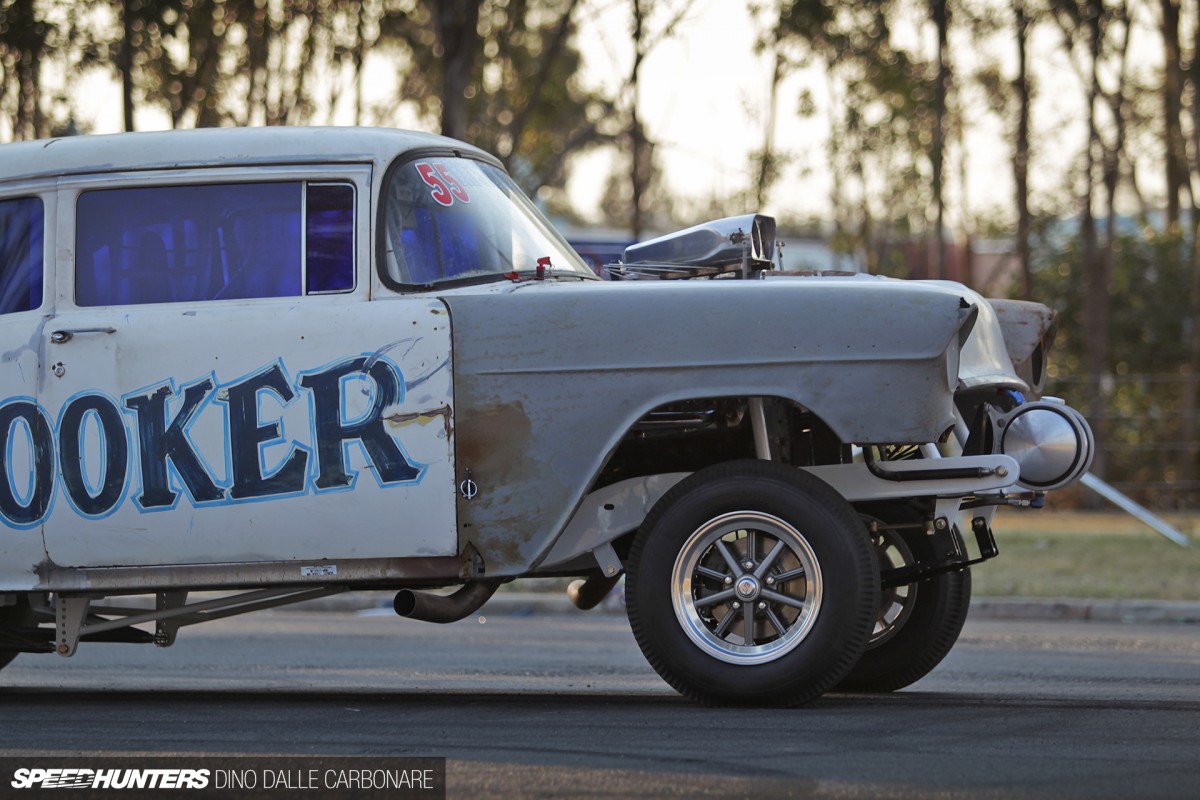 The front end is all sheet metal still, but plans are in place to acquire a fiberglass front clip soon. Notice the beefy steel pivots they built to support it.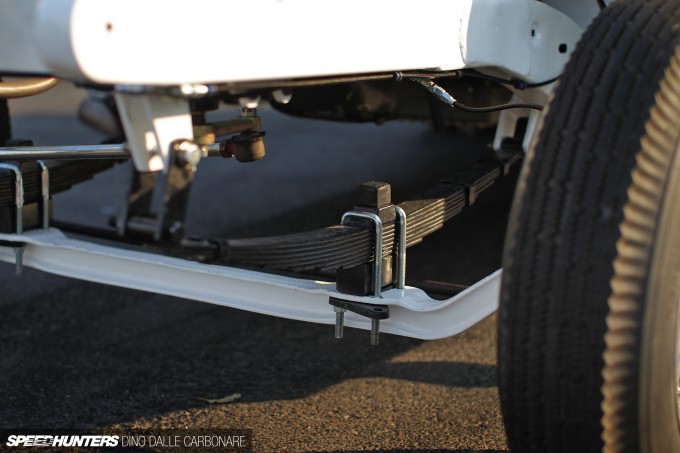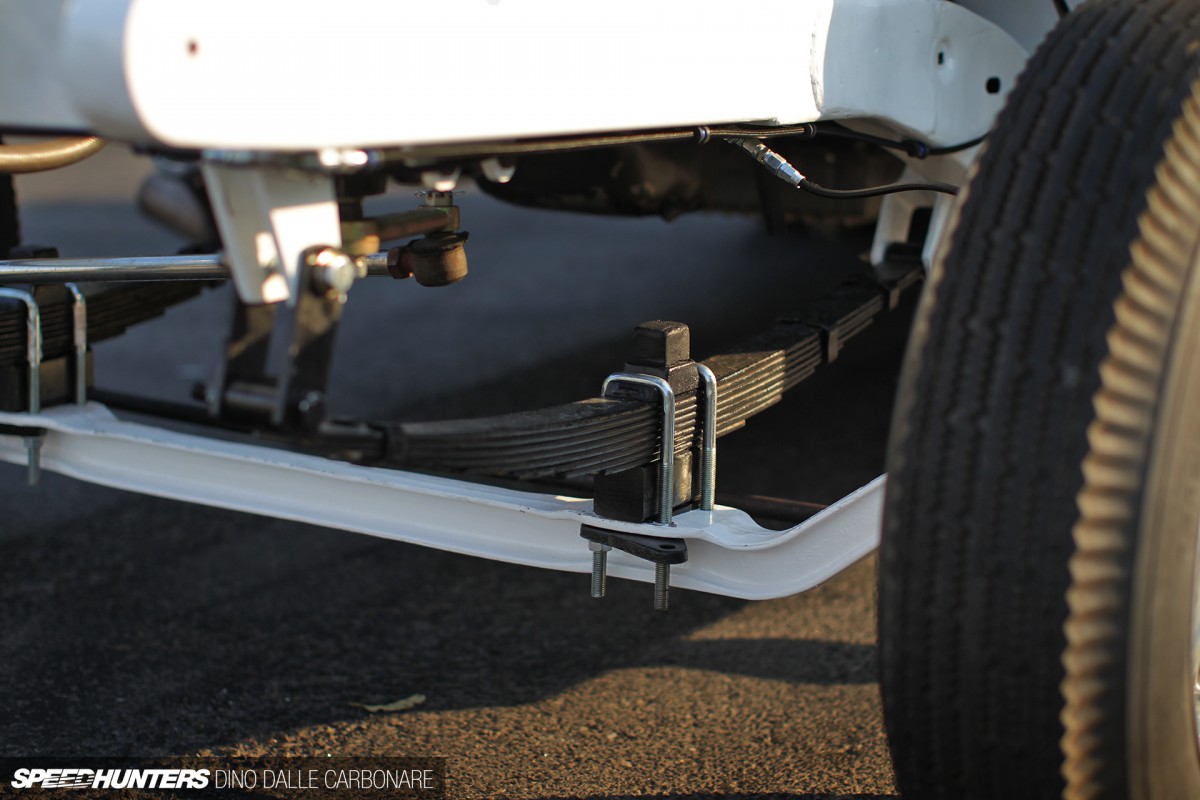 Even though the chassis is all new, Fat57 still built it like a traditional gasser, using a solid front axle with early '50s Chevy truck springs.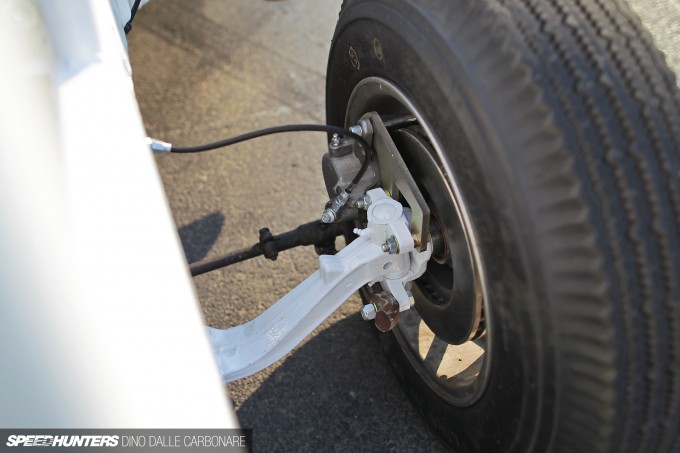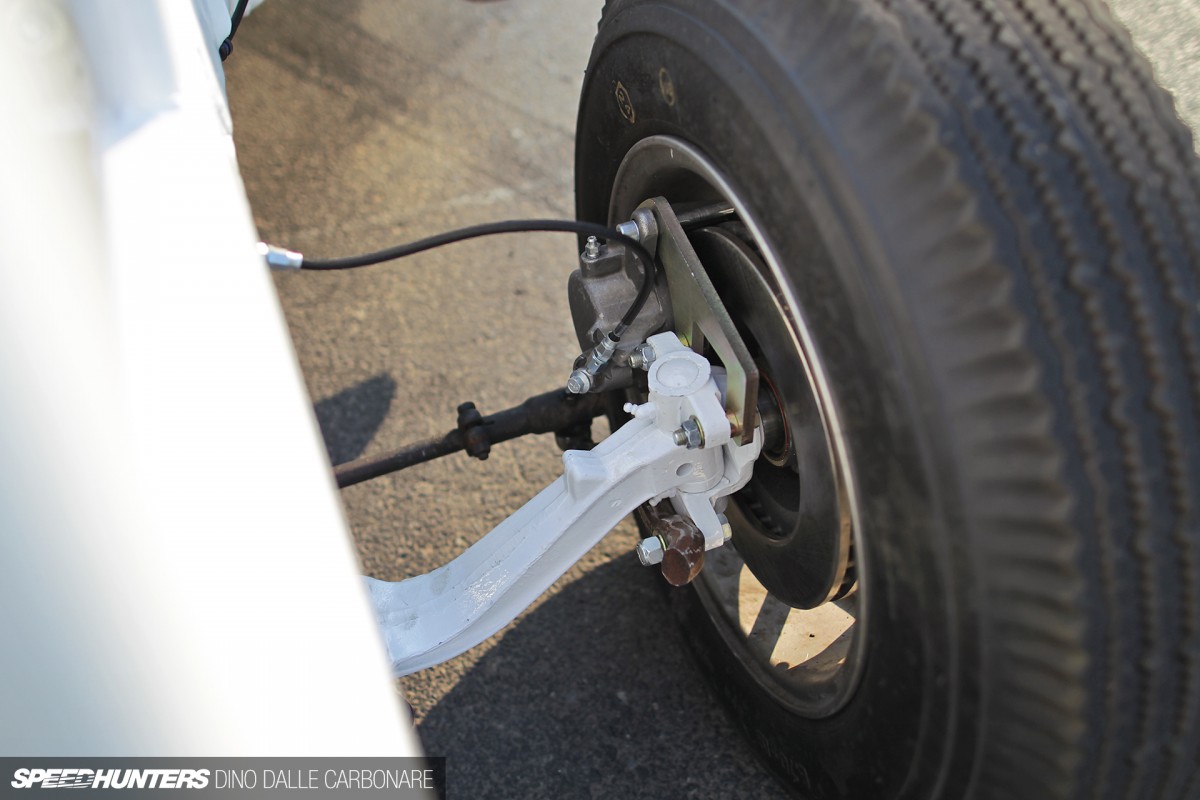 Current disc brakes keep it safe without taking away from the look.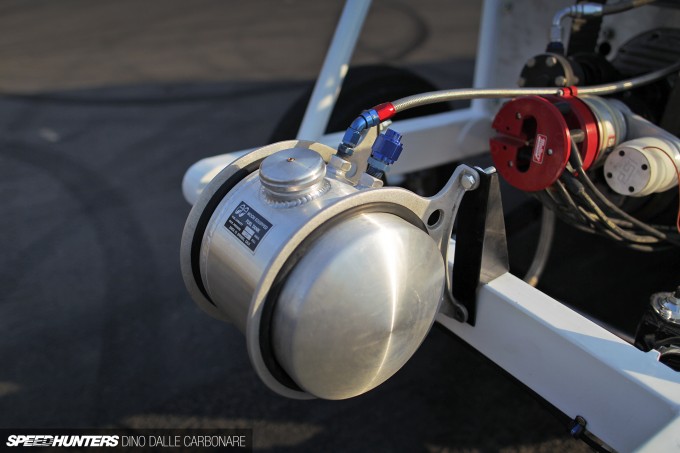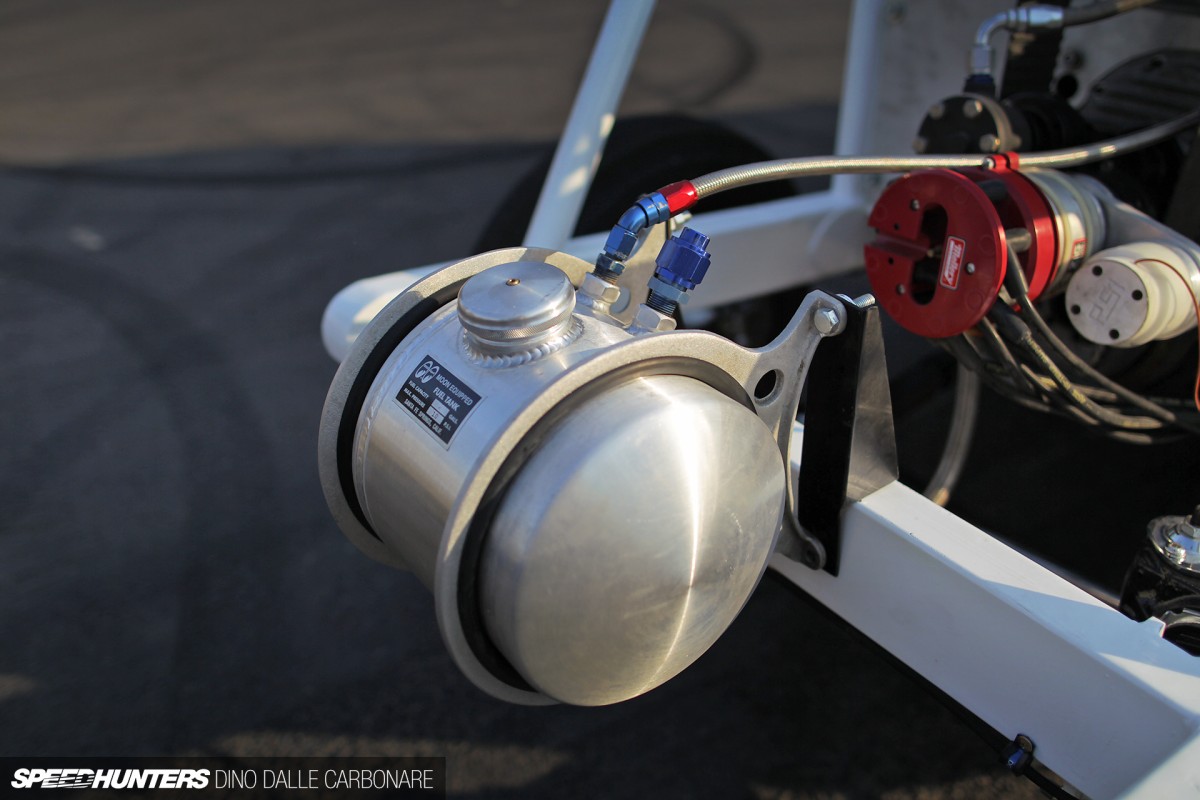 This little Moon tank holds enough fuel to get the car down the track, but Harley and Mark wanted to be able to cruise it too so they recently installed a 60 liter cell in the back to feed into the Moon tank.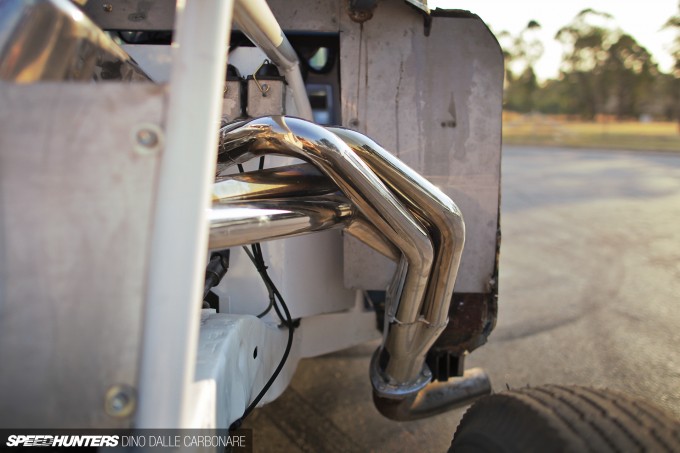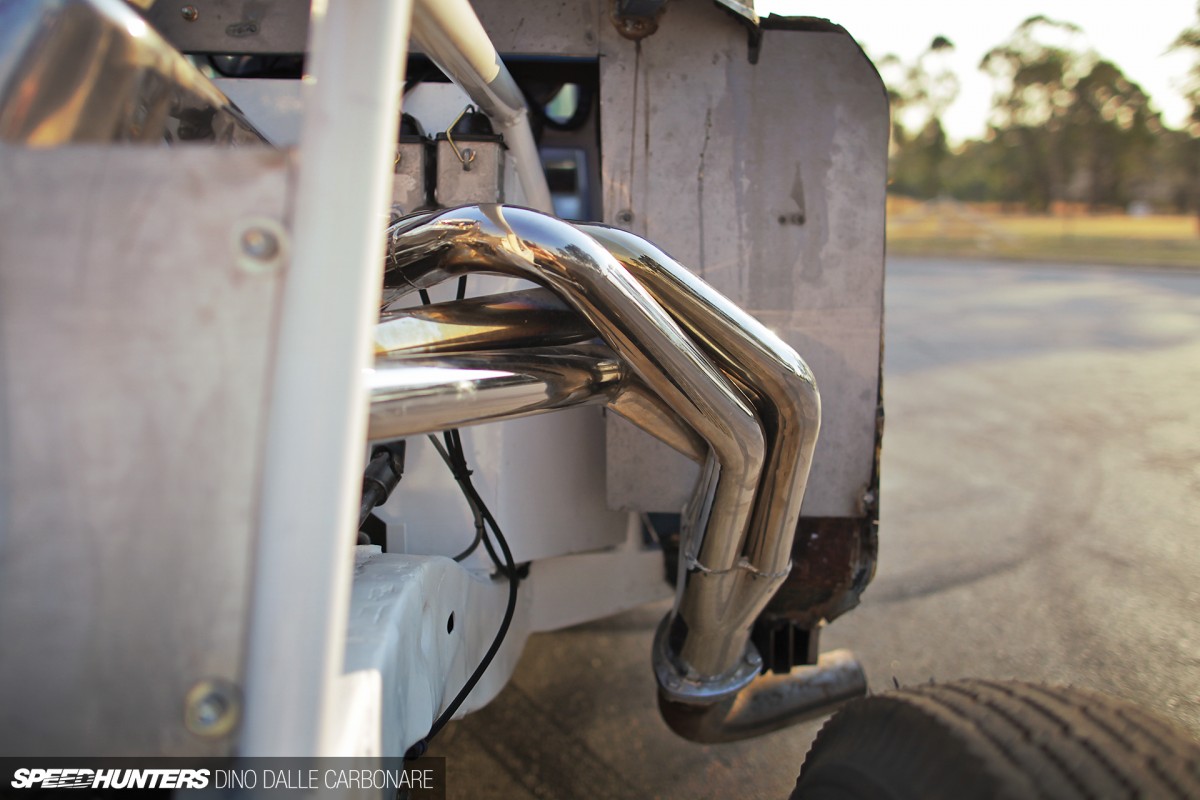 Over-the-rail Hooker headers are practically required on a gasser like this.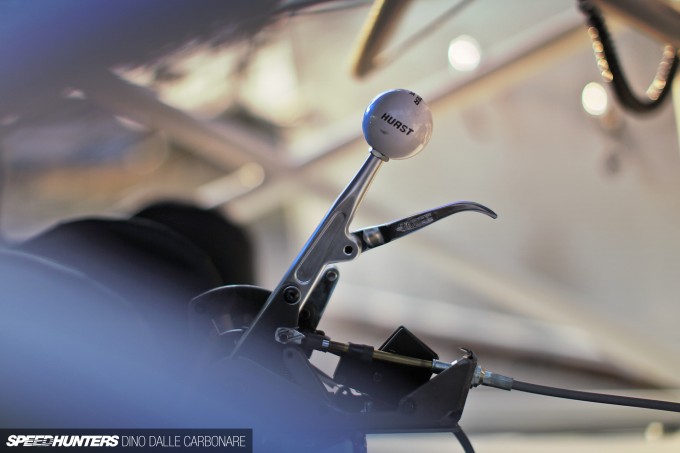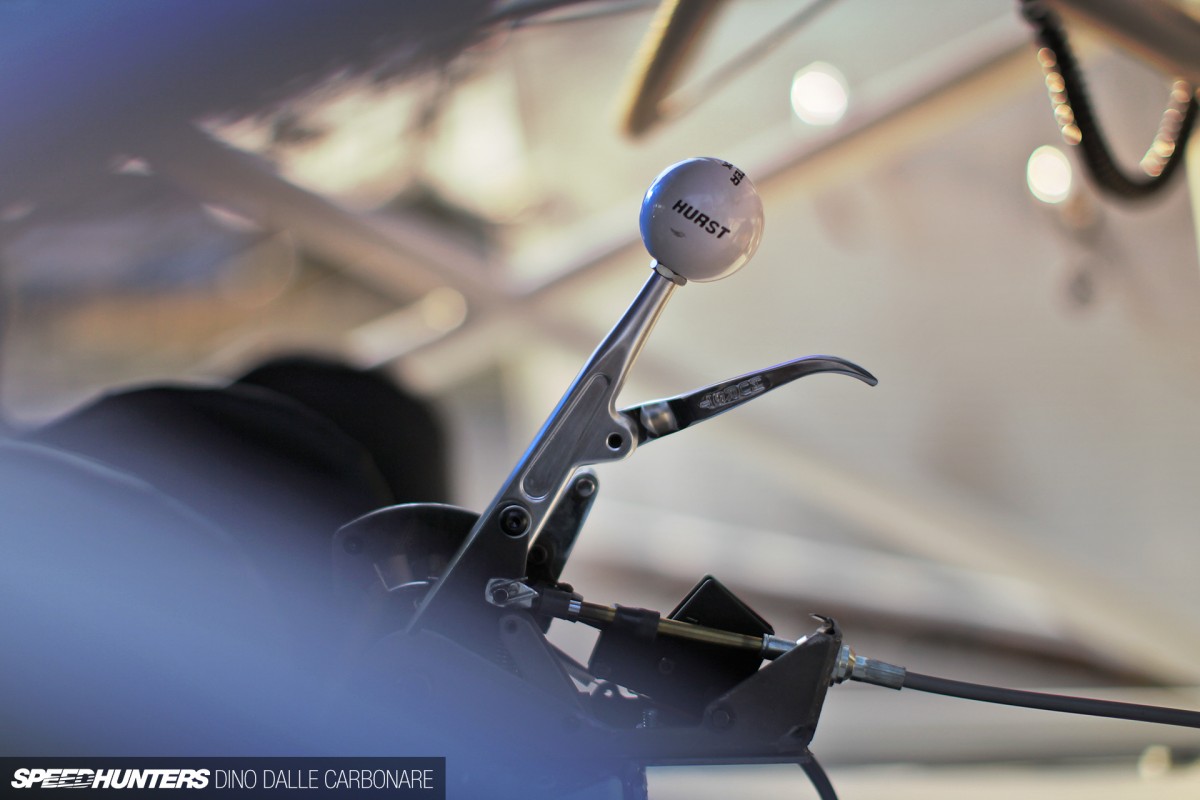 The Hurst Quarter Stick shifts a Powerglide with a beefed-up T400 input shaft.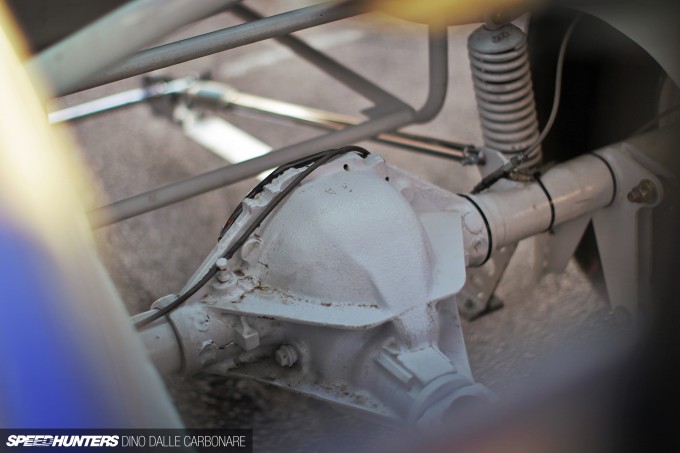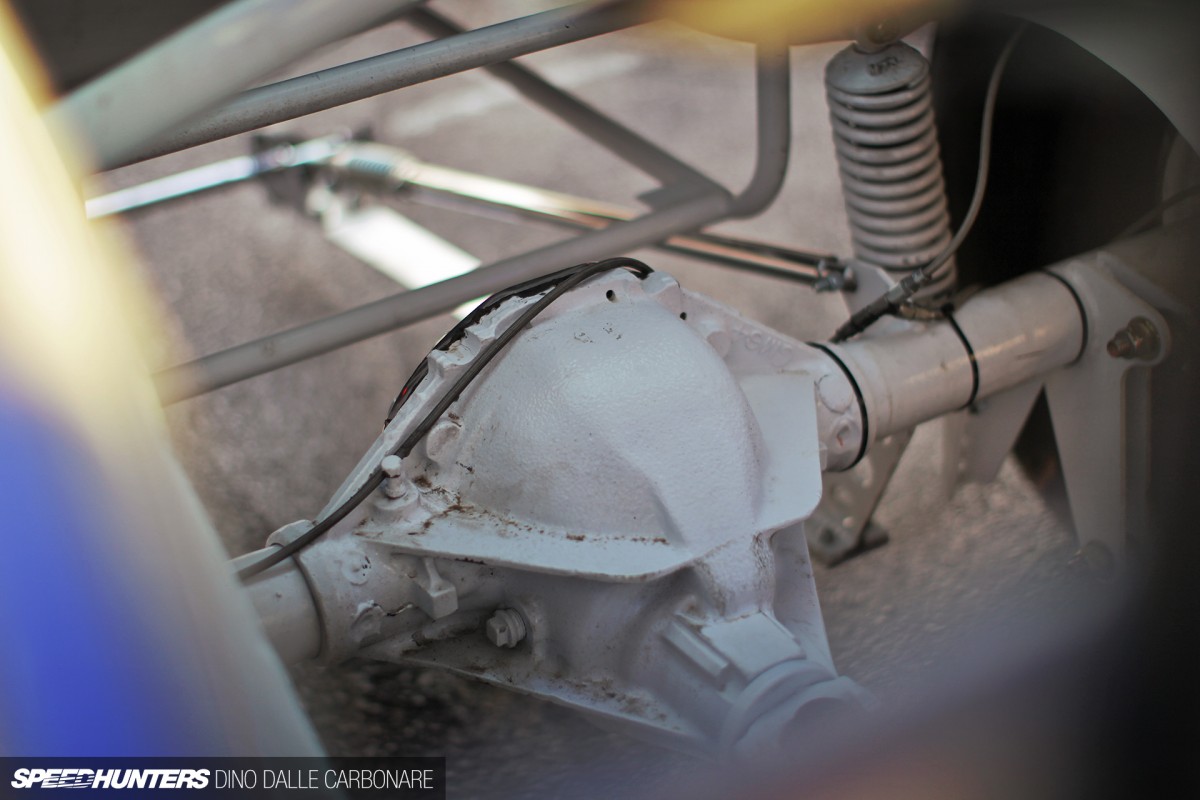 A 12 bolt rear axle was sourced from a big block Camaro, but Harley says he knows it won't live for long. They're already building a full-floating, chromed Ford 9″ to take its place.
Taking care of business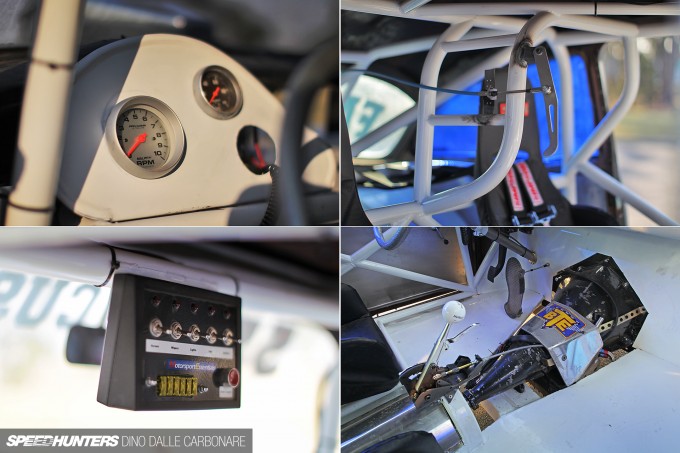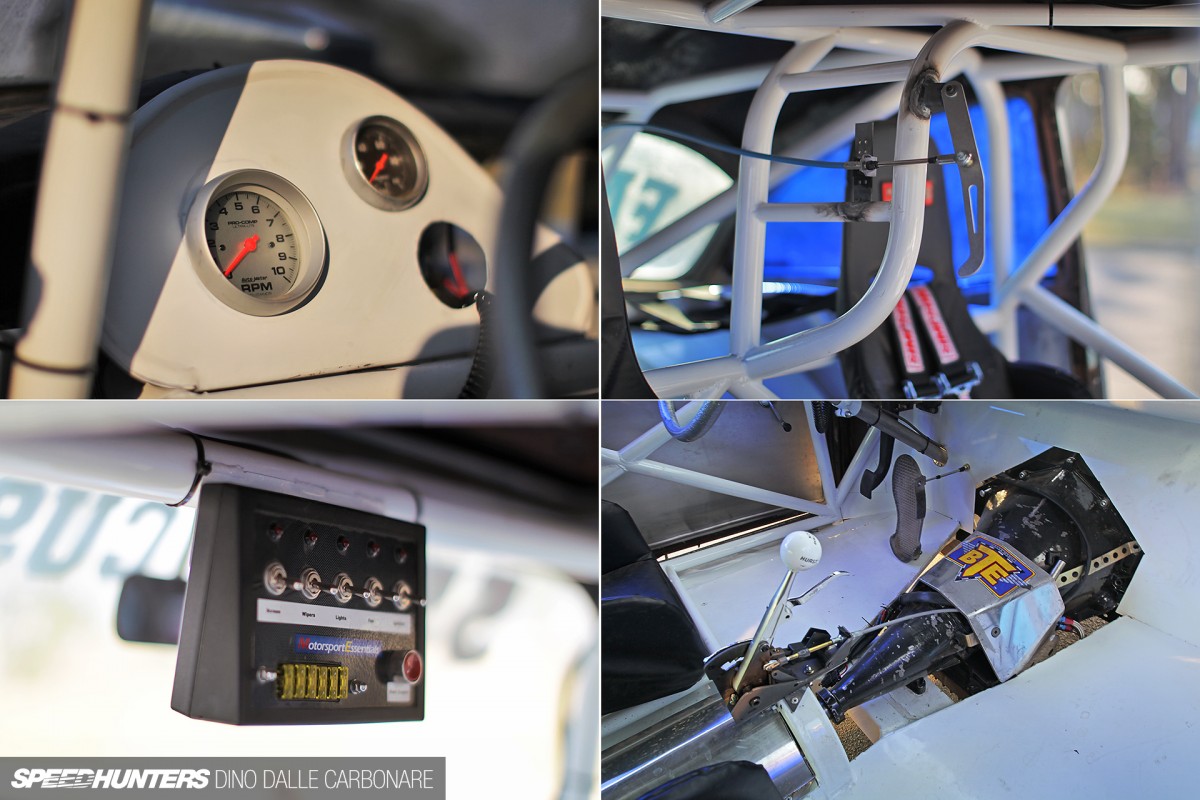 As you can see, even though Fat57 stayed true to the vintage gasser look on the outside, their '55 Chevy is all business when it comes to equipment to get it down the track. Harley says they'll be happy to run in the 10s, but you know how that always goes. I'm thinking they'll be looking for faster ETs as soon as they make their first pass.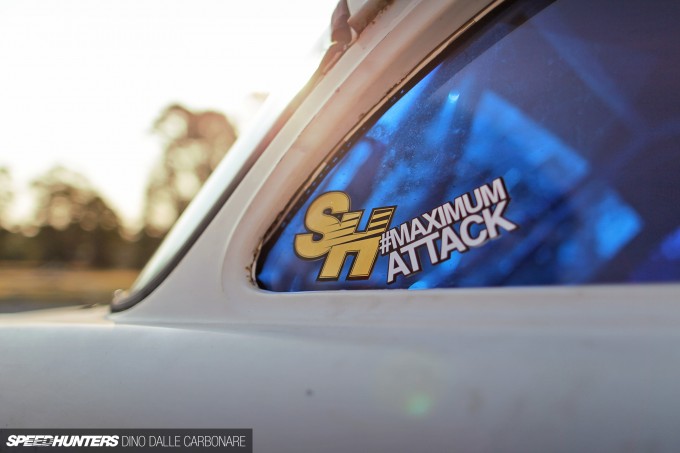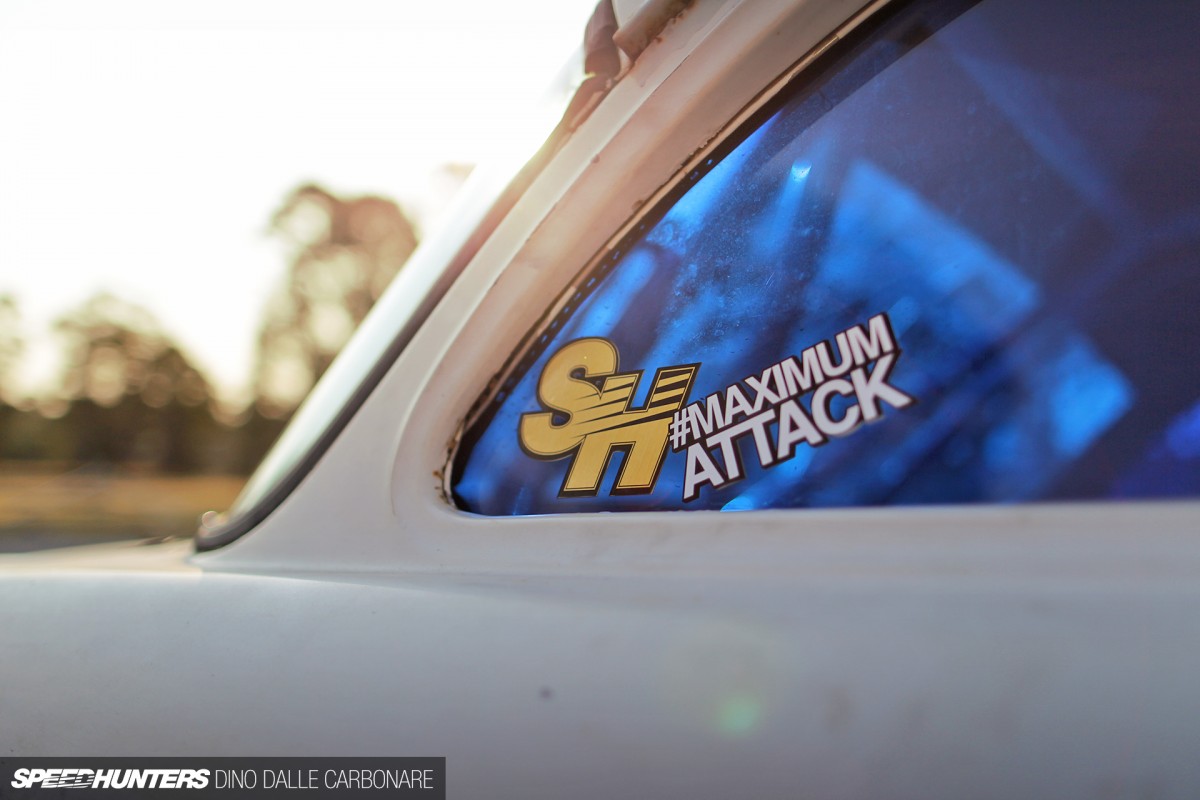 If ever an automobile deserved to wear a #MaximumAttack decal, it's The Hooker.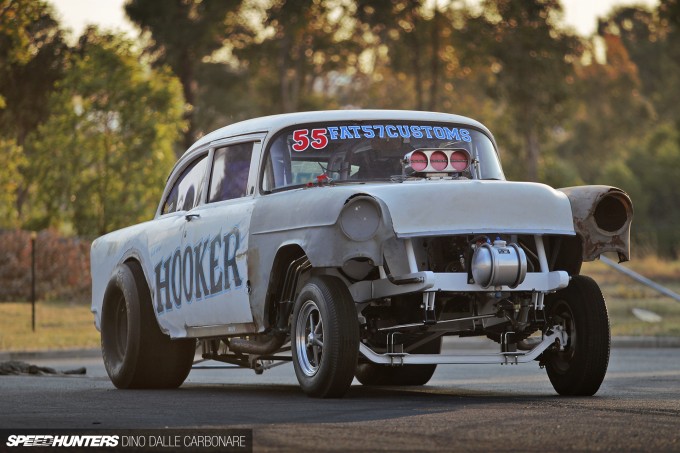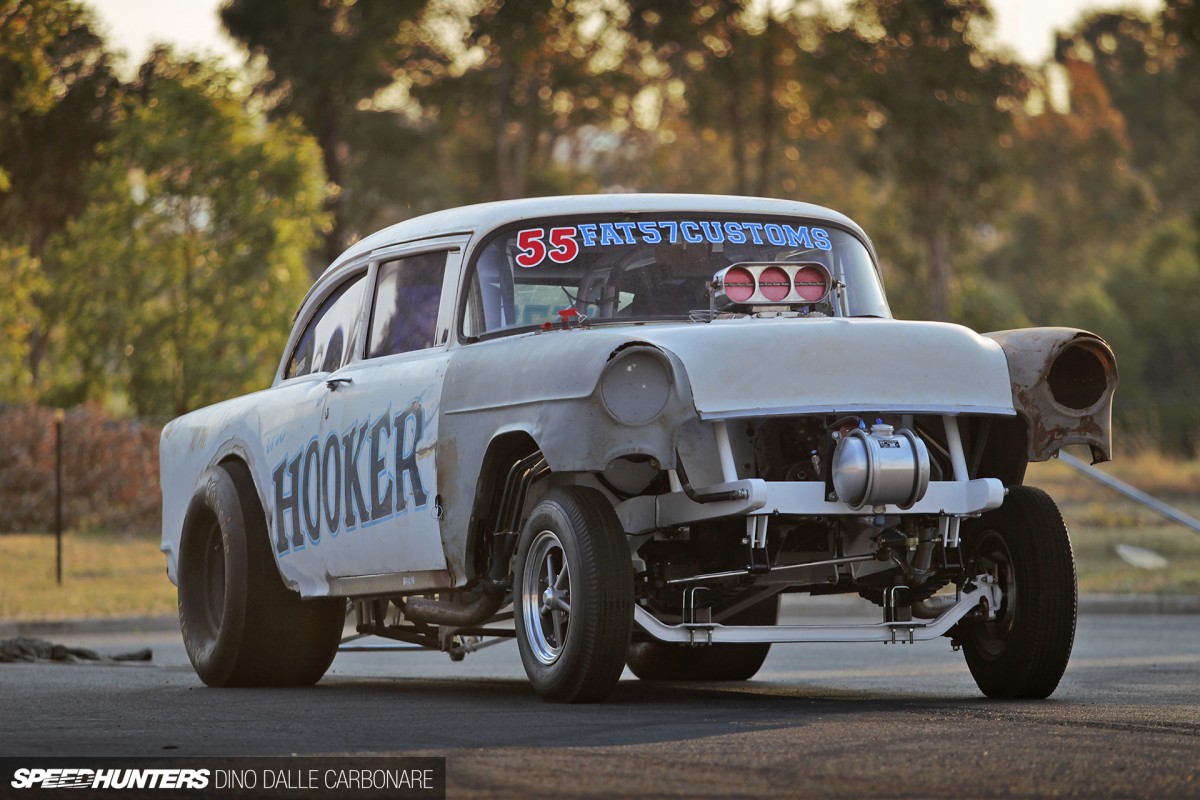 I found the headlights interesting, with one blocked off and the other not. I asked the guys why this was, and they said that one of the block-off plates got knocked out when they had the front fenders media blasted and they never bothered to replace it. Somehow it's just so fitting on this car – like a black eye or a missing tooth.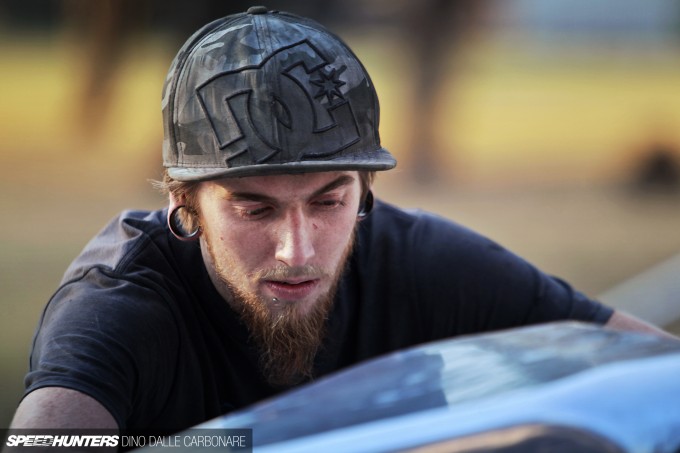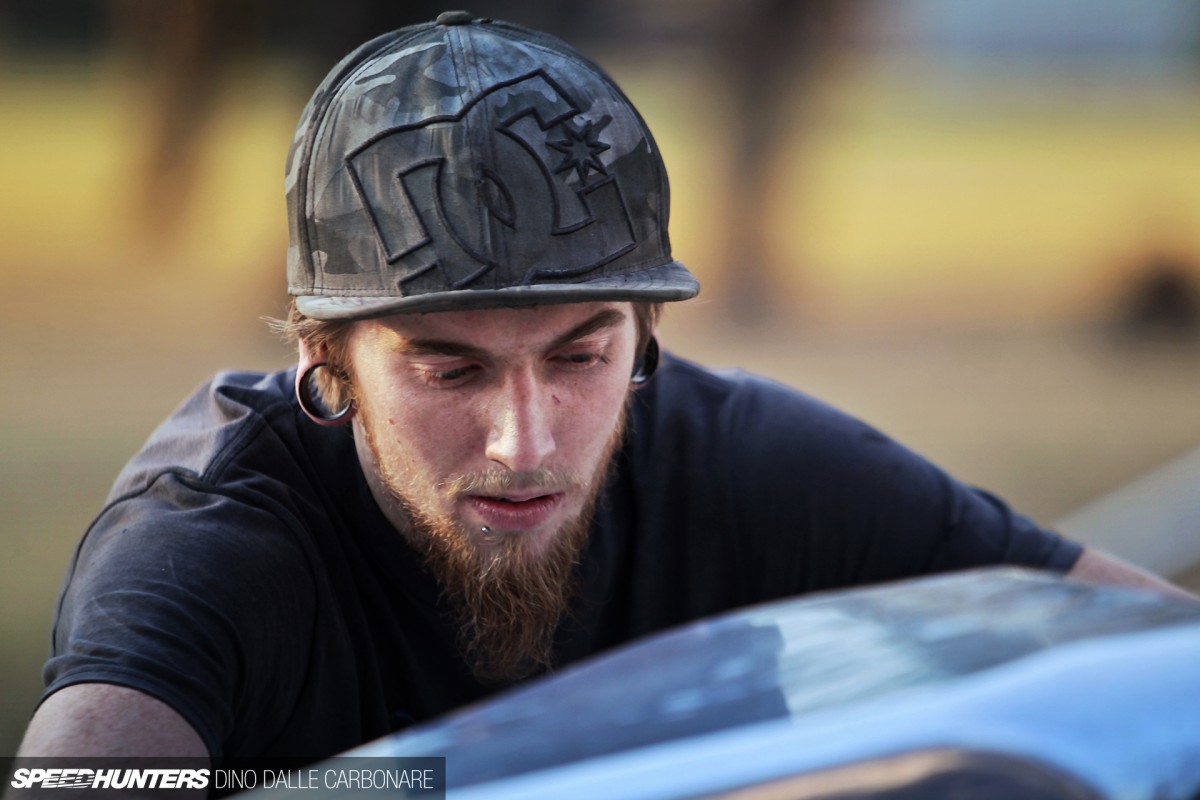 It's great to meet individuals with such passion and ability like Harley…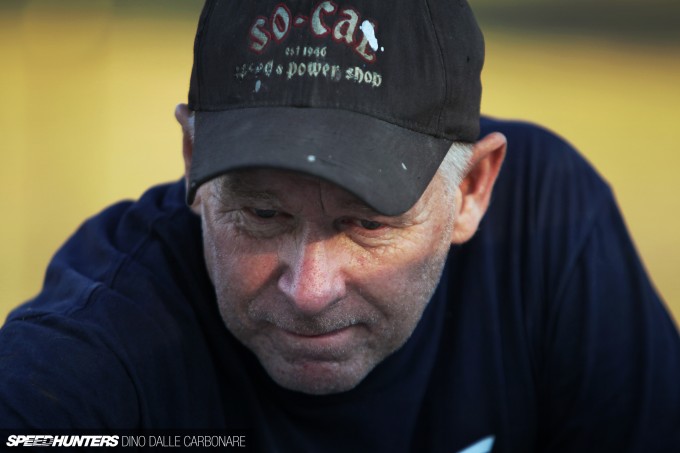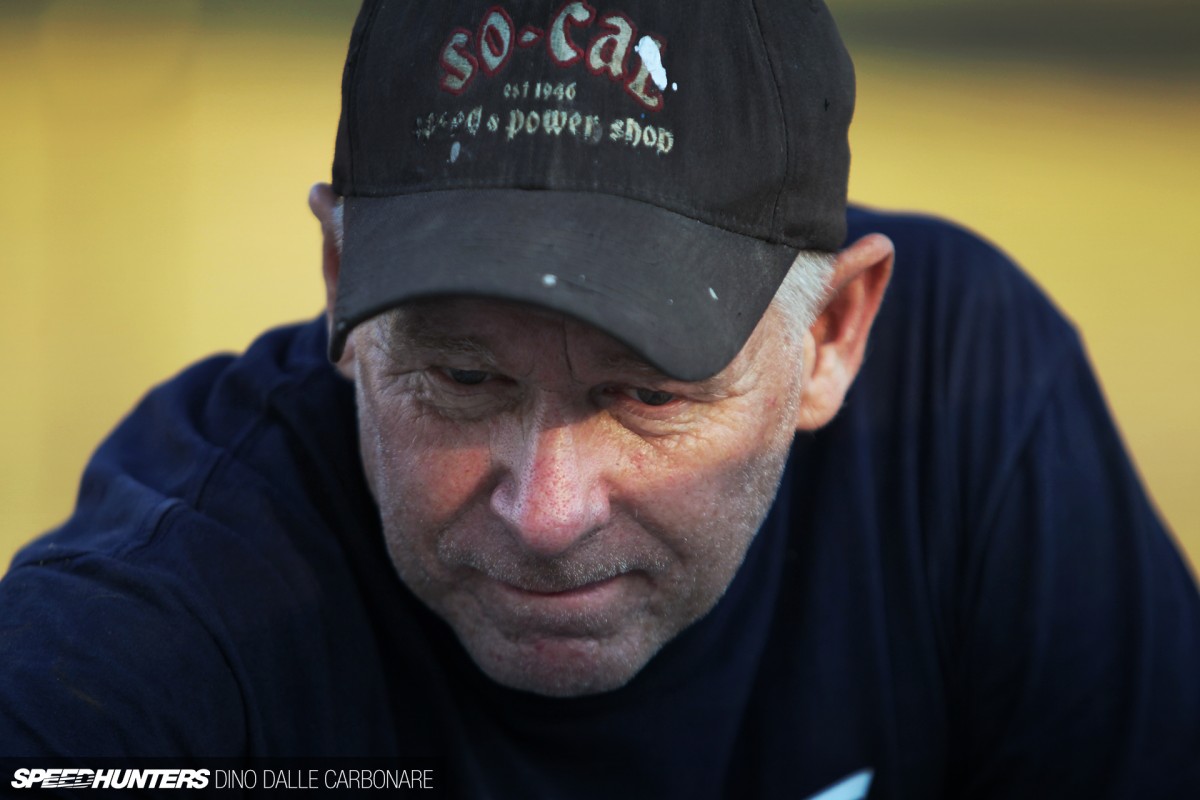 … and his pops Mark.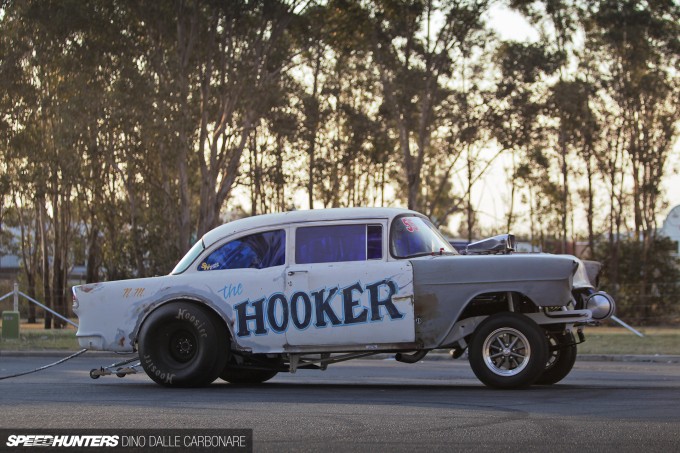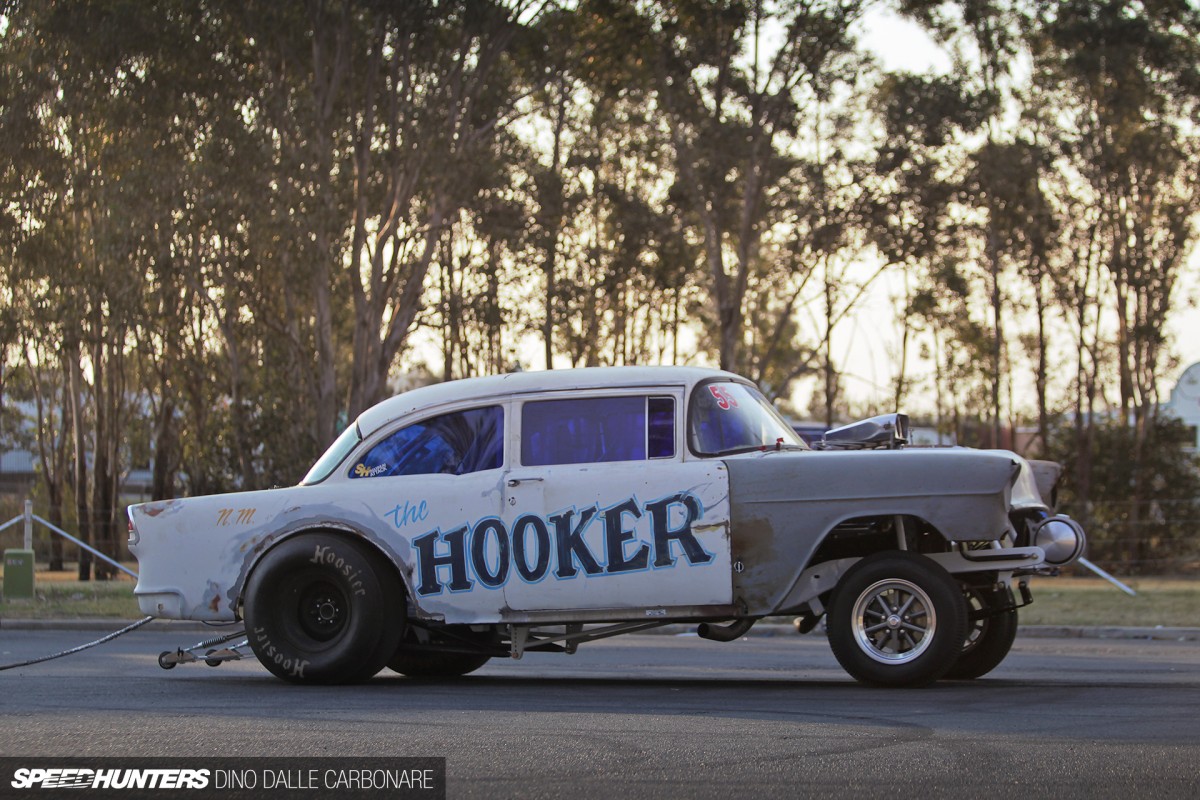 How lucky are these guys to have a common bond and work ethic, so that they get to crank out amazing stuff like The Hooker? I know it's all a lot of hard work, but I think we can all tell they're passionate about what they do.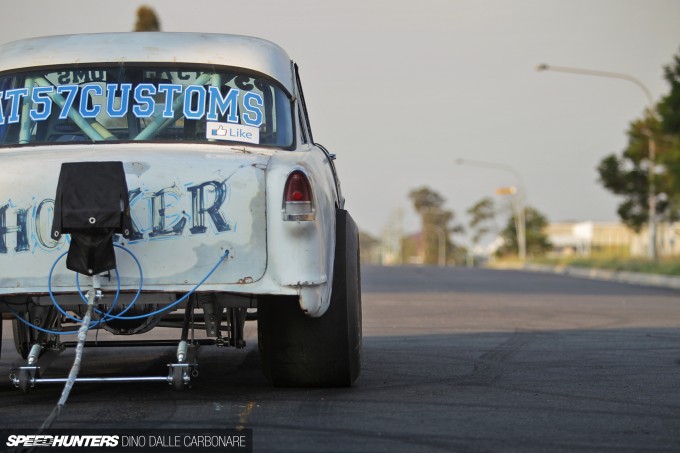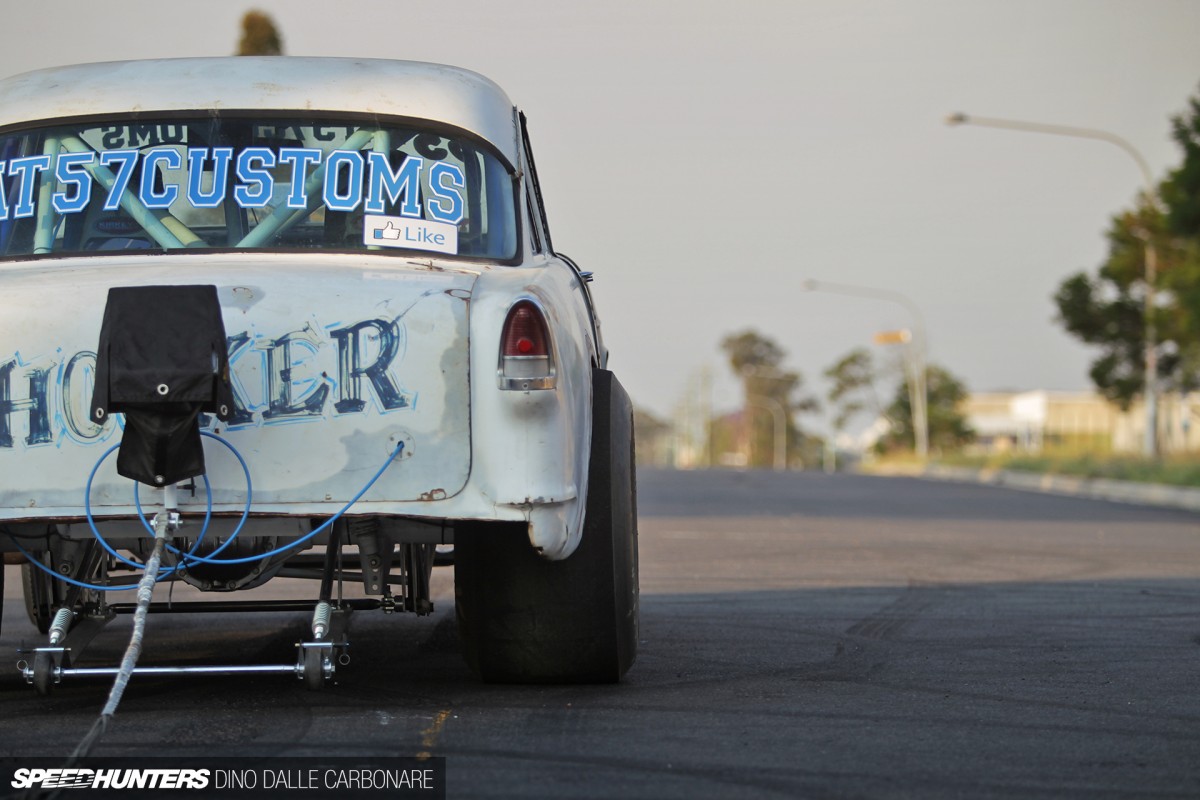 How else would anyone come up with a car so tough it can scare people while sitting still?
Keith Charvonia
Instagram: SpeedhuntersKeith
keith@speedhunters.com
Photos by Dino Dalle Carbonare
Instagram: speedhunters_dino
dino@speedhunters.com
Fat57 Customs' 1955 Chevy 2 Door Post Gasser
Engine
598ci Dart Big Block, 7:1 compression, Brodix heads, front and rear engine plates, mechanical fuel injection, MSD plug wires, 8-71 high helix supercharger
Driveline
BTE Powerglide, T400 input shaft, 12 bolt posi, 31 spline axles
Suspension/Brakes
Chrome SoCal shocks, '50 Chevy front leaf springs with solid axle, Spax rear coilovers, Competition Engineering steering column, Vega steering box, CPP and Wilwood brakes
Chassis
TIG welded chromoly cage, ANDRA approved for 8 second passes, complete re-fabricated stock chassis, boxed frame rails, stepped-in rear frame rails, integrated floors, removable body, Simpson parachute
Wheels/Tires
15×6 ET front wheels and 15×12 steel rear wheels with Excelsior bias plys and Hoosier drag radials
Exterior
'The Hooker' graphics untouched since the '70s, radiused rear wheel openings, blue acrylic windows, tilt front end
Interior
Kirkey seats, Simpson harnesses, Mooneyes 12″ steering wheel
Beauman Jones' Fat57 Truck spotlight
More gasser stories on Speedhunters