What is it about super cars that makes us weak in the knees? Surely the elegant body lines have something to do with it, as does the breathtaking exhaust note. Perhaps on some level, even the fact that the doors open in a bizarre way is enough to stop us in our tracks. But the real reason car enthusiasts are enthralled by these vehicular works of art has to be the performance index – something that up until very recently, I never had a proper opportunity to explore.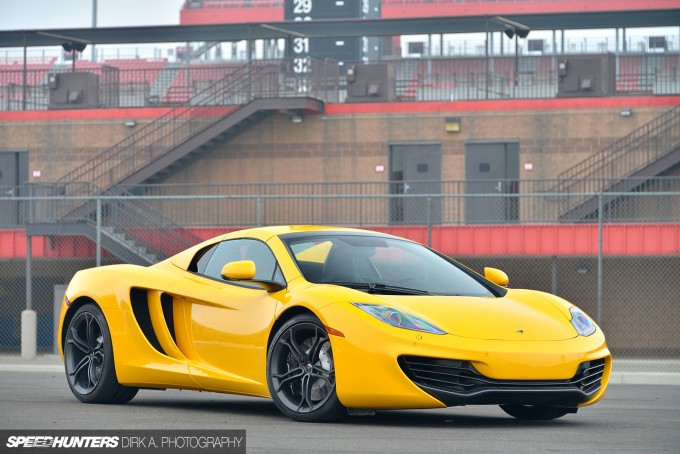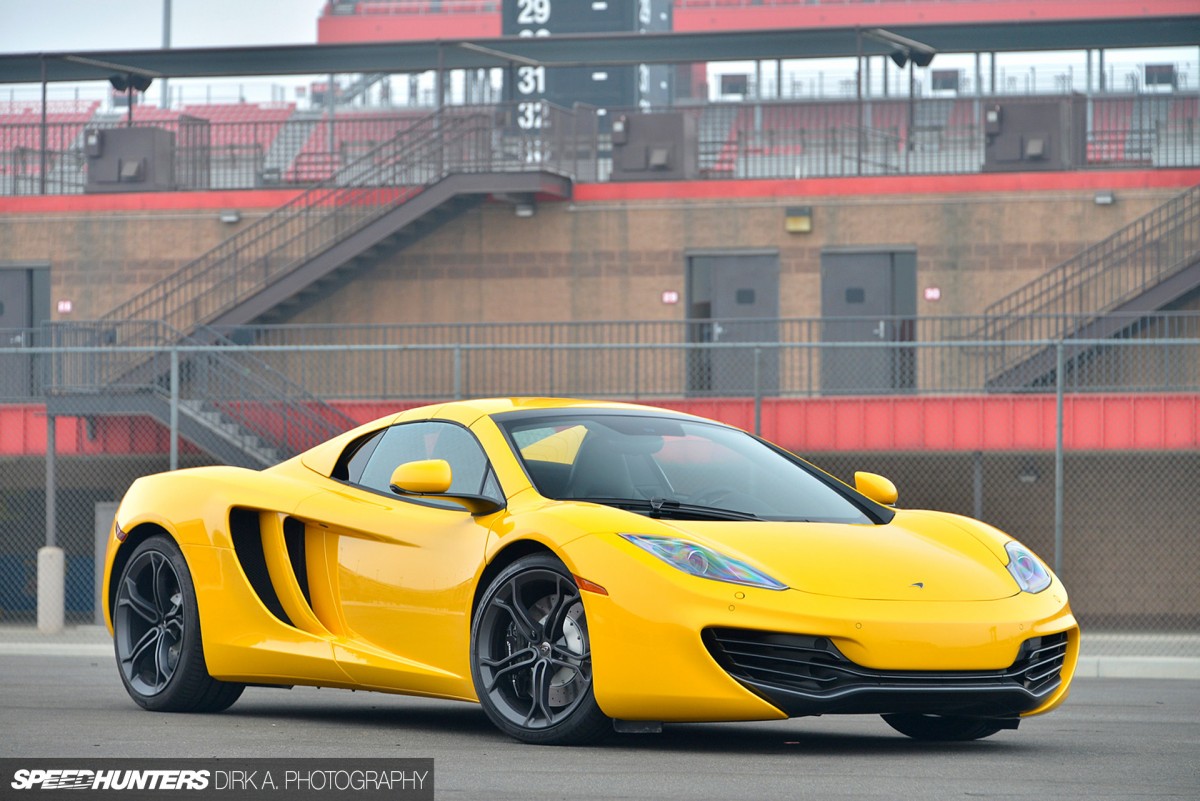 As petrol heads, many of us have spent virtually our entire remembered lives since early childhood admiring super cars. We've hung the proverbial posters on our wall, played with scale models and toys while making "vroom vroom" noises and, in more recent years, our fantasies have come ever nearer to reality thanks to virtual racing simulators.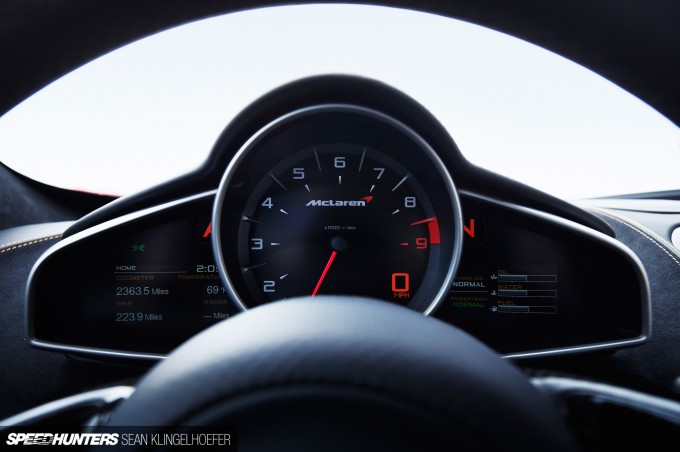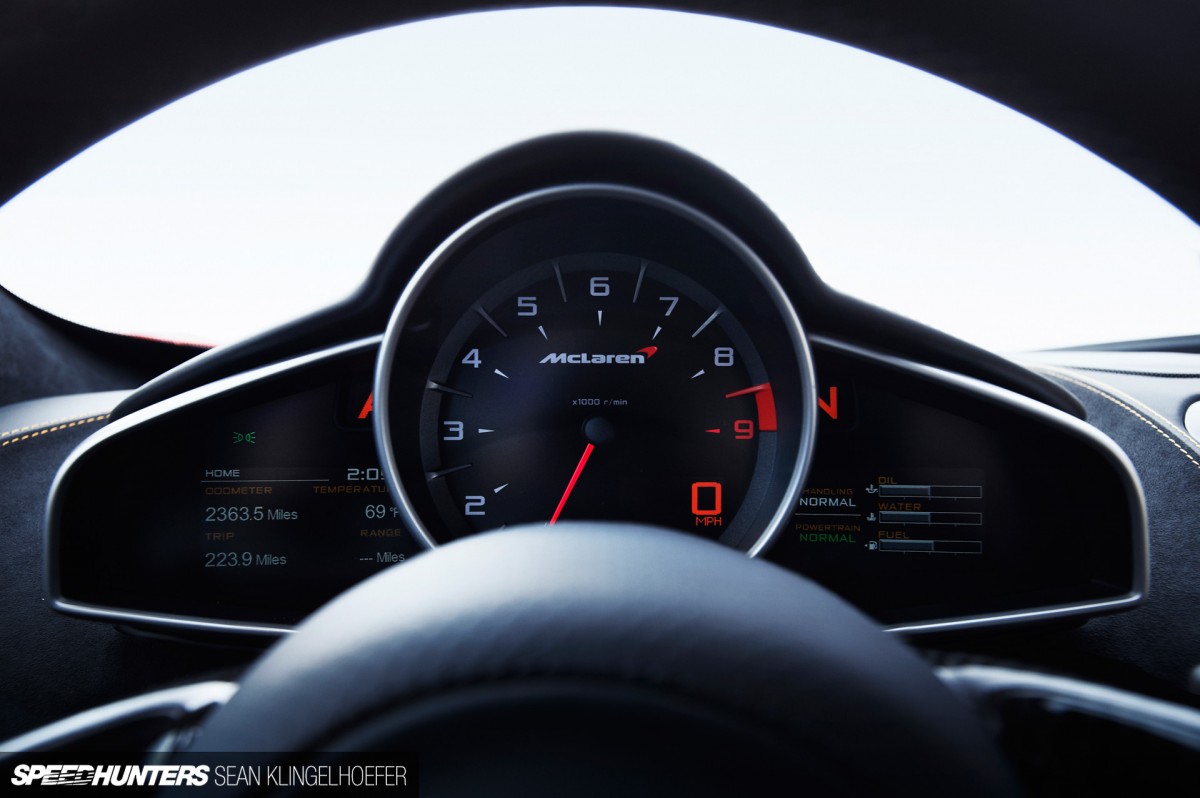 But there's simply no replacement for the real thing – something I found out up close and personal when I photographed the McLaren MP4-12C last year. No video game could ever render the tactile experience of sitting inside the cockpit. Sadly, at that time I did little more than that, sit (although you'll have to take my word for it, making vroom vroom noises from in here is much better than your room). Simply being in the presence of such a machine is enough to brighten your day, but not getting to drive it left me with more questions than answers.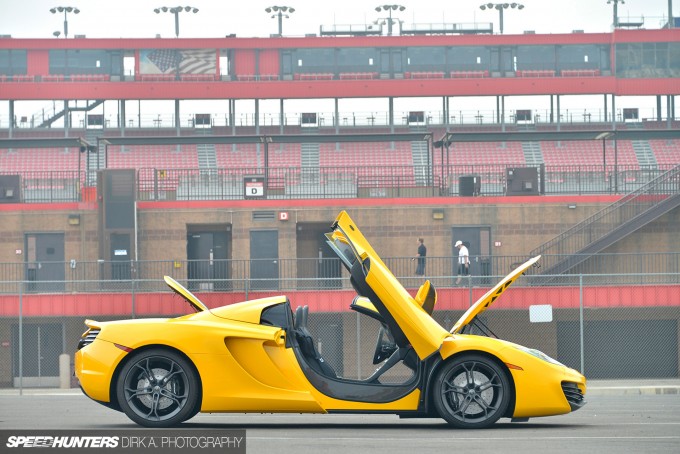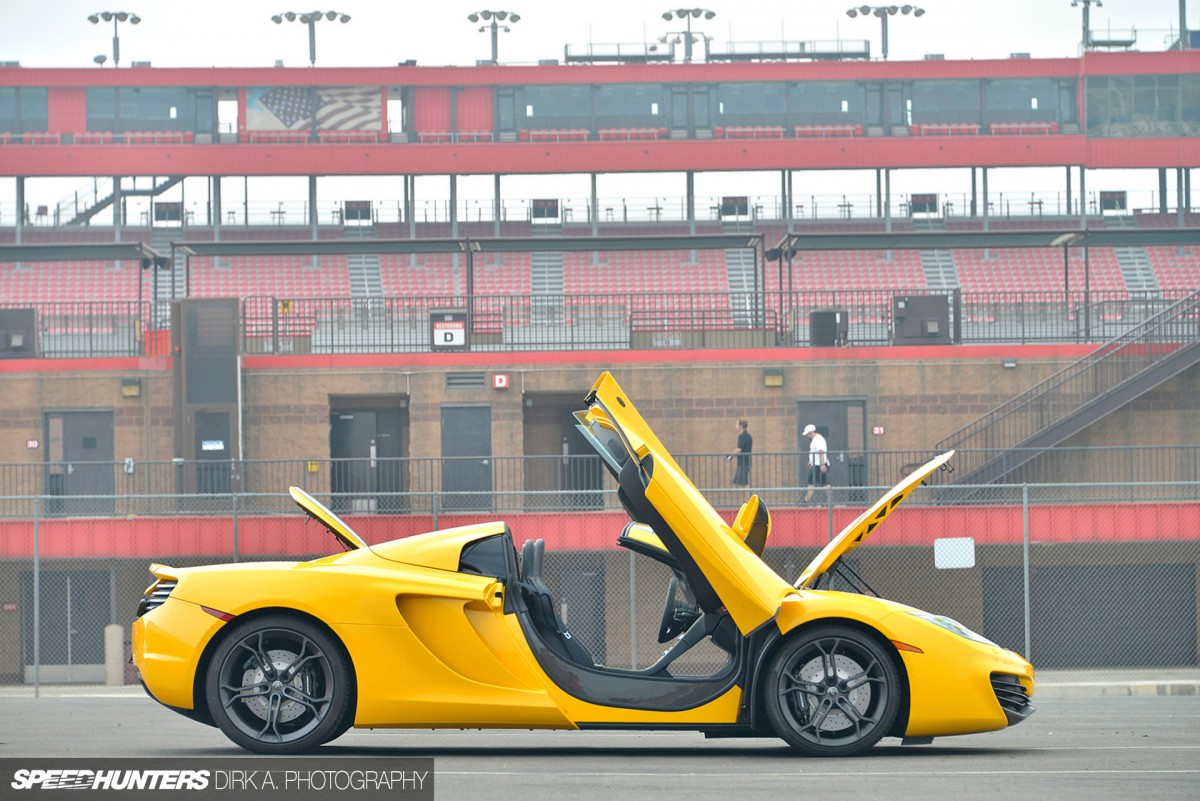 Questions that were finally answered a little over a month ago when McLaren generously invited me to come out to Auto Club Speedway in Fontana California to flog the latest Spider version of its 12C. Needless to say, I accepted.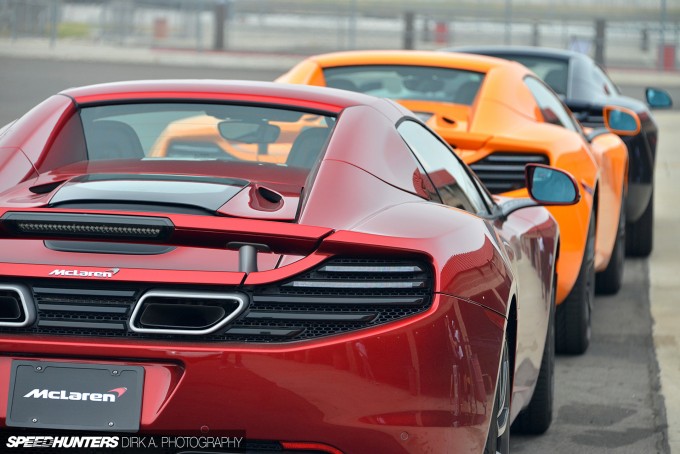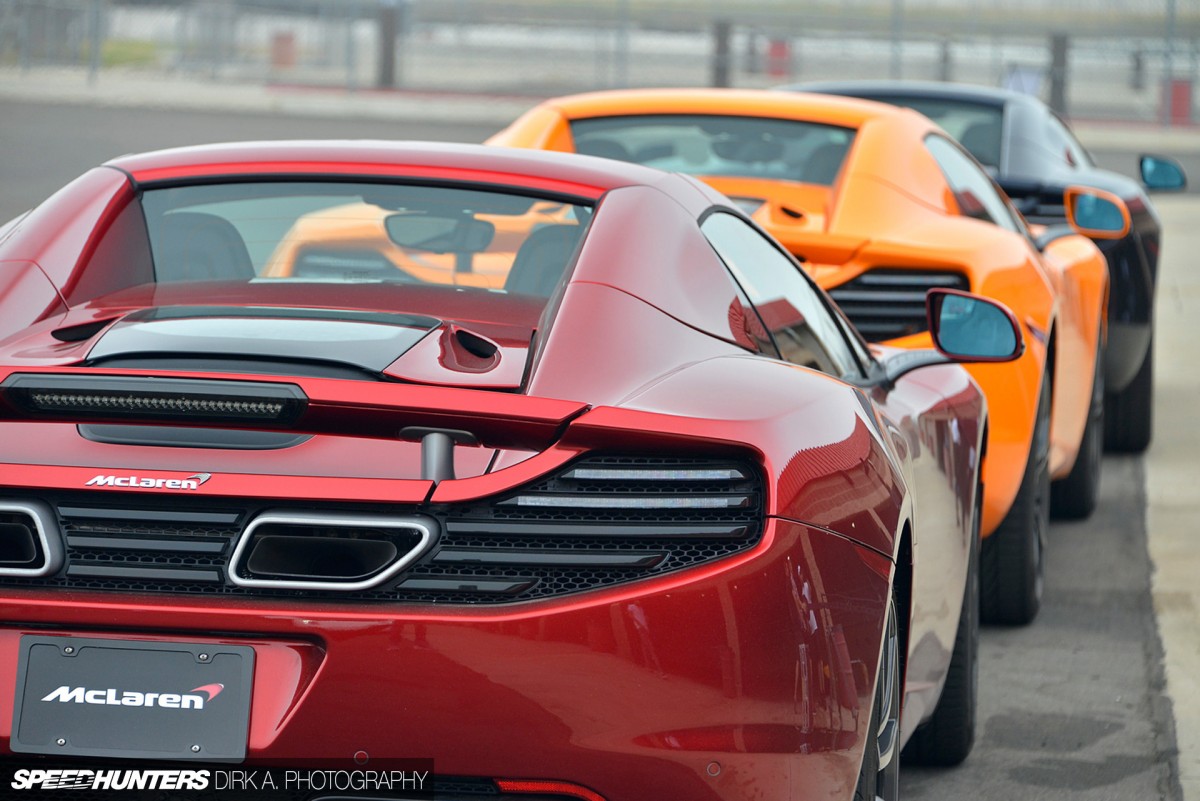 When I arrived at the circuit it was quite early and I was still wiping the sleep from my eyes. It was difficult to tell at first if the stunning row of McLarens were real or merely a dream sequence. As soon as the first engine fired up, I knew it was no dream. I was definitely at a race track, and very soon the keys to one of the most potent performance cars on the planet would be handed to me.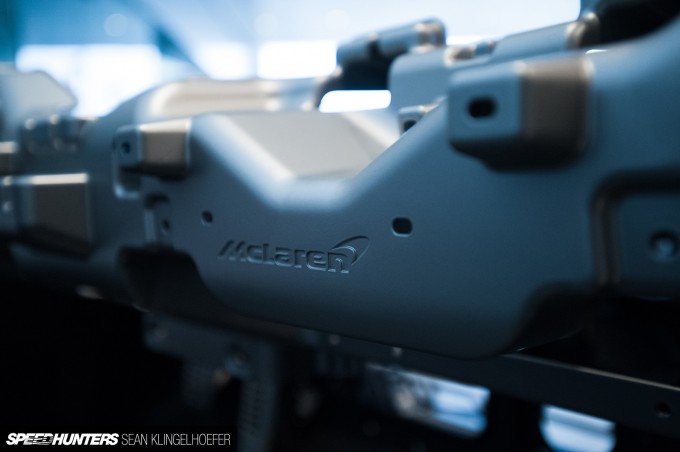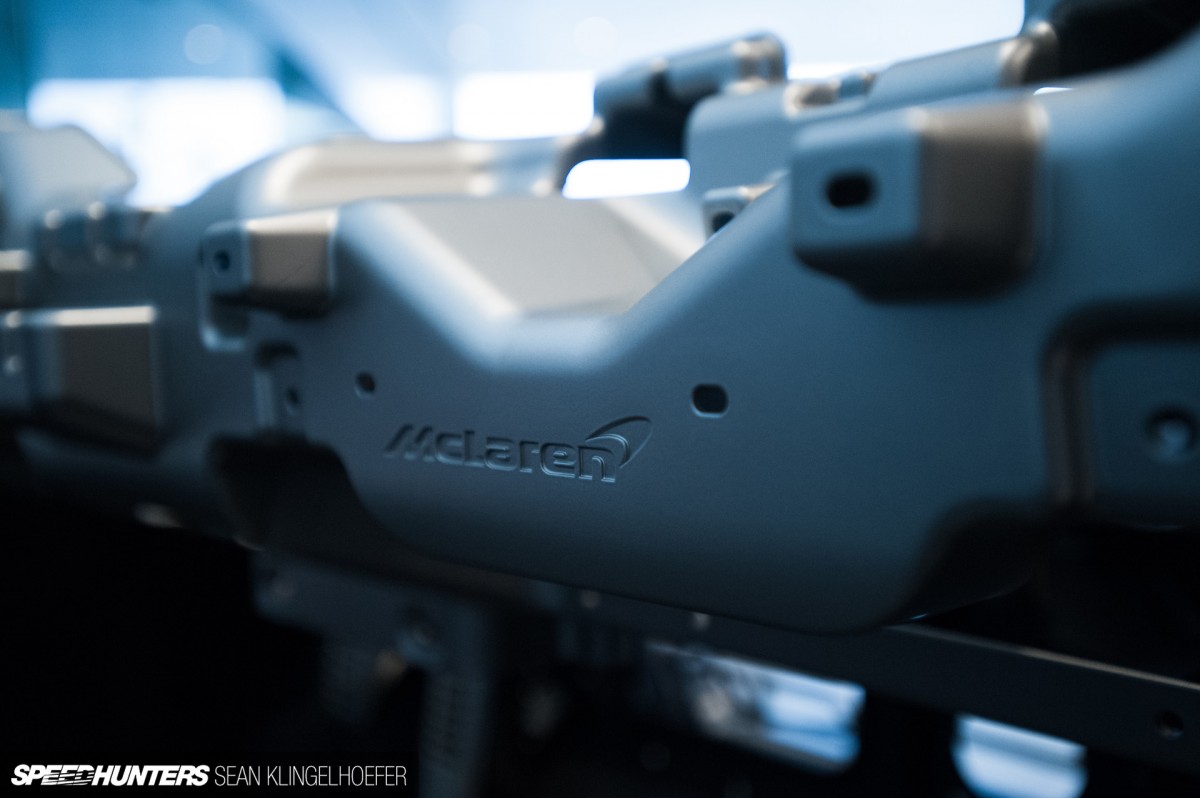 But not before a little education course. The day wouldn't begin with squealing tires and roaring engines, but rather at a conservative pace of naught. Just the right speed to appreciate the finer details of the 12C's carbon tub and state-of-the-art chassis. While I had seen one before back at McLaren Newport Beach, I took the opportunity to reacquaint myself.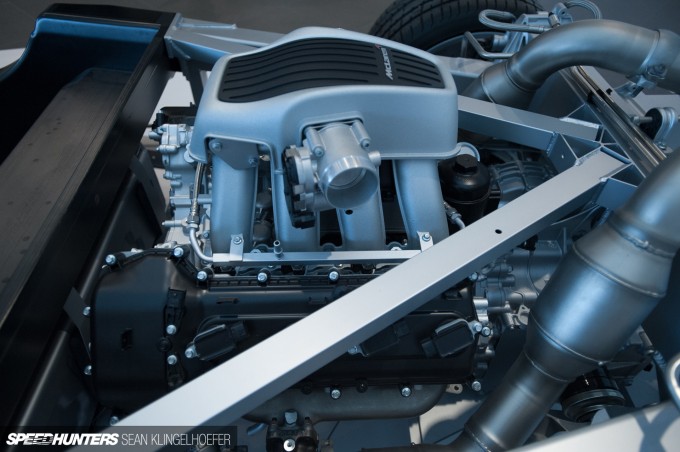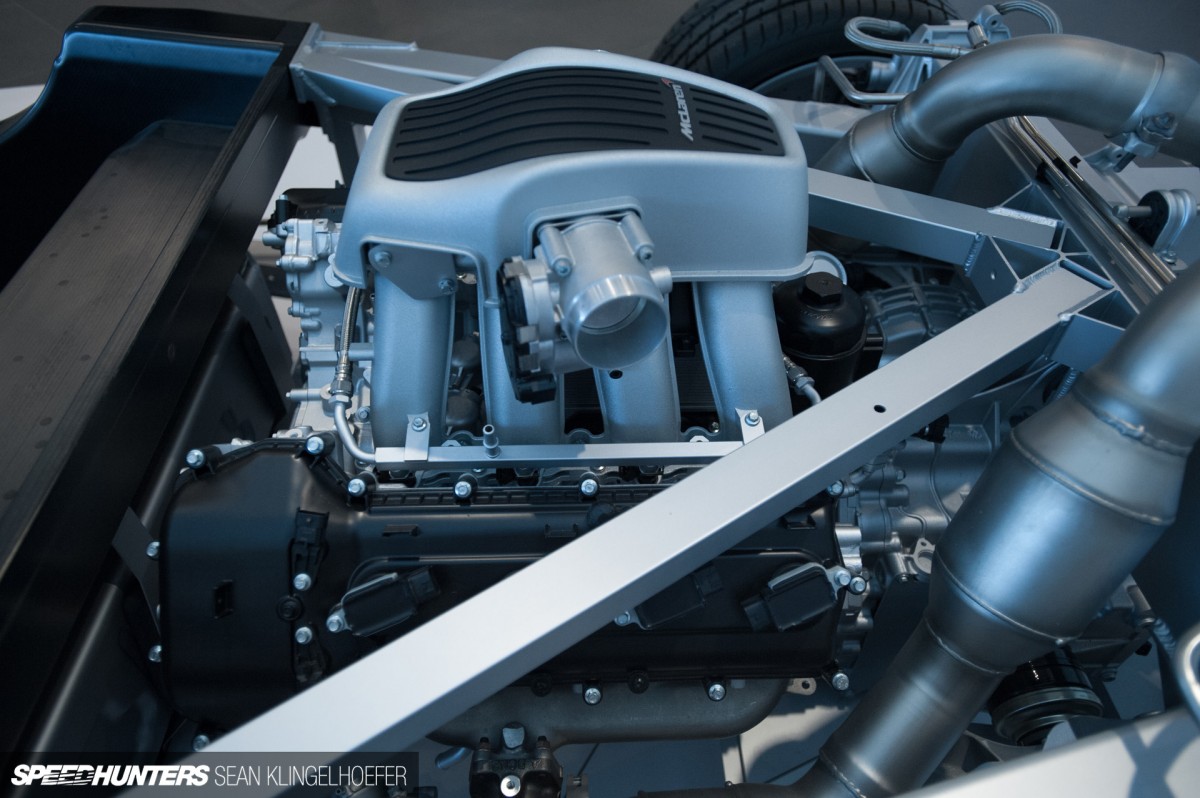 Perhaps the most interesting bit when looking at the chassis in the raw is the engine compartment. On the finished car you can barely see so much as the logo on the intake manifold cover – leaving much of the engine set-up a mystery. When the body is removed you have a new appreciation for the packaging that has gone into the 12C. It's astonishing that it manages to make so much power yet remain so compact.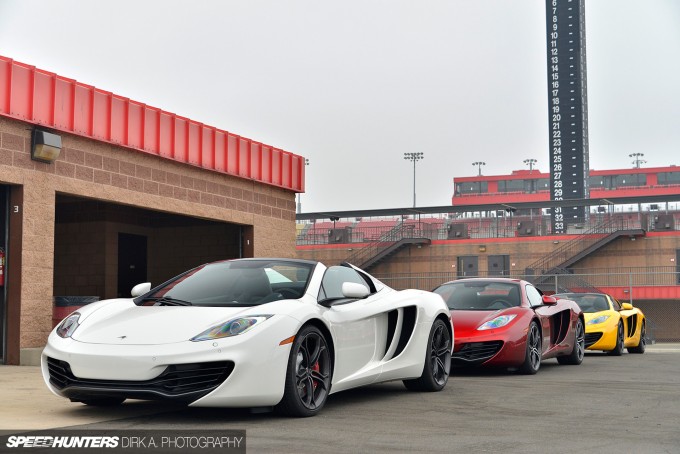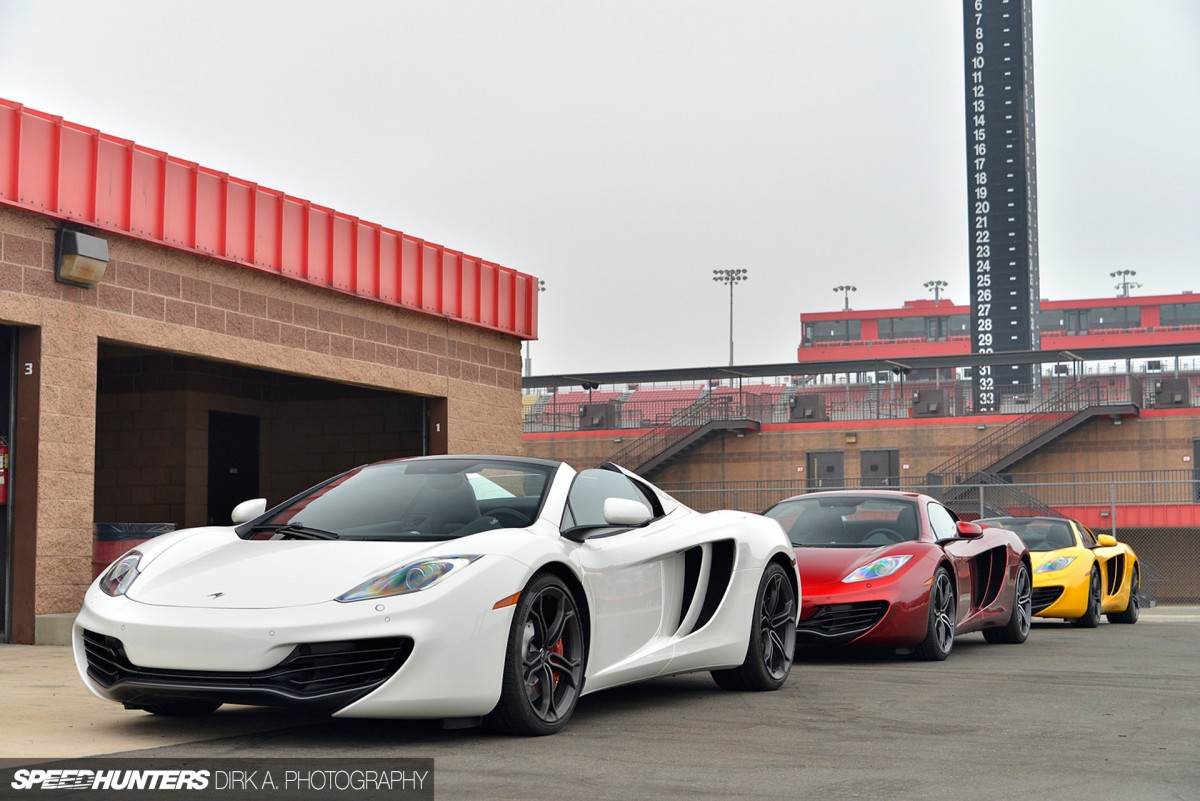 Before I knew it, it was finally time to hop inside the car, but I wouldn't be going out on track just yet. The first driving stint would involve taking the car out on the open road, the place that the 12C Spider was designed to live for the other 364 days of the year. As soon as the car started up and rolled off, things Rod had told me about his experience behind the wheel started coming back to me, many of which I can now attest to be true.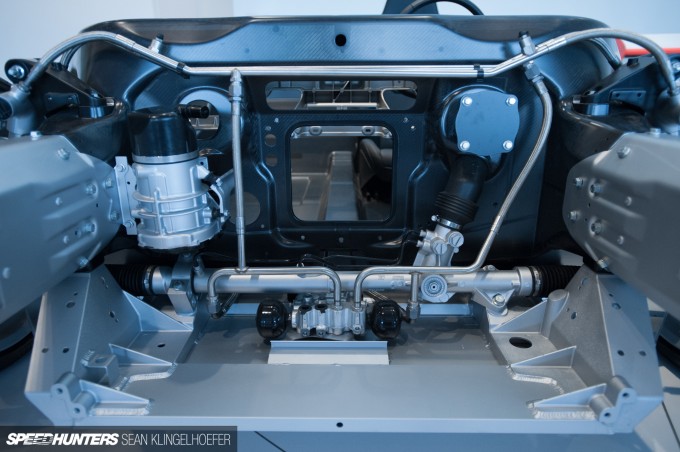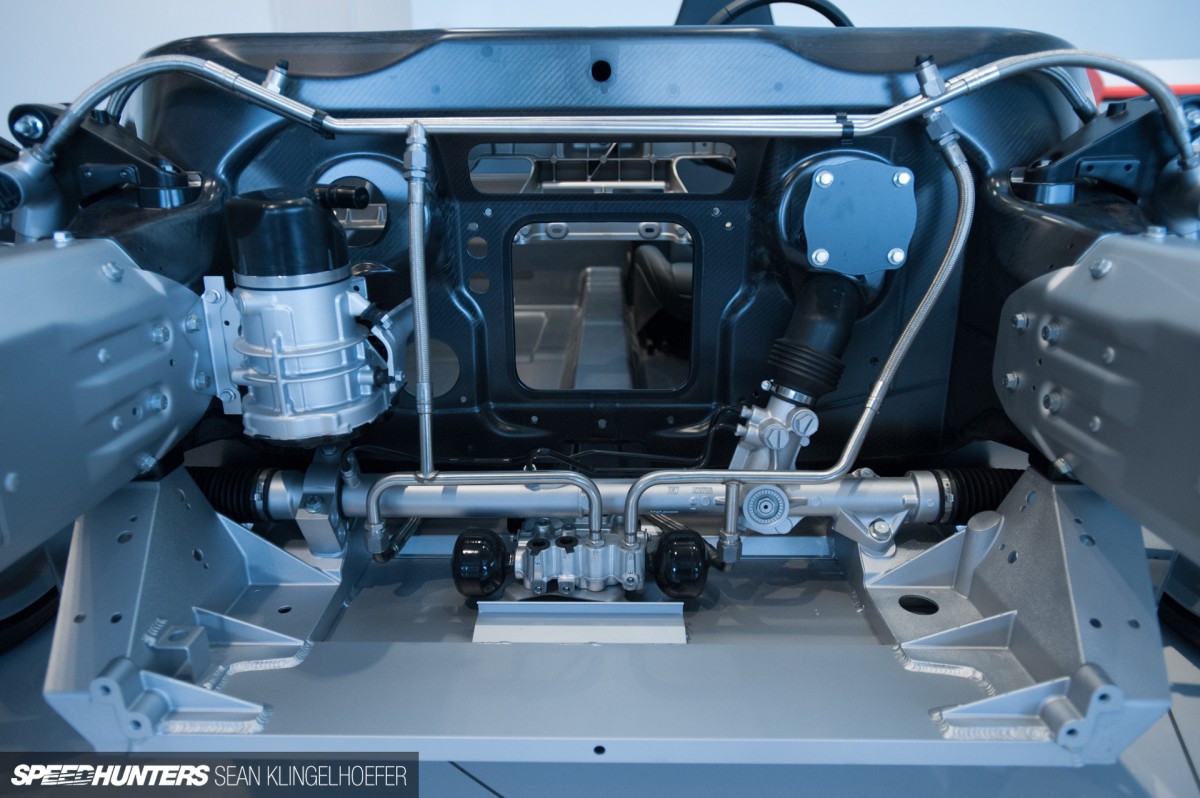 For starters, the practical drivability of the car is through the roof, thanks in large part to the sophisticated and complex suspension design. In the most comfortable mode, the suspension compliance is unbelievable. What's more, unlike the majority of modern cars with tuneable suspension, there's a massive difference between the various settings. Whilst most cars' switches hardly do a thing, on the 12C the settings fundamentally change its behavior.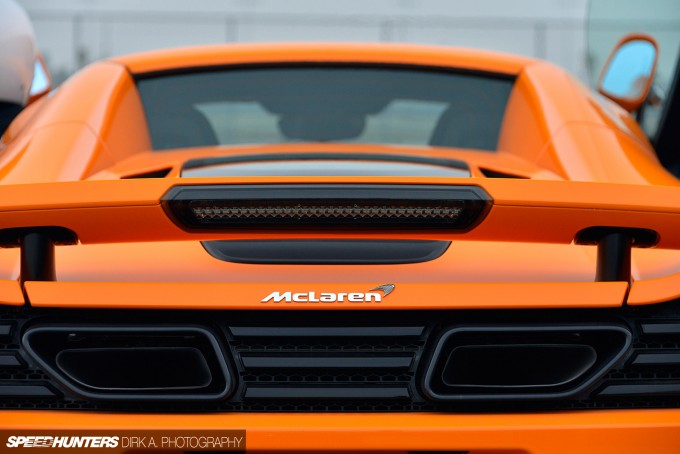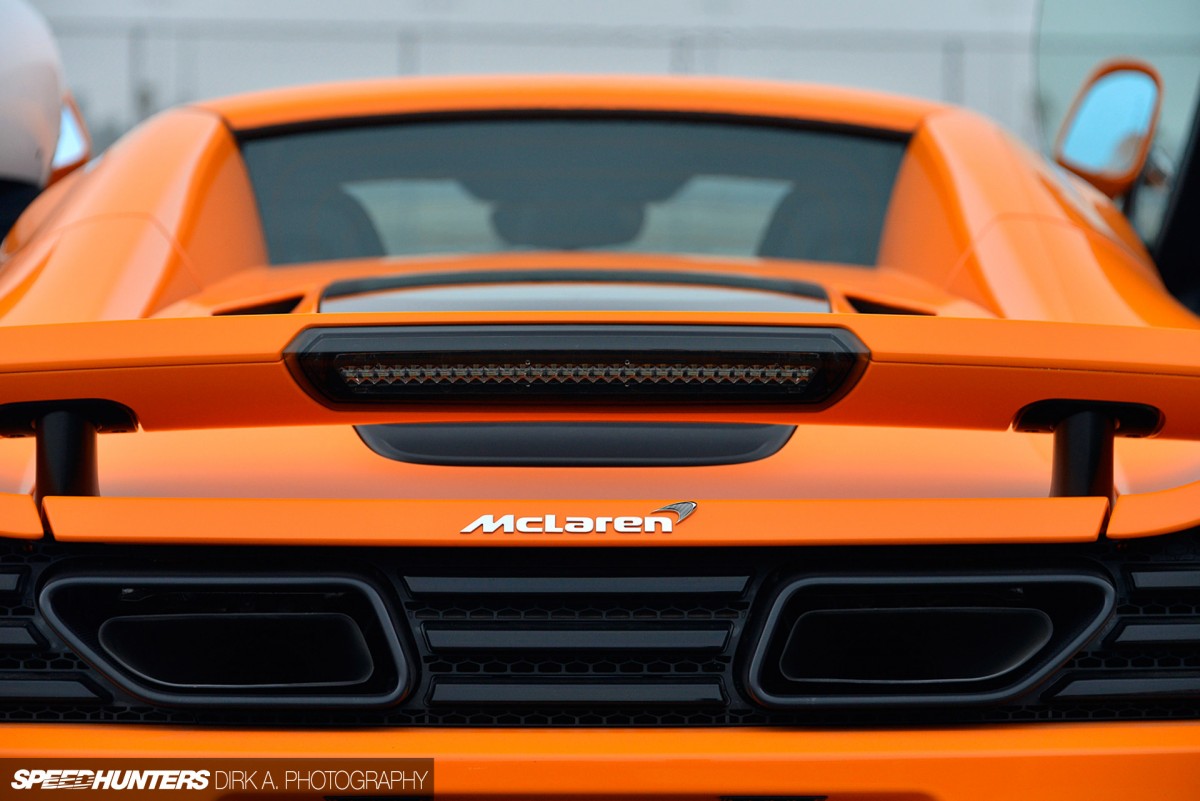 Though I wasn't expecting it, the street drive actually proved a worthwhile experience in the McLaren and I arrived back at the circuit with a new found respect for the science behind such a vehicle. In addition to the suspension, the transmission also proved to be extremely polite when you want it to be, rowing through the gears with a glass-like smoothness. In an instant you can transform the vehicle dynamics from that of a high-end luxury sedan to a tarmac-destroying race car all at the press of a button. These are strange times we live in.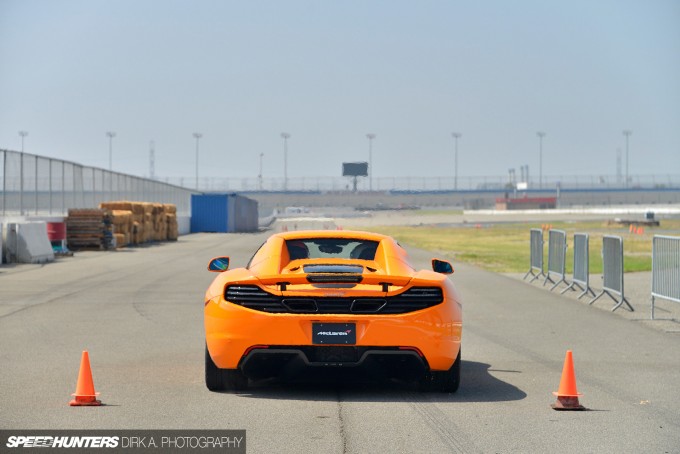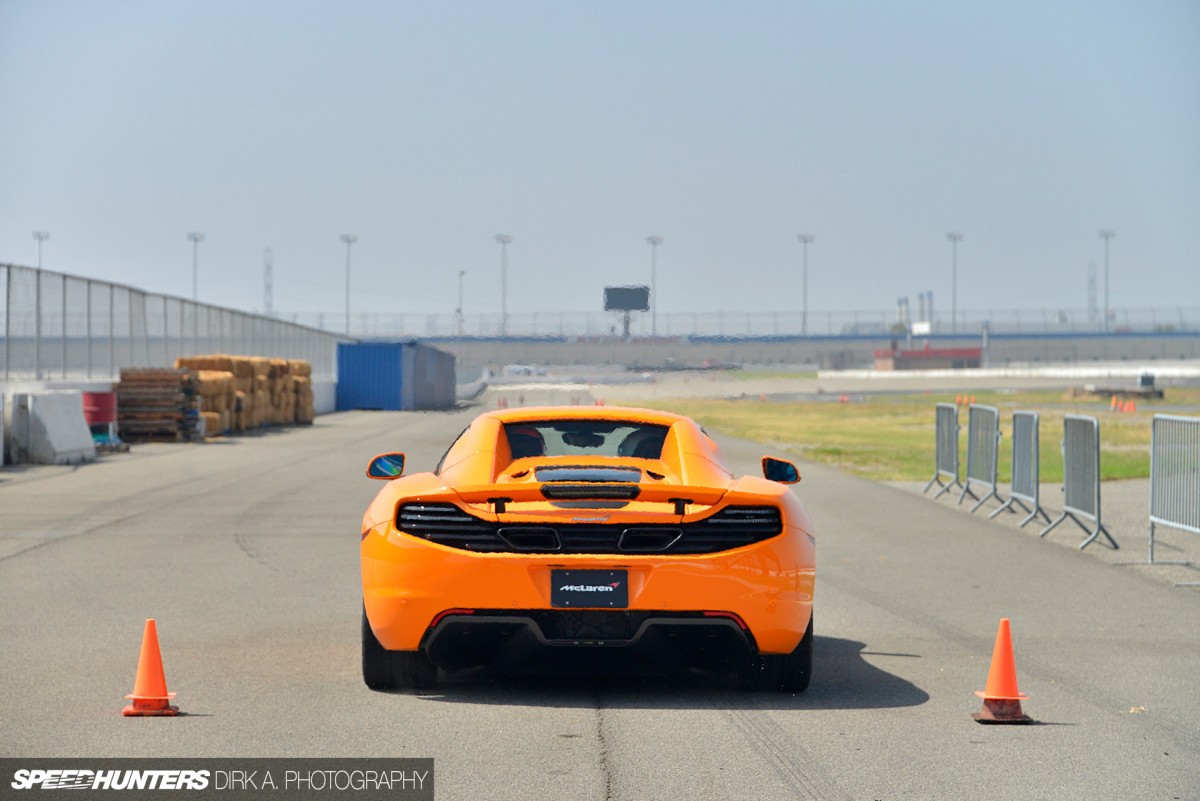 But of course I didn't drive all the way to 'Fontucky' to see how civilized the Spider was, I came out to experience mental G-loads – and I did. Before I was cut loose on the track I was given a demonstration by a professional instructor, starting with the launch control procedure. Going from zero-to-60 is almost instantaneous. I can't think of a word to describe the sensation other than surreal. Your mind is trying to make sense of what's happening and your stomach is always about a half-second behind. For someone susceptible to motion sickness as a passenger like myself, this isn't a good thing.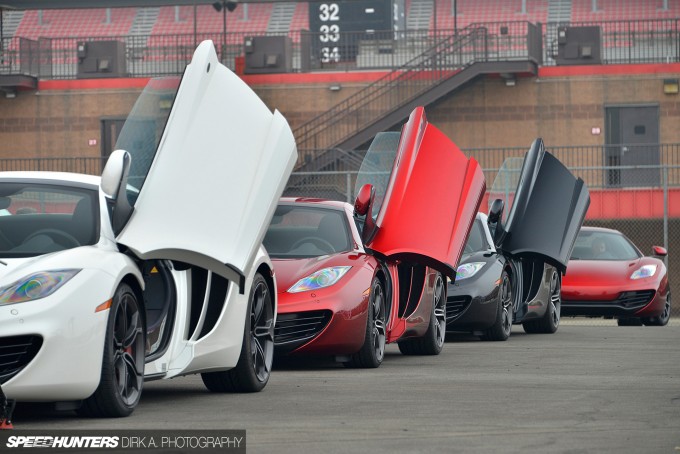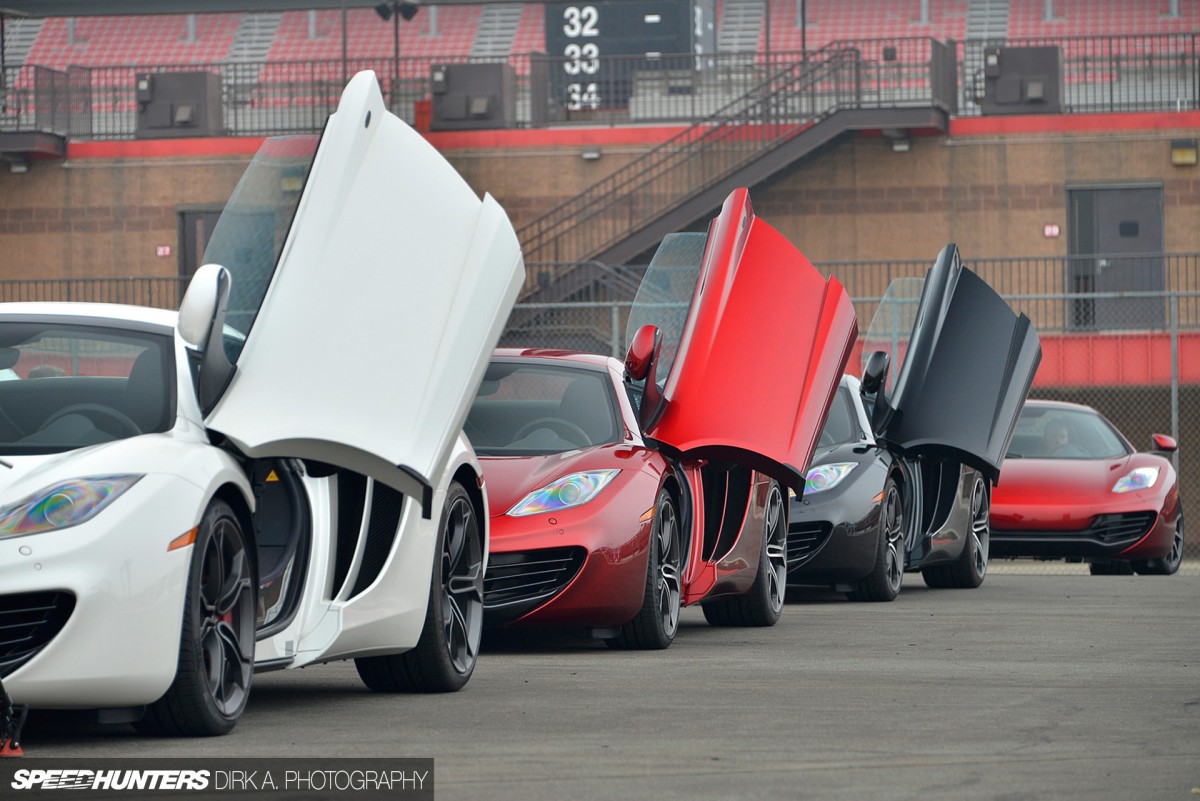 Fortunately there were only a few training laps before the car was handed over and, amazingly, I somehow managed to not puke all over myself. Once behind the wheel I felt right at home inside the car. It's very difficult to put into words what driving a 12C is like without sounding ridiculous, but in a nutshell the car is a rolling paradox. It's insanely fast and violent, yet it feels slow and mild mannered.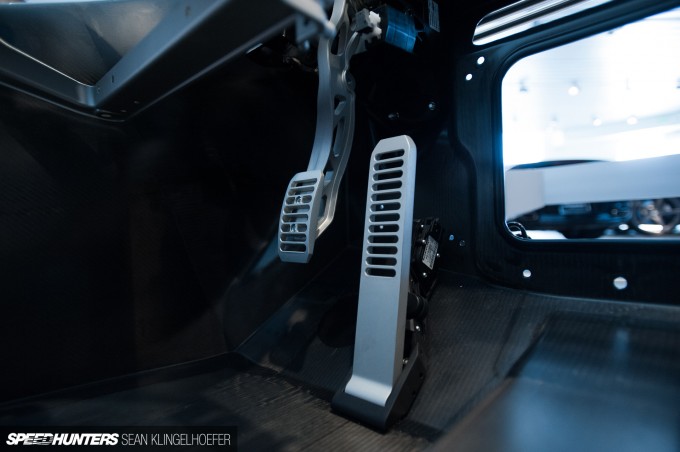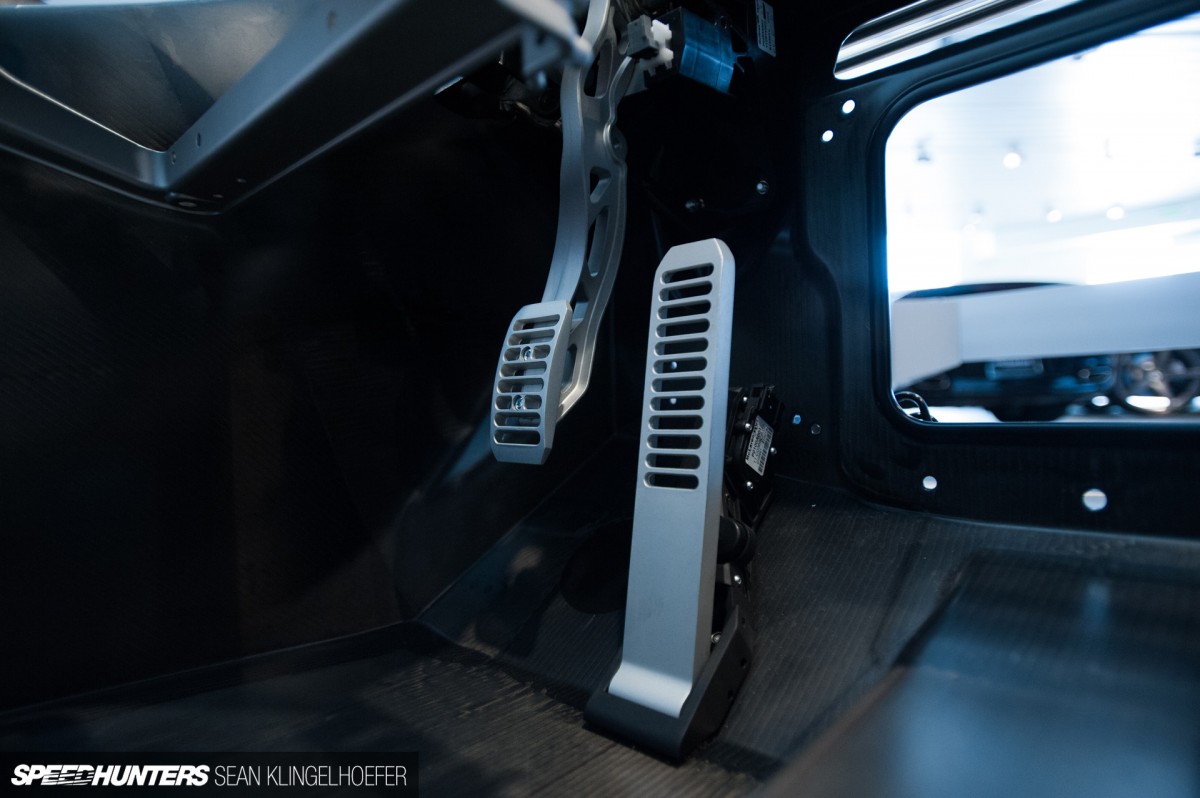 If that sounds strange, bear with me. When you hit the accelerator, the thing goes like hell no doubt. But the way in which it propels you forward feels more like you're driving in an alternate universe where time and physics are being bent into the car's will. Under braking a similar feeling occurs and you start to feel as if you're having an out of body experience watching yourself drive about a circuit in fast-forward. If that's too complicated still, think for a minute of being on a jumbo jet. You might be flying at over 500mph across an ocean, but so far as you can tell, you might as well be standing still. That's a distant cousin to what's happening here.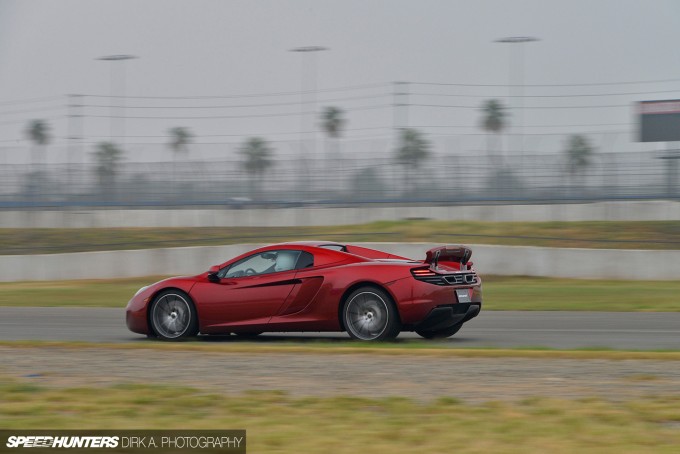 It's stupid to even try to explain what it feels like behind the wheel, but I'll continue anyway. The car is extremely well sorted, in a very calculated I've-been-designed-to-go-way-faster-than-you-ever-could-on-your-own sort of way. The tires squeal, yes, and the rear end kicks out, but only so much. Even braking down from triple digit speeds is made simple, and there were a handful of times where I blew braking zones and turned in trail braking hard into a corner with no repercussions whatsoever – just a sharp rotation and an incredible surge out and into the next complex of corners. No understeer and no violent snap-oversteer.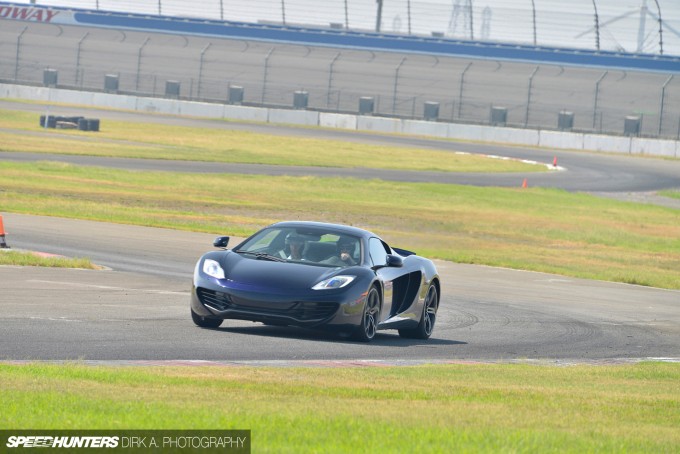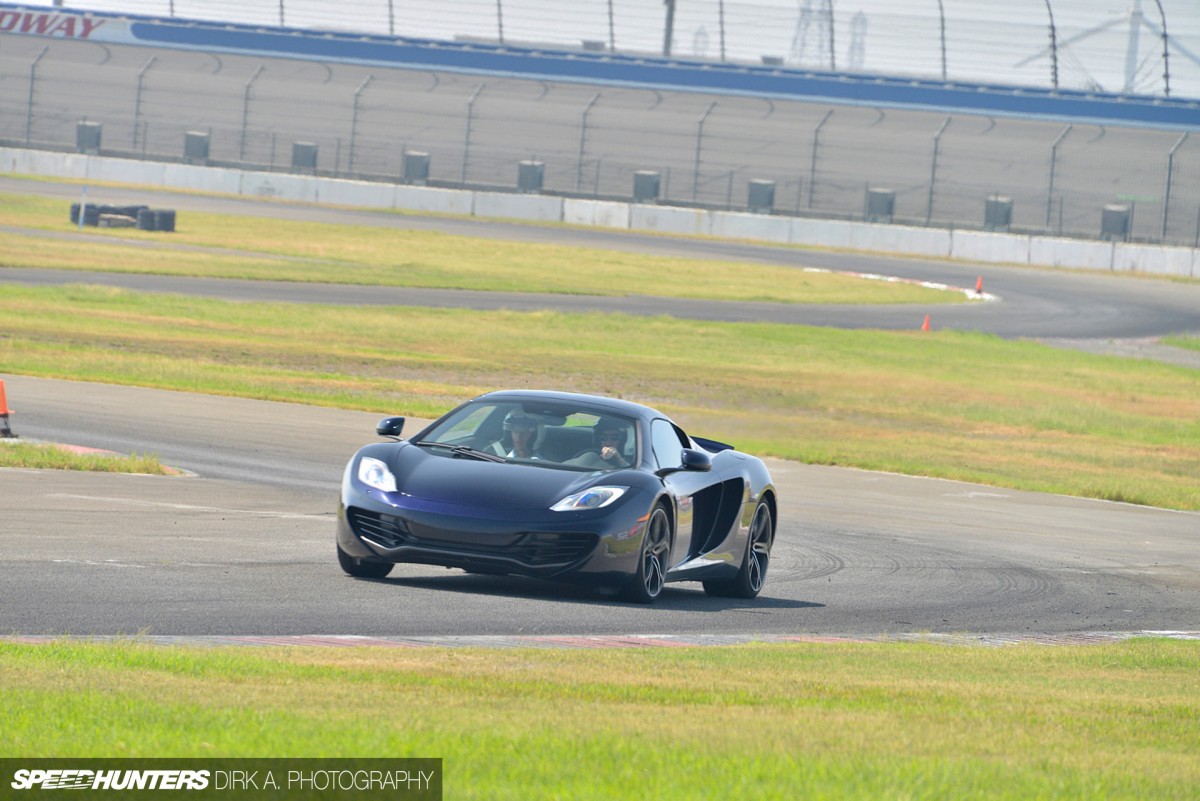 That's not to say however that the G-loads you're experiencing aren't phenomenal, because they are. It's just that your body is experiencing them in a totally separate way from your mind. To put it simply, this is the only car that has ever made me progressively more nauseated as I was driving it. By the time I recognized that I wasn't feeling so well I decided to pull in. Maybe this is just the effect of an advanced car from the future on a simpleton body of today.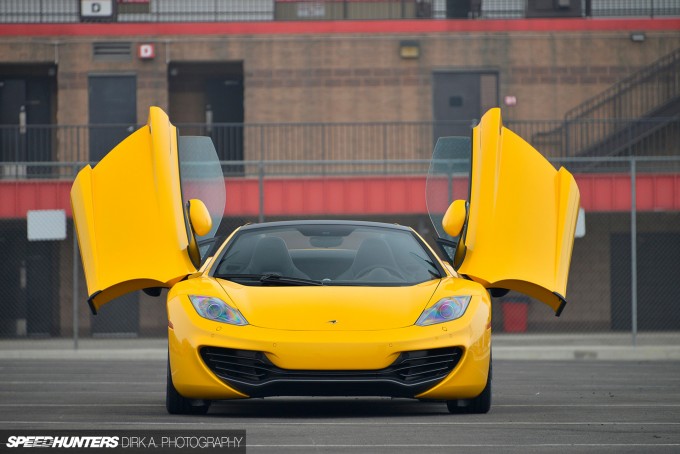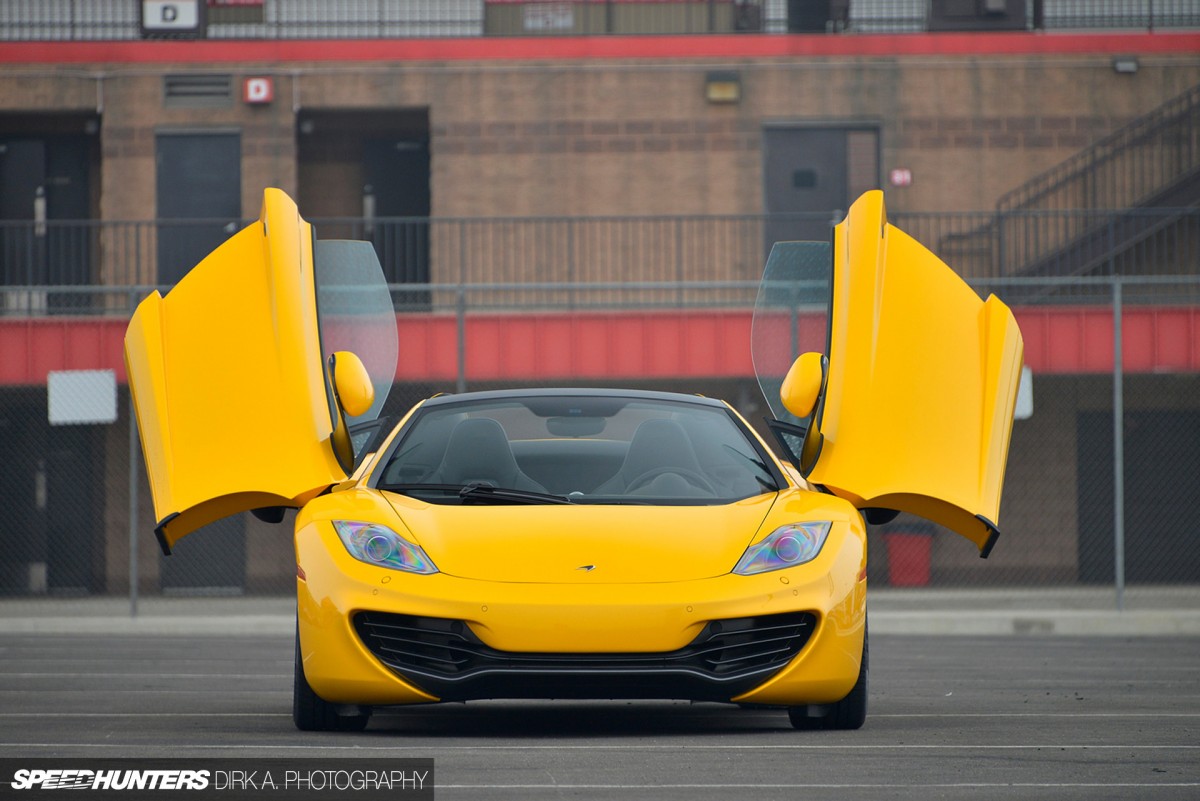 I wish I could better put into words what exploring the limits of a car with this much potential were like, but I'm afraid it may have been too much for my rudimentary mind to record. At the pace this car is moving and its computers are processing, a human can't dare to keep up. It's almost as if I were on the brink of an event horizon that day inside the 12C, one that my mind cannot fully recall and that body scarcely recovered from (see "had to pull over and vomited rather a lot on the drive home"). The McLaren 12C Spider: if this isn't a super car, then I don't know what is.