Another S13?
Another S13? Haven't we already seen enough of those? That might be a question you ask when you see this story, and I can't blame you for that. With the massive popularity of a car like the Nissan S-chassis comes the very real possibility of over-saturation. Is there anything that hasn't been done to these cars yet?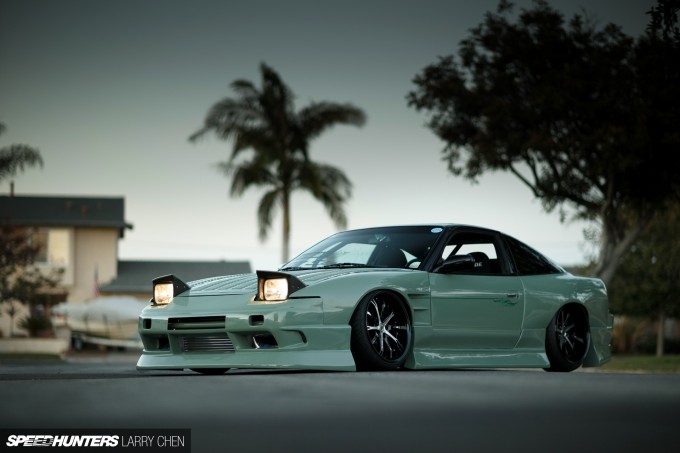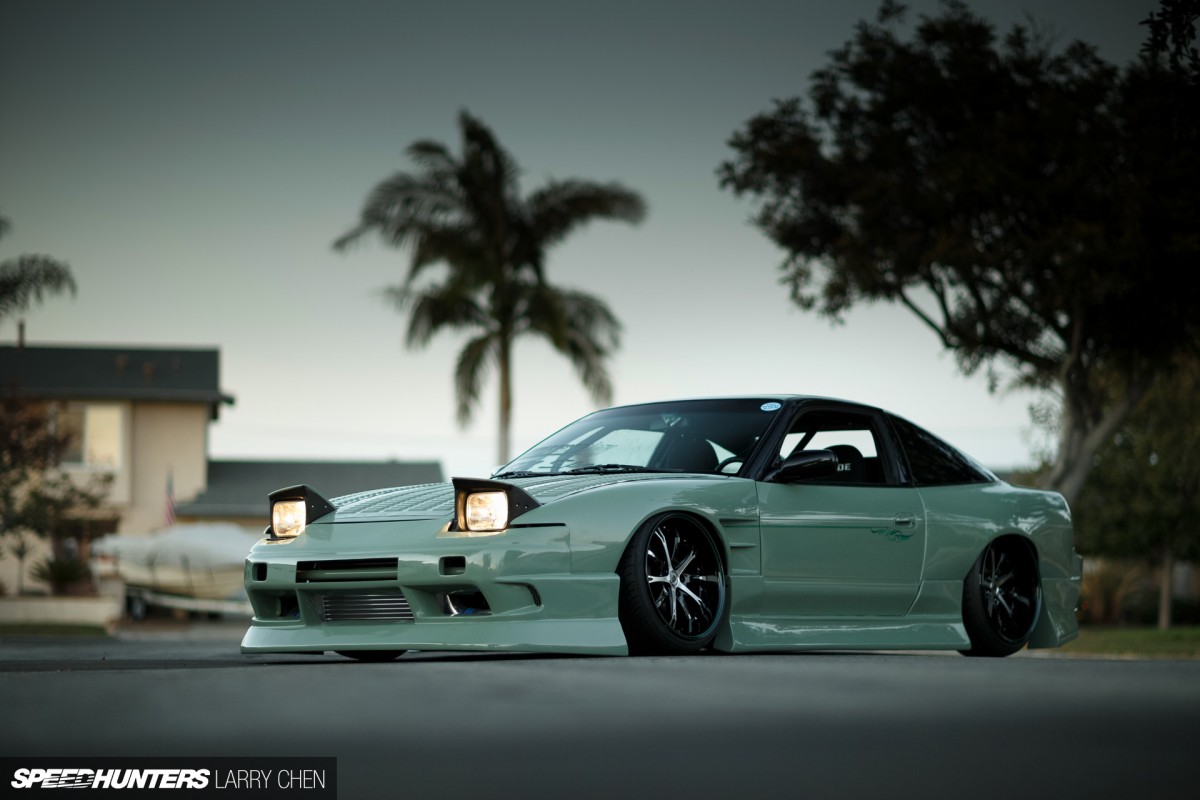 It's a very valid point, and when you have something with a fanbase as large as the S13, it can be hard to find people doing something new and exciting with these cars. However, if you look hard enough you'll find that such cars do exist and as evidence I present this Nissan 240SX based out of Southern California.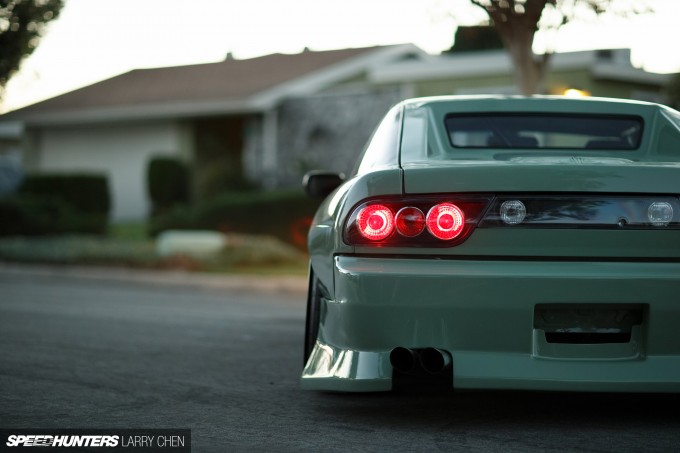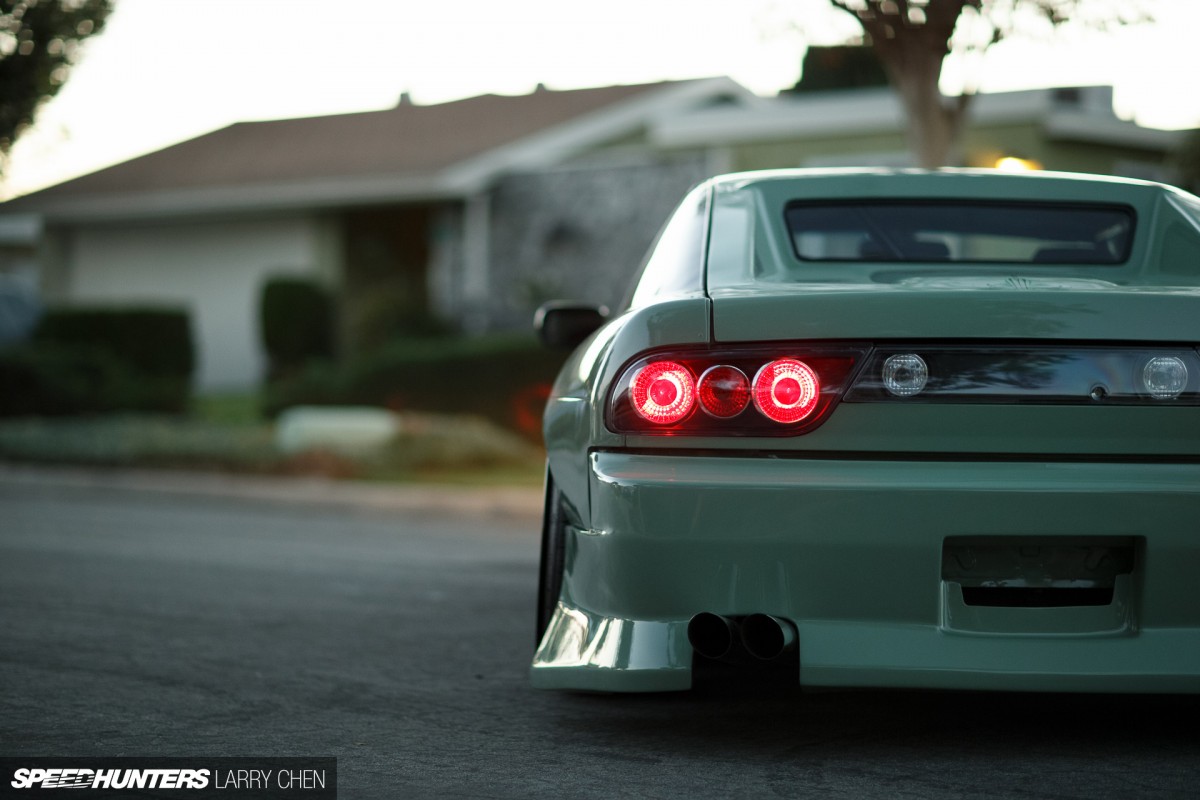 The car is built and owned by Southern California's Kyle Ranauro and whether you're talking about the US, Japan or elsewhere, it's one of the most complete and interesting S13 builds I've seen in quite some time.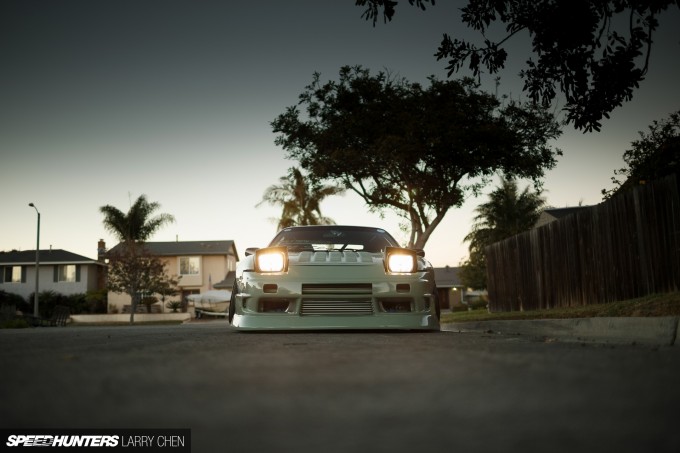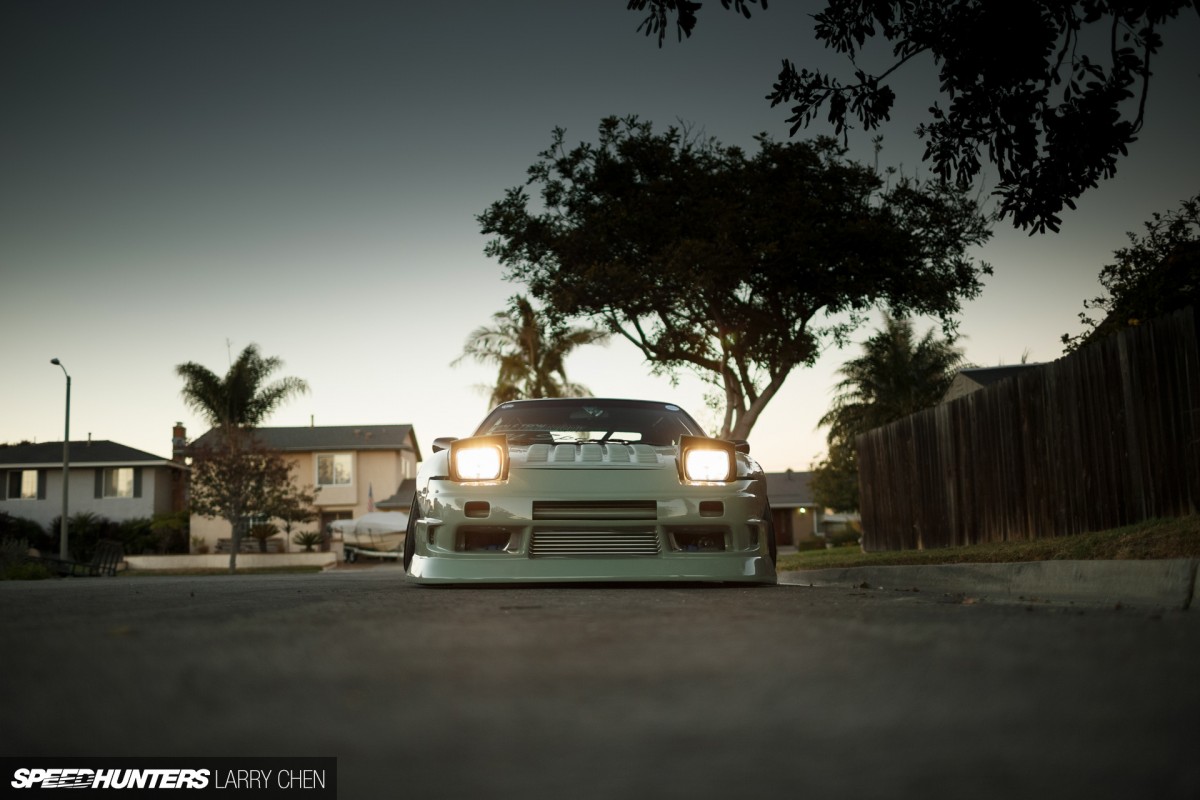 I spotted the car in October during the Slammed Society show at Formula Drift Irwindale and it immediately won me over with its bold image and more importantly its combination of drift, VIP and even hot rod elements.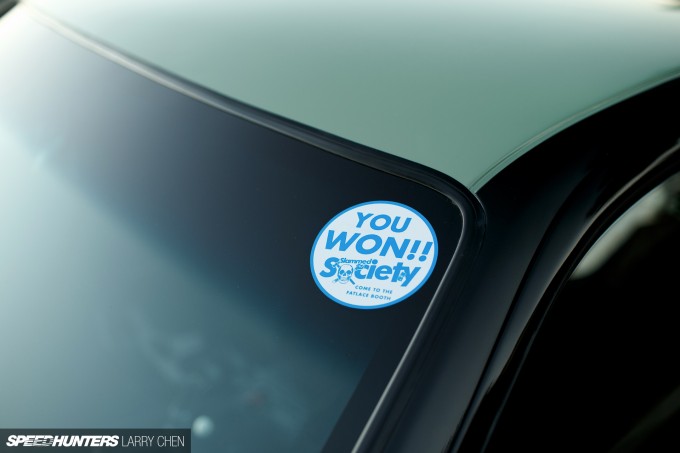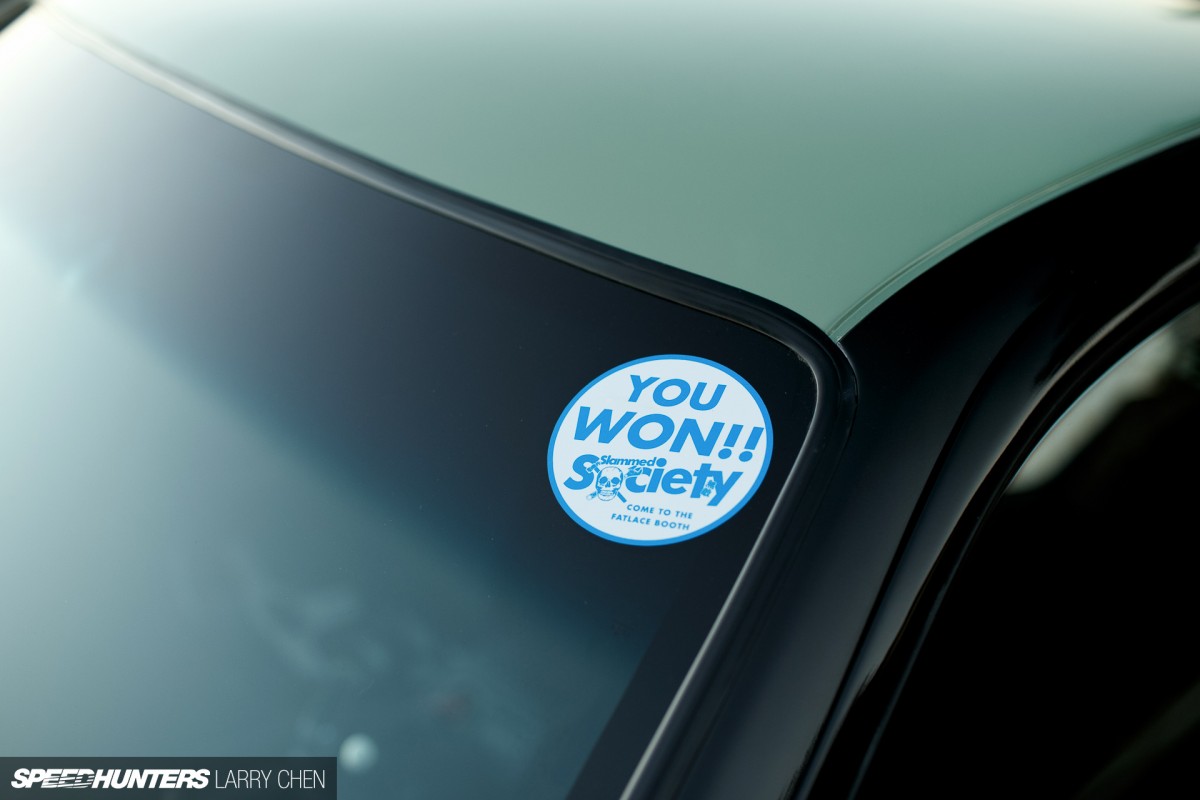 While there were plenty of cool machines that came out to Irwindale, choosing Kyle's S13 as our #FeatureThis award winner was not a difficult choice. Along with a slick trophy, I awarded Kyle with an advance copy of our #JoyOfMachine book and then we dispatched Larry Chen to photograph the car so we could break it down in detail.
Mixing roots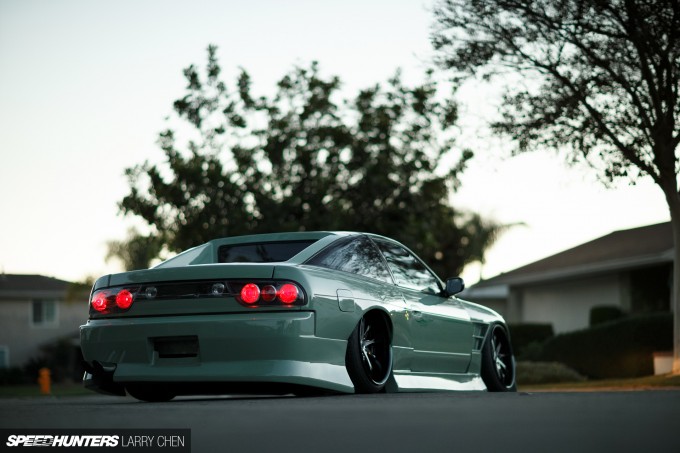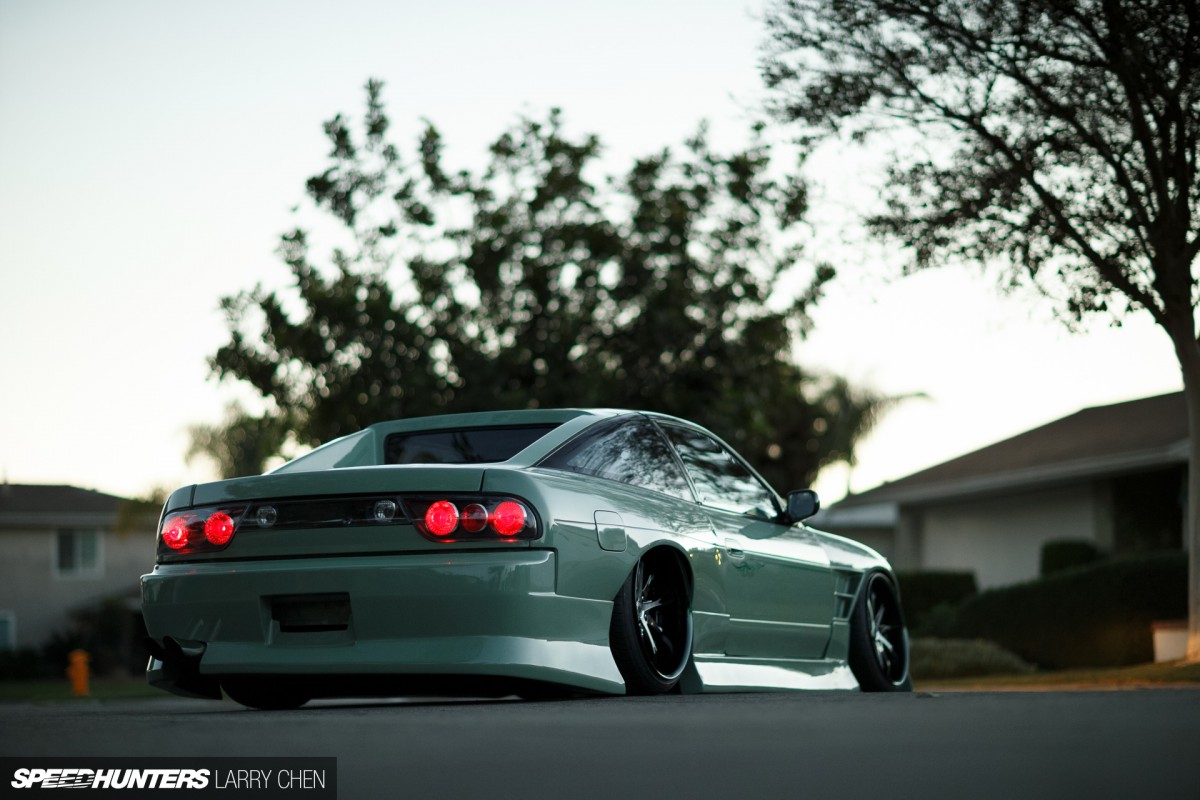 Kyle grew up idolizing American cars and lowriders, and that's where a lot of the inspiration for this build came from. Later as a middle school student he discovered the 240SX and immediately fell in love with the rear-wheel drive Nissan. Like so many of us, he soon found himself scouring Japanese book stores for Drift Tengoku videos and learning as much about Japanese tuning culture as he could.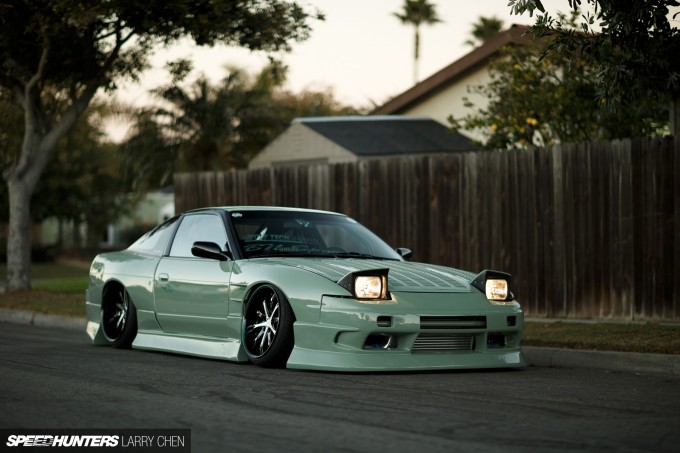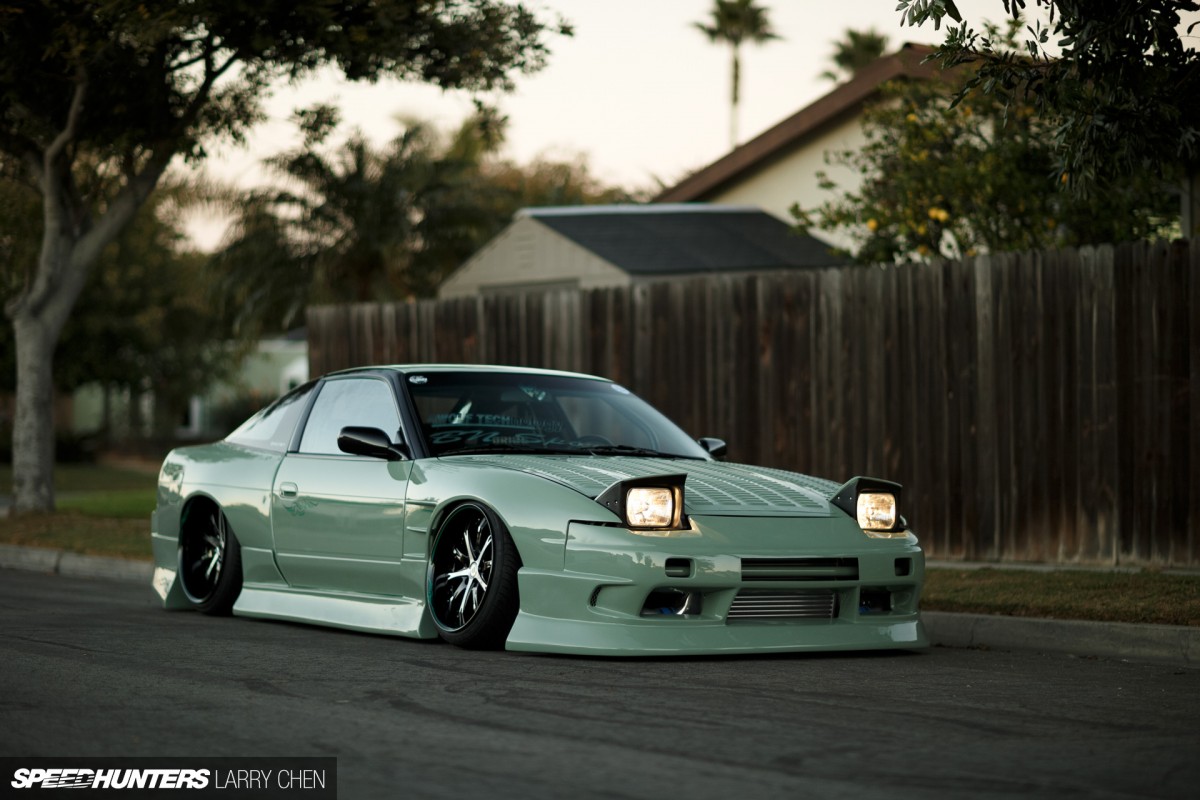 Prior to this car, Kyle has owned two other 240SXs – an S14 and an S13 coupe. He'd always wanted to build an S13 hatchback, and when he came across a base car with no sunroof and manual windows he jumped on it. Thus began a five-year process of working on the car on and off in his garage, with the final product being the machine you see here.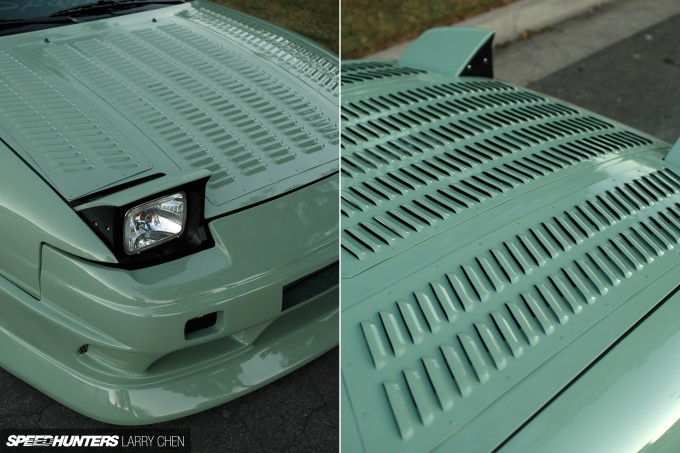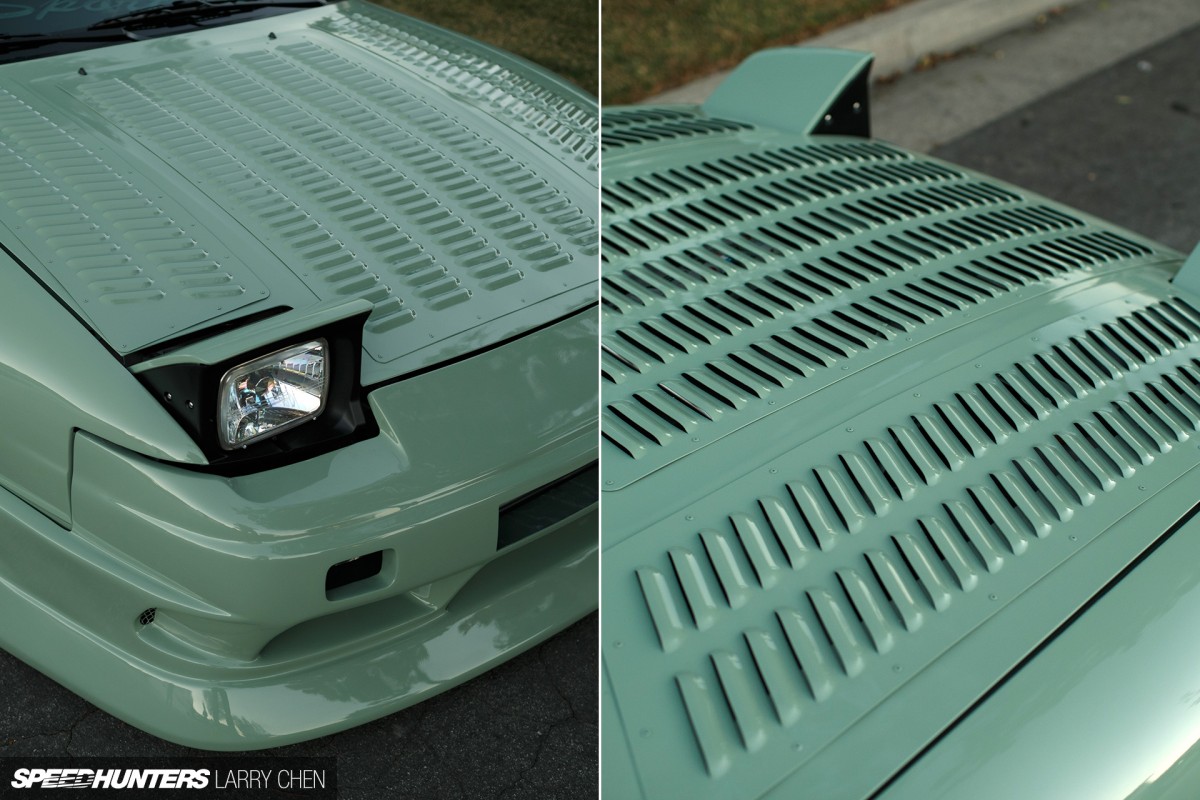 If it's not the car's outrageous stance or aggressive bodywork that catches your eye first, it might be the hood – which as you can see has more than its fair share of metal louvers spread across it.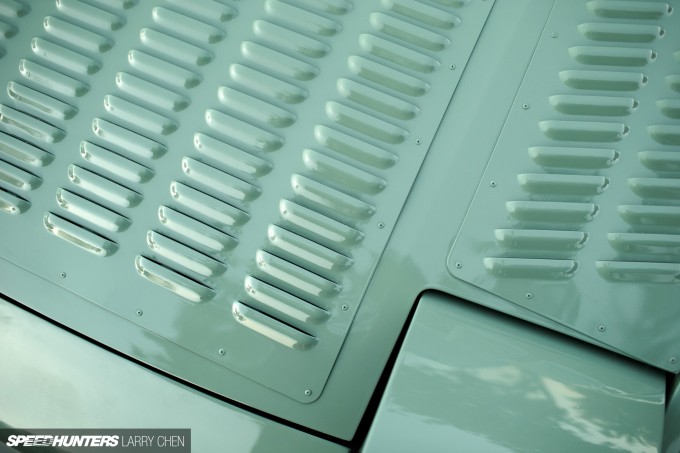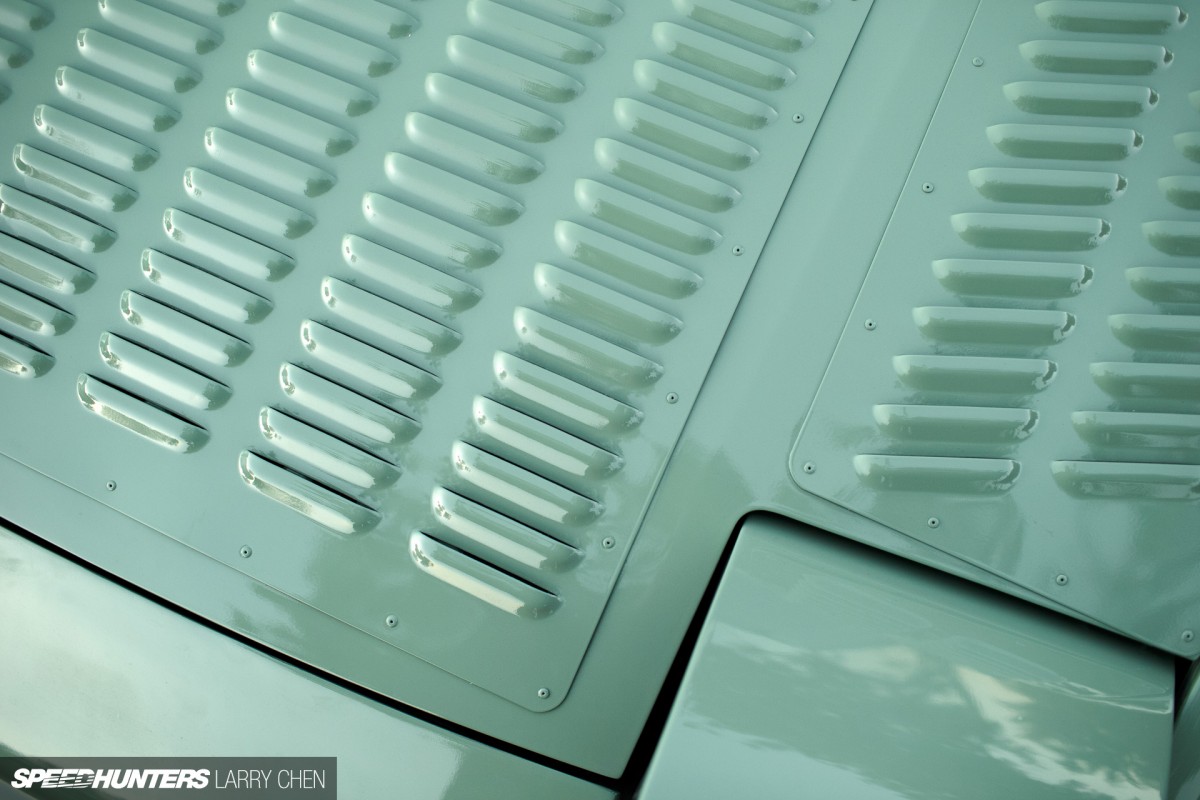 "I love louvers", Kyle says. "I also hate fiberglass hoods. Nothing fits like a metal hood." There you have it.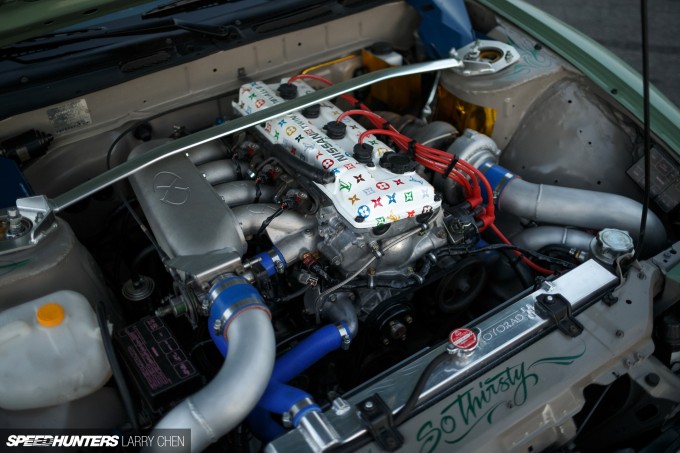 And when you open that louvered hood, you won't find an SR20DET swap or an LSx V8 swap. You won't find a turbocharged Nissan or Toyota inline six swap either. Kyle has instead stuck with the 240SX's original KA24DE engine.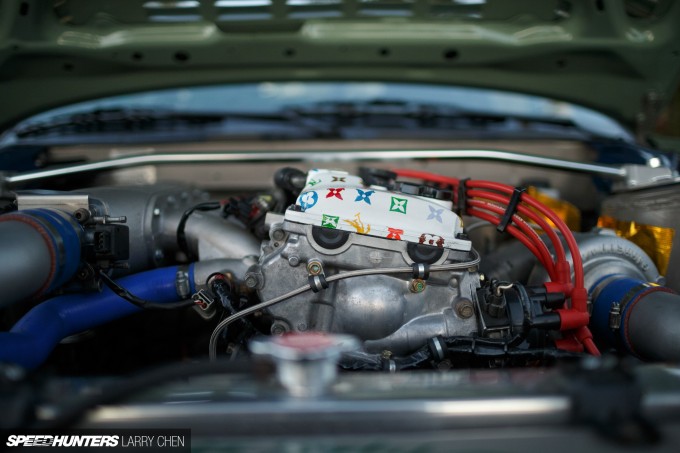 But this KA24 has been heavily modified and doesn't bear much resemblance to the 'truck motor' that Nissan decided to put in all of the S13s and S14s exported to North America.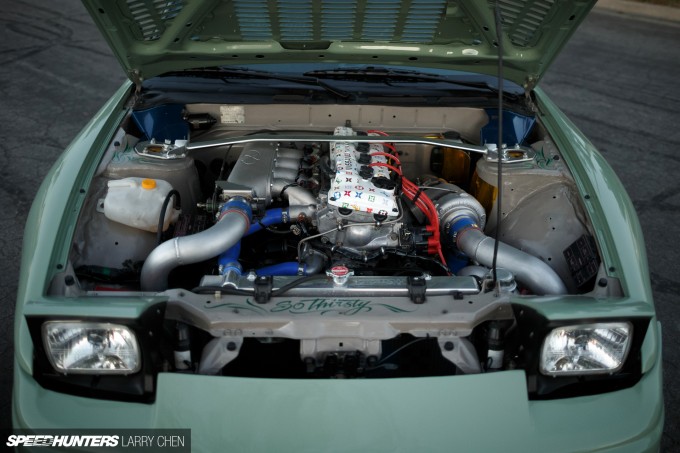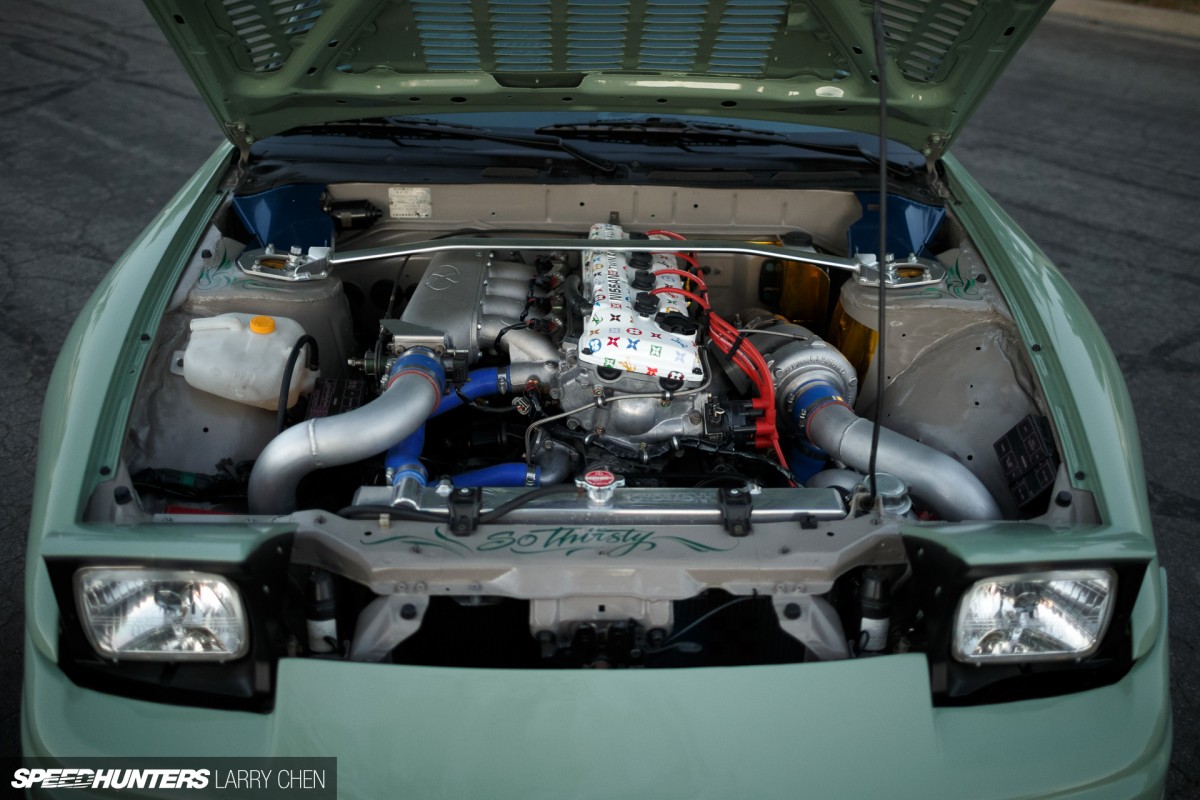 The once modest 2.4 liter workhorse has been fully built, and is now bored .020 over with a decked block and head, JE pistons, Carillo rods, Jim Wolf cams and a whole lot more.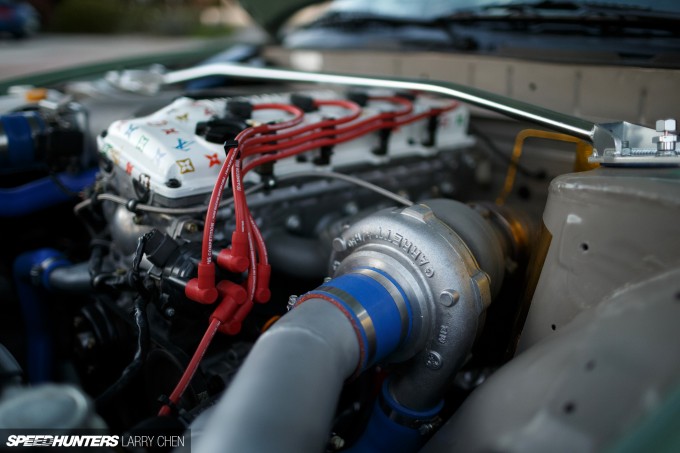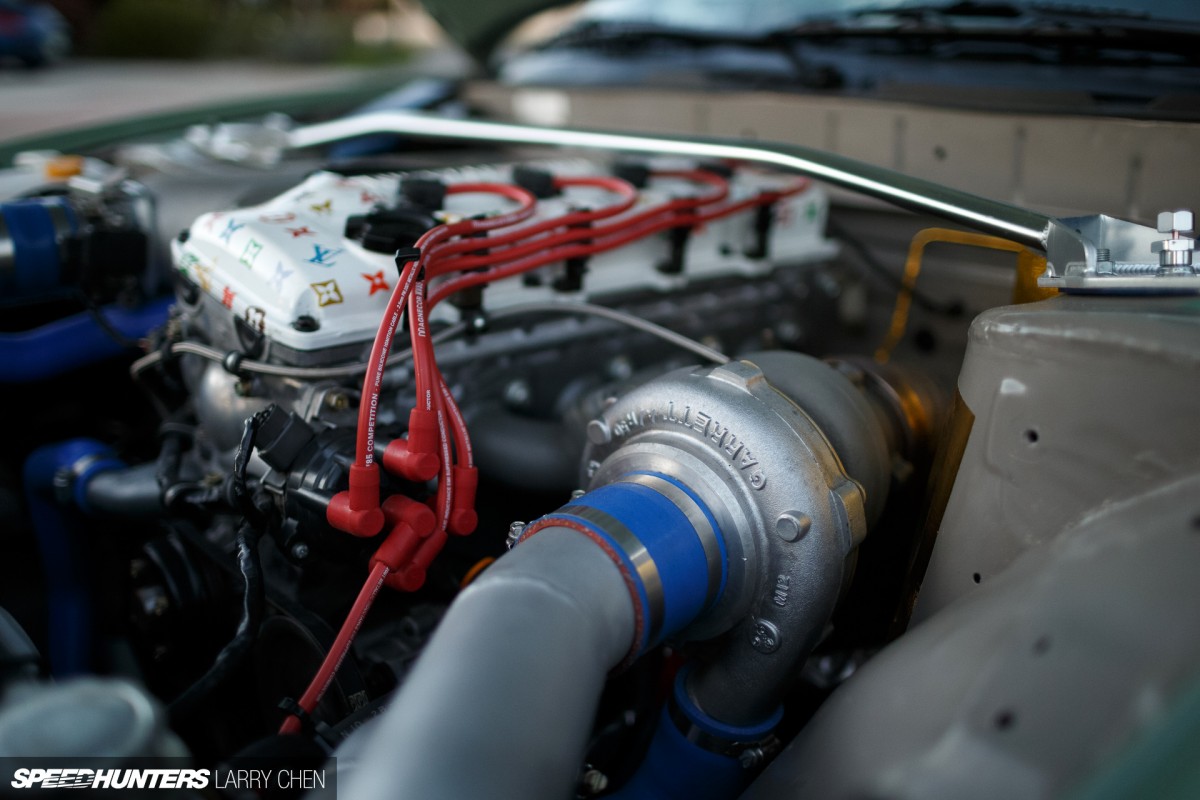 Additional power comes from a Garrett 3071 turbocharger with a Tial 44mm wastegate. The intake manifold is from Xcessive Manufacturing and the turbo manifold is from JGS, while a Greddy intercooler sits up front.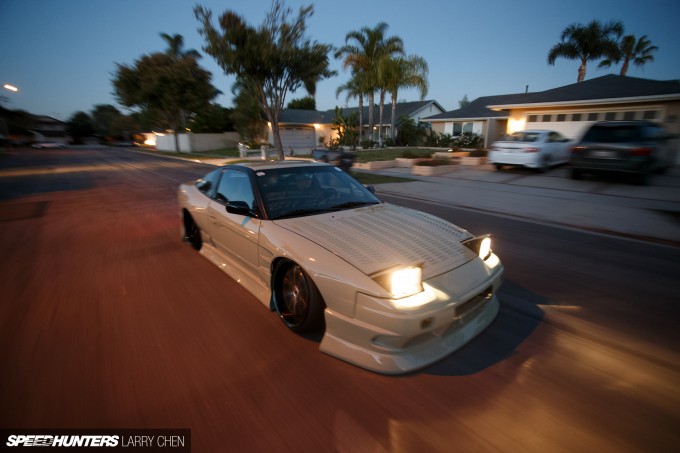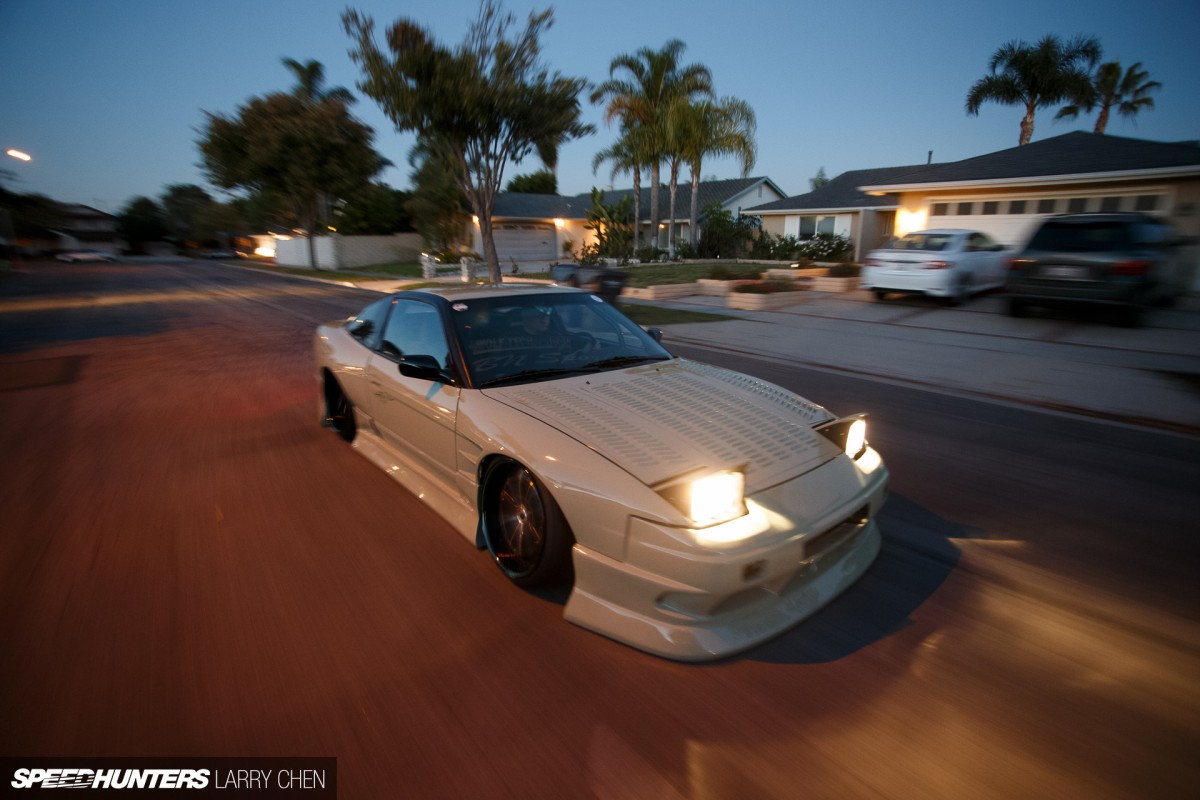 The engine is mated to a rebuilt and reinforced five-speed transmission with an Exedy clutch and power heads to the ground through a NISMO two-way mechanical LSD.
Maximum low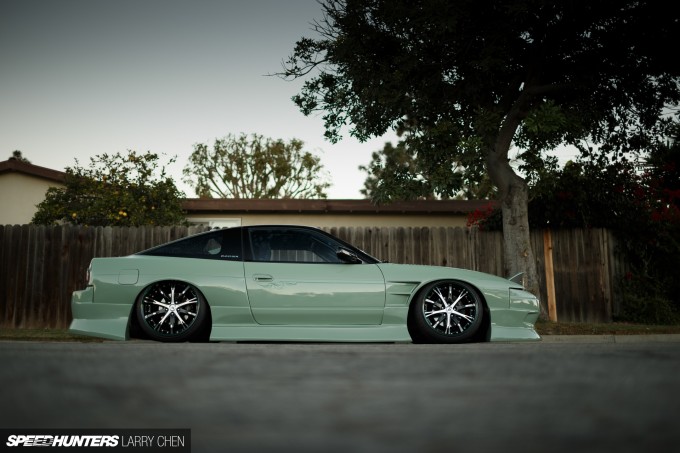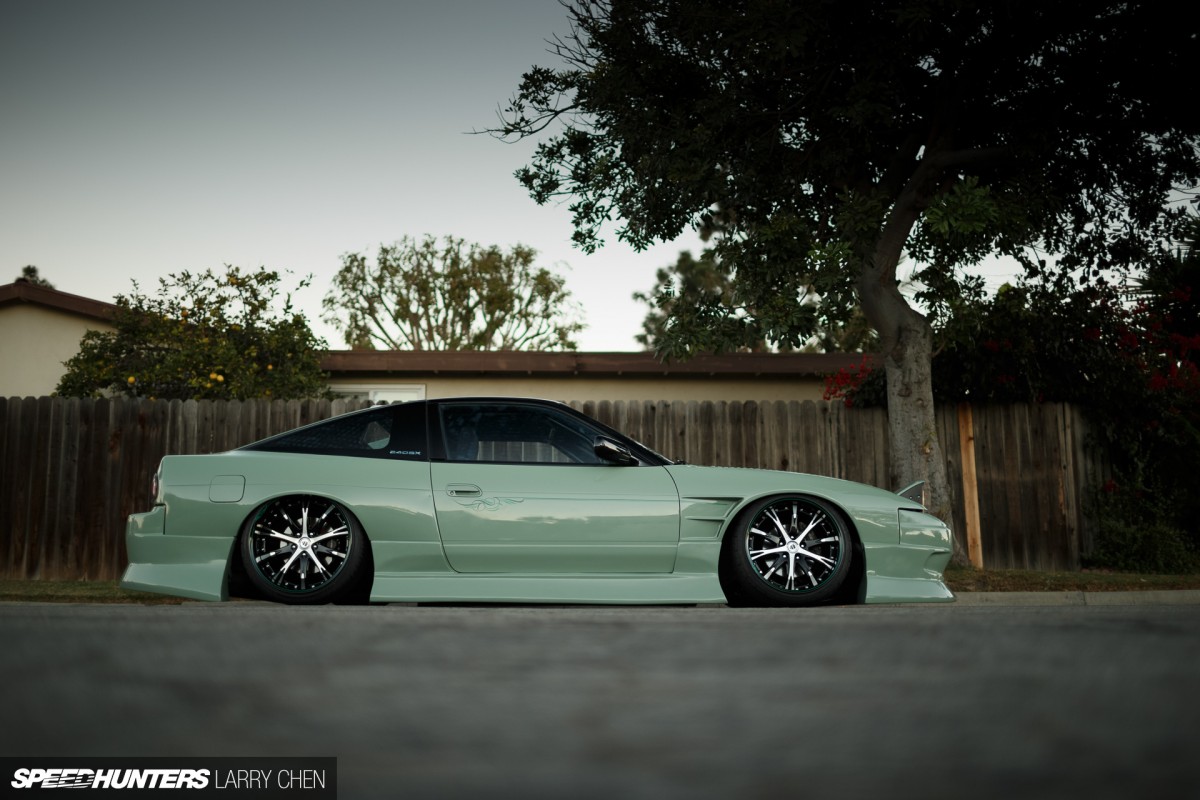 The car's ridiculously low ride height comes from a set of Parts Shop Max competition coilovers with H&R springs. Larry tells me that it's by far the lowest car he's ever photographed, with not a shred of daylight visible beneath it.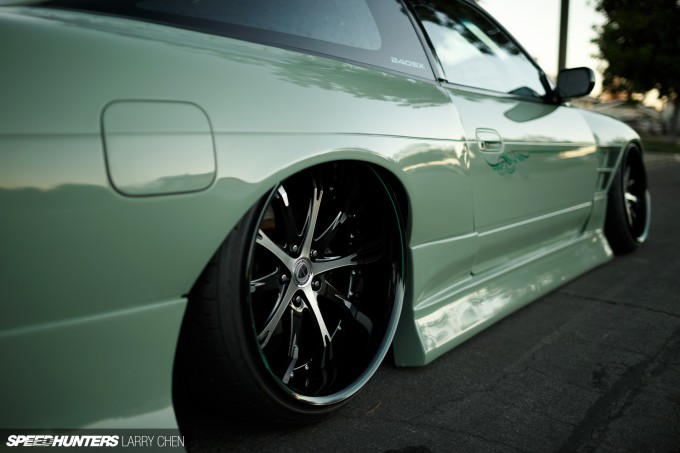 Aside from the coilovers, Parts Shop Max also provided the rear toe arms, rear upper camber arms and knuckles. Other chassis and suspension upgrades include Kazama rear track links, Ikeya Formula tie rods, Megan lower control arms and a whole lot more.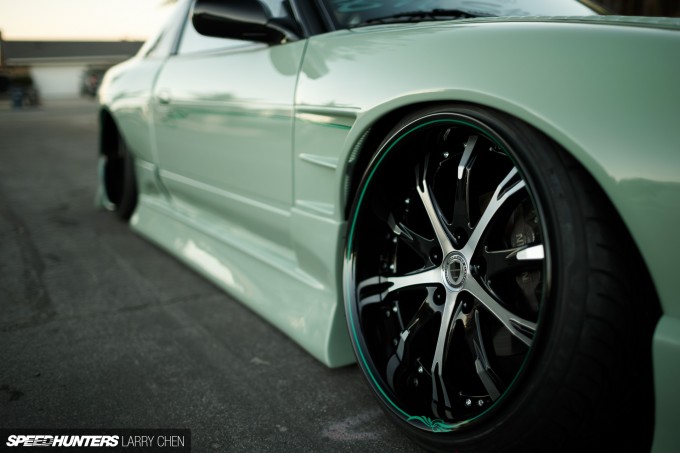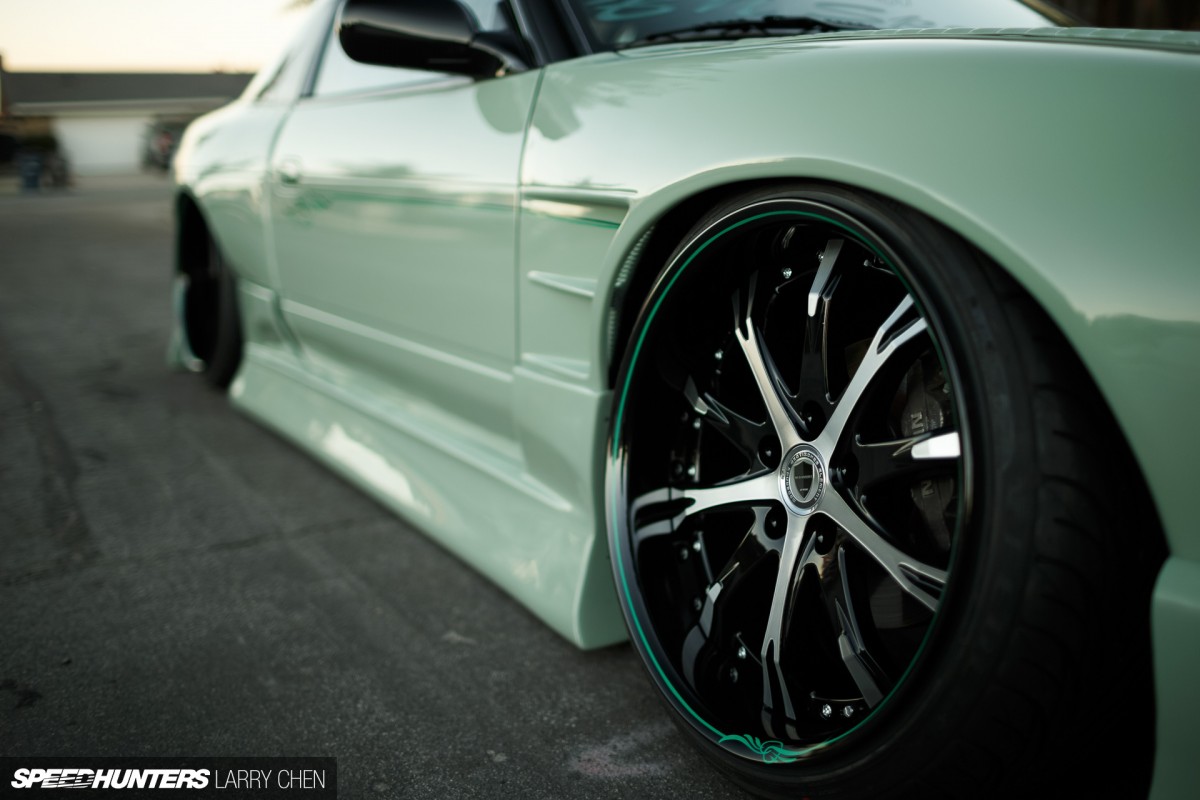 Then comes the wheels. They are Schwert SC4s from Work, which probably aren't the first wheel you think of when it comes to S13s. But that's what makes them work so well here.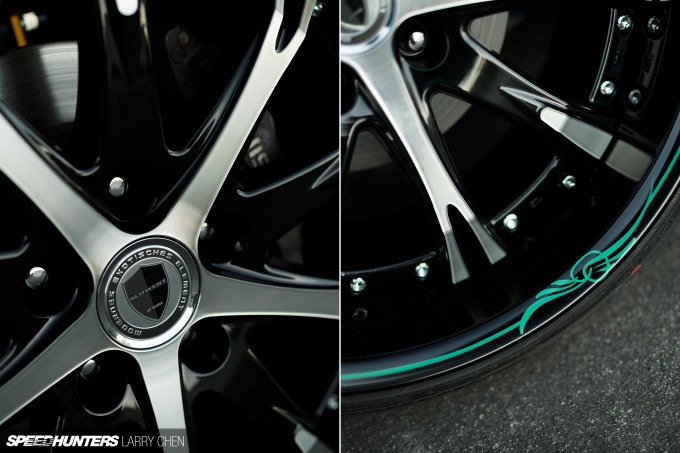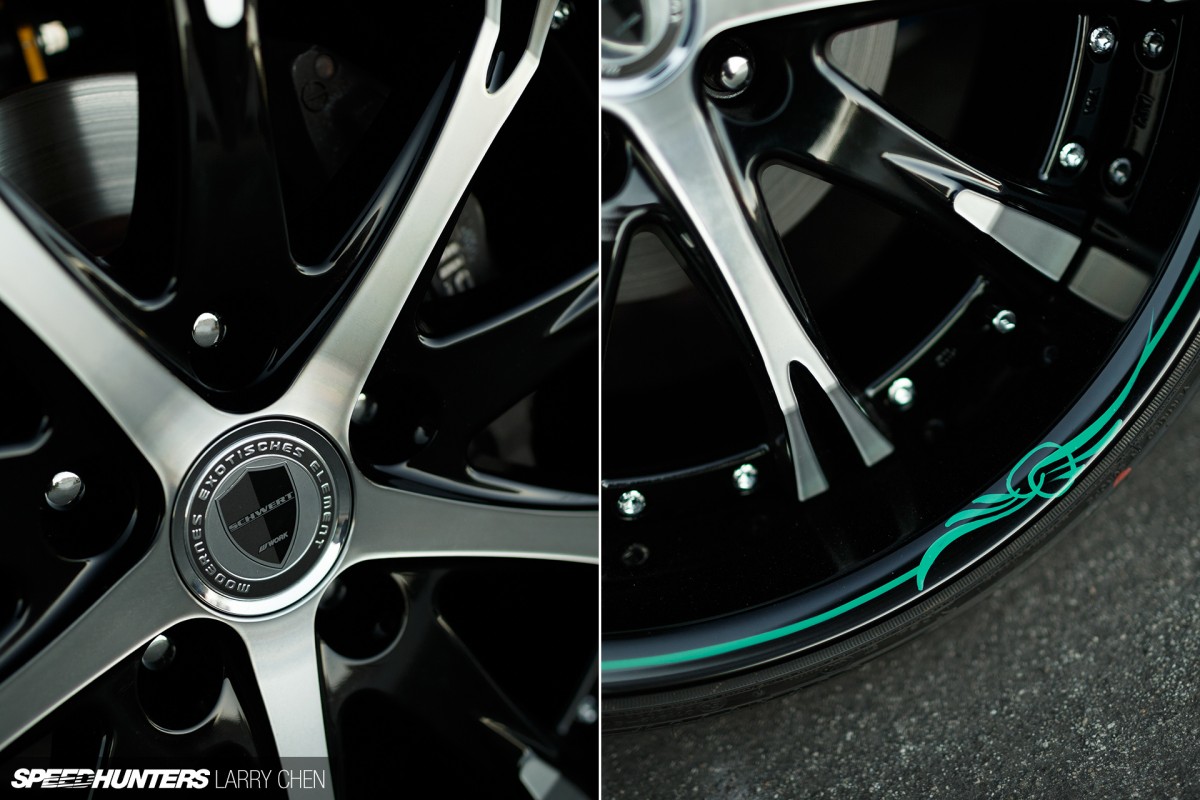 Making them stand out even more is the custom pinstipring that's been applied to the outer lips of the wheels. It's just one of the many unique little touches found all over this car.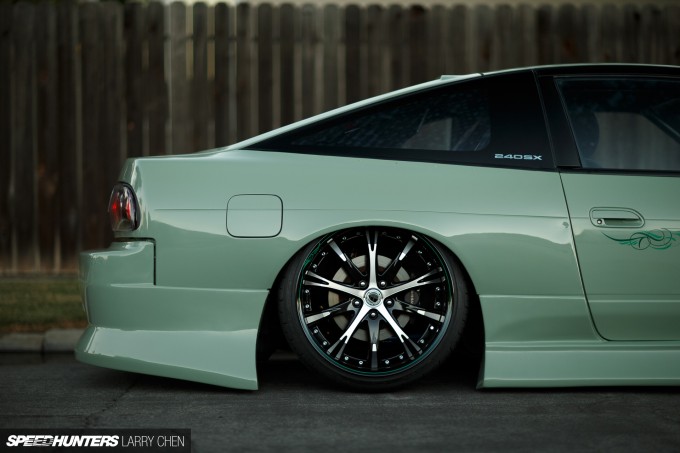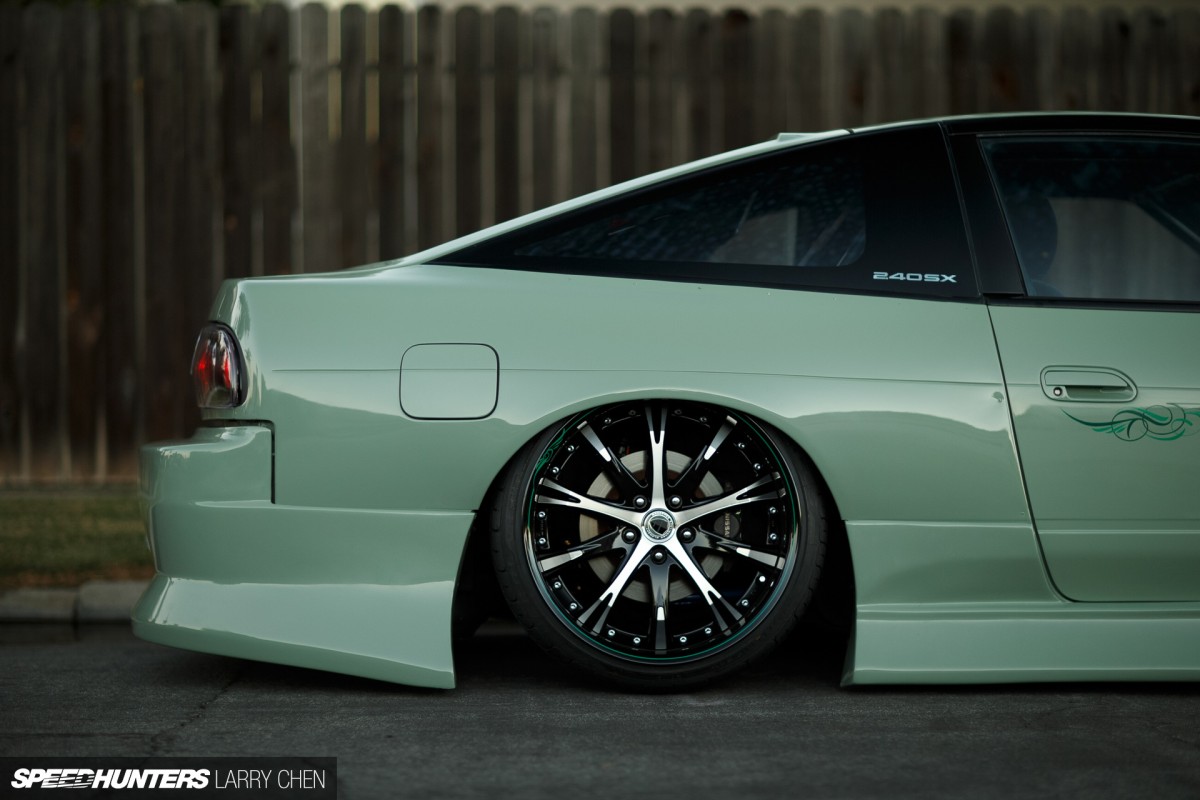 The wheels measure 18″x 9.5 up front and 19″x10.5 in the rear, and if you can take your eyes off them for a moment, you'll notice the 300ZX TT brakes lurking behind.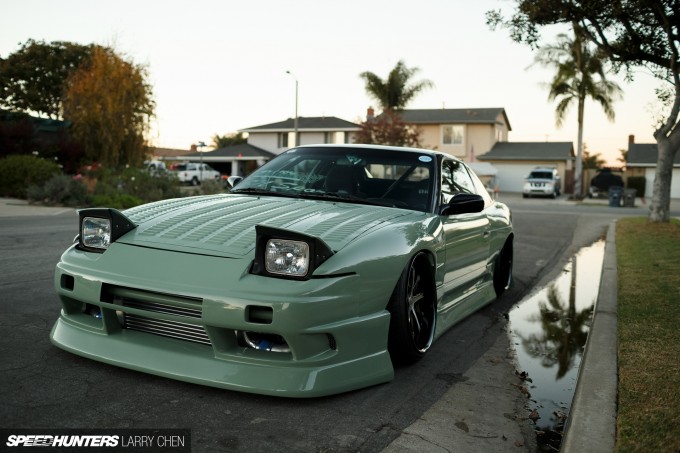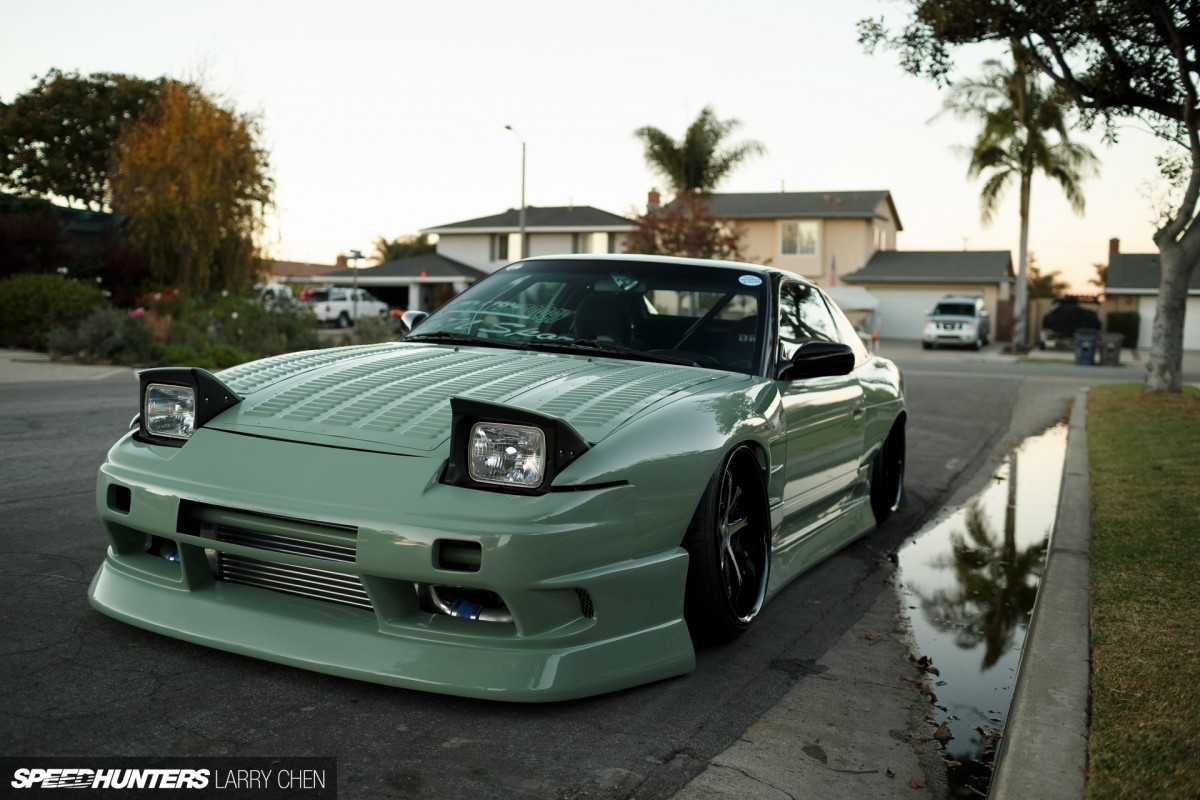 As for the body, the car is running a full kit from VIS along with BN Sports blister fenders – 30mm in the front and 50mm in the rear.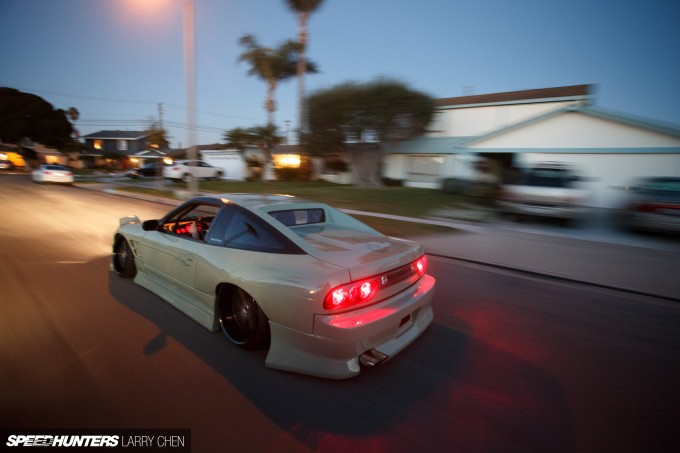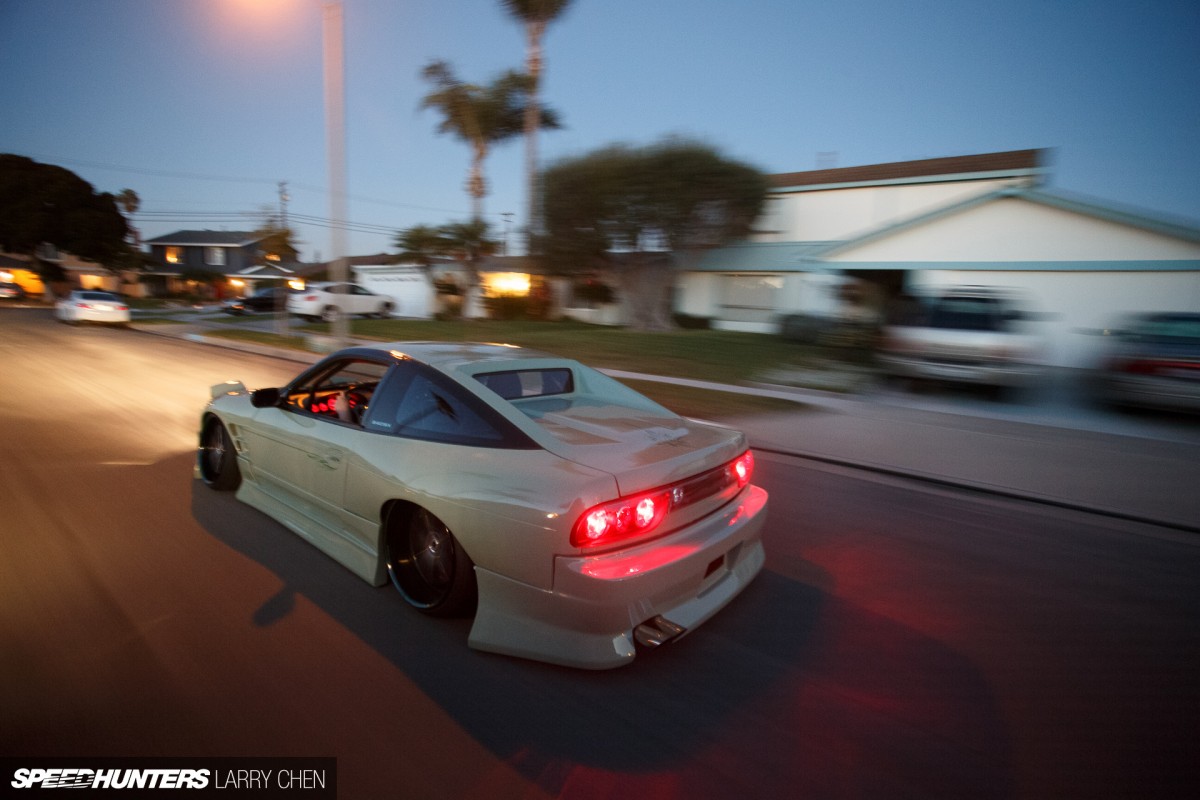 Let's not forget the Altezza lights out back. It's not an easy look to pull off, but Kyle's done it well.
Kustom drift?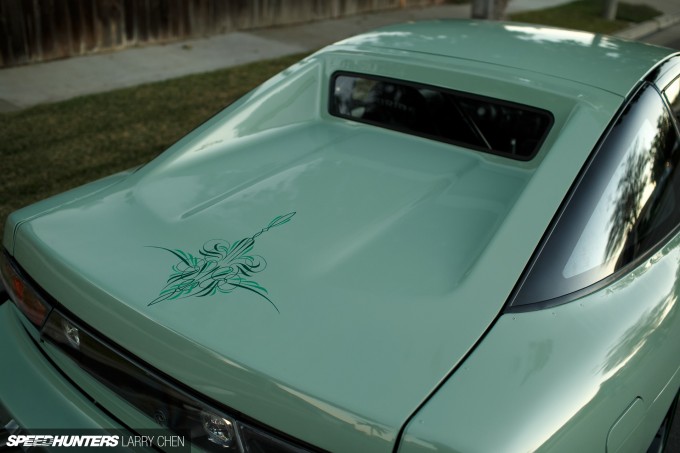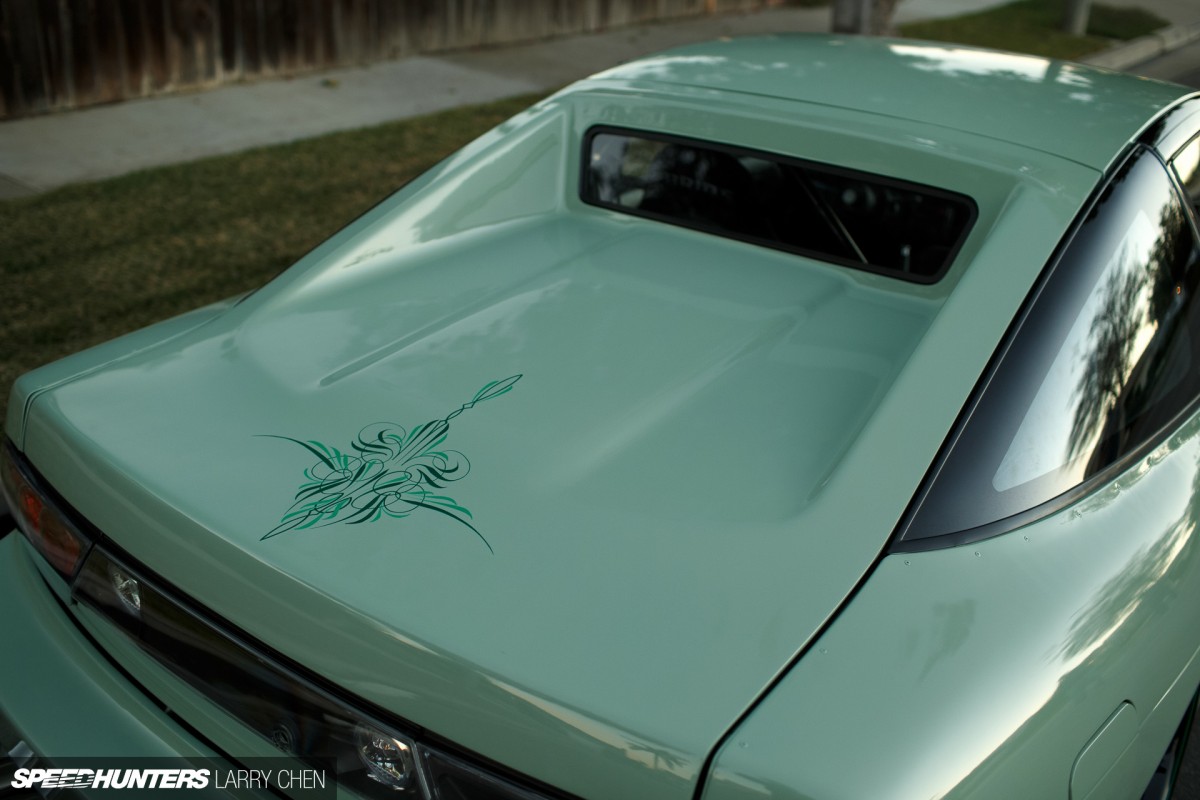 Last but not least there's a BN Sports hatch which gives the car a completely unique profile with its gun slit rear window. I'm sure you've noticed the pinstriping as well.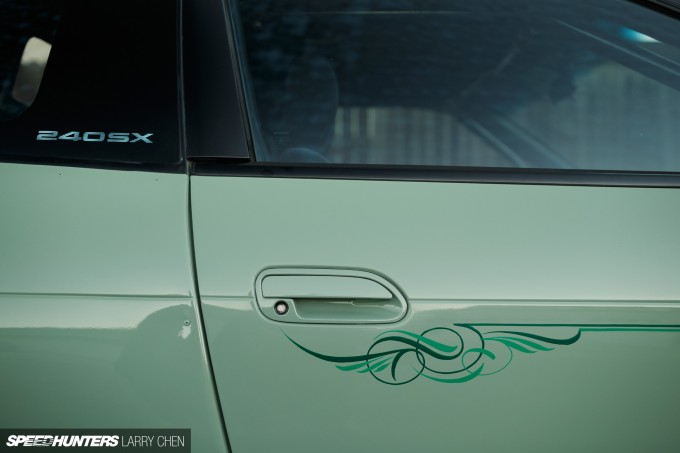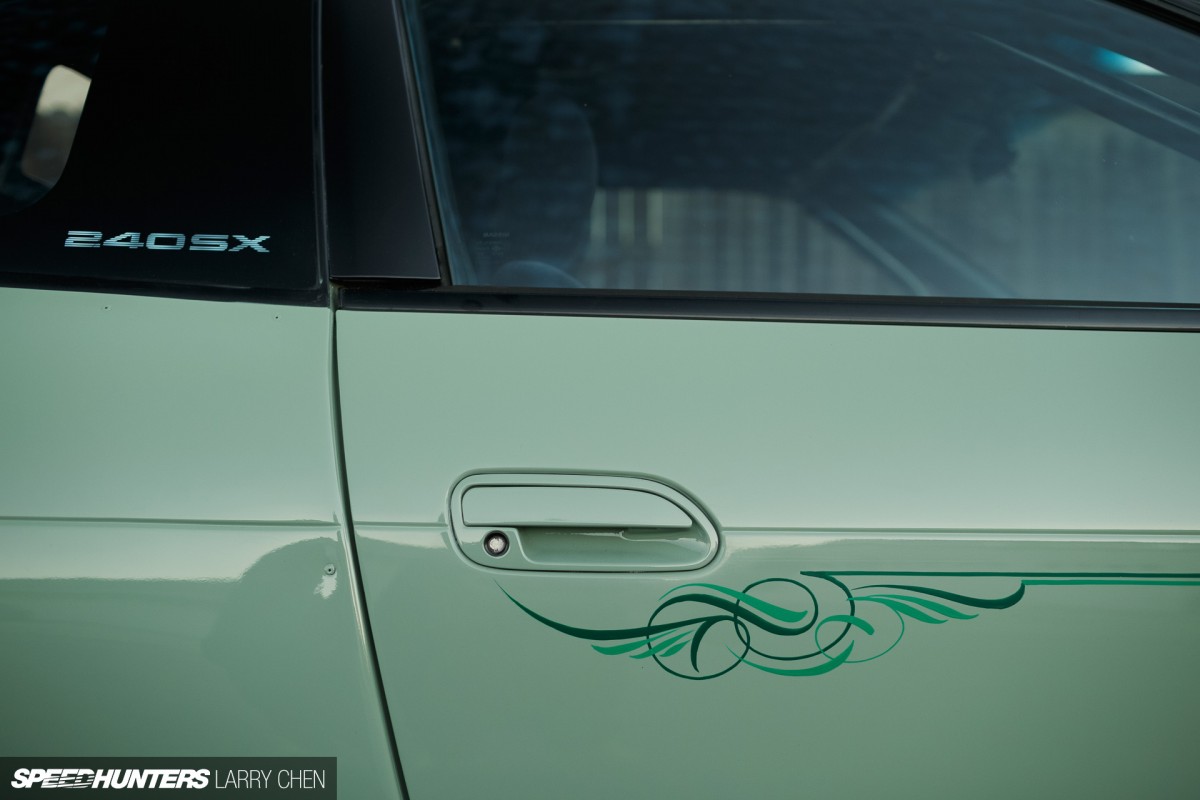 The striping was done by Manny from Manny's Auto Art and can be seen throughout the car.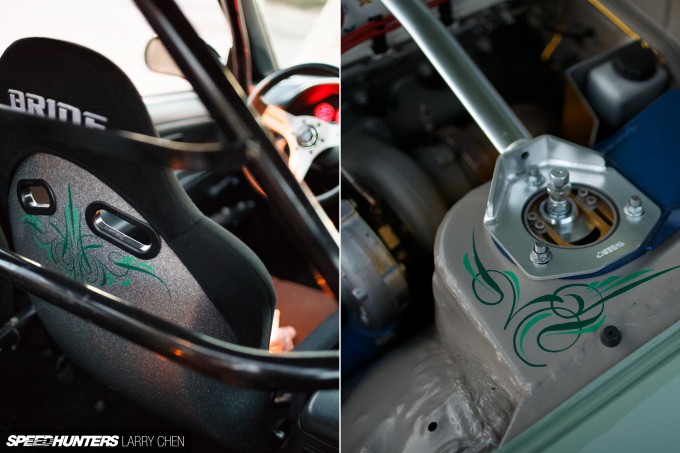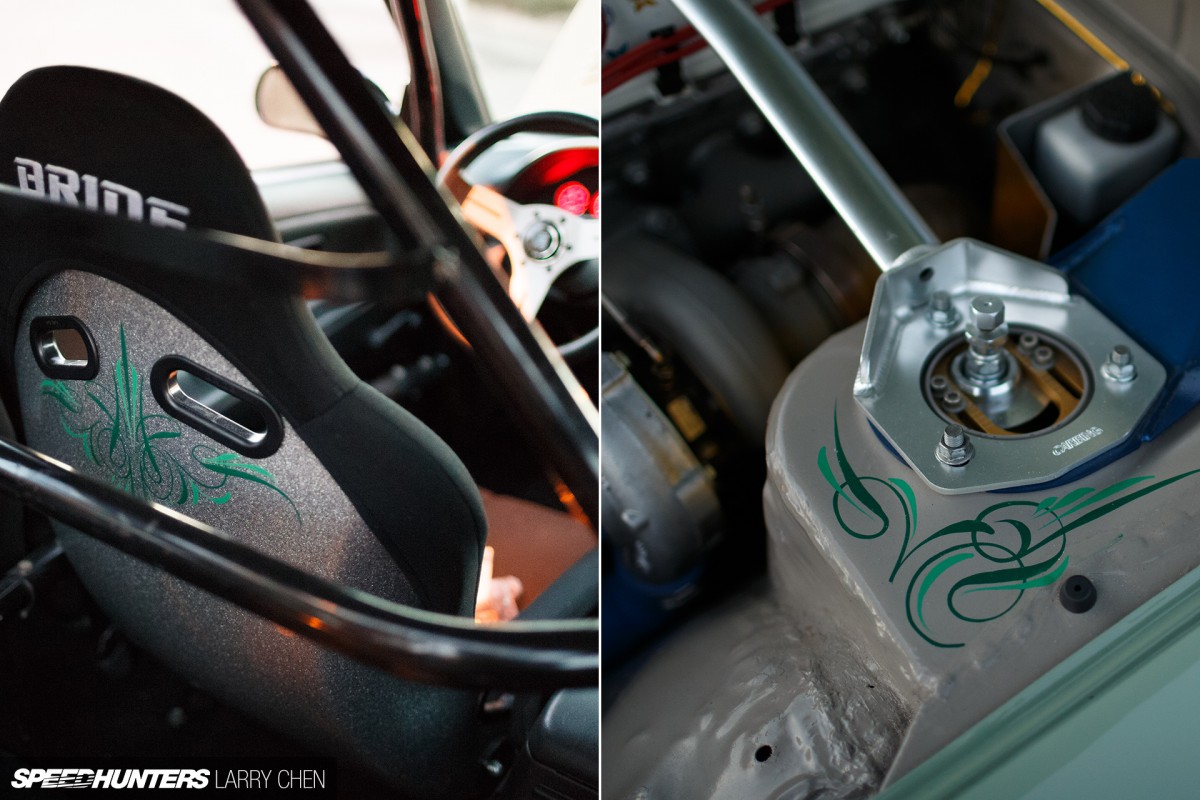 You can even see it on things like the front strut towers and on the back of the driver's seat.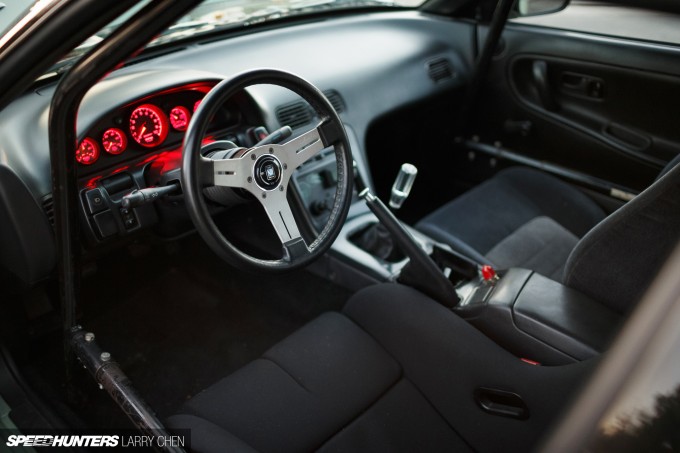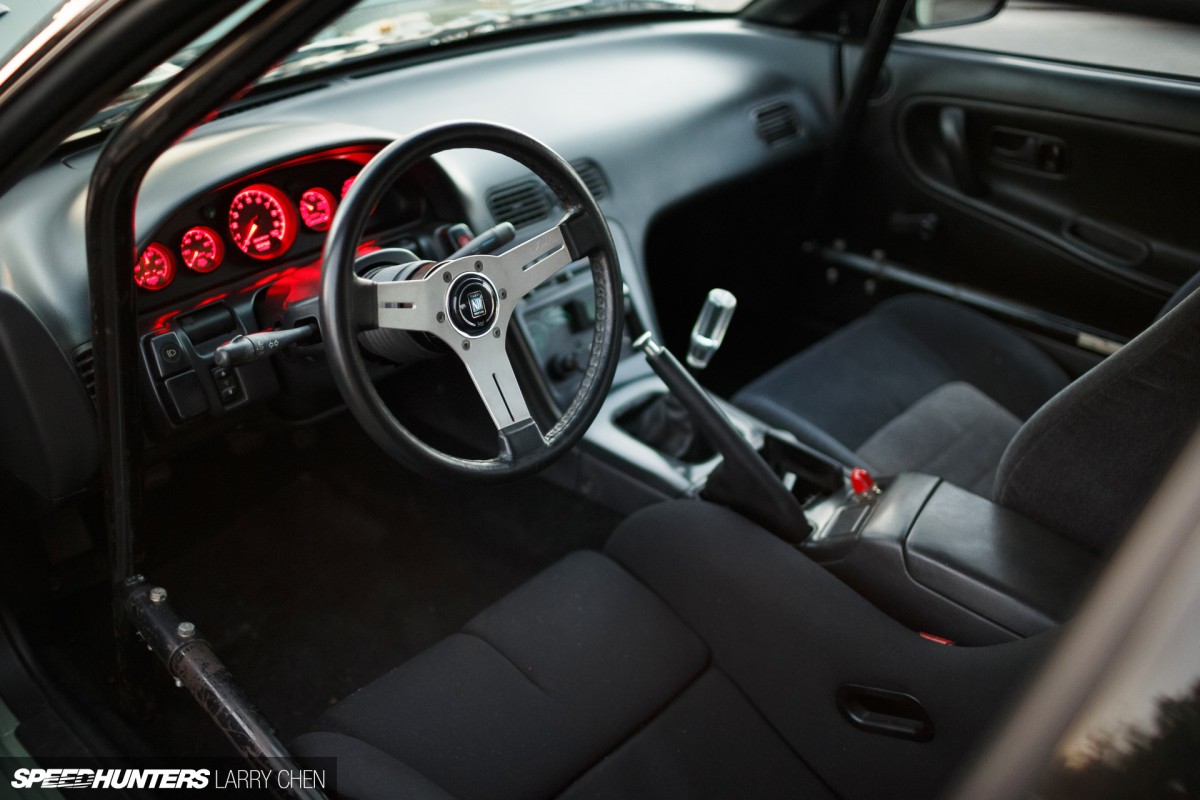 Inside, the car has a six-point Auto Power roll cage, a Bride Zeta III seat and a 330mm Nardi steering wheel.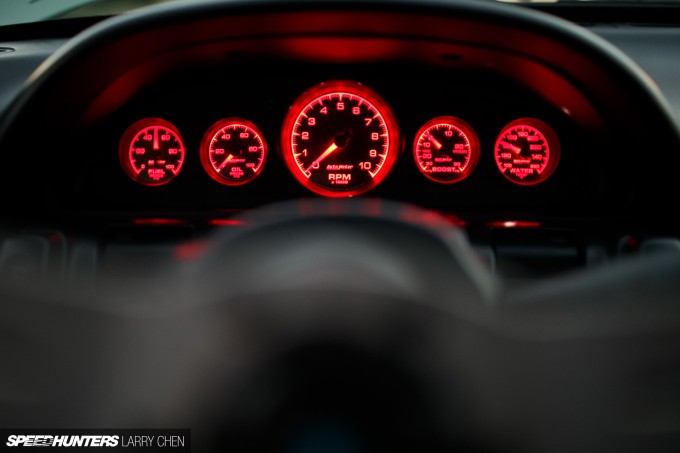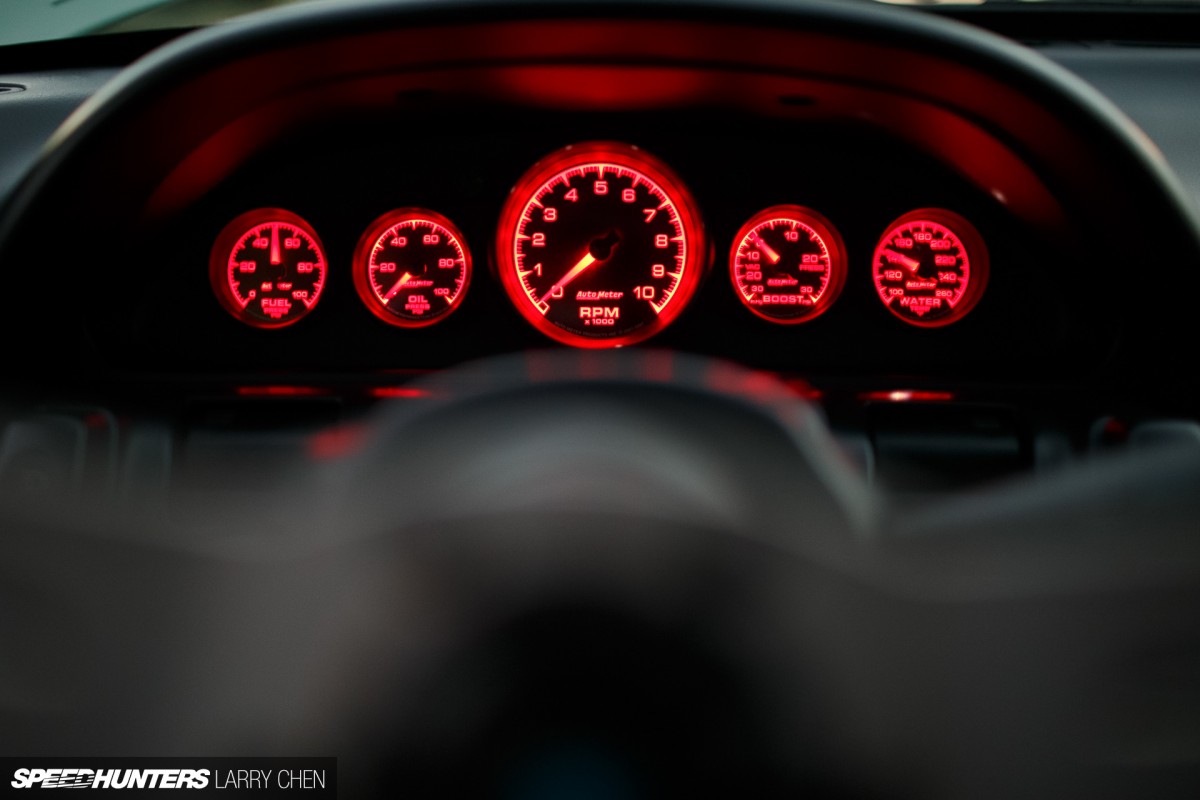 Kyle also made a one-off cluster using a selection of Autometer ES Series gauges, which look rather cool when lit up.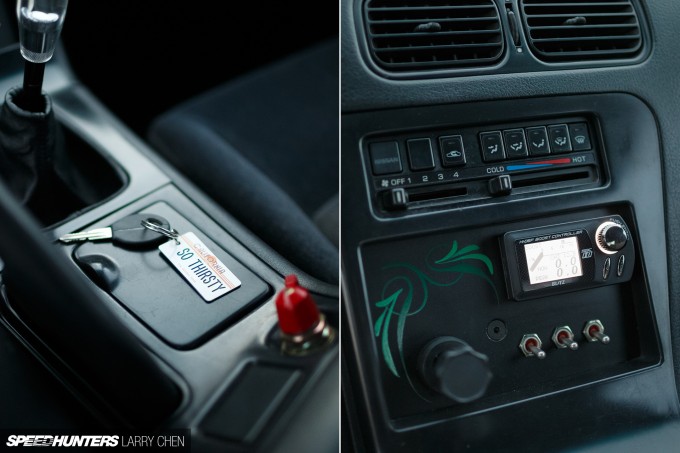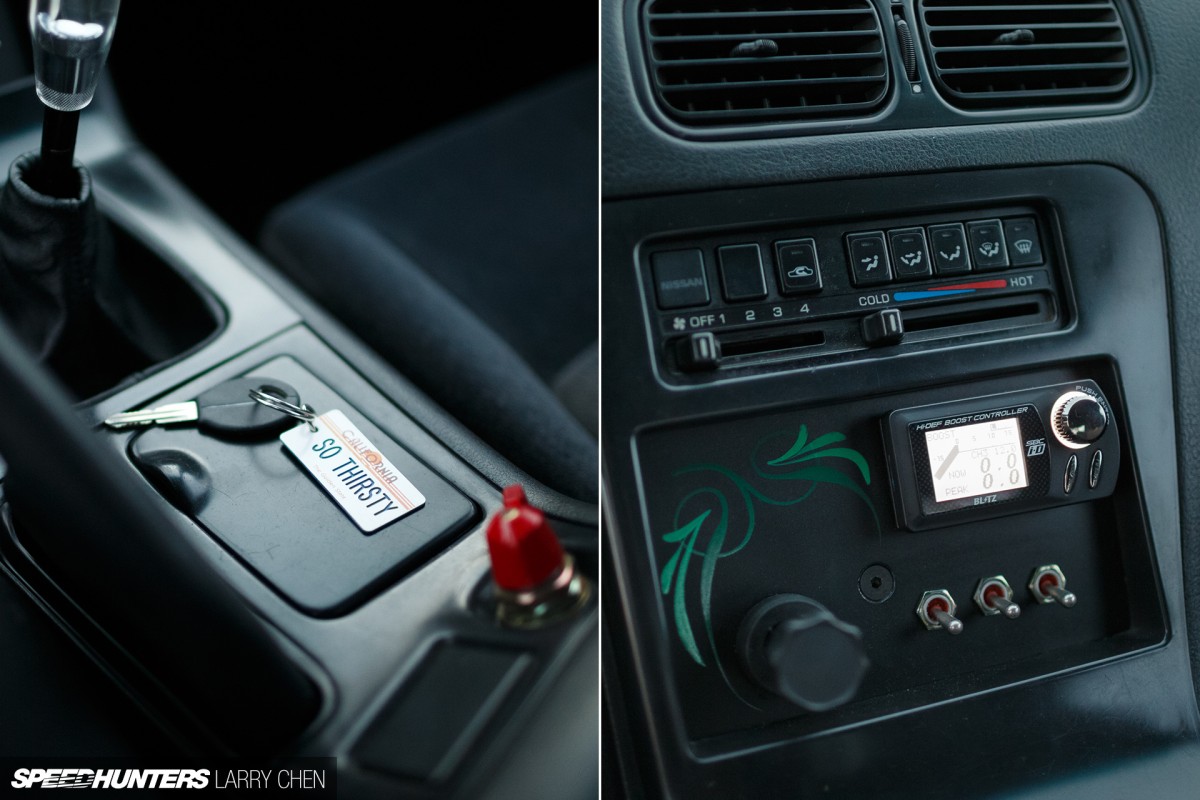 The spot where the stereo once sat is now occupied by a custom panel to house the car's Blitz SBC i-D sequential boost controller.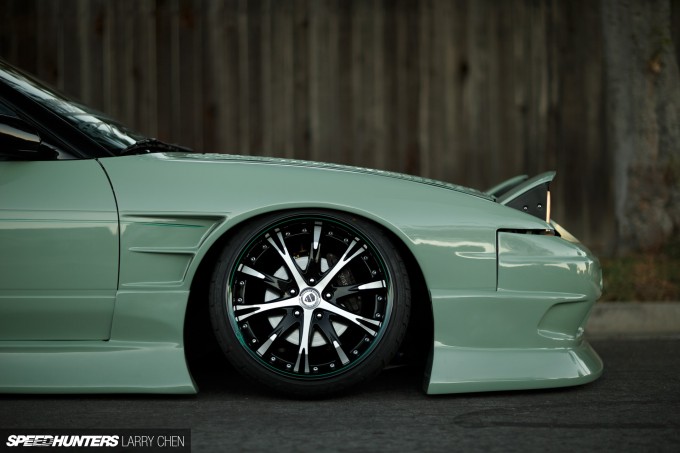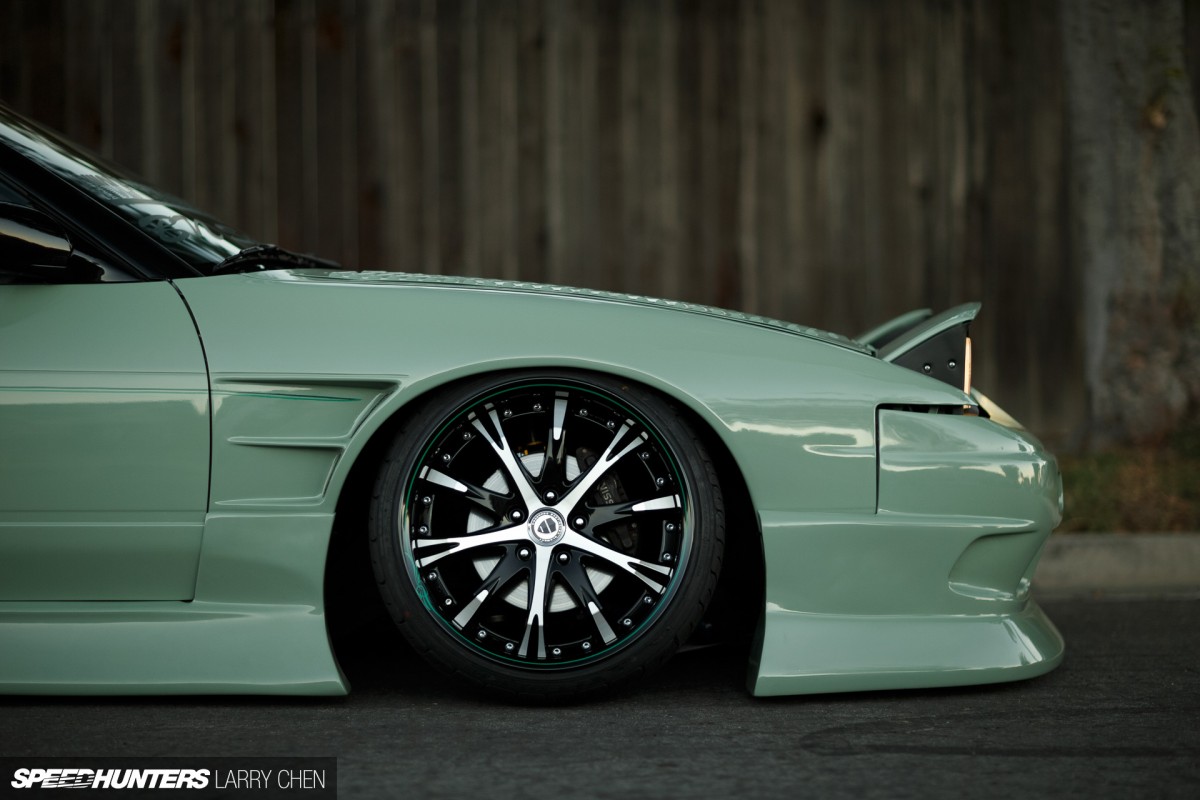 Now that he has the car looking the way he wants it, Kyle is planning to get behind the wheel and work on his driving. Later on he plans to evolve the look into something that he says will be even crazier.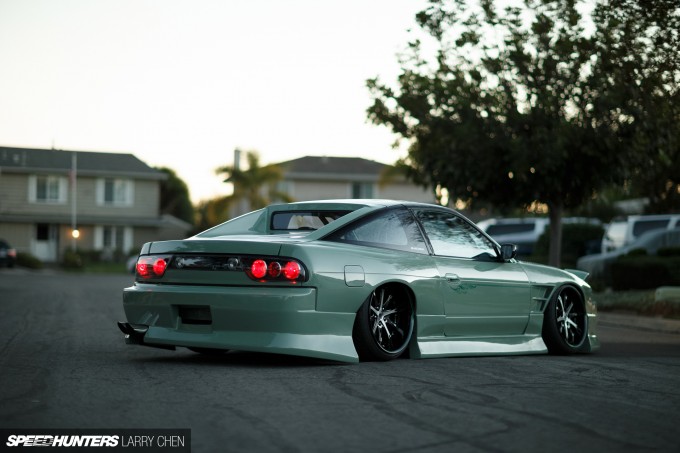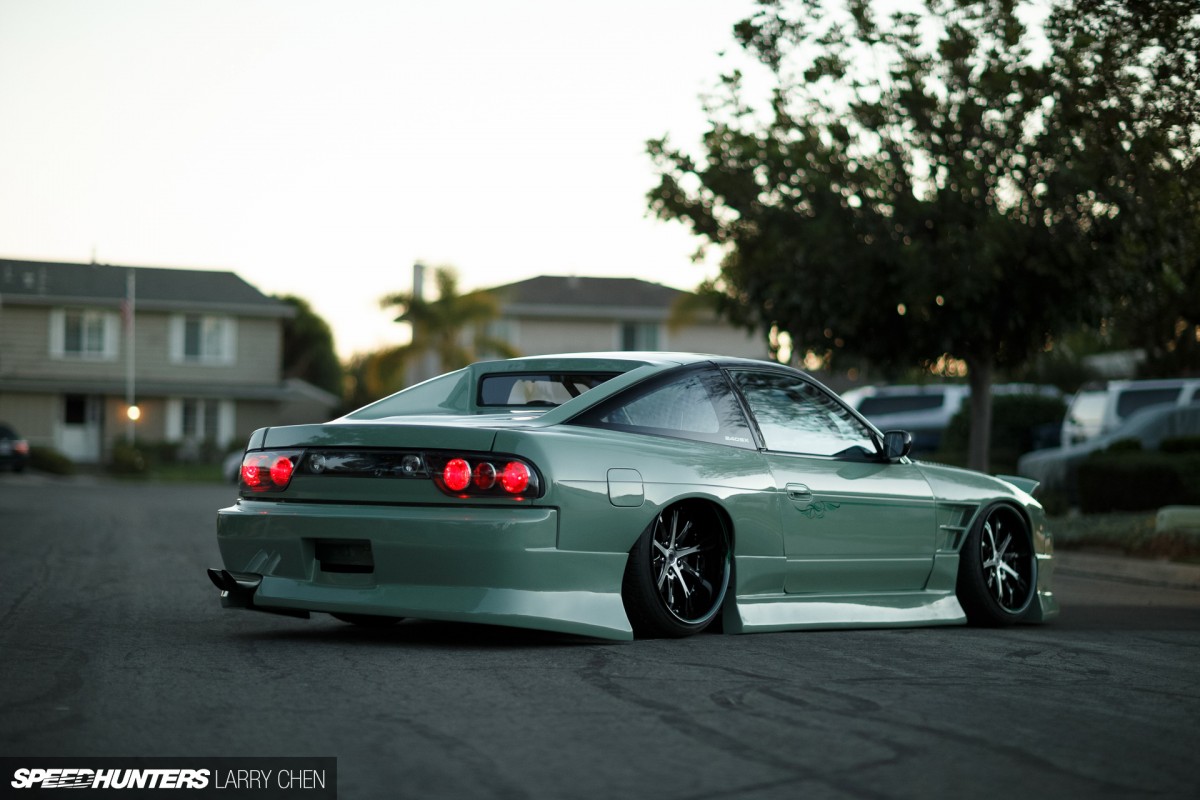 There are certainly those out there who would rather eschew the more popular platforms in favor of a car that's a little more unique or obscure, but sometimes it's just as rewarding to take a common car and do something unusual with it.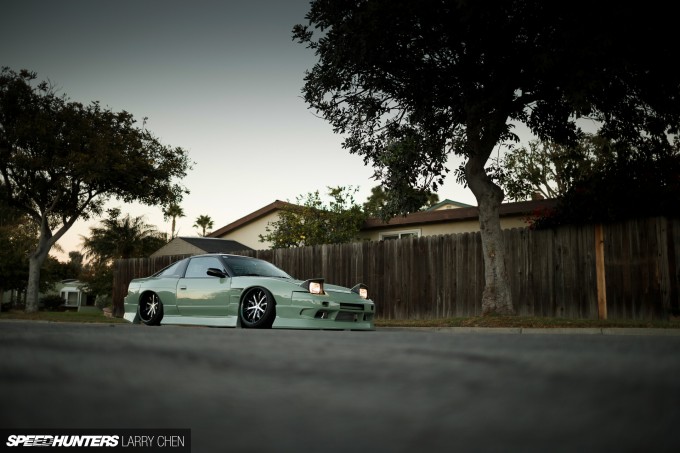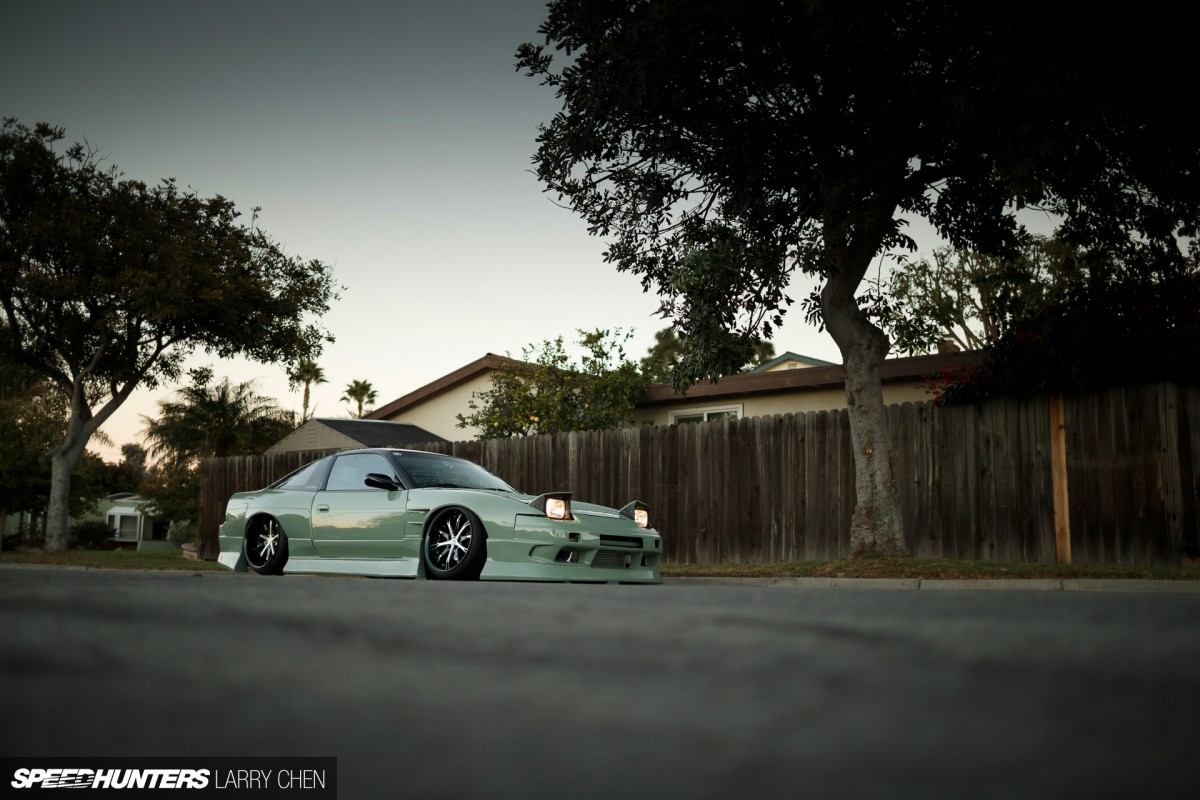 Along with its bitchin' style, that's the thing I love most about Kyle's 240SX. He's managed to take the venerable S13 platform and prove it still has plenty of creative life left in it.