From Japan to LA
Formula Drift events, and more specifically the season finale at Irwindale Speedway, are so much more than just drifting competitions. Along with the mad action unfolding on the track, FD Irwindale is also one of Southern California's largest automotive lifestyle events. Walking through the paddock inbetween the track action, one can find some of the latest demo cars from big industry names, bargain closeouts on aftermarket parts and accessories, and of course the Slammed Society Car Show.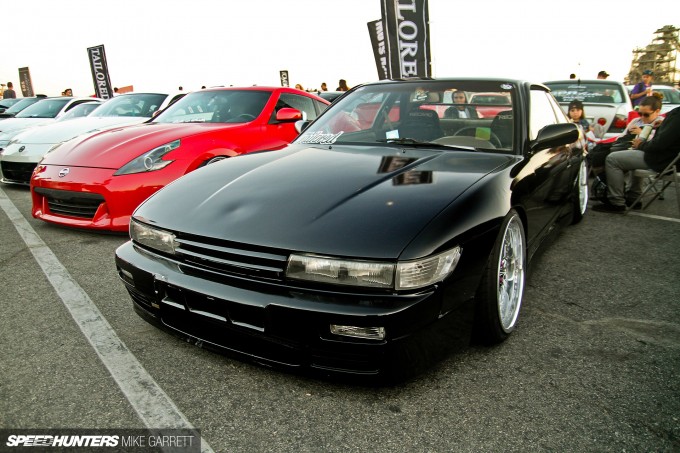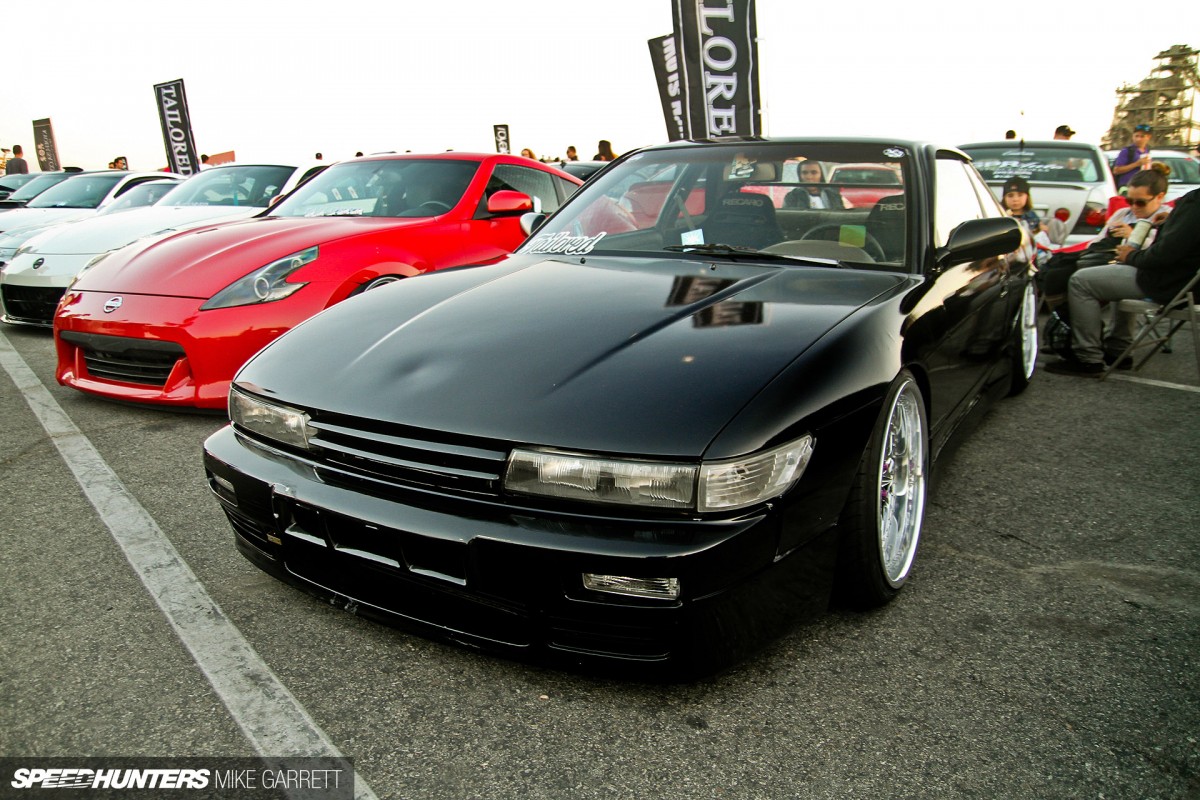 Slammed Society Irwindale would be a big deal on its own, but here it's just one part of a jampacked weekend at the House of Drift. While Larry Chen would be covering the sideways action as usual, my duty for the weekend would be to bring you guys some scenes from the car show and also to select the recipient of the #FeatureThis award.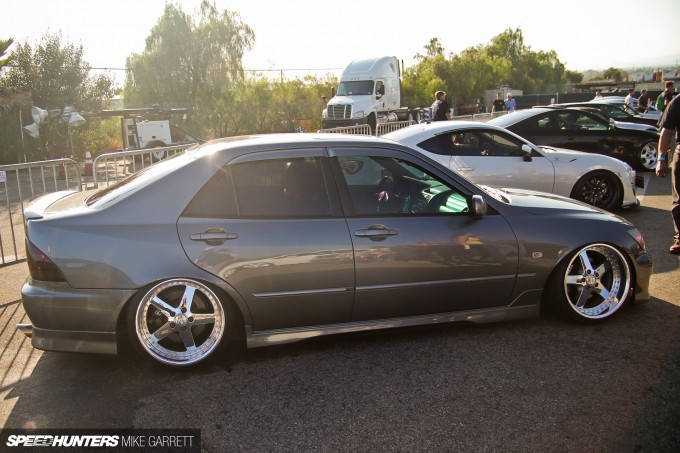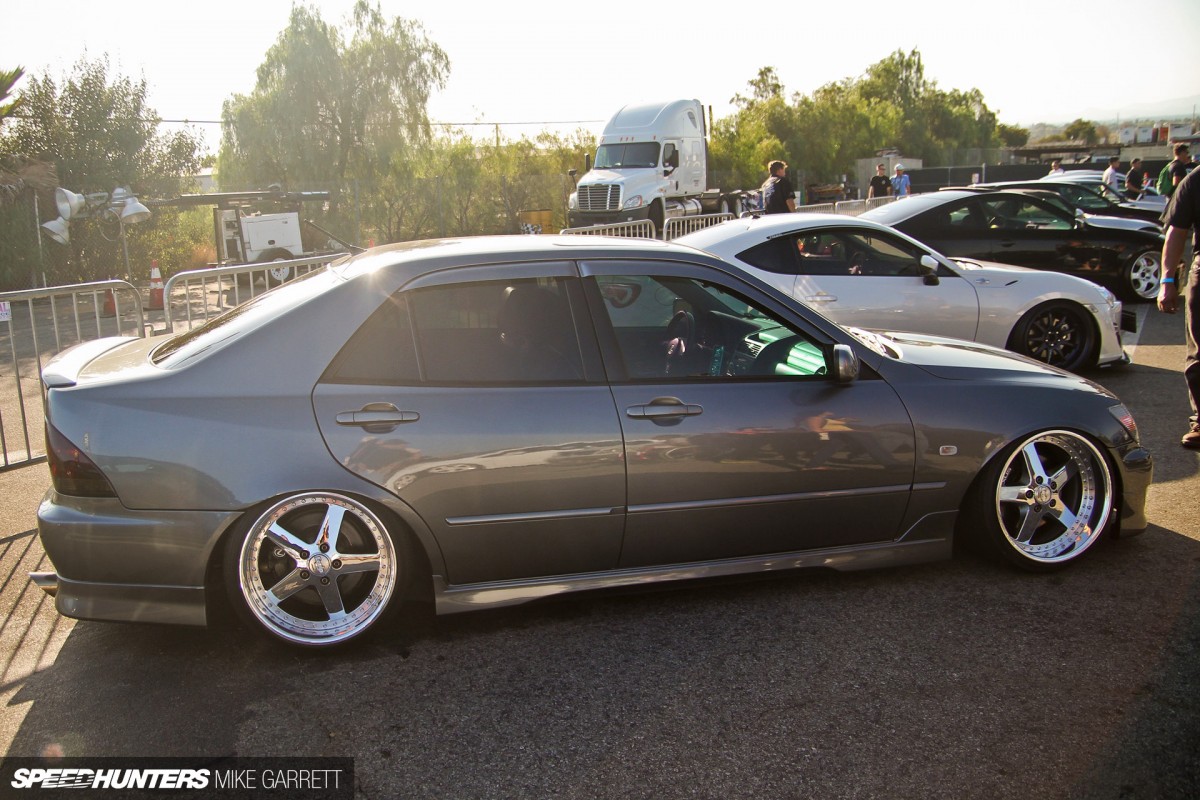 Irwindale marked the second Slammed Society event in as many weeks, with Mark, Felix and the Fatlace crew still recovering from the jetlag of traveling to Japan for Slammed Society Fuji.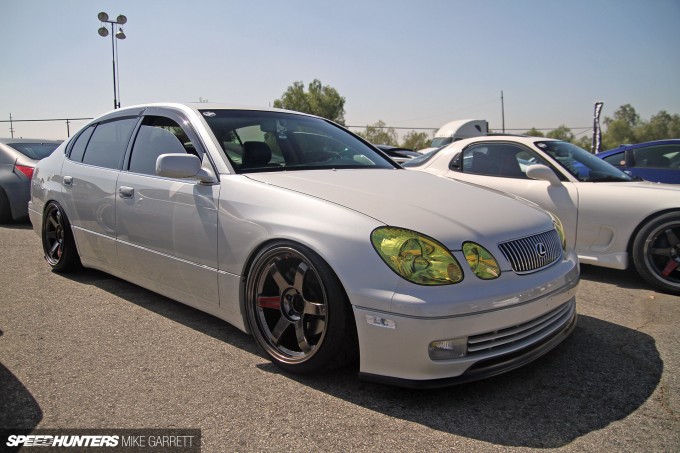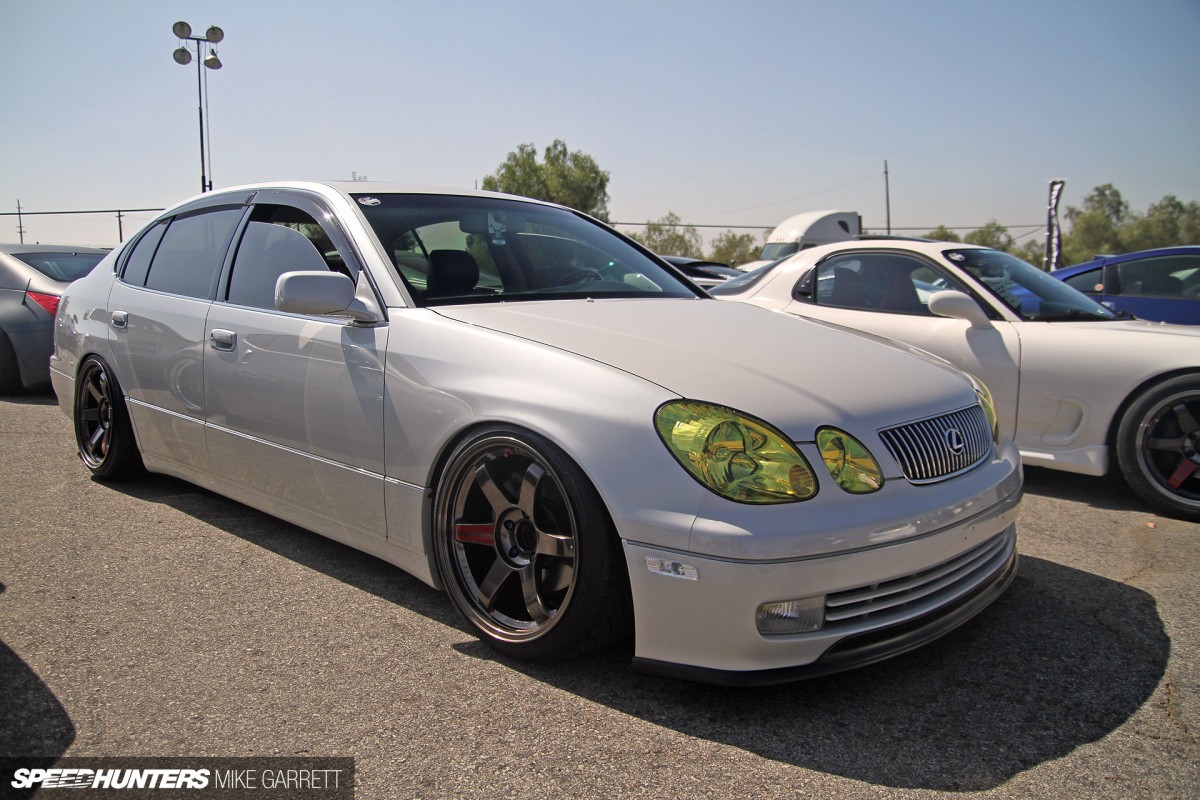 Having already covered a few other SoCal car shows already this year, I was expecting to see plenty of familiar cars at Irwindale – but I was pleasantly surprised to find that lots of new machines had come out.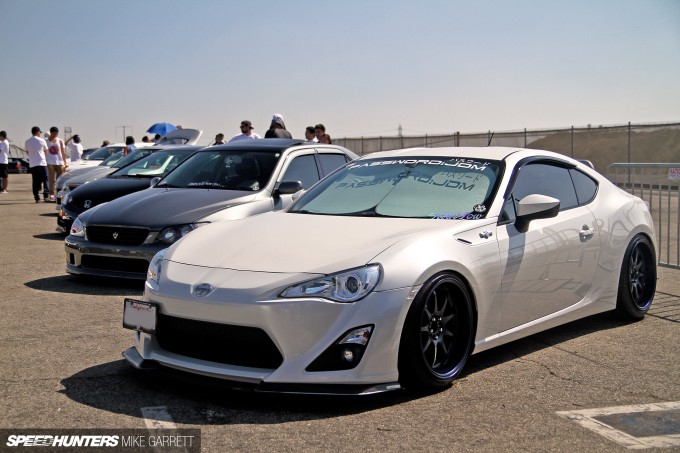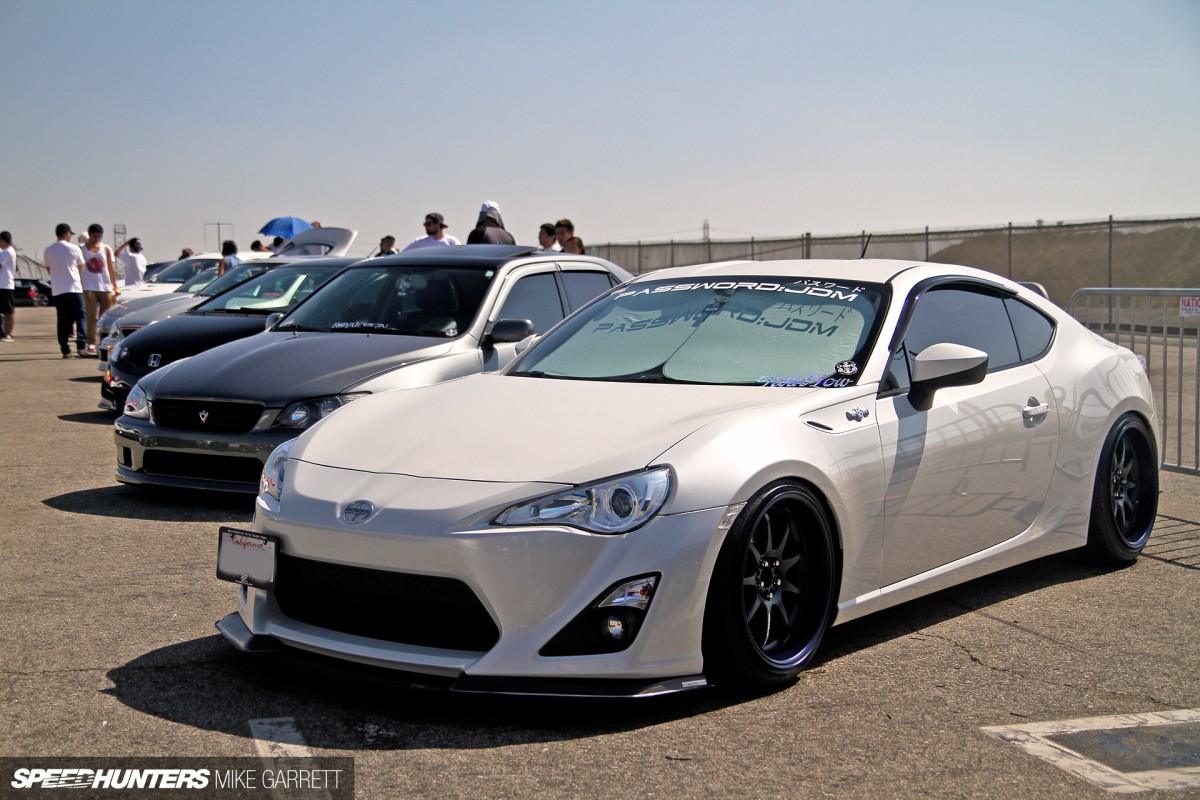 While I know the words Slammed Society or Hellaflush might generate negative reactions for those opposed to anything not built to lap a track as quickly as possible, the variety of cars at these gatherings is actually quite impressive.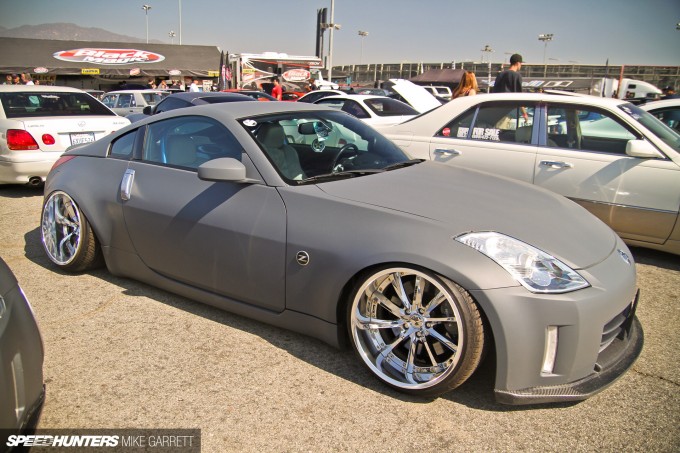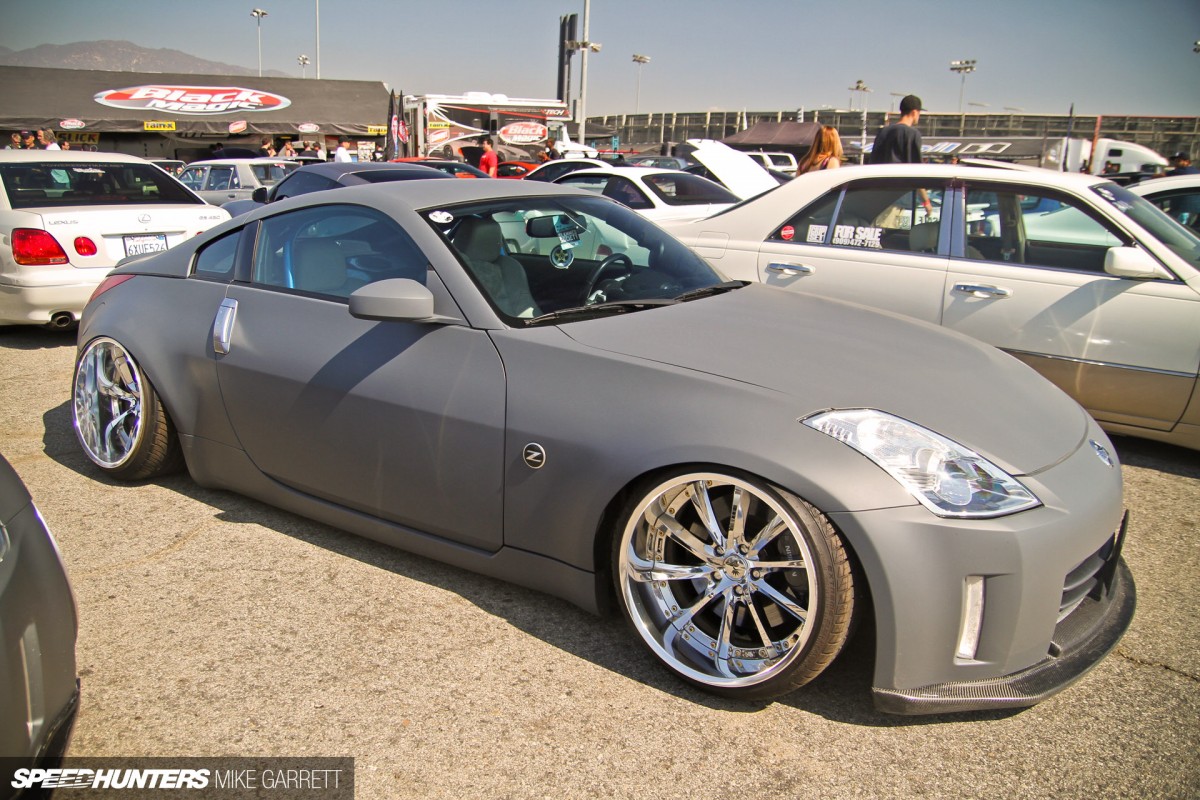 Sure, there were plenty of late model coupes and sedans slammed to the ground with increasingly aggressive wheel and tire set-ups, but there are also lots of classic cars, street legal drift builds, and other more function-oriented automobiles.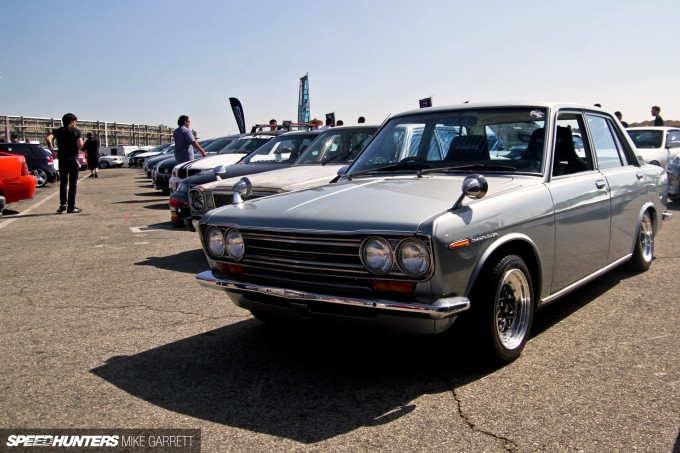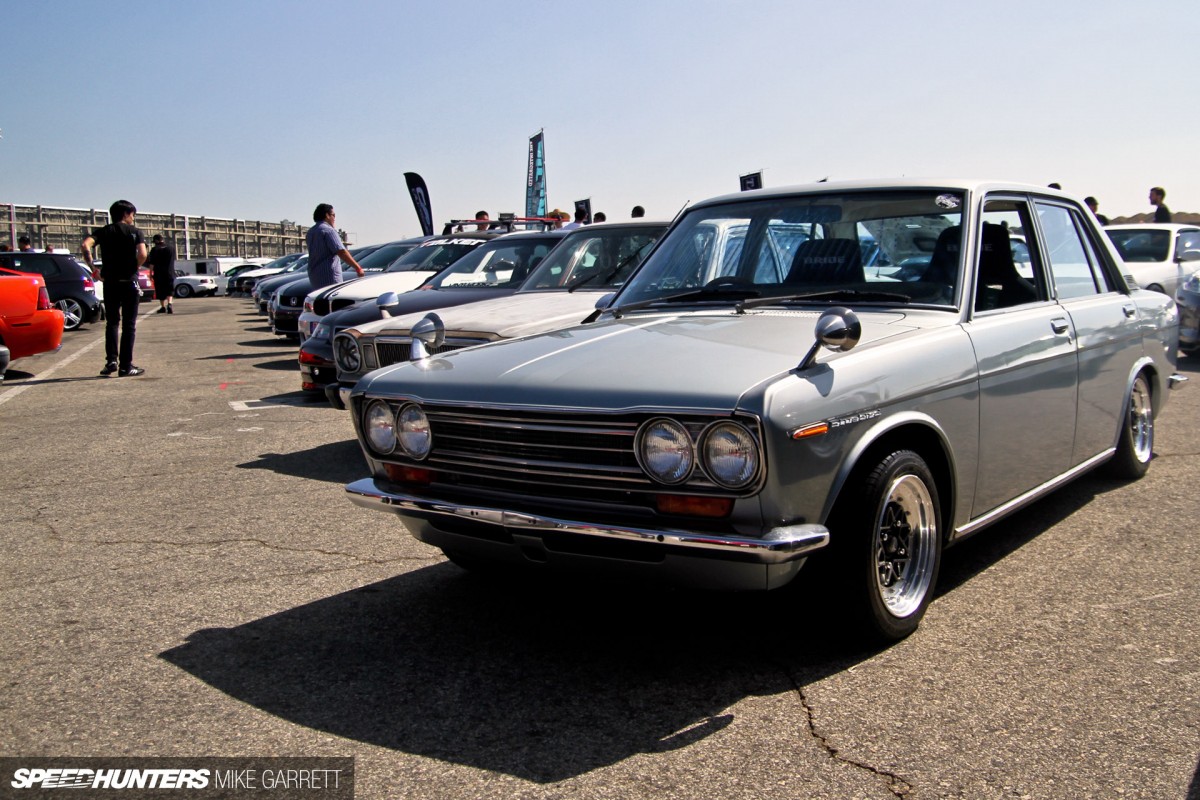 Among the vintage machines that caught my eye was this very tidy Datsun 510. Or at least that's what it looked like from a distance…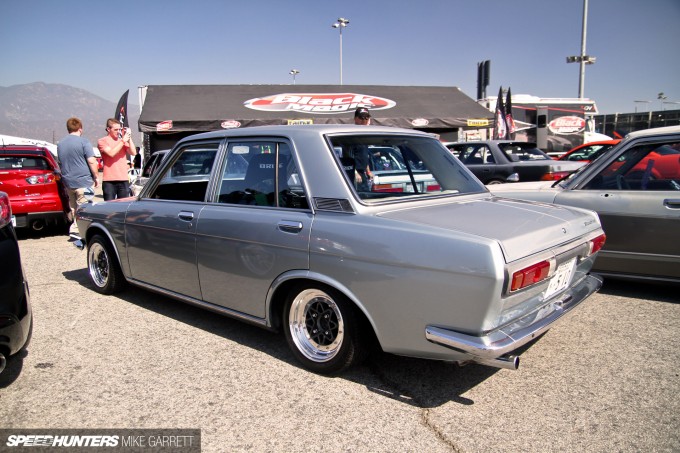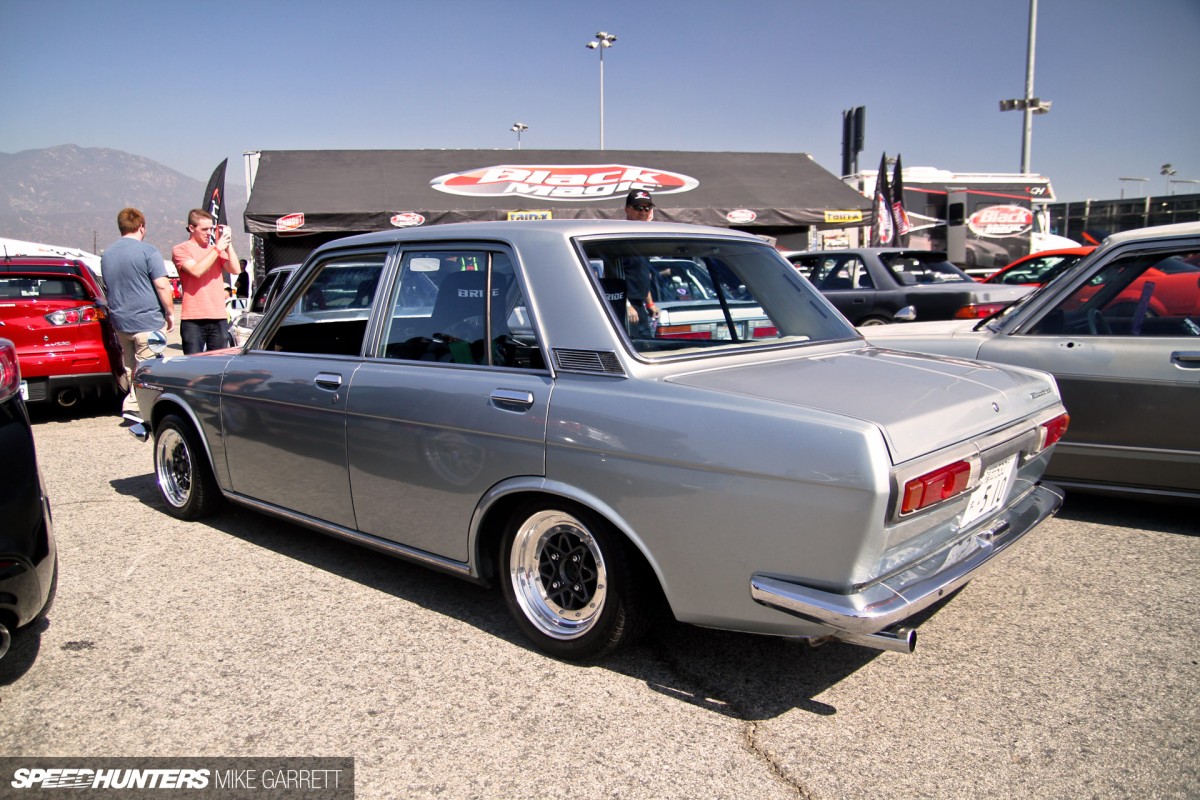 A closer look revealed the car to be a right-hand drive 510 Bluebird imported from Japan. This was especially cool to see given that enthusiasts from Japan often import LHD Datsun 510s from the USA. The grass is always greener…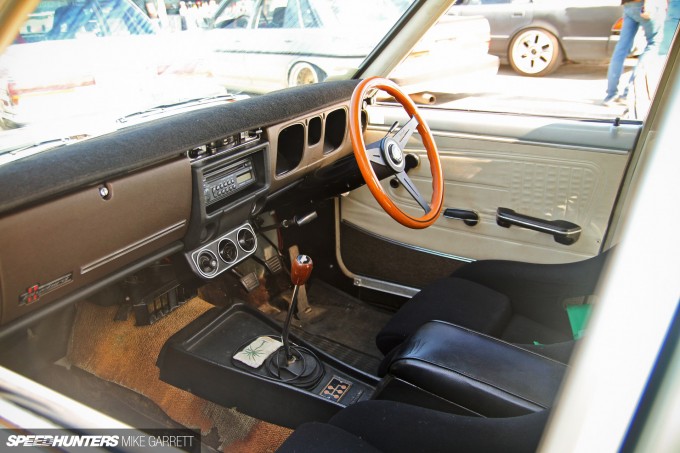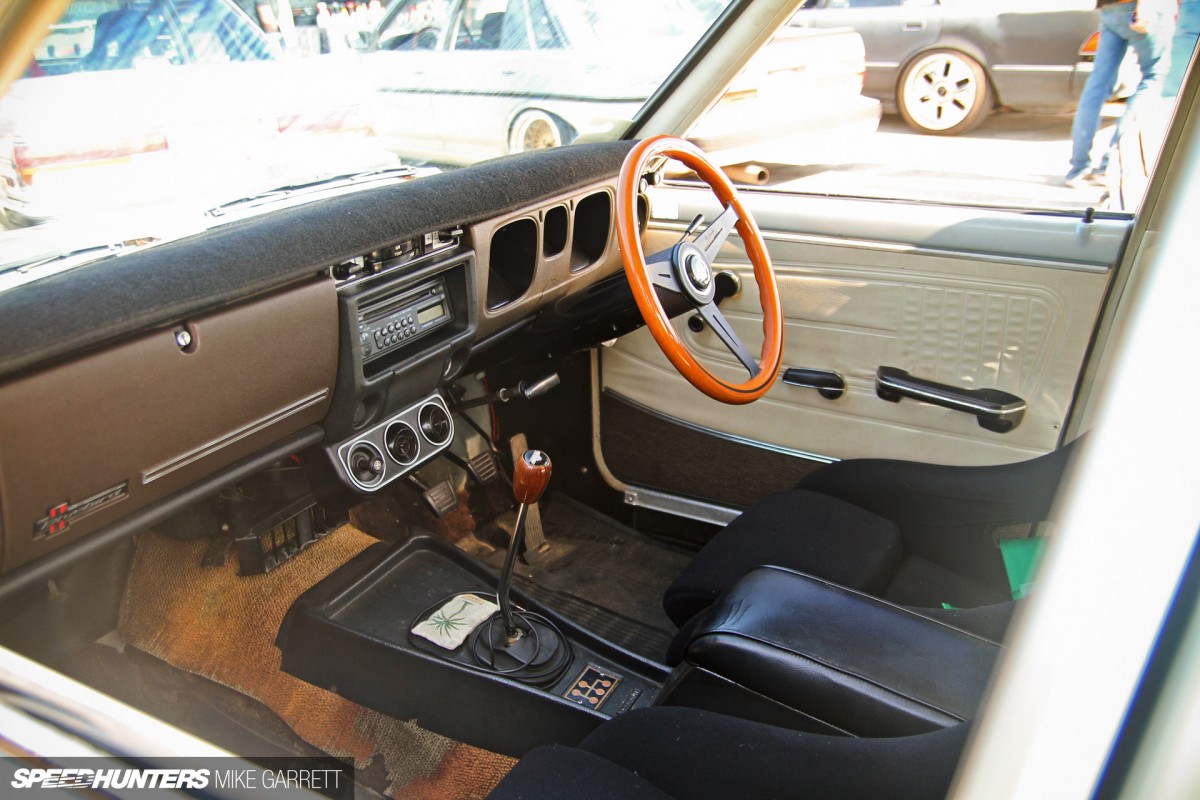 The otherwise original interior of the Bluebird was equipped with a wooden Nardi steering wheel and a pair of Bride seats for just the right amount of style.
Classics and drift machines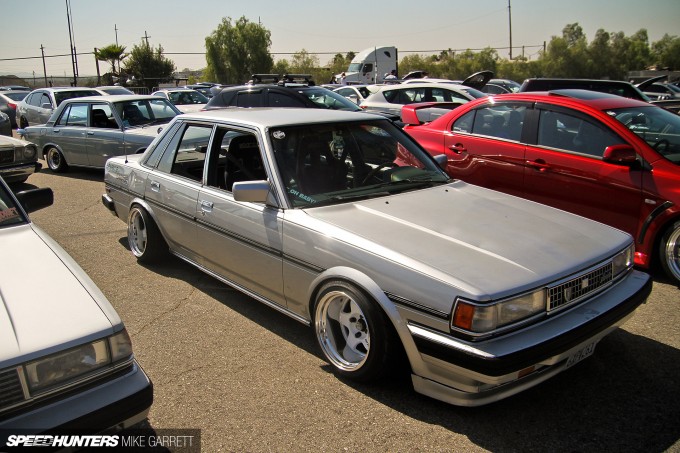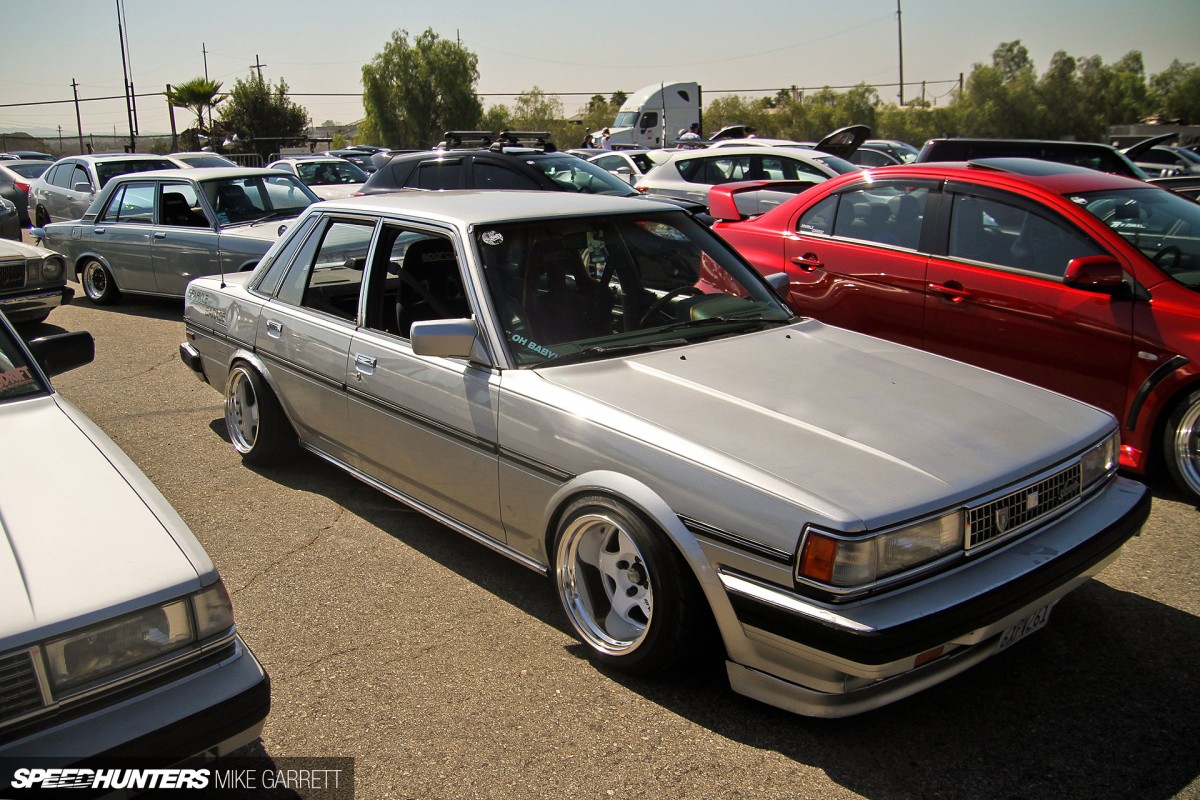 Also making an appearance were a handful of MX73 Toyota Cressidas inspired by the Japanese shakotan and kaido racer scenes.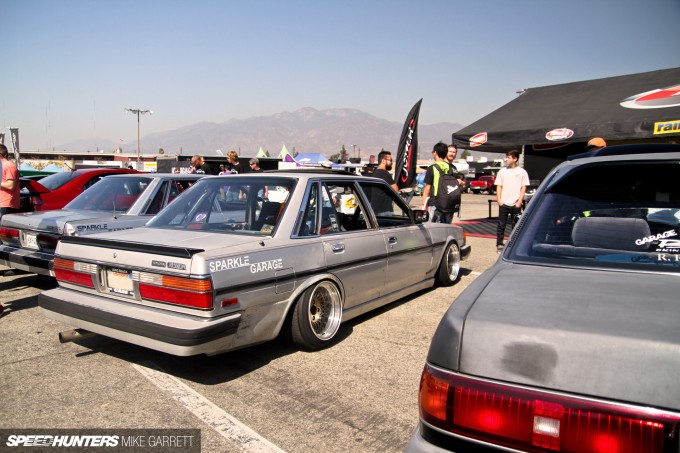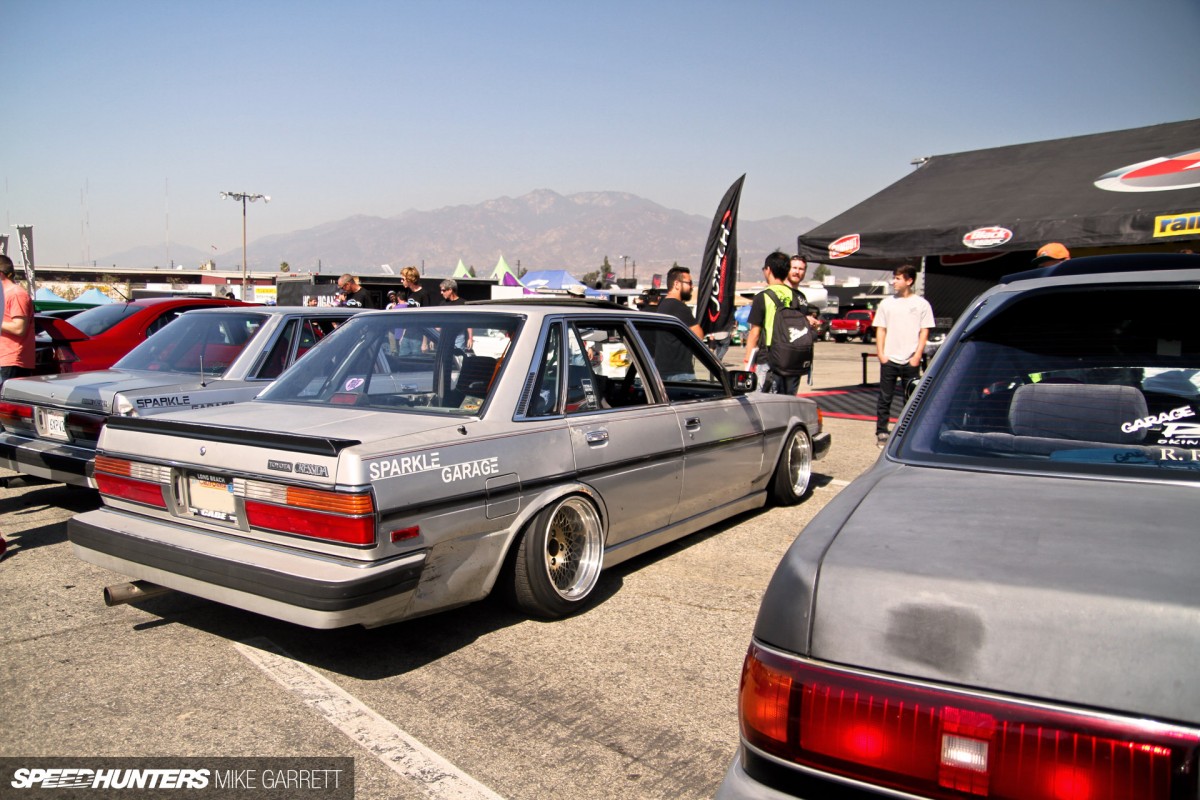 Sparkle Garage is one of the biggest names in the Southern California kyusha community, and the guys were out at Irwindale this year with a few badass sedans.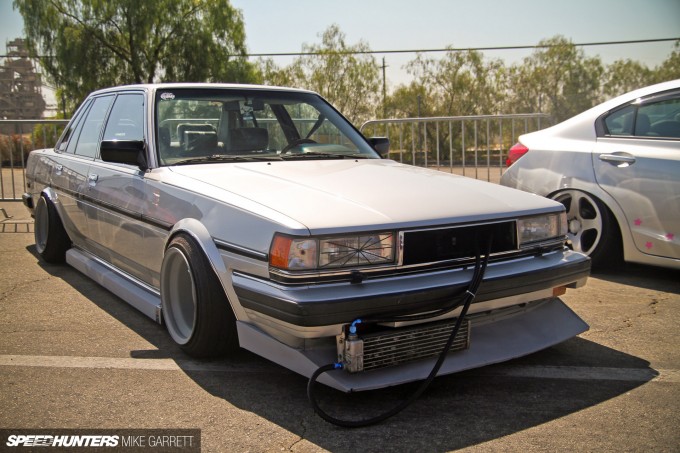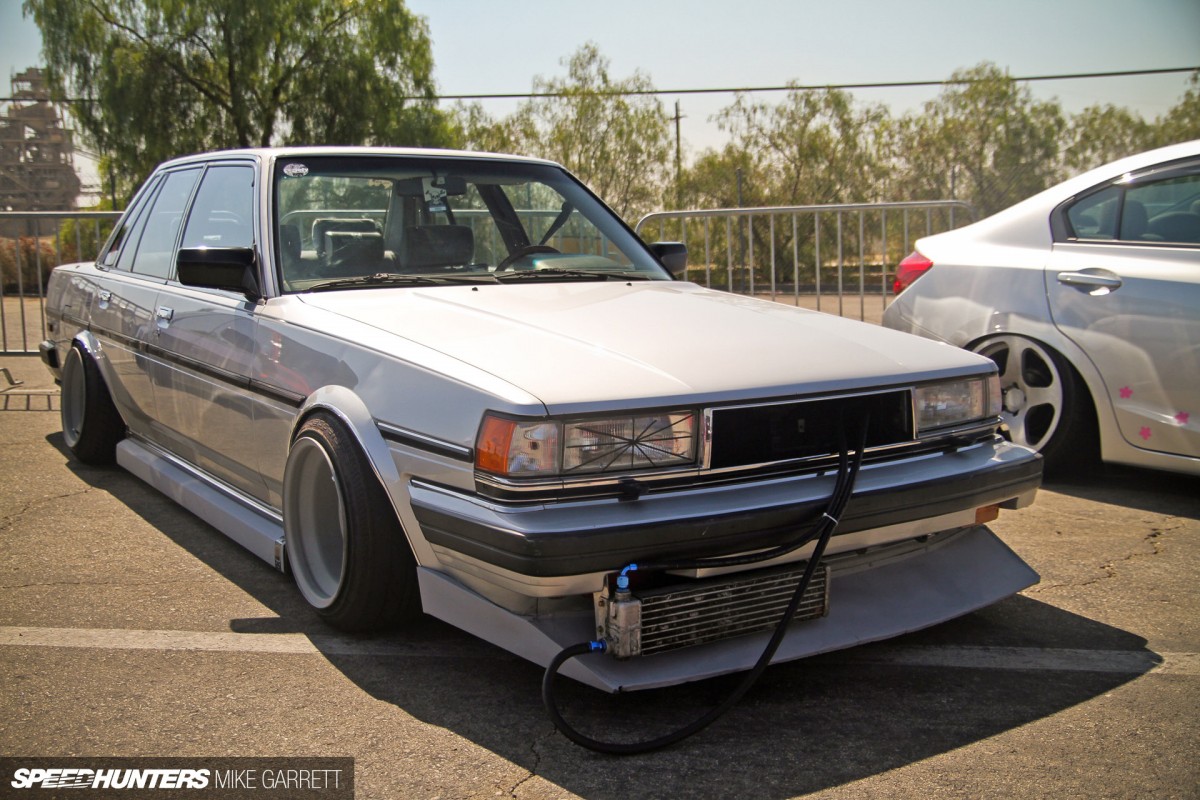 Yet another shakotan-inspired MX73. I especially like the custom front chin spoiler on this car.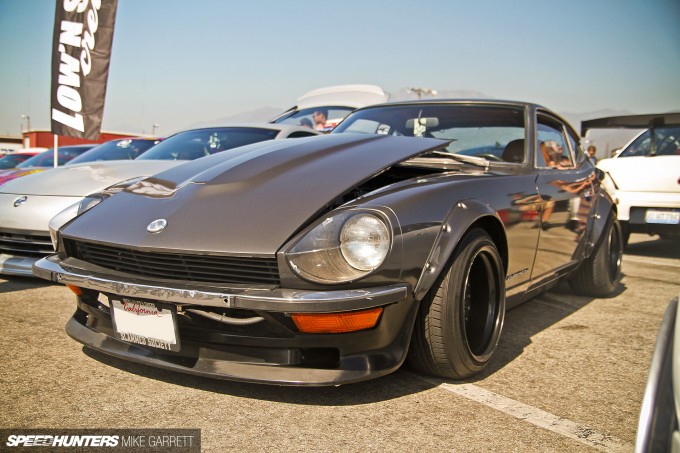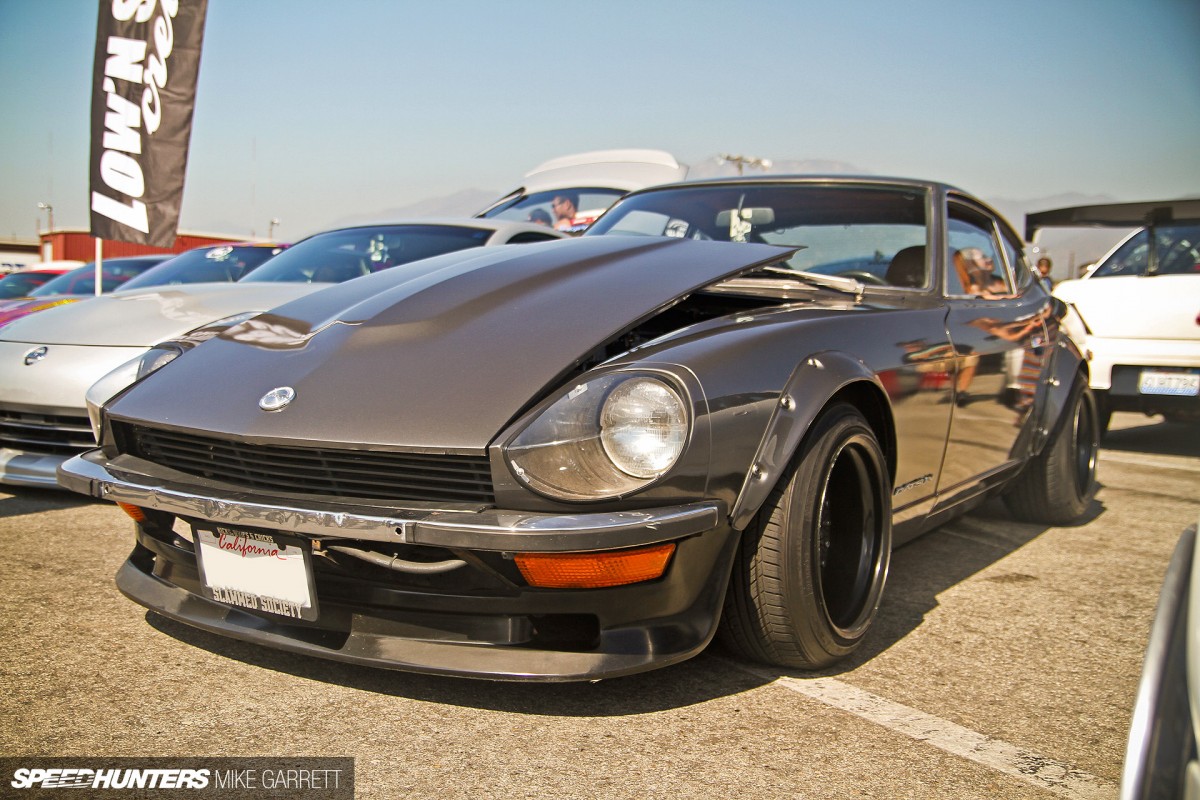 Also representing for the old school crowd was this Datsun 240Z with a tough looking set of overfenders and wheels to match.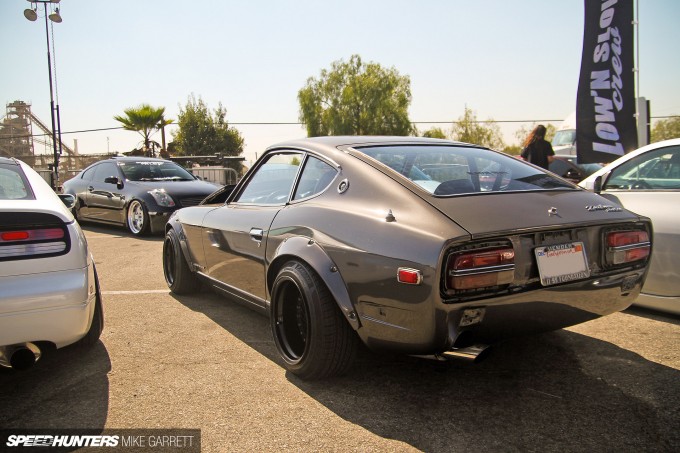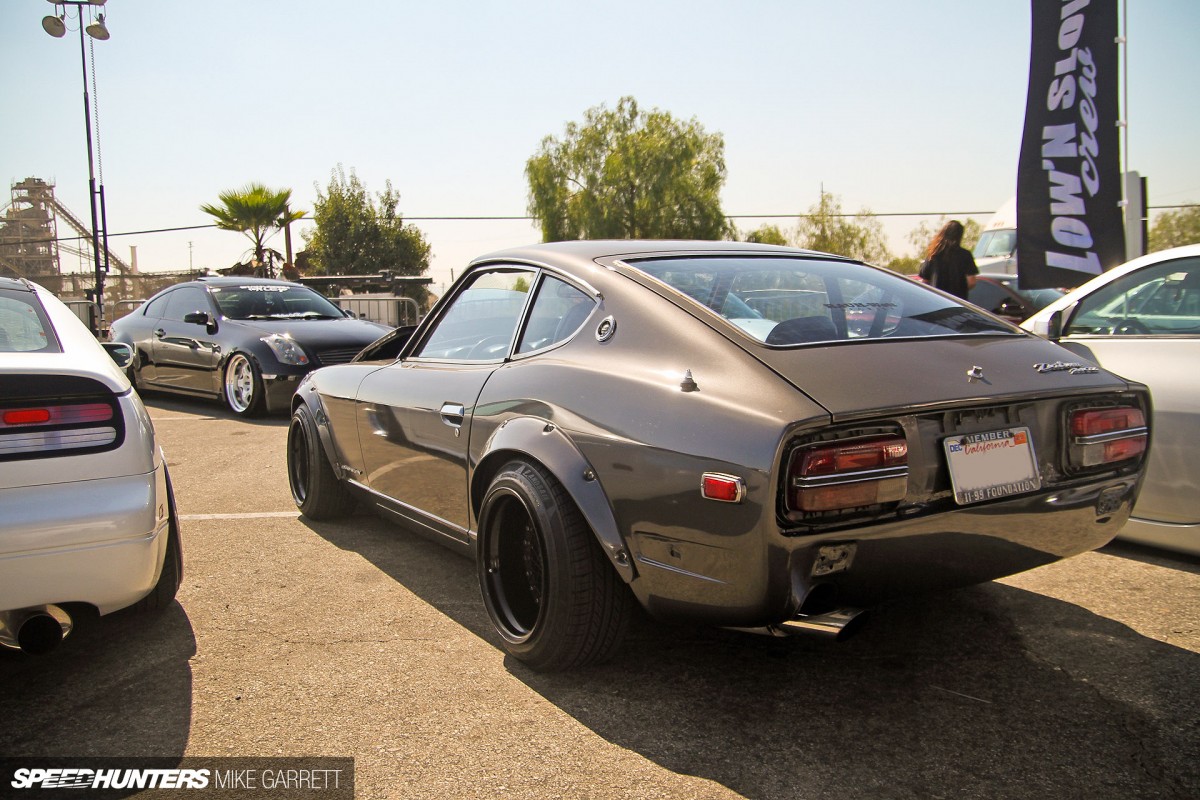 I find it amazing how these modified S30 builds keep coming out of the woodwork, despite the fact that the cars are getting harder to find and more valuable every day.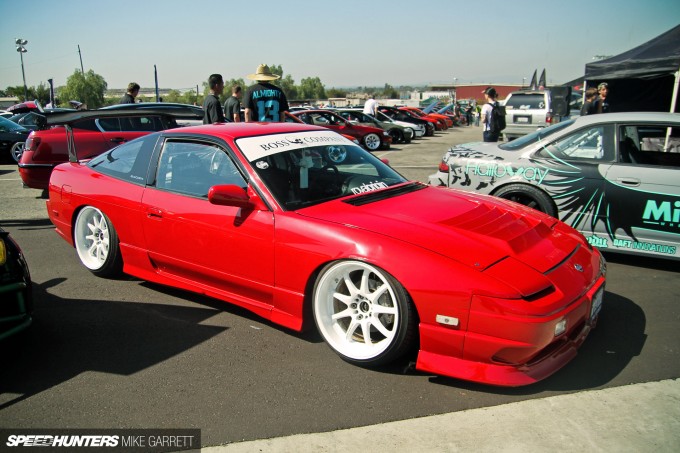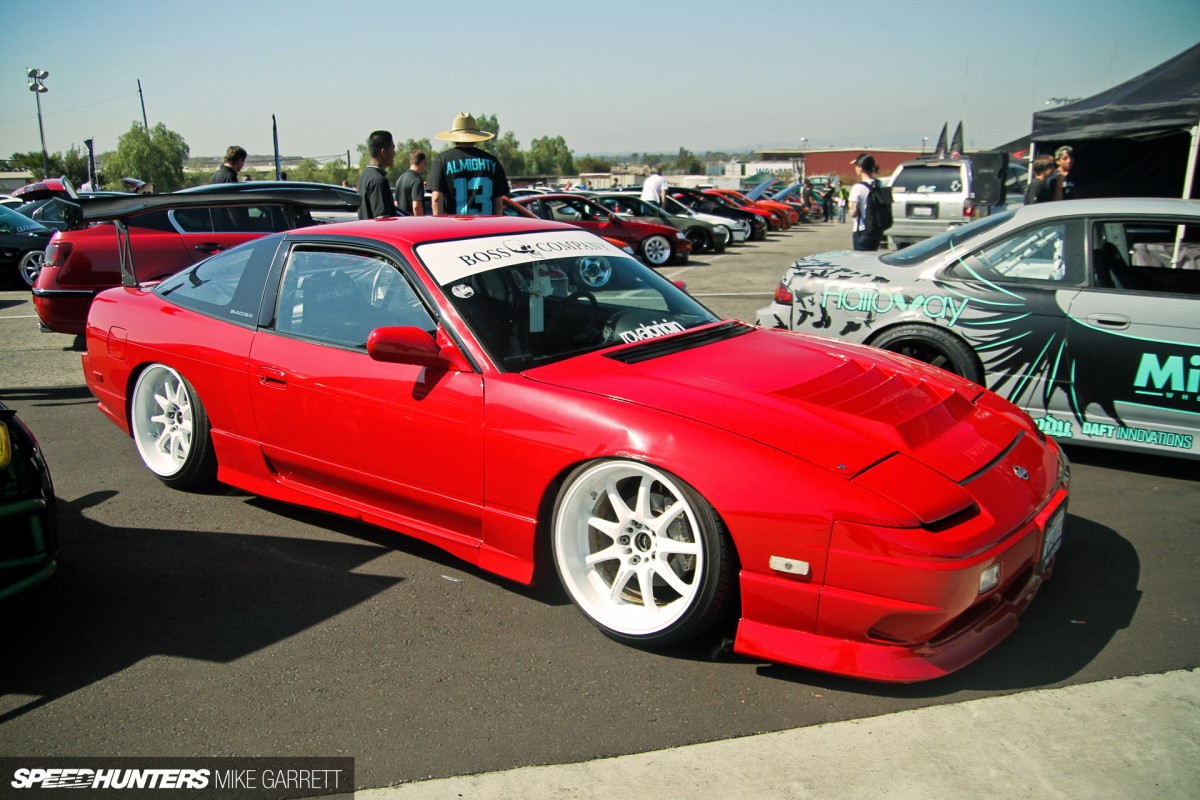 Here's one of those street drift cars I was talking about. Seeing this red S13 got me feeling pretty excited about reconnecting with the grassroots drift scene this coming weekend at All Star Bash. Anyone else coming out?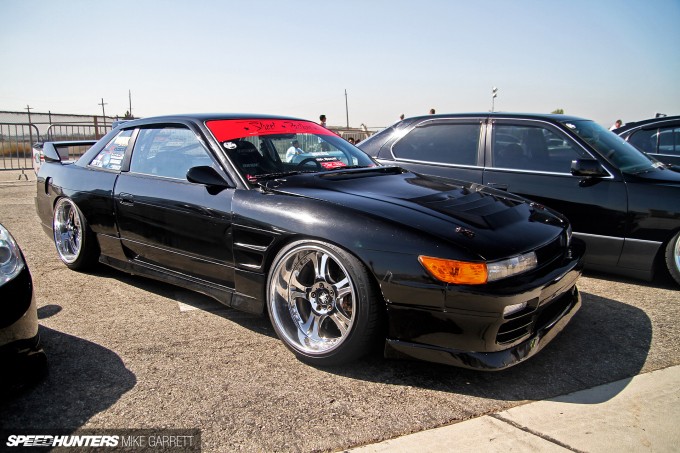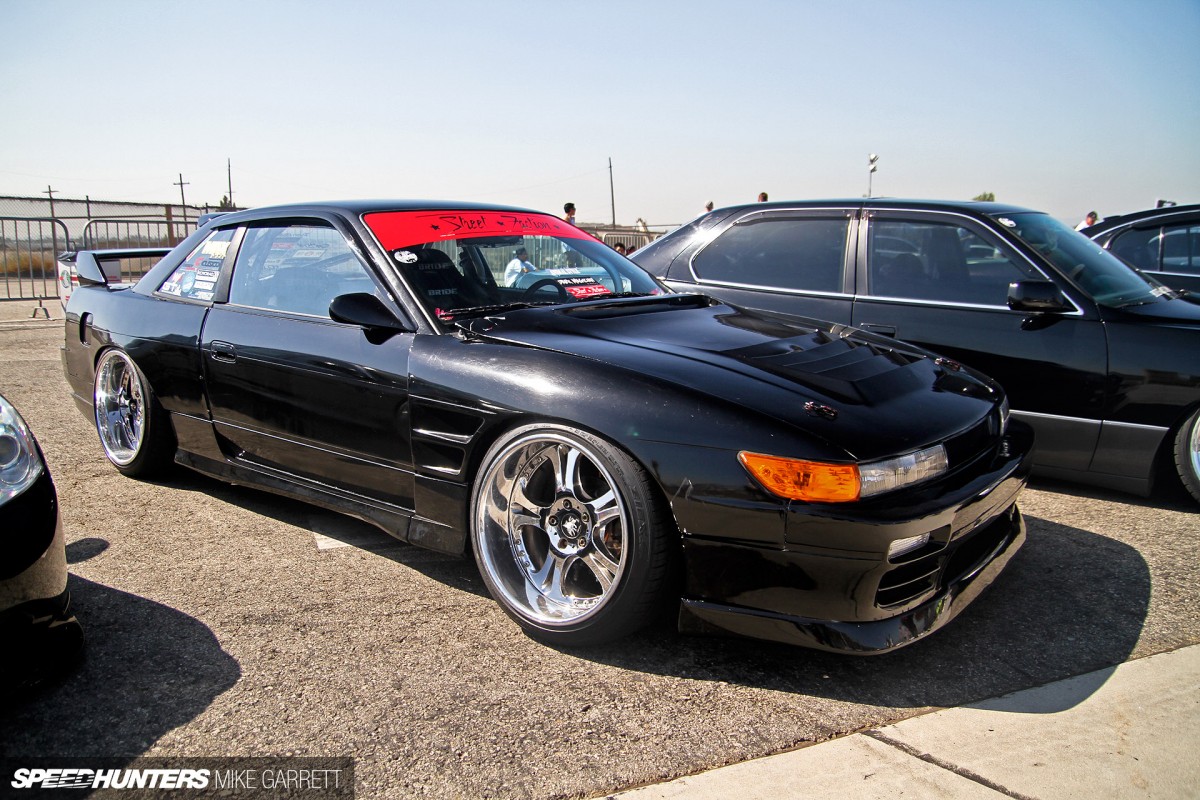 Or perhaps you prefer your S13 with fixed headlights and a trunk? Here's a properly mean coupe for you.
VIP and more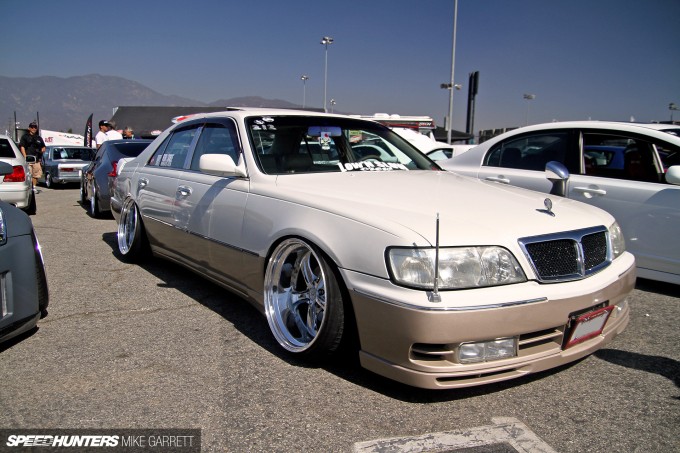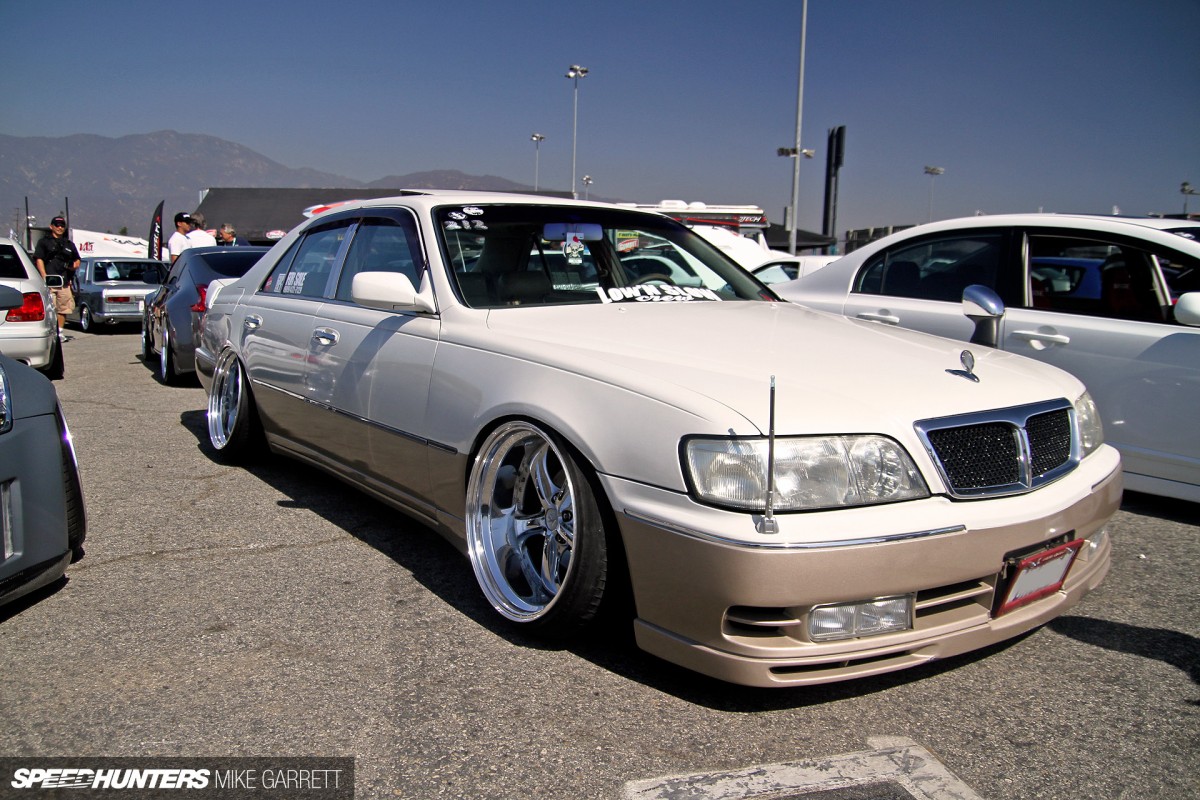 Let's not forget the VIP sedans either. These luxo machines have always been a big part of the Slammed Society experience.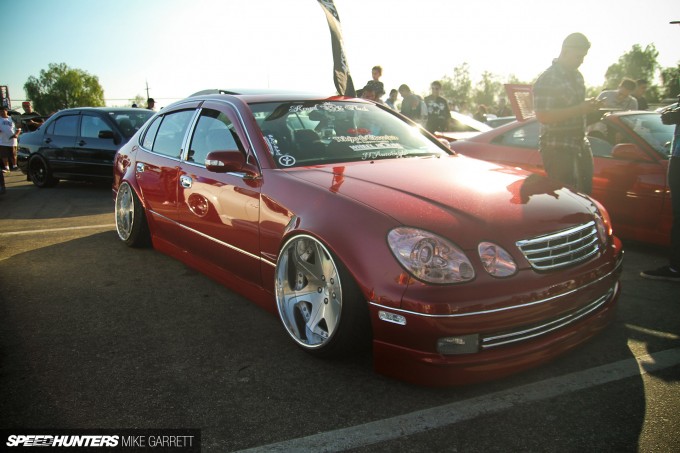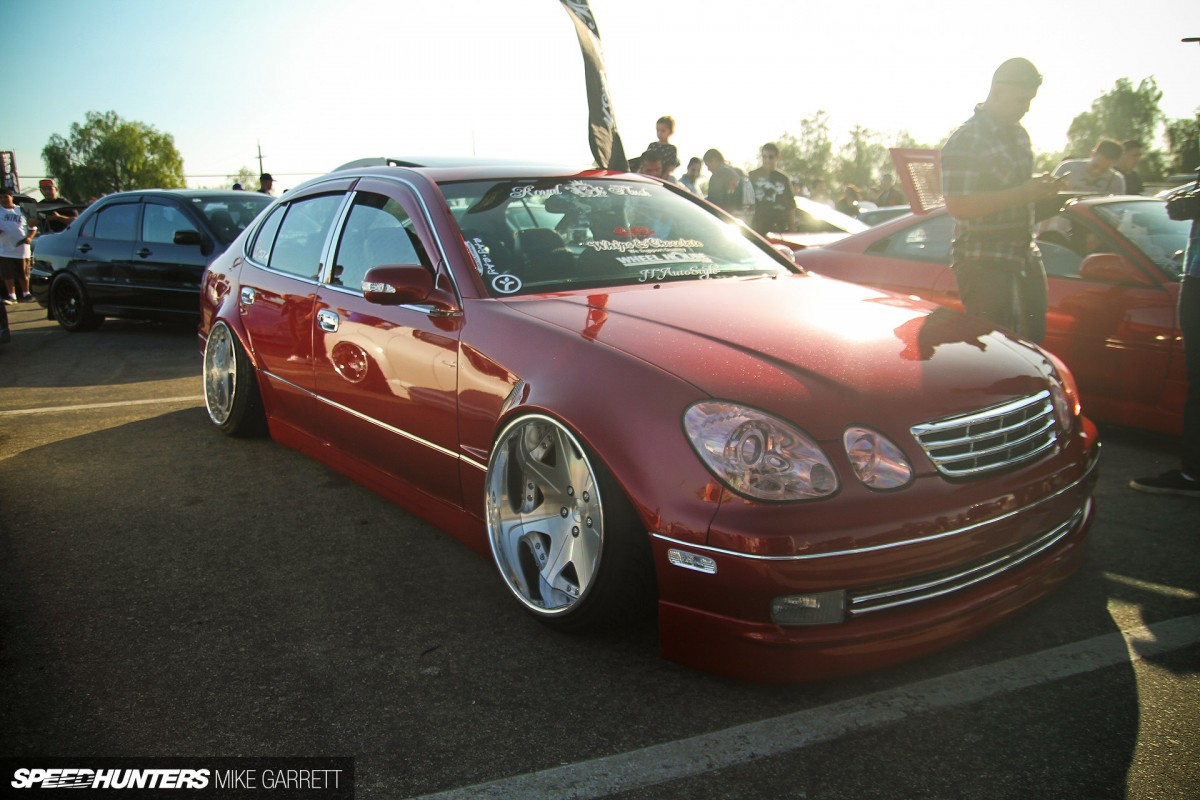 With its pumped out and radiused fenders, this Lexus GS didn't look far off from one of the Bippu sleds you might see cruising around the streets of Osaka.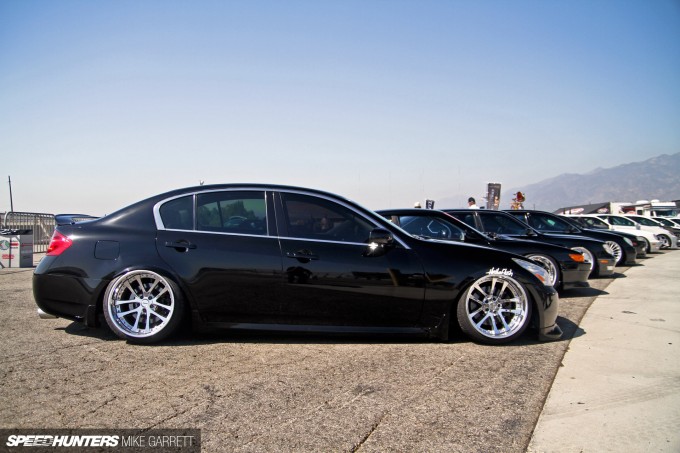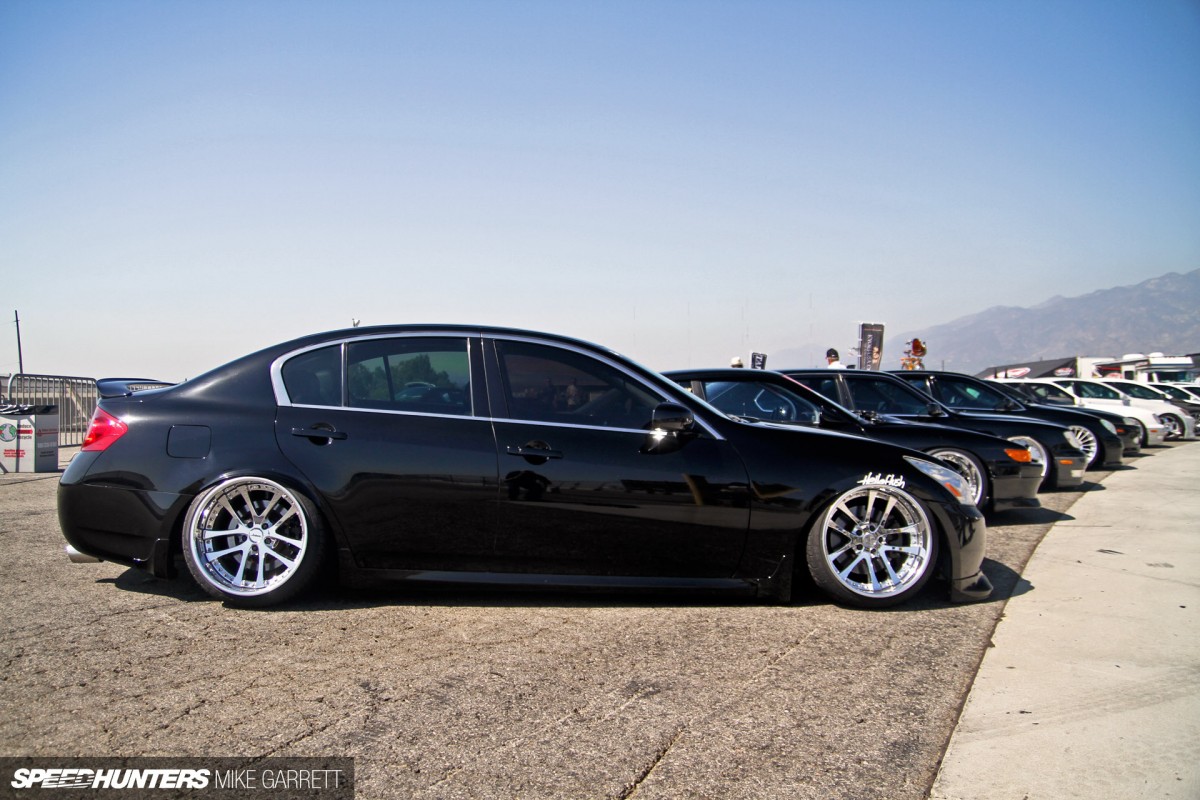 Along with the traditional VIP platforms, you also have other Japanese models built with a VIP-influenced style. This G35 sedan for example.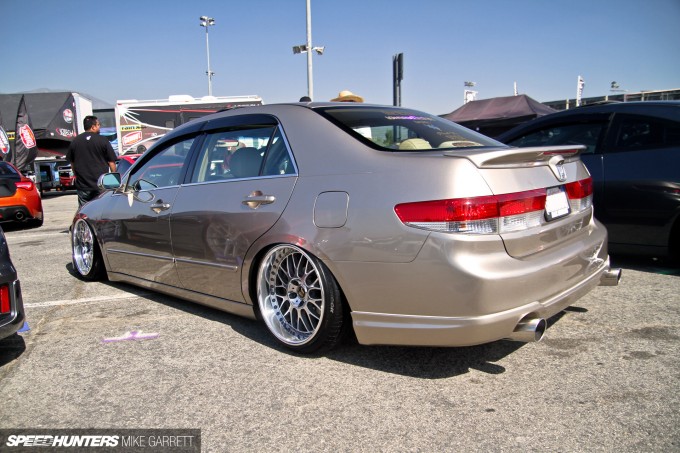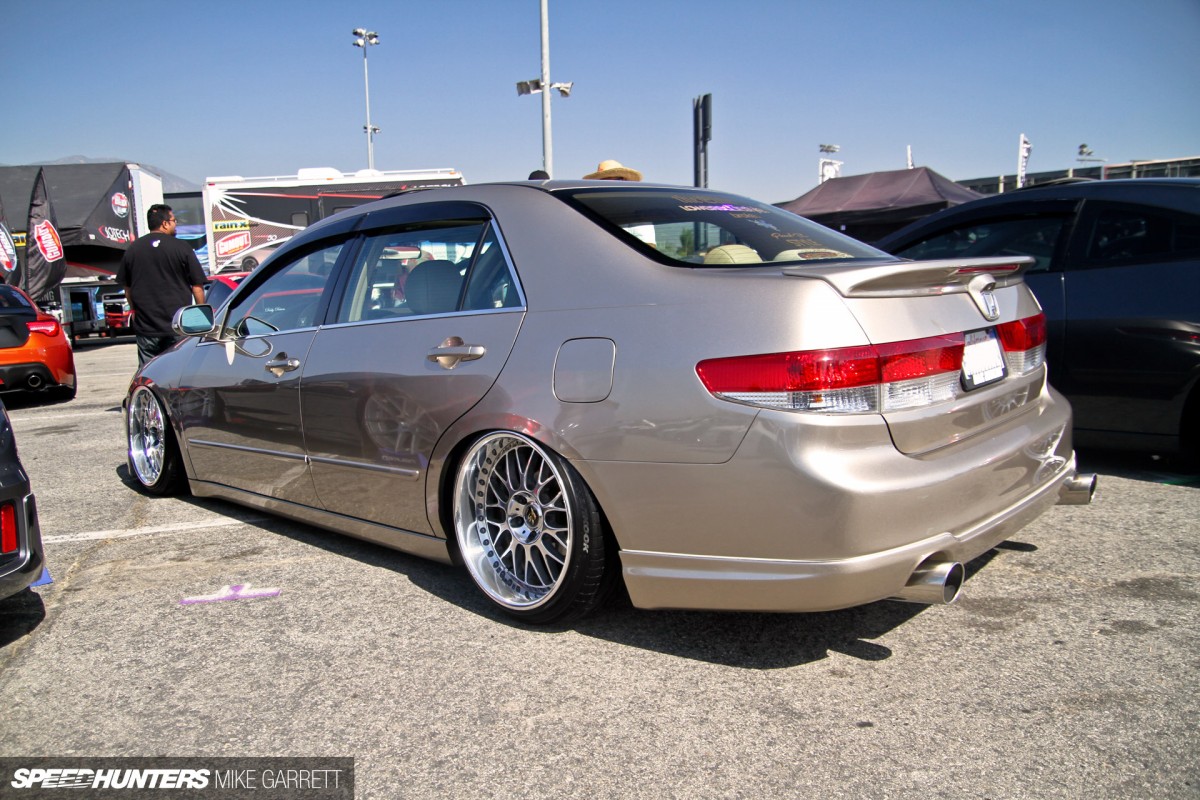 Or even more unusual, a Honda Accord sedan slammed over a set of Work VS-XXs. Beige has never looked so good.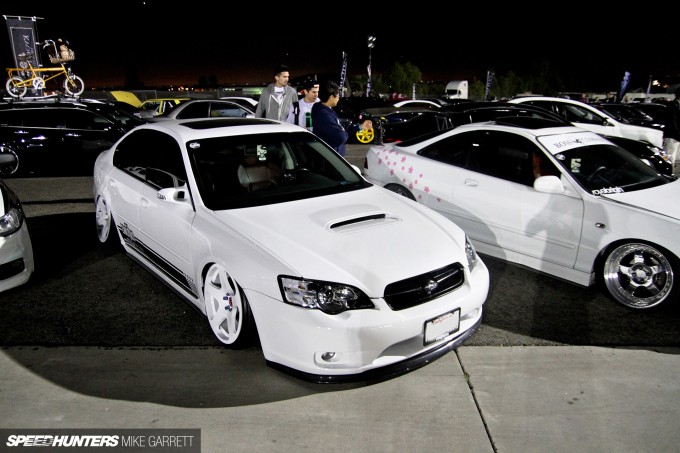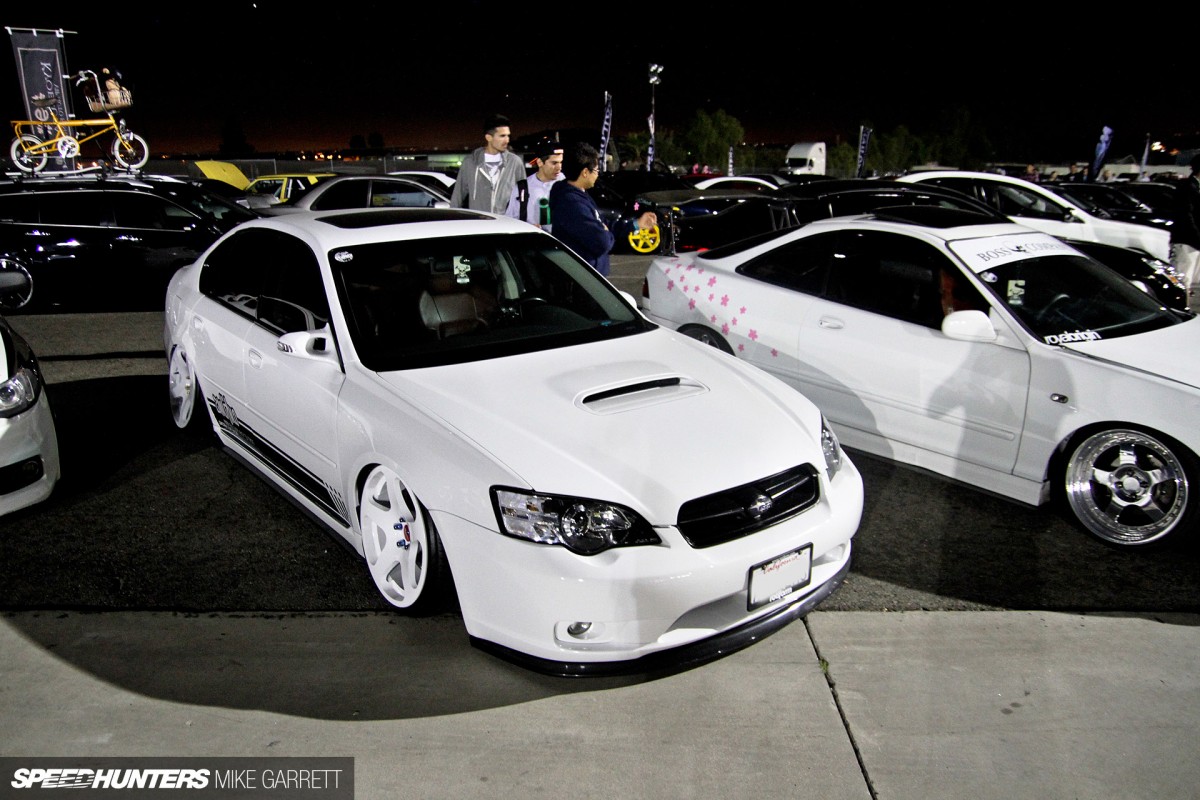 I first saw Abbitt Wilkerson's Subaru Legacy GT this summer at the Played Out event, and the car was back at Slammed Society sporting a new set of color-matched Rotiform NUEs for a Euro-esque look.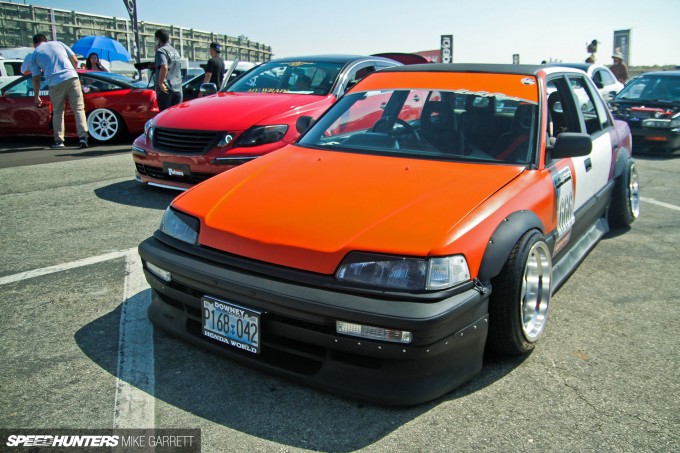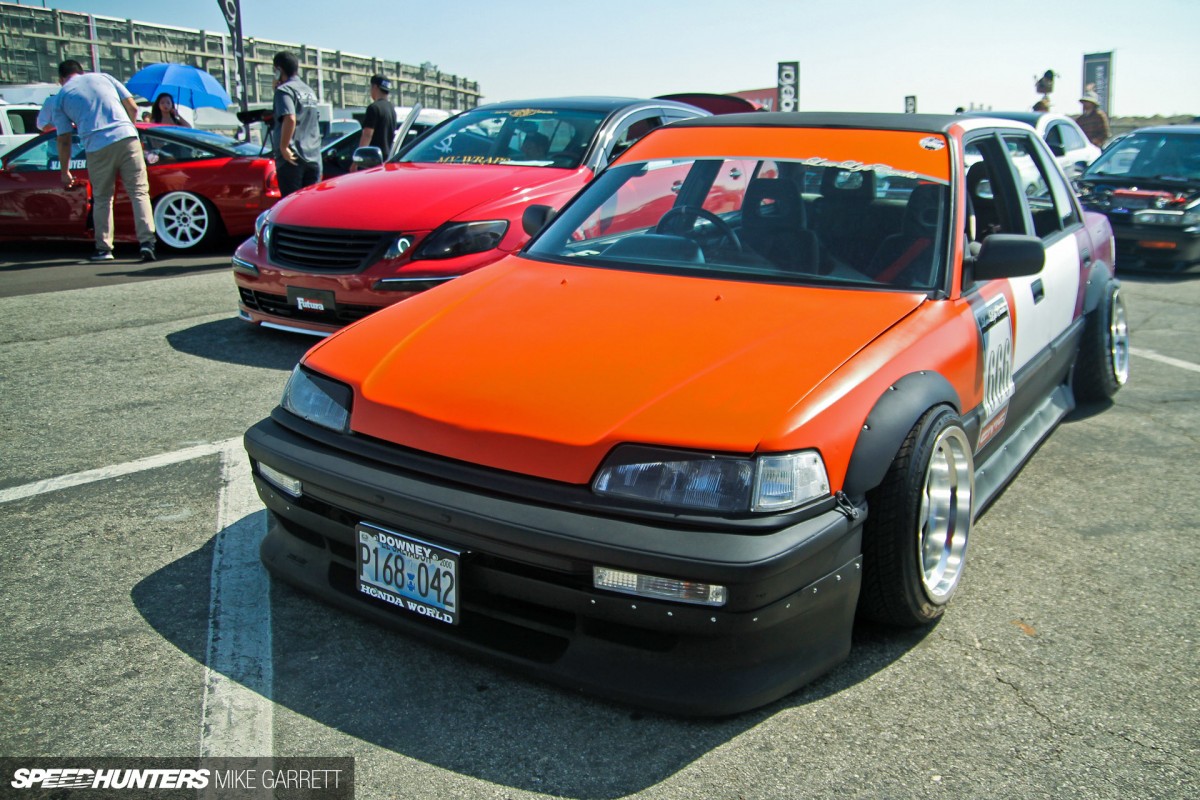 One of the more creative cars out there was this EF Honda Civic sedan done in a 1980s Japanese street racer style.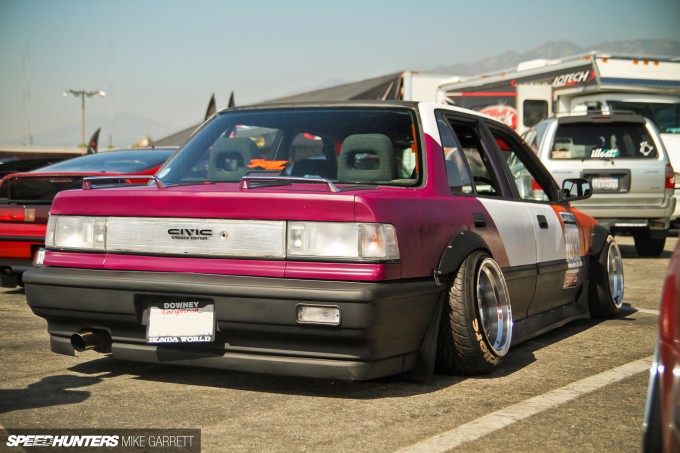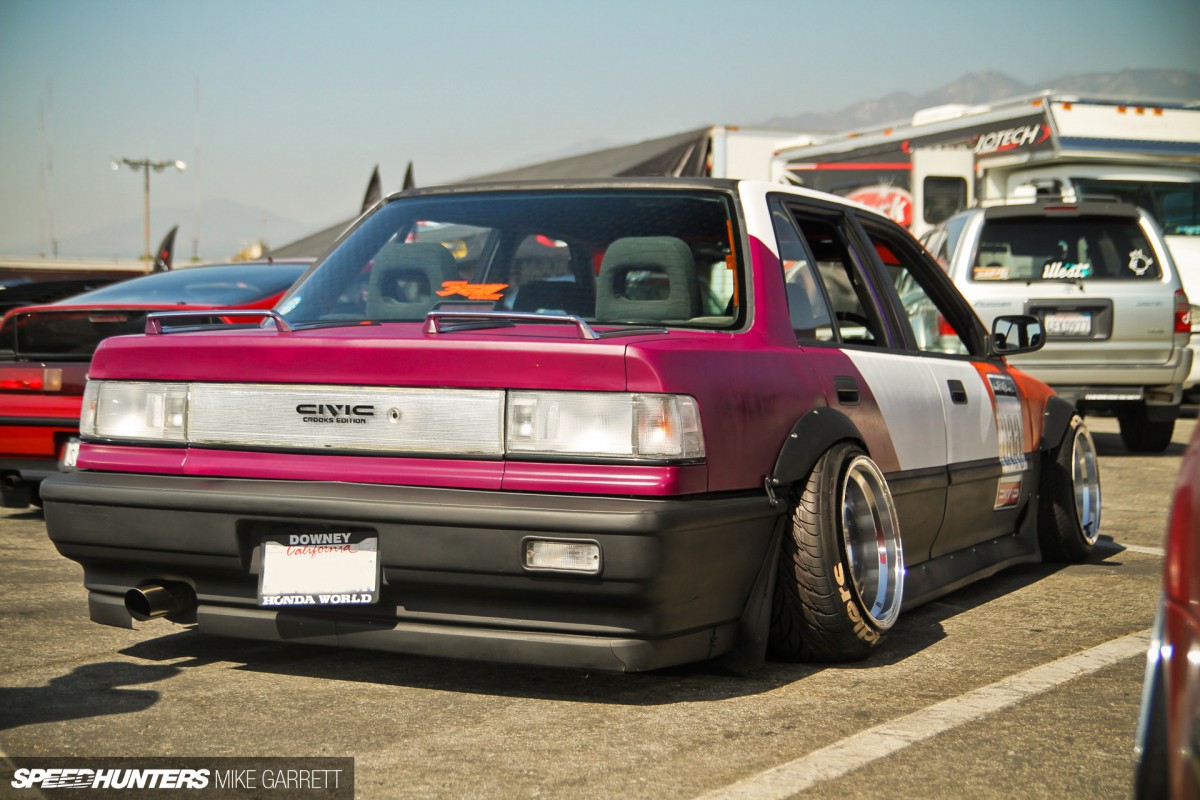 It's not often you see a Civic with bolt-on flares, and the result was like some sort of lowrider and kanjo racer hybrid.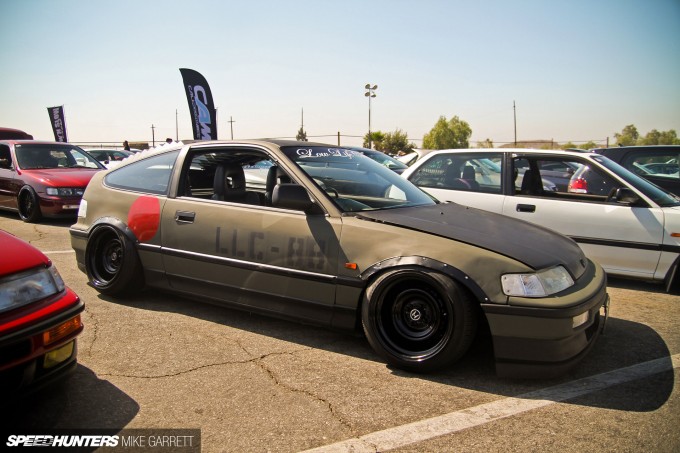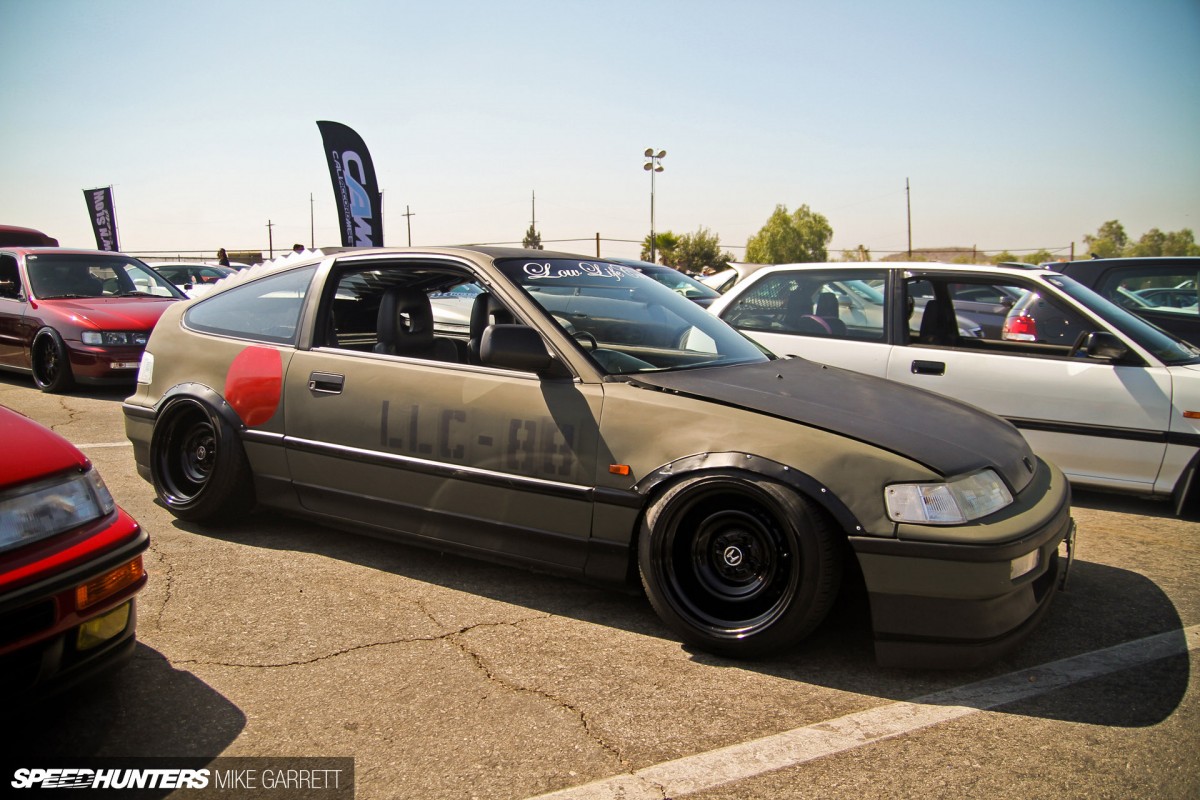 Joining the sedan was this CR-X with olive green paint and warplane markings.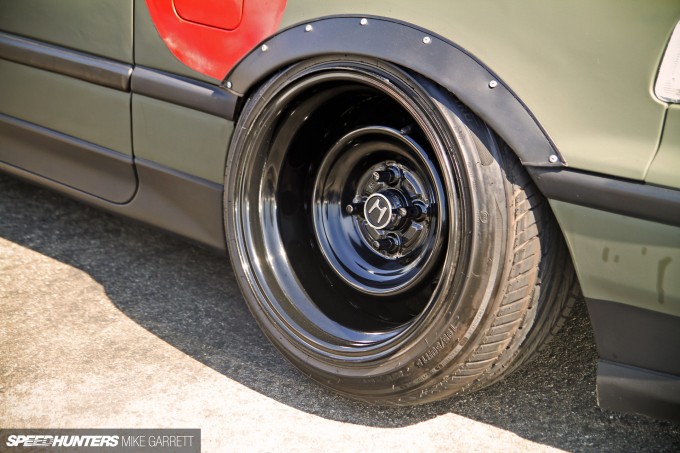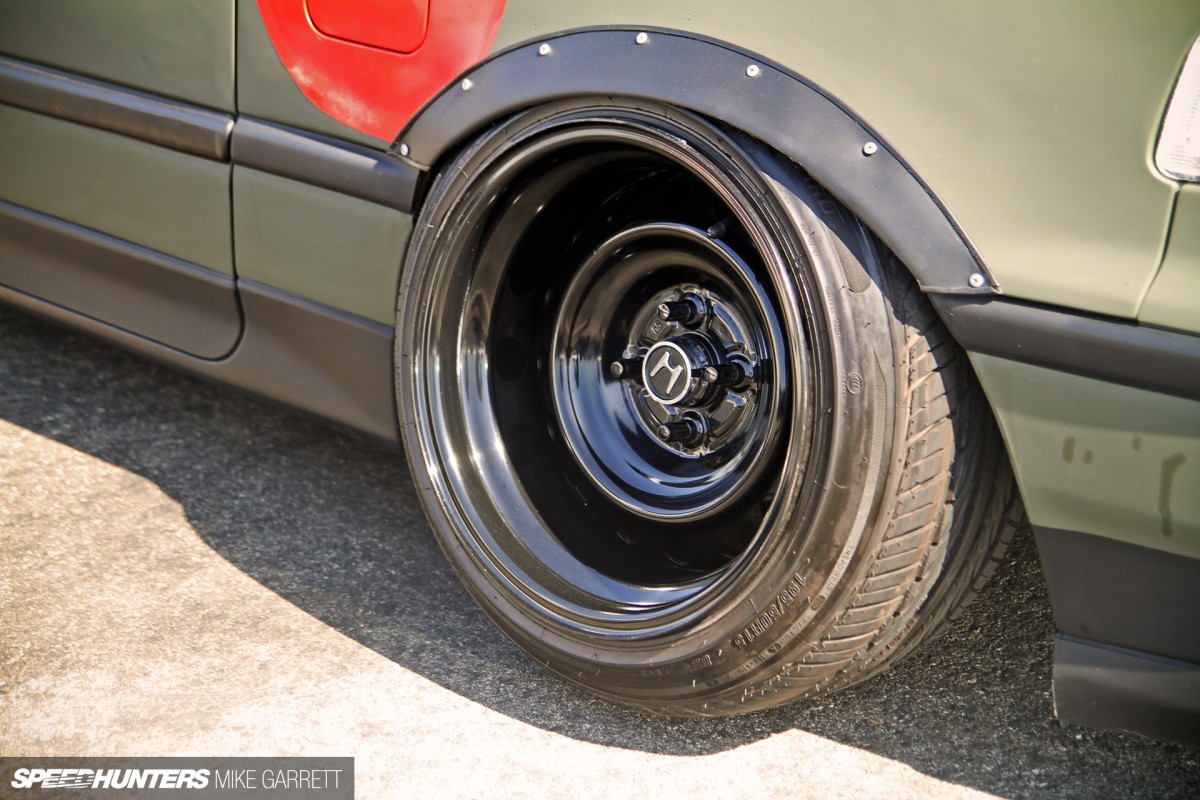 Once again we have bolt-on flares, this time sitting over a set of widened steel wheels.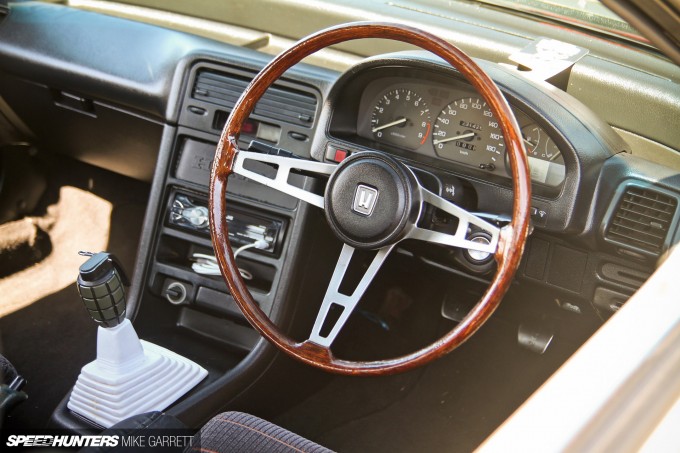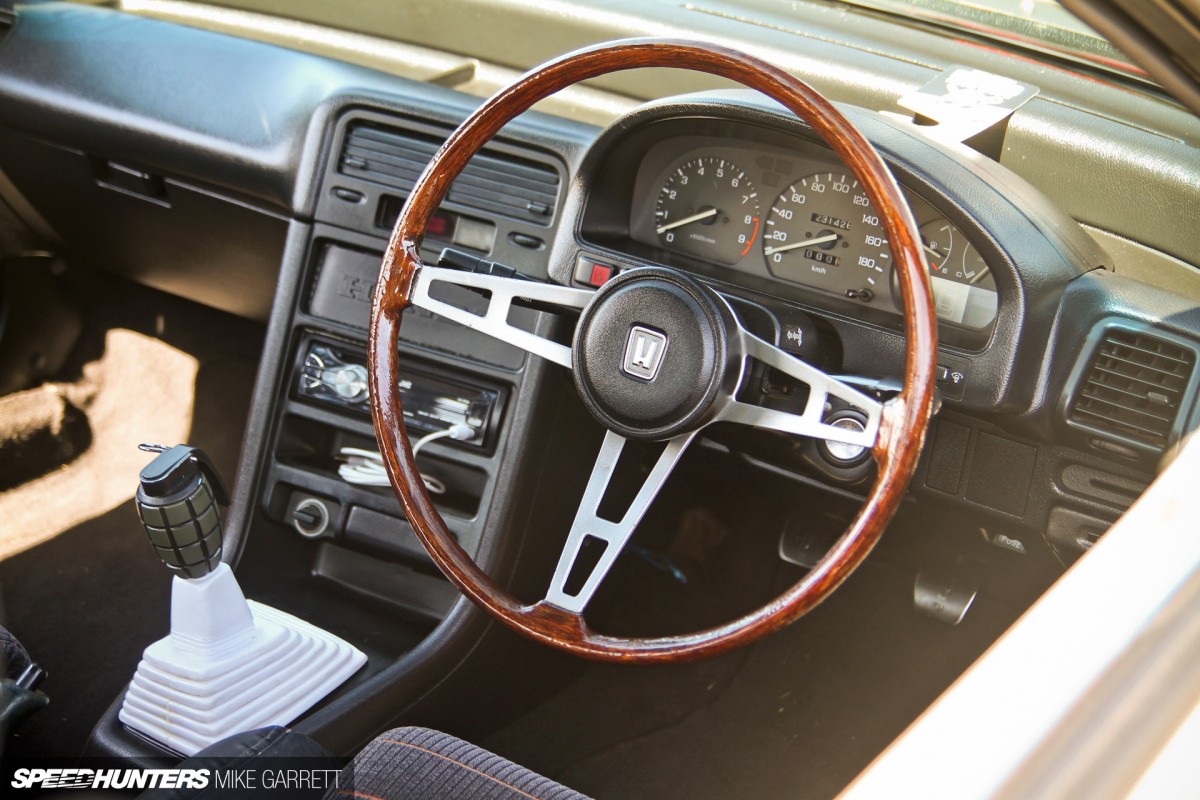 My favorite part of the car was the vintage wood-rimmed Honda steering wheel that had been retrofitted. Nice little touch here.
#FeatureThis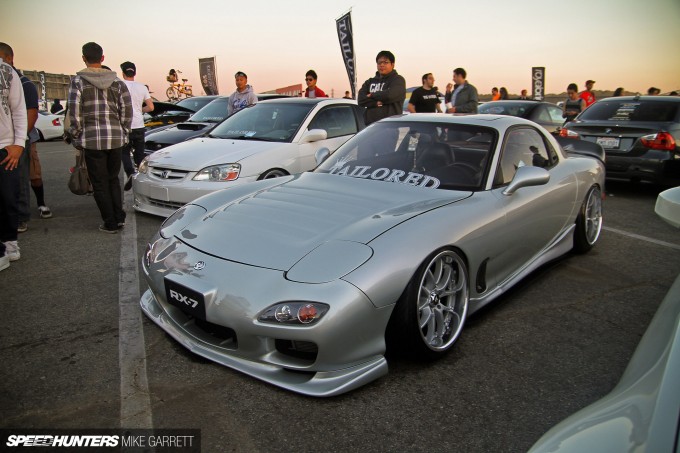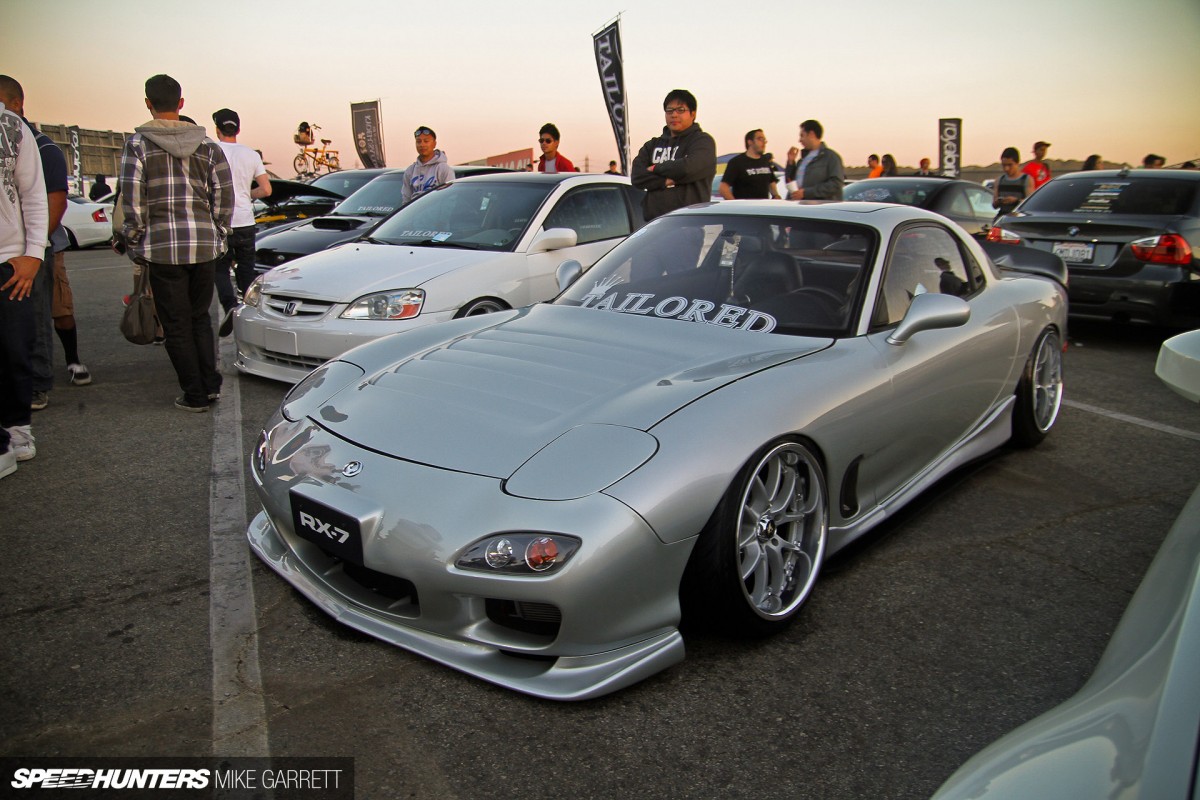 One of my personal favorite cars of the event was this silver FD3S RX-7 – a car which I still have a hard time believing is now over 20 years old.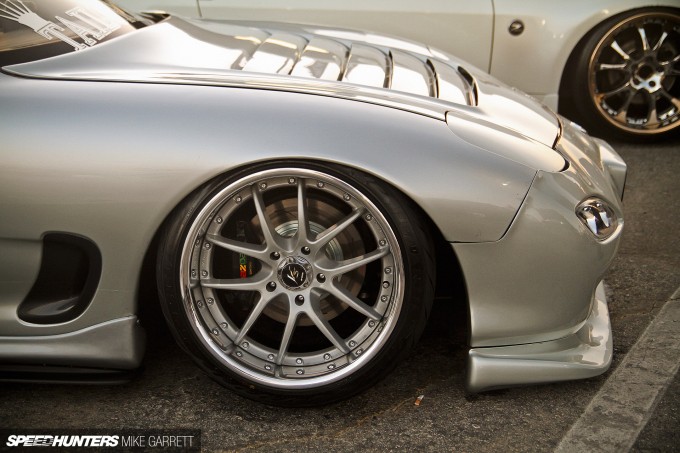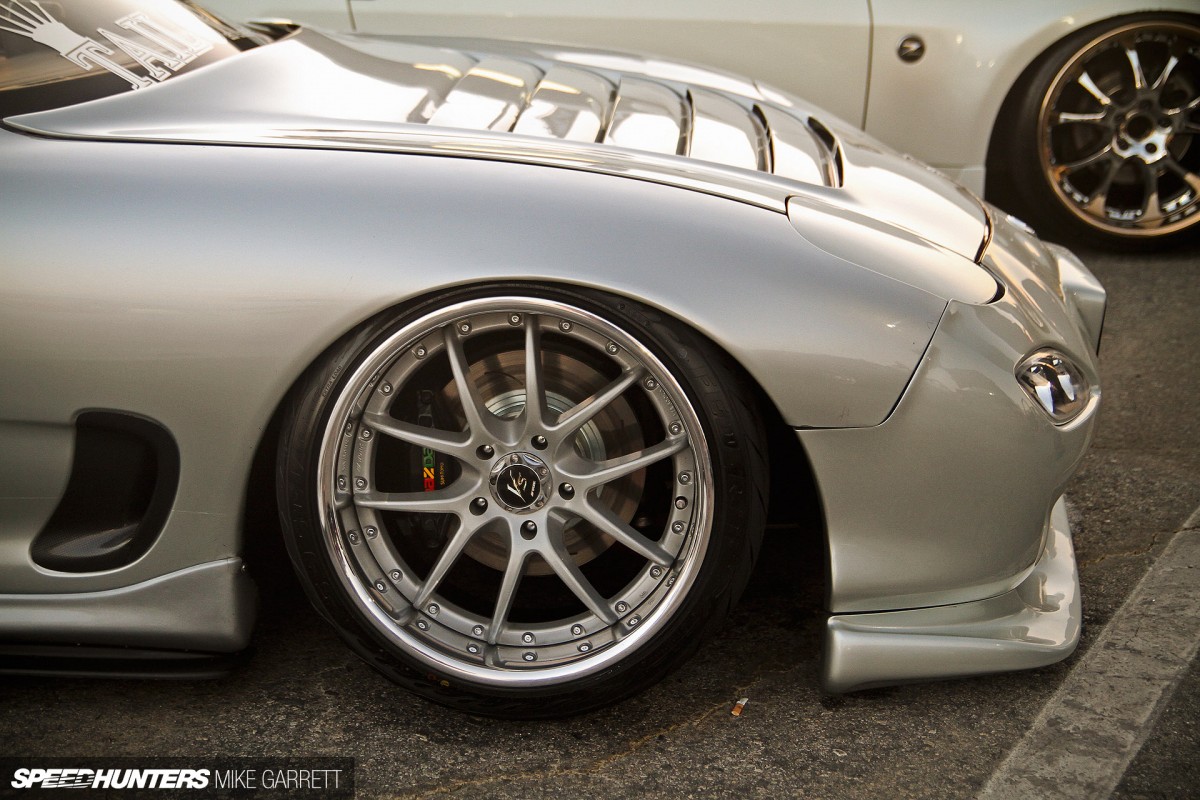 This particular FD was sporting a cranked down ride height, a set of period correct Work wheels and a few choice body modifications.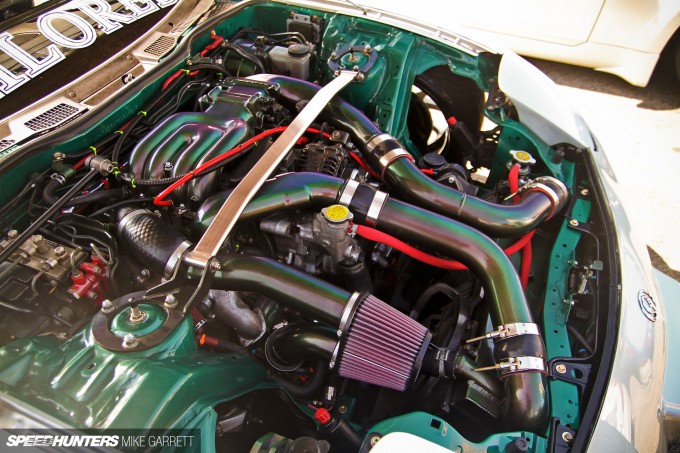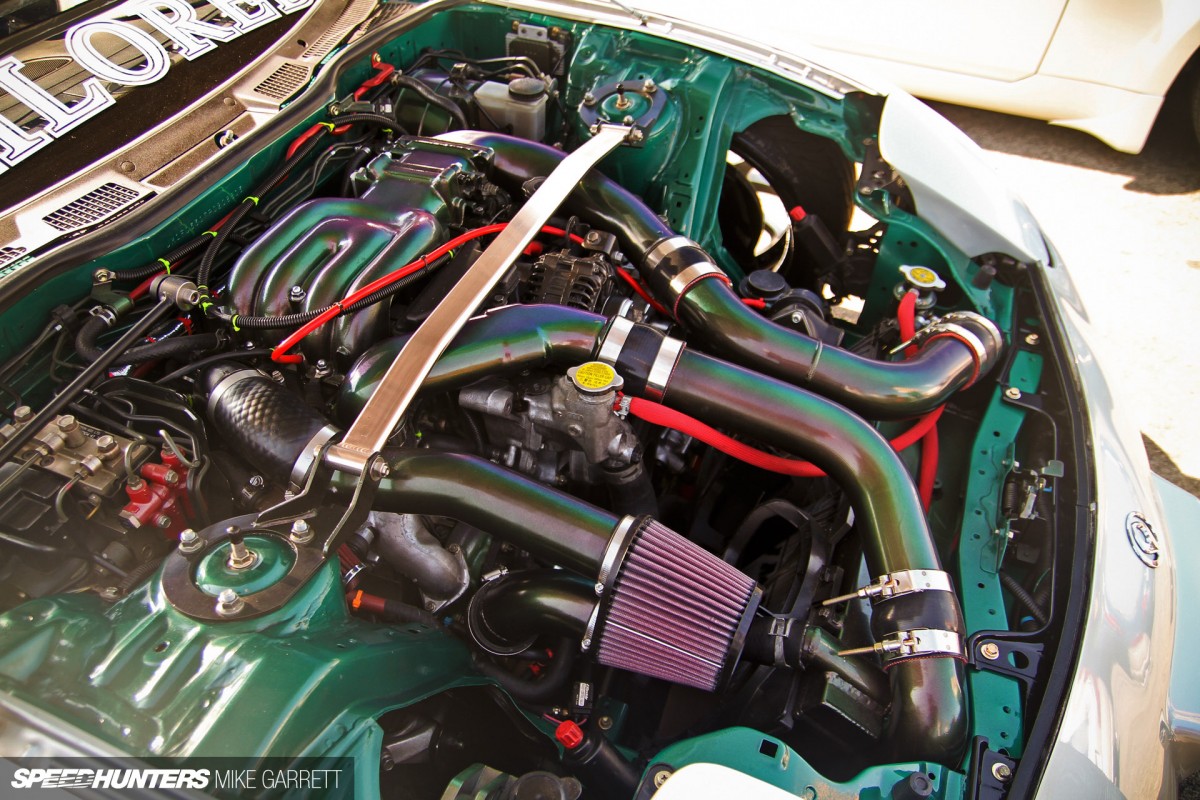 Under the hood was a rather factory looking engine setup, but one that had been detailed with a coat of color-changing paint. Generally I'm not a fan of chameleon hues, but it actually worked pretty well here.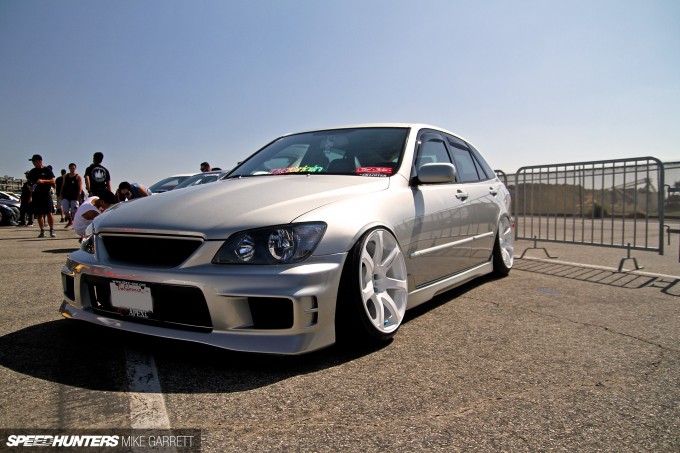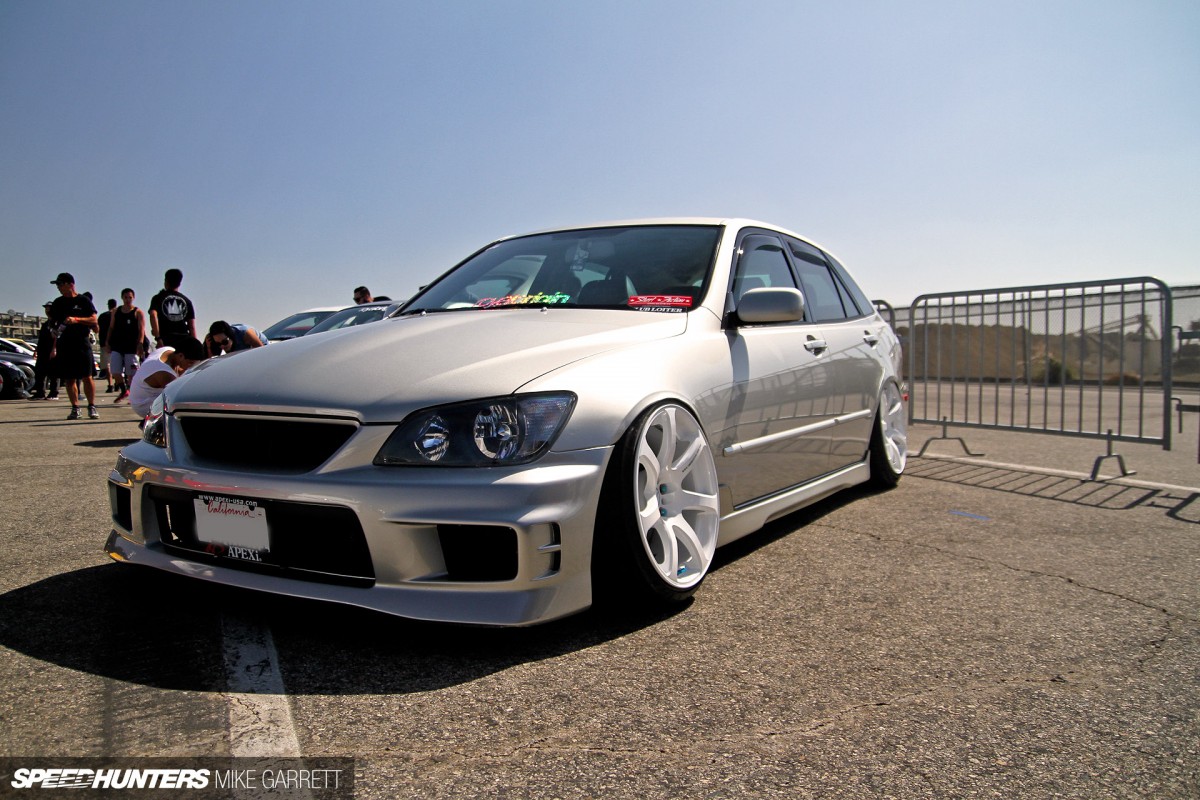 Even if you can't bring out a new car to Slammed Society, you can always roll out on a new set of wheels –  like this Lexus IS wagon on deep-faced Work Emotion XT7s.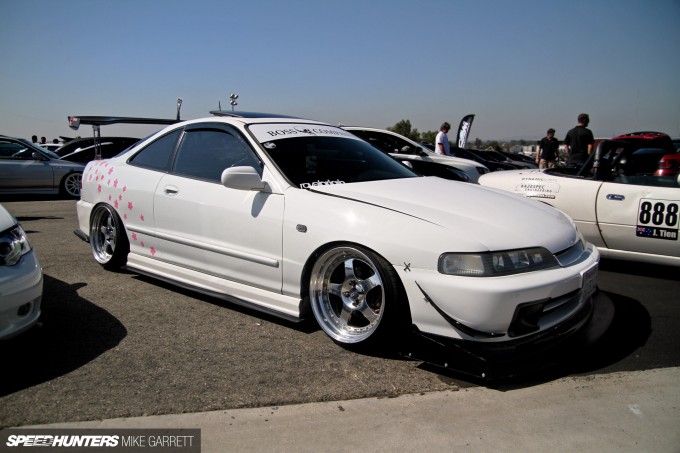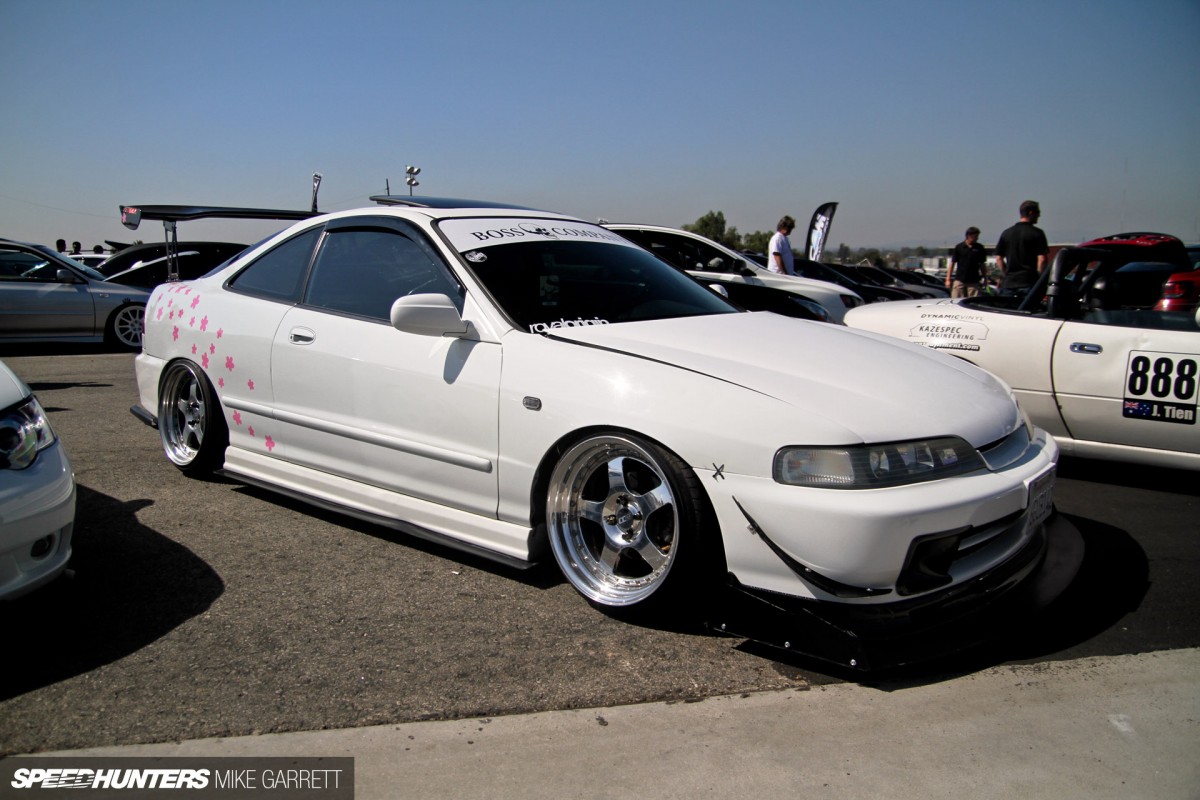 Time attack meets show car on this JDM-converted DC2 Integra from the Boss Company crew.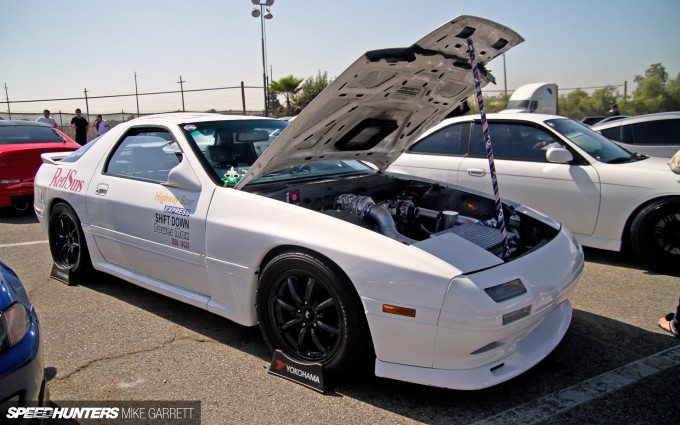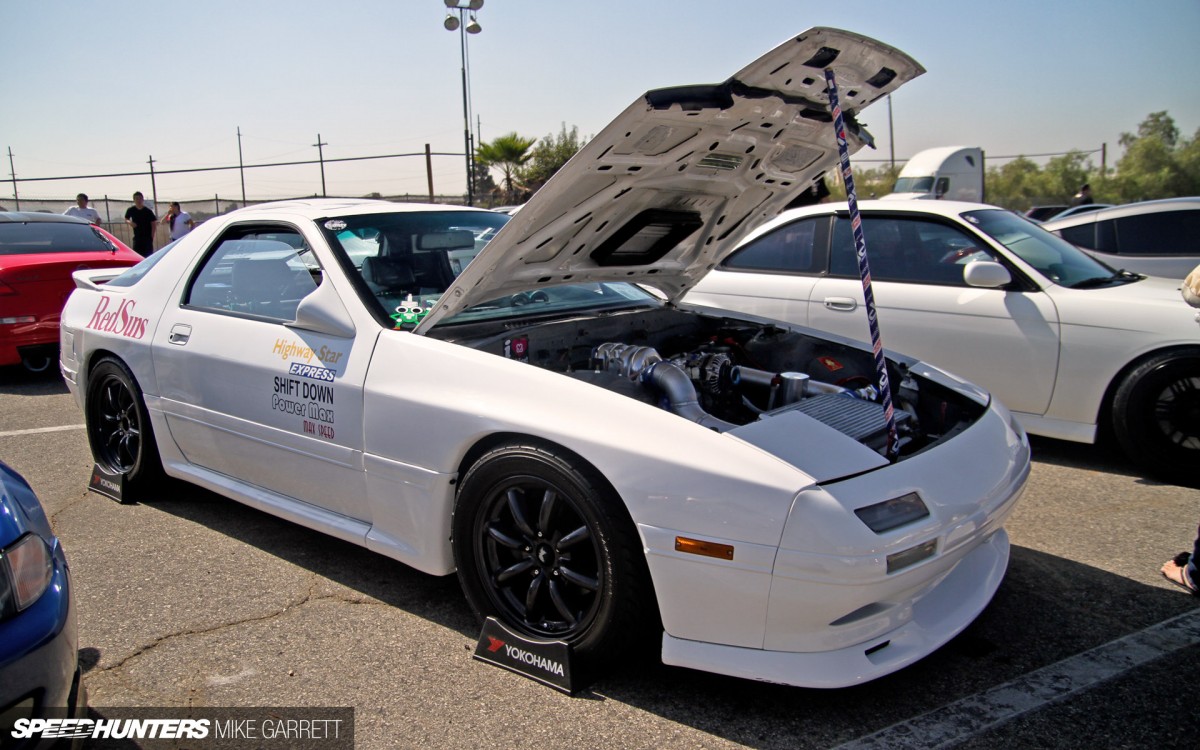 It also seems that Mr. Ryosuke Takahashi decided to take a break from his busy touge racing schedule to bring his FC3S.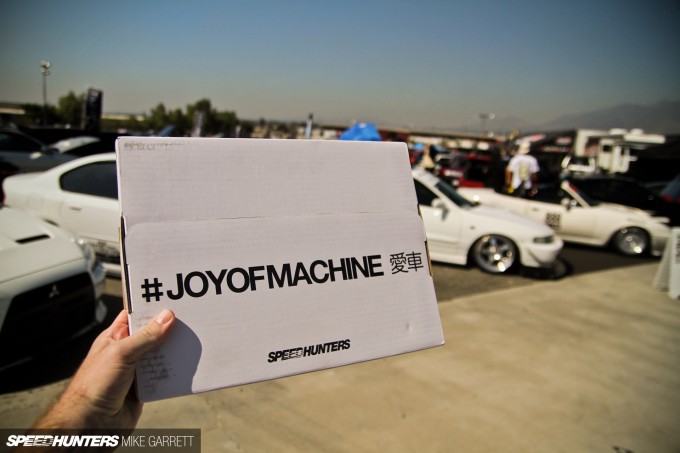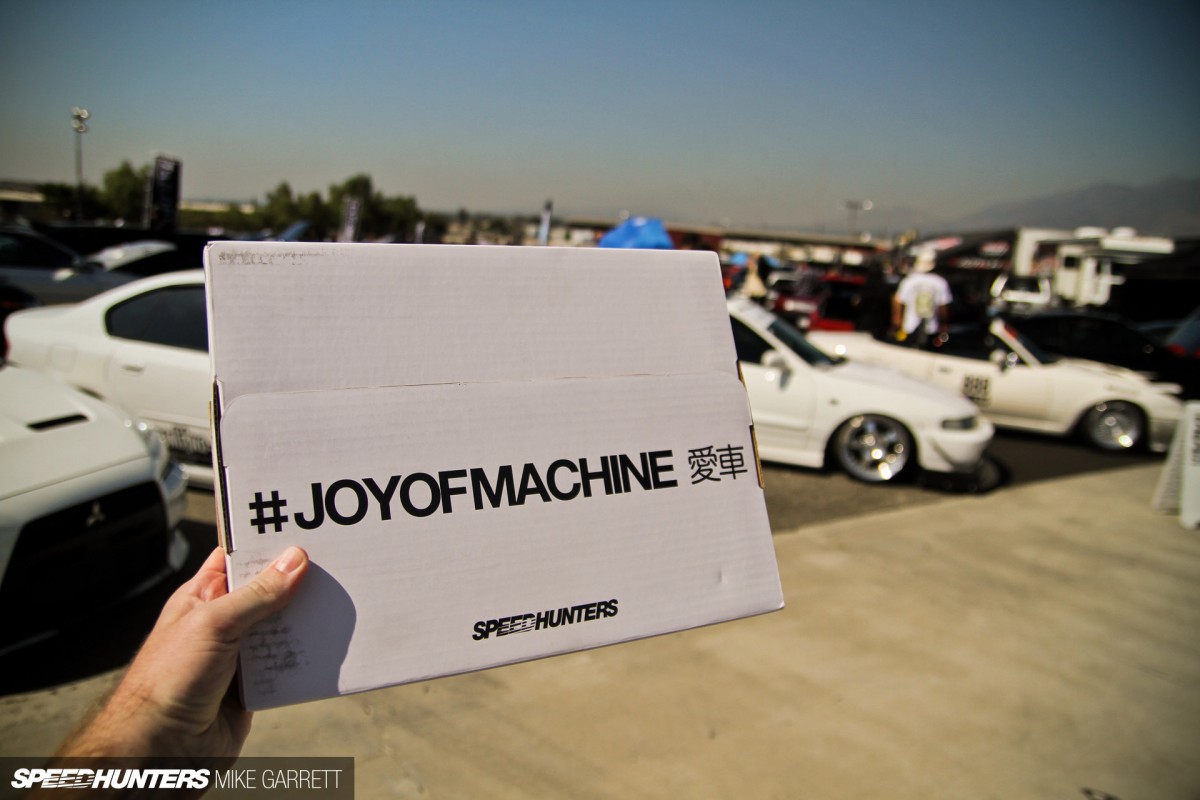 After looking over the selection of cars, I then had the difficult task of selecting one car as the Speedhunters #FeatureThis winner. Not only would the owner receive a trophy from Fatlace and a full feature on Speedhunters, but they'd also become one of the first people in the world to own the limited edition #JoyOfMachine book prior to its official release next month.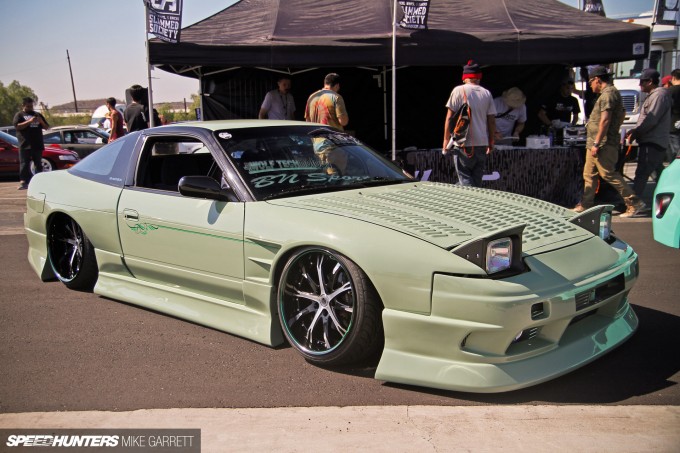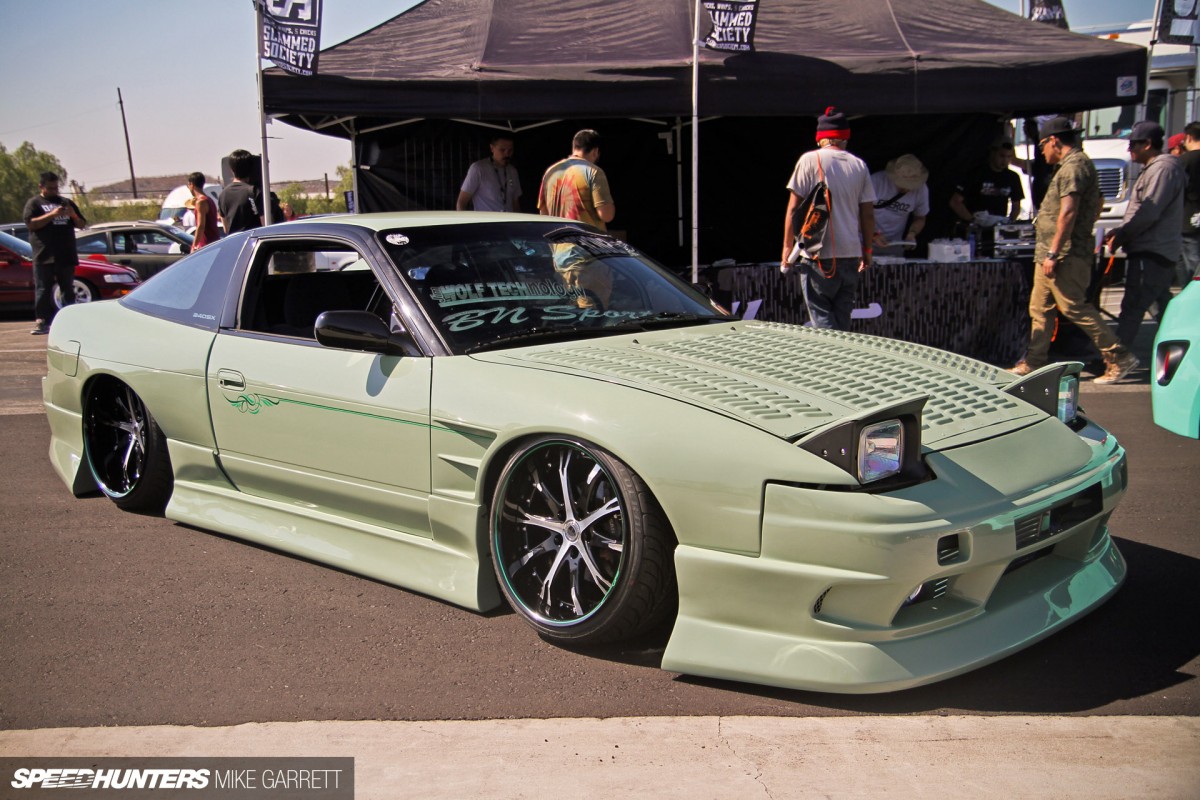 The car that won me over in the end was Kyle Ranauro's Nissan 240SX with its sweet combination of street drift car and vintage hot rod influence.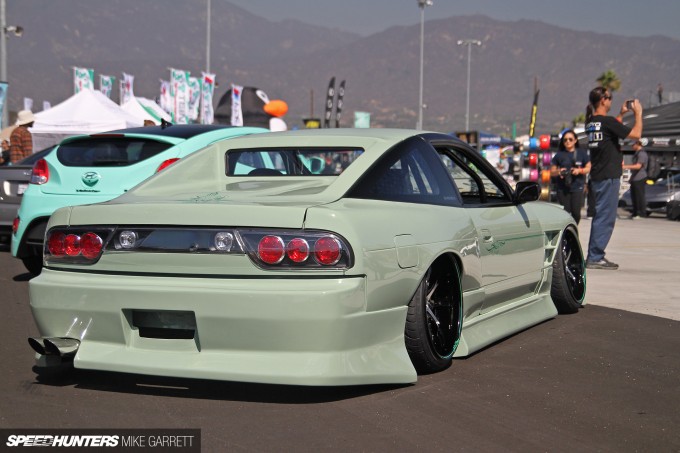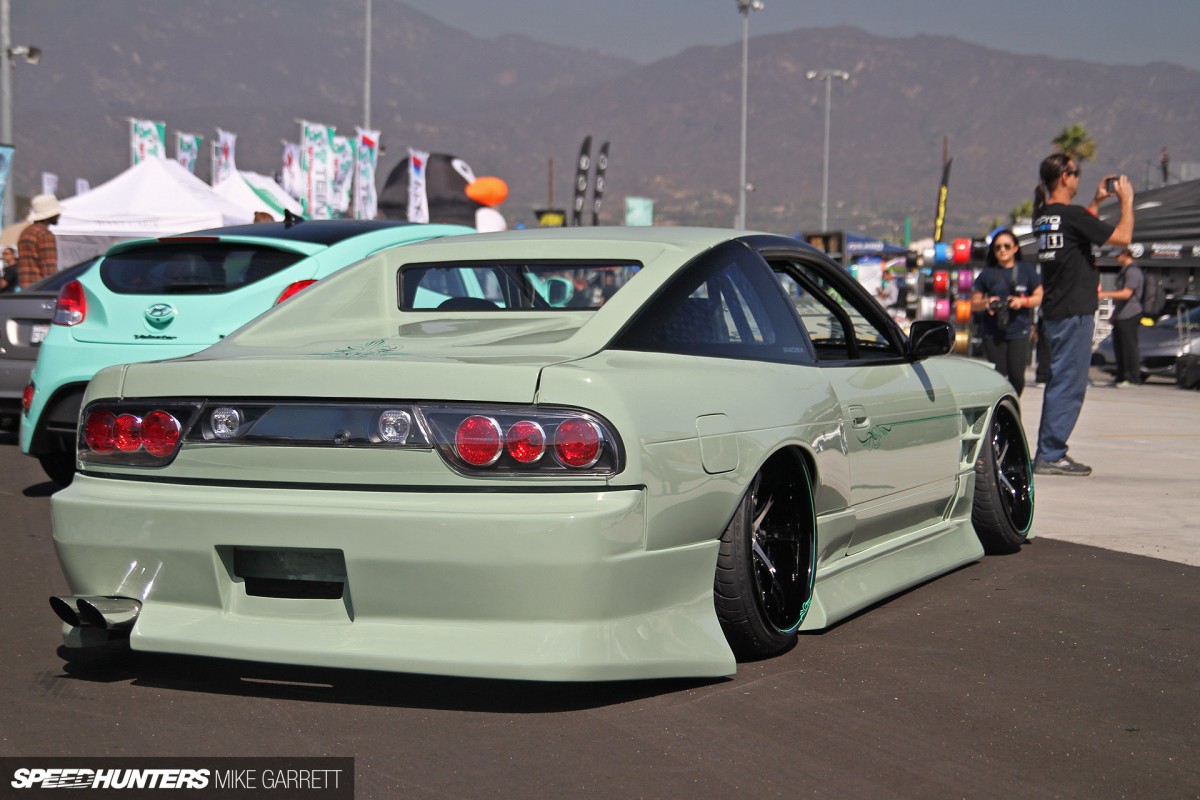 It's one of the most unique S13s I've seen and I'm looking forward to seeing what Larry Chen can come up with once he gets hold of the car for a full feature shoot.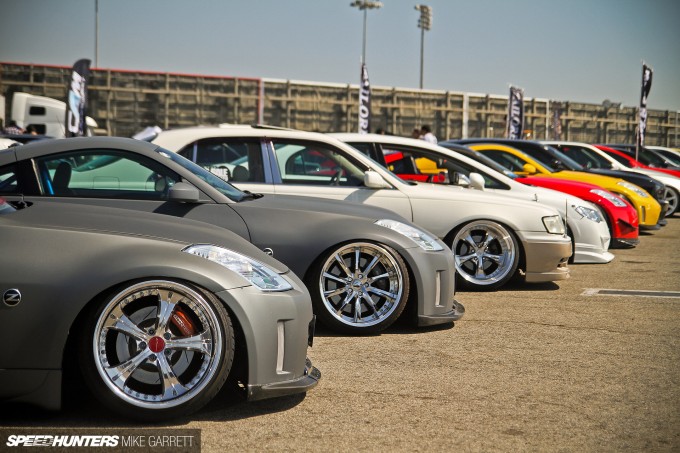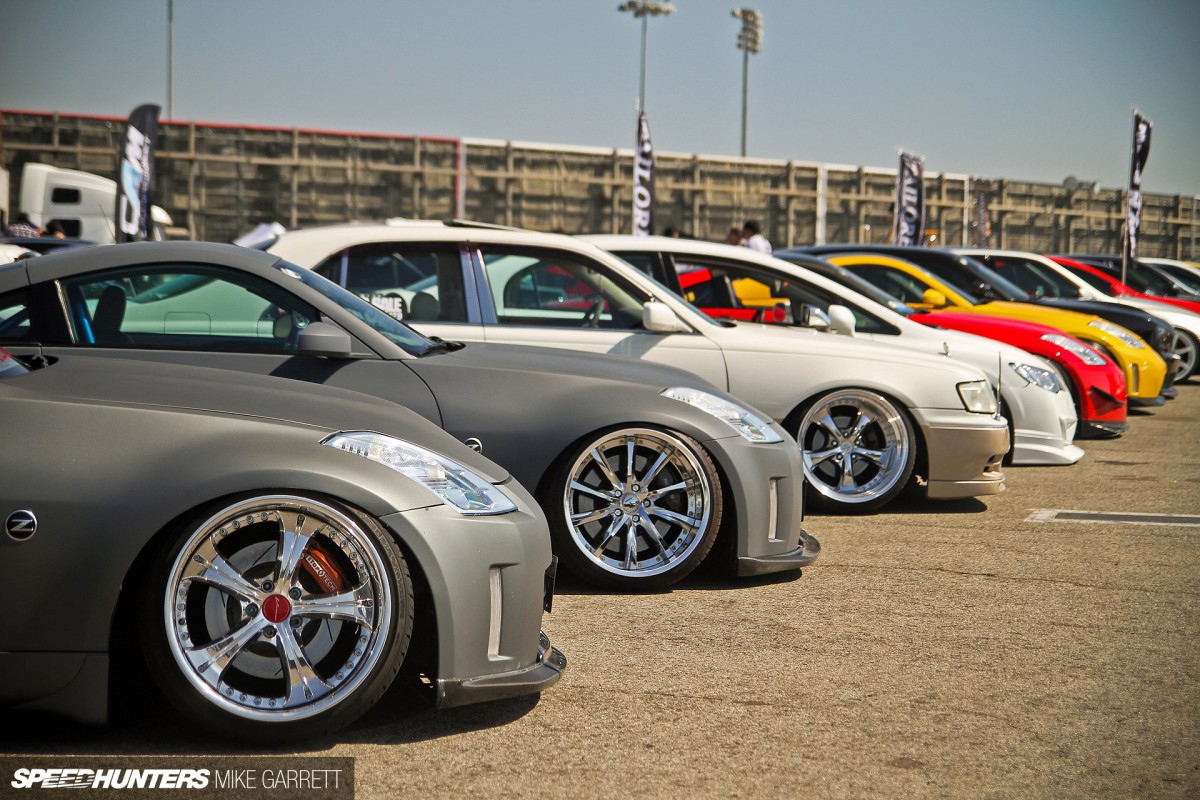 There you have it. Slammed Society at Formula Drift Irwindale – much more than a sideshow.
Next time I'll return with some parking lot sightings from the House of Drift.