Legendary line-up
After a one year hiatus, Nissan fans can finally rejoice as the most important event of their calendar year returned yesterday at Fuji Speedway. I am of course talking about the Nismo Festival, a sort of gathering that everyone remotely into cars should at least see once in their lives. It's a place where the new meets the old, where the latest and best is celebrated just as much as what came before it, a place where Nismo can share with its fans the cars that have, over the last thirty years, helped to put it on the worldwide motorsports map.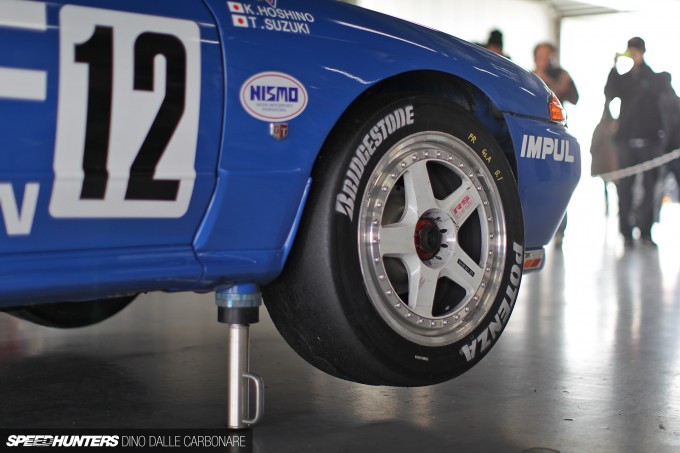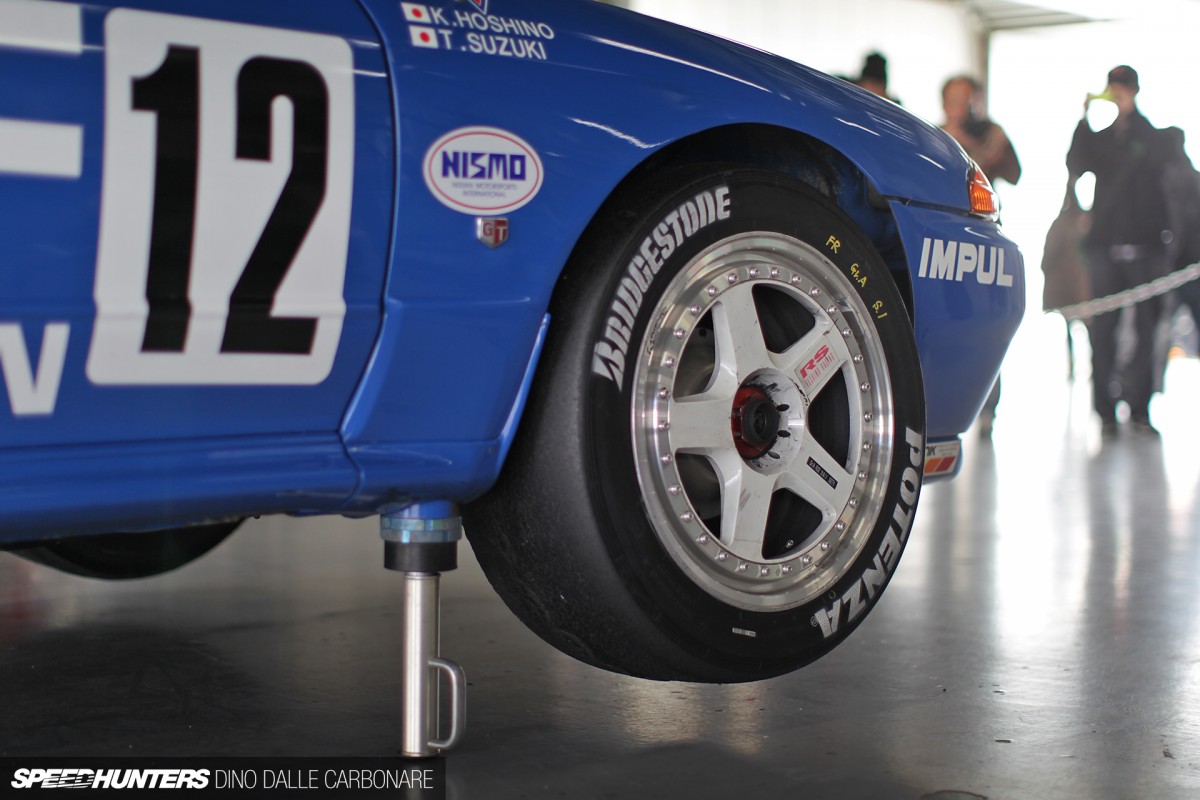 Legends are brought out from the Nissan collection and prepped for a day of fun, displayed in full view inside the Fuji pits as the mechanics warm their vital fluids before…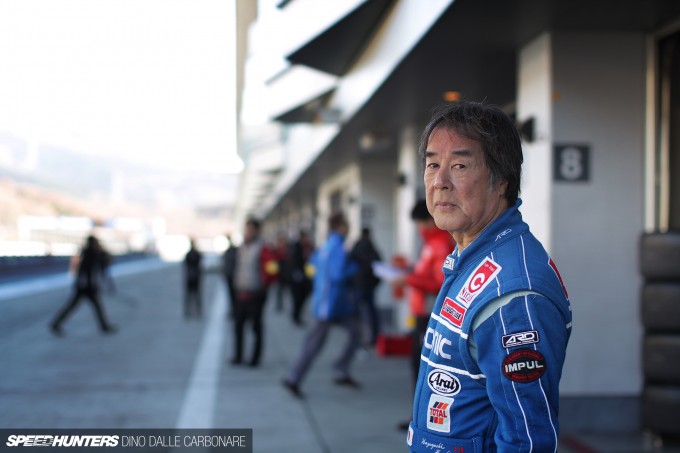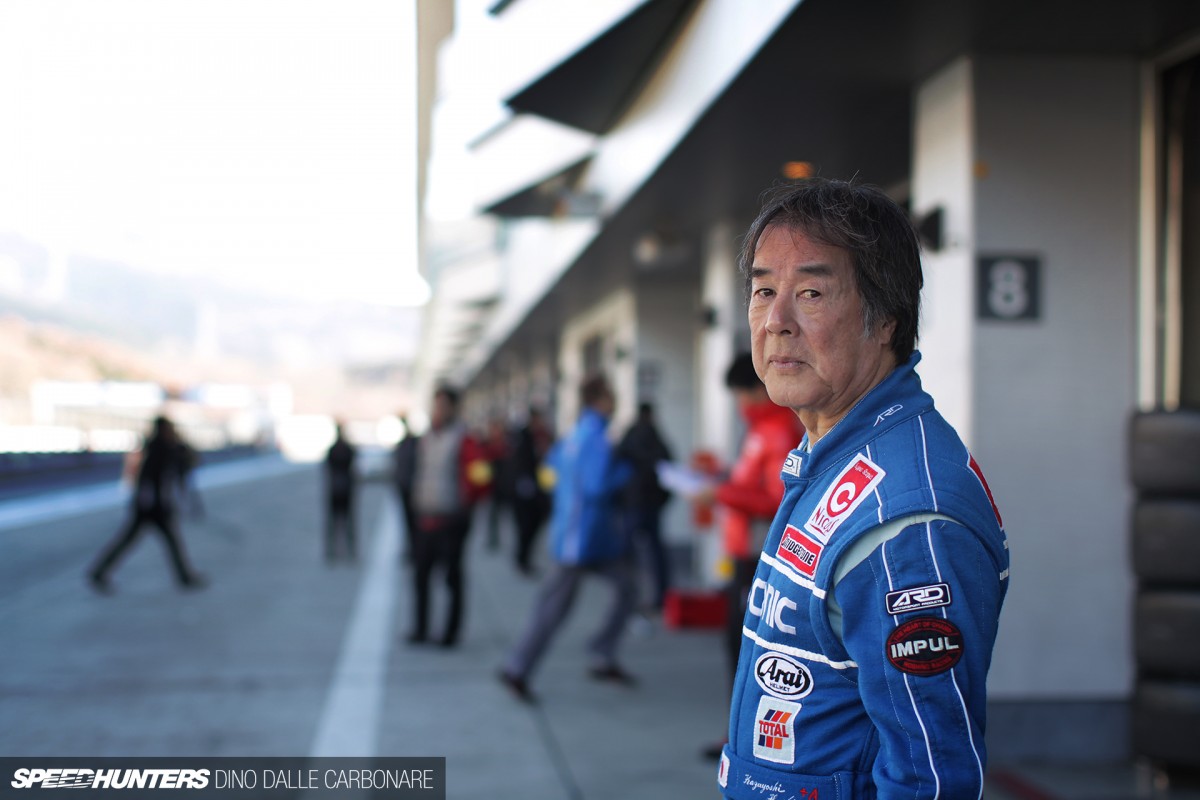 … equally legendary drivers, like Kazuyoshi Hoshino – the man behind Impul – take them for some hot laps around the track. And while this is in no way a competitive event, what sets it aside is the pace at which these drivers push the cars. They might be highly valuable one-of-a-kind machines, but that doesn't stop them being put through their paces so it's not uncommon to see the odd bit of oversteer being induced at corner exit, or some aggressive overtake maneuvre being done when all the cars race against each other in the GP race at the end of the day.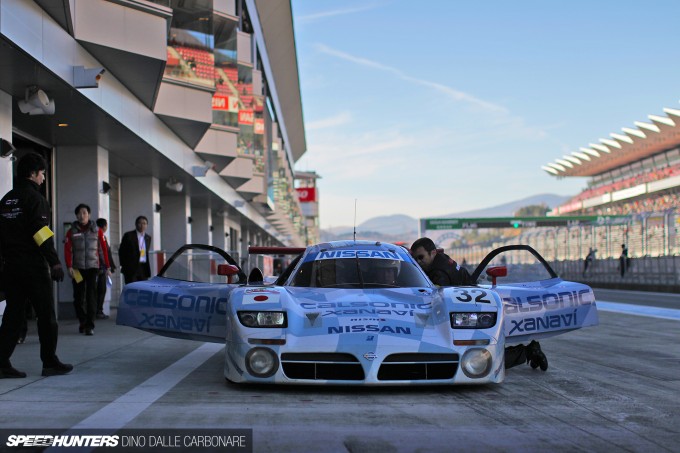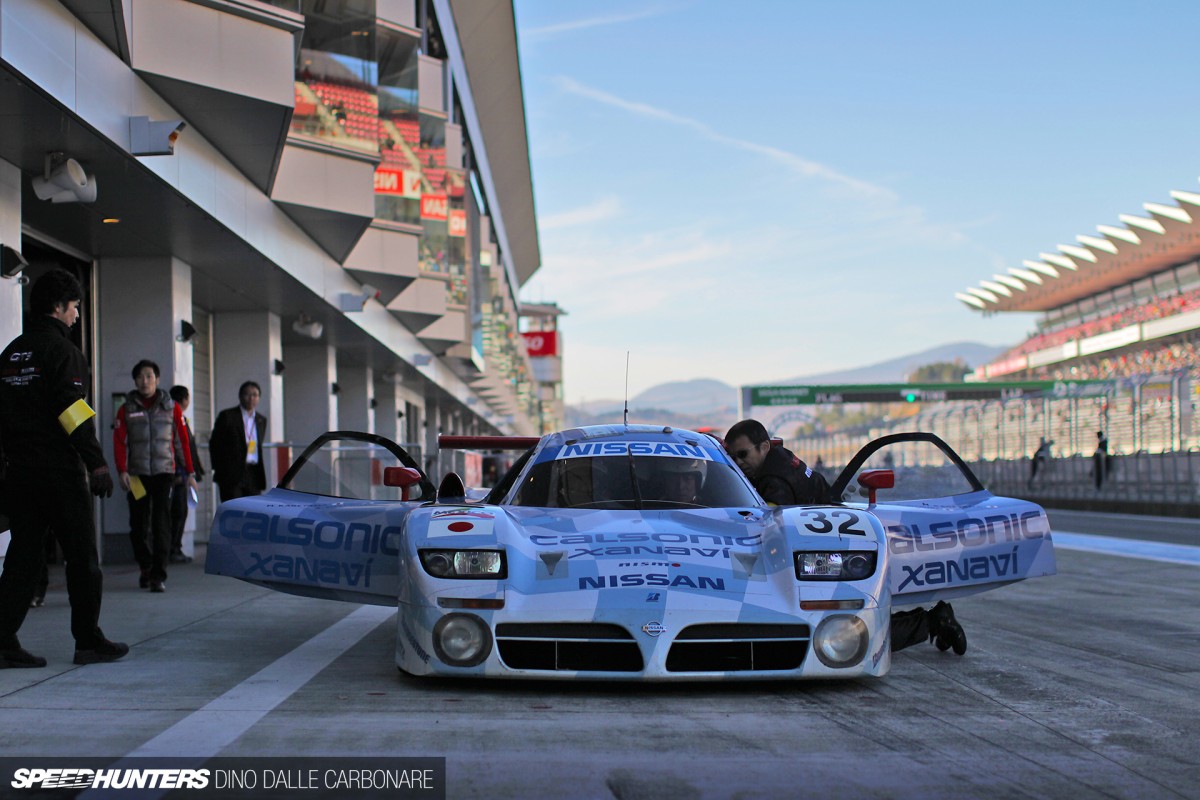 Getting close to such action just never gets old. I still feel the same excitement seeing cars like the R390 GT1 sit there…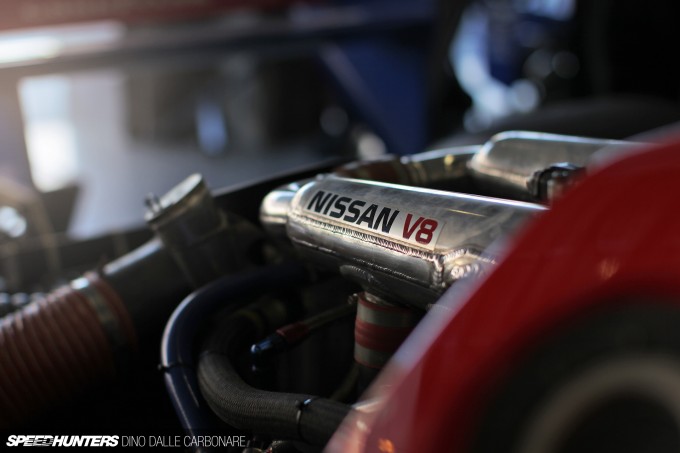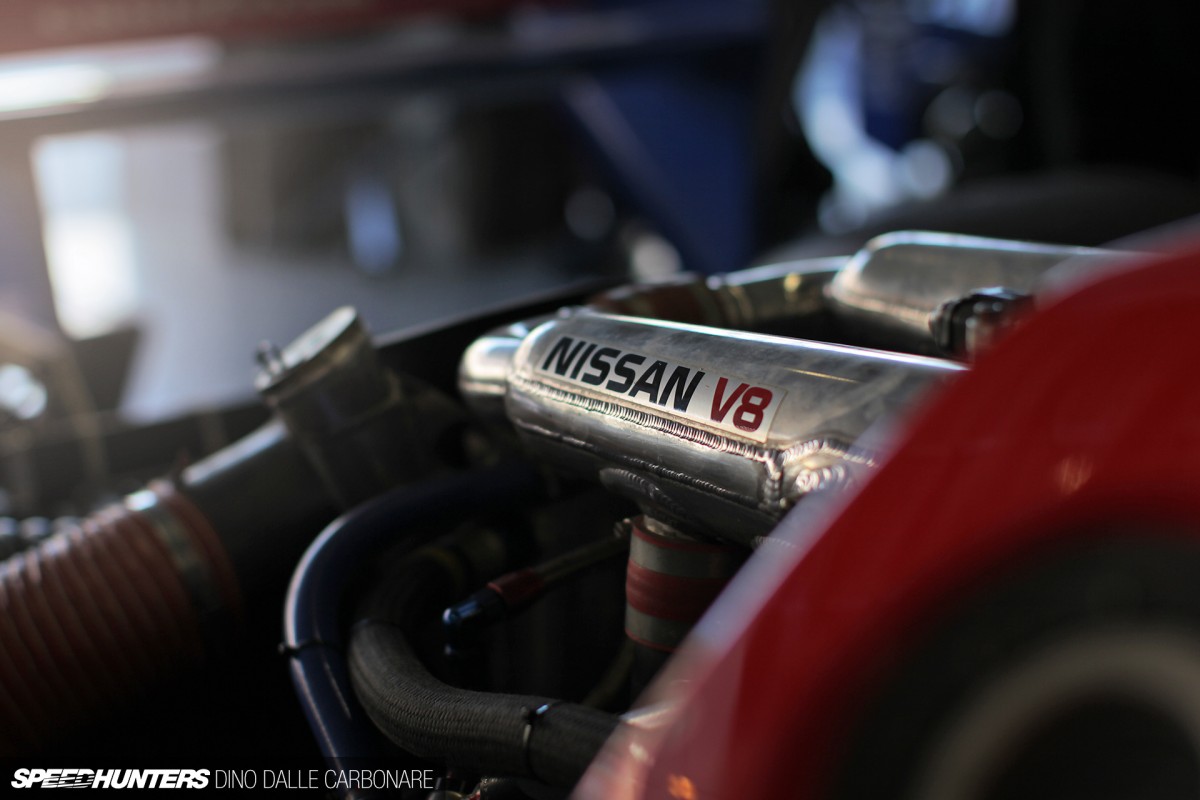 … revving its twin-turbocharged V8, moments before shooting out of the pits at full chat.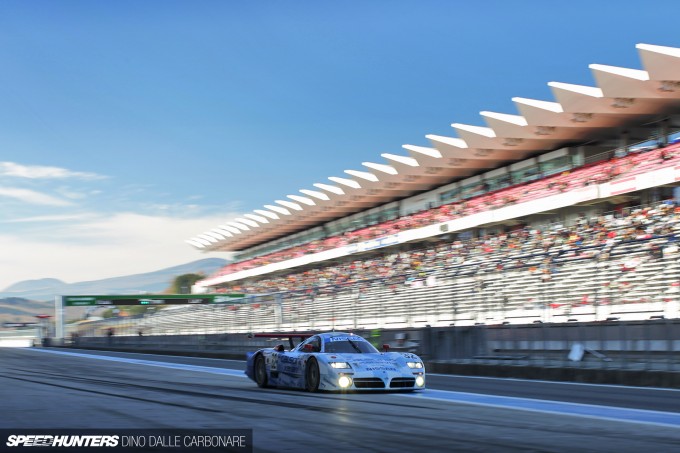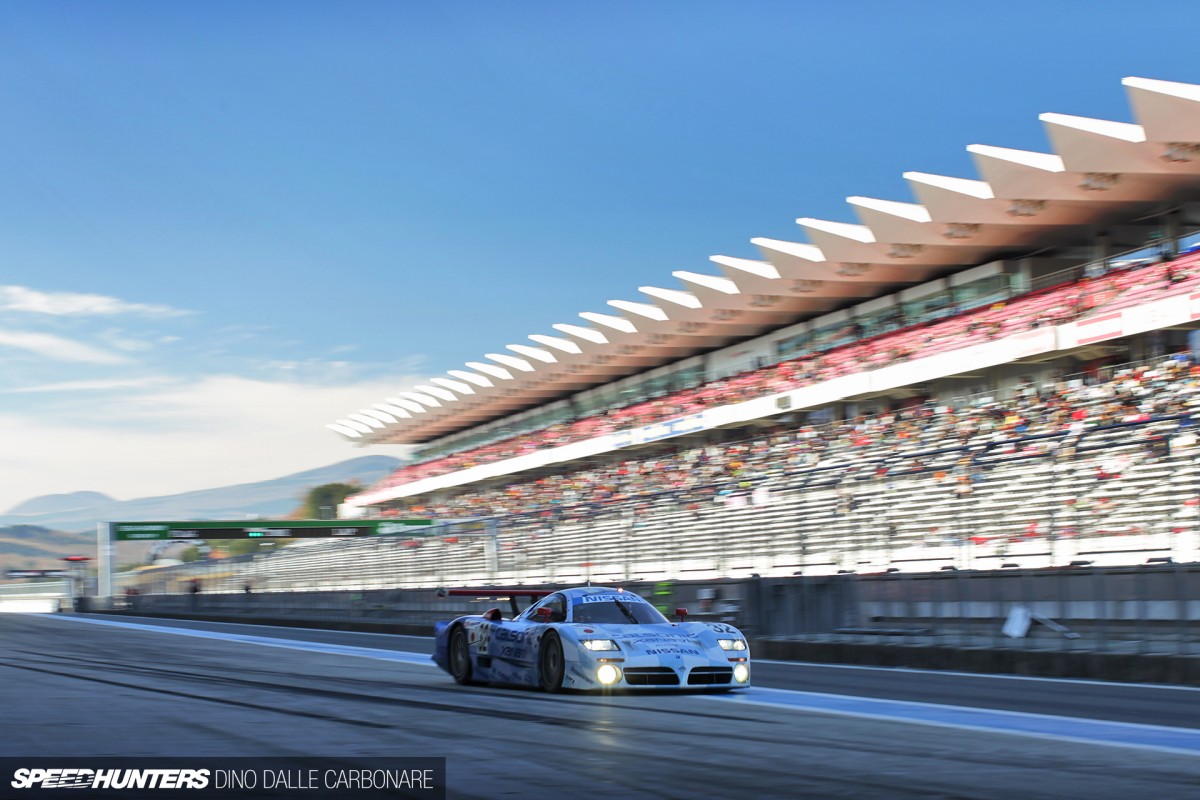 For car guys like us, it's nothing less than poetry in motion.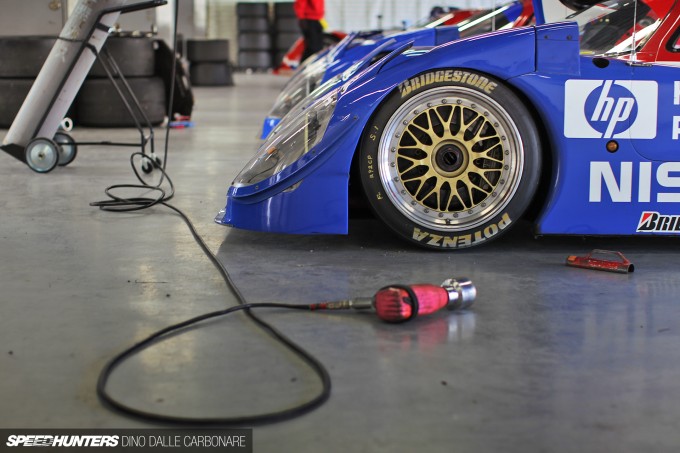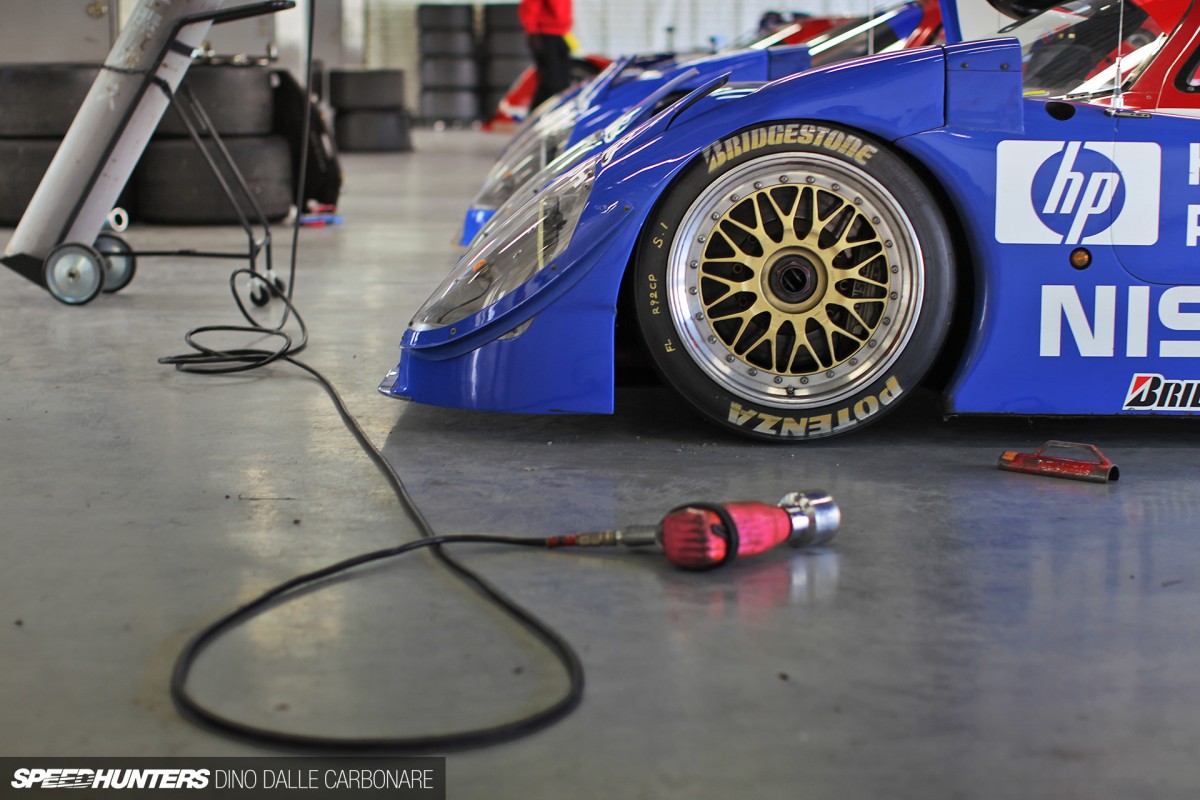 The reason no festival was held last year was because the latter part of 2012 saw Nismo move its operations from the rundown Omori Factory HQ in Tokyo down to Tsurumi in Yokohama. This is to coincide with Nissan moving its headquarters from Ginza, Tokyo, to the futuristic and fashionable Minatomirai district of Yokohama. This is where Nissan's roots lie so keeping all operations in and around Yok0hama is something the manufacturer has been wanting to do for a while. Now working out of a state of the art facility…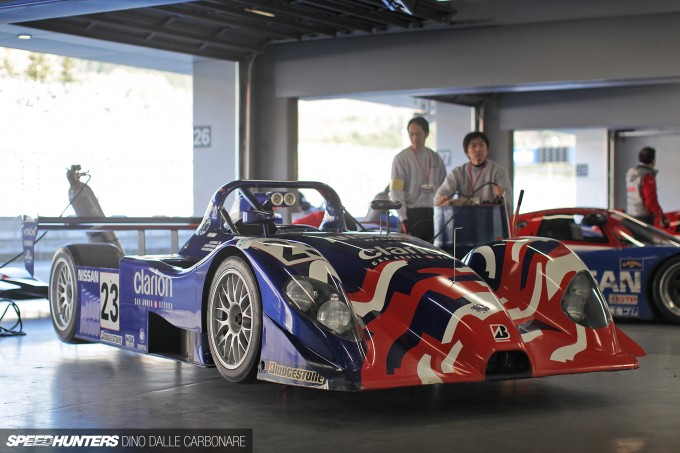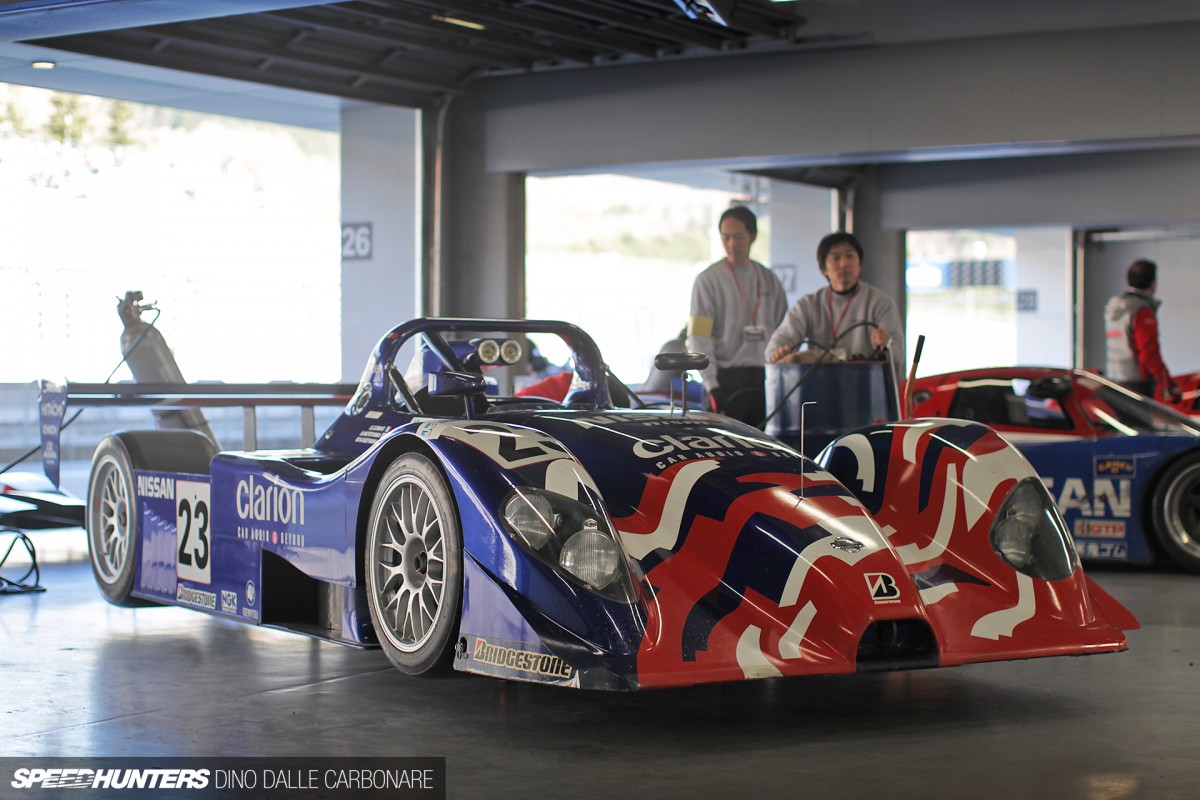 … Nismo will have the chance to continue focusing its attention on worldwide motorsports so it's no surprise that they didn't forget to bring their past Le Mans cars like the R391. It was a good way to show its past….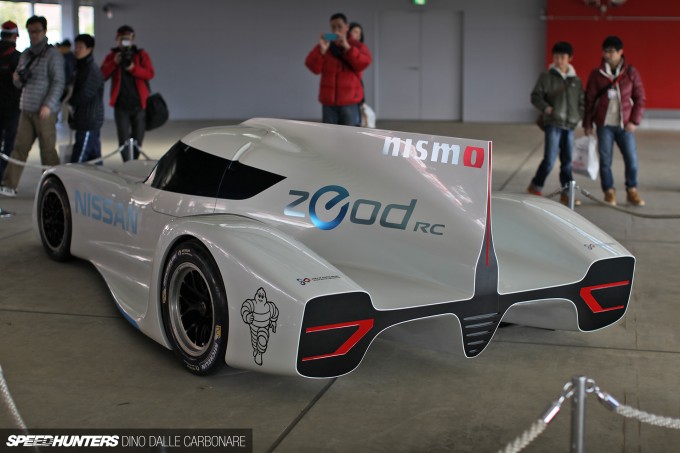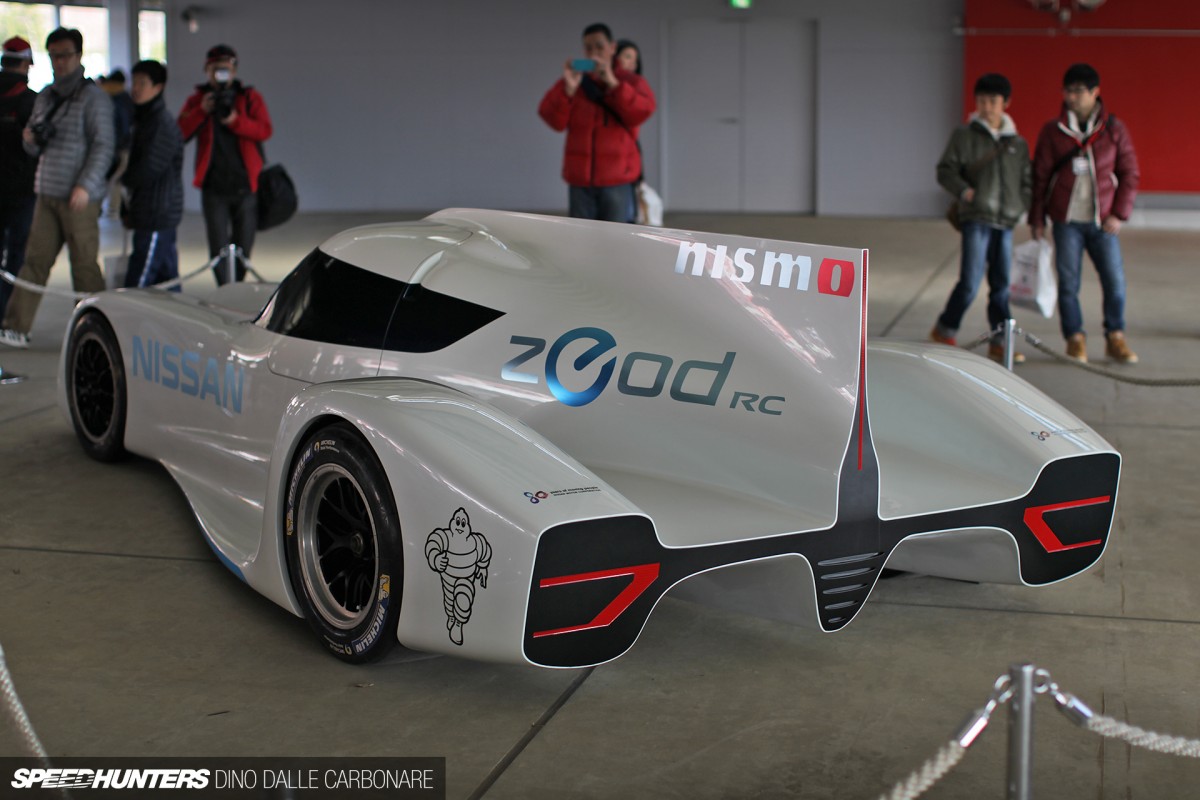 … and hint on the future by exhibiting a mockup of the ZEOD RC hybrid Le Mans car which will make its debut in 2014 at the French endurance race. Its controversial shape is an evolution of the Deltawing and is powered by a 1.6L turbo engine and two electric motors, able to be used combined or in full electric mode. In fact they're saying the ZEOD will be the first race car able to complete one lap of the Le Mans circuit using only electric power. But while the future is interesting and all, I'm sorry…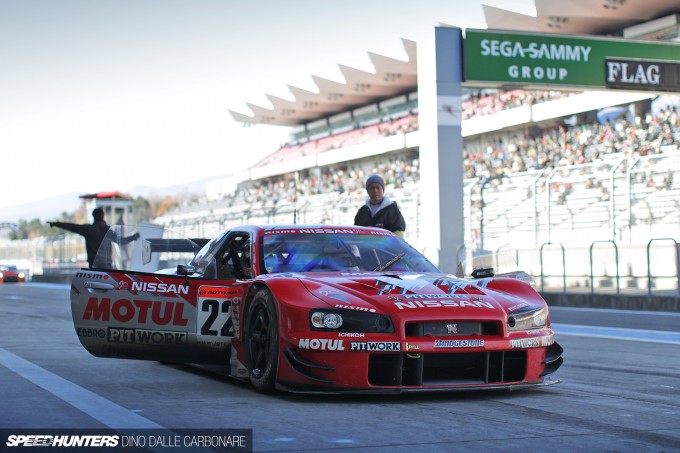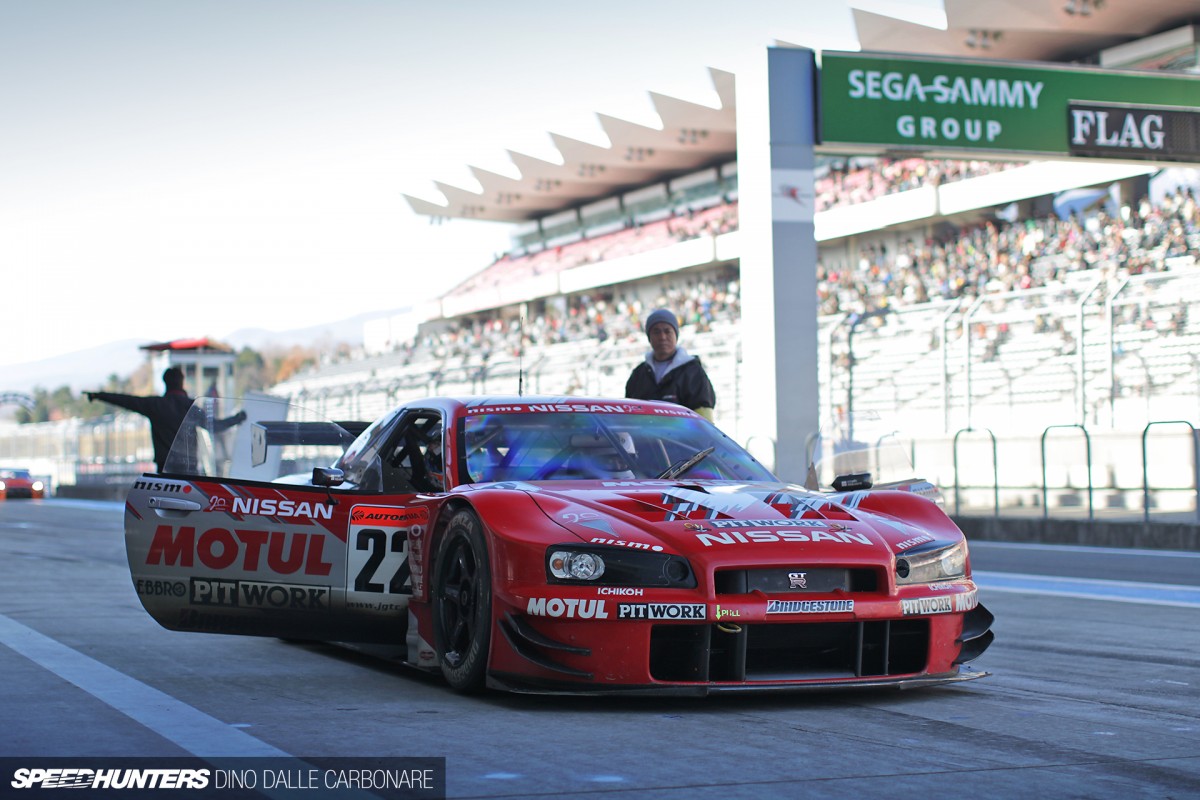 … but you probably guessed what I was drooling over most of the time. The 2003 Motul R34 GT500 racer may not be the 'real' R34 GT car per se as it was powered by a VQ twin turbo motor, but its shape continues to have an impossibly strong allure. This was the final version of the R34 before the Z33 successfully took over.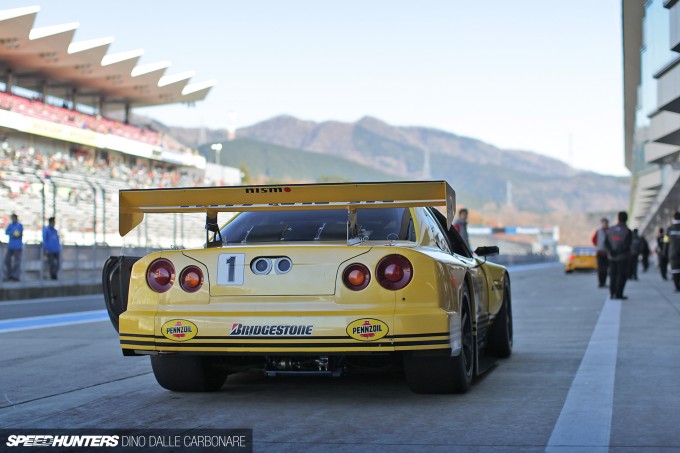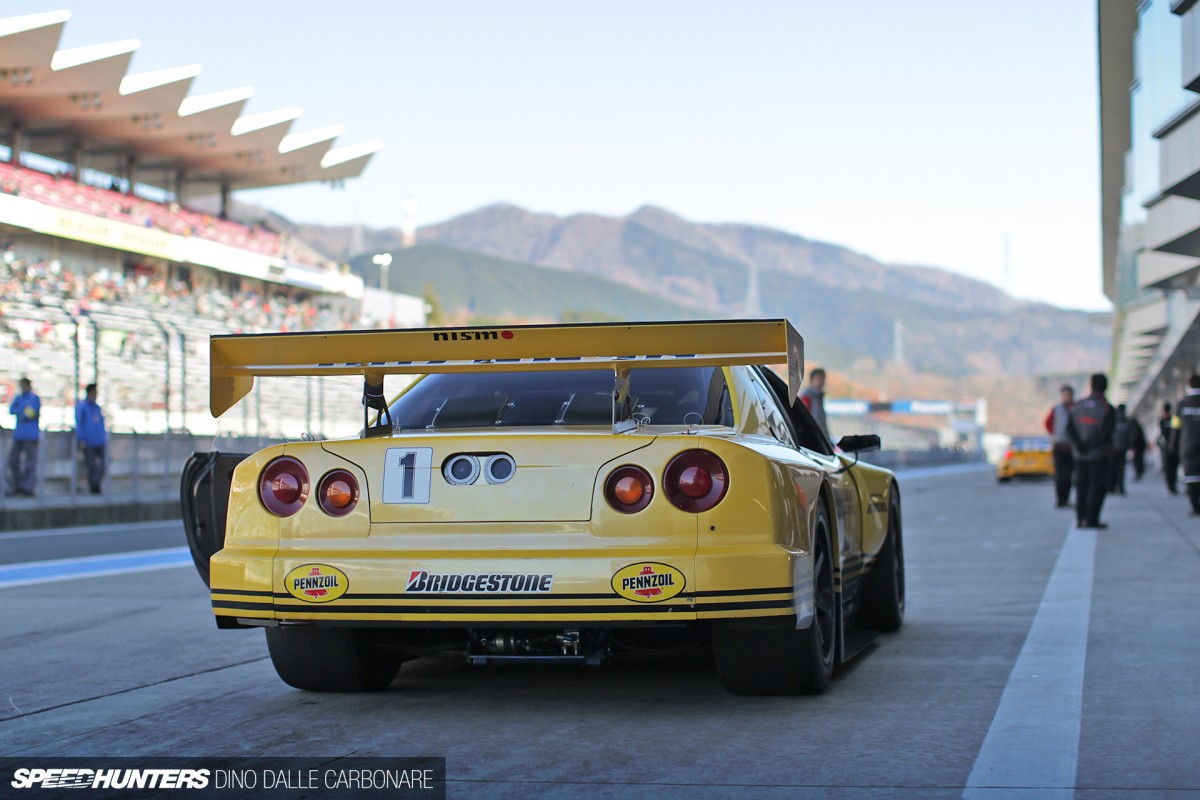 Before it were the RB28 powered cars…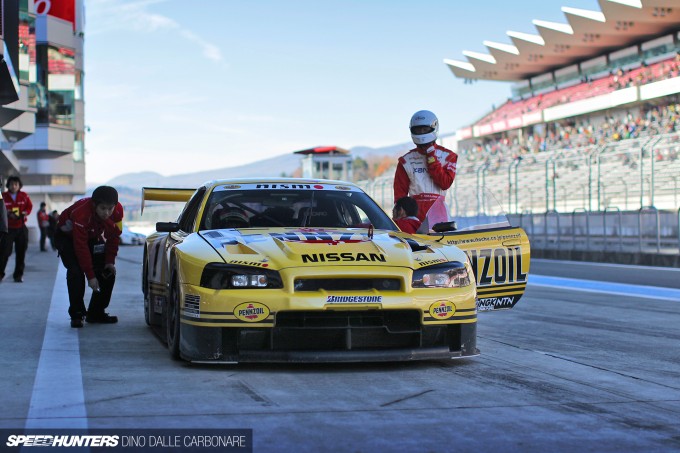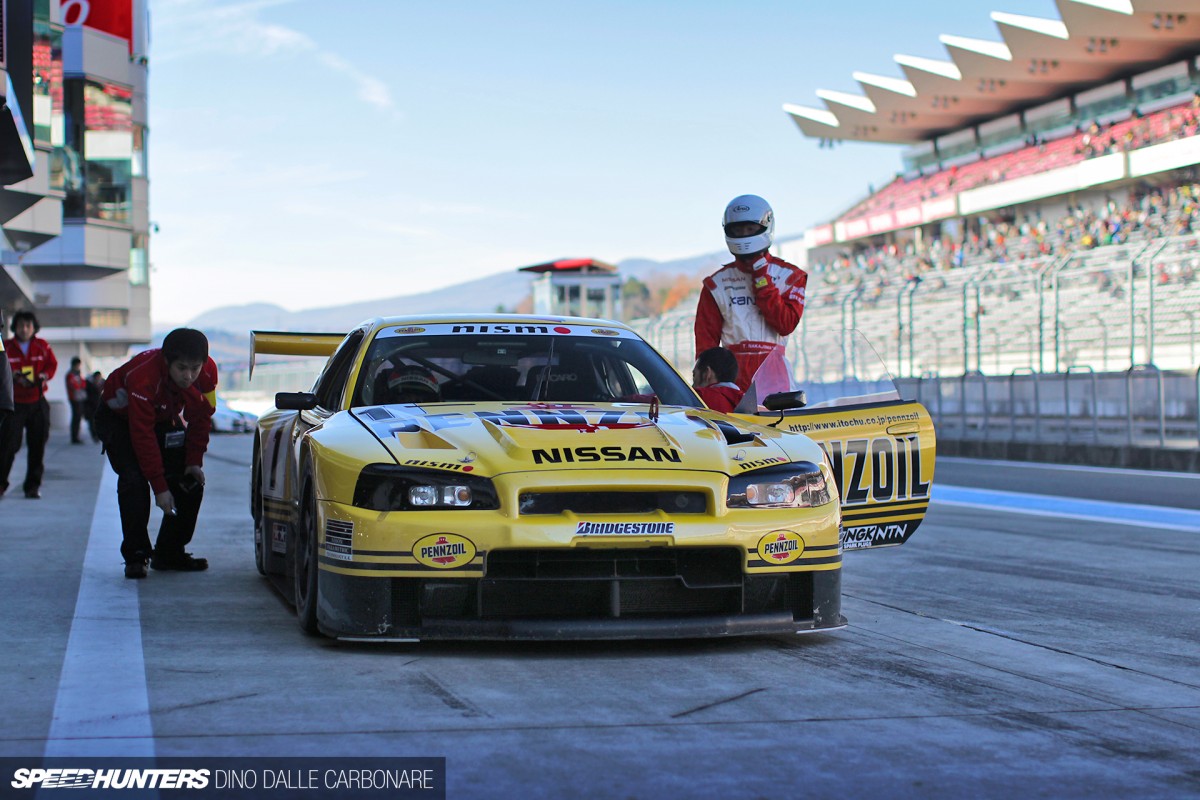 … like Eric Comas' Penzoil racer from 2002. I don't know if it's due to the fact that I'm an R34 owner, but nothing in the Nismo display quite did it for me like these two cars. Call me biased; I don't care, I just can't help it. These will remain one of the most recognizable faces of Nissan and Nismo for many years to come.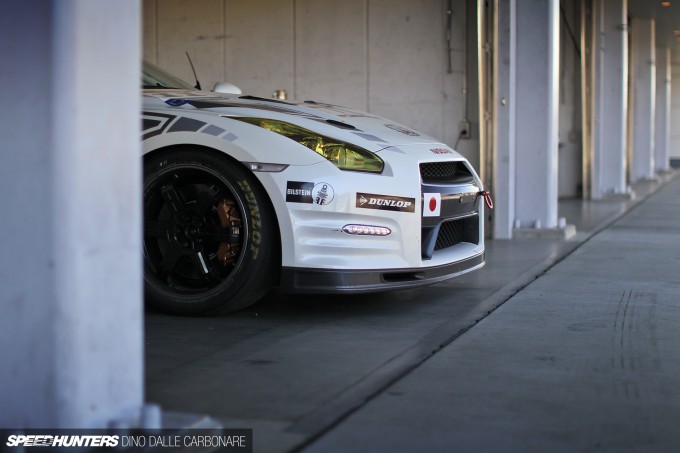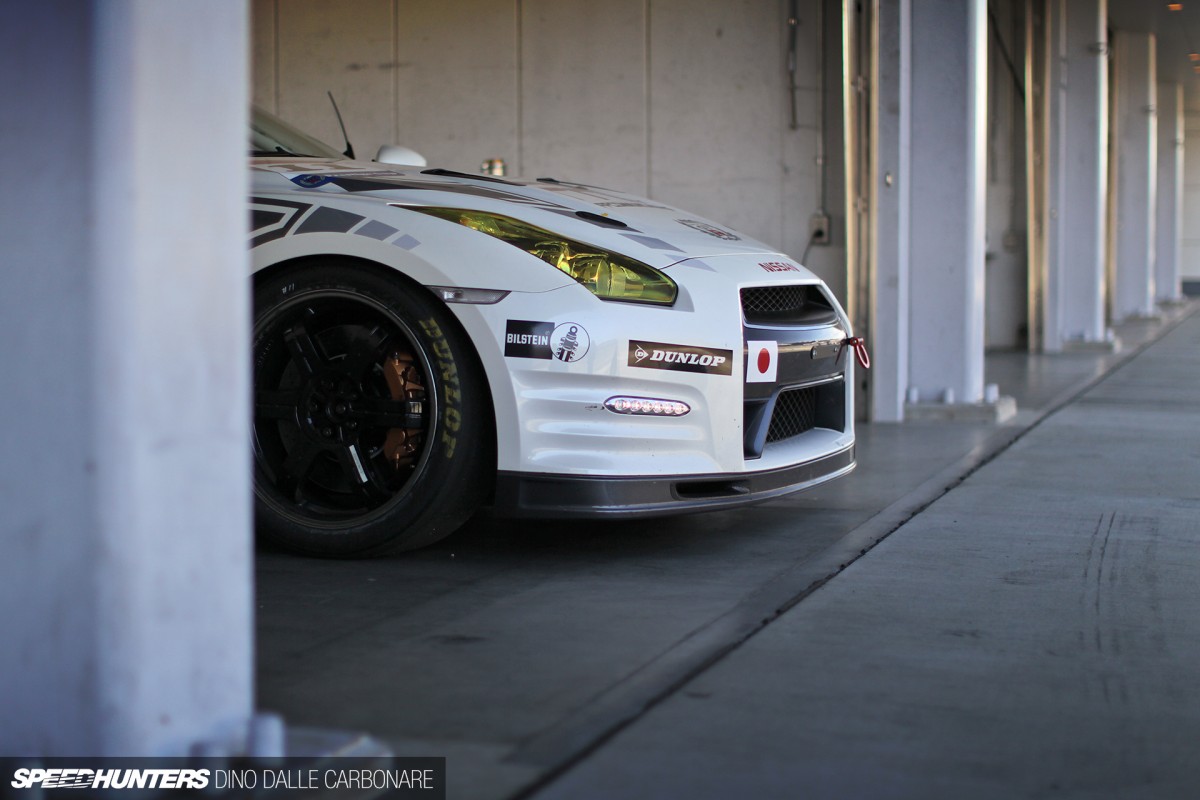 The R35, seen here in customer racing series guise, is an unquestionably unique-looking and exceptionally-performing car, but does it have that same quality the R34, and R33/R32 had before it? I'll let you ponder over that question.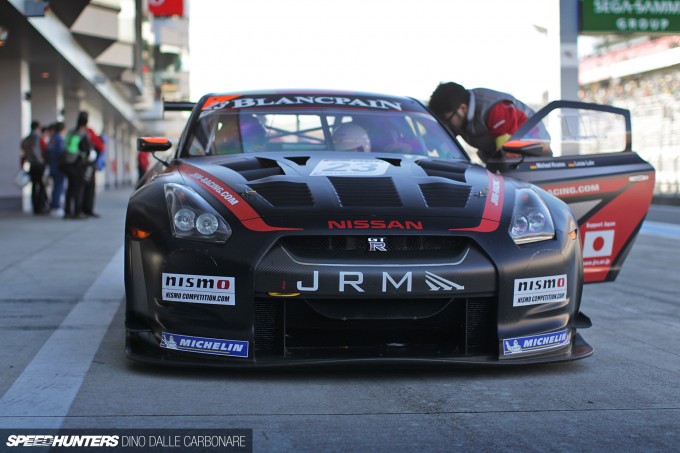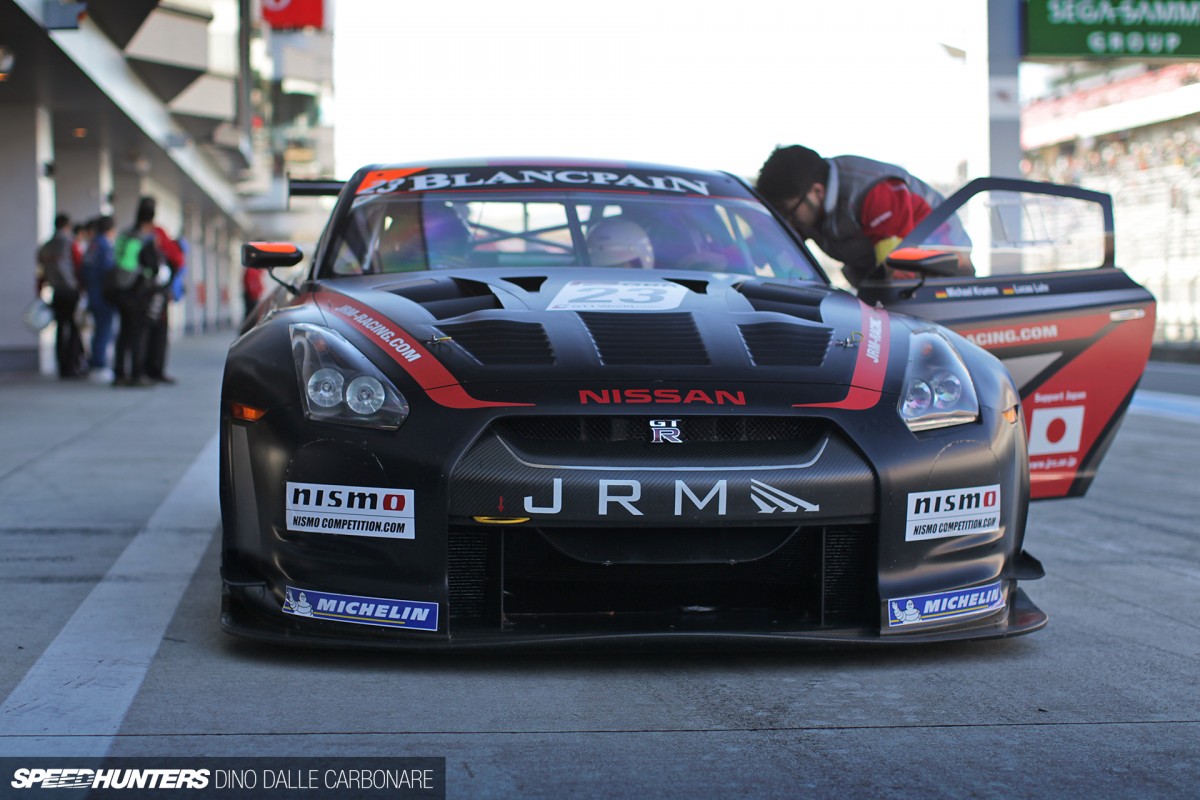 Still, that said, you can't beat the JRM FIA GT1 race car version of the san-go. The way it manages to resemble the production car…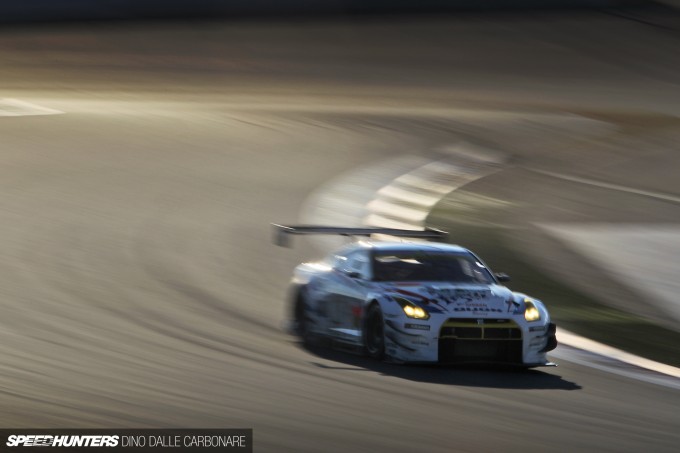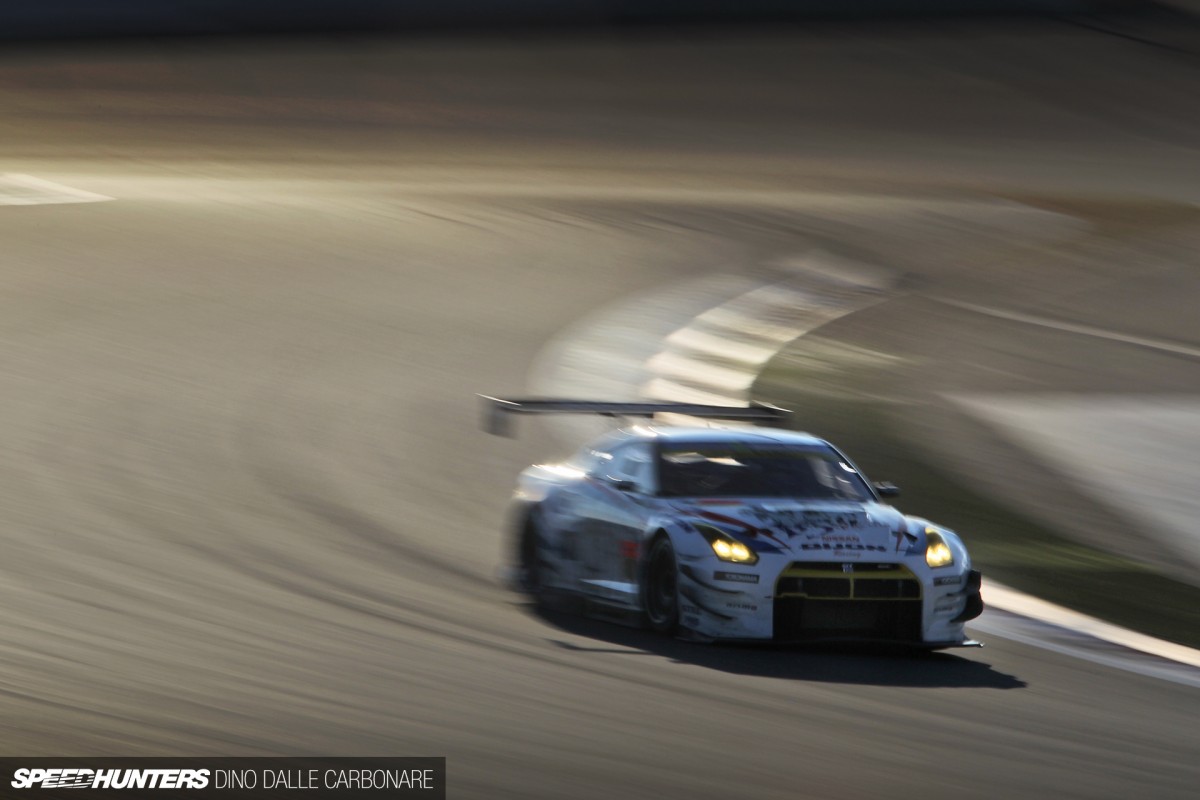 … much like the GT3 cars do…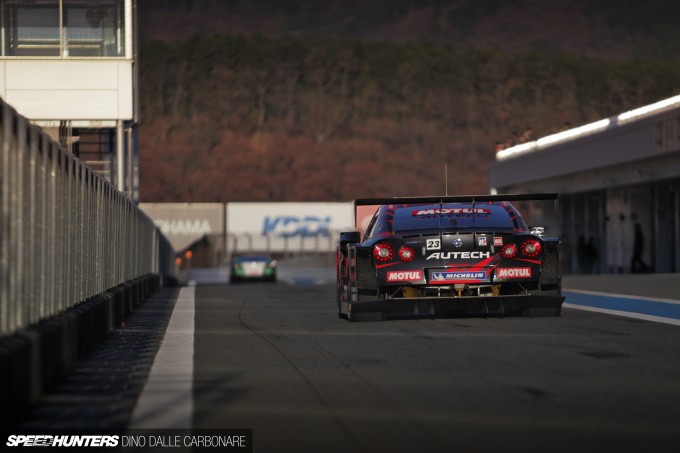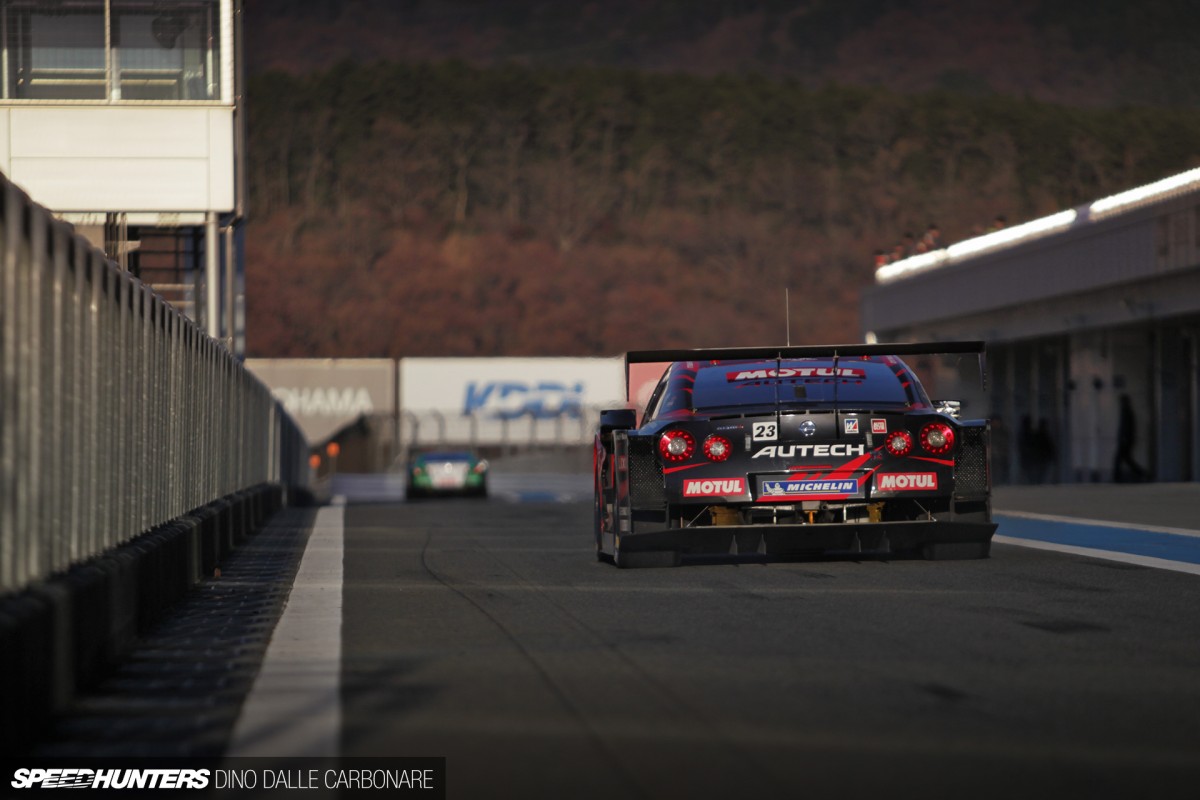 … make it a far easier car to like and feel attached to, compared to the almost caricature-like GT500 cars. I've said it before and I'll say it again: Nismo should really be making a limited edition GT3 road version of the R35, a wide body, race-inspired car to top even the all-new Nismo GT-R that, with a few purchasable extras, has managed to lap the Nurburgring in 7 minutes and 8 seconds.
The classic touch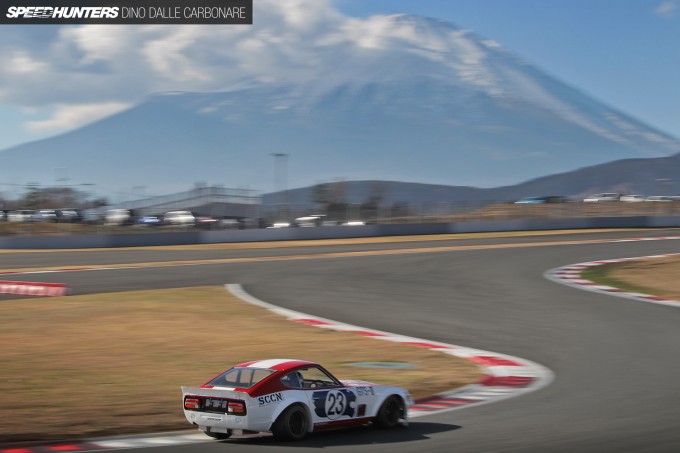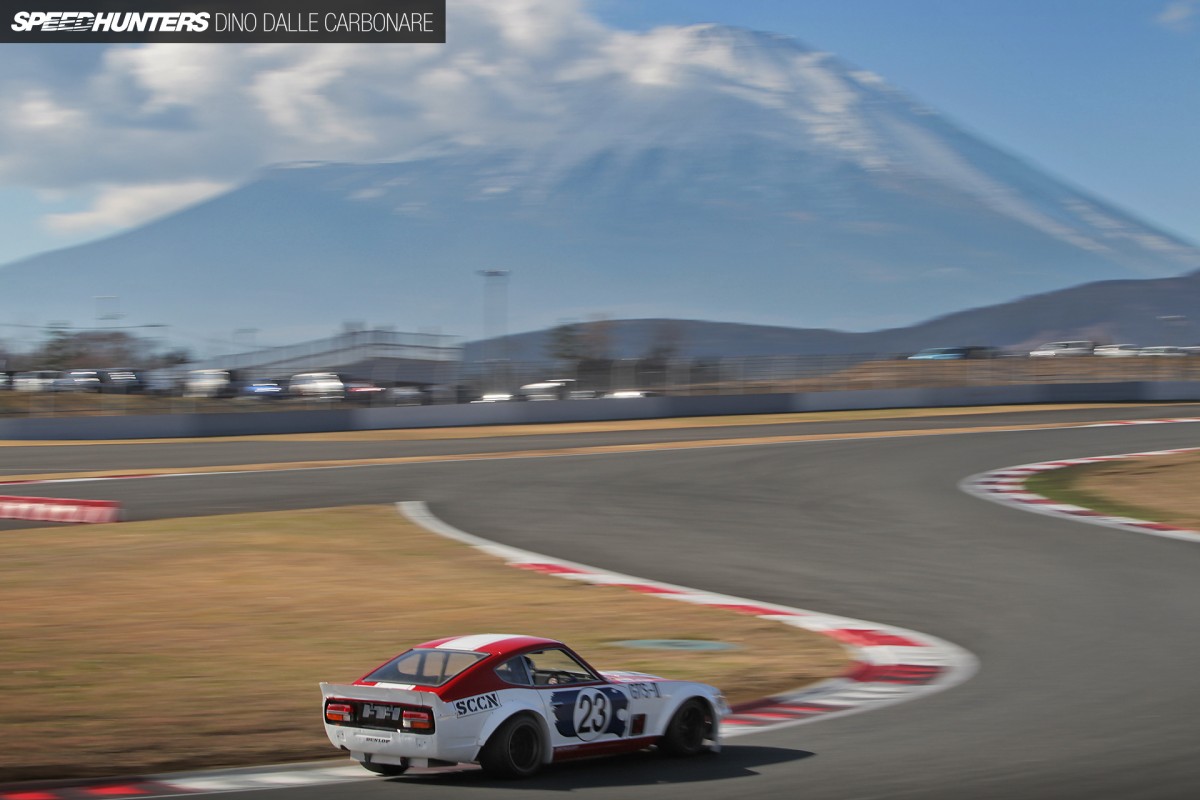 A celebration like this should never fail to include the classics, and there sure were many at Fuji Speedway yesterday.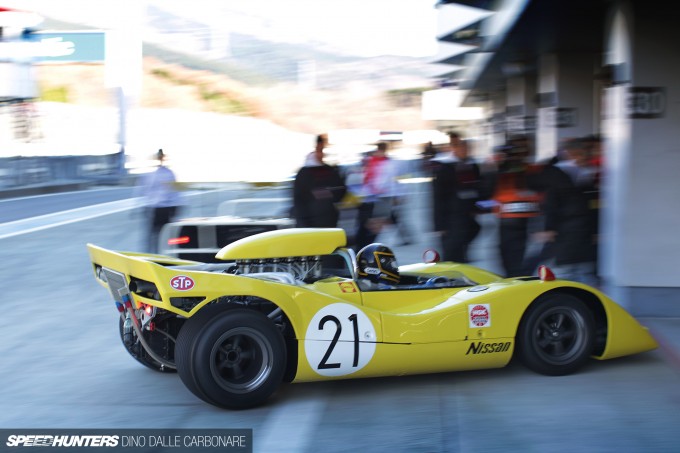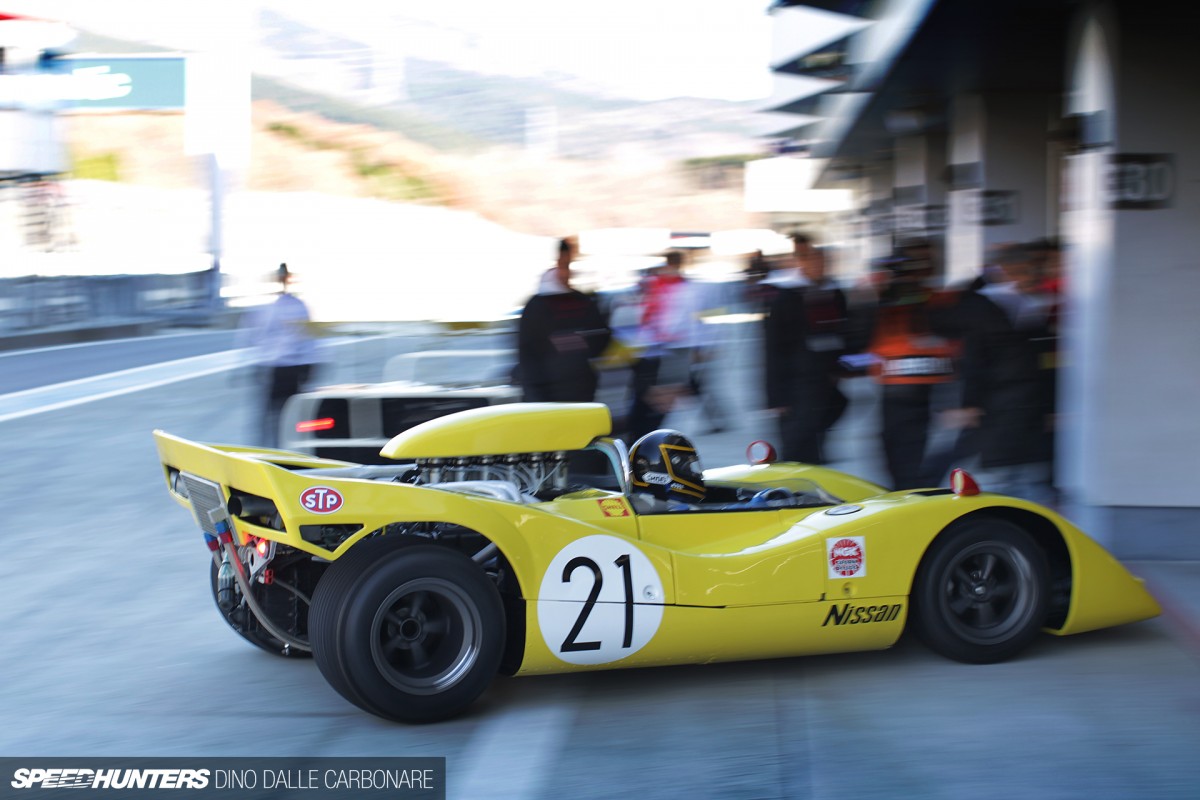 The 1969 R382 was a race car built to Group 7 regulations, created to compete in the Japanese Grand Prix. It was powered by Nissan's first V12 engine and hearing this car being warmed up was a spine-tingling experience.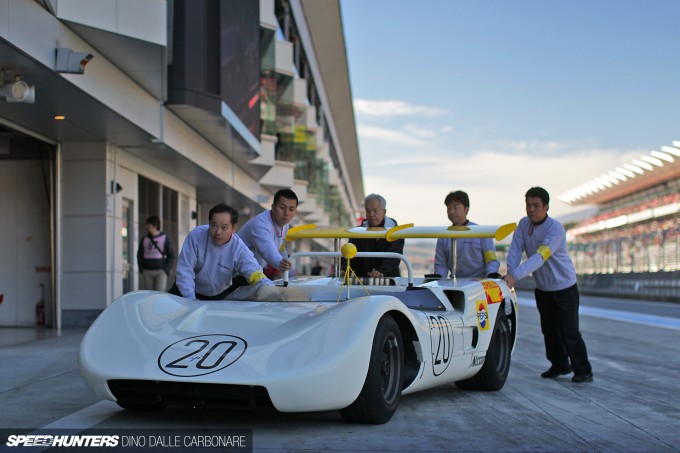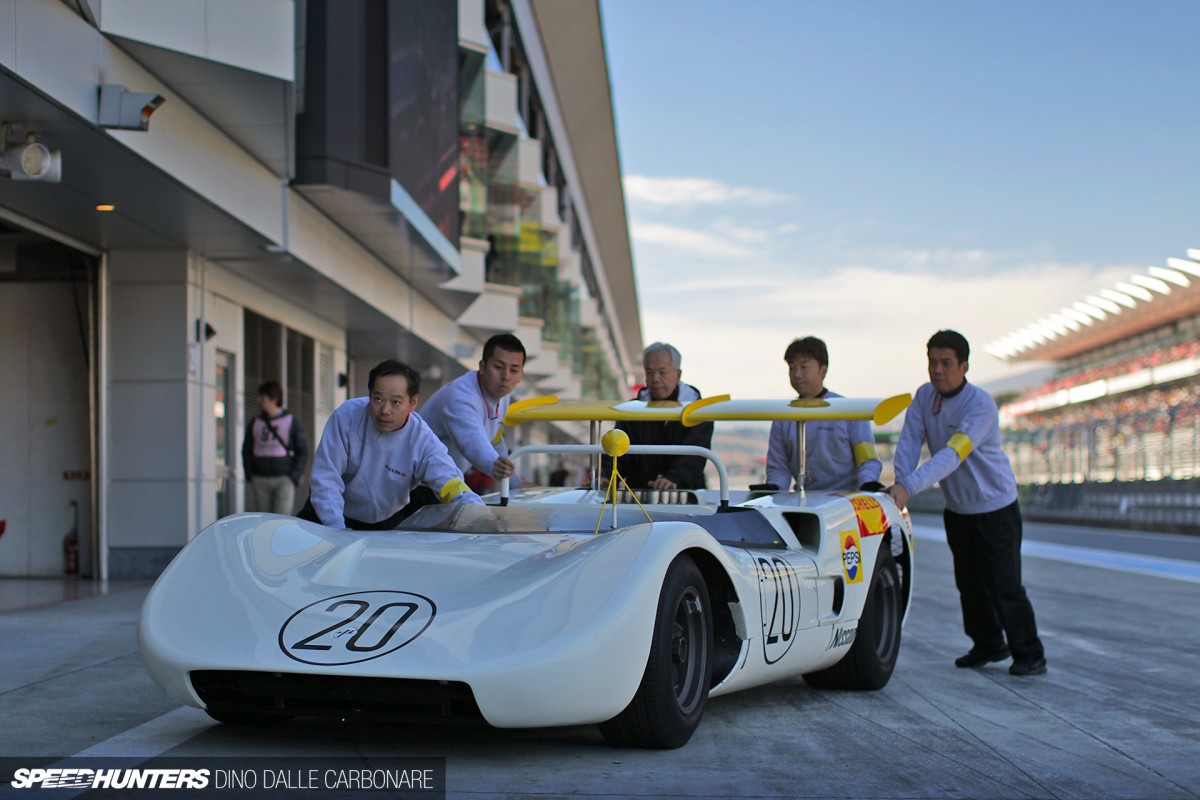 Its predecessor is one we have stumbled upon before at this event and quite a fitting car for me to be seeing at Fuji. You see, the day before the Nismo Festival I was at the set-up of the Mooneyes Hot Rod and Custom show in Yokohama…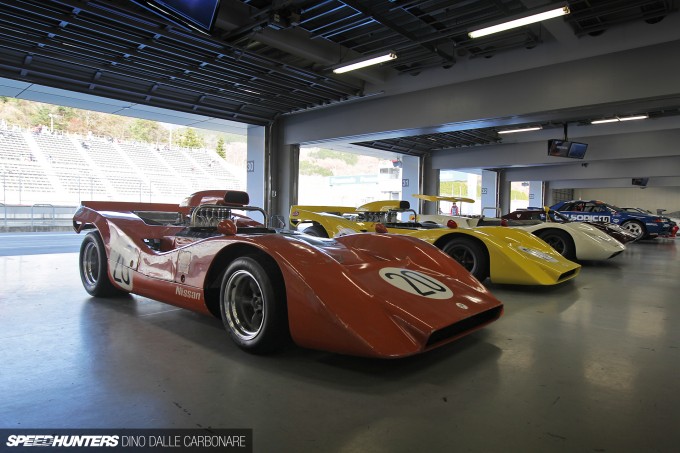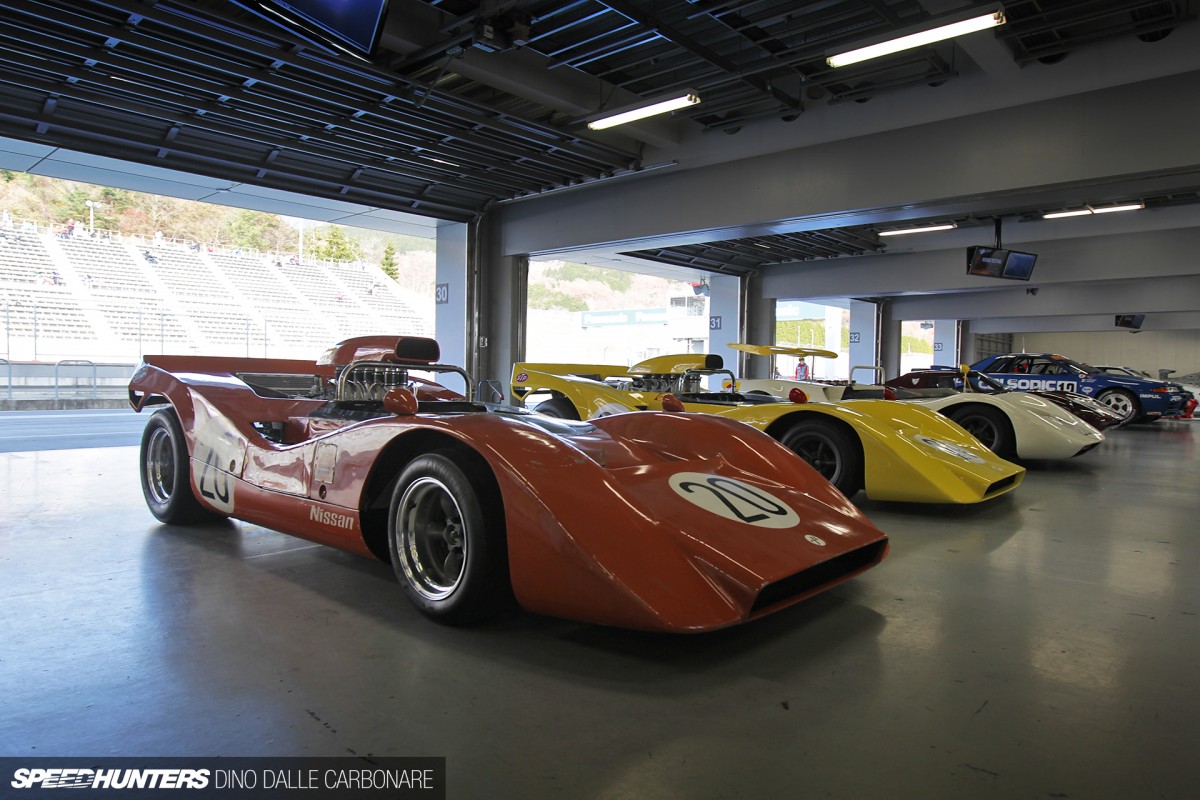 … and the Chevy V8 engine powering the R381 was built by none other than Dean Moon of Mooneyes back in the day, when Nissan went to the US to find help in making their cars more competitive. I'll be bringing you the coverage from that show this week too.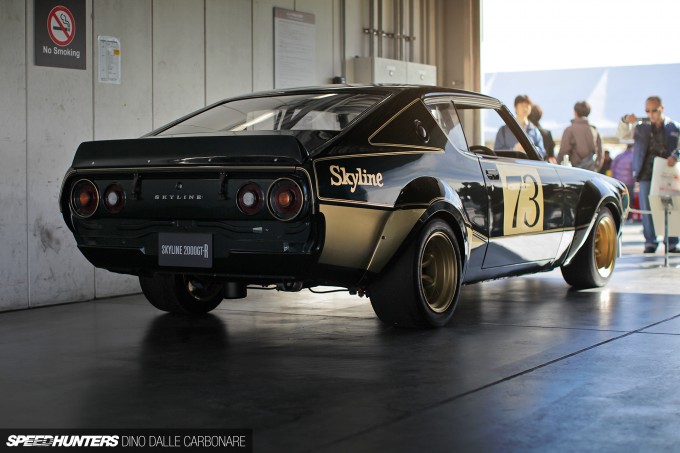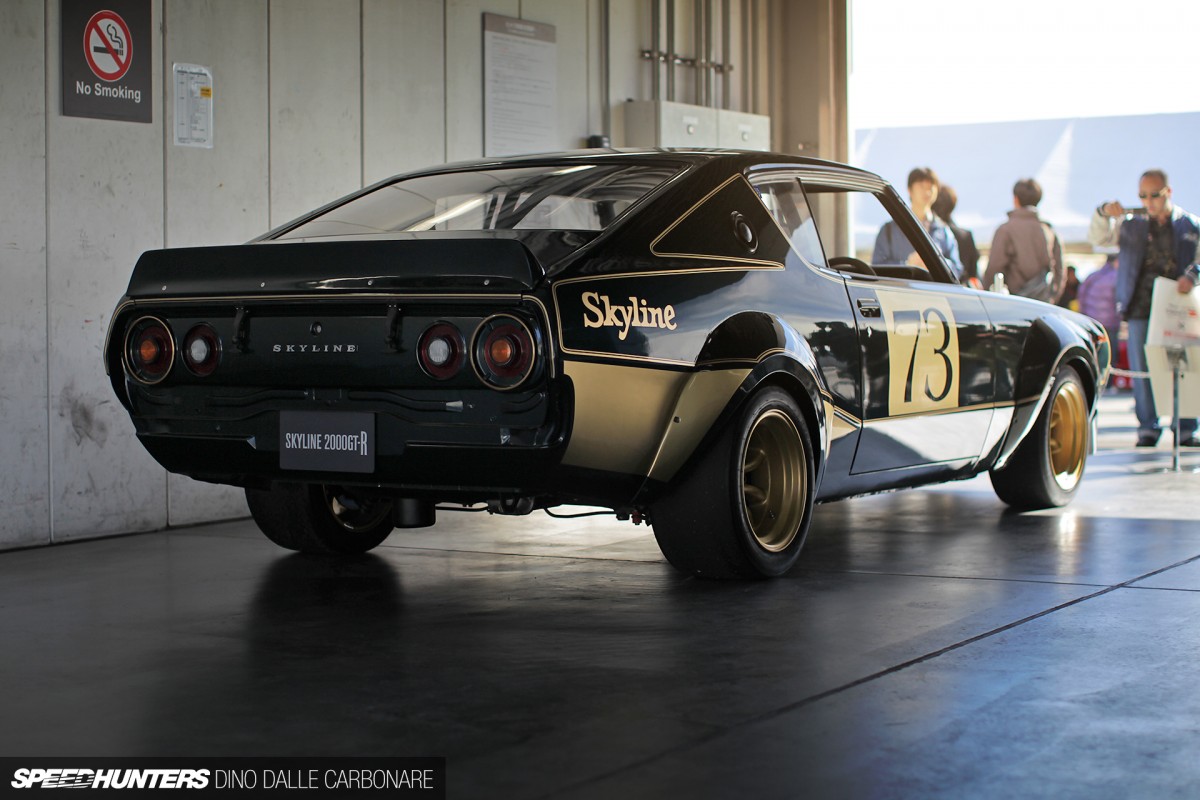 Every time I see the race version of the KPGC110 Skyline GT-R, or more popularly referred to as the Kenmeri, it always makes me wonder whether the Skyline and GT-R brand may have evolved differently if this car had been able to race. Due to the seventies oil crisis Nissan decided to drop the race program and the car never saw the track. Maybe if it continued to race and win, we wouldn't have seen such a big gap between it and the 1989 BNR32 before the GT-R brand resurfaced.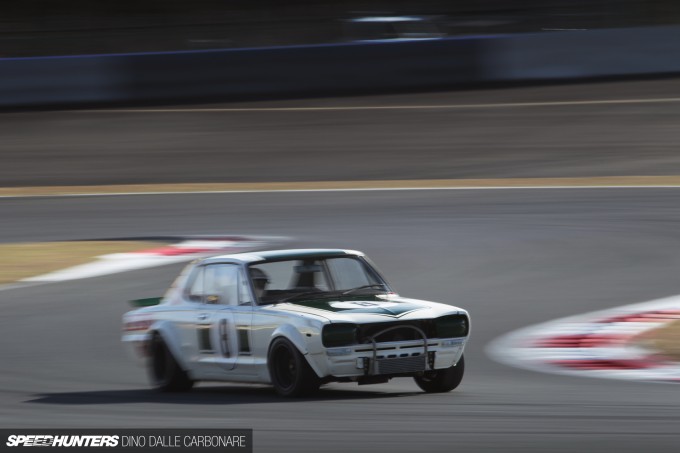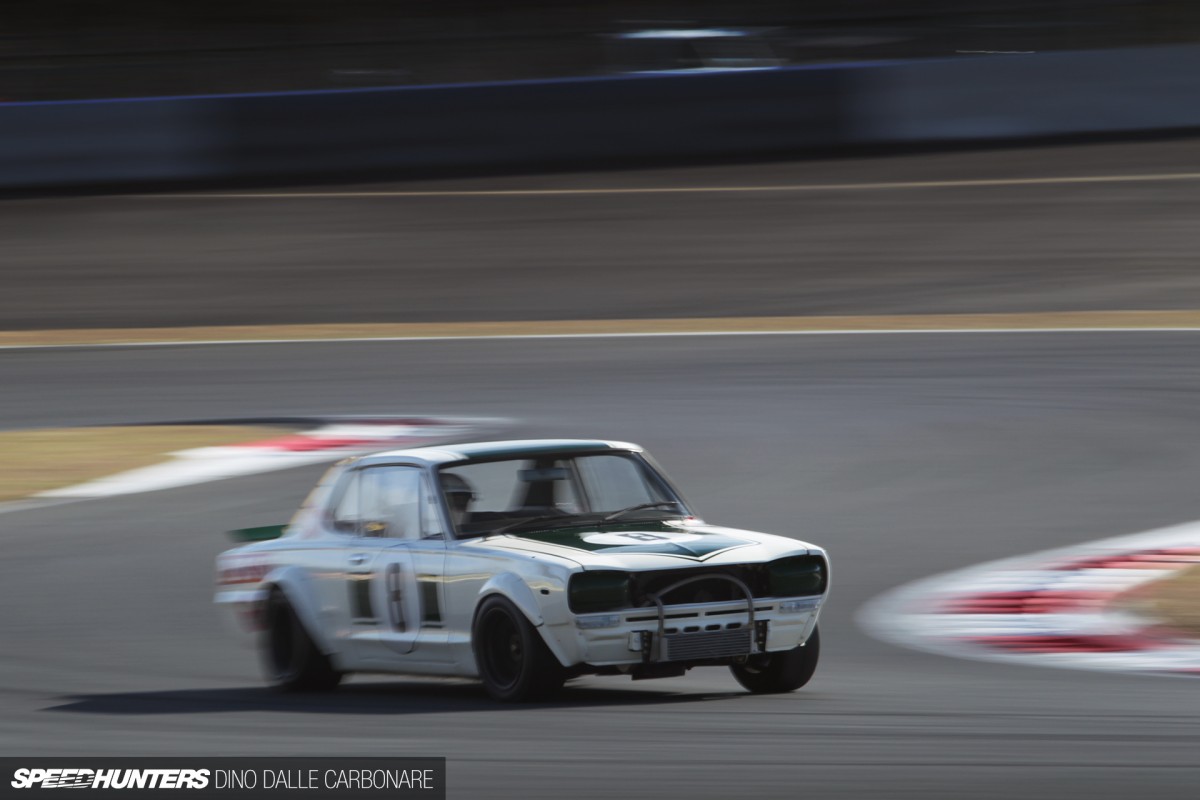 Of course Fuji Speedway is the place where the GT-R legend truly cemented itself so it's always a pleasure to see cars of every generation being driven hard. Hearing an S20 engine singing at 8,000 rpm down the FSW straight is a sound you will never forget.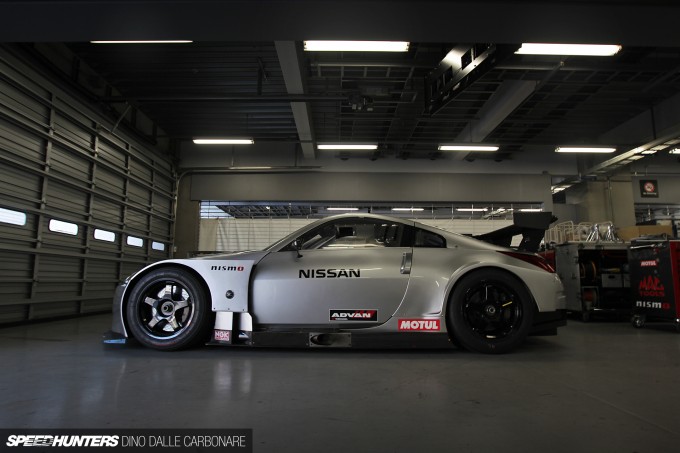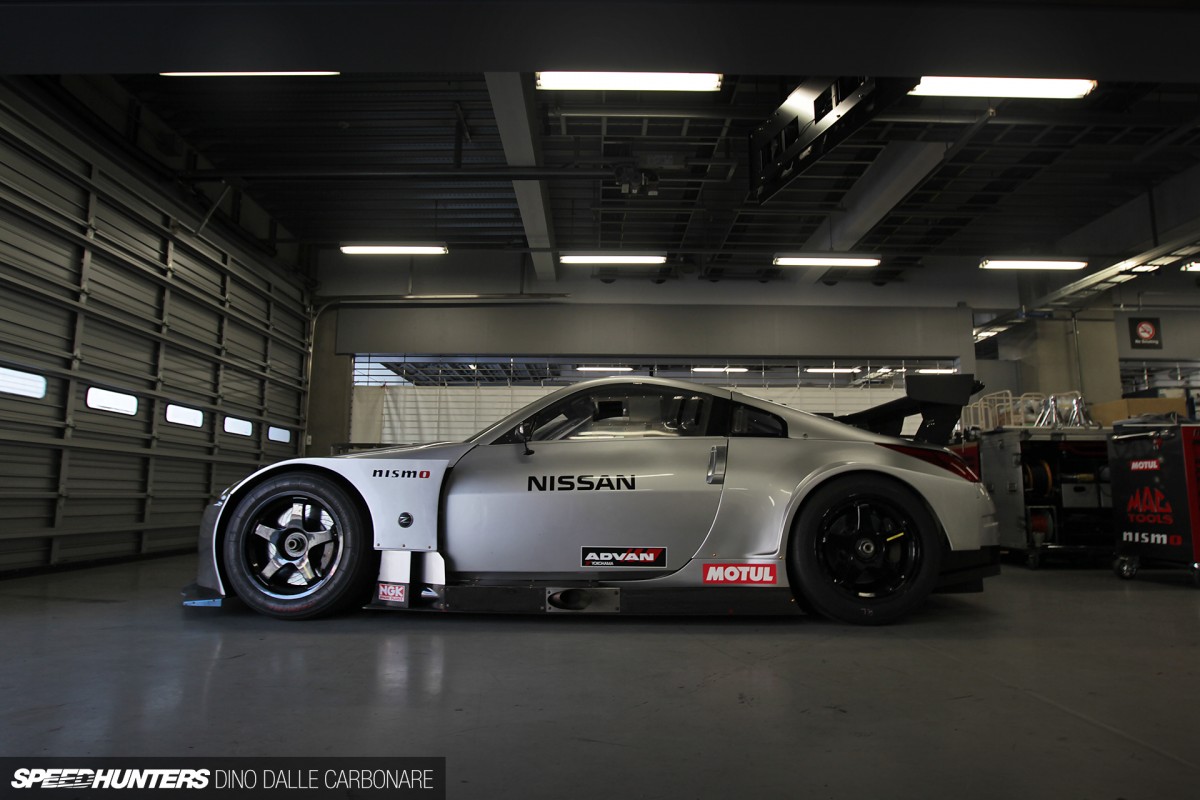 After checking out the various cars that Nismo had on display in the pits…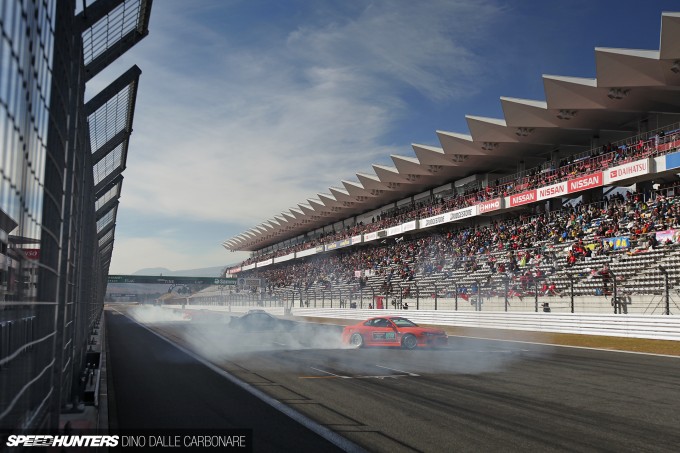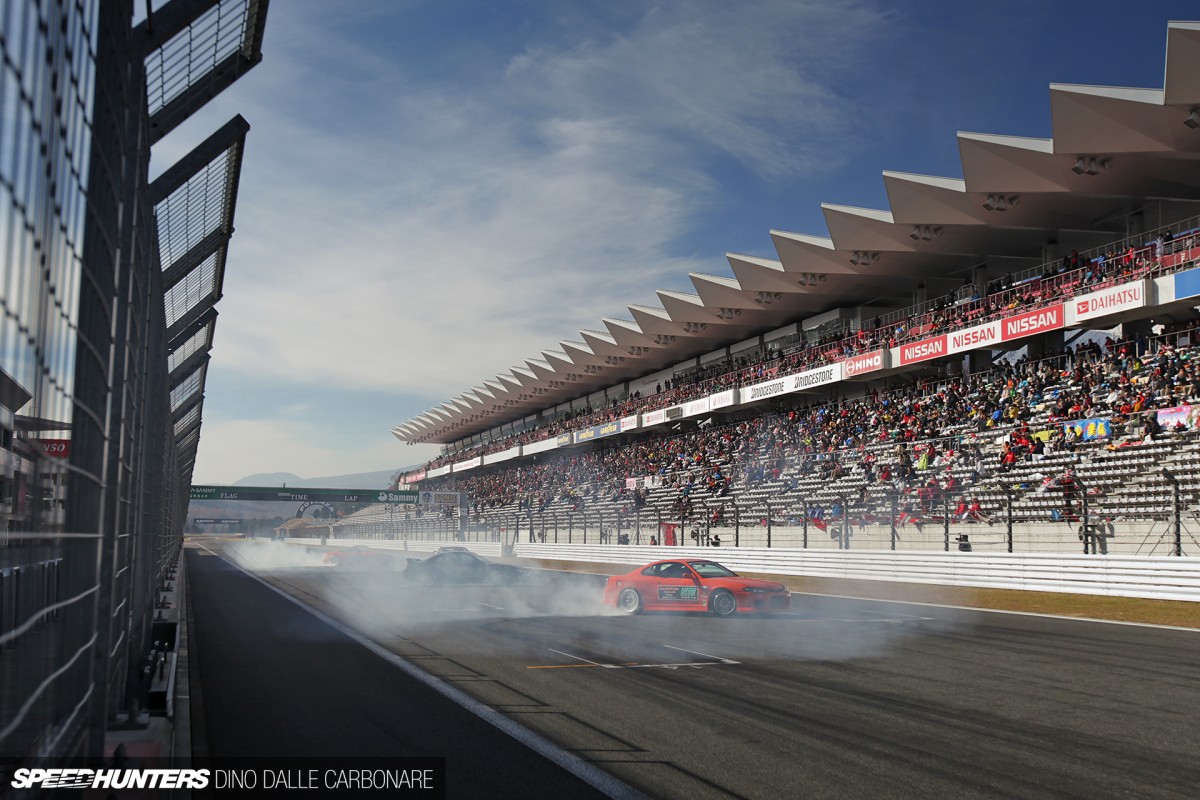 … I walked up to the pit wall and took a short break, as Kumakubo and the guys from Team Orange put on a superbly choreographed drift exhibition for the audience. It's cool that Nismo has began to chill out a little: a few years ago it banned all tuners from showing modified R35 GT-Rs for some strange reason, but now it seems to be embracing the aftermarket side of things. This is where most of their enthusiasts are, so they probably realized that it was a pretty silly decision. Oh and now that the IDx Freeflow has been shown and might make it to production, they'd best be embracing drifting even more as Toyota has done, both in the US and Japan.
Saying goodbye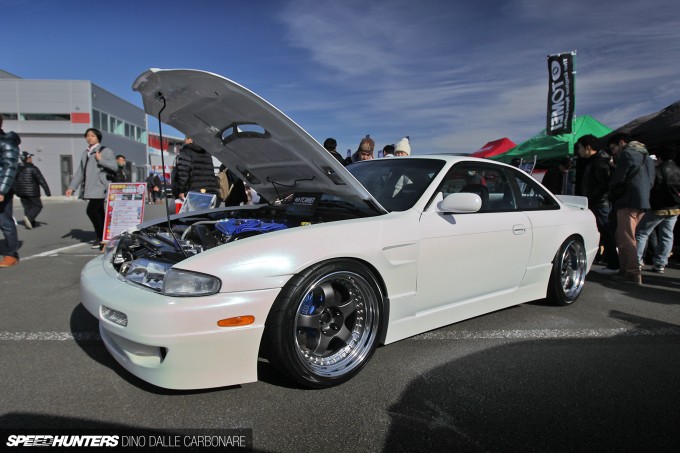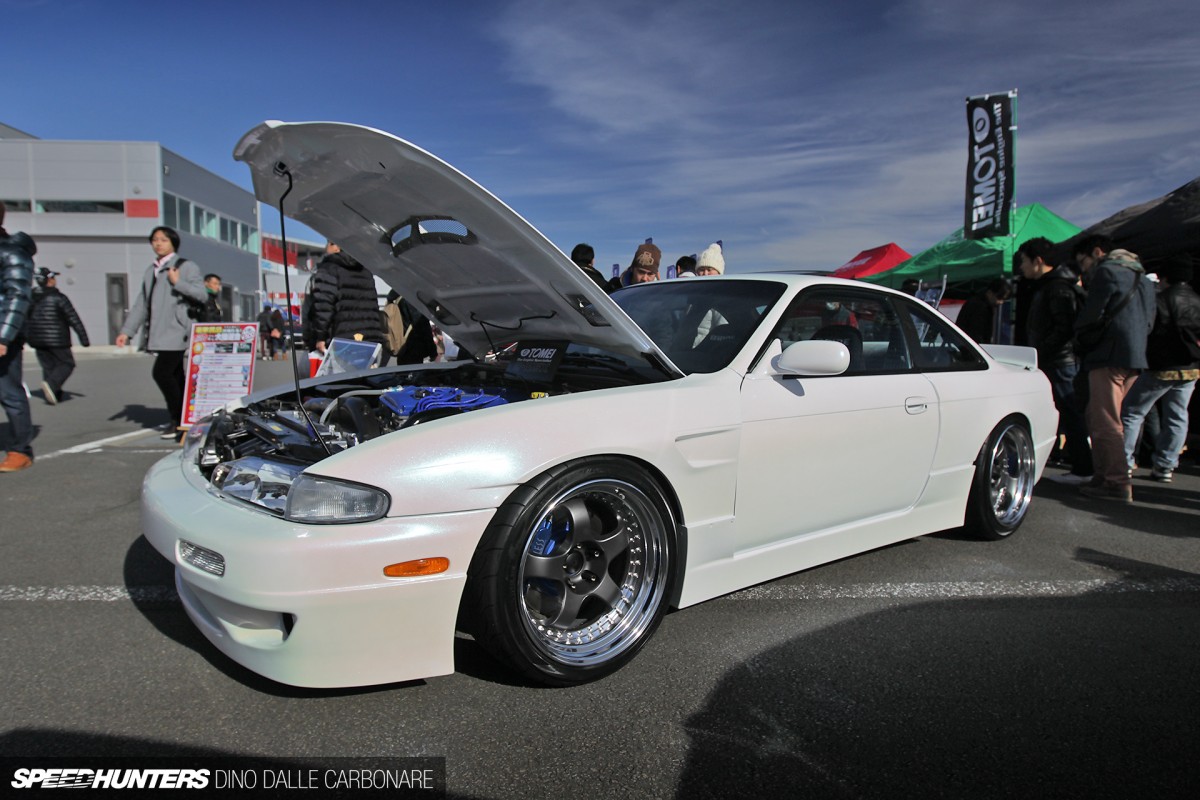 The Nismo Festival has always been the place to check out cool tuner cars, and there sure was a ton to see, as well as great deals being given to people that were looking for ways to blow their end of year bonuses! Tomei Powered showed up with a cool and very unique project. This Rocket Bunny kitted USDM 240SX…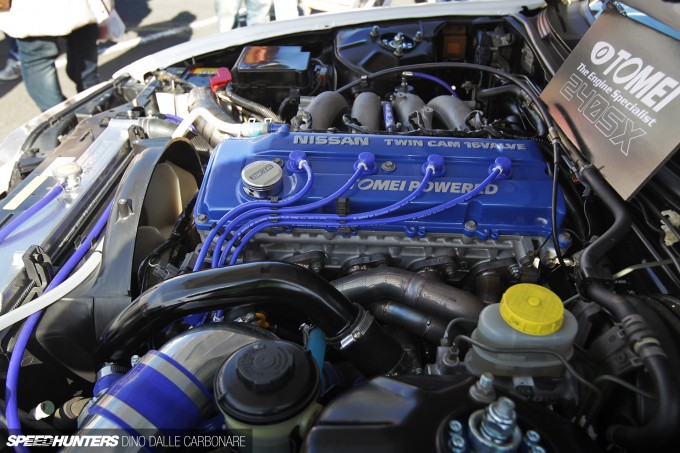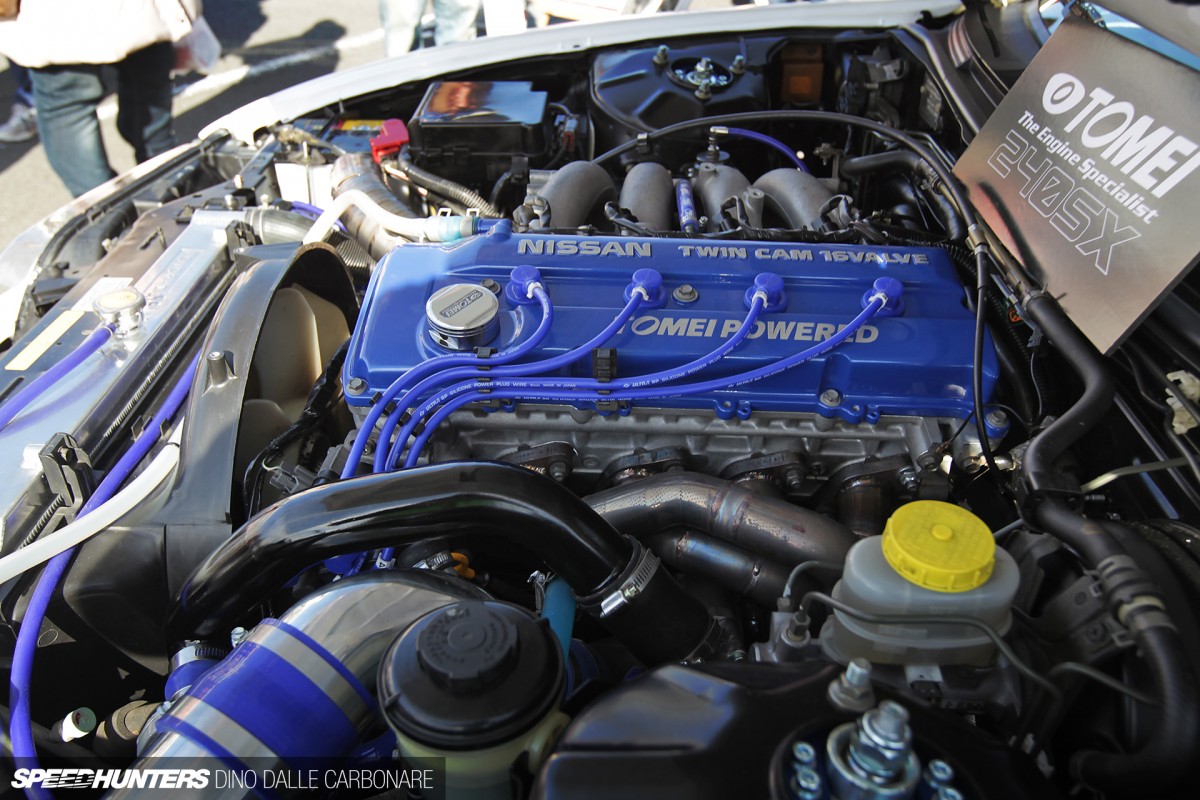 … runs a prototype modified KA24 engine, a motor that Tomei has just started developing parts for. It's cool to see such famous names in the JDM tuning scene supporting older engines like this, as they know people in the US want to do more with this powerplant.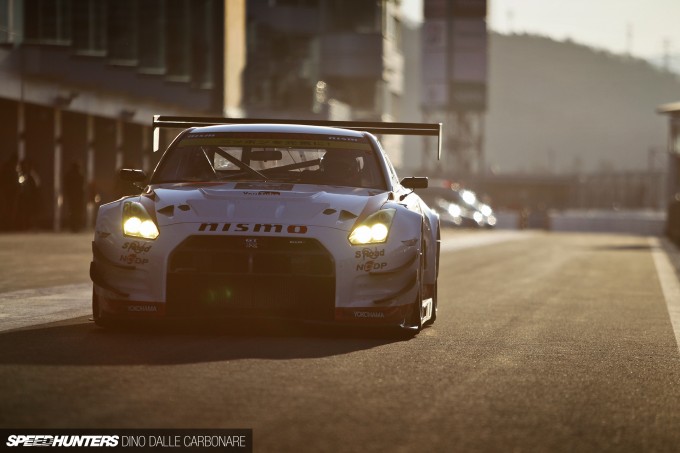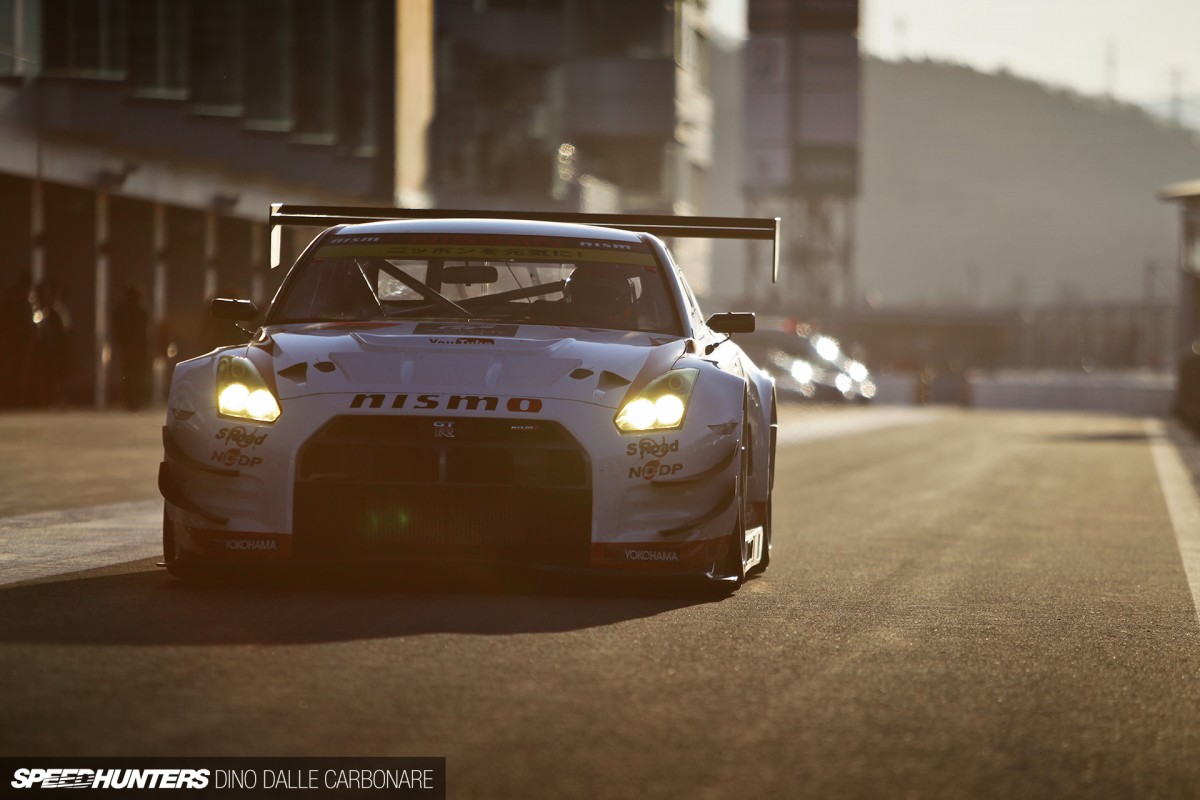 There's much that I want to share with you from this year's Nismo Festival…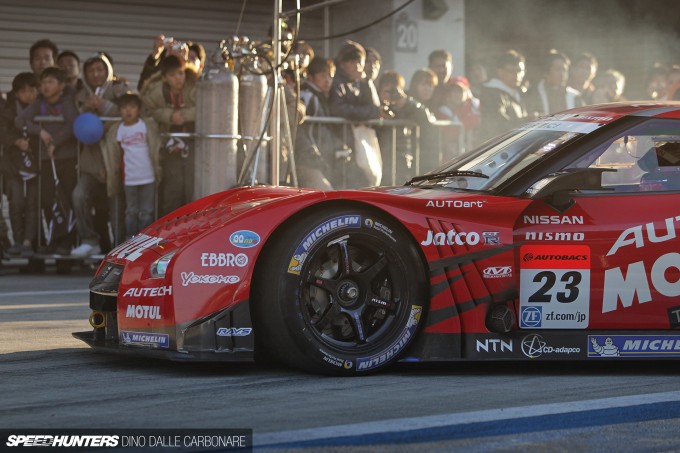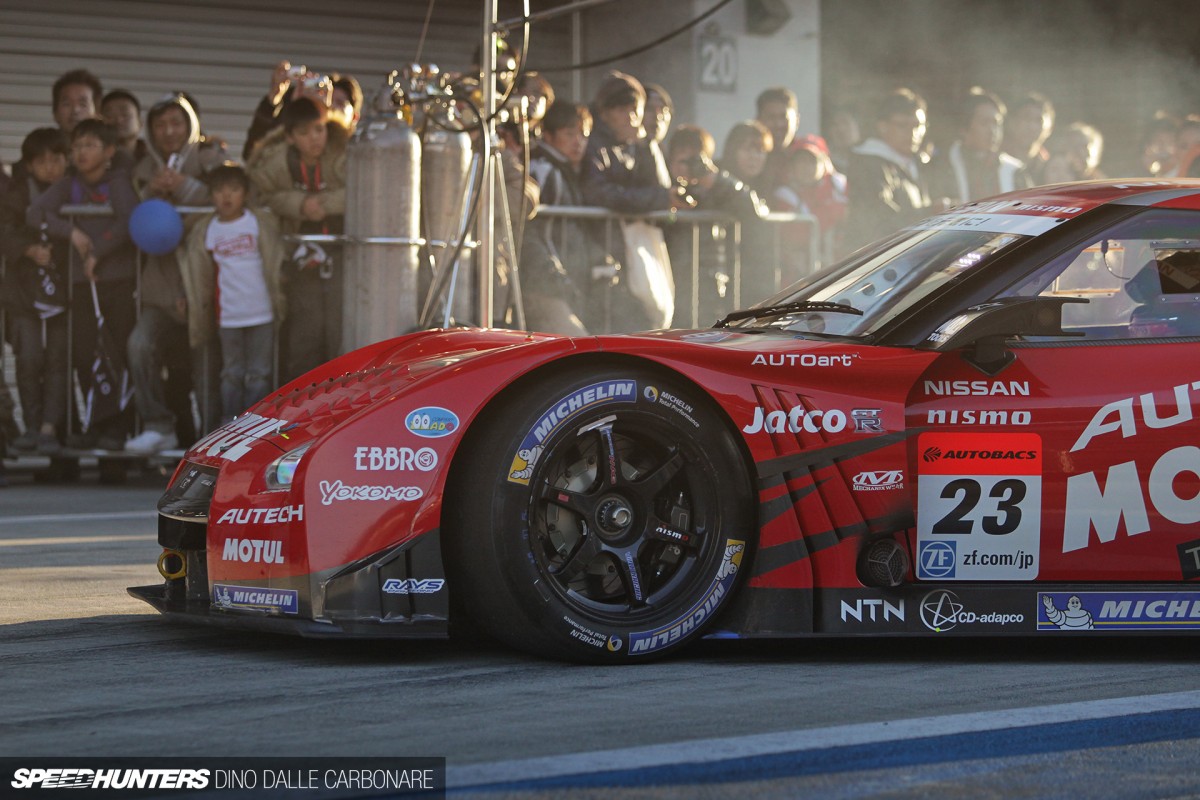 … starting with a few more images of the GT500 GT-R, which has well and truly been retired now. The black 2014 GT500 car in the opening picture is its replacement and it was very cool see Nismo bringing it along for all to see.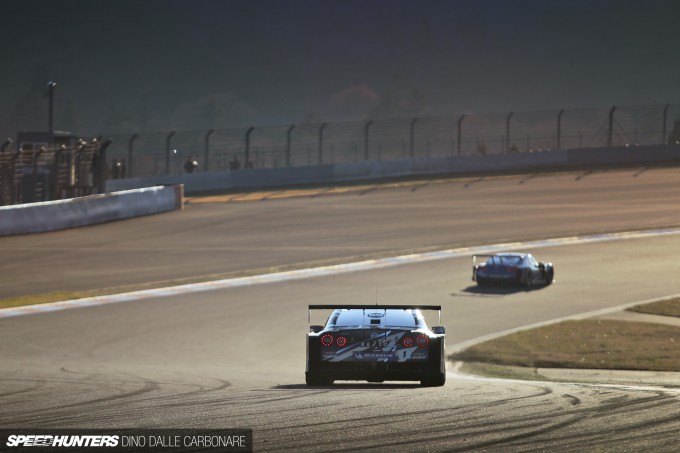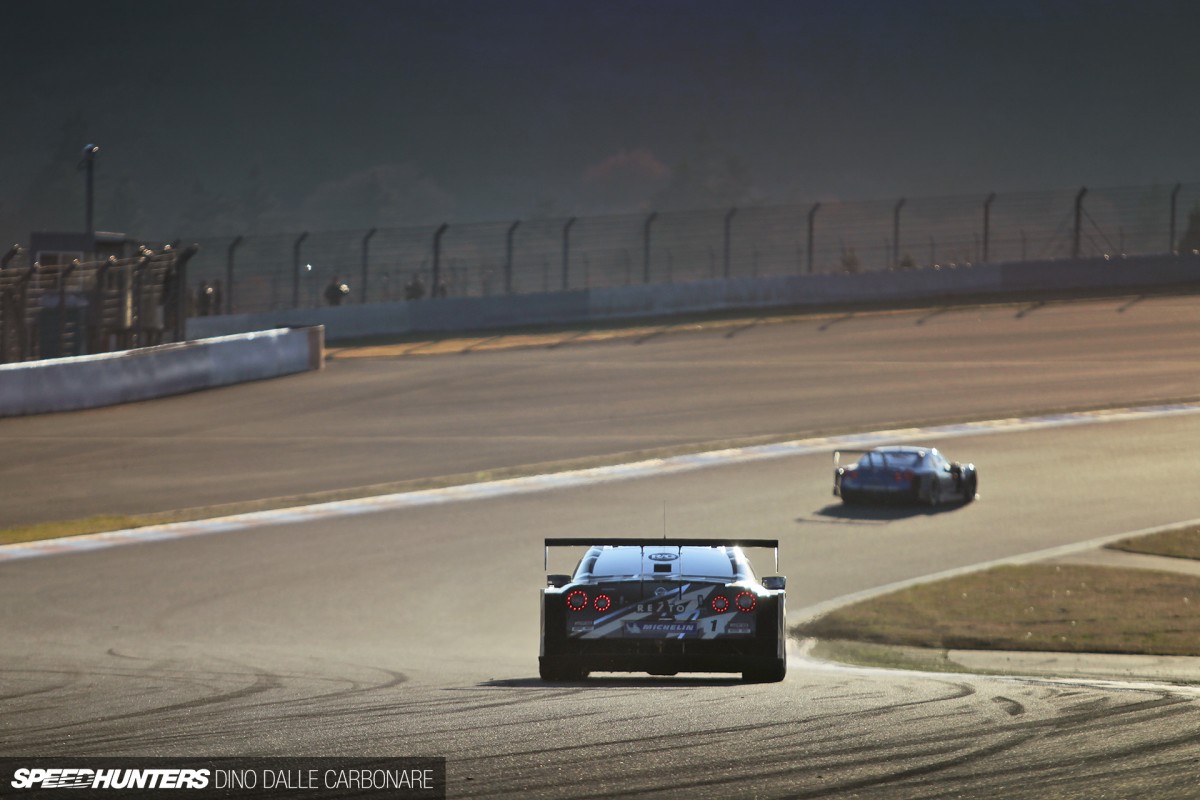 Much like the Fuji Sprint Cup last weekend, it's yet another goodbye to the 'old' GT500 R35 and a rather fitting way to end this first post. Back soon with more!