Team America
Working for Speedhunters has taught me that life is too short to hate on any kind of car culture. It doesn't matter whether you're into hot rods, show cars, land speed, or drag racing. If it has to do with cars and car culture I want to know about it. I just love checking out car culture in far off lands, which brings us to drifting in China. To many Americans, China is a mysterious land of Great Walls and Kung Fu Pandas. What they don't realize is that China has become car crazy. Now that the Chinese middle class can afford cars, the culture of modifying them and racing them has really taken off.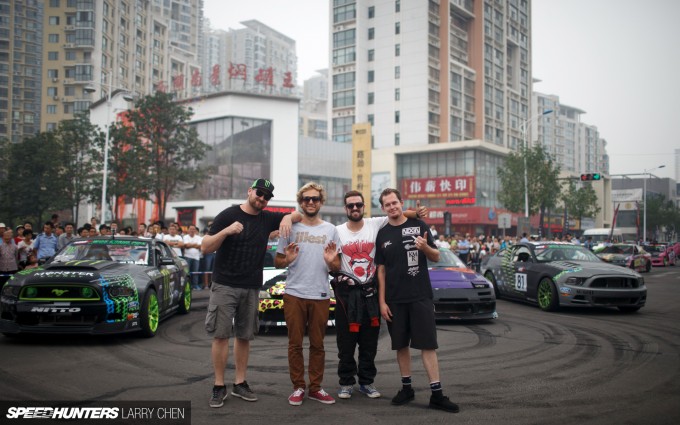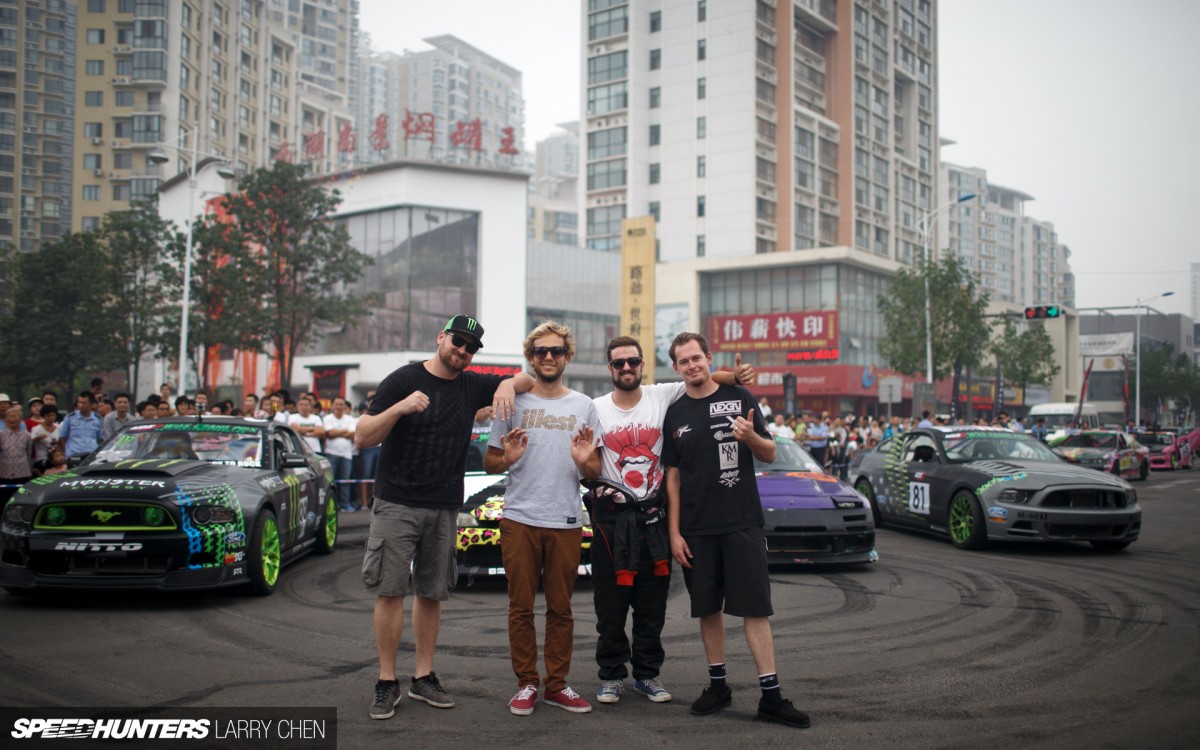 World Drift Series China has been around for eight years now, and I've been following the series from its inception. At first it started out as a demolition, where American drivers would drive questionable cars for thousands of cheering fans. Over the years it's become more and more refined and now it has become a real championship series. Drivers from all of the world come to compete in WDS China, including Japan, Australia, New Zealand, Russia, Malaysia, Thailand, Norway and of course, the United States.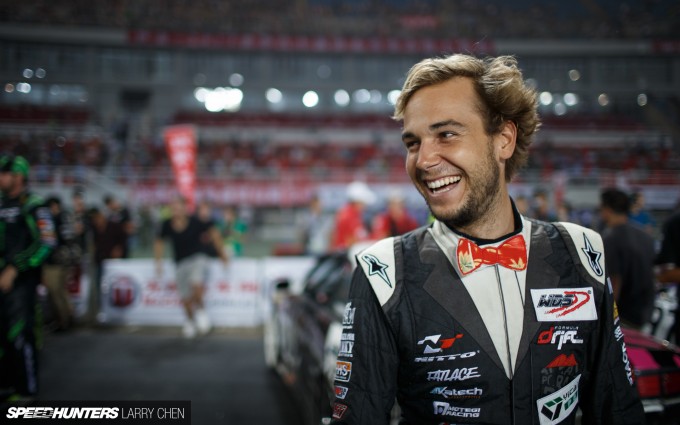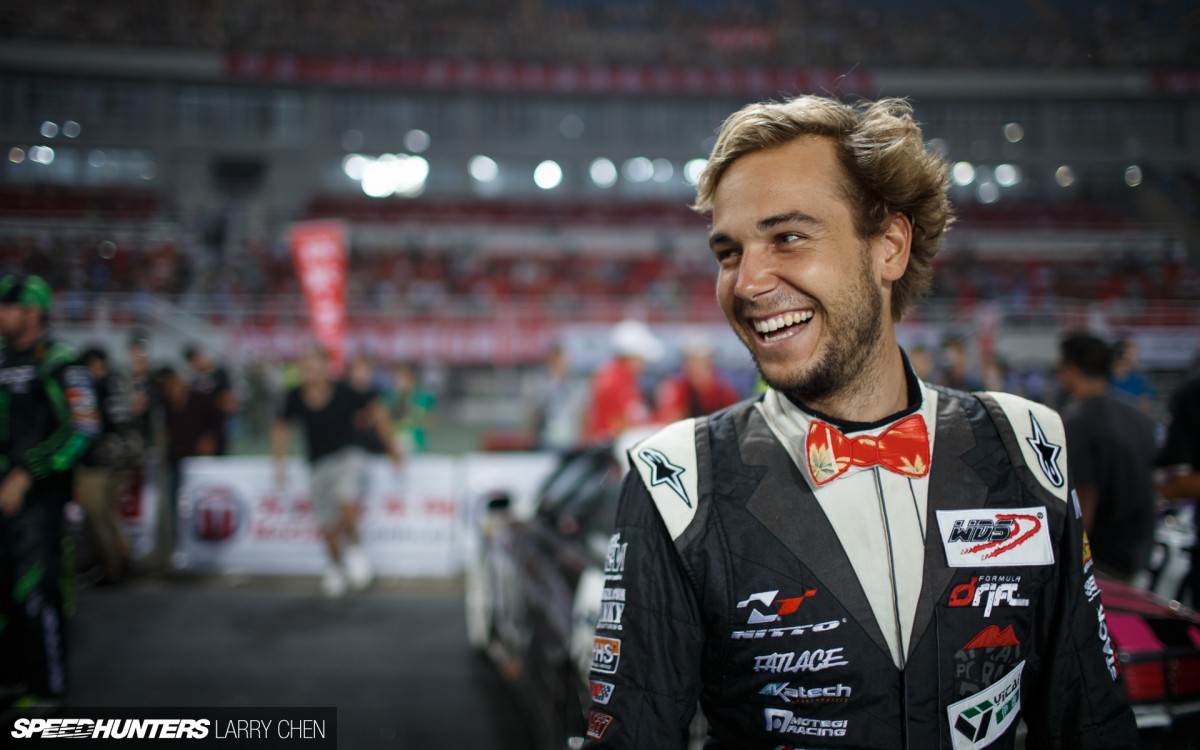 This year the American team consisted of four Formula Drift licensed drivers. Our dear friend Matt Powers has been competing in China since 2009 and he loves every moment of it. He has to carry a broom with him at all times in order to beat off the constant horde of Chinese groupies.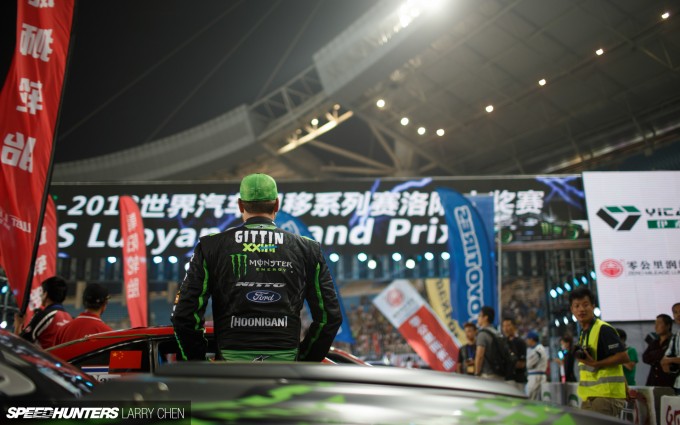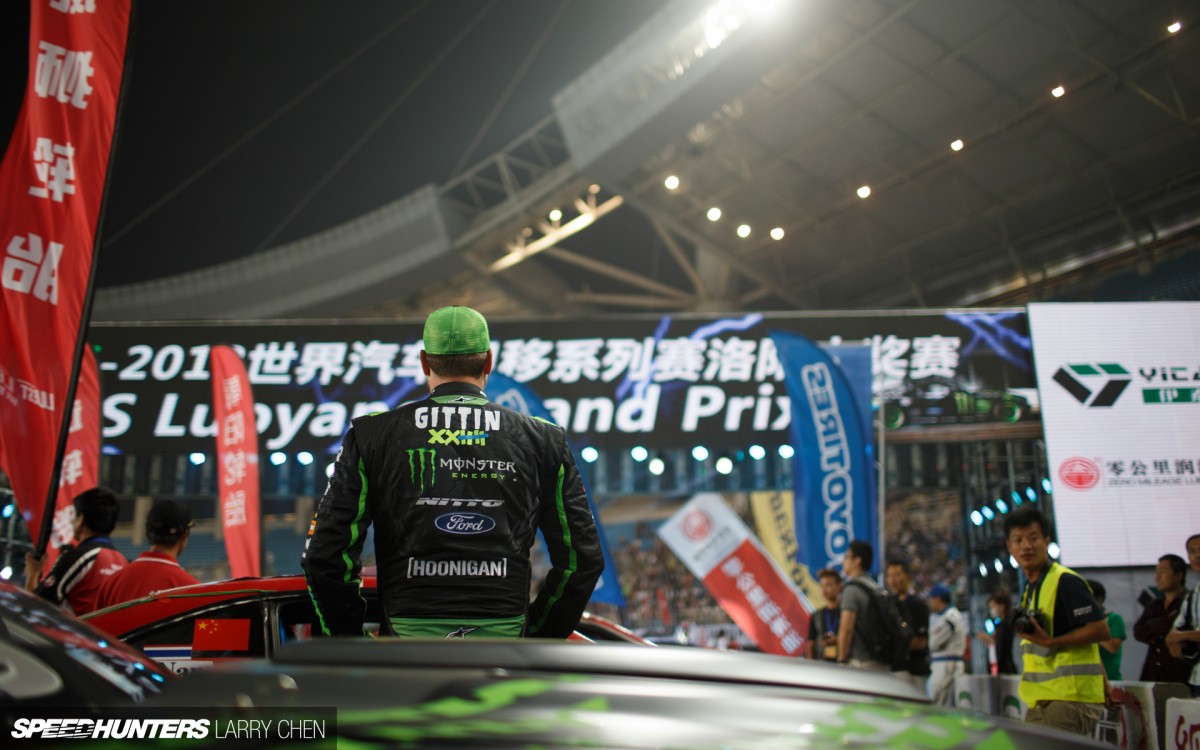 Also competing was Speedhunters driver, Vaughn Gittin, Jr. He was one of the few drivers to be a part of the very first demos back in 2006. He's been the reigning champion in China for two years running and he's in a good position to earn his third title this year.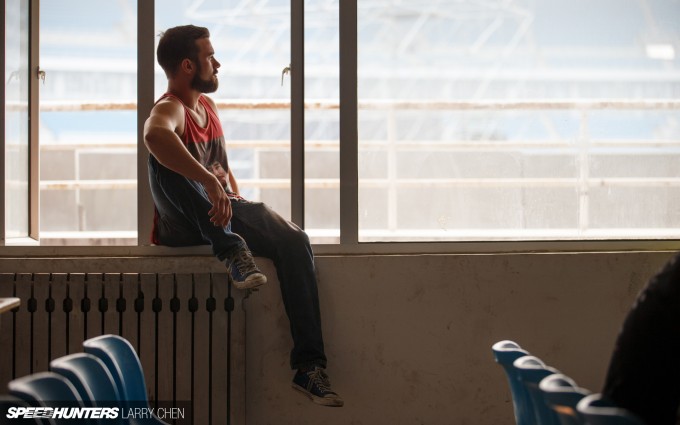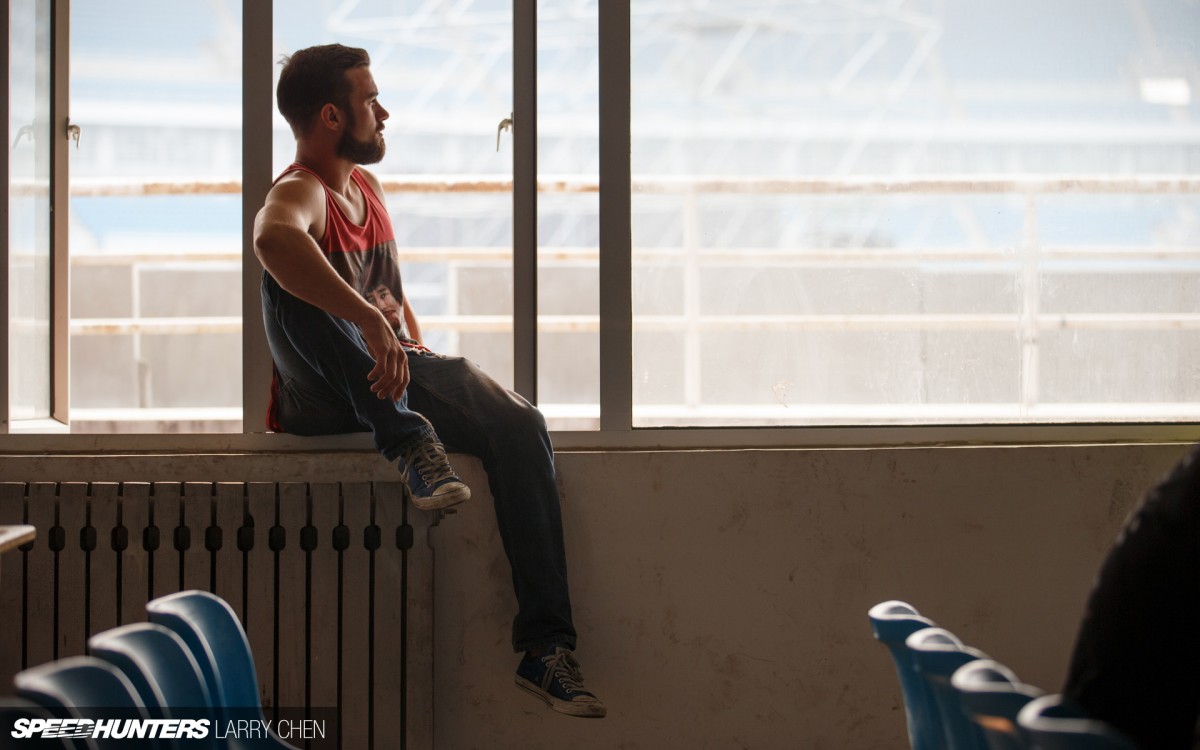 The third American driver, Ryan Litteral, just barely earned his Formula Drift Pro license this year after finishing high in three out of four Top Drift events. He's been competing in WDS China since he was 18 years old.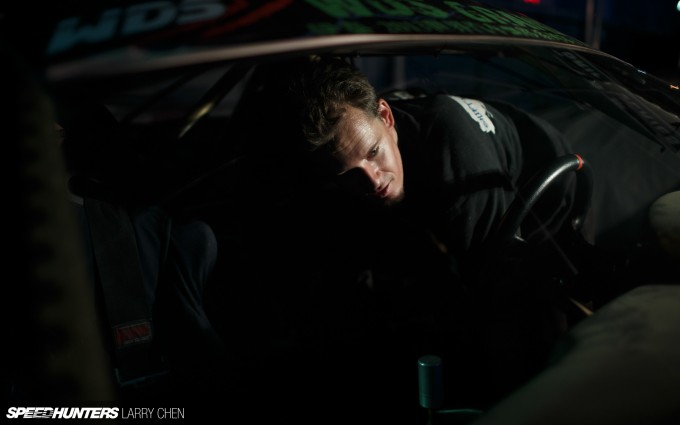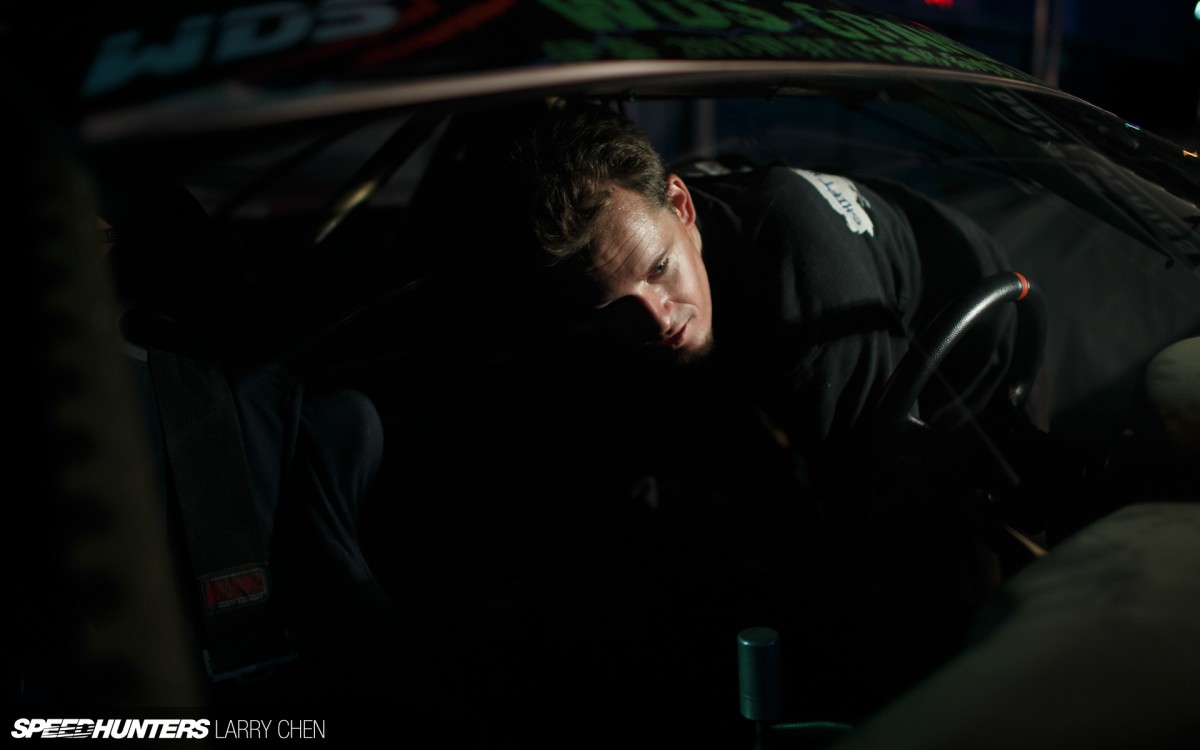 Last, but not least was Kyle Mohan, who's one of the last drifters on the FD circuit to campaign a rotary-powered Mazda. He actually built a V8 RX-8 specifically for WDS China, but it was still stuck at sea, so he had to resort to driving his old FC RX-7 for one final round.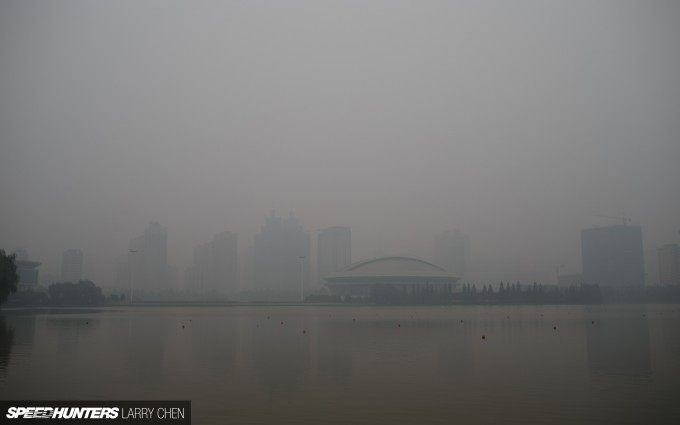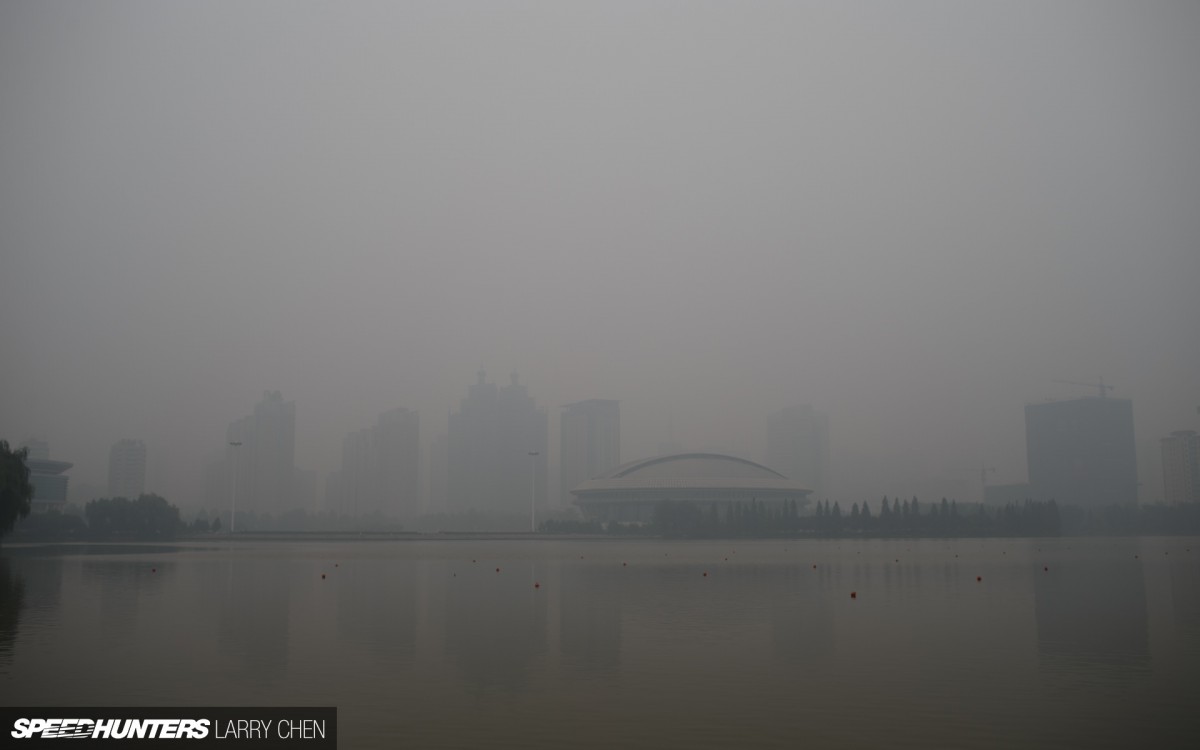 The actual event was held in Luoyang which is located in the Henan province of Central China. Matt Powers suggested that he and I bring our road bikes to do a bit of exploring on our own, but further research revealed that at one point it was the fifth most polluted place in the world.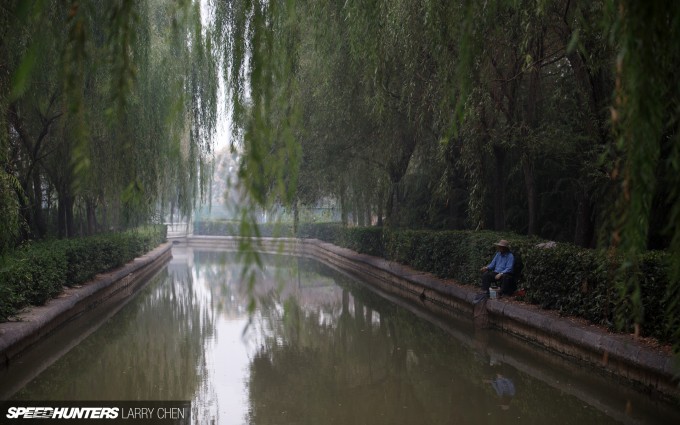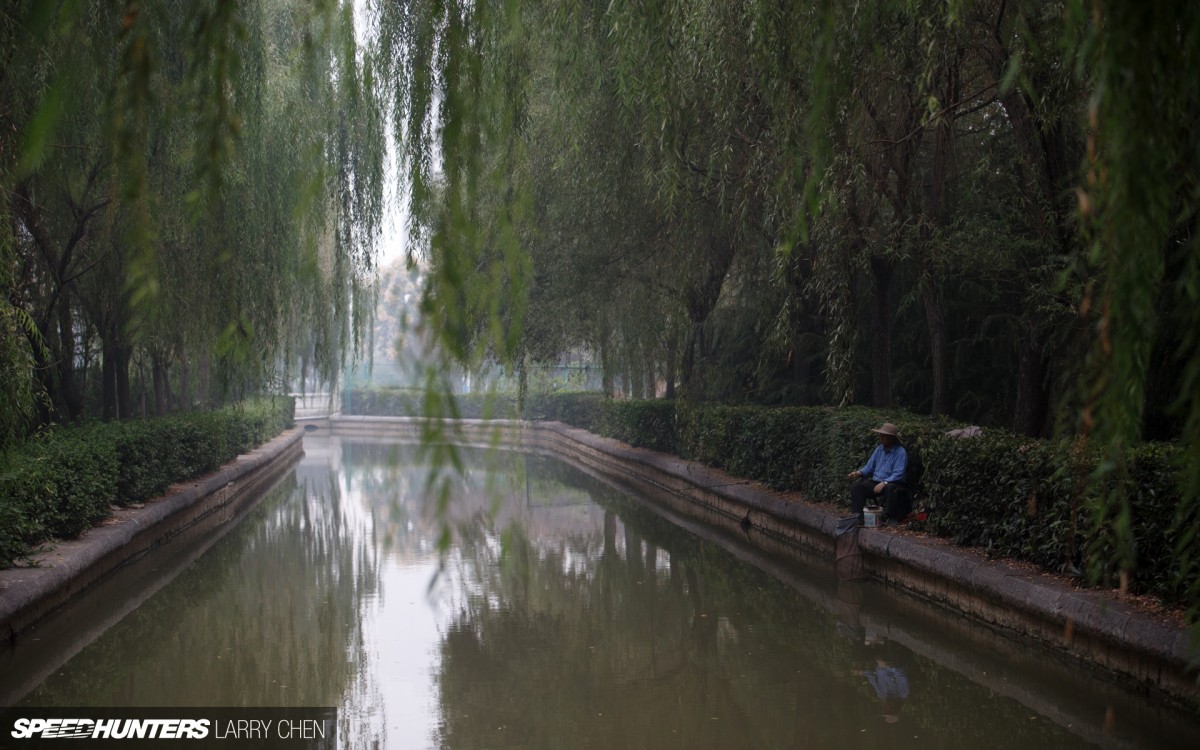 It's too bad as it was actually quite beautiful, and the rest of the American drivers agreed that it was the cleanest city in China that we've been to.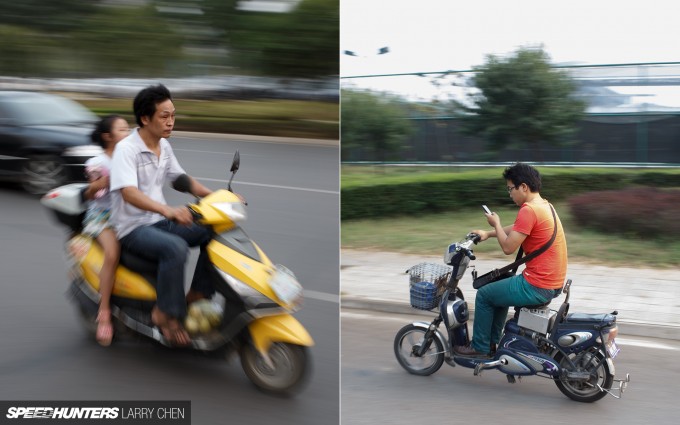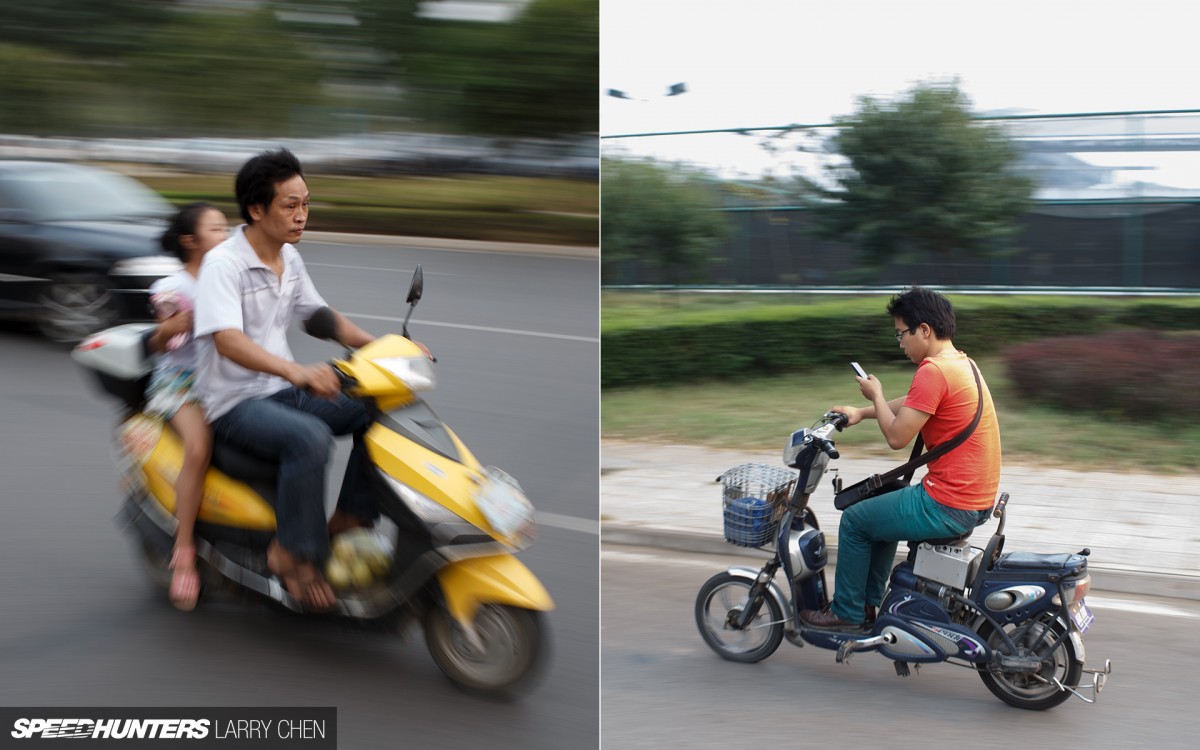 The area where the event was held was all new development. There was the hustle and bustle of a large Chinese city, with none of the broken down houses and street vendors.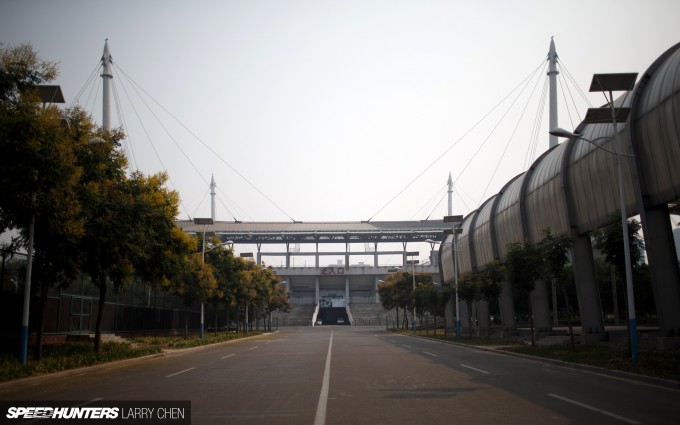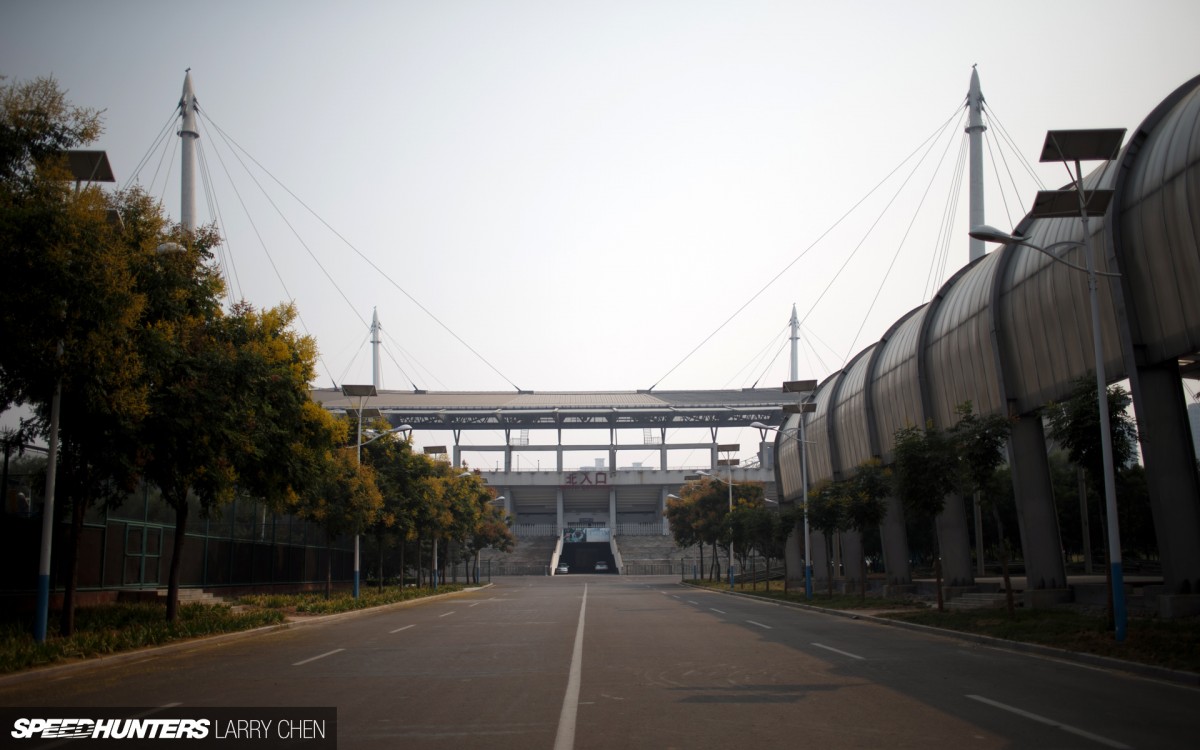 China has so much national pride for their Olympic athletes and the country develops these sporting centers to gear towards up-and-coming athletes from all over China.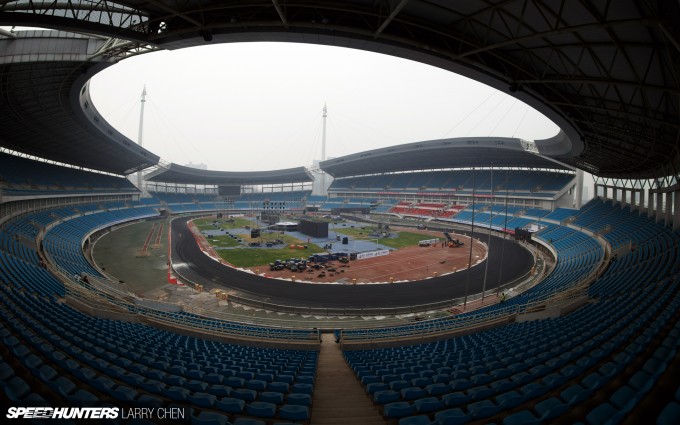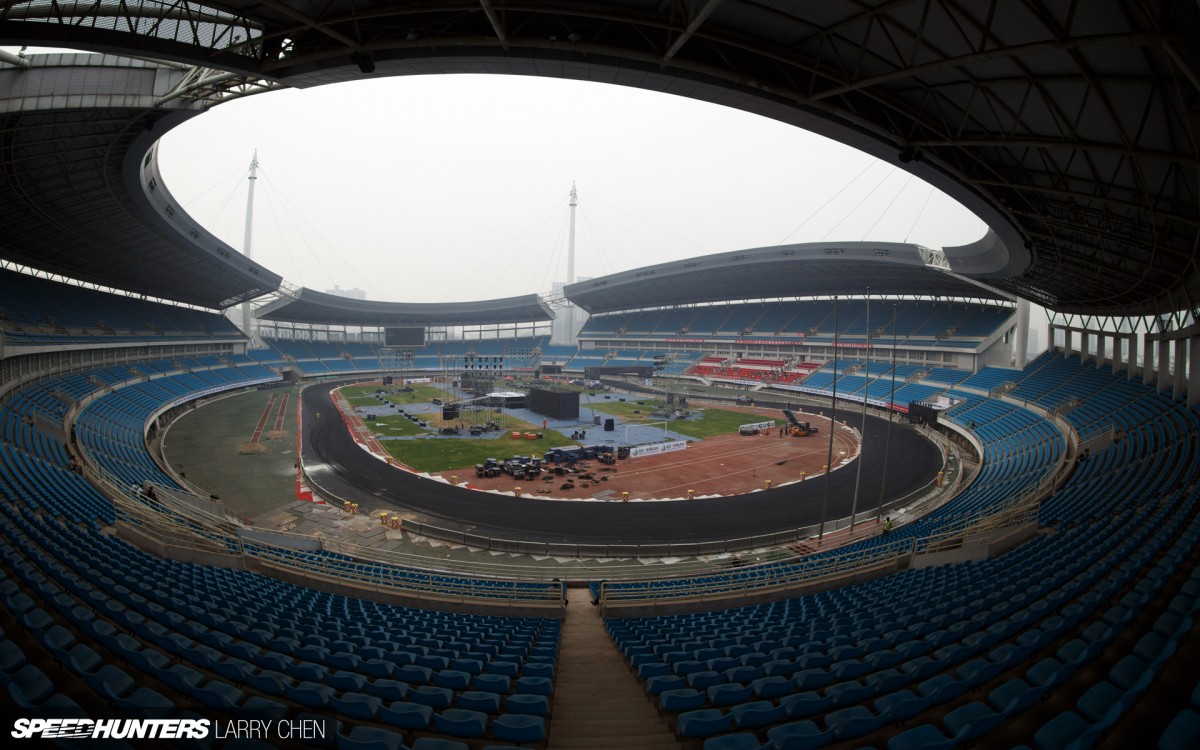 It was the perfect opportunity for WDS China to come in and pave the inside of the Olympic sized stadium.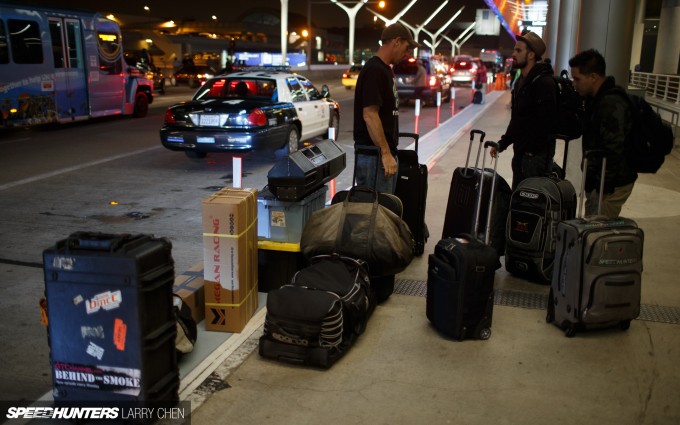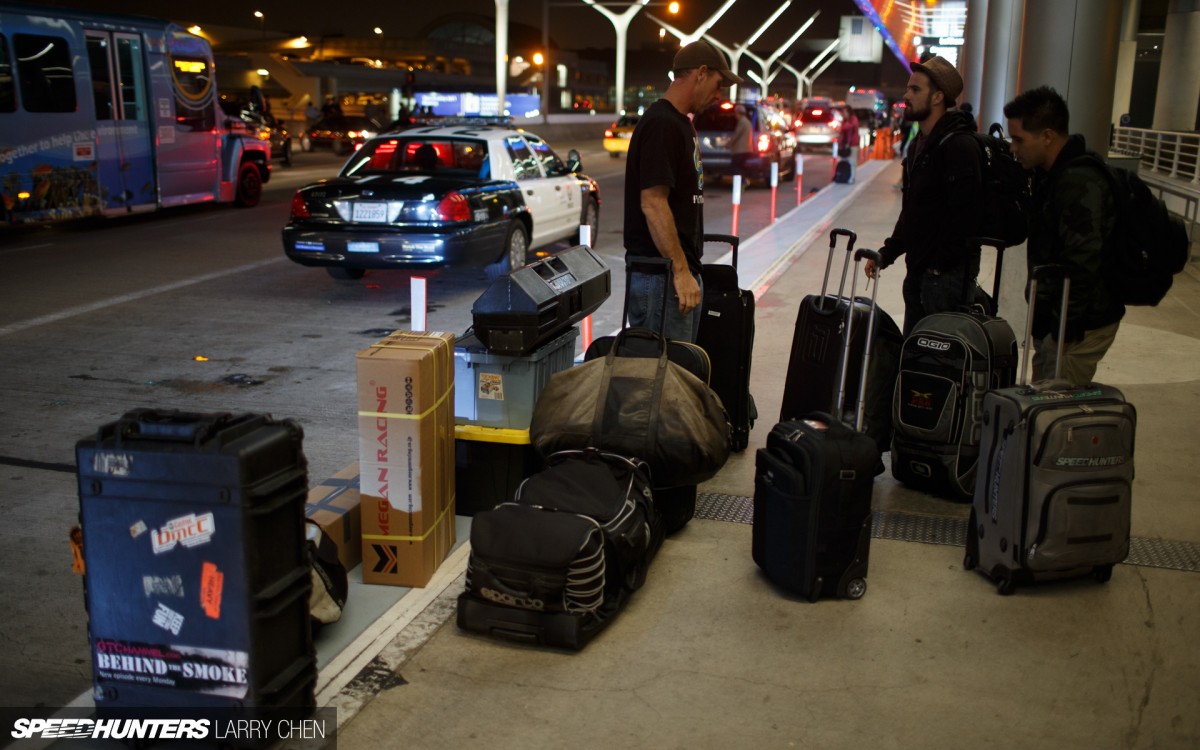 I like to show a lot of the glitz and glam of these Speedhunting trips, but I rarely talk about the actual travelling part. In my mind this is the worst part of the job. Don't get me wrong, I'm not complaining, but I swear I have permanent back damage from sitting in cramped airplane seats, not to mention all the gear that we have to haul around.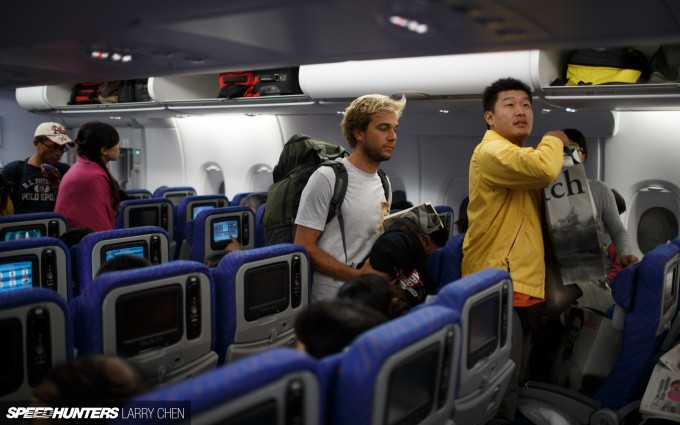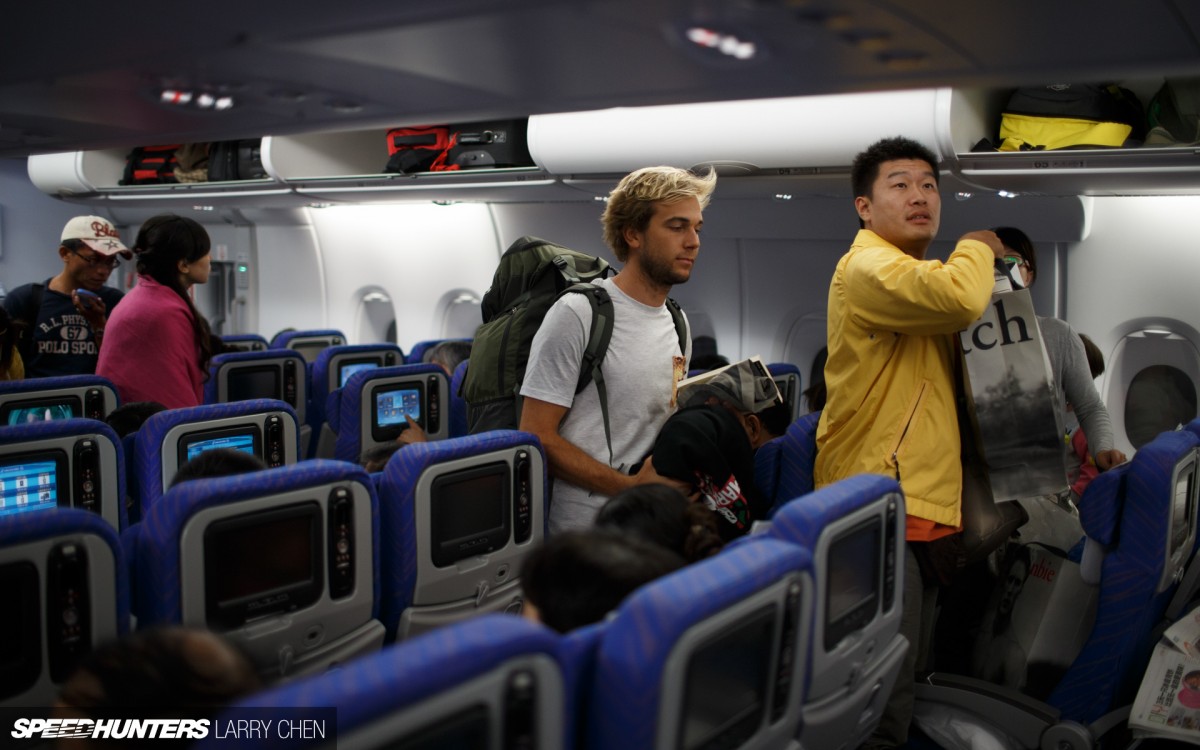 Matt Powers feels my pain, as every time we travel to China together it's a huge ordeal, but since this time it was in central China it would take us 20 hours to reach our destination.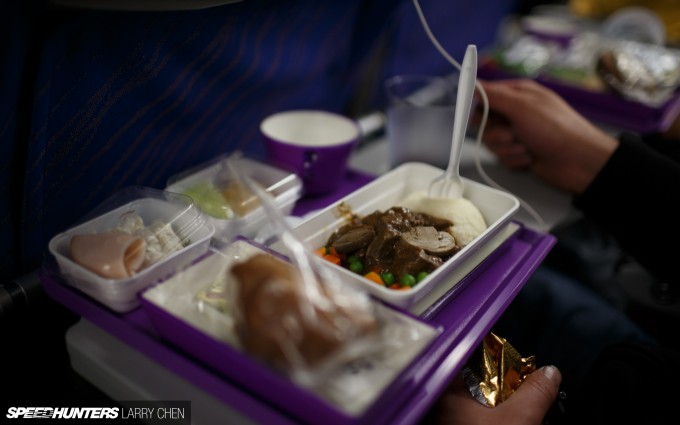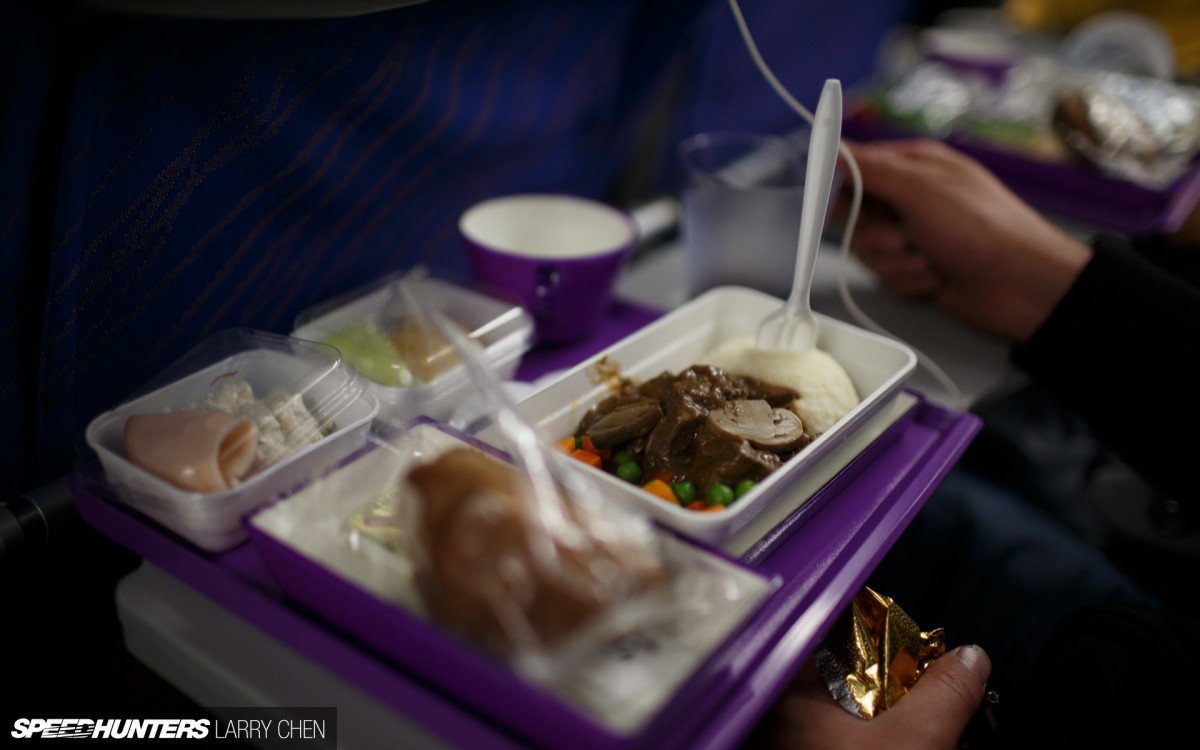 The questionable food doesn't really help. We flew into Guangzhou which took a good 14 hours.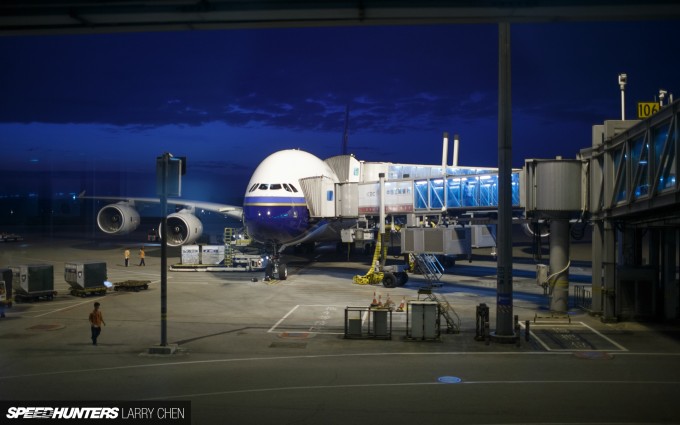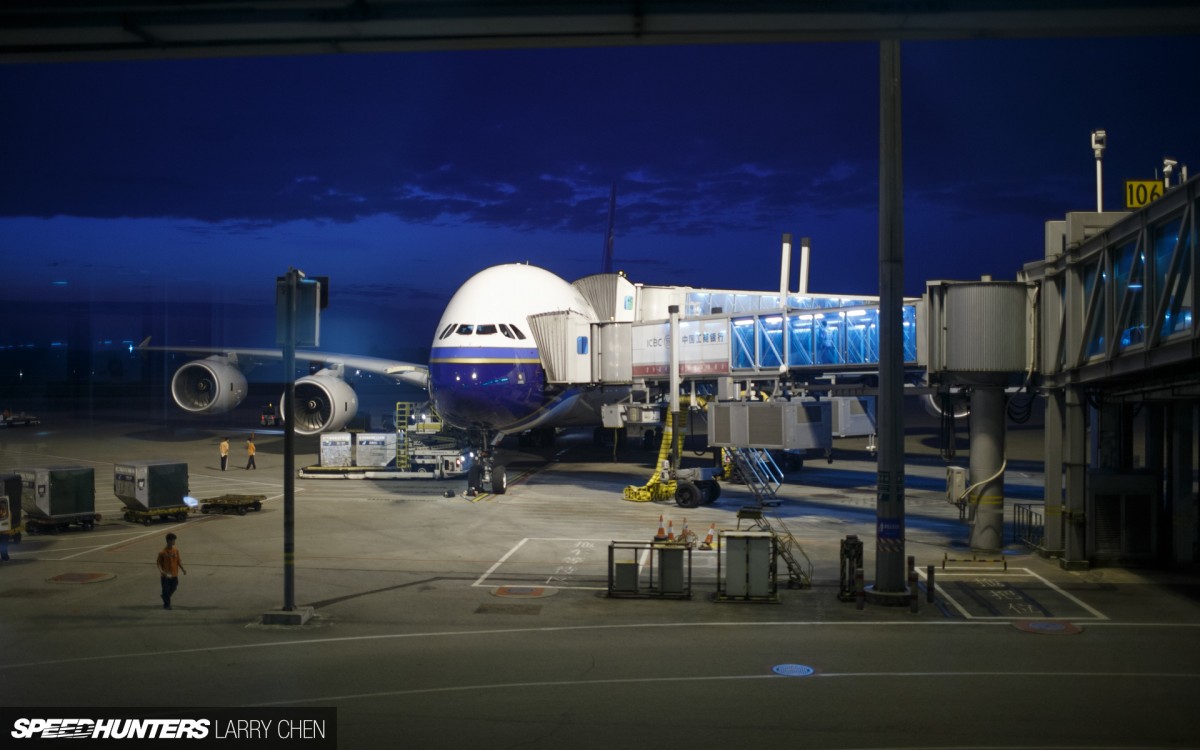 Luckily it was on a newer Airbus A380. Our layover was super quick, because we had to catch a flight to Zhengzhou.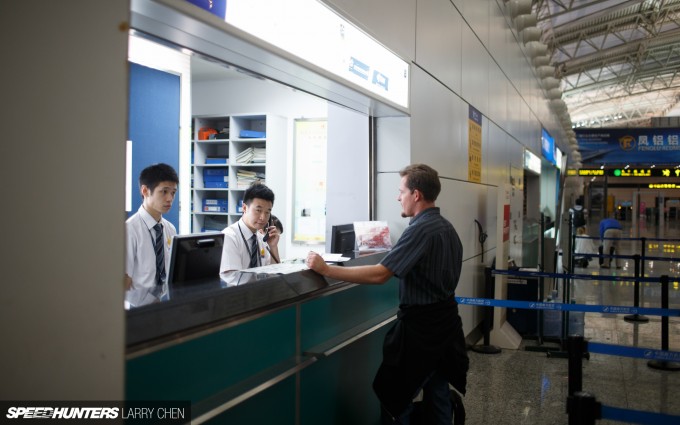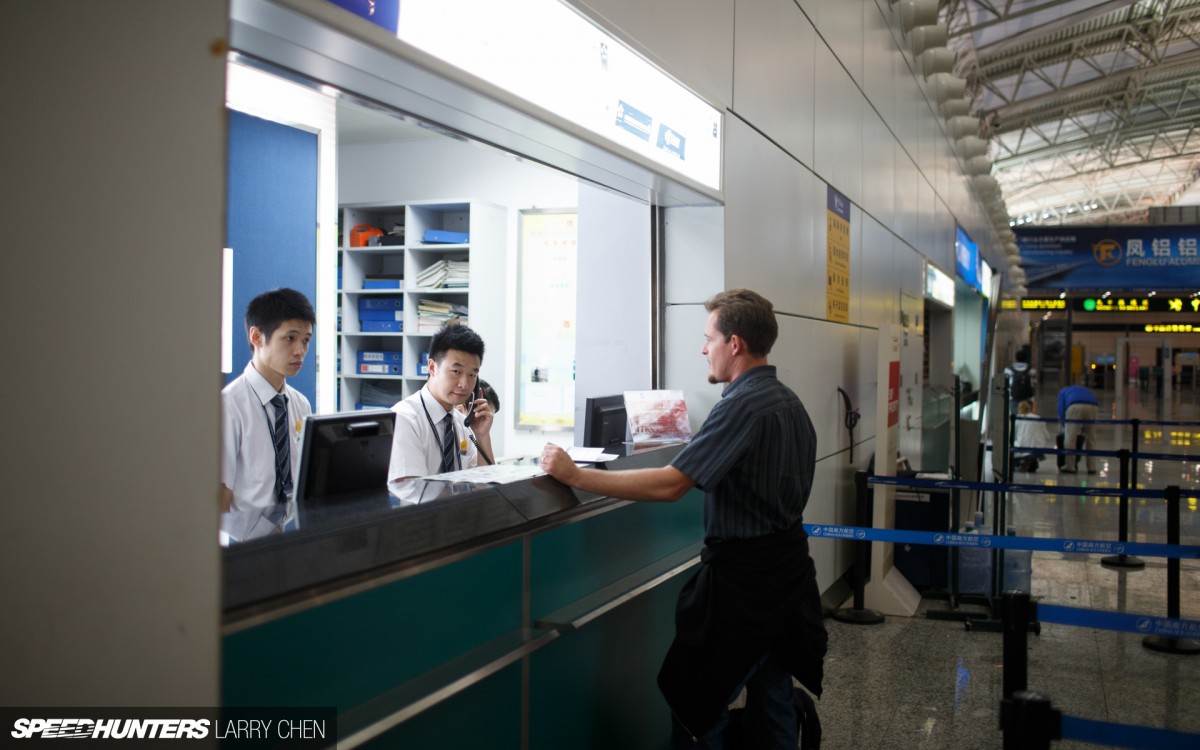 Kyle left his helmet in the overhead compartment, which was a fun ordeal to fix. For the rest of the trip we gave Kyle grief about leaving his stuff behind.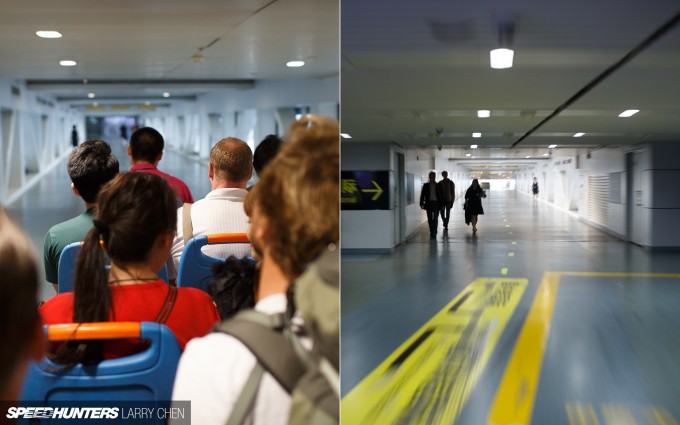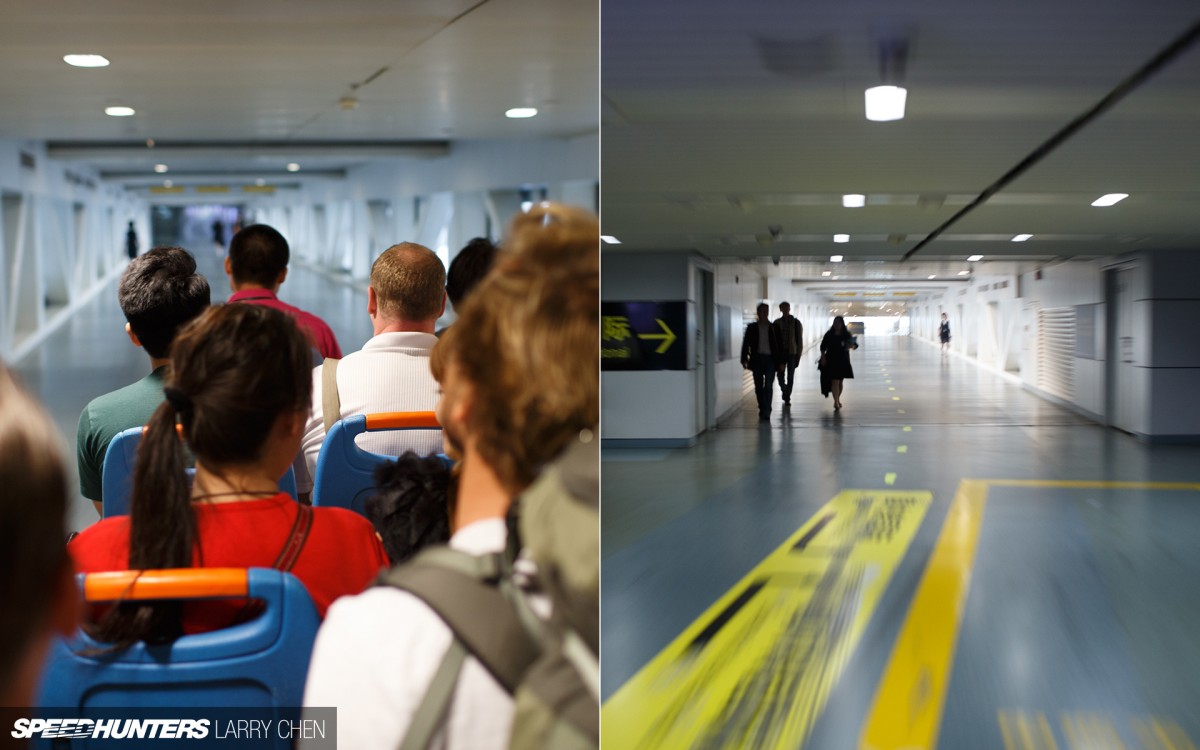 After a quickie tram ride through the airport we were off to Zhengzhou.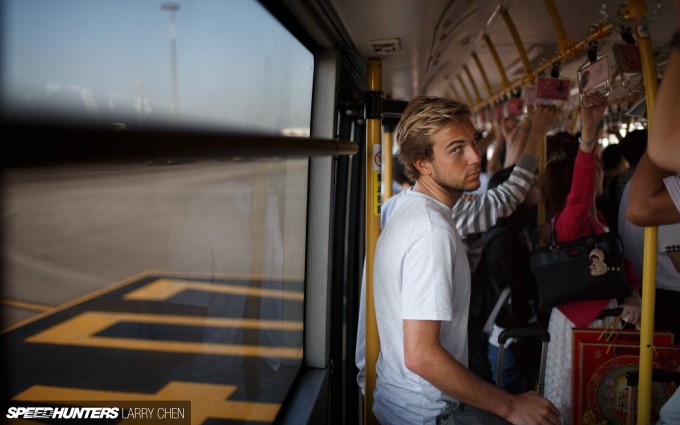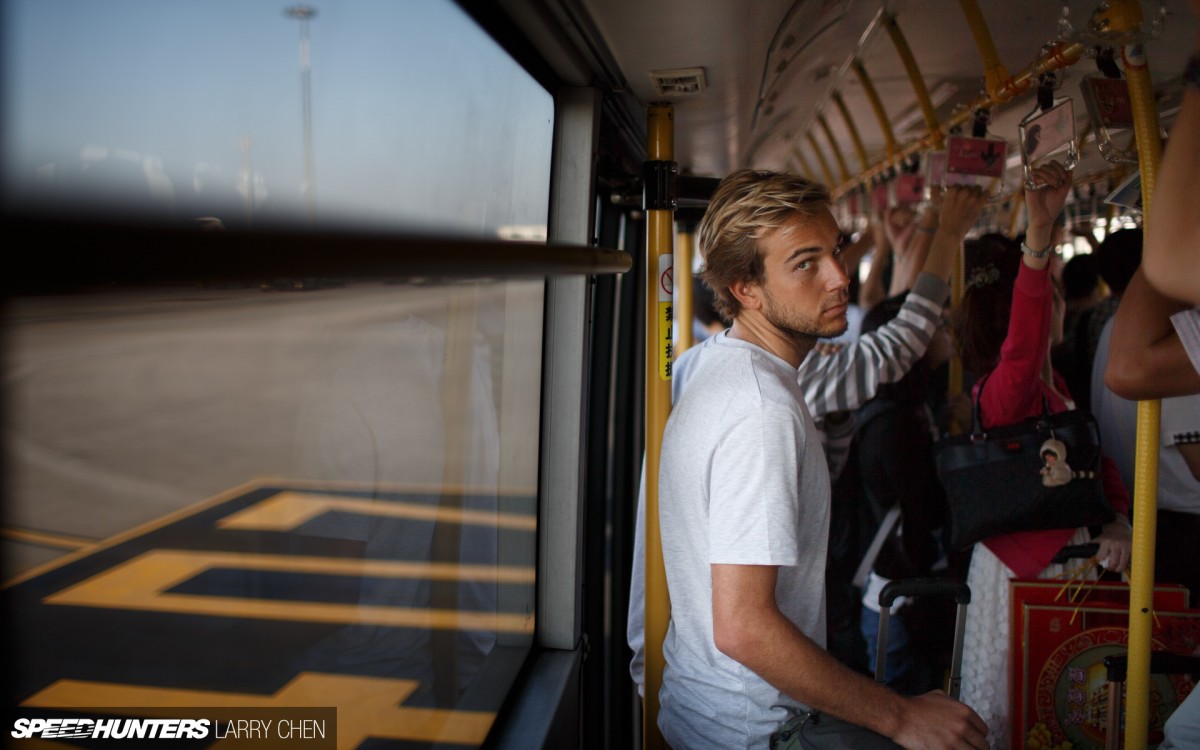 Matt was having the time of his life – can you tell?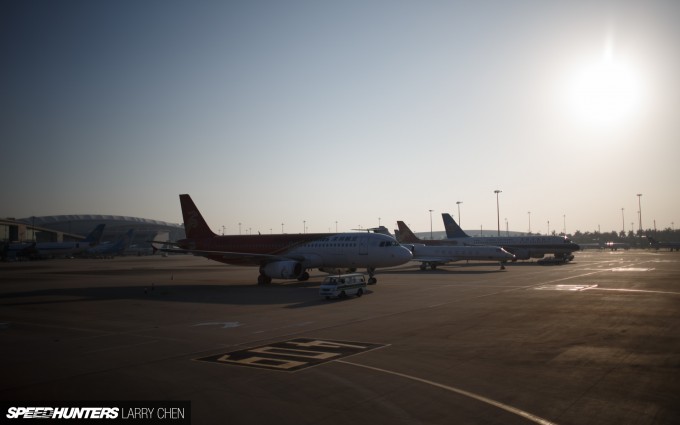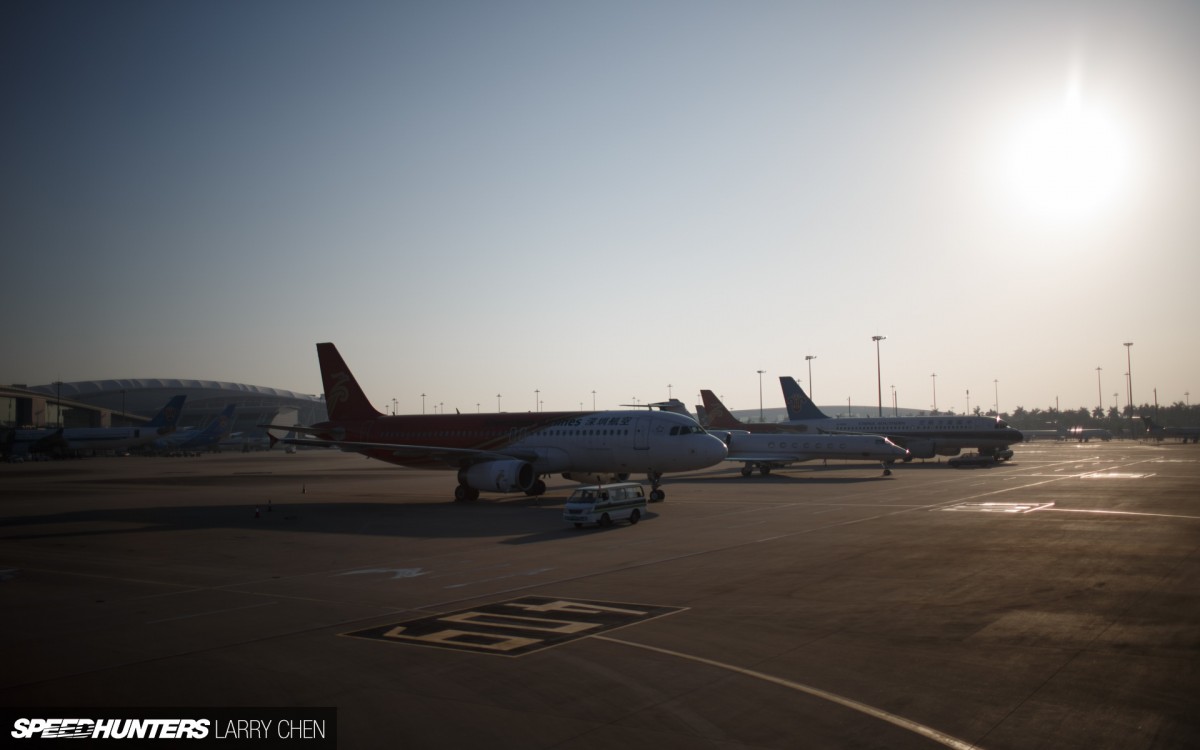 Traveling domestic within China can be quite interesting as most of the flight attendants don't speak English.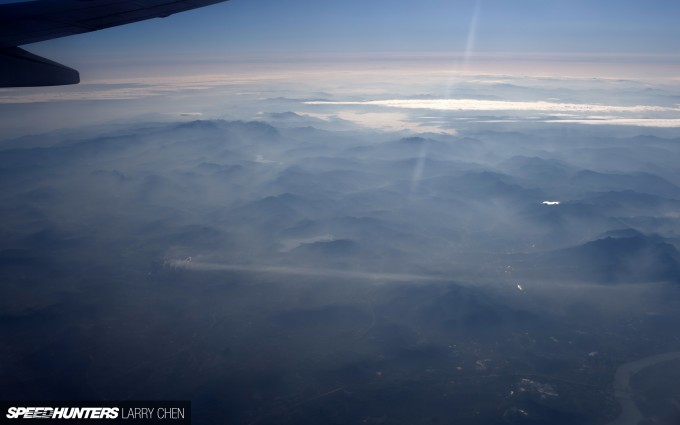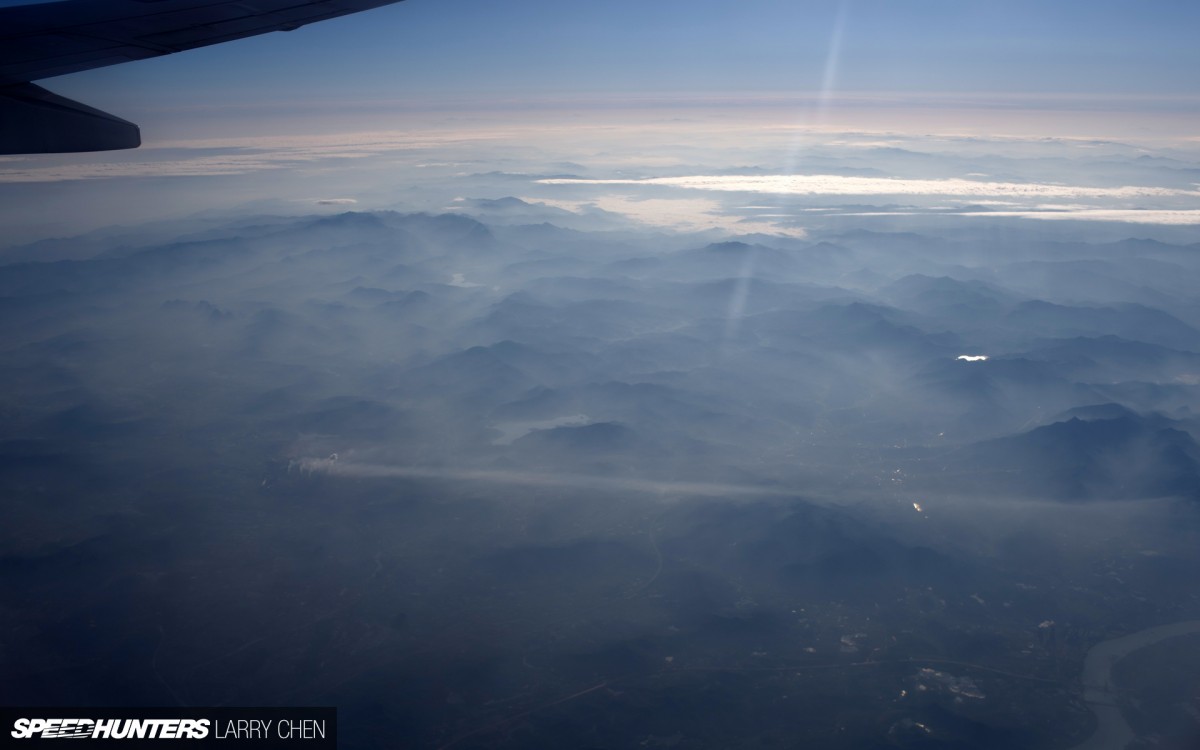 I'm assuming that stream of pollution was coming from a coal power plant. I'm sure that's one of the reasons why Luoyang is one of the most polluted places on earth.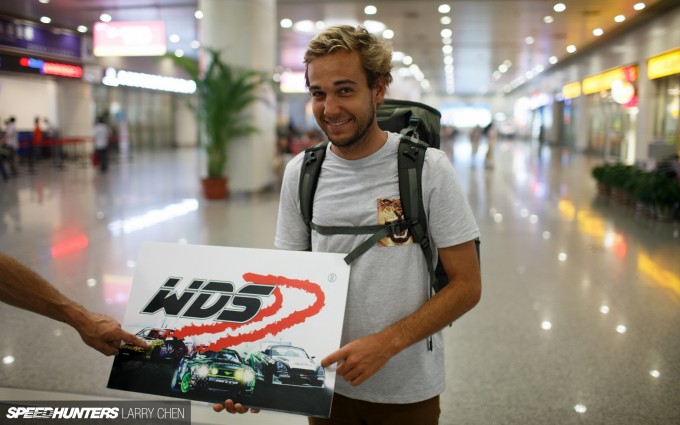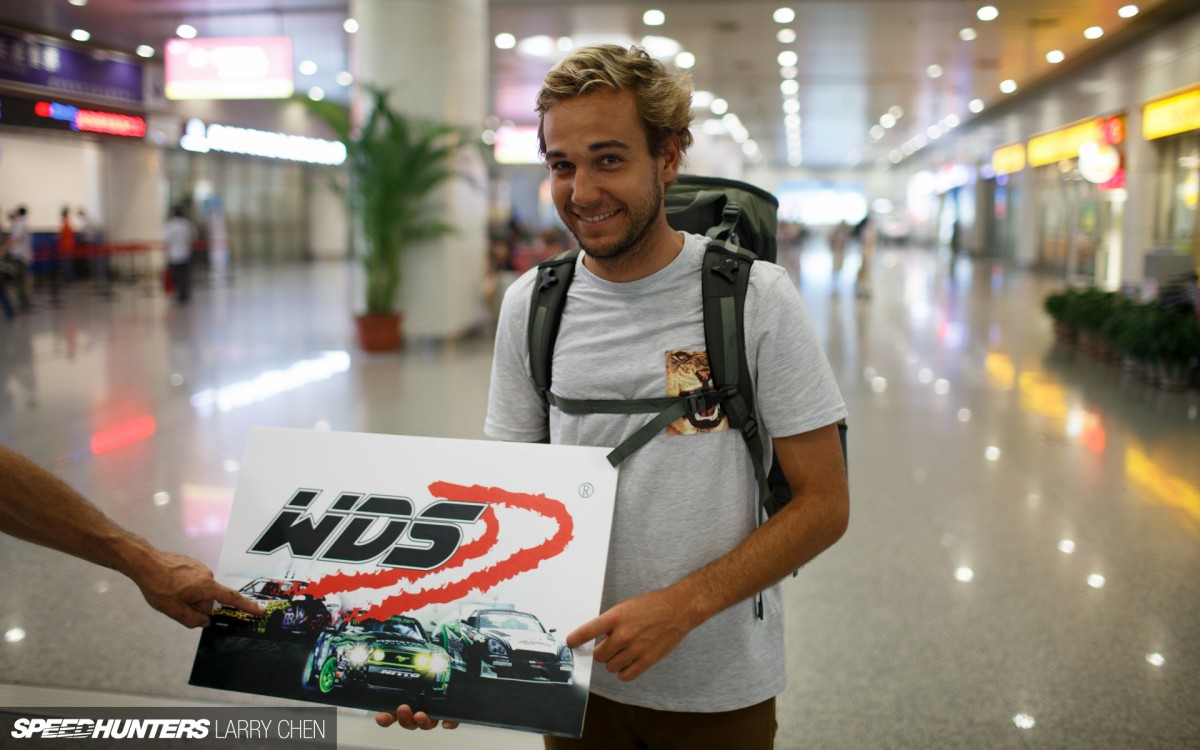 After over 20 hours, we arrived and the surfer dude turned drifter was as happy as can be.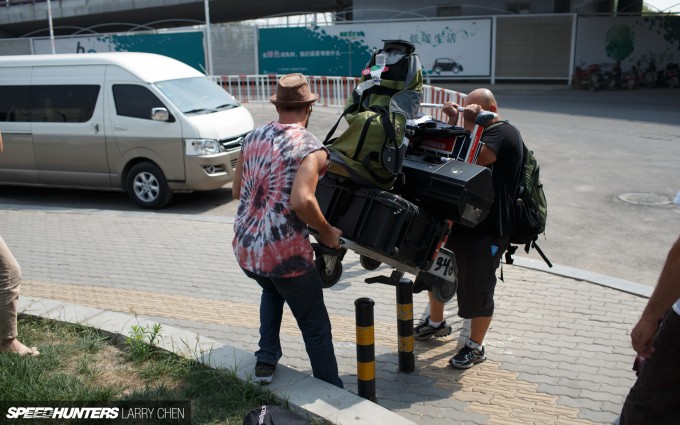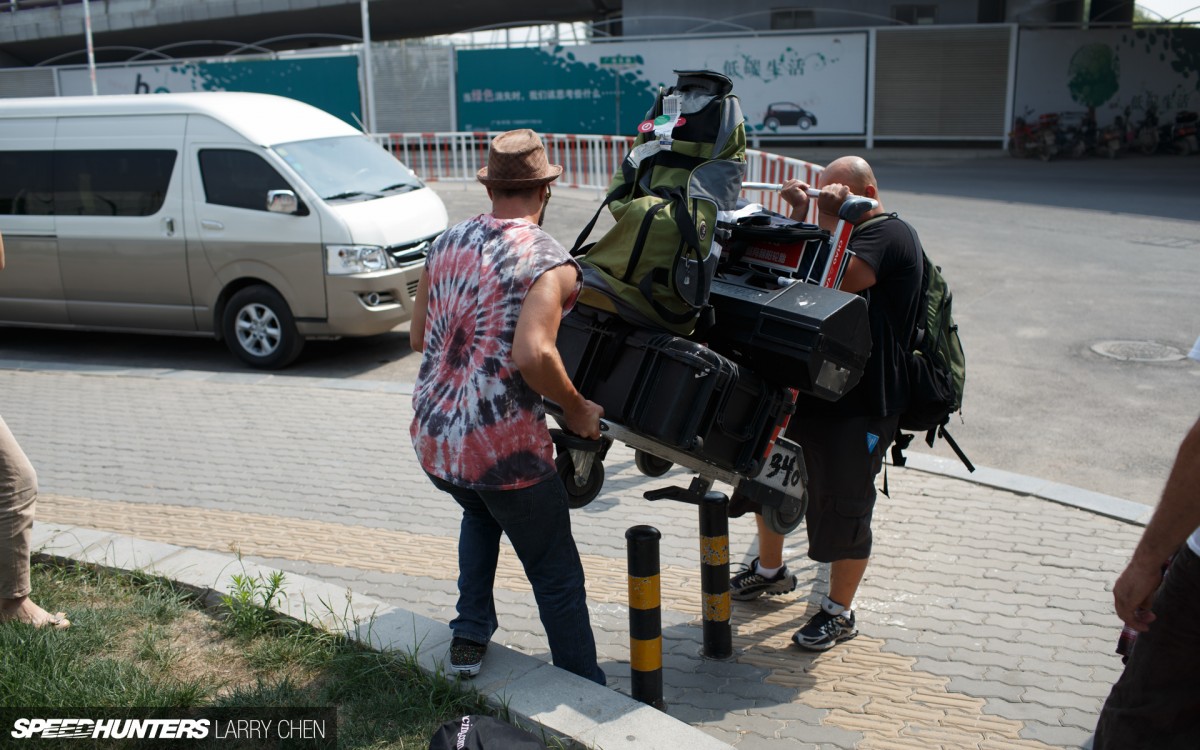 Surprisingly all of our luggage made it. What's funny is that most of the mechanics brought out cheap tools to work on the cars. Those tools were all made in China, so it's like the tools made a pilgrimage back to their homeland.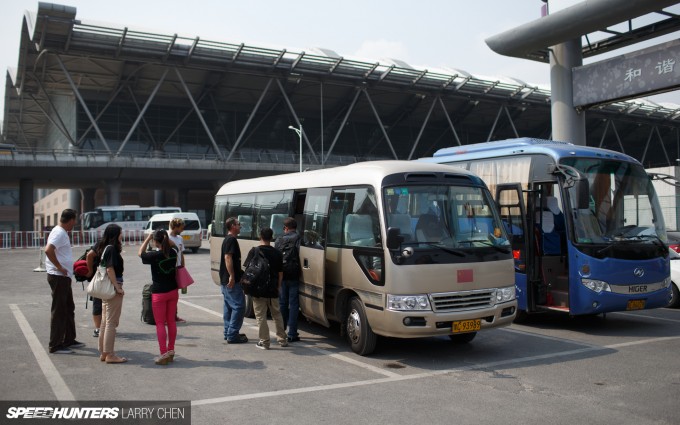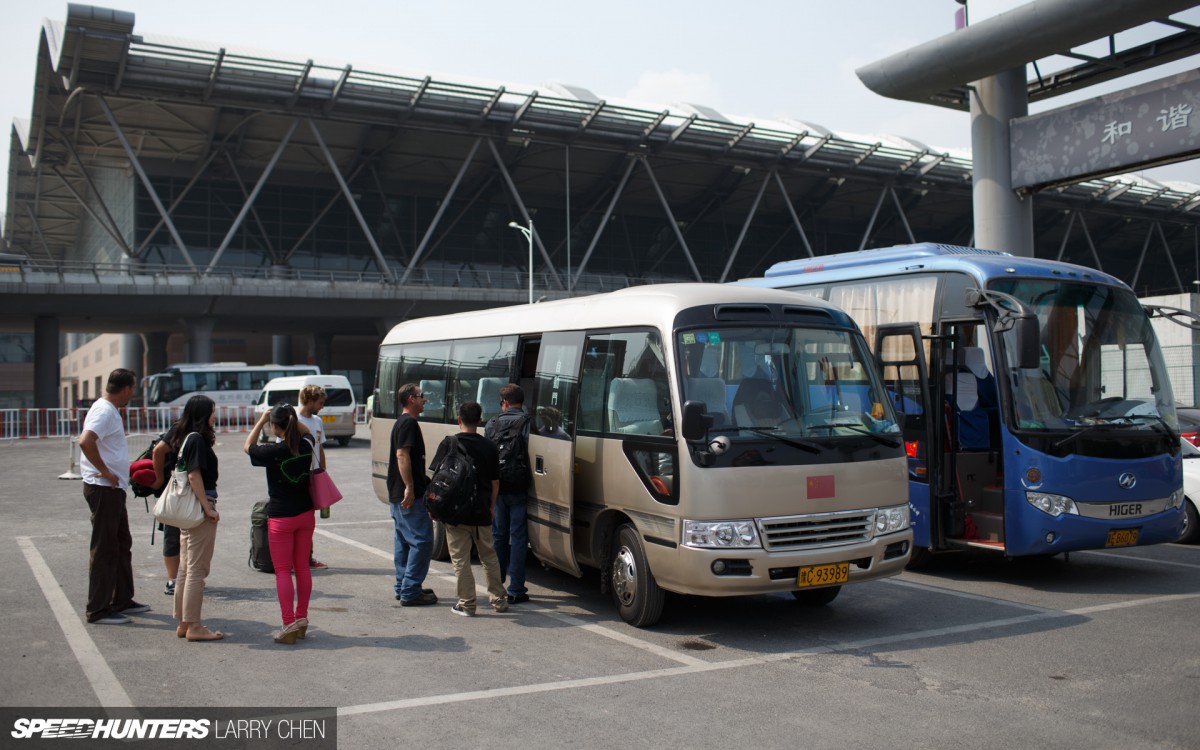 Now it was just a short three hour trek by bus to the city of Luoyang. Only the best for the American Team!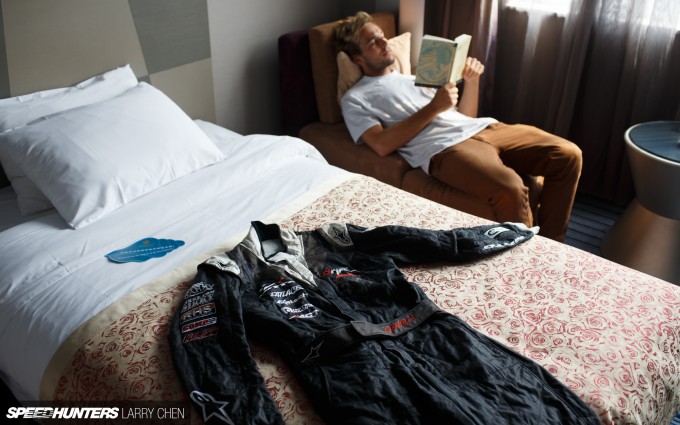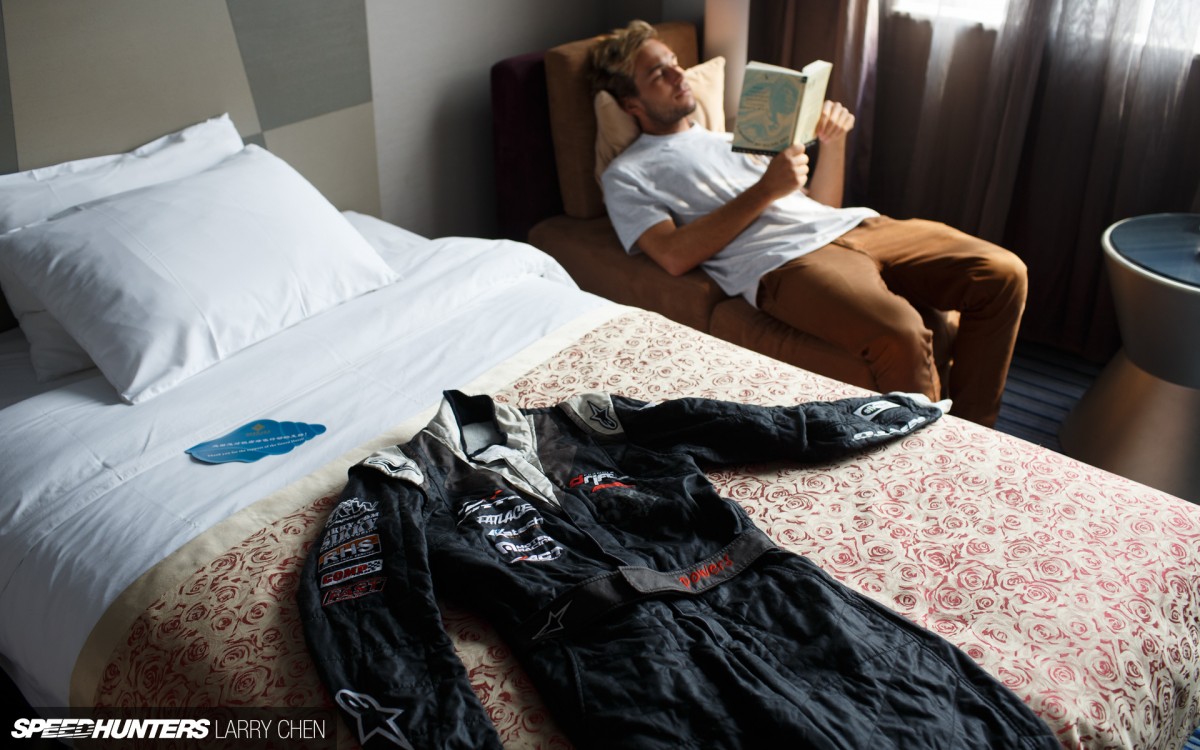 We arrived midday on Thursday, which gave us a bit of time to relax before qualifying day. Mr. Powers caught up on some light reading as he let his racing suit air out from being in the Texas Heat. Ew.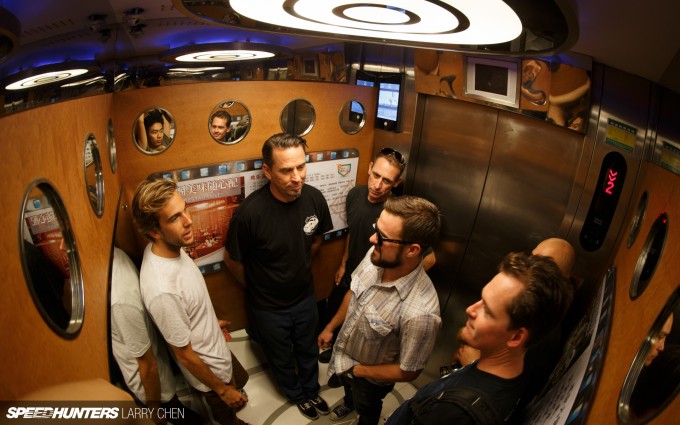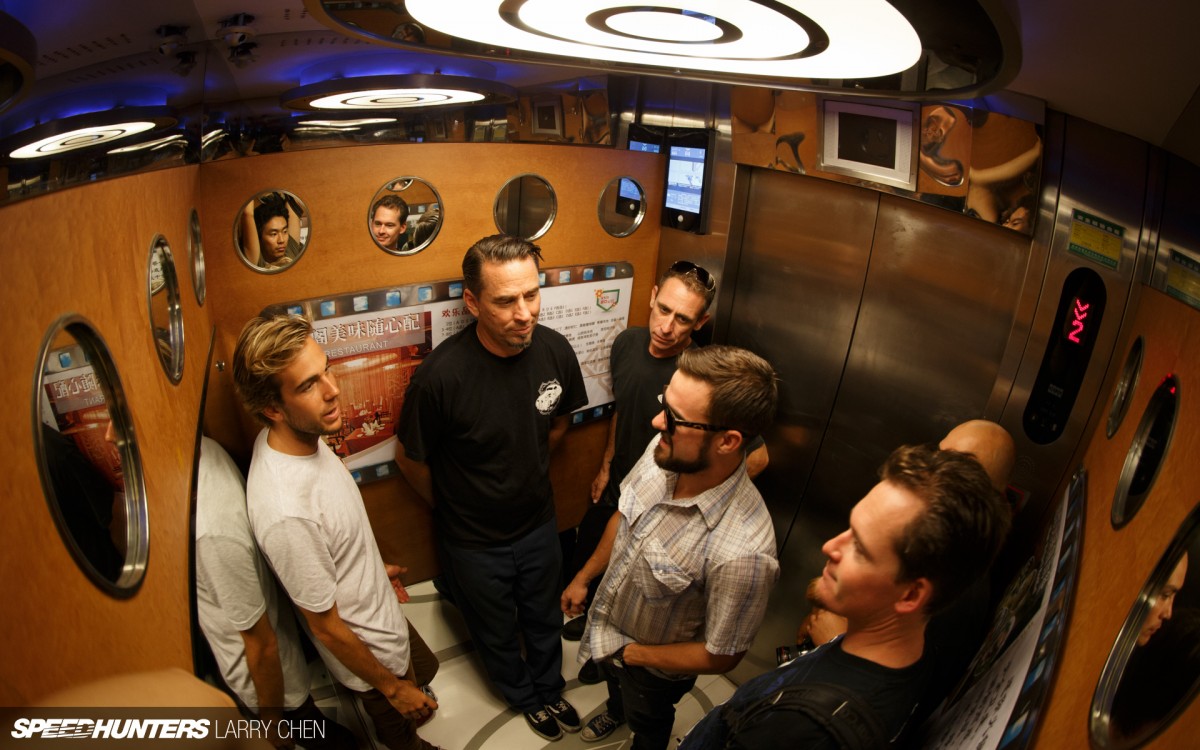 Eventually we got a bit antsy and since it was a city that we've never been to before, we figured it would be a great time to check out the venue. Vaughn Gittin, Jr. and the rest of his crew were flying in later that day since they were coming from the east coast.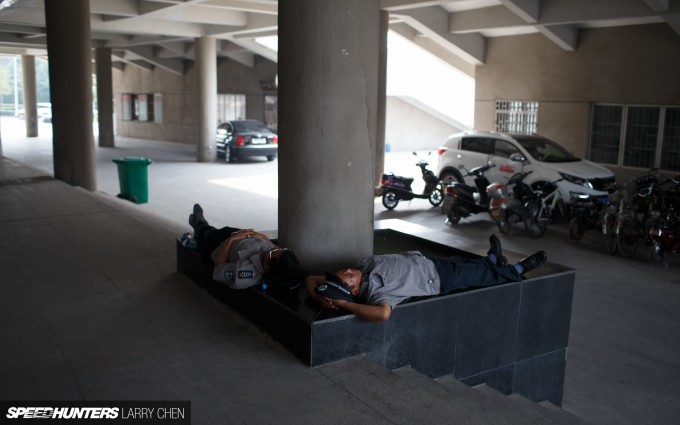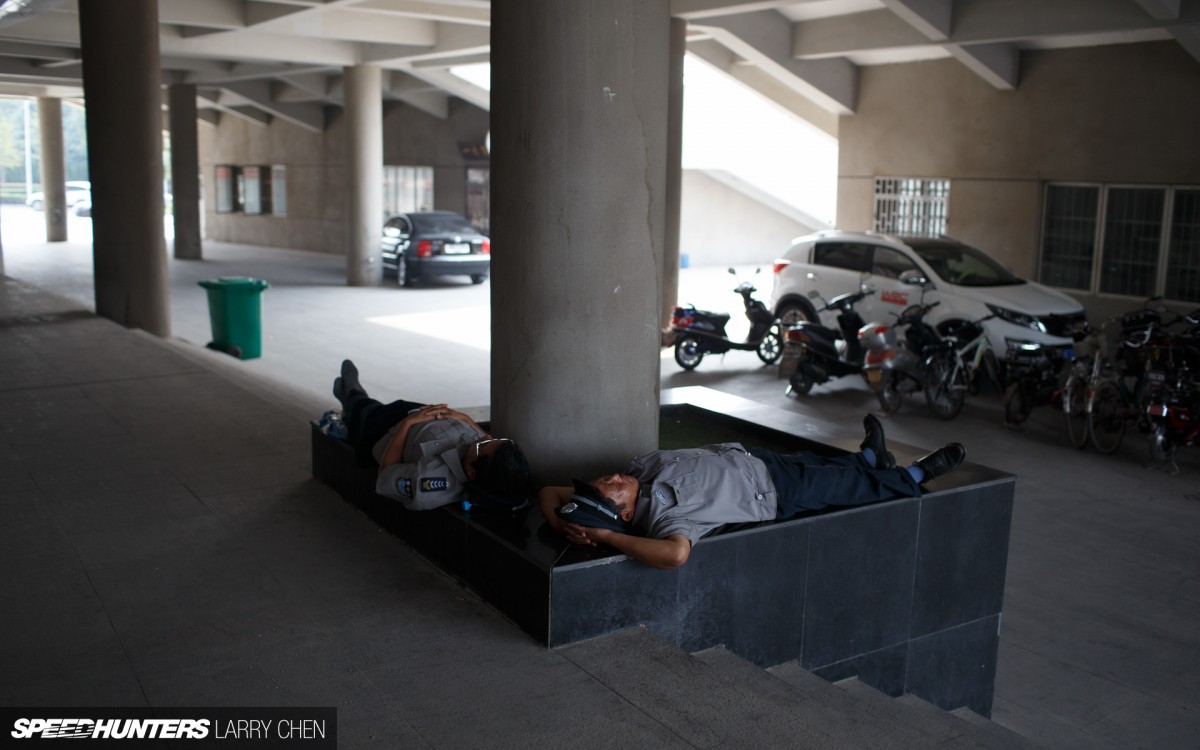 As always the security was super tight, so we had to make sure we had our credentials on us at all times.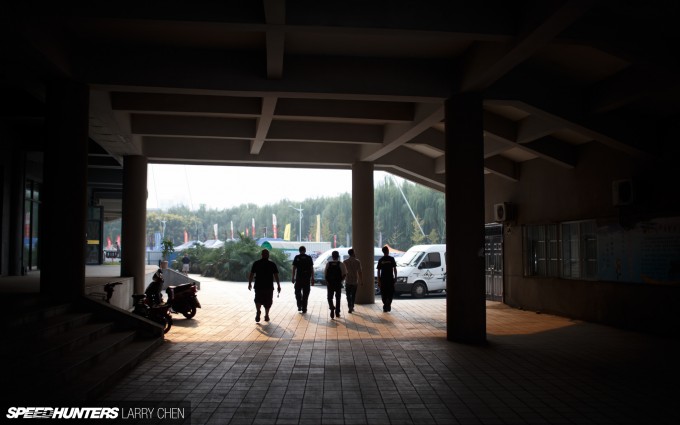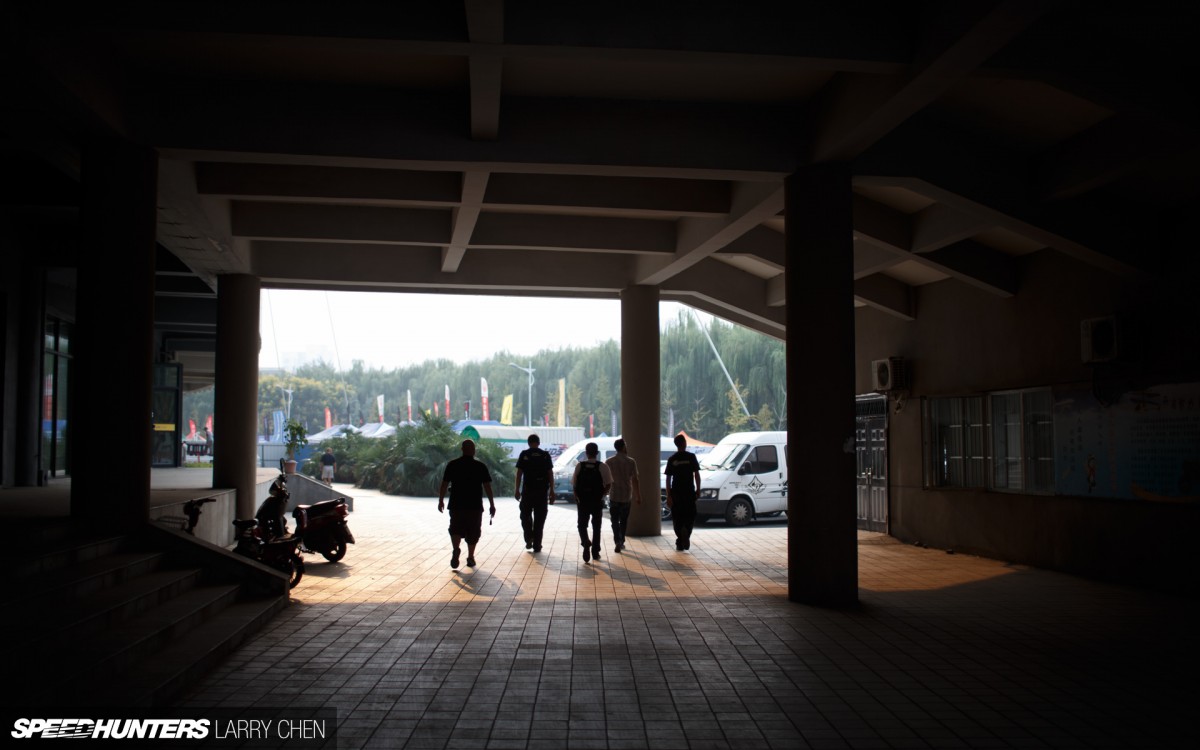 The actual stadium was massive. There were many shops and restaurants within the building itself. There was much exploring to do.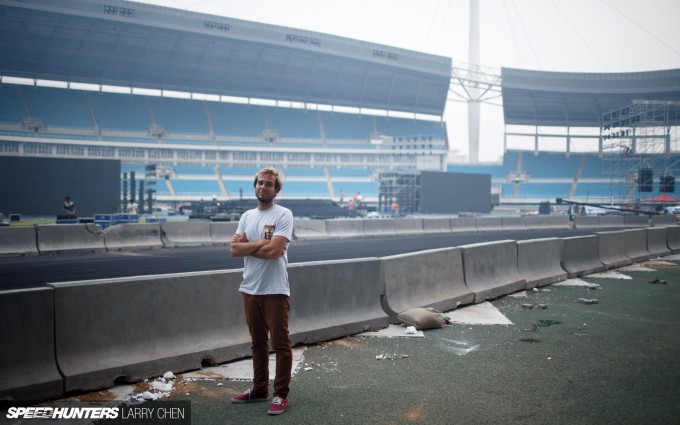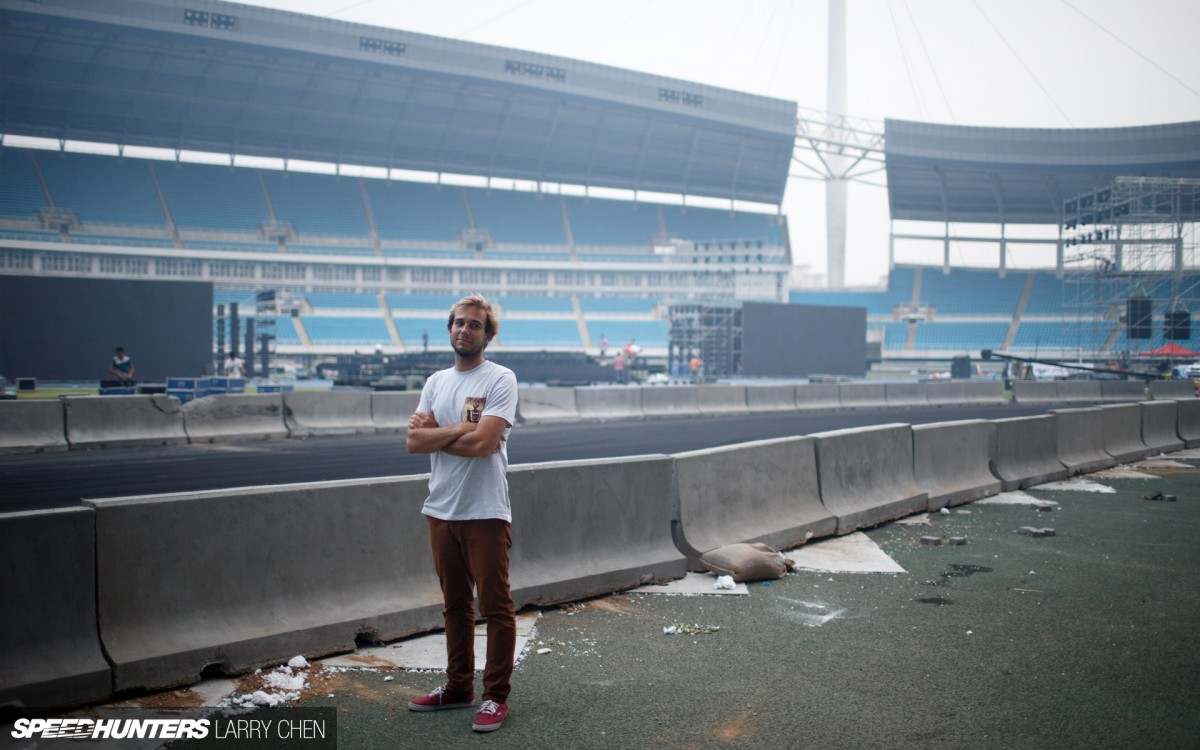 The layout of the actual course was largely the same. Although it looked easy, it can be very deceiving. The walls don't really move much, and to be competitive you really had to take an outside line.
Chinese style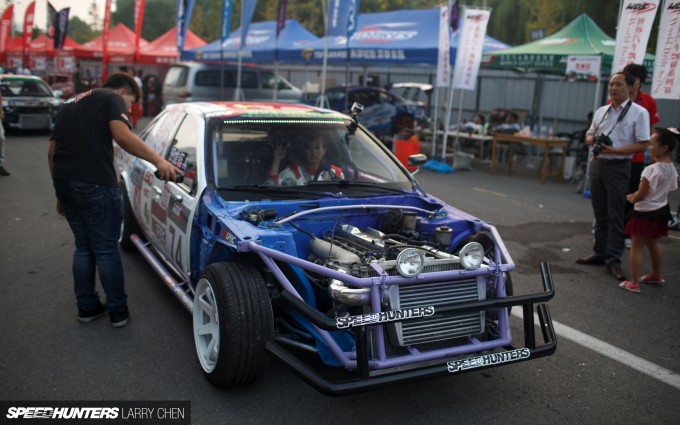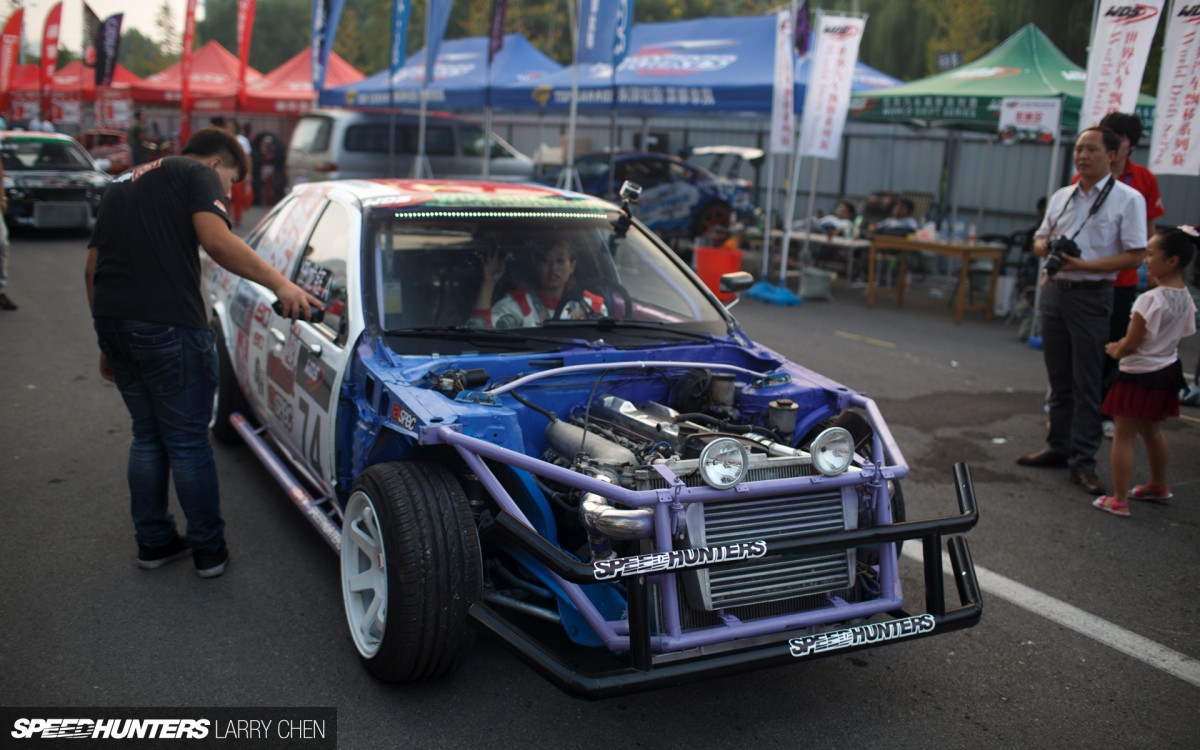 It's just so crazy to me that year after year the Chinese teams get more and more creative with their car builds.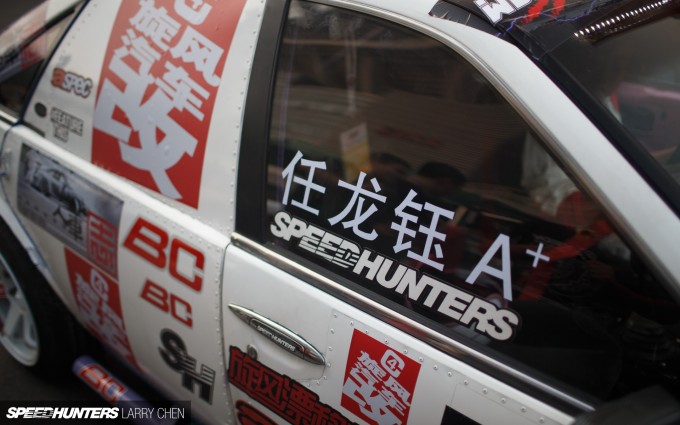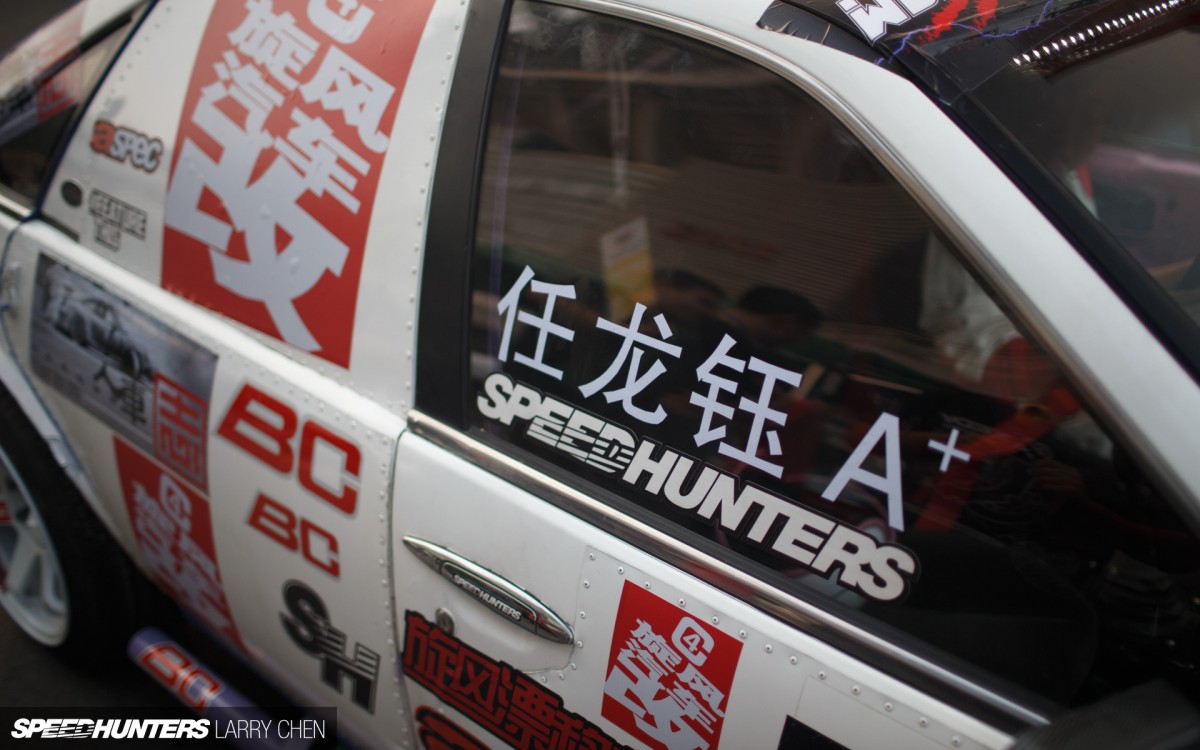 It most definitely helps because there are no rules to what you can build out there. What was interesting was this car was plastered with Speedhunters decals all over, but I had no idea who the driver was.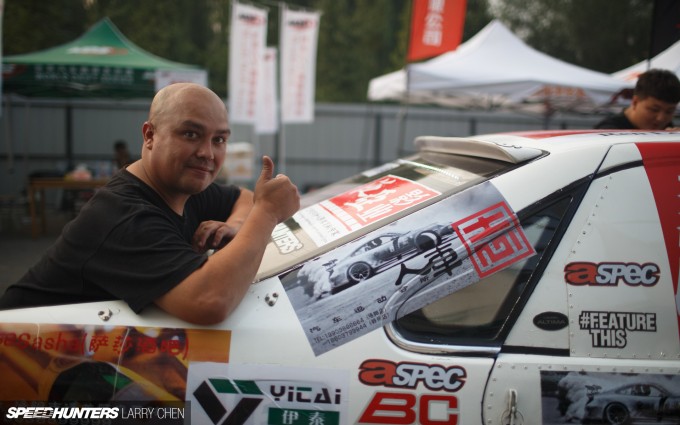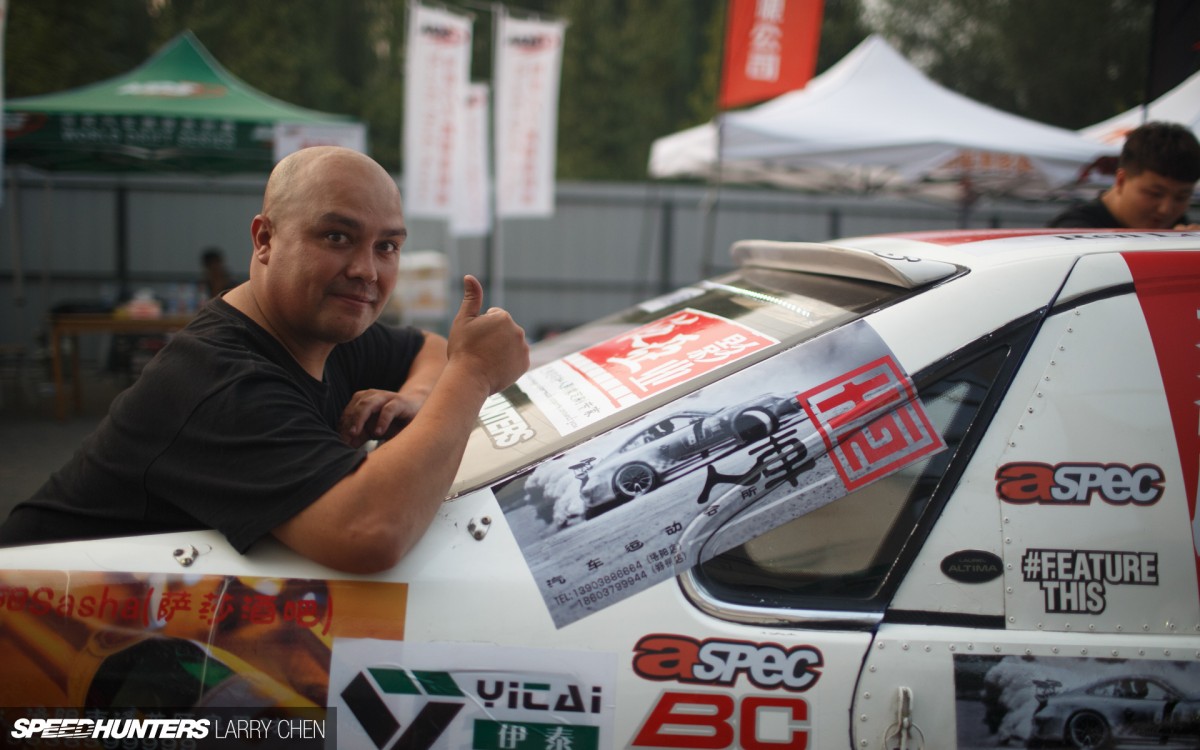 At first I thought that my friend Steve was sitting in the trunk of the weird-looking drift car.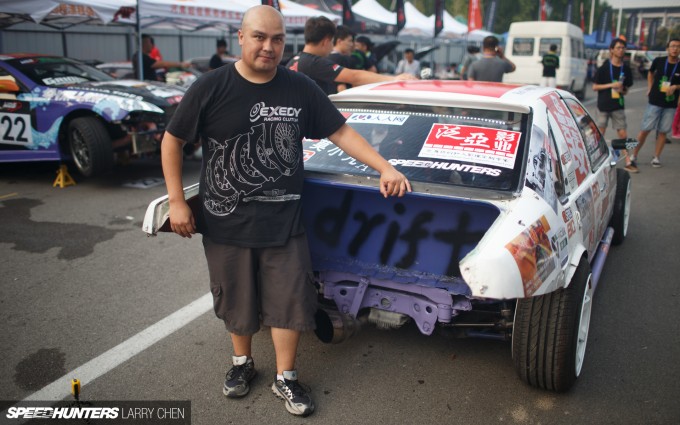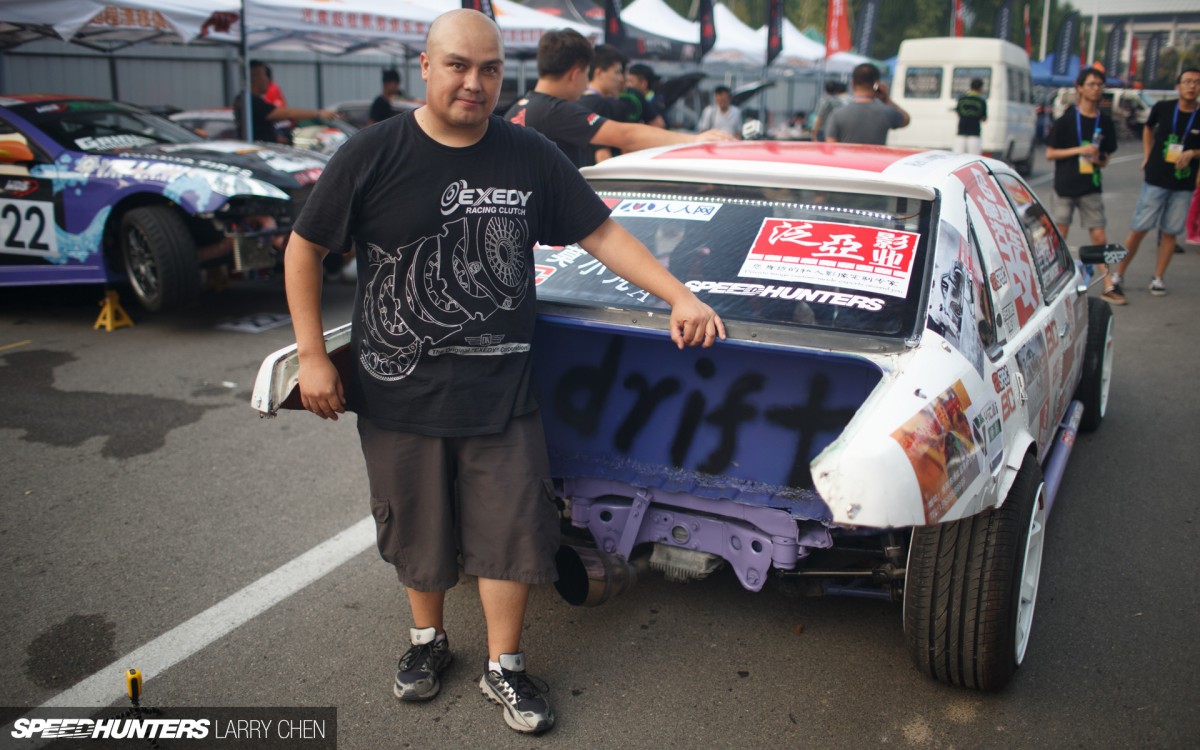 Upon closer inspection, there was not much of a trunk at all. Also, if you had doubts about what kind of discipline of racing this car was built for, there was the answer for you spray painted right on the boot.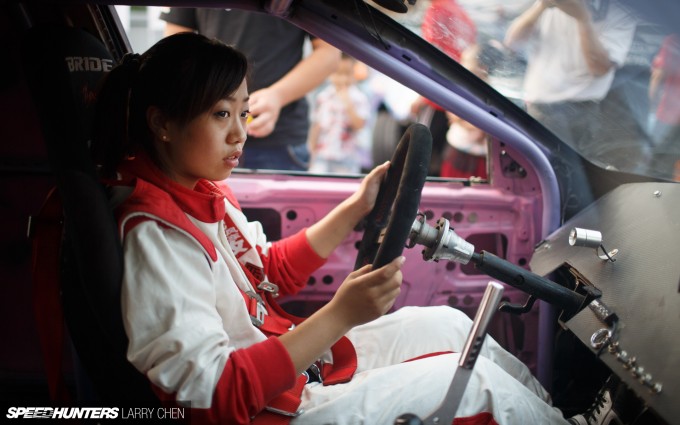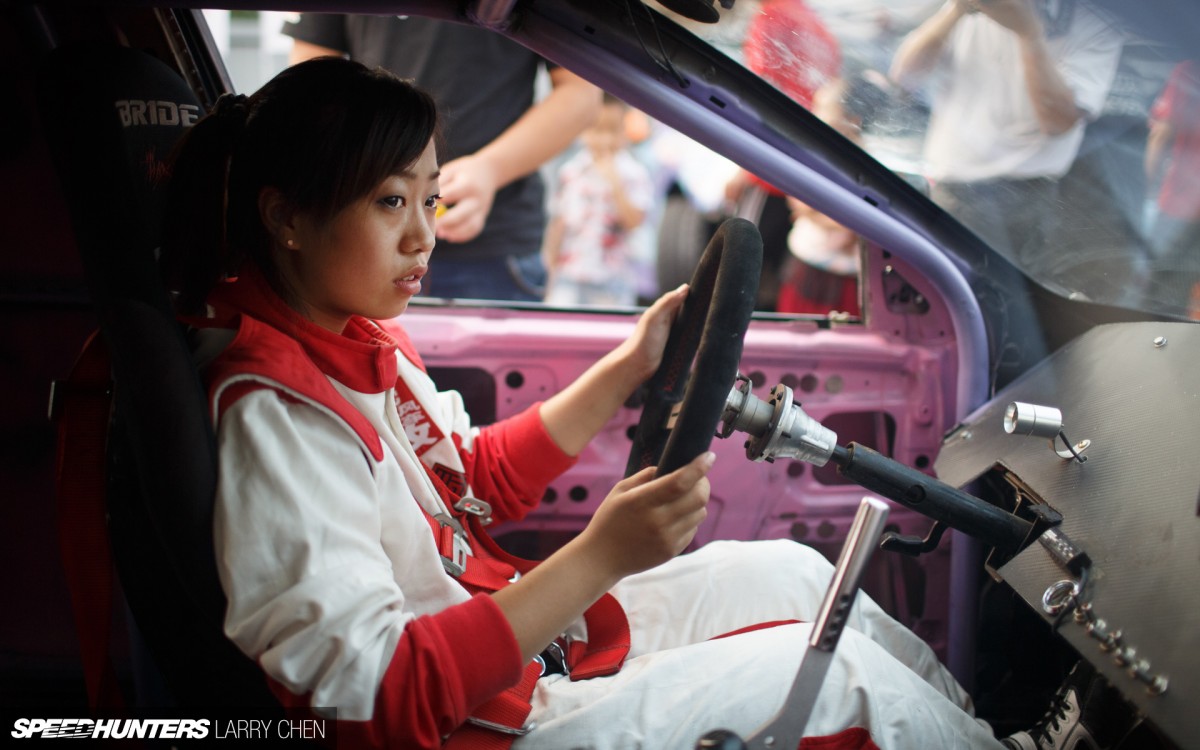 This car was driven by a Chinese girl racer by the name of Ren Longyu. Although because she was a rookie and this was one of her first events, she barely got it sideways at all.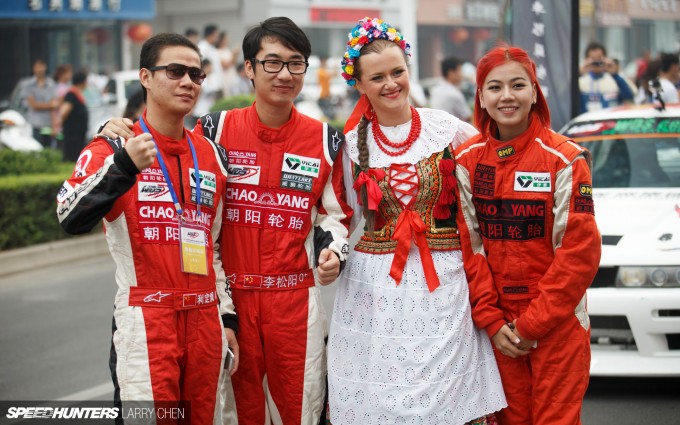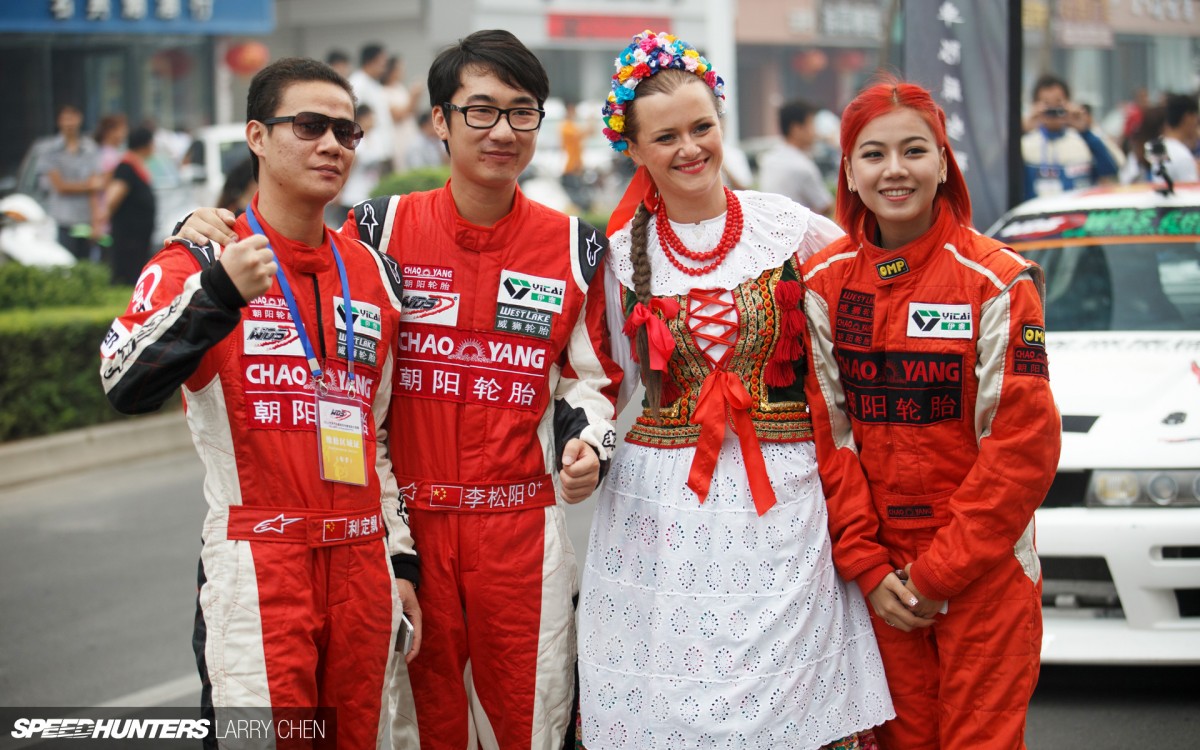 Although there was another girl competing from Thailand, by the name of Chutharat Khaosaard, also known as Namza.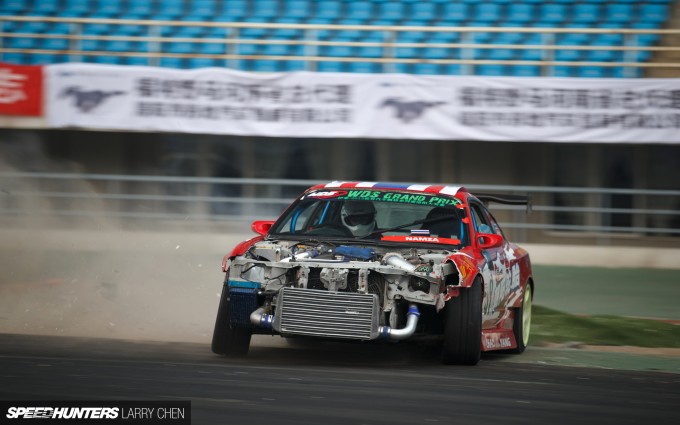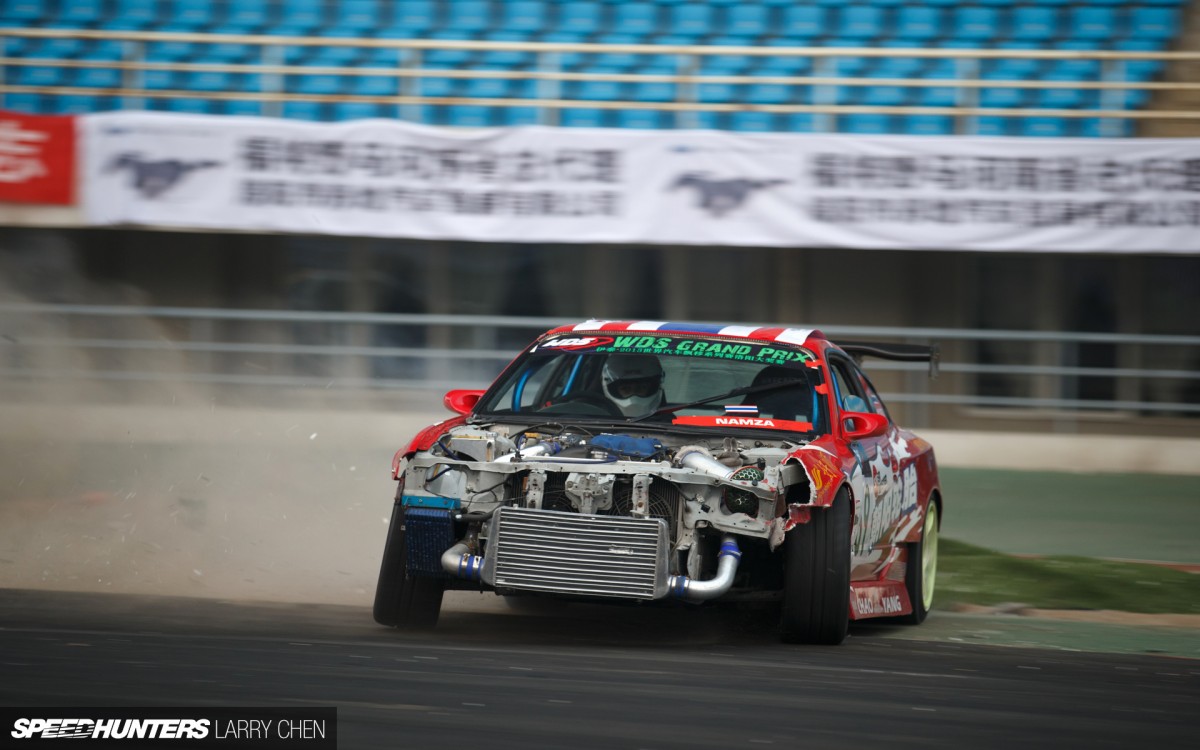 She was absolutely nuts, going balls out every time she went out, dirt dropping, scraping walls and taking names. Even though she didn't go very far in competition, she was a judge's favorite for her aggressiveness and style.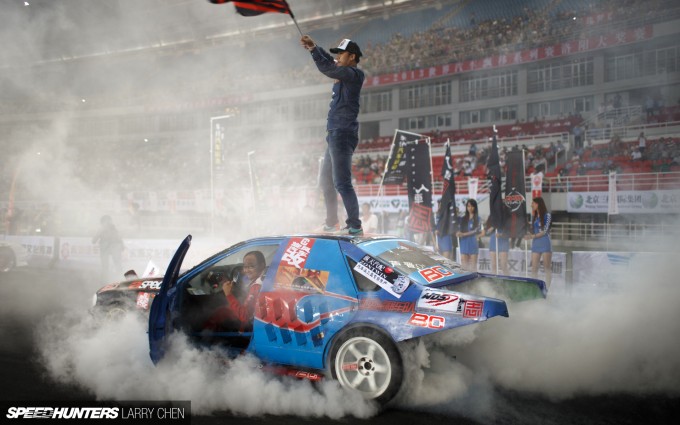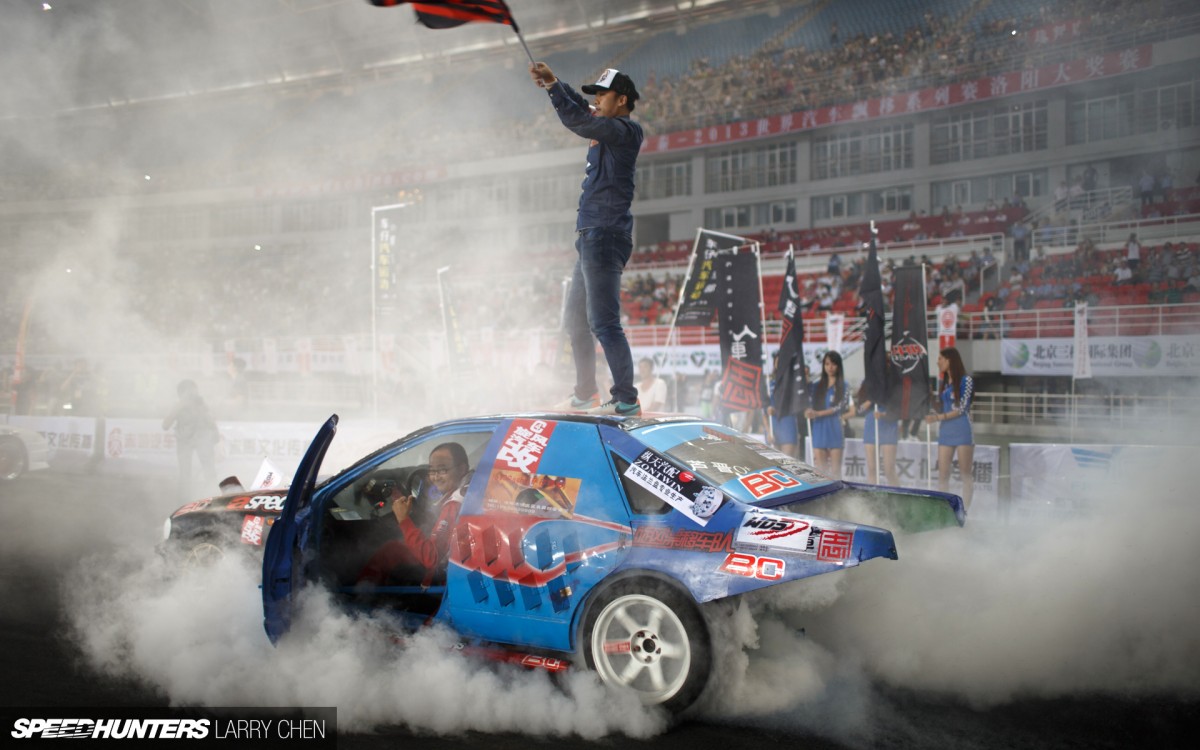 I had a feeling about where the sudden love for Speedhunters came from. Last year I did a quickie spotlight on this Nissan A31 Cefiro driven by Chinese driver, Lu Jin. He's known for the most massive burnouts during the opening ceremonies. Safety first right?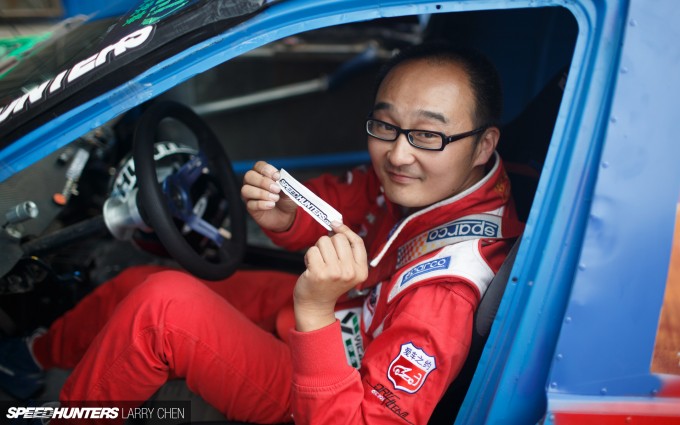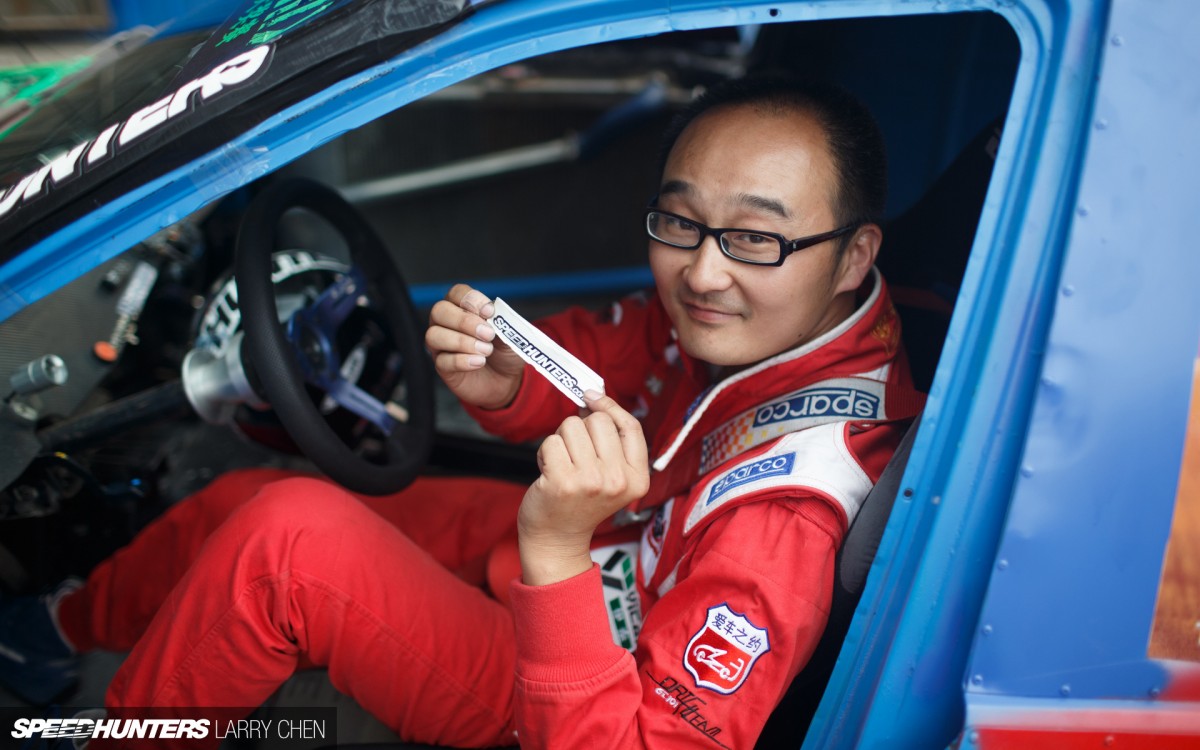 Since then he's become a fan of Speedhunters and has taken it upon himself to print his own decals since he can't order them from our store. I gave him some real ones to add to his collection.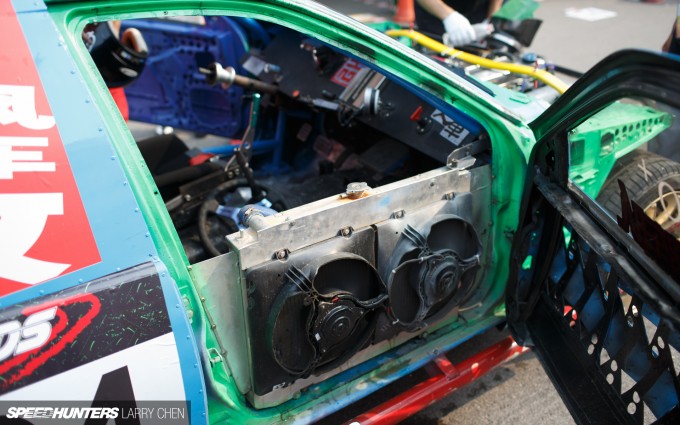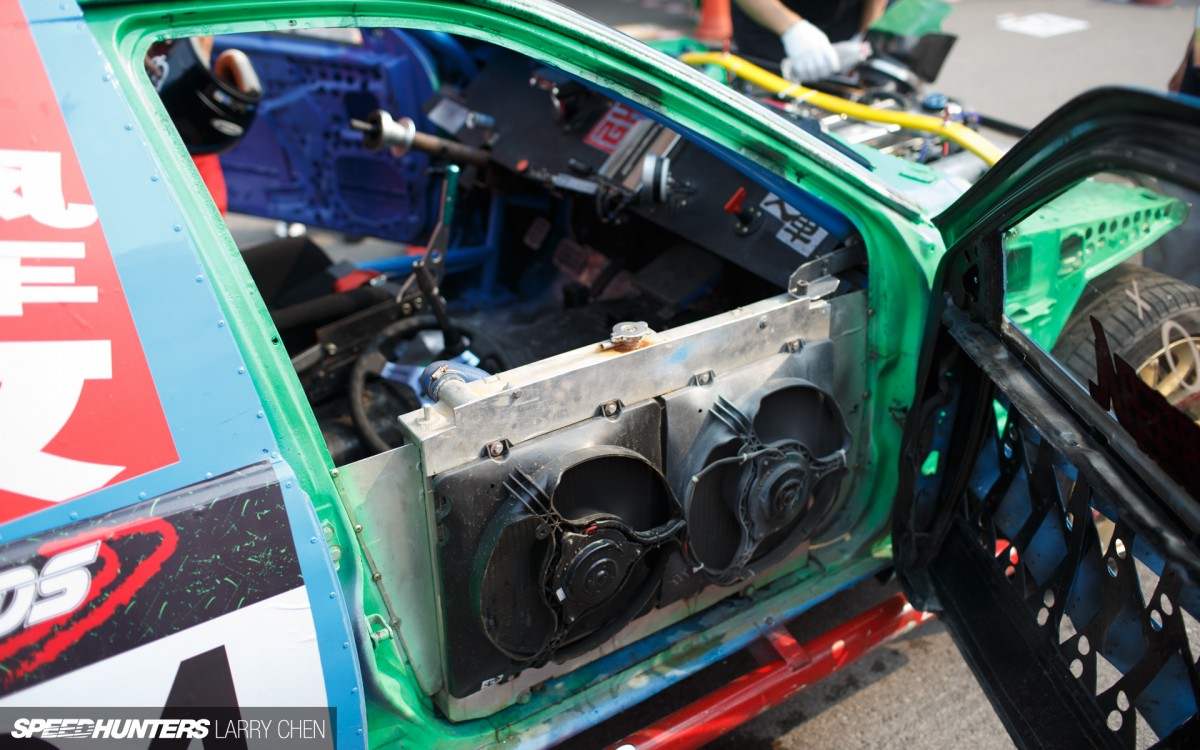 Although I'm not so sure about the efficiency of his cooling system, I still think it's very brave of him to become part of it for this car. The air cooling the drift racer effectively has to pass by him through the door and then eventually through the door-mounted radiator. HE was a part of the cooling system.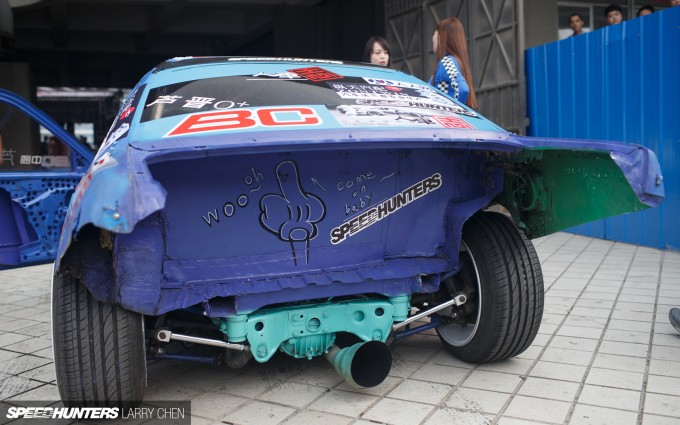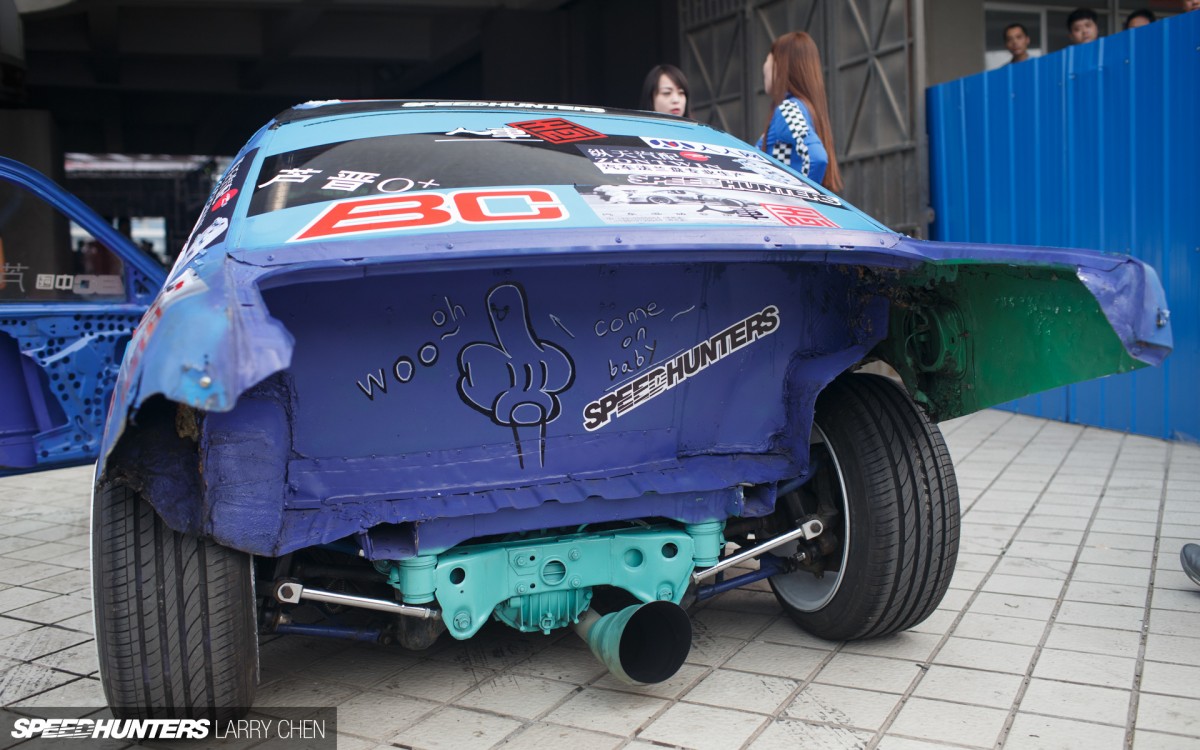 As if this A31 Cefiro (what's left of it) was not intimidating enough, he has some interesting graphics to egg on his opponents.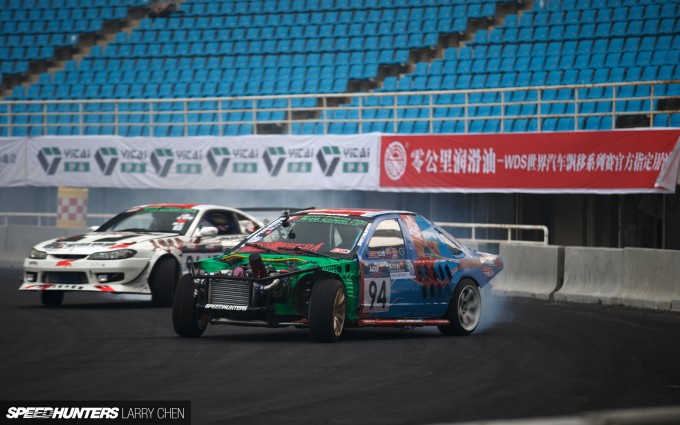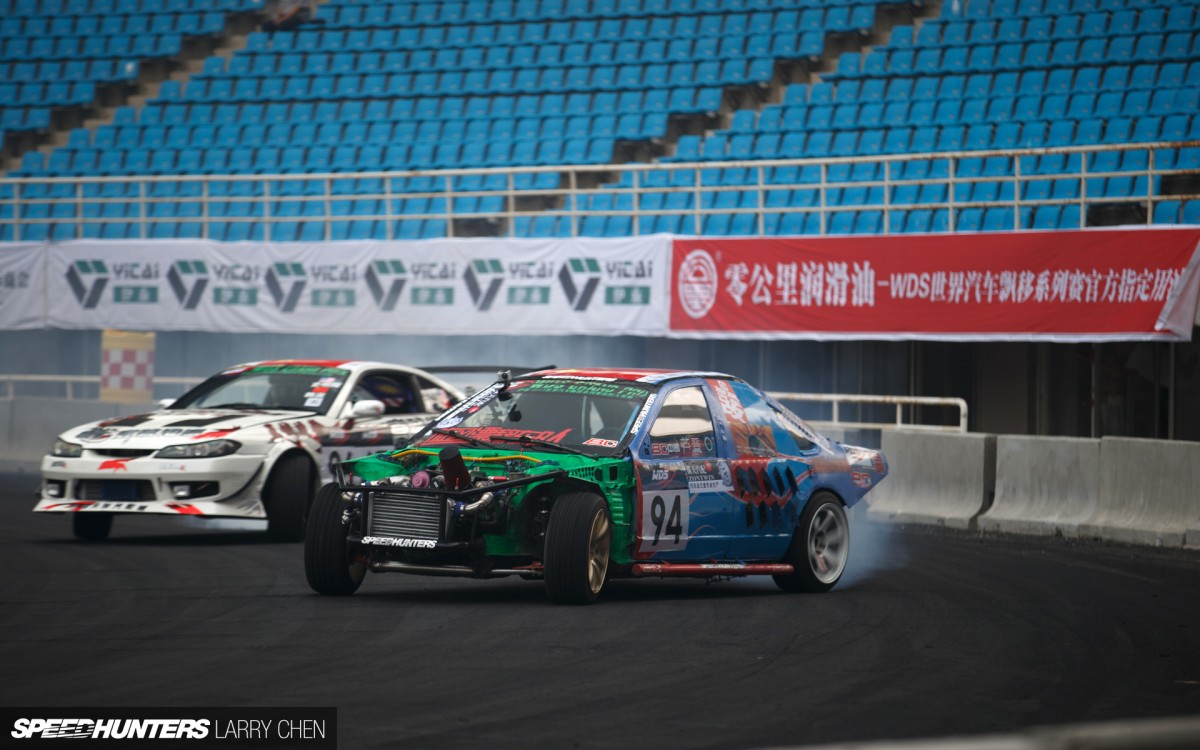 Mr. Jin did not move on to the top 16 unfortunately, but he made a great effort. The car may not be the best looking, but it's very unique in that it's a Chinese built race car with his own personal style.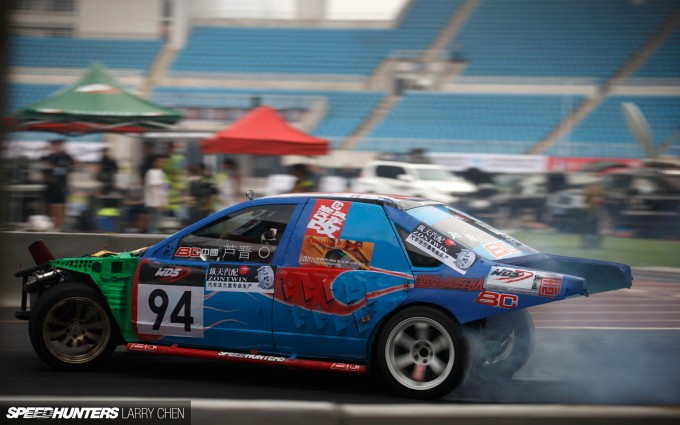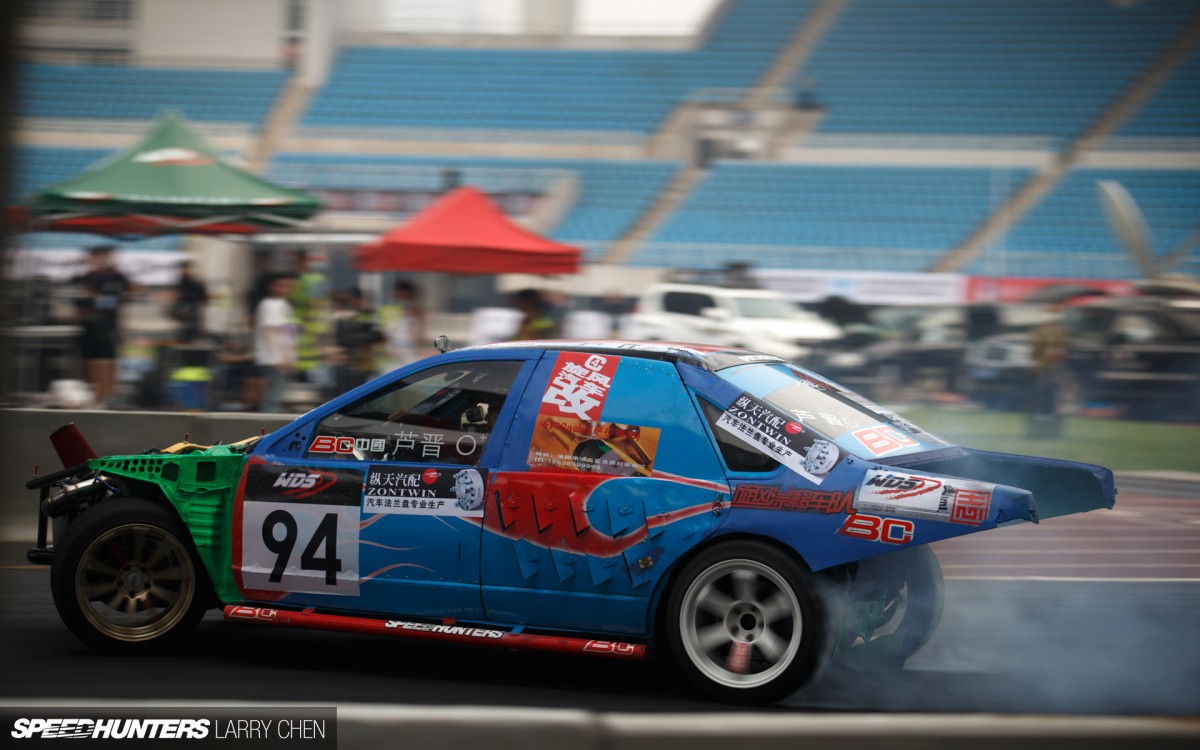 It's really a step forward versus most of the other Chinese teams who like to mimic the Japanese and American built drift cars.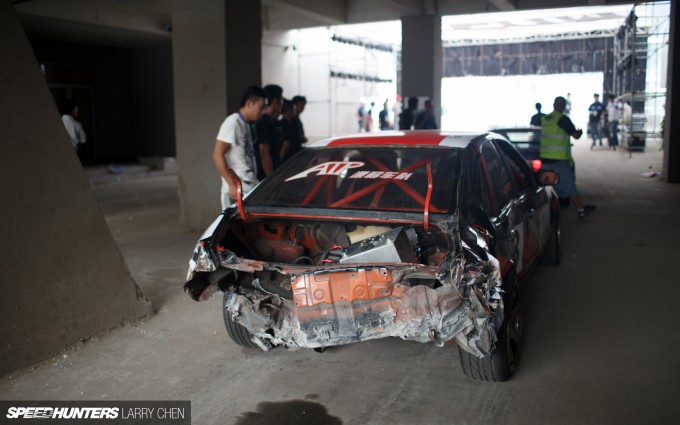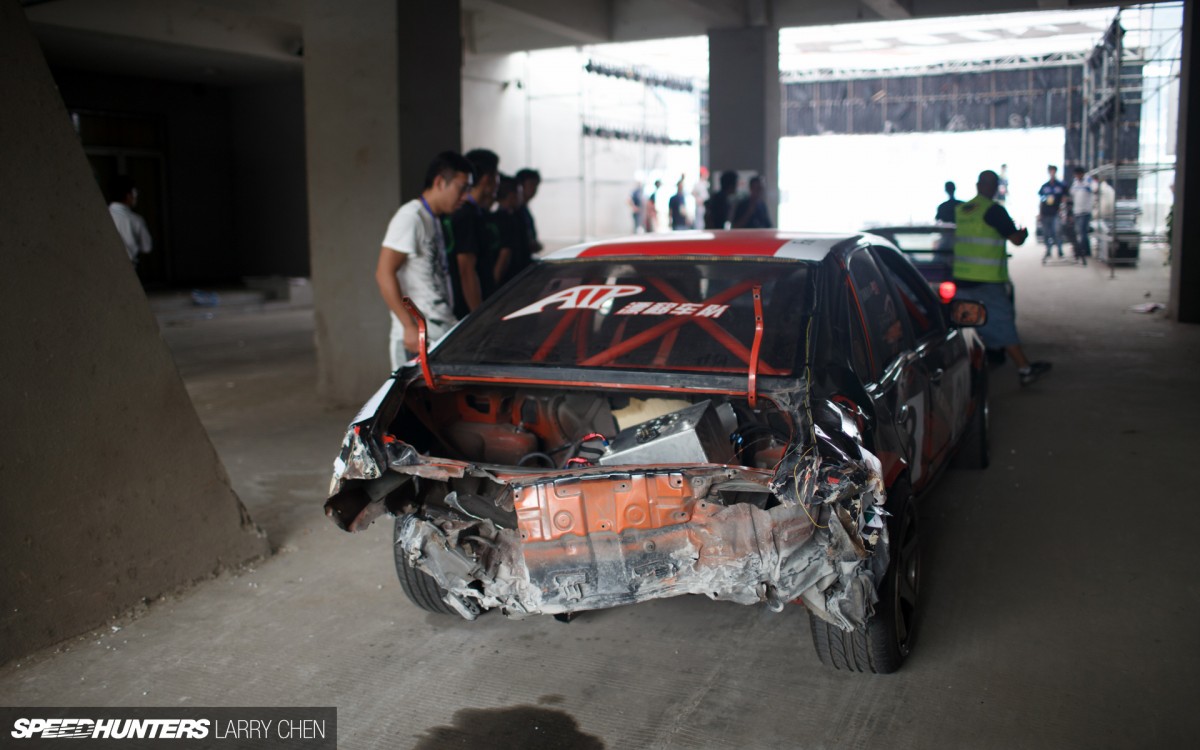 I know what you guys are thinking. Why is it that these cars don't have trunks? Well this picture pretty much says it all.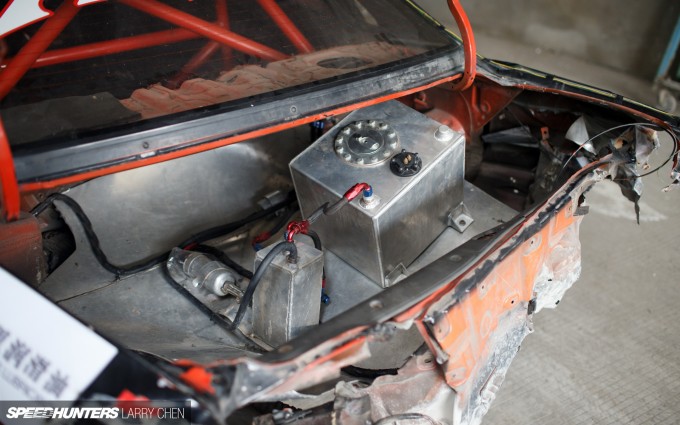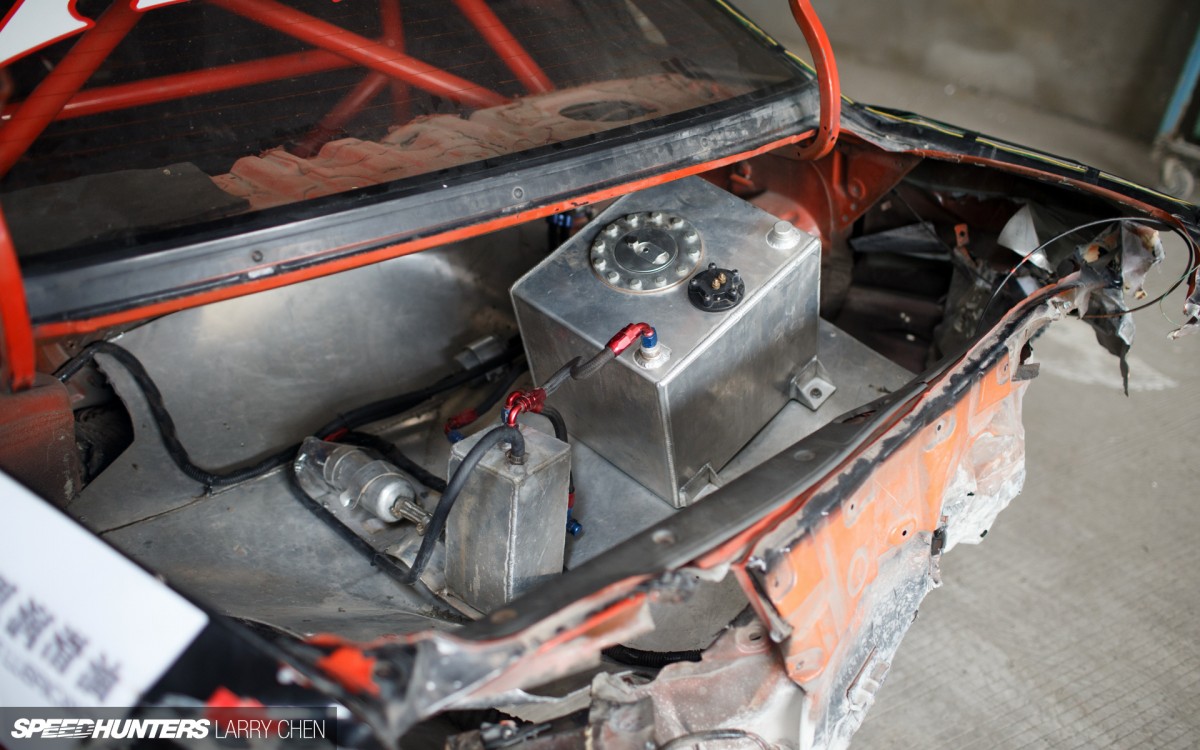 A proper fuel system will continue to work if executed properly, no matter how many times you back into a wall. They've thought of everything!
The jalopies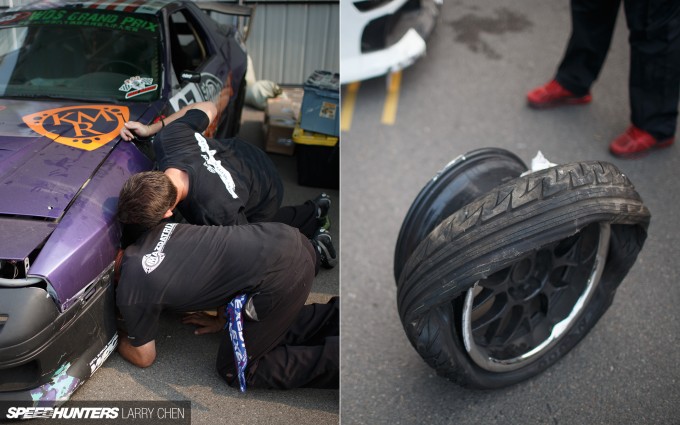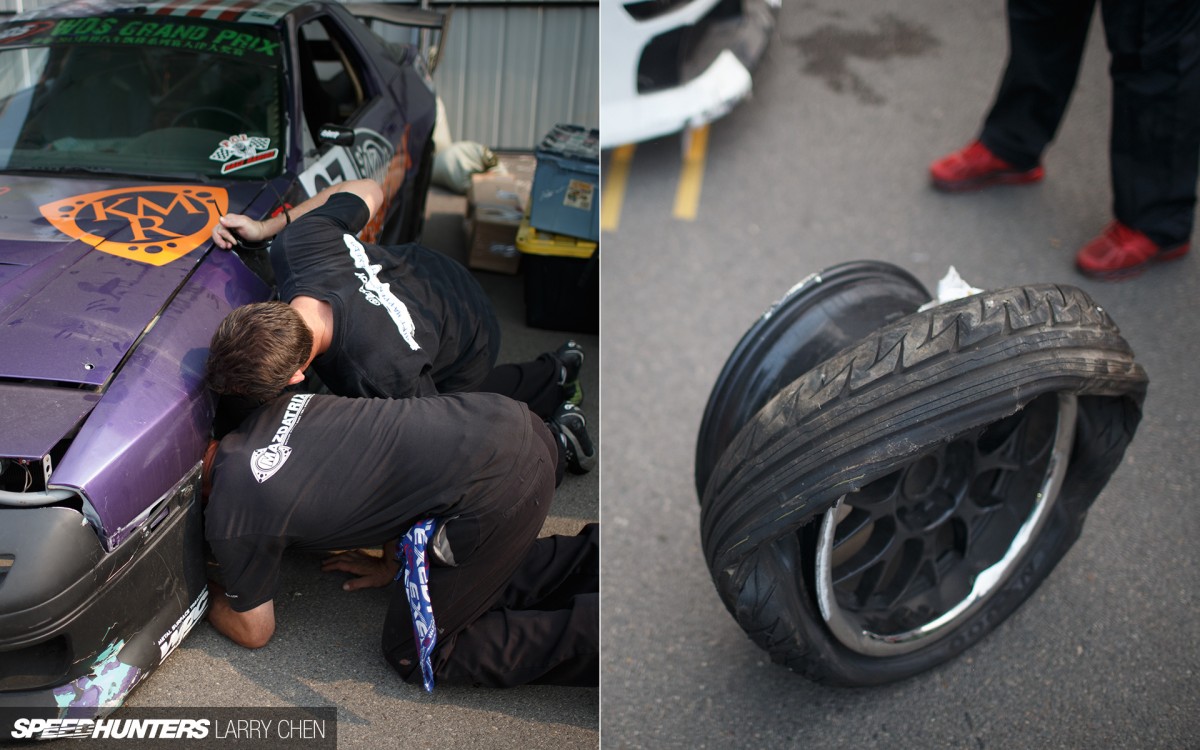 Back at the Team America pits the boys were super busy. Kyle Mohan was hard at work trying to get his disabled FC RX-7 back in running order. With word of his V8 RX-8 getting stuck at sea, he spent an entire day sourcing three corners of an FC as his car was left in a shambles from the last round while battling for third place with Matt Powers.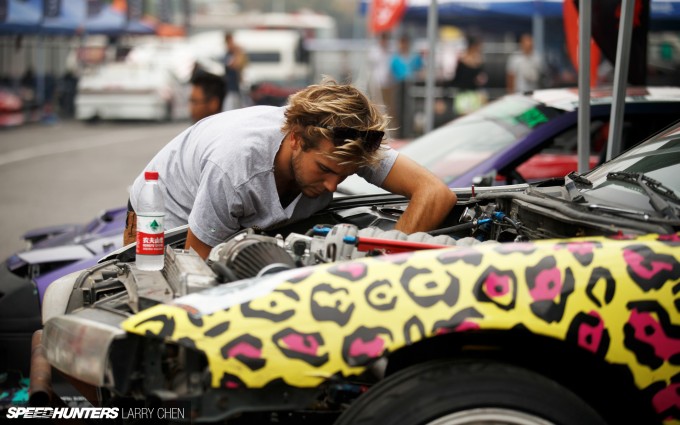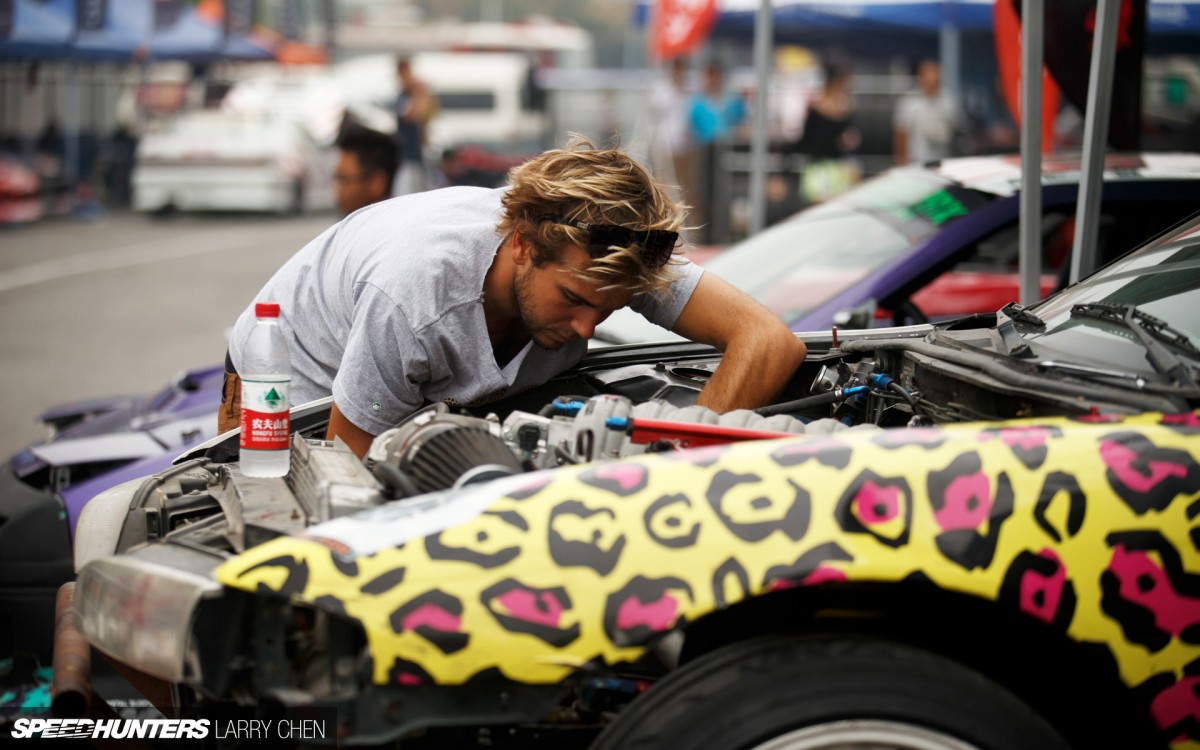 Matt was dealing with his own problems as he was having issues with the ECU in the last round so he brought over a fresh one in hope that it will keep the LS1 happy.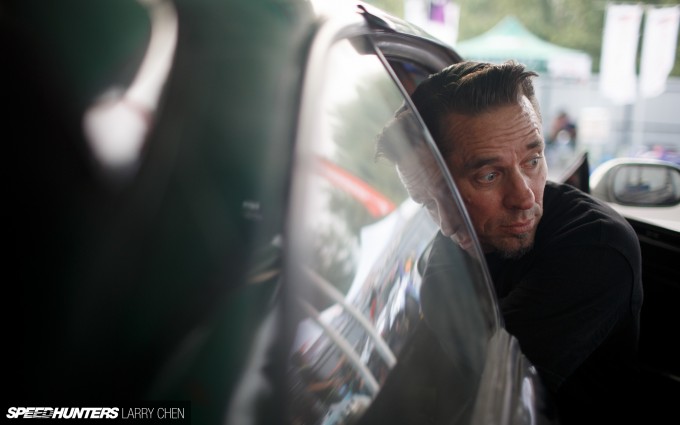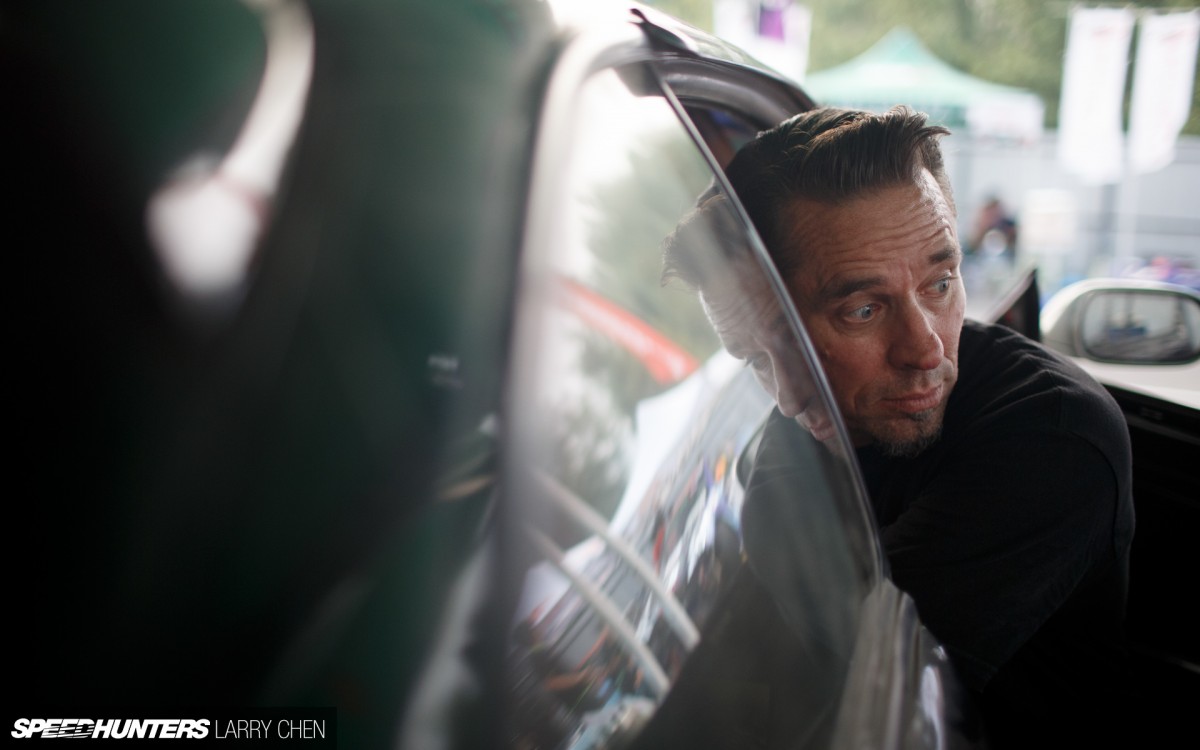 He brought over his main mechanic, Big Tom, who also helps Matt with his FD program. Even though they're down on power, with probably 300 hp to the wheels they put in a good effort to finish well. The average Chinese drift car has over 500hp now.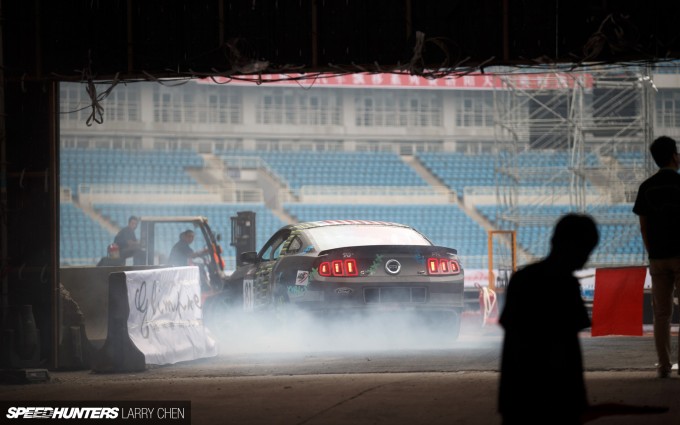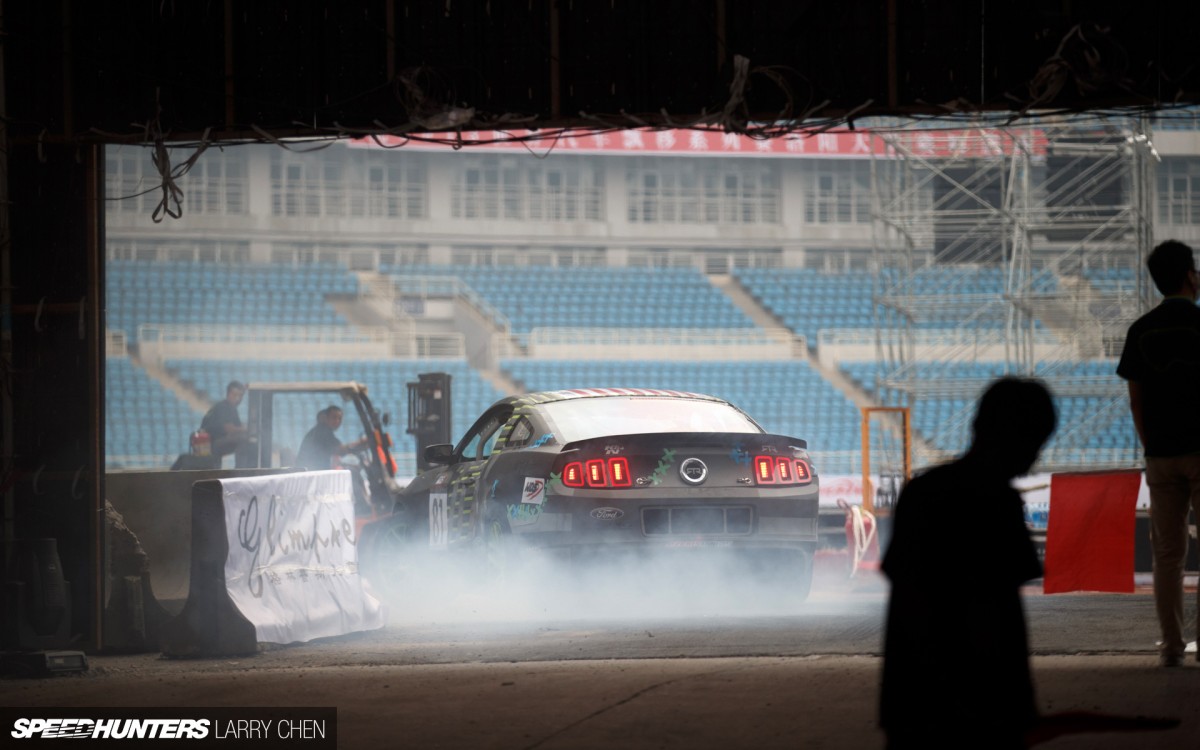 Ryan Litteral will eventually compete in China with his own car, but till then he would drive Vaughn's old demo car.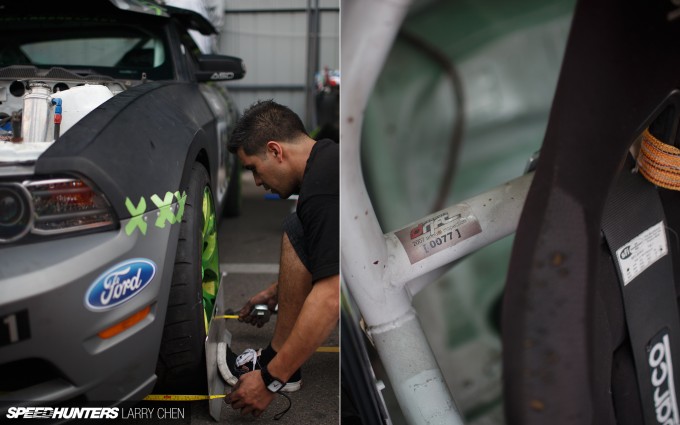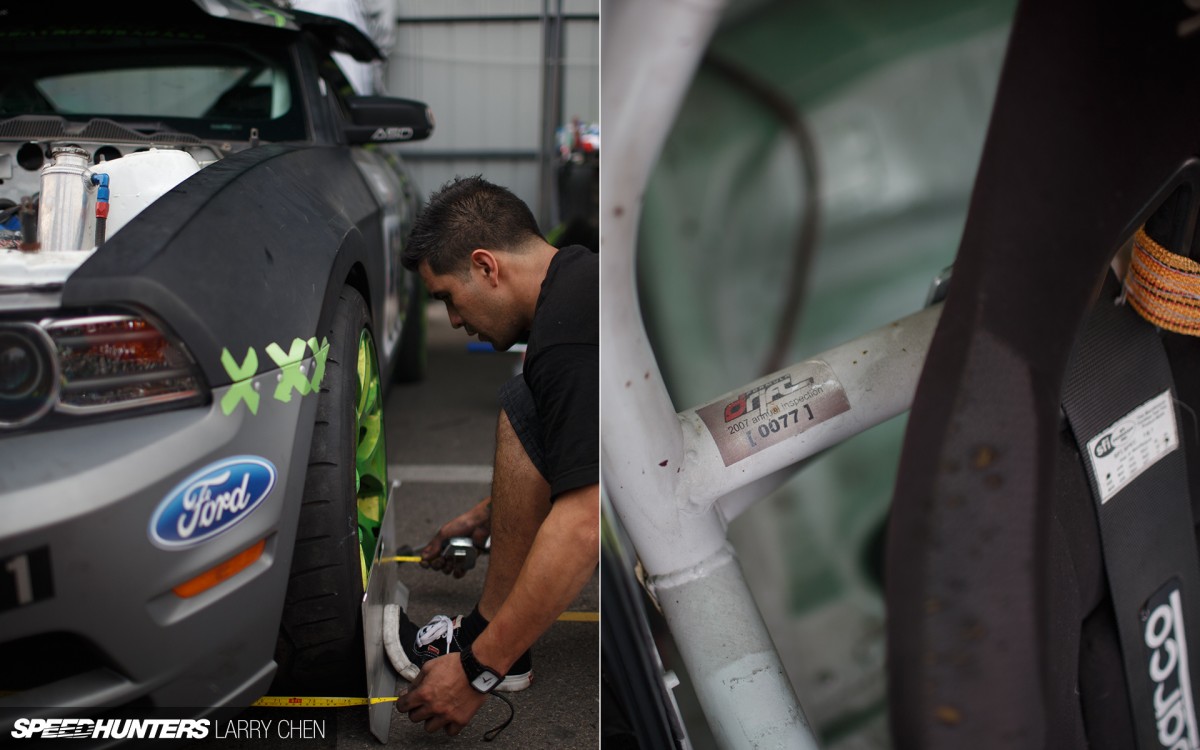 This car has lots of history and it was originally Ken Gushi's car from back in 2005. It even has a 2007 Formula Drift tech sticker on the roll cage. It was a huge challenge for Ryan and his mechanic Andrew to get used to driving and working on such a huge car compared to his S-chassis at home. Although Ryan did learn how to drift in an R33 Skyline, which is also a larger car, so he picked it up quite fast.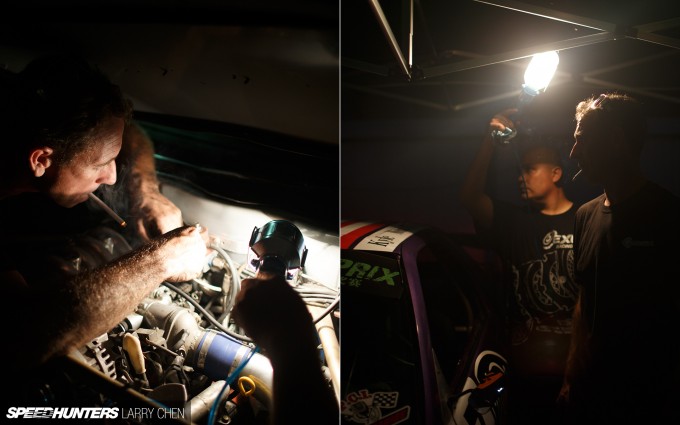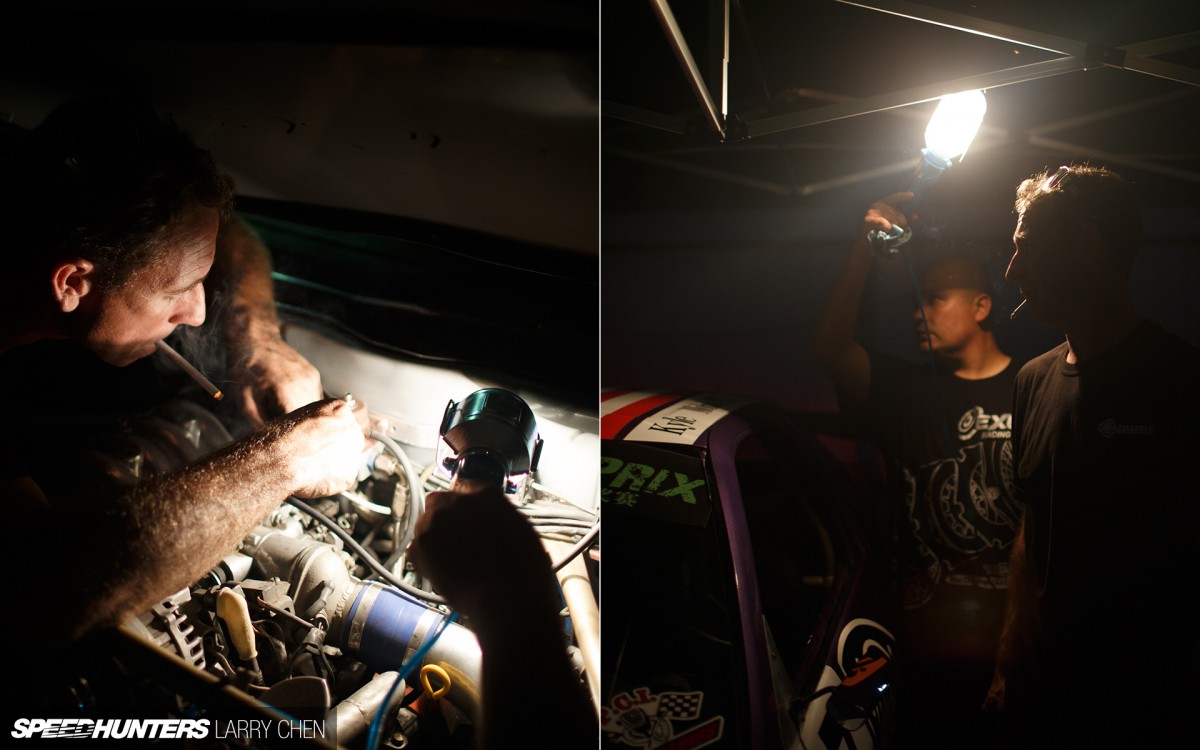 With qualifying in the morning there was still much work to do to get the RX-7 in tip top shape. Kyle also brought over his main mechanic, Matthew Hill, who also helps him back home at Formula Drift, to work his magic on the wounded Mazda.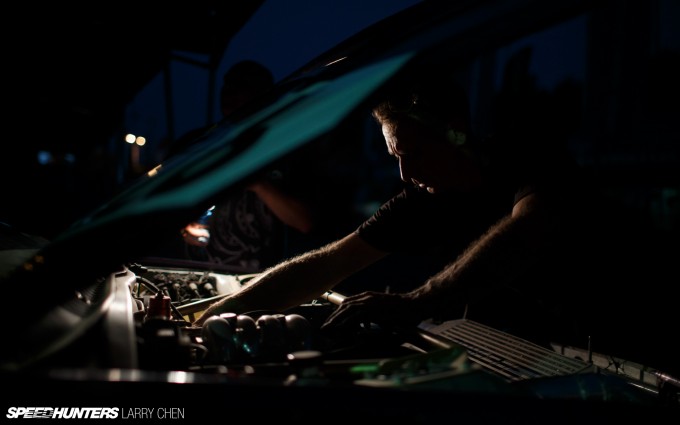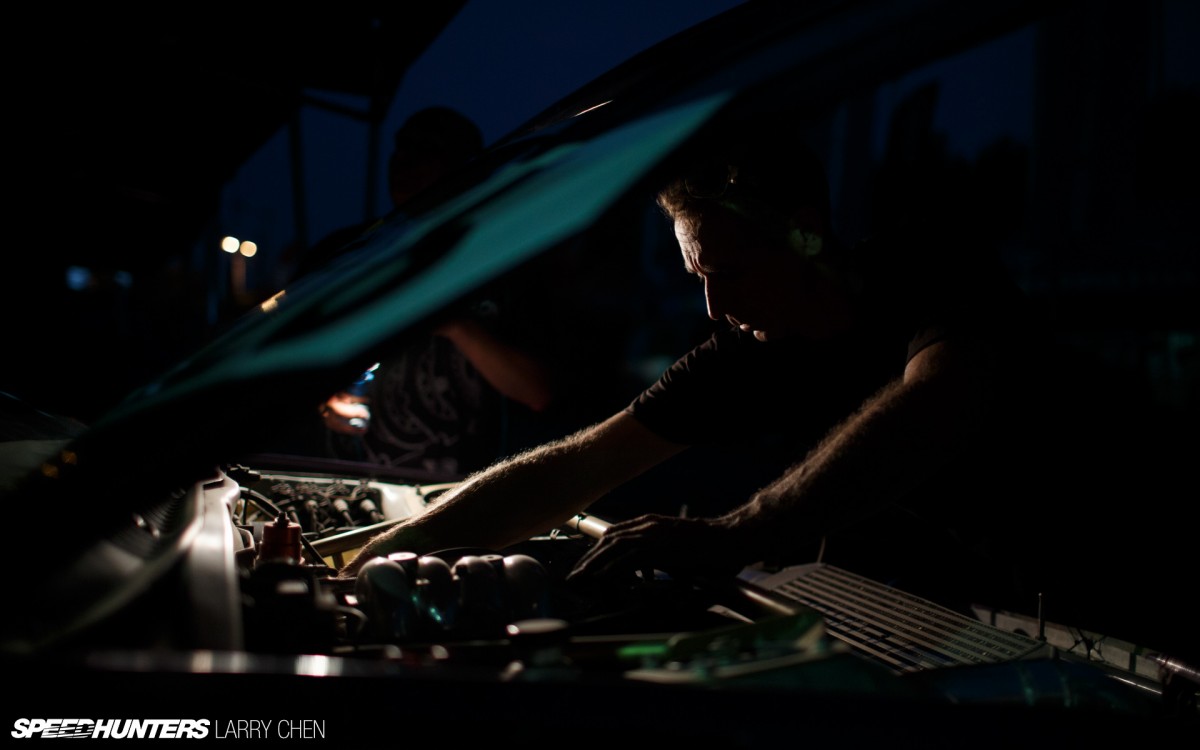 Eventually the crew got the car dialed in and it was time to hit the sack. The entire American team had a big day ahead of them.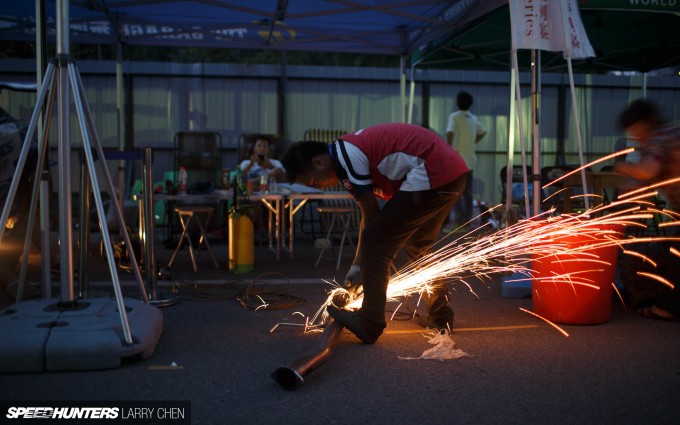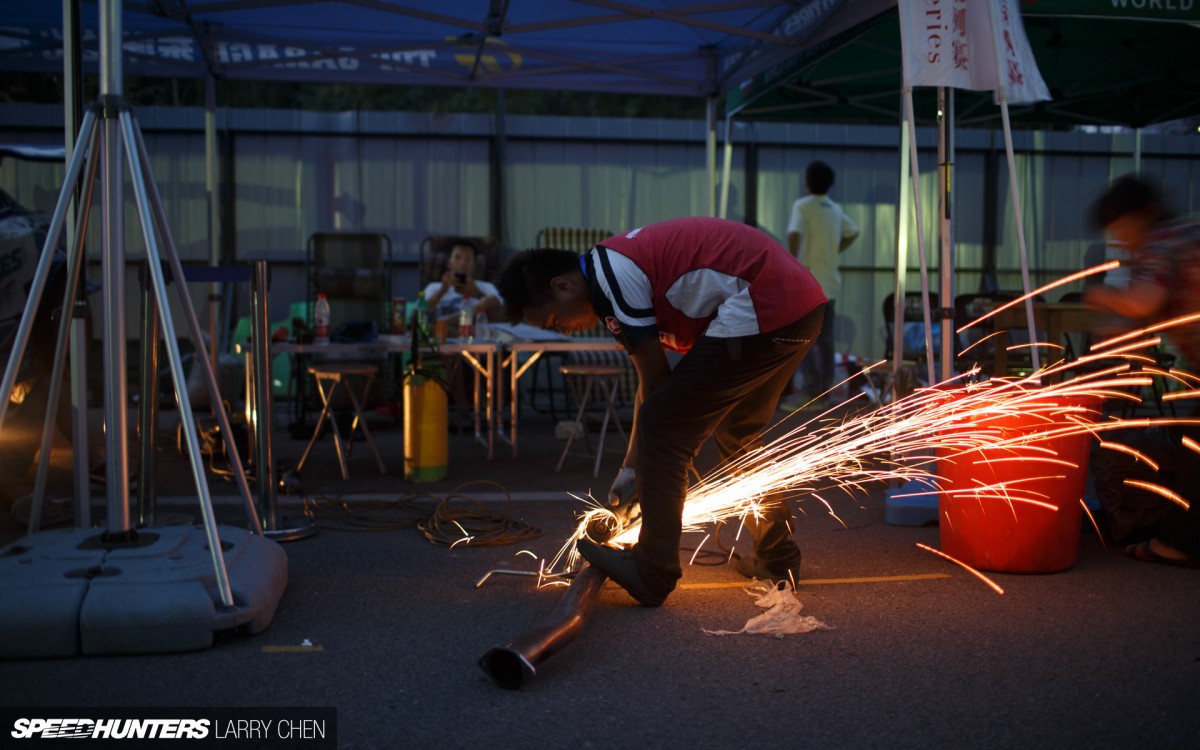 As we left, a few of the Chinese teams were still hard at work, fixing the damage that they sustained from practice earlier in the day.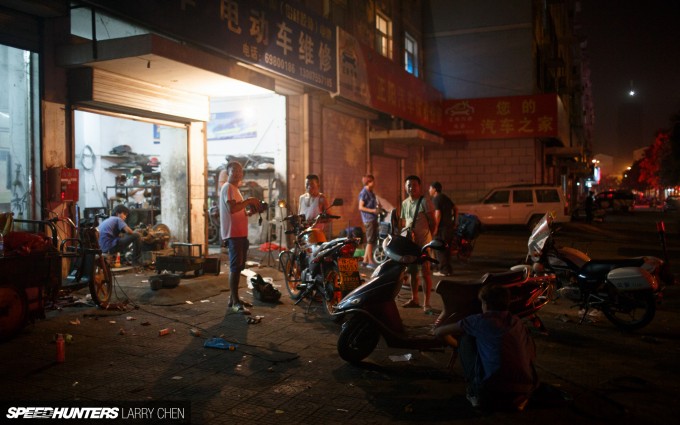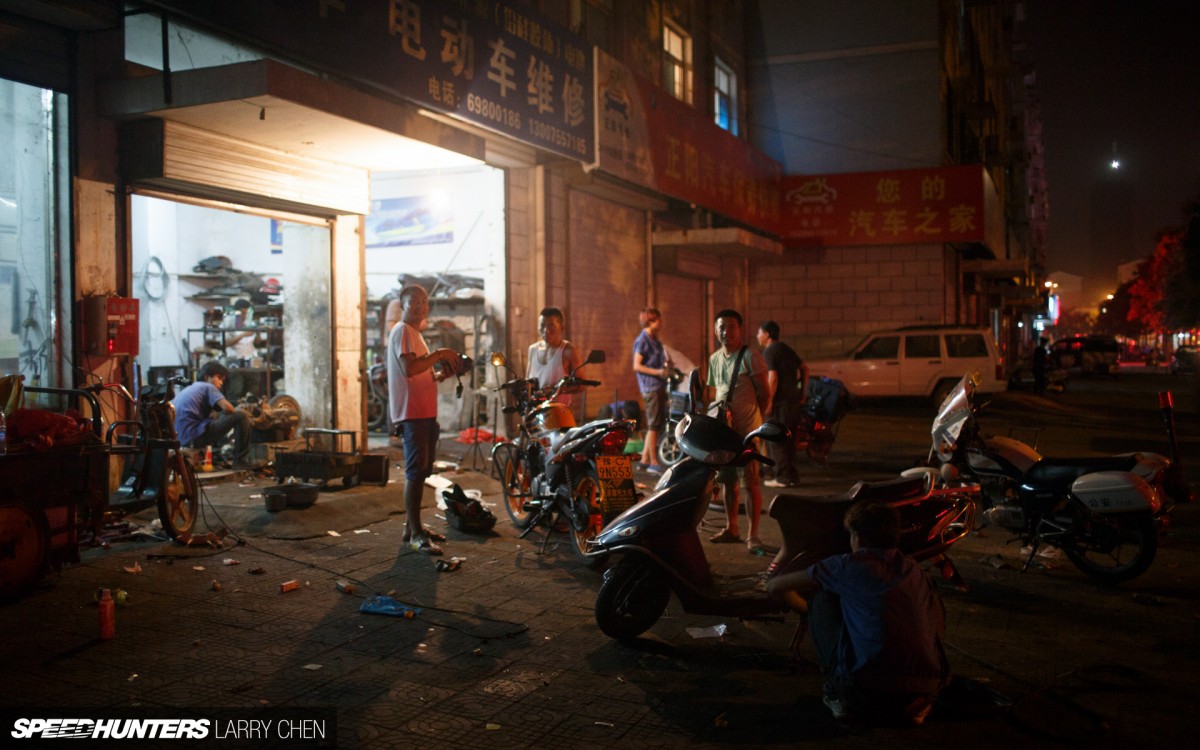 It was still relatively warm in Luoyang, so the streets don't really come alive till the sun goes down. It was quite the interesting commute from the track back to our hotel.
Chinese scaffolding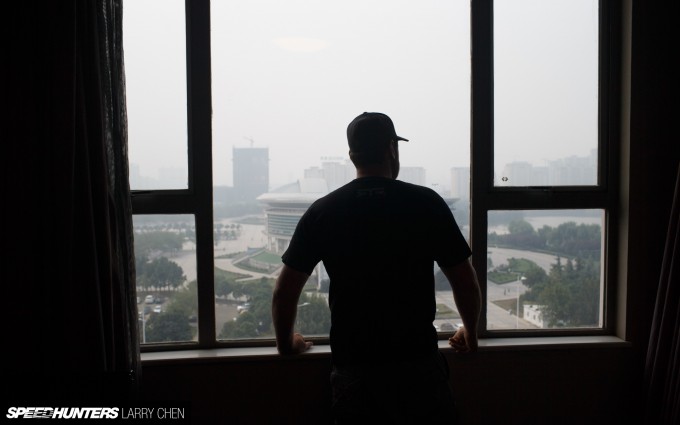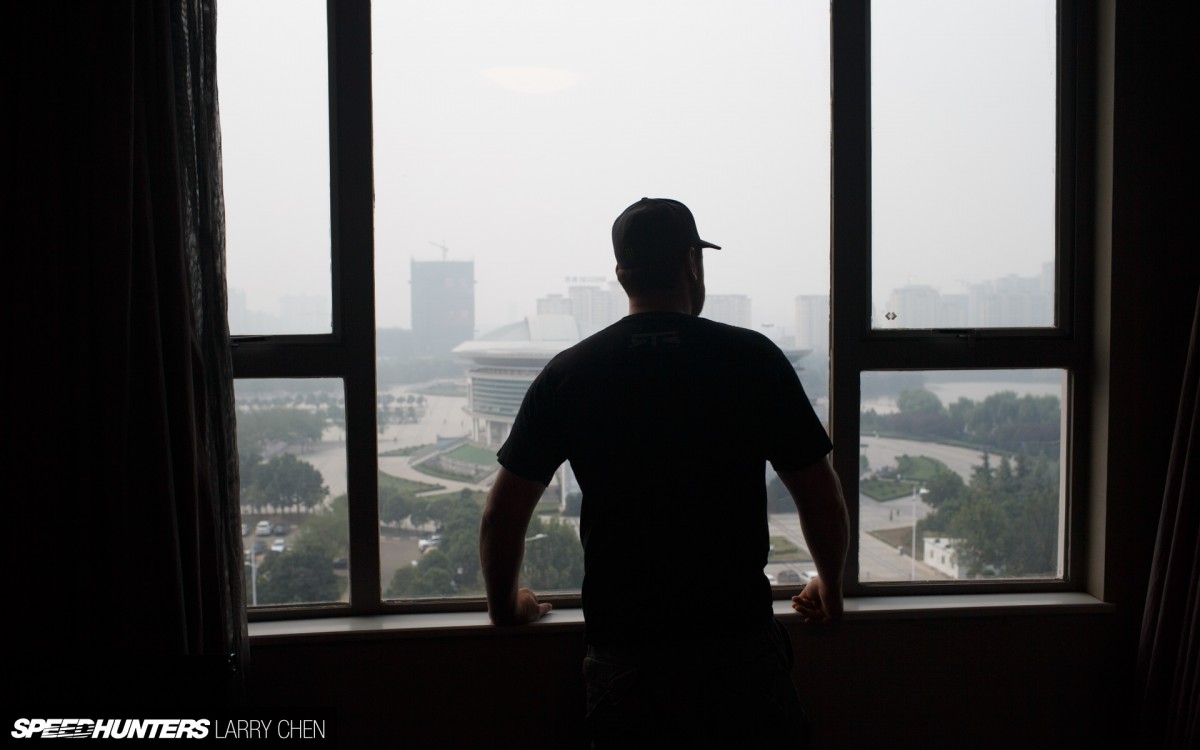 The next morning Vaughn was looking out the window of his hotel wondering where the sun was. After being in Luoyang, I don't ever want to hear people complaining about how bad the pollution is in Los Angeles. The air was so thick that you could taste it.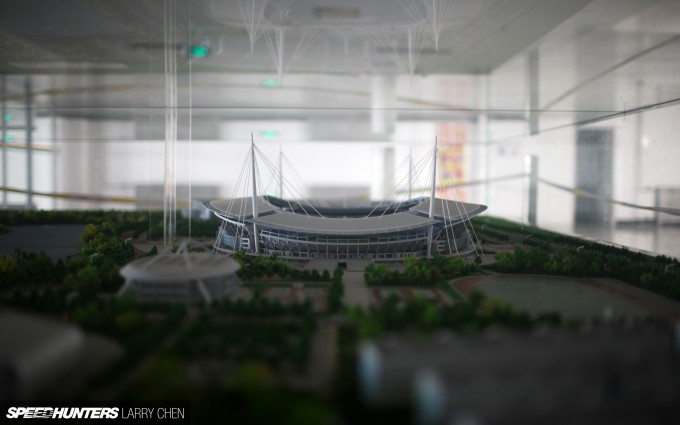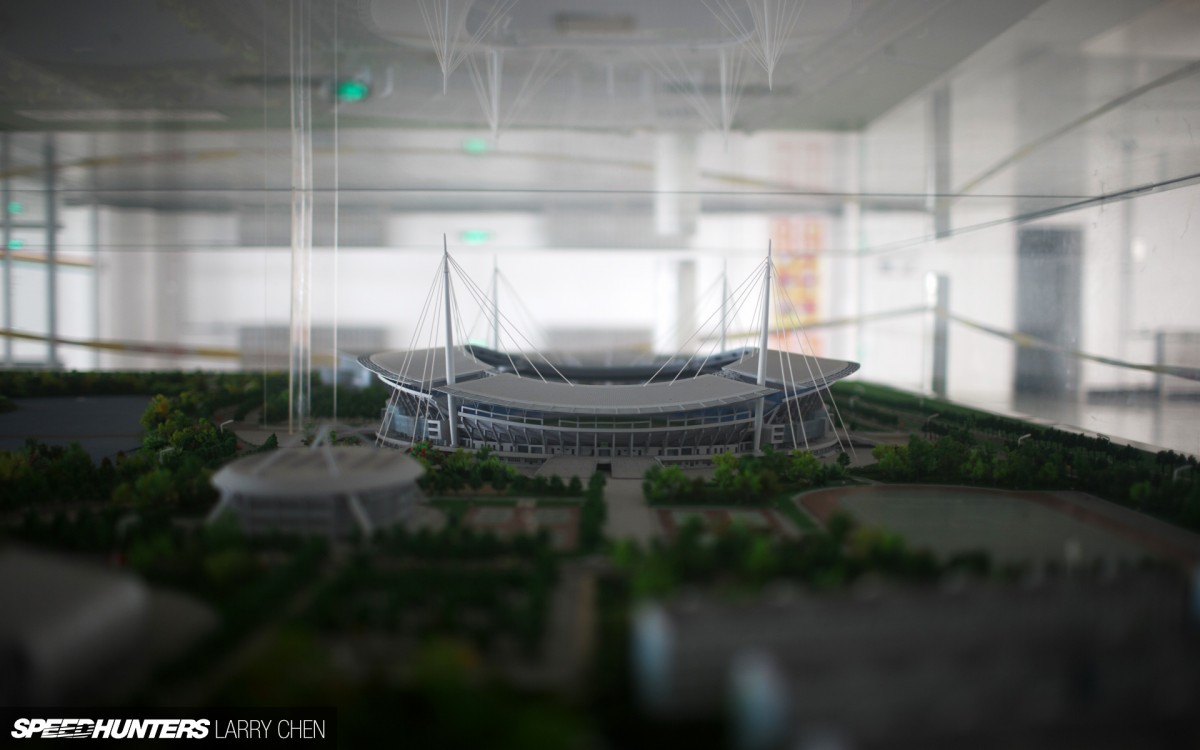 Seeing as the WDS China events are always held in stadiums, it's hard to keep a fresh perspective on the action. Especially for qualifying.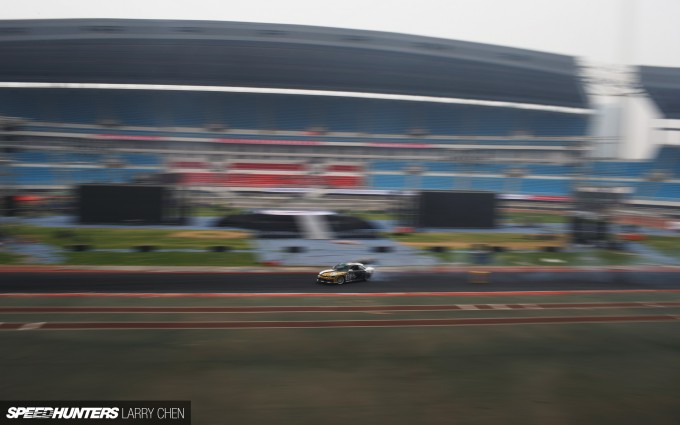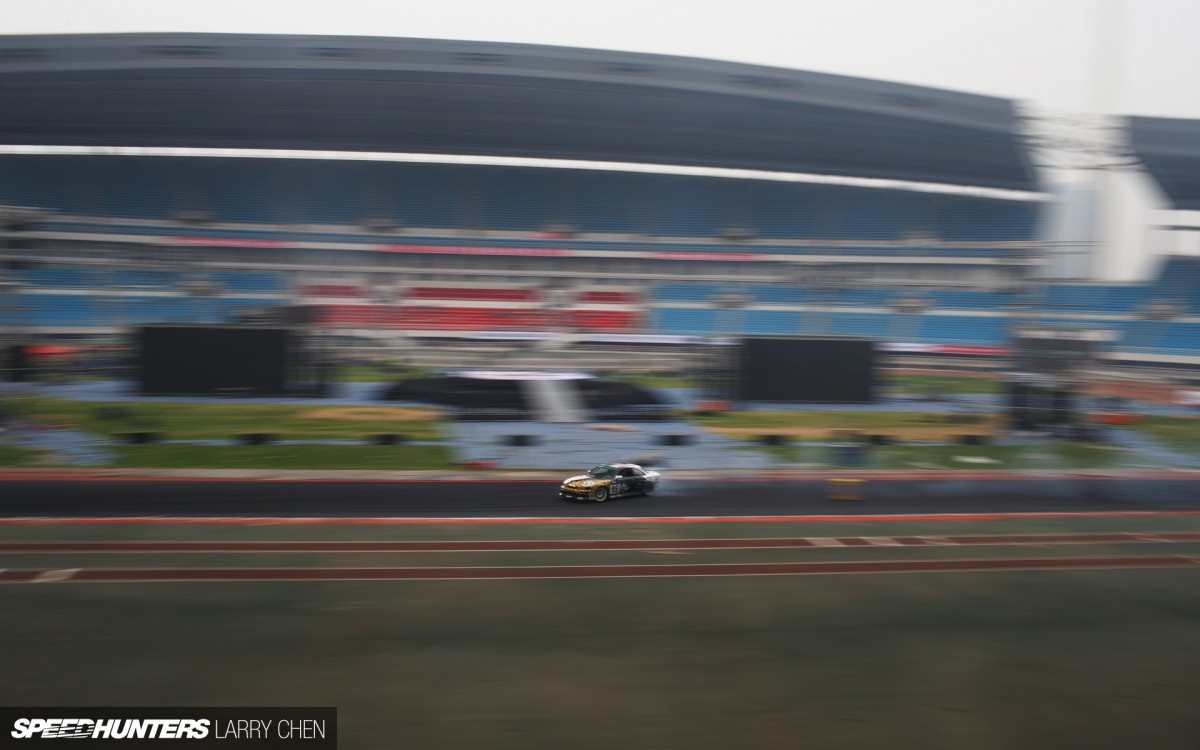 You could shoot from high in the stands, but it was still a bit boring to me. This was Matt Powers going on his qualifying run, where he ended up in fifth place.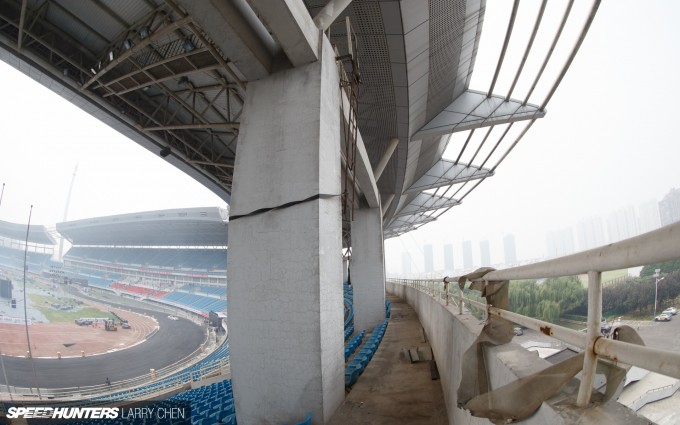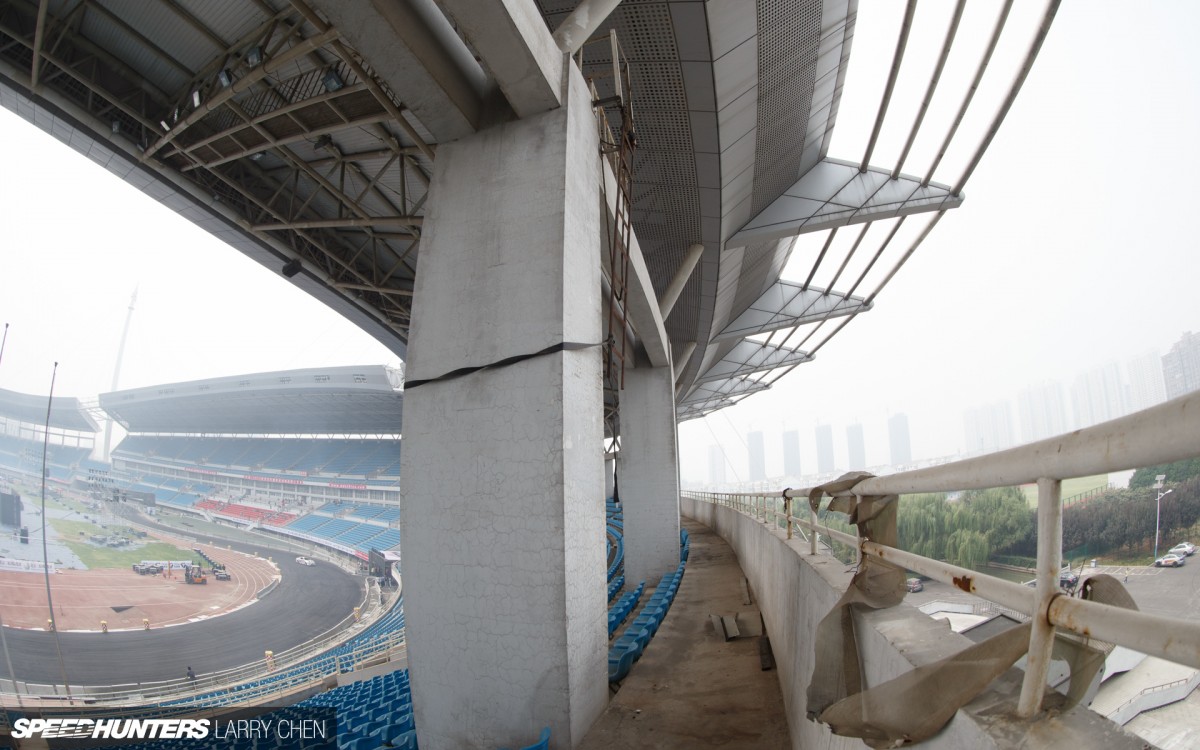 To get a much higher vantage point I would have to climb on the scaffolding near the stadium lights and speakers. To do that I would have to find a way up there. On top of that, I had to do it without the police noticing. I noticed there was this rusty low hanging ladder coming down from one of the pillars.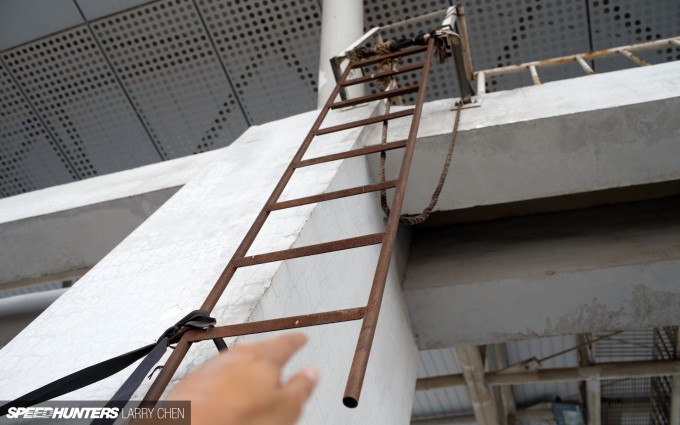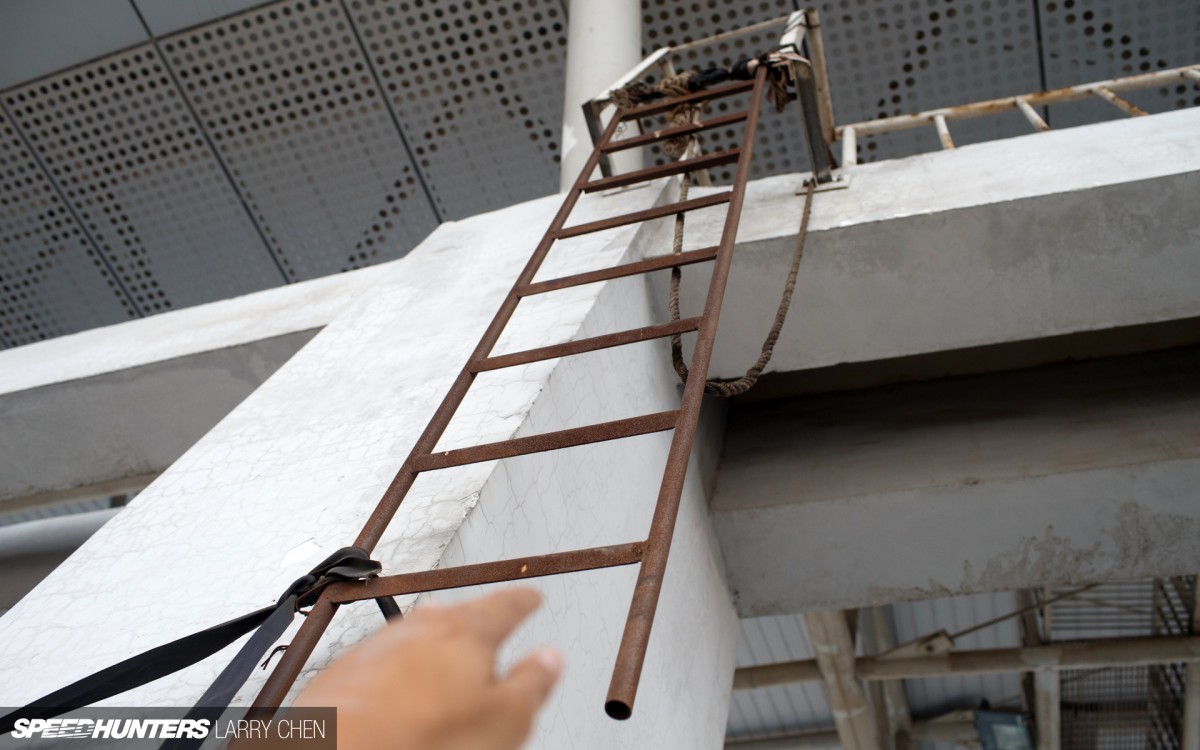 It was just a bit out of reach for me. Normally if I would make a jump for it then it would not be much of a problem, as one of my hobbies is rock climbing. The problem is I had my gear with me, which consisted of two full size bodies.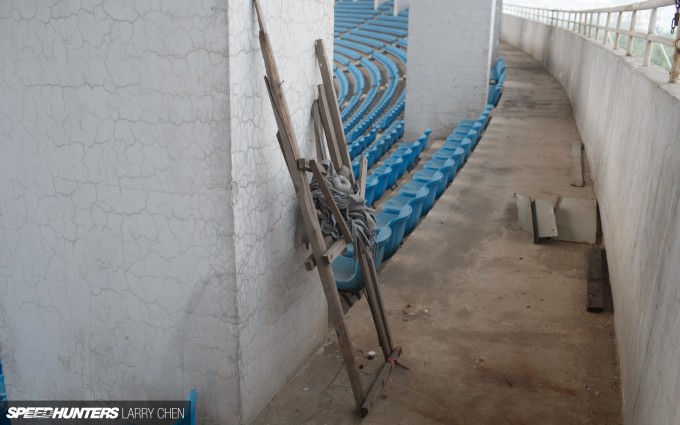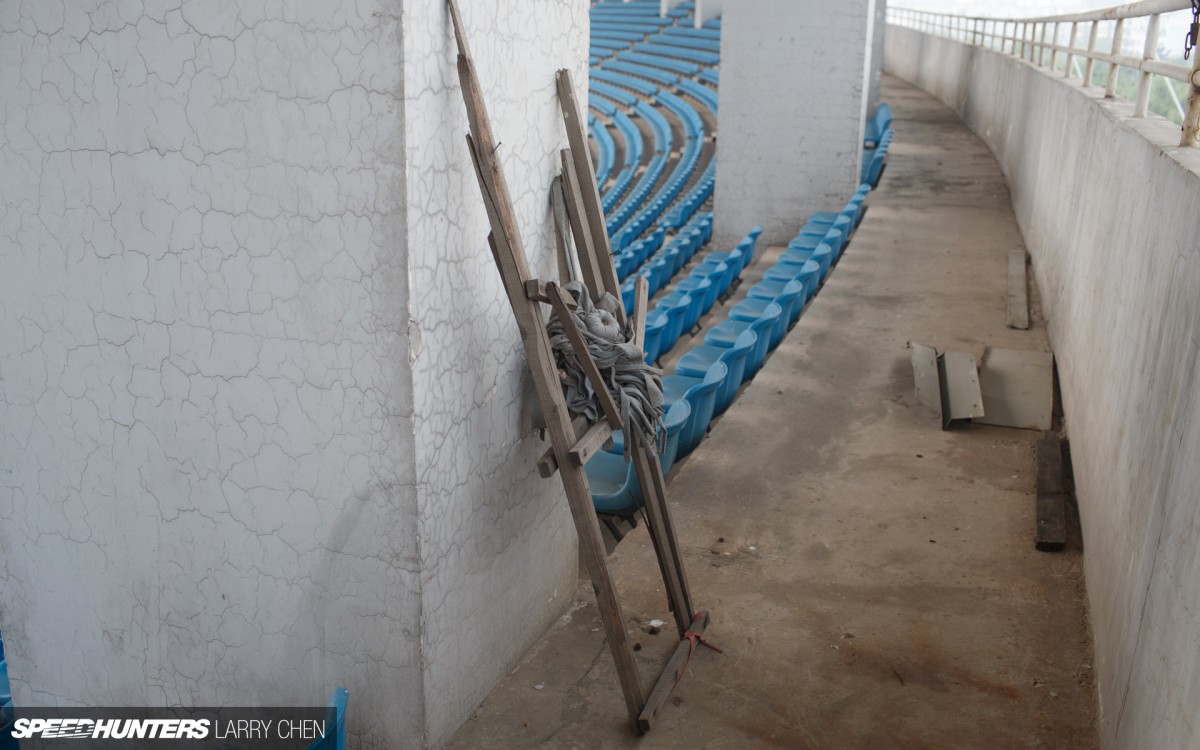 I went in search of a ladder and I was surprised to find this very sturdy step ladder tied together with the end of a mop.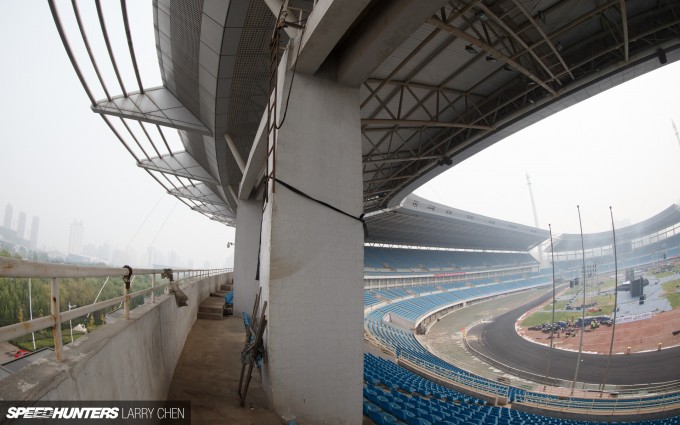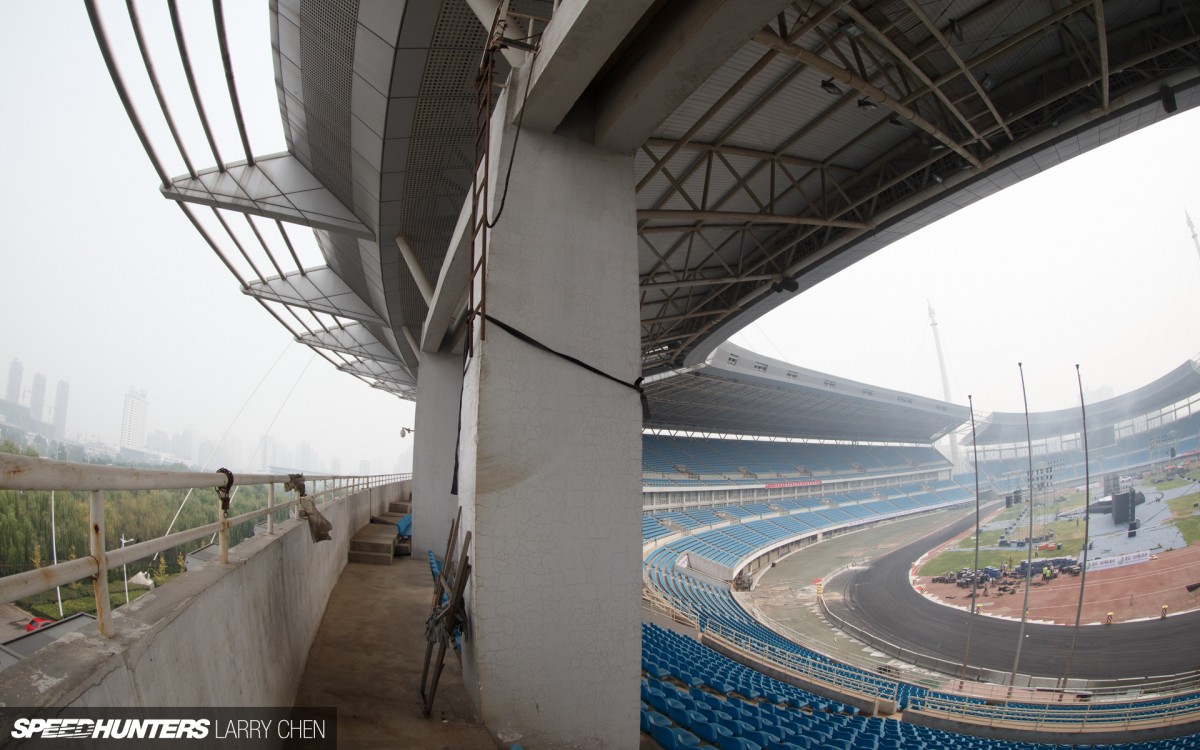 Now I was set to climb up on the scaffolding, but it was still going to be a daunting task, because if I fell then I would not have such a good day.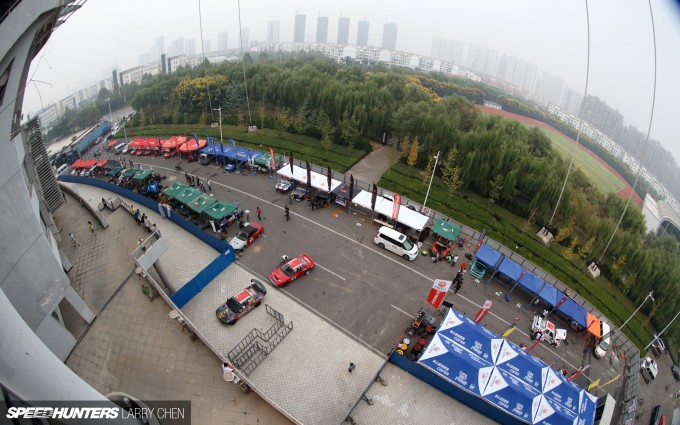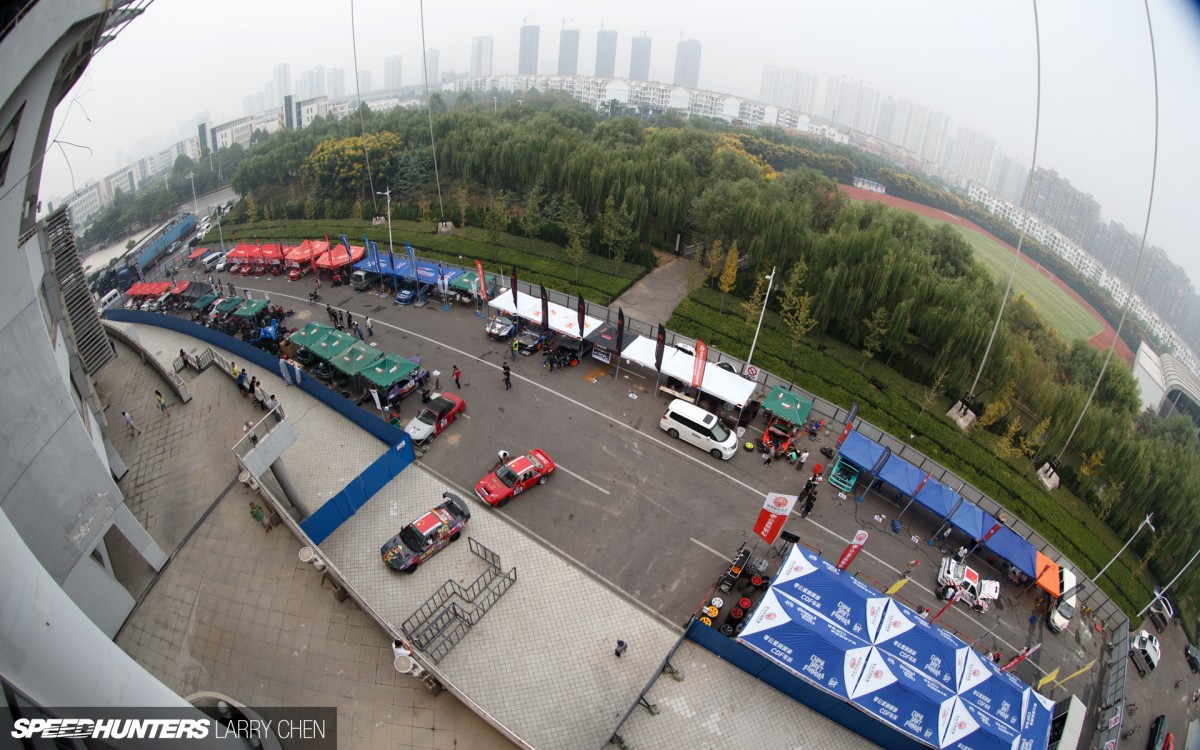 The other side of the wall was the short way down to the pits. I usually prefer the longer, less splattery way.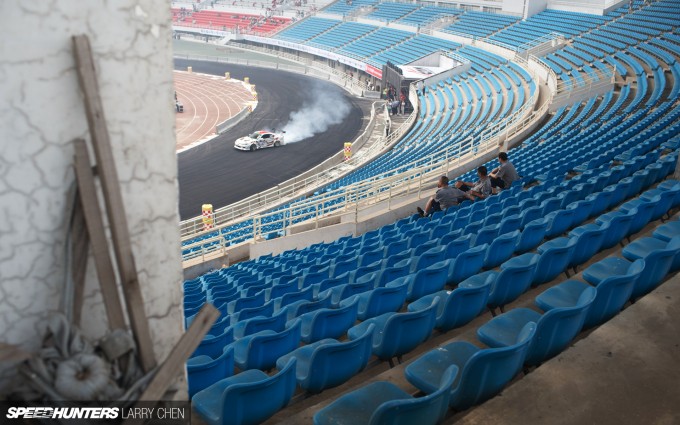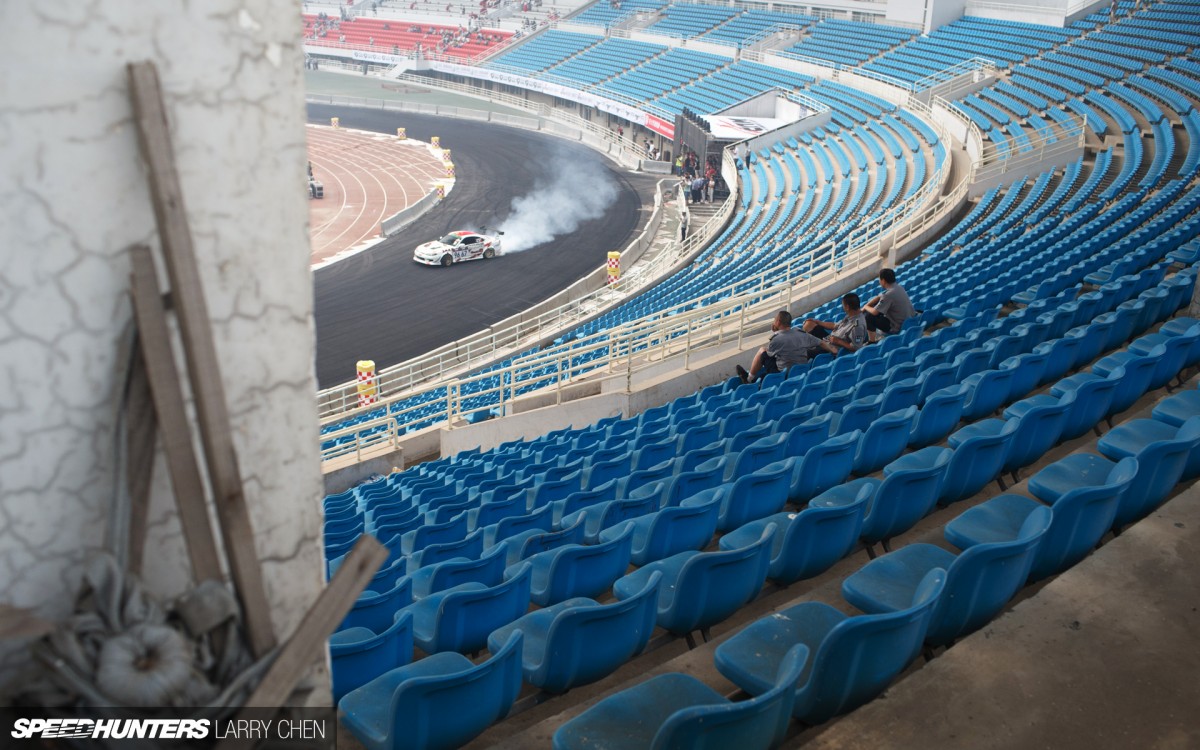 The Chinese cops were sitting just a few rows down, but luckily I noticed that every time a drift car would come around, they focused solely on that car. It was a much better distraction than throwing a stone to the right of where they were sitting. I waited for the car to come around again and I climbed up as fast as I could.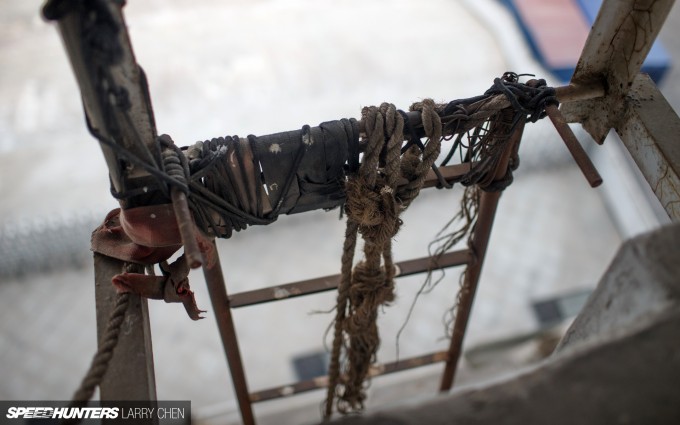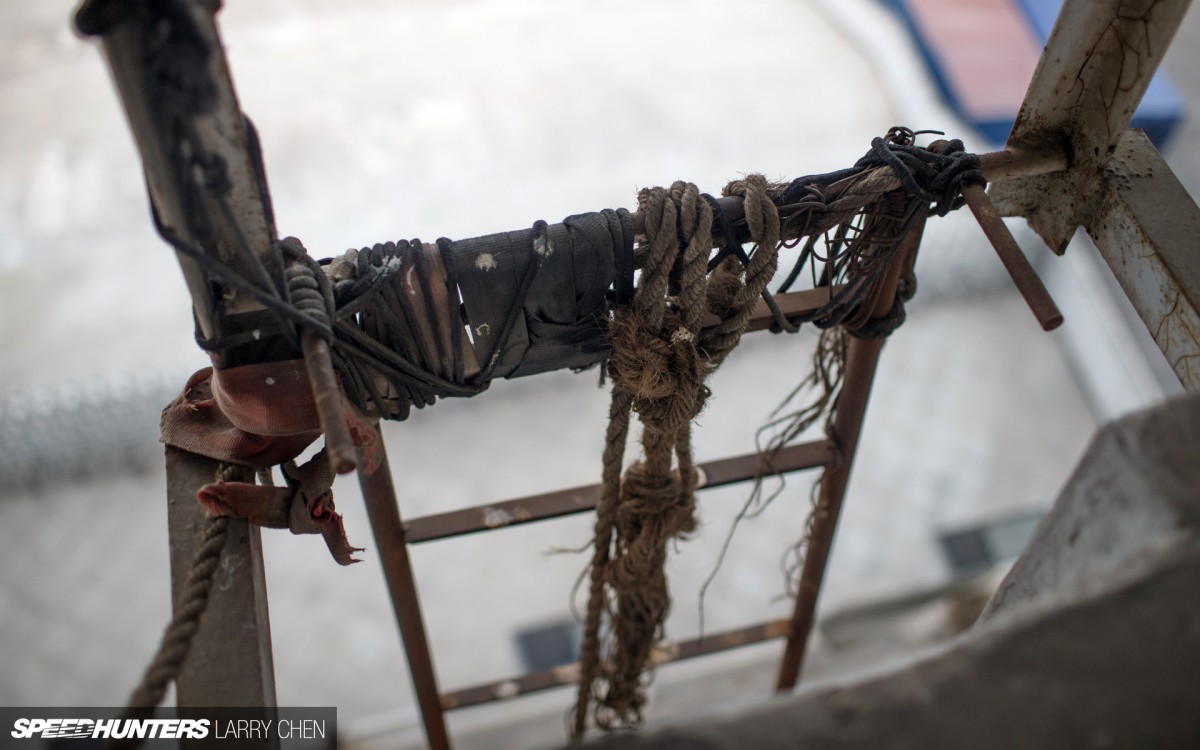 The rusty ladder was fastened onto the scaffolding with some serious Chinese ingenuity so I knew it was safe to proceed.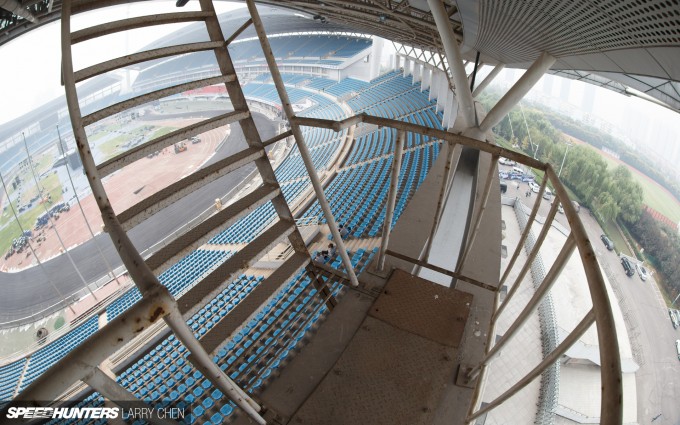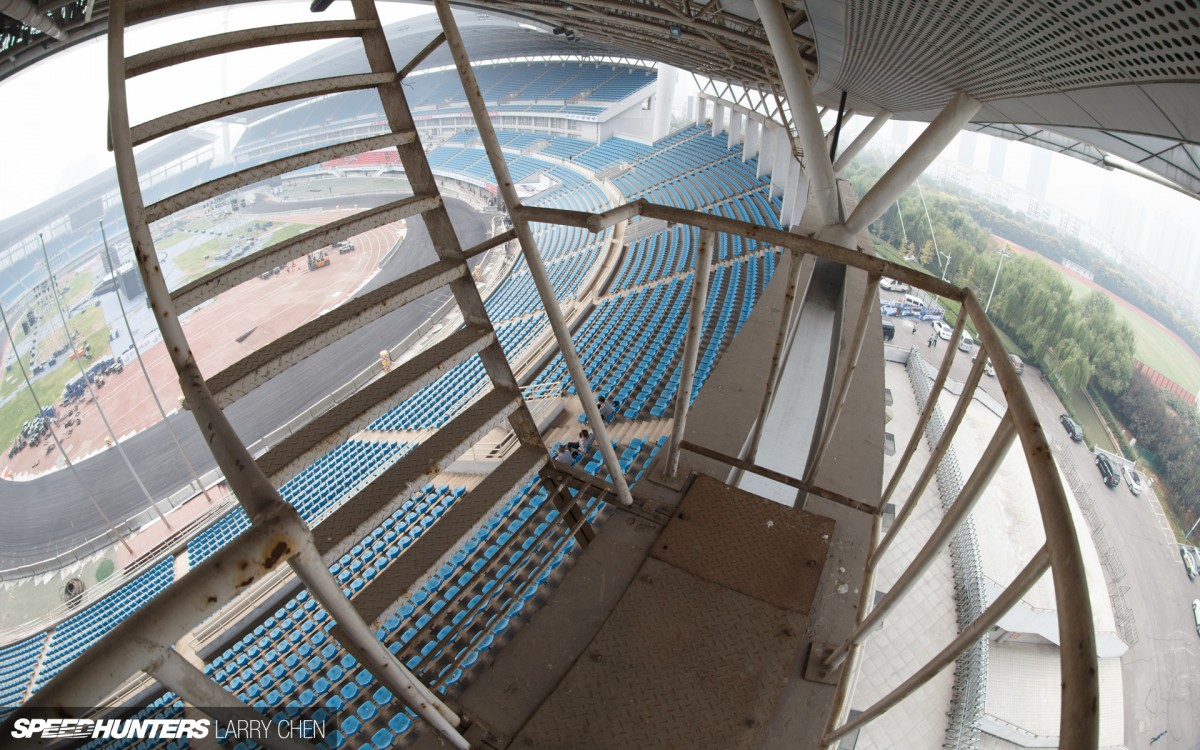 There was no turning back at this point. The fuzz didn't notice my movement at all.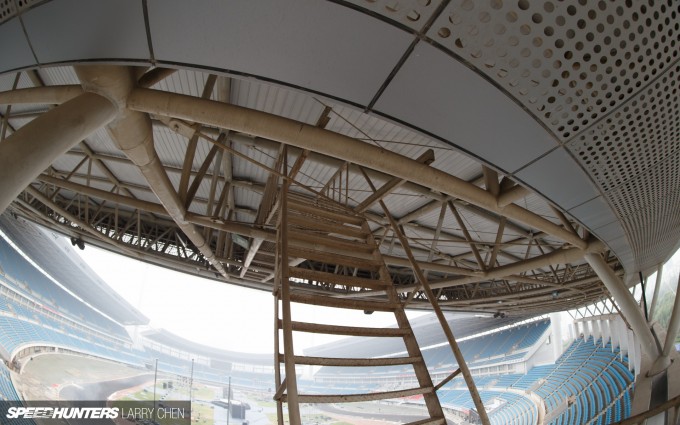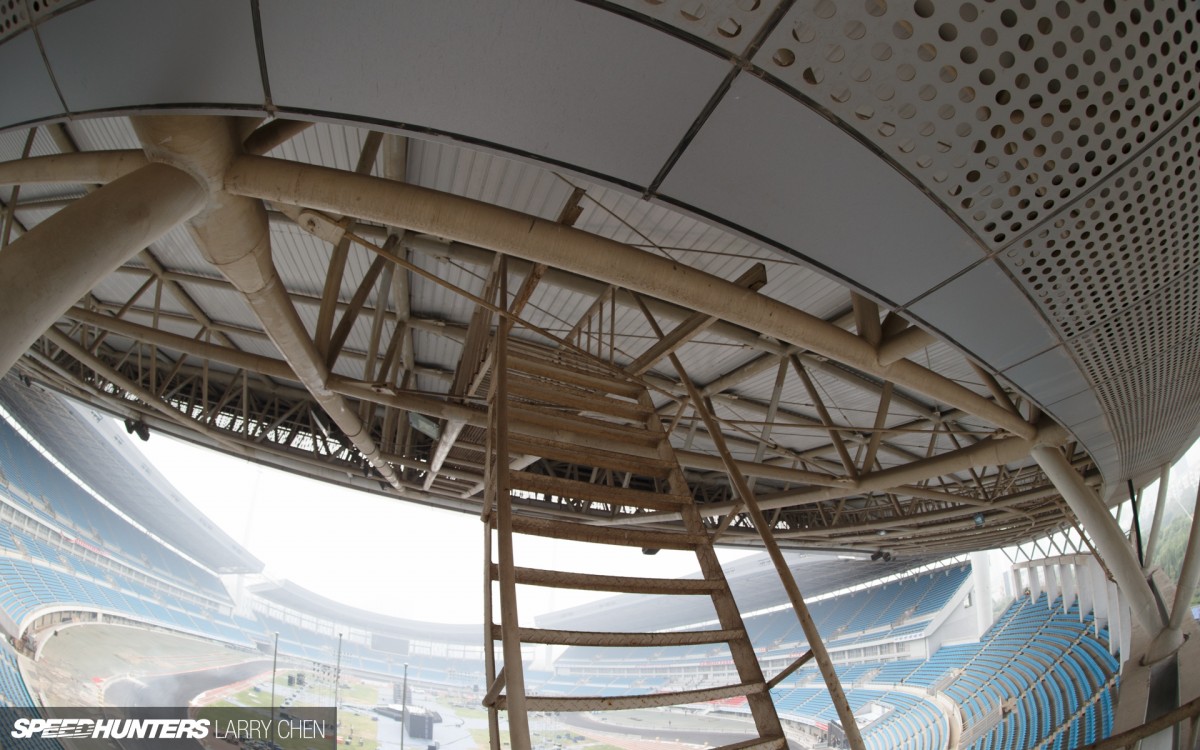 There was just one more leg to go then I would be nearly invisible to the world below me.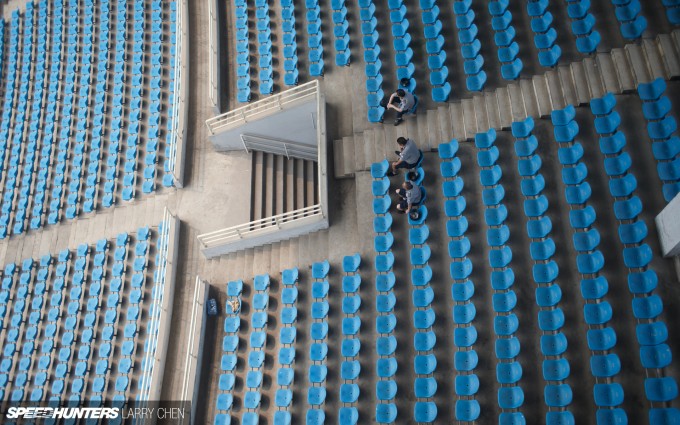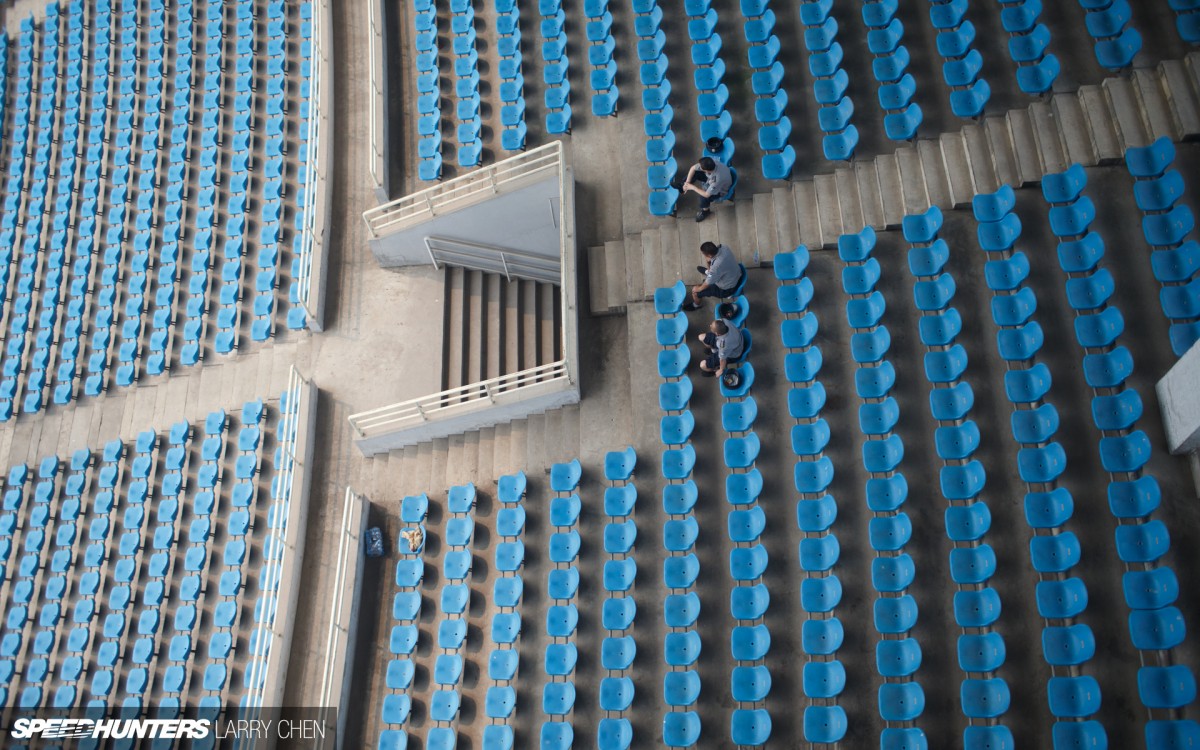 I looked at the unsuspecting police below me just one more time to make sure I was in the clear. They had no clue.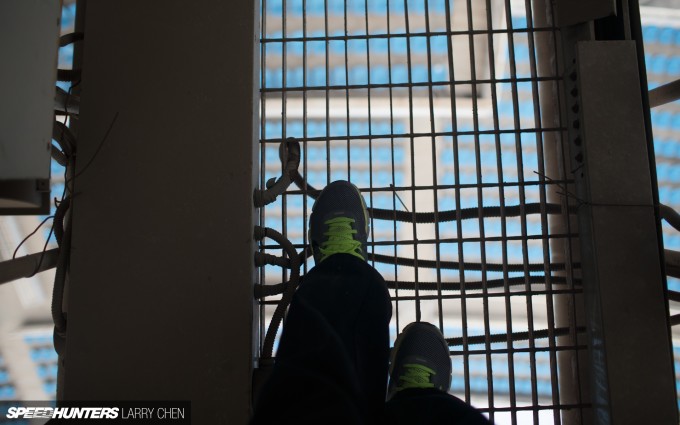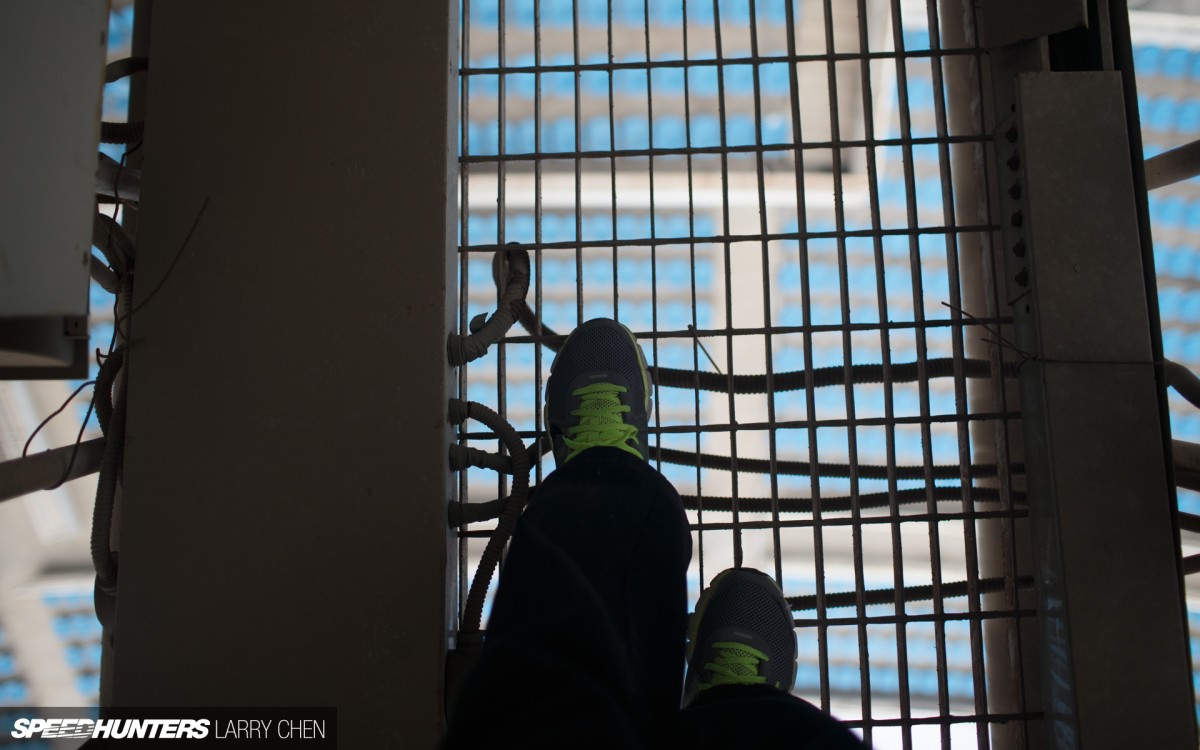 The best advice I could give to those of you who are stupid enough to try this, is to not look down. I took my steps one at a time with my arms spread apart as much as possible just in case I needed to catch myself.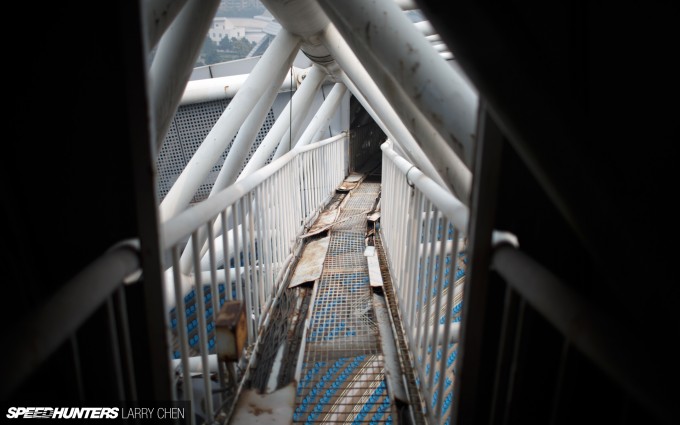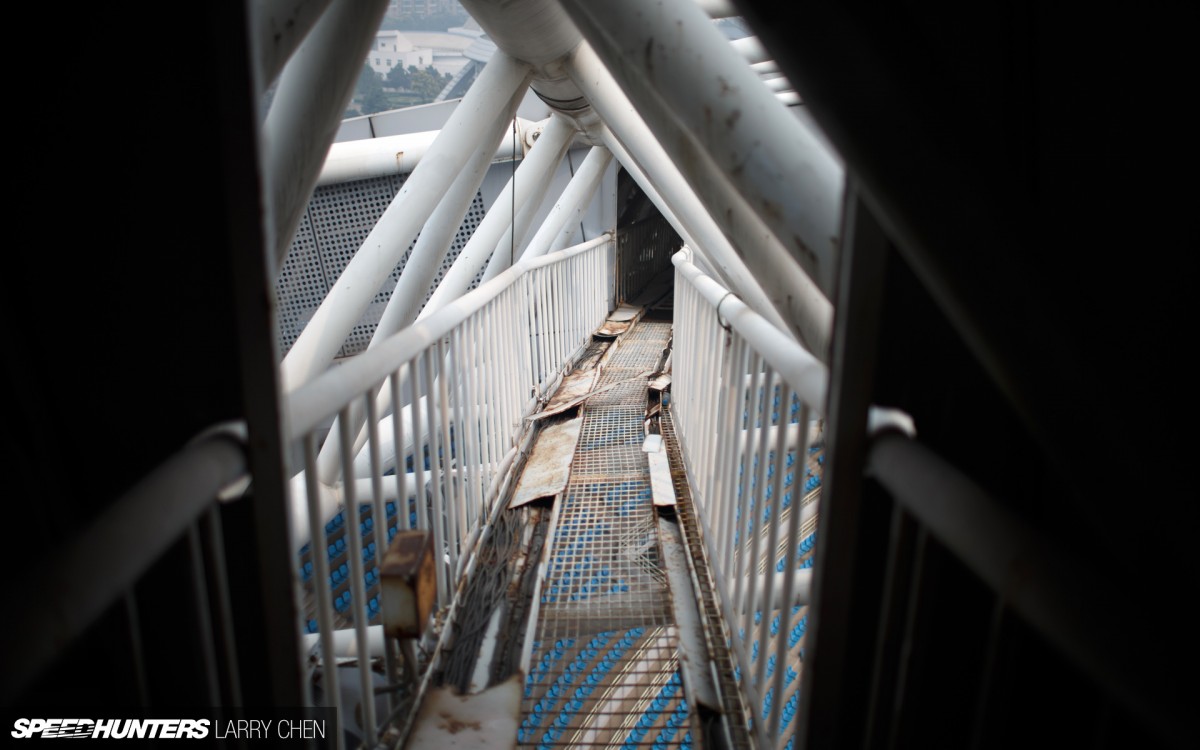 There was no telling if a part of the scaffolding was weakened from the rust. I made sure to quickly pass through these exposed areas as I figured it was the only way someone could really spot me.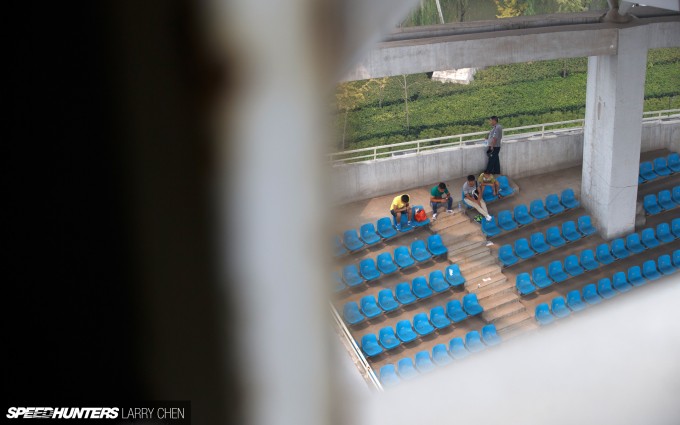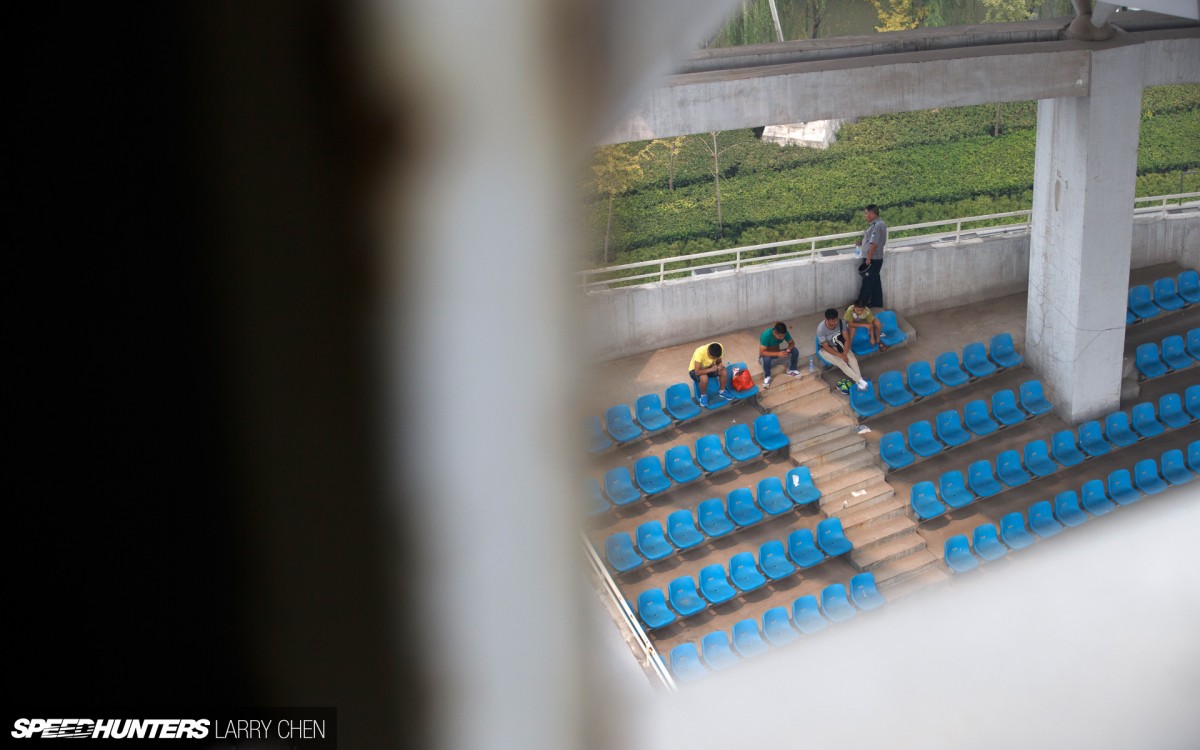 I peered over, but no once had noticed me. I guess they figured no one would be stupid enough to climb up there, so they don't even bother to look.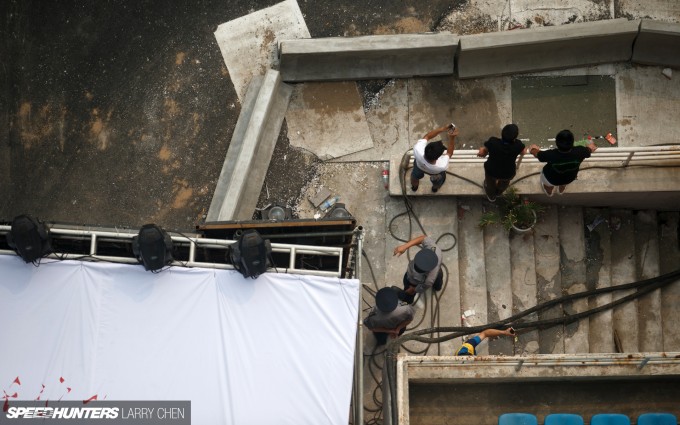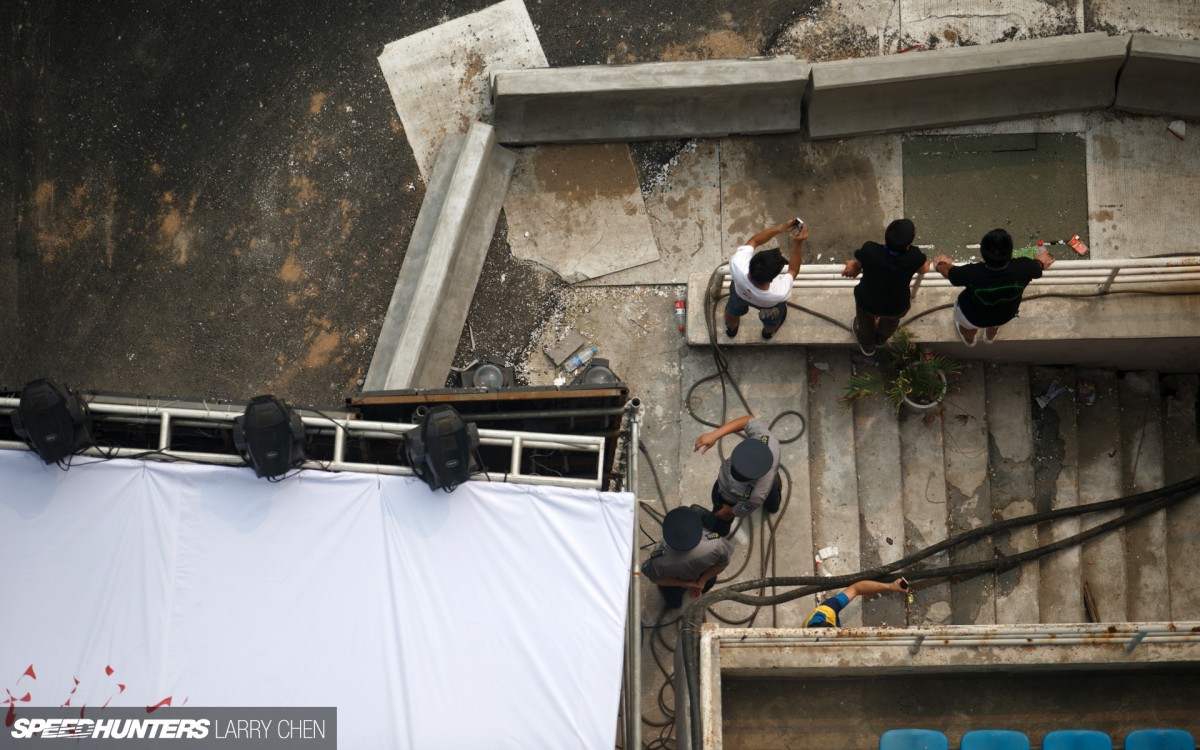 At this point I was sweating bullets, but I was careful not to drip down on the people below me. I felt like Tom Cruise for a moment there.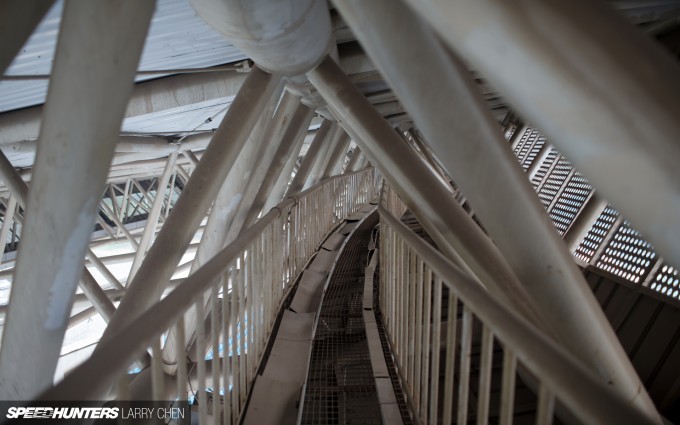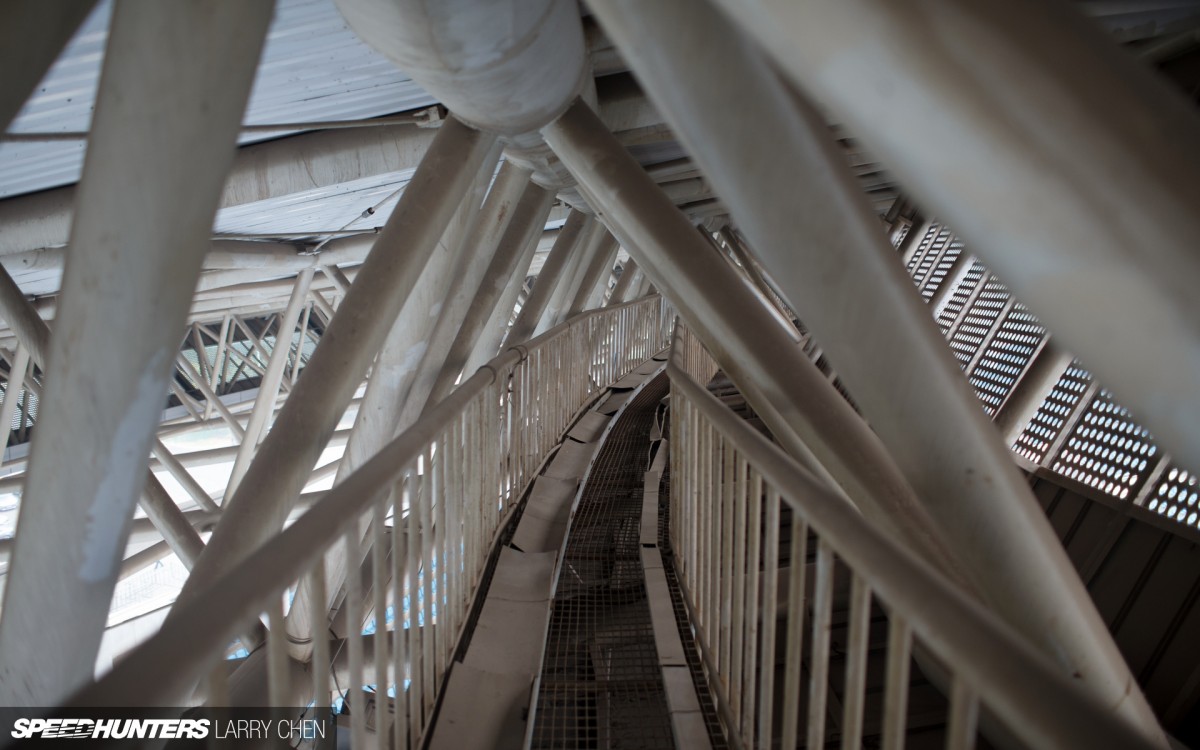 To get a good vantage point I had to go to the center of the stadium, which meant making the long trek through the scaffolding closer to where the giant lights were located.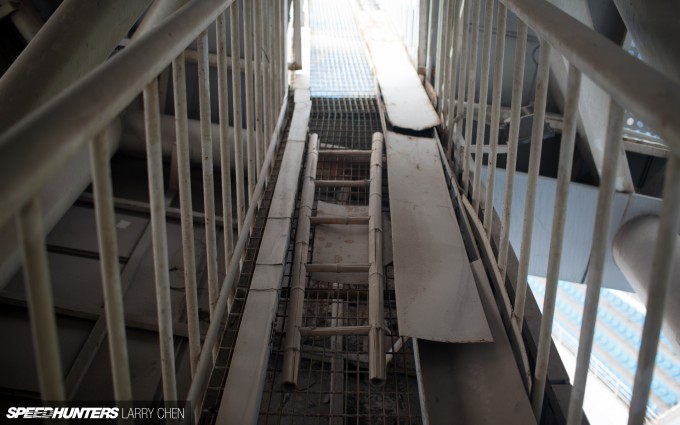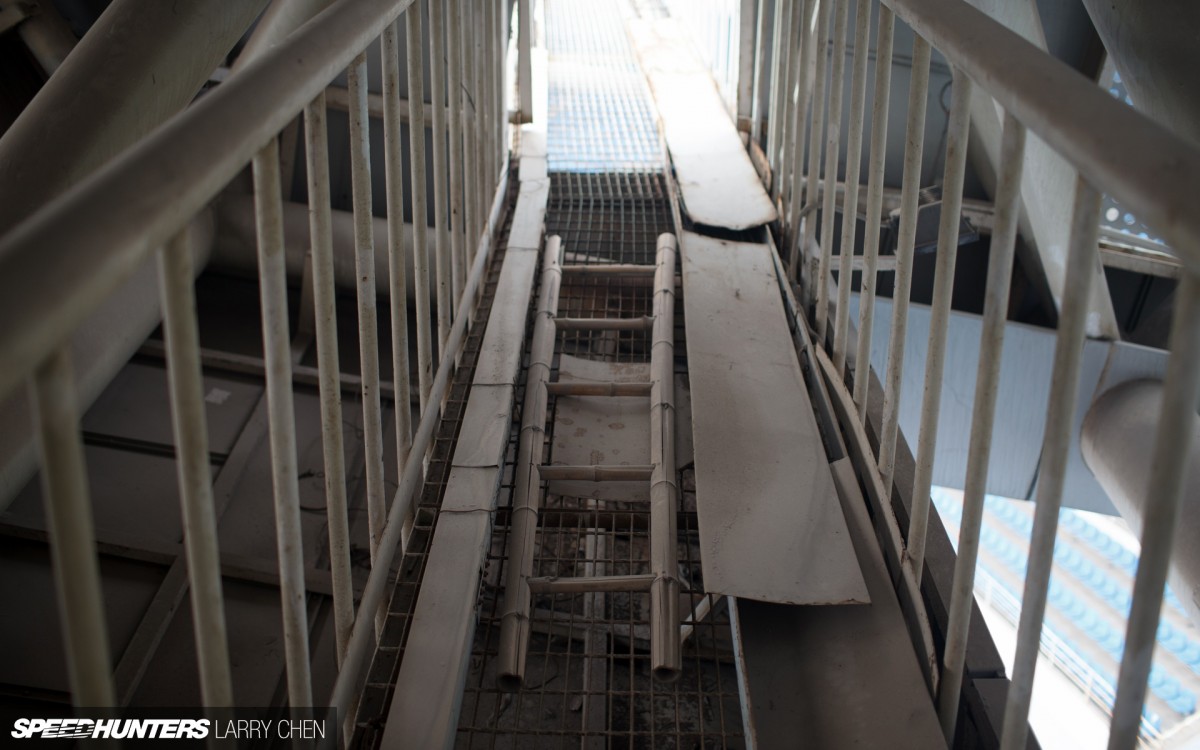 On the way there I encountered something I could have used just a few moments earlier. You could not make this stuff up.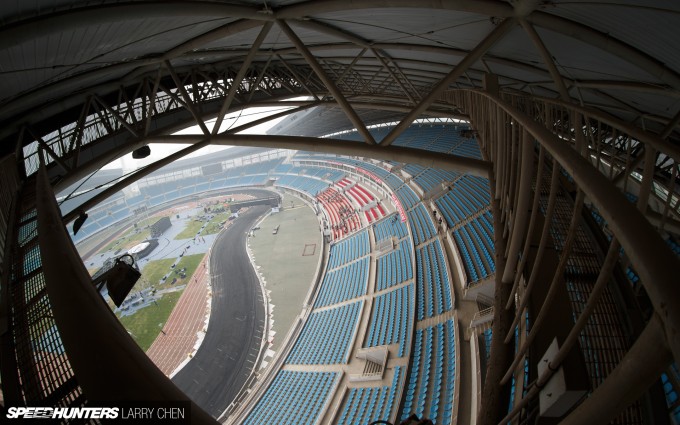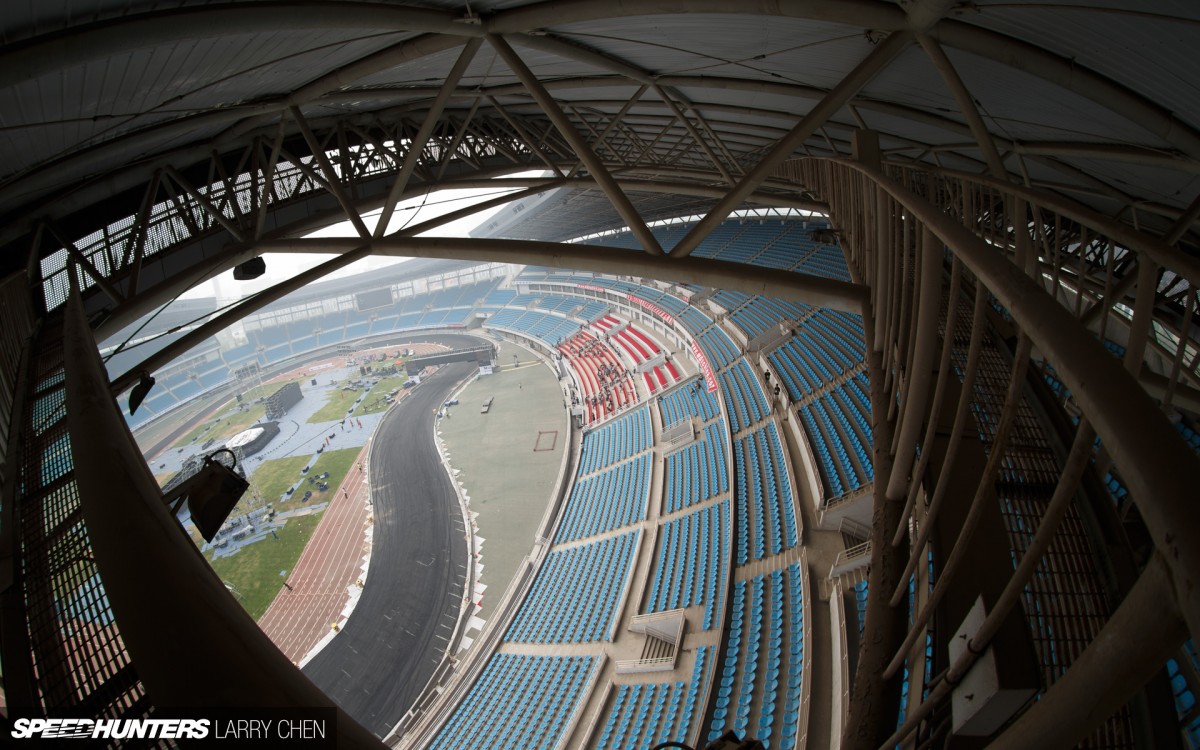 After walking around up there for a while I got more and more comfortable. This stadium was built much more sturdily than the ones I've encountered before. One of the ones I've climbed on before had welds holding the scaffolding together that looked like fresh boogers out of my nose clumped together.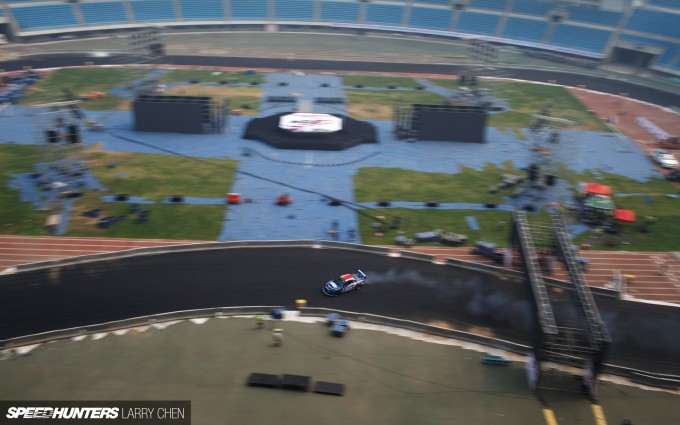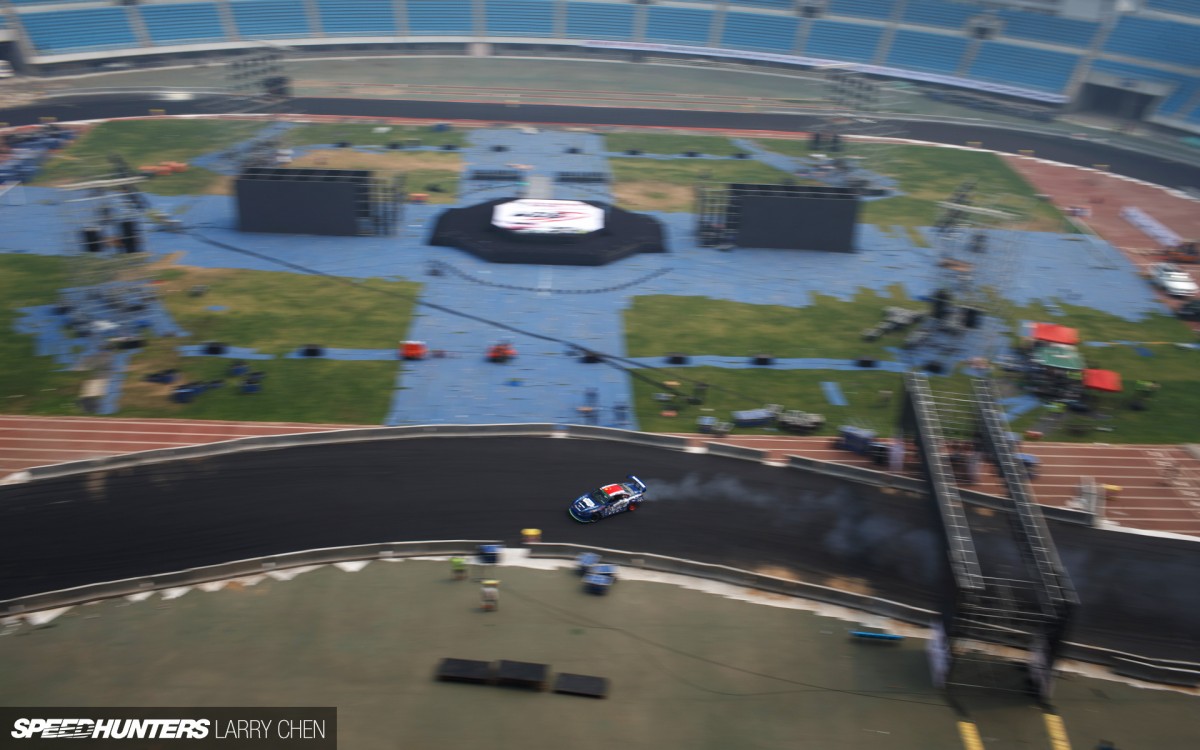 The view was excellent and I was just in time for the rest of the American team.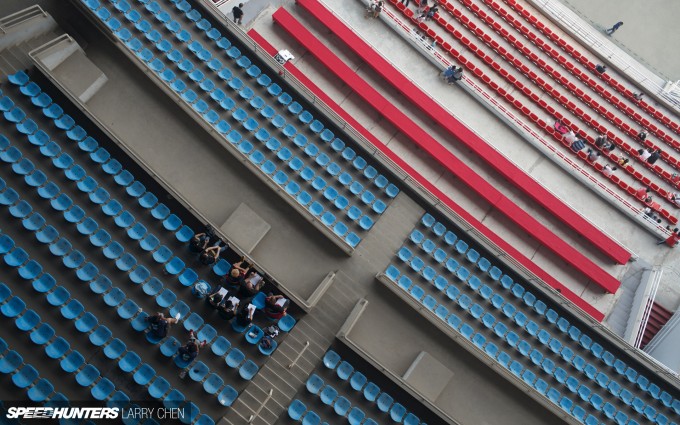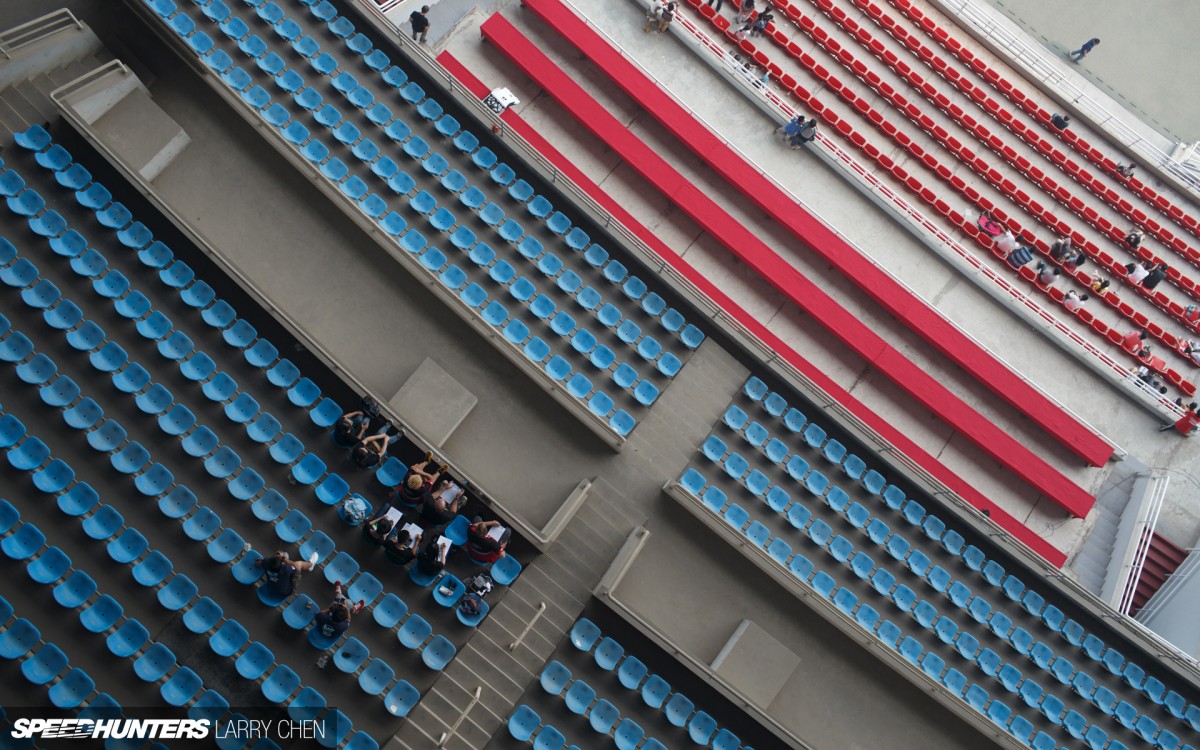 I looked down below and noticed that I was standing right above the judges stand.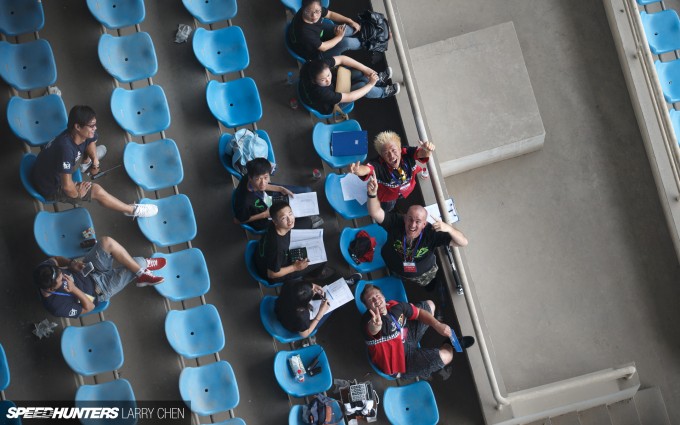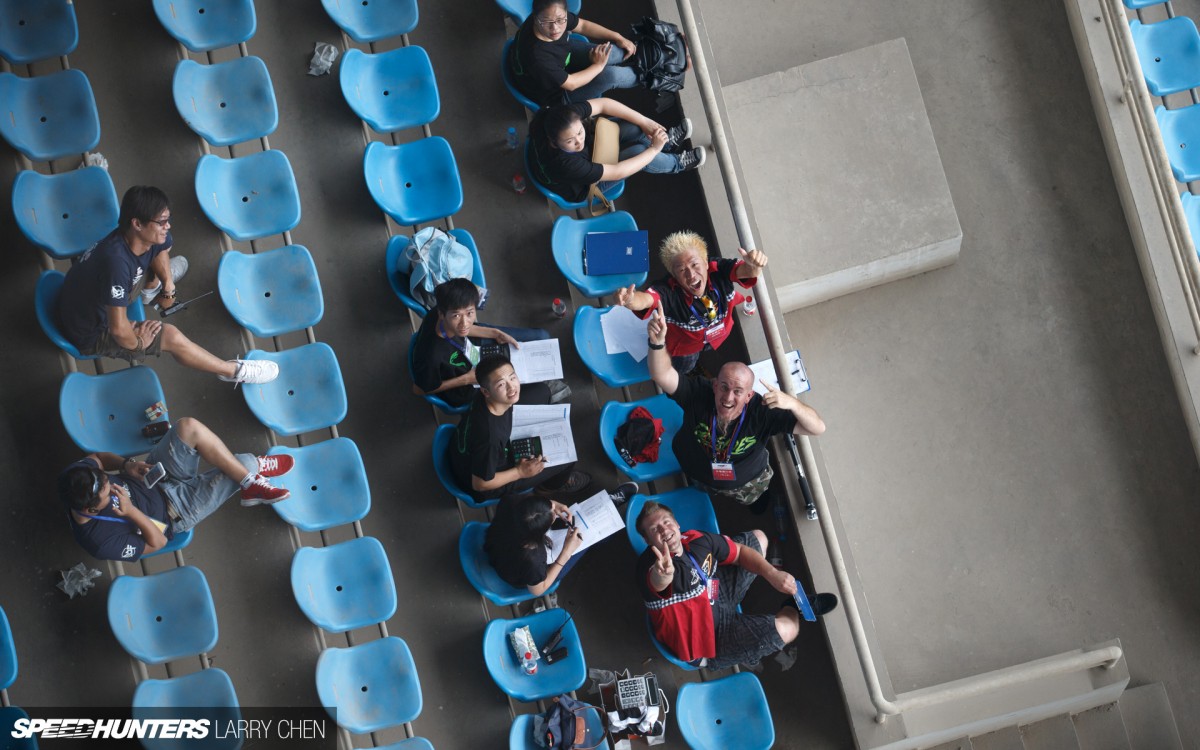 Judging for this round of WDS China was Tarzan Yamada, Afro Slide and Ian Fournier. A Japanese, a South African and a Canadian. After all, it was WORLD drift series.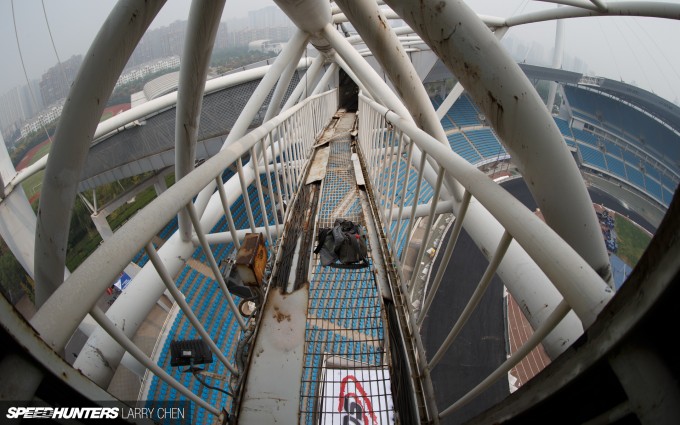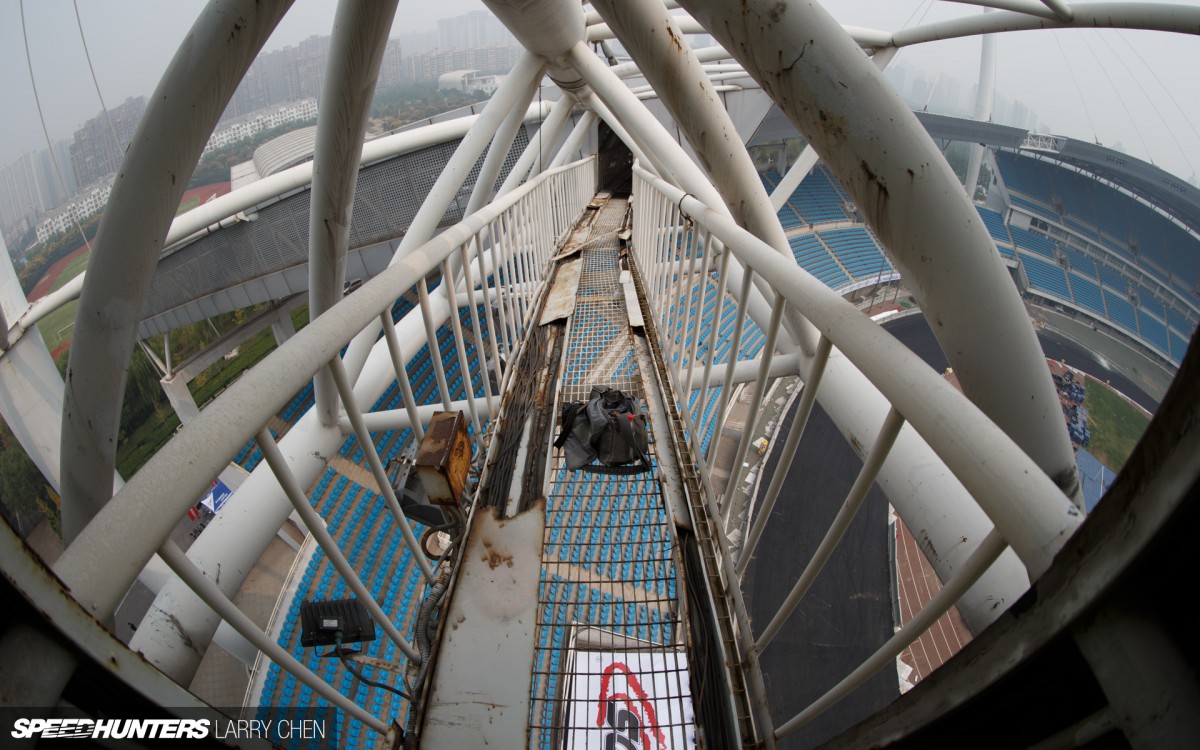 I heard a rumbling V8, so I got a great vantage point right above the entrance to the track.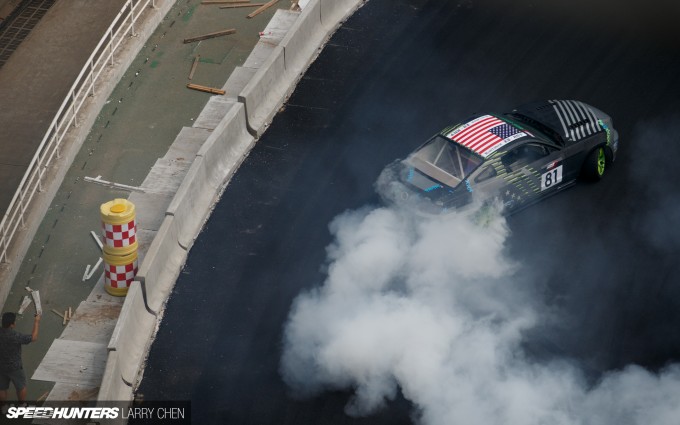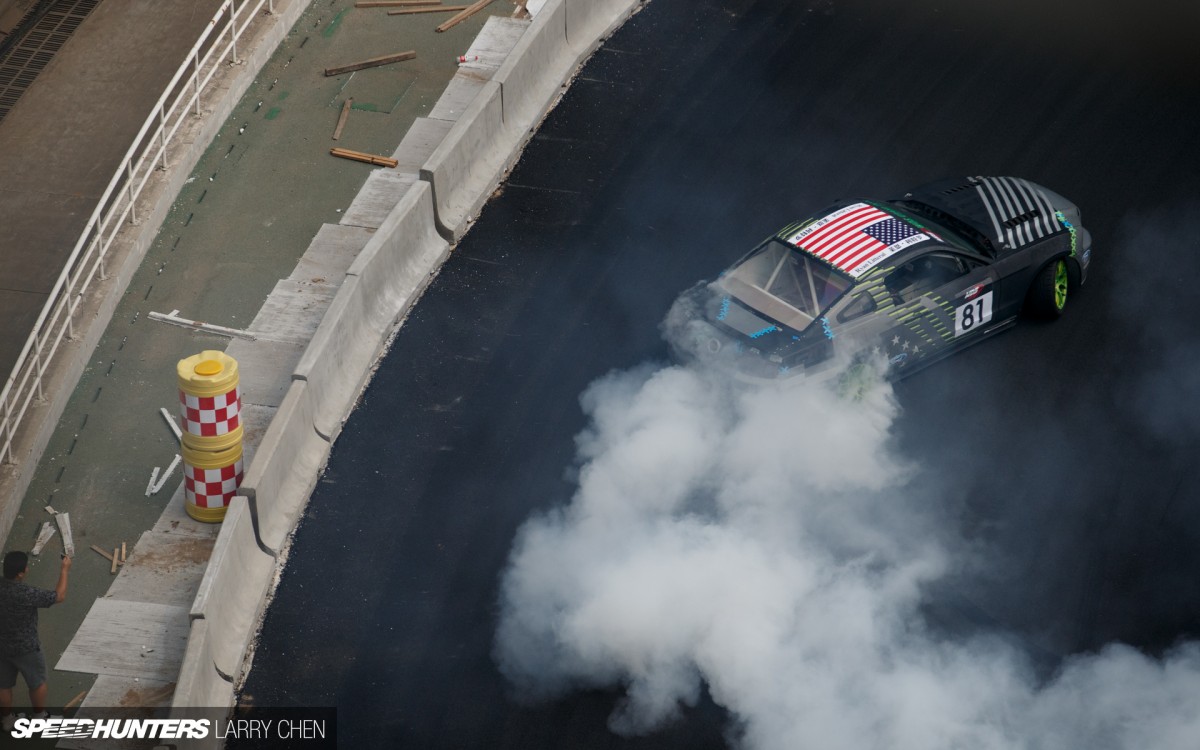 It was Ryan Litteral in the supercharged Ford Mustang. At this point he had only had six laps in a car that he had never driven before. He ended up qualifying in eighth place, which was not bad at all.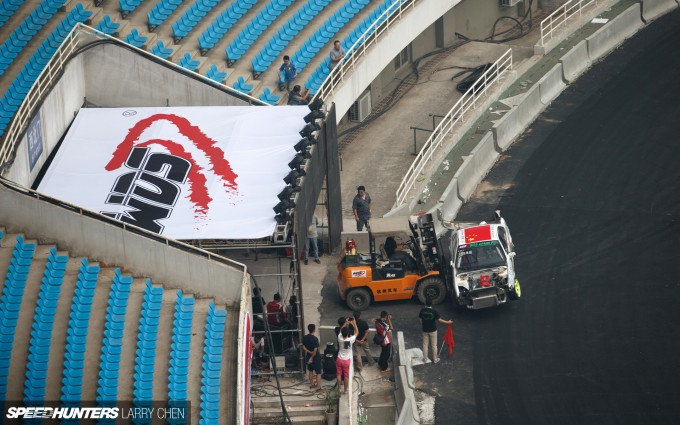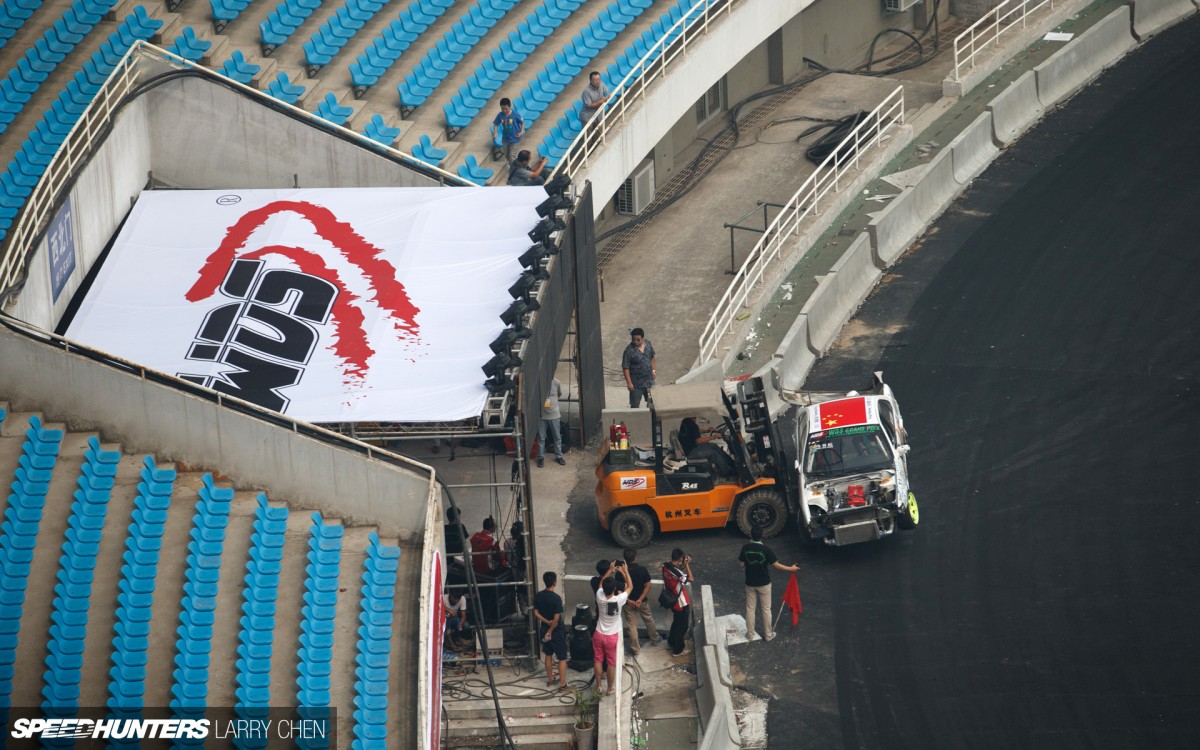 There were a fair share of spills from some of the Chinese drivers, including this poor fellow who flipped his car and broke his leg in the process.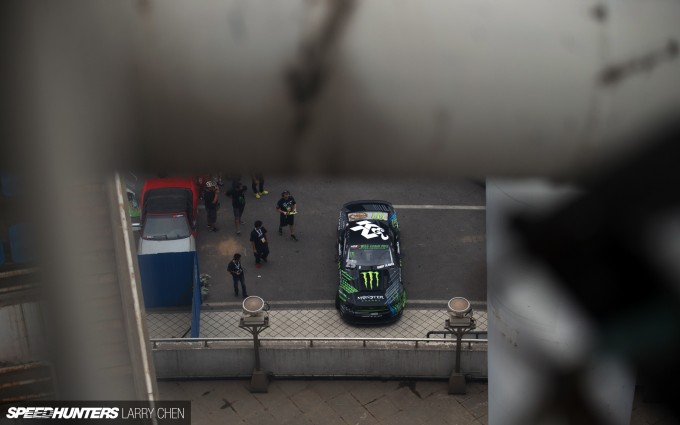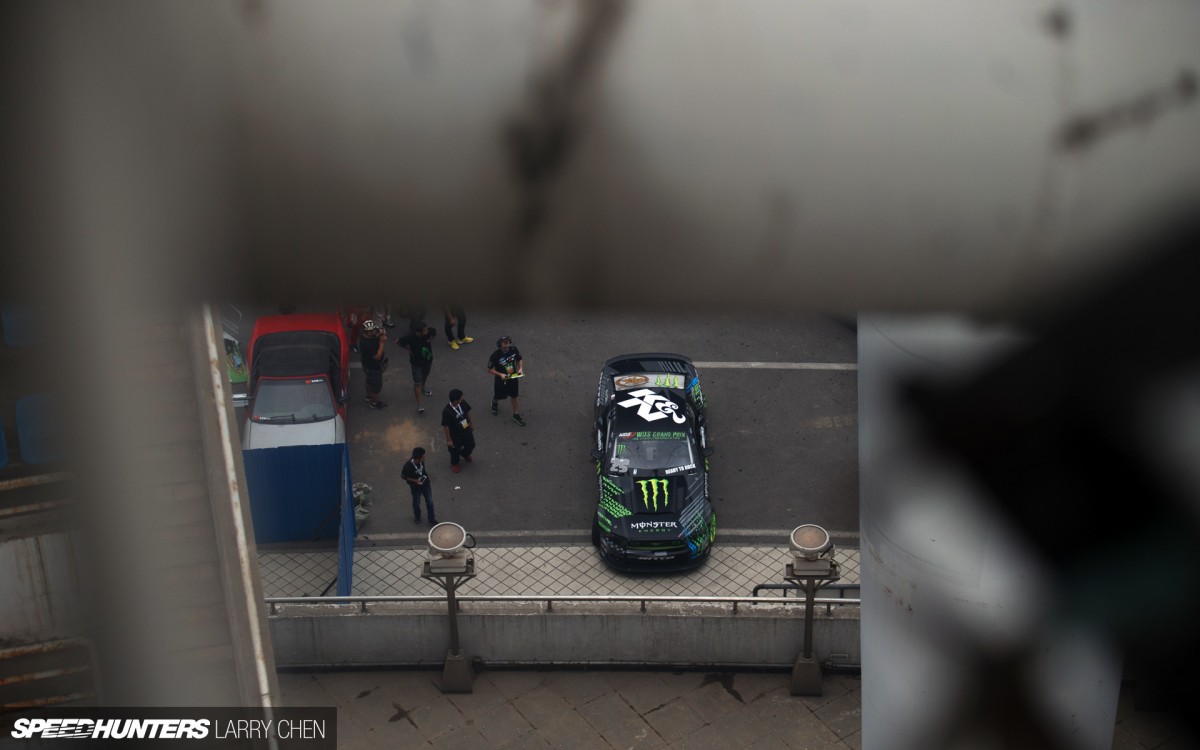 There were just a few cars to go as Vaughn pulled out of the pits and into the stadium.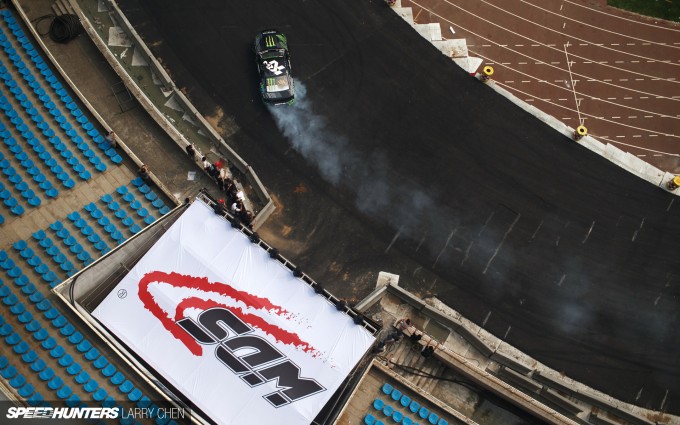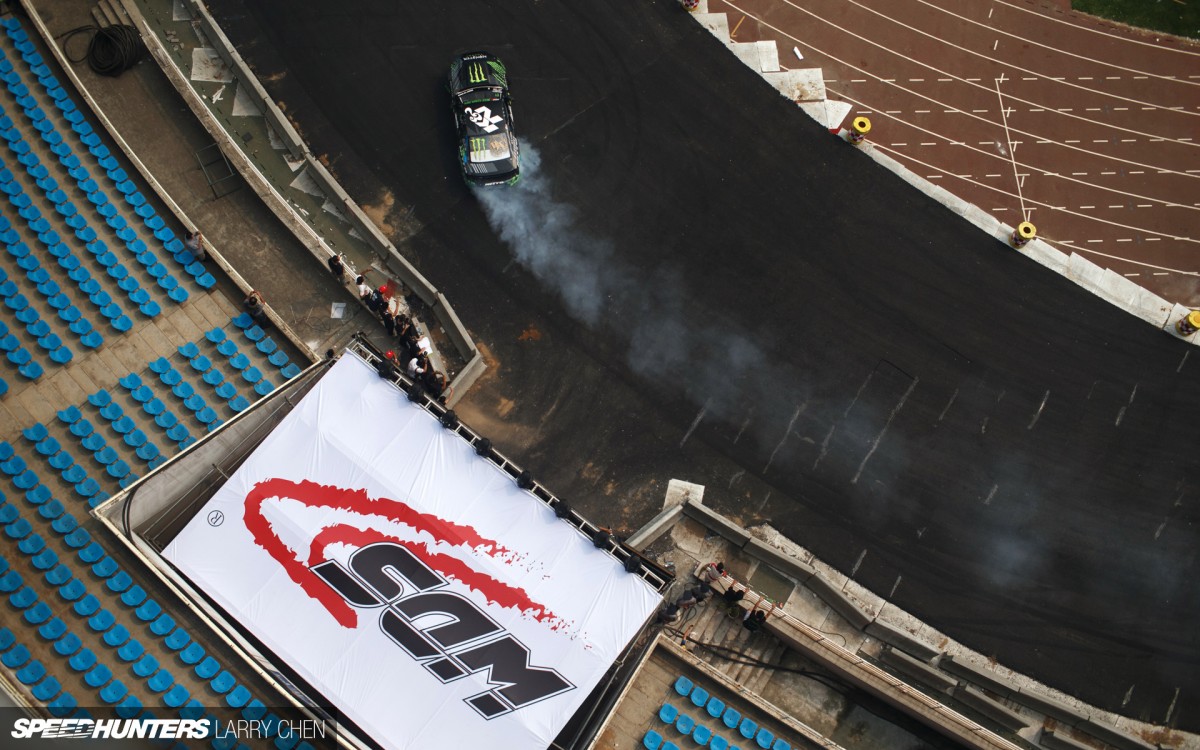 He put together a spectacular qualifying run, riding the outside wall the entire way.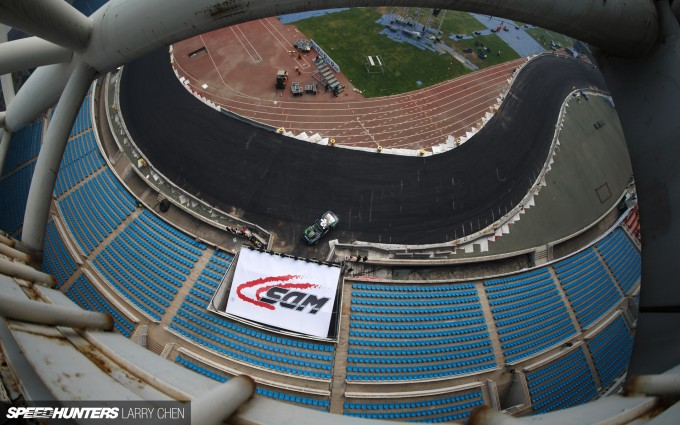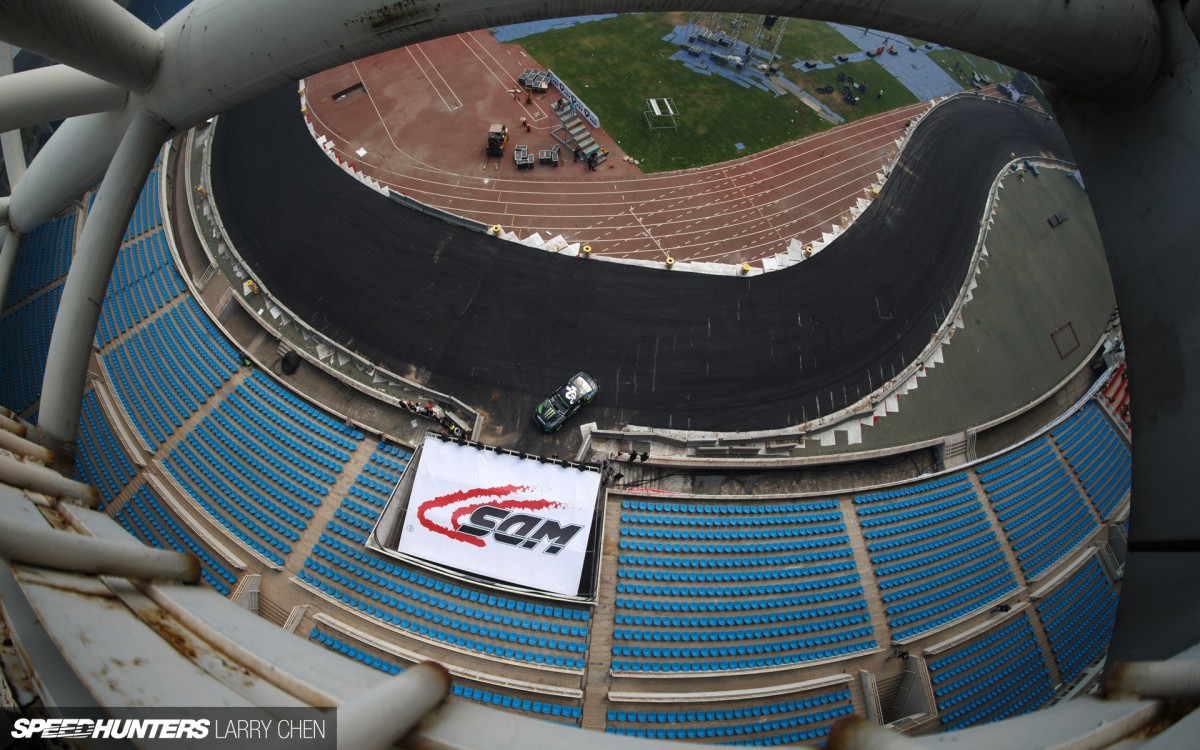 Judging from all the other runs I watched from up there, I was almost certain that he qualified in first.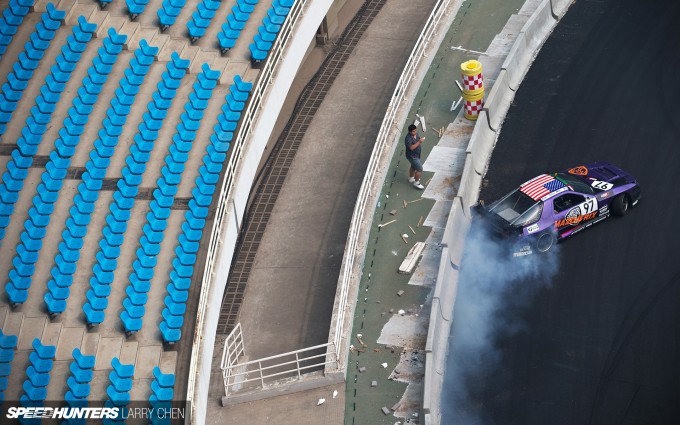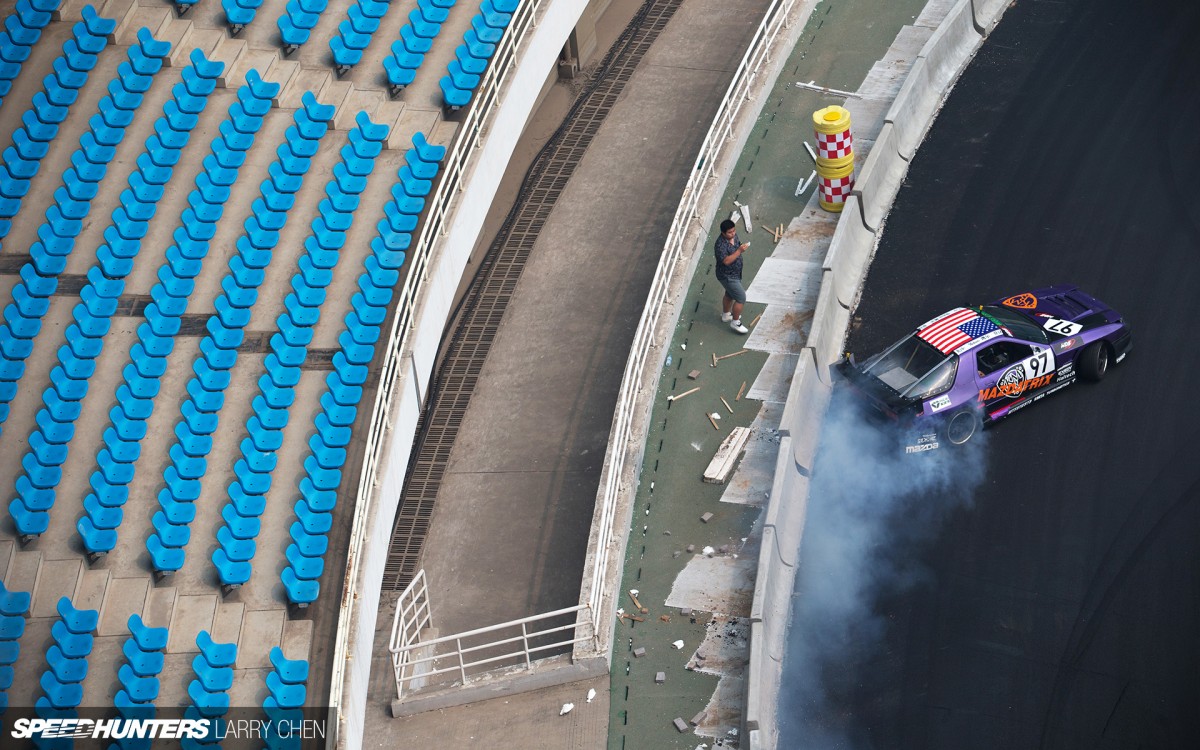 That was of course until Kyle Mohan came out and rode the wall even closer all the way around. Kyle qualified in first just a few points in front of Vaughn.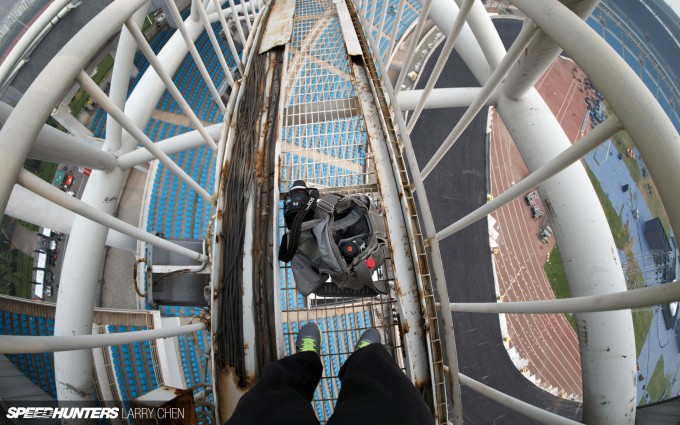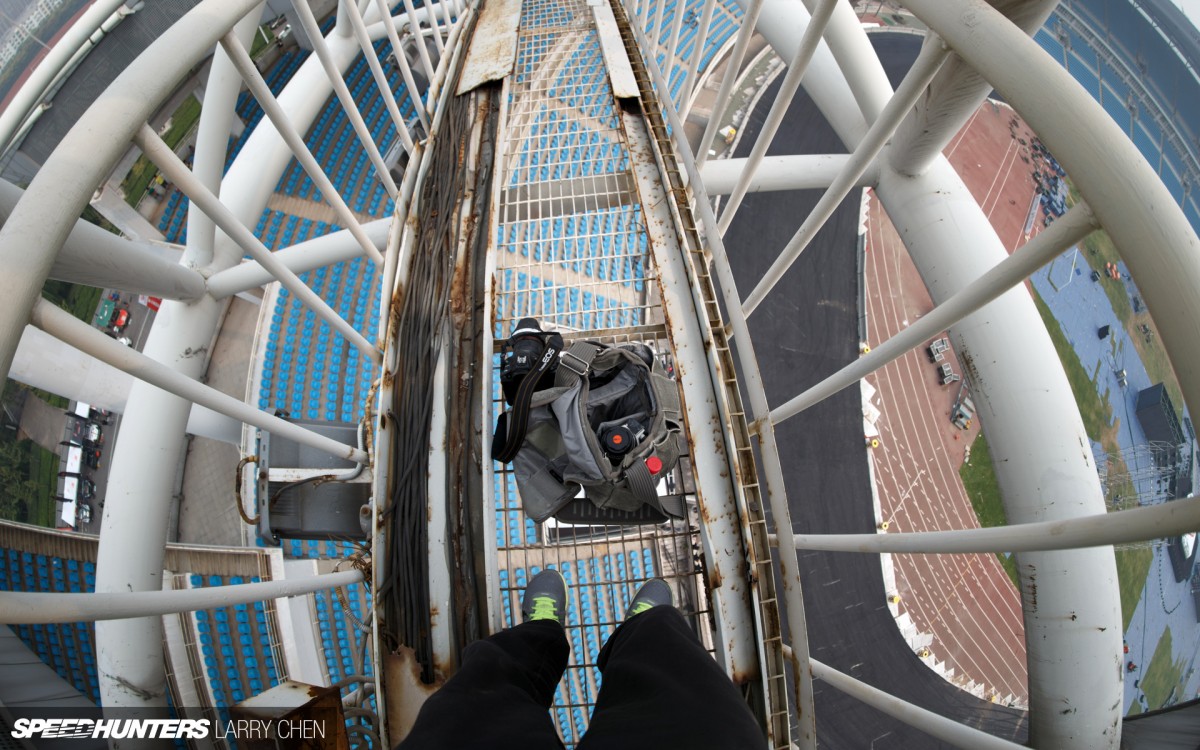 I have to say it was probably the most exciting qualifying session ever, but then again everything's a lot more fun when you introduce the element of falling to your death to it.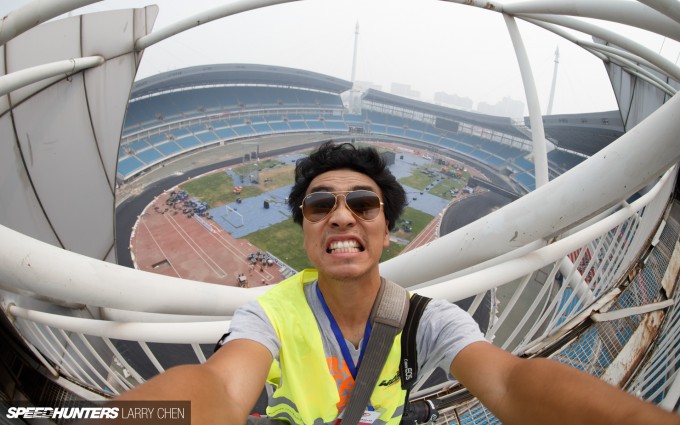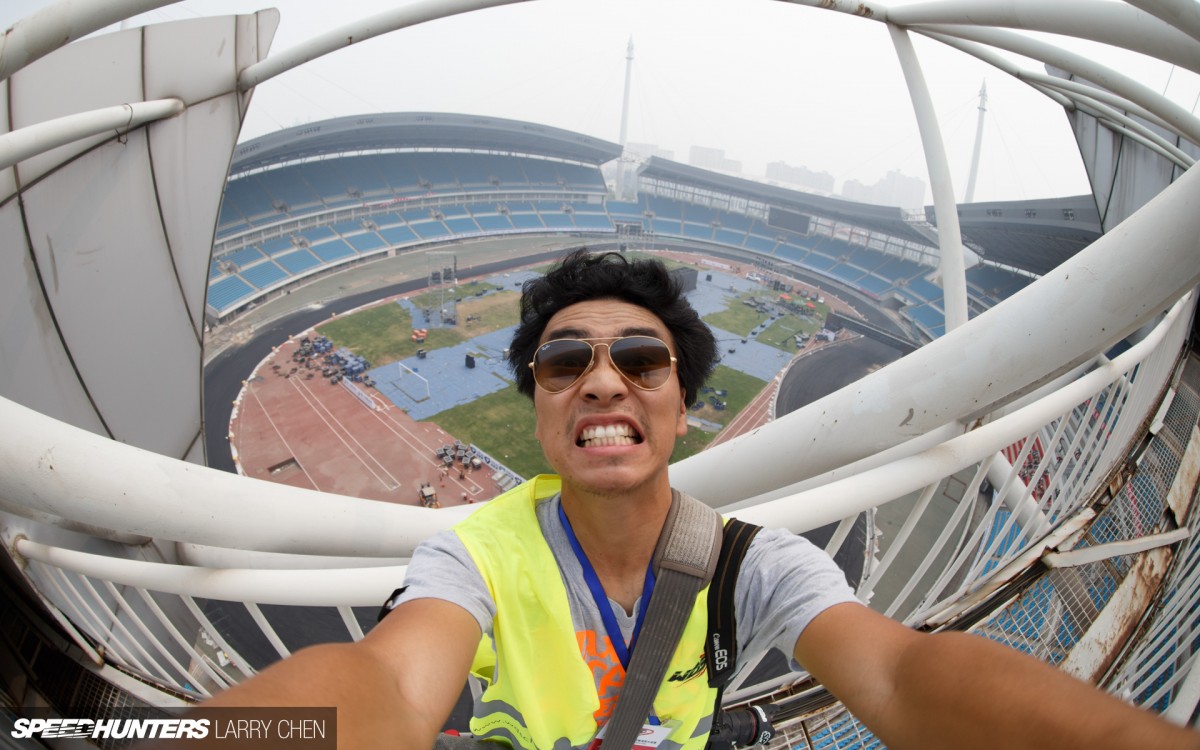 As I always say, anything for the Speedhunters fans.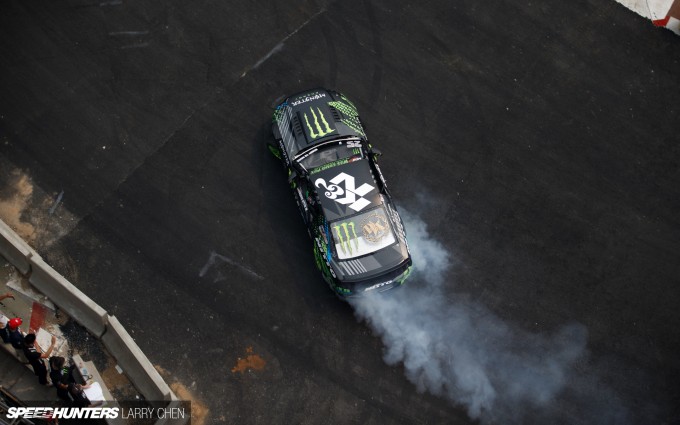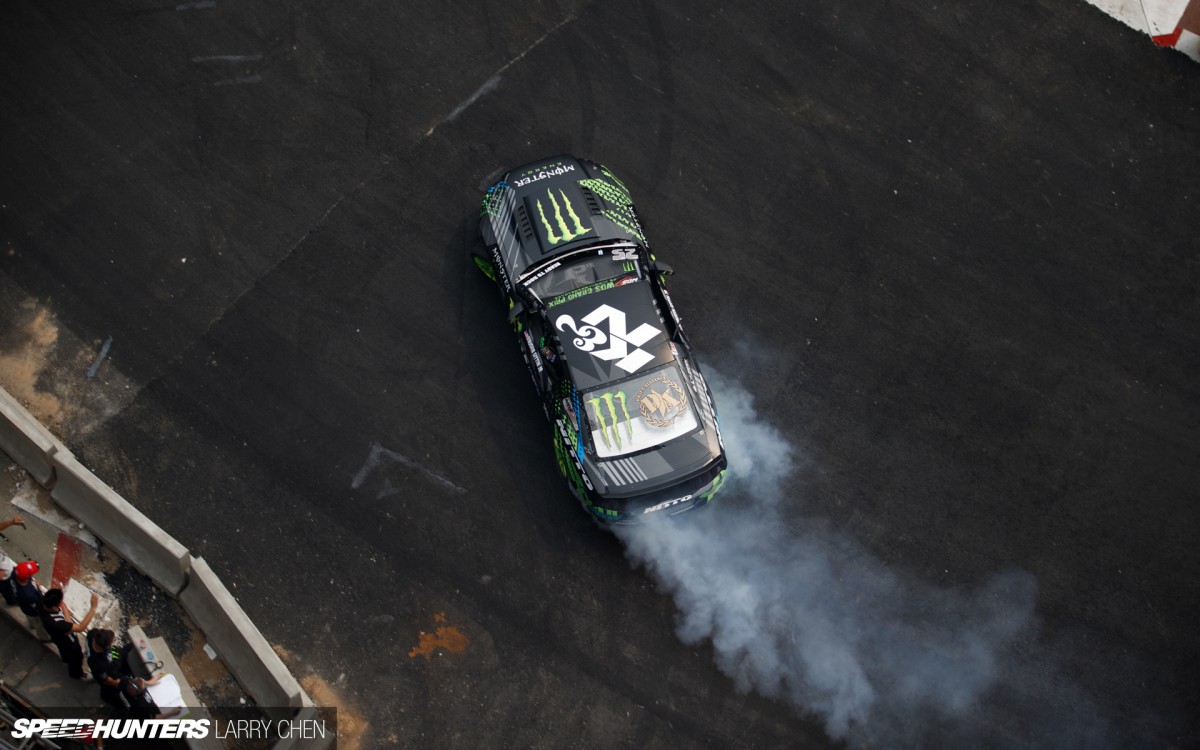 With Vaughn qualifying in second, he was still in the best position to increase his lead in the championship. Stay tuned for more from the main event as well as some street drifting action in Luoyang China.