The show outside the show
Last Saturday, one of the most relaxed and friendly custom car shows around took place at Gene Winfield's shop in Mojave, California. Officially dubbed the Winfield & Watson Custom Car Gathering, the name hinted at the fact that there would be a few automotive celebrities on hand. Gene Winfield is a living legend in the kustom world, while Larry Watson was best known for his scalloped and paneled paint jobs. He passed in 2010, but since this show started in 2008 with both Gene and Larry the name has lived on.
I've spent a lot of time around Winfield's place between taking metal fabrication classes and painting my own kustom. To be honest, it can be a pretty lonely place at times. We painted my car there the winter before, and there were a few cold nights where I was the only one left awake, working into the night with the wind howling outside and the occasional train thundering by. Last Saturday was the complete opposite of a cold, lonely winter night.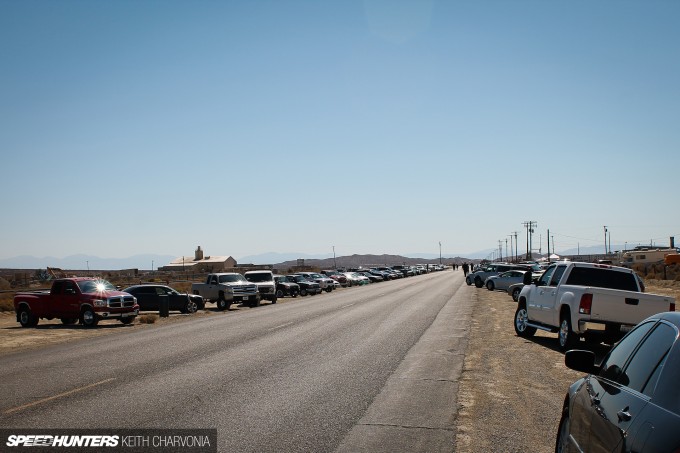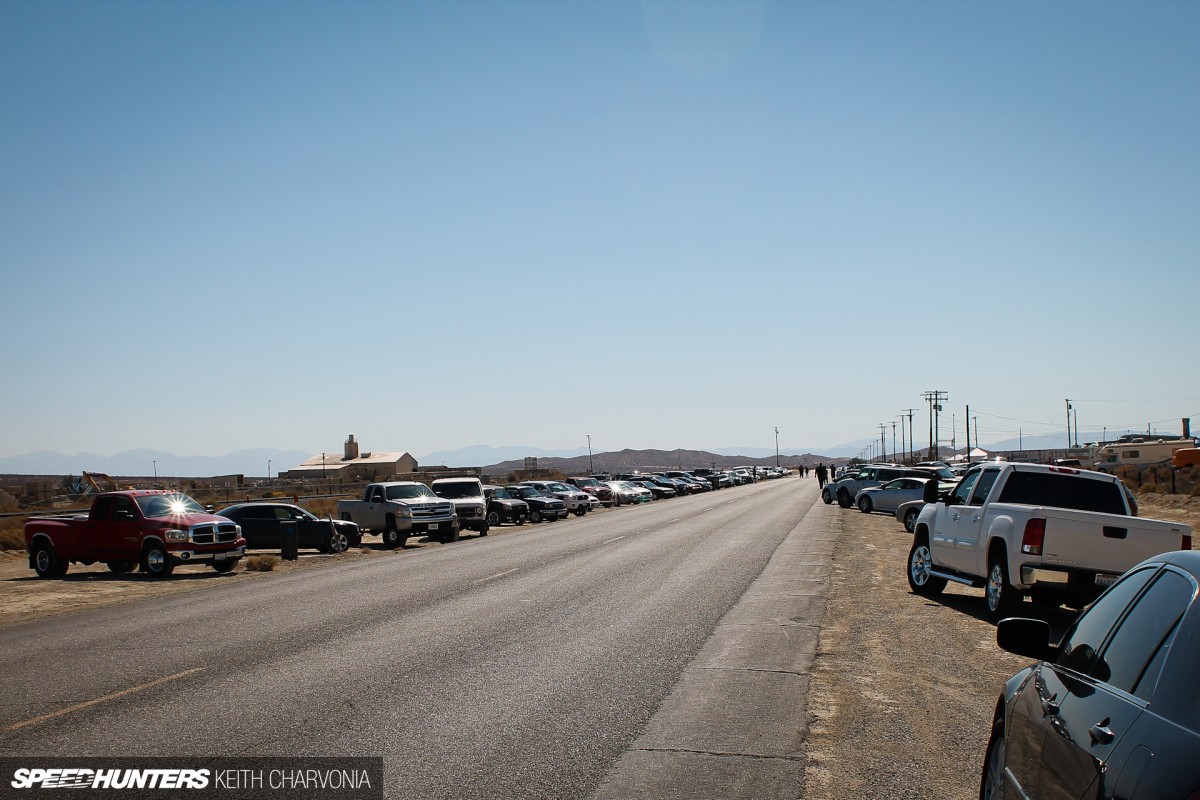 After a 100 mile drive from Irwindale, I was shocked when I turned down the highway towards Winfield's isolated desert shop and saw this long stretch of parked cars.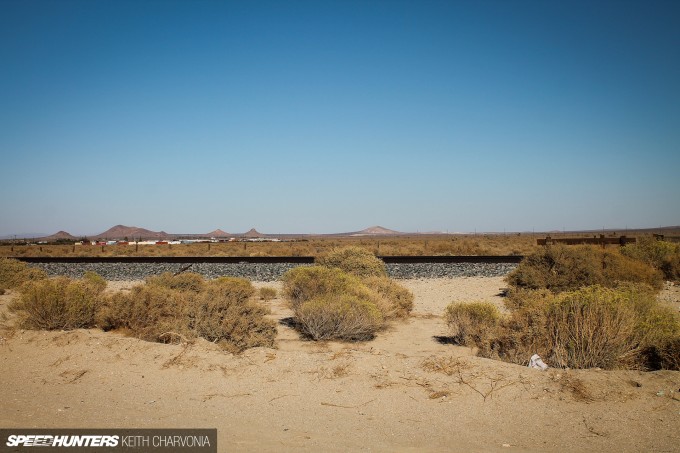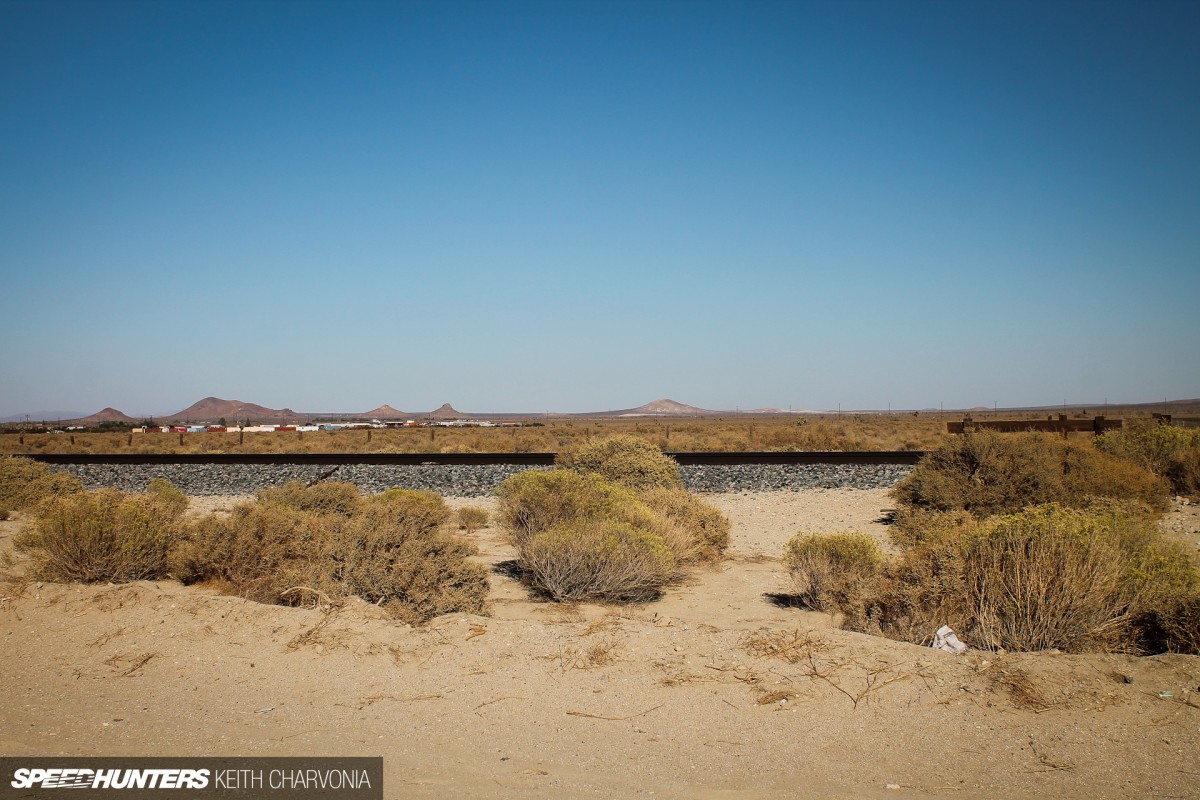 I turned to my left and captured this image of, well, nothing really. That's looking across the street from the shop towards Edwards Air Force Base, which is basically just open desert. Every now and then you might hear a loud boom from the bomb testing range.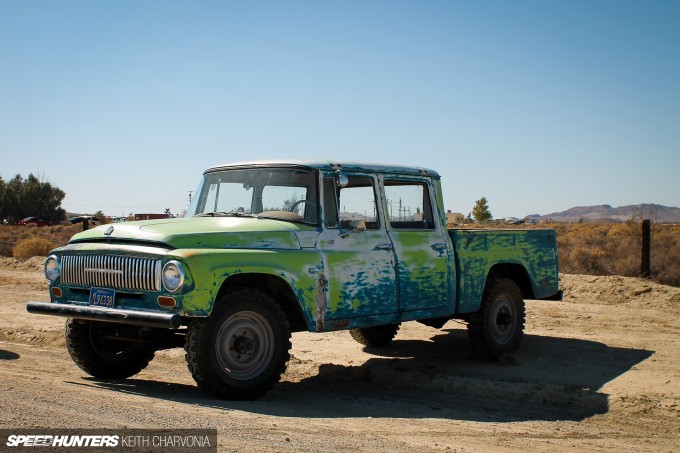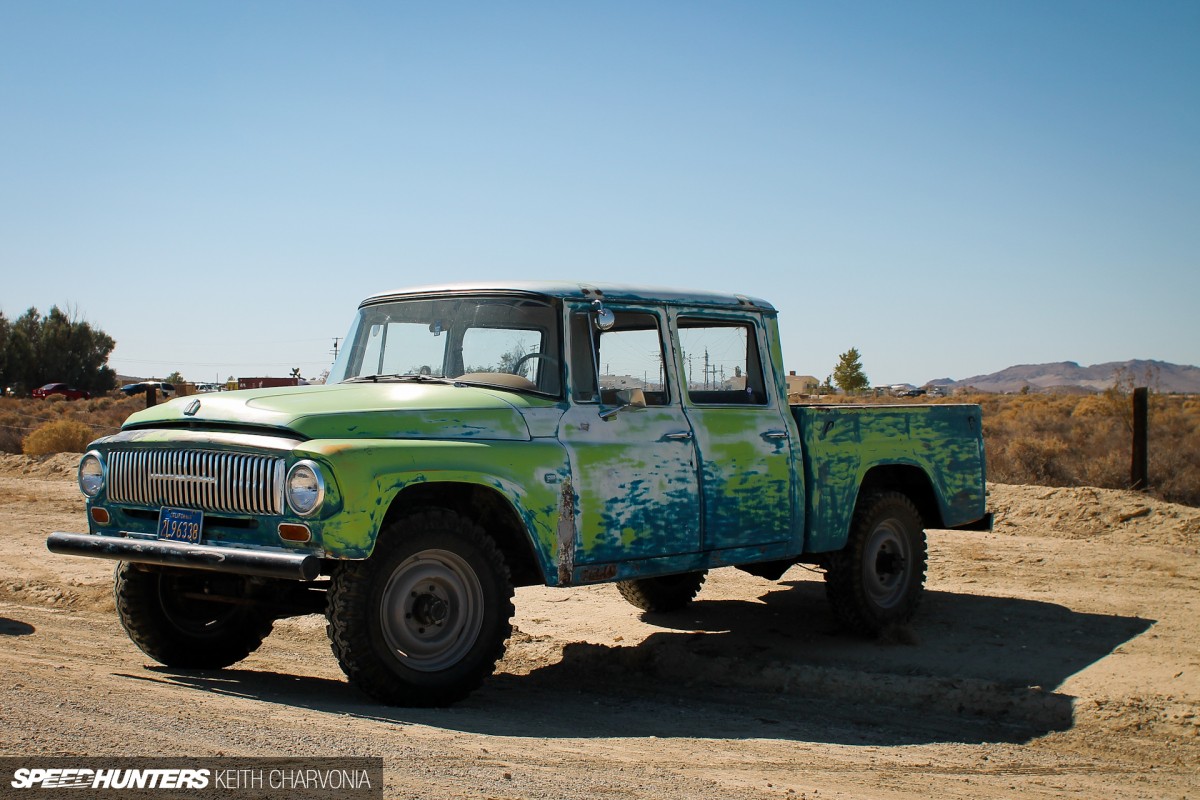 Walking up the highway towards the show we were already spotting cool stuff, like this crew cab International truck that reminded me of Icon's latest effort. I think I might even like this one a little more!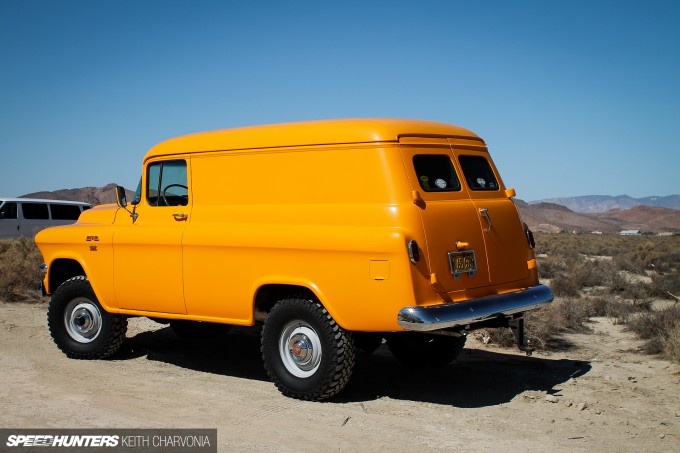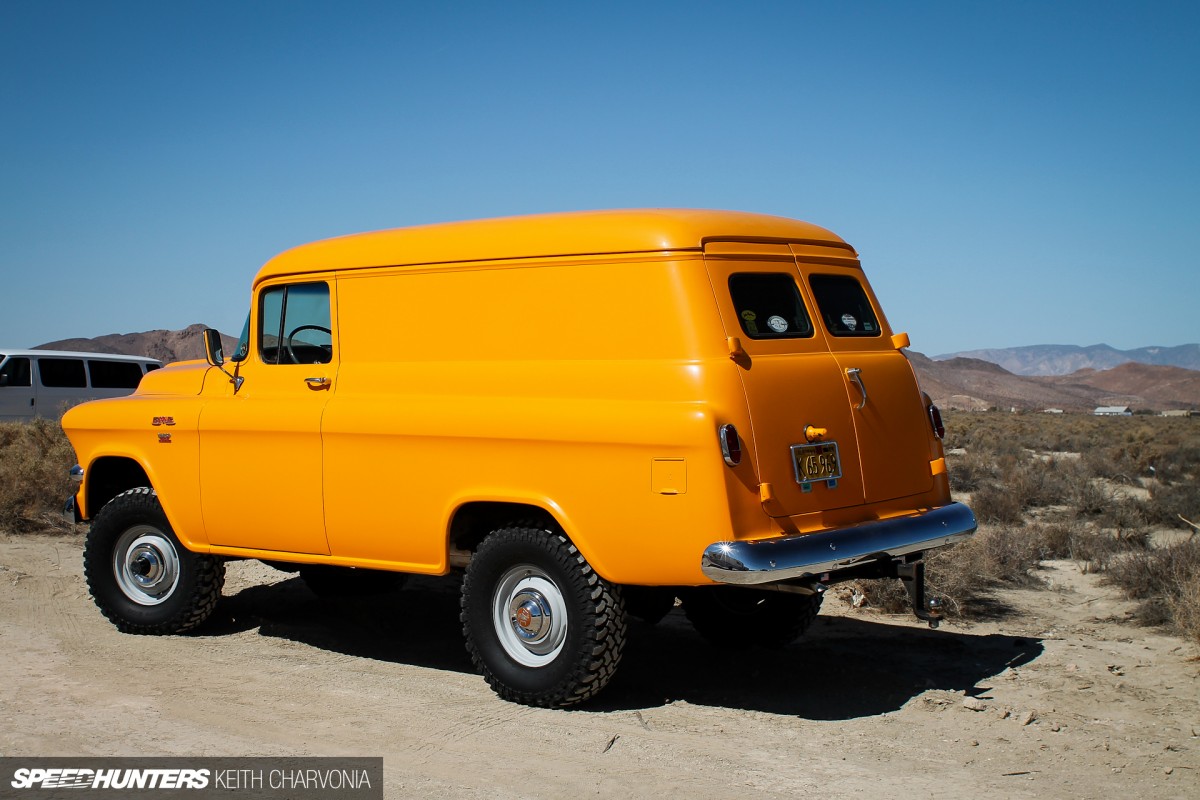 This was a custom car show, which is probably why the lifted classics were parked out on the street, but I still thought this '57 GMC panel was pretty cool.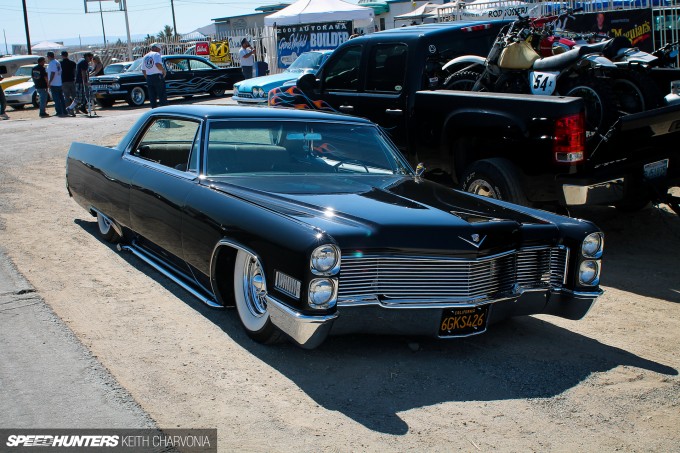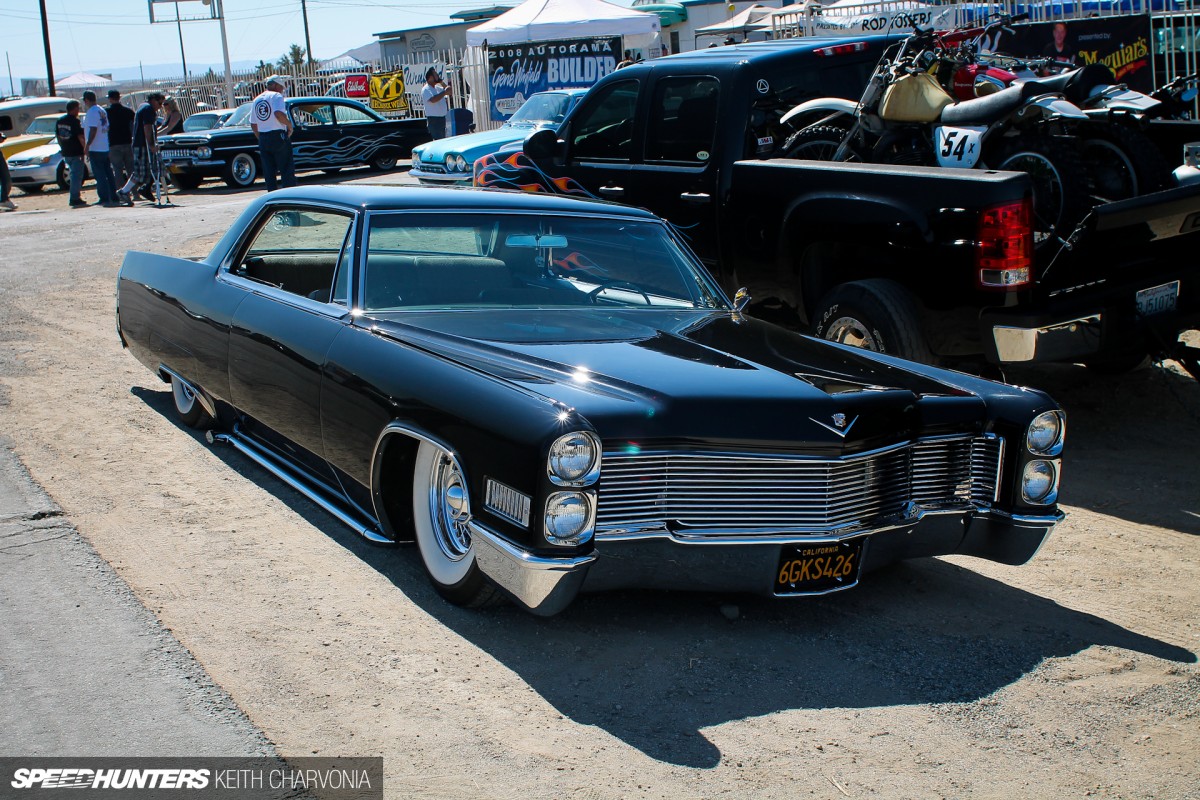 We couldn't even make it in the gate without stopping to check out a bunch of cool cars. When someone is willing to park a car this nice in the dirt, you know this isn't your typical show 'n' shine trophy contest.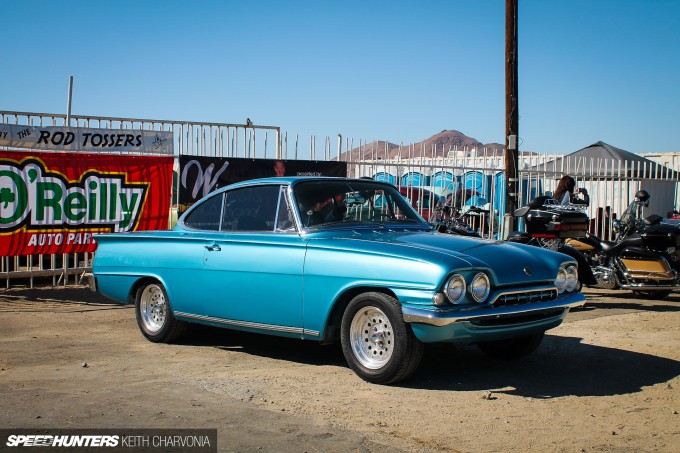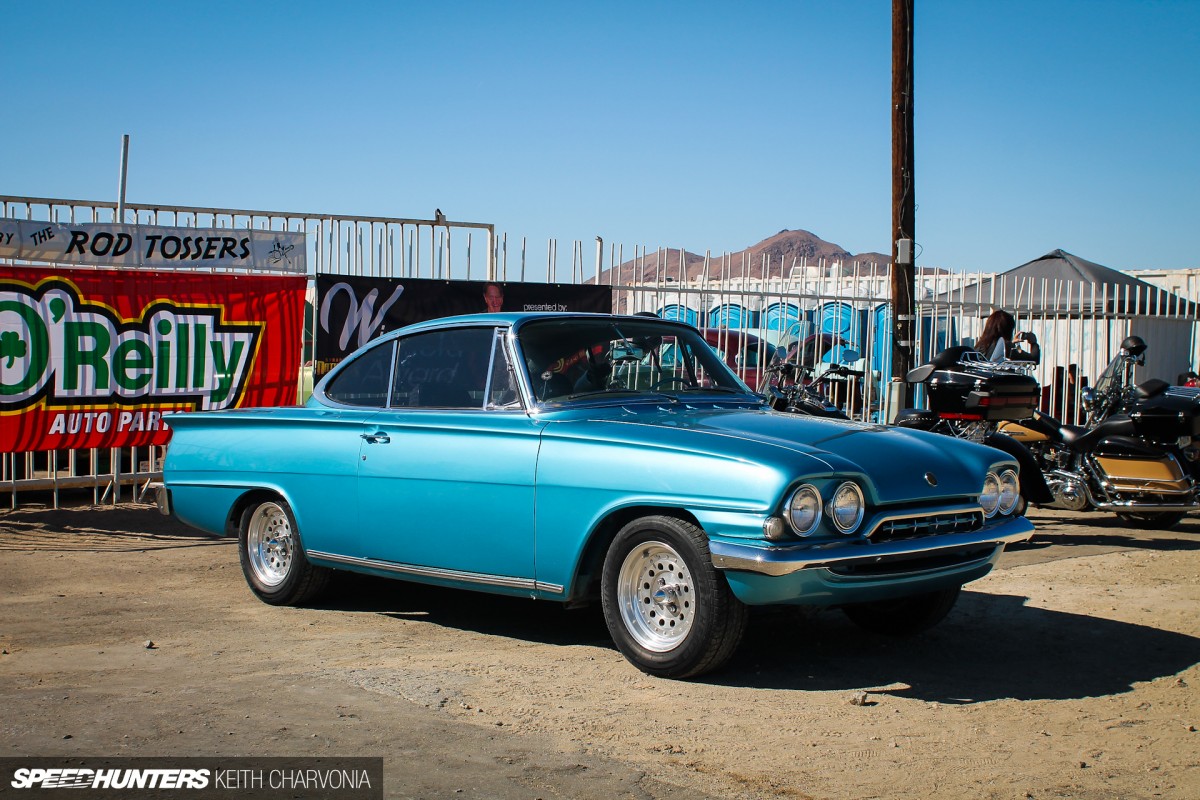 This one had me stumped. The roofline reminded me of an old Ghia-bodied car.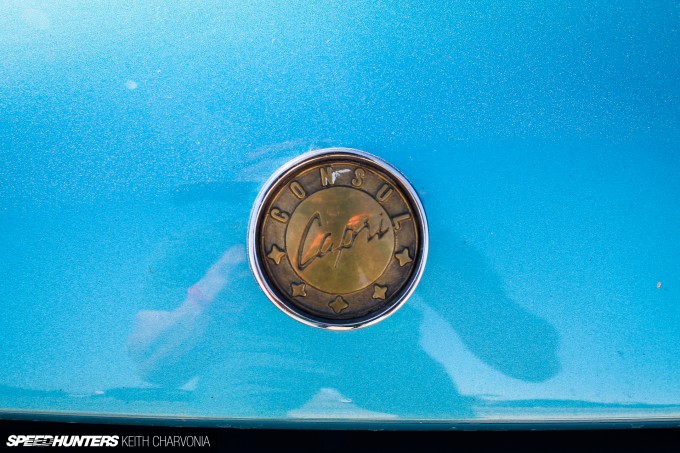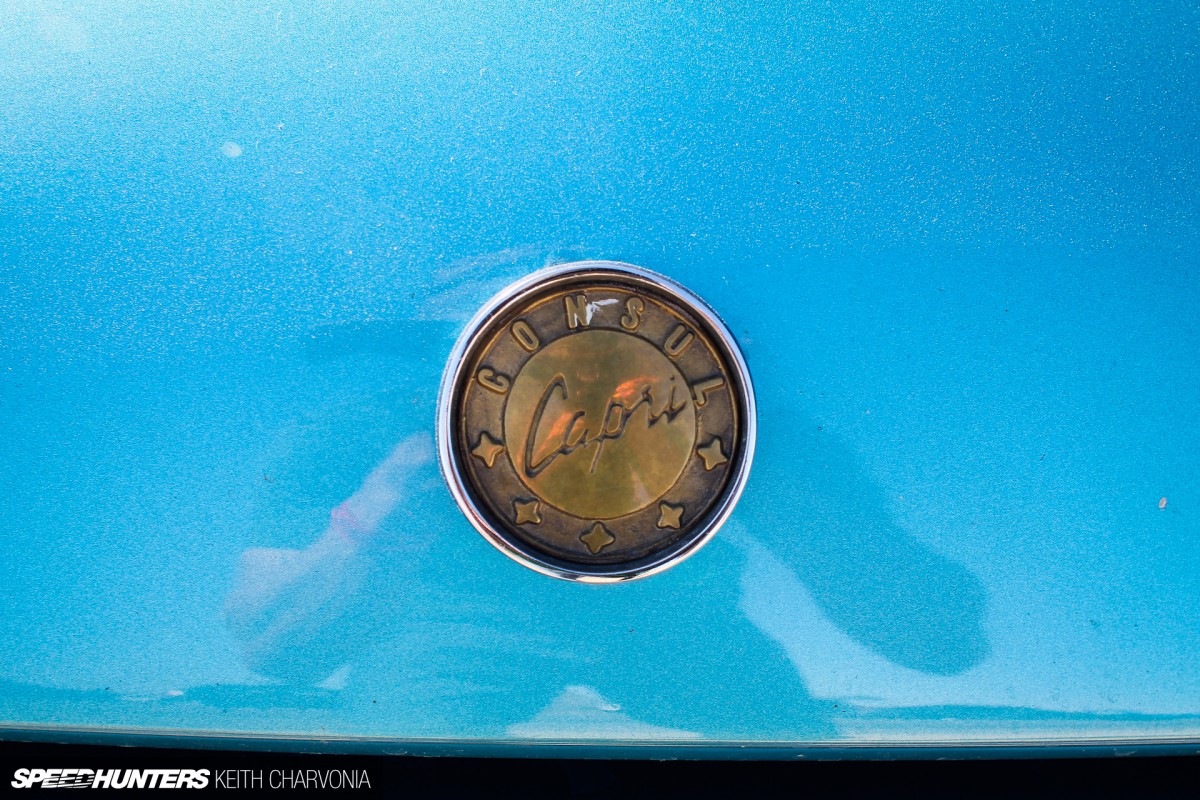 Apparently it's an early '60s Ford Consul Capri.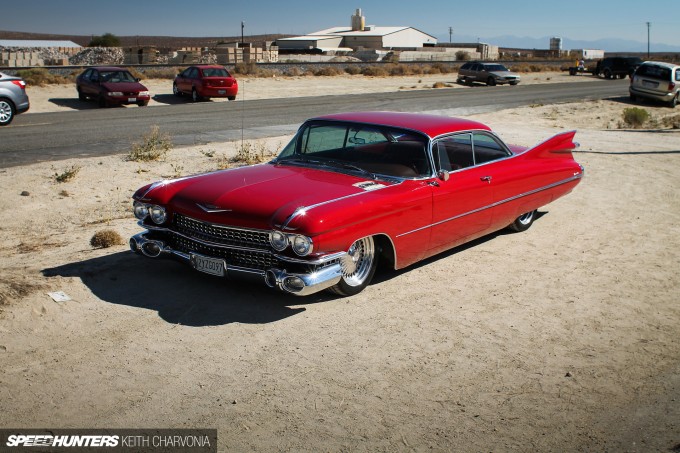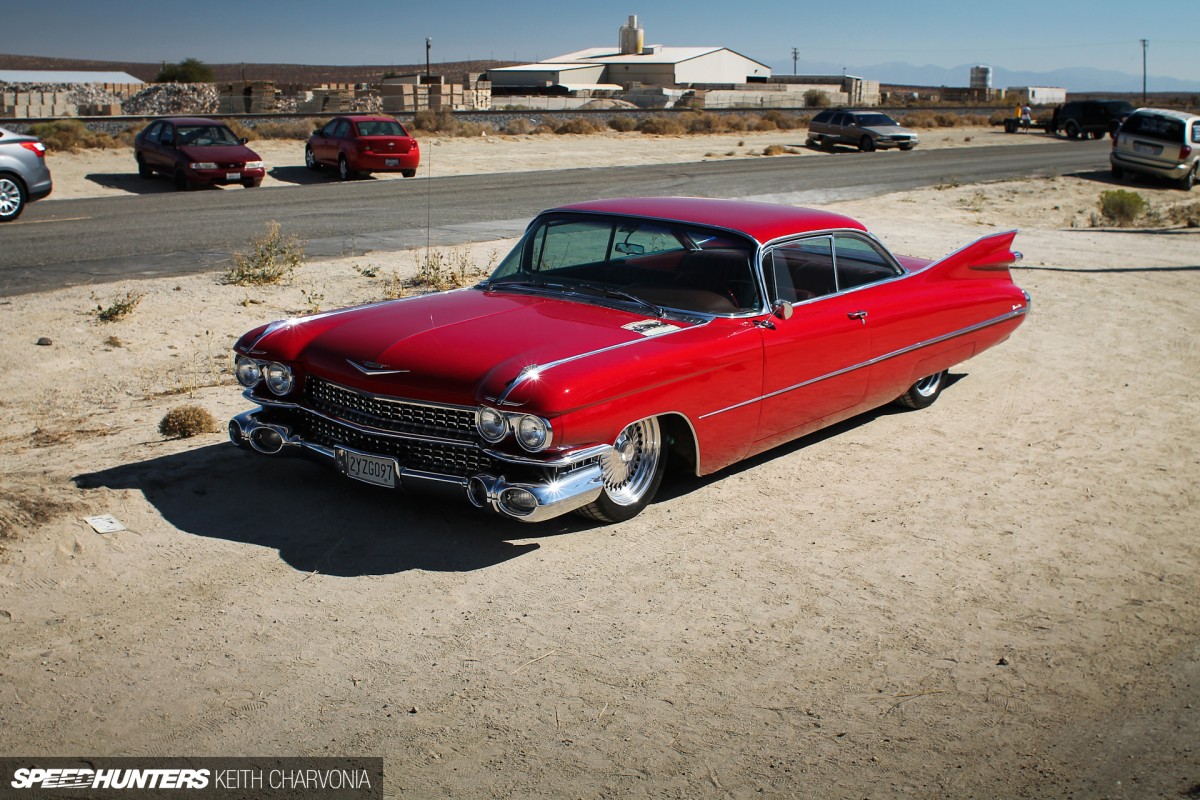 Here's another gorgeous slammed Cadillac parked in the dirt. This one wore old Boyd's rims that actually looked pretty good.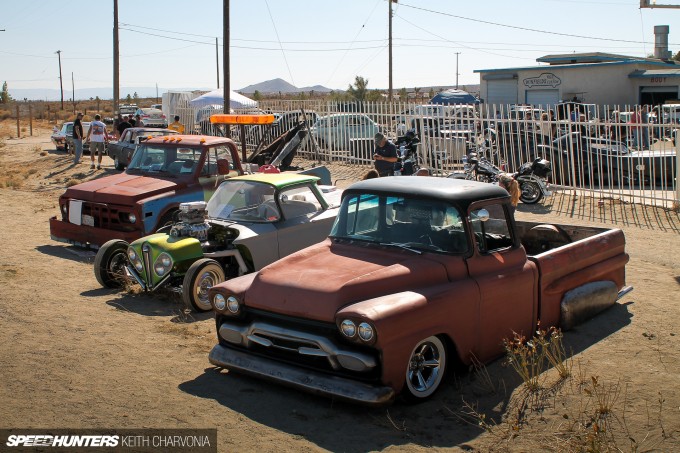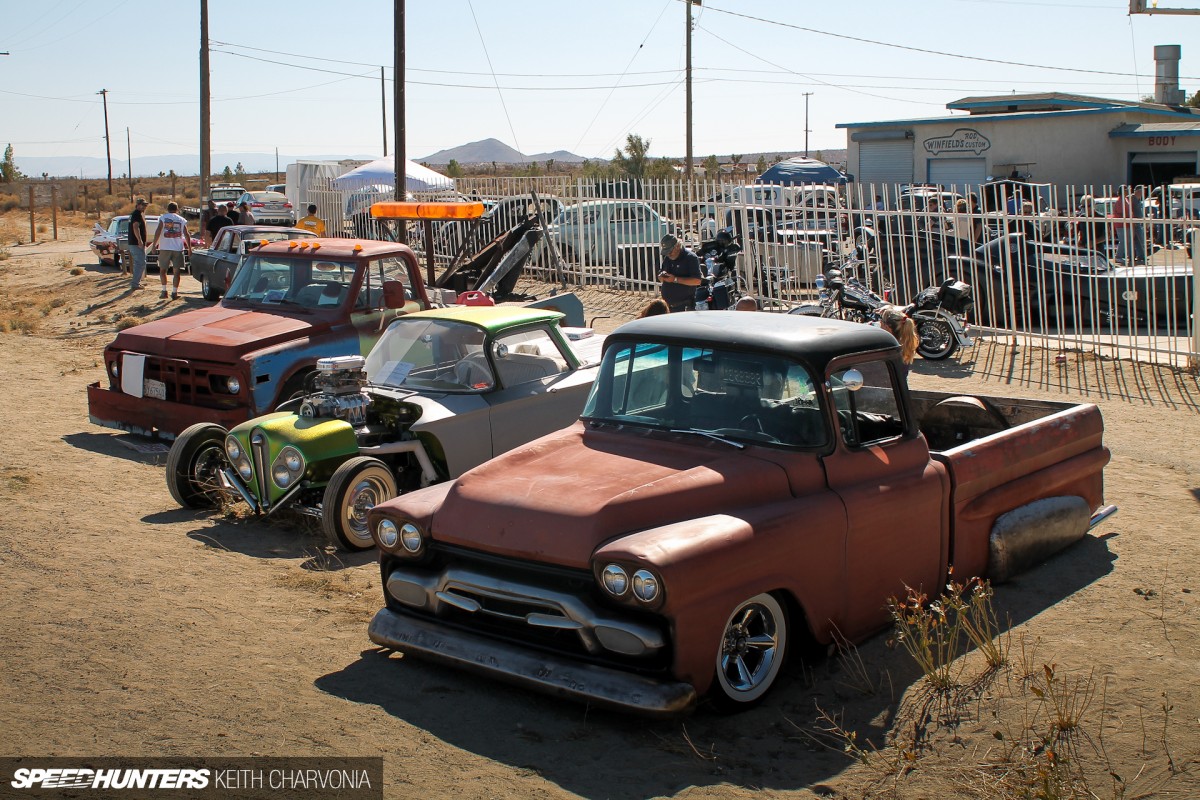 I've always like the Apache pickups, and this one had a kustom vibe. Behind that was a wild El Camino turned show rod.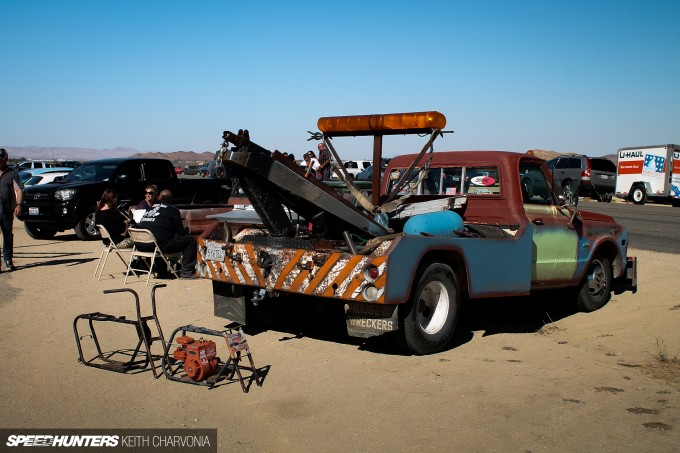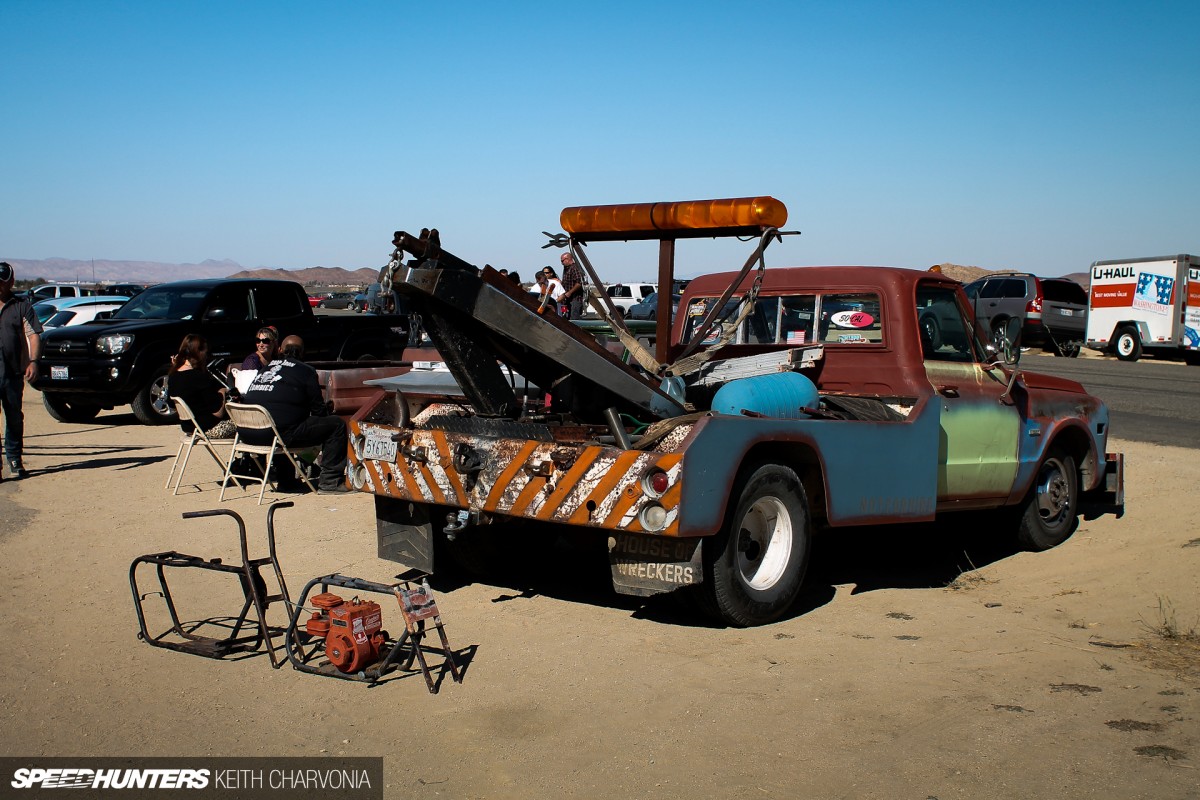 Even the tow truck was cool!
Kustoms, hot rods, movie cars and more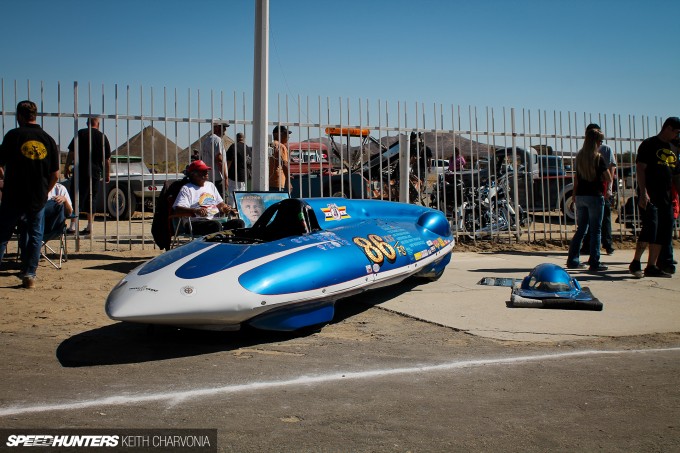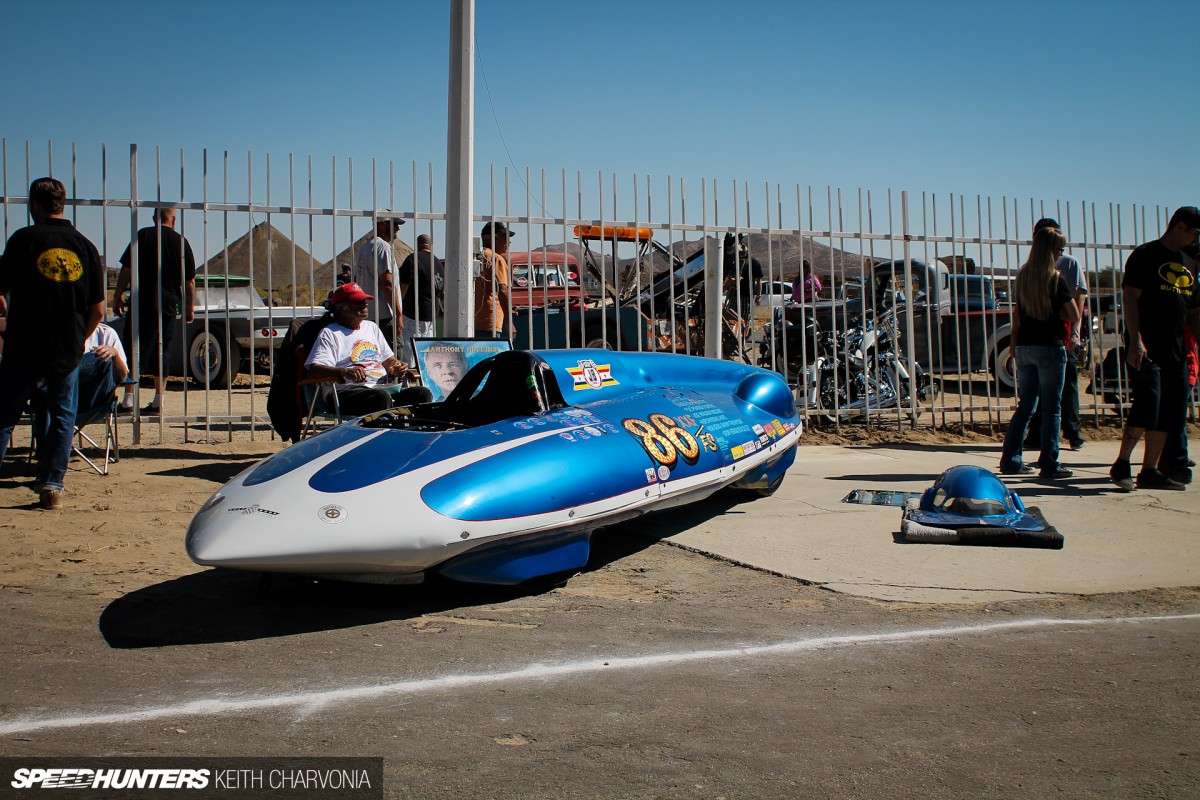 We finally made our way inside and were greeted by a streamlined land speed car…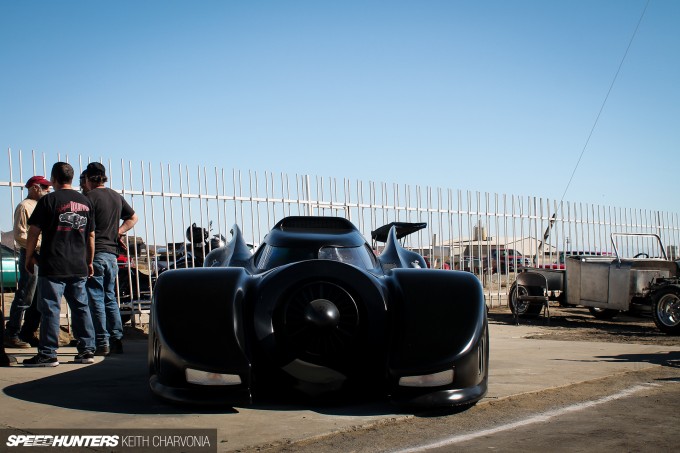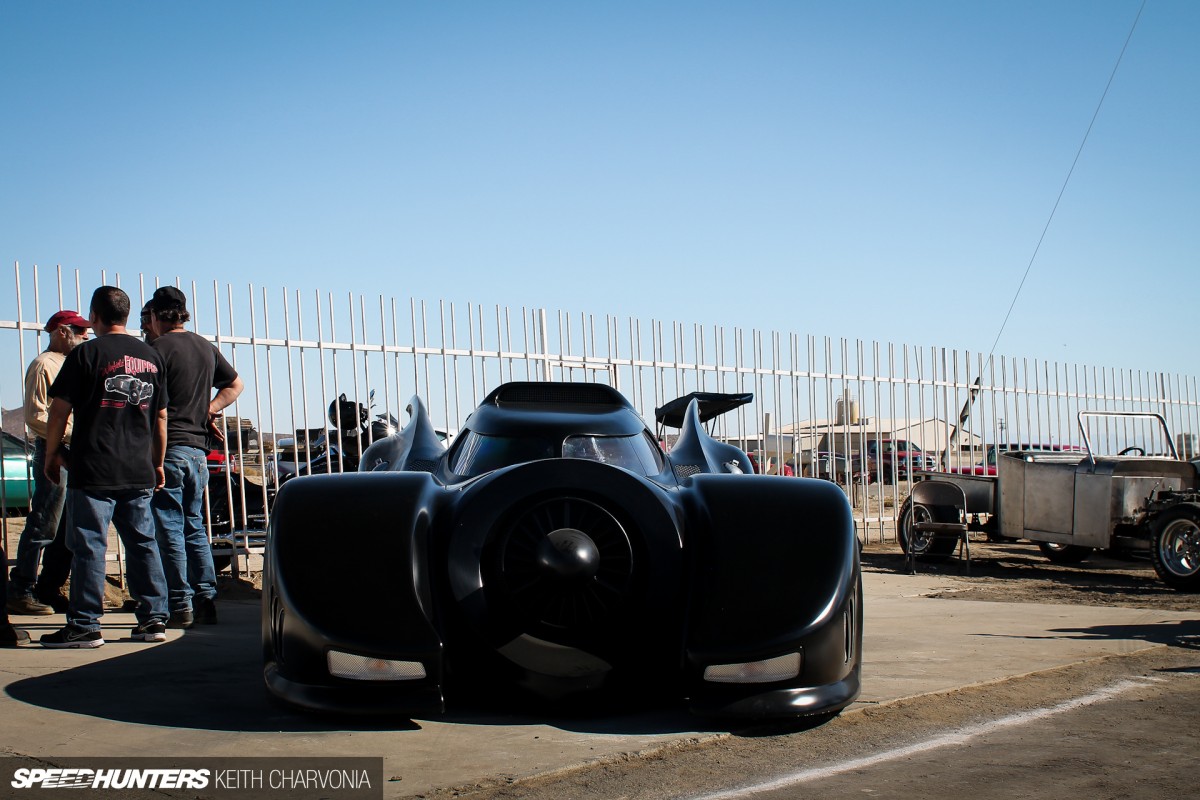 …next to which sat the Batmobile. This might seem like a strange connection, but you have to remember that a lot of the old customizers found work building movie cars when kustoms fell out of style.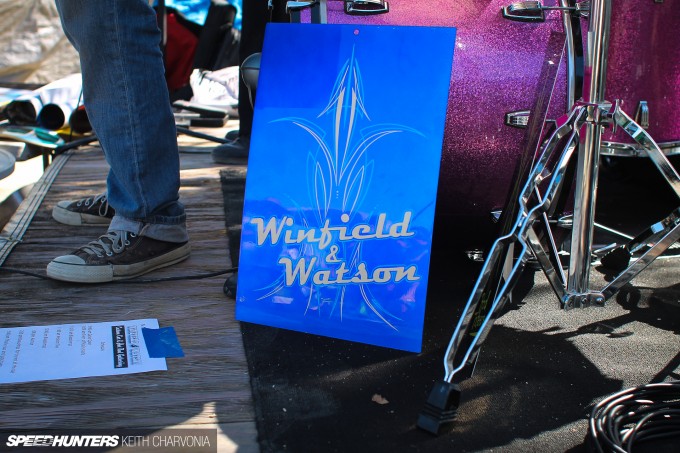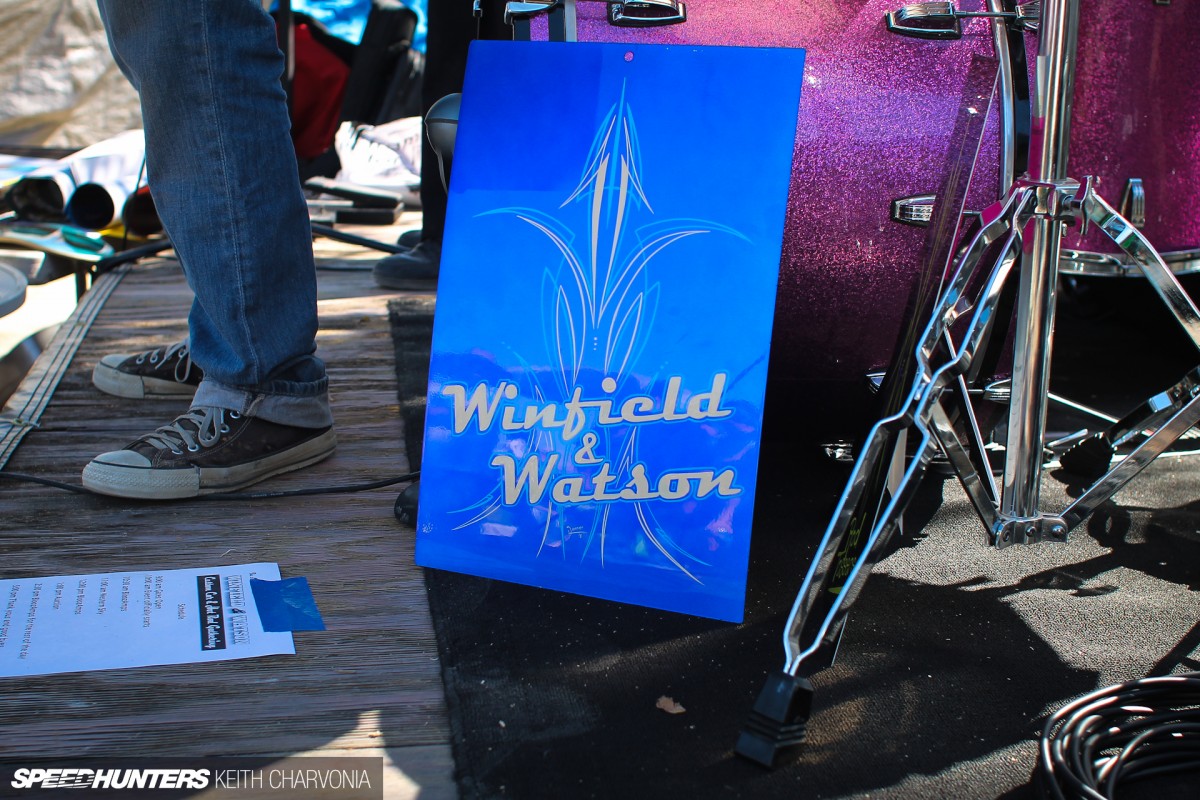 Part of the draw to the Winfield & Watson show is the stage with live bands that play all day. They also hold a charity raffle every year.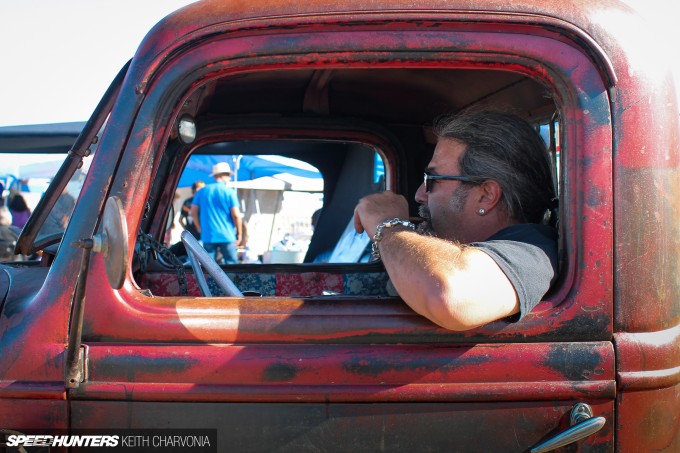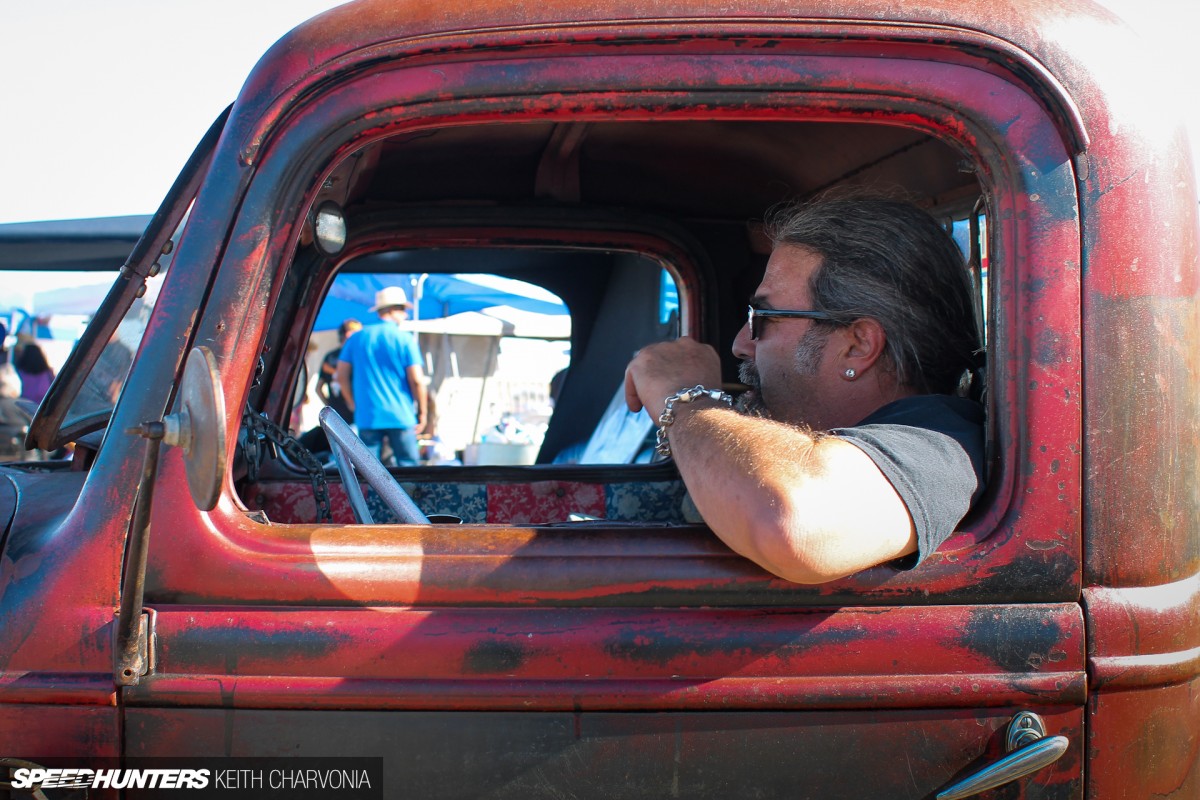 The characters at this event were in stark contrast to the Formula Drift crowd we had just left.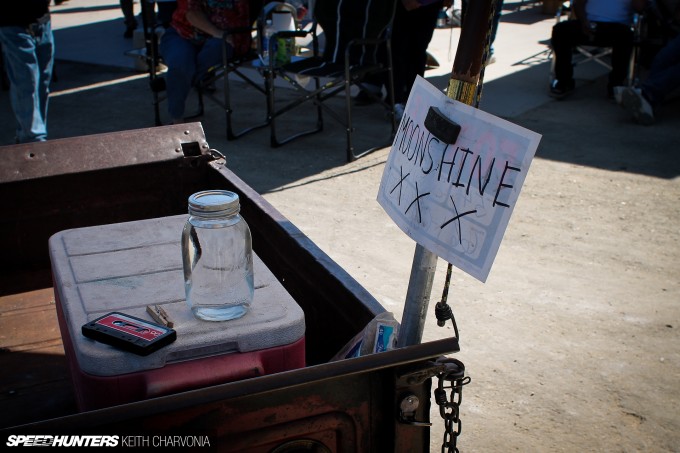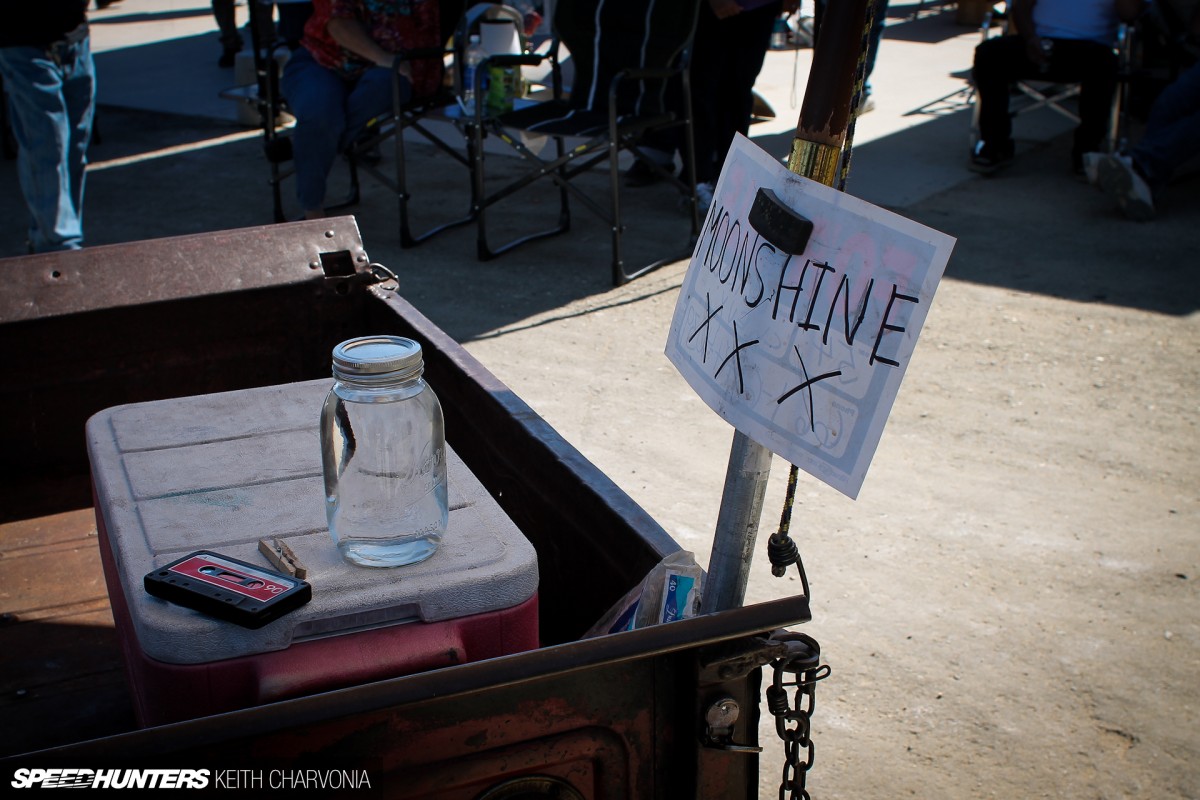 Anyone up for some 140 proof moonshine?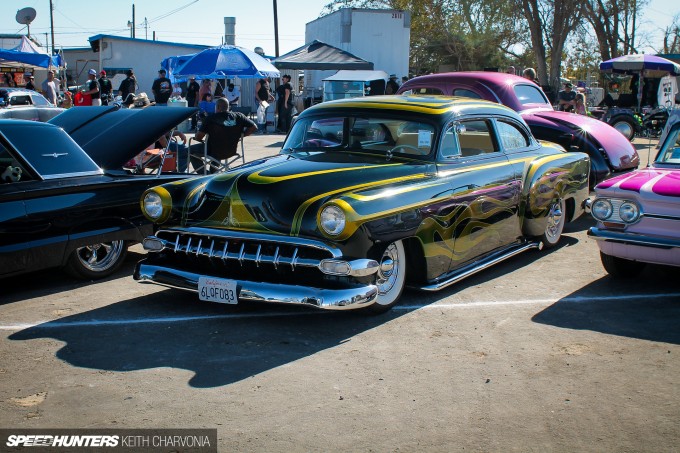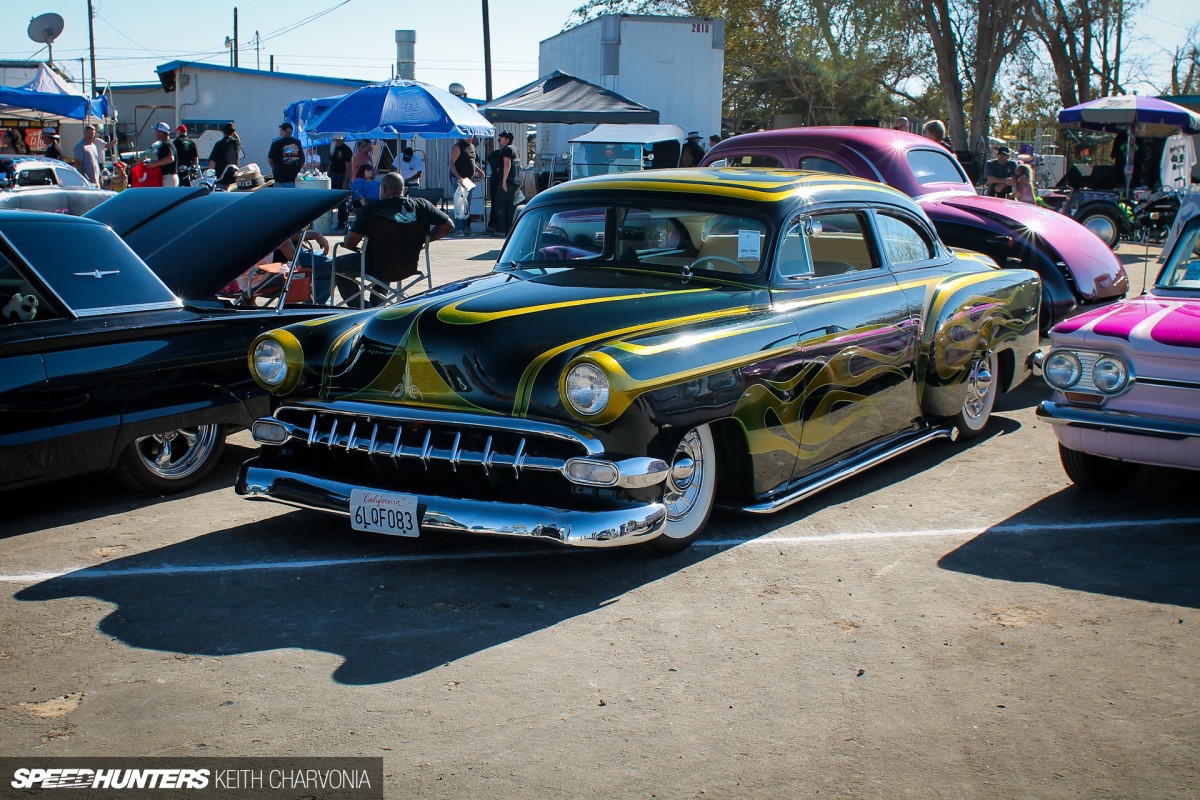 Of course there were proper kustoms too, like this chopped, bagged and flamed Chevy…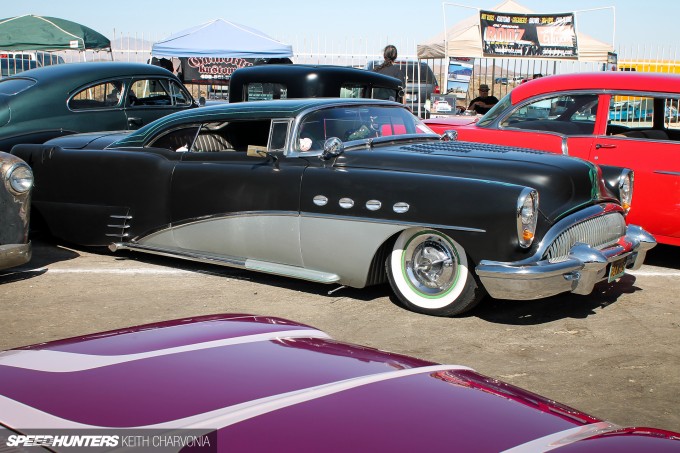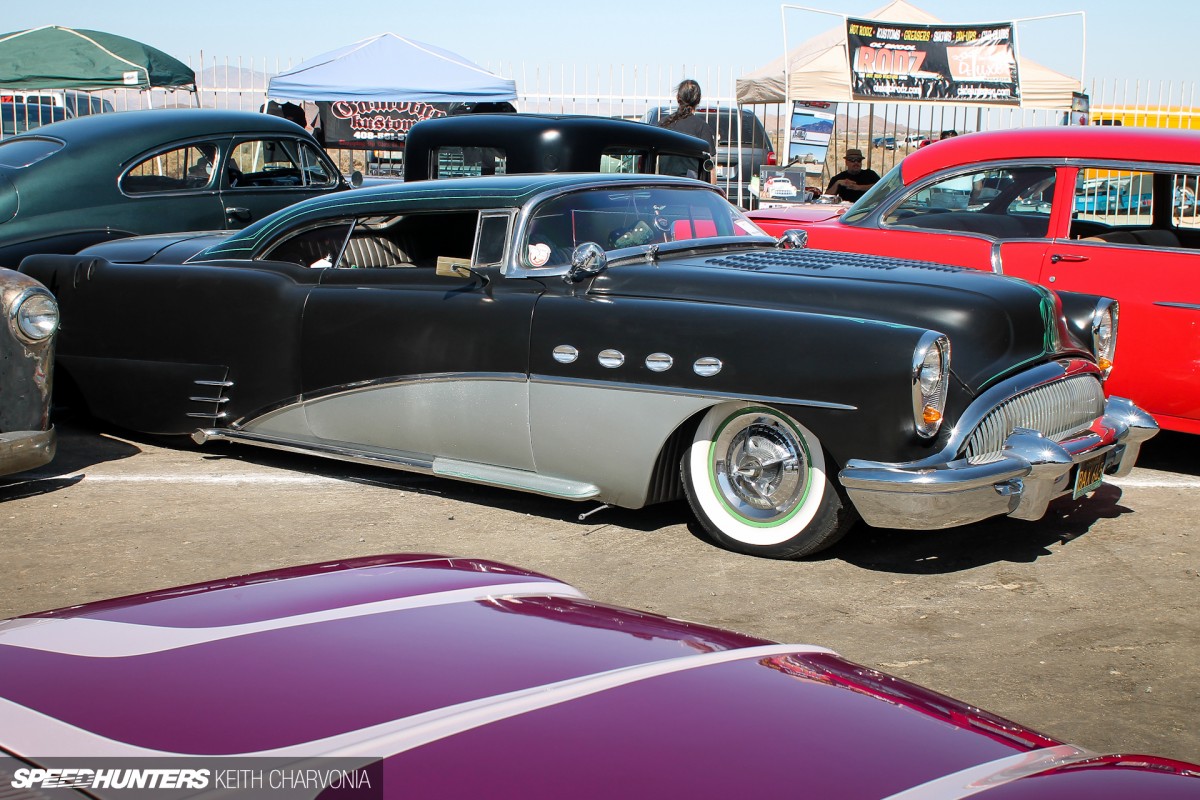 …an even longer Buick…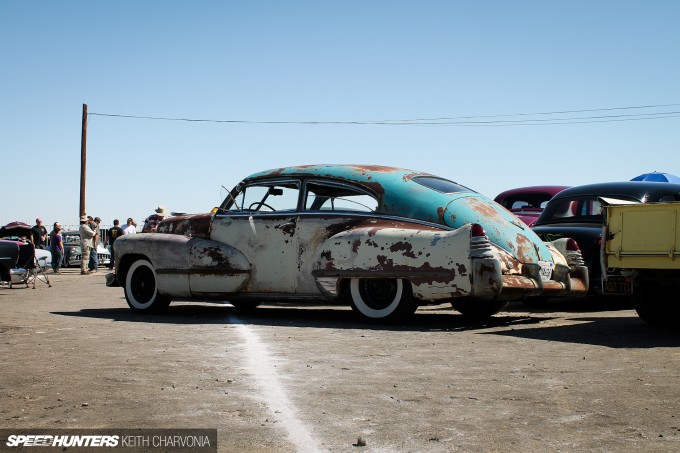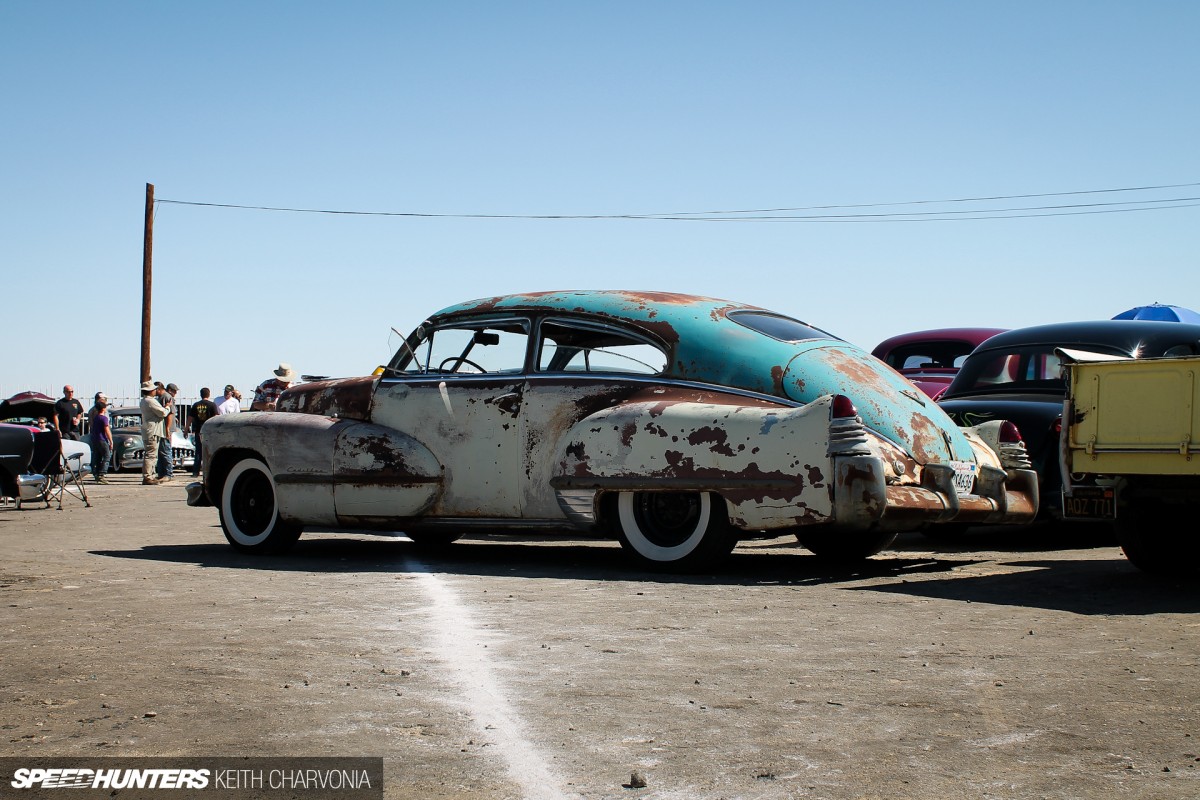 …and a Cadillac fastback with a deep patina.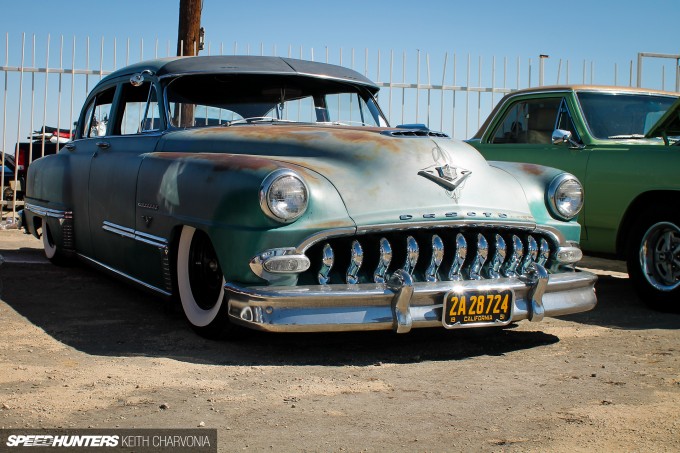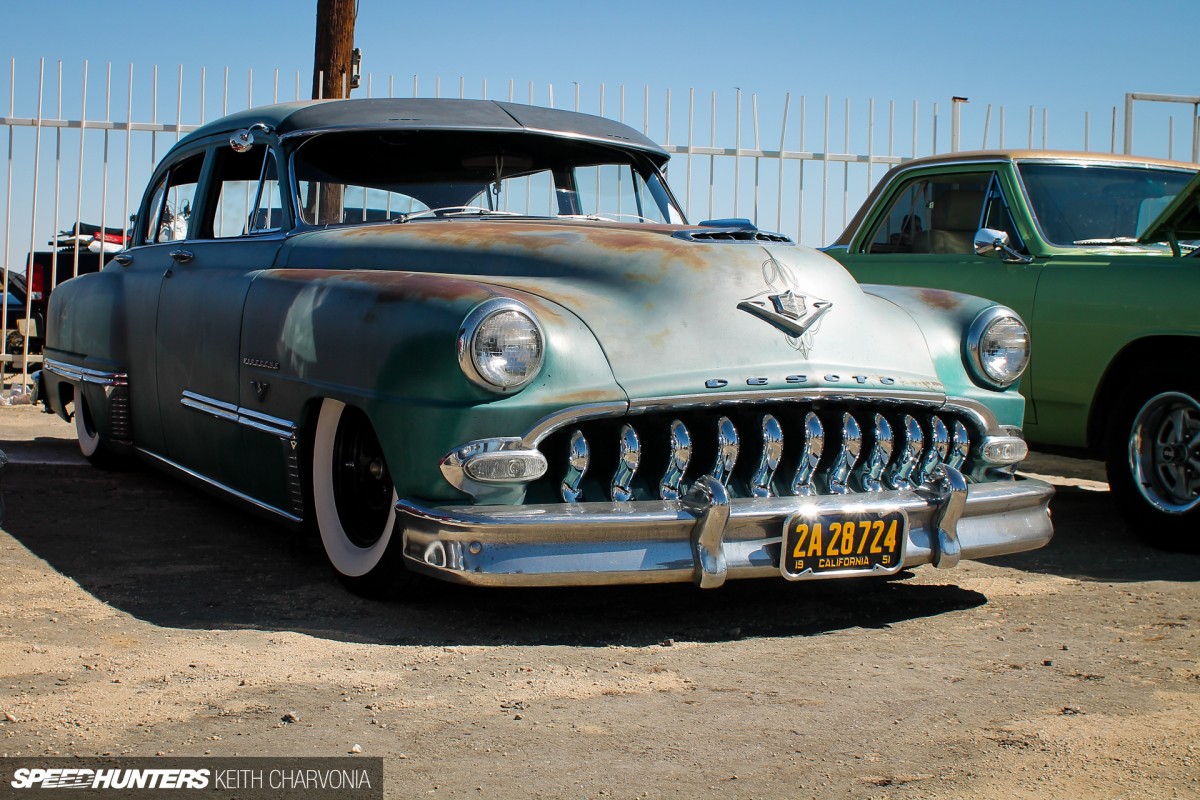 I like oddball kustoms more than the common stuff, so I thought this Desoto made a great kustom with little more than bags and whitewalls.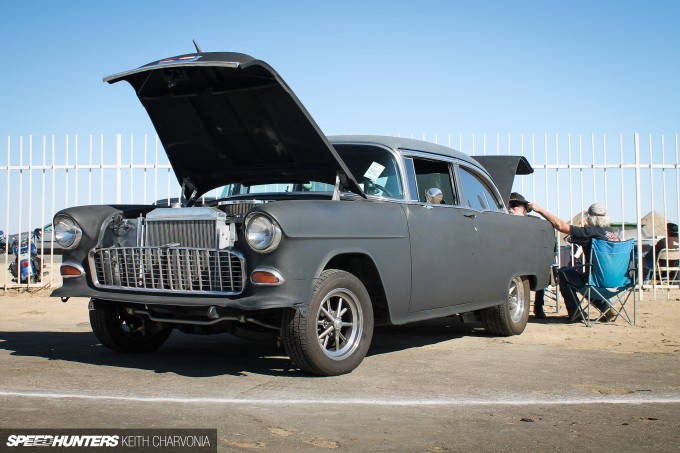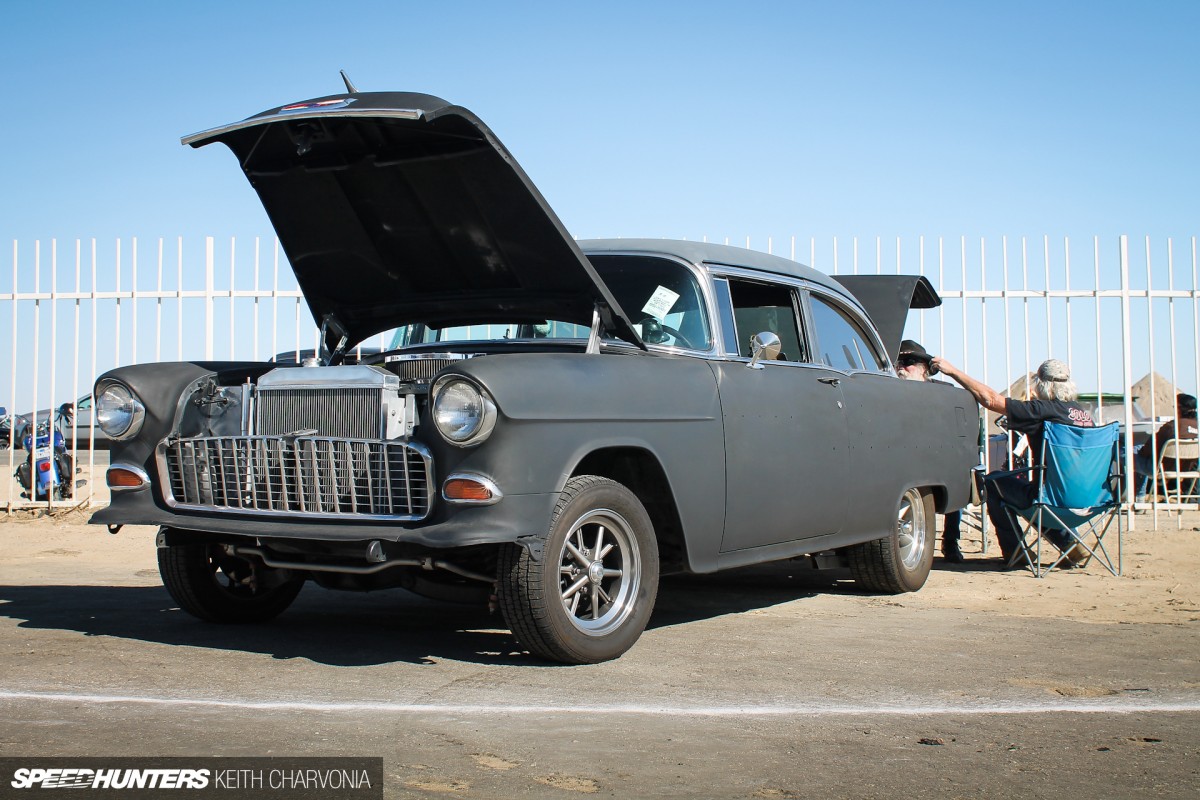 There were also a couple of gassers on hand. This tri-five Chevy is probably a more accurate translation than some of the wild nose-high gassers we see today.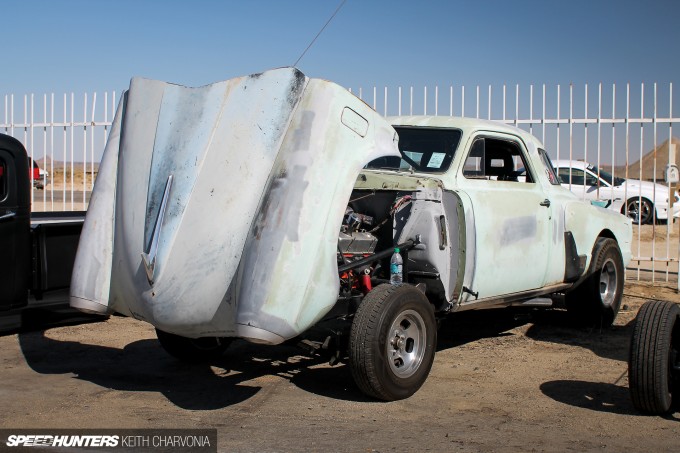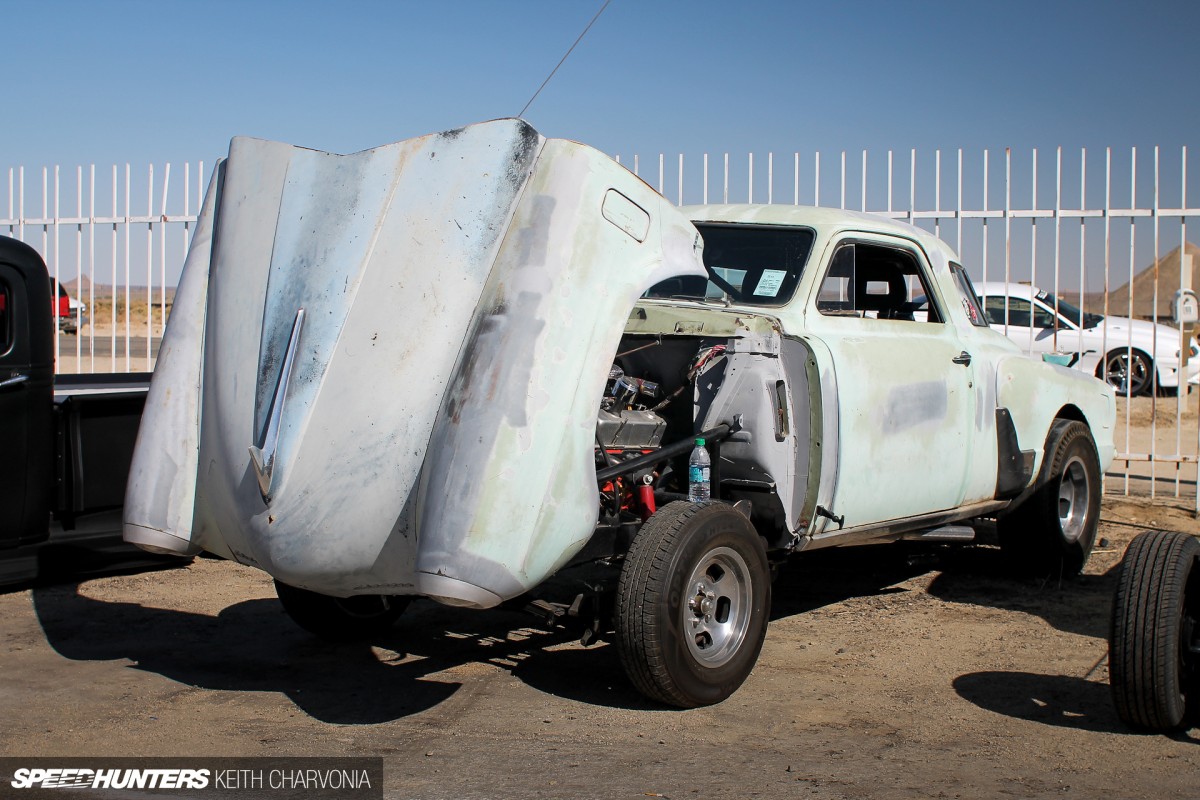 A front tilt hood and slotted mags make this Studebaker more of a track build than the Chevy.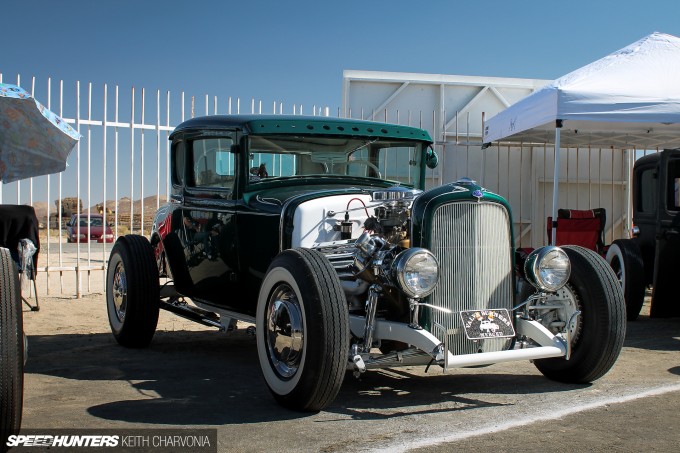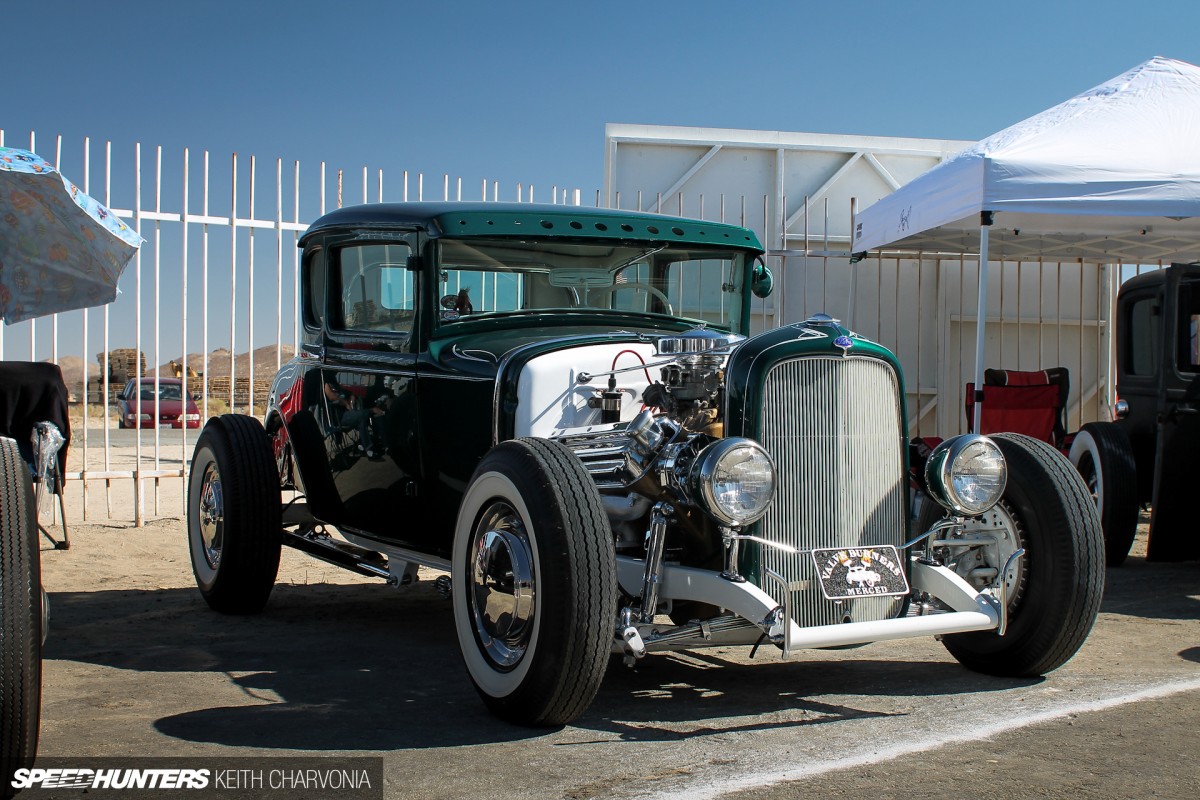 You can't have a show like this without hot rods. This five-window leaned towards a '60s show style with a painted frame, hub caps and whitewalls.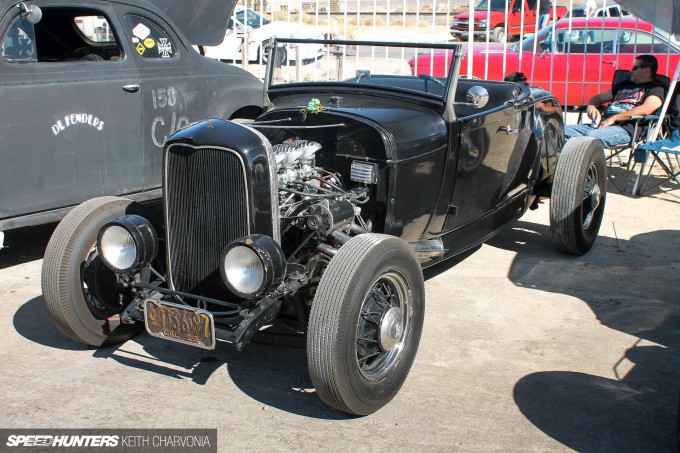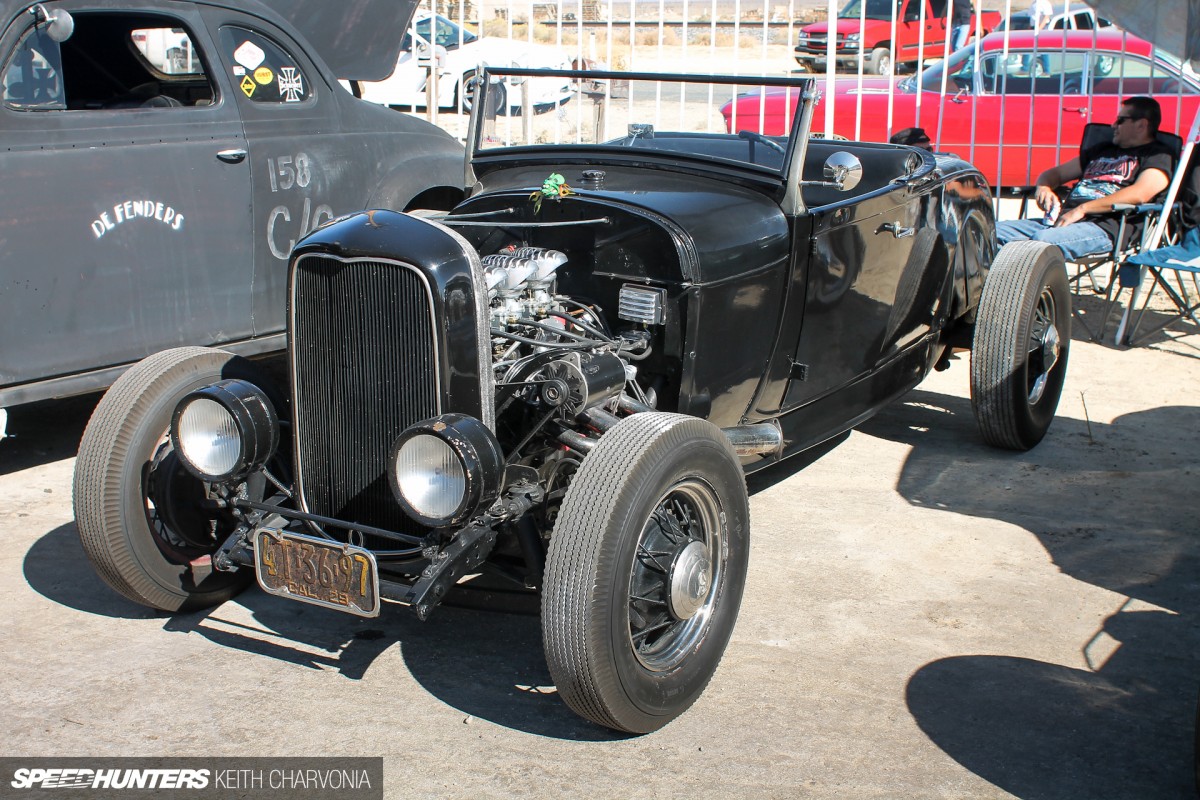 Compare that to the more spartan roadster parked next to it. Much more racy, right?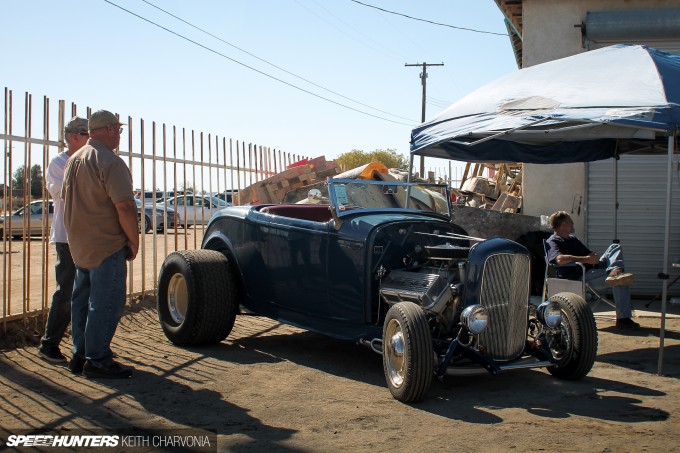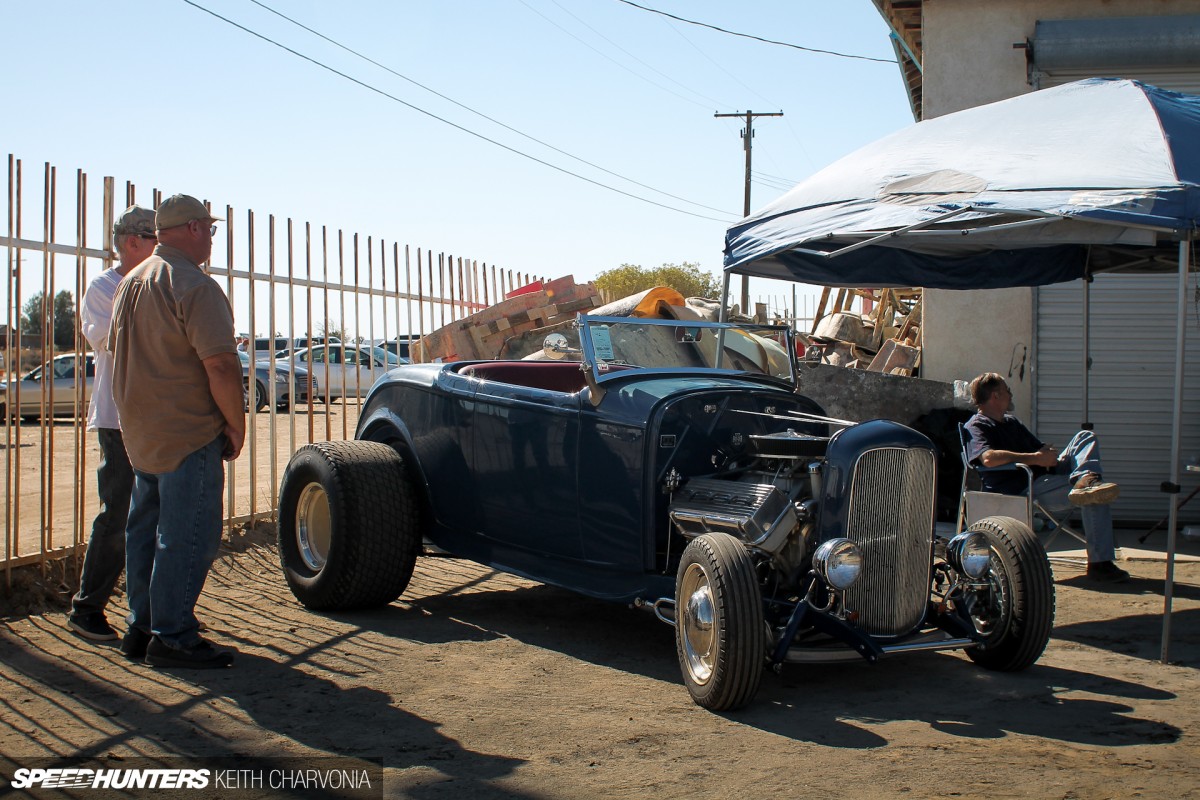 There were street machines…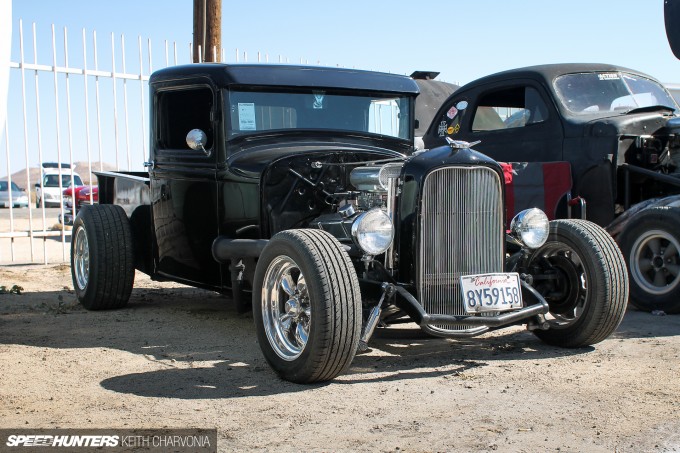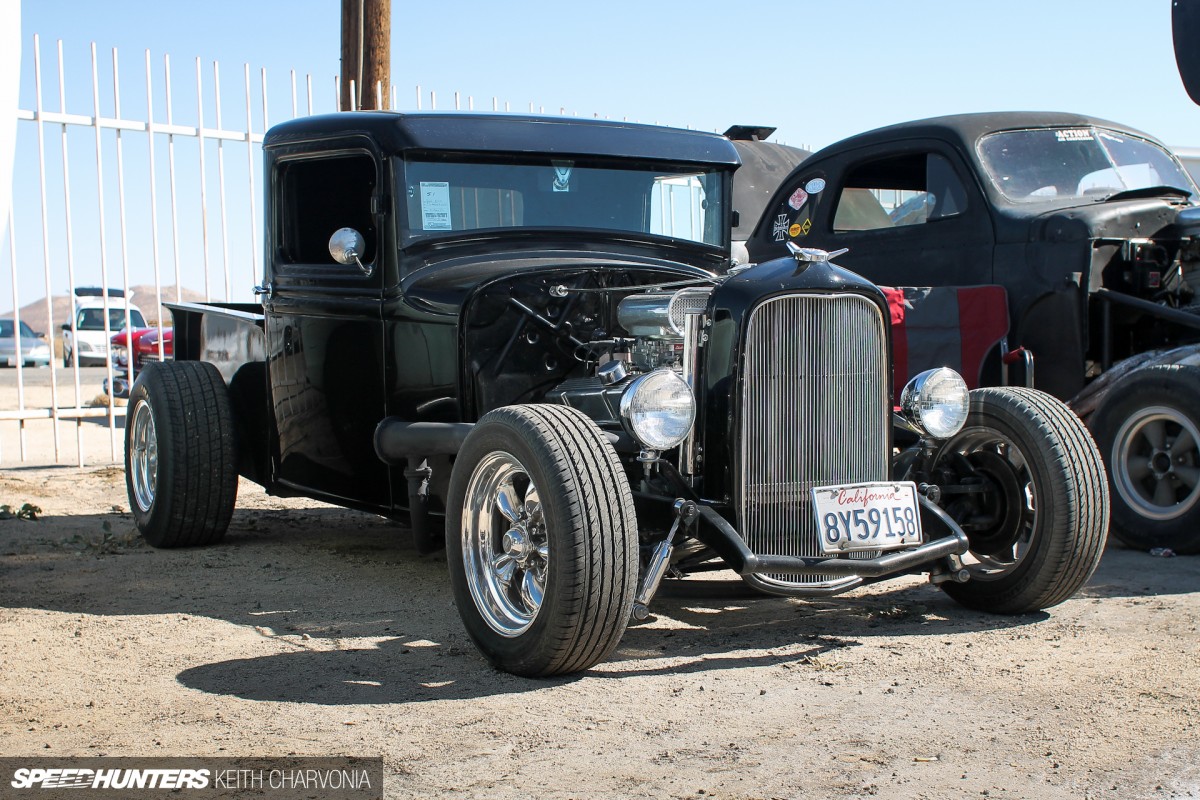 …hot rod pick ups…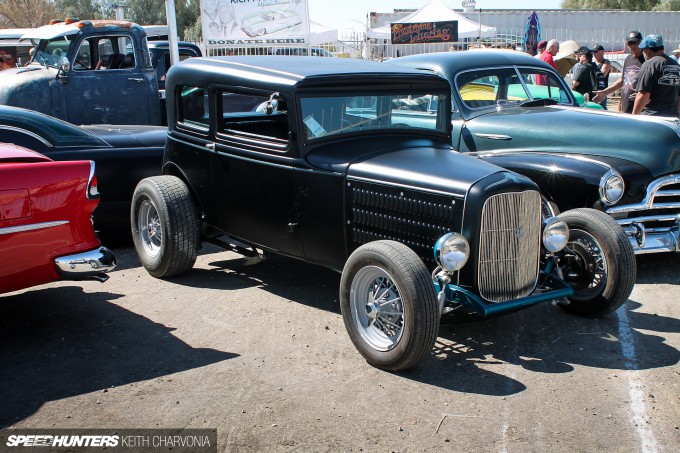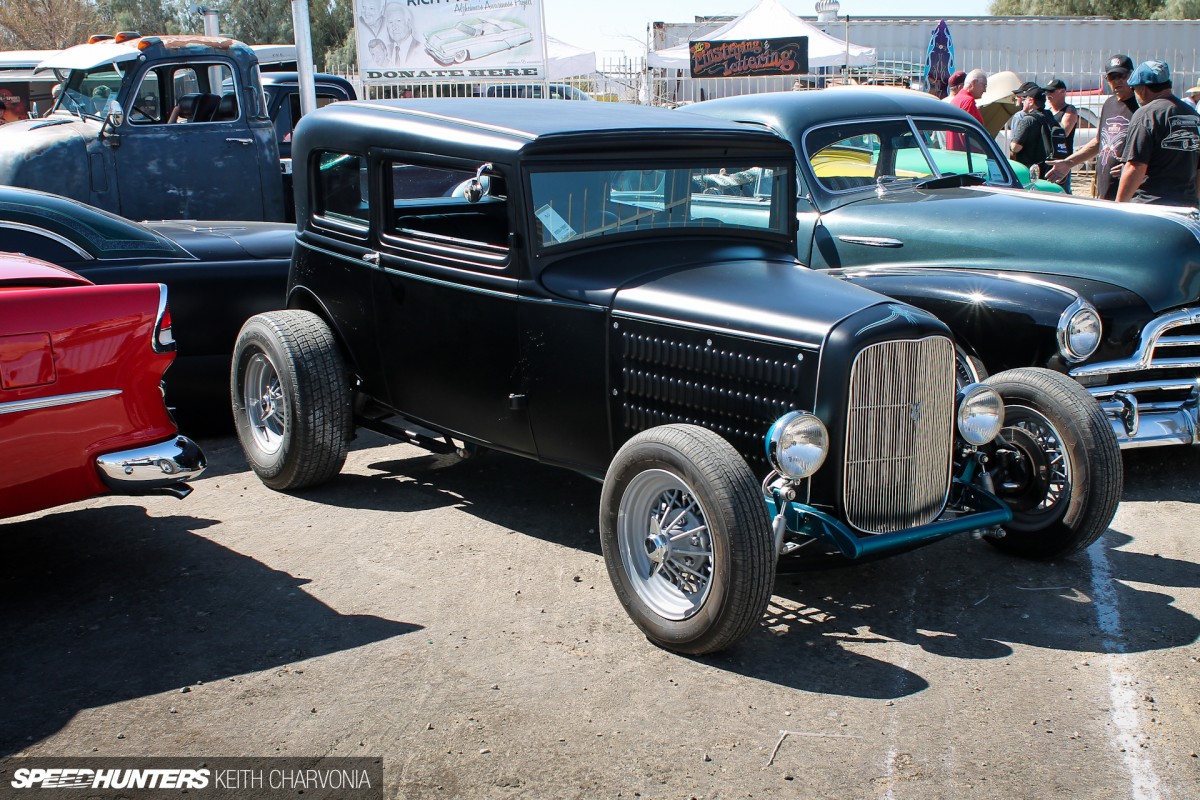 …and this killer little Vicky. From what I can tell it's sectioned and chopped, and I really dig the thick wire wheels and fenderless look.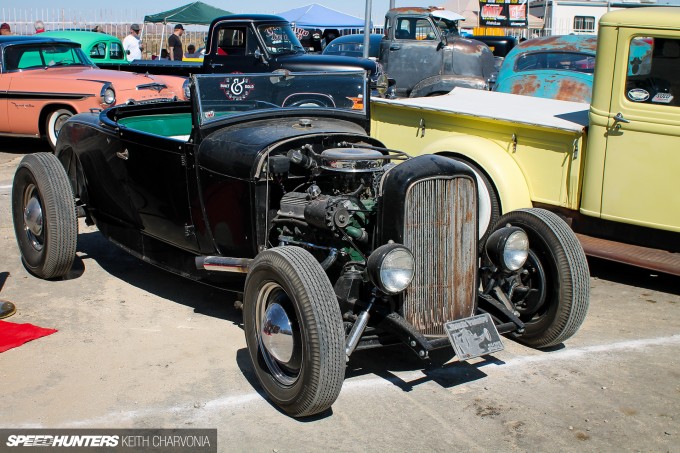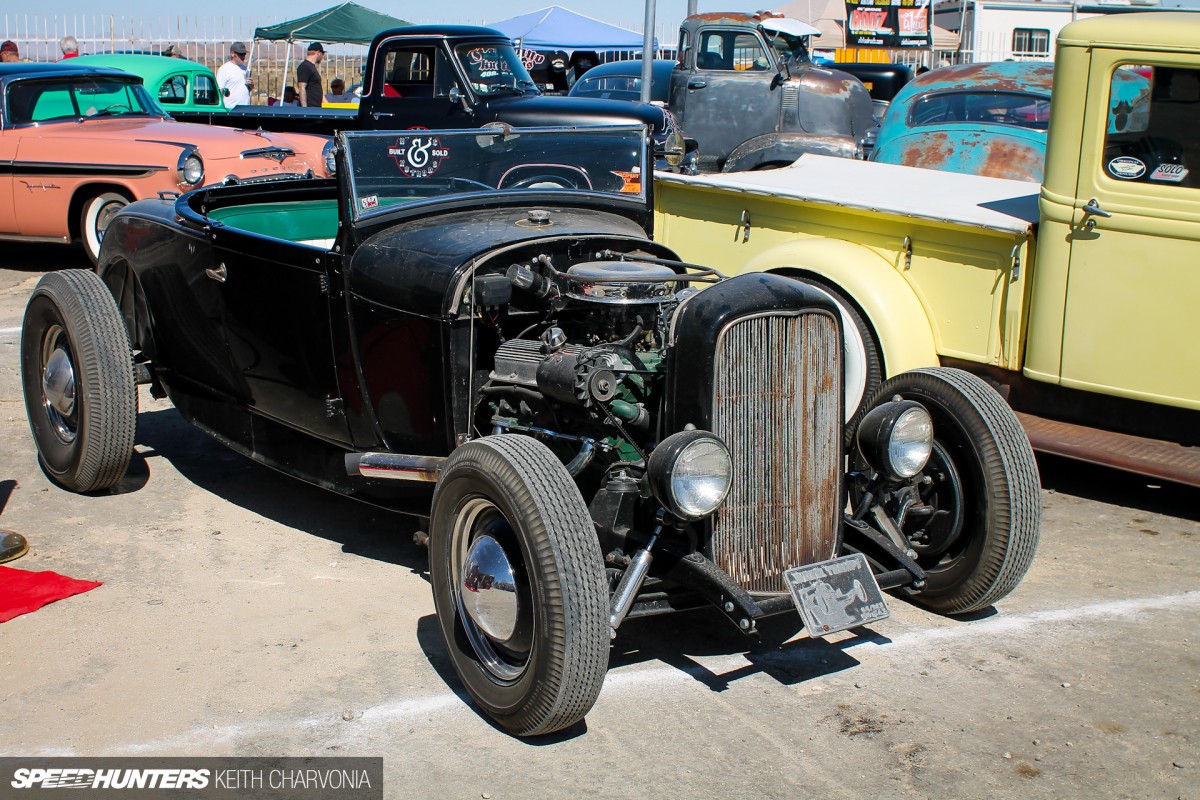 To round out the hot rods, we have this traditional Model A roadster on bias plys.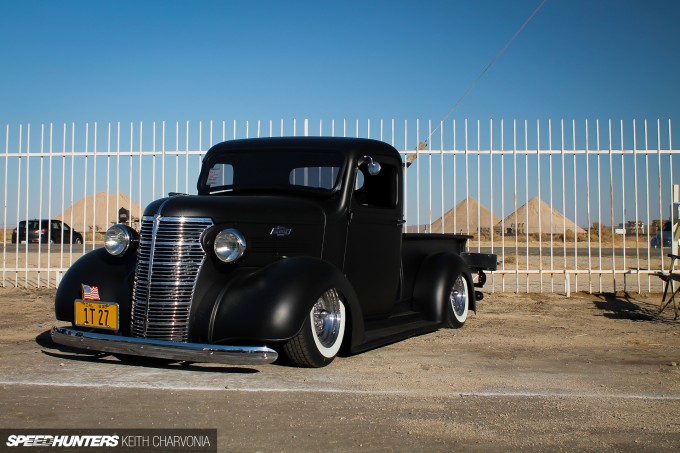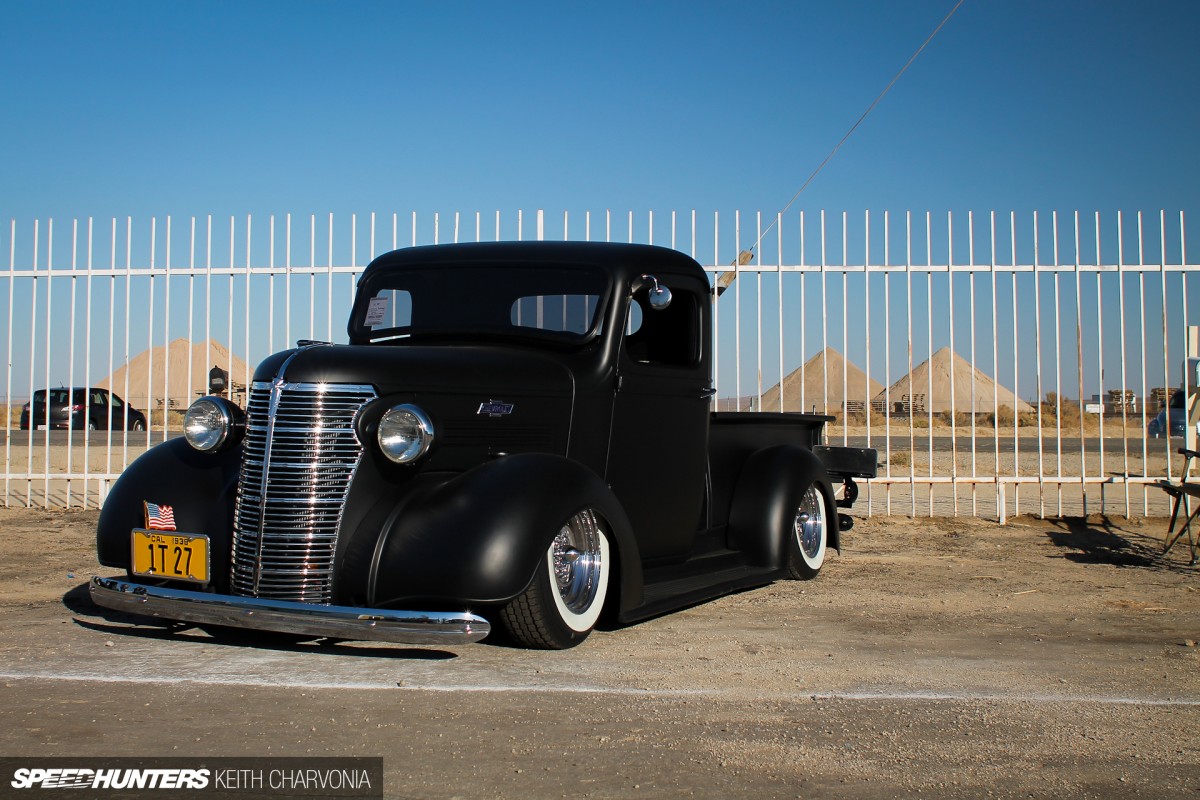 This bagged Chevy truck was my favorite of the show, mostly because it appeared to have an independent rear suspension based on the camber of the rear wheels.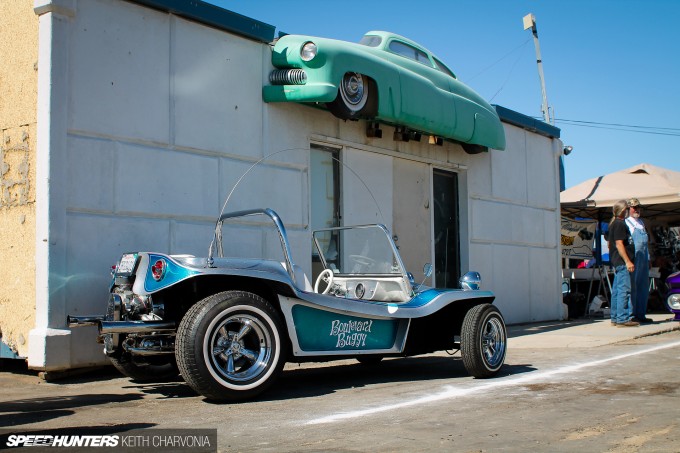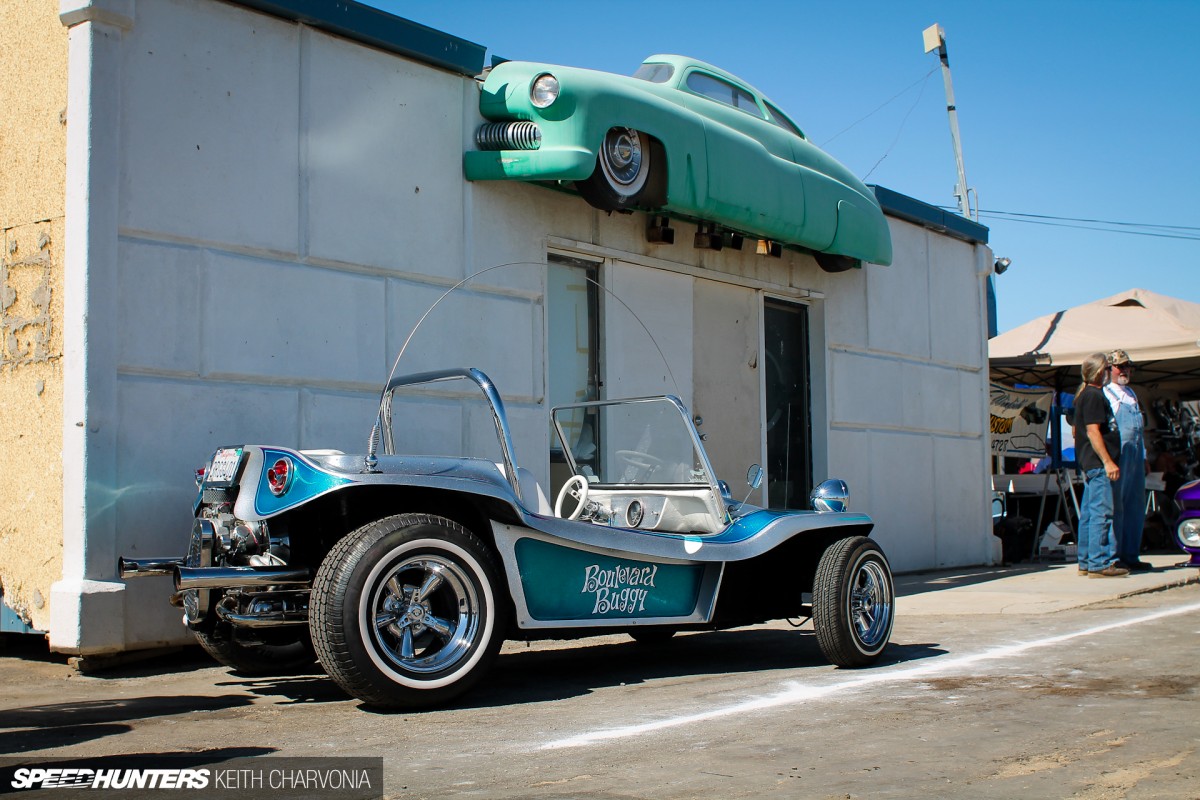 How fun would this be to blast around in? I'm hesitant to call it a Manx because there were so many versions of this concept.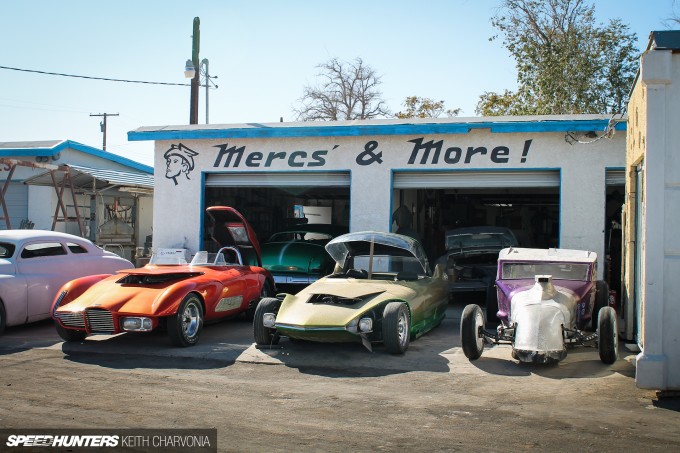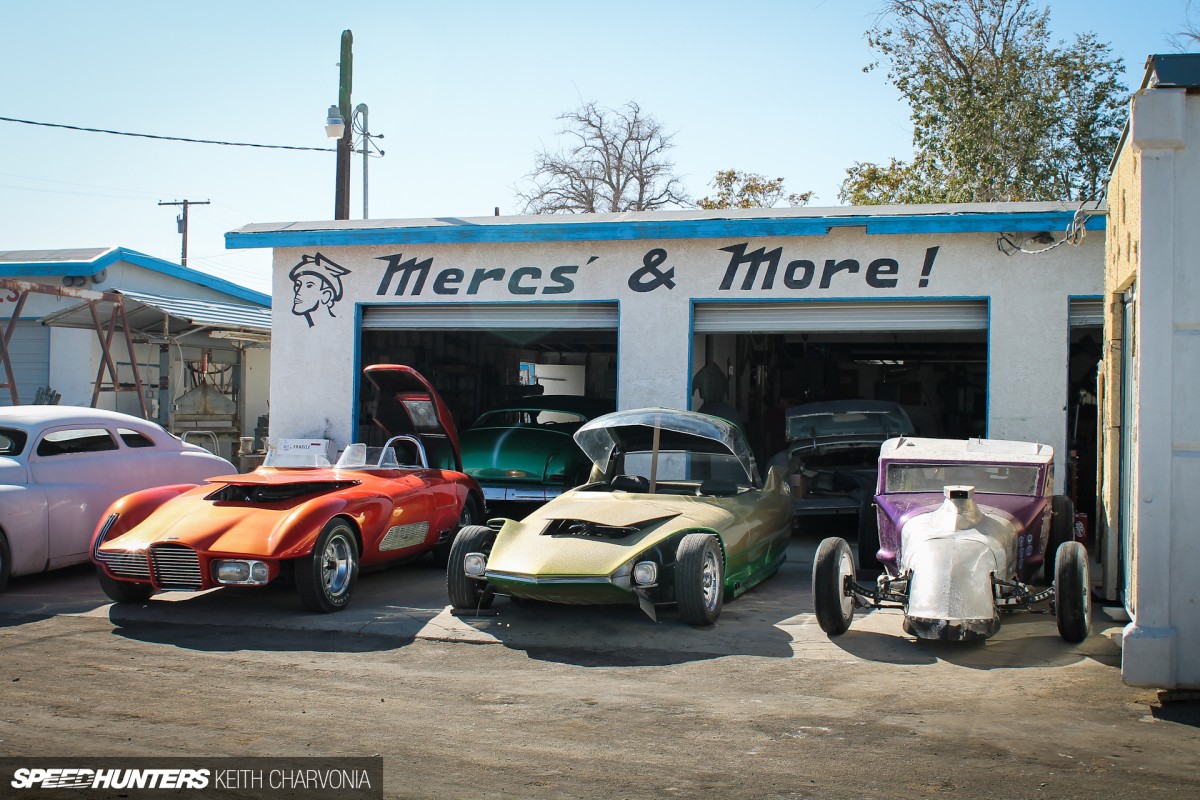 Gene Winfield has managed to hang on to a couple of the old TV cars he built. The car in the middle is called Reactor and was seen on Bewitched, Star Trek and Batman.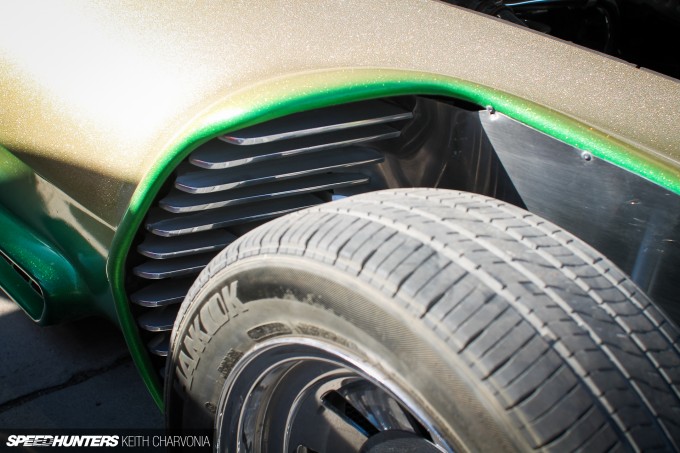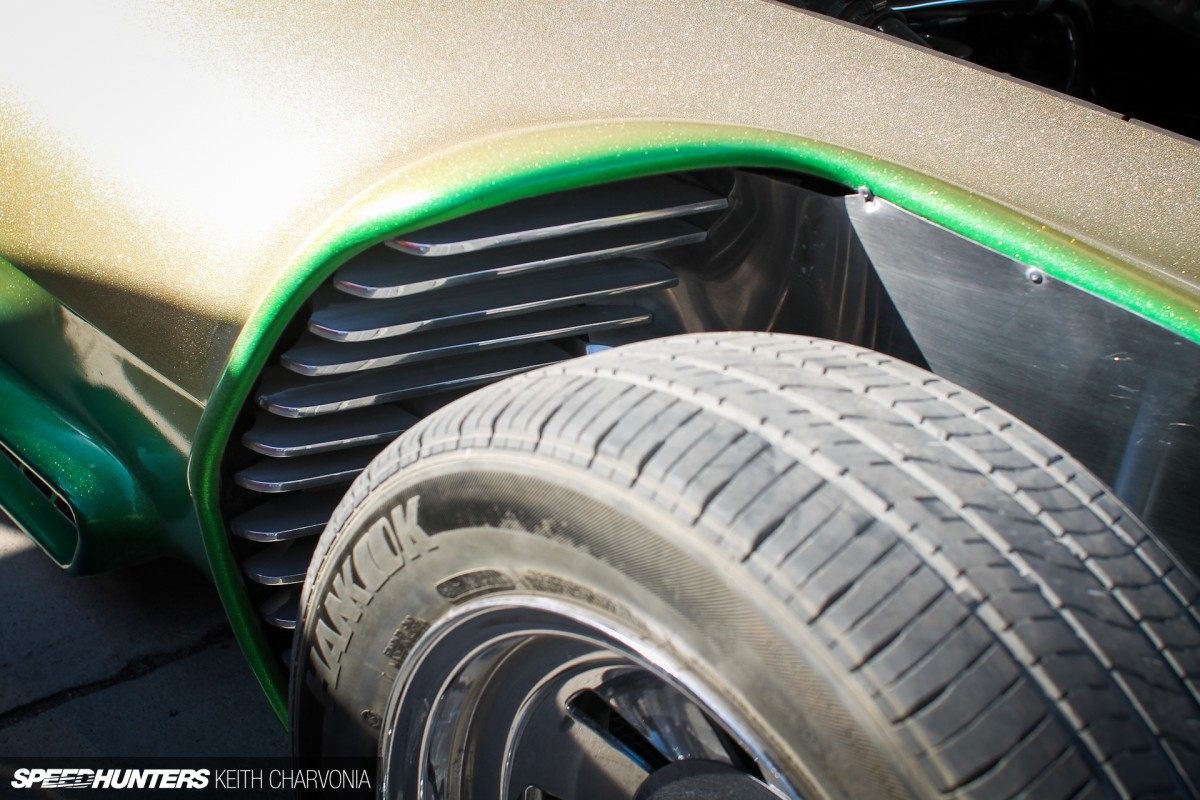 Even though it was built as a movie prop it still has some really cool details.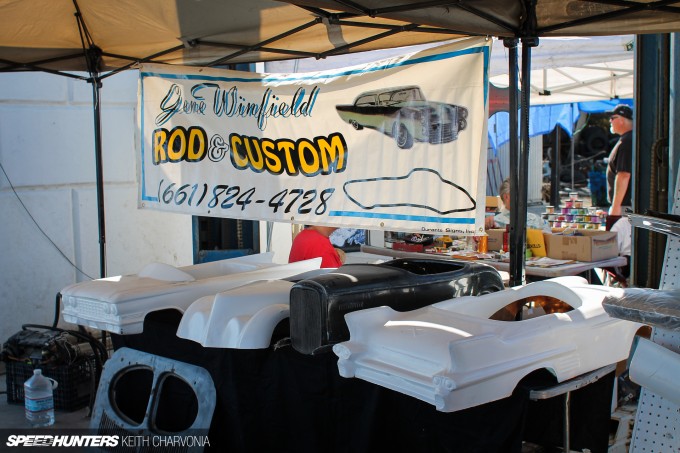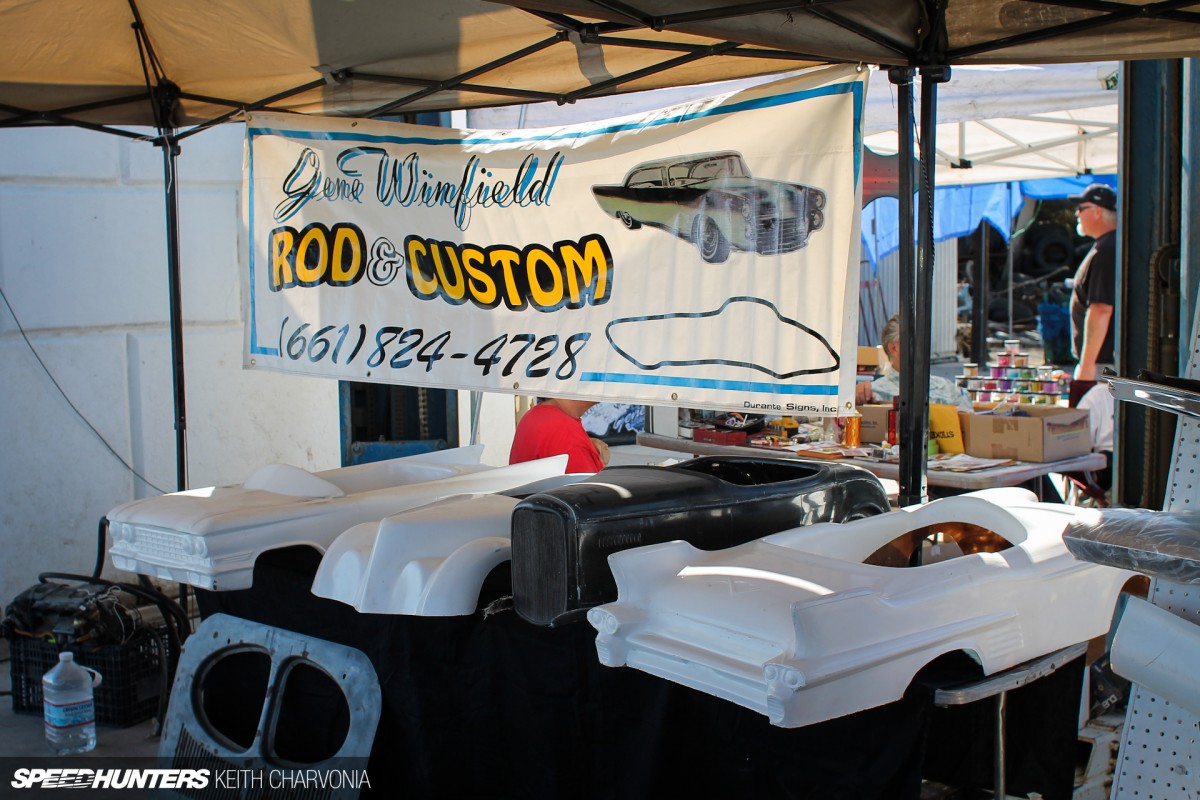 There was also a vendor section where you could pick up car parts, pedal-cars for kids or posters.
Living legends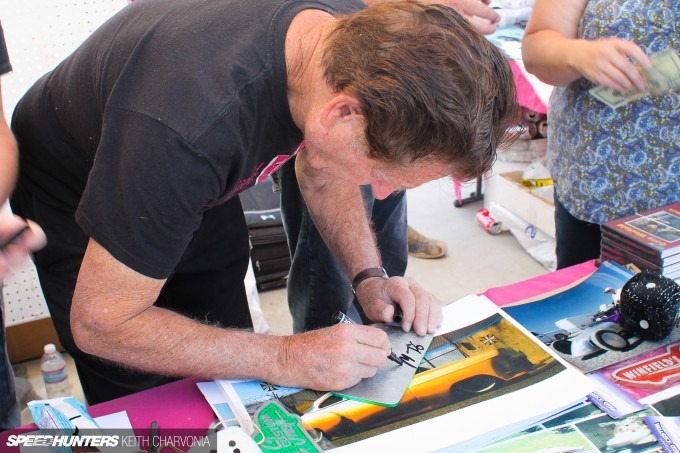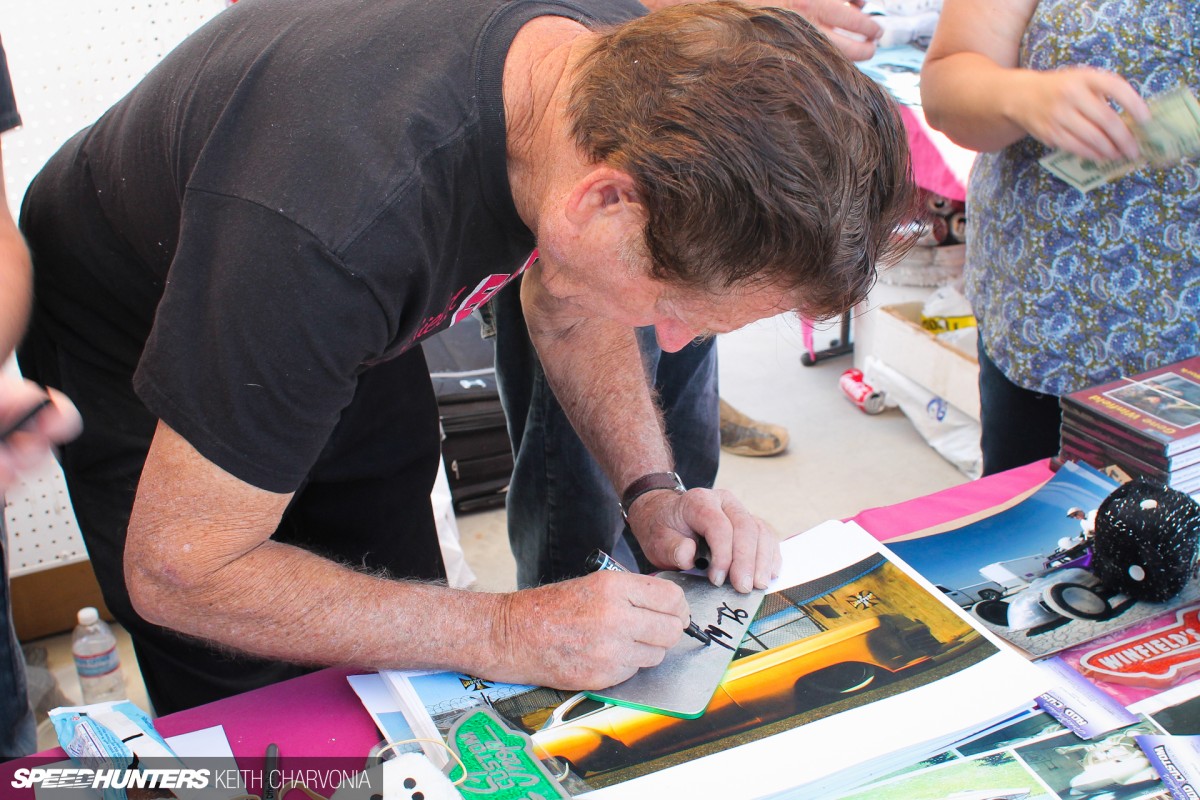 Gene was gladly signing anything you asked him to.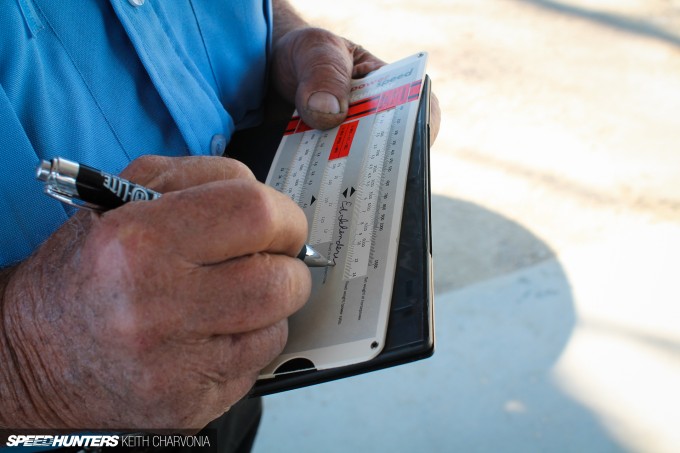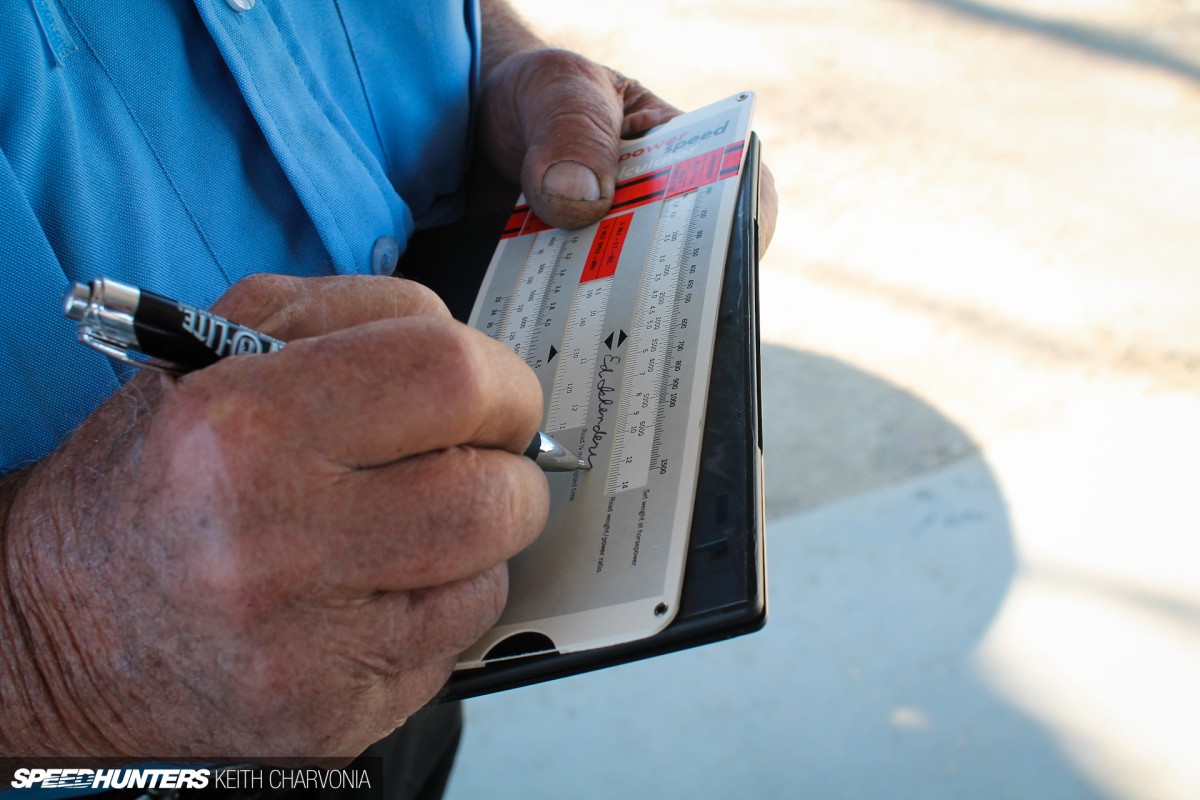 I got to meet Ed Iskenderian of Isky Racing Cams this time. He gave me this cool little Power-Speed Calculator and even autographed it.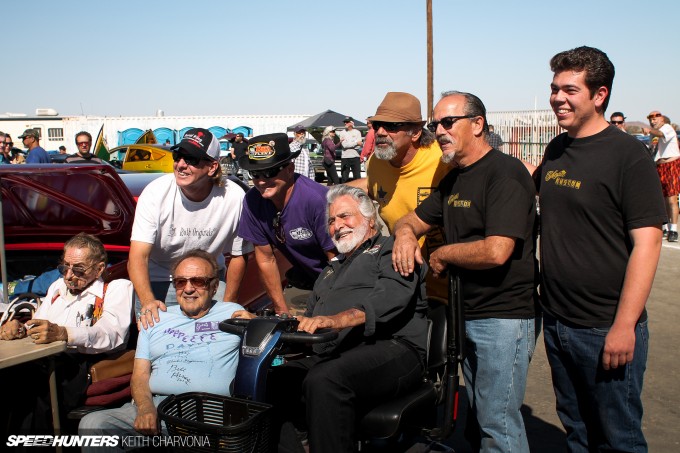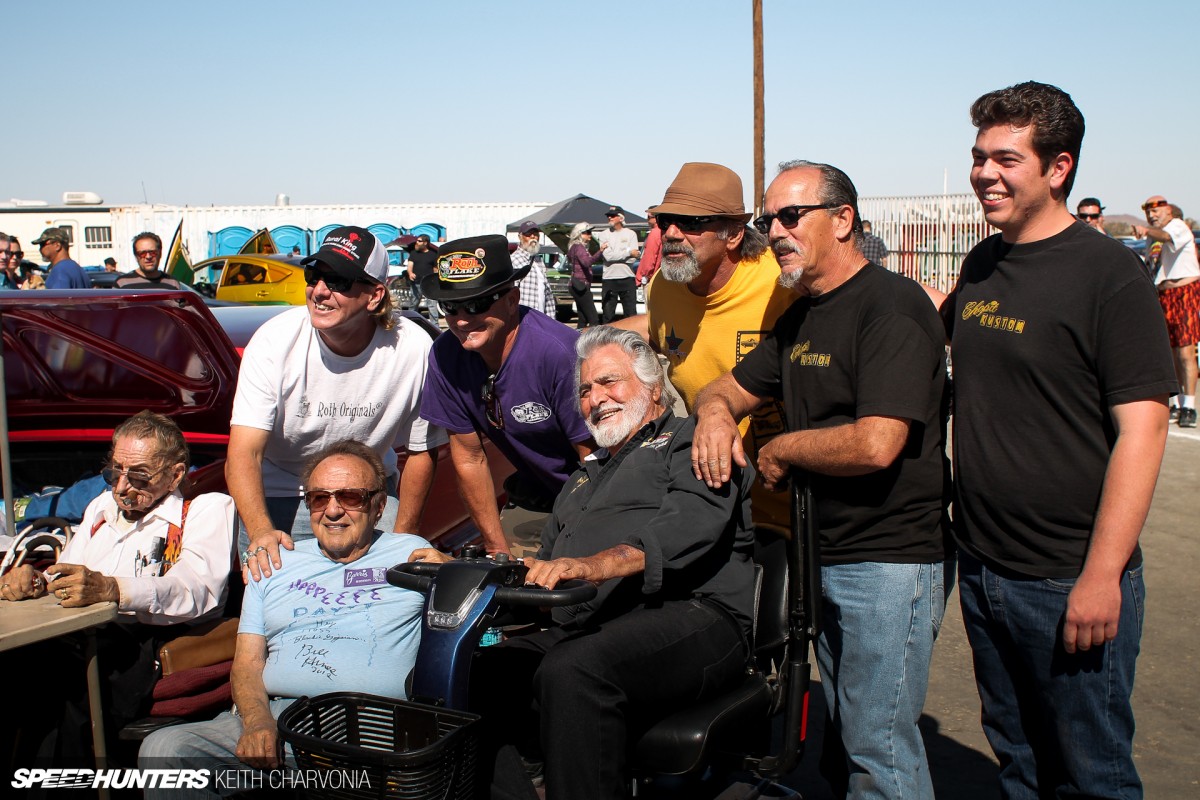 Like I said, you're guaranteed to meet some legends at this show. Left to right, here's Bill Hines, George Barris, Blackie Gejeian and the Chopit guys.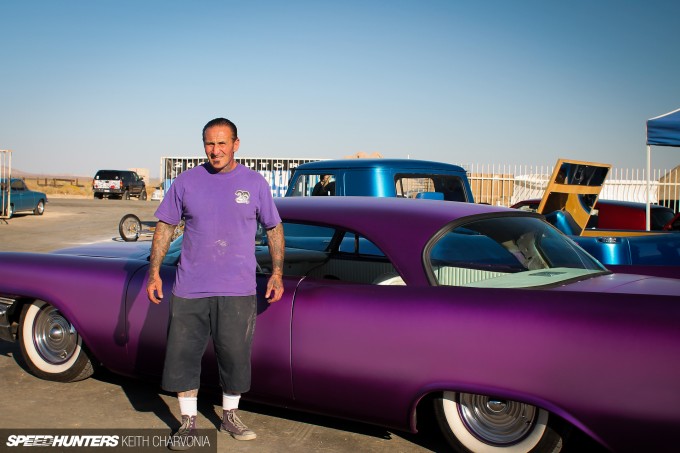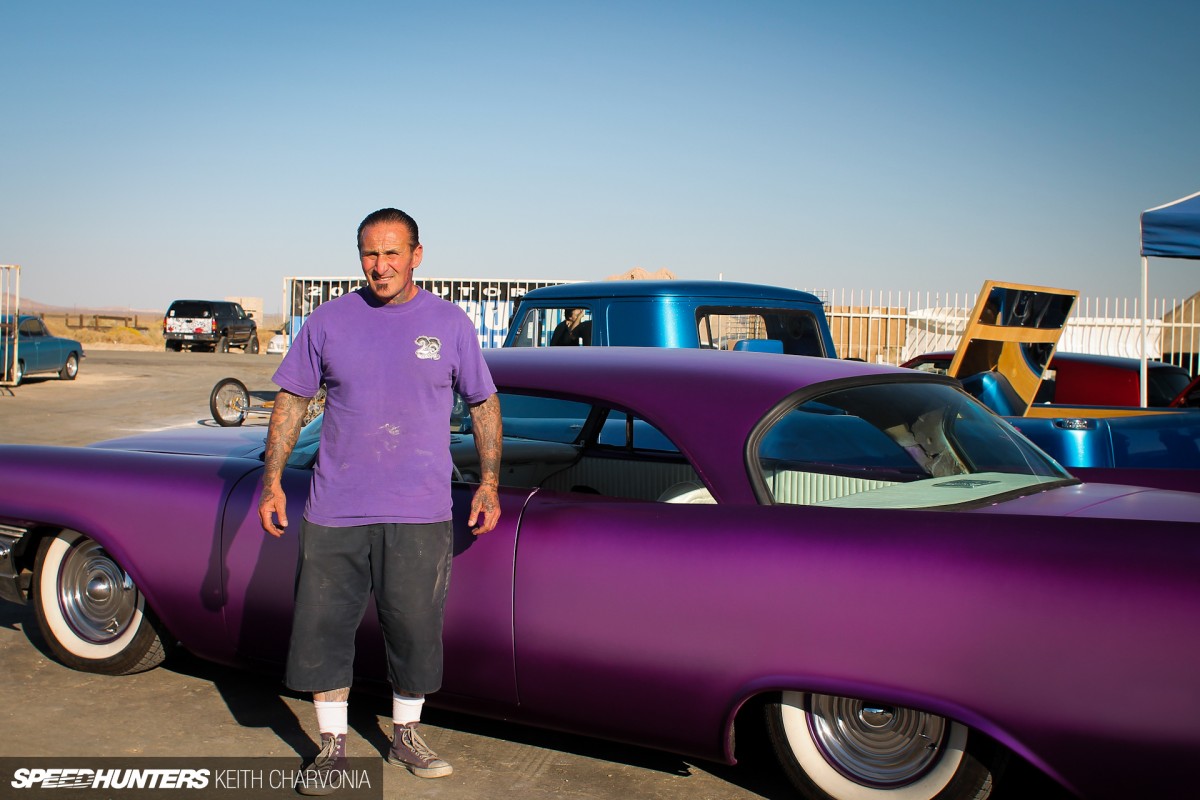 I also ran into Alex Gambino of Gambino Kustoms. This guy is a force to be reckoned with in the kustom world and he drives his car everywhere. I hope we can get up to his shop soon for a feature.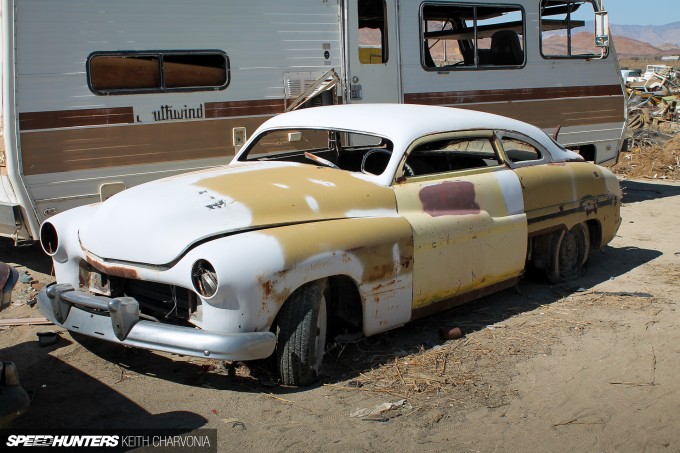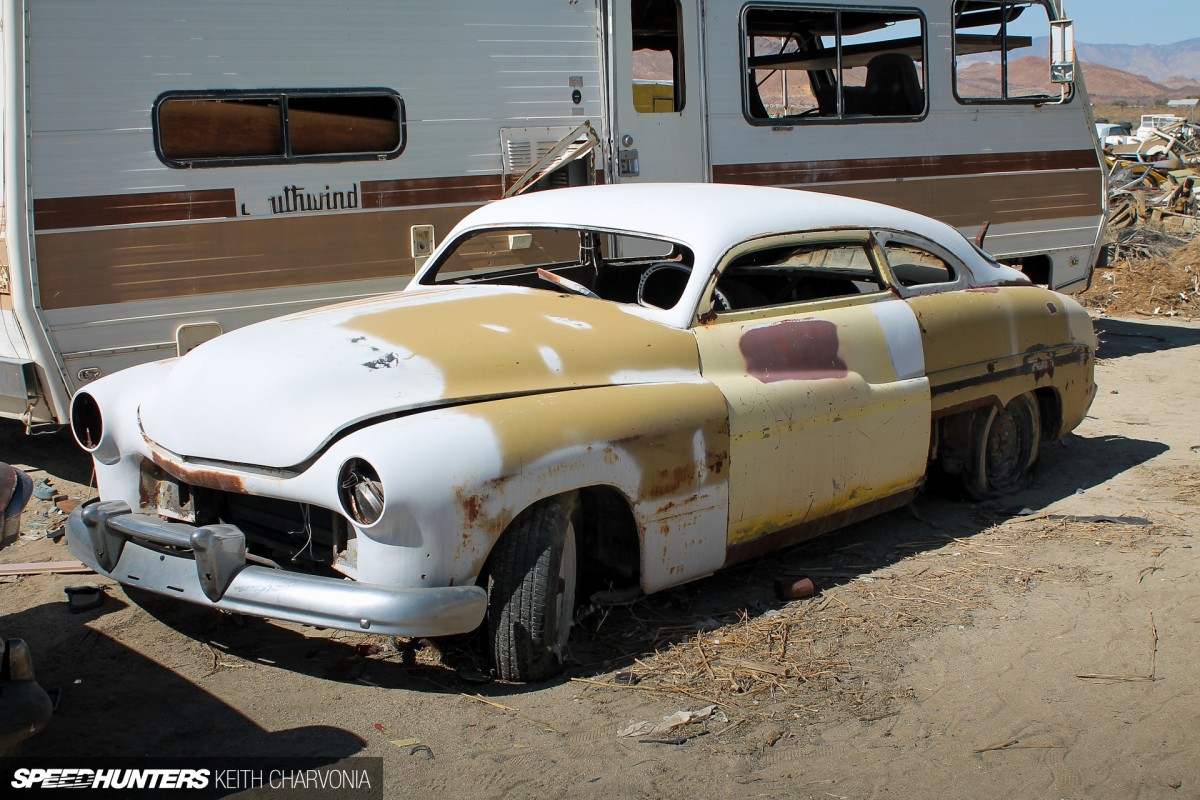 Part of the fun of visiting Winfield's shop is walking the property, because he has hundreds of cars in various forms. This Merc could make a great start on a kustom for someone.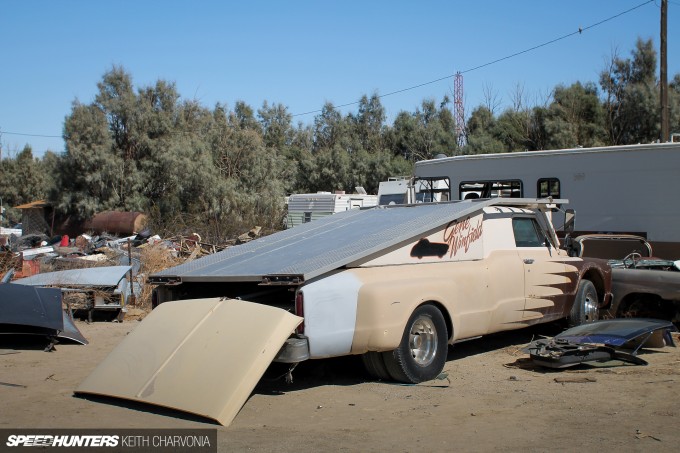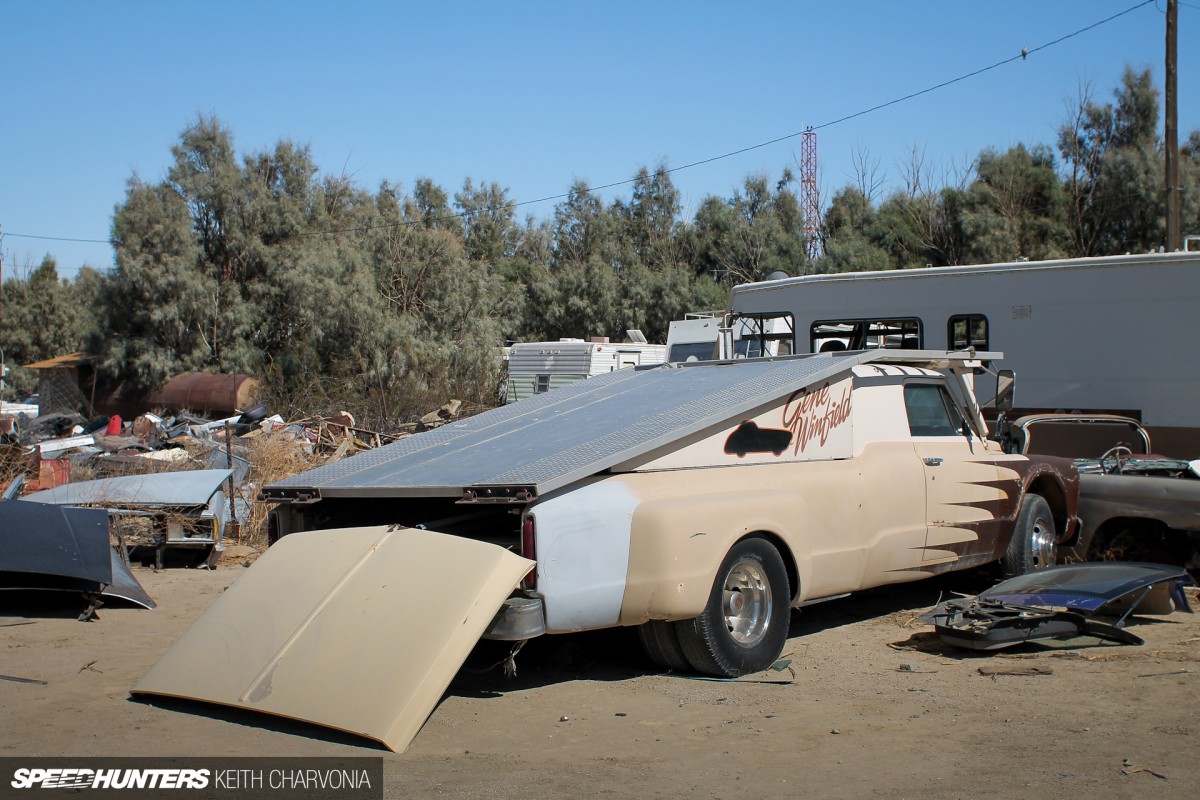 I've been eyeballing this '68-72 Chevy ramp-truck conversion since the first time I visited. I'll have to keep beating Gene up on the price.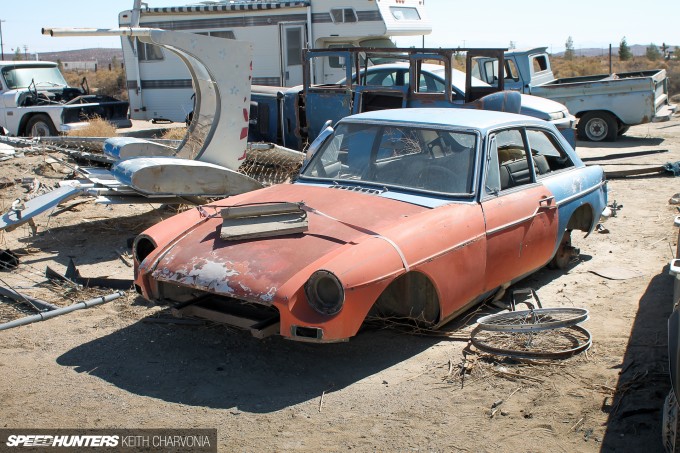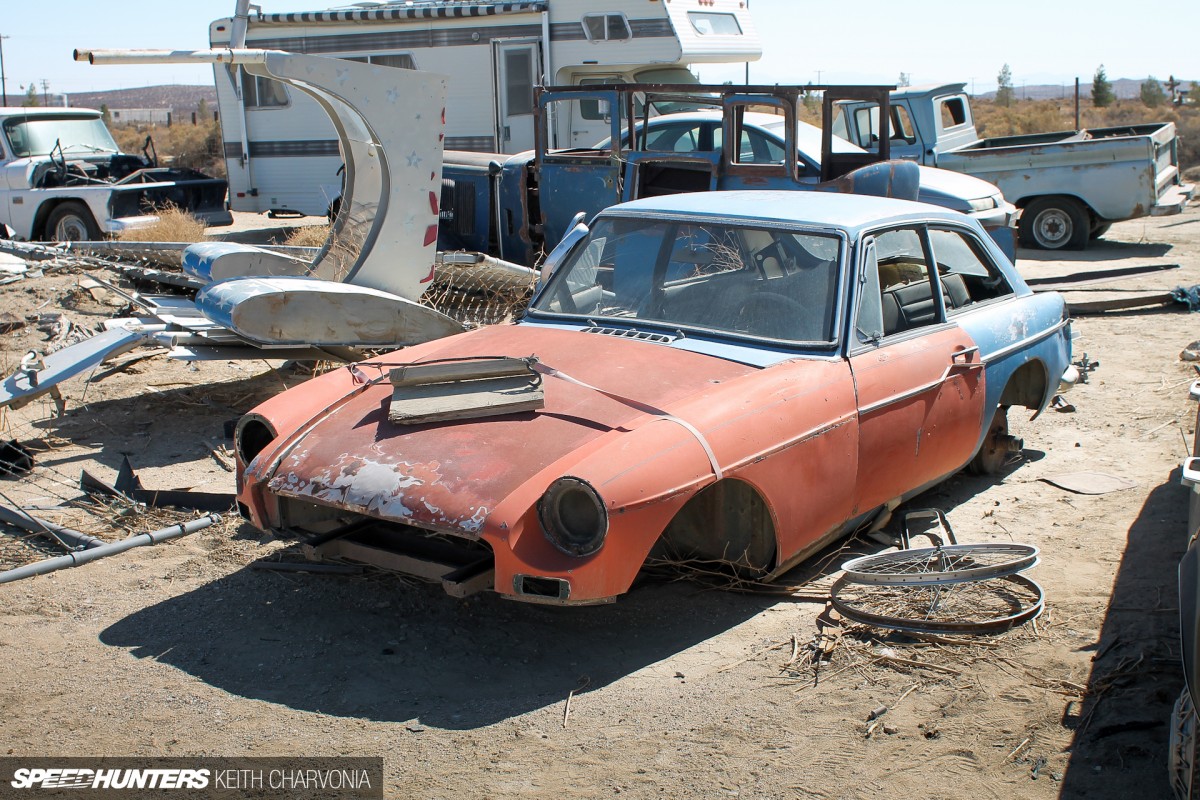 Other oddities waited to be found, like this MGB coupe.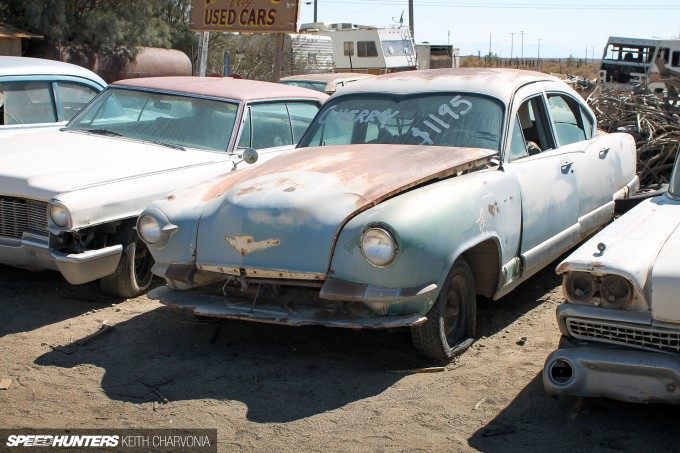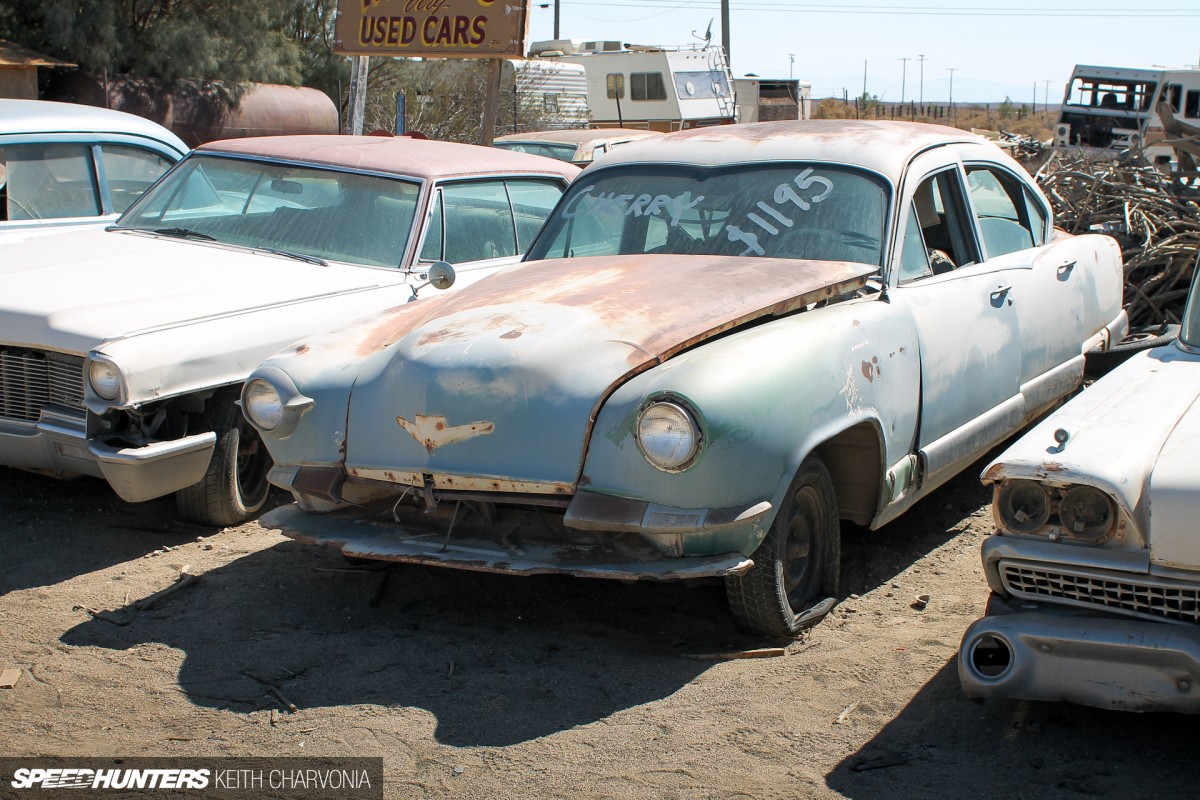 There were two Kaisers out back. Coincidence?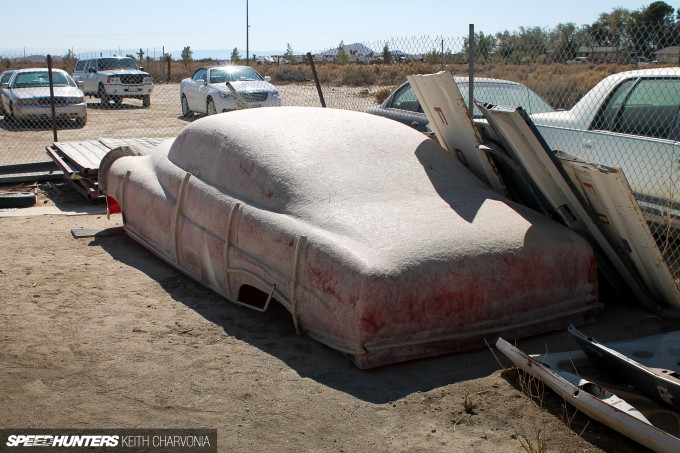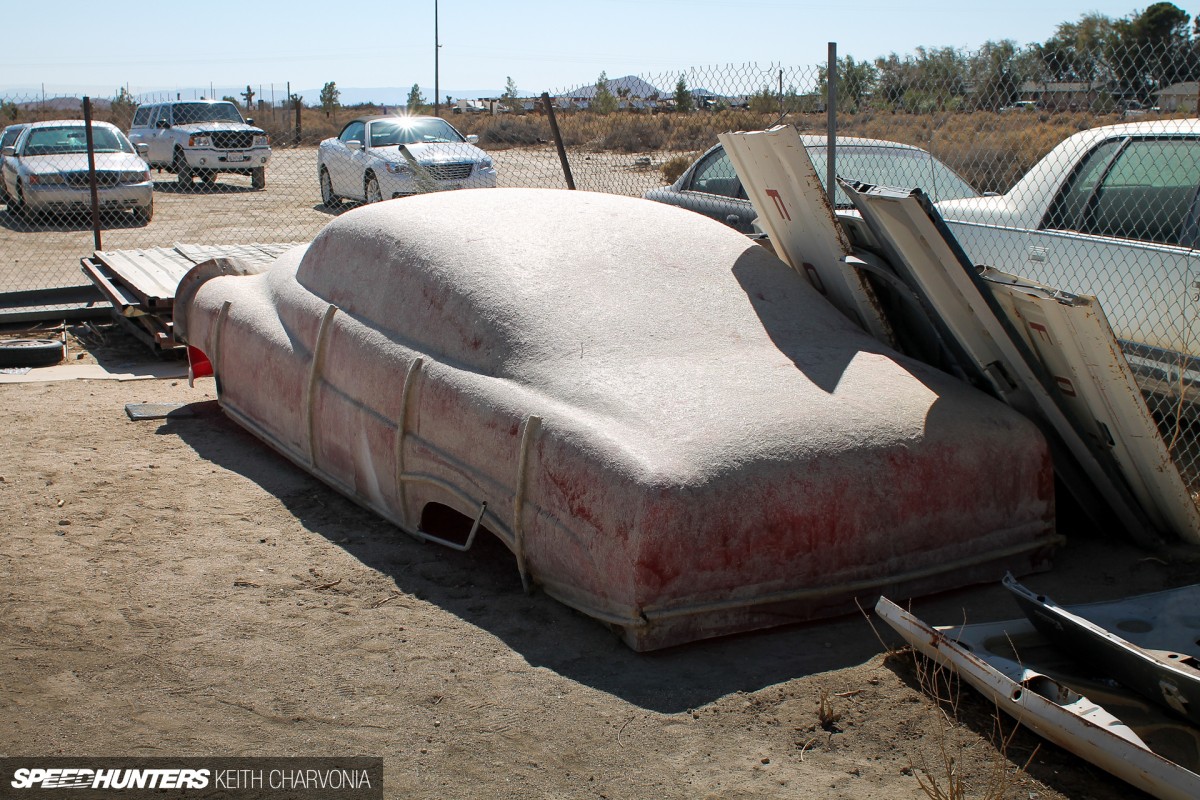 For a while Gene's guys were cranking out fiberglass chopped Mercury bodies. I don't think there's much of a market these days though.
A surprise tour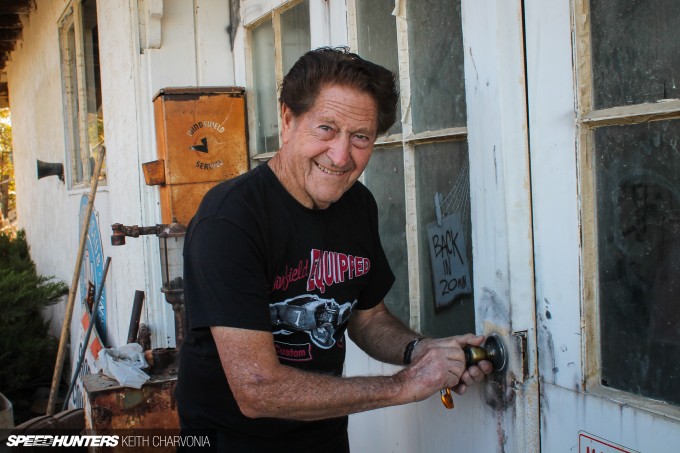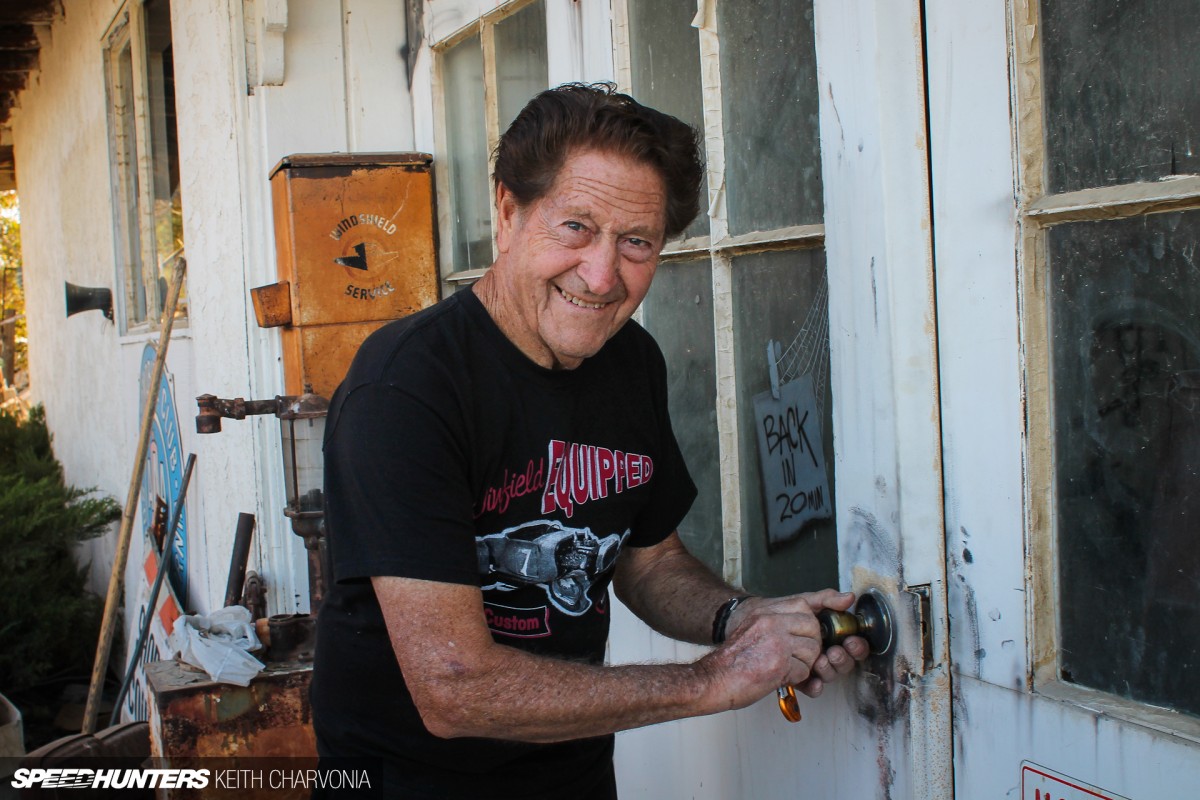 Toward the end of the day Gene surprised us by offering a tour of the new museum he was working on. You can imagine how quickly the line formed!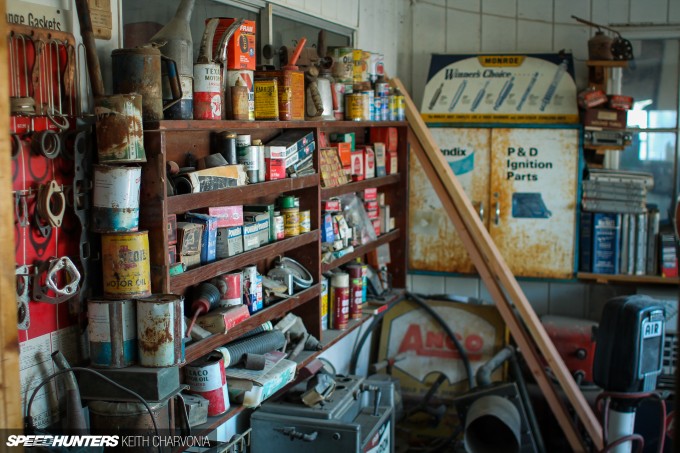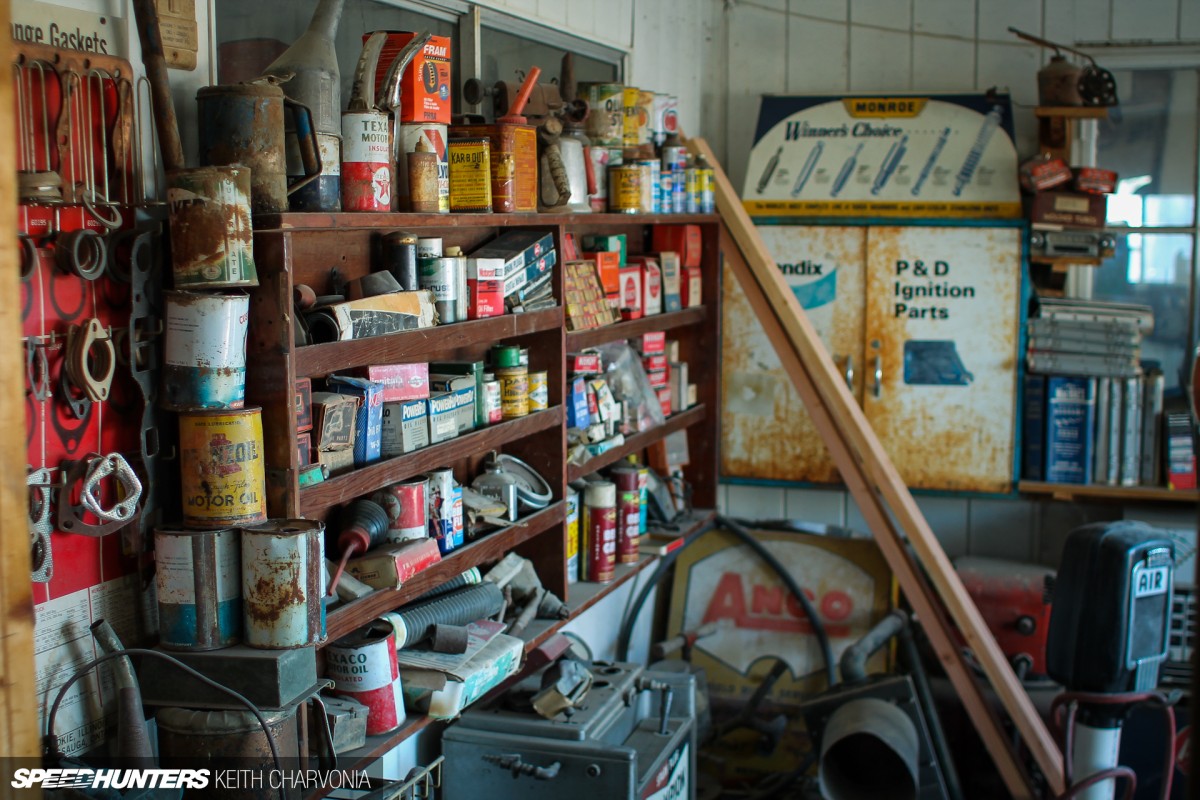 He has plenty of great old junk. This is the entrance, which is filled with some of it.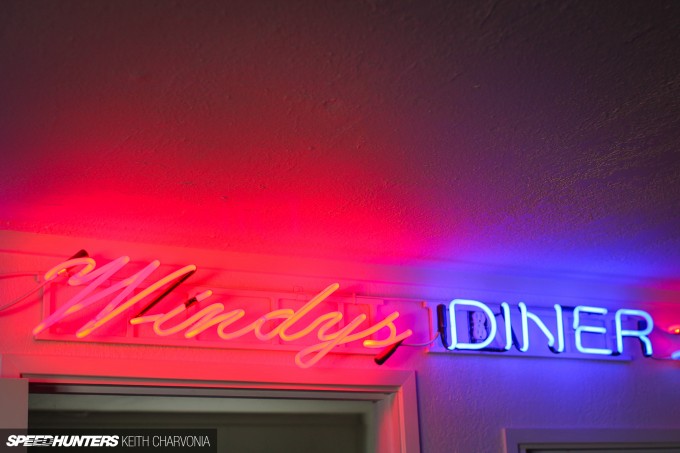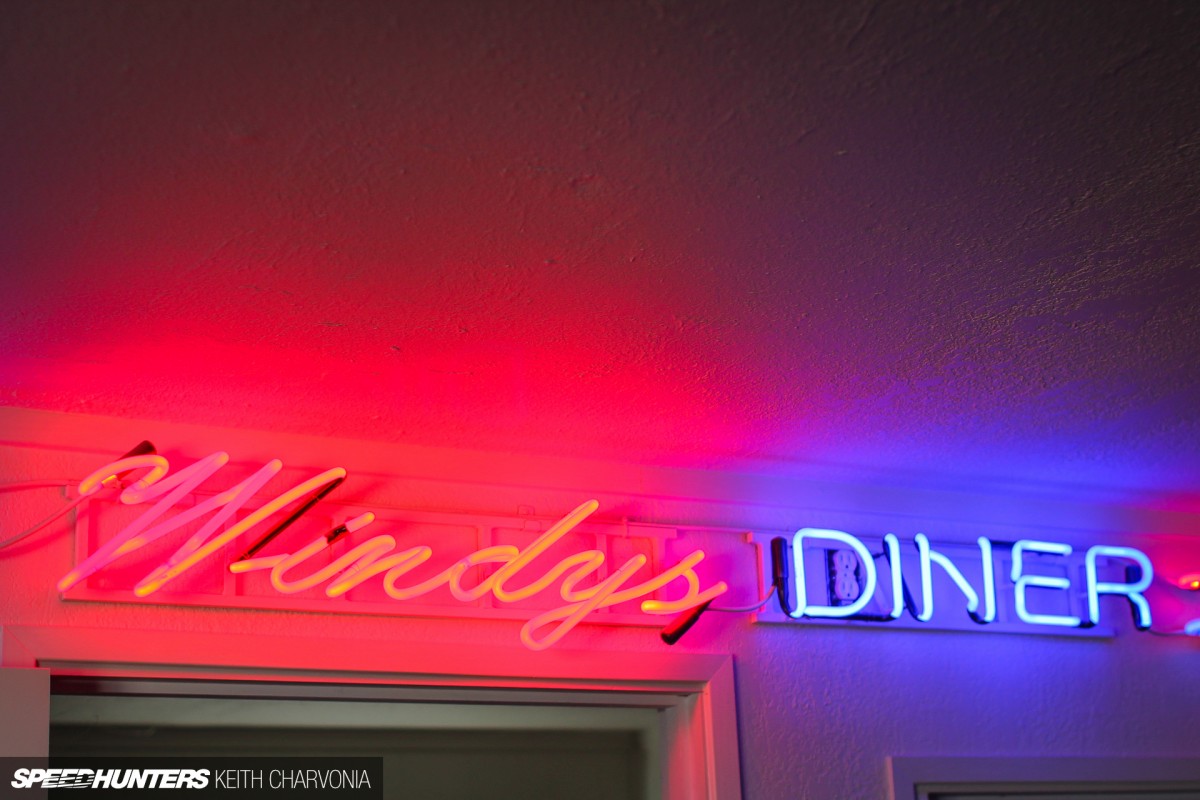 From the entrance you immediately step into Windy's Diner…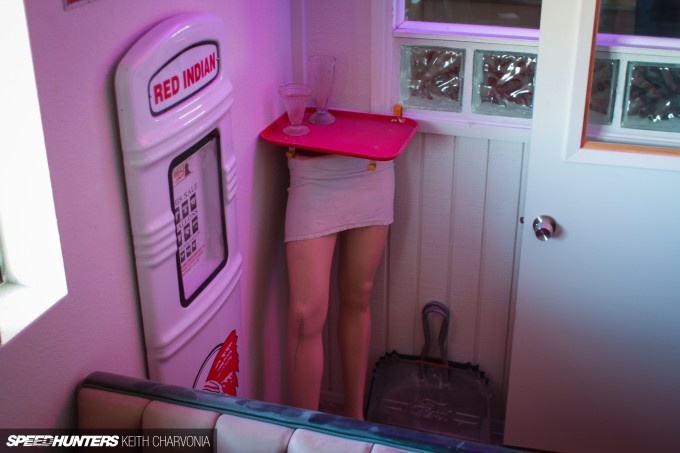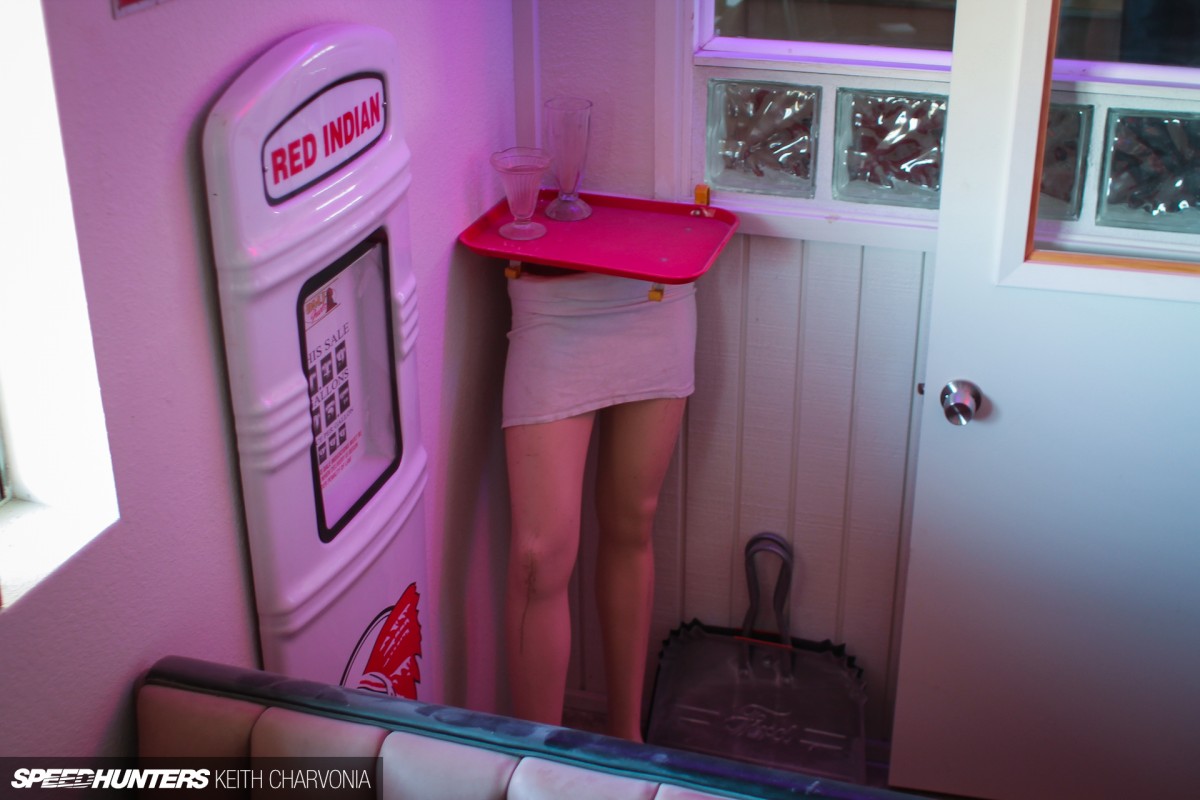 …where Gene has placed era-correct kitsch.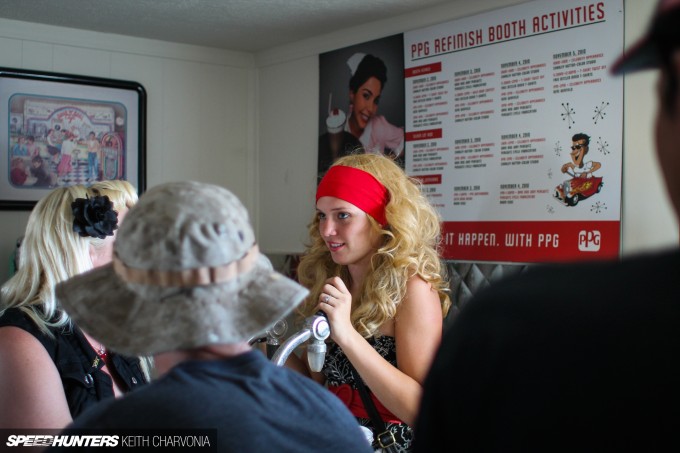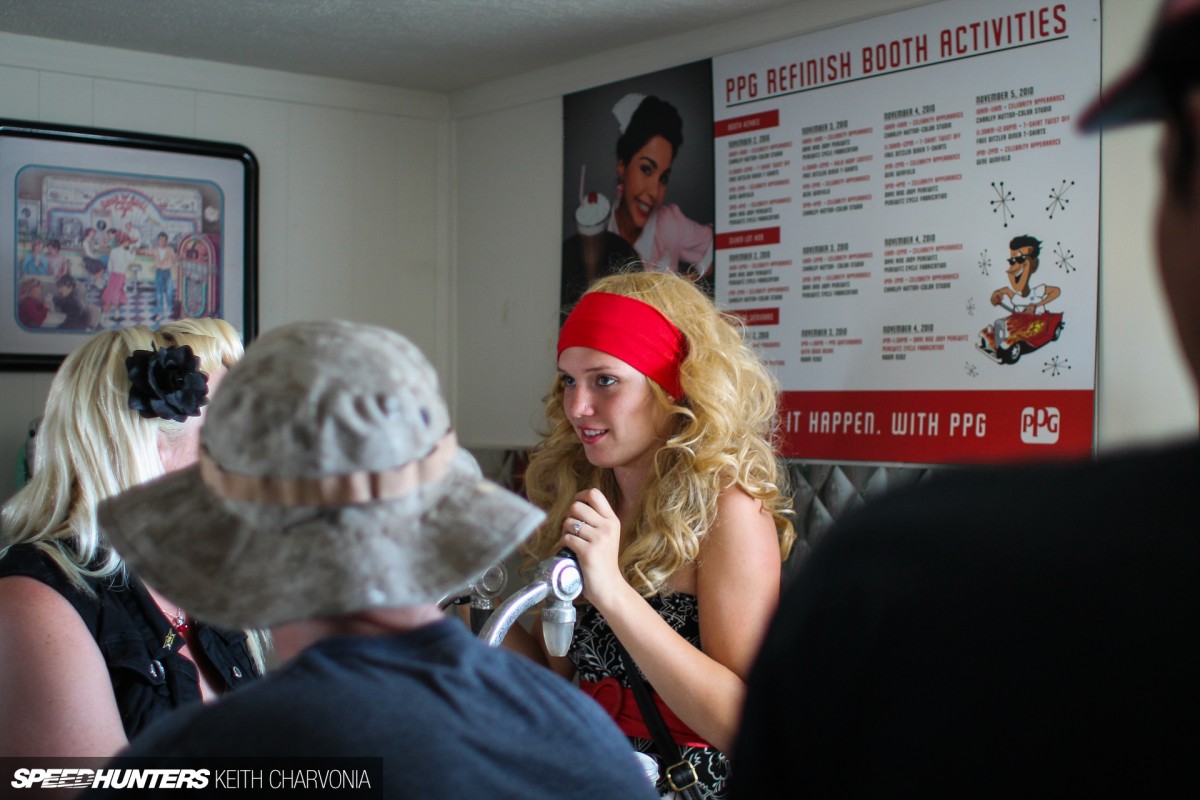 Inside, the diner is decorated like an old soda and burger joint.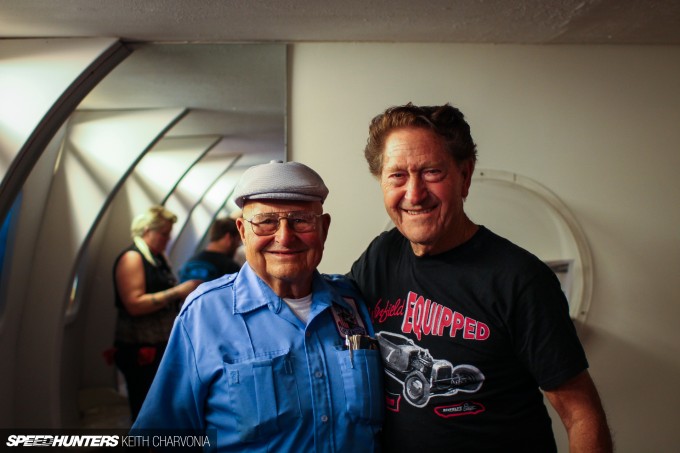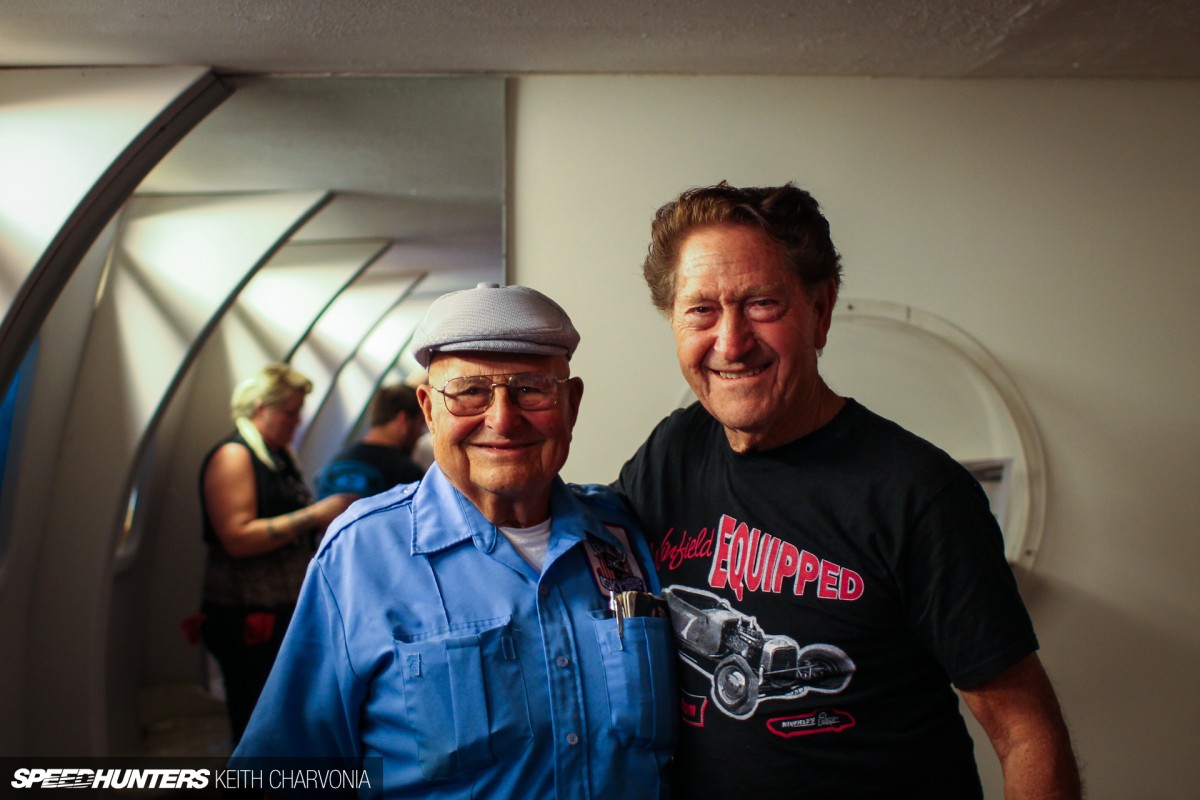 One of the rooms is Star Trek themed. I was fortunate to get this shot of Ed Iskenderian and Gene while he was showing off his old Star Trek movie props.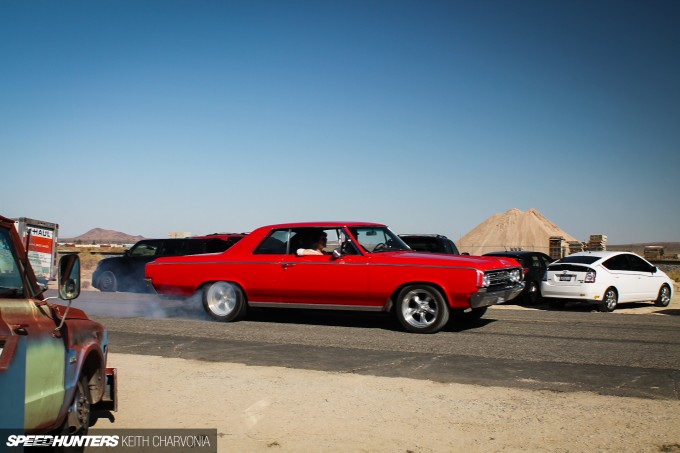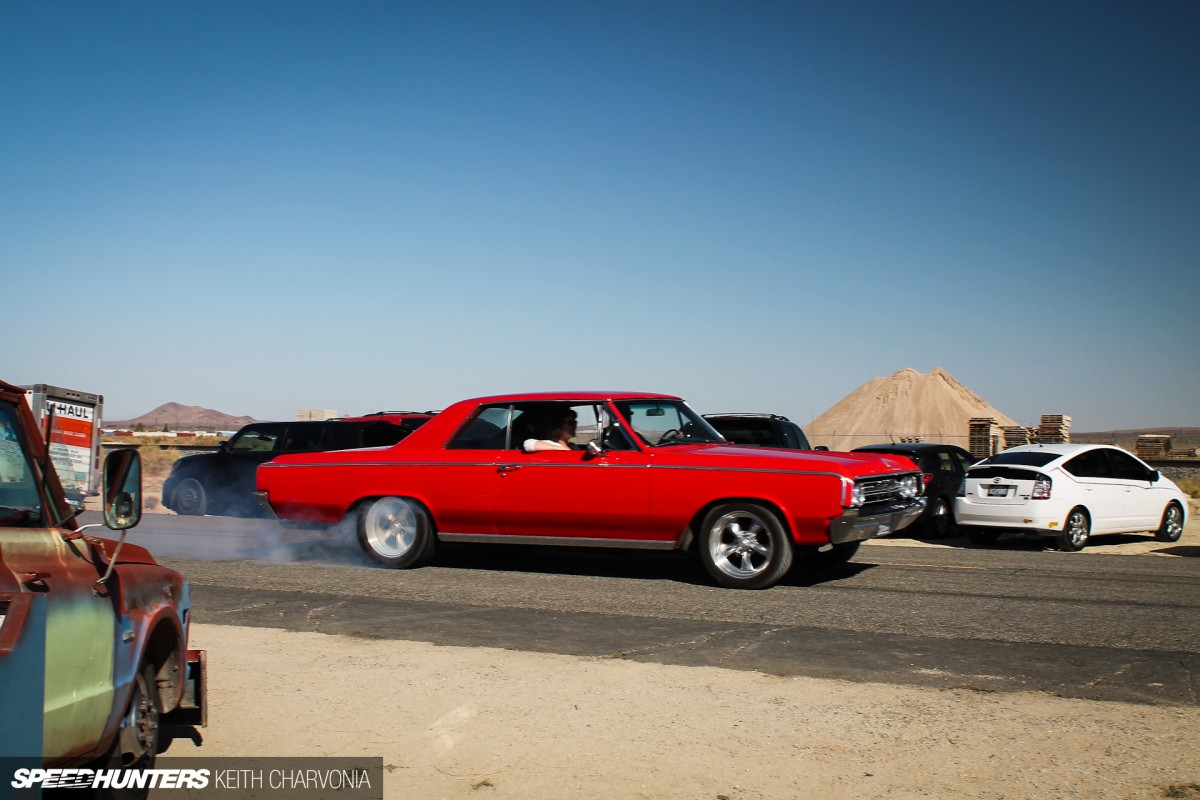 By the time we finished checking out Gene's new museum, the cars had started to clear out.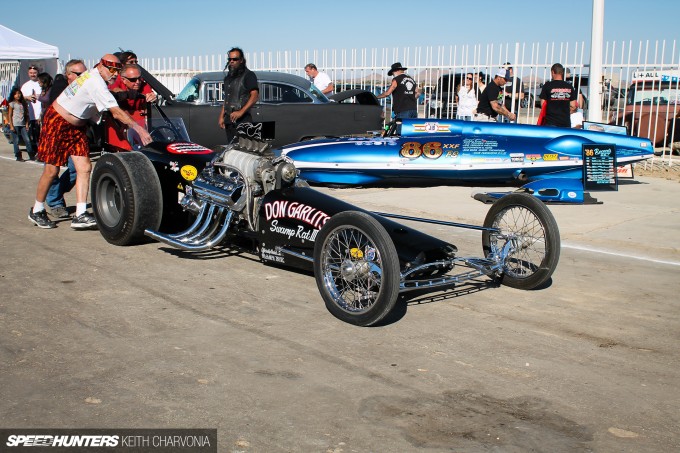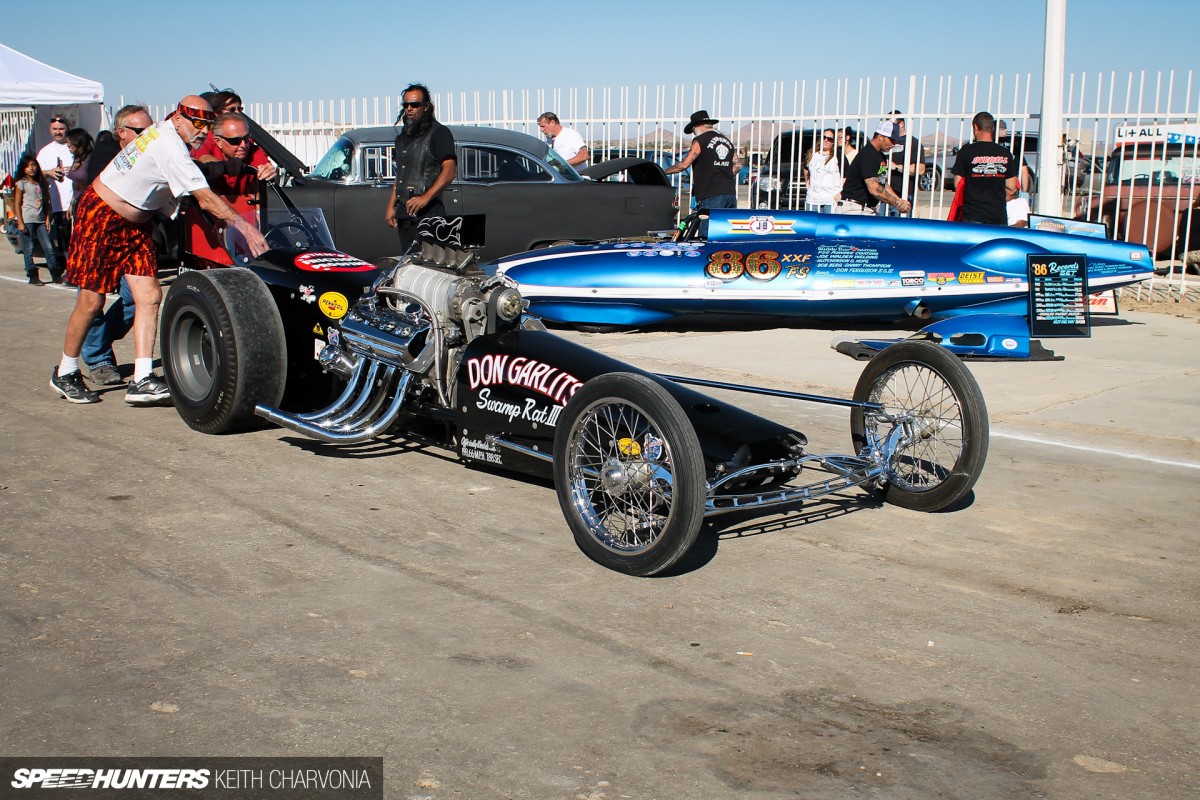 The vintage dragsters were pushed across the lot…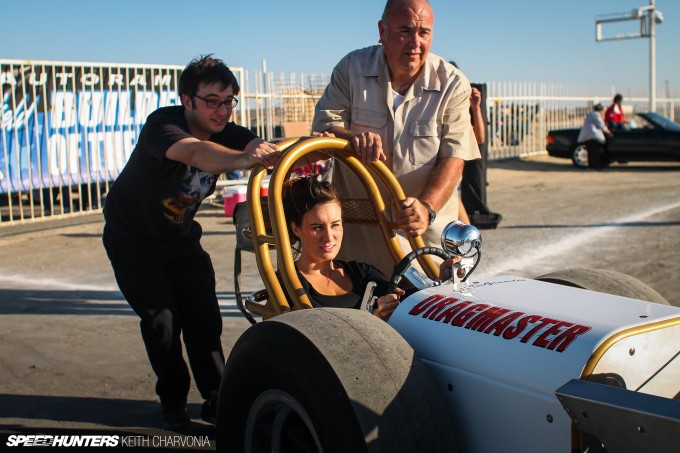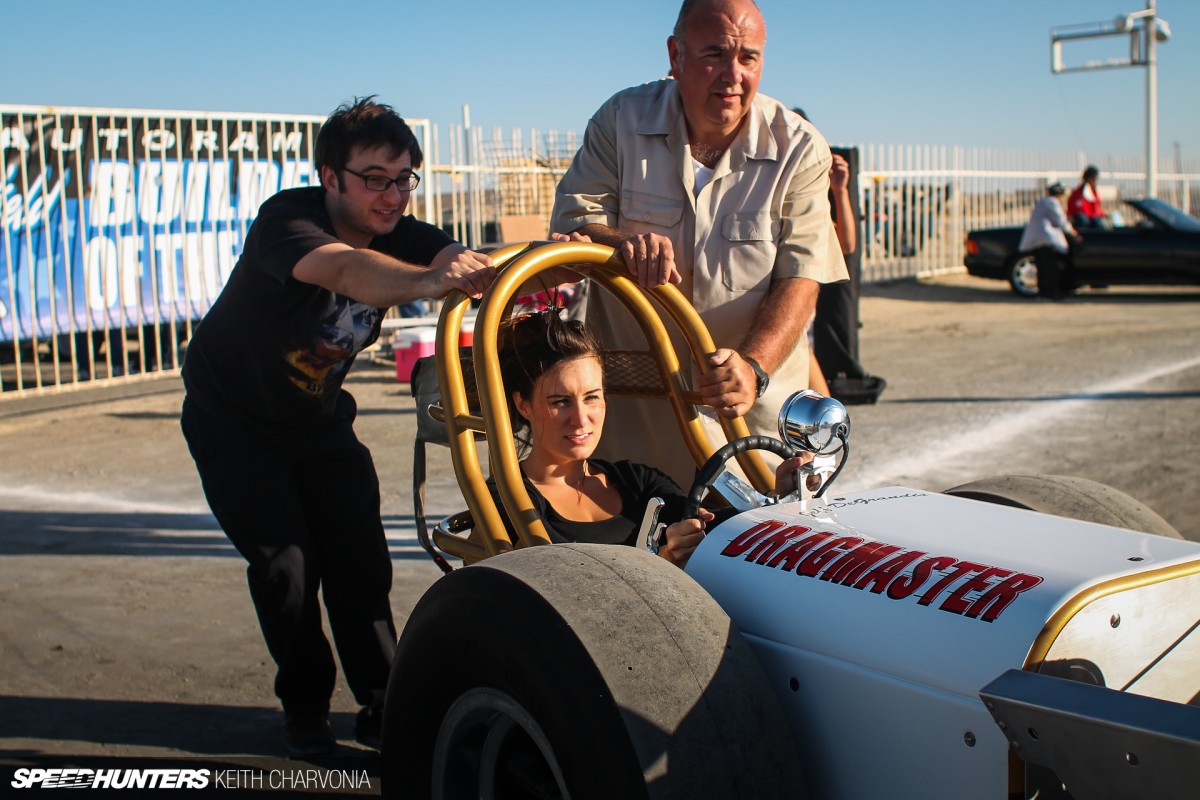 …and loaded onto trailers.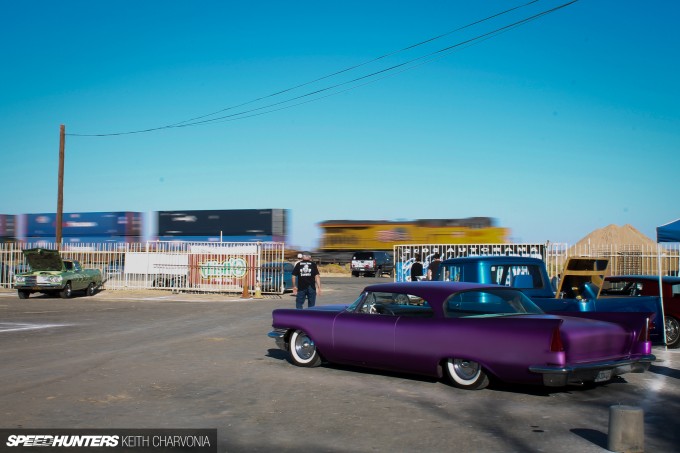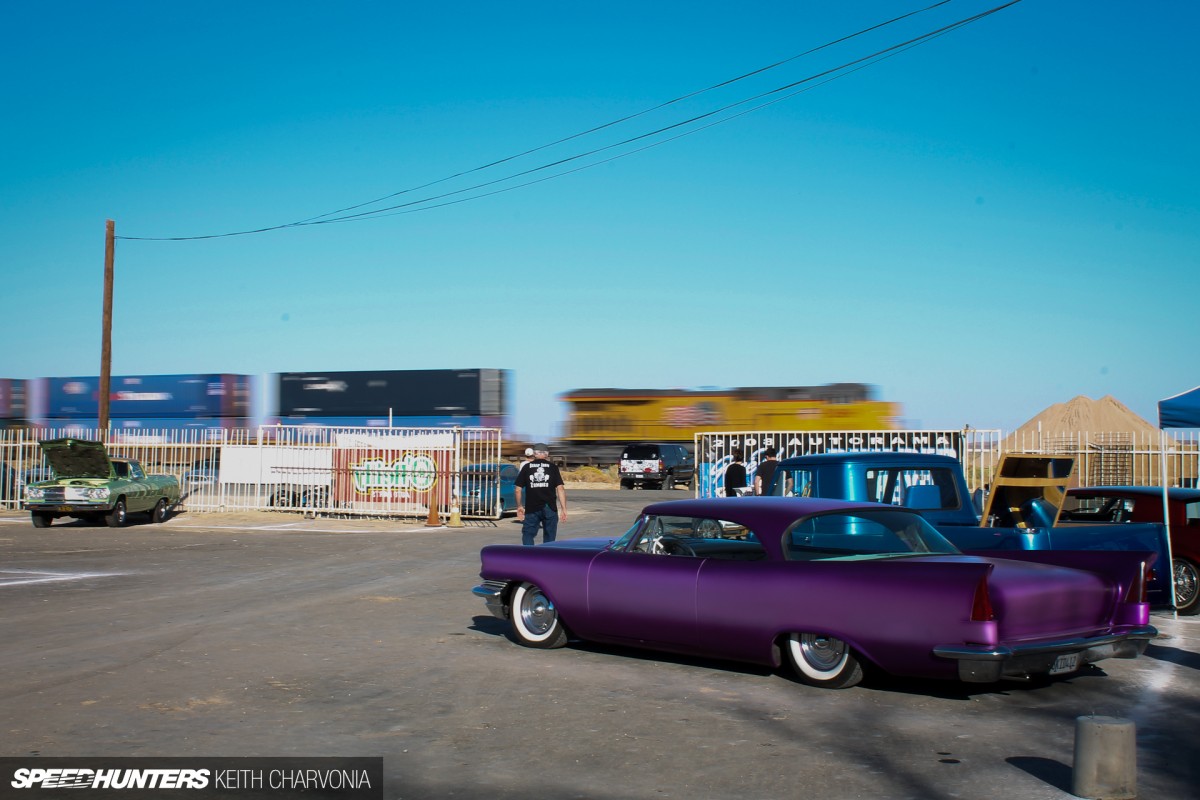 The parking lot was getting pretty empty as we said our goodbyes and a train thundered past. I'll always connect that sound with this place from working long days and nights here.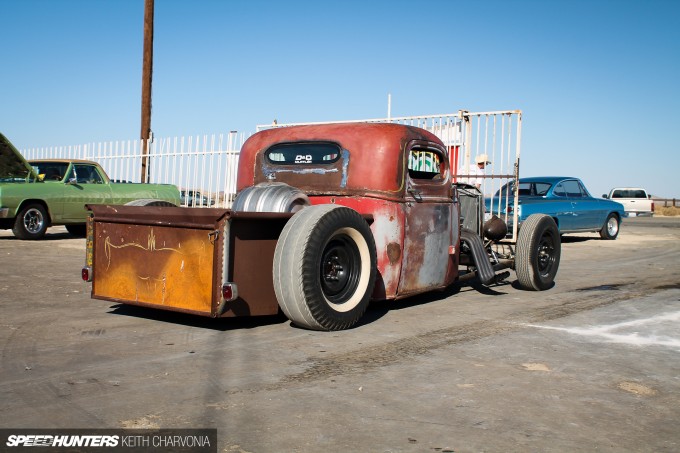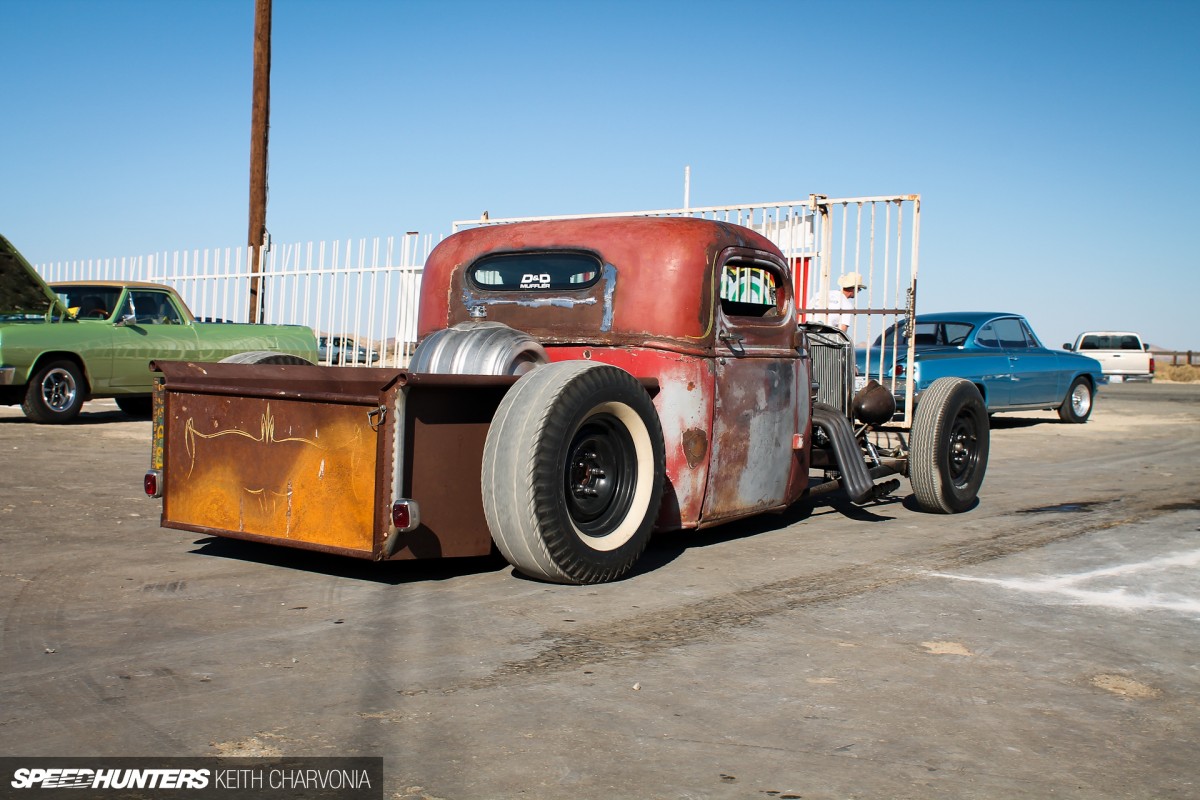 I'm really glad the timing worked out for me to finally attend the Winfield & Watson Custom Car Gathering this year. I hadn't been back to Gene's shop since he painted my car in 2010, so for me this was more than a simple car show: it was a chance to spend time in a place that's important to me and catch up with friends old and new.