Forty years apart
Close your eyes for a moment. Picture your dream garage. What would be in it? Would it have a 1973 Porsche Carrera RS? I know what you're thinking… a McLaren F1 right? Everyone has a dream garage, and no two are alike. Very few of us car enthusiasts actually get to fulfil our dreams, but what if you could? I recently took a trip to New York with Suzy to drive some awesome cars and to check out a very extensive personal collection.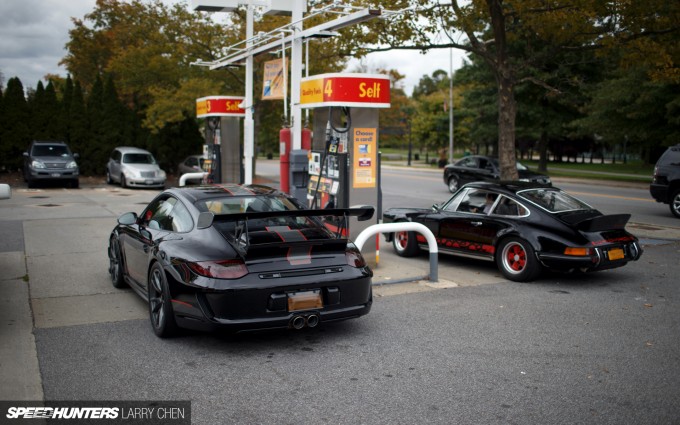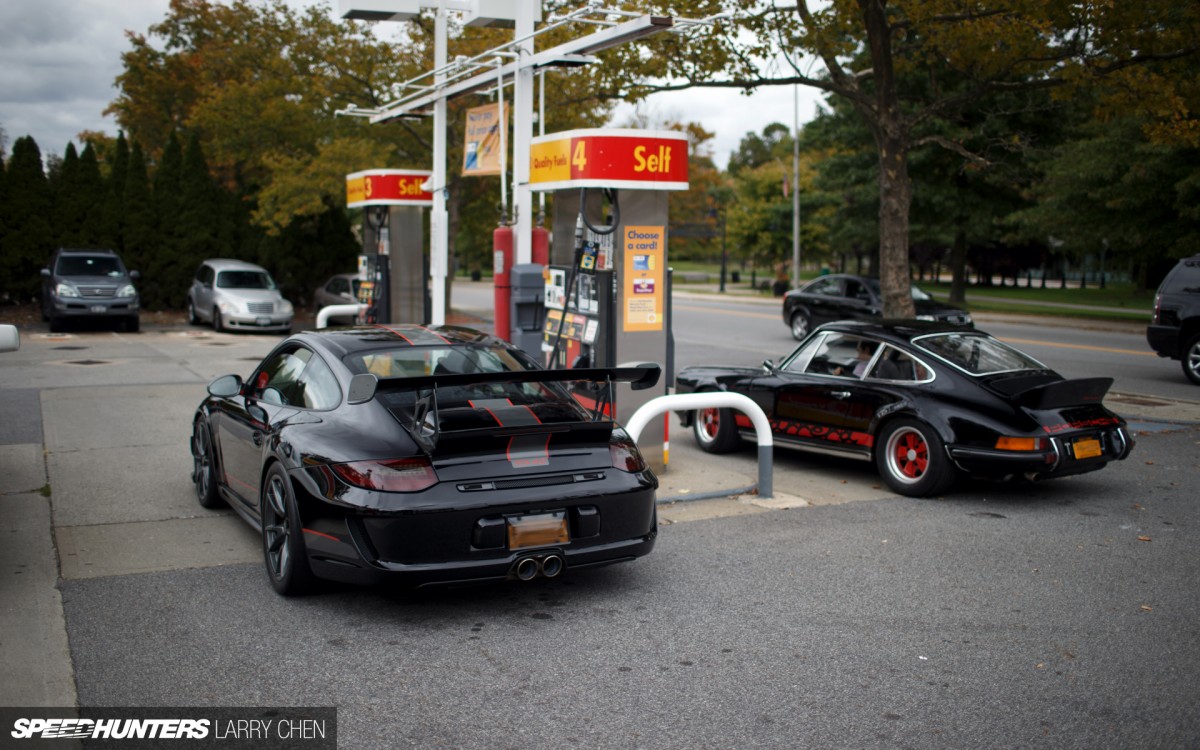 It seems like I've been having more and more 'pinch me because I must be dreaming' moments recently, but this one takes the cake. Separated by 40 years, the two legends matching in color awaited my buttocks in their chairs.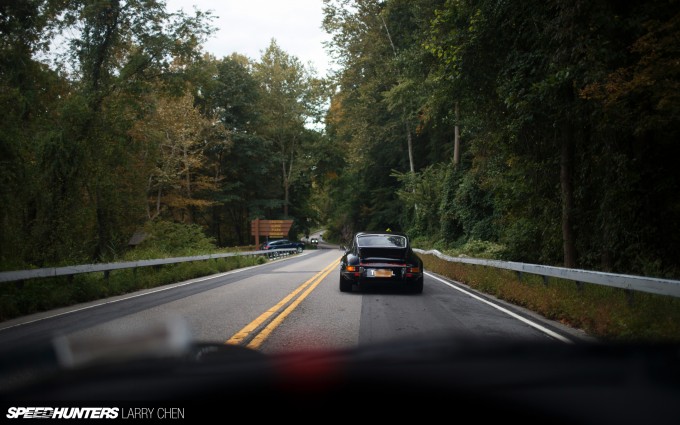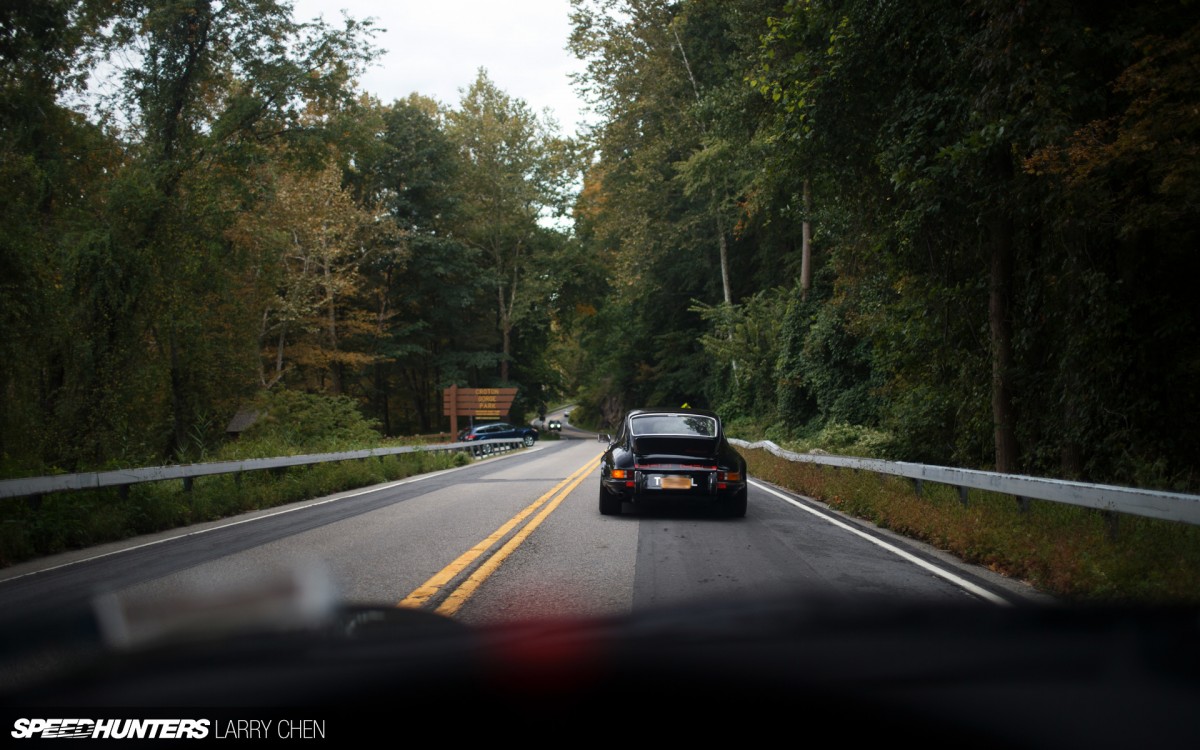 I gripped the suede steering wheel of the Porsche 911 GT3 RS 4.0 ever so slightly as I followed a perfect example of a 1973 Carrera RS. I was in heaven.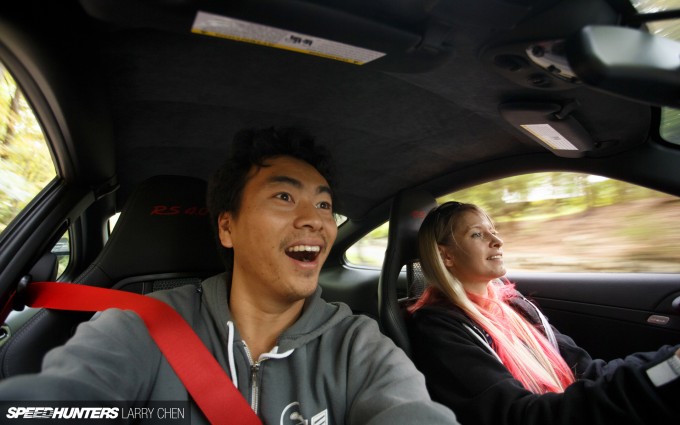 After a quick Chinese fire drill, Suzy and I swapped as she wanted to experience the glory of a 500hp naturally aspirated flat six.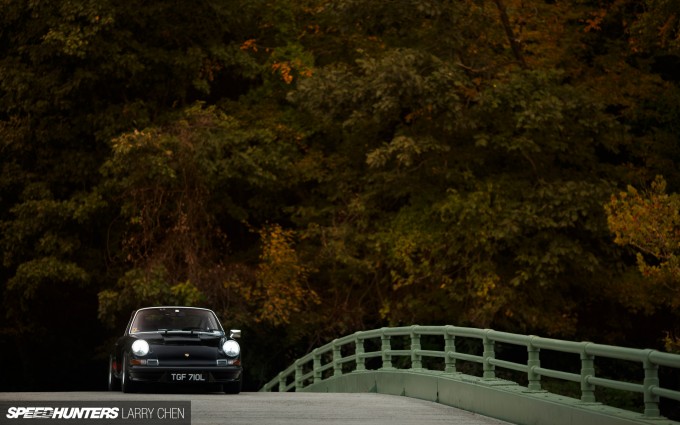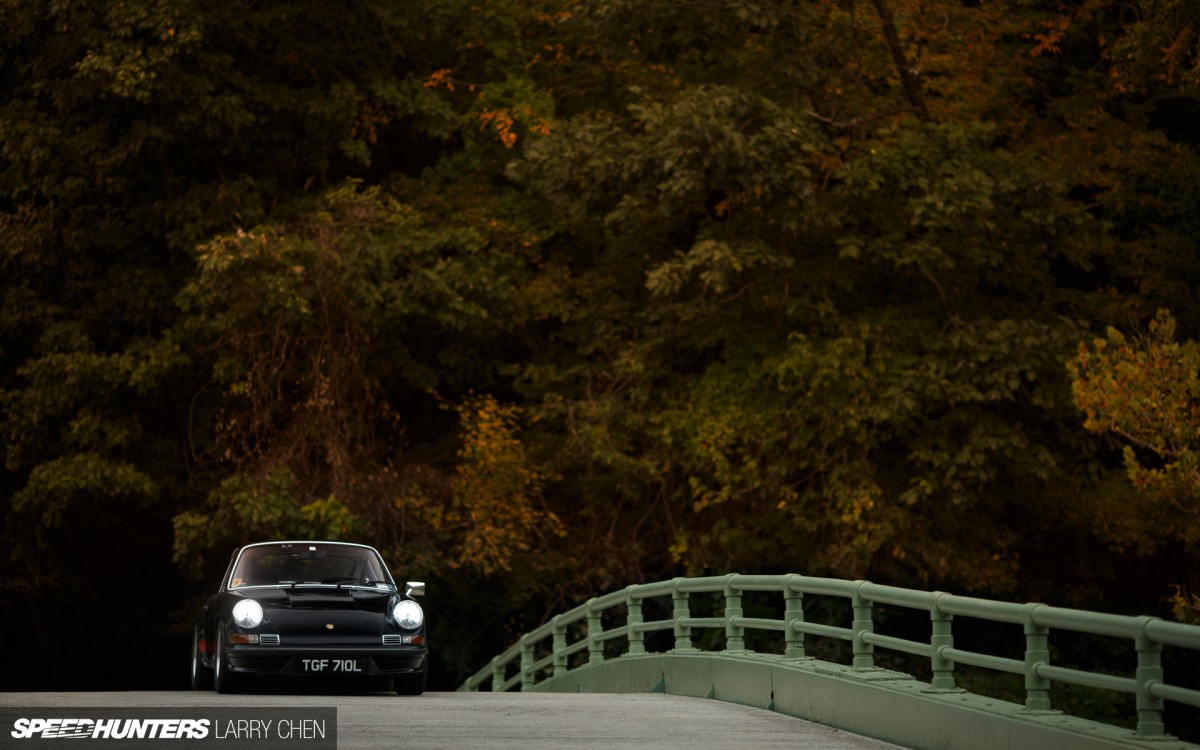 The '73 RS was no slouch either – the 2.7 liter motor put out an impressive 210hp. This one in particular was especially impressive because it was one of two hundred sport models that weighed in around 900kg (1984lbs).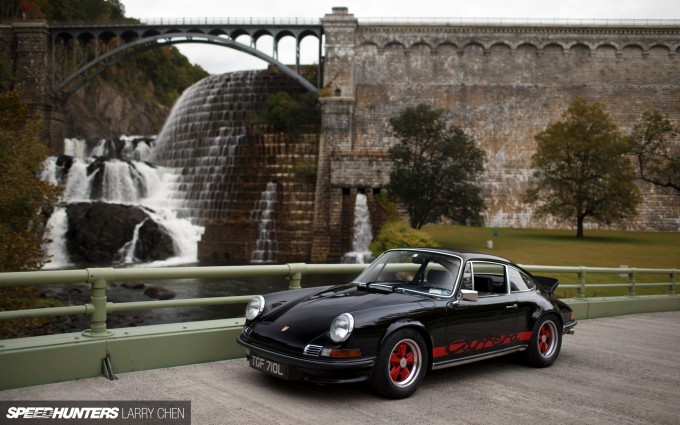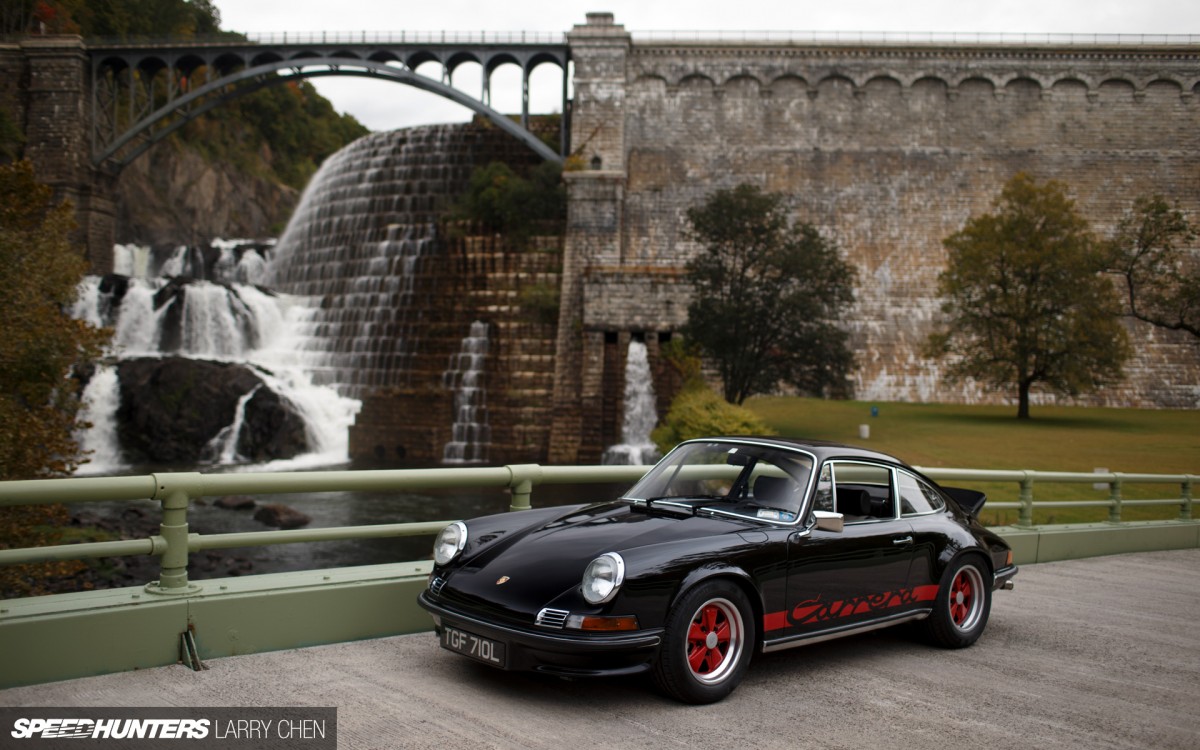 In this sort of condition, this very car could fetch over $800,000 if it went on the auction block. I had the chance to chase Suzy around for a bit while she drove the 997, but I was much too afraid to push it, so I let the owner take me for a spin that I will never forget. I admire that he does not let his cars sit around – he drives them very hard.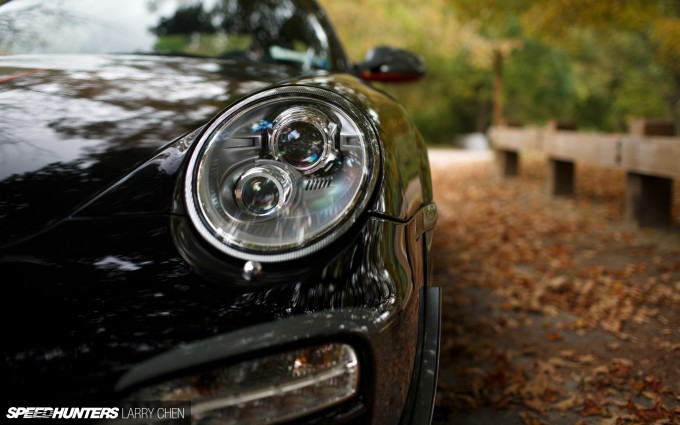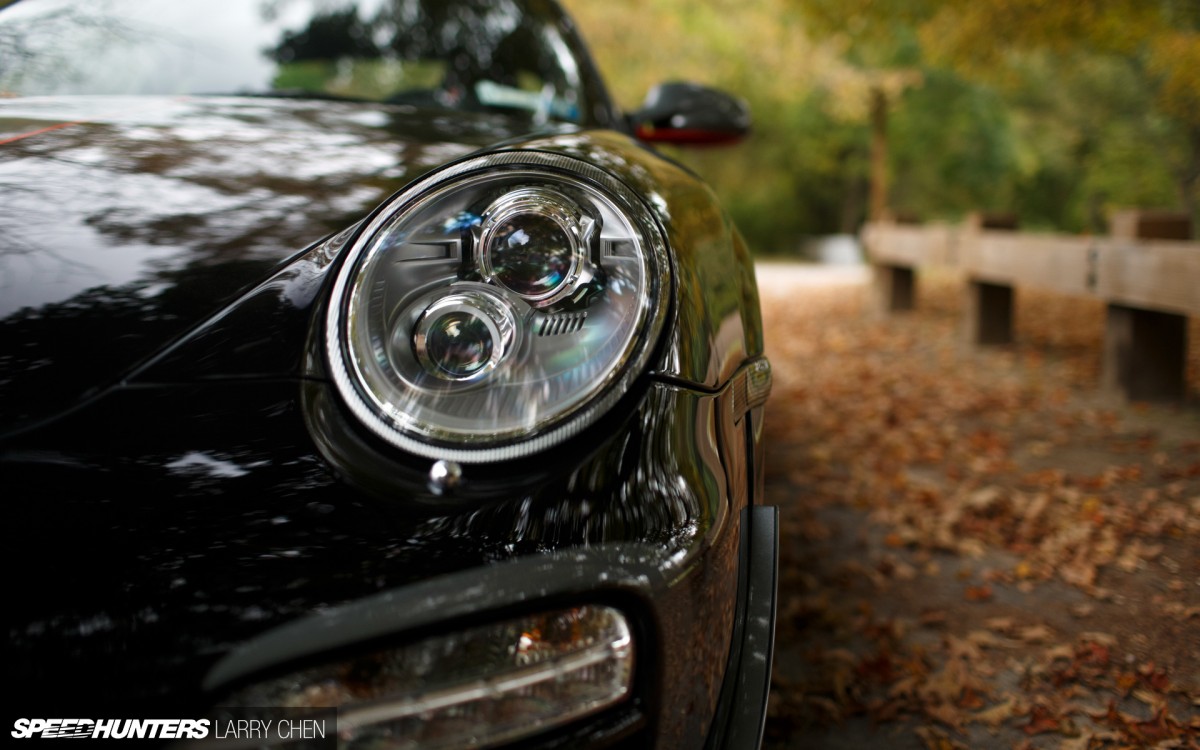 While the '73 was a blast to drive, I was totally blown away by the modern variation.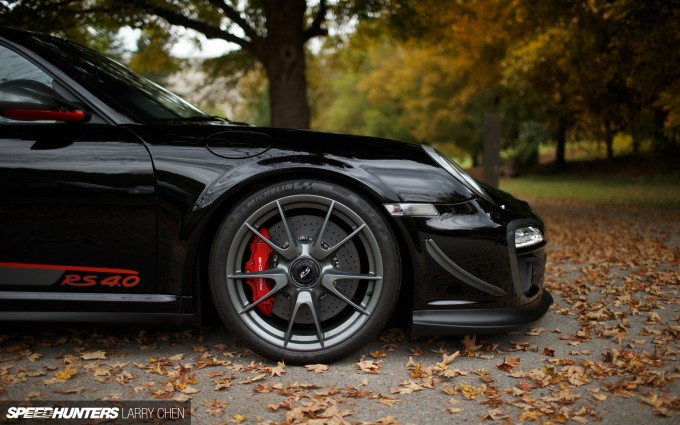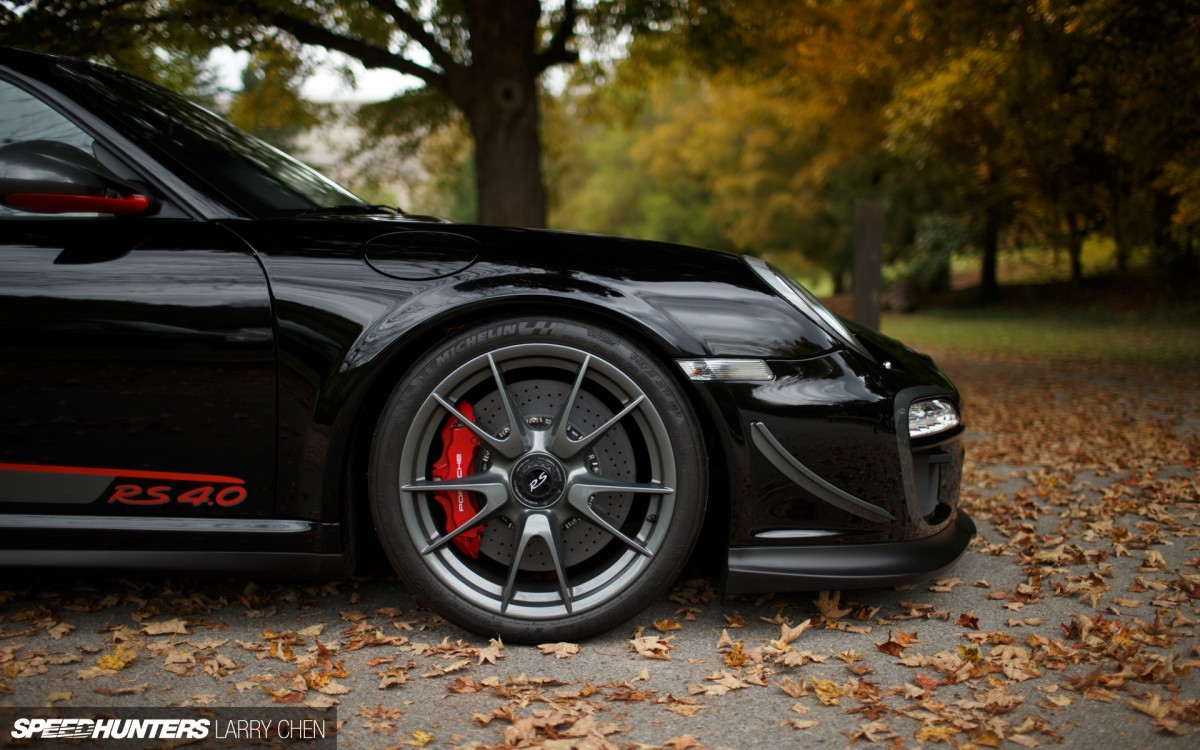 The carbon ceramic brakes were like nothing that I've felt before. It was so satisfying to come to a stop. This one was actually the first one that I have seen on the road because there were only 126 imported into North America.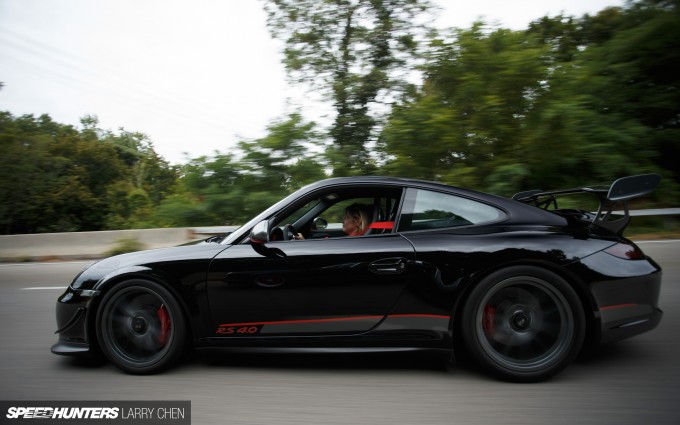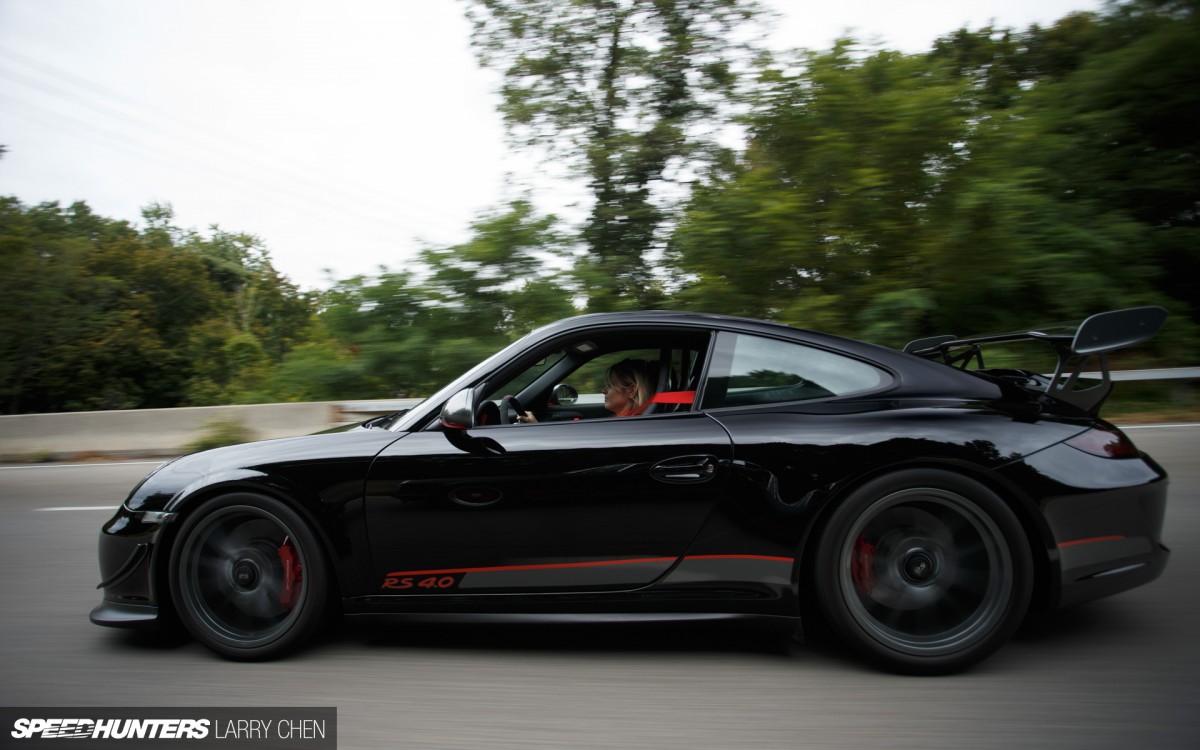 I shot this photo of Suzy on the highway while I was hanging out the passenger window of the '73 Carrera RS. I think that may have been the exact moment when I coined the term "Speedhunters problems".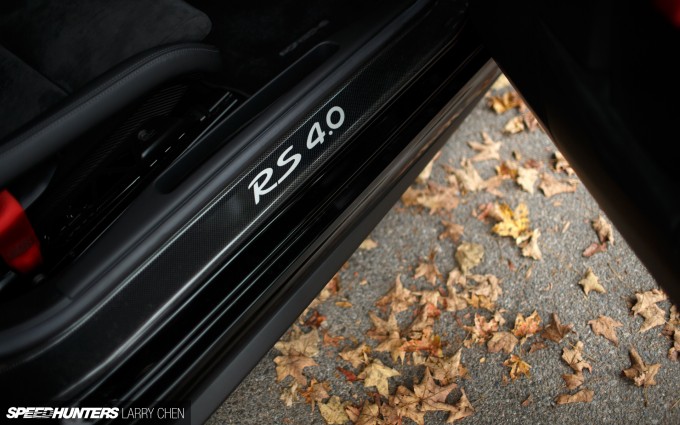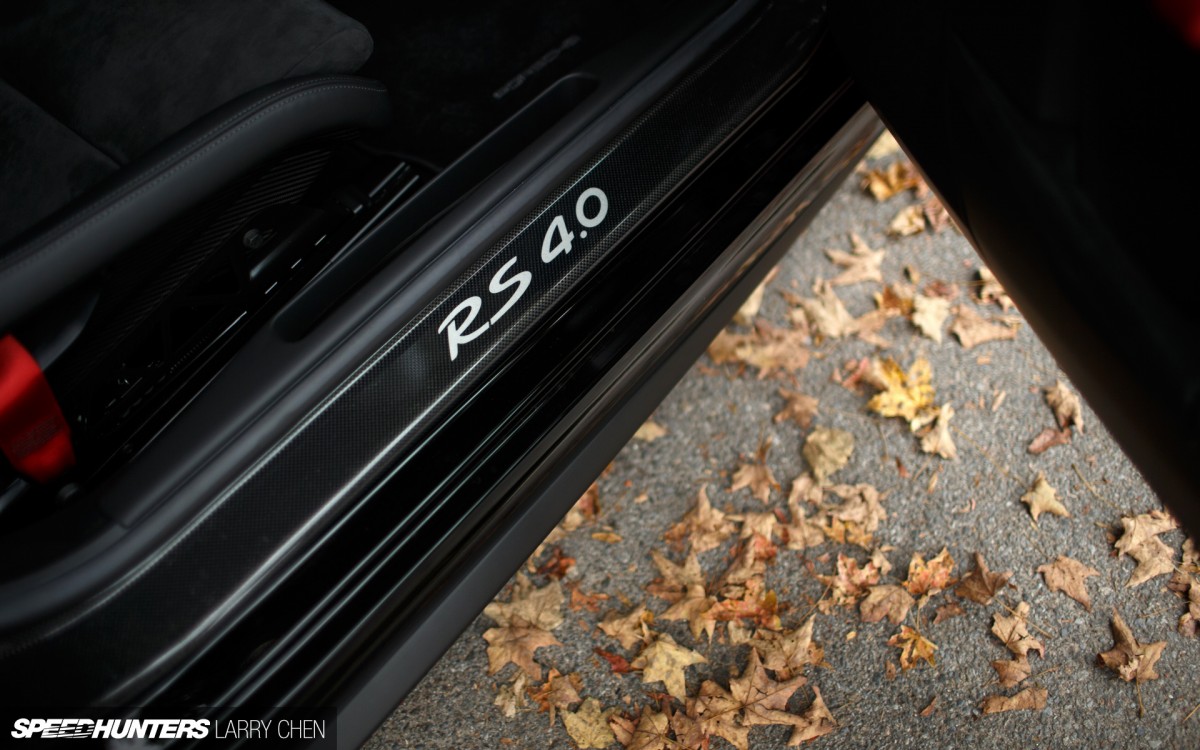 We will definitely go into more detail about this shoot in another post, but for now I wanted to recap on what must have been the perfect motoring weekend.
Monticello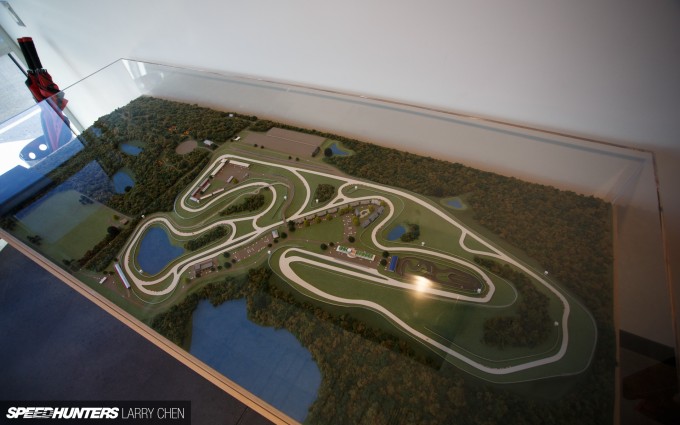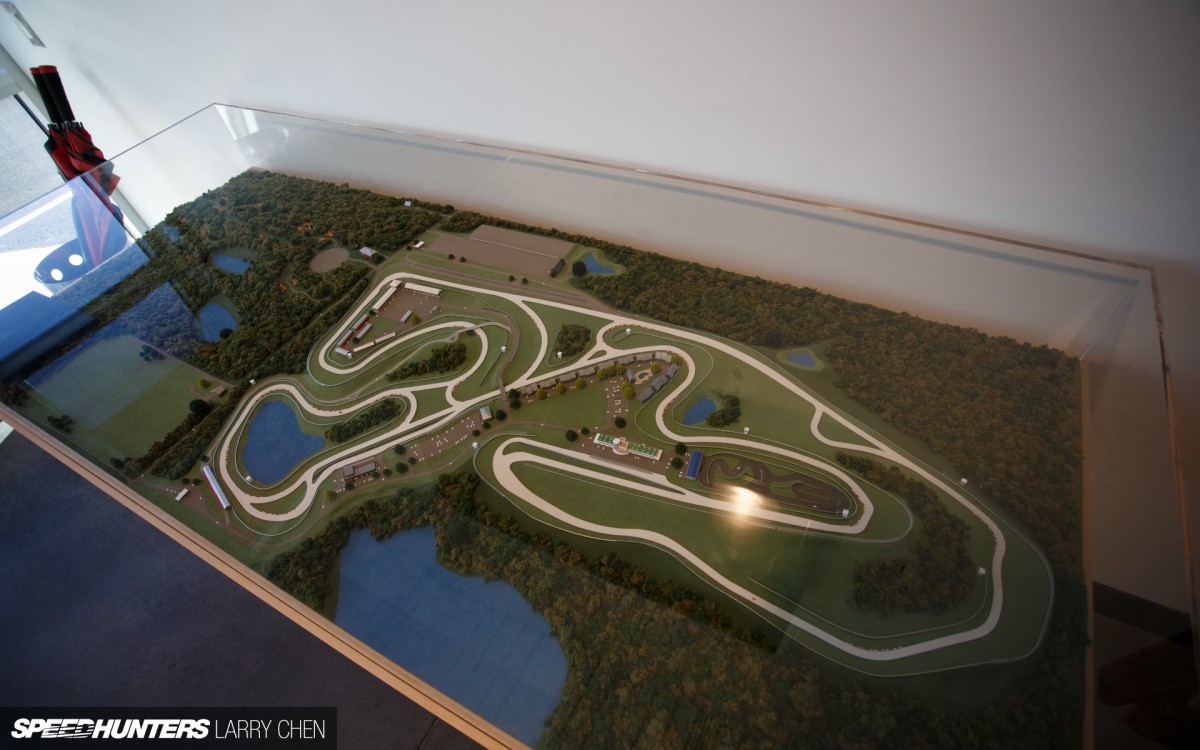 All weekends should start off at a track, but this was not just any road course. This was one of the most exclusive country clubs in North America. Instead of joining to play golf, you join the Monticello Motor Club to race.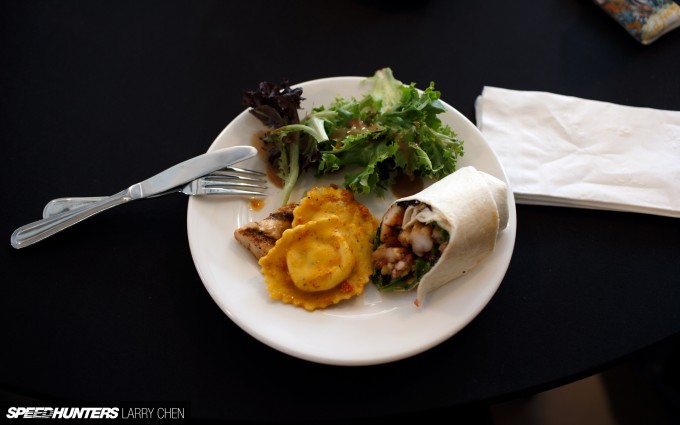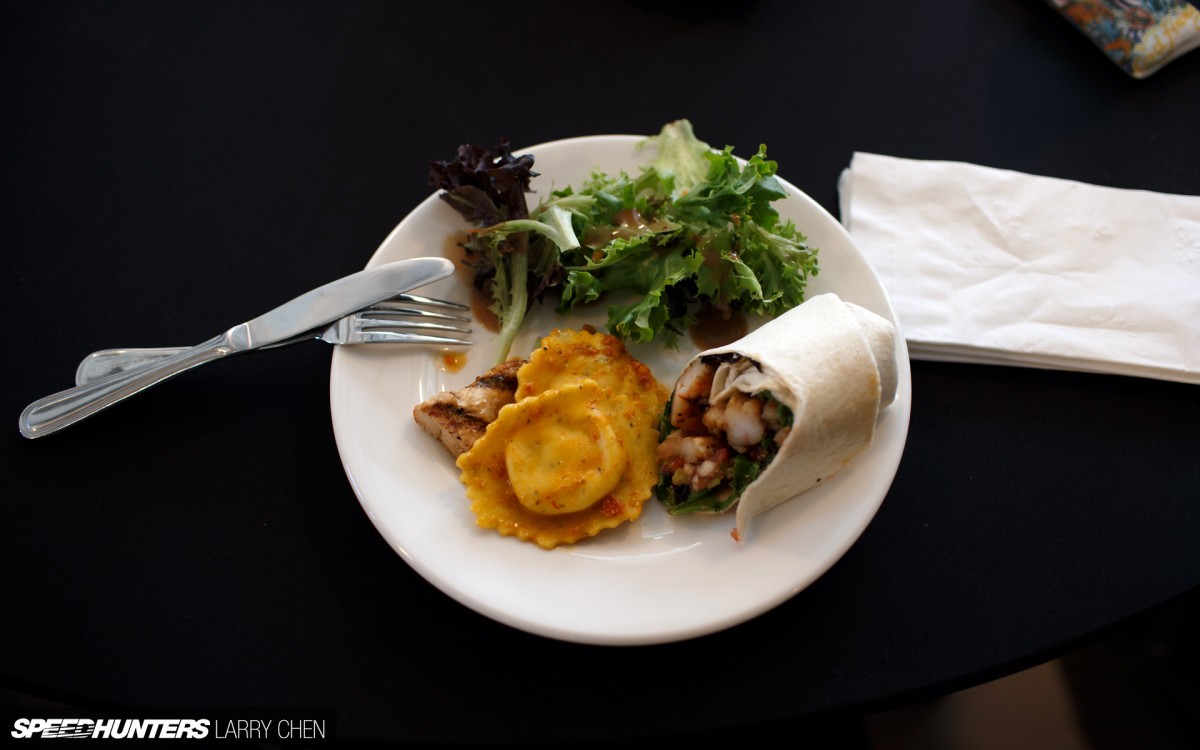 Just like any other country club there are posh luncheons, fully stocked bars and club houses.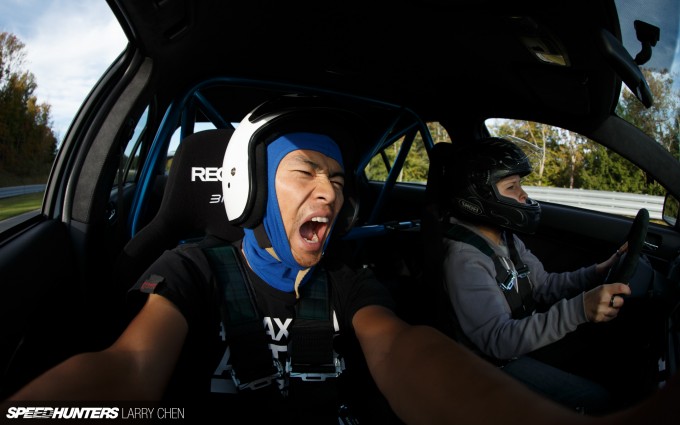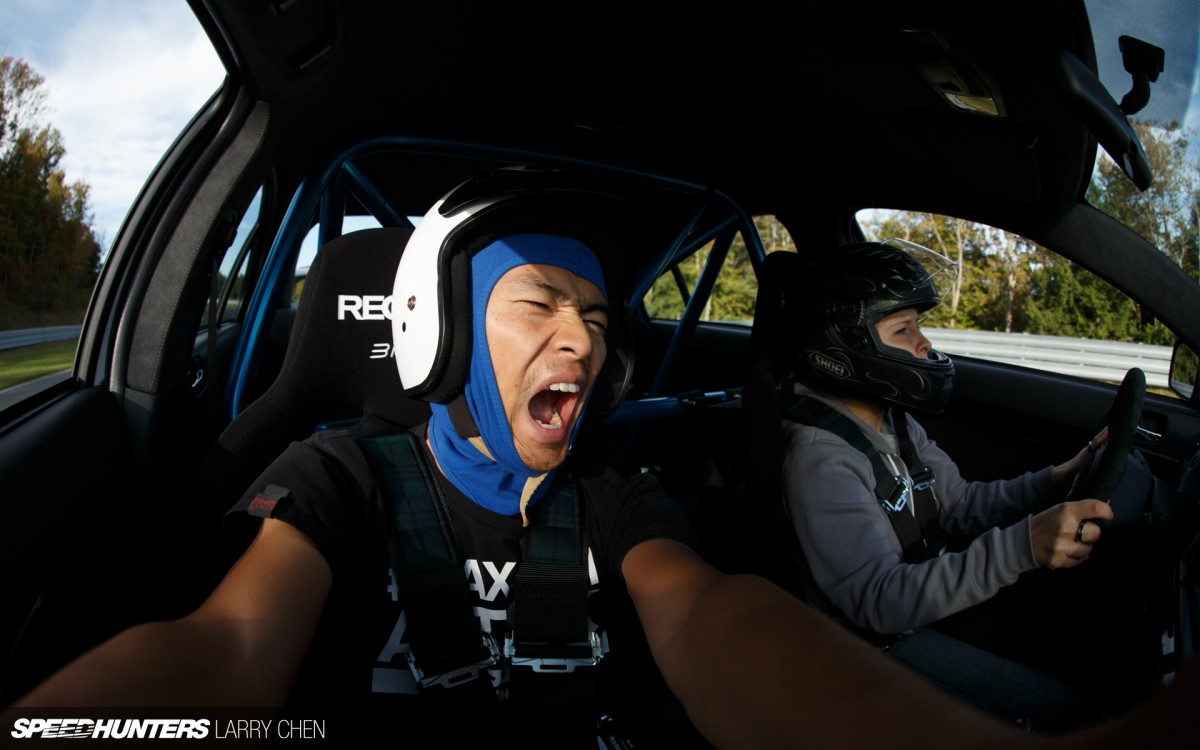 Yep, that is me screaming. I thought it would be a good idea to let Suzy take me out for a ride, but flying down the back straight while she was flat out in fifth gear did not sit so well with my stomach.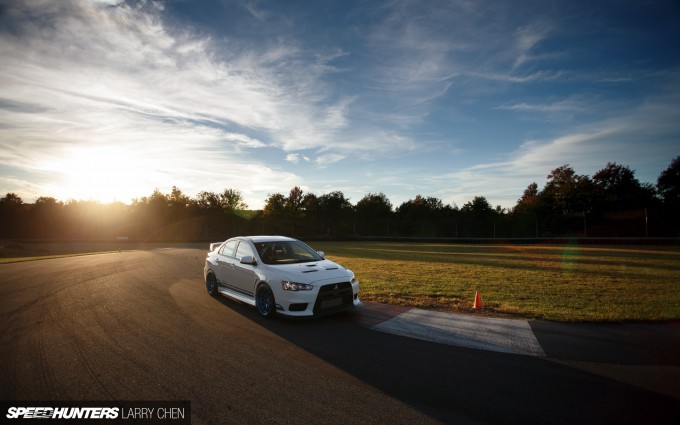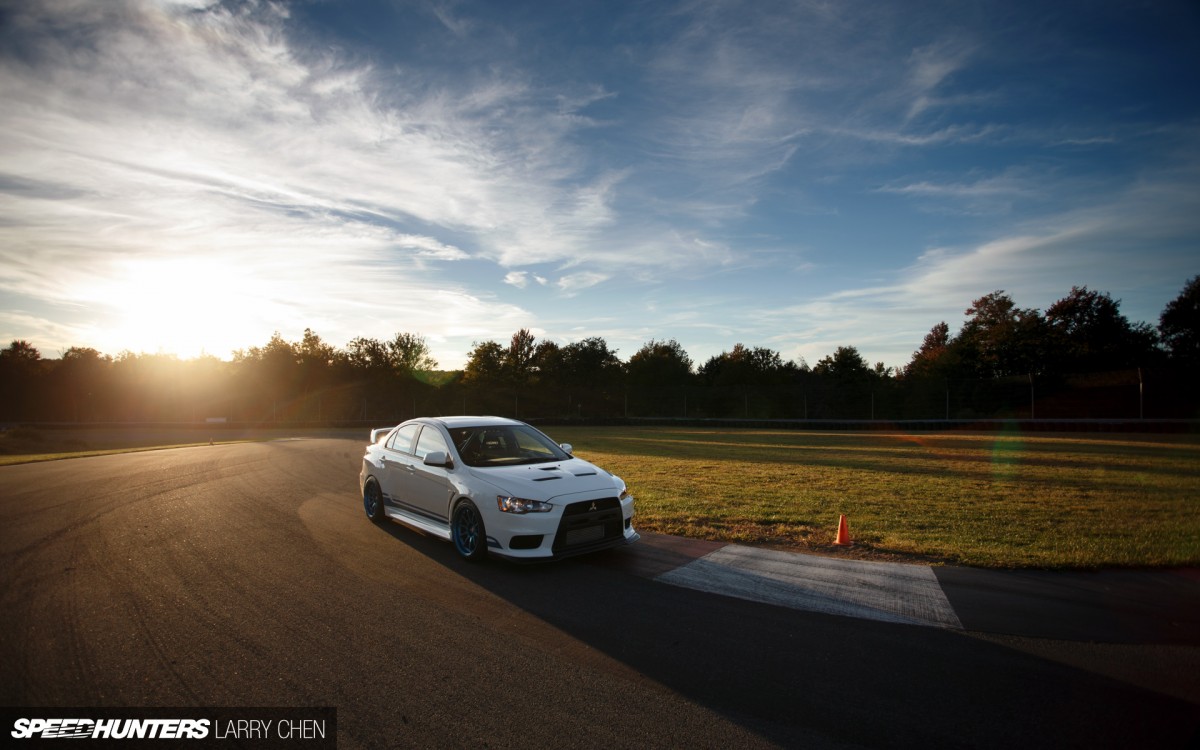 The reason why we were in New York in the first place was because she got invited to come drive the 311RS Evo X built by racing driver Ryan Gates.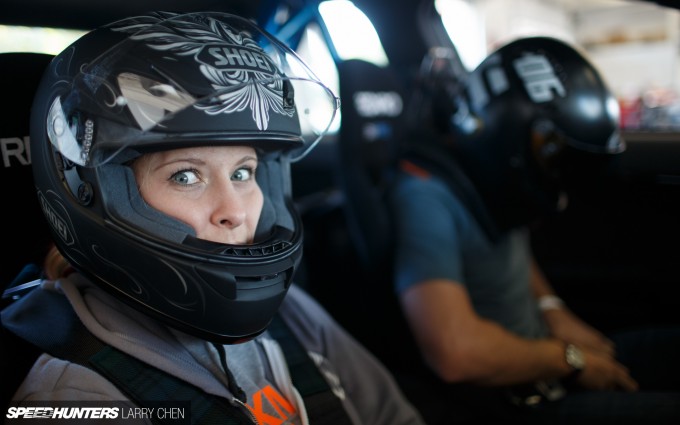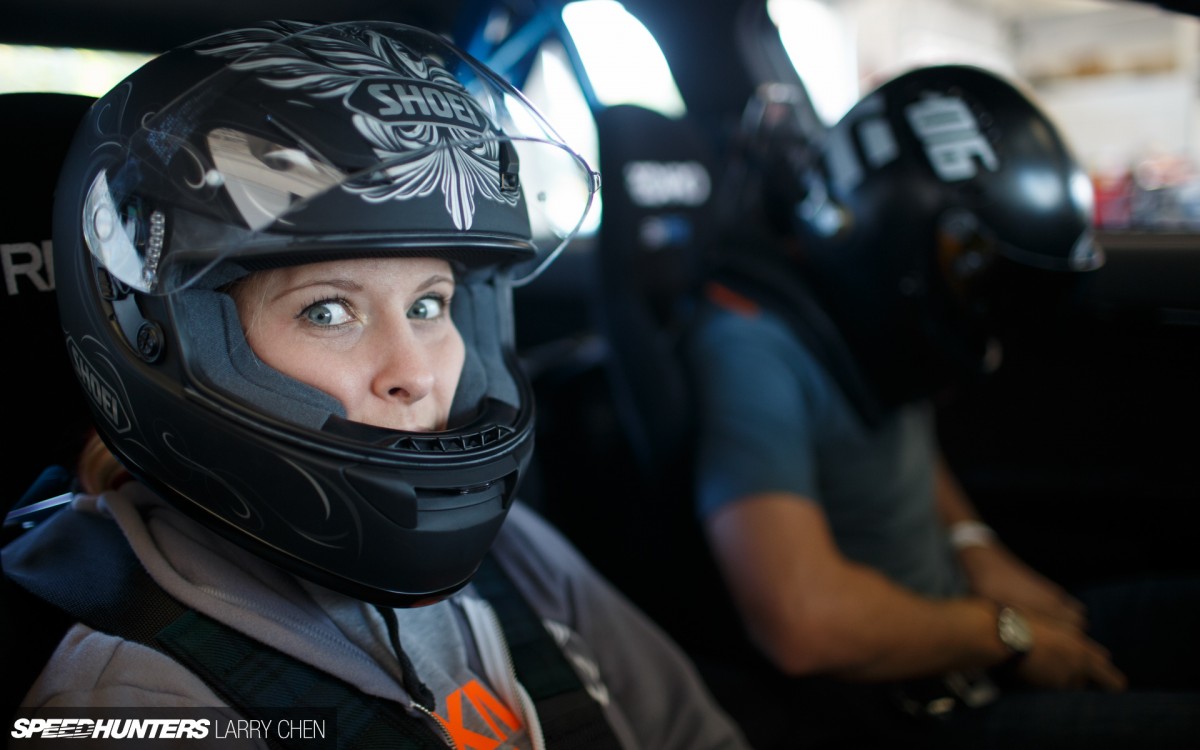 Suzy practically lives inside of her Evo 6, so it was the perfect fit for her.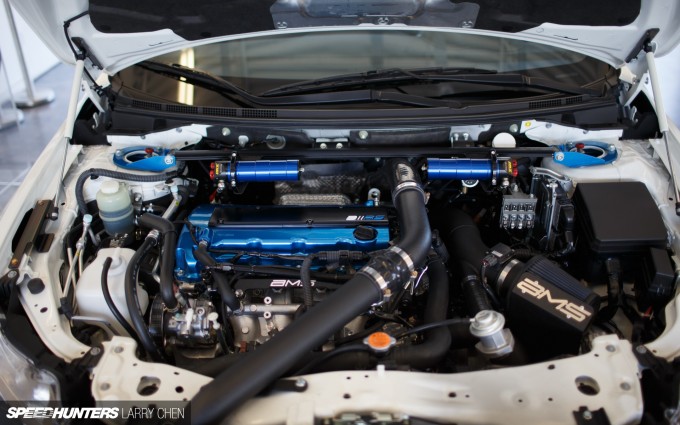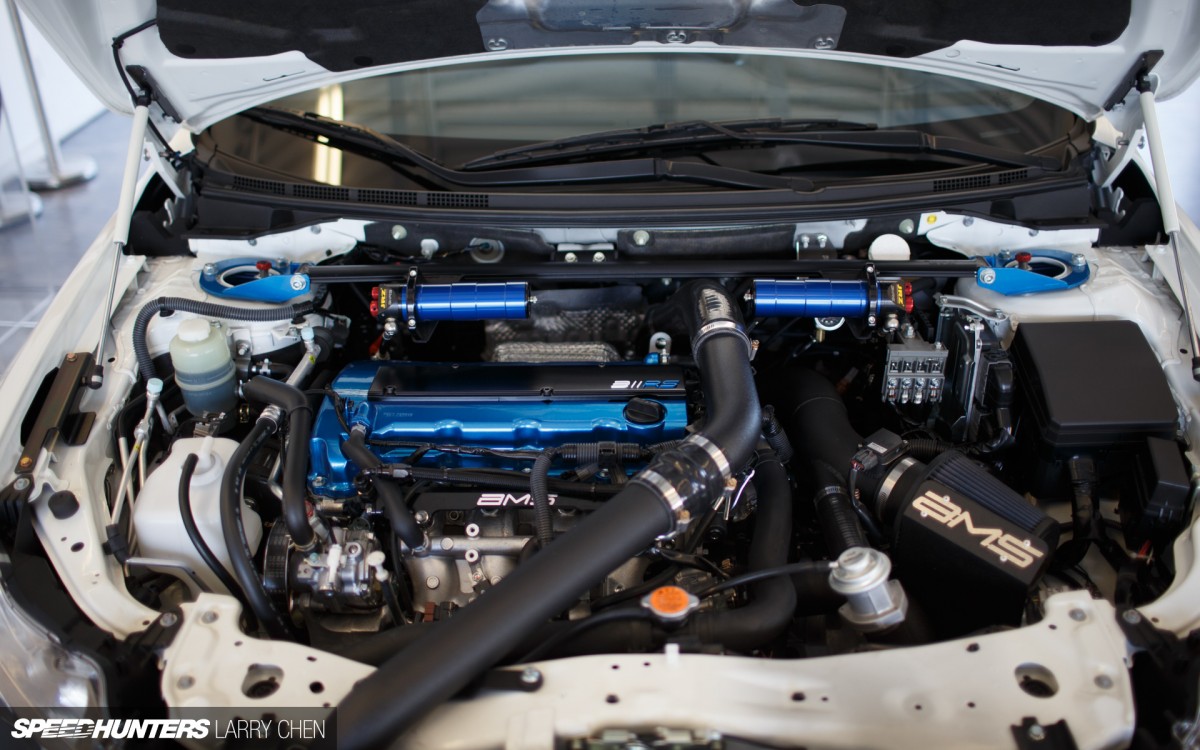 Only 11 of these special edition Mitsubishi Evos will be built with various stages of tune. All of them will be running AMS engine components.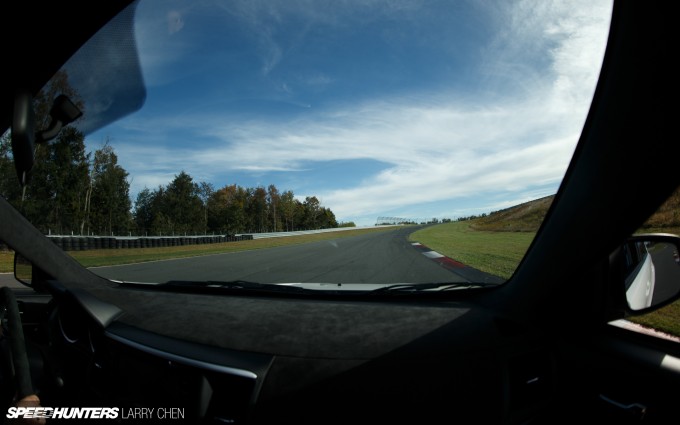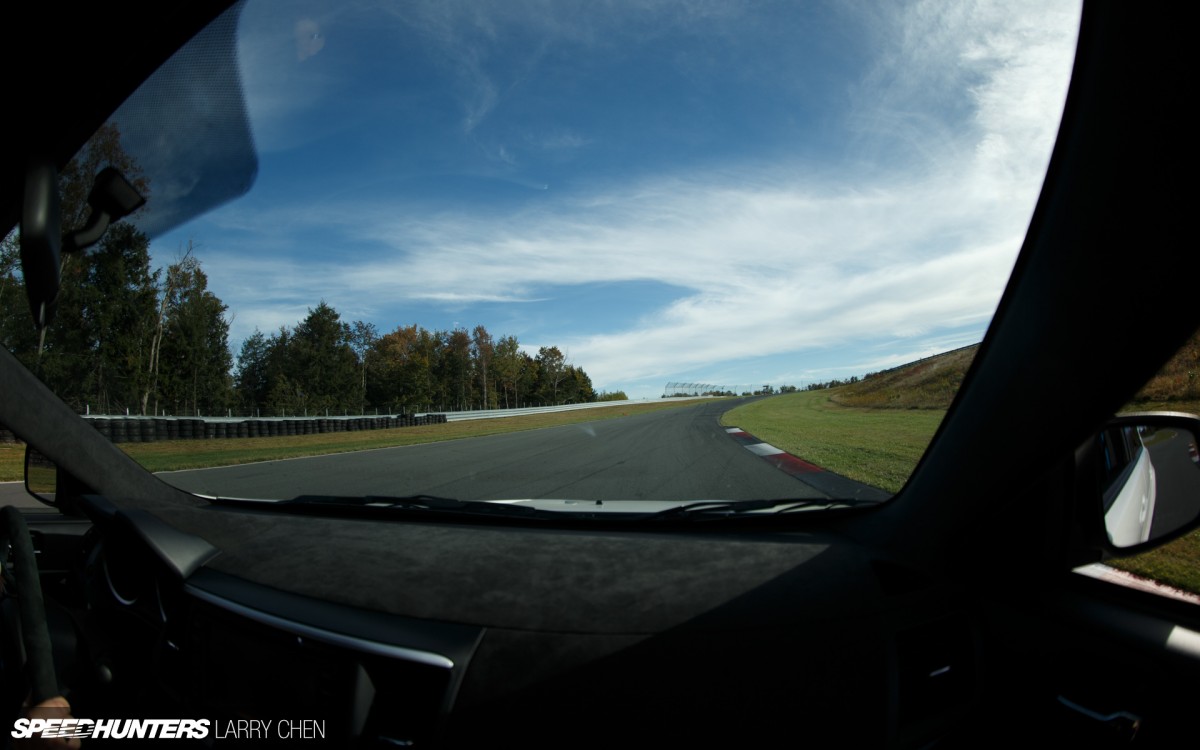 This car was proper quick on this very technical 3.6 mile 18 turn course.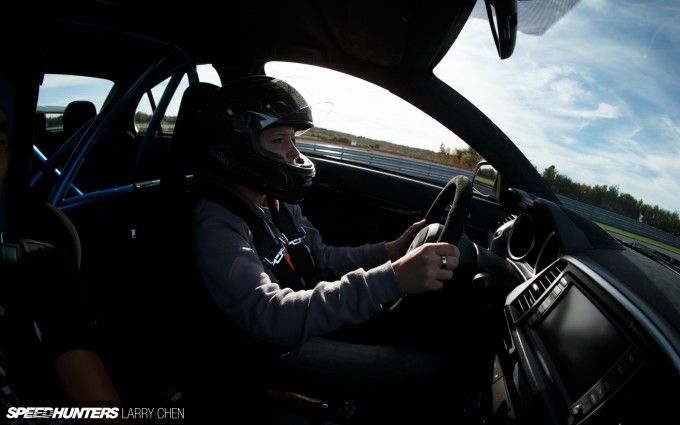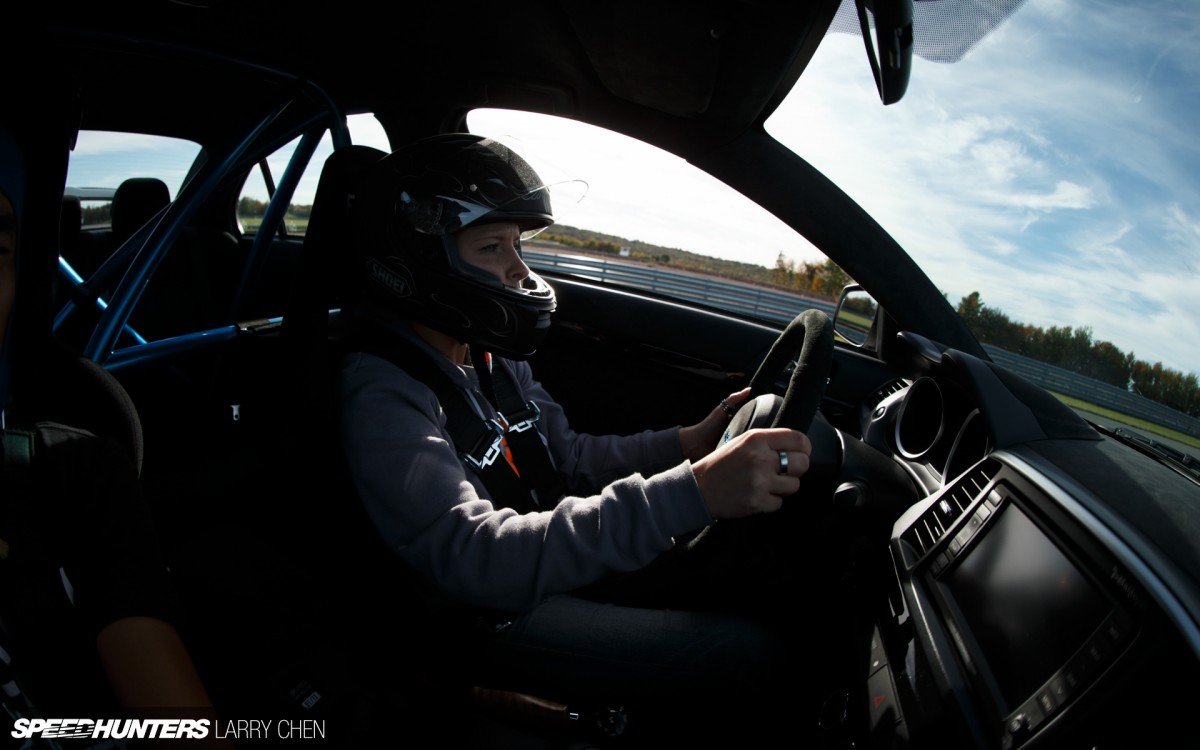 Suzy will go into detail about her experiences with the 311RS in her own blog which should be dropping soon.
Rhapsody in blue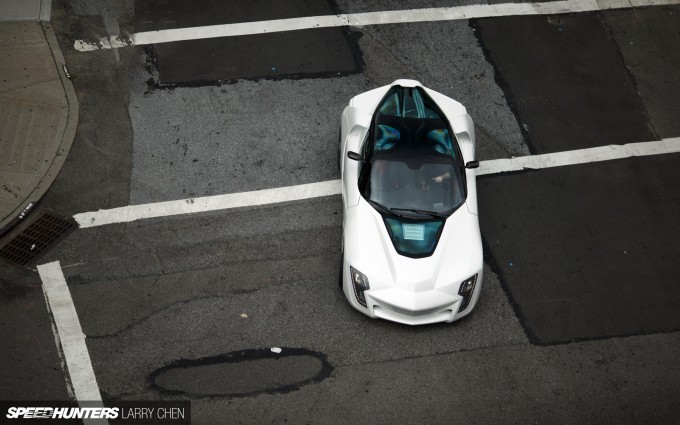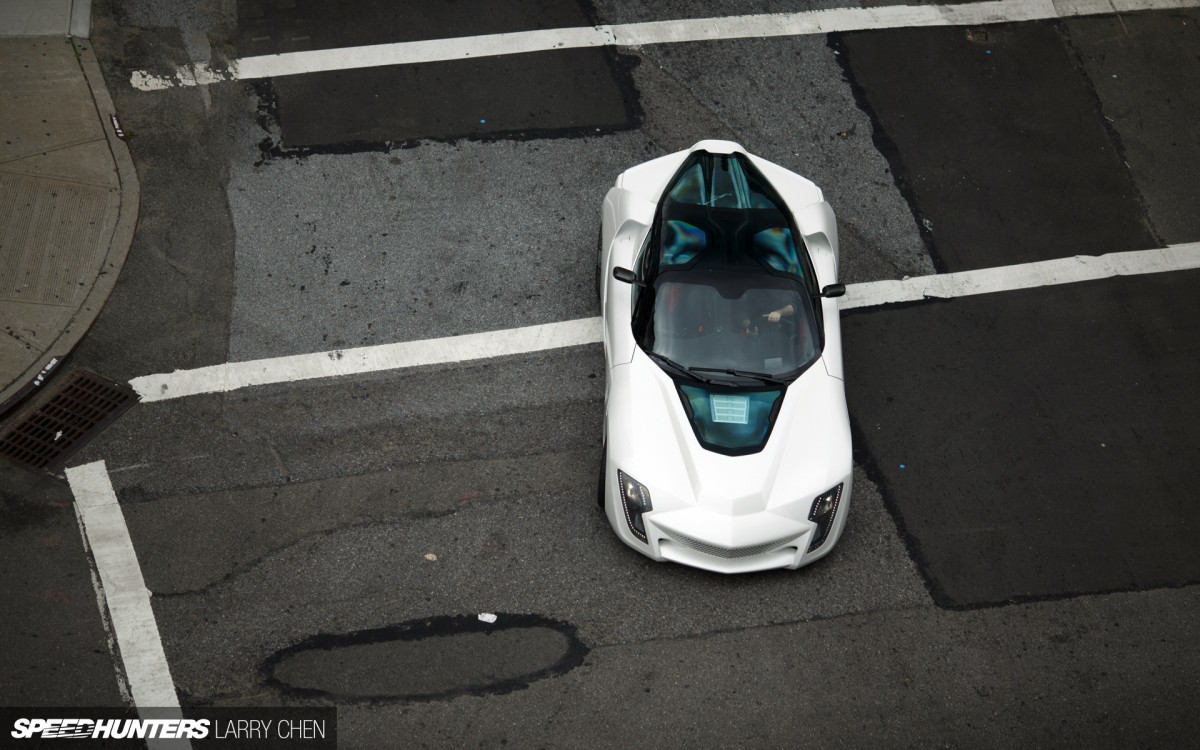 Since we knew we were going to be in New York, we figured it was a good time to take advantage of the nice urban backdrops so we planned to do some feature car shoots in the city. One of which was a Bertone Mantide.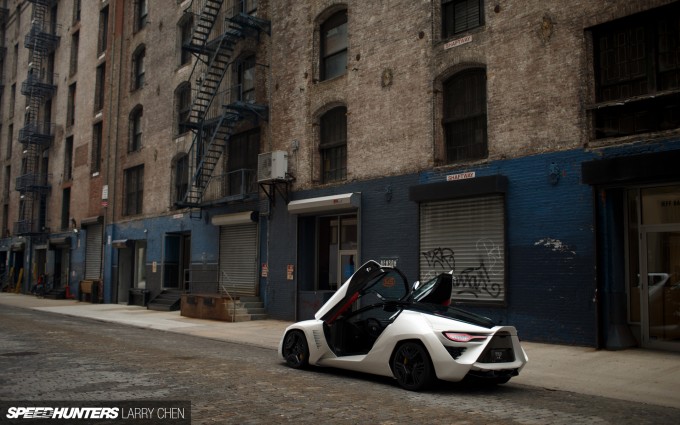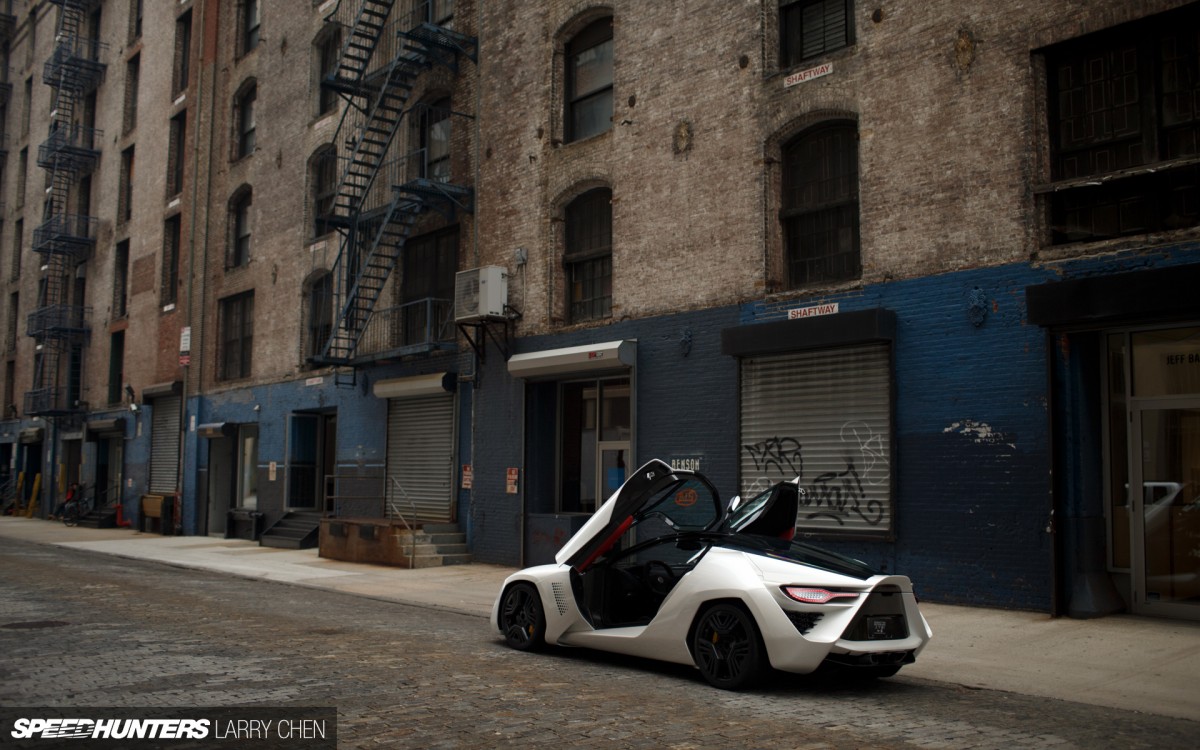 This car has an retail price of two million dollars, but what's interesting is that it is based off a ZR1 Corvette.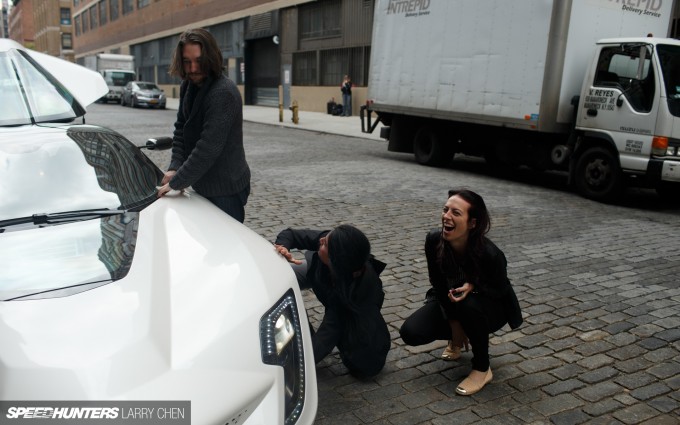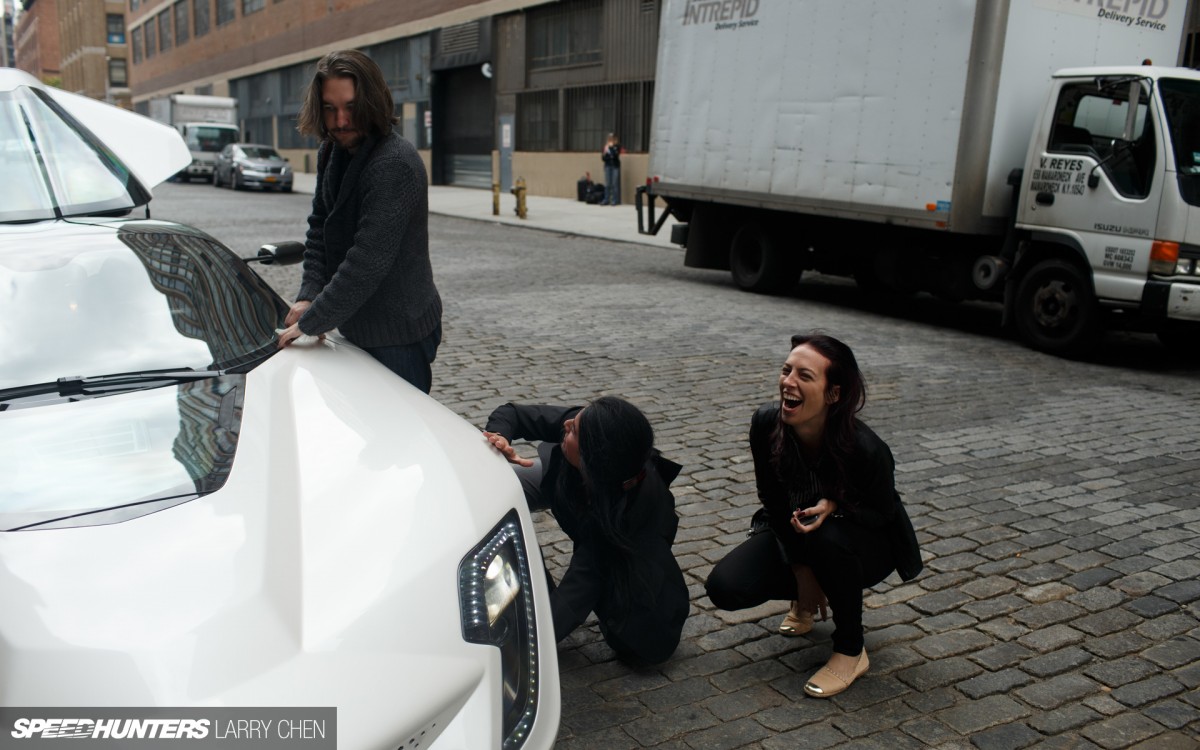 For the life of me I could not figure out how to pop the hood on the car. After calling in the troops, it turns out the latch is actually located in the driver side wheel well. We all had a good laugh at my expense.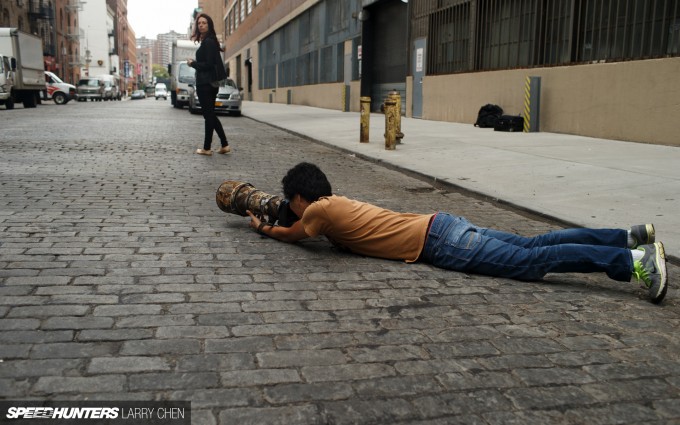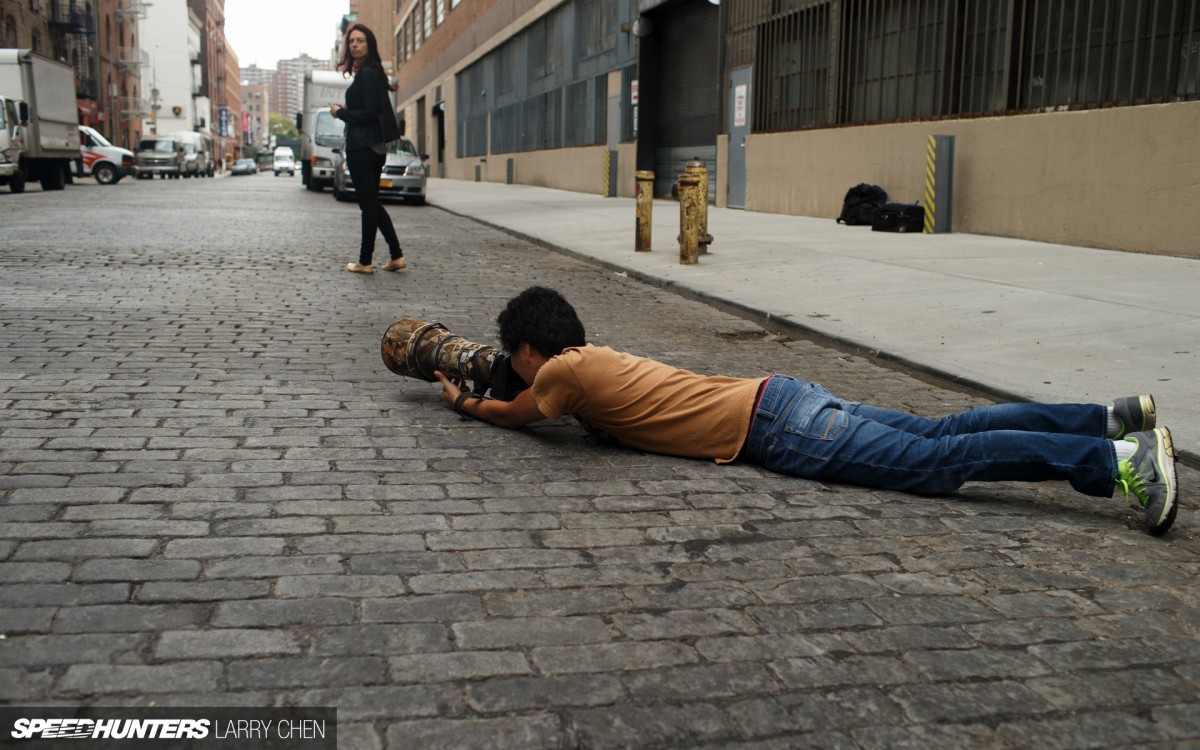 As always I try to find those extreme angles. After snapping some low-down shots, we went to check out the roof of the luxury car dealership the car was kept in.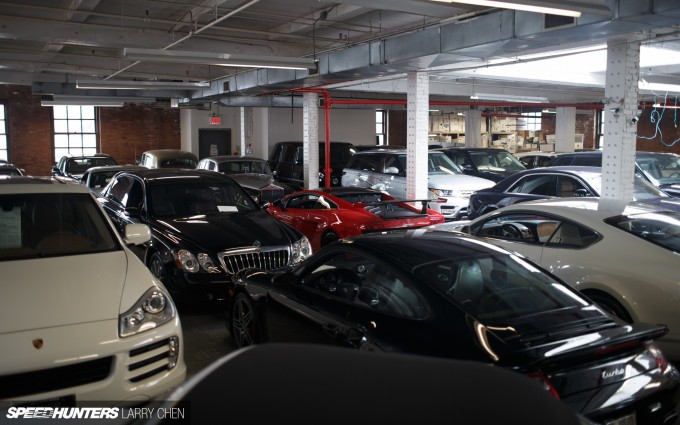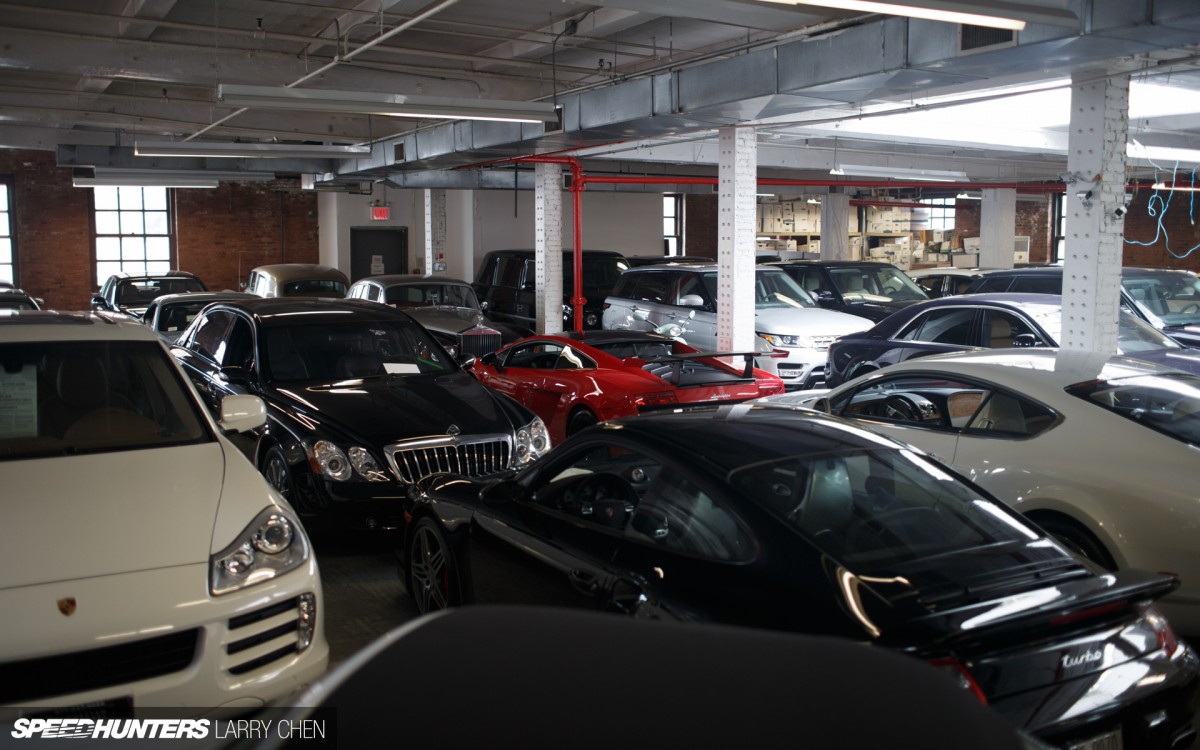 Suzy and I took the elevator up and it dropped us on a floor full of econo-boxes.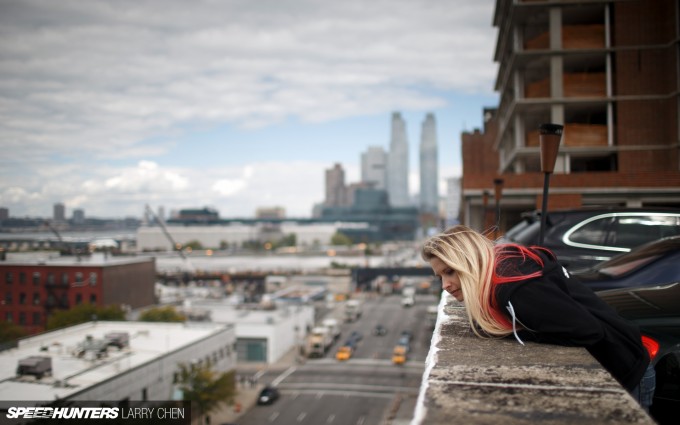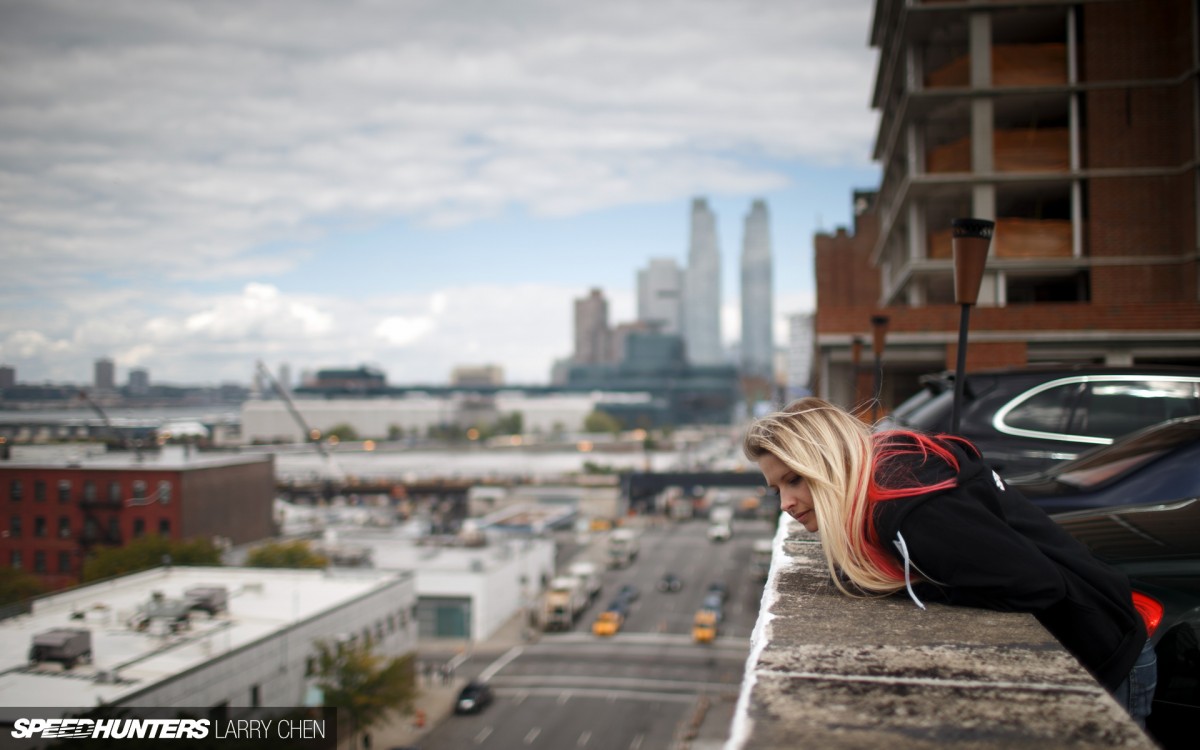 Suzy has never been on such a tall building in her life – she says London is quite flat compared to New York. Good job Suzy.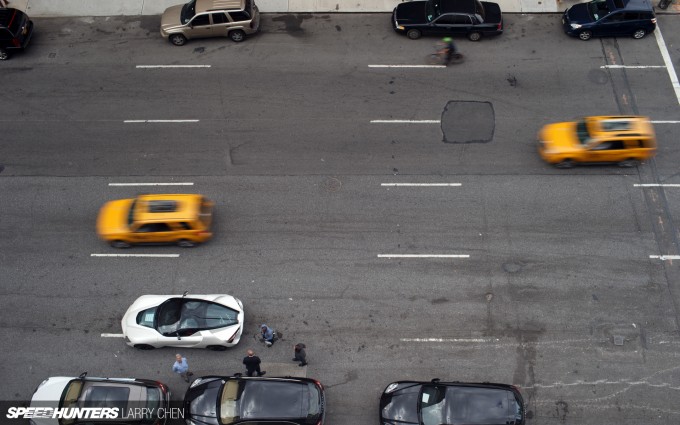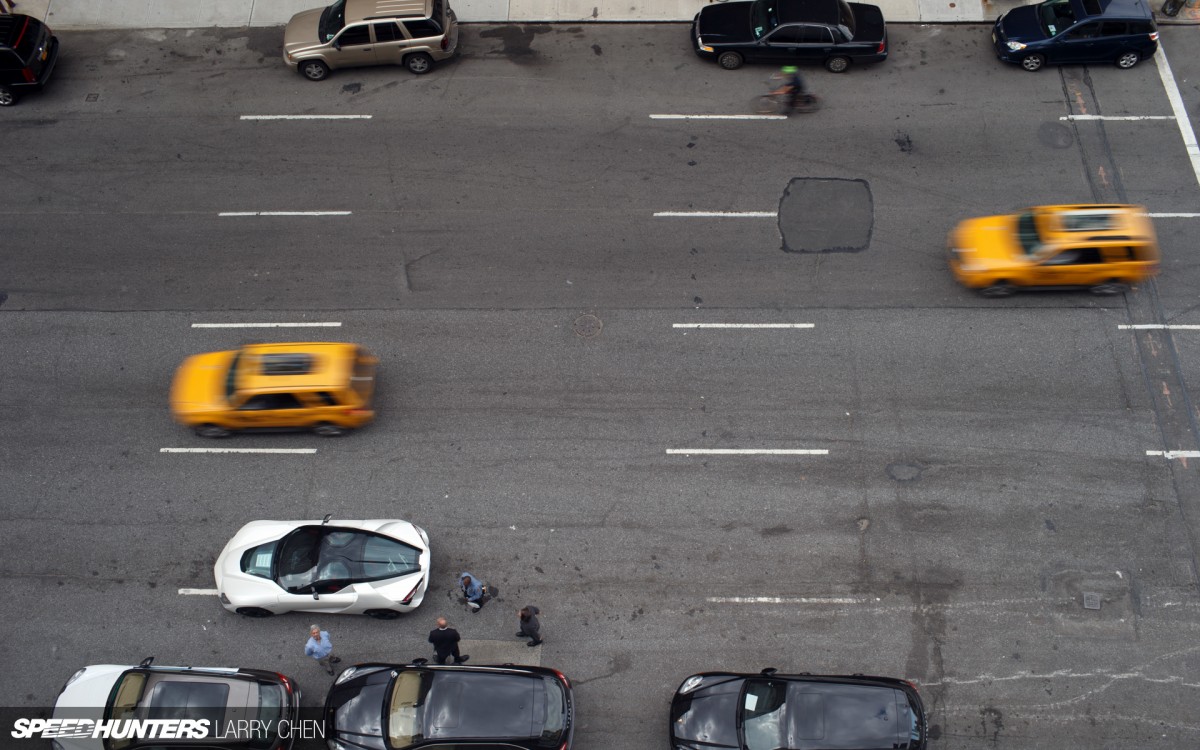 It was crazy how the sports car stopped traffic. People would point and stare, even this nice police officer came out to check it out.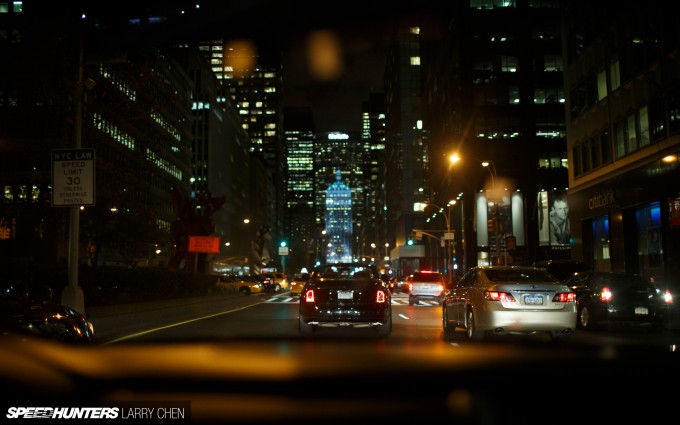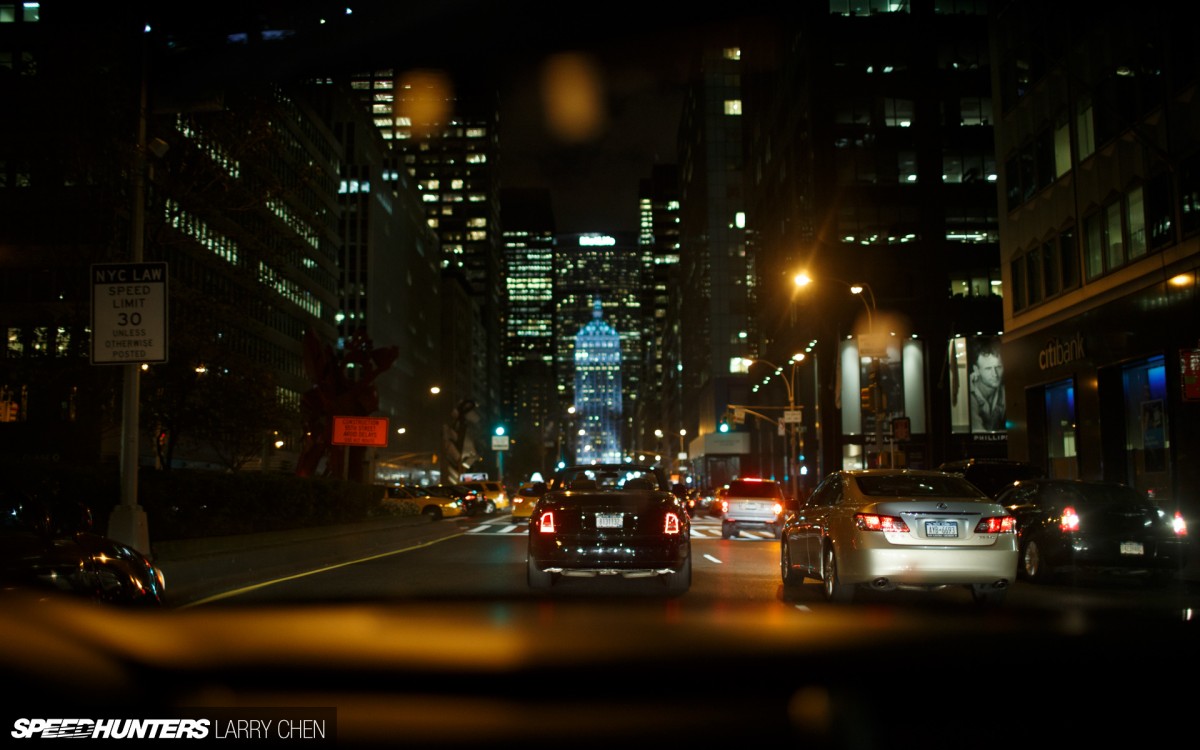 Seeing as this was the first time for Suzy to the Big Apple, our Partnerships Manager, Elizabeth White, arranged for us to take a ride around town in a Rolls Royce Phantom Drophead.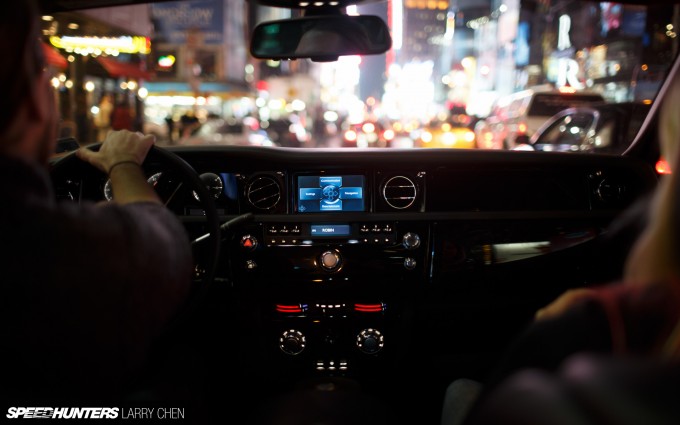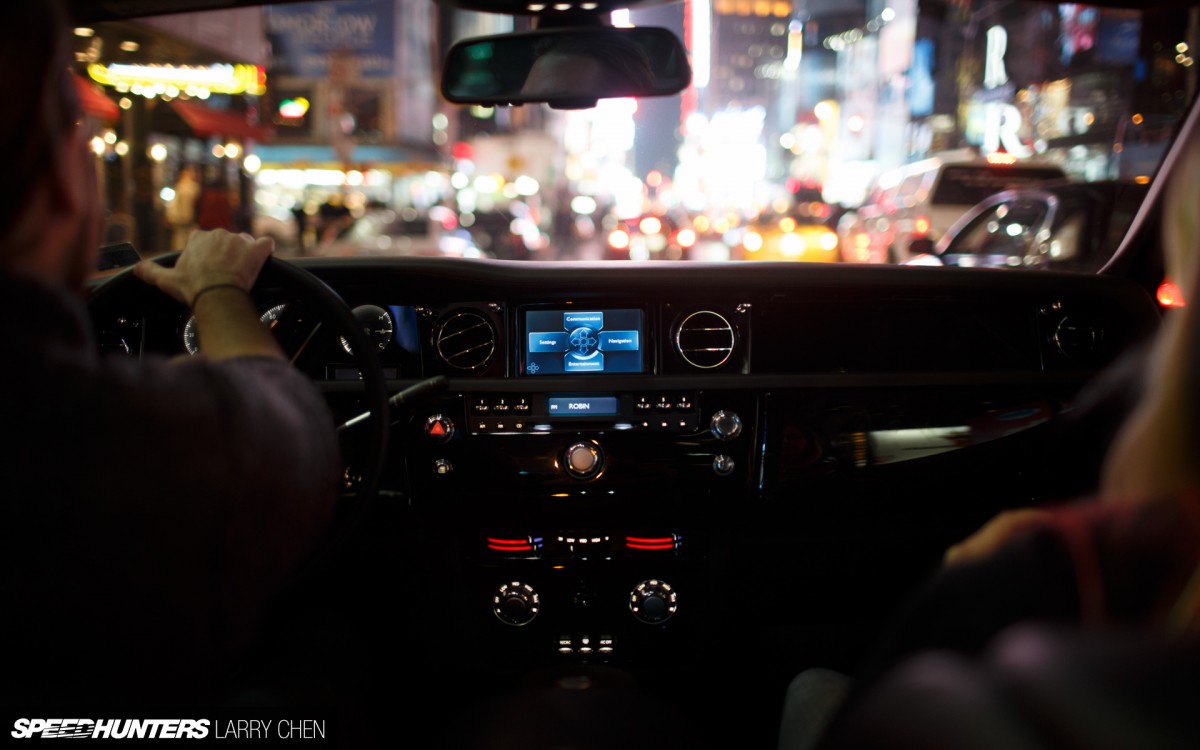 I've never actually been in a Rolls Royce, so it was a pretty neat experience.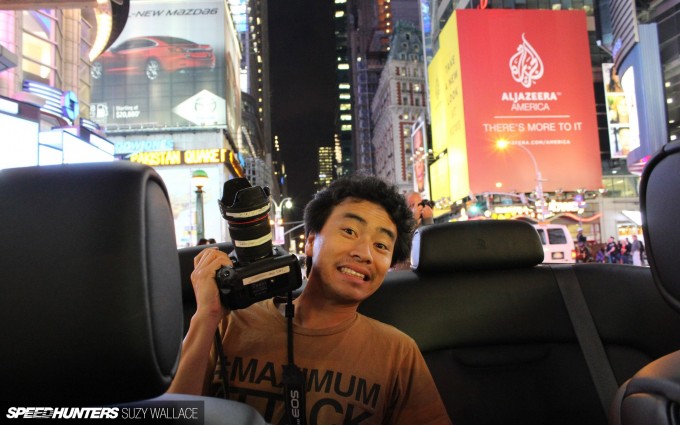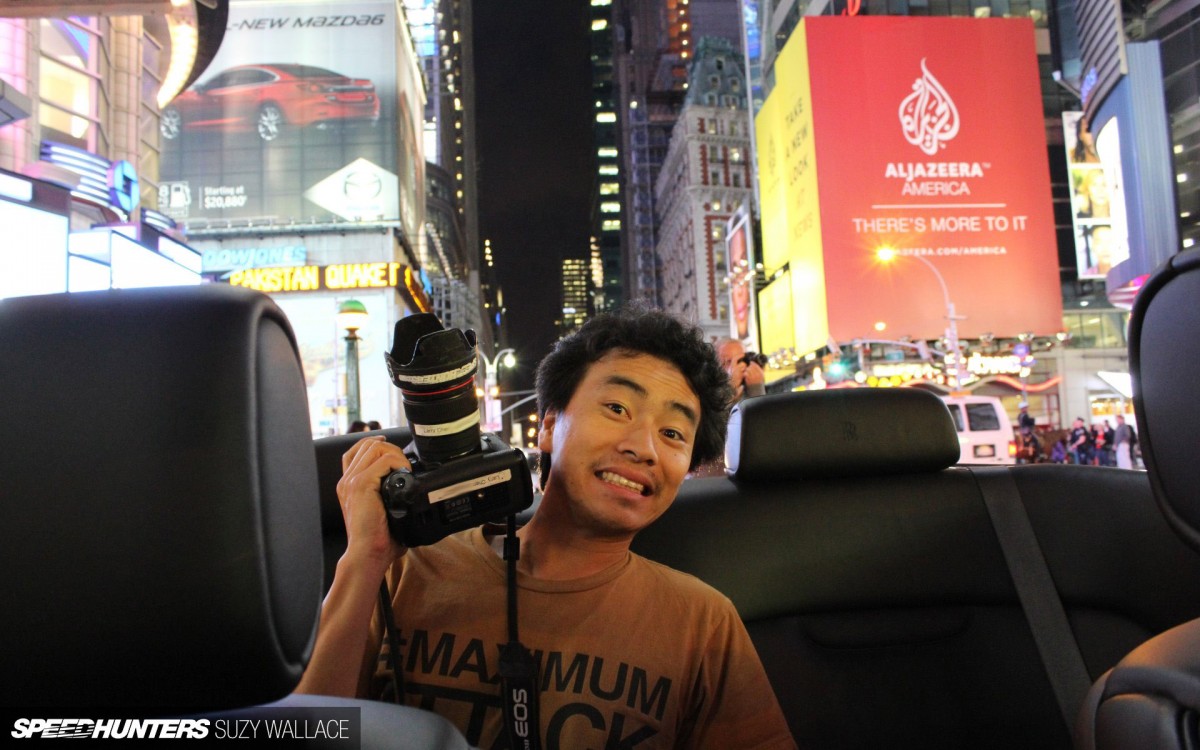 You could fit five Speedhunters in the back seat if you wanted.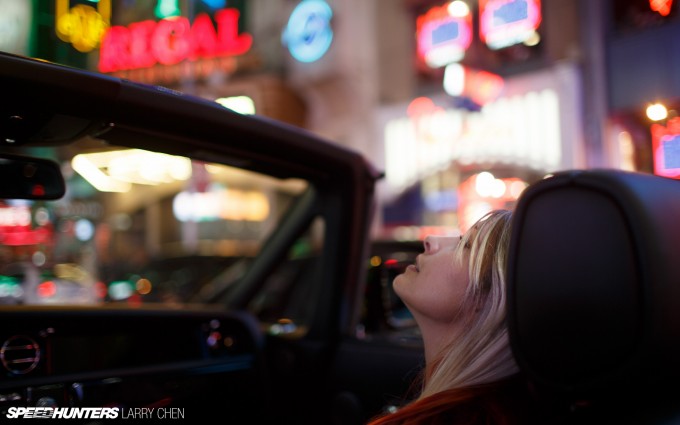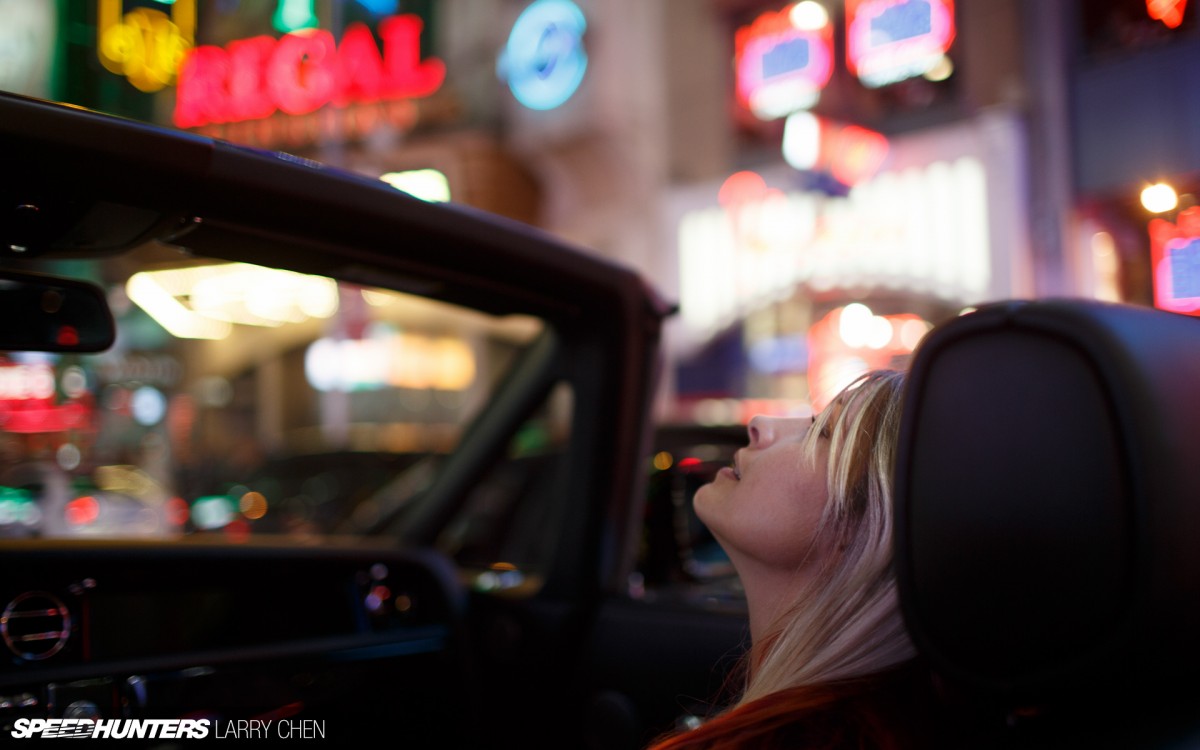 Again with the tall buildings! Would you stop it already!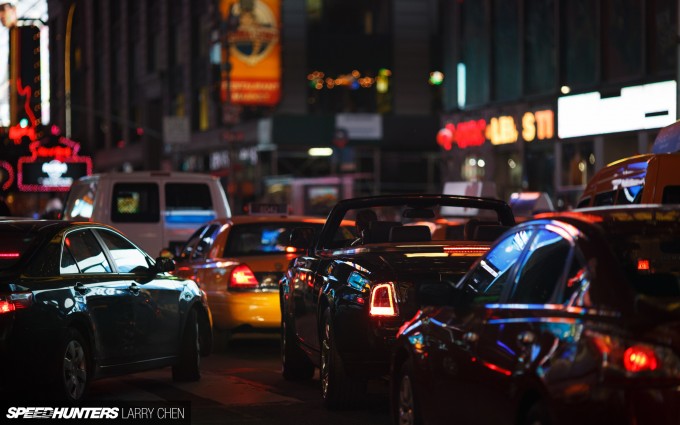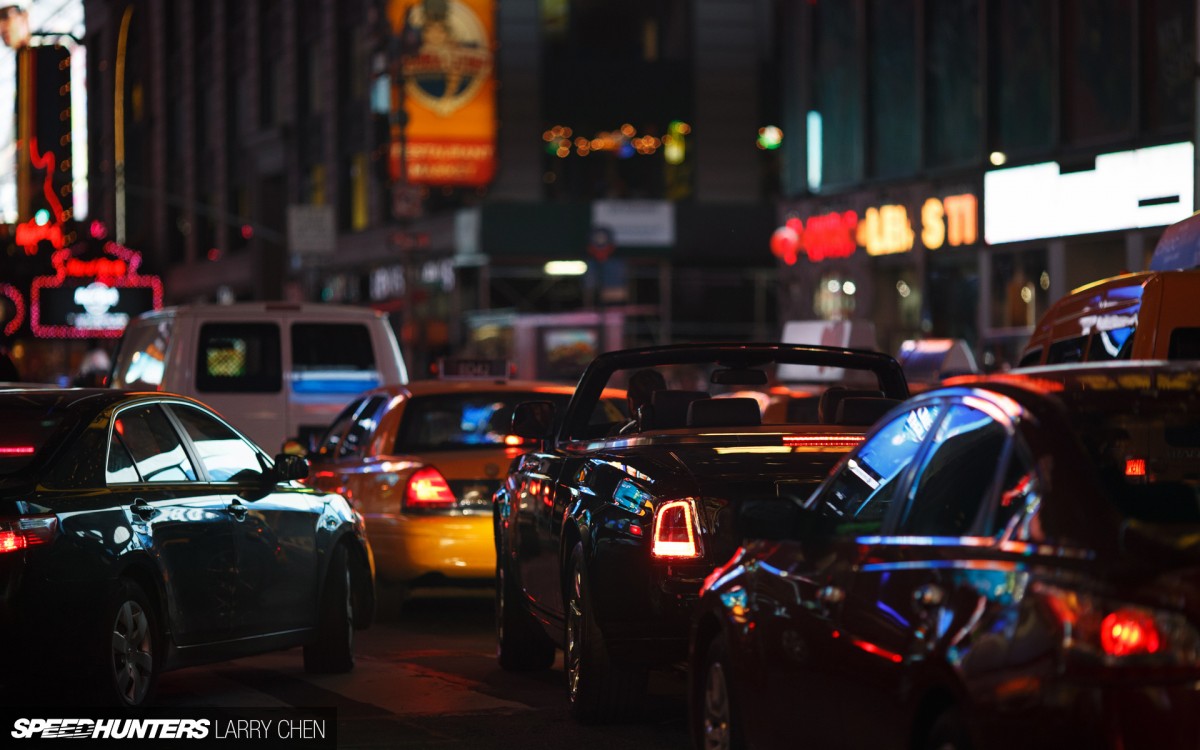 I literally jumped out of the car to check out the sights and sounds of Times Square. Also I wanted to get some nice outside shots of the Rolls.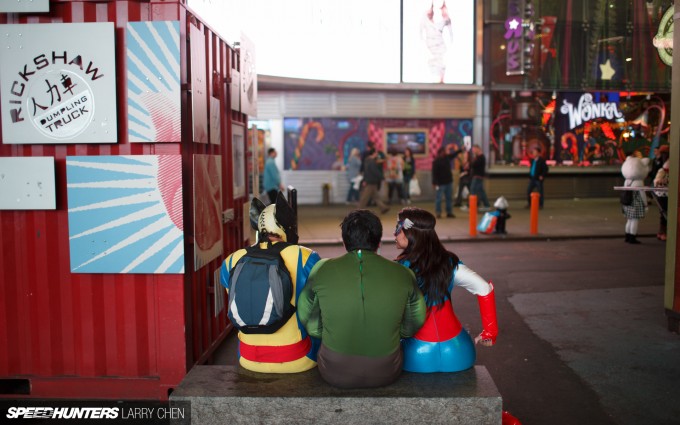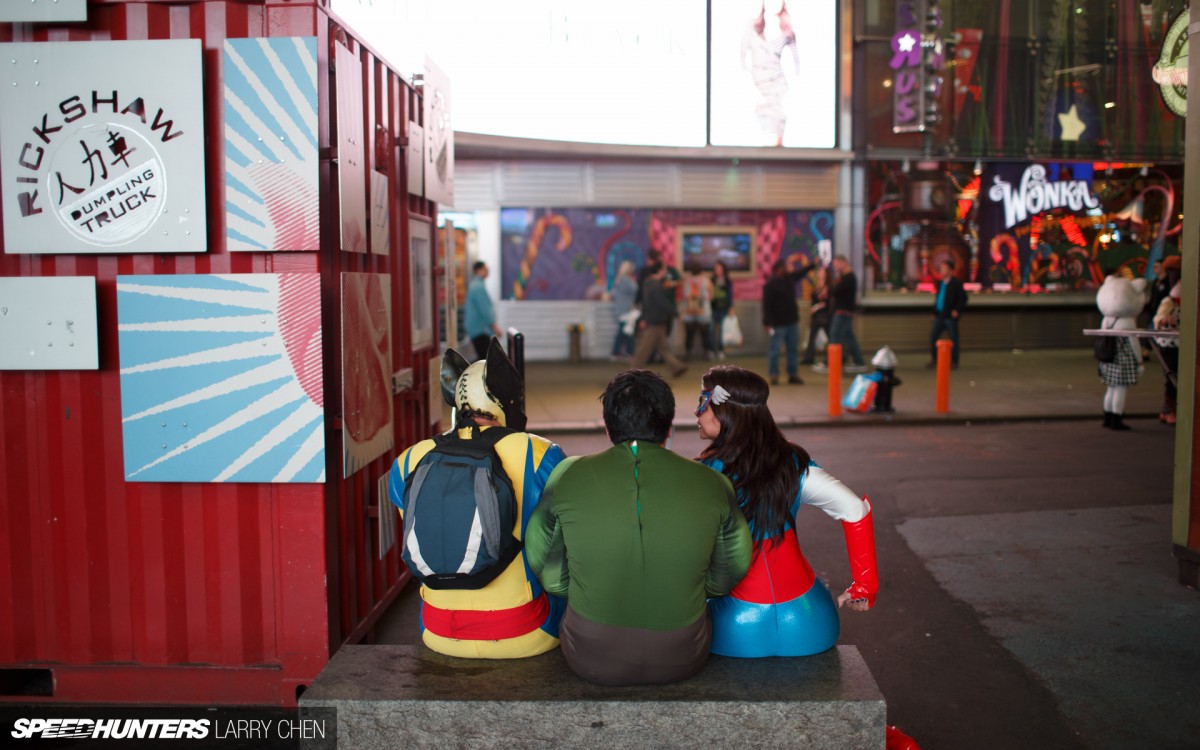 Wolverine, The Hulk and Wonder Woman, sitting on a bench. Typical New York.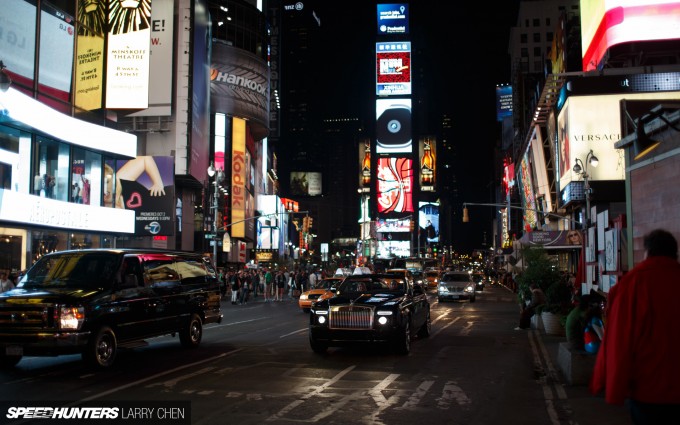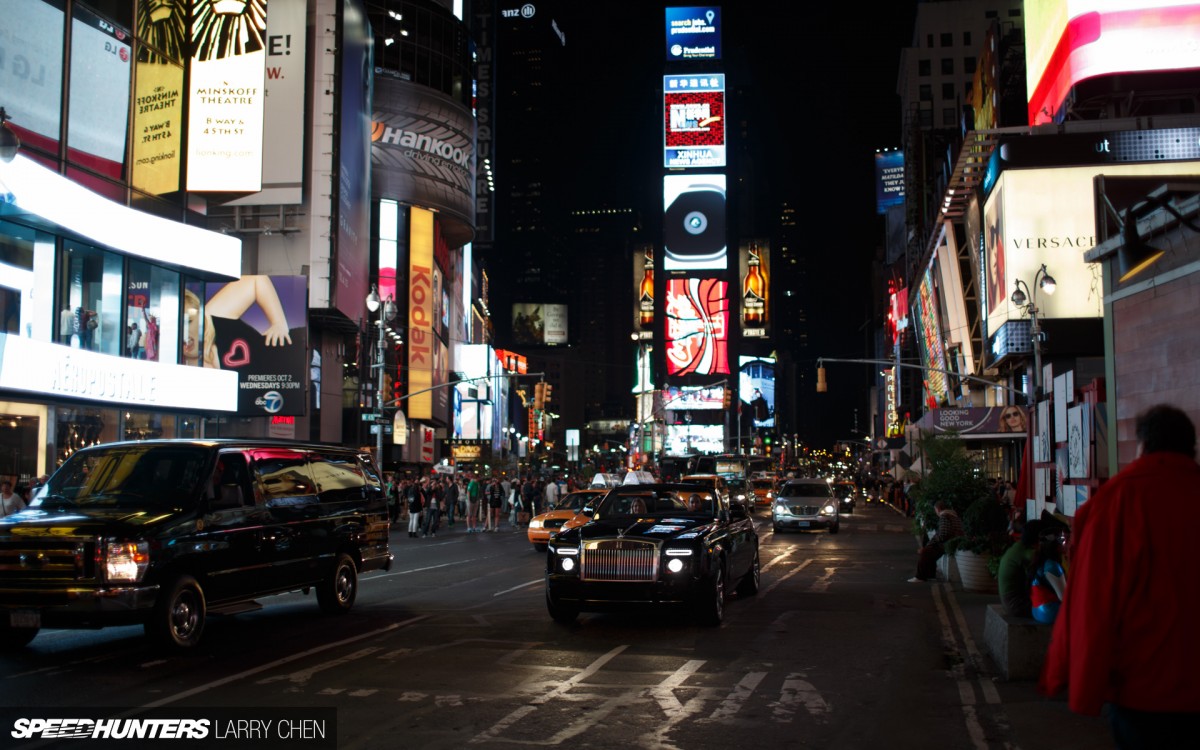 It was a nice ride, but the life of luxury was not for me.
Gull wings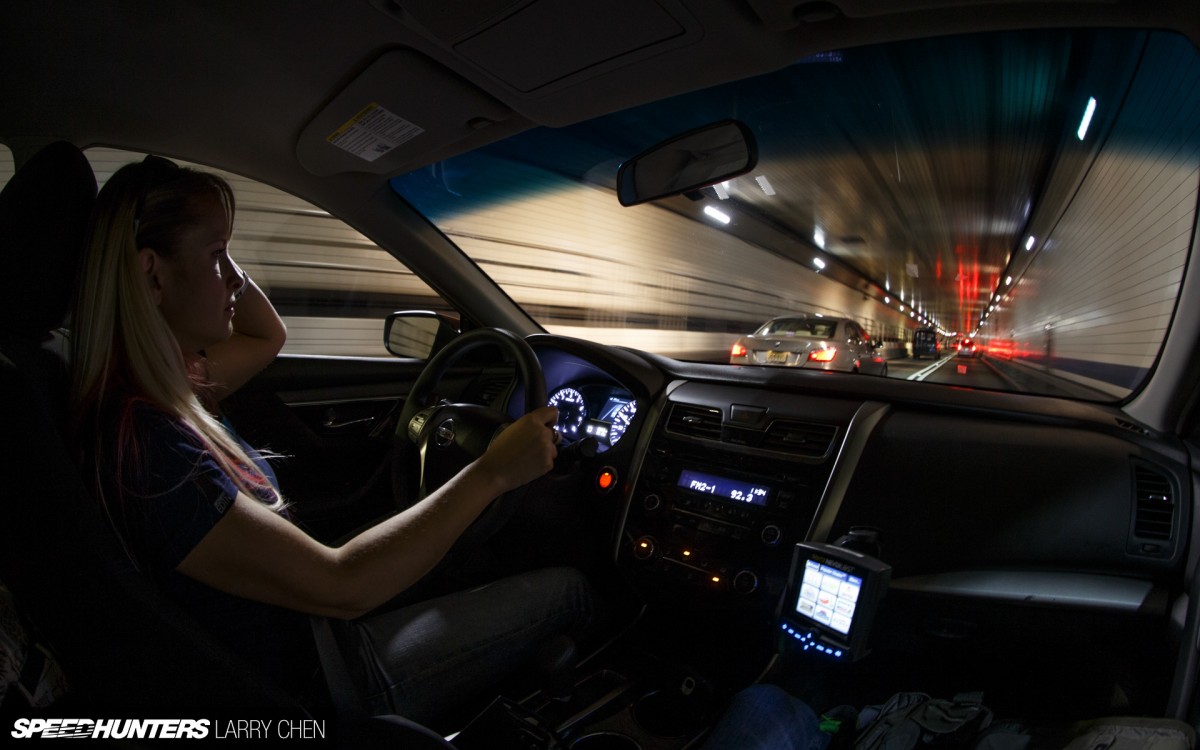 The next morning we headed out to shoot another pair of cars like the two Carrera RSs. Instead of Porsche, this time it was Mercedes.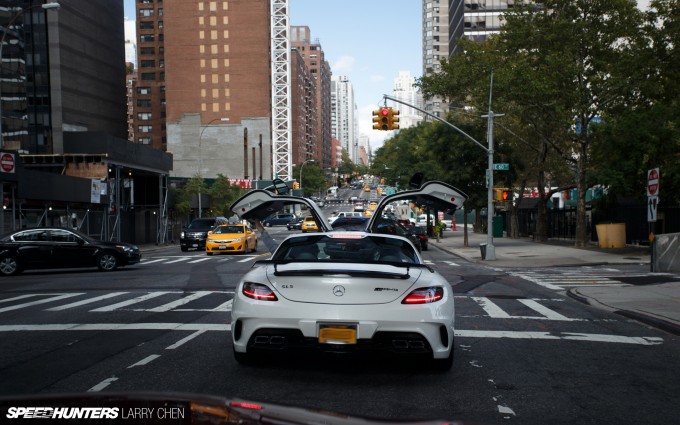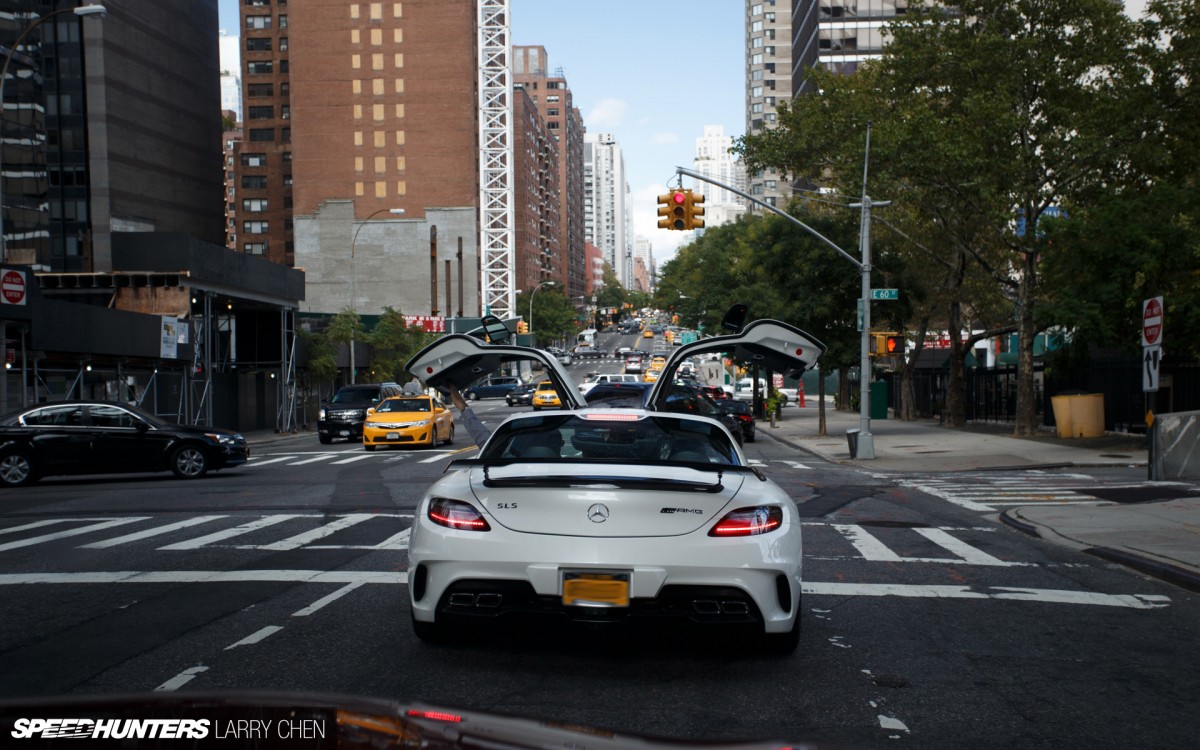 We would be shooting the SLS AMG Black Edition and a very rare 300 SL.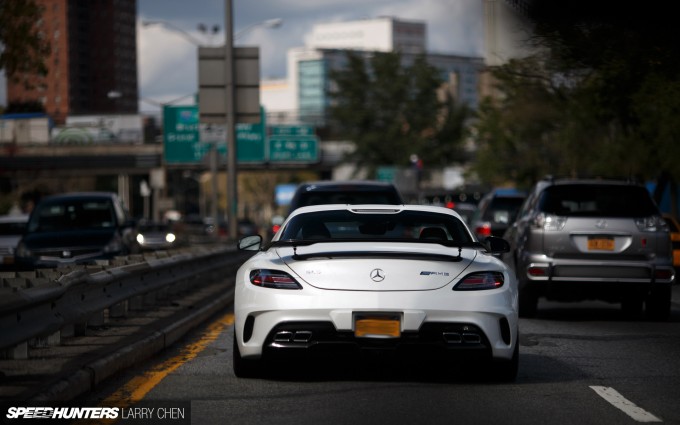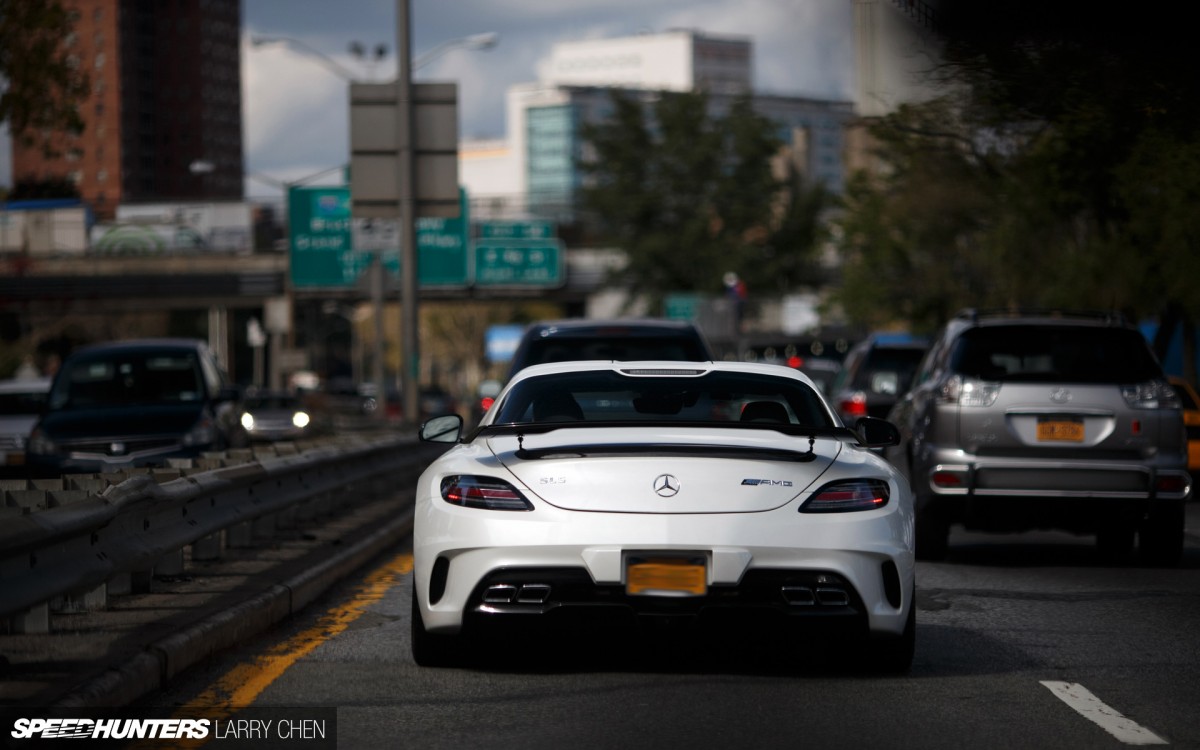 We sat through New York traffic following this beauty of a beast for what seemed like hours.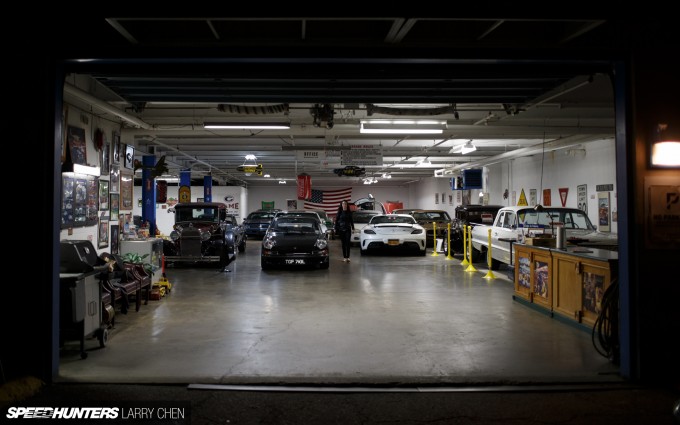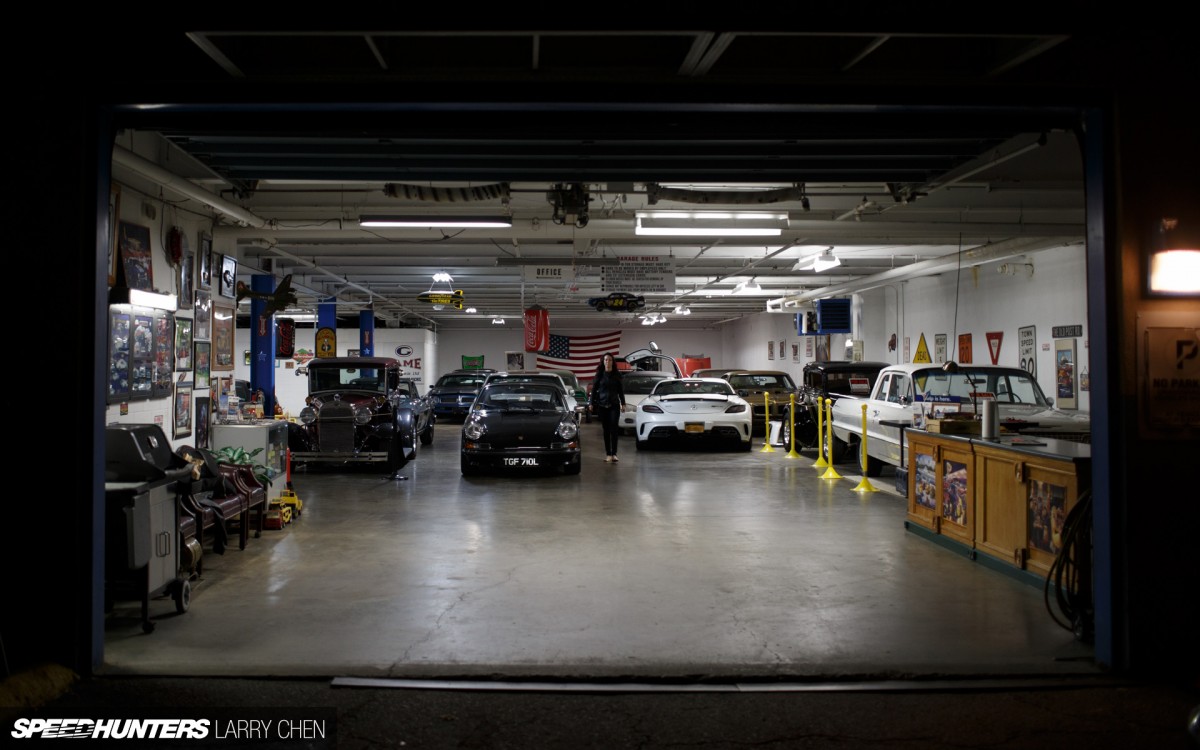 We eventually arrived at this private garage where many people in the city keep their toys. There's just no way you could park all your cars in Manhattan.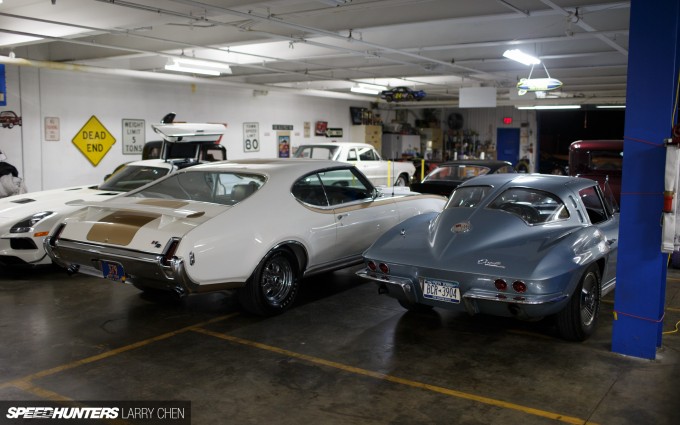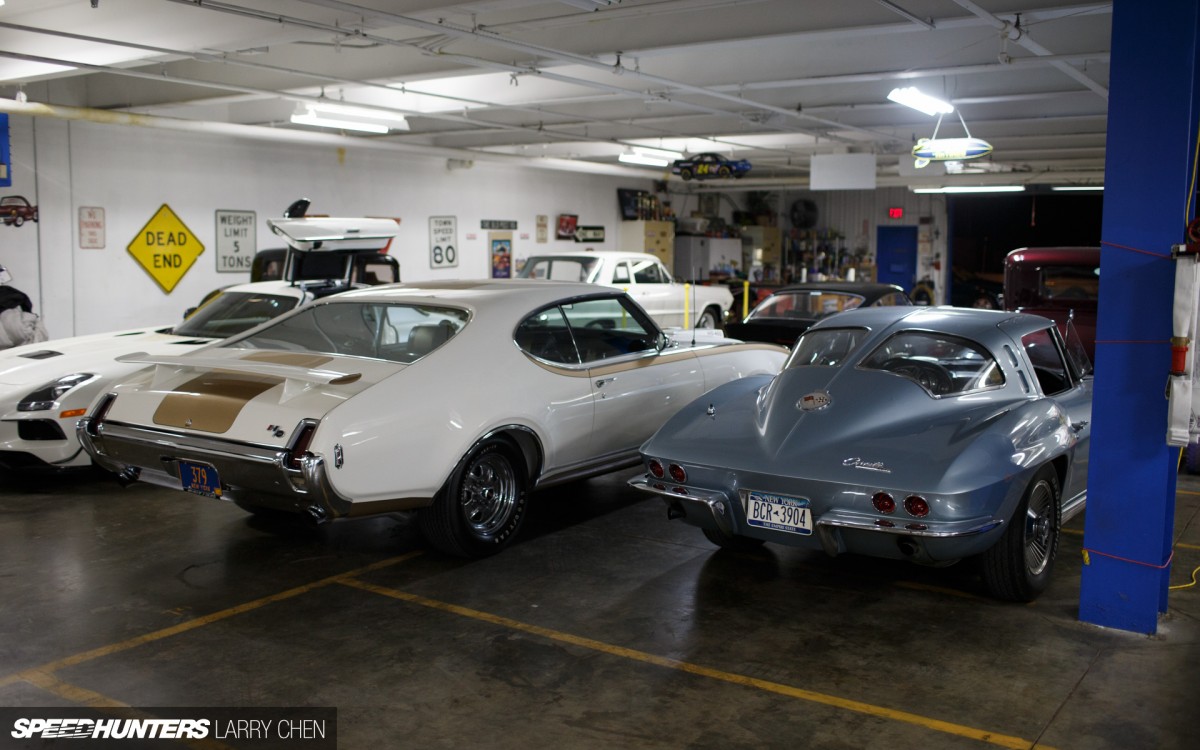 There were all sorts of cars, from classic to super to who knows what.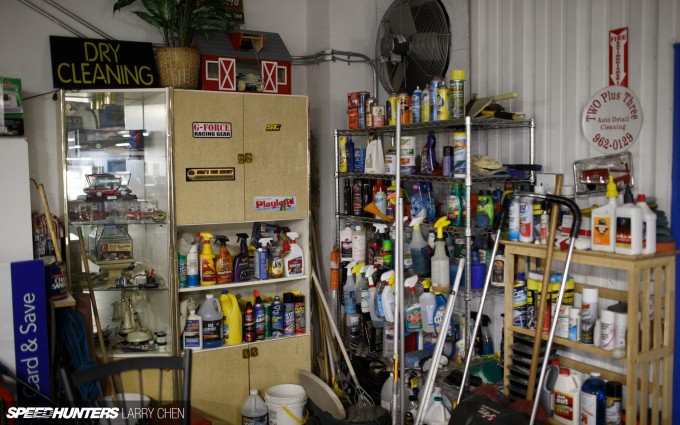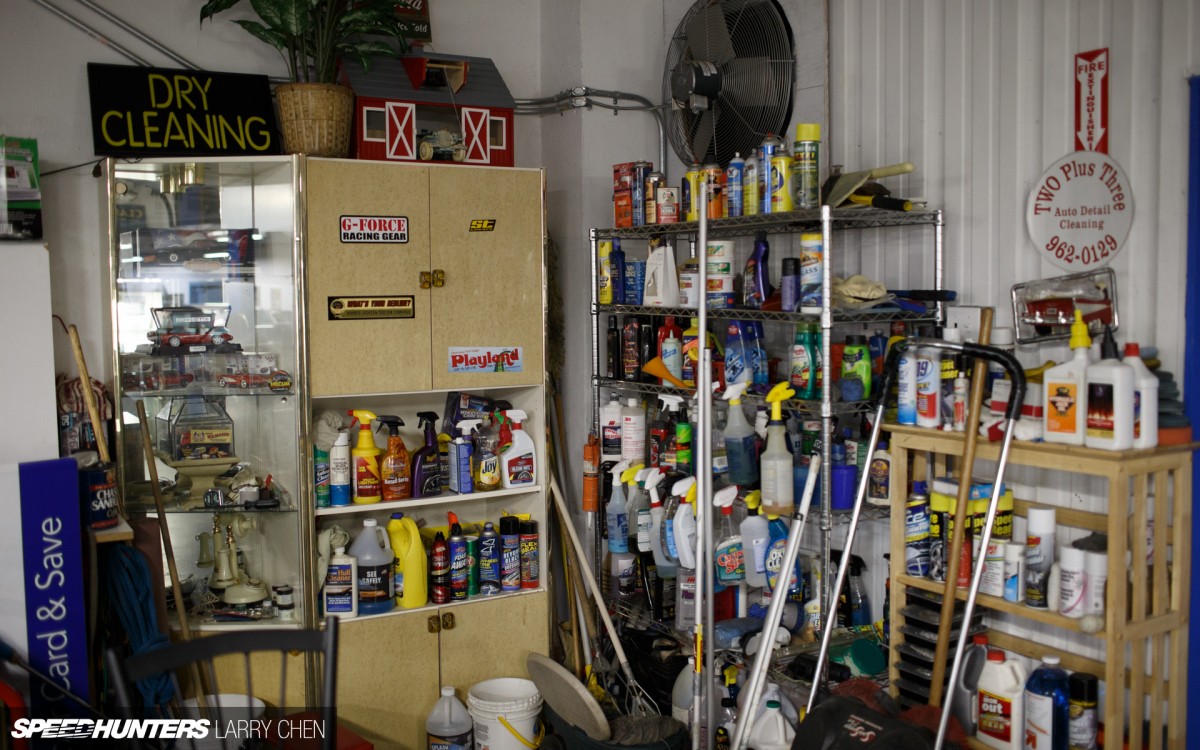 There were also all the car care products you would ever need to clean your pride and joy the way you like it.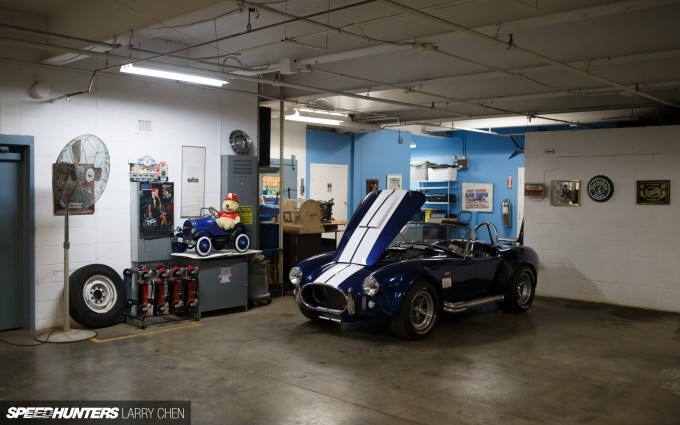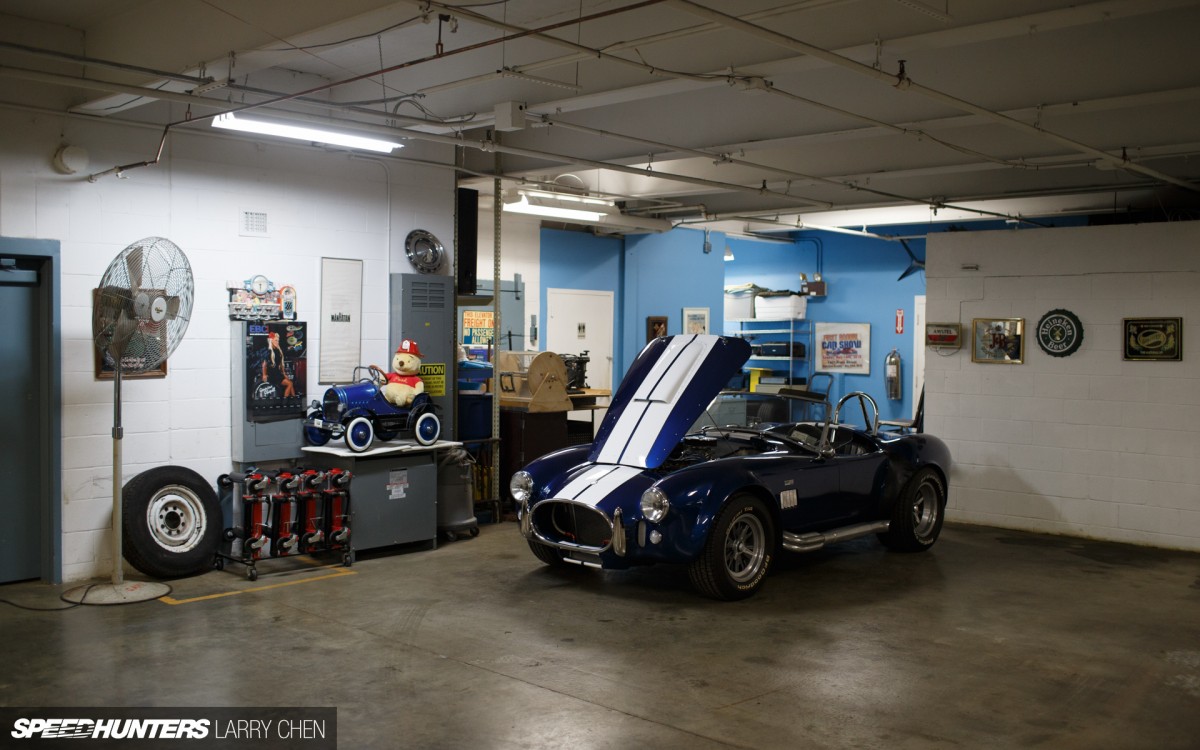 Poor little Cobra was in the corner with no one to play with. I would not mind giving it a home.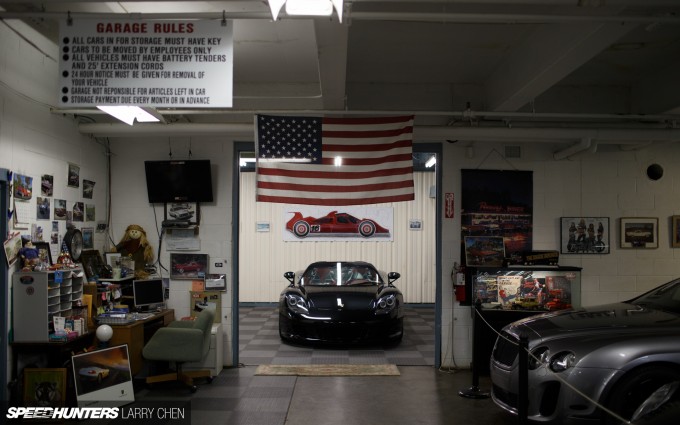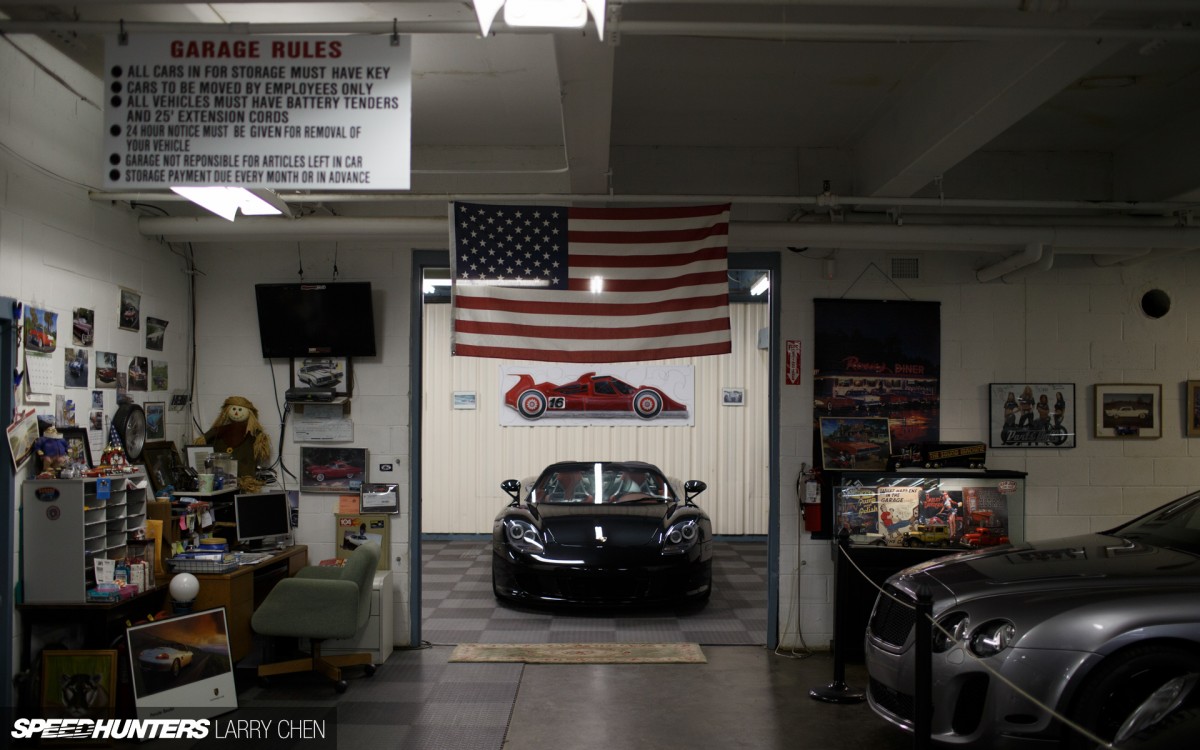 Before we headed out to shoot the pair of Mercedes, this Carrera GT caught my eye.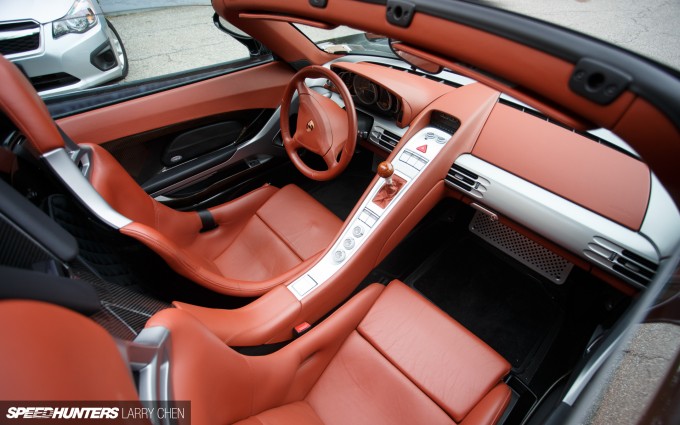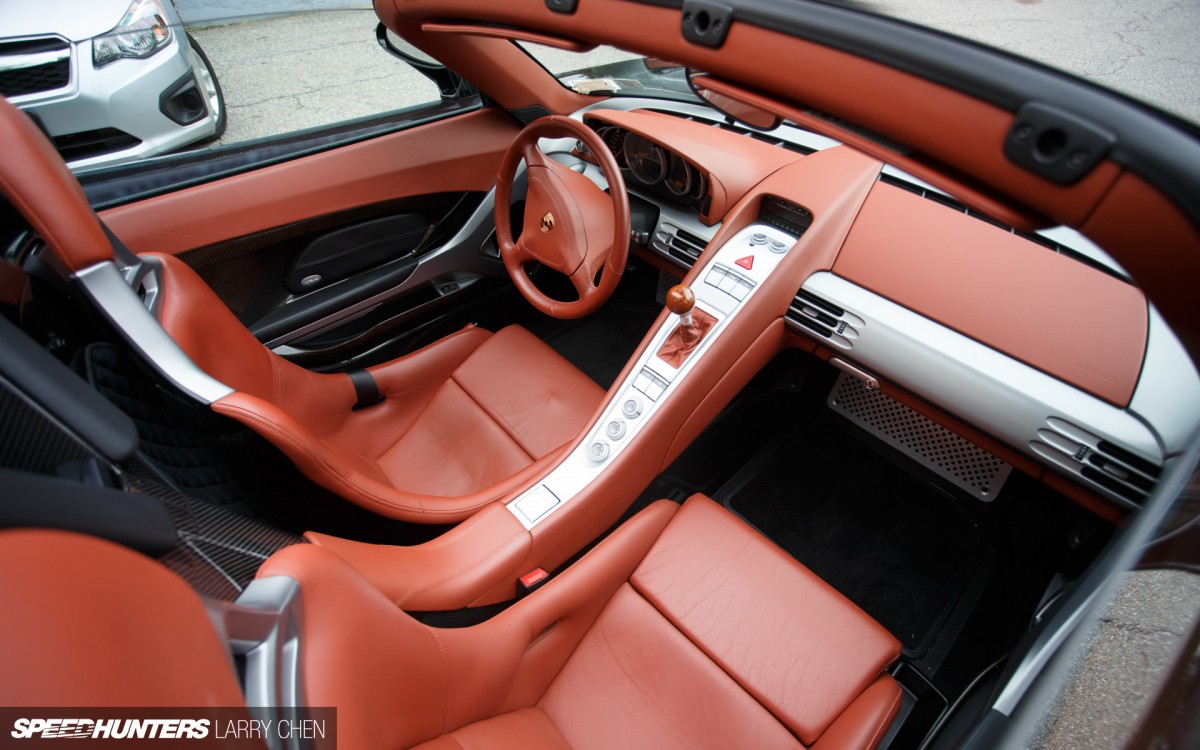 Seeing as I've never ridden in one of these I really wanted to see what it was like. Heck, I've never really had the chance to check one of these out up close. The fact that it has three pedals blew my mind.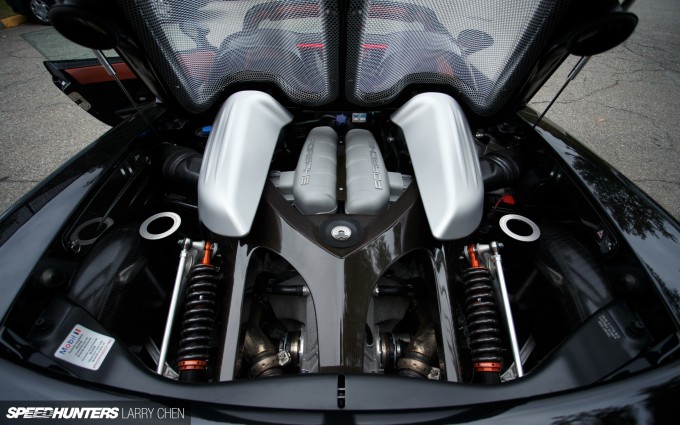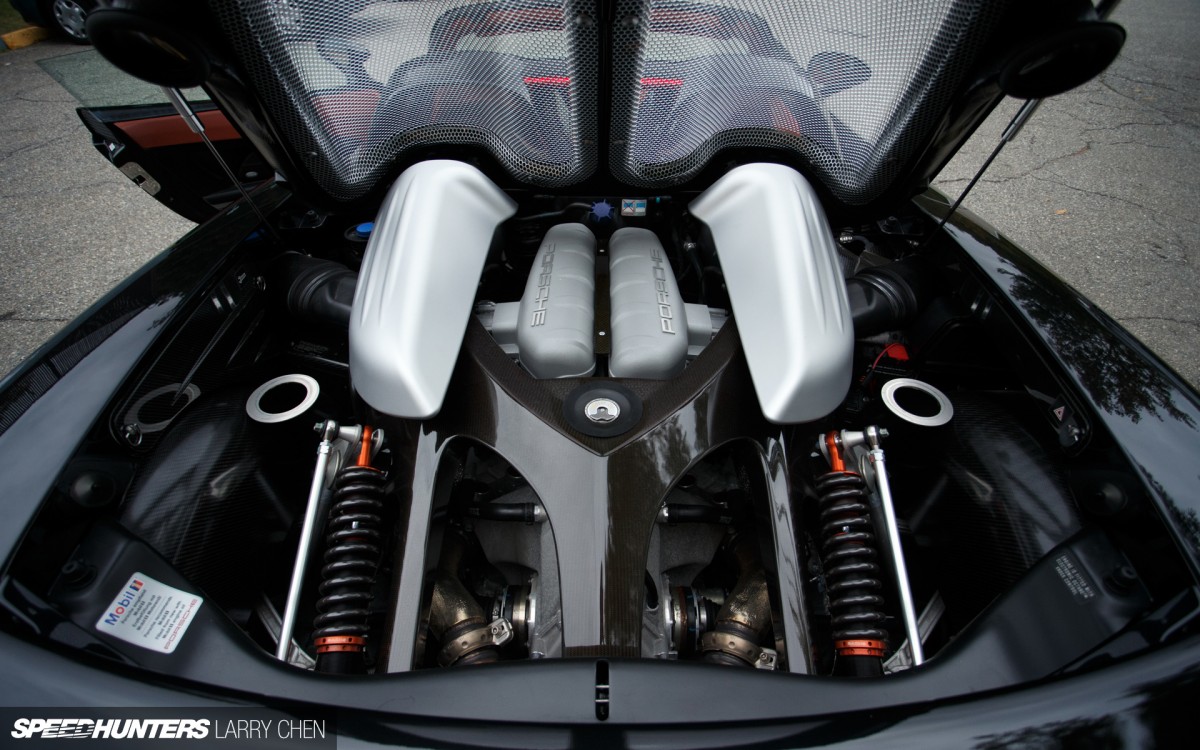 This was such a driver's car, and the owner said he would let me drive it, but he also said too many people die in these things. I think I'll take his word for it.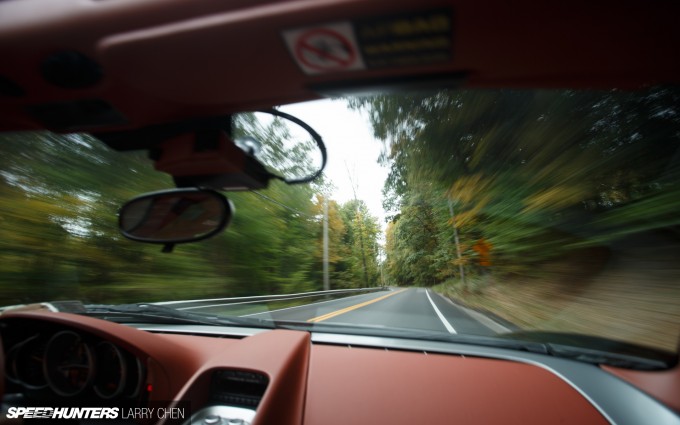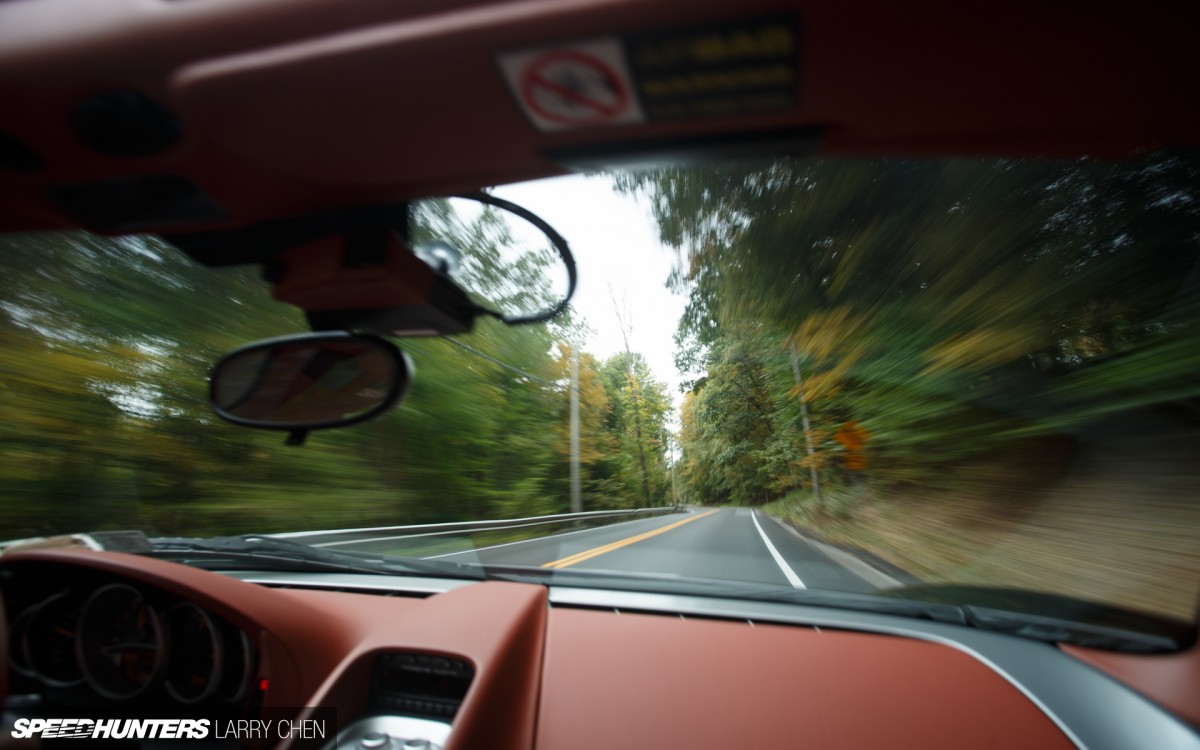 I thought I knew what it was like to be in a fast car, but it was a very uneasy feeling to be in a car that spins tires in third gear over 100mph. My lips were not the only things puckered up.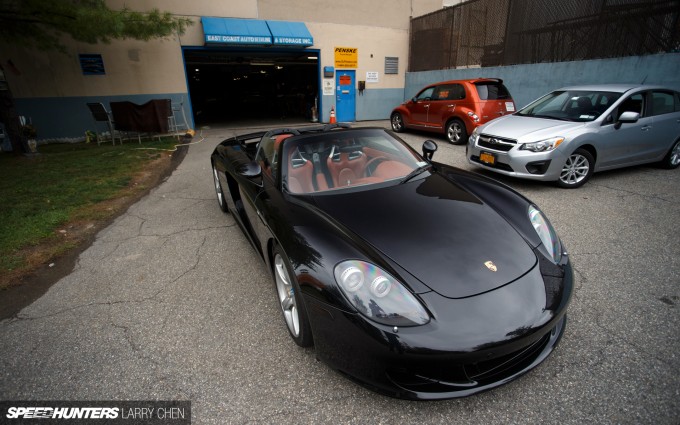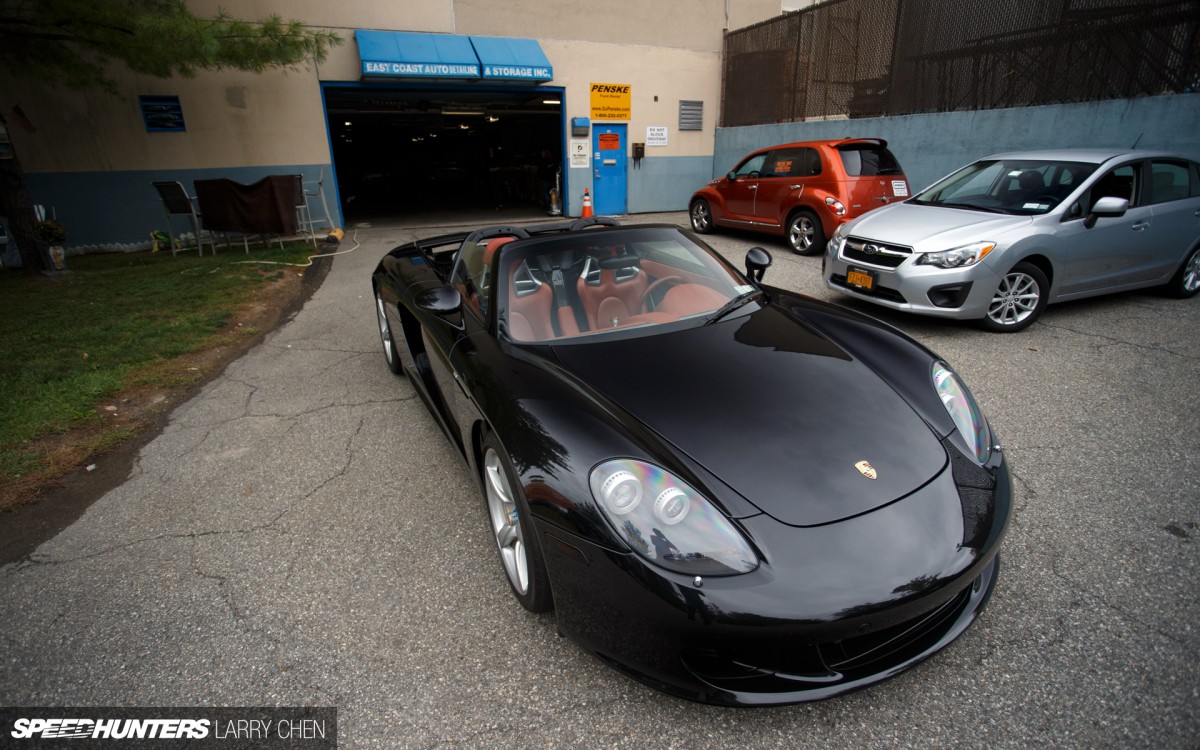 I think I will add one more car to my dream garage, because this was as close as you can get to a modern race car on the street. Just wow….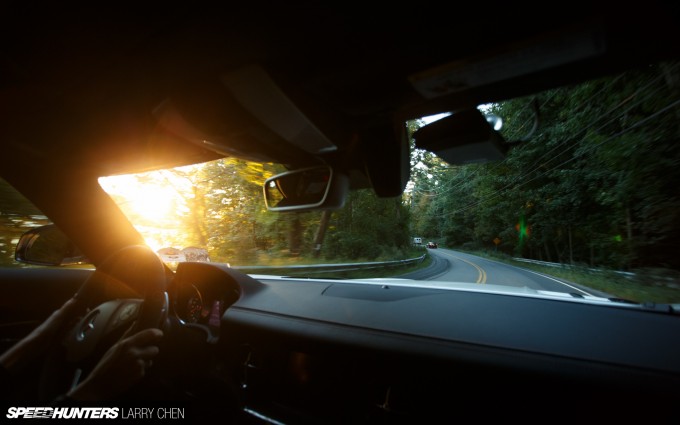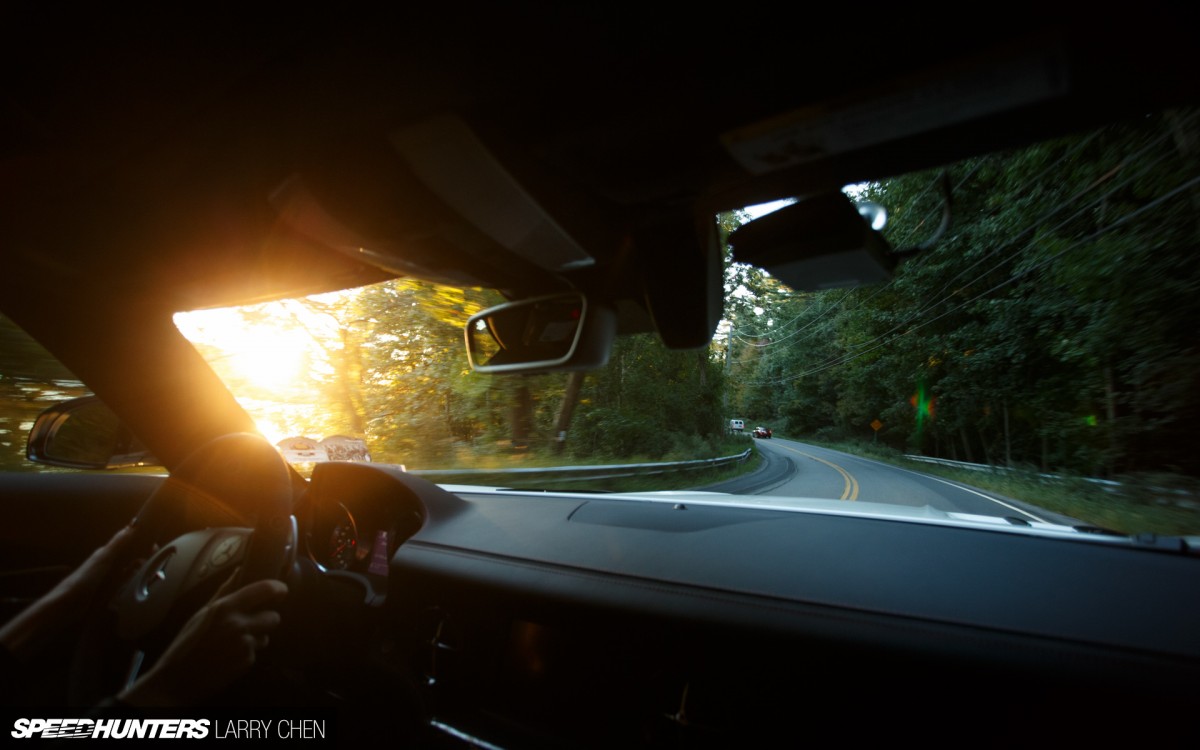 We headed out to a remote location with both gull winged beauties as we were chasing the sunset.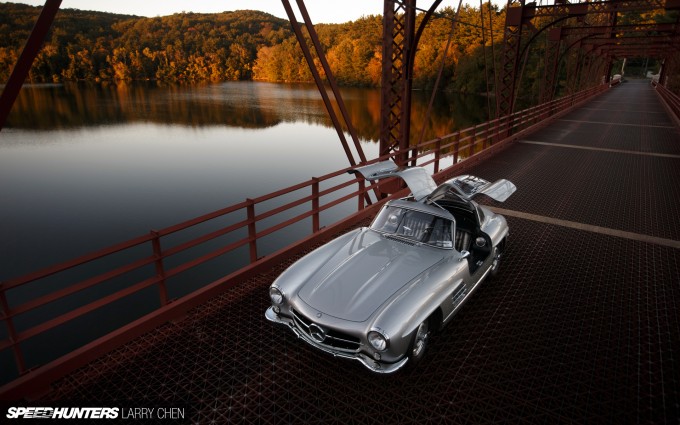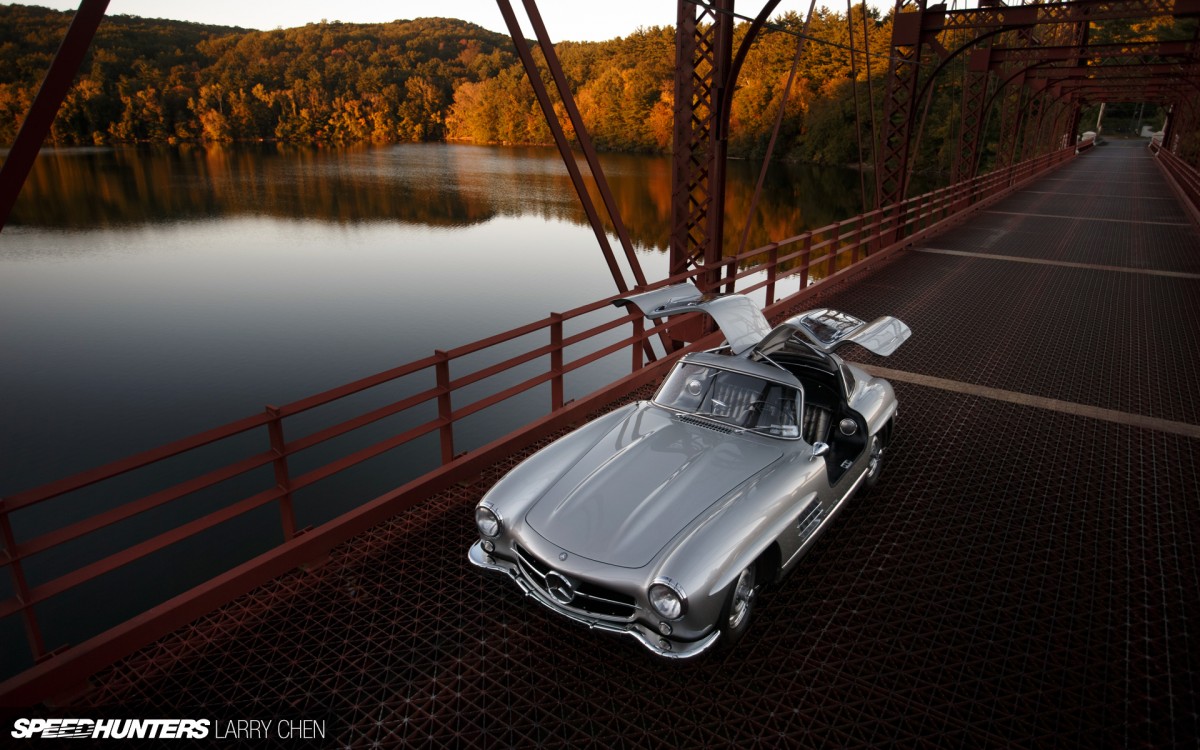 This was just one of those times where I whispered under my own breath about how I love my job. This was one of just twenty nine Mercedes 300SL built with an all aluminum body specifically for racing.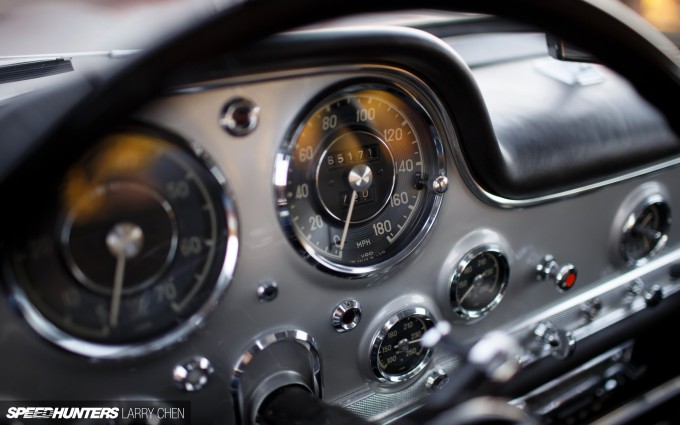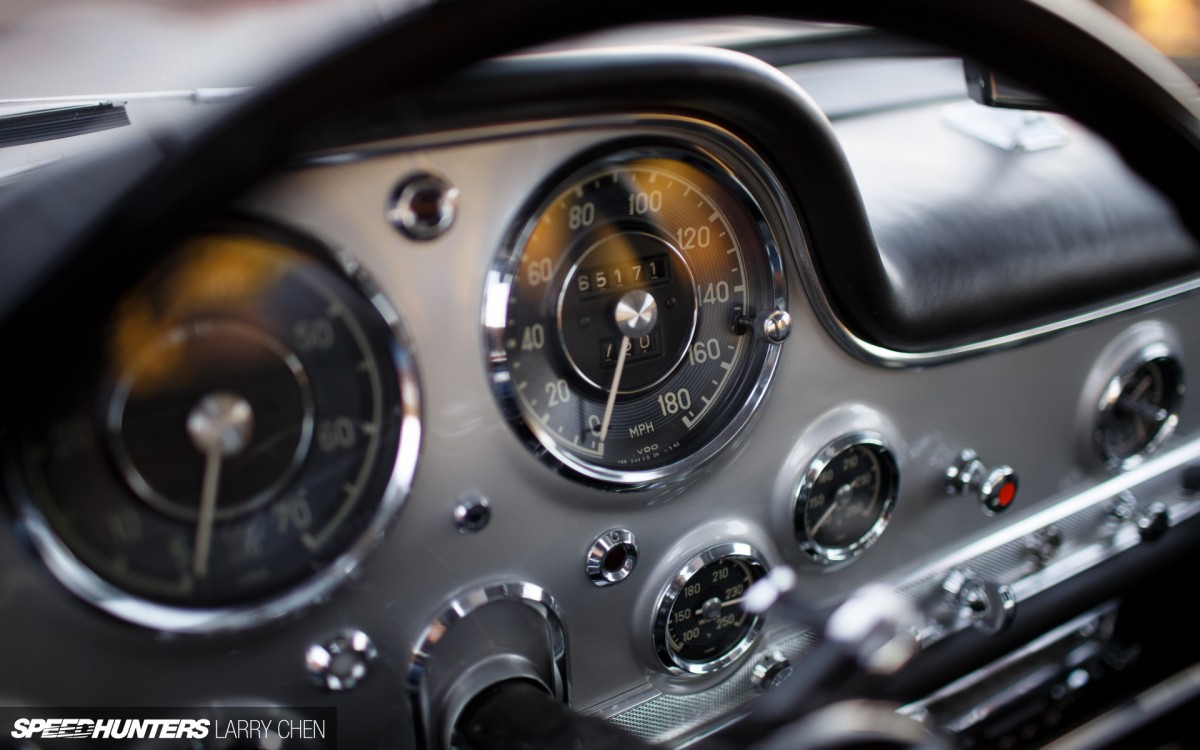 This perfect example was fifty eight years old, but it did not show any signs of age.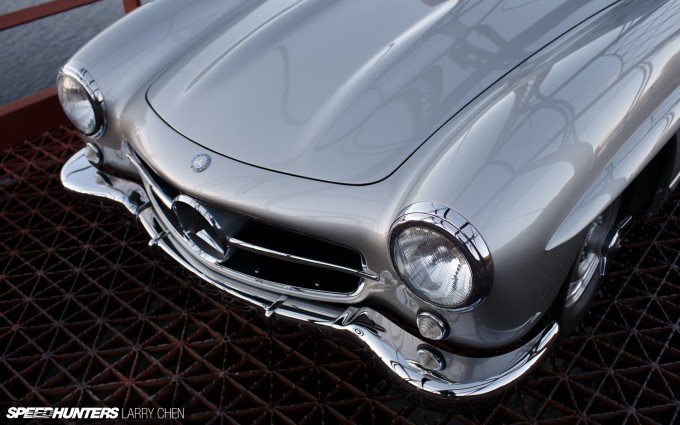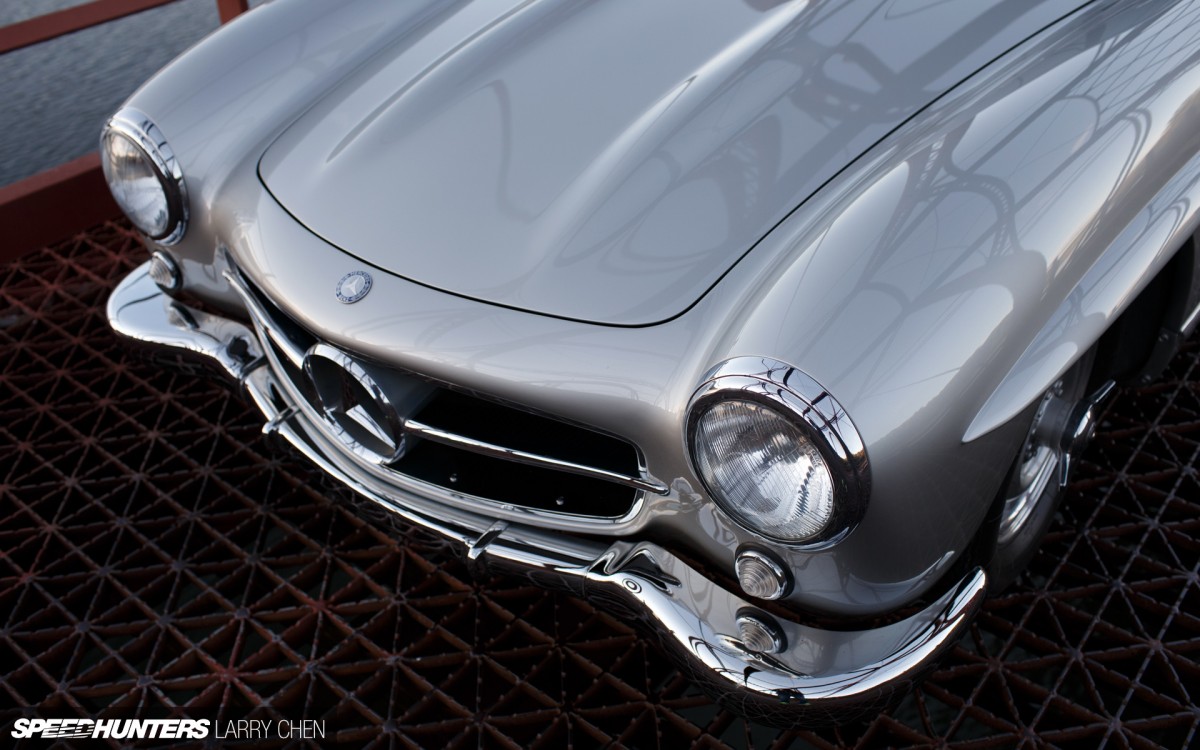 This was another car in the private collection that could go break records at the auction block. You guys will be glad to know this thing gets driven hard, just as it was originally intended. This car was even used for historic racing at one point, but the owner decided it would be better to enjoy it on the street.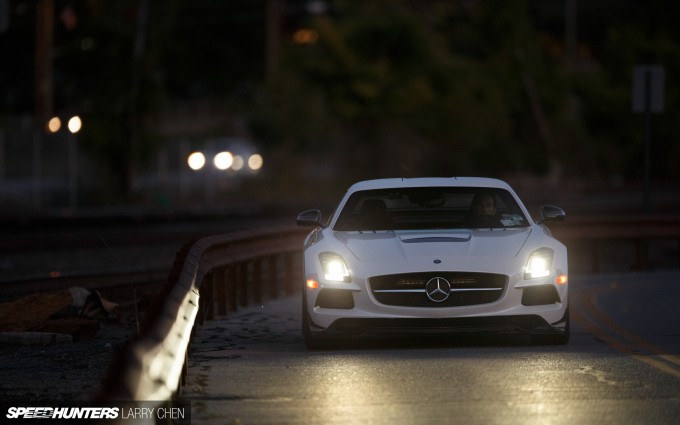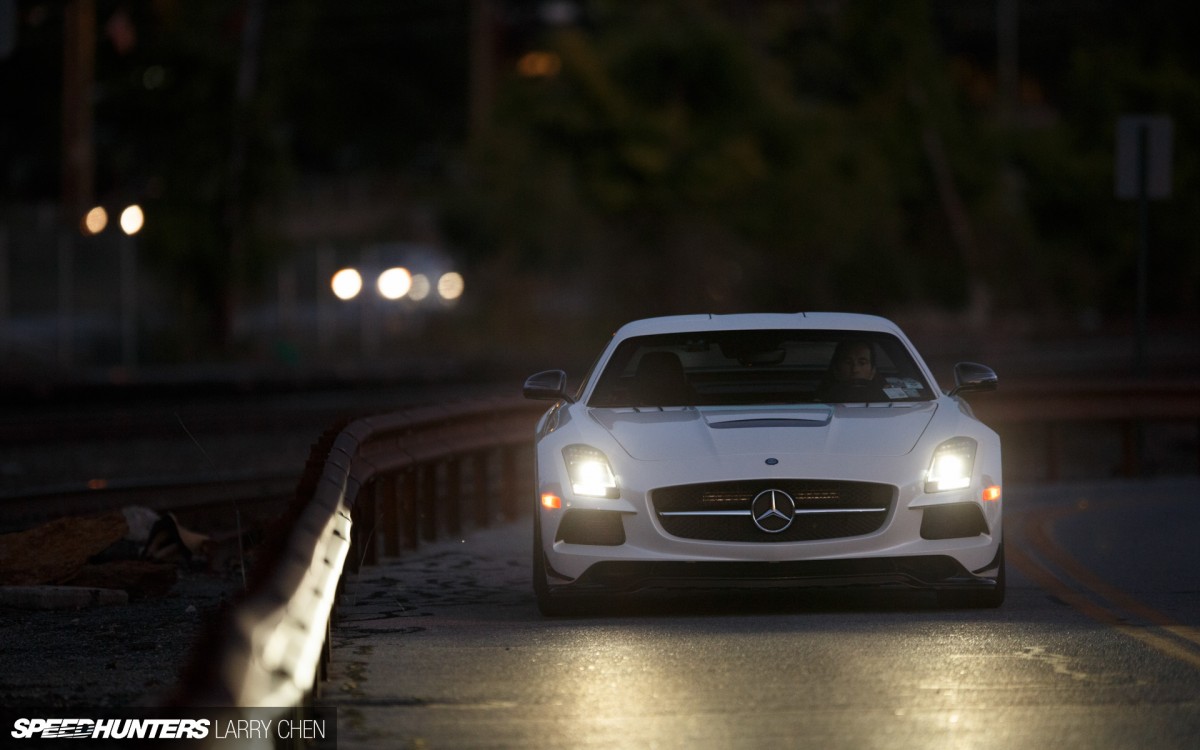 There was no point of me being jealous of our new friend – he's actually doing a service to the car culture community by keeping these treasures on the road, where they should be. New or old, fast or slow these cars get driven, and I think that's very important because it separates the true car enthusiasts from the collectors who just see the classics as investments.
End of an era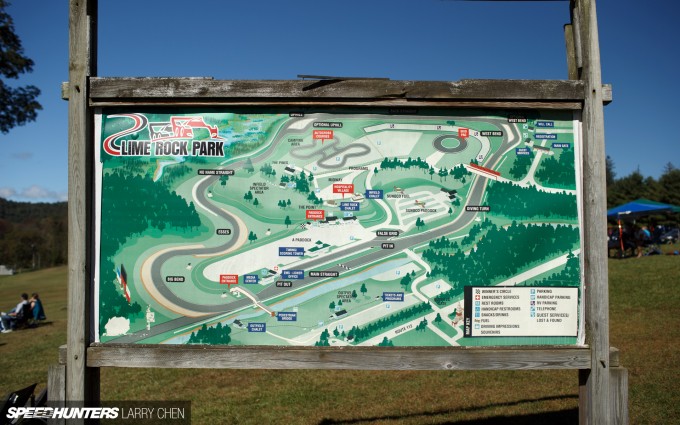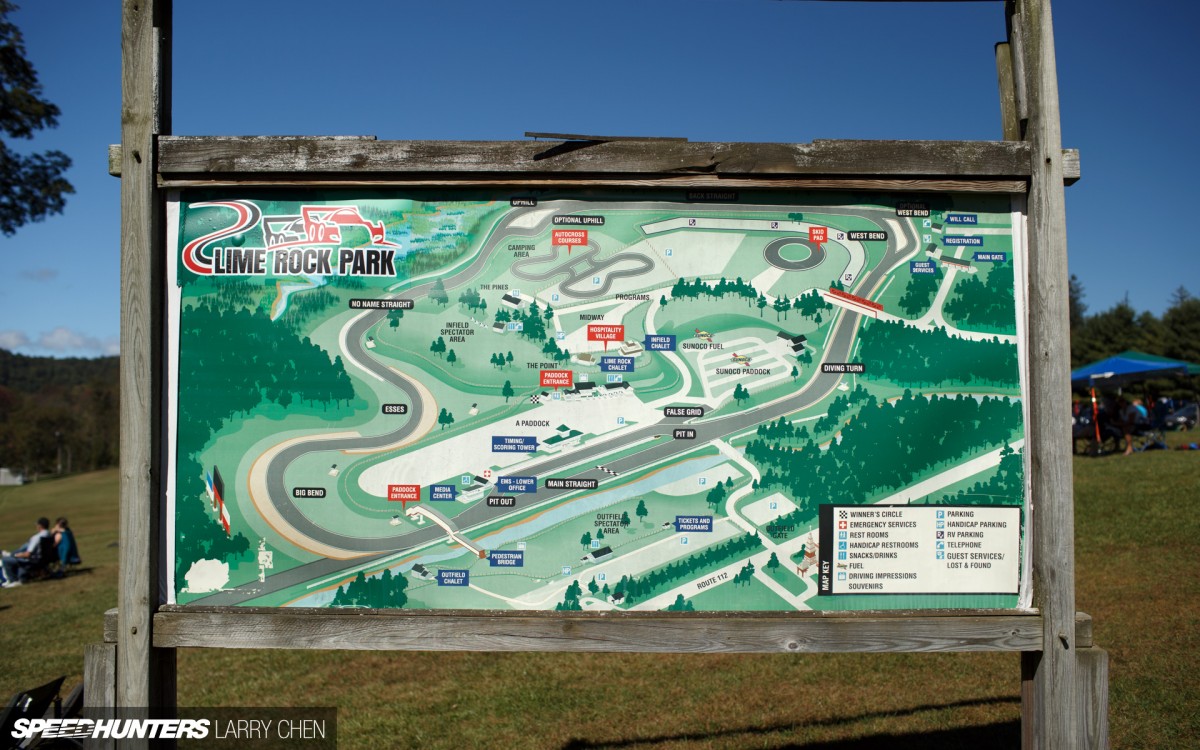 Seeing as I was going to be in New York anyways I figured it would be a good idea to check out Lime Rock Park, as I've never been to the historic track.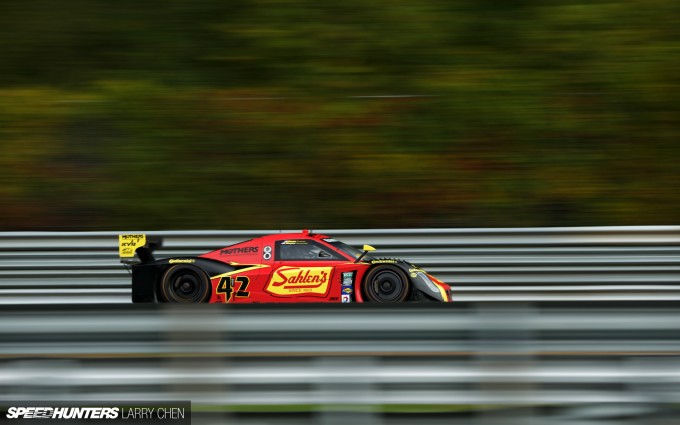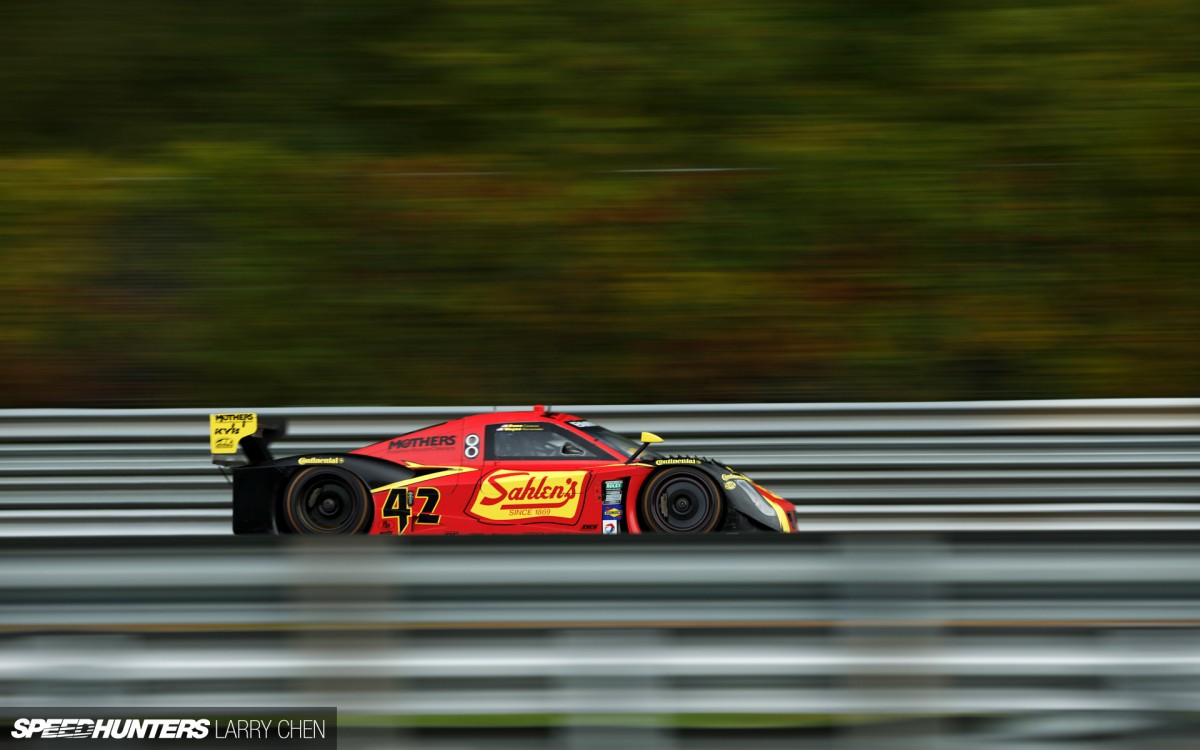 That weekend was especially important because it would be the last GrandAm race ever.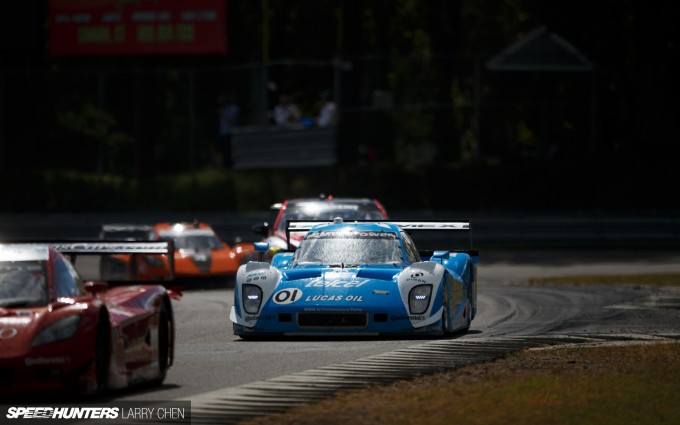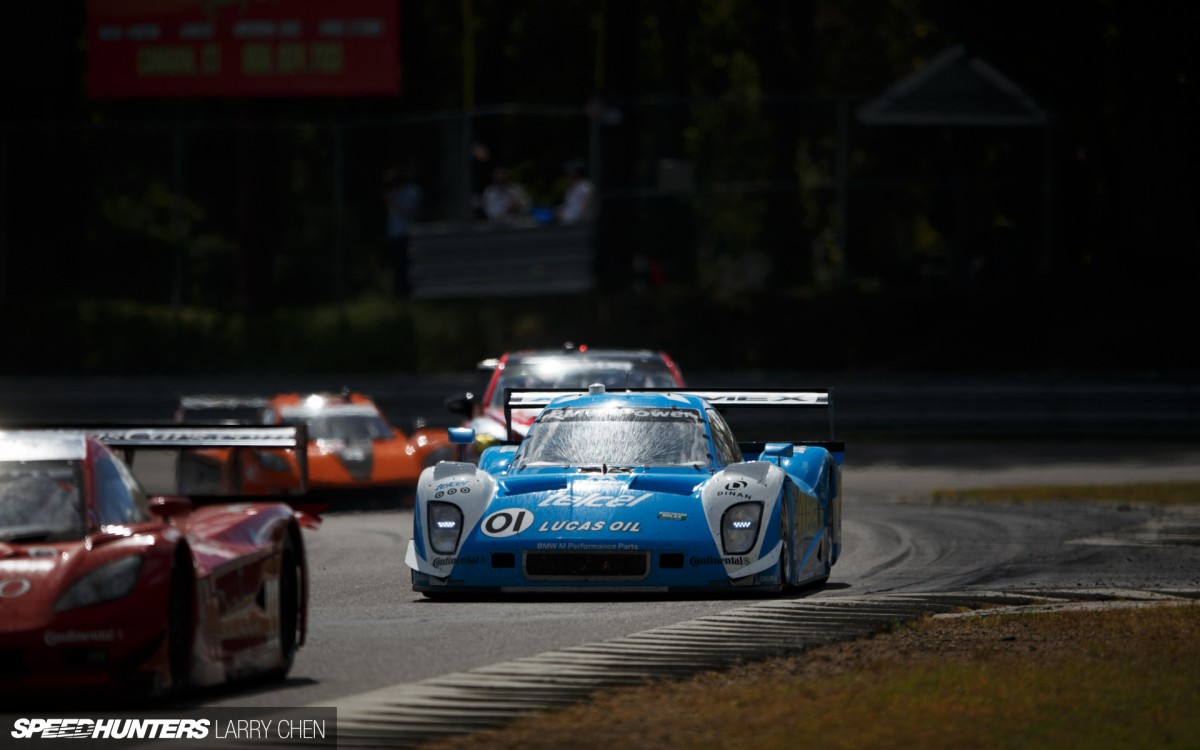 It was sad for me to see such an awesome racing series disappear, because I actually watched them race growing up on the streets of Long Beach. Watching these prototype cars racing around the streets was my introduction to Sports Car racing.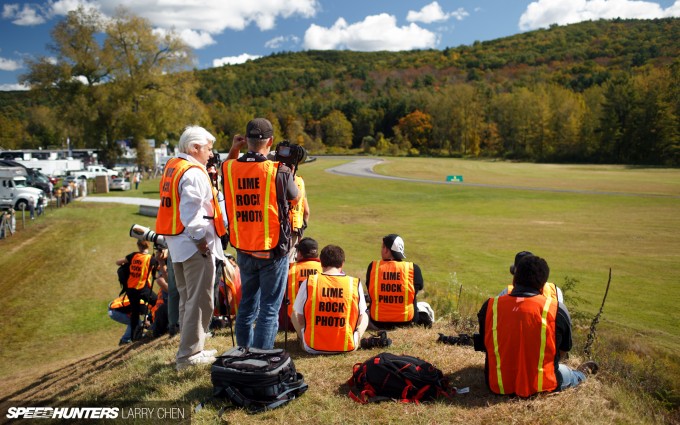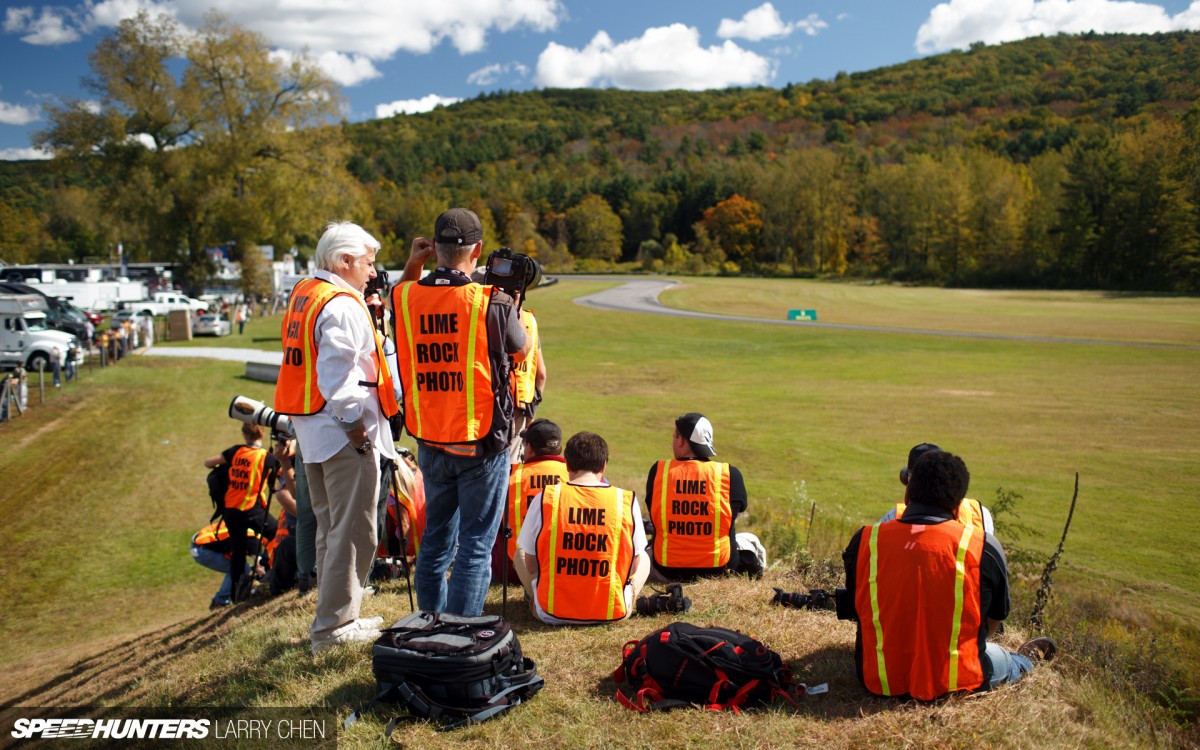 As usual the photographers gathered on the grass like cattle awaiting the beginning of the end.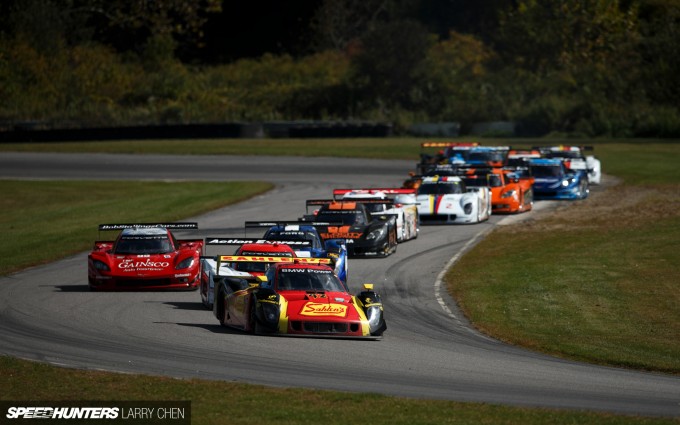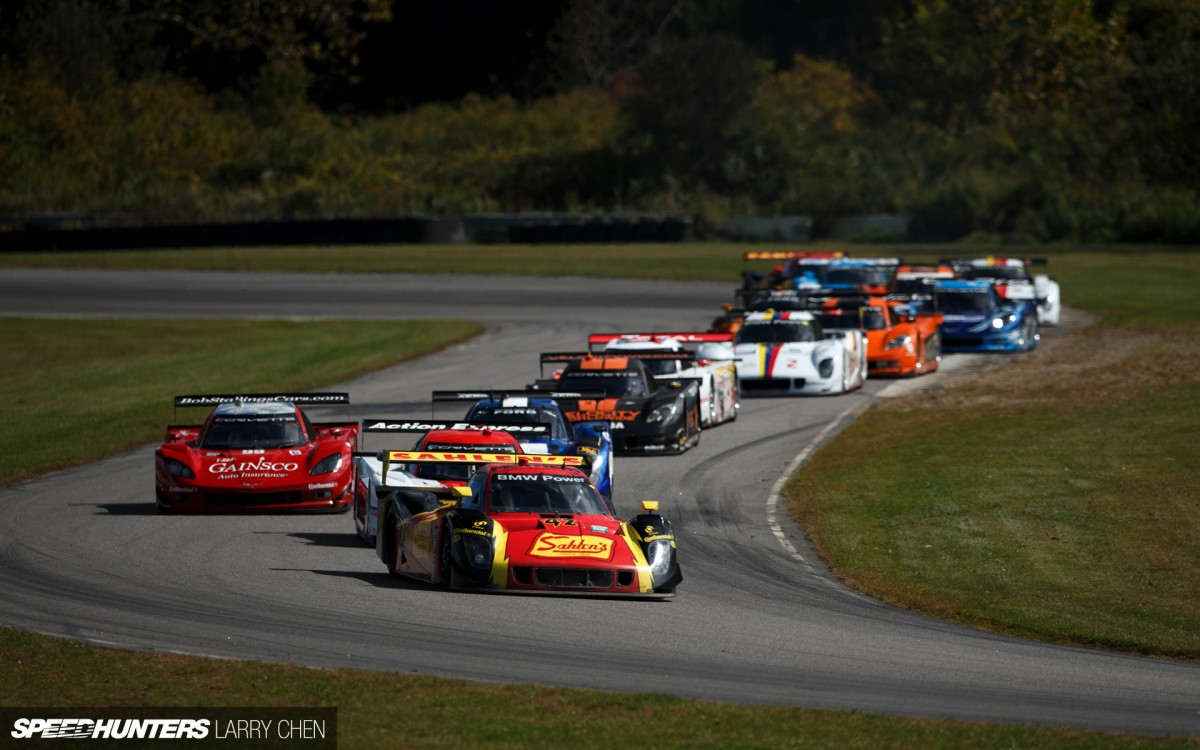 It was absolutely beautiful. I made sure not to put in ear plugs because I wanted to see, hear and feel the beauty of these prototype cars one last time.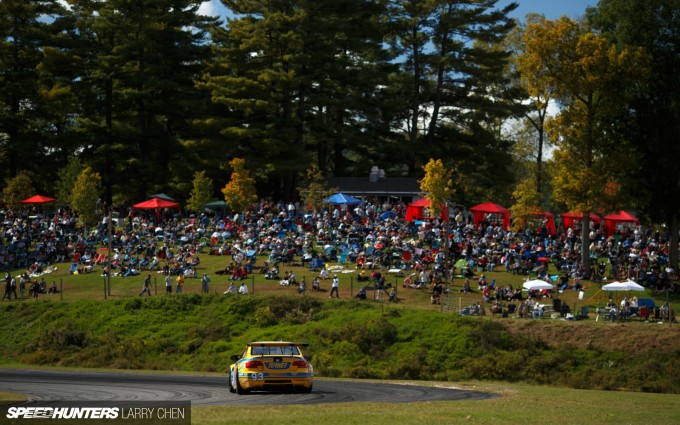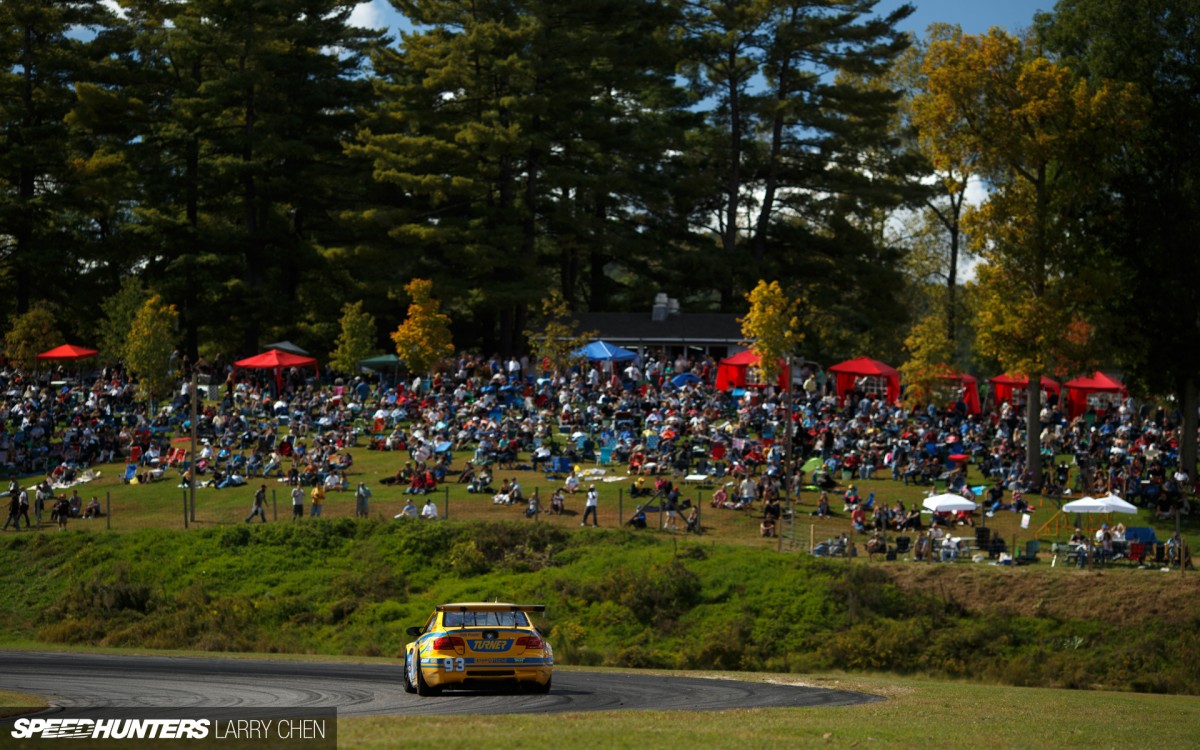 I was very happy to see how many people came out to watch the race. The track itself was much smaller than I expected, but it provided for some really close racing action.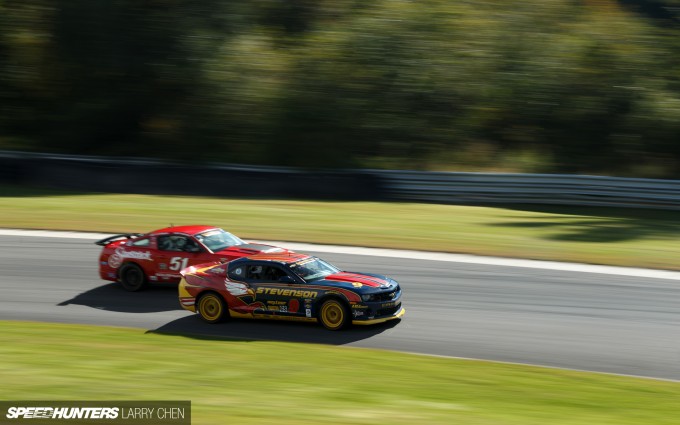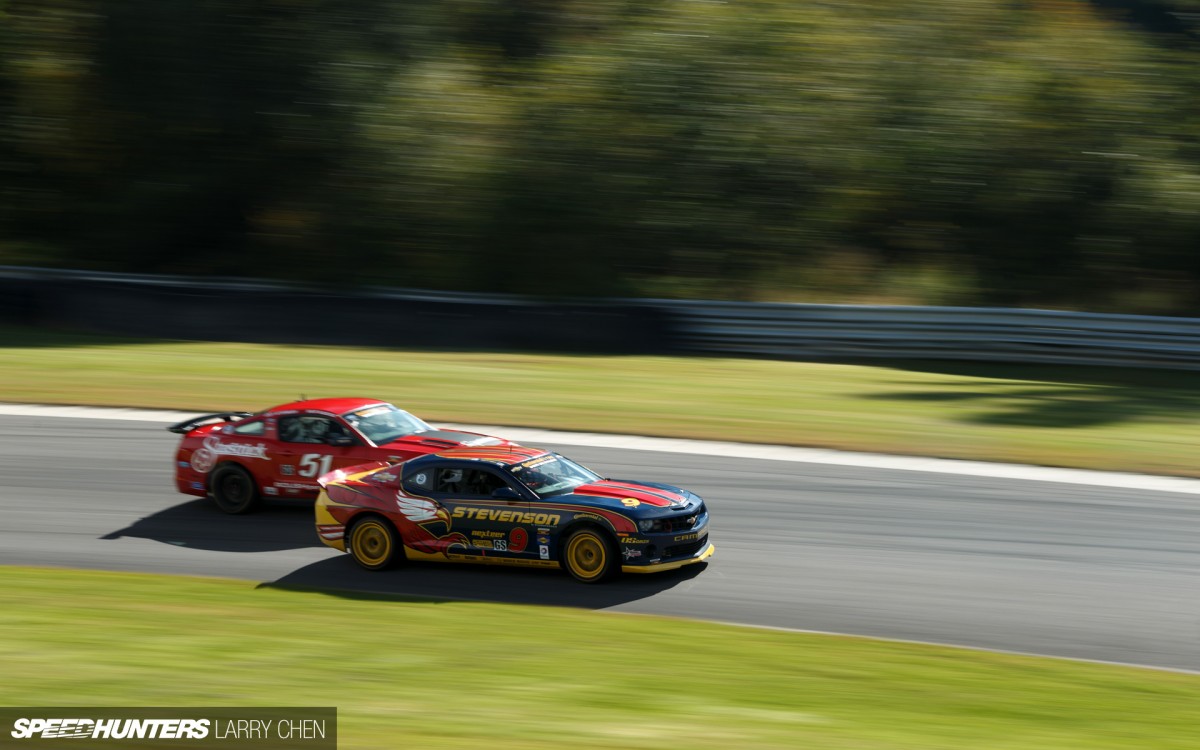 In the Grand Sport race before the main event the battle for first place came down to a nail biting pass on the last lap.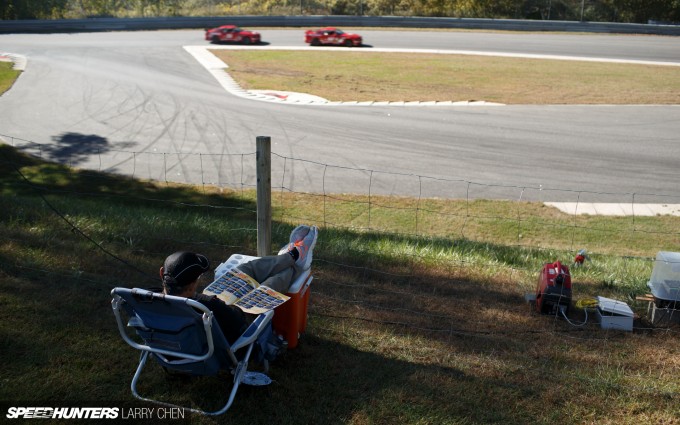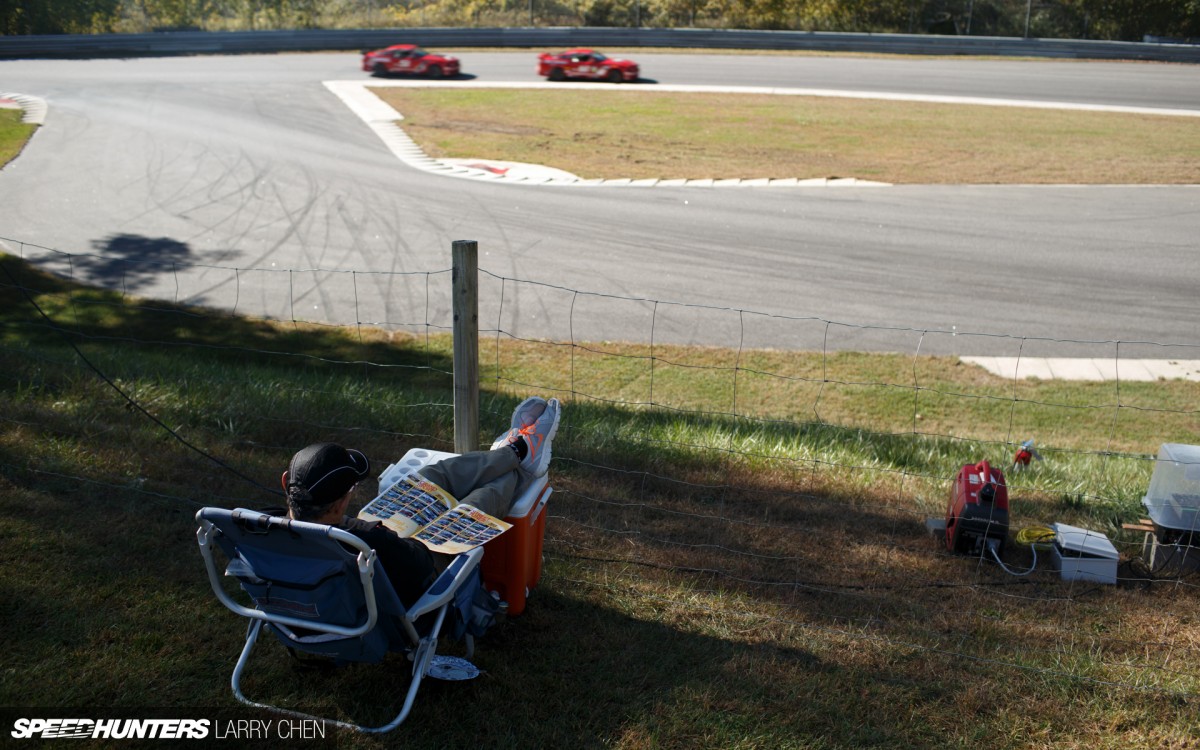 I walked around a bit just to take it all in and check out the track a bit. What a way to spend a Saturday – this guy totally had the right idea.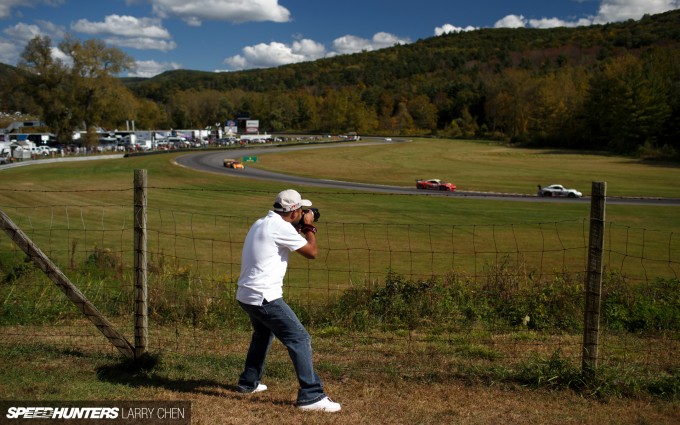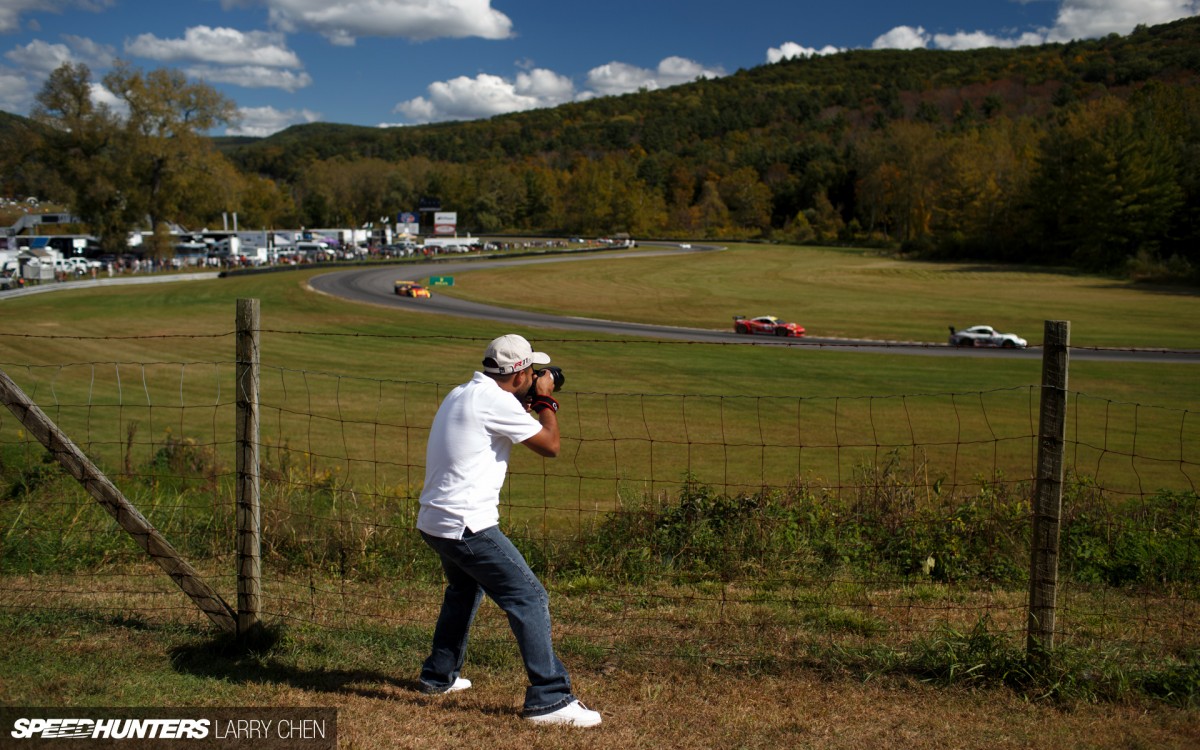 This track had great vantage points all around which was perfect for the amatuer photographer.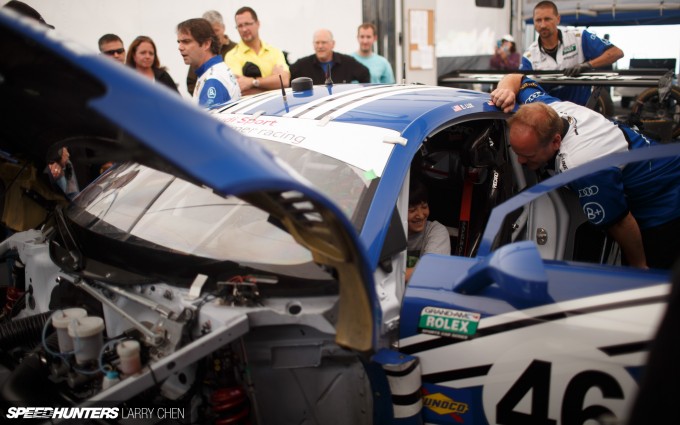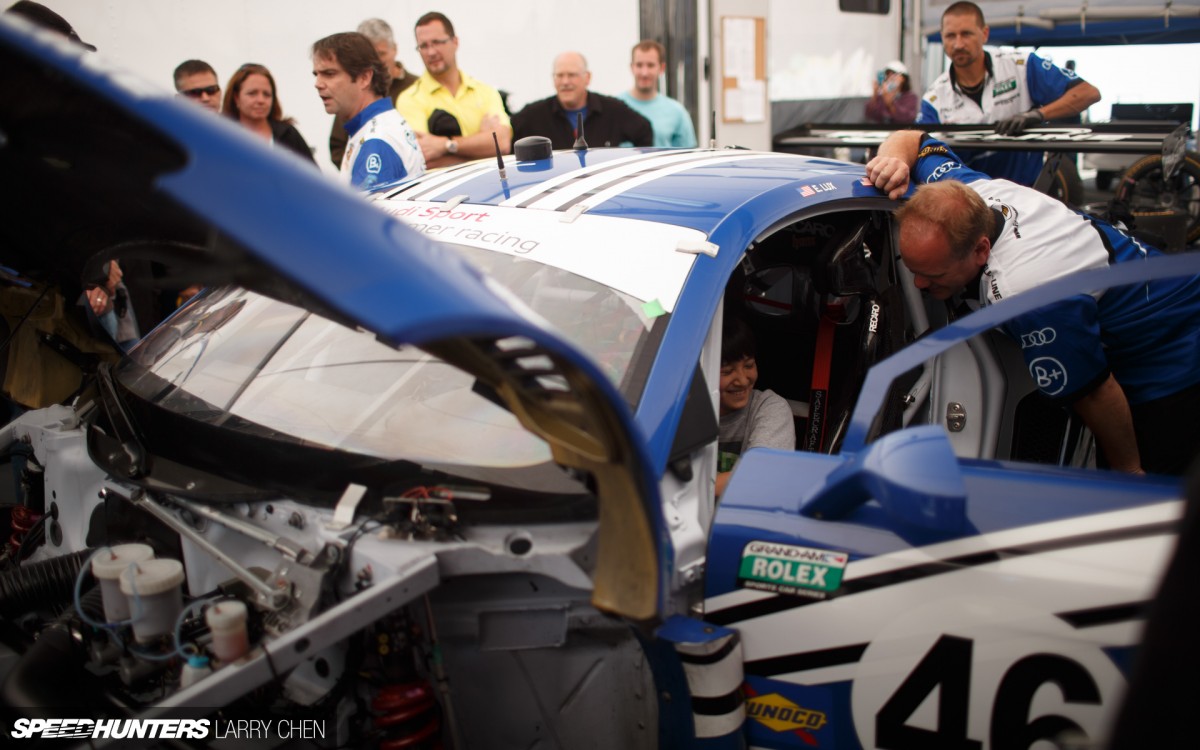 In the pits the teams were having lots of fun showing future race car drivers all the bells and whistles of the race cars.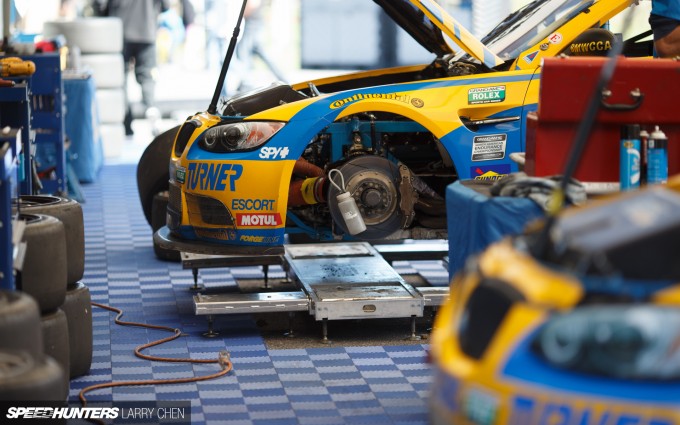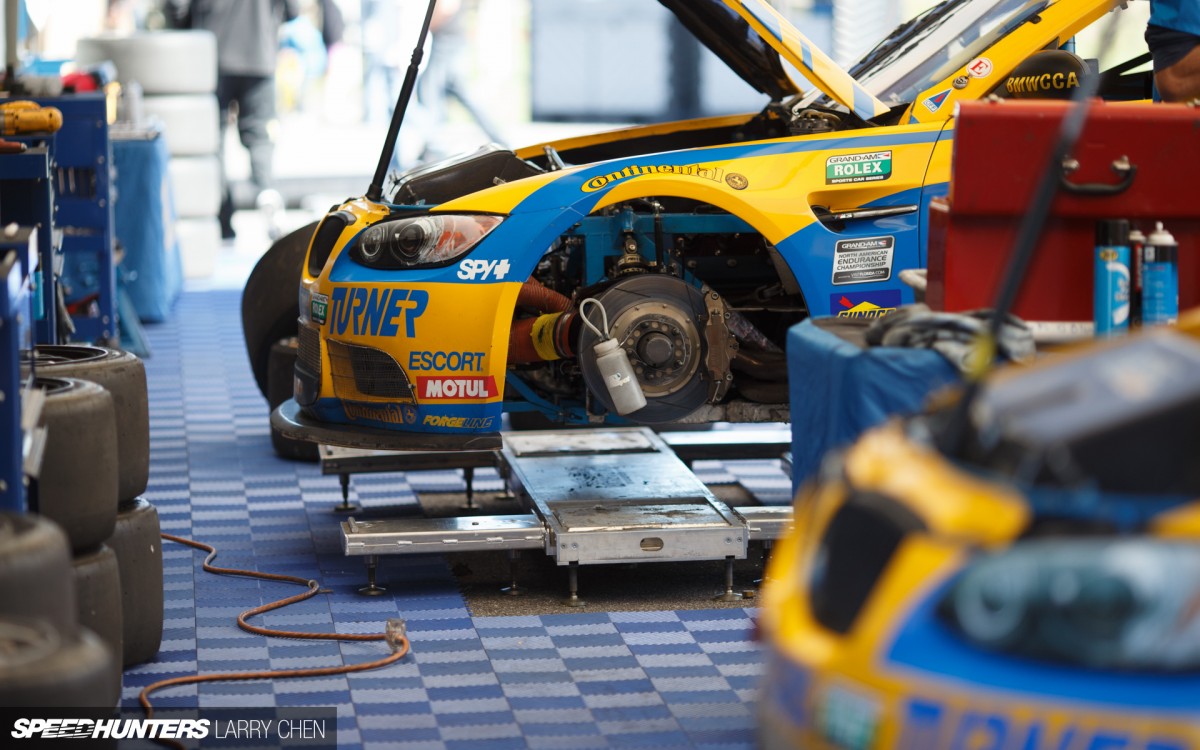 If I didn't know any better I would have thought that the series was alive and well. Then again, at the end of the day it was just another race weekend.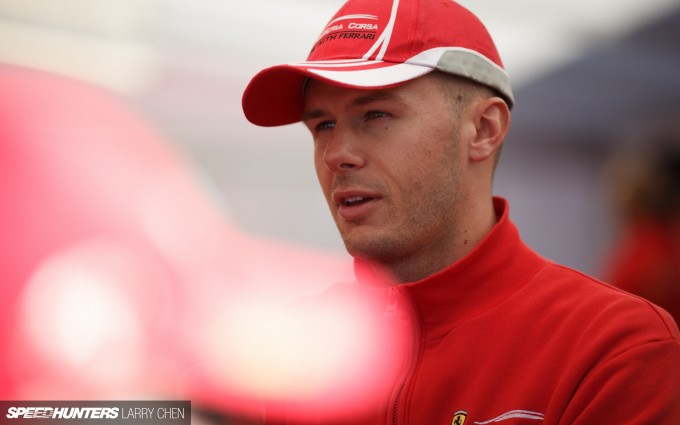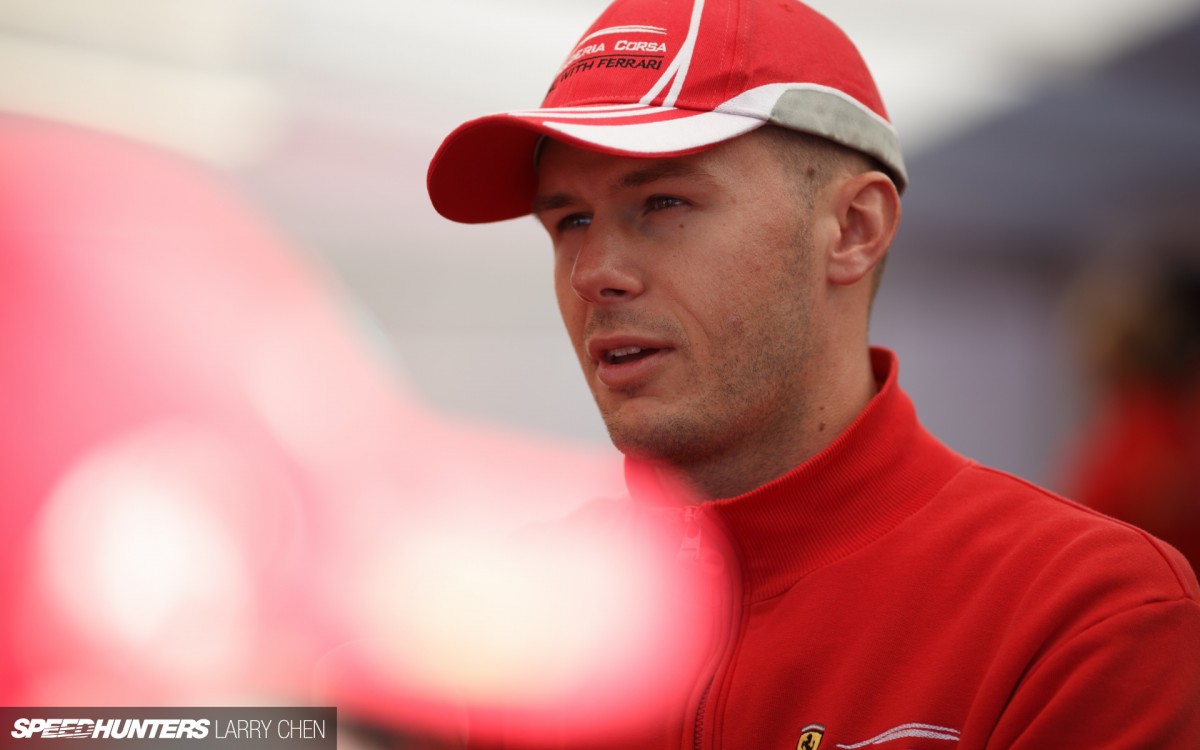 I even spotted a few familiar faces including Jeff Westphal, who was driving for the Scuderia Corsa team. I've been following his antics for years as a time attack driver for the GST team. It's good to see him doing well in sports car racing.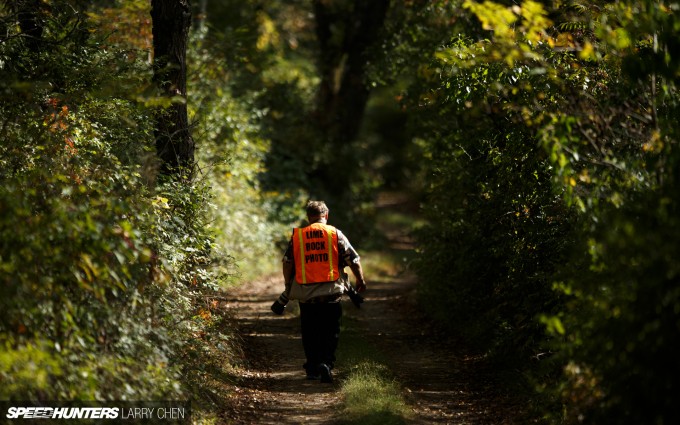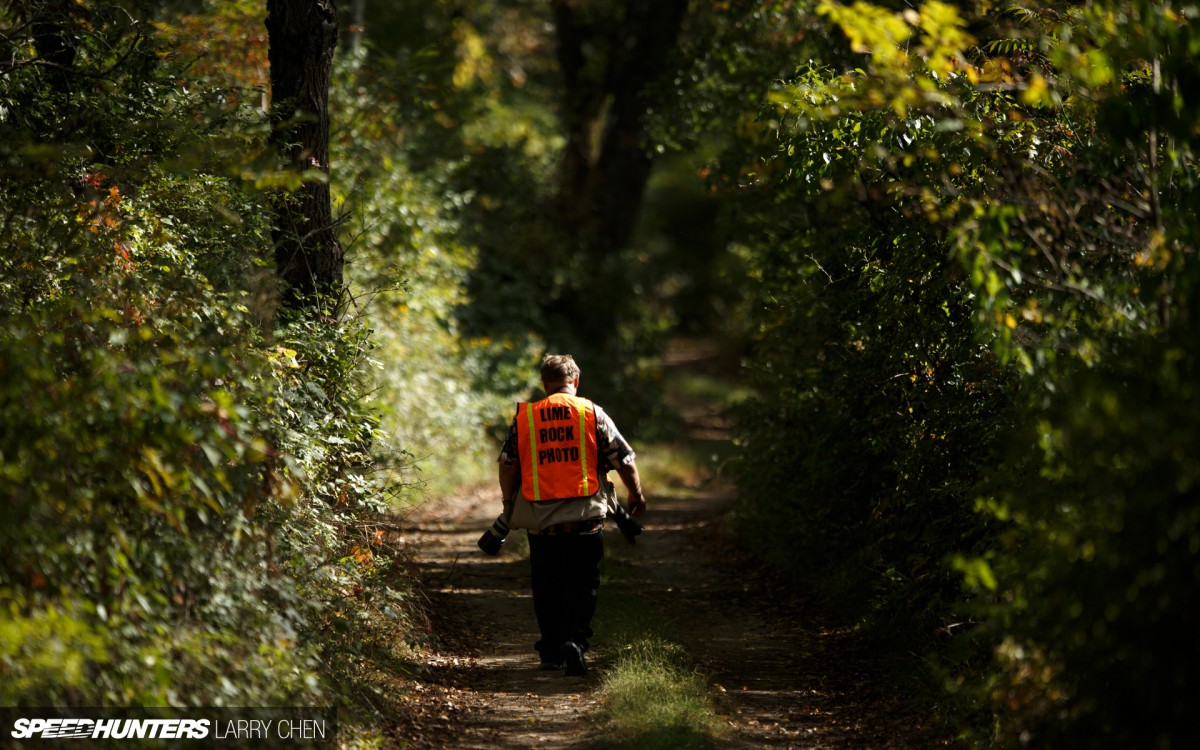 As usual I try my best to explore all the nooks and crannies of any new race track that I encounter. This track was fairly easy to get around as the main course was only 1.5 miles.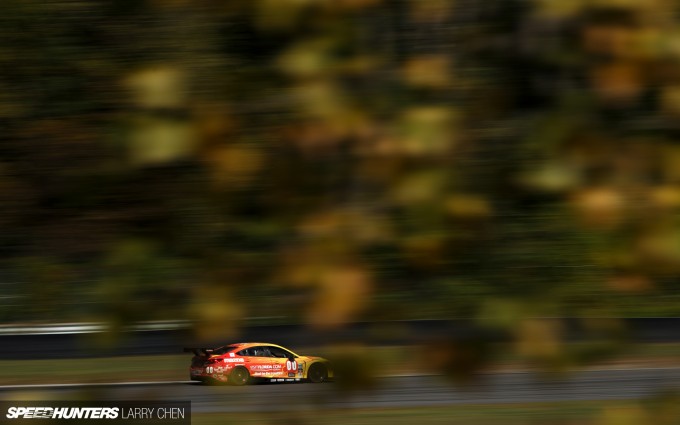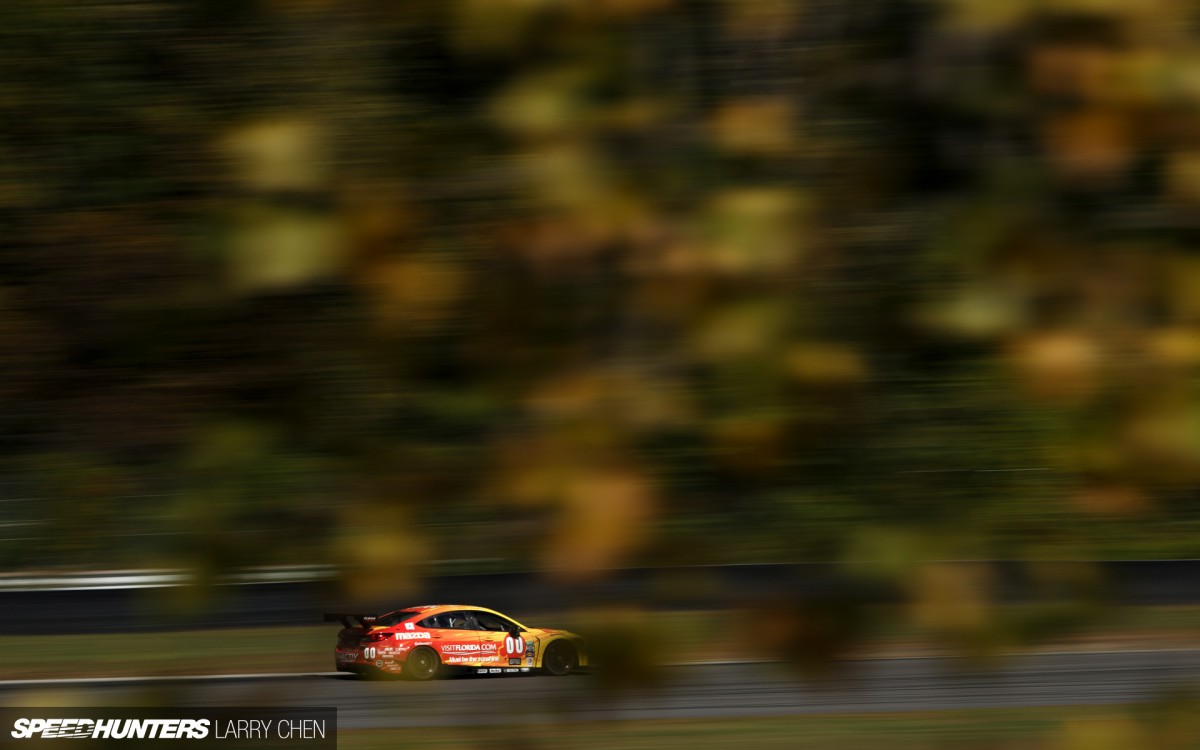 The foliage was coming in pretty late this season, but it still was nice as it provided a bit of color to an otherwise green background.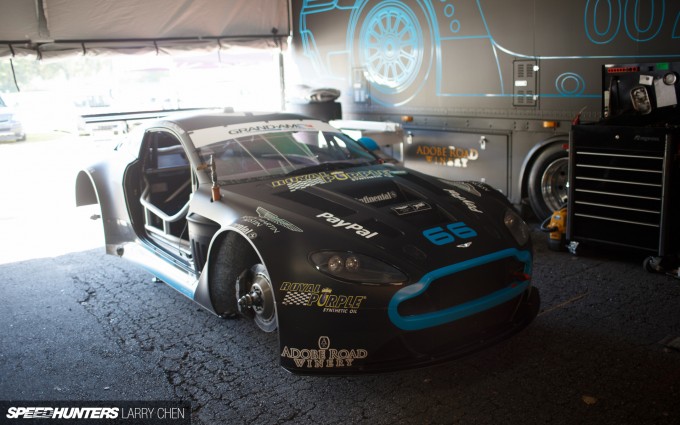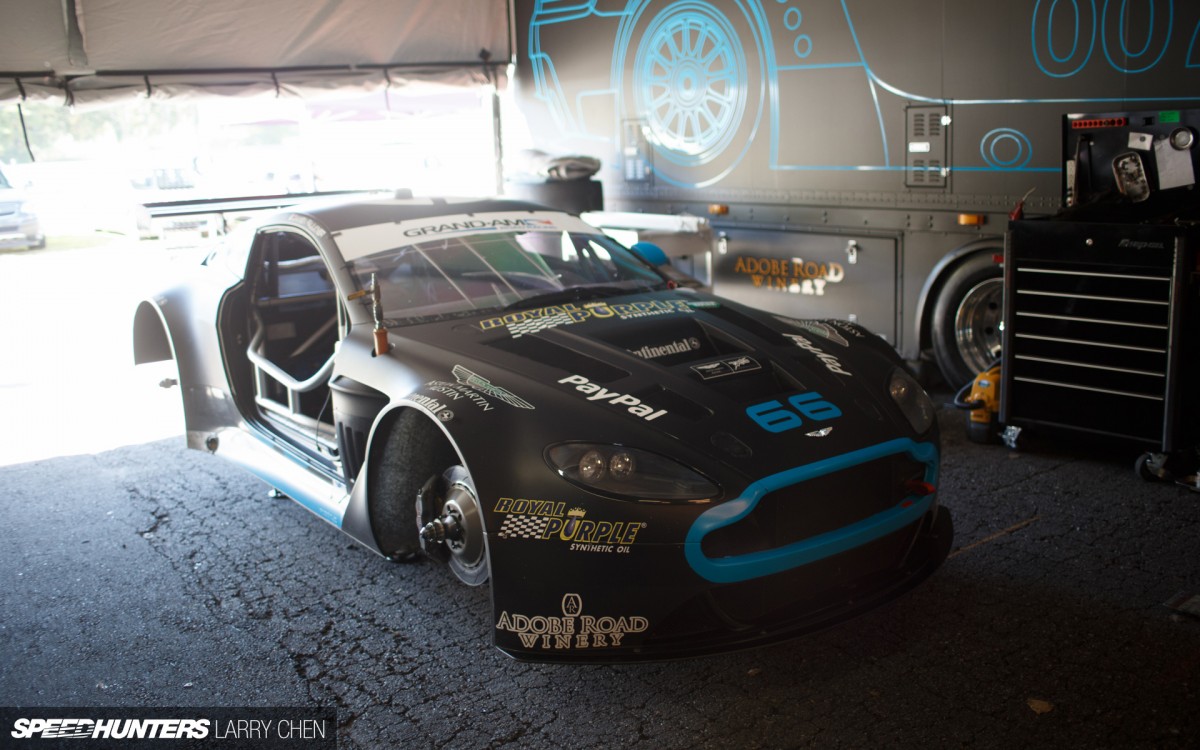 On the plus side of course, next year will be the debut season of the United Sports Car Racing series and many of the teams competing in GrandAm and ALMS will be competing together in one series. Hopefully we'll see this TRG Aston Martin competing as well.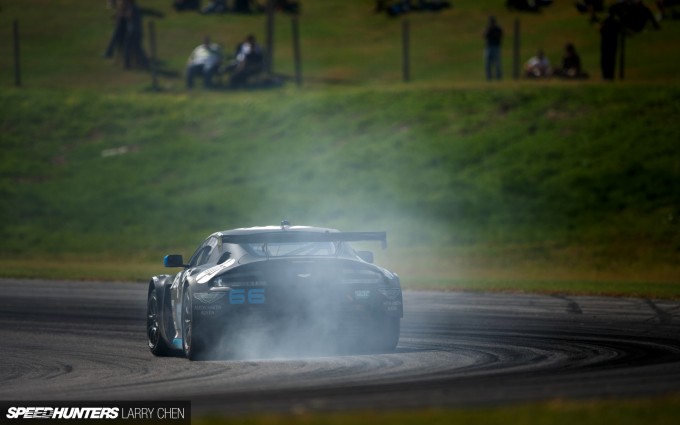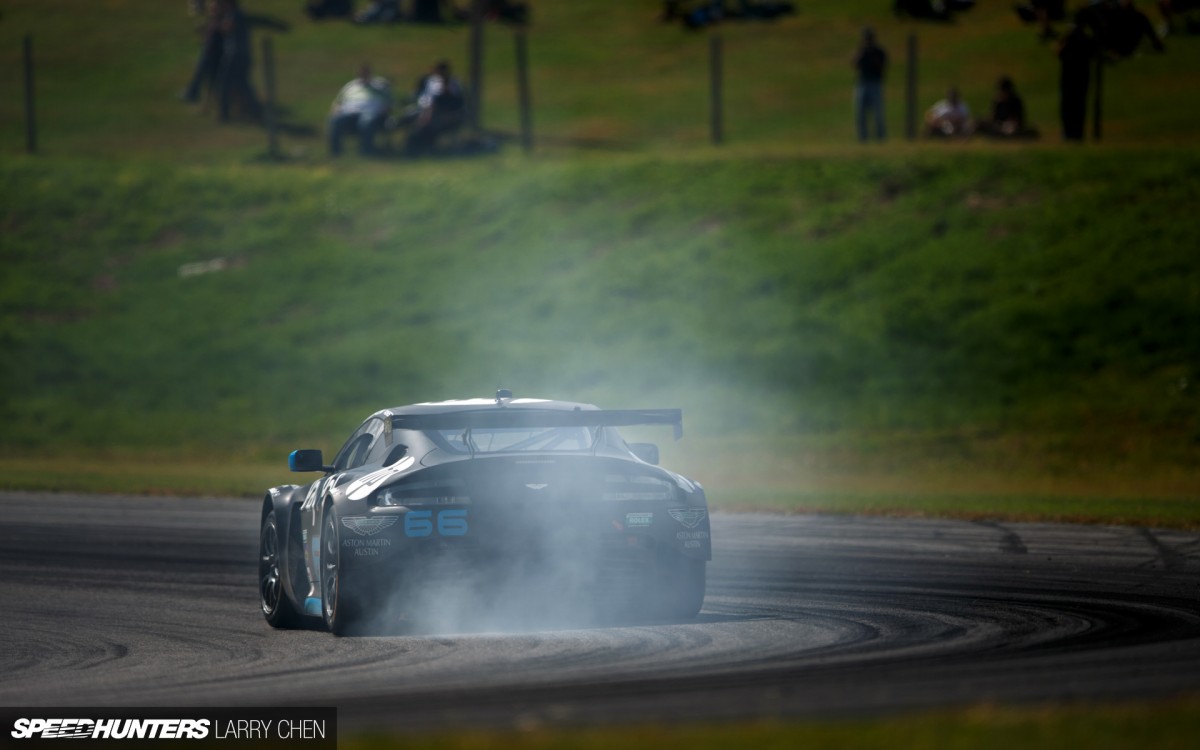 Unfortunately for them their weekend did not go so well due to some mechanical issues.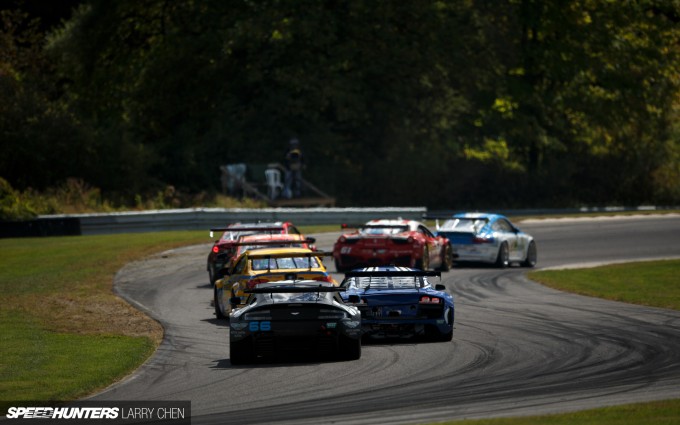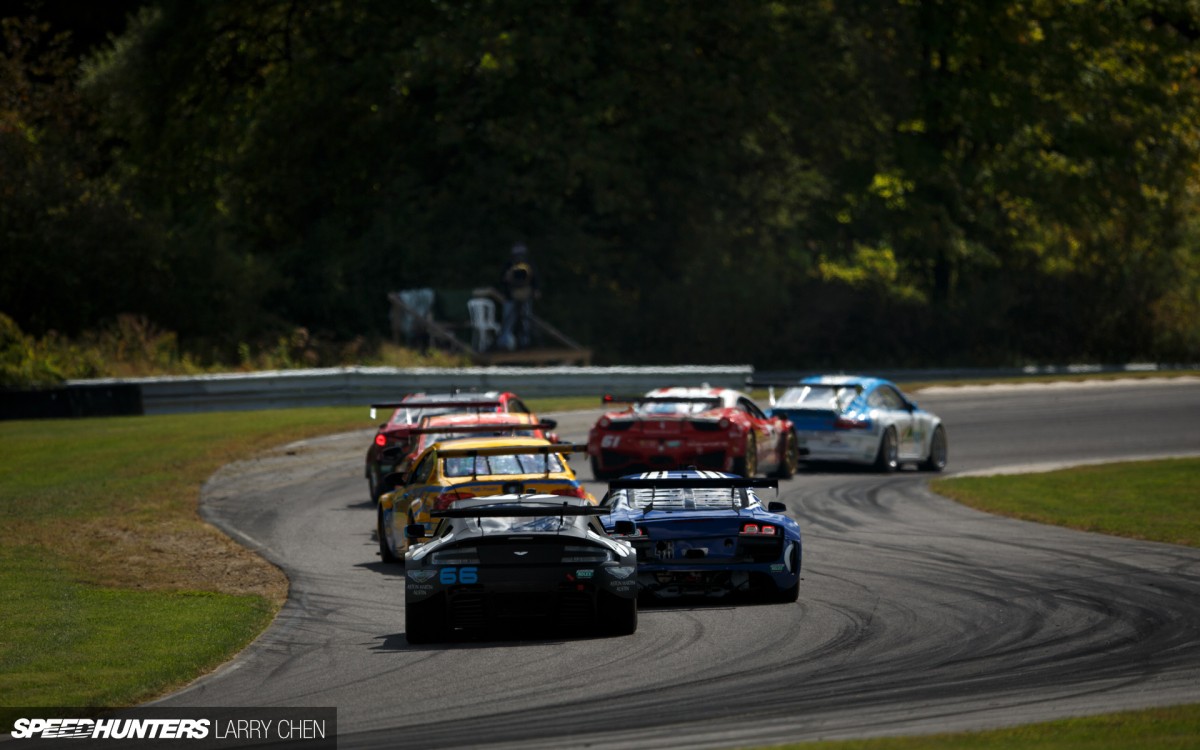 The battle for the championship in GT class was super close with just four points separating the number 44 Magnus Racing Porsche and the number 63 Scuderia Corsa Ferrari.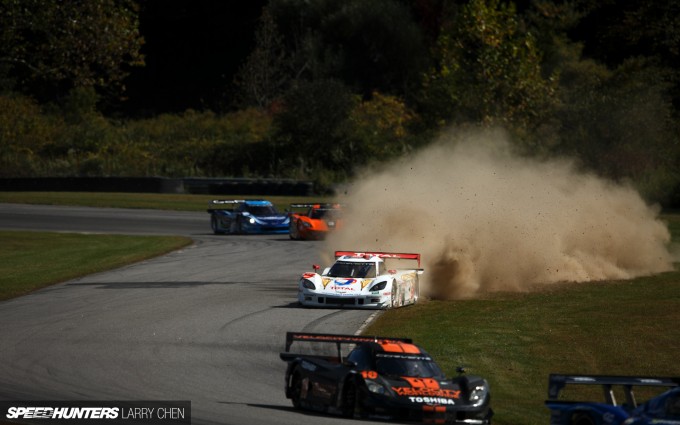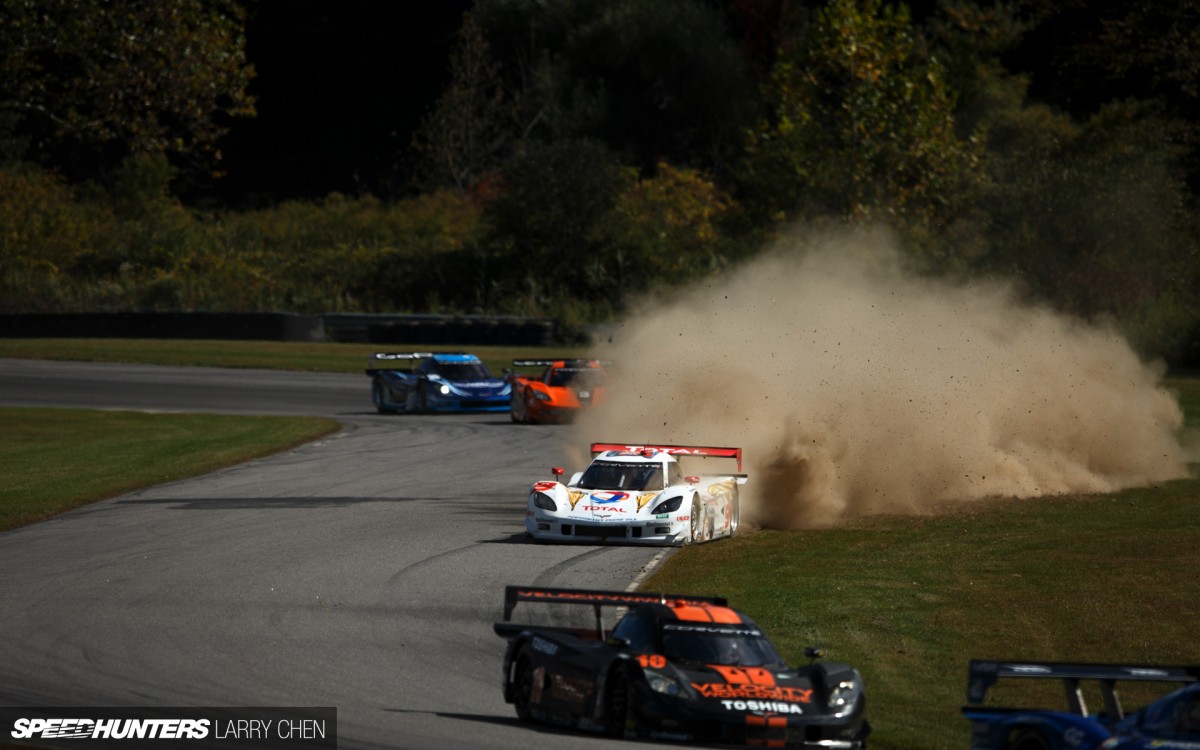 The start of the race was crazy and on the second lap one of the prototypes cars went off, kicking up quite a bit of dust onto the track. As if that was not crazy enough, right behind the prototypes was when the real carnage began.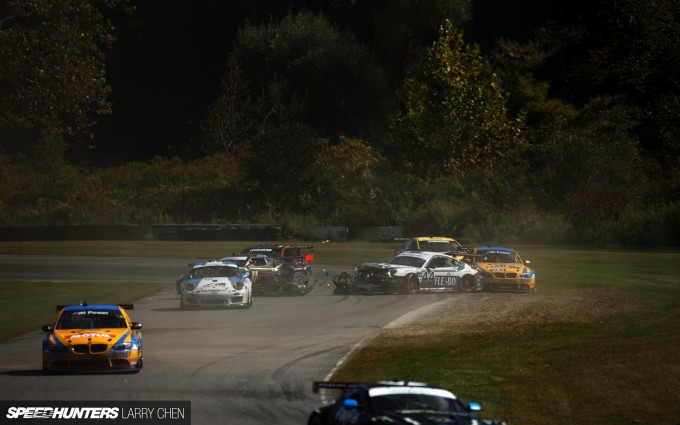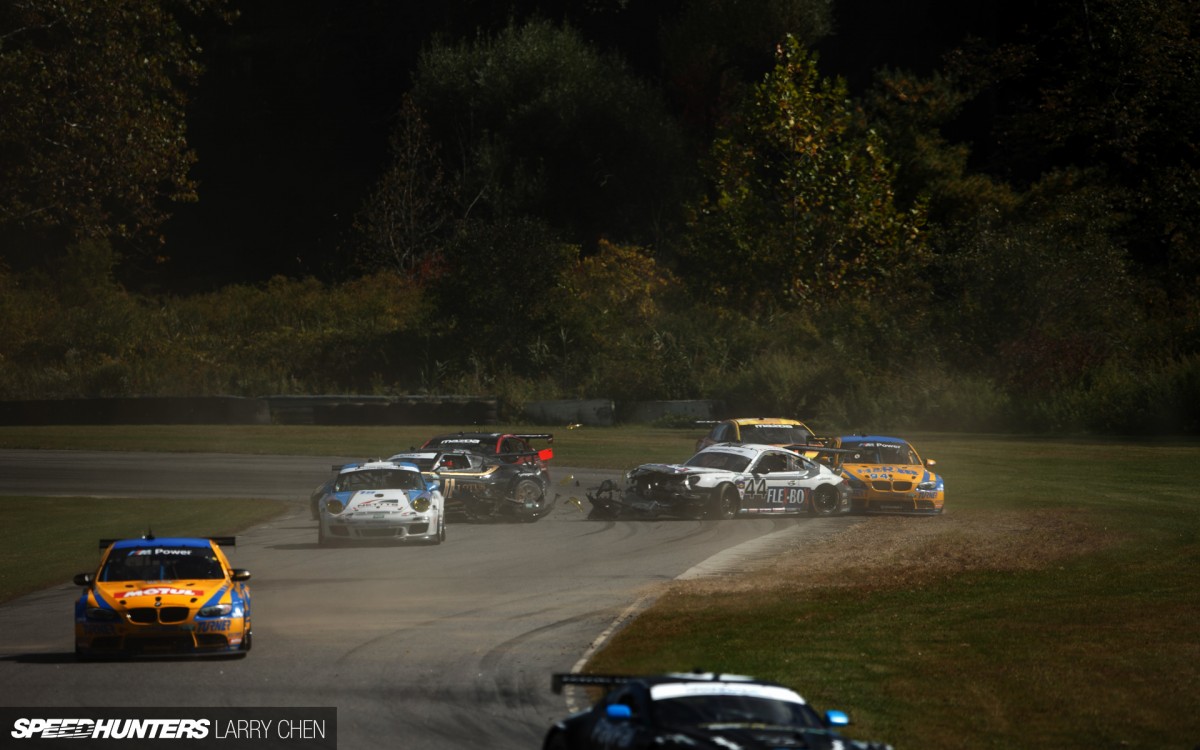 Watch this chilling video as the points leader in GT class literally gets knocked out of the championship race.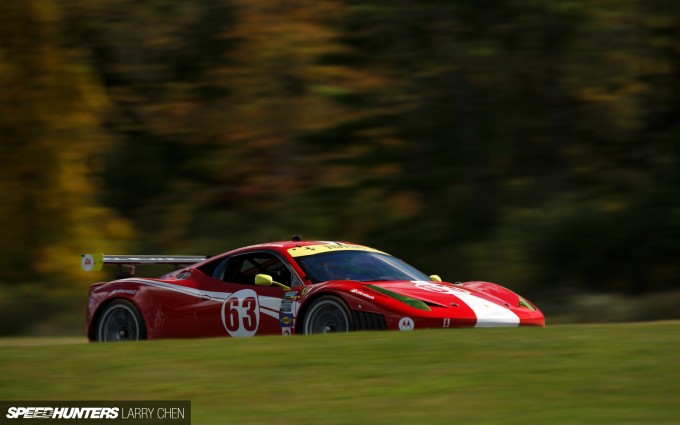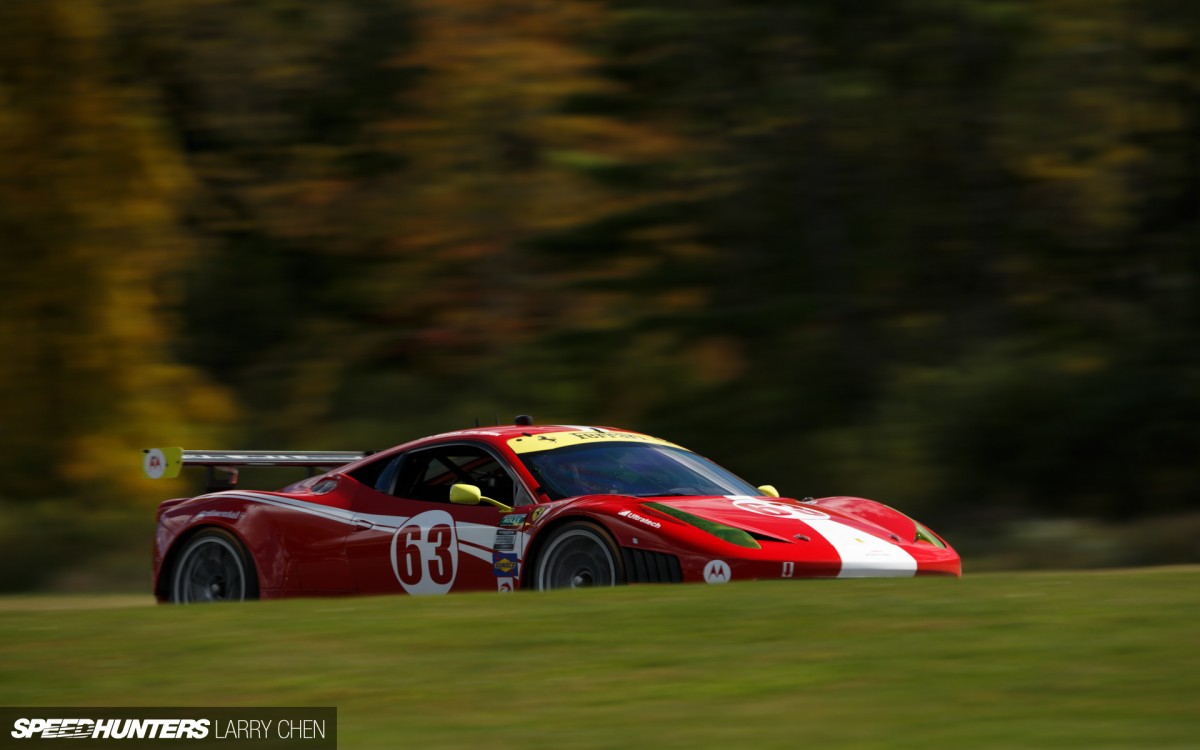 The GT championship went to the Scuderia Corsa Ferrari after finishing second in class.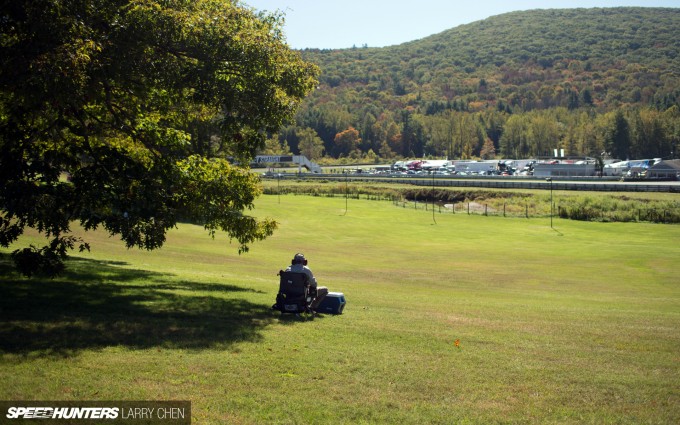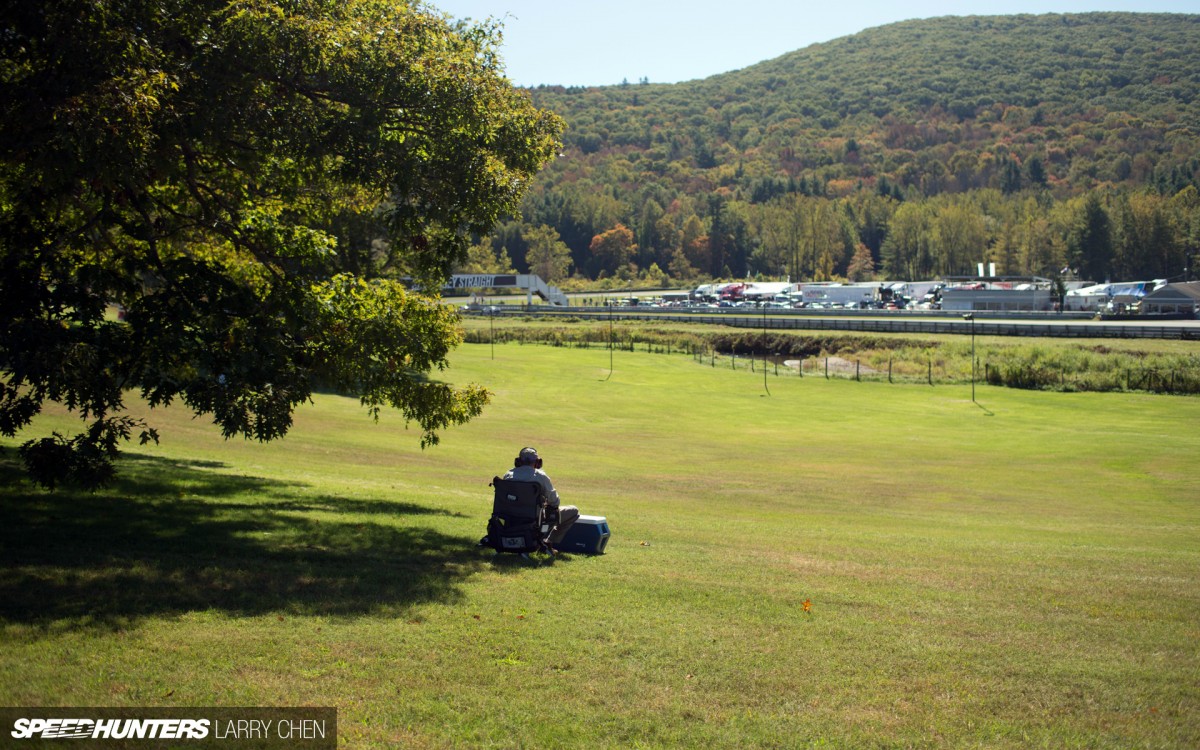 In a perfect world this would be how I would spend my weekends. Relaxing and watching racing.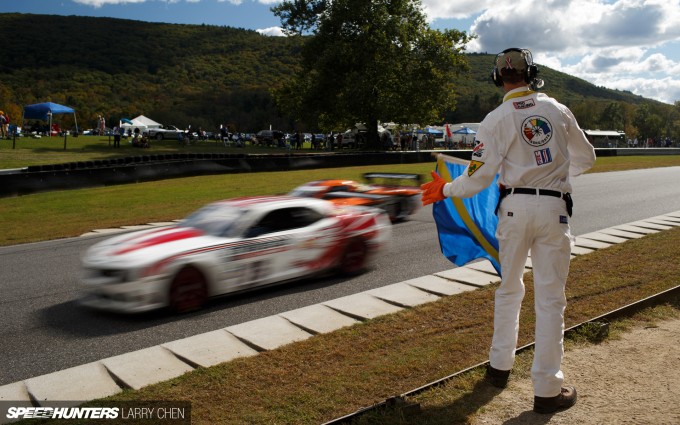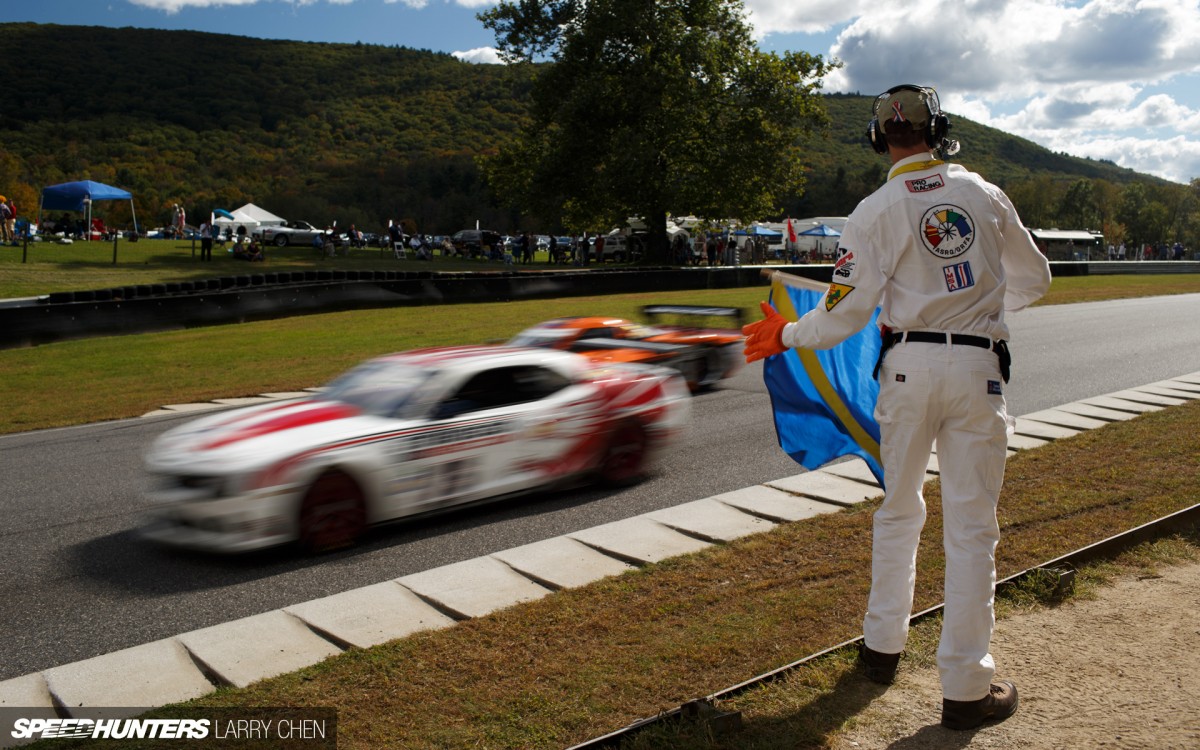 I've said it before and I will say it again. Even if I wasn't working with Speedhunters, I would still pay my way to watch racing all over the world.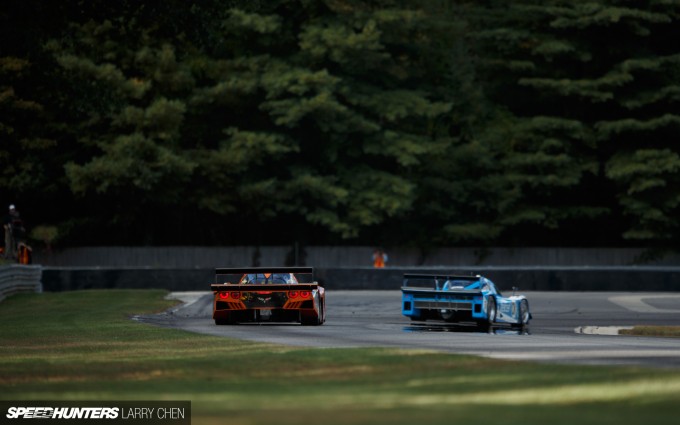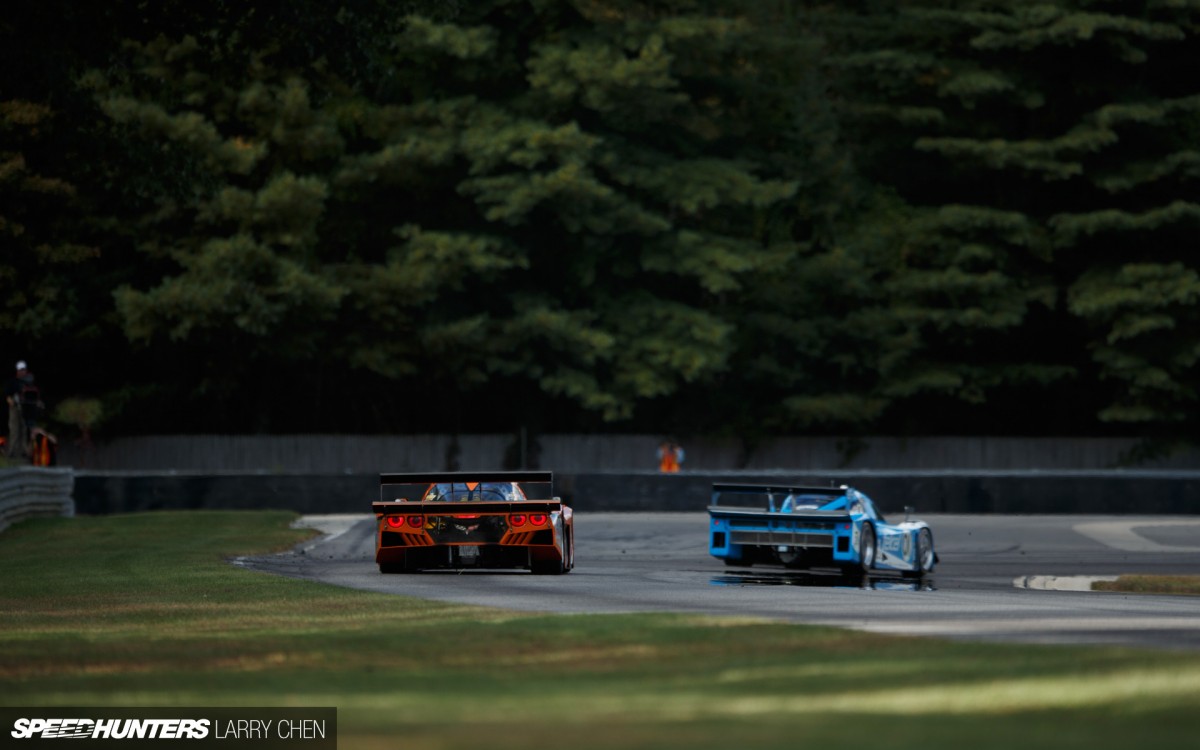 That is always my idea of a perfect motoring weekend. It's too bad it was my last with GrandAm.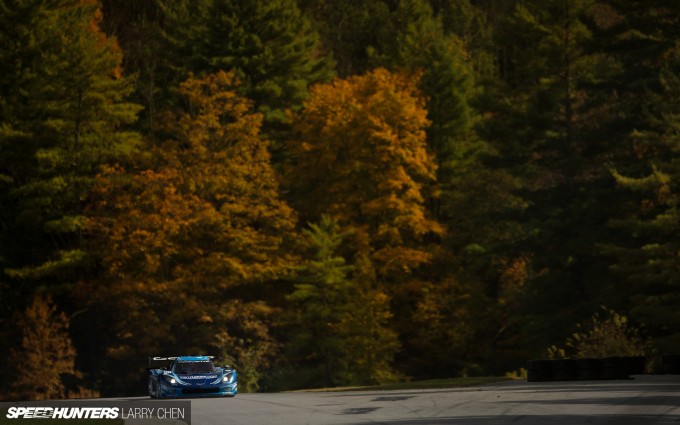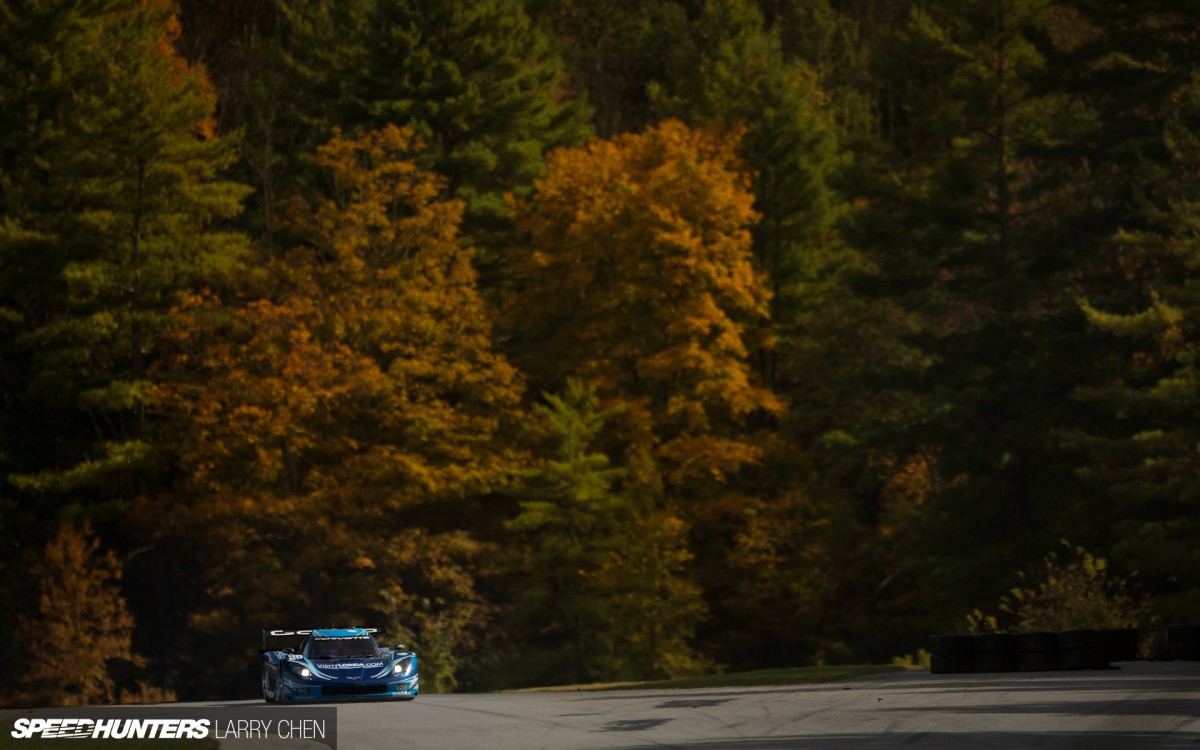 So what sort of cars would be in your dream garage? If you don't have one it's the perfect time to make one up now.