What exactly is a time attack car? While the question is simple, the answer is anything but. Time attack purists will argue that a time attack car is is a street going vehicle moderately converted to a competition car. Some have a more lax view on the subject and consider any car that is competing at a time attack event a valid TA car, while the purists will cry foul when a car specifically built for race duty changes tasks.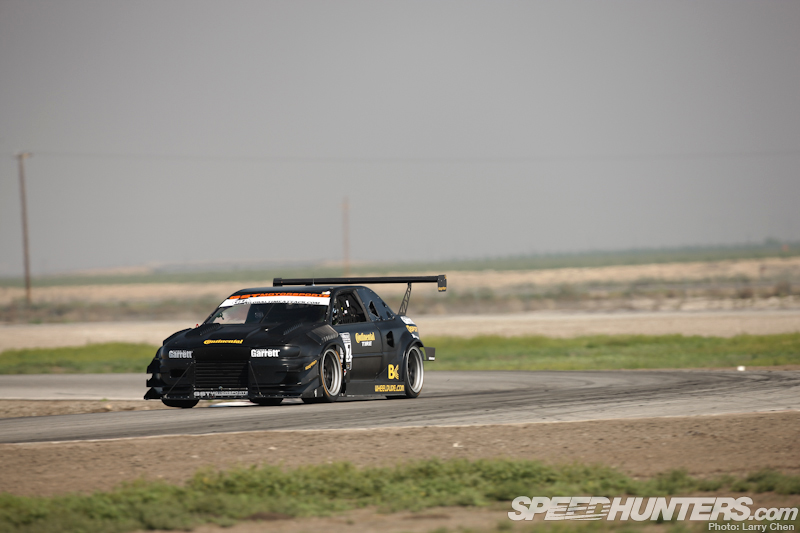 Sometimes the line between these two becomes blurred, as is the case with Mike Warfield's Subaru Impreza. Clearly the car needs no introduction to time attack fans as it is one of the fastest unlimited cars in North America. Ironically while this now-famous TA car started life as a daily driver it did spend a brief stint as a full fledged race car in between.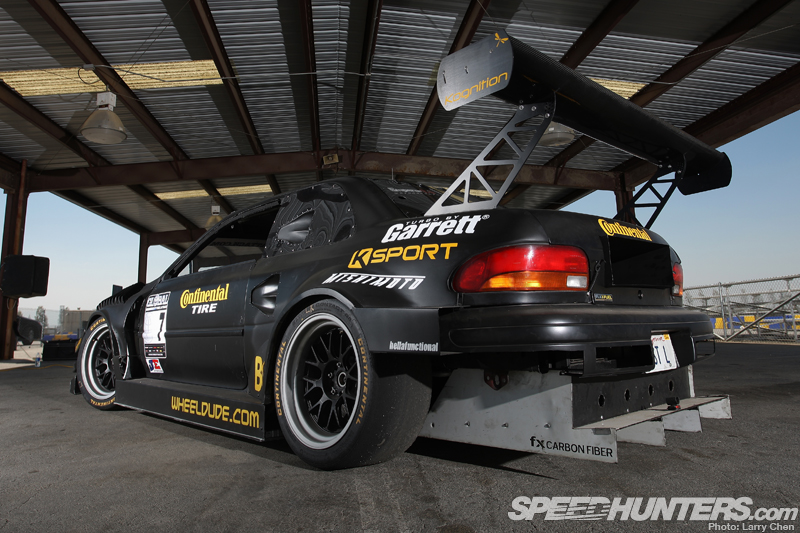 What started as a random discussion amongst friends about entering a car into NASA's legendary 25 Hours of Thunderhill, probably the most well-known grassroots race in America, somehow evolved into time attack royalty. In 2006 "someone saw my Impreza in the parking lot and said, 'how about building your Subaru into an endurance car?'" Mike tells me. Wasting no time the car was torn down and built to NASA specs and entered into the running of the 25h that very year.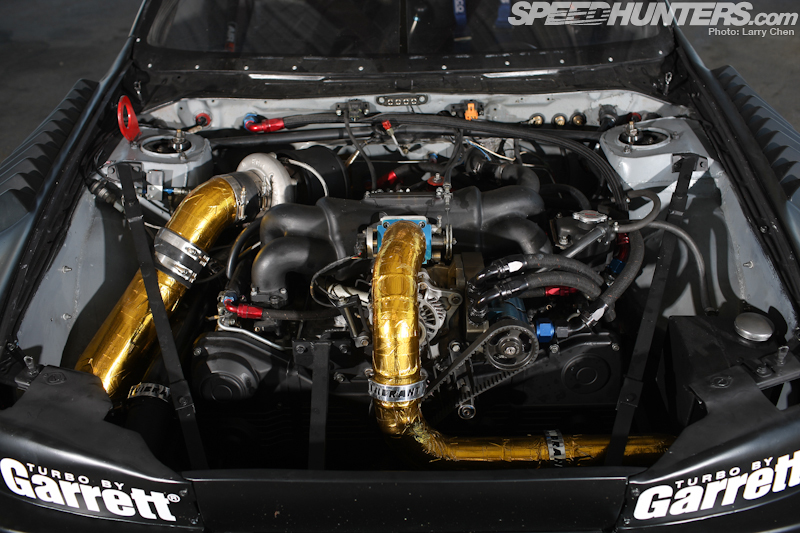 Unfortunately for Mike and his team the race wasn't so kind, as is often the fate for new comers. With a freshly built race car and a few lessons learned at Thunderhill the hard way, Mike began looking for new venues to contest with the Subaru. In the beginning of 2007 the guys decided to enter the car into the season opener for the Redline Time Attack Series at Buttonwillow Raceway.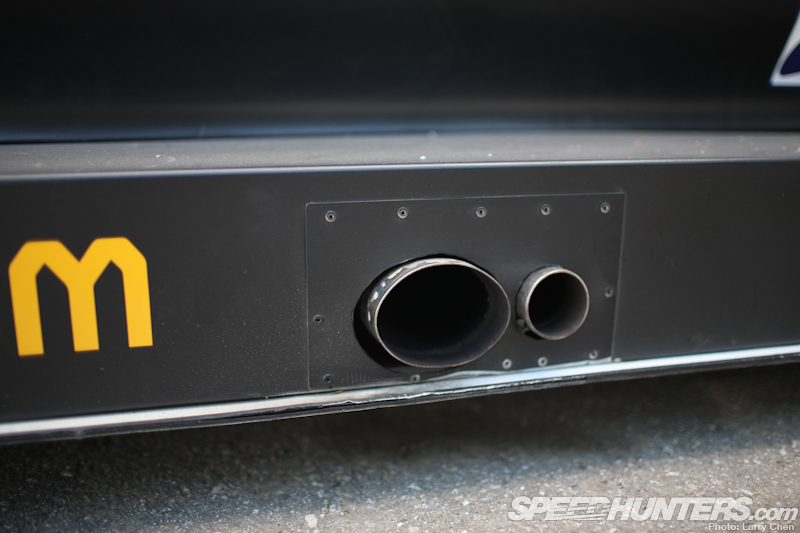 "Time attack was gaining in popularity during this time and we decided to have a crack at it… [we just] slapped on some BF Goodrich R1s and turned the boost up from the endurance tune. " With some additional forced induction shoeved the boxer engine's throat the car was able to record a time in the 1:50s which was good enough for a win in the Unlimited AWD class and second overall for the weekend. Not a bad start.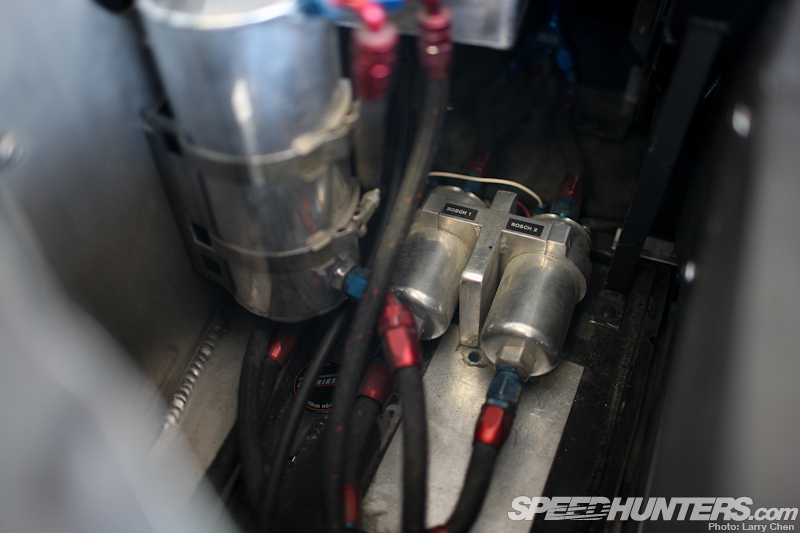 With an excellent result right off the bat the team was hooked on time attack and haven't looked back since. Each year the car has seen more and more extreme modifications to keep up with the ever emerging time attack scene and going faster and faster with each passing event.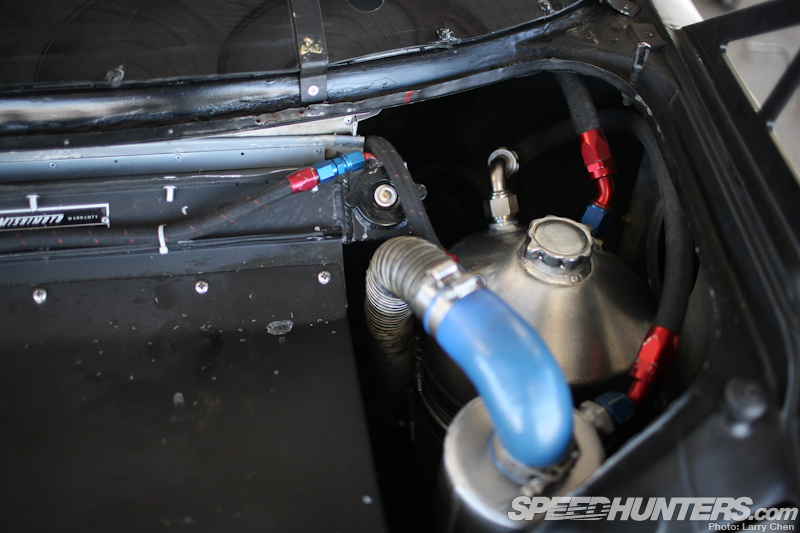 The GST Impreza currently holds six class and track records including fastest time attack lap on courses like Arizona's Firebird International Raceway main course and Autoclub Speedway's Roval configuration in California. While the team was fortunate to have experienced success early on, I can assure you that the ongoing development of the car has been a struggle.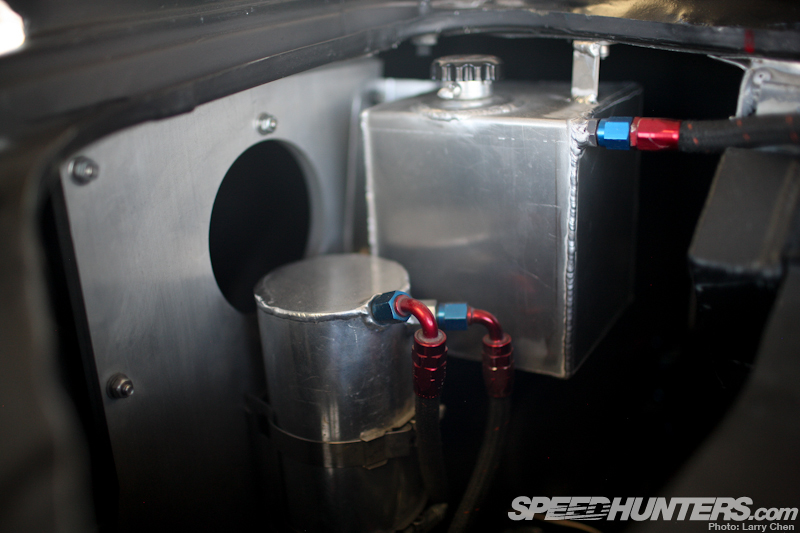 The demands of a modern time attack car are much greater than they were when GST first dipped their toes into the water. In reality the point where time attack cars end and dedicated racers begin is harder to draw than ever. To the untrained eye the car might not be markedly different in appearance from last year, aside from livery, but the team had a very busy off season in preparation for 2012.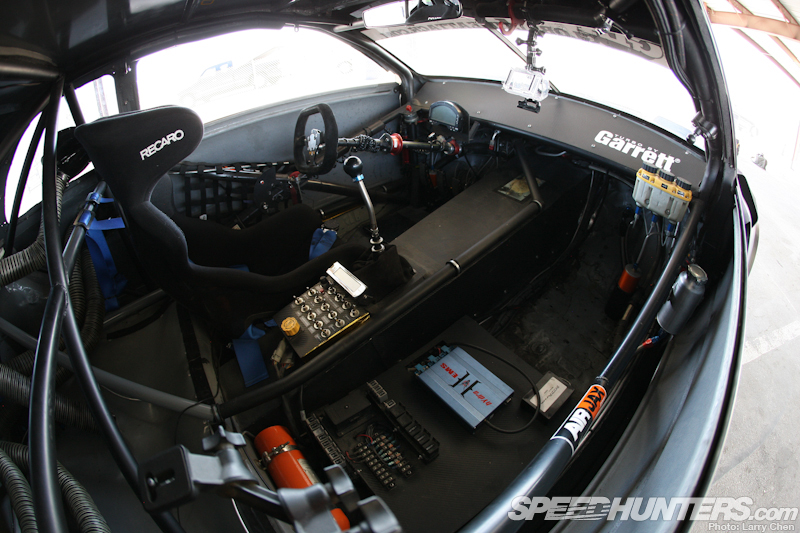 This is the place Jeff Westphal calls his office when he's not busy driving a BMW M3 in the Grand Am Continental Sports Car Challenge. As you can tell it's a straight forward no-nonsense place to be and it is this very cockpit from which Jeff piloted the GST Subaru to three track records last year.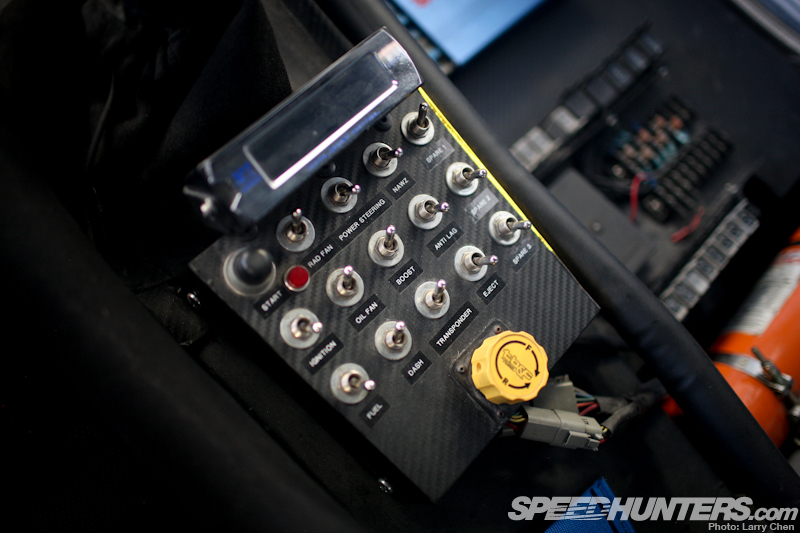 Although there are many, every switch is clearly labeled and easily within reach to be called upon in a moments notice. You can tell from the dimmed luster on the carbon plate that they are used frequently. Just below the electronics is the Tilton brake bias dial used to tune front-to-rear brake bias as each course and weather condition will often require a slightly different setting.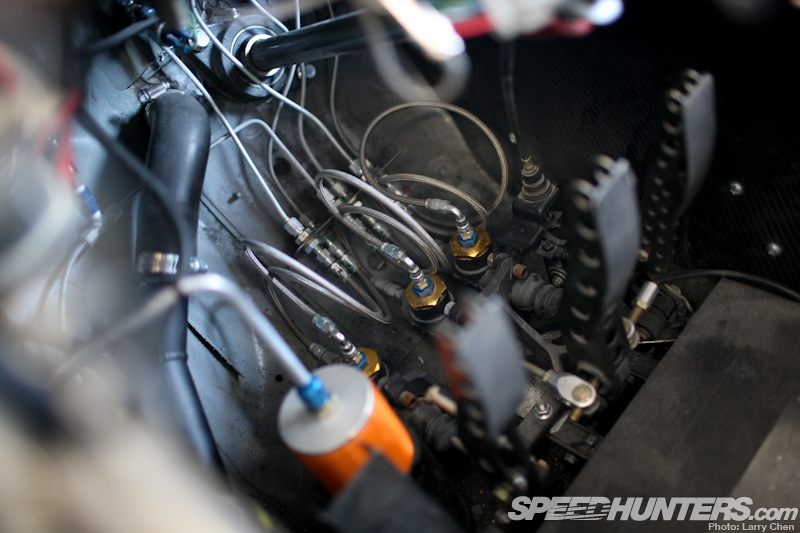 Below the steering column is a series of braided hoses connecting the floor-mounted pedal assembly to their remote reservoirs. A setup like this allows repositioning of the driver's seat further back in the cabin where he is not only safer in the event of a side impact, but also creates better weight distribution.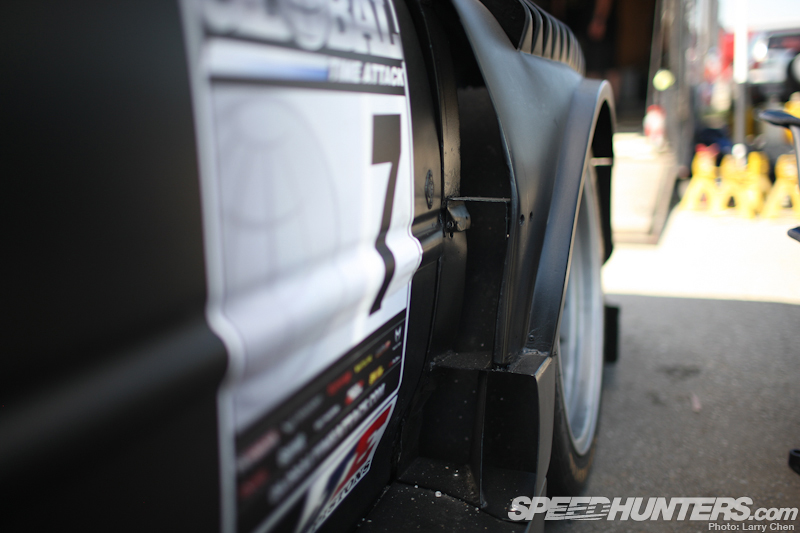 Mike's background with the tuning aftermarket began when he was working as a lead tuner for a small shop in the mid-2000's. Since then he has branched out on his own and when he's not perfecting his time attack car he's operating a state-of-the-art 5000 square foot facility in Hayward California.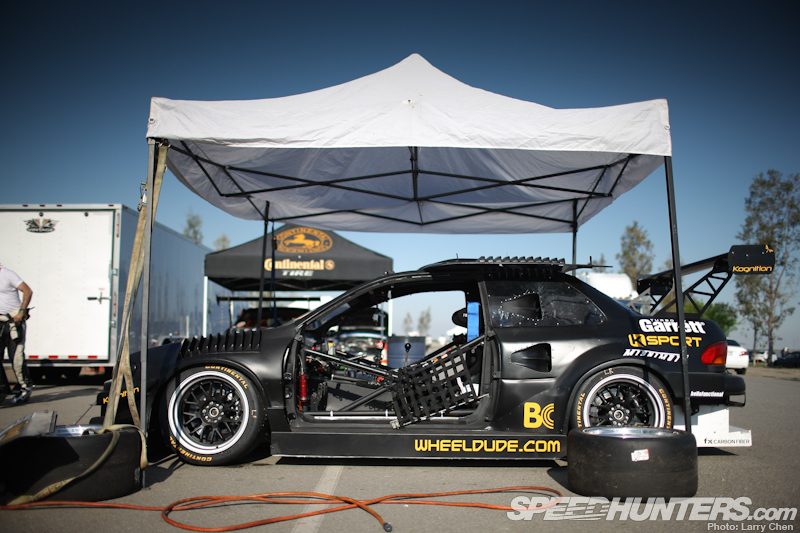 Obviously with this car Mike has made quite the name for himself. What began as a daily commuter for an IT guy is now recognized the world over as one of the quickest unlimited time attack cars around and most likely the fastest road-going GC Impreza on the planet.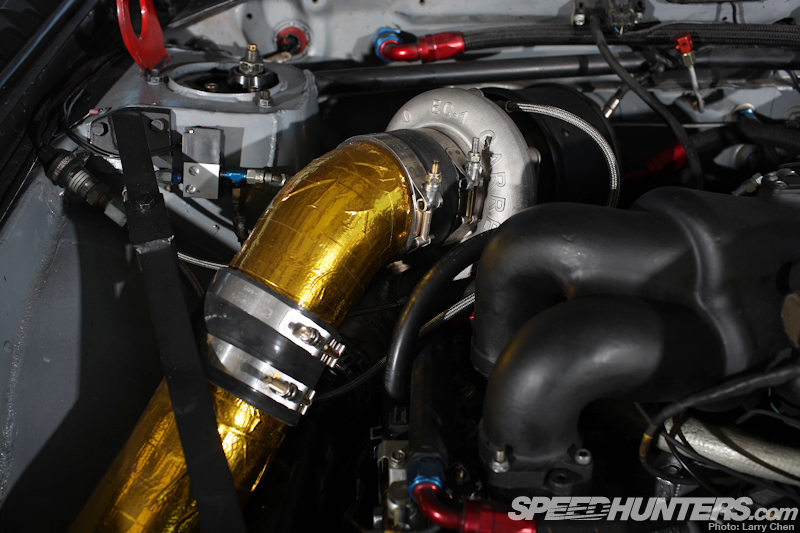 While the car is unquestionably quick, the source of its speed, like most time attack cars, is perhaps a bit mysterious. There are certainly state-of-the-art components to be found, but at the same time it does have that built-on-a-shoestring-budget-and-held-together-by-hopes-and-dreams approach to building a time attack car that we all know and love.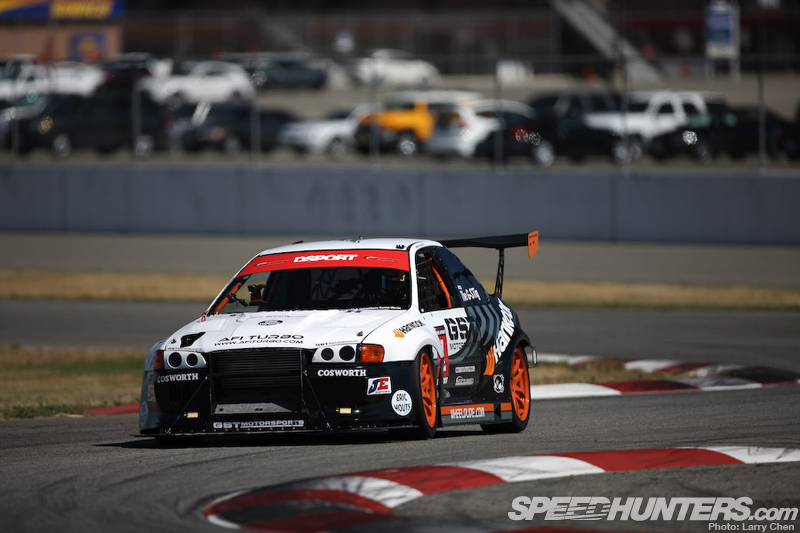 In my opinion time attack the final frontier for the weekend warrior, at least in terms of Japanese car tuning of the road racing variety. It is a bit of a black art and due to the small budgets car development often seems to be a bit of hearsay mixed with heavy doses of trial and error. When someone does something revolutionary, and it works, it isn't too long before the rest of the competitors follow suit.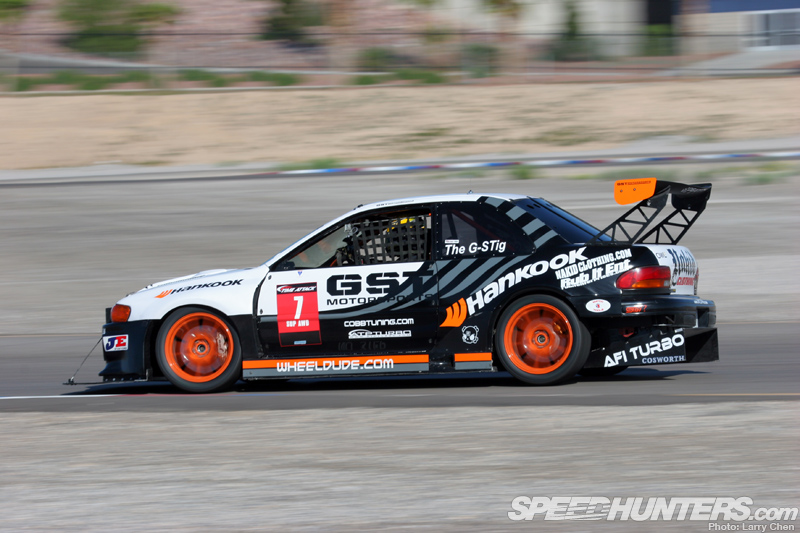 What this car has in its favor is that it is one of the few cutting edge trend setters at the forefront the sport. Rather than waiting for others to come up with new ideas this car is evolving, albeit with some help from friends, on a trajectory all its own. I remember seeing the car for the first time after the roof had been chopped and thought to myself, "that's brilliant!"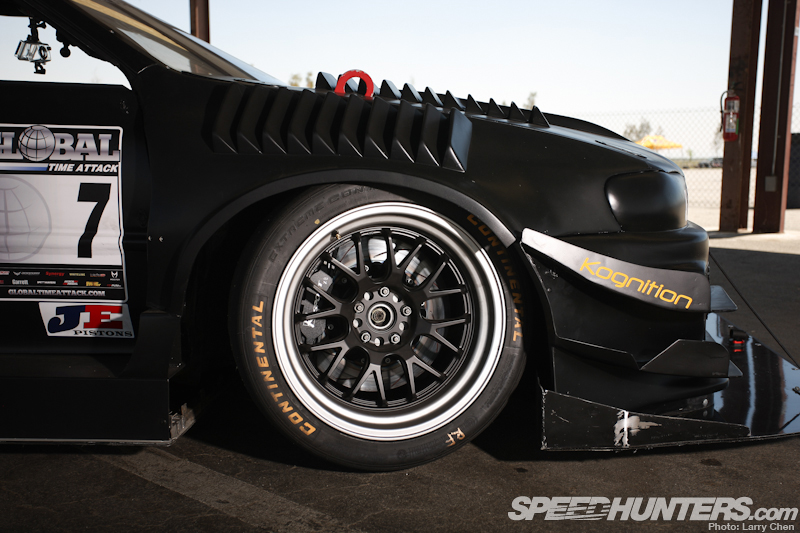 It's just this type of quick thinking and simple innovations that keeps time attack evolving. It is motorsport at its most basic level, free from huge budgets and strict rule books. There is a concise sense of what cannot be done according to organizers and the rest is left entirely to interpretation. This frequently results in some of the most interesting cars I've seen in the last decade.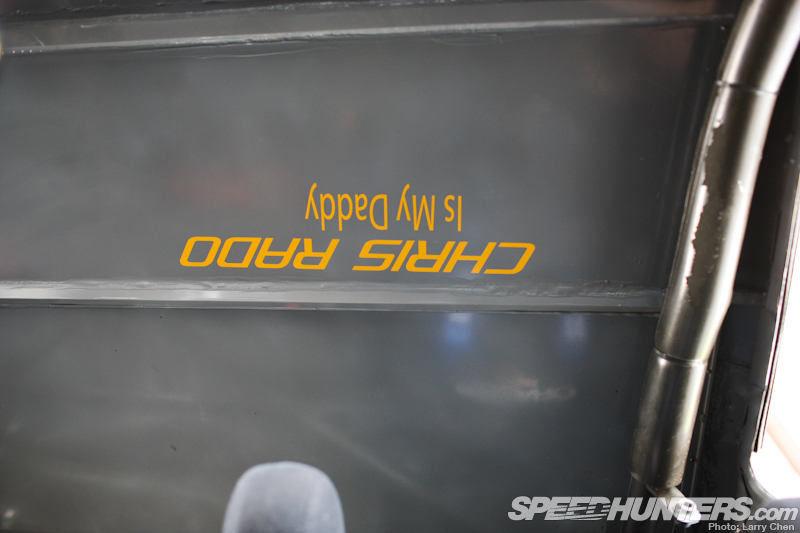 This sort of environment also breeds friendly rivalries and most of the top drivers are all good buddies. In fact when Mike was in need of a new seat but didn't have the funds to pop one in Chris Rado decided to lend one of his spares, but of course it came at a cost. The price wasn't monetary though, no Mr. Rado was looking for a small serving of humble pie.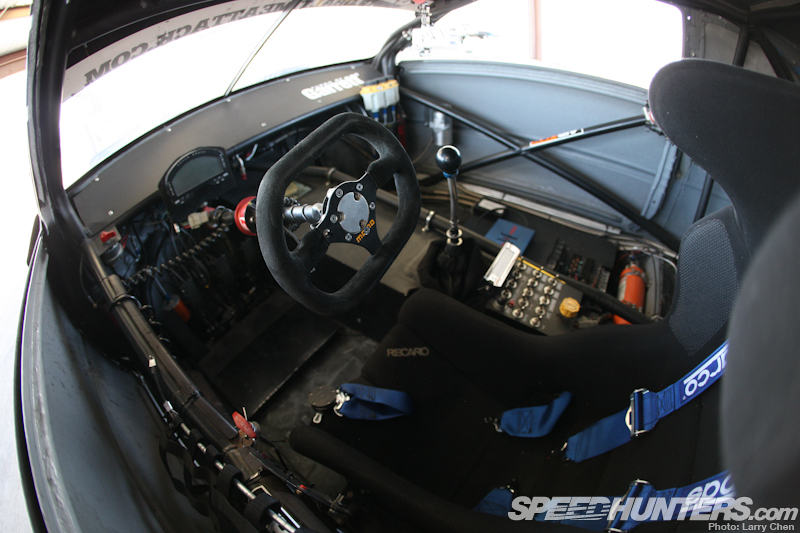 "[For this year's] new wheel-to-wheel format (in Global Time Attack) we realized our then-current seat had expired so we would not be legal to run in that portion of the events. After drawing a blank with every seat manufacturer out there for sponsorship Chris Rado mentioned to me that he had a seat we could have…"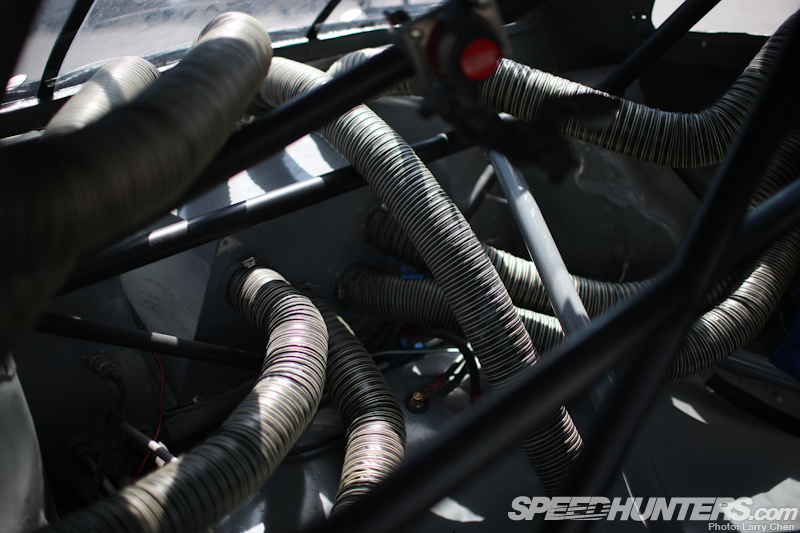 "… he told me [it was ours, but] we had to run a decal on the car. With Chris being Chris I knew I was not going to like what came next so I braced myself.  Given that the new seat was of benefit to our driver Jeff Westphal, I felt it only fair he should share in the humiliation. I decided it would be placed above Jeff's head so anyone looking in would assume Chris Rado was Jeff's daddy and not mine!"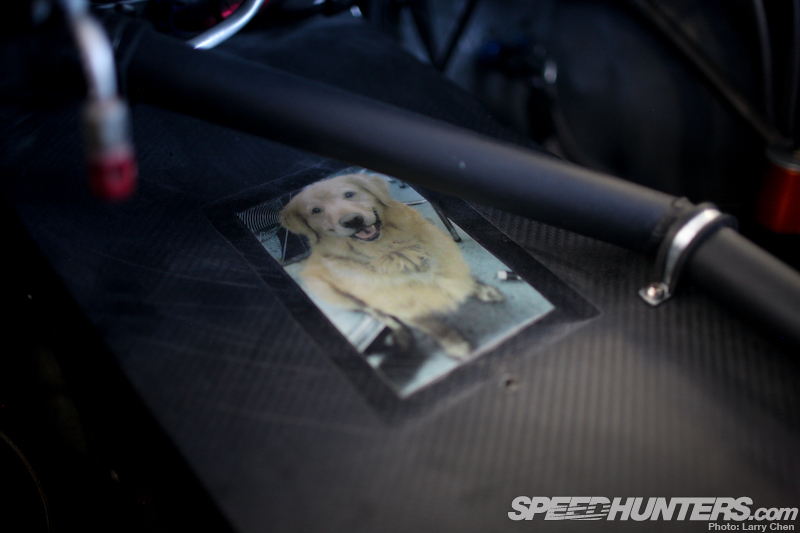 Elsewhere on the car are more small trinkets that may seem irrelevant to most onlookers but are of great importance to Mike. One example is a picture of his Golden Retriever that passed away last February. "This was a dog that for ten years was never out of my sight, from coming to work with me daily to attending race events at the track" Mike says.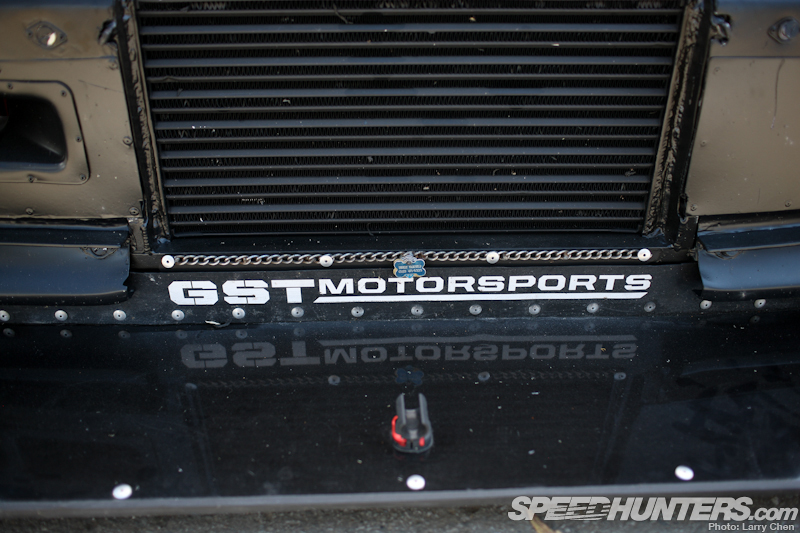 At the front of the car is Thugly's chain and dog tag which have been permanently affixed to the v-mount support via TIG weld. Since the front end has changed a bit this year Mike tells me that finding an adequate mounting location proved difficult. In the end Mike's fabricator Tommy figured out a way to secure it and it serves as backup tribute to the clear-bra'd vinyl picture of Thugly on the transmission tunnel.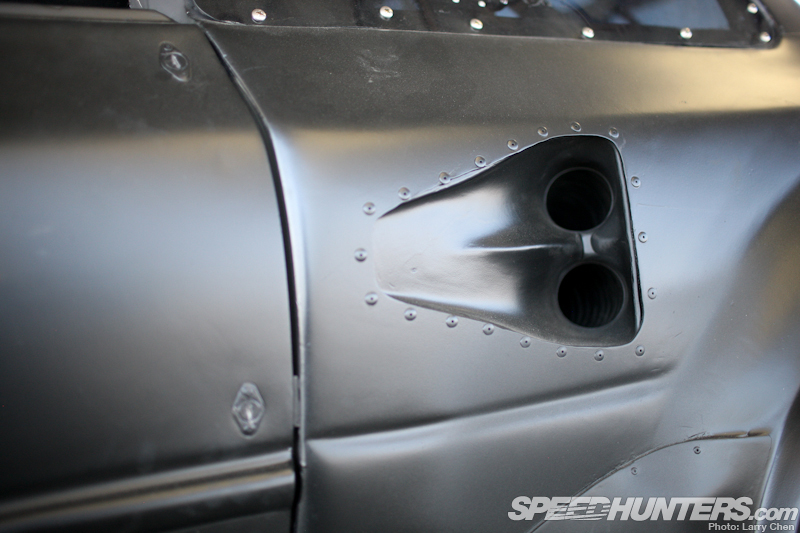 But stickers and dog chains aren't the only modifications for the new season. In the rear of the car Mike has added a newly developed ducting system to channel air to the rear-mounted radiator. This was a play stolen right out of the rallycross playbook. While it is certainly a clever solution to create more packaging room up front for other goodies, the system did show signs of fatigue in Butonwillow's scorching heat.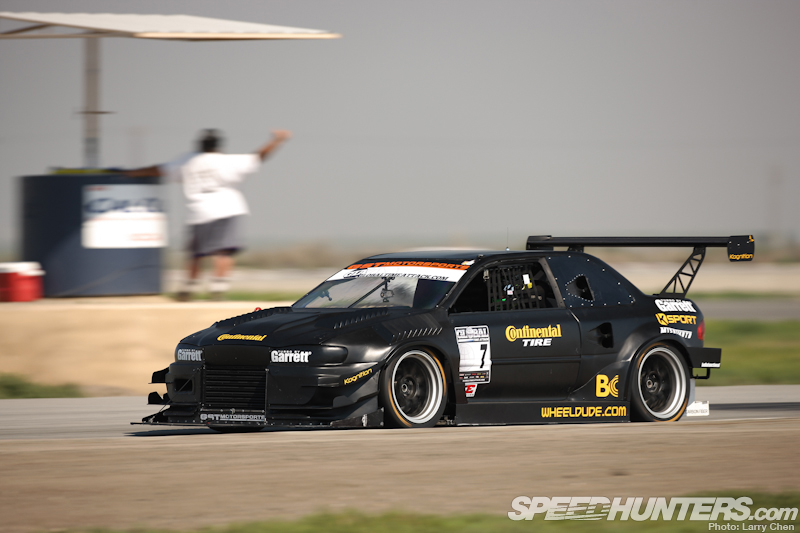 Regardless the team was still able to click off two laps before heat soak set in and in the process set the fastest time of the weekend with a 1:46.631. Of course no lap time is ever "good enough" for a time attack team and the GST car will return to a cooler Buttonwillow in November to take a crack at the overall lap record. Of course the Speedhunters will be there to catch all the action.
RECORDS AND PERSONAL BESTS
1:01.660 – Firebird International Main Course overall Time Attack track record
1:39.657 – Las Vegas Motor Speedway outside track overall Time Attack track record
1:35.548 – Auto Club Speedway Roval overall Time Attack track record
1:19.397 – Willow Springs International Raceway Global Time Attack Unlimited GT AWD track record
1:02.460 – New Jersey Motorsports Park Lightning Raceway Global Time Attack Unlimited GT AWD Time Attack and overall Production Car track record
1:23.594 – Autobahn Country Club South Circuit Global Time Attack Unlimited GT AWD Time Attack and overall Production Car track record
GST Motorsports 1996 Subaru Impreza L
ENGINE
2.6L EJ257 modified with Darton Sleeves by Race Engine Developement; Brian Crower billet 79mm crankshaft, connecting rods, 280/280 camshafts; ARP head and main studs; Cosworth valves, valve springs, valve spring retainers, head gaskets, intake manifold, 12mm dry sump oil pump; 70mm GST Motorsports custom throttle body, custom exhaust; Garrett GTX3582 turbo; Full Race turbo manifold;  Turbosmart Comp gate 40 wastegate (x2), race port blow-off valve; Aeromotive fuel pressure regulator; Walbro GS342 in-tank fuel pump (x2); Bosch 044 external fuel pump (x2); RC 1600cc injectors; Fuel Safe 12-gallon fuel cell; NGK plugs; Mishimoto aluminum radiator and intercooler;
ENGINE MANAGEMENT
Hydra Nemesis ECU; GST Motorsports custom wiring harness
DRIVELINE
'08 STI transmission; ACT Prolite flywheel, unsprung 6-puck clutch; Cusco 1-way LSD (front); Carbonetics 1.5-way LSD (rear)
SUSPENSION AND CHASSIS
GST Motorsports custom cage; JRZ Motorsports 3-way adjustable shocks, custom valving by Performance Shock Inc.; Eibach springs in various rates; Whiteline swaybars 24mm (front) 27mm (rear); AFI Turbo custom roll center kit
BRAKES
Ksport calipers 8-piston (front),  4-piston (rear); 
Raybestos brake pads ST47 (front), ST45 (rear); Goodridge stainless lines; Tilton floor-mounted pedal assembly with adjustable bias; custom Sheehan Motorsports front brake duct cooling
WHEELS AND TIRES
Rota MXR 18×11 +20 wheels; Continental R80 305/645/R18 tires
EXTERIOR
GST Motorsports custom bodywork including: front bumper, splitter, fenders, rear bumper, rear diffuser, doors and flat under-paneling; Dos Beena's Autobody custom hood; TEC Equipment custom side skirts; Vfiber GST Motorsports modfied trunk; Kognition Designs spoiler; Huck Gee designed graphics applied by Dodgy Vinyl; Midget Autobody paint work
INTERIOR
Recaro driver's seat; Sparco harness; GST Motorsport custom power steering and switch panel; Momo steering wheel; AIM MXL Pro digital dash
TEAM
Team Principle/Tuner: Mike 'Da Wanka' Warfield
Driver: Jeff 'G-Stig' Westphal
Crew Chief: Earl 'The Merl' Lenaming
Chief Fabricator: Tommy 'Slim' Wu Zalo
Chief Mechanic: Mert 'Lo-Lo' Solis
Lead Crewman: Keith 'Boots!' Mayberry
SPONSORS
Continental Tire, Cosworth, Brian Crower, Full Race, Turbosmart, JE Pistons, Wheeldude, ATP Turbo, Garrett Turbo, World Racing, World Electronics, Rota Wheels, Kognition Designs
More car features on Speedhunters
More Global Time Attack Stories on Speedhunters
– Sean
Photos, interview and additional research by Larry Chen