Boost is king
Thanks to our #WeHaveBoost theme, you guys have seen quite a variety of turbocharger-related content over the past couple of days. Whether it's retrospective stories or up-close looks at some of our favorite turbo-equipped cars, we love boost. Before finishing up though, there's a car which actually served as a catalyst for this theme, that we just have to share with you.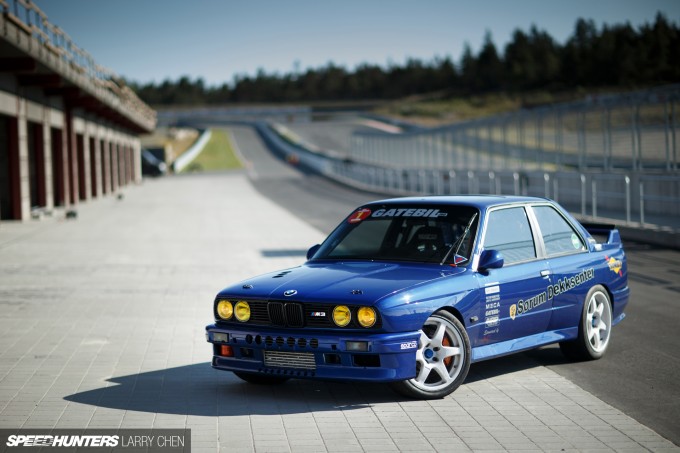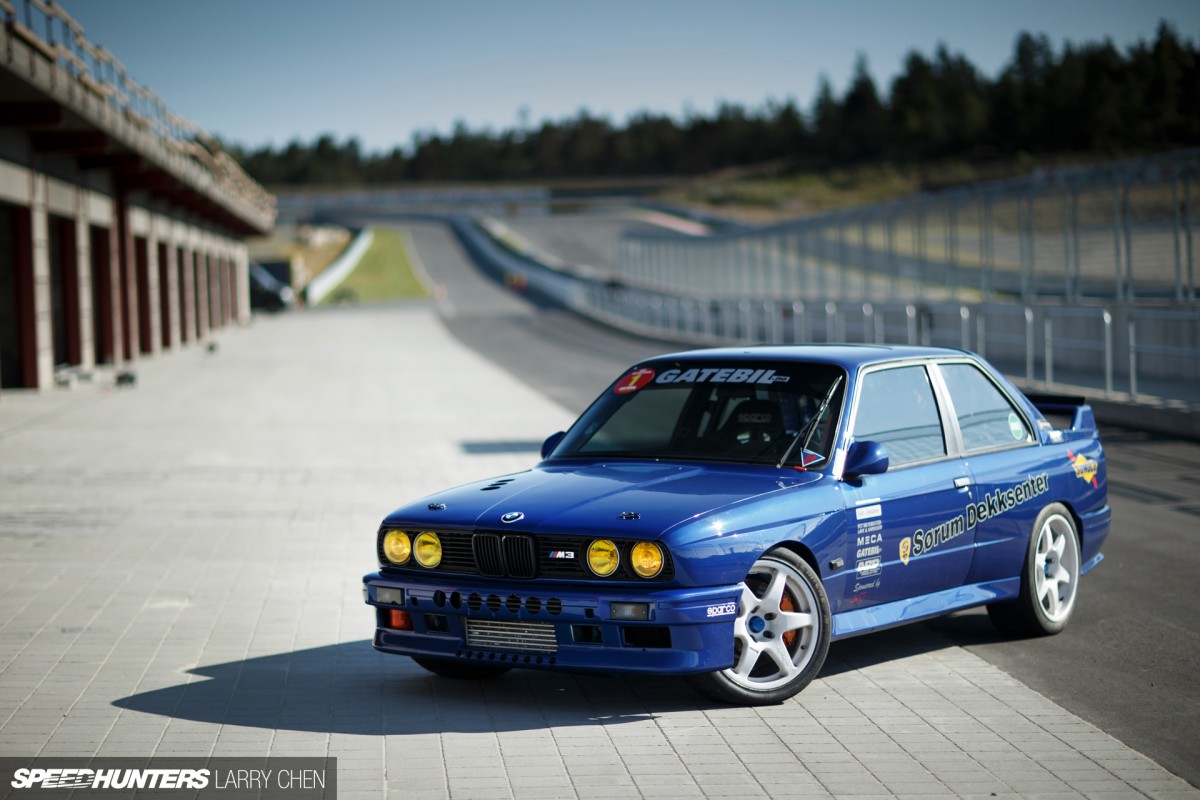 This is Vidar Jødahl's E30 BMW M3, and let's just get it out of the way first: it's sporting an enormous turbocharger. All it took was one look under the hood of this car and we knew it had all the credentials for the centerpiece of Speedhunters' turbo celebration.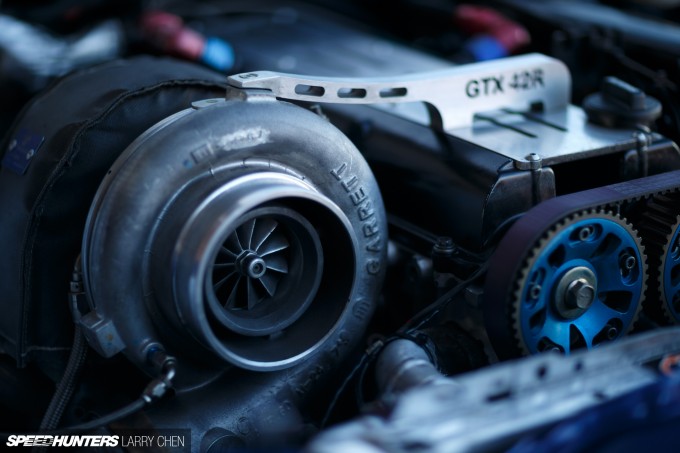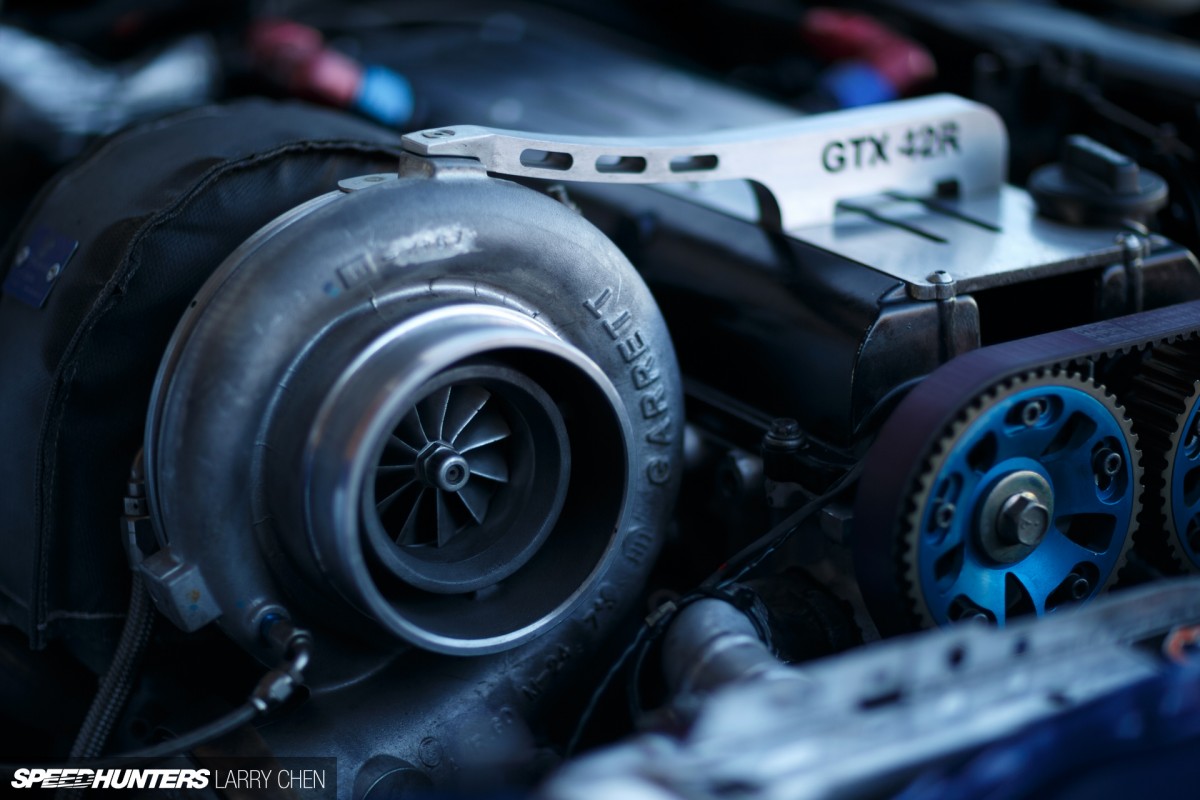 But aside from its mind-bending turbo setup, this M3 really has everything that makes a great feature car. It was also one the more memorable finds from our 2013 Gatebil expedition. It's as fast as you could want, it has a ton of work put into it, and looks totally badass. But at the same time it's also kind of sacrilegious.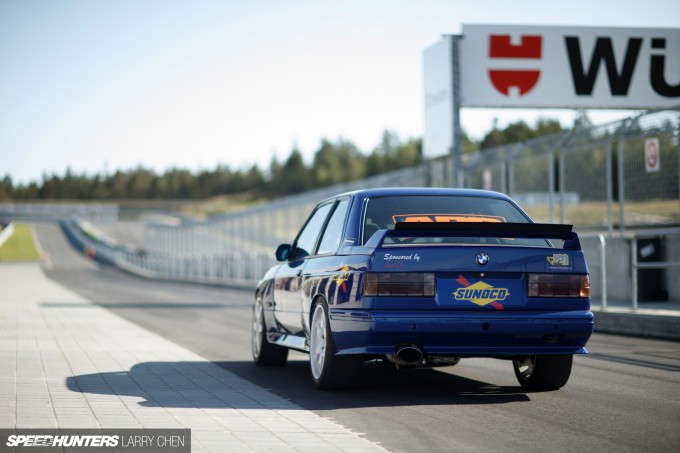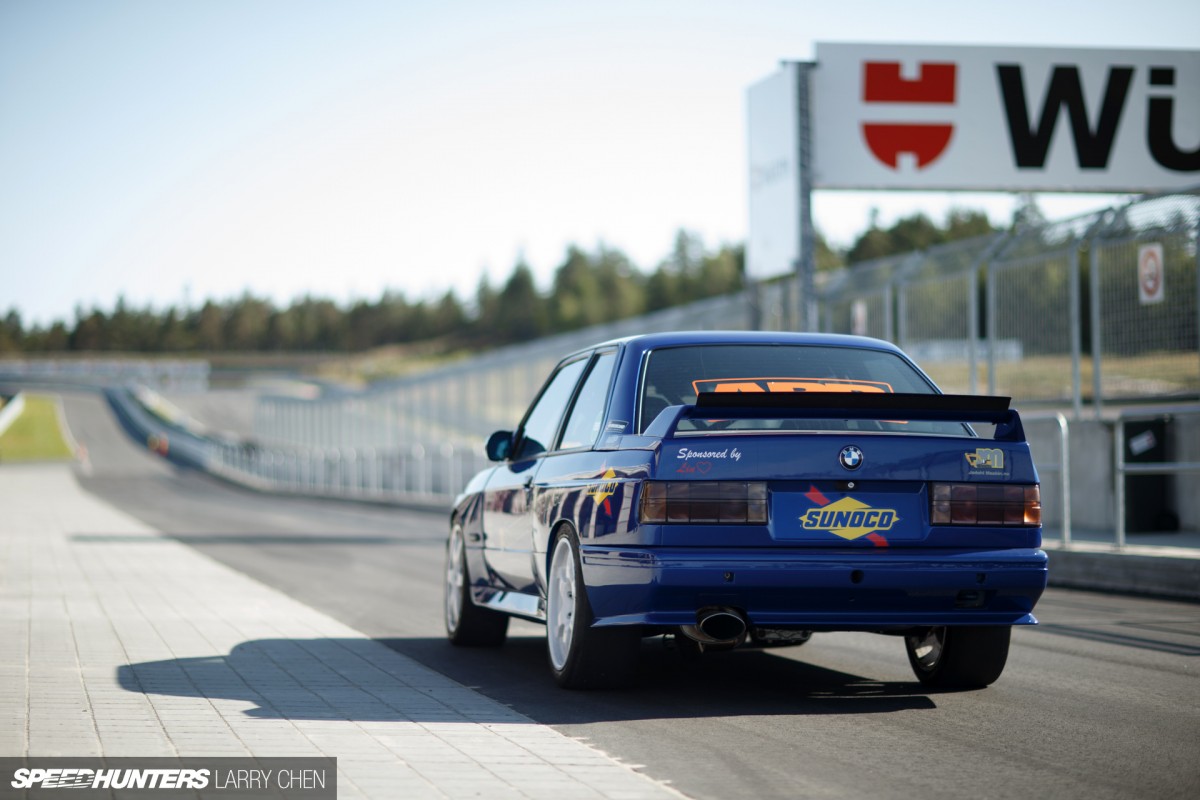 At nearly 30 years old, the E30 M3 is a bonafide classic, and it's been that way for some time. It was the first in a legendary line of high performance BMWs, and is known around the world as being one of the greatest driver's cars ever. It's not surprising then, that the majority of E30 M3 owners prefer to keep their cars as close to original specification as possible.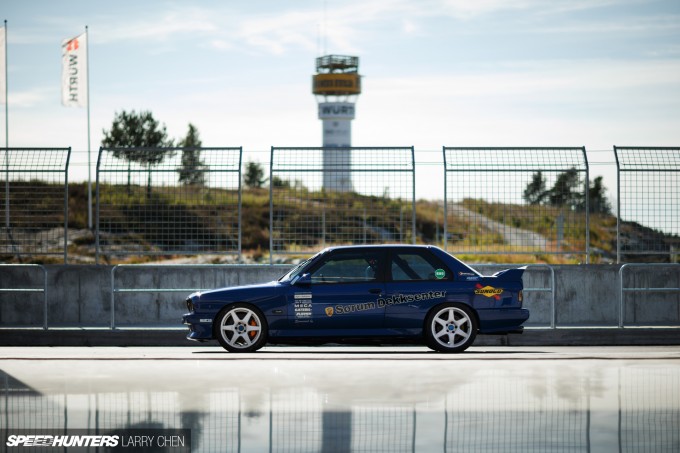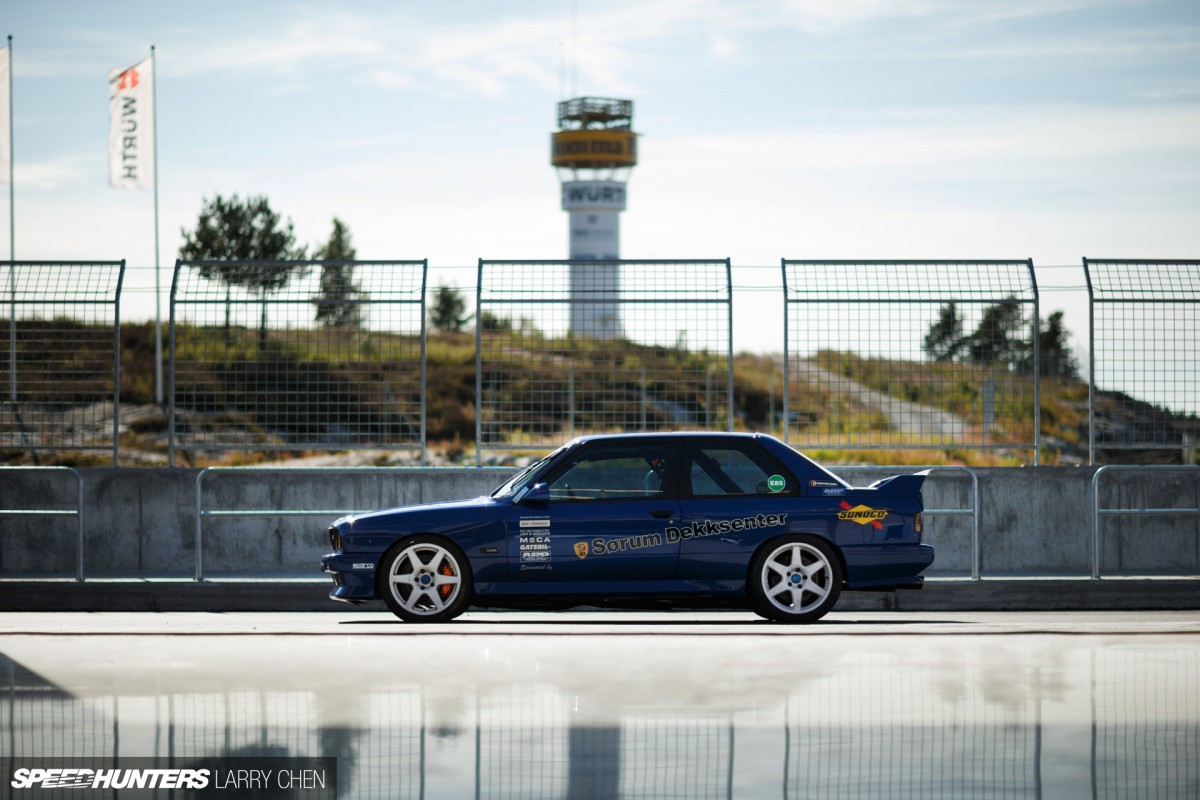 The prevailing image of the E30 M3 is one of high-revving, naturally aspirated horsepower and razor-sharp handling. You probably imagine an E30 M3 threading a twisty mountain road with precision or hopping curbs in touring car racing. You probably don't imagine the M3 as a car that pours smoke from its back tires or rips off blindingly-quick quarter mile passes. Those are a couple things that separate Vidar's E30 from the rest.
Purists need not apply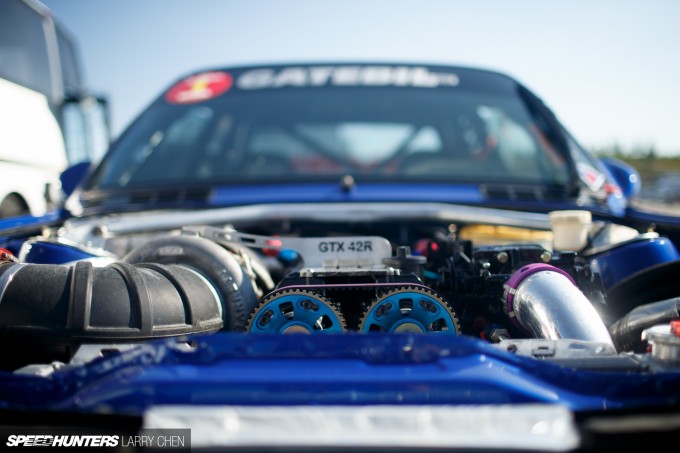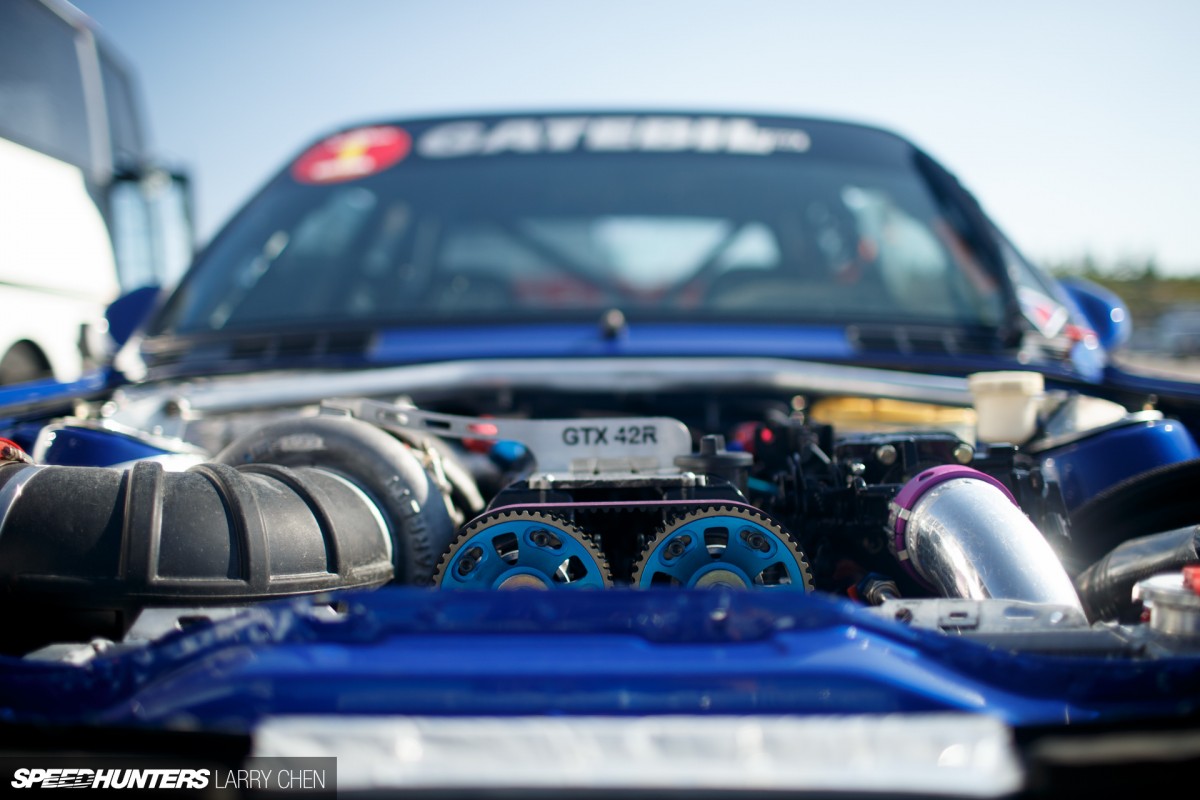 The other is the fact that its enormous Garrett GTX4294R turbo is not affixed to a BMW engine, but to a Toyota 2JZ-GTE. I'll give the purists a moment to wipe the tears from their eyes.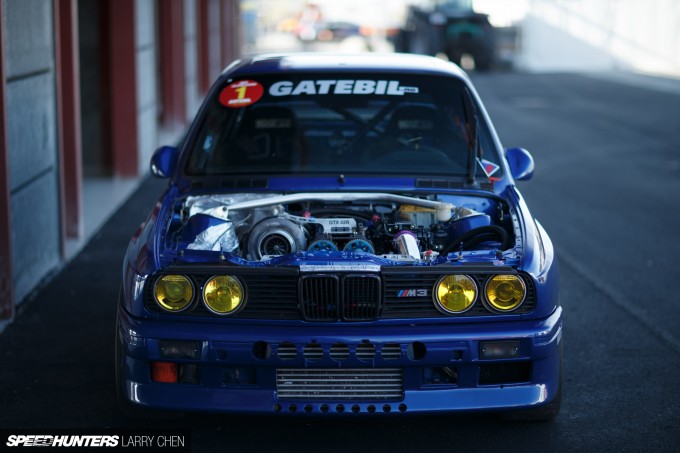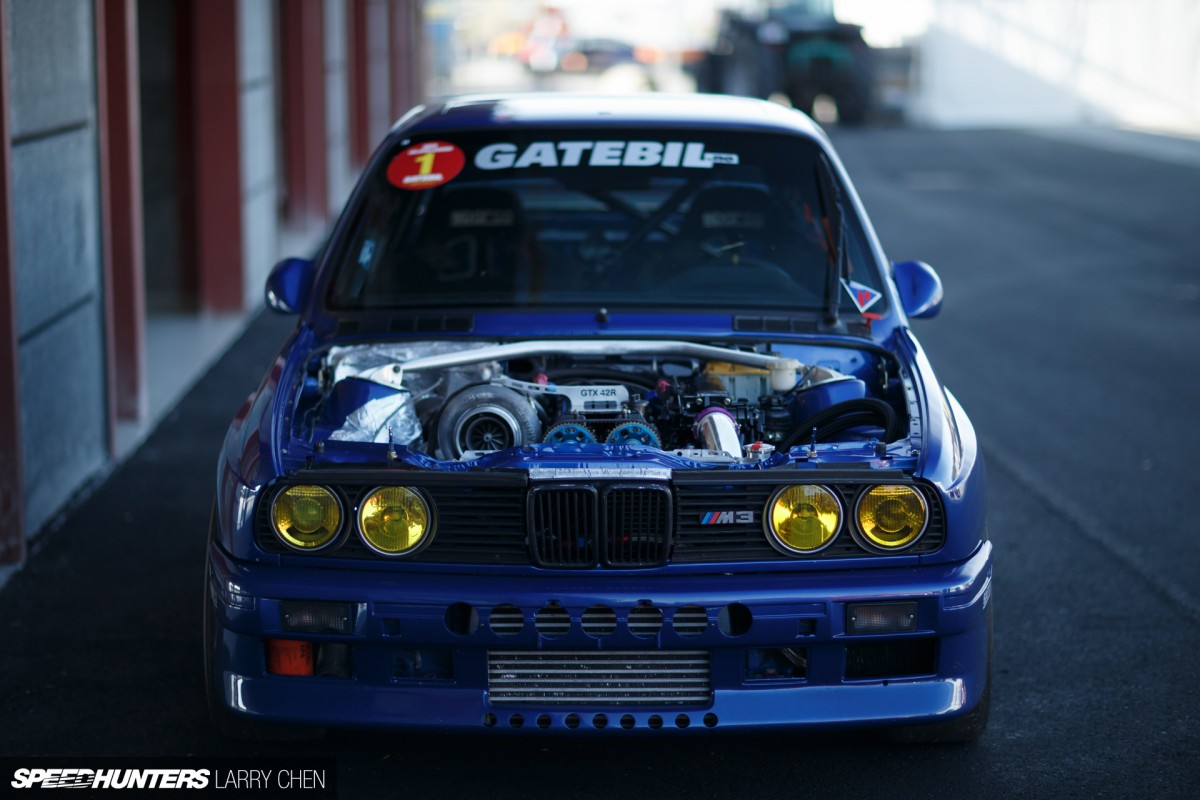 Sure, the Gatebil scene is full of BMWs packing heavily modified engines from their own family; but it's hard to fault Vidar for choosing to swap in what's easily one of best turbocharged engines of all time. Anyways, Gatebil has never been about doing things by the book, right?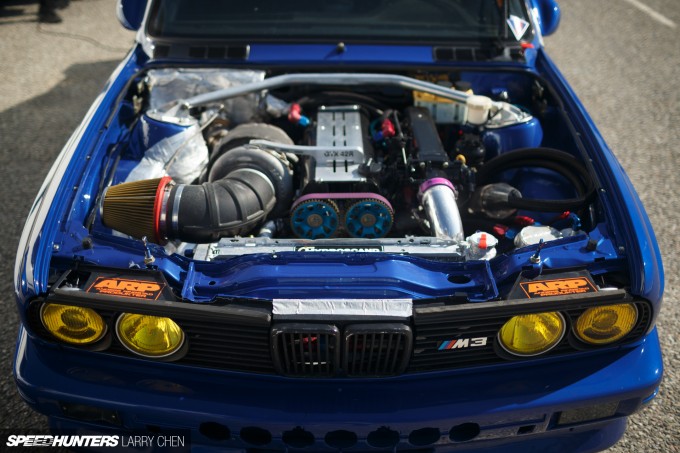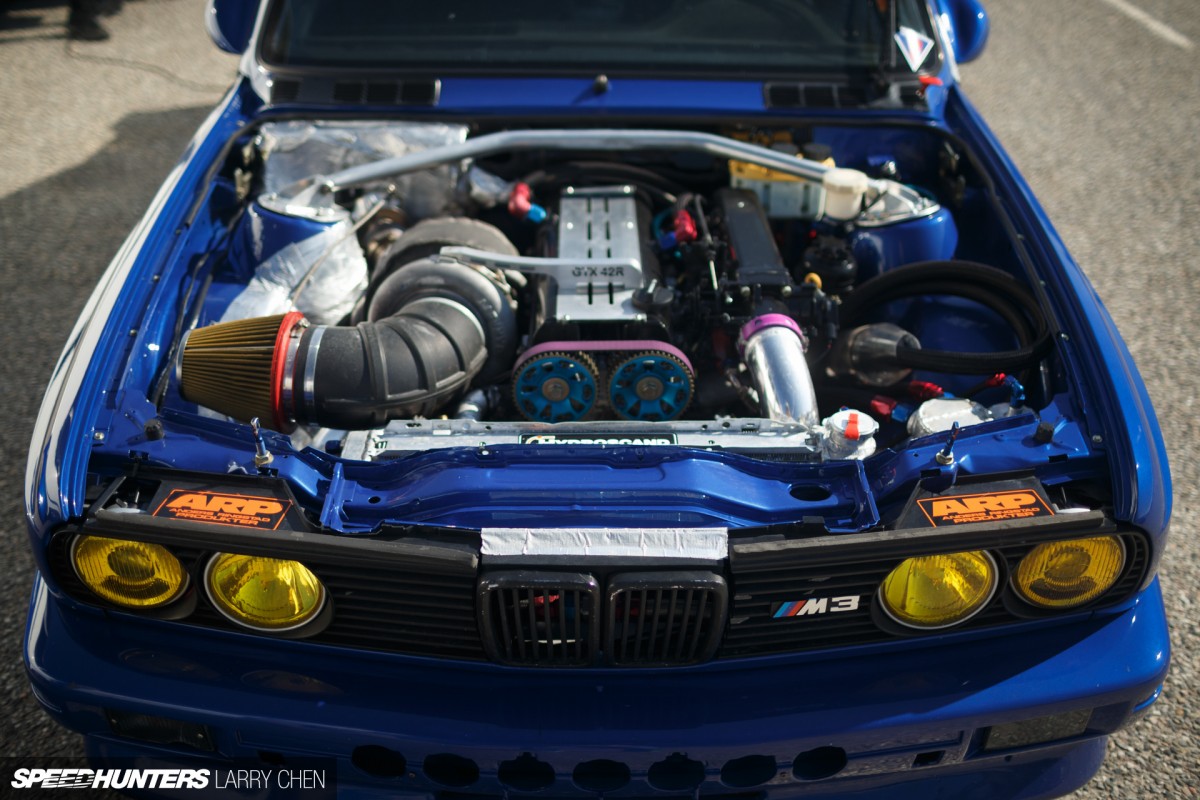 As you've probably gathered from the gigantic turbo setup, the 2JZ in this BMW is not quite stock either. Internally, the 3.0-liter inline-six motor has been strengthened with forged pistons and rods from Powerhouse Racing and a set of billet main caps. The DOHC 24-valve cylinder head has also been ported for better flow.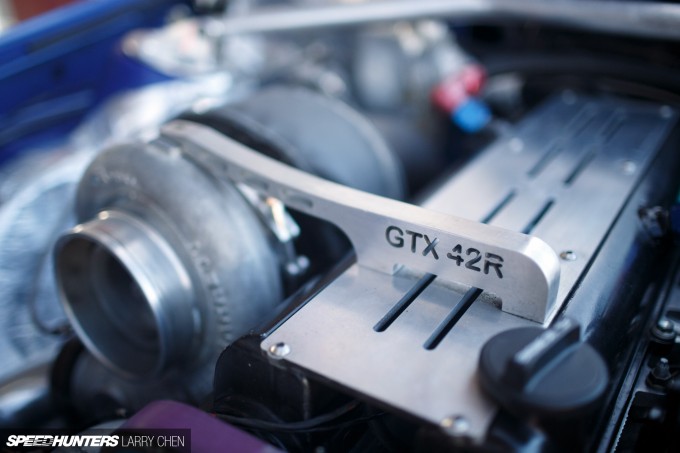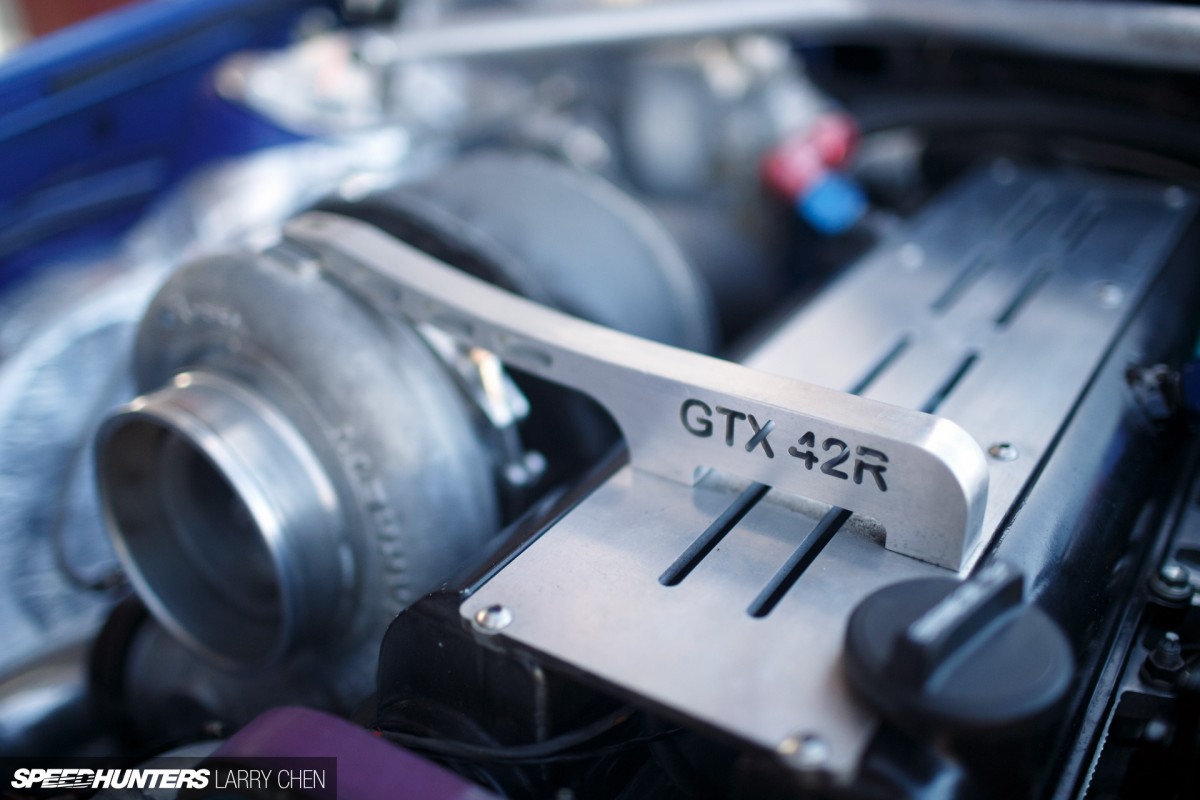 The Garrett turbo is sitting on a custom-fabricated manifold, with isn't surprising at all given its stature.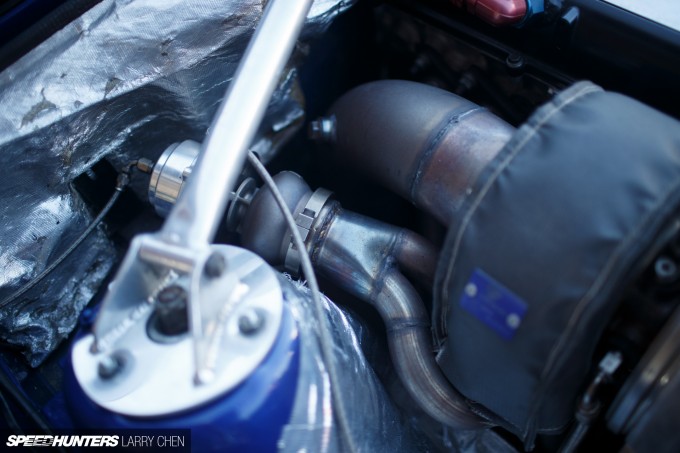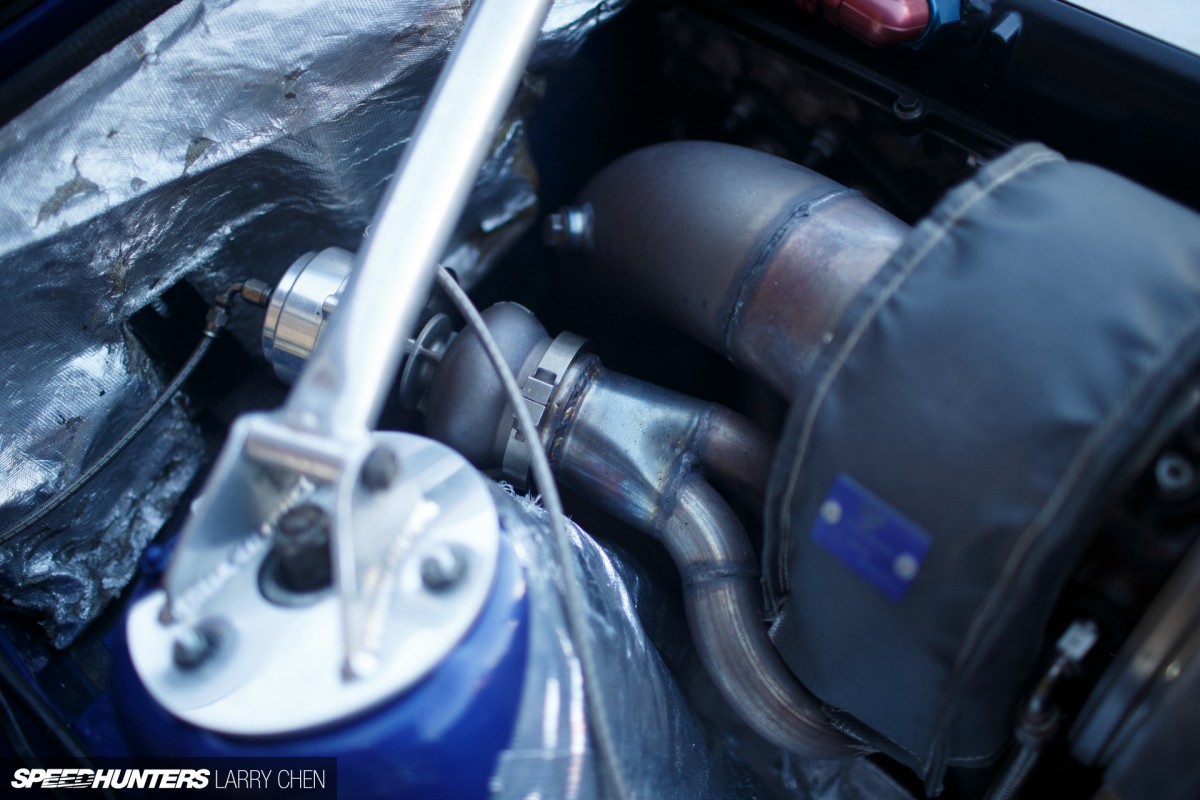 With its vitals being controlled by a Pectel T6 engine management system, the engine setup puts down a very healthy 1,078 horsepower and 1,089 foot pounds of torque with boost set to whopping 2.9-bar (42.6psi)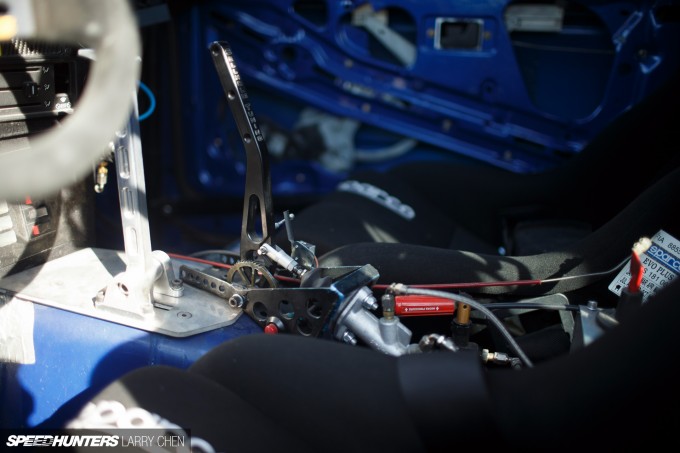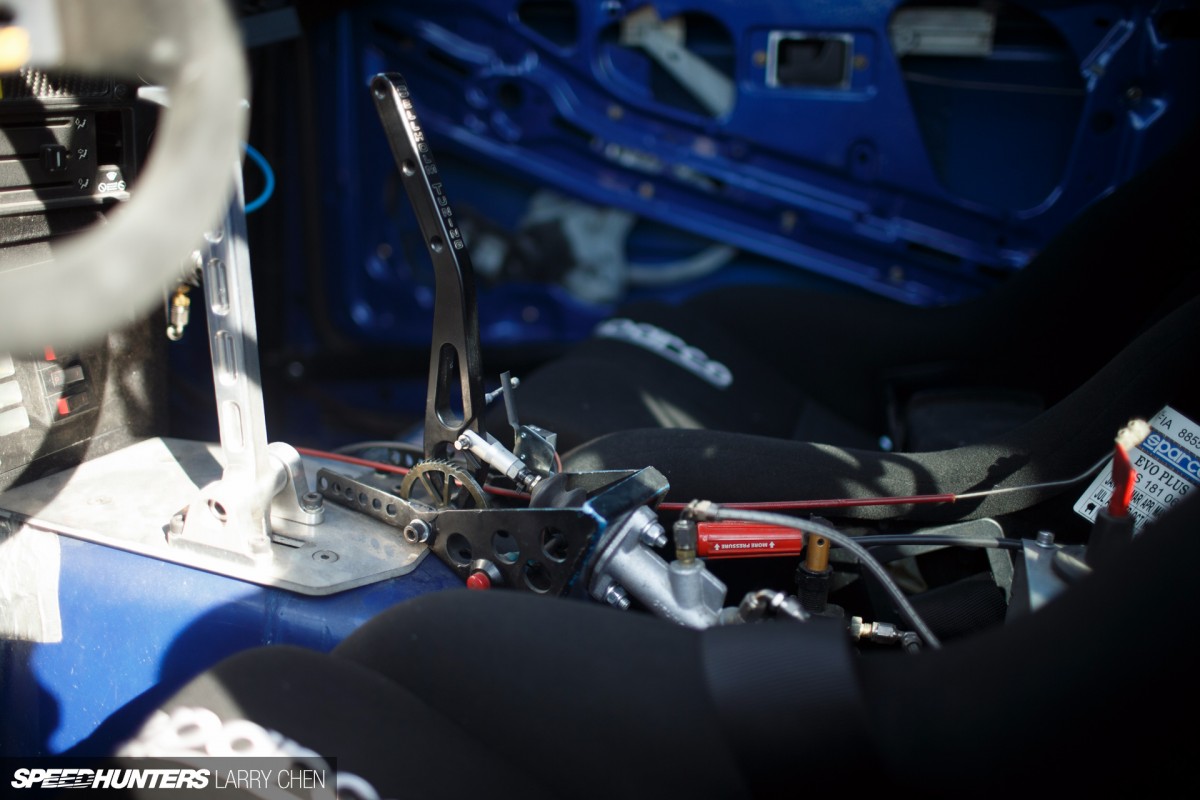 With so much power and torque on offer, the rest of the car has been built to match; starting with the transmission which is a heavy-duty sequential unit from Sellholm. The output is then fed back to a rear end from an E34 M5 – a strong and popular choice for builders of high horsepower BMWs.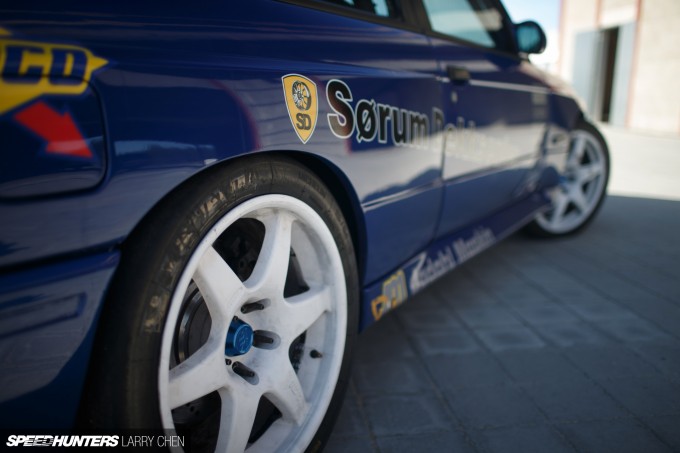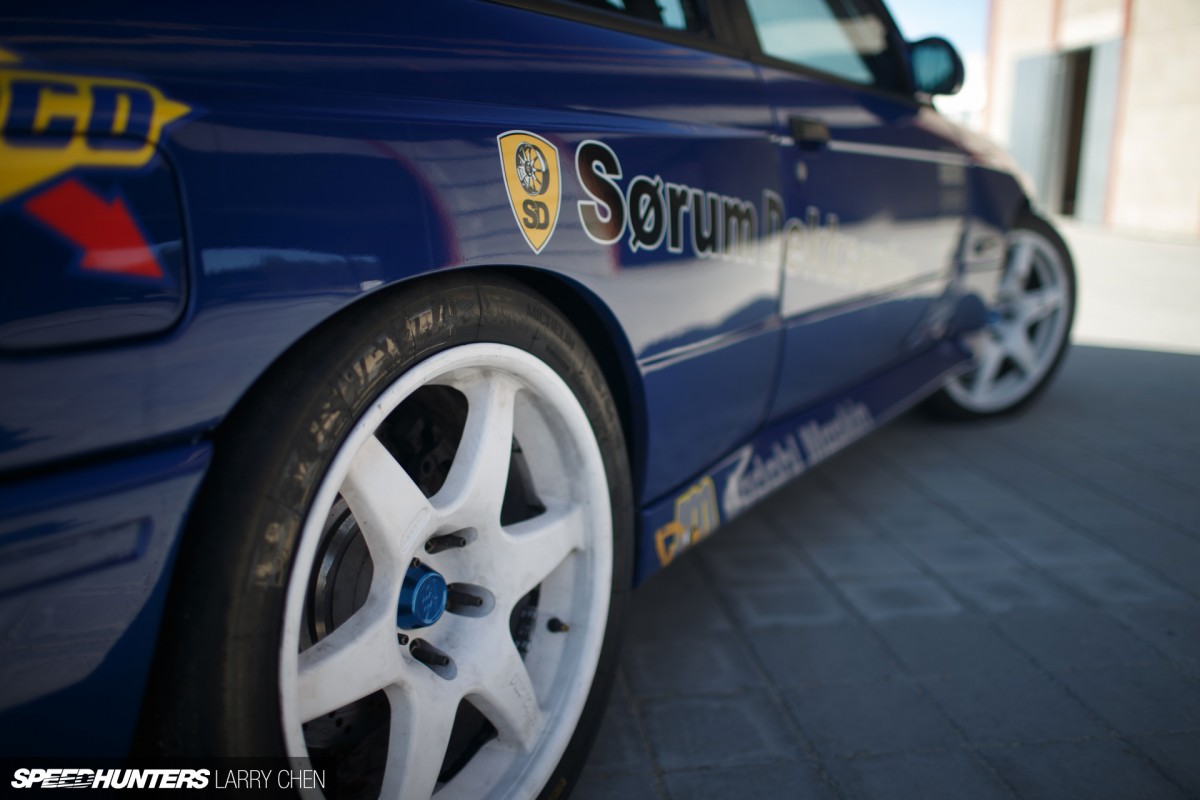 As for footwork, the car rides on a set of Sellholm coilovers while braking is handled by a custom six-pot caliper setup in front and factory E46 M3 stoppers in the rear.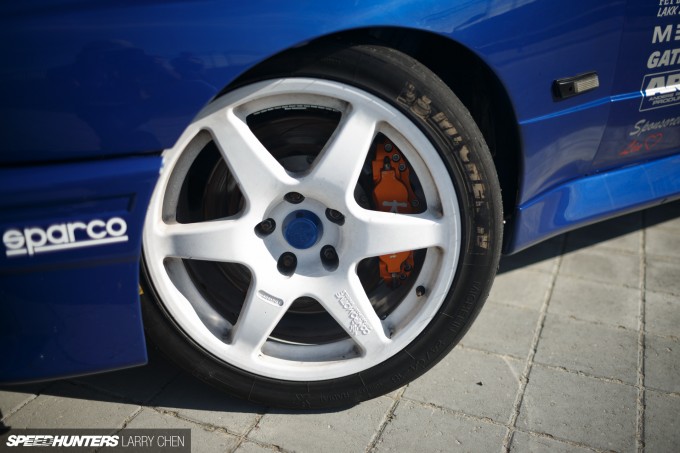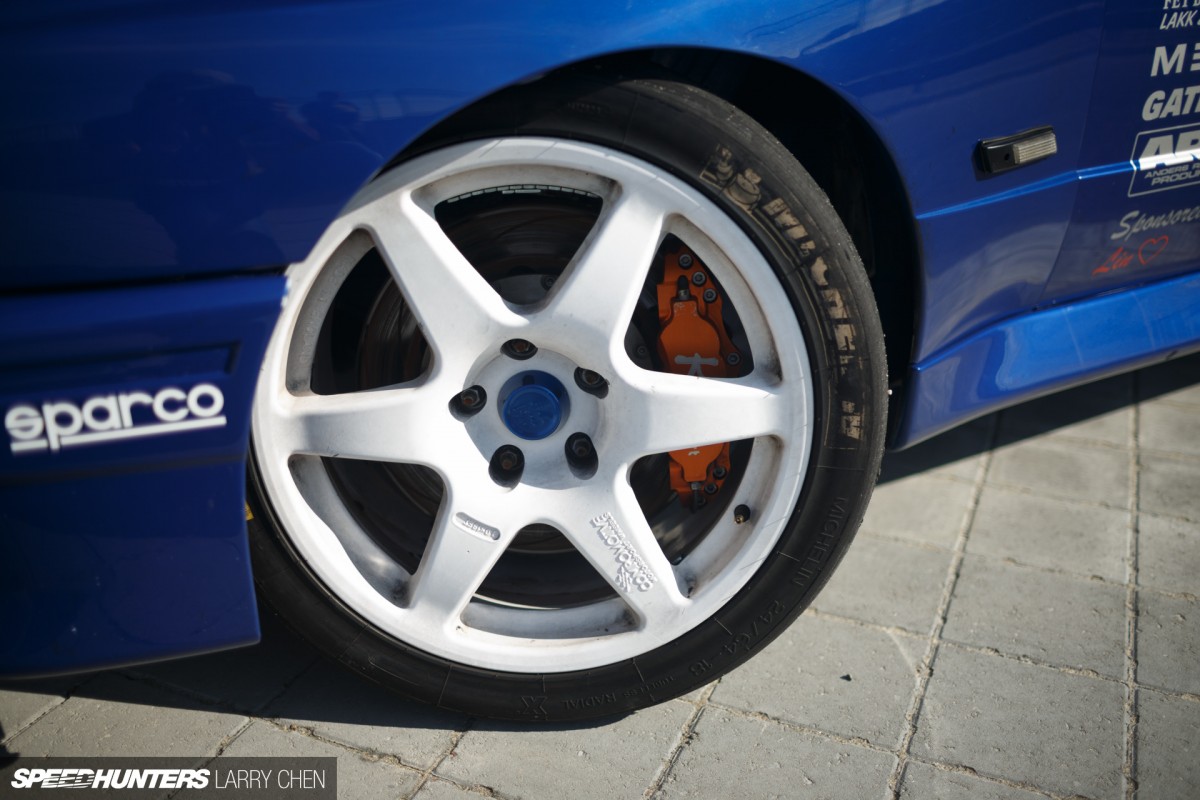 The wheels are white 18-inch Compomotive MOs, which tie-in perfectly with the E30 M3's touring car roots. Vidar's tire choice varies greatly depending on what sort of driving he's doing, which I'll touch on in a moment.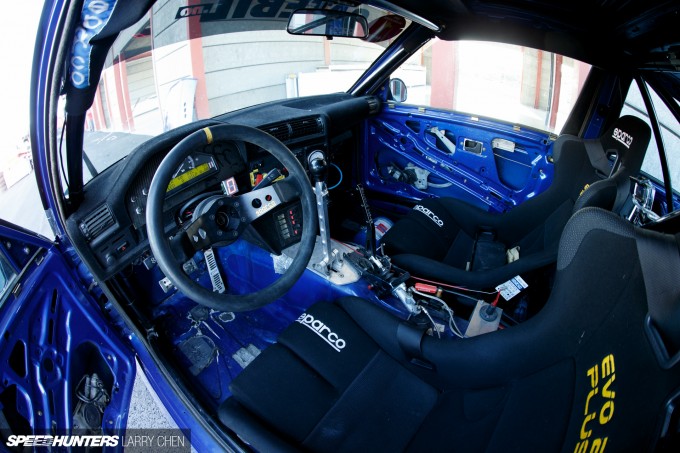 Inside, the M3 has everything you'd expect for a car built to partake in Gatebil madness. There's a full cage of course, along with a pair of Sparco bucket seats, a Sparco steering wheel and all the other necessary safety equipment.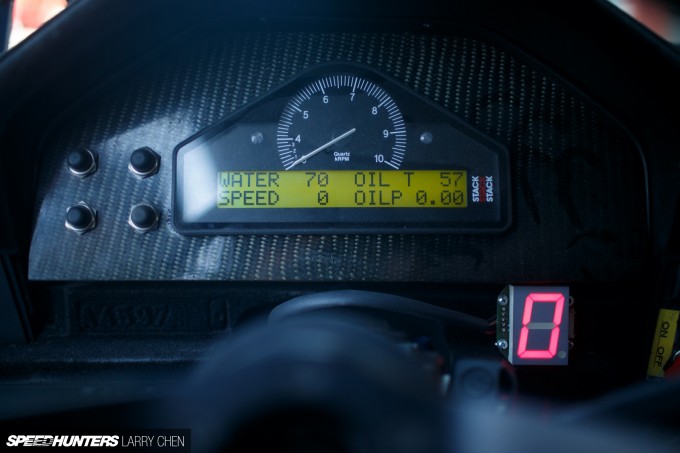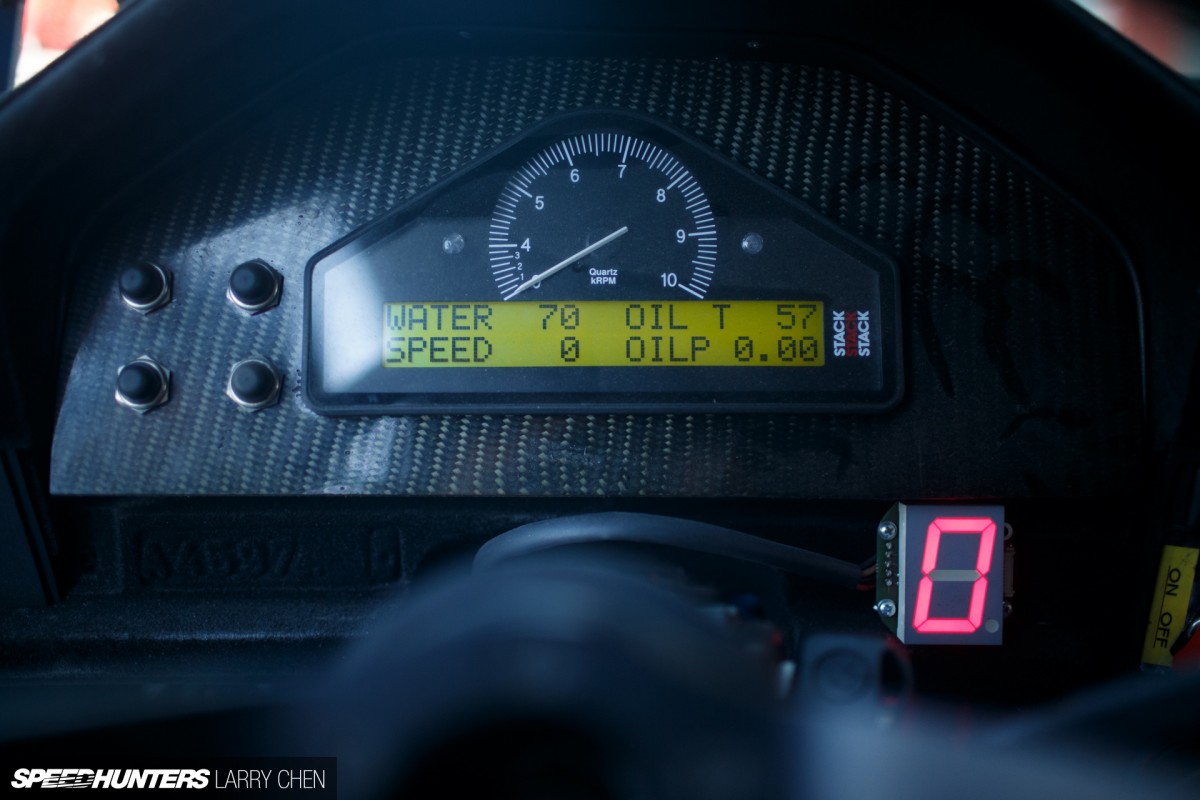 Let's not forget the all-important STACK cluster either.
Jack of all trades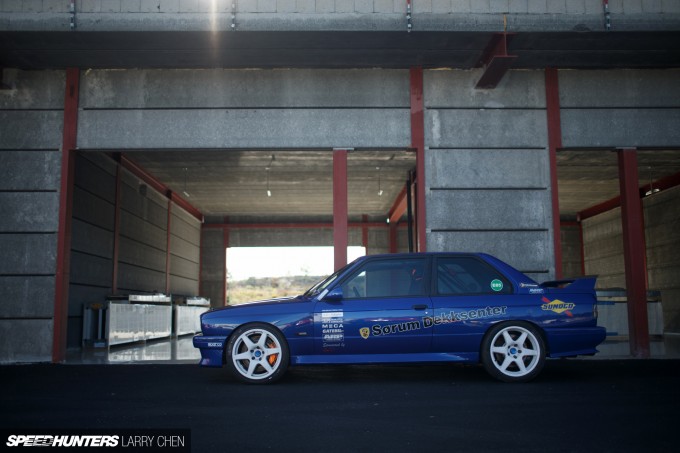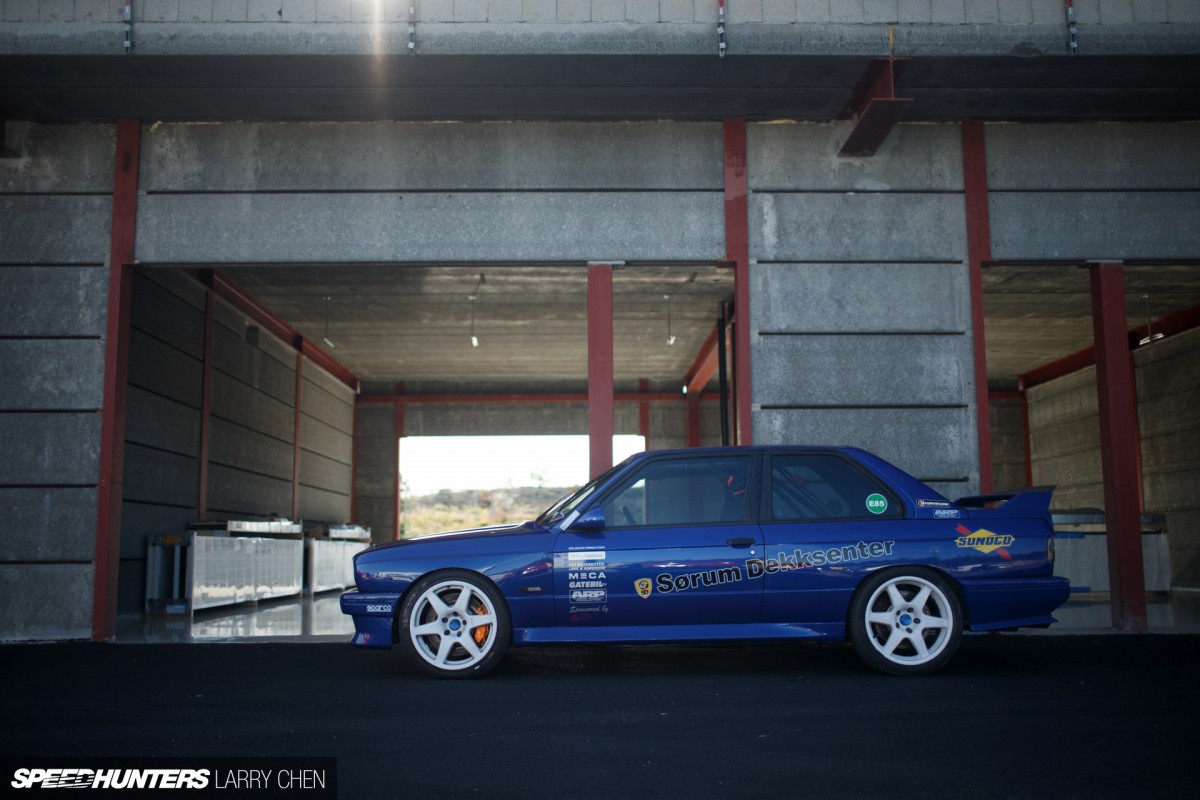 One of things I especially like about the car is the way the body has remained almost completely stock. Aside from some extra ventilation, there's really nothing that separates Vidar's car from your typical street-driven E30 M3. It's still completely recognizable as one of the coolest car designs of the '80s.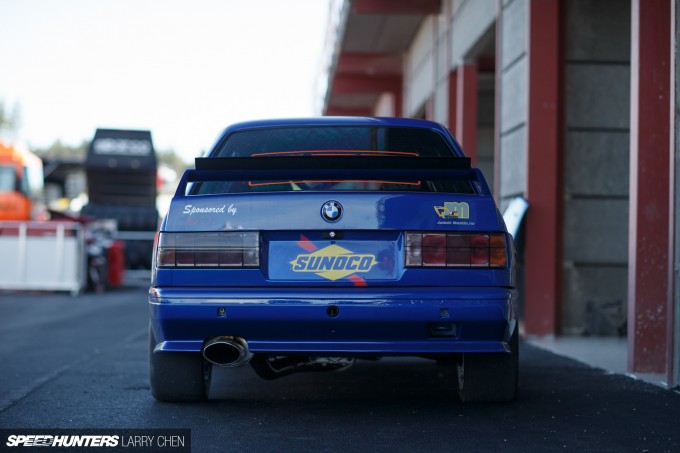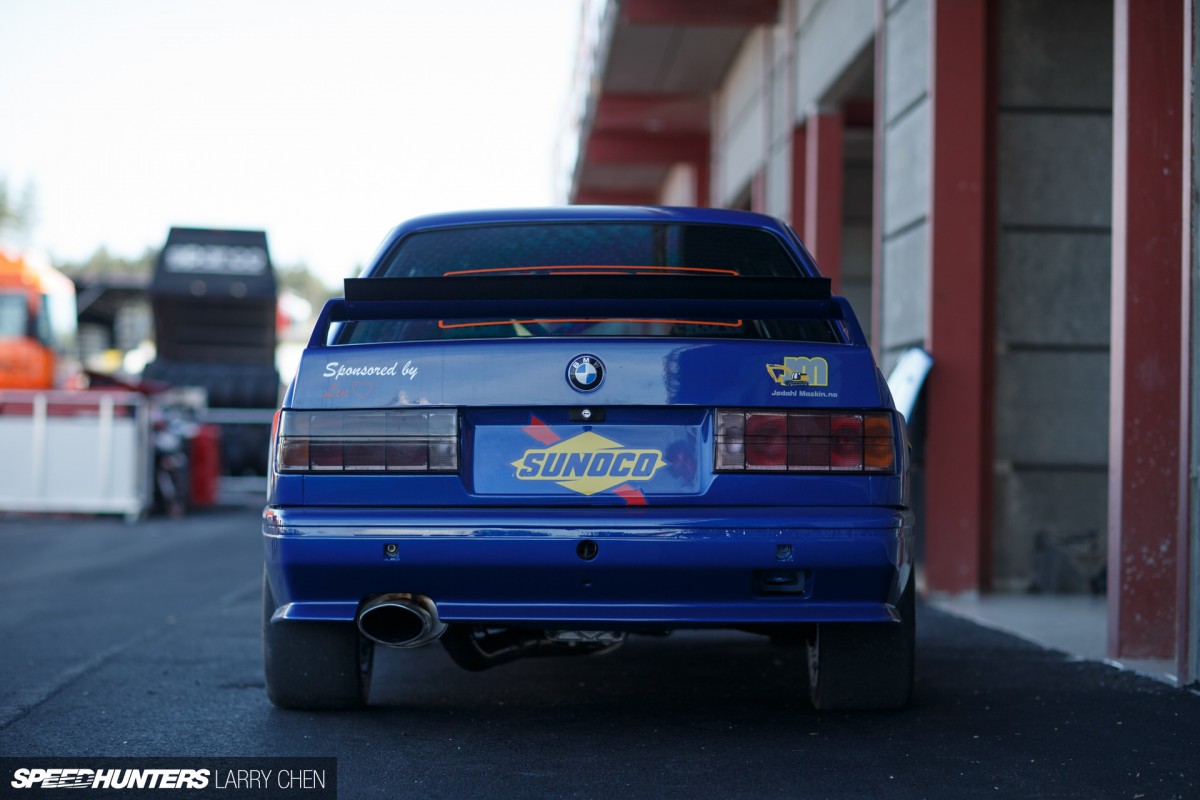 Additionally, the M3 is free of any crazy graphics or logos, and the overall vibe of the exterior doesn't give away the fact that this thing's a 1,000hp-plus track monster. Or at least it doesn't when the hood's closed…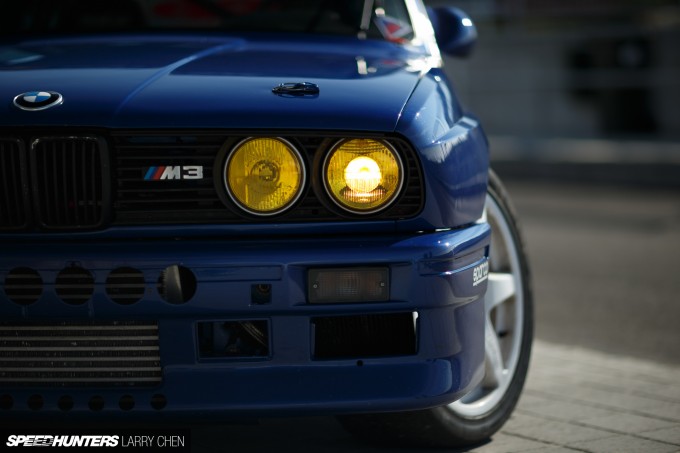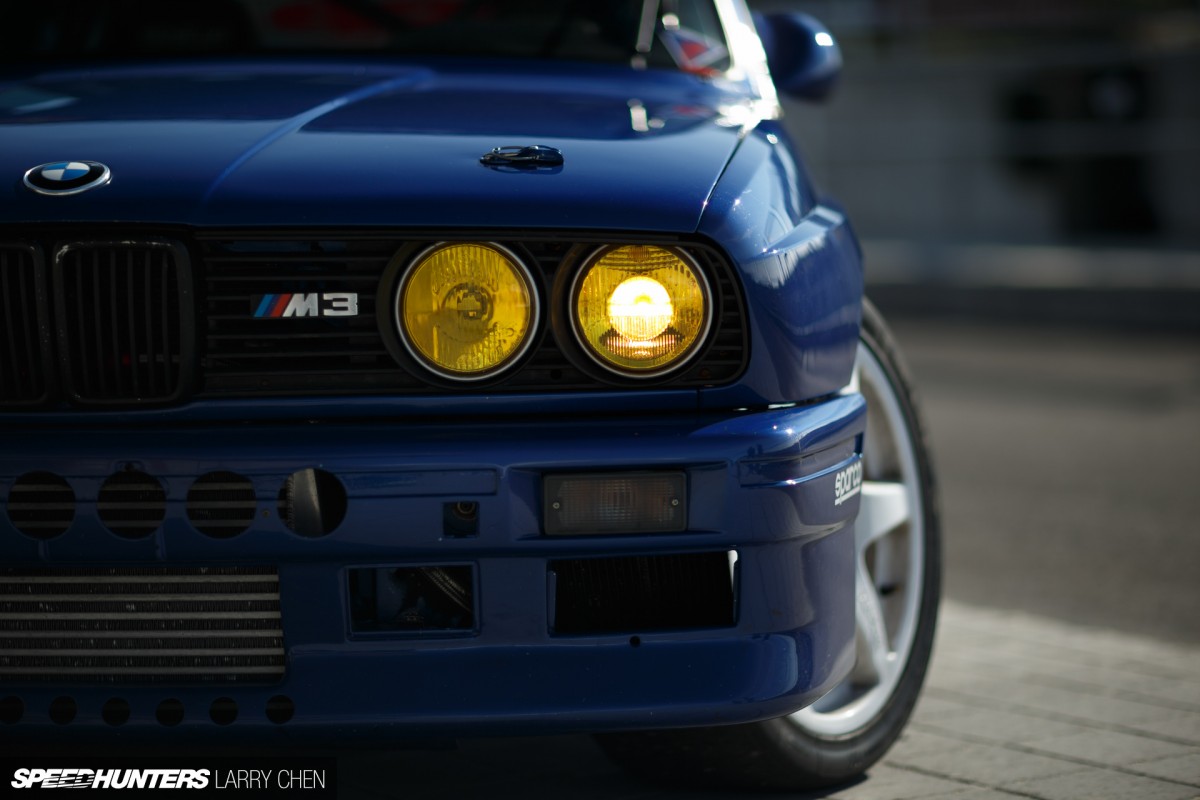 To me though, the best thing about this car isn't the huge horsepower figure or the massive physical size of the turbocharger, but the way in which Vidar enjoys the car.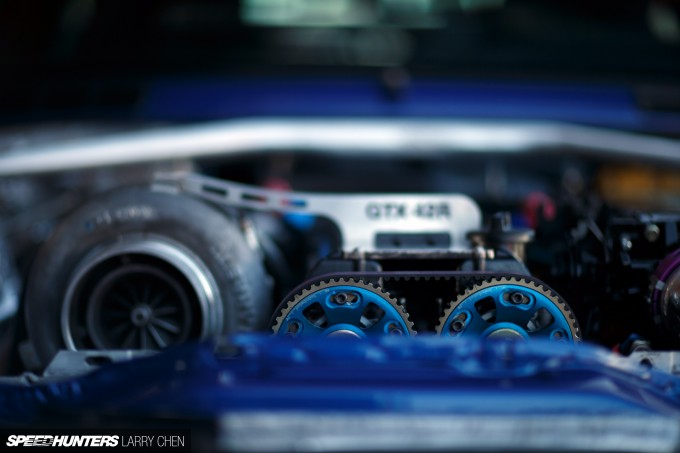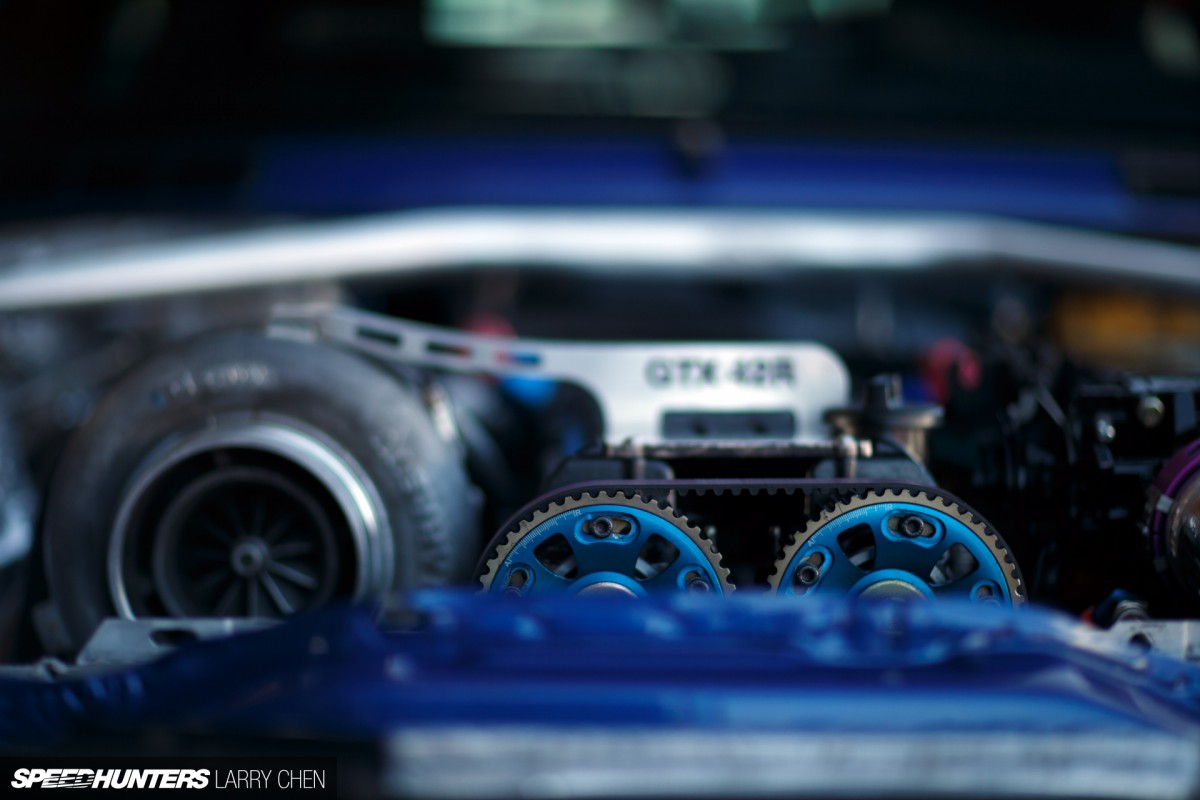 He didn't build the car just to pop the hood and amaze people: he built it to drive – and drive hard.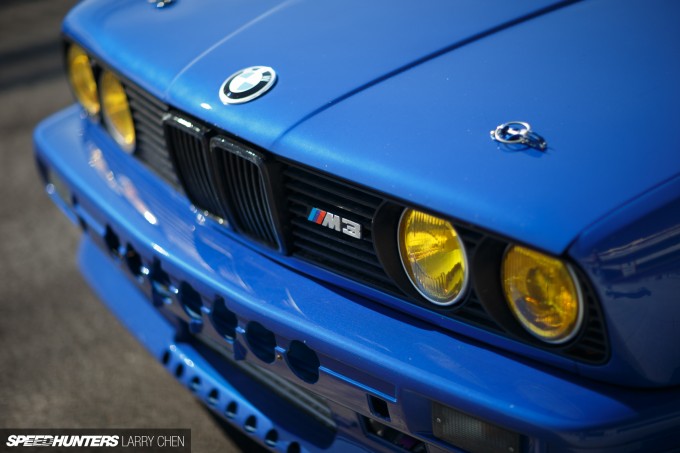 The BMW fits right in among the crowd of insane machinery that takes to the track at Gatebil, but it's also made its way to other circuits and events across Europe. Want to see what Vidar does when he hits the track? Check out the videos here and here.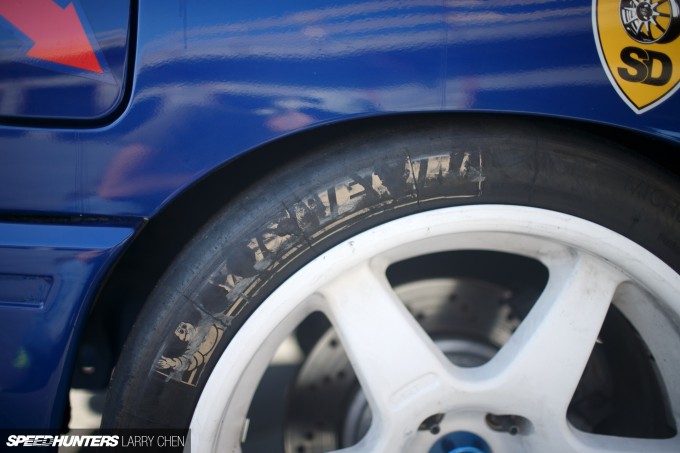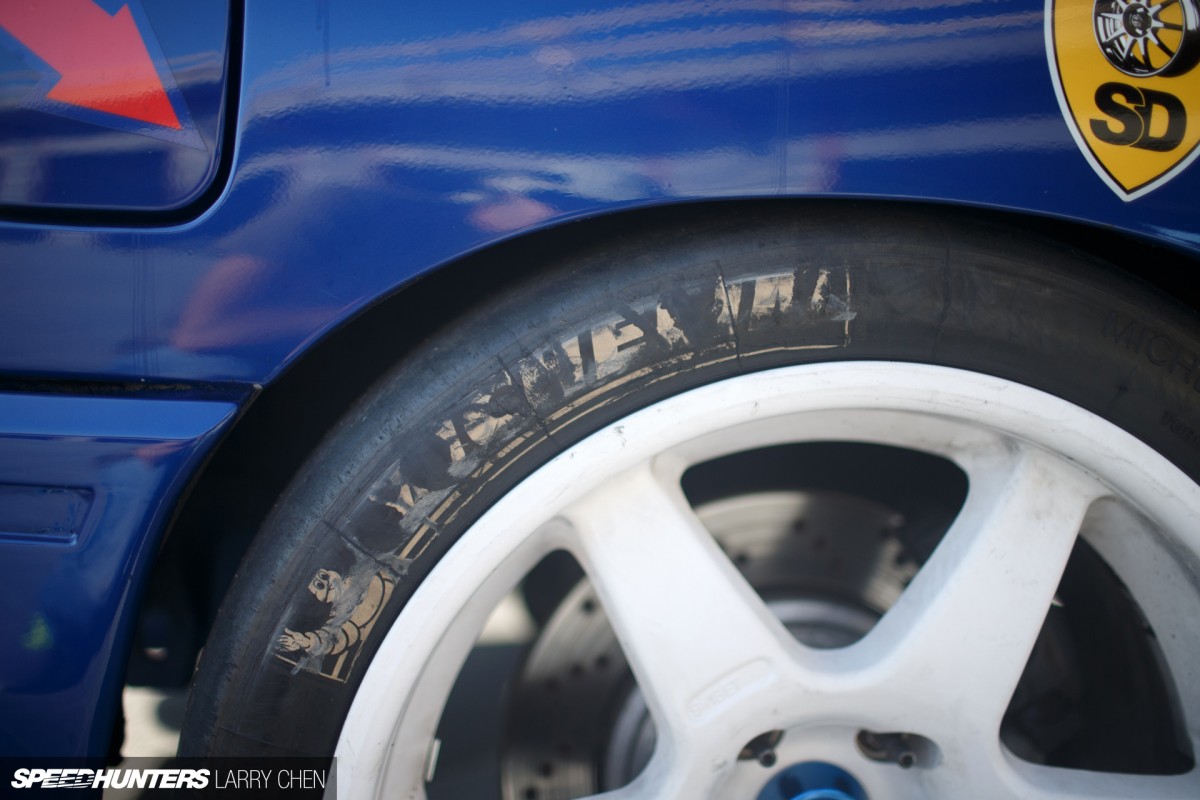 Aside from taking corners and sliding like a maniac, the E30 has also been engineered with drag racing in mind. Vidar regularly throws on some slicks and a parachute on the back and heads to the strip where he's put down a best ET of 8.96 at 256km/h (159mph).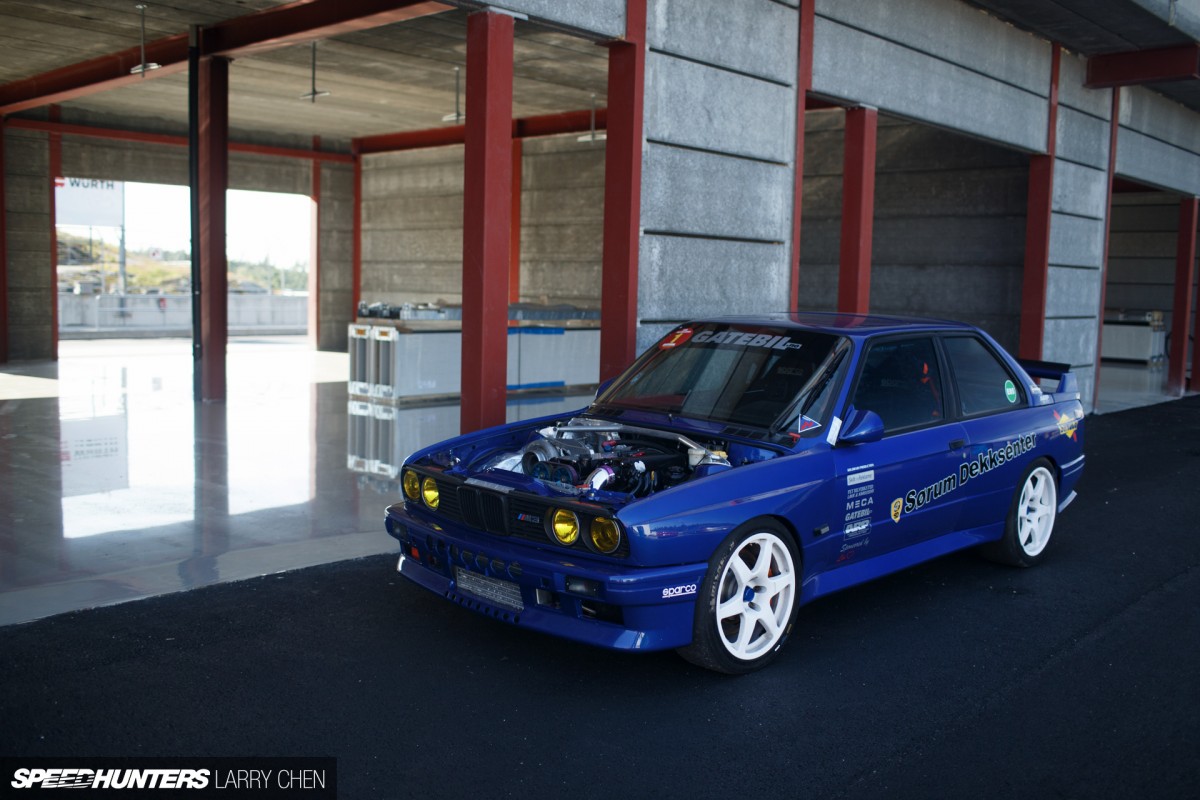 Like most car enthusiasts, Vidar will probably never be really be done with his build. Among his future plans are a dry sump system, a new intake manifold and yes – an even crazier turbo setup.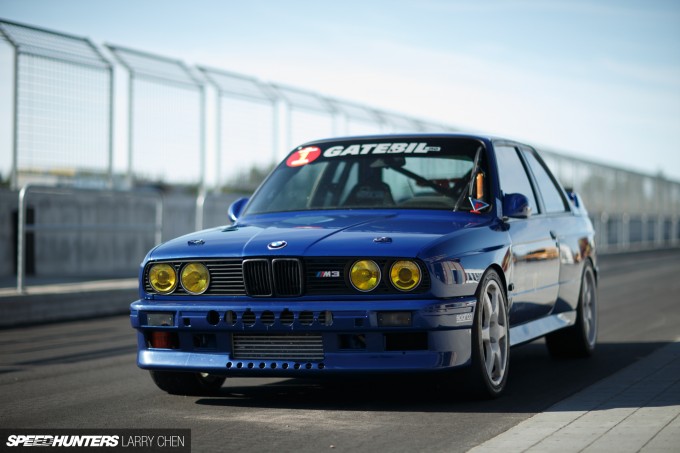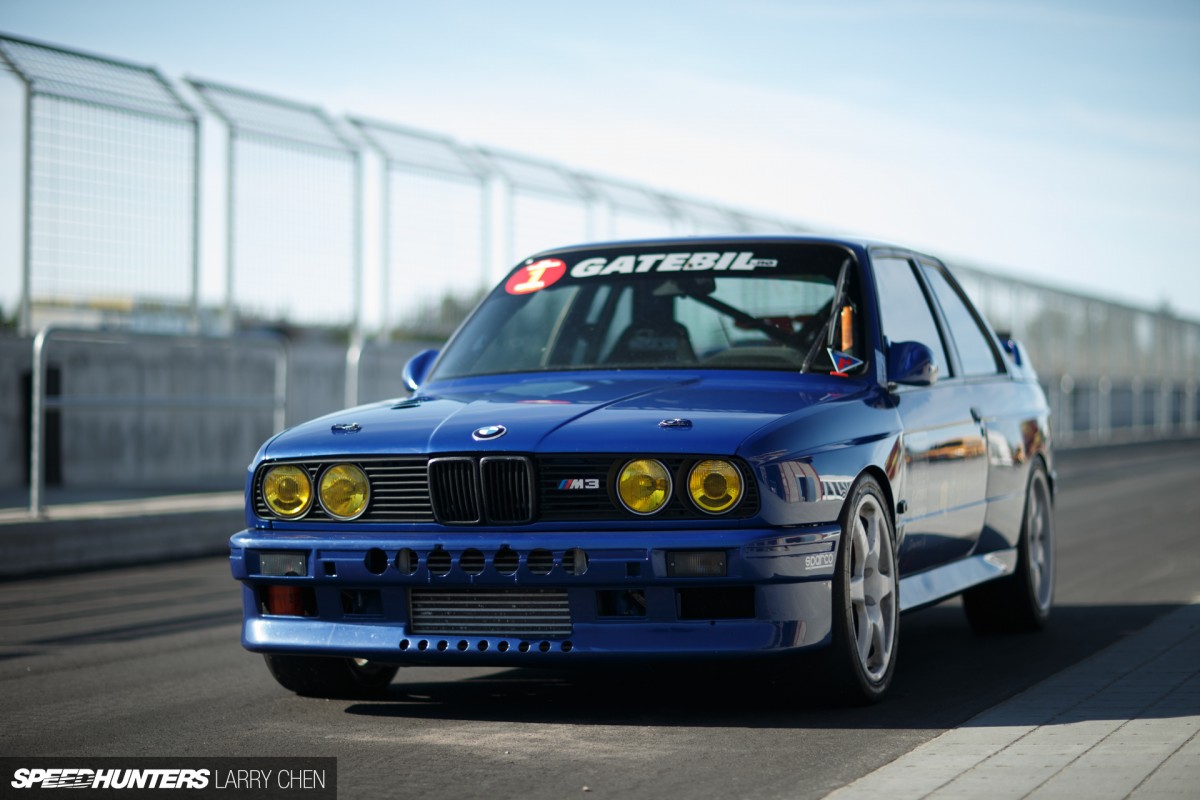 And while it may have been the gigantic snail under the hood that attracted us to this car in the first place, it turns out this M3 is one of the most well-rounded and just plain coolest BMW builds we've ever seen. Whether is traditional track days, drifting, or drag racing, there's seemingly nothing this car can't do.
In the end it really doesn't matter whether you think a car like the E30 M3 should be preserved in original condition or not. If you have even an ounce of high octane petrol in your veins, it's impossible not to like what Vidar's done here.