The sun makes things nicer
It's hard to believe that these images were taken on the same day as the ones I posted in my first part of the R's Meeting coverage, but that's how fast the weather cleared up. So from soaked clothes it was on to yet another sunburn, but I wasn't complaining as the sun really kicked the event into action. As always, one port of call at this GT-R meeting is the parking areas where you always find an interesting array of cars.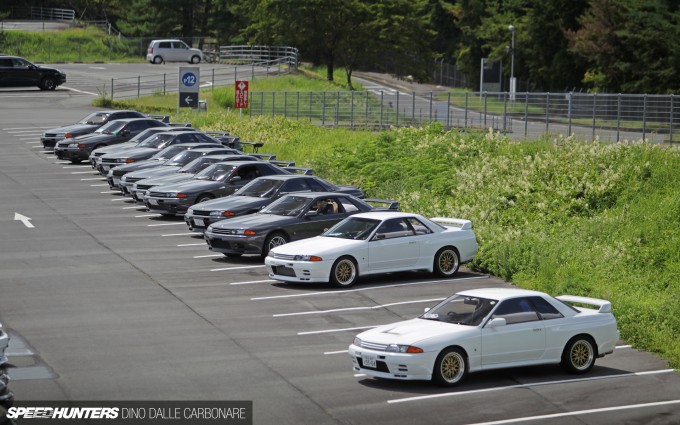 The best area to check out is the one occupied by the GT-R Owners Club  and where you are treated to spectacles like this.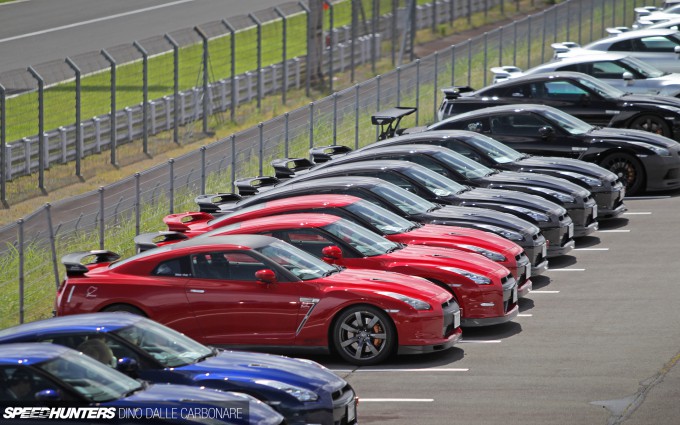 Sure, attendance was a little bit down compared to previous years, but the effect of seeing so many Rs line up by generation was hard to ignore.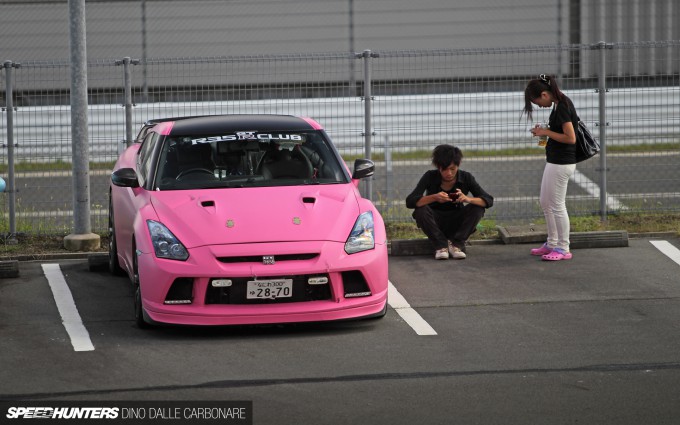 Matching shoes?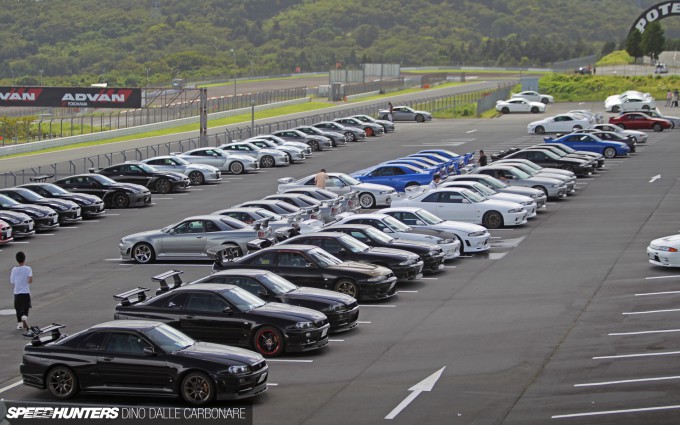 So which will it be for you? R32, R33, R34 or R35? I know which one I will always pick! Oh wait, no, I'd definitely need two generations to feel 100 per cent satisfied. Or is it three?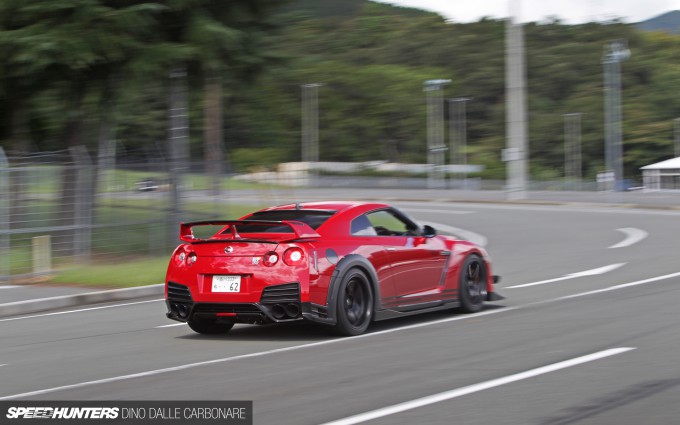 There were some interestingly tuned cars driving around the Fuji grounds, like this wild R35 I spotted sporting a host of aero tuning goodies.
Walking the paddock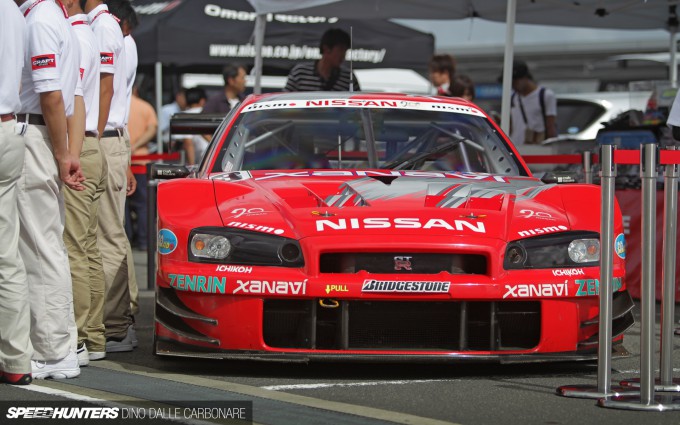 And speaking of tuning, I still had a lot of exploring to do down in the paddock area where plenty of cars were being displayed – like this GT500 R34 GT-R in front of the NISMO booth.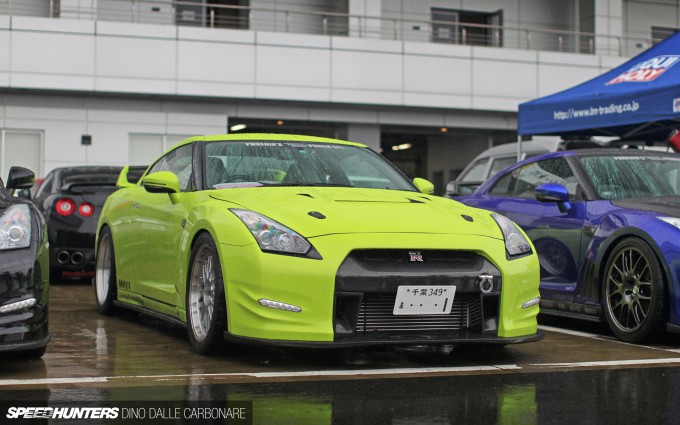 Phoenix's Power continue to be leaders in the R35 tuning game, and along with a couple of its demo cars – which we have seen in the past – it had this custom-painted customer car to show off this year. Up front it sports the company's complete bumper package, which includes an integrated carbon splitter and rather large air dam. Air flow is obviously very important on a car like this…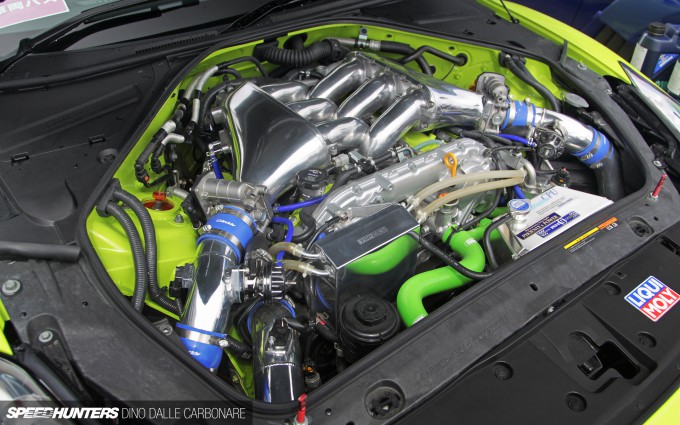 … as it runs a highly-tuned VR under the bonnet, stroked to 4.3 liters and running larger turbos for a four-figure power output. Not bad right?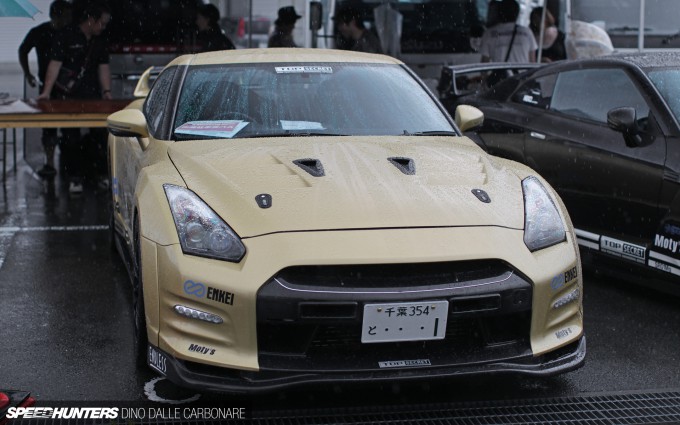 Someone said I was teasing for having shown only one image of Smoky's Top Secret R35, so here are a couple of additional shots…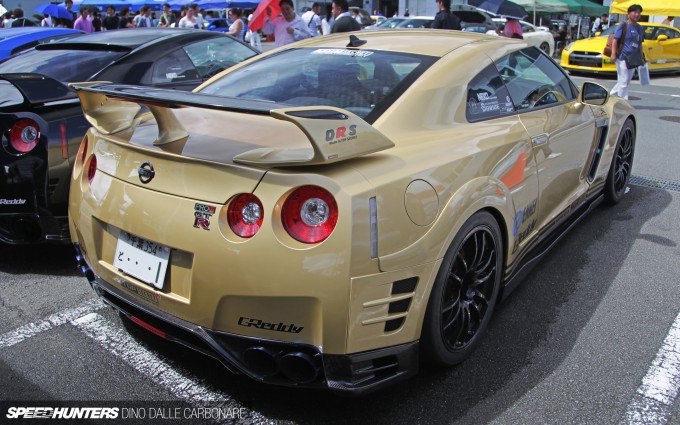 … that give you a better idea of how that new rear fender treatment works with the rest of the gold body. What do you guys think?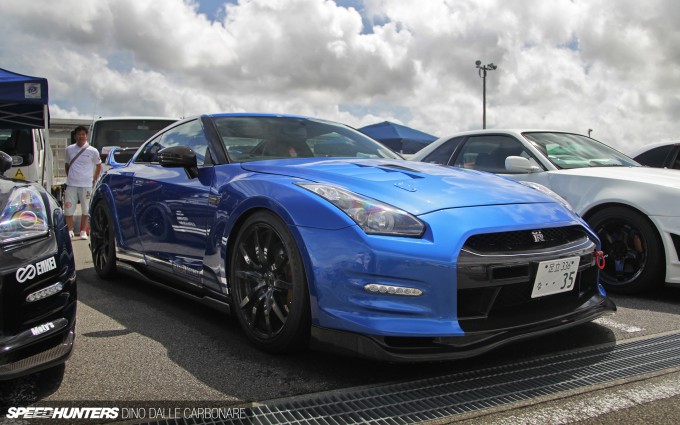 Like myself, there are obviously others out there that think Nissan made a bad decision not to include a light metallic blue similar to the R34's Bayside Blue hue to the R35 color option list. But obviously, if your pockets are deep enough, this is something Top Secret is more than happy to remedy for you. This customer car looked rather nice, even sitting on repainted factory 2013-spec GT-R wheels.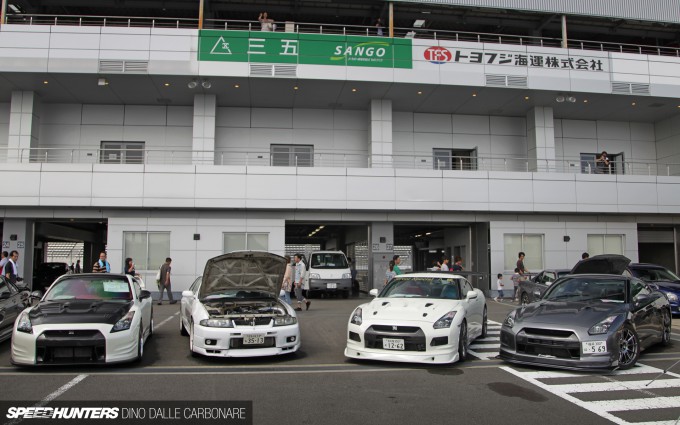 If you like your R35s there was quite a lot to see this year as tuners continue to push the boundaries of what is possible with this impressive car. I can't help but to think back to 2007 when Nissan announced that the R35 would be close to impossible to tune.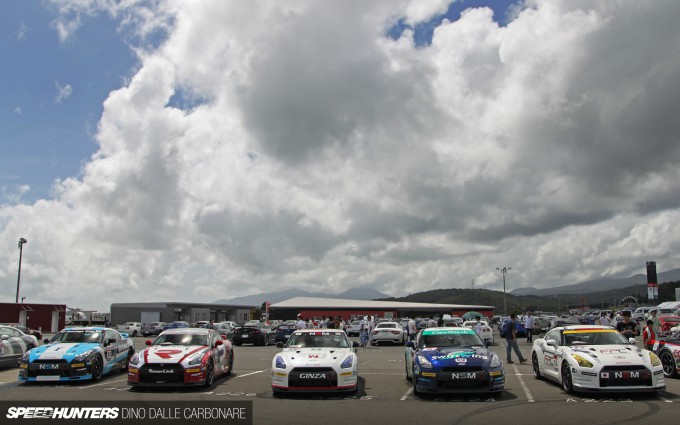 The R35 GT-R Owners Club had a cool line up of full-on race cars from the GT-R customer race series. All the cars are built and supported by Nova Engineering and Nordring – two race outfits involved in the actual development of the san-go.
Old generation GT-R love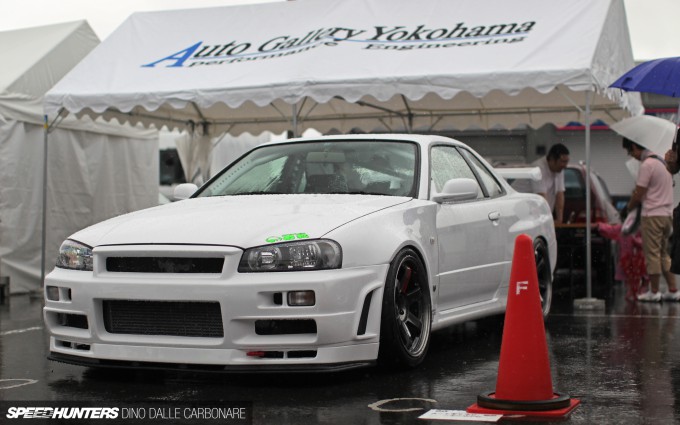 There is no doubt the R35 continues to be in the limelight, but the R's Meeting is also a very good reminder of just how sought after the previous generations of the GT-R still are. Plenty of shops continue to dedicate a lot of R&D to their own demo cars and customer rides, including Auto Gallery Yokohama, which surprised everyone with this impressive time attack build, undertaken for an obviously very demanding client who preferred to keep the body modifications to a few choice parts…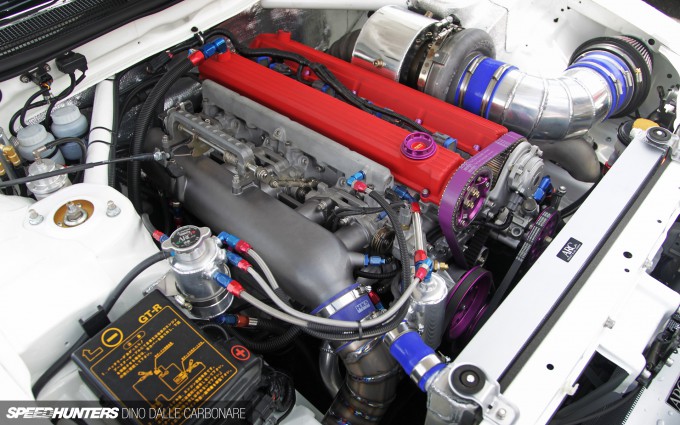 … and concentrate on the engine. Now we've all seen in the past how Auto Gallery Yokohama is able to come up with some of the cleanest and most unique looking RB26s out there, but this thing was ridiculous! It all looks so minimalistic, but it's packing so much goodness – from AGY's signature crackle-finish RB20 cam covers, to the custom larger throttles, relocated fuel rail running R35-type injectors, NISMO GT plenum and titanium piping.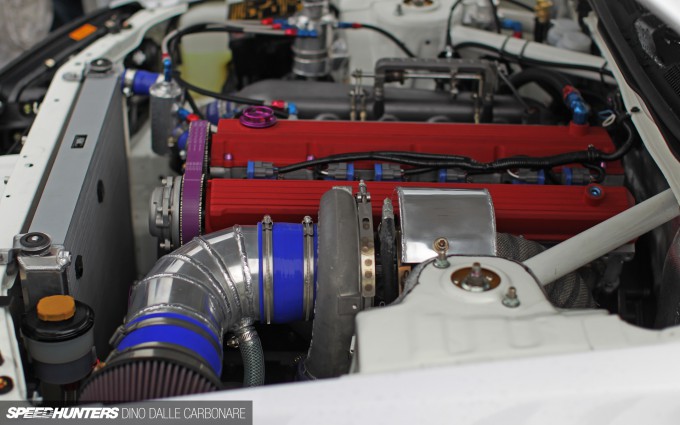 But I don't know what was more impressive – the massive Garrett turbo sitting along side this 2.8-liter RB26…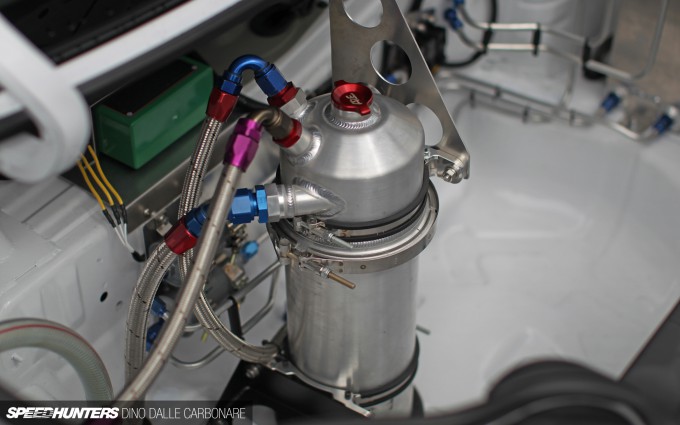 … or the fact that it was running a custom dry sump conversion with the oil tank positioned in the trunk for optimal weight balance. Simply mind-blowing!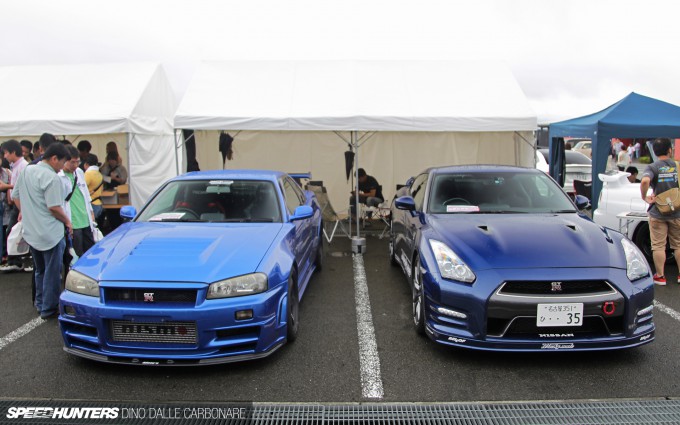 After recently visiting the Wacky Mate shop in Nagoya it was really cool to see the crew making the journey up to Fuji to display two of their cars. I wonder what they will be doing with that brand new 2013 R35 they had on display?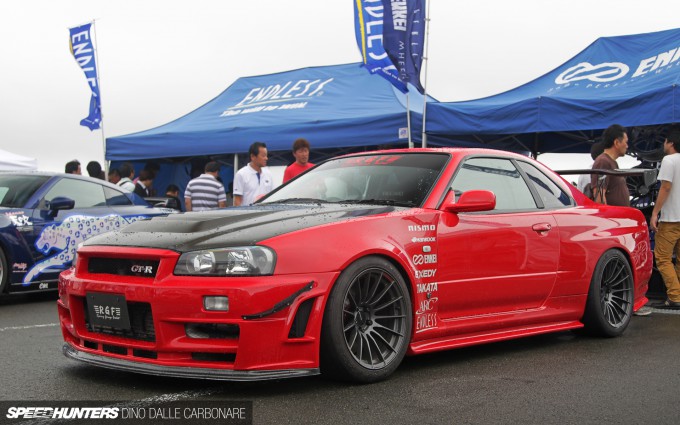 Enkei brought out the RGF R34 demo car all the way from Fukushima to show off its RS05RR rims – now available for GT-R fitments. The deep concave design certainly looks the business on an R!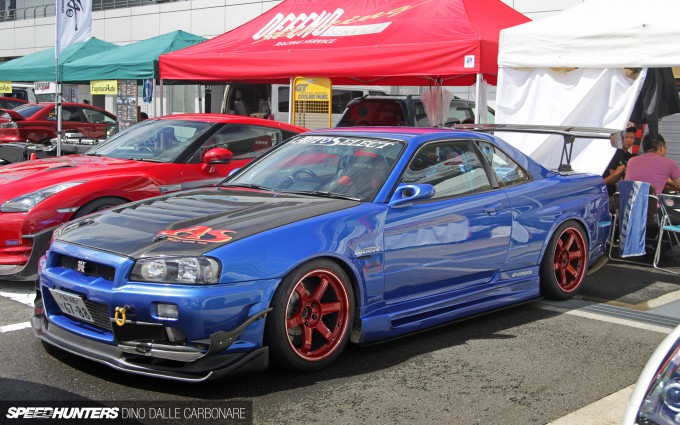 And on the subject of wheels I just couldn't help but grab a few shots of this Auto Select san-yon sitting…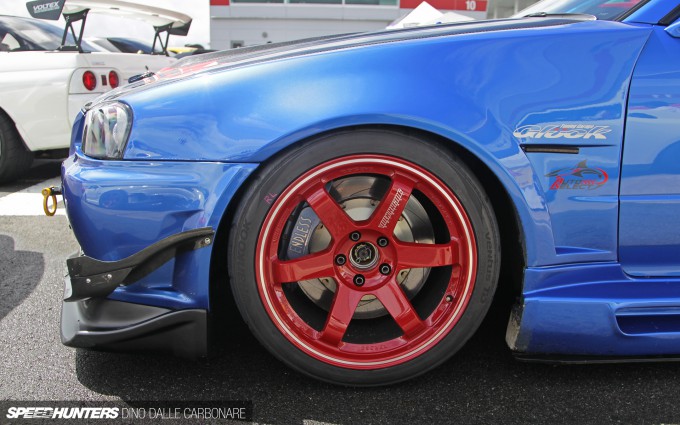 … on the same red Volk Racing TE37RTs my car runs. They look even better on an extreme track-oriented build with a proper ride height. Reminder once again: I must lower my car!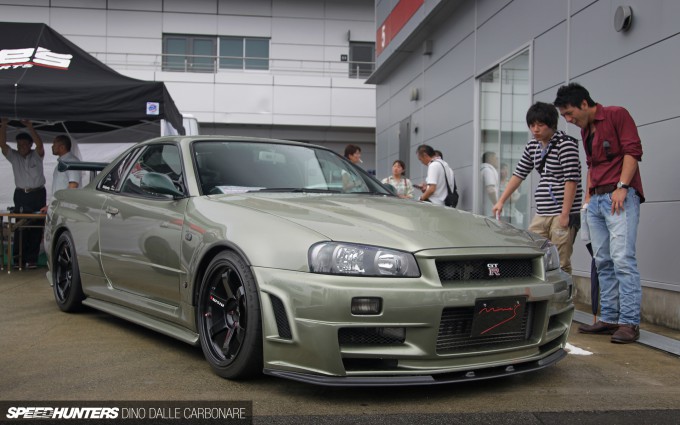 Unfortunately, due to the morning's rain, Mine's decided not to bring out its legendary white R34 demo car, but instead had this fully-built Nür edition sitting in front of its display. I was pretty sure I was going to get rid of my Mine's mirrors, but after seeing this car it makes me want to hang on to them a little longer.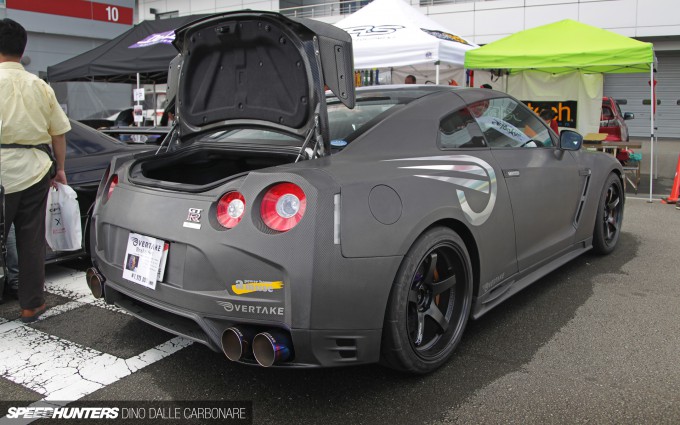 3M vinyl has managed to make the carbon-look rather boring – and dare I say it 'cheesy' – as of late, and I have to admit, I didn't even take a second glance at this Overtake R35 when I walked past it the first time. Except, there was a very realistic matte finish to the surface and upon closer inspection…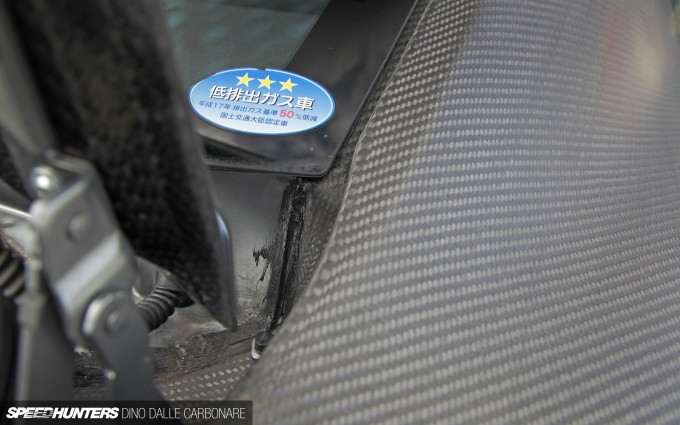 … it turned out to indeed be the real thing! We've seen carbon front fenders before on R35s, like the ones that T&E make, but a whole carbon rear fender section is definitely a first! The bonded-on fenders replace their metal counterparts and are joined by a dry carbon rear bumper, roof, A-pillars and front fenders.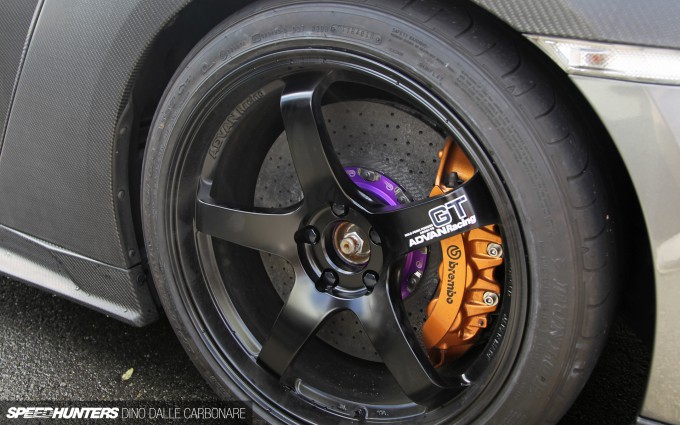 If that wasn't enough, Overtake also sells a Brembo carbon rotor option for the R35. The upgrade comes with a custom anodized center bell and caliper mounts as the rotor sizes are 390mm front and 380mm rears. The kit sells for approximately US$15,870 and includes Endless brake pads and braided brake hoses.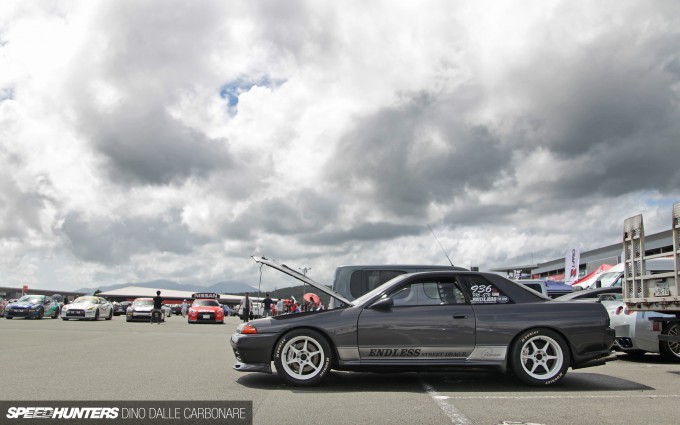 I was really looking forward to seeing the 1200hp Endless R32 drag car shoot down the Fuji straight in the zero yon battles, but with all track events cancelled because of the weather, a quick look at it parked at the back of the paddock had to do.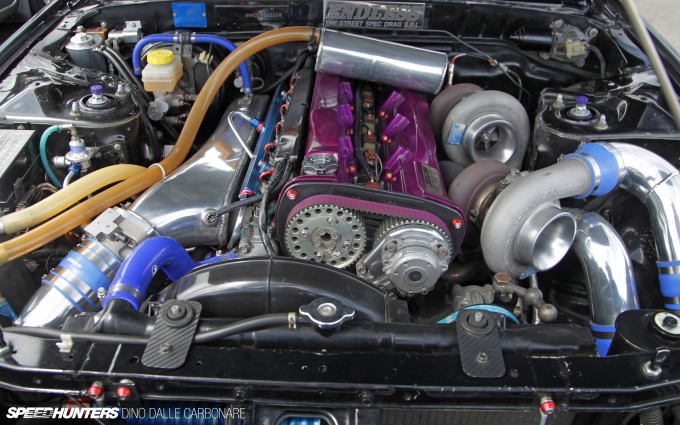 Pretty serious set-up right?
I've barely scratched the surface of all the great stuff that was on show at this years R's Meeting and I'll have much more to show you in the final post from this event, coming up soon.