I'm forever amazed at the rare and historically-significant cars that turn up in New Zealand. Considering the country's infatuation with the automobile and lineage to companies like McLaren, it's a given I guess, but I'm sure I'm not the only Kiwi who hopes that these machines will keep arriving for many years to come. Like many other prestigious marques, Aston Martin has a strong following in New Zealand, which meant I was spoilt for choice when it came time to put a story together for our theme this month.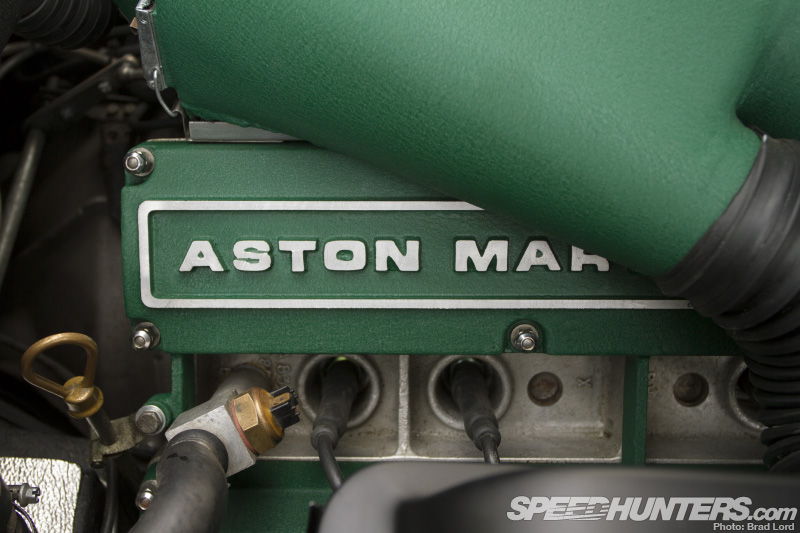 Of all the amazing Aston Martins that call New Zealand home – and there are a few – one stood above the rest. The actual car, that in 1989 set a new sales record for the brand when it changed hands for more than £400,000. John Dennehy's 1987 Aston Martin V8 Vantage Zagato.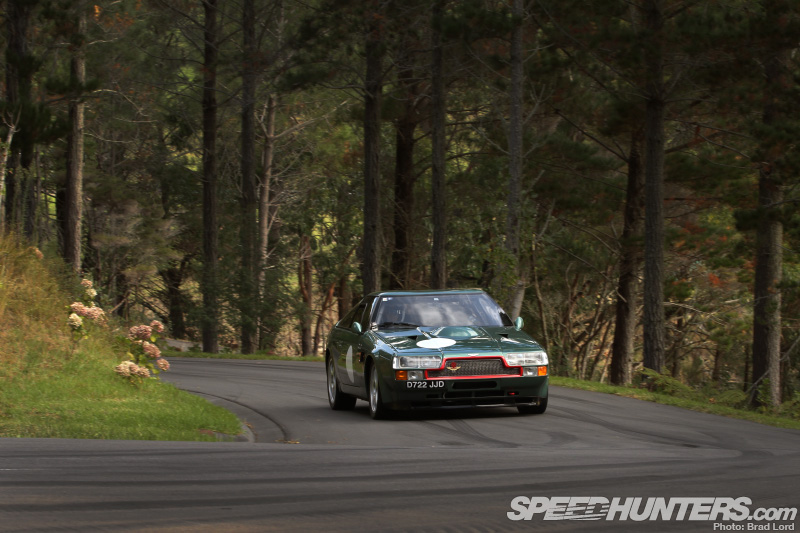 I first met the Zagato earlier in the year at the Leadfoot Festival as John pushed the 1.8-tonne machine up Rod Millen's driveway. The glorious noise of its tuned V8 engine still resonates in my mind.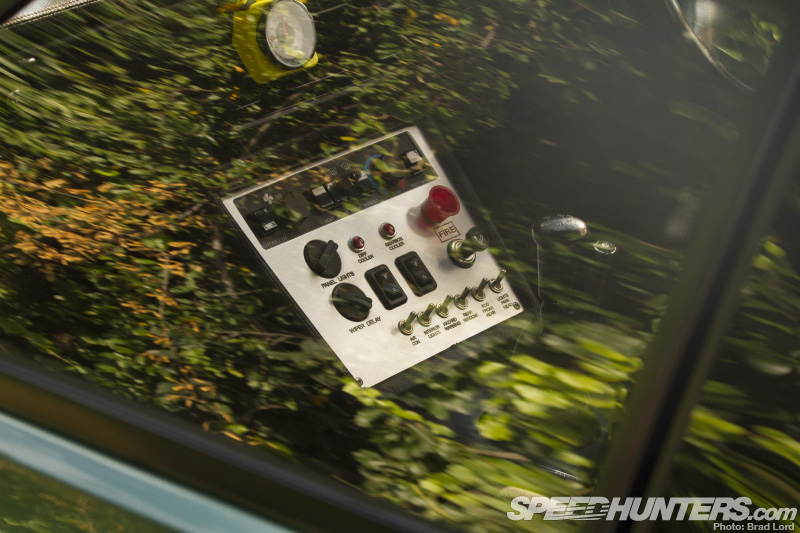 But, as you'll soon find out, John's shining example of one of the rarest Aston Martin's ever produced is a little different that your 'run-of-the-mill' (yes, I'm joking!) V8 Vantage Zagato.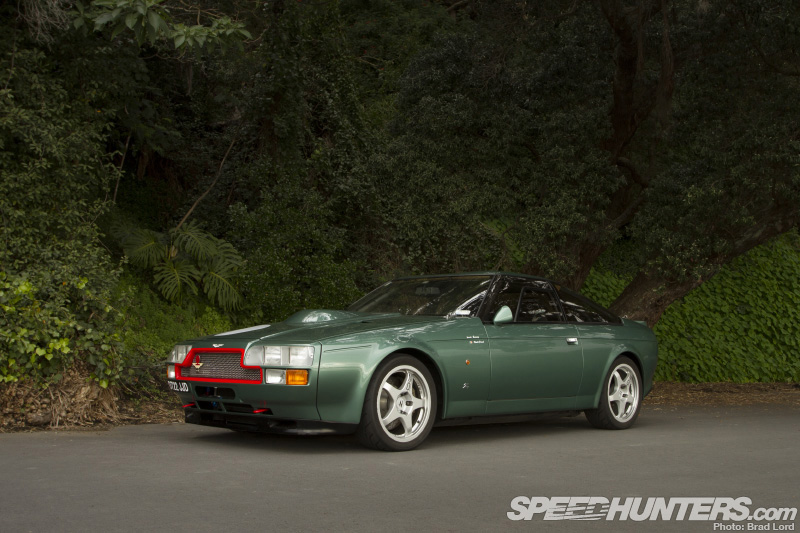 Inspired by Ferrari and Porsche, who had both set about building low-volume supercars in the early '80s – the 288 GTO and 959 respectively – Aston Martin's then-owners Victor Gauntlett and Peter Livanos decided that the British carmaker should get in on the act too. Back in 1960 Italian styling house Carrozzeria Zagato had stamped its marked on the DB4 GT by producing a small run of special versions. Gauntlett was a supporter of Zagato's work and had one of the 19 cars built in his collection, so was keen to revive the association using the new Aston Martin V8 Vantage as a base.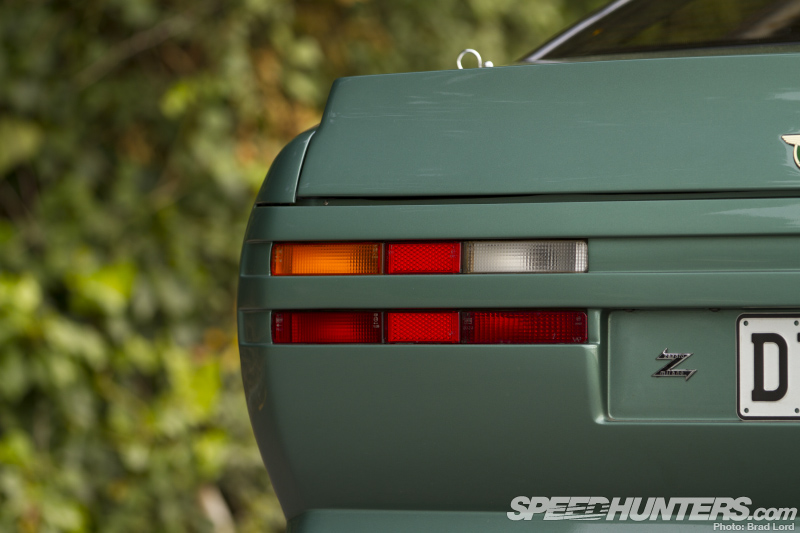 Testing began using a stripped out Vantage fitted with an upgraded version of Aston Martin's venerable 5.3-litre V8 engine, which engineers managed to squeeze more than 430hp from. Although that was enough power to get the job done, because of the shape and weight of the car, it ran into the proverbial brick wall speed of 282km/h (175mph). Aston Martin needed a lighter body with a slipperier shape, which is where Zagato came into the picture. Ultimately, a shorter 4,390mm version of the V8 Vantage's 4,670mm chassis was manufactured at Aston Martin's Newport Pagnell headquarters and shipped to Italy where Zagato fitted bespoke hand-formed aluminium panels and composite front and rear bumpers, and refashioned the interior.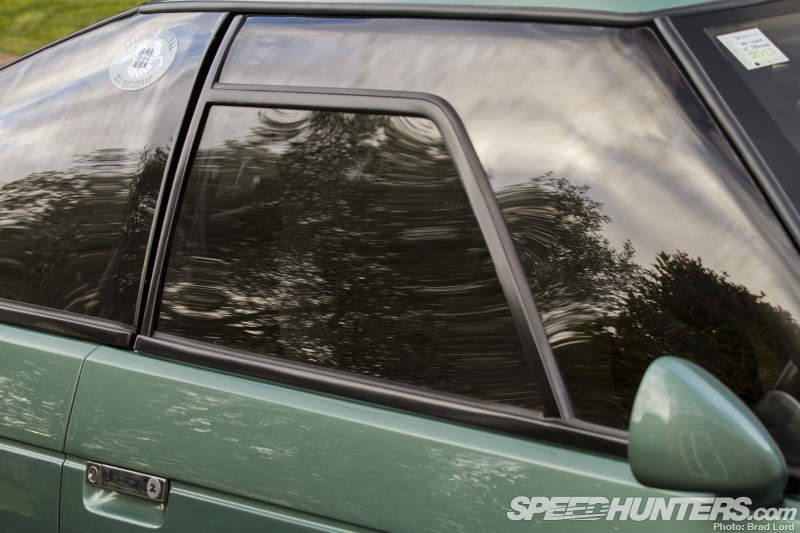 There were other features too, like curved Saint-Gobain glass from France, which was flush-fitted for aerodynamic efficiency. As you can see, only a small, flat section of the window could electrically be wound up and down.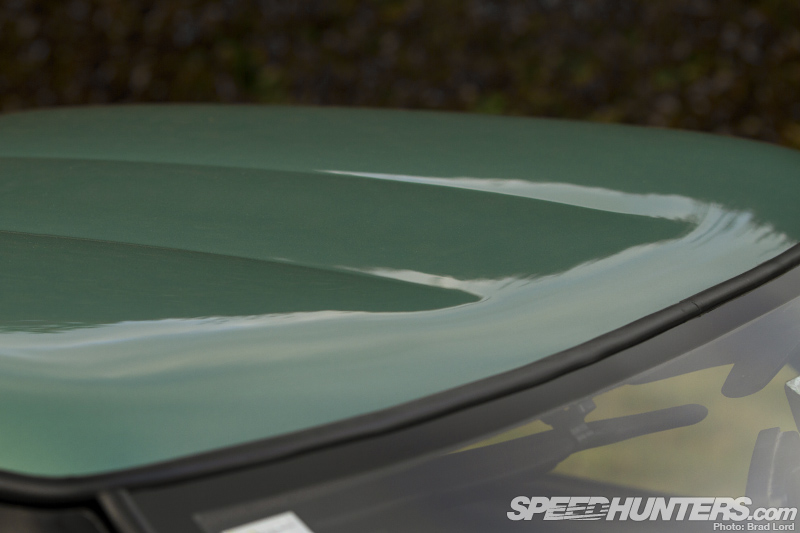 Of course, Zagato's trademark 'double bubble' roof detail with its low aerodynamic design and extra head room for occupants made an appearance too. Some things are a given.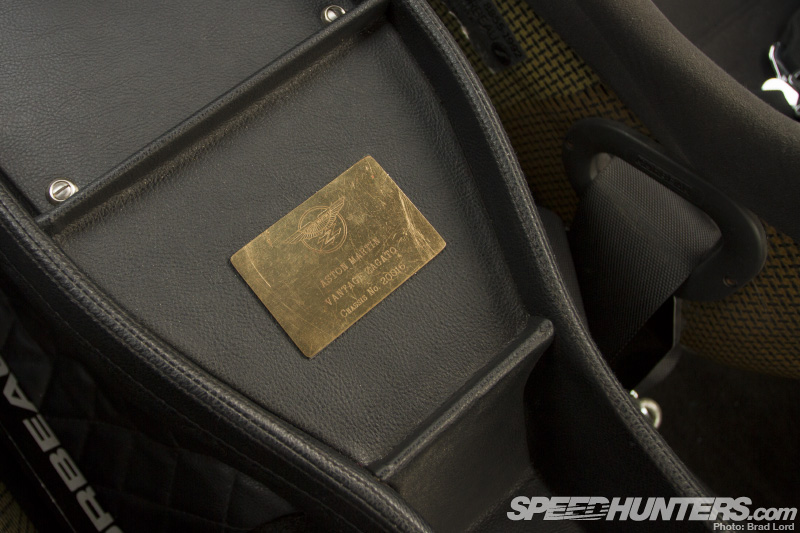 Together, Aston Martin and Zagato decided to build 50 cars, although 51 including the pre-production was the final tally, not 52 as often reported. Of those cars, 39 were built in right-hand drive, and 12 in left-hand drive, but all in 1986, although some cars were registered in '87 and '88.  After the car was announced at the 1985 Geneva Motor Show every last one was snapped up from nothing more than a sketch, originally for £87,000. For reasons unknown, the chassis numbers begin with the prefix 200, and then started from 10. This one's #20016.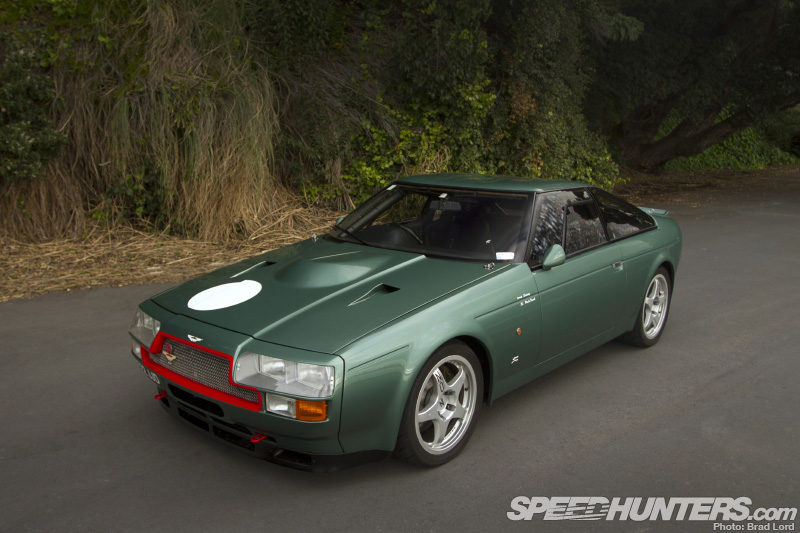 In its final production form, opinions were divided over the way the V8 Vantage Zagato looked, especially when it came to the 'power bulge' on the bonnet. That was a necessity though, as the worked '580X' V8 engine relied on four Weber IDF carburettors for its supercar-rivaling performance. As it turned out, the car never officially hit the 300km/h mark, but French magazine Sport-Auto did come close, recording 297km/h (185mph) on an illegal motorway run. That particular car was one the first three or four out of the factory that were given to the press to evaluate. Reputably, all their of carb barrels were enlarged from 48mm to 50mm and the exhaust emission gear was removed, lifting power to 432hp. The remainder of the production run made do with 408hp, although that was something never officially mentioned.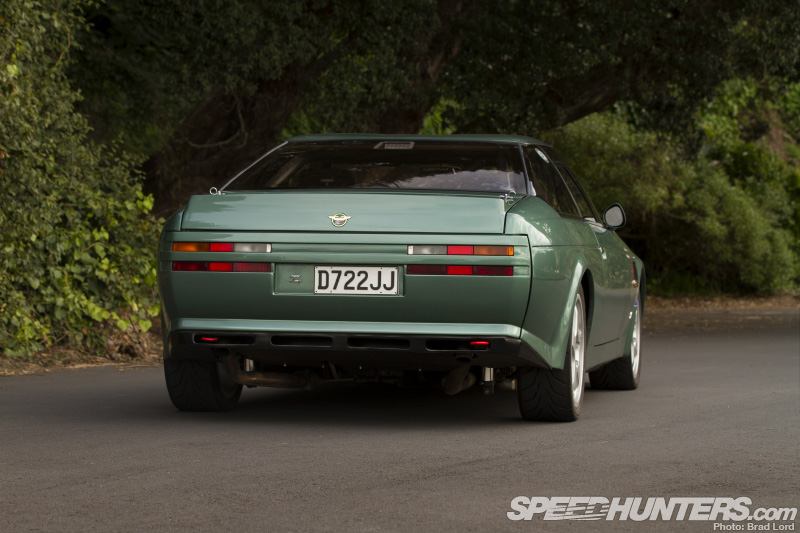 Aston Martin owners are a devoted bunch, and John – like many other V8 Vantage Zagato owners I'm sure – found his way to ownership through previous purchases. Not conventional Aston Martin models I should add, but a first a race-prepped DB5 in 1989, followed by two Group C machines –  the Bovis Nimrod (which coincidently made an appearance in Jonathan's Aston Martin centenary celebration at Brands Hatch last month) and the ex-Steve O'Rourke/Tiff Needell EMKA machine.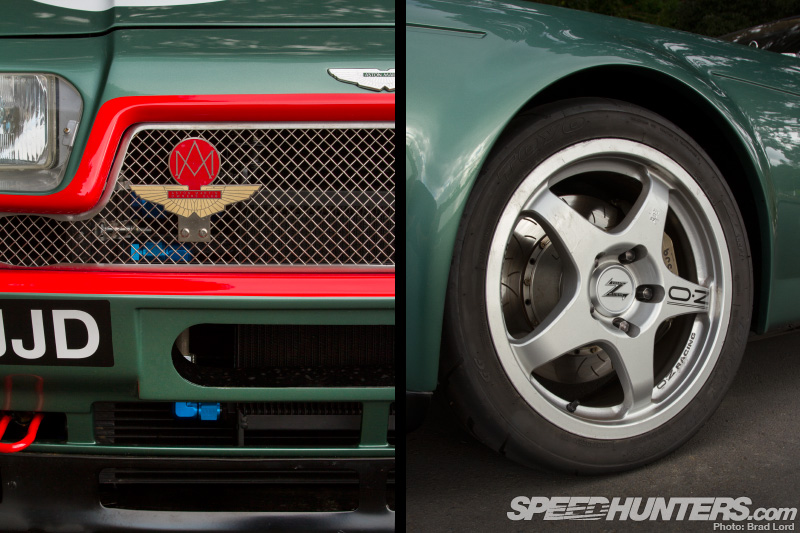 When John purchased the Zagato in 1996 it was still in road trim. It stayed that way for three years too, right up until the moment he decided to upgrade it for racing in the hotly-contested 'Road Modified' division of the Aston Martin Owners Club's popular racing series.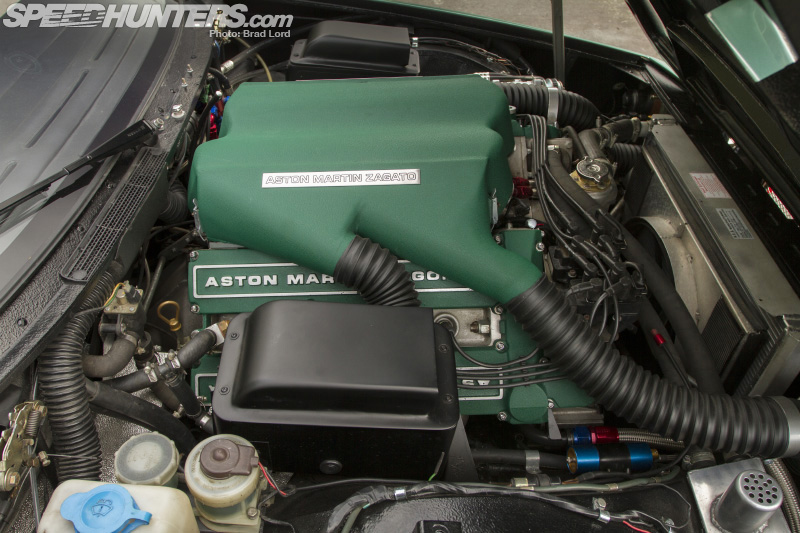 It all started after he dropped it into RS Williams in Surrey, England, for an engine upgrade.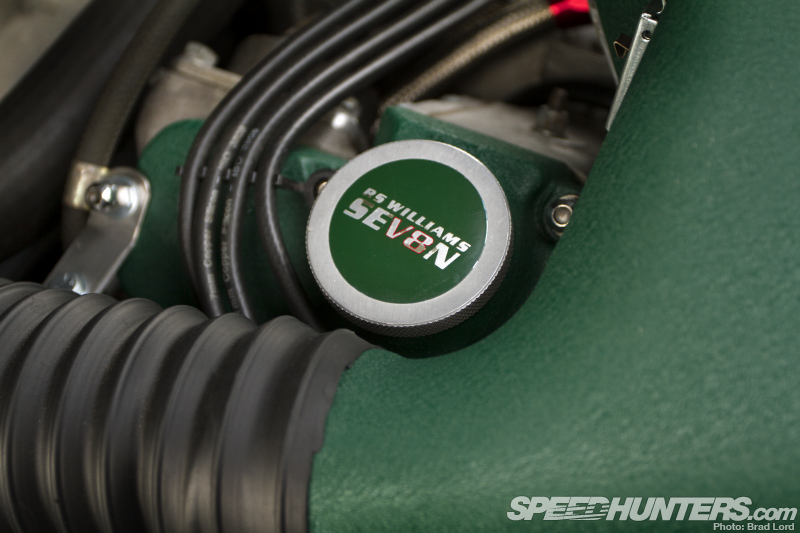 The name Richard Stewart Williams is synonymous with the Aston Martin brand, and since 1968 the ex-factory engineer has played a pivotal role in the carmaker's racing efforts, including running the Works Group C machines in the late '80s.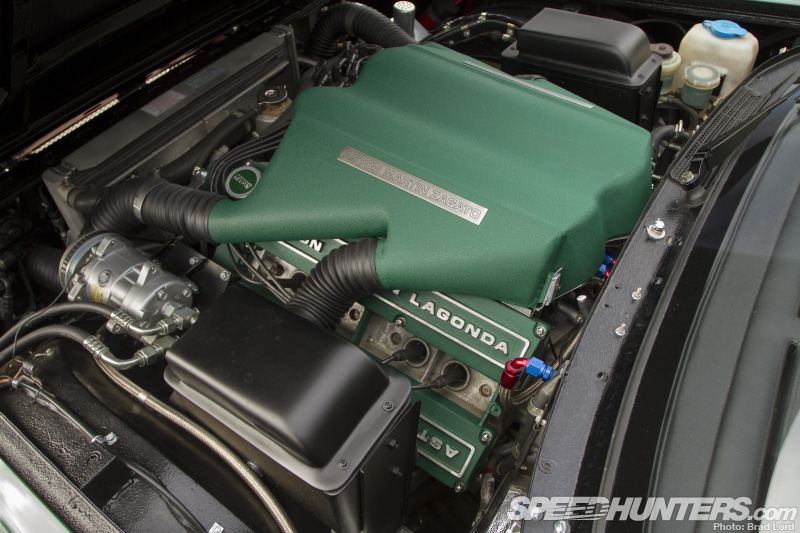 John had previous dealings with the company through his DB5 and Group C cars, and commissioned Richard to perform one of his famed Aston Martin factory-approved 7.0-litre upgrades which among many other modifications included boring and stroking the 5.3-litre V8 engine out with Cosworth forged pistons, Carillo rods and a nitrided steel crankshaft. Weber Alpha fuel injection was also fitted.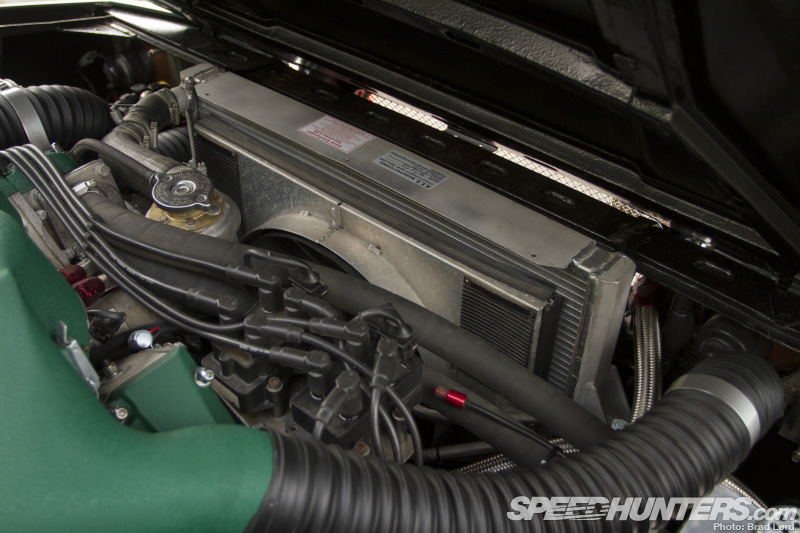 The result is something as impressive as the sight that you're greeted by when you lift the bonnet – an angry 525 horsepower and 500ft/lbs of torque to boot.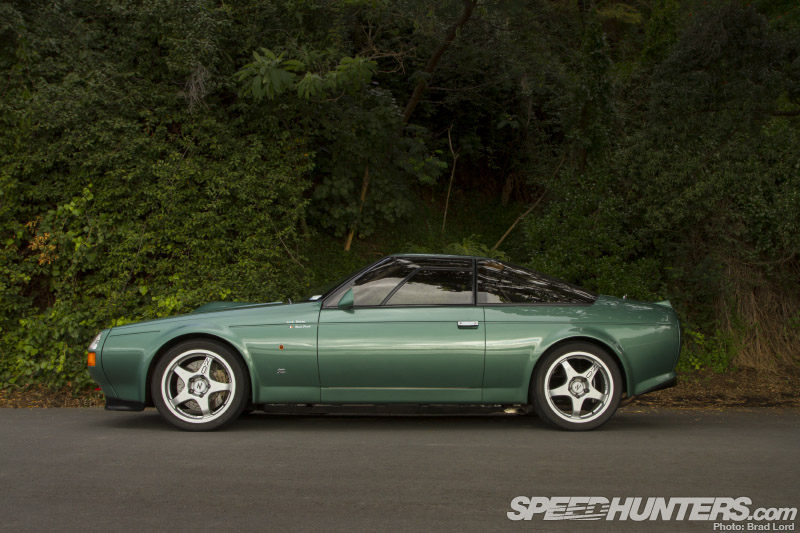 Although the V8 Vantage Zagato was never actually designed for competition use, the high-power engine upgrade seemed like the perfect marriage. The coupe's stout proportions – something you get a true sense of from the completely side-on angle – were certainly ripe for it.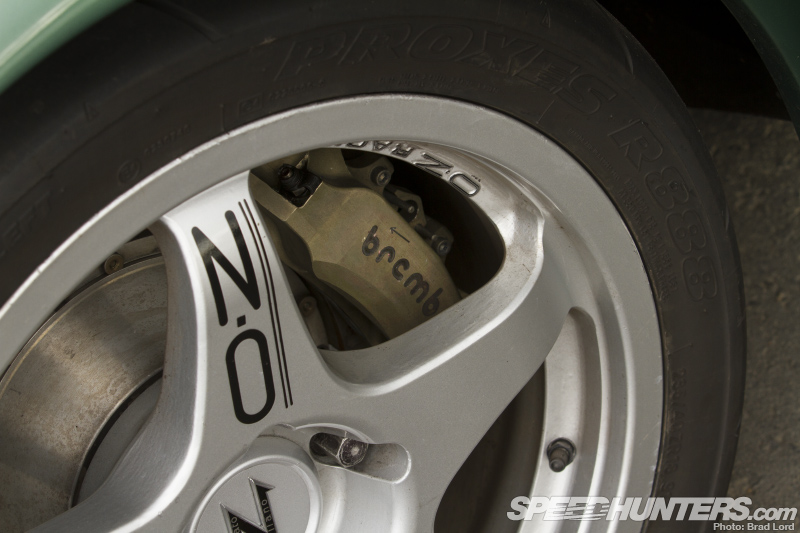 After the first road test with the new engine package it became obvious to John that he should be racing it, which set about a new chain of events that saw the Zagato go from a luxury grand tourer, to a fully-fledged competition car. Along with fitting lightweight fibreglass panels and polycarbonate windows (which have since been removed, but saved 230kg), that included uprating the suspension with Koni adjustable dampers and rose-jointed reaction struts, overhauling the front brakes with a Brembo Racing set-up and bolting on 18-inch OZ Racing Chrono wheels wrapped in semi slicks.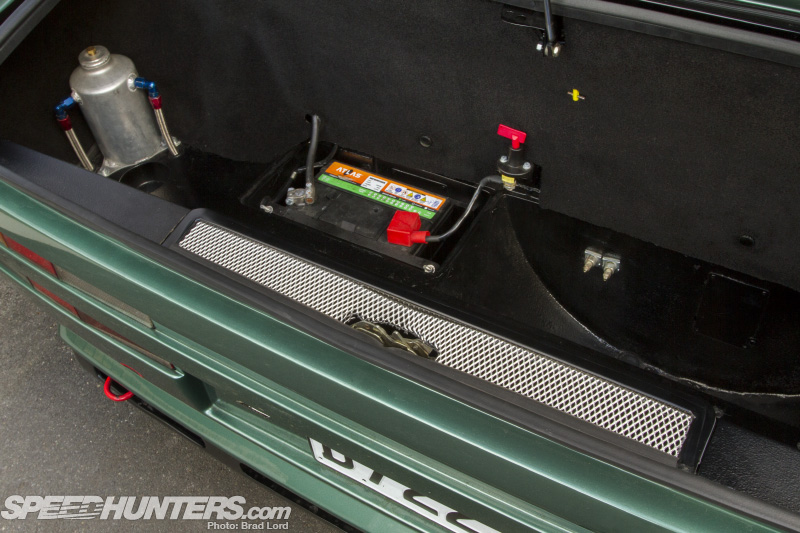 Along with a fuel system upgrade, a custom modification in the boot pulls air through an inconspicuous, colour-coded mesh vent in the boot spoiler and down to the rear end components via a corresponding vent in top of the rear panel.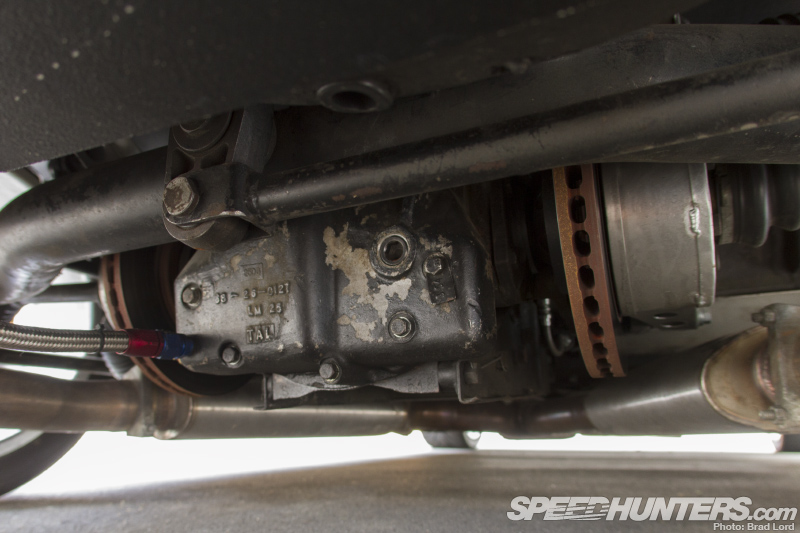 The Zagato model used the same ZF five-speed manual transmission and rear-end as the regular Aston Martin V8 Vantage, but heat build-up caused by the increased power and torque load was always an issue. The aforementioned venting, plus oil cooling for the gearbox and the diff housing has remedied that problem, though. From this under-car angle you also get a look at the car's factory in-board rear disc brake set-up.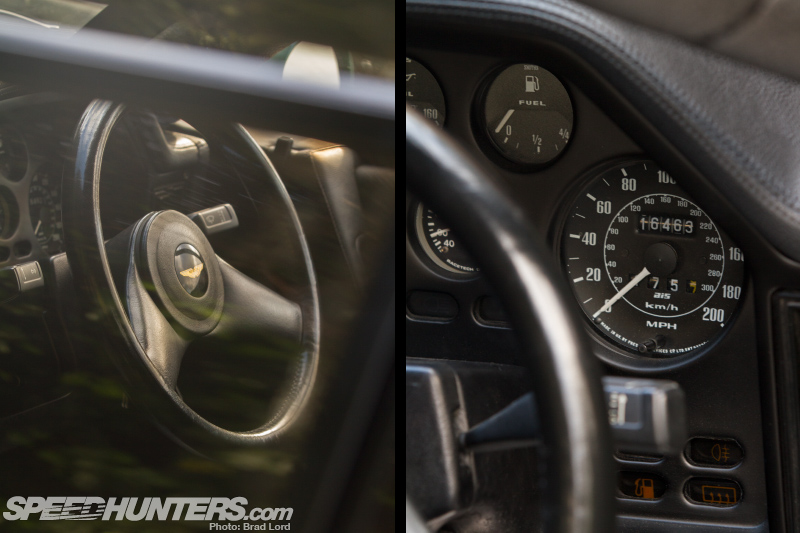 In keeping with the nature of the beast, Zagato completely upgraded the V8 Vantage's interior space with more performance-orientated features, like a thick, leather-wrapped steering wheel and a 200mph speedometer, and the same seats Zagato specified for the 200-odd Lancia Delta S4 homologation specials.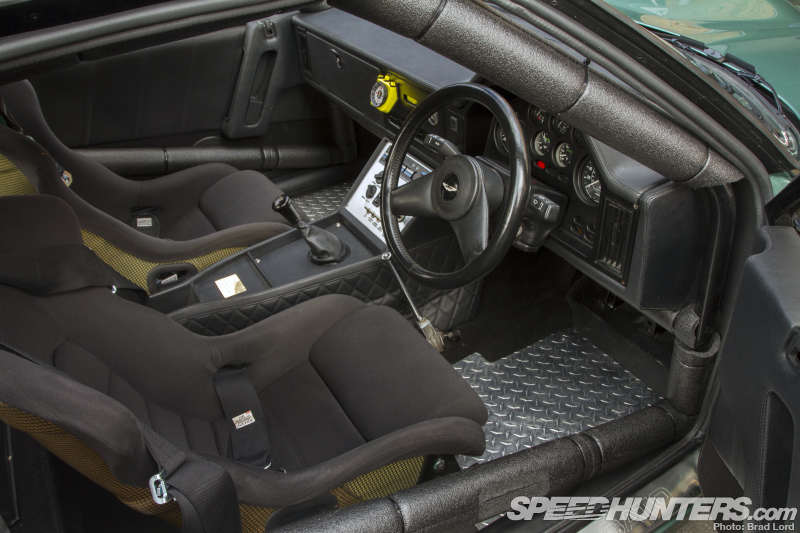 But those seats are in storage now. For racing, a full rollcage and a pair of Corbeau Pro Sport carbon/Kevlar seats and Willans harnesses were installed.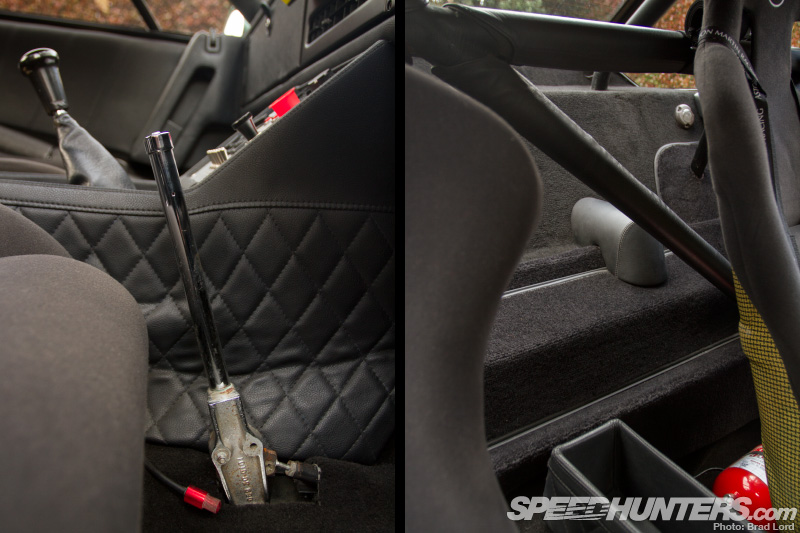 Like all Aston Martins, beautiful details are never far from view. Looking back in the cabin, you can also see how Zagato dealt with the void in the rear, where in the regular long-wheelbase Vantage model the back bench seat would fit. The V8 Vantage Zagato was in fact Aston Martin's first proper two-seat production car.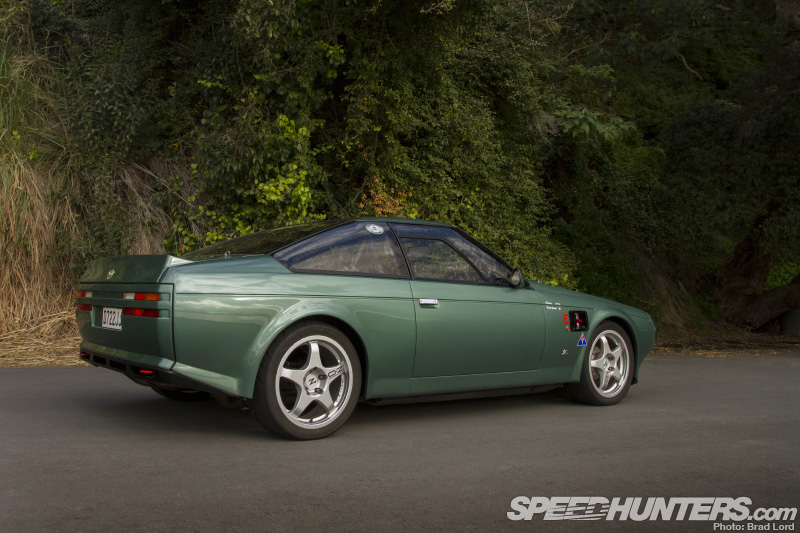 Of the 51 cars built, only two were ever modified for racing – John's green car, and a red one that was originally upgraded and raced by British comedian Rowan Atkinson, aka Mr Bean. Rowan had that car reinvented by Aston Martin Works Service with a race-modified version of its 5.3-litre engine outputting 482hp; providing good competition among the ranks of the AMOC racing championship when they both raced together. John ended up winning the V8 class of that series and enjoyed further success in the Heritage GT Challenge; racing all over the UK and afield to Spa-Francorchamps and Mondello. Most of the 49 other cars are still accounted for too, and according to John many of those owners have some sort of direct connection to Aston Martin.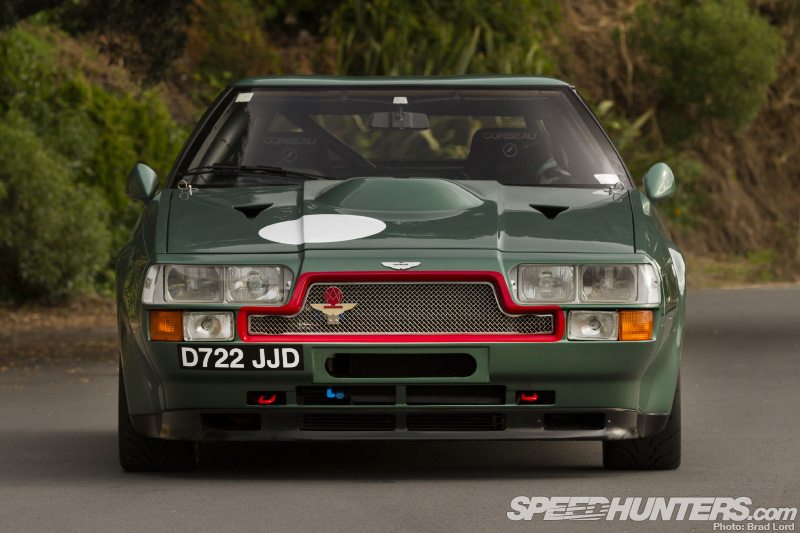 I get the distinct impression that John will never part ways with this car, or his other V8 Vantage Zagato – the 1986 Geneva Motor Show machine. That example – which was recently shipped back to the UK – remains in its factory specification, but recently underwent a complete strip down and rebuild by Auto Restorations in Christchurch, New Zealand: the same company that finished rebuilding this car from scratch earlier in the year. Speaking of which, the race car is now road legal in New Zealand and even has air conditioning fitted so it can be enjoyed in comfort.
Regardless of the fact that the Zagato model will reach the ripe old age of 30 in 2016, it's still considered by many – including John – as the ultimate Aston Martin road car and one of the  greatest performance cars of its era.
Brad Lord
brad@speedhunters.com
1986 Aston Martin V8 Vantage Zagato
Numbers
525hp
Engine
7.0-litre RS Williams/Aston Martin Lagonda quad cam V8 upgrade, Alpha Weber mechanical fuel injection
Driveline
ZF 5-speed manual gearbox, rear-wheel drive, limited slip differential, transmission cooler, diff cooler
Suspension/Brakes
Adjustable Koni coilover dampers, Brembo Racing calipers (front), factory in-board rear discs
Wheels/Tyres
18-inch OZ Racing Chrono alloy wheels, 235/40ZR18 Toyo Proxes R888 semi slicks
Exterior
Giuseppe Mittino styling, custom cooling vent in boot lid
Interior
Full rollcage, Corbeau Pro Sport carbon/Kevlar racing seats, Willans harnesses, Racetech gauges, Heuer stopwatch, custom switch panel
Aston Martin theme on Speedhunters
More Aston Martin stories on Speedhunters