It was my first time visiting the Pebble Beach Concours D' Elegance over the weekend, and the experience has left me really wishing that I had attended this historic event earlier. It's only half a day's drive for me up the California coast which is always nice, so this year there were no excuses – I had to make the trip to check it out. I was expecting a stuffy car show, but it was the exact opposite. This is a celebration of all things cars, and a gathering of gear heads, like no other.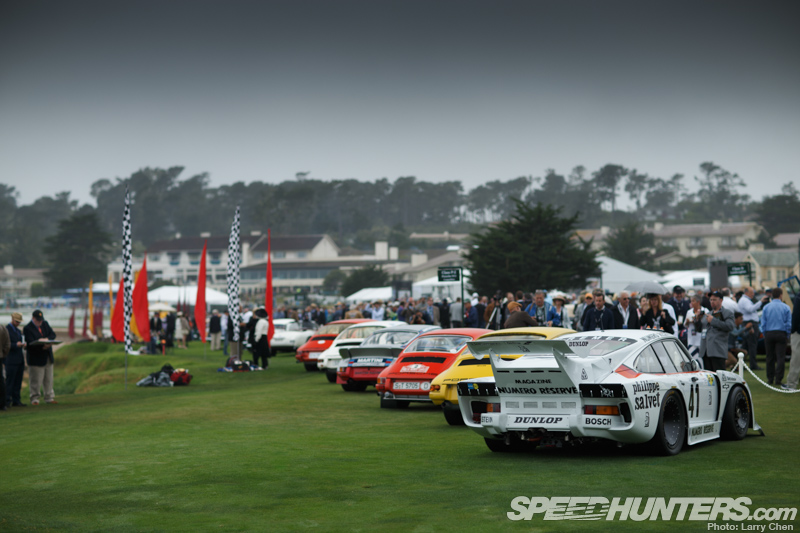 Many of the cars at the show are pre-WWII, which don't know a whole lot about. But there was also an abundance of cars to interest a younger generation of enthusiasts.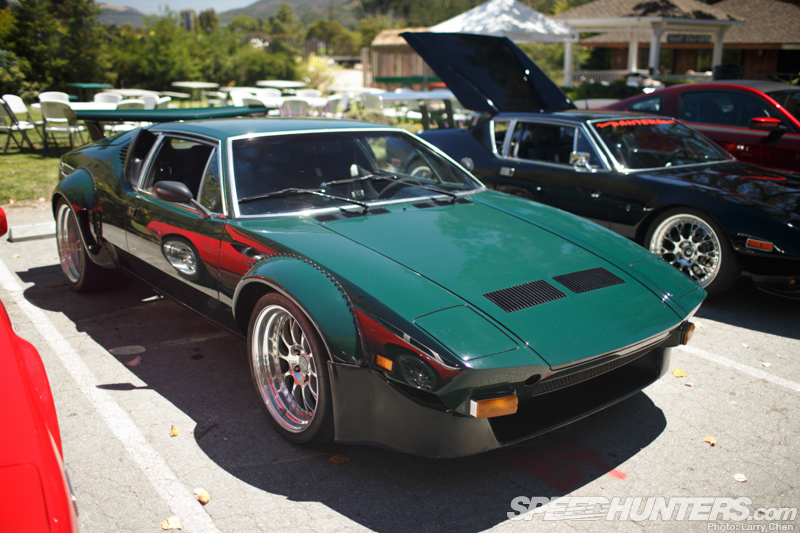 It's much more than just a show, it's become sort of a week of speed. It's a gathering of car fanatics, complete with the non-stop echo of exhaust notes reverberating up and down the coastal city of Monterey.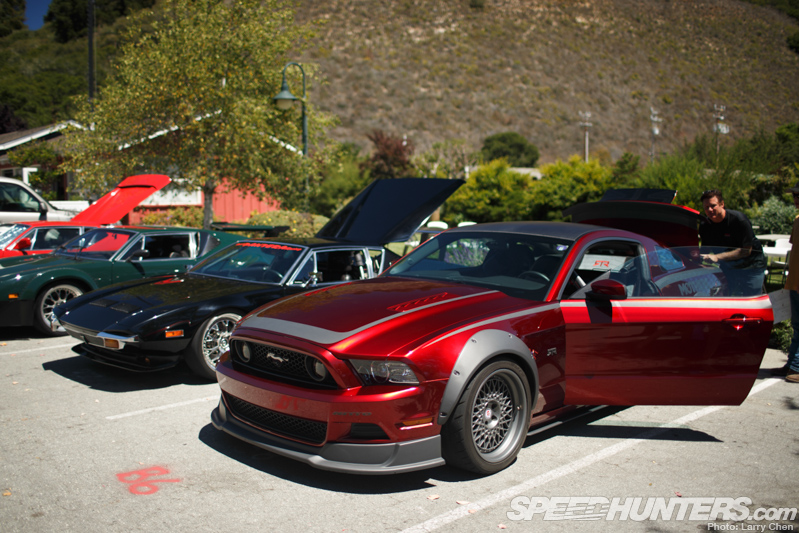 Our very own Vaughn Gittin Jr. had a car that was making its rounds around the area during the week. It kind of made me wish I had brought up my 240Z to play with all the exotic cars.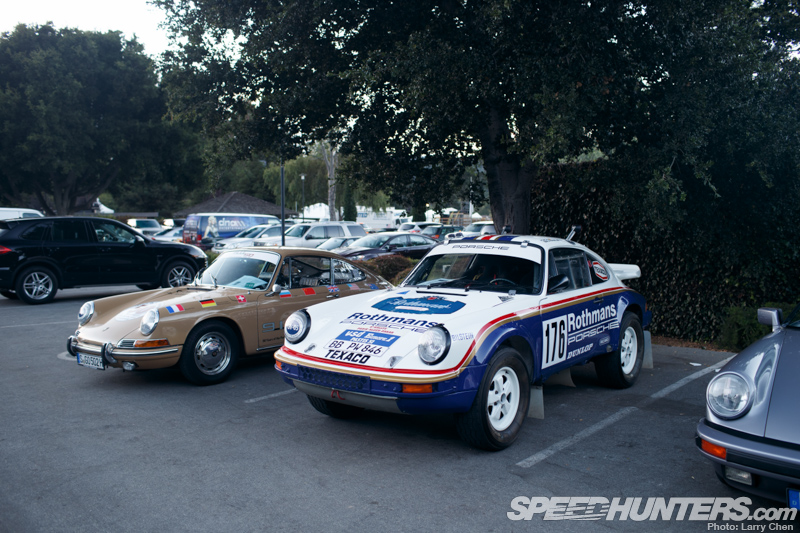 On Friday night Porsche threw a fashion show and party, inviting many members of the media as well as loyal customers. The parking lot was filled with Porsches from many different eras and included a few rarities.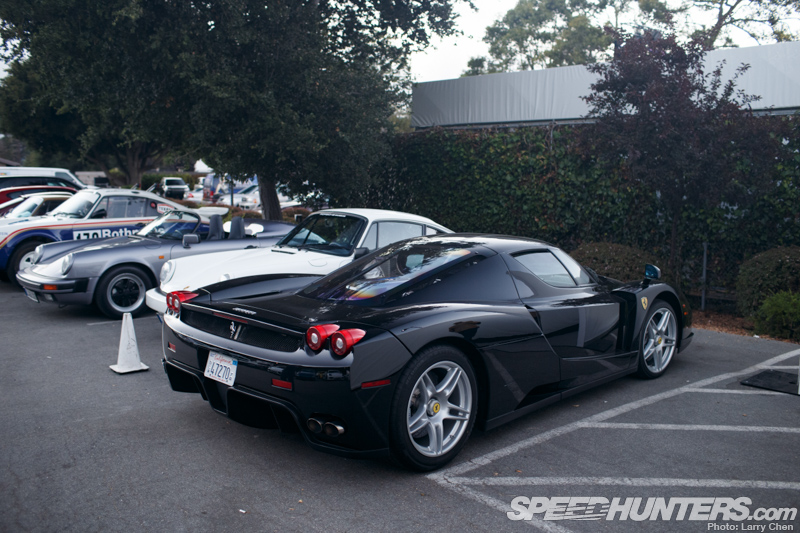 Why not show up to an Porsche party with a Ferrari! As long as it's an Enzo it's okay, right?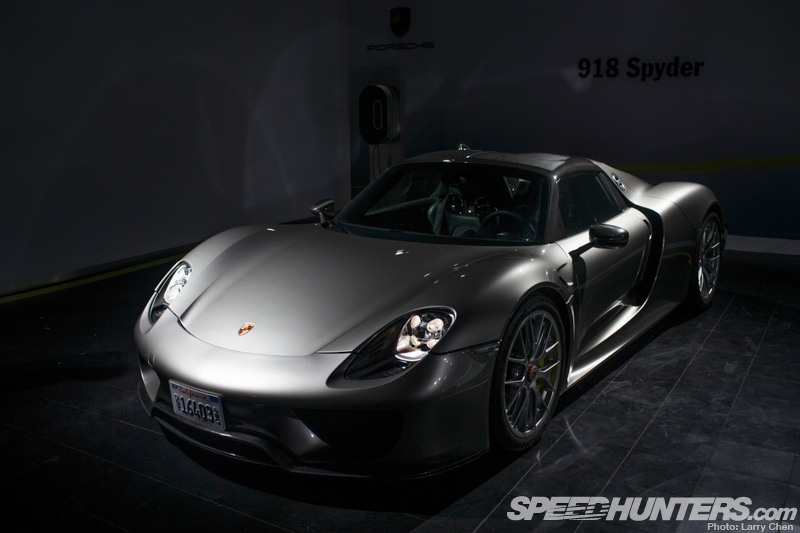 On display was Porsche's newest pride and joy – the 918 Spyder concept. Honestly, pictures just don't do it justice. This car is a work of art.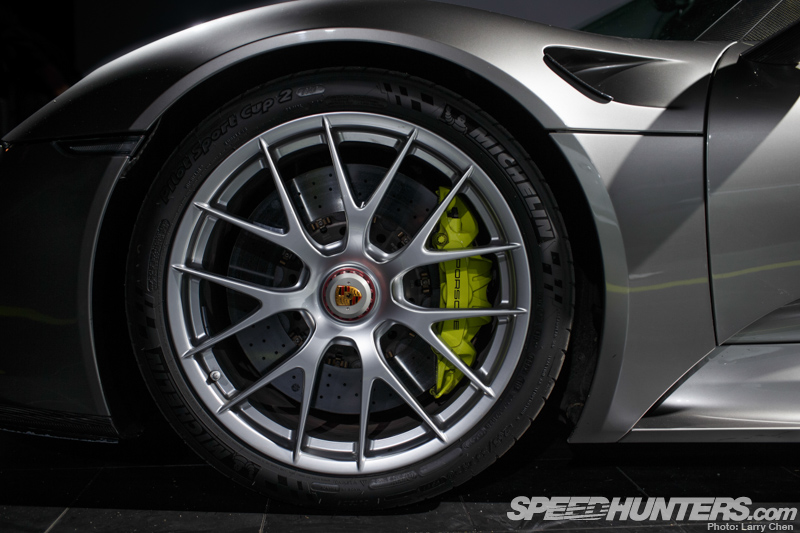 I was sceptical about the car when I first saw photos of it with those clear wheels, but seeing it in person has really changed my mind.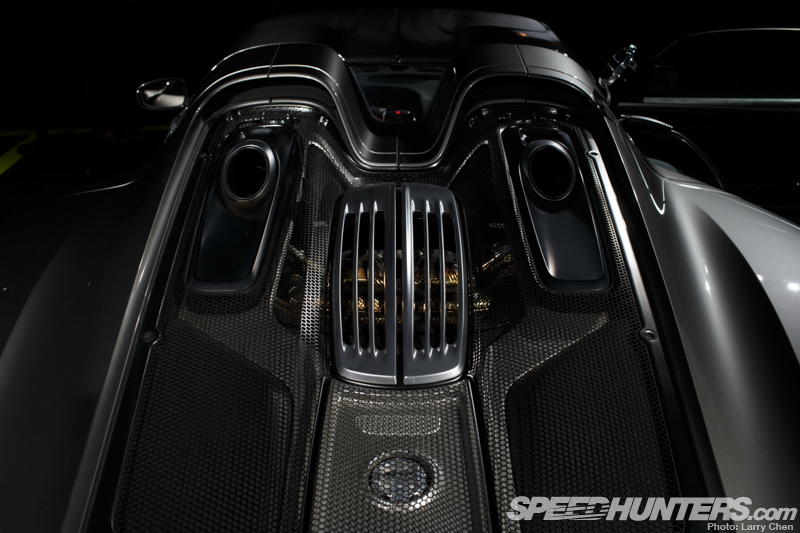 While I was around town chasing cars to shoot I heard this monster from very far away. I could not believe how loud it was – probably something to do with the fact that the exhausts point upwards.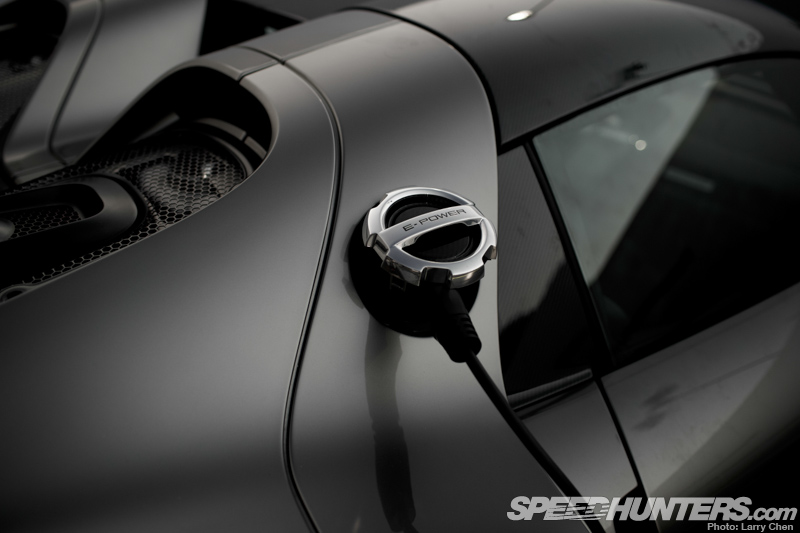 With that said, I nearly forgot that it was a hybrid! I was only reminded of the fact when I saw that it was plugged into a charging station.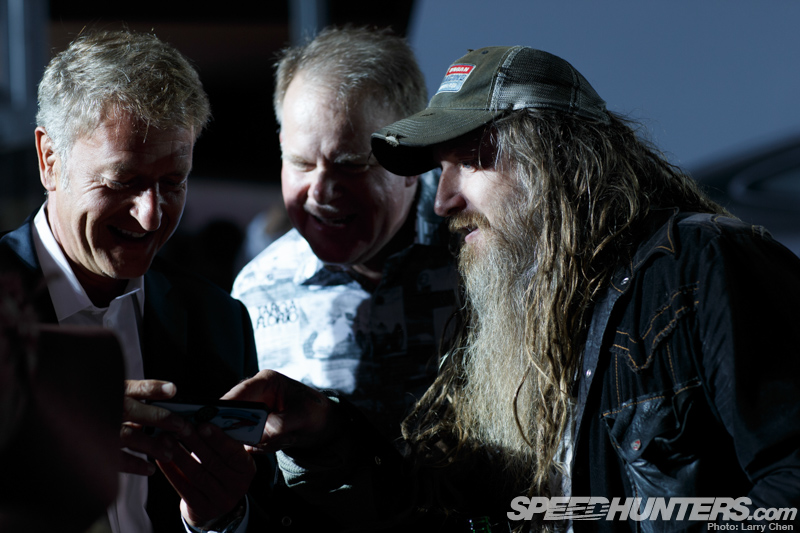 At the event I had a chance to catch up with our friend Magnus Walker, who filled me in on some recent projects he has been working on. Can you believe the car that we featured on Speedhunters sold for $275,000 on the auction block during the weekend? The estimated price was only $150,000.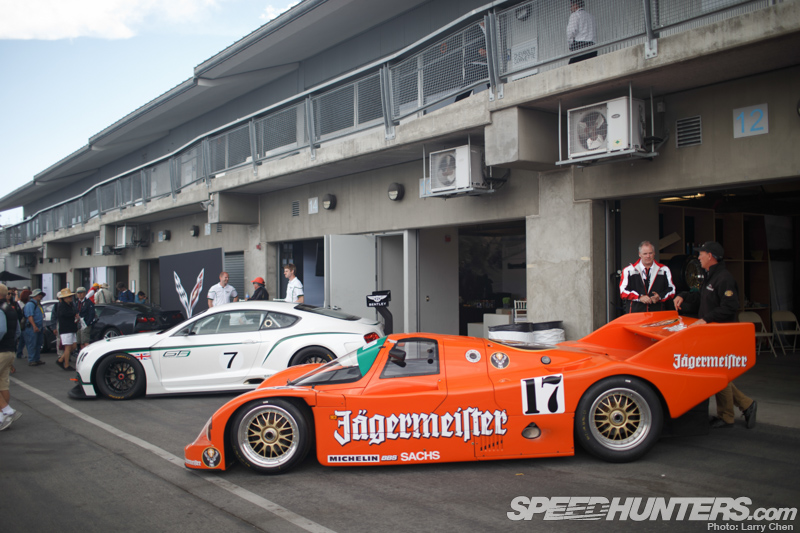 On Saturday I had the chance to make a quick stop at Laguna Seca, where Mike was covering the historic racing. It was very surreal to be looking at some of the cars that I've only ever seen in diecast form before.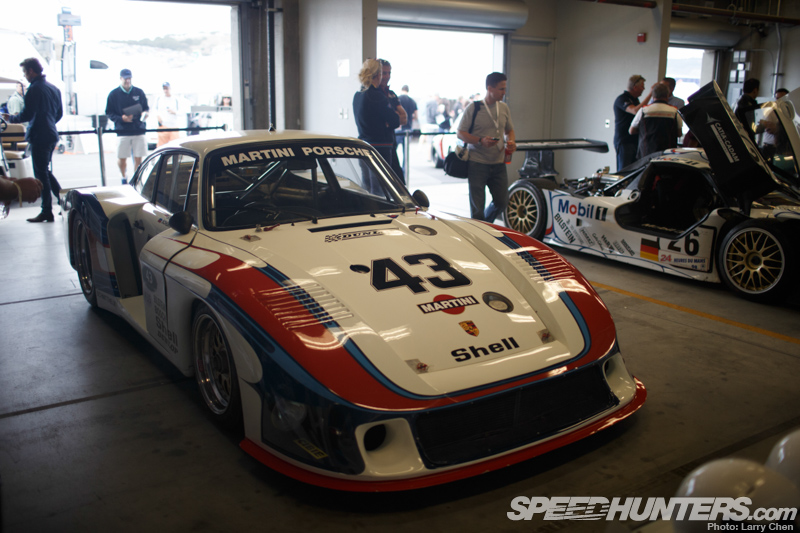 I hung out in the Porsche pits for most of the day just listening to the growl of some of its most iconic race cars, like this 935 Turbo model, better known as Moby Dick.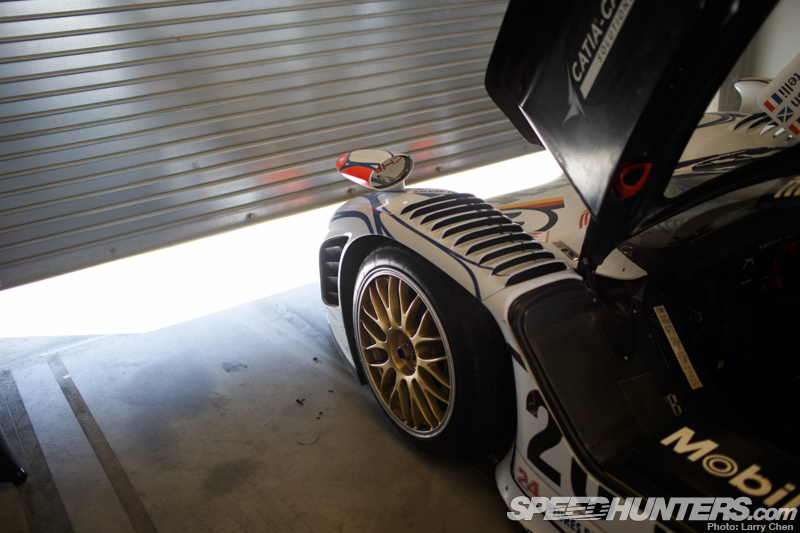 All the cars in the garage were waiting to go out on track, including the Le Mans-winning 911 GT1.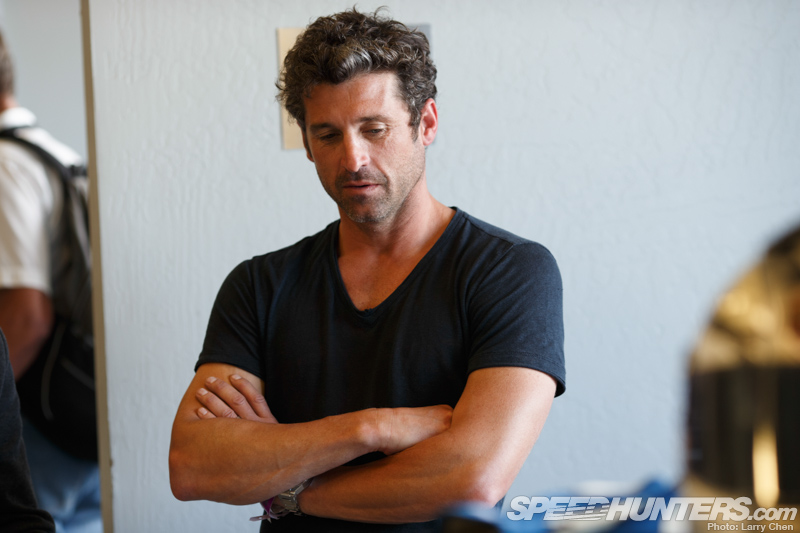 Guest drivers included Patrick 'McDreamy' Dempsey, who was driving one of the 935 Turbos.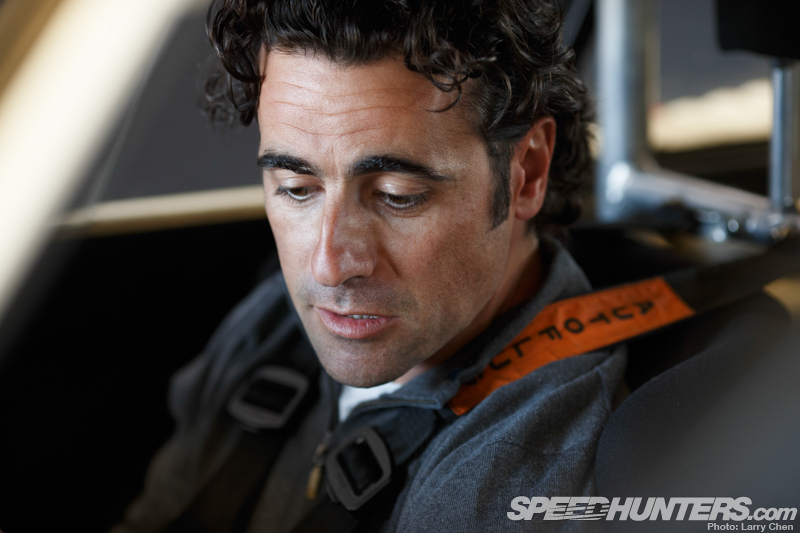 While IndyCar driver Dario Franchitti was the guest driver for the Moby Dick.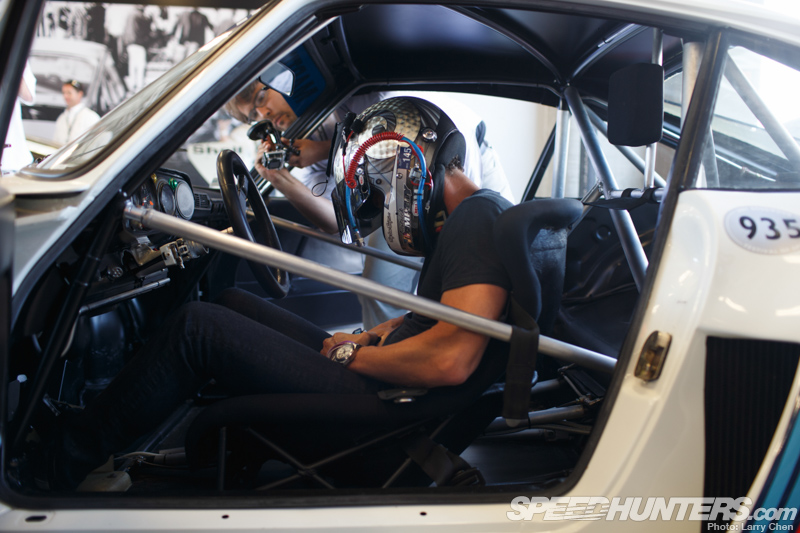 It must be such an honor to drive one these historic machines. I guess that is one of the perks of being well known in the racing community.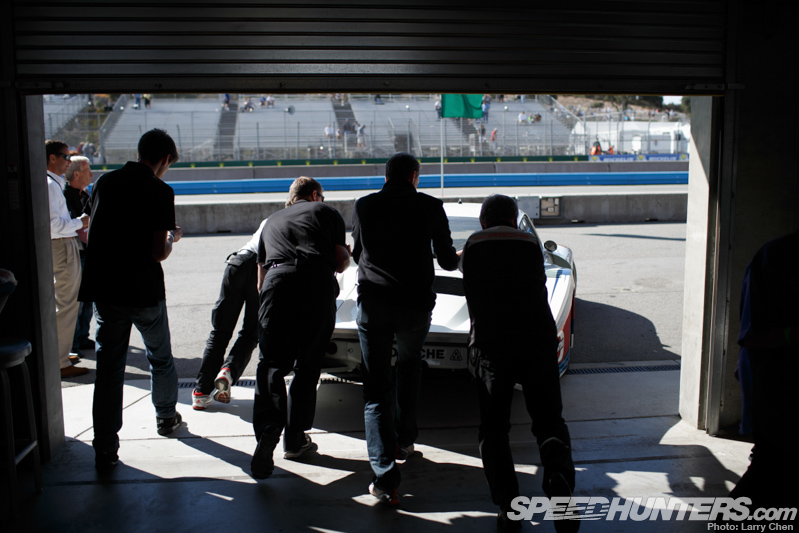 It's rare that I watch these sort of activities from the sidelines as a spectator, but it was refreshing to be here with no pressure and no competition.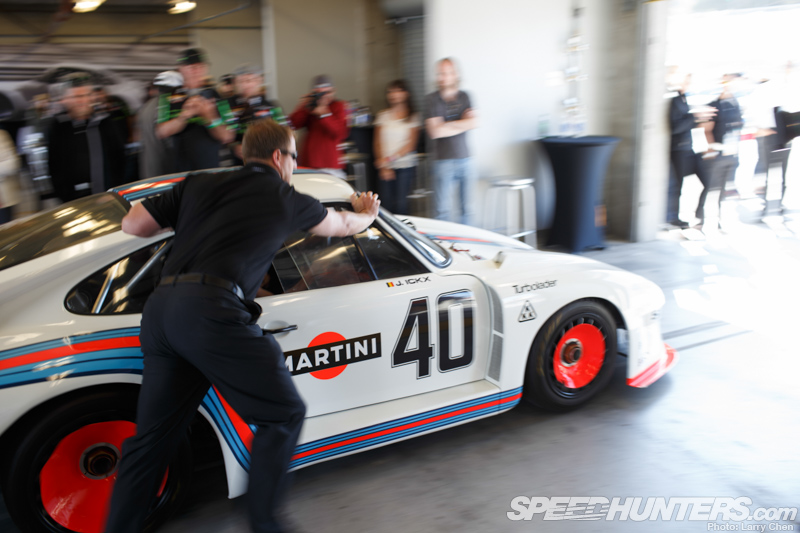 One by one the cars got pushed out onto pit lane ready to attack the Laguna Seca circuit. I just love the fact that these race cars are not in museums – even if that means just a few laps around a track once a year. It makes me feel good.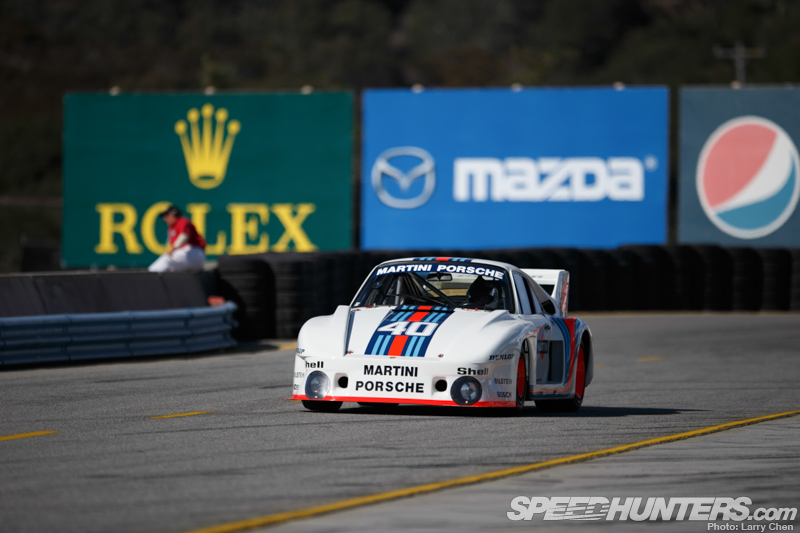 I was not old enough to enjoy these cars on the track when they were actively racing, so this kind of thing means a lot to me.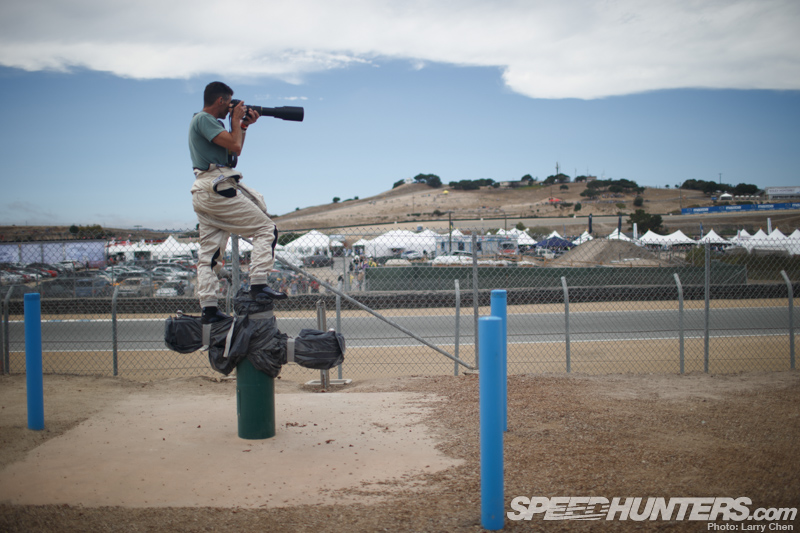 This looked strangely familiar. It reminded me of when Dino and I were at Motegi earlier this month racing and shooting.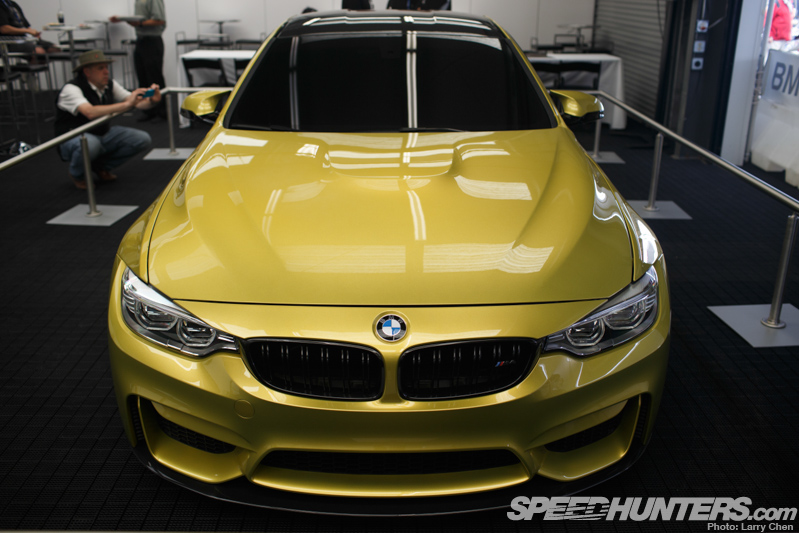 One thing that I really liked about Pebble Beach was the nonchalant way manufacturers showed their new concept cars. There was no huge stage or pyrotechnics – just cars parked out in the open allowing people the opportunity to see them up close. That's exactly what BMW did with the M4.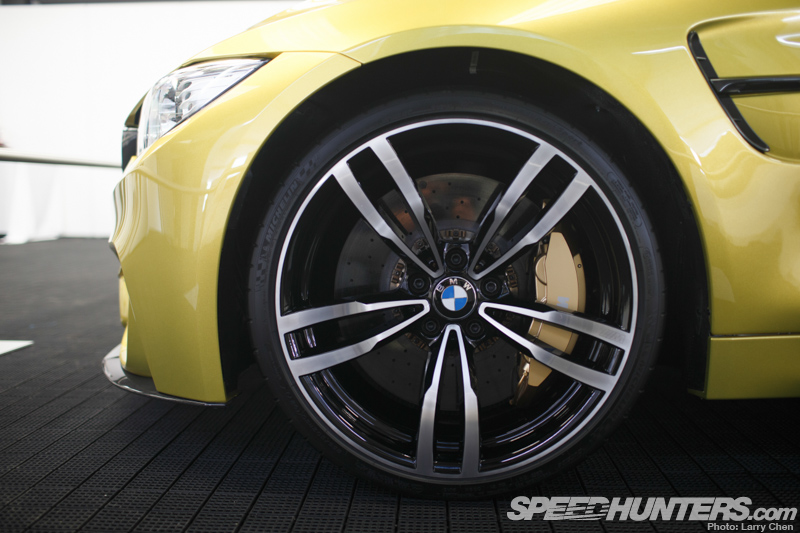 When BMW goes through a major style change, it normally take a while to warm to it. However, with the M4 I can honestly say that I really like it.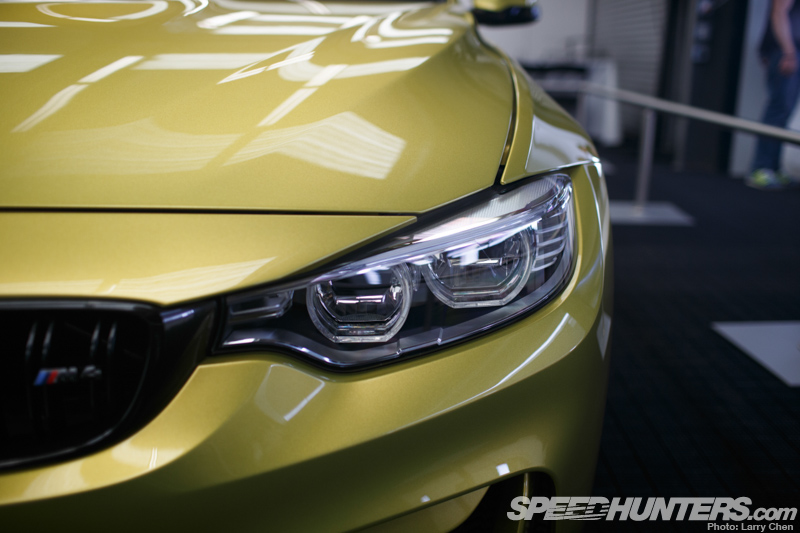 I am curious on the weight of this monster and what kind of output the potential turbo motor will have.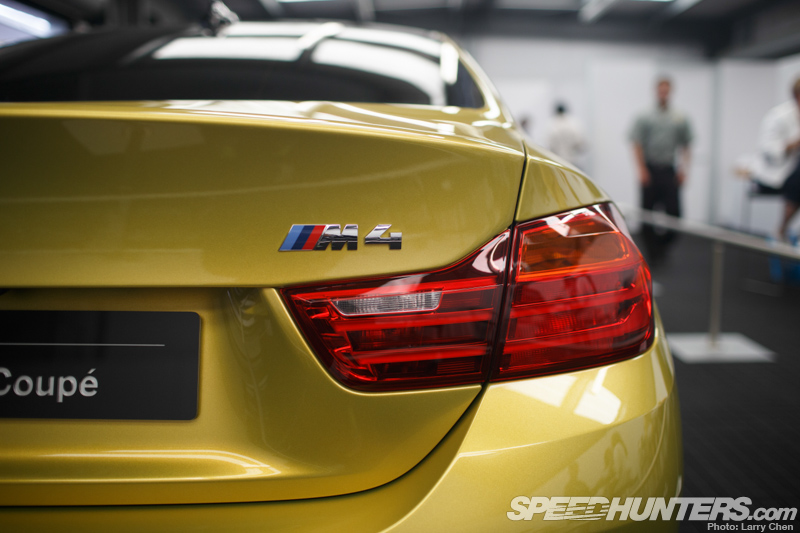 I also really like that it is bringing back Phoenix Yellow, a color from back when the E46 M3 came out.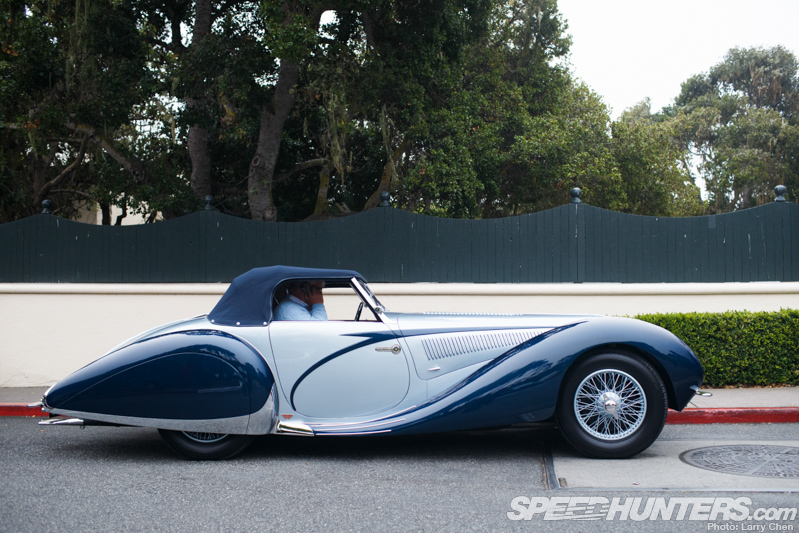 Some of the show cars are storied in underground garages, but most of them remain in their trailers until the morning of the show. I woke up at 5.00am and got to the show at 6.00am after jumping through many hoops to find a good parking spot. By then there was a very long line of cars waiting to get in.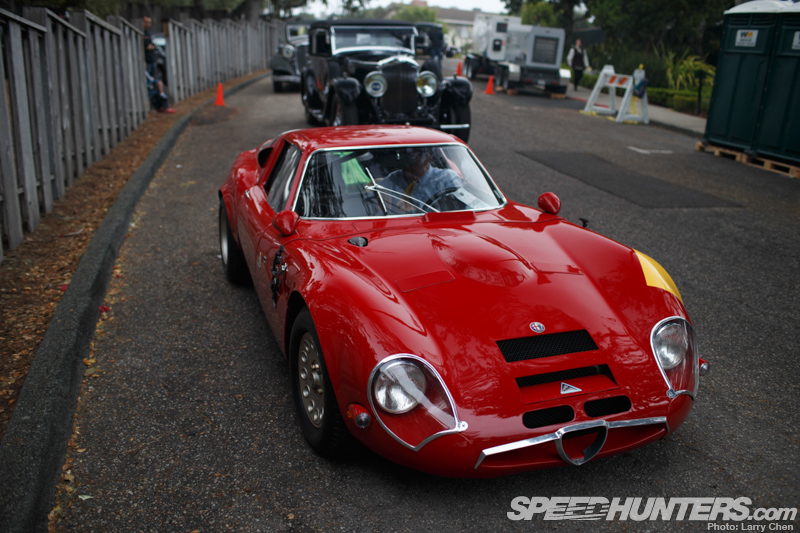 That's when I ran to into one of my favorite cars of the show – this 1967 Alfa Romeo TZ2 Zagato Coupe. I've never seen one in person and it floored me with its show-stopping beauty.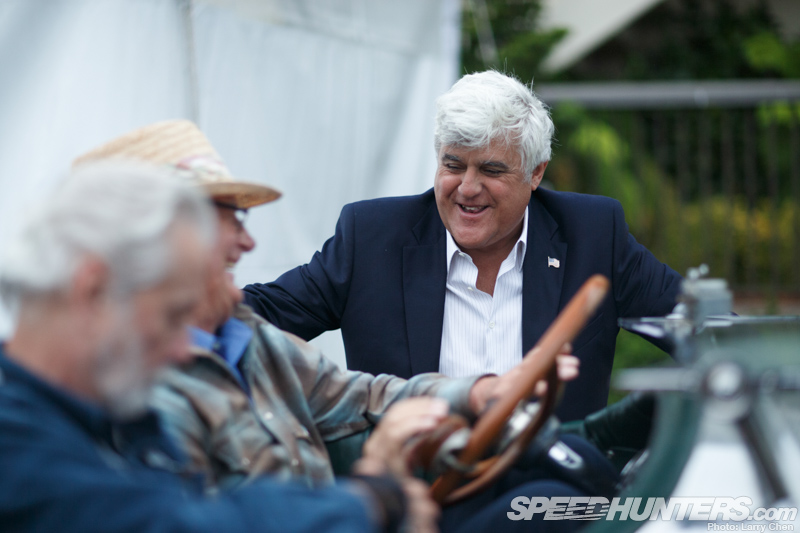 Everyone was greeted by one of the world's biggest car collectors, Jay Leno, as they were pulling onto the grass. I guess that is one way to see every car in the show.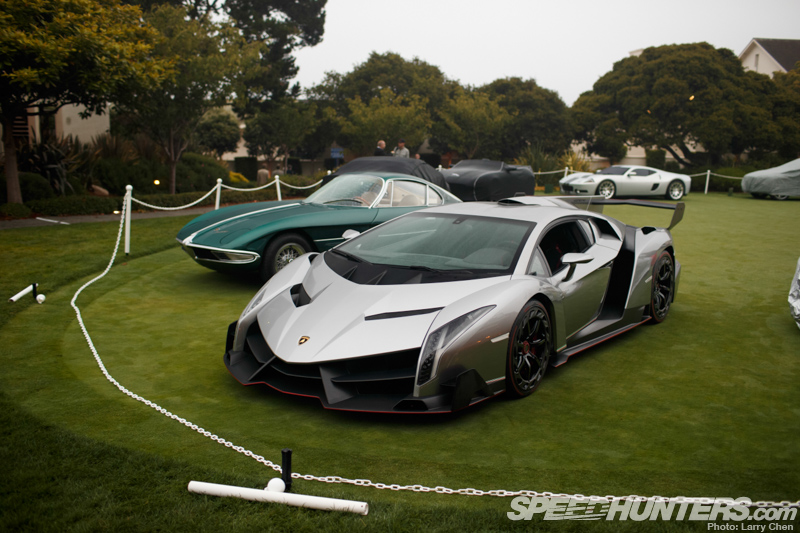 Near the entrance was an area full of concept cars. Of course, the Lamborghini Veneno was the center of attention.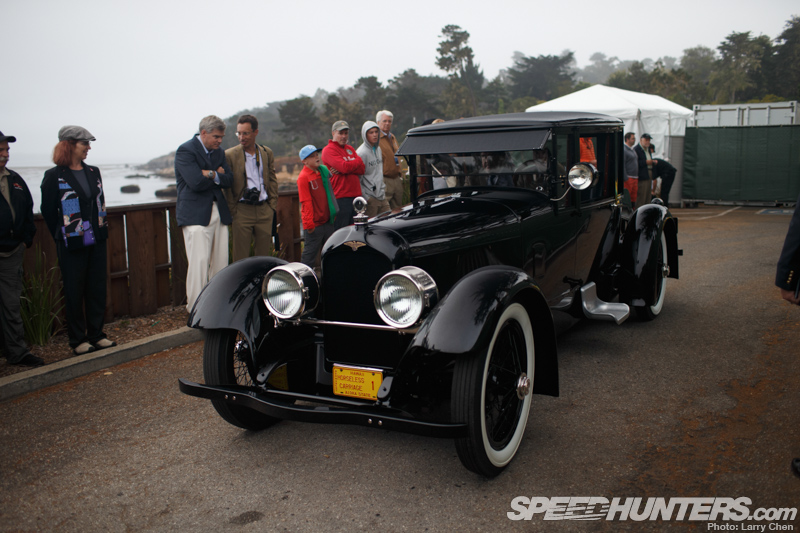 This was the very first Duesenberg ever built and it was restored by Canepa Design. I saw this car in pieces when I visited its shop to shoot the 917/10. Bruce Canepa actually hired professional ship builders to help restore the wood on this car.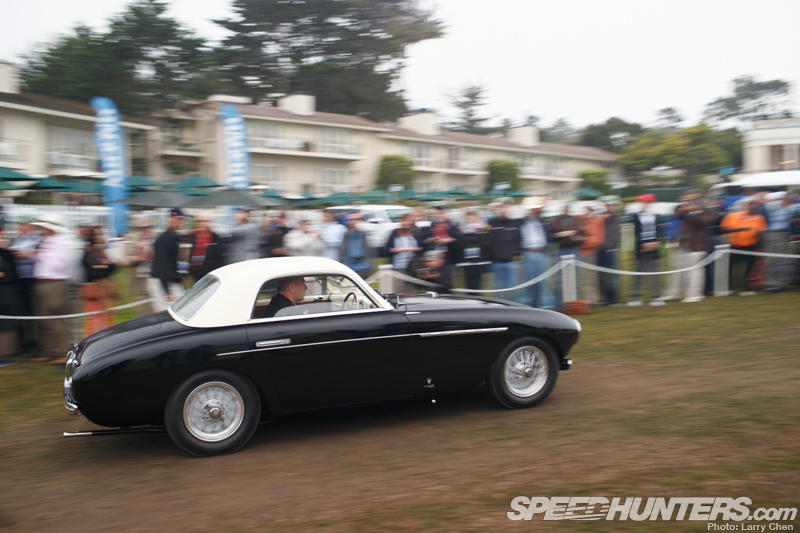 What I really like about this show is how many cars are driven in. I only saw one car being pulled in by a golf cart.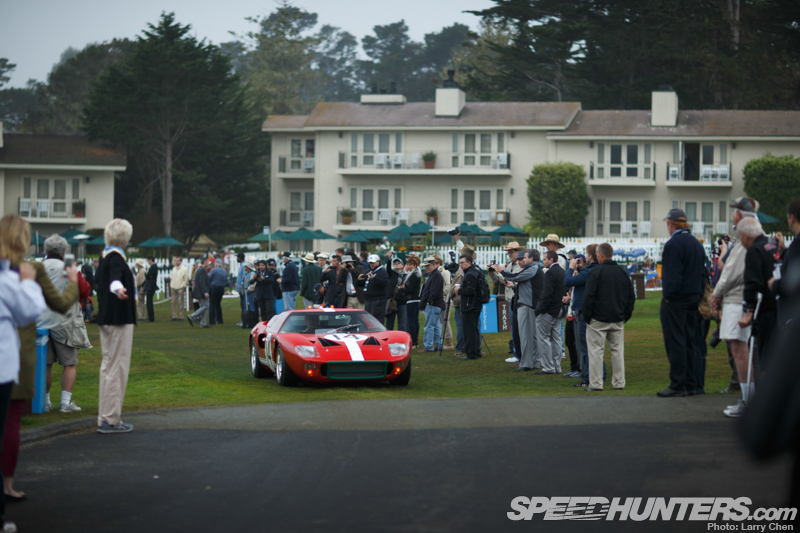 Early risers lined the entrance to the lawn to listen-in and get a whiff of an unfiltered exhaust passing by.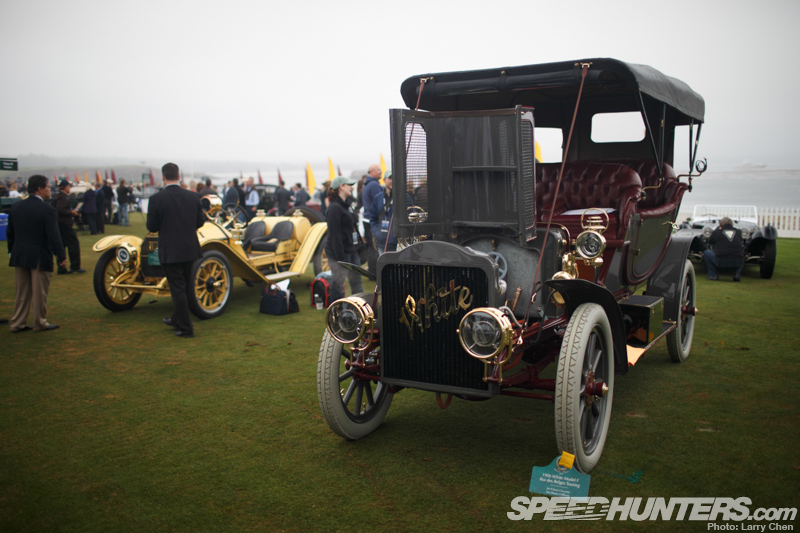 As I passed this steam-powered car I noticed it was making a loud whistling noise.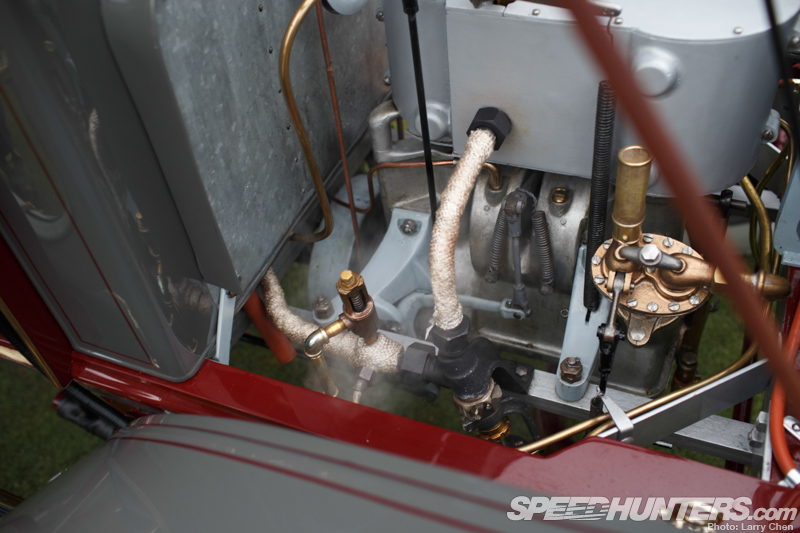 Upon closer inspection I realized that it was just leaking steam. Go figure…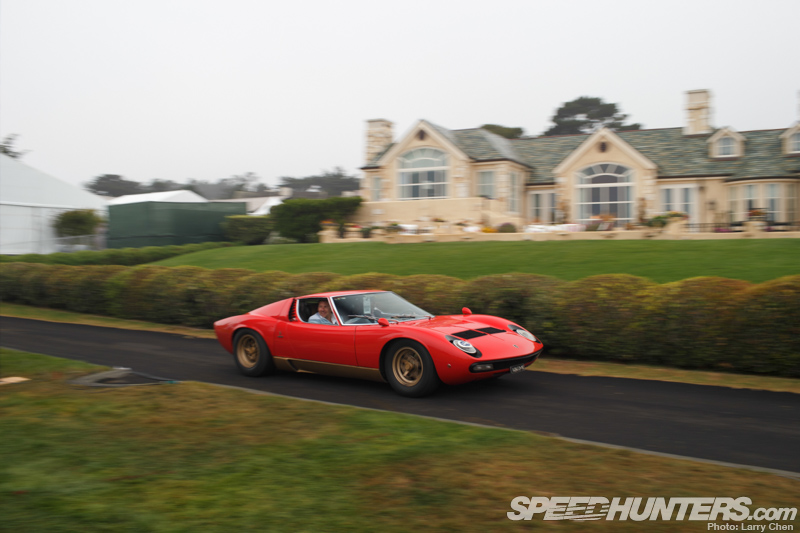 I was always under the impression that cars that featured a Pebble Beach needed to be at least 50 years old.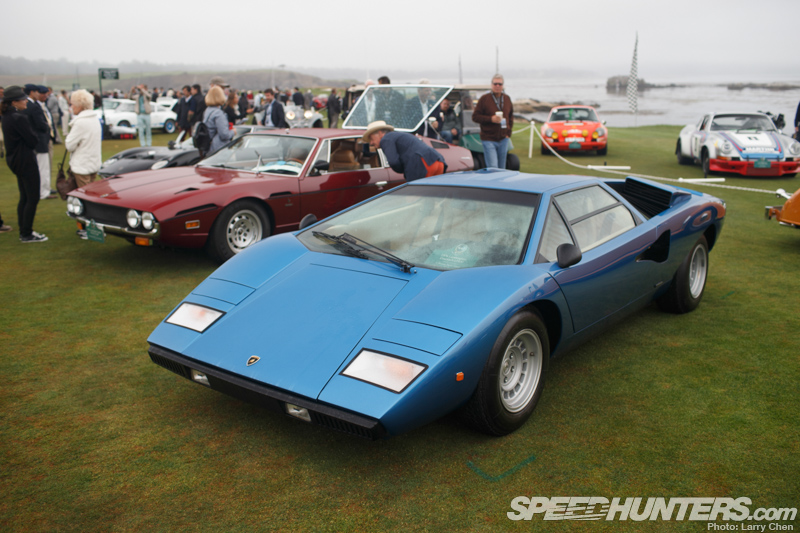 I was surprised to see cars that are even newer than my 1970 240Z. That makes me wonder if one day we will see a Toyota 2000GT or Datsun Z-car on the Pebble Beach lawn. But then again, those were never meant to be supercars.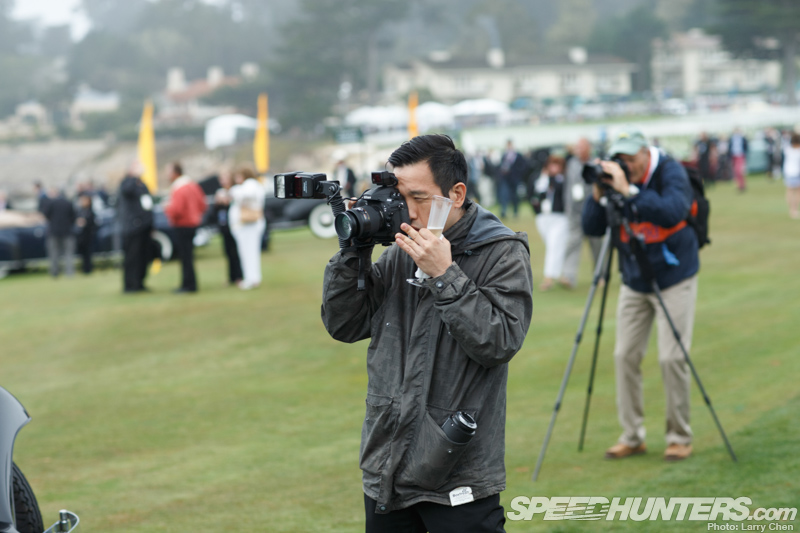 I'm always on the lookout for fellow photographers with good technique. I think this guy took things to a whole new level – shooting car shows while sipping on champagne.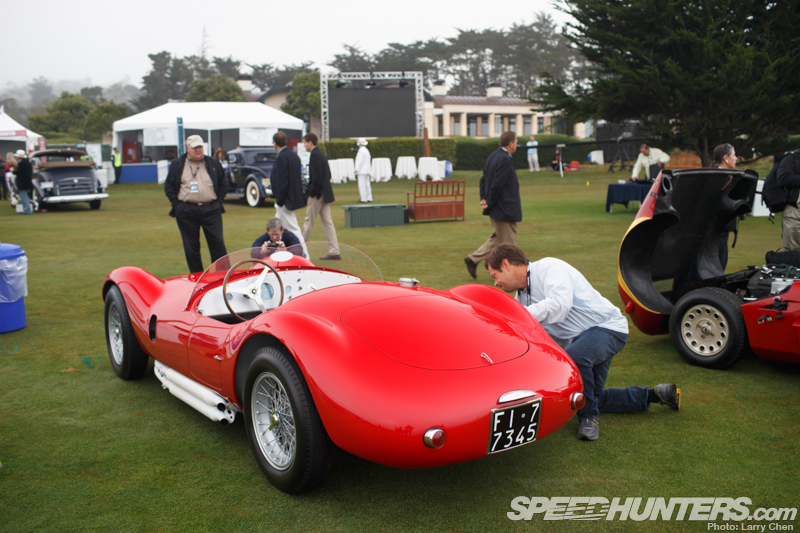 It was still fairly early as I walked around the show, and many owners were still putting the final touches on their pampered cars.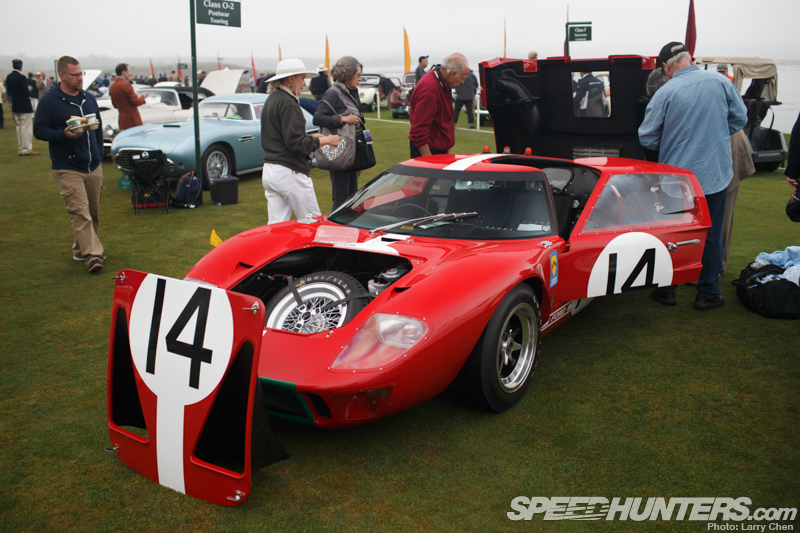 Maybe it's because I have a thing for red cars, but this Ford GT40 really caught my eye. I've only seen one genuine example before, but it was sitting in a museum. So to hear this one run was such a treat. I really hope Ford is planning on building something like the Ford GT in the near future, as another throwback to the legendary machine.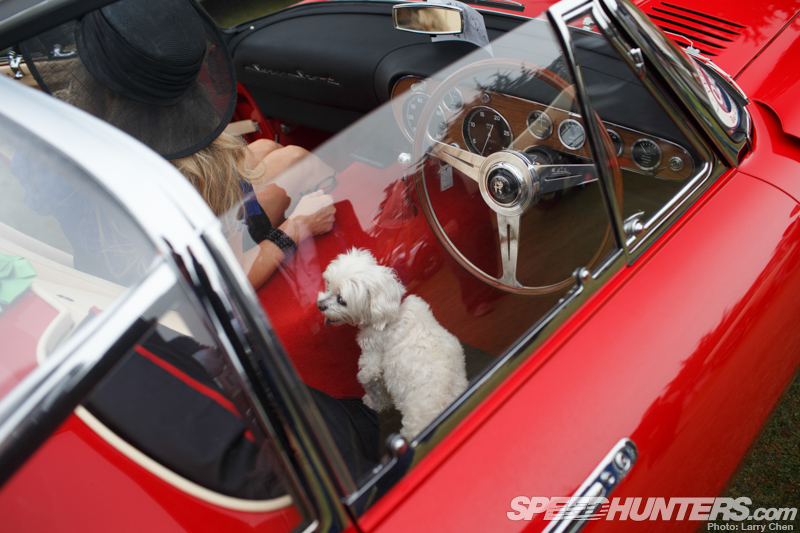 Cars and canines seem to go hand-and-hand, and this little fella was enjoying the early morning cruise.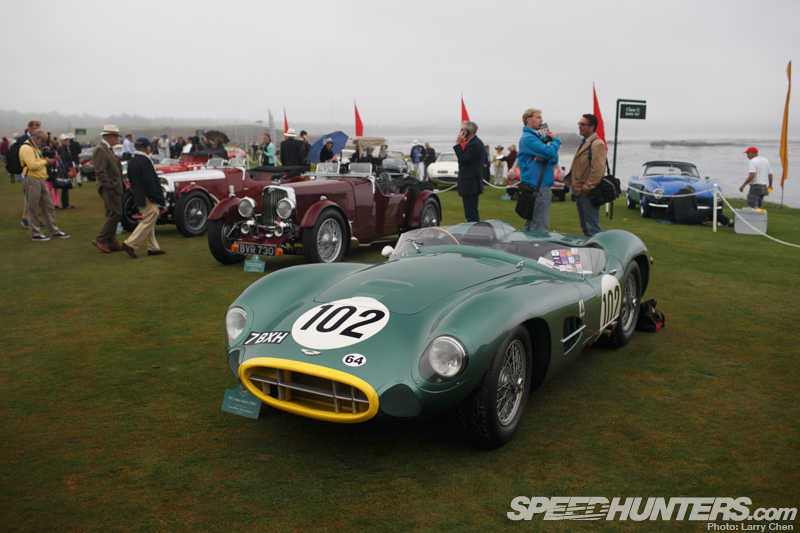 There were also quite a few Aston Martins on show, probably because it's also the 100th anniversary of the British brand.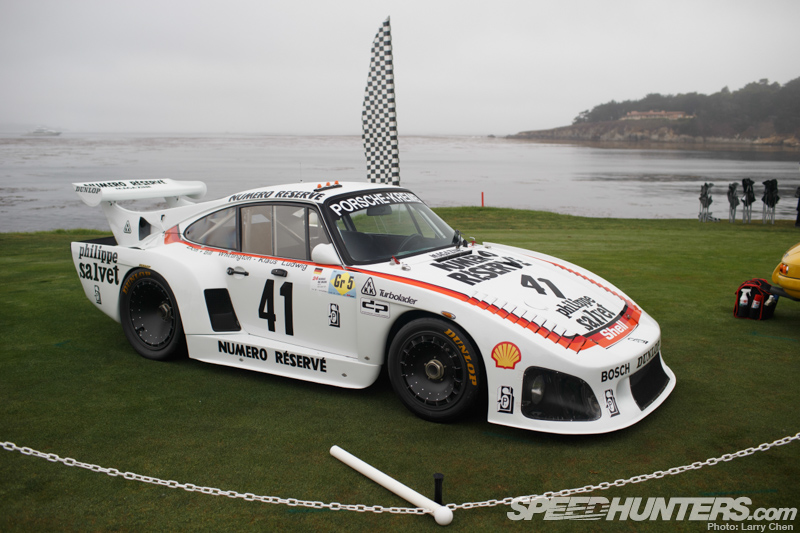 Because 2013 also marks the 50th anniversary of the 911, there were many nice Porsche race cars displayed on the main lawn too, including this Kremer K3.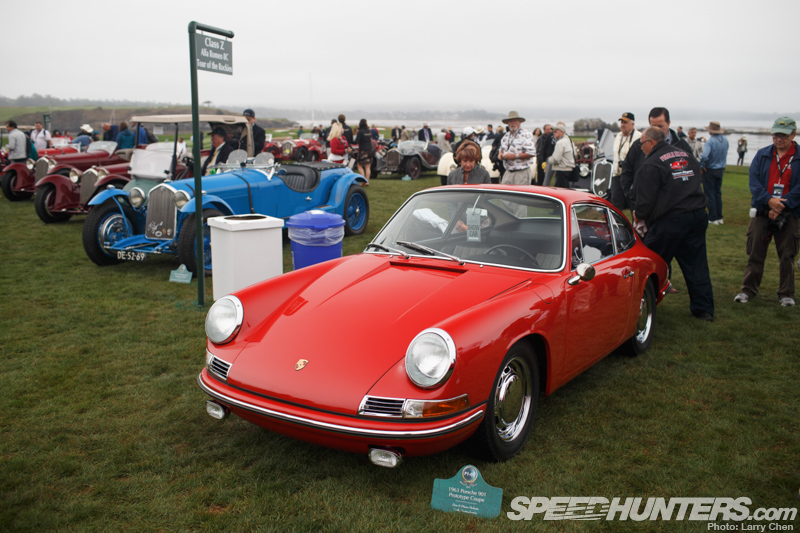 One car that really caught my eye was this cherry-red Porsche 901 from 1963. This was pretty much lead into the 50 years of 911 evolution.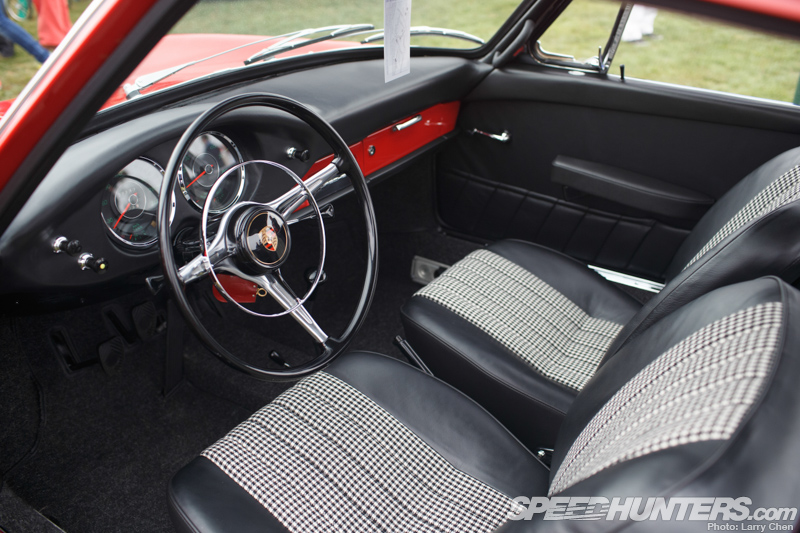 I love the upholstery on the seats and those dual gauges.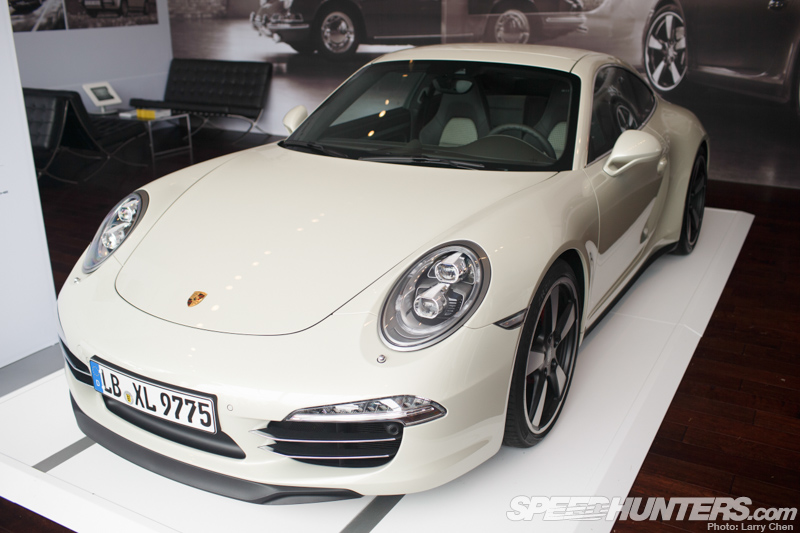 In the official Porsche booth was the 50th Anniversary edition 911.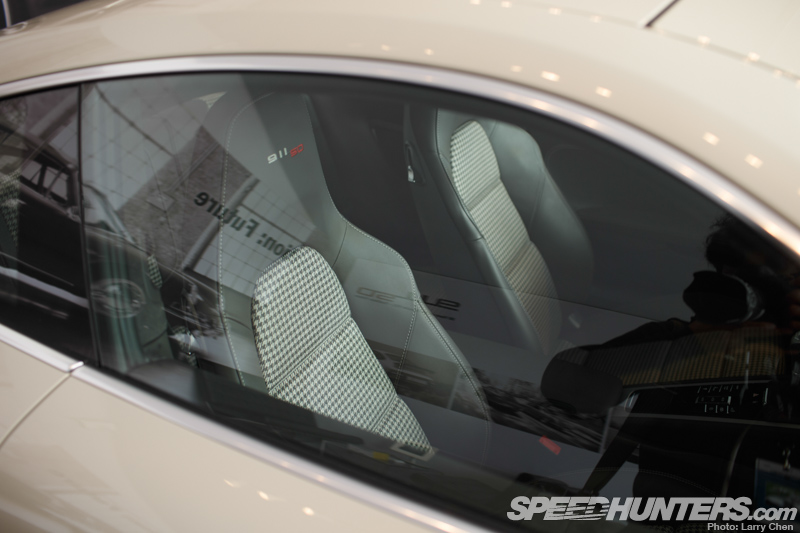 I thought it was great that there's a throwback to those original seats that appeared in 901.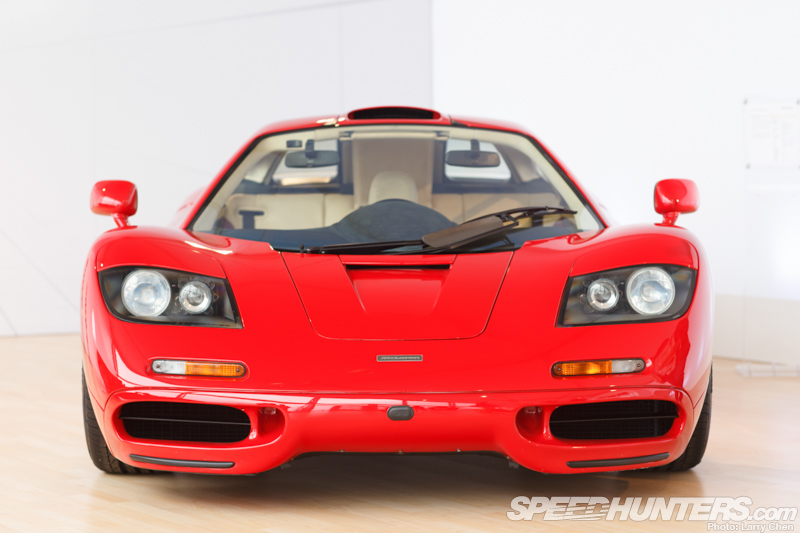 Porsche wasn't the only manufacturer to have a booth – McLaren had a very nice display too, which included the one and only F1.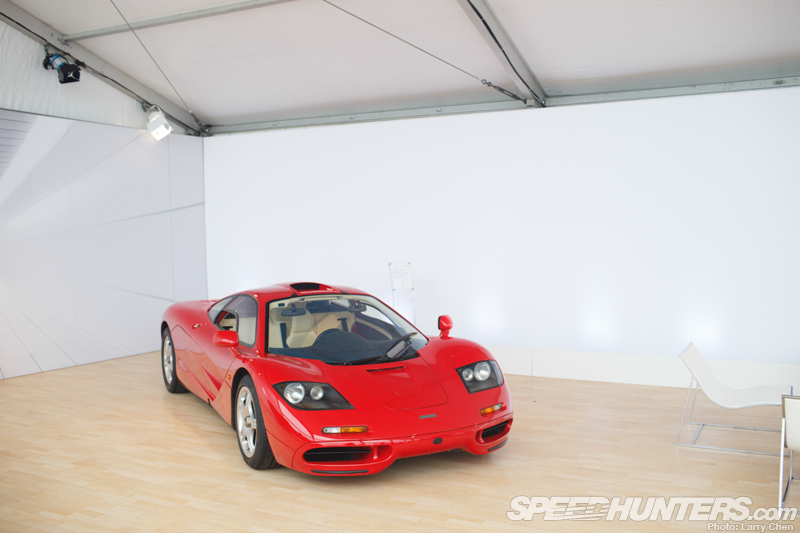 The F1 is timeless machine. After all these years its design still looks modern.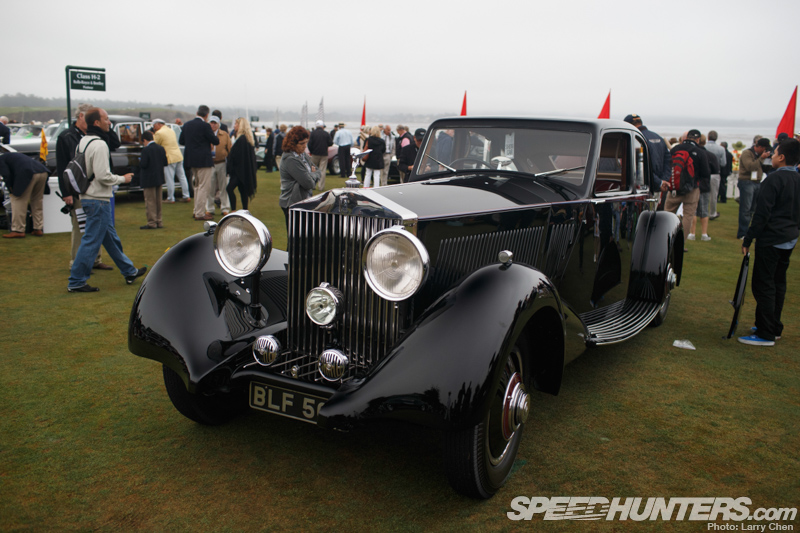 Being a car show there were no shortage of owners showing off with accessories.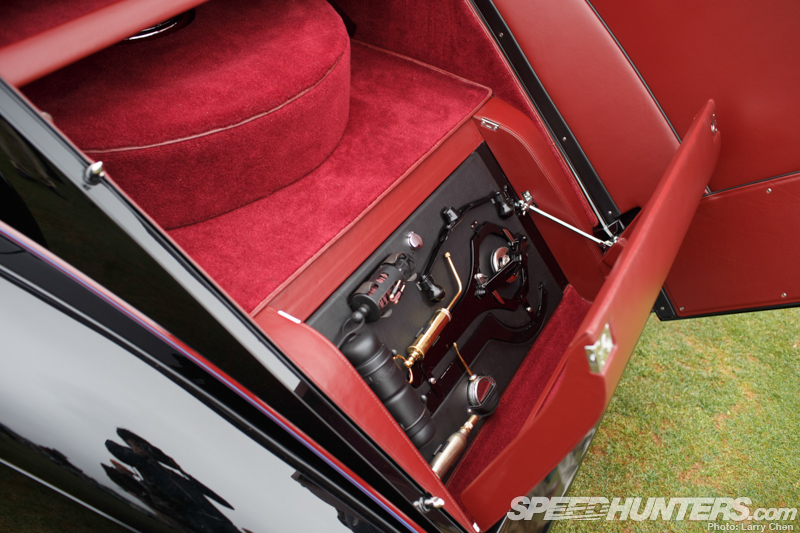 Just check out that super-posh tool kit in the boot of this classic Rolls-Royce.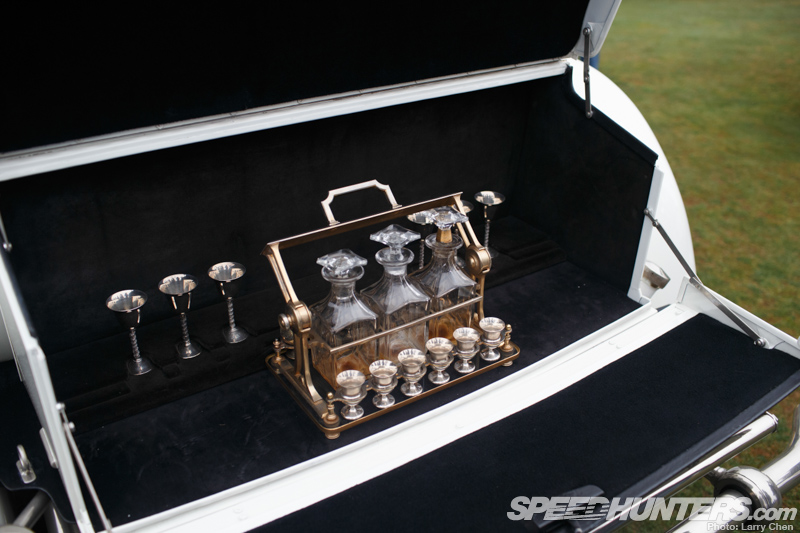 Or how about a mini bar in the trunk to wet your whistle before you take a trip. Absinthe anyone?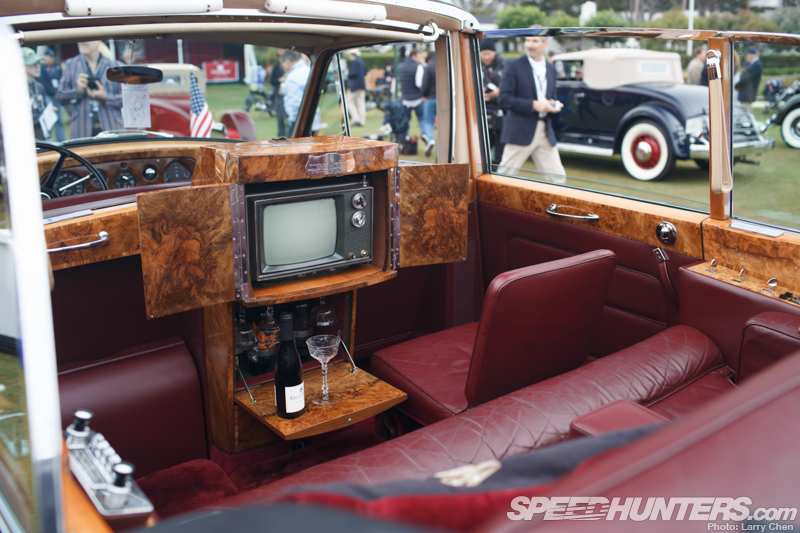 In-car television had to start somewhere, and before having screens jammed in every nook and cranny of a show car, a single TV use to suffice.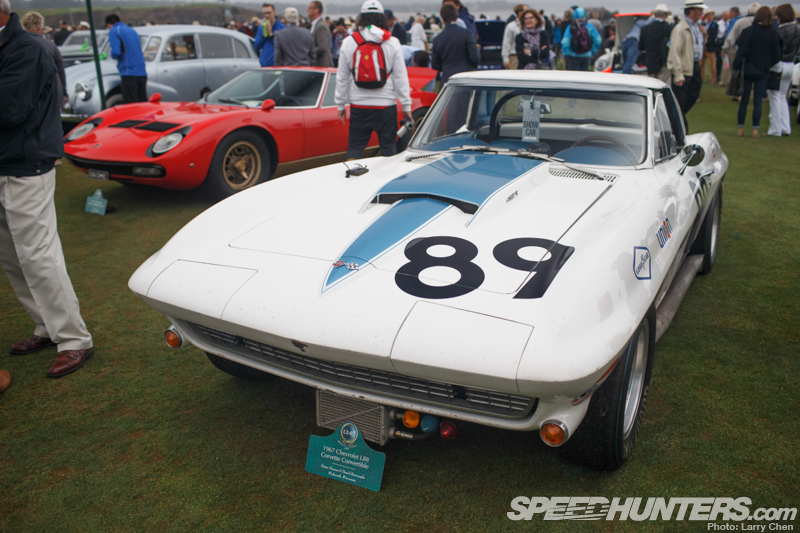 I was also surprised to see a Corvette on the lawn, but it is understandable since the model was prominently featured in this years Monterey Historics races.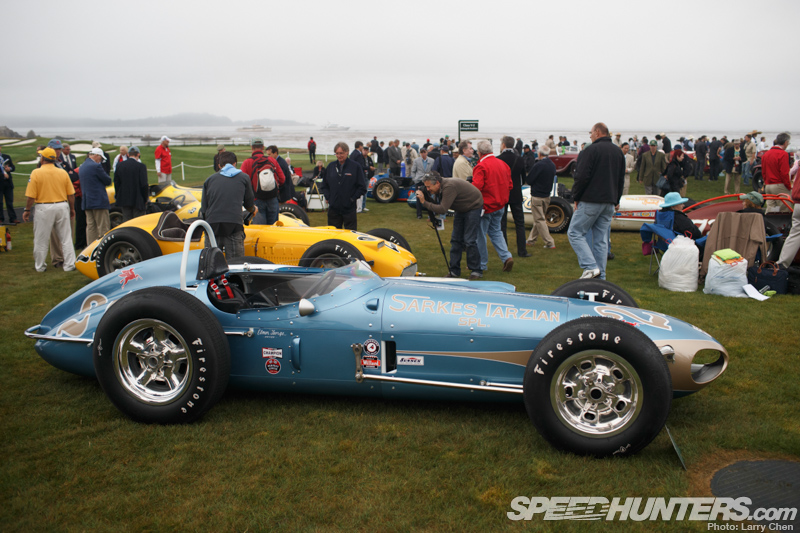 At the far end of the lawn there were many classic Indy cars, all so clean it seemed like they had never been driven, yet alone raced.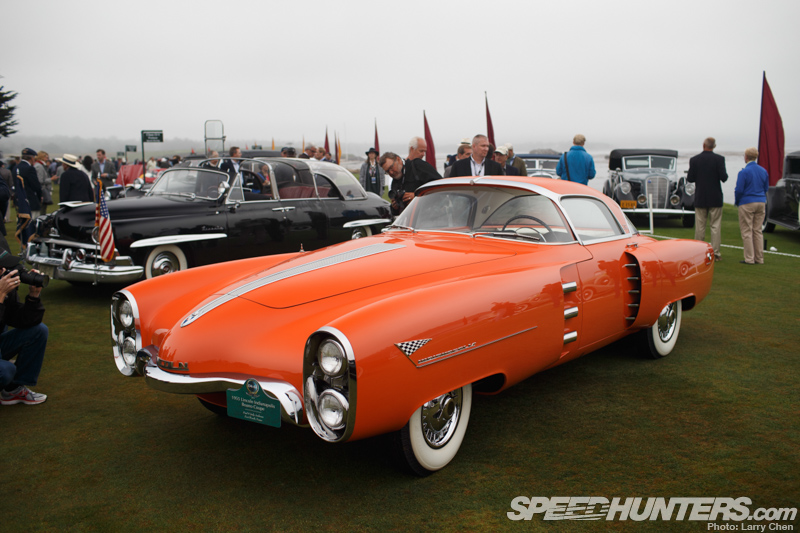 I've been to many classic car shows and I've seen quite a few Lincolns parked in museums, but I have never laid eyes a '55 Indianapolis Boano Coupe before. It really stood out from the crowd of mostly-black cars parked around it.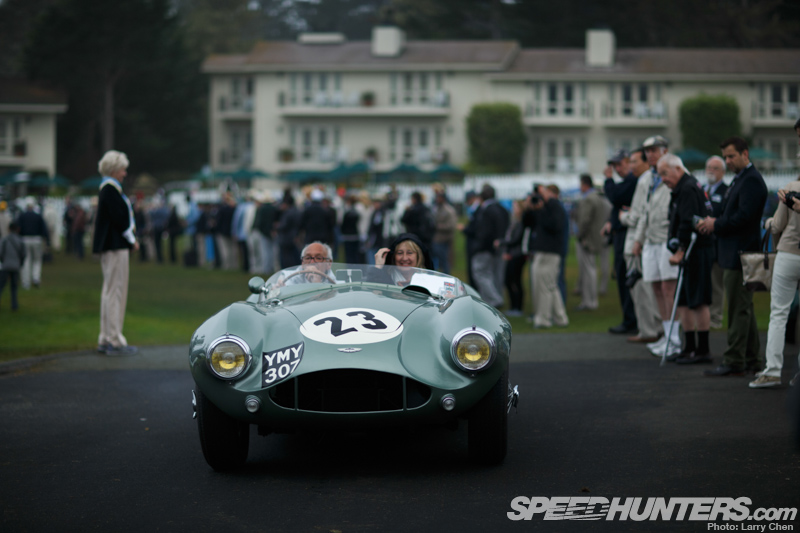 That was just a quick overview of what to expect at Pebble Beach. Although I only experienced a small part of the greater event, I now know that it is way too big for just one person to cover. And that said, I think it's definitely something we will have to bring the troops in for next year.
Larry Chen
Instagram: larry_chen_foto
larry@speedhunters.com