During our short visit of the Global Auto shop a couple of months back we caught a little glimpse of Yasui-san's special Bayside Blue R34 GT-R among the tantalizing selection of ready-tuned cars on sale. The car was being prepped for an excursion to Okayama circuit where it spends a lot of its time being put through its paces at either soukoukai sessions or competing in the Meister Cup. It's one of the most focused san-yons I've ever shot and continues to serve as inspiration for my car. Being located just down the road from Auto Select, Yasui-san entrusted their services to build up the car to where it's at now. If you recall I ran a short spotlight on it about three years ago, but seeing it has been further evolved since then, a more detailed look was something I just couldn't pass up sharing.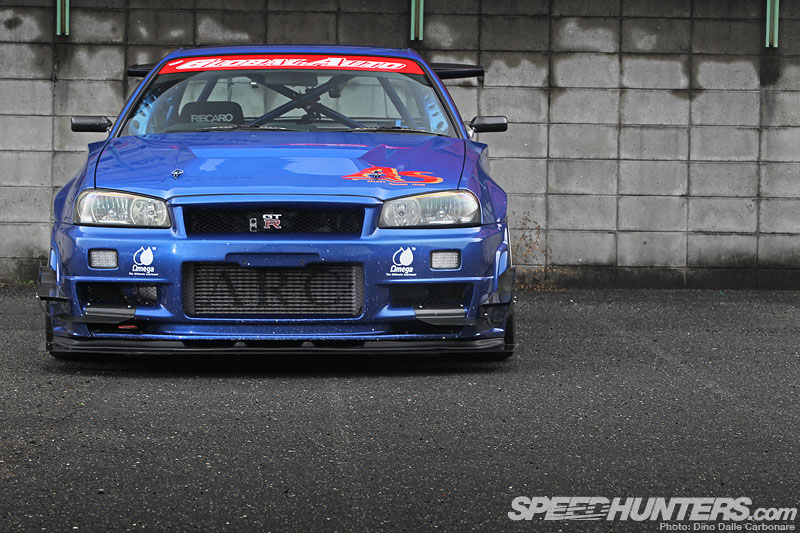 Yasui's requests to Auto Select were pretty simple – he wanted to create an exceptionally mean and powerful time attack GT-R but at the same time keep it street registered just in case…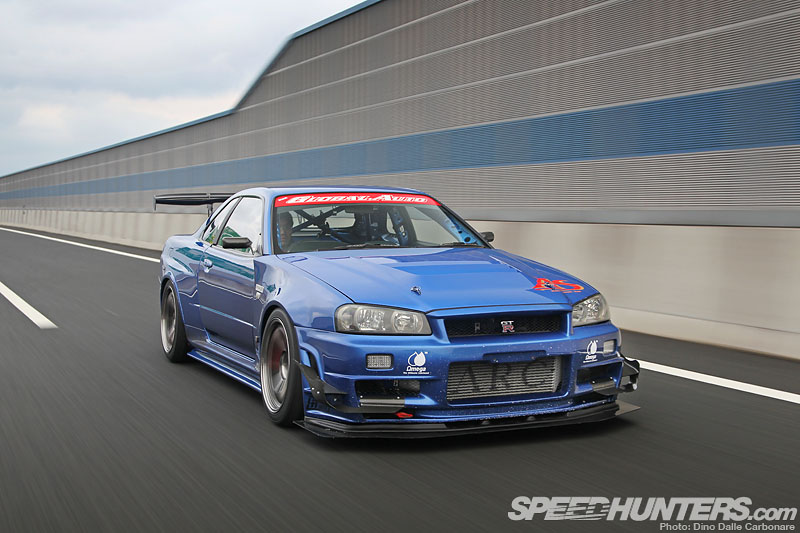 … he wanted to take it for a drive out on the Osaka Kanjo and of course drive it to and from the track. The result, as you see, is quite impressive – a car that has literally had every single part you see upgraded or replaced and as a result is phenomenally fast, bringing home countless results for both Global Auto and Auto Select.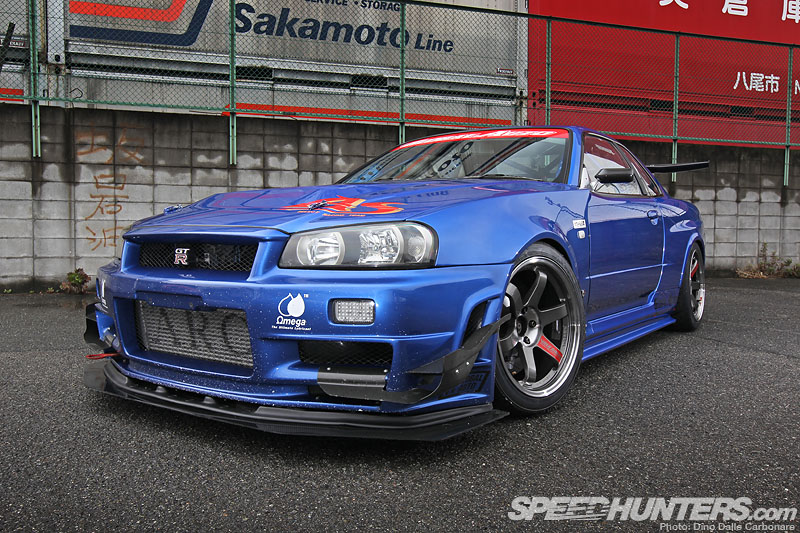 With any serious track weapon the suspension and chassis is the first thing that should be approached and this was tackled with a set of Auto Select adjustable race dampers as well as suspension links that were developed on the shop's famous Yellow Shark BNR34. This allows the car to get the maximum out of the sticky 295/30R18 Hankook Ventus TD semi-slicks fitted onto the 11J wide 18-inch RAYS TE37SLs.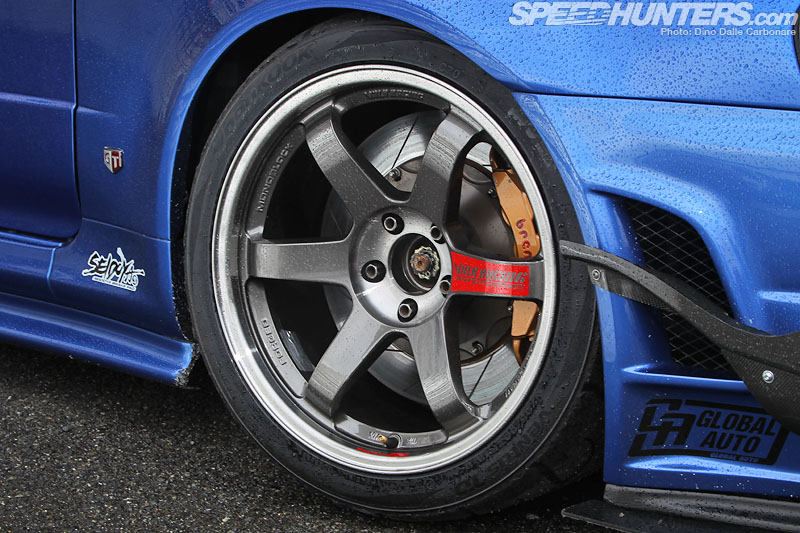 There is no way the puny and undersized factory Brembos were going to cut it on a car of this performance so they were quickly thrown in the trash where they belong and replaced with a serious set-up made up of Brembo monoblock six-pots up front and four-pots at the rear. To get the most out of the TE37's vast inner diameter, big 380 mm two-piece slotted discs were fitted, with slightly smaller 355 mm ones at the back. Serious upgrades then…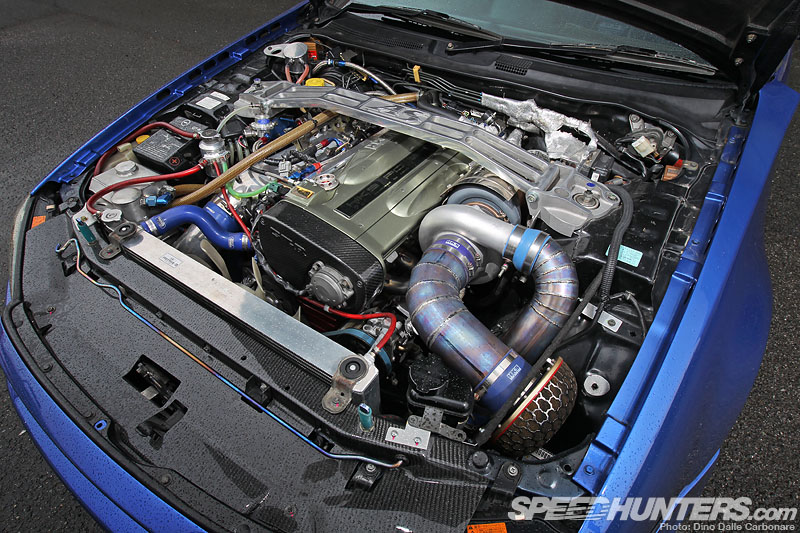 … for a serious powertrain which begins with the custom built motor sitting under the carbon hood. Yasui-san didn't want to screw around so ditched the base "5U" normal-block based RB26DETT and swapped it out for a "24U" N1-block Nür RB. It was only really the thicker walled block that would be kept as the rest of the N1 bottom end was replaced by Sawa-san at Auto Select. With a goal of "over 800hp" it was decided from the onset that everything would be built…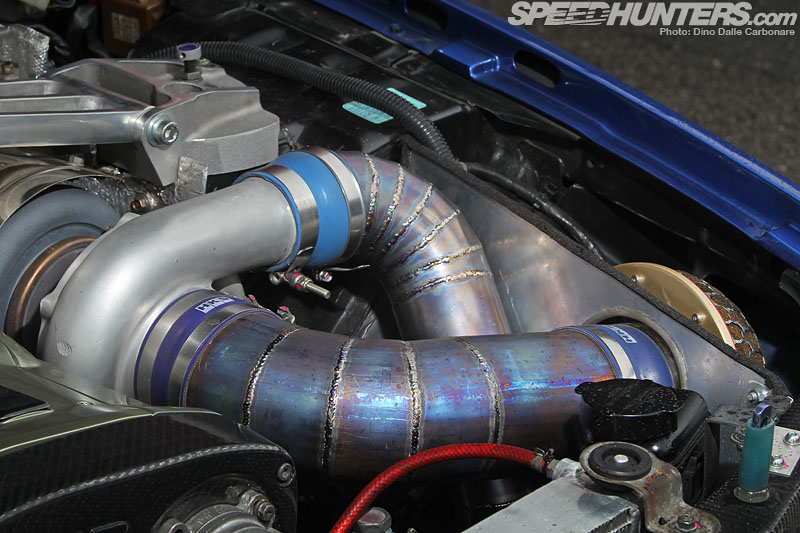 …  to support a Trust T88-33D single turbo, so that called for a slight bump in capacity thanks to HKS's Step-3 2.8L stroker kit which includes slightly larger 87 mm pistons. Check out the custom titanium piping that was welded up to pipe the intake side together!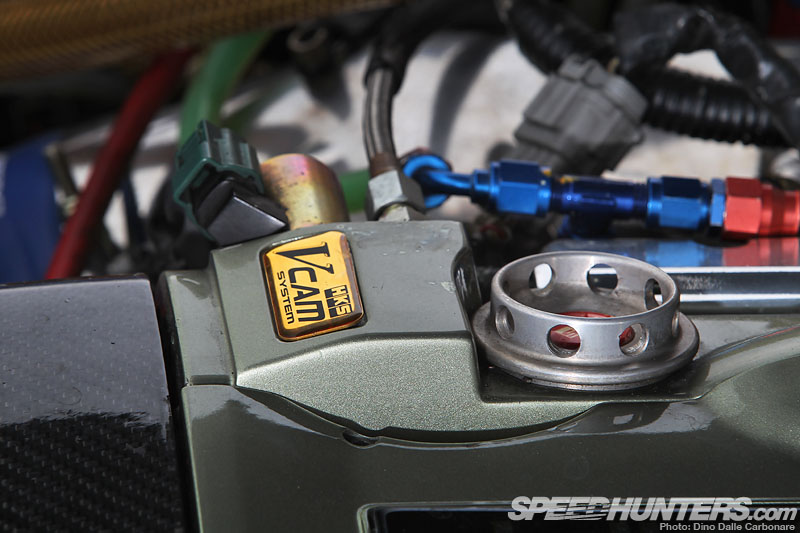 Maximizing response and torque in the mid-range was probably the most important to-do point on the list, and something that isn't easy with a considerably small capacity and such a large turbocharger. This is where Sawa really put his know-how to work, hand porting and polishing the head to boost flow, rebuilding the valvegear with HKS's upgraded head system and a V-Cam Pro variable valve timing cam for the intake. Coupled with countlessly revised and fine tuned engine management he was able to extract a very usable torque curve that peaks out at a massive 883 Nm (651 lb/ft). While shooting the car on a slightly damp highway I had a first-hand look at what this actually translates to on the street, the car spinning all four wheels in third gear instantly as the throttle was floored. Crazy stuff.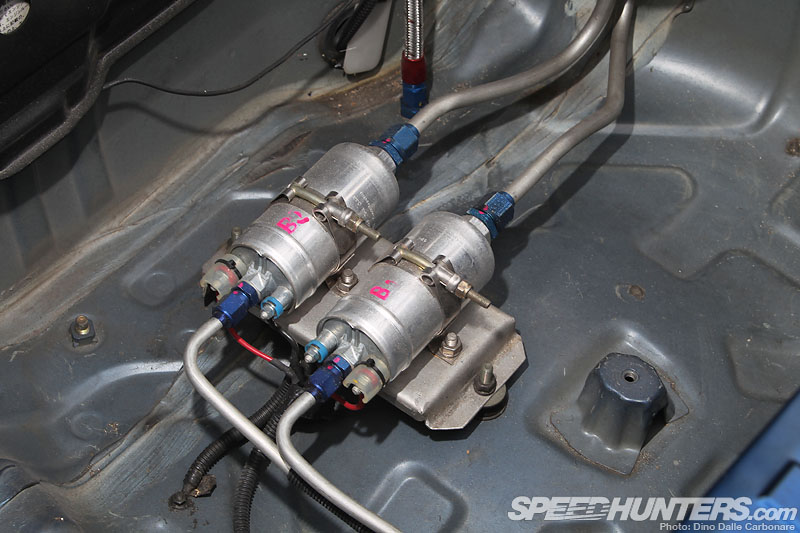 Big power calls for large quantities of fuel delivered at the right sort of pressures and this is something the two Bosh Motorsport 044 fuel pumps, the HKS 1000 cc/min injectors…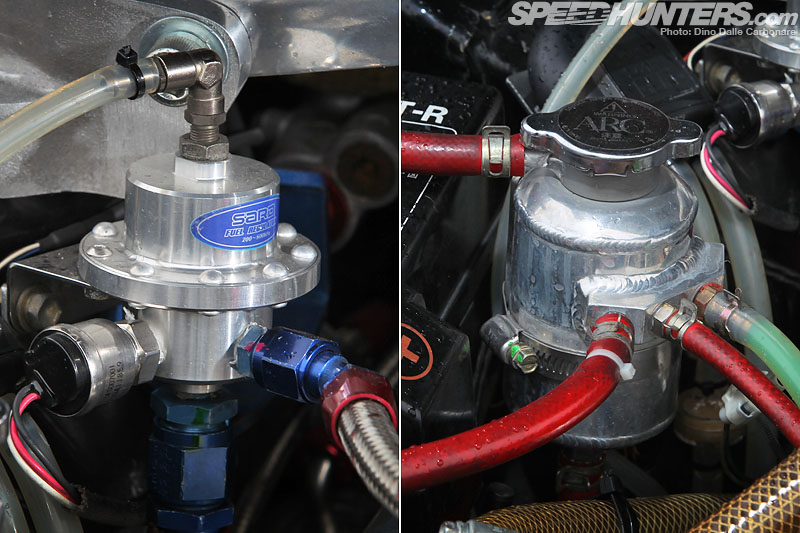 … and the Sard adjustable FPR have no problem doing. Cooling is addressed via a large HKS oil cooler and an ARC side-flow radiator mated to an air-separator tank.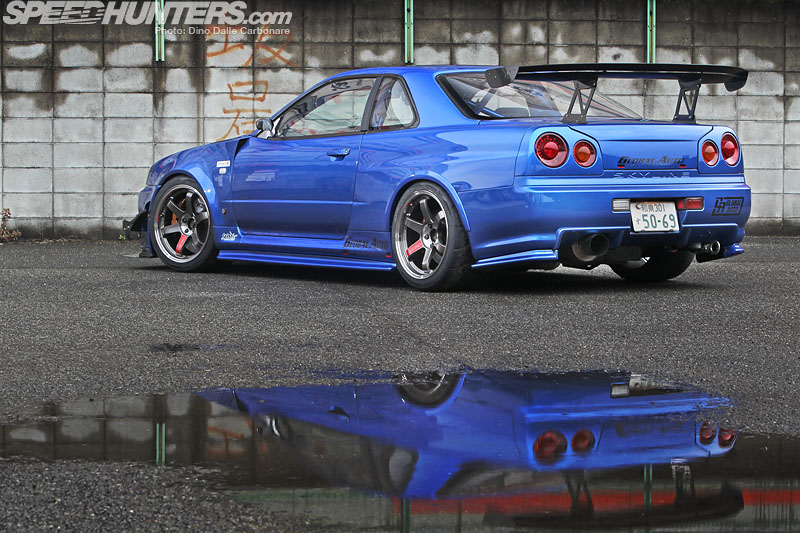 With 830hp on tap, some aerodynamic add-ons were a must, starting off at the rear with a big Voltex carbon GT wing…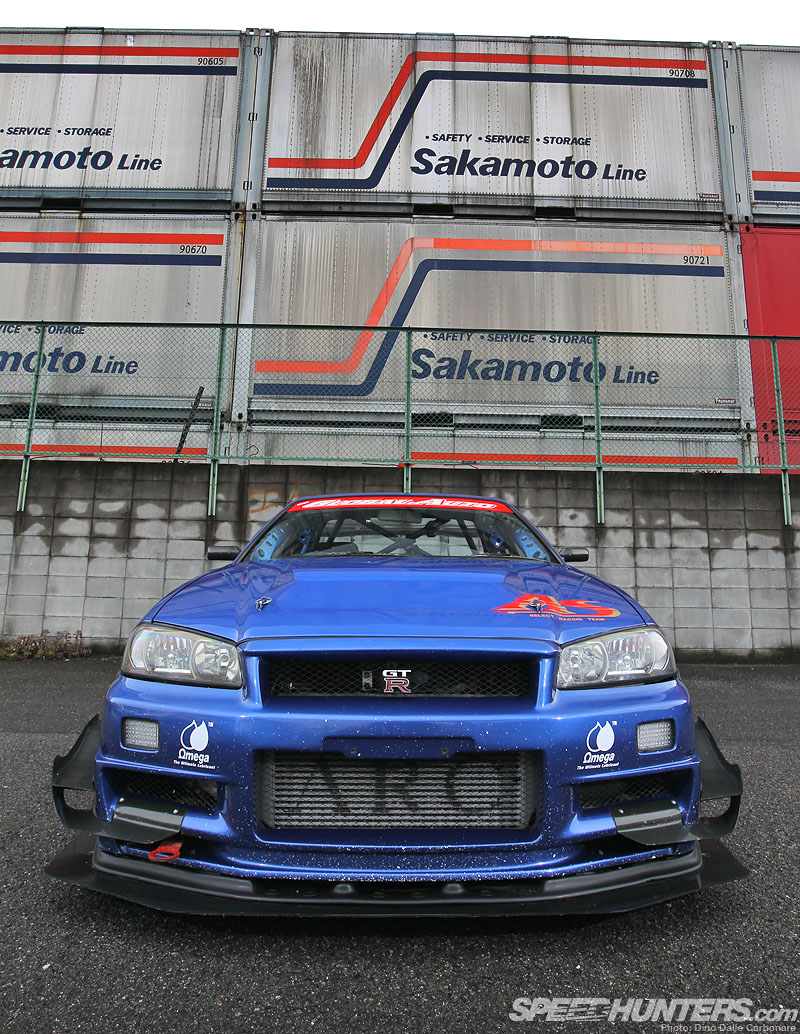 … and Auto Select's signature Devil canards. A Nismo Z-tune front bumper and front fenders give one hell of a presence to the car, with the car's profile being completed with Nismo side and rear skirts.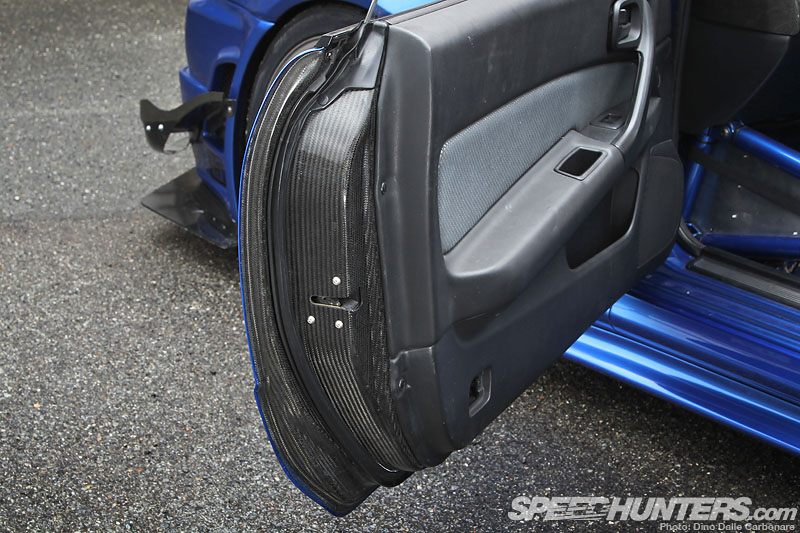 Lots of weight saving measures were taken with the addition of a Global Auto carbon hood and Electra carbon doors and trunk.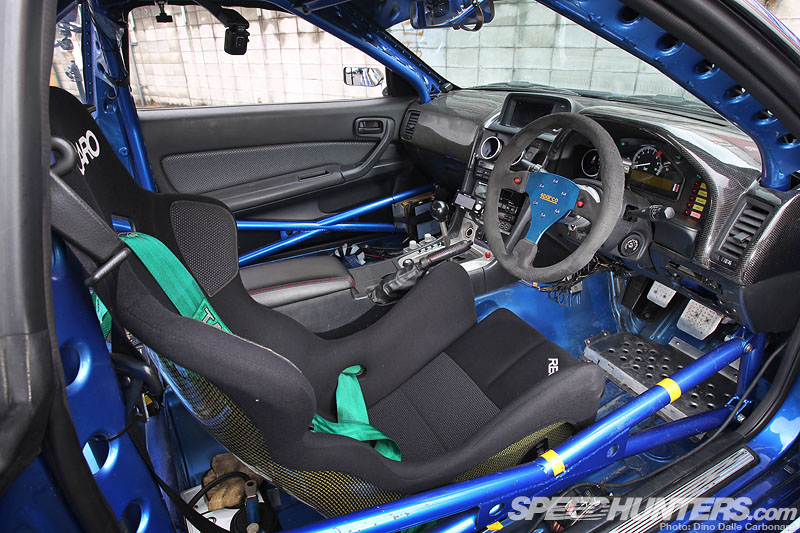 Step inside and you get a very visual indication of just how serious Yasui is about his car, and what extents he went to make sure that the chassis was up to the massive performance of the engine. Before the work began on the car Auto Select stripped it all down and fitted a 13-point roll-cage, gusseted to both the A…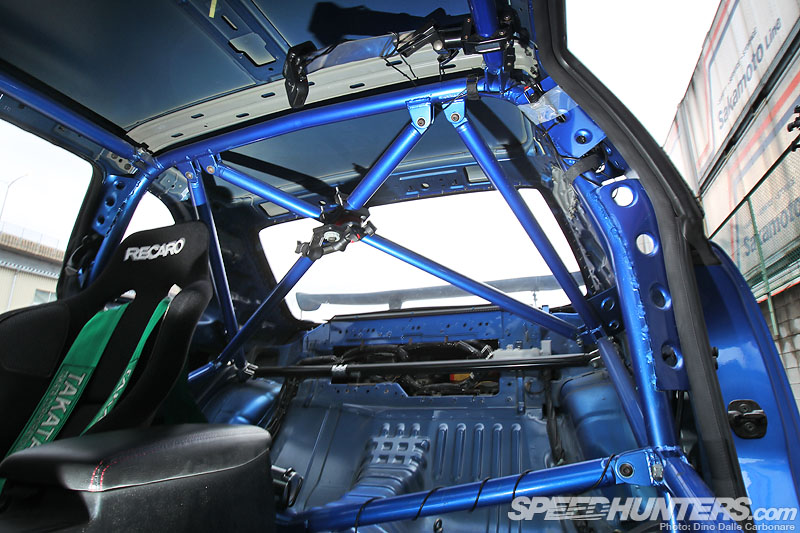 … and B pillars with a few removable cross bars in place. There is only one seat, a very light carbon-Kevlar bucket, mated to Takata harnesses.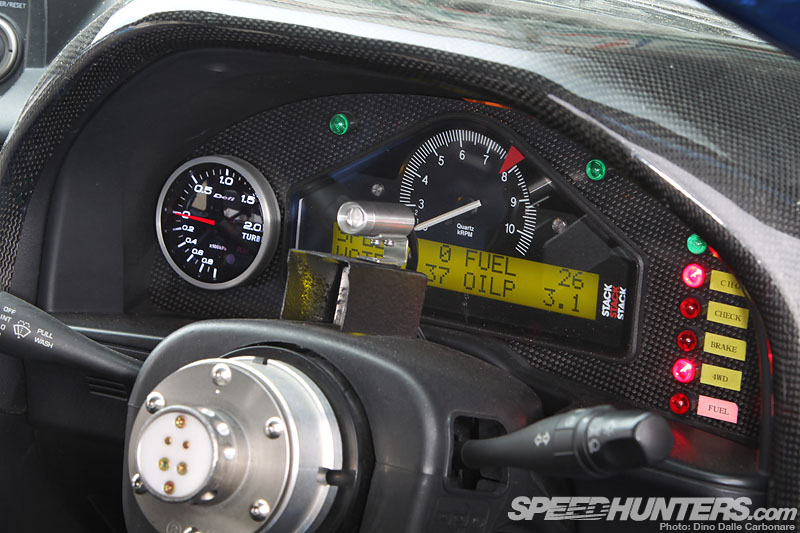 If you like gadgets in your cars then you won't be disappointed here as there is so much to play with, starting with the Stack dash unit which replaces the stock instrumentation, along with…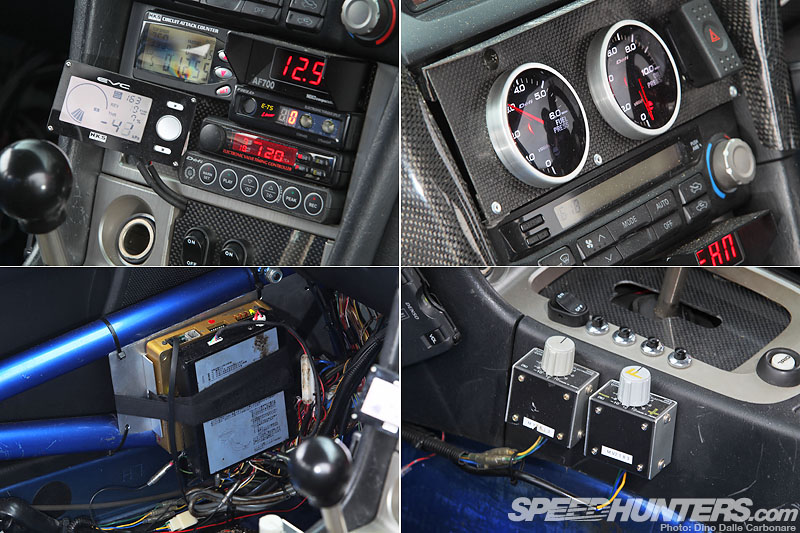 … all the modules on the center console. There are also a pair of HKS mixture controllers to trim A/F ratio on the fly, easily monitorable via the Neko Corporation lambda meter.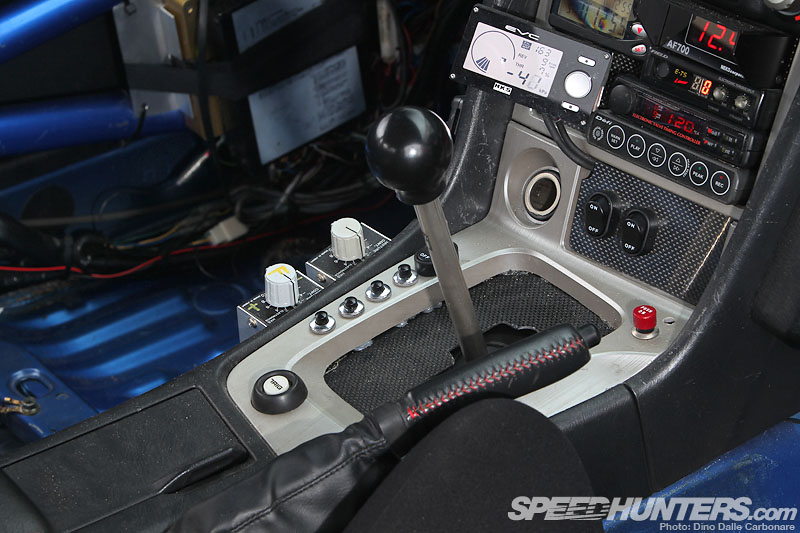 The I-pattern cut out on the carbon gear selector surrounds sort of hints that BNR34 is not running its stock Getrag six-speed. Instead Yasui went for a Hollinger sequential transmission to shave off precious tenths between gear changes.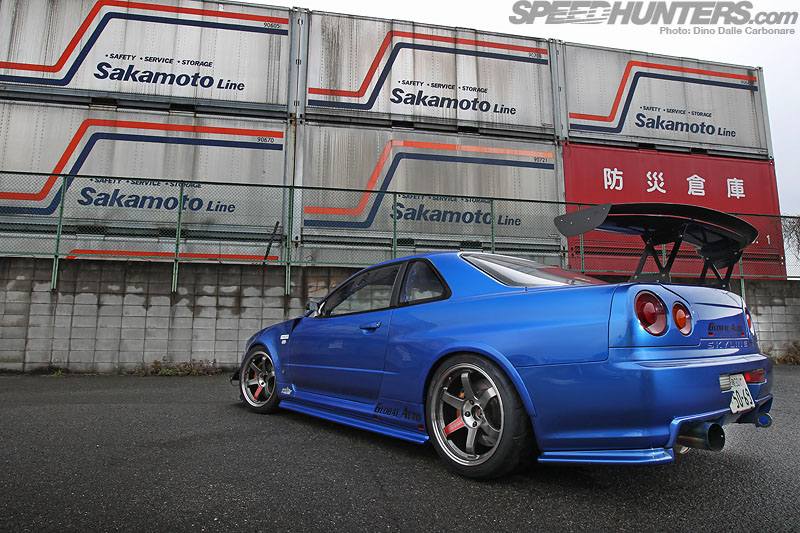 On long tracks like Okayama and Suzuka this translates into a very noticeable advantage. Since the car isn't a V-spec the mechanical rear differential has been replaced with a specially set up Auto Select item, all combining to form a fantastic package that has allowed Yasui-san to win a couple of Meister Cup series at Okayama Circuit.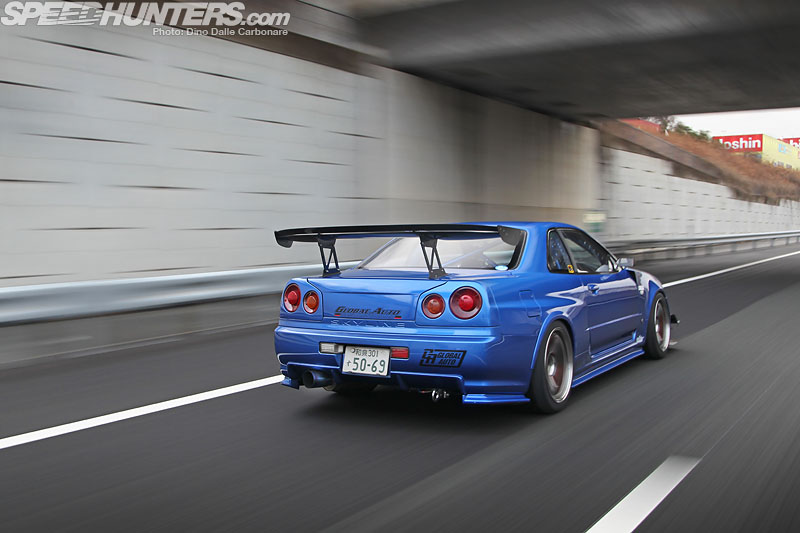 It's cars like these that give a lot of inspirations to those of us trying to fine tune our own vehicles. One thing is certain though – Yasui-san is one man that doesn't settle for second best. The best thing of all, is that development of the car is actually not quite complete, so maybe this isn't the last time we will see it!
Dino Dalle Carbonare
Instagram: speedhunters_dino
Yasui-san's Nissan Skyline R34 GT-R
Numbers
Max power – 830hp, max torque – 883Nm
Engine
Nur engine base, HKS oil pump, HKS Step 3 2.8L stroker kit, HKS counterbalanced billet crank, HKS H-section connecting rods, HKS forged pistons, HKS metal head gasket, HKS V-Cam Pro, HKS head system, fully polished and ported head, Trust exhaust manifold, Trust T88-33D turbocharger, Trust external wastegate, Trust front pipe, Global Auto titanium exhaust system, Auto Select custom titanium intake pipe, HKS Super Power Flow filter, Auto Select custom titanium piping kit, Trust large core intercooler, Trust intake plenum, Bosh 044 Motorsport external fuel pumps x2, Auto Select collector tank, braided fuel lines throughout, Sard FRP, HKS billet fuel rail, HKS 1000 cc/min injectors, Auto Select carbon radiator shroud, ARC Prestege-R side-flow aluminium radiator, ARC Air-Separator tank, Custom two-stage oil separator system, HKS oil cooler, HKS F-Con V Pro ECU
Driveline
ATS triple plate carbon clutch, Hollinger six-speed transmission, Auto Select LSD
Suspension/Brakes
Adjustable Auto Select race suspension, Auto Select billet front strut brace, Brembo six-pot monoblock calipers (front), four-pot (rear), Rdd 380 mm 2-piece floating discs (front), 355 mm (rear)
Wheels/Tires
Rays Engineering Volk Racing TE37 11Jx18" +15 all round, Hankook Ventus TD 295/30R18 all round
Exterior
Nismo Z-tune front bumper, Auto Select Devil carbon canards, custom carbon under diffuser, Nismo front and side clear repeaters, Global Auto carbon bonnet, Nismo Z-tune front fenders, Craft Square carbon mirrors, Electra dry carbon doors, Nismo Z-tune rear fender garnish, Nismo side skirts, Nismo rear skirts, Nismo GT LED lights, Auto Select LED reverse and fog lights, Voltex carbon GT-Wing
Interior
Spot and seam welded chassis, Stripped out interior, 13-point roll cage, Carbon Fiber dash cover, Sparco racing steering wheel, Snap off boss, Recaro SP-A carbon-Kevlar bucket seat, Takata harness, Stack dash unit, Defi gauges: boost, fuel press., oil press., Defi Control Unit-II, Neko Corporation AF-700 A/F meter, Field E-TS controller, HKS Electronic Valve-timing Controller, HKS EVC5 boost controller, HKS Circuit Attack Counter, HKS Mixture Controller x2
Global Auto shop visit
More Skyline stories on Speedhunters