It's been a while since I published my initial Project Evo post and for good reason. Whilst I've been reading the other team members' progress with their own cars with interest, I've felt a touch of the green-eyed monster creeping in. It's always great to read how others are going with interesting projects, but back on home territory there have been times when it's felt like Project Evo was going backwards. Back in April, Rod stopped over in the UK and we made some of our Speedhunters visits in the 'heave ho'. Although Rod seemed entertained enough by the car (although was later much less impressed by the fuel bill), doubts were niggling in my mind. The normally precise handling of the Evo just didn't feel up to scratch and I was beginning to worry that something was up.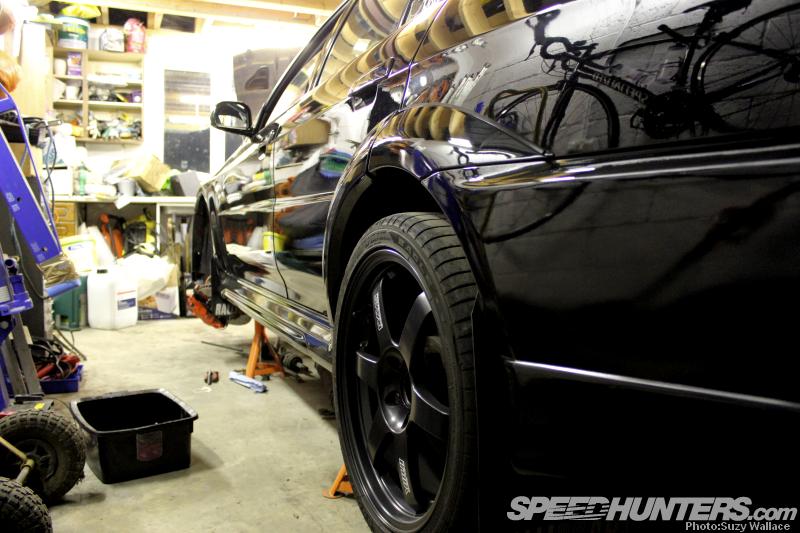 Sure enough, a few weeks later the the car developed an increasingly nasty knock on full right lock. Hoping (but not really believing) that it might be easily/cheaply solved with a driveshaft swap, that was first attempted but to no avail. Nope, nothing is ever that simple with my car! All symptoms were pointing towards the front diff bolts – it's a common issue with Evos, but though replacing the bolts themselves is cheap, getting to them is not the easiest of jobs. But there was nothing else for it.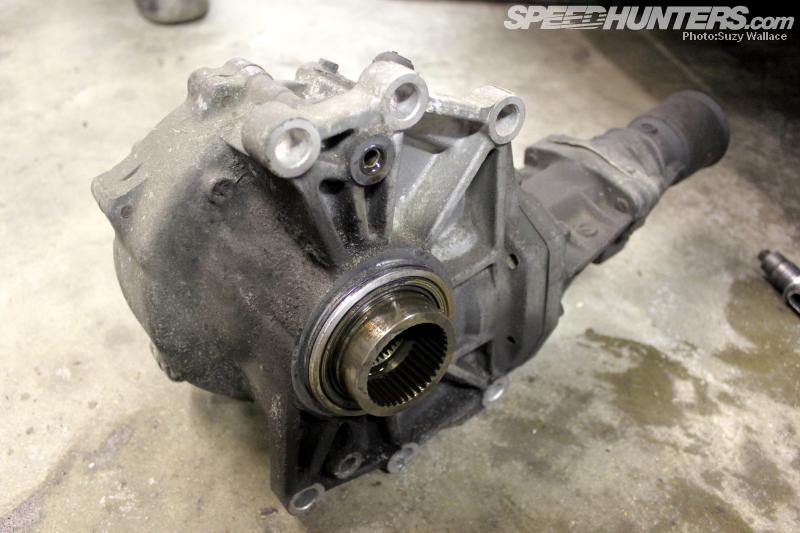 So, after removing the wheels, hubs, driveshafts, exhaust, and prop, the transfer box was eventually removed. It's in here that the front diff lives.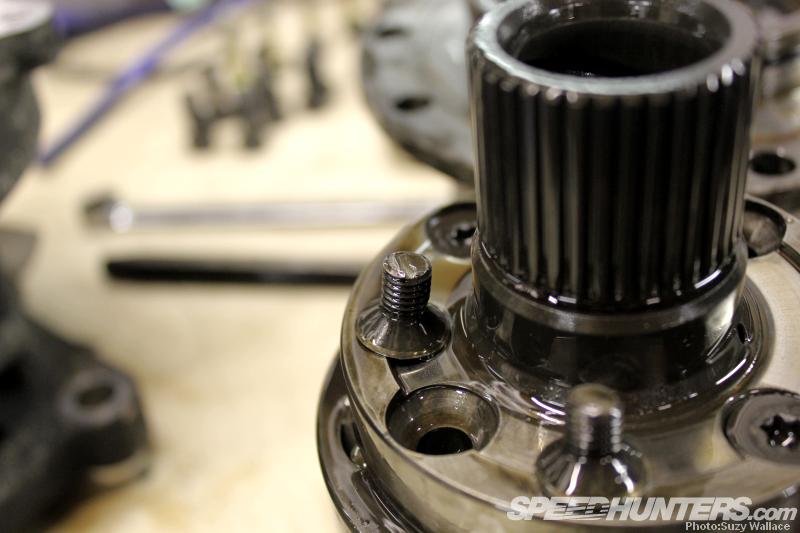 After stripping that down to get to the front diff, it was immediately obvious what the problem was: out of four bolts, two had sheared off whilst the other two were finger loose. No wonder it had felt terrible to drive! Of the two broken bolts, the remnants of the first were easily removed with the aid of a chisel, but the second was sheared off way below the surface and didn't want to budge. Hours passed by as we tried everything to get it loose and eventually the decision was taken to drill it out. Did that work? Nope. It was still firmly wedged in. The outcome wasn't looking good. If I couldn't get it out, I'd need an entire new diff. For half of a bolt.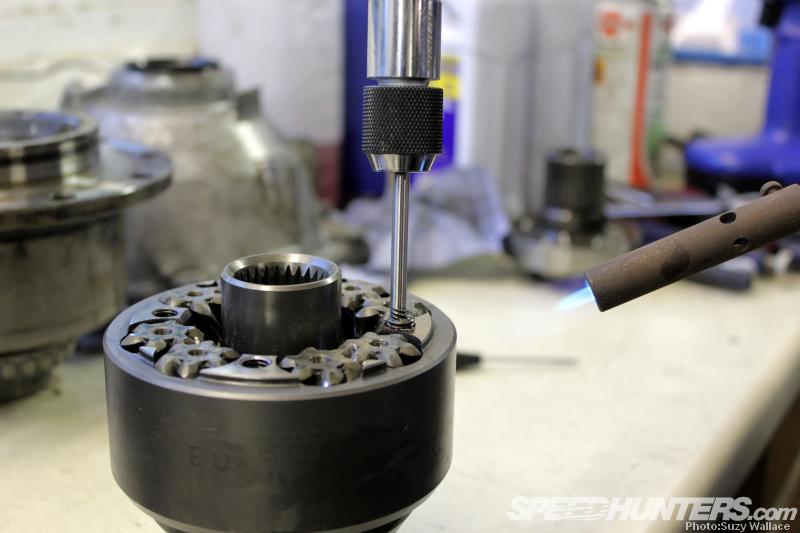 After a night of ever-increasing despair, we called it quits and reconvened the next day to tackle the stubborn thing with a fresh head. We'd come prepared with a reverse drill bit but the damn bolt still wasn't budging. Things were getting drastic so the blowtorch was fired up to heat the casing, and hey presto, we finally had movement. As a slight aside, I should point out that I hate dancing. It makes me feel so incredibly self-conscious that unless I'm virtually paralytic on alcohol, it's just not something I ever do. But at this moment I'll admit I danced around the garage. For a solid five minutes.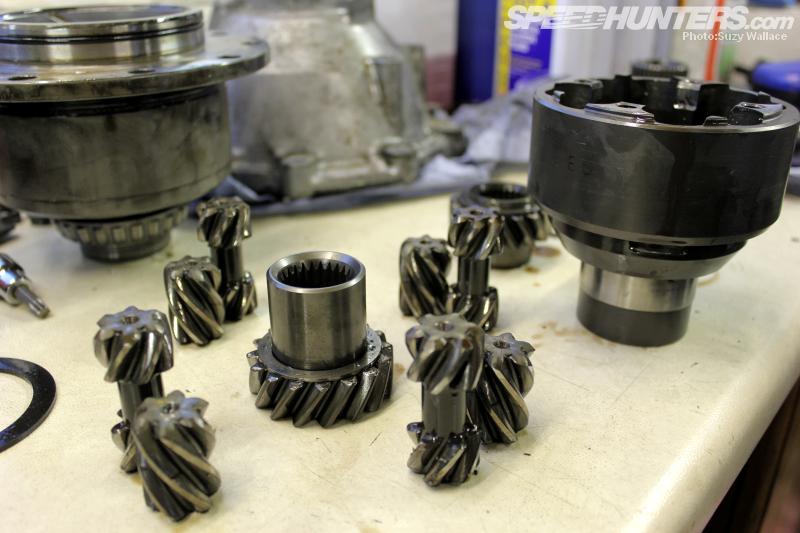 Bolt remnants removed, it was time to strip down and clean the worm gears inside to remove any traces of shavings, before oiling it all up again (is there anything that smells worse in a garage than diff oil?), replacing the bolts, putting the diff and transfer box back together and re-assembling the entire car. The difference was massive. The car felt great to drive again and within the week I'd put a sizable dent in my wallet thanks to fuel costs through driving it here, there and everywhere, revelling in what it felt like to sling it round corners again without it feeling like the wheels were about to fall off.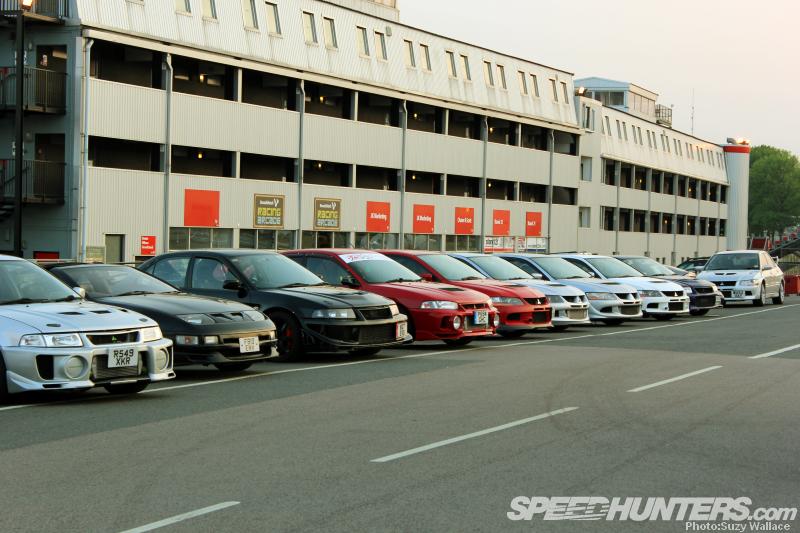 With the car working  once again it was time for my local monthly car club meet. My membership of the Mitsubishi Lancer Register (MLR) pre-dates the purchase of my car and I've made a bunch of great friends through it, so I always revel in the chance to attend any local meet-ups. Luckily for me, my local track happens to be Brands Hatch and this provides the rather superb location for our monthly meet.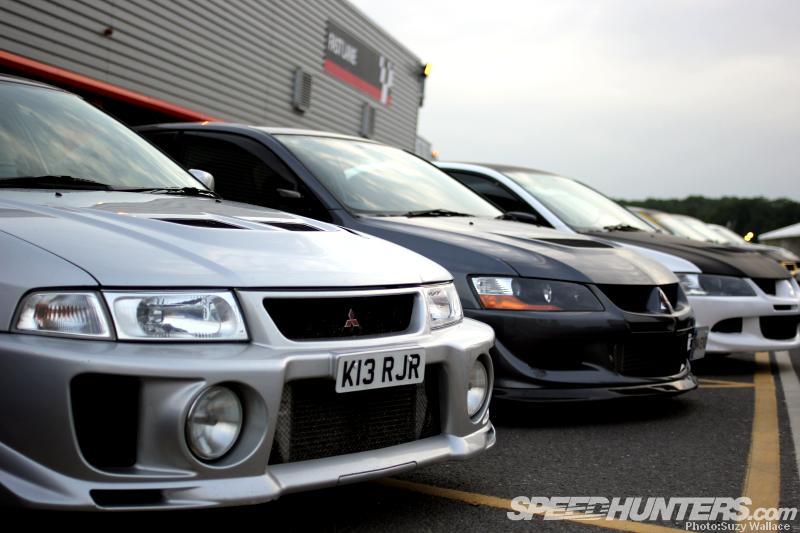 It's always great to meet up with people with the same car – not only do you instantly have something in common to talk about, but it also provides a great place to discuss any car problems or recent modifications. I'll admit that attending my first one on my own was a little intimidating but everyone proved very friendly and luckily nobody assumed I was just being given permission to drive it by a man, so there was no need for any blood to be shed.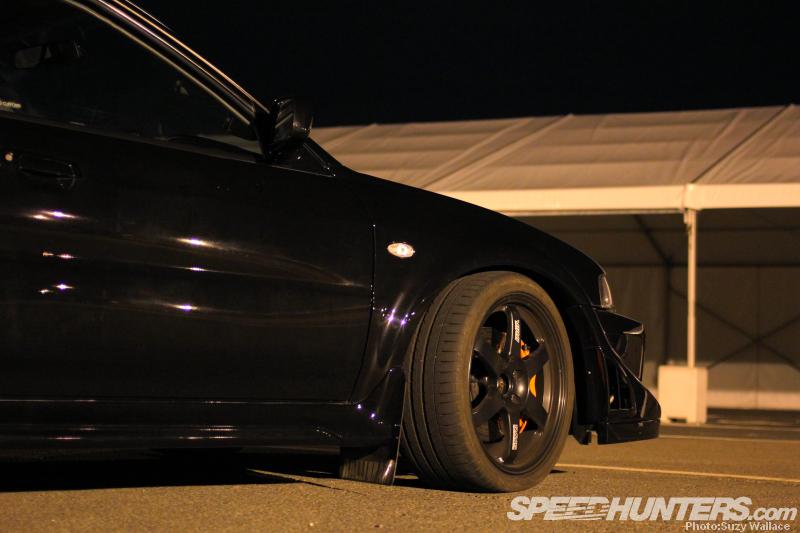 Attending the meets is now as much of a social occasion as it is to talk about the cars, and I'm nearly always amongst the last handful of people to leave. Let's just say that the security guards aren't always impressed when they come to usher us off.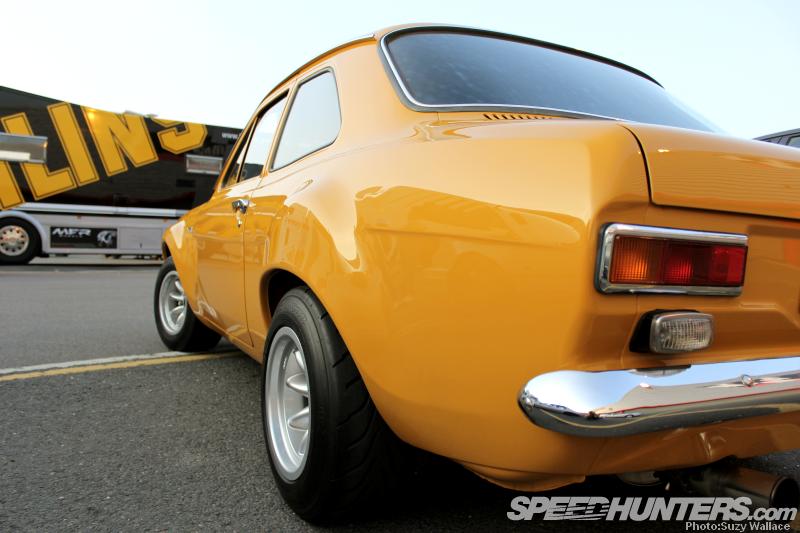 It's not just an Evo thing either – we share the evening with the RS Owners' Club, which means that beside the three-pointed star emblems lay some pretty tasty blue oval machinery, such as this immaculate Mk1 Escort RS1600 with bubble arches…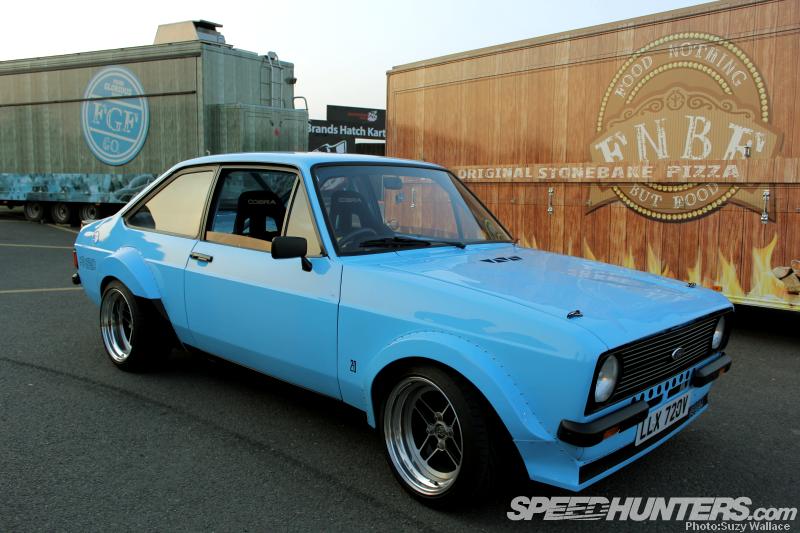 … and this tough-looking Mk2 with Monte Carlo-style riveted arches. Given that they're older cars, their absolute immaculate-ness put everyone else to shame.
So, with the car back on the road and everything working as it should, my thoughts turned to one thing: Nürburgring. If you read my previous Project Evo story, you may remember that I called it my 'home from home'. Well I was homesick. My last trip out there was all the way back last September and the withdrawal symptoms had set in – the temptation to drive faster on normal roads and occasionally waking up in the middle of the night drenched in sweat screaming "Flugplatz!"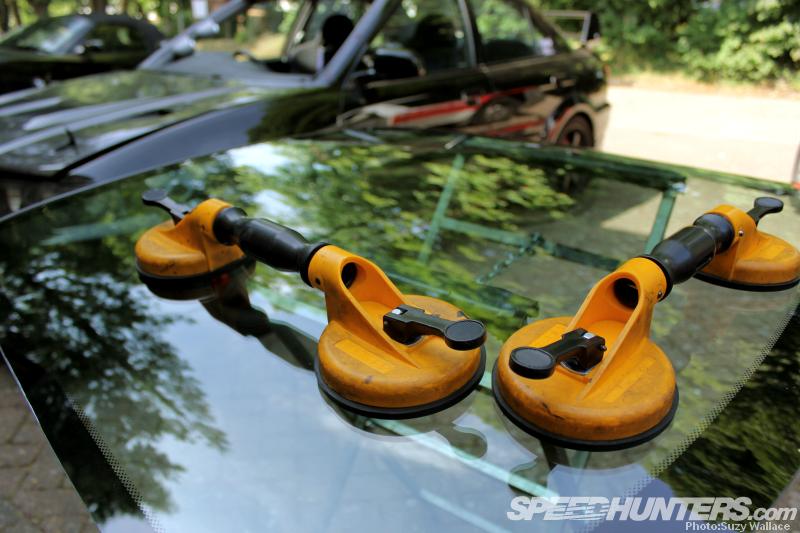 Okay, so the latter may be a bit dramatic but I definitely needed to get a trip planned, and a plan was soon hatched to attend the next Destination Nürburgring event. I've been journeying out to the Eifel region of Germany to drive the track for seven years now, but the last few years have seen my friends and myself shifting away from the open tourist days and gravitating more towards closed trackday events. But with the day booked, the car needed some niggles fixed before I could leave. First off was the crack in the windscreen…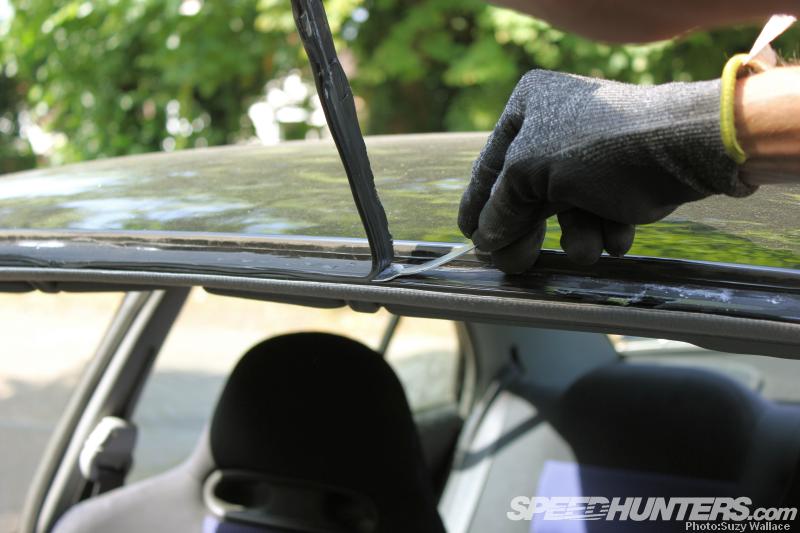 … so after removing the old seal, a new non-cracked one was put into its place.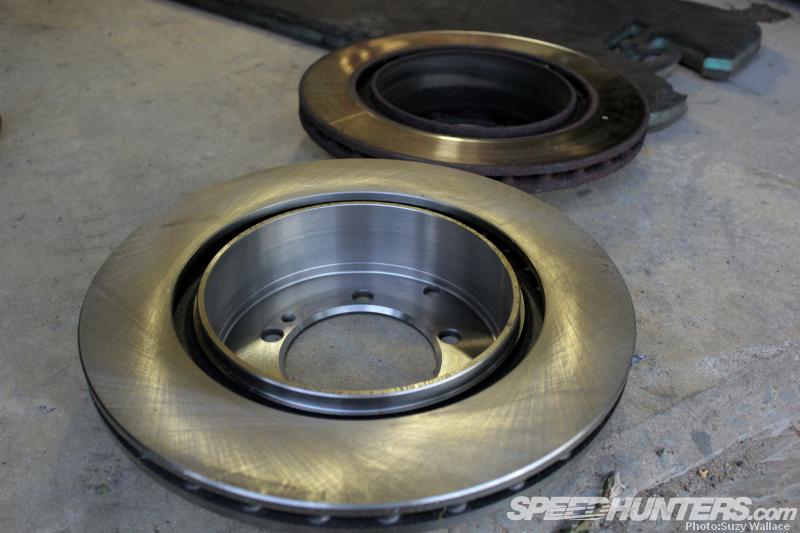 More importantly, my rear brake set-up needed replacing. Amazingly, my relatively low miles per year mean I've not had to replace the rear discs or pads since I've had the car, and they were finally reaching the end of their life. So a set of standard rear discs were sourced…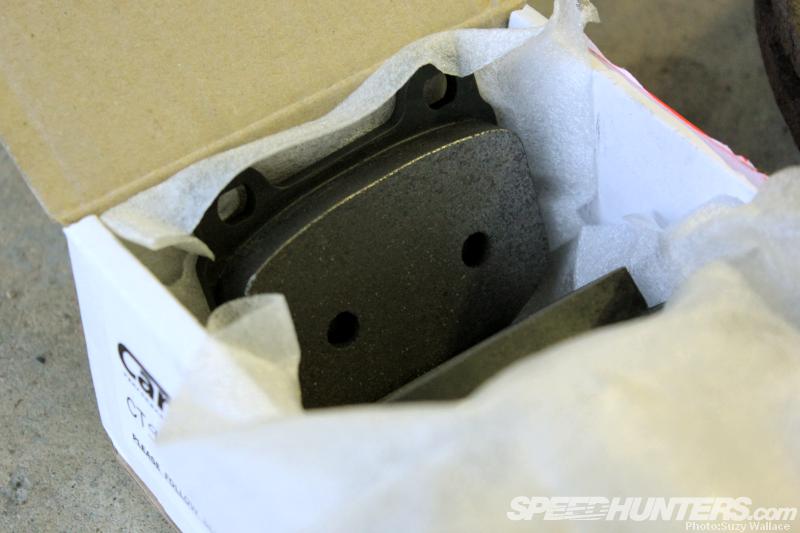 … and then mated to a set of Carbotech AX6 pads. Before joining the MLR I'd never heard of Carbotech, but people in the club raved about them and I thought I'd see what all the fuss was about, so when the Ferodo DS2500s I was running at the front were coming to the end of their life, I replaced them with a set of Carbotech XP8s. The change was like night and day – the difference just a different pad could make (over one I already thought were decent) was unbelievable, with the new pads hauling the car up short in any scenario, even from cold. Of course, there has to be a bad side and admittedly, they do create a lot of brake dust. It means my wheels often appear more brown than black but it's a small price to pay for the increased stopping power. After speaking with the ever-friendly Ian at Carbotech (who has offered advice for many of my braking issues, including our first meeting when I attempted to set my brakes on fire after a spirited track day session at Anglesey circuit), we decided on the less aggressive AX6 for the rear instead of the XP8, to try and keep the rear as settled as possible under braking.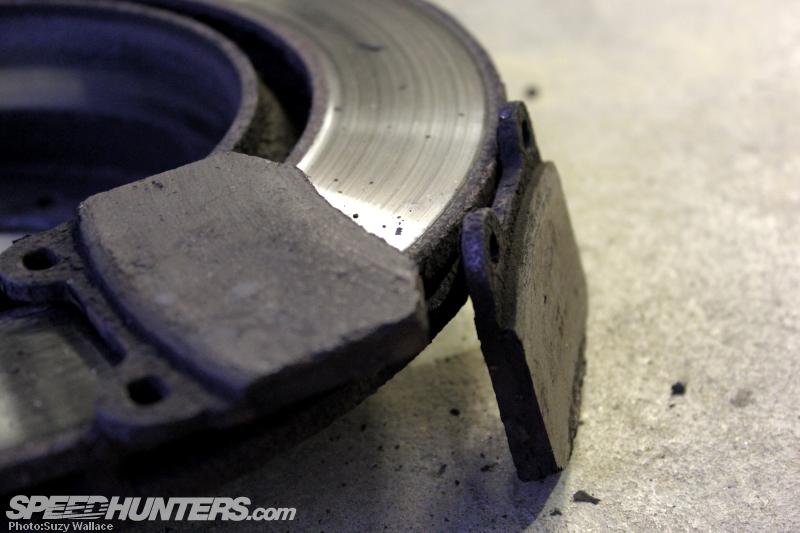 If there was any doubt as to whether my rears needed changing, one look at the badly lipped disc and almost non-existent pad confirmed I'd done the right thing. There's been a bunch of late nights to get the car ready in time but at least one benefit to driving home from the garage in the early hours was that the roads were empty, and by the time I'd got home, the brakes were nicely bedded in. Extra stopping power at the Nürburgring? That's not something I'll turn down!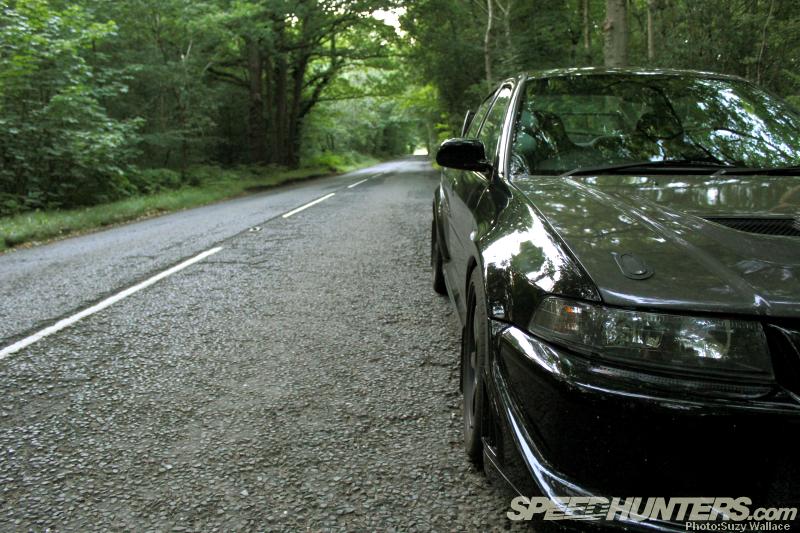 So, with my oil changed, new spark plugs fitted, sticky semi-slicks mounted onto my original wheels, and bag of Euro change for the European services toilets jangling away in my glovebox, it's nearly time to take off, Germany-bound. With my Evo woes hopefully behind me for now, it's time to get some enjoyment out of the car. I reckon it owes it to me. Next stop, Nürburgring!
Suzy Wallace
Instagram: speedhunters_suzy
suzy@speedhunters.com
A Torrid Love Affair: Project Evo
Other Project Car stories on Speedhunters